I've been playing with the idea of spending New Year's Eve on a plane for a few years now and this year I was able to make it happen.
My brother and I are quite big American sports fans. He is in love with the NFL (American Football) and I love the NHL (Ice Hockey). So we wanted to go on a trip to see some games in the USA for quite a while. We also wanted to visit some new cities in the process.
And so up came Minneapolis, where we could watch three games (NHL, NBA and NFL) in three days and then fly back on the last day of 2012. We also asked our friend, also an NHL and plane lover, to join us.
Delta was the obvious choice and we decided to depart from VCE as it gave as a lot more possibilities. On the way there we would fly via AMS with KL/DL on the E190/A332, both new types for me.
On the way back we would stop at ORD to take a quick look at the city none of us had been to before, and then continue on DL 763 to CDG. The MSP-ORD flight was scheduled to be operated by the MD90. To end the trip we would fly AF on one of their A319. The B763 and the MD90 would also be new types for me so I would get 4 new types on 5 flights, along with two new airlines (DL/KL) and two new airports (MSP and ORD). Pretty good!
Since our flight from VCE to AMS would depart at a very early hour (6:35 in the morning) and the fact I was the only one of us that has actually been to the city of Venice before, we decided to go there one day before our flight and take a look around, then have a better night sleep as we would have had if we needed to drive from Ljubljana to Venice in the morning.
We left Ljubljana in the morning, the drive to Venice took us just over two hours. We had a hotel booked near the airport and after we checked-in and left our luggage there we went to explore the city.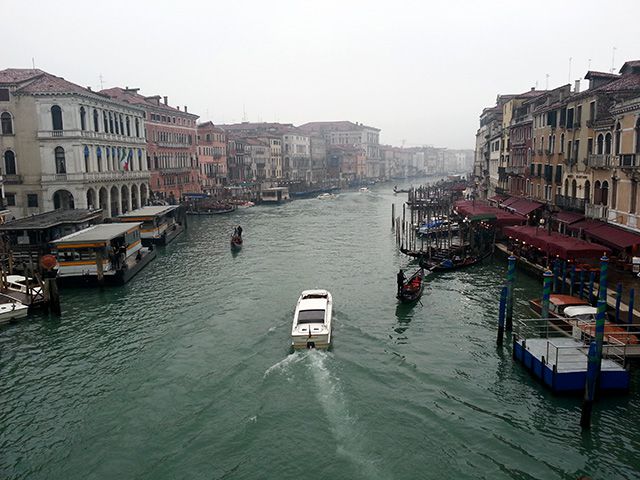 It was raining at first, so we stopped for an early lunch under the Rialto bridge. The rain stopped meanwhile and the rest of our tour was dry.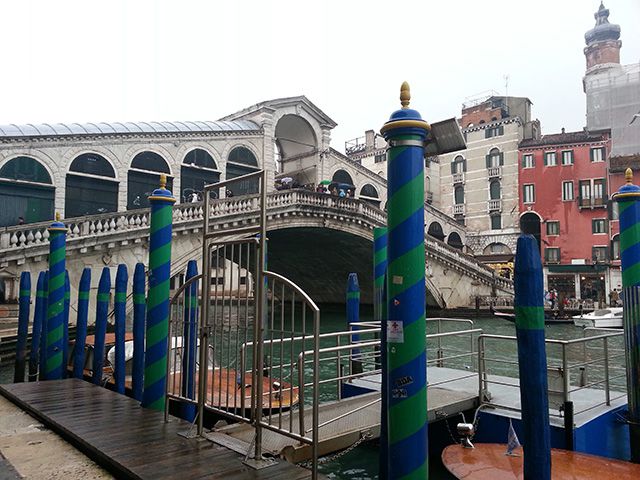 A calm 'street' in Venice. After our quick tour we made our way back to the hotel to get some rest before the early departure the next day.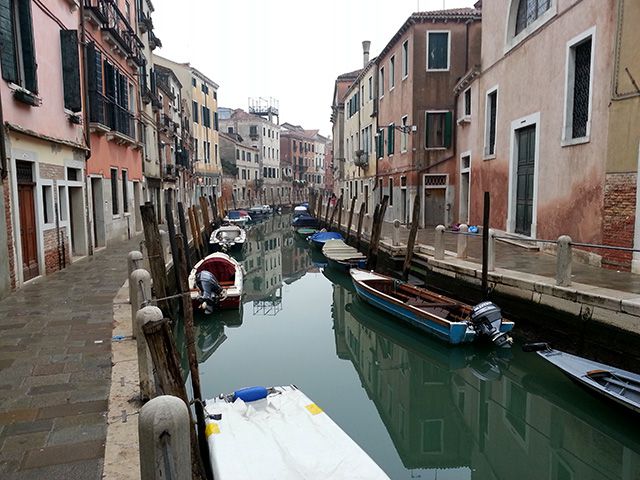 The alarms went off at 4:20 in the morning and by 4:55 we were on our way to the airport. We parked at P5 and made the short walk towards the terminal building.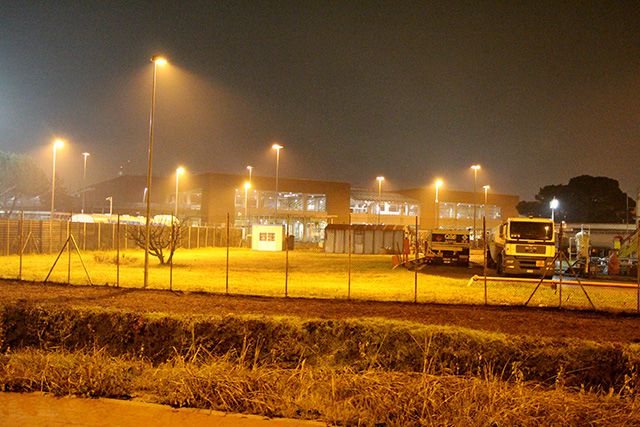 We used the check-in machine, where we checked-in all three passengers, but only my boarding passes were printed. We proceeded to the baggage drop-off desk where a very nice and friendly agent was able to print the missing documents.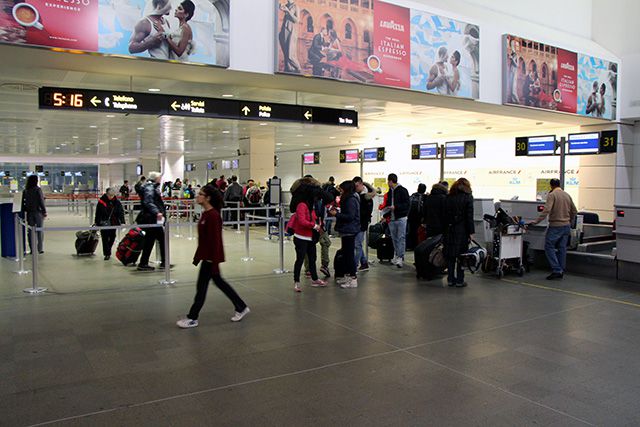 Security was not yet busy so we were airside in no time and sat down near our gate.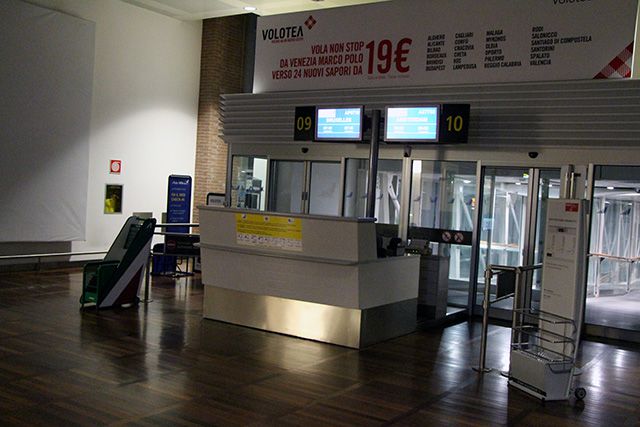 An early departure today.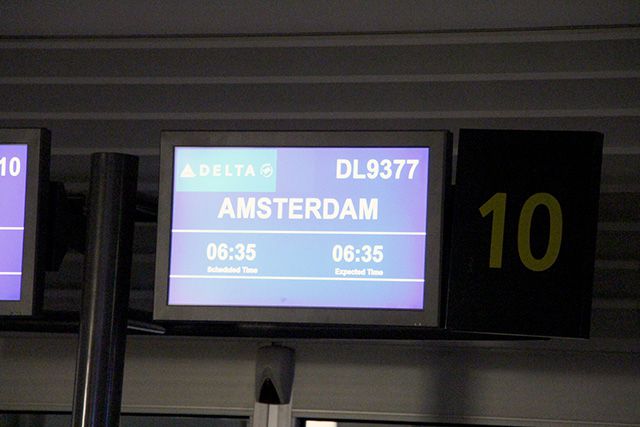 Other flights leaving on this morning: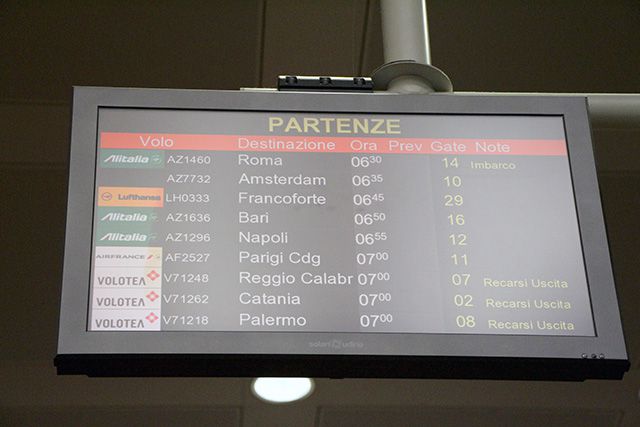 Boarding started on time, we waited for most of the PAX to board and then join the line.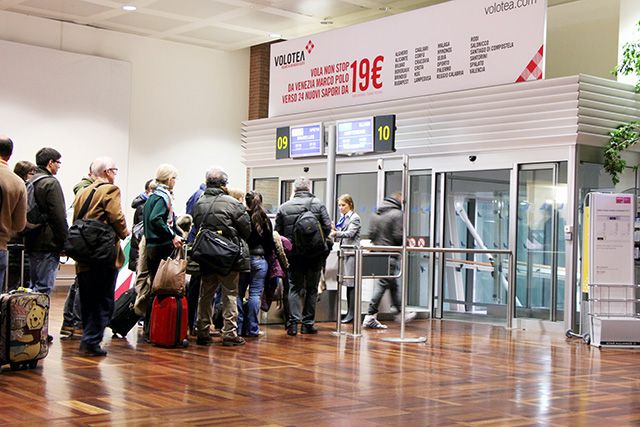 When I selected seats online I choose one of the last rows, but the system moved us just in front of the emergency exit. Luckily, the long haul segment seats remained unchanged.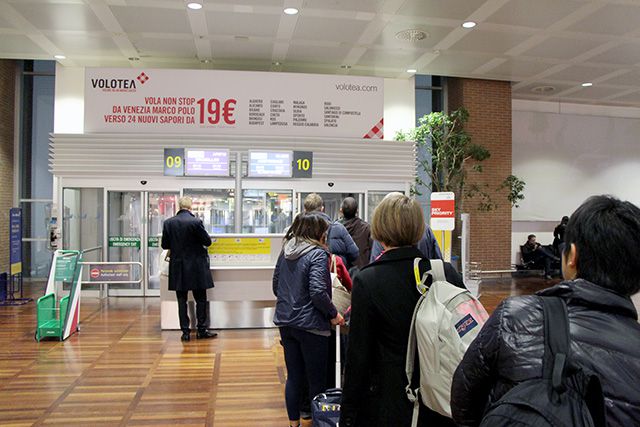 KL1650 VCE-AMS 06:35-08:50 E190 PH-EZH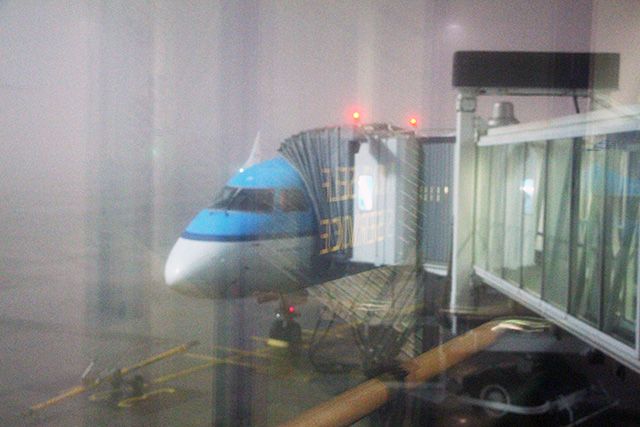 A nice welcome by the FAs at the door, nice first impression of KLM.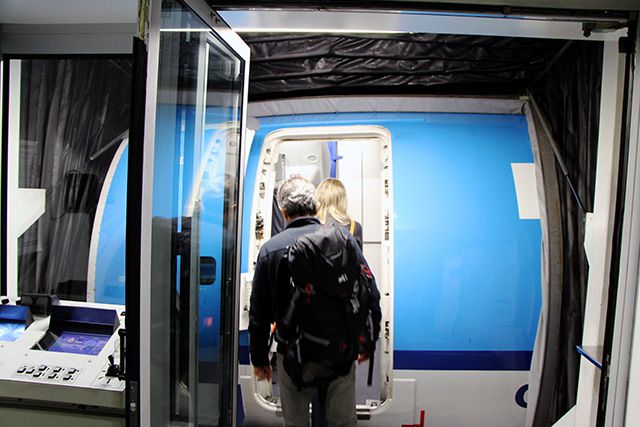 After settling in the comfortable seats the captain informed us that four passengers failed to show up for the flight and all of them had checked-in luggage, so it will take some time to offload their bags from the flight. I don't understand this, how can you check-in luggage and then fail to make the flight? Sometime later four more passengers board and we push back with a short delay.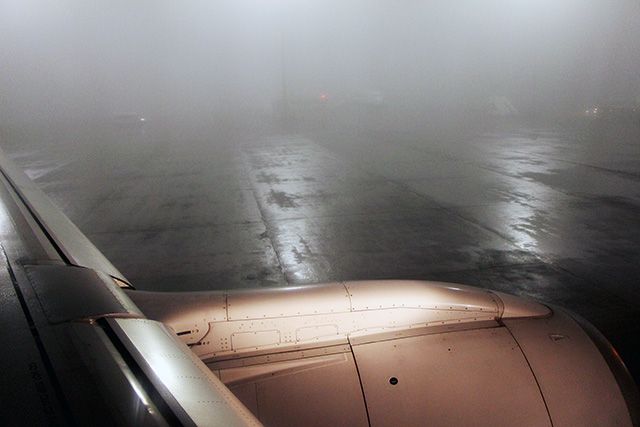 It was a very foggy morning in VCE. Just two days before our trip some flights were diverted to Milano and passengers were then bussed to VCE. No problems for us this morning fortunately.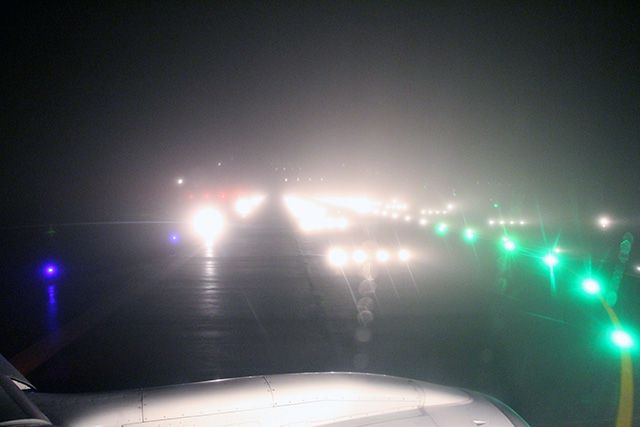 I don't remember seeing the turn off electronic devices sign before.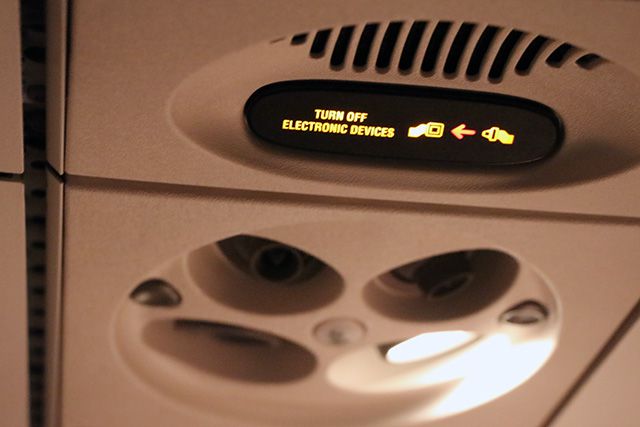 Sunrise as we turn towards Amsterdam.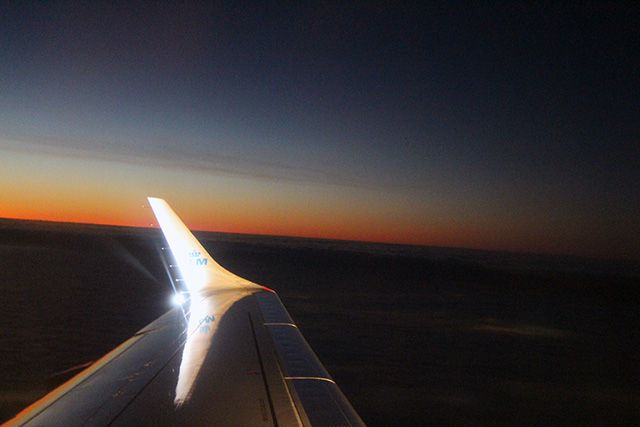 Service is a chicken breast sandwich and a raisin bun, both were pretty good.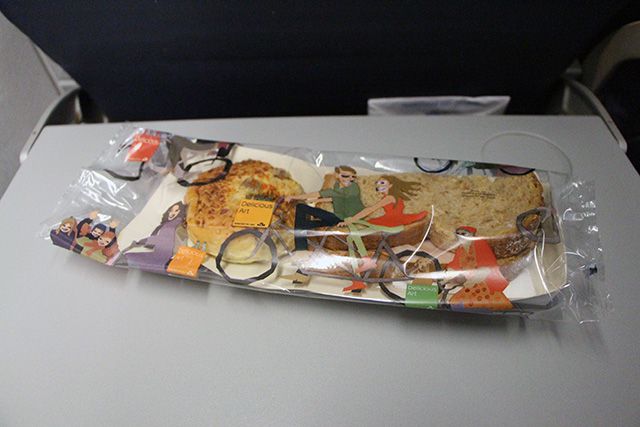 The flight was completely booked.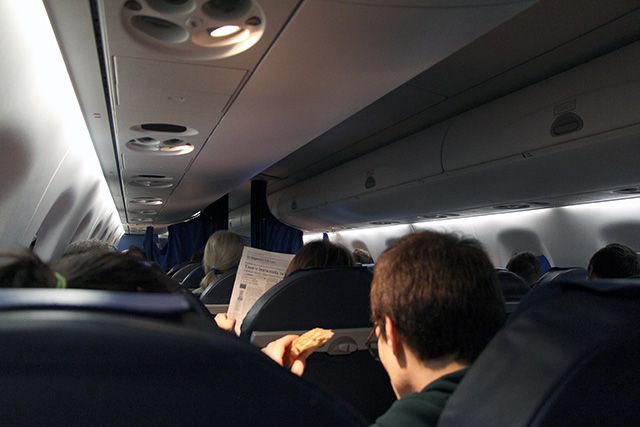 And in no time at all we were already descending into AMS.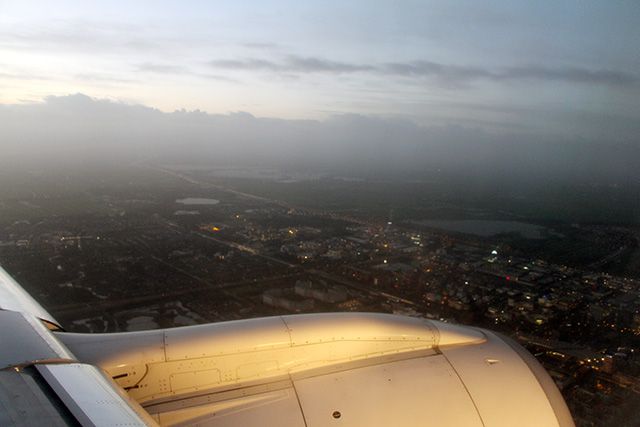 It has been more than 10 years since my last visit to AMS. Saying it like that I feel quite old.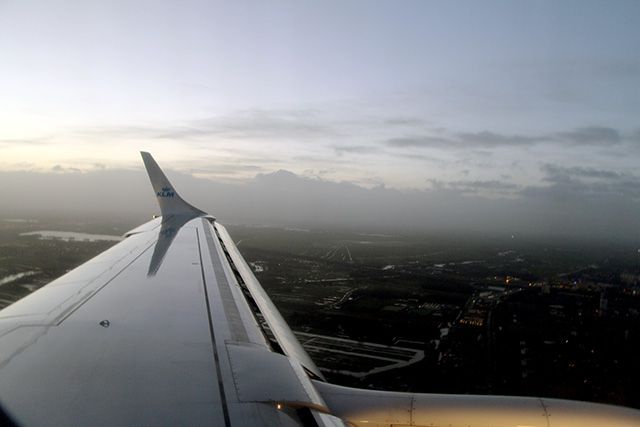 Despite the short delay in VCE we arrived on time.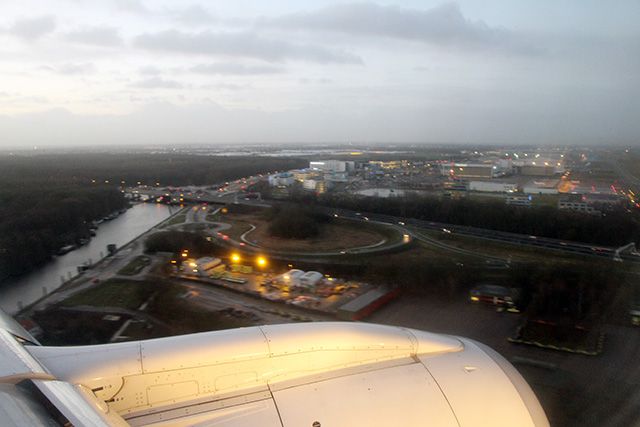 One of many runways in AMS.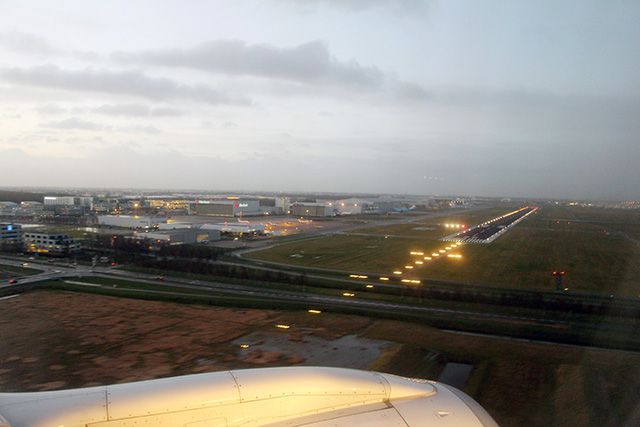 Here we are, we will spend the next six hours in Amsterdam and then continue towards the USA!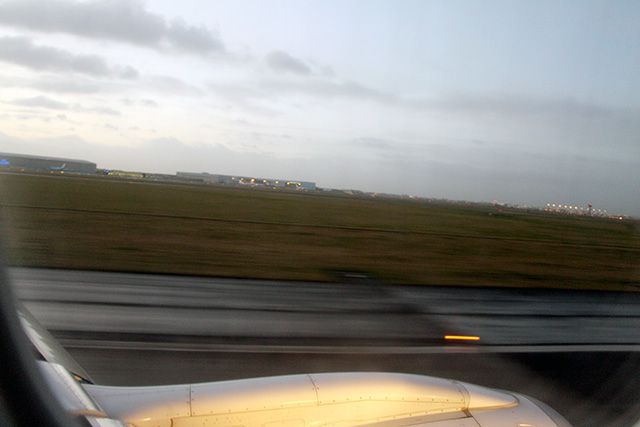 We park along some more KLM Cityhopper jets.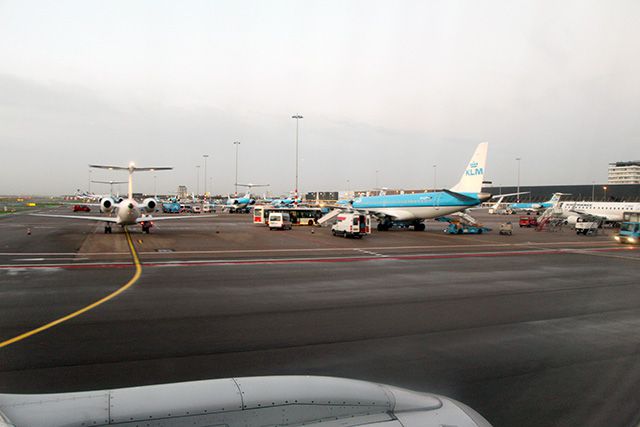 Cabin view.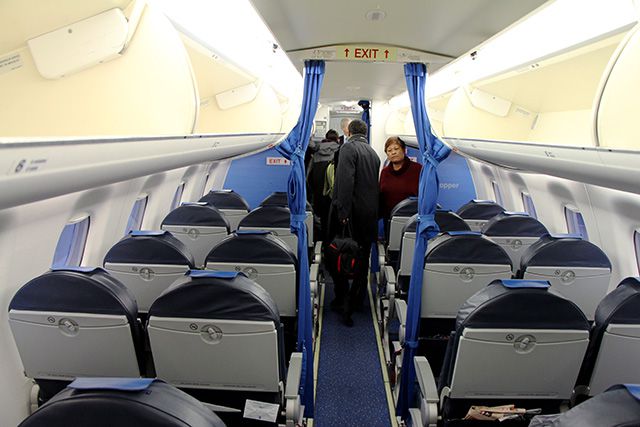 We don't get a jetway, but we don't need a bus either as you can just walk into the terminal from our parking position. It also gives a nice photo opportunity.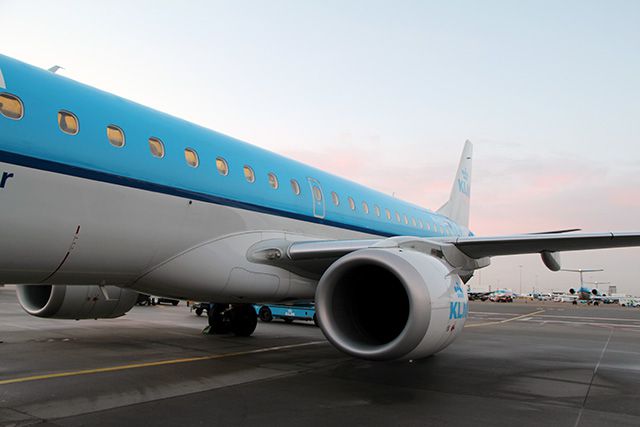 Once inside we make our way to the train station and board the first train towards Amsterdam Centraal.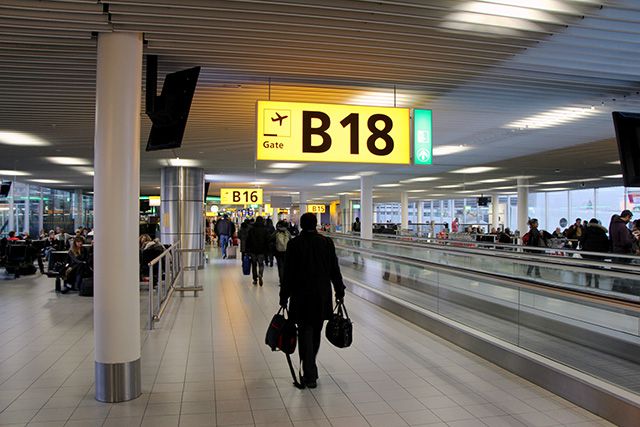 Some holiday decorations.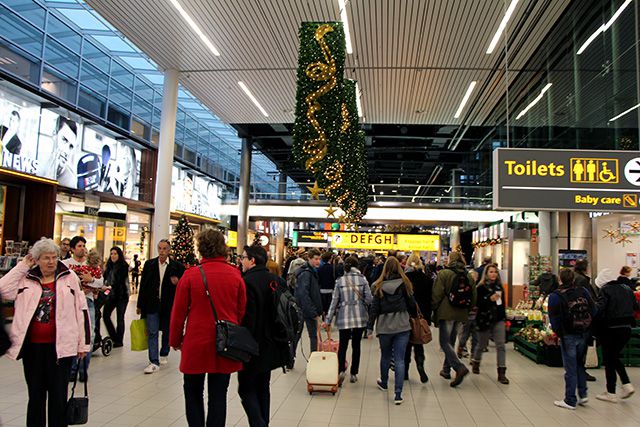 Canals again, yesterday at Venice, today at Amsterdam.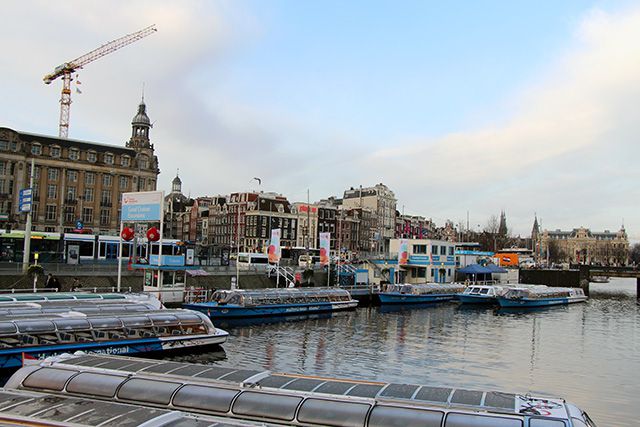 We went on a quick walk around.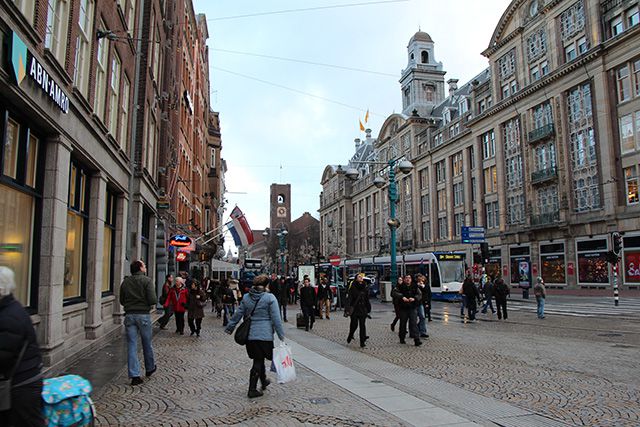 We also stopped to get something to eat.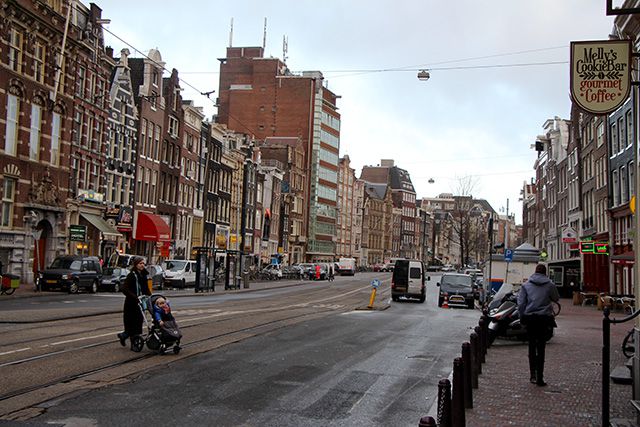 Soon it was time to head back to the airport. As we were on the Intercity train it stopped one station before Schiphol and we were just standing there for around 20 minutes. Then the PA told in Dutch and English that the police had ordered the train to be emptied at the next station. Luckily for us that was the airport station and we made it back with enough time left.
Next stop was logical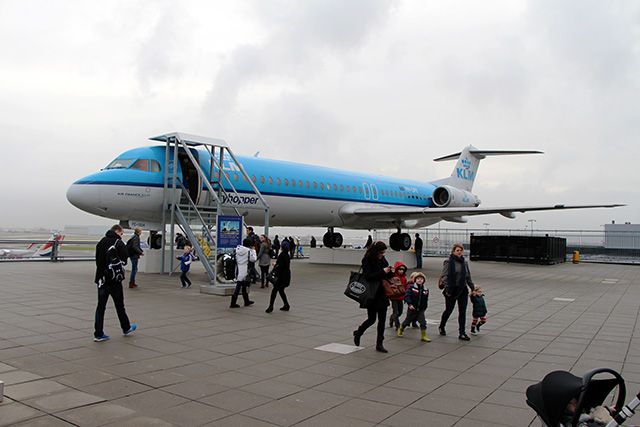 AMS visitors terrace is a very nice facility.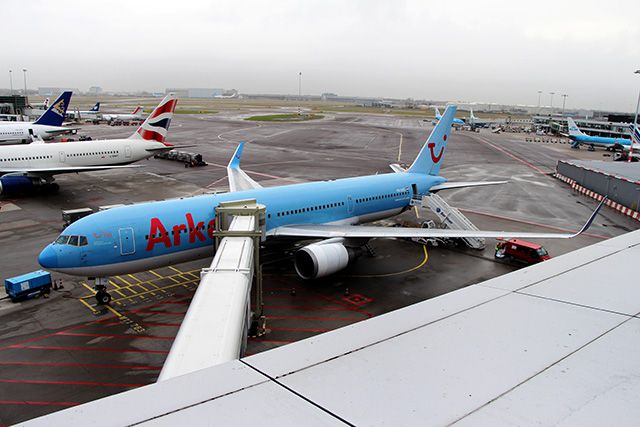 A lot of KL blue around.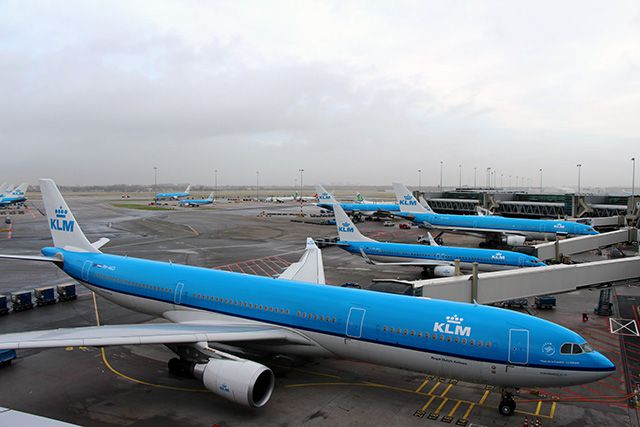 The MD11.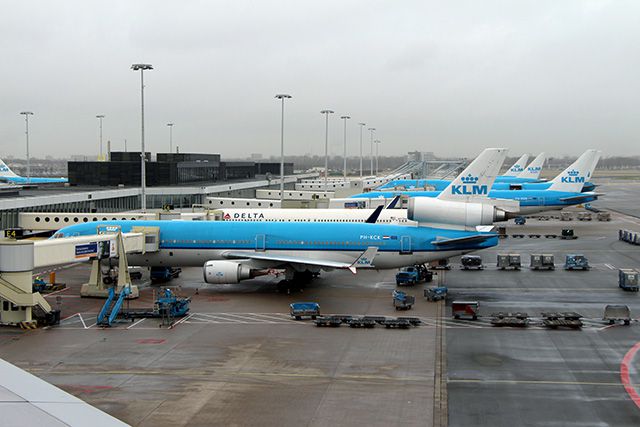 A very big terrace.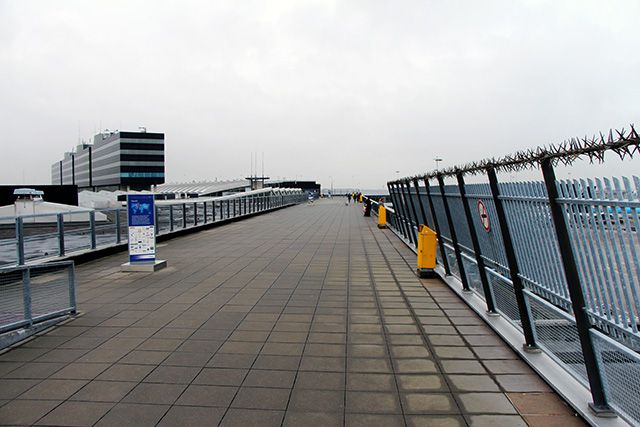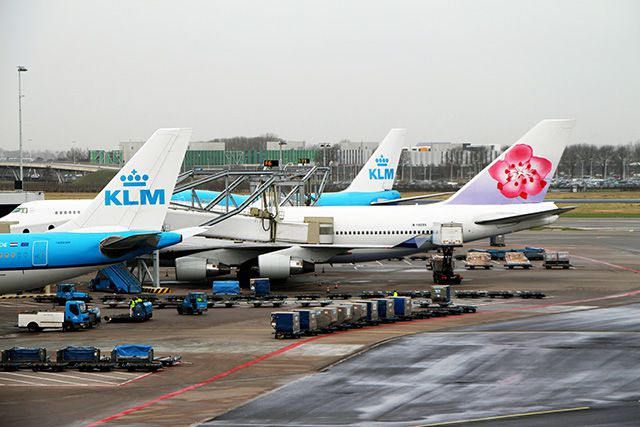 Our plane will be the one in the background.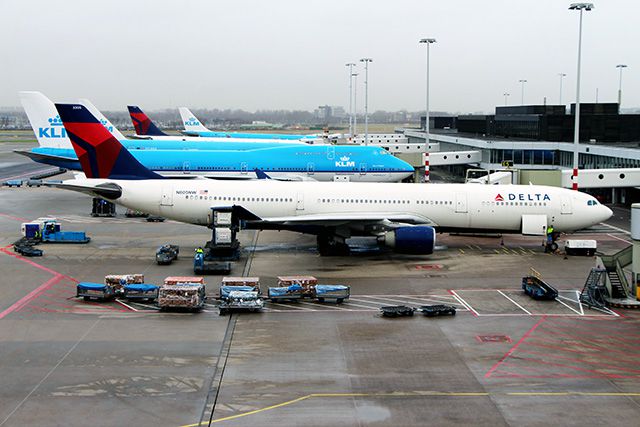 Back inside we made our way to passport control, where a passenger in front of me was causing some suspicion. He did not help himself either by answering the question 'Is this a real passport?' with 'Looks good, right?'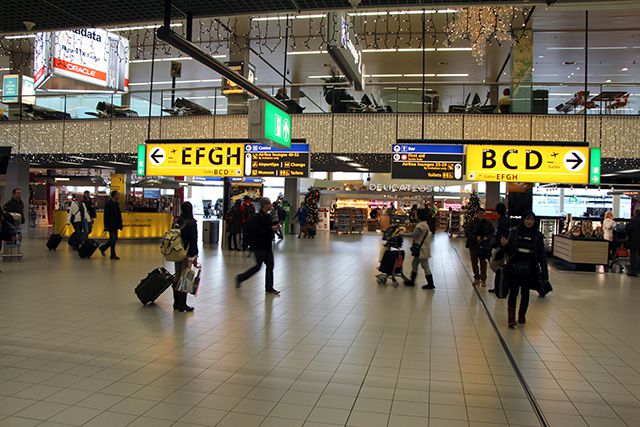 After some wandering around the terminal we went to our gate.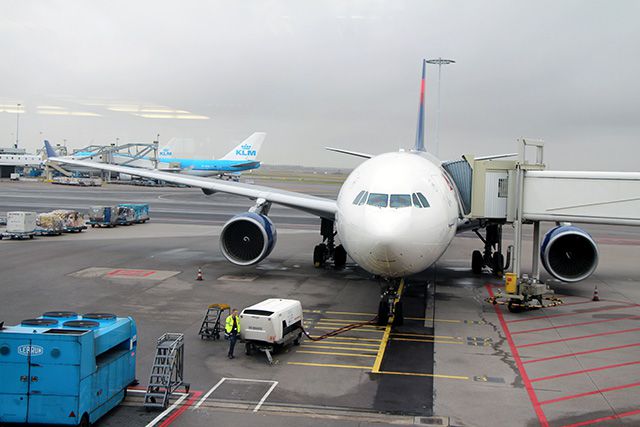 Boarding was supposed to start at around 13:30, very early for a 15:10 flight we thought, but we soon found out why. When we got to the gate they had a bunch of bar like tables set up and there were a lot of security personnel around. After waiting in line for a few moments one of them invited us to his table, took our passports and started asking questions. This was my fifth trip to the USA and I do not remember being questioned so much on any of my previous flight. We were asked about everything, how we know each other, why were we flying from VCE, why Minneapolis, we had to show our tickets to the games, explain why the NHL season was locked out,… We were also asked to show our driver license and after 20 minutes we were let through and directed to the desk for some more passport scanning. I read a lot of 'horror' stories about these checks, but up until now I haven't had such a detailed questioning, usually it is just the normal stuff – how long are you going to be in the US for, is your trip for business/pleasure,…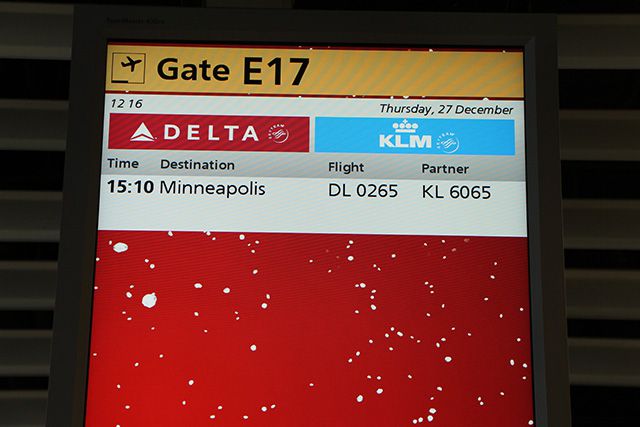 After all that followed the security check, where I had my first encounter with the nudiscope. I absolutely hate this security at the gate system. They took my bottle of water that I bought a few minutes ago just outside the gate and there was no option to buy another one inside the gate area.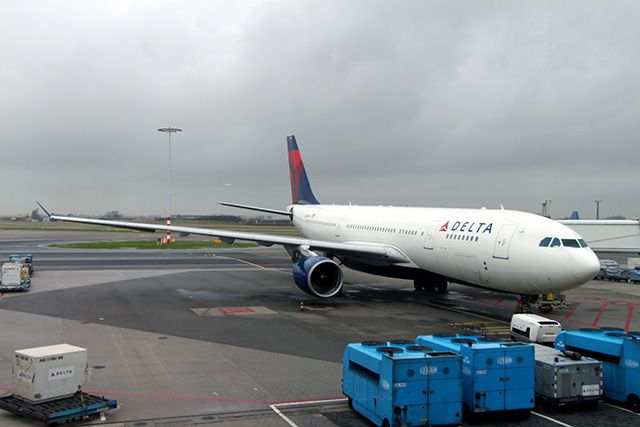 Despite a pre-boarding announcement around half hour before our STD, nothing happened for a long time. At around 15:00 they made an announcement that they are dealing with a problem and if they manage to fix it they would start boarding after that. I remembered my trip with CO on LHR-IAH when a similar announcement was made and we ended up with a 12 hour delay. Fortunately, boarding started a few minutes after our STD.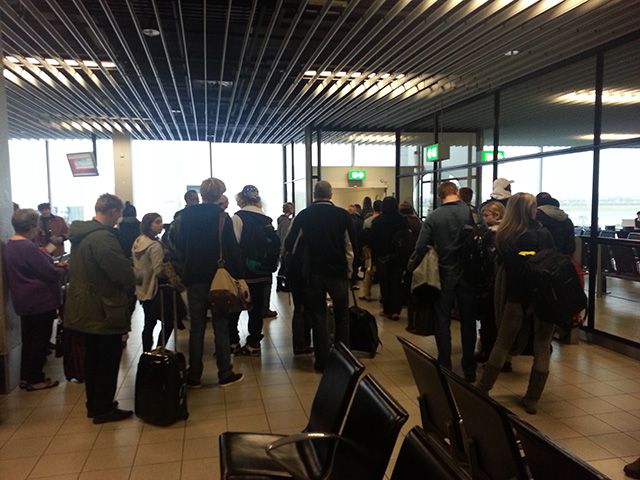 Priority boarding was enforced and we made our way to the jetway when our rows were called.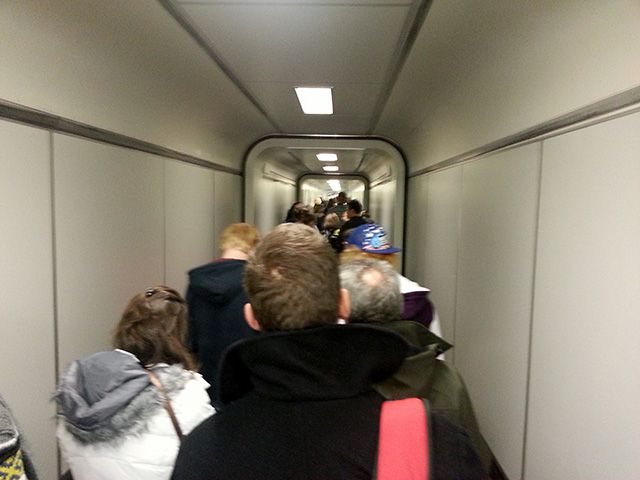 DL265 AMS-MSP 15:10-17:25 A332 N855NW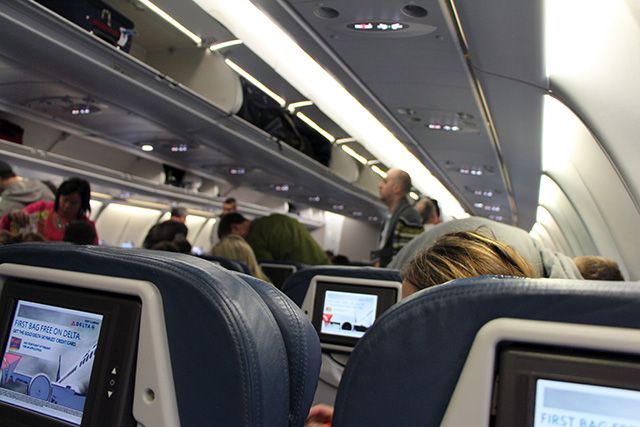 Reaching our row of two, where my brother and I were seated, there was a lady with her around one year old daughter at the seat in front of us. Sometime later another lady came to that row, so she had to hold the baby in her lap the whole flight. I was prepared for screaming and crying, but the baby took it pretty well, she did not scream or cry much during the flight, we even played some peek-a-boo. Her bottle fell under the seat a couple of times and I helped to find it and pick it up.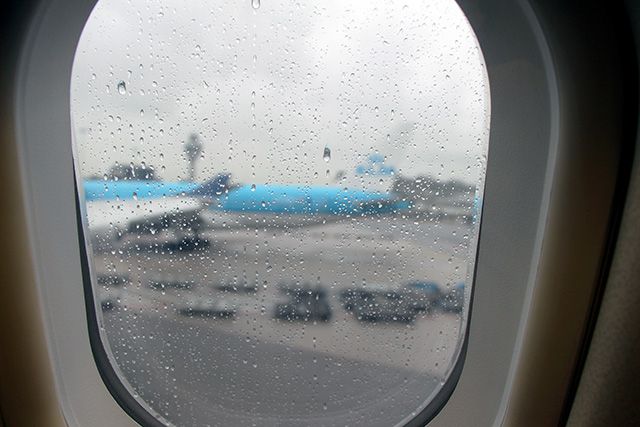 PH-BQA next door, I think that this was the plane that took my father from Ecuador to Amsterdam just a few days earlier.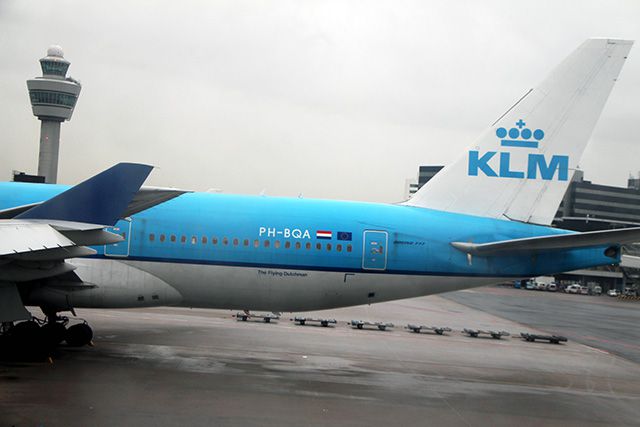 We pushed back and taxied to the active runway. We waited there for a bit and the copilot explained that we are still waiting for some final weight calculations from the company and that we will be underway as soon as we get them.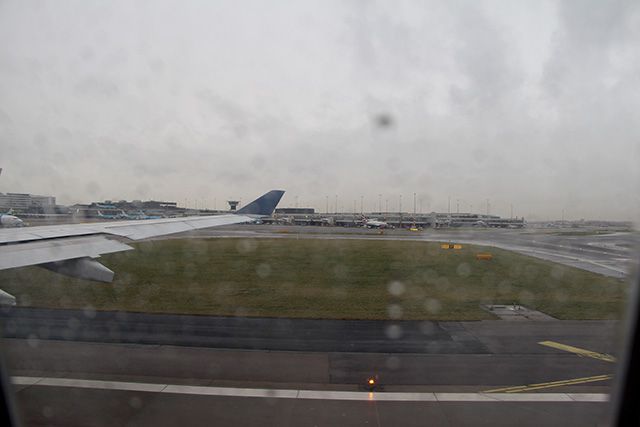 And a few minutes later we started our takeoff roll.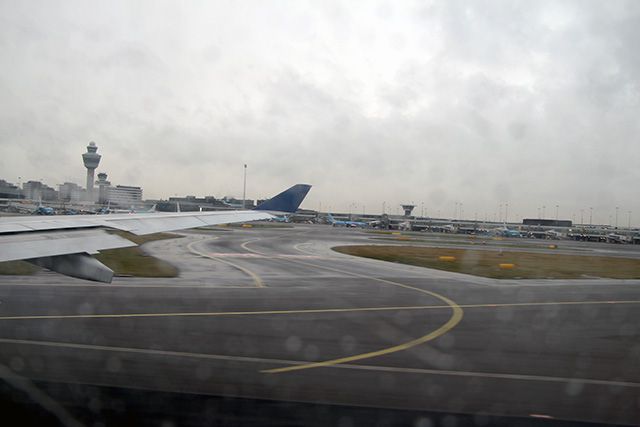 We will change wet and mild (temperature wise) Amsterdam for a much colder and snowy Minneapolis.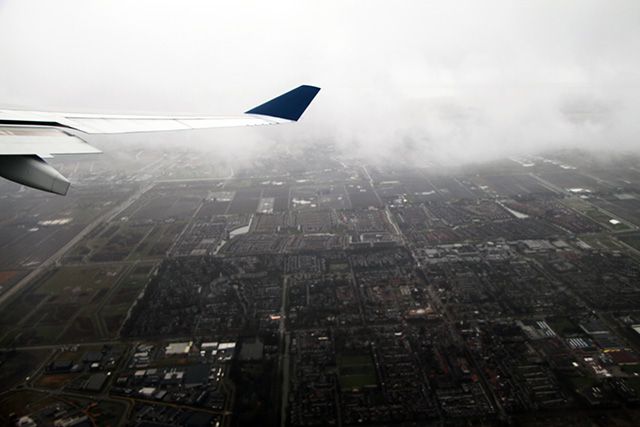 In no time we made it over the clouds and we flew straight north for the first part of the flight.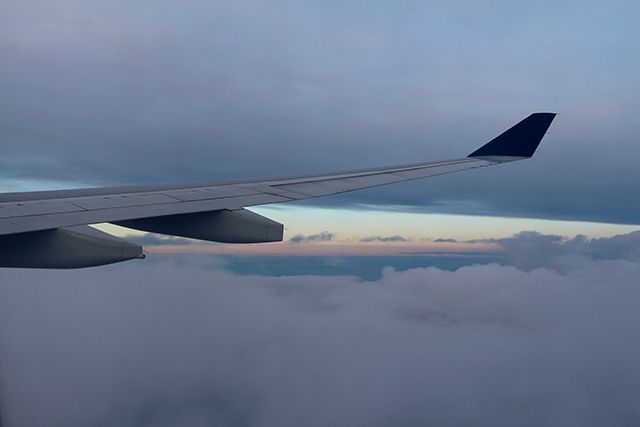 PTV is not the biggest, but you can still watch and enjoy a movie without any problems.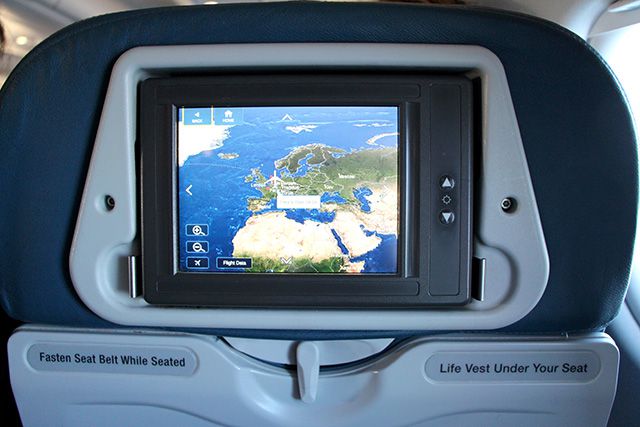 As we banked to the left I noticed the moon following us in the distance.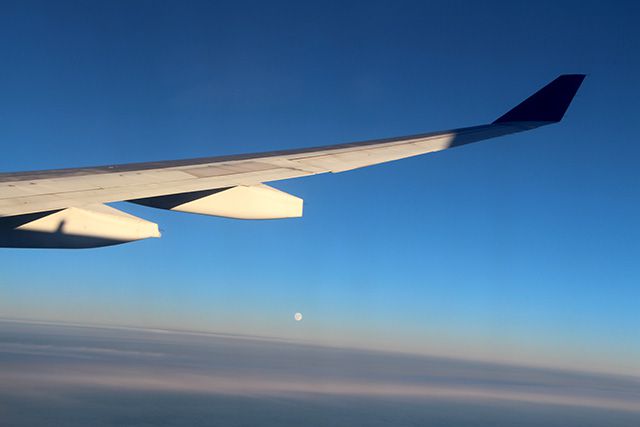 It was quite a cool sight and I spent the first part of the flight watching the moon and listening to some music.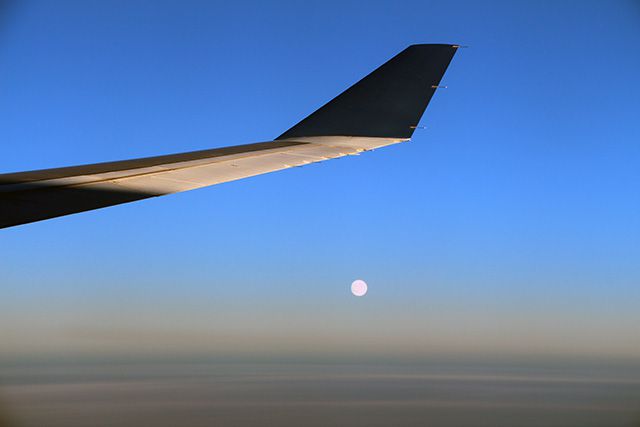 It was getting darker and darker outside.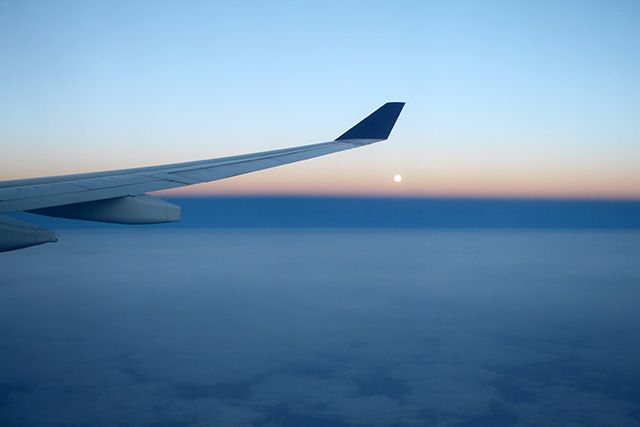 Soon after I took this picture it got completely dark, so I was not able to take any more pictures through the window.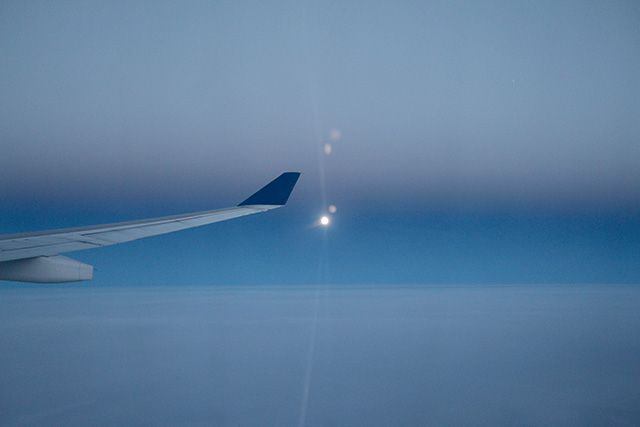 After my photo session with the moon the meal service was about to start.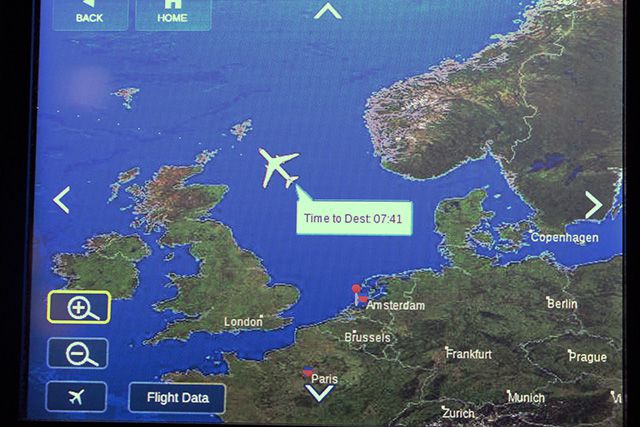 It started with some peanuts and the first drink service. Along with distribution of the meals another drink round was done and another one after the meal service. Delta made sure to keep us well hydrated also with several frequent drink services during the flight so I did not miss my usual bottle of water. In fact, they kept us so well hydrated that they ran out of water before the final meal service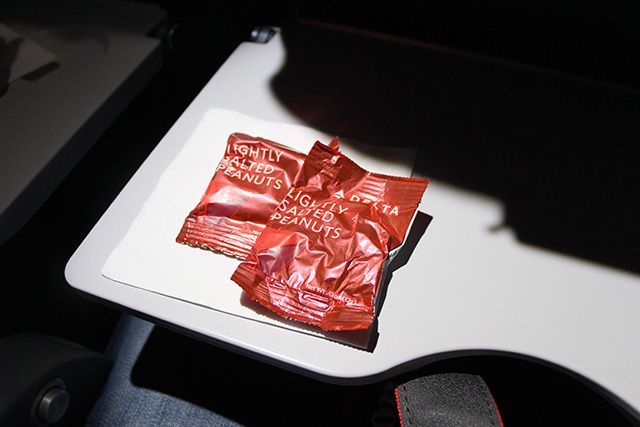 Meal choices were announced over the PA, there was a cold chicken salad, pasta or chicken with gorgonzola. Both my brother and I decided to go for the pasta, but when the cart reached our row, another FA came to the cart and told the one that was serving meals 'this is your last pasta' We looked at each other with my brother and since she asked him first I let him had the pasta and settled for the chicken.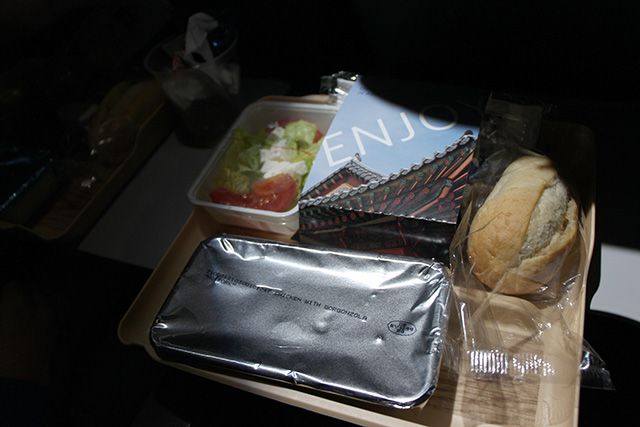 The chicken was good, although it was drowned in gorgonzola. I can't tell you what came along with it, might have been some sort of potatoes or polenta, hard to figure it out since it had no taste at all. But overall it was not a bad meal.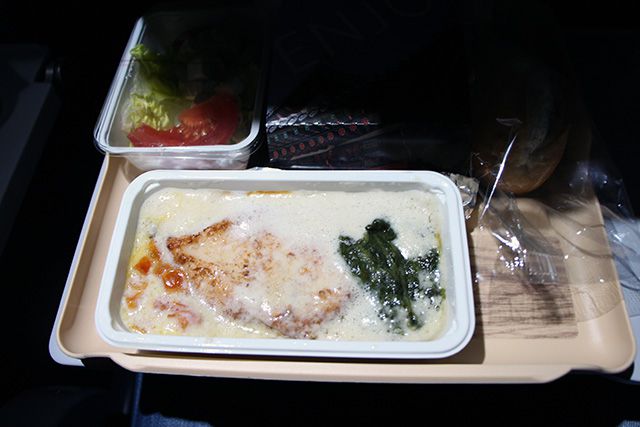 Delta IFE system is pretty good with a large selections of movies that made it quite hard to choose one to watch. The system could keep you entertained on a few long haul flights.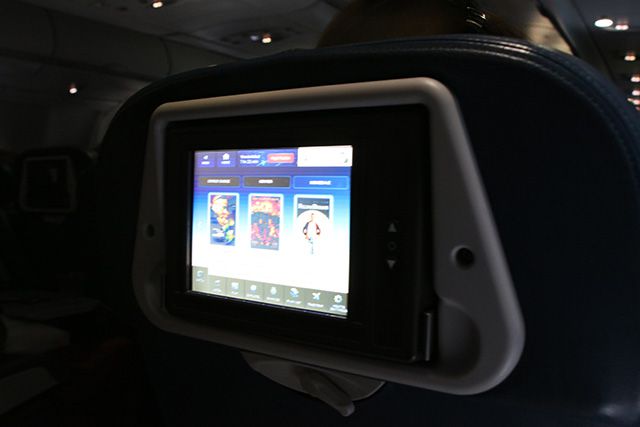 After watching a movie I played around with the quiz game. Not surprisingly the category where I was the best was aviation. This question was interesting – which country's national airline is Malev? The option 'none' was not available so I went with Hungary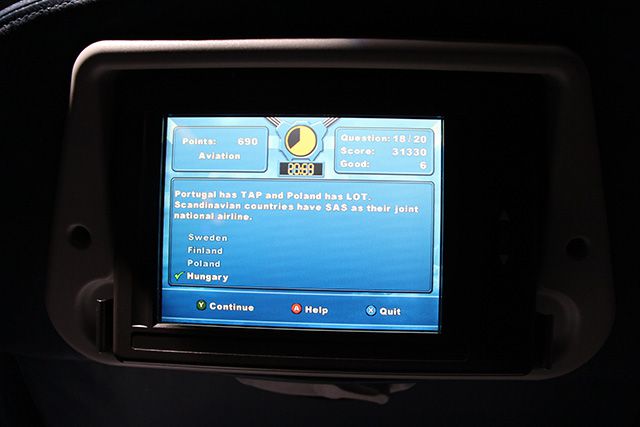 I went to the toilet two times and if the first time was ok, the second time it was a bit messy.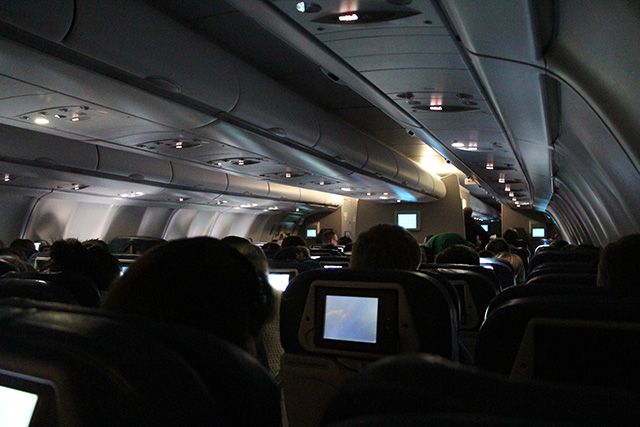 We were able to catch a few glimpses of Greenland in the moonlight, but it was impossible to get any good pictures. After that I decided to get some rest.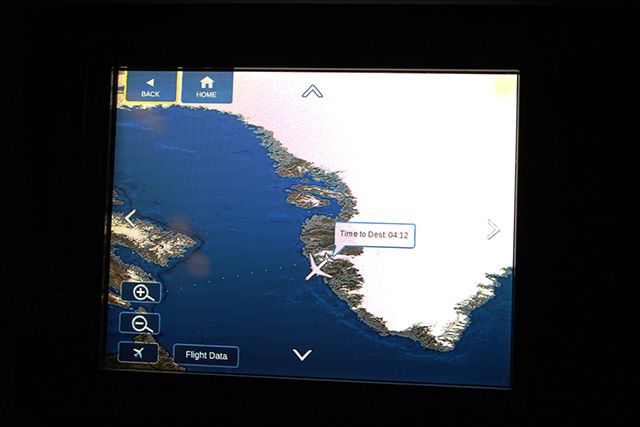 I had a nice nap for around an hour and a half and when I woke up the sun was rising again!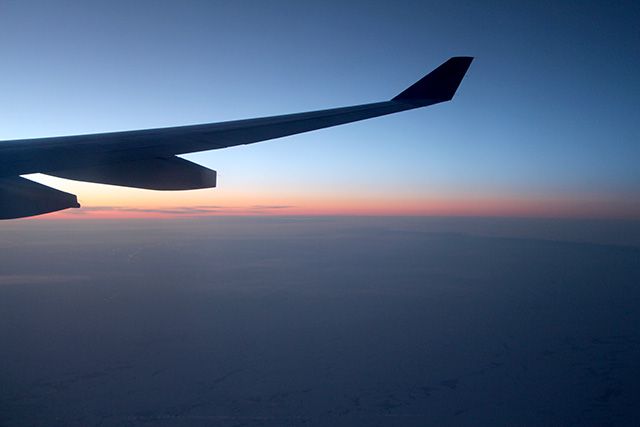 We were just over two hours away from MSP at that time.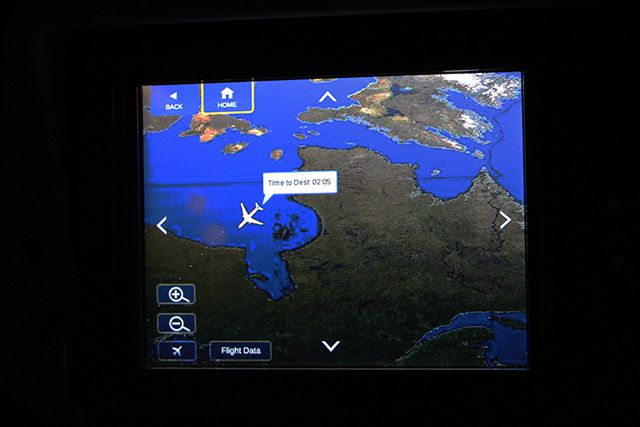 In a way a saw the sun rise and set twice on the same day.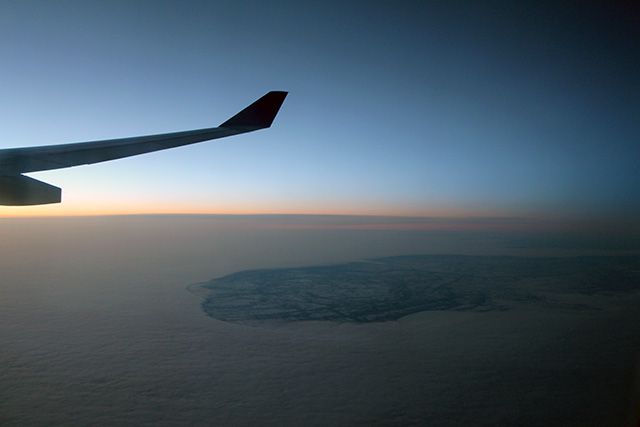 'Refreshing towel service'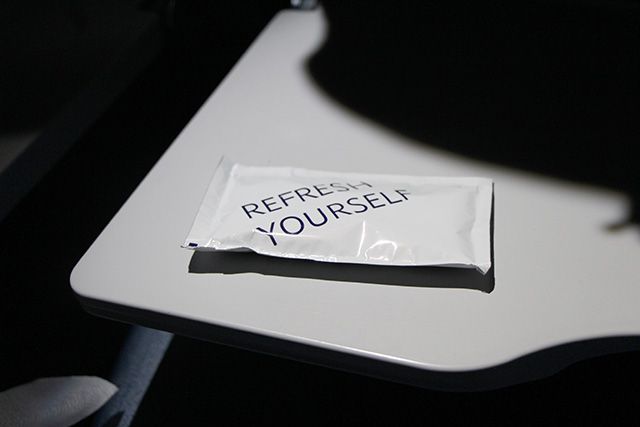 Cabin view during the flight. The seats were very comfortable and I had no problems spending 9 hours in them. The only drawback was the IFE box that took the whole space under the seat, so you are unable to stretch your legs completely.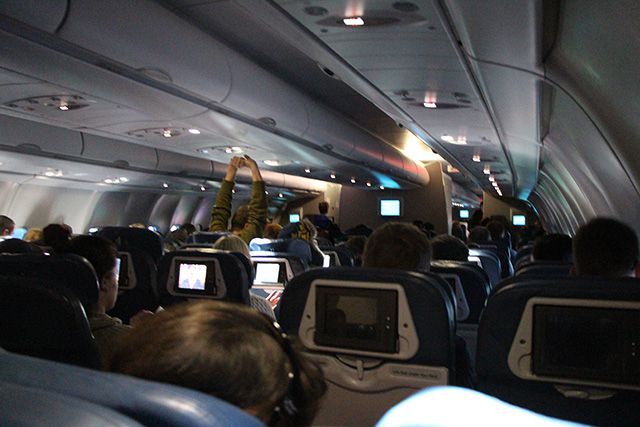 Around one hour before landing the second snack service started.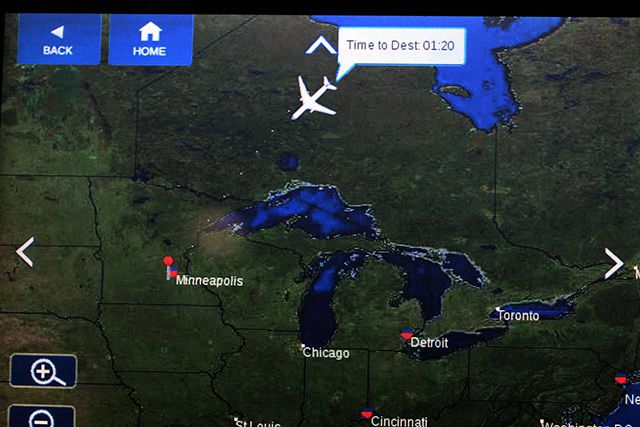 It looks like something fell through the clouds down below. Like a patch of broken ice on a frozen pond.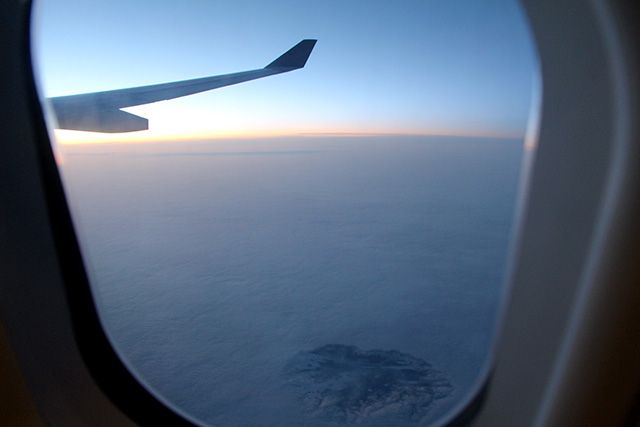 Many lakes as we enter Minnesota airspace.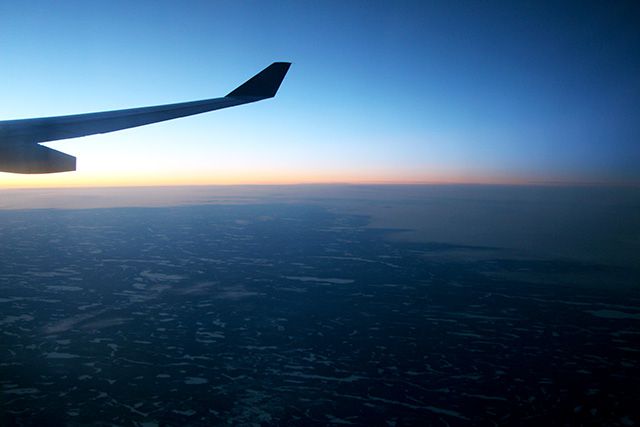 Panoz' vegetariano with some rock frozen ice cream.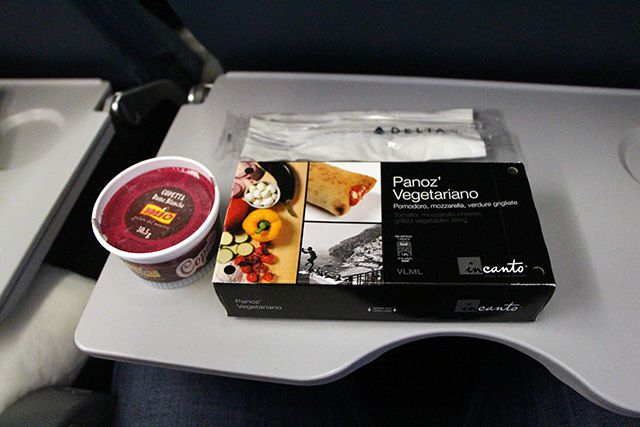 This was very good and was just the right thing to have at this stage of the flight/day.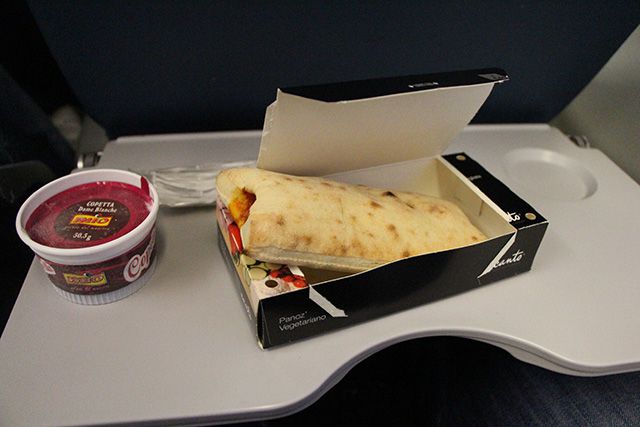 The captain made an announcement that we have started our initial descent into the twin cities of Minneapolis and St. Paul and that the weather is -7 degrees Celsius and light snow.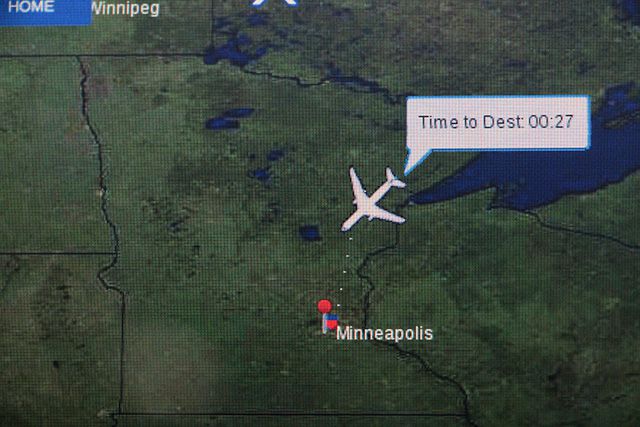 First view of Minneapolis.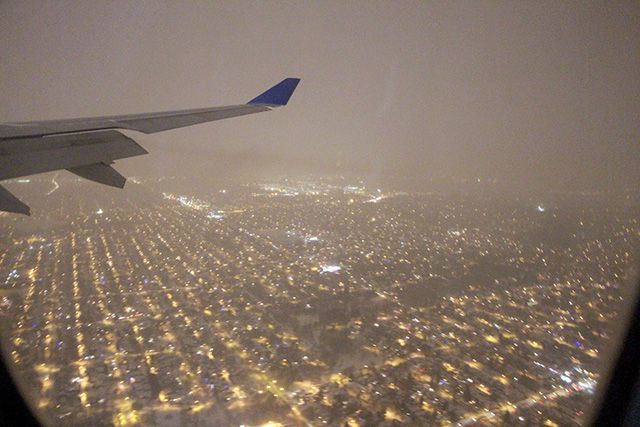 The captain was right, there was some light snow in the area.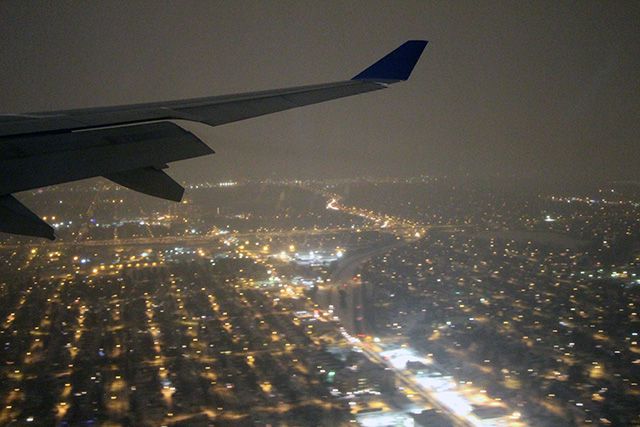 A lot of traffic on the freeways.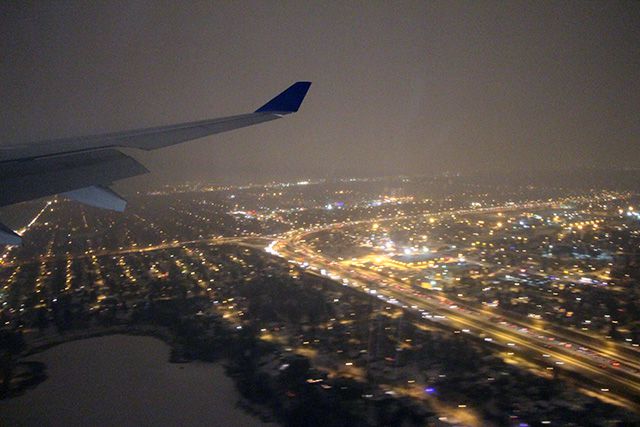 This was my first time landing in snow.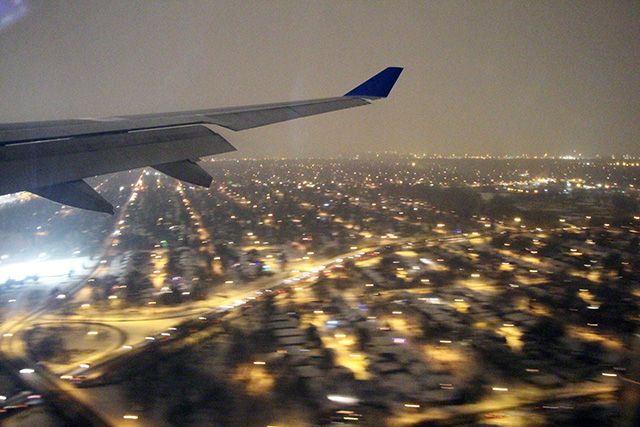 We made a smooth landing at MSP.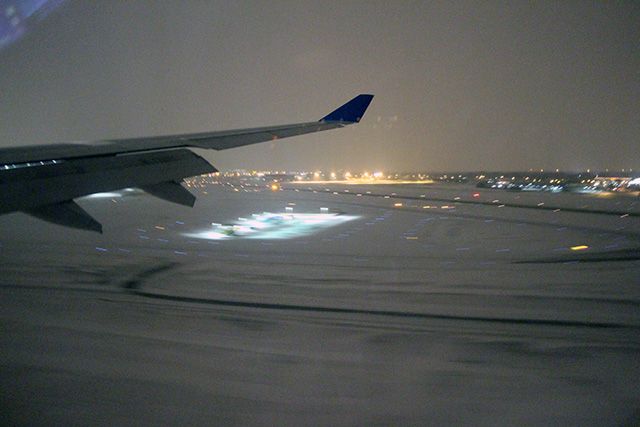 Taxi to the gate was very quick as we just turned off the runway and we were already at our gate.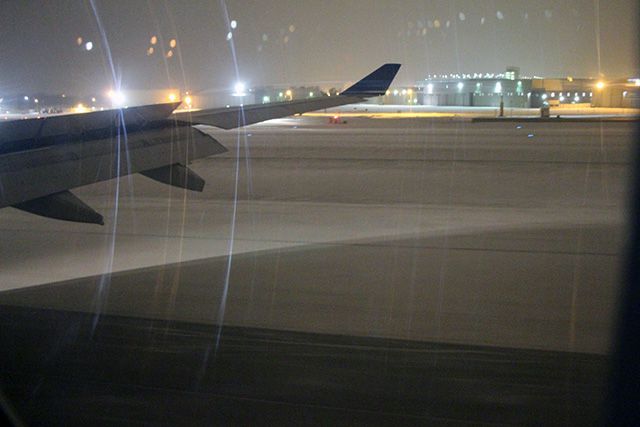 Another Delta A330 at the ground.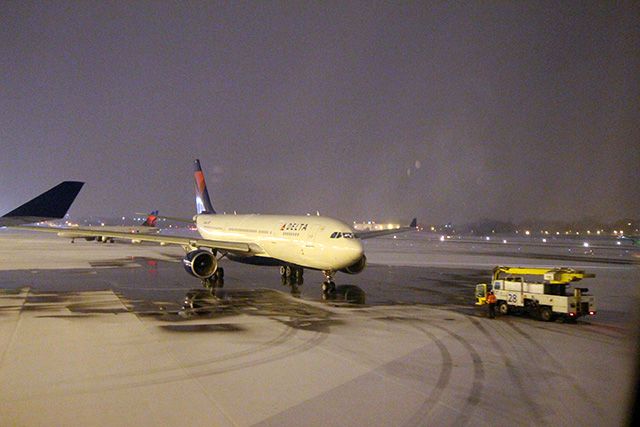 Here we are after around 9 hours of flying time from Amsterdam.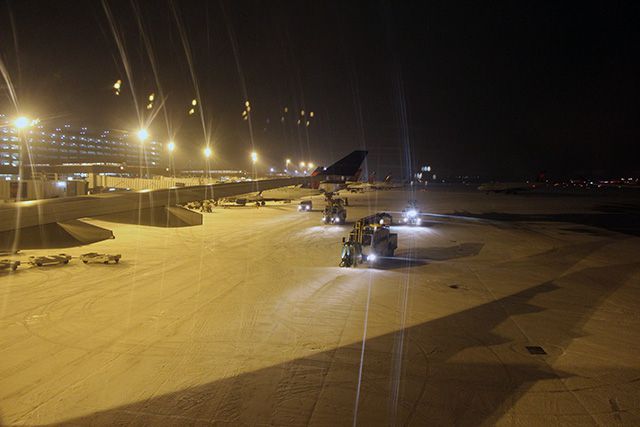 We were in no hurry to get off and waited for most passengers to leave. The lady with the baby from the row ahead thanked me for helping her with the falling bottles. I wished her a safe journey, they still had a three hour drive before they would get to their destination.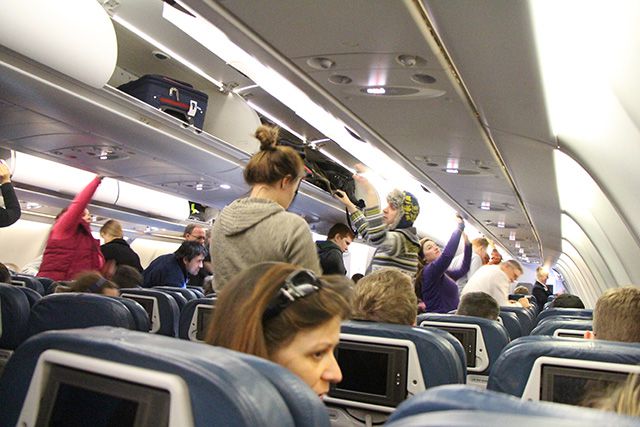 Immigration took forever. It took us more than an hour for our turn, despite we were the only flight that landed at that time. All the CBP officers at the non-US citizens looked quite in a bad mood, but we had some luck as the US residents line was empty by the time it was our turn and we were directed to that line. There a nice and friendly officer processed us very quickly without any extra questions. After picking up our bags the agriculture security or something like that decide that they want to scan our bags and we were asked a bunch of questions again. After that we made our way to the last check before officially entering the USA and there was a funny guy there that let us through without much trouble.
We went to find a taxi to our hotel.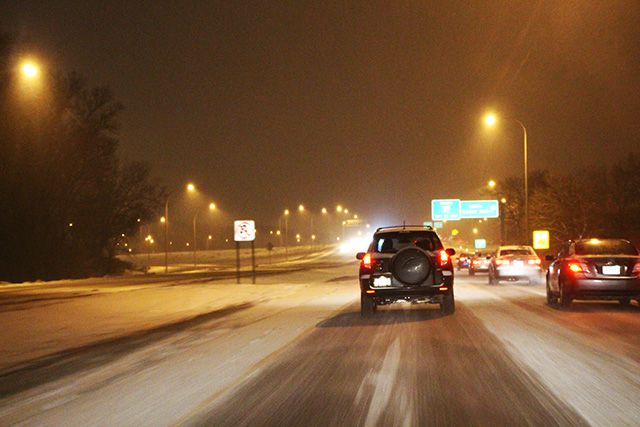 After 20 minutes of driving we arrived to the center of Minneapolis and it looked quite magical in the light, mist and snow.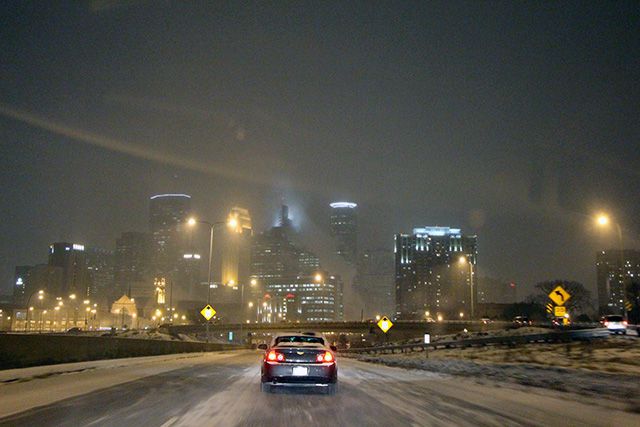 Our hotel was the Double Tree Suits by Hilton at the south end of downtown. A great hotel and I can only recommend it if you are ever in Minneapolis. It was pretty inexpensive and we got a very big room, the staff was super nice and the location is very convenient as well. But the best part was the warm chocolate cookie we received upon checking-in.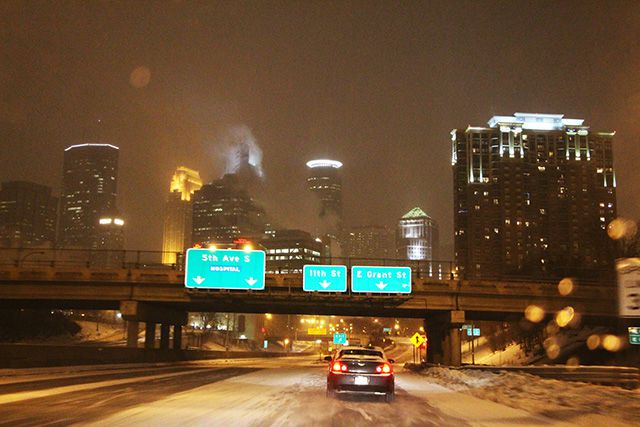 Since the whole journey took us almost 24 hours we went to bed as soon as we arrived to our room on the seventh floor.
The next morning snowing has stopped and there was just the right amount of snow on the ground.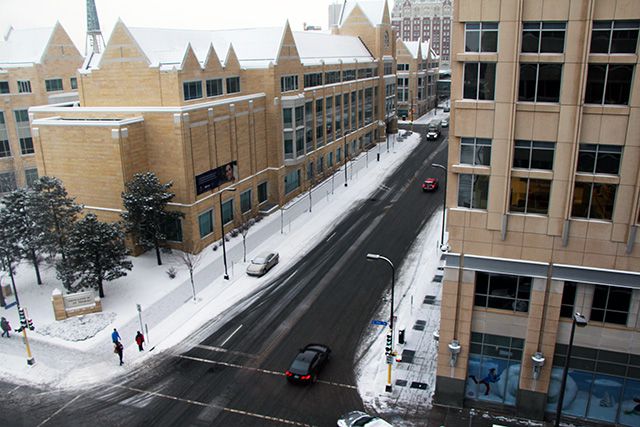 We took a walk down Nicollet Mall towards the light rail station, stopping for breakfast on the way.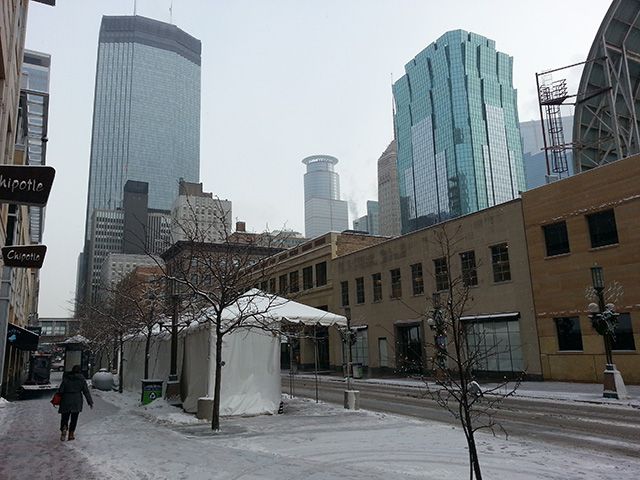 We got a lot of strange looks when we mentioned to our friends back home that we were going to Minnesota for New Years, but it did not disappoint us at all. Minneapolis was a great place to spend a few days and we met some of the friendliest people on my travels around the US.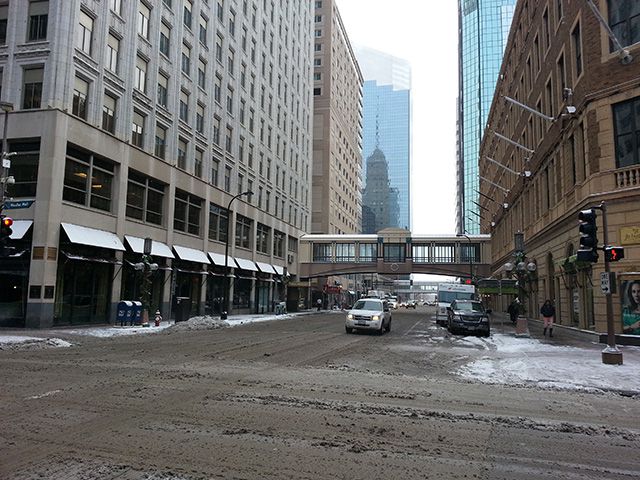 The Light Rail is a great way to get around. We used it to get from the center to the Mall of America, where we spent quite some time buying things you can't get that easily in Europe. MoA is a great place and we ran out of time to do all the things we wanted.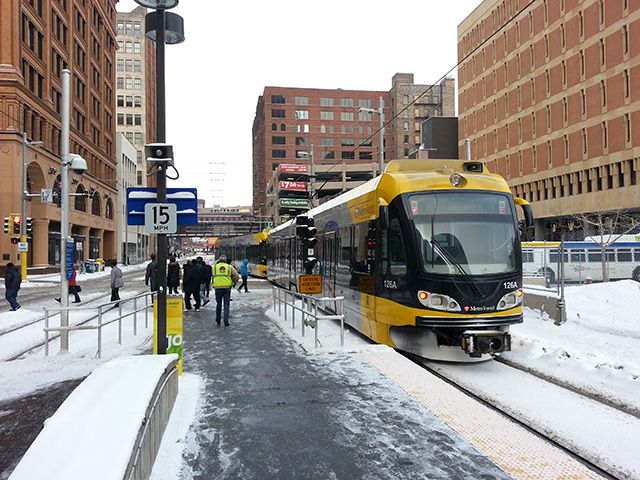 On the second day we went to our first NBA game, Phoenix at Minnesota. One of the best Slovenian (the best probably) basketball players Goran Dragić plays for the Suns and he had a pretty good game, despite the Suns lost. After the end we waited for him at -17 degrees Celsius (1 Fahrenheit) for half an hour and it was worth it as he stopped when seeing us waving our Slovene flag and congratulating him
We talked for a bit and took a few photos, wished each other a happy new year and hurried to warmer places. Despite the cold there were some people waiting for autographs with us in shorts.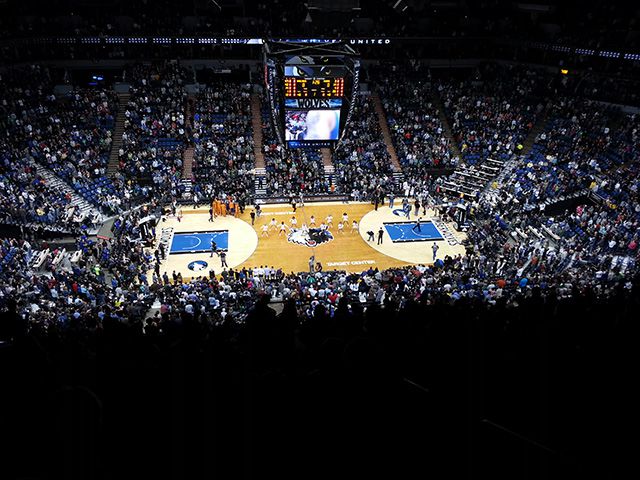 A sunny but cold morning in Minnesota. It was very cold during our stay, but it was not too hard to stand the cold. The only problem was the wind, but luckily it was only blowing hard and cold on the last day when we only had to move between the hotel and a taxi.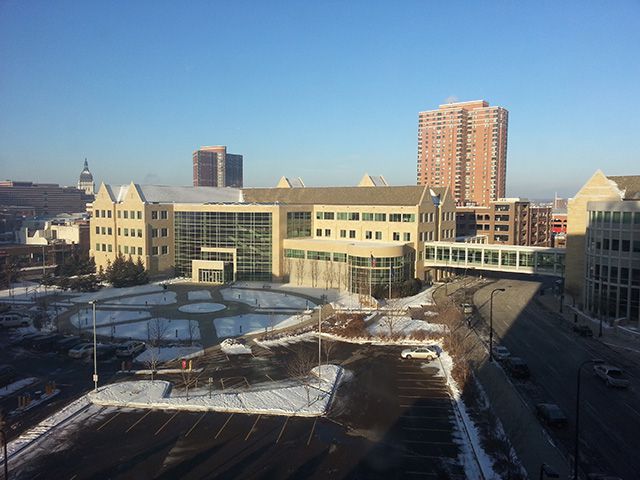 It was Sunday and that meant game day in the NFL and we would go to see the game between the Minnesota Vikings and the Green Bay Packers. It was week 17 and it turned out perfectly – Minnesota needed a win to get into the playoffs and Green Bay needed a win to be free the next weekend during Wild Card games. When we booked the trip it looked like this game might not mean much, but it turned out great and we were in for a very interesting game. We tried to use the Skywalk system to get close to the Metrodome, but a lot of places were closed and we gave up and continued our way outside.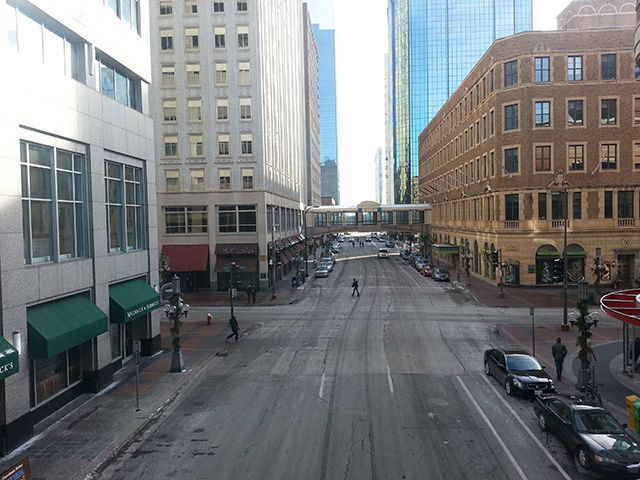 City Hall as we walked down 5th Street to get to the tailgate locations.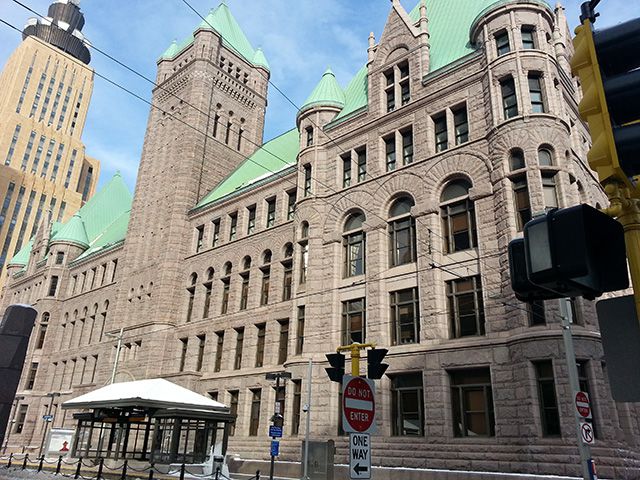 Tailgating is a lot of fun and we were really happy to be able to experience this on American soil. My brother and I have been to Wembley to see the NFL International Series games, but it was just not the same. I love how fans of both teams just mingle among each other, something I can't imagine happening at our rivalry games in football, hockey or any other sport.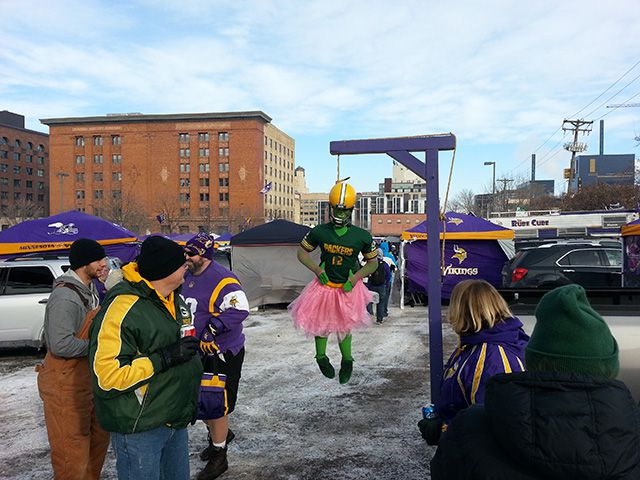 And the game itself was amazing as well. These players are just fantastic and I was amazed by the atmosphere and the noise inside the Metrodome. I have been to a few NHL games before, but what I missed was some noise and chanting. Here it was amazing though and we enjoyed it a lot. As a bonus Minnesota won a tight, high scoring game and Adrian Peterson almost broke the NFL rushing record.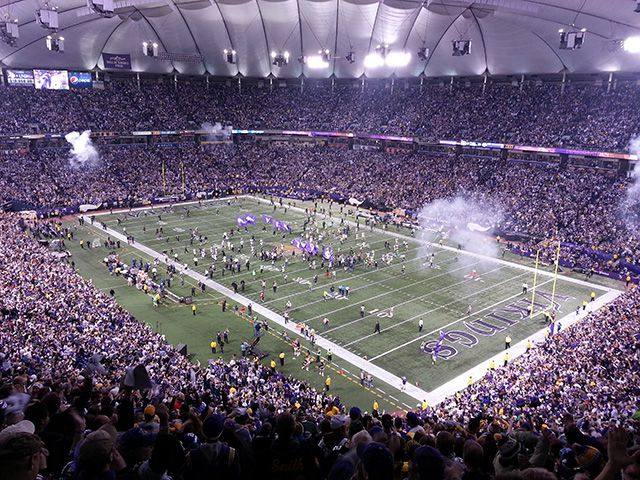 After the game we made our way back to the hotel and start packing, as this was our last day in Minneapolis. Tomorrow was the 31st of December and we were scheduled to fly from MSP to ORD at 7:00 AM and have around 8 hours to explore Chicago, then fly back home via CDG, celebrating New Year in the process.
Another early wake-up call the next morning as we made our way to the airport. When we stepped outside it was like somebody poured a bucket of ice cold water tight in my face, bone-chilling wind was blowing hard and it was very cold. Luckily the weather report for Chicago was a lot nicer with temperatures a few degrees below freezing.
We arrived at the airport in no time and went to DL check-in area. I checked us all online, but was not able to print boarding passes and the check-in machine did not want to print us one either. So we were directed to a special DL counter by a helpful staff member and a lady there was able to check our luggage to VCE and print our boarding passes for the MSP-ORD leg. We were told that we need to pick up the other two boarding passes at the gate in ORD.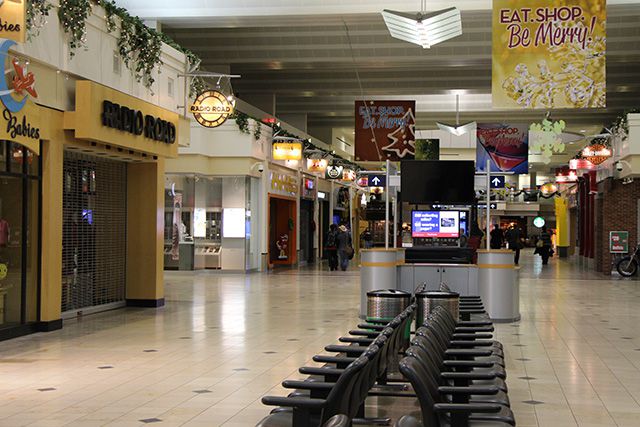 We went to Starbucks for some early morning breakfast and then made our way to the gate.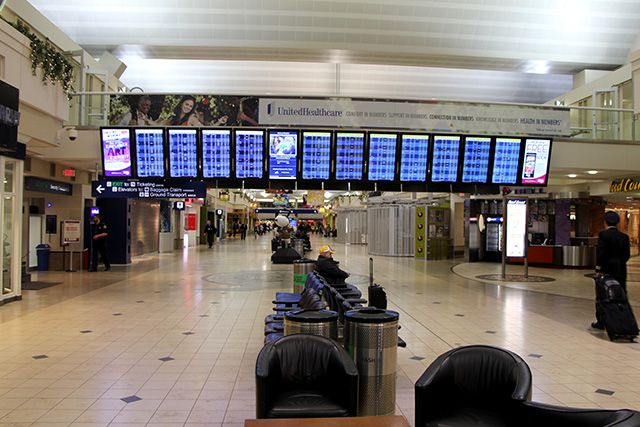 A Delta aircraft parked outside, no chance of getting a good picture of our plane from our gate.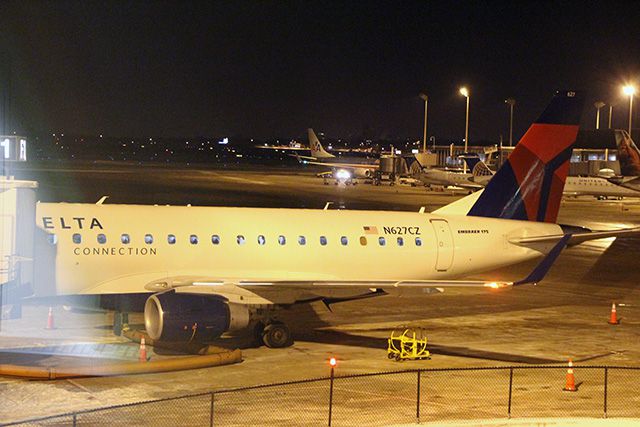 Frontier on the other side. Boarding started on-time and was a very organized process where boarding by zones was strictly enforced. We were in zone 2 when the last call for zone 2 was made.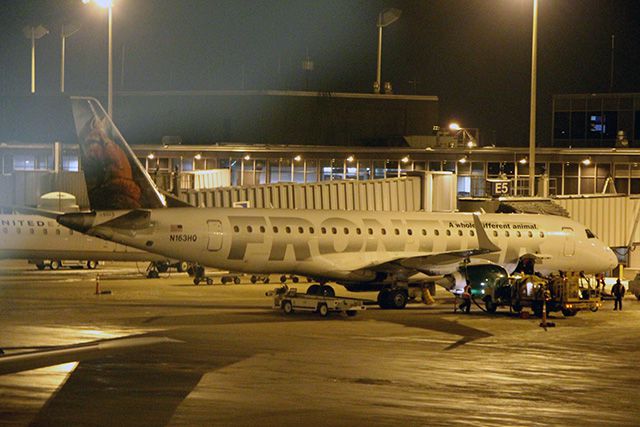 DL1632 MSP-ORD 07:00-08:35 MD90 N917DN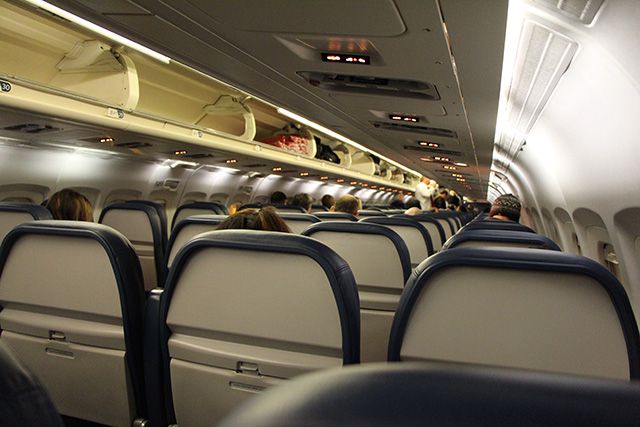 This will be my only second flight on an MD aircraft, first one being a HEL-ARN flight with FlyingFinn last year.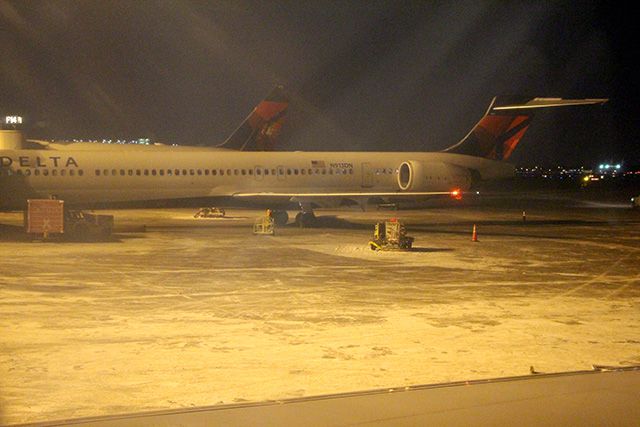 The flight was quite full this morning and the FAs were in a good mood.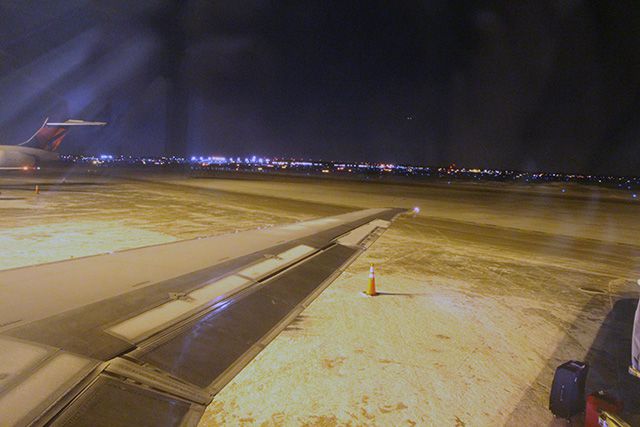 We pushed back on-time and made our way to the de-icing stand.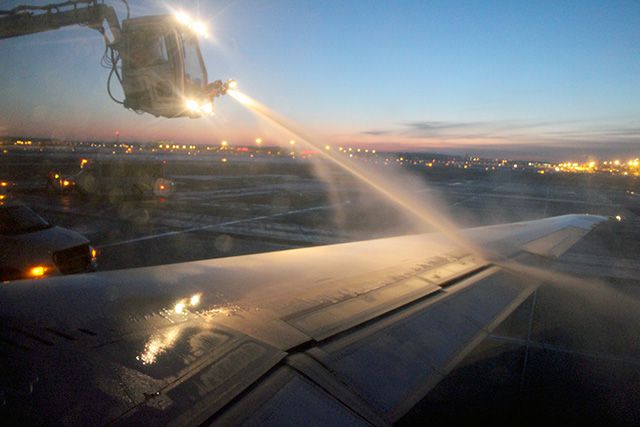 A long-ish taxi to the active followed and in no time at all we started our takeoff roll.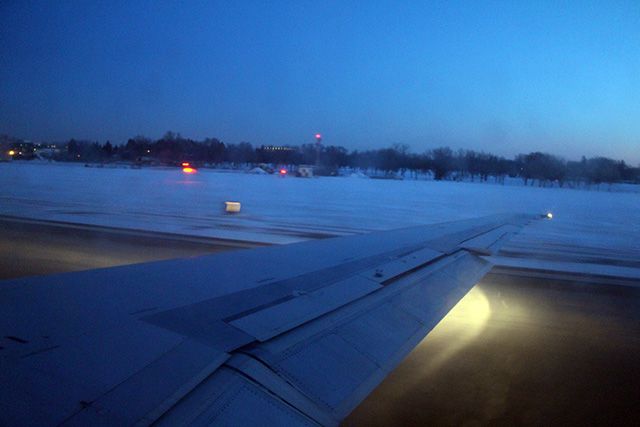 Chicago bound!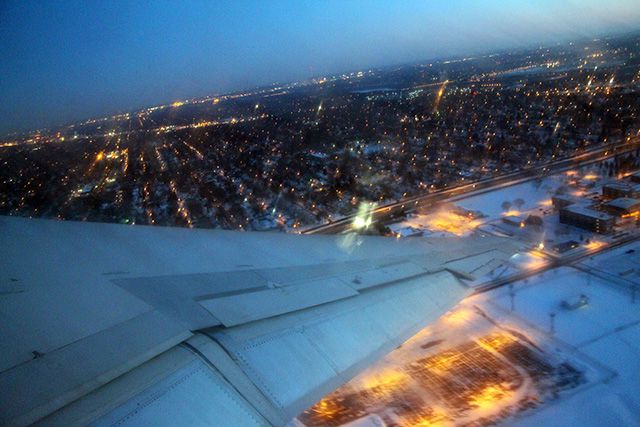 I always wanted to go to Chicago and I was looking forward to this visit, even if it was going to be a short one.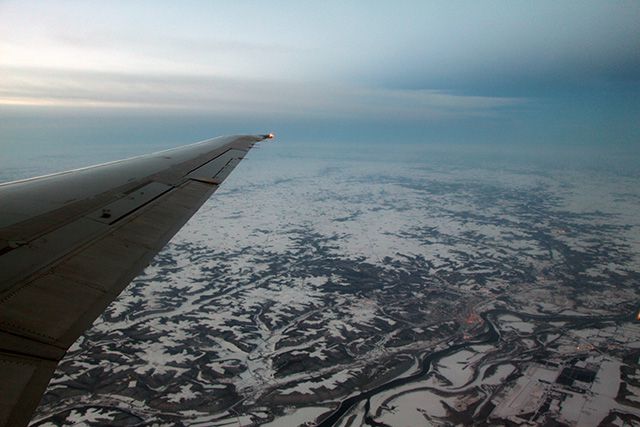 Spectacular frozen scenery down below.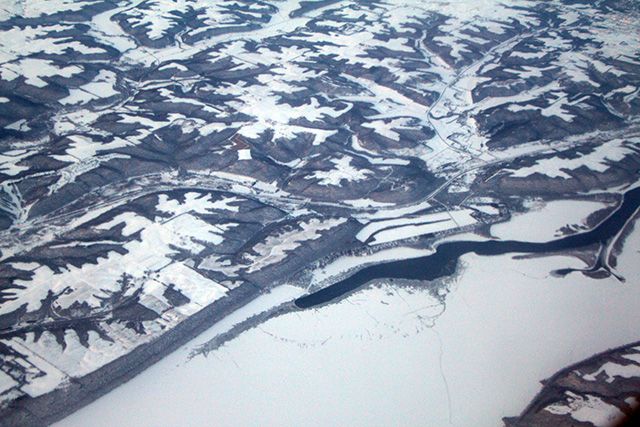 This flight was very short with flying time less than one hour.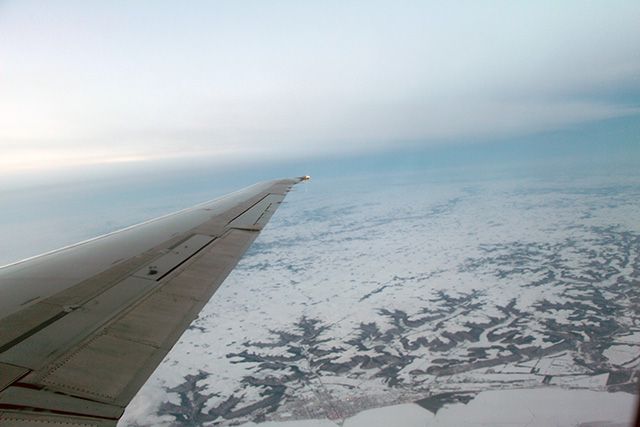 Delta Biscoff and some water.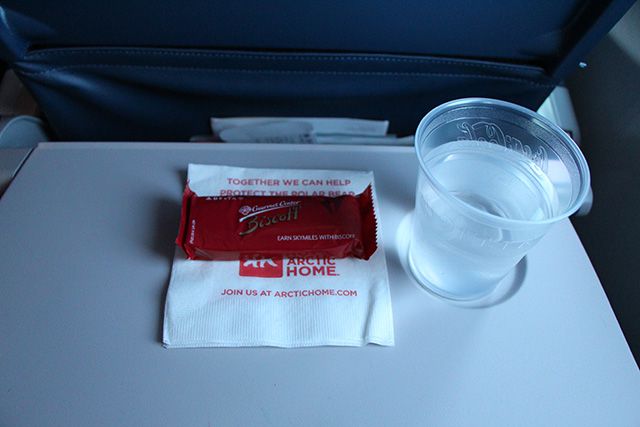 Fellow a.net member LFutia was kind enough to offer to meet up with us in Chicago, but unfortunately he had to work while we were in town. Thanks anyway Leo, hopefully we'll meet at Manchester or during your Balkan trip or the next time I'll be in Chicago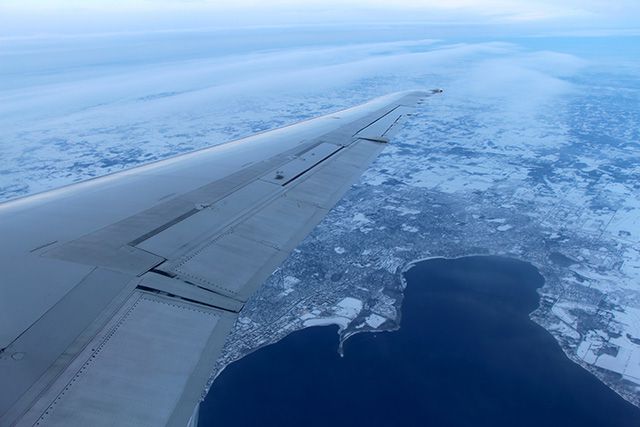 Just to confirm the plane type.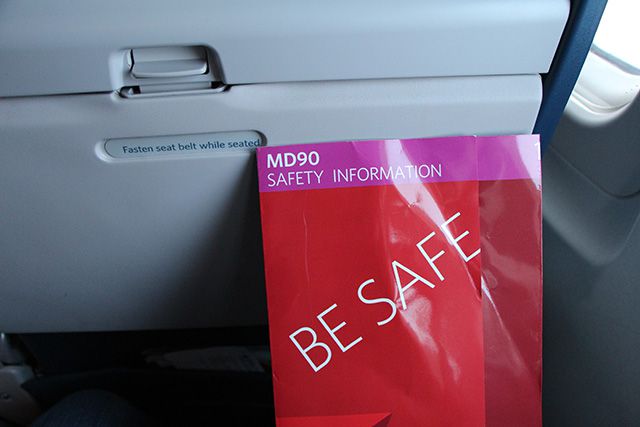 As we entered Illinois there was less and less snow on the ground.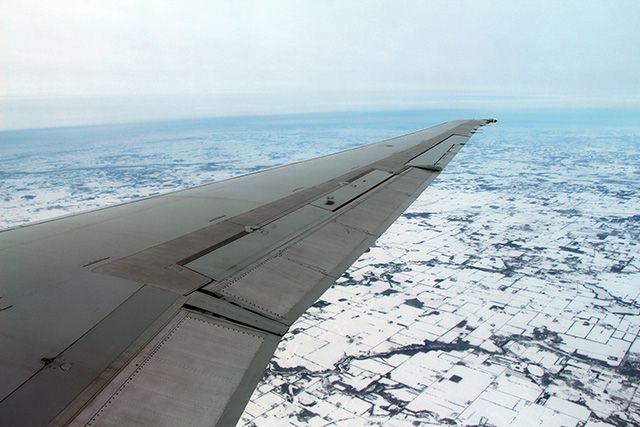 Already descending into the windy city.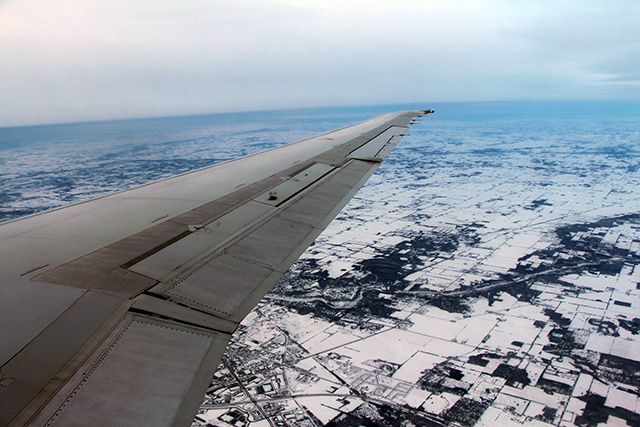 Overhead.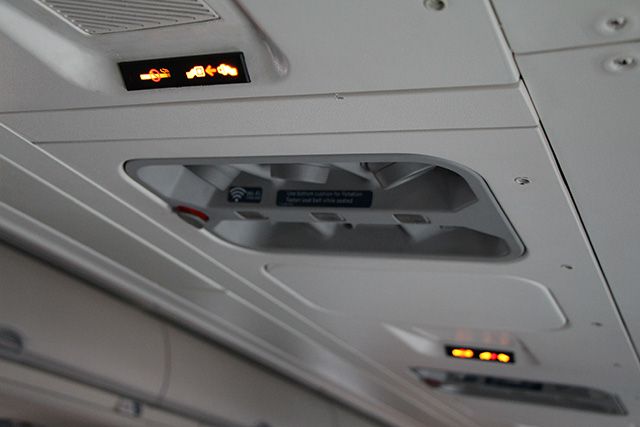 Another nice flight coming to its end.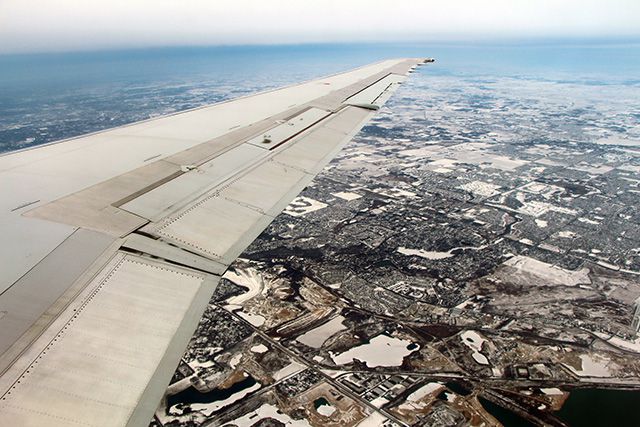 An aircraft taking off probably from ORD.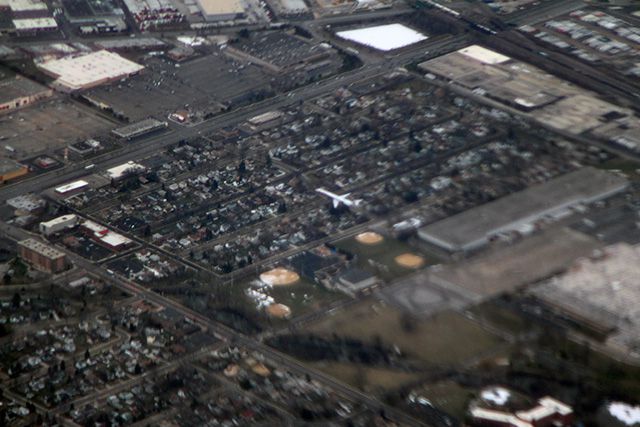 As we turned to the left, Chicago city center became visible under the wing.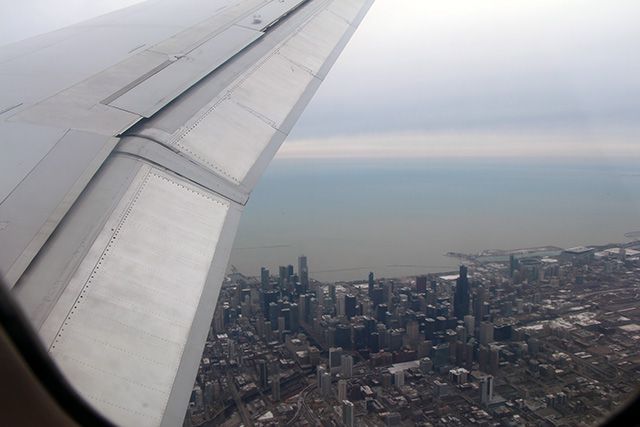 Amazing view!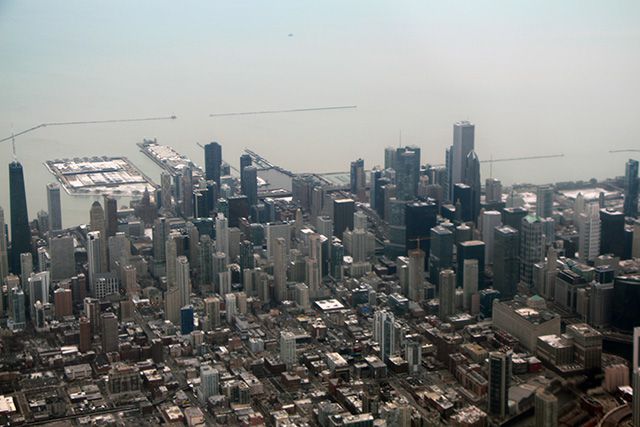 What a nice start to our short Chicago sightseeing.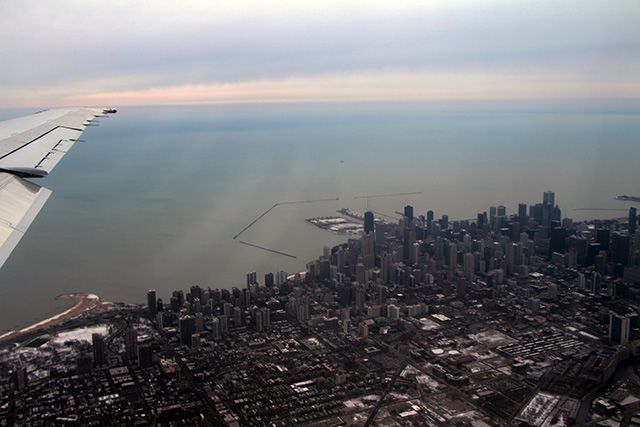 Lined up for landing on one of many ORD runways.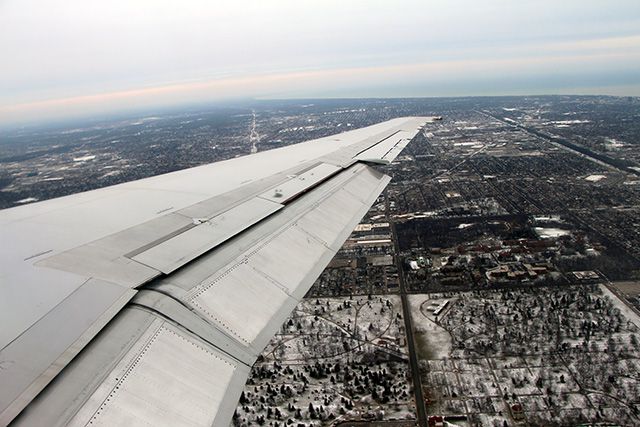 As we were already on final approach, the FA was still around our seats talking with us and some other passengers when the Green Bay:Minnesota NFL playoff game was scheduled. They sure love the NFL here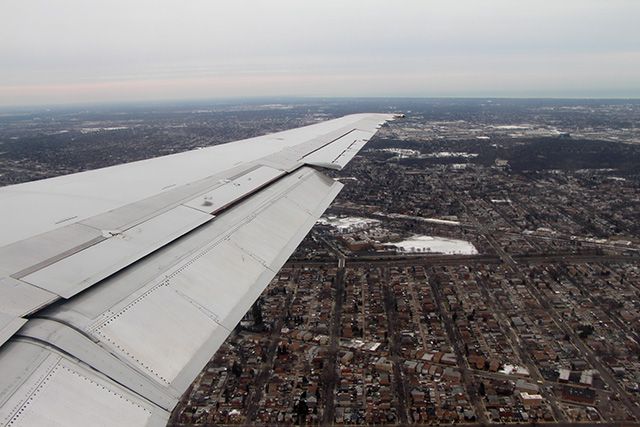 She even went to the galley to get the newspaper so we could check it there.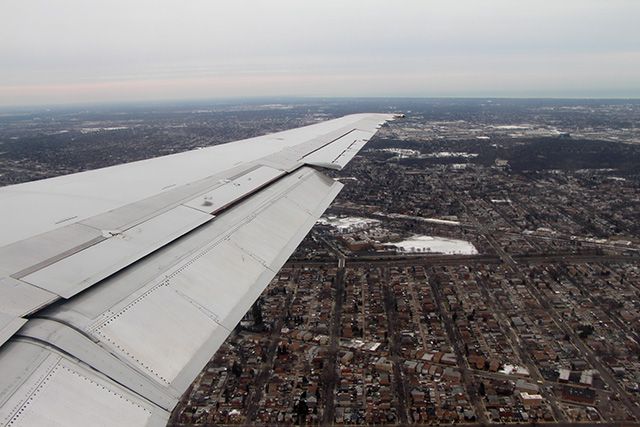 Almost there.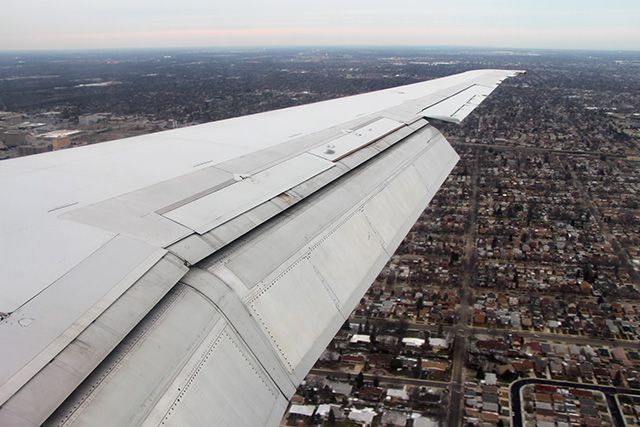 Last few houses before the runway came into view.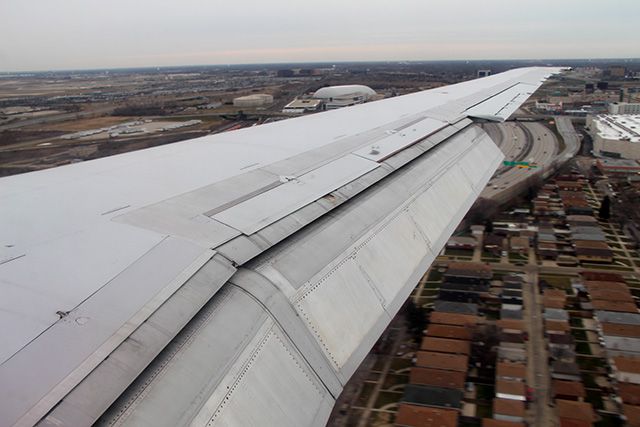 And here we are, at O'Hare airport, an airport I wanted to visit for a long time.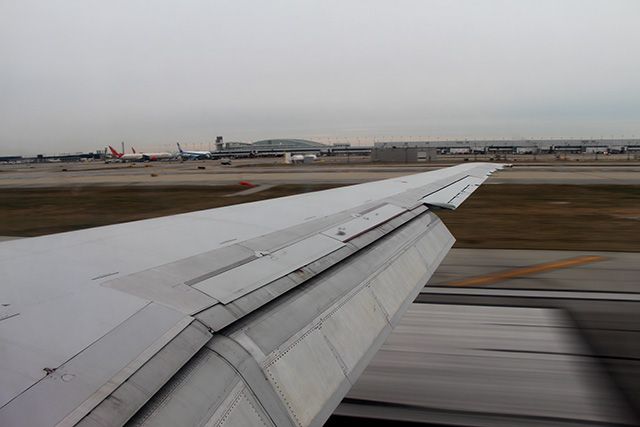 Ever since I saw Home Alone for the first time I guess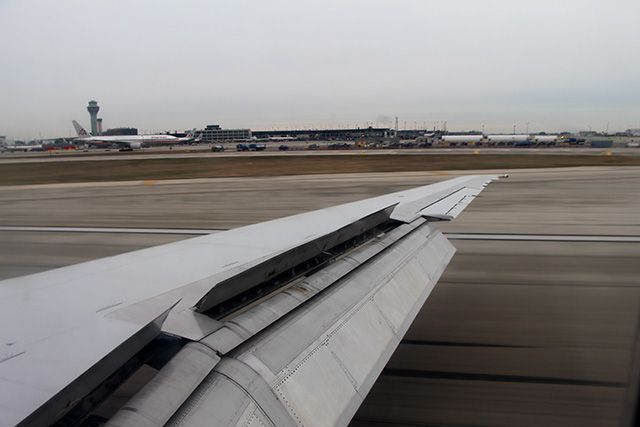 Turning into our gate at terminal 2.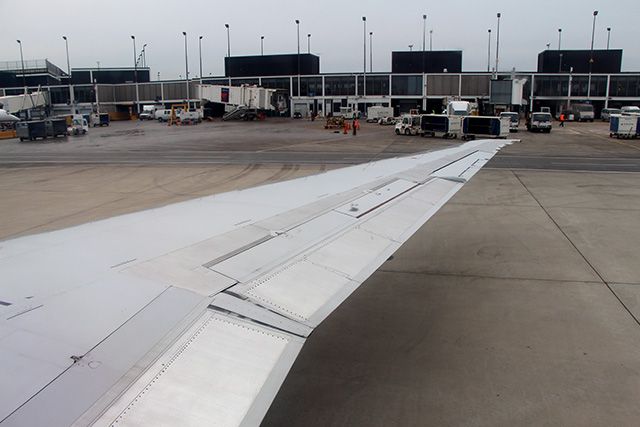 Nice c/s.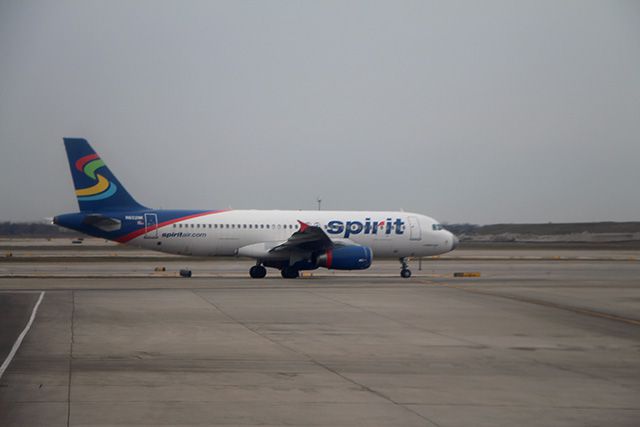 Some ORD traffic.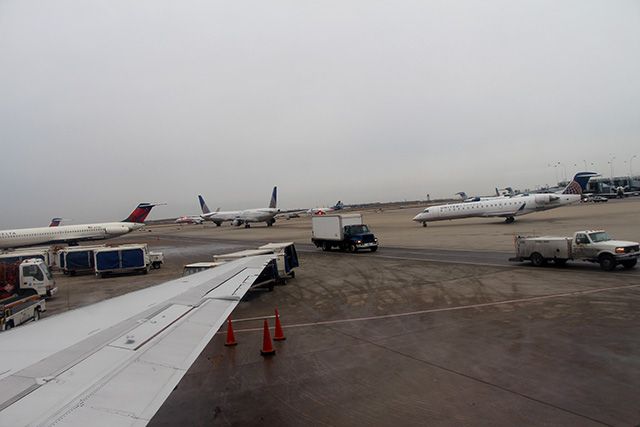 Leaving the plane now, there seemed to be a lot of deadheading DL crew on this flight.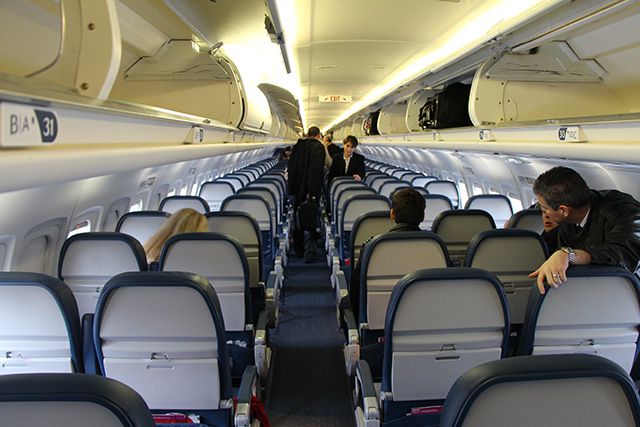 Since the captain was standing at the cockpit door saying goodbye to the passengers I asked for a cockpit photo. It was granted and he asked where I was from.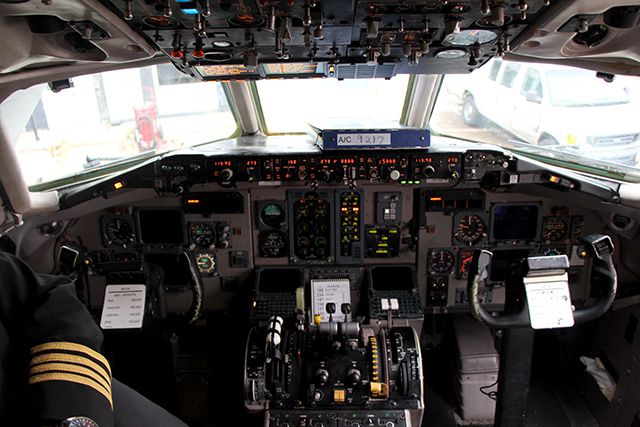 Our plane, it will be heading back to MSP now.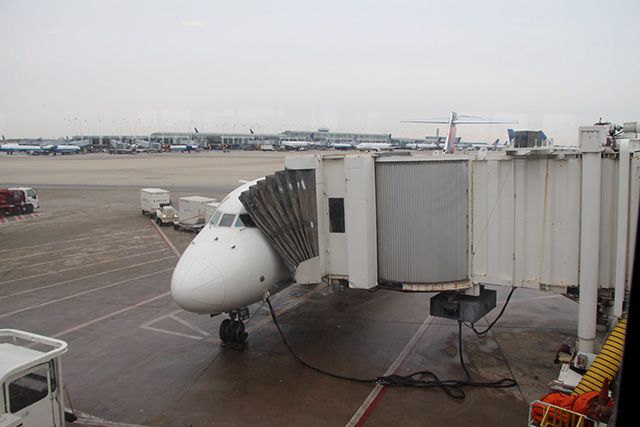 We printed our boarding passes for the next two flights from DL check-in machines at T2 and made our way to the CTA train into the city. It was quite a long ride and we left the train somewhere around the Chicago River.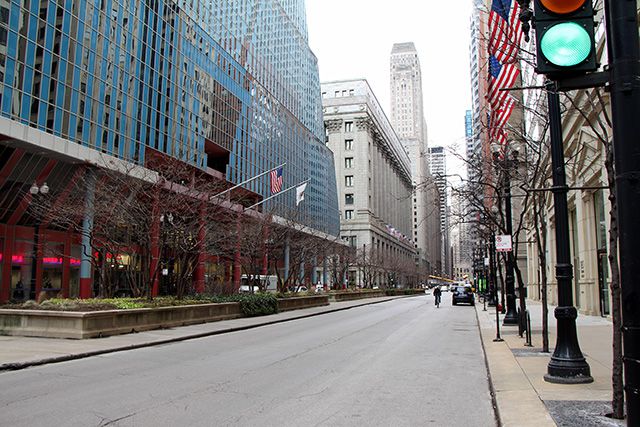 We spent the next few hours just wandering around Chicago.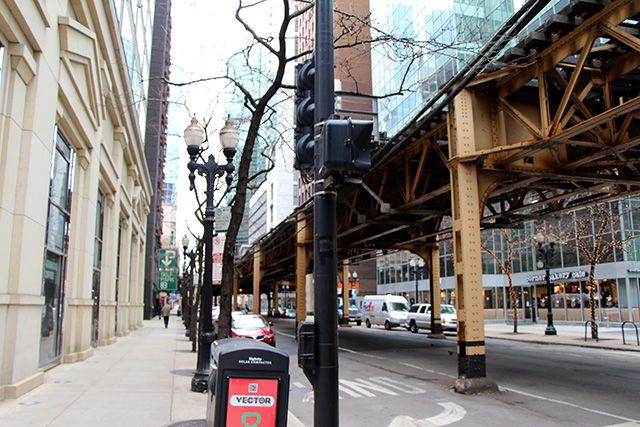 The weather was quite nice, a bit cold but nothing like Minny.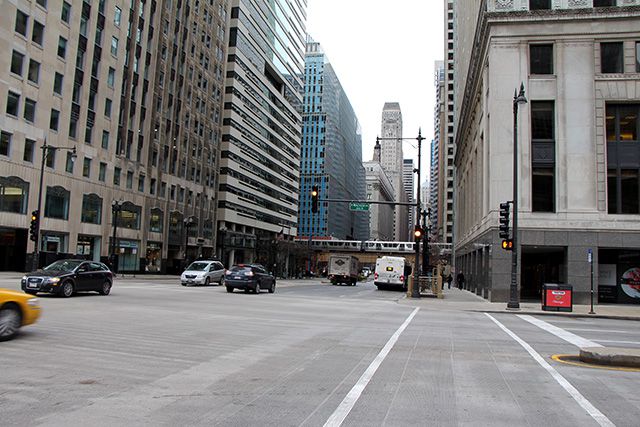 I liked the area around the river.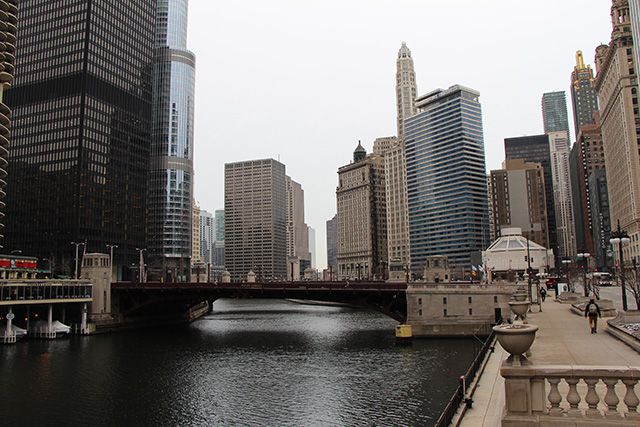 Chicago definitely deserves a longer visit.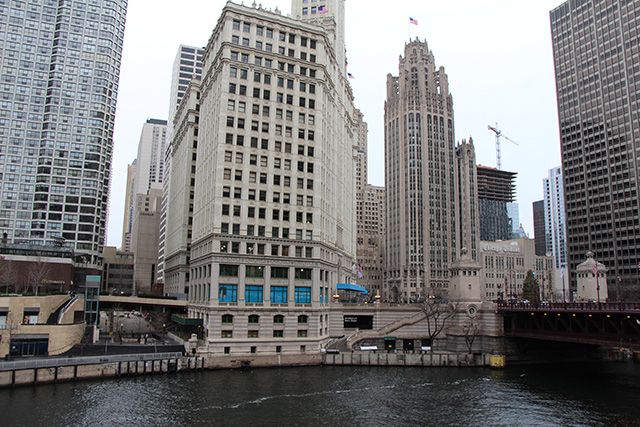 We walked down Michigan Avenue and had lunch at the Hard Rock Café.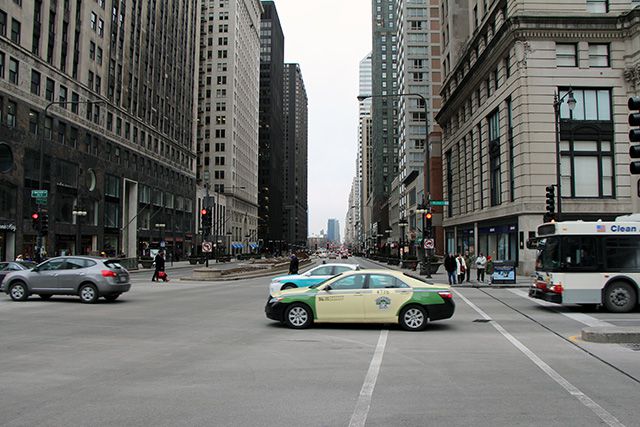 But soon it was time to head back to the airport for our flight to Paris.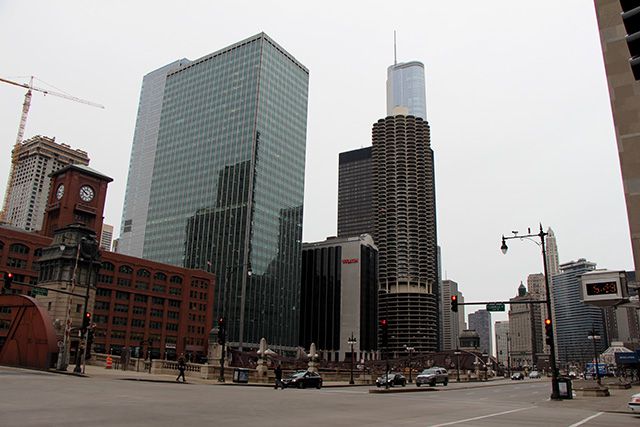 At T5 with no bags to check and our boarding passes in our hands we made our way to the security checkpoint.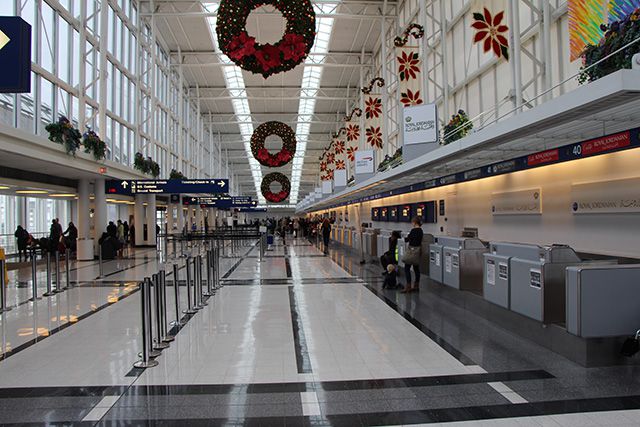 There was an annoyed and angry looking TSA officer there who was directing passengers into different lines and scaring non-passenger away.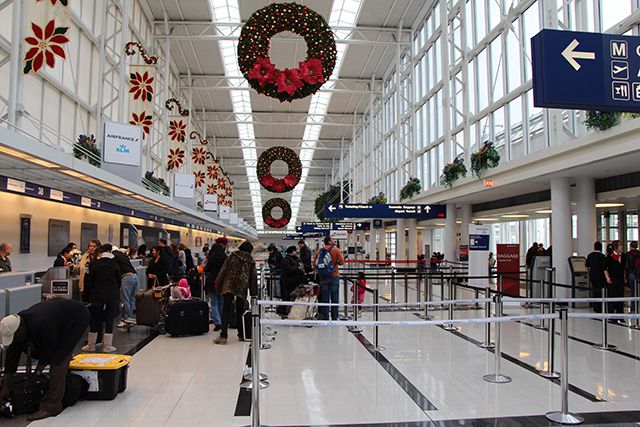 We all passed the security checks with flying colors and split up to explore the terminal. But we soon met again as there was not much to explore really, it is a very boring terminal.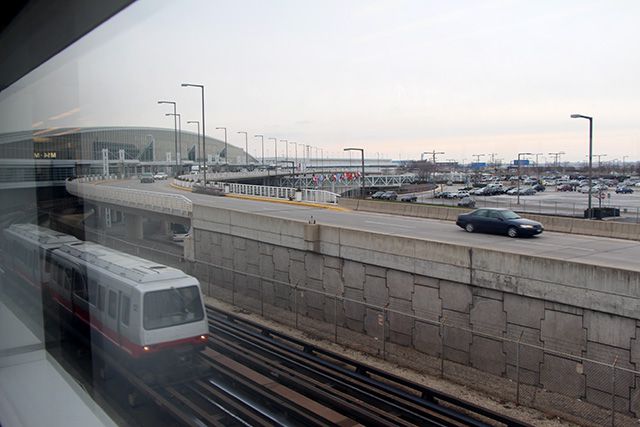 Our plane for tonight. I like the look of the 767-300, specially with the winglets.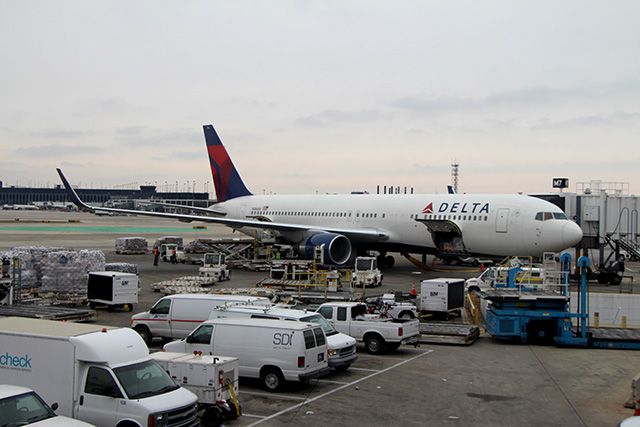 Lufthansa from Frankfurt. This is the same plane that took all three of us from JFK to FRA in 2010, a nice coincidence.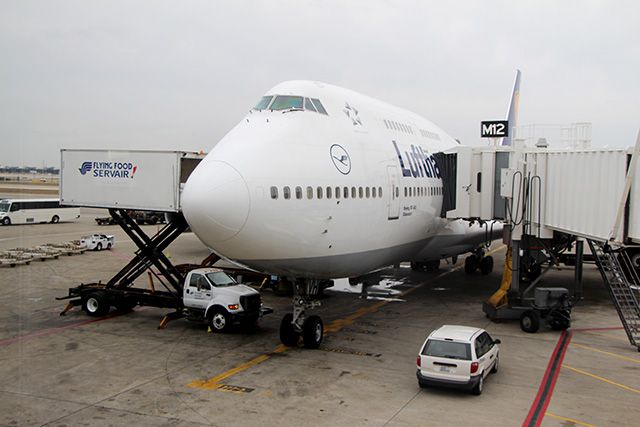 Big and small.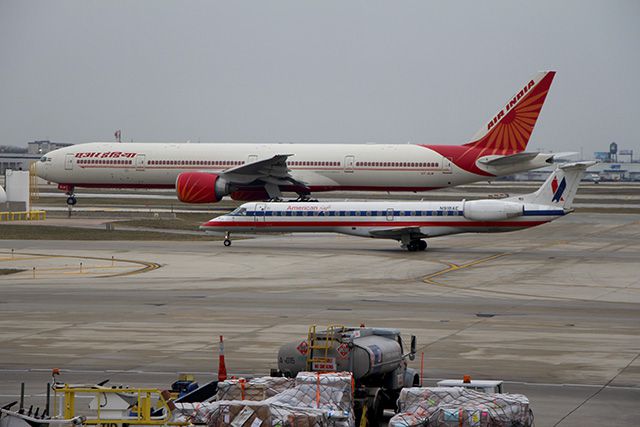 UA 767. Would look a lot better without the different shade of blue engine cover.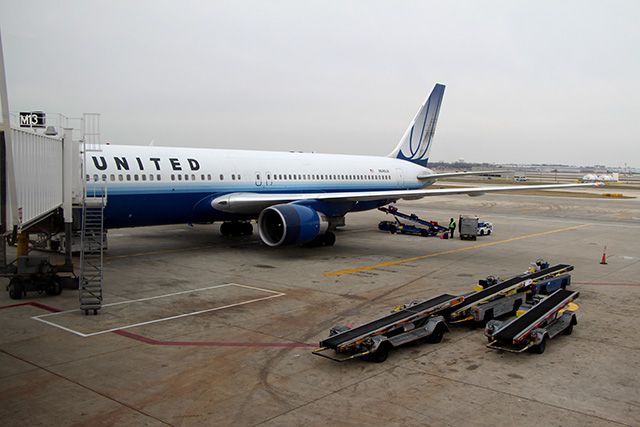 Not much else to do I spent the remaining time doing what I was doing before – spotting.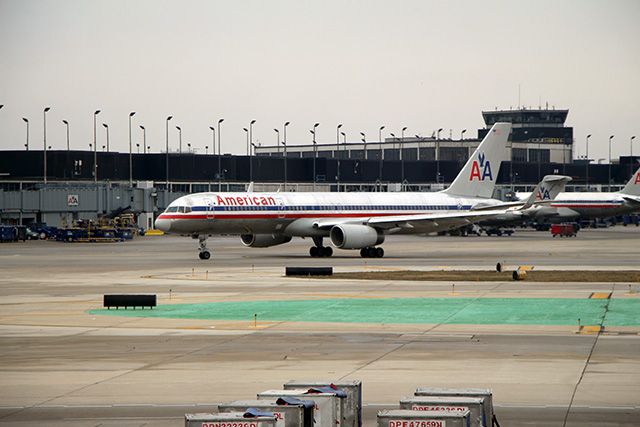 KL from Amsterdam. I took many photos in front of various employees of the airport and nobody seemed to be bothered. In fact I have not had any problems taking photos at US airports so far.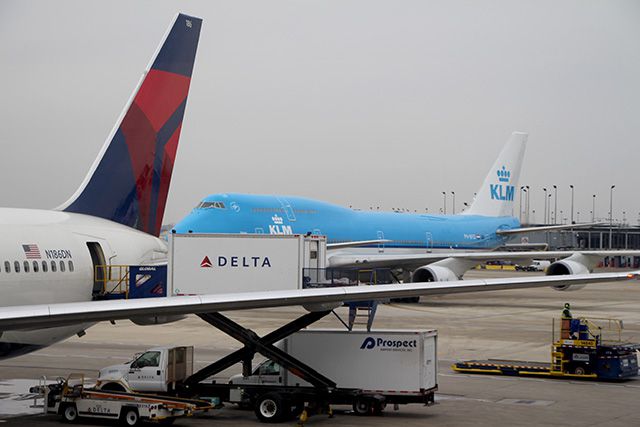 Iberia A346 being towed away from T5.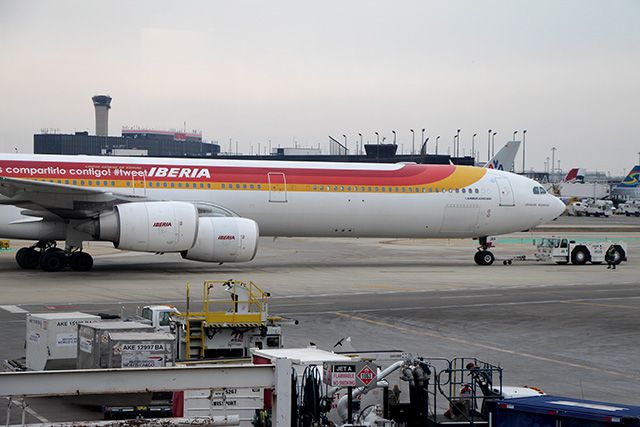 DL592 ORD-CDG 17:05-08:25+1 B763 N186DN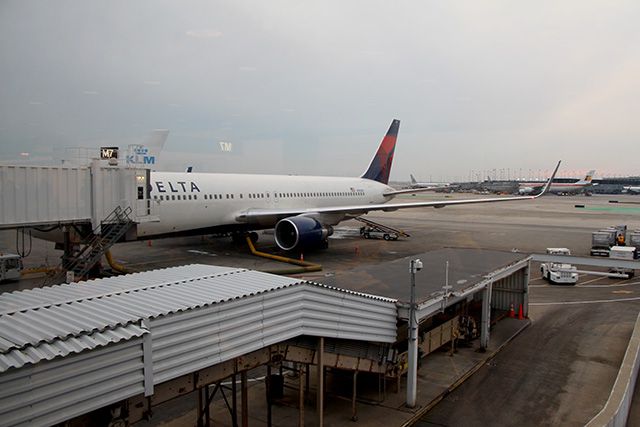 Boarding was again done by zones and was quite nicely organized, so we were onboard in no time.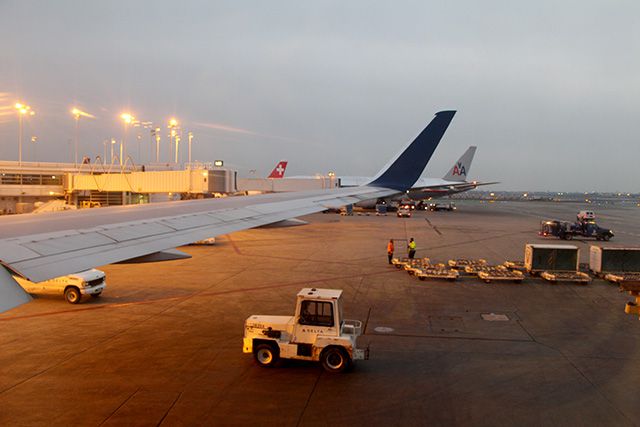 It was clear once inside that this plane was not equipped to handle all the things people consider hand luggage these days. But I don't blame the plane, it is more a thing of baggage fees and people bringing regular size suitcases on board as hand luggage. It took the crew a lot of time and effort to fit everything into the overheads.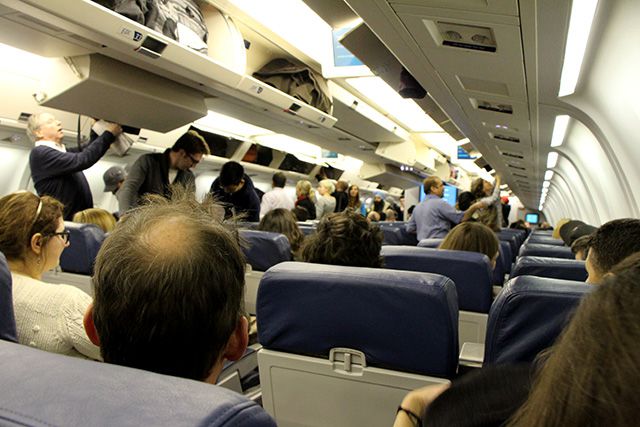 No PTV on this flight, but I knew that and I actually don't remember the last time I watched anything on the PTV during a red-eye transatlantic flight. The only thing that I would miss will be the airshow, but on the plus side there was no IFE box to take away my leg space.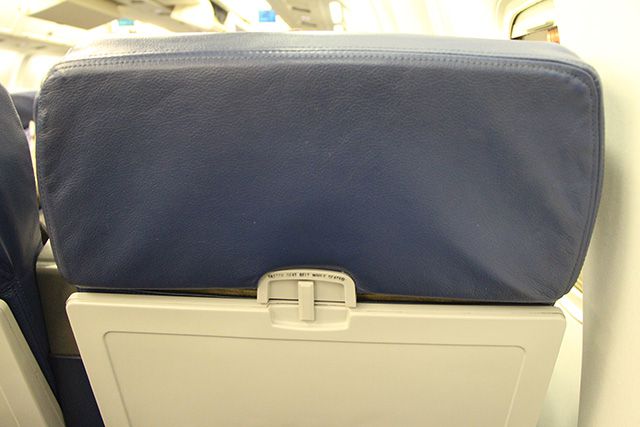 Just after boarding was completed it was midnight CET time, so we wished each other a happy new year.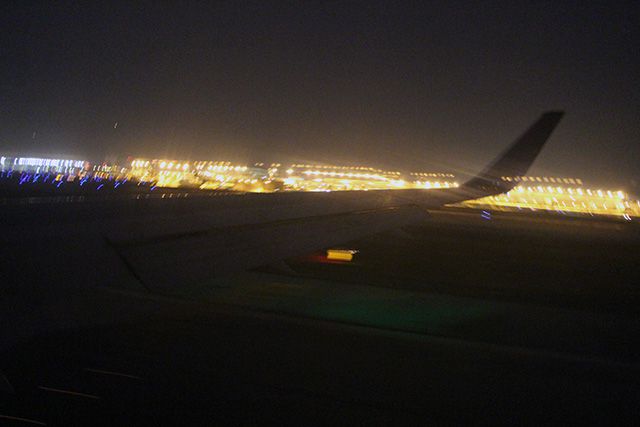 Bye bye USA, see you in April for a few hours.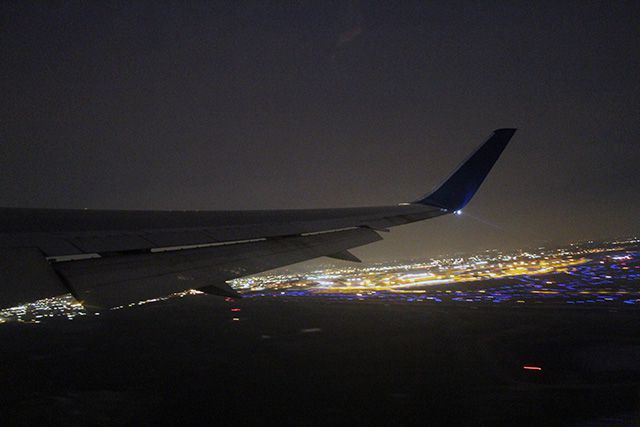 This was my first time flying on the 767-300 and only the second time flying on a 767.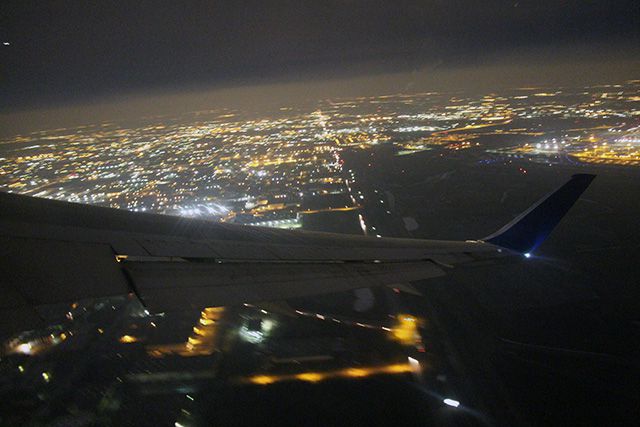 The previous 767 flight was a CO 767-400 flight from IAH also to CDG. I have another 764 booked this year on UA.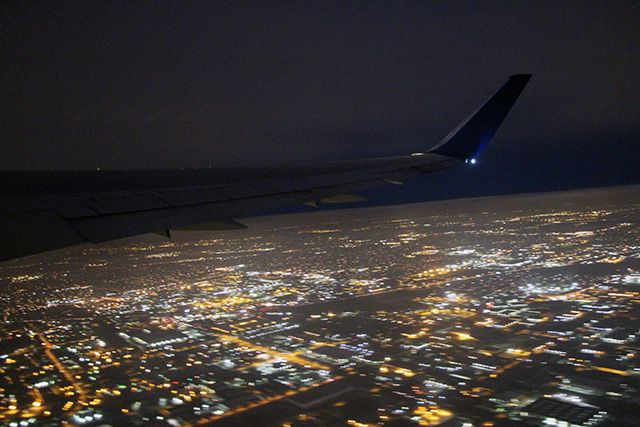 We were treated with some nice views of Chicago area all lit up in the dark.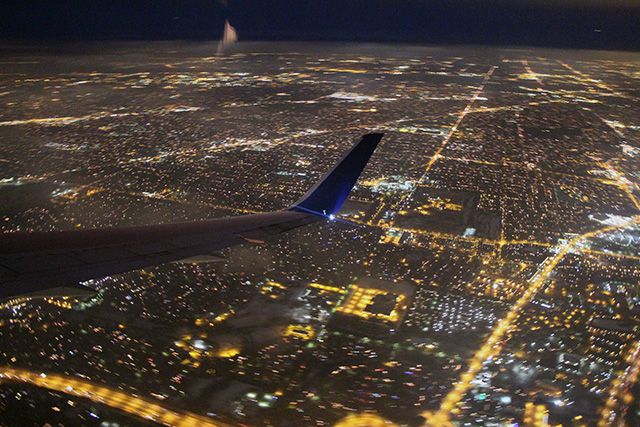 One of the pilots had his wife onboard and the captain mentioned that in his announcement and promised that they would make sure that we will all have a very comfortable flight.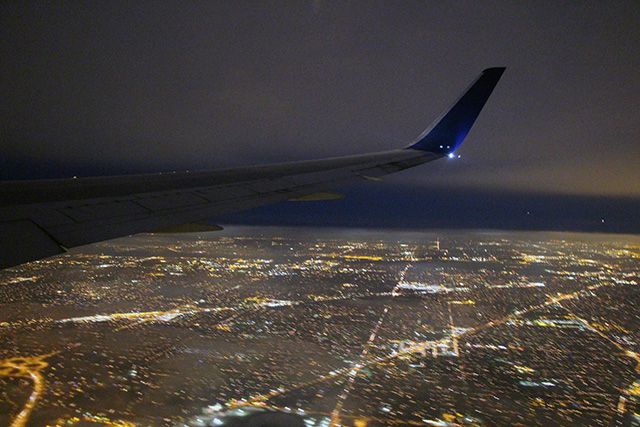 Meal service had three options – cold chicken salad, chicken in some sauce and pasta. I went with the chicken but could barely finish any of it as I was still quite full from the lunch at the HRC.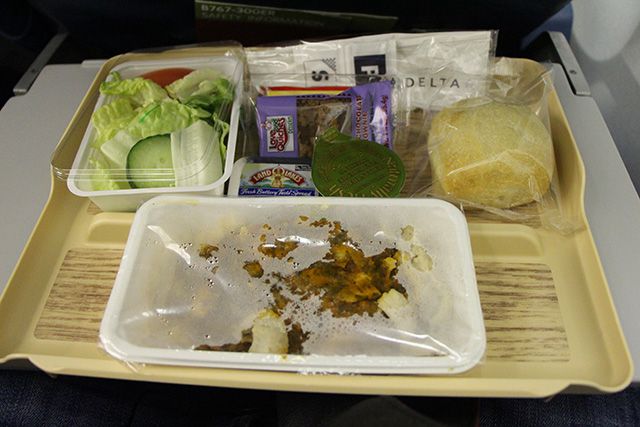 It did not taste bad though.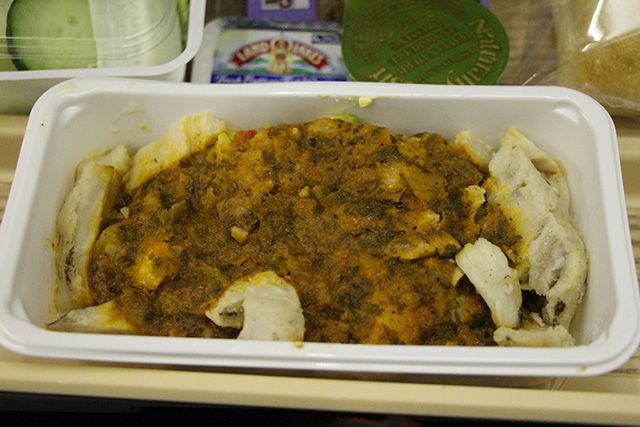 After that I went to sleep as I was quite tired from the whole day. My brother seating next to me tried to recline, but the passenger in the row behind pushed him forward claiming that he will not recline because he did not want to disturb the passenger after him and therefore my brother should not recline as well. I used to think like that, that it is good not to recline, but I have found out that during night flights just a bit of recline can make a lot of difference so I am happy if the person in front of me reclines as it means he will be a lot more comfortable. We were both able to recline eventually.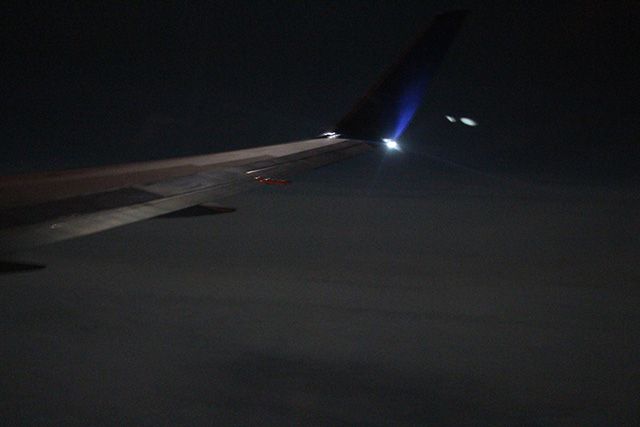 Cabin view during the flight. Again there were quite a few drink rounds done by the crew. I managed to get some sleep. On the overhead monitors there were three movies shown and after that a few episodes of the Office.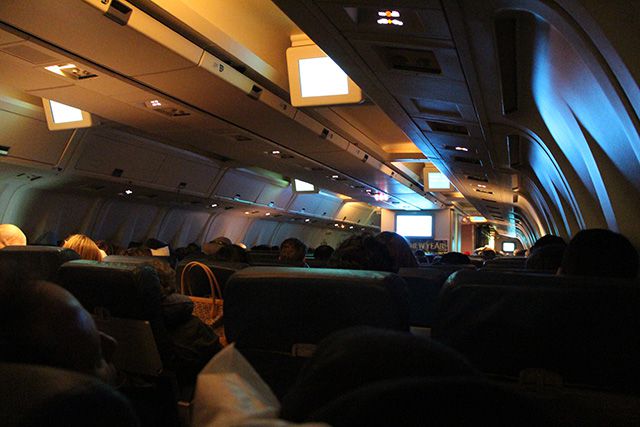 Airshow was played between every movie. The flight was progressing along quite nicely.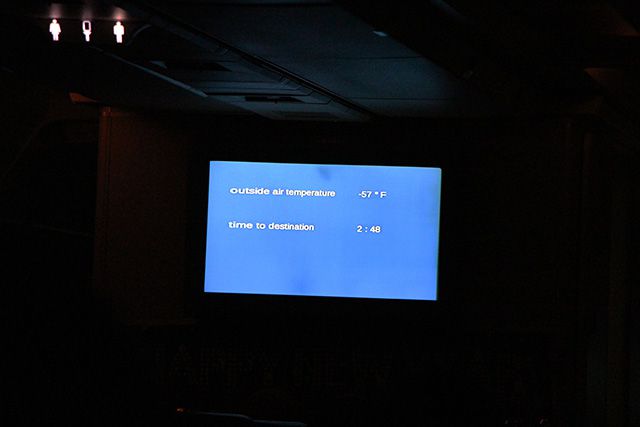 Because I was asleep most of the night I cannot remember if there was an announcement made when we officially entered 2013. If you look closely in this picture there is an FA with some lights on her head
There were also some homemade 'Happy New Year!' banners on the bulkhead, but they took them off during our descent, so I was not able to get a picture.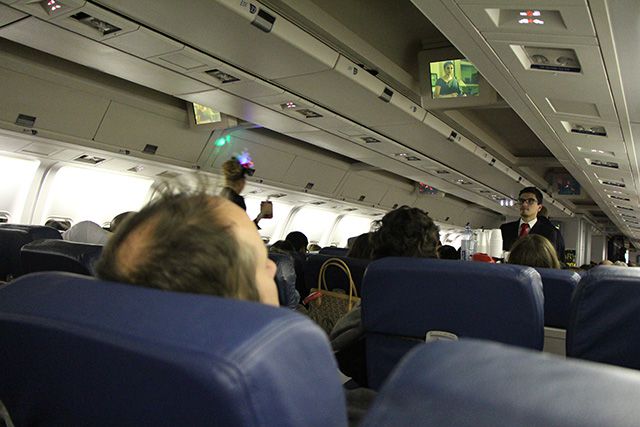 The restrooms were kept in good condition.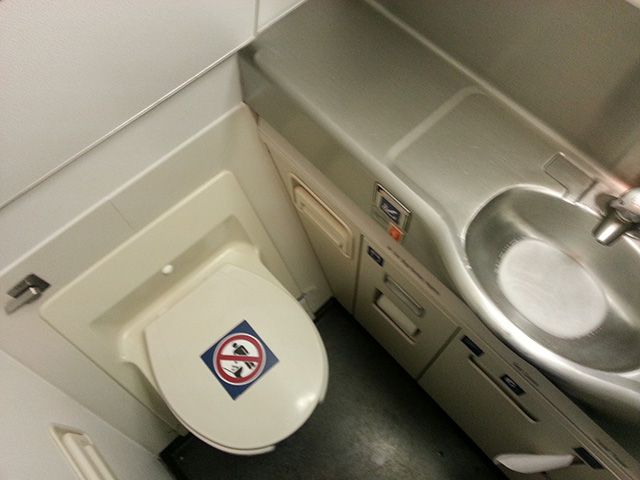 Breakfast. In the bag was an egg filled muffin or something like that, not really to my taste.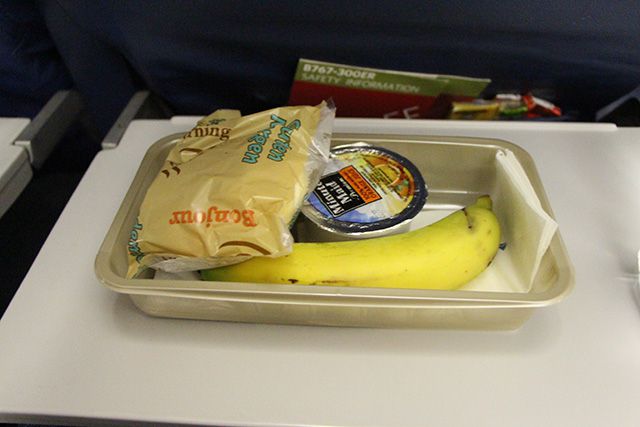 Only 276km to go - this flight went by in no time and was very comfortable. The seats may be old, but it is not a problem to spend a few hours in them and the legroom is sufficient as well.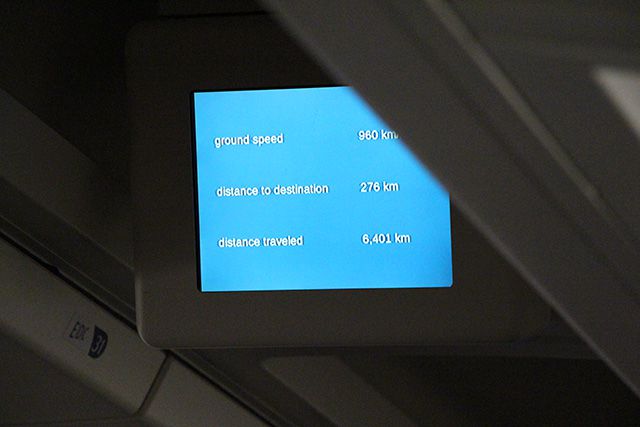 On our final approach, almost in Paris.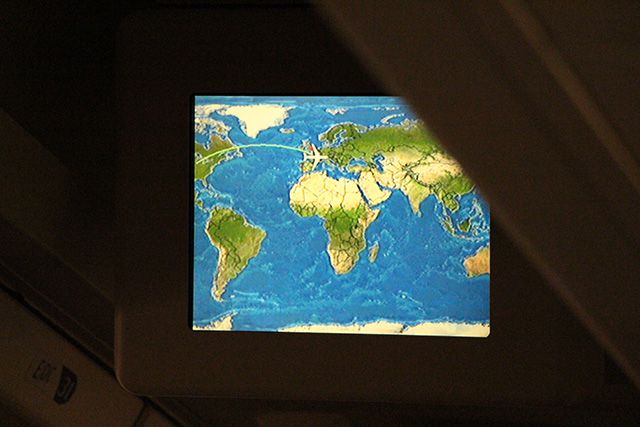 We landed more than half an hour early and our taxi to the gate was quite short.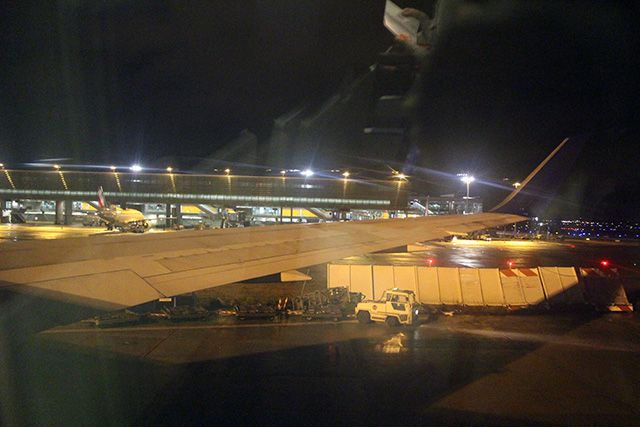 My brother bought a Chicago Bears NFL team jacket in Chicago and had it on during the flight. When we boarded one FA at the doors said in a very serious tone: 'Sir, you will have to take off that jacket before we let you on board,' and then started laughing. When we were leaving the plane she was jelling to us: 'Loose the jacket!'
She was funny and relaxed and so was the rest of the crew, they did a great job. Another FA said during the meal service, when she handed drinks for my brother to another FA 'This is for the fine gentleman in the Chicago Bears jacket.' So the Bears were not that unpopular on this flight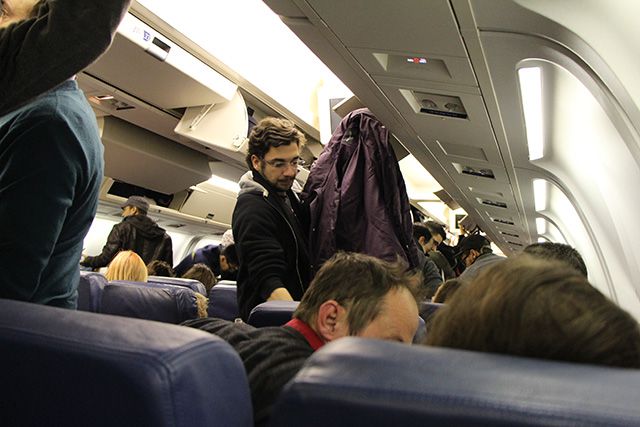 Thank you Delta for three very nice flights!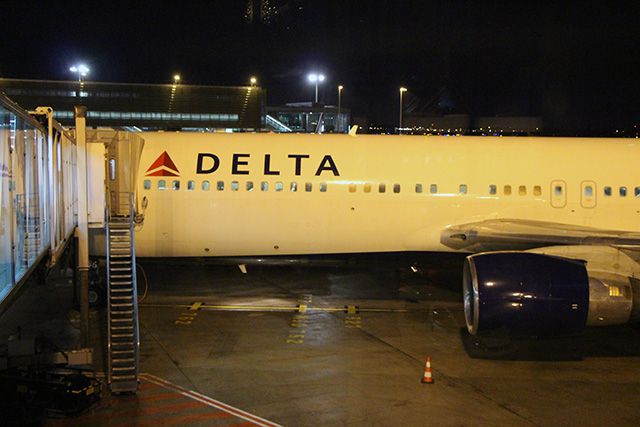 Saying goodbye to our 763 and making our way from 2E to 2F. The transfer was very quick and we would have no problems at all catching the earlier VCE flight. But we decided to play it safe when booking, so we still had over four hours until our flight.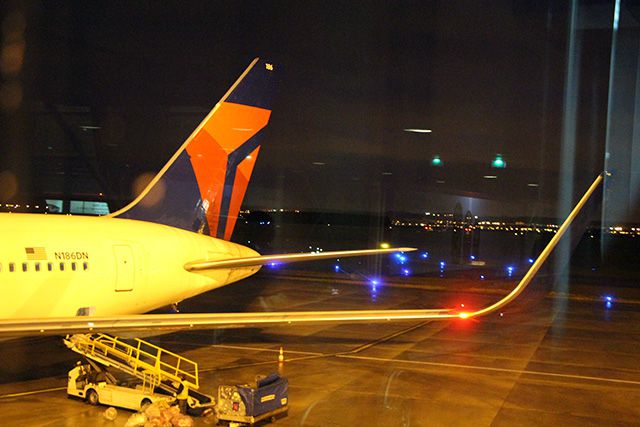 Over 8:00 in the morning and it was dark in Paris.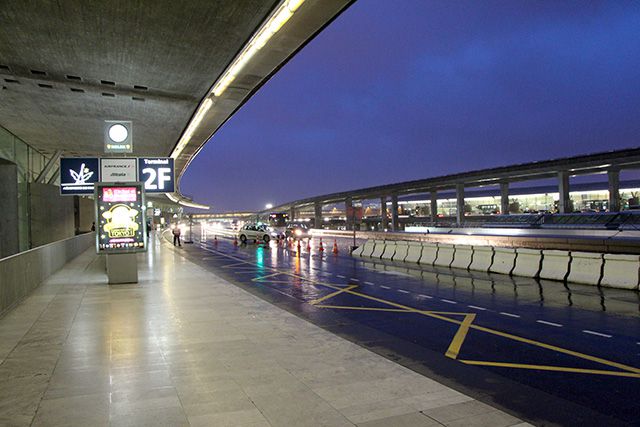 F34 was scheduled to be our gate so we went there and rested before our flight back to VCE.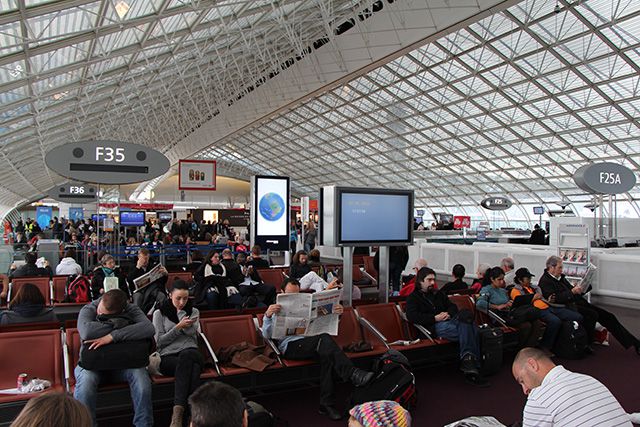 15 minutes before boarding I wanted to check on one of the FIDS if our gate was still F34, but I had to walk all the way back to the main terminal to find one. Our gate has indeed been changed and I had to walk back to the satellite to pick up my two fellow travelers and we made our way to the new gate. A bus ride followed and we stopped in front of our A319 (picture taken with my mobile phone).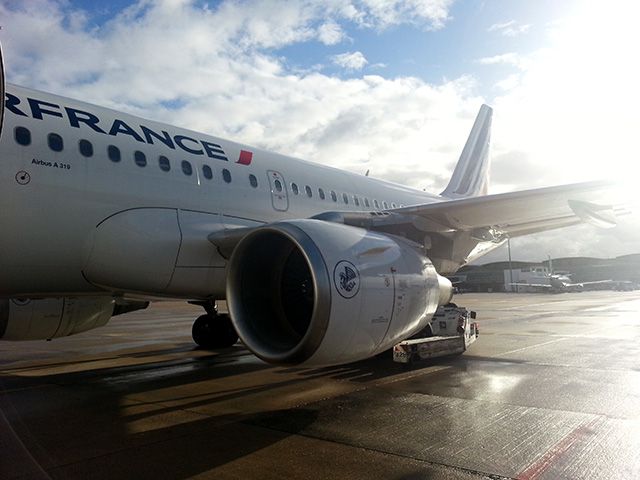 AF1726 CDG-VCE 12:35-14:15 A319 F-GRHH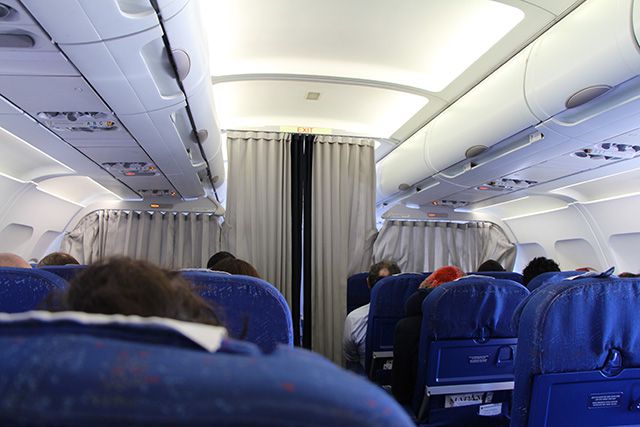 A nice little sandwich on this flight.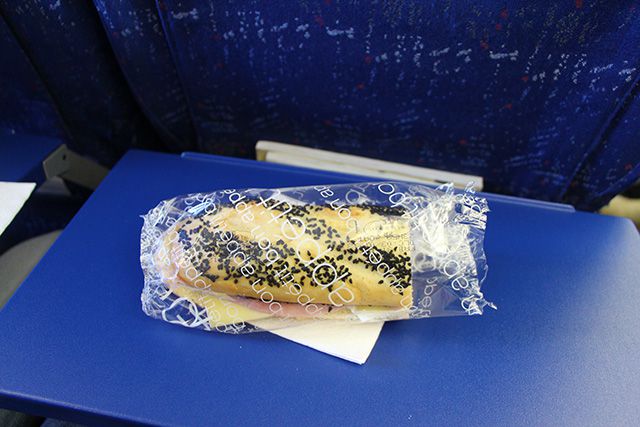 Since my brother would be doing the driving from Venice to Ljubljana I let him have the window seat so he could get some rest leaning against the wall. There were some nice views of the Alps during the flight but it was hard to get any good pictures from my aisle seat.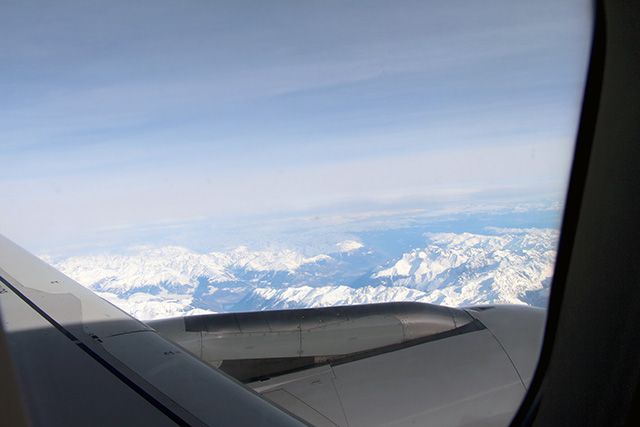 Not soon after we crossed the Alps we started our descent and landed in sunny Venice shortly after that. We had to wait a long time for our bags to appear, but they have all made it safely. A quick stop for a snack upstairs and we were on our way to the car and two and a half hours later we were back home in Ljubljana.
Delta flights were not perfect, but there were still a very nice way to get from Europe to North America and back, I would be happy to choose them again for my next transatlantic economy trip. The MSP-ORD flight was completely fine as well, DL did a nice job on this domestic flight as well. KL and AF were completely OK as well, nothing to complain about on their flights. There is no doubt I will look at Skyteam again when I will need to travel.
Now I have ticked off flying on New Year's Eve off my bucket list and it was a nice thing to do. I would do it all over again, but I would not do it twice, because it was not that special. Now flying from New Zeland to Hawaii on the 31st, so you could celebrate New Year twice, that sounds interesting, maybe something for next year
The only thing missing in Minnesota was hockey. Otherwise we had an amazing time in a very nice city and I would sure like to come back some day. There are still a few things we wanted to do, but simply ran out of time.
Thank you for reading,
Blaž
My previous reports:
Shinkansen, Emirates A380 And A Go-around NRT-VCE
(by
SloAir
Jan 7 2013 in Trip Reports)
Emirates A343/A388 Venice-Dubai-Tokyo Business
(by
SloAir
Oct 18 2012 in Trip Reports)
Carpatair And Moldavian Airlines: VCE-TSR-KIV-VCE
(by
SloAir
Jul 18 2012 in Trip Reports)
Air Dolomiti And Lufthansa, Trieste To Berlin
(by
SloAir
Jul 7 2012 in Trip Reports)
LH Cheap Business Munich-Dubai A346 & A343
(by
SloAir
Mar 15 2012 in Trip Reports)
Singapore-Munich Lufthansa A340-300 Business
(by
SloAir
Nov 28 2011 in Trip Reports)
Lufthansa Inaugural A380 To Singapore Upper Deck
(by
SloAir
Nov 7 2011 in Trip Reports)
Chasing The B736, MD82 And A321 Around Scandinavia
(by
SloAir
Sep 29 2011 in Trip Reports)
Adria Retro And Austrian B738 To And From Istanbul
(by
SloAir
Aug 31 2011 in Trip Reports)
To The A.net Meeting At Frankfurt With Adria CRJ2
(by
SloAir
Jul 11 2011 in Trip Reports)
LX Upgrade! Montreal-Zurich In First On The A333
(by
SloAir
May 4 2011 in Trip Reports)
Swiss A330-300 Zurich-Montreal In Business
(by
SloAir
May 1 2011 in Trip Reports)
Singapore B777-300ER Munich-Manchester And JP,U2
(by
SloAir
Apr 6 2011 in Trip Reports)
One Of The Last CO Trip Reports? IAH-LAS B753
(by
SloAir
Feb 14 2011 in Trip Reports)
My LX A333 C Flight Cancelled LJU-ZRH-JFK-ZRH-LJU
(by
SloAir
Dec 27 2010 in Trip Reports)
CO B767-400 BusinessFirst From Houston To Paris
(by
SloAir
Nov 24 2010 in Trip Reports)
Houston, We Have A Problem! 12 Hour Delay On CO 5
(by
SloAir
Nov 14 2010 in Trip Reports)
Adria Airways New Airbus 319 (LJU-MUC-BCN-LJU)
(by
SloAir
Aug 30 2010 in Trip Reports)
LJU-Visit Ljubljana