Island hopping on a 737 in Alaska; +Vegas, Cali…
Note to the reader
This trip occurred in June 2011, but only parts of the report were written at the time. To keep the report factual, I have left out sections I have forgotten. If you have any specific questions about a part of the trip that doesn't appear in this report, please do ask, as it might spark my memory!
Background
The seed for this trip was planted when my dad was scheduled for a conference in Las Vegas during the first week of June. After our spring break trip to visit some colleges in the Northwest, I still had one more on my list: Cal Poly in San Luis Obispo.
San Luis Obispo is on the California coast, halfway between Los Angeles and San Francisco. The out-of-the-way location of San Luis Obispo made our trip planning a little more difficult than usual. Being Alaska Airlines MVPs, we were "restricted" to Alaska, Delta, and American for any flights. We looked at just about every option, from flying LAS-LAX and driving up the coast through San Luis Obispo to SFO and then flying SFO-SEA. We thought about flying from LAS to SFO then driving down and back to avoid traffic. We also looked at flying directly into San Luis Obispo, but that ended up being very expensive and not on one of our partners, plus I really wanted to drive at least part of the California coast. We eventually decided on a slightly odd, but cheapest option of flying from LAS to PDX on AS, then flying from PDX to SJC on QX and driving down to San Luis Obispo.
The other oddity of the trip is our flight from JNU to SEA. Usually we book this direct, which is a two-hour flight. For this trip, however, we decided on JNU-SIT-KTN-SEA as AS62 due to the price and timing with the connecting flight to LAS. So our usual two-hour flight turned into a five hour "up and down" flight. We would also be lacking a window for this flight, as row 9 on AS 734s doesn't have a window. But I was very excited to be flying in and out of both SIT and KTN on the same day!
Copyright © 2004-2011 Karl L. Swartz. All rights reserved.
Sunday, June 5, 2011
Juneau (JNU) to Sitka (SIT)
Alaska 62
Boeing 737-400
N705AS
Seat: 9F
Scheduled: 10:20AM-11:04AM
Actual: 10:36AM-10:59AM
Flight Time: 23 minutes
Distance: 114 statute miles
We arrived at the airport one hour before scheduled departure time. Juneau's airport has just been through a major renovation, the grand opening having take place two weeks before our flight. The only part of the airport left alone was the area for the small air taxis, so any place not used by Alaska Airlines. The difference was quite clear from the outside:
We obtained our boarding passes from the check in kiosk and went to check in our bags. The agent was friendly and quickly got our bags tagged and out of our hands.
We then headed upstairs to the security area and gates. The TSA had only one x-ray machine open, but we managed to beat most of the people for our flight. The departure hall is right next to the security area, and renovations there had been competed since our last trip two months before. It looks much more modern and the seating is great. It was quite empty this morning seeing as one flight had just left and ours was pretty empty.
Our plane arrived from Cordova, and to my delight it was N705AS, "Spirit of Alaska":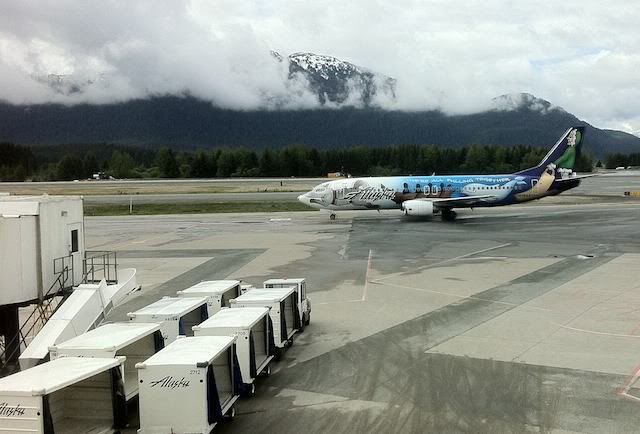 The paint was selected from a competition Alaska held for students. The artist was Sitka High School student Hannah Hamberg. Because our flight to Seattle today would be stopping in Sitka… N705AS would be going home! After watching my schools softball and baseball teams deplane after a tournament up north, it was our time to board. As usual, we boarded after first class and MVP Gold members. My mother and brother in front of me both got called by name after the agent scanned their passes, but I got a simple "here you go". Oh well, better than nothing, which is what I get on some other airlines.
We stepped on board to a fairly empty aircraft. My seat for all three legs of flight 62 would be 9F. There is no window at the seat, but if you lean forward you can see out a window. I meant to grab a picture but forgot about it, sorry. It's actually more comfortable to film when you're leaning forward than trying to film through the window right next to your shoulder. Missing window aside, the seat was nice; decent headrest and very sufficient legroom: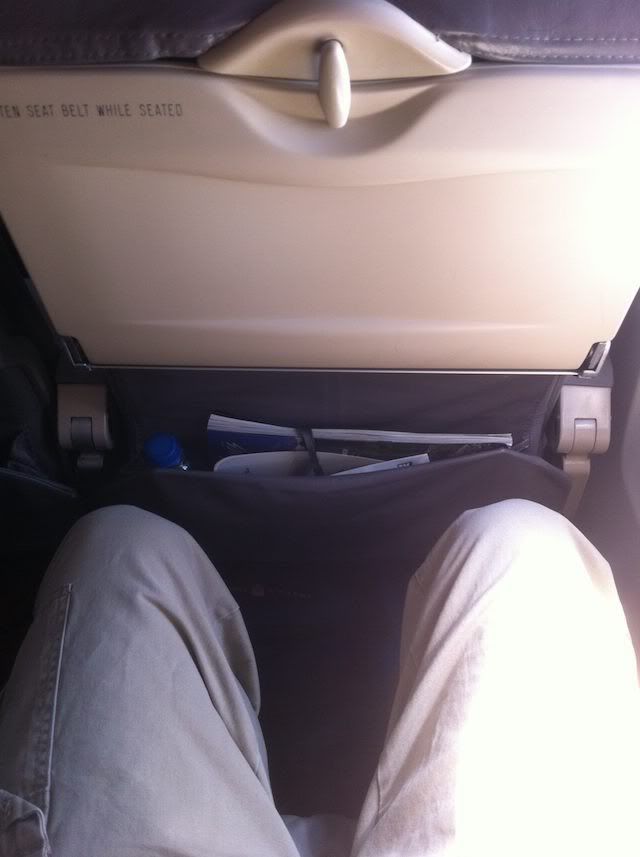 Soon, the door closed , leaving us with about a 60% load factor, low due to us picking up people in SIT and KTN. We had the whole row to ourselves for this flight, so I thought about moving to the other window. Two days before our flight, a C-5A landed at JNU for the first time in over 10 years. (Remember this C-5, it will make a re-appearance later)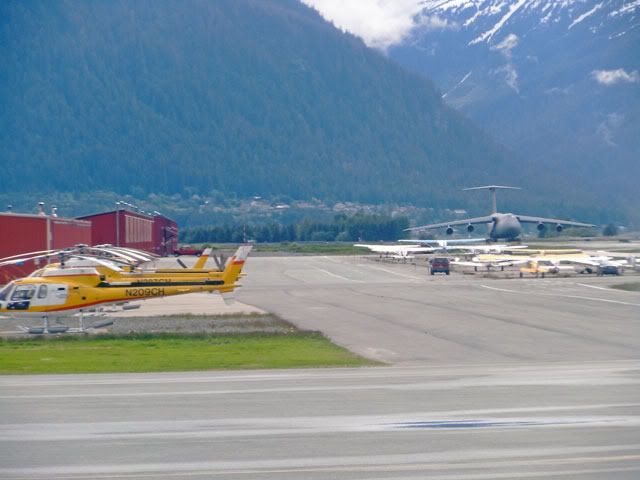 I sat on the right side of the aircraft anticipating a departure from runway 26, which would take us right past the C-5A sitting on the taxiway. Unfortunately, we turned to the right instead of the left leaving the apron, so I missed out.
My consolation prize was being able to watch the float pond go by. Watch it and the climb to 10,000 feet in the video below.
http://www.youtube.com/watch?v=-w0MzluecME
The light load gave us a rocket like takeoff- those sled dogs on the side of the plane were sure pulling hard! It was a quick ride to our cruise altitude of 16,000 feet... if you could even call it that. After five minutes we began our decent into Sitka. Landing in Sitka is always an amazing experience. Both ends of the runway are surrounded by water, as you can see in the video below:
http://www.youtube.com/watch?v=_LJwlXV30Xo
We taxied to the single gate and let off all but 10 or so passengers.
Sitka (SIT) to Ketchikan (KTN)
Alaska 62
Boeing 737-400
N705AS
Seat: 9F
Scheduled: 11:44AM-12:38PM
Actual: 11:50AM-12:28PM
Flight Time: 38 minutes
Distance: 257 statute miles
Only a handful of people boarded in Sitka. As with the previous flight, we had the whole row to ourselves, so we spread out. After pushing back from the gate, we waited on the apron for five minutes to let some of the small aircraft traffic clear up. Soon we were lifting off runway 11 into broken clouds:
http://www.youtube.com/watch?v=WRb5uHrd2JQ
As we passed through 10,000 feet the lead FA, who was working first class, came on to do the regular announcements as well as announce a quick drink and snack service once we reach our cruise altitude of 27,000ft. The snack was one of the tasty, but small, snack bags; as well as a choice of orange juice or water. I asked for an orange juice instead of my usual water as I wanted something with a taste and I felt my stomach could handle it. Unlike my last flight with Alaska, which was not bad but far from Alaska's norm, this time it was all smiles and great service from the FAs. We soon began our decent into Ketchikan, going south over the small town of Metlakatla (the only Indian reservation in Alaska) before turning north to land on runway 29:
http://www.youtube.com/watch?v=udqGpK3xSNA
Only a couple of people deplaned in Ketchikan.
Ketchikan (KTN) to Seattle (SEA)
Alaska 62
Boeing 737-400
N705AS
Seat: 9F
Scheduled: 1:18PM AKST-4:10PM PST
Actual: 1:28PM-4:04PM
Flight Time: 1 hour 36 minutes
Distance: 752 statute miles
Although there were a few people standing at the back of the plane waiting to use the lavatories, I headed back anyway to get a spot in line. We all stood there looking at he occupied signs for two minutes before one of the young FAs turned around and said, "Oh, are you waiting for the restrooms? I locked them up, they aren't actually occupied." Well that's just wonderful, thank you dear!
We were expecting a full flight down to Seattle as that's what the seat reservation system on Alaska's website had shown, so we took our assigned seats. Although many people got on, there were still many middle seats empty throughout the plane and our row was still free, so we spread out again. Without any delays the door was closed, we were pushed back, taxied to runway 29, and took off into the sky. You can watch the video here:
http://www.youtube.com/watch?v=MBCnpssCSEg
I love the moment when the plane breaks through the clouds into blue sky. It's something I often dream about on rainy days, all the lucky people flying above the clouds, surrounded by a sky of beautiful blue. I think it's the best feeling in the world.
After reaching our cruise altitude the FAs began a full beverage and snack service. My brother and I stopped the Top Gear episode we were watching in preparation for talking to the FA, but she just went right past us! After waiting to see if she would come back, I got up and asked her to come back to our row. When she did, she took all four of our orders at once (two ginger ales, a water, and an apple juice). She came back shortly with the two ginger ales and told us she would be back with our orange juice and sprite. "Water and apple juice, yes please" I said to her. She laughed a little and said "Oh, I'm sorry! Just a moment". She then brought us our... water and apple juice! Thank you! I spent the rest of the flight typing up this trip report on my iPhone, which was certainly an interesting experience. There were a couple of bumps as we descended through 10,000 feet or so, but apart from that we made a smooth decent flying far south past the airport and landing on runway 34L:
http://www.youtube.com/watch?v=TVdXysm1z6Y
Seattle Airport (Sea-Tac)
Our gate was in the C concourse, about halfway along. We decided to male a quick stop in the Alaska Airlines Board Room before going down to the food court to get some lunch/dinner. The board room is located right at the beginning of C concourse, making it a great central location for Alaska's operations out of C and D concourses as well as it being fairly close to the food court and security if you're coming in. As it has been the last few times I've been there, the space was packed with few empty seats. The downstairs level is a quiet place for business travelers, and the upstairs has many four-seat areas as well and two televisions with a few couches around them. I like how the upstairs design is centered around four person seating areas, but you get a lot of singles or pairs taking up the whole quad, making it an inefficient use of space. I really like the quad seating style, but Alaska either needs to redesign their current space so they have more seating or expand their space, maybe up another level. Either way the service is still great and the snacks (no actual food here) provided always change for some variation and stay full.
After checking our flight status with the agents downstairs, we headed out to the food court. My brother and I got a pizza from Pallinos (15 inch Maragrighta for almost $12 USD) to share and our parents got sushi. The food court is an awesome place for spotting, but not necessarily taking pictures because of the tinted windows. I really love the window-wall design and the high ceilings.
Thankfully we didn't have time to sit down and eat, as none of us were really in the mood for waiting around trying to find a table. A lack of seating is a large drawback for this area. I don't know if the designers just didn't anticipate any growth in traffic when they did the remodel several years back or if the airport has grown beyond their expectations. Either way, more seating would make this area much better and easier to use.
Seattle (SEA) to Las Vegas (LAS)
Alaska 618
Boeing 737-800
N518AS
Seat: 9E
Scheduled: 5:45PM-8:08PM
Actual: 5:53PM-8:01PM
Flight Time: 2 hours 8 minutes
Distance: 969 statute miles
Our gate for this flight was C16, at the end of the C concourse. The walk was fairly short and once we got up there I was able to take one final picture of N705AS: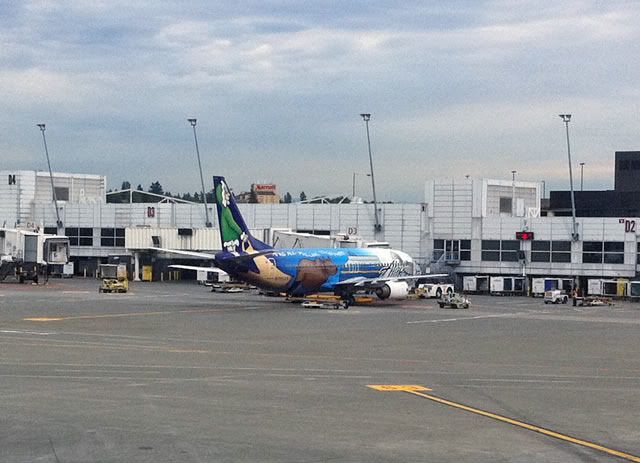 It was a little tricky to find, but it looks like we would be flying on N518AS today: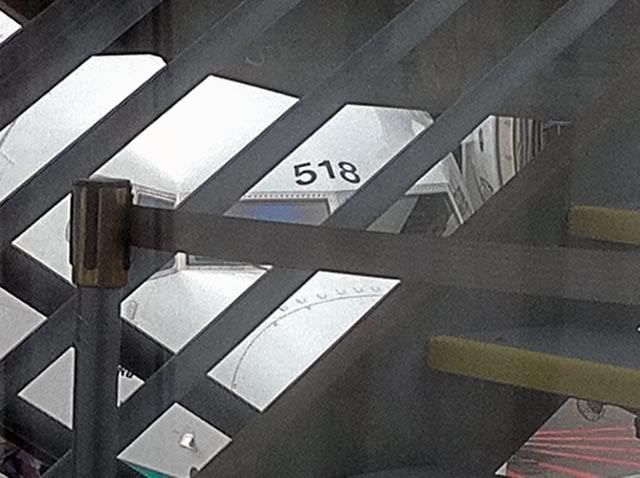 After getting this important stuff out of the way, my brother and I sat down and quickly gobbled down our pizza. After putting the box in recycle, boarding was called for flight 618 to Las Vegas.
I gave the window seat to my brother for this flight- a move I would regret when we landed in Vegas. However, he was more than willing to film the takeoff from Seattle:
http://www.youtube.com/watch?v=JjA7aoLUlAc
Standard Alaska Airlines "meal service" began soon after we reached our cruising altitude of 35,000 feet. Apparently the pizza wasn't enough for a growing teenager, so we bought a burger with swiss cheese on an onion bun for $6.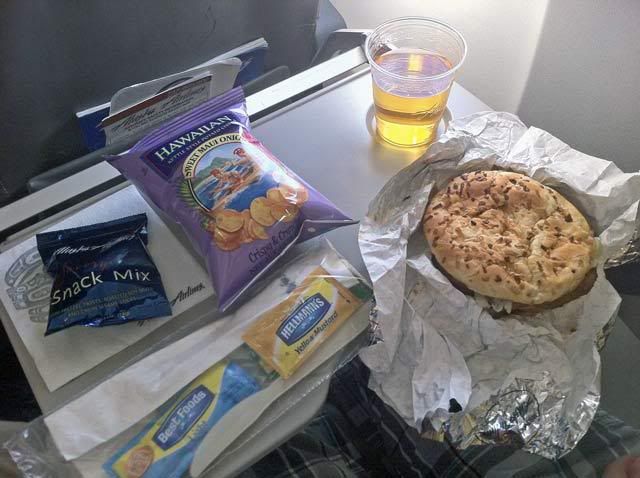 This is certainly a case of "looks can be deceiving", as it was quite tasty (or at least the bite I was allowed to take was!)
The sunset approach into Las Vegas was simply stunning. One of my favorite flights to take is the sunset flight home from Seattle to Juneau over the snow-capped mountains and glaciers. This may well beat that. Just take a look: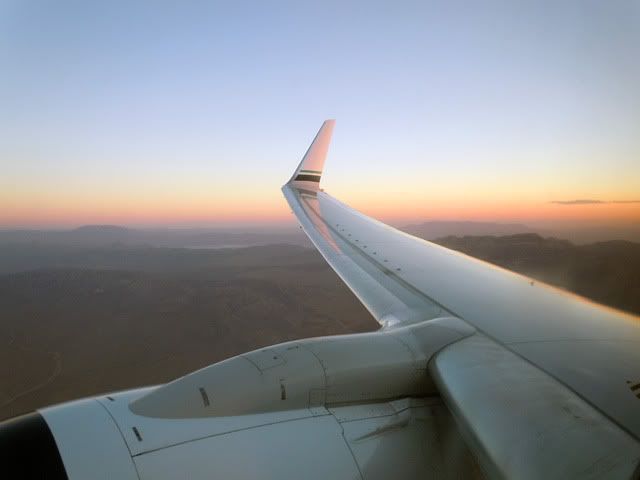 And the video:
http://www.youtube.com/watch?v=5wq-rR4EBz4
Las Vegas
Arrival went smoothly. I could write a whole trip report just about our time in Vegas, as it's such an amazing place. I've been to big cities all over America and nothing comes close to Vegas. It's absolutely bizarre, especially coming from a small Alaska town! I'll let some pictures tell the story: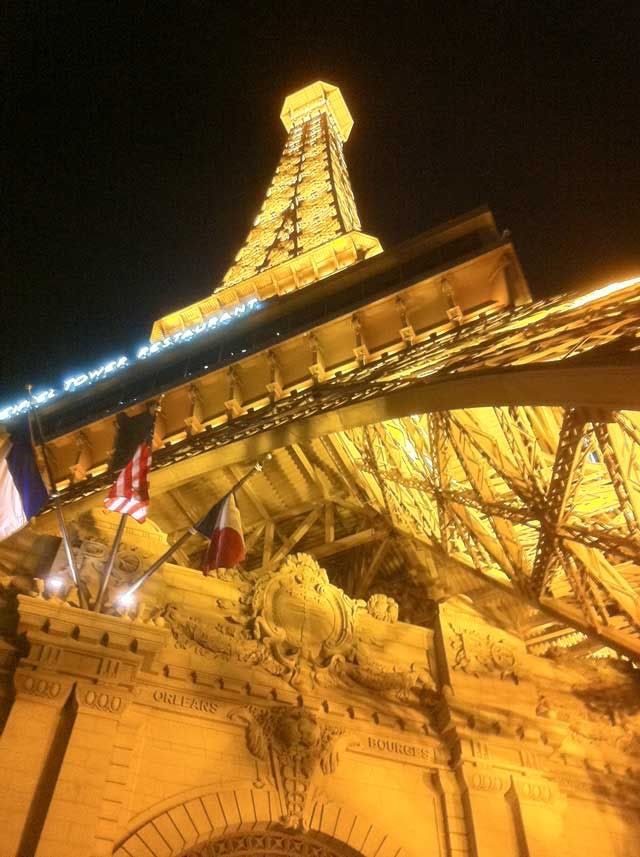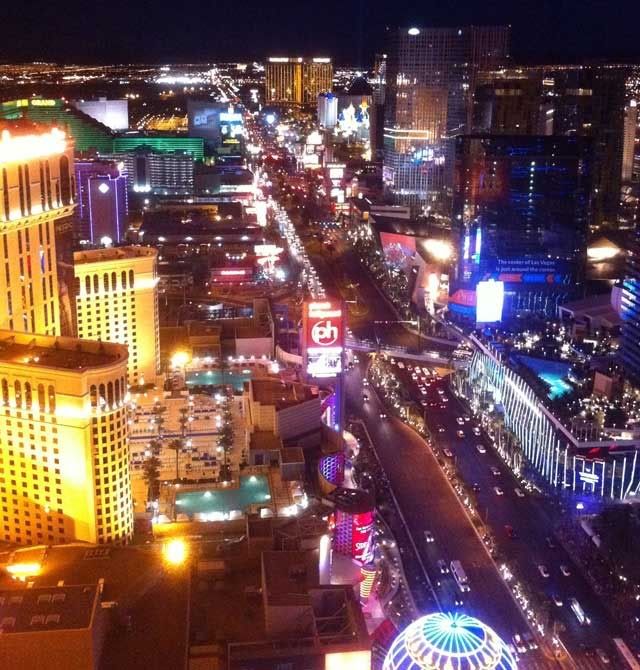 What do Sydney, Seoul, and Nome have in common? Uhh... They each have a clock on the wall at a mall in Las Vegas!
Thursday, June 9, 2011
Las Vegas (LAS) to Portland (PDX)
Alaska 629
Boeing 737-800
N533AS
Seat: 7E/F
Scheduled: 7:15AM-9:32AM
Actual: 7:24AM-9:16AM
Flight Time: 1 hour 52 minutes
Distance: 857 statute miles
A 7:15AM departure meant a very early morning, but there were some beautiful views at sunrise. Once at the airport, checked in, and through security, we went to the United Airlines Presidents Club. Or at least that's what I can figure out from looking at terminals maps nearly two years after the visit. Regardless, it was a very empty place at 6:15 in the morning.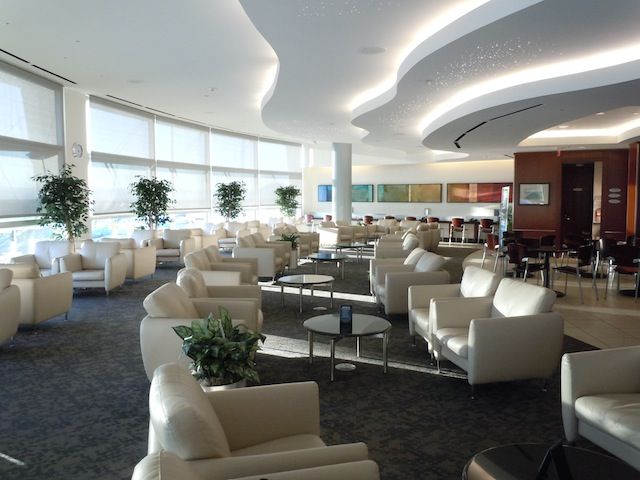 We had a beautiful departure with a view of the strip on our way to a cruising altitude of 38,000 feet.
http://www.youtube.com/watch?v=DQnMyENNhyY
It was an uneventful flight, and we were soon back on the greener side of the mountains.
You can watch the landing, and the complete taxi to the gate, here:
http://www.youtube.com/watch?v=4UAgNYnz6KM
Brunch at PDX
Besides being the cheapest option, our stop in Portland was a great excuse for us to meet up with some friends and catch up over brunch. We exited security and met at the Flying Elephants Deli (http://www.elephantsdeli.com/locations/pdx-airport) for a tasty, quick meal.
Portland (PDX) to San Jose (SJC)
Horizon 377
Bombardier Q400
N446QX
Seat: 17A
Scheduled: 12:10PM-2:13PM
Actual: 1:26PM-3:10PM
Flight Time: 1 hour 44 minutes
Distance: 632 statute miles
After a relatively painless trip back through security, we headed directly to our gate; not having time to visit the Board Room this morning. As I mentioned in the report my my last visit to PDX, the gate area that Horizon uses was not well designed. If you get a couple of flights next to each other boarding at the same time, you end up with a terrific mess. Of course, that's exactly what we had; and, same as last time, I got my ticket scanned by an unsmiling agent, and was herded out to the tarmac. Once outside, we were greeted in our ride, N404QX, still flying the old Horizon colors:
This
is the part of the the report that I should have written right after it happened. Everyone and their bags had been boarded, when it became clear that something was up. After a short wait, the captain came on to tell us that a circuit had flipped and they couldn't get it fixed. The FAs then came on and told us to sit tight until a new plane was found. It turned out that our real ride to San Jose had been sitting next to us the whole time; so we disembarked, walked next door, and boarded N446QX.
From that point on, everything went relatively normal, besides a little extra time for the pilots to get set up. After a delay of one hour and sixteen minutes (not bad considering what we went through) we lifted off into the sky for what would be my longest flight ever on a Q400.
Takeoff video:
http://www.youtube.com/watch?v=_ADGbESvgTA
There were some great views as we descended in San Jose, and I'd be immensely grateful (even two years after the fact) if someone could identify what I was looking at: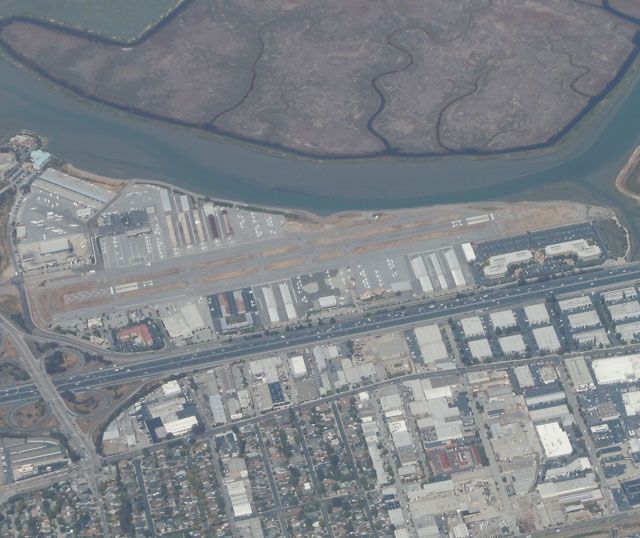 Landing video:
http://www.youtube.com/watch?v=NHQJ4KEDgdA
After stepping onto the tarmac to wait for our bags, I noticed this tail on the far side of the fence. I'm sure someone must recognize this one as well: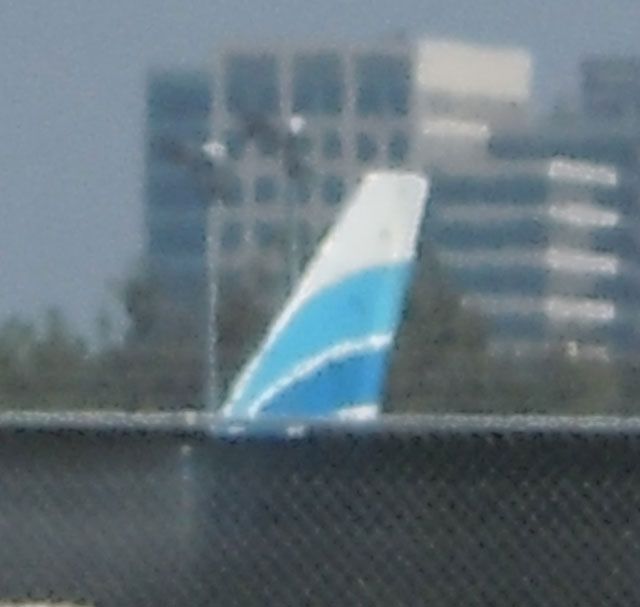 California, baby!
The only other time I had been to California was ten years ago… and that was only a stop in the SFO airport on our way to Australia. So I really had no idea what to expect. I was relieved that we wouldn't be spending our whole trip (or hardy any time at all, really) in the city, as I can only put up with that many people for so long. I think it comes from growing up in a disconnected community of 30,000. Our first thing to do after getting our car was to fulfill my brother's wish and go see the Apple campus in Cupertino. Both my brother and I have been using Apple products since… well I remember having OS 7 on my first computer. So I guess we were both pretty excited to stop and look around.
We then headed south for Paso Robles, where we would be staying. After a few-day stay in the area and a great tour of the school and it's architecture department, it was time to start the trip home. Because we had taken highway 101 down to Paso Robles, we made the easy decision to spend our last full day in California driving highway 1. It was a stunning drive and an experience I'll never forget. I've included some pictures below.
Avila Beach: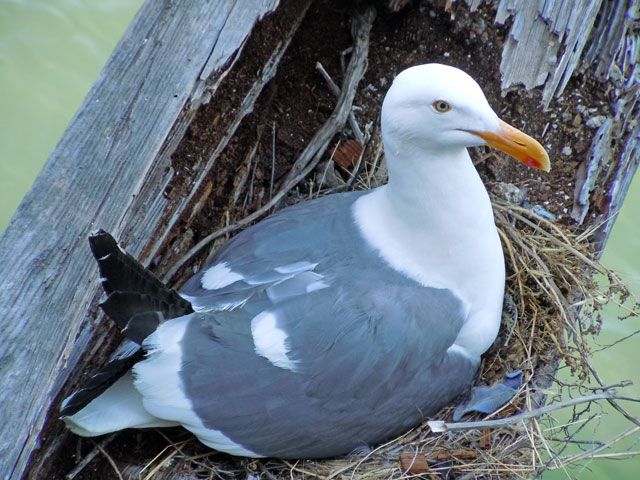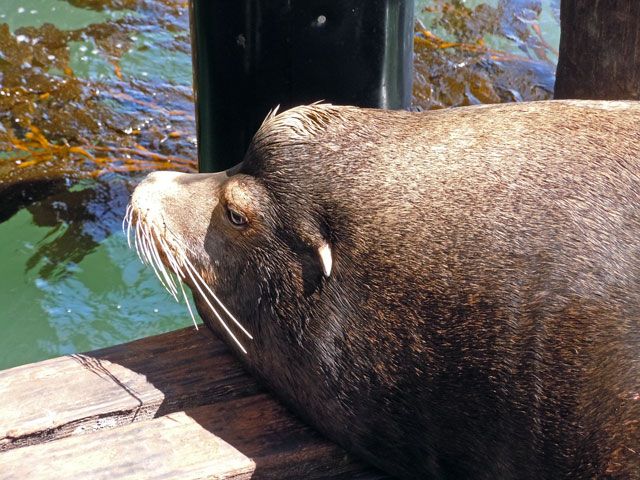 Cambira, CA: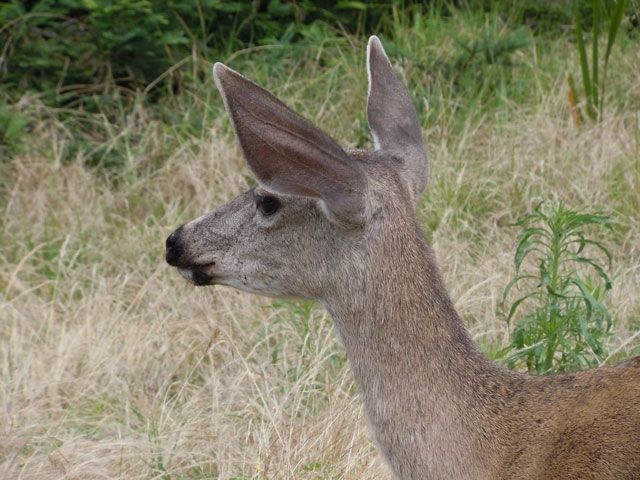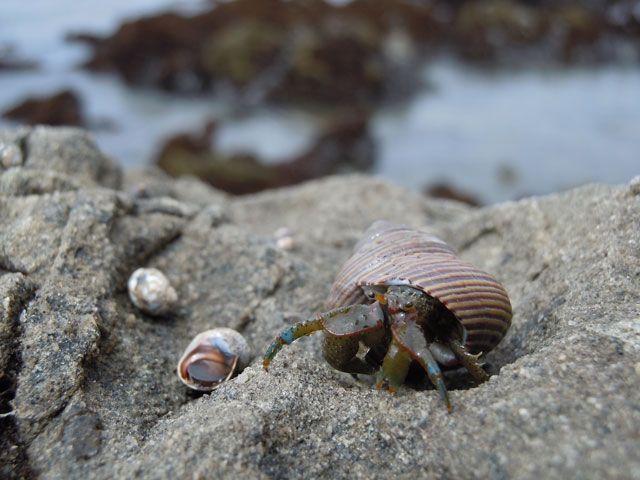 On the drive north: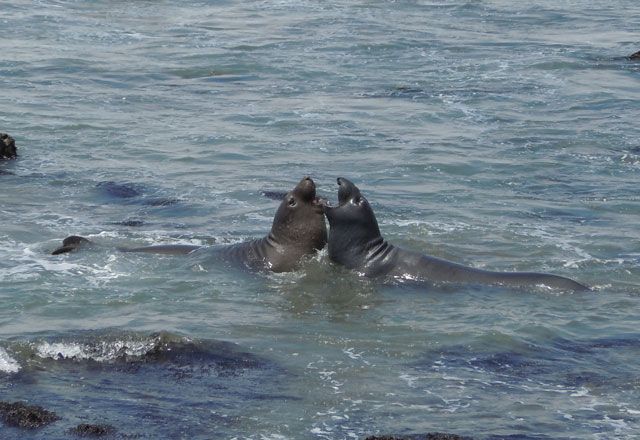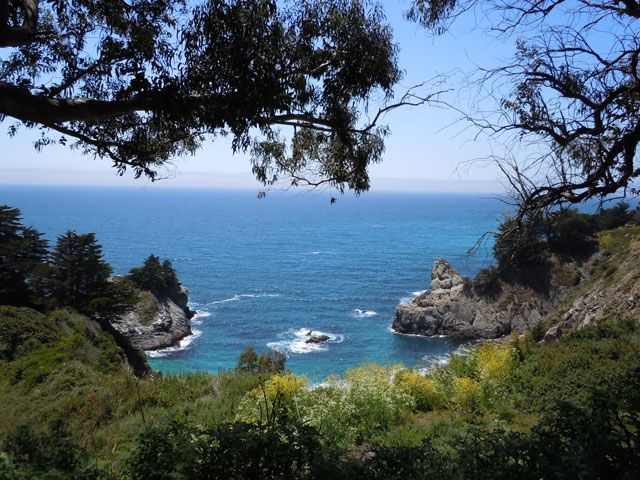 For a race fan like myself, stopping by Laguna Seca was easily one of the coolest moments of the trip: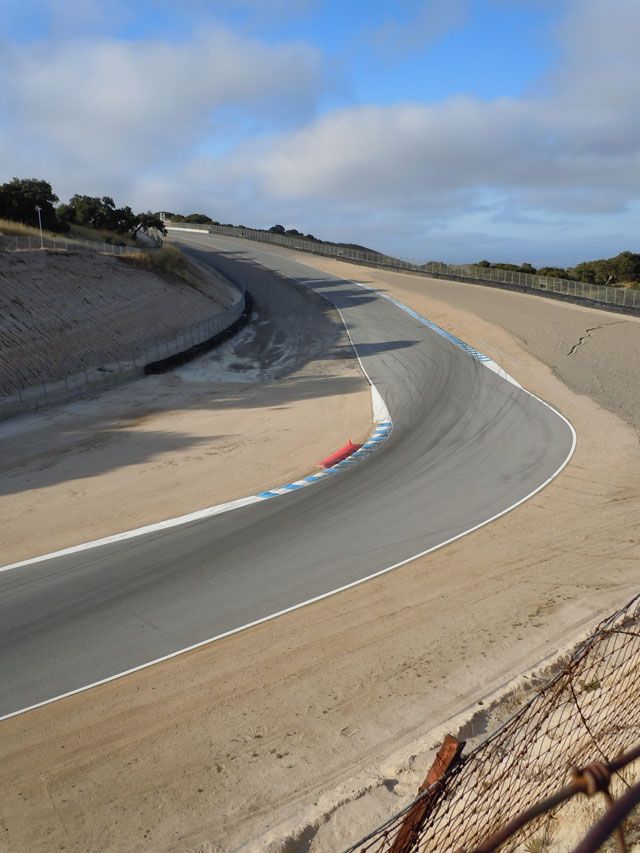 Monday, June 13, 2011
San Jose (SJC) to Seattle (SEA)
Alaska 227
Boeing 737-800
N583AS
Seat: 9E/F
Scheduled: 9:20AM-11:23AM
Actual: 9:31AM-11:21AM
Flight Time: 1 hour 50 minutes
Distance: 774 statute miles
We started with another early morning, waking up at 6:00AM for our 9:20 flight. The Marriott Courtyard we were staying at had a nice buffet breakfast for $8, so we did that for convenience. We left the hotel at 7:20, anticipating a 15 minute drive and knowing that the Alaska check in area was close to car return. The 15 minute drive turned into 20 minutes before we even reached the airport. SJC is set up so that there is a road that encircles the parking structures. There is one entrance to return cars, and the road we came in on entered the circle just past it. So we ended up having to go all the way around, which took another 5 minutes. When we finally got in the parking garage, my dad made a wrong turn and ended up going to Avis instead of Budget, so we had to leave the parking structure, go all the way around the loop again, then re-enter. After finally getting the car parked and our bags out, we had to get reimbursed for the blown tire we got on the way from San Jose to San Luis Obispo. By the time we got across to the check in area, it was 8:00, and we still had to check in and get through security. Check in went super-quick as there has hardly anyone in line, and security didn't take too long because we were able to use the empty MVP lane. When we got to gate 15 after a few minutes walk from security, it was 8:20. Made it! I took the few extra minutes to have a look around. There were no international flights in the international terminal, and no exciting aircraft, so I ended up back at the gate pretty quickly. One very cool feature that SJC airport was promoting was its new plugins on most seats in boarding areas: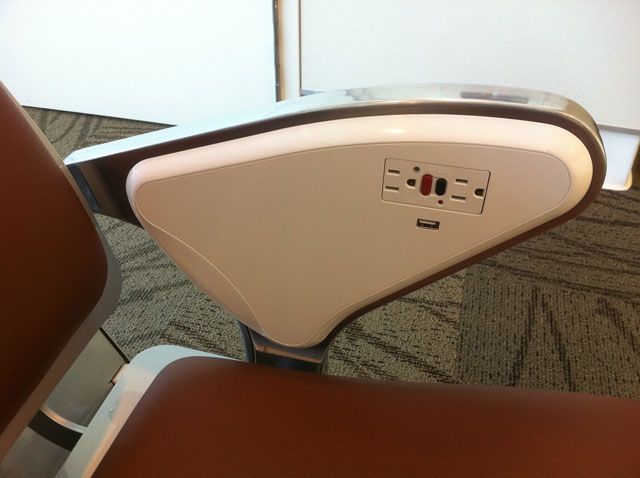 I didn't have the time to try them out, but they looked like a great idea that would be wonderful to see implemented at some other airports. Our plane today would be N583AS, which had flown in this morning from Guadalajara:
We were seated a ways away from the gate, but I happened to see people getting their passes scanned and going down the jet bridge. I figured boarding must have been called and we had missed it, even though it was fairly quiet and we had this whole "hall" for just our flight. Since it had to be our flight that was boarding, we got up and headed over. It turns out that gate 15 doesn't have a speaker system,. so they have to do all calls by, well, yelling them out. Please fix this SJC! We got in line and I went to pull out my boarding pass. Left pocket? Nope. Right pocket maybe? Uh no. As we were standing right next to the scanner at this point, I asked what I needed to do if I had lost my boarding pass. "Are you Matthew?" "Yes that's me." "Here you go Matthew, someone dropped it off here." Ah, big hugs to that person! It's always great to know that there are still some good people out there. The agent scanned my precious pass and I headed down the jetway. Things were a little back up as soon as I stepped on the plane, so I took the opportunity to take a (longer than usual) glance at the cockpit:
The F class FA, who was standing next to me, asked if I wanted to have a look in the cockpit. The two pilots looked busy, so I politely declined. But she insisted, guiding me into the cockpit while asking the pilots if they were busy. They replied that they were just getting ready to start the pre-flight, so I shook hands with Captain Hal and first officer John. I had sat in a 738 cockpit a couple years before, just as I was really beginning to get "involved" in airplanes. Now I was able to recognize much more from my time using the flight simulator X-Plane. I eagerly watched the preflight process, really enjoying the light test when Captain Hal said "looks like Christmas". Dude, I'm in a 737 cockpit! Of course it's Christmas, even if it's June! There were two jump seaters for the flight, so I said a huge thanks and went to my seat.
Takeoff:
http://www.youtube.com/watch?v=2HTDb0xoeZ0
Some mountain:
Flying past Sea-Tac:
Space Needle (which I would visit for the first time a year and a half later):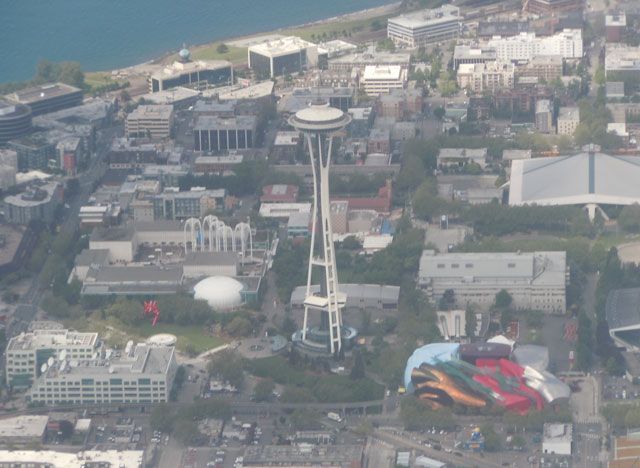 Final approach: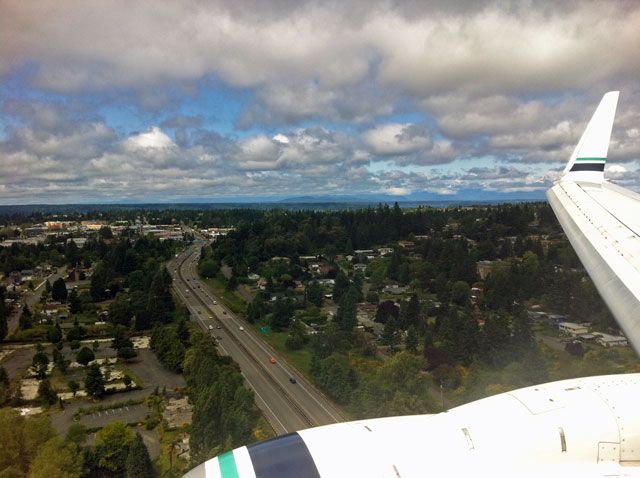 Flare: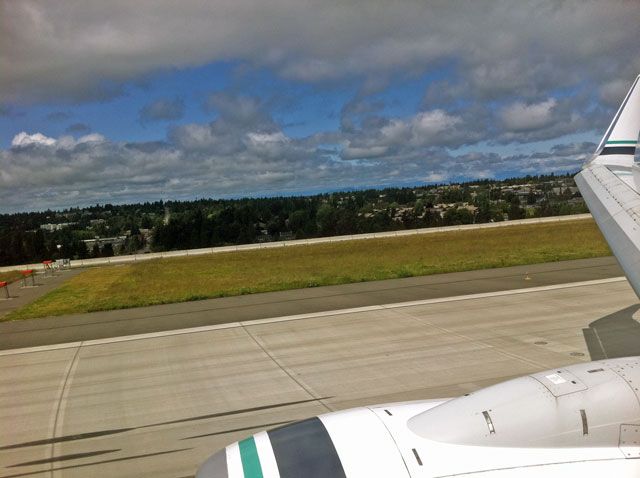 Landing video:
http://www.youtube.com/watch?v=HYtElAtgTbA
I had received an email the day before while driving the California coast that my first image had been accepted to Airliners.net. Any guesses on who the star was? Remember that C-5 that I told you would be making another appearance?
5A-Galaxy/1935124/L/" target="_blank">View Large
5A-Galaxy/1935124/M/" target="_blank">View Medium


Photo © Kaphias
Yes, sure enough, all the stars lined up for it to be my first acceptance. But what I wasn't really expecting to find when I checked my phone after landing was this:

Although it's not my favorite photo or the best quality, thirty-some images later it's the only one to make the front page and will always be my first acceptance. So it certainly holds a special place for me.
Seattle (SEA) to Juneau (JNU)
Alaska 59
Boeing 737-400
N754AS
Seat: 8E/F
Scheduled: 12:50PM PST-2:20PM AKST
Actual: 12:59PM PST-2:11PM AKST
Flight Time: 2 hours 12 minutes
Distance: 993 statute miles
As I wrote in my previous trip report, walking up to the gate for the flight home is always fun– you never know who you're going to run into. I'll often see teachers, neighbors, and friends at the gate; and it gives a little sense of home before the plane even takes off.
Walking over to the windows, it looked like our ride for the flight up to Juneau would be N754AS: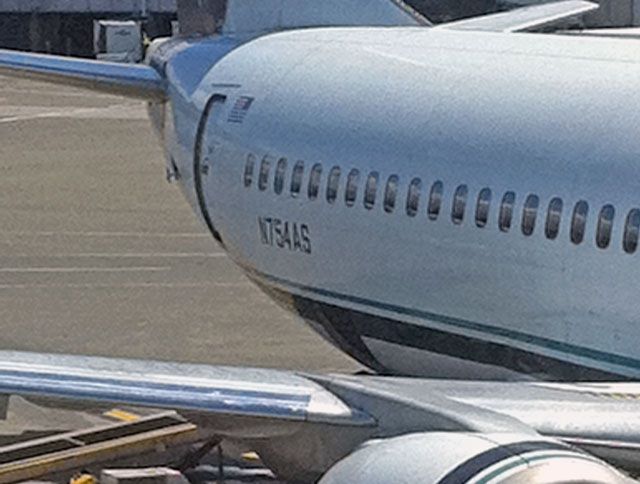 Boarding began shortly, and I was soon settled into my seat. Alaska Airlines has a very interesting design on the bulkhead. Many people think it's ugly, but I've always been fascinated by it.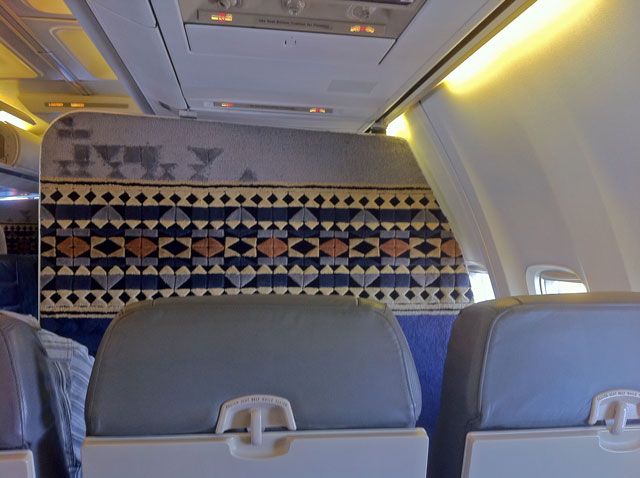 One last view of N583AS as we taxi out:
United 777 in new colors (hey, it was interesting at the time):
Very rare sighting for me: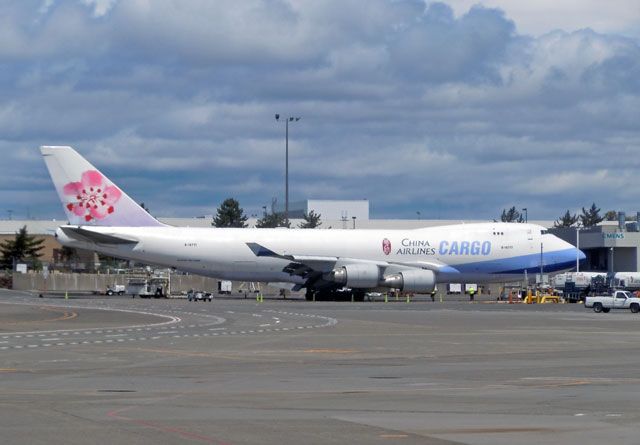 Takeoff:
http://www.youtube.com/watch?v=zXzvNn1r1vk
I really have nothing to write about this flight, besides the fact that my notes say we cruised at 32,000 feet. Be sure to watch the video though if you've never watched one of a landing in Juneau, as it's certainly one of the most unique approaches in the world.
http://www.youtube.com/watch?v=HQEvpret2OU
It's always good to be home.
Conclusions
This was a great trip, and included some never-to-be-forgotten experiences. As far as colleges go, I ended up being accepted into Cal Poly's architecture program, but decided to attend Washington State University instead. So far, I'm glad I made that decision.
I hope the report was entertaining despite the holes in the story. Thank you very much for reading!