"Cancun, just for the weekend!"
Hola, dear readers,
a new year, that means new destinations ahead.
The last trip of 2012 leads me to the Arabian Peninsula
"Oman Without Oman Air?. No Way!"
(by
FLIEGER67
Feb 3 2013 in Trip Reports)
and the first one of 2013 is a bit more in another direction.
No new airline or new plane type, it´s simply a new country on schedule like this one:
Thanx to this great tool:
http://www.gcmap.com/
And not to talk about the long term weather forecast.
Ah, that´s what I need in late January.
M-E-X-I-C-O, sounds good isn´t it?.
And of course a new departure airport to pin on the map, CUN with no. 232:
Departure Airports II
auf einer größeren Karte anzeigen
The previous 200 places:
Departure airports
auf einer größeren Karte anzeigen
And the flights of 2013 map:
TRIPREPORTER 2013
auf einer größeren Karte anzeigen
A couple of biz domestics in between, so it´s not that long ago since I was on a plane for the last time, but for sure not intercontinental style!.
Saturday, 26.01.2013
.
.
.
.
Service DL 117 operated by Delta Airlines
Scheduled: 10.50 // 15.30
Not that early as it usually is with my travels, but anyway an ok start for this trip.
05.30 am for some internet related biz, OLCI is done the day before and works fast and convenient.
No printout as usual.
P0 is deserted this morning, not that much people on travel, so it seems. A bitter cold wind here, cloudy and -7 degrees. Swiftly onwards for the terminal.
And a first view for the screen.
The Delta tail is visible from the parking spot and no bad sign for my flight from gate 109/110 till now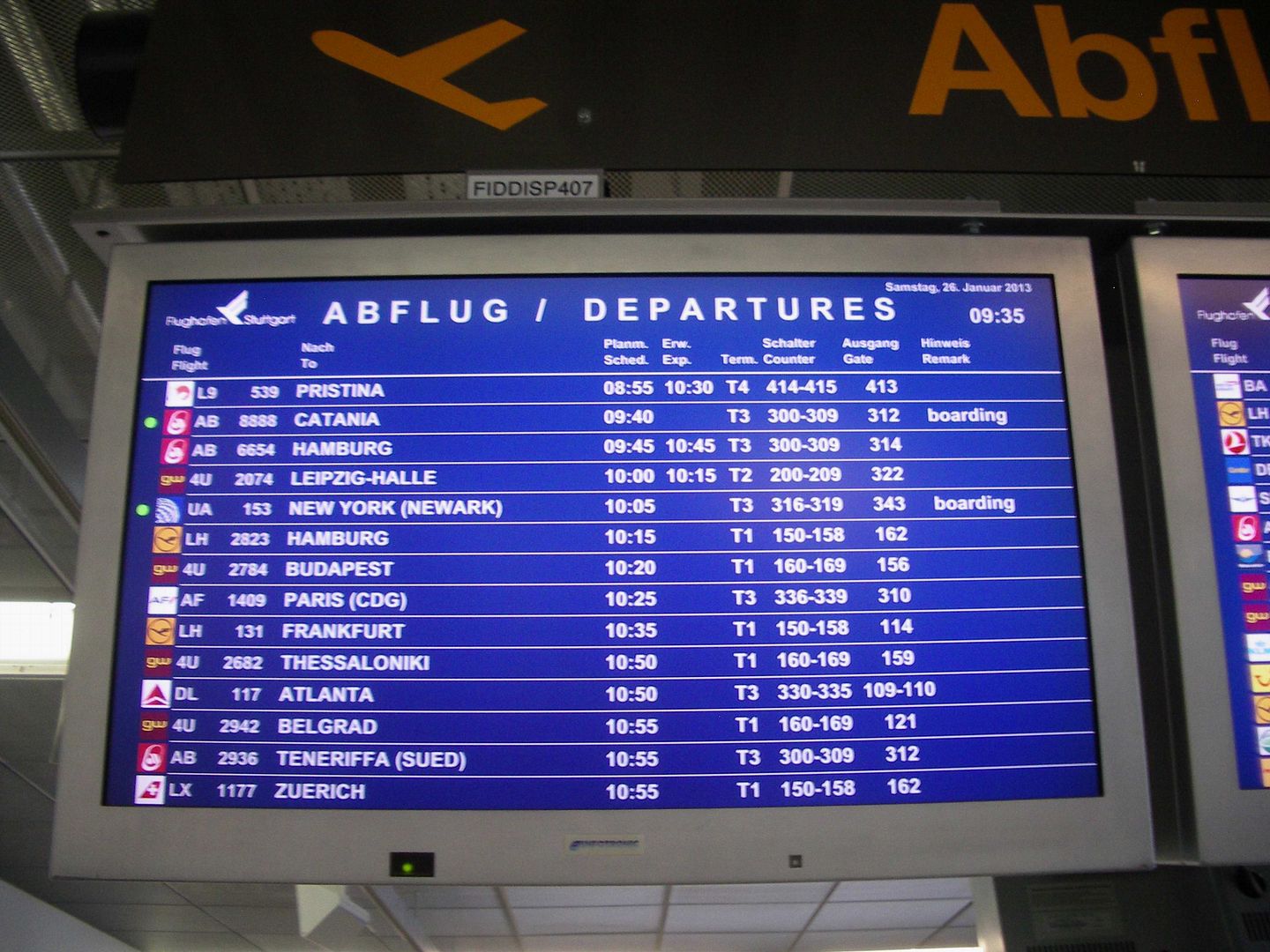 All the four flights around these trip are on one confirmation managed by Lastminute.de. The fare per leg is 180.00 Euro´s this way.
My ESTA is good till the end of the year and is quickly updated with the actual travel details prior to the trip. No need to pay another fee.
The usual questions at the Sky Priority desk short to Check-In are also swiftly done.
A nice young woman working the Check-In desk.
It seems the Tripreporter crowd is catching more and more attention these days. We talked and it seems she´s really interested about my intention to go for Mexico just for the weekend. And I mean not a security related interest. She shows me the seatmap for both flights, just in case if there is anything better, offered me eco extra with leg 1, but there is no more window available. Wrote a note in the system for an possible upgrade on the second leg and even checks my return flight, which is completely full with no assigned seat for me. Sure?. Well, I´ve secured the seats with leg 1 and 2 by Delta and 3 and 4 by Air France. So we will see if it works.
Finally she wished me a good flight and told me that she is sure, I´am one of these incognito traveling airline and hotel checkers. Well, who knows!.
Just a minute at security for a view like this
Looks like good with these huge winglets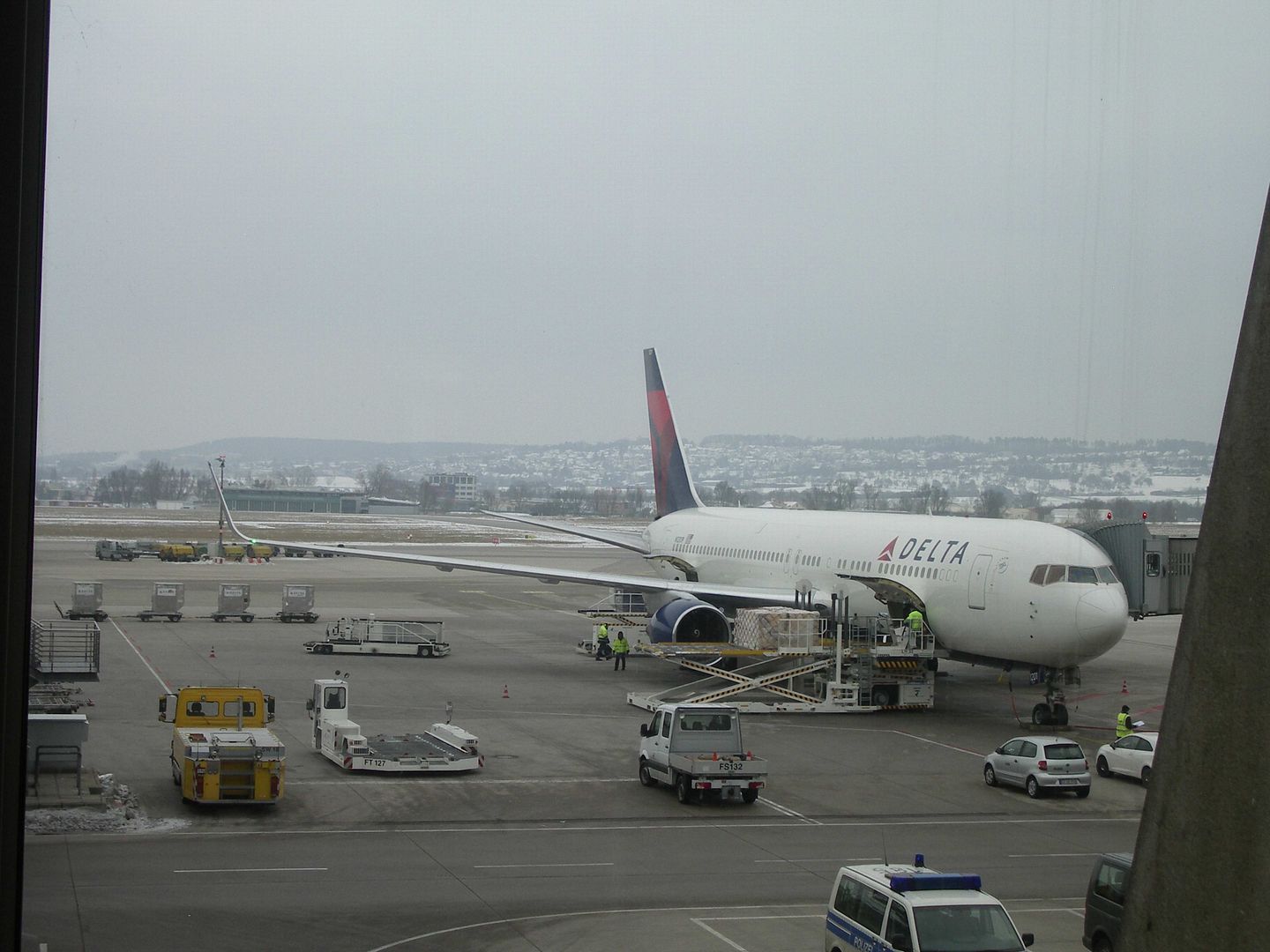 A rapidly sidestep for the lounge to fill up my travelbag with these delicious AF cookies is necessary.
"I´am N1201P and if you want to go to Atlanta right now
this is the place to be!".
With 7 planes, today included in the log, it´s not difficult to say this is a new registration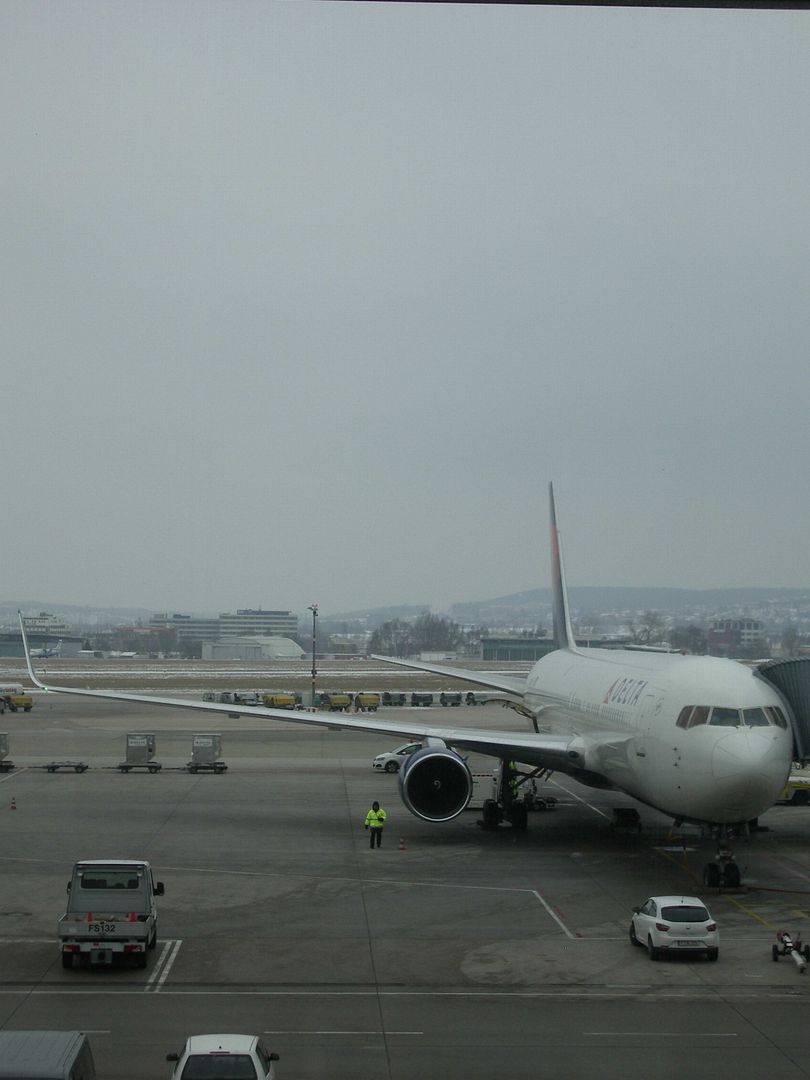 With Delta since 12.04.1998. 73 planes on type are in the fleet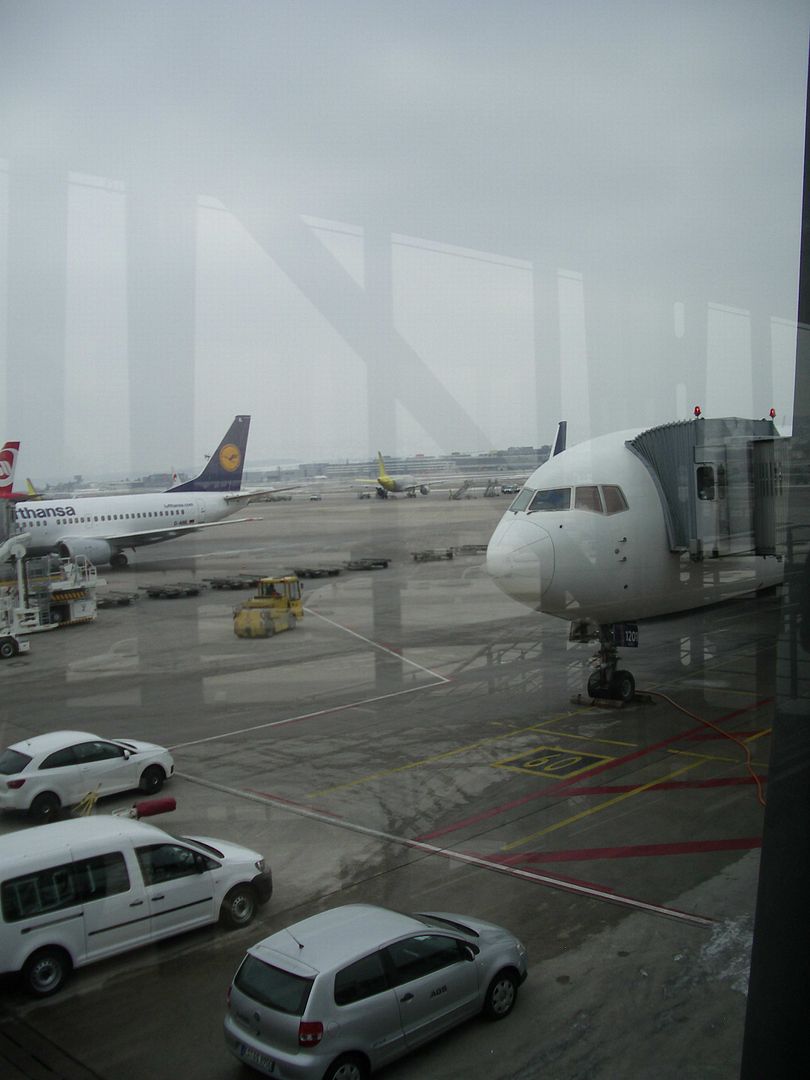 Here is a story with N1201P:
http://avherald.com/h?article=4514a78f
A good number of people around the gate after passport check and boarding starts well ontime.
The nice woman at Check-In told me that the aisle seat beside me is also taken.
But late boarding helps once again, I´am the very last pax and surprise, I see two seats open, not my original seats, but 25G is sure ok with me.
10.50 am, ontime, "Delta" is ready for 9.55 hours in the air.
Departure heavy from "Zero-Seven", now that´s a long takeoff roll in comparison to other STR experiences.
Cockpit crew is from the US. The captain with a short welcome prior to departure, no. 1 for us, ok, this is not ATL!.
More really detailed info´s in an experienced style short after departure. We see a third pilot in the cockpit today due to the long flight distance.
The blue winglet up for the blue sky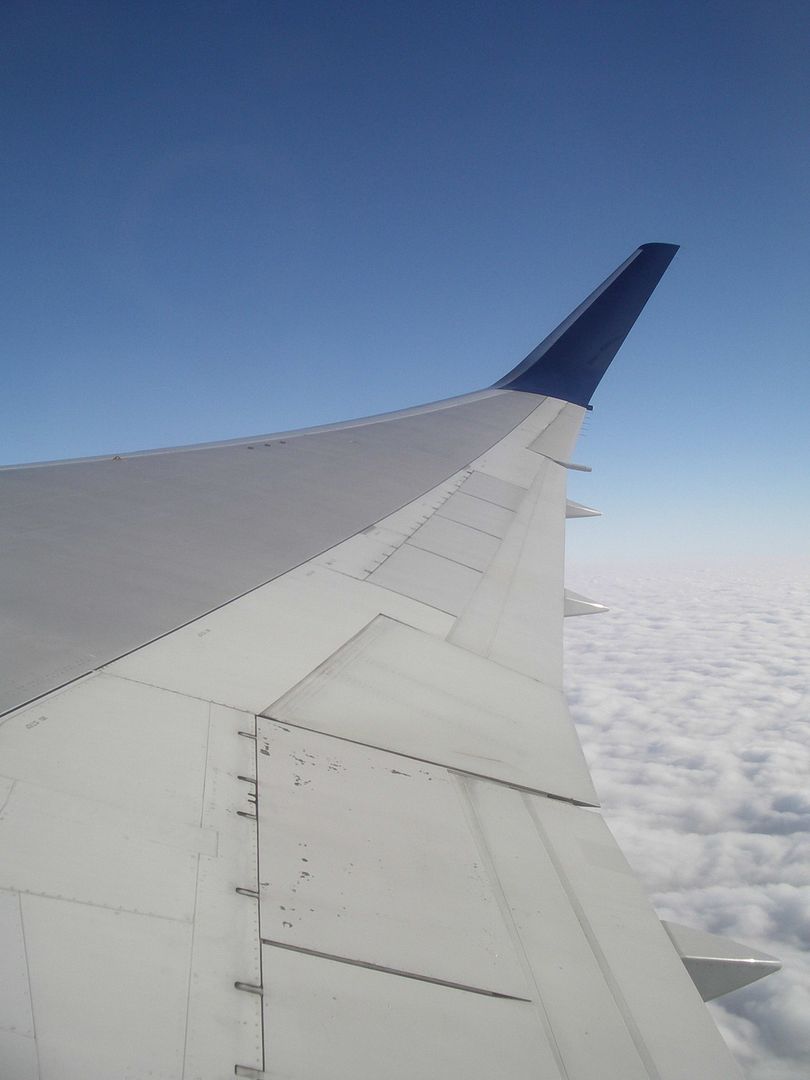 Cabin crew serving my seat is a young male FA, nice, also german speaking and a really senior woman also nice.
Well, the "Girls" here are once again by Delta more "Golden Girls" style!.
Legroom is good with the blue leather seats and the clean cabin
The safety card with the warm welcomed 767-300 like on schedule
And Delta´s magazine
The load is close to 100%. Lot´s of American people on the way, a few germans only, so it seems.
The interior looks like fresh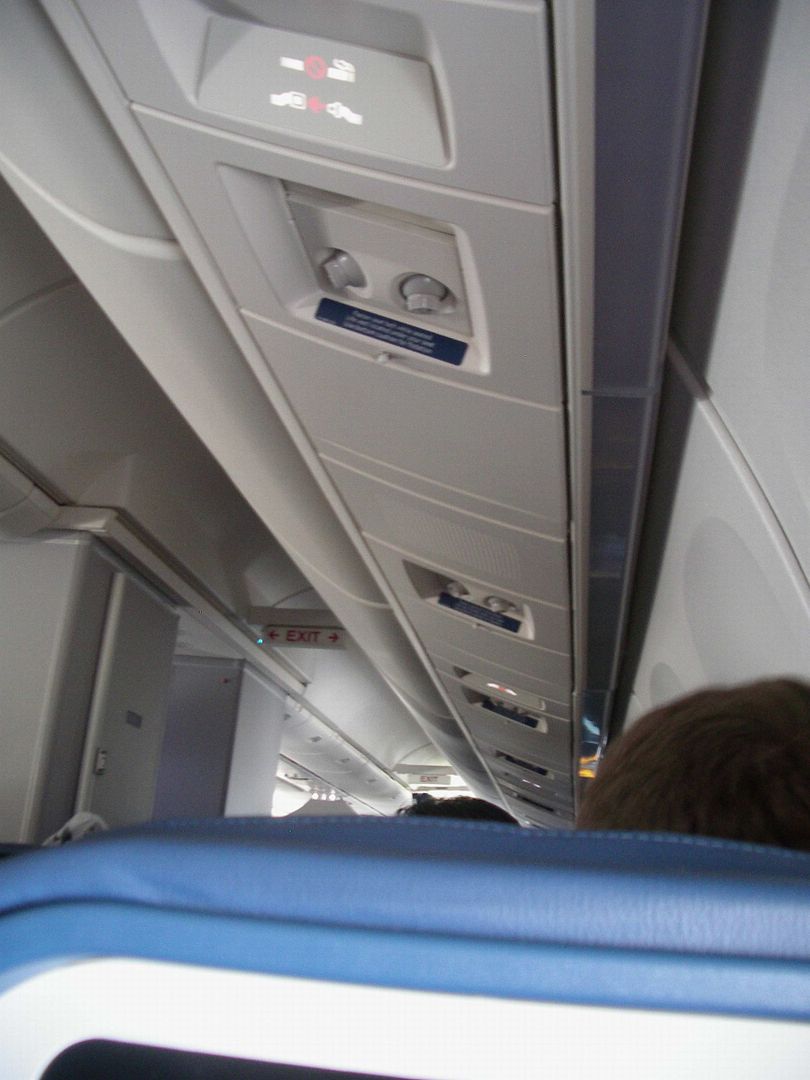 What about my entertainment?
Ok, ok, it´s this one also today
Start with some pretzels and water just after departure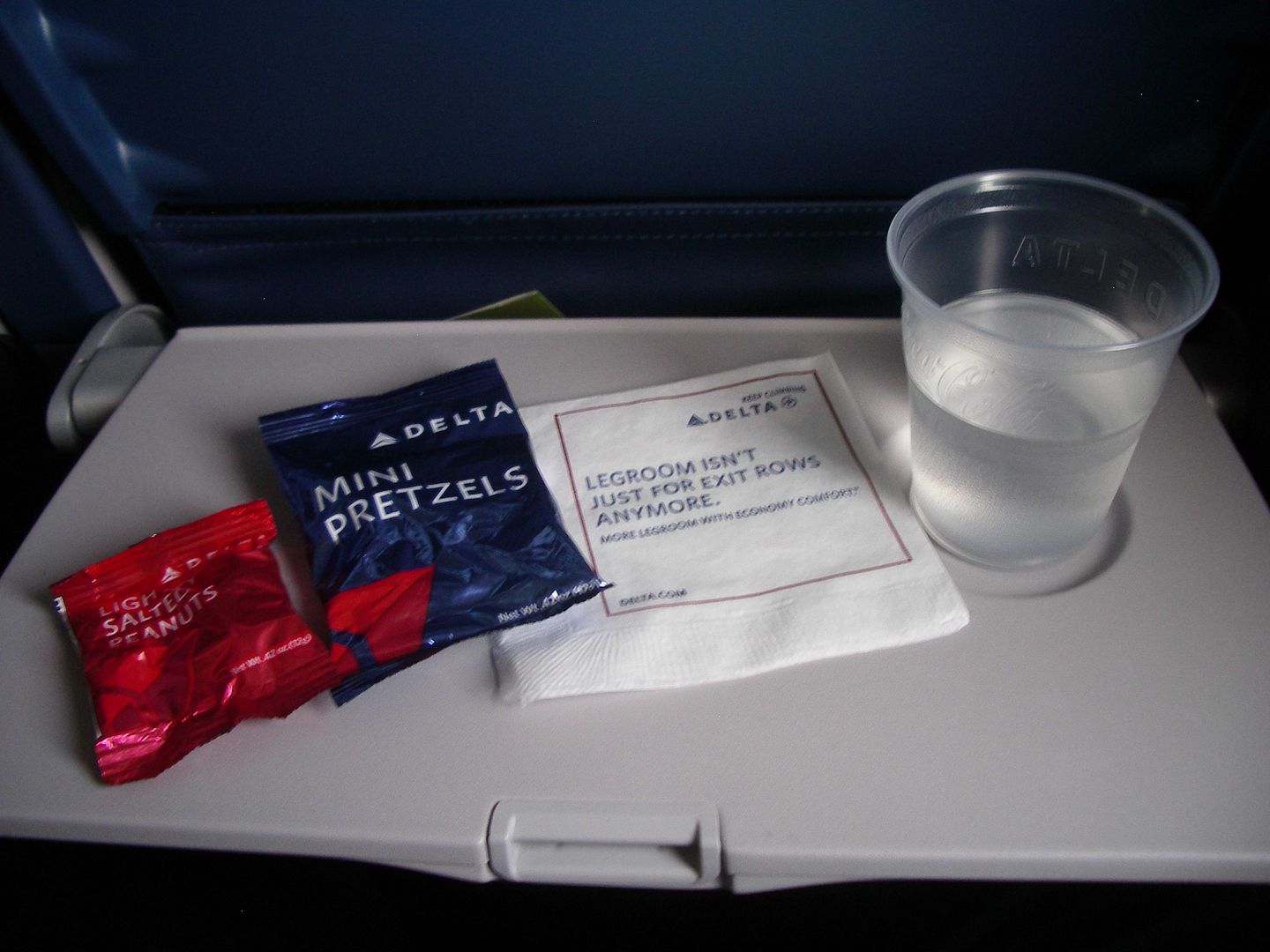 The captain is on the mike with some turbulent weather conditions ahead one hour from DUB, nothing special in the end.
And something more substantial not that long thereafter
Rice and pepper, sure ok with me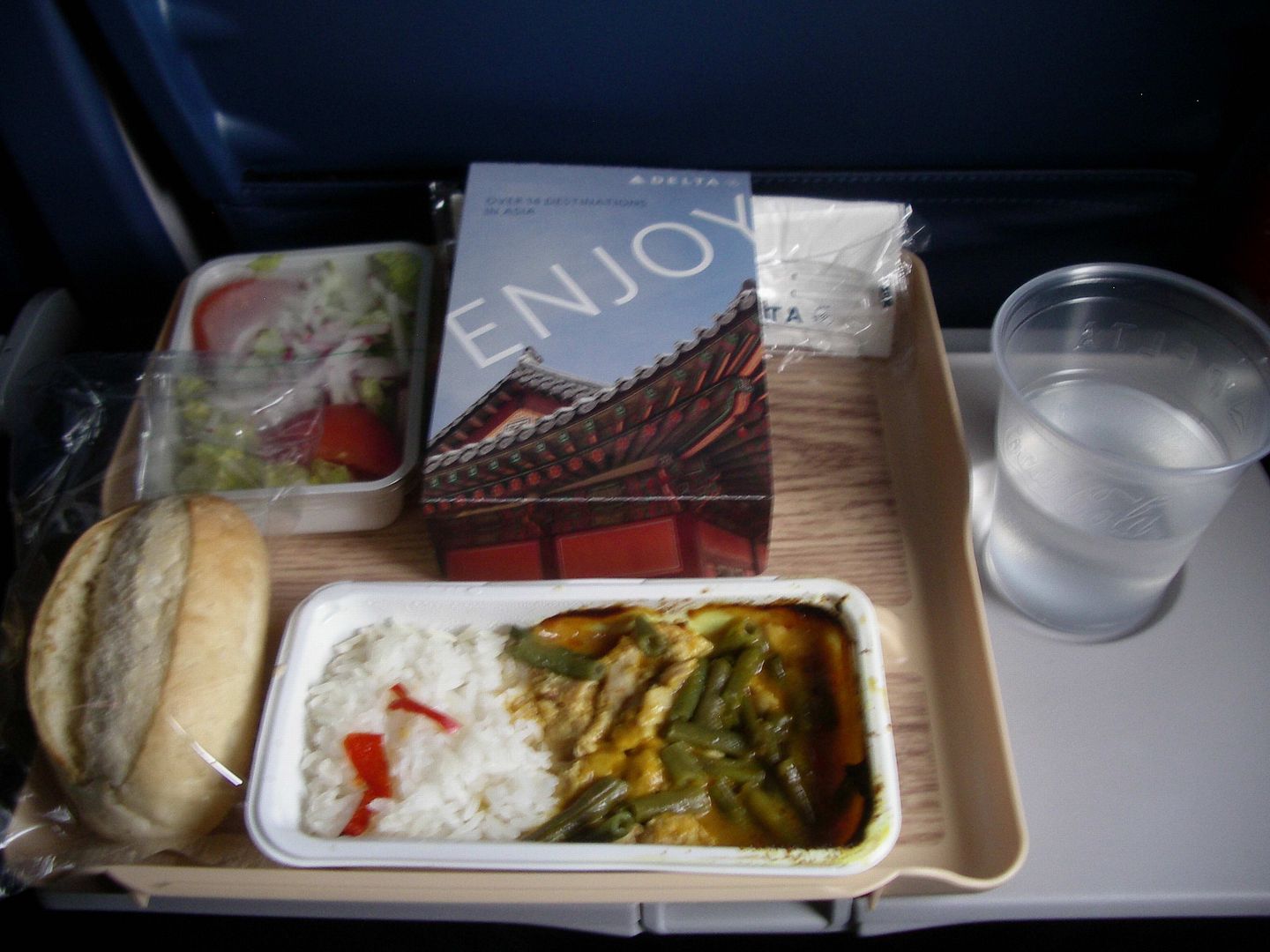 This way for Iceland
Interesting to know that my german language selection sounds much more spanish to me!
Nevertheless we reached Canada
The arrival snack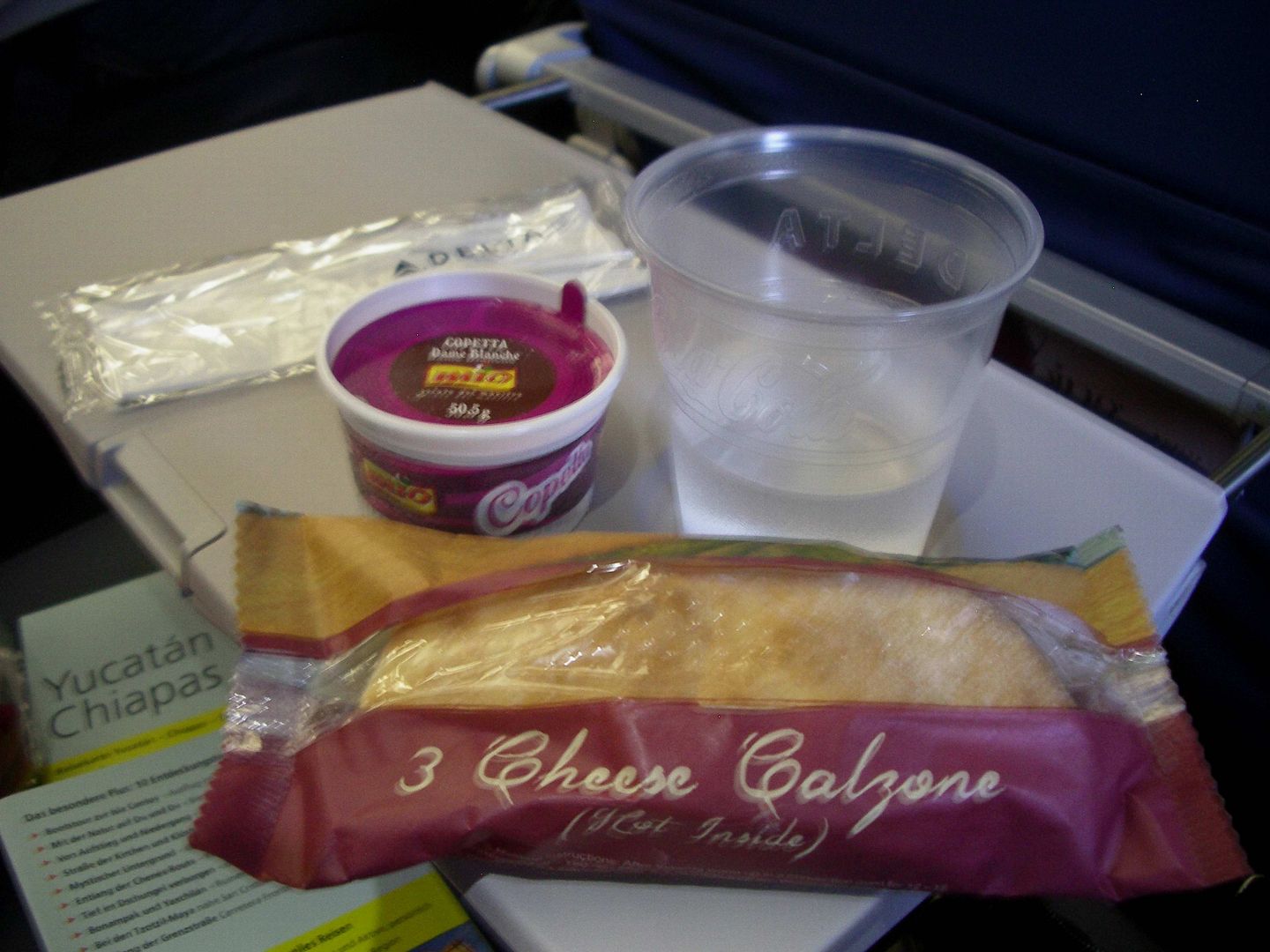 Routing is FKB-LUX-BRU-LON-DUB-Goose Bay-Quebec-Montreal-Charleston at maximum 36000 feet.
On approach with Atlanta´s skyline ahead and the captain on the mike with a nice Bye-Bye. He´s also at the planes door later on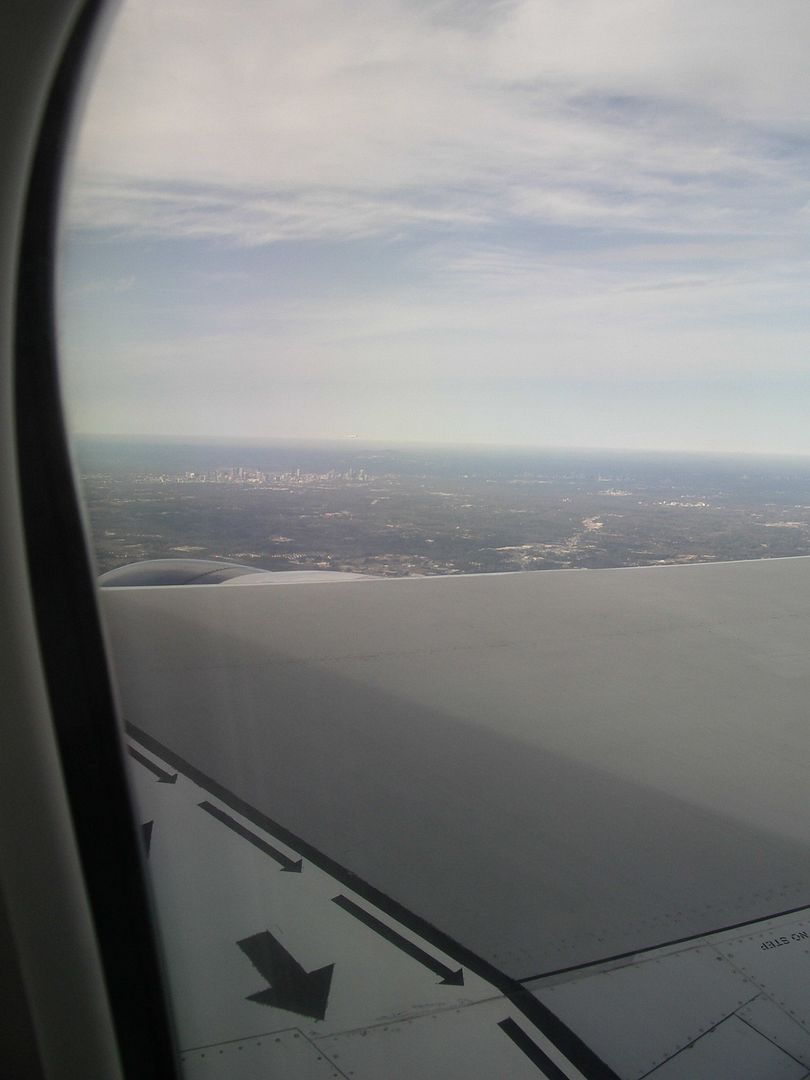 Touchdown at the 2743 meters "Two-Seven-Left", 6 hours time distance for Germany. It´s 2.45 pm, impressive 45 minutes ahead to schedule. Some high clouds only and 16 degrees.
Is some 2 hours connection time enough?.
There is no way here in the US to miss immigration,
also the pax with non american destinations should line in for the officers.
Some ten minutes to wait till I´am upfront.
Hah, I know the way, remember that one, the leftmost row is good for me now.
With the crew desk staffed by an senior real american guy, funny and laughing loud all the time, waving pax in as soon as there is no crew around, the queue moves fast forward. An older correct woman also on duty, two younger afro-american guy´s doing the job and no, remember that one also, I don´t really know the way.
One young white guy, chewing gum, relaxed in his seat, it feels like he enjoyed it to plague other people, questioning a middle aged woman for a much to long time from my point of view and oh no, guess what?.
"Next".
"You connect for Cancun".
"Yes".
"How long do you want to stay in Mexico".
"Till Sunday".
"Sunday?. What is the intention behind this trip?".
"Just a party weekend in Cancun".
"You´re for sure not on a biz trip?".
"Sure not along the weekend".
"What do you work?".
"Sorry?".
"What do you work?.
"Consulting".
It feels like ages but finally he decides that I´am the complete freak, harmless for the rest of the world and stamped my passport.
So right now I´am allowed to stay longer in the States than my next scheduled arrival. That will be also interesting and I do not mean this in a positive sense!.
Ok, some lounging to calm down now is for sure necessary.
Saturday, 26.01.2013
.
.
.
Aeropuerto Internacional de Cancún
.
.
Service DL 537 operated by Delta Airlines
Scheduled: 17.45 // 19.34
Check the gate first now.
This one is parked here.
Close up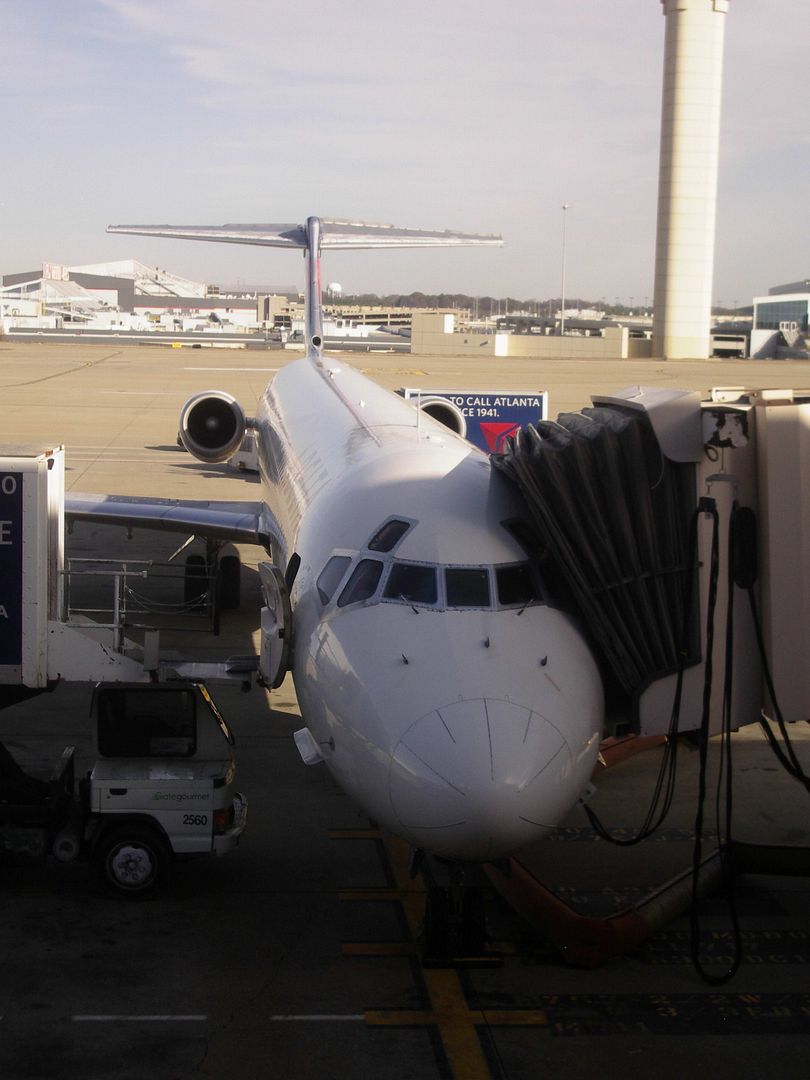 My plane?
I prefer exactly this way to board a MD
Let´s go for the Delta Sky Club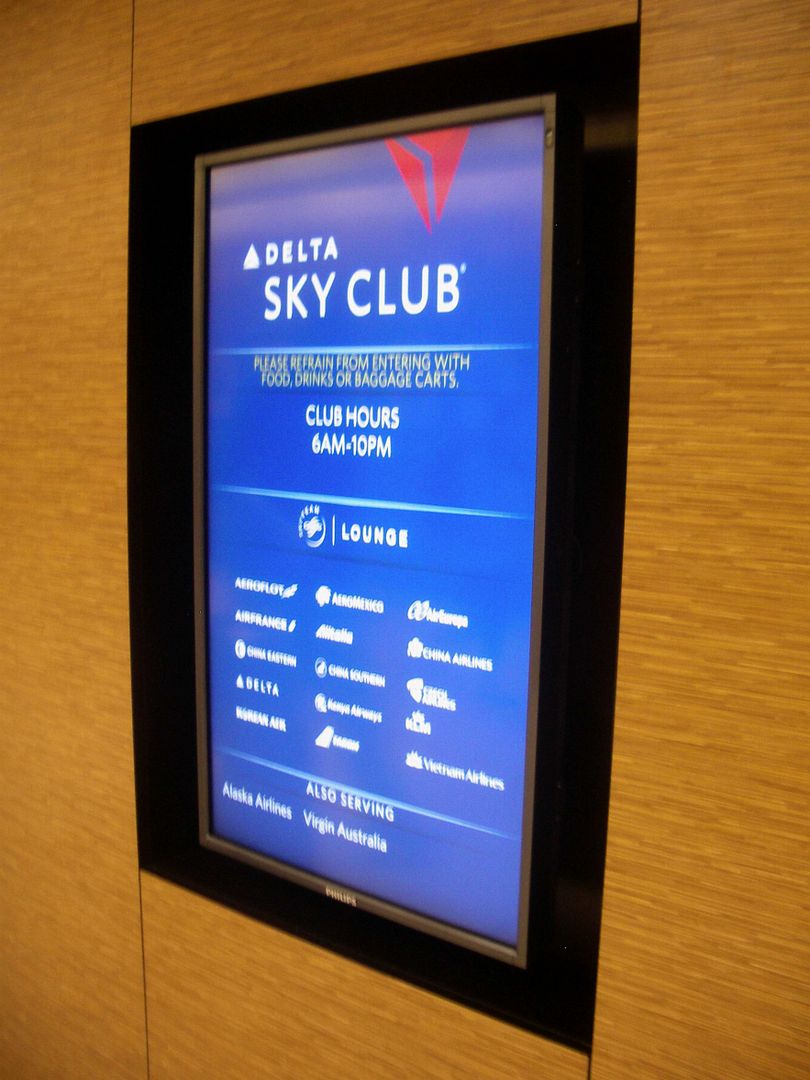 With these offers available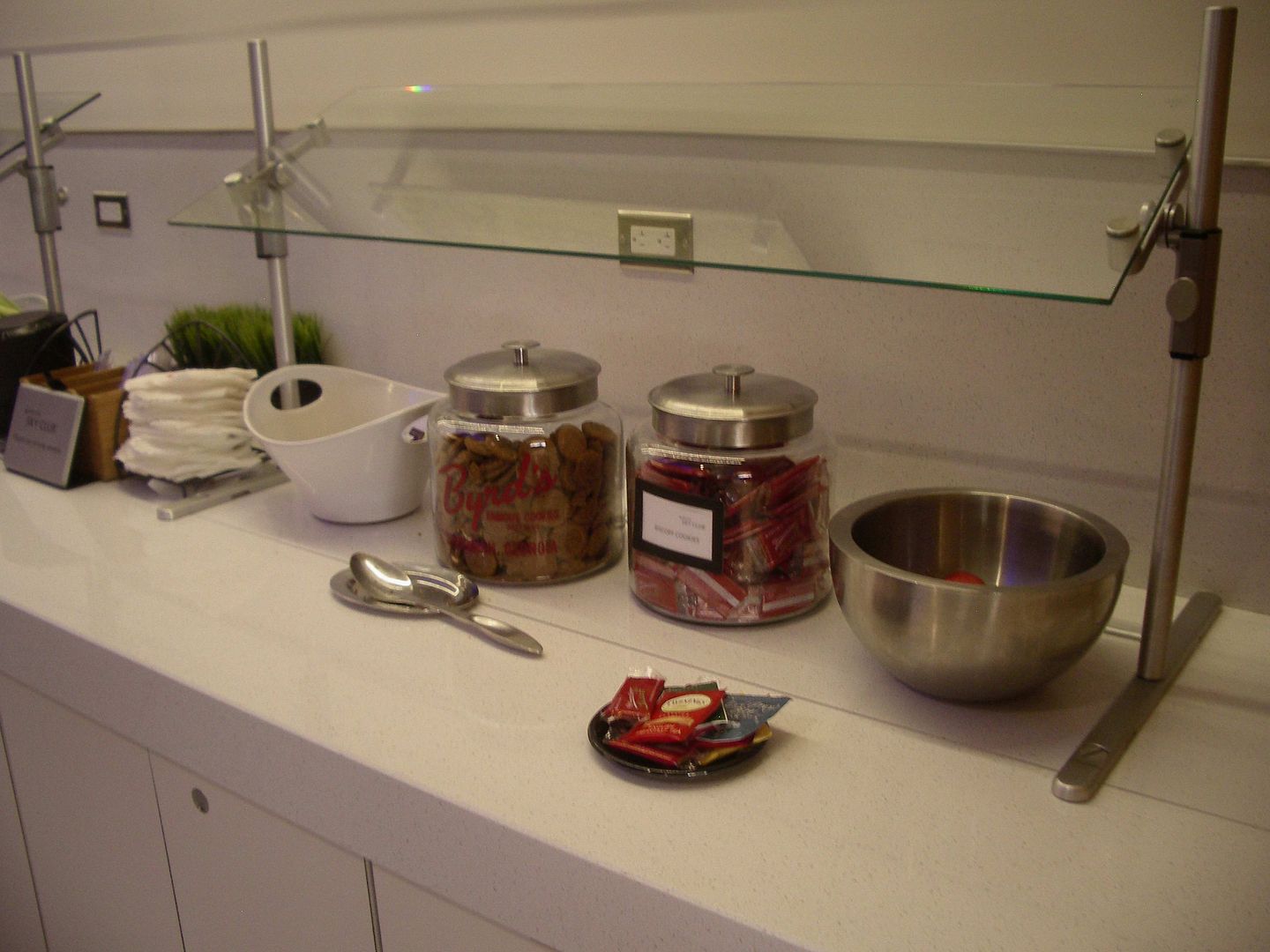 And views like this
Or this. That´s what I call a pretty lounge
What´s on the screen?.
Ok, CUN from gate E29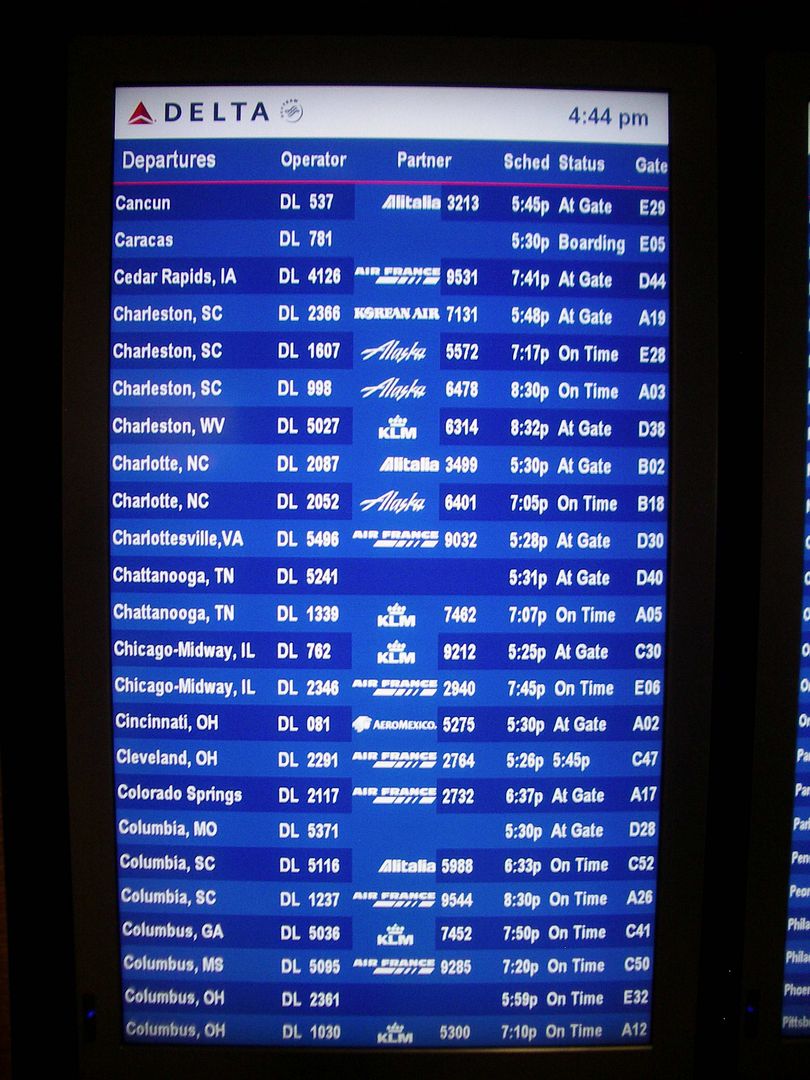 No changes, N992DL sit´s at the gate.
This is new to the log and simply leg no. 2 only on the scheduled MD88
With Delta and nothing else since 18.12.1991. 117 planes on type are in the fleet, now that´s impressive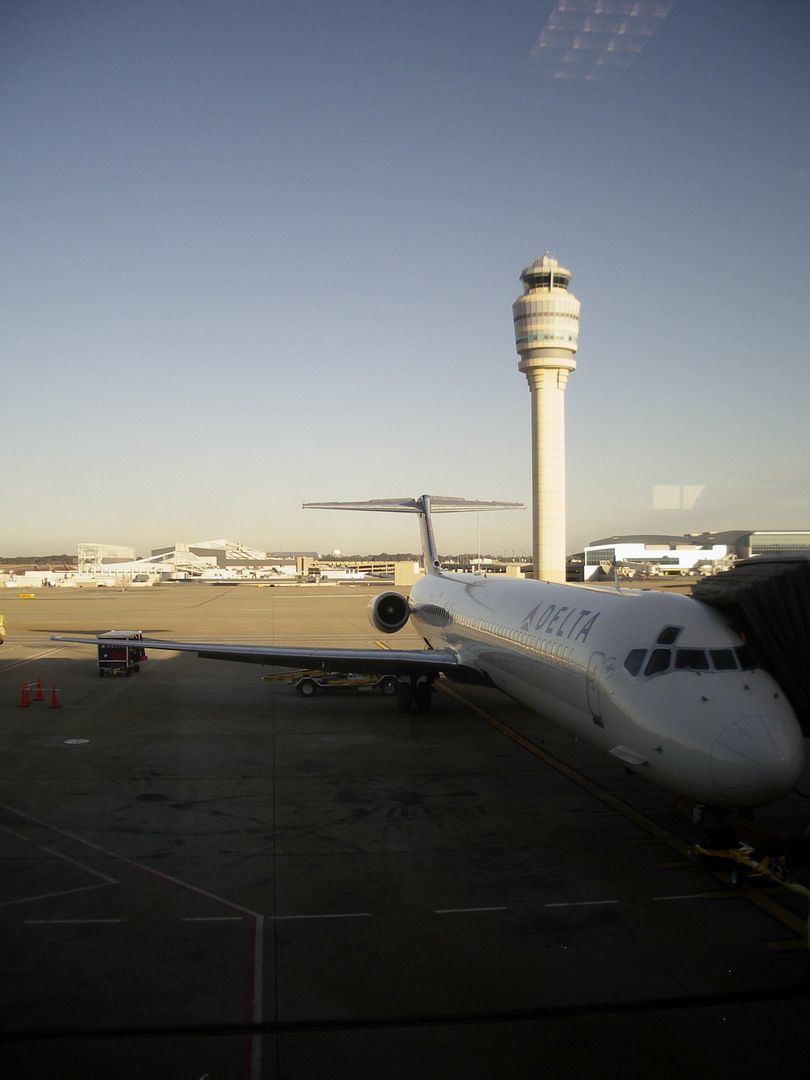 Boarding starts and the young woman working the desk calls me:
"Mr. Tripreporter here is you´re new boarding pass, seat 3D".
Sure ok, the upgrade request works well.
Time for me now to join the other pax and board the plane.
The aisle seat is also taken.
Cabin crew is three FA´s,
one elder woman, a supernice welcome at the planes door, chatty and joking all the way, tries to speak with all the pax a couple of words in their own language what is a real funny experience in the end.
For the german pax, of course there are not that many beside me around, it was: "Ich liebe Dich", for sure an somewhat unexpected welcome on a plane!.
There is also a middle aged biz friendly woman and another elder and also nice woman on duty.
Landing cards and custom papers handed out at first in spanish only, the cause of some concerns around the pax.
But finally they come again with english written papers.
"Thanx to my nice colleague Margret, we´re only want to check you´re spanish skills at first!".
A warm welcome to the MD88 right now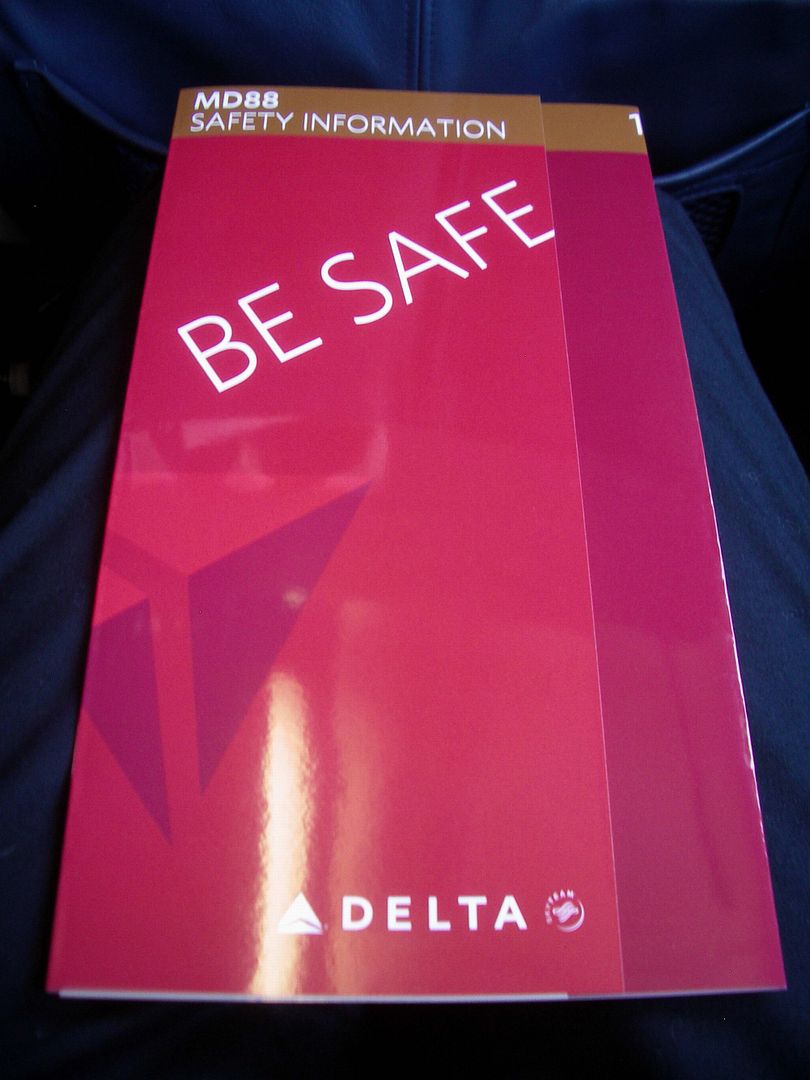 Where the legroom upfront is really good
And the blue leather seats are really comfortable
Where the cabin is really well maintained and clean
Leaving the gate, take one at 5.45 pm, pretty ontime, 2 hours to go by "Delta" down to Mexico, 16 degrees and a few clouds only here.
Take one?.
Cockpit crew is from the US, the captain is on the mike short after pushback, still on the apron, close to the gate. We lost some bags!.
It seems there is a handling mistake, bags are not loaded and we need to return to the gate, pick them up and will be in the air shortly.
Take two happens at 6.05 pm, 20 minutes late and works well in the end.
Departure from the 3624 meters "Two-Seven-Right".
Sundowner this way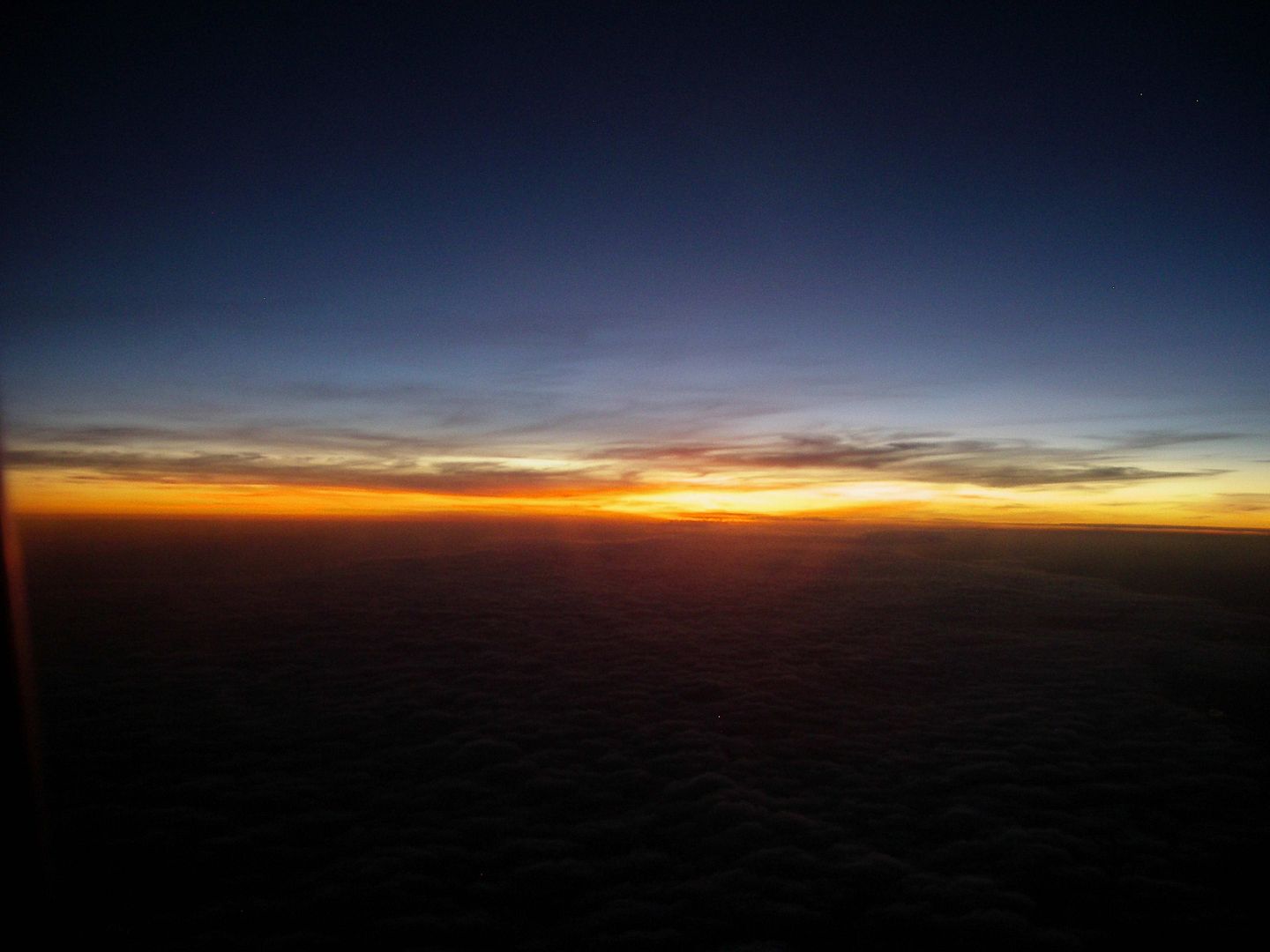 An wing in the dawn
The load is 100%, vacationeers of all ages on travel this afternoon.
That´s sure ok with me
Snacks and drinks are served all along the flight.
The captain is on the mike with a nice Bye-Bye during approach.
No route or flightlevel info.
A nightly touchdown at the 2800 meters "One-Two-Left", 8.25 pm, 50 minutes late in the end, some clouds only and 29 degrees, sure ok this way.
A short ride for the gate and onwards to immigration.
No time to wait, the mexican guys are much more relaxed than my previous experience.
It´s the visa on arrival system here what works well in the end.
No questions, just a stamp and onwards to go for my bag.
Which I don´t need to pick up in Atlanta like it is on domestic US connections.
It is with the first examples on the belt, leaving the customs form with the officer and onwards for the Alamo desk where the shuttle bus driver waited for me.
But stop, I need a couple of Pesos, also done without a minute to wait and just a minute later at the office. No one in front and just another minute later I´am on the way for the hotel.
The car is as cheap as possible here, 25.00 Dollars,
one day all inclusive.
From the airport straight down the MEX 307 till Cancun center, further on Avenida Tulum and it should be right hand side.
Well, it is!.
-----------------Continued below--------------------------------
................................................................................................