Meet the Fokker
New year's resolutions, those little easily breakable promises most people do at the end of the year, lose weight, be a better person, work harder, save more, etc, etc.
Me? I have just made 3 simple resolutions, the usual get fit and save money, and another to try and fly on airlines/planes i have yet to fly (within reason, otherwise one of my resolutions would be rendered pointless)
First on my sights was to try and hitch a ride on the venerable F100, there are a few operators of the type here in Europe and upon perusing the interwebz I came up with a simple and cheap enough itinerary flying on a Tyrolean F100 between MXP and VIE.
Fare came up at just under €110 all in.
To get to-from MXP from my home in BCN, I booked 2 separate segments on Vueling for the outbound, and easyJet for the inbound, totalling a reasonable 65€
I would need to change terminals in MXP since U2 operates from T2, so I gave myself plenty of time to make the terminal switch (there's a free shuttle covering the roughly 4km that separates both terminals)
I would also be spending a night in lovely Vienna so a roof was needed, booking.com offered me the Hotel Lenas for 35€ including breakfast.
All set, time to fly.
Saturday Feb 16th, 2012
My alarm started screaming at 5:00am, and as usual was at the receiving end of my early morning rage to quote Aerdingus "I am like the MGM Lion"
Anyways, after much moaning and groaning, I dragged my body out of bed and into the toilet for the usual morning rituals, got dressed (very important), had a coffee to somehow become more human, made myself a sammich to enjoy on the plane, packed the last few bits and off I went, catched a cool new Prius taxi that dropped me off atthe Aerobus stop in Plaça Espanya.
5 mins later I was en-route to BCN T1.
Upon arrival, I made my way to the Vueling Self Check-in machines shearing a tear as I walked past the QR and SQ check-in areas, no flights to exotic destinations today sadly.
Anyways, I reprinted my boarding pass after selecting a new seat, then it was off to clear security which was a bit busy this morning.
Then checked the monitors for gate information, nothing for the next 10 minutes so I just popped into Relay to buy some chewing gum, and then had a quick look out of the windows to see what was going on outside.
T1 at the wee hours
At 6:35 I checked again and my flight was assigned gate A14, just a short walk away from where I was, I passed by the line for the flight to FCO which looked pretty full today.
My flight on the other hand didn't looked as busy and boarding was surprisingly an orderly affair, no mutiny on the gate and 2 organized queus, am I in Spain?
Vueling
Flight VY 6330
Barcelona BCN to Milan Malpensa MXP
A320-200 EC-LLJ "Luke Sky Vueling"
Delivered new to Vueling in April 2011
Seat 24A (Changed from 27F)
Departure 07:20 am
Arrival 08:50
Actual 07:20/ 08:45
Here are two shots, funny enough, taking off from BCN, and landing in MXP
And some crappy shots from me.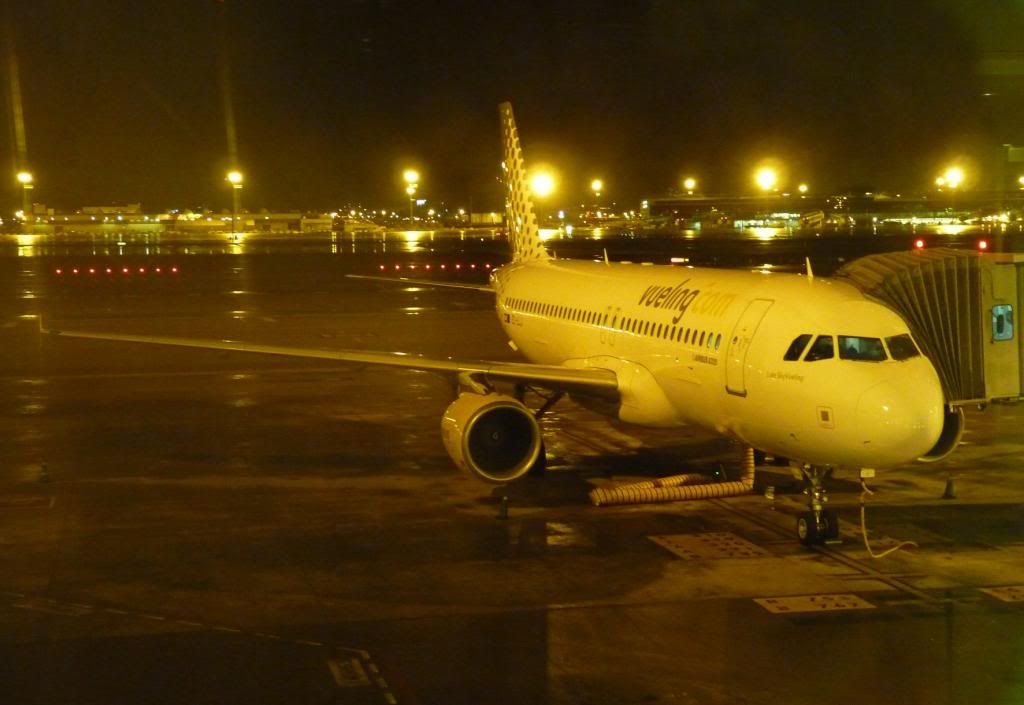 EC-LLJ being waken up.
Christian... I´m your plaaanee...
I was welcomed on board by a young lad and proceeded to take my seat, midway in the cabin there was another young And pretty F/A probably from the Vueling School of Cuties, I located my seat, stored my stuff in the overhead, and proceeded to dislocate both my legs so as to fit on my seat, this plane had the newer Airbus cabin with the Recaro seats that offer a not too bad but still not too good legroom, the cabin was bright and well kept, unlike my previous VY flights with tatty cabins and thrashed seats (former JK machines)
In the seatpocket you can find the usual sick bag, safety card (new ones) the Ling magazine and the onboard menu, there are also some other random magazines.
Boarding was completed orderly except for a group of young Italians who obstructed the cabin, after some hand waving and quick firing italian, they got settled on their seats, crews passed around checking we were all strapped and soon enough boarding was completed, changing seat worked a treat since I had the whole 3 seats at my disposal.
A pre-recorded welcome announcement was played followed by a manual safety demo as we were pushed back.
Slowly we made our way across the airport to the treshold of 25L, after the 2 company traffic ahead of us took off, it was our time, El Capitan only announced "CABIN CREW, ENTERING RUNWAY FOR TAKEOFF, GOOD FLIGHT"
That's up to you amigo.
After holding for a few moments, thrust was increased and our trusty A320 soared into a murky morning, shakily but determined our chariot cleared the low clouds in the area into a blue sky, lovely jubbly.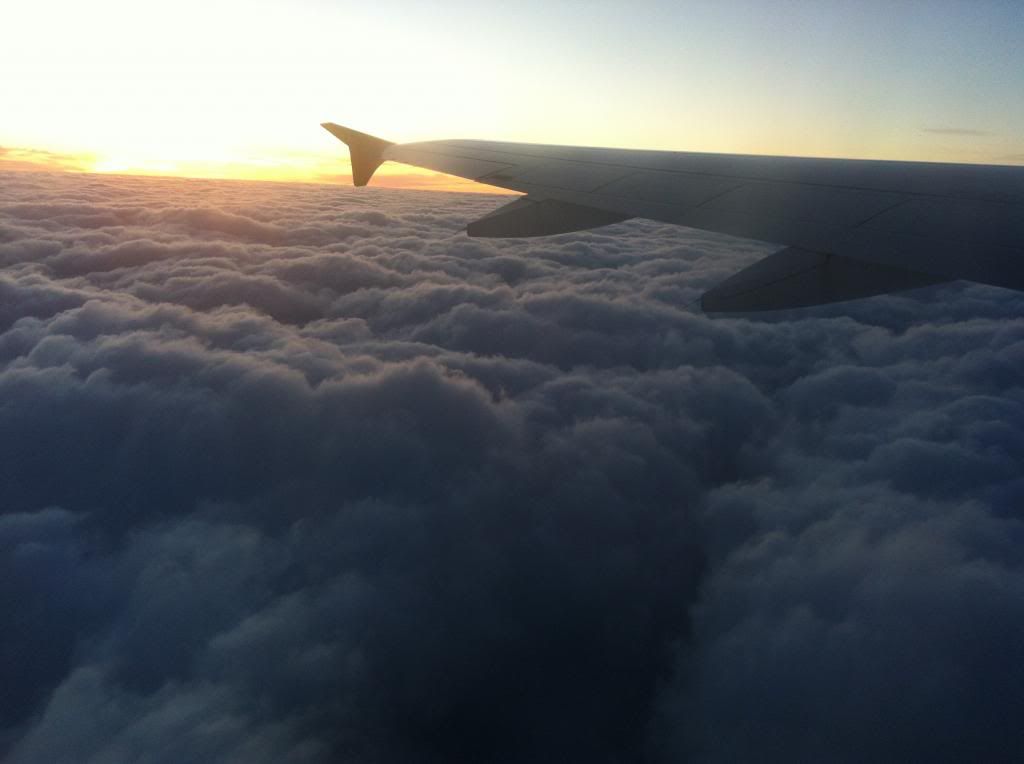 Climbing out of the muck.
A few turns here and there and we were on course across the med towards "La Bella Italia"
Once a safe altitude was reached, the crew prepared the carts for the onboard service, I bought a coffe to wash down my sammich, and whiped out my headphones to listen. to some choons, mainly to drown out the annoying continuous fake "shutter" sound emanating from the cellphone of a nearby twat... sorry "fellow passenger".
Climbing with some pretty colours.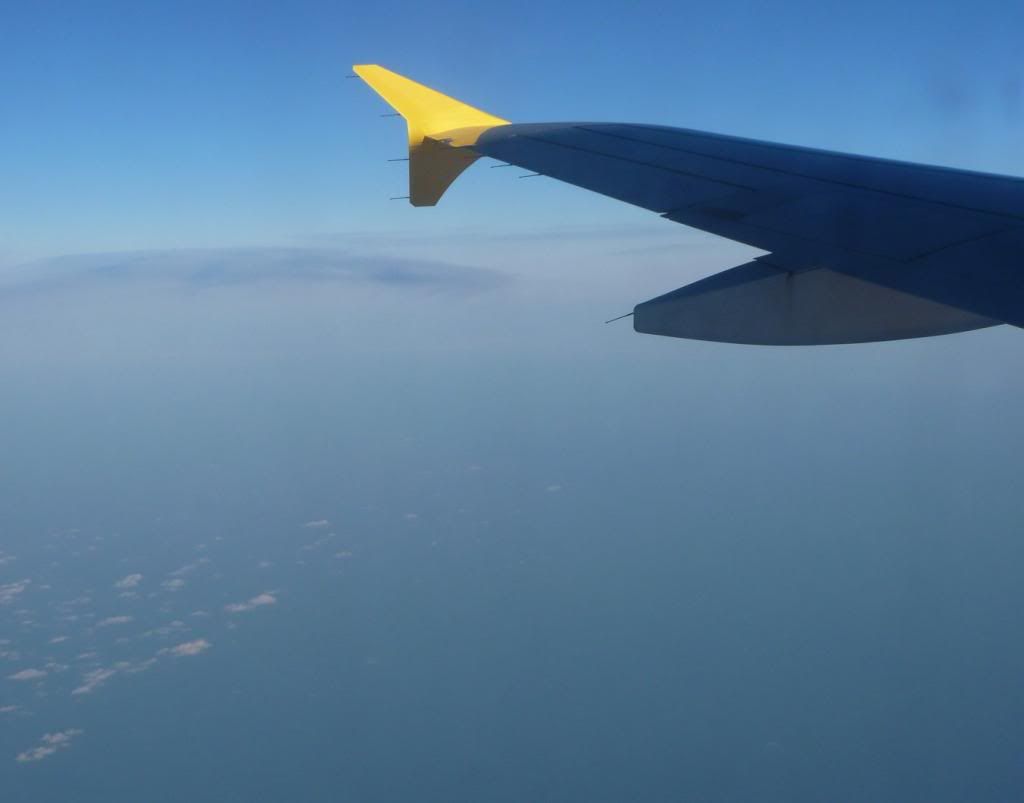 Crossing the med.
The flight went on uneventfully, I typed this TR on evernotes, ate my sammich and stared out of the window as we flew along la France, Our route was the bog standard Barcelona-Marseille-Nice-Turin-Milan route.
Some quality catering.
NCE, I´ll be there in about a month.
Moar NCE
Monaco, Hello MadameConcorde.
After a while, descent was started and Captain Cesar (not Millan, but he could be the "Airbus Whisperer") came on the mic to give us a bit of a 101 on the flight, he mentioned that we were to land on 35R so it meant a pretty straightforward approach, temp of -4 in Milan, and that we would arrive 5 mins ahead of schedule and parking at the gate 5 mins later.
We got lower and lower, flaps deployed, gear down and Captain Cesar made a perfect smooth landing followed by subtle braking, a quick taxi followed and on the way I spotted the reason for this mission, the VO F100 resting in a remote gate.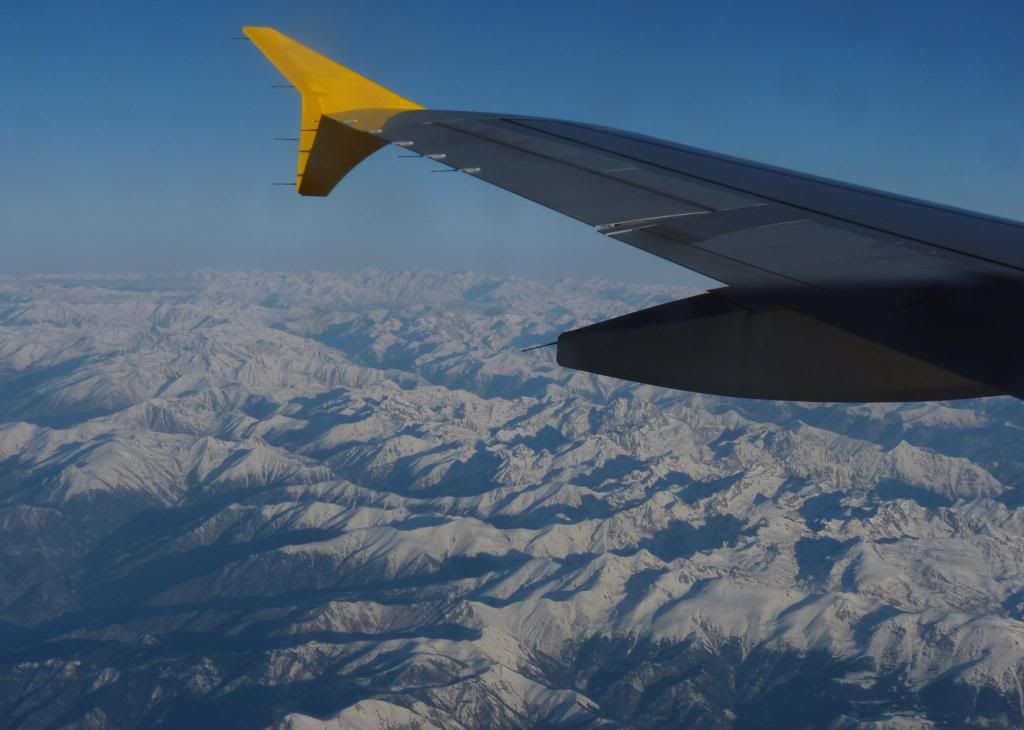 Nearing our destination.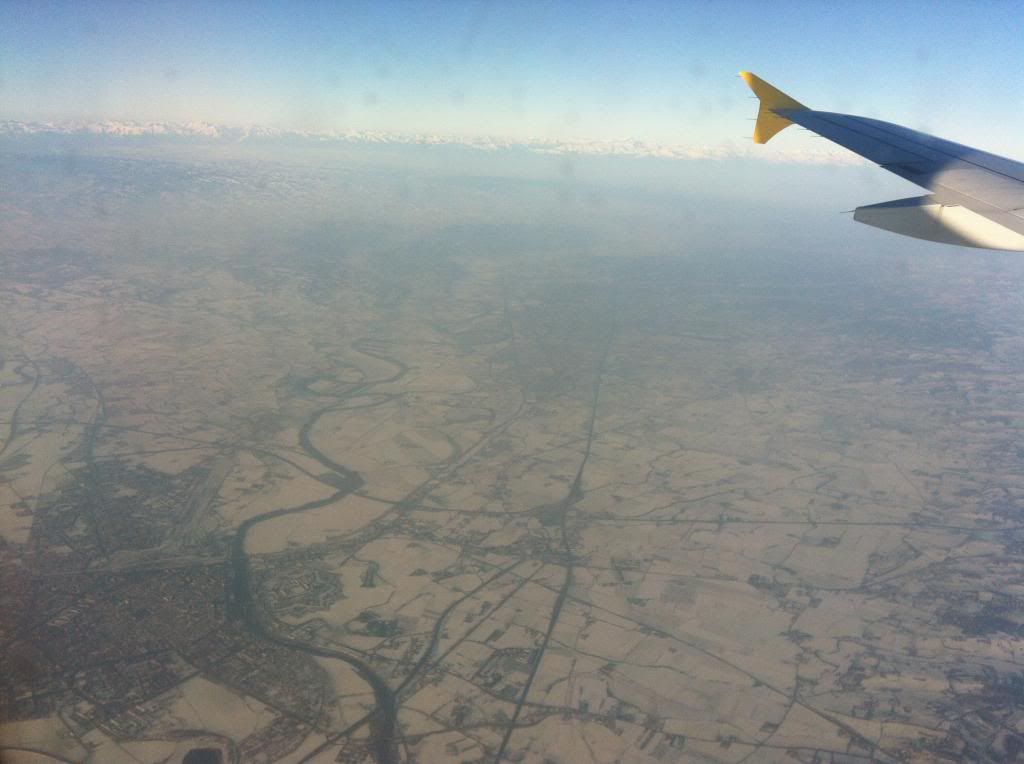 Not long to go.
Well well... look who´s here...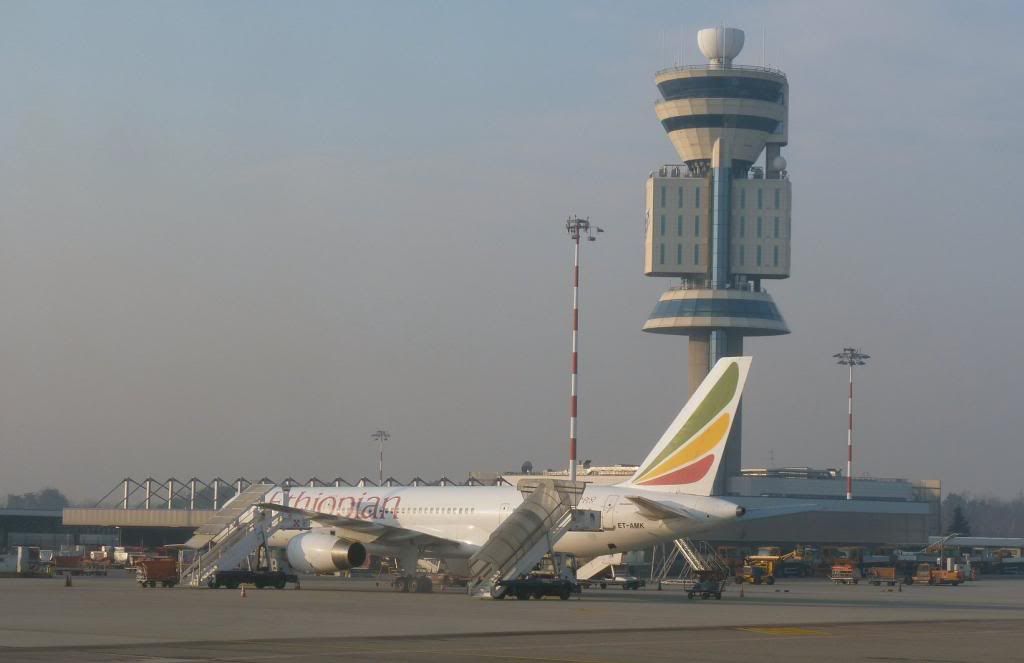 African beauty
We parked next to an AB 73G, and the usual scramble to get off first ensued, I waited patiently and thanked the crew on my way out.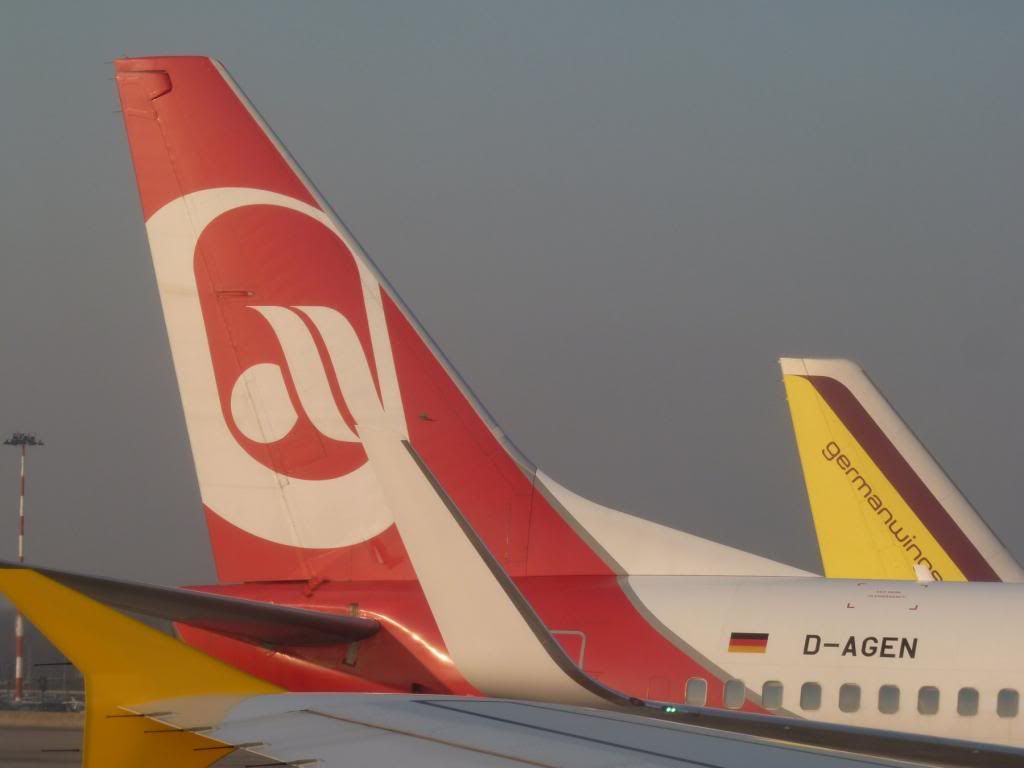 Ze Germans are here.
I followed the signs for Transit and after going up some stairs, I arrived at the shopping mall... sorry... Departures.
I did my usual ritual of having an Italian Espresso and walked to my assigned gate.
Austrian Airlines (op Tyrolean)
Flight VO 530
Milan Malpensa MXP to Vienna VIE
Fokker F100 OE-LVB "Vilnius"
Delivered to AA on March 1994, and in service with VO since August 2004
Seat 20A
Departure 10:20
Arrival 11:30
Actual 10:20/11:30
I sat near the gate until boarding was called, made a quick visit to the toilet for a tinkle, and when I came out, boarding had already commenced, there was no queues at all, so I just strolled to the podium and handed my BP to the agent, a BEEP and a green light meant I was cleared, I hopped on the bus and after 5 minutes we were taken to our aircraft.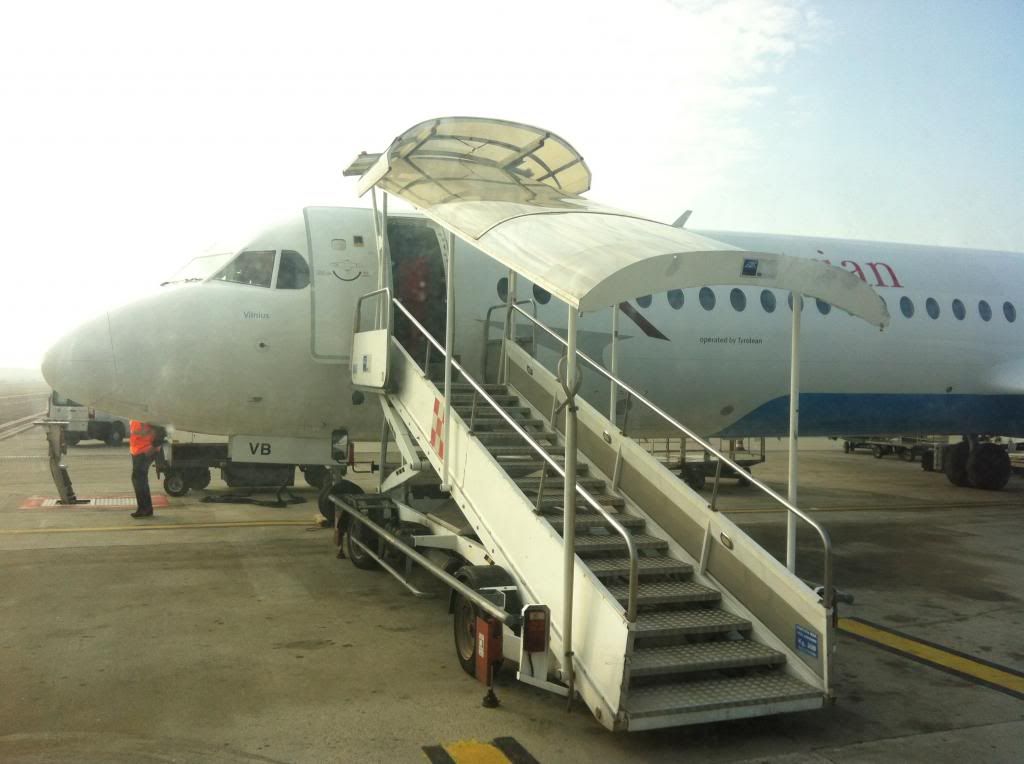 Hello Vilnius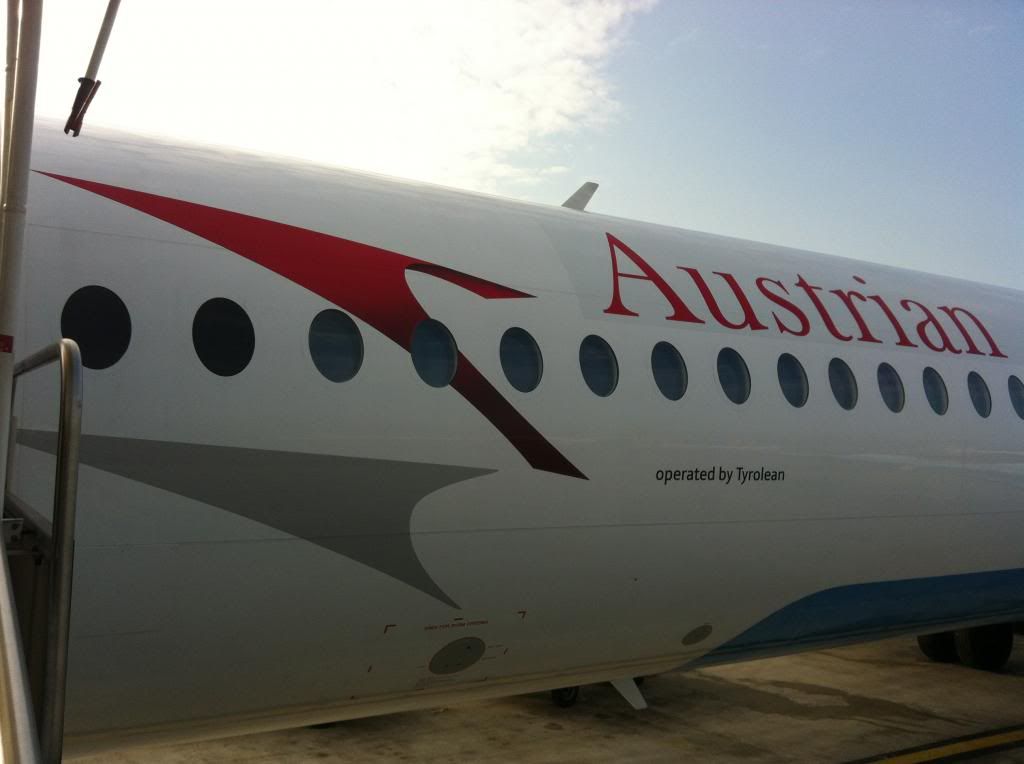 All Austrian Airlines flights are operated by VO since 2012
A crewmember was at the gate welcoming PAX, there was also a small rack with newspapers, I made my way to the back of the plane, all the seats were old school, chunky and with green seat covers, the cabin was showing it's age but was well kept and sported LED lightning thrughout, found my seat, stored my stuff on the (tiny) overhead and sat sandwiched between the wing and the RR Tays, as you do!
My seatmate was a young indian man travelling with his family sitting on the row of 3.
Legroom was sufficient, a bit tight but manageable, I snapped a few pictures and enjoyed my time in the Fokker.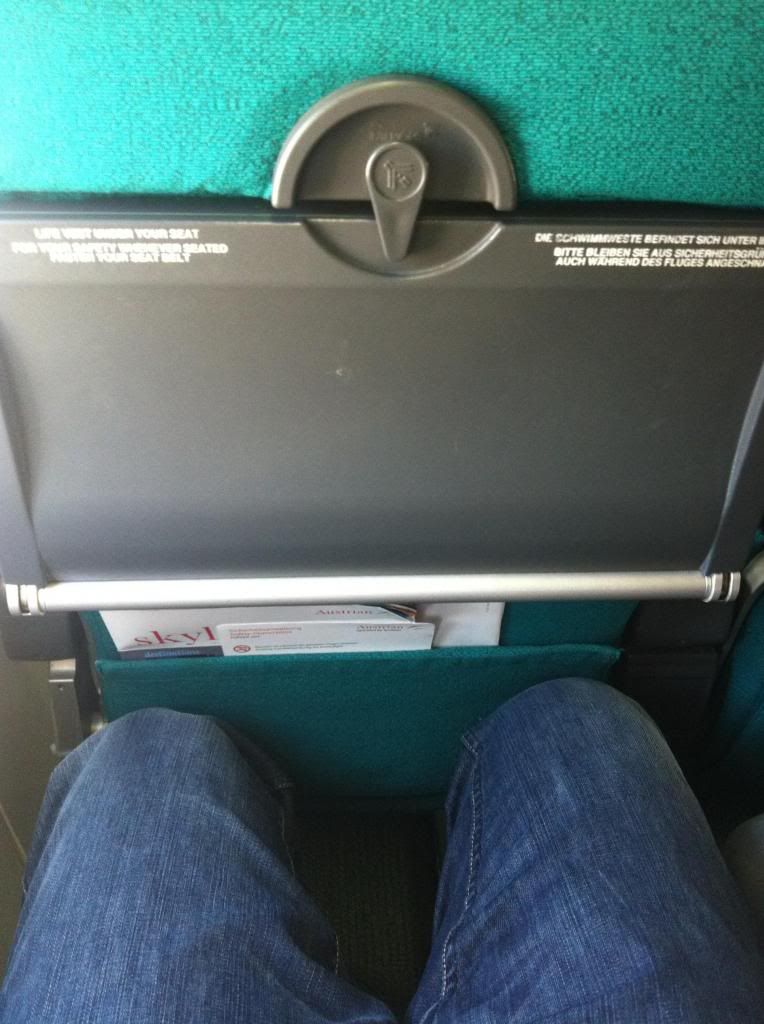 A.net signature legshot.
Soon, another bus arrived bringing the last of the passengers, load must have been around 90%
Boarding was completed, doors closed, and a manual safety demo was performed, then the Rollers were started and OMG what a lovely sounds these 2 make! I was grinning from ear to ear, since we were in a remote position no pushback was needed so we just taxied straight out to 35R.
We lined up and holded as a Continited 767 waited patienly behind us, then, das flugkapitan applied full thrust and the Speys screamed as we thundered down the Rwy, the PAX on 20A was having a full on geekgasm!
We lifted and climbed away as the alps came into view, one thing I noticed was that the F100 does not use any flaps for takeoff, is that normal?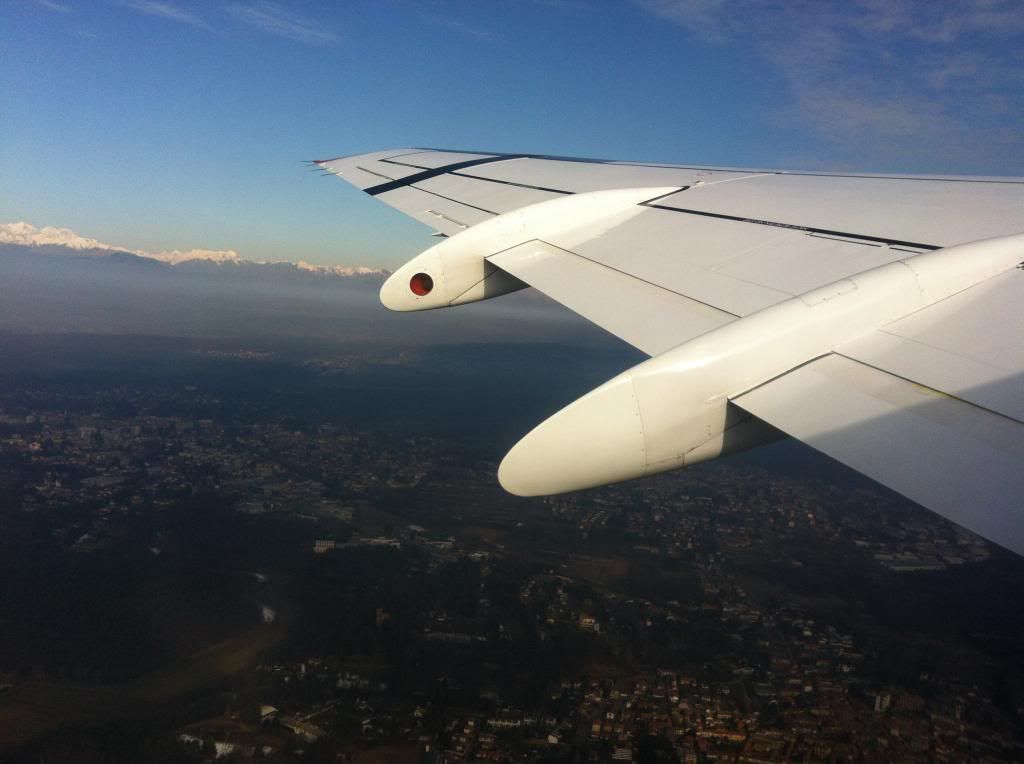 Climbing out of MXP.
We climbed and climbed until reaching our cruise attitude, the crew took a while to pass around with the service, but I was just enjoying the sounds and the views of the snowy mountains outside my window, das kapitan gave an announcement on the mic, but I could not make out what it was due to the sweet noise.
Nice views.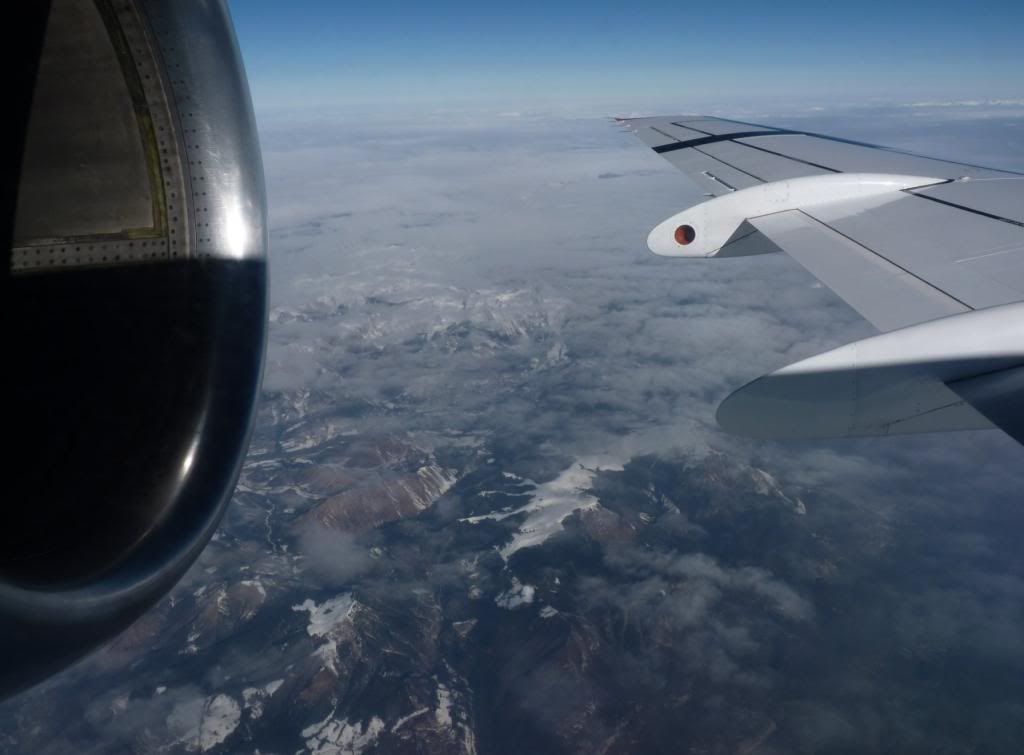 Some more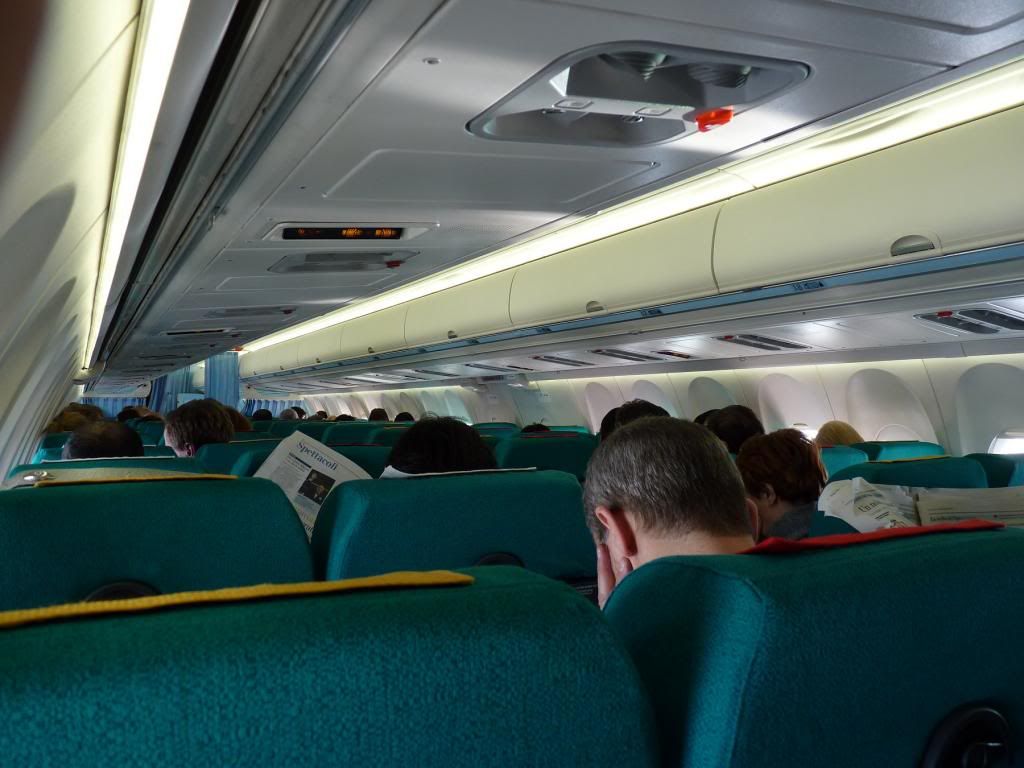 Cabin view
The crew finally passed around with the snack service, there was a choice of an apple (?), a pastry, or a chocolate bar, I chose the pastry and some OJ, pastry was delicious! it was sweet but had a sort of cheesy filling to it, i nomed it in seconds and washed it off with the OI later found out that the pastry is called "Golatsche" made with an Austrian cream cheese.
The rest of the flight went by uneventfully, and soon it was time for arrival, engines spooled down, noise pointed downward as we approached VIE, the scenery was very pretty with all the fields covered in snow, one of the daughters of my seatmate started crying maybe due to the changing pressure, the FA tried to calm her down but it was futile, all that was needed was for mum to put her on her lap, worked like a charm and she calmed down.
We continued our descent, and with flaps deployed and gear down, Mr Kapitan made a smooth touchdown on RWY34, then it was a quick taxi to our remote parking position next to a company Dash 8.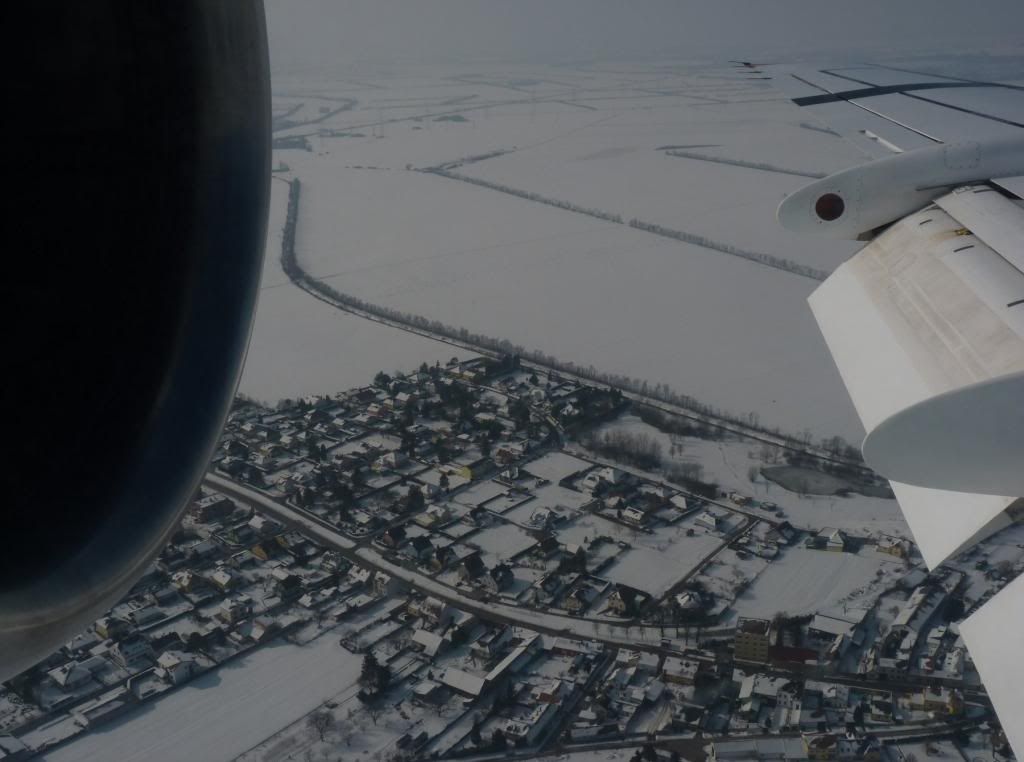 Approaching snowy VIE.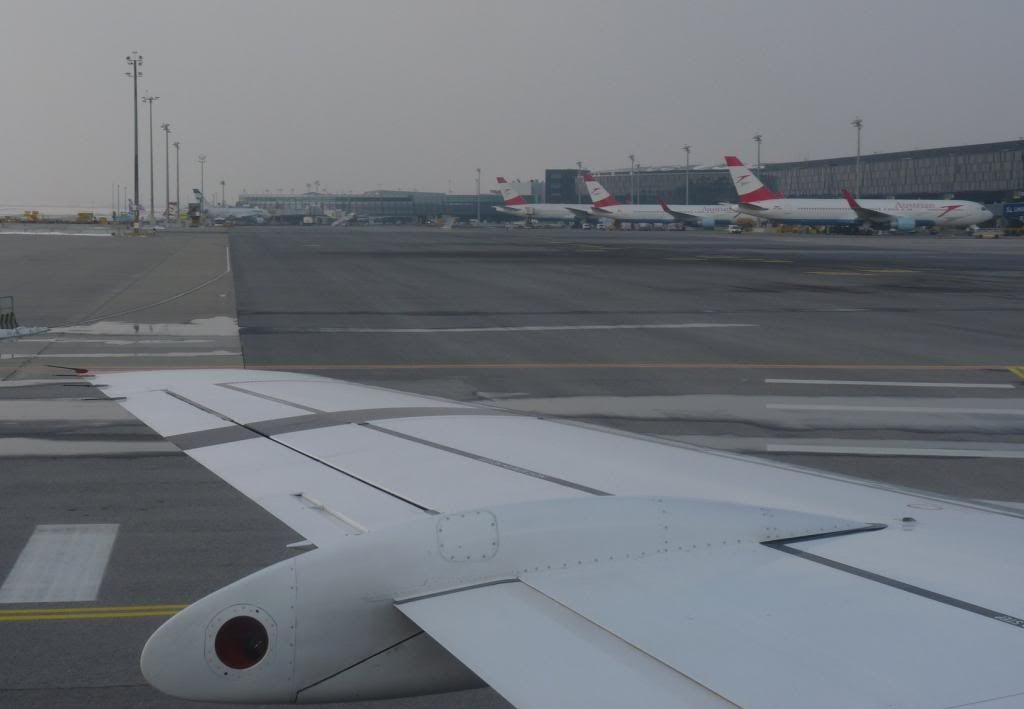 Yup, we are in VIE.
I waited for most of the people to deboard before collecting my belongings and stepping on the freezing cold apron into our bus.
Our bus.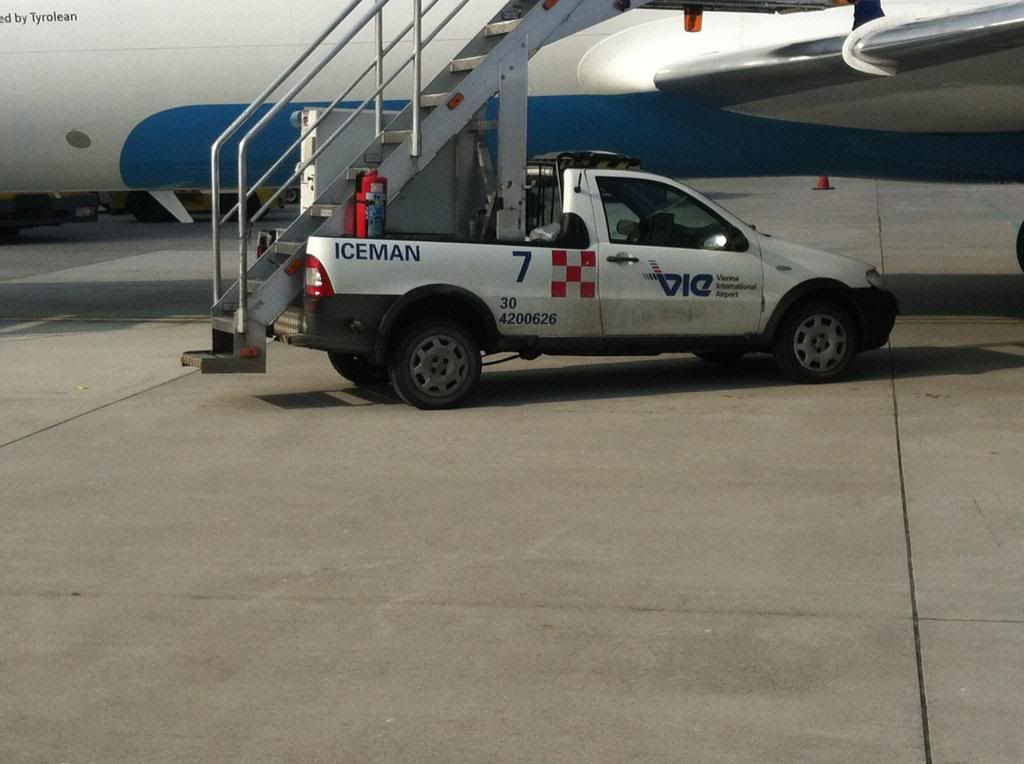 Kimi Raikkonnen works at VIE!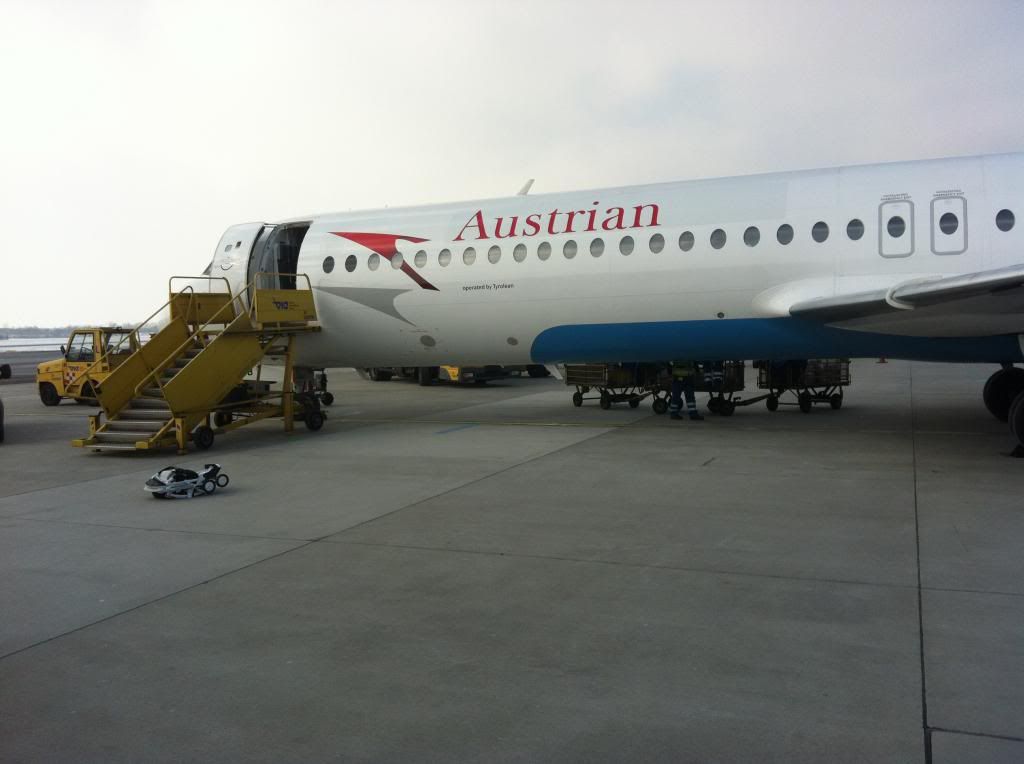 Bye bye little one!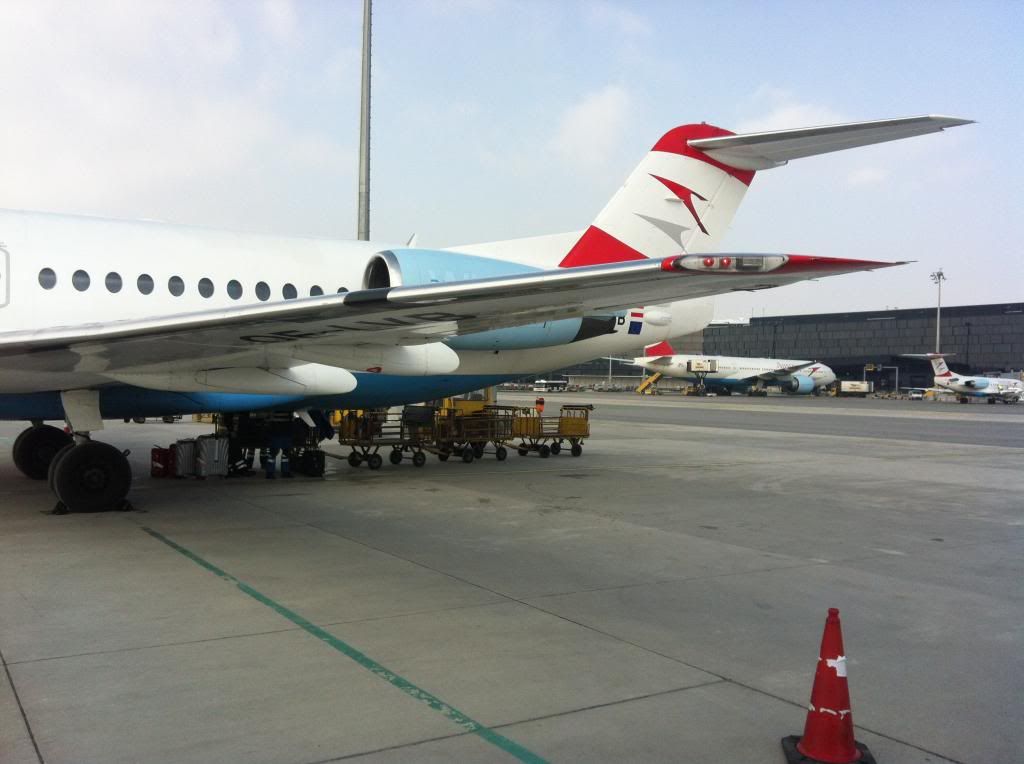 A Markus-approved shot.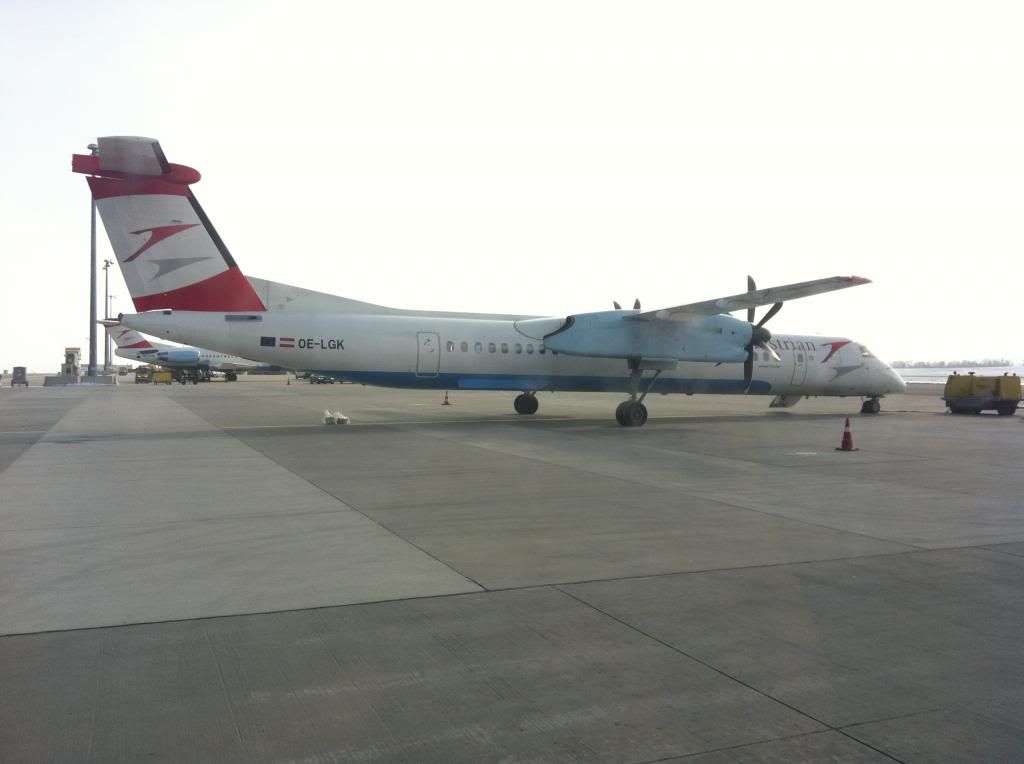 A dashing Dash-8
a short drive later and we were let loose on arrivals, this was my first time using the Skylink, not bad and I loved the screens showing all the arrivals for people waiting outside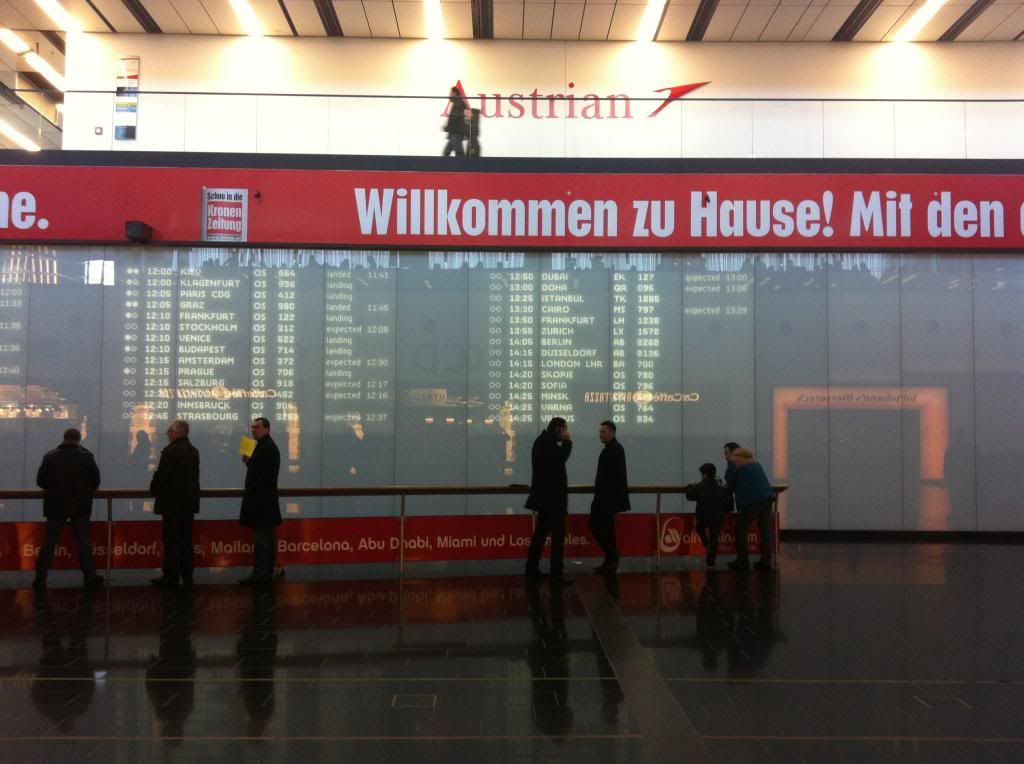 Cool screens showing the current arrivals.
Bought a ticket for the city train and made my way to Vienna for a bit of sightseeing, eating schnitzels and Sacher Tarte.
Sunday Feb 17th, 2012
I left my hotel at around 10am, it was a nice day, quite cold but at least the sky was blue, so I jumped on the metro to Karlsplatz and walked around the Ringstrasse for a few pictures before catching the S-bahn to the Flughafen at around 12:45 arriving there at 13:15, from the station is just a short stroll to the departure area following some corridors and going up some stairs, I already had a boarding pass stored on my passbook but I wanted to have an OS branded one, so I thought of using one of the SSKs but alas they only dispense the generic thermic paper ones... ah well.. no matter.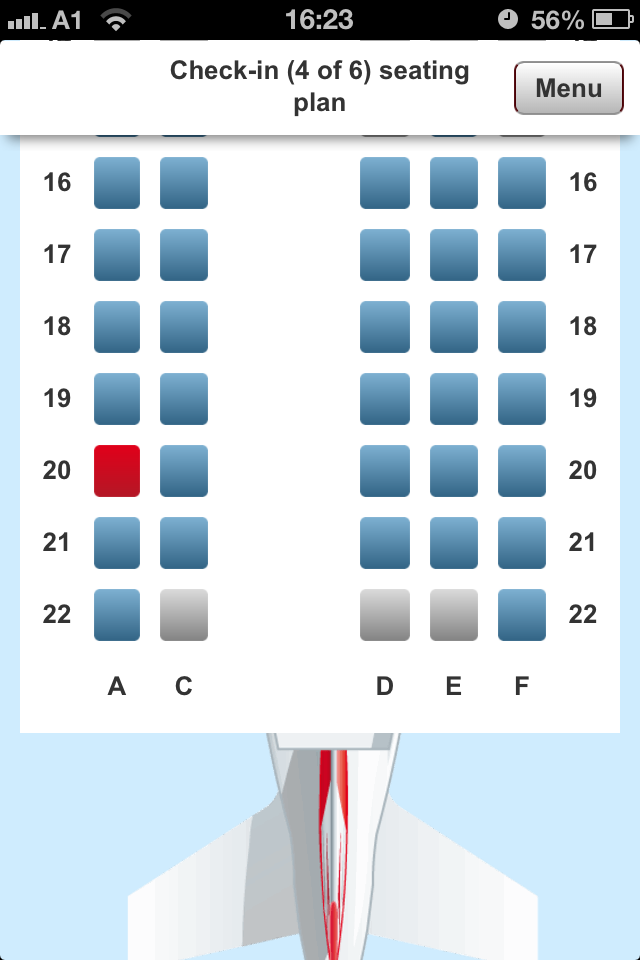 Best seats for the Fokker, on the row of 2, at the back!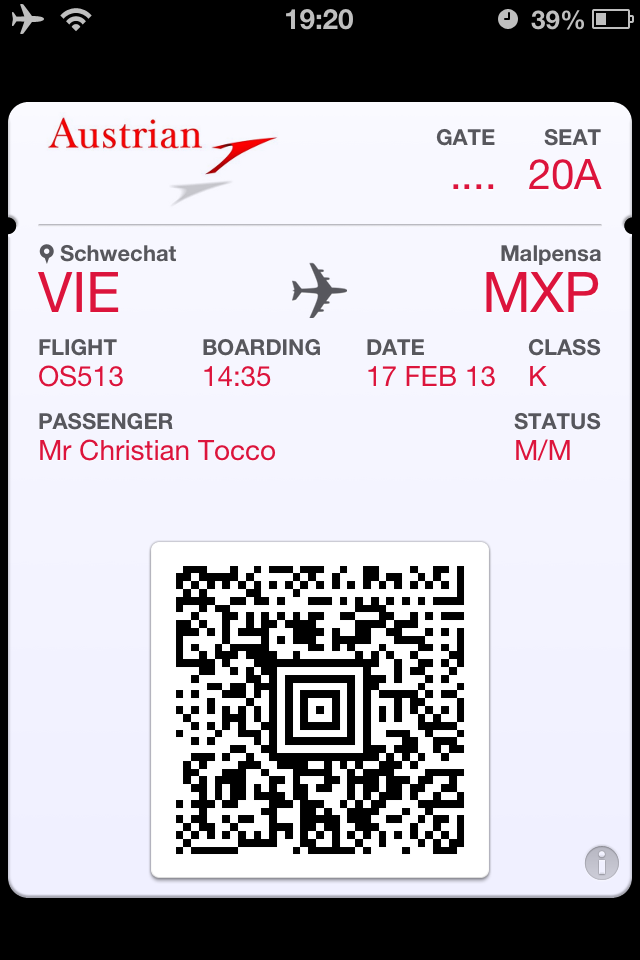 Passbook boarding pass.
There are some nice apron views from the check-in area tho.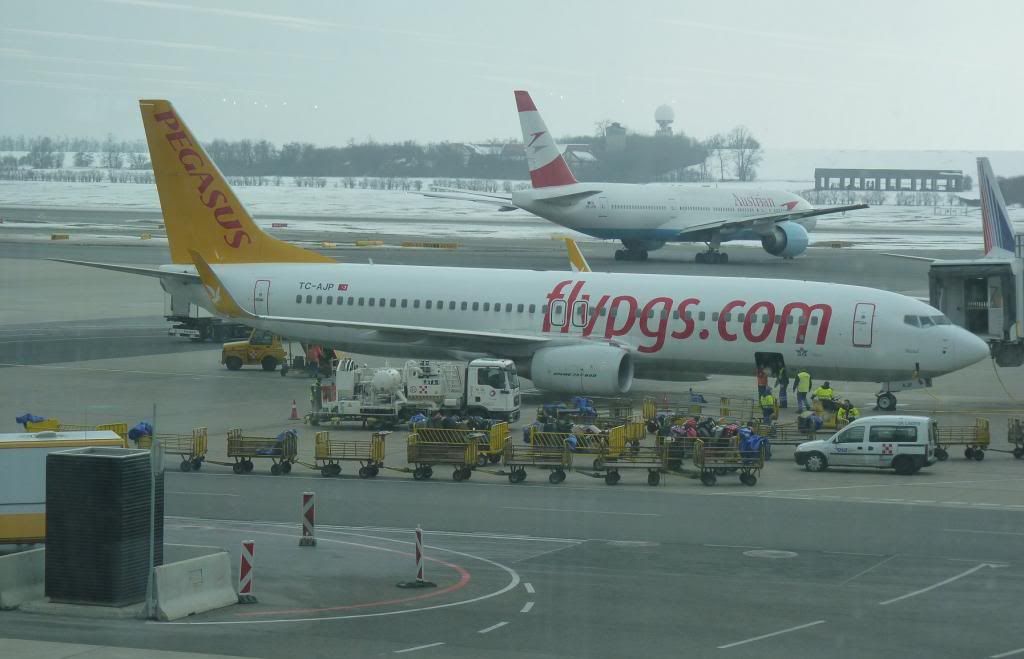 FlyPGS Posing with a VO 777 bound for NRT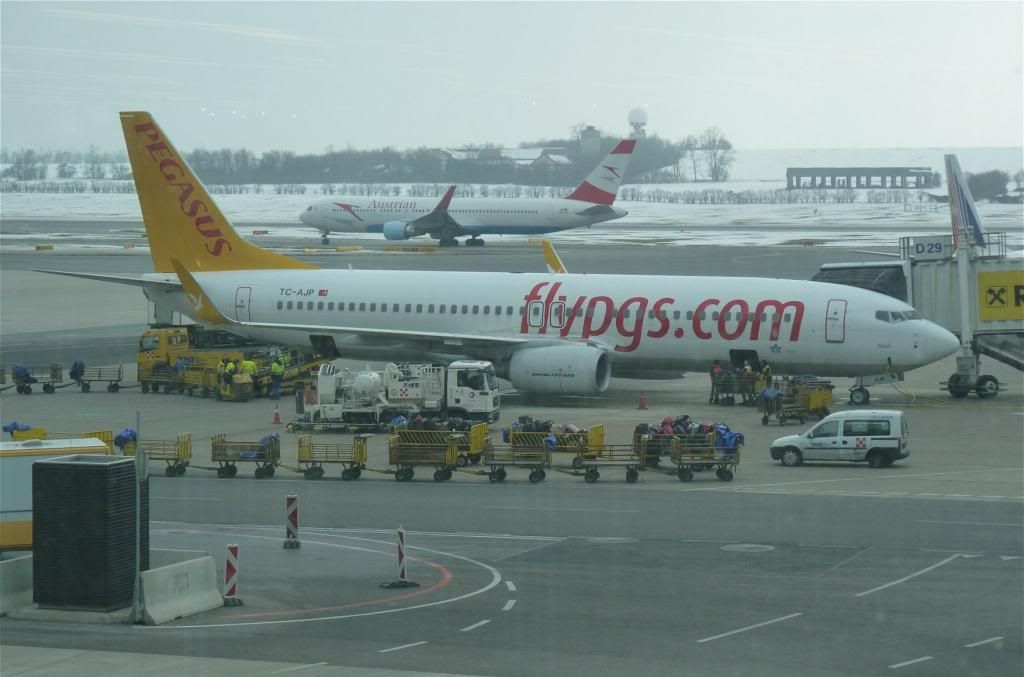 And then with a 767 bound for DEL.
After, it was time to clear security, first you flash your ticket or electronic ticket on an automatic gate, then when it beeps you are allowed to join the queues for security, I was quickly let through and after gathering my belongins I went out exploring the new terminal, which it can be briefly described as ¨grey¨ but it had some comfy lounge chairs and workstations with free wi-fi which I made use to pass the time since there was little activity going on outside.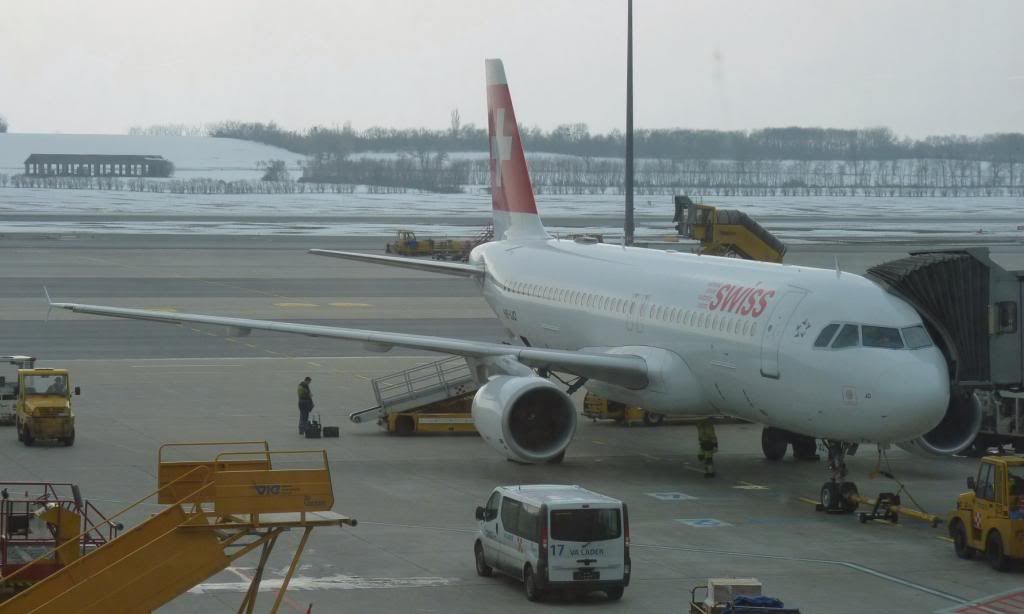 LX A320 HB-IJO.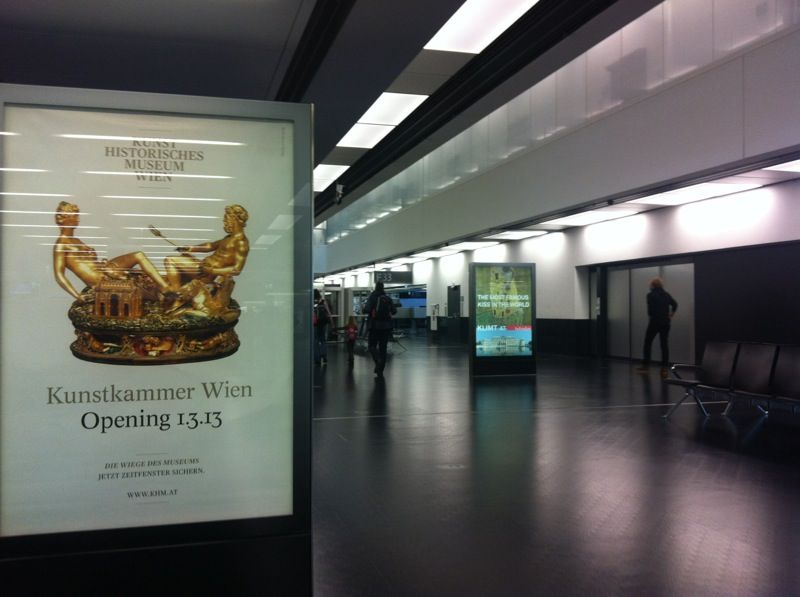 Grey Skylink.
Another F100 chillin´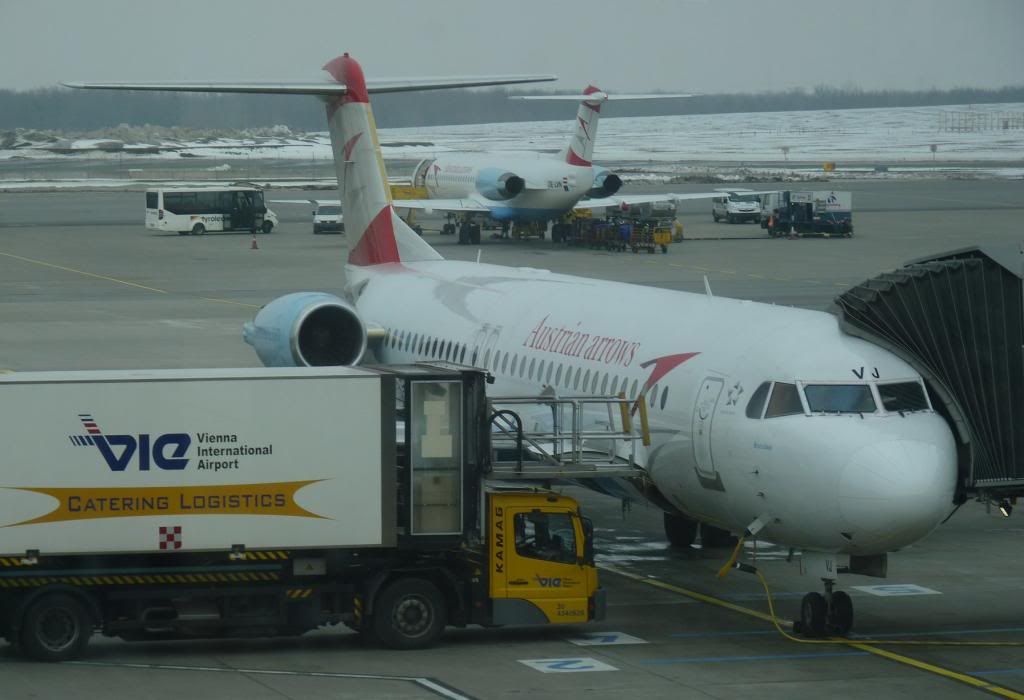 My F100 and the catering truck, probably bringing a fresh box of apples and Milka bars.
I bummed around in my gate area until boarding was called, it was delayed for 5 minutes because of the late arrival of the aircraft from MSQ (thanks dataflight24)
Austrian Airlines (op Tyrolean)
Flight VO 513
Vienna VIE to Milan Malpensa
Fokker F100 OE-LVJ "Bratislava"
Delivered to AA in October 1991, then to VO in September 2003, it also spent some time in Canada working for Jetsgo.
Seat 20A
Departure 15:05
Arrival 16:30
Actual 15:10/16:35
When boarding was called, 2 orderly queues were formed, and it was all pretty much a self service affair, again you beeped your boarding pass on the gate and off you went, an agent was standing by to assist.
Onboard, I was welcomed by a middle aged F/A and made my way to the back, this aircraft still had the old interior with the green seats, the cabin looked well used but was kept in good order as you would expect from OS/VO, in the back another member of the crew was greeting PAX and it was actually the same lady from the previous day.
I had to store my backpack in the very last bin, it looked like a full flight and most of the (tiny) overhead bins were already occupied, I took my seat and my seat mate today was a young pretty girl, she kept to herself reading her book and listening to her MP3 which was good because I wanted to go crazy snapping pics and recording the takeoff and landing.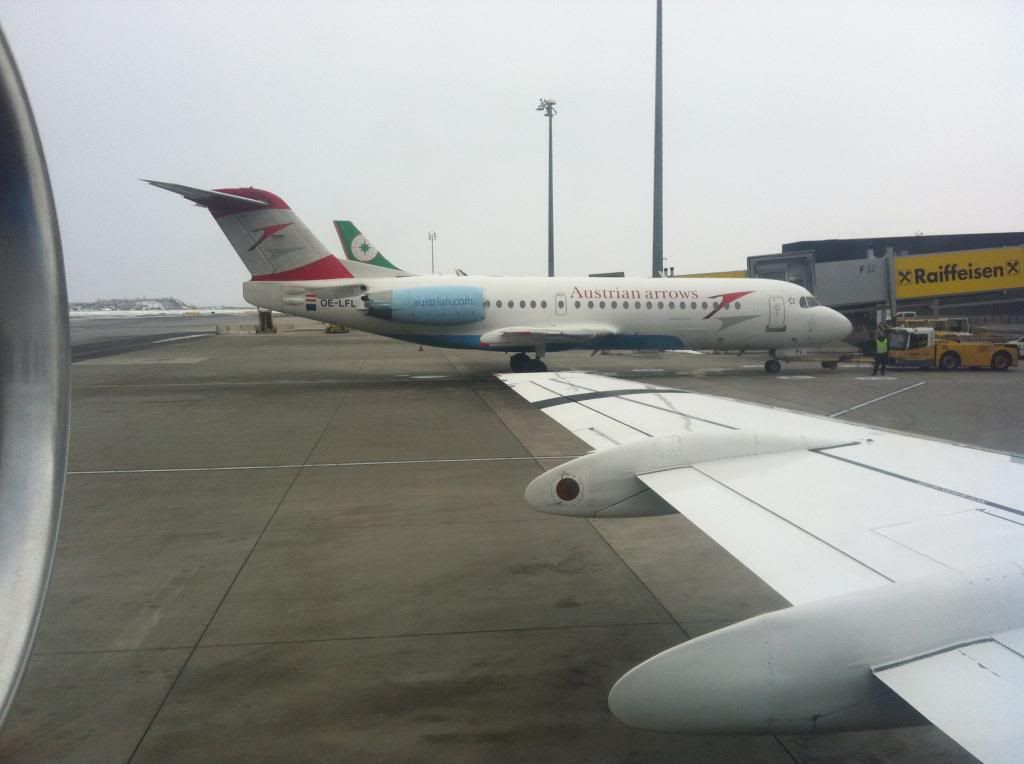 Small and big
Shortly, boarding was completed, doors closed and we pushed back, the crew performed a very brief safety demo, and I mean very brief, basically they tell you how many emergency exits there are, floor lightning will guide you, oxygen masks will drop in case they are needed... and fasten your seatbelt... that´s it... it took less than a minute to do the briefing, but still, your safety is their main concern.
No word from the guys up in the office.
As they did this, the engines were started and filled the cabin with glorious noise, I kept my phone (in Flight mode) close by to record the engine start... heavenly music.
As we were taxiing for departure, a woman decided to just get up, and look for her purse on the overhead... a F/A quickly got her to sit down.
Some people, really... facepalm.
Anyways, we made our merry way to RWY29, after holding for a bit, full thrust was applied and again the chap in 20A had his second geekgasm, aww the noise is so sweeet! smoothly the little jet thundered down the runway and climbed like a homesick angel leaving behind a snowy Vienna, after a few turns we set course towards Milan, on this jet you can always tell what it´s doing, the engines kept spooling up, then down, then fully up, then down a bit... I was loving it.
Takeoff video, enjoy.
https://www.youtube.com/watch?v=aih-MPnqHQY
Once safe altitude was reached, the crew started the service, oddly the seatbelt sign was kept on for the duration of the flight (it also happened on the inbound) again the crew passed around offering apples or a milka chocolate bar plus drinks. I had the chocolate bar and a coffee.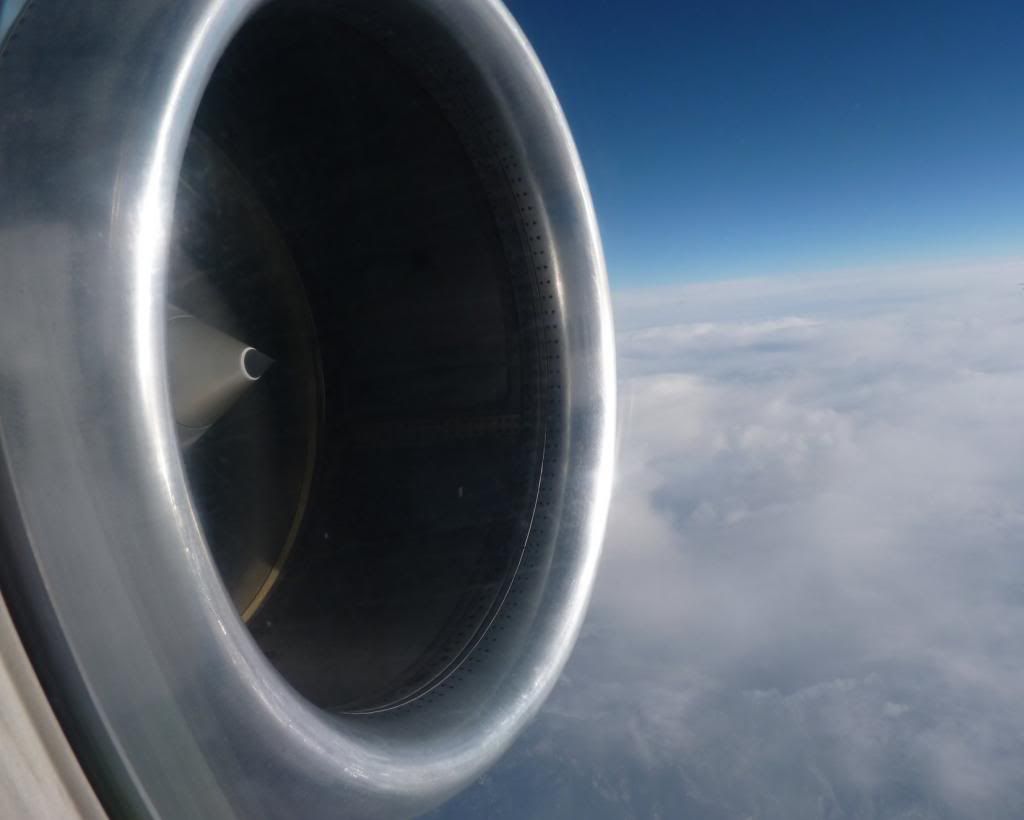 RR Tays working hard for their money.
Wing as we pass some snow covered mountains and villages.
A while later, the F/O came on the mic with some information on the flight, I could not hear clearly but I understood the flight level as 5 thousand... must have been 35000 or 25000, he mentioned the temperature in Milan and the remaining flying time, we flew over lots of snow covered mountains and villages, but most of the views were covered in clouds.
Cabin view.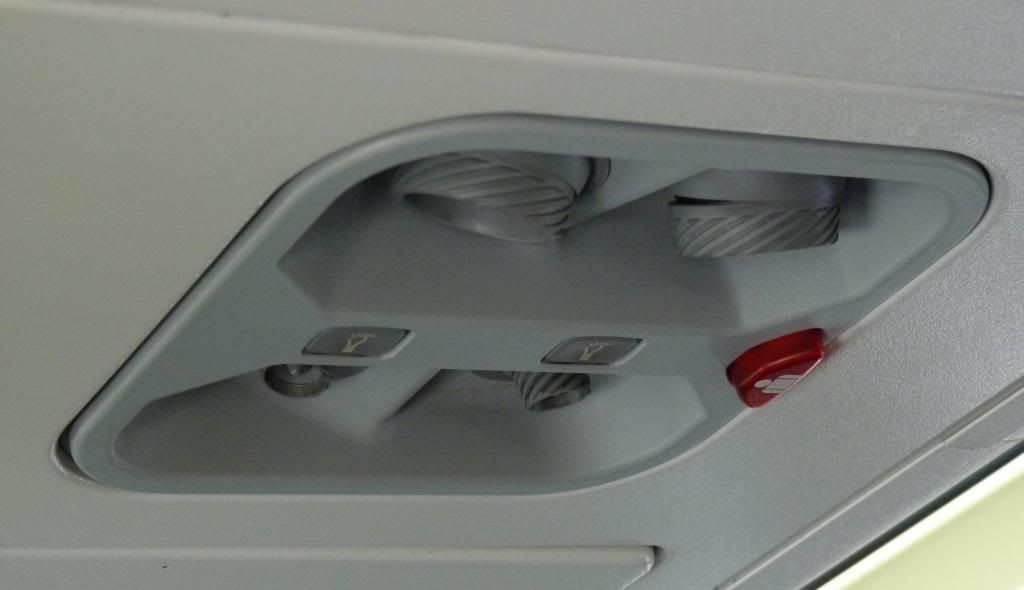 Old school PSU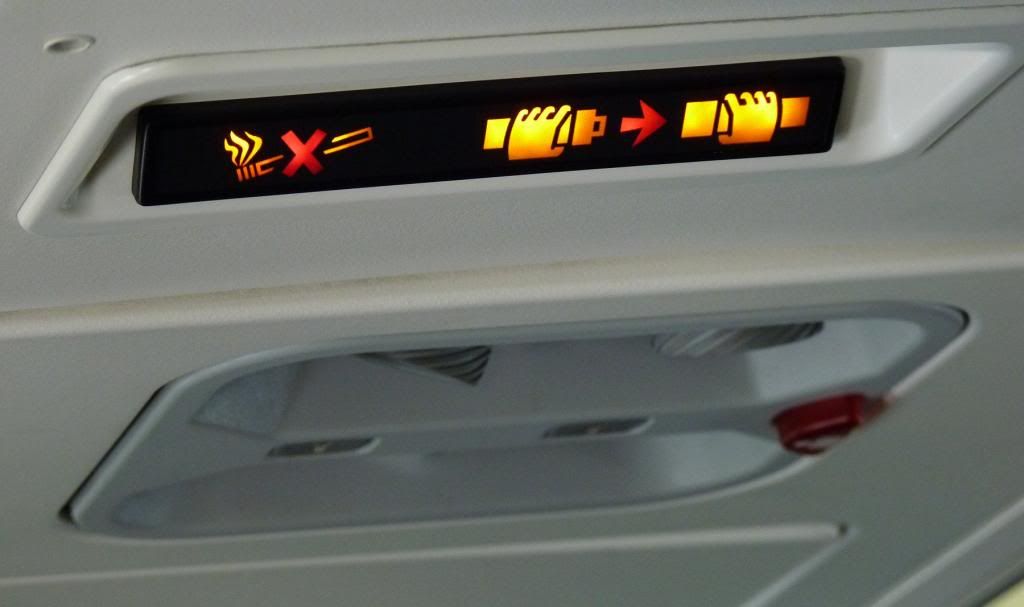 And signs.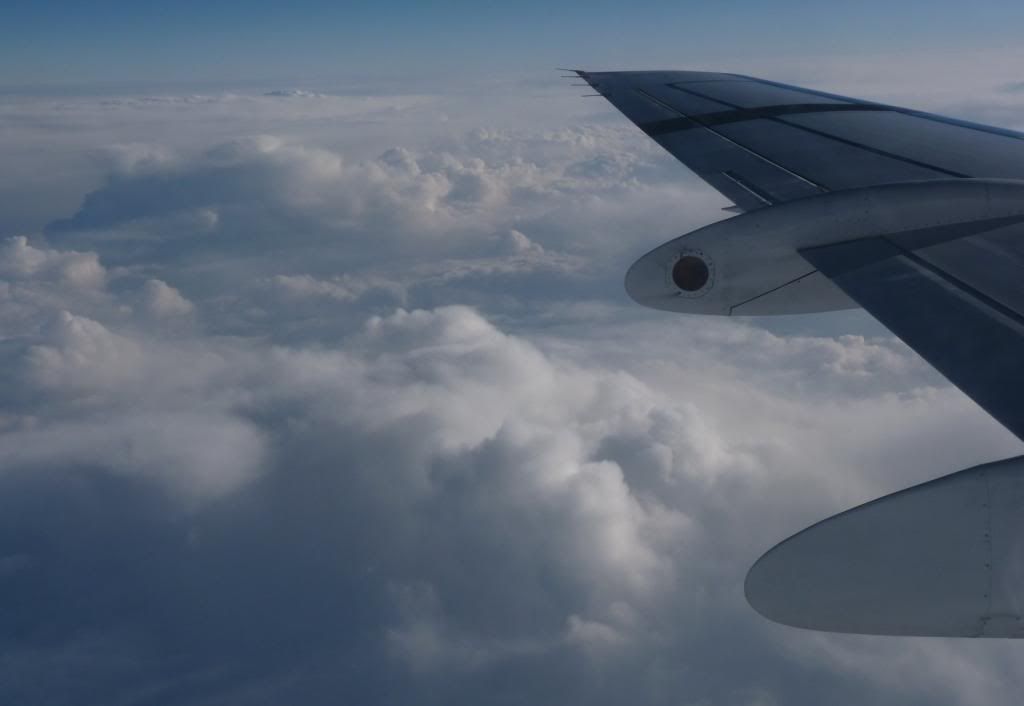 Wing with some puffy clouds.
An hour later, the engines were spooled down and started descent towards Malpensa, I could see a big city in the distance which could have been Milan, but due to the clouds it was impossible to make out, we got lower and lower and made a few turns to align us on the RWY 35R ILS.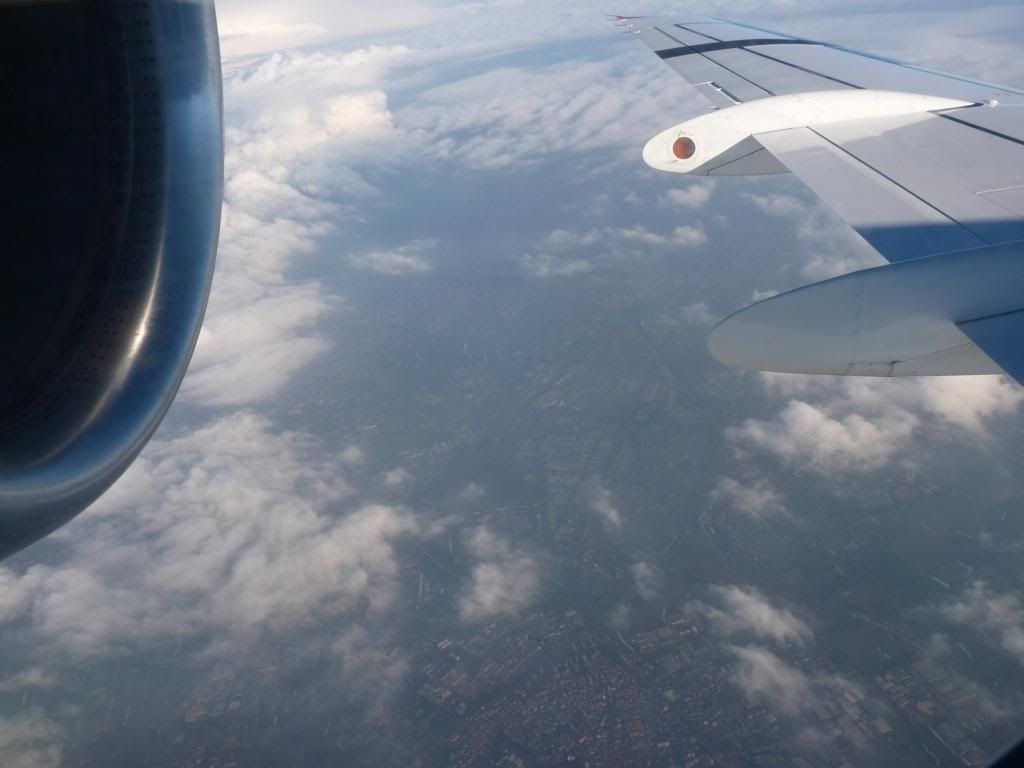 Overflying a big city, probably Milan or its outskirts.
Video of the landing.
https://www.youtube.com/watch?v=Jl8taPHSkMM
After engine shutdown I had to wait until most of the passengers deplaned so I could walk to the back to retrieve my backpack and jacket, I got chatting to the F/A and mentioned her what a nice little jet the Fokker is, and that I took this flight just because of the F100, she said ¨Ja, itz a bit small, and when iz full itz a bit of a handfull, but I enjoy werking on zis jet¨
I thanked her, and made my way out to our awaiting bus.
From here, I had to transfer to Terminal 2 in order to catch my easyJet flight to BCN, I followed the signs to arrivals, then to the free shuttle to T2, on the way I stopped in a shop to buy a bag of biscuits I like from italy, they had them, but at the ridiculous price of 5€ when in a supermarket in the city they costs just 1.80€, I told them to stuff it, and as I took the stairs to the lower level, I saw the light, my Saviour... Carrefour! they did not have the particular biscuits I was after (Mulino Bianco Abracci) but got similar ones (Batticuore) for a more acceptable 2€... it pays to shop around you know.
I took the shuttle to T2, which takes around 10 minutes, OMG, T2 is such a dump! dimly lit, depressing and thrashed... I had lots of time to spare, so I just had a slice of Pizza and espresso from a restaurant, then joined the queue for security, it was chaos... but an officer opened the fast track for us mere mortals so it shaved some waiting time.
Once you clear security and to keep to current worldwide airport standards, you are deposited into the Duty free area, I bought an aftershave and walked around the terminal until my flight was ready to board, the departures area is a patchwork of old and refurbished areas, can´t imagine what must have been like before T1 was opened, and all flights into MXP landed here.
easyJet
Flight U2
Milan Malpensa MXP to Barcelona BCN
Airbus A319-100 G-EZBO
Delivered new to easyJet in April 2007
Seat 22E
Departure 19:45
Arrival 21:30
Actual 20:00/21:30
This was a flight I was not particularly looking forward to, since U2 started charging for assigned seats, once you check-in online and decline to pay 4 euros for a seat, the system will automatically assign a seat for you and then you´ve had it, there´s no way to change or buy a seat, unless you go to the desks in the airport (and pay)
I was assigned 22E, and for us a.netters there´s nothing worse than flying the same reg twice... and getting a middle seat.
Anyways, this flight was completely forgettable, it was packed full, we had a delay on departure due to the massive amount of handluggage, thankfully it was a short flight, we arrived more or less on time without any silly fanfarres or clapping and quickly docked in a fingergate, made my way out of the plane, jumped on the Aerobus to Plaça Espanya, and then took a taxi for the short ride to my house where I collpased on my bed.
Conclusions:
Vueling: Another nice flight with them, they have received some bad stick here on a.net but I have never had any troubles with them, yes the seatpitch is tight and the crews can be hit or miss, but they offer a nice alternative from my home airport, and they will continue to get my business.
Austrian and the F100: Excellent, OS/VO is a nice decent airline, good service, warm crews and the F100 experience was totally awesome.
VIE Skylink on the other hand is a bit dull.
MXP: Well, it´s an Italian airport... what do you expect? at least is better/cleaner than FCO.
easyJet: They were in my good books before, but my last 2 flights with them have not been very pleasant, they have introduced a Ryanair-ish approach to cabin baggage, and also the silly payment for seats, the service is still professional and much better than FR. I have a couple more flights with them next month to NCE, but after that, only if strictly necessary.
That´s it for now, I Hope you enjoyed reading it, and as always, feedback is appreciated.
Thank you.
MIAspotter.
[Edited 2013-02-18 13:12:25]