Hi dear a.netters!
my first tripreport in 2013 is from a recent trip taken by me and a few fellow a.net tripreporters. A kind of crazy trip, booked months ago when the national airline of Italy had an error in their IT systems. Not unheard of, especially not with this particular airline. So, when the destination showed Tokyo, one of my most visited places on this earth btw, it was without doubt that I hit the 'book it' button on that website of a certain airline in Norway offering these fares.
Well, due time shortage for extensive writing, I decided to do this report a bit shorty style. Pictures are what counts most here, with some text to tell about those pictures. I decided to take pictures with my iPhone, Nikon DSLR and Canon Ixus, mixed throughout the report. Pictures edited on the iPad this time, a first for me. I hope you still can enjoy the 'read'.
Tokyo - Out and About in 52 hours with AZ + KLM
The trip started in Amsterdam, and to position myself to Italy I made use of easyJet. And to travel in style, I opted for seat 1F for an addtional EUR 15 which comes with speedy boarding as well. I obtain a real boardingpass free of additional charges at the Speedy Boarding desk in departure hall 4 at Schiphol Airport, friendly served by the agent by the way. A good start.
Security was a breeze into the dedicated lowcost area at AMS, so all good here.
Boarding is announced from gate M05, a stair leads me down to the waiting lounge, where a dedicated line for Speedy Boarding is in use, giving me priority over other passengers, and leads me in a dedicated waiting area. There are no seats here, except for the elderly and such.
The aircraft arrives a bit late, but nevertheless ground handling agent Menzies -in my opinion among the best in AMS-, makes sure that boarding starts quickly and we can depart roughly on time.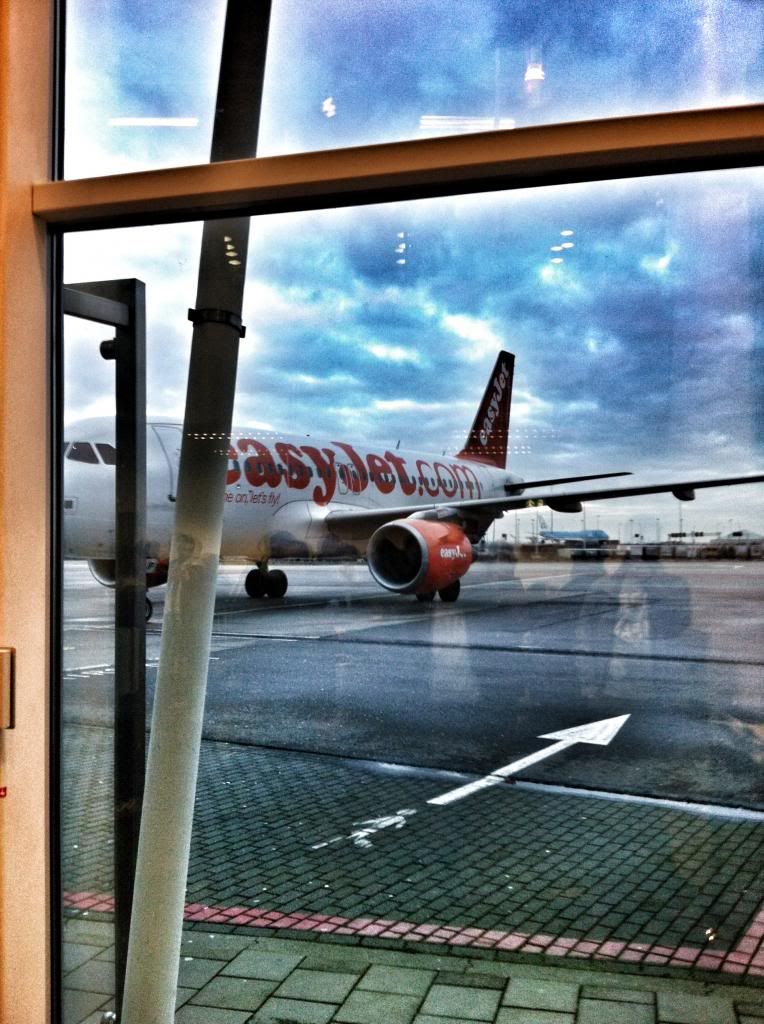 .
That's the 319 which would fly me to Malpensa

Route:
AMS-MXP
Flight:
EZY2724 /11JAN2013
STD
09:25
ATD
09:34
STA
11:05
ATA
11:14
A/C:
G-EZIP
(Airbus A319-100)
S/N:
01F
(Economy class/Y)
View Large
View Medium


Photo © Manuel Mueller
The middle seat remains open on this flight, not bad considering the load is not bad with 150 seats taken, leaving 6 empty
. Crew on this flight is Italian and not really interested. Especially during the manual safety demonstration, the F/A in front continueously talks with his collegue in the pantry and does his demo. It's very unprofessional and lacks interest in his job and doesn't take my safety real serious, it seems. What a shame.
Departure is from runway 36C in AMS, not the most common runway to use these days. Soon we climb above the clouds and get a smooth ride to Italy.
I take the instant Starbucks coffee fromt the buy-on-board menu, which was good.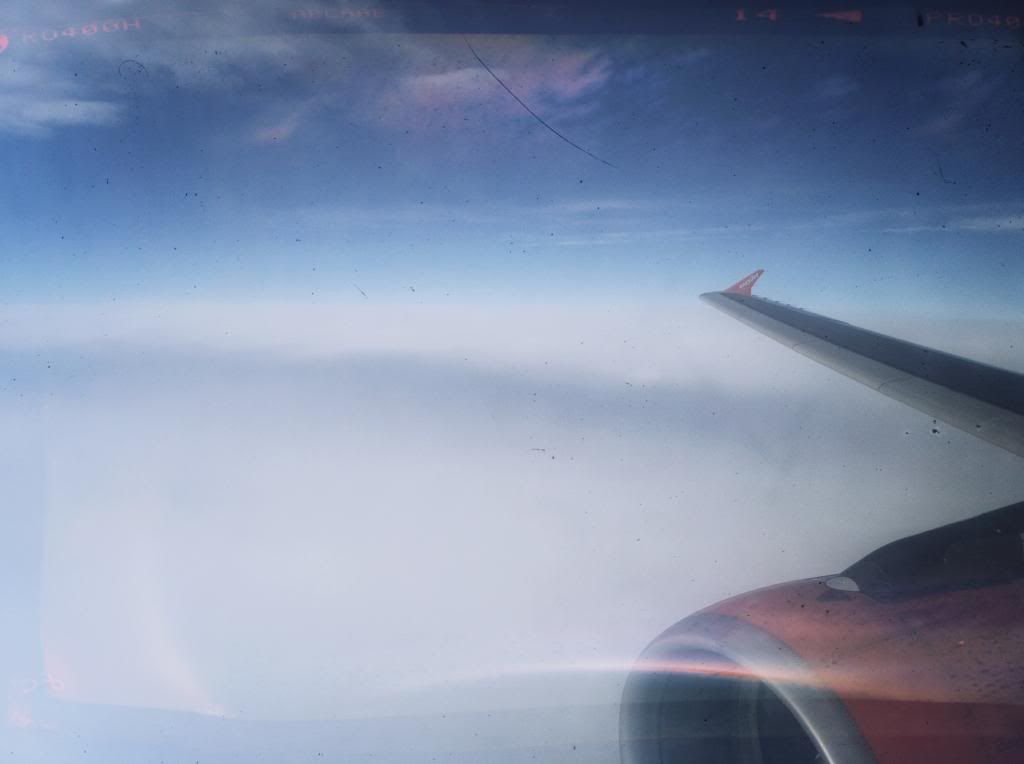 .
Cruising smoothly above a layer of clouds
During the flight we get flight info which tells me we were flying at 27,000 feet and Malpensa weather would be fog or mist. For sure that forecast was proving to be correct during landing.
But the weather above the Alps was breathtaking once again.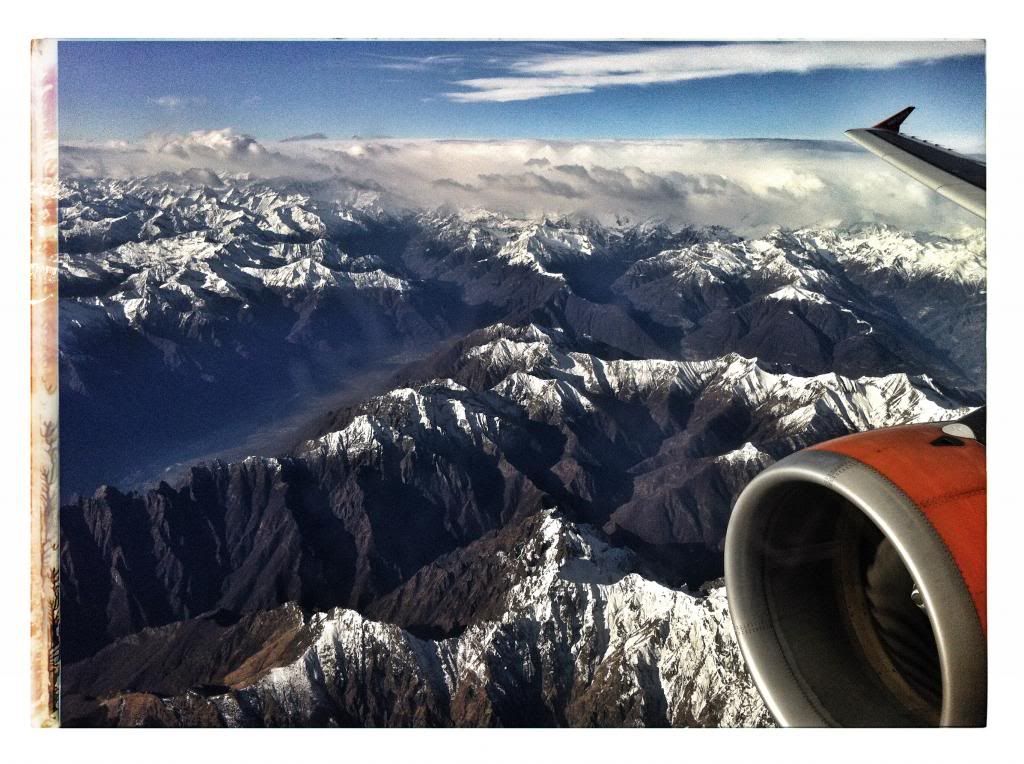 .
A beautiful morning down there, overflying the Swiss Alps
Landing was without issues, but with a very low ceiling for sue. Runway 35L was ours, and the captain says ' welcome to an always sunny Milan'. He's probably one the funnier crewmembers on board.
Soon we arrive on stand, where we disembark by steps into 2 buses.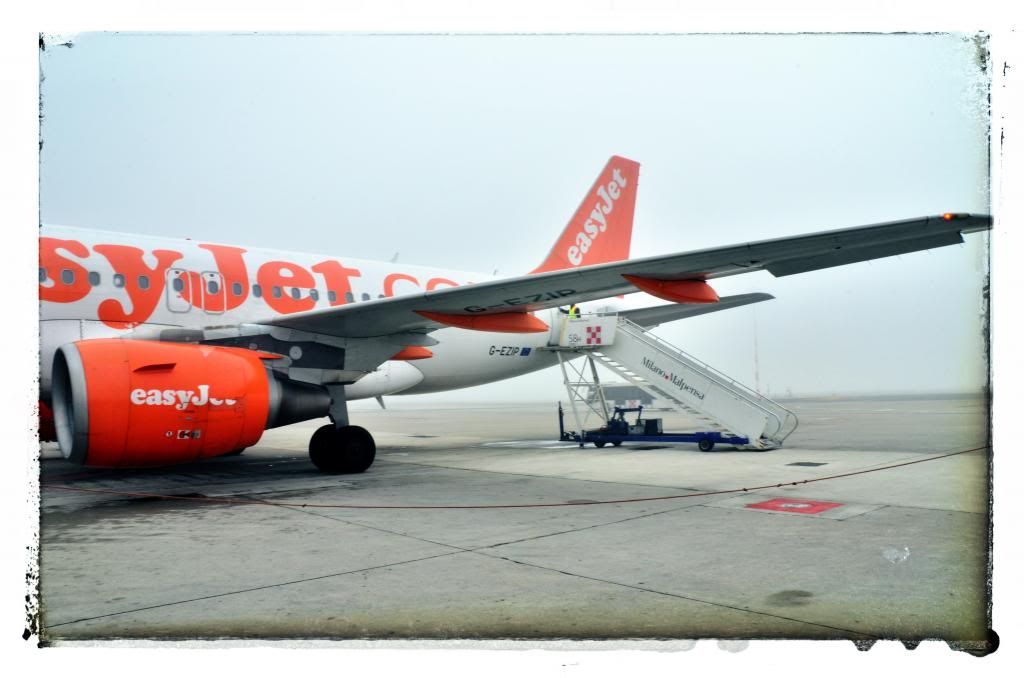 .
Leaving G-EZIP at foggy Malpensa
A transfer bus runs between terminals at MXP and is free of charge. In daytime is comes every 7 minutes. The ride takes about 15 minutes in total, and it worked out fine for me
The next ride is on Alitalia, and I can obtain my boarding pass at the desk. I opt for the desk since the quality of paper is better then from the check-in machines. Such a shame a view Japanese tourists with no knowledge of English and Italian are in front, at the Sky Priority desk, not sure if they were entitled to use the desk, but it took me 10 minutes to get served. The lady was 3rd party ground handling for AZ, and very friendly. Meanwhile 3 a.netters (Finland, Sweden and Flanders) join me, and soon we're off to the lounge.
I try to make use of the Sky Priority securtity lane which works fine and with nobody in front I'm served quickly, friendly and without hassle. The others take the regular lane, so I wait for them but gladly not in a queue.
We decide to lounge a bit, first walk to the wrong place, but later we find it. The 'Sala Clemente' is used by Alitalia, offers limited views on the apron, especially on this foggy day, but offers a limited but fine selection of snacks, small sandwiches, drinks and rose prosecco, which we can recommend to you. Soon I was entitled to ask for another bottle, but I guess it was just after noon, so we had an excuse.

.
Something to drink and bite in Sala Clemente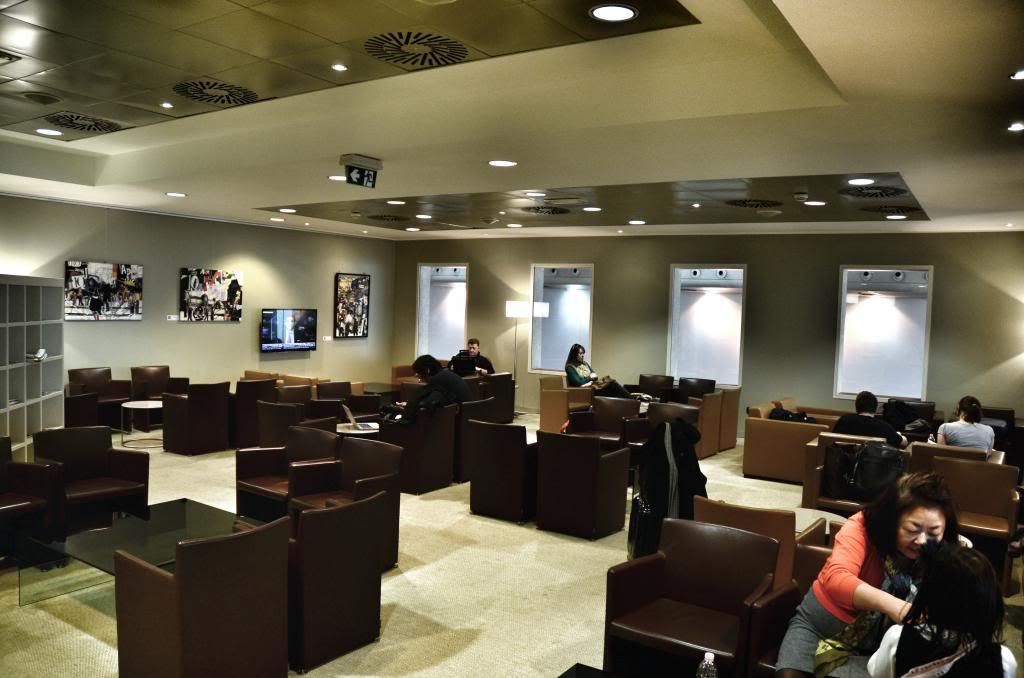 .
Sala Clemente lounge in MXP interior
Soon we make our way to gate B6, where we meet another a.netter with the other half, and have a minimal glimpse of a beautiful Alitalia Boeing 777-200ER. Views are a bit obstructed, as you can see in another tripreport made up by sultanils:
3h In Tokyo, A Joint A.net Odyssey: BRU-MXP-NRT
(by
sultanils
Jan 21 2013 in Trip Reports)
Route:
MXP-NRT
Flight:
AZ786 /11JAN2013
STD
14:35
ATD
14:32
STA
10:40+1
ATA
10:39+1
A/C:
EI-DBM
(Boeing 777-200ER)
S/N:
41A
(Economy class/Y)
View Large
View Medium


Photo © Christian Weber
Welcome on board is more then friendly by all crewmembers, and I'm impressed by their attitude. I soon find my way to the aft part of the cabin, where most a.netters can take posession of a whole row of seats.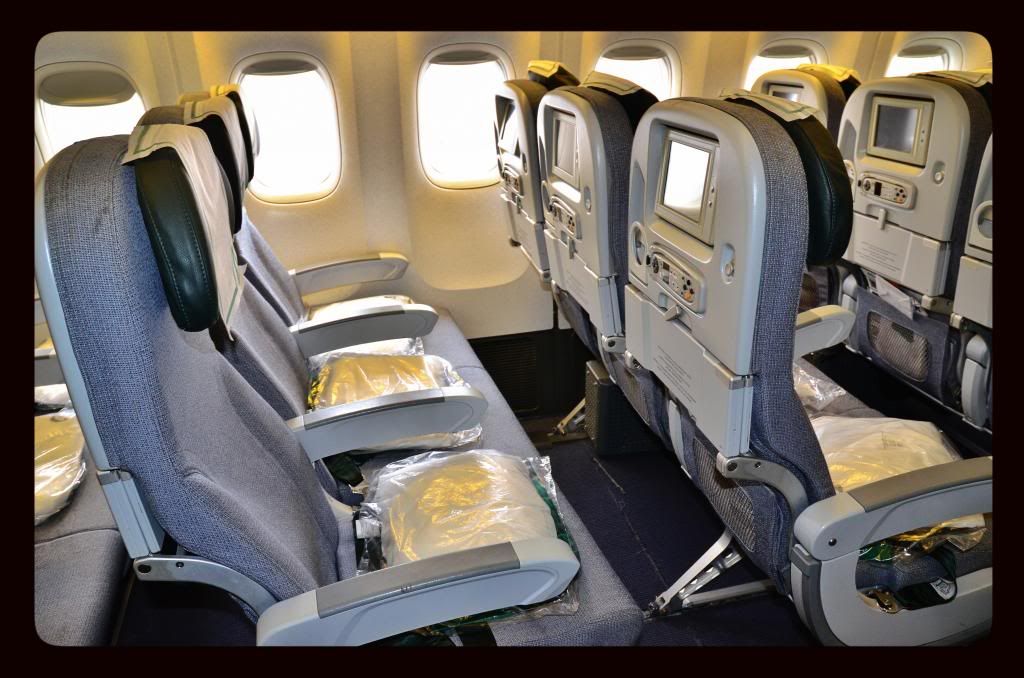 .
My seats for the next 12 hours...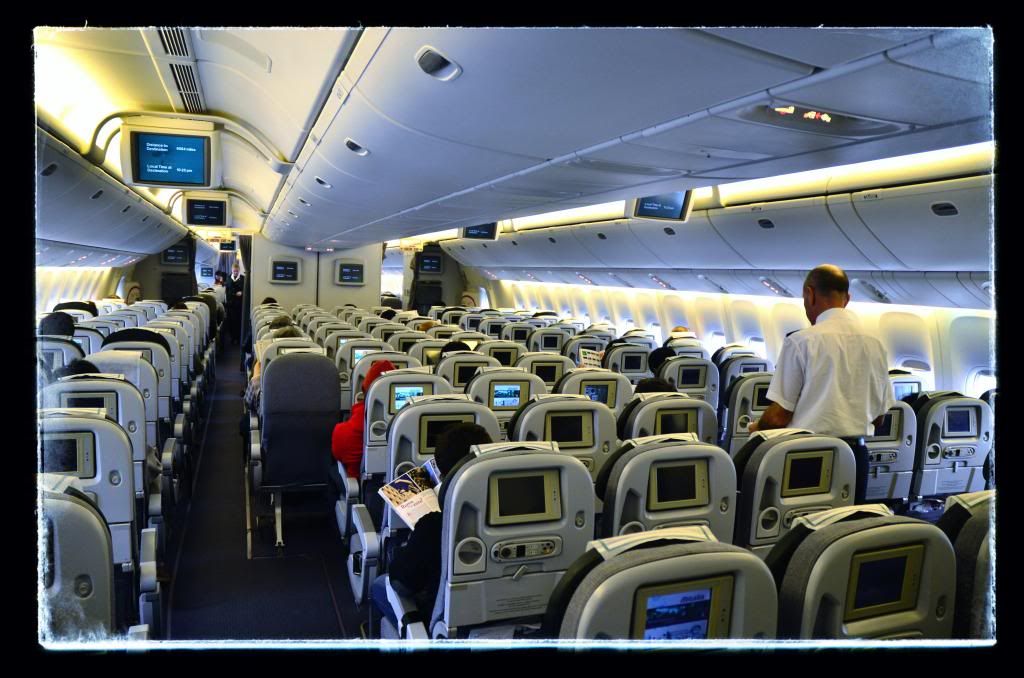 .
Economy Class cabin view
A pre-departure plastic glass of water is given to us, which is interesting to see since it's not common for Economy Class. We leave a few minutes early, and the sound of the GE90 engines is a pleasure to hear throughout the cabin.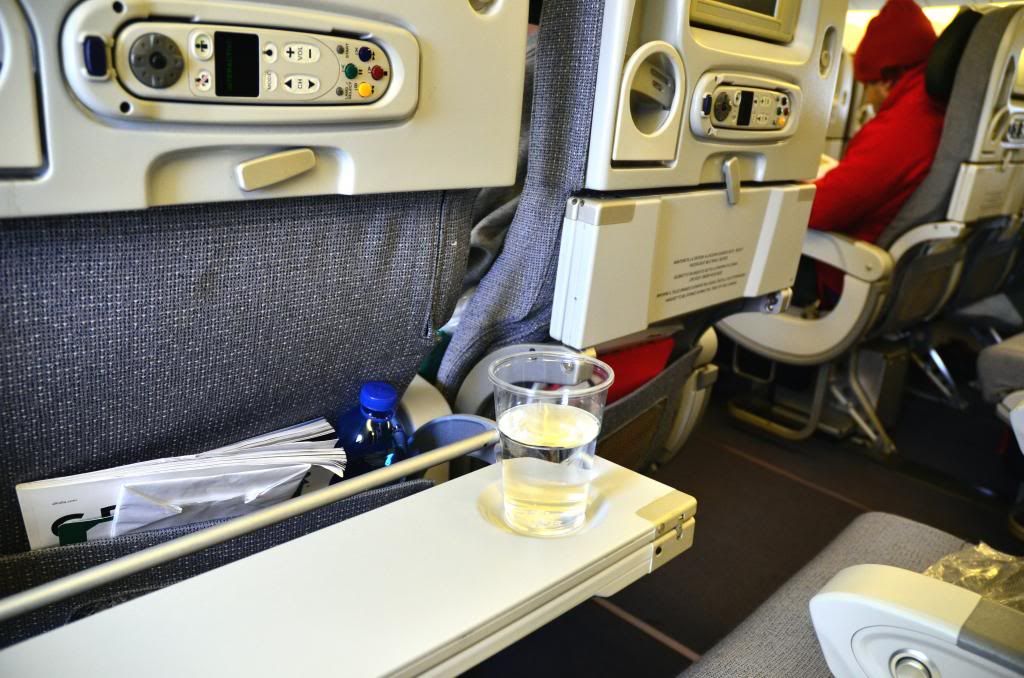 .
Pre departure drink
Taxiing takes a while here at MXP, I consider the time used before takeoff commences the same as we see in AMS to reach the 36L departure runway (Polderbaan). I never hear complaints about MXP though... Furthermore of interest were 3 Cargolux B747-400F's on the ground here. I didn't know that this airline had such a big presence here in Italy.
At a certain moment it was our turn and rolled down the runway and gently took the skies, views immediately gone by the low clouds but at the same moment we reach blue skies when we climb above the cloudlayer. The next 30 minutes were amazing with clear views on the Southern Alps of Switzerland and Austria. Meanwhile a can of Italian beer is given by the friendly male F/A, who really likes his jobs and was happy to provide a positive appearance. The beer helps the talking, so we have a small a.net occupy in the last rows. Till dinner comes...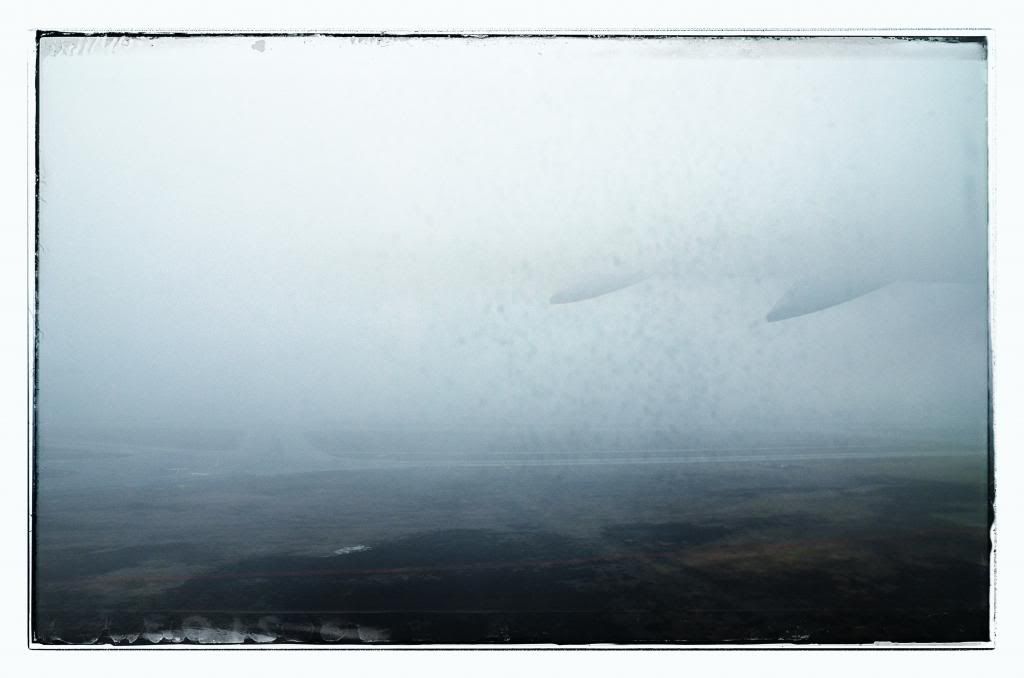 .
The limited views with low ceiling in MXP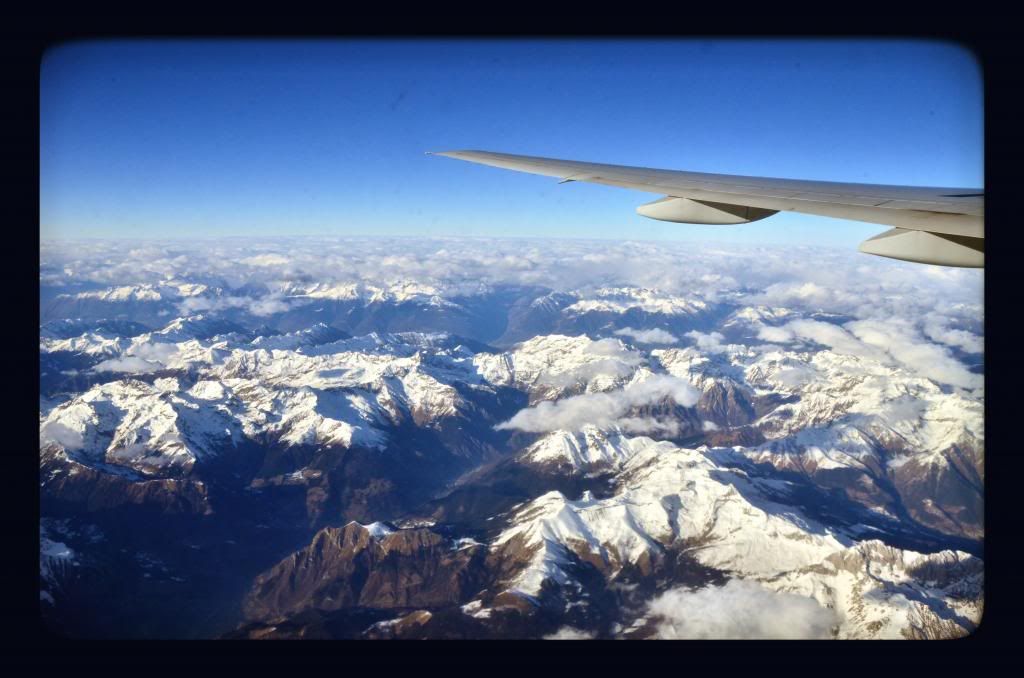 .
Climbing away with the Alps on our left

.
Italian beer to start with...
Menucards are not onboard, but 2 choices are available. Italian lasagna, or Japanese (chicken), which I decide to eat. The meal was not really good, but filling. Several crew members follow with drinks to take, definitely enough on offer here.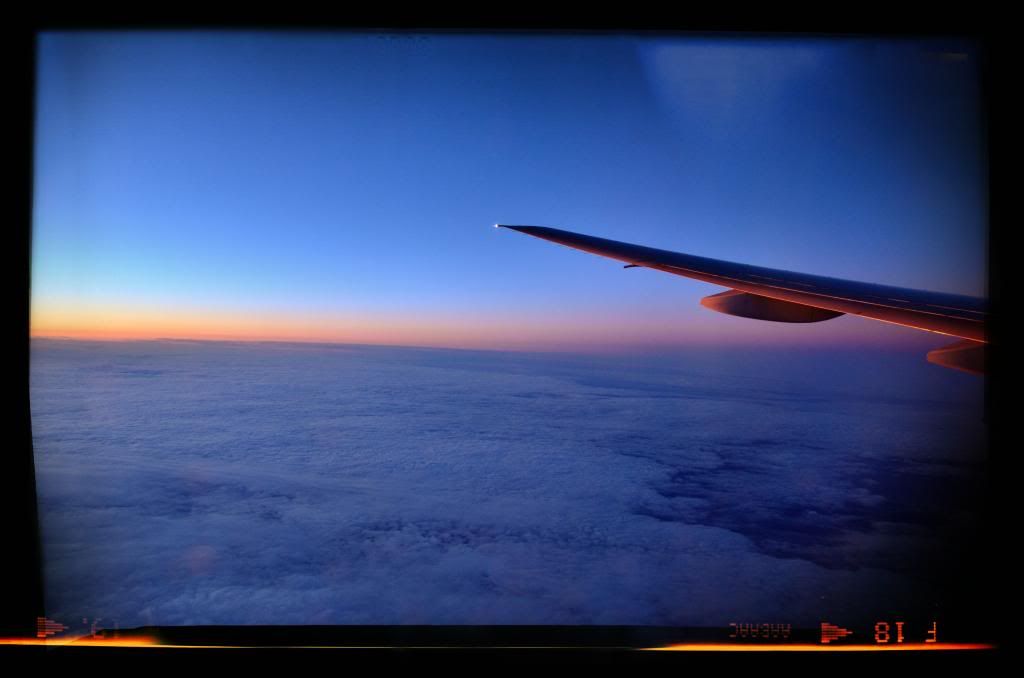 .
The setting sun. Great moment!

.
Japanese meal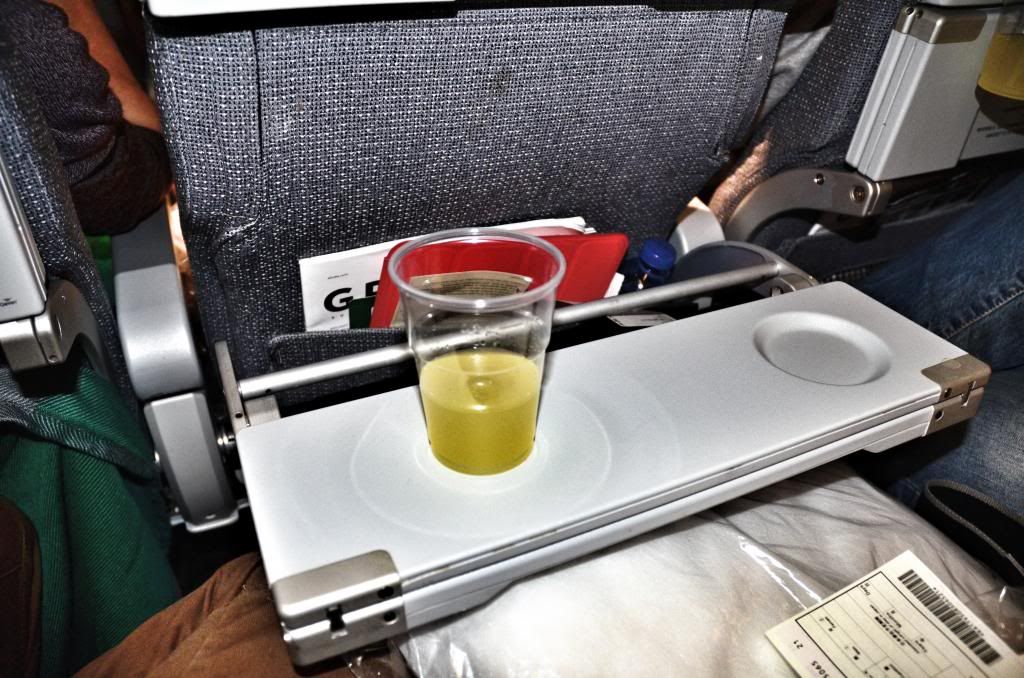 .
Limoncello drinks offered by the crew to us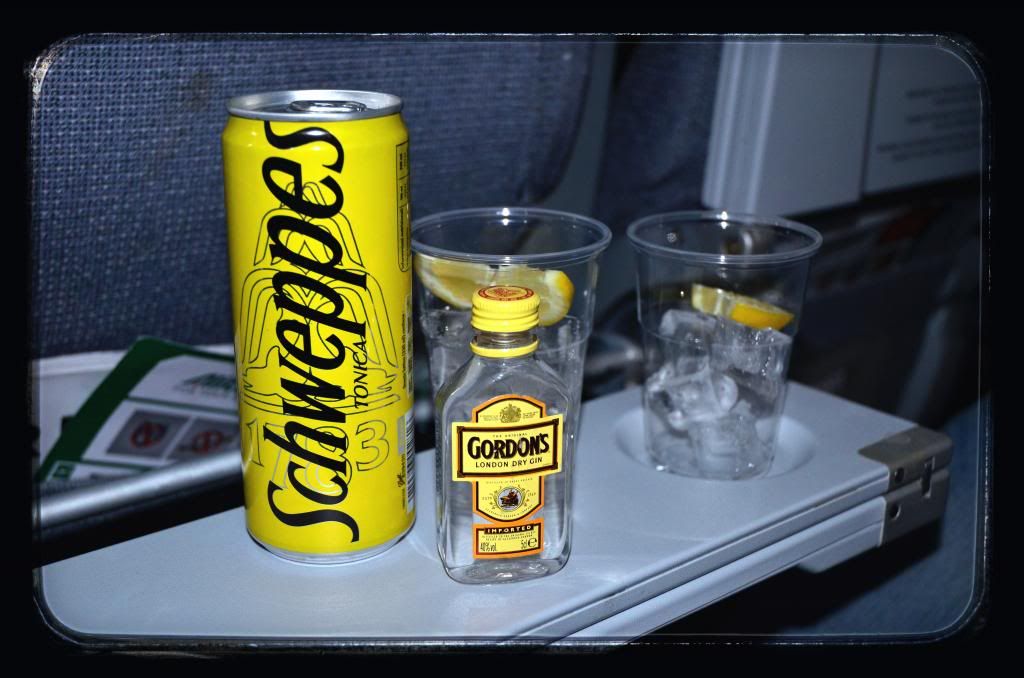 .
Not standard in AZ YCL, but delivery service by fellow a.netter Gab
After the meal all windowshades are asked to be closed by the crew. Soon I make up a bed for myself using 3 pillows and blankets, giving me quite a few hours of sleep. Real good! A small break during my sleep because I felt hungry, ending up in a chat with Gab, and scoring 2 main courses lasagna, offered after asking for some midnight snack which is not available on AZ. The crew definitely made a good offer here, and honestly speaking about the food, this lasagna was better then the Japanese meal choice.
After another shorter rest I wake up when we fly already over fareastern Siberia, nearing KHV, the almost standard exit point towards Japan. It's frozen and deserted down there, and the landscape is impressive as usual. The city of Khabarovsk is visible in a distance. Soon breakfast is served, nothing impressive. The bread is not good at all, as mostly the case with bread on aircrafts.

.
Wake up over Siberia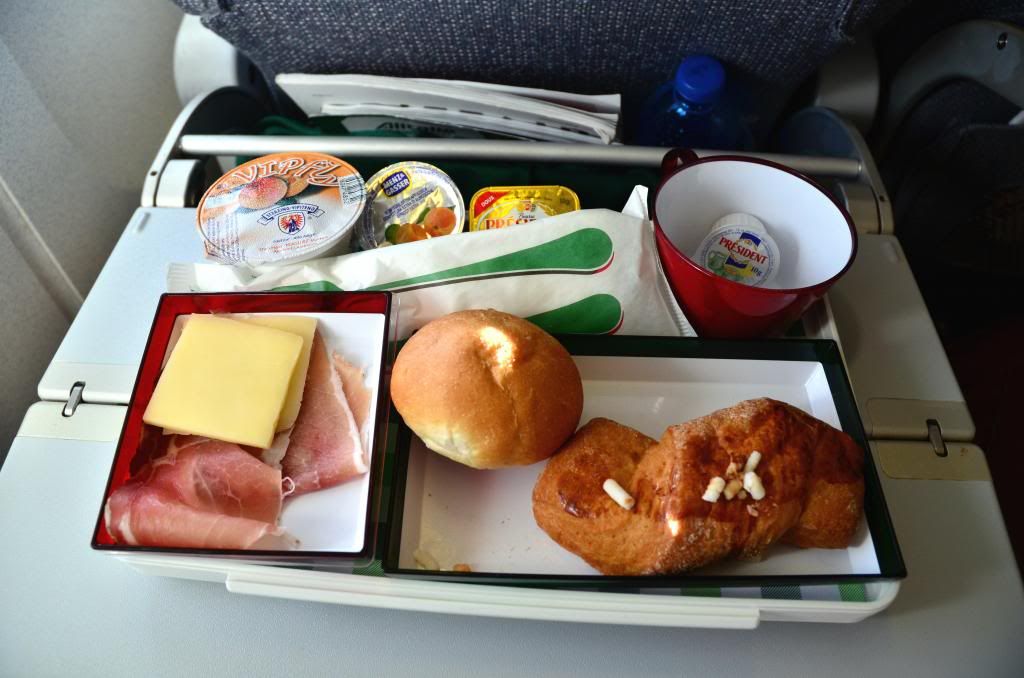 .
Breakfast
I get myself in the lavatory to shave and brush my teeth, the fantastic male crewmember hands me over a 1,5 liter bottle of water to take with me and use it for it's purpose. How attentive of him. After this we get closer to Tokyo, meanwhile overflying the snowy area around Niigata on the westcoast of Japan, soon crossing towards the east and with the city of Sendai on our left visible, we turn south towards the Chiba prefecture where Narita Airport is located. Final descend over the Pacific before coming in straight for landing on the 'A-runway' or 34L today.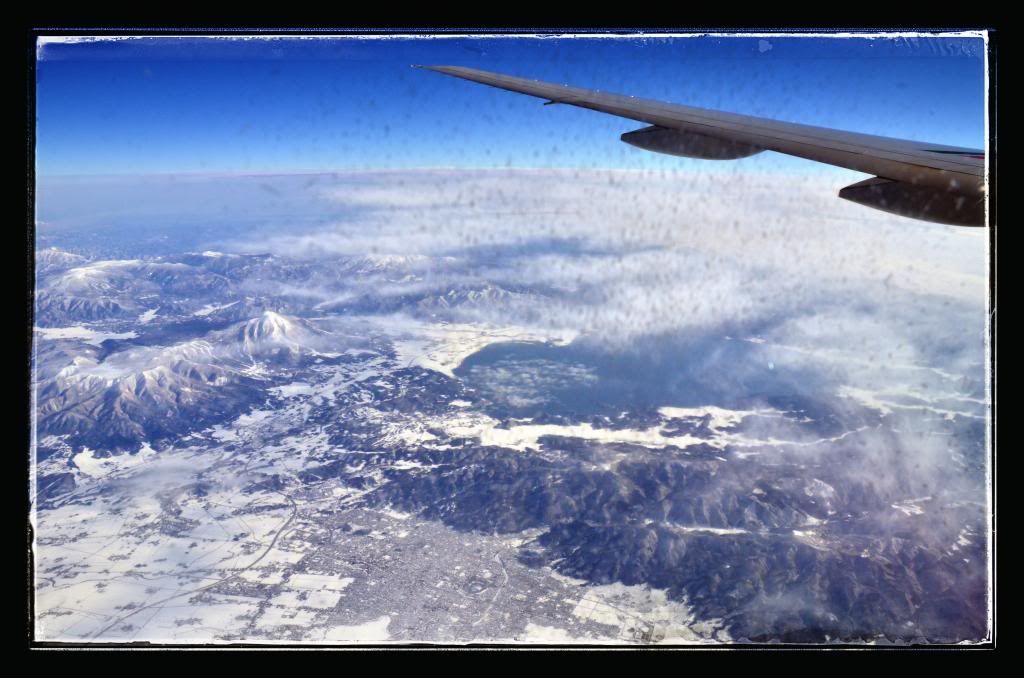 .
Great views over Japan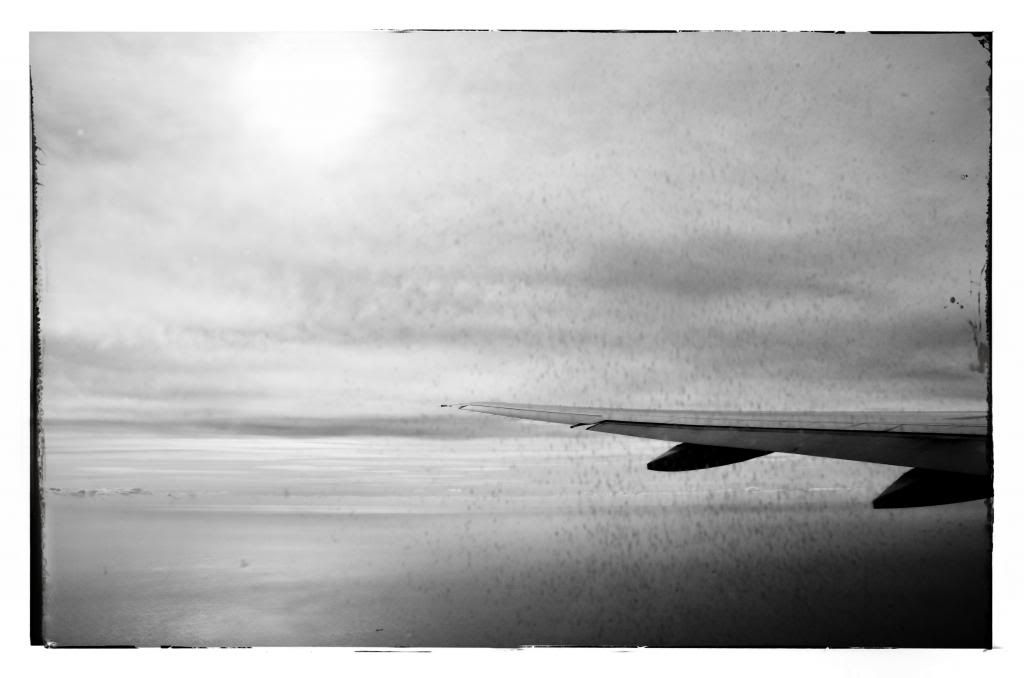 .
The Pacific
Landing was smooth and ontime, and soon we get 'on blocks' at gate 24, which is terminal 1. We disembark, check out the Economy Plus seat (we try to upgrade with additional payment on the way back), and get outselves over to immigration, which we all pass quickly except for one of our members from Belgium. Eventually he also is let into the land of the rising sun.
A warning from an official about 'no photography' in the baggage area to yours truly is taken, politely accepted and no action taken to remove pics of whatever. Who cares. Immigration is a breeze and soon I find myself in Japan again, after countless times before, but this will be my shortest visit ever.
---
Some escalators take me some floors up to departures level, where check in for Alitalia flights is found in zone A. Before check-in we enquire for the upgrade -we thought about an additional payment of EUR 149 pp-, but a new fare is quoted to each of us for EUR 2,300 and a bit more, no way today. After check-in there is some time to shop or visit the observation deck. I did both...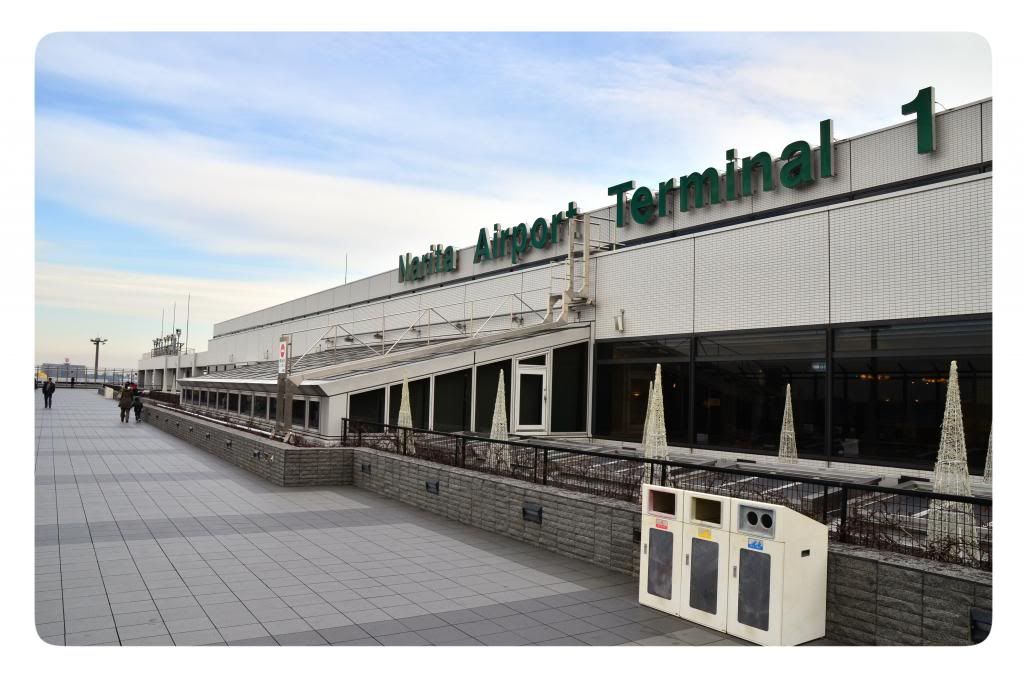 .
The T1 observation deck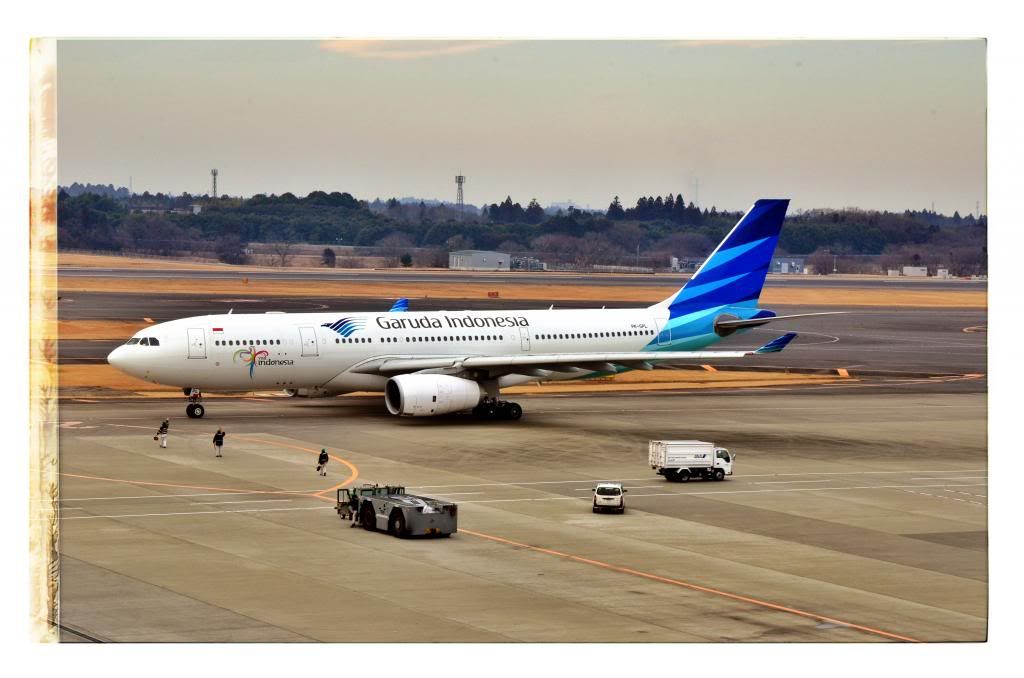 .
Dedicated to Suryo, and myself
Garuda Indonesia's A330-200
Then it's time to leave again,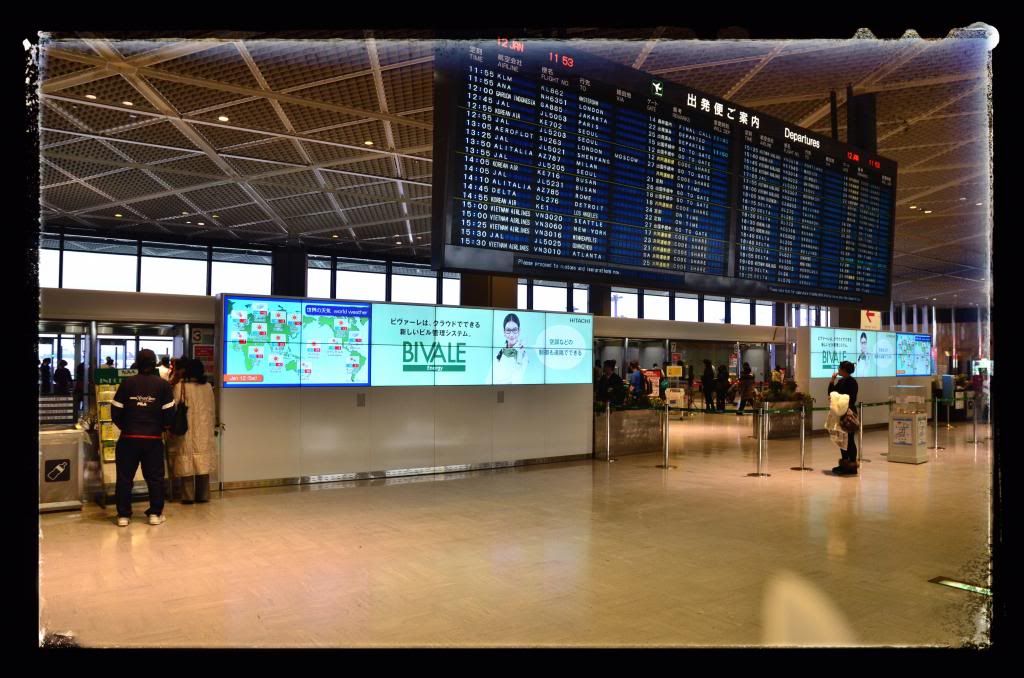 .
Flight Information flipboard
I get Nils and Gabriel with me through Sky Priority security lane, and soon we are in the secure area of the terminal again. Taxfree shopping is available but never was a good offer here, so I bring the guys up to the Delta Skyclub lounge. I go back downstairs to buy some sweets which I gave to someone, have a quick look in Korean Airs lounge before going back to the Delta lounge -where I have been numerous times before when flying KLM- for some desired shower and snacks.
I found it quite busy in the lounge at some point, and the snacks were all taken so quickly, the staff was busy all the time to get it refilled.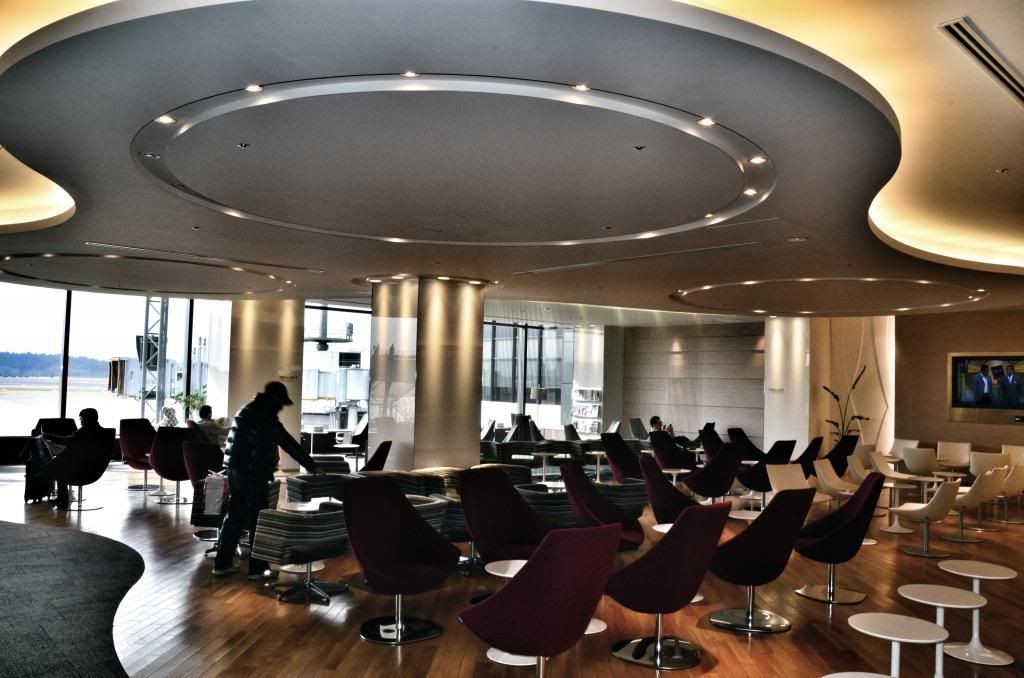 .
Korean Airlines Lounge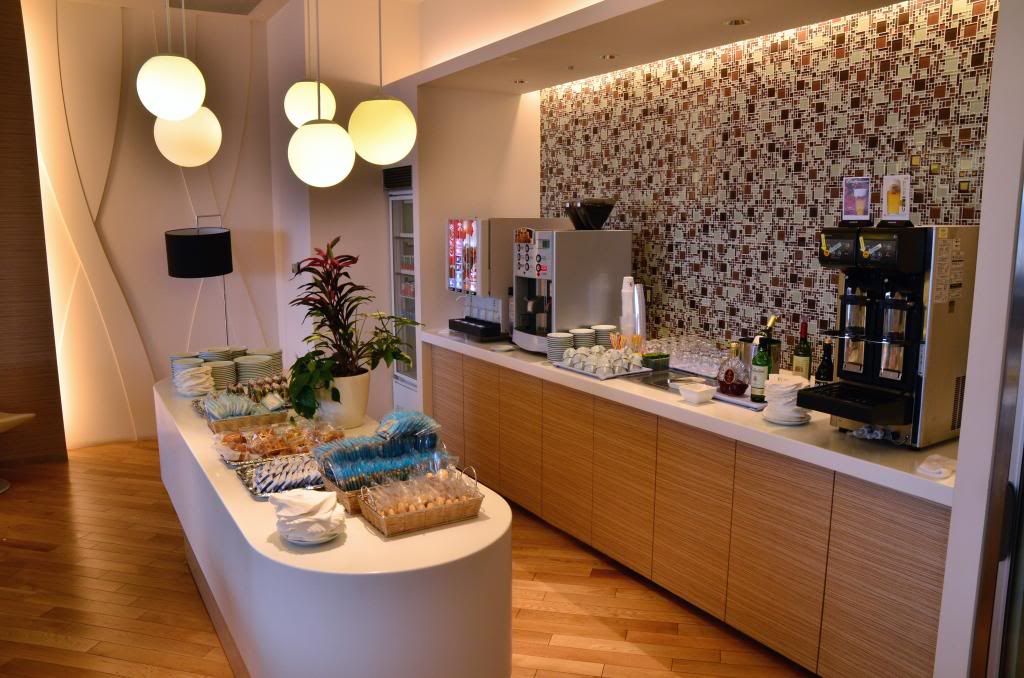 .
Korean Airlines Lounge

.
Delta Skyclub entrance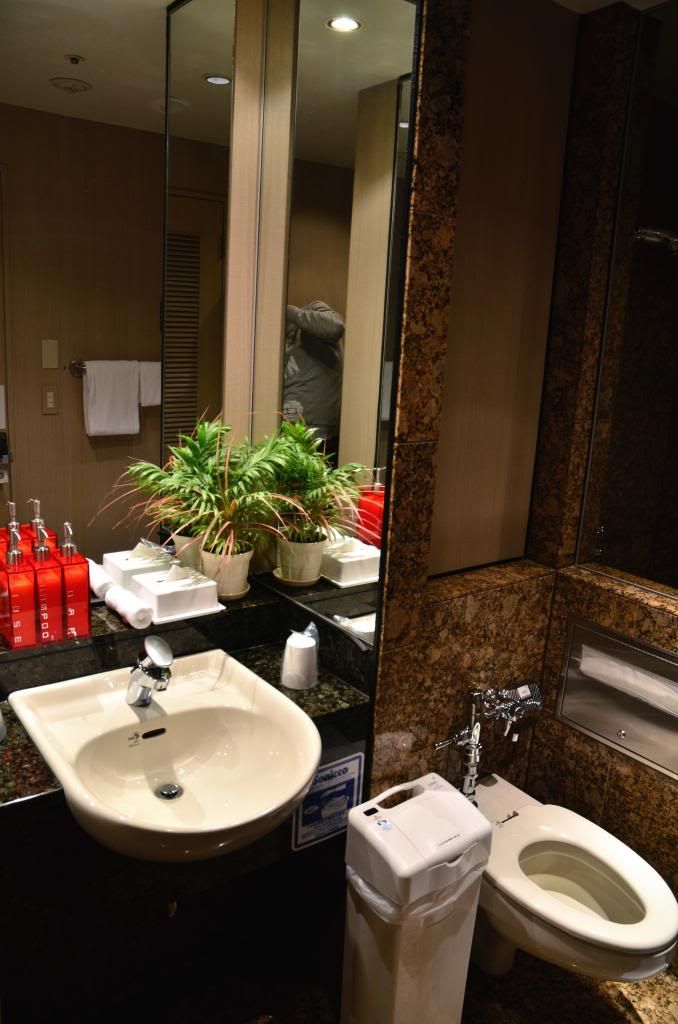 .
Shower room in the Delta lounge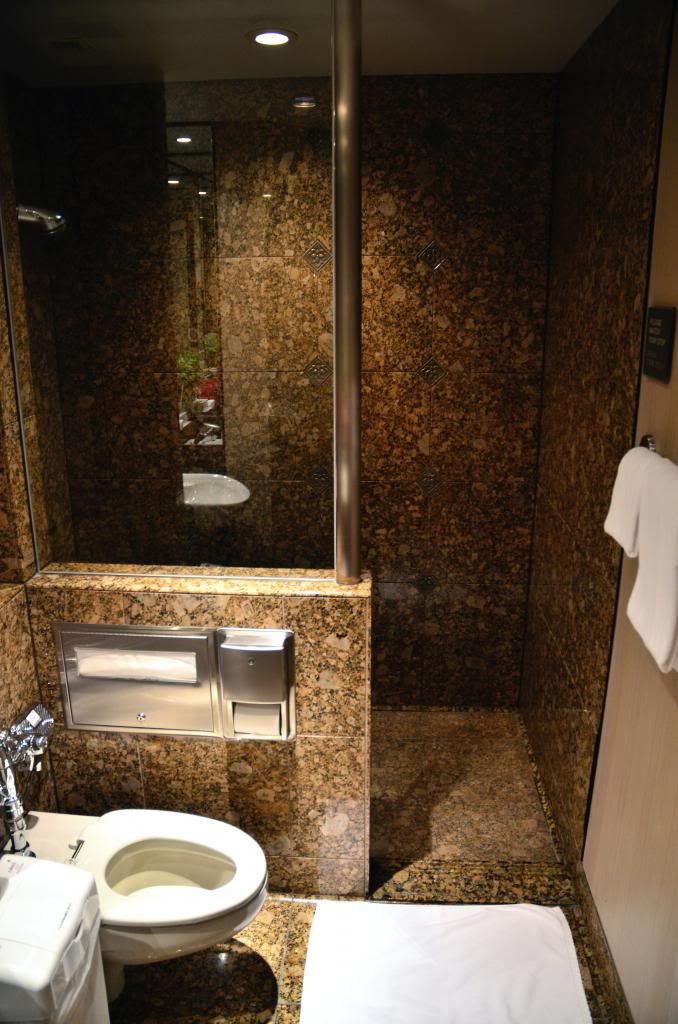 .
Another picture from the shower. Really refreshing!
Boarding announcements were made properly here, and we went to gate 24 for boarding. Sky Priority was enforced also here, and I was onboard soon.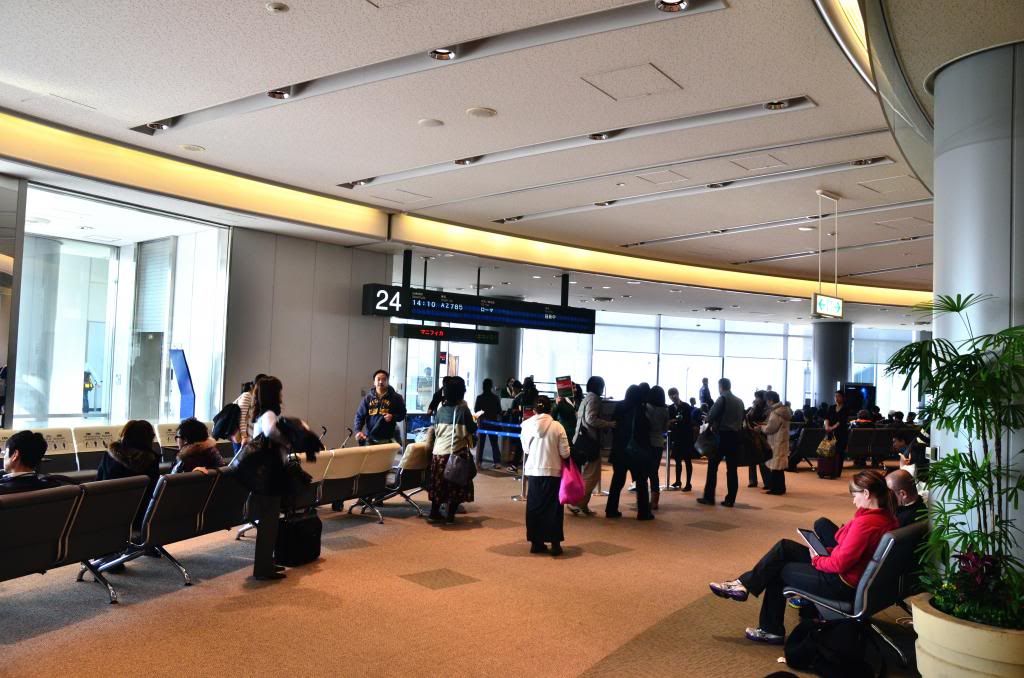 .
Gate Area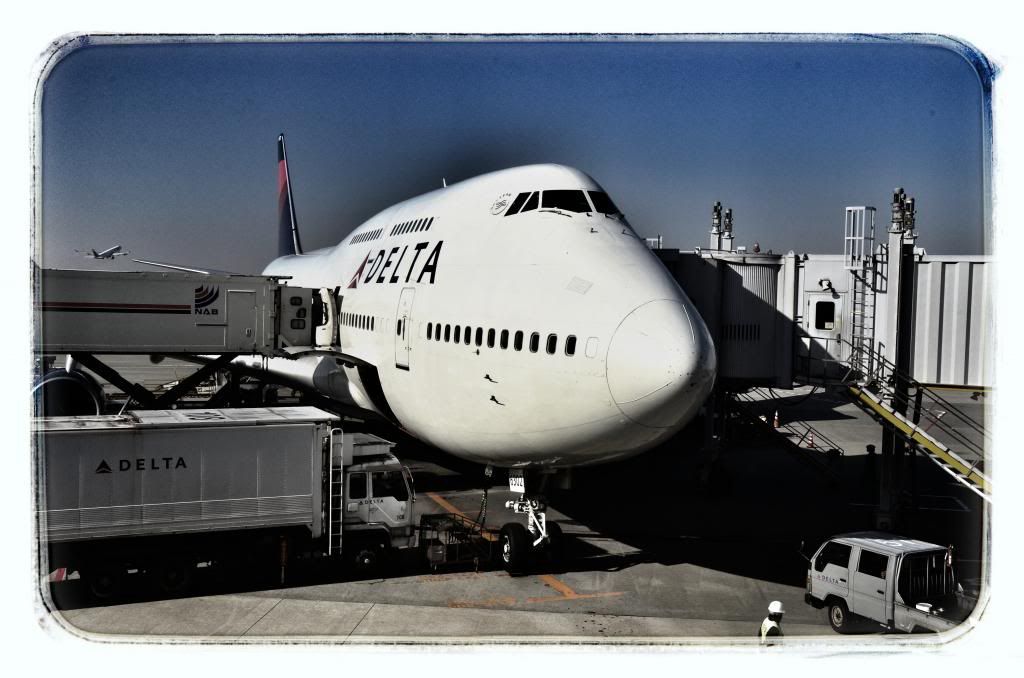 .
Upon boarding, a close encounter with a big bird from the USA
I go to the back of the aircraft again to obtain my aisle seat in the last row, noticing that seatpitch is remarkable tighter then on the window seats and also, the other 2 seats are taken by a Japanese couple. I take position, and also Nils was willing to change, resulting in row 41JKL for us with the middle one free. I offer the window to Nils, judging that I've seen the Siberian landscape so more often then he had, plus, I prefer aisle seats on longhaul usually.
The Japanese cabin attendant was super friendly with this reseating issue and did her best to accomodate our wish. Domo arigato gozaimasu!!
Route:
NRT-FCO
Flight:
AZ785 /12JAN2013
STD
14:10
ATD
14:03
STA
19:00
ATA
18:33
A/C:
EI-DBM
(Boeing 777-200ER)
S/N:
41J
(Economy class/Y)
View Large
View Medium


Photo © Daniele D'Orazi
We leave ahead of schedule by about 5 minutes, kudos to the groundstaff, nothing else expected though. It's Japan after all, all running on a schedule, even Italian aircraft do here
During taxiing we see several interesting, but standard for NRT, aircraft including one of the new NCA 747-8F's.

.
Pushback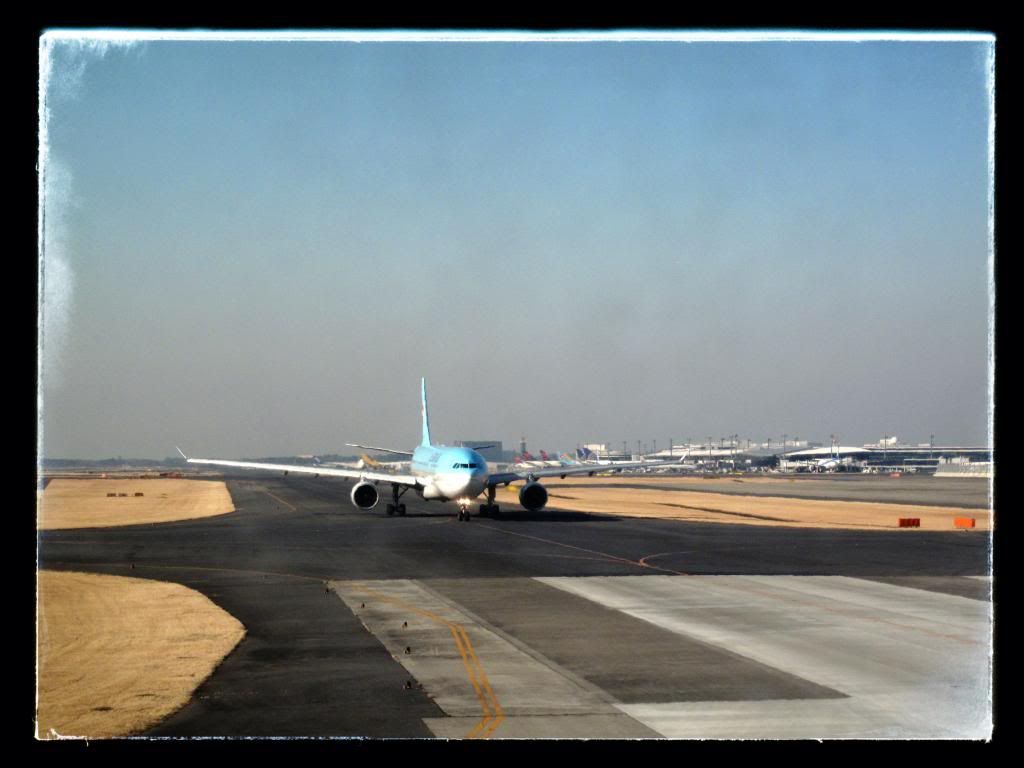 .
Followed by this Airbus from South Korea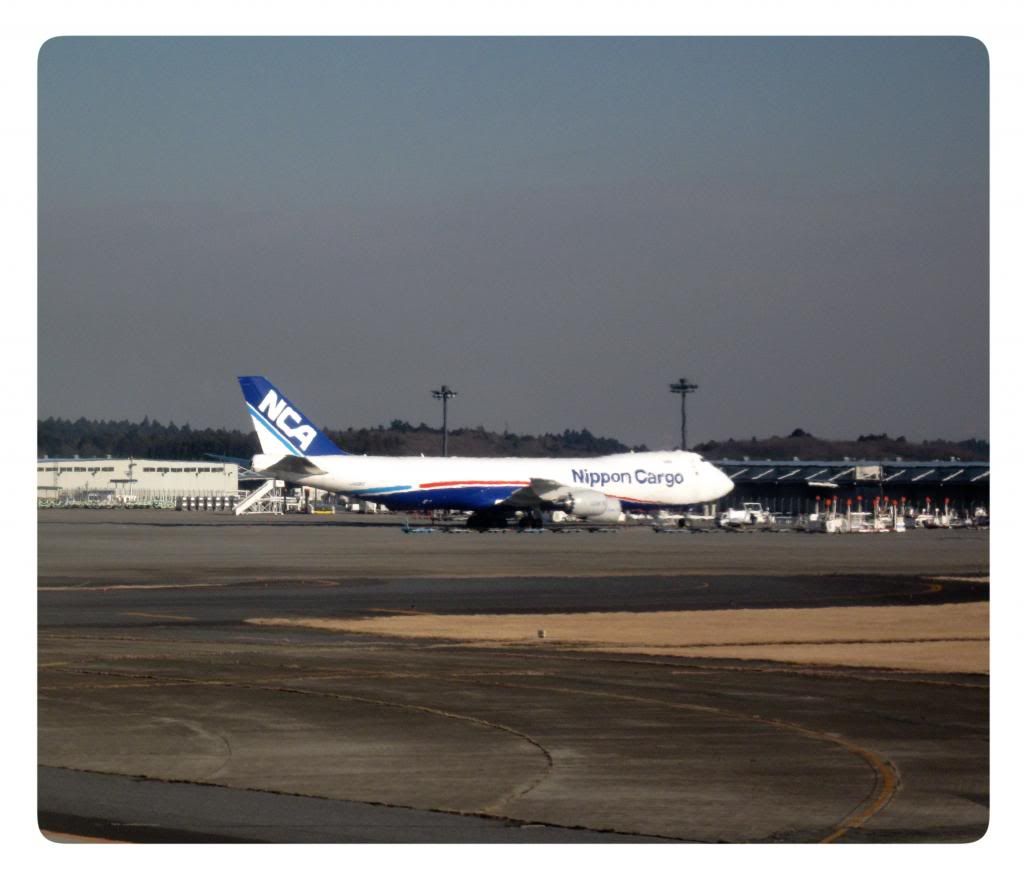 .
One very new Boeing 747-8F
Takeoff from 34L is done in the typical style we're used to from a Boeing 777 with the mighty GE94 engines. Soon we overfly the snowy mountains of Japan, and cruise towards the Sea of Japan and Russian airspace for a long, long flight...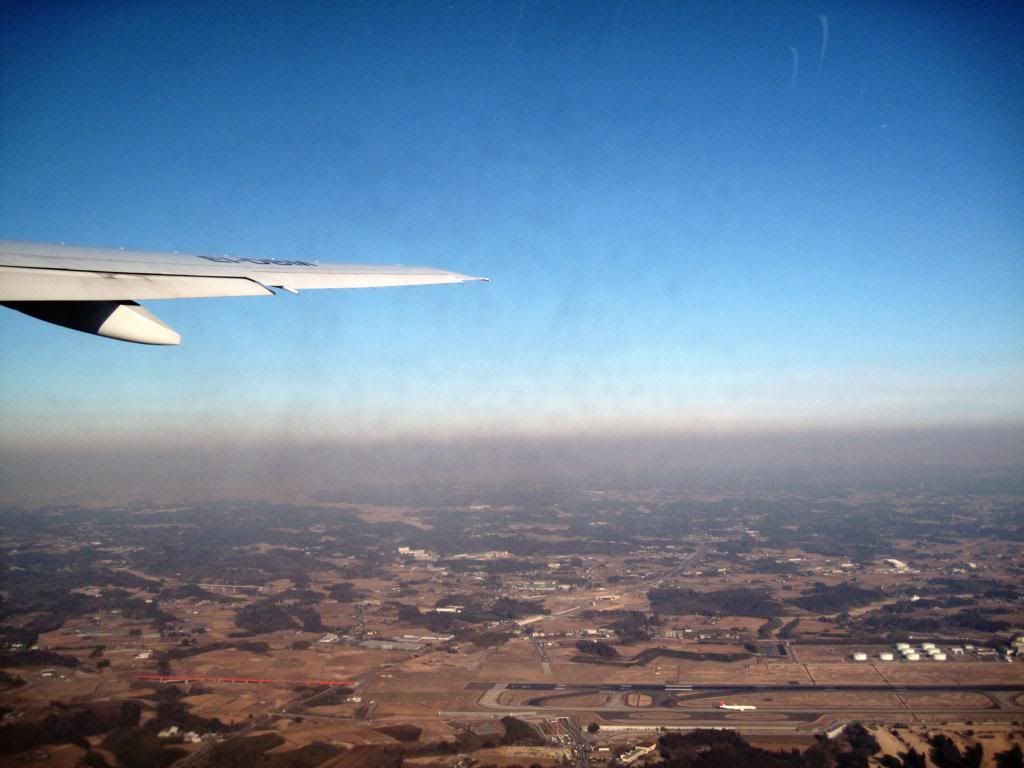 .
Take Off

.
Climbing out over Japan...
Mealservice on this flight comes 3 times, we started with a hot meal, being pasta or Japanese option. The crew says the Japanese meal is chicken, but clearly contains fish. The rice is hard to eat and far from Japanese, but the starter was good, as well a fresh salad and the grape jelly was really refreshing too.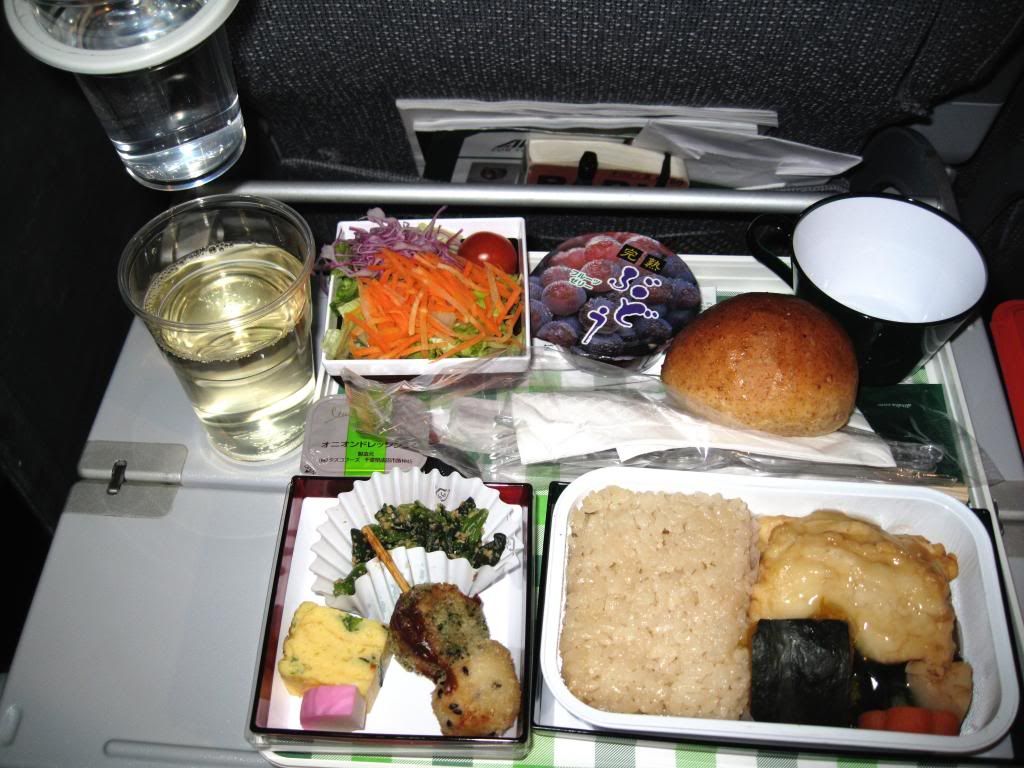 .
Japanese meal again

.
Great light conditions
Later during the flight we got served onigiri (plum or salmon, random handout), but I couldn't get done with it, so quality wise this was not good either (I'm used to very good onigiri onboard JAL flights).

.
Onigiri and green tea
Well the long flight continues, taking a quite northerly route though not as far as North as I've been on before on these sectors. In this time of the year resulting in a setting sun on the horizon all flight long, not bad!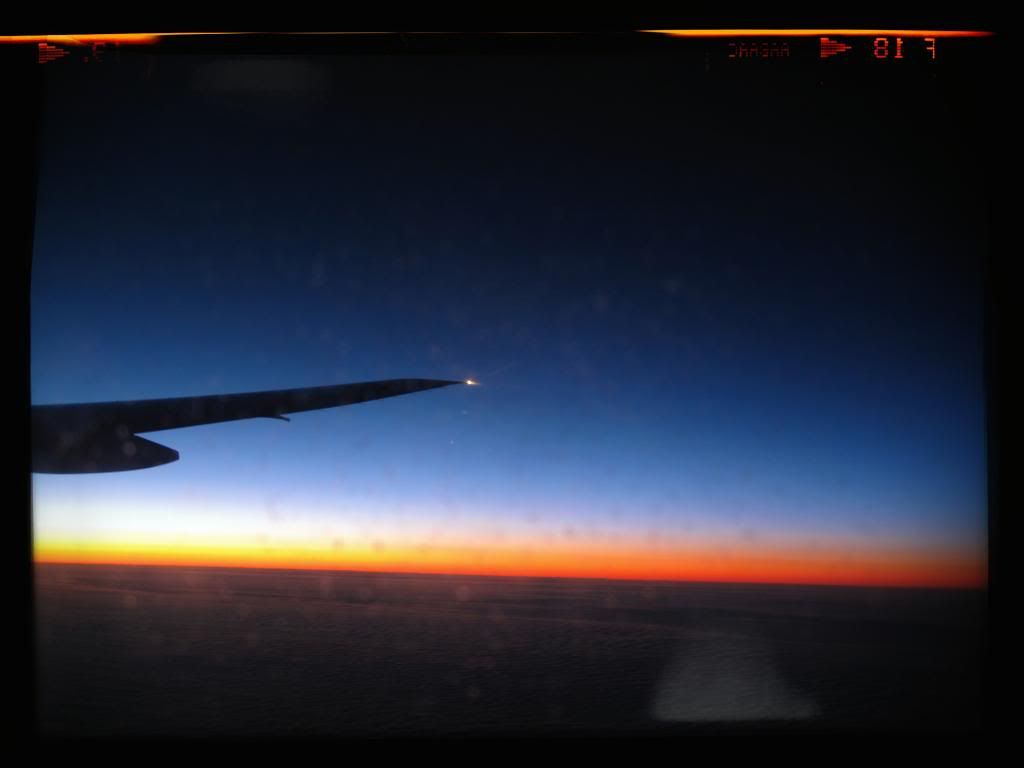 .
Beautiful, isn't it?
A sort of 'light meal' is being served about 90 minutes prior arrival. The meat on this plate didn't attract me, but the potato salad is nice, the bread and cream cheese real tasty as well the mocca cake thingy is good.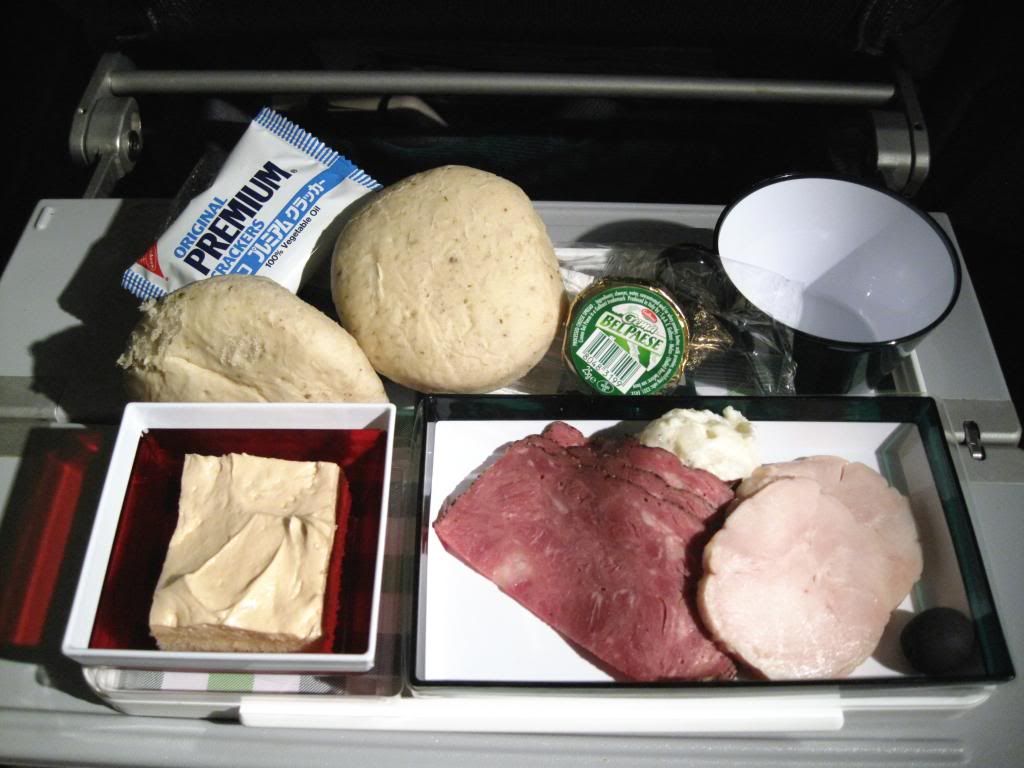 .
Light meal prior arrival in FCO
Soon the cabin is prepared for landing, well prepared is a big word, because some checks for safety are just overlooked by the crew. Quite a bad performance here, seatbelts not closed, seatbacks not upright, handluggage on seats or not placed under the seat in front.
Soon we landing on the runway closest to the shore, also known as 16R, and just minutes later we will arrive on stand, roughly 20 minutes early. Well done!
---
Transit is FCO is smooth. We remain airside, grab a burger at MacDonalds, bid goodbye to Nils who decided to go all the way in the FCO Hilton property, where Gabriel, the FlyingFinn and yours truly decided to make max use of our ticket and continue our way to the South, the final destination is BRI.
During the transfer we lounge a bit in the lounge, at least with some good drinks.
We must leave the lounge early though, since it is about 15 minutes walking distance to the gate in terminal B (the lounge is in D). Our flight to BRI is from a lower side busgate area, and when we arrive, they were already filling the second bus.
Route:
FCO-BRI
Flight:
AZ1603 /12JAN2013
STD
21:30
ATD
21:32
STA
22:35
ATA
22:23
A/C:
EI-DTK
(Airbus A320-200)
S/N:
02A
(Economy class/Y)
View Large
View Medium


Photo © Stefano R.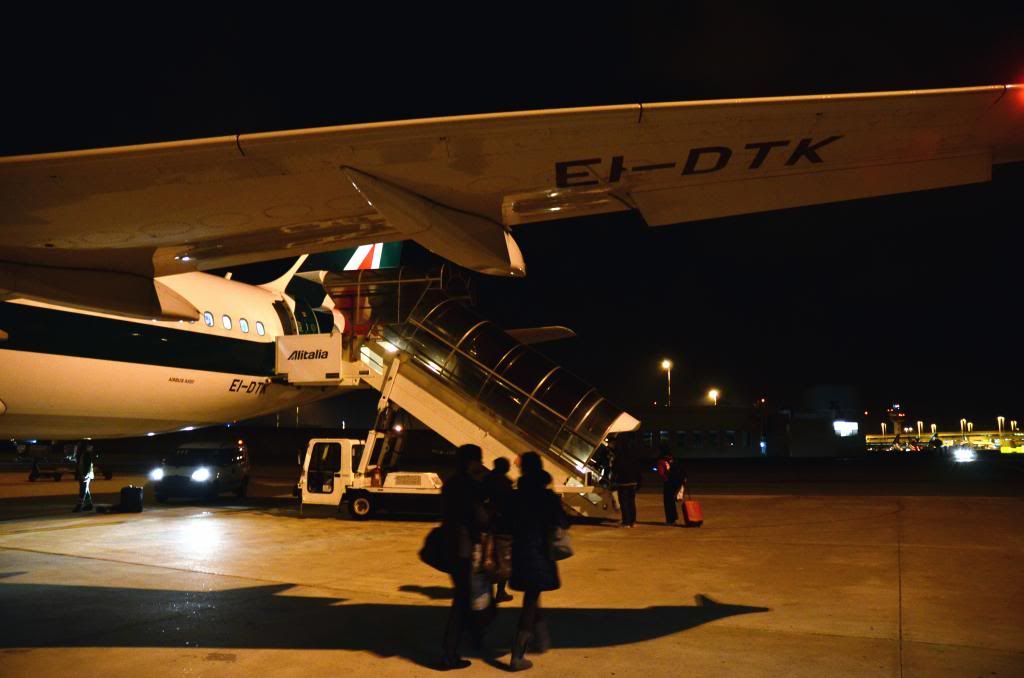 .
Boarding the Irish registered Italian Airbus
I'm seated next to Gabriel, 2A and C, B seat taken by an Italian person. So Gabriel ends up in the middle because the Italian guy doesn't want to move to a vacant row 5 DEF (soon taken by other passengers of course). Well, Gabriel didn't care much, for the 40 minute flight.
We leave in the the rush of late evening flights out to various Italian airports, taking off from runway 25.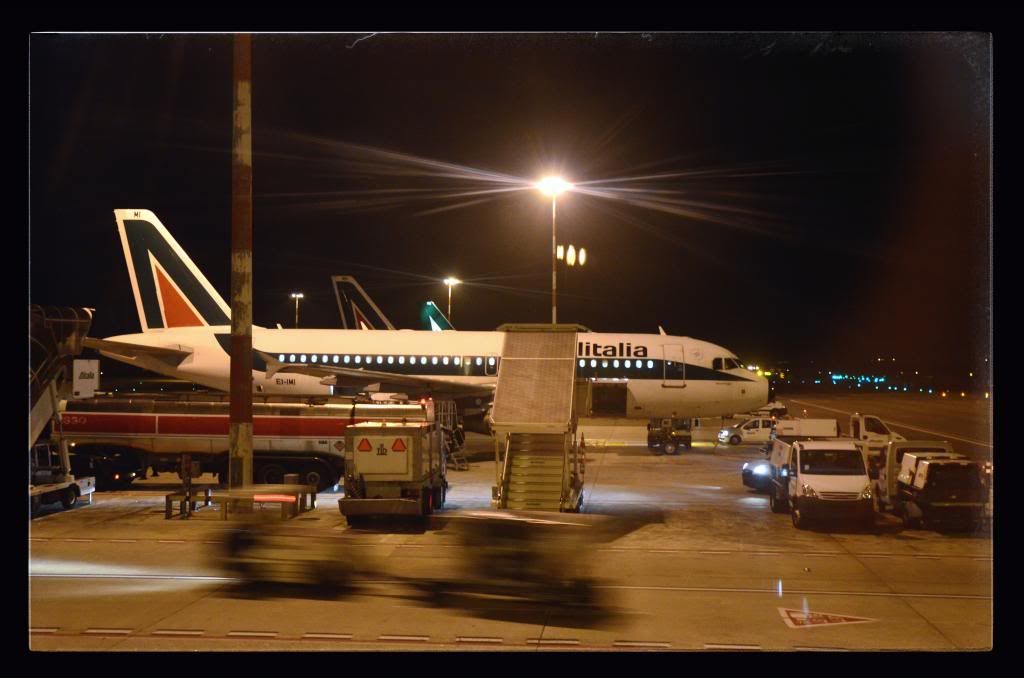 .
Alitalia narrowbodies to various Italian airports are leaving at night
Load on this flight is estimated at 75%, service is free drinks and chocolate cookies. Friendly service by the crew and when I notice that they have the chocolate cookies, I'm gladly offered 2 bags of those. Grazie!
Early landing in Bari, runway 07 and on the ground some other aircraft: Poste Italiane Boeing 737, Montenegro F100, Ryanair 737-800.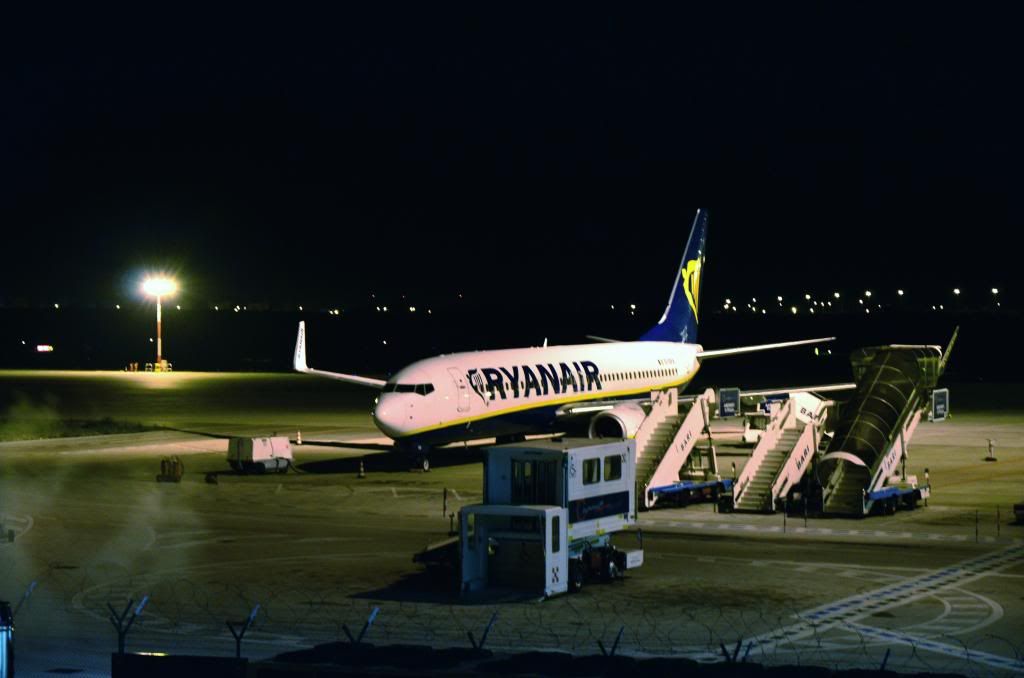 .
Ryanair resting the night
We soon walk together the 1 or 2 kilometer to our hotel, the Parco Dei Principi hotel, definitely a 4* property and offered to us at a good rate.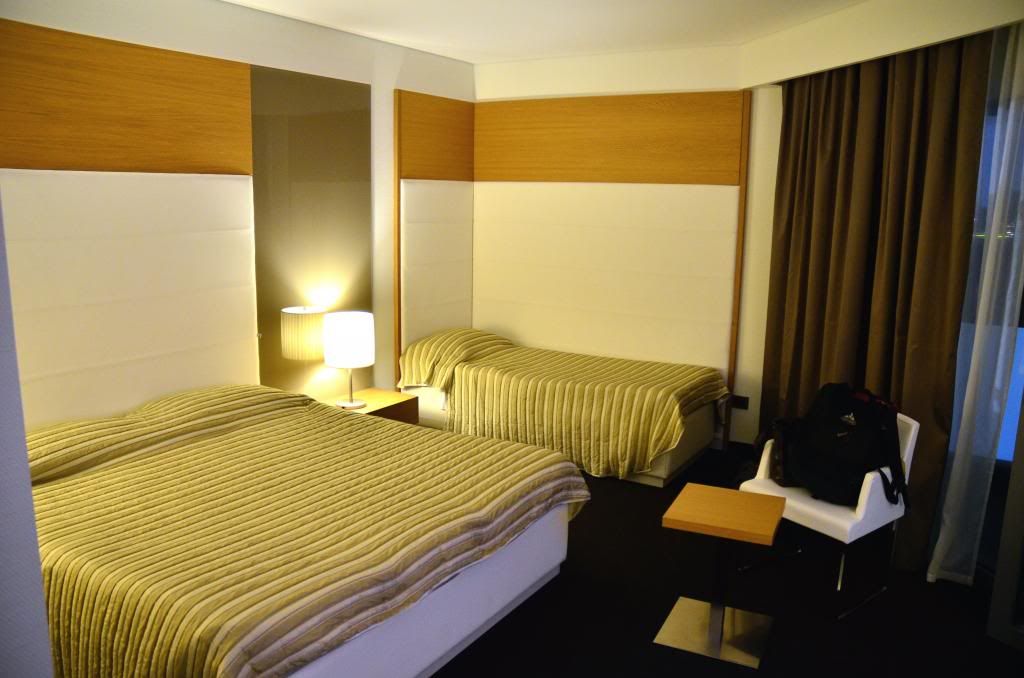 .
Double (triple) room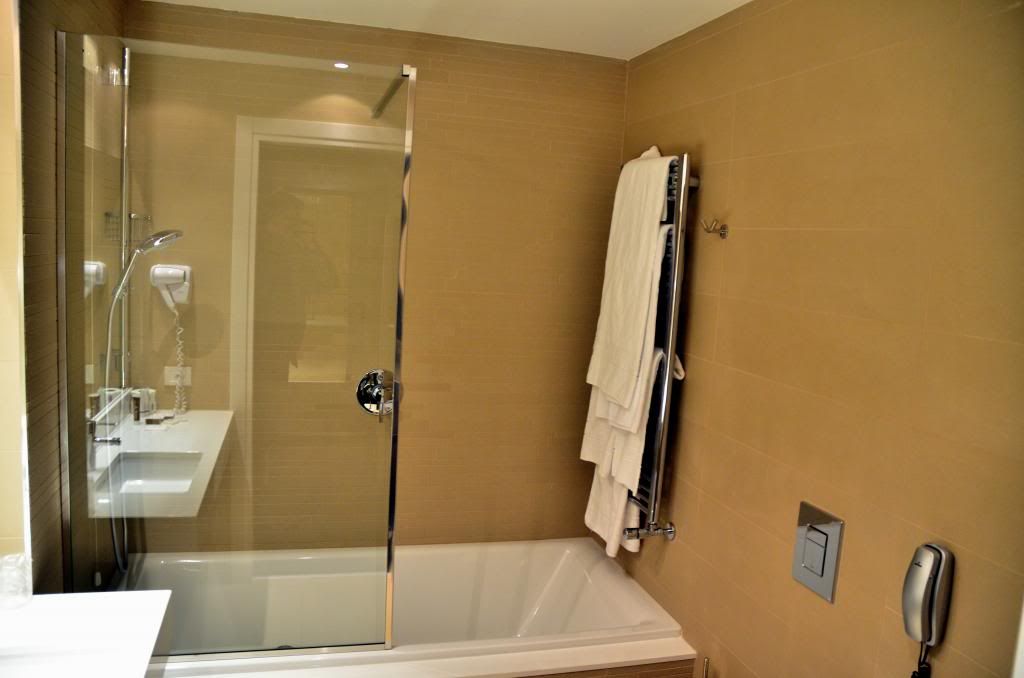 .
Bathroom
I share room with Gabriel, obviously the tall Dutchman gets the largest bed here, but we both were satisfied with our room, including a balcony overlooking the airport in a distance. The bathroom was nicely stocked with amenities also, and the reception guy was definitely going all the way for us with giving directions to a nearby pizzeria. We followed up and had a midnight pizza and beer for about EUR 8 per person. My best pizza so far in 2013 (not difficult, the year just started).
After some texting with a friend in Ireland it was time to sleep, and it was a good rest in Bari for sure. Wake up by the alarm, followed by a good breakfast in the empty restaurant area of the hotel. Breakfast is included in the rate here, definitely the way to go.
I think about the upcoming day, 2 flights home with the last leg on easyJet. I had too much handluggage (2 pieces) and didn't fancy discussions, so decided to book a oneway flight on the 13.05 departure on KLM (ex FCO). Check-in done immediately but nothing else offered to me then a middle seat in Y (19E). I'm not amused. Something to re-arrange at the desk in FCO.
Then I must say farewell to Gabriel also, he continues for a few days in Italy, while I must grab the hotel shuttle (EUR 8,--) to the airport, running on guest demanded times. Not Italian style, but running at your wish. I arrive at the terminal just 5 minutes later and check-in for my oneway flight on Alitalia to FCO again.
Check-in is breeze, no other passengers around, and 3 seats secured for me by the friendly ground staff. When I walk to the security checkpoint I notice an landside lounge for Alitalia by coincidence. So I enter and am welcomed for a cup of Nespresso coffee. I'm the only guest here, but a shame no views from this lounge due to it's location in the middle of the airport.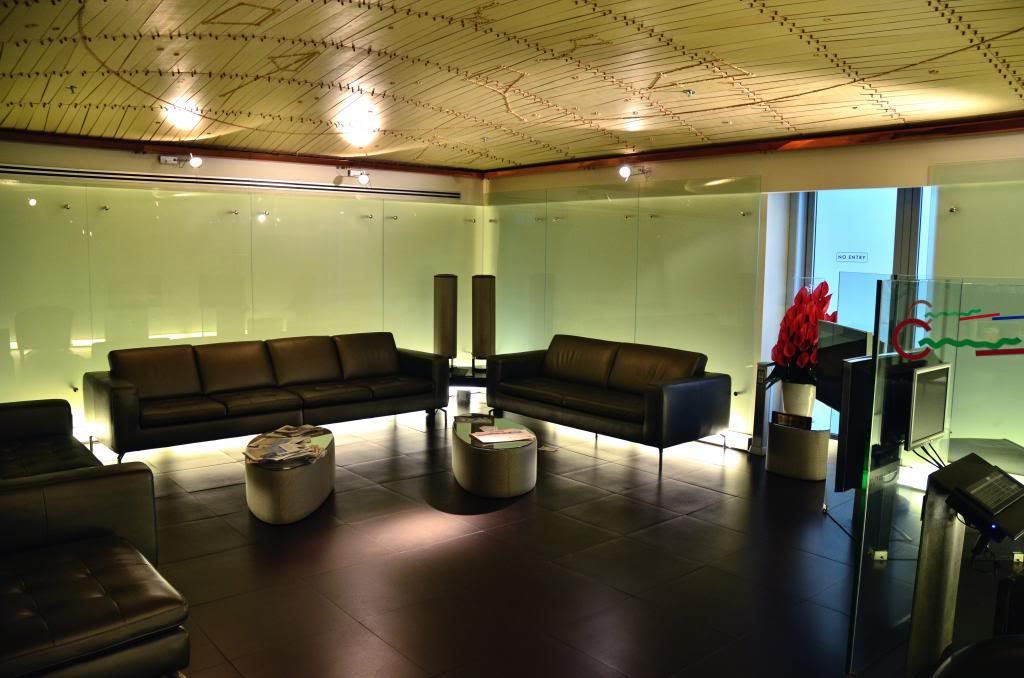 .
BRI lounge interior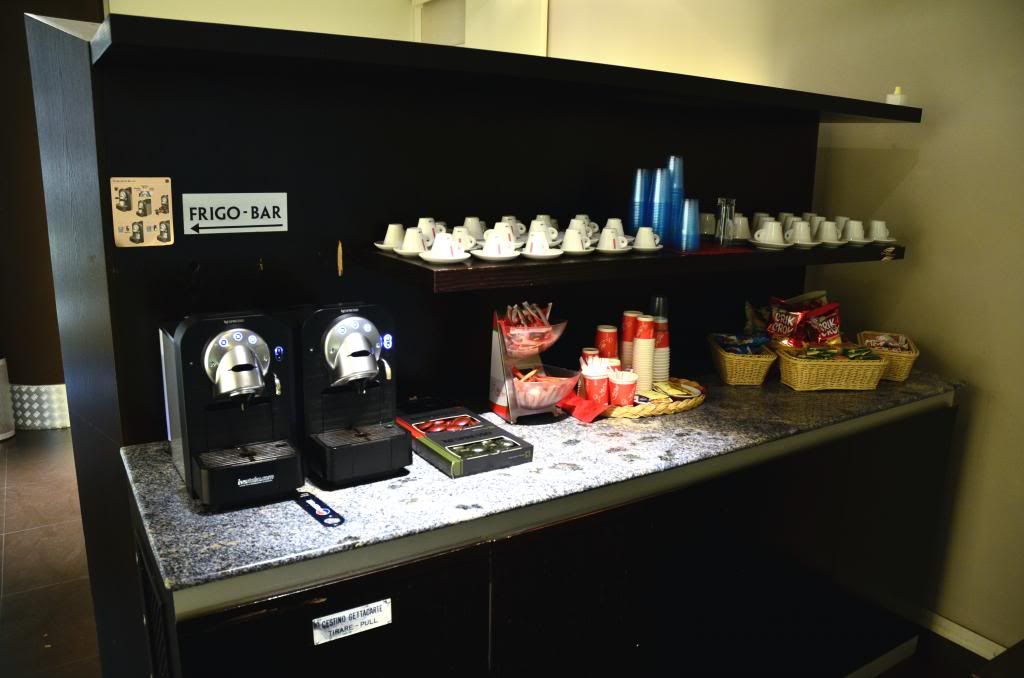 .
Self Service bar
After I while, 2 espresso's and a pear juice (nice for a change), I head off to security which I pass without issues. Inside the airside waiting area I see the few shops and a bar, good views on the apron though but furthermore quite boring. Lucky me, boarding starts after a few minutes and on time. For me that means boarding an aircraft in Air One livery for the first time (but operating for Alitalia of course).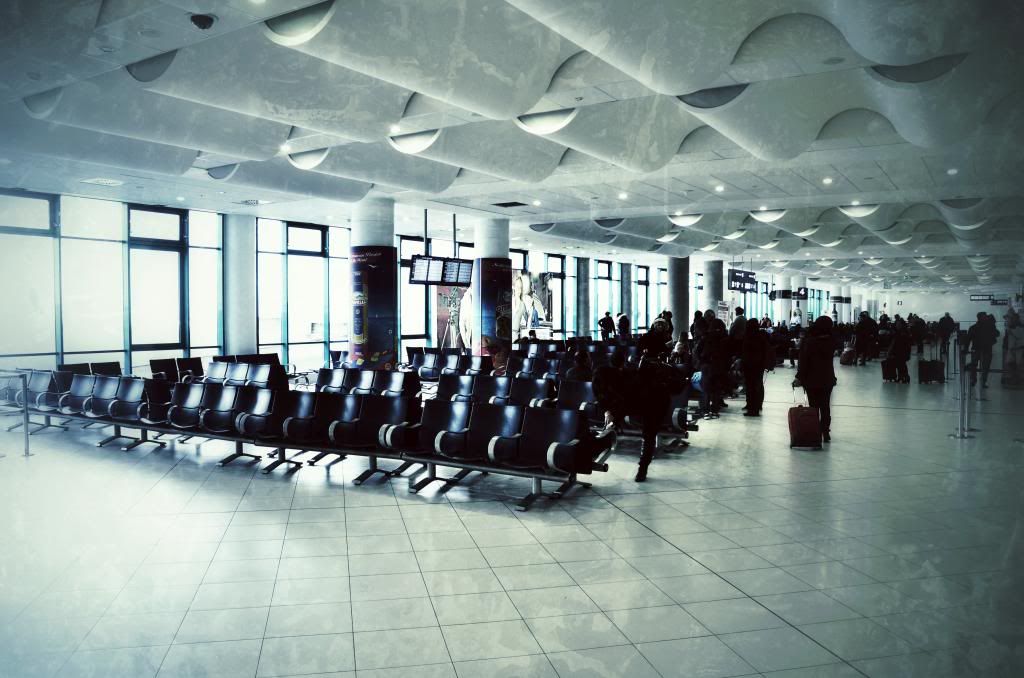 .
Departure lounge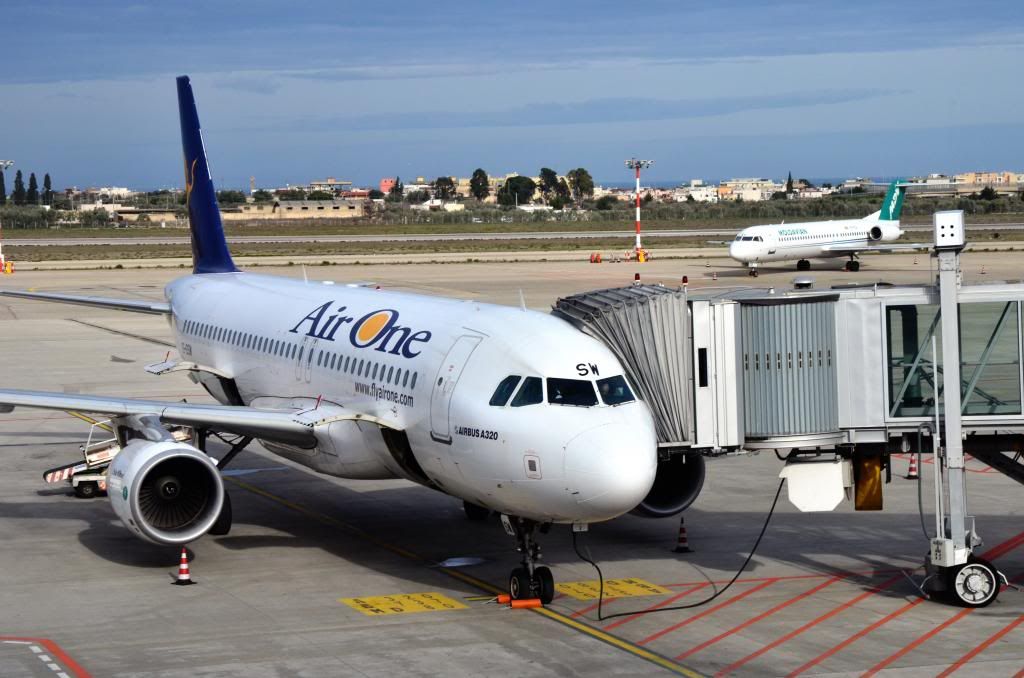 .
Air One for Alitalia today
Route:
BRI-FCO
Flight:
AZ1612 /13JAN2013
STD
11:20
ATD
11:14
STA
12:25
ATA
12:11
A/C:
EI-DSW
(Airbus A320-200)
S/N:
02A
(Economy class/Y)
View Large
View Medium


Photo © Stéphane Mutzenberg
Departure is ahead of schedule here as well, great performance and we leave with 119 passengers on board, not bad I guess for a Sunday morning flight? Purser Barbara on board announces a flight time of 55 minutes.
Unexpectedly we depart from runway 25 today, meaning no views on the city or harbour of Bari. Well, I would've been on the wrong side anyway but I visited BRI before last summer so no problem for me.
We climb away, mostly clear but a bit hazy skies.
Service on this flight consists of 2 drinks, water and blood orange juice for me, plus the tiny chocolate cookies again. Really sufficient for these kind of flights. And even better, the crew is definitely in their best mood on this flight. During the flight an update about the process is given from the flightdeck, mentioning about a cloudy/rainy situation in Fiumicino. Well..., ok today. I'm just in transit and not on an Italian holiday.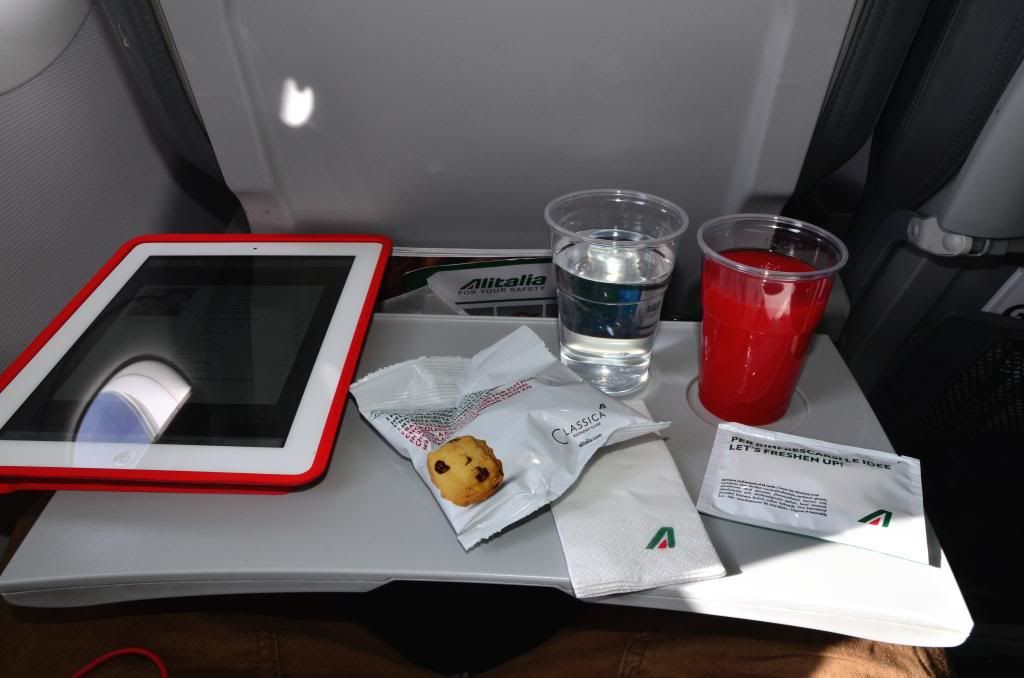 .
Drinks and cookies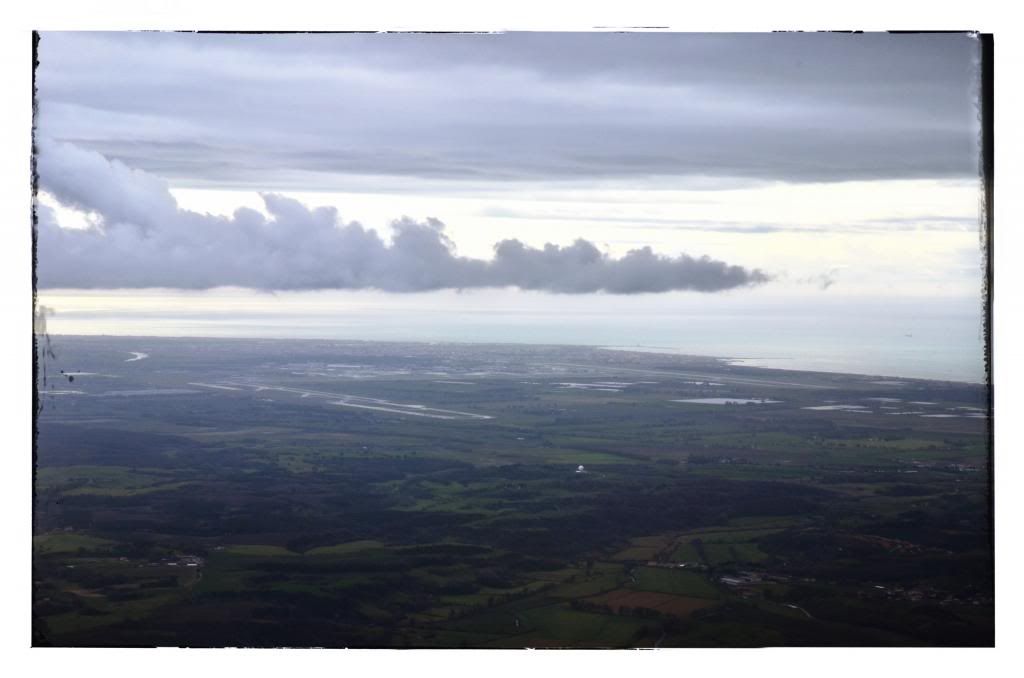 .
FCO in a distance
Soon we approach the airport and obviously on a visual approach we continue for landing on 16L, smooth landing and we remain on the runway. We park at a remote spot meaning a trip by bus to the terminal. No problem for me, it is always good to have a tour on the apron somewhere.

.
Disembarking on the apron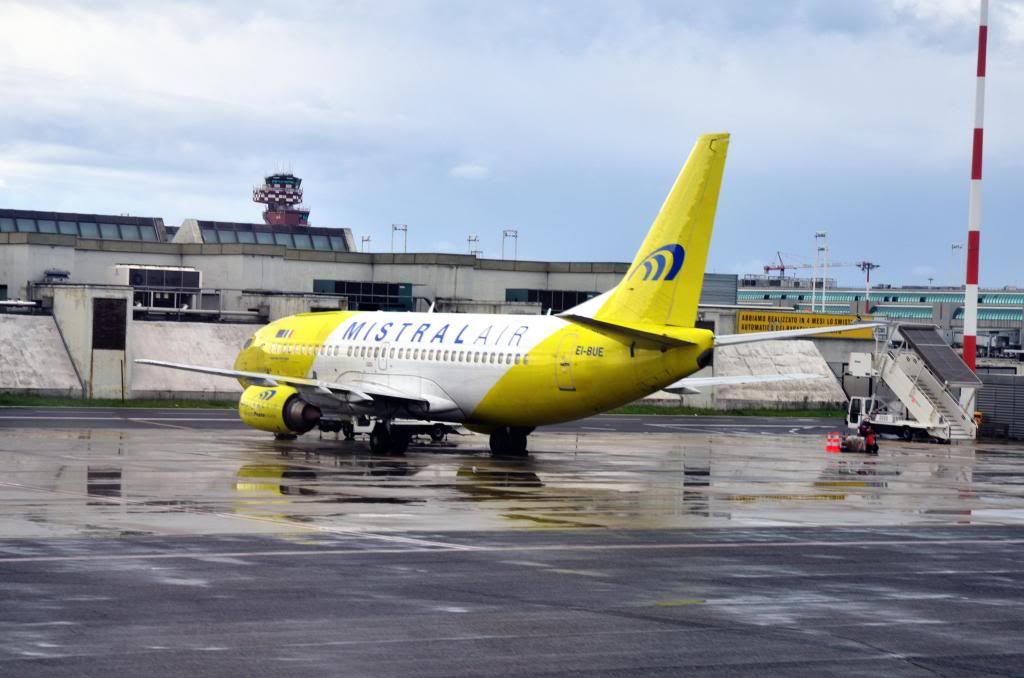 .
Something to do maybe in the future?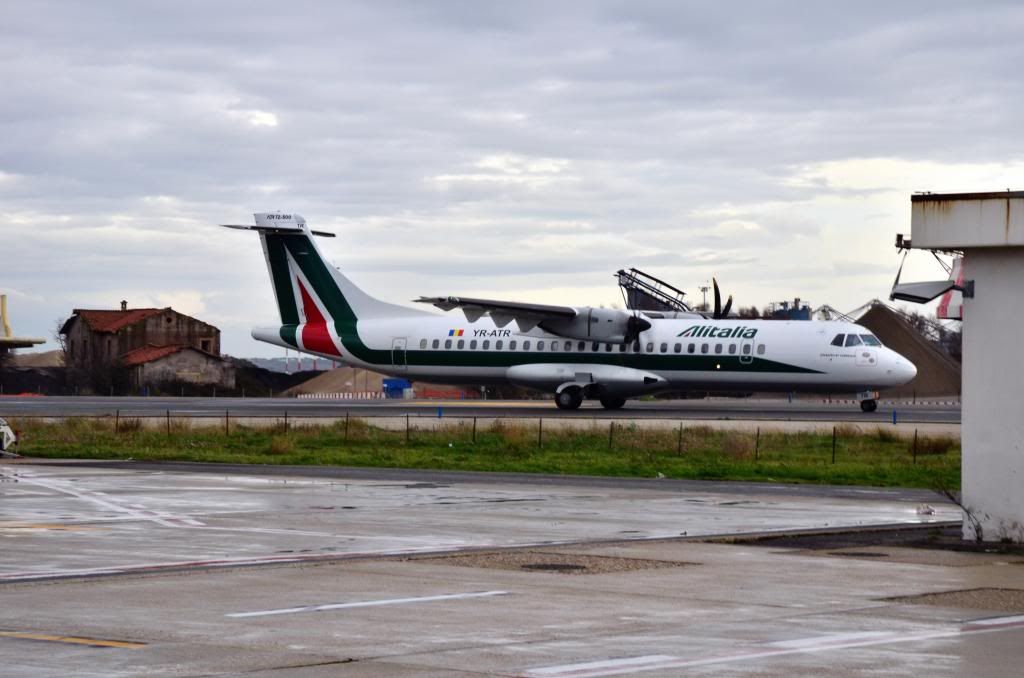 .
Her sister ship went off the runway just weeks later...
---
I have just 45 minutes in FCO for my KLM flight to Amsterdam. First thing to do is the transit desk, to clear the seat issue. No way that I wanna be in a middle seat also considering I'm a Elite Plus member with them. But the flight was closed and no seats where available according the staff. I can't believe that at once, to insist that they take another look, resulting a a surprise printed boarding pass with 09F written on it. Thank you Alitalia girls, that's how is should be.

Route:
FCO-AMS
Flight:
KL1602 /13JAN2013
STD
13:05
ATD
13:07
STA
15:40
ATA
15:21
A/C:
PH-BXE
(Boeing 737-800/WL)
S/N:
09F
(Economy class/Y)
View Large
View Medium


Photo © Ferenc Hamori
Boarding starts immediately from gate B13, and when I'm onboard and friendly greeted by the crew I find my way to my seat, with an orange headrestcover instead of the usual blue one. That means, 09F was within the 'new' Economy Comfort zone, seats available against an additional fee. I'm used to be seated in these seats usually, but now it is part of a new sales strategy with KLM, and I am not amused about all of this. A complaint form with my opinion is on KLM's way. The middle seat remains empty also as I like it.
Well, after the manual safety demonstration we depart just 2 minutes late, runway 25 again for takeoff, with clouds and the coast line visible immediately we get airborne. The climb is slighlty rough with a few bumps here and there caused by the unstable clouds all around.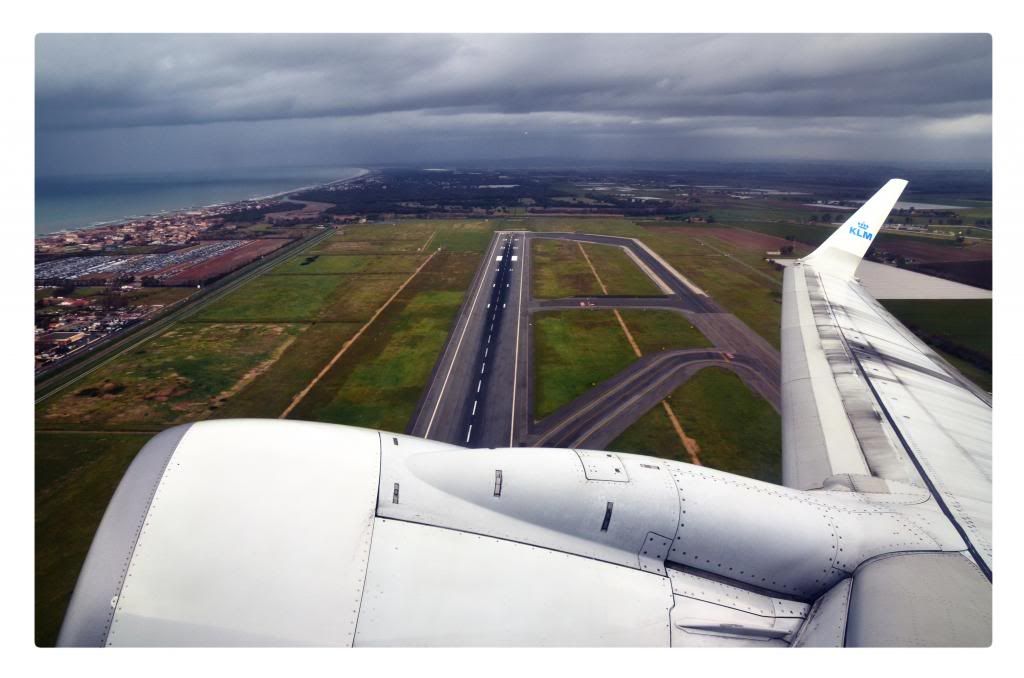 .
Takeoff from a not so sunny FCO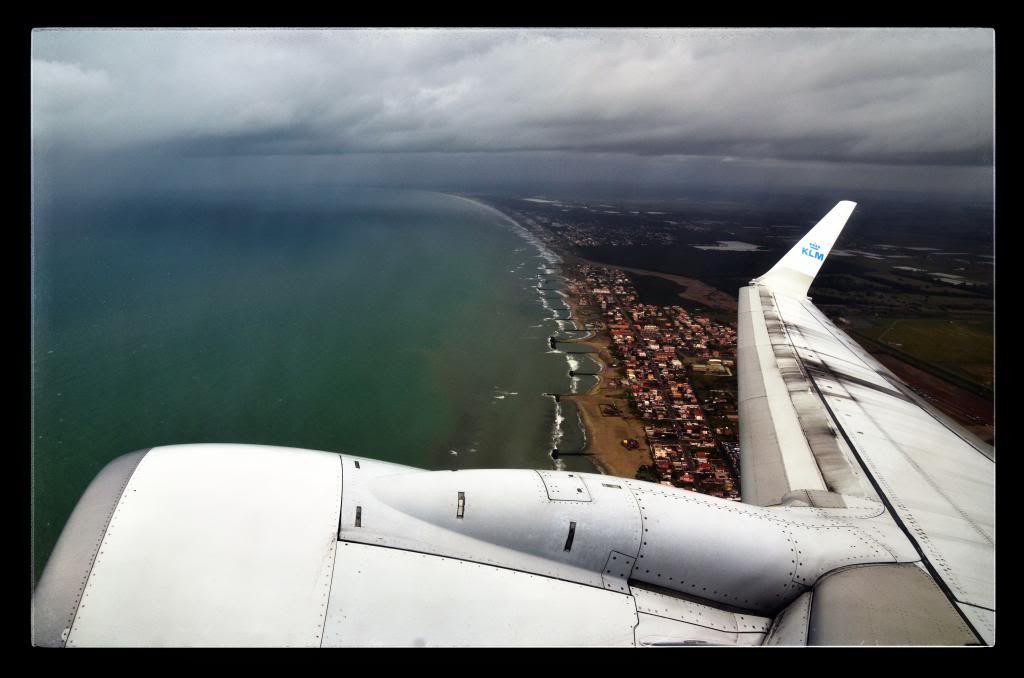 .
Not a good day to be on the beach
After a while the seatbelt signs are extinguished and a word comes from the captain mentioning our cruising altitude of 40,000 feet and the route would take us via Milan, Zurich, Strassbourg, Luxemburg and Brussels towards Amsterdam. Good and welcome information, from a captain or first officer obviously originating from South Africa... Suid-Afrikaans is such a funny language, closely related to my Dutch.
Service on this flight is a pack with sandwiches, one with egg salad, the other with veal (strange choice, and not my liking). They are at least honest and don't give it out as beef
Drinks and bar is offered here.
Later another service with coffee/tea and the famous little caramel cookie.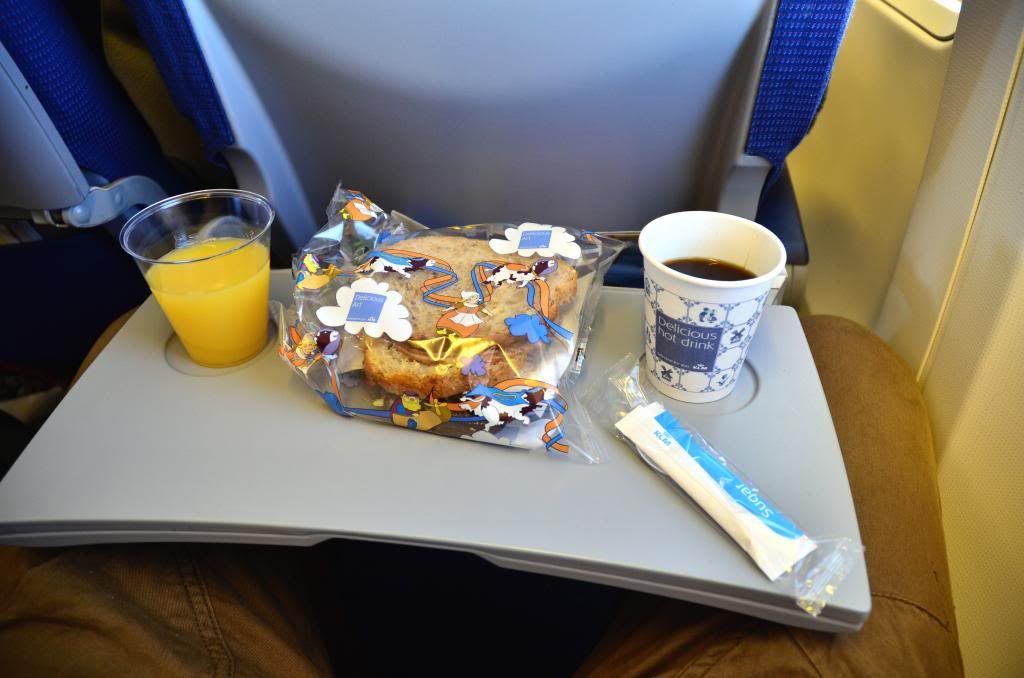 .
Sandwich and drinks on KLM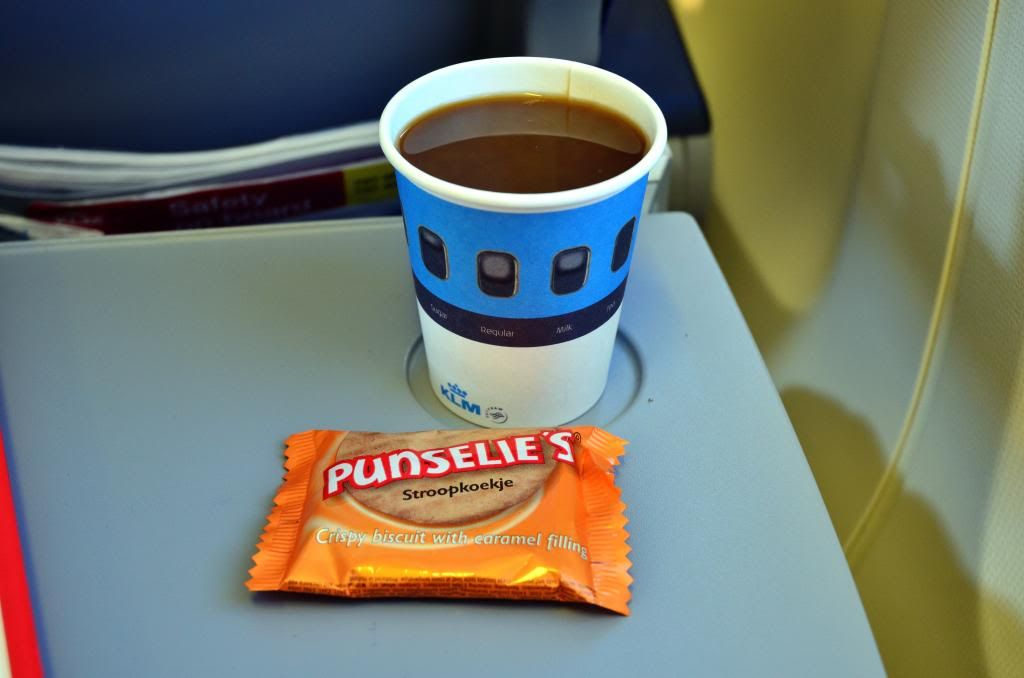 .
Second service is coffee/tea and a cookie
During the cruise I have an interesting exchange of opinions about KLM's change of service concept and also the seating issue. I talk for about 15 minutes with the purser and her trainee about all of this, we don't agree on all points but it was a healthy conversation for sure
The sky clear up over Belgium and I get a good view on the city of Antwerp (hello Nils, are you home already?), and then soon it's the great city of Rotterdam and final descend for Amsterdams runway 06, also known as 'Kaagbaan'.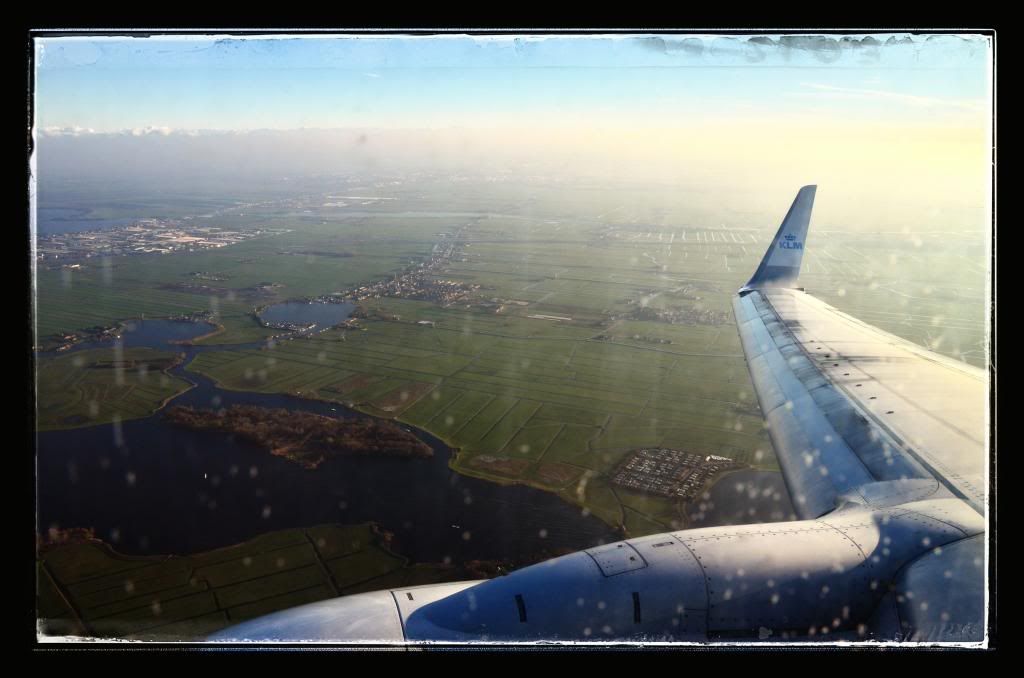 .
Approaching Amsterdam, good to be home again!
That's it, all flights on time and for this great fare, it was a fantastic trip out to Japan for a while, accompanied by some great people I know from a.net. Alitalia MXP-NRT crew was definitely of high class and service minded, kudos to them especially, especially when I compare them with the crew on the way back.
easyJet was booked as positioning to MXP, nothing to complain about this flight and thanks to my friend working in this orange airline
KLM, good as always but some issues now with the seating choice. I'm afraid things are changing to the worse... maybe I should reconsider if I wanna stay in Skyteam or move back to oneworld instead, especially considering the entrance of MH to that alliance, and CX as well, both carriers I prefer for flights to SE-Asia. Well, time will tell.
Thanks for reading, and I promise to try to bring up a few more reports online here soon.
Regards
Eric