"Manila on four, well, small engines"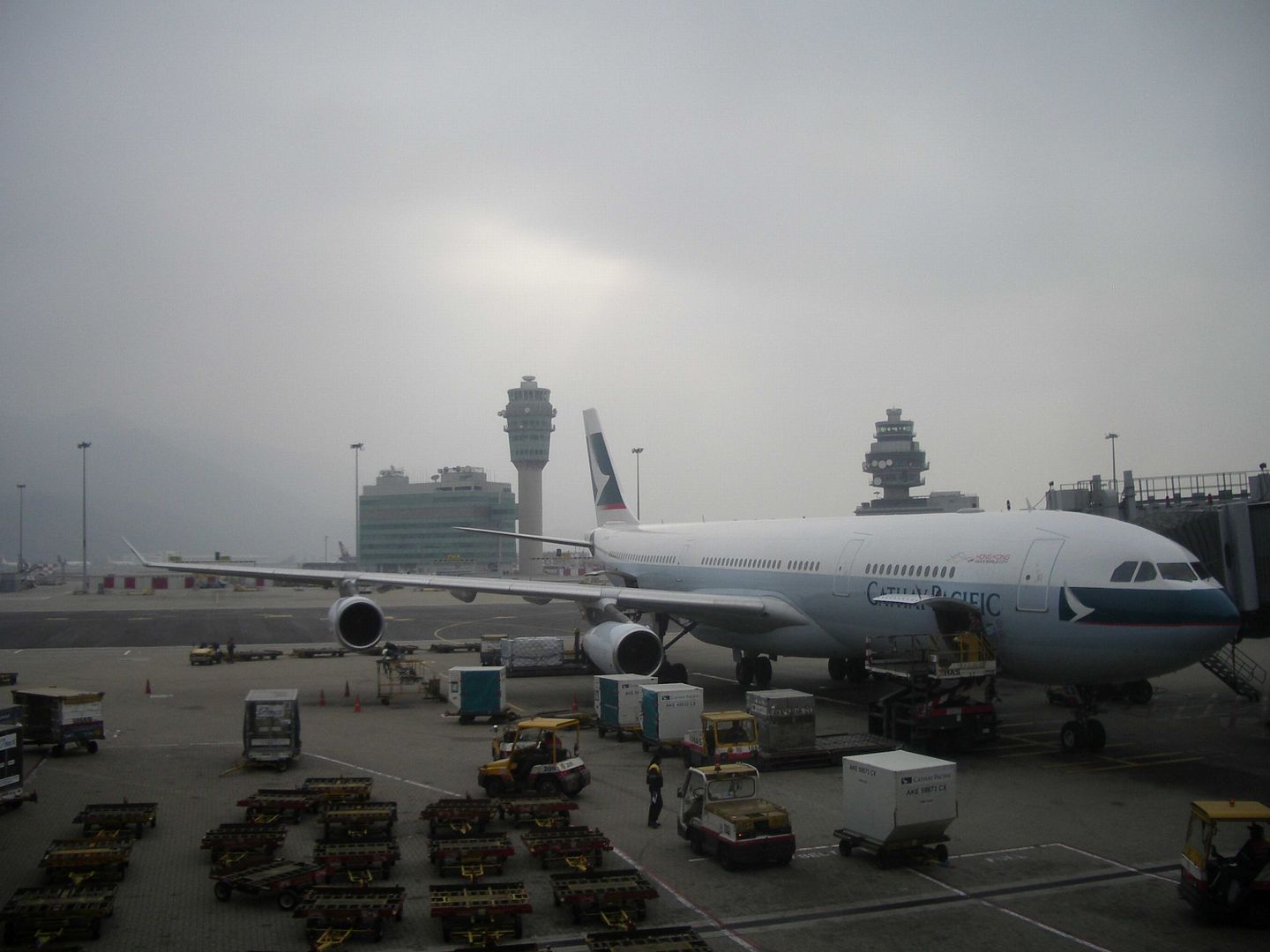 Magandang hapon, dear readers,
it´s just two weeks ago since I´ve disembarked a plane at STR airport.
Is this really true?.
Yes, it is!:
"Cancun, Just For The Weekend!"
(by
FLIEGER67
Feb 17 2013 in Trip Reports)
And as a starter today, I should fly the very same last route in the opposite direction:
Thanx to, as usual:
http://www.gcmap.com/
No question, the new departure airports rule is as strict as it was also in 2012.
Here is the actual example, MNL counts as no. 233:
Departure Airports II
auf einer größeren Karte anzeigen
There are some earlier stations done:
Departure airports
auf einer größeren Karte anzeigen
And the Tripreporter 2013 map is also updated:
TRIPREPORTER 2013
auf einer größeren Karte anzeigen
Well, let´s go, isn´t it?.
Saturday, 09.02.2013
.
.
.
.
Service AF 1709 operated by Air France
Scheduled: 13.20 // 14.40
These airfare calculations surprised me once again.
Flights to Asia and especially a bit further than the usual places like BKK or SIN, are very expensive ex Germany during the winter break vacation time.
To fly out of Paris is much cheaper this way.
How to reach Paris in time for my long haul leg?.
Ok, ok, there is no competition beside the train service
ex STR and therefore a ticket on AF is swiftly booked.
But wait, fly AF and secured the ticket by Flugladen.de,
there are some vouchers registered to calm the fare down.
Leg 1 and 6 around this trip are on the first confirmation.
45.00 Euro´s only per leg, real good from my point of view.
Well, the AF guy´s also noticed that there is no real need for the Saturday afternoon service and cancelled my originally scheduled 4.00 pm departure short thereafter.
Good or not, the 1.20 pm service is offered with no real other options.
That means much more connecting time in Paris, what is ok with the winter weather conditions and the flights booked on separate tickets. But also might be a little less interesting with CDG not the top notch public side airport.
Well, we will see.
Out of the homebase at 11.15 am, really?.
This is definitely not my standard time and it feels a bit surrealistic to me. But anyway also this time the car found the way for P0, OLCI works well in advance and soon thereafter I´am at the airport for a first view to the screen.
Gate 316 is not the standard AF one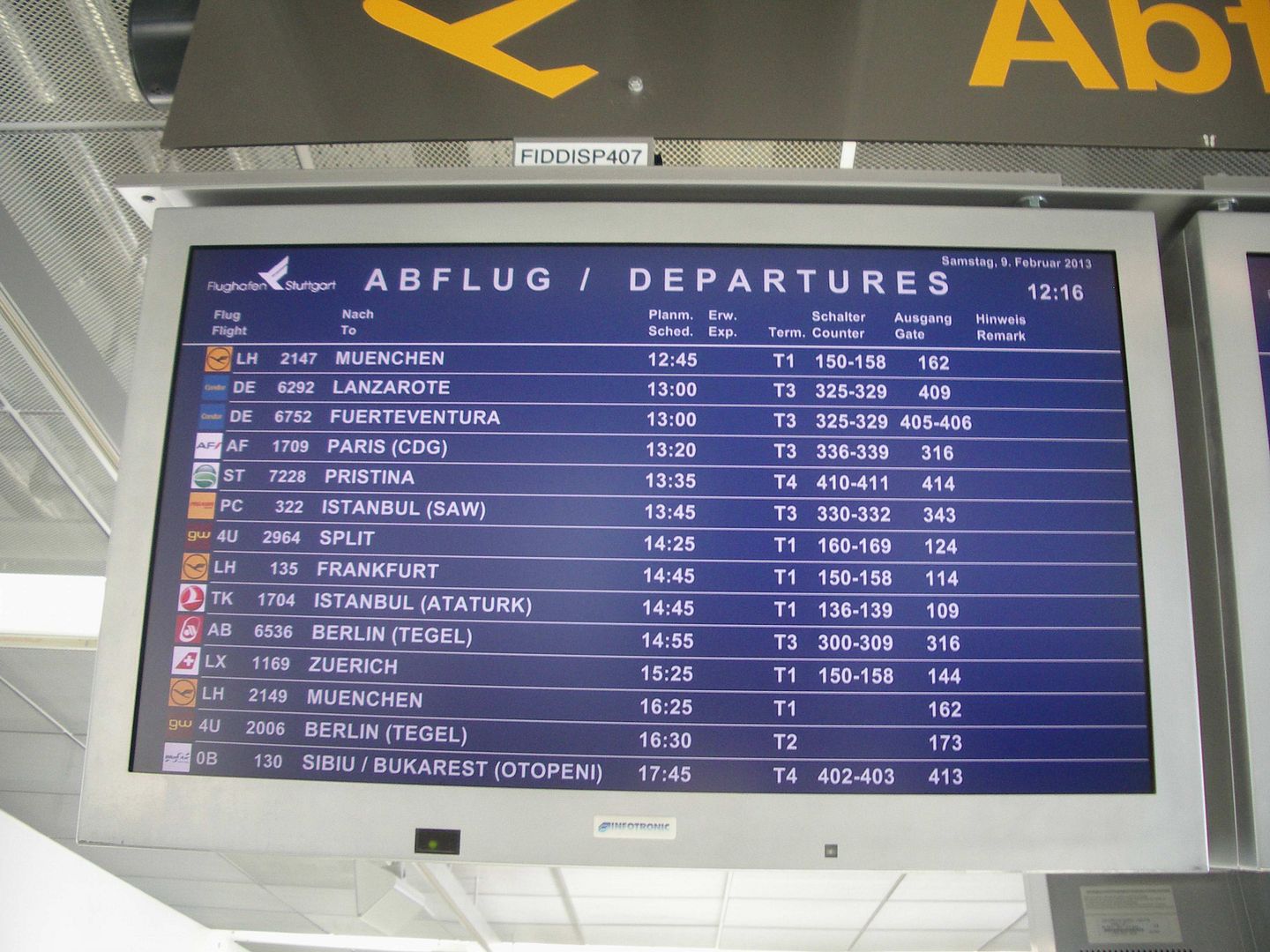 Yes, winter is still here.
Lot´s of snow along the night, the first inbound ex Paris is more than two hours late but my flight looks like ok.
Leaving my bag at the Sky Priority counter is a quick affair, simply no one in front at T1 security and onwards for a shorty lounge stop.
Well you know, just to pick up some of these delicious AF cookies, well needed for every travel around the world!.
So, what´s up at the gate?
F-GUGF, let me check the destinations and planes file.
Is this really a new A318 like on schedule?.
It is!. New to the log and leg no. 18 on type
This one is in the air since 02.04.2004 with AF only.
18 examples are in the actual fleet
Not that much pax around the gate till a last view for the restroom facilities, like always with me prior to boarding a plane.
Boarding is good on the way when I´am back and where are all these people coming from?. Much more than expected.
Well, someone out there for the late boarding rule?.
It works once again.
21D/E/F is open for me. It seems there is someone checked-in but not showing up.
The load is 90%, no biz suits to see, also not in biz!.
3 partly cloudy degrees, 1.20 pm is a perfectly ontime departure from "Two-Five". 1 hour, 05 minutes for
"AirFrance" and me on the well known route to CDG.
The legroom is not that impressive here
Cabin crew is one middle aged male FA, one elder female, also nice and another middle aged french woman, black hair, not that really slim, but really nice!.
Inde, well, not till now
Cockpit crew is from France, the captain with a nice welcome, the crew is introduced by name. He´s later once more on the mike short prior to descent.
No route or flightlevel info.
Consignes de Securite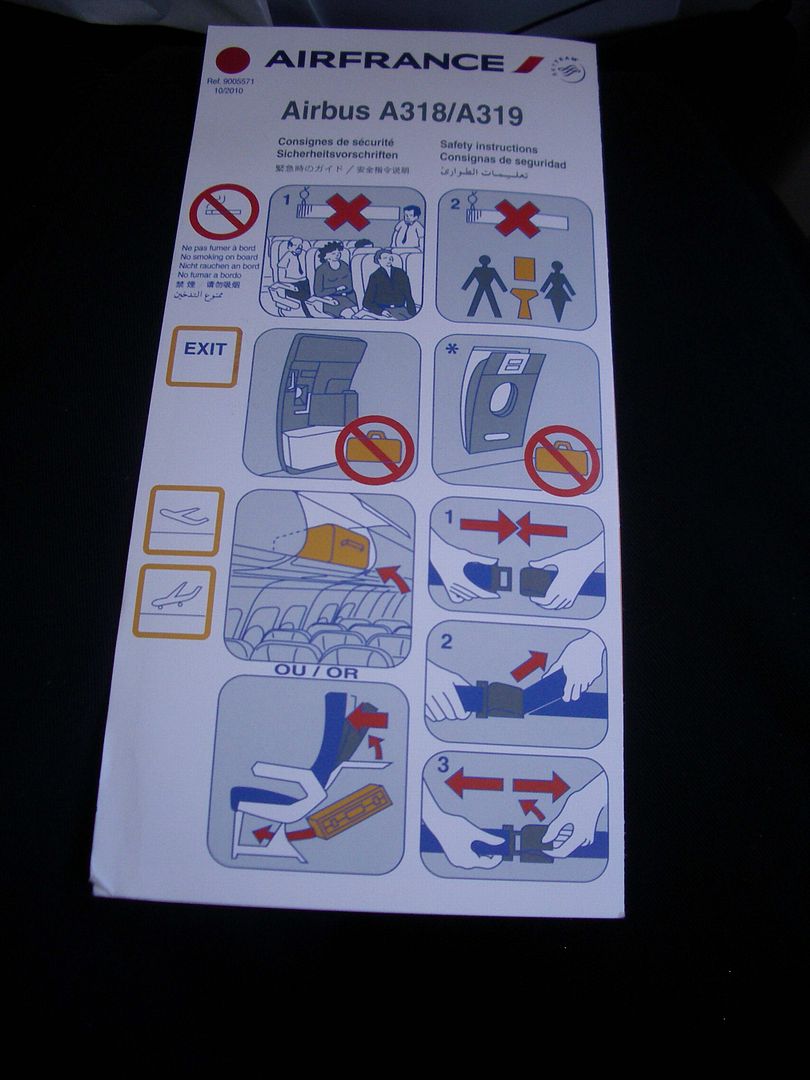 What about a view to the cabin with the dark blue clean so far fabric seats?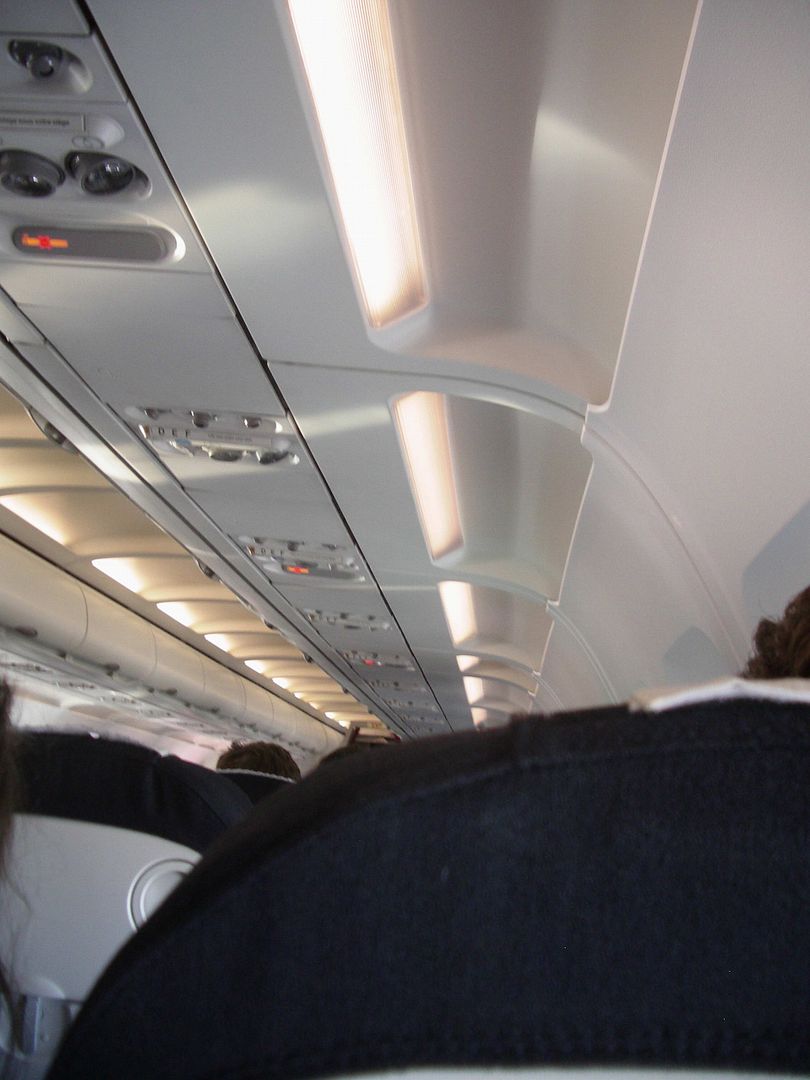 Looks like cold down there
Service a la francaise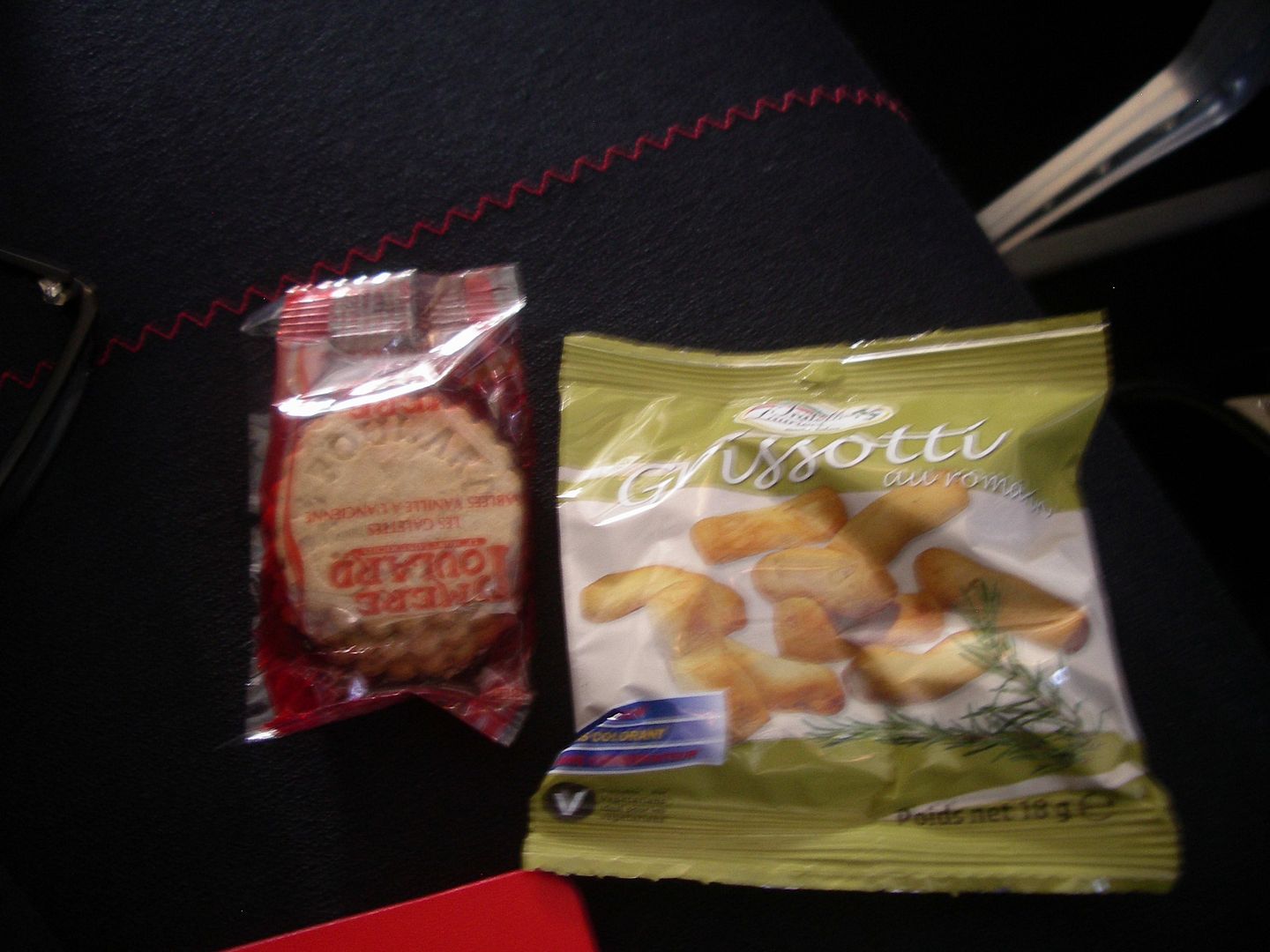 Touchdown at the 2700 meters "Zero-Nine-Left". 2.30 pm, 10 minutes ahead to schedule. Zero cloudy degrees and arrival at T2F like it is usually today.
Some 20 minutes to wait for the bag and always interesting to see the few pax only at the belt. Lot´s of connecting flights for the STR people, so it seems also today.
Priority works, it´s the first one out and onwards for the trek to T2A.
------------------------Continued below-------------------------------