Off to Zimbabwe, Part 1. EI & EY, BHX-DUB-MAN-AUH-JNB
Intro
Hi!
Thanks for clicking on my latest trip report! So, where am I off to this time? Zimbabwe. Yes, you read that correctly. I'm off to the country everybody thinks they know a lot about, but actually have no idea what's happening on the ground. Why? A relative moved there for work a year or so ago…they talk about it all the time, saying how wonderful it is, and how much I'd love it. Well, who am I to say differently? I'd been thinking about going down for a while, but finally made up my mind in mid-January, just 3 weeks before my chosen departure date.
So, how does one get to Zimbabwe? Since "the troubles", neither BA nor Air Zimbabwe link London to Harare. Direct long-haul flights are limited to KL and EK, along with some regional links by SA, KQ and ET. Given the lack of competition, fares are quite high. However, not far down the road lies Southern Africa's largest hub, Johannesburg. Finding a cheap flight to JNB was a lot easier. Whilst I was in the middle of fare hunting, I was told by another relative that they were off to their holiday cottage in Ireland for half term….would I like to come? Hmmm. Yes, yes I would. Making this work to my advantage, I checked fares to JNB out via DUB instead of LHR. Thanks to the outrageous APD charged by the UK Government, fares out of DUB are quite a bit cheaper. I found a nice DUB-MAN-AUH-JNB-AUH-LHR flight on a combination of Aer Lingus and Etihad (whom have just bought a stake in EI). A nice cheap one way BHX-DUB flight, also with EI, sealed the deal.
Now, how to get from JNB to Zimbabwe? Cash fares, particularly one ways are frightfully expensive. Thankfully, BA franchisee Comair operates a number of routes from JNB on an ageing fleet of B737-400s in full BA livery. For the same price (4,500 Avios + £25) as a one way Avios (miles) seat from London to Paris, I could get a seat from Johannesburg to Harare. Now, why fly back the same way? The major tourist draw to Zimbabwe is the Victoria Falls, on the Zimbabwe-Zambia border. Sadly, Comair availability was very awkward. Availability changed massively from day to day. There were no award seats from Victoria Falls (VFA) to JNB, but there were from the Zambian town of Livingstone (LVI) a few miles away. There were no seats left in economy, so I had to pay double for Club. So, that's how it worked out!
The flights
EI 277 Birmingham BHX – Dublin DUB, A320
EI 208 Dublin DUB – Manchester MAN, A320
EY 22 Manchester MAN – Abu Dhabi AUH, A330
EY 604 Abu Dhabi AUH – Johannesburg JNB, A330
BA 6267 Johannesburg JNB – Harare HRE, B734
BA 9292 Livingstone LVI - Johannesburg JNB, B734
EY 603 Johannesburg JNB – Abu Dhabi, A330
EY 19 Abu Dhabi – London Heathrow LHR, B77W
My route, courtesy of GC Mapper, of these reports:
I'll be splitting the report into 3 parts:
Part 1, BHX-DUB-MAN-AUH-JNB
Part 2, JNB-HRE, LVI-JNB
Part 3, JNB-AUH-LHR
And here's the map of Part 1:
The Report
So, let start from the beginning. You may recall, before I set off on my last trip to
Asia
, I bought a nice new bag. Sadly, this was stolen in
Bangaldesh
. So, I needed a replacement. In late Jan I flew LH to Warsaw (report coming soon, I'm doing them out of order), and was perusing their Worldshop catalogue. I noticed their rather wide range of suitcases. One caught my eye. Just over a week later, it landed on my doorstep, courtesy of UPS.
Obviously, being a piece of luggage emblazoned with the LH logo (and not overly cheap either), I was expecting a pretty decent quality bag. Sadly it wasn't. Poor overall building quality, and designed without much in mind. Certainly, it will not stand my to many flights, even on its namesake airline. Check out this zip, straight out of the box: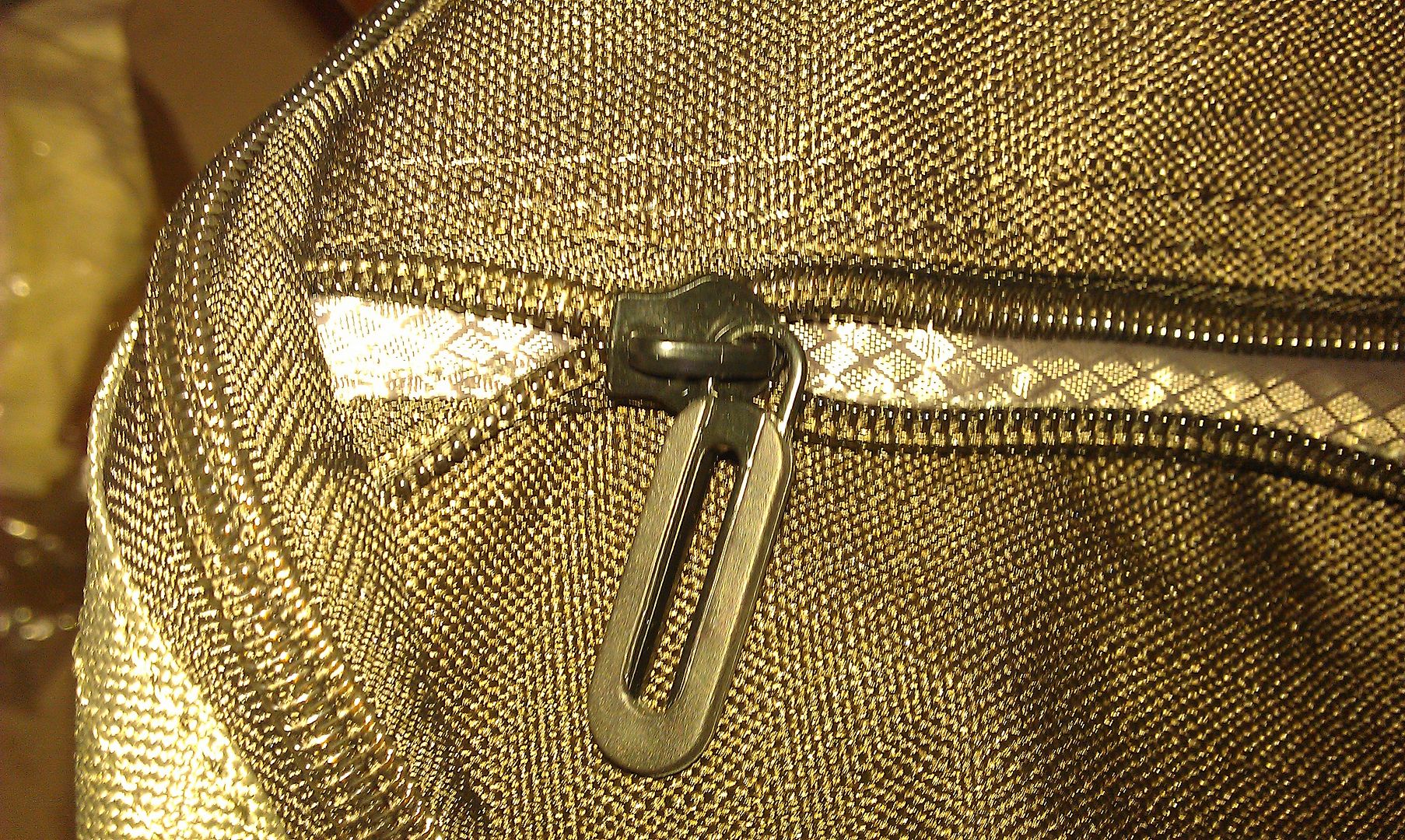 I shall be sending it back when I get home, then the hunt for a bag will start all over again.
Onto the trip! I caught the train up to Birmingham International, and then the funny little people mover over to the terminal. I was a bit early, so had to wait some 20 minutes for the EI desks to open. When they did, my suitcase was tagged to DUB, and I was given my boarding pass with a "Fast Pass" sticker attached due to my EI Gold status. I was flying with 4 relatives (whom were about 30 minutes behind), so the friendly agent blocked off seats for them in rows 2 and 3.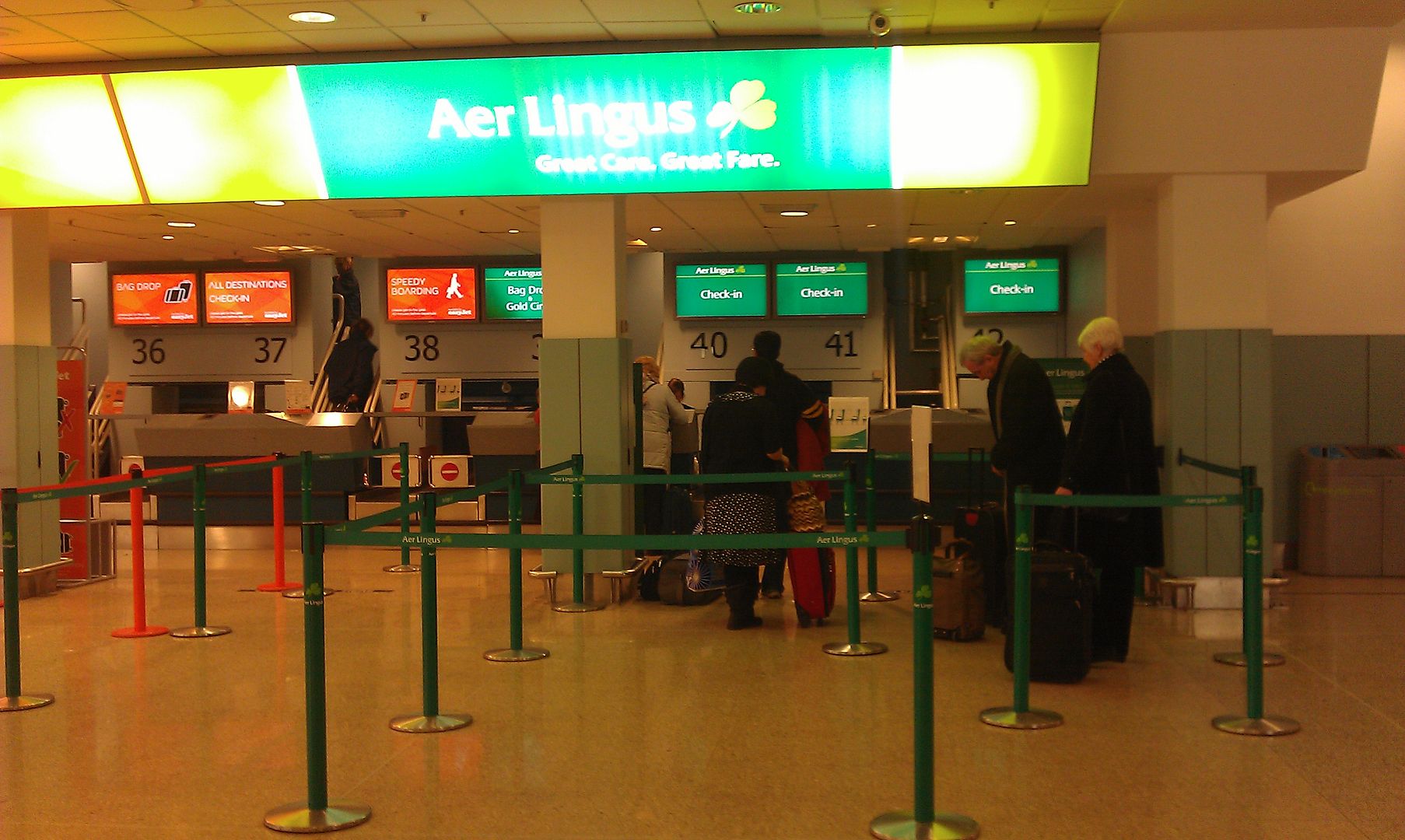 Security was fairly quick in the Fast Lane, although my bag was pulled over for a random check.
FIDS…not too busy this evening. Coming from the London area, I'm kind of amazed to see that the last flight of the day departs at 2030. Birmingham is the second largest city in the UK, after London.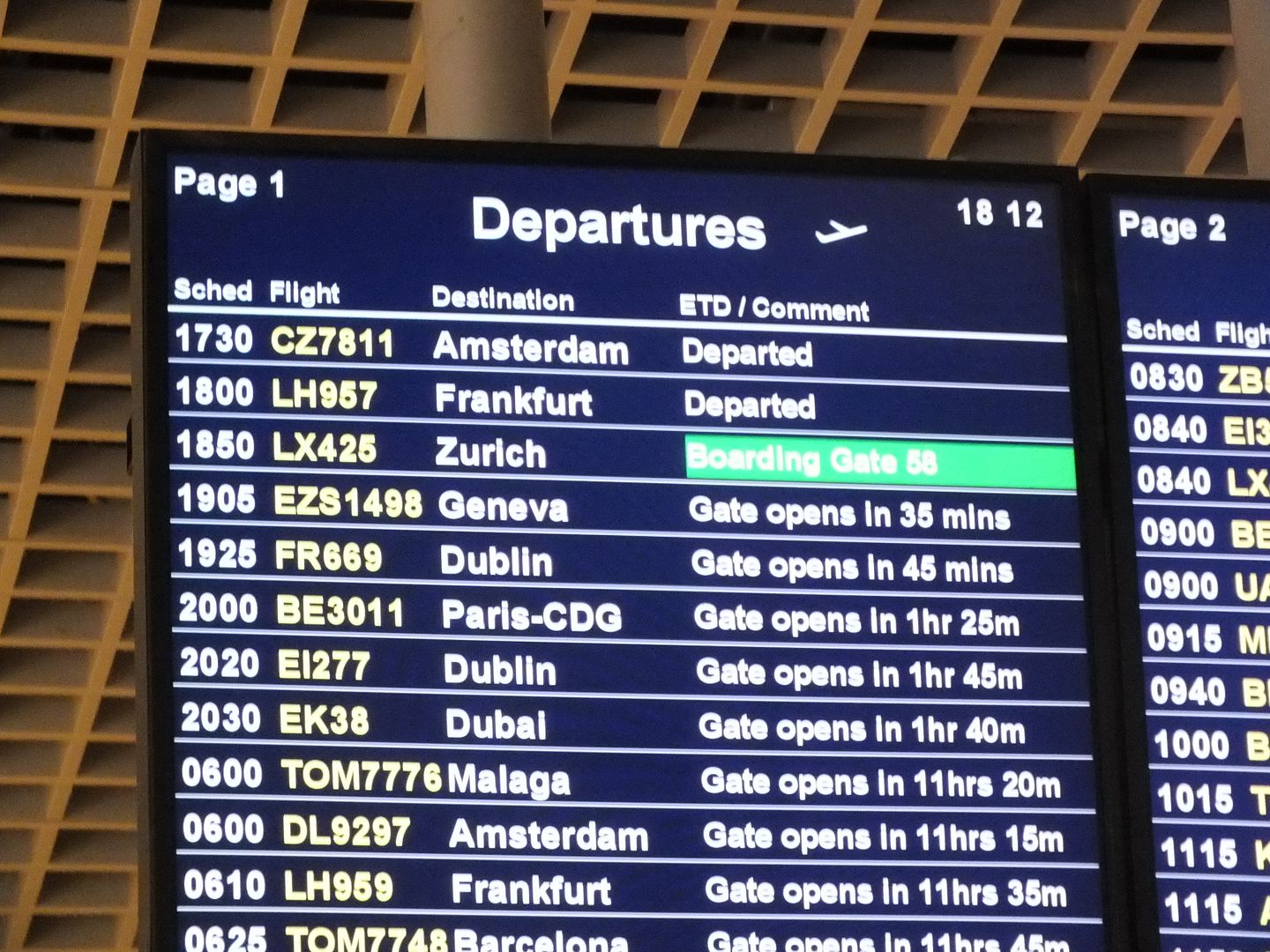 With my Priority Pass card, I had access to 4 lounges. I headed over to the Flybe Lounge first, only to find it shut.
Next I stopped by the 4deck lounge, mostly used my Skyteam. It didn't look terribly interesting inside, although the friendly lady on the desk did say that she would admit me with 2 guests, whilst only charging for 1.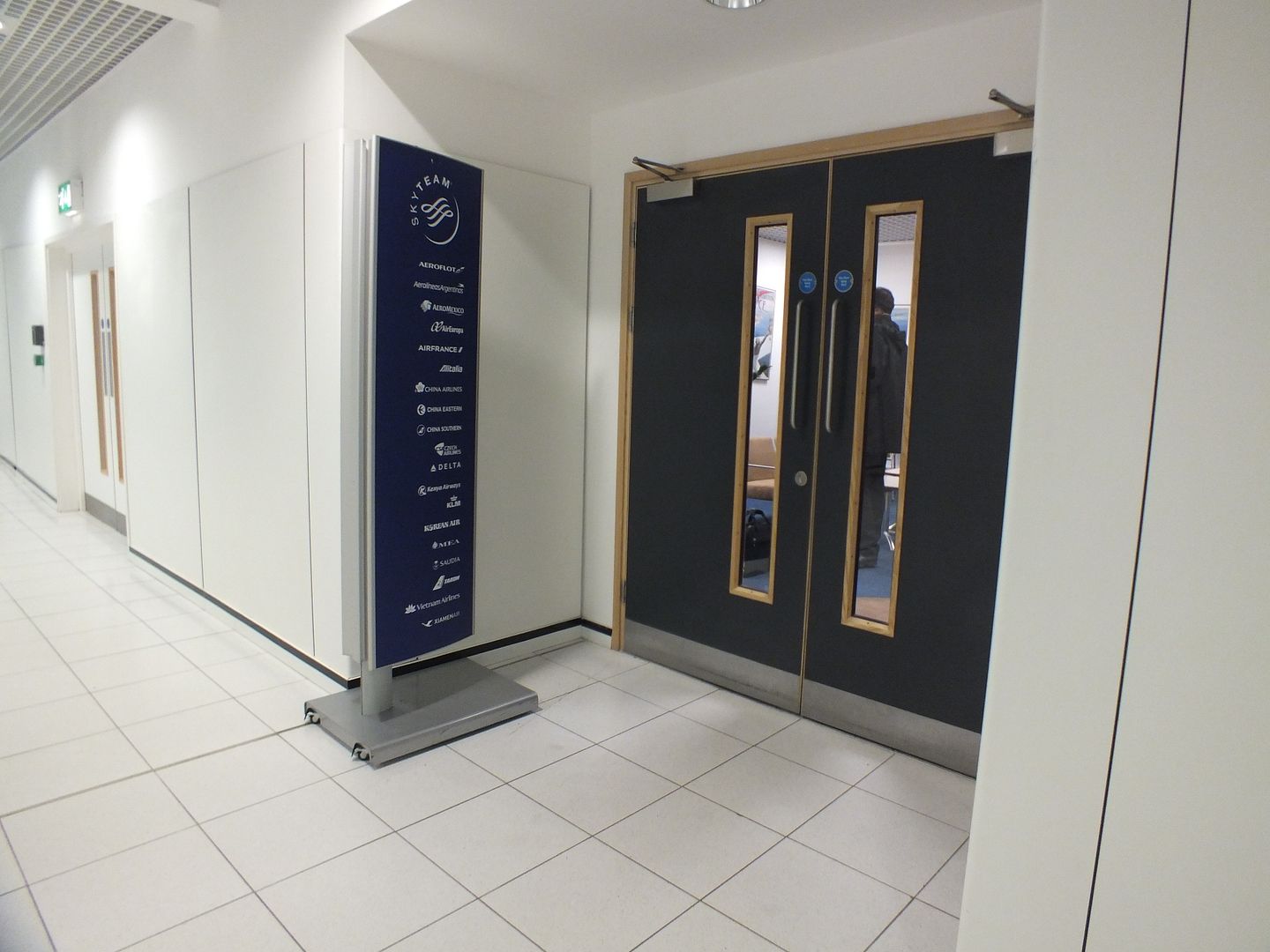 Next door is the Aspire by Servisair lounge. This is also the designated EI lounge.
I was feeling quite hung over from my night out the previous day, so was off the booze this evening. Not long after sitting down, my relatives arrived. I guested two in (one on PP, the other via EI)…it was their first time in a lounge, and they were suitable impressed…."wow, it's all free? You mean
everything
?"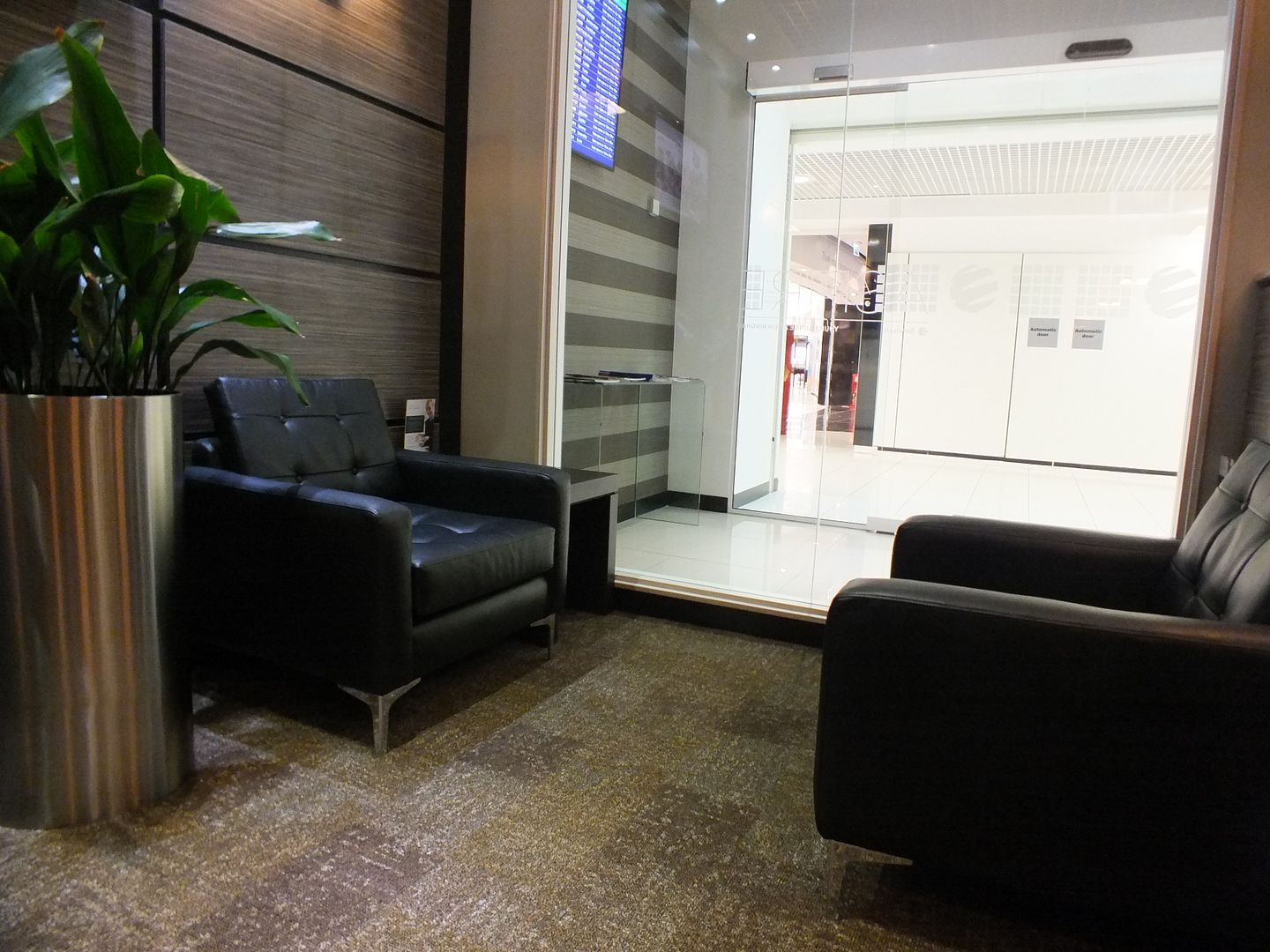 I left them there, whilst another hit the shops. I then headed over with my aunt to what is supposedly the best BHX lounge, the No. 1 Lounge….indeed, it was much nicer than the Aspire (and streets ahead of 4deck). Nice interior design, and even a small complimentary at table menu.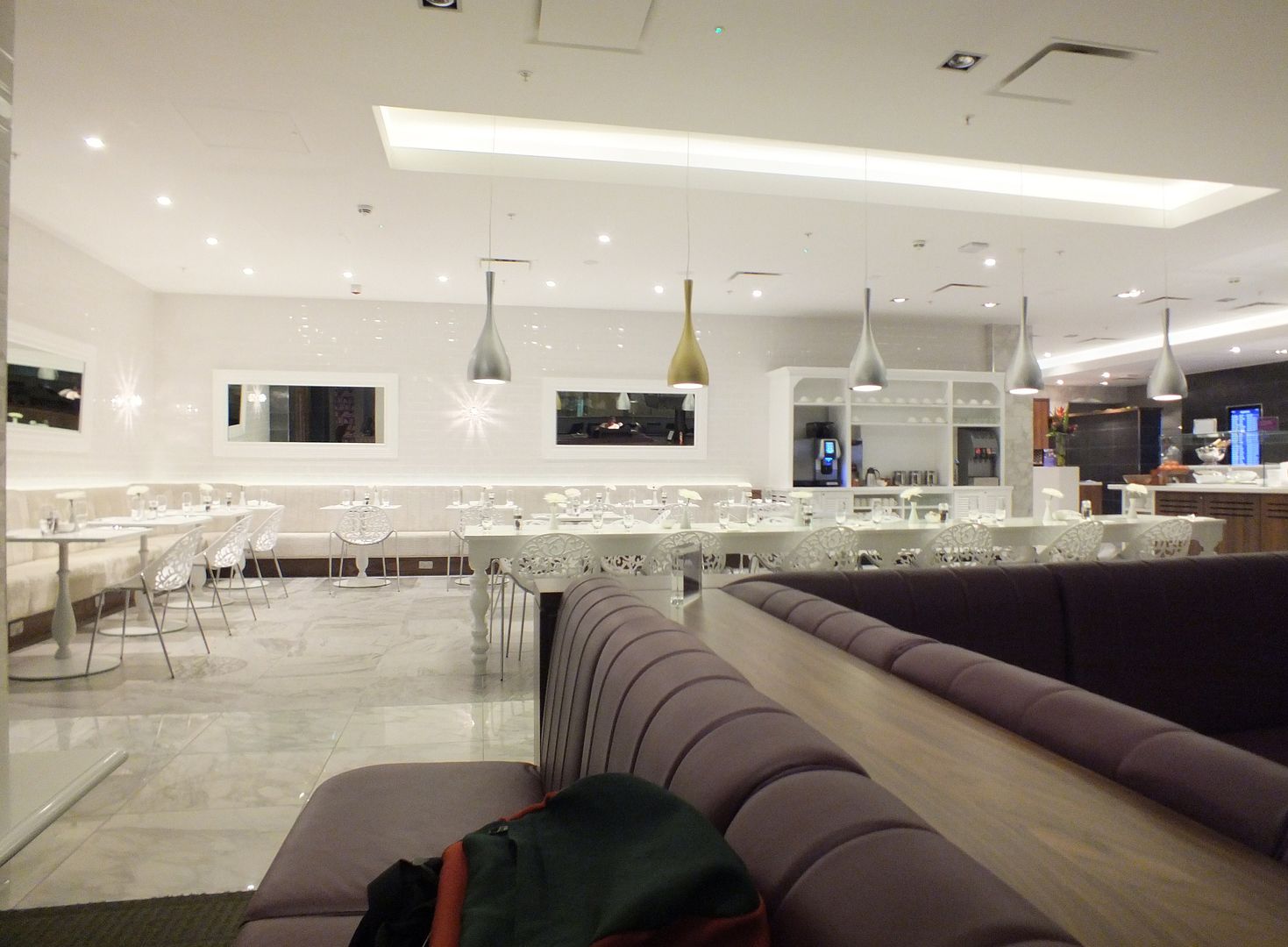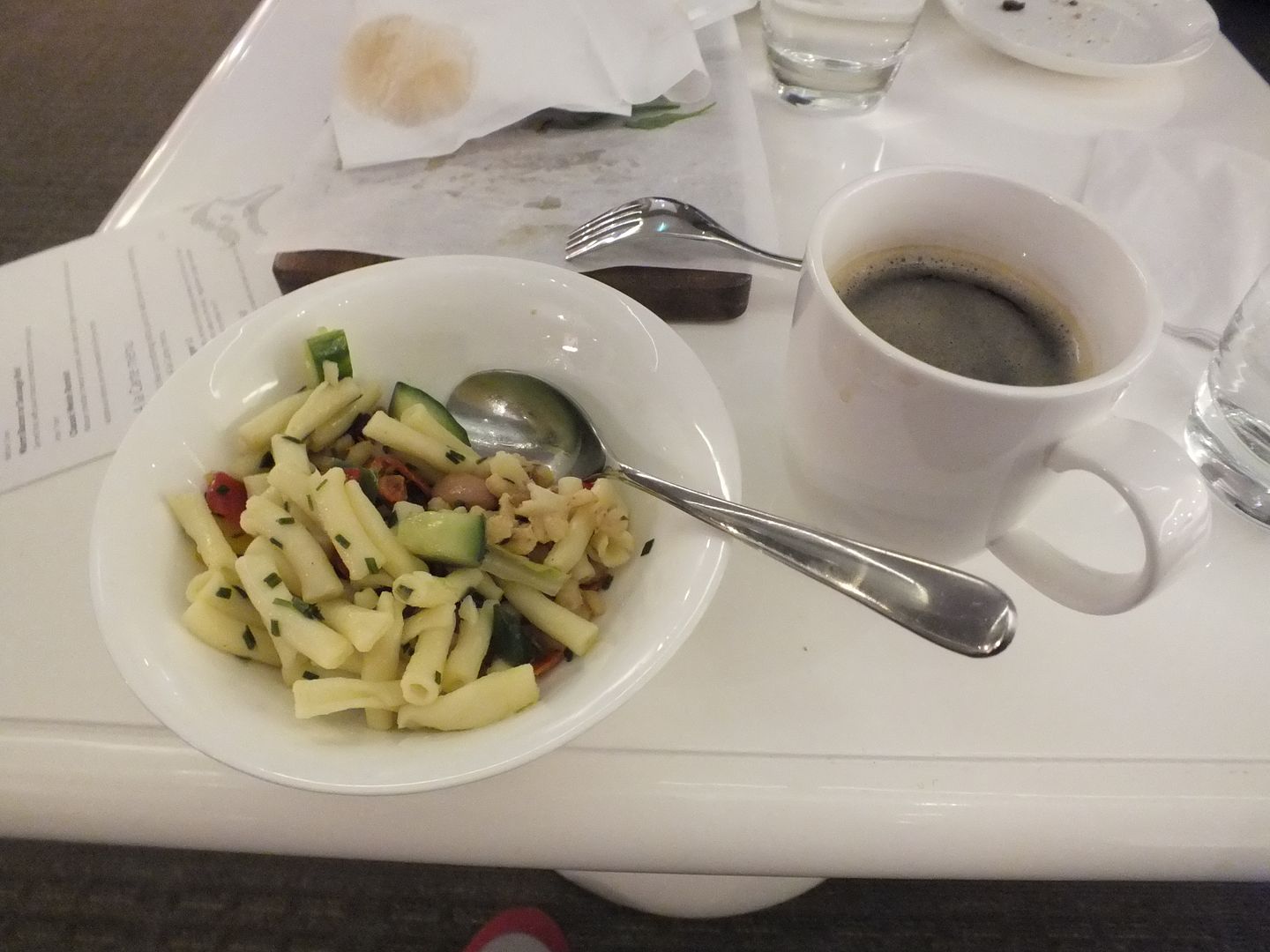 Before too long, we met up and went down to the gate. I didn't take many photos from hereon in as my cousins all thought me deeply sad…although did acknowledge that it was thanks to my geeky knowledge that they'd got into the lounge!
"Maolmhaodhóg" would be taking us across the Irish Sea this evening
Flight #1: Aer Lingus, Birmingham - Dublin
February 2013
Birmingham (BHX) – Dublin (DUB)
Aer Lingus EI 277
Scheduled: 2020-2120 (1h00m)
Actual: 2020-2100 (0h40m)
Airbus A320-214, EI-EDS "St Malachy/Maolmhaodhóg"
Economy

So, no photos from this flight, lest I get scorned by my family….nothing much to say about it either. Take off was bang on time, landing 20 minutes early. Flight was fairly busy. Entertainment value came from (other than my cousins) the lady in row one asking if they coffee on-board was a cappuccino or a latte….the purser looked fairly amused by the question…."no dear, it's just a coffee".
This was my first time arriving into the new EI terminal. It's pretty nice in here.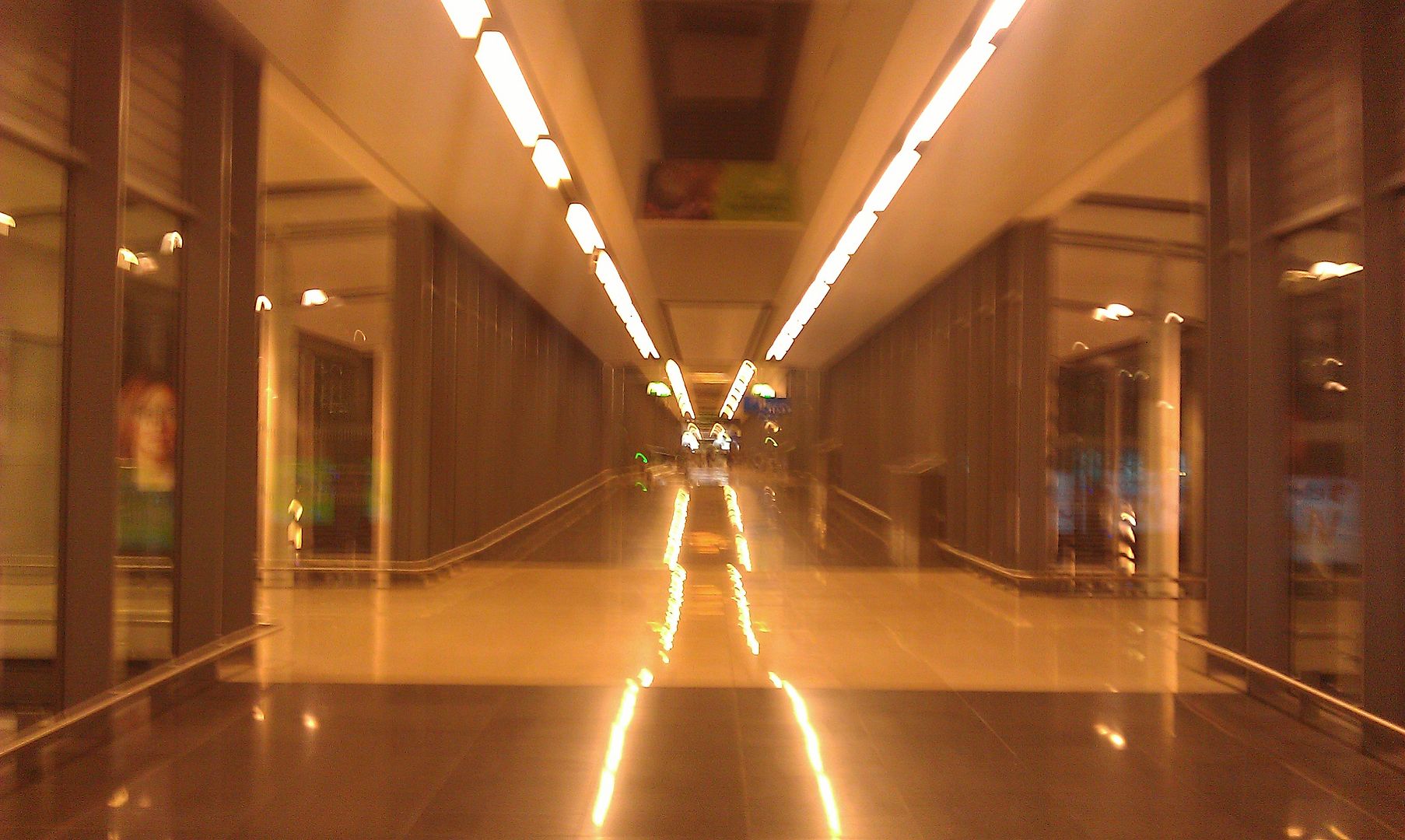 My bag came off pretty quickly. I realised pretty soon that the bag scores a near zero for water repellence, so another minus for the bag.
A few photos from my days in Ireland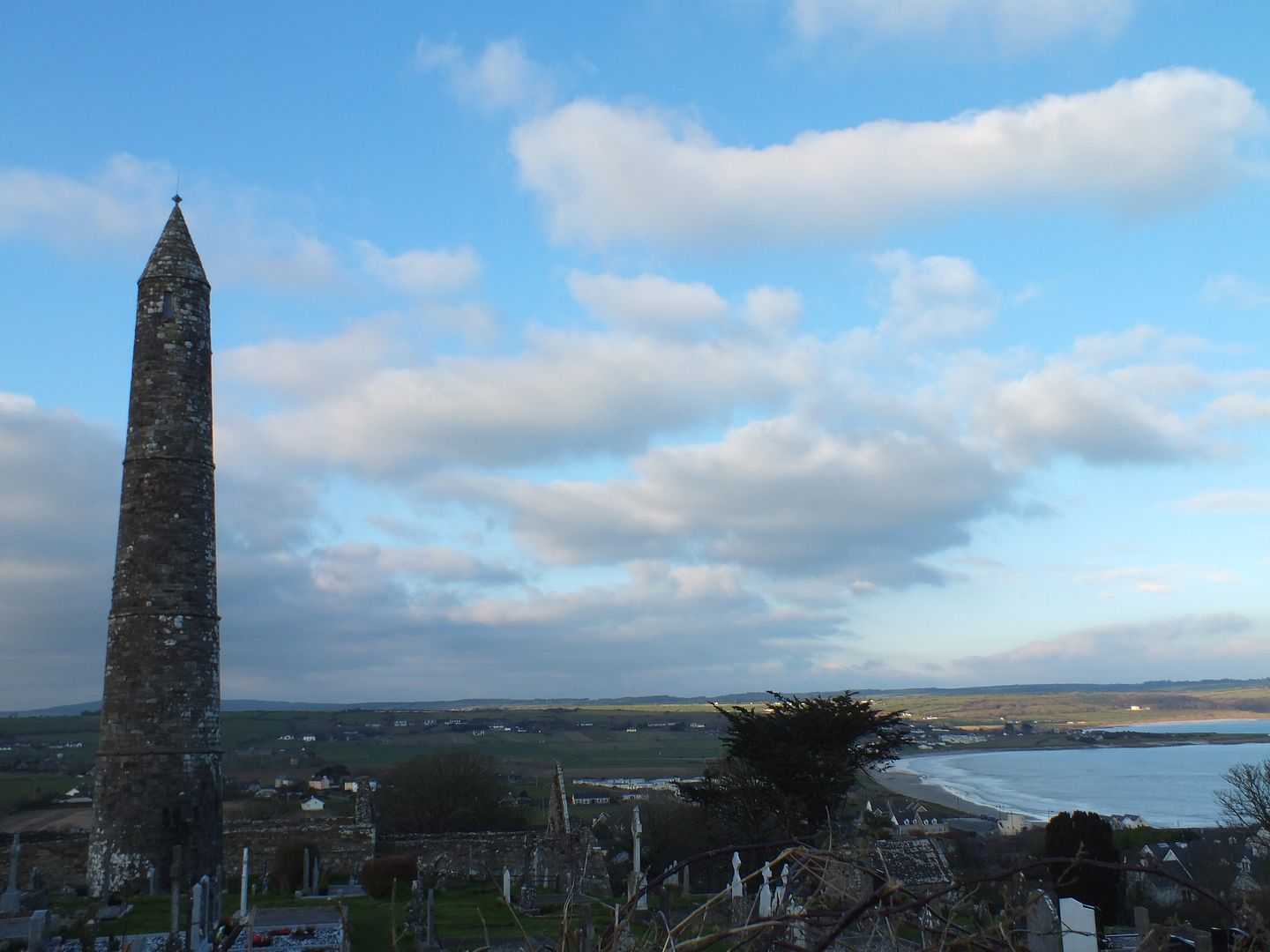 Sadly my time in Ireland was soon up. Thankfully I had a nice 4 leg, 3 airlined flight to Zimbabwe to look forward to. After dropping off my hire car, I made my way over to the nice new Terminal 2. There was no queue at the Gold desk, and my bag was tagged without issue all the way to JNB. This ticket was booked on Expedia all as EY flights. Thanks to the tie up between EI and EY, they offer through check-in on 1 ticket.
Sadly, an issue came with the boarding passes. I had preselected seats via Expedia (which showed on my reservation). Not wanting to mess up anything, I hadn't checked in online. Sadly, the seats seemed to have vanished, being replaced with a middle seat on MAN-AUH, and a centre aisle on AUH-JNB…er, no thanks. Even worse, the EI lady said that they had no access to the EY seat map…I'd have to ask when I got to MAN.
Sadly, the DUB EY desk was unmanned at the time, so I'd have to wait til I got to MAN so sort out my seats.
Landside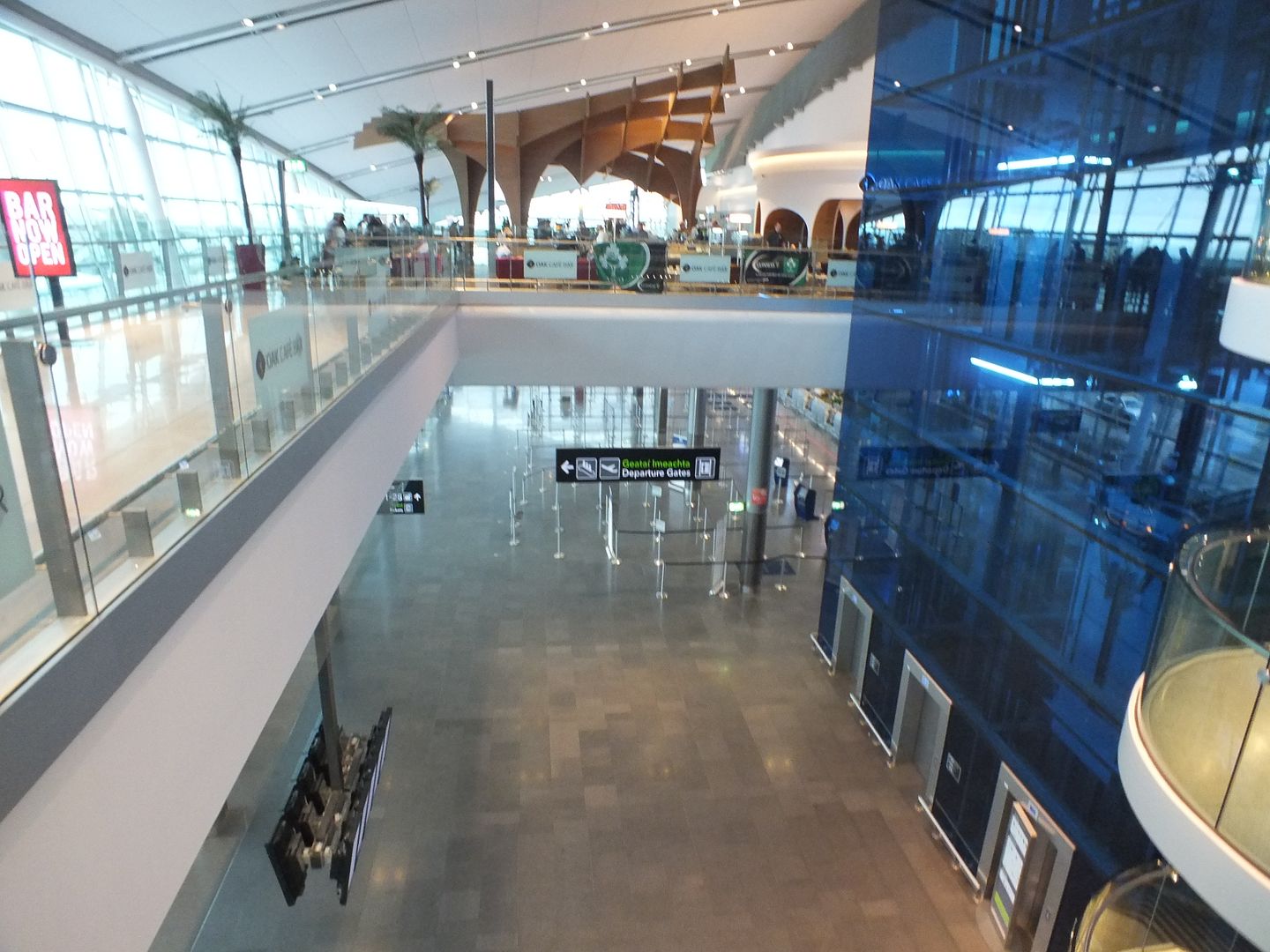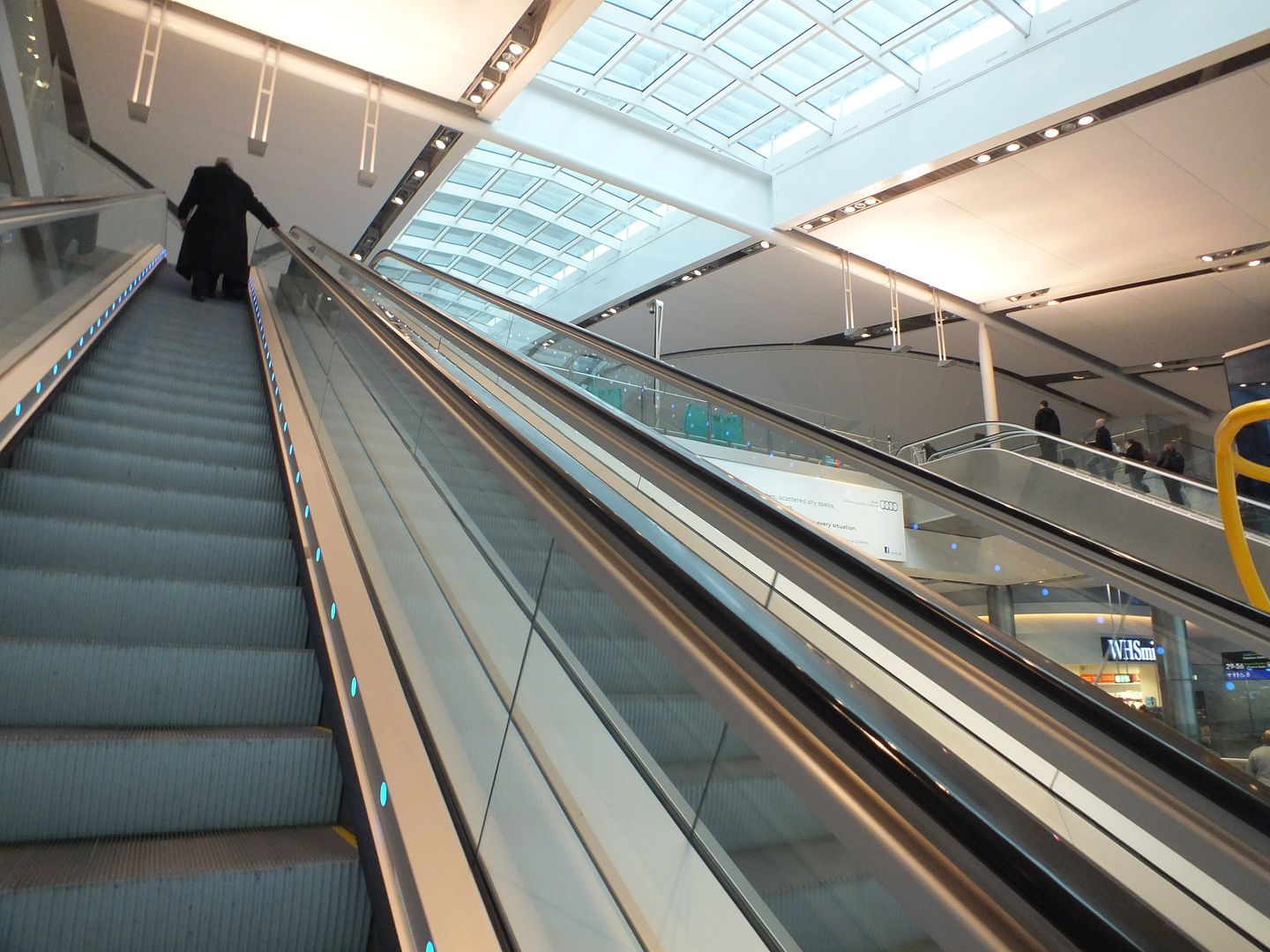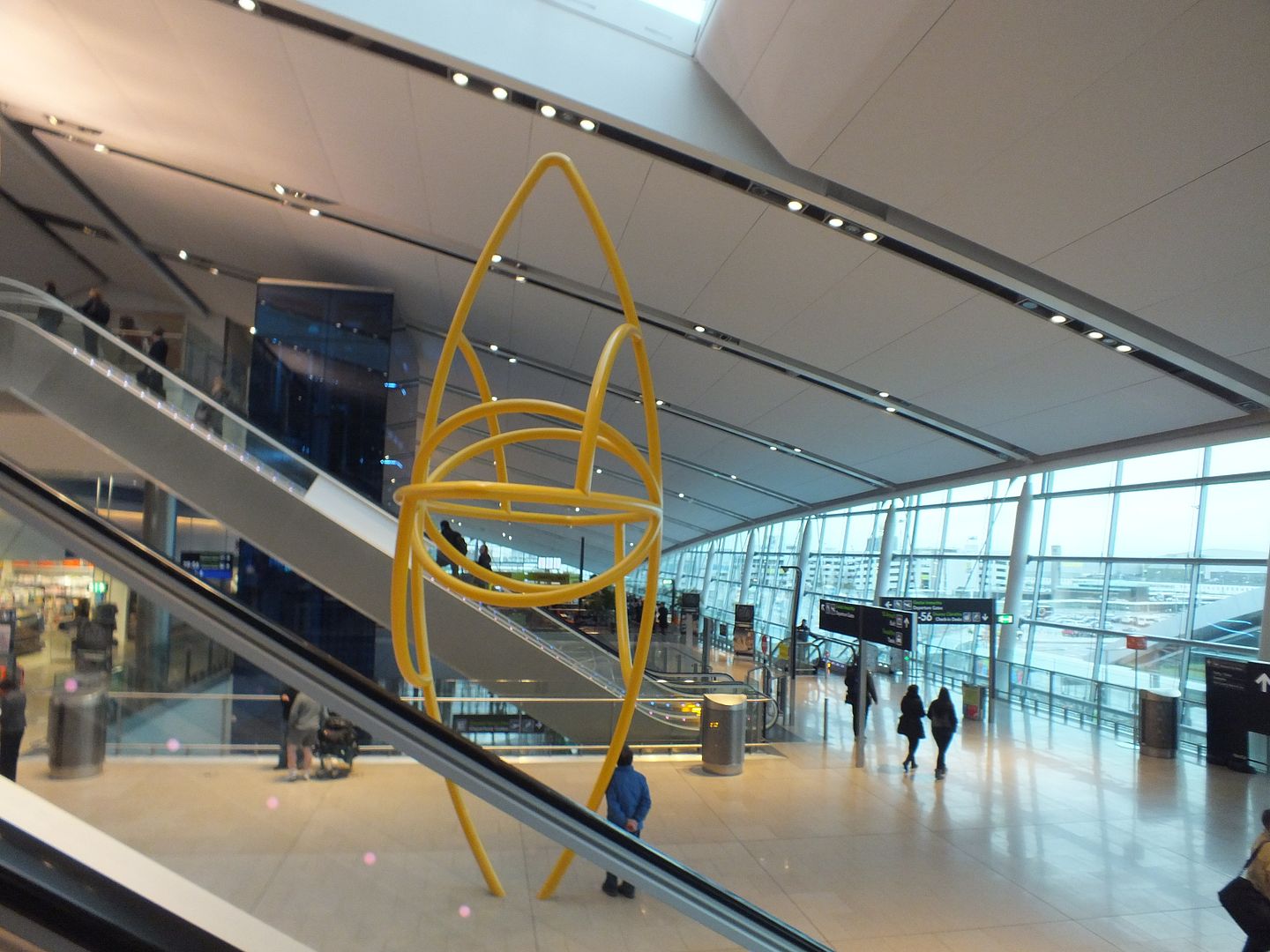 FIDS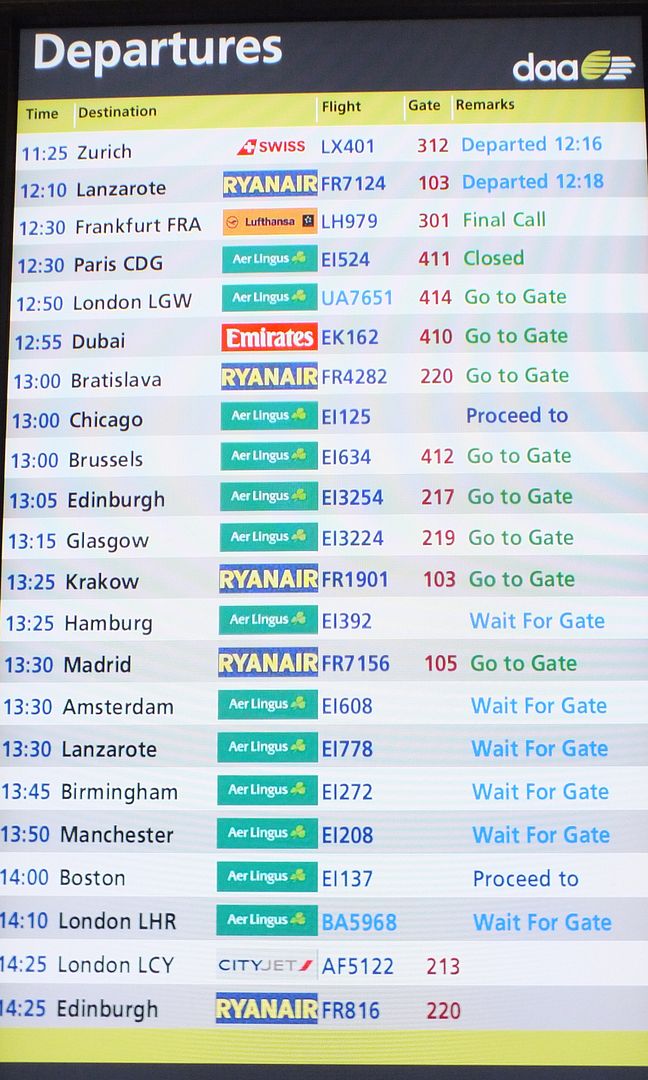 There was no queue at security for Fast Track, and I was through in a few minutes. First stop on my lounge tour was the Anna Livia lounge in T1…I hadn't heard much praise about this lounge, and it was evident why.
The walk from T2 and T1.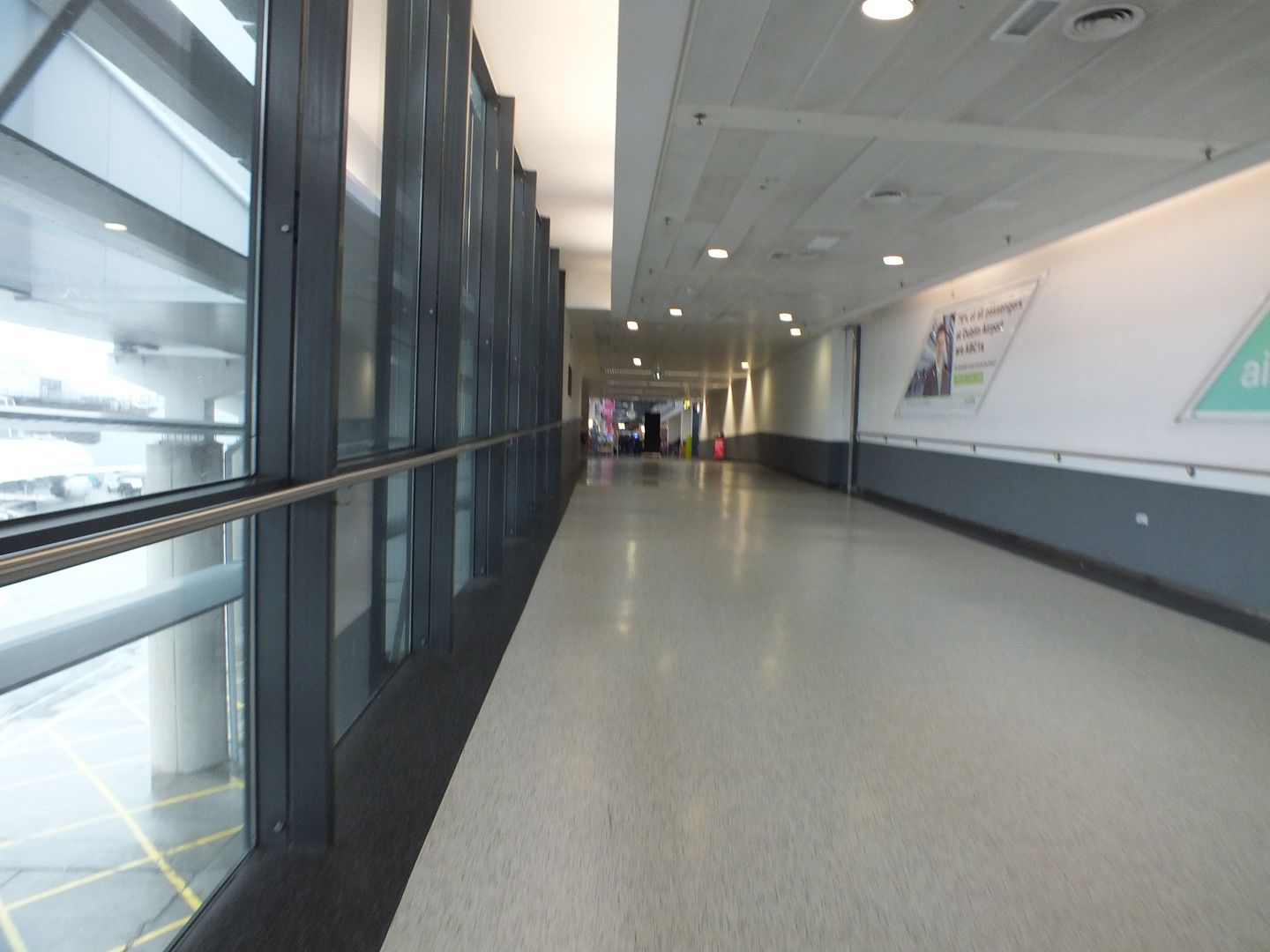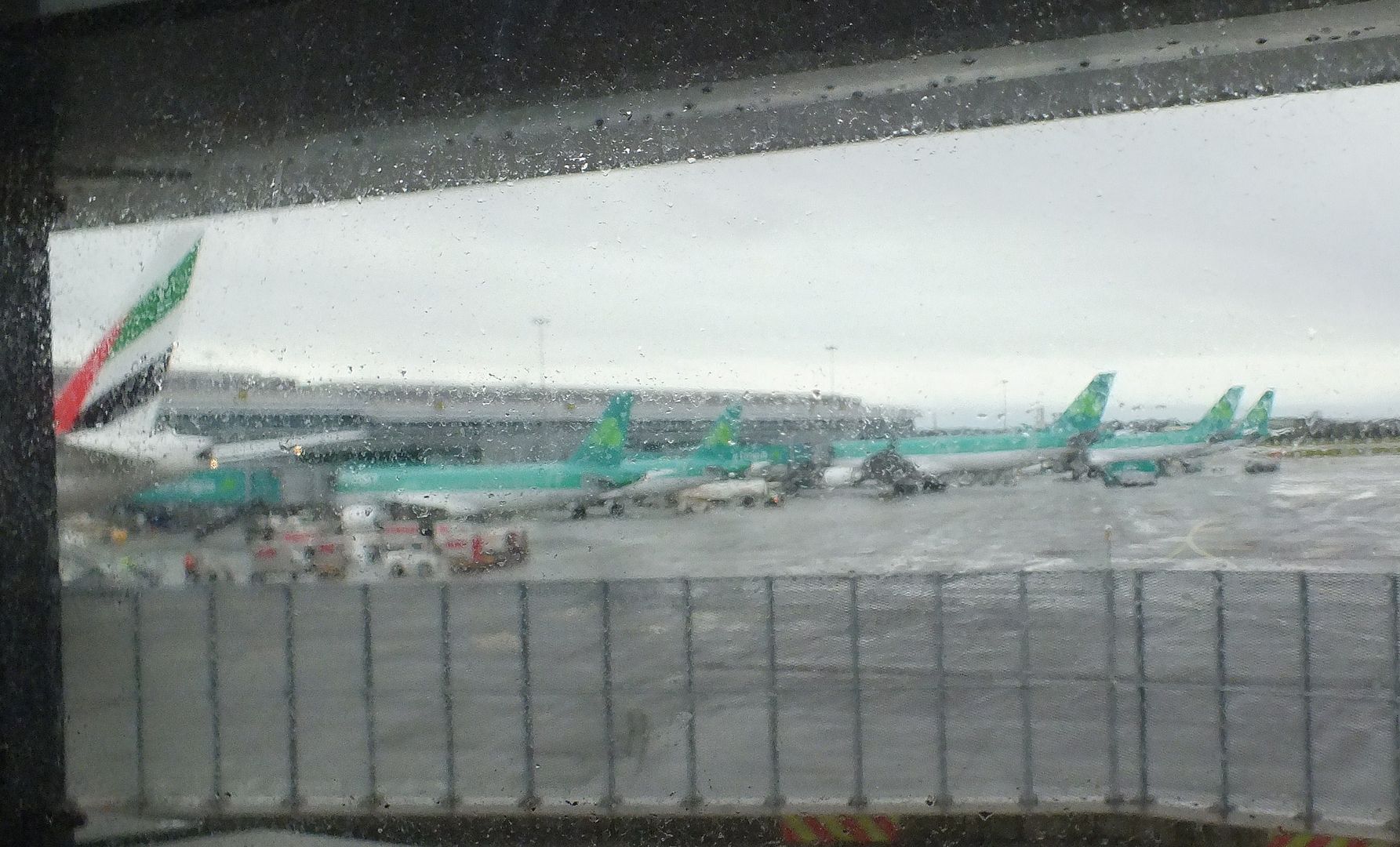 I was barely acknowledged by the 3 lounge dragons when I entered. The lounge was drab, and offerings minimal. I got a water and coffee.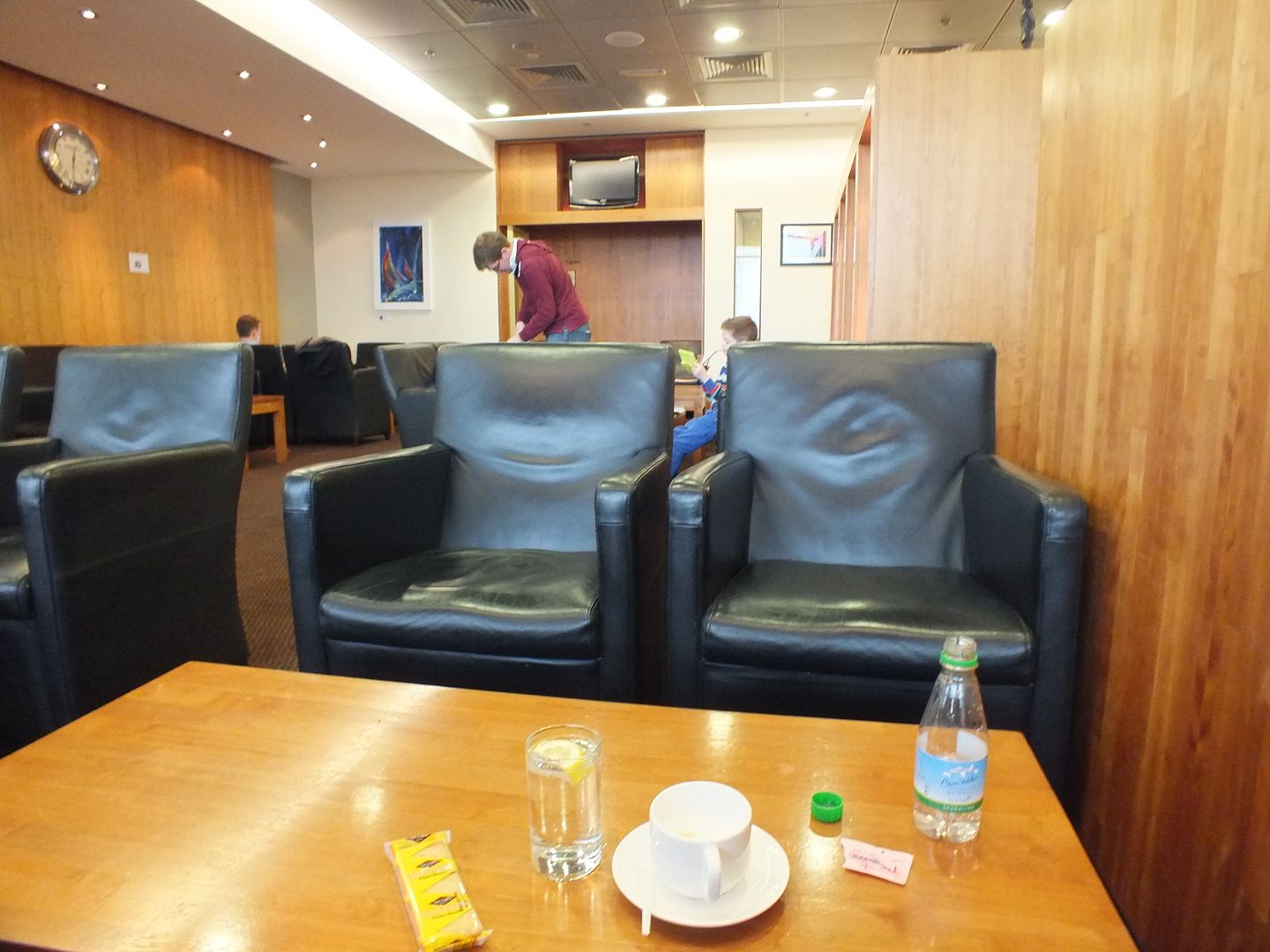 After about 20 minutes, I left (without any acknowledgement from the dragons), and headed back to T2. Thankfully the connecting tunnel brings you out on the same level as the lounges.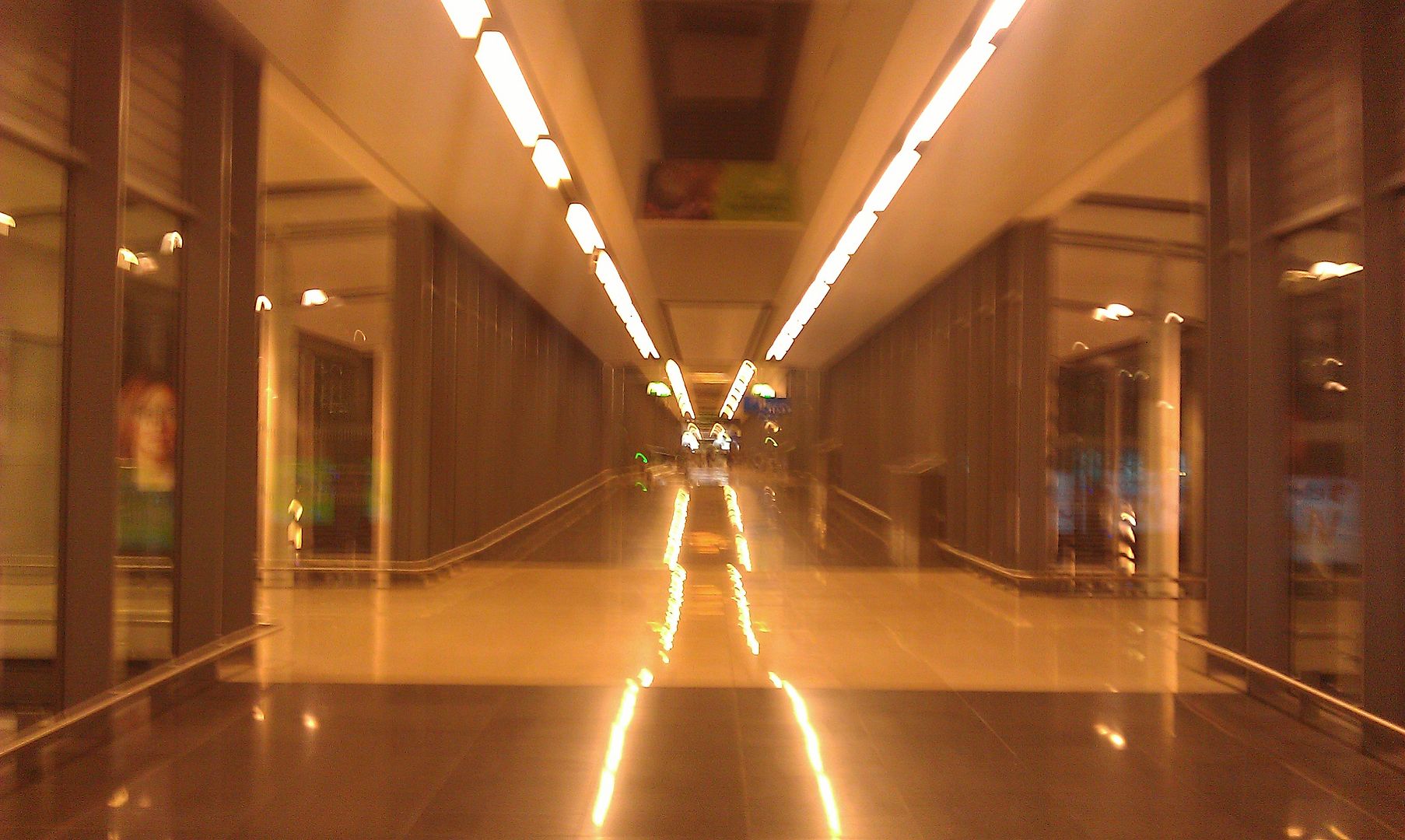 First stop here was the Aer Lingus lounge. I spent a few hours here in November. I was planning on writing a report, but I managed to corrupt all my photos. It's a pretty well-equipped lounge, complete with shower rooms.
View from the lounge…EK is about to depart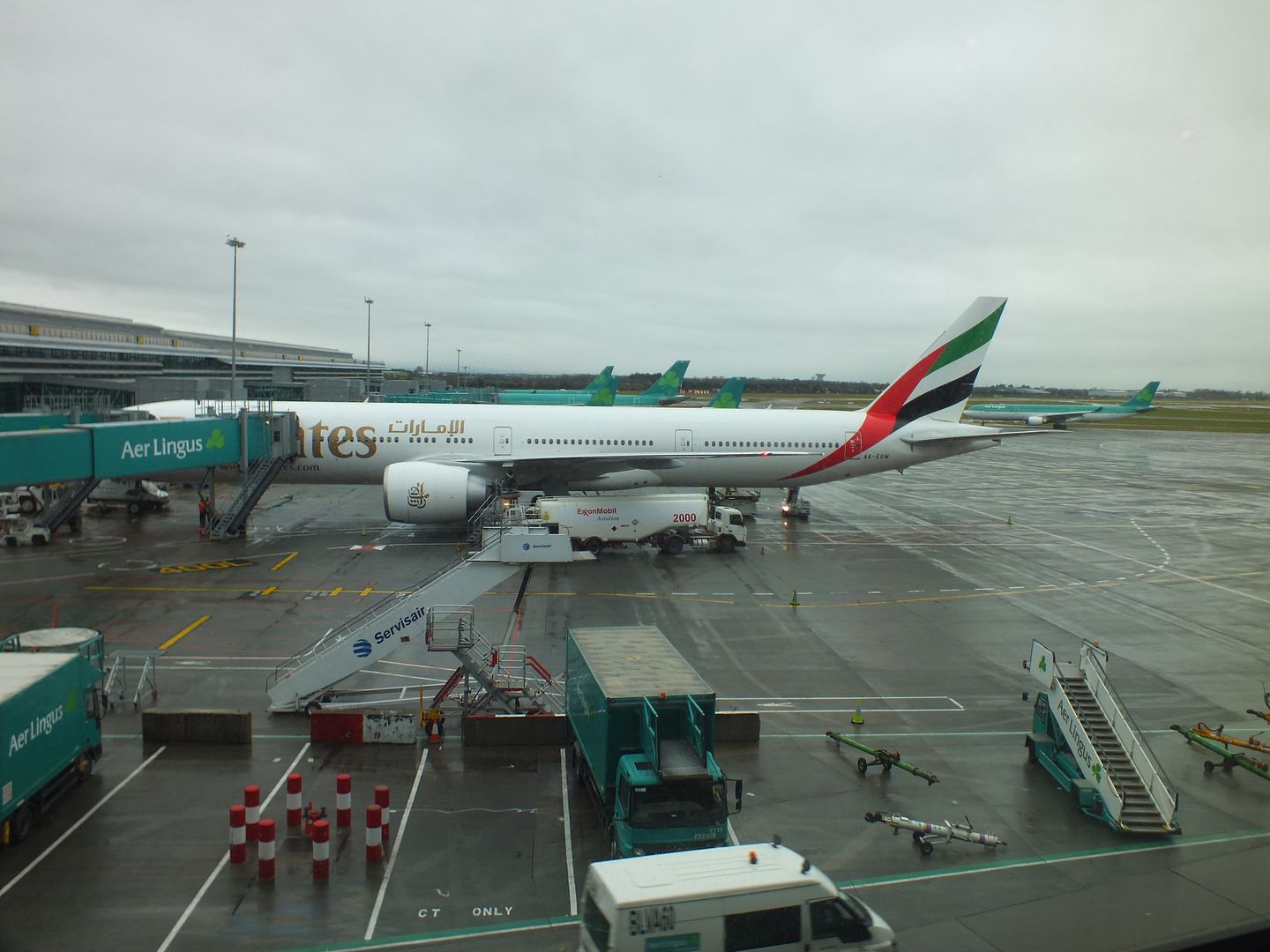 My snacks….a nice Cork Dry Gin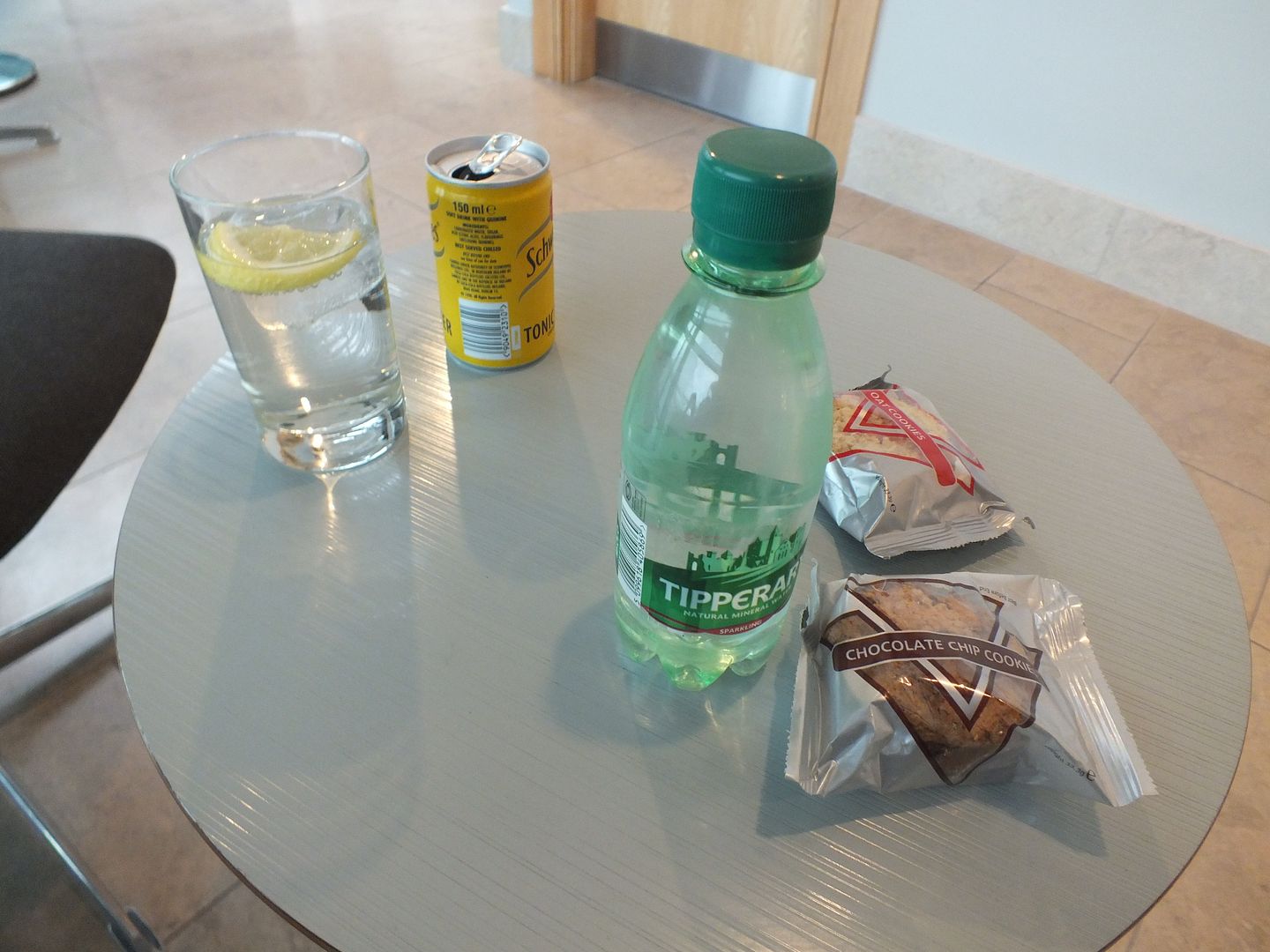 The mezzanine area
A nice espresso
The smaller bar area
Hmmm, a little delay. Not a problem with my 5 hour MAN connection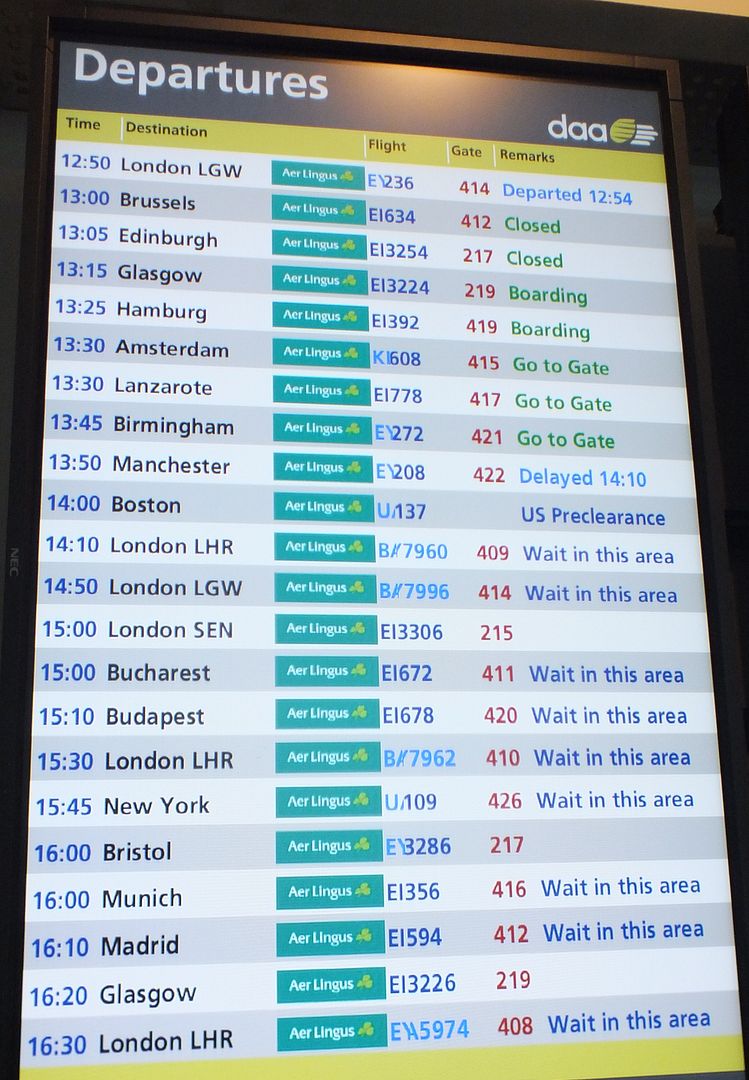 Before long, EK departs leaving a couple of US bound EI planes.
With about an hour to go, I pop next door to the airport run DAA lounge. This is nearly exactly the same as the EI lounge next door, less the green and the shower rooms. It's also nearly deserted.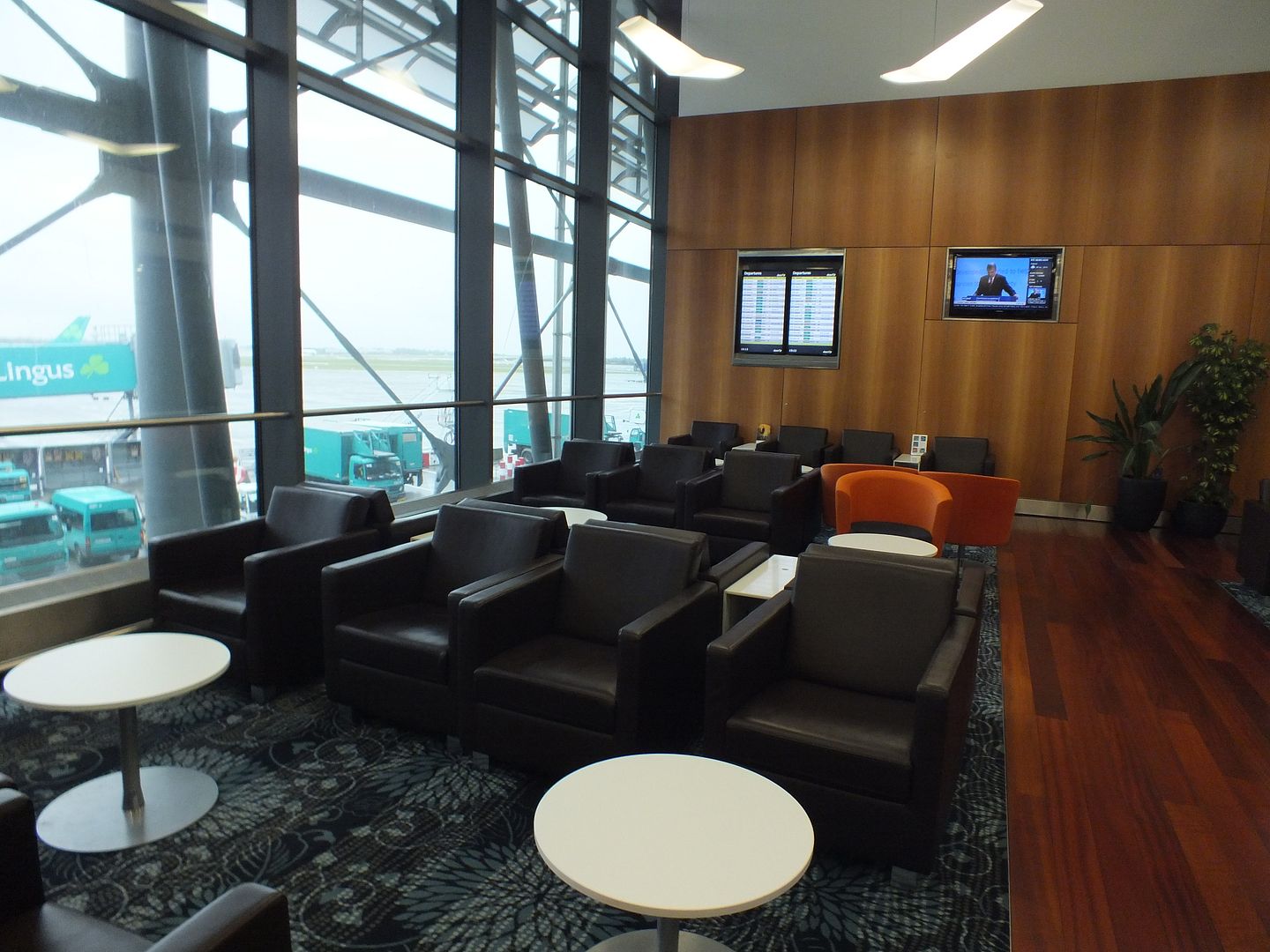 Another G&T please
Updated FIDS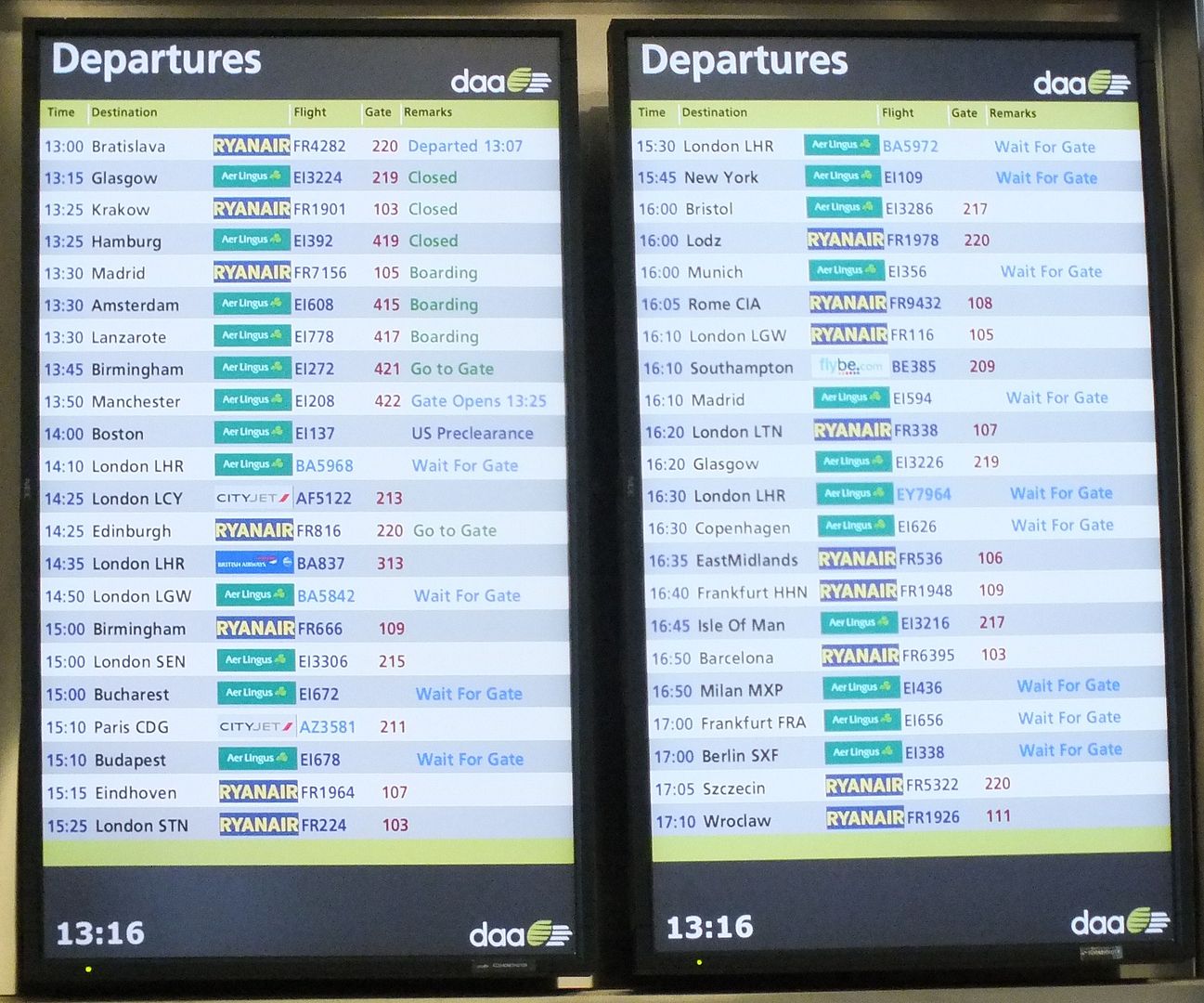 Finally, the FIDS changes to say "Go to Gate", and the 1410 ETD is changed back to 1350. I assume this means that the plane has now arrived and boarding is imminent. I leave the lounge, and head to the gate.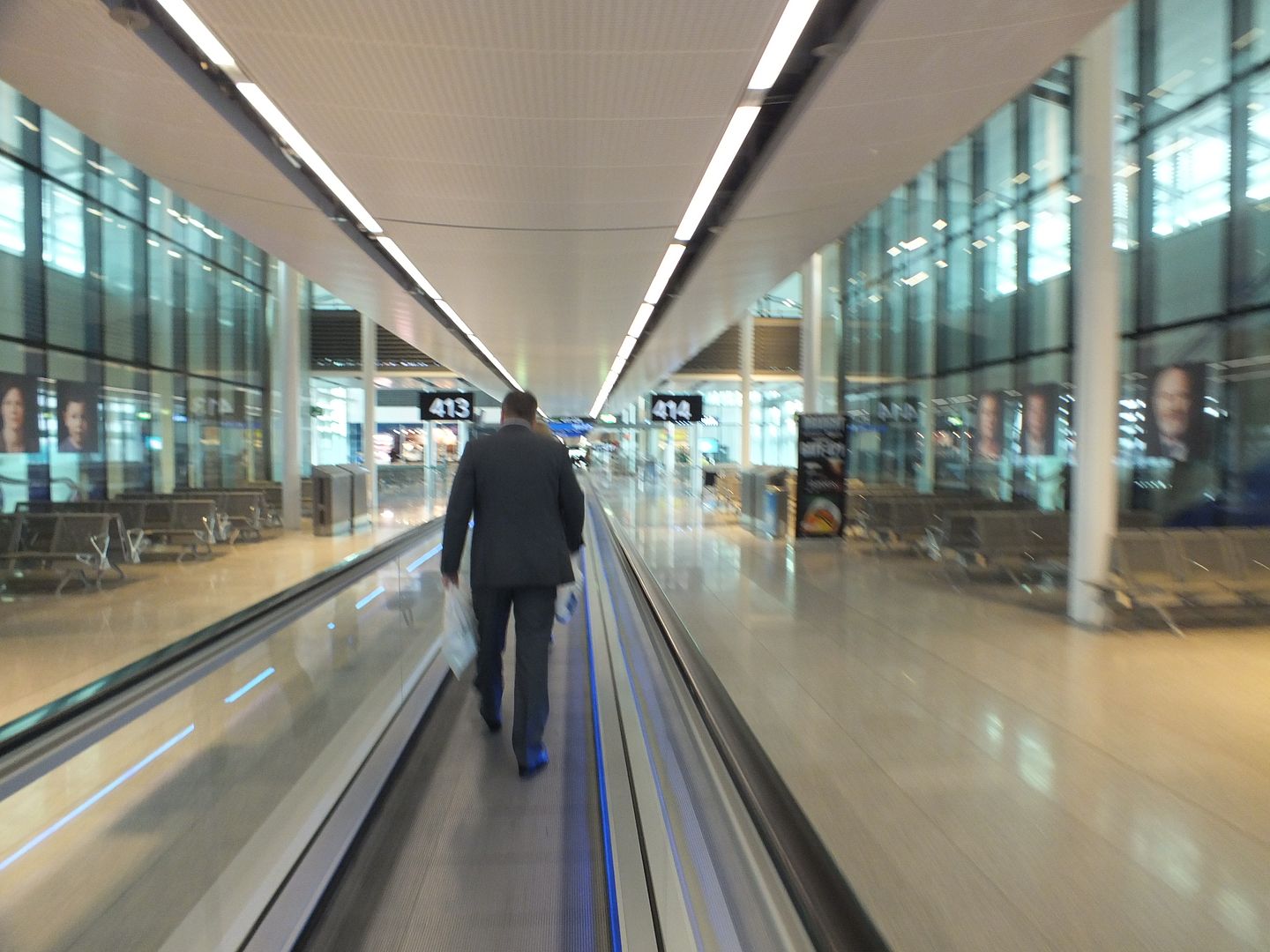 EI-DEI is sitting at the gate…I assume this is ours.
It's not. We sit and wait and wait, with no information at all.
The gate area
Finally another plane pulls up next to EI-DEO….pax start to deplane. This will be our plane. Why did they say go to gate so early when the plane wasn't even on the ground? Grrr.
20 minutes after our ETD, we're are invited to board.