Introduction: February is a nice time to escape the Chicago cold and visit California to celebrate birthdays and visit family whom I don't get to see often. I was searching for airfares between Chicago to Oakland / San Jose / San Francisco.
I found airfares to Oakland and San Jose but the airlines were asking for $300+. But I didn't exclude San Francisco. One day I was messing around on United's website and saw that I could connect through Denver for $290, but was still hoping that the airfare would go down and a few days later, I went to Virgin America's website and saw that the airfare dropped to $237. I was a bit hesitant of signing up for a new frequent flyer program even though I really wanted to try them out but I saw that United dropped their price and so I booked with them. It actually once went down to $170 but I already booked and wished I waited but in the end I'm glad I didn't.
Okay enough intro, let's get to the flight
February 5 2013
ORD-SFO
United 574
STD: 1547
ATD: 1652
STA: 1823
ATA: 1942
Boeing 777-200
Reg: N773UA
The day before my trip, I checked in for my flight and I noticed that I had lost my seat 28A and was assigned 44A. I checked my itinerary and flight status for tomorrow (day of trip) and saw that my flight was up gauged to a 777! I was super excited and wondered why I got such an aircraft change. I thought well maybe it was Super Bowl traffic but I wasn't too sure.
The day of travel came as I had to do some final things for work bright and early at 8am Chicago time which only took me an hour to do before heading home. I got home and got ready for my flight but then was super bored at home. I kept looking at the clock and just sat at my computer on a.net chat and Facebook.
At 1120, I decided it was time to go so I said goodbye to my dad and left the house. I walked across the street to catch the Pace bus 226 to Jefferson Park which came 10 minutes later. I got to Jefferson Park at 1150 and then caught the Blue Line to O'Hare and arrived at 1210. I got my bag checked in and then headed to security where I was greeted with a long line. Behind me was a guy travelling to Boston. We chatted for a little bit and asked where we were going. When it came for me to give my boarding pass, I scanned my mobile boarding pass and he was like "oh I didn't know you could do such a thing." I said yeah it's pretty easy and fast.
I got through security 30 minutes later and we parted ways. I headed off to B16 for my flight. When I got to the gate, I saw United 881 to Tokyo/ Seoul still at the gate seeing that it was delayed – 2,5 hours late so far due to aircraft servicing. I wondered if I would have a gate change or something but soon they started boarding the flight. The flight pushed at 1405. It was snowing moderately by now and I was hoping that nothing would happen.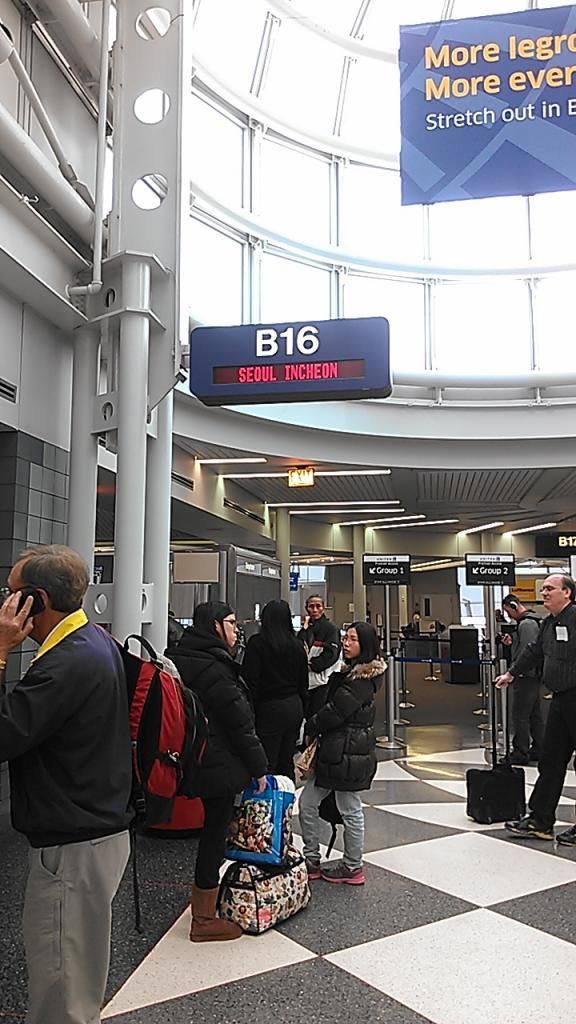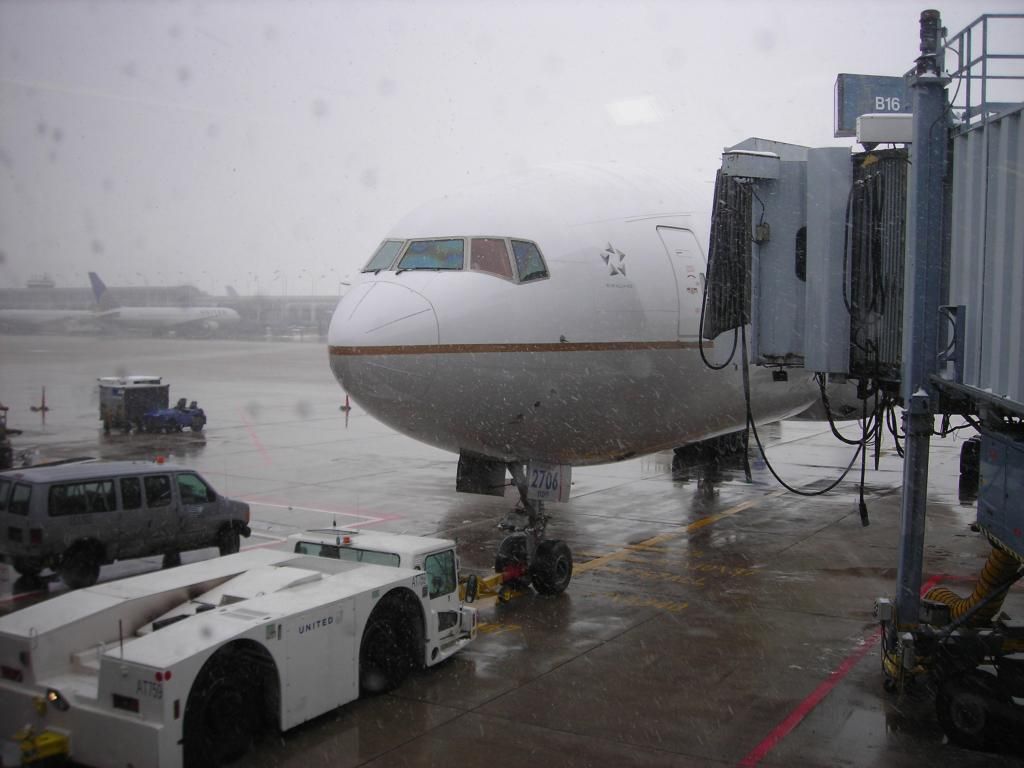 I got up to go use the bathroom when some lady and her kid stopped me and asked for my help with the payphone. They were speaking a familiar language as it sounded Slavic, so I spoke to them in Bosnian in which I knew a handful of words but I got my point across and they understood as they were from Macedonia. She told me she was going Chicago -> Frankfurt -> Zagreb -> Podgorica. I let her use my phone instead of just adding money into the vending machine. Eventually she finished up the phone call and we thanked each other.
I went to go take a picture and my camera said out of memory. I was like, I know I have a memory card in there and I looked and I saw that I forgot to put my memory card in and I immediately flipped out. I went to go find a store that sold a memory card for my camera. I made it over to Terminal 2 and bought a 4GB memory card for 20 dollars and then ran back to B16 where I snapped some pictures of my plane pulling in and also Lufthansa 431 to Frankfurt D-ABVO which would be pulling into B17 to load up with passengers and cargo before departure.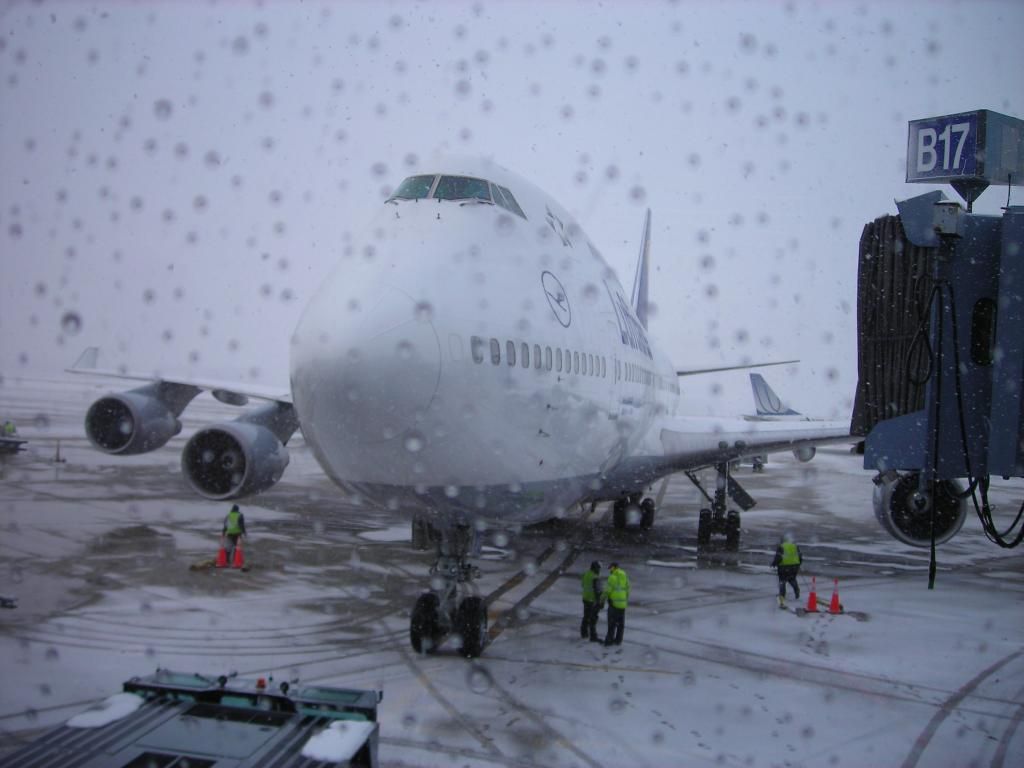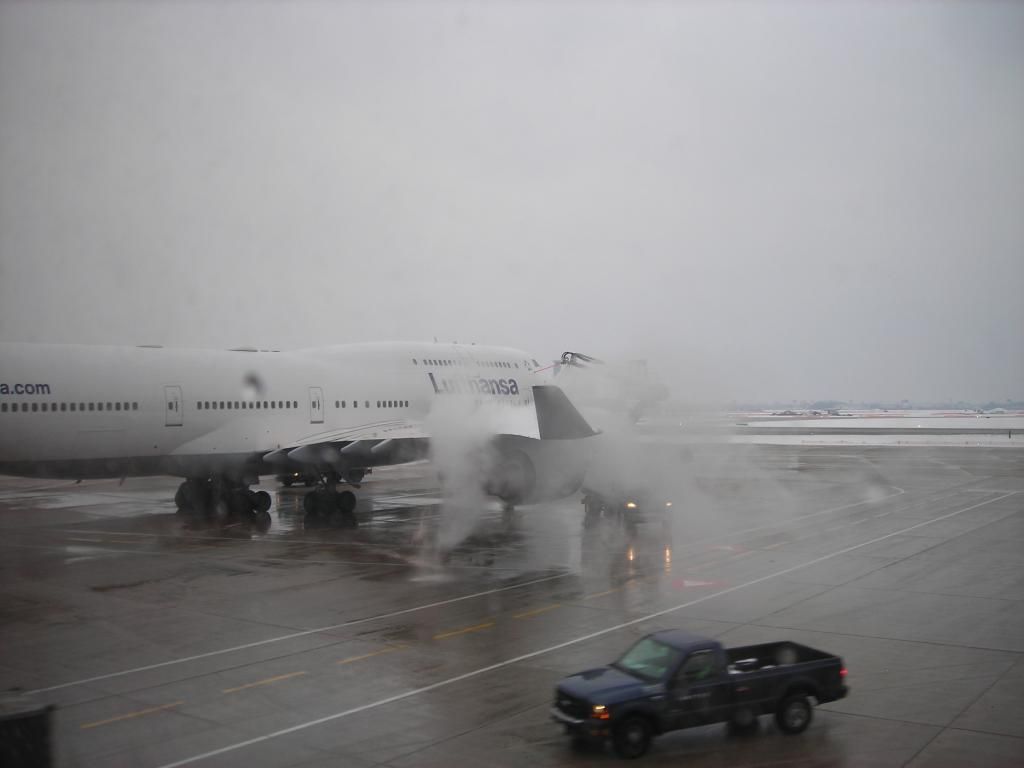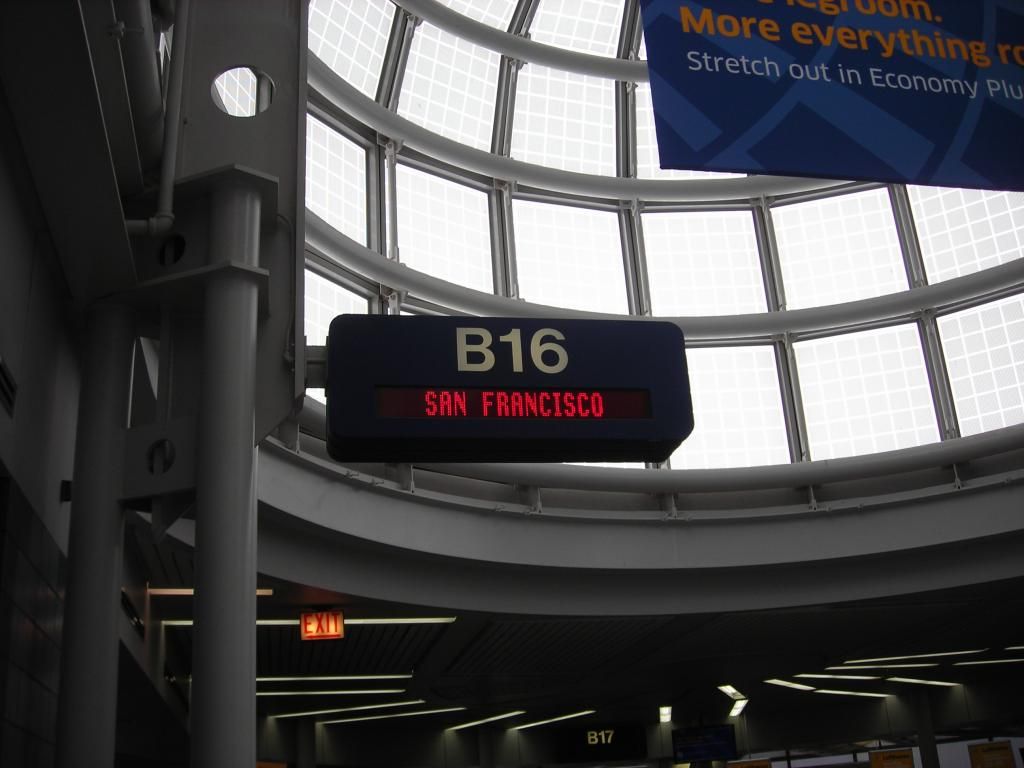 At 1430, our 777 pulled in and at 1515, boarding started. I was in group 4 for boarding and I got onboard at 1523. Since last time when I flew the 787 on United, I forgot to see if Channel 9 was available and I thought this time I would see if it was available and it was.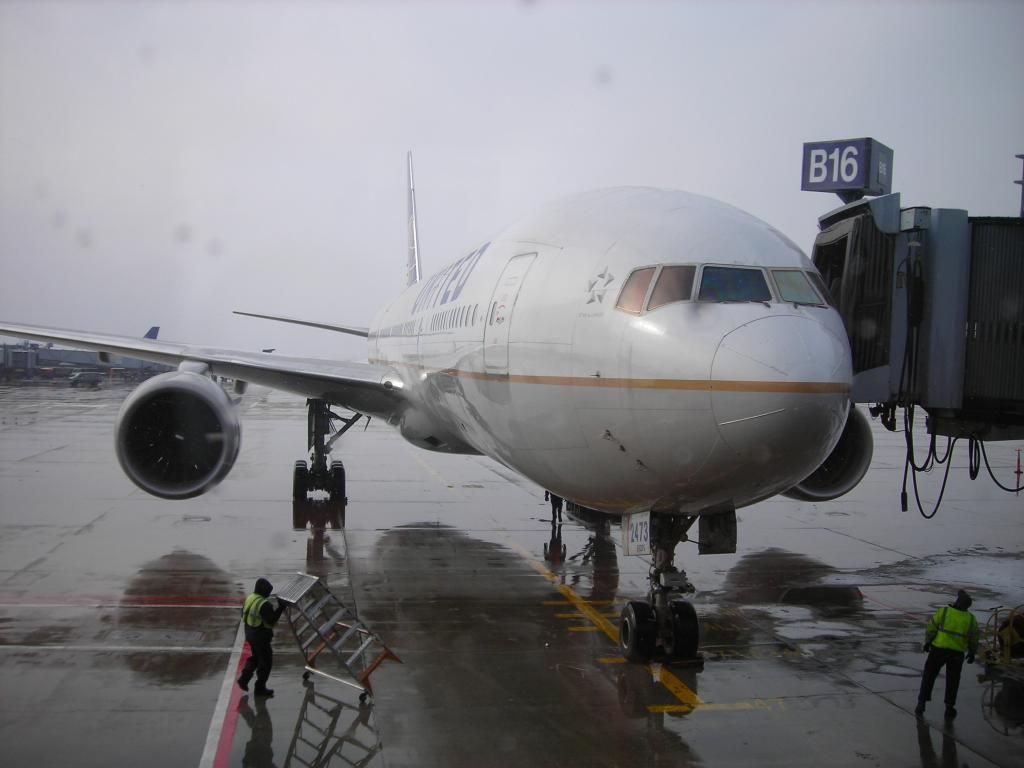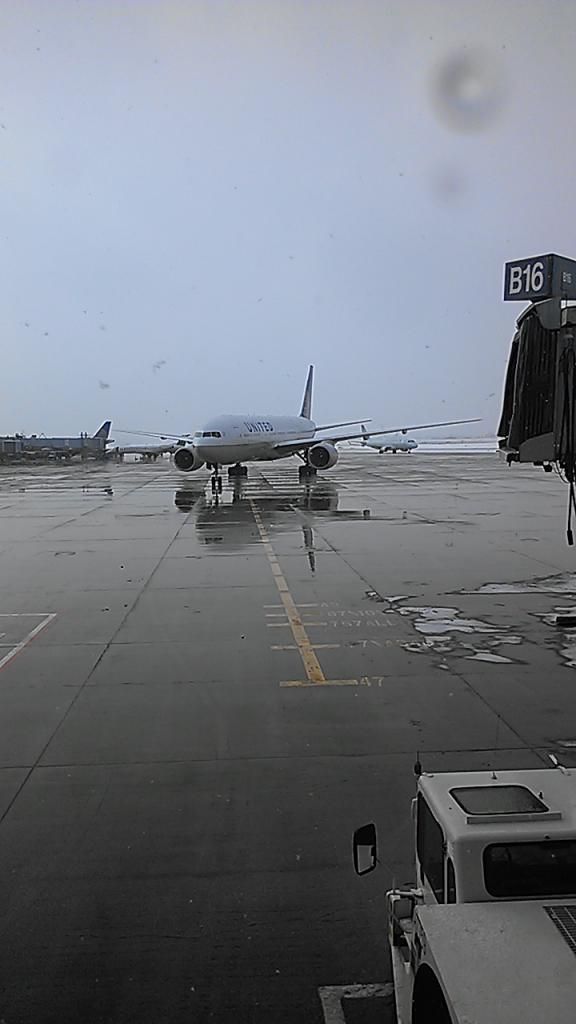 I sat down in 44A, tuned to Channel 9 and then set the language on the screen to NL and tuned to the flight map. The pilot came on and said that the flight time today was 4h 5m. It has been 10 minutes past departure and the pilot said
that we were finalizing paperwork. The doors were closed at 1557 and we pushed at 1559.
After pushing back, it was time to de-ice in which we found out the weather in San Francisco which was partly cloudy and 54F / 12C. The engine was finally started at 1622. I saw a Delta jet pass by – N966DL. We sat there for a few minutes and the pilot came on and said that we had an incident that has never happened in his career but they improperly loaded the cargo, the checks and balances were good but it was improperly loaded so we had to taxi back to the gate.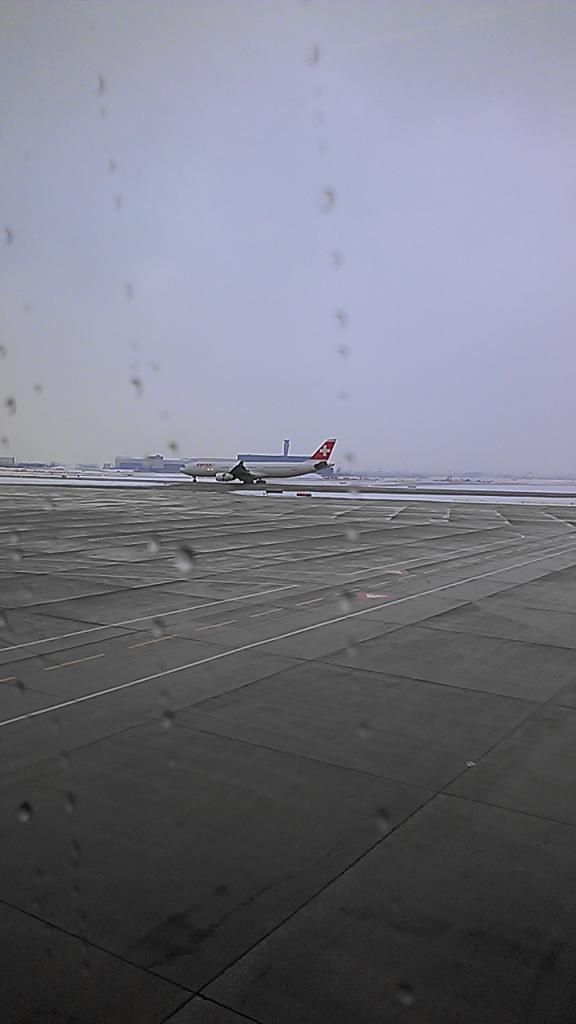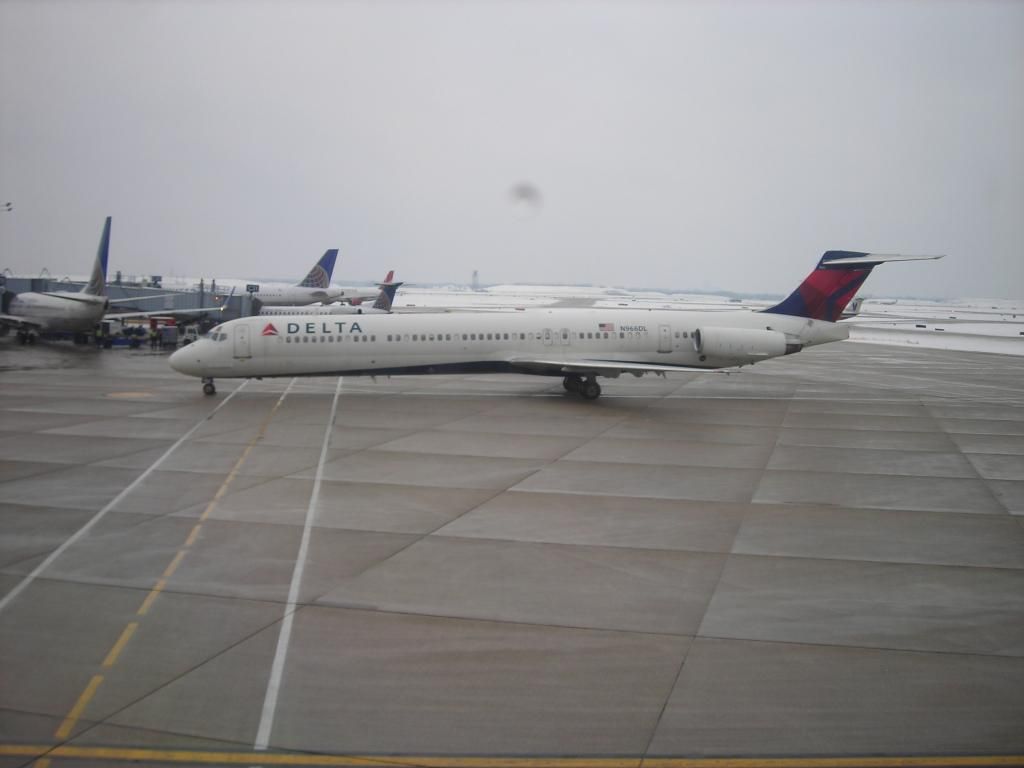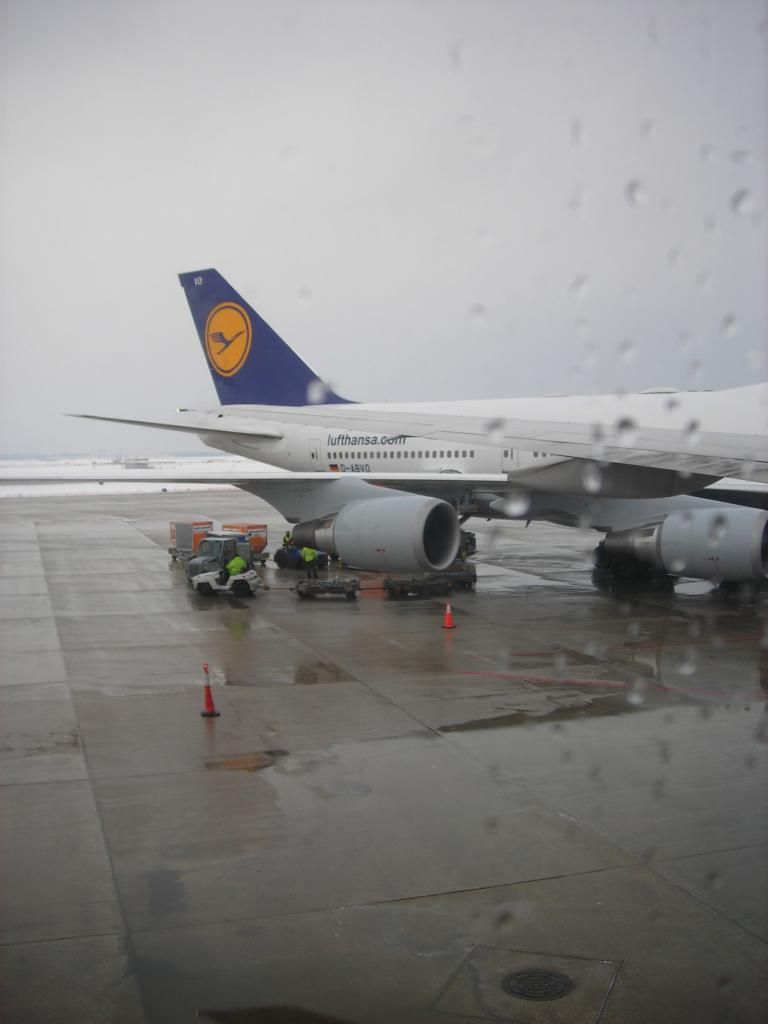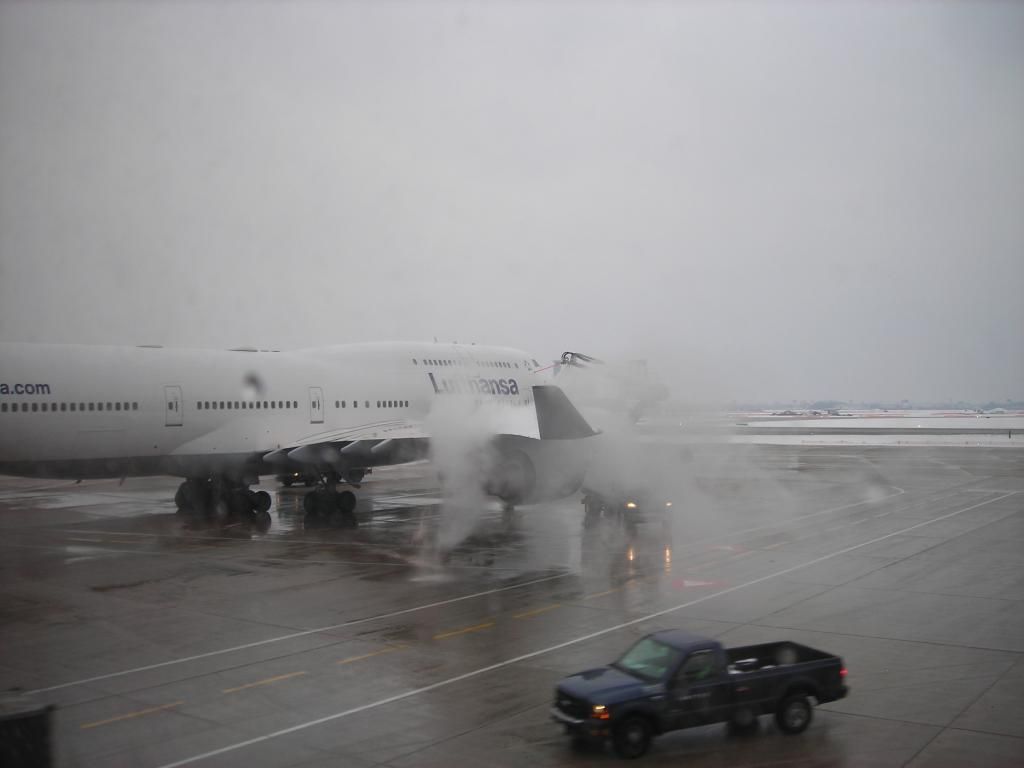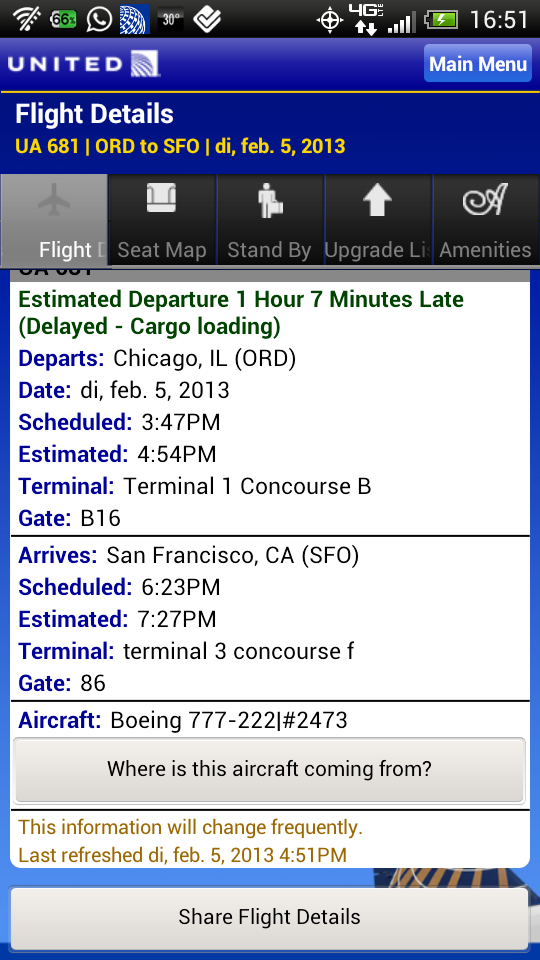 We started up and taxied via B, R, A then back to B16, where Lufthansa was waiting for us to vacate the spot so they could push and de-ice. We pushed back again at 1653, and had to de-ice again which meant that the engines were started at 1704. After the 777 came to life again, we taxied to 32L via B, A7, T and then to T10. We took off at 1719 and then turned to 270 and then make our way up to FL360.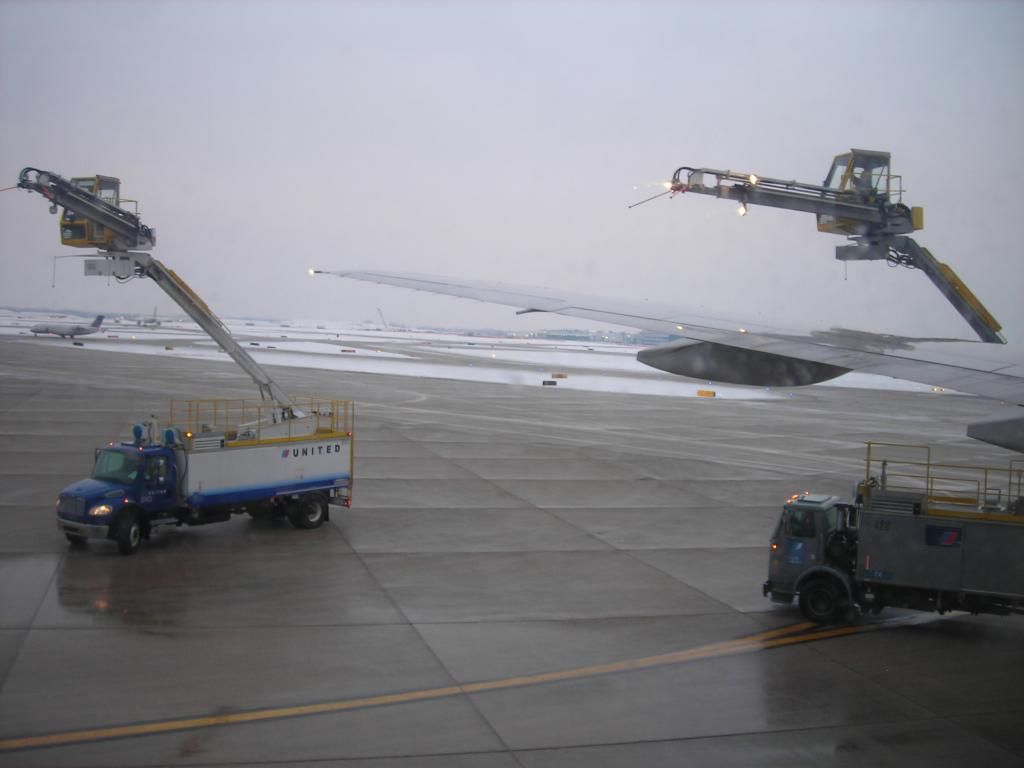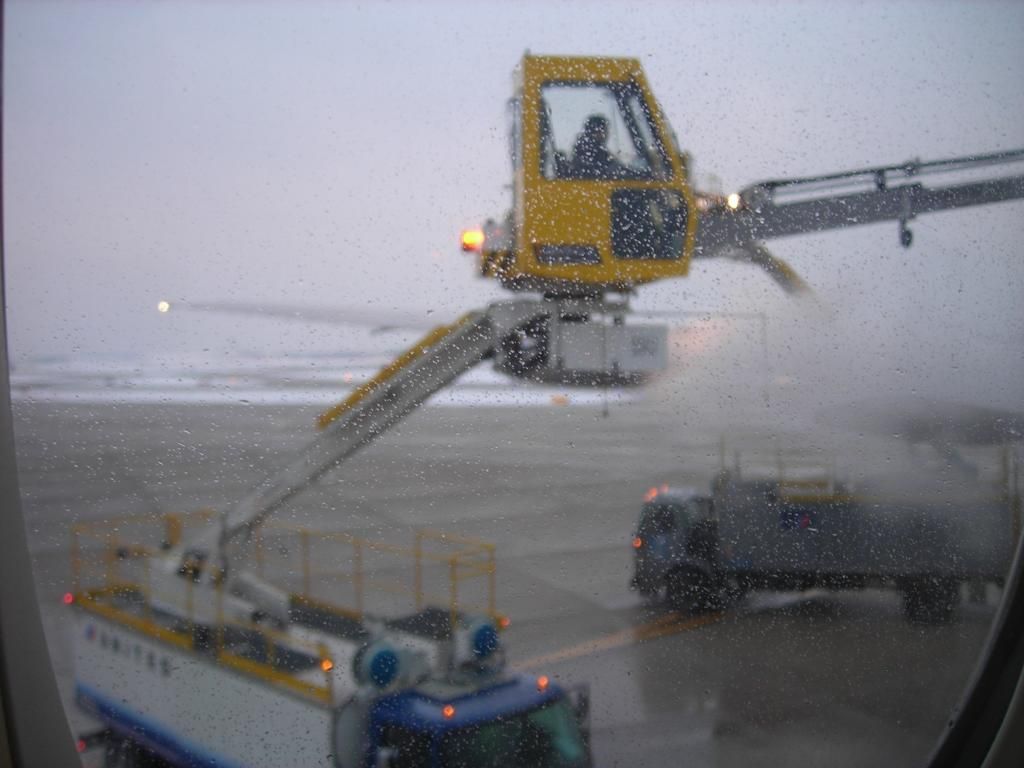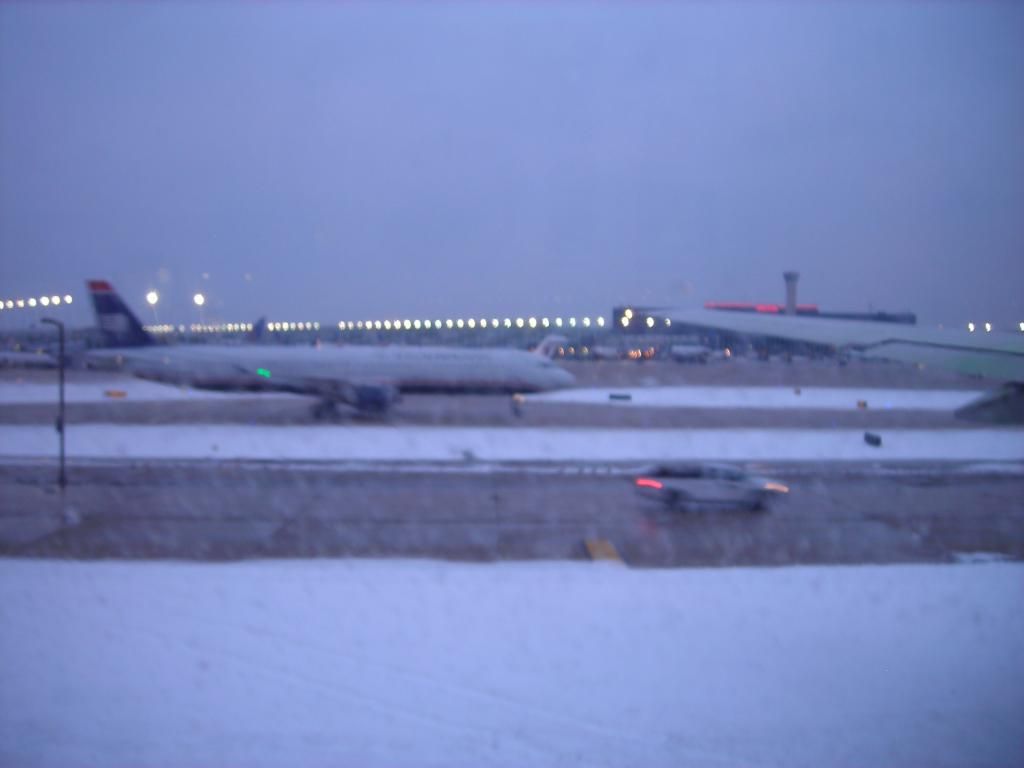 http://www.youtube.com/watch?v=NO1OpqmMPTc
Taking off from Chicago to San Francisco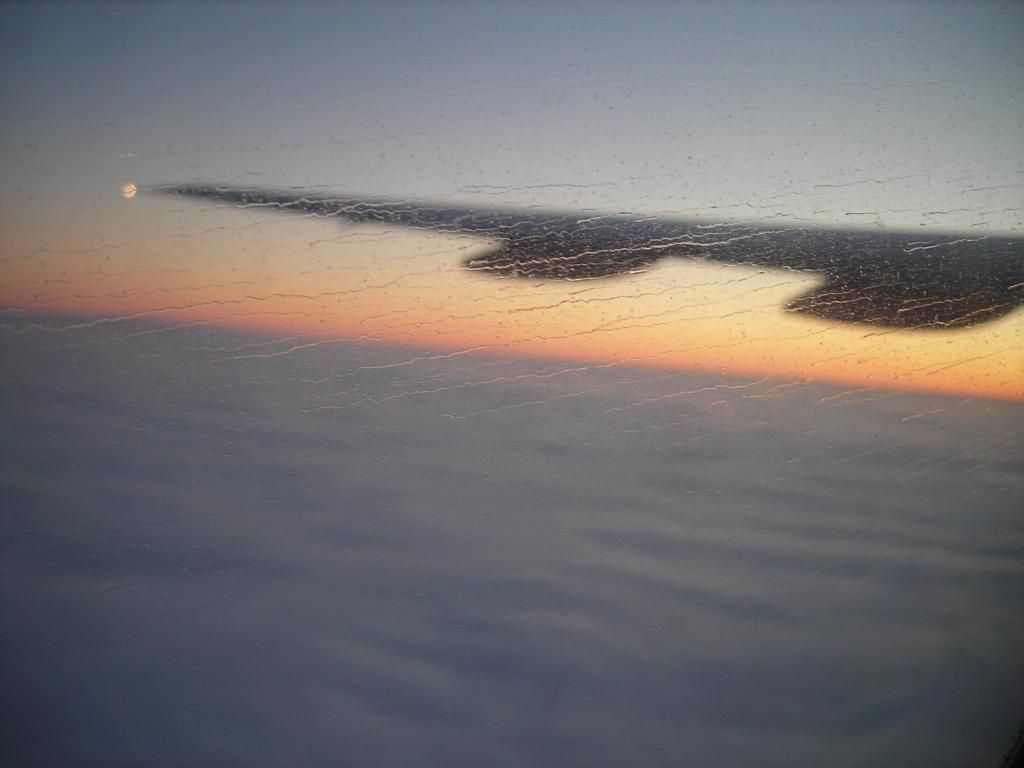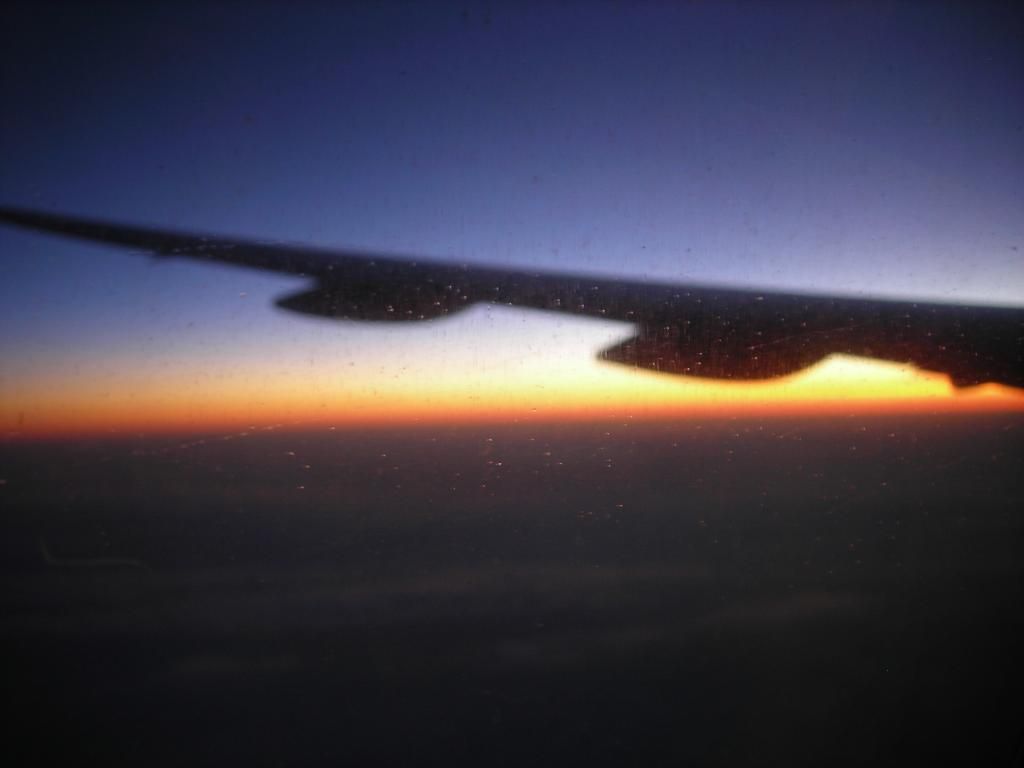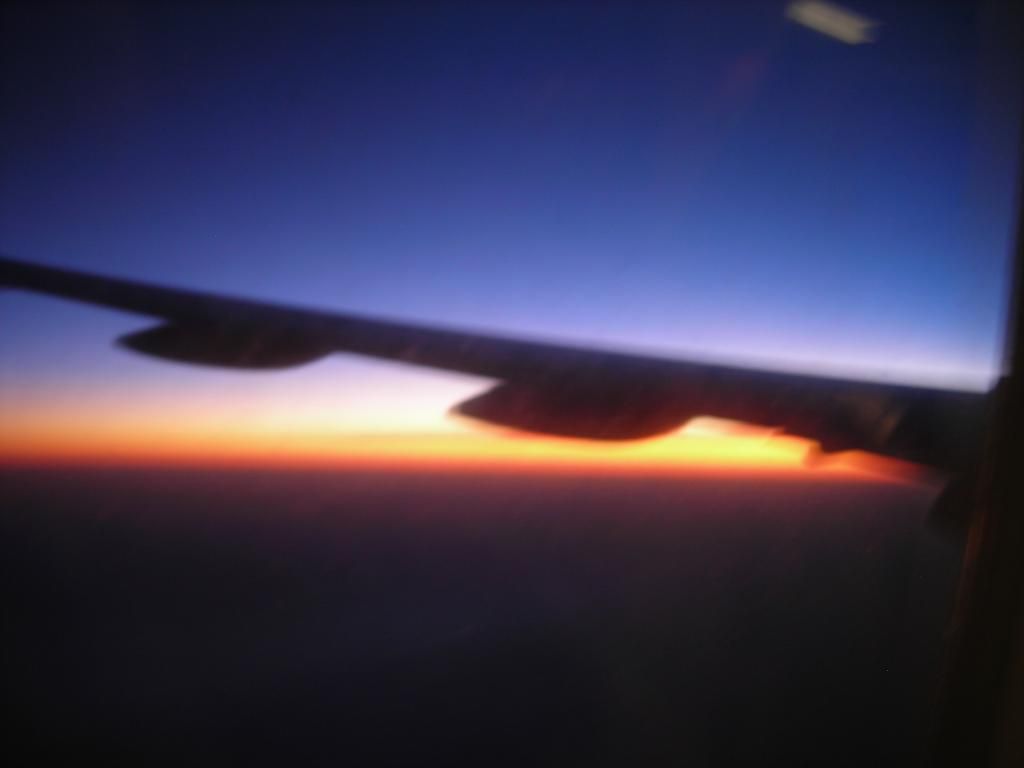 It was pretty choppy at FL350 throughout the whole flight. After looking at the map, we'd be touching down at 1926, 1 hour, 3 minutes late. We leveled off at FL380 / 11582m and we were cruising at 464 mph/ 746 kph with a headwind of 67 mph / 108 kph. We soon contacted Denver center and hit light / moderate chop over Nebraska. The drink service came around to our section and I got a coke with a lime. We passed Denver at 1818 local time (GMT-7) and we got a new route – KROST and Coledale rest unchanged. Nothing much else happened during the flight. I wasn't too bored just looking out the window and very eager to get to California.
We were told to slow down from Mach 0.84 to Mach 0.81 for spacing. We soon contacted Oakland center and they told us to slow down to Mach 0.79 as they increased the MIT for SFO. We turned to 200 degrees direct Modesto. Shortly after we started our descent to FL240 and were told to expedite through FL340. It was pretty bumpy passing FL320 and then cleared down to FL200 and slow to 270 knots.
The weather in San Francisco was 52F / 11C and scattered clouds. We'd be arriving into gate 86 tonight and we'd be on the ground in less than 15 minutes. We slowed down to 210 knots and now down to 9,000. We landed on runway 28L at 1935. We taxied to the gate and got there at 1945.
http://www.youtube.com/watch?v=vKldjYebfu4
Landing in San Francisco from Chicago O'Hare
After parking I let people off with connections as the guy next to me was going to Eugene, Oregon and was probably going to miss his connection. I got off the plane and since this was my first time to SFO, I looked around at the airport scenery. I liked the terminal, kind of felt small considering United's presence and there definitely not a lot of flights departing but considering I did get in at around 8pm, all that was left were the red-eye flights.
I made it down to baggage claim and waited for my bag. I saw bags for our flight number on the carousel and then I decided to go use the bathroom and when I came back I saw bags for flight 2 from Maui on the belt but I never saw my bag. I was worried that it didn't make it as I didn't pack clothes in my backpack just in case something happened. I asked a guy what flight he was waiting on and he said my flight and I thought to myself that I wasn't the only one. I walked over with the guy to where they pulled bags off the carousel and I spotted my bag.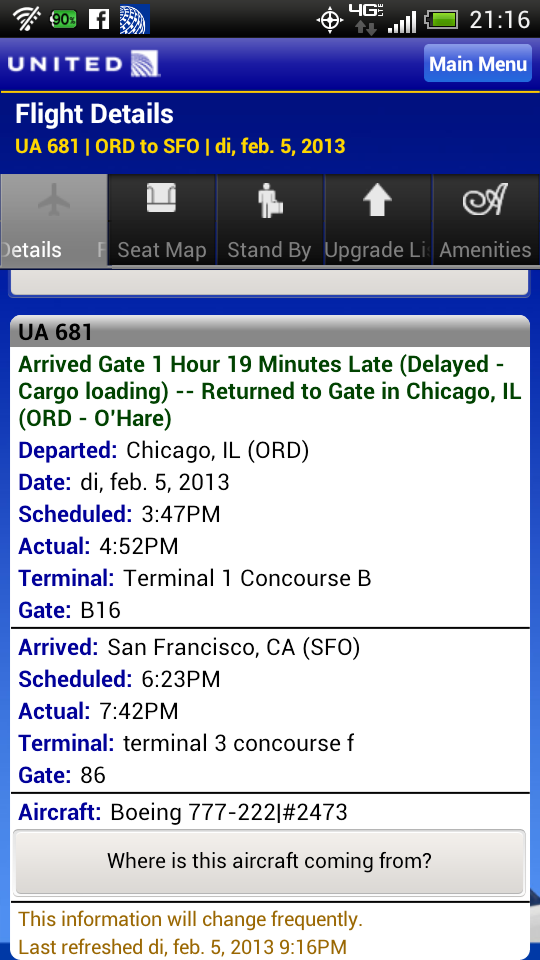 I felt relieved and happy and now I took the air train over to the BART terminal and waited for the BART train. I took the yellow line to Daly City and then transferred to the Blue line – Dublin / Pleasanton and arrived a little after 9pm California time. My cousin picked me up; got me some Wendy's and got to their house a little after 10.
After a week of lots of Indian food, birthdays, Hindi speaking / understanding, tears and waking up super early it was time to go home. I didn't want to say goodbye but it was time to go back to work.
February 12 2013
SFO-ORD
United 574
STD: 1156
ATD: 1222
STA: 1812
ATA: 1830
Boeing 757-200
Reg: N516UA
I woke up at 0700, took my little cousin to school and gave him a hug and then went back to the house and had breakfast. I left the house at 0845 for the Dublin / Pleasanton train station. I took the 0900 BART to SFO, changed trains at Embarcadero, and waited 11 minutes for the yellow line to the airport. By now I had to go to the bathroom super bad and just wanted to get to the airport. I heard some mumbled message and we went passed the airport and then to Millbrae and then back to the airport. I was really worried as I was near boarding time and I had bags to check. I finally arrived at the airport at 1050, ran to the baggage drop and paid for my bag and then joined a fast line for security.
Security was quick and painless, then off the men's room finally after 2 hours of holding it in. I walked to gate 88 where boarding was soon to commence and next to us was a heavily delayed JFK flight (about 5 hours late) and a flight to LAX which was just about to push back. I got onboard and the pilot announced that it was 29F / -2C in Chicago and that it would take us 3 hours and 59 minutes to get there but first we had to deal with maintenance. Why is it that every time I fly United I am always delayed?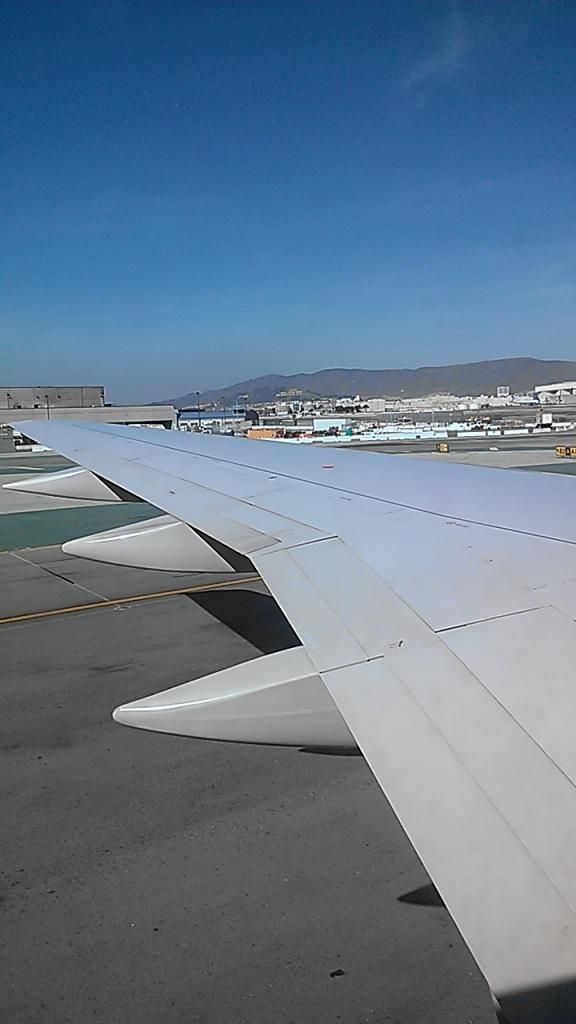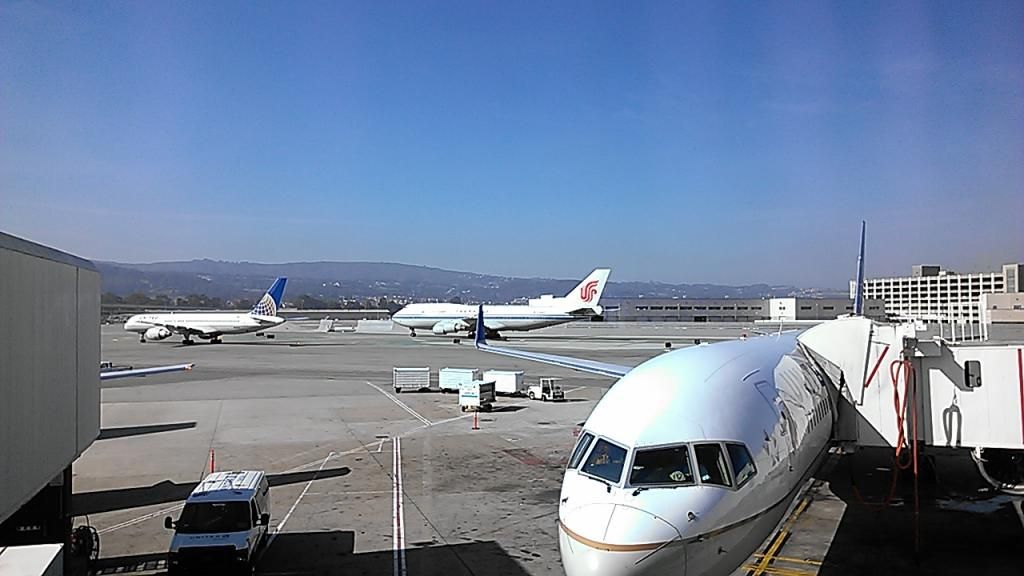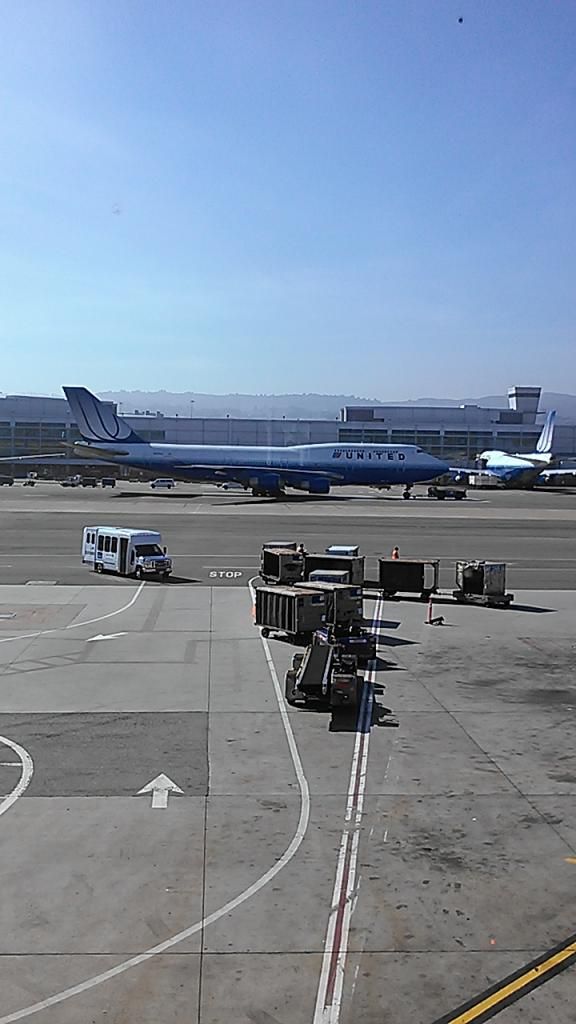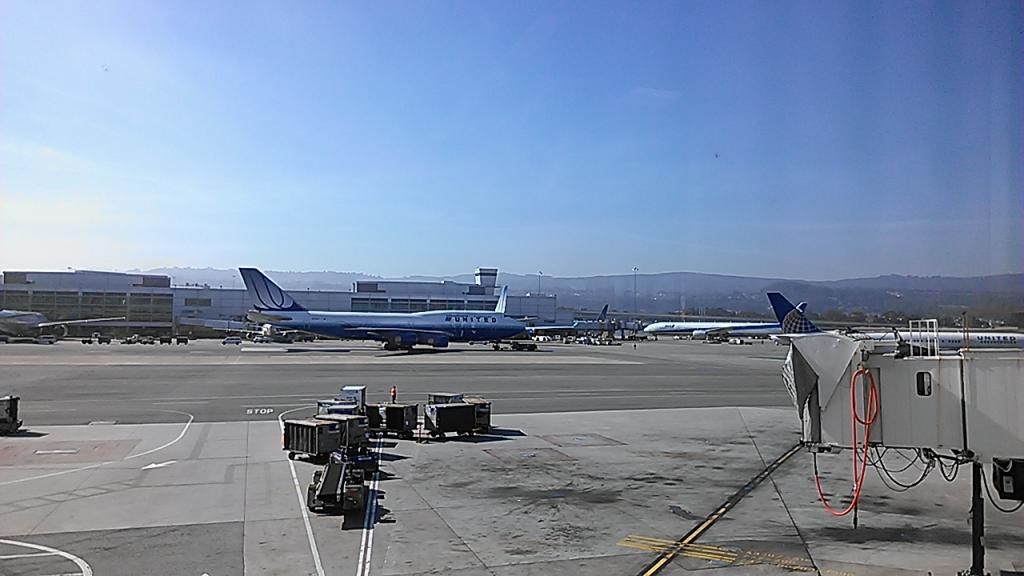 The doors closed at 1201, Channel 9 was available and we were just waiting on some final paperwork. We were about to pushback when the lady behind me just had to go change her son's diaper. She returned to her seat and we pushed back at 1222 and taxied via A, B, A to runway 1R. We took off at 1233 and made our way up to FL370.
http://www.youtube.com/watch?v=309uUf_9OmA
Taking off from San Francisco to Chicago O'Hare
We hit light chop on our way up and we requested FL390 and soon we made our way up another 2 thousand feet. The seatbelt sign came on as we passed the western edge of Colorado and then again as we passed to the south of Hayden Colorado. Drinks and snacks were being served and since I wasn't hungry, I just settled on a coffee. Back on once more as we passed to the south of Cheyenne. I got up to use the lavatory somewhere over Iowa and overheard that we were going to arrive into gate C21.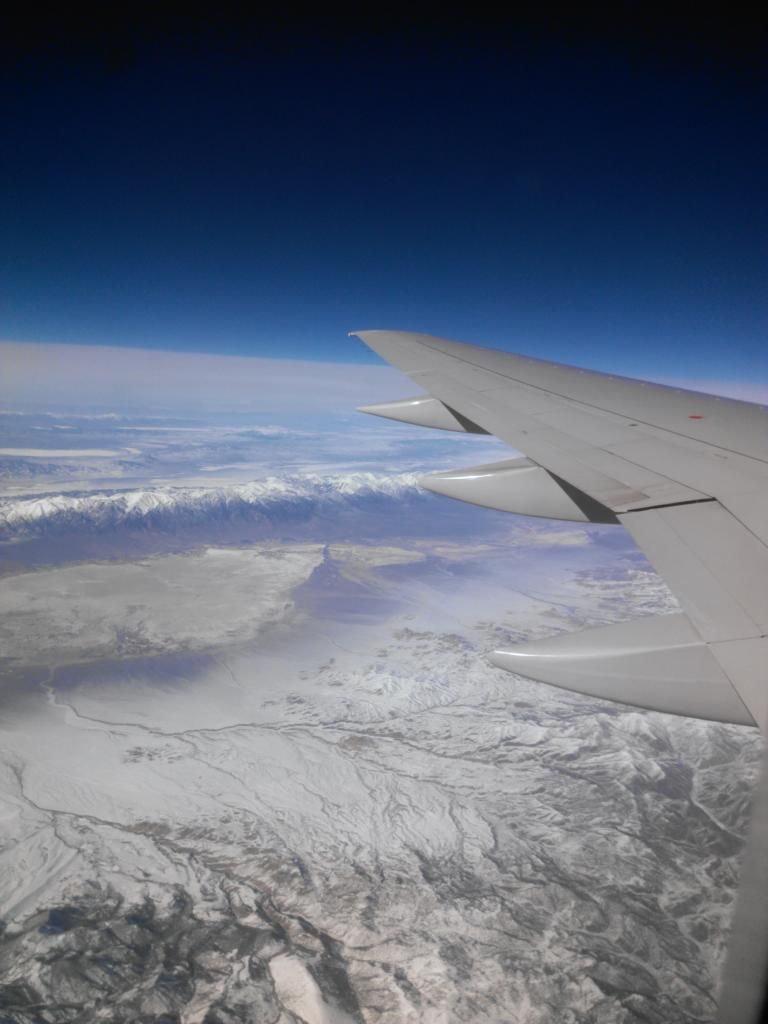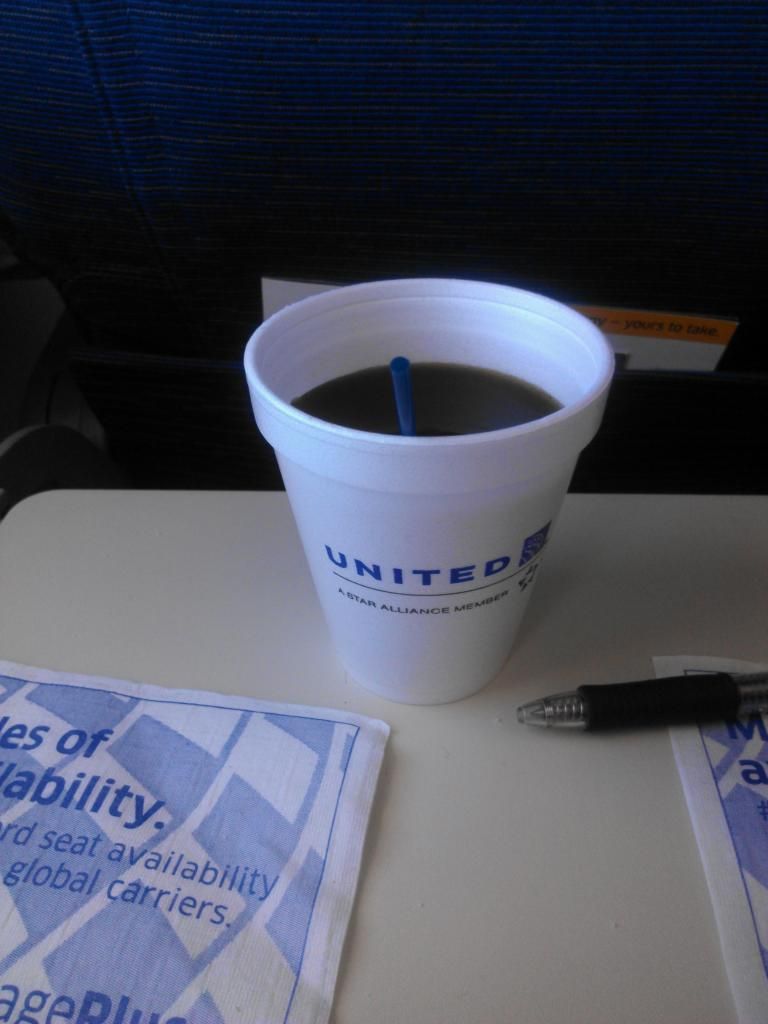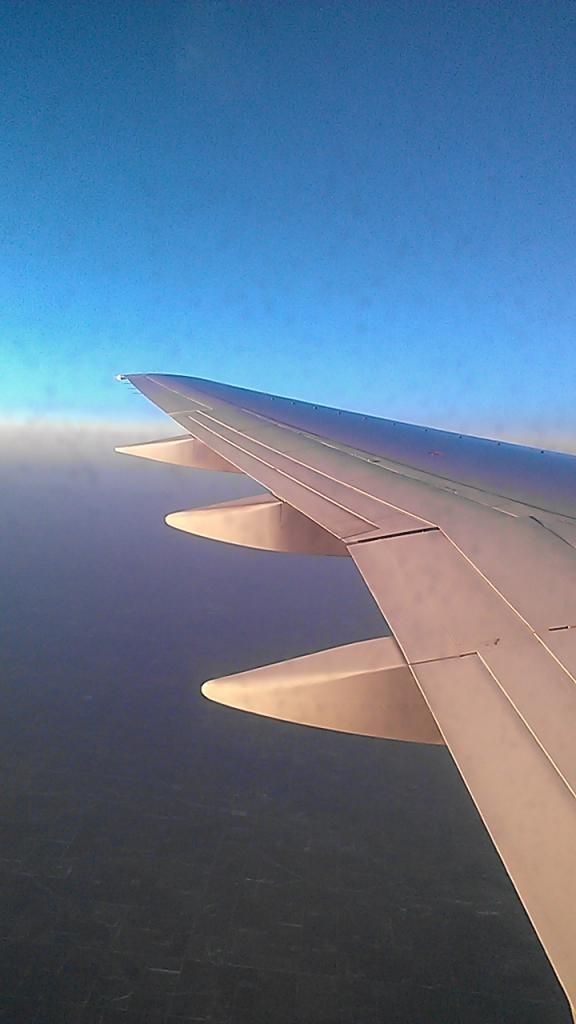 We started our descent soon down to FL330 at 1750. We descended down to FL240 and FL190 with an altimeter at O'Hare of 29.96. The seatbelt came on at 1810 as we were 45 miles from Chicago. The weather was 26F / -3C and C25 was our arrival gate. We were to do the BULLZ 3 arrival and have a visual approach on 27R. When I heard that on Channel 9, I realised that we would land on the new runway and then take the tour of Illinois all the way to the gates. We landed at 1830 and then made the long taxi over to C25.
http://www.youtube.com/watch?v=Dp7-Cm_iLXY
Landing in Chicago from San Francisco
I deplaned after most of those who had connections well no actually when there was a big enough gap for me to escape. I went to the lavatory and then proceeded to baggage claim. I was really nervous thinking my bag didn't make it and it would be ok since it can be delivered to my house. About 10 minutes after standing at baggage claim, I saw my bag and then I had to plan out how I was getting home.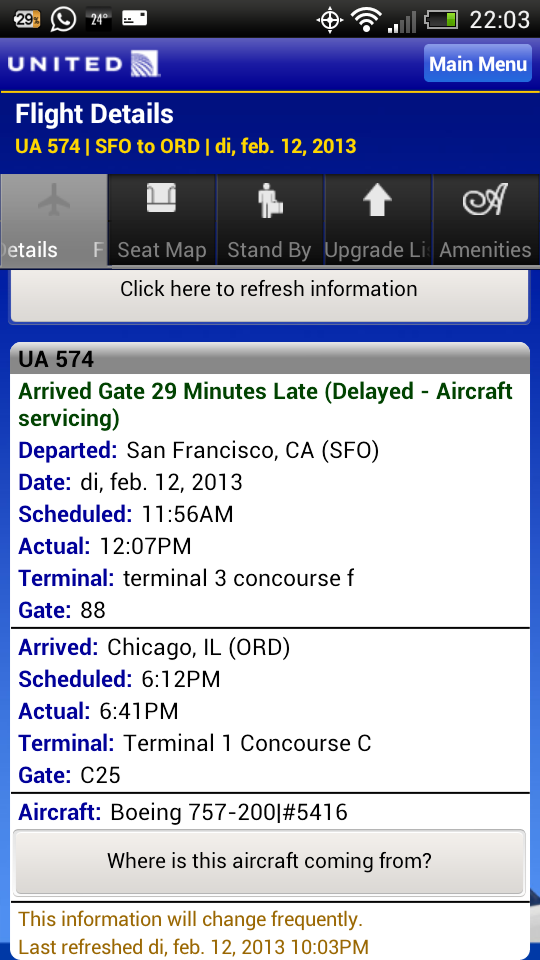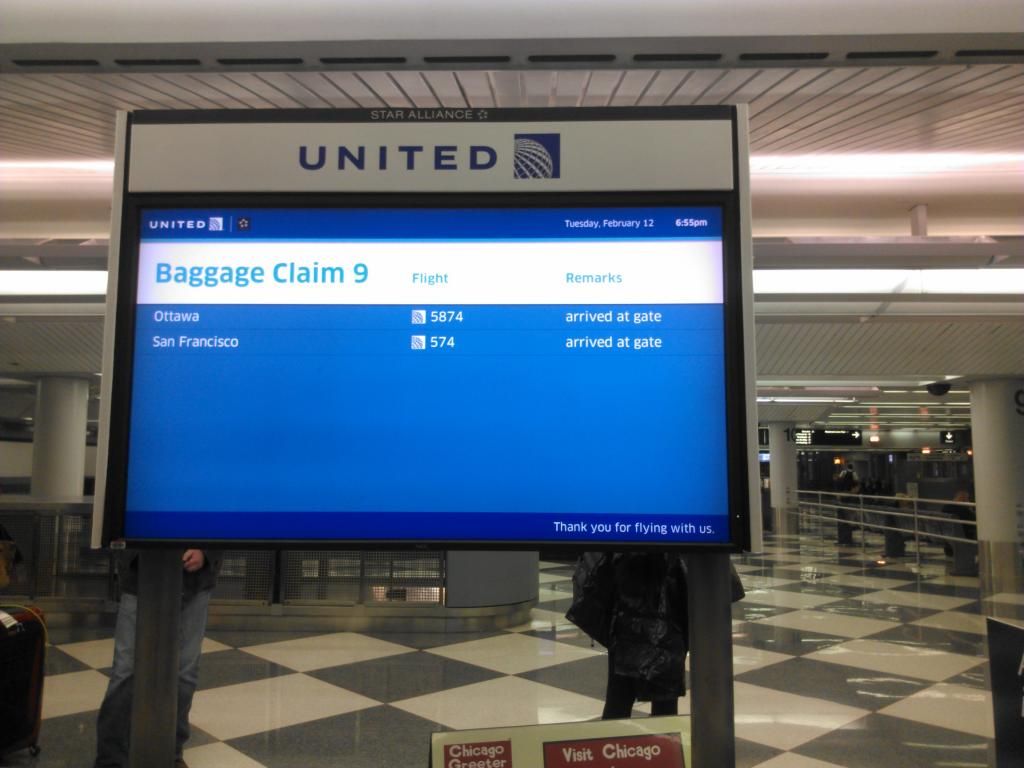 I left the airport around 1915 and took the Blue Line to Jefferson Park, caught the 81 Lawrence bus to the Red Line up to Howard and took the Yellow Line to Skokie and then took the 97 bus up 2 streets and then walked 0,3 miles / 0,4km home. I walked in the door at 2130 said hello to everyone, set my stuff in my room and went on airliners.net chat, turned on the 9pm news and finally went to bed 2 hours later.
Also included are some pictures that I took from when I went to San Francisco on the 4th.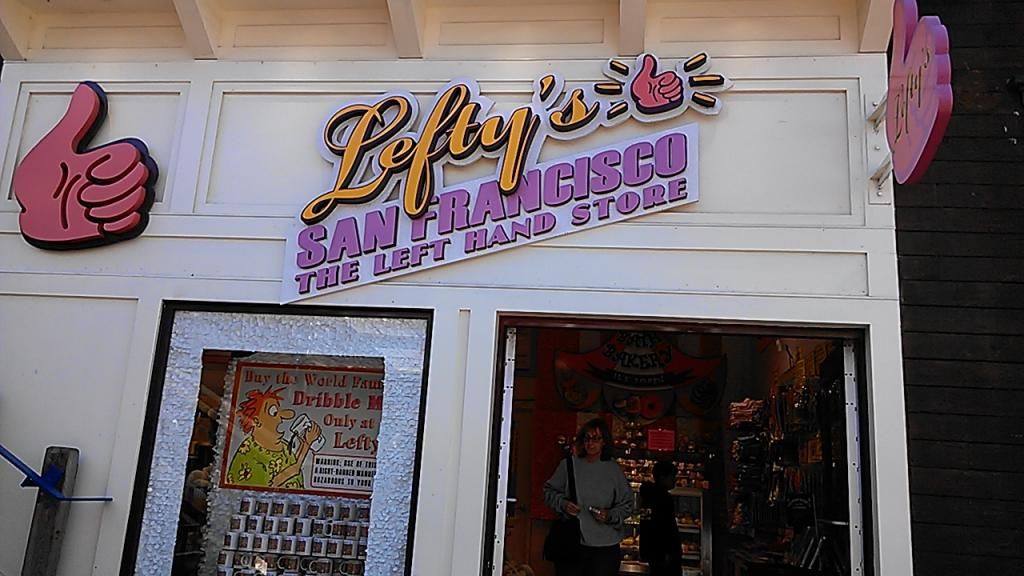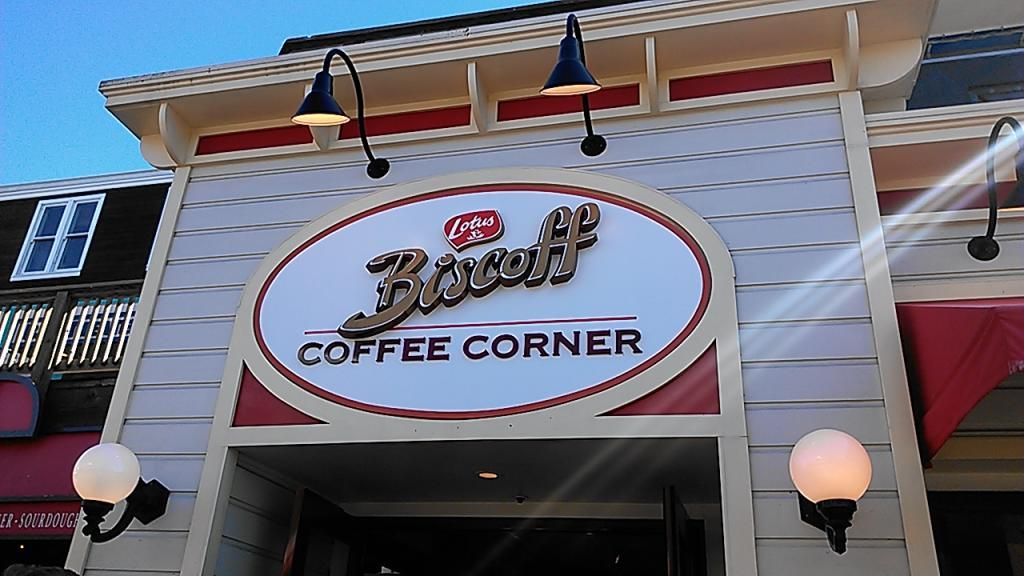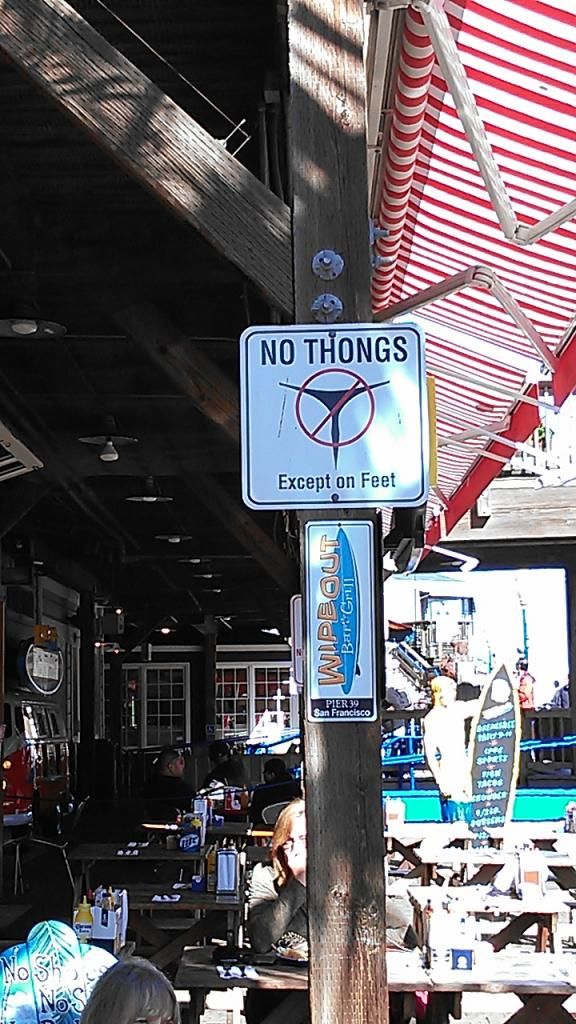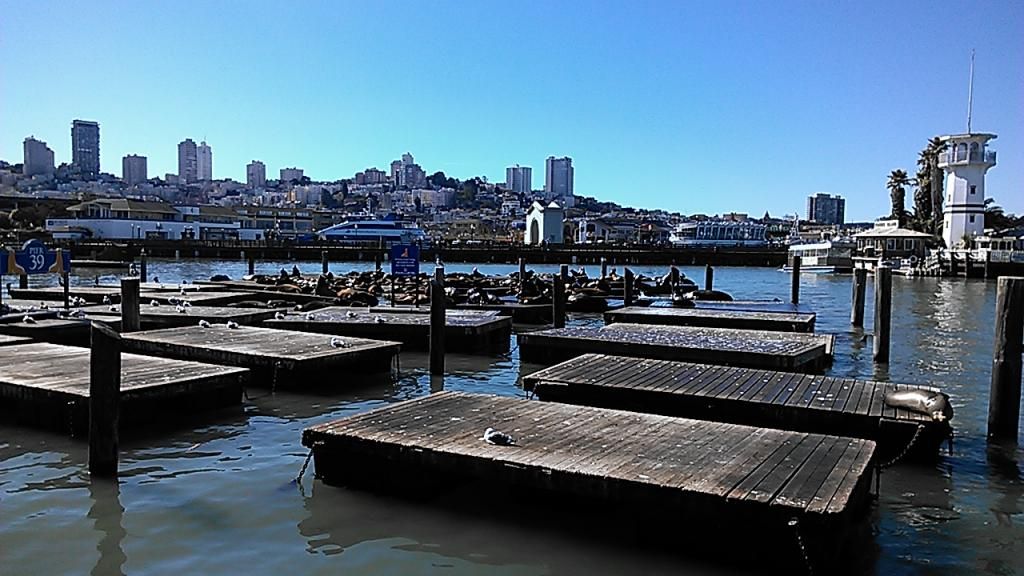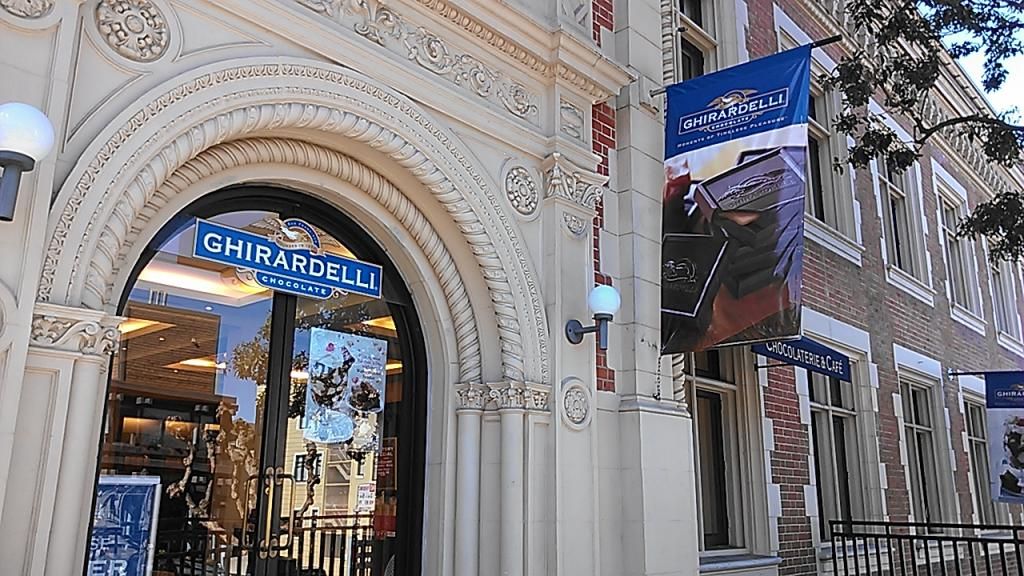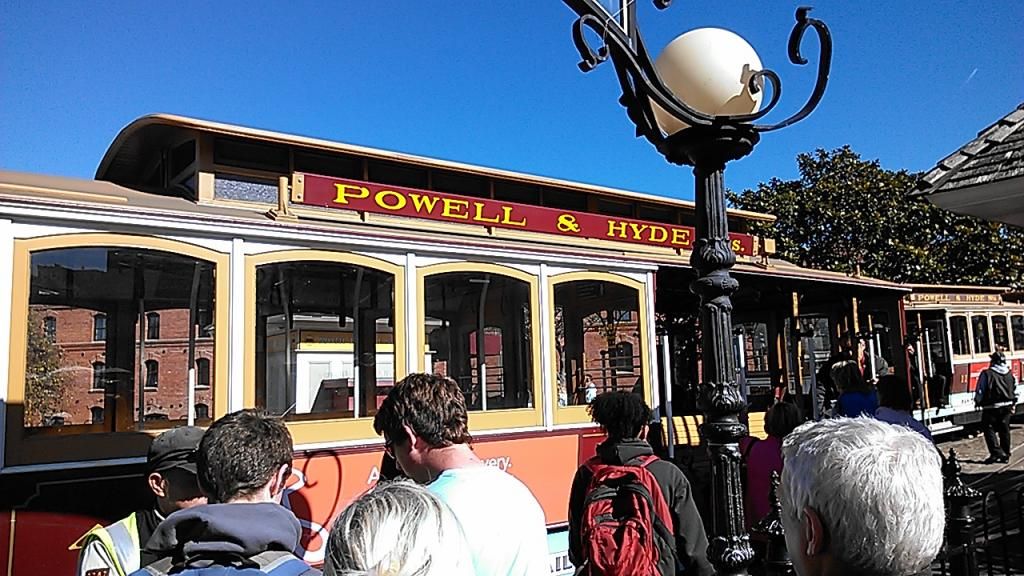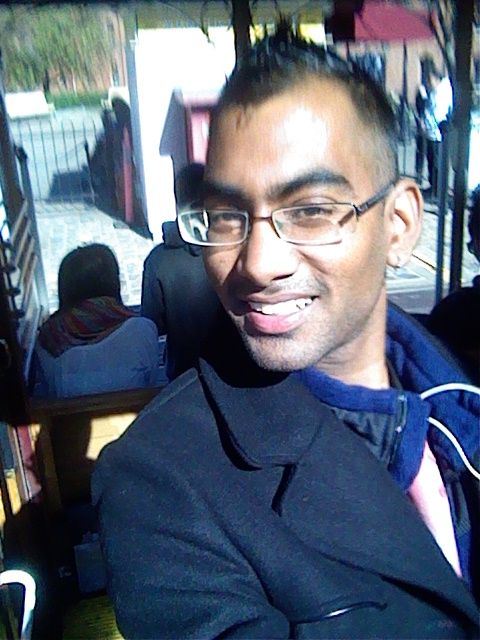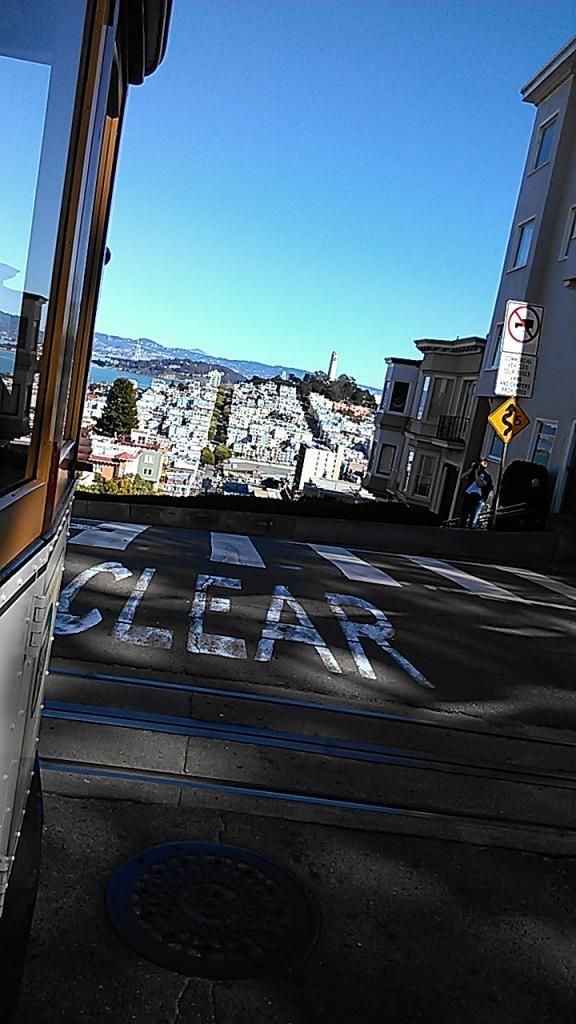 Thanks for reading this trip report, all pictures belong to me and were taken using my cell phone and camera. Please leave a comment and all comments are appreciated! Thanks!
Leo/ORD