Kenya Airways Trip Report 2013
To end my series of Skyteam airlines trip report, I am going to fly a new airline called Kenya Airways. Let's be honest! Kenya is not on my list of country to visit and not sure if I am willing to risk flying a long haul on Kenya Airways (I possibly will go with Emirates and other Middle East airlines). Kenya Airways currently alternates between Hong Kong and Guangzhou on the continued leg of its Nairobi to Bangkok flight. Due to its very attractive business class price and the perfect coordination of my schedule need, I manage to catch this KY flight back to Hong Kong. Honestly I don't have any expectation but to be able to fly a new airline on this trip. (BTW, Delta is also going to devalue the earning rates on KY beginning March 1, 2013 as well, and you don't earn elite bonus miles on KY too. Delta really needs to clarify these issues and I can't help to feel that Skyteam is a just promotional slogan with no obvious benefit. Delta in realty does not want you to fly any of its Sktyeam members in regular basis.)
February 24, 2013
KQ 860 BKK-HKG Lv1410 Arr1750 Boeing 777-200ER 5Y-KQU
Booking:
I booked my ticket on Kenya Airways' website and the booking process went fine. However, you could not select seat on its website, and I ended up emailing KY, but to give KY credit, I got a response within a day or so and my request for a bulkhead window seat was honored.
Check-in:
I obviously did not use its regular check-in desks, but its transit desks did not open till two hours prior to departure (in paper), but in reality, KQ never opens its transit desk for this onward flight. You are requested to head to the gate that they used on the day of (F5 for today's flight) to get a boarding pass. In the end, I just asked the staffs at the International Sky lounge to contact gate F5, and Kenya Airways has to send someone to give me my boarding pass. As a premium passenger, I just don't think I should have to go all the way to the gate to get a boarding pass, and then walk back to the lounge. It was honestly a very disappointing performance. In theory, there is also a self-service check-in machine but I tried many times to no use. They just can't find my reservation.
Lounge:
Kenya Airways uses the International Sky Lounge (basically a joint Air France/KLM/Korean Air lounge), and my previous experience with this lounge is not great. Despite flying business class, the staffs will not let me enter the lounge without an invitation. Thankfully I have my Delta Diamond Medallion card, and they let me wait in the lounge for the transit desk to be opened. However, this shows how these airline staffs are poorly trained.
Here are a number of pictures of the lounge, which has a cosmetic improvement: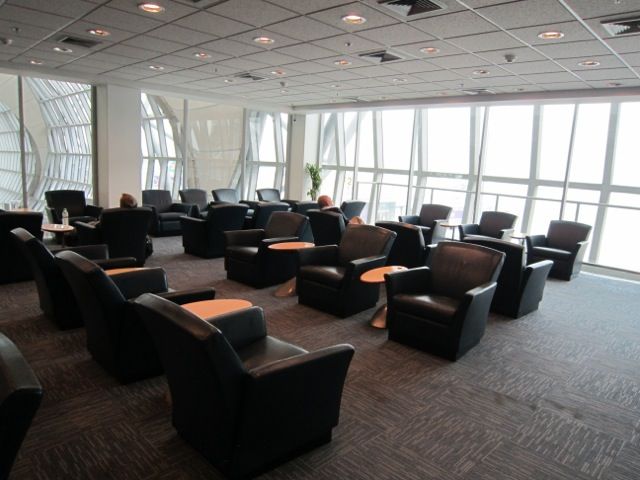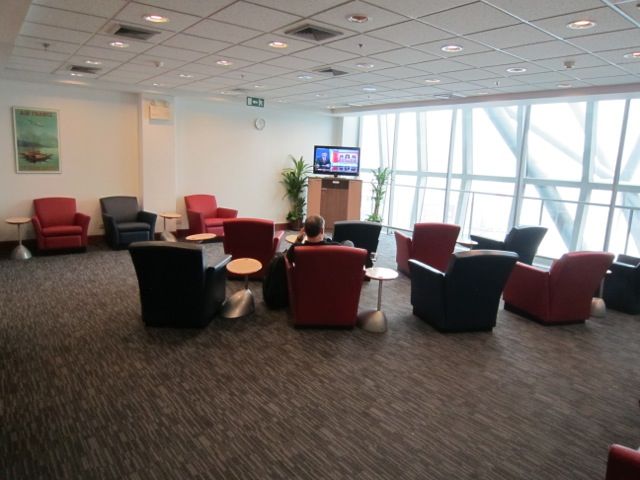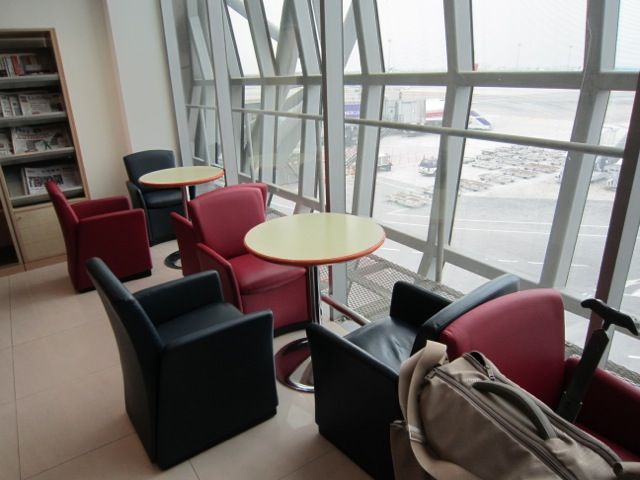 The best improvement is the availability of hot food, including hot soup and dim sum including bread buns, steamed dumplings and canapés.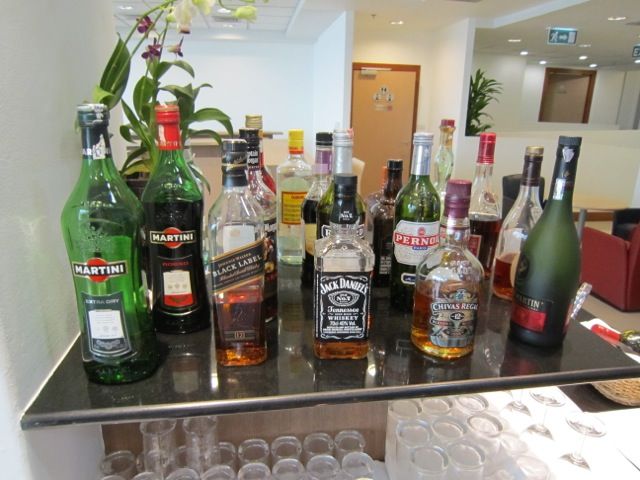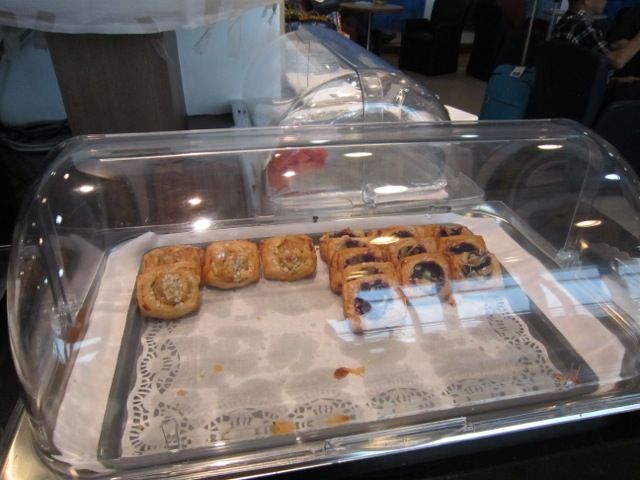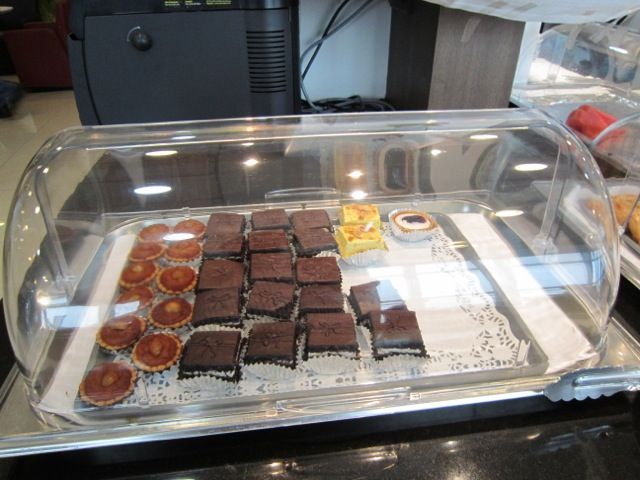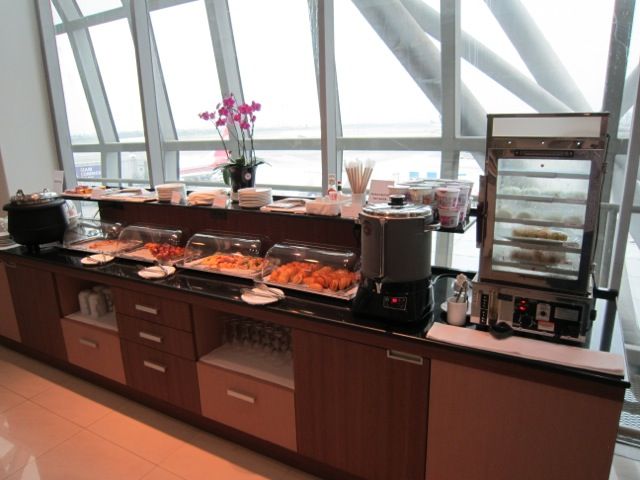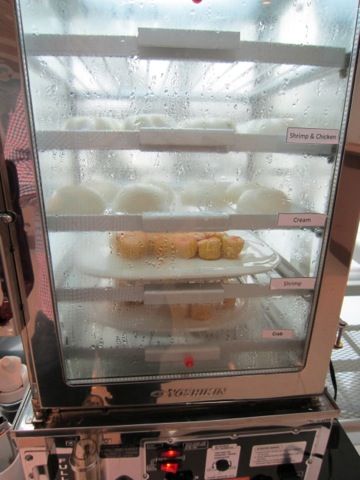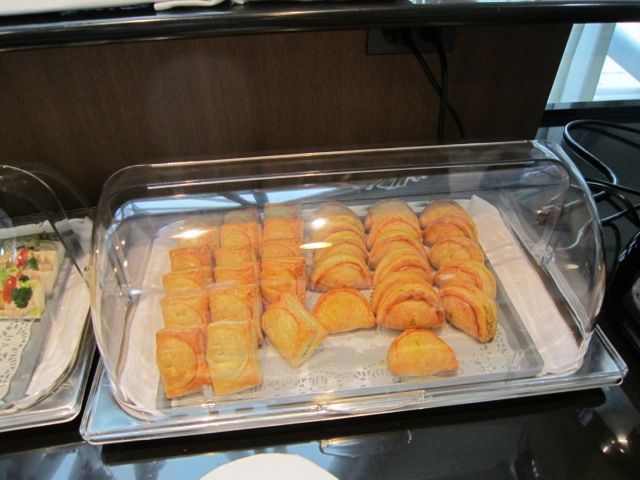 The free WIFI is still very unstable and I get a timeout signal frequently.
Boarding: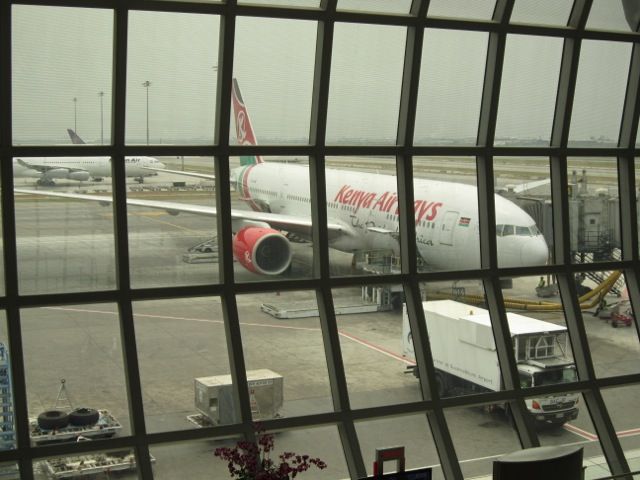 The inbound flight from Nairobi arrived early this afternoon, and since all connecting passengers to Hong Kong have to stay onboard, boarding was a relatively quick affair, except that there is no priority boarding, and I will call the boarding process rather unorganized and the purser and ground staffs have to check with passengers and made sure that they were in the right seats. There were also many staffs waiting to sit in business class, and the whole process just looked unprofessional. Thankfully my elite status was noted (well that is the reason I told myself lol), and the seat next to me remained empty. The flight was actually pretty full with half of them coming from Nairobi. Unfortunately some Mainland tourists spent a bit too much time on shopping and we did not manage an early departure. Newspapers (limited African papers), as well as printed menus, were first passed out. Announcements are made in English, Thai, and Mandarin Chinese.
Door was closed at 2:05pm, and the F/A immediately passed out a tray of pre-takeoff beverages (juices and water).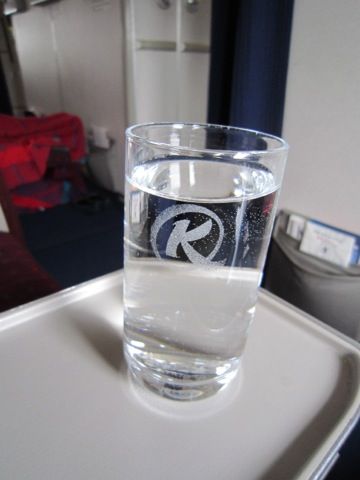 My seat 1J
Some interesting planes spotted:
Vietnam Airlines A321 VN-A601
Mahan Air's "new" Airbus A340 EP-MMB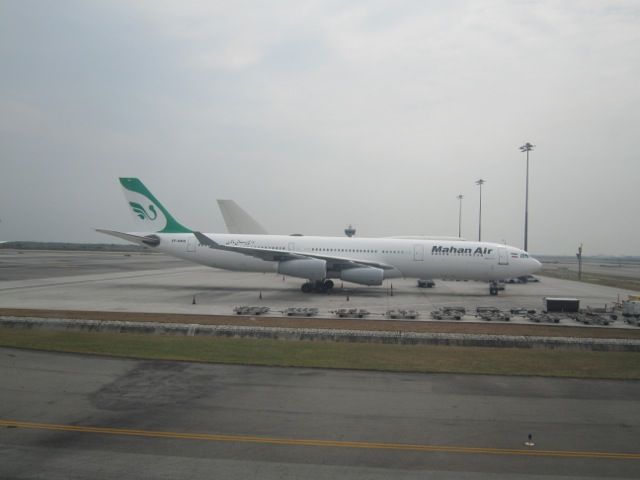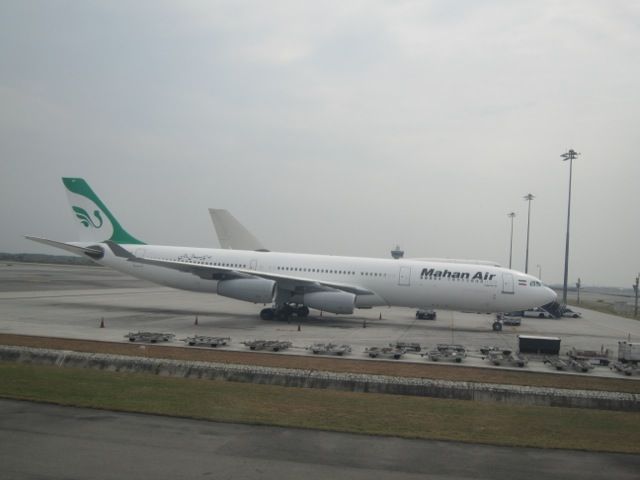 We pushed back at 2:10pm and then we slowly taxied to R/W1L. After a variety of Thai Airways taking off, we took off at 2:24pm. Flying time was estimated at two hours and ten minutes, but due to ATC delay, the flight took two hours and twenty-six minutes. We stayed at 37,000feet.
Here is a few cabin shots taken after takeoff: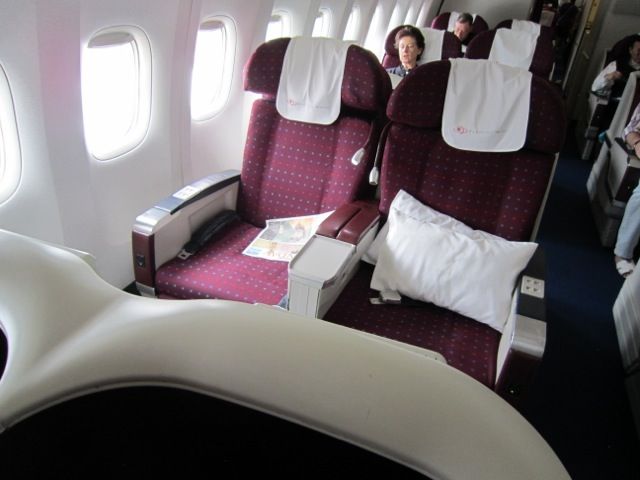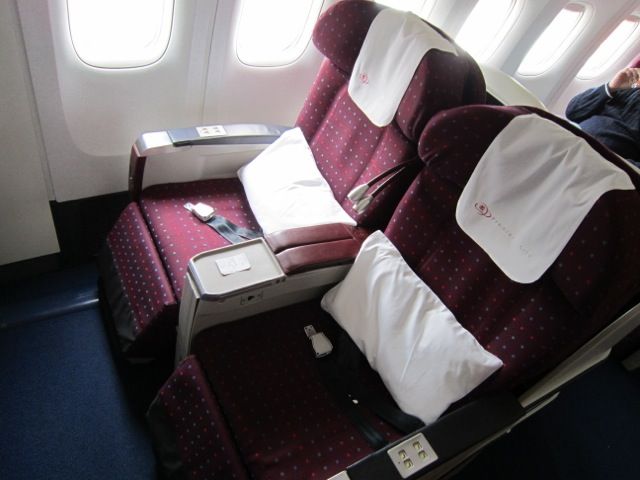 Seat pocket content – safety cards, sick bag, duty free catalog, and inflight magazine
Features of the seats:
Central console
Very awkwardly located seat recline and legrest buttons
Power outlet
Legroom shot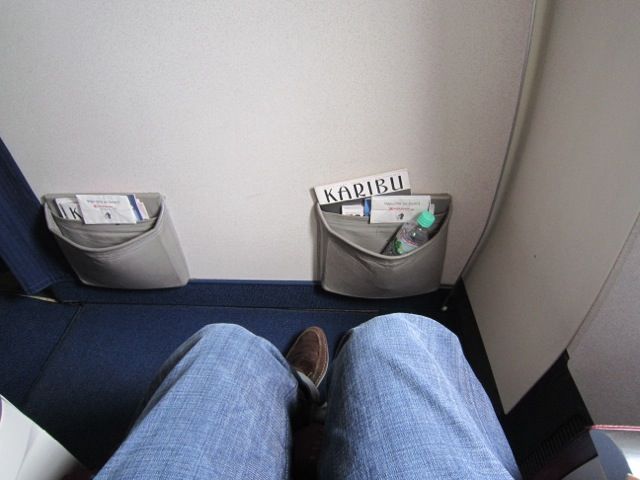 Entertainment console (not removable)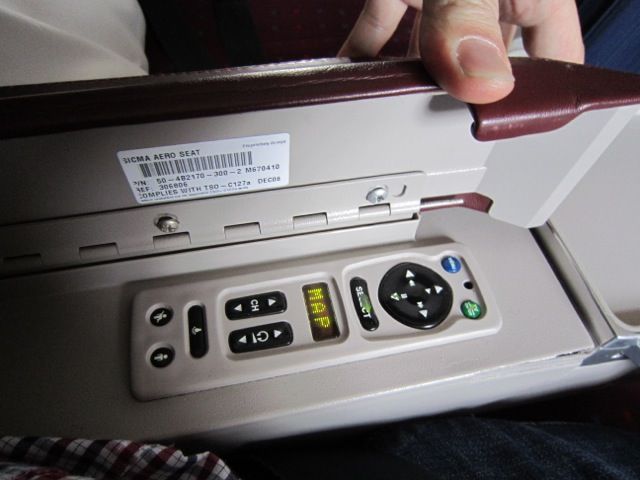 Personal Entertainment system – Audio Video on Demand (AVOD)
Limited selections of movies, televisions and radio stations (Sky Map is available)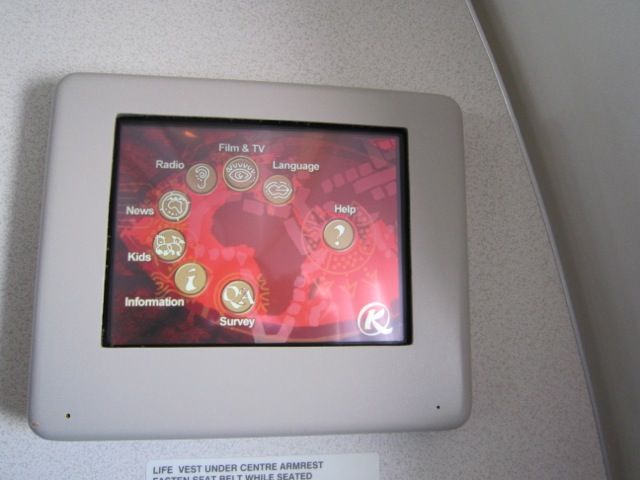 The meal service began shortly after takeoff, and it actually took a while to complete. The meal was more extensive than my previous segment on China Airlines. The main course is still a bit on the small size, but at least they offer a fruit plate, on top of a choice of cheese or dessert. The appetizer is a bit different from the one printed – it is basically an Italian vegetable salad featuring eggplant, asparagus, and zucchini topped with a balsamic vinaigrette dressing with some mesclun mix. It is actually a nice appetizer. Breads feature a choice of soft rosemary rolls, rye rolls, and garlic baguette. The main course choices are not great, but I chose chicken, which was a safe choice. The chicken is a bit of a small size, but the gratin potatoes are good. After the main course, the F/A rolled out a dessert cart, and by the time, tea and coffee were served, we were already passing the Hainan Islands. In general, it is actually a nice surprise and is a good meal especially Cathay Pacific and Emirates cuts back on the quantity and quality too on this route. Only Thai Airways retain a heartier main meal service on this same route.
Beverage List
Bar Service
Whiskey
Chivas Regal
Johnnie Walker Black Label
Brandy
Remy Martin
Vodka
Absolut Vodka
Gin
Bombay Sapphire
Rum
Bacardi
Beers
Tusker Lager
Heineken
Liqueurs
Amarula
Baileys
Cointreau
Wine Selection
Champagne
White Wines
Laroche Chablis
Kleine Zalze Chardonnay 2010
Red Wines
Chateau d'Escot
Long Mountain Shiraz
Port
Graham's Vintage
Hot Main Meal
Appetizer
Mesclun Thai Mixed Salad
(In reality, an antipasto vegetarian salad was served.)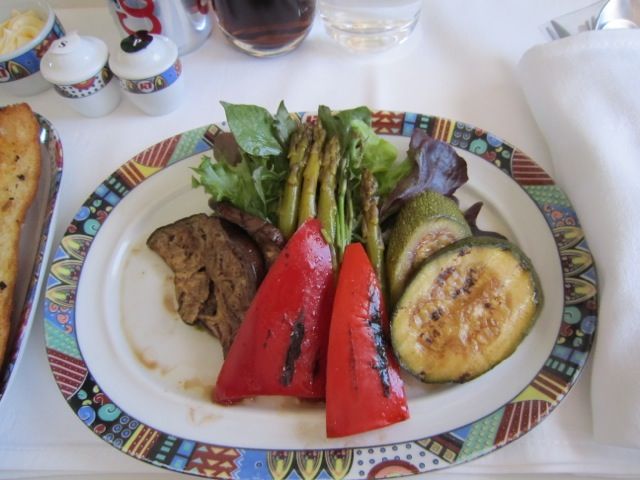 Nice "salt and pepper" shaker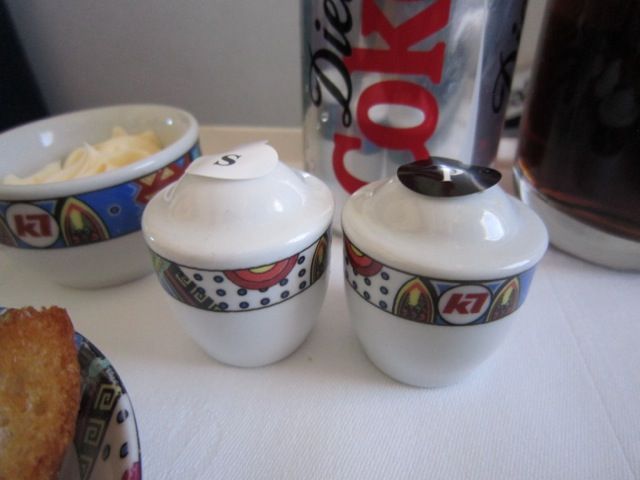 Nice butter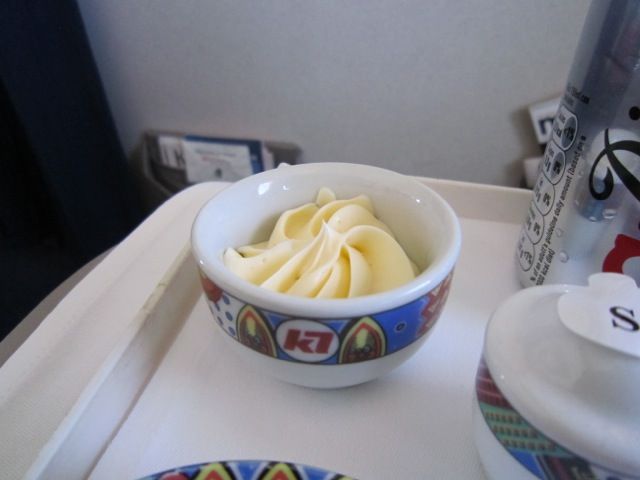 Beverages (Diet Coke & water)
Main Course
Roasted Chicken Breast
Gratin potatoes, carrots and asparagus rolls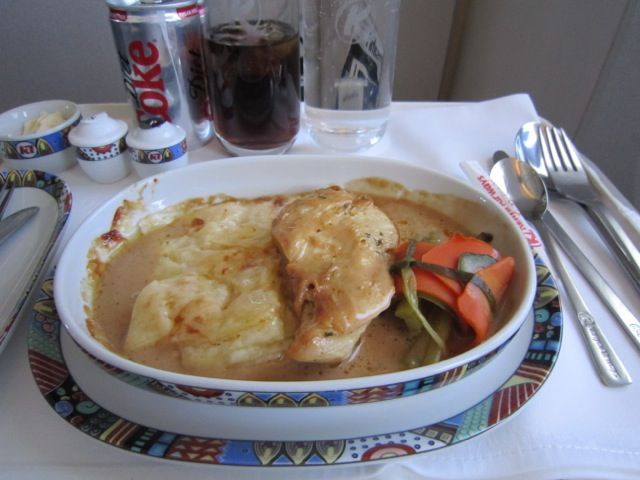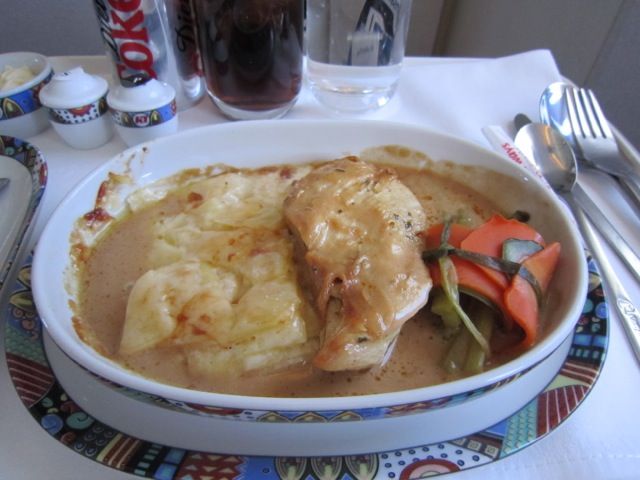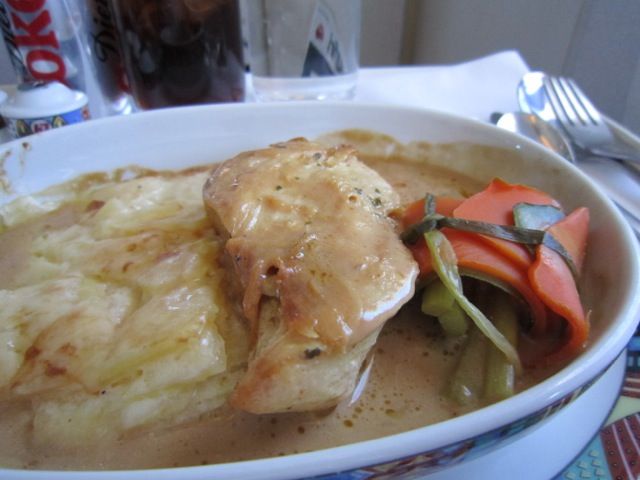 Or
Stir-Fried Plakapong
Oyster sauce, Jasmine rice, red chili and carrots
Or
Stir-fried udon with celery
Sweet and sour vegetables
Dessert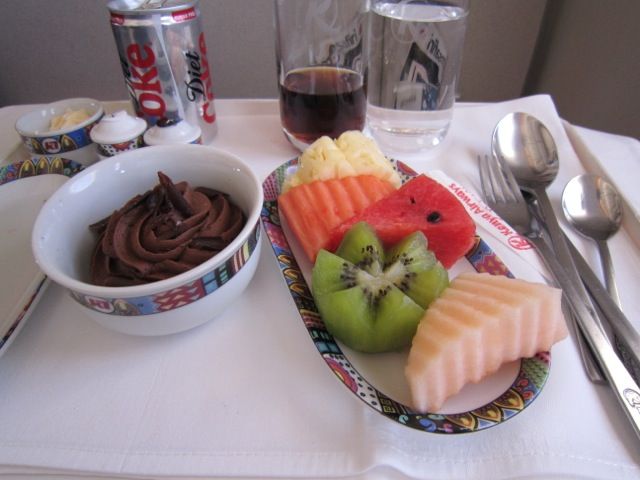 Chocolate Mousse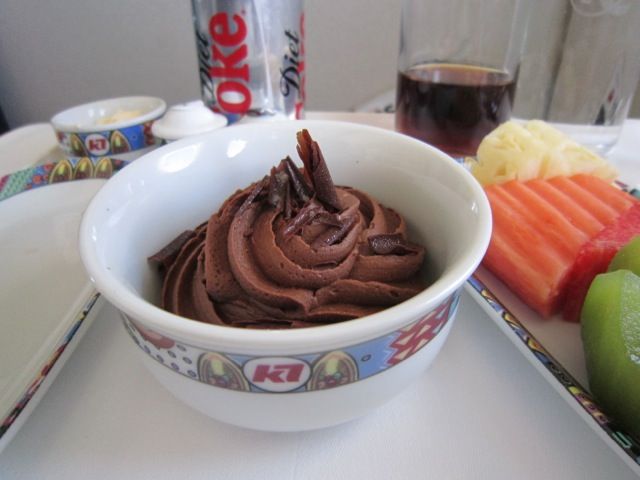 Or
Cheese and Fruit
A choice of farmhouse cheese and freshly sliced fruit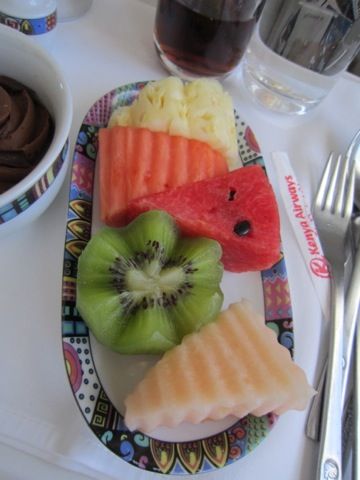 Bakery
Bread and Butter
Assorted bread rolls and butter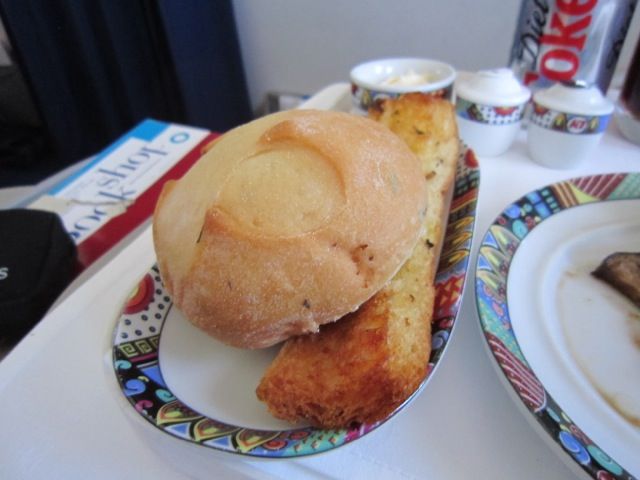 Beverages
Tea and Coffee
A choice of coffee or a selection of our herbal teas
BKK-HKG-CAN'10-HML-JC-R2
Seat in full flat position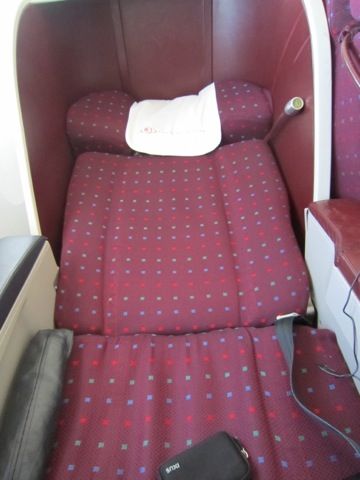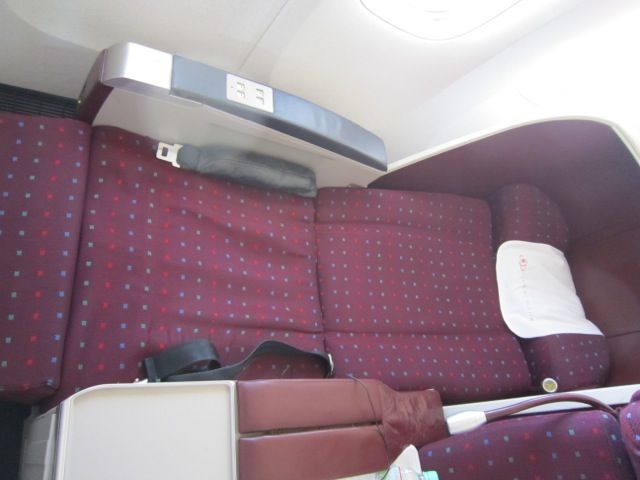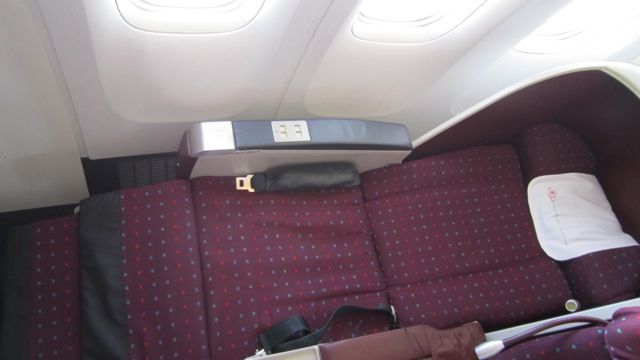 Flight attendants:
All three F/As serving in the J cabin are Thai nationals (and indeed most F/As on this segment are Thai), and they are not overwhelmingly friendly, but average. They were pretty busy throughout this short flight and did not get a chance to rest till the end of the flight.
Descent soon began at 5:05pm (HKG is an hour ahead of BKK), and we did not circle, but were obviously vectoring above the South China Sea. ATC delays were getting more frequent in Hong Kong especially during the late afternoon hours, and our early arrival soon became a barely on time arrival. However we landed on R/W7R, instead of the usual R/W7L. We landed at 5:50pm and parked at our designated gate 47 four minutes later.
Kenya Airways 5Y-KQU at HKG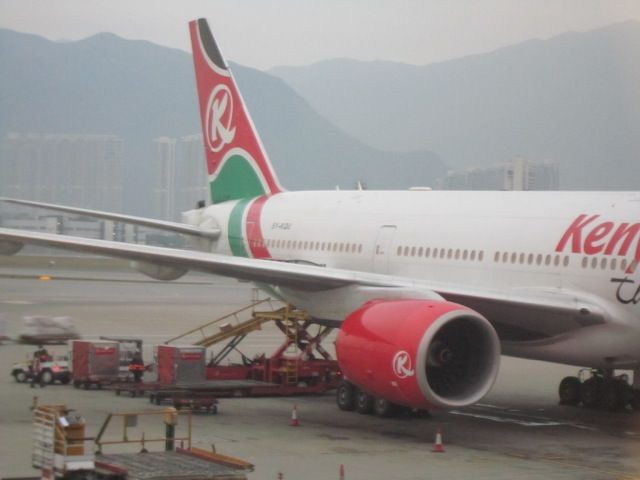 In conclusion, it is an interesting experience, but it is weird that most of the F/As (if not all) are Thai. It is like flying Thai Airways but the F/As are wearing Kenya airways uniforms and being served a KQ meal. Most of the passengers are Chinese and Western national going back to Hong Kong after a vacation in Kenya, plus the cheaper tourist groups from Mainland China. I am not sure that I get the true feeling of flying an African airline, but the experience is on par, and at least it is better than my flight on Hong Kong Airlines a few years ago. The seat is lie flat and I manage to grab a short nap. It is not sliding at all. Some of the features are strangely located but they are okay. Not sure if I want to fly them on a long haul flight, but if it is discounted enough, it is okay.
I hope you enjoy this series of Skyteam partner trip reports!
Carfield