Part II: calm after the storm
Preamble: This is the second-installment of my Trip Report round-trip from Seattle to Manila, and a continuation of the outbound journey after arriving into NRT from SEA on the All Nippon 787 flight (that has been indefinitely pulled from service at the time this was published). I highly suggest reading the first report here to get the full background details surrounding the impetus for this journey.
However, if you're pressed for time, here are the high-level important details to know off the bat:
My friend (anet username Chicawgo) and I were traveling from Chicago to Manila, but had booked separate tickets from Chicago to Seattle and Seattle to Manila.


We had flown on separate flights from CHI to SEA, on separate airlines, although leaving 30 mins apart. I was flying Alaska on a Delta award ticket; he was flying revenue on United.


His outbound flight on United had been delayed four hours, resulting in a missed connection in Seattle. I received this notice upon landing in Seattle, and was forced to travel to Tokyo alone. He somehow finagled a way on a nonstop flight from Chicago to Narita.


We were supposed to meet in NRT and travel together onward to MNL, and had gotten upgraded on the NRT-MNL sector on ANA to J-Class (we had both been notified of this at check-in, prior to the day-of-travel fiascos).


However, seeing that he had failed to show up for his outbound SEA-NRT flight (on ANA ticket stock) there was general fear that his onward NRT-MNL segment could be pulled, or J-seat removed.


My return trip to SEA from MNL was to be on the United "island hopper" but that is to be published in a later TR, not relevant to this edition.

For kicks and giggles, here is the full routing, courtesy of Great Circle Mapper, and the itinerary as it was purchased and ticketed via Expedia:
Outbound:
ORD-SEA-NRT-MNL
Inbound:
MNL-GUM-TKK-PNI-KSA-KWA-MAJ-HNL-LAX-SFO-SEA-MSP-ORD
Nuts, isn't it? Time travel and everything. Boy, was getting on the phones with res agents prior one confusing process.
Fast forward to the point in the journey when I was two legs down, one to go en-route to Manila, and I had just completed my first full transpacific crossing (on the 787 Dreamliner no less!)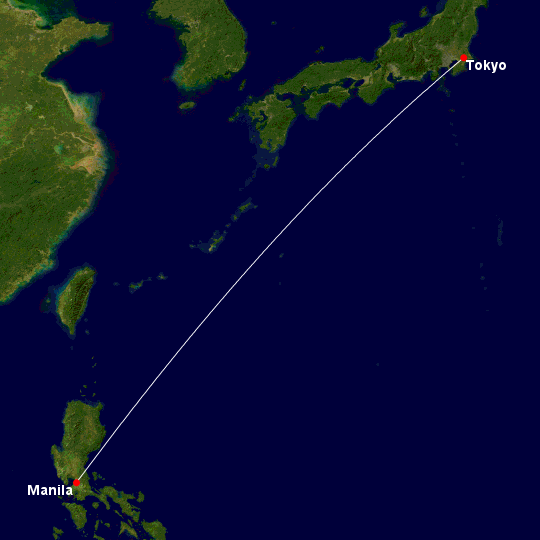 Narita Nightmare
Landing at Narita, I felt a pit in my stomach. The 787 journey was over and I needed to find my travel companion, Chicawgo. As I mentioned in the previous TR, I knew he wouldn't be a happy camper about how the whole situation had turned out. Even though it wasn't my direct fault that UA had royally f*cked up (again) for him, I felt selfish and guilty for having rode on the Dreamliner without him.
The anxiety in my system was exacerbated by sleep deprivation, as it was now nearing close to midnight per my own USA body clock, and I still had several more hours of travel to go.
On the ground, with iPhone systems authorized to function, I texted Chicawgo immediately, letting him know I had landed, and awaited a response from him.
We arrived at 1 South in Narita, Satellite 4, and proceeded to deplane. Fortunately, the inbound NH1077 from SEA had arrived 38 minutes earlier than the scheduled arrival time of 15:45 PM local time, allowing me a little extra wiggle room for the connection. Chicawgo's flight was originally supposed to land prior to mine from ORD, but since we had landed earlier, he was likely still in the air.
Meanwhile, I proceeded to the Transit Inspection centre at Narita, which was a complete and utter disaster. Virtually every inbound flight from the US and Canada was arriving at that time (Washington, Houston, San Francisco, you name it) and the queue was long. It took roughly 30 minutes alone just to clear the inspection, which was tedious and grueling. My patience was running dangerously low.
Still no text from Chicawgo. Turns out, the little runt had forgotten to call Verizon to authorize his ability to send international texts. However, not knowing this at the time, I really started panicking. I knew that my best bet was to head to a lounge, any lounge, of some sort, connect to WiFi and get more information.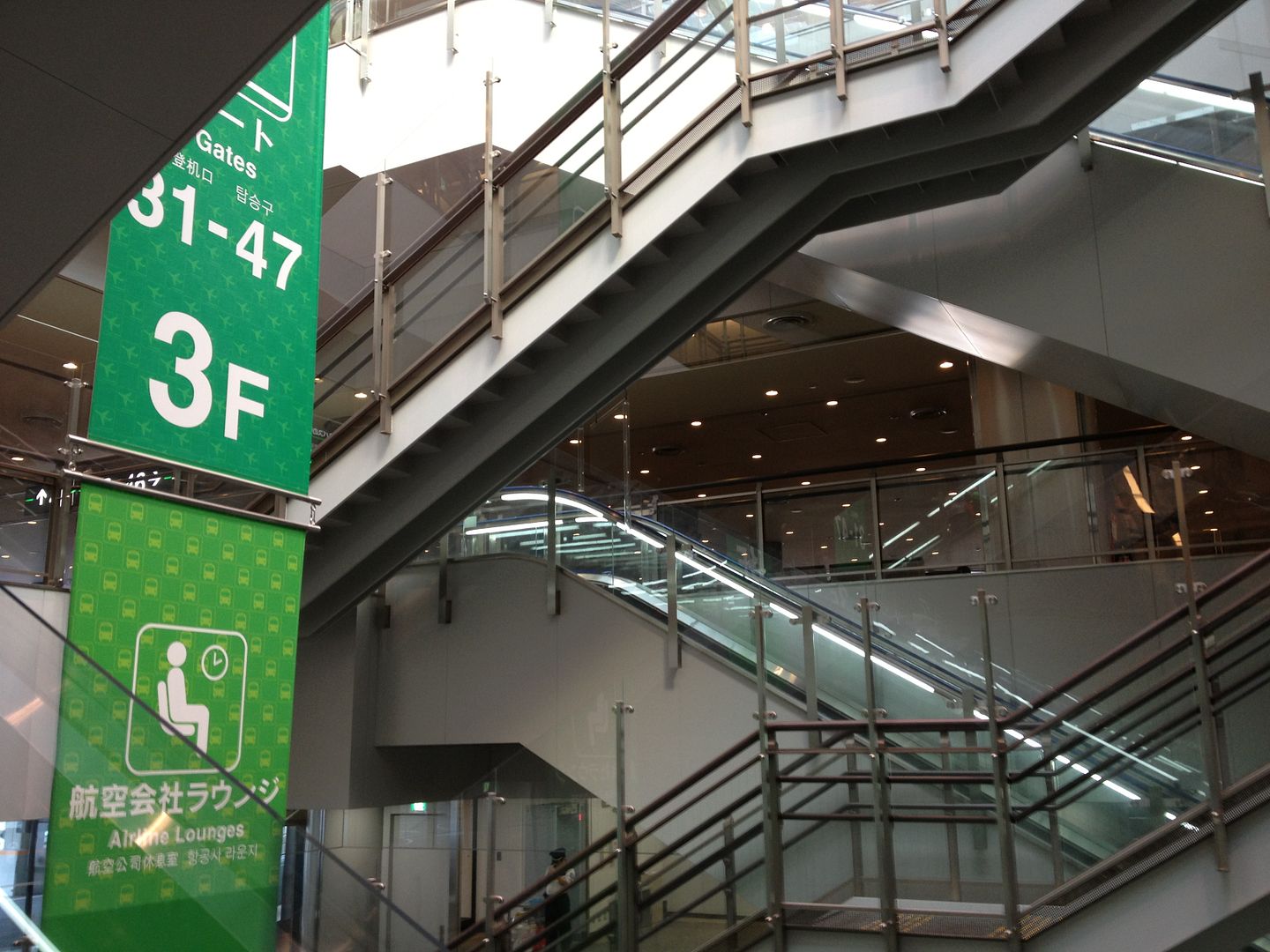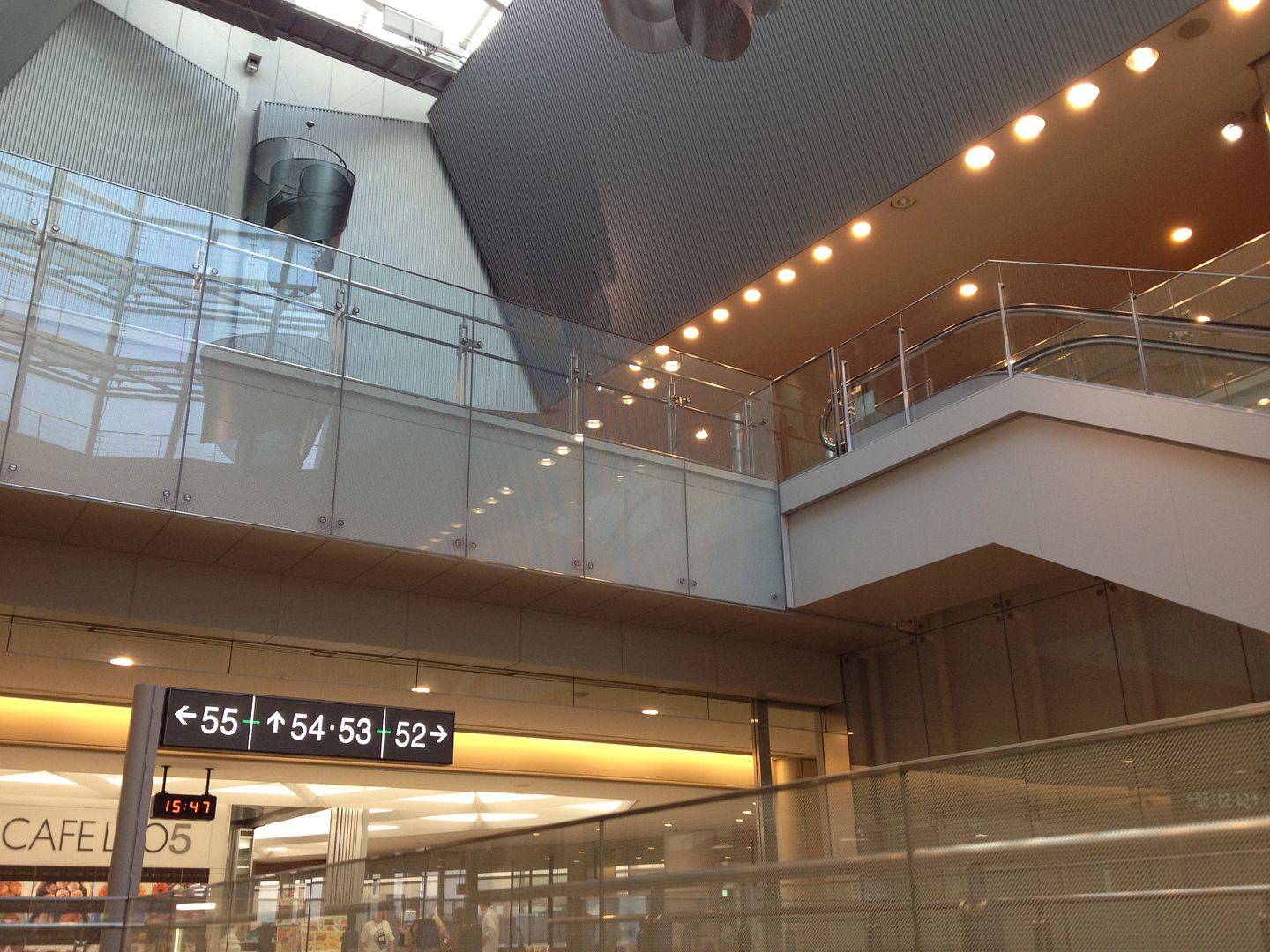 At Satellite 4 at Narita, I entered into the ANA lounge on the Second Floor and displayed my J-Ticket boarding pass, UnitedClub Card, and the beautiful, super friendly lounge agent advised me to proceed to the #5 Satellite lounge, as it was closer to the departure gate for my MNL flight. I thanked her and walked through the underground connecting passageway.
Ordinarily, I would have found this to be fascinating, with all the cool lighting and architecture. Instead, I was frantic and felt helpless.
In hindsight, the connection between Terminals at NRT was not all THAT confusing, but I knowingly made a bigger issue out of it in my head at the time. I was probably just very disoriented, tired and confused, not to mention overly dependent on asking for directions and assistance. I probably just felt overwhelmed by the time crunch (even though it was not all that bad) and grew paranoid by how much walking and shuttling between levels.
During my youthful days, I used to study airport maps and would know my way around terminals and concourses at global airports like a pro. Perhaps I've completely lost that touch, or I just did not prepare in advance. Needless to say, I was on the verge of a freakout because I felt like I would never find Chicawgo and he would probably waste away in the desolate land at Narita (over-dramatization). To his credit, he is better at directions and figuring out confusing passageways more so than I am.
It also probably doesn't help that I was accustomed to traveling with my sister, aka the Princess, after many journeys earlier that summer. I was equating all human travelers and companions to have her low-level of intelligence when it comes to street smarts and directions (she is actually quite brilliant book-smarts wise but also is just a chick
).
Thailand Adventure: DEL-BKK-USM On TG And PG
The ANA Lounge: An oasis in the desert storm
Minutes later, I found myself at the Satellite 5 lounge desperately asking for the counter agent to check and see if the UA flight from ORD had landed and if there was any way to check and see if my buddy had made his way into the lounge, or checked-in somewhere (it had been an hour since I'd landed and no responses from him). Imagine me, tired with blood-shot eyes and bags begging for answers, all the meanwhile stuffing my face with Japanese hard candy placed in a dish at the counter for solace.
Despite my best intentions, everything was completely lost in translation and I just said forget it and entered the lounge, hoping the Wi-Fi would bring me to some realization.
In a perfect world, the ANA lounge experience would have brought me comfort and escape from the crazy world I live in. The grandiose room radiated of simple elegance: porcelain tiles and sleek-black wood wall panels that formed private cubicles and sofas. The beautiful fall afternoon in Tokyo brought in streaming sunlight, as though dusk would bring an exciting adventure such as a football game or Halloween festivities.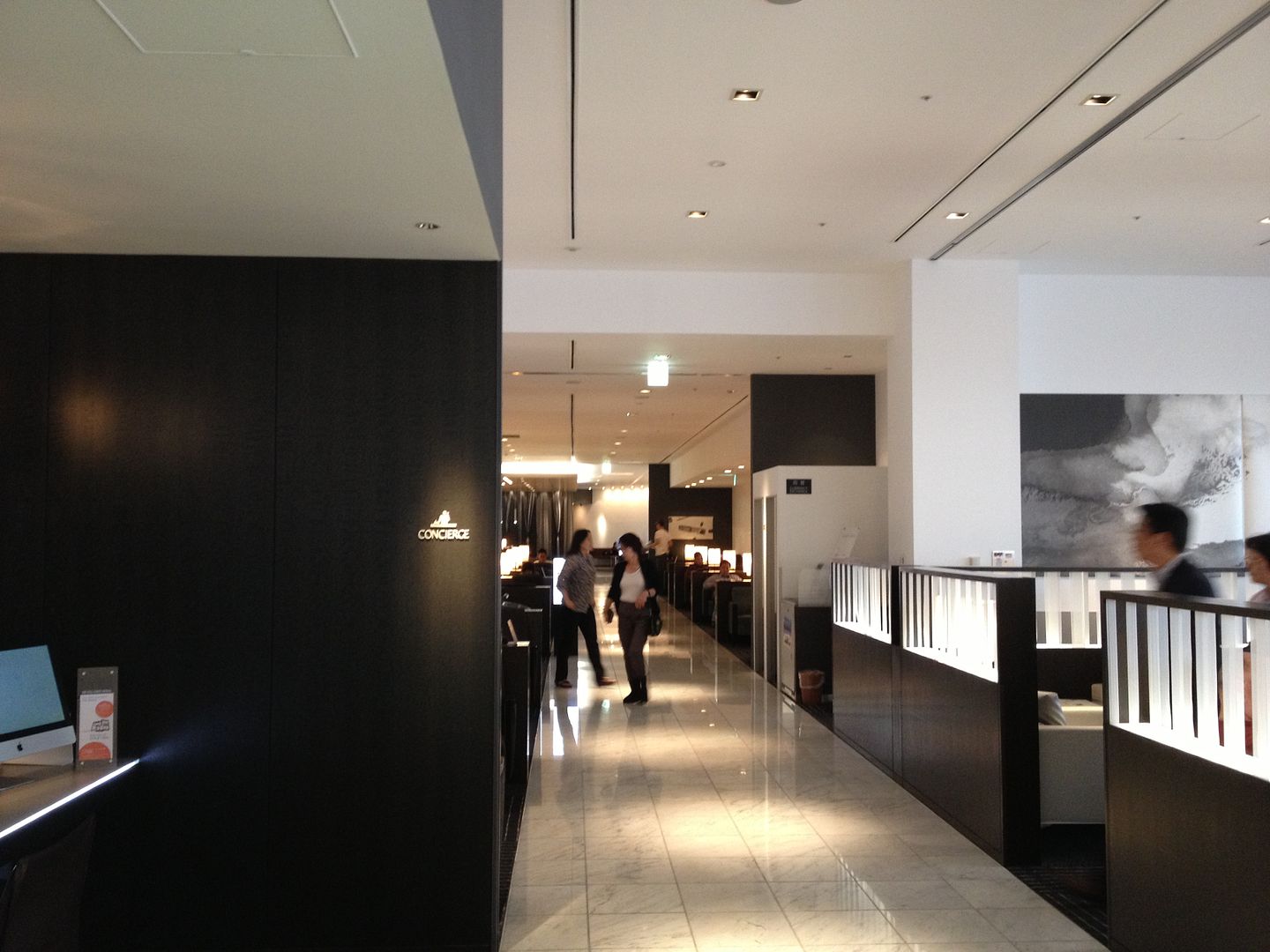 The irony of it all was that the lounge was packed with Westerners. I might as well have been in LAX or YVR - the lounge was probably 85% full of mostly caucasians. Insane! Announcements were being made for AC flights leaving for Canada and NH flights to the US and Asia.
The food spread was beyond unbelievable - completely knocked any UA Club out of the water. There was everything from fresh sushi to soba noodles, salads, juices, fruits, finger sandwich trays, desserts, ice creams, sorbets, sweets - you name it. There were beer dispensers as well as hot and cold sake.
But my thoughts were elsewhere: I half-mindedly filled up a plate with a random assortment of eclectic items, grabbed a beer and connected my iPad and iPhone to the Wi-Fi, nervously checking every few minutes to see if I could get some sort of communication from Chicawgo.
Miraculously circa 4:10 PM local time, I finally got a text from Chicawgo:
"WHERE ARE YOU!!!!"
I had braced myself for this, but I told him I was in the lounge, to which he responded.
"Beyond frustrated. I'm about to turn around."
It was honestly the last thing I needed to hear at that very moment, but that is best friendship. It has to withstand the forces of evil even when you're hanging by a thread.
I told him to meet me by the entrance. Once I saw him, he looked like he was ready to explode. In his defense, he deserved to be irate and I was just happy to see him, that was all.
"I lost my upgrade," he said.
When he went to the ANA counter to get his boarding pass for NRT-MNL re-issued, he has lost his J-seat.
I knew it was the final straw that broke the camel's back. Poor guy had just flown in from Chicago on a 747-400 without a PTV in Economy Minus. On top of everything, ANA had given his J-Class seat away on the NRT-MNL segment because he hadn't appeared to check-in for the SEA-NRT flight that was on All Nippon ticket stock.
To this day, we still do not know how that upgrade happened, but Chicawgo made a good point: it was likely due to a system error, and once it was discovered (or lost), it was non-recoverable.
I offered to give him my seat, but he wouldn't take it. He was completely depleted at that point, so I resolved to take charge of the situation, rather than create a scene at the lounge.
Our MNL flight was pre-boarding at gate 58, so we headed down to see what could be done.
At first, the gate agents were not understanding - insisting that J had been sold out (which turned out to be untrue as load was only 50%). Chicawgo simply did not have the energy in him to present his case. When I finally stepped up and said that he had a confirmed J-seat, and that he had been removed from the system, somehow, through the graces of the Universe, the light clicked on in the agents head and they issued him a J-seat in 7G - right next to me!
With that situation under control, we could relax and get ready to be on our way to our final destination, after all of that drama.
On board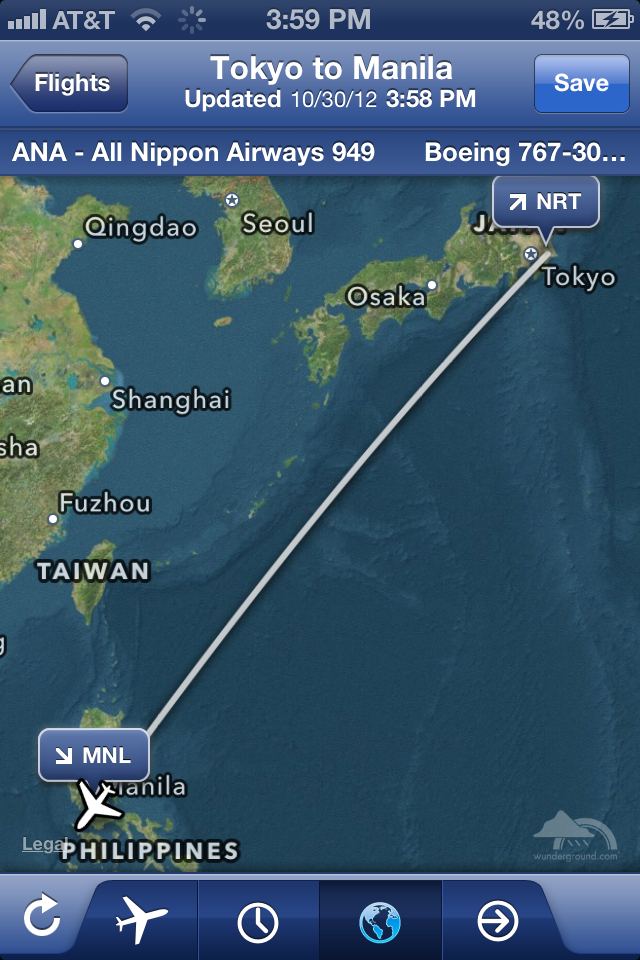 It always amazes me how many people in Asia love to use SSR requests. Pre-boarding took longer than usual given the sheer number of passengers using wheelchair assistance on this flight.
The queueing process looked like it could have been a disaster given the number of people that thronged to board the flight. It appeared that the flight was a good mix of Westerners and Filipinos, along with a few random Japanese tourists likely heading down to the Philippines for vacation. Despite the madness of boarding, ANA properly insured that boarding was done in a civilized fashion and that J-Class and elite members boarded first.
ANA's 767-300s on Air Japan have two-versions: an older product with recliner seats in J (which we were on) and a newer model with angle-flat seats, in a 2x1x2 seating configuration. Menus for the 3.5 hour flight were placed in the seat pocket and were branded specifically for this flight to Manila
A little trivia about ANA 949/950: the flight is actually only 2 years old, having launched on February 27, 2011 and celebrating its two-year bday as I write this! There are 35 J seats on this plane, and 179 seats in the main cabin. The flight RONs at MNL and returns to Tokyo the following morning, departing MNL at 9:50 AM local time and arriving into NRT at 14:55, perfectly timed for the evening bank of east-bound departures back to North America from JV partner United Airlines and Star Alliance partner Air Canada. It is covered under the TPAC JBA between UA and NH and marketed as a United Airlines flight.
There have been rumblings that ANA sees itself as the next major network carrier to compete with the likes of EK, EY, QR and TK over its NRT hub to siphon traffic between the US and Asia, particularly targeting the Indian subcontinent. Consistent with this "concept" was the inclusion of details on the menus such as publicising the new Seattle - Narita, Delhi - Narita and Yangon - Narita flights.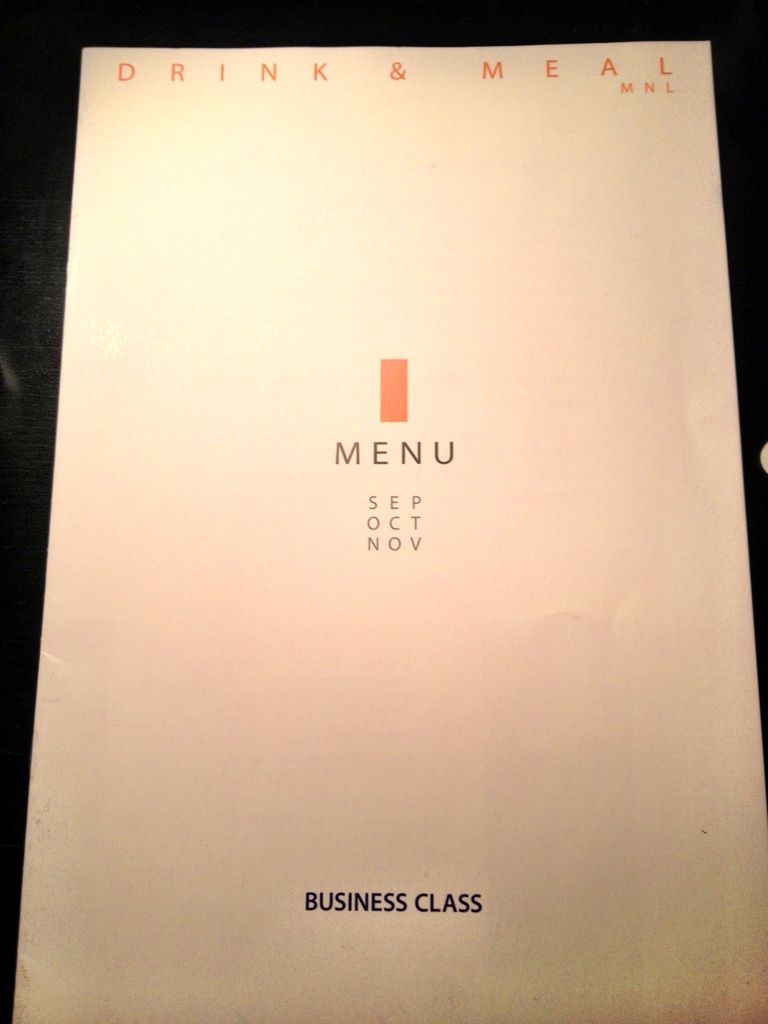 Although it was older, the J-Seat was comfortable: a 50" pitch with 20" width and a footrest. The PTV system, known as "ANASkyMaster1" offered AVOD, but it was outdated and clunky (basically the old "swivel" version that is stored in between the seats and truthfully, never works). Mine pretty much blew out mid-way through the flight, which became a moot point anyway since I wound up crashing.
There were no pre-departure drinks served on the ground, but the FA's were undoubtedly cheerful and, simply put, were probably the best collection of cabin crews I had ever flown with in my entire life. Never once did they stop smiling. Immigration cards were distributed on the ground and pushback was approximately 15 mins behind schedule.
Ironically, despite the backwardness of the PTV system, NH displayed the tail-view cameras on the main cabin monitors during take-off, much to Chicawgo's delight, since he had never seen such a thing.
In-Flight
Once in the air, and at our cruising altitude, we perused the extensive J-Class menu. For a 3.5-4 hour intercontinental flight, ANA certainly spoiled their premium class members with the catering selections offered.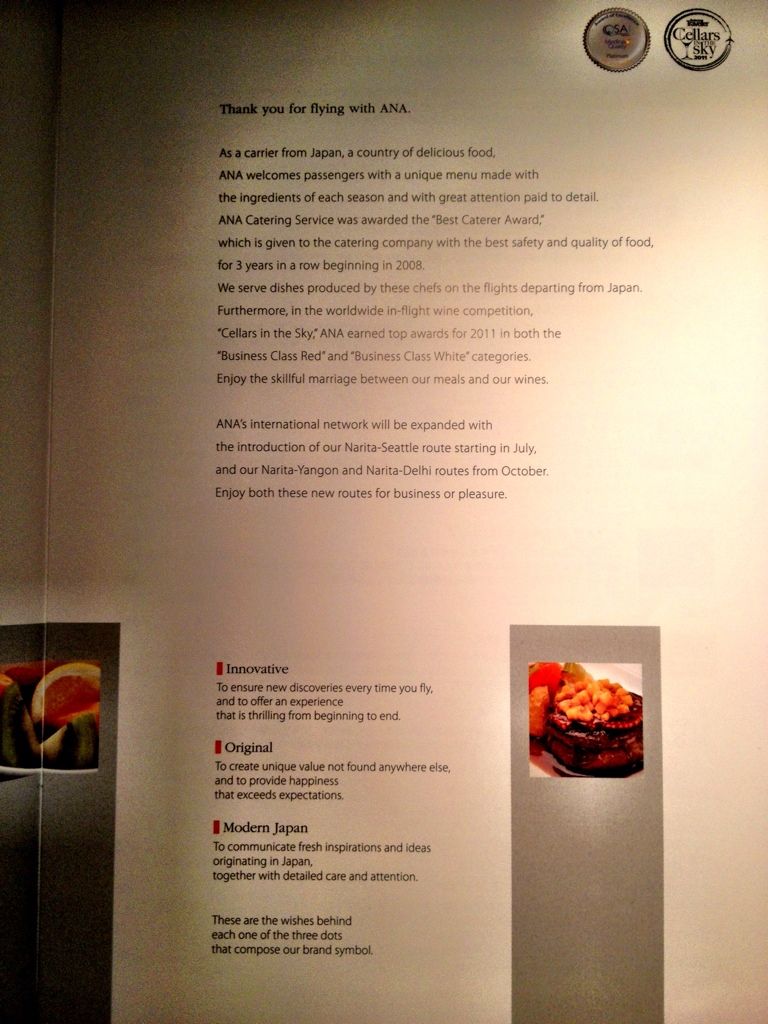 On today's flight, there was a selection of sparkling, red and white wines, along with Sake and Shochu. Traditional Spirits (Chivas, Jack Daniels, Gin and Absolut), Beer (Asahi I presume?) and soft drinks were available, along with an extensive list of Teas. There was also a robust list of Aperitifs and Cocktails available on the menu, including Dry Sherry, Campari, Bloody Maries, Screwdrivers, and Umeshu (Plum Wine), the latter which I sampled.
This could be a really fun flight! Chicawgo and I each enjoyed a bottle of Heidsieck and Co Monopole Blue Top Brut, which was served along with some rice crackers.
Below are the menu selections on today's flight - month of October. Apologies for the blurry photo!!
Meals were dichotomized into a J-offering and a Western offering, separated into three courses, although served all at once. Similar to the previous flight, ANA provided calorie counts for the Western and Japanese options.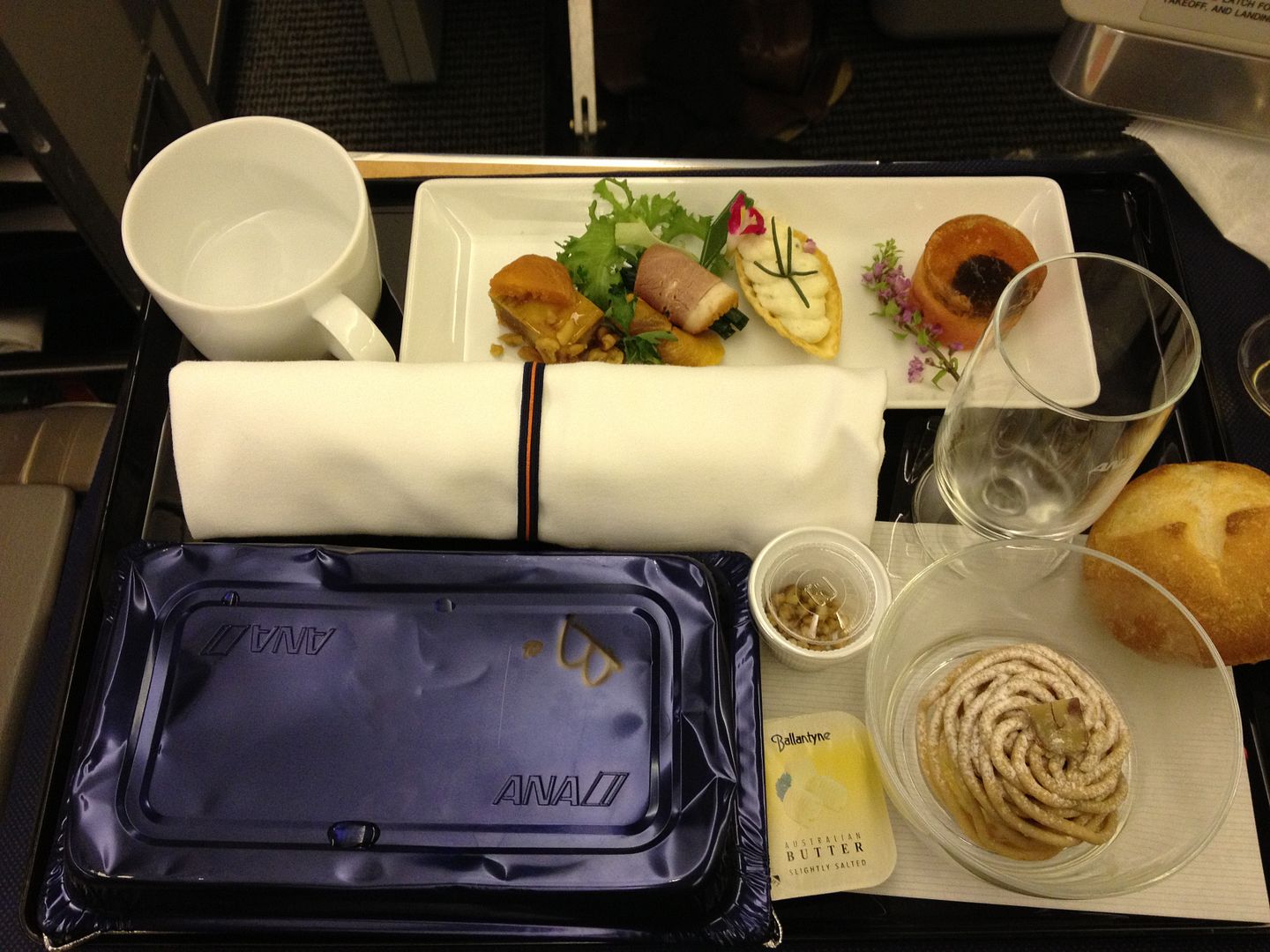 The appetizers consisted of four elegantly-prepared canapes: the first being a Foie-gras Brulee with Dried Apricot and roasted walnut. The second - smoked duck breast and dried persimmon brochette. Third: a sea bream brandade on baguette, and finally a smoked salmon and dill mayonnaise aspic.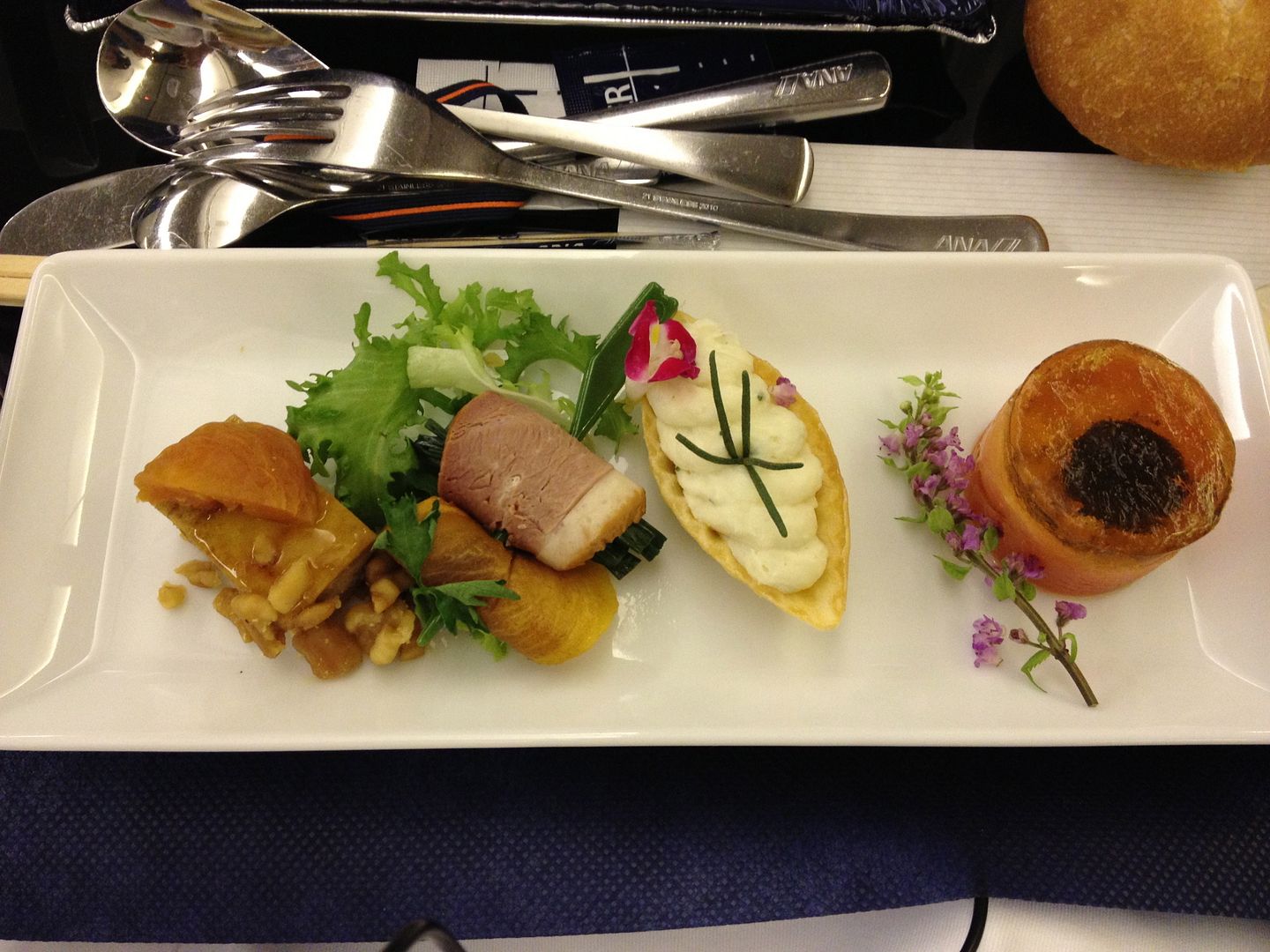 Of the four items that arrived on the tray, I was able to identify two of them that matched the menu descriptions, as there were undoubtedly two wild cards that seemed off-place. Regardless, they were delicious and presentation was beautiful. Unparalleled to any prior dining experience on an airplane.
For the main course, I had selected the sauteed golden-threadfin breen on risotto, which came with a nice roasted tomato, broccoli and cauliflower. A nice, healthy departure from traditional calorie-laden entrees (this was Japan after all) and the risotto tasted fresh and was cooked perfectly.
Finally, to conclude the meal, ANA provided a Mont Blanc, something that was also served on LX J-Class a few months prior flying from Delhi to Zurich. (TR =
here
As if that was not enough, ANA distributed those individual Haagen Dazs Vanilla Ice cream containers, along with offering Tea and after-dinner drinks. I decided to step outside my comfort zones and order an Umeshu (plum wine) which was, simply put, the final installment to categorize this entire in-flight dining episode as a religious experience. Every interaction with the flight attendant was met with a, "sure Sir," "absolutely, Sir," "may I bring you anything else, sir?" These beautifully dressed, stunning flight-attendants restored my faith in air service.
At this point, roughly an hour and a half in-flight, I reclined my seat to its fullest potential and attempted to use my PTV screen, which malfunctioned almost immediately to nothingness. Once the FA profusely apologized and said nothing could be done other than changing seats, I politely declined and attempted to sleep, upon which I crashed, immediately.
I slept for the remaining duration of the flight until roughly 30 minutes prior to landing. Due to headwinds, we would be arriving in MNL about 9 minutes late. I paid a visit to the J-CL bathroom which was stocked with toothbrushes and other amenities for the long-haul flight.
Descent and landing into MNL was easy and smooth. Due to the late night arrival, not much could be seen outside the aircraft, but I was more concerned about clearing immigration and getting a cab to Makati.
Arrival in MNL
A friend of mine living in MNL had warned me that it is the world's worst international airport - especially, Terminal 1. Apparently, he has had several valuable items looted upon arrival, and even worn clothing (taped) was taken.
Ninoy Aquino International Airport, or NAIA, has seen explosive passenger growth over the past 3-4 years, propelled largely due to the growth of LCCs serving the airport. NAIA ranked 46th in 2011 on the list of largest global airport rankings by passenger movements, and within a single year, moved up a whopping 8 spots to take the #34th position for 2012.
Again, due to my lack of research, we were surprised by fortunately flying into the pristine Terminal 3 at MNL, which, unbeknownst to me, is a cesspool of political controversy given that ANA is the only foreign operator into NAIA-3.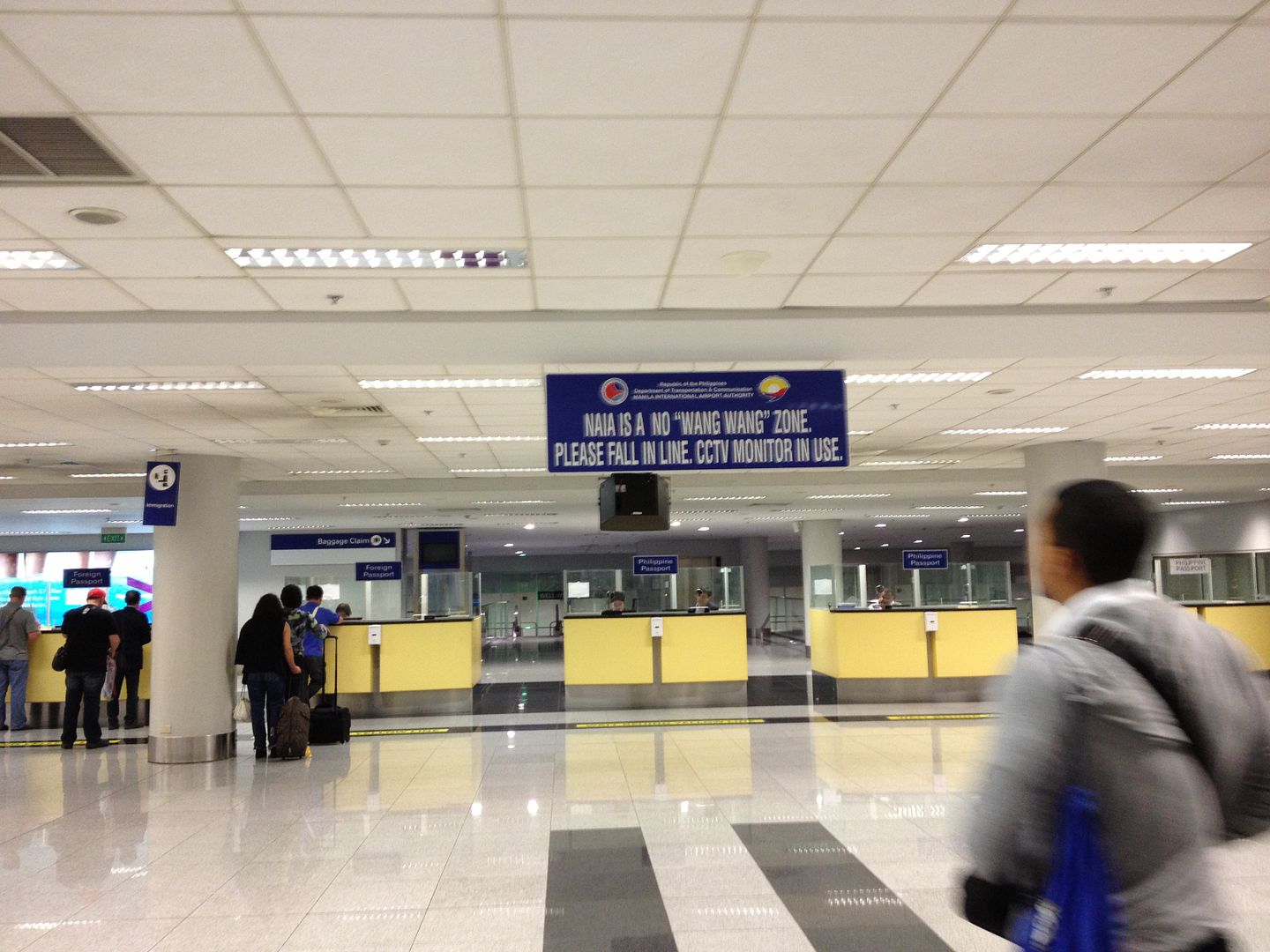 thought this was funny = turns out it is a warning raised by airport officials against travelers who jump the queue to get ahead of the others at the airport terminals. "Wang-wang" mentality/culture refers to people who wish to abuse their power to get special treatment over others. Very interesting way to be greeted into the Philippines.
The terminal opened in 2008, after nearly a decade of construction, and goals to have all foreign carriers transfer operations to the terminal have still yet to be met. Cebu Pacific, PAL Express and Air Philippines operate all of their international and domestic flights out of T3. It was just timely that ANA launched its new NRT-MNL service in 2011, allowing it leeway to fly into NAIA-3. Rumors continue to circulate that EK, DL and CX will move from T1 to T3 this year, but no signs of that have shown yet.
Quite sad, IMO. I will go into T3/T1 more into the next installment of this TR.
Having no checked luggage, and processing through the fastest immigration service I had ever encountered before, we exited the mall-like terminal and kept mindful watch over Taxi scammers. My buddy had said that MNL is a breeding ground for charlatans to take advantage of delirious Americans after a long journey, so we proceeded straight right towards the regular yellow cab line and took a regular metered cab to the Shangri La in Makati, which costed us approximately 250 Philippine Pesos (~$6.50 USD).
The men who had been shouting to us offering their "discount fares" were charging something like 750-1000 PhP. Psh.
Overall Impressions and final notes
This was arguably my first "premium class" experience on an Asian carrier in the medium-haul sector (Air India notwithstanding). I couldn't believe how lucky we were to have this upgrade opportunity as it was truly world class.
The soft product was simply unbelievable. ANA, by far, has the friendliest, most helpful set of crews in the world. Simply blows their competitors out of the water. If I lived in Asia, I cannot imagine how spoiled I would feel.
Hard product left a bit much to be desired. The seat was roomy and not uncomfortable, and I of course do not see the need for having a full-flat seat bed on offer for a 4 hour flight. The PTV screen, however, was clearly very old school, first-generation and the audio and visual quality was far past its prime. Big thumbs down here.
Catering: probably my favorite aspect of the flight: adventurous without being pretentious. Indeed, a fine dining experience beyond all means. All Nippon understands that it sets the service benchmarks fairly high for both intercontinental and intra-Asia air travel, particularly between the US and the Asian interior, and the airline strives to go beyond expectations here.
Sadly, this was probably the only tranquil flight that seemed to be the most drama-free of any of the overall journey. There is more to read in the third and final installment covering the Island Hopper and subsequent voyage back to the US. I hope you enjoyed reading this sector, as it was a bit smoother relative to the prior version. Thanks very much for reading and comments are always appreciated!
Best,
IrishAyes
Bonus material: Manila
I was shocked by how much I enjoyed Manila. I feared it would be similar to Delhi. In a dramatic turn of events, I found the entire Filipino culture to be engaging, hospitable and upbeat. Manila reminded me of India back in the late 1990's/early 2000's, before the whole "westernization" transformation grabbed the subcontinent by the throat and turned it into the miserable power trip that it is today.
There is no denial that Manila is rife in dealing with problems related to corruption, traffic, pollution, prostitution, poverty gaps, etc. Regardless, what makes the journey worthwhile is seeing that people from all walks of life have smiles on their faces. Mind you, this is a few short months after a major flood, yet its civilians were already back in their habitual modes, trying to make the most out of life.
The Skyline in Manila is simply breath-taking. Similar to GRU, it is endless, chaotic and unaesthetic. But, if there is a will, there is a way. The city is constantly on the rise. Foreigners continue to come pouring in hoards, and Manila and its citizens greet them with open arms.
Makati is worth strolling around for no more than a day or so. It is obviously a safer haven for diversion and residence, but like any recently-developed part of a major city, it is anti-septic. After a day, you realize you might as well be in Las Vegas considering it is filled with endless high-end strip malls and pedways replete with Pinkberry, Gucci, T.G.I. Fridays, and Burberry. You'll see casual Americans, Westerners, Asians and wealthier locals, but few people actually appear to be BUYING anything in said stores, as prices are on-par, if not higher, than back in the States. I can see why this would be a haven for people coming from HKG or SIN, however.
The real adventure was stepping out into Manila itself. I had the chance to cover much ground, thanks to my local contact in Manila, who took us all around the city: Chinatown, Spanish Fort, the Bayleaf Intramuros, the Red Light District, on a Jeepney, and just about everywhere in between.
Enjoy
Captions:
Makati Shangri-La
Captions:
Indian food station at the Makati Shangri-La Brunch. Unreal
Captions:
Lobstah! Makati Shangri-La Brunch. Unreal
Captions:
View of Makati from the Gym/Health Spa in Shangri-La.
Captions:
Makati
Captions:
Jeepney: common means of public transportation in the Philippines, originally inspired from the leftover US military jeeps after WWII - we eventually rode on one
Captions:
Delicious Filipino food in Manila
Captions:
Delicious Filipino food in Manila
Captions:
Manila - Chinatown
Captions:
Manila
Captions:
Manila
Captions:
Manila
Captions:
Manila
Captions:
Manila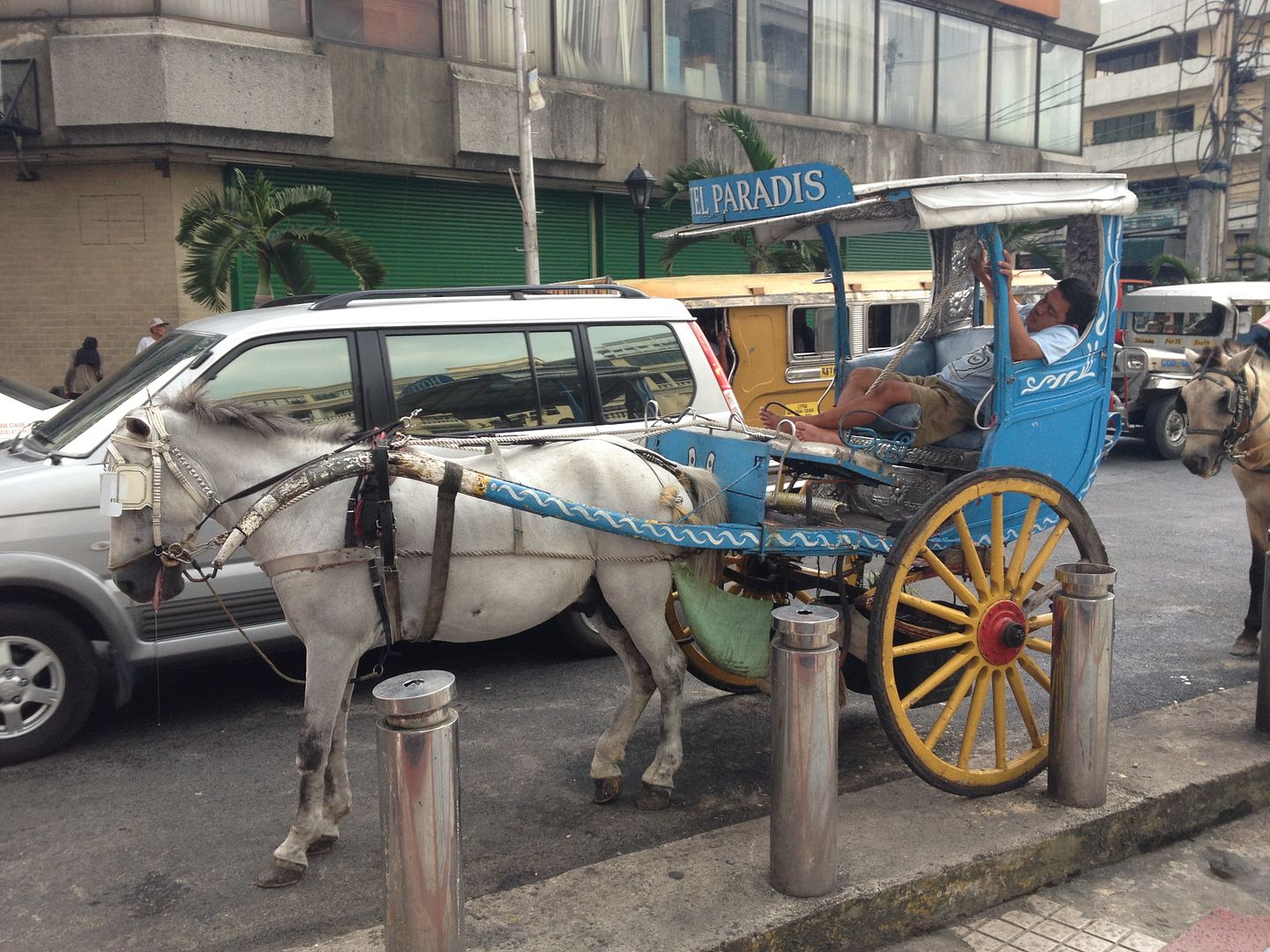 Captions:
Manila
Captions:
Manila
Captions:
Manila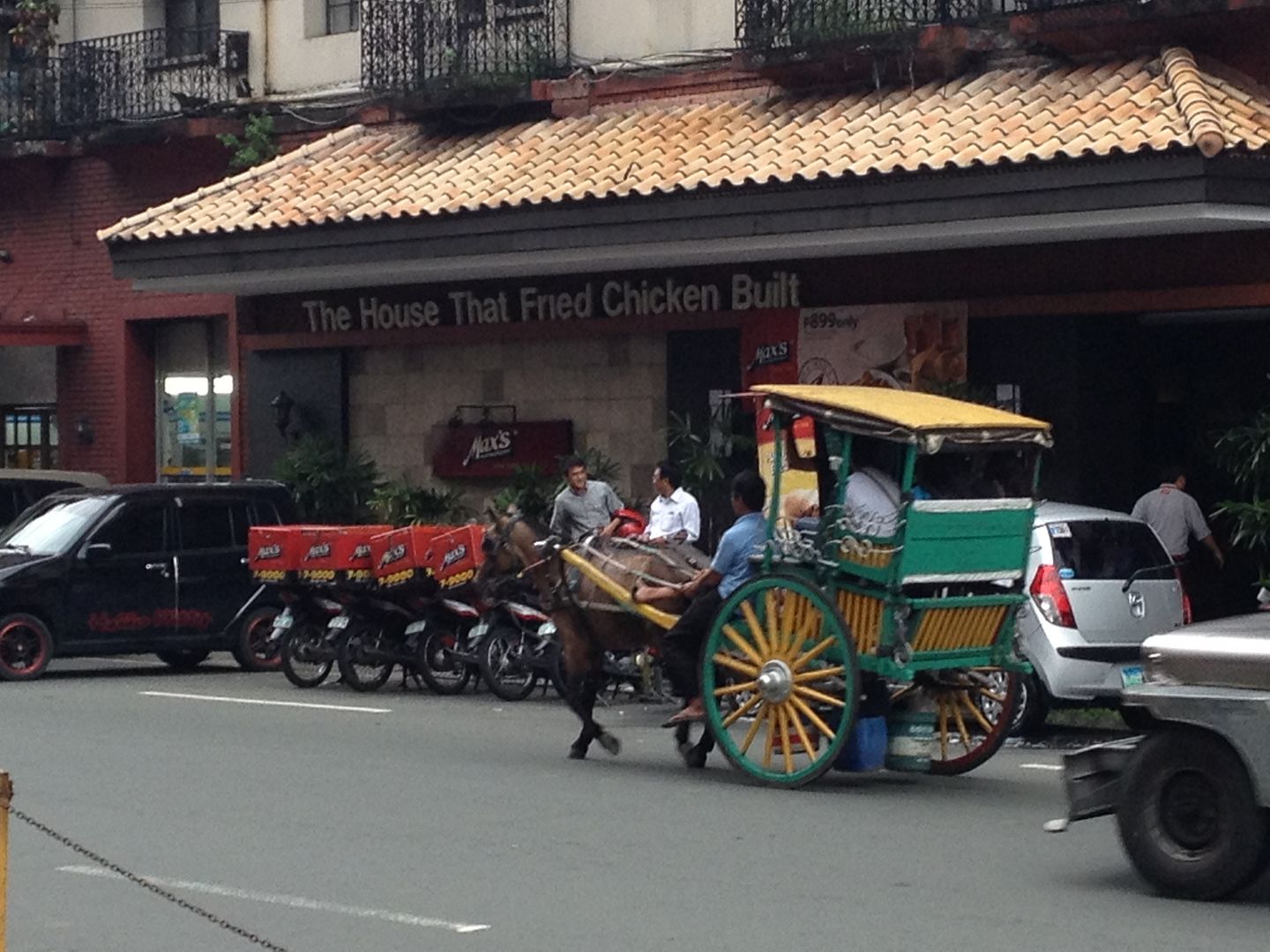 Captions:
"The house that fried chicken built!"
Captions:
Society in contrast: a crumbling building on one side of the street, a Starbucks on the other
Captions:
Spanish fort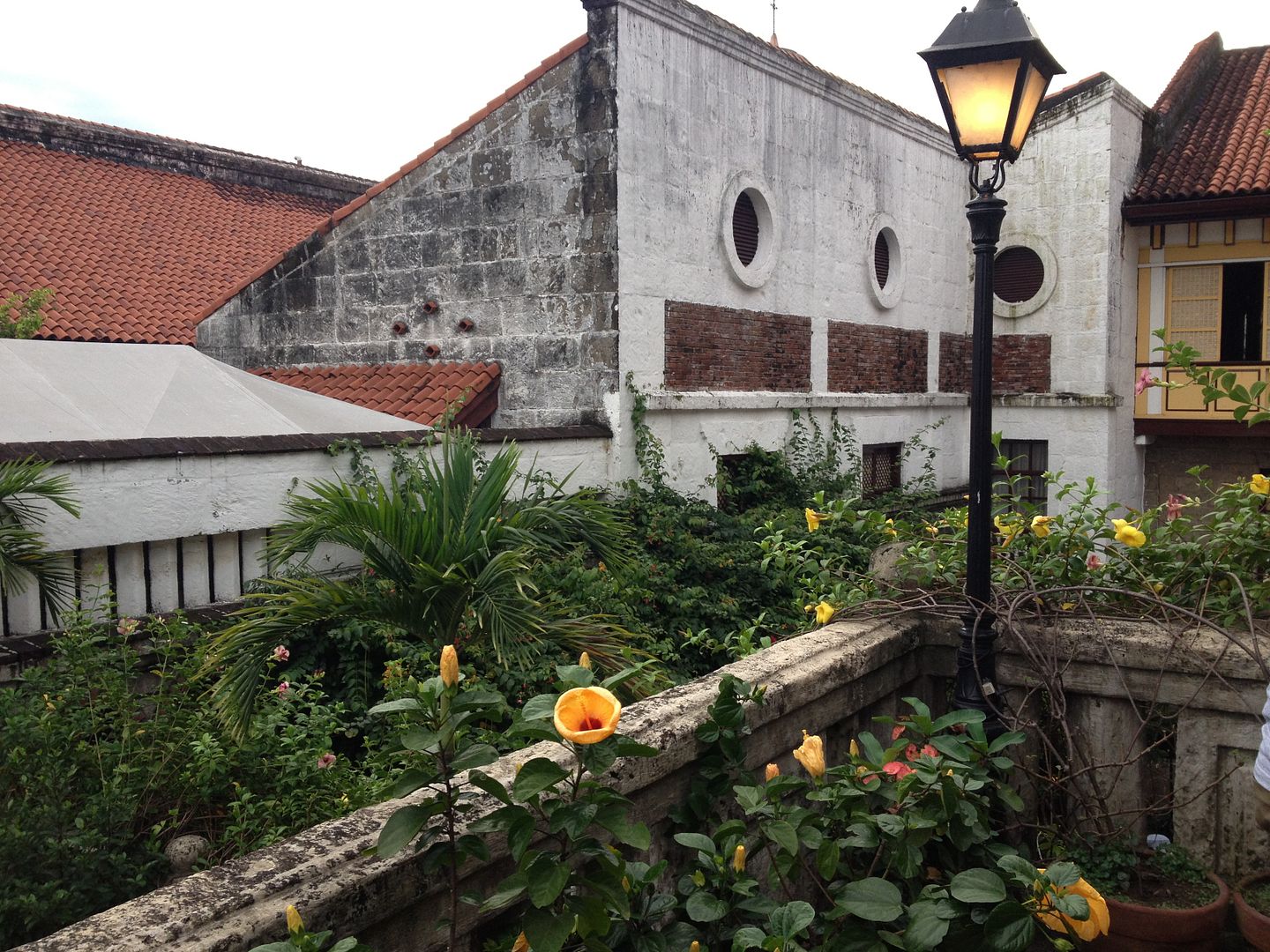 Captions:
Spanish fort

Captions:
Panoramic view from the Bayleaf Hotel Intramuros
Captions:
Check out all of the development!
Captions:
Panoramic view from the Bayleaf Hotel Intramuros
[Edited 2013-02-26 12:13:26]