Hello fellow Anet'ters. Hope you're all well.
Background for this trip.
This is just a weekend break from the normal monotony of life - decided in spending some time in Germany. It's been over 12 years since I last visited Germany, as part of a package tour. Never really had a chance since then, or reason to get back. Although it has always been my fantasy to drive on one of their Autobahns and drive a lap around the Nurburgring, and hopefully sometime in the near future.
The below trip report is on my outward flight on BA and the return on EZY. Apologies for it being a bit wordy, but i got carried away during the first leg of teh trip
Gcmap route map - thanks once again the excellent gcmap, just love It.!
1A. BA: LHR (terminal 1) - DUS
BA 938
Flight reg
g-medn
Airbus A-321-231 (originally with [BD] bmi British Midland; built : 2008; Test Reg: D-AVZK; Delivered: 2008-05-09)
Seat 8F
Load around 75-80%
Departure time 9:10 (9:40)
Arrival 11:30 ( 11:50 )
22 Feb 2013
Already checked in the day before, exactly 24 hours before departure at 9:10 GMT. Isn't it exciting to fly. IN fact I am more excited to go to an airport and fly than visiting the place itself (bit exaggerated, but you know what I mean
). My wife thinks I am crazy!
The first leg of this trip I was going to be flying alone and meeting up with my wife at Dusseldorf, who had reached the previous evening.
Whilst checking in, I had a selection of lots of seats. So decided on checking seatguru and seatplan for advice. Although there seemed to be some discrepancy between what seatguru showed me and the actual seat plan on the check in page. As per the check in page, the exit row was row 10 and the aircraft (A319) consisted of 25 rows. Whereas on seatguru, it showed me that the exit row was row 9 and had a total of 22 rows of seats for the A319 Domestic BA config. So decided on my rule of 'always select the first row' and chose row 8, which looked like the first row of Euro traveller from the flight map. Let's see what happens when I board the aircraft 
Either ways I was very excited as I had never been on a A319 BA mettle. Its always been a B737 for me, on BA, for domestic or European routes. So will be quite interesting to see how the A319 stacks up.
Upon check in I was asked if I wanted to upgrade to club world for an extra £69 which I declined.
Nevertheless, on the day of the travel, woke up early and prepared myself for the trip to the airport and then the flight.
It consisted of a bus trip, followed by 2 tube (metro) trips taking me into Heathrow terminal 1. Reached terminal 1 with a lot of time to spare. Check in was smooth. Passed the security and into the duty free area in less than 15 MINUTES.
Terminal 1 duty free area is Ok'ish. The range of duty free shops is good but a bit too cramped. Since it was a morning flight it wasn't too crowded but I can imagine how it would be if it were peak time.
LHR - T1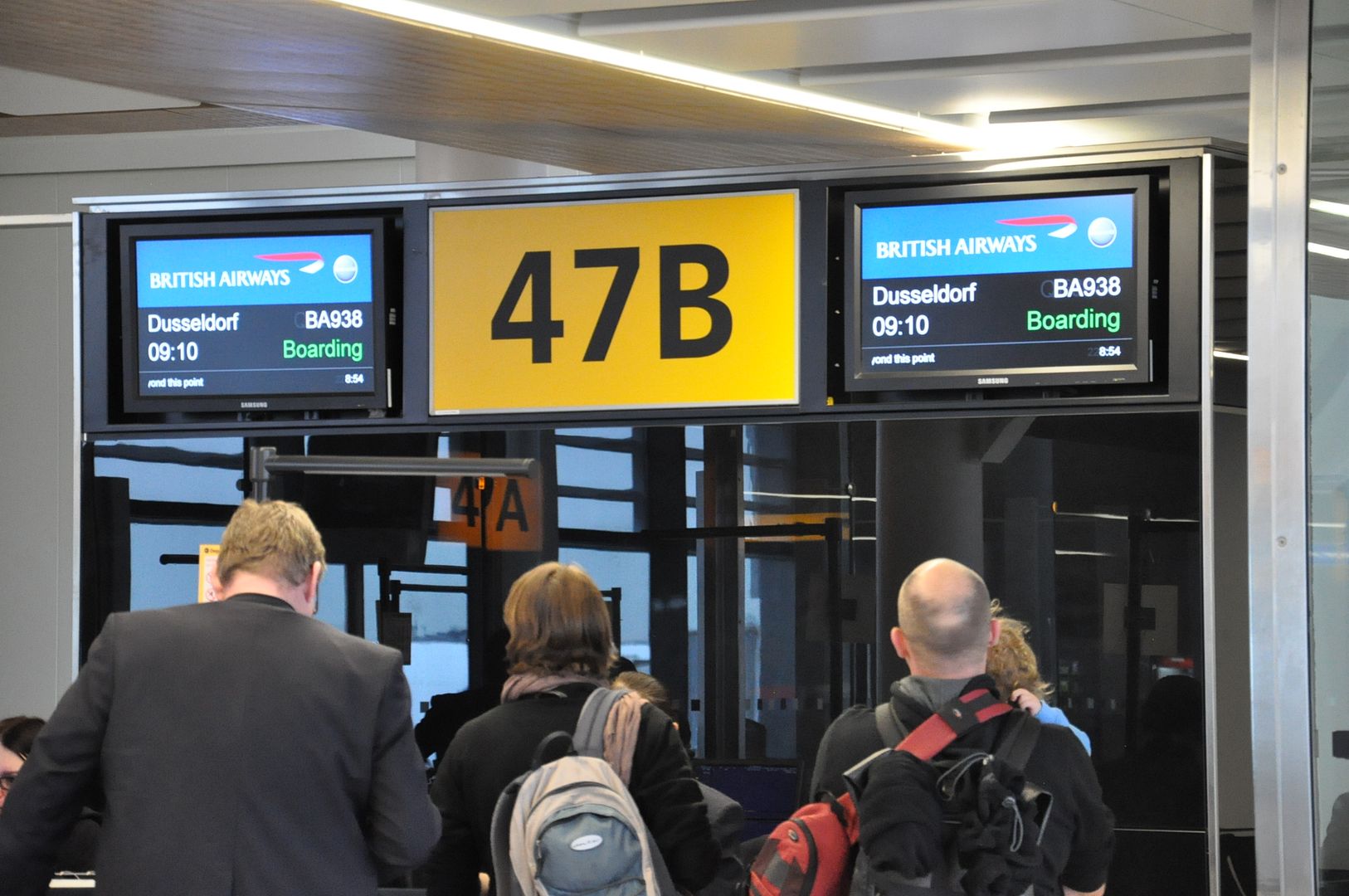 Wandered around for a bit and kept an eye out at the fids. The gate wasn't displayed until around half an hour before departure indicating that the flight could get delayed. Bought a small item for my wife from the world duty free.
Made my way to gate 47 and boarding had already commenced. Through the boarding area and into the aerobridge. Just before boarding I had a glimpse of the aircraft and my first surprise, it wasn't a A319, looked more like an A321. My suspicion was confirmed as soon as I entered the aircraft. A last minute aircraft change it looks like.
Plane spotting at LHR
'The Beauty'
'The GIANTS'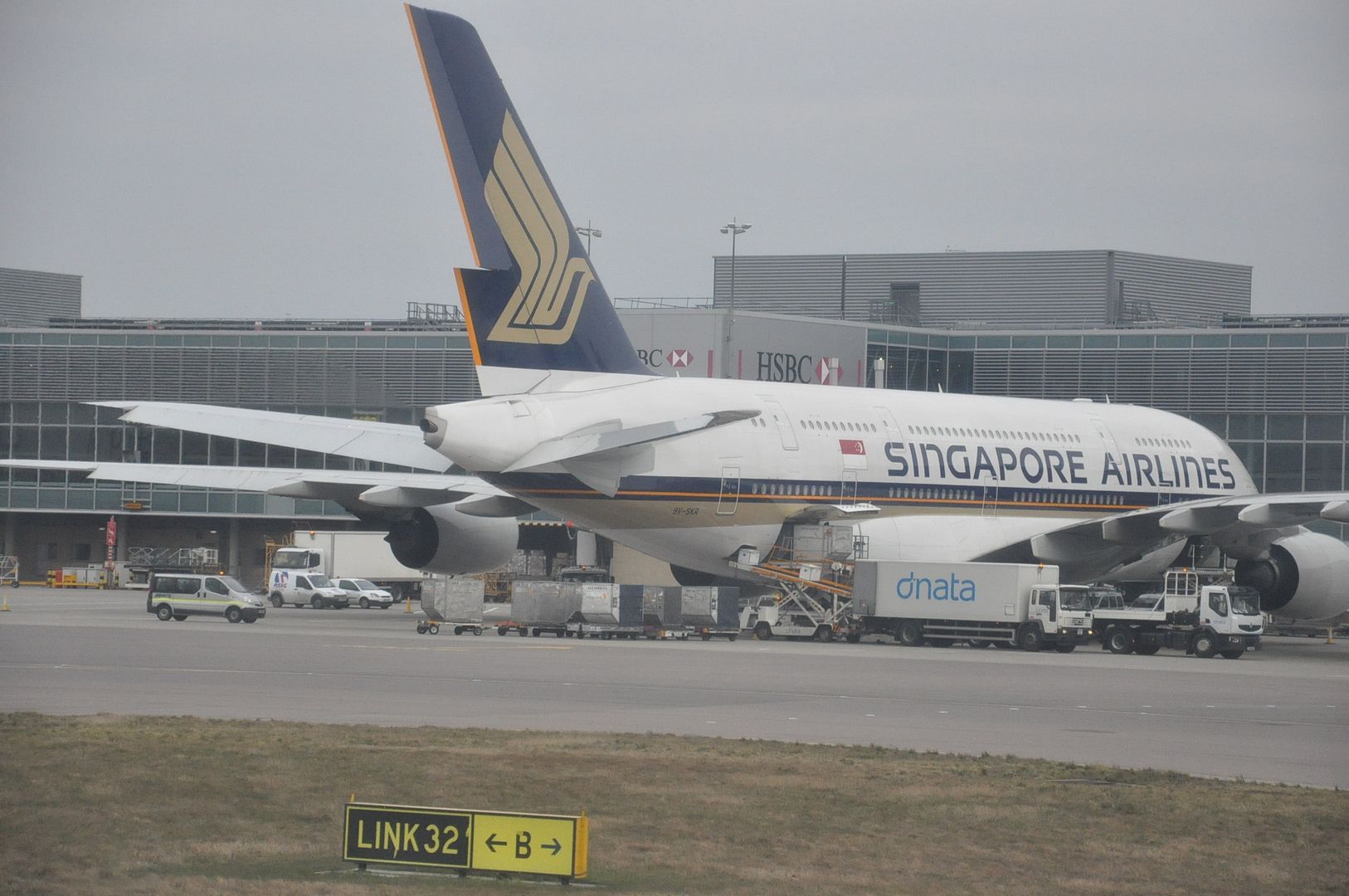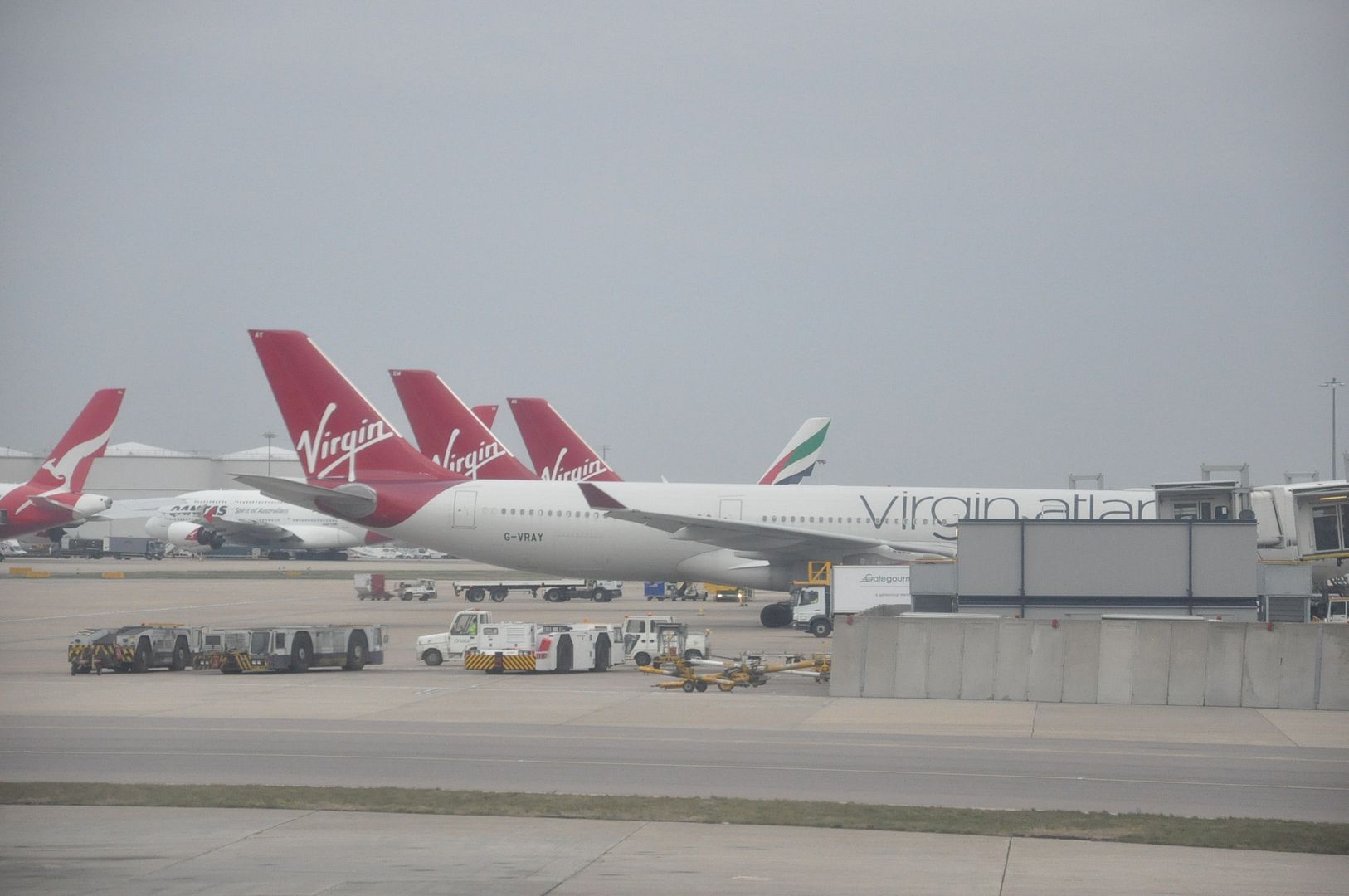 This was a beautiful aircraft. It was the ones that had been inherited from BD. It had the new A321 club world product and it looked amazingly good. I think the best I've seen in shirt haul flights. Took an opportunity to click a quick snap before moving along to the euro traveler section.
BA A321 : G-MEDN to DUS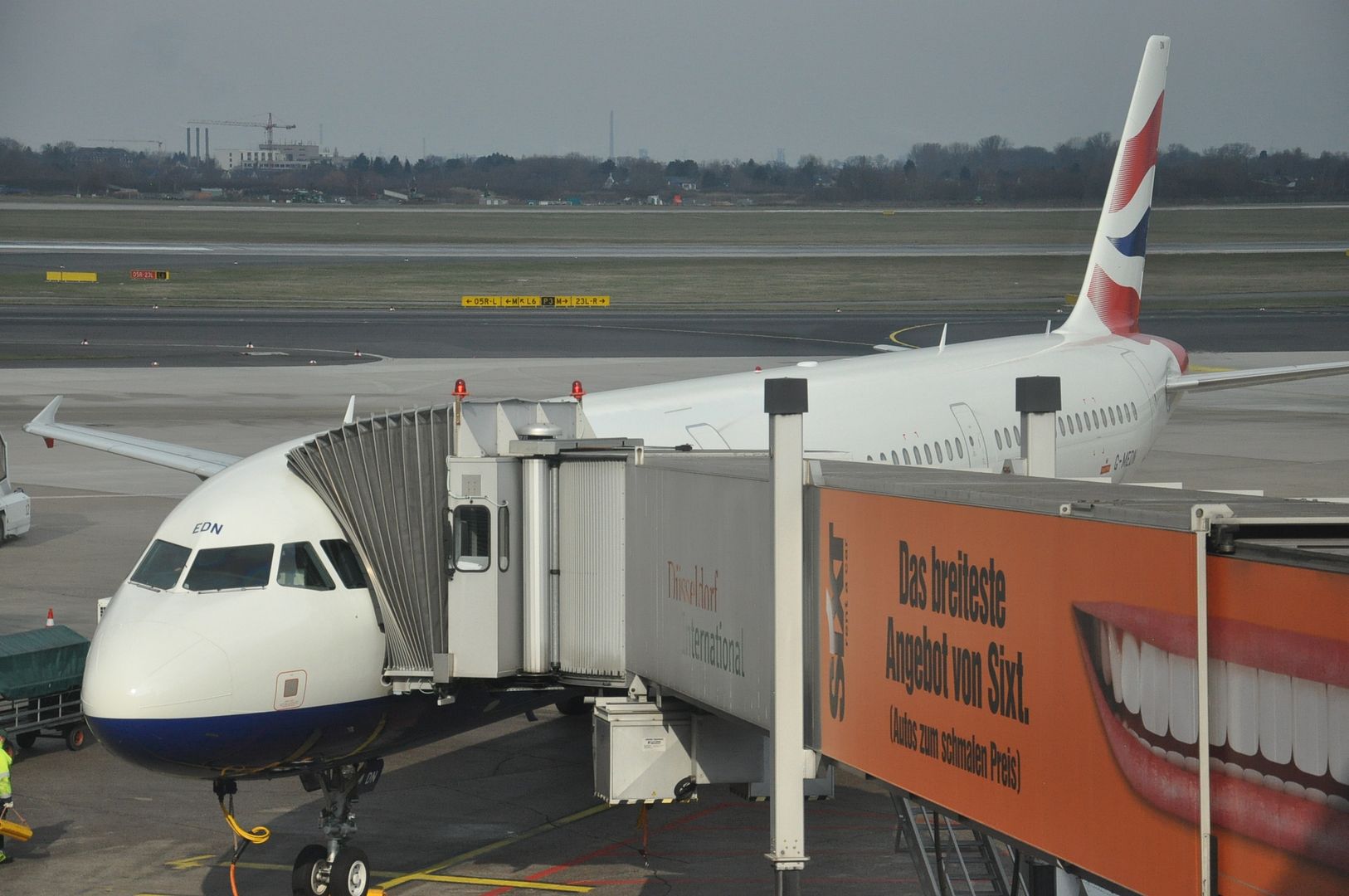 But my surprise for the day quota wasn't over yet. Walking down the aisle, I pass by row 1...2....3...4...5...6...7......8....wait hang on. Row 8 is still the club world section. Surely this must be a mistake.
Spoke to the cabin crew nearest to me abduction she confirmed that row 8 is indeed a club world seat and this was due to a last minute change in aircraft. Can I start getting excited or will BA amend my boarding pass and give me one of the other seats in euro traveler.
Not able to hold my excitement I asked if my seat 8f, part of the club world cabin, were available, upon which she said that she would inquire. All the while I was hoping against hopes that it were available.
Within a moment my dream come true moment would arrive. It was confirmed that the entire row 8, consisting of 3 seats were indeed empty. I almost jumped in joy when I realised that I would be able to experience the new A321 Club world product. I was ecstatic.
I sat in the same seat as I had chosen - 8f. Finally my thought of choosing the front row seat paid off
Although the stewardess did mention rather apologetically that they would not be able to serve me the full breakfast that was standard on the club Europe sector, to which I said I didn't mind it at all.
Before I could even sit down I started clicking like a rampant paparazzi. The cabin was in a 1-2, 1-1 configuration. I think it looked and felt even better than the club world on a 777. The cabin looked smart, dark brown interiors, crisp, clean and smelt good. I felt my day couldn't get any better.
The seats. They were amazing. It was a fully flat bed configuration. Although I didn't get a chance to try it out, the seat massage worked great and it was working all through out the flight..it had a huge 15 inch screen. It looked superb. That was the only Indication of it being a bmi bird, as the in flight entertainment was still showing bmi.
The captain did inform us that we were on a mid/long haul aircraft although the service would be of a short European sector.which meant that the Ife would be in switched off mode. Speaking to the stewardess she reckons that this type of aircraft would eventually be used for the tel aviv, Cairo and Beirut Sector.
Inside BA A321 : G-MEDN : Club World cabin
The lovely cabin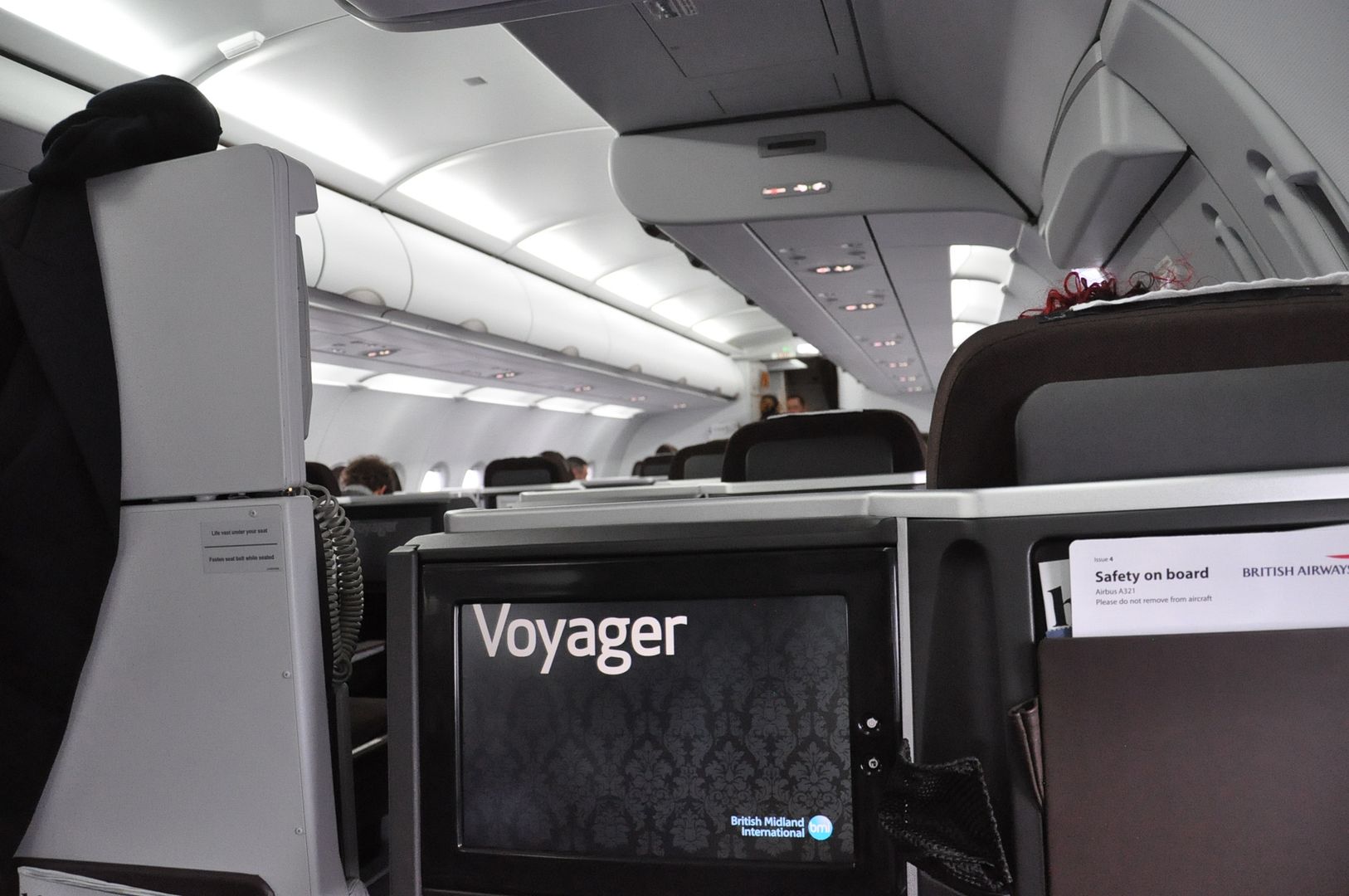 My Palace in the sky...well, at least for the next one hour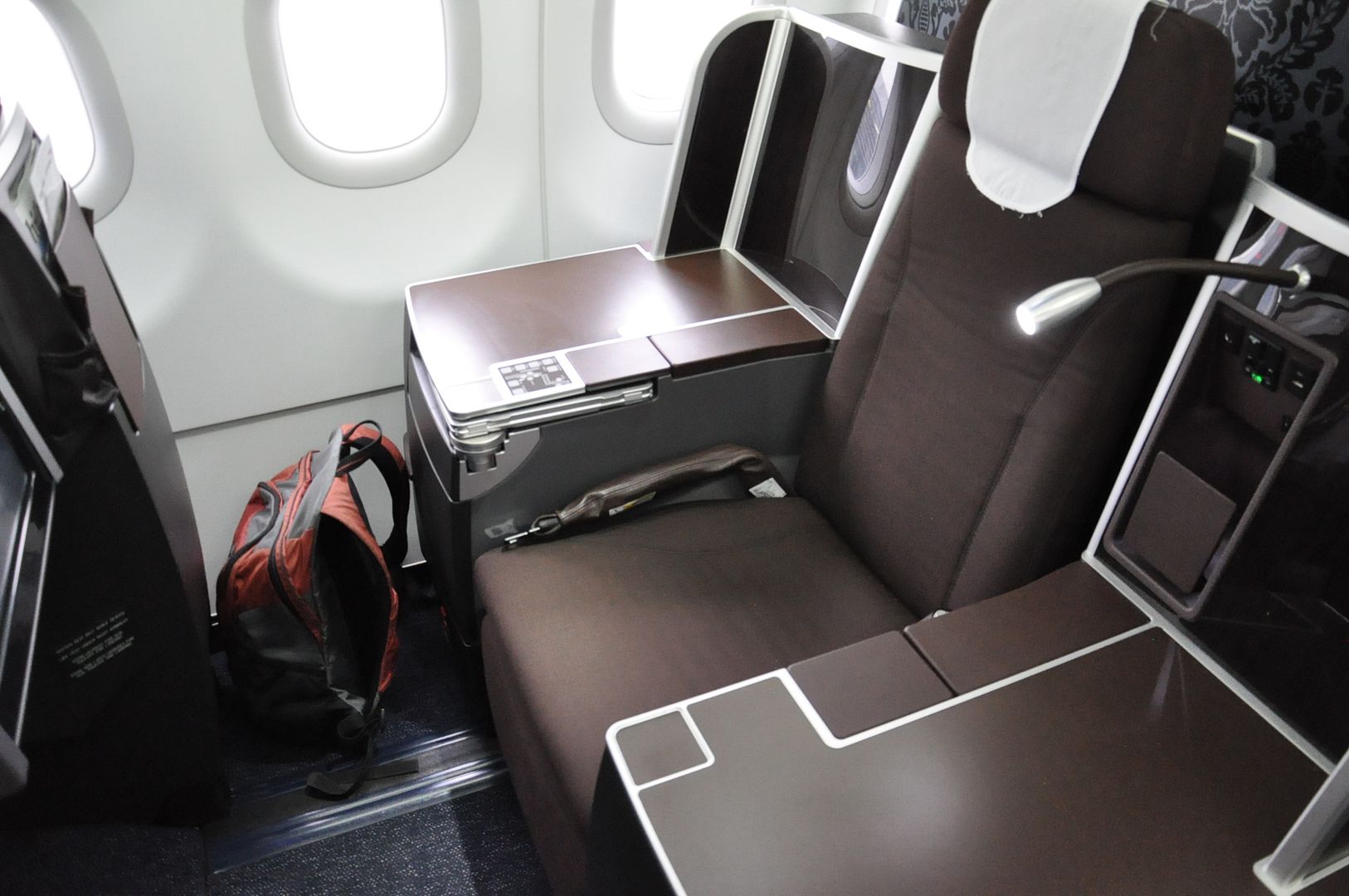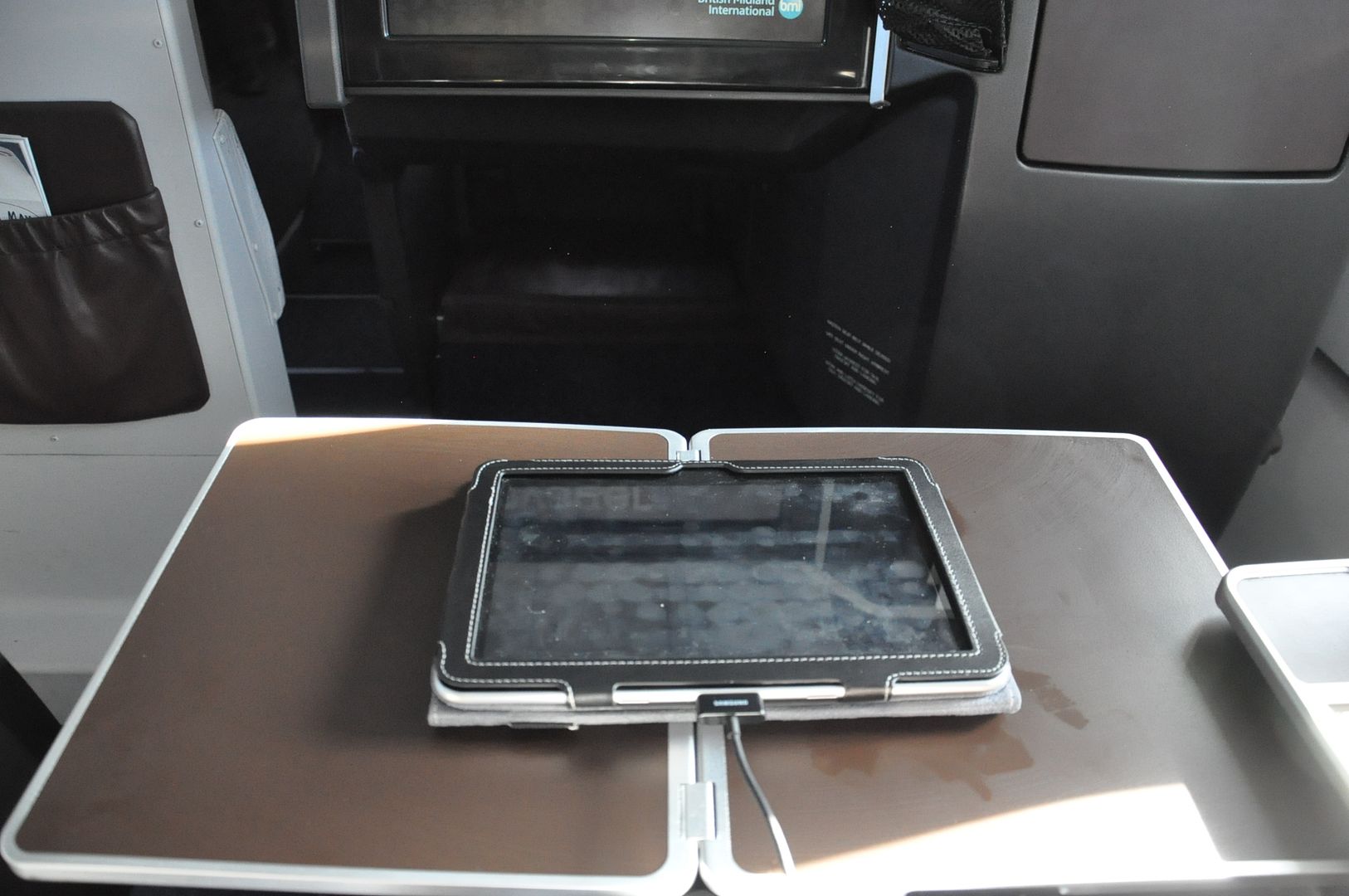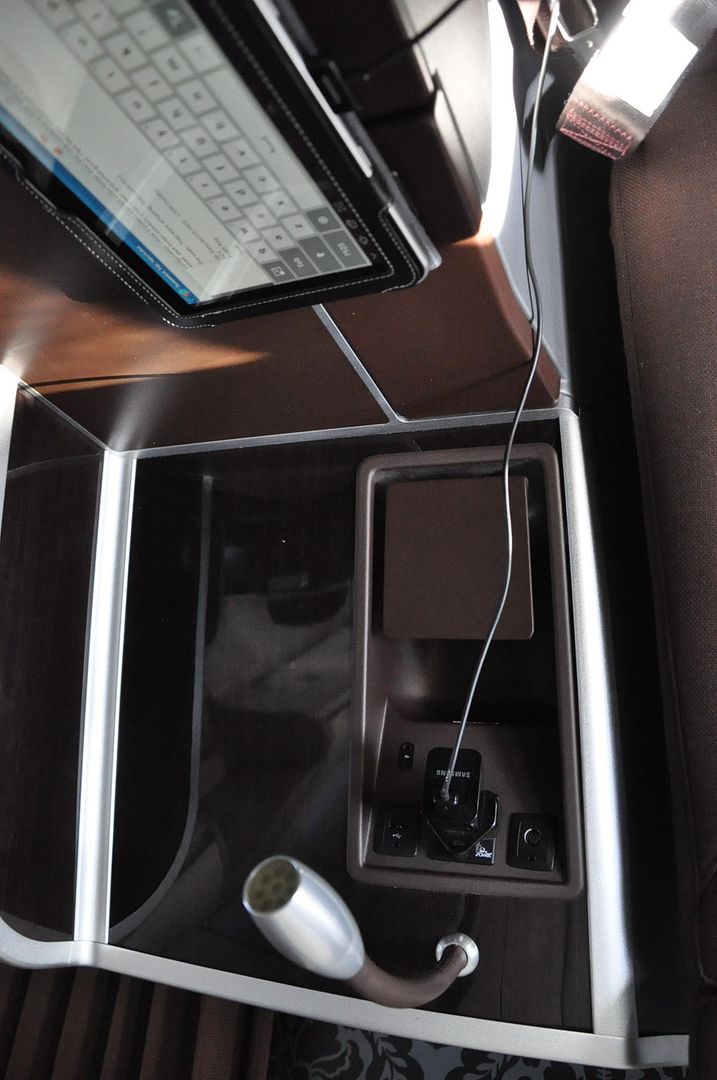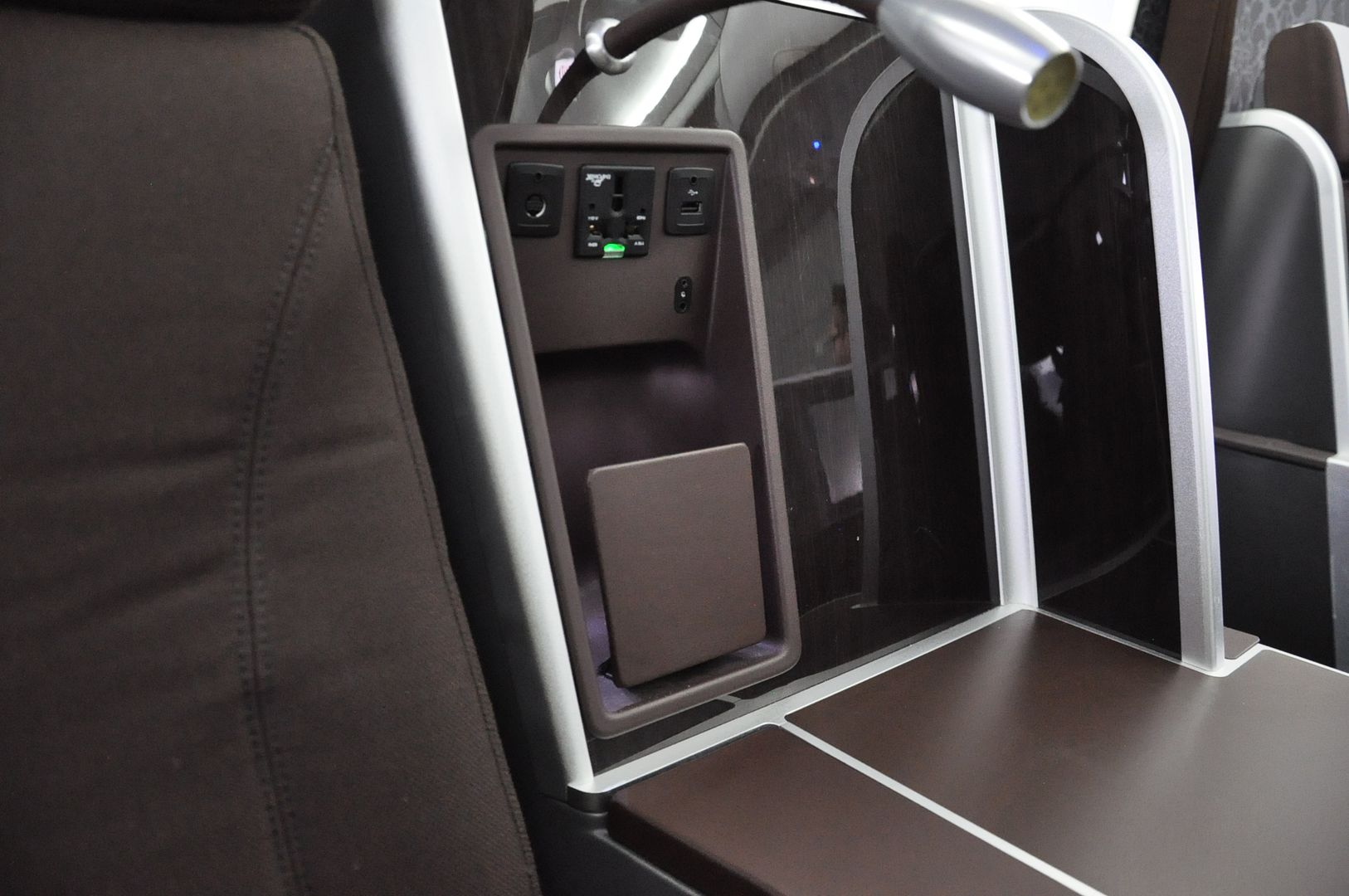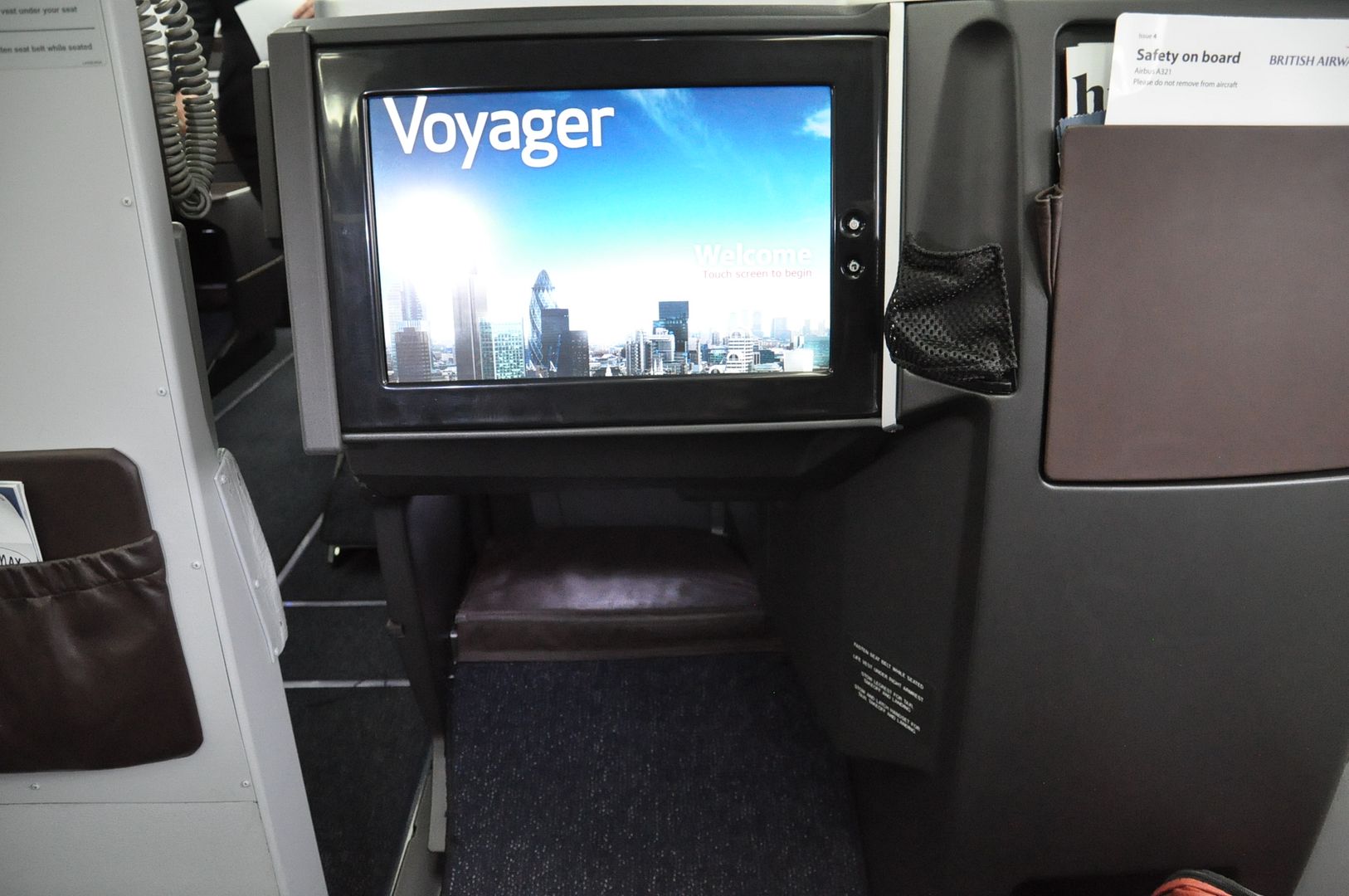 The only hint of BD
Breakfast
View from BA - en route to DUS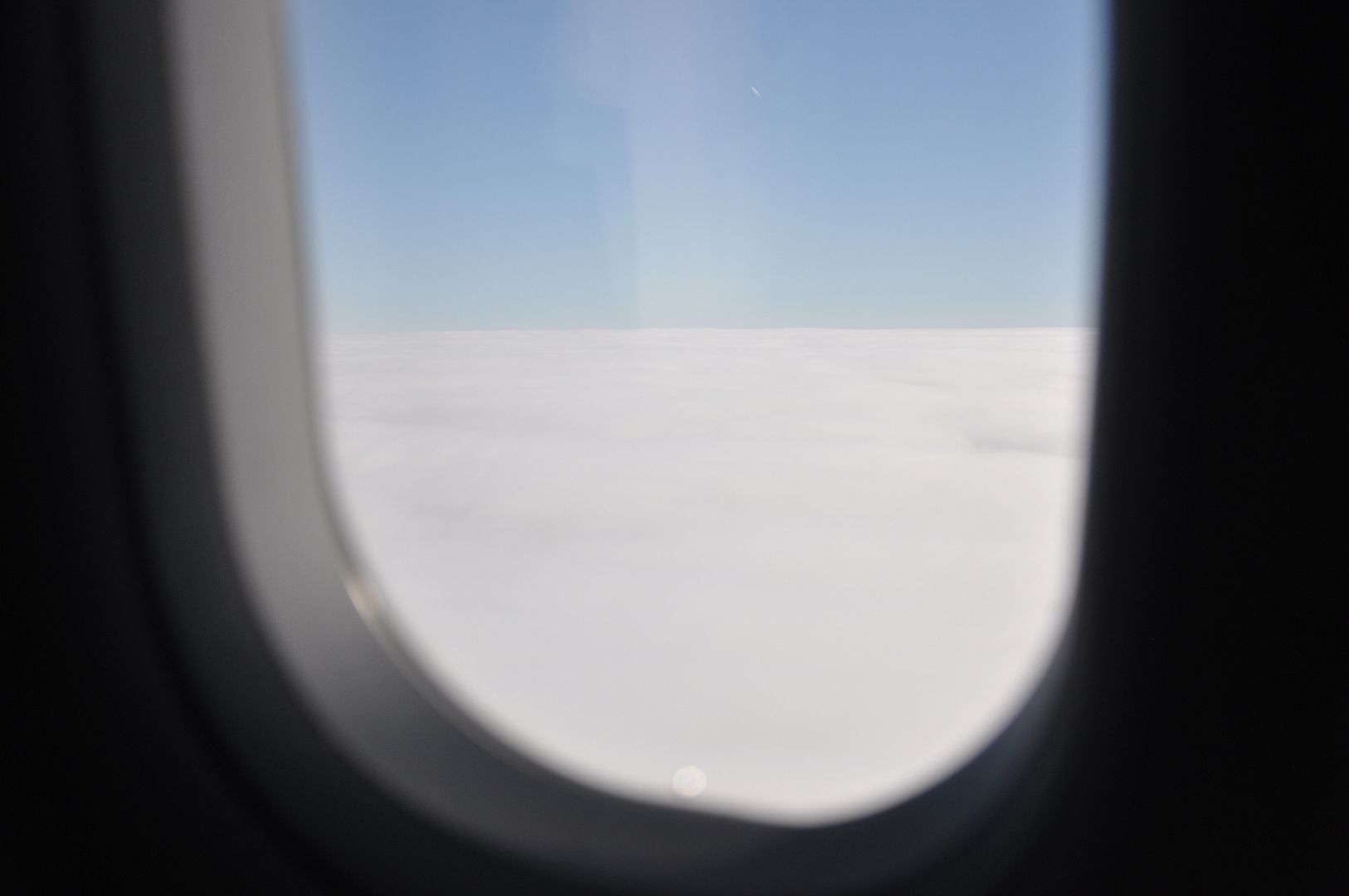 There was a delay in departure which worked to me advantage as I could take even more photographs and just soak in the experience. The delay was due to last minute changes and hence further checks had to be made.
Captain kept us informed all the while and we finally departed the gate at 9:40, 30 minutes behind schedule. After a long taxi we finally departed at 9:55. The captions unformed that flight time would be 55 minutes and we should arrive Dusseldorf 20 minutes behind schedule.
Soon after take off the cabin grew sprung into action. As promised, I was given a euro traveler meal, which consisted of a egg and tomato croissants. For once, the BA breakfast tasted good. Had no issues in gulping it down served with a pack of orange juice and a glass of water
I tried and tested the seat a bit. All the controls worked fine. Just could not try the fully flat configuration due to time constraints. The power supply worked well. I was still basking I'm the glory.
During this time I had a chat with the senior cabin crew on board and asked him if he had an extra safety card for my collection. He said that I could take the one I had and he shall replace it later. Very kind if him. We then started talking about BA aircraft, and he was quite eager to speak at length although the flight had already started descending so he had to prepare fir landing. Not before handing me a BA postcard that had the golden dove A319 livery. How thoughtful of him.
We landed into cloudy and cold Dusseldorf, exactly 20 minutes behind schedule as promised by the captain before take off. After a short taxi were besides our gate. While embarking had a chat with the cabin crew next to me which told me that it was her first time in this A321 from bmi and she had a good flight too and was looking forward to heading back soon, wishing me a pleasant stay at Dusseldorf.
What an amazing flight! shame it was only a short haul. I am sure I could probably do a SIN-NYC nonstop on such a seat configuration
Immigration and baggage collection was quick at this lovely Dusseldorf airport. I was out by the sky train station within 25 minutes of landing. A quick 5 minute hop onto the sky train that took me promptly to the airport train station and was looking forward to meeting my wife and having a good time in Dusseldorf. Next part of the report will be of our return flight on easyjet back into London gathwick.
One of the perks of flying a national carrier is the option of maybe flying in a different type of aircraft similar to the situation today. I am sure no such luck or thought with Easyjet as the only two options could be either an a319 or an a320.
BA souvenirs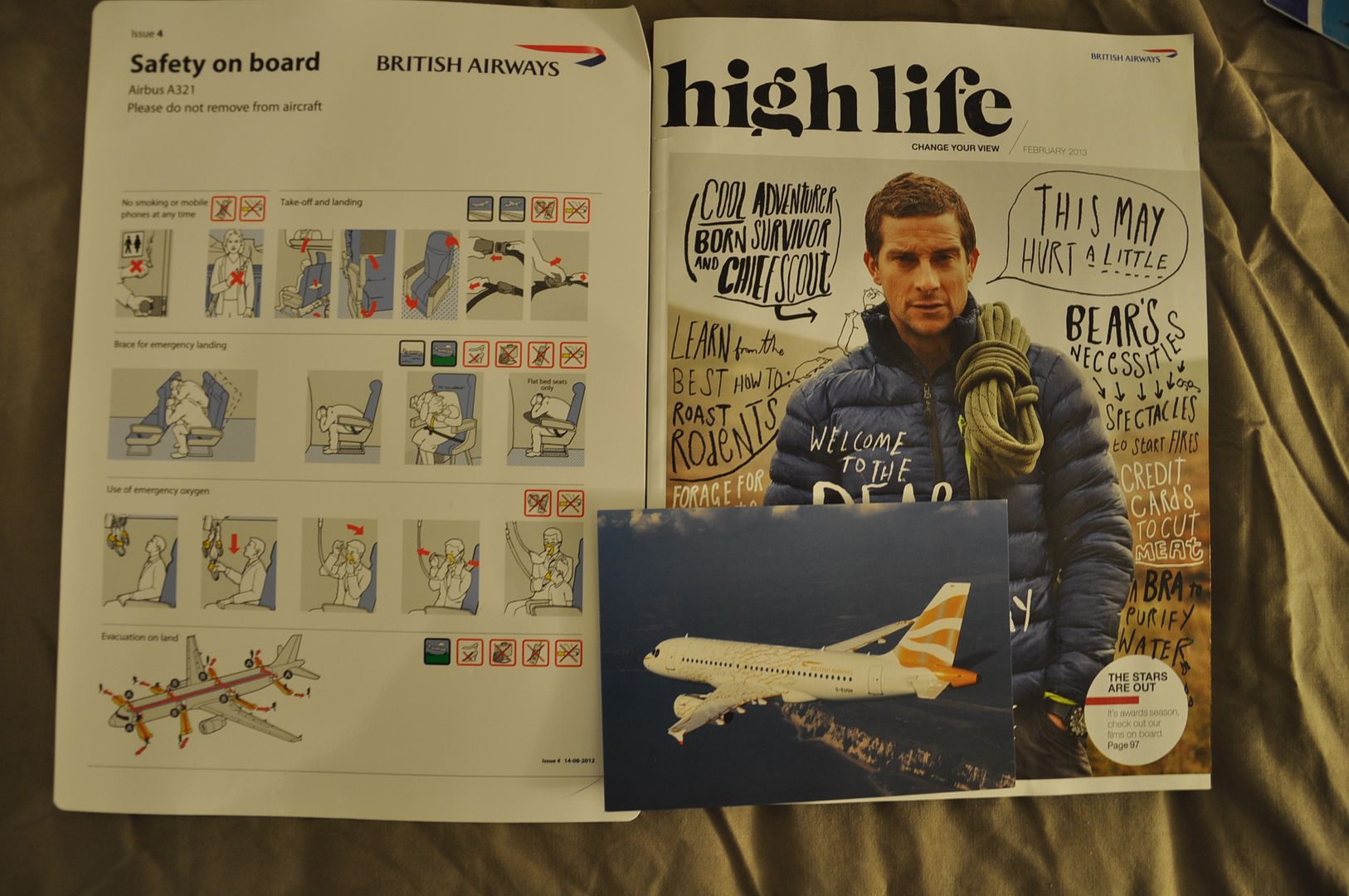 Beautiful Dusseldorf city
Landing at Dusseldorf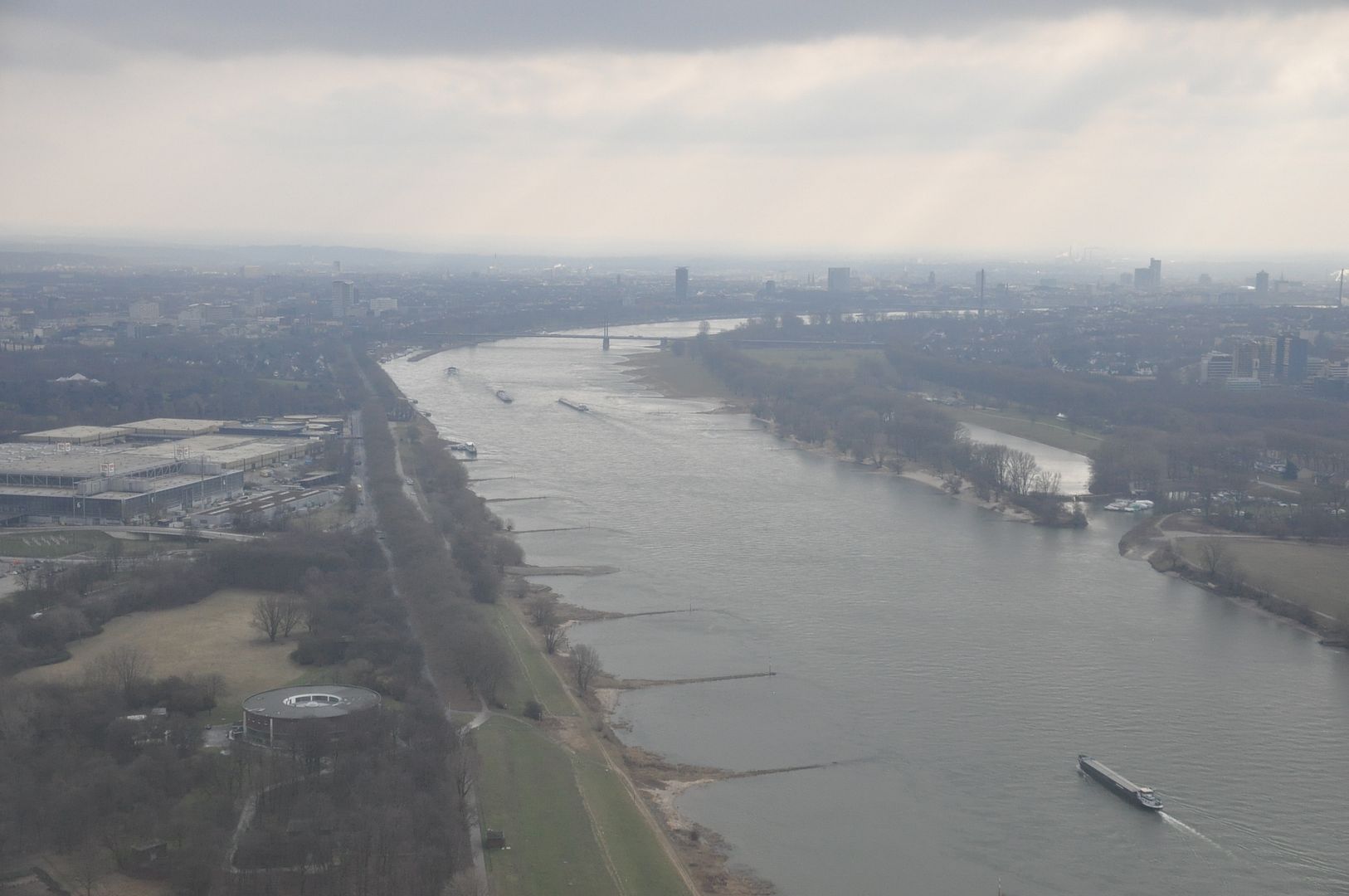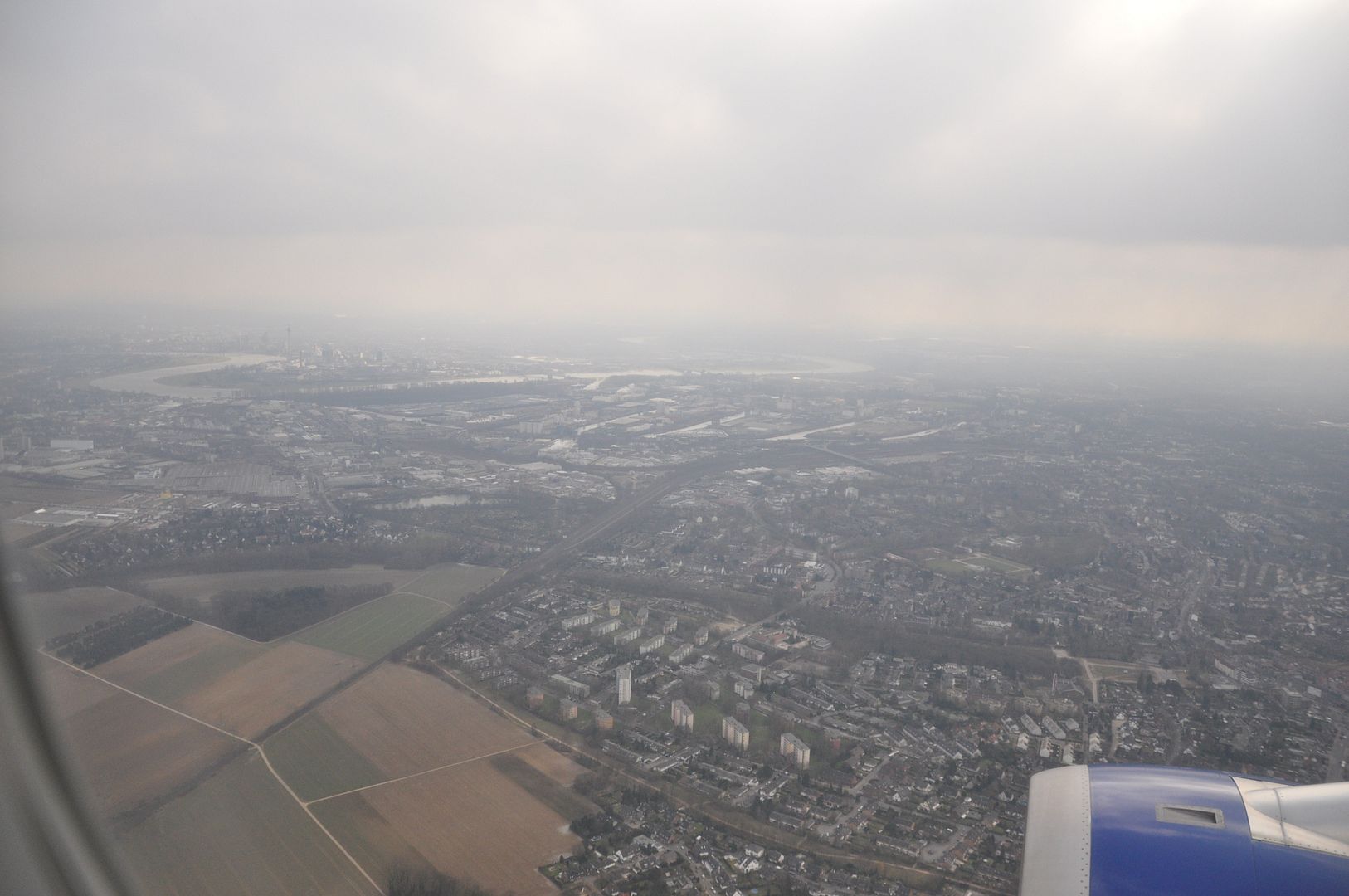 'Ko'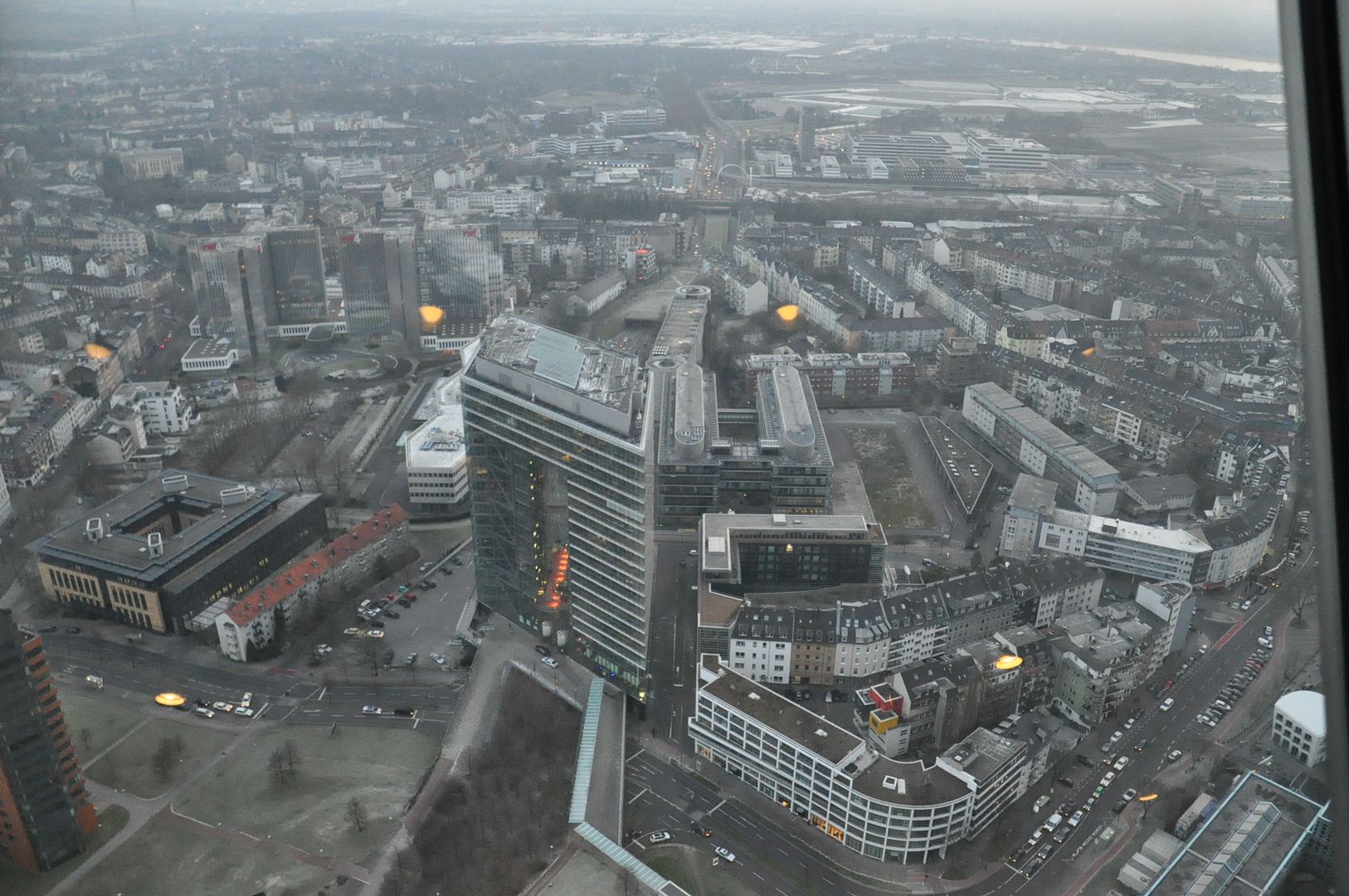 View from our Hotel room - Holiday Inn express North
1B. EasyJet U2: DUS - LGW (north)
EZY 8598
Flight Reg
g-ezfu
Airbus A-319-111 (Test Reg: D-AVXC ; Built: 2010; Delivered: 2010-05-21)
Seat 5A
Load almost 100 %, like any other U2 flight
Departure: 18:20 ( 18:25 )
Arrival 18:45 ( 18:50 )
24 Feb. 2014
On the return sector, since my wife and I had booked our ticket separately from the EasyJet website, when we went to check in online, individually, we got assigned seats on different part of the aircraft
I got 25 D and my wife 12C. Hoping to have this changed at the airport, not sure if it can be done.
On the day of travel we kept our eyes peeled on the departure status as it was snowing, although not that heavily. But as of 1:00pm our flight was supposed to depart on time. Since we didn't have anything better to do,
thought of heading to the airport and have lunch there.
Took a cab to the airport station and then the skytrain as my wife wanted to see the skytrain. Was a quick journey to the airport and no hassle at all.
Had lunch at the lovely red baron. Gastro pub good but tasted brilliant. Pastas, silos and salads and even grilled items. Good view if the apron from there too. After lunch thought of exploring the viewing gallery as I had heard it was a good place. Unfortunately due to the weather it was closed. It is an open air area and the view from inside looked great, shame though. Just next to the viewing gallery entrance, they have an amazing shop called the travel market. They had a wide range of model plane collection. Very tempted to buy a few but restricted myself.
Check in open exactly 2 hours before departure and we were first know the queue. Unfortunately the check in lady was unable to change our seats without a payment. But did info us to ask the crew on board if we could move to seats 10e and f as they were empty. So had to try our luck on board. But she did allow me to check in bag for free..! Which was a good gesture from Easyjet. On the whole a very smooth operation and into the duty free area within 15 minutes. Had over an hour and a half to while away.
I like Dusseldorf airport. Its calm and the interiors look immaculate. Decent duty free. Picked up a chocolate raspberry vodka. Couldn't resist it. ! Chocolate - raspberry - vodka, you can't go wrong
DUS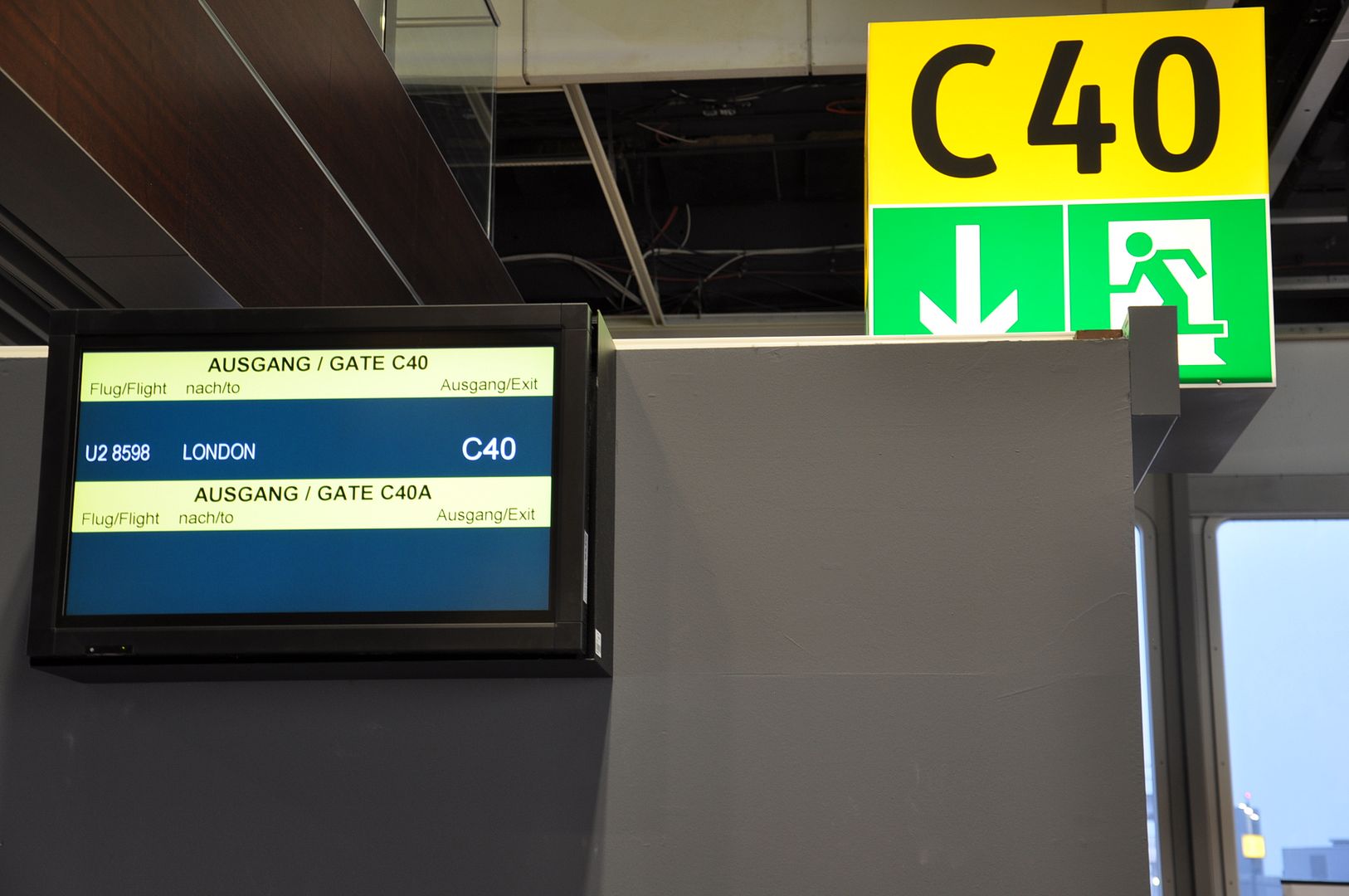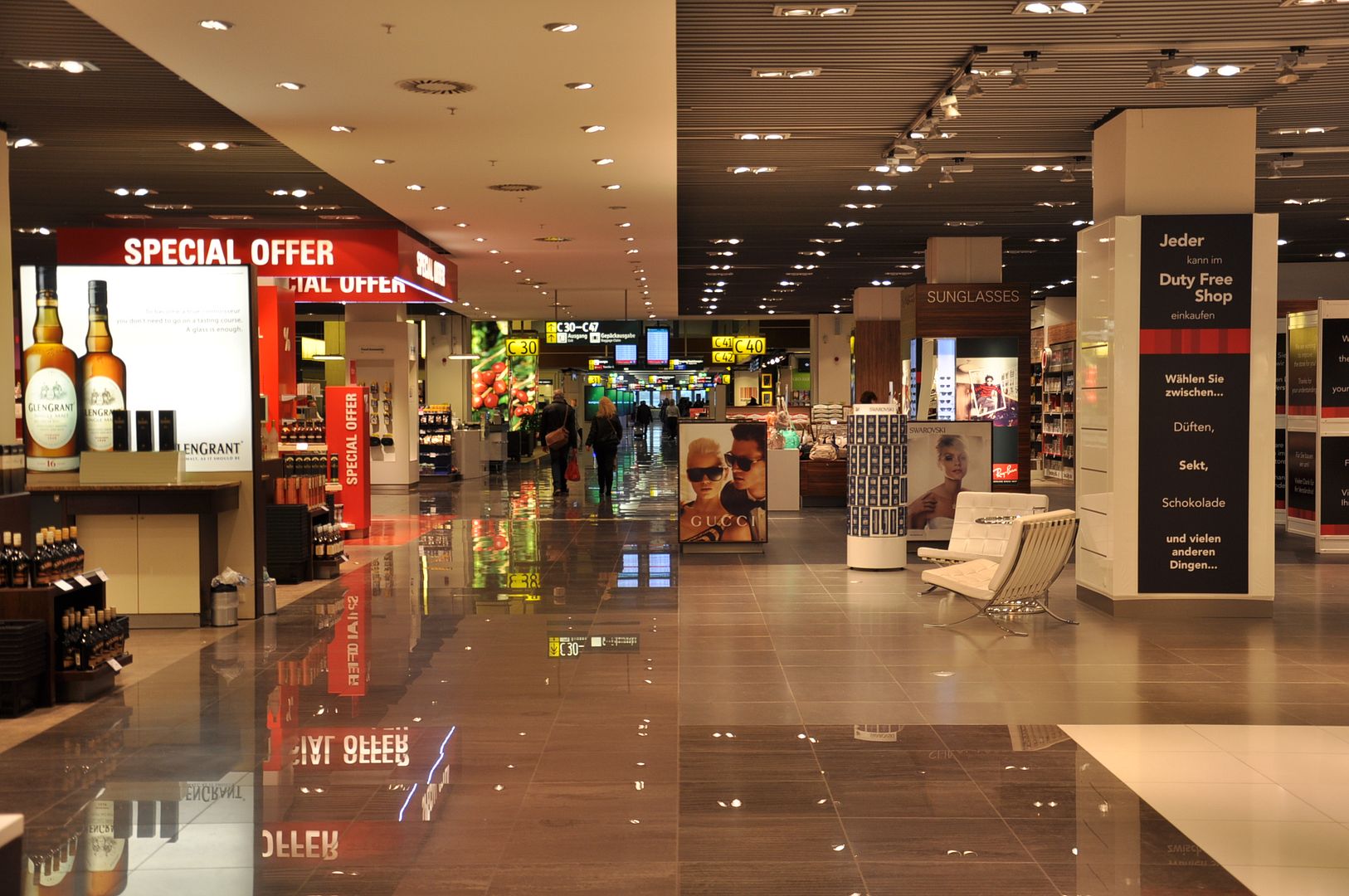 Travel Market (shop) at DUS, near the viewing gallery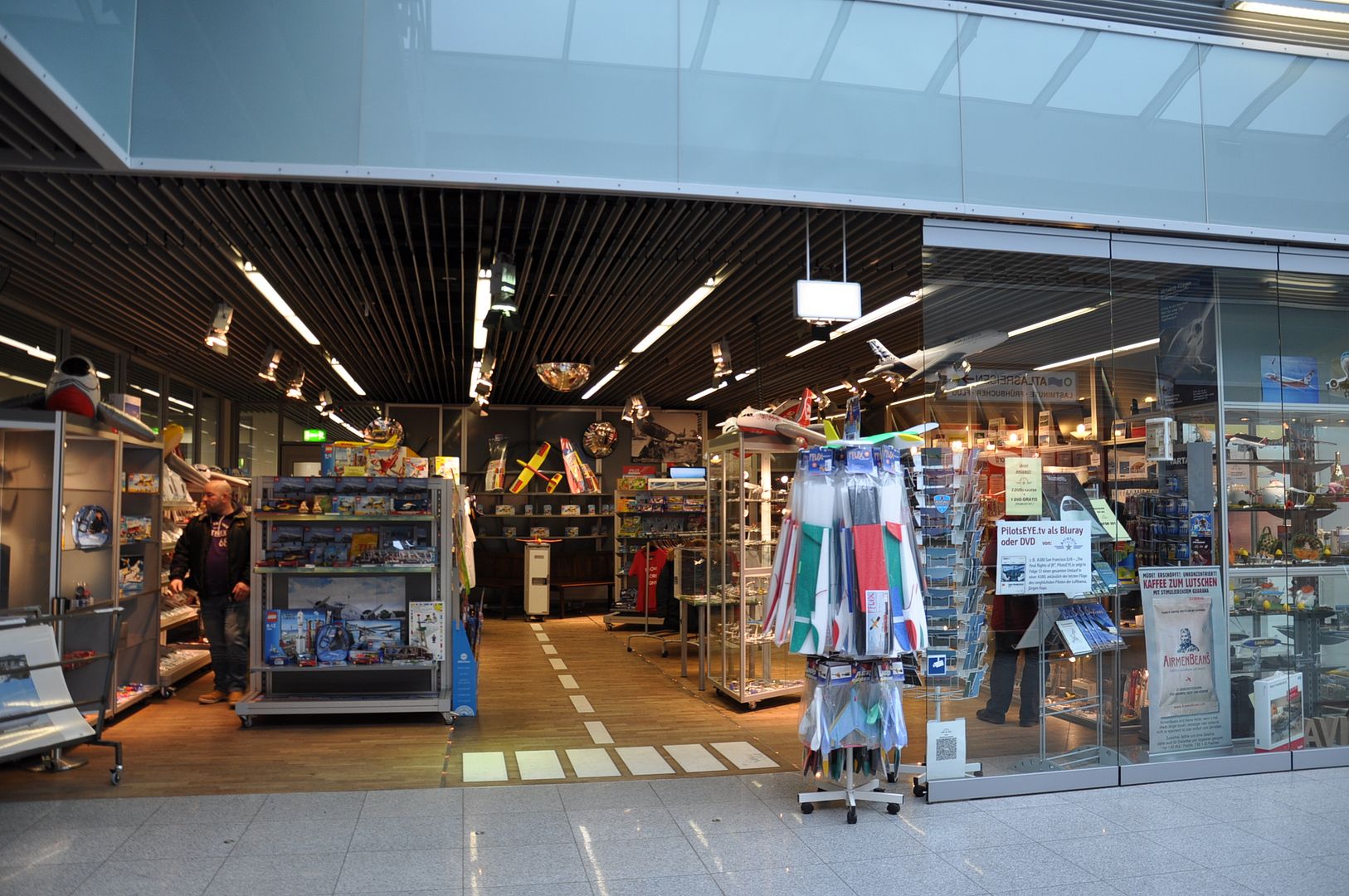 Beautiful DUS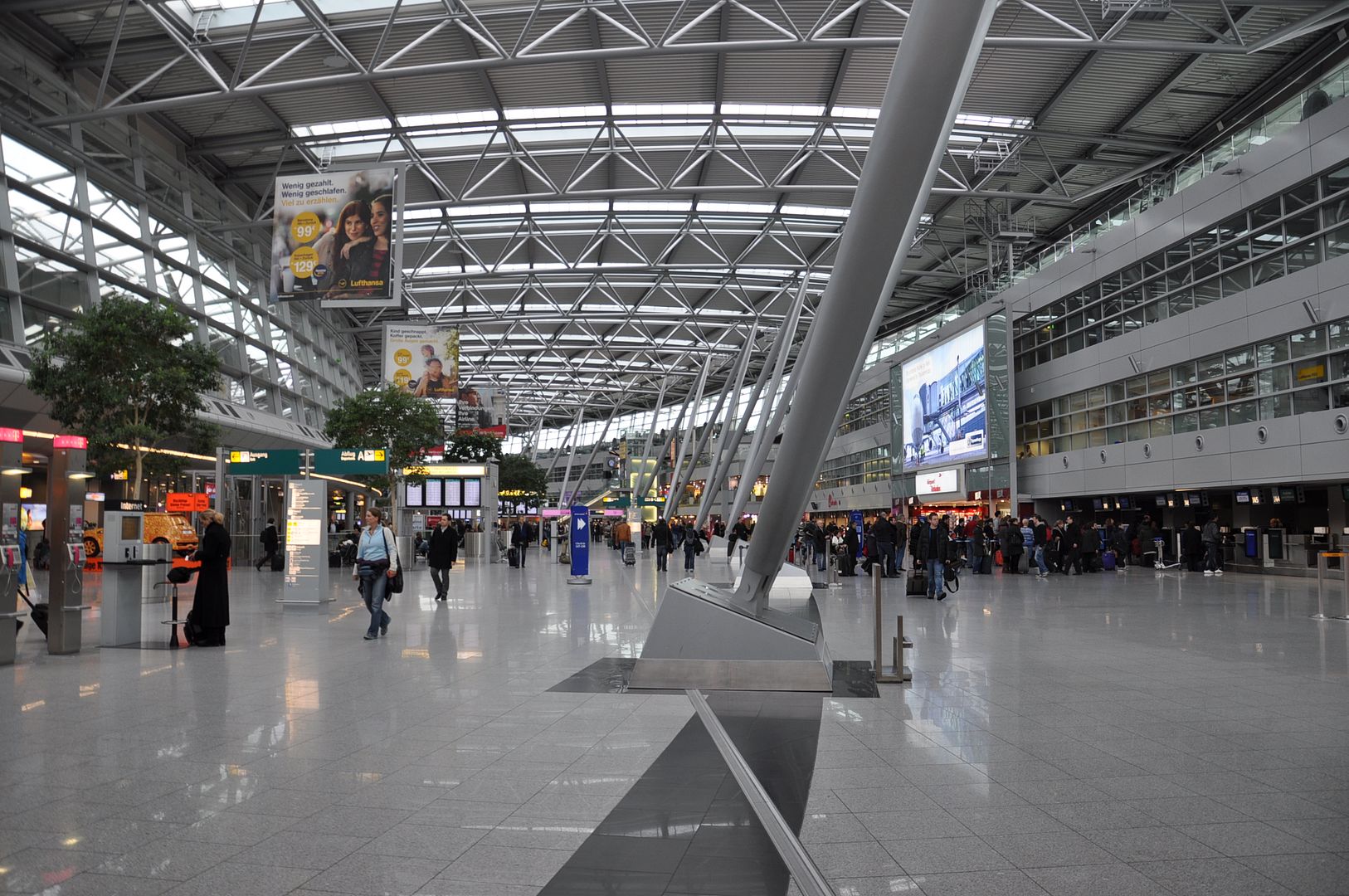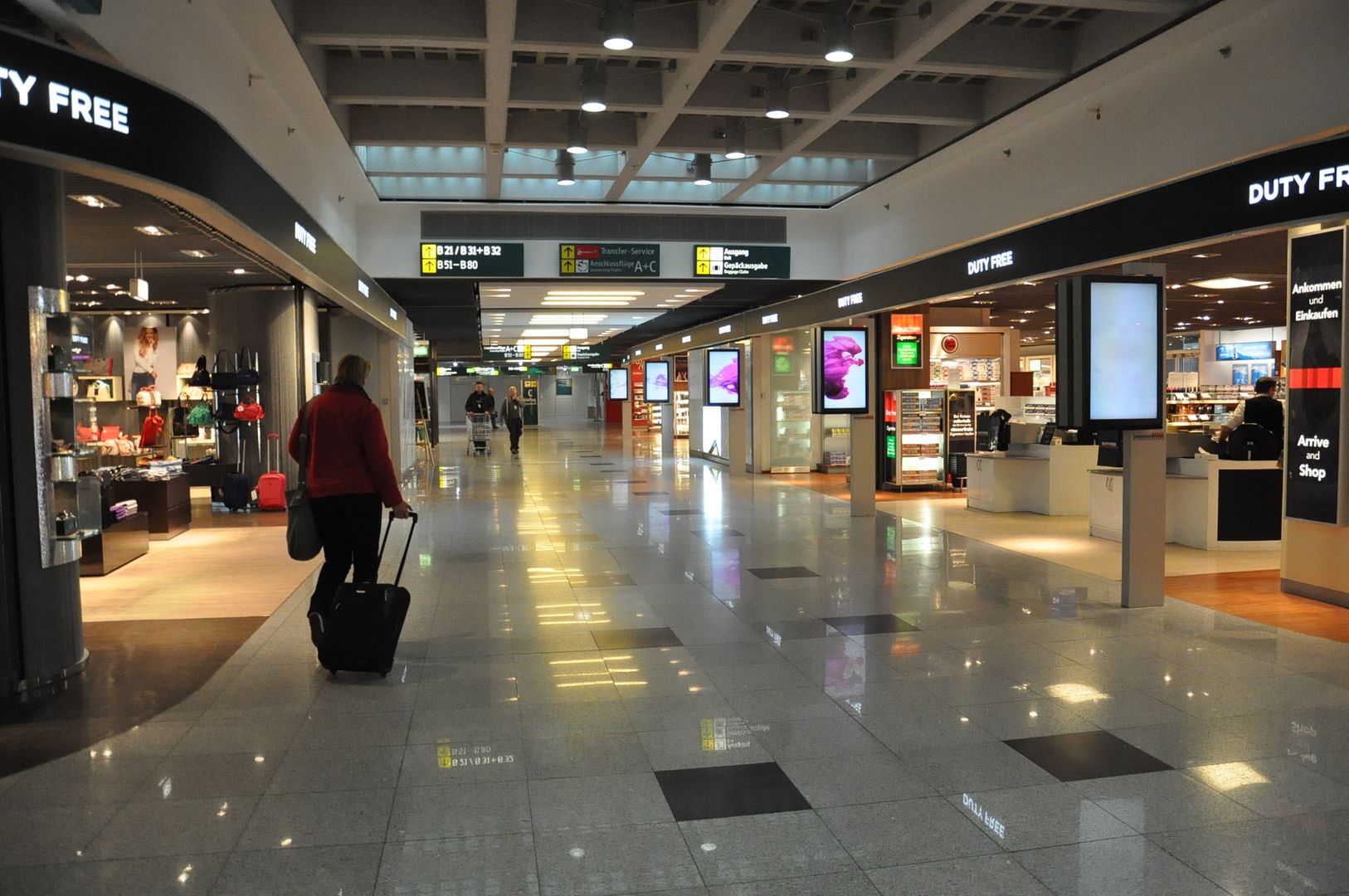 SkyTrain at DUS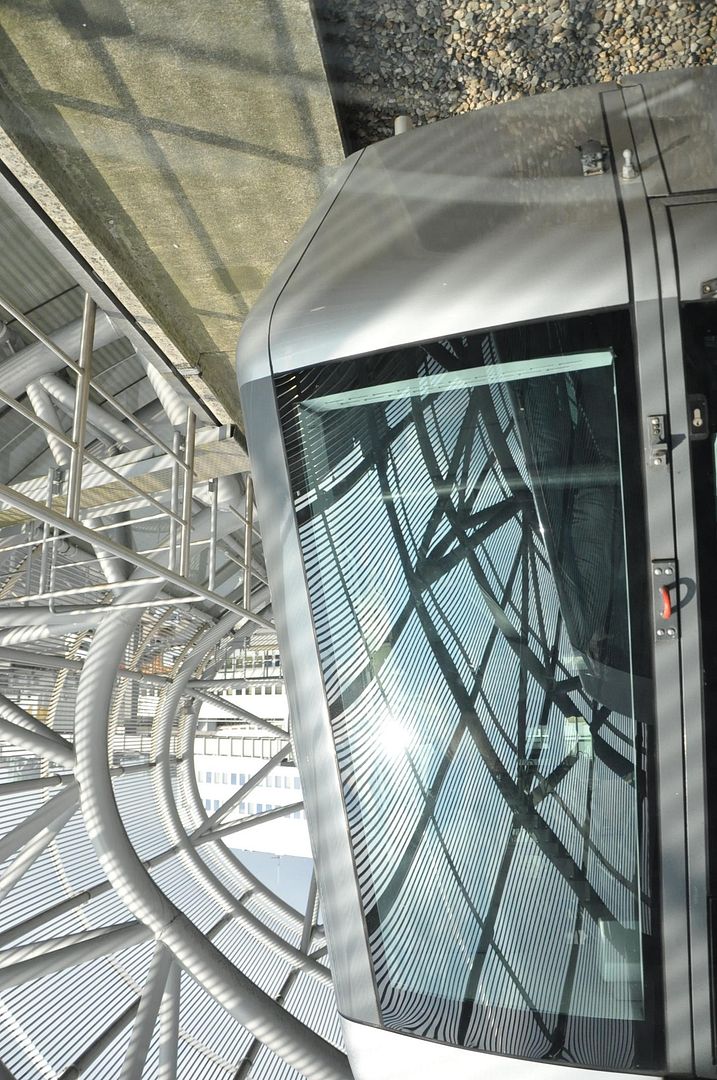 Wandered around a bit more. Couldn't spot too
many flights. So spent some time at a cafe.
Headed to the gate around 30 minute before departure. Boarding was called 29 minutes before departure and as any Easyjet fight, from nowhere, a crowd appeared. Although boarding was quite orderly with speedy boarding followed by families with children and then the rest.
Plane spotting at DUS
Air Berlin A330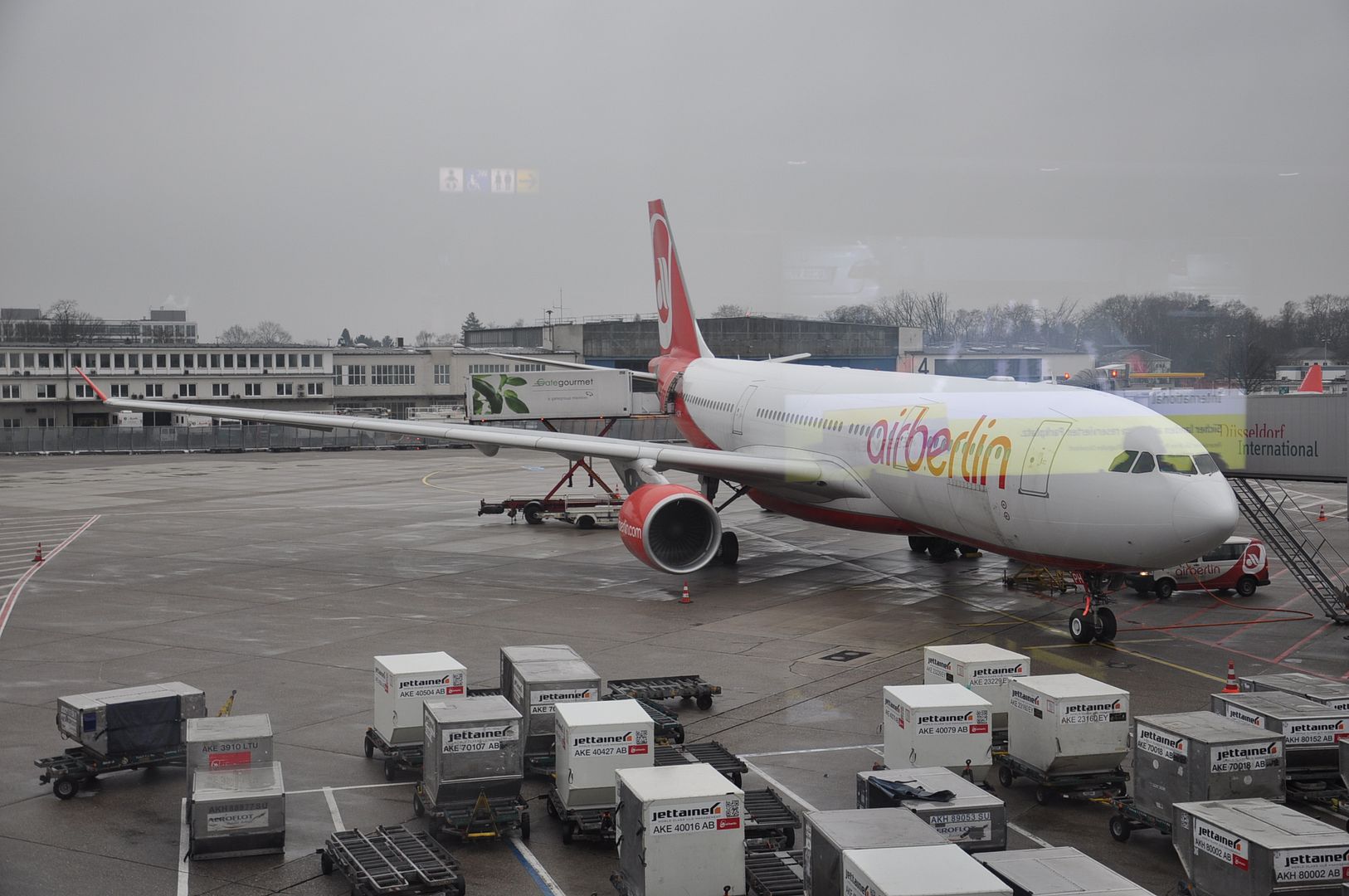 Got a glimpse of the flight before boarding. As soon as we boarded we asked the cabin crew if it were possible to sit together and she promptly checked her charts and asked us UK sit at 5 a and b. Superb..! More brownie points for Easyjet. First free check in and now change of assigned stats to accommodate us ti sit together. Ryan air needs to learn a lesson in customer handling from Easyjet. Go Easyjet..!
EZY Back home
Departed the gate 5 minutes late. It was then followed by a deicing procedure. This was the first time I was seeing it being done.
De-Icing at DUS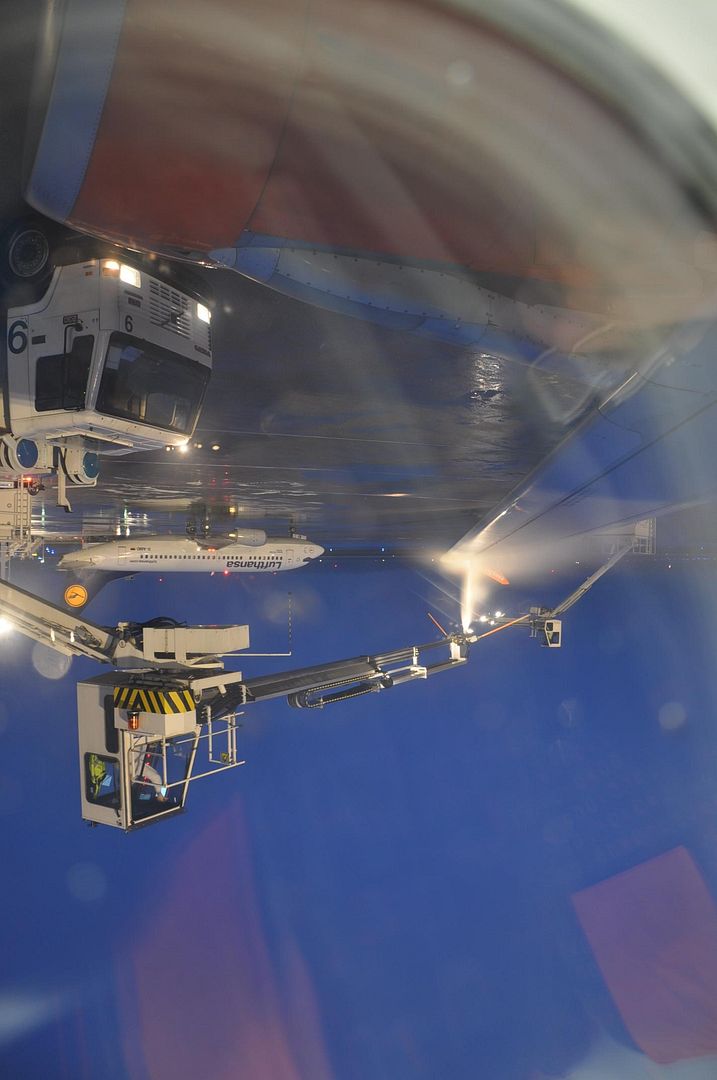 The flight wasn't as immaculate as I've seen previous Easyjet aircraft. They were crumbs all over the place and it looks like it has not been cleaned from the previous flight.
We finally took off at 6:45 and the flight time was announced as 1 hrs and 5 min, expecting to land at gathering at 6:50 UK time, exactly 5 min behind schedule.
The rest of the flight was uneventful in a good way.
As expected, the flight touched down at Gathwick at exactly 18:50, and after a short taxi towards the North terminal, we were air-side by 19:10, followed by a quick immigration check and baggage collection, out of the airport by 19:20.! There was absolutely no one at Immigration and we were the first in the queue, Fantastic.!
Overall, great flight for short haul and extra brownie points form Easyjet for the free check in and free change of seats, simply superb.! I personally wouldn't ever think twice before booking an easyjet flight, if the price and timings suit me.
Hope you enjoyed this installment of my trip report. My next one is not until May, unfortunately. Until then happy flying, safe journey and enjoy writing.
Previous trip report
Part 1 - LHR - KWI
Part 2 - KWI - DXB
Part 3 - DXB - HKG - PVG
Part 4 - SHA - SJW - SHA
Part 5 - PVG - LHR
Morocco trip report