Thailand Trip: TG A380 F & Nok Air Y March 2013
Hi all,
Here is a short trip report on a recent trip to Thailand. The main purpose was to fly Thai Airways' A380, while it is still on the Hong Kong to Bangkok route, and the price is really good. I decide to try some of Thailand's new breed of low cost airlines, and my main aim is to fly Nok Air and Thai Smile, and to add two new airports to my list – Chiang Mai and Krabi. Unfortunately, I only manage the Chiang Mai trip because of a silly mistake. For some reason, I booked my DMK to Krabi trip for travel on March 7, instead of March 2, and damn Air Asia for their early Internet check-in availability. The crowd at Air Asia check-in and counters at Bangkok Don Mueang airport were unbelievable, and by the time the agent caught the mistake, it was already an hour prior to departure time, and then the line at the ticketing counters was simply long. In the end, I missed my deadline, as Air Asia was very strict with its carryon policy, and since my Krabi to Bangkok flight on Thai Smile is refundable, I decide to cut my loss and just refund my Thai Smile trip. So I only manage to fly Nok Air but I hope you will still enjoy the trip report. I know that both Thai A380 first class and Nok Air are widely discussed, so I will let the pictures do the talking.
March 1, 2013
TG 601 HKG-BKK Lv1325 Arr1510 Airbus A380-800 HS-TUB "Mancha Khiri"
Thai check-in at Hong Kong's Terminal Two – very busy afternoon, but empty first and business class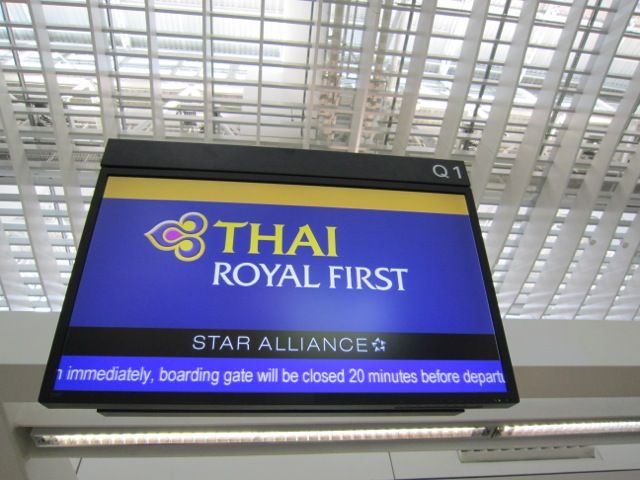 Please note that Thai Airways no longer provides buggy service for departing first class passengers from Hong Kong to the lounge!
Gate 60 – it seems to be Thai daily A380 gate for the HKG to BKK flights – TG usually uses the 40s gates.
HS-TUB arrived at HKG around noon – slightly late – just a beautiful plane!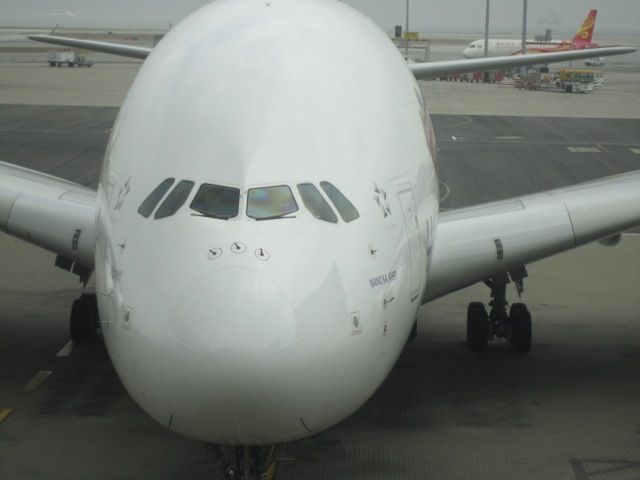 Royal Orchid Lounge – first class section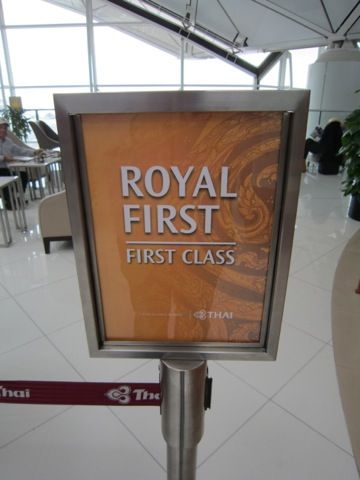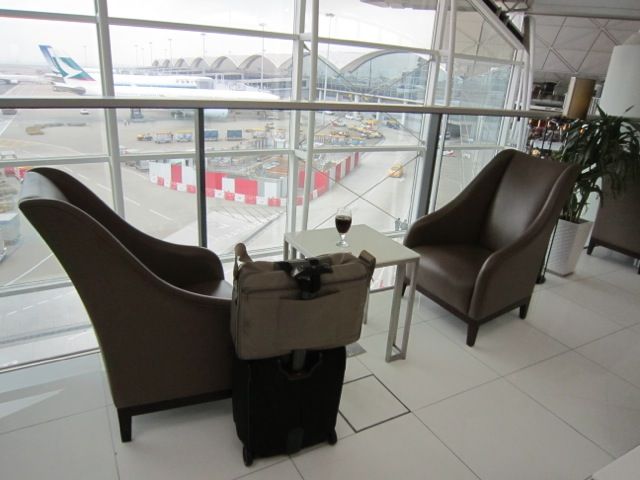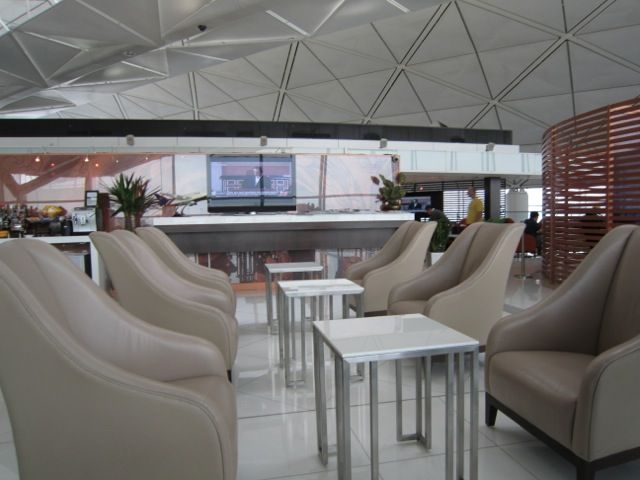 Boarding began at gate 60 at 12:50pm, and I was among the first to arrive, before the crowd arrived. First class was full this afternoon.
Cabin shot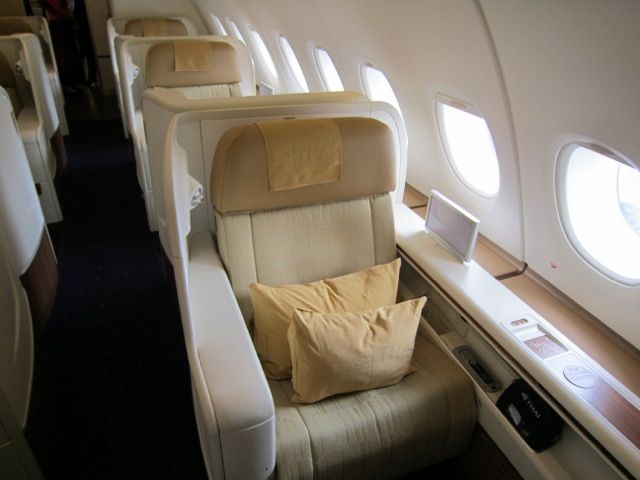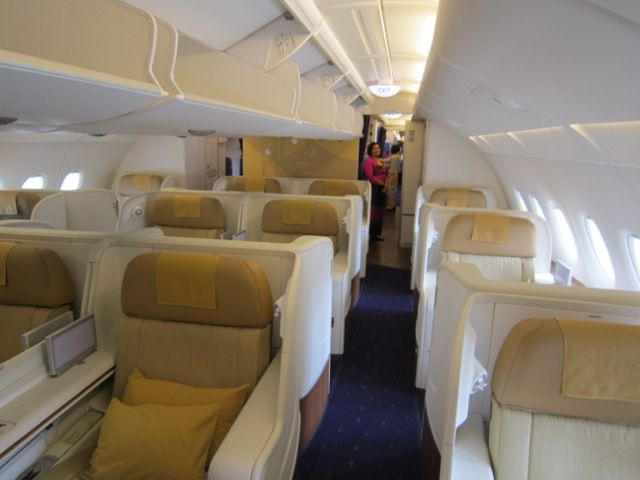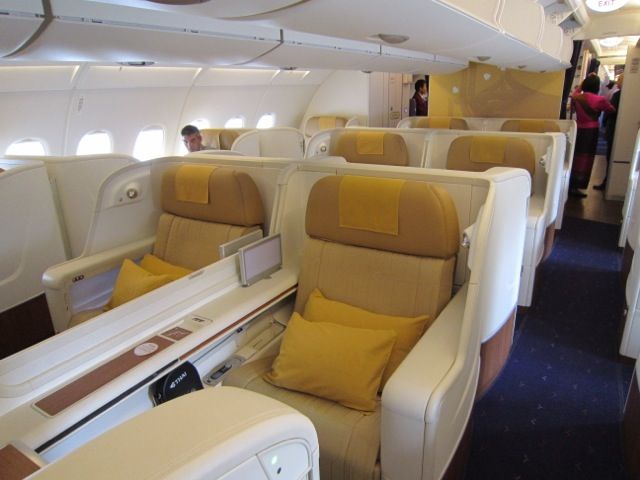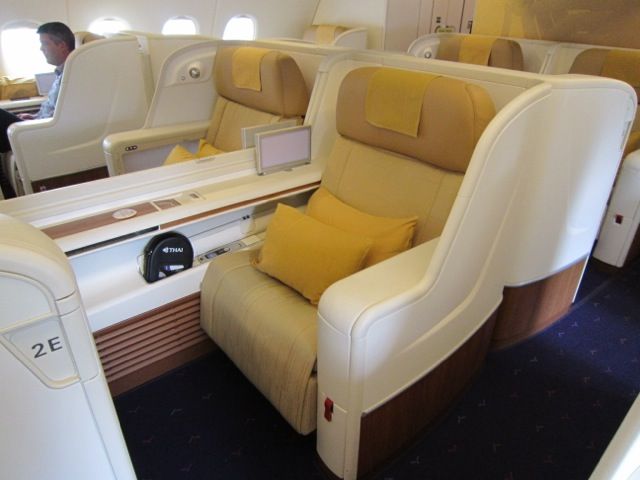 My seat 2A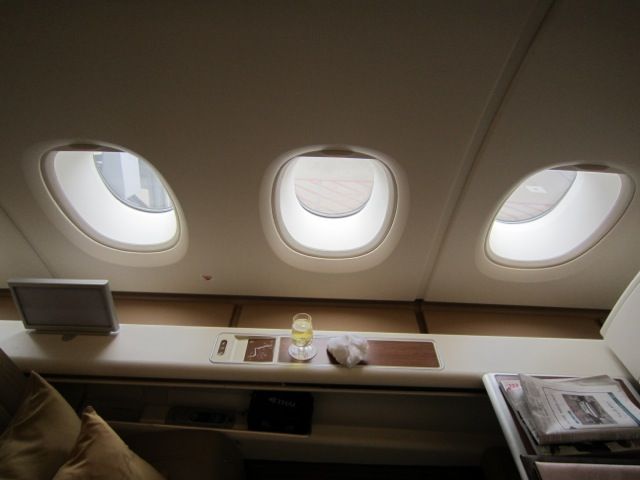 Giant A380 window:
Storage bin on the side
Front lounge shot – the lounge was closed throughout the flight and the F/A did not even bother to turn on the light.
Toilet – one of the first class bathrooms are large like Lufthansa and it was located in front of 1A
Makeup station – presume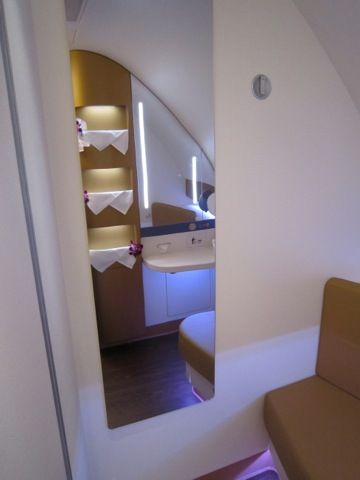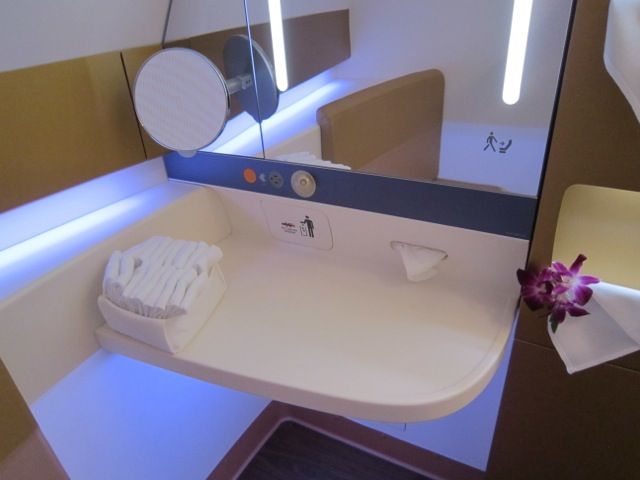 Bathroom area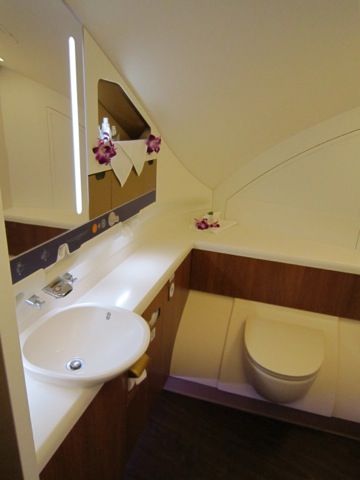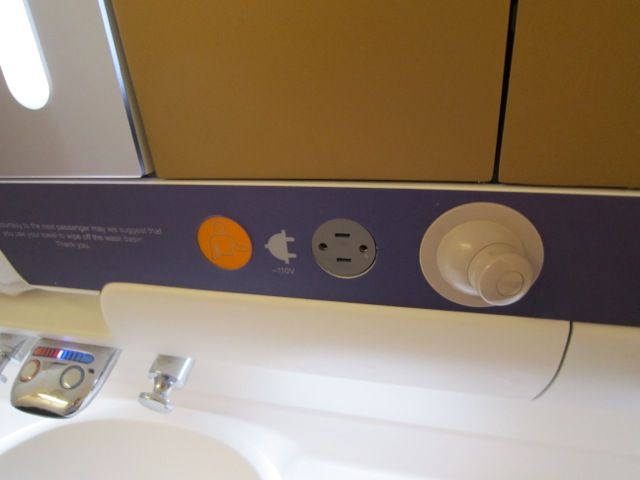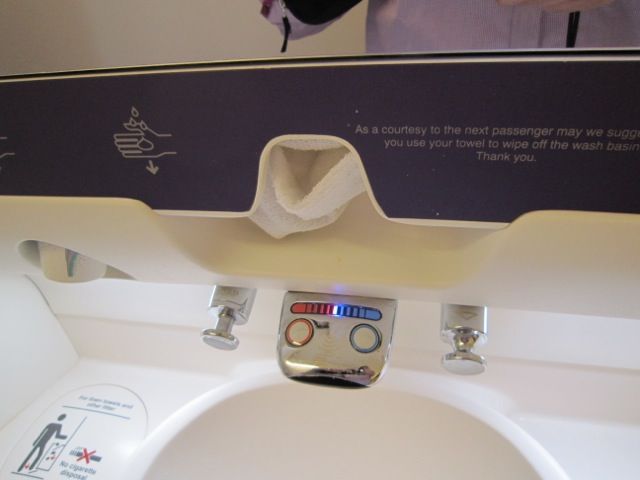 Second bathroom – the regular bathroom behind 3K and next to the galley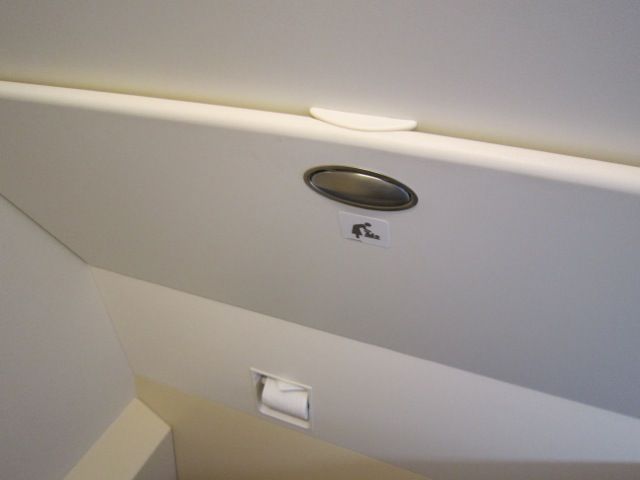 First Class seat:
Side control panel – can be closed completely with a small storage bin for personal items like eye-glasses or mobile phones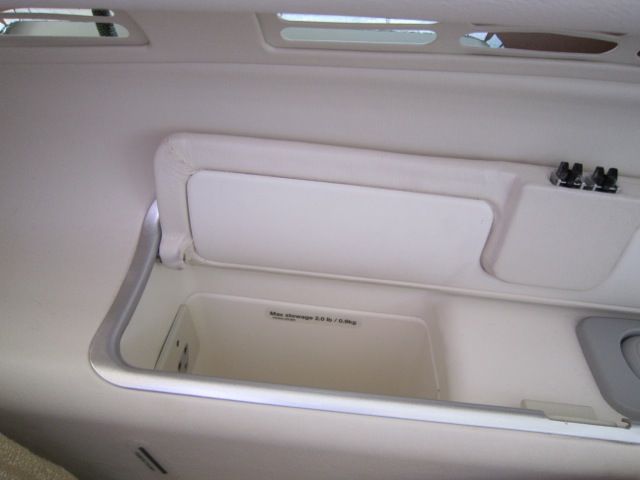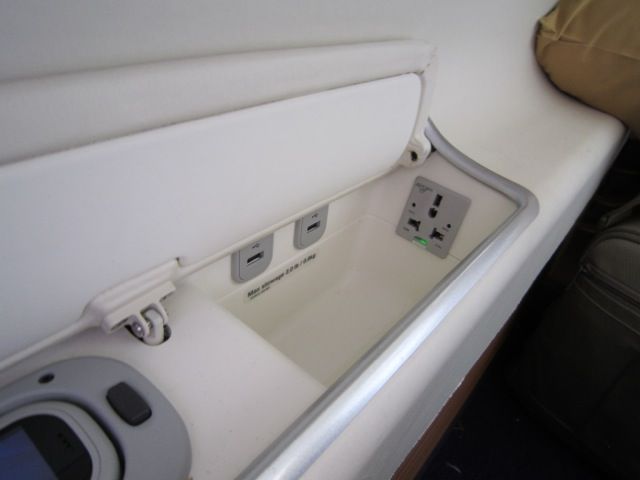 Another side – more storage space mainly for literature/menu/wine list
Another seat control
Personal light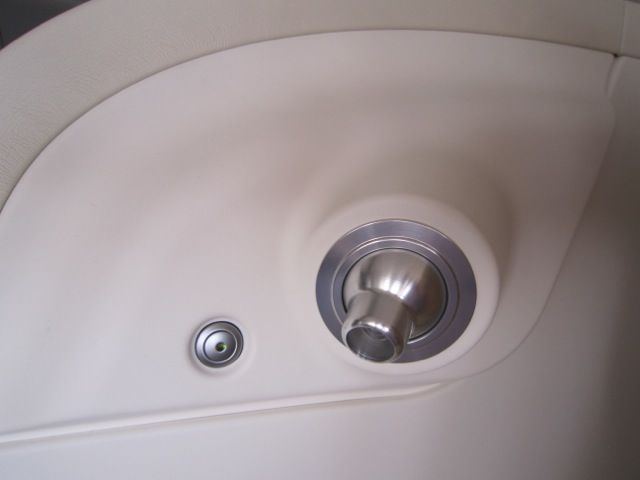 Seat Control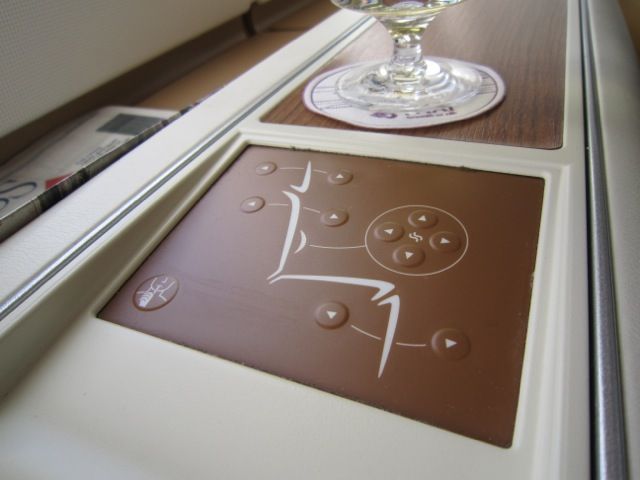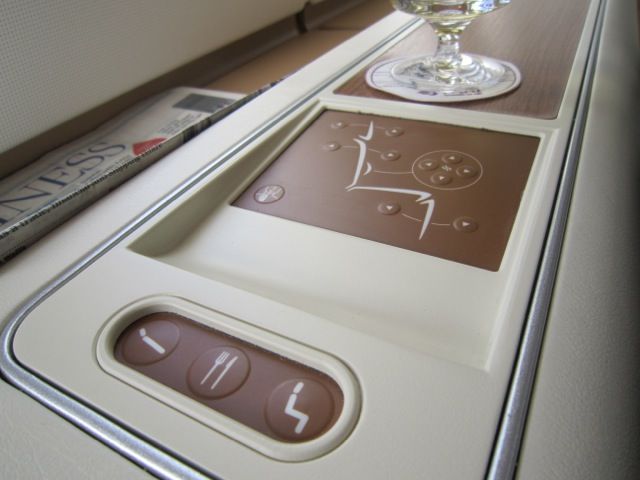 Personal light
Personal coat closet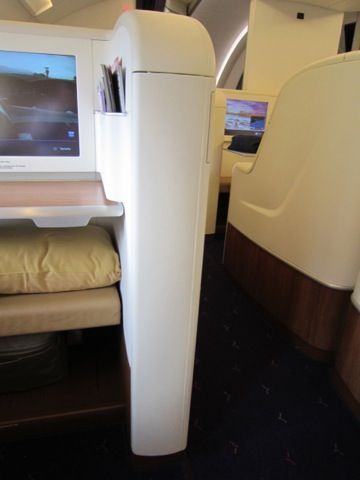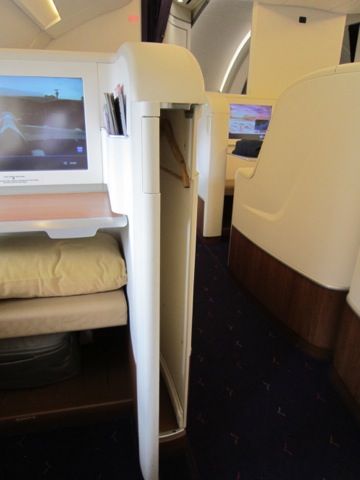 The F/A immediately offered me a choice of beverages and hot towel. There were the usual newspapers and magazines round, as well as menu and wine list! Meal and beverage orders were taken prior to takeoff.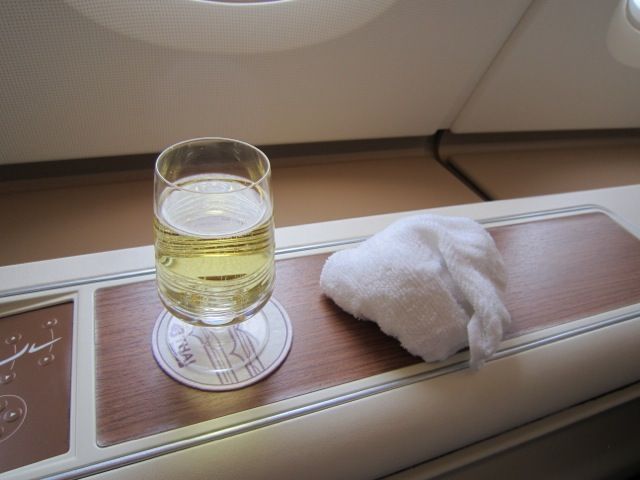 ANA triple departures around the early afternoon hour:
ANA Boeing 777-200ER JA706A to Haneda
ANA Boeing 767-300ER JA616A to Osaka Kansai
ANA Boeing 737-700 Winglet JA08AN to Nagoya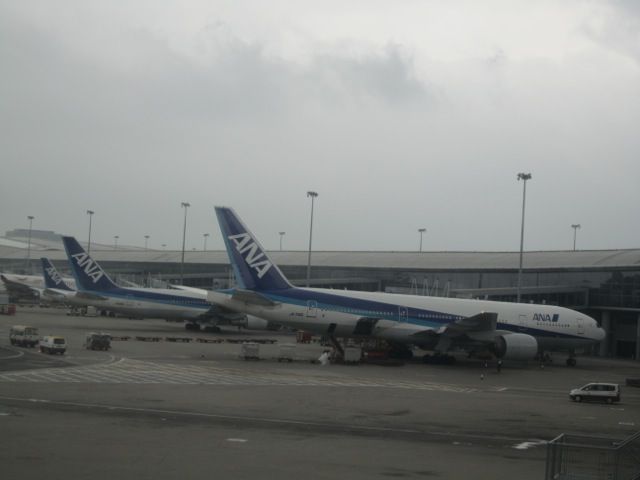 EVA Air's brand new A321 – B-16201 – must be an extra flight to Taipei
We pushed back at 1:31pm and it was very busy in Hong Kong. We finally took off at 1:55pm for our two hours and eighteen minutes flight. We cruised at 38,000feet, and the routing took us towards Hainan, Vietnam, and then descending after passing Nakhon Ratchasima, and straight into Suvarnabhumi.
Beverage began after seat belt sign was turned off at 2:05pm, and beverage service soon began with canapés.
Here is the wine list and menu:
Wine List for March 2013
White Wines
Chateau de Chantegrive Carline 2010
Chablis Grand Cru Desvignes 2011
Red Wines
Chateau Yon-Figeac 2006
Beaune 1er Cru Les Grieves 2008
German White Wine for BKK to German routes (Frankfurt & Munich)
Schloss Vollrads Riesling 2009
Australian Red Wine Loading from BKK for Sydney and London
Domaine Tournon 2009
Italian Red Wine from BKK to Rome
Sondraia 2007
Champagne
Dom Perignon Vintage 2003
Liqueurs
1795 Extra Cognac
OTARD
Champagne – Dom Perignon 2003 and water
Setup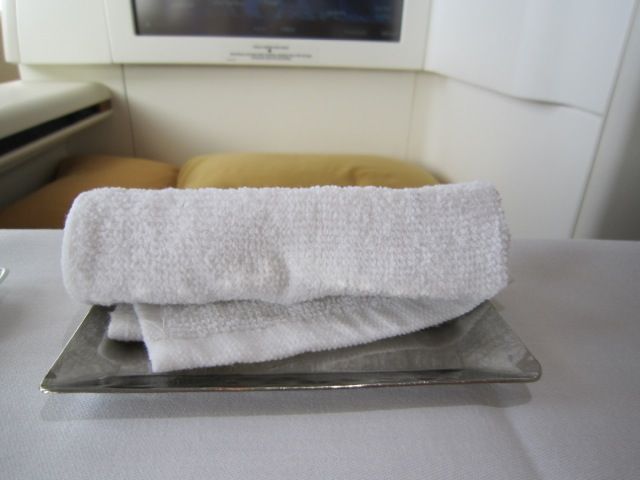 Menu
Canapés – Caramelized Onion tartlet & Seaweed Chicken Tortilla Wrap
First Course
Smoked Norwegian Salmon, Green Papaya salad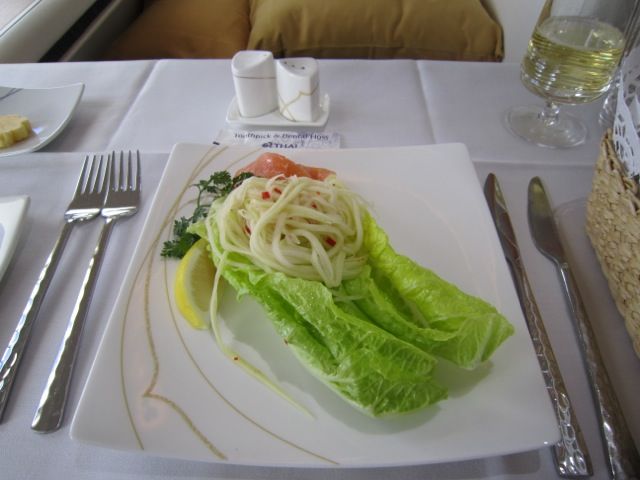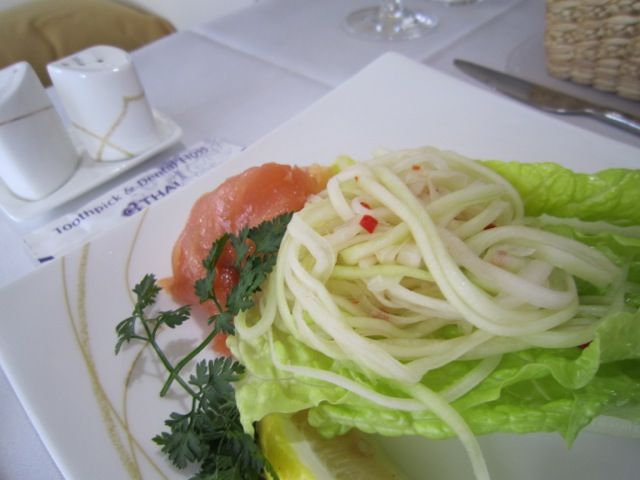 Main Course
Steamed ling fish with Preserved Vegetables Soya Sauce
Braised E-fu noodles with Oyster Soya sauce
Braised Chinese Cabbage with Carrot
Or
Grilled Beef Tenderloin with Pommery Mustard Sauce
Deep-fried Finger Potatoes with Parsley
Carrot, French bean
Sautéed Portobello Mushroom with Olive Oil
Or
Thai Red Curry with Roast Duck
Steamed Rice
Carrot, Broccoli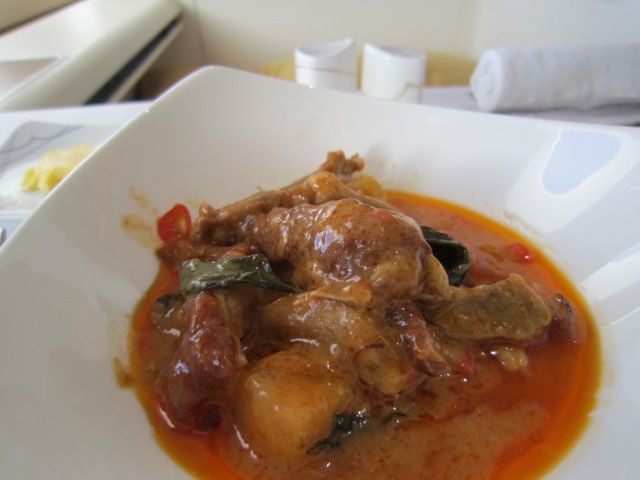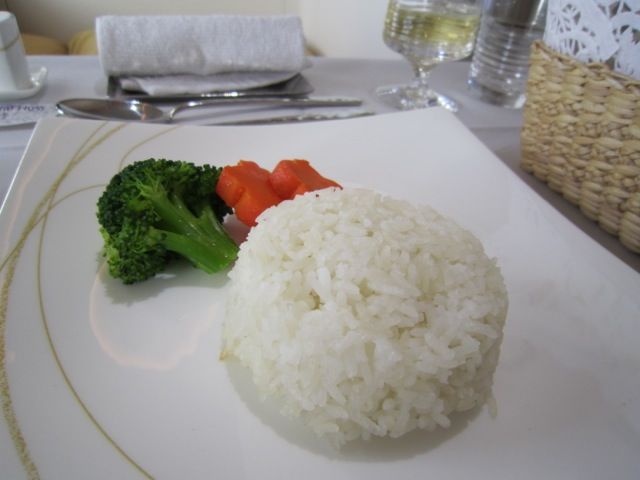 Assorted Bread, Crackers, Butter
Cheese and Fruit Plate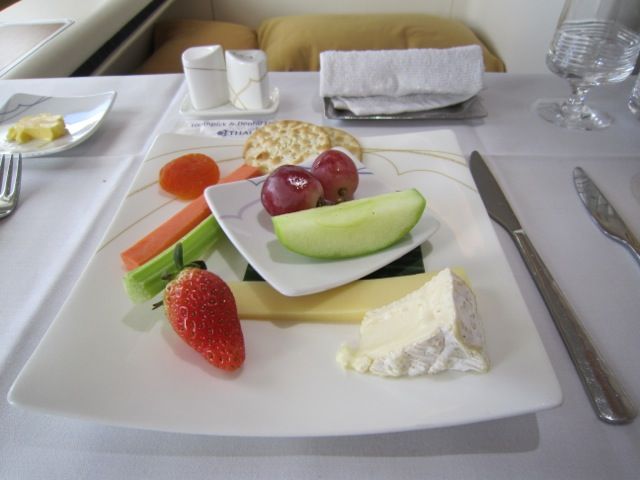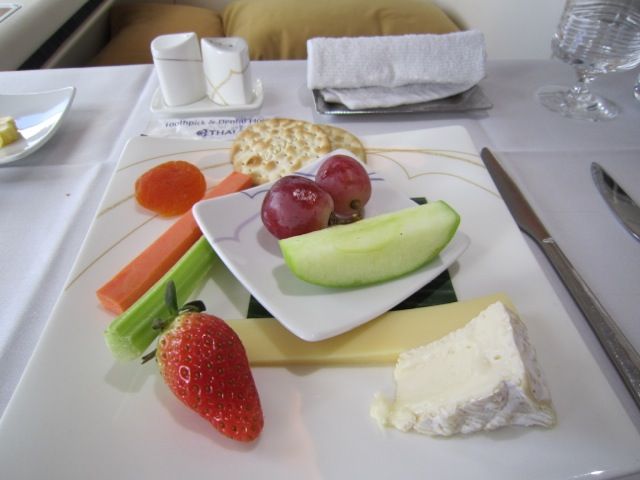 Dessert
Salted Caramel Tart
Rice Pudding Cake
Tea, Coffee
Espresso, Cappuccino
TG 601 F-MENU E: MAR 2013
I had a cup of tea after lunch, and took the opportunities to take pictures of the seats in lounging and full flat bed positions.
A quick word about the service on this flight – there were three F/As serving in the first class cabin, along with a purser assisting with the service. The F/As were friendly and efficient. For Thai, this crew was pretty good.