Background
I've been visiting Shoreham airport, a small friendly general aviation airfield on the south coast of the UK, for a few years. Back in the days when Rockhopper (now Blue Islands) flew BN2 Islanders to Alderney in both their own scheme and with an ex Air Jamaica bird. A couple of years later, I'd start taking flying lessons in a dodgy old Piper PA38 Tomahawk. The oldest licensed aerodrome in the UK, it was doing well, especially on weekends when dozens of visitors would land for a good quality lunch in the restaurant/cafe.
Unfortunately, with the "global economic crisis", things went downhill. The airport priced itself out of operation (charging way above average for a landing and even a go-around) and the owner went bust. Commercial services weren't viable and ESH's second recent attempt at a passenger airline service fell through (probably because it was unjustifiably expensive), flying to Le Touquet and Paris Pontoise with Piper Chieftains.
Recently the airport has been rejuvenated with the promise of a new scheduled service to Paris and a complete refurbishment of the restaurant (which was previously absolutely terrible. Mismatched furniture, nasty pre-packed sandwiches and uninviting surroundings) and is now fantastic. In fact, I went there recently and there was a musician in the corner playing a grand piano whilst people were being served excellent quality food.
I can't remember how I came across it, but I noticed an ambitious start up "virtual" airline called Brighton City Airways wanting to start flights from Shoreham. No routes were known at the time but you could vote for where you wanted them to look into. Regardless of where they would end up flying, I wanted to give them a go. I kept an eye on them and late last year, they announced they'd be flying to an airfield north west of Paris called Pontoise, offering connections into central Paris. At £69 each way, it was reasonable. Booking was opened early December and I like to think I was the very first passenger to book with them, as I stayed up until midnight to grab the inaugural service (which wasn't particularly my intention until I thought why not?!), departing on March the 6th.
The Service
Flights are advertised at £69 each way, with £6 extra for a hold bag. Parking at Shoreham is £5 a night (a bargain, as you'll see later) and a shuttle bus at the other end to the closest RER station (which then takes 35 minutes to central Paris) is another £5. Parking in Pontoise is free. Other unique benefits are a £20 deposit for flights, with the remainder payable later, unlimited (and free) name changes and a 15 minute check-in time. Their aircraft of choice is the 19 seat Let 410, the largest commercial aircraft capable of using the available runway at Shoreham. There would be two return flights a day on weekdays and one on weekends, as follows;
Monday-Friday
ESH-POX Dep:0830 Arr:1030 Dep:1700 Arr:1900
POX-ESH Dep:1200 Arr:1200 Dep:1900 Arr:1900
Saturday
ESH-POX Dep:0830 Arr:1030
POX-ESH Dep:1200 Arr:1200
Sunday
ESH-POX Dep:1630 Arr:1900
POX-ESH Dep:1930 Arr:1930
Booking was fairly straightforward. With this being a new airline, the website (https://www.brightoncityairways.com/) is hardly going to be a hugely sophisticated affair. True to my suspicions, it wasn't as user friendly as most airlines these days, but I expect it'll improve with time. In the month or so prior to the flight I received a few too many emails telling me to provide my passenger details (which I had done) and then one slightly more interesting one. Due to French customs having not got their act together, it would be two weeks before they have any customs facilities in Pontoise. This meant we'd have to stop off at either Le Touquet or Rouen en route. Hurrah! Four flights for the price of two! I hoped for Le Touquet as it looks like a far more interesting approach and it's more out of the way compared to Rouen. Sure enough, Le Touquet was our chosen stop off point, giving us this route;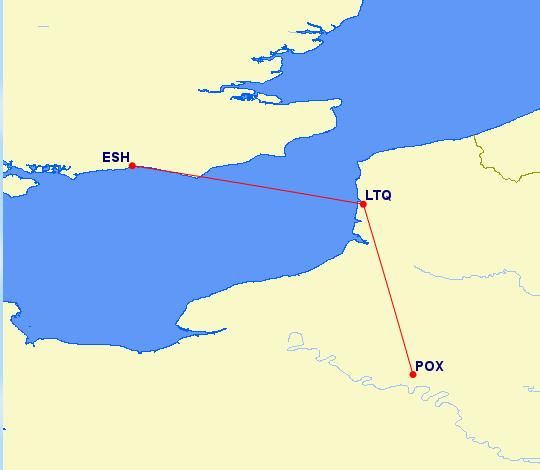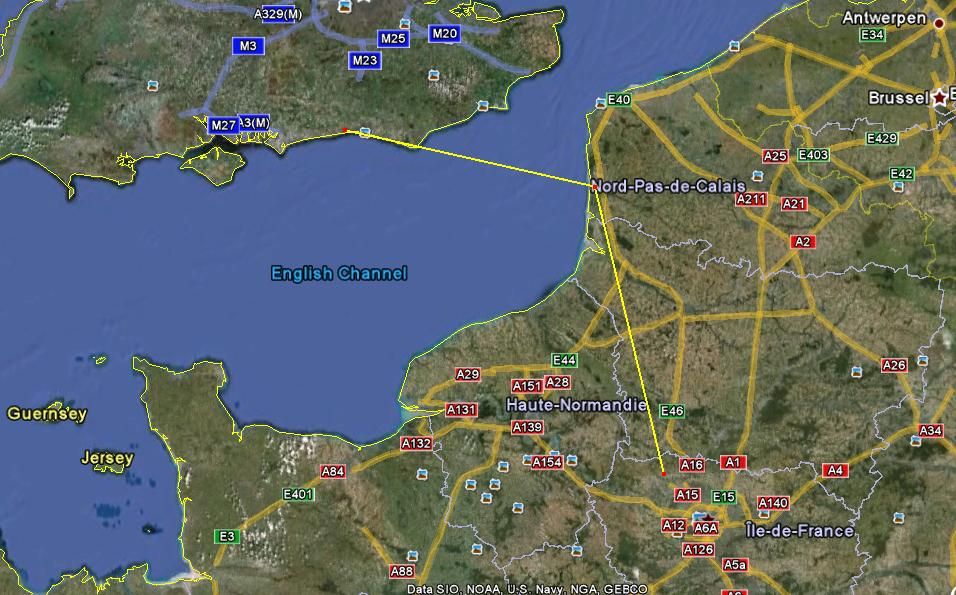 Day of the flight
My alarm goes off at 0700 (Yes, a mere hour and a half before departure time) and I get the morning formalities out of the way before leaving the house for the 35 minute or so drive down to the coast. I arrive around 0750, park my car up seconds from the terminal and pay £5 at the meter for 24 hours parking.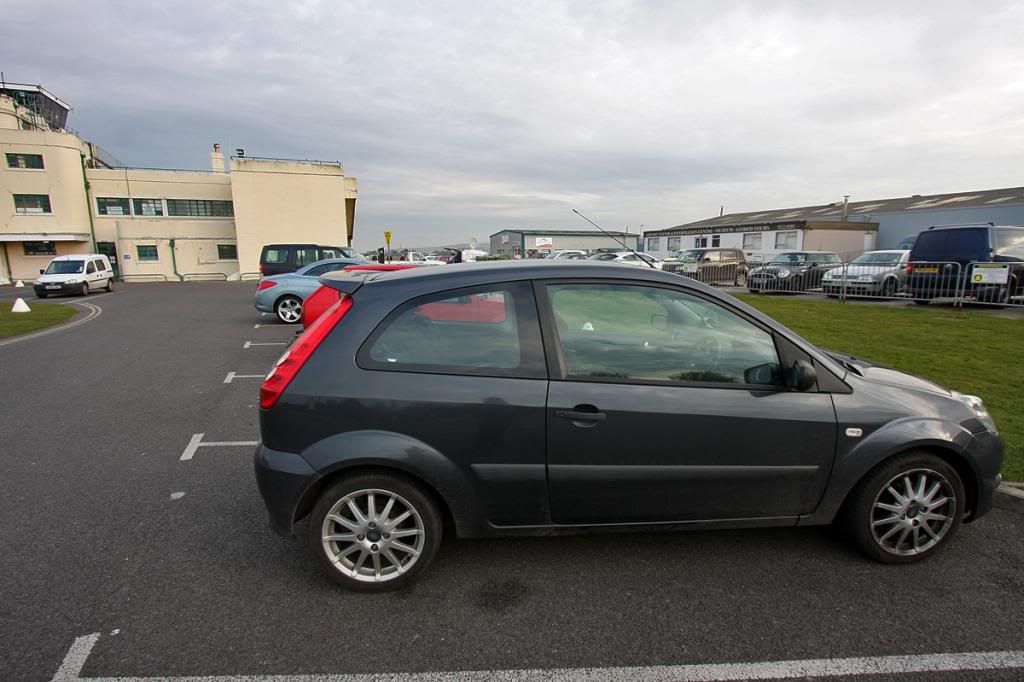 My car, with the terminal within spitting distance. Had the aircraft already been here, you'd be able to see it parked in the background.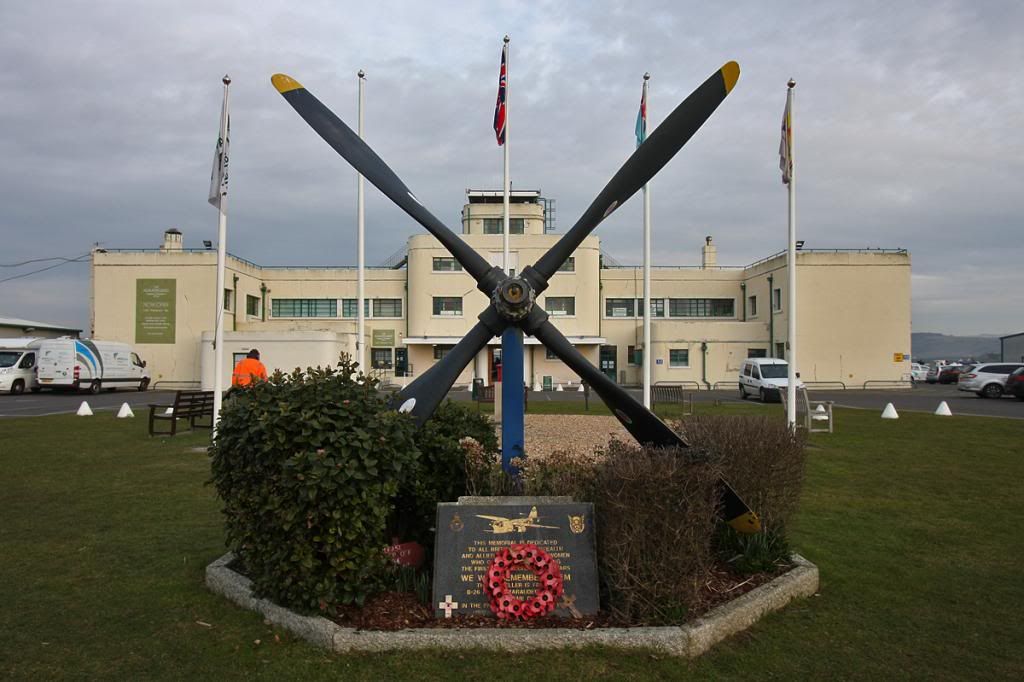 The old Art Deco style terminal and war memorial. (Shoreham was an active RAF base in the war, read more here:
http://en.wikipedia.org/wiki/Shoreham_Airport
, and for the airports website including a webcam:
http://www.shorehamairport.co.uk/)
I'm pleased to see a fair amount of press presence here (NOT because I want to get on the television
). I head over to the apron expecting to see our aircraft, but no such luck yet. According to the arrivals board (yes, there is one here) a Van Air flight number was due in from the Isle of Man. I hang around watching people in suits look important then pluck up the courage to head towards check in. As I do, a TV reporter is straight on the job, "Are you on the flight? Can we interview you for ITV Meridian?" "Uhh, yeah okay!" I'm told to stand in a certain spot and straight away it's into the questions. "So why are you here today? Are you happy to see a new airline at Shoreham? Do you think it'll succeed?". I answer all these questions as positively as I can and throw in a few token phrases to make it sound like I'm going to be a regular traveller on the route rather than an aviation geek who's just flying for the novelty. I'm thanked and turn around to walk away, where I'm asked by another camera man from BBC South Today "Can we pap you too?" "Haha, yeah alright!". "Are you local? Being in Horsham, is this more convenient for you?" The latter question is televised on the news that evening much to many friends amusement, with my reply "Yes. I have a friend in Paris so it's much easier from here, otherwise I'd have to go to Luton or Stansted, or the Eurostar". (I'm aware you can also fly from Heathrow and City but this totally slipped my mind when I was panicking about being filmed!)
I head inside to the tiny check in area being followed by the same cameramen, "do you mind if we film you checking in?" to which I agree. I hand over my passport to the two ladies behind the counter that seem a little embarrassed at being filmed too. They ask whether I have a boarding pass (I was emailed one, but didn't print it off) to which I reply no, and they give me one, followed by a voucher entitling me to a free breakfast of my choice and glass of prosecco in the restaurant! "We'll come and find you when it's time to board".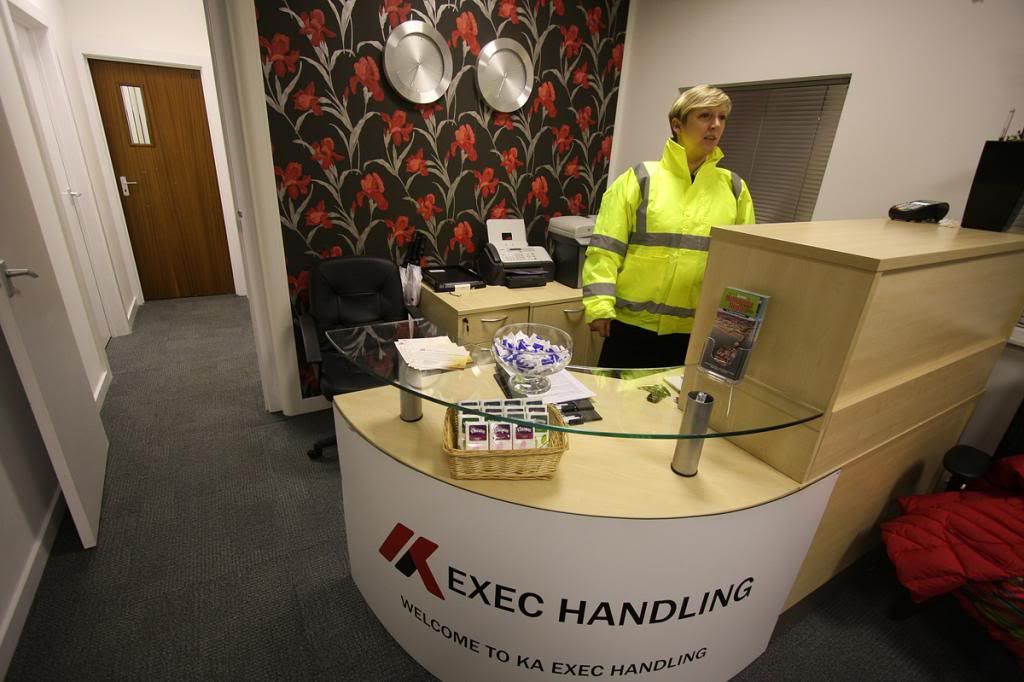 The check in area after the return flight. Beneath those nasty high-vis jackets is a smart Brighton City Airways branded shirt.
Here's a snippet of a report showing me checking in;
http://www.itv.com/news/meridian/sto...13-03-04/new-flights-for-airports/
(it may not work in your region, but worth a try).
I thank them, and make my way out. I catch myself glancing straight down the lens of one of the cameras, quickly looking away with a nervous laugh.
Outside and in the relative safety, I take a look at my boarding pass and voucher and head to the restaurant.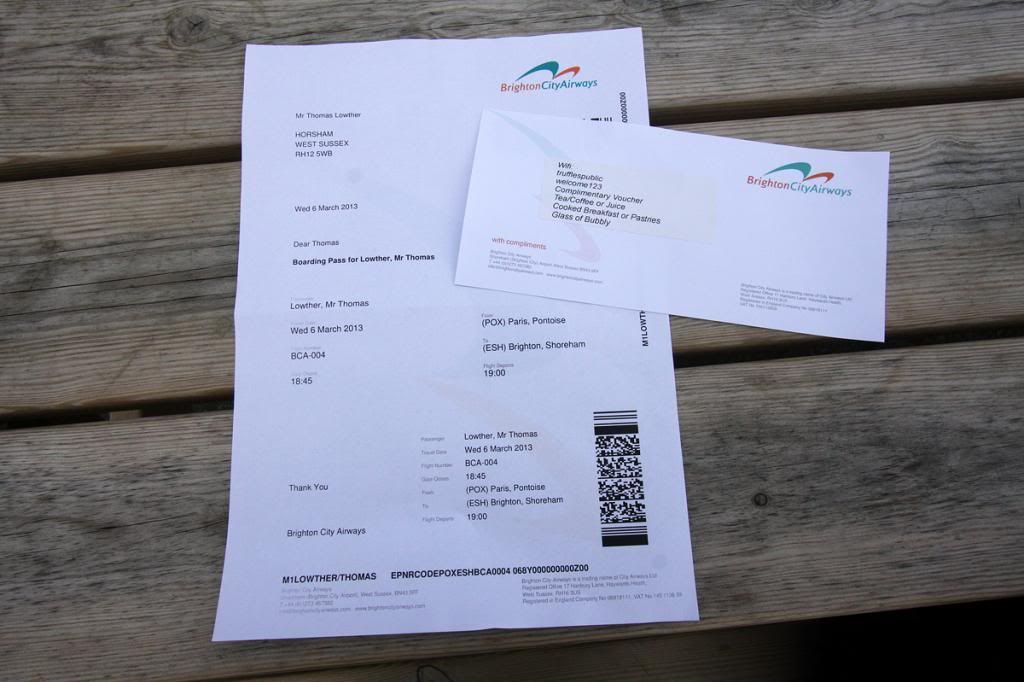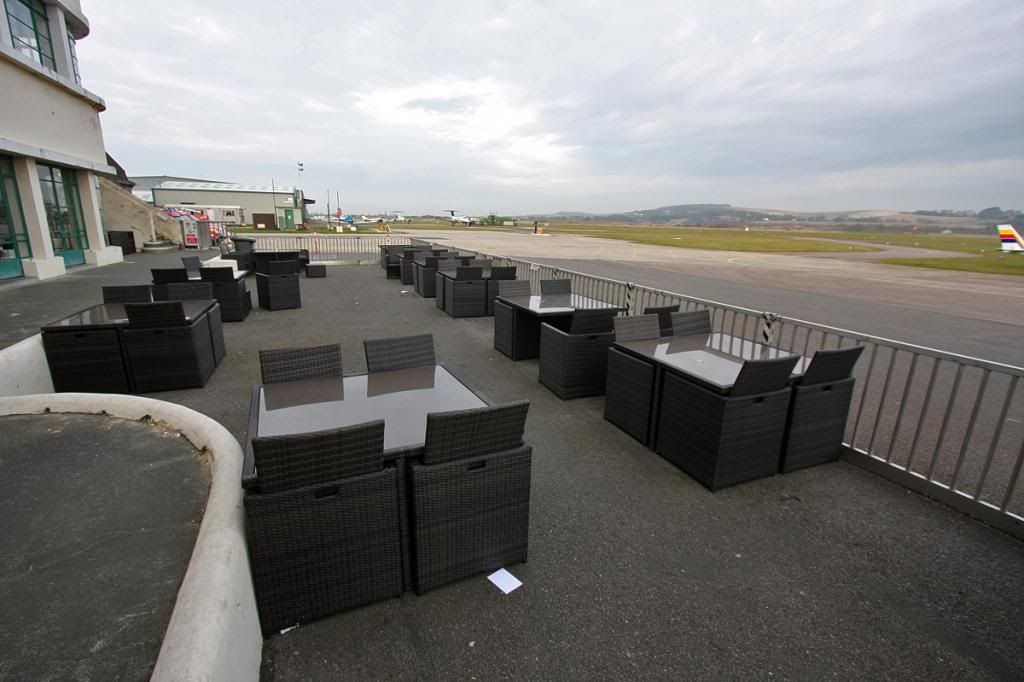 In the summer, this outside area is packed and it's impossible to find a seat!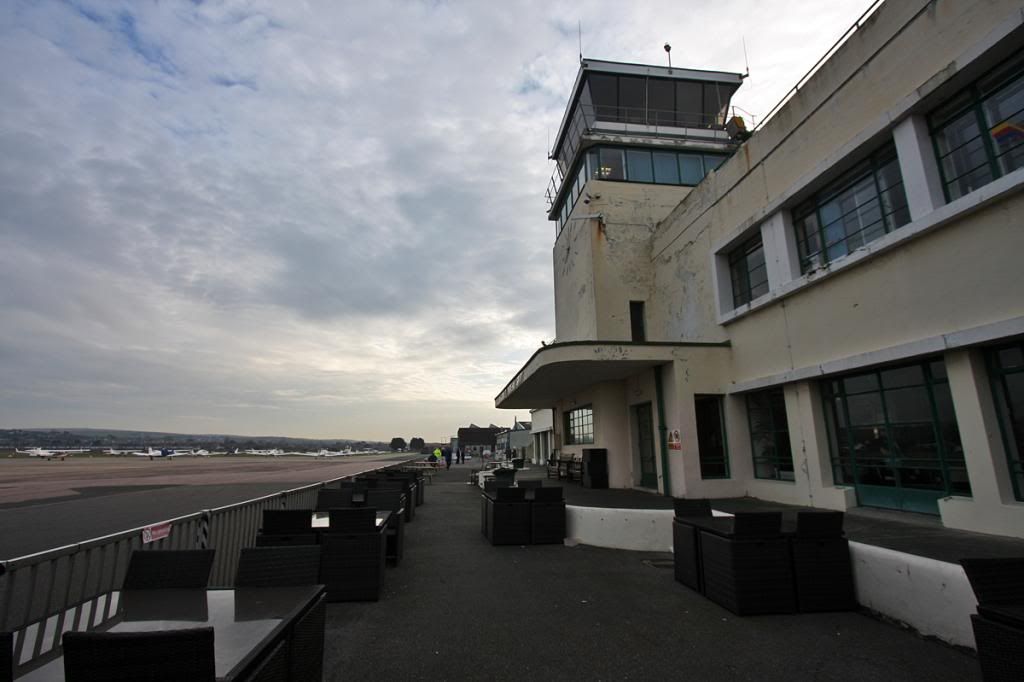 Inside the quiet, historic terminal I present my voucher at the bar and am told "Choose anything you like from the menu". Everything is free with this voucher courtesy of the airline, so I can even take advantage of a full English breakfast and alcohol, which doesn't come cheap! With it being early, I go for something a little more modest and take a couple of Danish pastries and a cup of tea.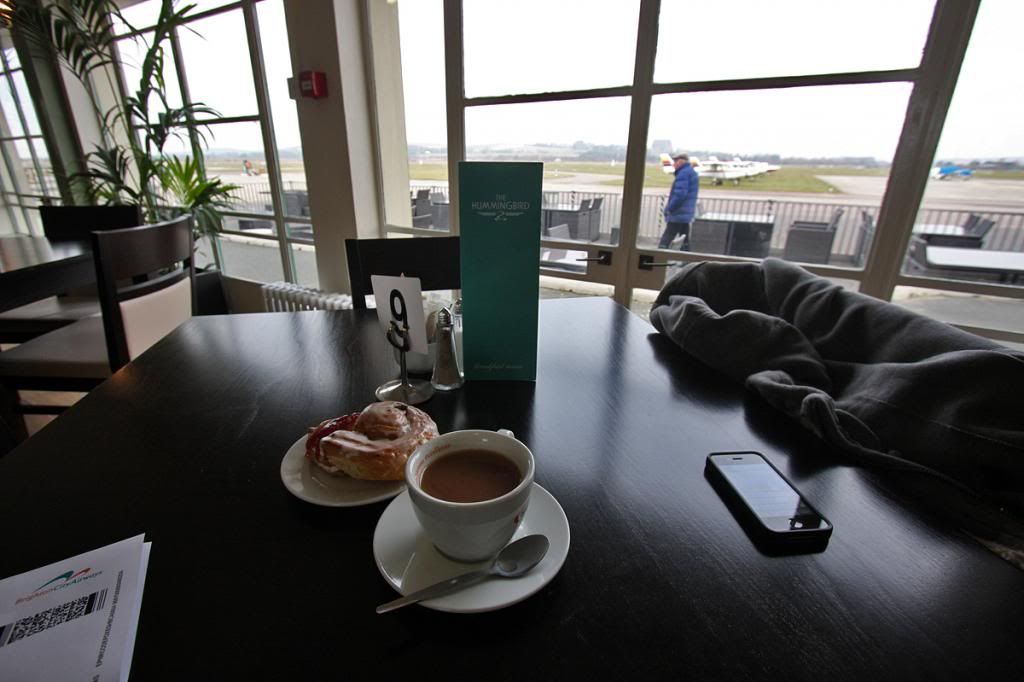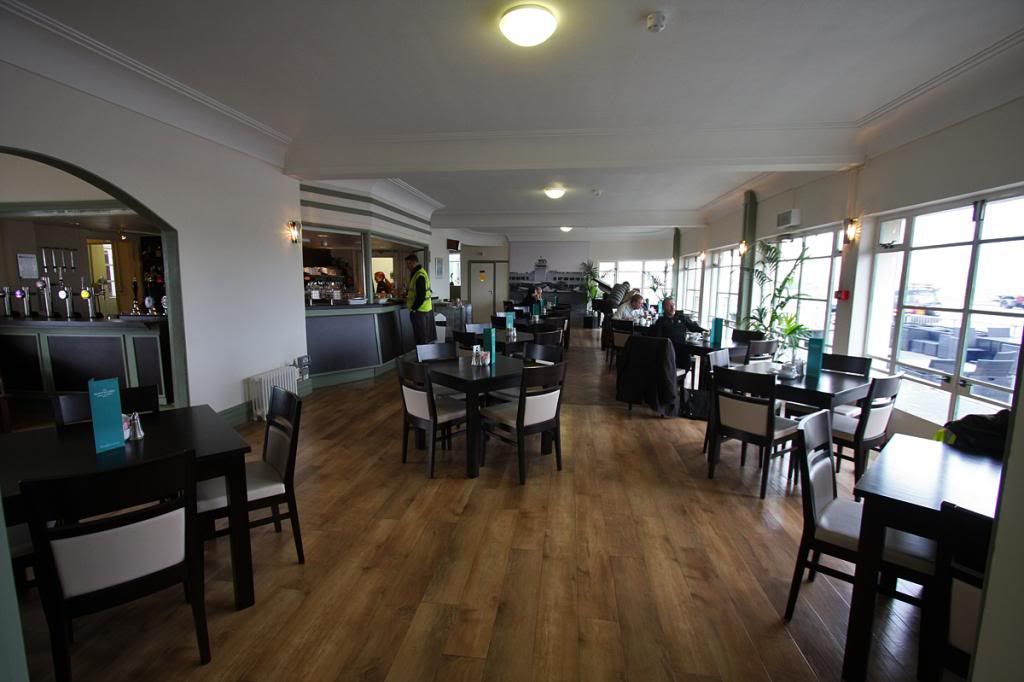 Once I'm finished, I head back outside to await the arrival of our Let 410 from IOM.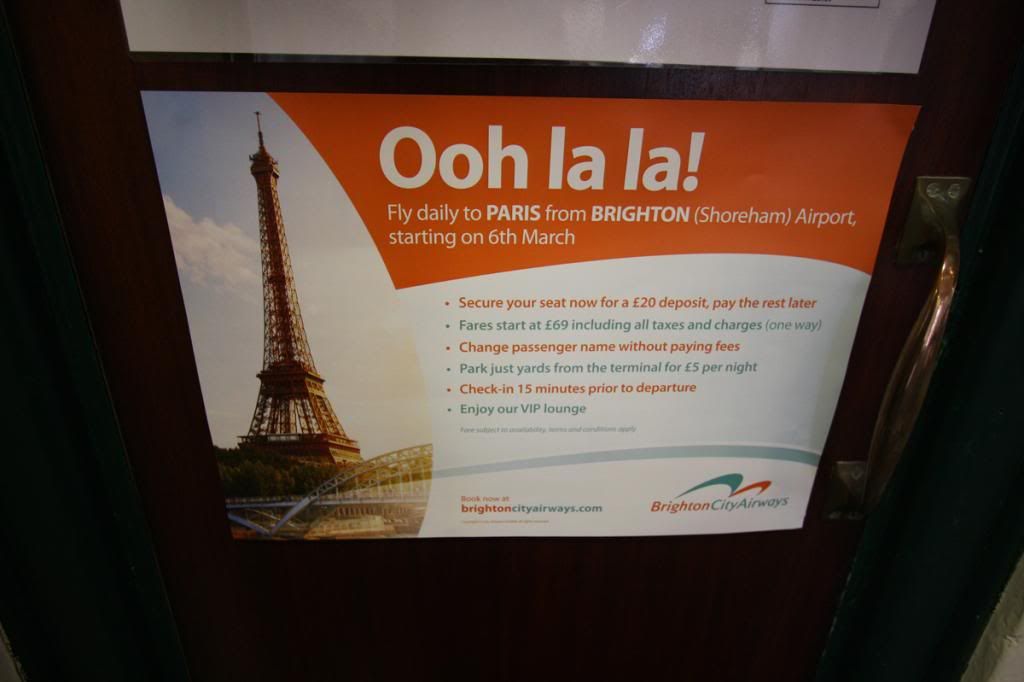 Advert in the terminal for the new flights.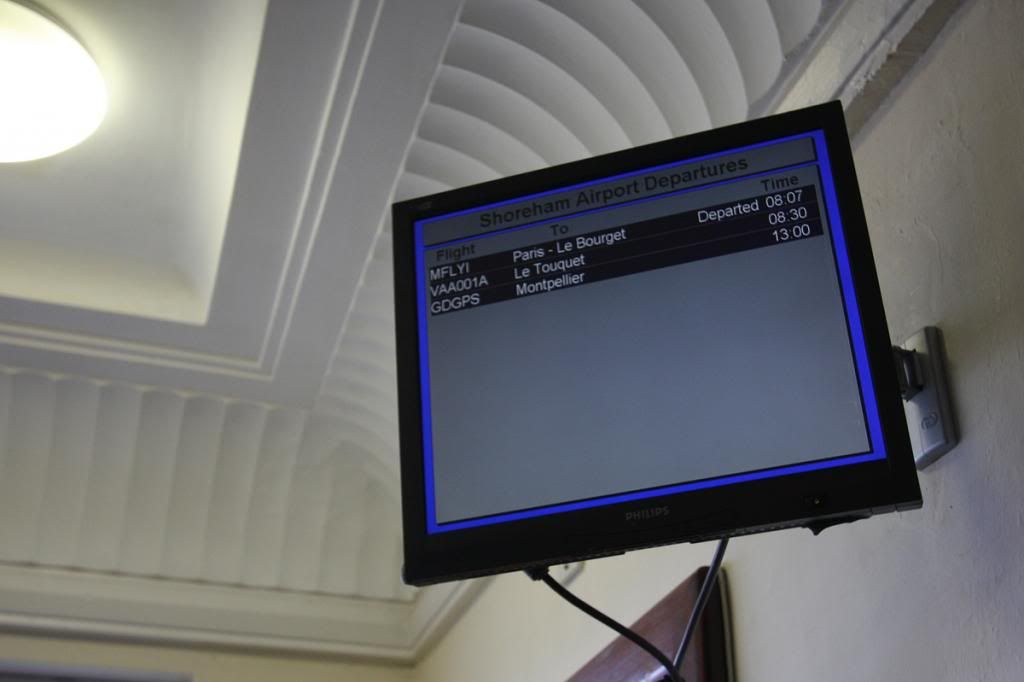 Departures board, with our flight showing as Le Touquet. The other aircraft are private flights, and the flight number is literally just the registration.
I sit outside for a while and watch the happenings beside the terminal. The atmosphere is good, with a lot of excited people from airport workers, to college students and of course the press. I watch guys in suits being interviewed and keep an eye out for the aircraft.
A short while later it lands on runway 20 and backtracks (actually bang on our departure time of 0830, so it goes without saying that we'll be delayed!), people get their cameras ready and wait for it to taxi in right in front of us. I hope that maybe it might have a water cannon salute. For some reason it stops at the other end of the airfield and shuts down. Hmm, interesting. People start to get restless and questions start to get thrown around. After almost half an hour it gets towed onto the apron in front of us. I'd hoped it would be in Brighton City Airways colours (as their website shows) but I wasn't at all surprised to see it in Citywing colours.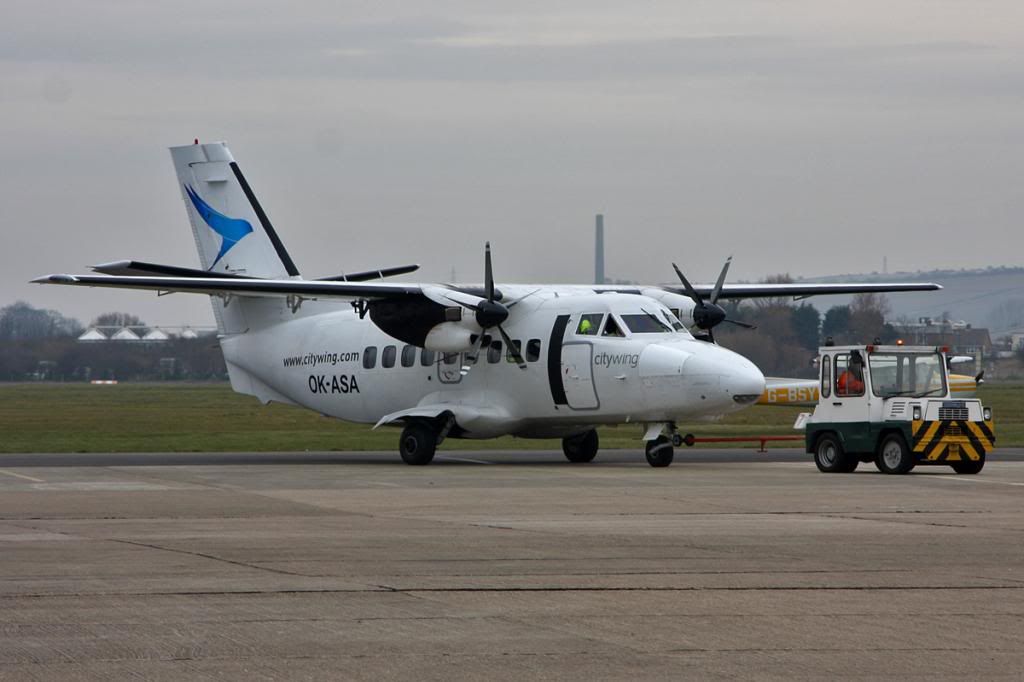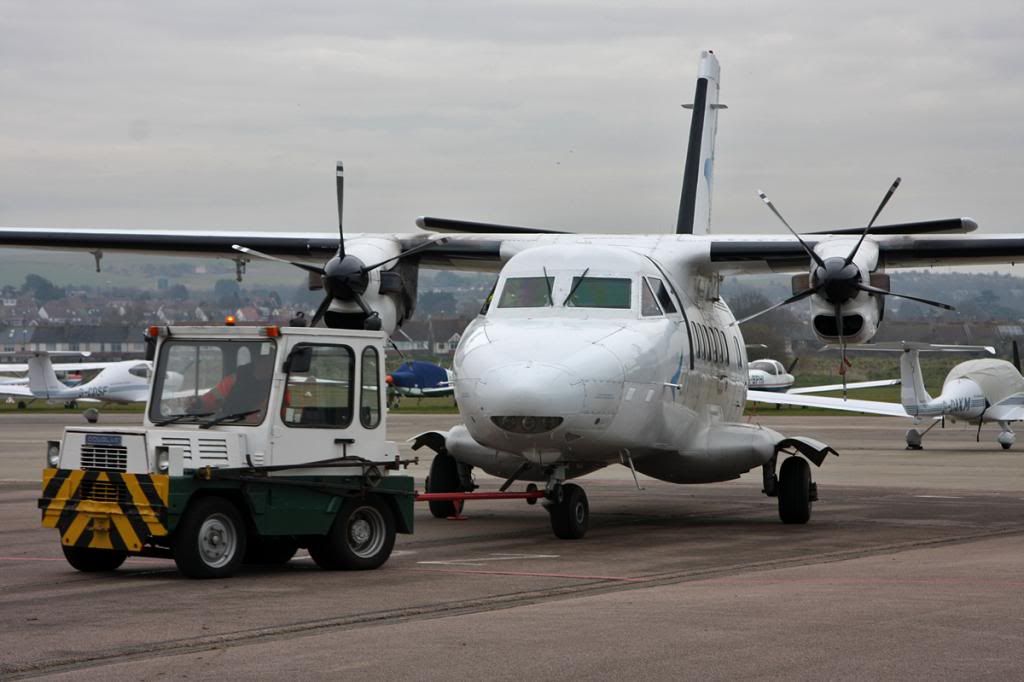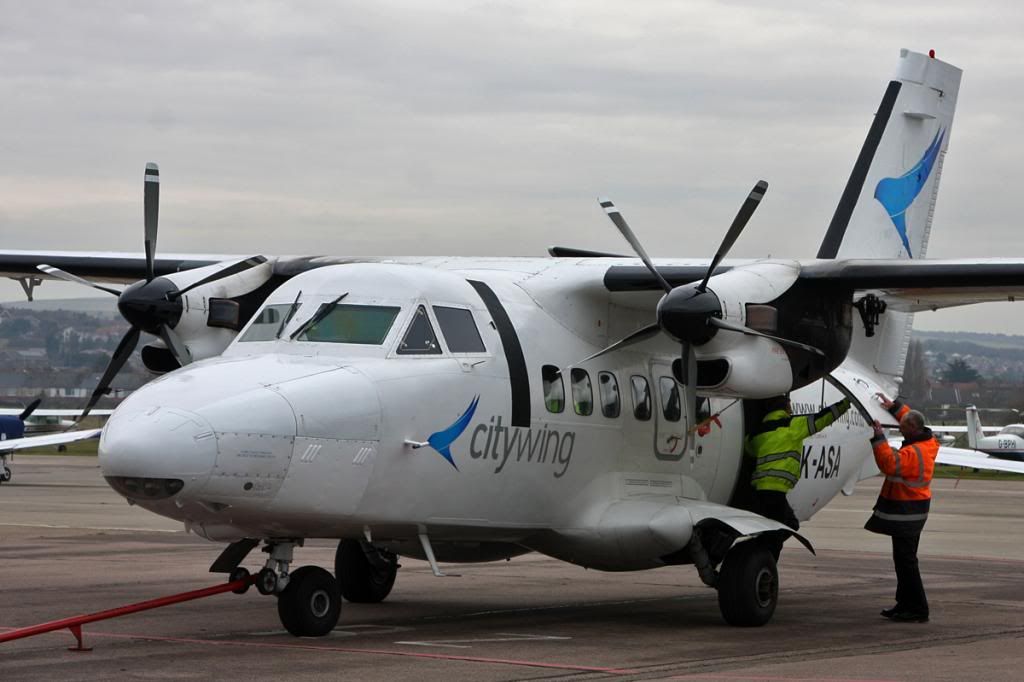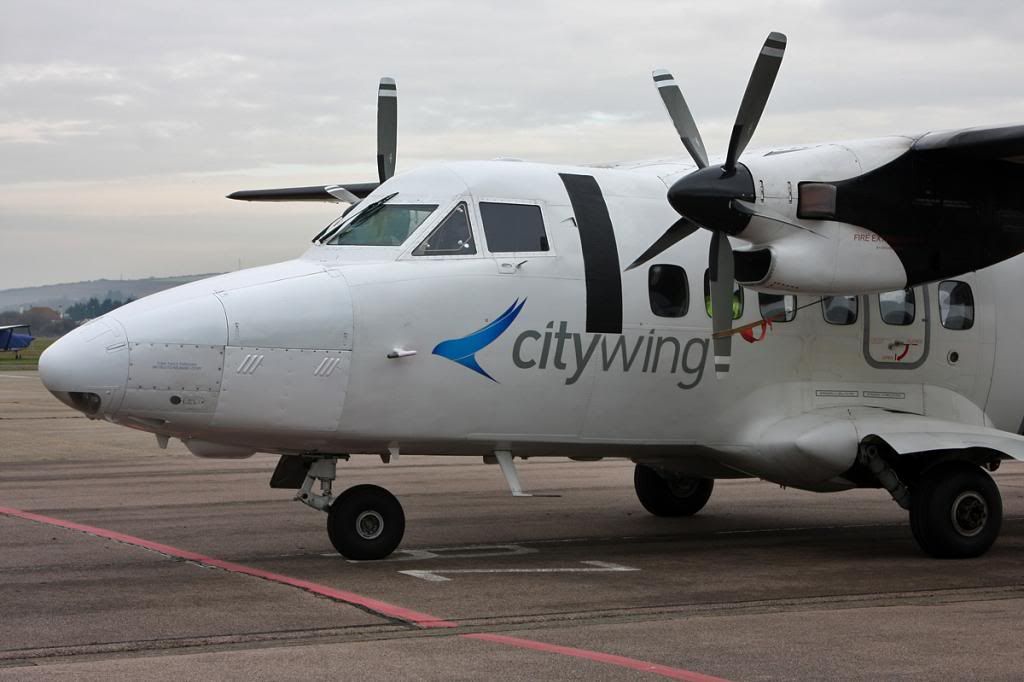 She looks smart nonetheless and it's the first time I've seen the colour scheme that's apparently in dispute with TAME of Ecuador because of its similar logo.
View Large
View Medium


Photo © Roger Cannegieter - Curacao Aviation Photography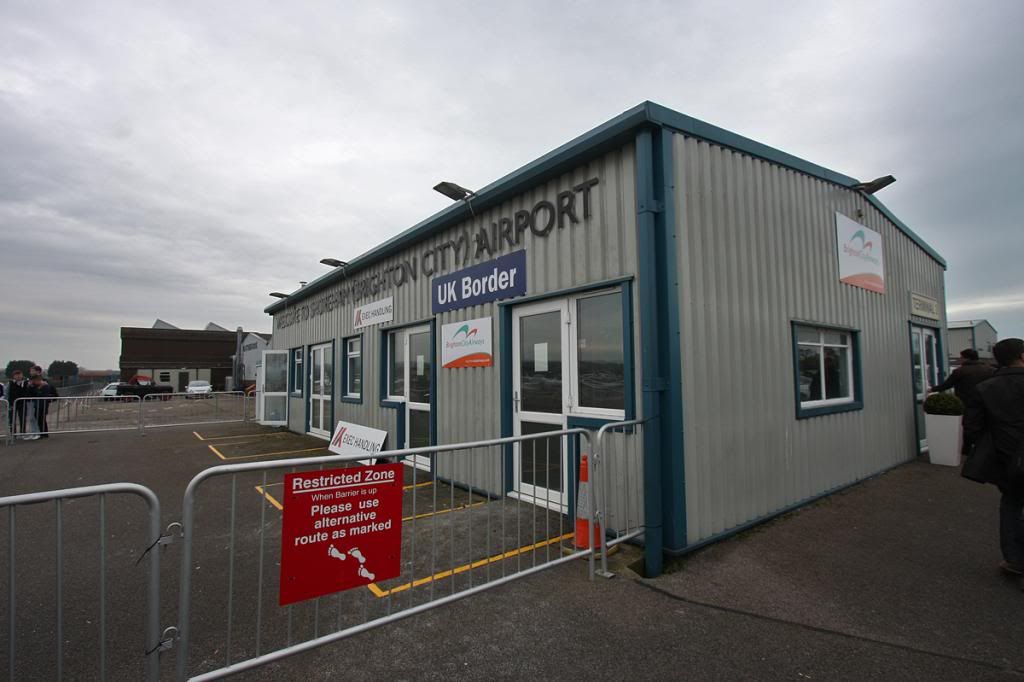 We all head into the small terminal at this point and go through a security scanner. As far as I understand, legally there's no requirement for security to be carried out for a flight with an aircraft of 19 seats or less. But this is the UK so it was hardly unexpected!
Into the departure lounge I go to find everybody else in a question and answer session with the CEO of the company, who is happy to engage in conversation but has to dash off for various operational reasons every now and then.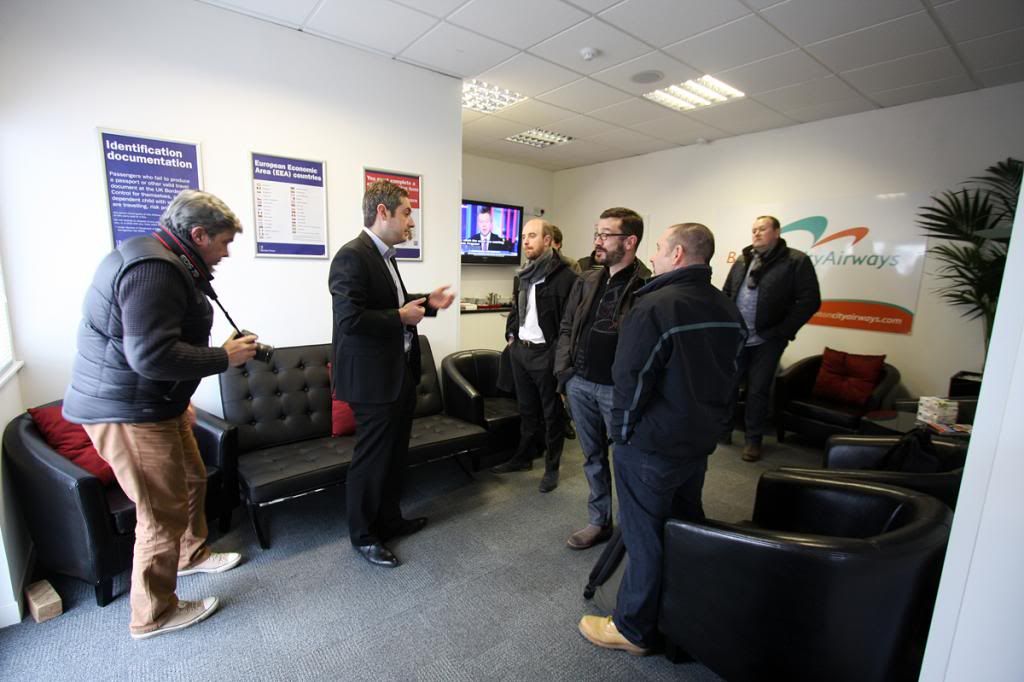 On the far side of the room is a tea and coffee machine, a large TV showing the news and some magazines. The ground staff enter the room and say "There's no toilets on the aircraft, so if you need to use the facilities they're just through here". A good point to make before a flight! I stay close to the door as it shouldn't be to much longer until boarding. For quite a while we wait for "weight and balance paperwork" to be completed which amounts to another half an hour or so of waiting. People start to get restless again and the ground staff apologise, fortunately it's all quite informal and people are in good spirits. It later comes to our attention that the original aircraft had a technical difficulty in the Isle of Man and as such had to be replaced by the Citywing one we now have. After it landed the CAA then had a surprise inspection of the aircraft delaying us further.
Eventually we're led out onto the tarmac not before the ground staff put some branded headrests in place on the aircraft and the press film us all filing out towards the aircraft.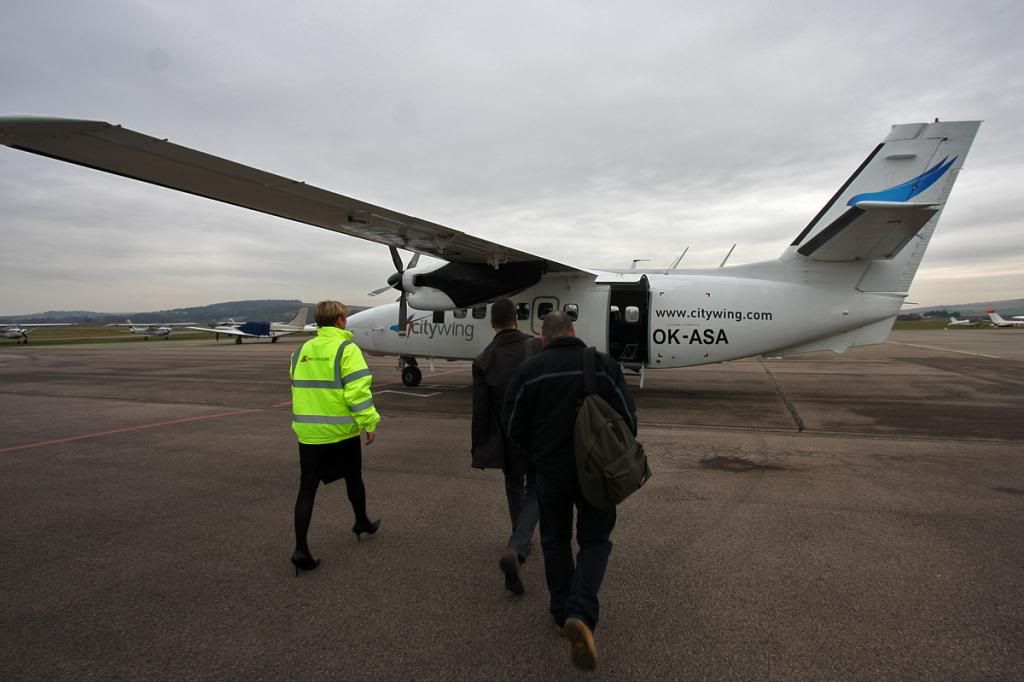 I climb on board and the cabin is far more spacious than I was expecting. Of course such a small aircraft like this is free seating so I take 3A. Seat comfort is good and legroom's not bad. Another passenger even remarks "Not bad! Better than Ryanair" which now seems to be the standard unit of measurement for passengers on aircraft! A large window looks outside and there's plenty of space with 14 of the 19 seats occupied. Elbow and shoulder room is better than a window seat in an average low cost airline though I would've really appreciated an arm rest.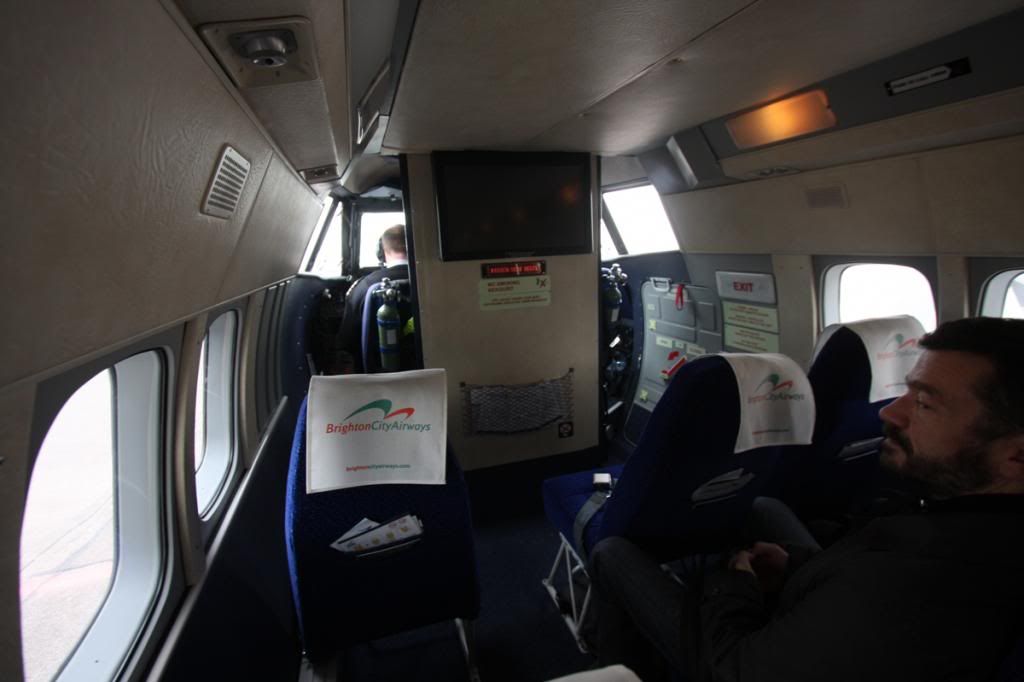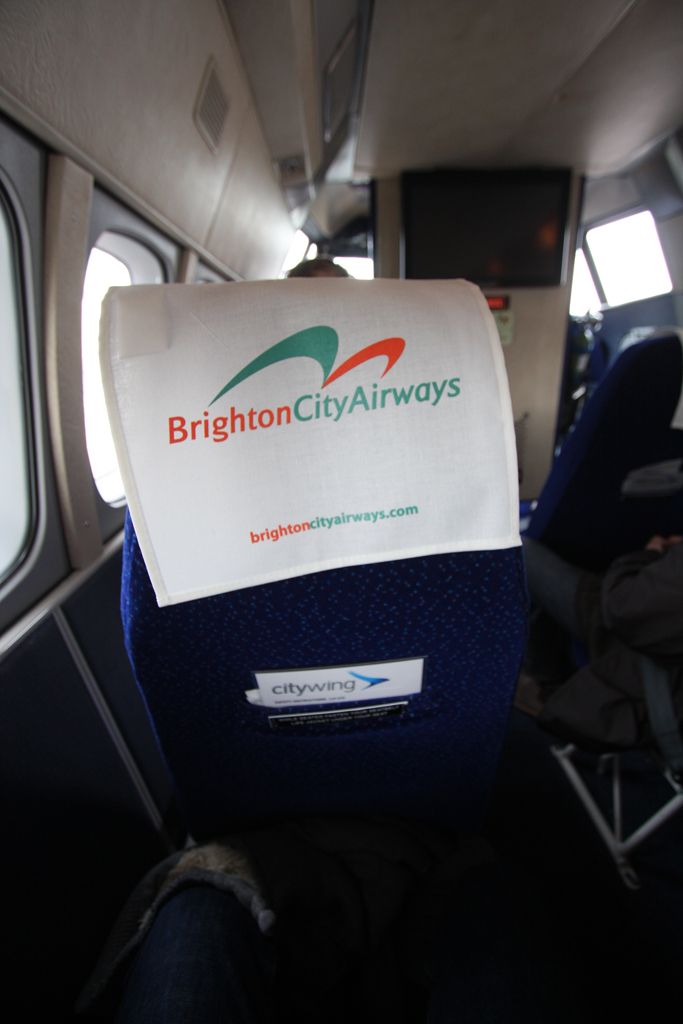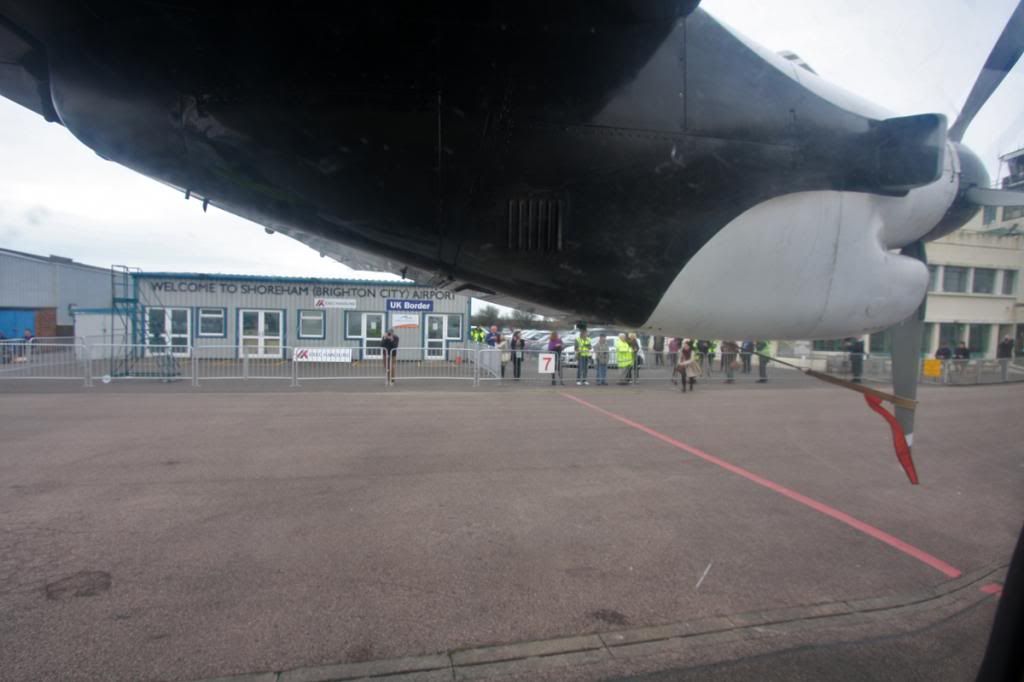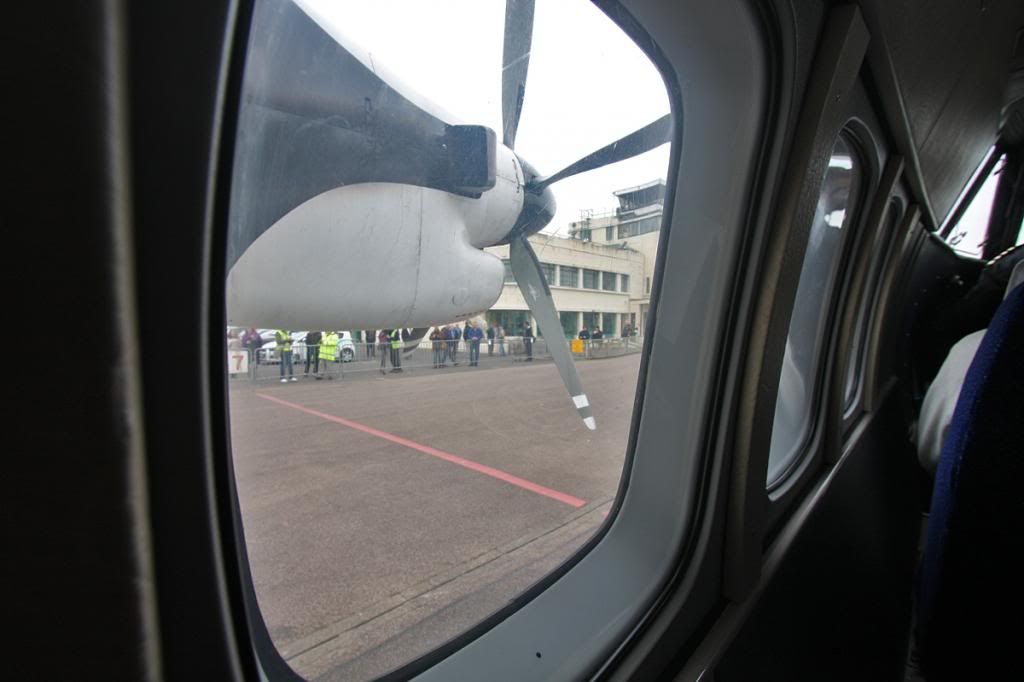 Doors are closed and exit row passengers are briefed on how to operate the exits and the first officer introduces himself and the captain before a short safety demo. Exits are pointed out and seatbelts are demonstrated before a somewhat robotic "thank you for flying Brighton City Airways operated by Van Air Europe and thank you for your attention we wish you a pleasant flight". As if the captain was waiting for his colleague to finish his speech, the engines start the second he stops.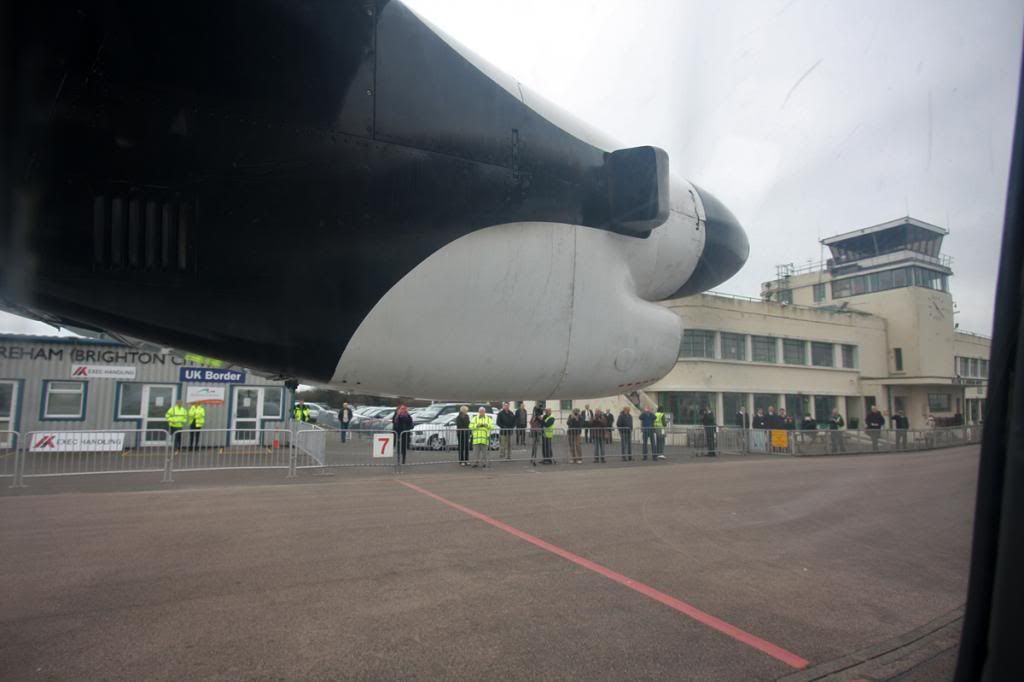 We begin to taxi and the engine volume seems good, people can hold a conversation at a sensible level however it doesn't stay this way for long!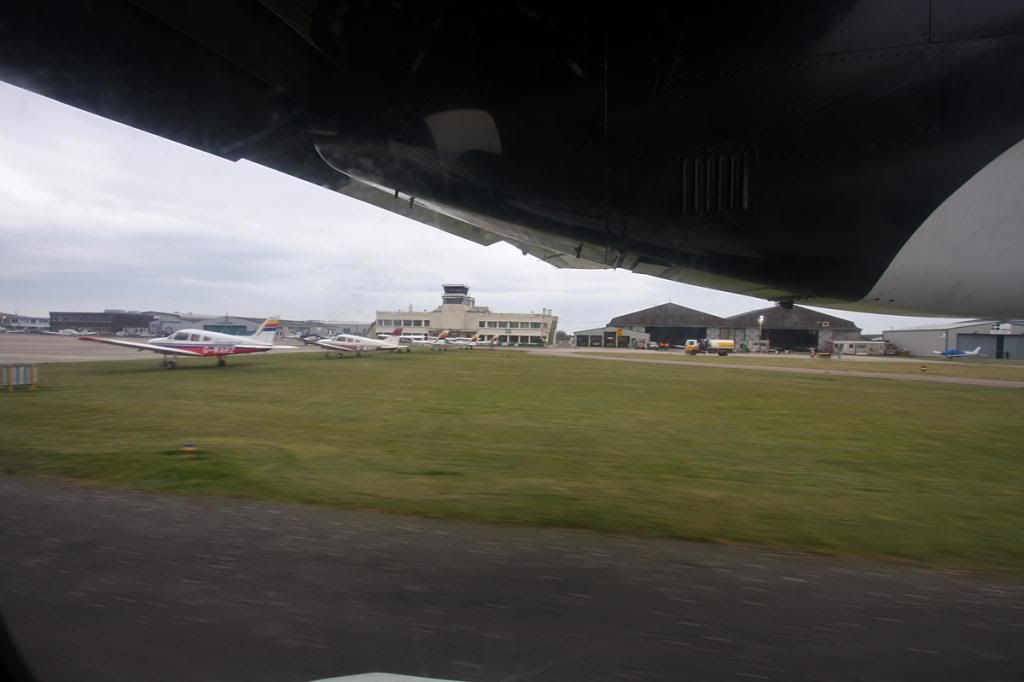 With the groan and screech of brakes we turn onto the runway, spin around and face north for our imminent departure.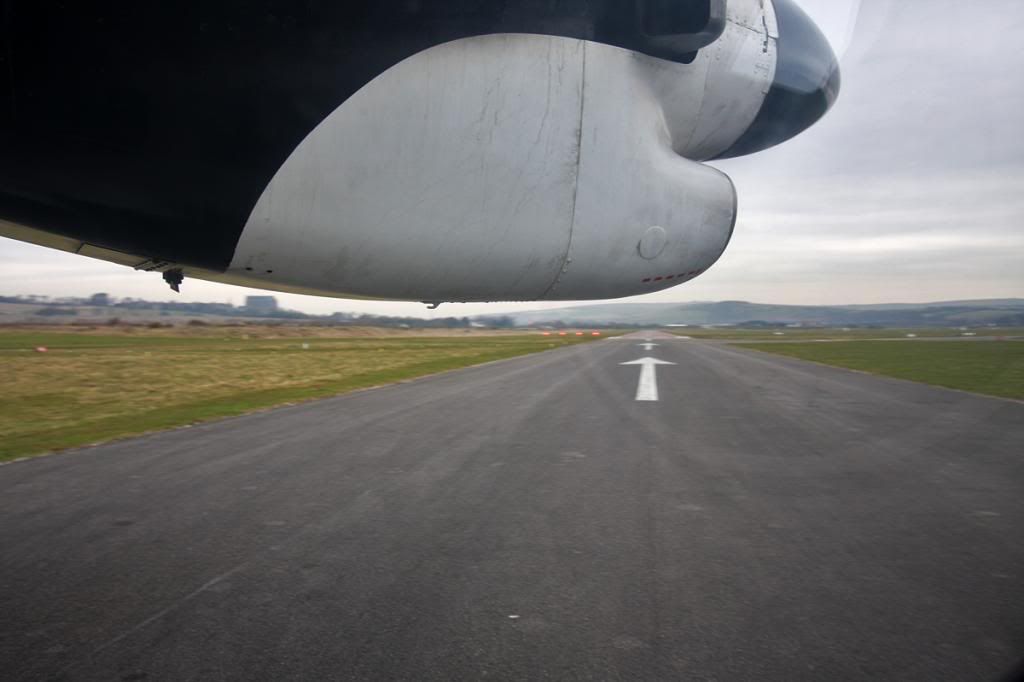 A view down the narrow runway 02.
We power along and of course the noise level has increased significantly by this point. A few moments later the nose points skyward and we hop into the air.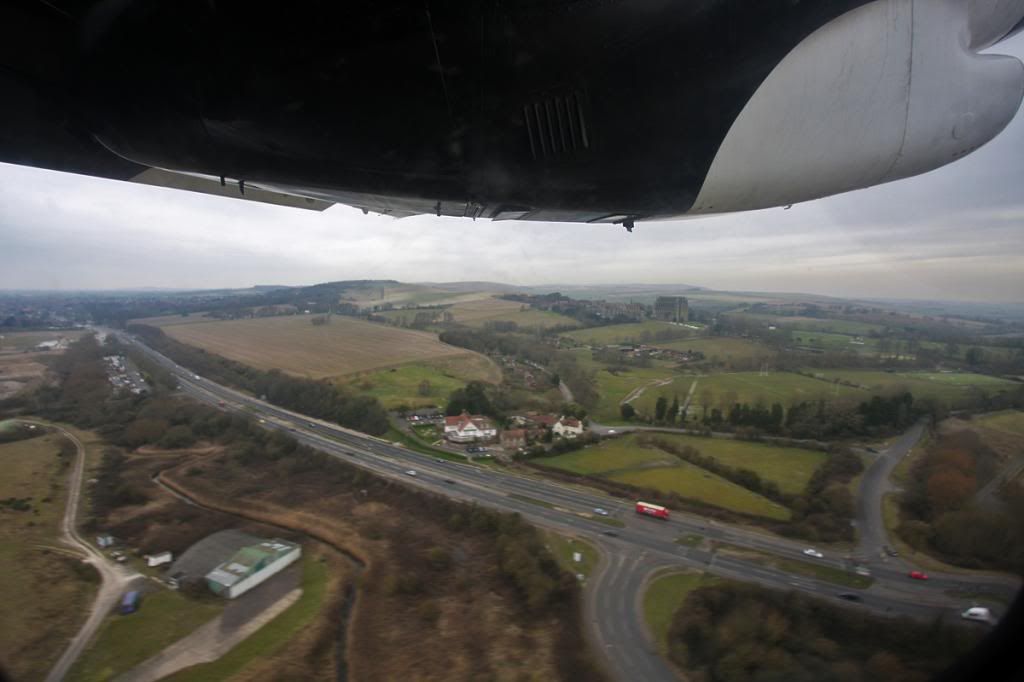 Down below is the A27 road and Lancing College, which can be seen in the background of most photos taken at Shoreham.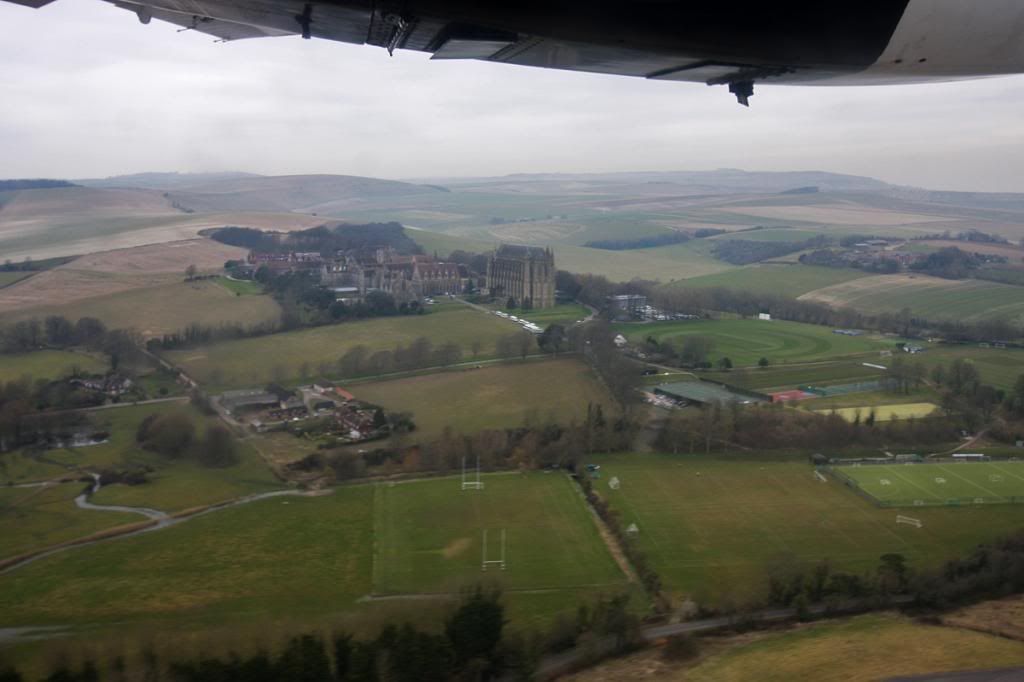 We turn right and head south east over the top of Brighton and up towards what I guess was around 10,000ft, the maximum this unpressurised aircraft can go before us punters need oxygen.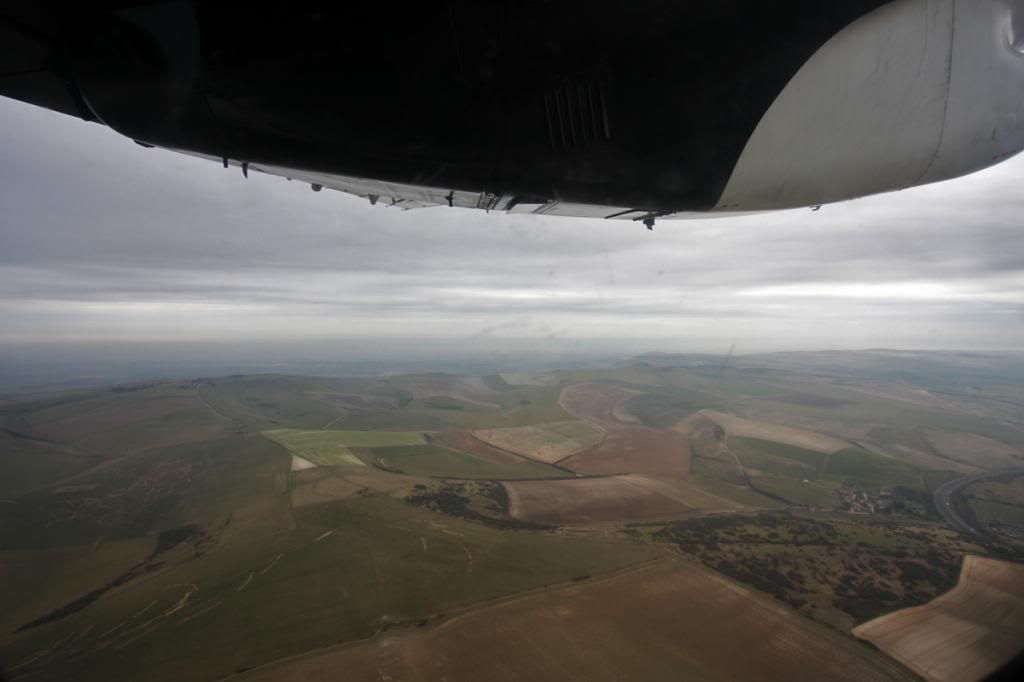 South Downs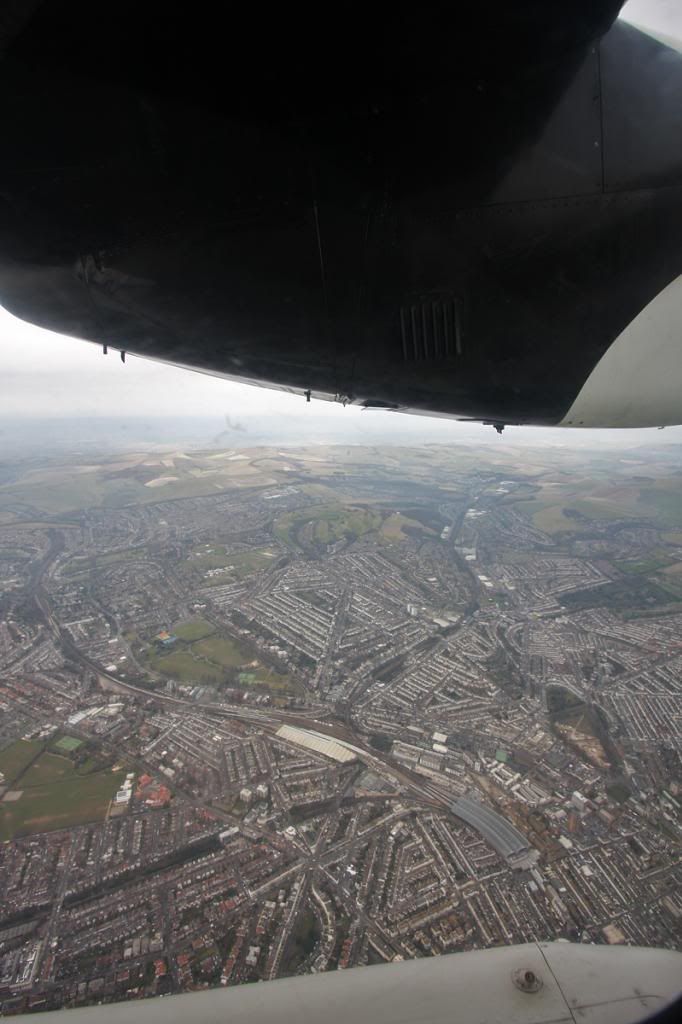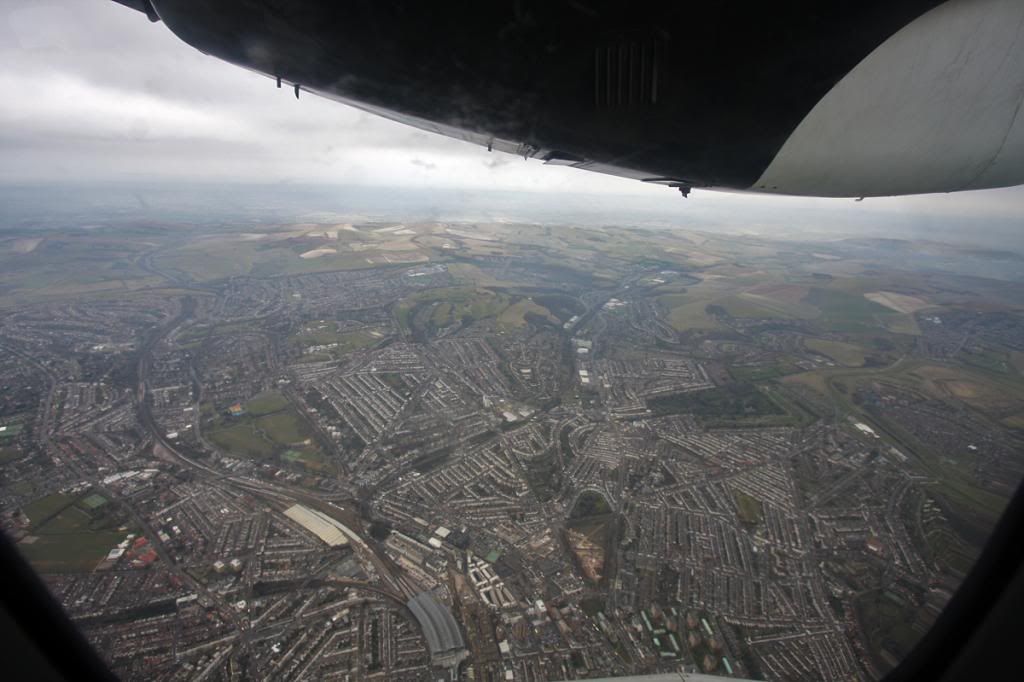 Brighton city centre, with the train station clearly visible.
Those on the right of the aircraft would've had a spectacular view of the seafront, famous (and infamous) piers at Brighton. The latter was abandoned and damaged for several years before being burned to a husk of charred wood.
We gradually climb above the thin layer of high level cloud as the UK coastline disappears from view, there's very little turbulence and the flight is generally smooth.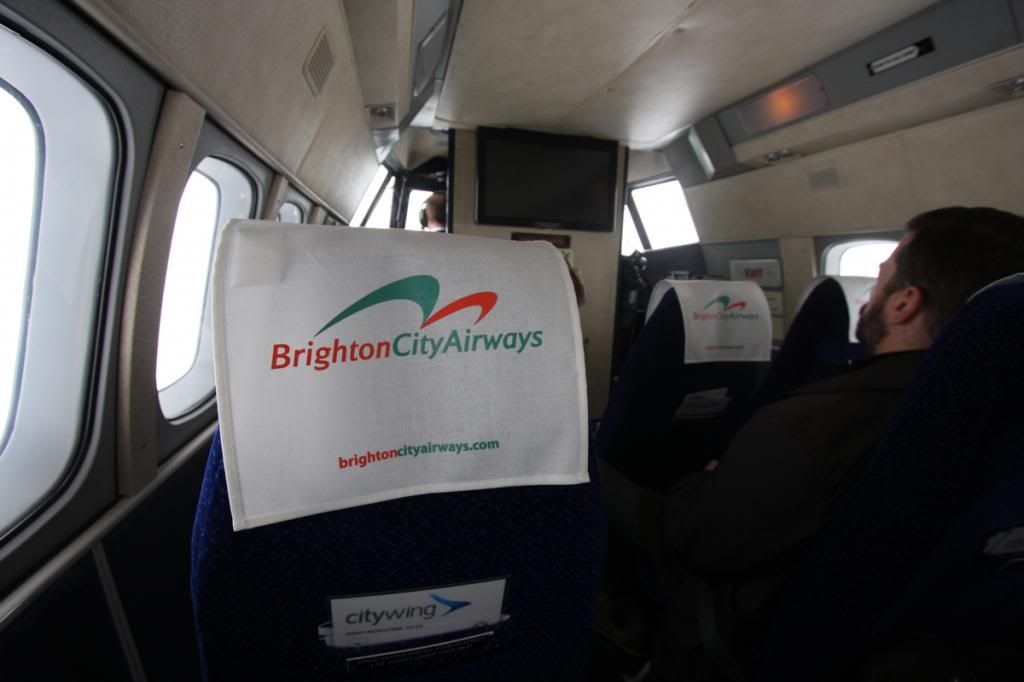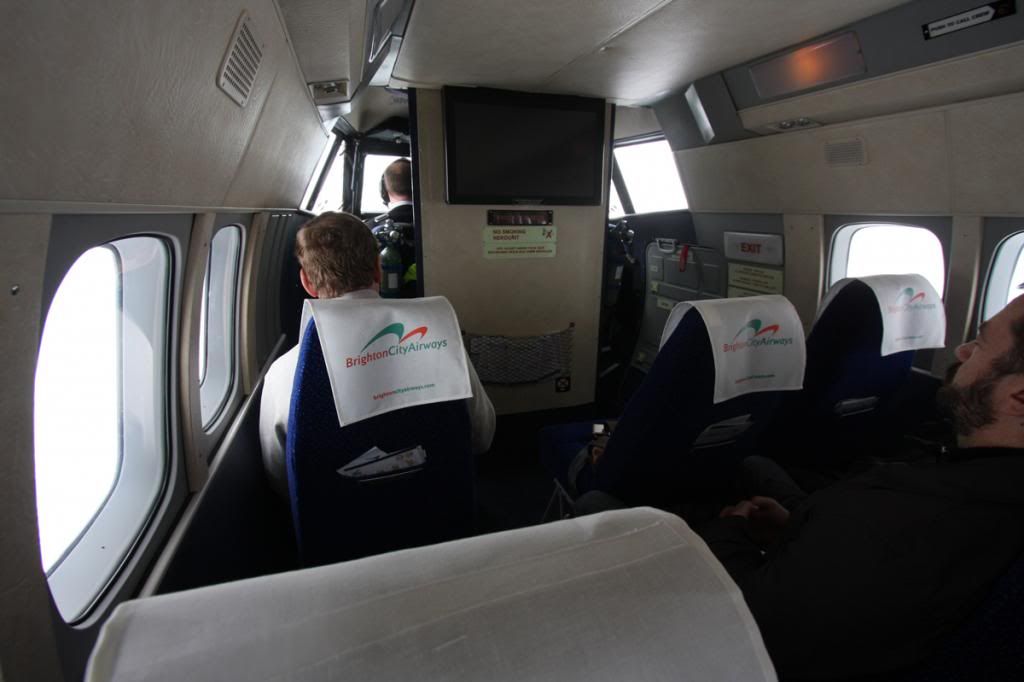 A look inside the cabin at the open flight deck. I didn't take row 1 because I would've barely been able to see anything but the Captains shoulder and the engine would've been in the way for exterior views, as well as being noisier.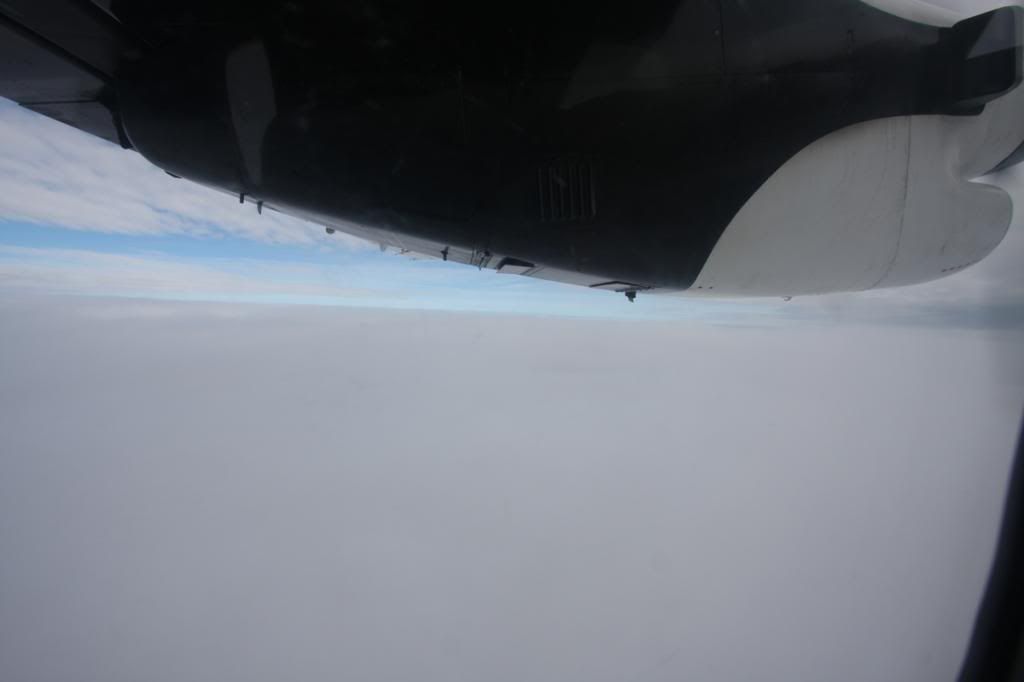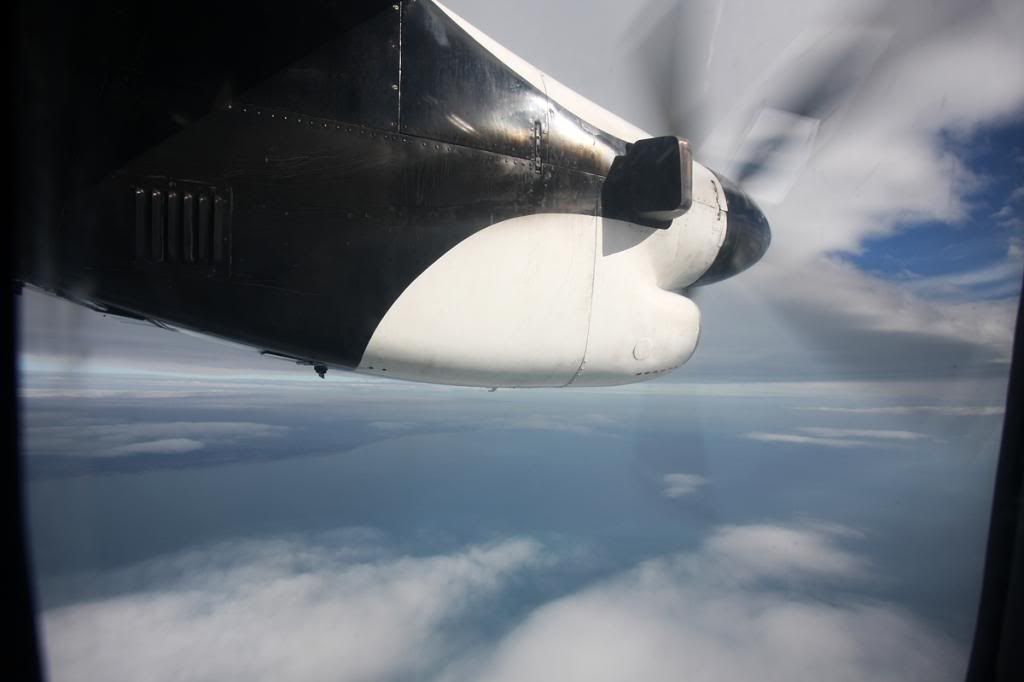 With no IFE I just stare out the window until descent begins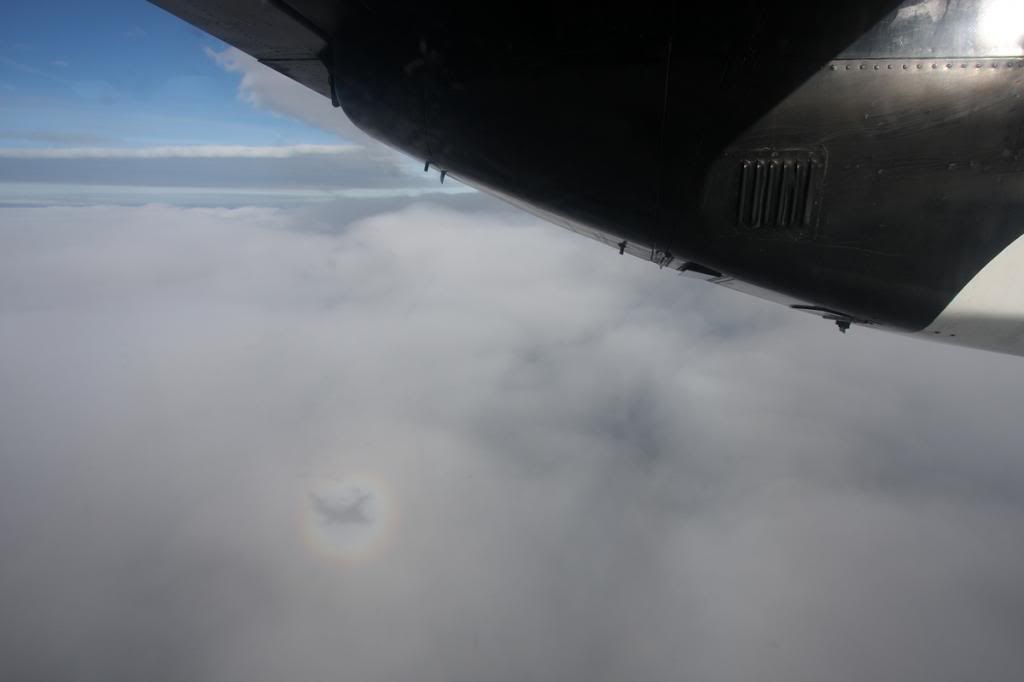 Chasing shadows, or is the shadow chasing us?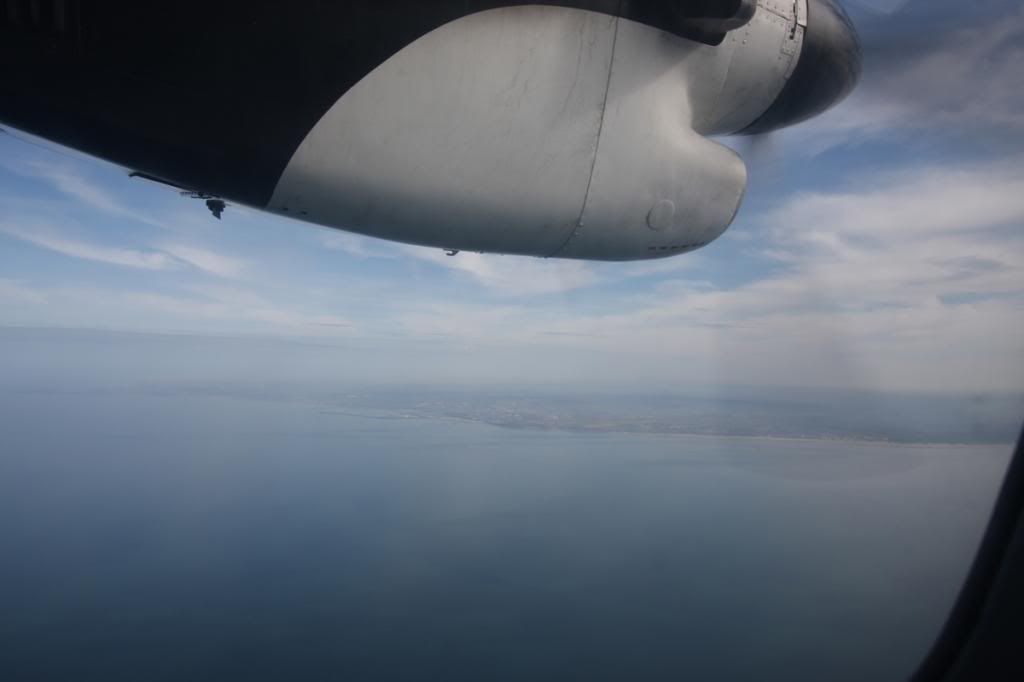 Dipping below the clouds and north eastern France comes into view.
A couple of gentle turns later and we're on final approach for Le Touquets runway 14. Flying over vast sand formations the gear is lowered and the huge door comes into view, and into my photographs! This certainly looks like a nice part of France, so close but yet so far! No wonder it's popular with private pilots on day trips from all over the southern UK.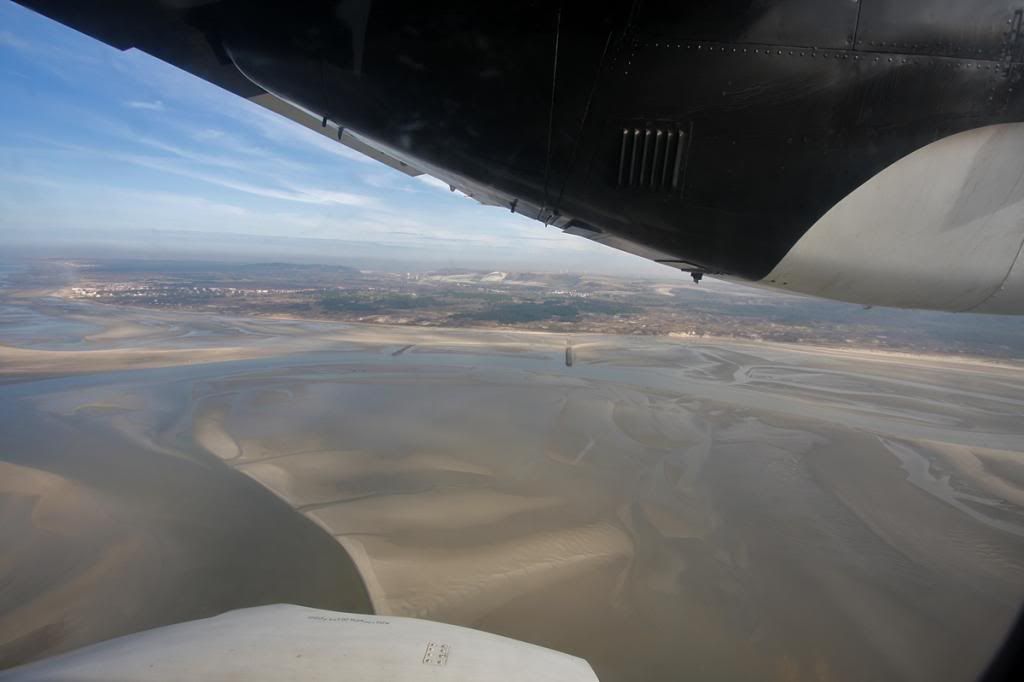 A remarkably smooth descent and I'm amazed to hear the flight deck is equipped with a radio altimeter. "Five hundred" I hear, then later "One hundred" "Fifty, forty, thirty, twenty, ten". We float along for a while before the nice noise of rubber screeching against concrete. As soon as the nosewheel gently contacts the runway the turboprops are thrown into beta mode, slowing us down quickly and with that eerie noise a lot of us know and love turboprops for. On the roll out a lot of clicking can be heard as the pilots flick switches that are no longer needed for flight. The squeaky brakes come back within earshot and we head towards the apron, are marshalled into position and the engines shut down after 29 minutes of flight.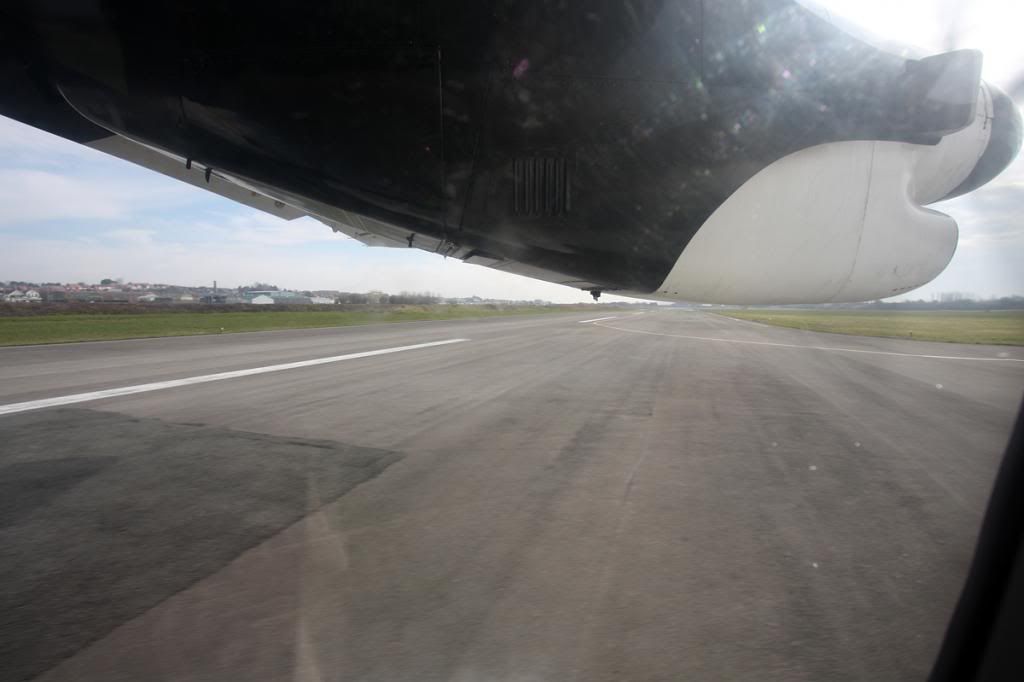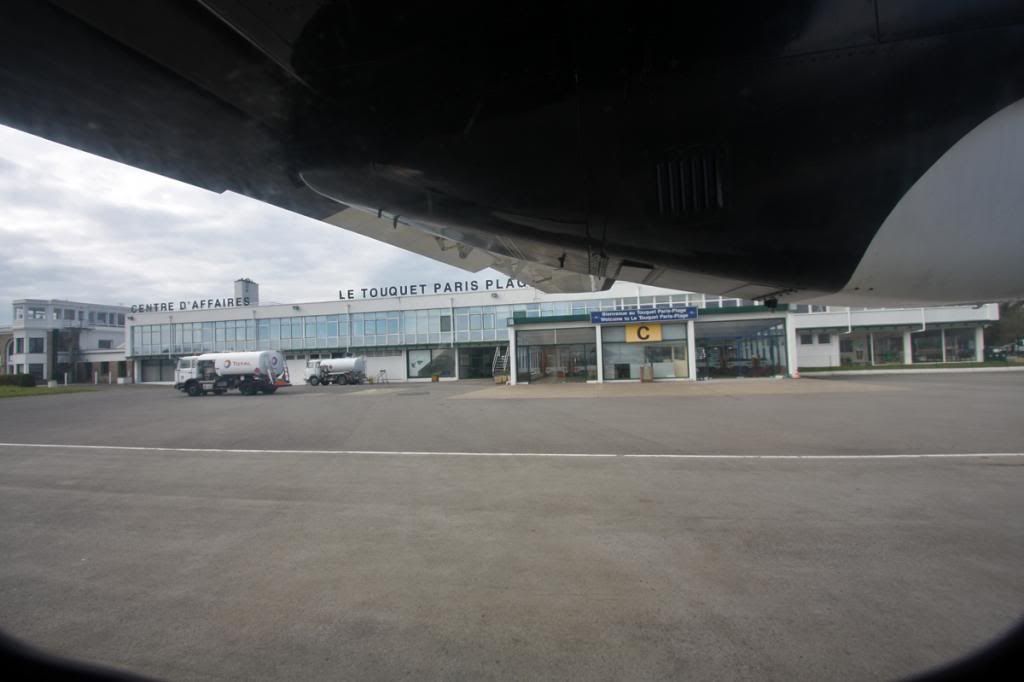 The first officer appears again and asks us to remain seated until instructed to leave the aircraft. At this point we expect to go to the terminal to have our passports looked at. Instead a couple of airport staff come to the back door and apparently explain all that's needed is a list of names and we're good to go again. In fact, next time we don't even need to shut down and open up. "Just ask via radio if customs are here. If not you can just go again". It seems the aircraft literally has to touch down at an airport with a customs facility and that's it. We can just backtrack and takeoff again straight away. "How much is this costing you as a company?" I ask the CEO who's sat a couple of rows behind me "You don't even want to know" he said with exasperation on his face. Earlier in the terminal he said to me "Was it you who emailed me and thanked me for the extra stop en route?" "No, but I was happy about it!" I replied. The aviation geek has made himself known
Fortunately for the company and its regular passengers, this procedure is only expected to last for two weeks, after which it will be a direct 45 minute flight from Shoreham to Pontoise. Whilst on the ground we began to ask the CEO more questions. It turns out that "ticket sales so far have exceeded our expectations by quite alot". This is good news! Apparently between 600 and 700 tickets have been sold via the website. Over what period of time this isn't known, however several flights on the website show as either "unavailable" or "sold out". I'm no business expert but surely this is very good news for a fledgling company. "We fought so hard to get the flights going on the original start date despite this customs issue and all sorts of other hurdles" he says, "the last thing we wanted to do was inconvenience our passengers who have booked with us so far". Throughout the day, including the return flight, he makes an effort to engage with the passengers and ask for feedback on what we thought of the aircraft as well as what we'd like to see in the future. I suggested a basket of branded ear plugs at each end of the flight to which he nodded and agreed.
After these "formalities" had been sorted, we were on our way again. Engines started and a taxi back out to runway 14.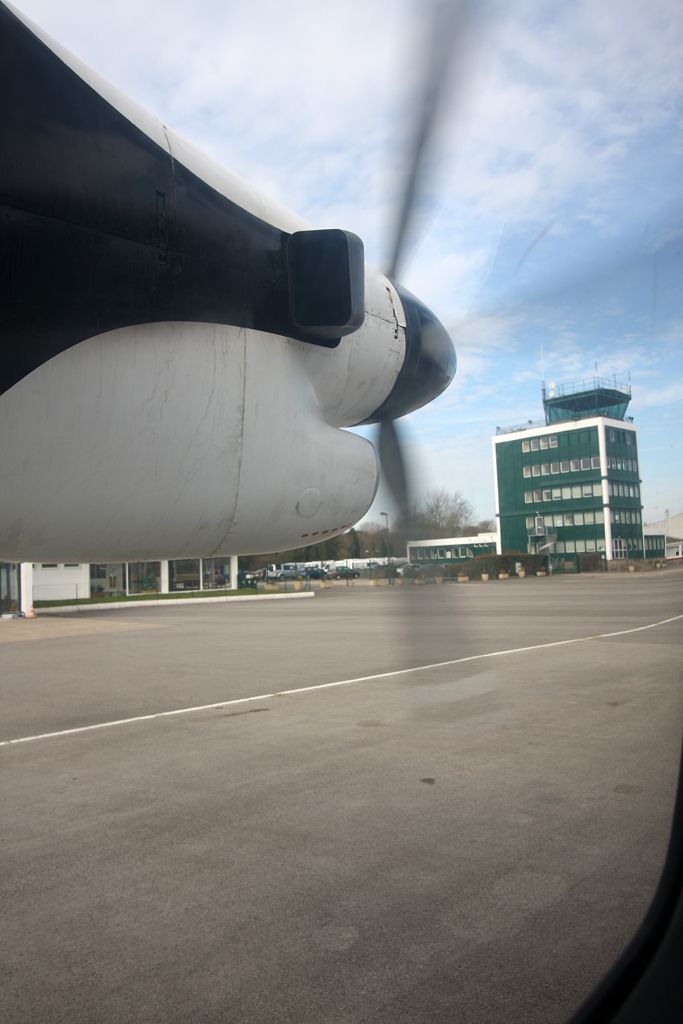 A scenic departure followed over the attractive town of Etaples.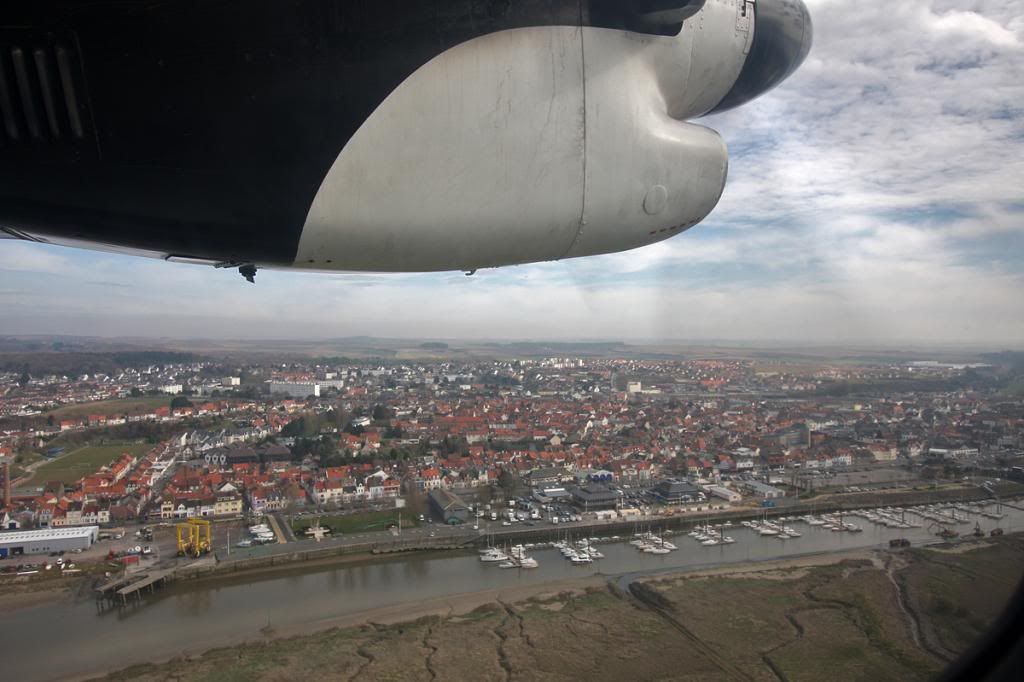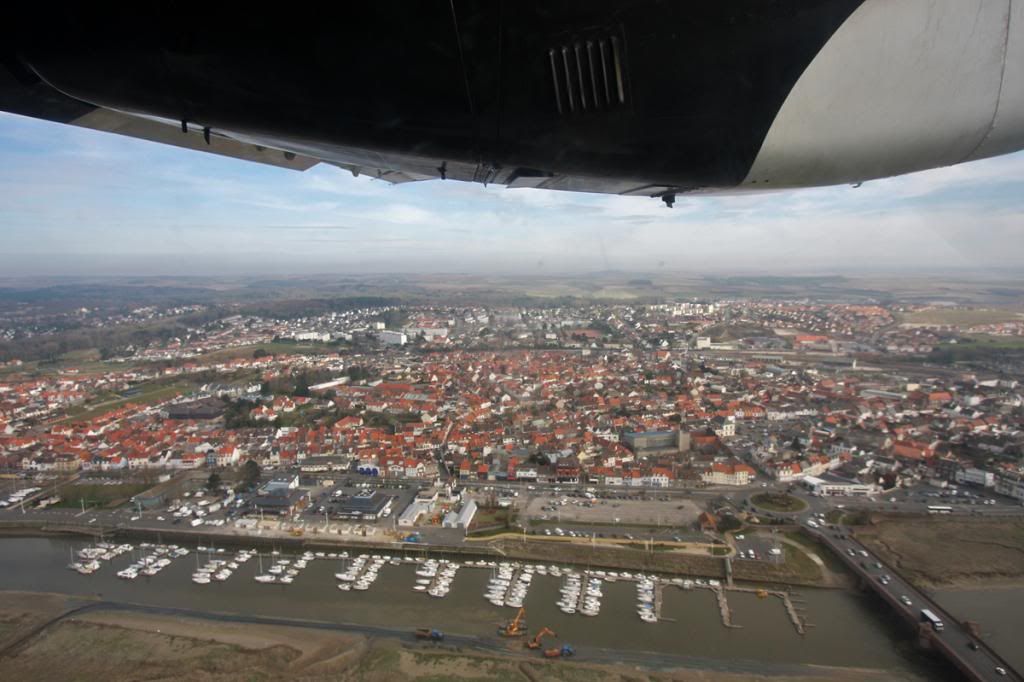 We climbed to cruising altitude and before long were immersed in thin cloud again, though most of the time we were skimming the top of it which was greatly appreciated!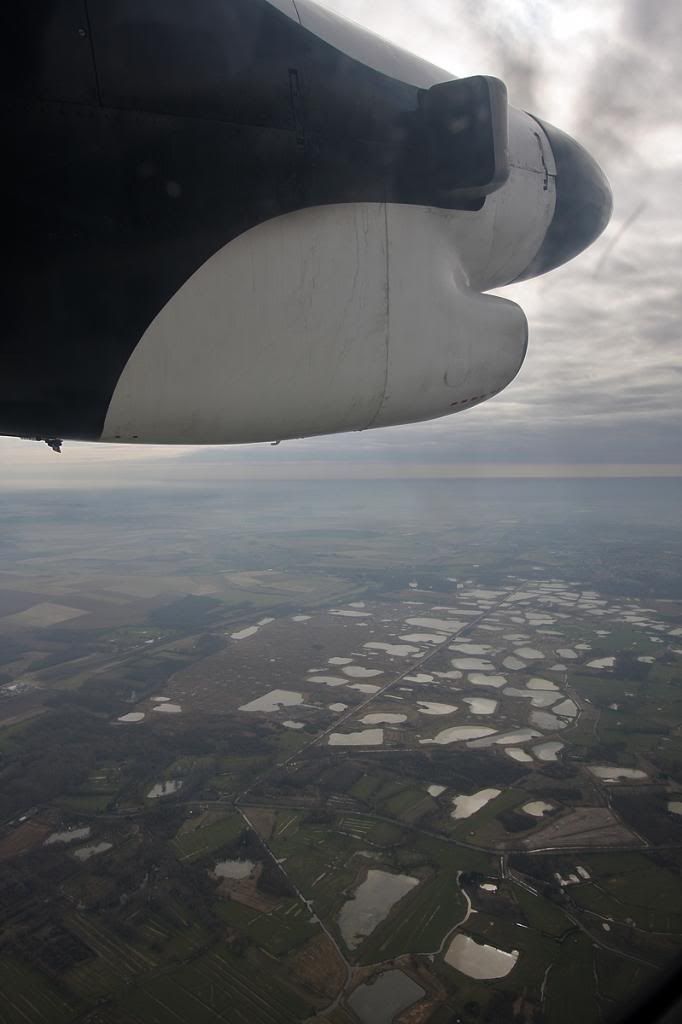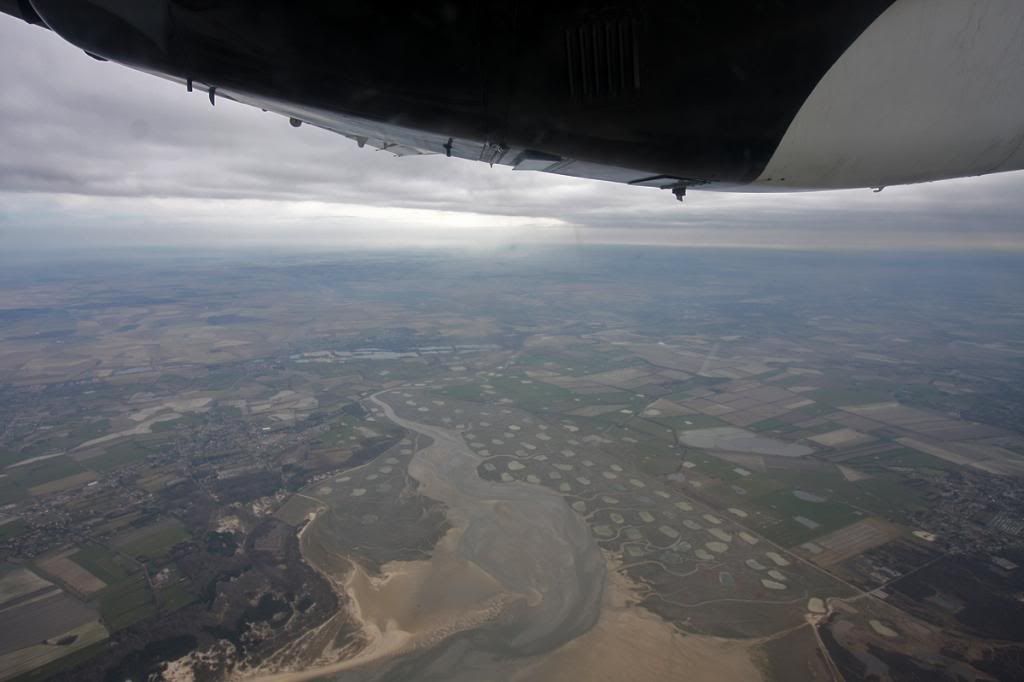 The weather got more and more gloomy the further inland we went, eventually turning into a thick soupy haze similar to that you'd find on a dusty summers day.
After a 35 minute flight across the French countryside we catch sight of Pontoise airfield, here seen on the downwind leg for a circuit to land on runway 05.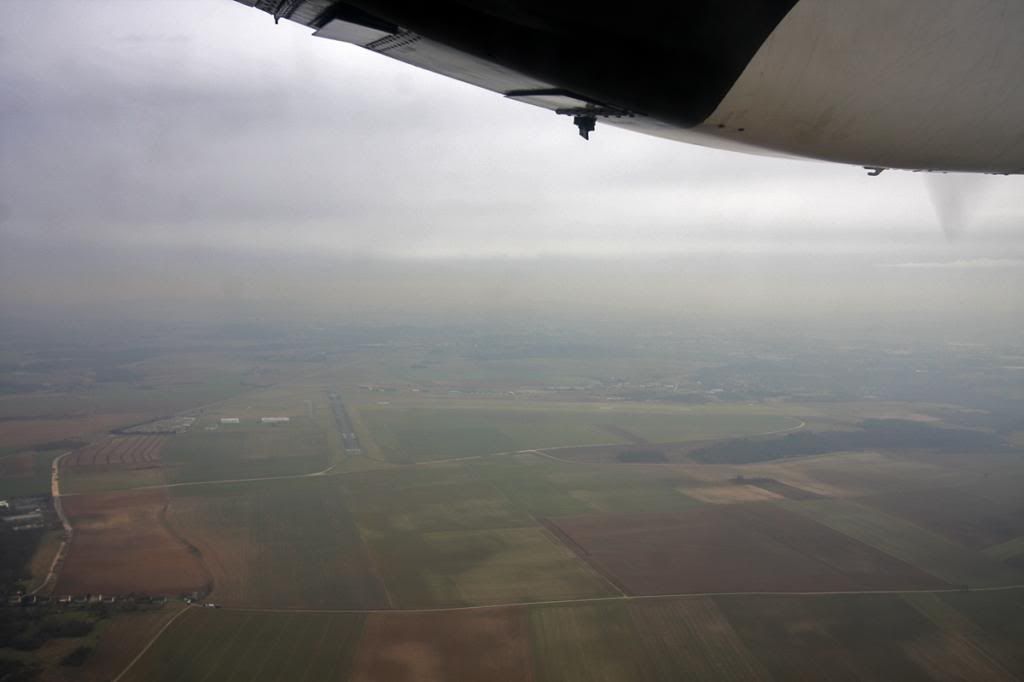 Gear down, flaps down, a turn on to base leg, then final, and we fly over the picturesque village of Montgeroult.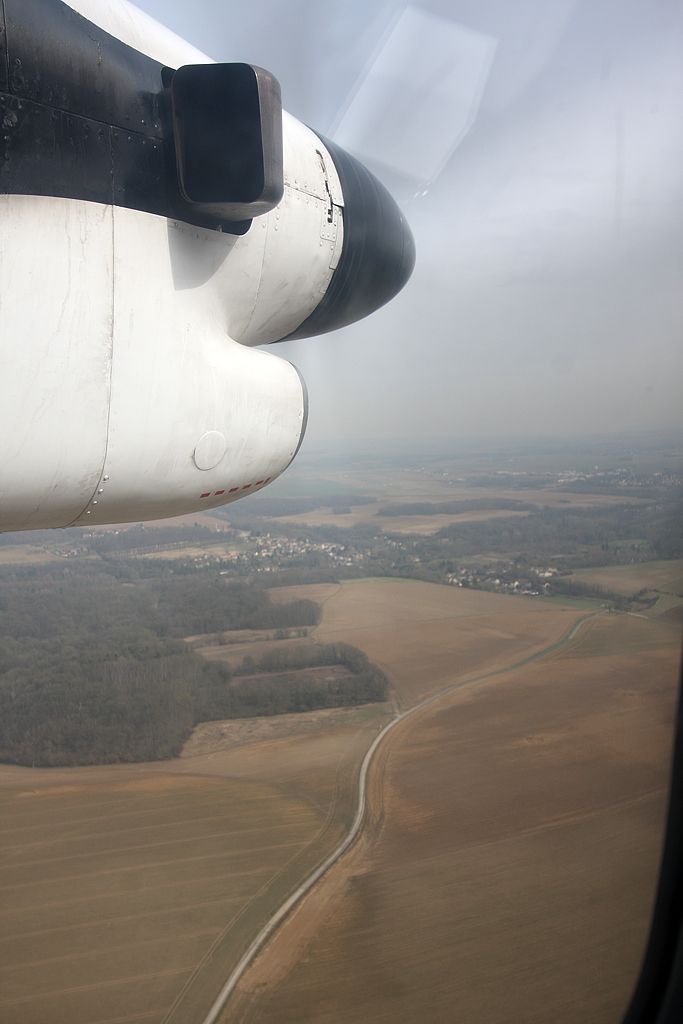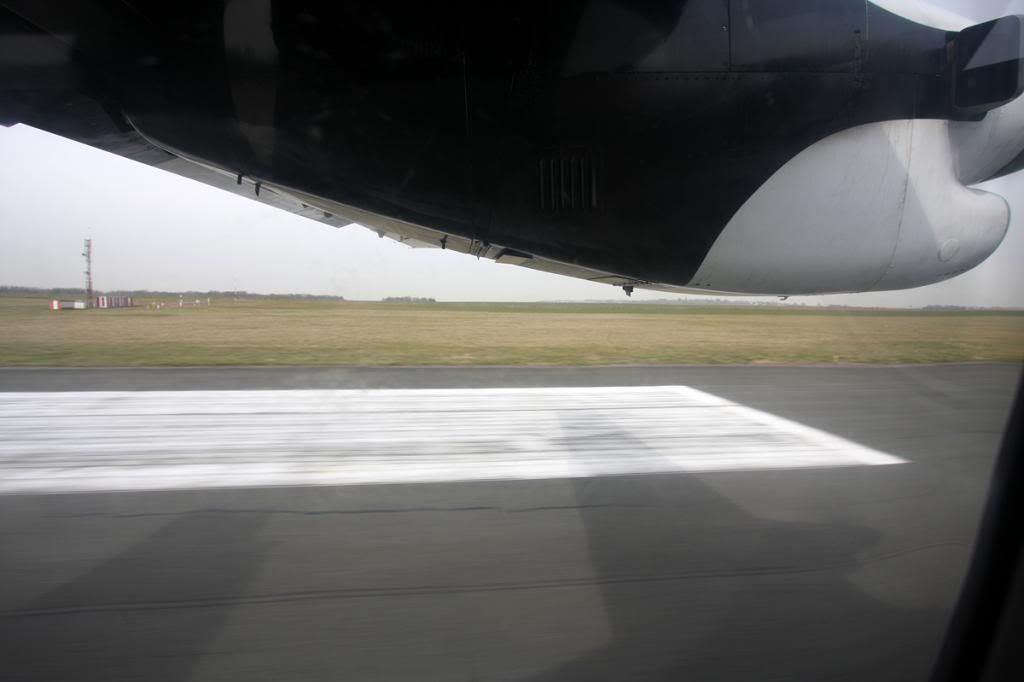 Touchdown!
Engines shoved into beta mode again (their equivalent of reverse thrust) and we turn left onto runway 30 to head towards the Handling Partners hangar. What's that I spy? Two fire trucks facing each other on opposite sides of the taxiway? That can mean only one thing, water cannon salute!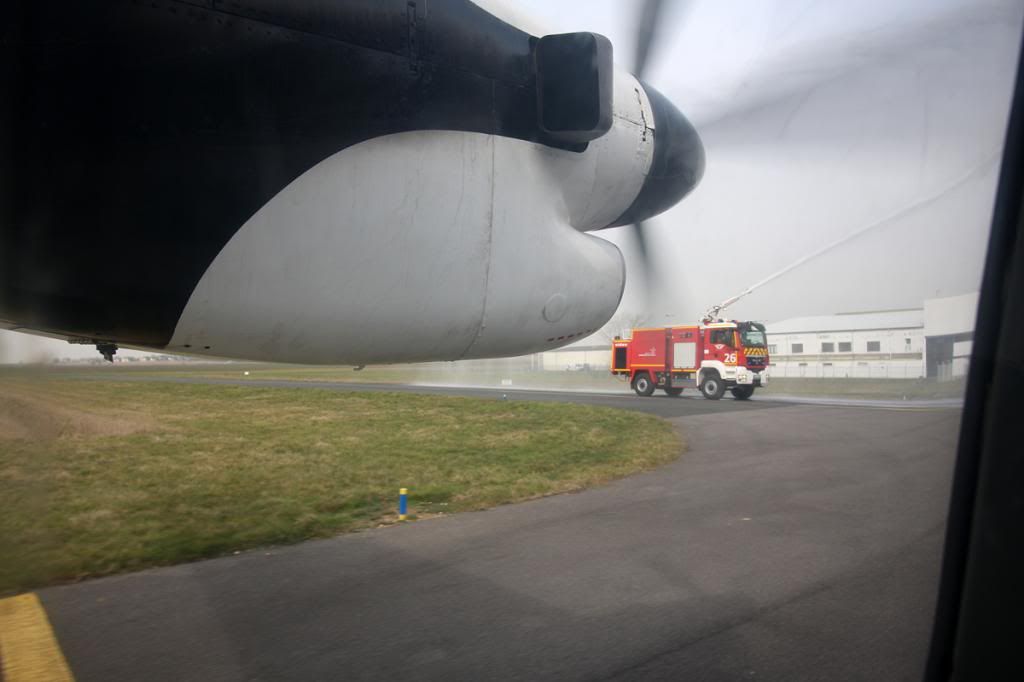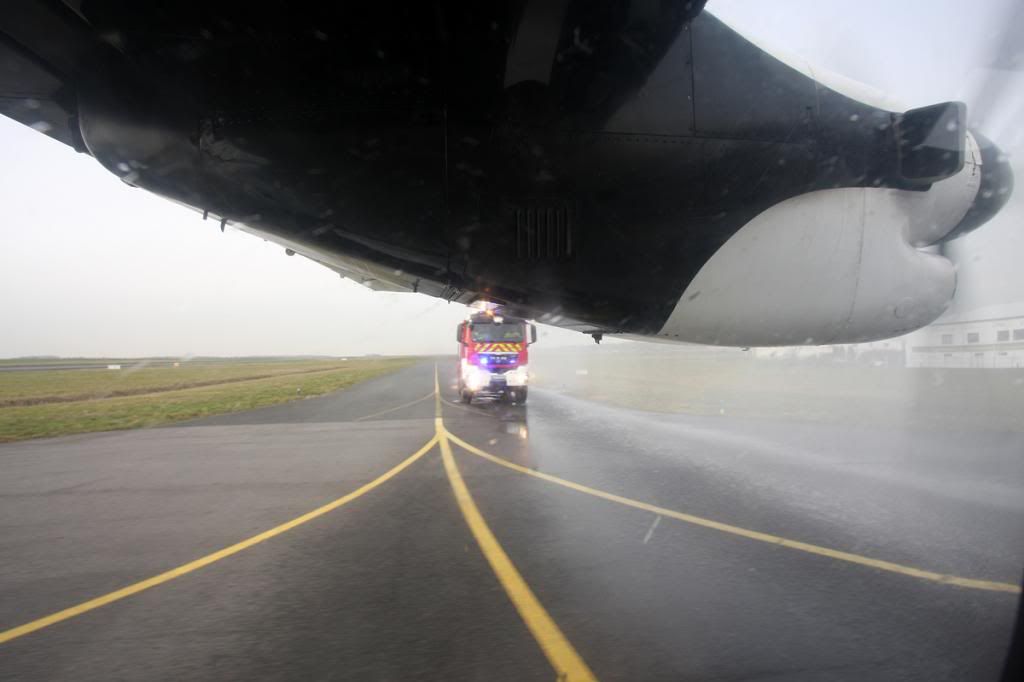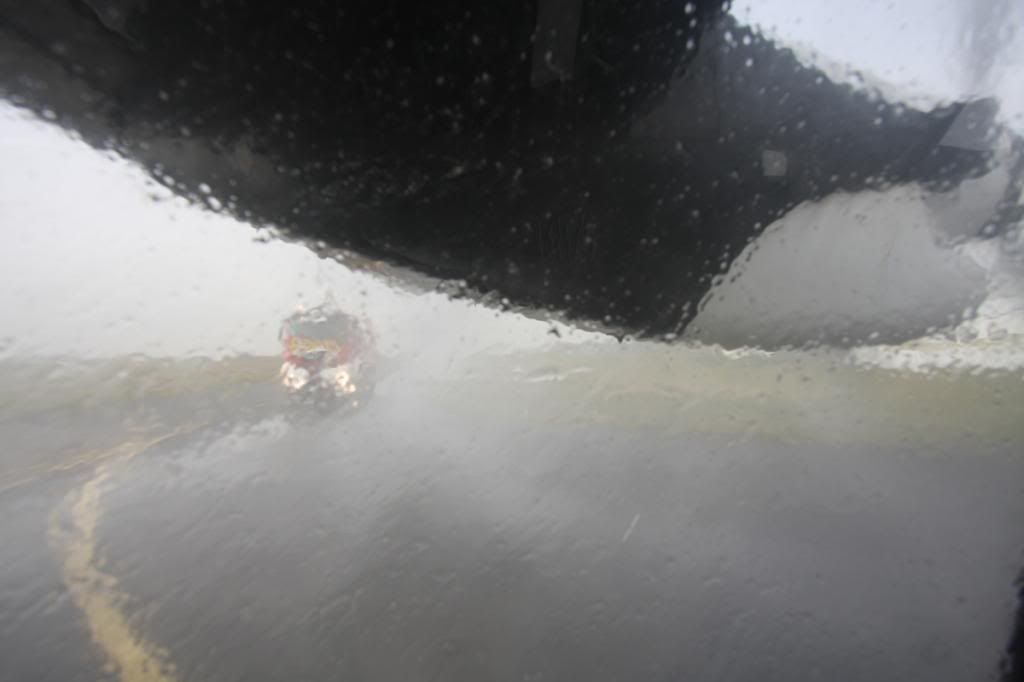 Everybody shared each others excitement at the fanfare we were arriving to! Emerging the other side of the water was a small group of French media. Now if only I could find their photos of us going through the water...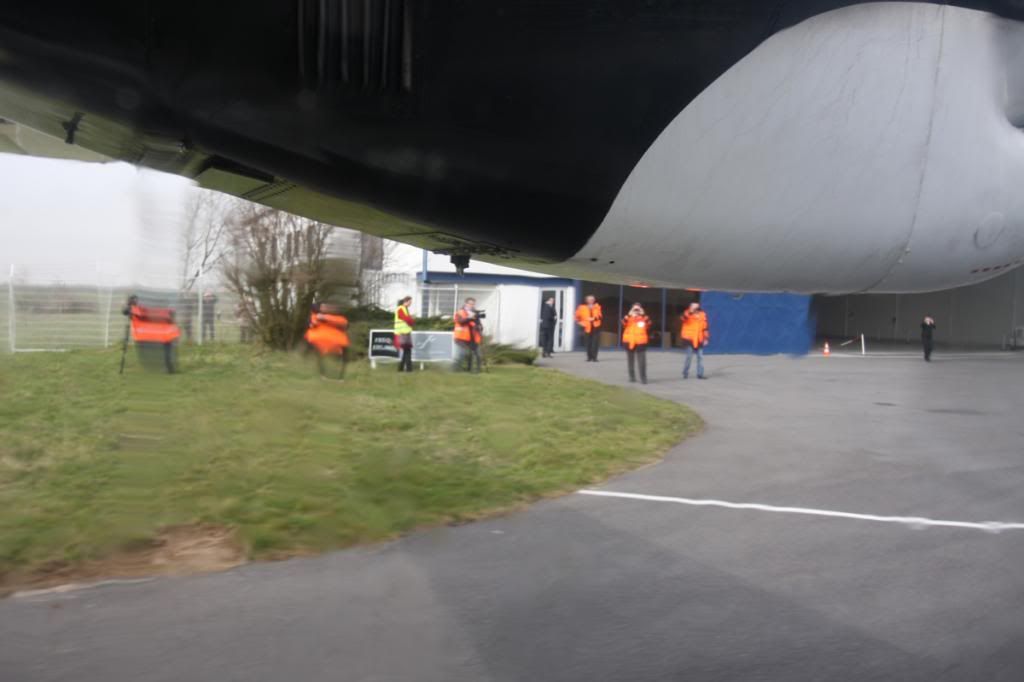 Parking on stand I spy a couple of gorgeous aircraft in the hangar. Engines are shut down and the first officer emerges, asks us to remain seated until instructed to leave and thanks us for flying Brighton City Airways operated by Van Air Europe. I'm tempted to start a congratulatory clap but decide against it
Doors are opened and while everyone else leaves I wait behind with who appears to be the only other aviation enthusiast on board. I take some photos of the cabin then poke my head into the cockpit and as the captain if I can take some photos. "Of course! Where do you want me? I can get out if you don't want me doing my paperwork in here" he replies. Nice chap! Whilst snapping away I mention that I'm amazed the aircraft has a radio altimeter "Yes indeed, the aircraft is equipped with all the necessary equipment, TCAS, EGPWS etc to meet EASA requirements". Good to know! I thank him for his time and head out the aircraft where the ground staff are all smiles and give a hearty Bonjour.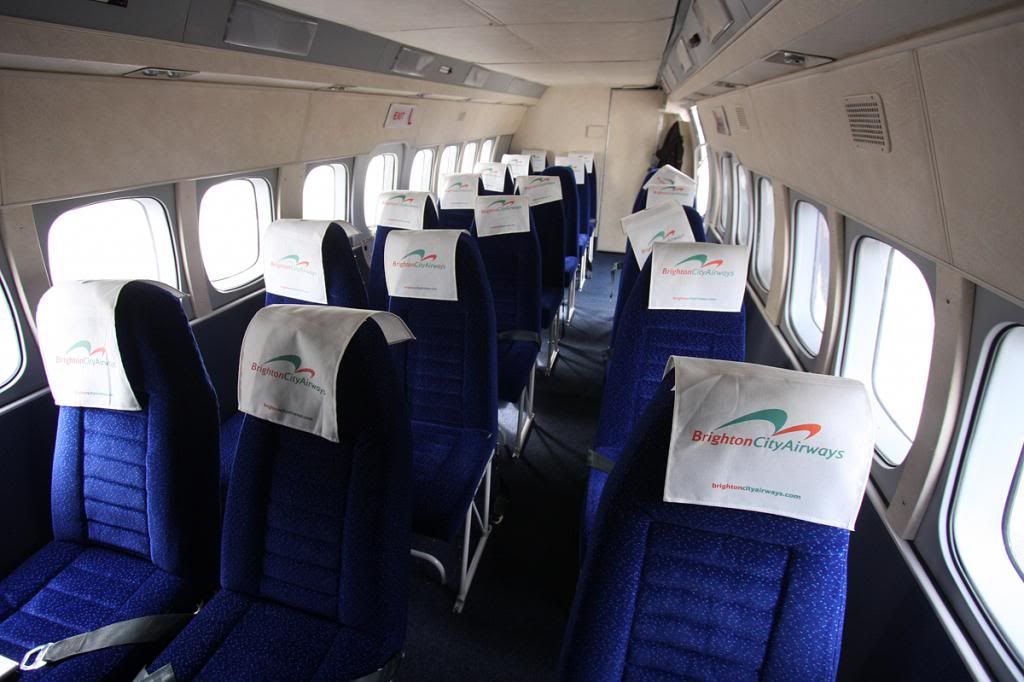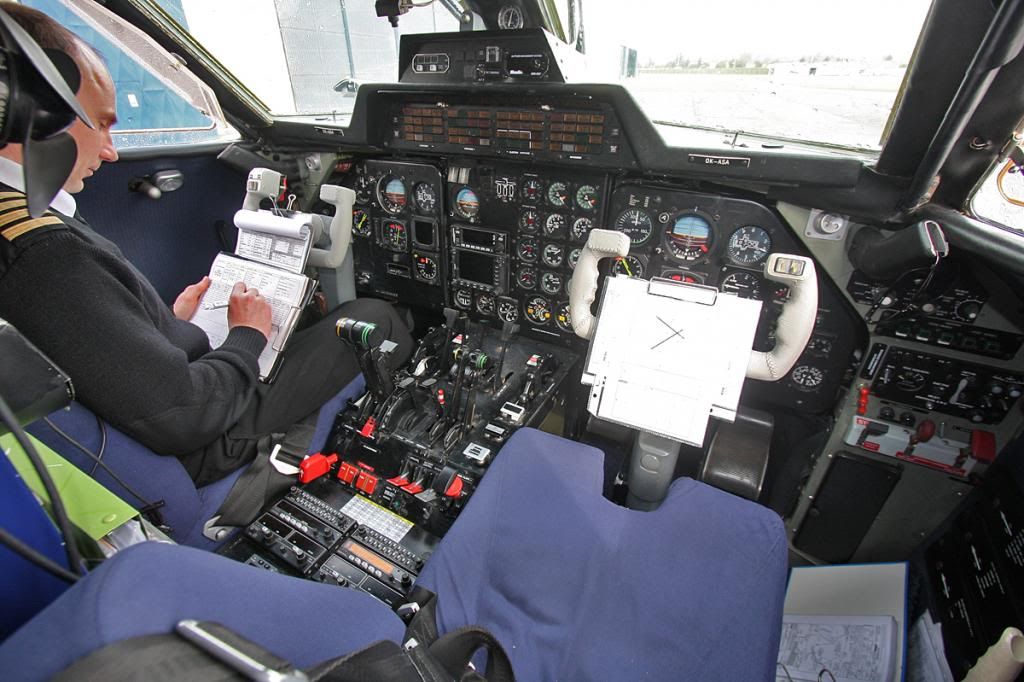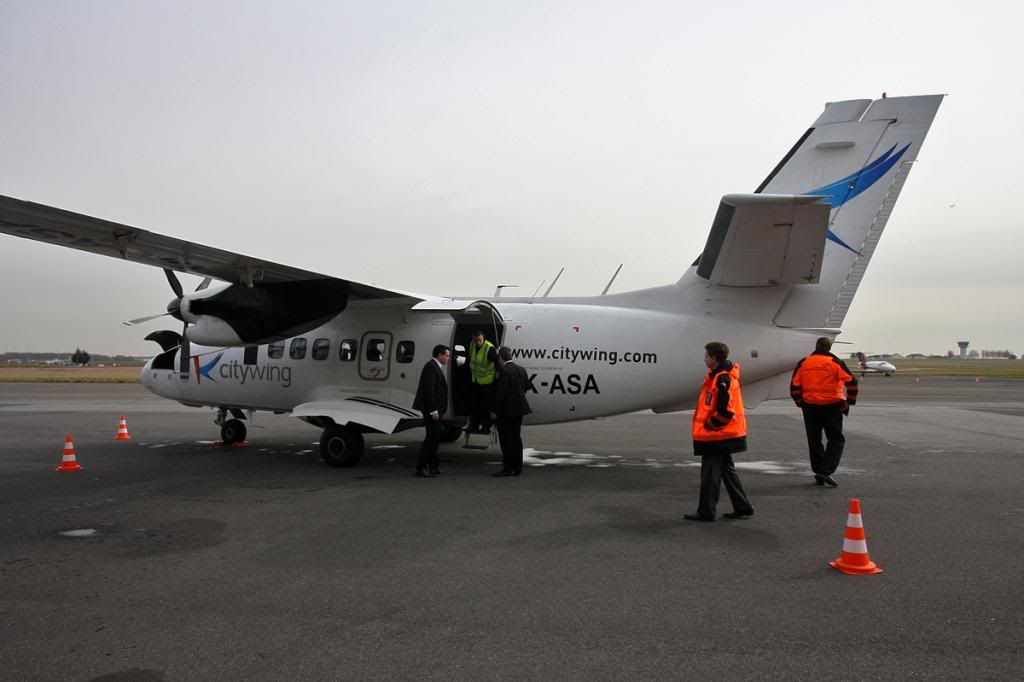 I'm directed into the hangar housing a gorgeous M registered Gulfstream 200 and a King Air C90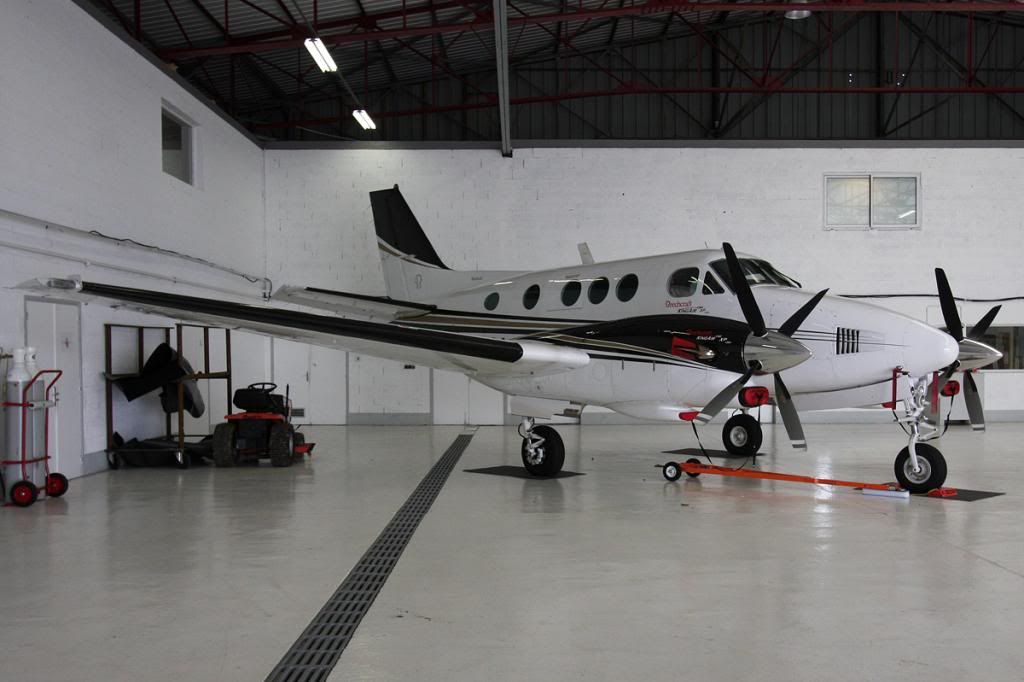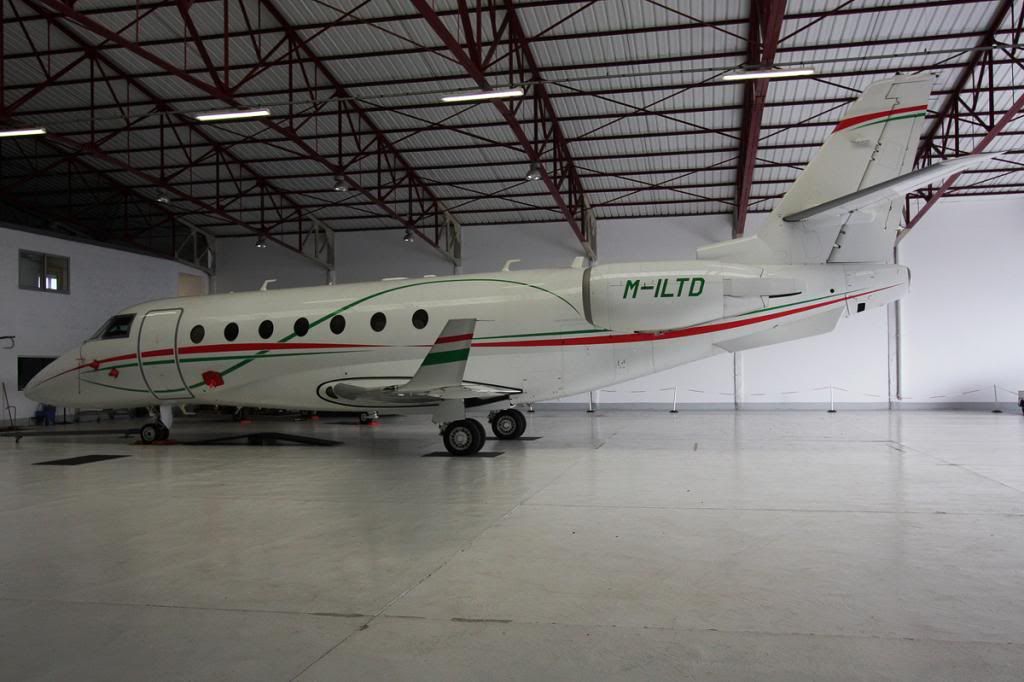 Here the ITV reporter is waiting and even she appreciates that the Gulfstream is a thing of beauty up close and personal. "We should take that one on the return!".
We're then led outside to the car park where it's extremely quiet, or maybe it's because we've been deafened by the Let! Those heading into Paris are shown to a nice shiny Mercedes van for the 10 minute drive to Pontoise RER station then the 35 minute train to the city, not before a couple more interviews. The three of us left behind are waiting for friends or relatives to pick us up. I talk to a couple of guys who say that this route couldn't be more convenient if they made it themselves. "We travel to this area of Paris at least once a month" they say, "and we live in Brighton. Before, we used to have to go all the way to London City then on to Charles De Gaulle. Now it's almost door to door".
This is when I'm picked up by a friend and driven to Pontoise for some lunch, aimless wandering and chat before being brought back to the airport for our 1900 departure. I arrive at 1825, so plenty of time, and make my way into the departure lounge, check in which is a painless process, say hello to the rest of the group (most of whom were heading to Paris only for the day, so the same as the outbound) and sit down in the middle of a conversation between the only other aviation enthusiast in the group and the CEO. The ITV reporter and I sit a little uncomfortably while the enthusiast asks some questions that are easily answered with a little common sense. Nonetheless, the atmosphere was relaxed and quiet. After a few minutes the check in guys have to ring a couple of passengers to find out where they are as check in was almost closed. Turns out they had difficulty finding a taxi at the RER station. Once they've arrived it's a very casual affair and boarding is started with a simple "right folks... shall we?".