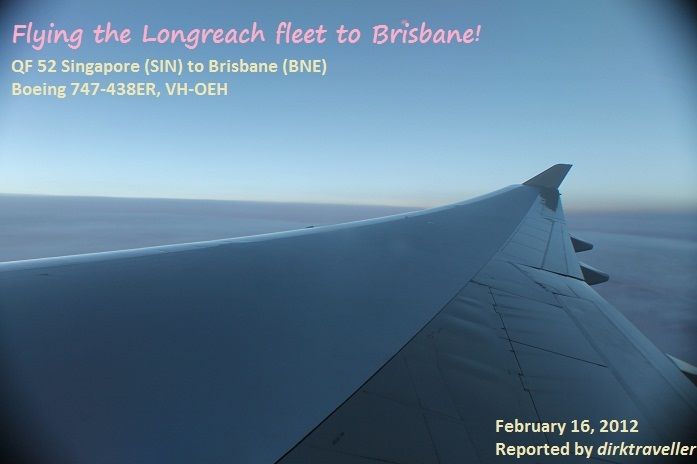 Hi everyone.
The beginning of the year 2013 means the break I'm taking has officially over. Throughout the few months break at the end of last year I did several trips, as you might have seen in the forum, including a trip to ICN and CJU, along with shuttling between SIN and CGK a few times.
As my end-of year break is over, it is time for me to catch a flight to Melbourne, Australia where I am currently posted. This time round, my mum decided that she wanted to join me to MEL for a week.
Background
As our family used to live in BNE ten years ago, I would think a trip to BNE to catch-up with some old family friends would be a good idea for my mum, before we continued our journey to MEL. On the other hand, I get to fly on Qantas Boeing 747 which I have never flown before.
The jumbo jet started its operation with Australia's flag carrier in 1971, when Qantas take delivery of their first B747-238B. Ever since, the B747 has been the carrier's backbone for their trans-continental flights, especially on their Australia - UK "Kangaroo Route."
After taking delivery of the SP and Combi 747s, Qantas became the only carrier to order the Boeing 747-438 Extended Range (ER) version. It enables the airframe to fly extra 500 miles, extra fuel tanks, along with enhanced cargo capacity.
Their first Boeing 744ER delivered on 2002. To date, the carrier operated the only six frames of 747-400ER in the world. Along with the rest of QF 744 fleet, this 744ER bear the nickname of "Longreach".
Please join me in
the honor of flying one of the only six "Longreach" Boeing 747-400ER in the world.
Check-in
Instead of taking a cab ride to the airport, my mum and I decided to take the train to the airport. It took approximately 45 minutes from the city centre to reach Changi Airport.
Airport entrance from Changi Airport MRT Station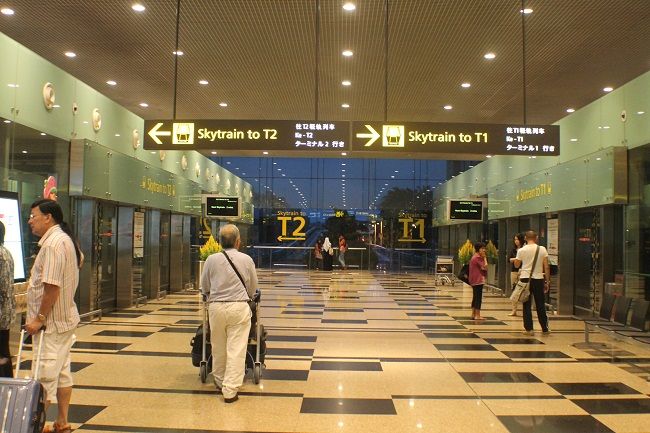 As there is no direct link between the Airport train station to Terminal 1, where QF flights operate from, we must take the 'skytrain' which links between terminals at Changi Airport (except the former Budget Terminal).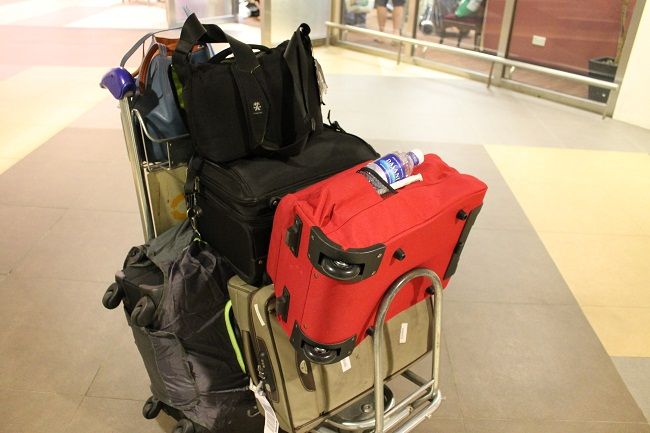 Our bags on that day.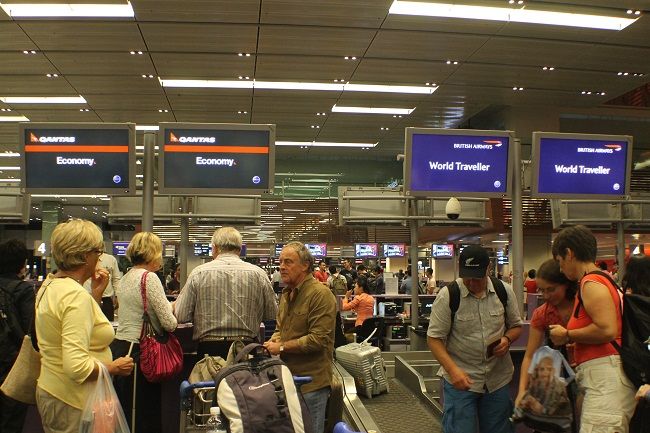 British Airways/Qantas Check-in desks at Terminal 1.
Check in was fine apart from the minor issues with my mum's passport validity, which turns out to be not an issue.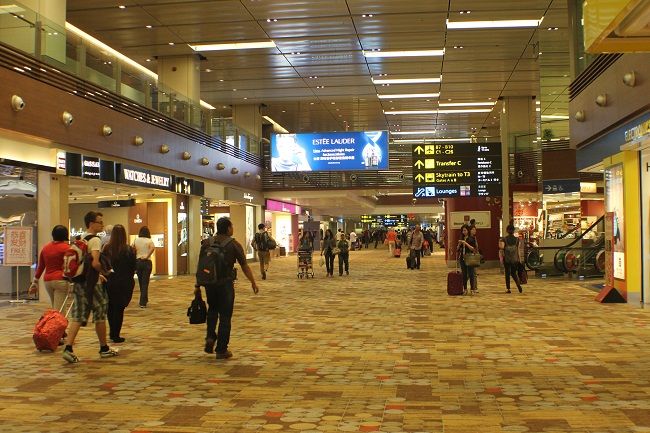 After check-in was done, we proceed to immigration, which is always as efficient in Singapore.
Then we get to spend another one hour before boarding in the Terminal 1 transit area.
Boarding
Flight details
Flight Number : QF 51
Type of Aircraft: B747-438ER
Registration: VH-OEH (l/n 1321, Delivered to QF 16/01/2003)
Seat Number: 46K
ETD: 2130
ETA: 0635
We proceed to our assigned gate, C22 around 10 minutes prior to scheduled boarding time. There was a long queue for the pre-boarding security check.
Our aircraft on that day, the 10-years old Boeing 747-438ER "Hervey Bay"
Following the security check passengers could board the aircraft directly as boarding calls were already made that time. I would guess the loads today could almost reach a full-house.
Our seat 46 H and 46 K. There was a friendly German national sitting beside me on 46 J flying from FRA.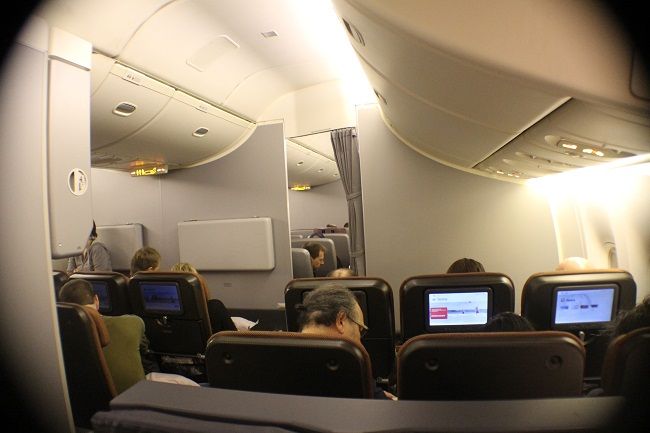 There was a smaller section of Economy cabin in front of us, consisting of only 2 rows of seats.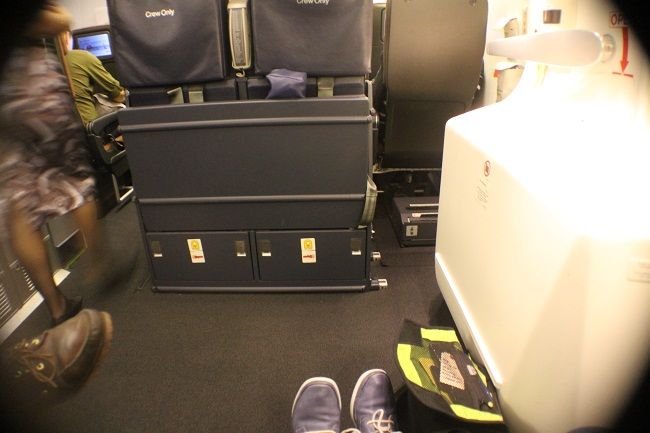 Being an emergency exit seat, the legroom is certainly spacious.
As the flight was extremely full on that day, the overhead luggage bins on my section were filled to the brim, this will soon become an issue for me due to my seating just over the R3 emergency exit.
The crew on my section, which I would guess a more senior purser on the flight came to me and warn me to put my bag on the overhead compartment and lectured me about safety and hazards of the bags blocking the R3 exit.
I was stoned for a moment because I was just about to seek her assistance regarding the fully loaded overhead compartments. Then I replied her that I understand the importance of the flight safety and explained to her there is no space for my bags in the overhead compartments.
She then tell her younger colleague to collect my bags and find an empty overhead bins. The purser then leave to the J class section and later on return to her jump seat which was just opposite mine before take-off.
Her younger colleague asked me,
"May I help you store your bags, thank you for your cooperation Sir/Madam"
I replied
" Certainly, thank you"
Since the first day I am flying Qantas, their casual and friendly service always wins me. I was just surprised that their senior crew member choose to lecture me over safety, or at least question if there is any problem hindering me from storing my bag up in the bins.
Qantas in-flight magazine, and B744 safety card.
Shortly after my bags were stored in, the last batch of passengers boarded and we pushed back.
Take-off was around 2205hrs
In-flight
Shortly after take-off menus were distributed by the crew.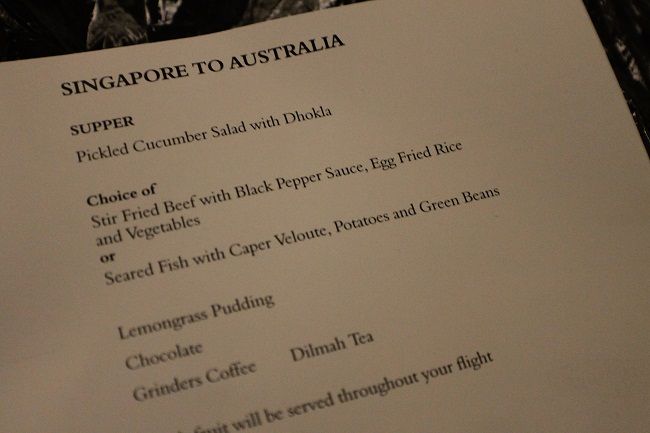 Our meal service guide for the red-eye to BNE.
The 'Q' In-flight entertainment system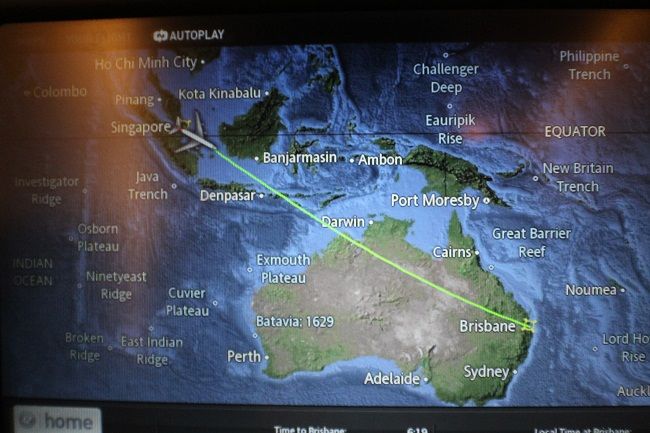 Our flight routing tonight, with estimated 6 hours 45 minutes of flying time.
A bottle of water was distributed shortly after.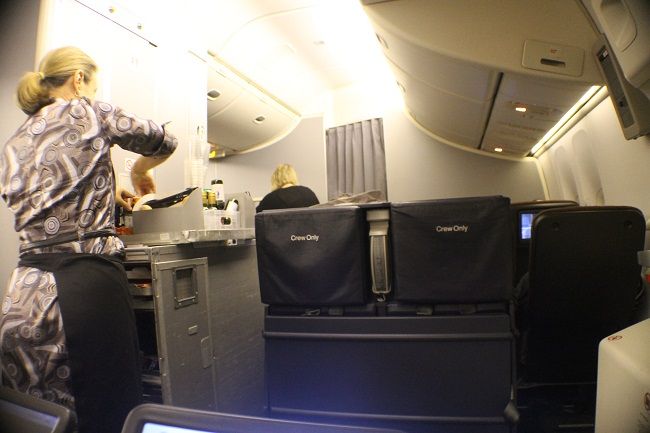 After around an hour after take-off the crew started to roll the cart and commenced the meal service.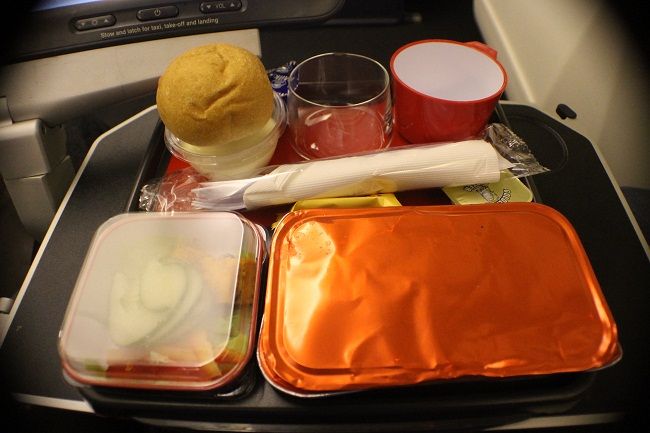 My meal tray with the beef fried rice option.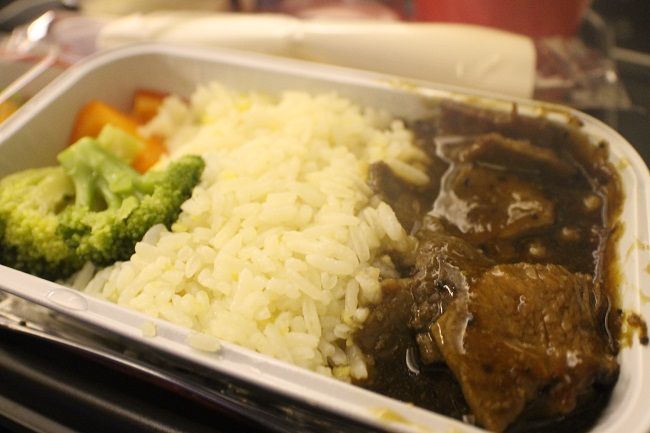 Closer look to my beef fried rice meal.
The other option, which was fish and potatoes.
Economy Class cabin view on the 744, I noticed that the overhead bins has also been renovated that it have the similar shape as the ones in B777
After the meal service was completed, the lights were later switched off to allow passengers to rest. Throughout the flight, cabin crews distributed fruits such as banana or apple. Drink runs consisting of water or apple juice were also conducted in-flight, with the cabin crews using little flashlights to navigate around the cabin.
I decided to get some sleep, with half of the flight to go.
After several short videos I watched to pass time, the lights were again switched on approximately two hours before arrival, and breakfast were prepared.
My breakfast tray, consist of a croissant, yoghurt, and my hot English tea.
First sunlight while having my breakfast.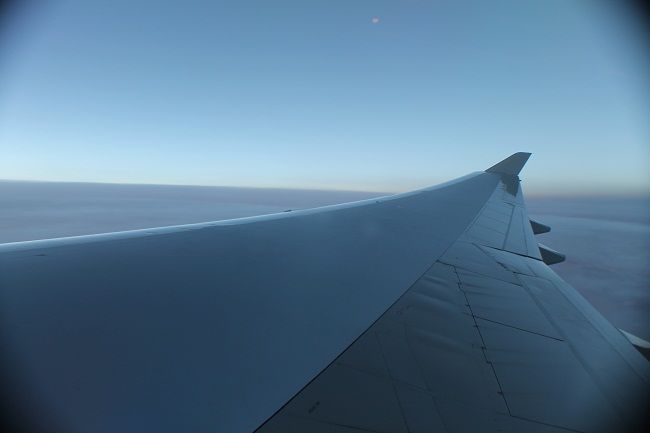 Sunrise and the wings of the mighty jumbo jet.
Landing into Brisbane
After breakfast trays were cleared, the captain announced that we were on descent into Brisbane Airport. This were followed by the arrival announcement by the cabin crew, which includes outlining the restrictions of food into Australian territory.
Due to my camera bag were being stored in overhead bins for landing, I could not take pictures of the approach into BNE. Our flight landed around 0645hrs local time.
After around 15 minutes of taxi, we reached our parking spot and I was one of the last few to deplane.
Goodbye "Harvey Bay"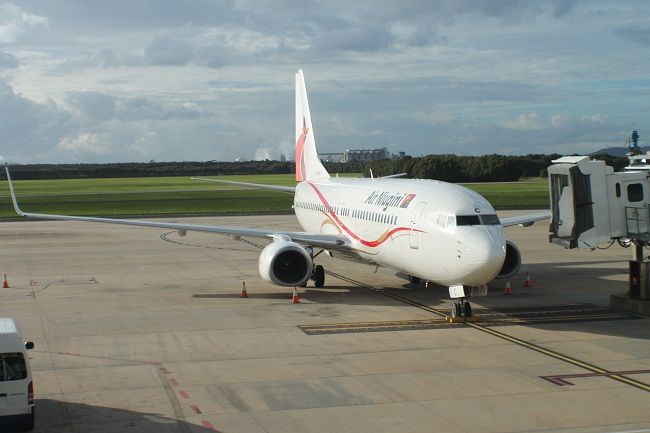 An Air Niugini Boeing 737-800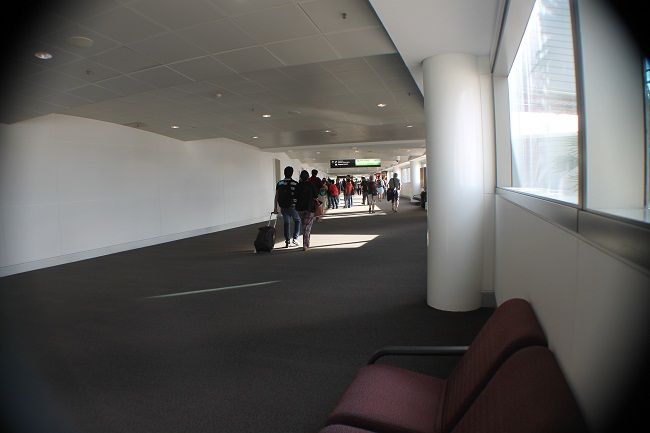 Walking towards the immigrations at BNE.
The immigrations at BNE airport was a mess. There were extremely long queues forming, which took an hour to complete immigration itself.
After baggage claim were done, we were selected randomly for checking of food items by the K9 unit, and yes, we returned to BNE after ten years.
Final thoughts of the flight
Having the honor of flying the Qantas Boeing 747-400ER, I found that the refurbished product on the B744 were as good as the A380. The seat features and its entertainment system were the same as the A380.
Apart from the minor misunderstanding I had with their senior crew during boarding, I found there is nothing I could fault on Qantas. The meal service were sufficient for the flight, the seats were comfortable, IFE was great, and certainly for the price deal Qantas had when I book the flight, it was certainly value for money.
It was a pleasure to share my experience on the with you all in the a-net.
Should you have any questions or thoughts, do drop a comment.
Thanks for reading.
Regards,
Dirktraveller