Hello fellow A.Netters, here is part 2 of my recent travels, part 1 can be found here, this also has the detail surrounding the reasons for this trip.
2012 - Asia Again - BA25 WTP Part 1
(by
ba319-131
Jan 21 2013 in Trip Reports)
Having just arrived from London on BA25, I decide to head over to Terminal 2
I have never seen this in use in all of my visits
and check-in for my flight to Bangkok early, this with a view of hopefully having a shower and freshen up in the TG lounge before hitting the F&B offerings.
The Thai check-in area is located in Terminal 2 zone Q, there was just one person ahead of me at the business class counter.
Once called forward check-in was smooth enough until the agent asked to see the credit card I made the booking with, I didn't think I had it with me, so few calls were made and she was allowed to check me in.
Check-in complete but a bit concerned about the next flights and possible issues I found s seat and checked back to see which card I had used for the bookings, low and behold it was in my wallet after all, I thought I'd used a card I no longer use, phew!
Passport control and security was easy and quick with no queues, within no time I was waiting for the train to Terminal 1.
Once airside in T1 I decided to find a place to buy some toothpaste, since I forgot to pick any up at LHR.
Could I find any? - no, I found Tiffany, Chanel, Hermes and every other high end shop on the planet, no toothpaste anywhere, not even Relay sold it in their travel 'stuff'. What I should have done is bought some landslide, there is a good pharmacy located just outside arrivals.
Hot, sweaty and a little annoyed at the time wasted searching for toothpaste, I headed for gate 40 where the Thai lounge is situated.
Views outside en-route
Greeted at the lounge by three pleasant staff, welcomed to the lounge and advised the rest room facilities were under refurbishment and therefore unavailable, I'd have to use the airport restroom facilities locate by gate 41 if I needed the facilities during my visit, bugger!
So, no shower, just a freshen up in the public lav!
Back in the lounge, it was relatively quiet
nobody was in the First Class section
as usual, all the window seats in the business class area were occupied by people with no interest in the goings on outside.
So, offerings? - Drinks were quite basic, interestingly no Singha beer, but the food was ok if minimal, sandwiches, salad and some hot items inc satay chicken, spring roll, dumplings and vegetable stir fry, oh and an abundance of chillies and chilli sauce, yummy!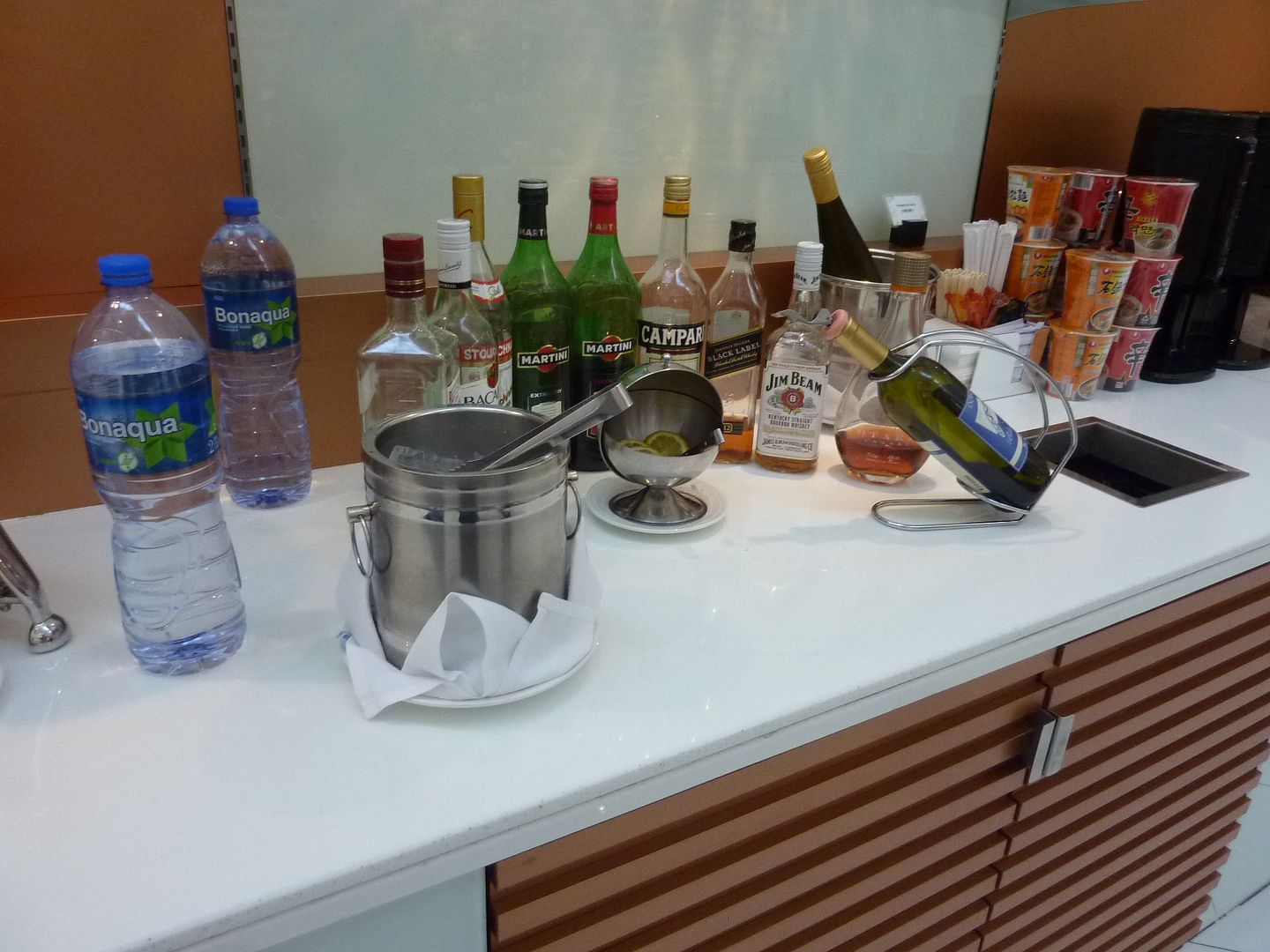 Some of my food and drink offerings.
View outside
Wifi is provided, access is via a password from the front reception desk, it's a bit patchy at best.
I passed my time eating, sorting work e-mails and following the planes on FR24, I made a few whilst I was in the lounge, though it does get dark early at this time of year which tends to bring the spotting to an early conclusion.
Looking down you can see the gate our plane will depart from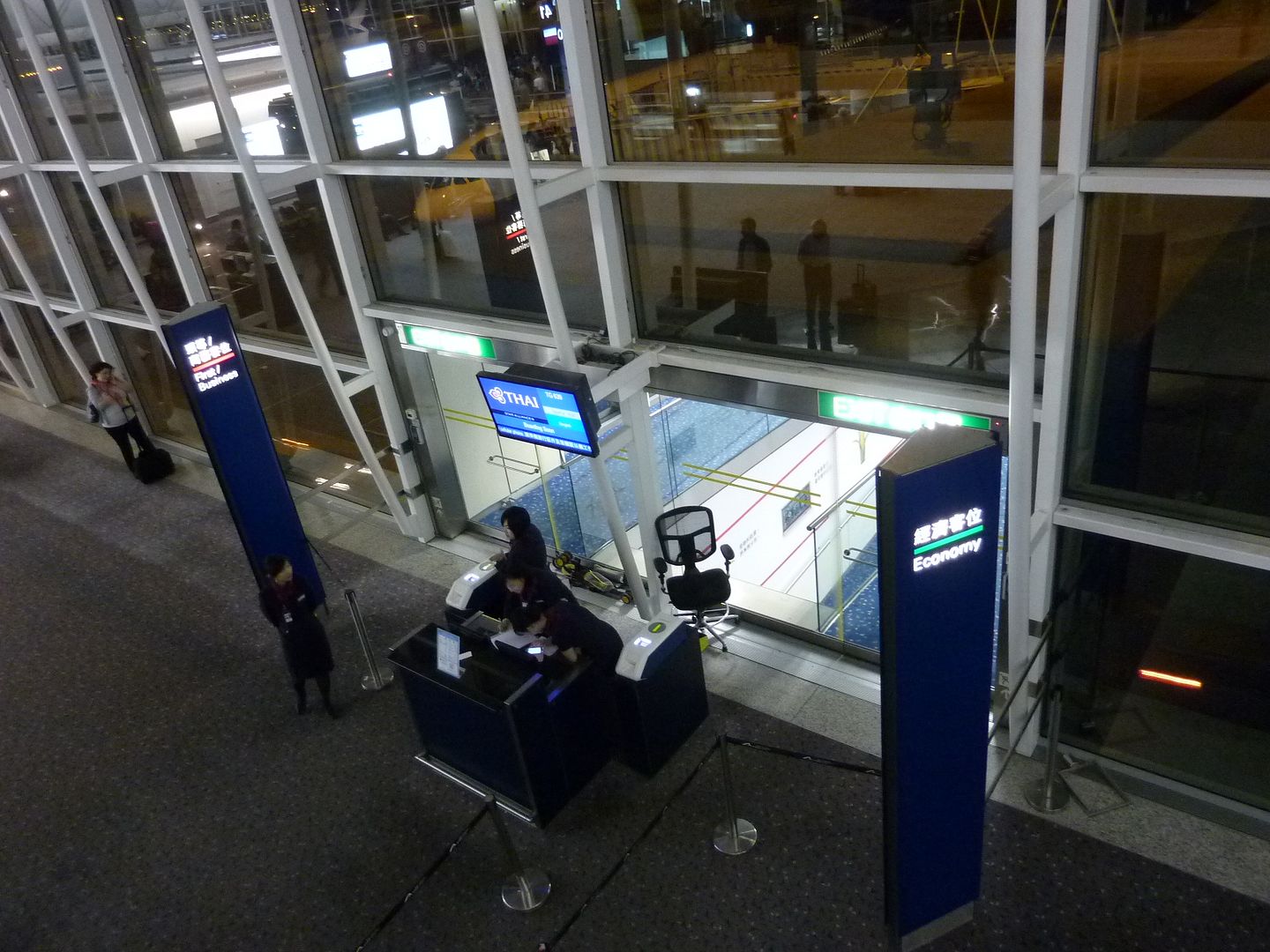 Figuring boarding would start soon I decided to head over to the 'public facilities' before joining the queue that was forming at the gate, 40 for those interested.
I took a quick shot of the plane before joining the queue, best I could manage in this light.
Continued below…..