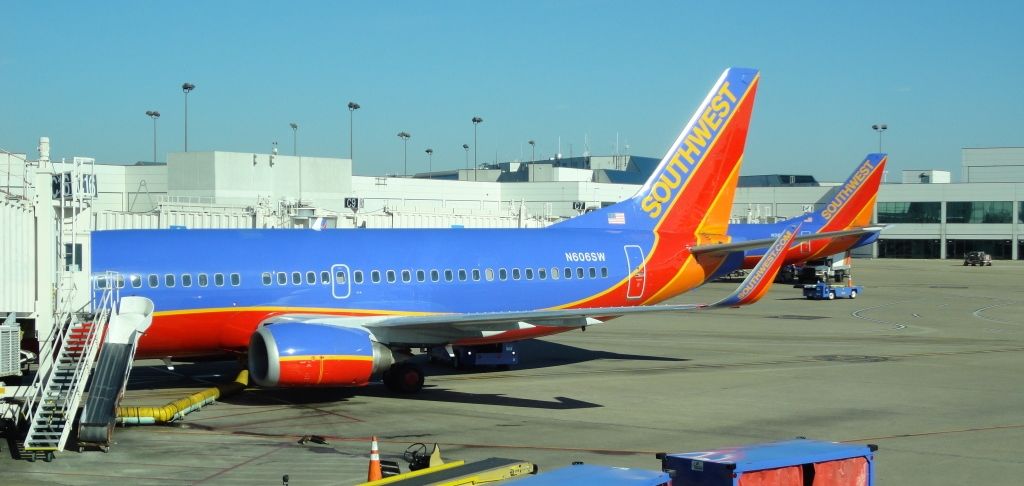 Introduction
Hello everyone and welcome to part 2 of this USA trip series I am in at the moment.
For Part 1 featuring a fantastic flight from AMS-ORD on a KLM MD-11 please see here:
Off To The Windy City On A KLM MD-11!: AMS-ORD (Y)
(by
adamspotter
Jan 20 2013 in Trip Reports)
As I had a very special flight booked the next day in the evening leaving IAH, I needed to find a way to get from Chicago to Houston. All fares from ORD-IAH were quite high so I started looking for alternatives. Southwest immediately caught my eye for 2 reasons: 1. I had heard many good things about them and hadn't tried them out myself yet and 2. Southwest uses both Chicago's and Houston's " second" airports, namely MDW and HOU. Both airports would be new to the log.
With this in mind I paid a visit to Southwest's website. As I practically had all day to get to Houston and being a true a.nutter a direct MDW-HOU flight was a bit too boring. Instead I started looking for other options, quite quickly I found a great deal and booked MDW-BNA-HOU. While booking I also immediately paid the extra $10 for the earlybird check-in.
With my scheduled arrival time into HOU being 12:30 that gave me more than enough time to transfer and catch my 18:40 flight out of IAH.
This series was originally going to be split into 6 parts:
Part 1: AMS-ORD
Part 2: MDW-BNA-HOU
Part 3: IAH-SFO LAX-IAH
Part 4: SFO-LAX
Part 5: IAH-CLT-ORD
Part 6: ORD-ATL-AMS
But unfortunately all my pictures have gone lost (more about that at the bottom of this report), so this will be the final part in this series.
Map
The map for this part, thanks to the Great Circle Mapper: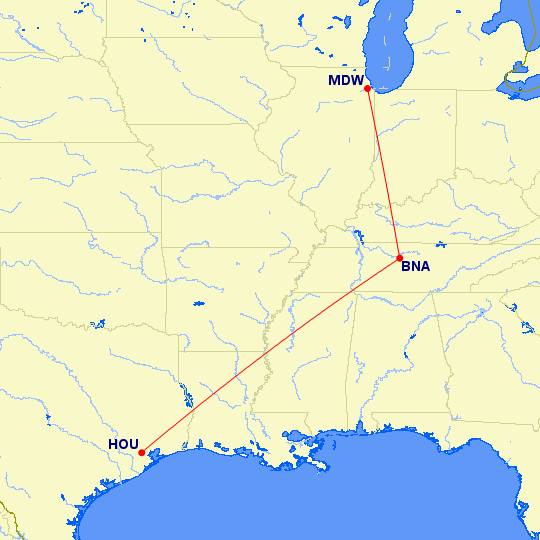 And the map of this trip, also thanks to the Great Circle Mapper:
Saturday November 10
In part 1 I left you guys falling asleep in my comfortable bed at the Holiday Inn Chicago Midway airport after a great day of flying and a night with a local a.netter, thanks once again for the company Leo!
With my first flight leaving MDW at 08:10 my alarm clock goes off at 06:30, after a solid 7 hours of sleep. I get my usual morning rituals done, pack my belongings and head downstairs to check out. After a quick check out I am just in time to catch the 06:50 shuttle to the airport. The shuttle is pretty busy and I sit next to a Southwest pilot, he is headed to LAX today.
After a 10 minute ride we arrive at the main terminal. I grab my suitcase, tip the driver and head inside the building.
Check In
Inside, the terminal is quite busy this morning. As I had already done the earlybird check-in, I head over to one of the SSKs to print out my BPs. I quickly find an unoccupied SSK, enter my confirmation number and the machine successfully spit out both BPs.
Next stop is the baggage drop line and after a 5 minute wait I am waived to one of the many desks. The friendly agent scanned both BPs and tagged my bag all the way too HOU. I thank her and head towards security.
At security I am greeted with quite a long line. The line is also going quite slow but no problems as boarding is half an hour away. In line I strike a conversation with a couple of people and before I know it is my turn. After getting a stare down of about 10 seconds the officer realizes the picture in the passport is really me and I am let through to screening. Another 5 minute wait and I am through with no problems. This whole process took about 25 minutes.
As it is getting close to boarding time I head straight towards my assigned gate, B5. A quick look outside shows you who is boss here at MDW: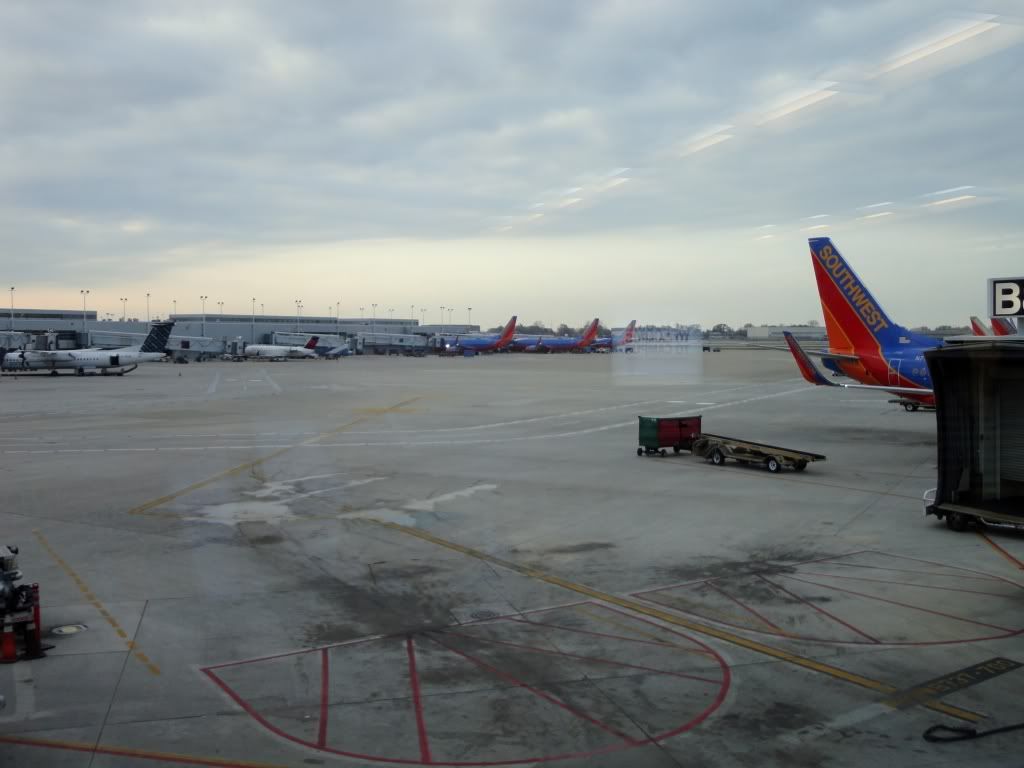 With security passing by every 2 minutes I snap just 1 quick picture of my gate area: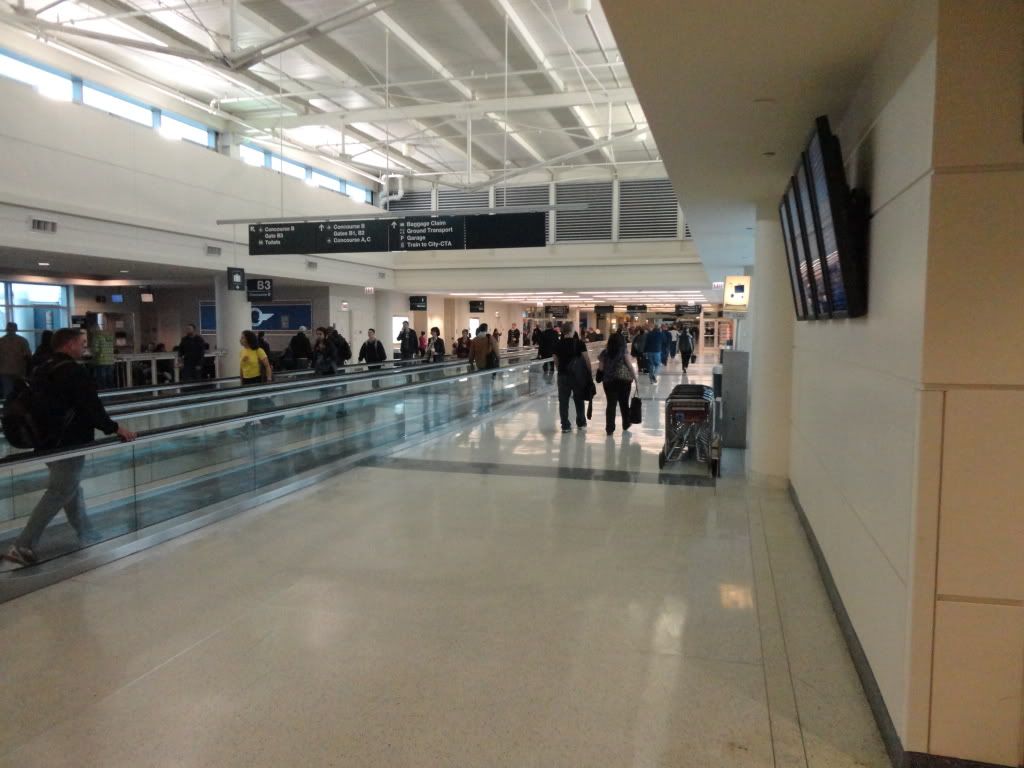 Boarding
As I had the earlybird I was in boarding group A, A35 if I remember correctly. At boarding time (07:40) an announcement was made for everybody in boarding group A to stand in line at their designated area. 5 minutes later boarding was called at 07:45.
After 34 fellow passengers it was my turn so I approached the male gate agent, got my BP scanned and headed into the jetway. One thing I dislike is that they throw your BP away after it gets scanned as I like to keep them, but that is just a personal taste.
On Board
10/11/2012
MDW-BNA
WN2117 // 20F
B737-3HW Southwest // N606SW
08:10-09:18
Once entering the aircraft I was greeted by a male FA and headed into the aisle. As many of you know Southwest has open seating so I looked for an empty window seat. There were still plenty left so I settled for row 20 seat F, behind the wing.
While the cabin was gradually filling up I took a look outside: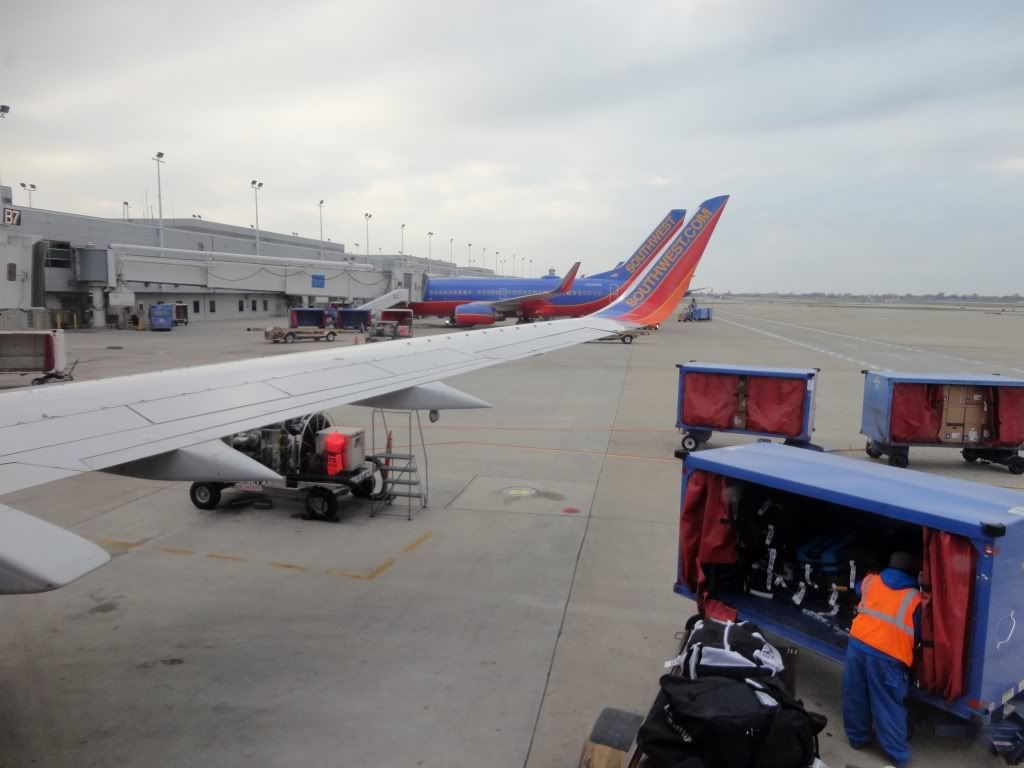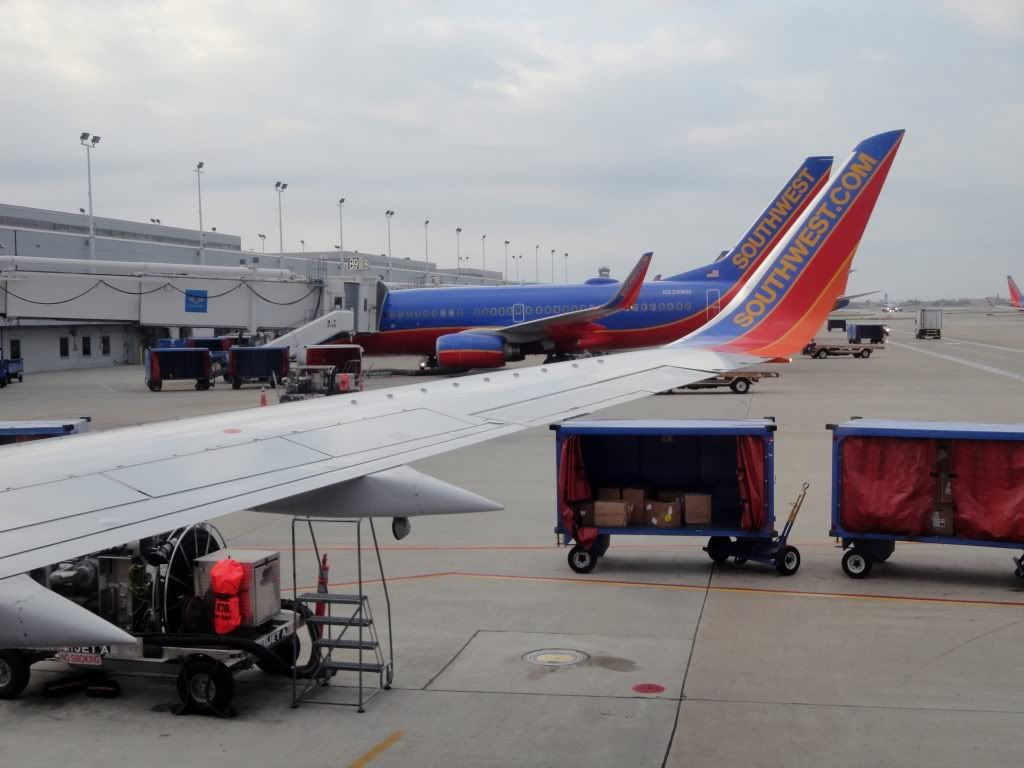 Legroom was good: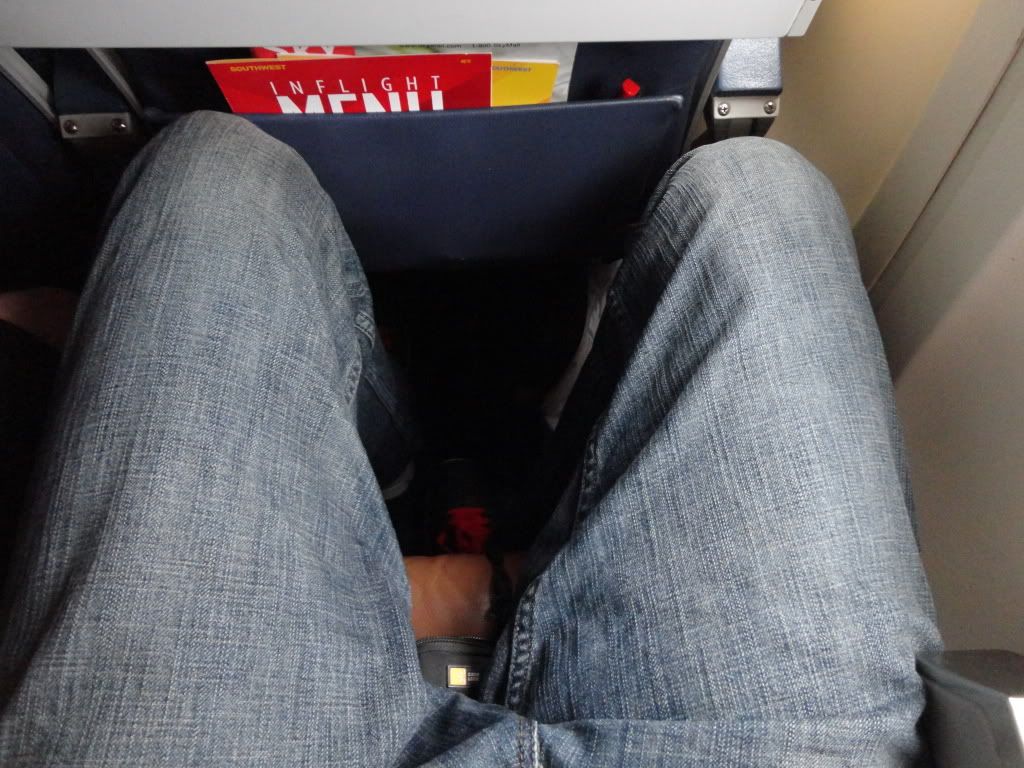 The doors were closed at 08:08, flight load was nearly full at 95% with the 2 seats next to me occupied. Flight crew consisted of 3 males, they were all good and full with smiles getting their job done while cracking a joke every now and then.
With the doors closed one of the FAs came on the PA welcoming us onboard flight 2117 to Nashville, continuing on to Cleveland. Announced flying time is 1 hour.
After a short welcome from the flight deck we commenced pushback at 08:10, bang on time: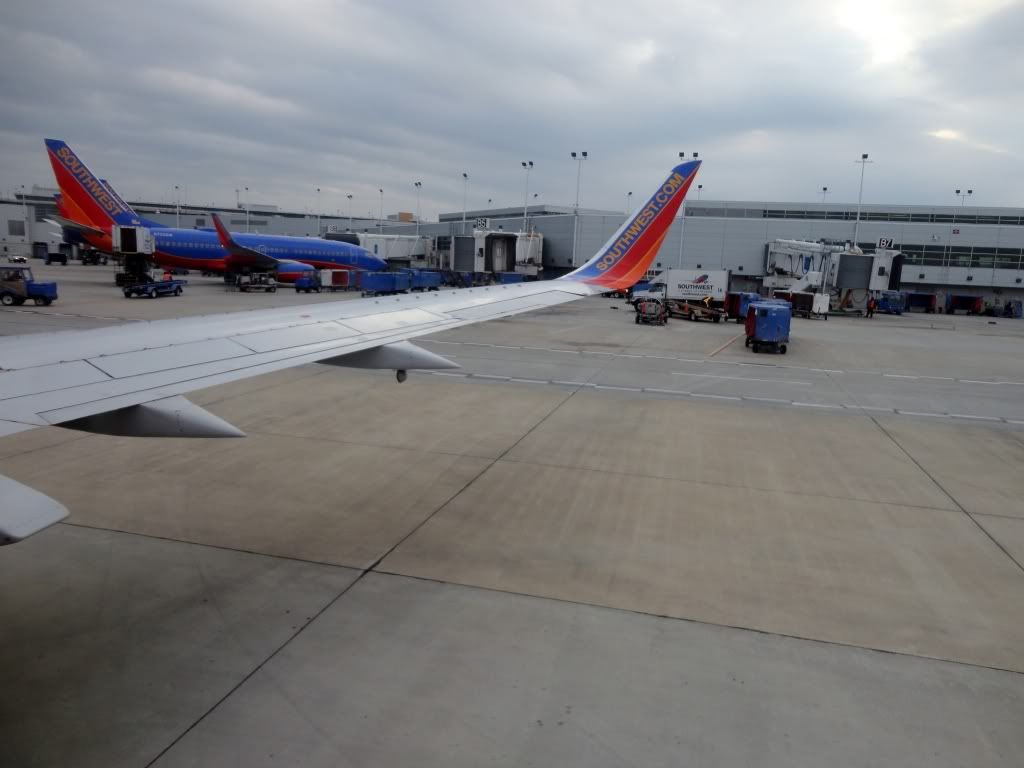 What followed was a very short taxi to runway 22L while the safety demonstration was being performed: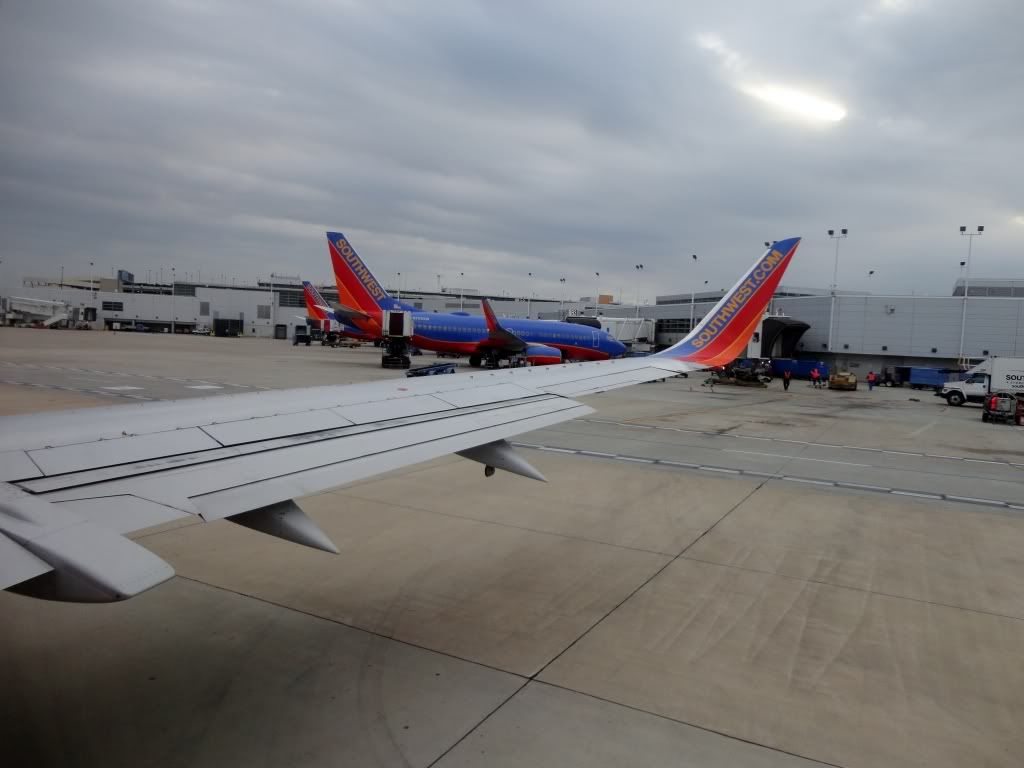 Lobo the gray wolf was also in town: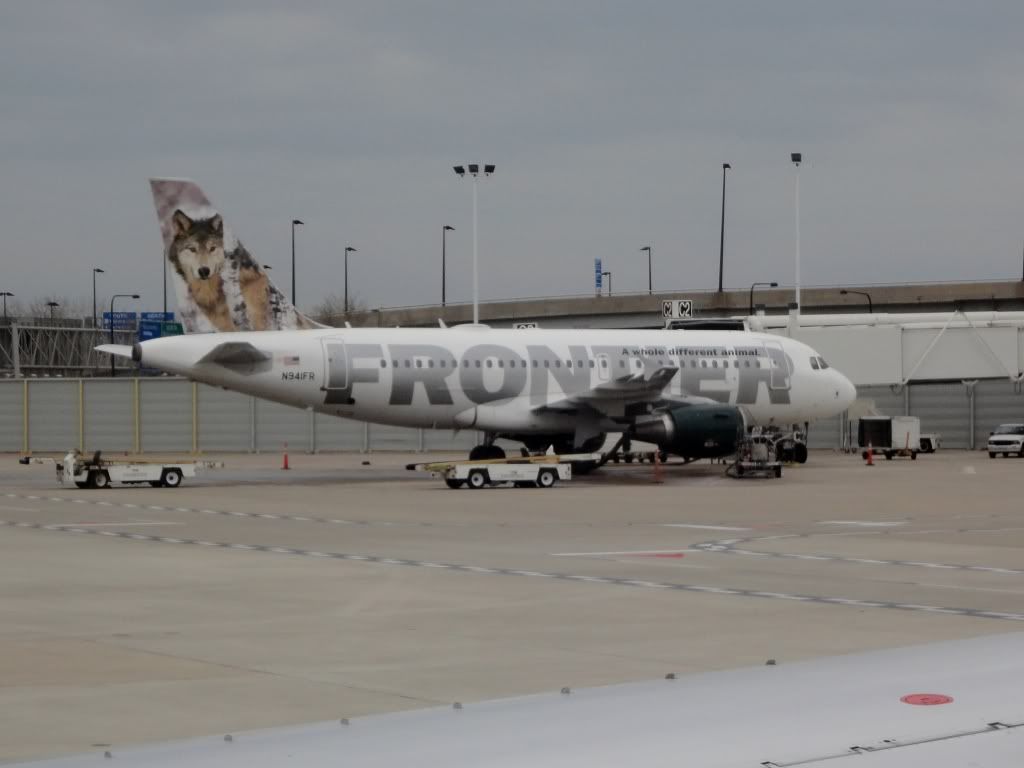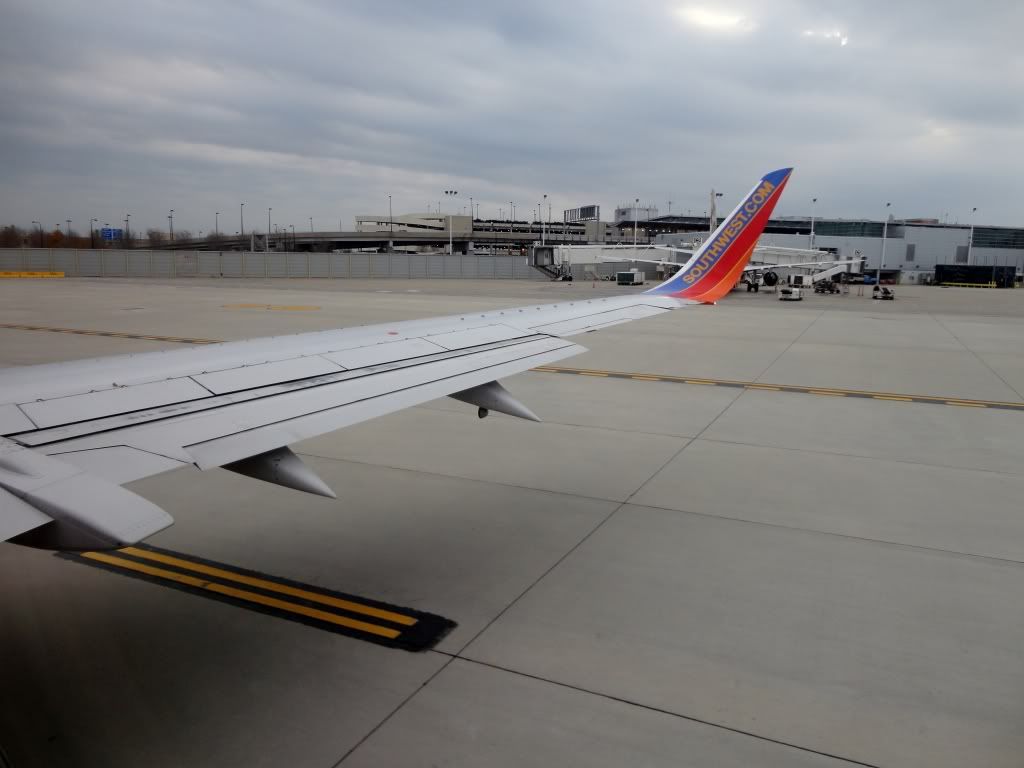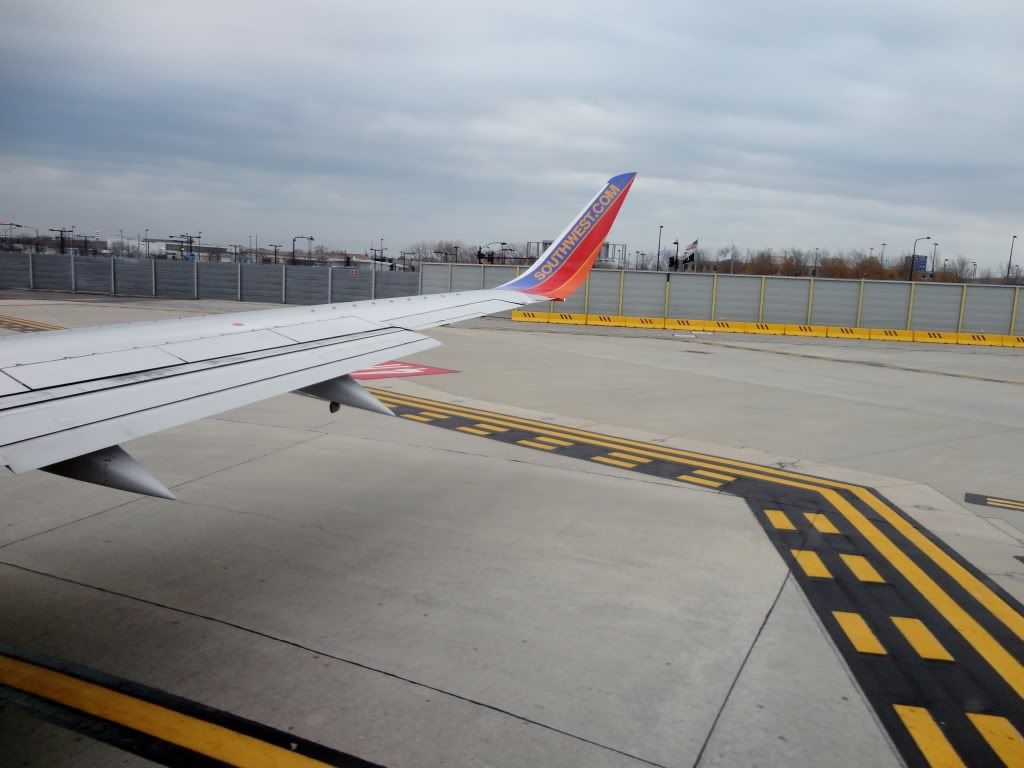 Take Off
Just 2 minutes after pushback we rolled onto 22L and started a nice and powerful take off: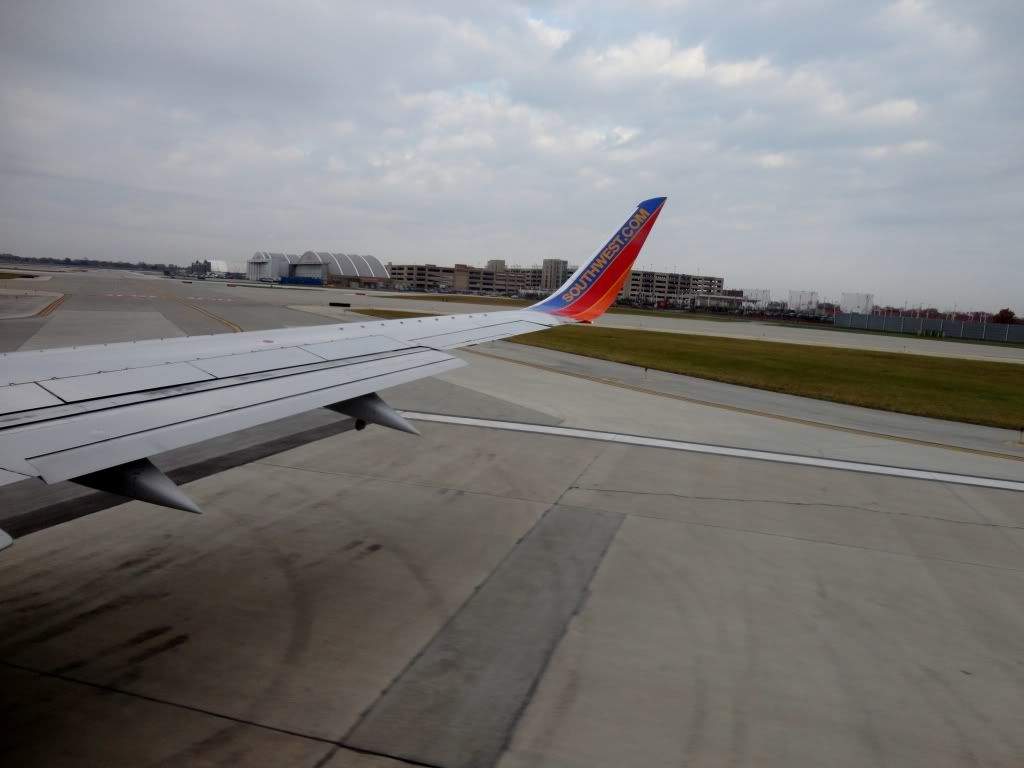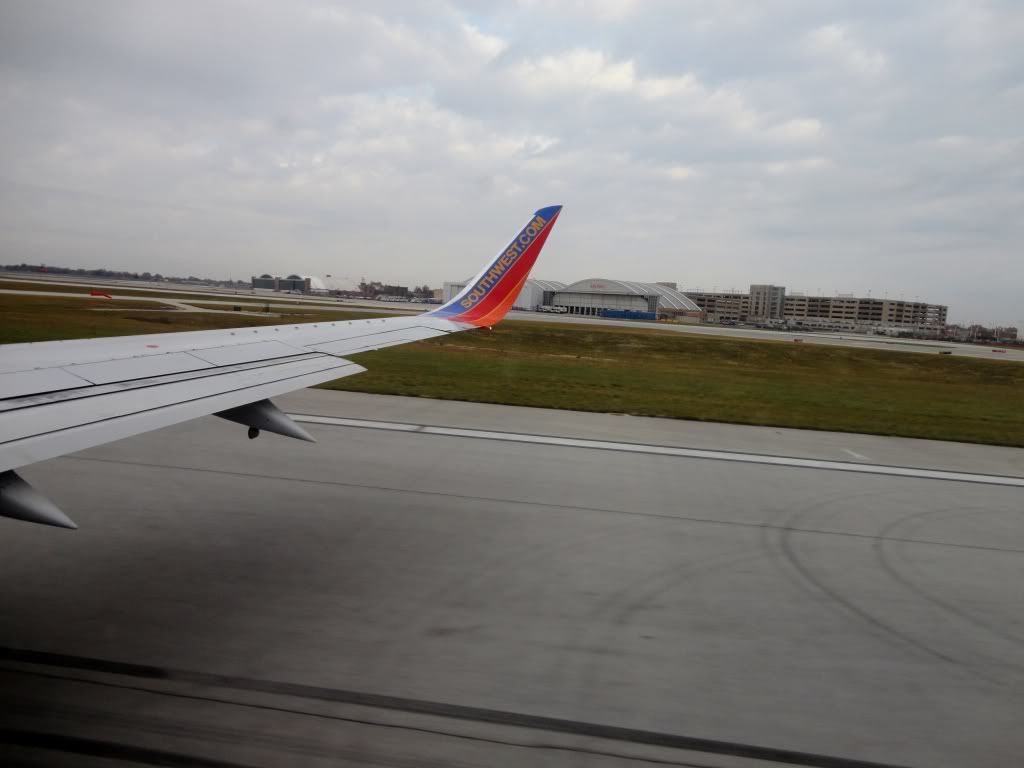 Rotate!: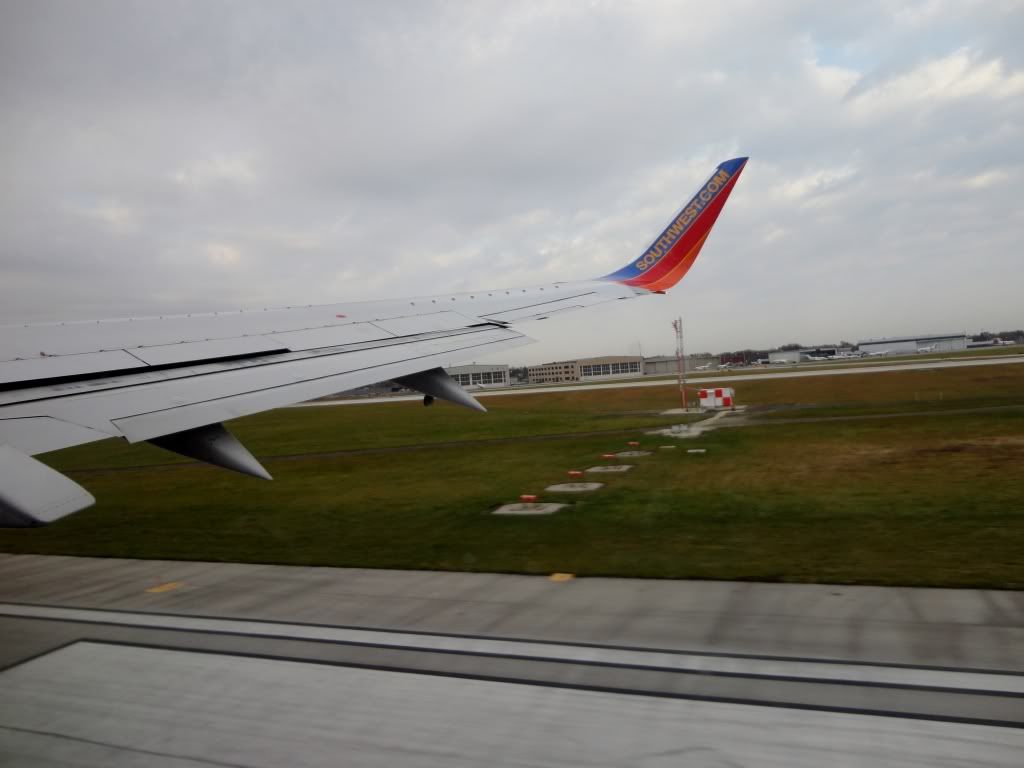 Straight over the suburbs of Chicago: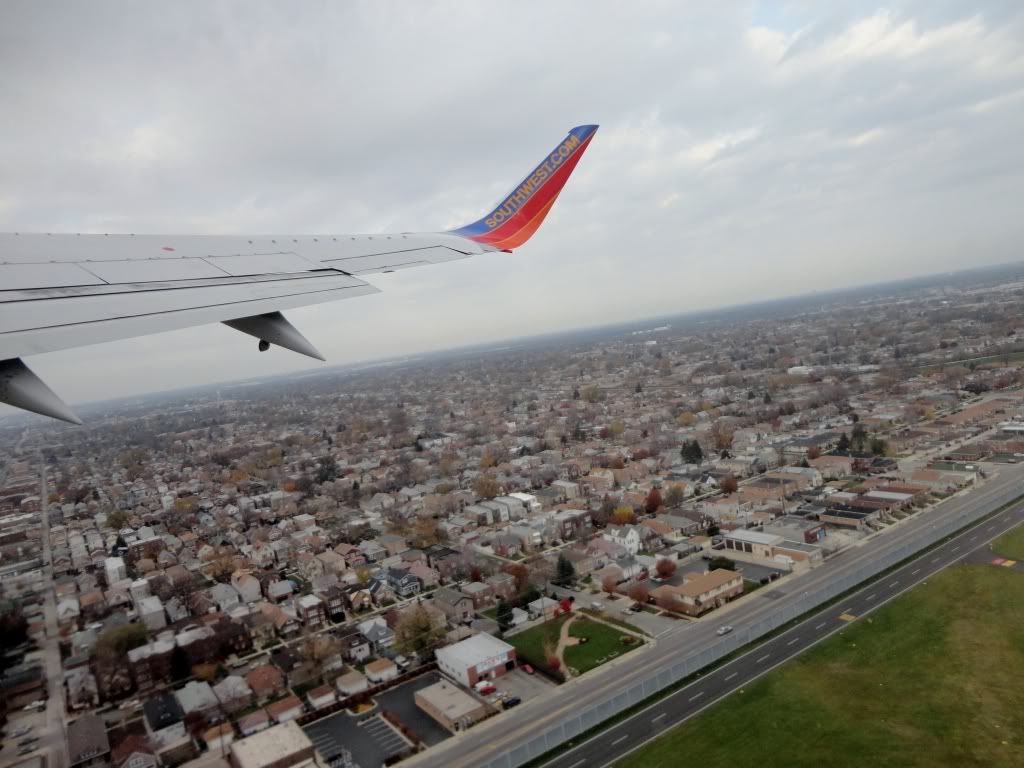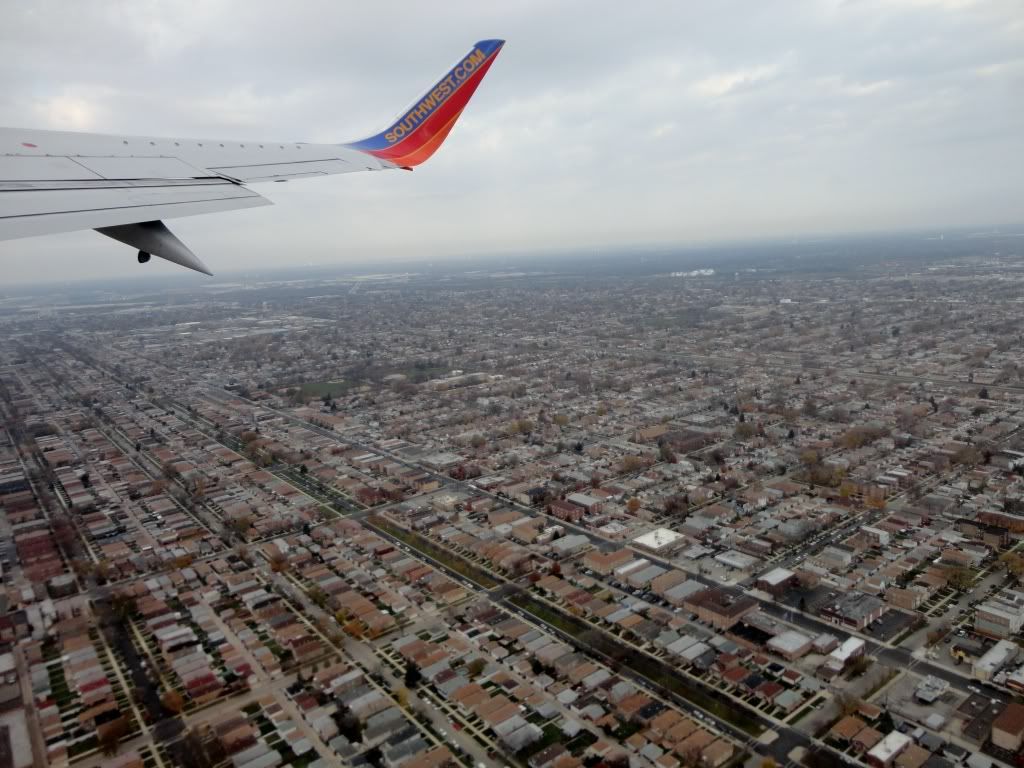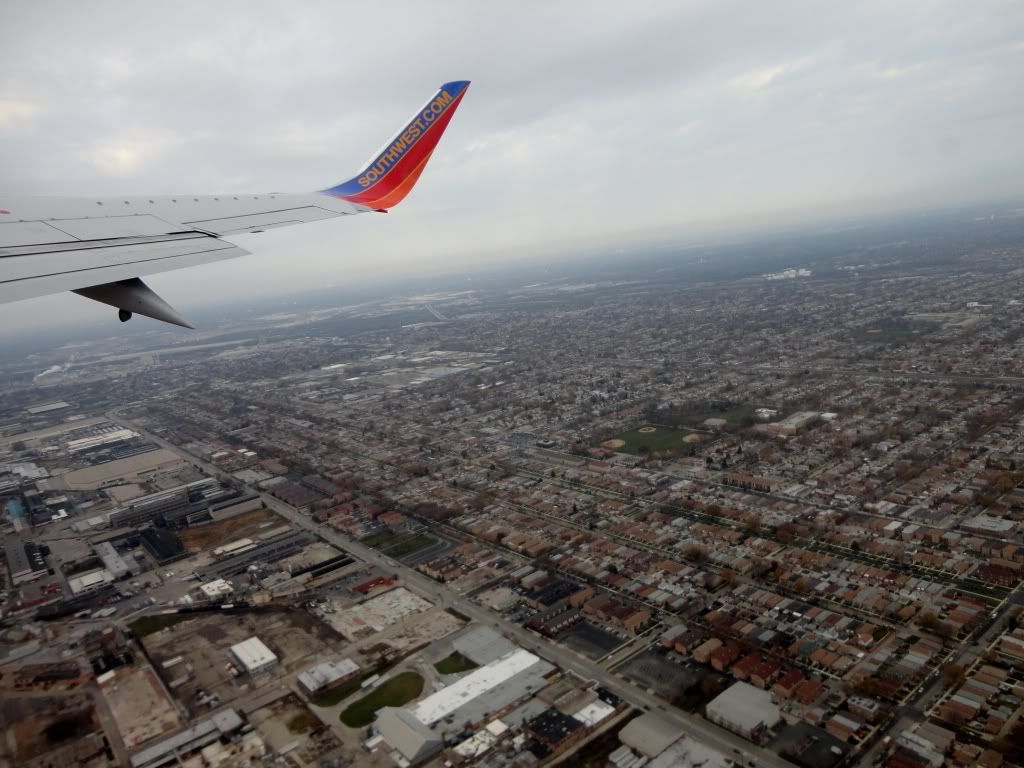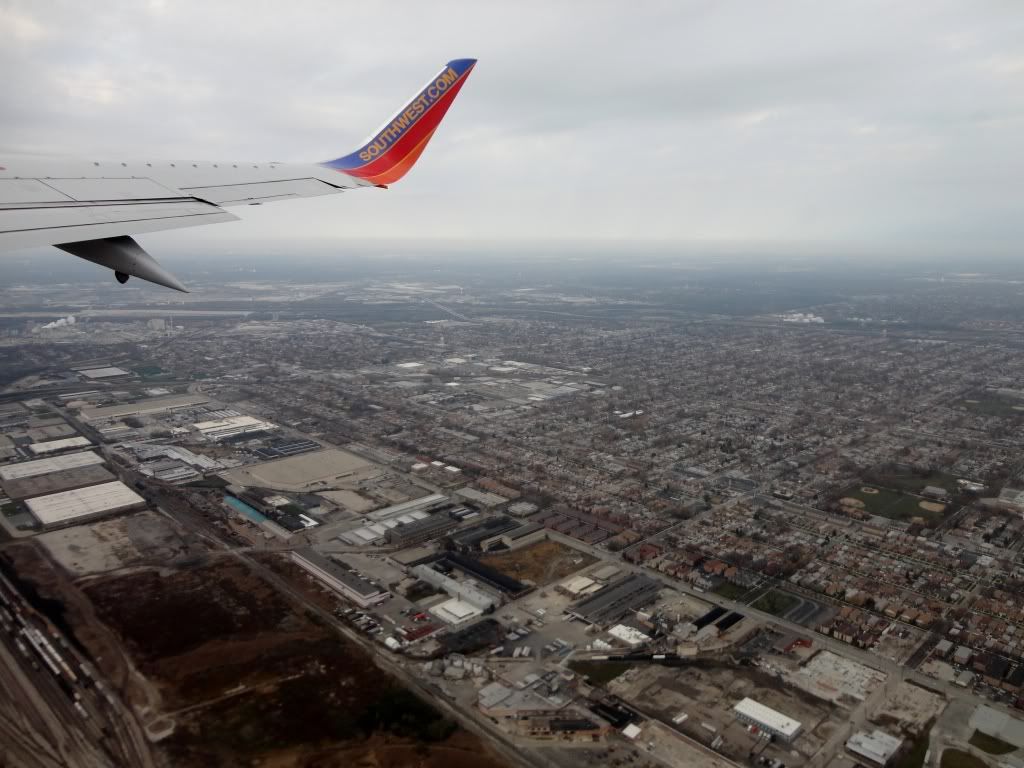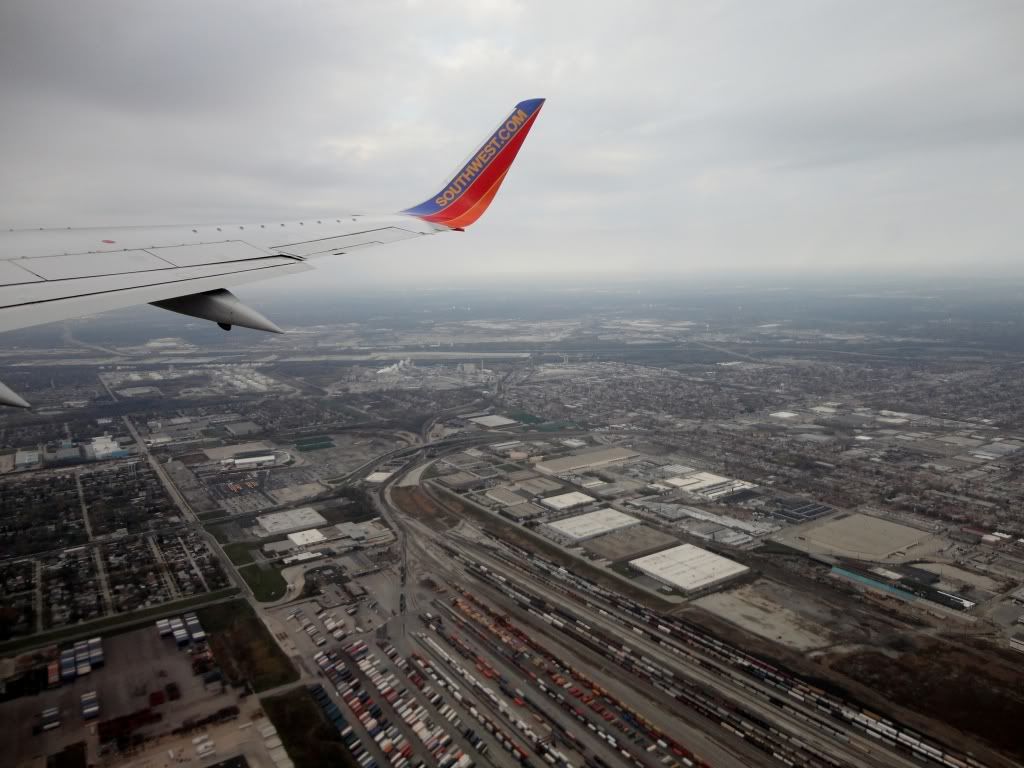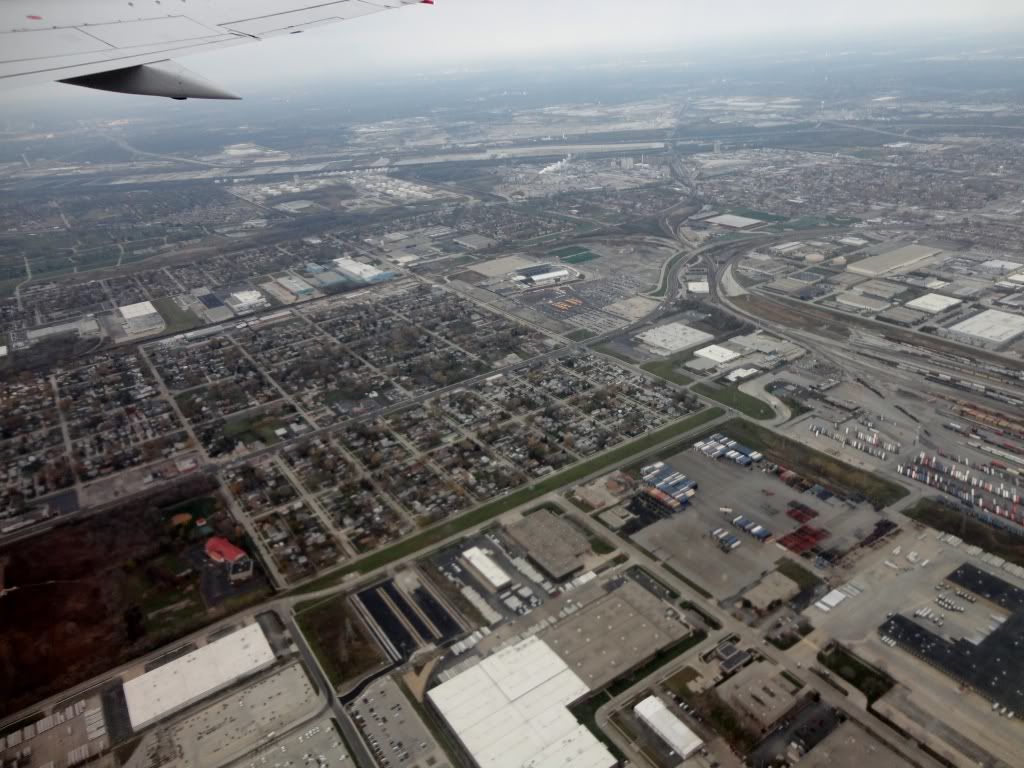 Through the clouds:
Seatpocket Contents
While we were still climbing I took a look at the seatpocket contents. First the inflight menu: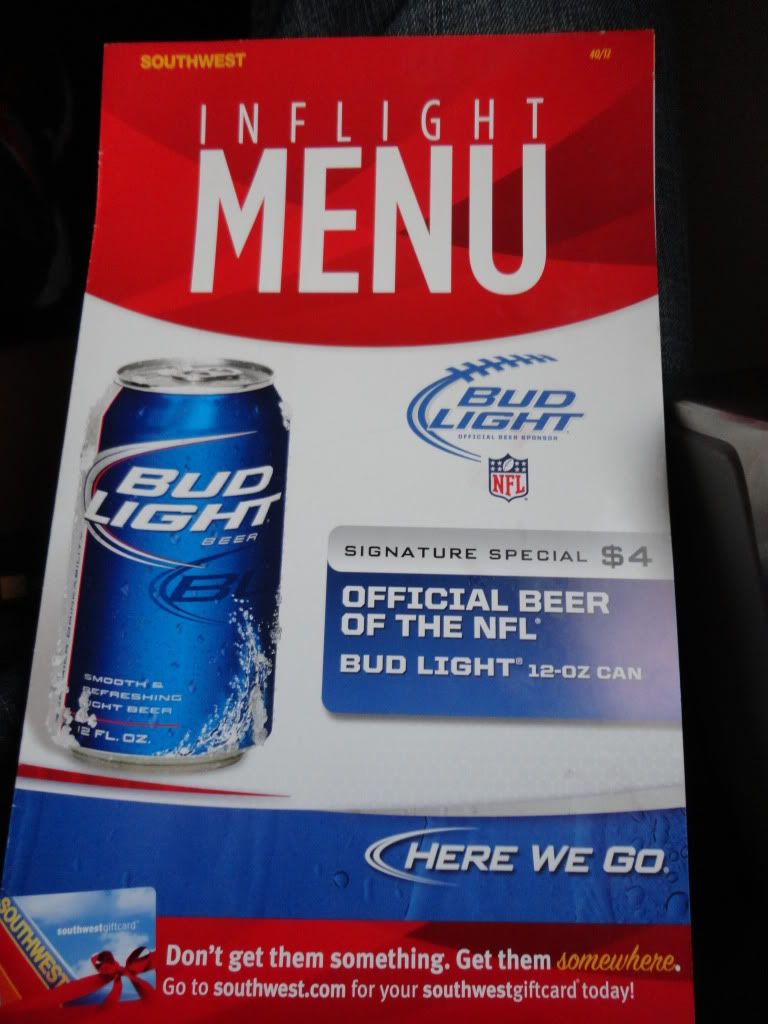 Safety card: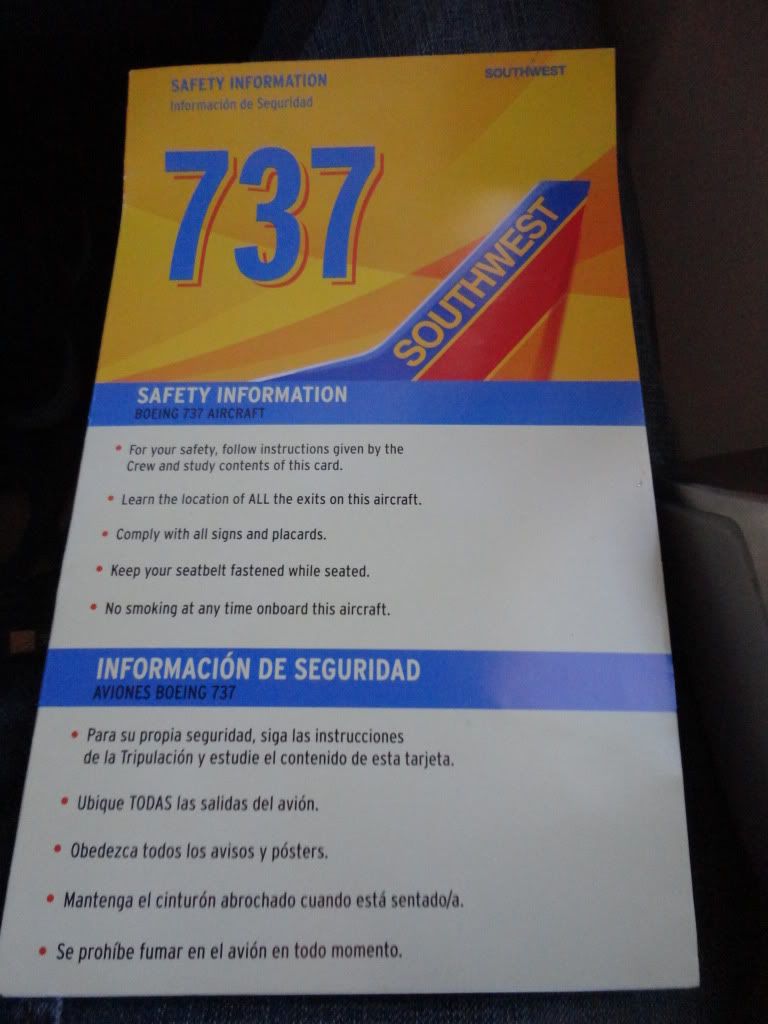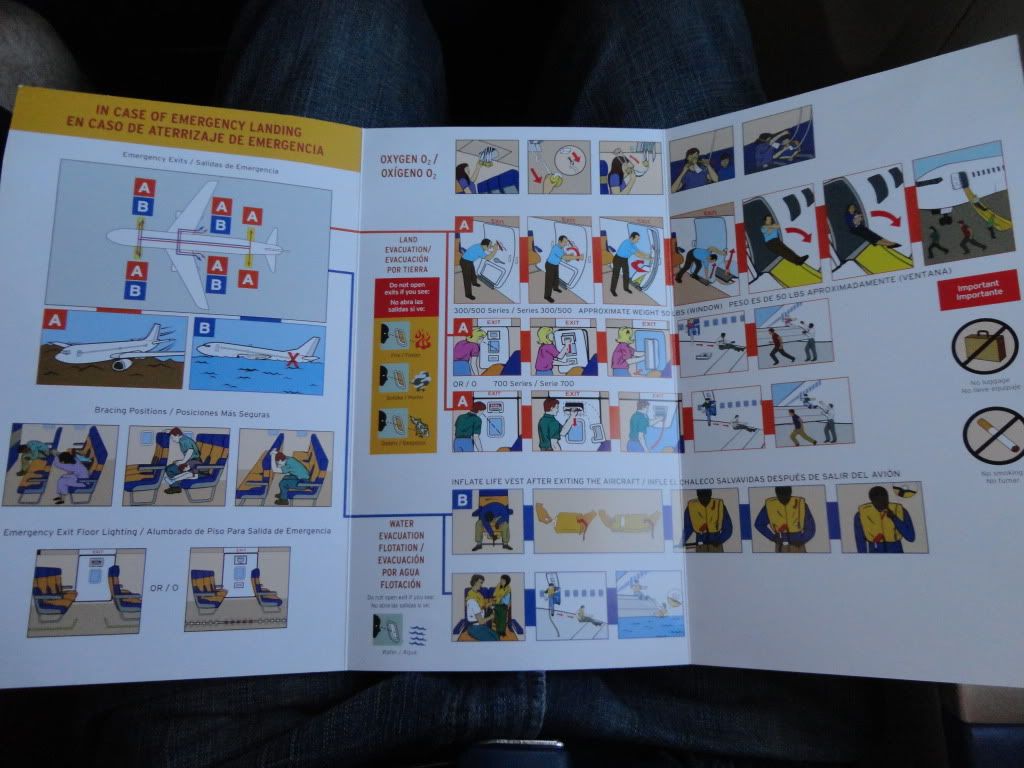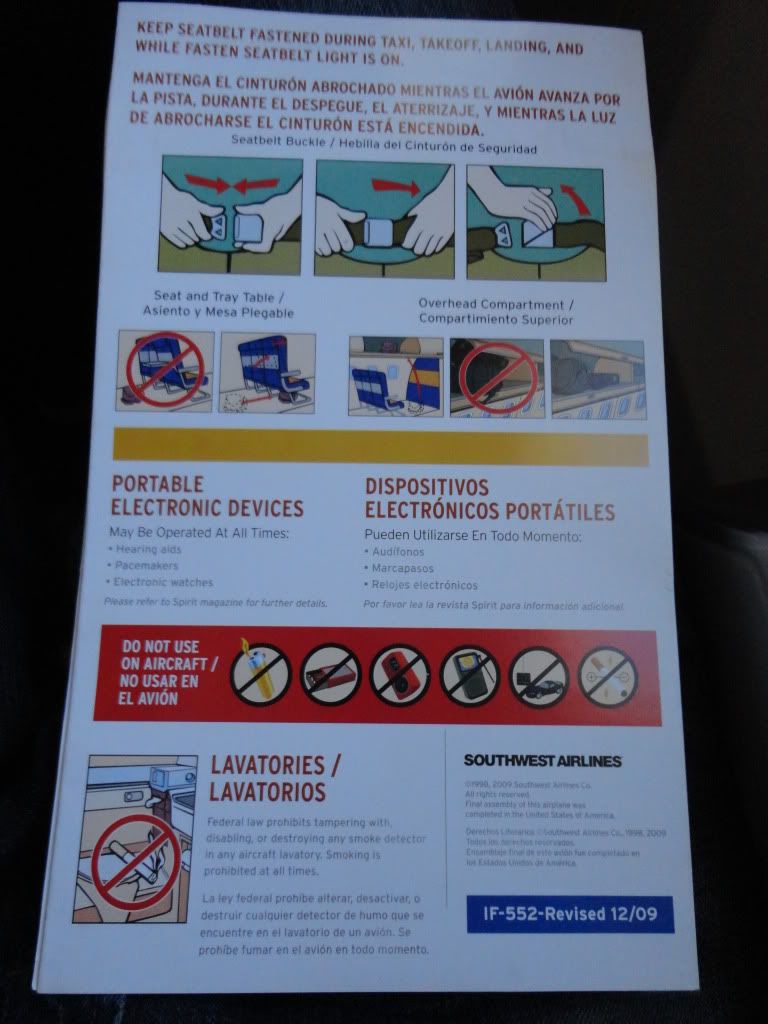 Sky mall magazine: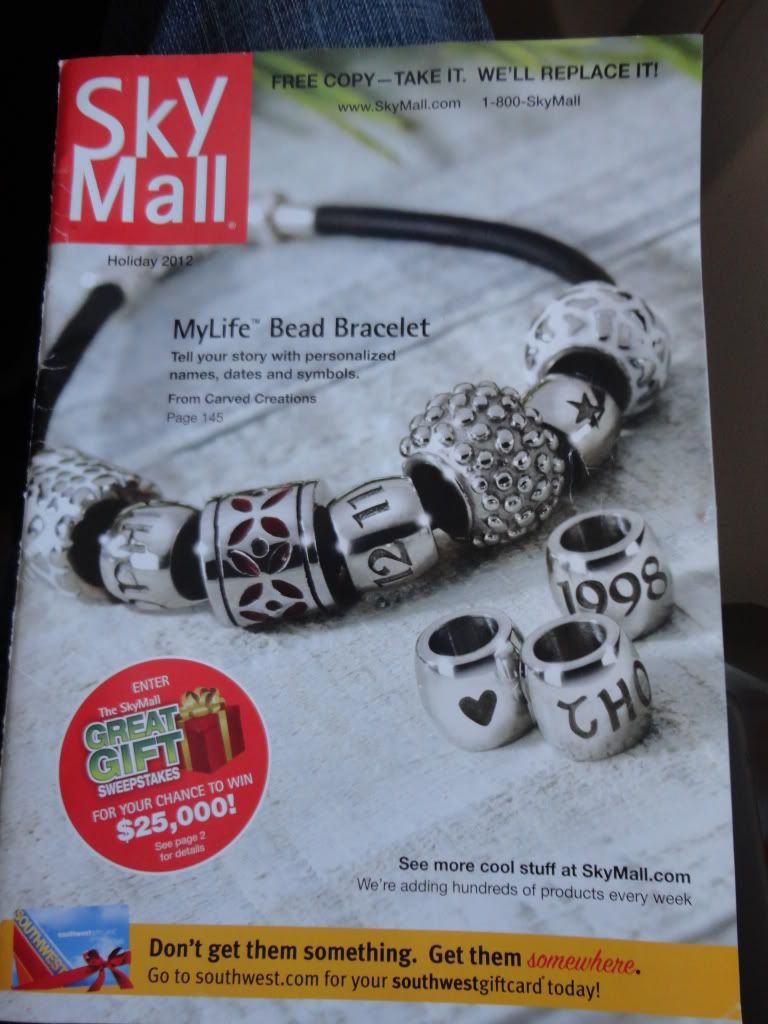 And Southwest's own magazine, Spirit: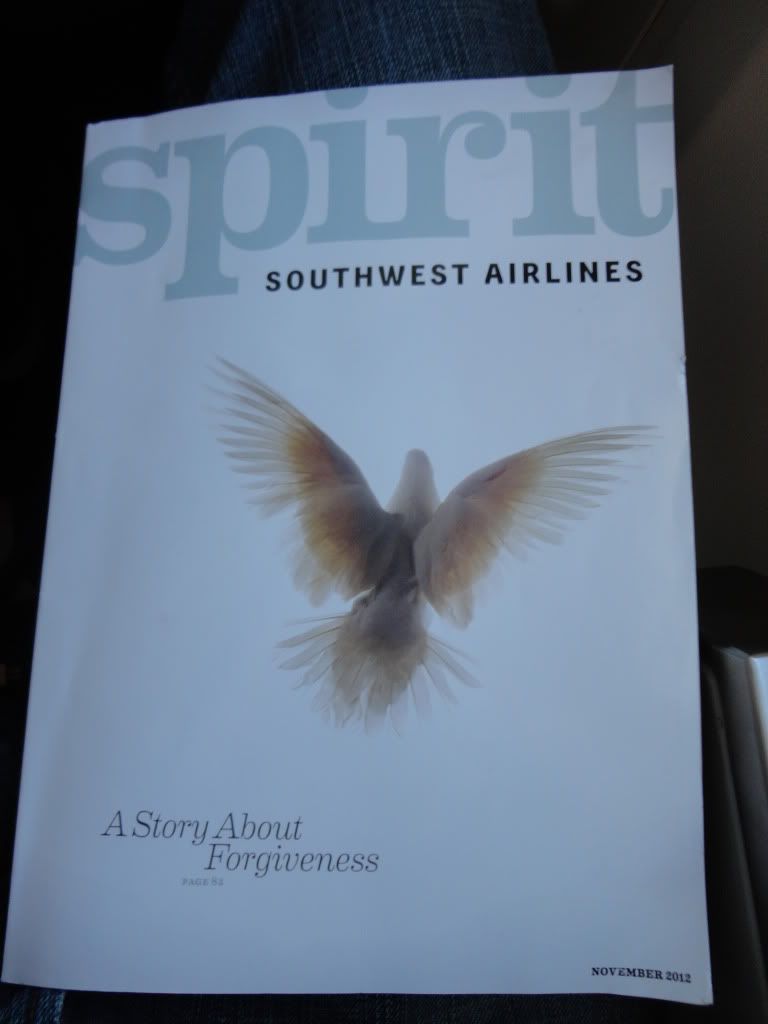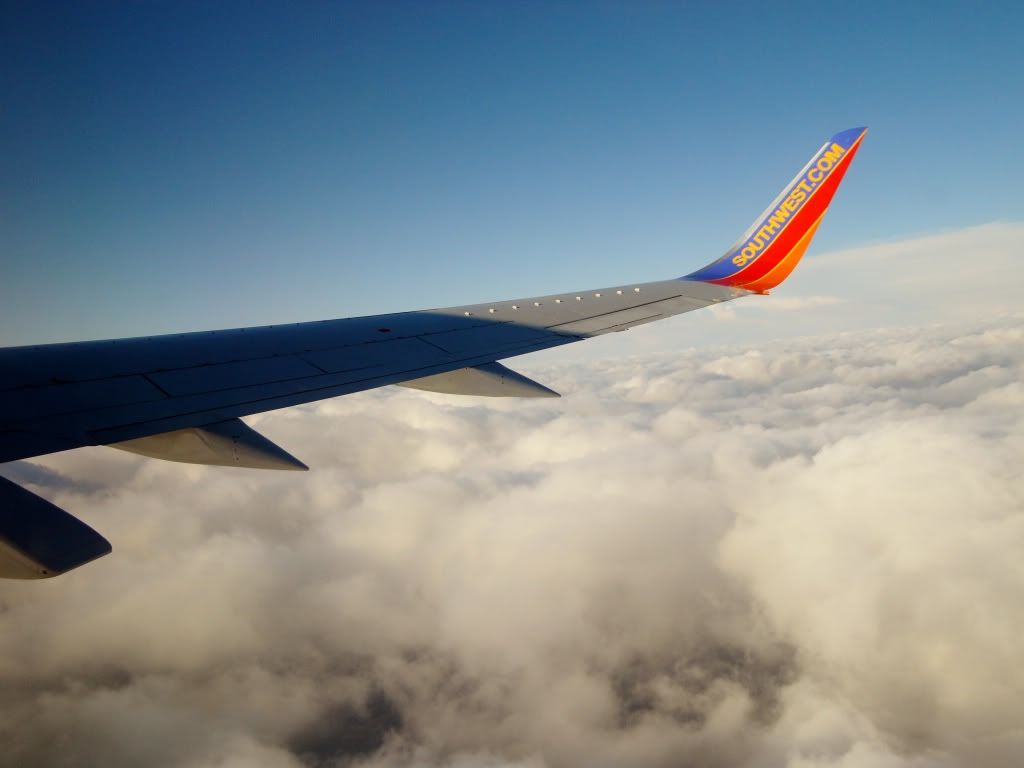 Soon enough the seatbelt sign dinged off and the crew sprang into action. As many of you know Southwest doesn't use a cart to go up and down the aisle. Instead they take your order and bring your drink on a tray. I actually quite like this concept, as it keeps the aisle free as much as possible for passengers to walk to the bathroom without interfering with the service all too much.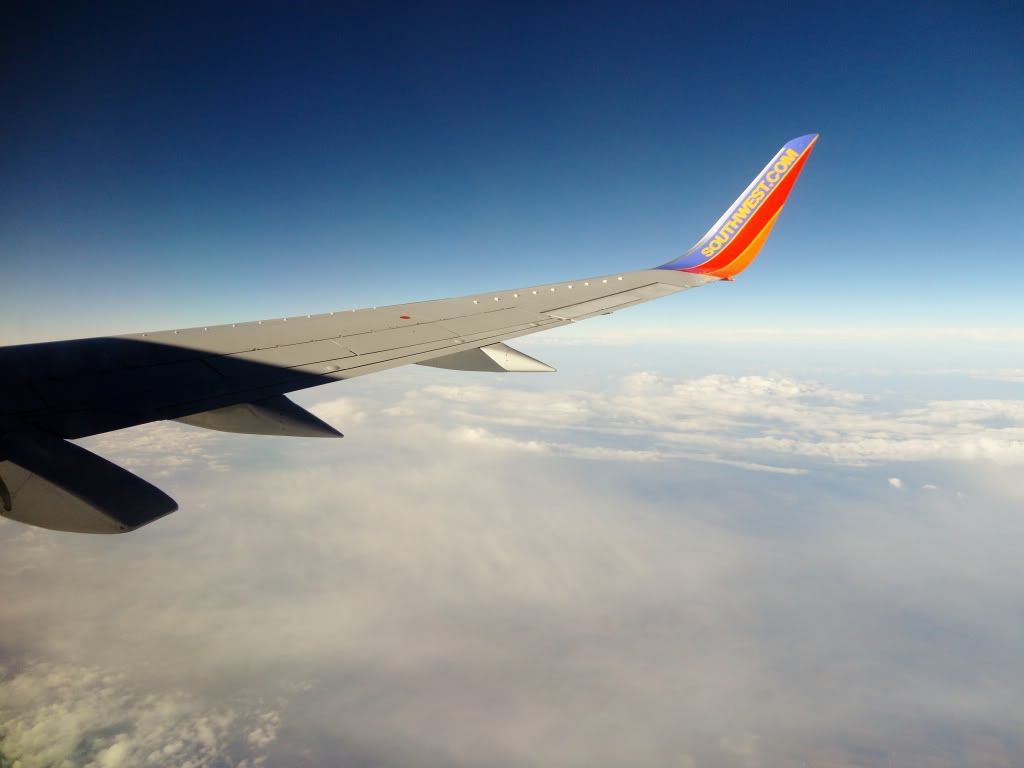 Great weather for flying today: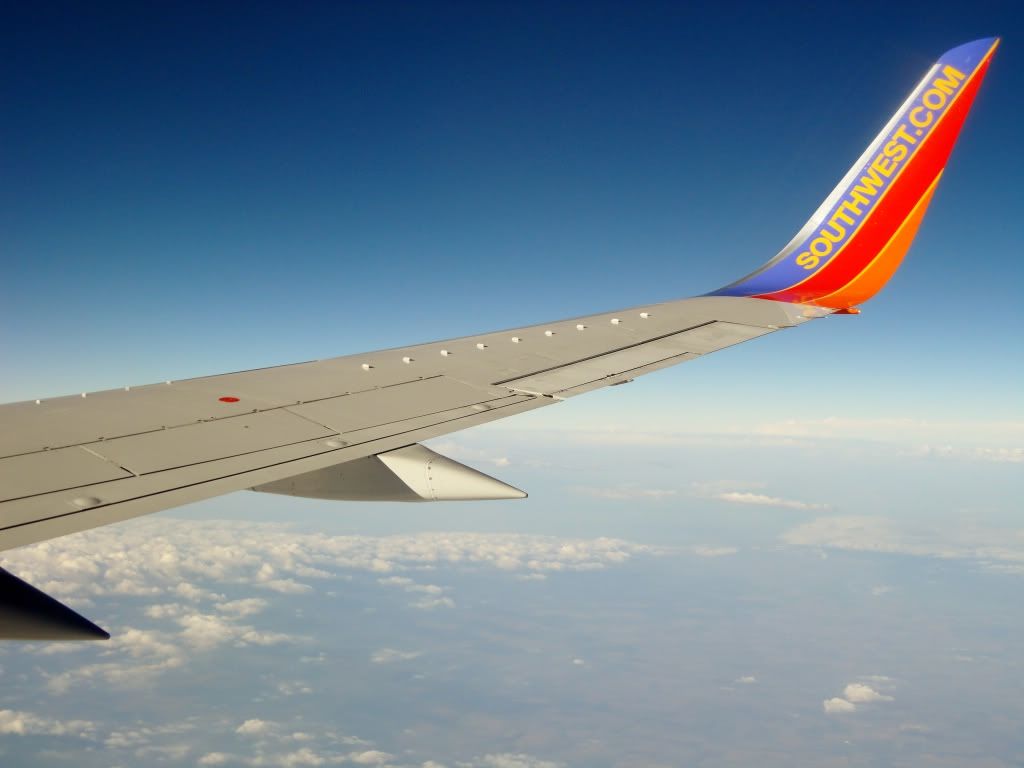 Beautiful blended winglet dedicated to Martin (deltamartin):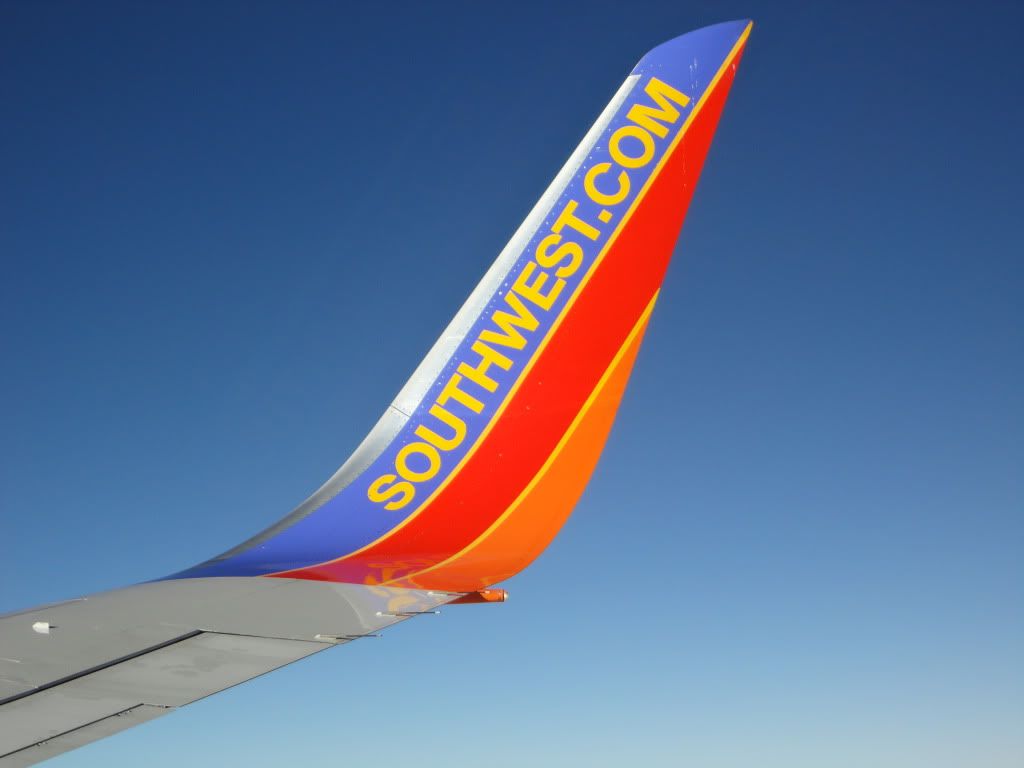 Once one of the FAs reached my row I ordered a Dr. Pepper which was brought to me swiftly: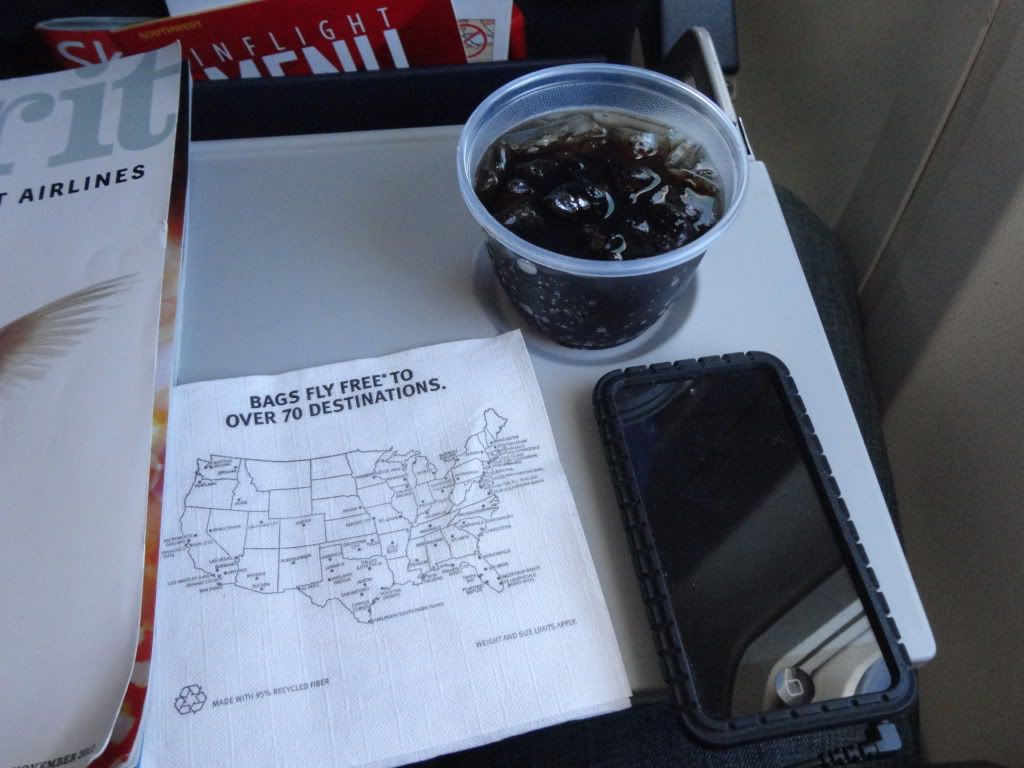 After the drinks run two of the FAs came about the cabin with a basket filled with snacks. Once they reached my row I got handed two packs of peanuts: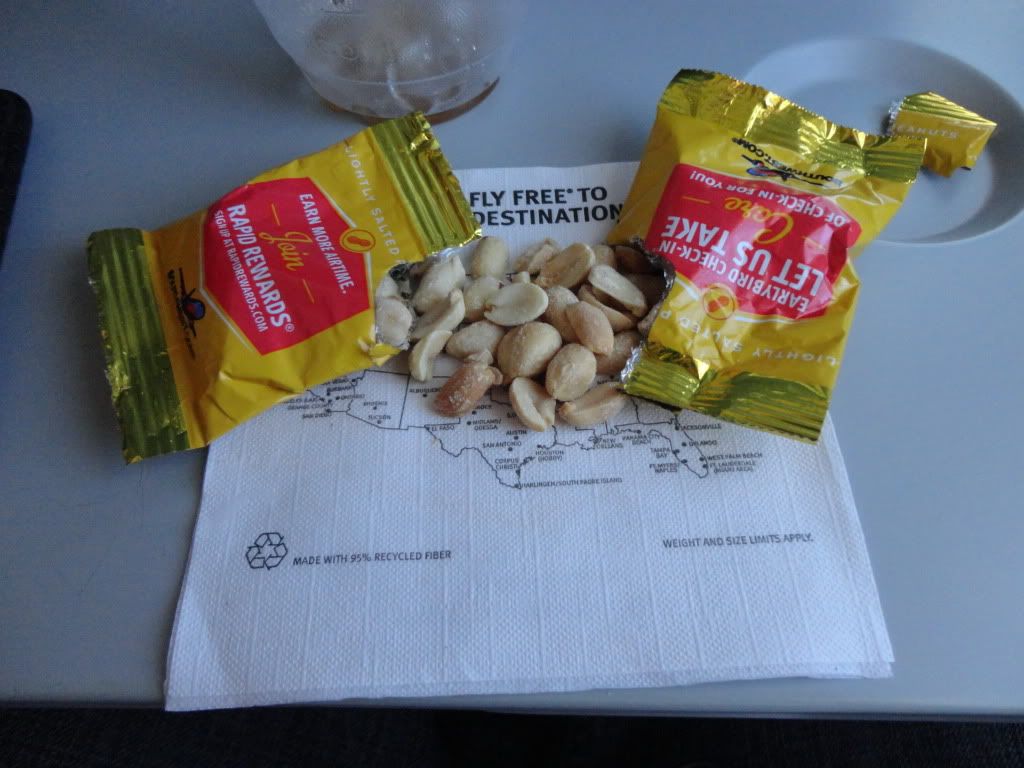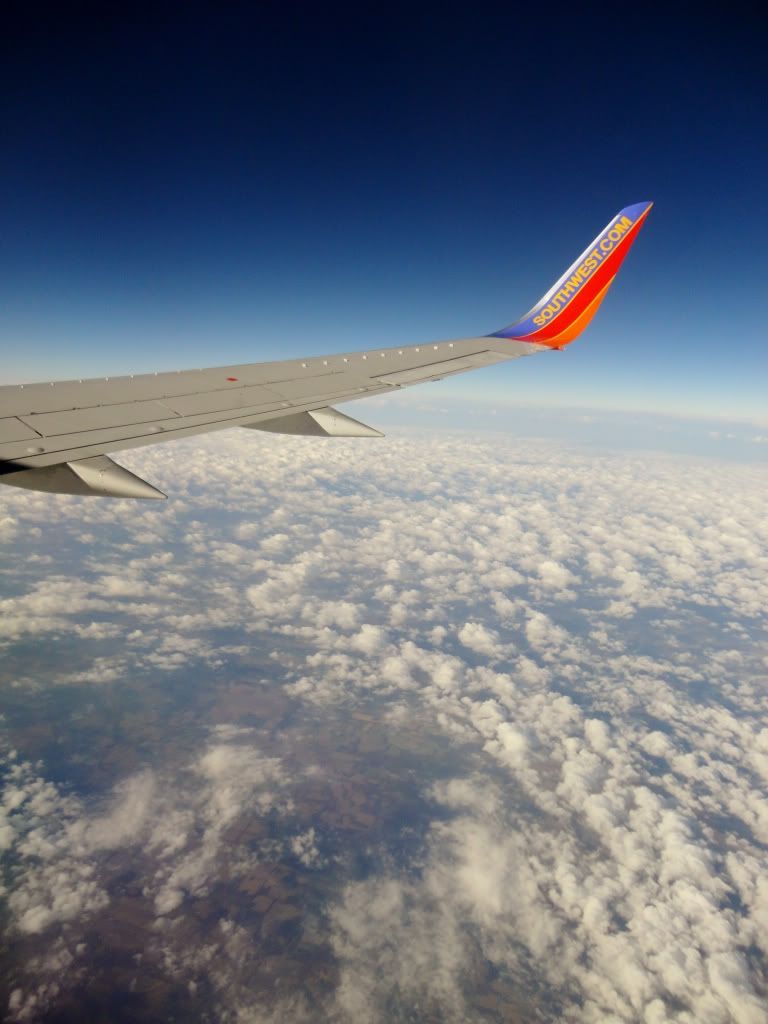 Evansville Regional Airport: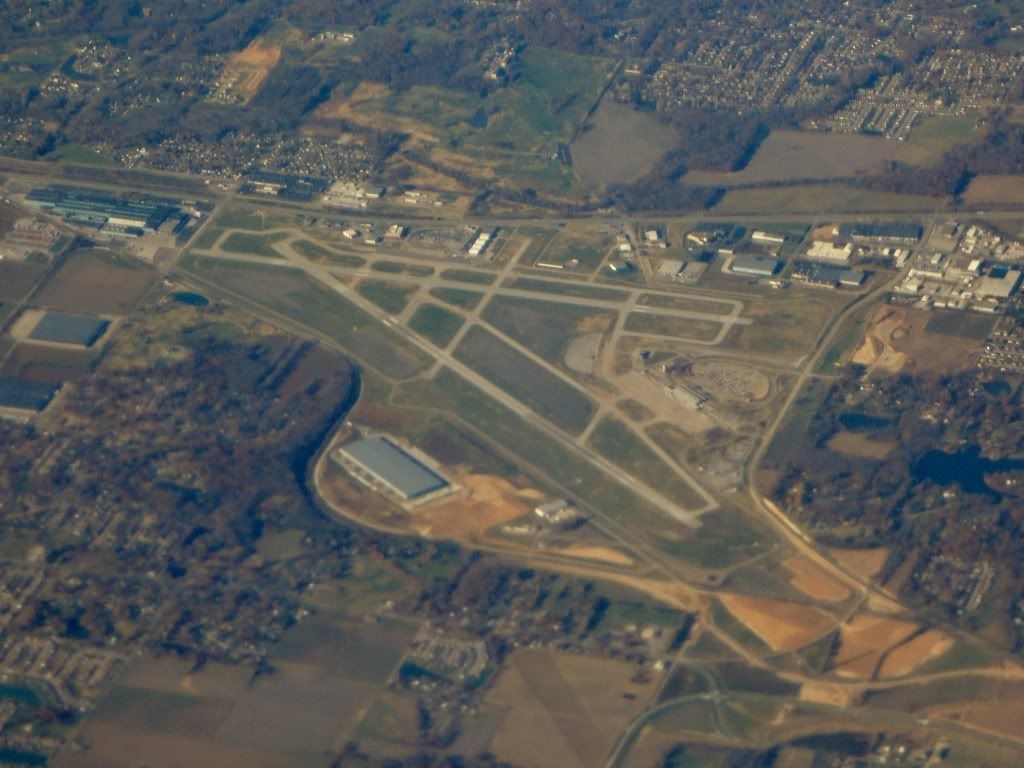 In no time the FO came on the PA announcing our descent into Nashville and thanking us for flying Southwest: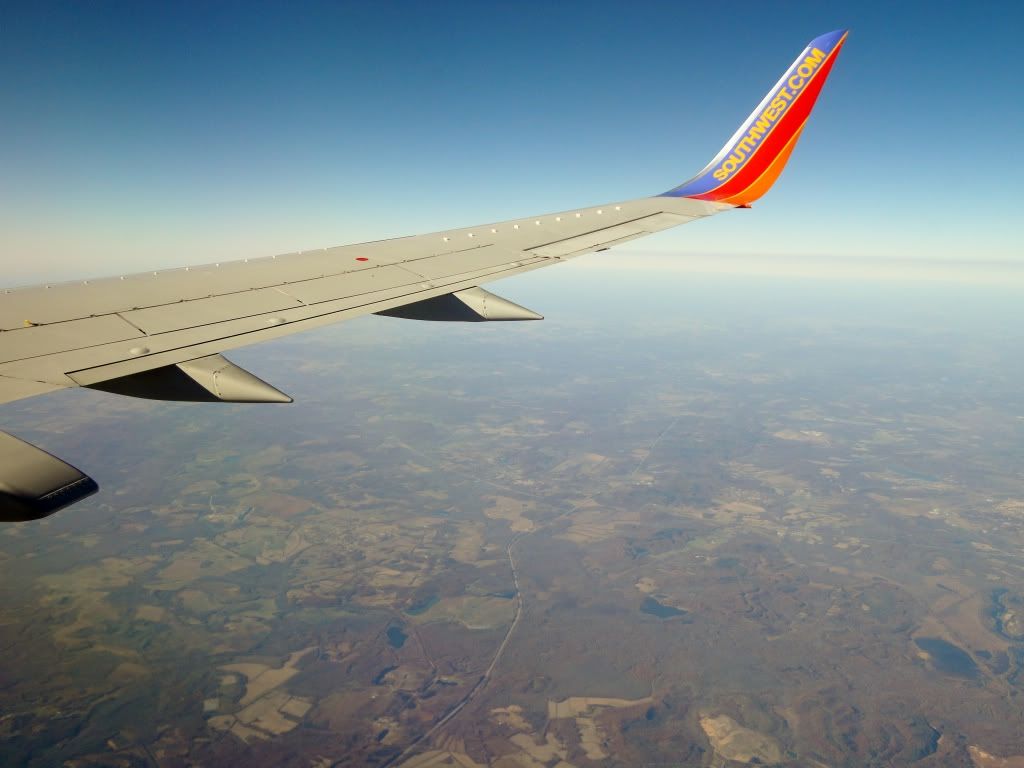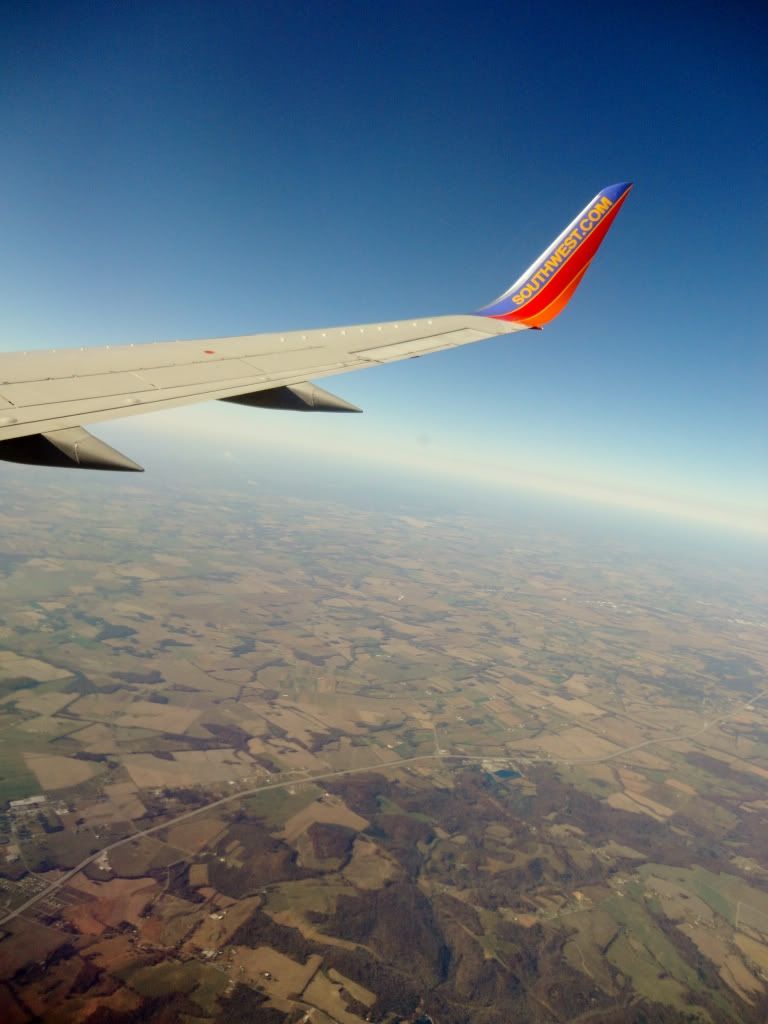 Braking heavily getting lower and lower: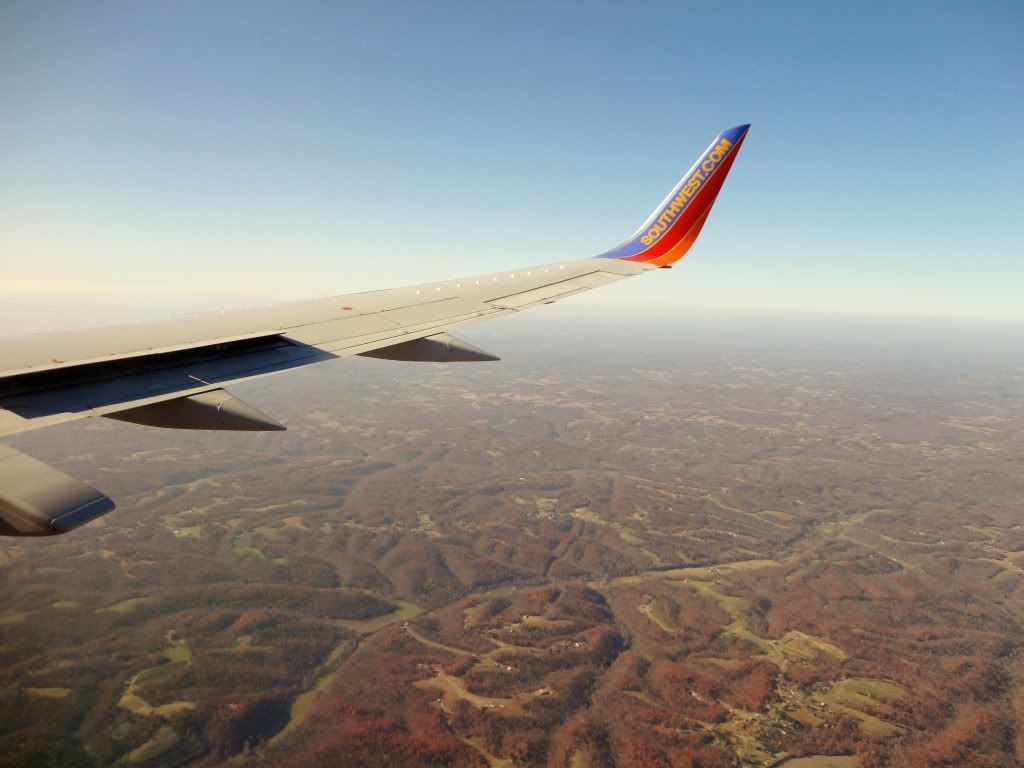 Continued Below