View Large
View Medium


Photo © Ruben Gil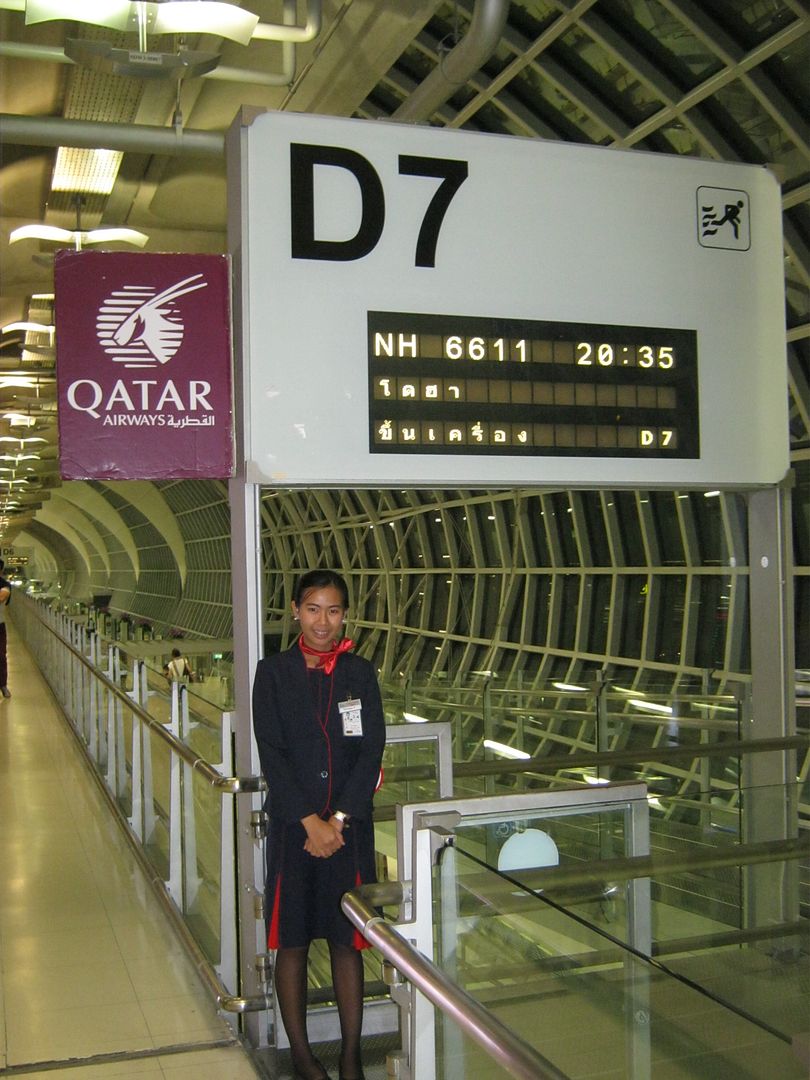 Hello all. I got my first Boeing 777-300ER experience a few months ago with Qatar Airways. I spend most of the month of December in Doha, Qatar for work. They're building up and planning for the World Cup in 2022.
I flew out on the evening flight from Bangkok to Doha. Check in went fine, went through customs and processed to the gate. What was unusual was the rain. December is the dry season in Thailand but we were having a light drizzle that day.
Boarded the aircraft and sat in my seat. Once again, I had seat karma and the only empty seat on the plane was the one right next to me. Qatar 777s are 3-3-3 seating that was first used by Aeroflot IL-86s and 96s many years ago. It was me, an empty chair and a French guy in the aisle seat.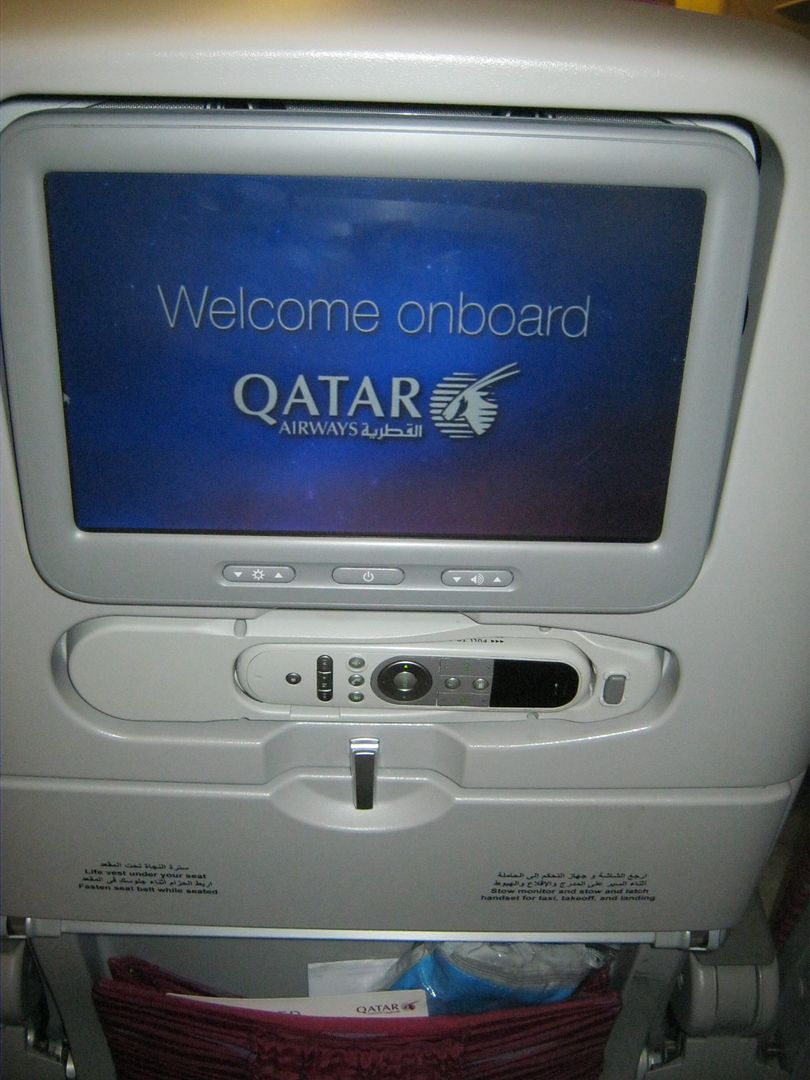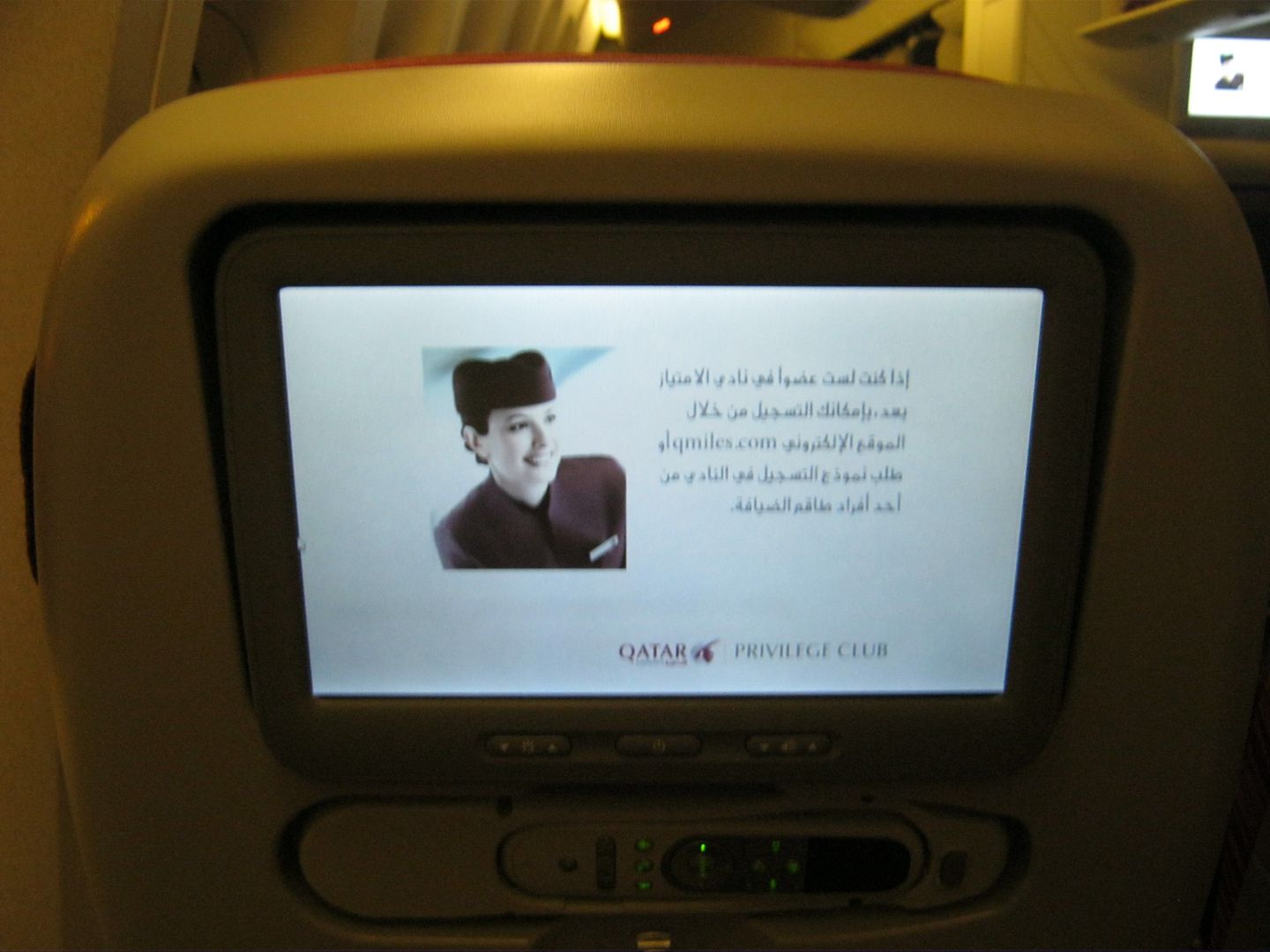 We sat at the gate for over 1 hour. No announcement or anything from the flight crew about the delay. I had fallen asleep and then woke up only to see that we were still at the gate an almost an hour had went by. Then the plane pushes back after sitting for an hour and no announcement. We proceed to the runway for take off.
Our takeoff roll was very long. Extremely long! It's as if we took up every inch of the runway and our ascent was very shallow. Very unusual for a Boeing 777. We took off towards the south and bank to the right. Had a nice tour of the Bangkok skyline above Sukhumvit road downtown since we were so close to the tops of the buildings. We would go in to a steep ascent about 10 minutes in to flight. I've been in a few Soviet jetliners that use this takeoff technique but wasn't expecting it in a Boeing 777.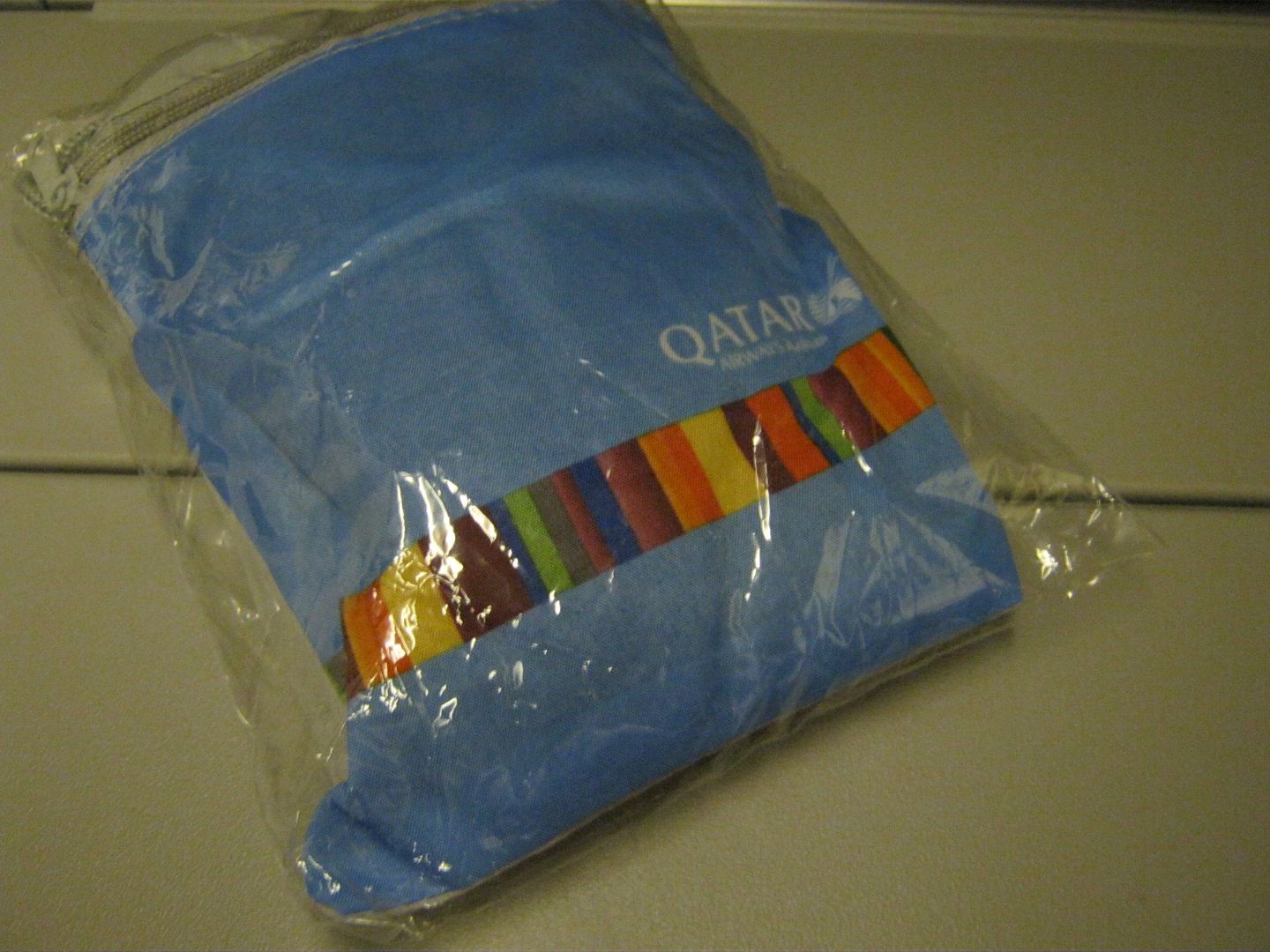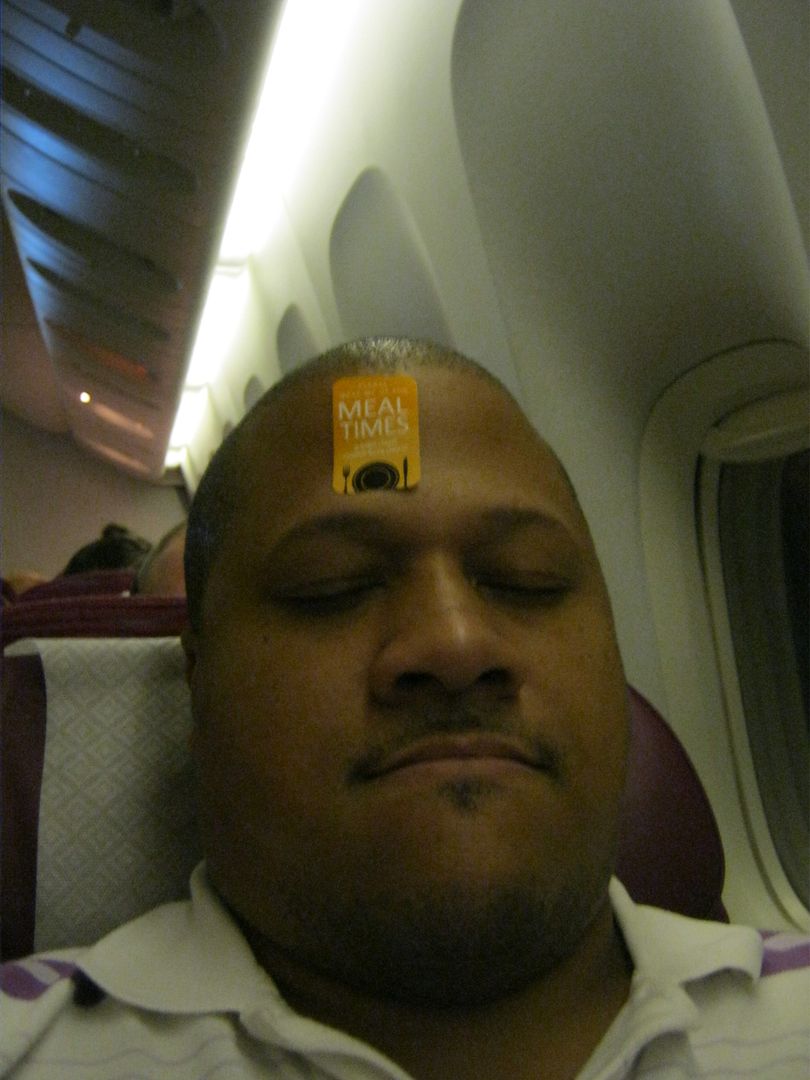 My seat karma came to an end when the tall guy in the aisle seat decided to sit right next to me in the middle seat because he was upset that the PTV at his seat wasn't showing movies.
Meal service begins. I chose the chicken dinner and had it with a vodka tonic. The food tasted fine but nothing to write home about. I had a few more cocktails to wash down the meal.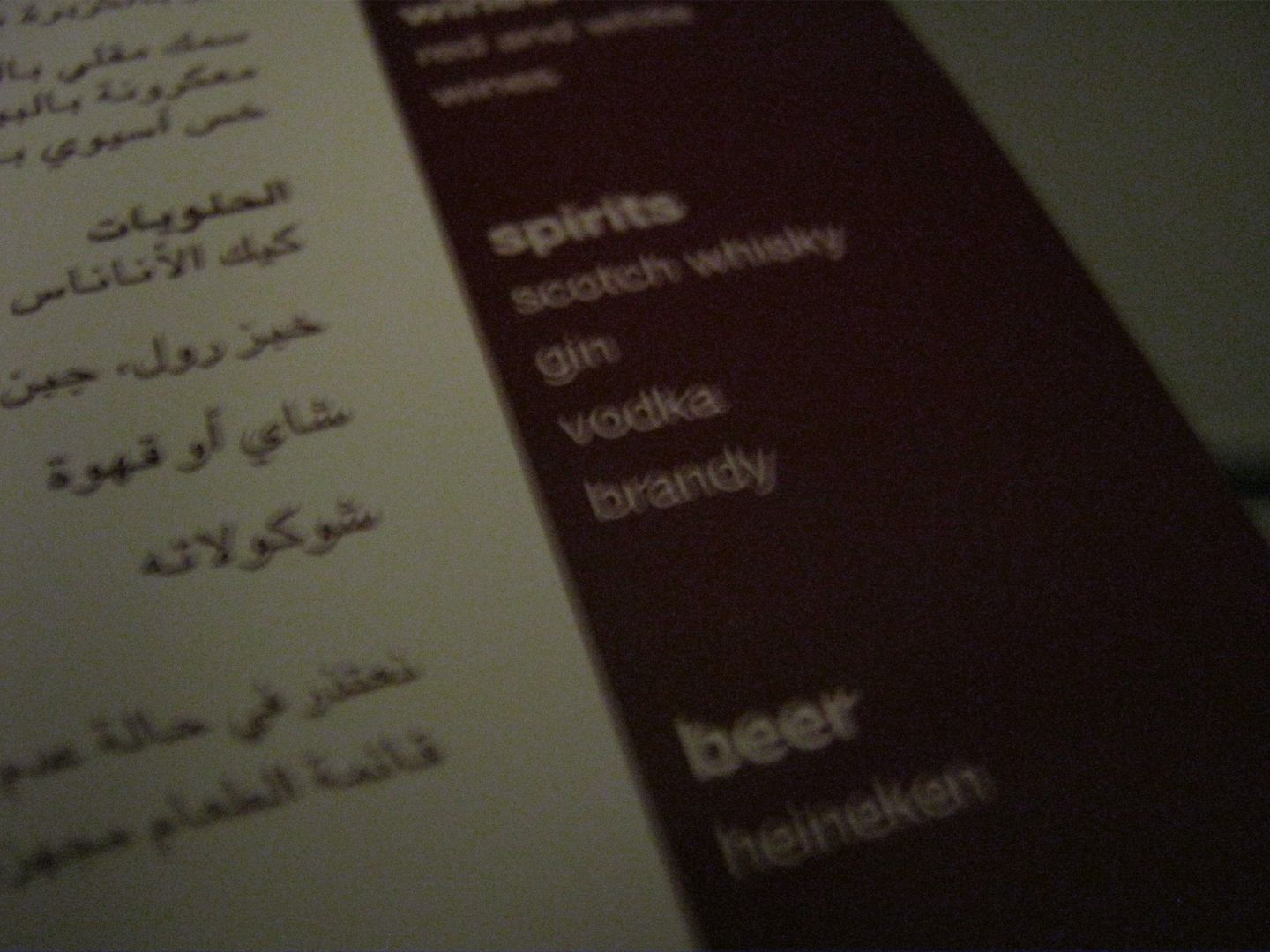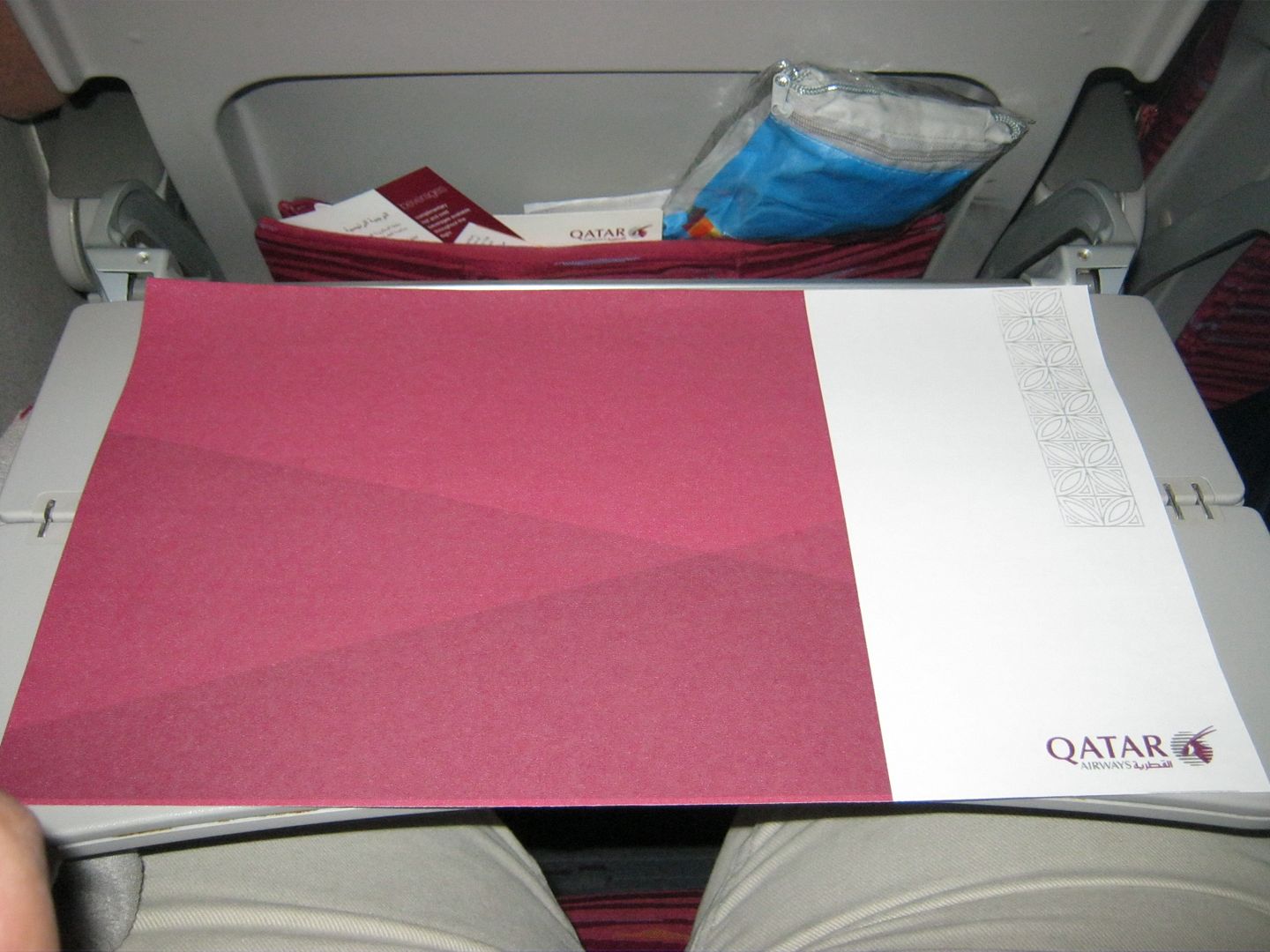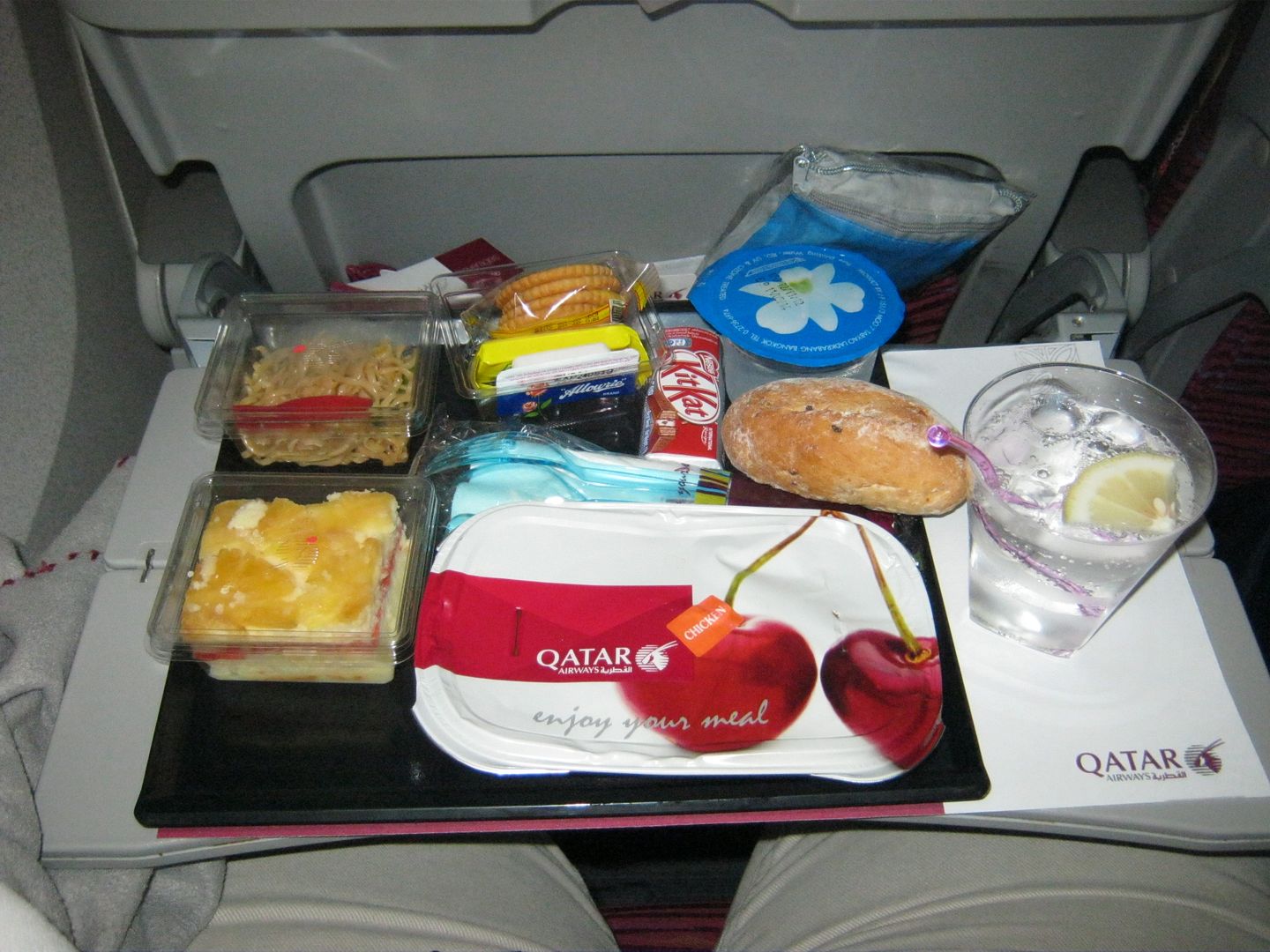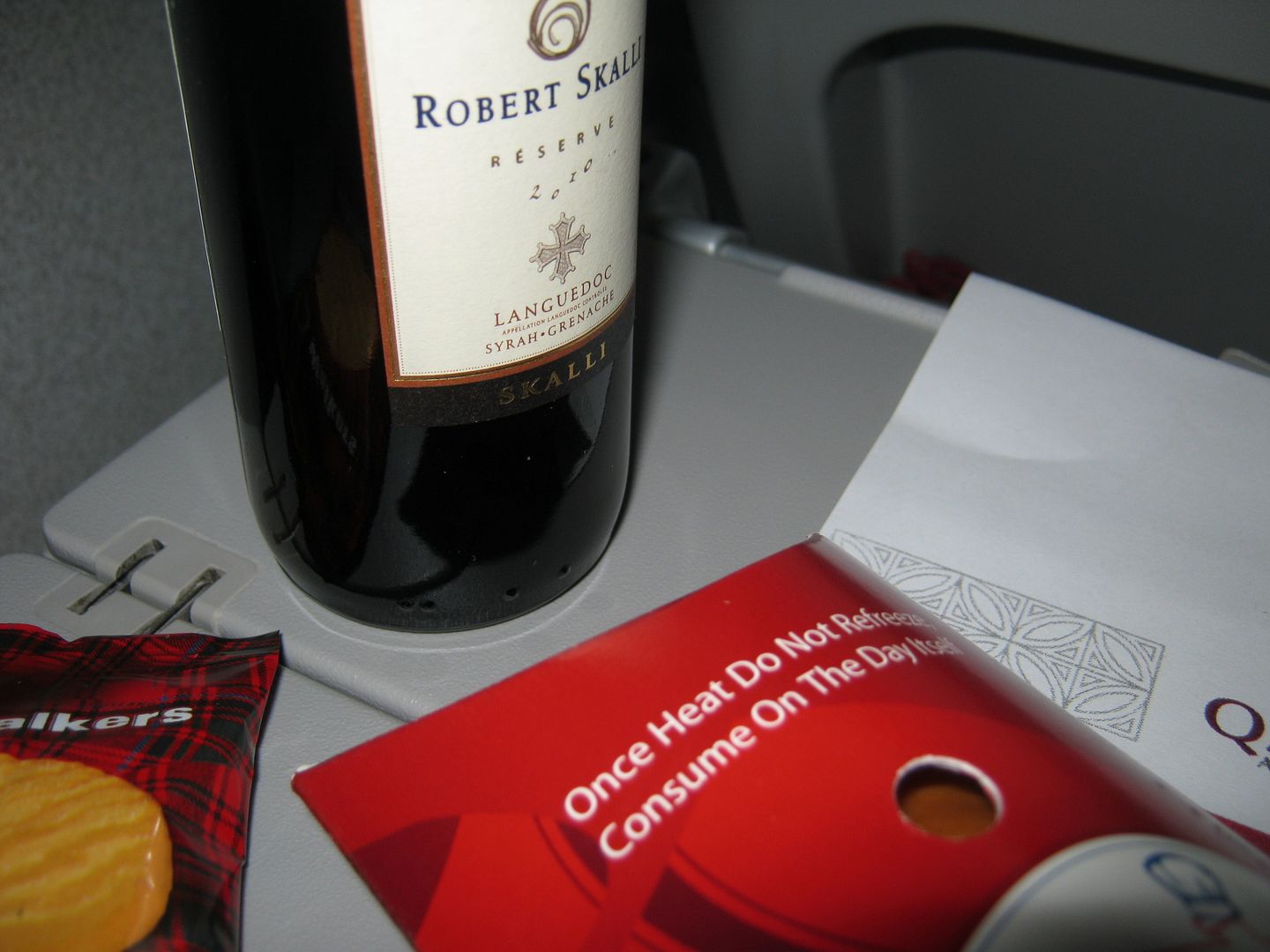 The guy next to me falls asleep and that was when I attempted to fall asleep. The guy next to me leans over in to his seat and began to get too comfortable. He then presses his butt up against my thigh and that's when I had to wake him up and tell him to move over to his assigned seat.
As I try to fall asleep, a foul odor starts to fill the cabin and it got stronger and stronger. They guy next to me and possibly a few other passengers started passing gas in their sleep. Then my stomach starts acting up. Mind you, I have a lead belly and can eat just about anything. I had to get up and use the restroom. I usually do not like to do this on an airplane.
To my surprise, the Qatar Airways 777-300ER has large lavatories in coach.
Like former US Senator Larry Craig (R-Idaho), I have a wide stance while using the restroom. The Qatar Airways 777-300ER has very comfortable lavatories in coach. The last time I had to do this in-flight was on a United Airlines 747-400 in First Class which also has decent sized lavatories.
After handling my business, I went back to my seat but the smell from my seat mates was unbearable. I went back to the rear galley just to ask the flight attendants what the hell was going on. They had received several complaints already and many people were going back & forth to the lavatories. They just kept giving me wine to take my mind off of the bad odors.
I have to give Qatar Airways a lot of credit for hiring the hottest babes from every continent to work as their flight attendants. They're very friendly and professional too. There were two F/As that wanted my opinion on the wines they offered in flight. One from France, the other from Chile. The two wines were from France and Chile. They each swore that their own wines were the best. I just HAD to keep drinking to find out which wine was best. That went on for a while before I was so tired to the point were the bad gas didn't bother me. I immediately zonked out and fell asleep. This was the first time I've been able to sleep all the way until touchdown. It was the thrust reversers that woke me up.
Sorry but that's about 3 hours of flight time I can't report about.
Wake up very tired and proceed off the airplane. Walk down the stairs and boarded a bus. It was after midnight at this point. The bus takes us on a tour of the tarmac of DOH. Saw their beautiful A340-600 and their fleet of 777s along with the new 787 that would be grounded a week later.
Check in with customs, paid my fee and then headed to another bus to take me to another terminal at the airport. DOH is going through a major upgrade at their airport which is almost complete. It will be far more convenient once complete.
The whole process took about 1 hour from the time I got off the airplane to being picked up at curbside.
Very few passengers on my flight stayed in Doha. Most of the plane were French vacationers continuing on to Paris.
The Gulf State carriers have an unfair advantage in offereing cheap flights from Europe to Asia. This hurts carriers such as Air France, British Airways, Thai Airways, Singapore Airlines etc.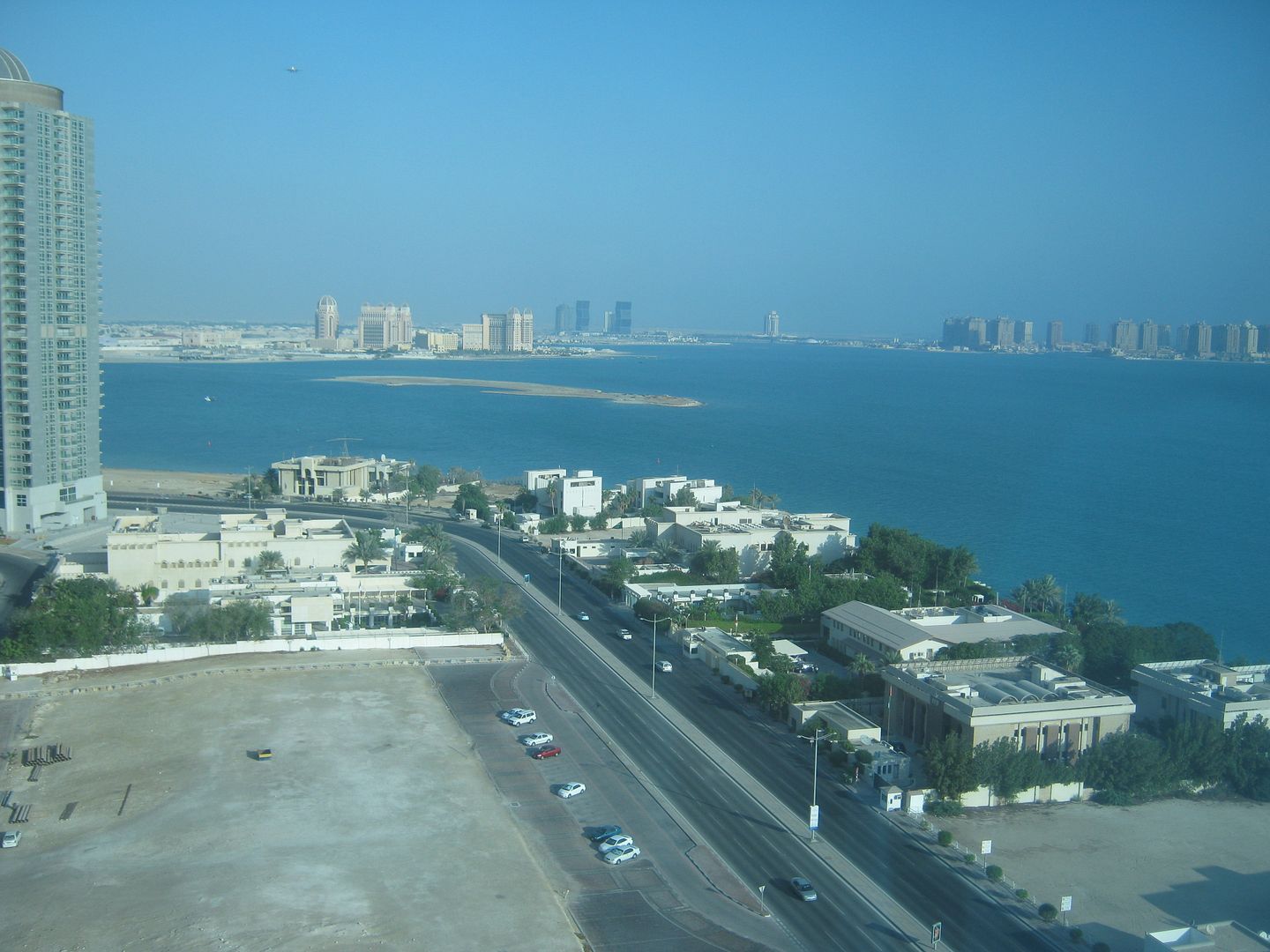 View from my room the following morning. Zig-zag towers off in a distance
Qatar 777 coming in for a landing
I get to my hotel – the Hotel Retaj. I would stay there the first 2 weeks before switching to the Mövenpick. Every hotel was booked up that first week. There was a United Nations convention on Global Warming…..Climate Change that week.
I find it funny that treehuggers from all around the world gathered in a country with hardly any trees at all.
Much of my time was spend working. There really isn't much to do in Doha other than work. I did get out a few times to go around the city and see what the place had to offer.
I meet a lovely French treehugger at the hotel and we went out to discover Doha together. I didn't breathe a word about my views on the UN, global warming and politics.
One the popular place to visit in Doha is the Souq Wa-queef. It's a new outdoor shopping mall made to look like an old market. There I had the best Middle-Eastern food ever!
I'm a fool for nan and hummus. That nan bread was freshly baked and that is lamb & beef kabob served over a mini-grill with French fries. It was delicious!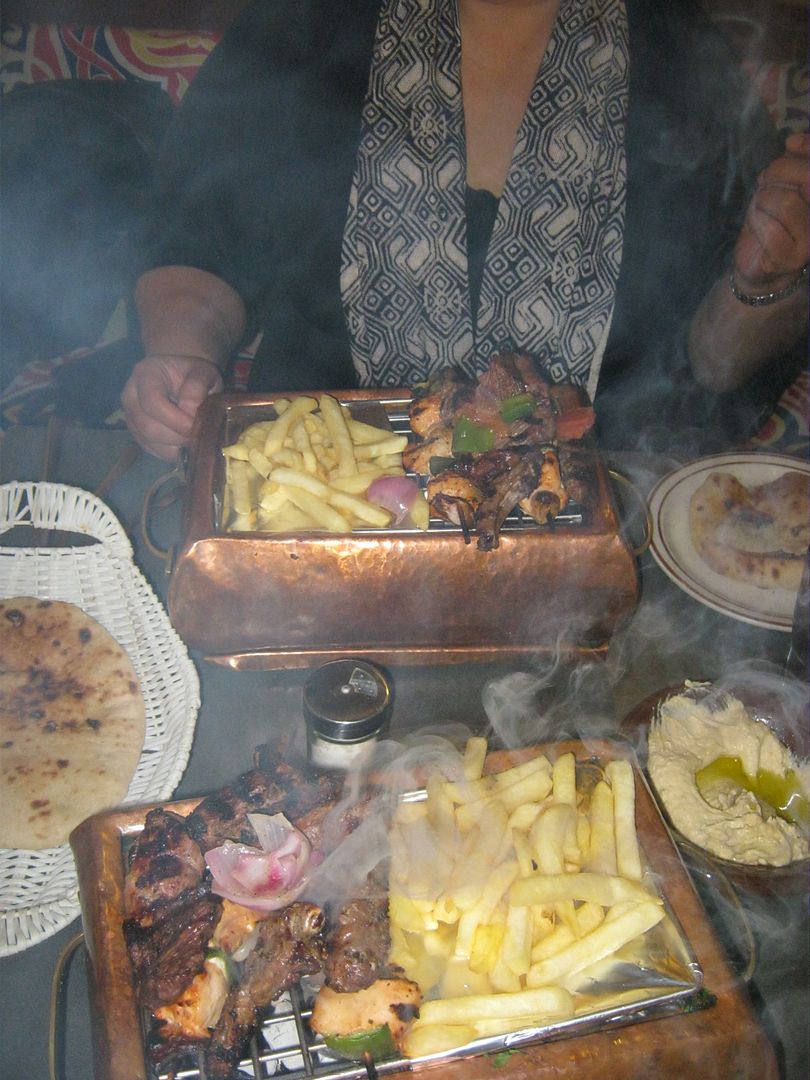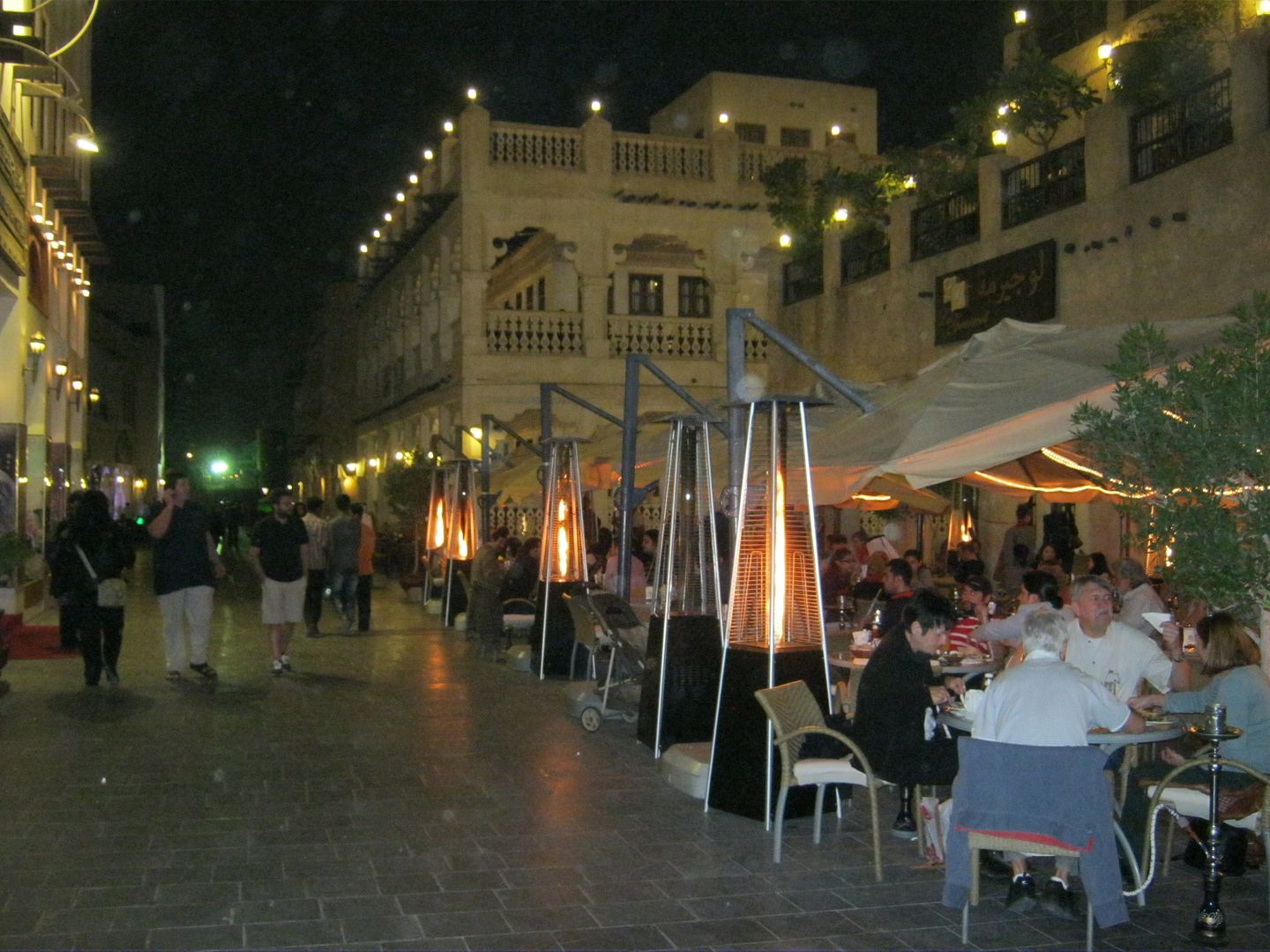 Classic American and British cars on display at the Souq Wa-queef.
This is the same car Marcia Brady drove in her driving test – 1974 Chevrolet Caprice convertible.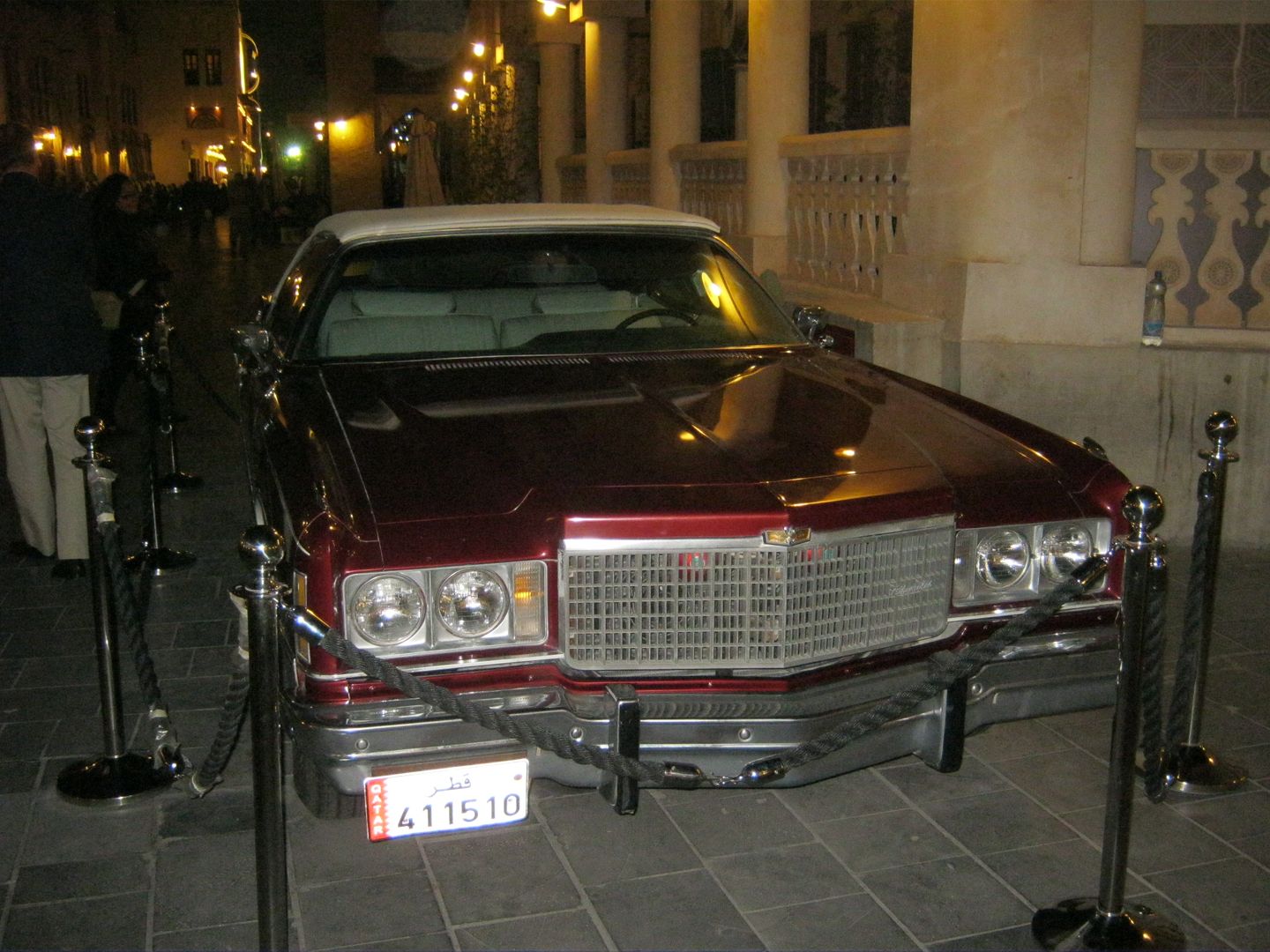 Many of my favorite websites were blocked, including Airliners.net for about a day. I would get this image.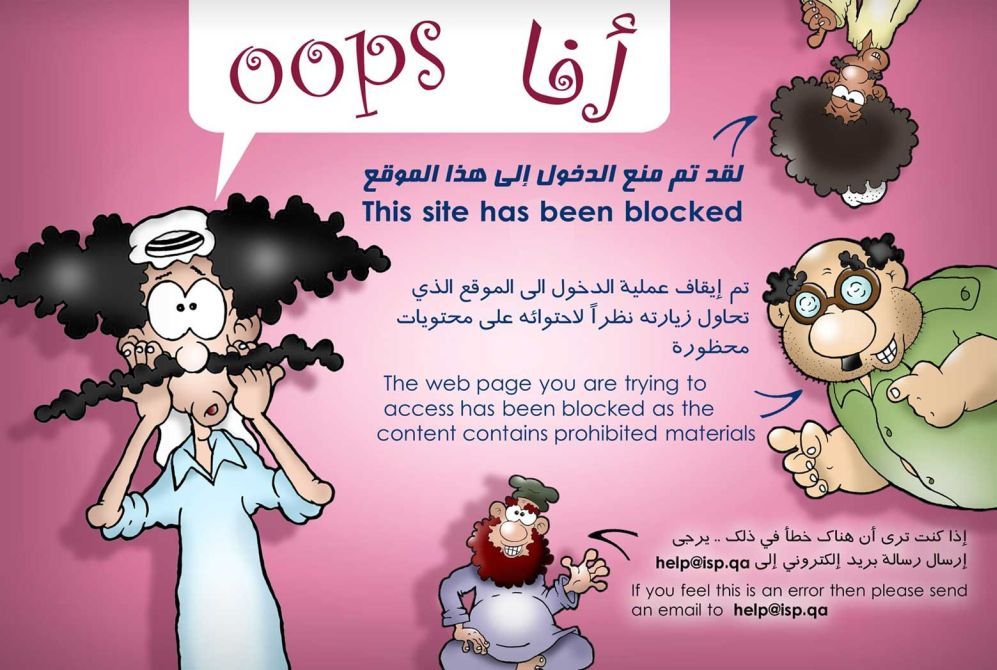 A very good friend from Airliners.net flew in from the United Arab Emirates to check up on Superfly. The world famous Sam Chui flew in on the plastic Boeing 787 back when those were still in service…
He understands life in the Middle-East and was looking out for me.
Thanks for the gifts!
...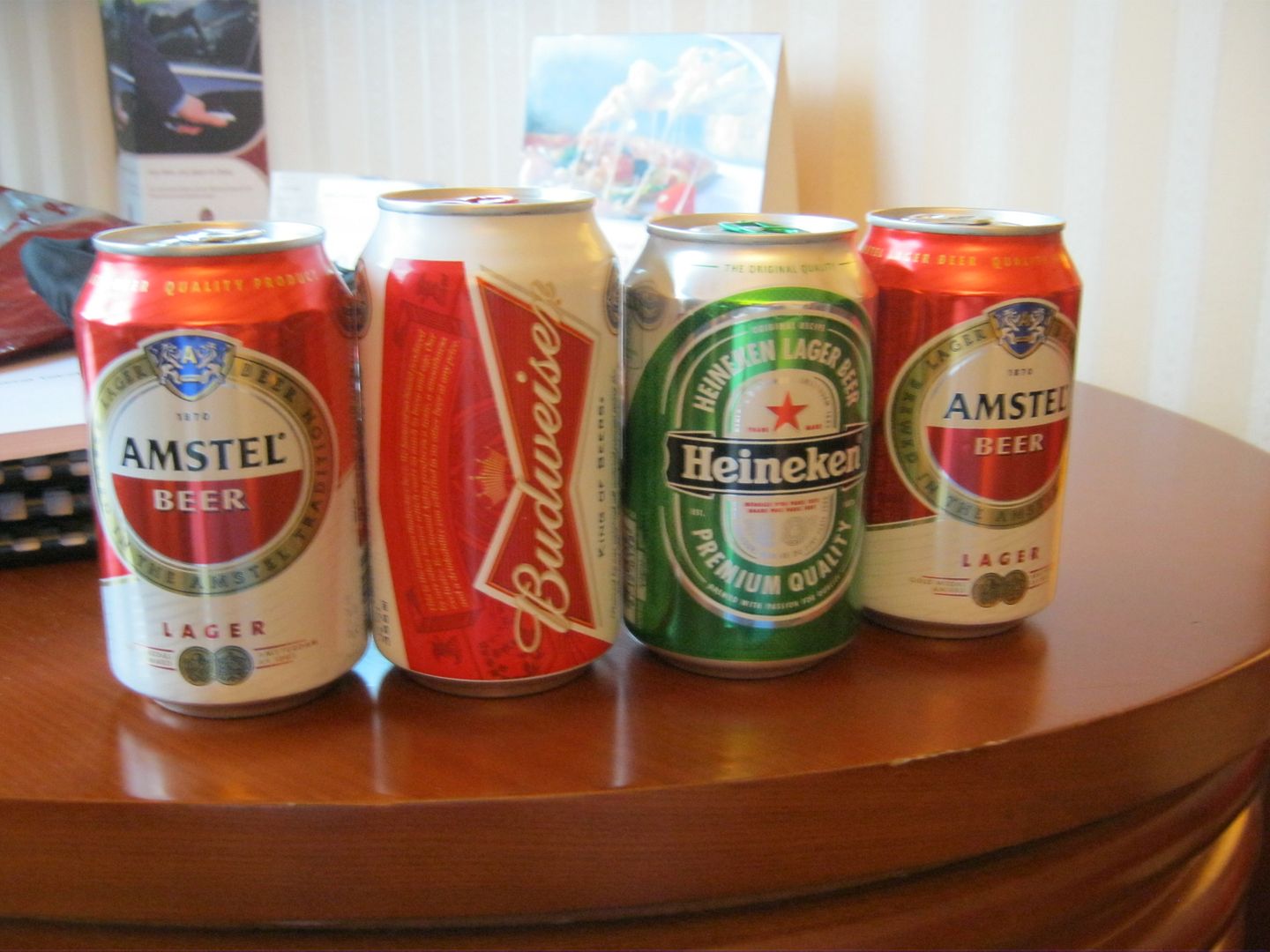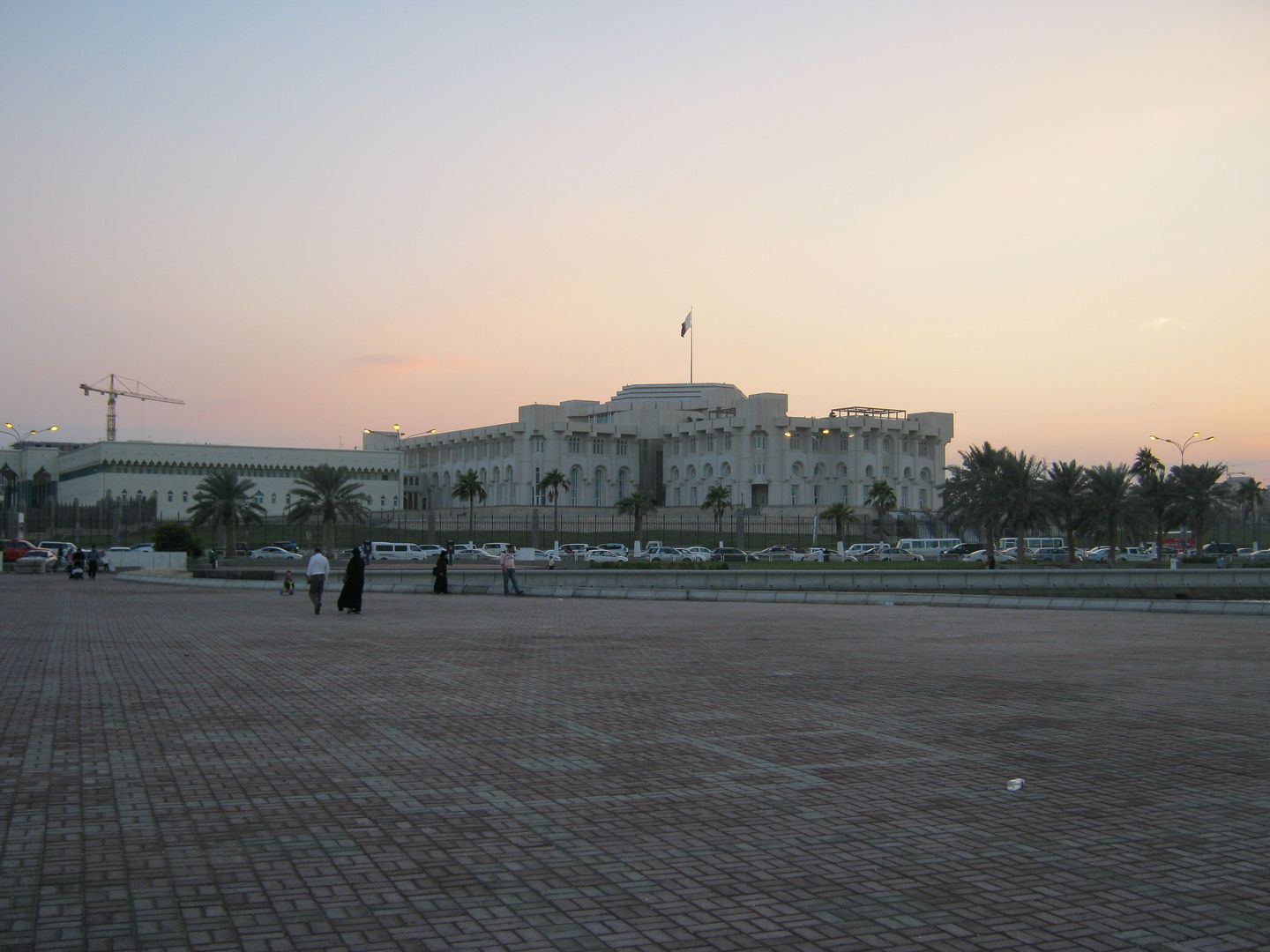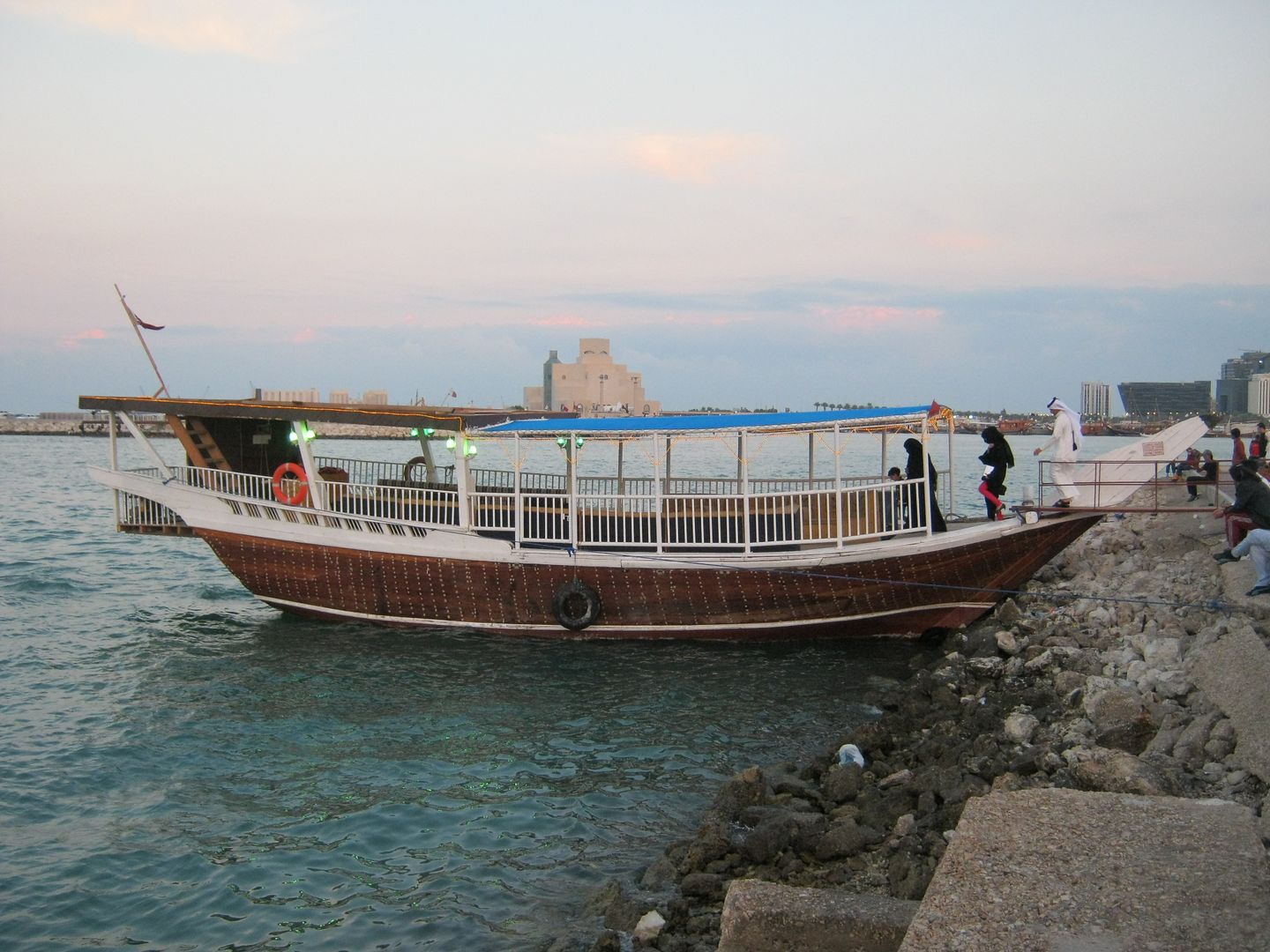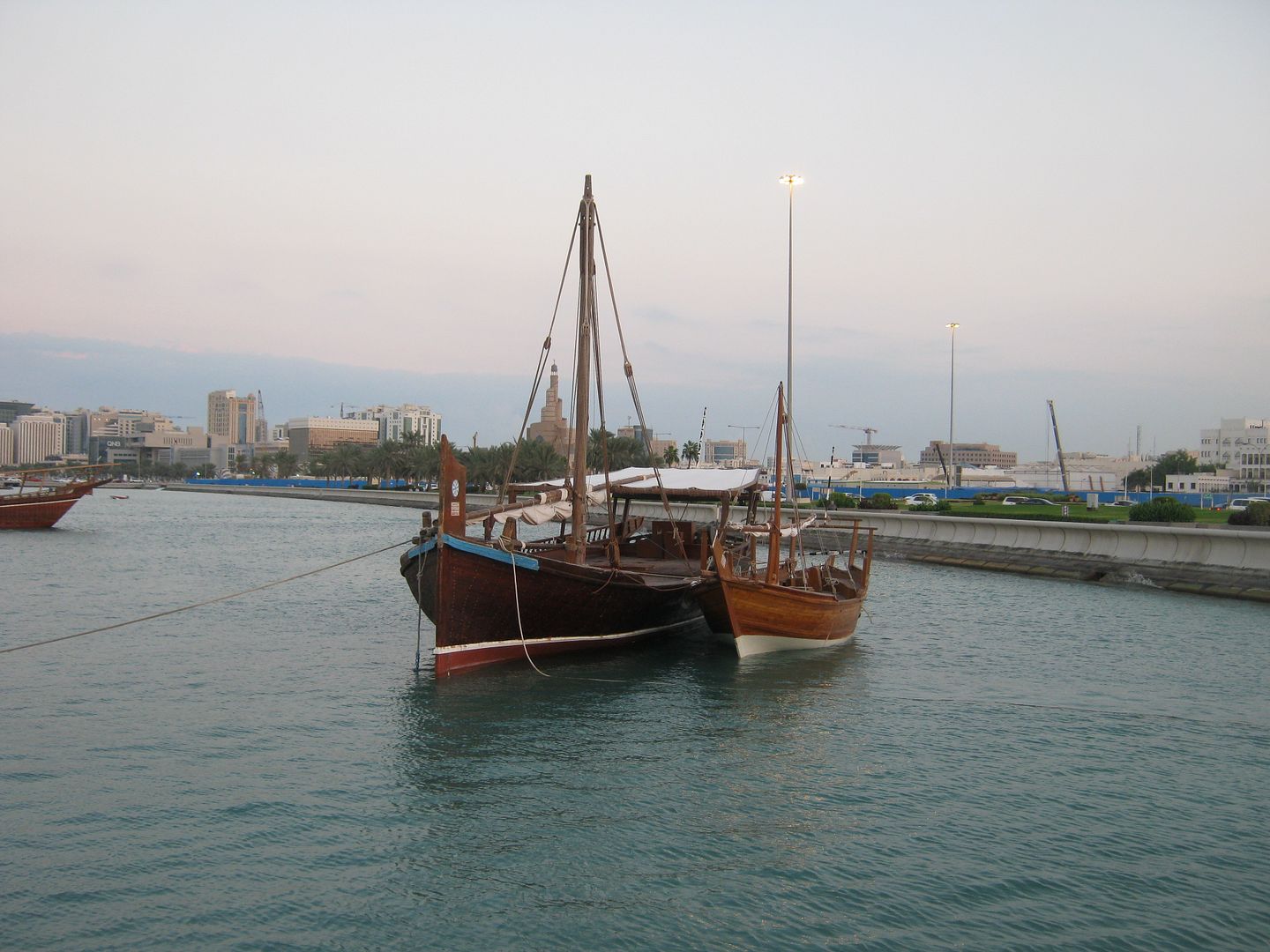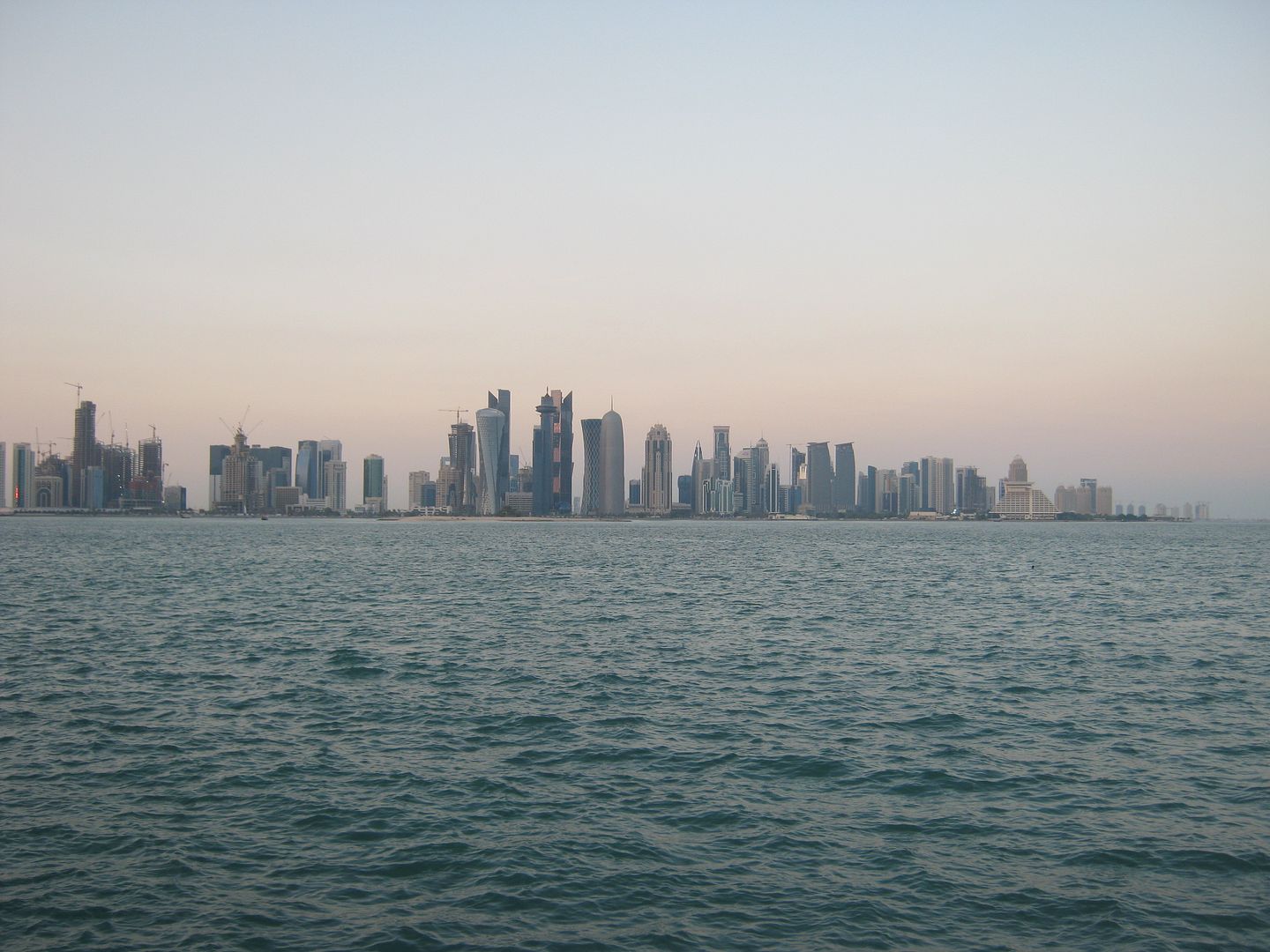 Doha skyline with giant condom building
Alcohol is only sold at 5-star hotels in Qatar and it's very expensive. One day, me and some co-workers went to the Inter-Continental hotel for their buffet that includes alcohol. It cost $150 USD!
Doha, Qatar is a VERY expensive place!
Probably the most expensive gin & tonic ever.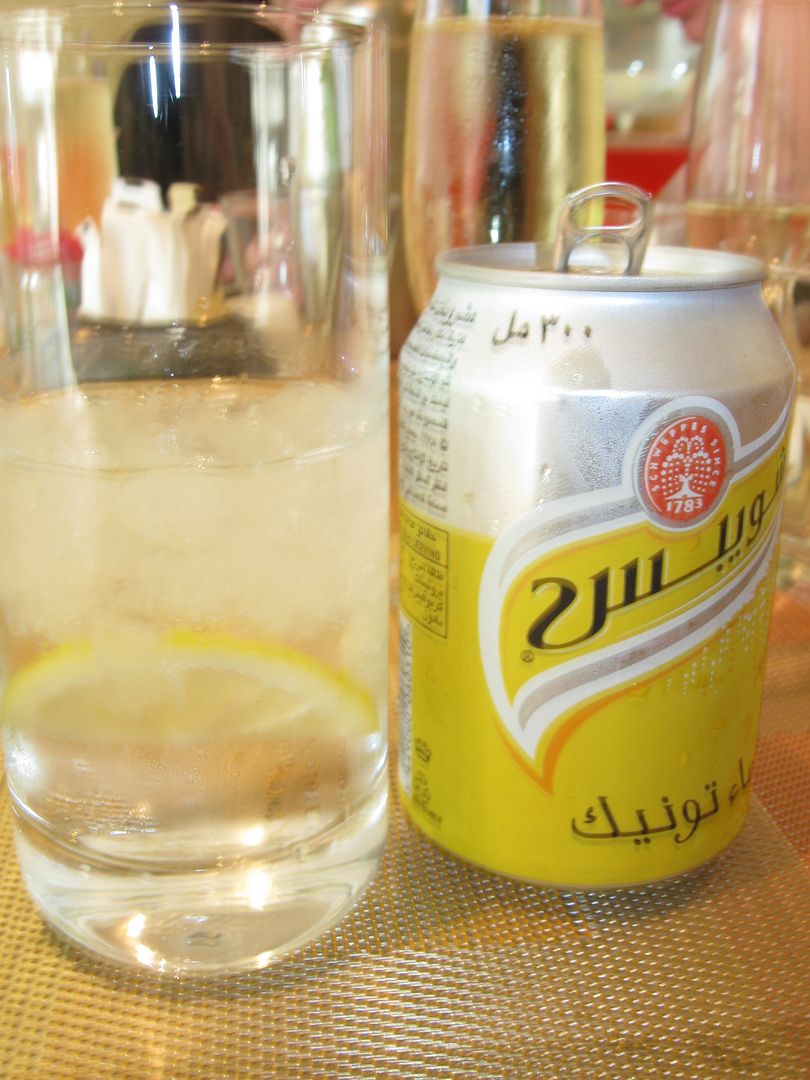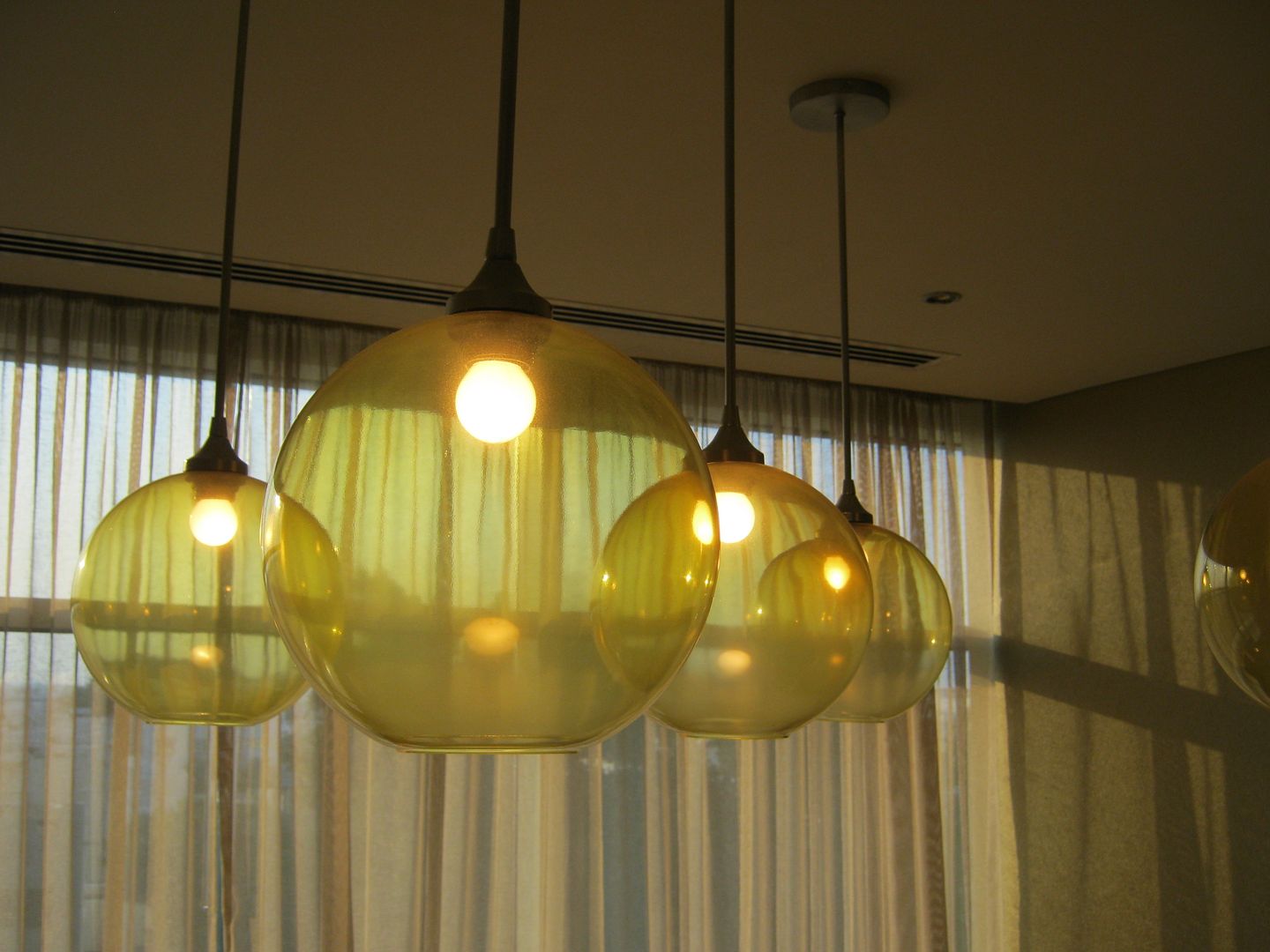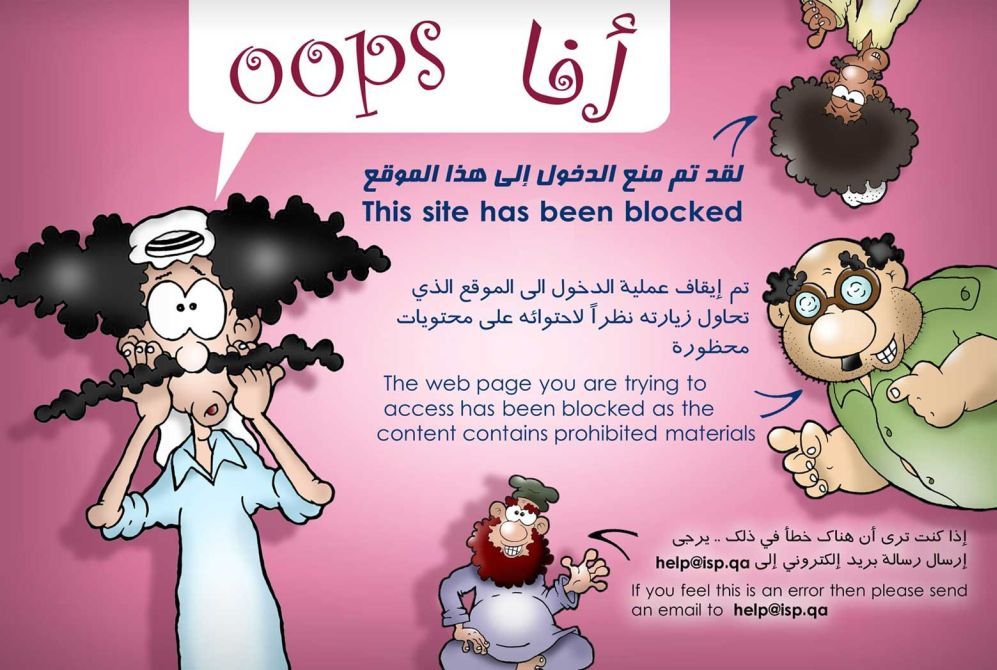 Later that day we went down to a bar that was serving alcohol. They had a happy hour which is still about $12 per 12 oz beer. Was there for 1 week and had been dry so we had to splurge and drink. This bar had music that we could select. We started cranking out the Neil Diamond and Tom Jones and started to dance. That went on for about a half an hour until the manager turned off the music and told us to sit down. Apparently one of the sheiks in the hotel was offended that we were all dancing. According to the manager, the hotel didn't have a dance permit and said that we could be arrested if we danced in an establishment without a permit. Seemed strange so we just sat down and had drinks. Odd that they would threaten me and about a dozen over aged 50 British people for dancing.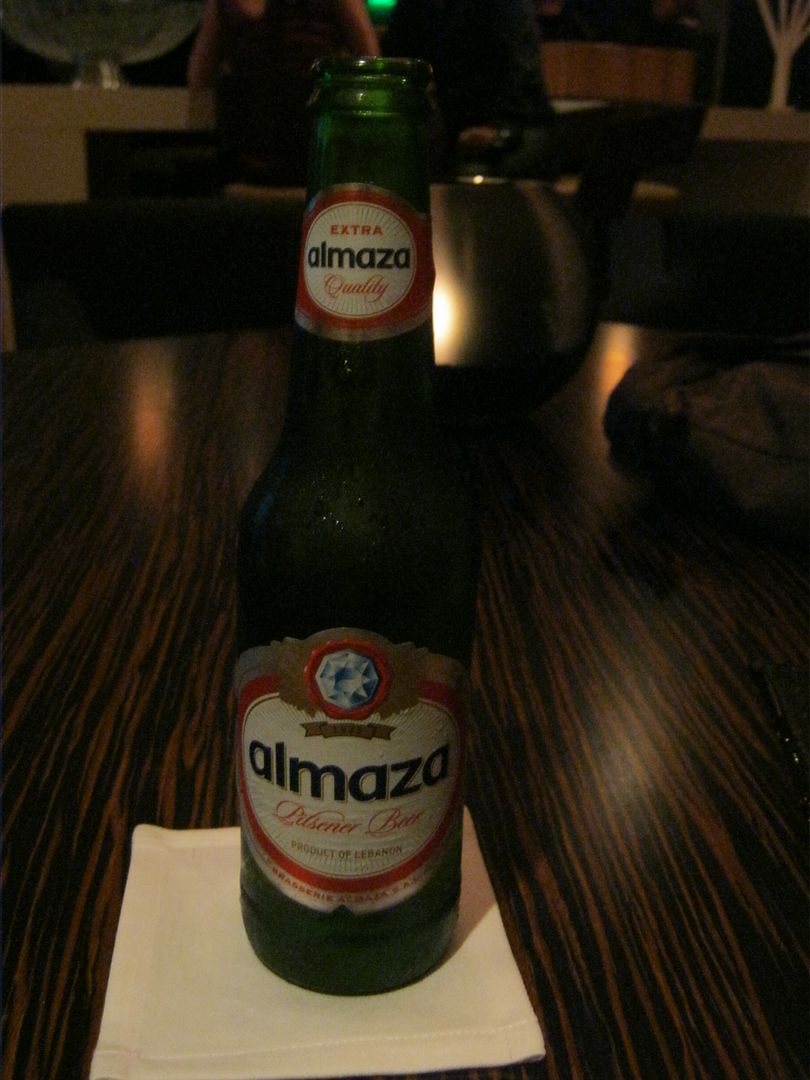 Lebanese beer
Just one day before my flight to Qatar, I had a small motorcycle accident going to a 7Eleven here in Bangkok. I burned my skin on my lower right leg. I had to go to the hospital everyday to treat the wound and replace the bandage/dressing. I met a lovely nurse from The Philippines that replaced my dressing most days. She felt bad that I was in Qatar during the Christmas holiday season. She was able to get access to pork sausage and booze – a permit is required to buy pork and booze. She knew the sausage smuggler that could get me food that is considered contraband in Qatar.
She was nice enough to invite me to her family Christmas party but I would end up leaving before then.
I was in Qatar for their big Independence Day celebration. A few fighter jets do a flyover, songs come from the loudspeakers and I think there is a small parade of some sort. I slept through that part. Thousands of people walk along the Corniche waterfront of Doha waving their national flag. That's about it. No barbeque, no beer, no fireworks. I'm wondering what was life like before Qatar independence?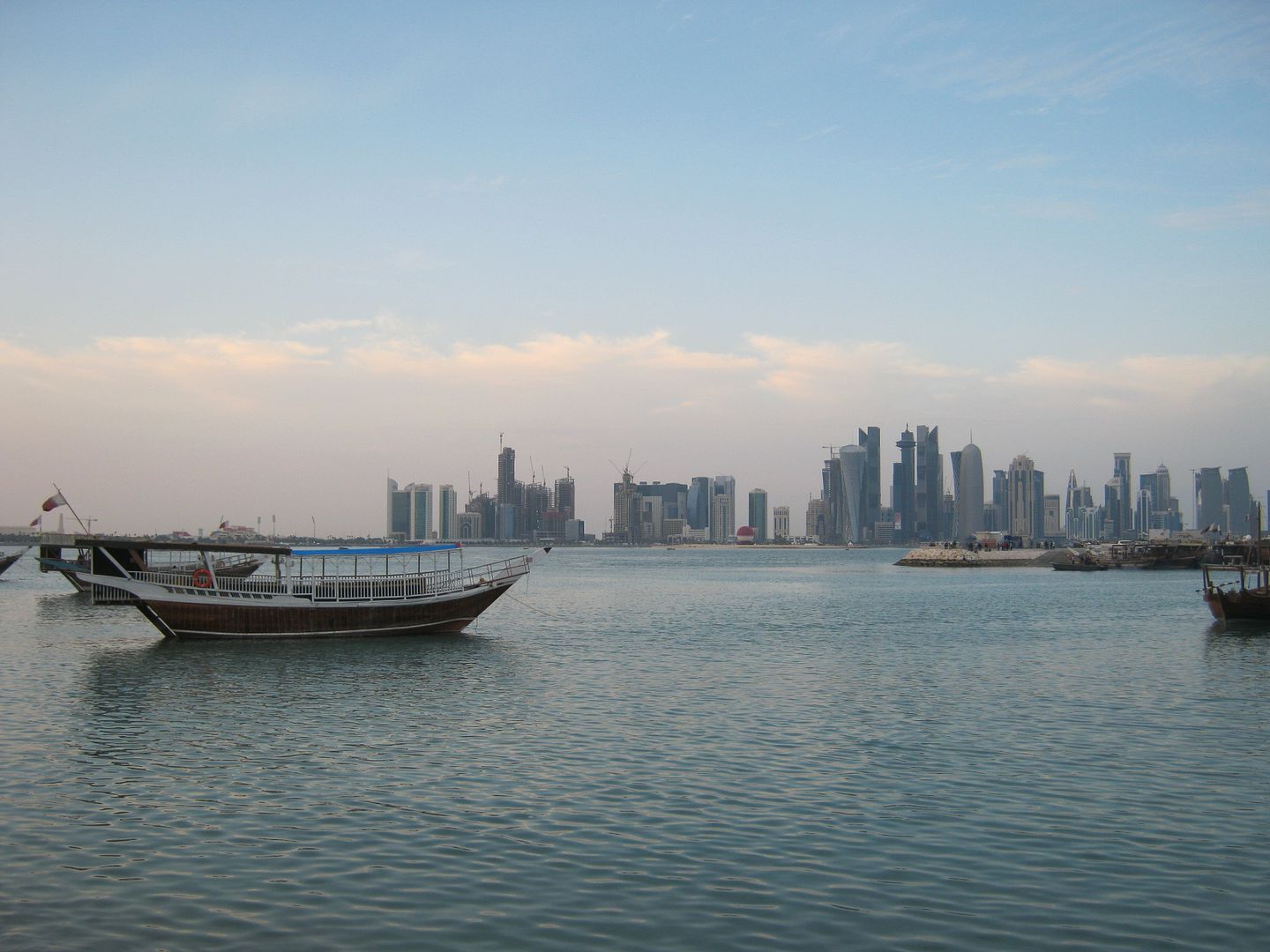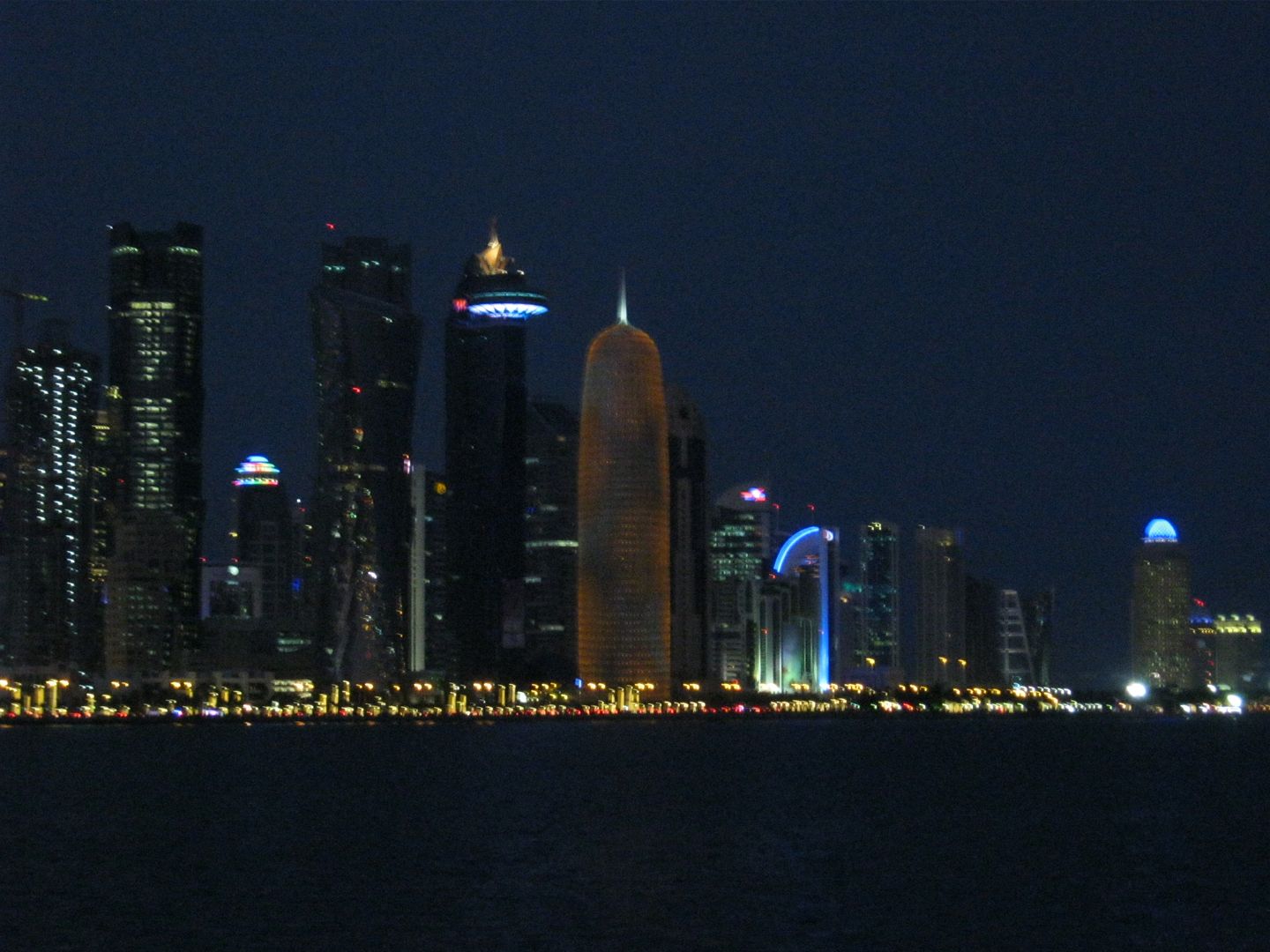 Illuminated condom building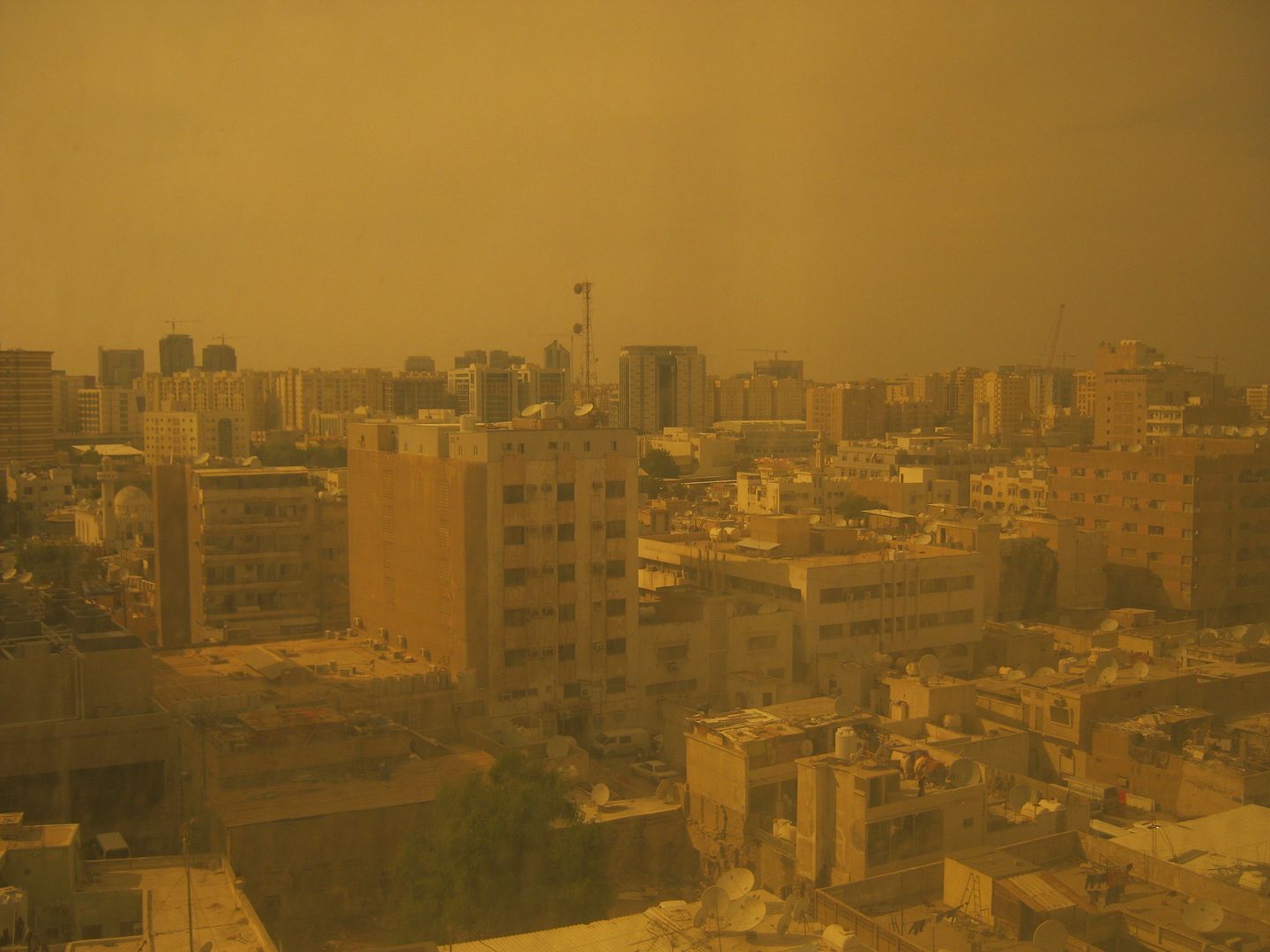 The old city of Doha
Many would consider eating fast-food in a foreign country blasphemous but Doha is an expensive city and the cultural foods can be expensive on a daily basis. I went a Burger King at their large indoor shopping mall downtown. This has to be the most expensive Whopper, fries and pop. This Whopper combo cost $13 USD!
This sugary strawberry drink is over 16 ounces and could get you arrested in New York City today.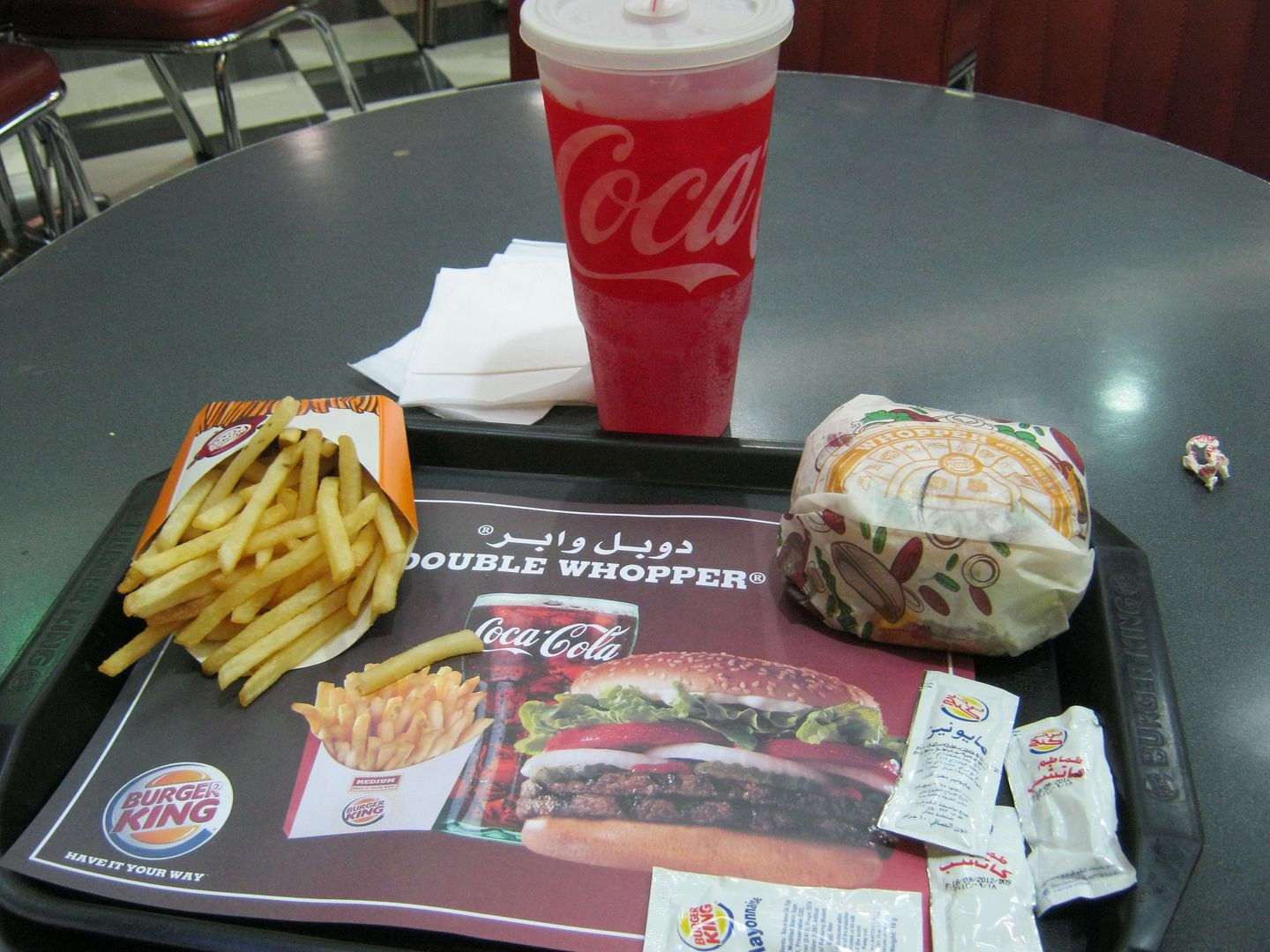 Don't tell Michael Bloomberg about this.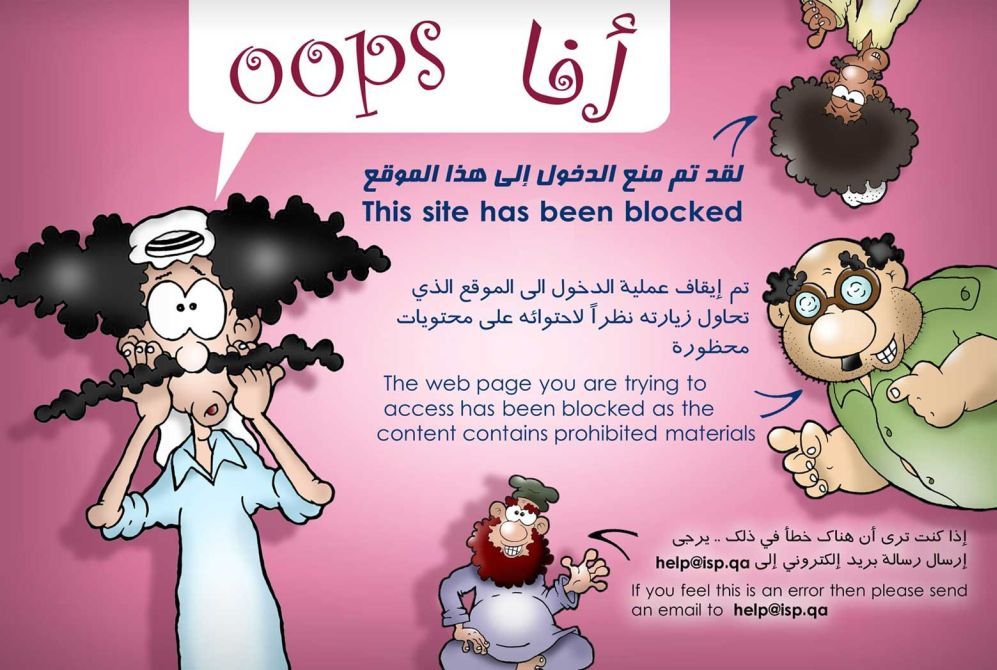 I was later moved to the Mövenpick hotel which is also in the Westbay district. It was also a nice hotel. I totally dig their carpets in the hallway. It's totally groovy and far out. The room came with a DVD player and a local movie.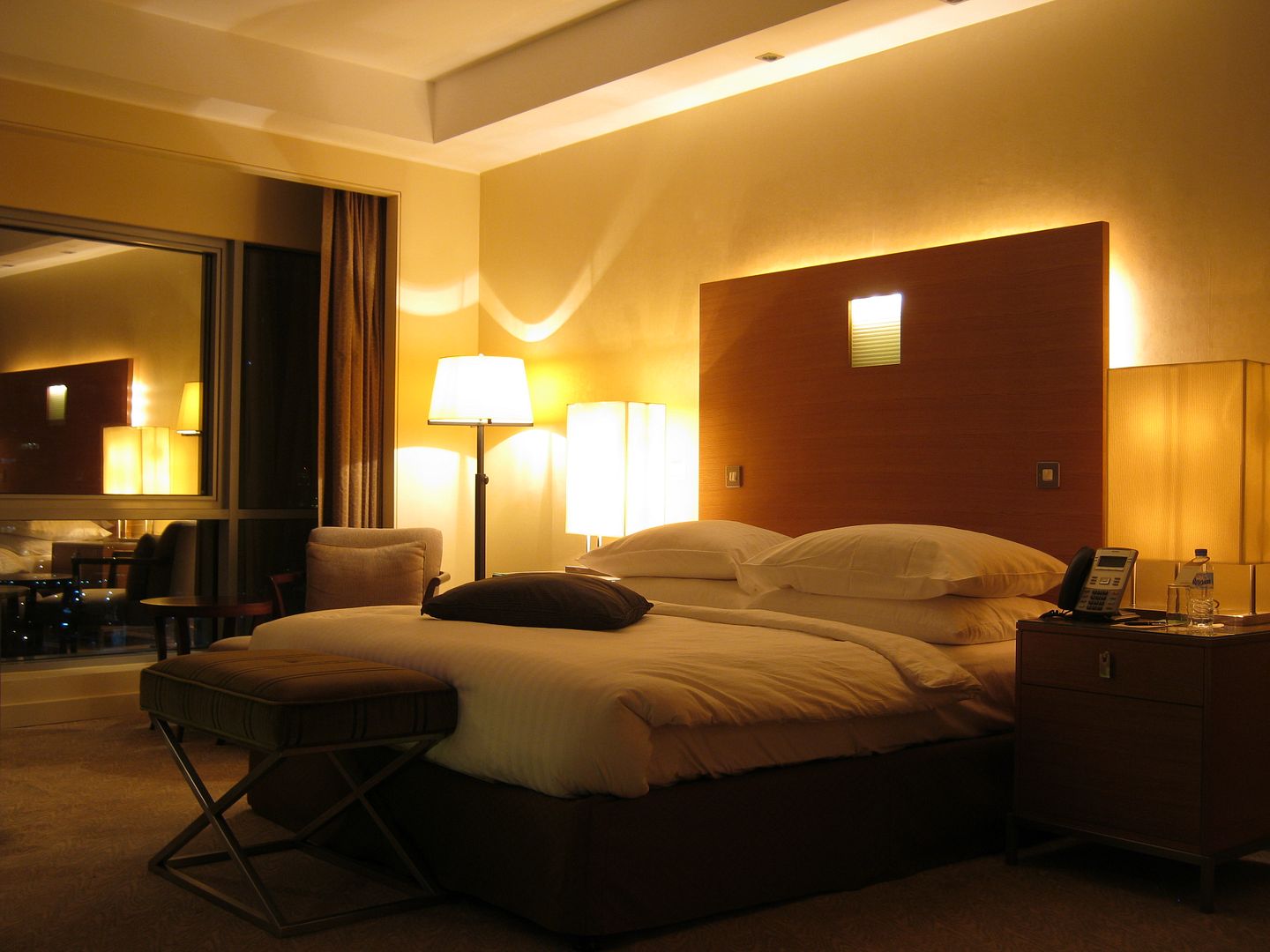 My room at the Mövenpick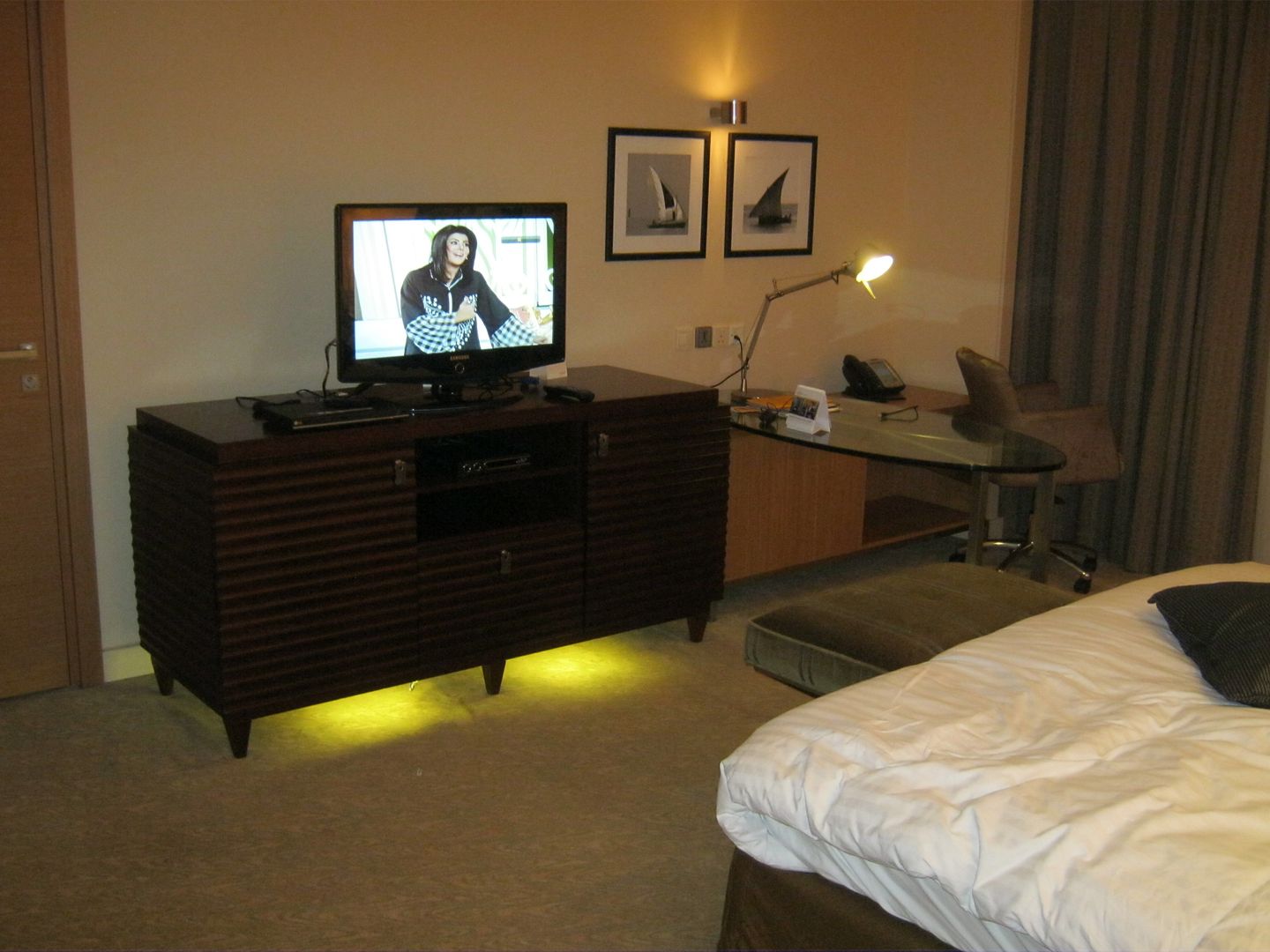 Qatari pornography
LOL, just kidding
:D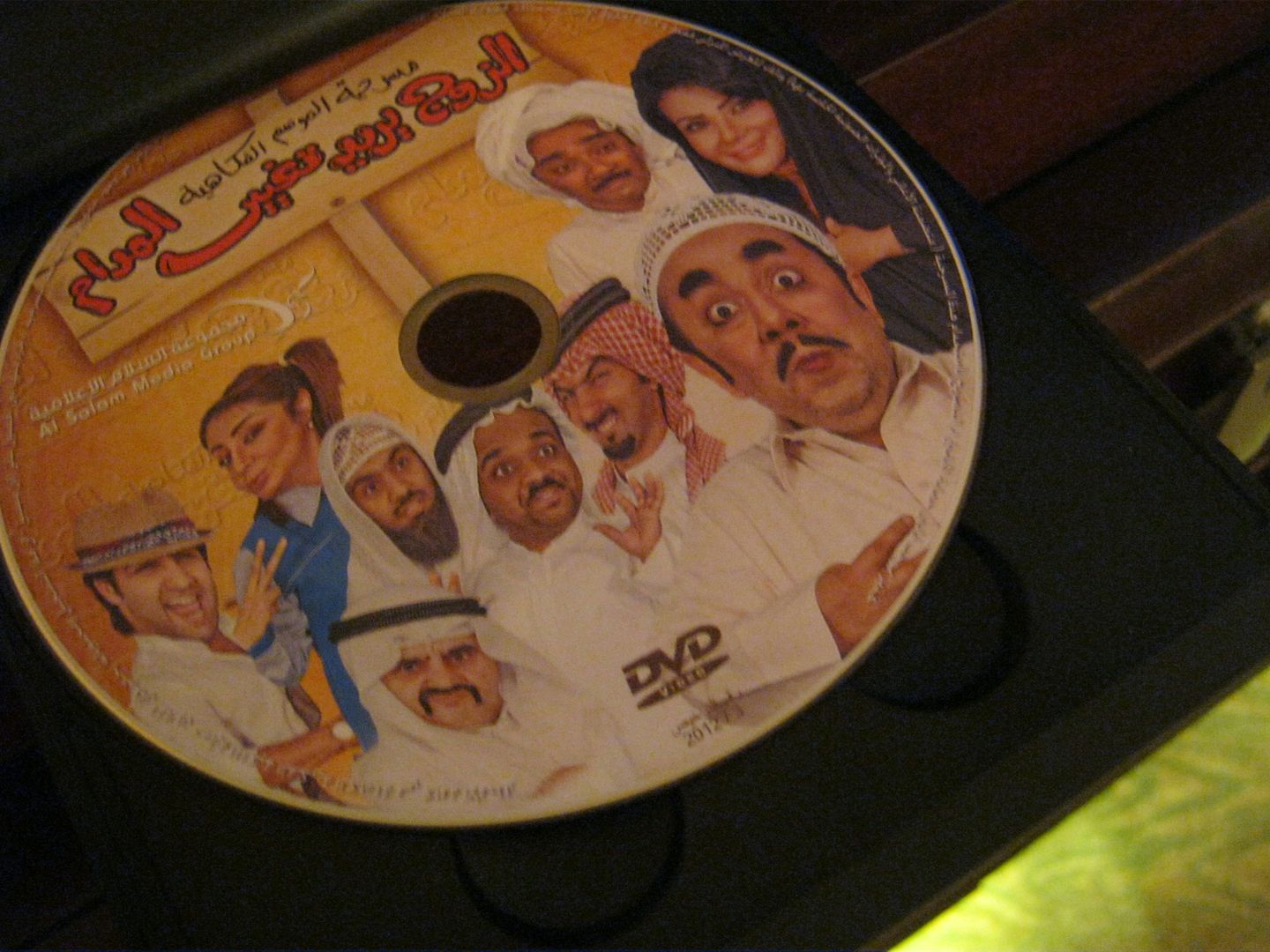 Another popular place in Doha is Trader Vic's at the Hilton. They serve booze and food but no pork. They do have a good cheeseburger.
One evening I was sitting down having a beer with my burger and a drunken Sheik came up to my table and sat down to start a discussion with me. He was very nice and seemed to have a lot to talk about. The manager runs over and tells him to leave my table. I told the manager that everything was ok and that I wanted him to stay and talk. The manager refused and insisted that the drunken Sheik sit in another part of the restaurant. The Sheik left and I asked the manager if that was a restaurant policy or a Qatar national policy. He told me that local Sheiks in traditional attire are not allowed to drink with Westerners. I thought that was kind of odd. He was a graduate of Norwest University in Chicago (my hometown) and was proud that his son goes there now. He was every much Western as I am. I also thought was hilarious that I finally met a real live version of my Halloween costume from about 7 years ago when I was a drunken Sheik for Halloween.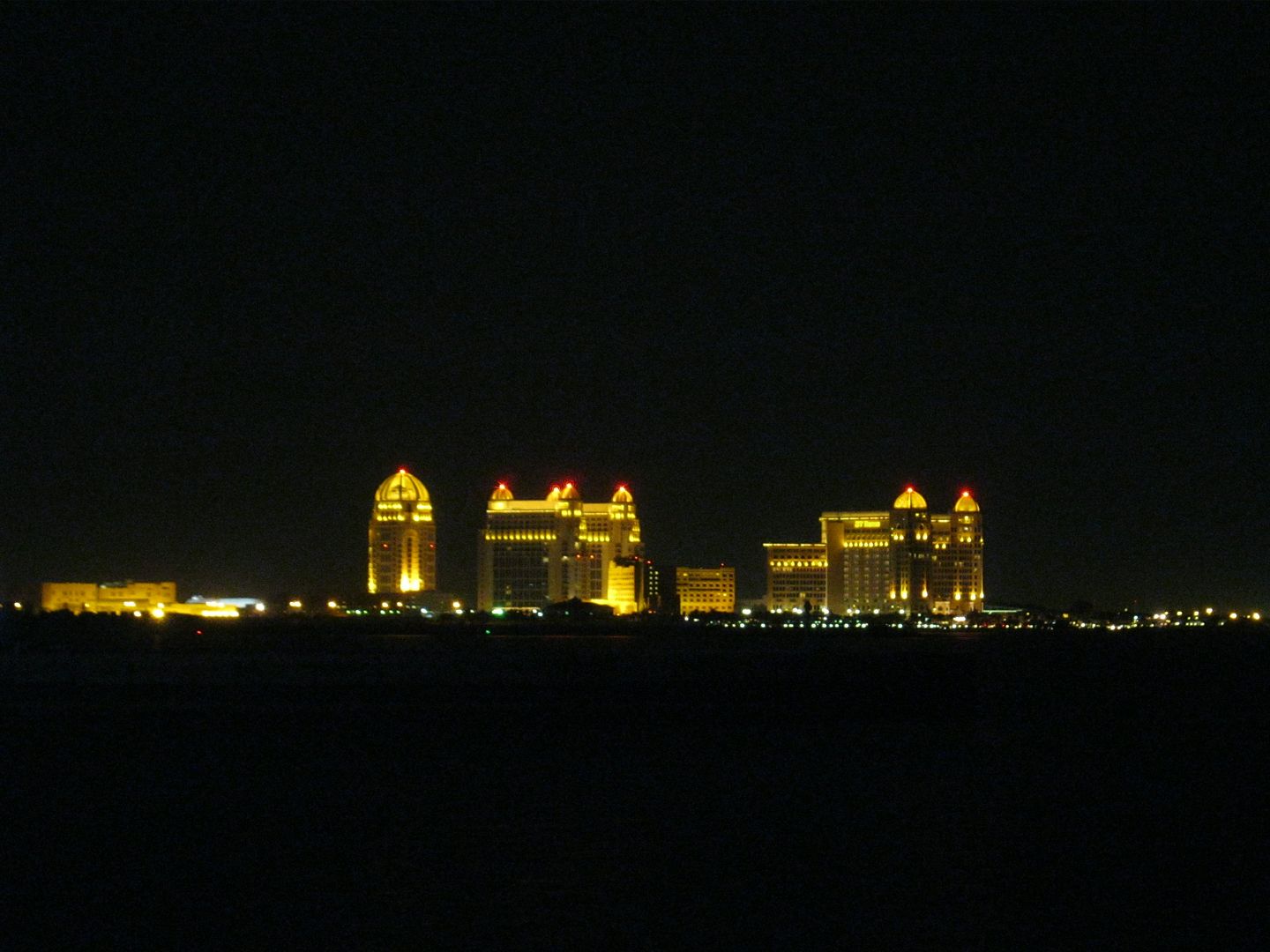 Saint Regis Hotel off in the distance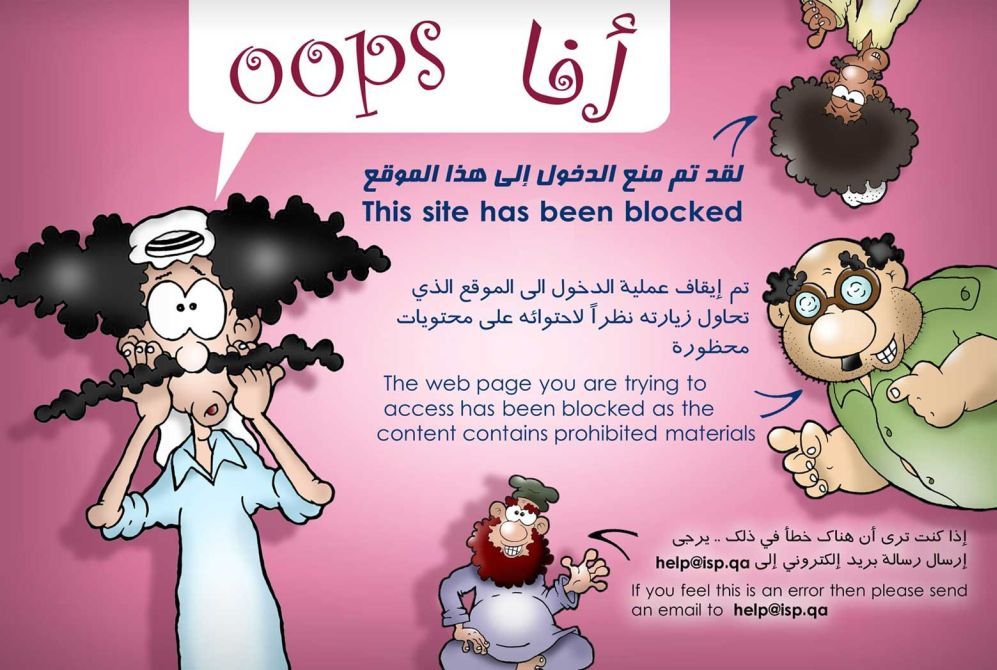 There really isn't much to do in Doha other than walk along the Corniche waterfront and look up at the condom building.
That get's old quick. I understand that there a lucky handful there with sweete expat gigs with a Western oil & gas company and make lots of money. Other than that, the place is very expensive and one needs to earn at least $15,000 USD a month to live there comfortably.
More of the condom building
After about a month of working in Doha, it was time to leave. I was supposed to be there for 3 months but negotiated a 'plea bargain' or 'early release' so to speak.
I flew back on Christmas Eve night. It was a Christmas gift to myself. I am especially lucky because I got the last seat on the plane. I call it a miracle flight. The traffic getting to the airport was a nightmare, despite being so close to the airport. Almost missed the cutoff for checking in. Getting a standby at the last minute on Christmas Eve was a long-shot. Regardless, I made it!
Went to a holding area before our bus came to take us to the airplane.
We left right on time.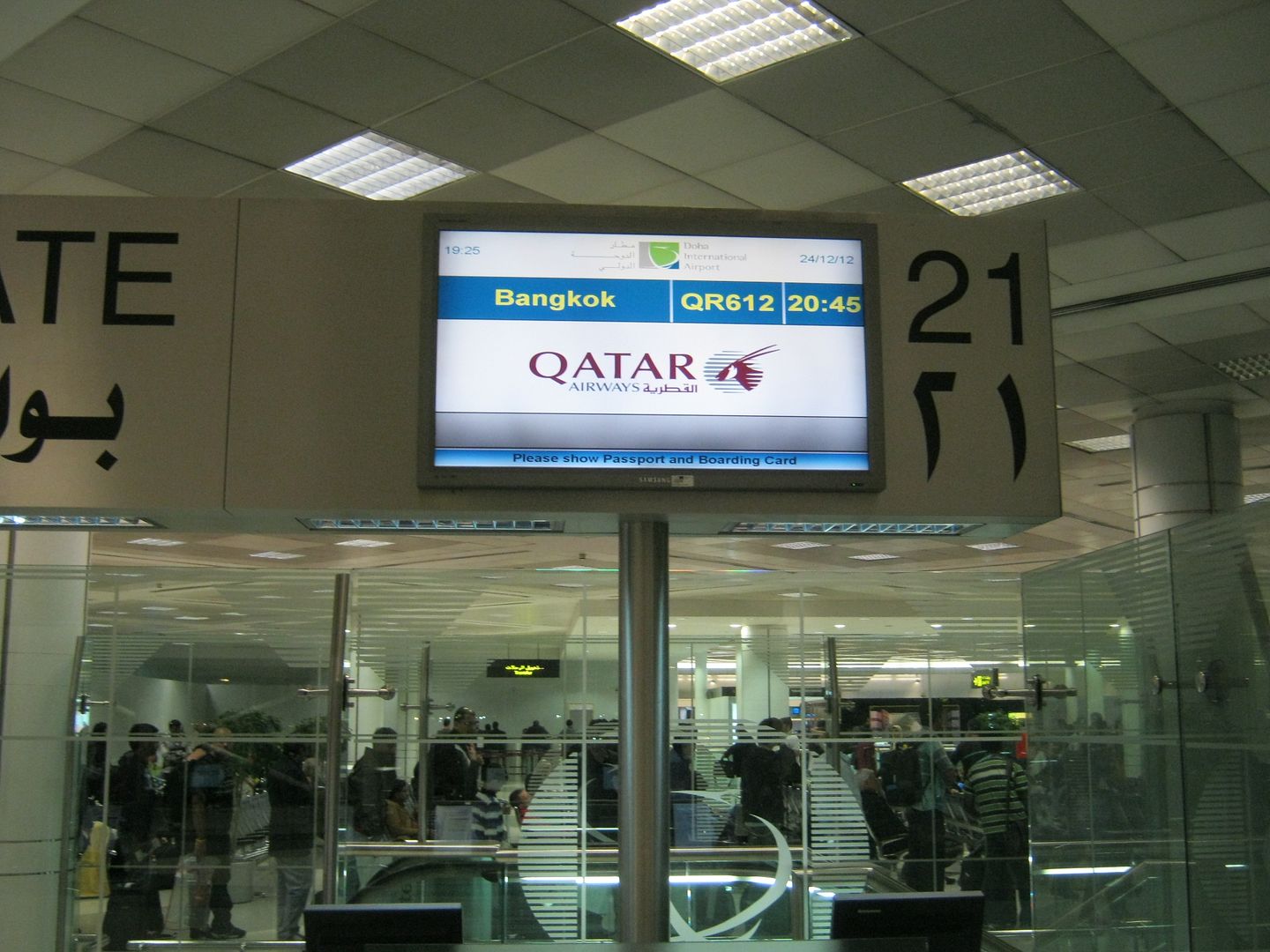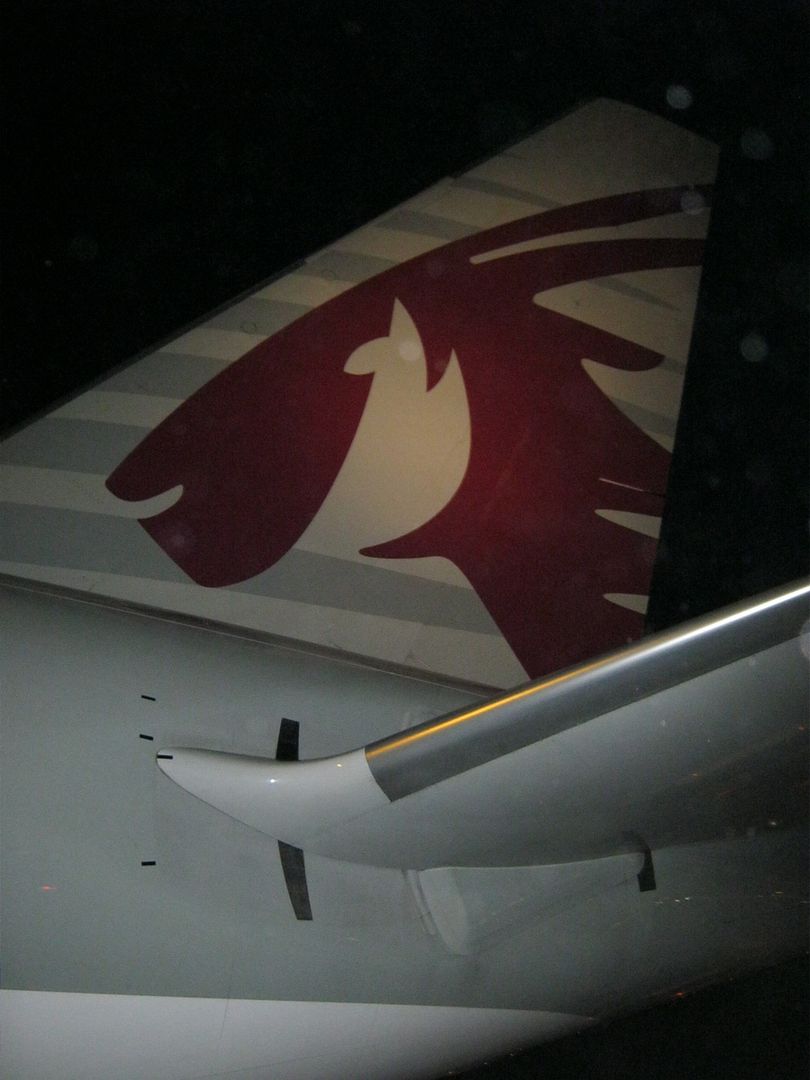 The return flight was a hundred times better than the flight going. Despite the flight being full, everyone was in a great mood. This time I had the middle seat near the window. A very friendly and attractive Aussie babe was on my right, next to the window and a friendly older Frenchman to my left.
Departing Doha was a great feeling! Had nice views of the Doha skyline as well as the Dubai skyline shortly after departing Doha.
The food comes and it smelled a little bit different. I tried the chicken again and I had a good feeling that this chicken was better than the previous flight. It was! It tasted better and had had a delicious creamy sauce. Best of all, no gastrointestinal issues with me or any of the passengers.
Had great conversations with both seatmates. I thought the lady next to me was once a model but in fact she used to work on cars and race them back in Australia. I was very impressed but now her dude works in oil & gas in the Middle-East so no need to work on her cars now. The Frenchman to may left had all sorts of travel stories and dirty jokes to tell. It was a lot of fun chatting with them both and that 7 hour flight felt like 30 minutes.
Listened to some of my favorite bands before landing. I gave the new Rush album Clockwork Angels another listen but still disappointed with the new album. Also listened to the Cure - Disintegration. One of my favorite albums from when I was in high school.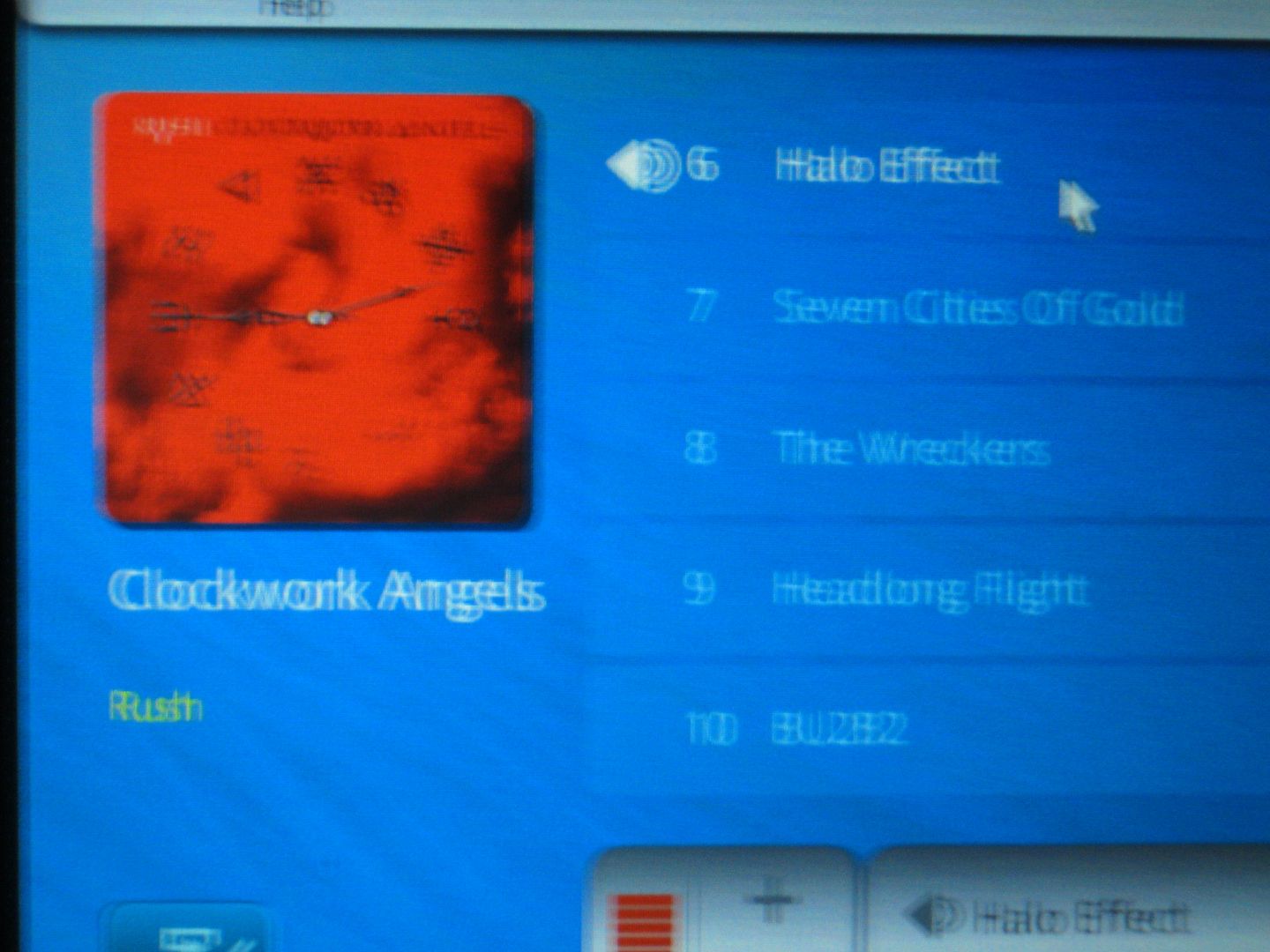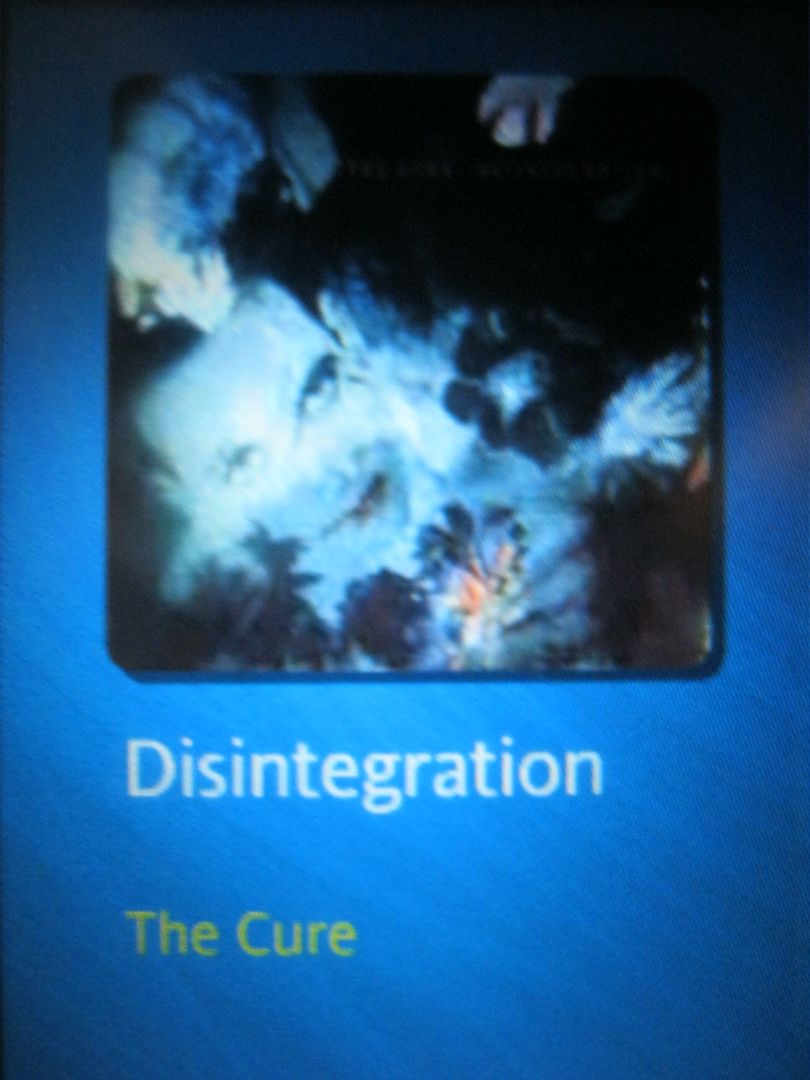 Another meal served before landing. I slept through this on my flight going to Qatar.
Sunrise over the clouds as we descend in to Bangkok.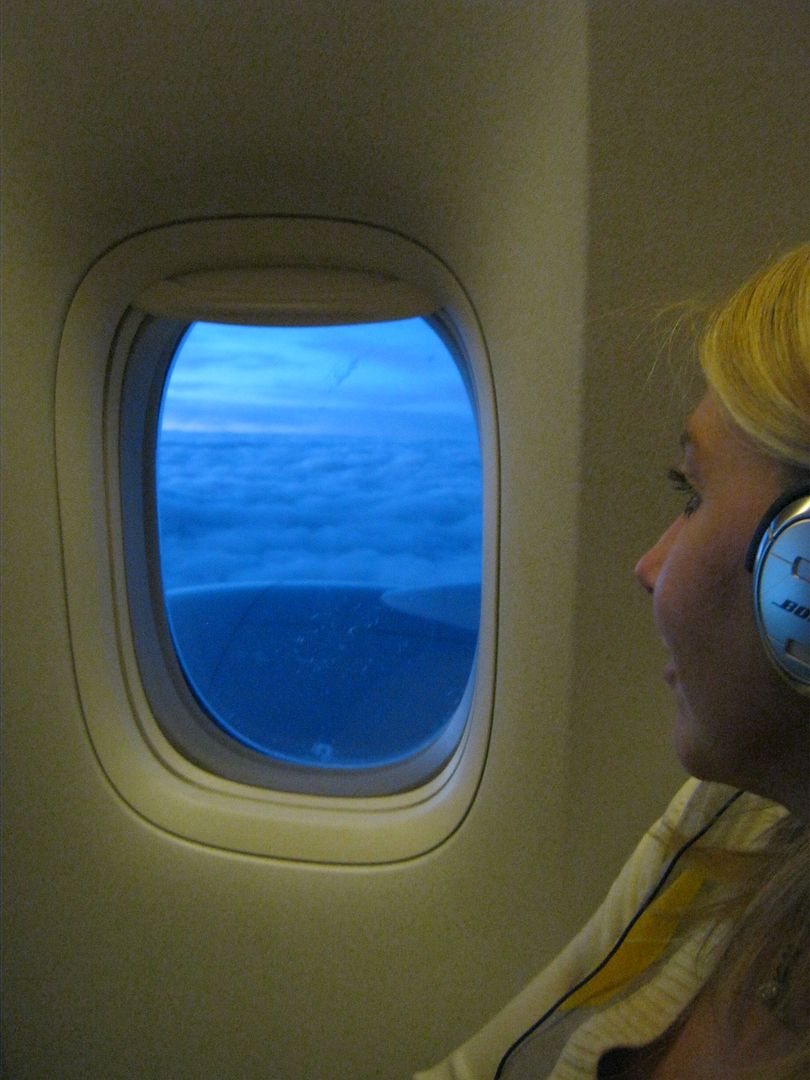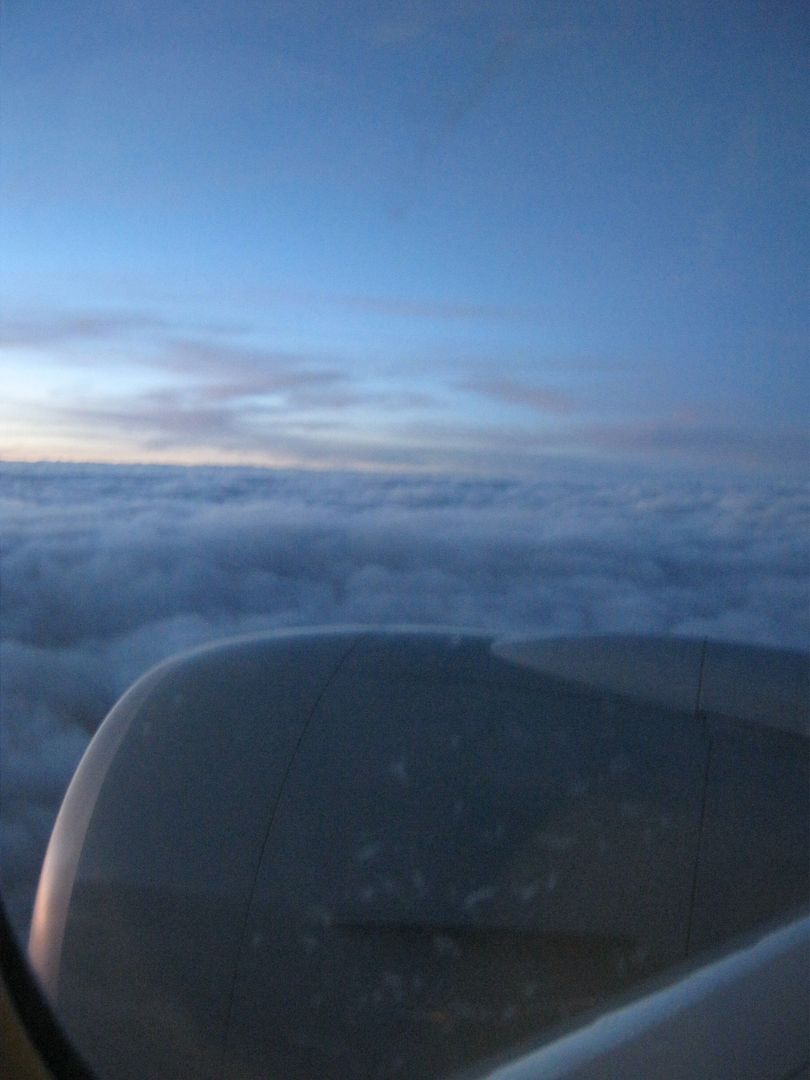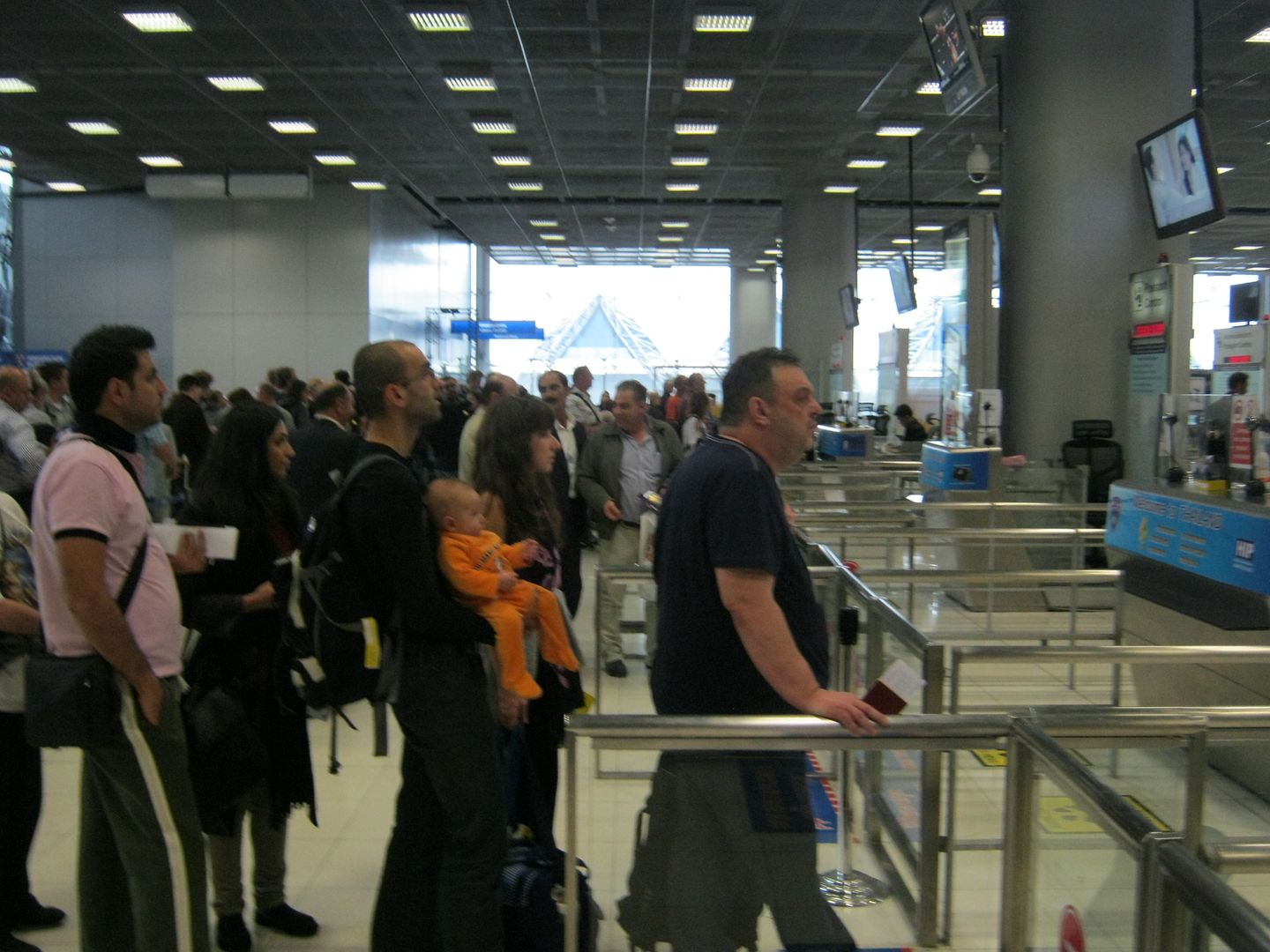 We landed in Bangkok ahead of schedule and was so glad to be back home. Despite the first flight and ups & downs in Doha, I was glad to have a pleasant flight back and get back home to Bangkok.
I love a happy ending.
View Large
View Medium


Photo © Laszlo Gyori
Looking back at the fun I had with the UN sponsored French environmentalist activist lady and the contraband beer & sausage. I'm supposed to recieve 70 lashes and 5 years in jail. I guess I shouldn't return.
Kids, don't do what I did.
[Edited 2013-03-21 10:01:58 by wilco737]