Background
As some of y'all know, I've recently started splitting my time between Edinburgh and Atlanta, and may remember my trip report detailing my first visit back out there in April last year. Well, when I left London at the end of May, I decided that with my new found freedom I'd start spending as much time as I could in the ATL, and starting in July 2012 once my financial affairs were back in order I took my second visit there to spend 4th July with the best people I could think of.
October 2012 brought us to an important event, one of my 'housemates' Lee was to be celebrating his birthday on the 27th and so I quickly booked leave and planned my visit out there. When my October roster was released, I had an Airport Standby on the 21st and two days of home standby 22nd and 23rd. Pablo (my other flatmate) also had some very important exams coming up so had asked if I wouldn't mind staying in the UK until the 24th or 25th, which I was more than happy to do. It just so happened that my best friend in the UK, Tom, who some of y'all will remember from the initial trip report, works for Virgin Atlantic and just so happened to be operating the VS009 on the 23rd. We'd never done a trip together before so it seemed like the perfect opportunity to get to Atlanta some other way than doing the standard direct BA227. It seemed risky as I didn't finish standby until 2 hours before the flight was due to depart but feeling lucky, we went for it anyway.
Fast forward to the Saturday night (20th) and we're all out having drinks, Tom and I left early as a) he was tired and b) I had to work at 0810 the next morning. I got myself up and out before anyone was even awake. I grabbed a National Express bus to Heathrow T5 from Gatwick South and settled in for the 50 minute journey round the M25. I arrived around 0730, in plenty time for my routine cappuccino and cigarette(s) before checking in. My friend Fran was on an early short haul flight and she met me in the Crew Report Centre before joining me for a smoke. Our conversation went a little like this;
Me: "I am so, like, excited to go home on Tuesday
Fran: "I'll bet. You haven't been back in a few weeks"
Me: "I know, it feels like forever. I hope they give me something short, if anything at all today"
Fran: "You do know you're covering the early LAX right?"
Me: "Yeah, of course, but shhhhhh, I don't wanna do LAX-LHR-JFK on Tuesday!"
Both: *lots of giggles*
So at 0805 I went back down the stairs and into the CRC, swiped my ID to check in for work, and was told to go and get a message from the ops desk. Low and behold, I went over and a familiar smiling face greeted me.
"Hi Jordan, no standby for you today. You're off to LA!"
"Haha! I knew it!"
"Sorry honey, but hey, it's warmer than here"
"Yeah, I like LA, I think I'll spend some time by the pool!"
And off I went to the briefing room. 14 hours later, I found myself in a hotel room in Los Angeles for the night, and spent the majority of the afternoon either in bed or by the pool sunning myself in the SoCal sunshine.
Eventually, my 24 hours was up and it was back to LAX for our hop across the States and the Atlantic to London. 9 hours and 45 minutes later it was time to land and get off. I've honestly never been more ready for days off! But now the rush was on. We had landed 30 minutes late and I had to get back to Crawley, pick up my bags and make my way back to Heathrow Terminal 3 in time to check in for the VS9 to New York! The Big Apple awaited me!
I managed to do it all in time, and even my hair was utterly fabulous (if I do say so myself), but I really was pushing it. I made it to T5 and decided it would be quicker to get the Heathrow Express to Heathrow Central than wait for the bus to navigate the M4 and then get into Heathrow Central itself. The second I got my bag from the hold I bolted for the HEX station at the north end of Terminal 5. I ran aboard just as the doors closed and I found myself a comfy seat for the 5 minute journey to Central. I Whatsapped Tom to let him know I'd be checking in about 15 minutes from then, and he told me he was just en route to the aircraft. We'd be on G-VYOU and told me the gate information. I quickly checked in at one of the Self Service Kiosks and it told me I was now sitting in 19A (I had selected my seat the night beforehand, and was due to be sitting down the back somewhere like 35K). This was a Premium Economy Seat! I'd been upgraded on the ground. The standby Gods obviously knew I was coming!
After the machine spat out my paper boarding pass, I went straight to the Premium Economy desks in Zone A, my bags were tagged for JFK and I got a little red Virgin Atlantic security sticker on the back of my passport. I was wished a safe flight by the ground staff before I stepped outside for a last cigarette prior to making my way through security and onto Gate 21 in preparation for flying!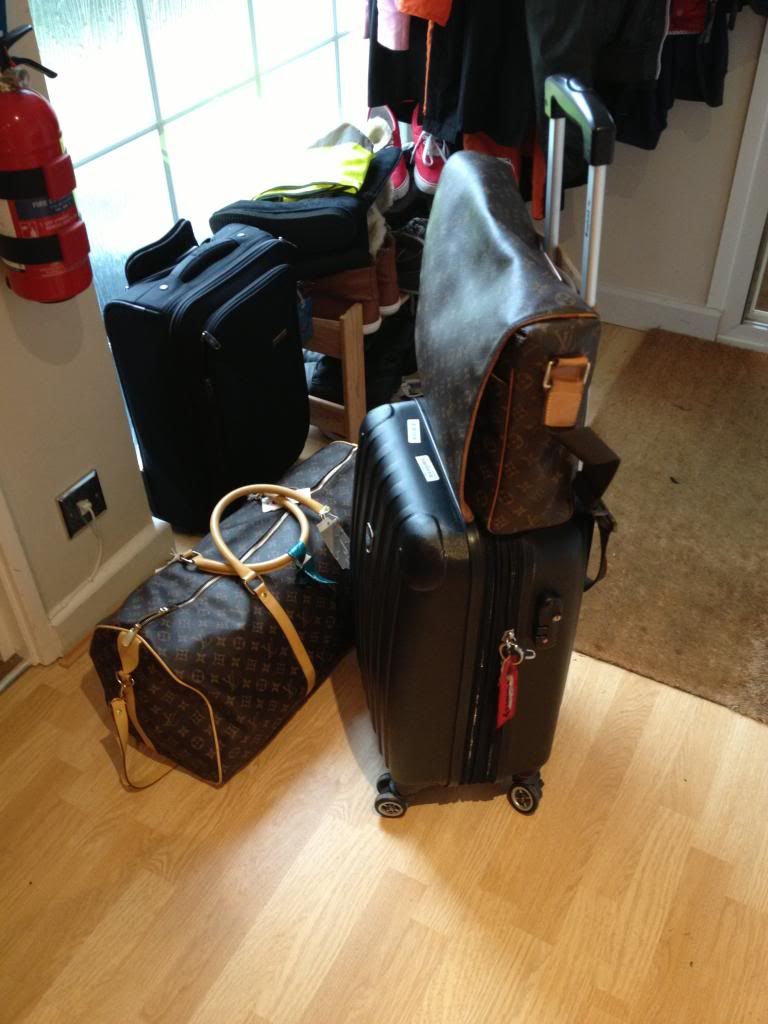 My baggage ready to fly across the Atlantic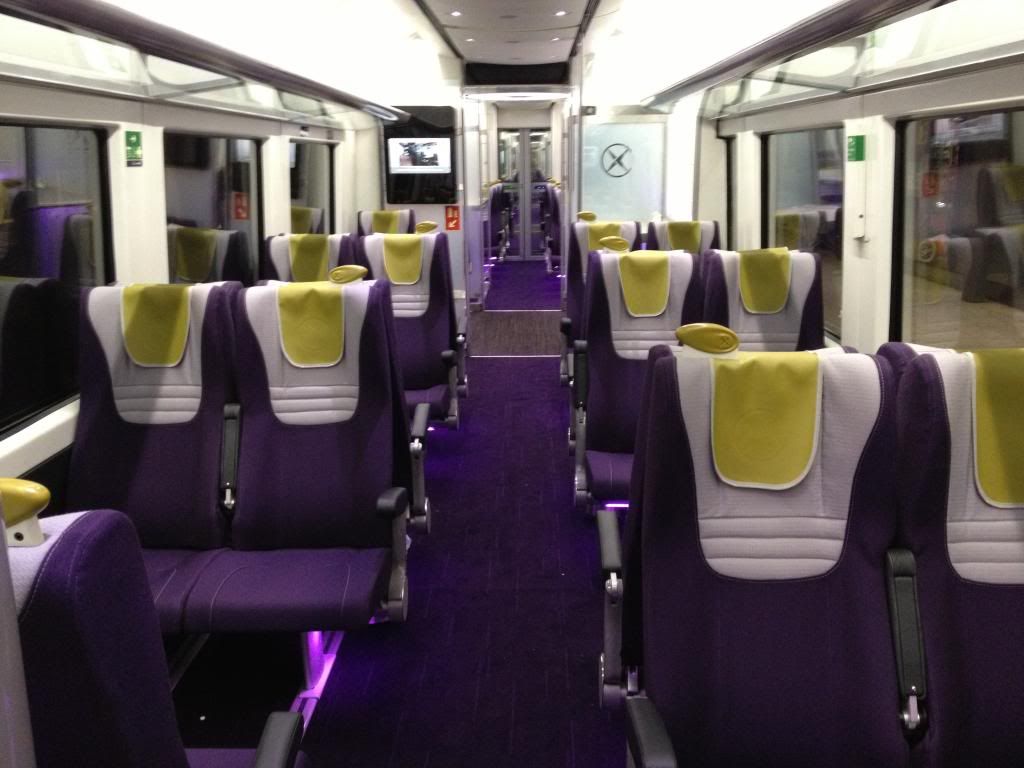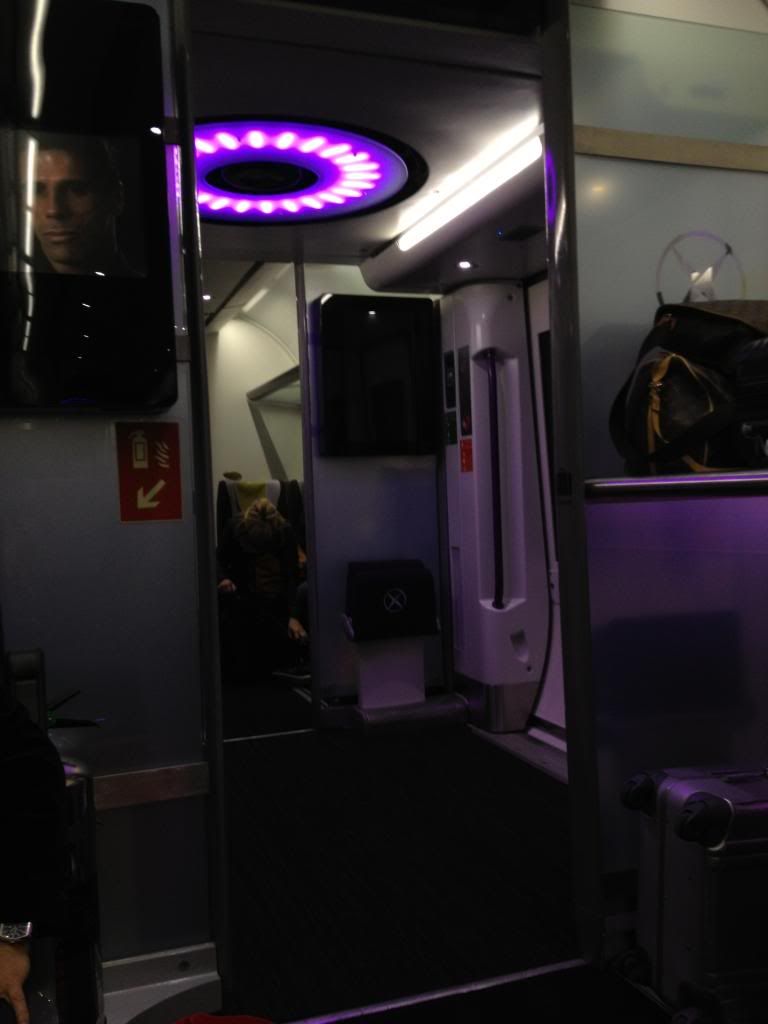 Cabin on board the Heathrow Express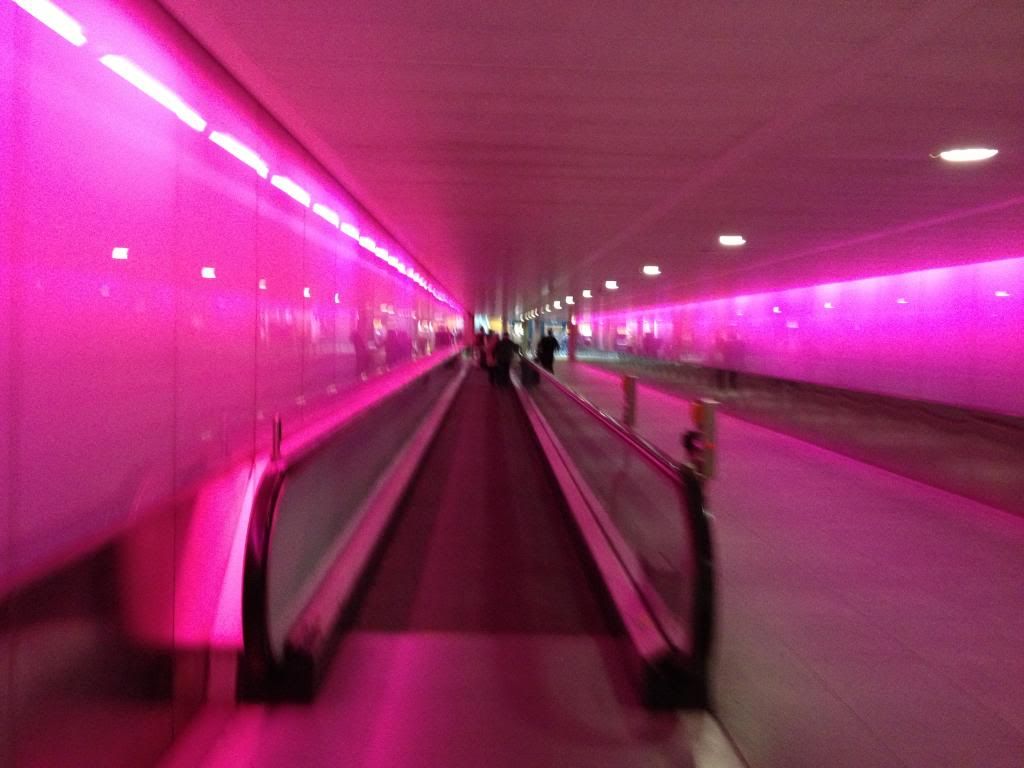 Excuse the blur, I was powerwalking through the underground walkway to T3. Virgin Atlantic Red errr'where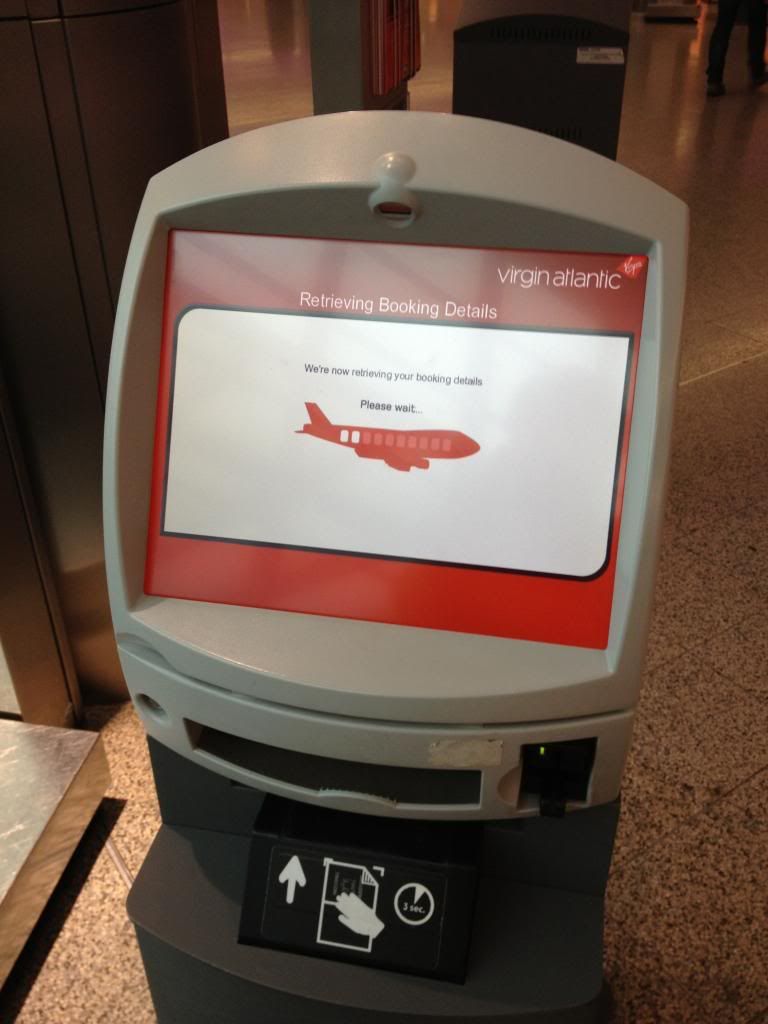 Self Check in Kiosk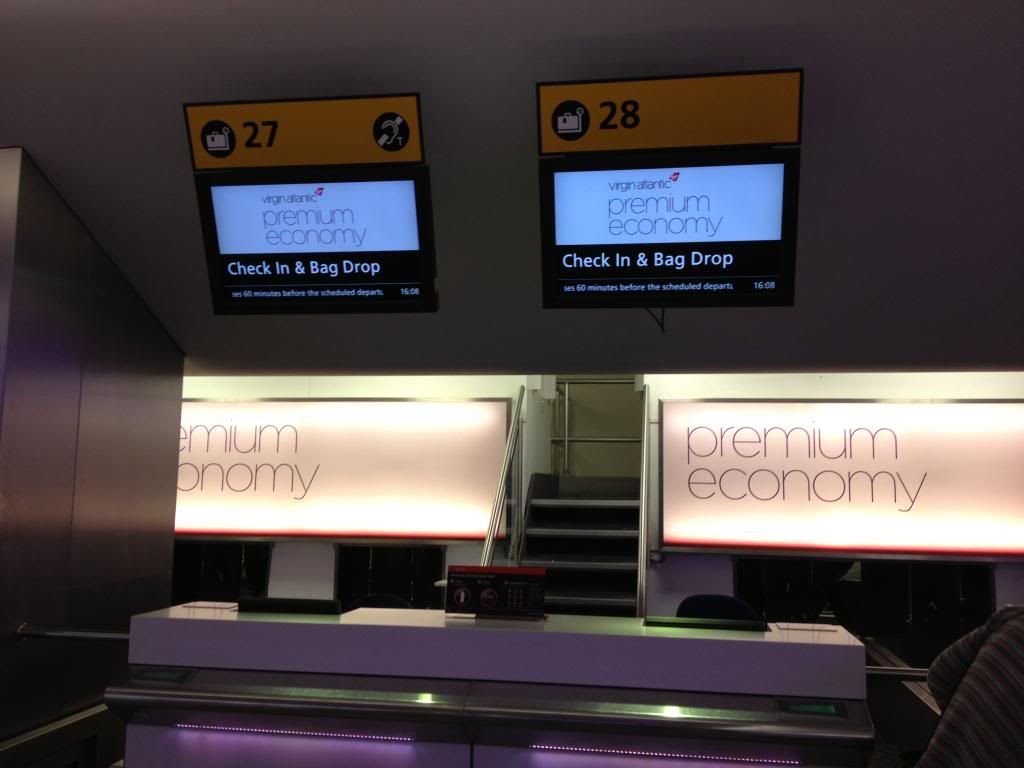 Premium Economy Check In Desks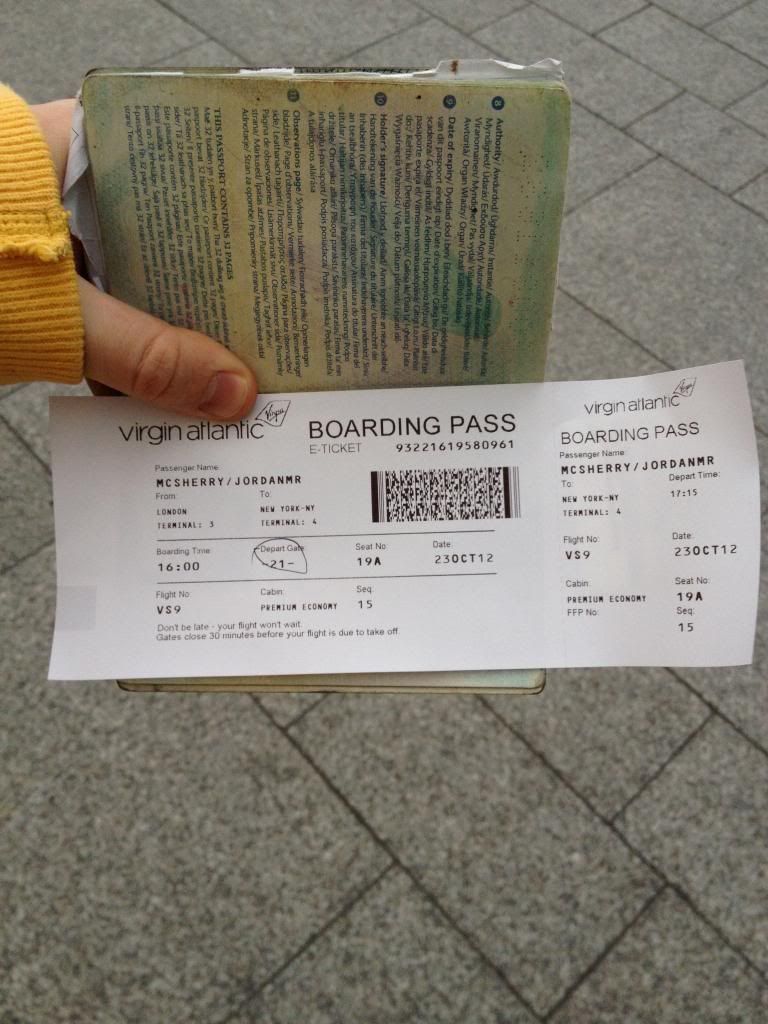 Passport and Boarding Pass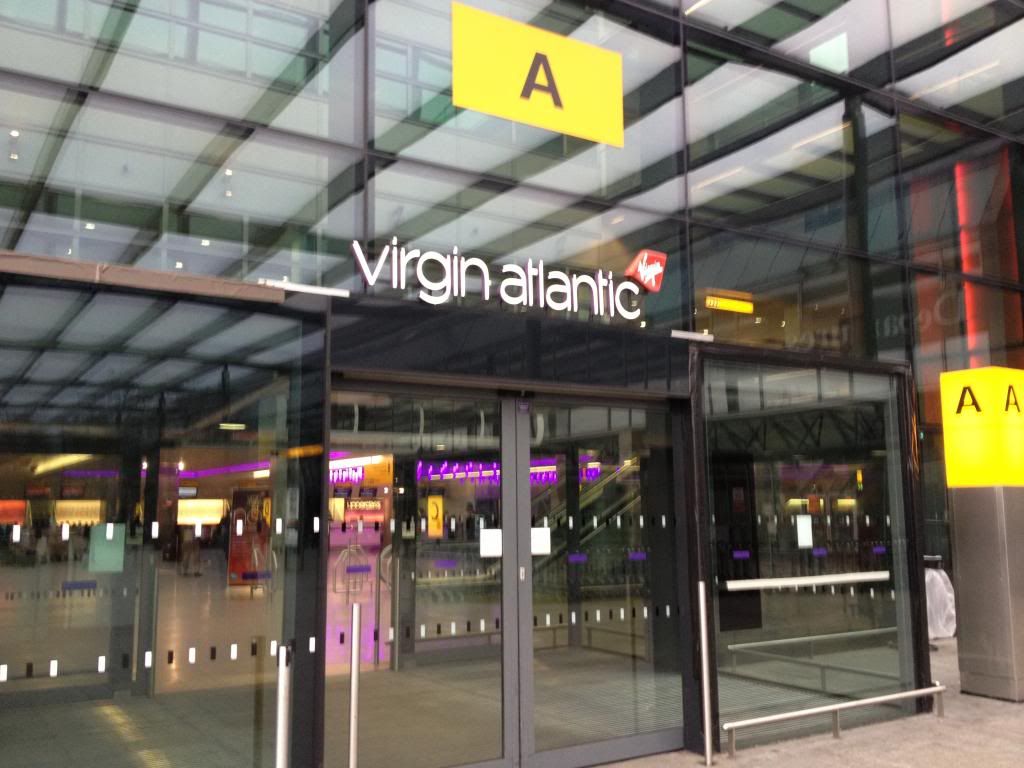 Entrance to Virgin Atlantic's Zone A at Terminal 3 – It's such a wonderfully aesthetically pleasing place
As I entered the security screening queues, I was suddenly aware of a huge amount of noise. More noise than normal for security, and it was incredibly unpleasing to my ears. I looked around, and at every single X-Ray machine was a group of young, schoolchildren. And they were ALL yelling.
Now, this wouldn't normally be an issue to people, but if y'all are lucky enough to know me, then you'll know I hate children with a passion. I dislike them very much. And these weren't just any normal children. They were teenagers. All of whom seemed more interested in updating twitter and facebook and texting people and generally not moving forward in the direction they were supposed to be going. I huffed several times and stared at my watch; I really was pushing it and I knew that the gate was miles away.
"I'm going to be late!" I thought to myself, "Tom's gonna kill me!"
And then, as if by magic, I was called to jump over into the FastTrack queue and skip all the unpleasant teenagers and get through security quicker.
After 3 years of flying as crew, I have a routine for security. And I don't like it when people mess up my routine, it works for me and it usually works for staff too. Today would be no different. I grabbed a tray, off came the shoes, off came my jacket, my belt, the contents of my pocket (I always take the utmost care with my iPhone and my cigarettes. It would be a nightmare if anything happened to either), and finally my bulging plastic liquids bag from the top of my mini Louis. The security agent smiled at me as I made my way through the metal detector, which didn't go off. I grabbed my belongings, putting everything back in reverse and bolted off towards the gate as quickly as I could. (I don't run, that would cause me to break out in a sweat and would then ruin my hair. That doesn't make for a good flight or a happy Jordan).
Just as I was leaving the security hall, I overheard one of the children asking their teacher how far away China was and breathed a sigh of relief knowing that they wouldn't be on my flight!
I made my way through Terminal 3's Shopping Mall, via boots to get a snack 'cause I was starvin', and Costa for a coffee because I didn't know how long it had been since I had had one, nor how long it would be until my next. From then I sort of galloped gracefully towards Gate 21, which for any of you who know Terminal 3 well, is at the arse end of the building, somewhere nearer Glasgow than London…
Finally I was at the gate, and desperate to look at my very first Airbus A340. I had never flown on any A340 variant before and this was part of the reason to take this particular flight. I presented my boarding card to the guy at the podium, it made the familiar beep, my passport was checked (again) and I was sent down the jetty to board!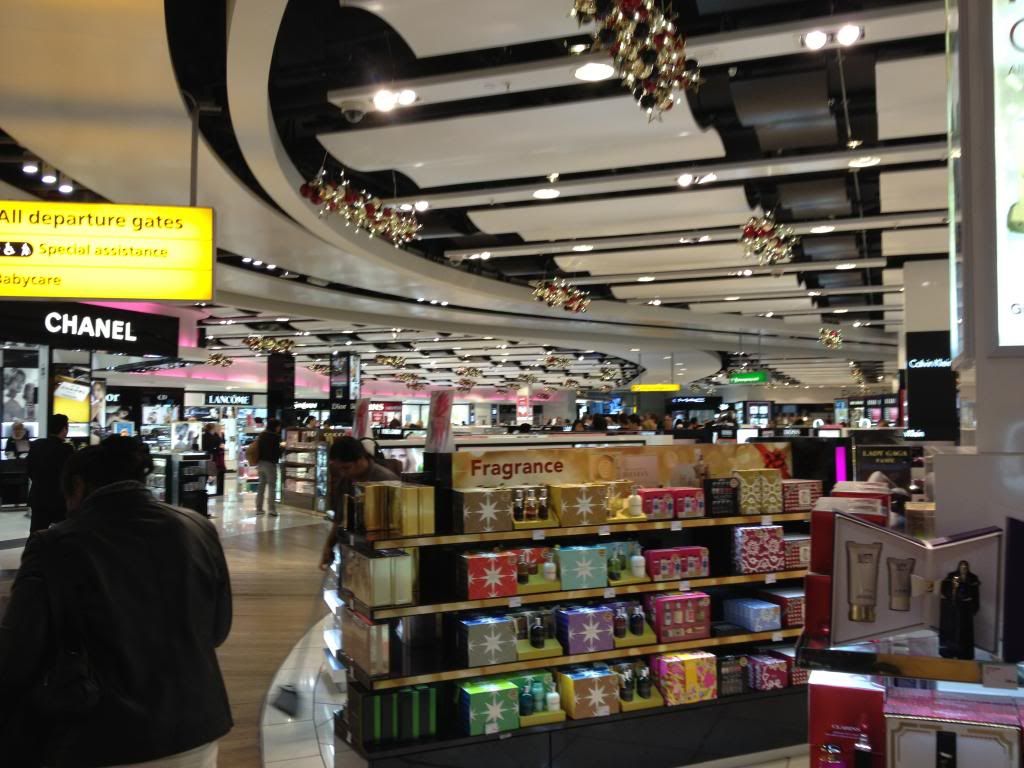 Shopping Mall/World Duty Free
G-VYOU; Emmeline Heaney as viewed from a window at the top of the jet bridge
Tuesday, October 23rd 2012
London Heathrow, UK (LHR) – New York John. F. Kennedy (Idlewild), NY, USA (JFK)
Virgin Atlantic; VS009
Airbus A340-600
Aircraft Registration: G-VYOU
Aircraft Name: Emmeline Heaney
Seat Number: 19A
Estimated Flight Time: 7h00
Take Off: 1930
Touch Down: 2120
Actual Flight Time: 6h50
I arrived at Door 2L and was met by the Flight Service Manager (who's surname – Purser – could not have been more fitting!) who checked my boarding pass and directed me to my seat in the second row of premium economy, just a quick turn to my right. Having never travelled in Virgin Premium, I was surprised at how spacious the seat was compared to the photos I had seen online. I quickly stowed Louis in the overhead locker after taking out my passport and my Boeing Airplanes pen in preparation to fill in the I-94 and Customs form I had been handed at check in. I took my seat and to my despair, 19A was missing a window. I had to lean all the way forward but was not disappointed by my view. There, right beside me, were two massive Rolls Royce engines all gleaming in red. I stowed my Boots bag under the seat in front of me and took my Lucozade and my wrap out and placed them on the drinks table on the armrest. A very pretty and smiley hostess came to offer me a pre-departure drink of water, orange juice or Champagne. I of course opted for the Champagne, but also asked if I could have an OJ too. The champagne was nice and fresh and cool as I gulped it down, and the OJ was standard. I like OJ a lot, but normally only drink it with a coffee on the side. Desperate to get underway, I called some family members to tell them my cell was going off in a bit and I'd holler at them from New York. My mum thought it hilarious that I was about the embark on my second Atlantic crossing in less than 24 hours; "You truly live up to your nickname, Miss International-Elite"
I laughed and agreed and bid her farewell, I was tired by this point and all I wanted to do was get underway.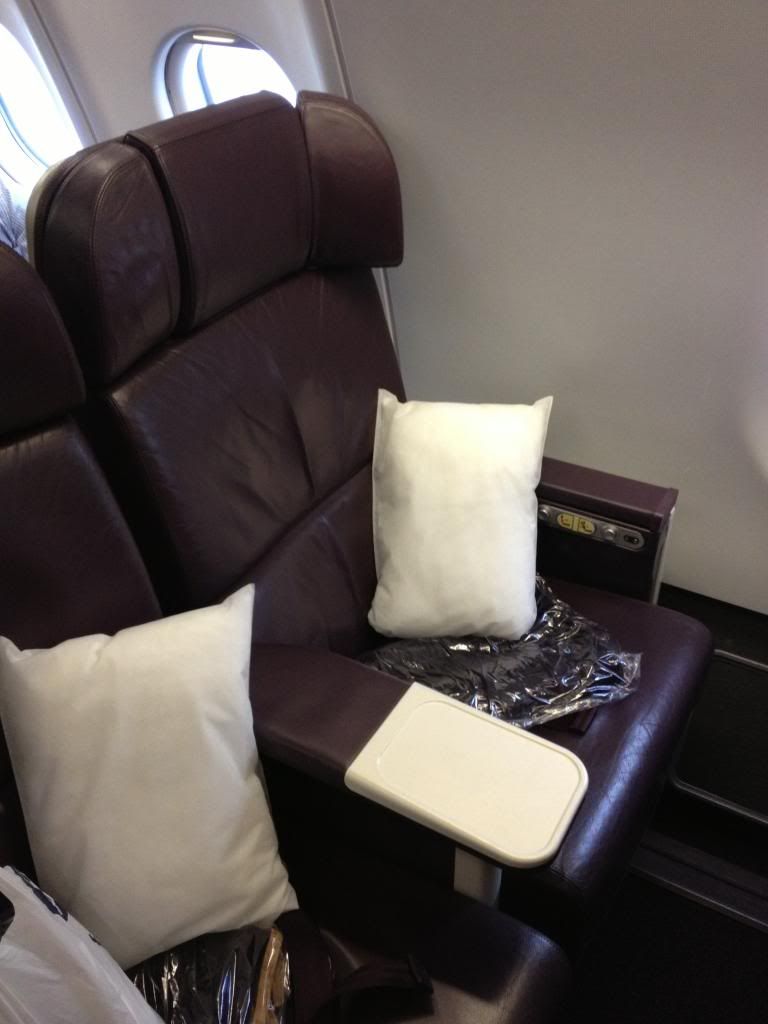 19A on board G-VYOU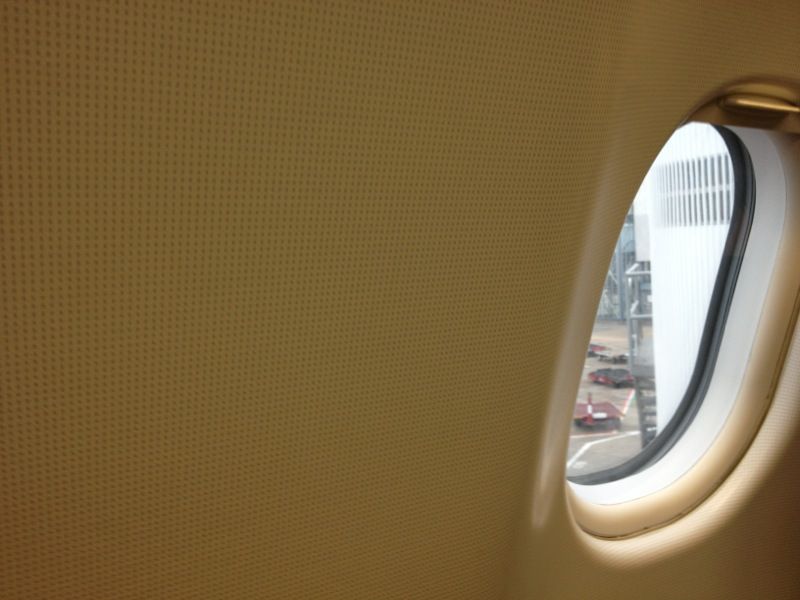 Mis-aligned window. An AvGeek's worst nightmare!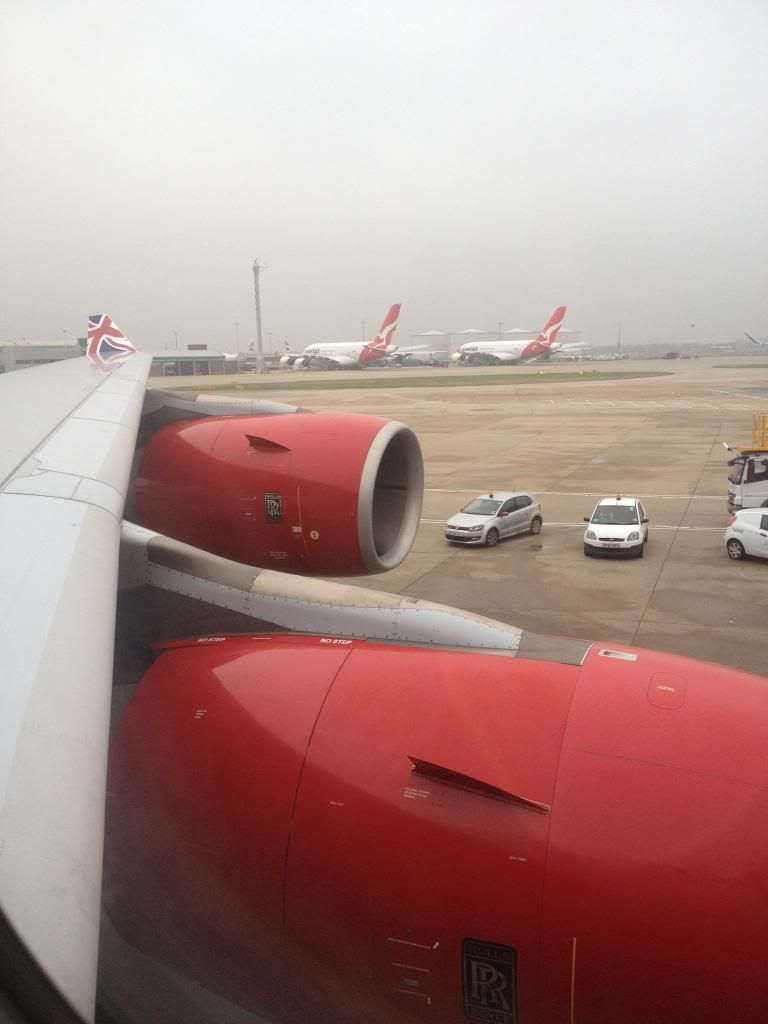 You can almost feel the power just looking at these big boys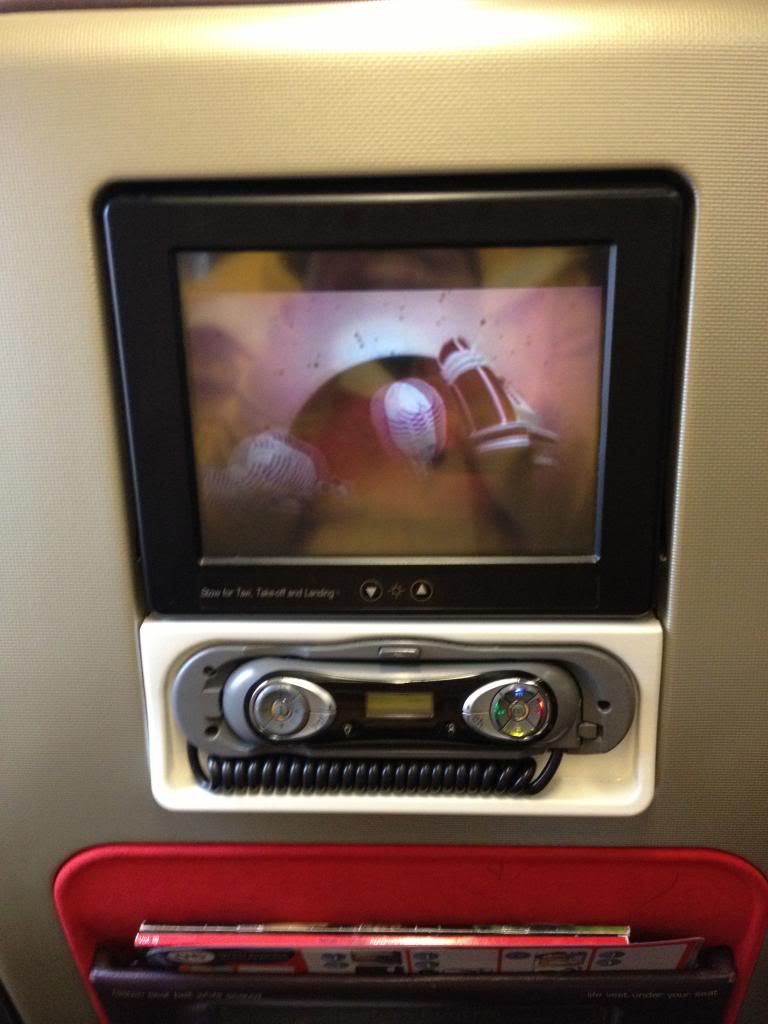 Personal Television Screen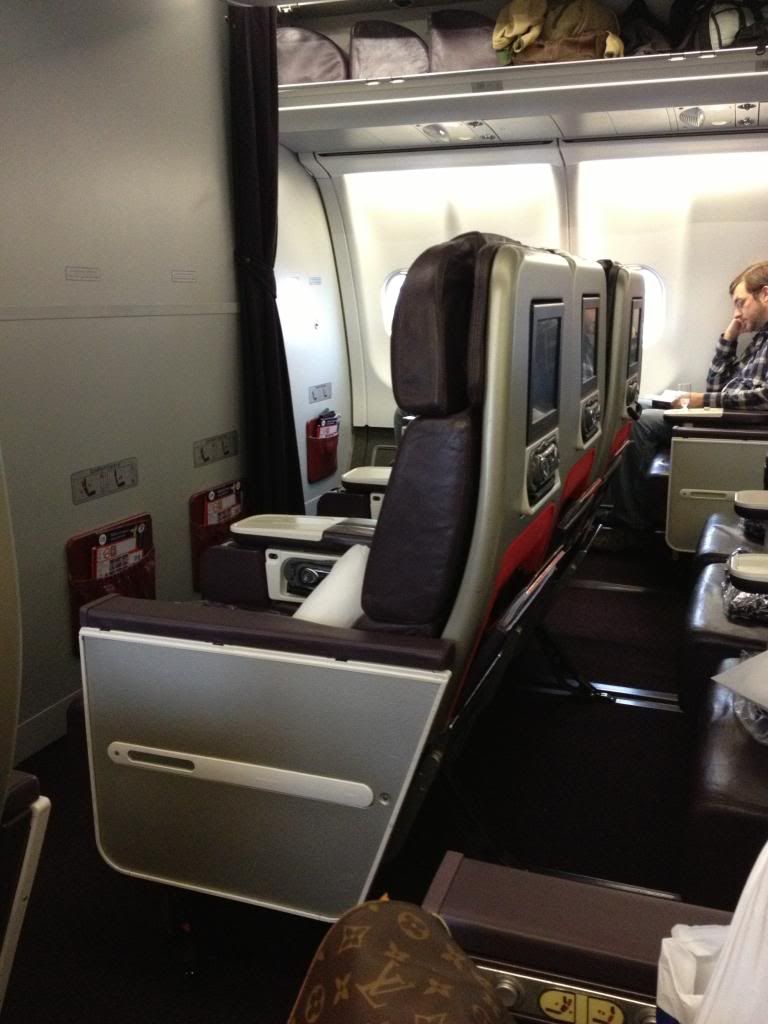 Looking around the cabin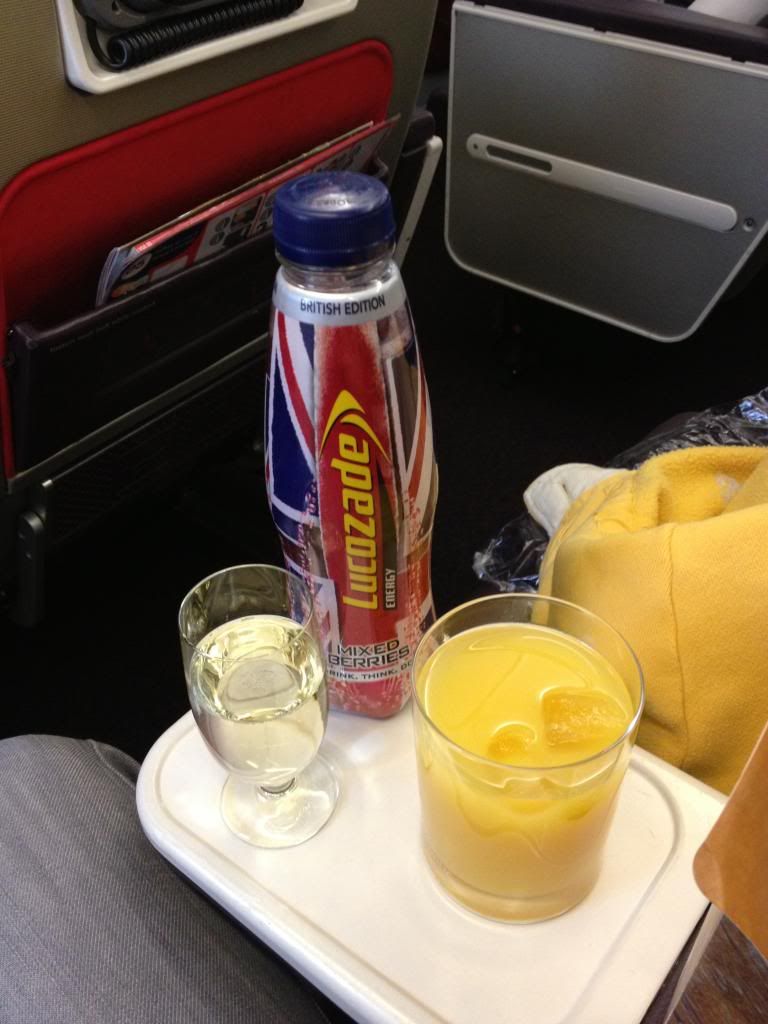 My drinks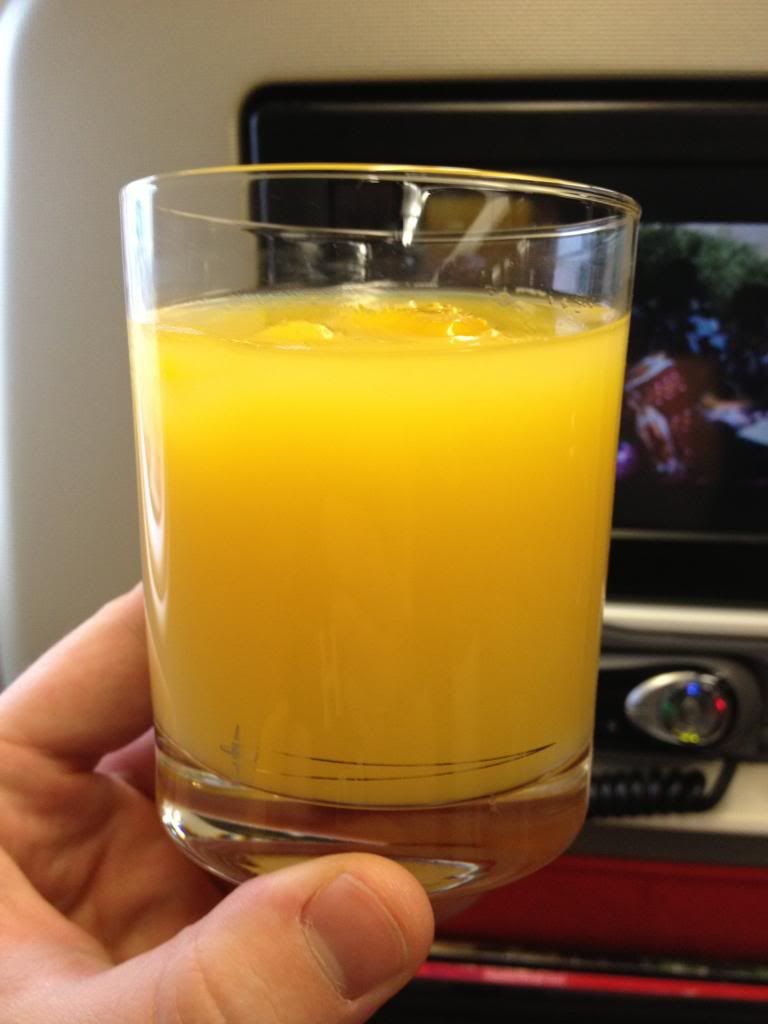 I love the branded glasses on Virgin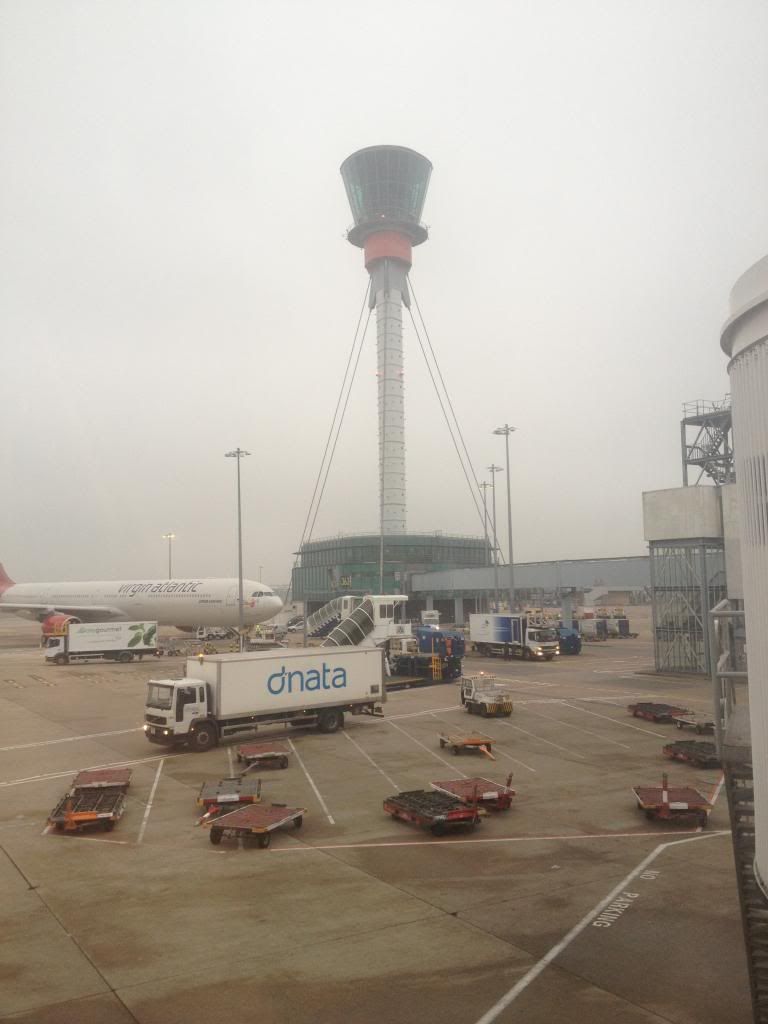 View outside, with jet bridge attached
Not long after I finished my drinks, the hostess who had given me them came to tidy up the glasses and also took my jacket to hang it in the wardrobe. I heard the door close and watched as the jet bridge was taken away. Hot towels, amenity kits, water bottles and menus were then handed out quickly, and the hot towels cleared in just a few moments later.
"Cabin Crew, please arms doors for departure and cross-check", FSM Purser commanded over the PA
We were finally underway, I tightened my seatbelt and prepared for pushback. We waited, and waited, but nothing was happening. I then watched as the jet bridge was re-connected to Doors 2 and "Cabin crew, please disarm doors and cross-check"
Something was up, but I didn't know what. I wrapped my blanket around me, placed the pillow up against the wall and closed my eyes for a bit. I was aware of people rushing up and down the aisle and some commotion coming from the front section of Economy, but I was now pushing towards being awake for 24 hours and I needed some shut eye.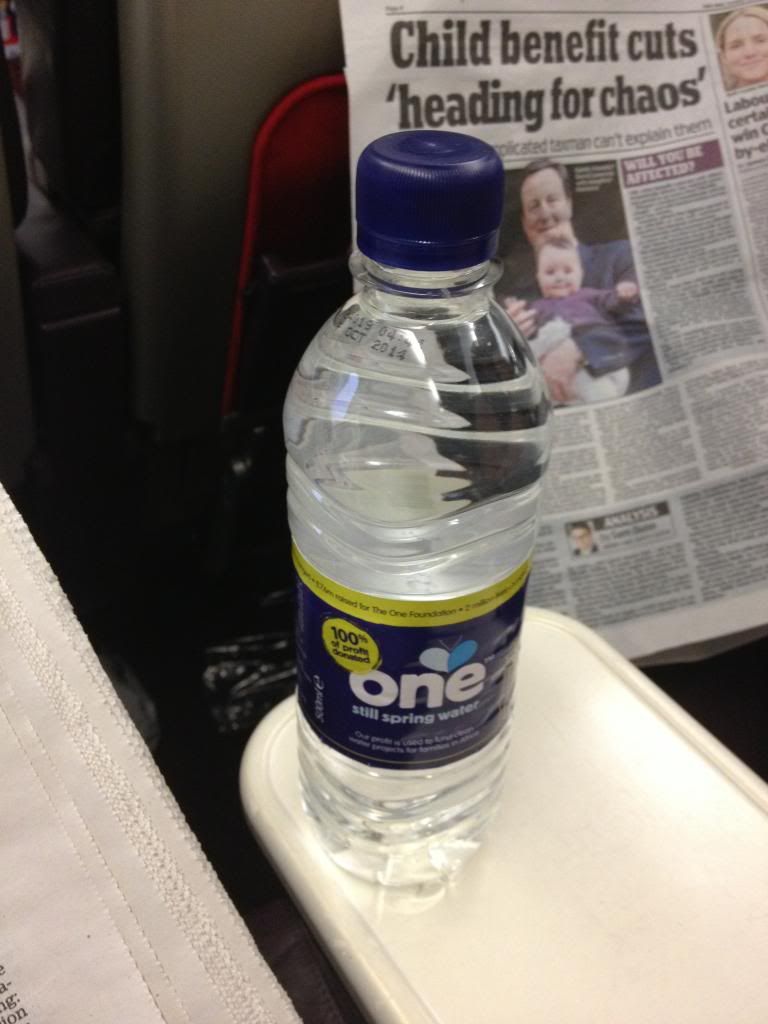 Water Bottle – I went through at least six of these throughout the flight
Lovely and refreshing hot towels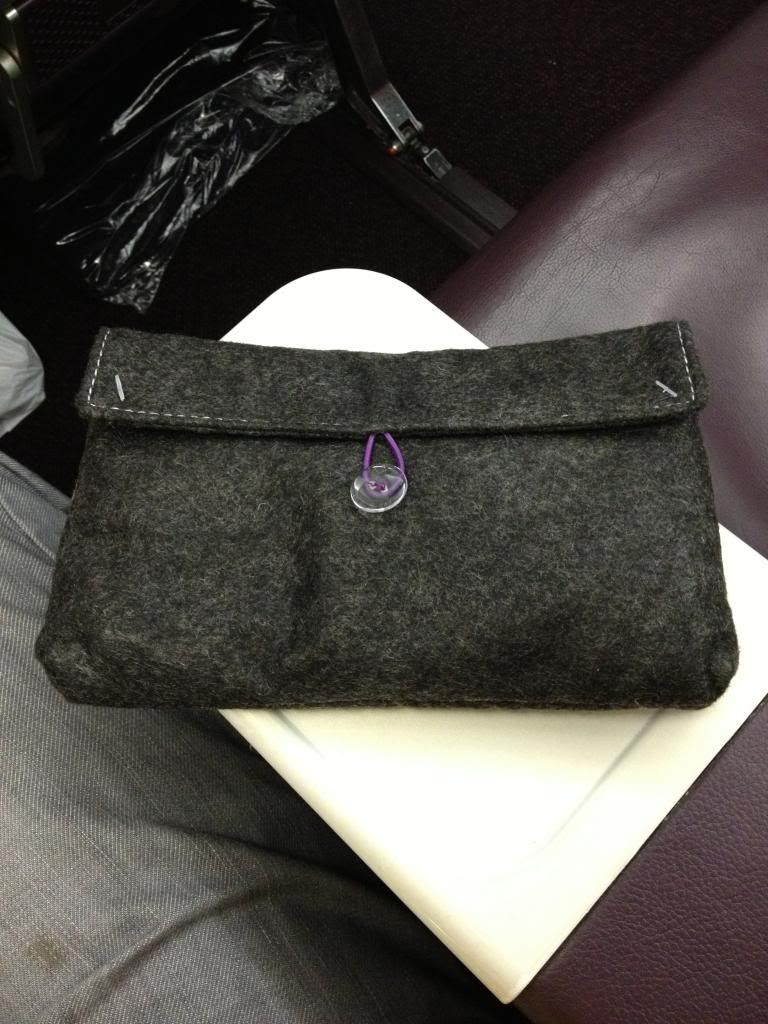 The Amenity Kit. I still take this away with me wherever I go. It's had varied uses throughout it's 5 month life, and is currently being used to hold my Sunglasses and wristbands when I'm not wearing them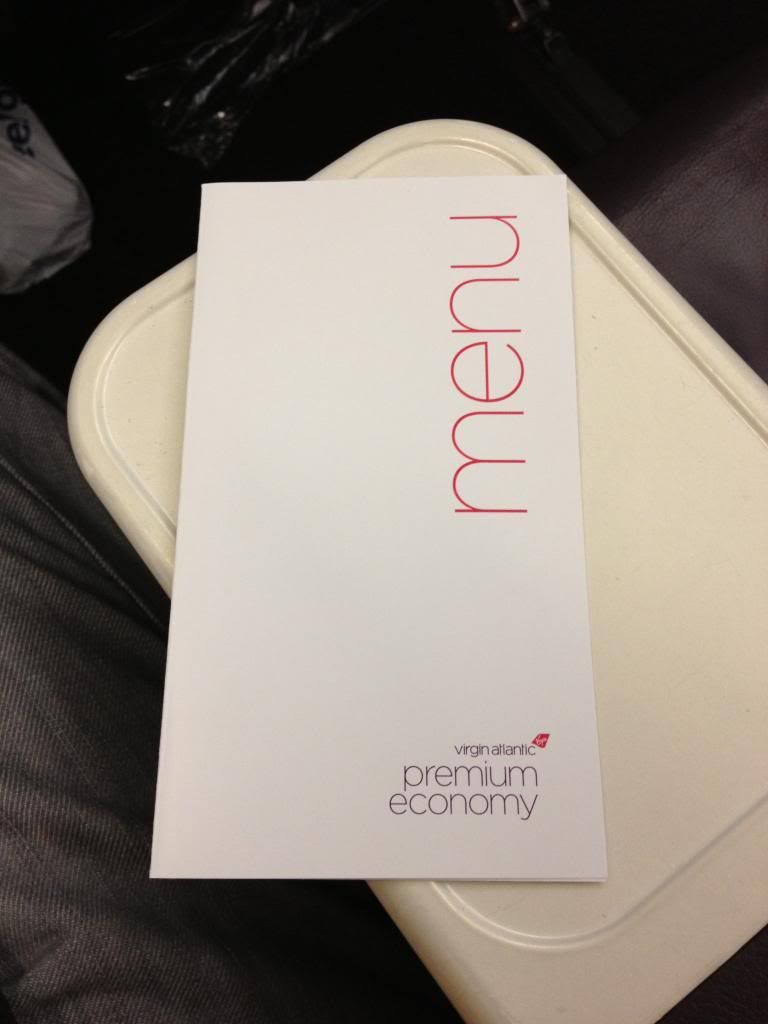 Menu. We'll find out what was on offer later
I opened my eyes around 1h45 minutes later and we were still on stand. It was dark outside and the first thing I could think of was that I was a bit gutted I wouldn't get to see the wing flexing for take off in the daylight. Oh well, these things happen. I looked outside and the jet bridge had been moved back, again. The captain came over the PA to tell us that there had been a slight medical issue in economy, that passenger and their companions now removed, but finding their hold bags had been a bit of a problem. We were now ready to go however, and were just waiting for clearance to push back for the runway. We should be underway in just a few minutes.
I lost my train of thought as I was staring out the window watching the evening movements around our plane when I heard a voice behind me
"Hey sleepyhead! You're awake now!", there was Tom, smiling and kneeling beside me, "I came to say hello earlier but you were out cold! "
We chatted for a few minutes until, with a jolt, we began to move backwards. I said goodbye to Tom and he made his way back to his section of Economy. The engines spooled up and the safety video began to play. I logged into twitter quickly to update my followers of my whereabouts, signed it with a kiss and switched my cell off again before I got into trouble from the crew.
With all four engines running, and the safety video finishing up, the flaps were set for departure. The A340-600 was quieter than I imagined, but I'm sure that had something to do with being in front of the wing! We taxied slowly towards runway 09R, snaking around the maze of taxiways and construction sites that makes up London Heathrow. After 20 minutes of stop, start, stop, start, we found ourselves at the threshold of the runway. A couple of BA Shuttle flights were ahead of us, and I watched as an Airbus A321 snuck in on an intersection departure, spooled up and shot off down the runway. Then, it was our turn.
Four Engines for Long Haul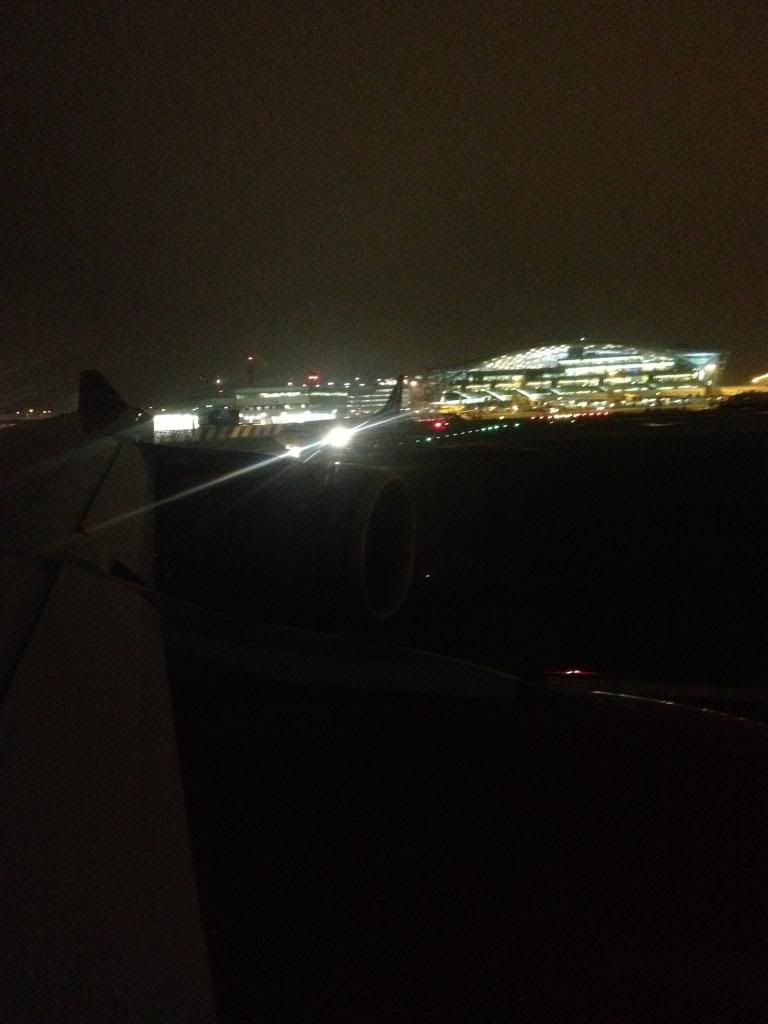 Waiting at the end of the runway, Terminal 5 beside us
We sat idle on the runway for a couple of minutes. I leant forward and gazed out the window in excitement. I was finally going to experience that unique A340 take off experience. Our engines spooled up, got louder and louder, and we started moving down the runway. Faster and faster we got, passing by Terminal 5A, 5B and 5C, then Terminal 3.
"Surely we're not that heavy!" I thought as we seemed to continue on and on, "Let's go up now!"
I watched as the wings flexed skywards and the nose lifted off the ground as we passed by the old Terminal 2. Again, that magical moment of weightlessness was felt, and Virgin Zero-Zero-Niner was airborne.
I used to live at the end of 27R and would watch from the back garden as departures went overhead. It never ceased to amaze me just how low an A340 (particularly the -300) would pass overhead. This flight was to be no different. We sluggishly climbed out over Hatton Cross, and the Green Man Pub, before turning sharply to the right and making a big turn out over Feltham and onto Staines. Sadly there were no views to be had of the ground as we entered the cloud base just as we started the turn. I sat back, put my earphones in and listened to some music until the lights were switched back on for the service.
While the crew were preparing the start of the service, I took the opportunity to have a look through the offerings in the amenity kit and the menu for tonight's service. I have to say, I much prefer the offering in Virgin Atlantic's Premium Economy cabin vs. BA's World Traveller Plus, but then again it is Virgin's second highest cabin, with just three levels of service, whereas British Airways have four. The seats are also much comfier than the current seat in WTP from personal experience and opinion. However, I do absolutely adore the WTP seat in the new layout, offered on the updated 777-200ERs (with the Thales in-flight entertainment system) and the 777-300ERs too. It wins over the VS hard product.
As soon as the seatbelt sign was switched off, I got up and took my Louis bag down and placed him on the empty seat next to me, handy for anything that I may need from inside. After all of the pre-departure drinks and a half litre of Lucozade, I was absolutely desperate on a restroom break. So I used this as an opportunity to explore the small cabin and take some photos from around. On my return I quickly filled out my I-94 and customs cards. It's funny, because I do it so often, I don't even have to read what each section is. I know it all off by heart and did it on auto-pilot. I then stuck them inside my passport and placed them back in Louis for safekeeping.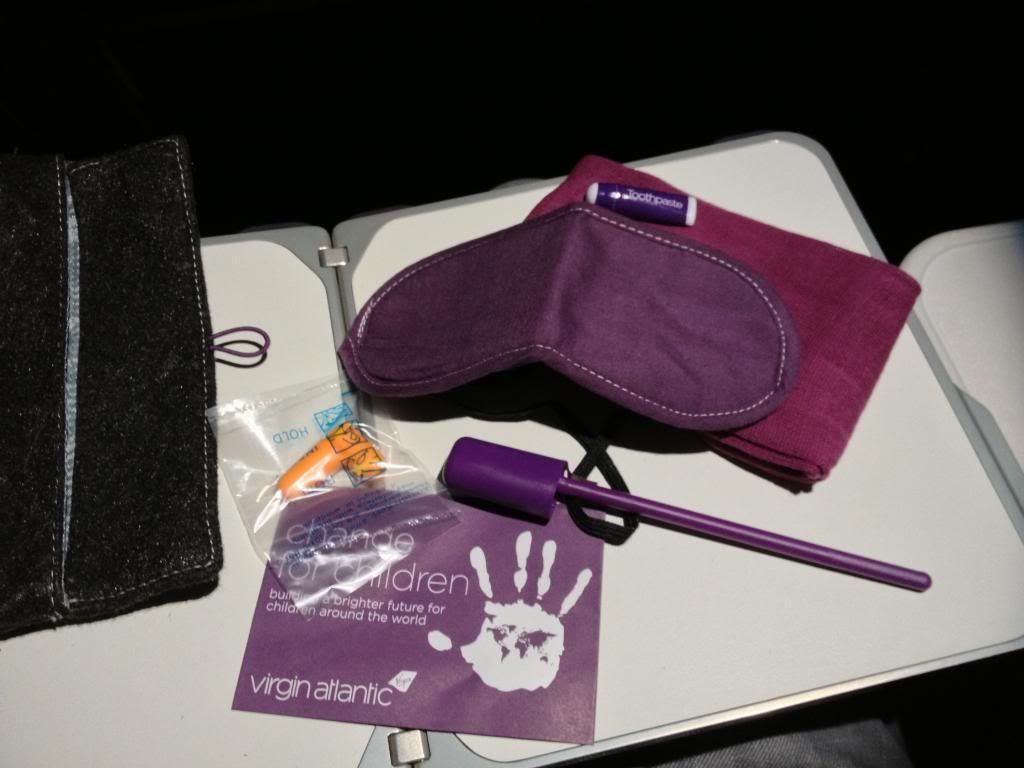 Contents of the amenity kit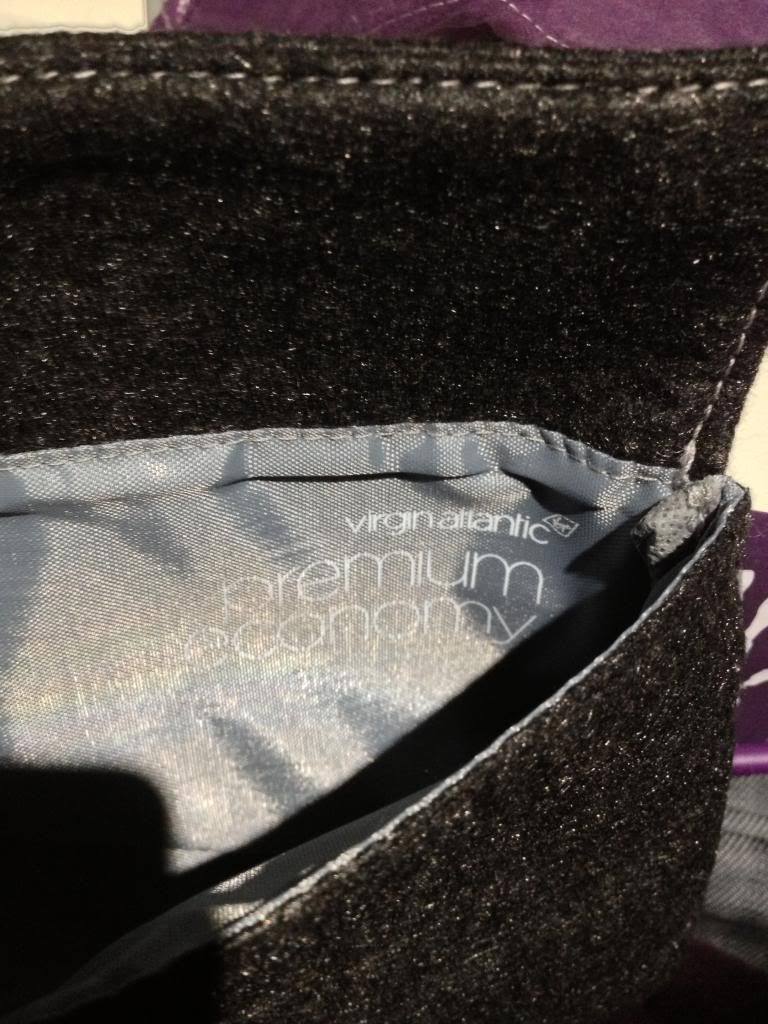 Company Branding everywhere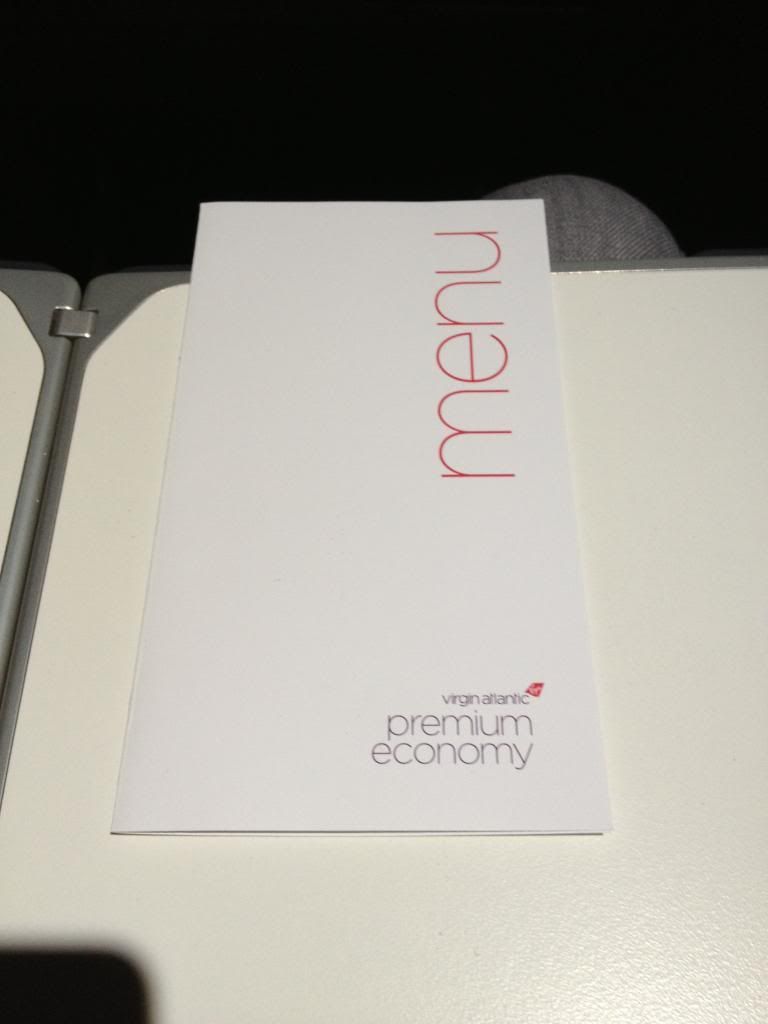 Menu – front cover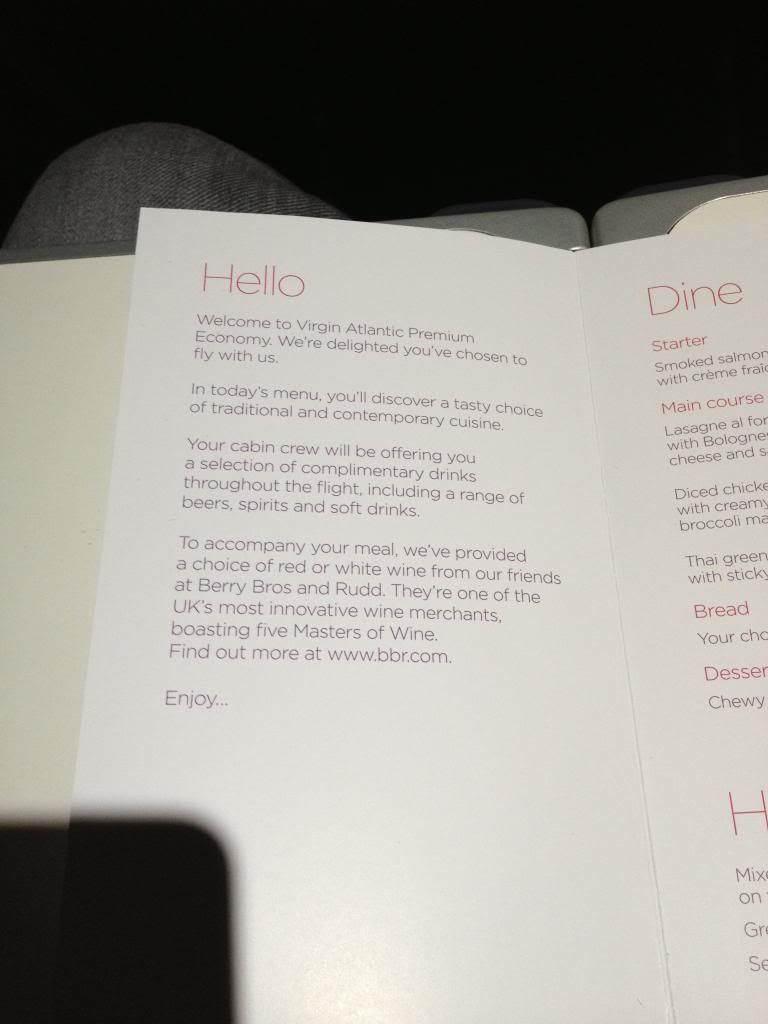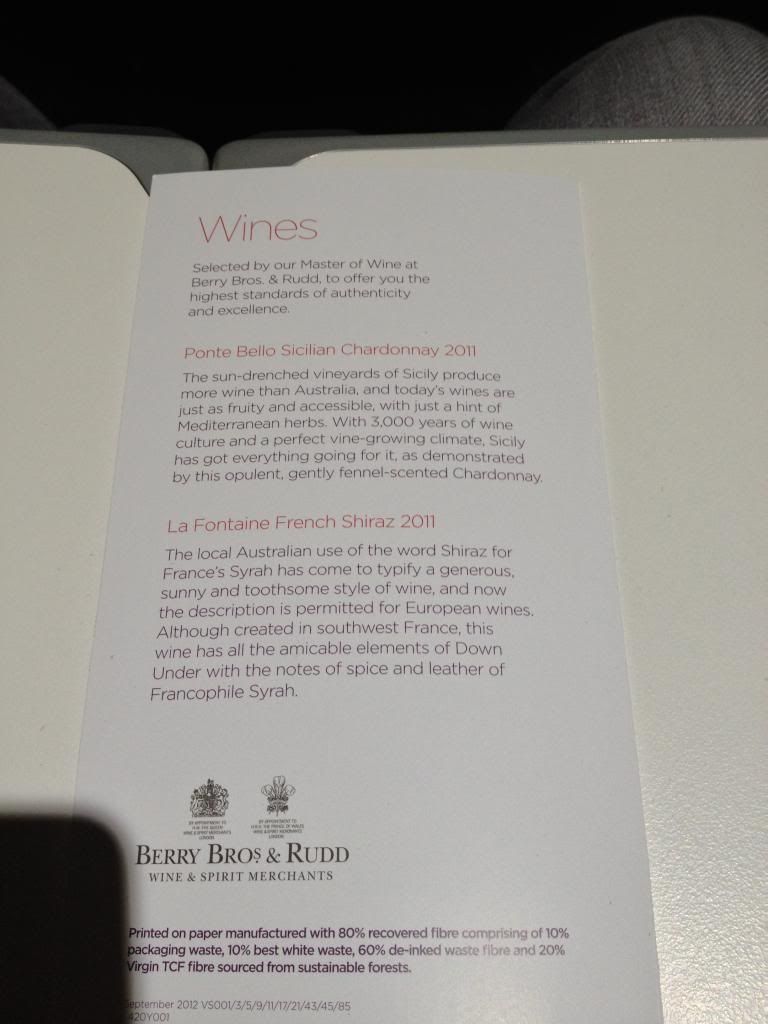 Contents of the menu for VS009. I was so happy to see a Salmon appetizer; I do love my salmon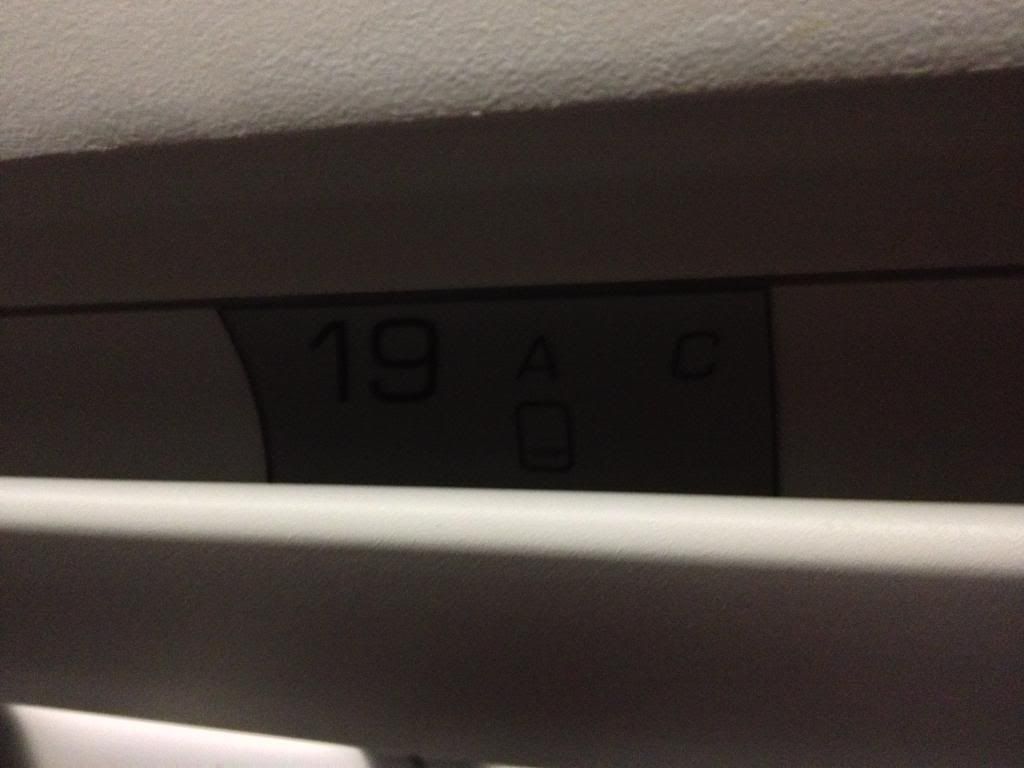 Seat number on the overhead rack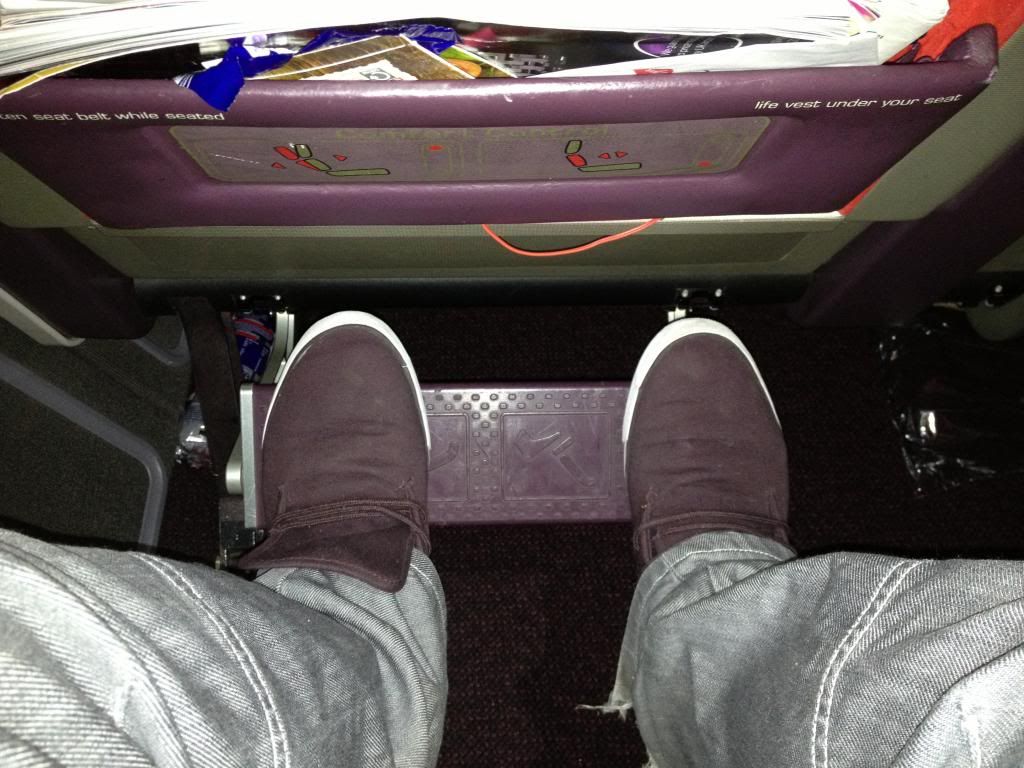 Footrest. I love how the cabin colors match my shoes perfectly. It's the simple things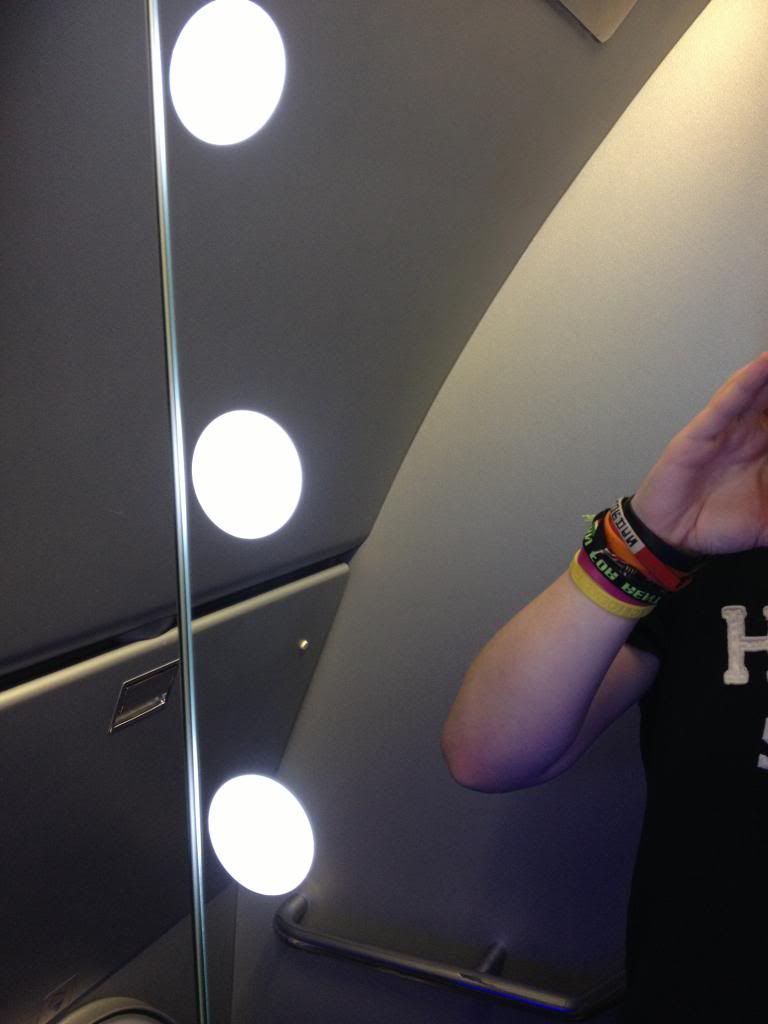 Vanity lights in the restroom mirror
Snazzy mood lighting everywhere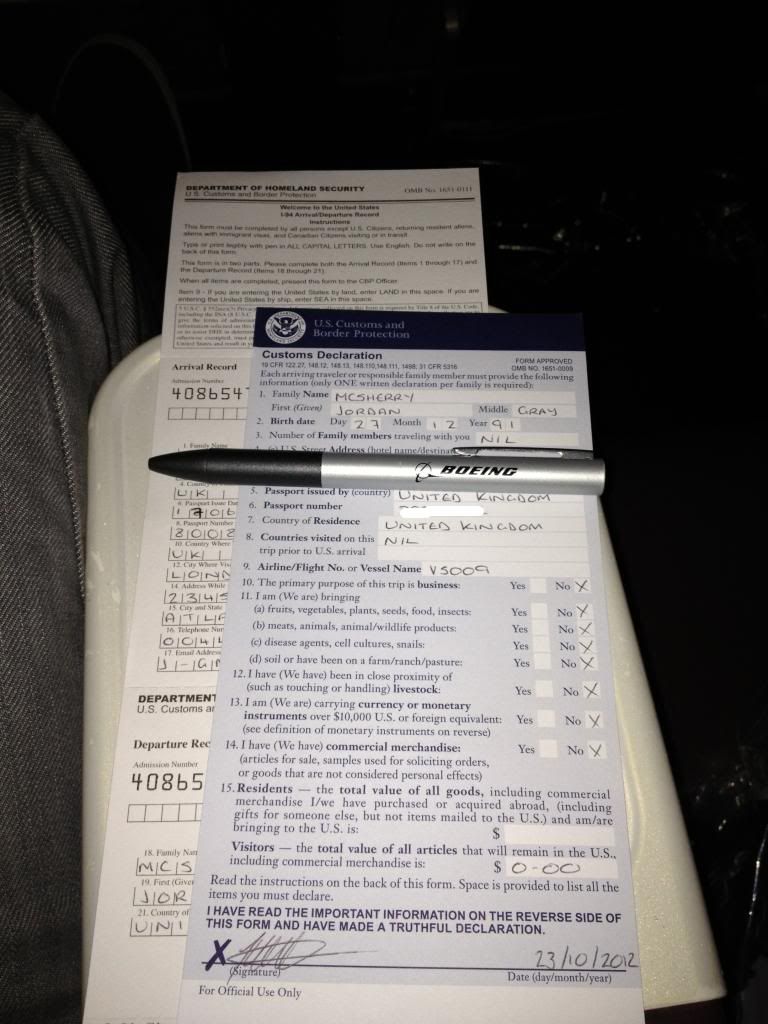 Customs Form and I-94 filled in with my all-time favourite pen
A drinks run commenced around 25 minutes out of Heathrow as we cruised out over the Bristol area, heading into Wales. Virgin also offer my favourite vodka on board; Absolut. So, of course, I had to have my favourite drink; Absolut Vodka and Lemonade. This was handed to me in one of the branded tumbler glasses, with some ice and a massive wedge of lemon. Virgin also have fabulous purple plastic swizzle sticks. Two of which ended up in my bag prior to arrival at JFK. With my drink in hand, I reclined my seat, and started playing around with the V:Port system. I was intent on sleeping after the meal service, so didn't start any movies at that point, instead opting to play around on the audio channels. And to my ultimate happiness, loaded in there was 'A Million Lights' – my idol Cheryl's latest album. And for some reason, despite having it already in my iTunes on my cell, I listened to it for a bit, miming along to "Call My Name", "Sexy den a mutha" and "Ghetto Baby".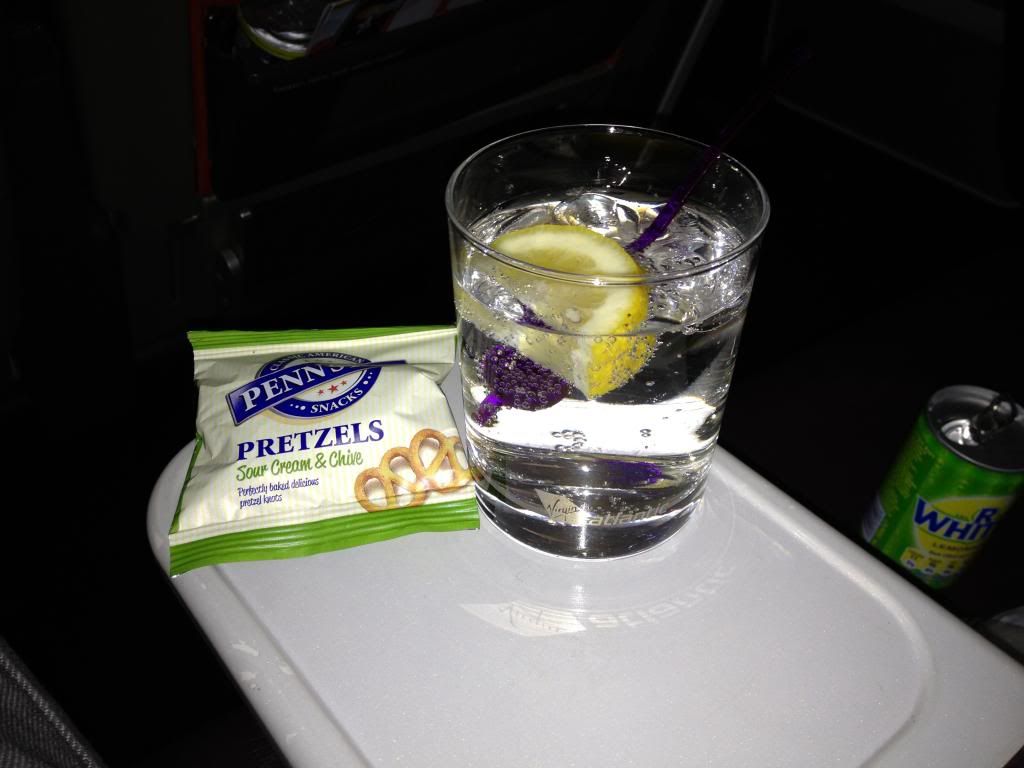 Absolut vodka fit for an Absolut princess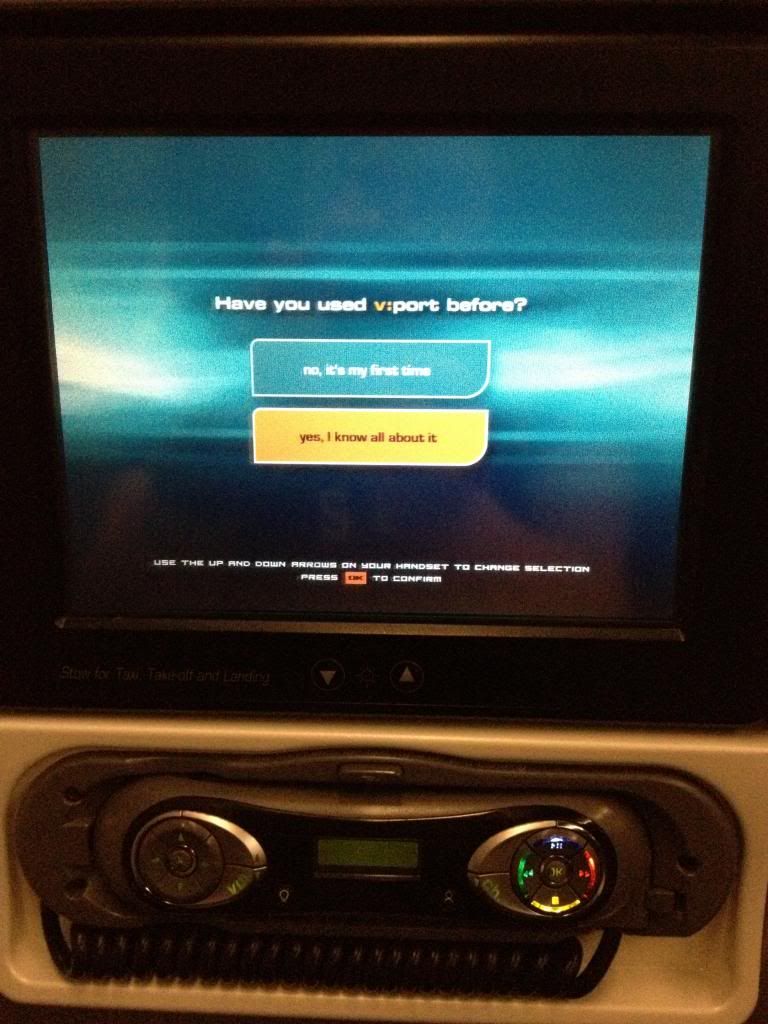 V:Port welcome screen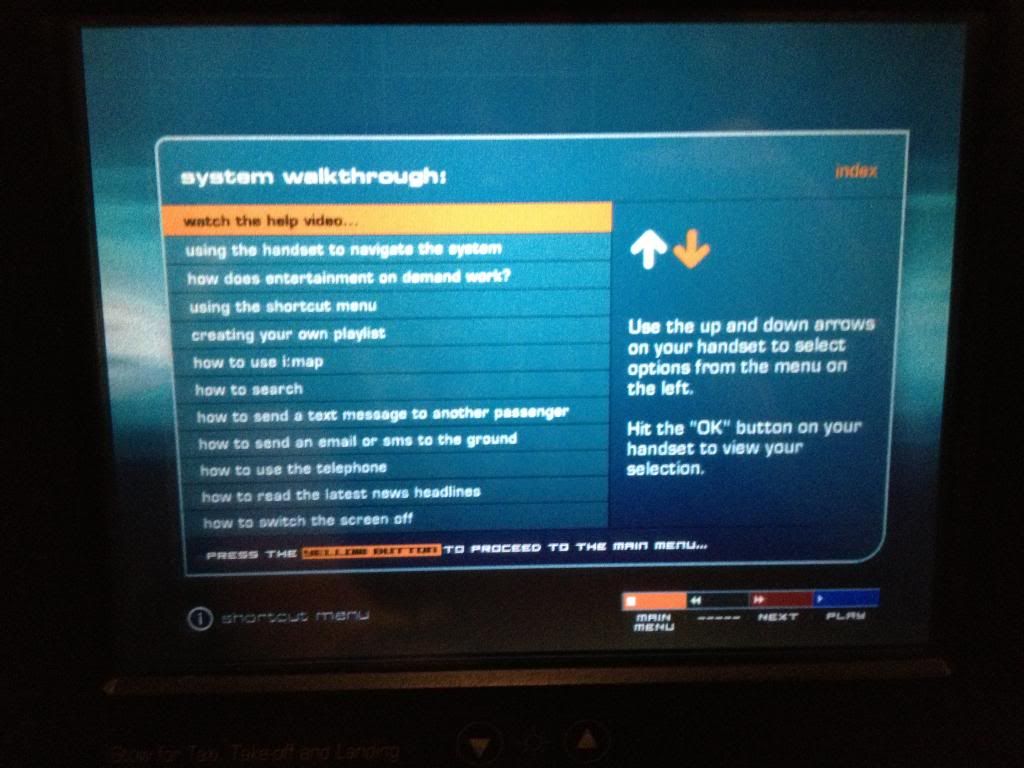 Instructions for use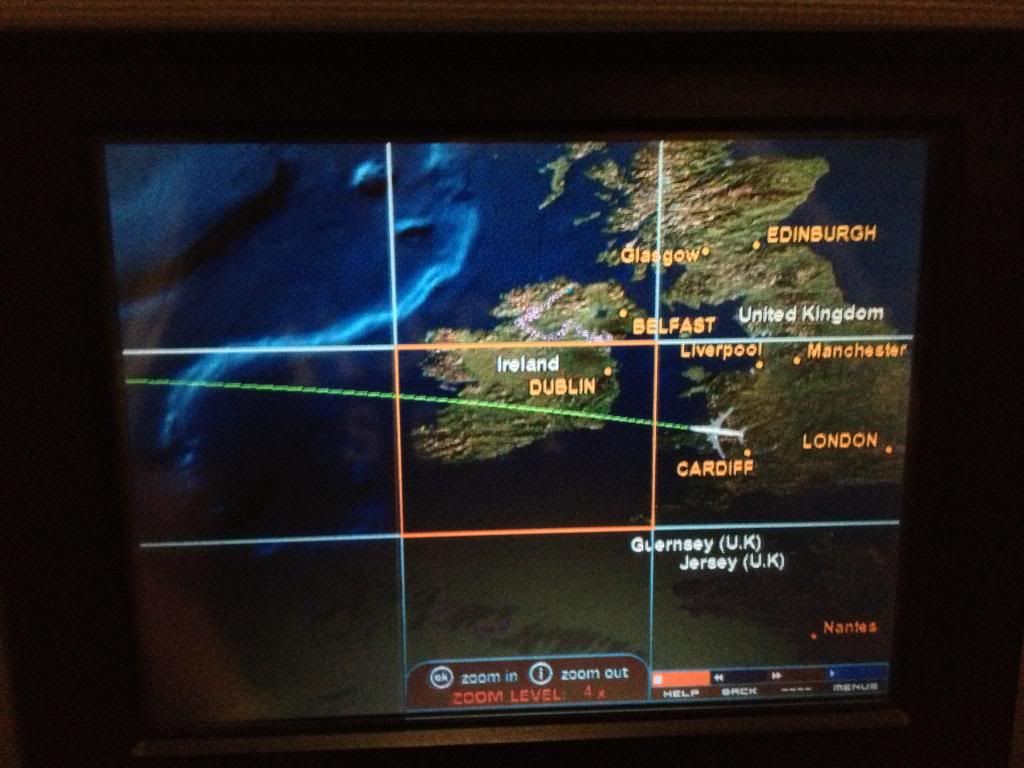 Moving map charting our progress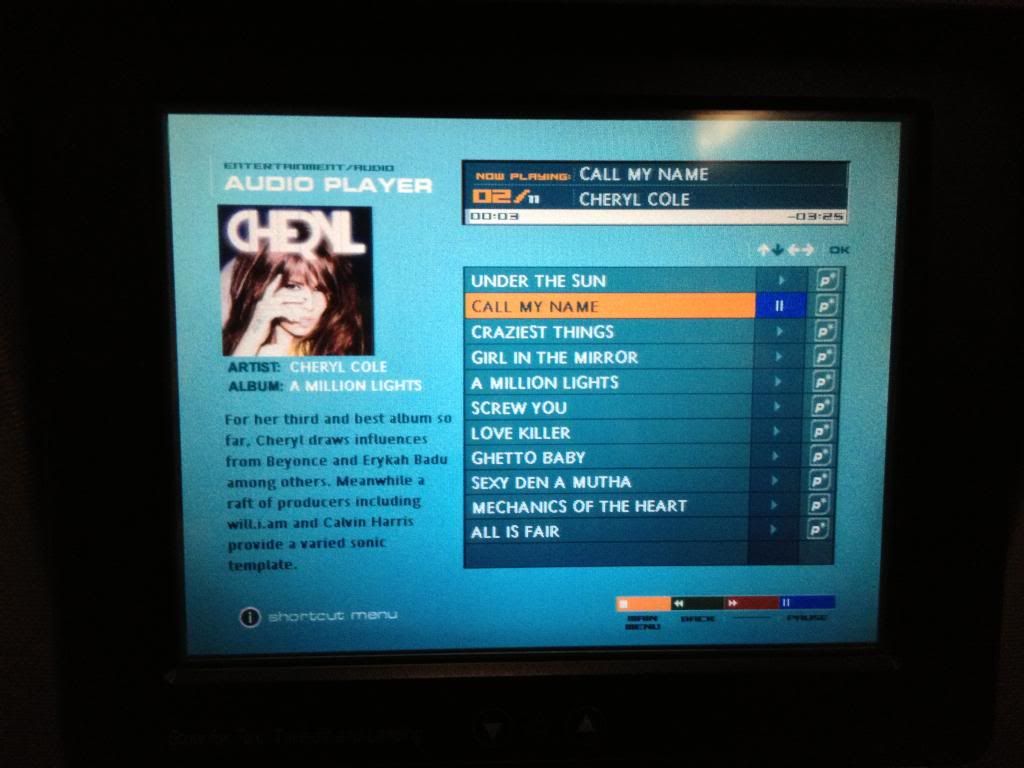 All hail Queen Cheryl
As the final beats played out, the meal cart arrived at my side and I was presented with a glass of water in a cute little purple Virgin Atlantic glass, followed by my meal tray, complete with hot meal on top. Both the service and food is very similar to British Airways, except that the appetizer at BA is a small, but fresh, salad. A choice of red or white wine was offered, and since I was having a vegetable dish, I opted for the Chardonnay, even though I'm more of a Sauvignon Blanc boy.
I was now starving so wolfed it down in a hurry, thinking that it would help send me off to sleep. Once I had finished, I wrapped it all up again nicely (so the crew don't have to work too hard) and lounged back in my seat. Sleep however, would not come…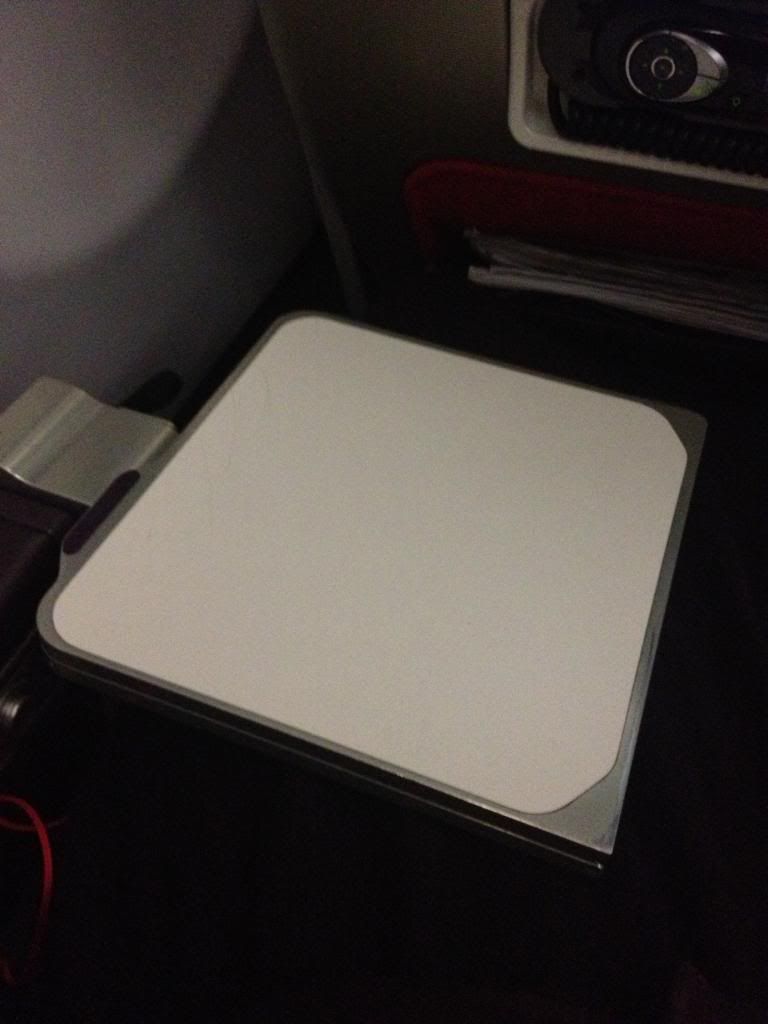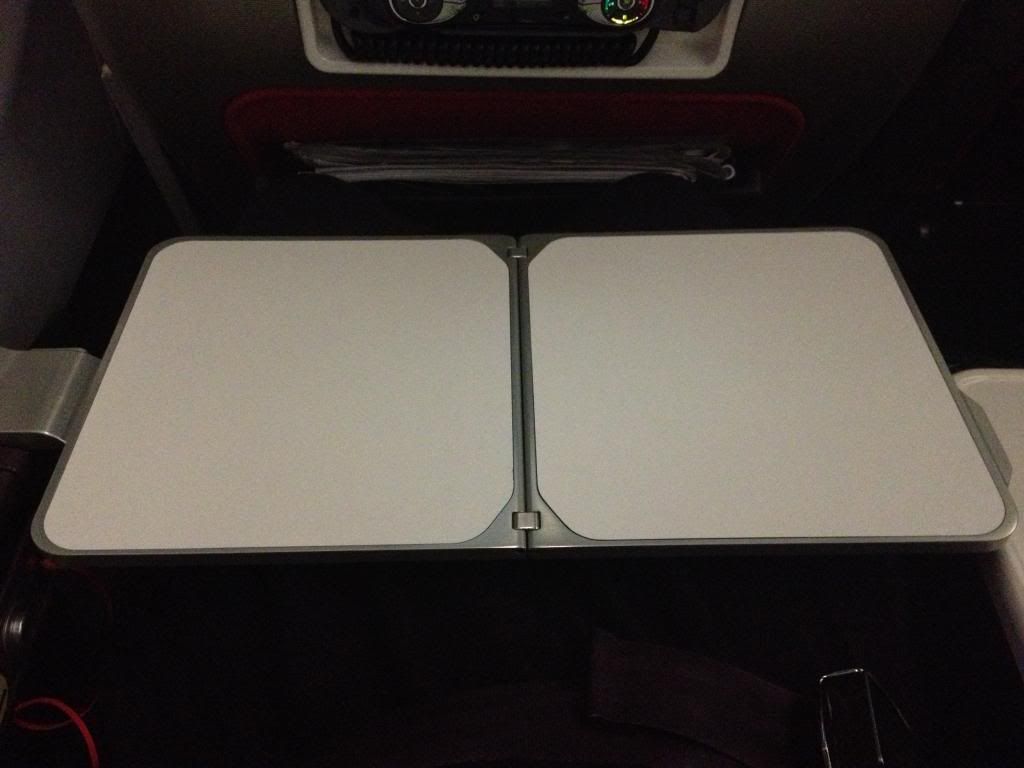 Tray table in the folded and open positions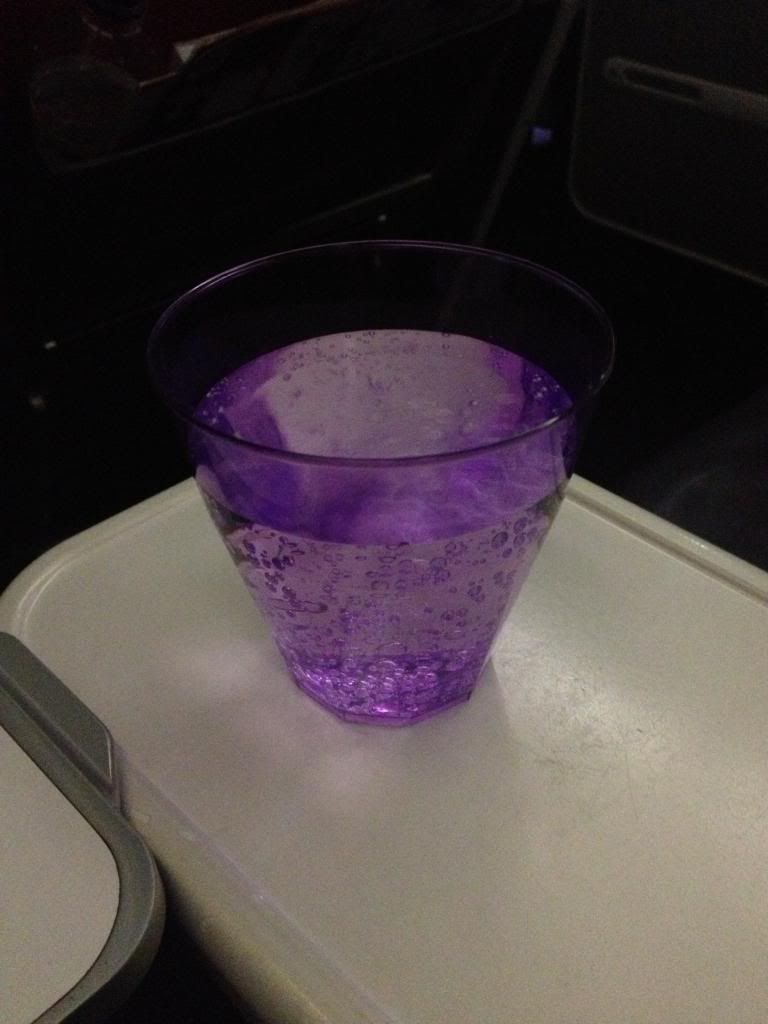 Purple. Some say it's the color of sexual frustration. How very fitting for Virgin Atlantic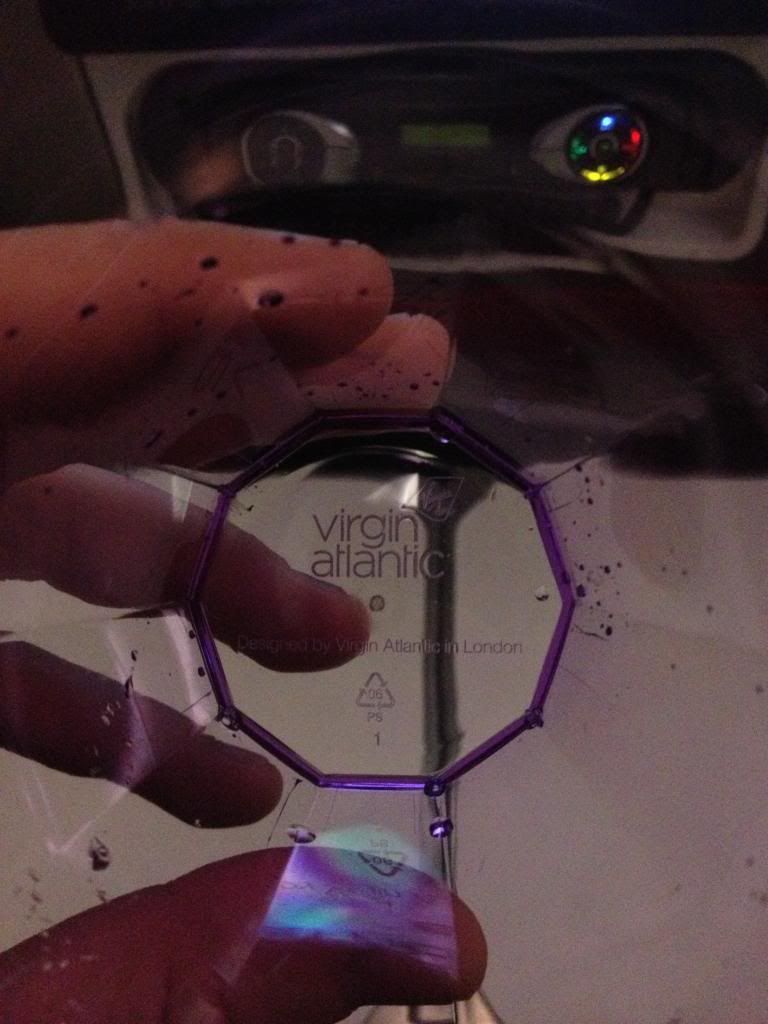 More branding. I fully believe a strong brand makes a strong company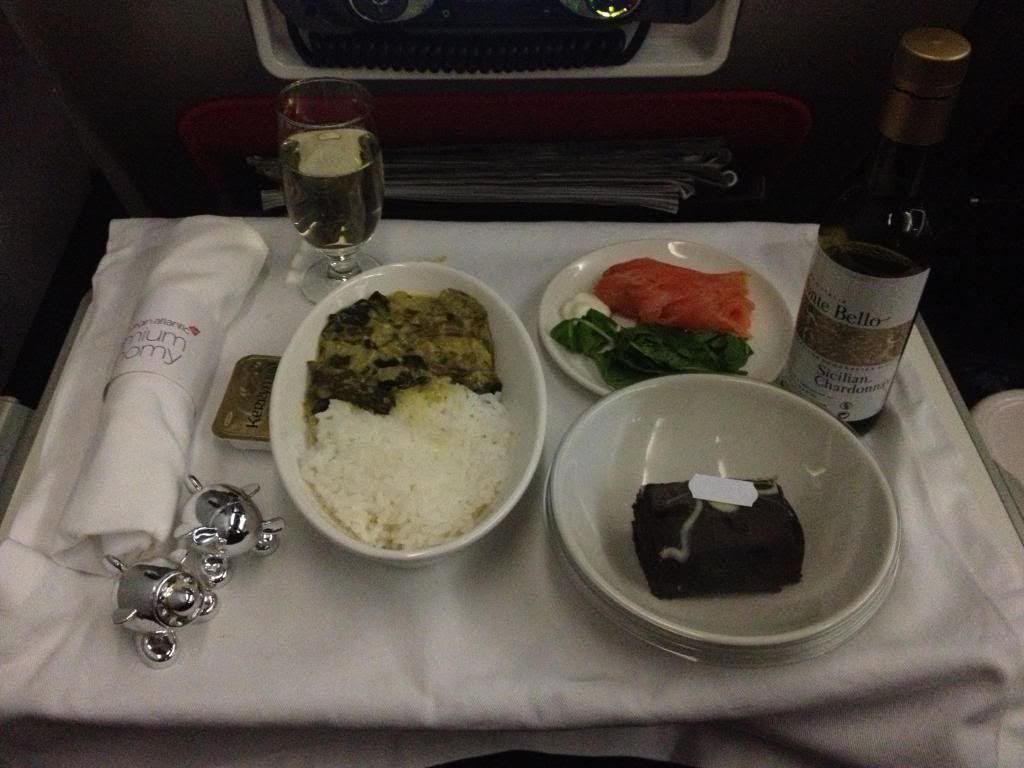 Complete meal tray. The dessert was a bit ratchet but I ate it anyway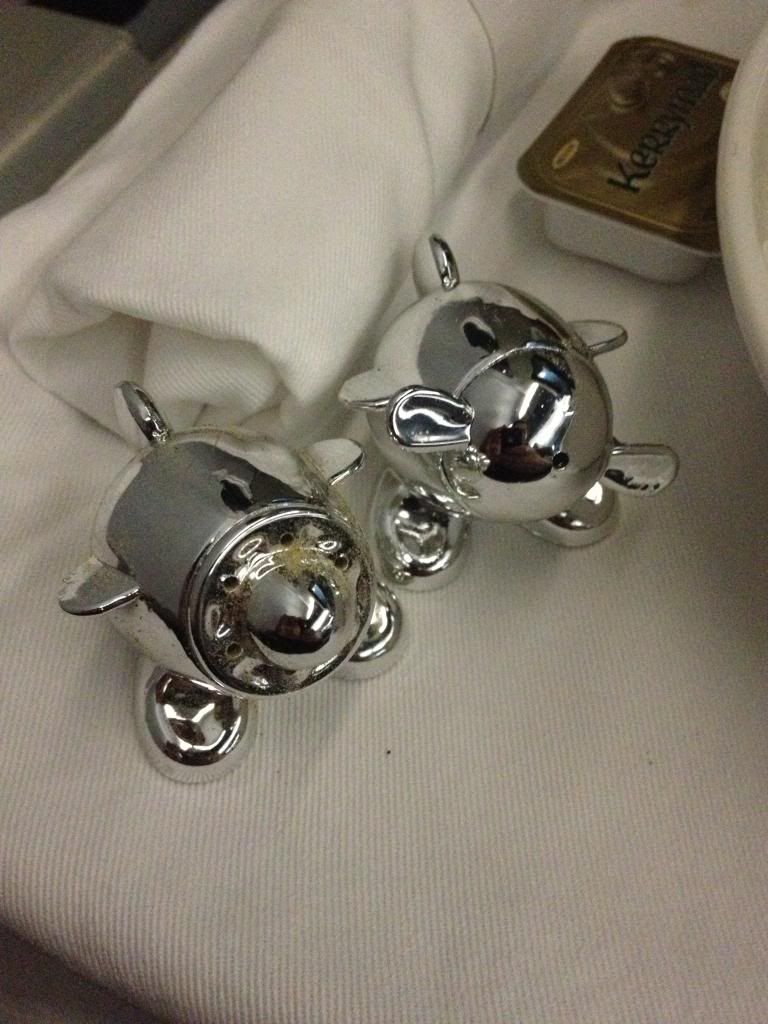 World's cutest Salt and Pepper Shakers.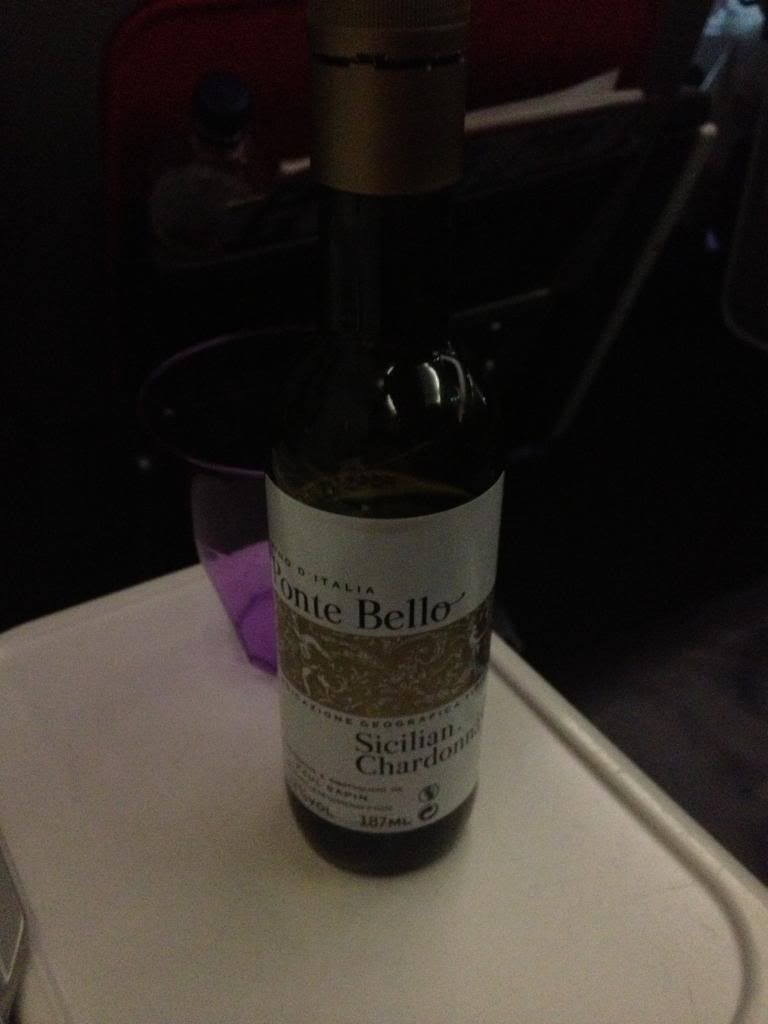 Vino!
Wine glass. Yet more branding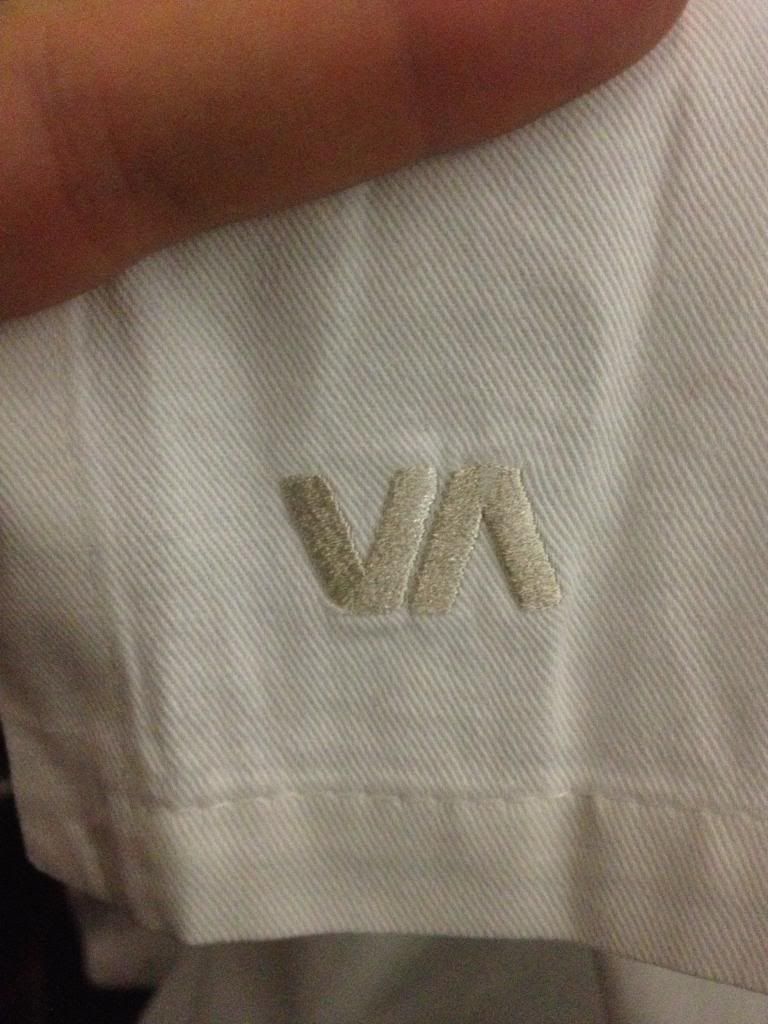 Airline initials on the napkin
With sleep not coming, I decided to take some coffee when the crew did their rounds. I'm not a fan of instant coffee (life is too short), but it was all that was on offer. It was surprisingly not bad. Throughout the remainder of the flight I'd drink at least another 7 cups….
The meal trays were cleared in and I took a wander to the back of the airplane. The -600 sure is long. I popped my head around the galley at the back and was greeted by Tom's smiling face.
"Wondered how long it'd take you to come down here"
He asked if I'd like anything to drink, so I told him to surprise me. A plastic purple glass was presented and the VS welcome cocktail from the Economy service poured for me. It's basically a Sex on the Beach; a particularly favourite cocktail of mine. I sipped it slowly while Tom and I chatted. He offered me an economy meal, but I was full from everything I'd eaten on both the ground and in the air already so was content with just having another drink. Tom knows me well and poured me an Absolut vodka and lemonade without even having to ask. We cheers'd each other, although he only had a lemonade on its own and we planned what we'd do the following day.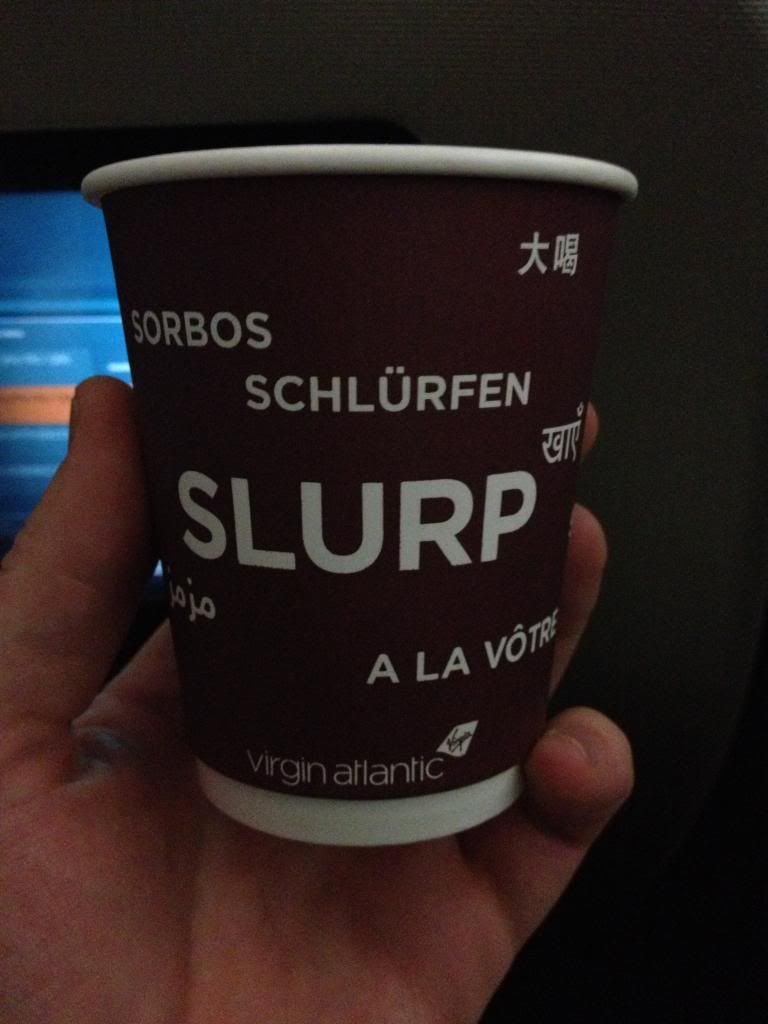 The VS coffee cups are so groovy. I do love the modern image that Virgin portrays
Cruising high and fast over the North Atlantic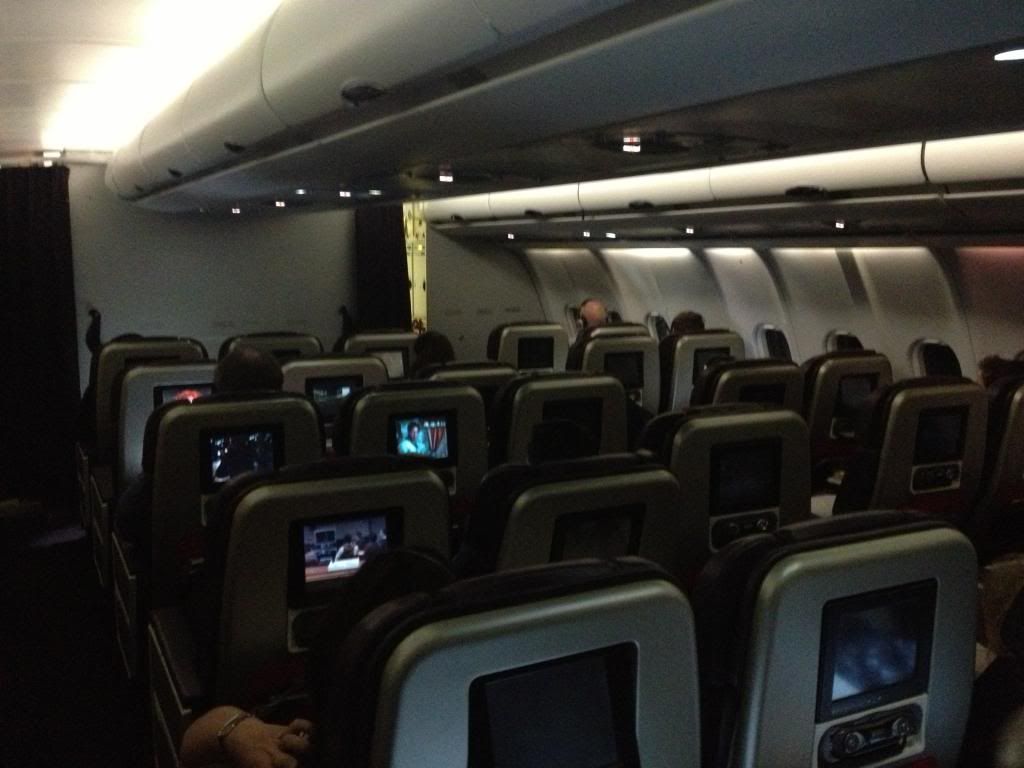 Premium Economy cabin aboard G-VYOU
My 'Welcome Cocktail', halfway across the pond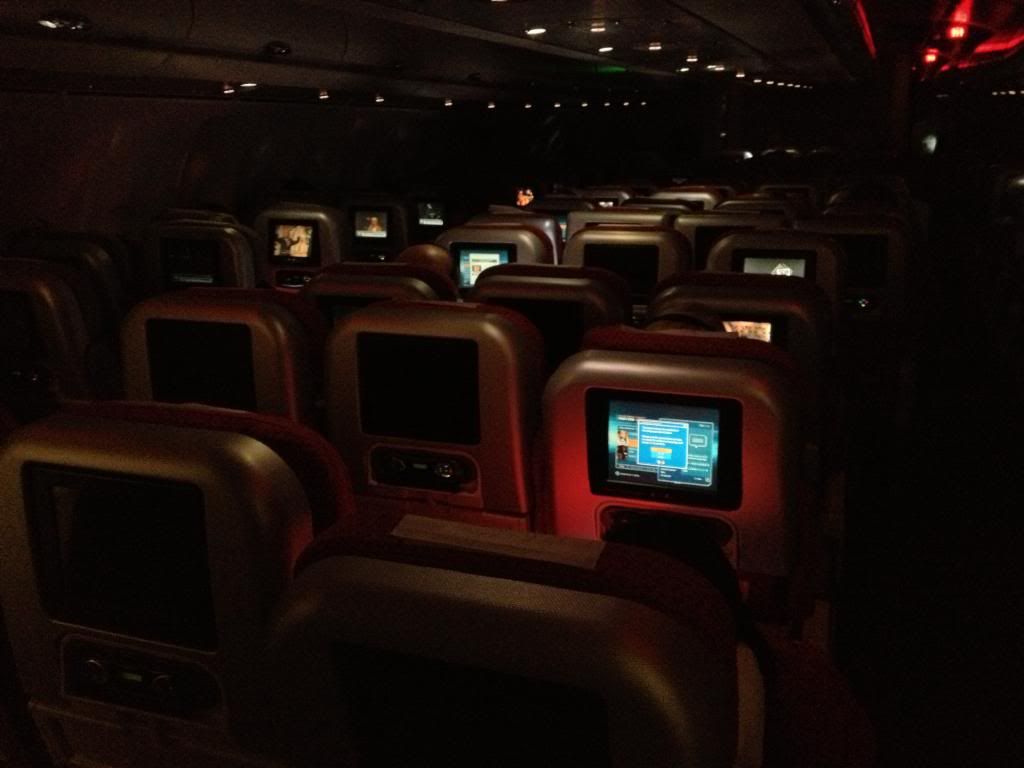 Night time view of the Economy Cabin, viewed from doors 5
After around 45 minutes in the back galley, my legs began to fail me so I wandered back to the front with Tom in tow. He asked if I wanted anything to drink, and I accepted his offer of another coffee. We stood in the galley at doors 2 and chatted with some of the other crew, who were very interested to know what I thought about the difference between Virgin and BA. I also took a little peak into Upper Class and found it to be more cramped that I've seen from images, but that's possibly because just about everybody had their beds made up and there were a lot of duvets and pillows flying around, making it look messy. I do however love the bar in Upper Class. I think this is such an amazing idea. Kudos to Virgin for having it on every 3-class aircraft.
I went back to my seat shortly after and watched a couple of movies and TV shows, including '21 Jump Street' which features one of my boyfriends Channing Tatum. That made for an exciting 90 minutes.
Nothing much happened for the remainder of the flight up until second service, so I sat there, switching between the moving map on constant display in 19C and my movie run on my own PTV. The lull in service between first and second service can often be quite boring, and I felt this all too well as a passenger, since sleep just would not come to me.
An hour and a half before landing into New York, the lights were switched back on and the crew began distributing the High Tea – a cheese sandwich, that I didn't eat, because I felt that and a cupcake would be far too many carbs for that time of night. It was now nearing 1am in London. Most normal people are asleep at this time. It came on a smaller tray with plastic cutlery and I was given another bottle of water and another coffee too. The cupcake went down quickly and I once again tidied up my tray, ready to give back to the crew when they passed by again to clear in.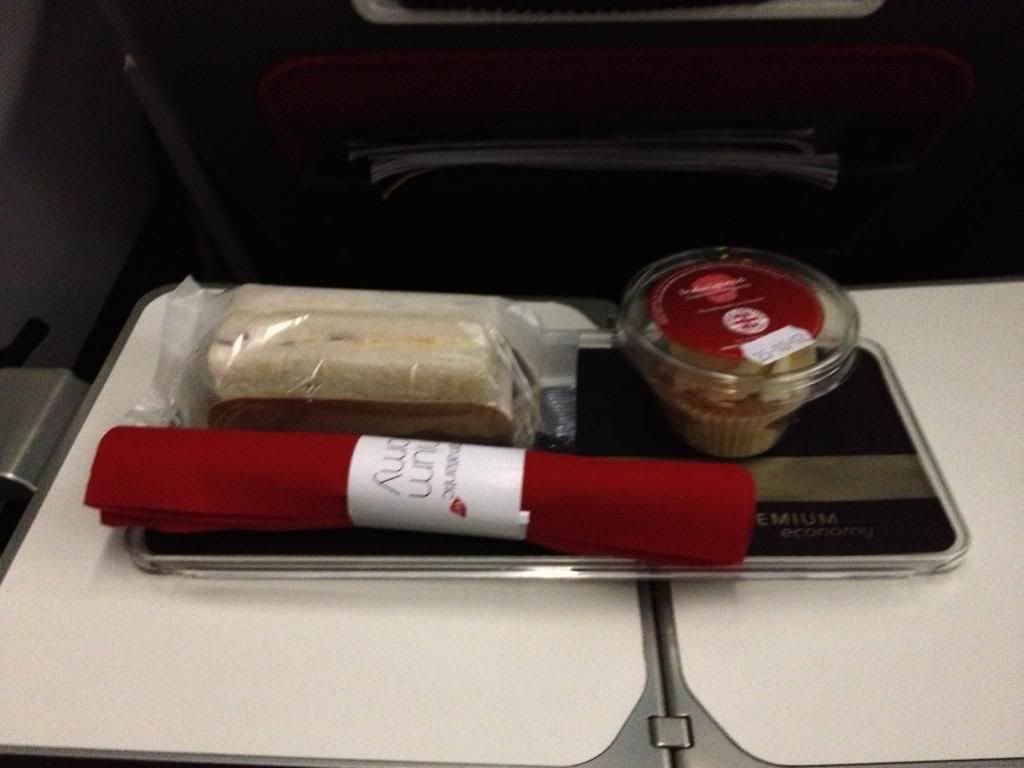 Second service tray. The red napkin is just hot in my opinion!
Mmmmmm cake. This is why I'm single. I prefer cake and coffee to flowers and candles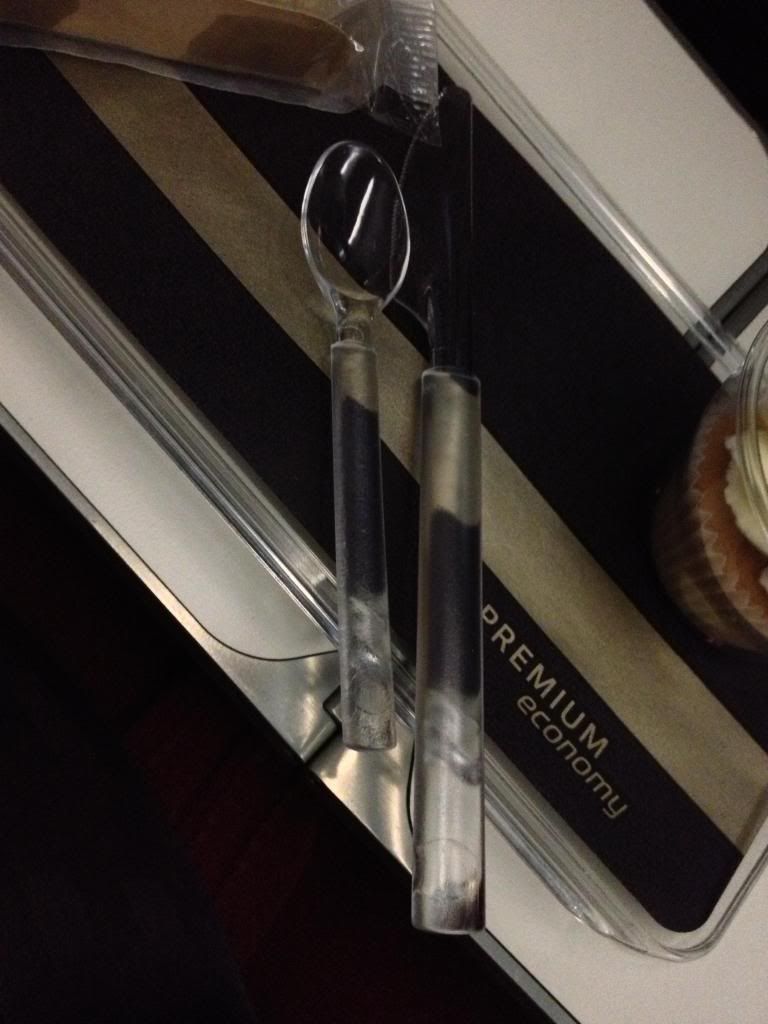 Cutlery. I do however feel that the "Premium Economy" branding on the tray is rather cheap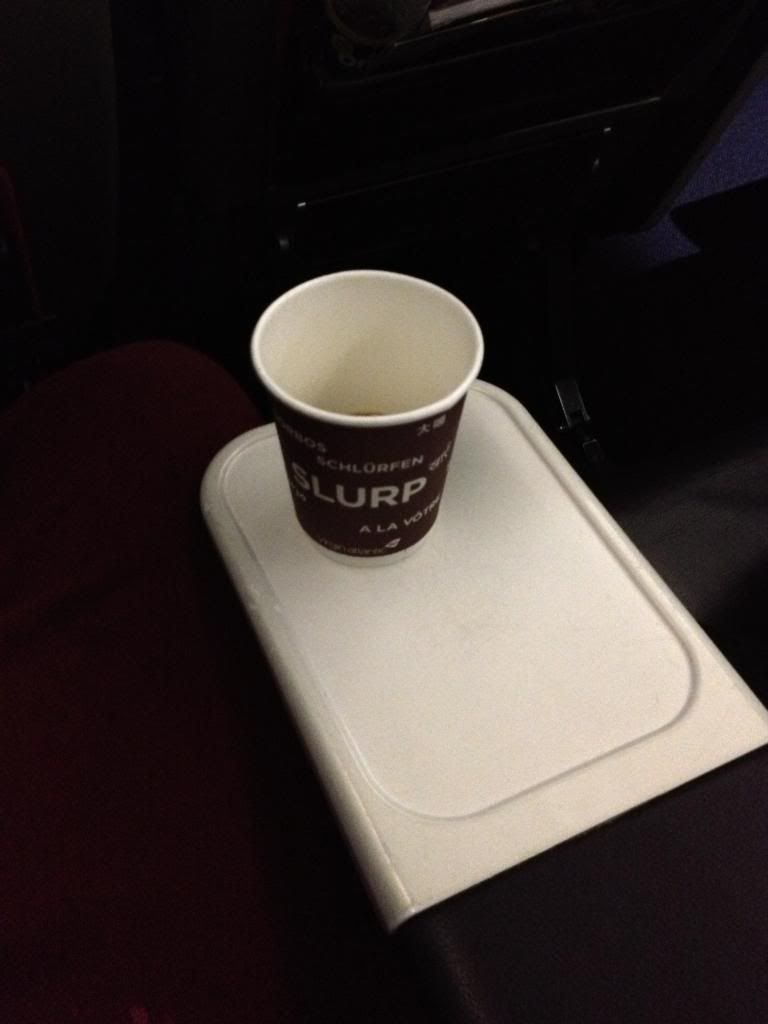 Coffee time!
We soon began our descent into New York, just as we passed over the city of Boston. The captain came over the P.A system to announce and describe our arrival into JFK and told us we'd be landing on one of the Northerly facing runways. I knew in my head that this meant 04L, as it was the shortest taxi to Terminal 4 from there. I felt the power go from the engines as we started losing altitude and slowing down for approach and landing.
A really nice touch from Virgin is that they distribute candy prior to arrival. Tom passed me with a very full basket of 'Love Hearts' and I was informed to take a few. Tom also knows I have a very sweet tooth…
I used the time between then and the seatbelt sign being switched on to make one final use of the restrooms and tidy up my seat to ensure everything was prepared and ready for landing into Kennedy. I hate rushing around like a loony once on the stand to locate my passport, wallet, cell phone, ear phones etc. I like to get up and go.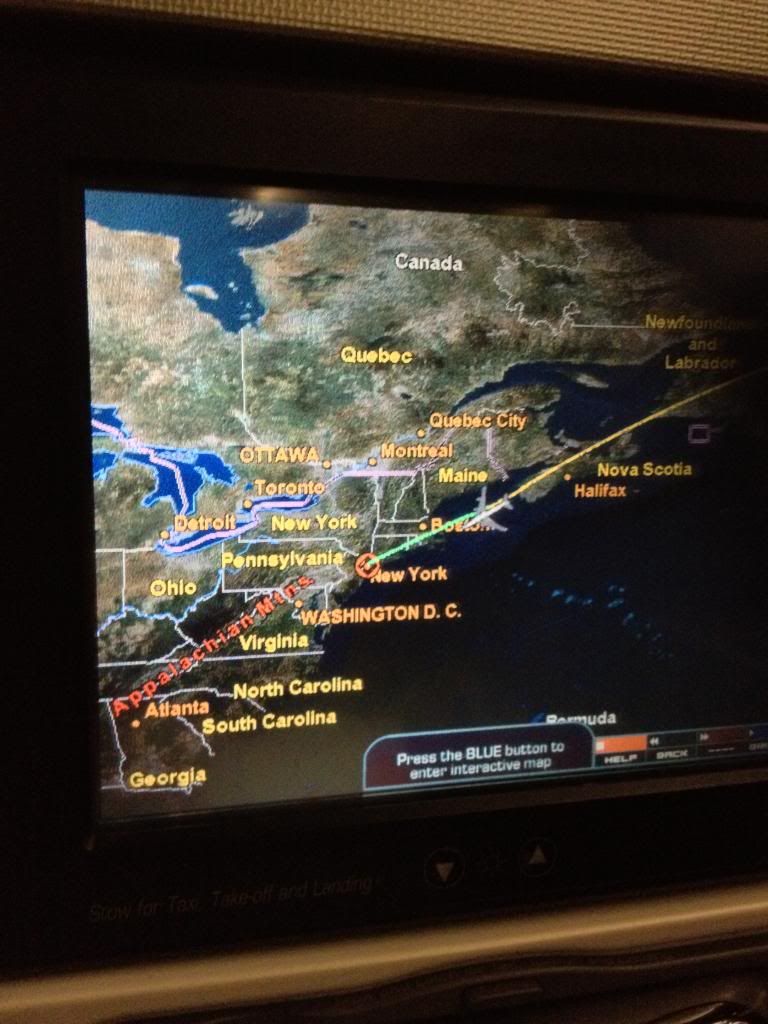 Approaching the city of Boston, where we'd begin our descent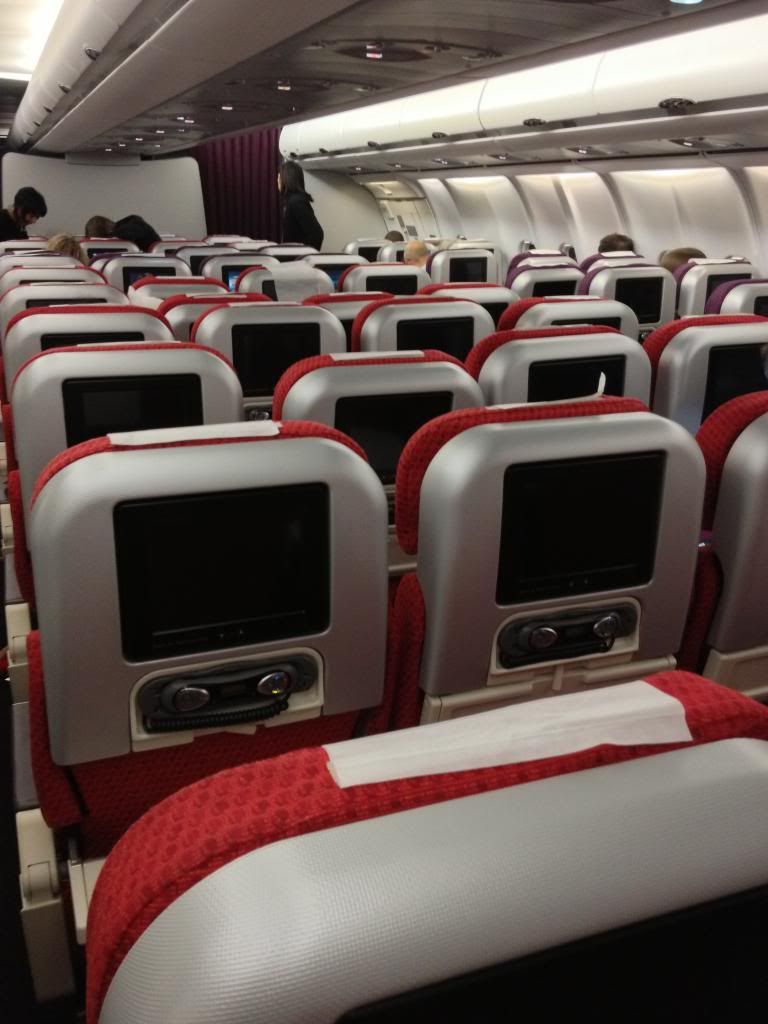 A better view of the Economy cabin with the lights switched on
More sugar…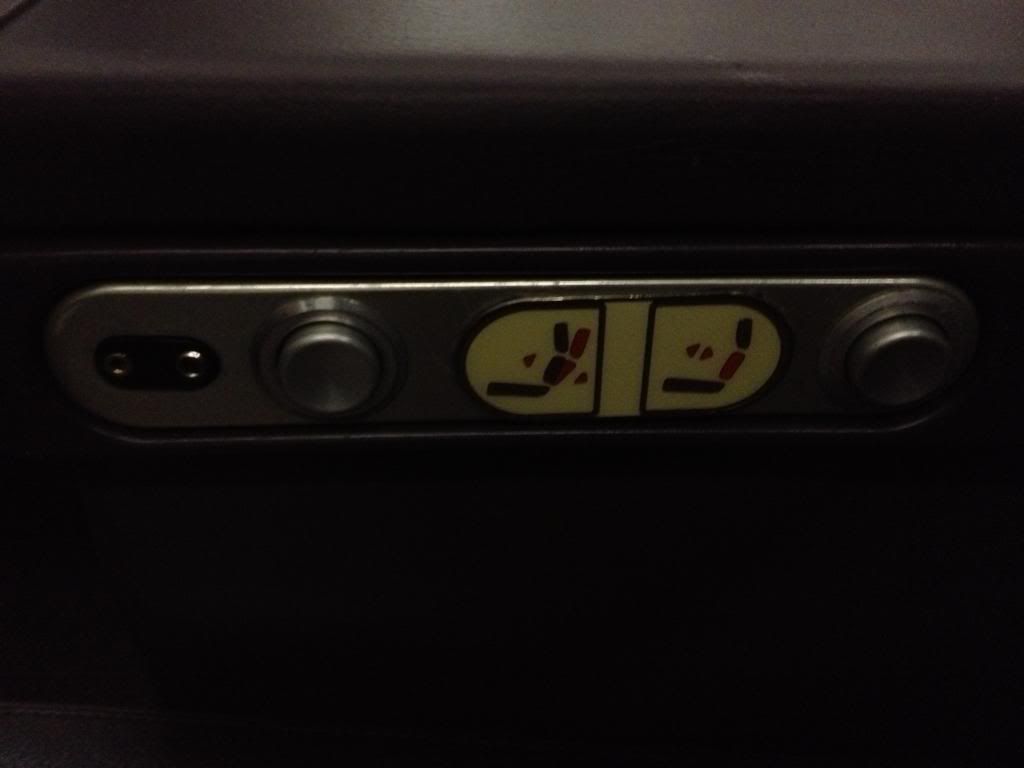 Seat controls in 19A – I filled up the remaining time of the flight to take photos of all the little things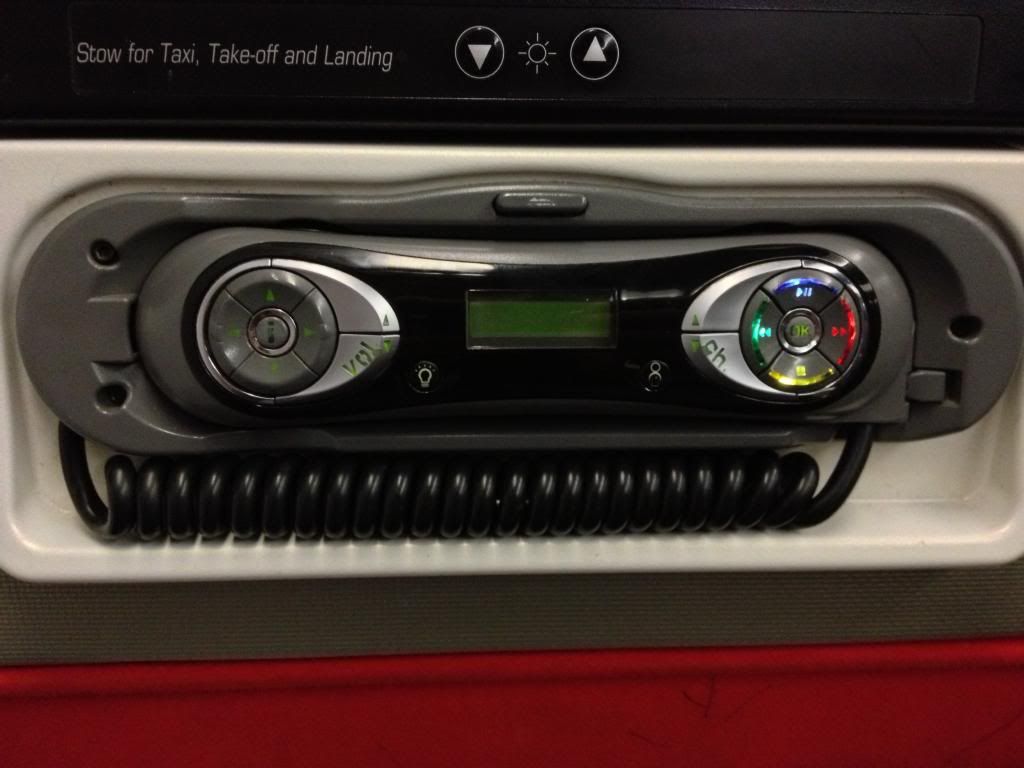 V:Port controller
The seatbelt signs were switched on and the crew leapt into action securing the cabin. I brought my seat upright, put the foot rest away and made sure my seatbelt was securely fastened. I'm a good hostie/passenger, don't have to tell me twice!
We turned slightly and made our way down the coast of Long Island, slowly but surely losing height and speed. About 10 miles or so away from JFK, we turned south, and then round in a 180 degree turn to line up with the runway. The slats and flaps were deployed, and you could feel the lift they were generating, as the engines idled and the nose pointed ever so slightly downwards. With the cabin now secured, the lights were dimmed for arrival and the crew instructed to take their seats.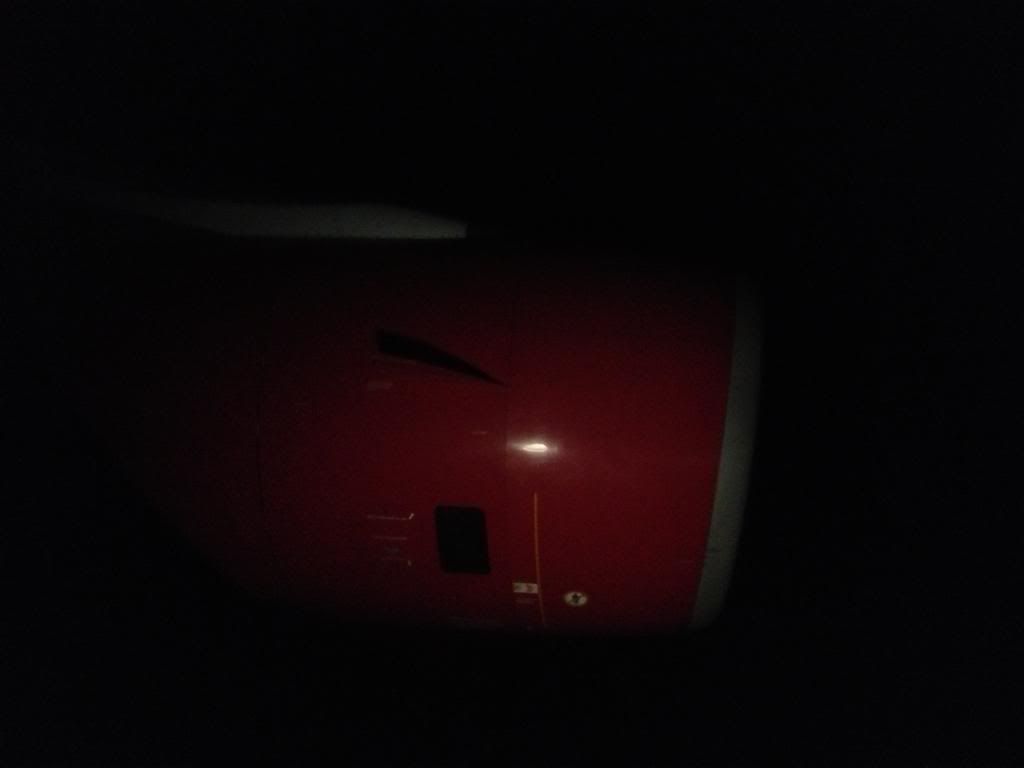 Big Red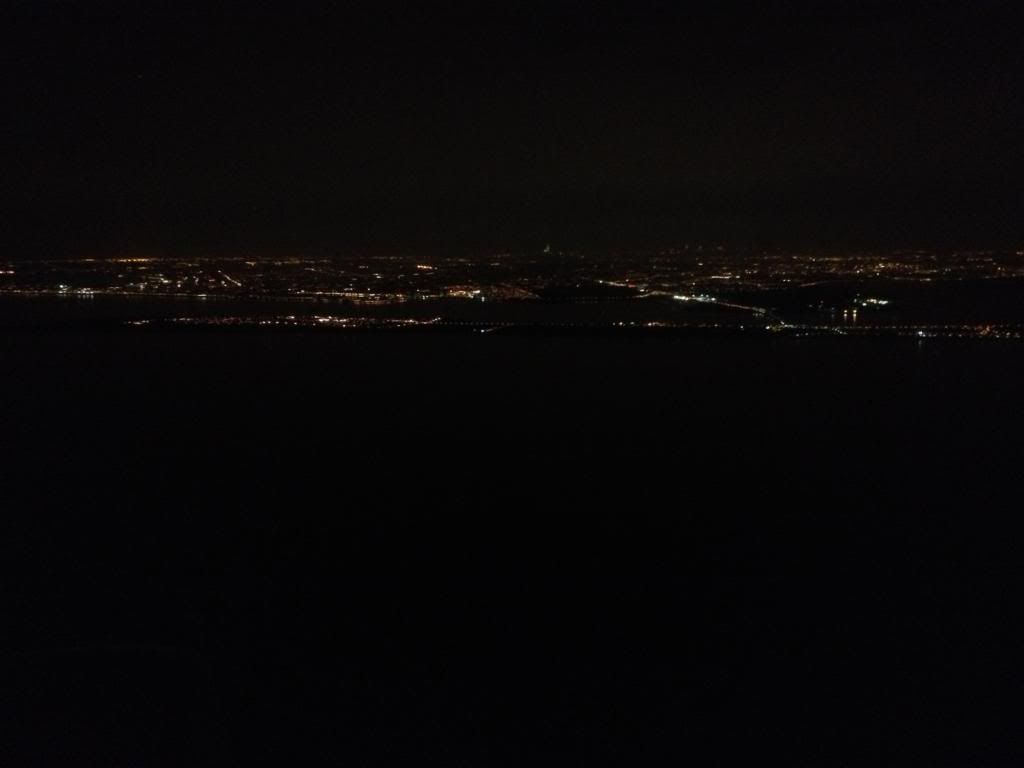 Lights on approach. Is this Staten Island?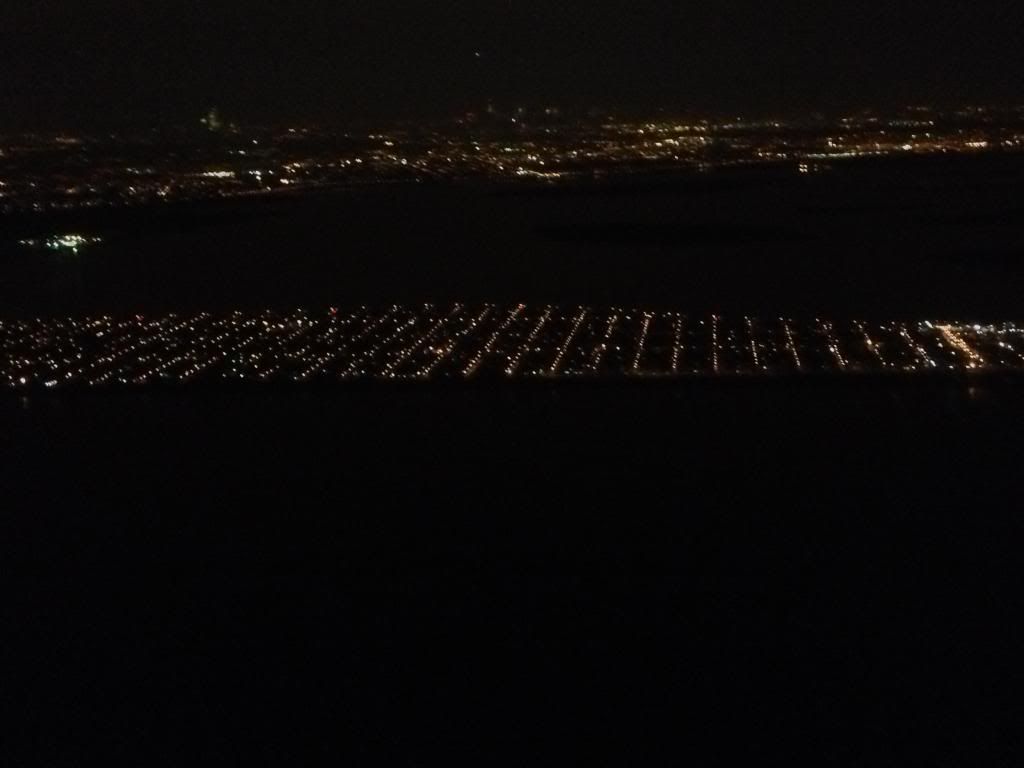 More lights as we got closer to the ground. You could make out streets and cars and houses
We touched down on Runway 04L at exactly 2120EST, six hours and fifty minutes after leaving the runway in London. Full reverse thrust and powerful braking brought us to a near halt and we slowly taxied off the runway and around the taxiways to our parking stand on Terminal 4. Once the engines were shut down, the doors were disarmed for arrival and the jet bridge moved into place. The lights were switched back on again full, much to the dismay of many eyes who had grown accustomed to the dark. A few groans were heard as well. I gathered my belongings and waited for the door to be opened.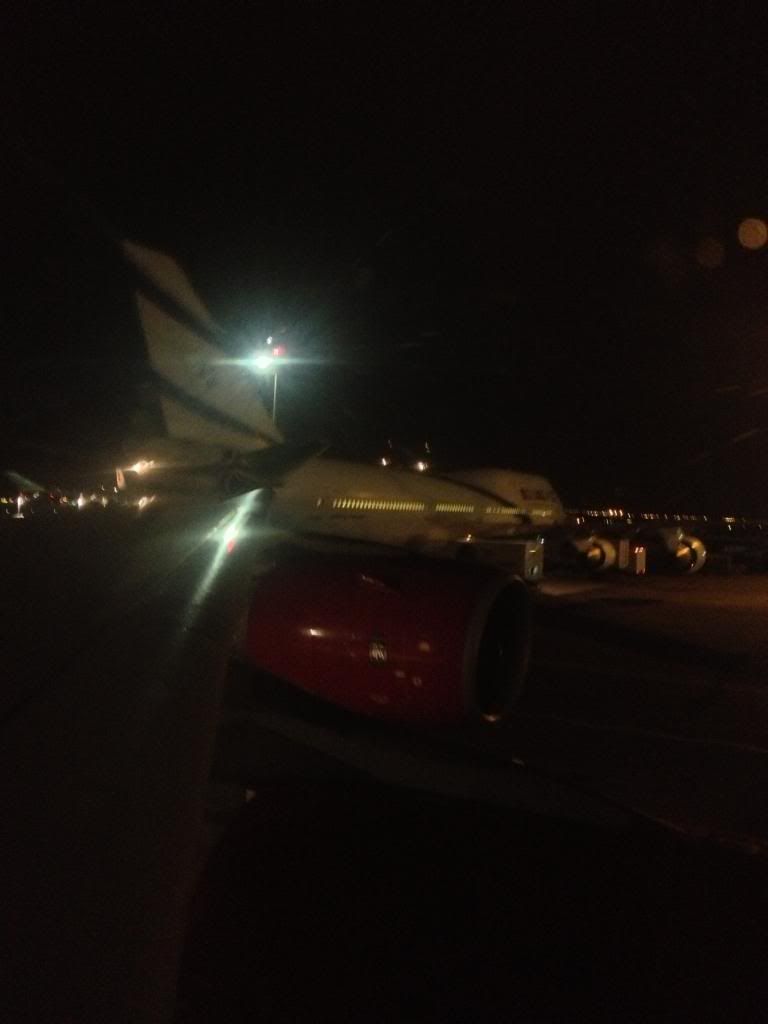 Taxiing to the terminal with an El-Al 747-400 awaiting its return sector home to Tel Aviv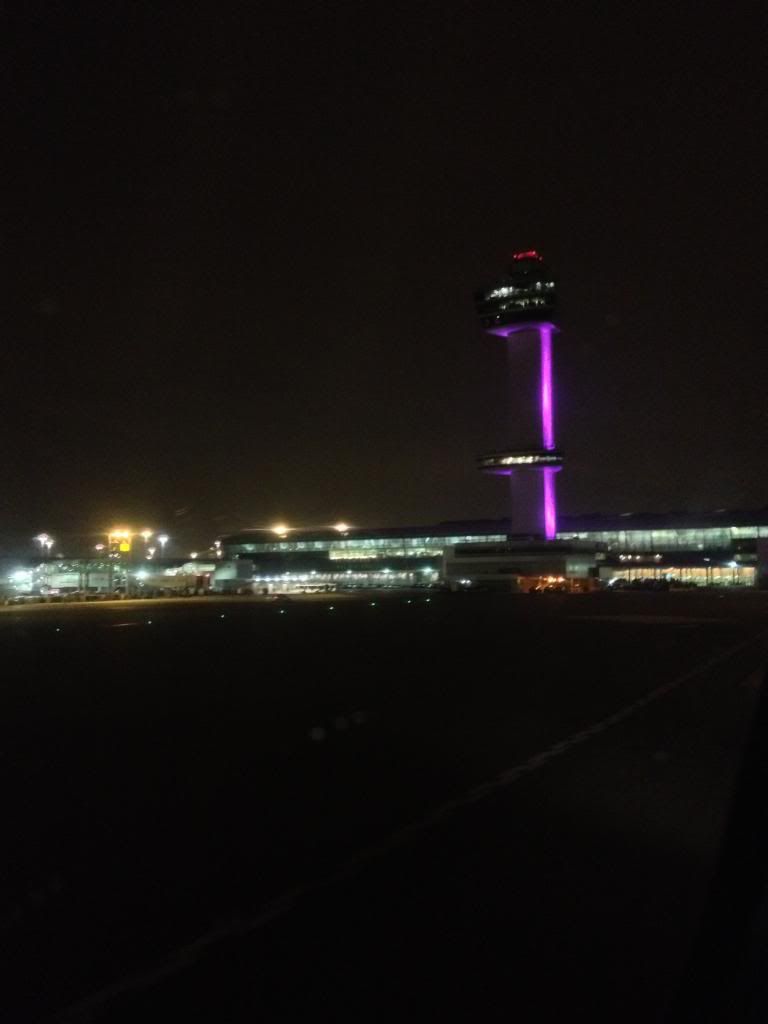 JFK airport's ATC tower all lit up in a nice pink
Upper Class passengers were disembarked first and then it was our turn. I was the second or third Premium Economy passenger to leave, and the crew asked if Tom had told me to wait for them just through arrivals, which of course, he had. I made my way quickly to the massive CBP hall in Terminal Four, and took my place in a queue for visitors. Within 10 minutes, I was called forward to a waiting agent and presented my documents to him.
"What brings you to the United States today, huh?"
"I'm visiting my friends in Atlanta?"
"So why are you in New York?"
"One of my friends is crew for Virgin so I'm tagging along with him on this flight"
"And when are you going down to Atlanta?"
"Tomorrow afternoon, with American, from La Guardia"
"Okay okay! How long will you be in the US?"
"Nine days in total. I'll be flying back direct from Atlanta"
"Oh, you've done this before, that was my next question"
"Many times"
My fingerprints and photograph were taken next, followed by a stamp in my passport, my I-94 and the Customs form.
"Welcome to New York Mr. McSherry, we do hope you enjoy your visit"
I left with a smile and made a beeline for the baggage reclaim belt, and spotted my big Louis bag instantly. It's got so many airline tags and stickers on it it's impossible to miss. I then headed outside to wait for Tom, and knew it wouldn't be long as the crew were already starting to make their way through CBP.
Tom emerged from arrivals just a few minutes later, and hailed me to head to the doors with him. We placed our baggage in the bus and joined some other crew for a well deserved cigarette. The Captain came over to introduce himself to me and said it was a pleasure to have me with them. I thanked him for letting me join them on the crew transport and shook his hand. A very pleasant gentleman indeed.
Our bus left for Garden City, Long Island a few minutes later, and Tom and I spent the entire time chatting. He quizzed me on my Virgin experience and we further planned how we'd spend the evening.
"Drinks!" I said enthusiastically. Tom smiled and took out a bottle of Smirnoff Blue from his bag. He'd already purchased it from duty-free and we both giggled together. Knowing we were in for a good night.
We arrived at the hotel around 25 minutes later and piled out into the lobby. The crew were so friendly and kept chatting with me until they'd all checked in.
"Have a great night boys!" they shouted at us as Tom and I headed out for another cigarette with two other crew prior to heading upstairs to our room. I was looking forward to chilling out with one of my best buddies, just us, 'cause we hadn't spent a lot of time together since I left Crawley in October 2011.
As soon as we were in the room, Tom's uniform came off and he changed into something a little comfier. I was already in my party clothes and so poured us both a drink.
"Here's to our Long Island Layover" I said as we chinked glasses.
The next instalment in this duel-report series will be posted shortly and will cover the remainder of the Long Island Layover, as well as my American Eagle flight to Atlanta, and the birthday/hallowe'en celebrations at 'home'. Safe flying y'all
JG
[Edited 2013-03-21 07:50:47]