Welcome back to Part Two of my trip report. If you missed part one, you can read it here, but if not, let's continue…
Tom and I had had a fabulous evening in Long Island, a few drinks and multiple smoke breaks led to a fantastic sleep. We woke up around 0930EST and immediately got ourselves ready for a trip to the Roosevelt Field Mall, a short 5-10 minute taxi ride away. Fully ready, we headed down to the lobby, coffees in hand and ordered a cab from the concierge. We were told it would be a few minutes until he arrived so, once again, Tom and I headed for a Marlboro.
Our taxi pulled up and we got in, along with an Egyptair flight attendant and we sped off. The fall colors on the drive were fantastic, so quintessentially New England, and we were soon pulling up to the front doors of the Mall. We both withdrew money from the ATM inside and headed off for some well needed retail therapy. Our purchases included, amongst other things, new shoes, a watch, some bracelets, necklaces, new t-shirts and a couple of groovy iPhone cases.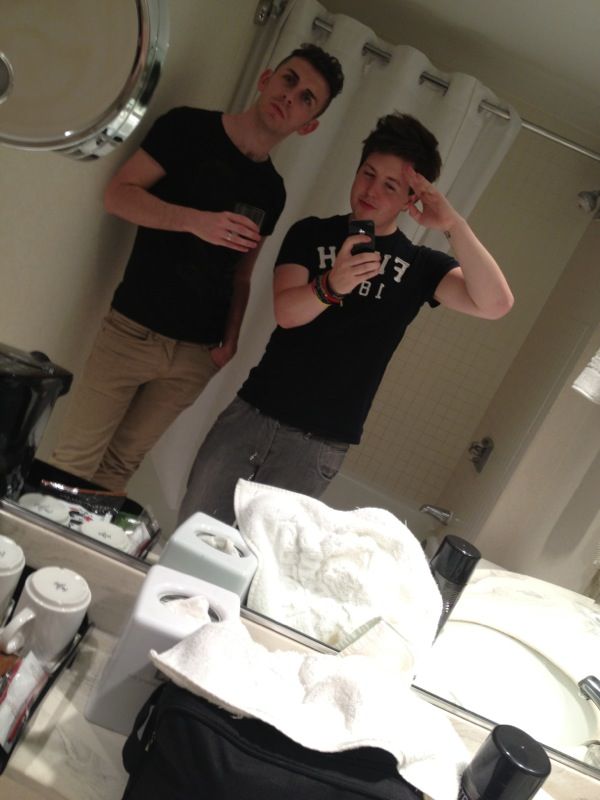 Best Friends; Tom and I pose for photos in the bathroom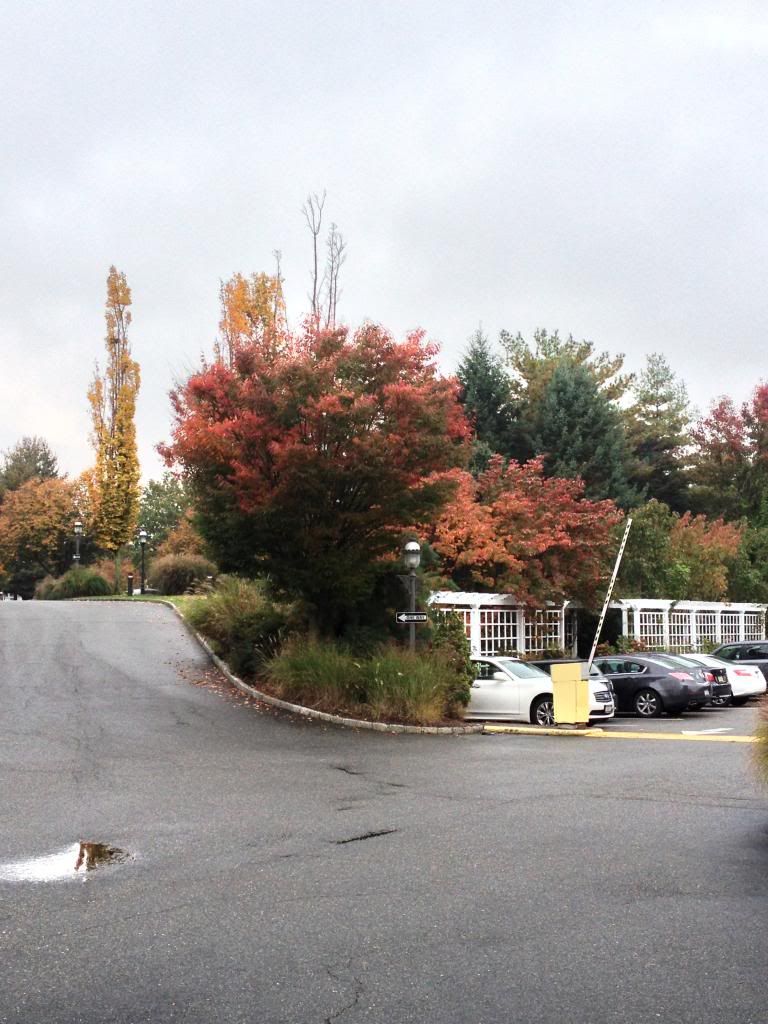 Fall Colors are so gorgeous!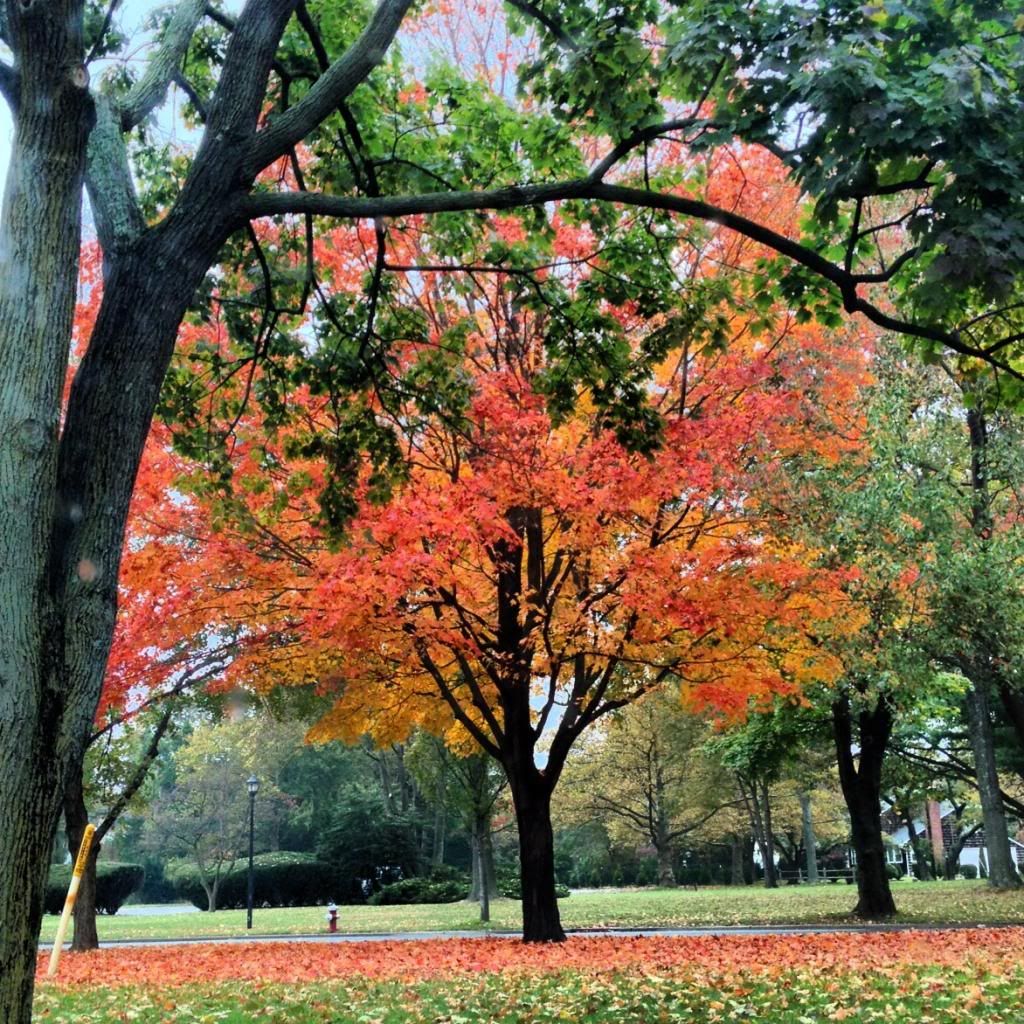 En route to the mall. This photo has been edited on instagram to enhance the color
With shopping out the way, and lunch sitting in our stomachs, we made our way back to the hotel, this time on foot. It had warmed up slightly whilst we'd been out so we didn't freeze on the way back, and saved $15 in the process. Pick up was only two hours away when we got back to the room, so we plonked ourselves on the bed to watch an episode of Modern Family on Tom's iPad. The wake up call came through not long after the episode finished and he went for a quick shower to freshen up for the return flight to London. I used this time to pack my bags and go downstairs to the business centre and print out my Listing Receipt for the AA flight to Atlanta. I returned to the room to find Tom putting the finishing touches to his hair, and not long after we made our way downstairs to the lobby.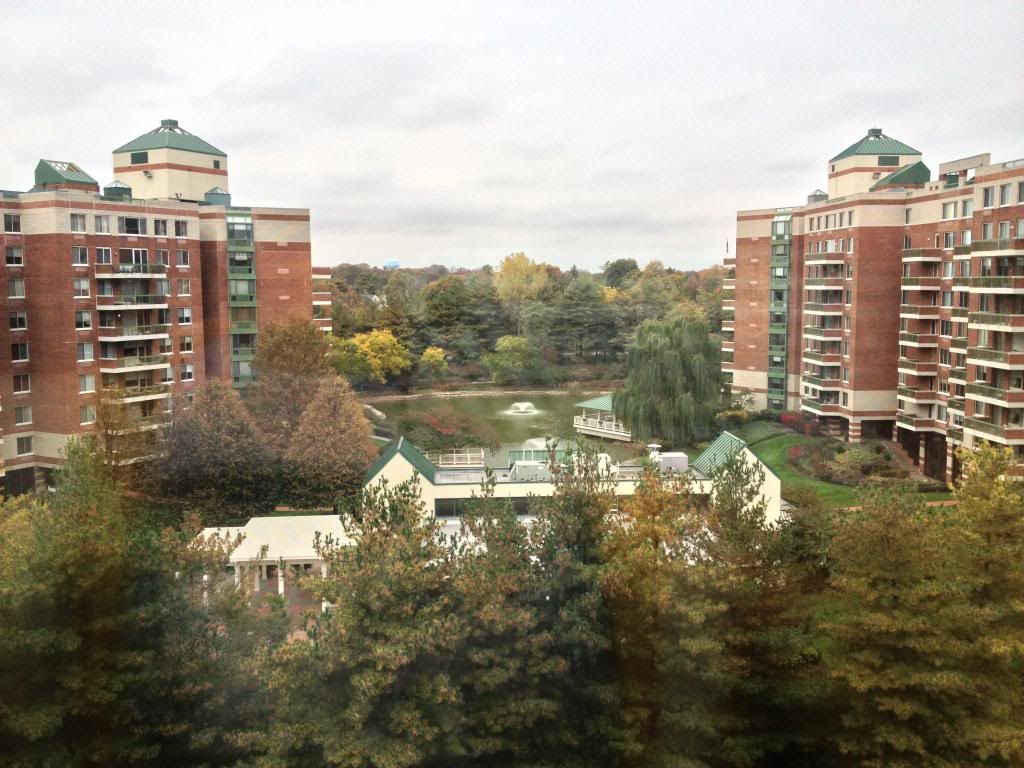 The view from Tom's Room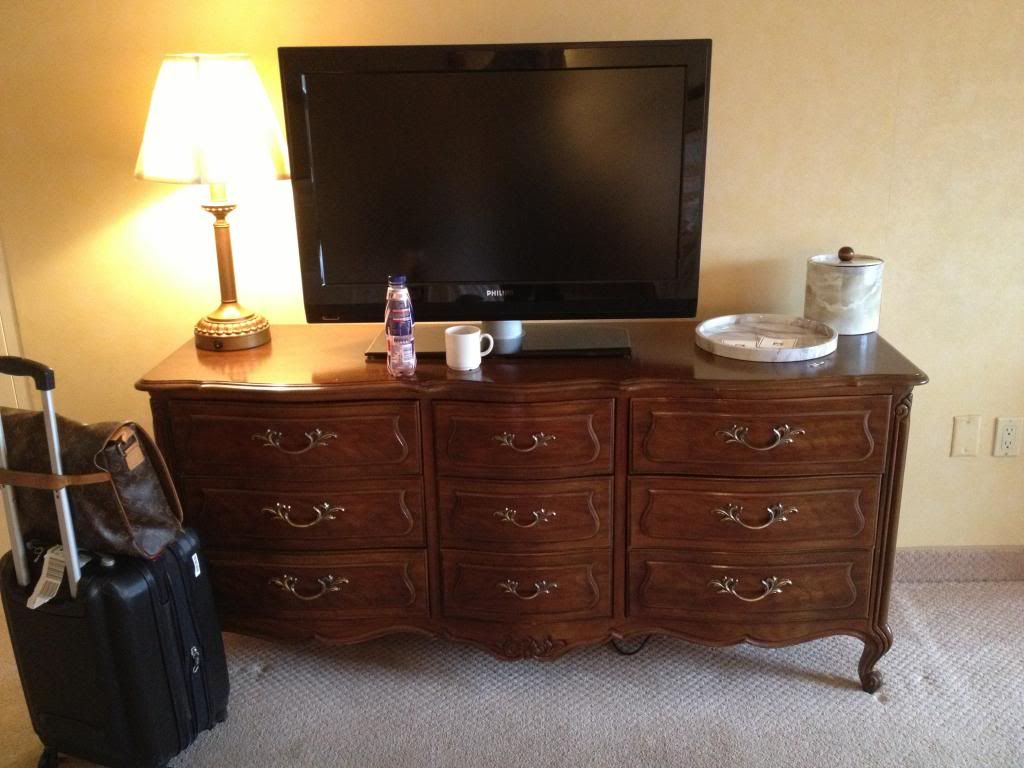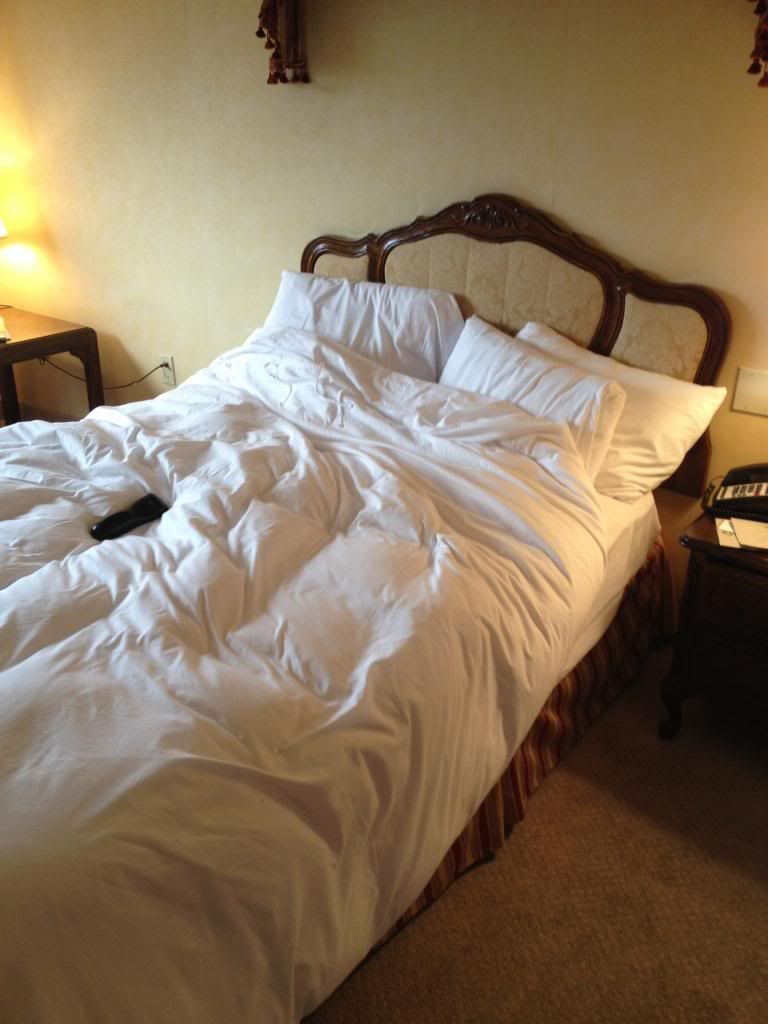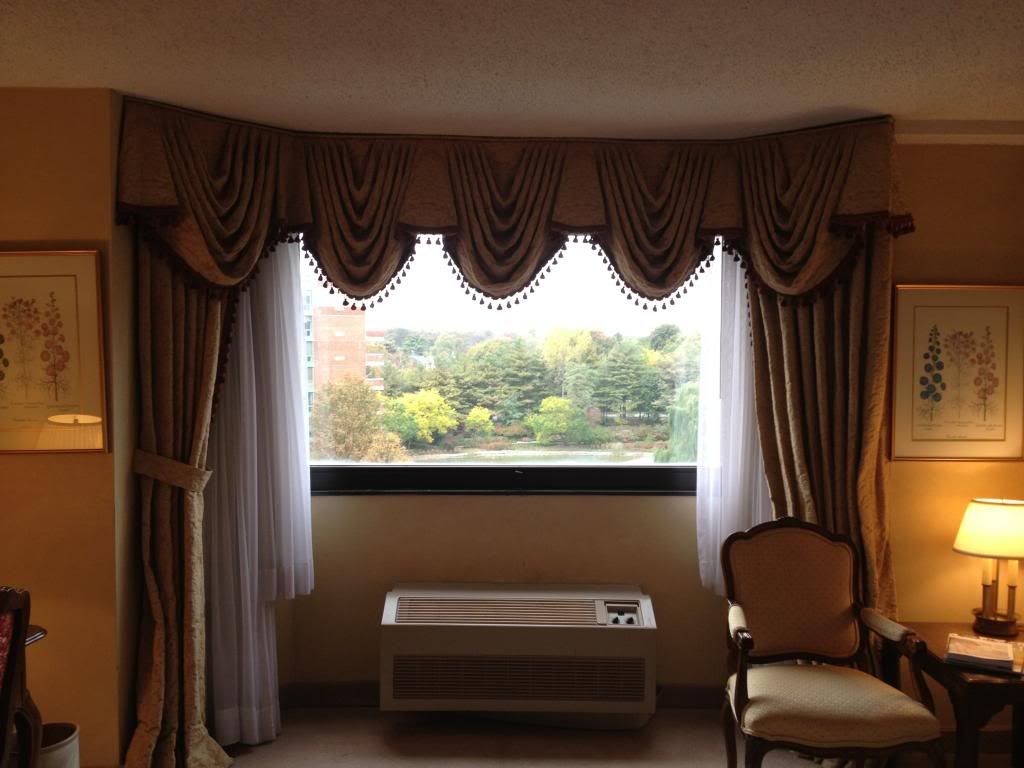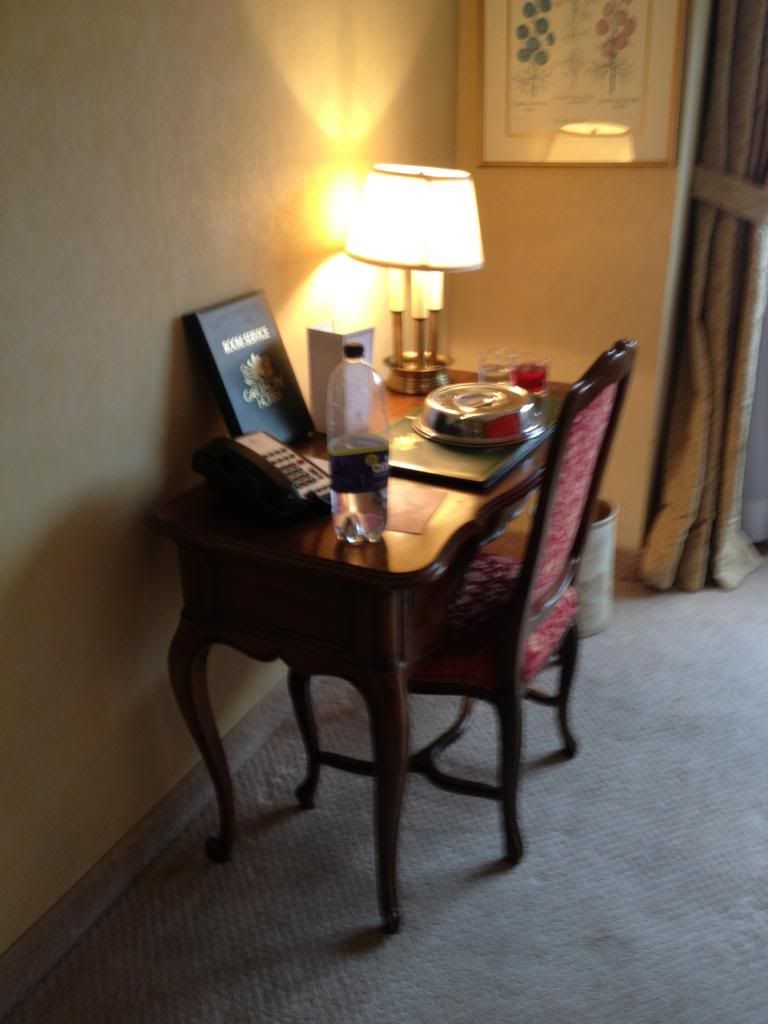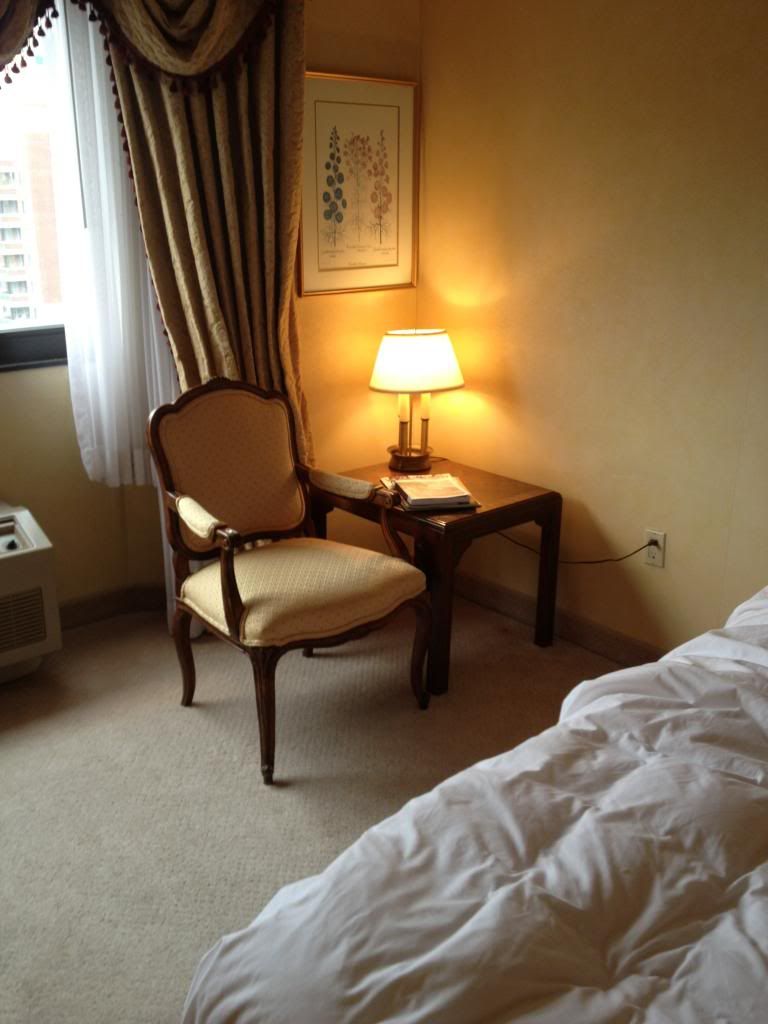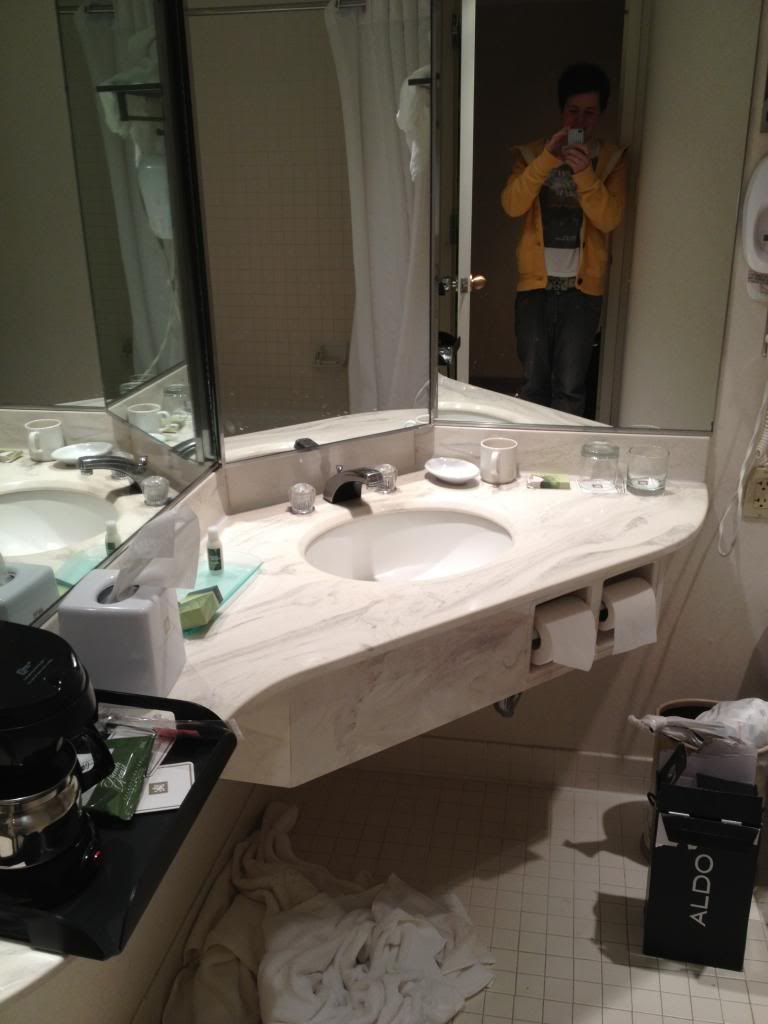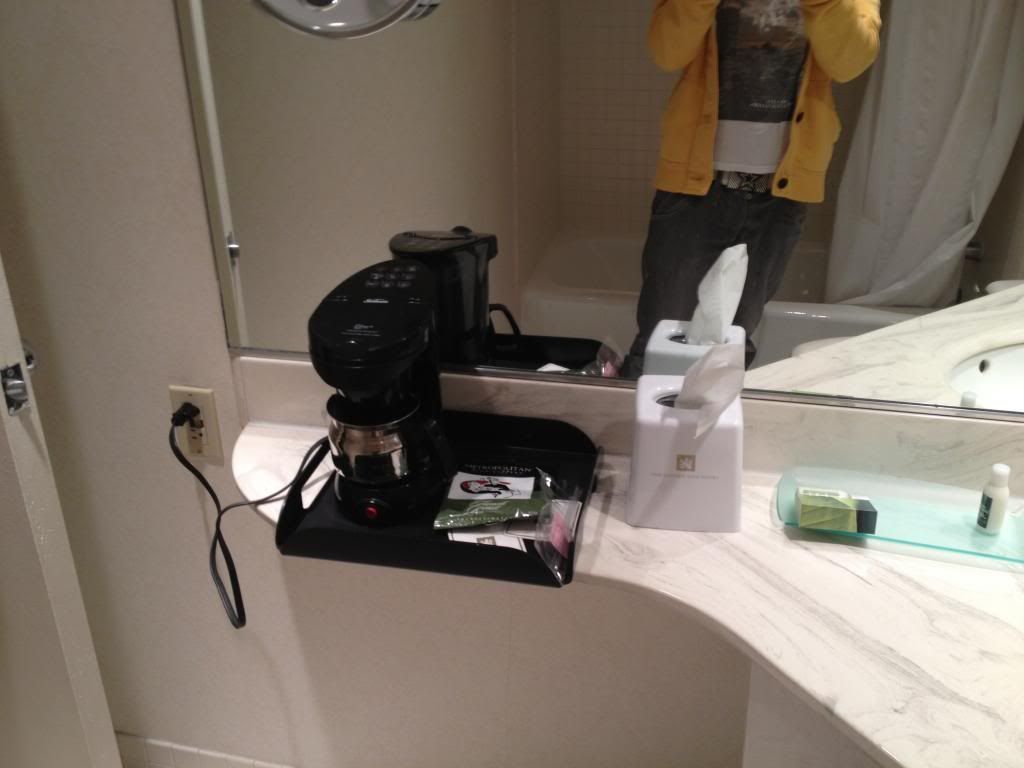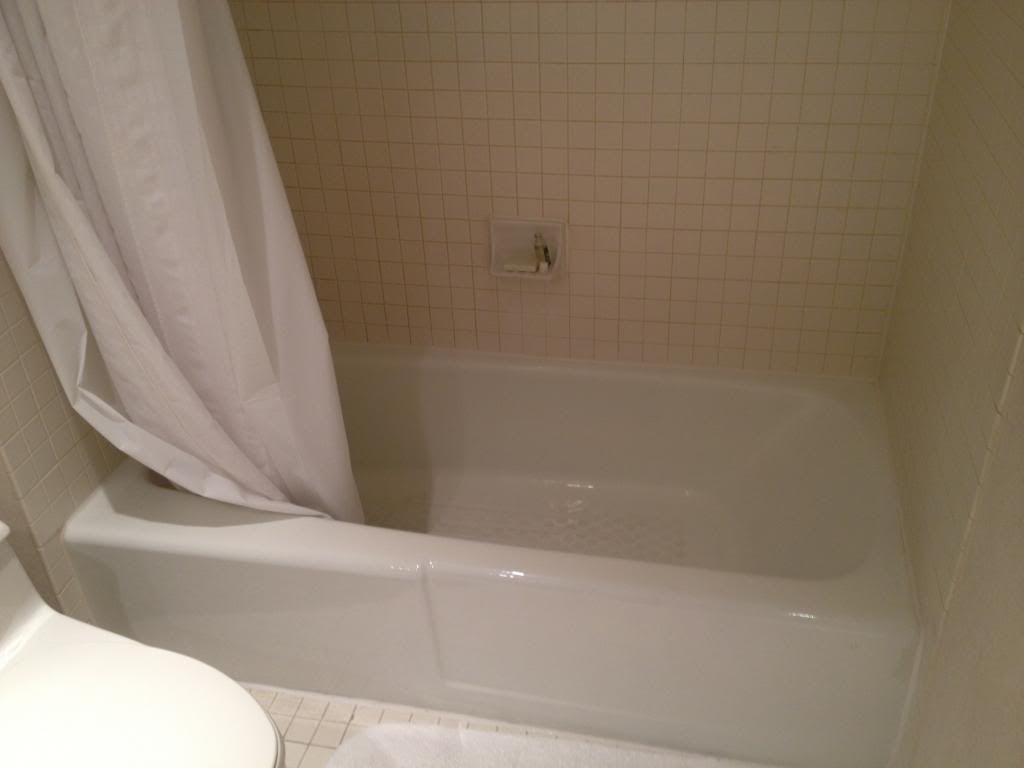 Views from the room. The hotel is affectionately referred to as "Nana's House" by crew. I can see why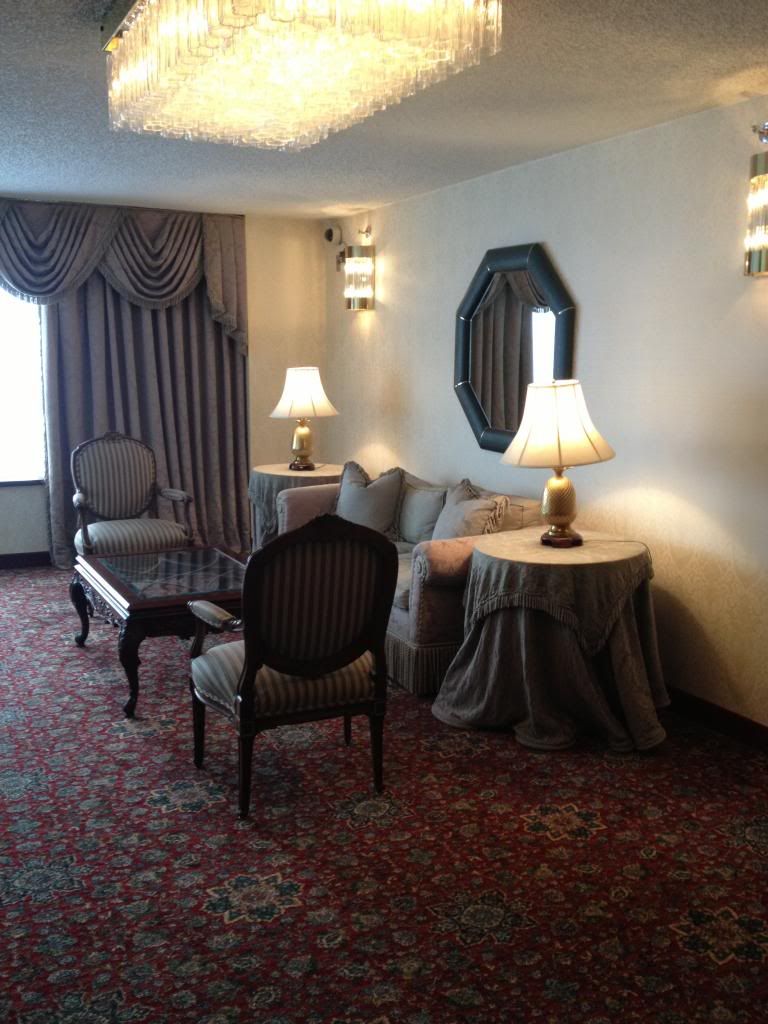 Waiting area by the elevators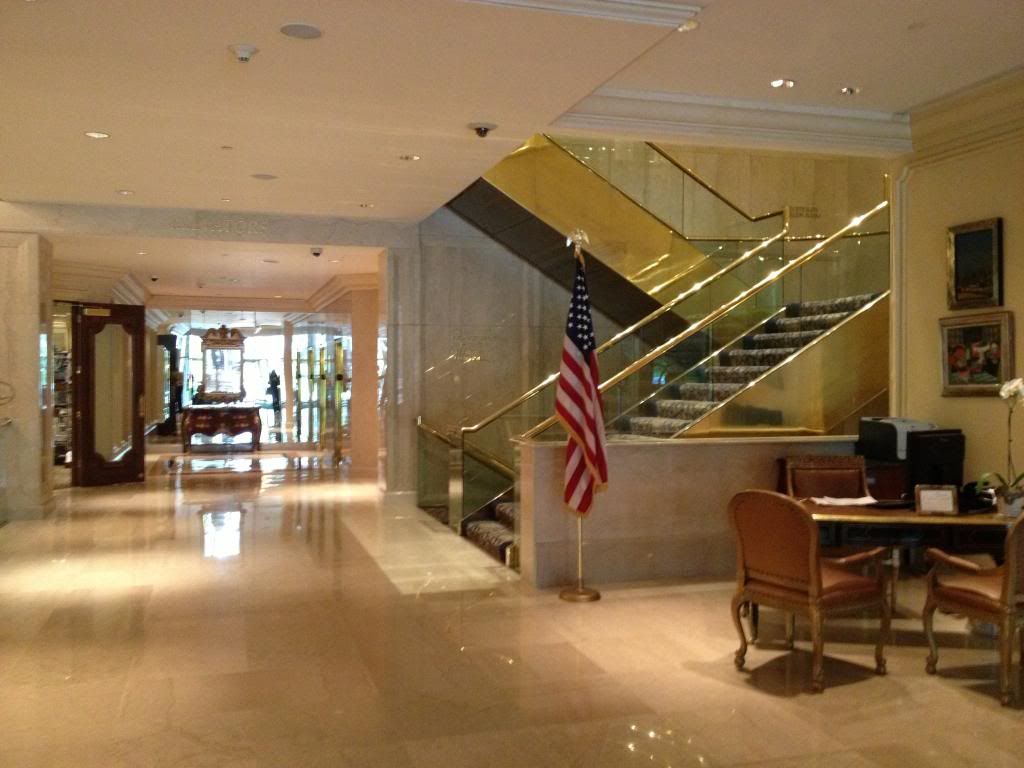 Lobby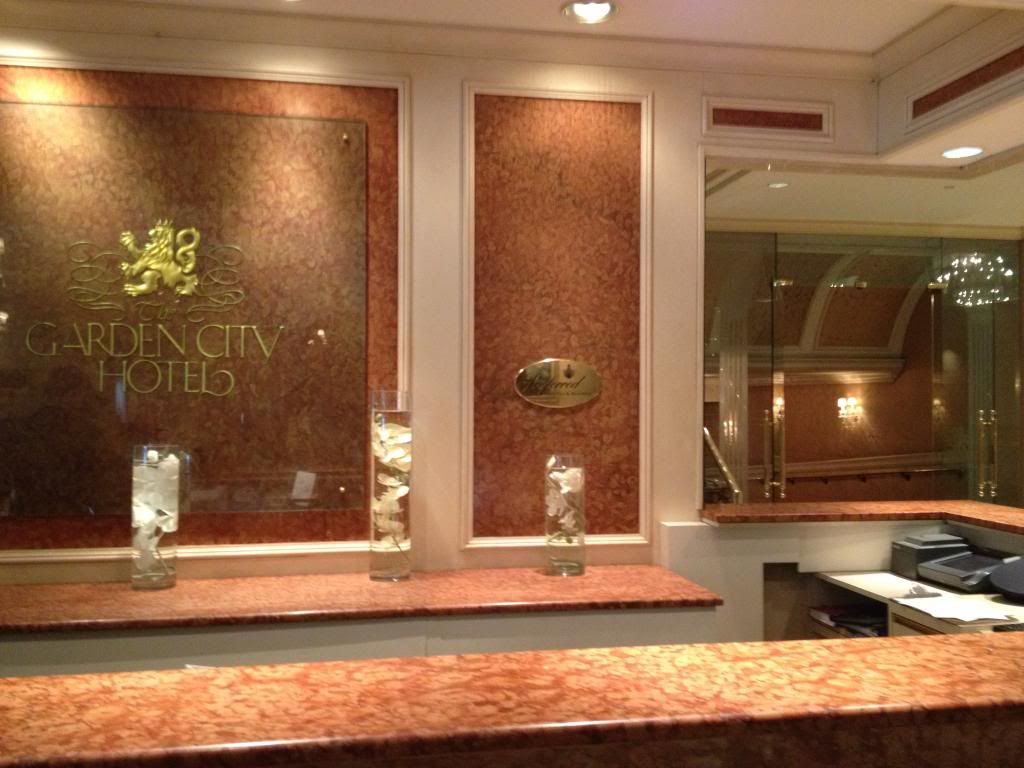 Front Desk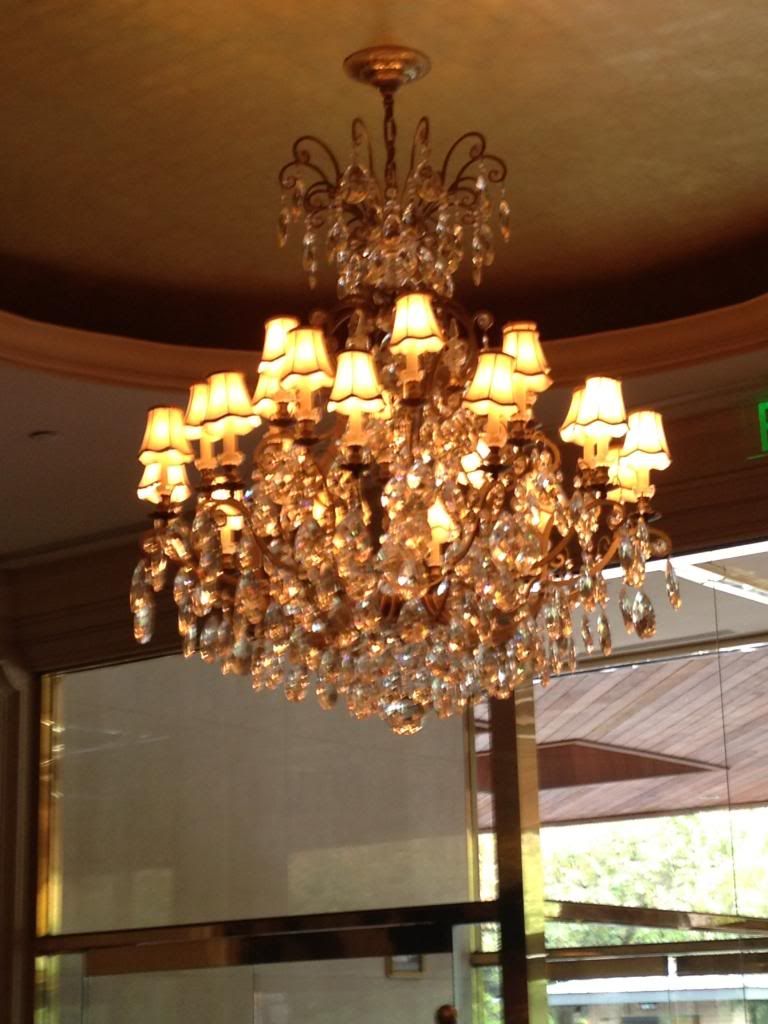 Chandelier
The captain and first officer were already downstairs when we arrived, but they weren't the same crew who'd brought us out (although bringing the VS009 out, the crew were taking the VS003 home which was operated by an A330-300) and Tom asked them if I could come back to JFK - in order to get the bus to LGA - even though I wasn't flying home to London with them. This was of course okay, but it's always nice to ask just out of courtesy. The bus soon arrived and we piled in. Most of the crew joined me and Tom at the back and they discussed the differences they found on the A330. I listened intently as it's the only Airbus aircraft that I actually like. They asked us how our stay had been and talked about plans for their days off. I watched out the window as some amazing houses passed by, and eventually started hearing engine noise, indicating we were getting very close to Kennedy.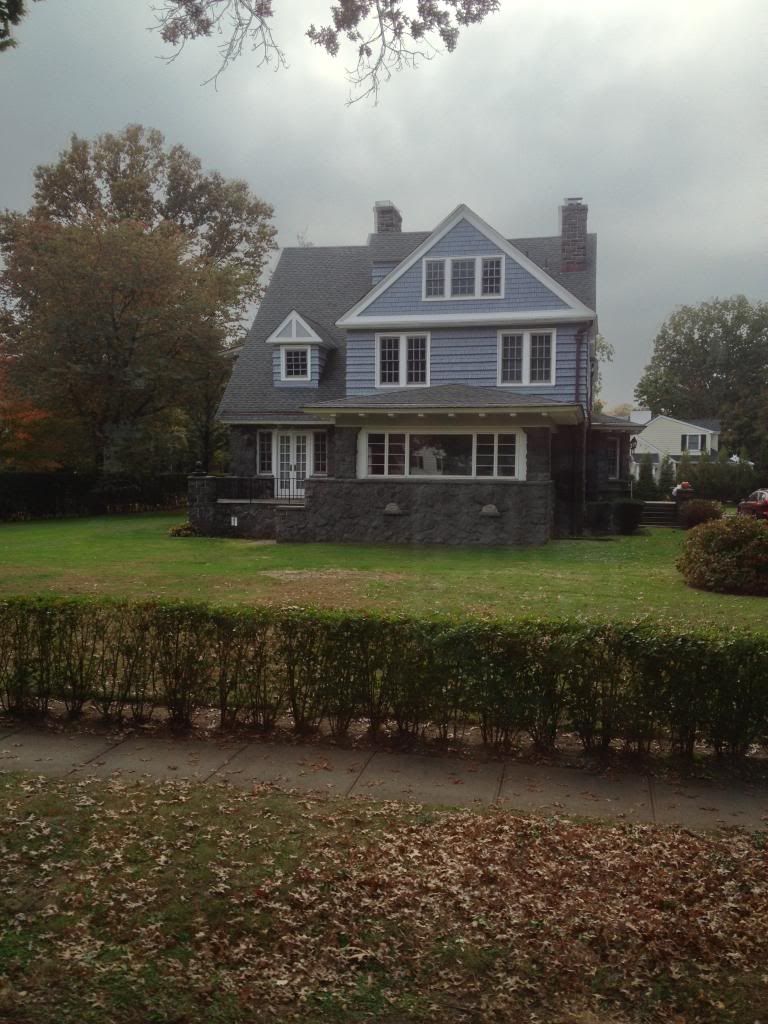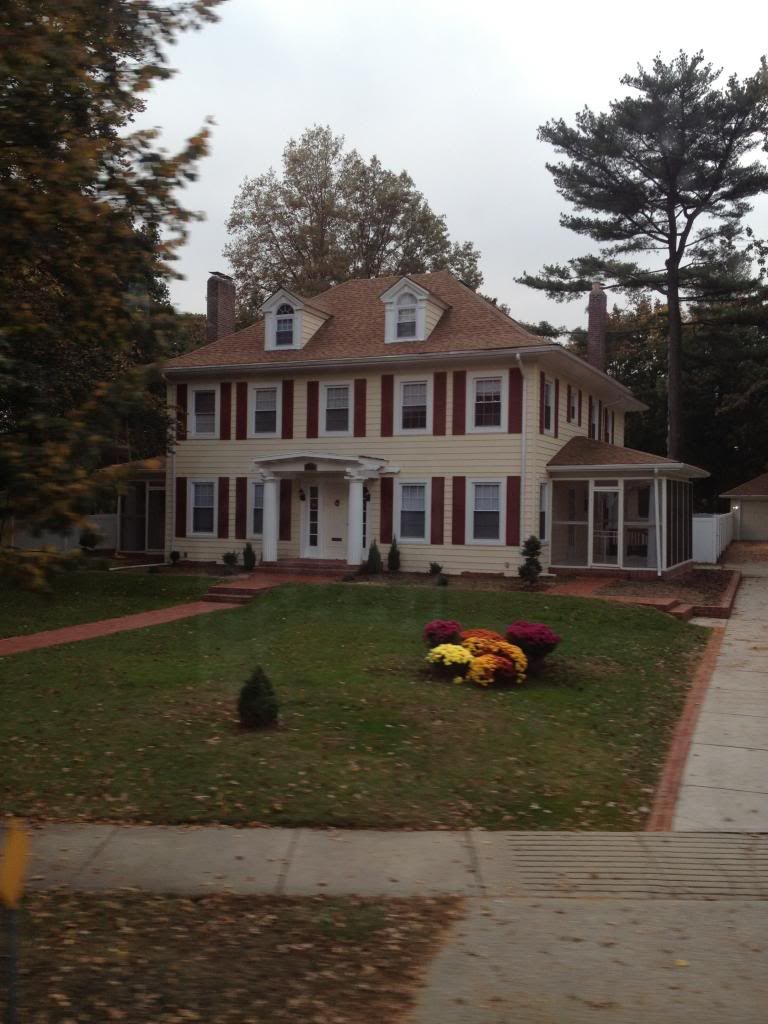 Some of the aforementioned houses. I particularly love the second one and would love to own something like this, but in the South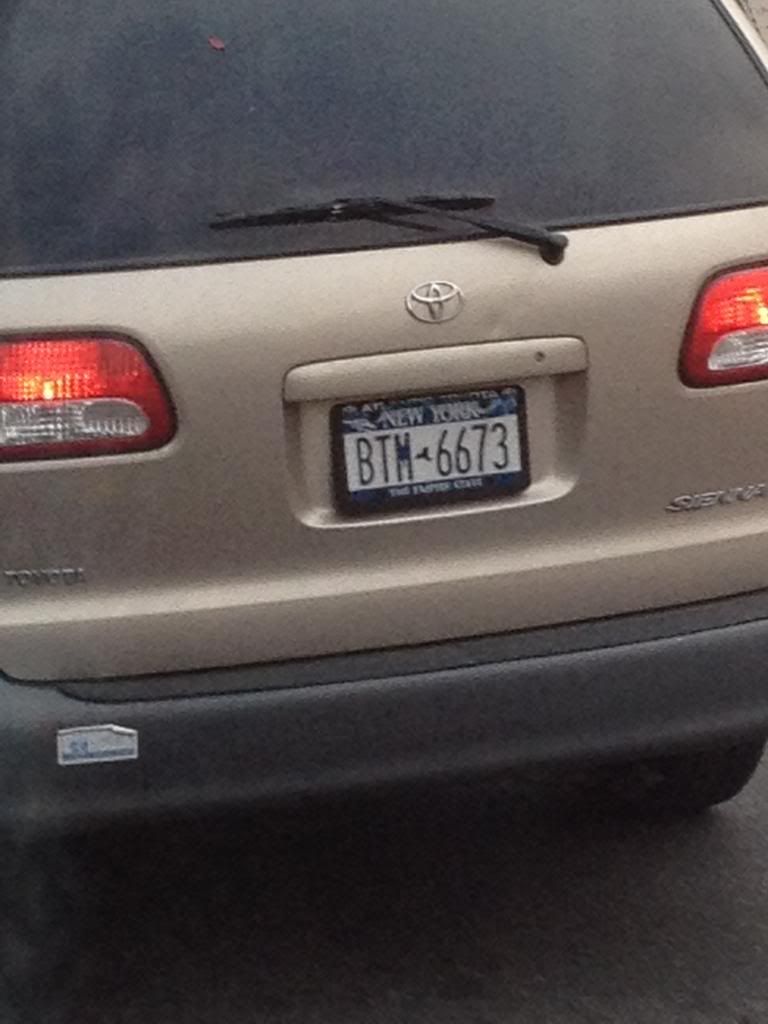 Tom and I found this number plate particularly amusing. You fellow gays will know why…
30 minutes after leaving the hotel we pulled up outside departures at JFK Terminal 4. We all dived out and retrieved our cases from the kerb. I tipped the driver and bid adieu to the crew, thanking them for a lovely flight out. A quick hug was given to Tom and he headed off for check in,
"Text me when you land in London boo! Safe flight"
I made my way down to the arrivals level to catch the Airporter Bus to LaGuardia. I had booked my ticket online the night beforehand and the e-mail receipt is proof of travel. I showed the bus driver the e-mail on my cell phone and he took my bag to the trunk and I stepped onto the bus. I plugged my earphones and tuned out to some upbeat music, namely Rihanna and Cheryl. The driver told us we'd be at La Guardia in about 40 minutes, depending on traffic. I was the only passenger so we'd be going straight to the American Airlines terminal. That was fine by me. It had only just gone 5pm, and my flight wasn't until 2005 so there was plenty of time.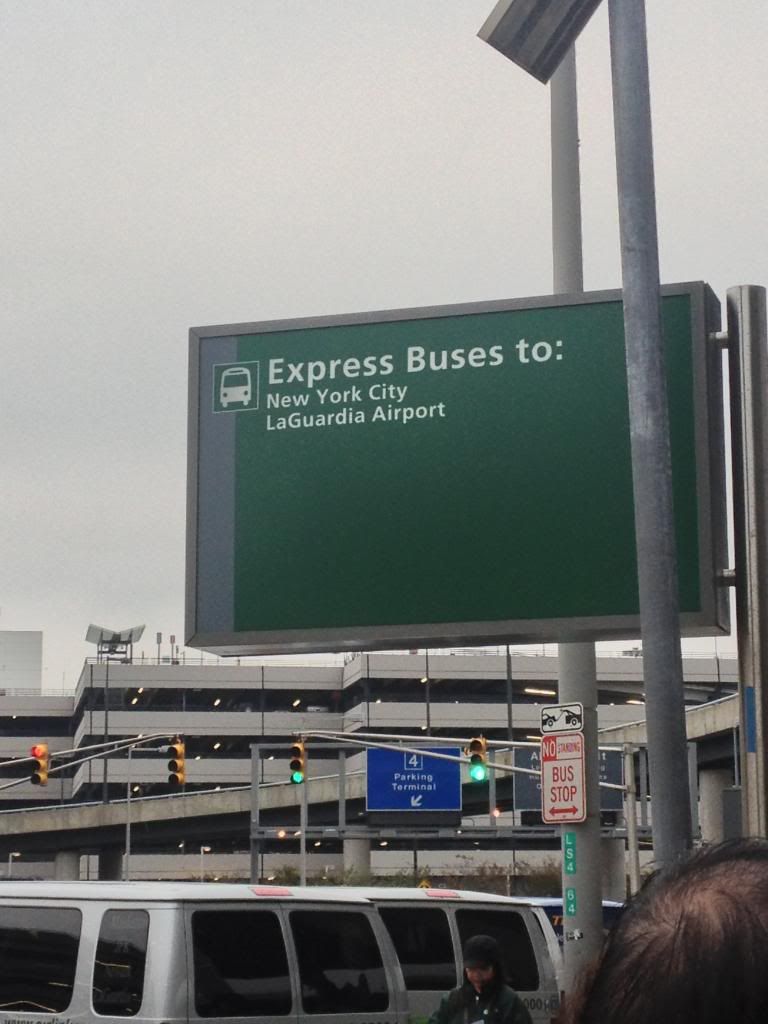 Waiting on the bus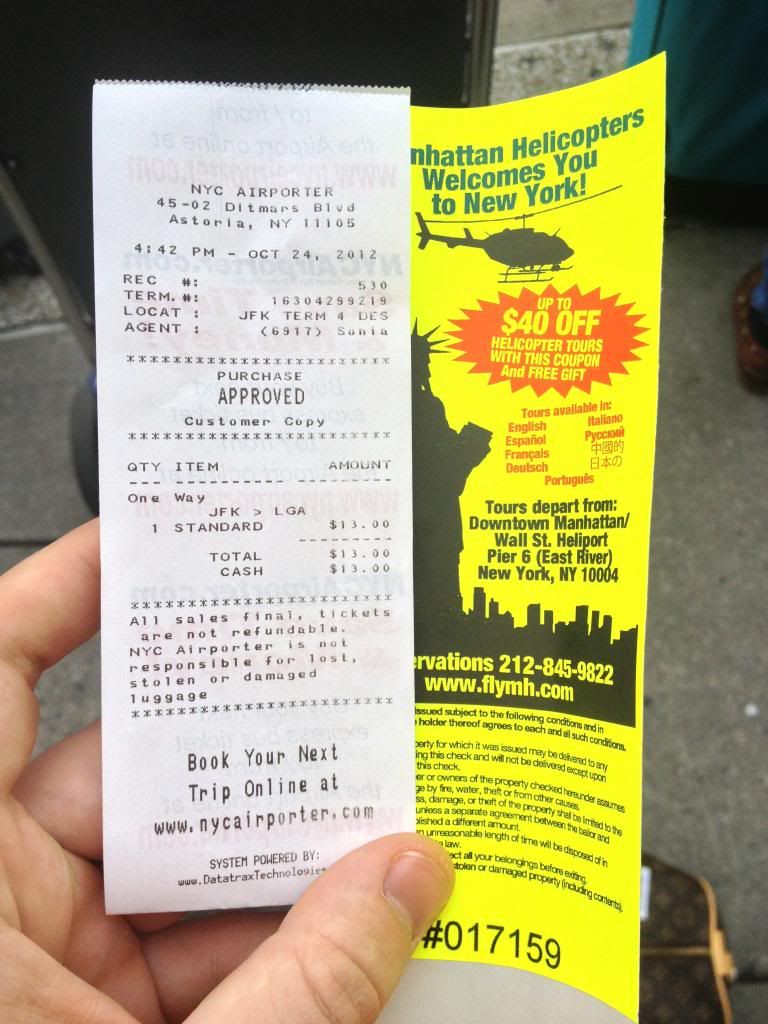 My paper receipt from the AirPorter. Despite having on sent to me by e-mail, they still give you a credit card style one too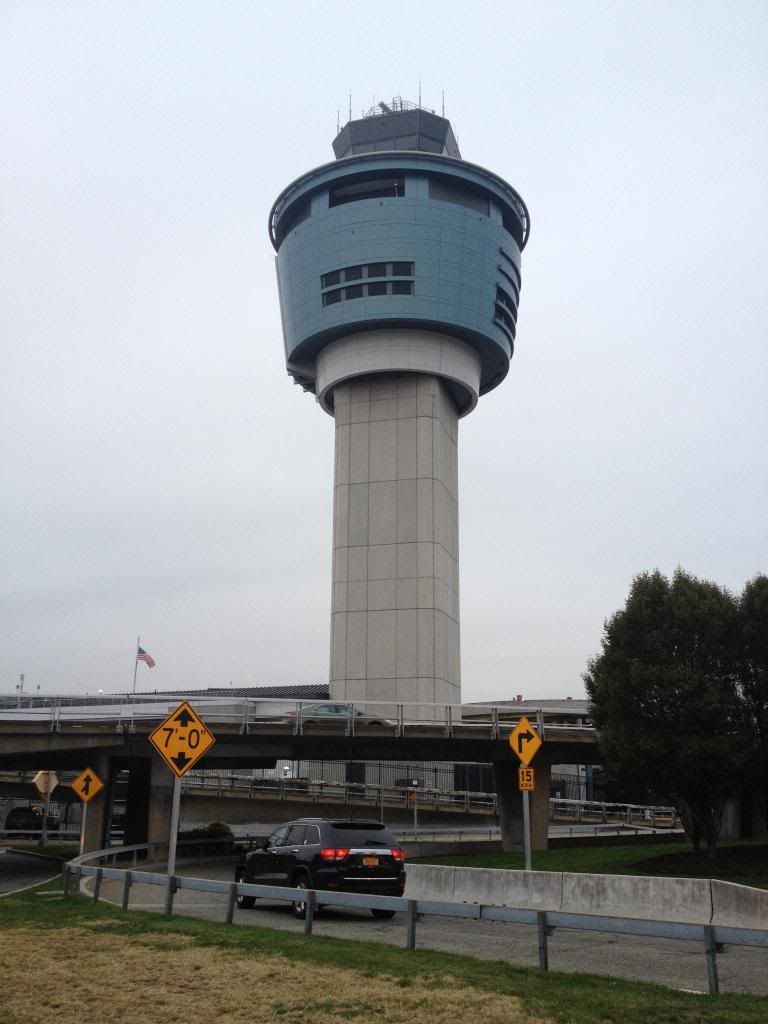 LaGuardia Airport's Control Tower
Classic American Airlines Hanger
I was dropped off outside departures for the second time that day, just before 6pm. The sun was beginning to go down, but it was still bright, and the weather got a little bad; some heavy rain and a little wind. I wasn't worried though, I had lots of time before my flight.
I checked in at a desk with a really friendly agent who's name I've forgotten. She was just so upbeat and friendly, and she is a real credit to American for setting the tone at the beginning of a passenger's journey. So much different from the AA staff in Atlanta who just don't even seem to want to breathe the same air as you. She handed me my boarding pass, after asking if an exit row window was okay. "Hell yes!" I beamed. Extra leg room and a window view (even if it was dark) was A-Ok in my book. She wished me a pleasant flight home, bidding goodbye with another beaming smile. My bags were tagged for ATL but you have to take them to what I assume is a porter, who sends them through an x-ray machine and then down to the gate. Is this just for the Eagle Flights as there is a baggage belt behind the machines that I saw bags destined for MIA, DFW and ORD, which are all operated by mainline aircraft?
I went to Hudson News to get a bottle of coke and then outside for a smoke. The weather had improved and the air was fresh after the downpour.
Back inside, I took the option to have some Ice Cream from Baskin Robbins and took a seat in the food court whilst making use of the Boingo Wireless, for which I have an account.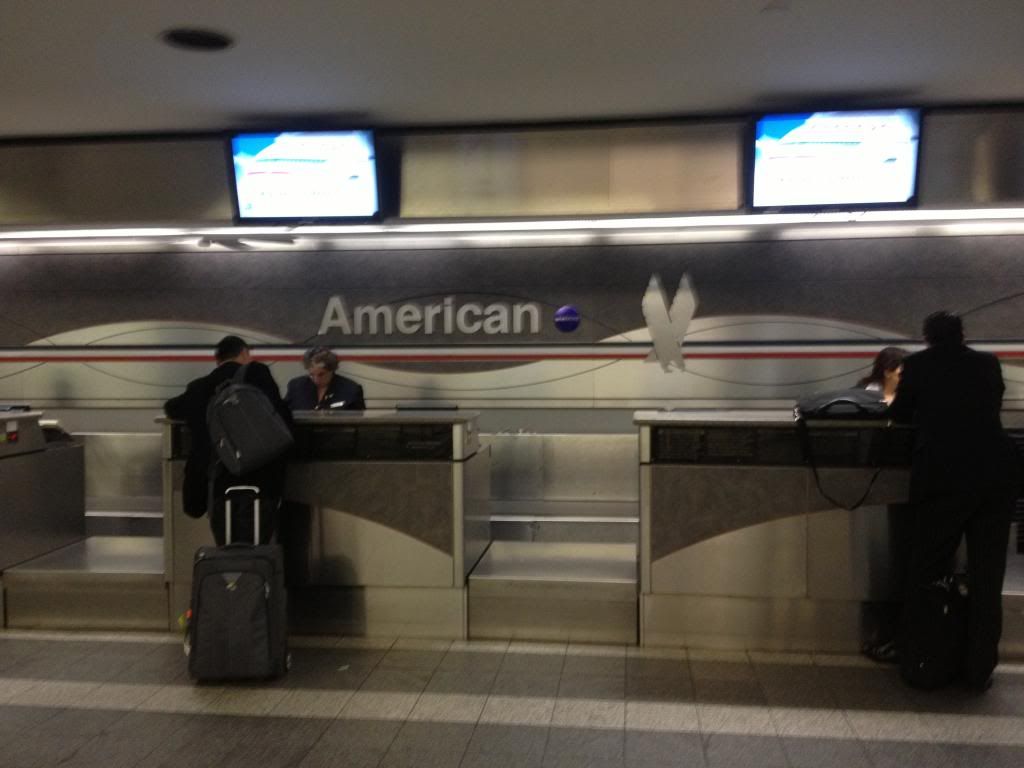 American Check-In area in LaGuardia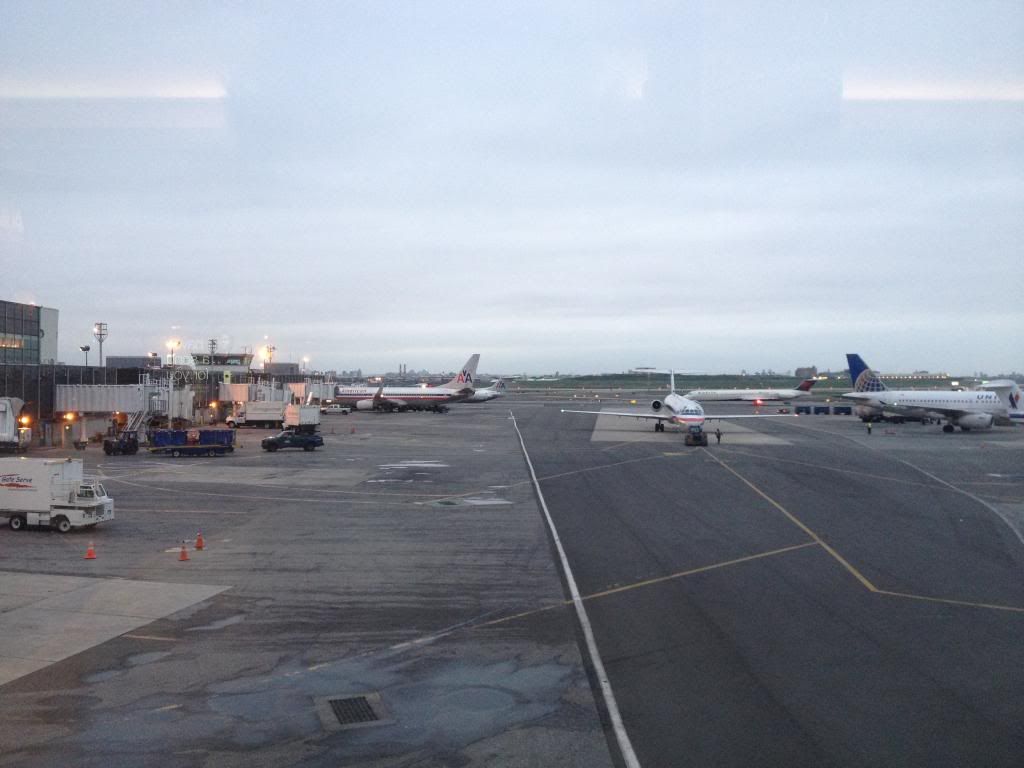 Apron Views over Concourse C and D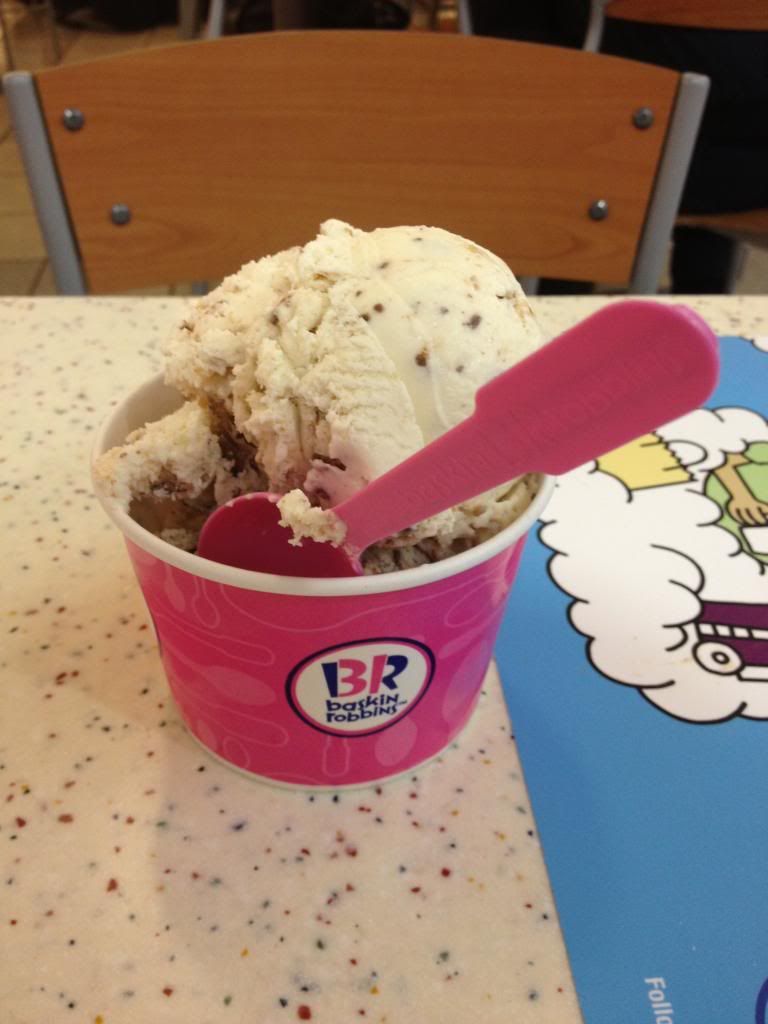 Ice Cream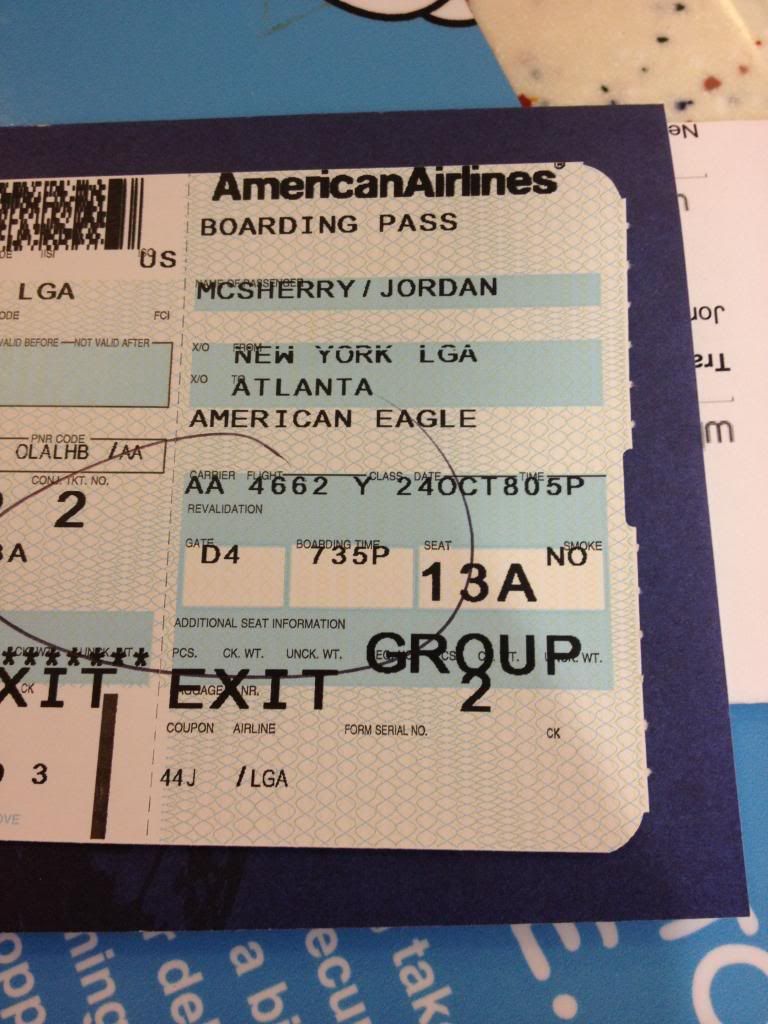 Boarding Pass for AA4662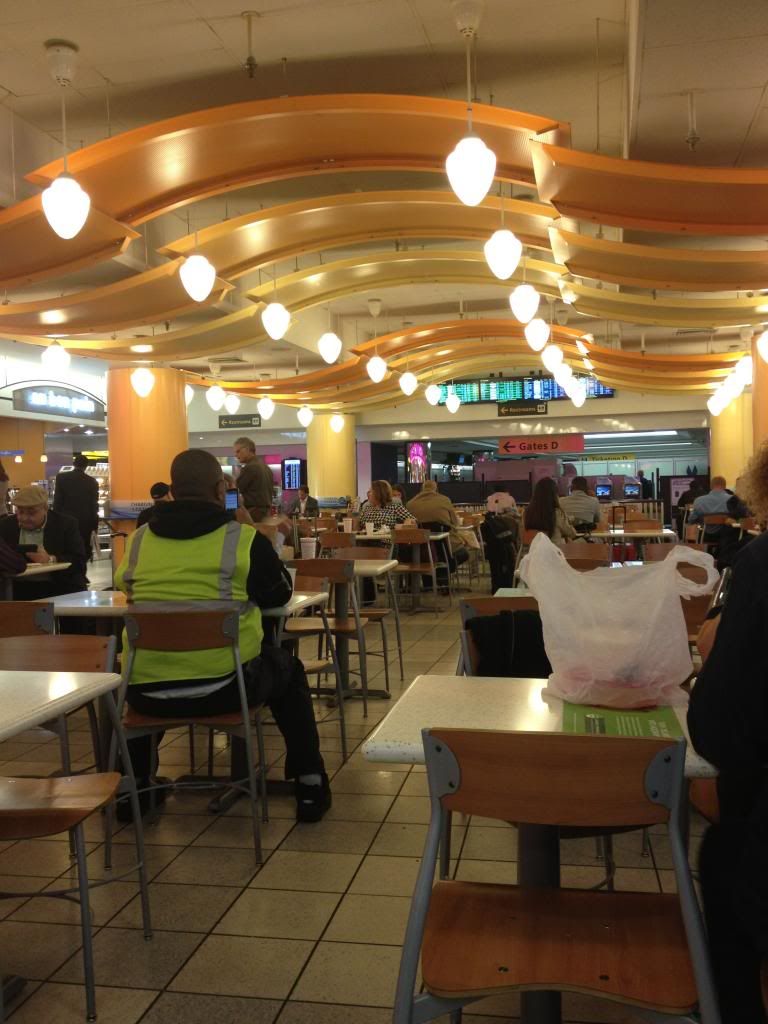 Food Court view
At 7:20 or so, I stepped outside for a final smoke before boarding began, and then made my way through the security area for D Gates. We'd be departing from gate D4, which was only a short walk from the end of security. Boarding would begin at 7:35 (or so they said) and I wanted to get on and sit down. I was now more than ready to get in the house and curl up with my puppies. For some reason, the flight between LGA and ATL seems to take forever, I suppose because of the lack of space on a Regional Jet and the fact that I always just wanna be in the south.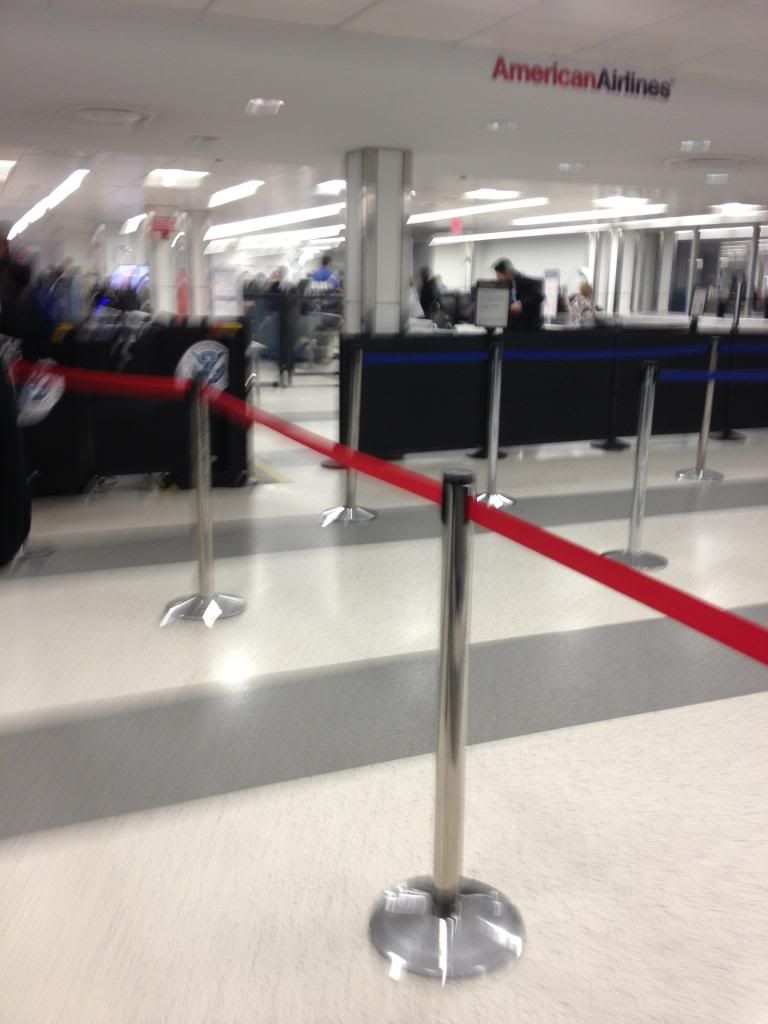 Blurry view of Security. Taken very quickly and surreptitiously before being caught
Shoe Polishing station in a set of old AA First seats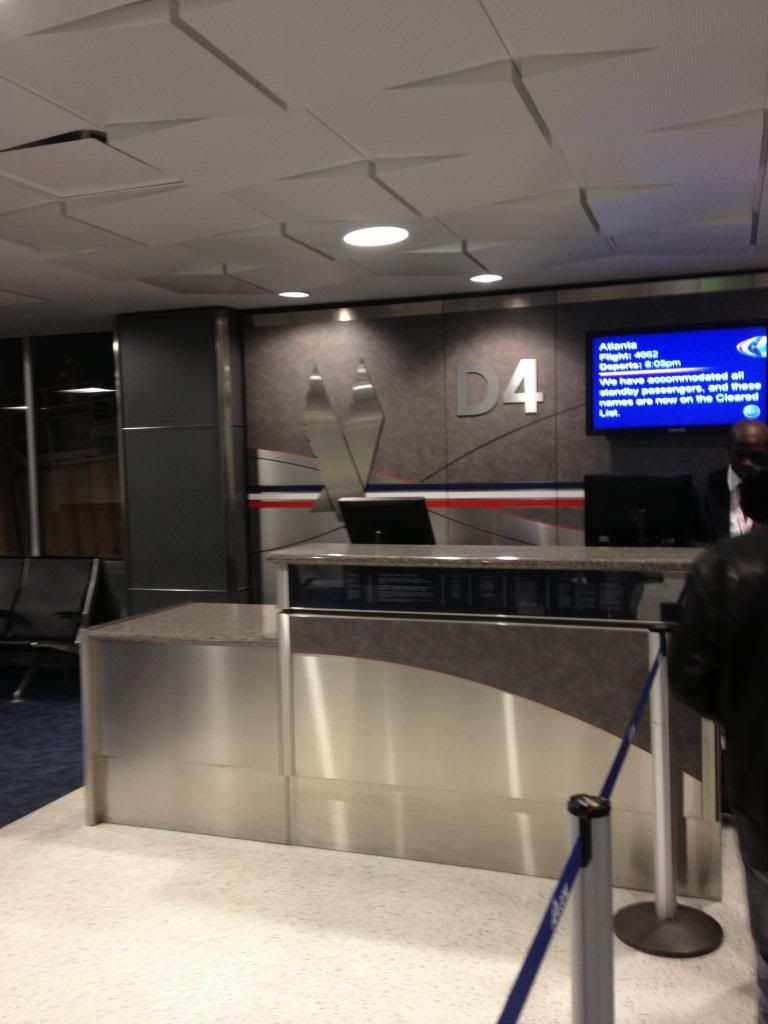 Gate D4. All American Eagle LGA-ATL flights depart from this gate
Wednesday, October 24th 2012
New York LaGuardia, NY, USA (LGA) – Atlanta Hartsfield Jackson Airport, GA, USA (ATL)
American Airlines operated by American Eagle; AA4662
Canadair CRJ-701ER
Aircraft Registration: N522AE
Seat Number: 13A
Estimated Flight Time: 2h00
Take Off: 2035
Touch Down: 2220
Actual Flight Time: 1h45
Boarding was called at 7:45 and a 3/4 full CRJ load made their way down the jet bridge, with First Class passengers invited to board first. I took my place in the queue and waited for my boarding card to be scanned, and then was wished a "Happy Flight"
I walked down the jetbridge and quickly dived aboard this small plane. I planned on getting some sleep so wanted to pass out quickly. Again, this wouldn't happen.
I stowed Louis in the overhead compartment and took my seat in the exit row. I was surprised at how much ground was visible, but CRJs don't exactly have big wings. Unlike the 747, you can actually see something other than wing when sitting directly over the centre. I made myself comfy and took in my surroundings.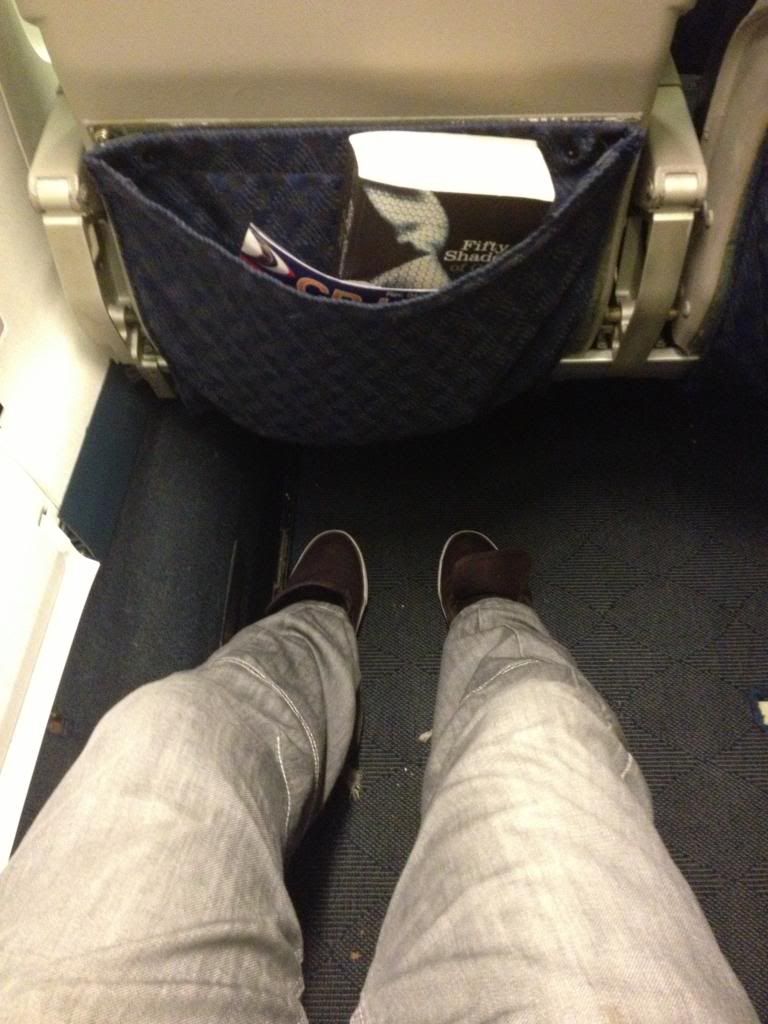 Leg Room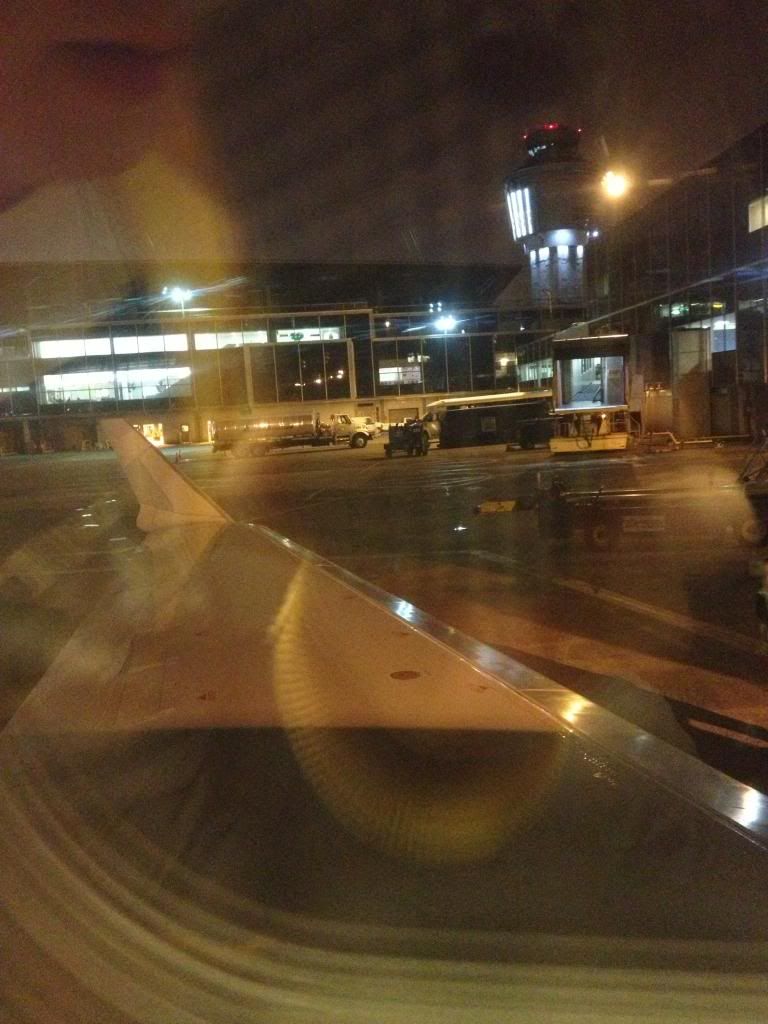 View outside. Excuse the reflection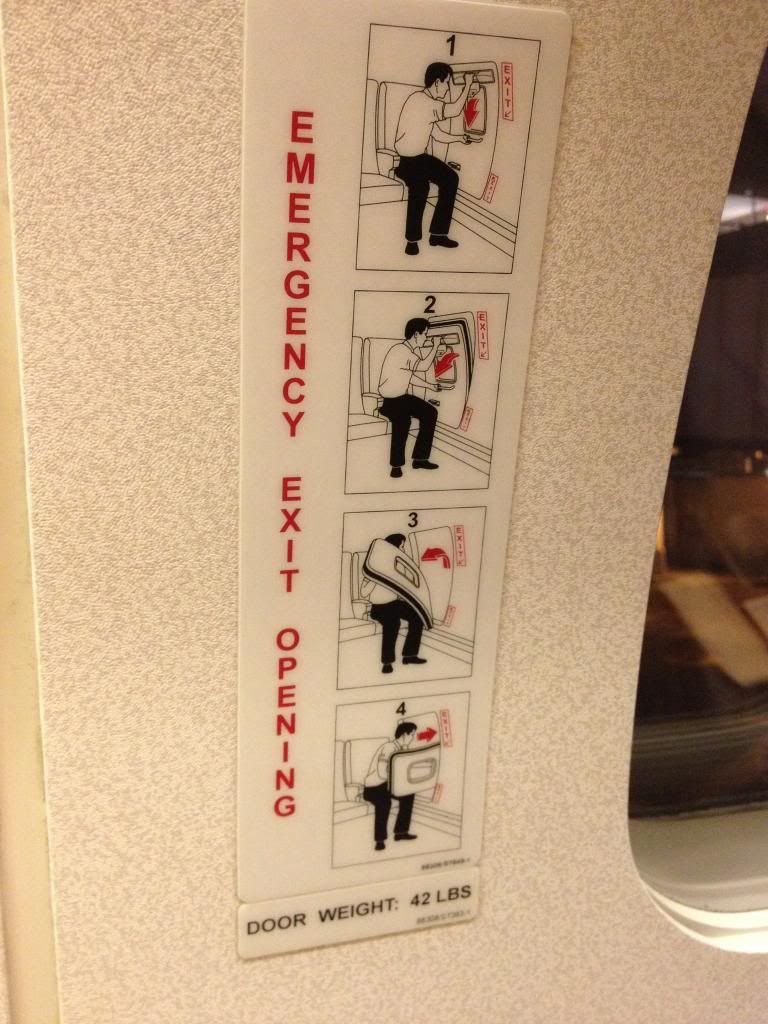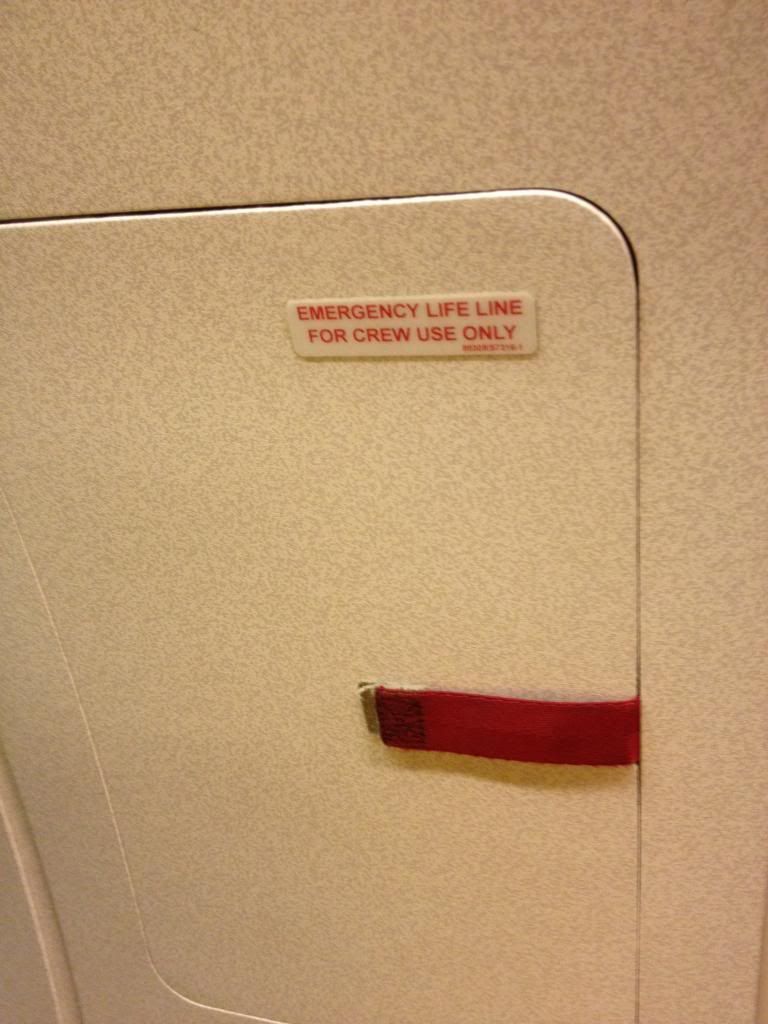 Exit row Instructions and equipment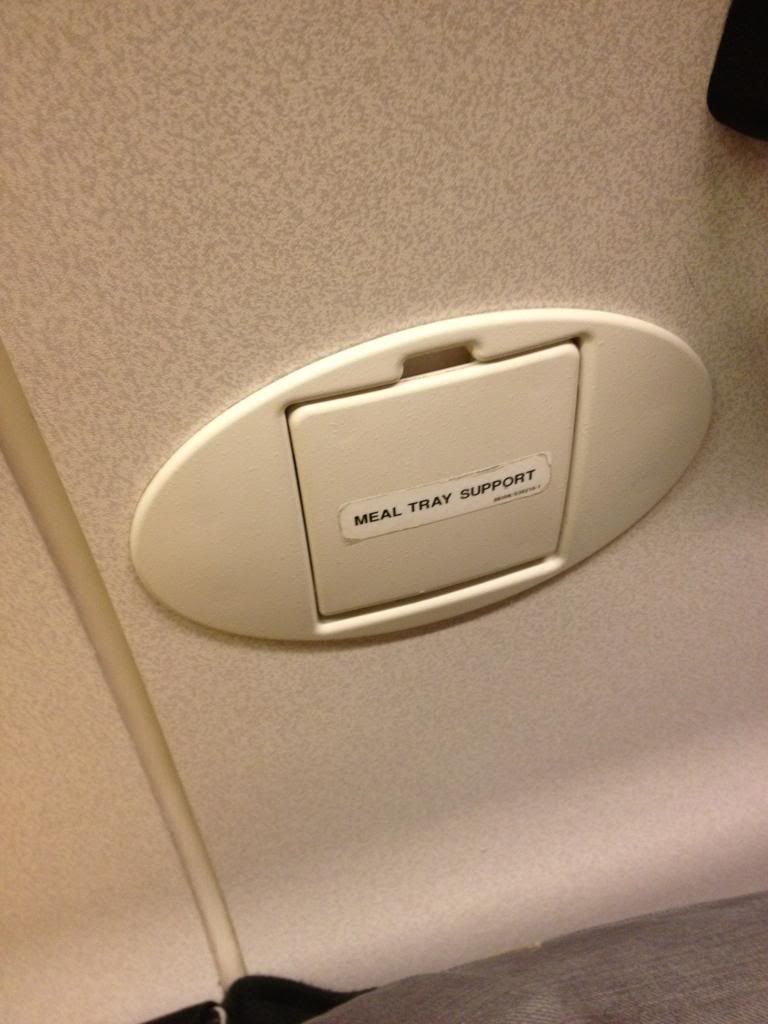 Since there's only one armrest in the exit row, the meal tray comes out of the centre armrest and rests on this little support. It was quite tricky to master as the support is on a spring and rebounds quickly if your finger slips off
Meal Tray resting on the support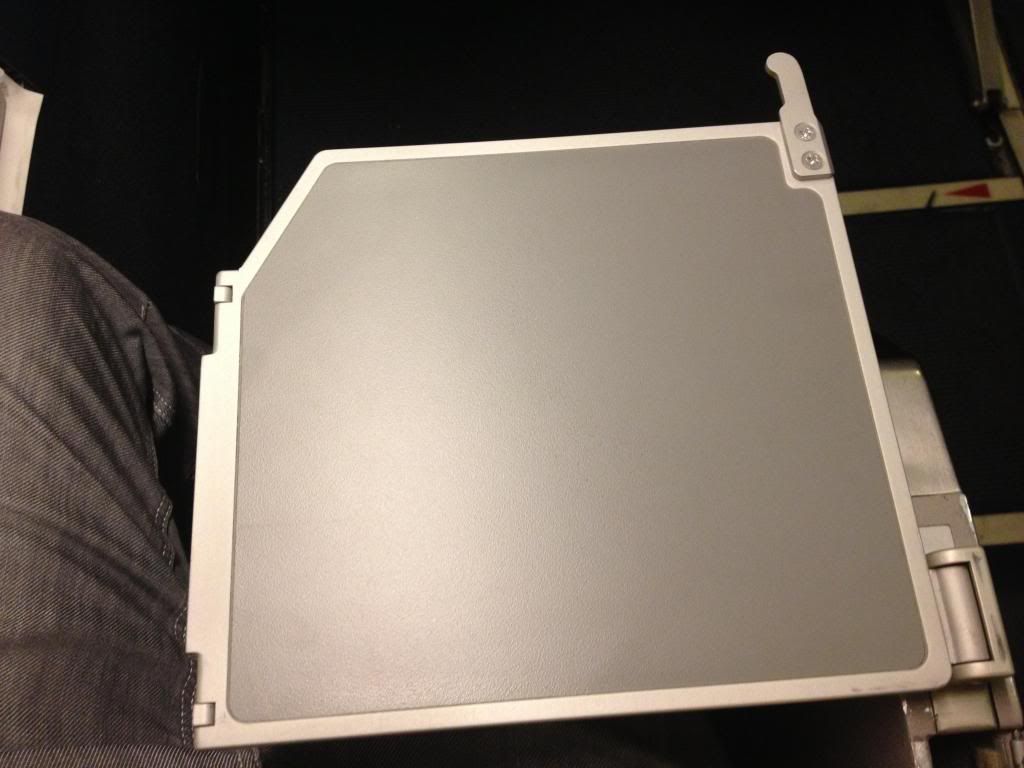 And in the folded position. This was how it stayed during the beverage service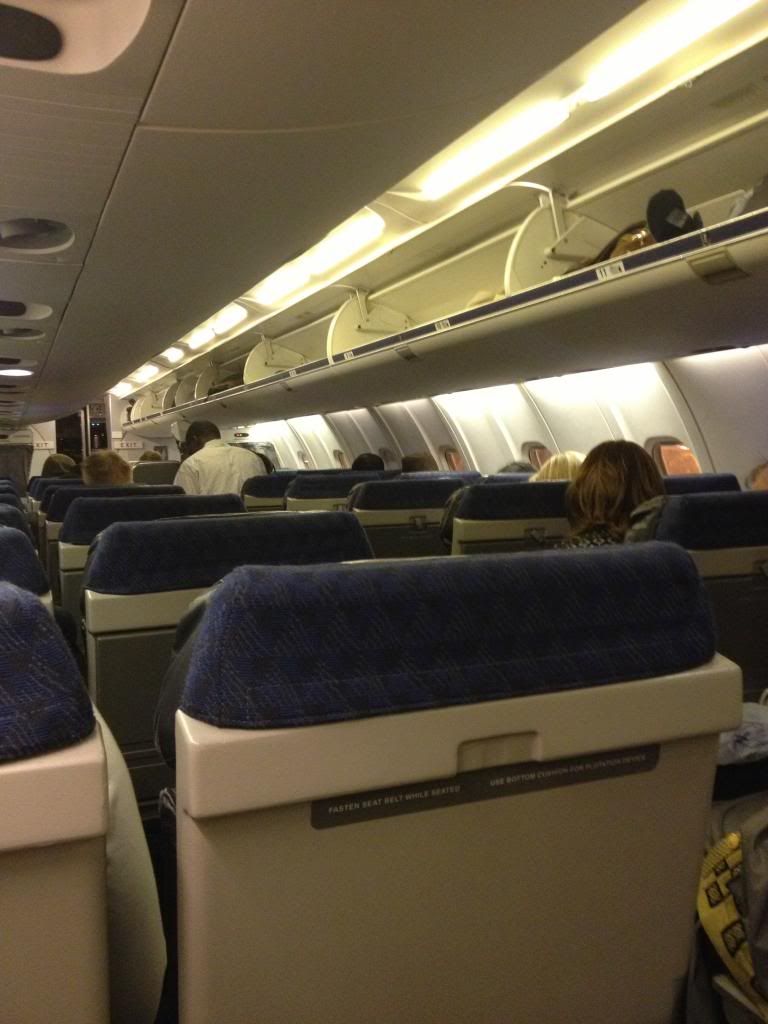 Cabin view during the final moments of boarding
We pushed back ten minutes behind schedule and slowly taxied out to the westerly facing runway 13. Traffic was busy and it took us 20 minutes to reach the runway. In this time, the crew performed a safety demonstration, secured the cabin and then took their seats after dimming the lights for departure.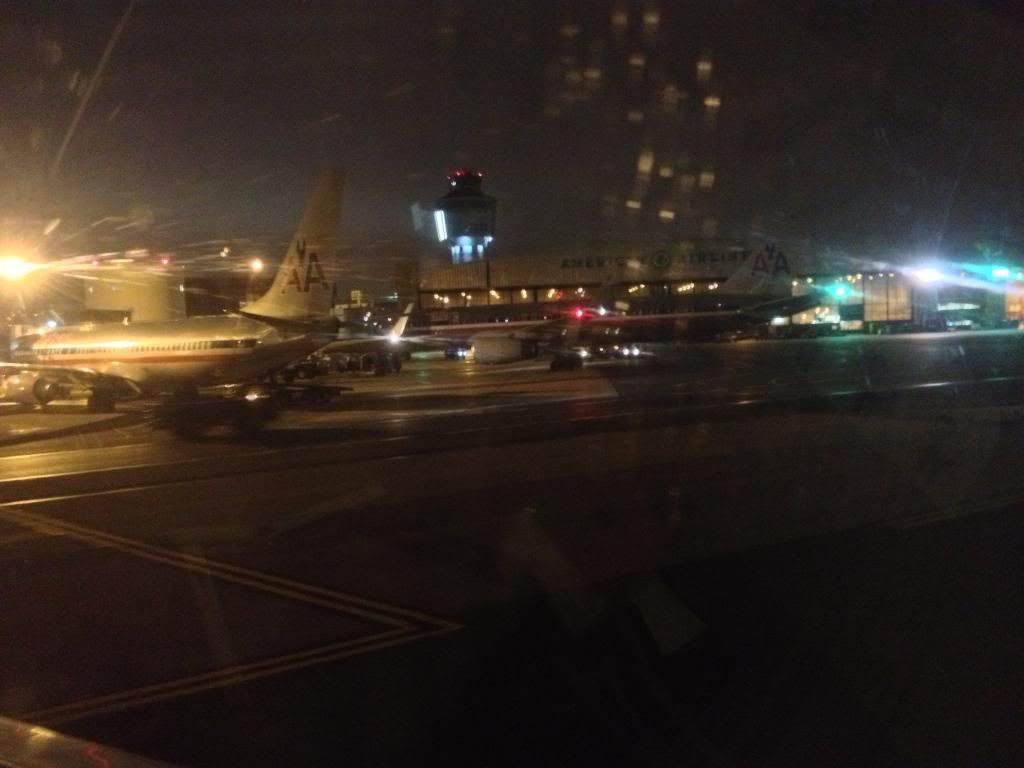 AA 737-800 and 757-200 awaiting their next missions
We lined up on Runway 13 at 2035 and immediately powered up. The little CRJ surged forward and got faster and faster until the nose pointed skywards and we left the ground behind. Almost immediately we were in the clouds and as soon as the gear clunked into their stowages, we made a left hand turn to take us out over Manhattan Island and make our way South.
The lights were turned on about 10 minutes after departure and the crew began the beverage service. It took about 20 minutes to reach me, the guy on the cart didn't seem too happy to be there, and when I asked for a Sprite, the can and the glass of ice were sort of thrust at me. I wasn't too fussed, he was probably tired or was having a bad day, but a smile wouldn't have gone amiss! Drink in hand I sat back with my book (50 Shades of Grey, for the third run through) and wiled away nearly an hour sipping at my Sprite.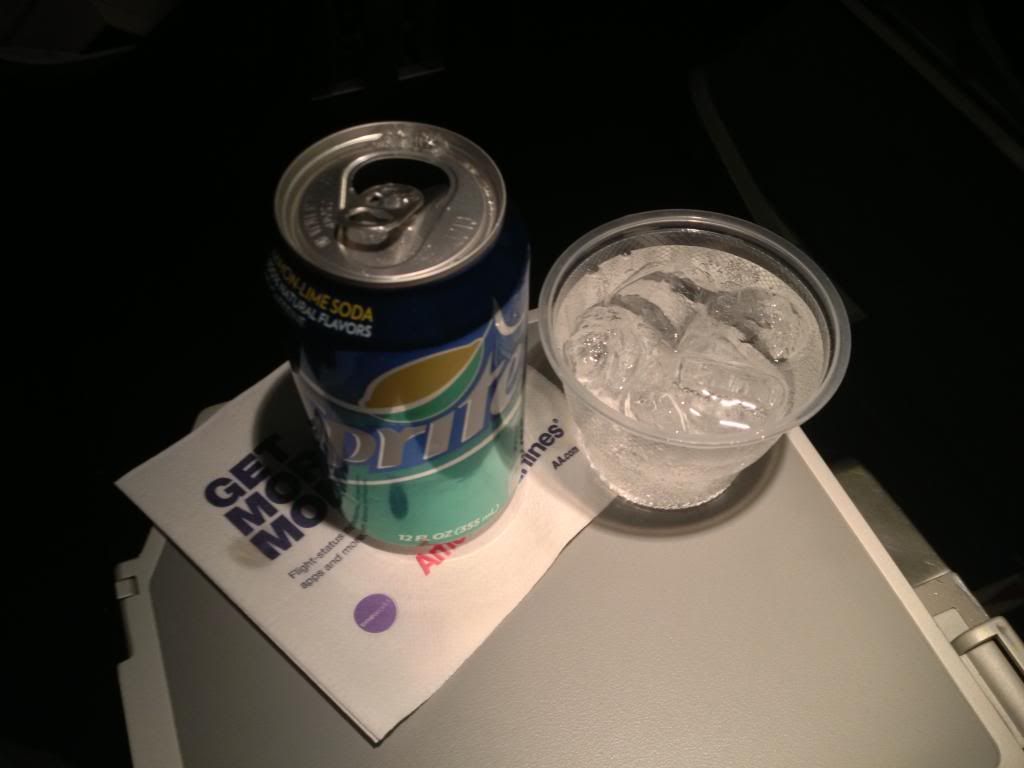 Drink!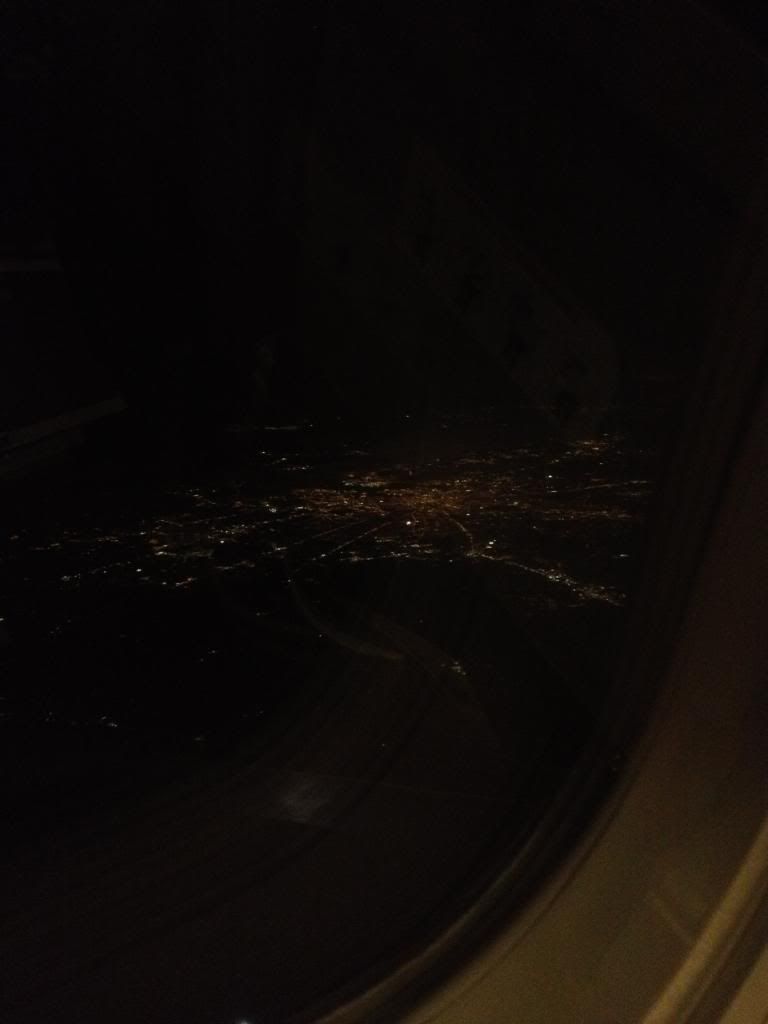 Lights of what I assume is Washington DC, viewed from 34000ft
After finishing my drink, and getting to the end of the chapter I was on, I got up and went for a restroom break. The crew were hiding in the galley at the front (the only galley) and the cabin was now dark again. The sole restroom on the CRJ is right at the back, where the engine noise is pretty impressive! It was occupied as I approached so took a seat in the last row whilst waiting for it to be vacated. Inside, it's very cramped, but there's more than enough room to stand up straight (I'm 5'10") unlike the ERJ-145 I've travelled on with BE and BD previously. Just like the CRJ I took from ATL-LGA back in April '12, the blue rinse rushed round the loo as I flushed. I didn't hang around, and headed right back to my seat to continue my book, this time with music in my ears.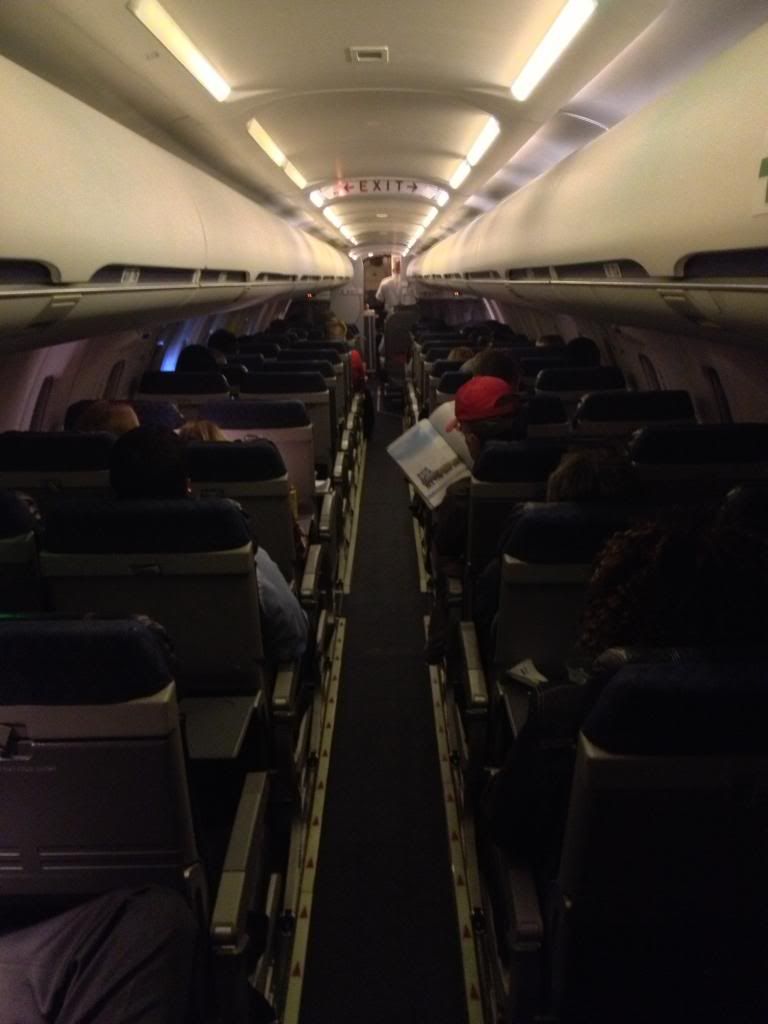 Cabin View
Blue rinse. I always find this to be a classic image of flying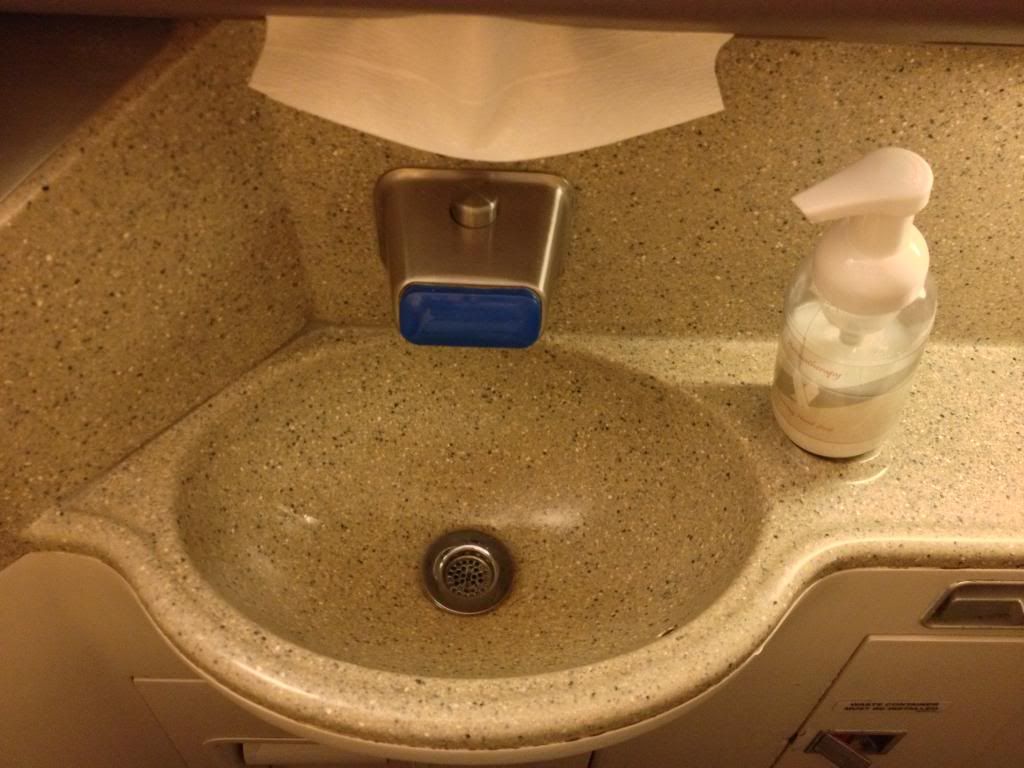 Tiny sink in the washroom
Yours truly, posing as always. The fact I had worn a 'New York City' t-shirt made my day in NY complete, even though I hadn't actually been into Manhattan
An hour and fifteen minutes after leaving the runway in New York, we began our initial descent for Atlanta, somewhere I'm assuming around the state line between Georgia and South Carolina. I followed I-85, which runs from Montgomery, AL through Atlanta, GA all the way up to Charlotte, NC. As we got lower and lower I recognised some of the towns around I-85, before we turned south, flying just a little to the west of Shallowford Exchange (near where the apartment is located), and then parallel to Hartsfield-Jackson, south of the city. I kept looking out for road patterns to try and pinpoint our position when all of a sudden my eyes were drawn a couple of miles into the distance. There, shining like a beacon, with its unique concourse layout ,was Hartsfield-Jackson Airport. We'd be on the ground in a little under 10 minutes.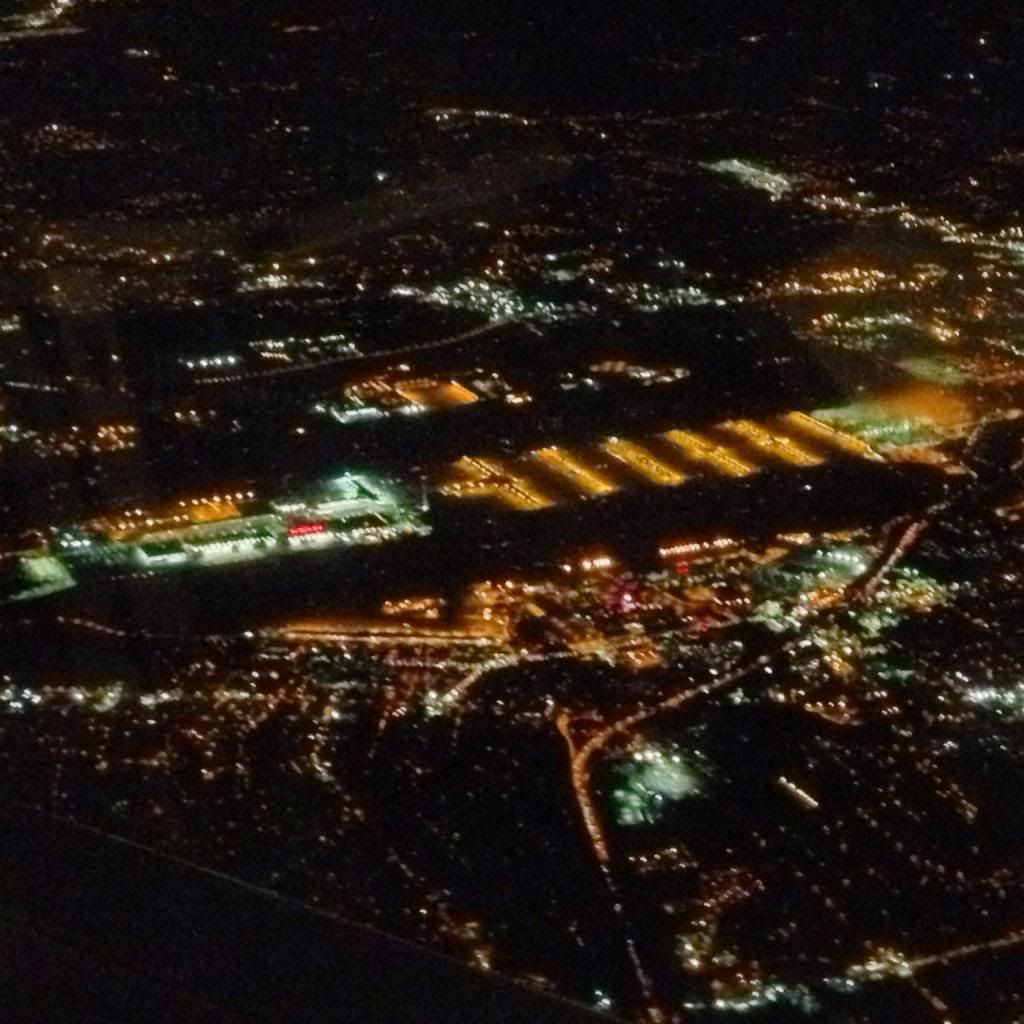 Almost home!
Just after I took the above photo, the captain instructed the crew to prepare for landing and they leapt into action, securing us in just a couple of minutes. We lost height and speed with the help of the airbrakes and then began a tight left hand, 180 degree turn to line up with the northern-most runway 08L. The flaps came out all of a sudden and the gear dropped, and the crew took their seats.
We touched down at 2220, 1h45 after leaving New York, slowed down quickly and vacated the runway even quicker. A short taxi to Concourse T (T as in Tango) awaited us and we pulled onto stand at 2230 on the dot. The door was opened and we deplaned onto the tarmac and up some stairs into the Terminal. I made a quick run for the baggage reclaim area and awaited my bags coming out. Unfortunately, when my black hard case came round, I noticed it had been cracked up and down the sides. An AAgent was standing nearby and saw the damage and invited me to come to the baggage advice office, where a form was filled out and, despite being on concessionary travel, AA promised to pay to replace my bag, anytime within a six month period or something. I eventually replaced it in Los Angeles a couple of weeks later and AA stood up to their promise and paid for the new Samsonite in full.
My seat during disembarkation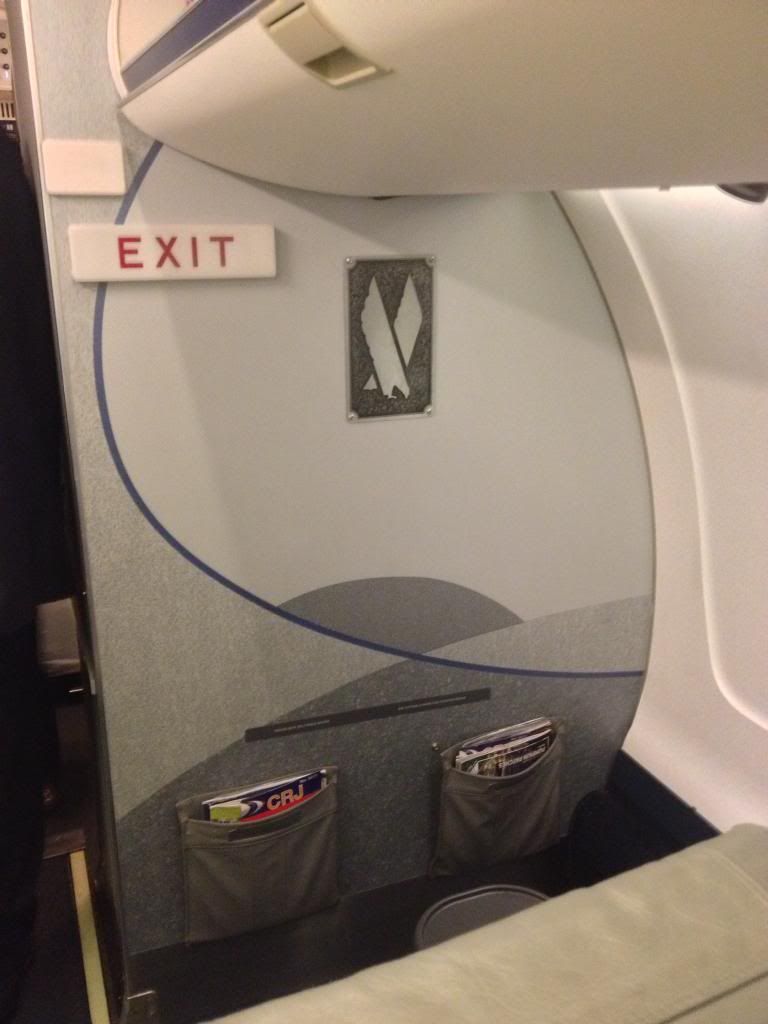 Bulkhead wall in First with the American Eagle on display
First Class seat aboard the CRJ-700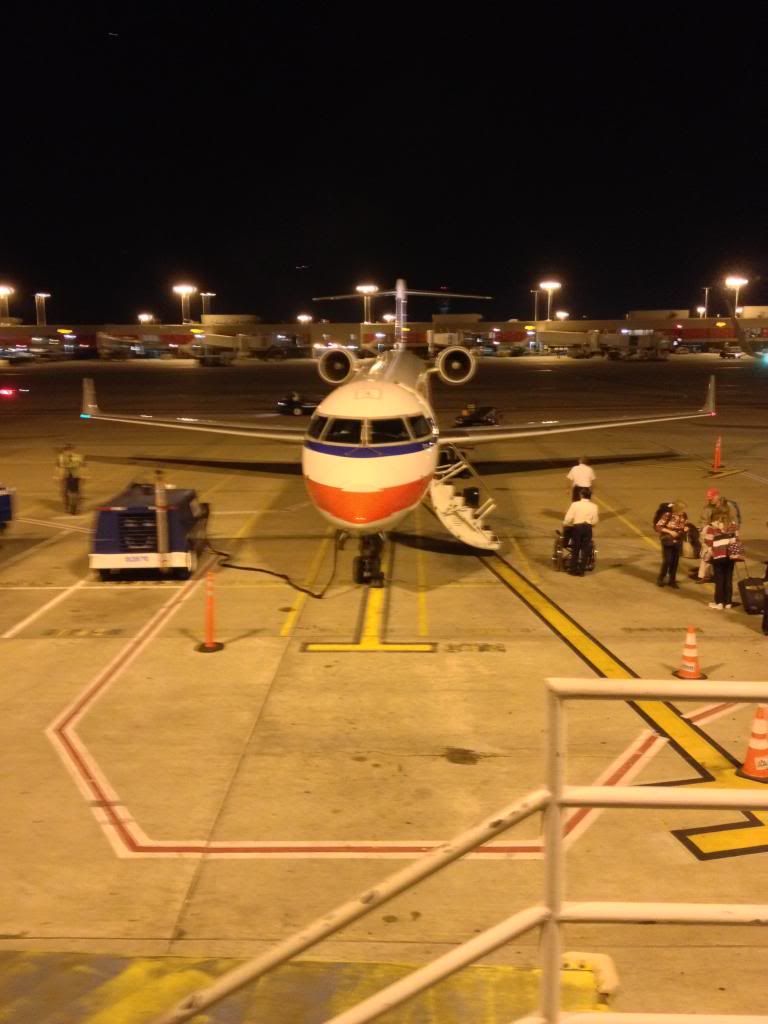 Our cute little plane viewed from the top of the steps leading into the terminal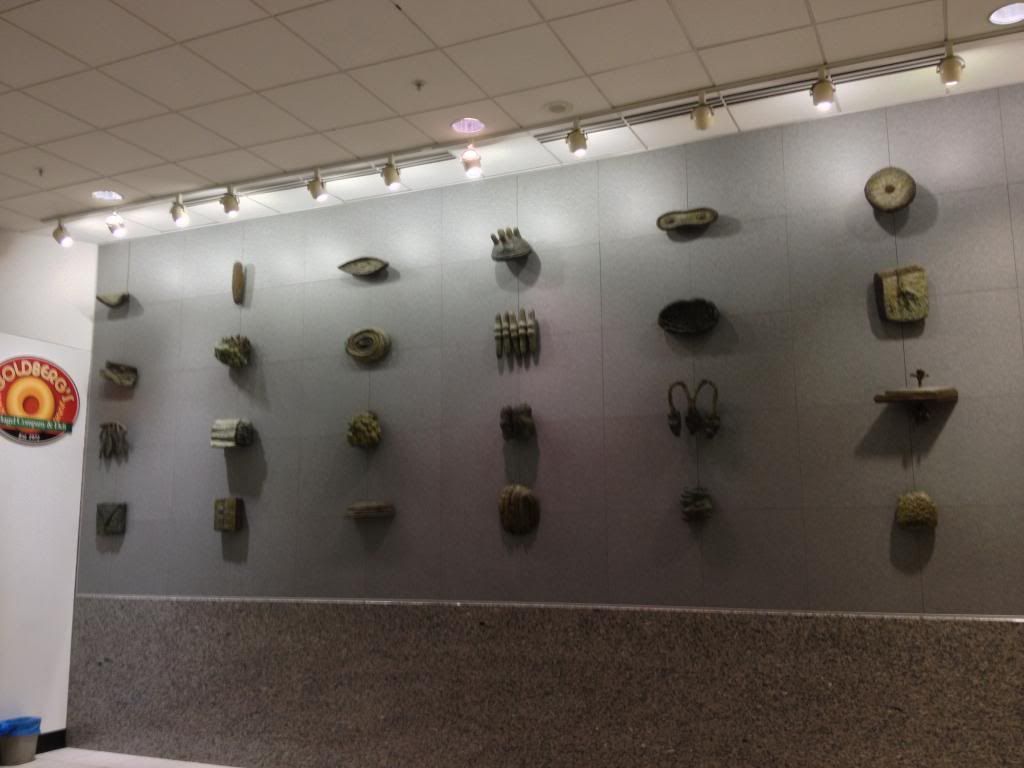 Artwork in the Terminal Building
AA's baggage reclaim area in Concourse T
With both hold bags in hand, I made my way to the MARTA station (via a Marlboro break as I walked down the side of the domestic terminal) and text Pablo to let him know I was safe and sound on the ground and would be home within the hour. He had work the next morning so I told him not to come get me, I'd just get a cab from Chamblee station. I didn't hear back so assumed he had gone to bed, however waiting for me just outside the station entrance when I arrived was my two of my favourite people in the world, Pablo and his boyfriend Lee!
They asked how my journey had been, quizzed me about the Long Island Layover with Tom (Pablo and Tom have spoken numerous times on the phone and are facebook friends despite having never actually met each other in person…. yet!)
Once we pulled up in the parking lot, Lee took one bag, Pablo another and I took my little Louis on my shoulder. Lee called for the elevator and we rode it to the second floor and into the apartment. The first thing on my mind was the bathroom, and I dived in after dropping my bag on the floor in the dining area. The puppies, Joey and Cloey, were ever so excited to have me back and came to talk to me in the loo.
I came out and made for the kitchen, desperate on a drink of some sort. Even at night, the mid-fall heat was impressive and the A/C in the house was only just kicking in. However, when I looked up, there was Pablo standing against the wall. And attached to the wall next to him made my heart skip a beat, his smile beaming as he showed off this…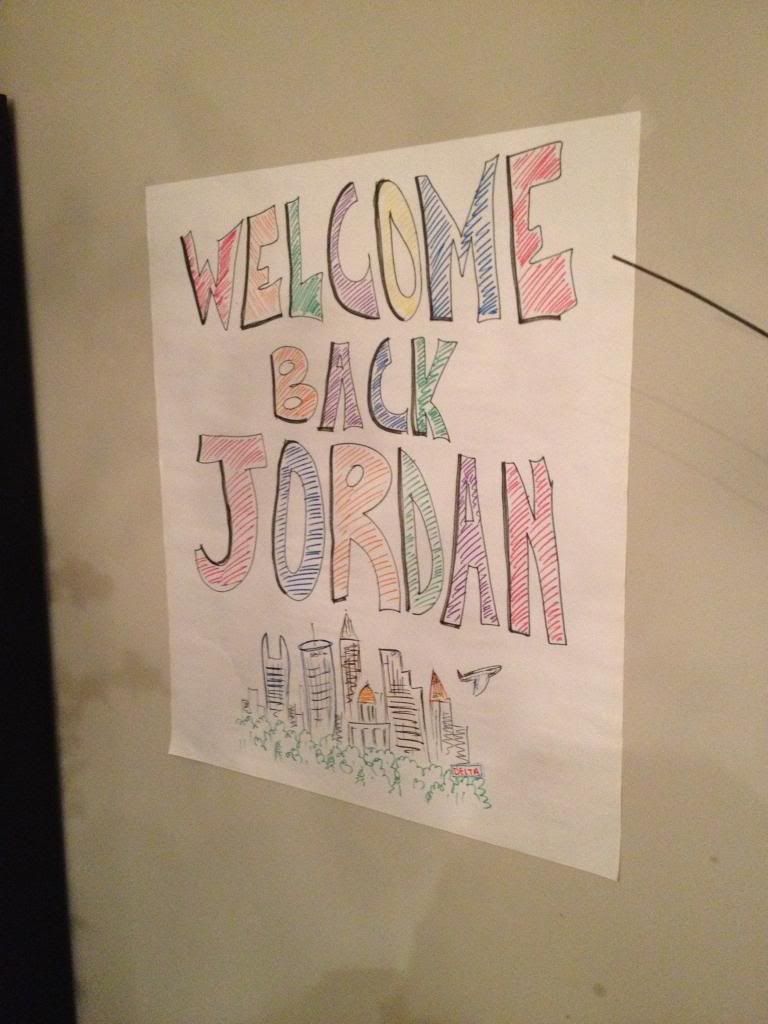 It totally made my night, it had made all the time waiting to come home worthwhile, and I turned to the freezer to pull out the ever present bottle of Absolut Mandarin that seems to be in there. I poured it quick and topped it up with lemonade and toasted 'to home'. All the stresses that I carry around with me just seemed to fall away, and we took to the lounge to watch some evening TV, after of course, Lee and I popped out for a cigarette together.
I won't bore y'all with all the details of what we got up to, but will let these photos do all the talking!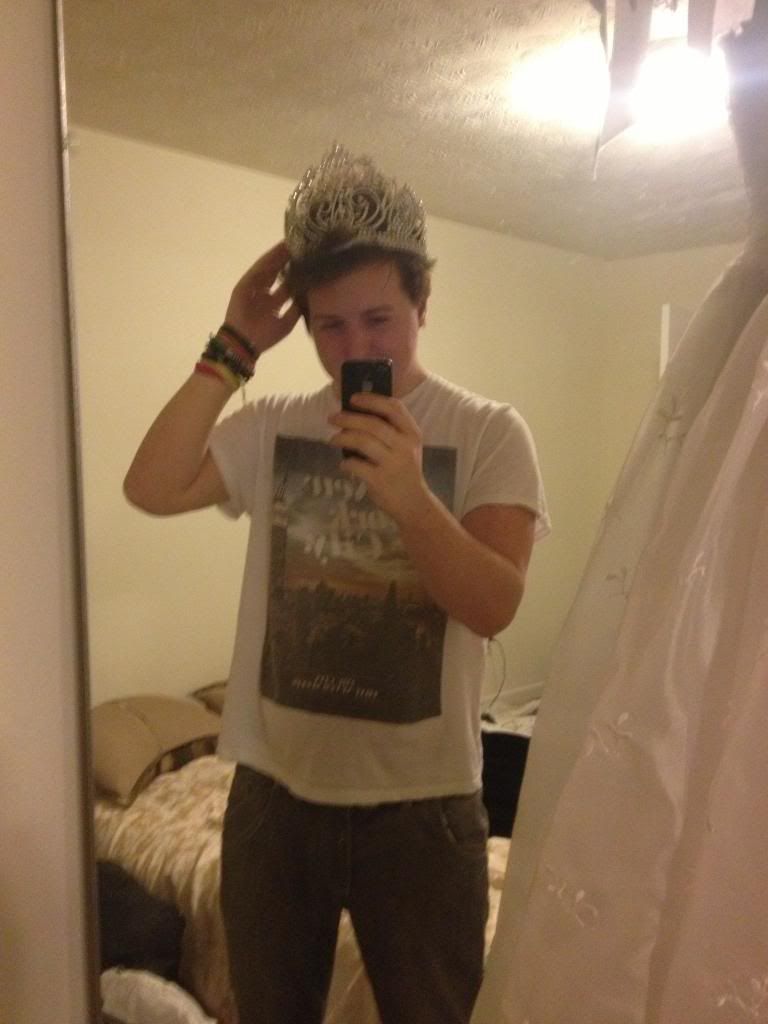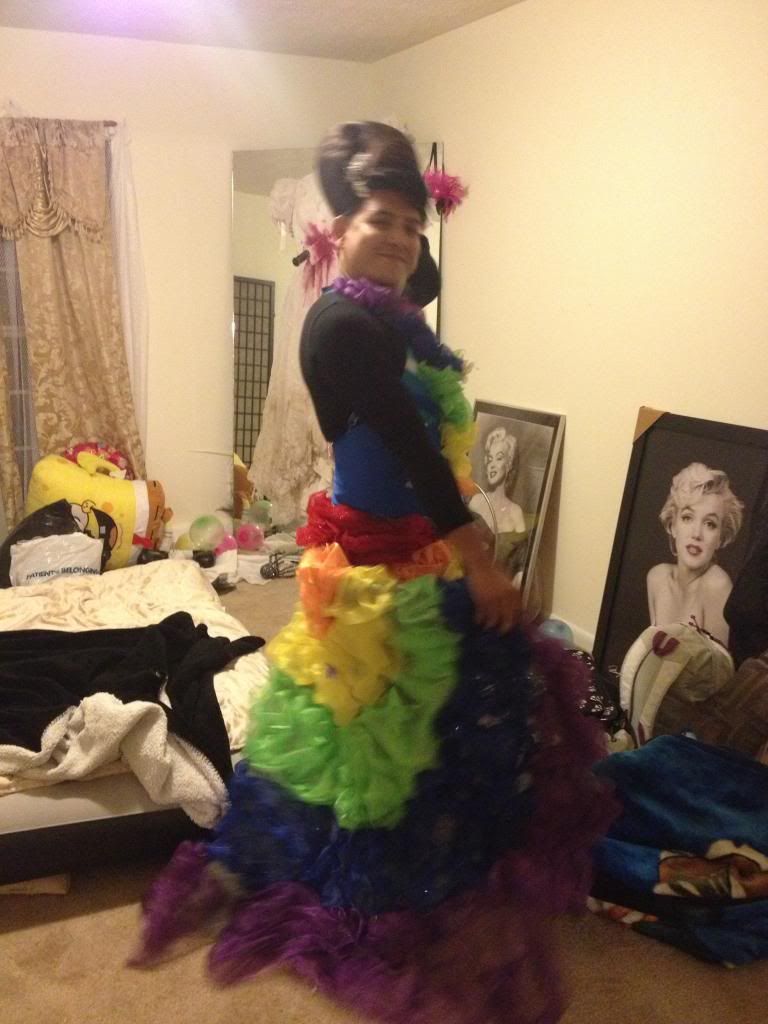 Playing dress up at a friend's house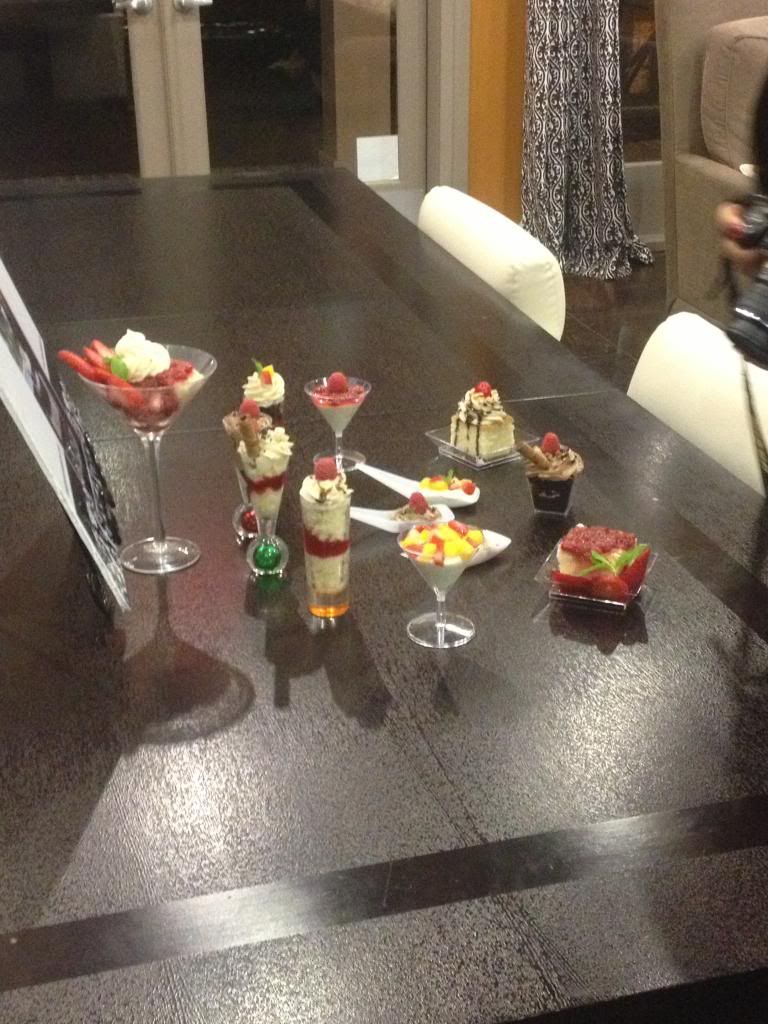 The Apartment Complex Clubhouse had a lady in making these incredible desserts. She gave us loads to take home with us and enjoy!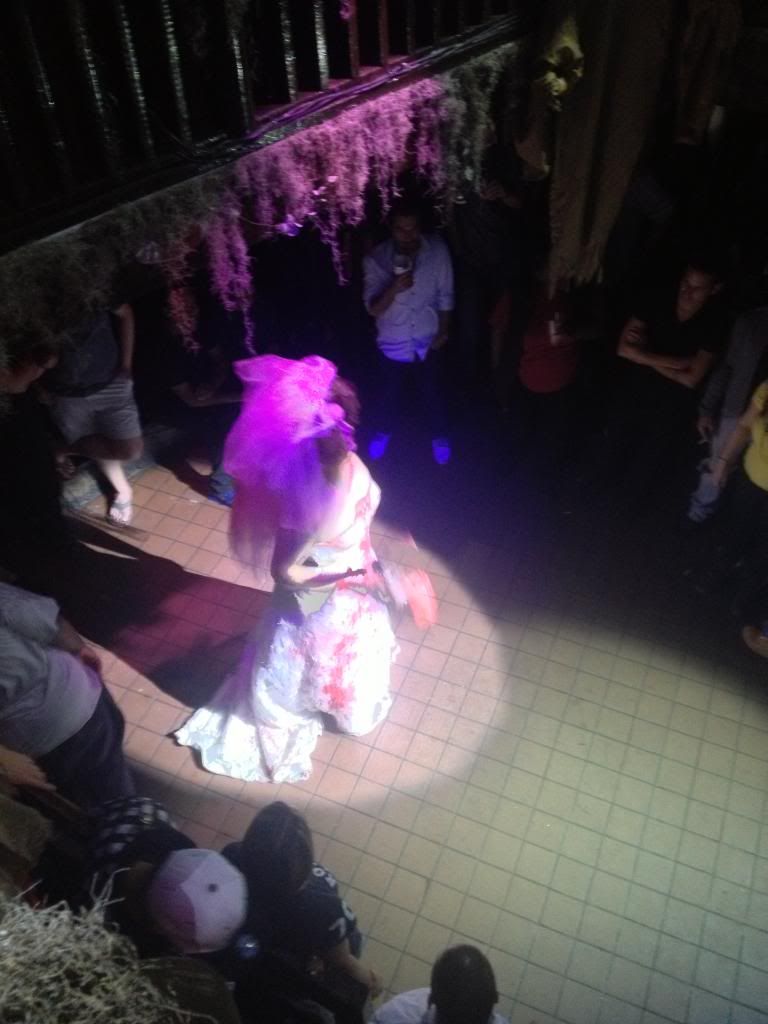 Hallowe'en Drag Queen at Burkharts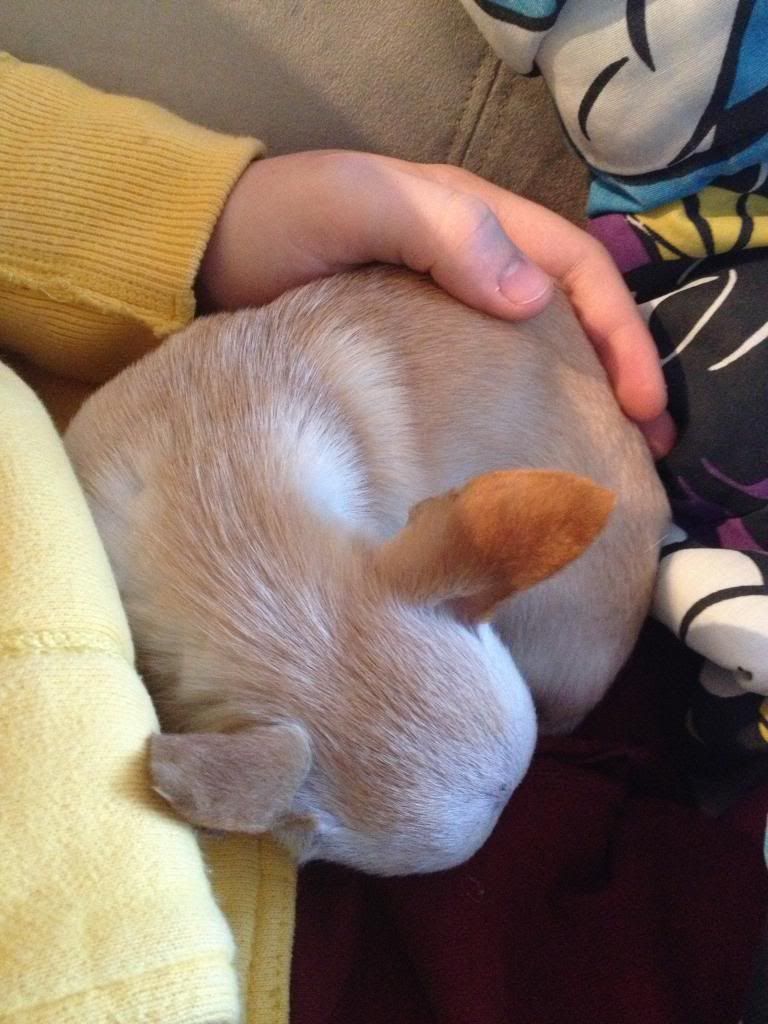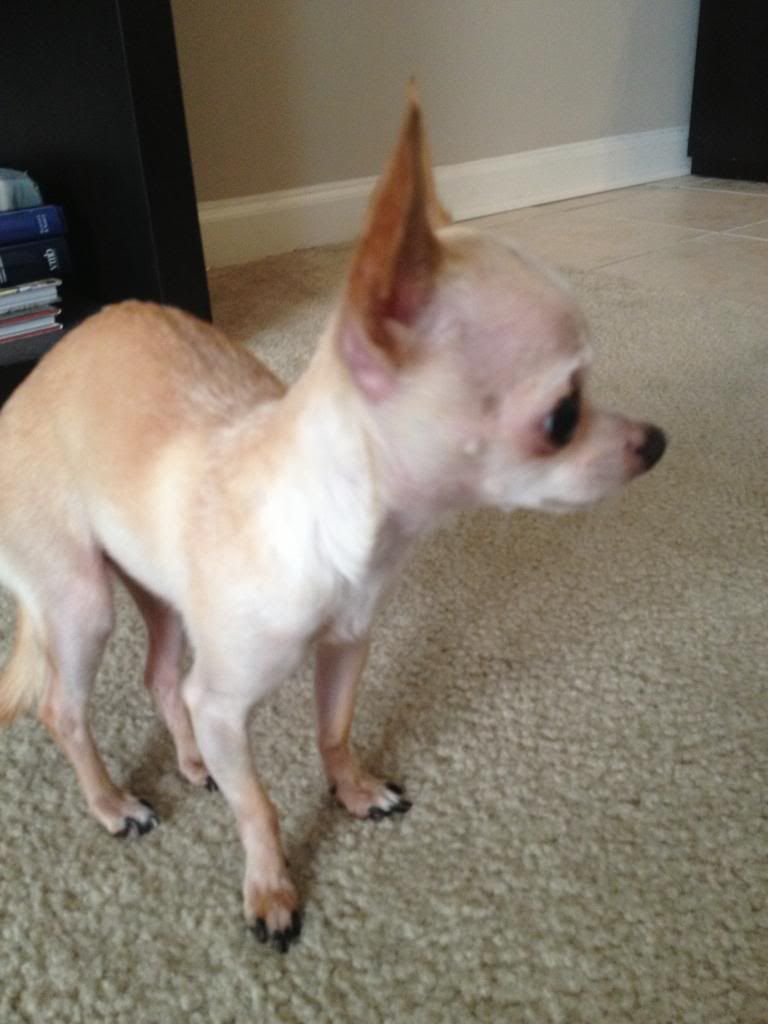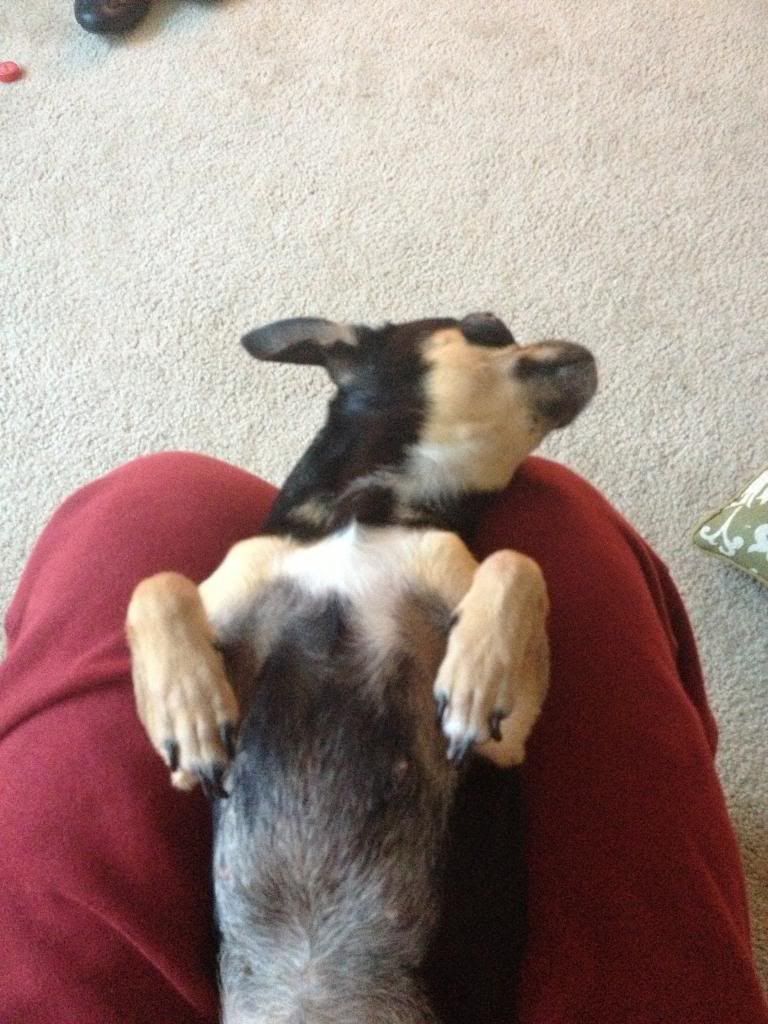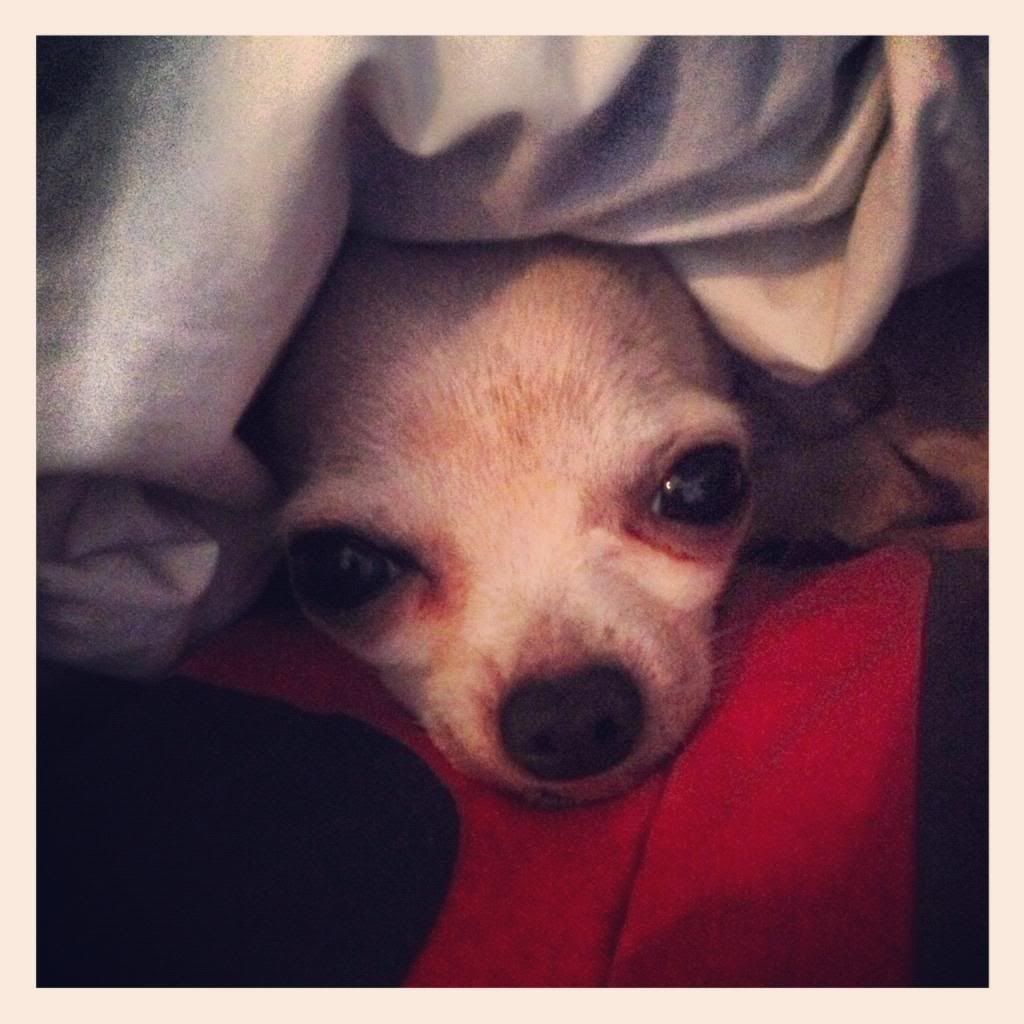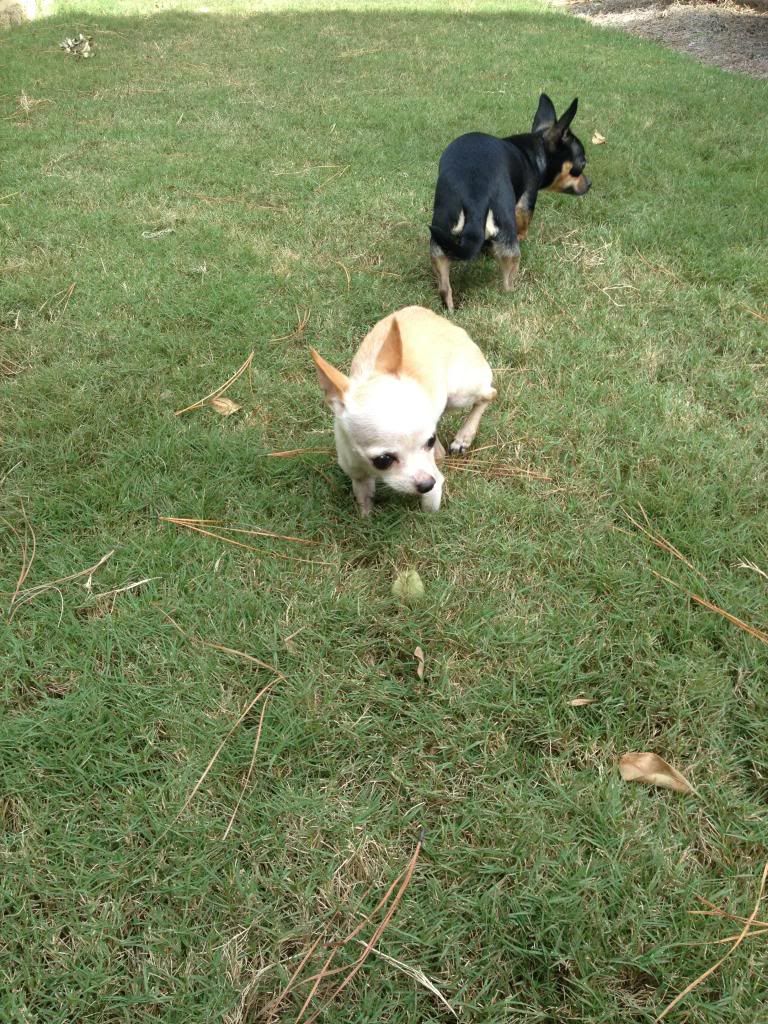 Our Puppies. Joey is the blond, smaller Chihuahua, and Cloey is the other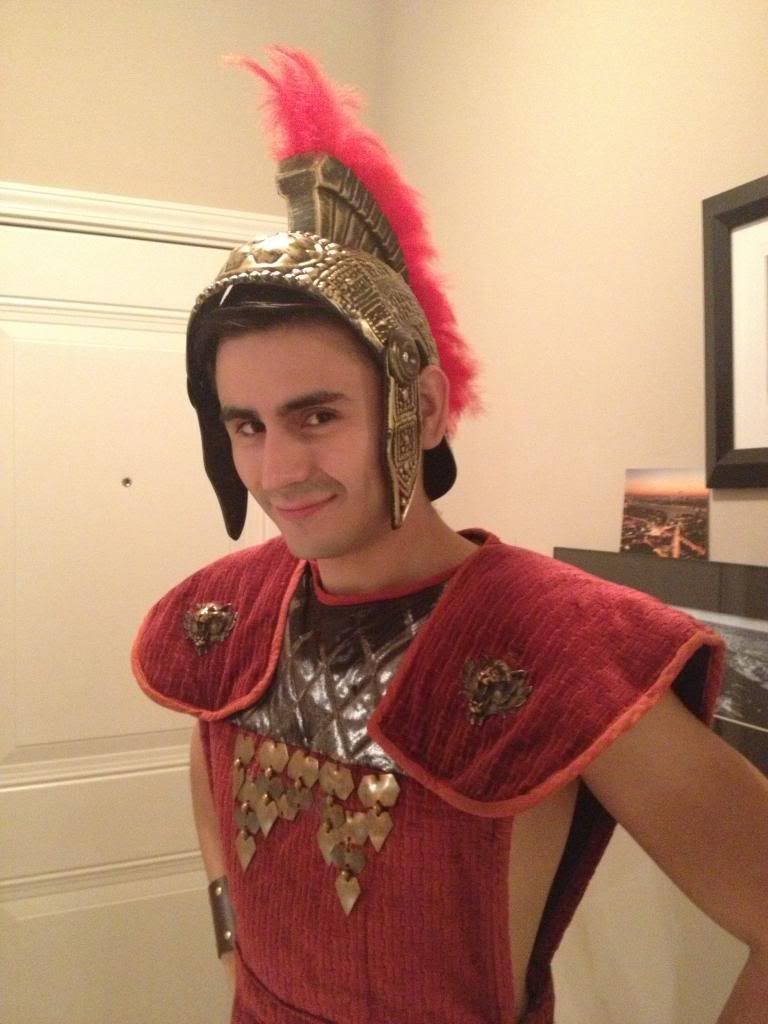 Pablo, the Roman Soldier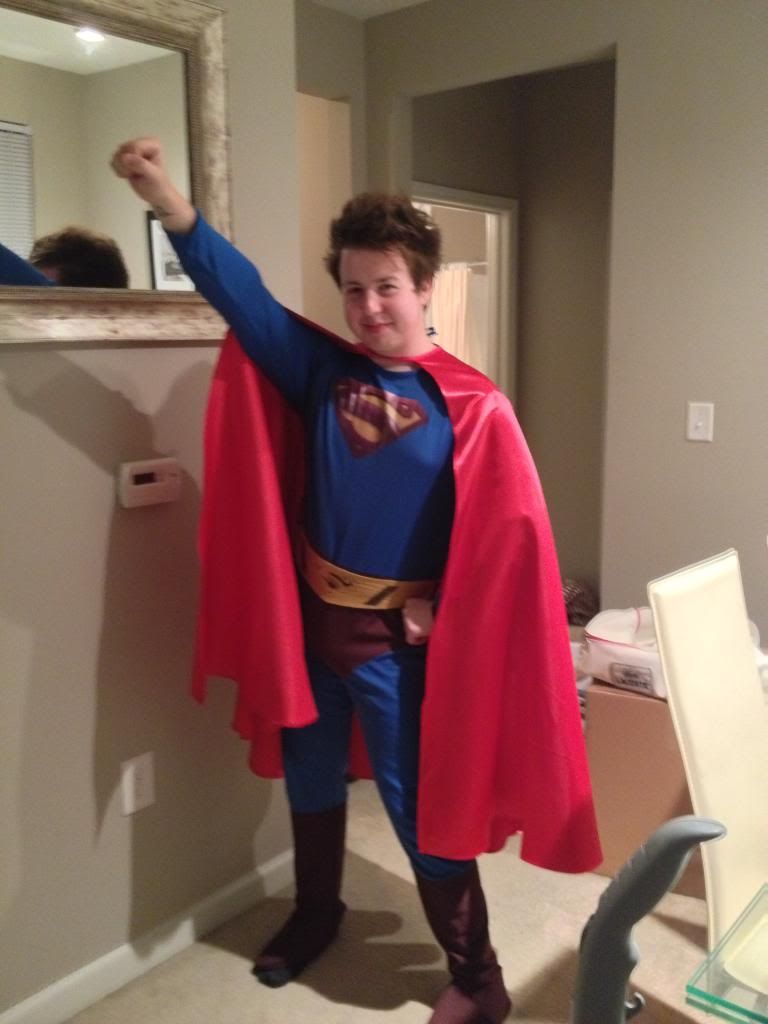 Is it a bird? Is it a plane? No! It's SuperGay!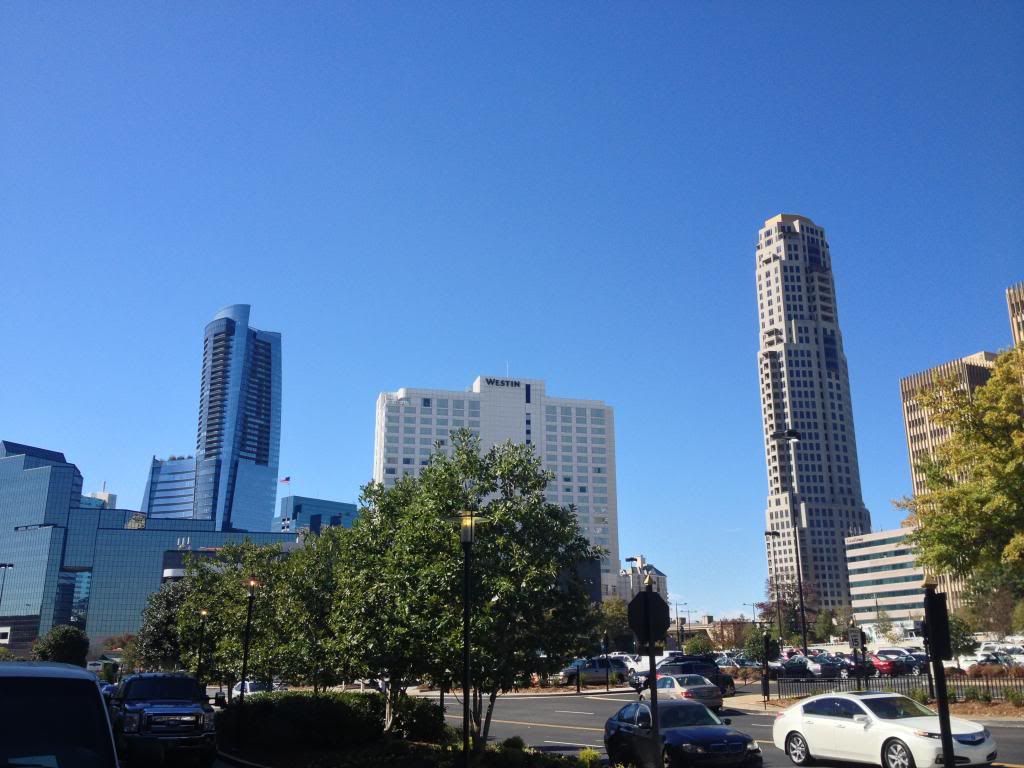 Lenox
Shopping to look and smell goooooood!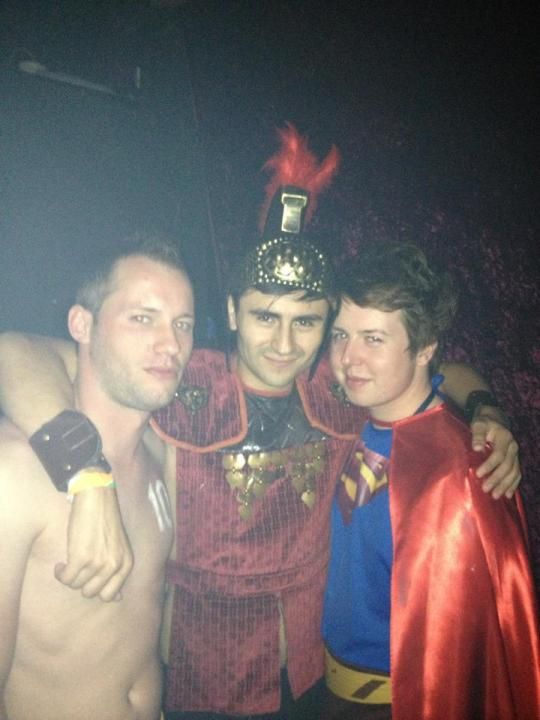 Me and my boys, Lee and Pablo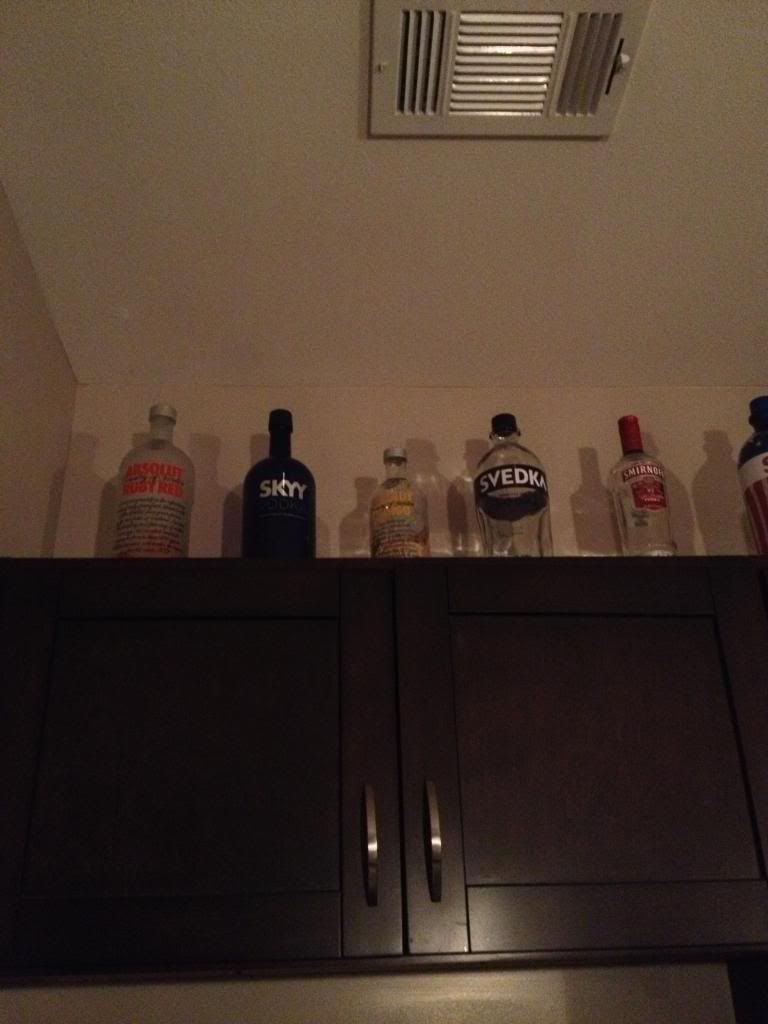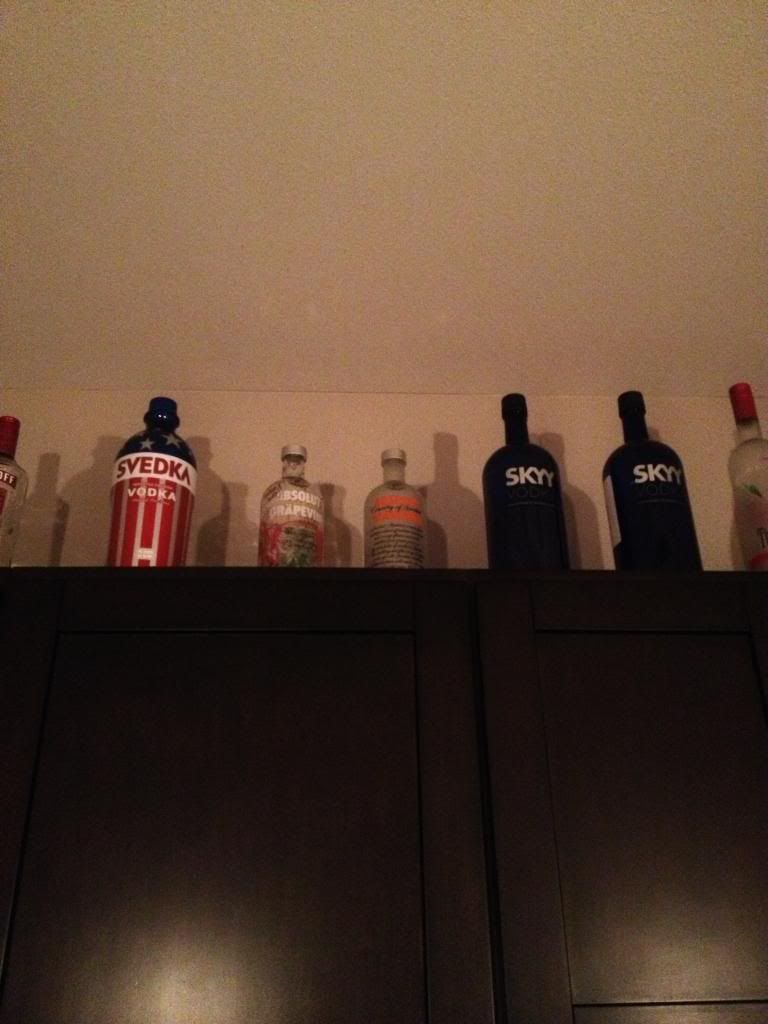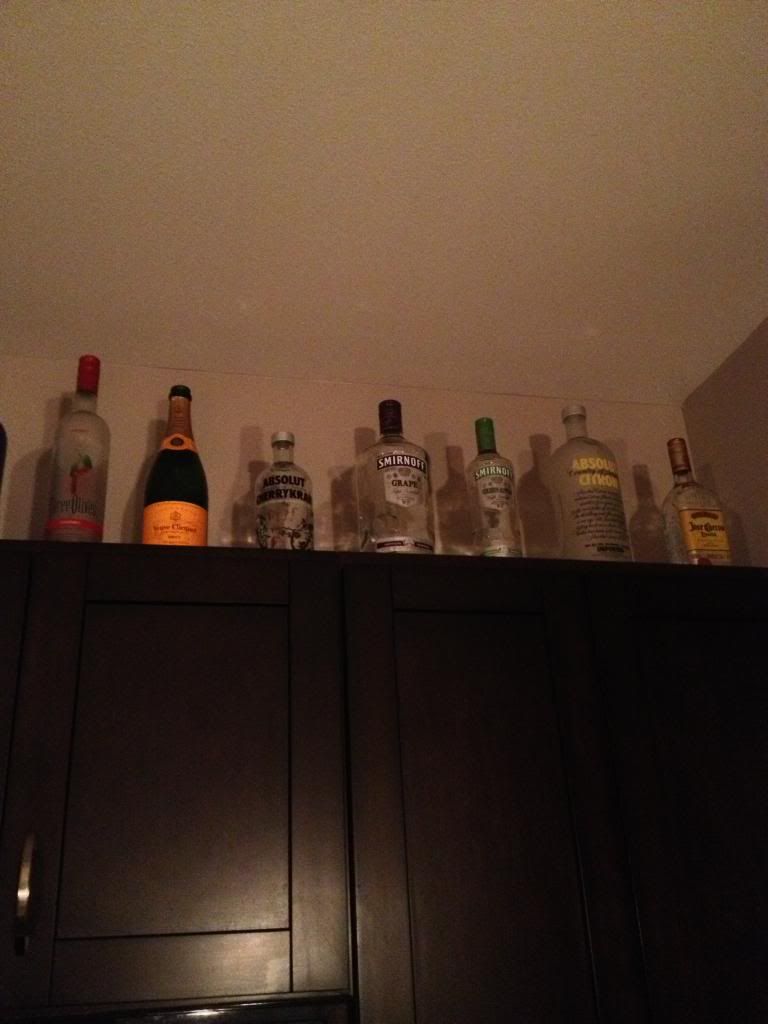 We keep all of our empty liquor bottles from the apartment above the kitchen cupboards. It was full by the time I left on November 2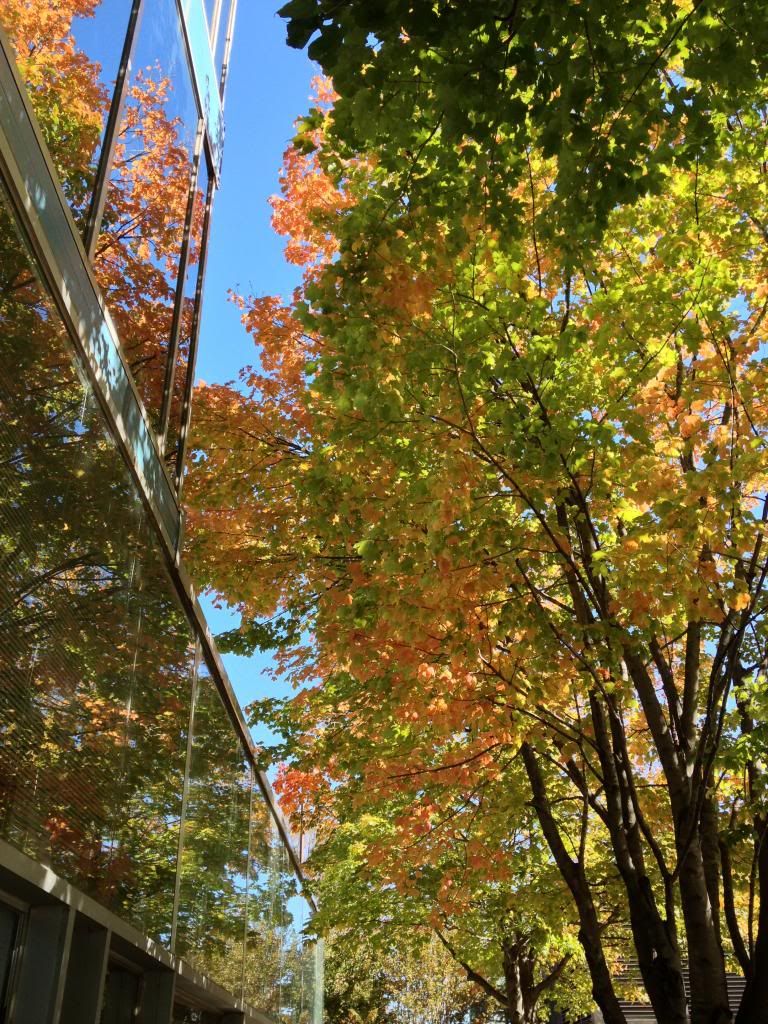 Fall Colors in DeKalb
And that brings us to the end of this report. I hope y'all have had as much fun reading it as I did experiencing it and writing it. I do apologise that it's taken 5 months to bring it to you, but I've had a few days off and thought it was a good way to fill the time.
I'm not sure what my next trip report will be, but expect somewhere in the Caribbean at some point over the summer.
Safe flying everyone!
JG