Feedback always appreciated.
I > Background:
I decided to spend some time with a friend who was leaving Korea after completing a 5 year expat contract with an American investment bank. After his crazy "despedida", it was time to make the long trek back to Caracas. Korean Air has extremely cheap flights in First Class filed for Miami and my "angel" (travel agency in CCS) was able to get me a ICN-YVR-LAX-MIA flight. Interestingly, the 380's on the ICN-LAX are not allowed under this deal.
I believe this is the first First Class report on Korean Air on the ICN-YVR flight.
II > Pre-Flight:
a) Before Airport:
Incheon based Korean Air, is both the flag carrier and the largest airline of South Korea. Korean Air's international passenger division and related subsidiary cargo division together serve 130 cities in 45 countries, while its domestic division serves 20 destinations. It is among the top 20 airlines in the world in terms of passengers carried and is also the top-ranked international cargo airline. One of the anchor airlines for SkyTeam in Asia, it has been able to transform its shoddy poor safety image to become a key part of Incheon's success as a transfer hub to North Asia, and parts of South East Asia.
As I mentioned, booking was done on through my travel agent in Caracas. After giving her my credit card details, I had my tickets in no time. Like Swiss, Korean Air has a policy that you cannot access your tickets online without a Korean Air account number – something I found a little annoying. So while
www.koreanair.com
might be an exemplary site, without a KE number, one cannot do anything with the reservation. I personally find this very annoying.
b) At Airport:
Incheon is one of the nicest airports out there, including my new favorite airport train station. Unlike other Asian carrier hub airports, KE's First Class check-in area did not have much pomp. However, it was empty, and I was quickly able to check-in to my flight with the courteous agents. In keeping with this "moderated" experience, there were no special lines for Premium customers either at immigration or security. Thankfully, ICN is extremely efficient, and I was airside within a matter of minutes.
Korean Air's First Class Lounge was my next stop. Again, like the entire FCL experience thus far, it was highly subdued affair. Regular course of food and beverages were offered; the lounge had WiFi, some reclining chairs, and a nice shower space. I did not find it that different from their Business Class Lounge – except, it was quieter, and I did not have to jostle for space. So far, the entire experience felt more like flying a U.S. carrier F than something on an Asian carrier.
Around 1735 (60 minutes prior to the new departure time), I made my way to the gate where people had begun milling around. Boarding started 45 minutes prior to departure, and there was no special announcement for First Class – again, very unlike other Asian carriers. In another departure, the gate agent did not acknowledge me by name of thank me for my business. I am not saying all this to sound entitled – more to highlight the procedural difference with FCL on almost all Asian carriers.
Upon entering the aircraft, you get a sense of space in the FCL layout with the odd shaped Star-Trek like TV's standing out. The purser walked me to my seat and introduced me to one of the FA's who would look after me. Of the 8 seats, 3 of them were taken. However, I was the only revenue passenger with 2 pilots occupying the other seats in row 1.
Soon afterwards, the crew came by with a bottle of champagne and some newspaper offerings as the excitement of a long haul F flight began to realize.
Airport - External:
(Incheon Airport)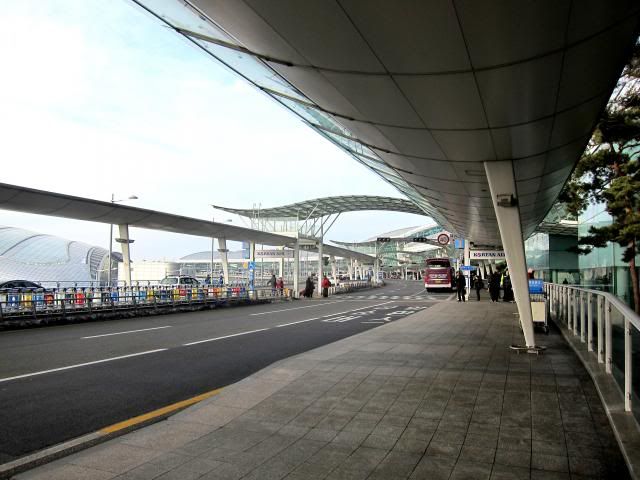 *
*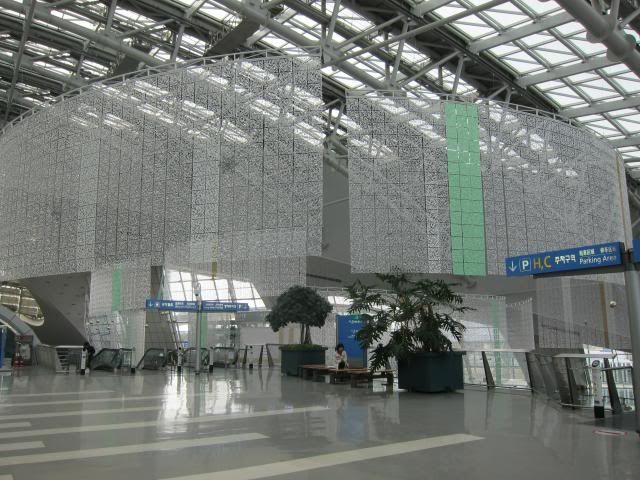 *
Check-in:
(Special First Class Area – nothing special / no fast track anything @ airport)
Airport - Internal:
(Pre-Security @ ICN – one of the nicest airports out there)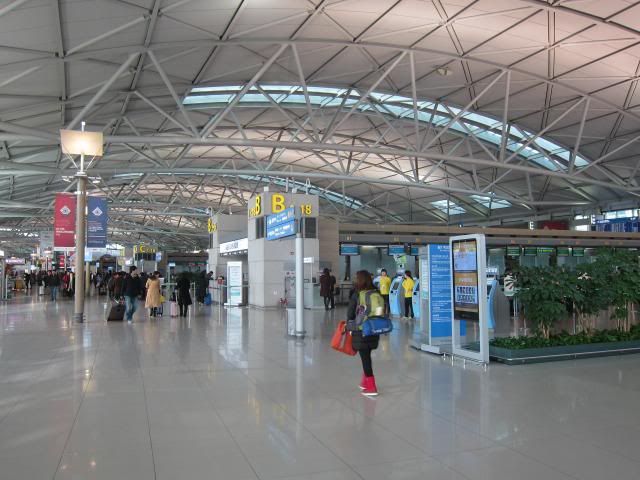 (FIDS)
(Post-Security @ ICN)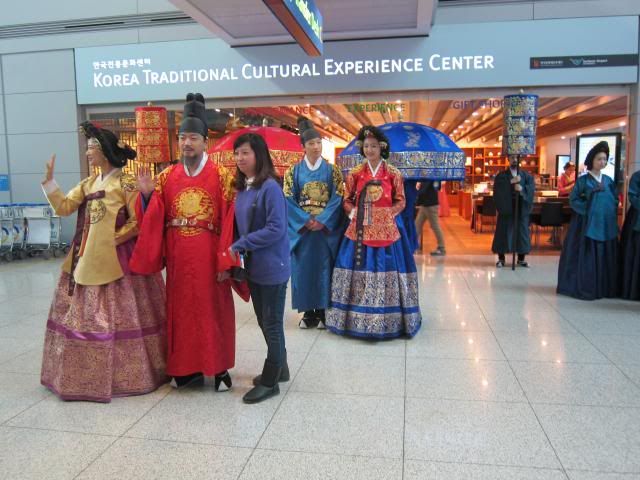 *
*
Scenes of the tarmac: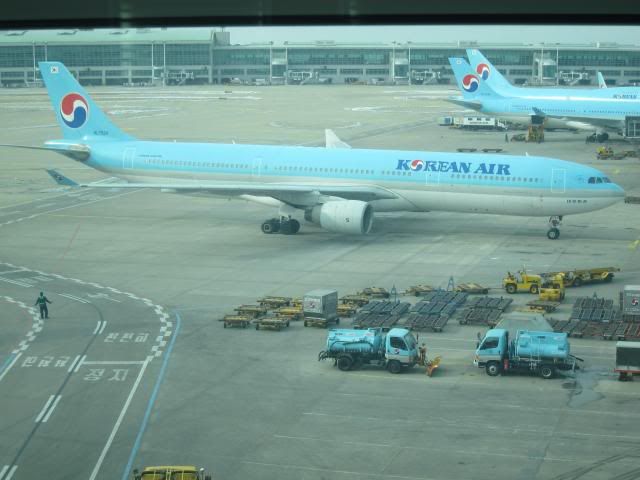 *
*
*
*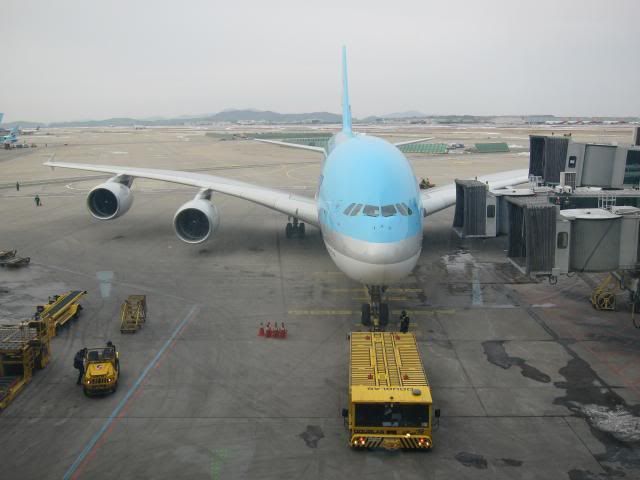 Lounge
(Korean Air First Lounge – didn't think it was super "First")
*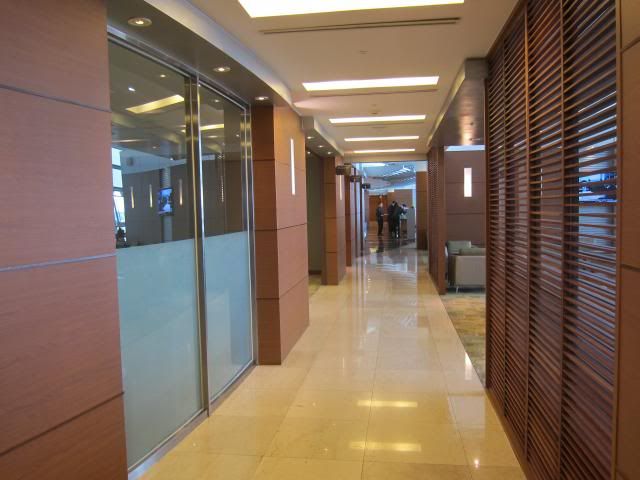 *
*
(Well stocked shower)
*
*
(Relax area)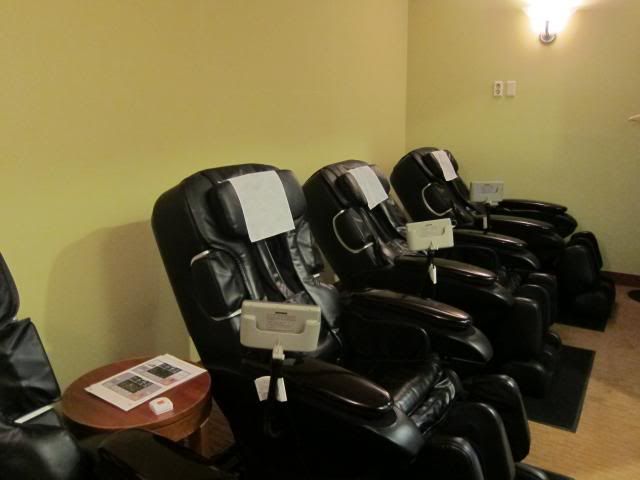 *
Boarding & Gate Area:
(There are a lot of wrongs here – first, the whole skin whitening thing is just creepy)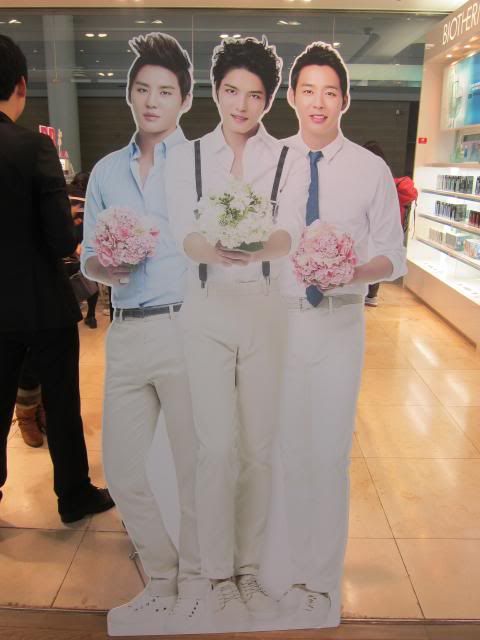 *
*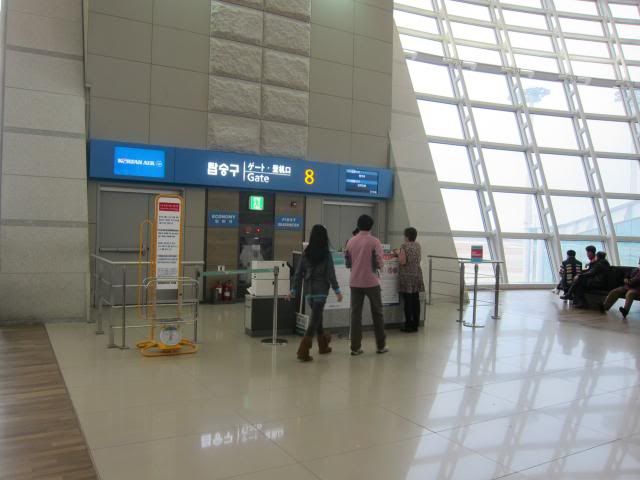 III> In-Flight:
a) Service Schedule + Impressions:
On the ground:
+ Pre-take off drink (I had champagne; interestingly no amuse-bouche)
+ Headphones distributed
+ Pajamas distributed (After a request by me)
+ Amenity kits distributed
+ Menu and newspapers/magazines distributed
+ Seat already had slippers to wear
In the air:
+ Hot towels
+ Dinner service
+ Hot towels
+ Pre-arrival breakfast service
b) Aircraft + Seats:
In general, I am a fan of Korean's livery, and I think it still looks good in her 772's. Inside the aircraft, the 8 passenger First Class cabin has an openness to it which is nice. There is plenty of space which makes it a good contrast to the generally crowded Business Class cabin that I find on KE's layout. However, the use of pastel green to contrast with an older generation off-white cabin interior was a little too bland for my liking and just felt tired. The seat itself is very nice and folds into some very comfortable lounge positions, and a very smooth flat bed. There is enough areas to store one's stuff and intuitive controls. However, the overall concept felt a generation behind, and I did not appreciate the lack of privacy. In FCL, this is a key requirement, and most surveys (outside LX/LH management) confirm the same. One thing to note was the lack of turn-down service in FCL.
Aircraft:
(I just love Korean's very distinct livery)
Views from Aircraft:
(Korean comes in all sizes …)
General Seat Views + Seat Legroom
*
(What greets you)
(Legroom)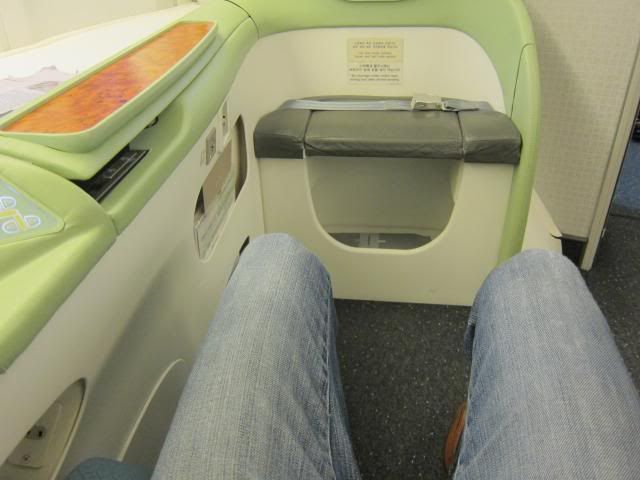 (Around Seat)
*
*
*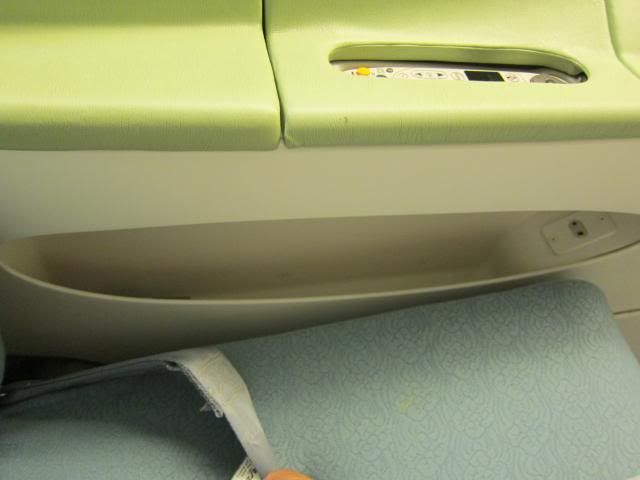 *
(Controls)
(Blanket +)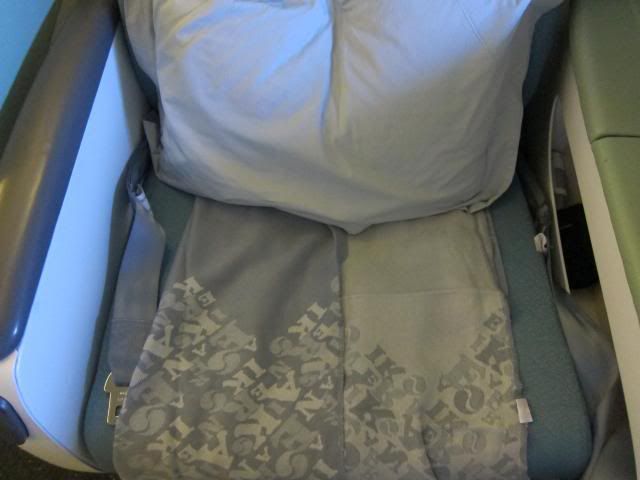 Seat Recline + Angle View:
(No Turn-Down service + Cheap Blankets)
(Angle view)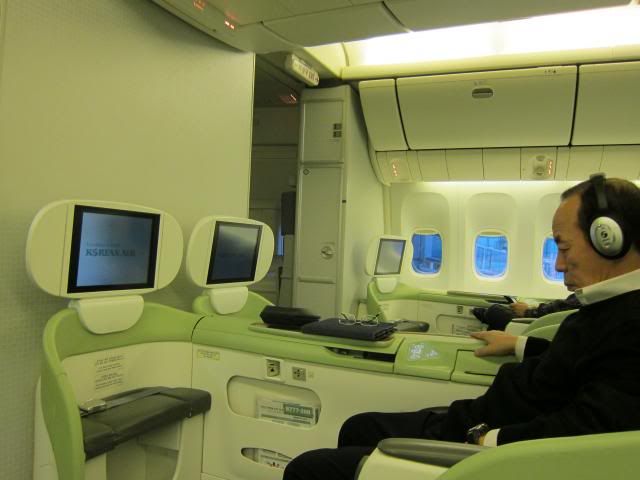 *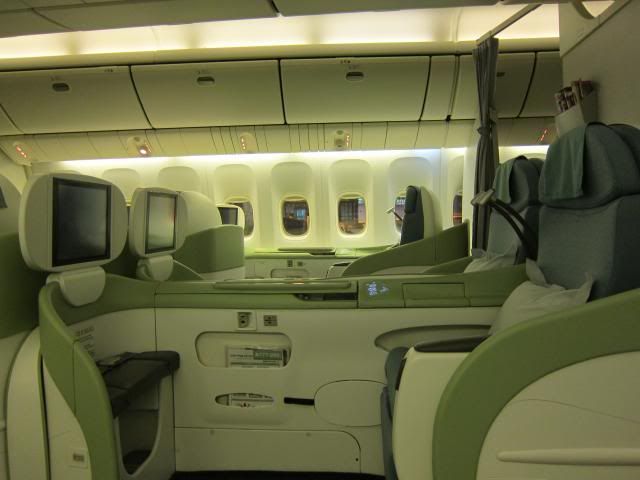 Cabin: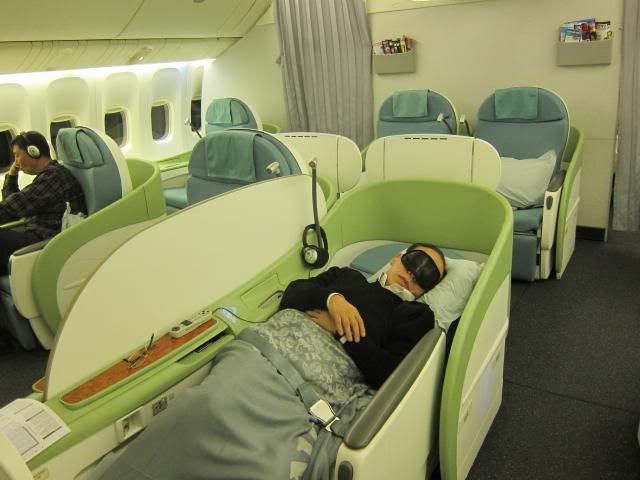 *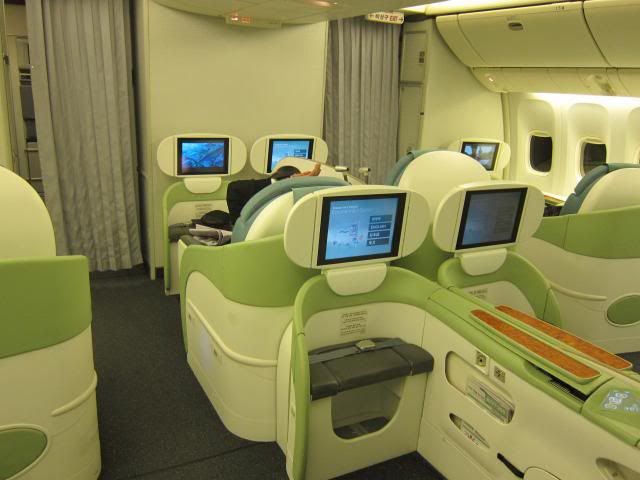 (Bathroom)
c) Meal + Beverage:
Korean Air's menu cards distinctly feel Business-like and I am a little jaded to appreciate stuff like "from the eco-pure island of Jeju … a taste of health in the sky" language.
Soon after take-off, the attendant dedicated to my side comes and asks me of my drink of choice. I reply with a Kir Royale and she looks a bit confused. As she fumbles to figure out what that is, I point to the menu and instantly she lights up. This points to crew who rote the menu, but don't really know what it means. Not a good impression in FCL. Accompanying my drink is an interesting combination of marinated apple slice with ham and garlic cream cheese, which just did not sit well with my drink of choice.
Main dinner begins with a combination appetizer including delicious eggplant with tapioca, a really nice succulent Alaska king crab, and very smooth shiitake mushroom. The KE crew presented them all very elegantly, and I thoroughly enjoyed the flair in display. After the appetizer, came a very yummy yellow bell pepper puree soup (over the Korean porridge), and I skipped the salad.
Flying on Korean Air means there is always the choice of "Bibimpap", but I was also delighted that a particular man had listened to my constant whining and introduced an alternate Korean fare by having some "Bulgogi". Other options included the Western farm-house chicken and the stir-fried prawn. After giving much thought to the prawn, I decided for the Bibimpap. Now, this is usually offered in all classes of service on Korean and I have not quite figured out what the difference is – except portions and the accompanying side dishes. Predictably, it was delicious and I drowned the entire affair rather quickly over a few more glasses of Kir Royales.
Now, the overall Korean meal was finished off with a rather mediocre tiramisu/icre-cream dessert. I really did not understand it. With a Korean meal, couldn't Korean have made more of an effort? Also, having no other option besides seasonal fruit was lame.
Finally, while there was an option of quiche, scrambled eggs, and Korean soup, I was feeling stuffed and stuck to a croissant, some fresh fruit, and a little yoghurt.
(Menu – with misleading number of champagne – only 1 is stocked)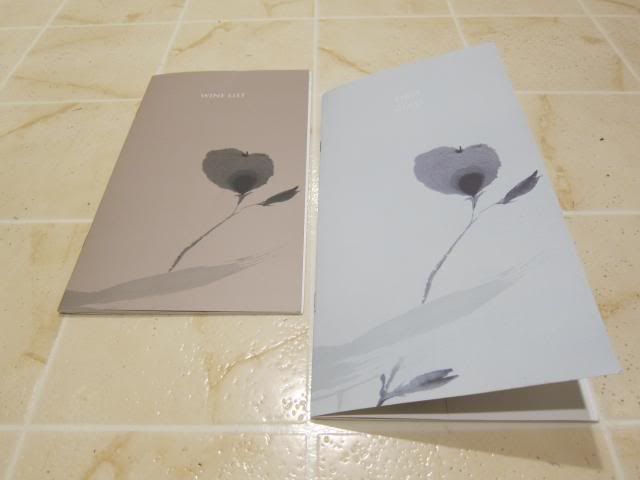 *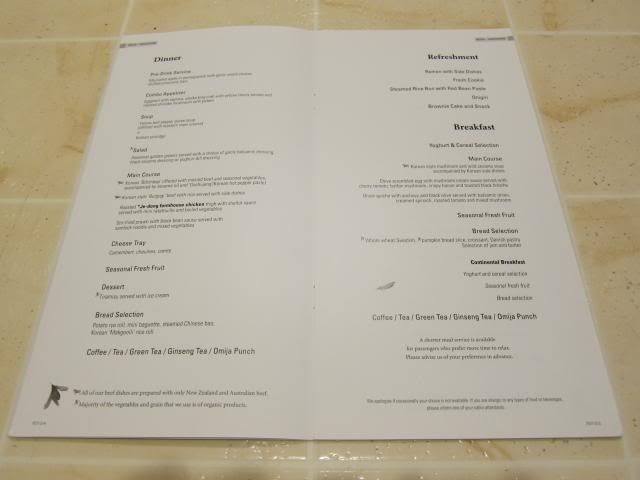 *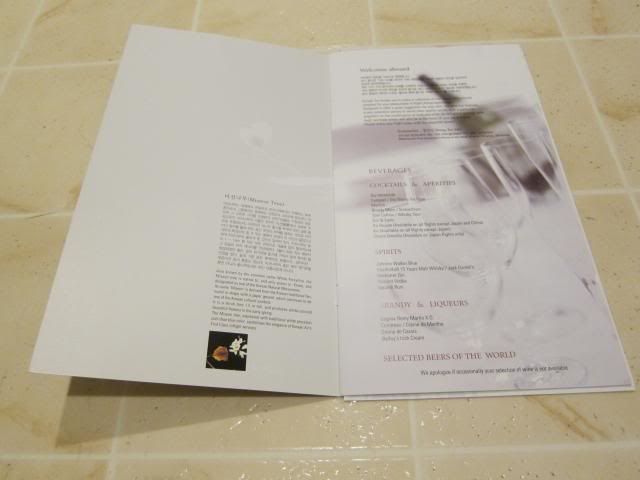 *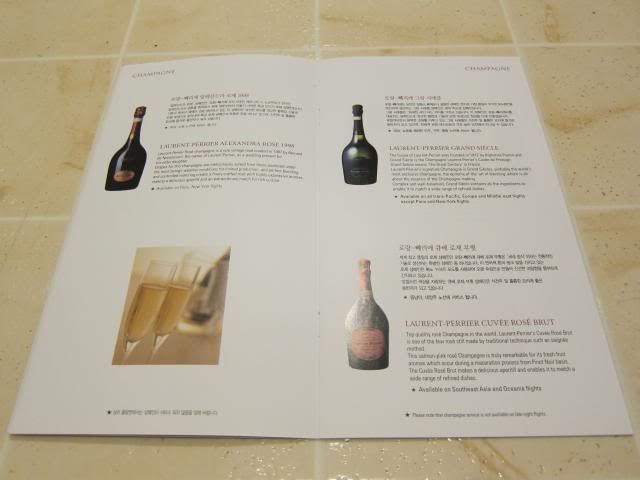 *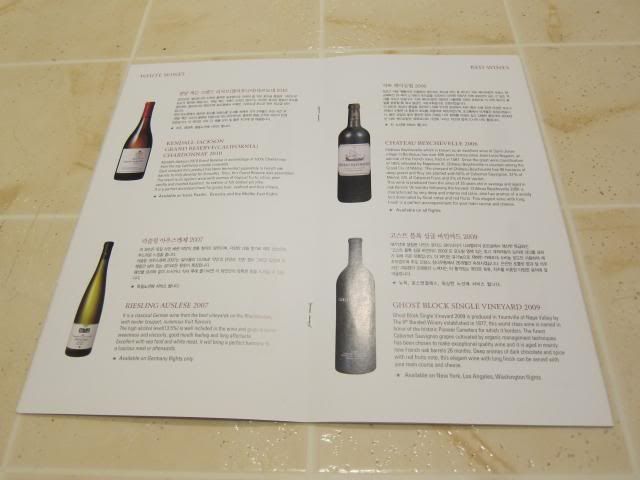 *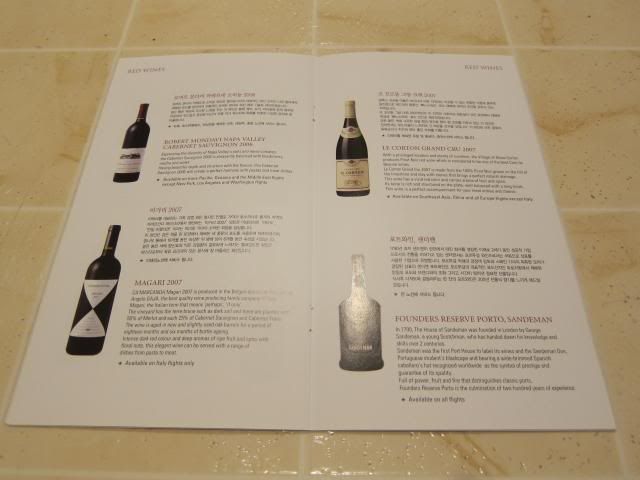 *
(Pre-departure: Opened after showing me bottle)
(Dinner Service)
*
*
(Lots of meal service at seat)
*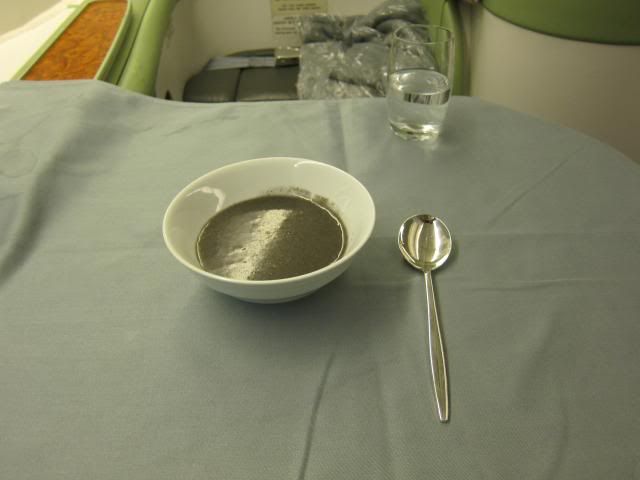 *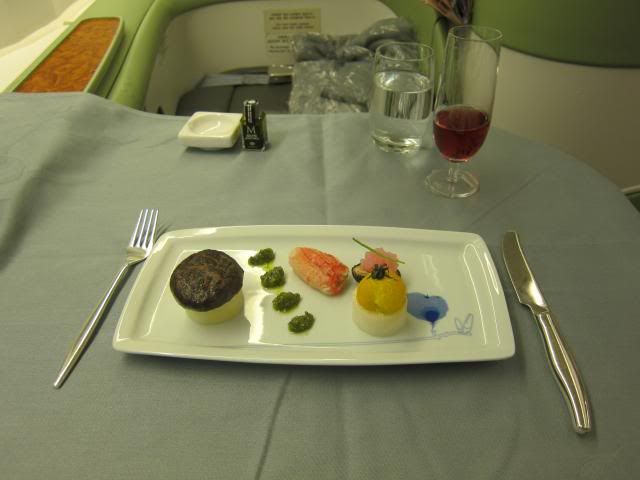 *
*
(My customary port w/ dessert)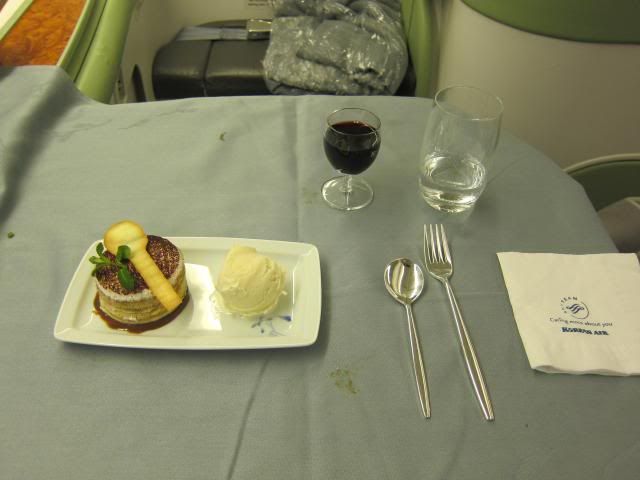 (Breakfast)
[Edited 2013-03-24 14:47:33]