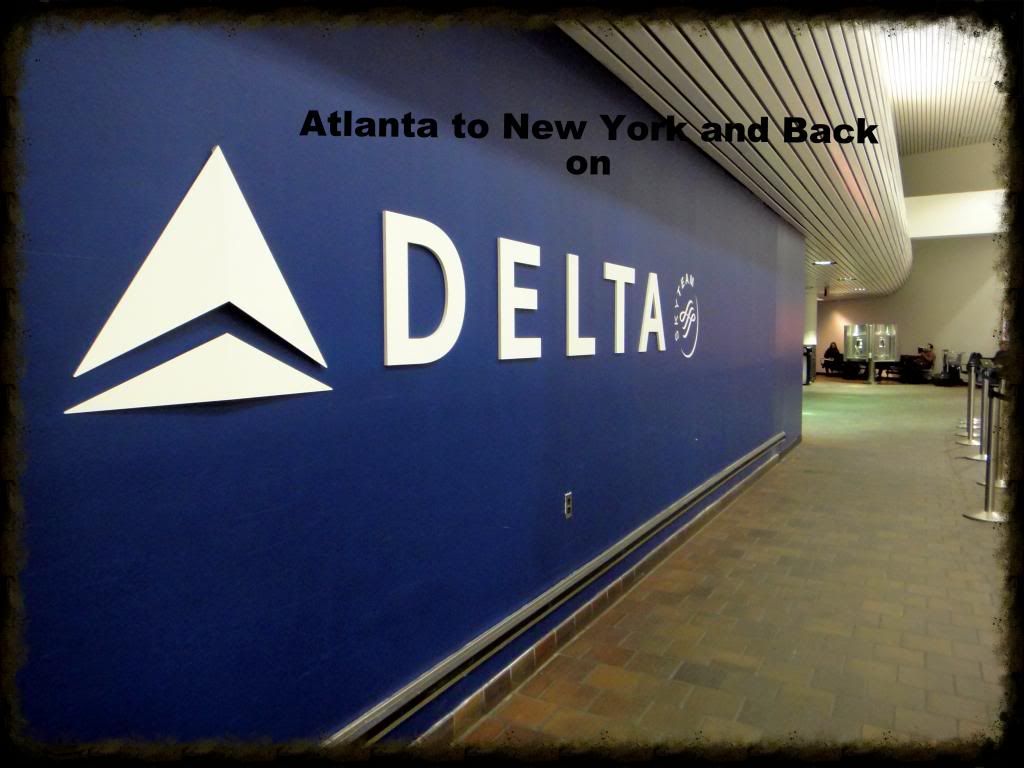 Hello fellow A.netters!
I welcome you to my 6th trip report and 4th of the year.
It was that time of the year where spring had started dawning upon us and winter was bidding us Adieu.
For me this only meant one thing. SPRING BREAK!
Now college students in the US usually do interesting things during spring break. Like head to Mexico,go to Panama City Beach,or even head down to Miami for the infamous UMF.
But us(Me and my friends). We always inevitably end up in which according to me is undoubtedly the best city in the world(Only after New Delhi
) New York.
We always make big plans for Mexico or the west coast but some how all our plans just keep on taking us to New York and hey! Who are we to say no?
Well this year was again no different. After much pondering over where to go, New York was the unanimous decision and I saw my self booking on delta's non stop service from Atlanta to New York's La-Gaurdia.
I had booked my self on the night flight because first of all it was the cheapest ( A students life...Sigh!) and the second reason would that I wanted to fly there MD-88.(A type I have never flown before :O)
A round trip costed me 250 dollars which I thought was a decent deal. The only problem with night flights is the problem one has with photography,so I apologize in advance that the photo quality will not be at its best in this report!
DAY OF DEPARTURE:
We were to depart on the 6th of march at 9 45 PM. The last flight of the day to lga from atl.
We took the martha from the Ga Tech dorm and reached the airport at around 8 45 PM.
Checked in using the self check-in kiosks and went and paid the 25 dollar baggage fee.
Did not take too much time and no harm was done...
Here are pictures.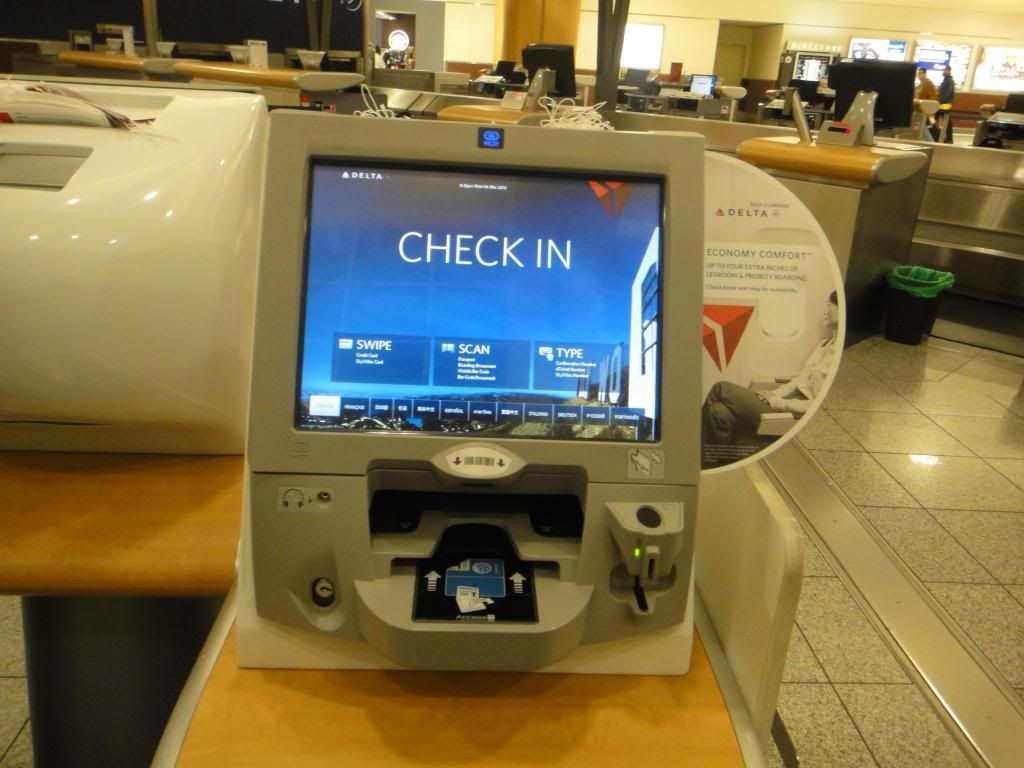 Wow! Look at the number of departures/arrivals today!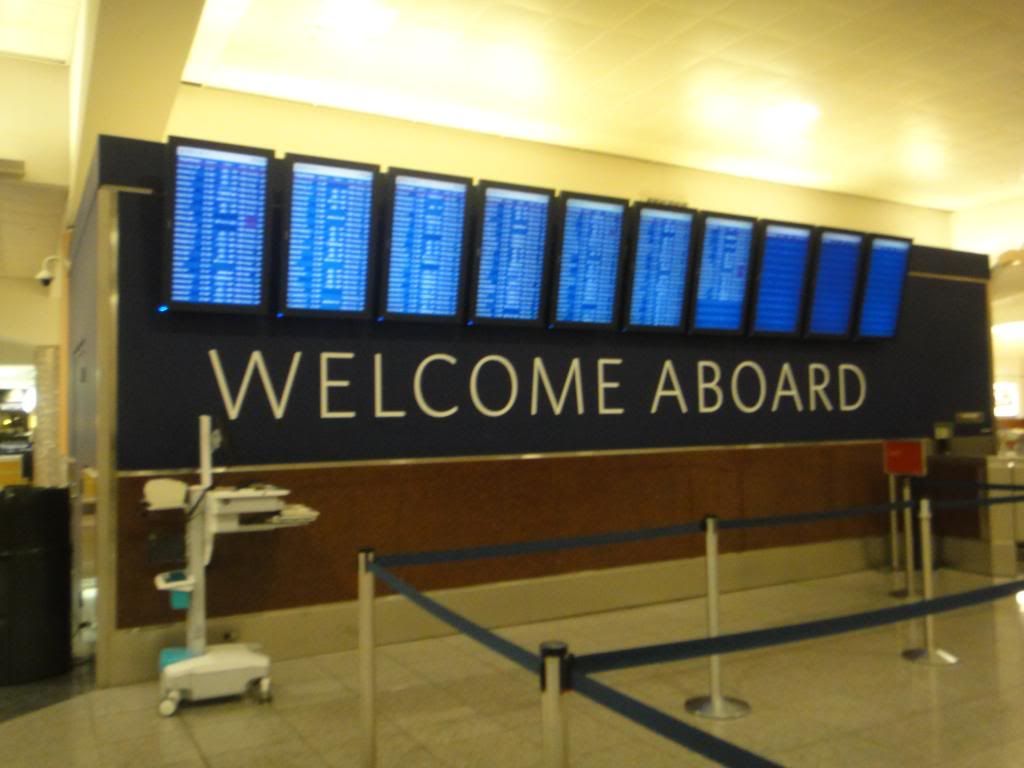 After checking in we still had around 20 minutes to kill and we decided to get some dinner at the food court.
This also meant I would not be able to try out the Delta Lounge,which I so eagerly wanted to check out.
Anyways we had a quick meal and made our way towards security.
Once again,security did not take too long and we were on the other side of the airport!
As I was repacking my laptop into my bag I suddenly realized I had left my phone on the table of the restaurant I had just had dinner in. It was already 9 20 and gate would close in 10 mins. I had a panic attack as I ran back to find my dear I Phone.I looked around every where but could not find it. One of the cleaning staff offered me his phone and I tried calling me number. To my relief a cop picked up and said some one had deposited the phone with them 5 minutes back (Bless the guy).
He gave me back my phone and I ran back to re clear security and catch my plane. By this time it was already 9 33 PM.
12 mins left. My only saving grace was that my friend who was travelling with me had already informed the gate agents of my scenario and they waited that extra "few" minutes for me. I made it to the gate at 9 37 Pm and entered the Aircraft.
Clearing Security.
Now I had upgraded myself and my friend to economy premium just to give it a try. We were seated in almost the front of the plane and for the first time that evening I could actually relax.
Views from my seat.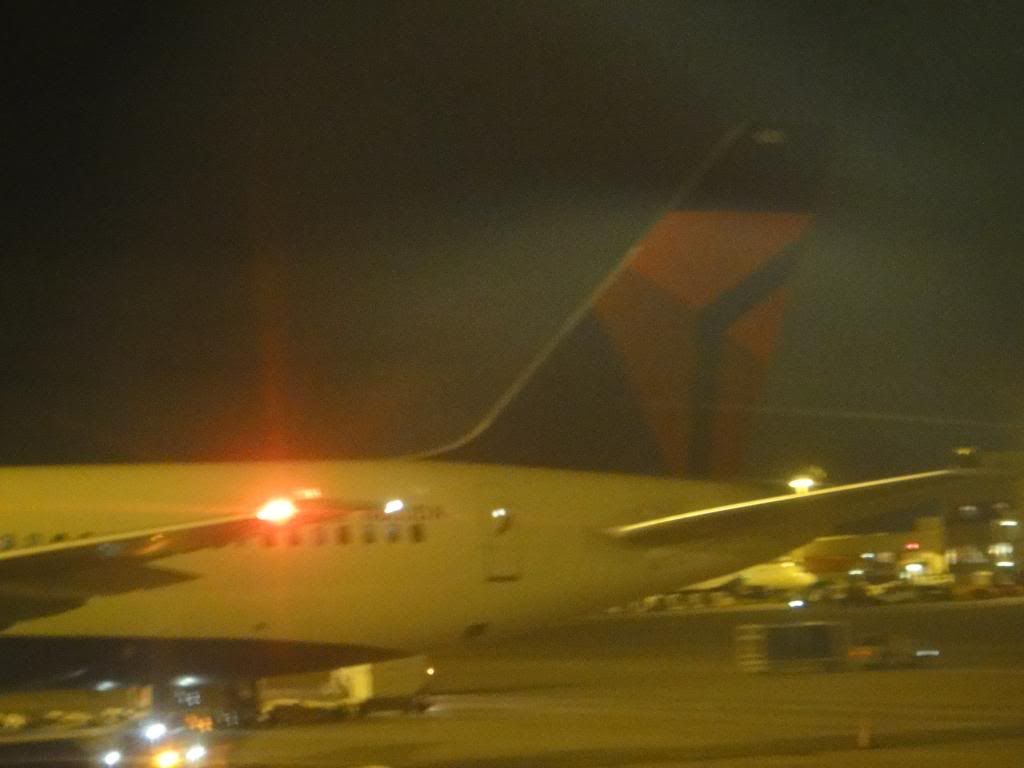 A 757 parked next to us.
The Bigger Boys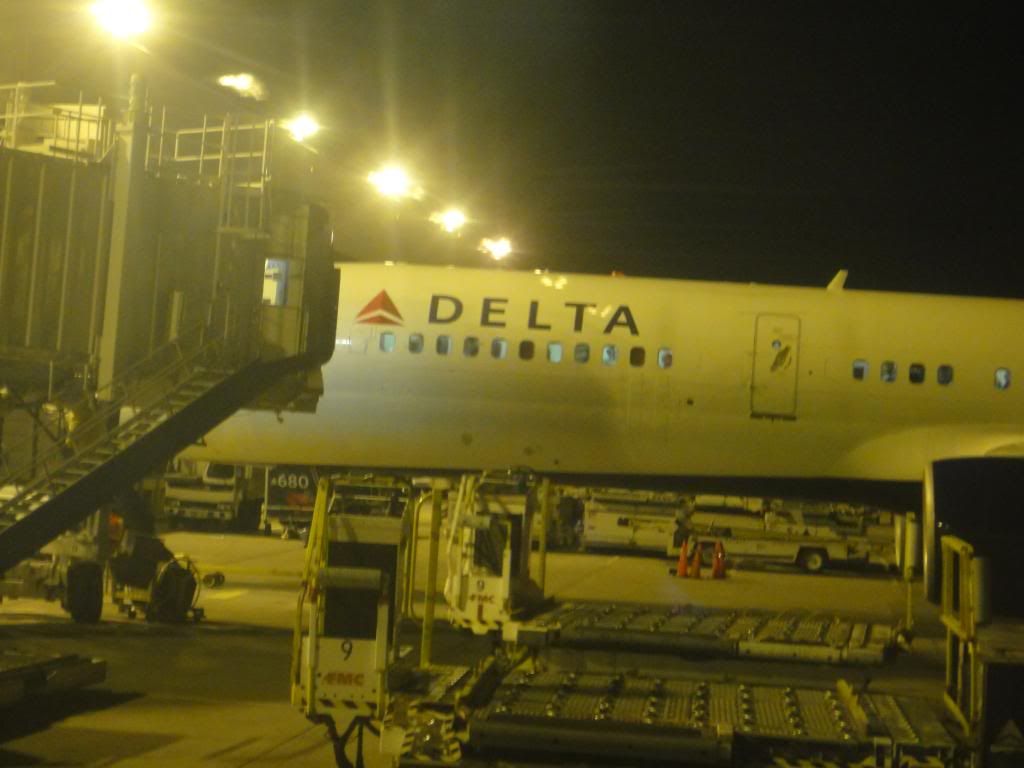 Here she goes!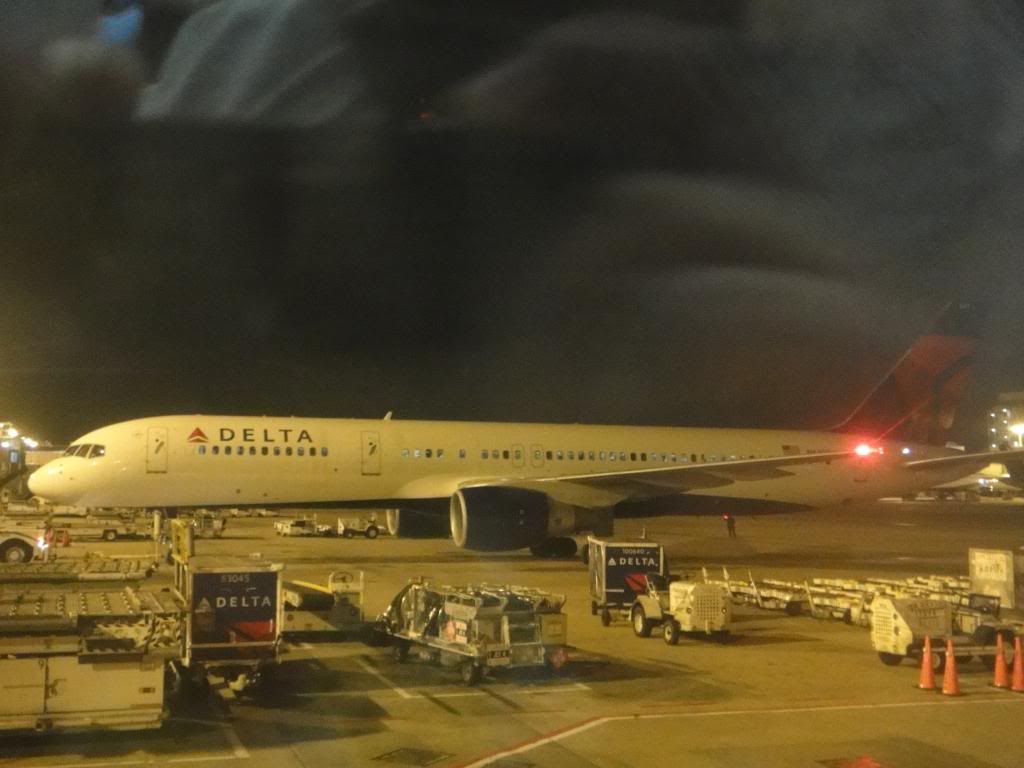 A few more delta jets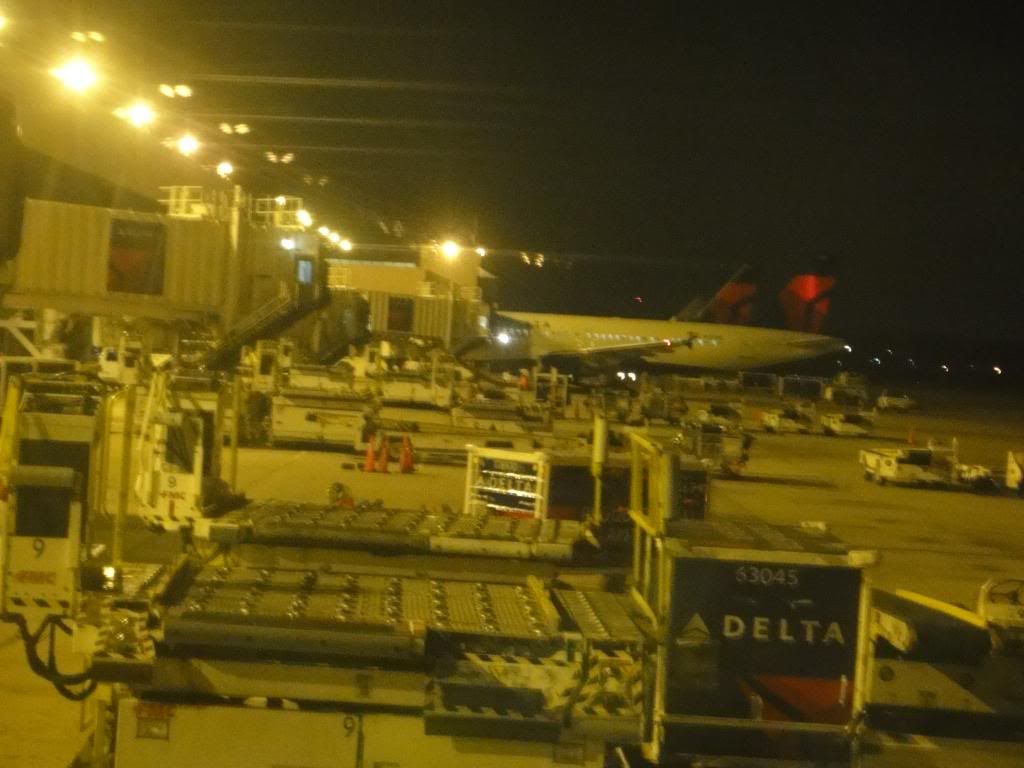 A little "extra" legroom.
We pushed back at around 10 05PM and made our way to the runway.
Flight Number: DL 1286
From: Atlanta Hartsfield Jackson International Airport
To: New York's La-Guardia
Flying time: 1 hour 45 minutes
J class load: 100%
Y class load: 100%
Flight Registration: Unknown
Scheduled Departure time: 9 45PM
Actual Departure time: 10 25 PM
Scheduled Arrival Time : 12 10 AM
Actual Arrival Time: 12 10 AM
After a 20 minutes taxi we lined up on the runway to depart. The engines roared and then I experienced one of the smoothest take off in my life. I have flown quite a lot and on many jets but this just took the cake.It was just perfect.
There were 2 flight attendants in the Y+ section of the plane and soon after departure they started the drinks service.
I just had a water. The rest of the flight was pretty uneventful.
One thing I would like to draw comparison would be that I had taken a Atl-Ewr flight last summer on United and had noticed that they were offering full cans of drinks instead of just a cup and they also did a 2nd and 3rd water run after.
Its a little thing but hey! they do matter don't they?
At the scheduled arrival time we had begun with our decent to the Lga. Once again a good landing we were in one of my favorite cities in the world.
Here are pictures on landing.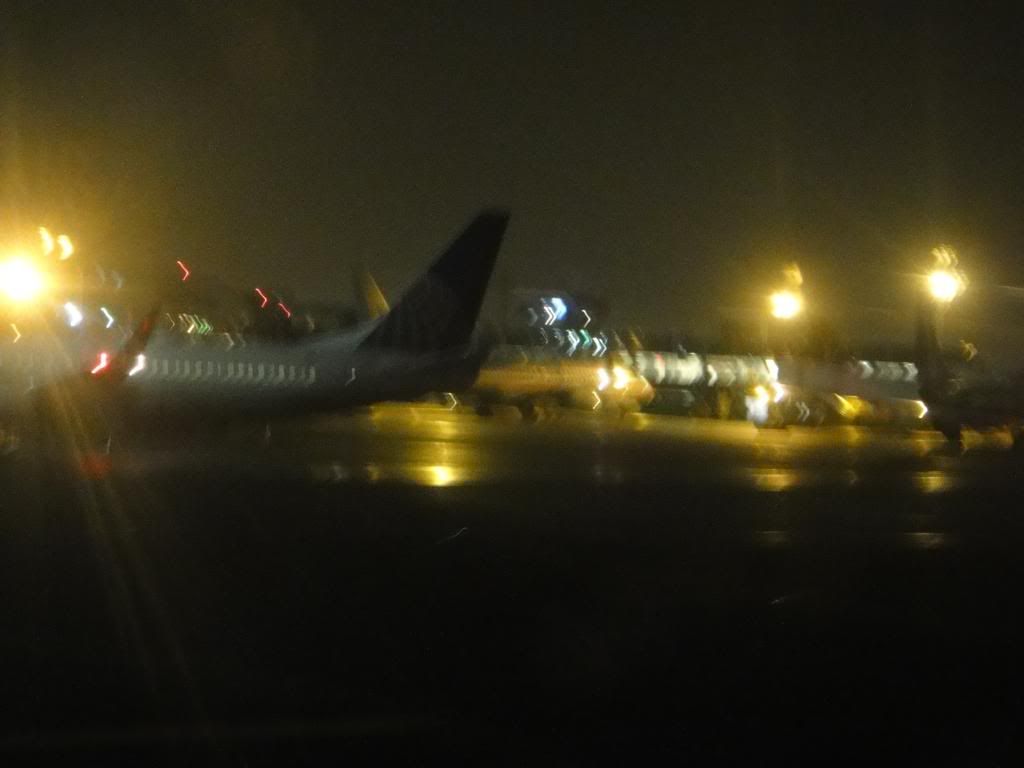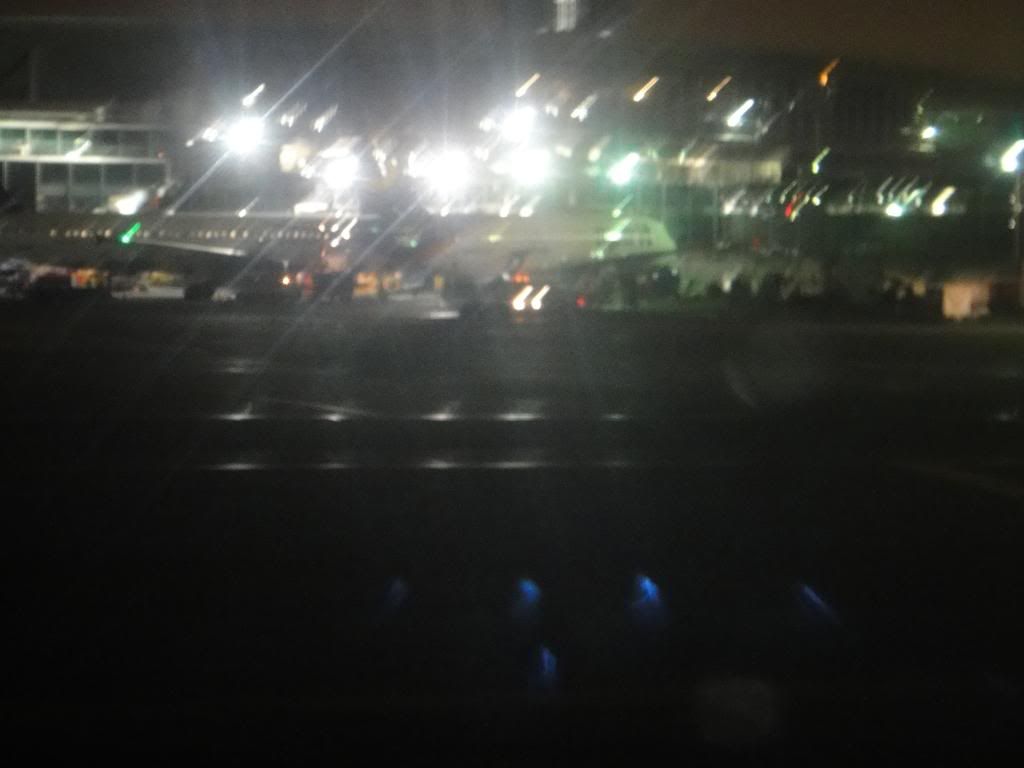 The semi-cockpit
Look at this fancy thing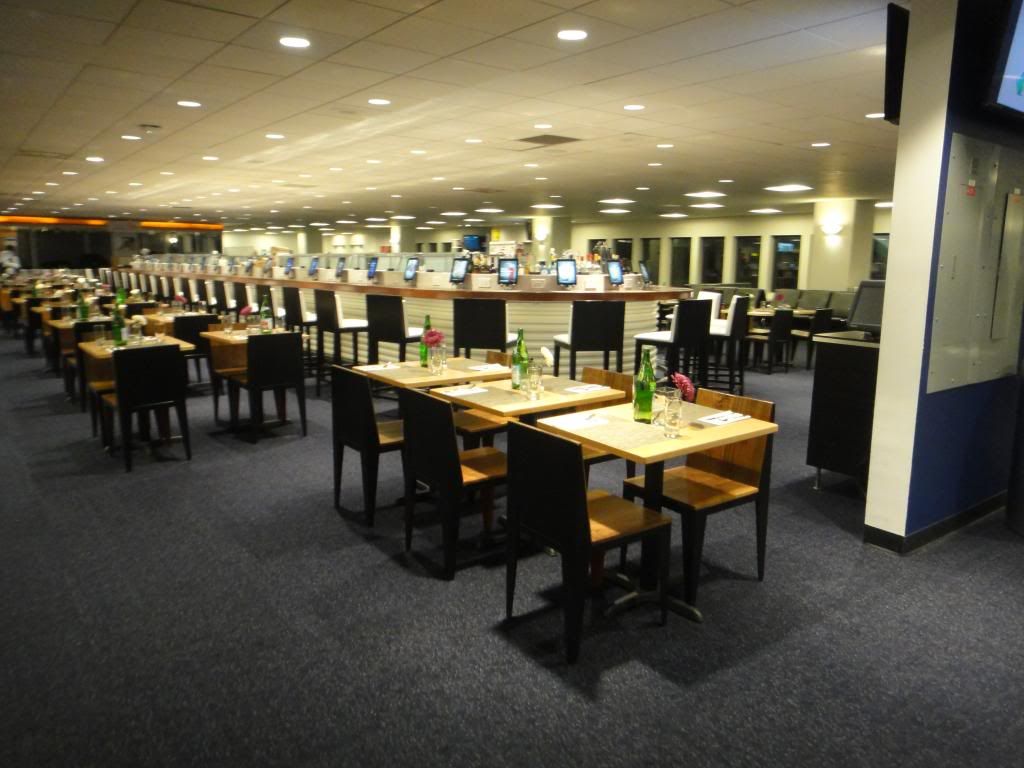 Technology at its best I guess.
Well after another crazy trip, it was time to go back to the normal life. This time I was travelling solo and once I had a night
flight on another MD-88.
I reached the airport at around 6 45 PM for a 9 PM departure and did a curb side check-in.
Pretty long line inside! Phew! I am glad I checked in outside.
Delta Advertisement.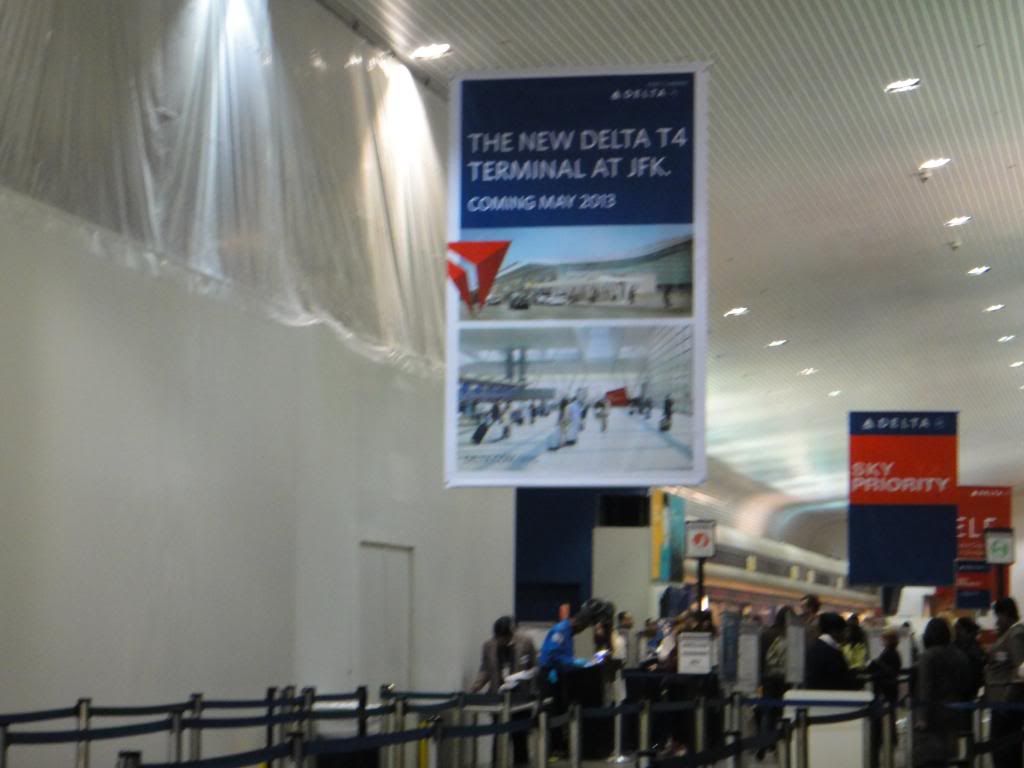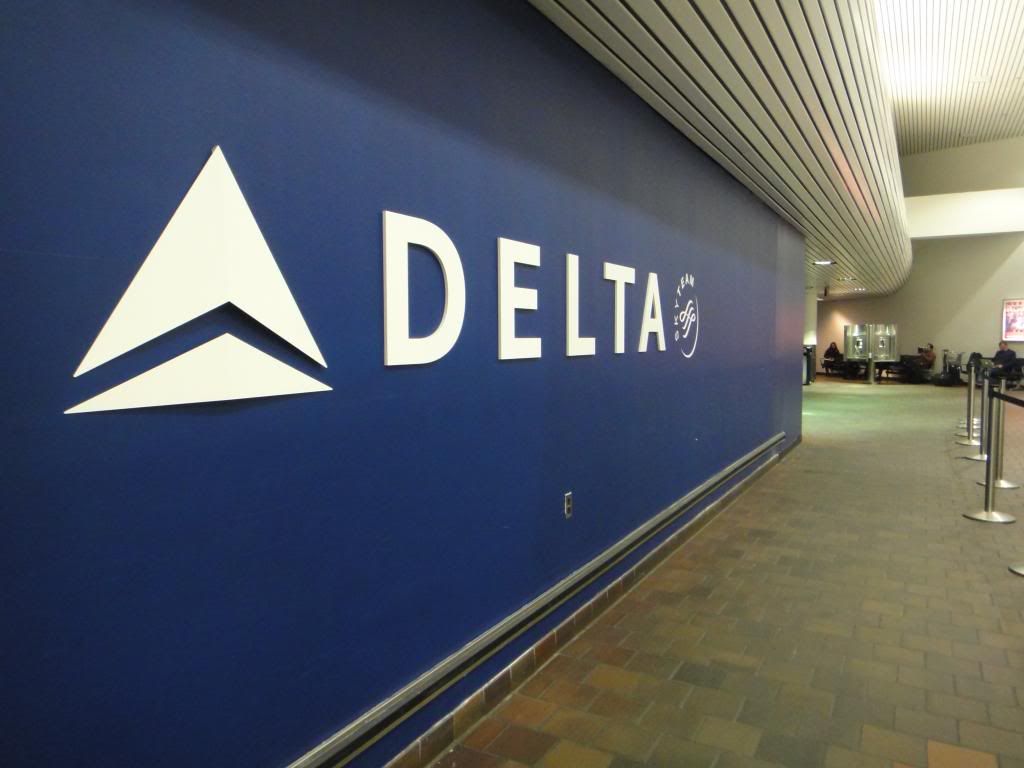 Clearing Security(This time my phone was with me
)
She did not seem to happy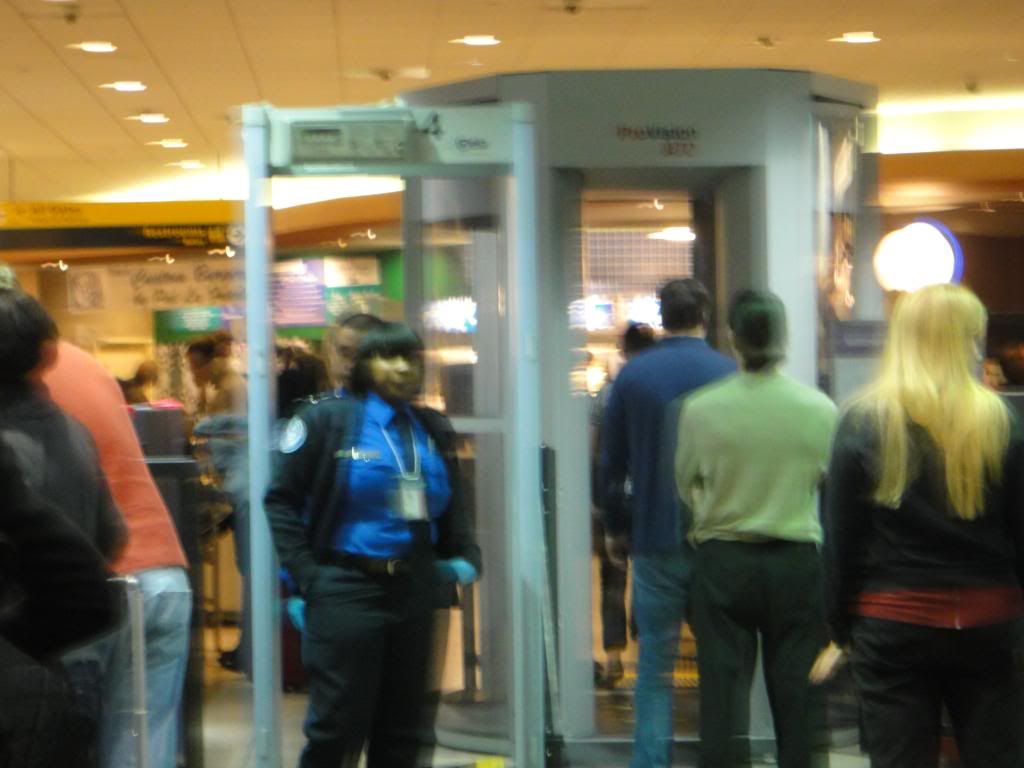 Plenty of dining options as soon as you clear security but I made my way straight to the lounge this time.
I got in courtesy my AMEX.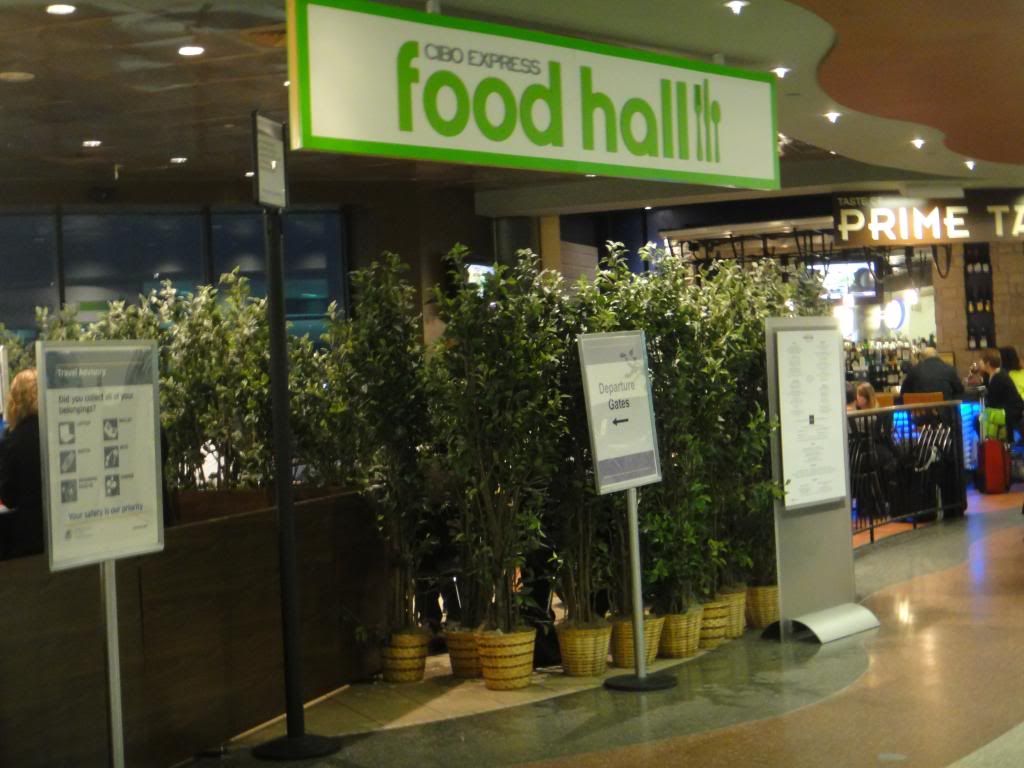 Shopping much?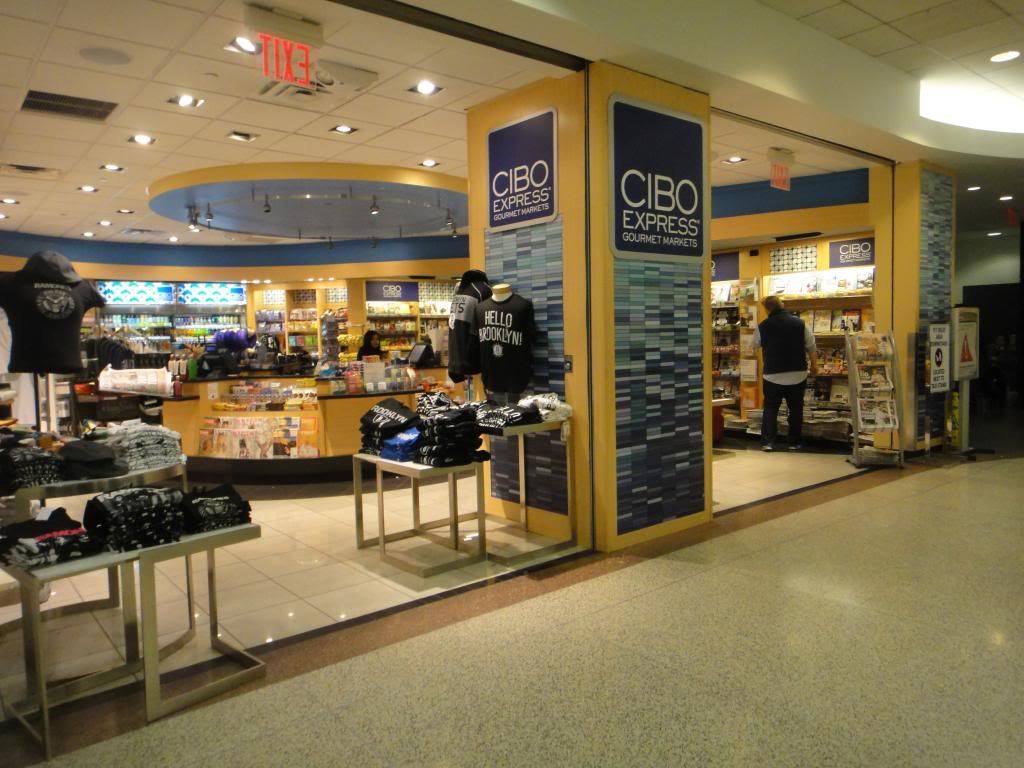 Now Delta has a pretty big lounge and why must not they?
Lga is an important airport and Delta is showing that.
There were multiple cozy areas to sit. Free Wi-Fi. A bar area and a small snack buffet.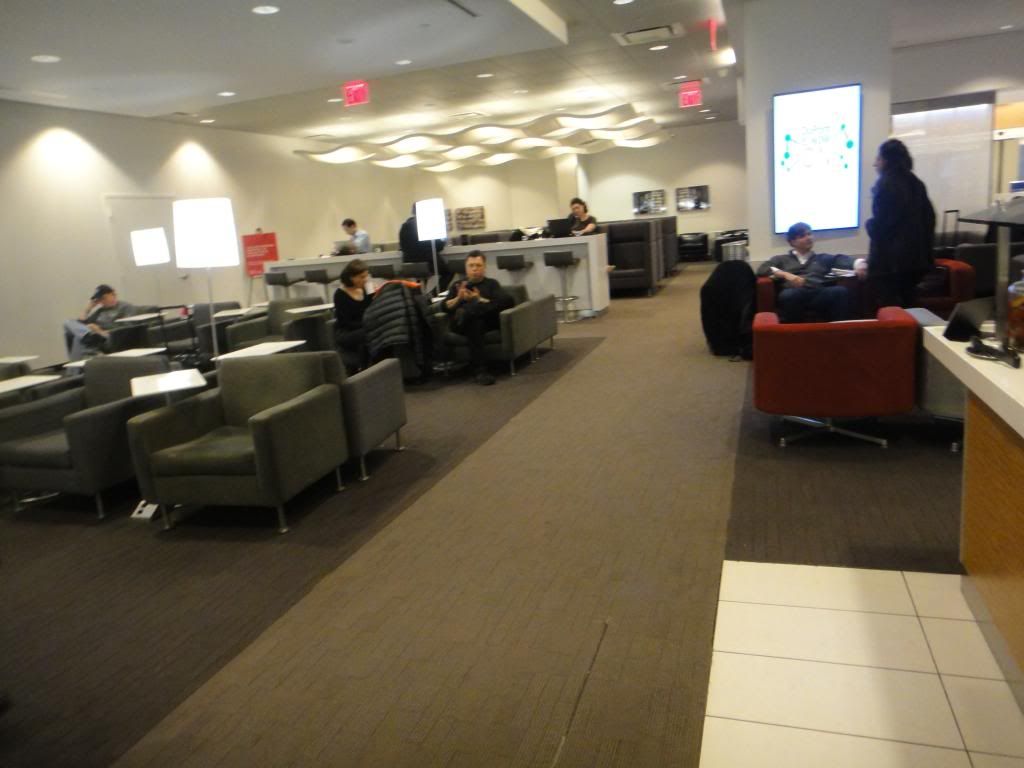 My plate (Dont Judge me! I was hungry
!!)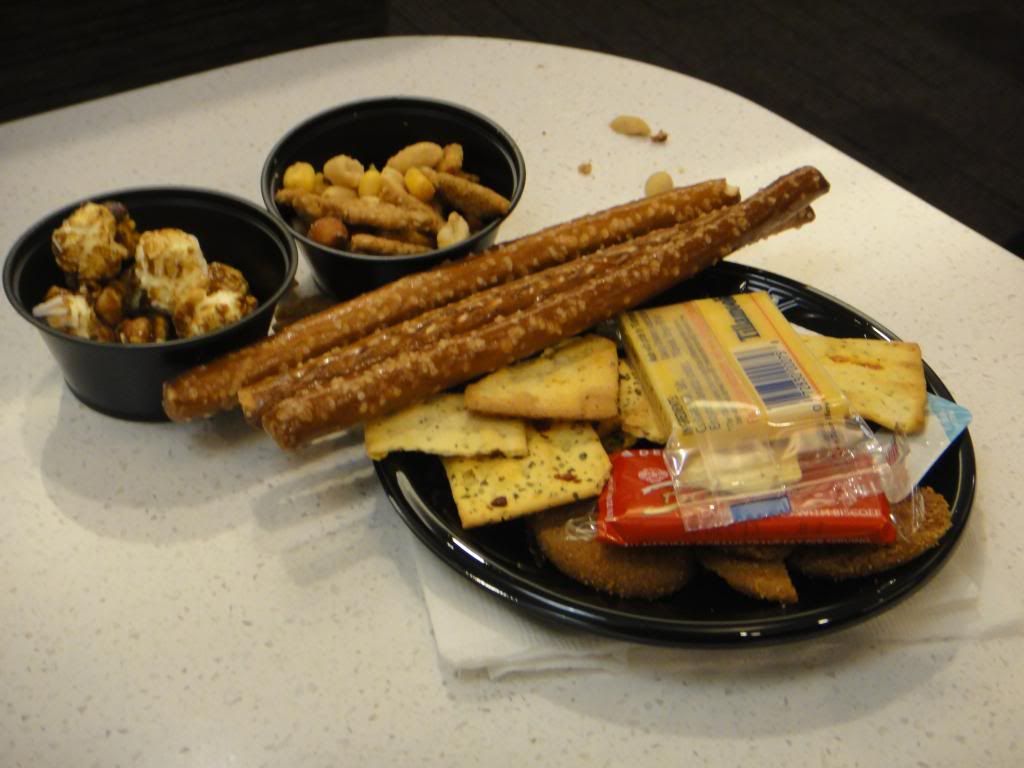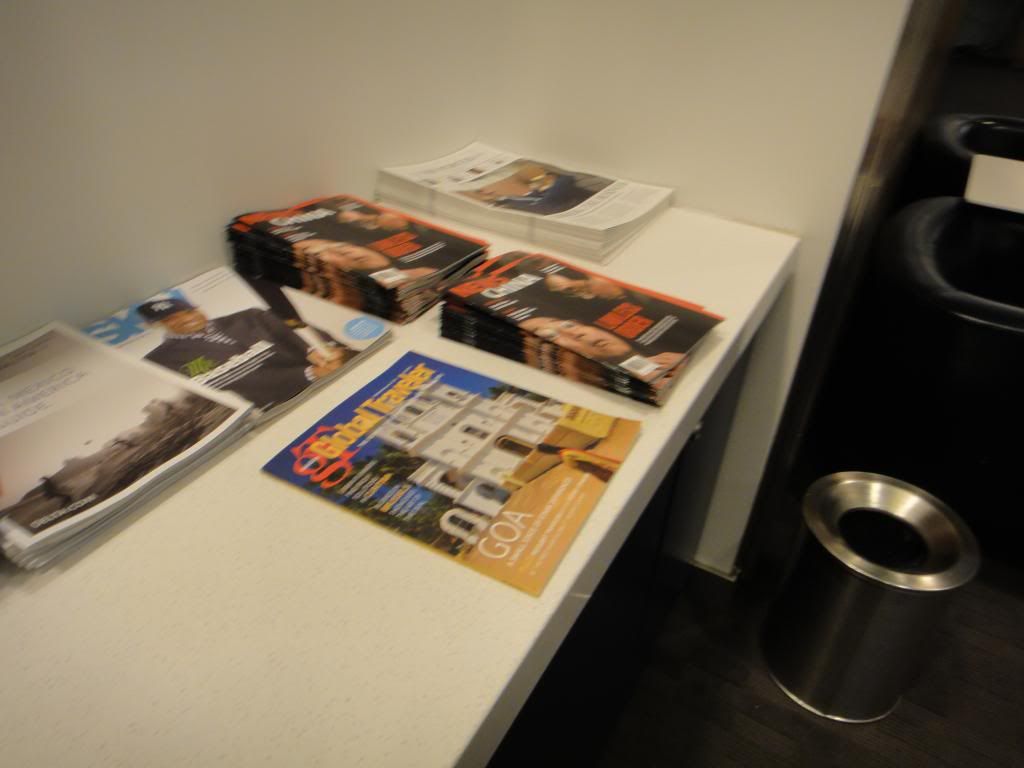 Sodas and Water was free. All other alcoholic beverages were charged for.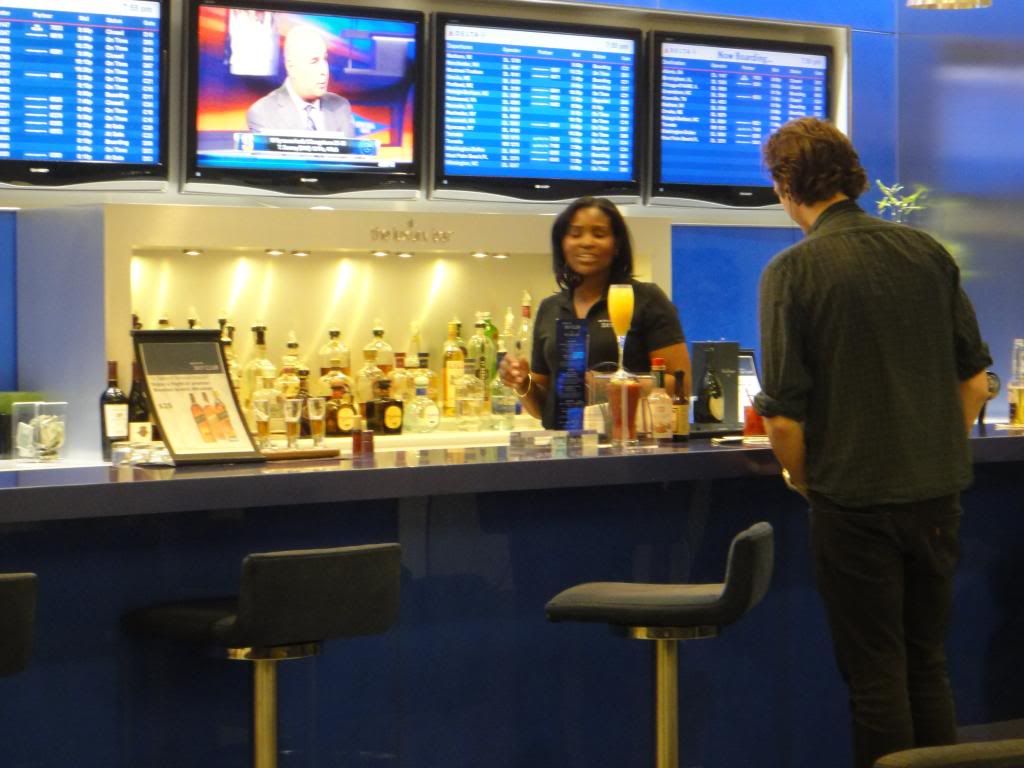 FIDS
I left the lounge at around 8PM,a little disappointed at the food options as I wanted to have a hot meal with I did not
get. Lounges in India provide nice hot snacks and food depending on what time you go.All Drinks are free(Alcoholic/Non
Alcoholic) But this is how the american system works I guess.
Still feeling hungry I found a pizza place. Feeling the need to have a new york style pie once more before I left I went in
the restaurant.
I-Pad to take orders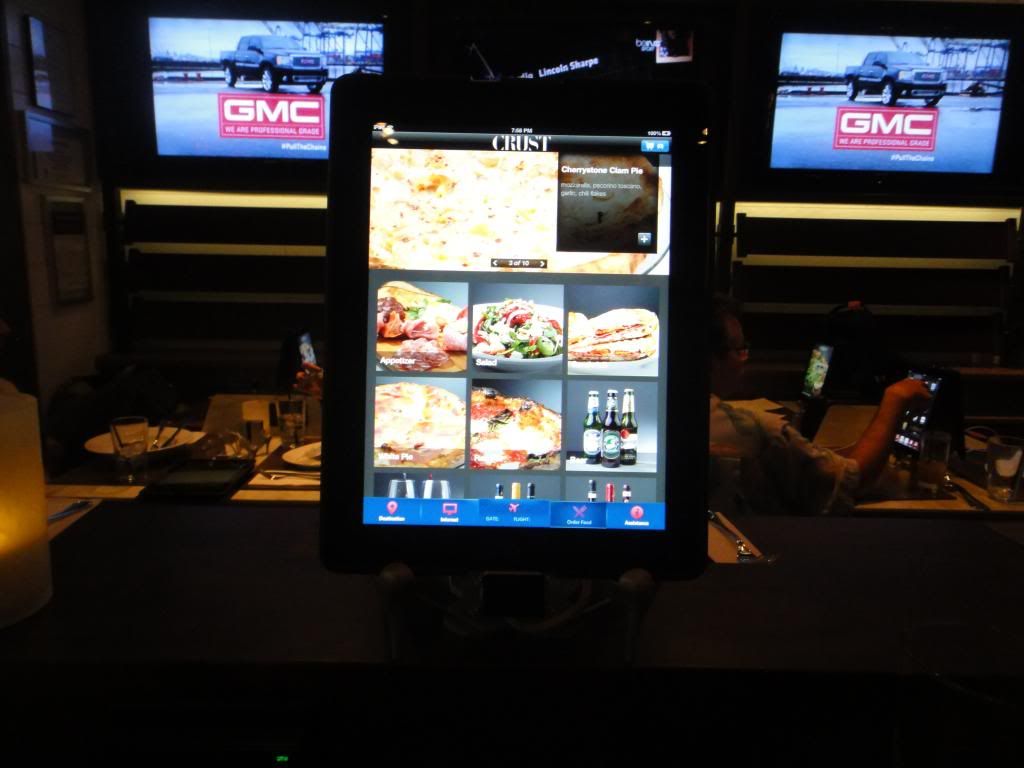 Ahh! You Beauty!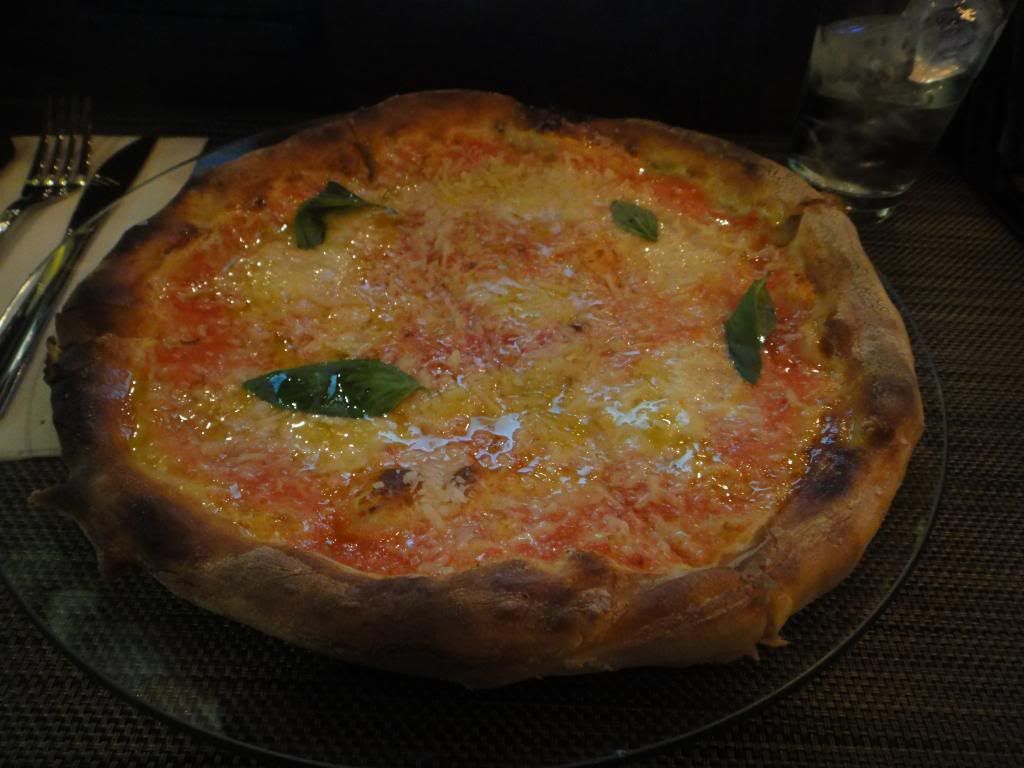 After finishing the whole thing ( It was good! Not NY good though
) I headed towards my gate.
This time I was in plain old economy and boarded the flight. Here is a pic of the md-88 taking me back to atlanta.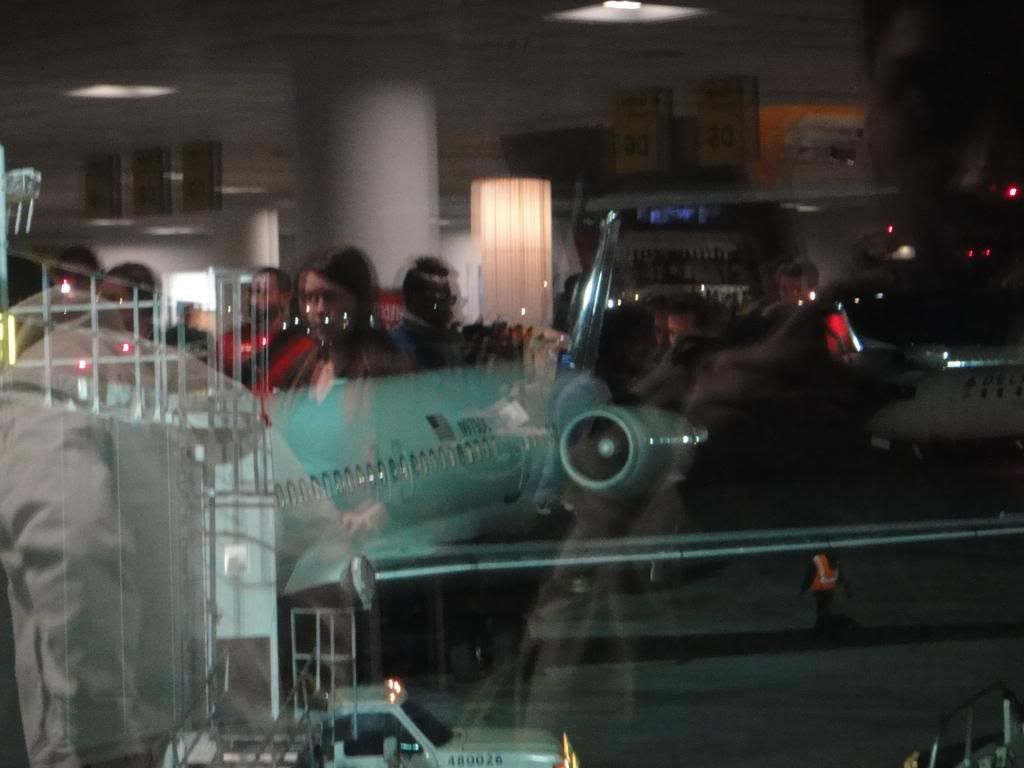 Flight Info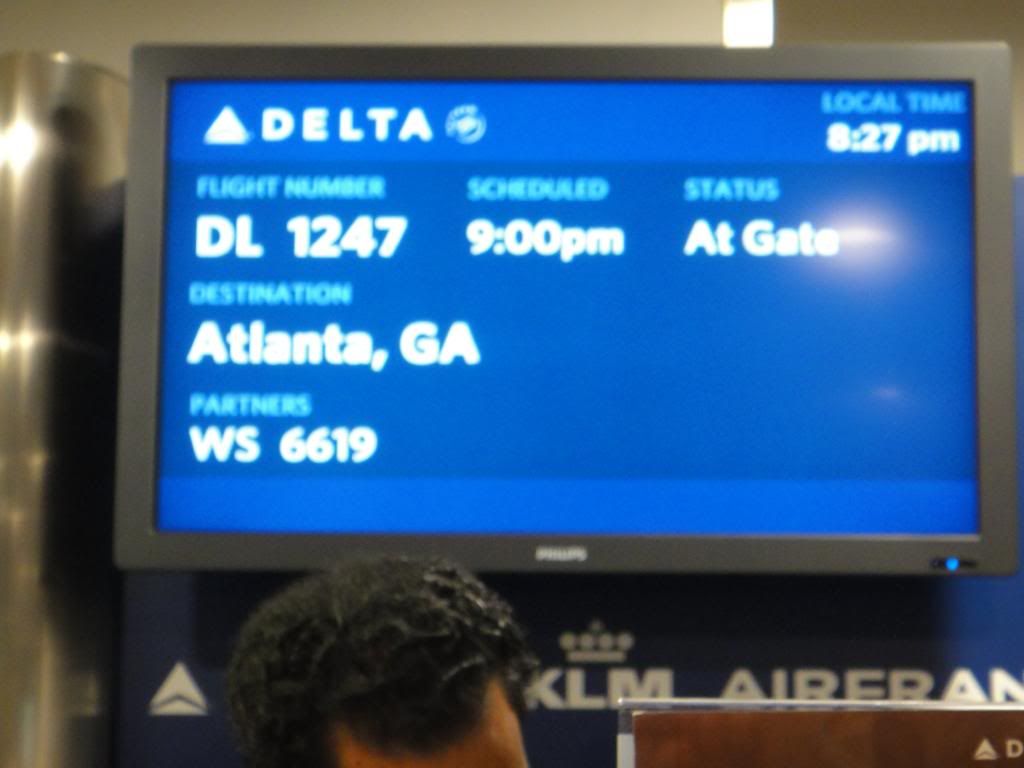 Heading towards the aircraft.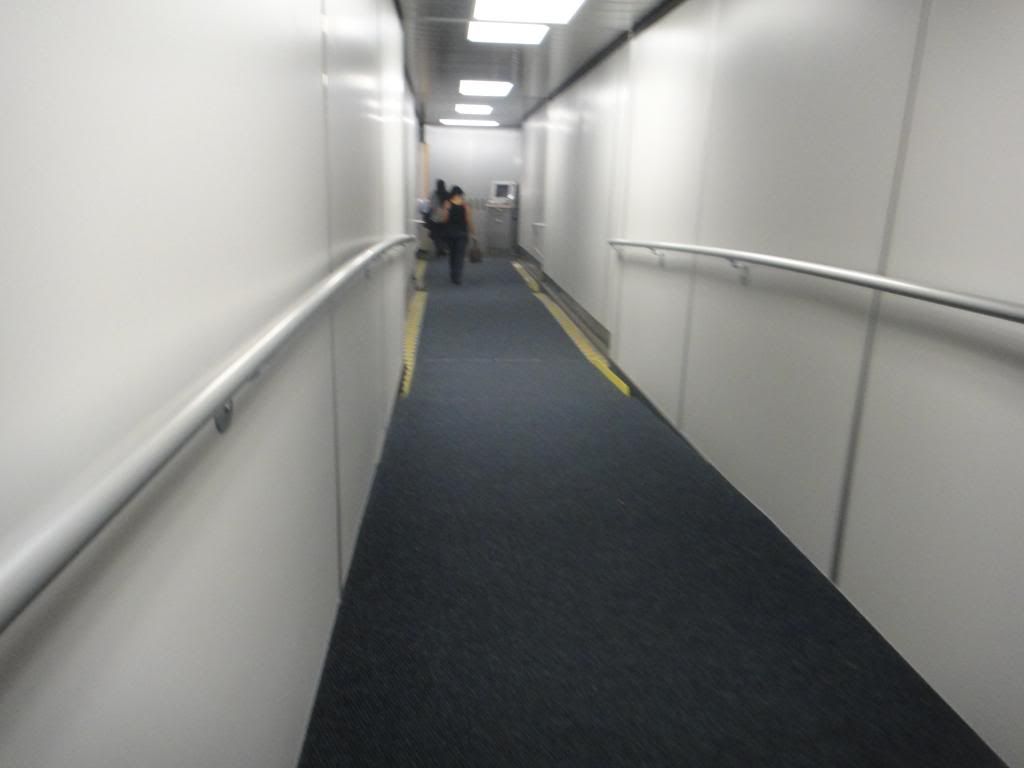 CockPit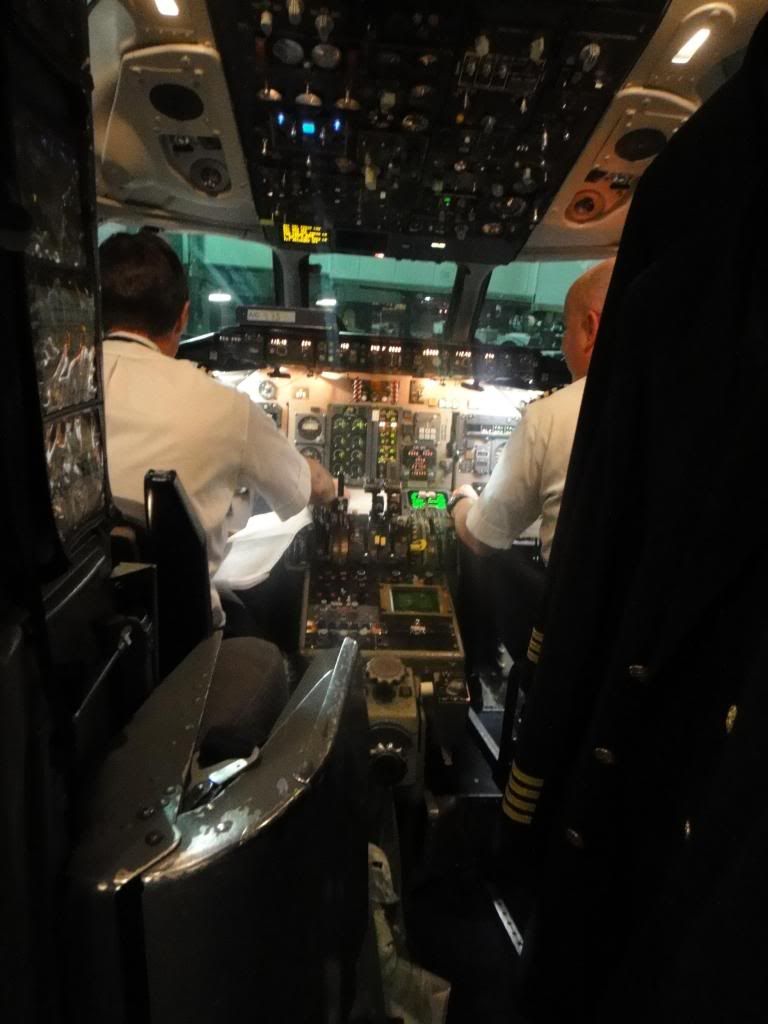 Views from me seat (20E)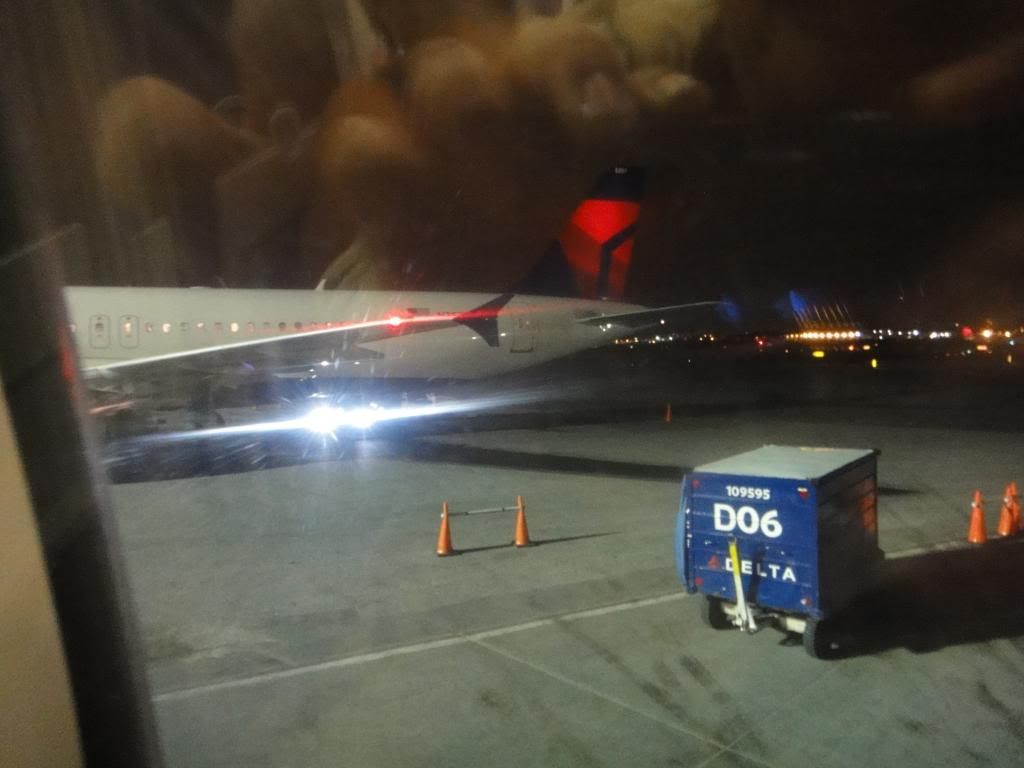 Decent Legroom for this 2 hour flight.
US Airways a320.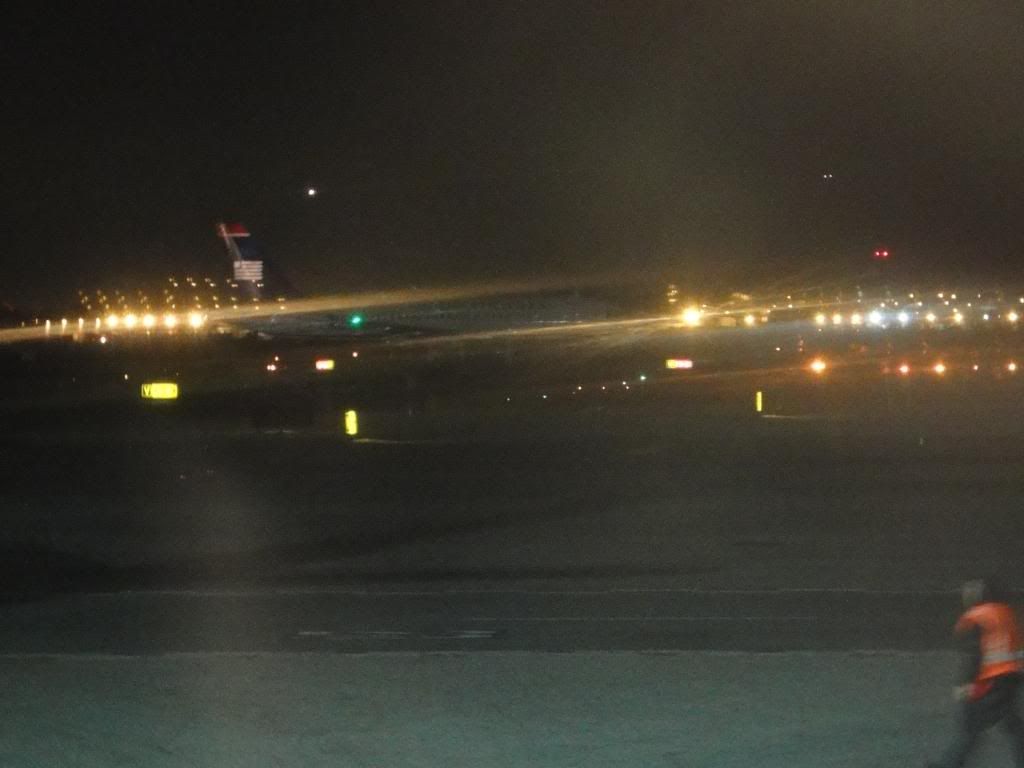 We pushed back at around 9 10 Pm and after a short taxi we took off at around 9 25 PM.
Flight Number: DL 1247
From: New York's La-Guardia
To: Atlanta Hartsfield Jackson Airport
Flying time: 1 hour 55 minutes
J class load: 100%
Y class load: 100%
Flight Registration: N975na
Scheduled Departure time: 9 00PM
Actual Departure time: 9 25 PM
Scheduled Arrival Time : 11 27 PM
Actual Arrival Time: 11 20 PM
Once again a very smooth take-off (Is this a MD-88 thing or a delta pilot thing?),we were headed back to atlanta.
25 minutes into the flight drinks were served.Once again I just had a water. Once again we started a decent at the right time and went ahead for a good and solid landing.
Approaching Atl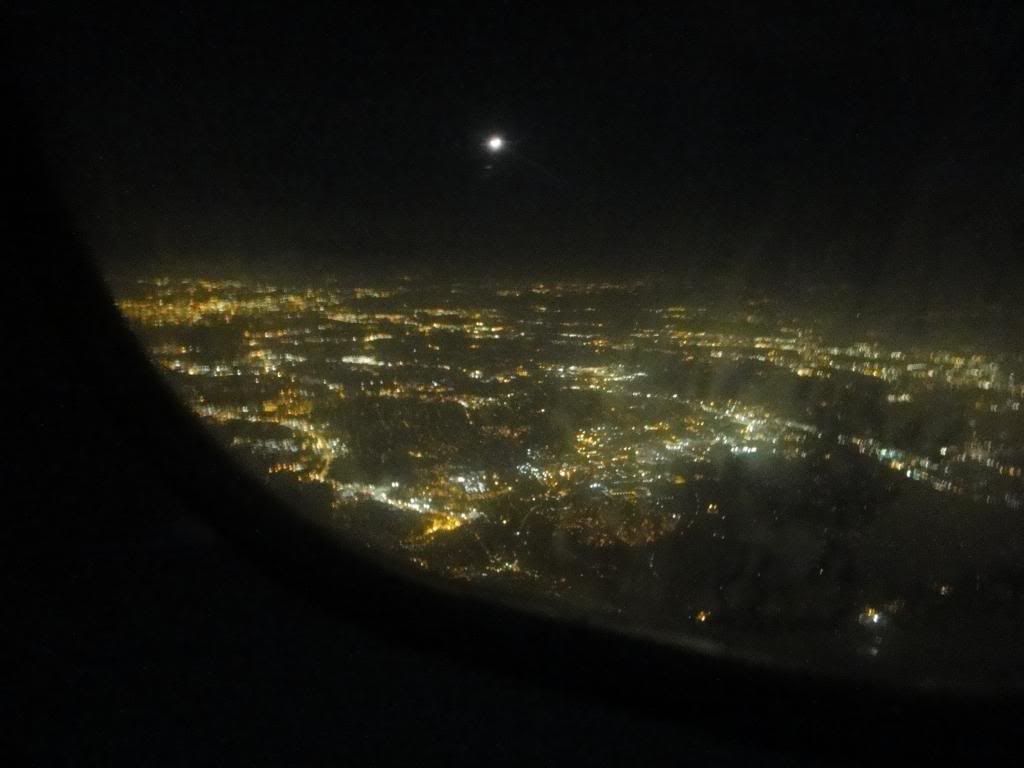 Parking next to her sister aircraft.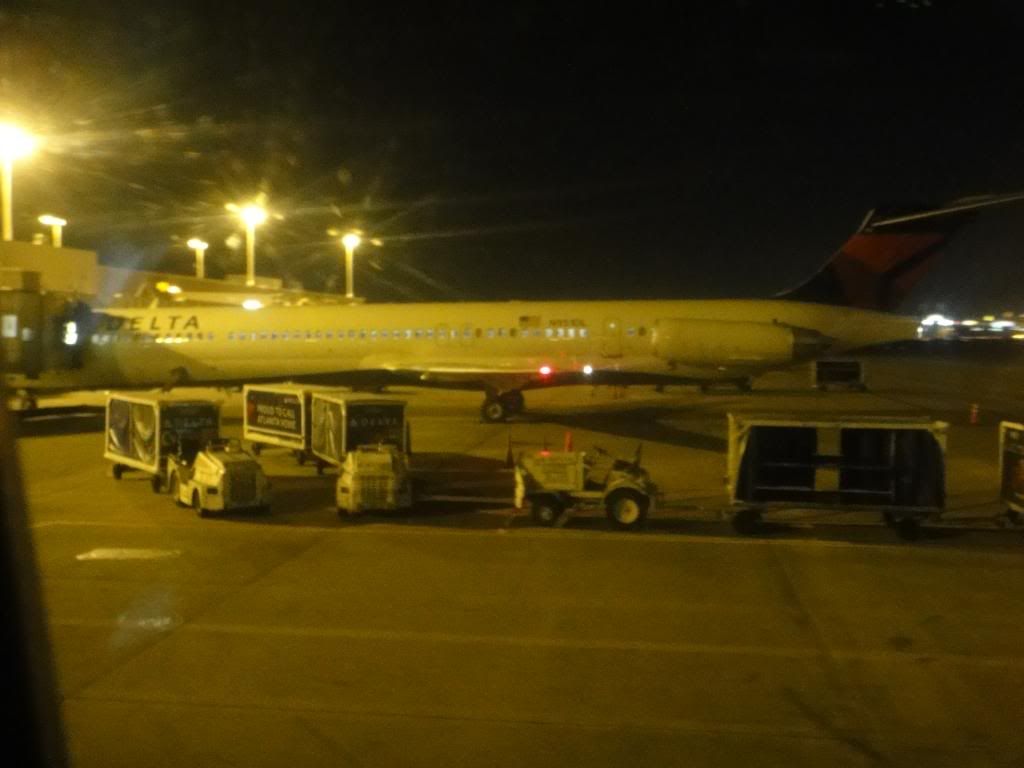 Baggage Collection.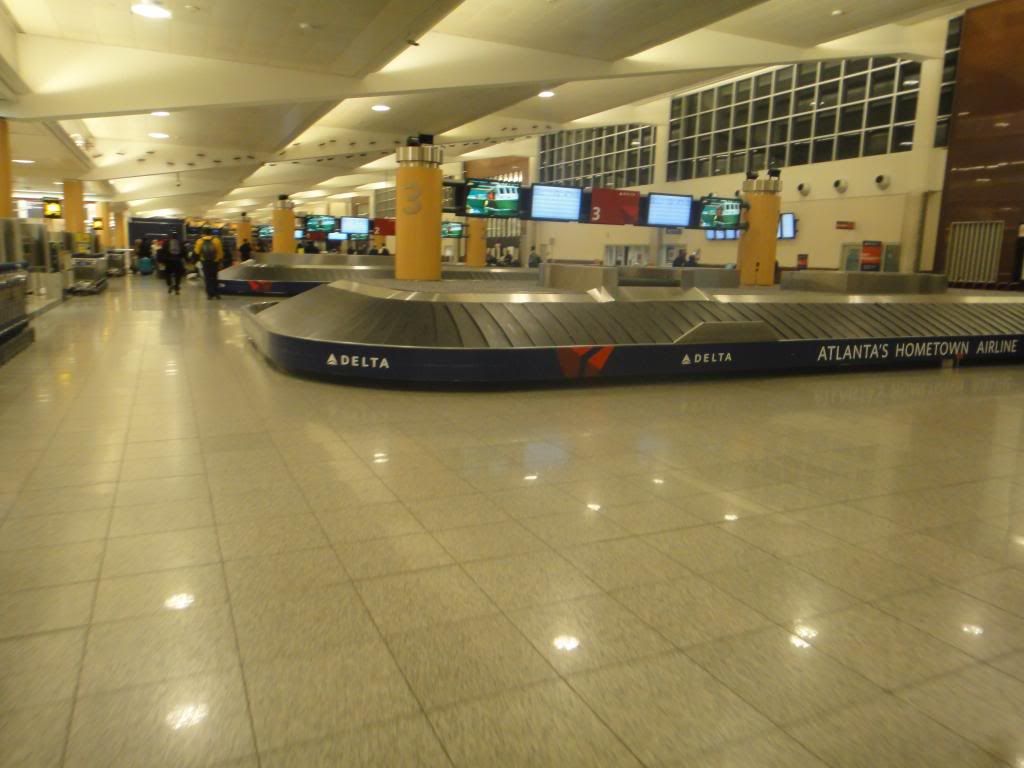 I collected my bag and headed back home.
Verdict.
I do not wish to compare Indian domestic travelling to this because clearly Indian Aviation wins that round for various
reasons. Here are some points.
A)Its cheaper travelling domestically in india than in america.
B)If you buy a ticket of a Non-Lcc carrier you are provided with hot meals irrespective of class of travel.
C)The overall warmth is much more
D)Aircrafts are newer and in better shape.
I am sure there is going to much debate on these points soon on this report but remember I am not in anyway demeaning american domestic aviation. This is how things work around here and people just have a very different mindset to such things.
If I compare delta with any other american airline I would say it was a pretty standard flight.The staff was pretty robotic and did all the things required on there check list.Both the flights were smooth and uneventful and got me to my destination safely and soundly. Well done delta. Good Job!
Time for the ratings.
Check in:8(Fast and efficient)
Aircraft: 7.5 (Old but sturdy)
Seat : 7.5(Comfortable,standard economy seat)
IFE: NA
Food: NA
Service: 7.5 (Decent and robotic stuff again)
Lounge: 7.5
Total : 38/50 (76%)
* I am using different parameters here for the ratings. If this was a standard Indian flight the ratings would have been much lower.
Previous Trip Reports.
DEL-FRA-ATL On J Class With Lufthansa
(by
planiac787
Jan 11 2013 in Trip Reports)
Atl To Delhi Via Newark On United Airlines
(by
planiac787
Jun 15 2012 in Trip Reports)
DEL-LHR-DEL Y Class. Many Pics!
(by
planiac787
Aug 15 2012 in Trip Reports)
Delhi-Mumbai-Mangalore On AirIndia And Jet Airways
(by
planiac787
Feb 28 2013 in Trip Reports)
Delhi-Chennai-Madurai And Back With SpiceJet
(by
planiac787
Feb 15 2013 in Trip Reports)
Once again thanks for reading and comments/suggestions welcomed
Cheers
Pradat