Off to Zimbabwe, Part 3: Etihad JNB-AUH-LHR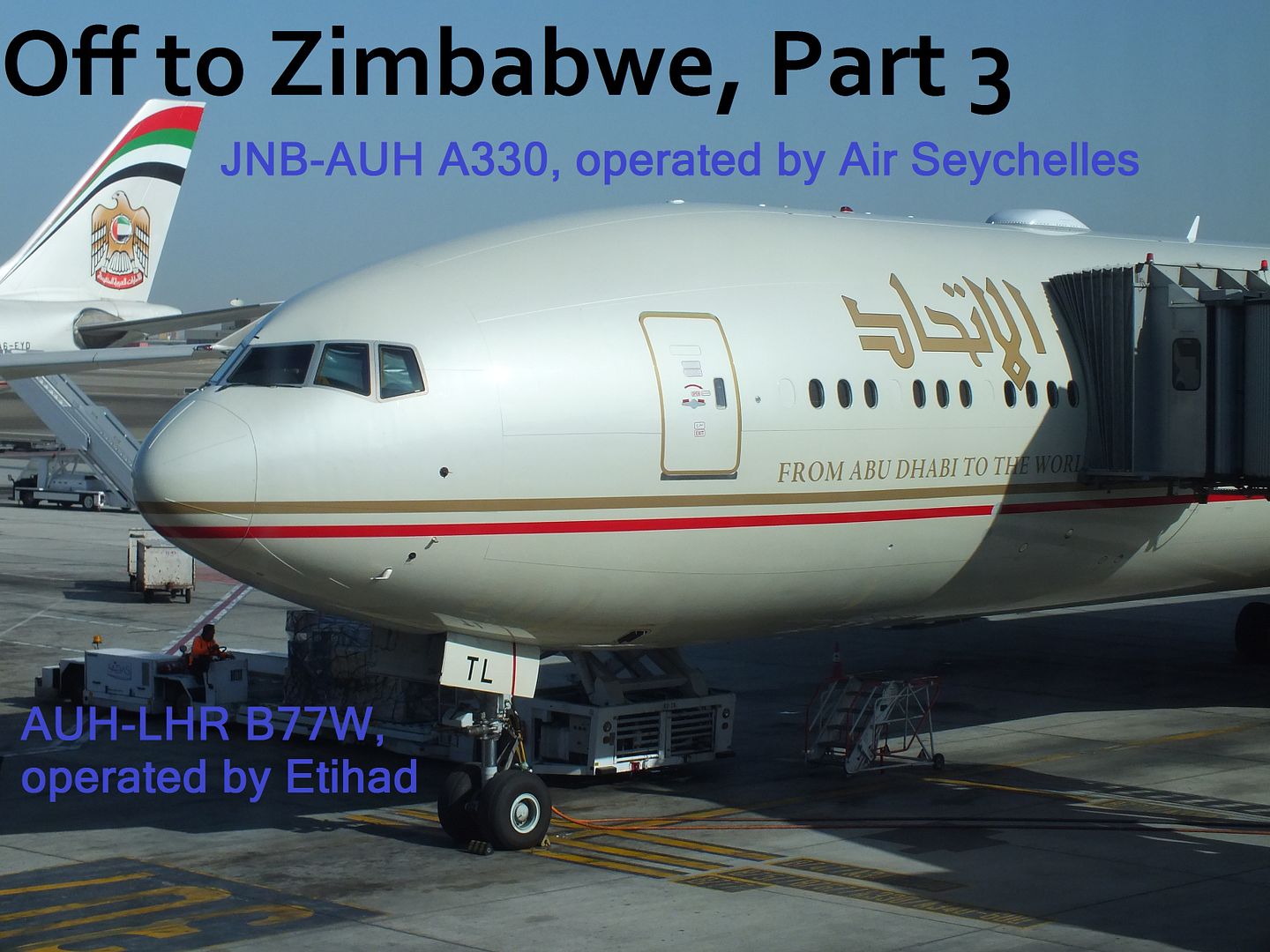 Intro
Hi!
Thanks for clicking on Part 3 of my Zimbabwe report!
This report covers my return flight from Johannesburg to London, via Abu Dhabi on Etihad
All the flights for my trip
EI 277 Birmingham BHX – Dublin DUB, A320
EI 208 Dublin DUB – Manchester MAN, A320
EY 22 Manchester MAN – Abu Dhabi AUH, A330
EY 604 Abu Dhabi AUH – Johannesburg JNB, A330
BA 6267 Johannesburg JNB – Harare HRE, B734
BA 6292 Livingstone LVI - Johannesburg JNB, B734
EY 603 Johannesburg JNB – Abu Dhabi, A330
EY 19 Abu Dhabi – London Heathrow LHR, B77W
My route, courtesy of GC Mapper, of these reports
The report is split into three parts
Part 1, BHX-DUB-MAN-AUH-JNB
Part 2, JNB-HRE, LVI-JNB
Part 3, JNB-AUH-LHR
And here's the map of Part 3
The Report
With my Club flight from Livingstone safely landed in Johannesburg, my health given a nod from the authorities, and my luggage picked up, I went looking for the Etihad desks. I had just over 4 hours before departure, so was not expecting to find any. I was quite surprised to find not only that the desks were open, but that there was a substantial queue of people waiting. Having learnt from my mistakes before, I'd OLCI. This also meant I could skip the main queue – the OLCI queue had just one couple (also headed to LHR) in front of me.
EY check in in JNB
Continuing this holidays' theme of seating issues, this flight would also have its peculiarities. After the problems on the southbound flight from MAN, I'd tried to re-reserve some window seats on these two EY flights. EY was in the middle of updating their website. When it came back online, no reservations made in the past could be managed online. I called up, and spoke to someone who didn't really understand my request for a "window behind the wing, but not at the very back". The result? A window seat in the very back row for both flights. Oh well, better than over the wing or in the middle, and I'm sure I can sort it out later.
A few weeks before the flight, I was also invited via email to bid for an upgrade to Pearl Business Class. The price was $449 for the JNB-AUH leg, and $650 for AUH-LHR. After contemplating for a while, I decided to stick to Y (and spend the money on the Victoria Falls helicopter ride instead). Those
luxurious flat beds
look great.
At OLCI my reserved seats seemed changeable, but kind of weren't. "Kind of" as after a lot of wrestling with the system (it took me 20 minutes), my JNB-AUH seat was stuck, but my AUH-LHR seat was changeable. Horrible system.
I hoped that at the desk, they'd be able to move my seat. The guy was helpful, but he was also unable to release the seat. I was stuck at the very back for the JNB-AUH sector.
The DL desks over the way
With most of the European, American and Middle Eastern flights leaving in the late afternoon/evening, security and immigration was a lot busier than when I flew to HRE a few weeks earlier. Took about 30 minutes in total, so not too bad. Most of the immigration officials were in plain clothes, which it thought made them look very tatty. I'm glad the UKBA has forced the officers in the UK to wear uniforms now. Looks so much better.
Some planes…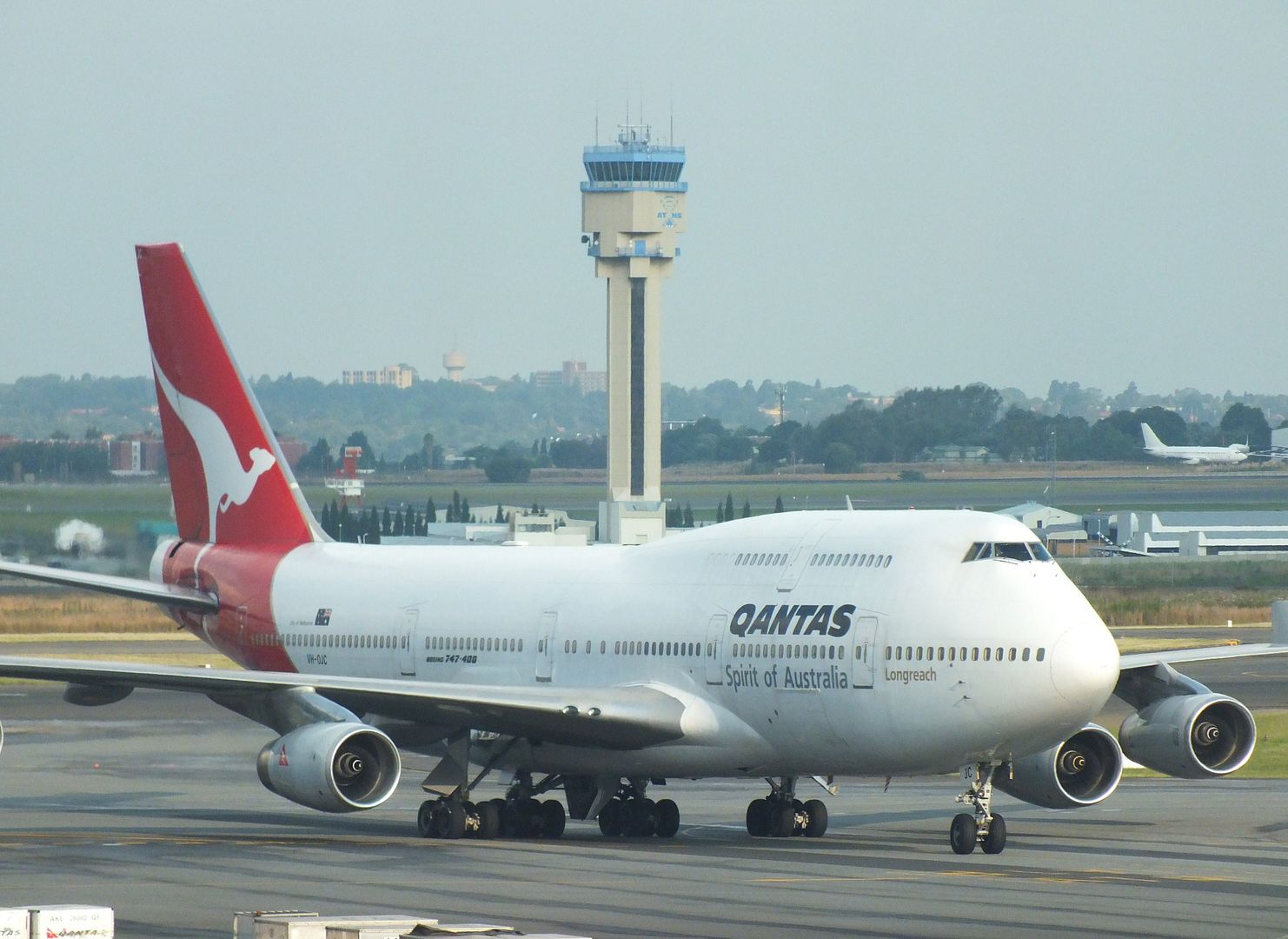 Lounging in South Africa
I thought I'd try my luck getting into the SLOW lounge as an arrival Club passengers…sadly, it was a no go, so I headed on to the Sholongolo lounge.
Looking down from the SLOW lounge entrance
Like everywhere else in the airport, the Sholongolo lounge was really busy this time. Thankfully, there was no one else waiting for a shower, so I went straight in. JNB is now on my airport shower list (#16).
The shower was great – I felt reinvigorated, and ready for my overnight sector. Time to hit the buffet? Sadly, as the lounge was busy, there were precious few seats left. I ended up in a far corner, with a footstool as a table. I grabbed some sparkling water, a Thai curry, and some sushi.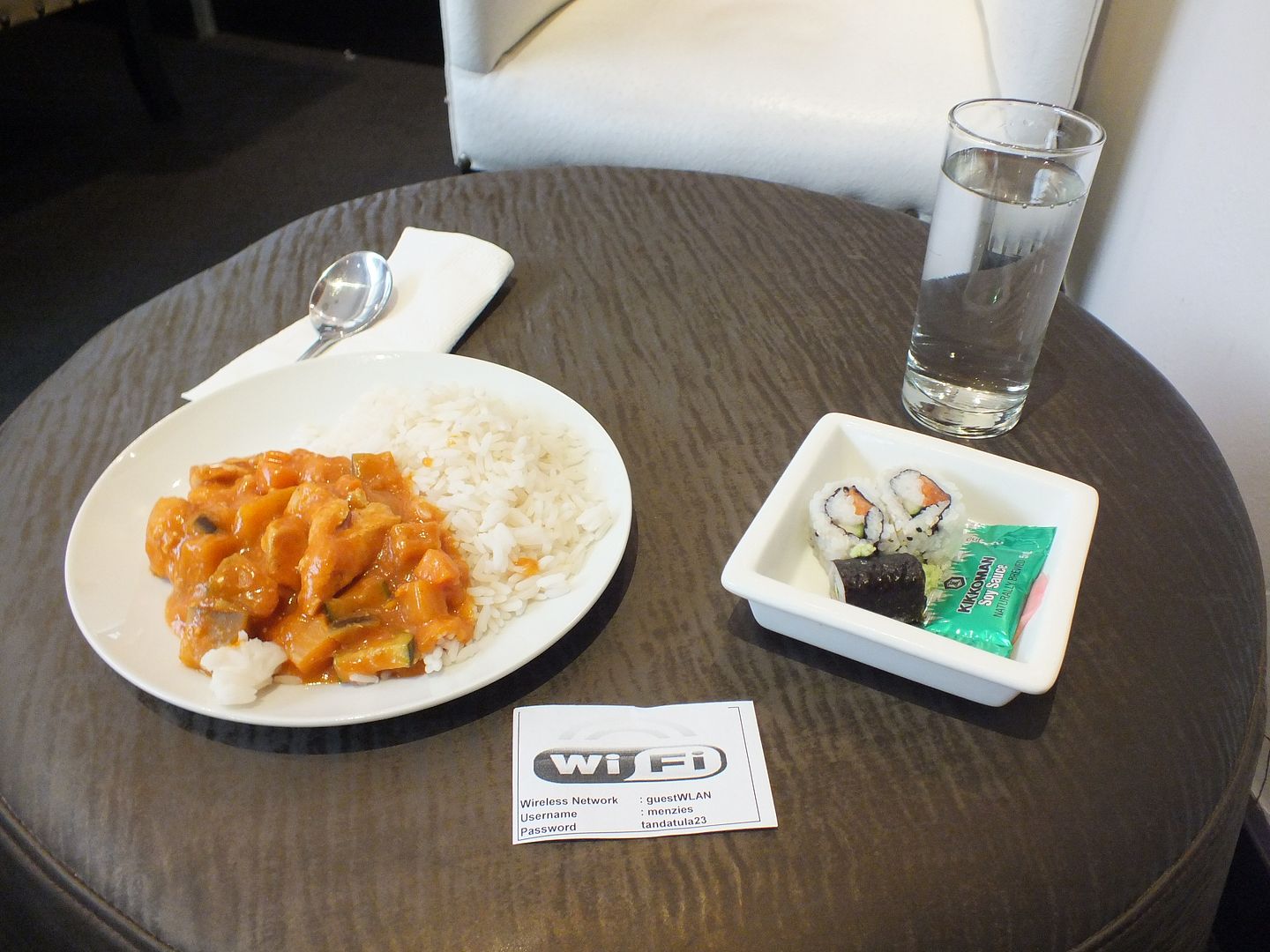 The corner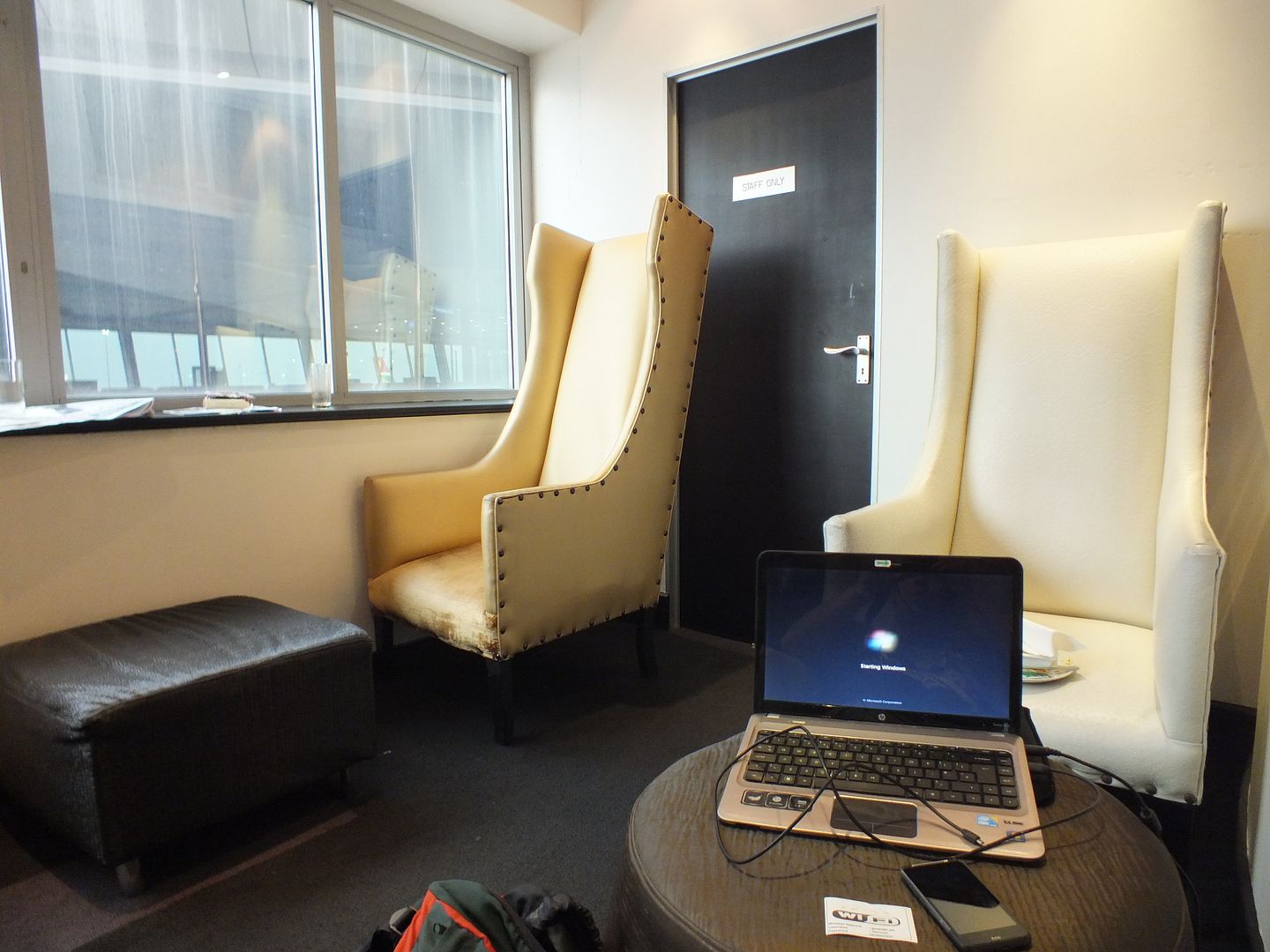 Some more sushi, and a horrible burger thing
Cappuccino
And some rather sweet sparkling wine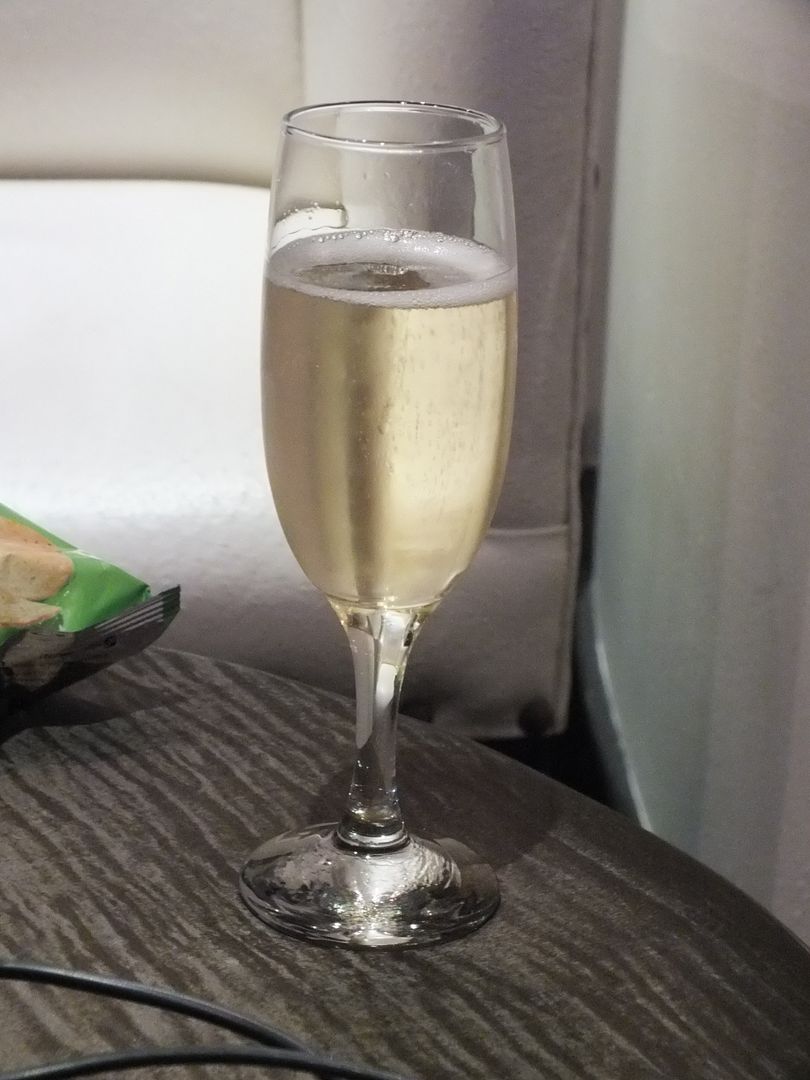 After nearly 2 hours in the lounge, I decided to head out to explore the terminal a bit.
FIDS. Abu Dhabi from gate A1
I wasn't planning a further visit to the Bidvest lounge, but thought I might as well as I was passing.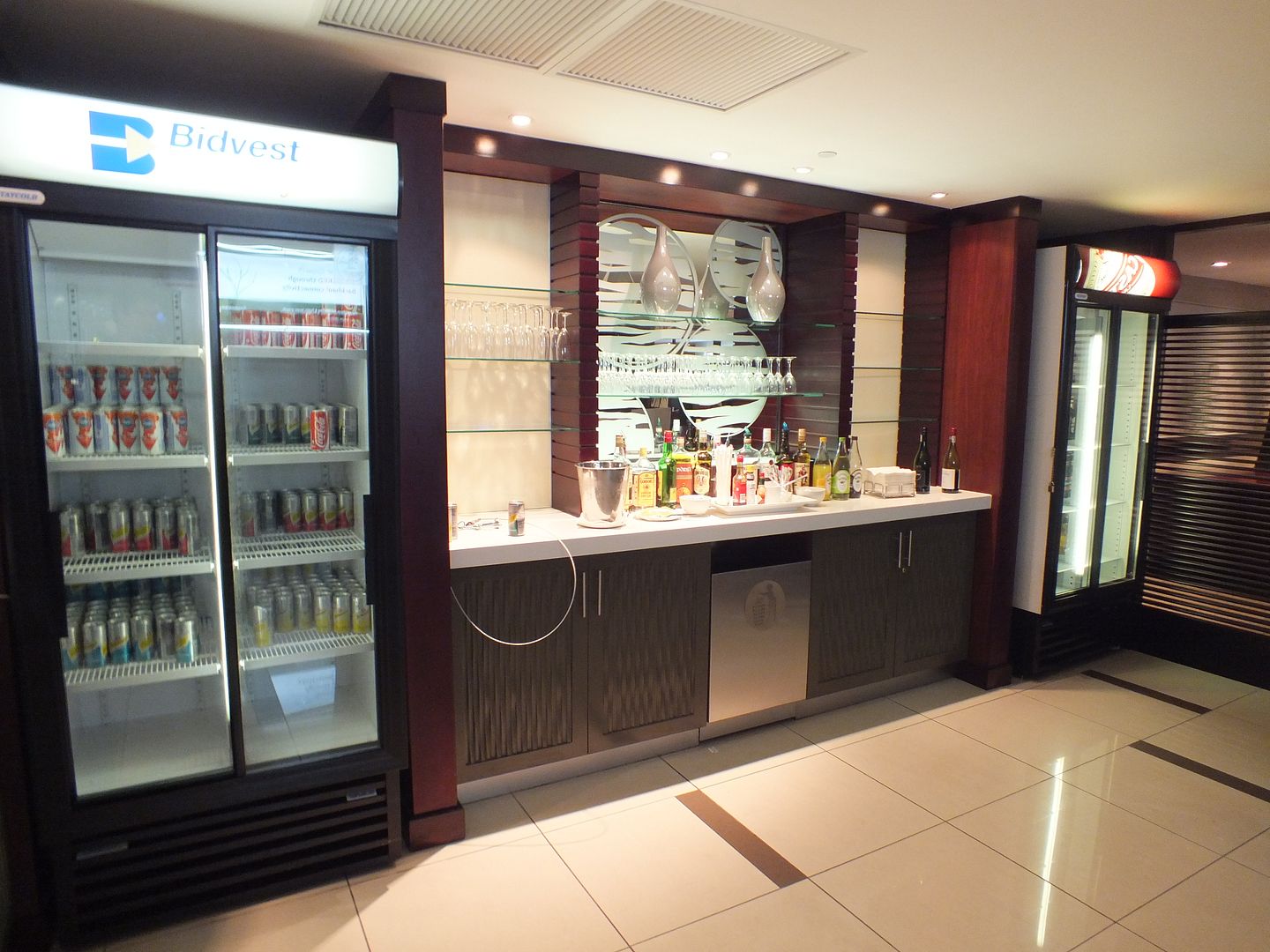 And a small snackette
Time for one last Amarula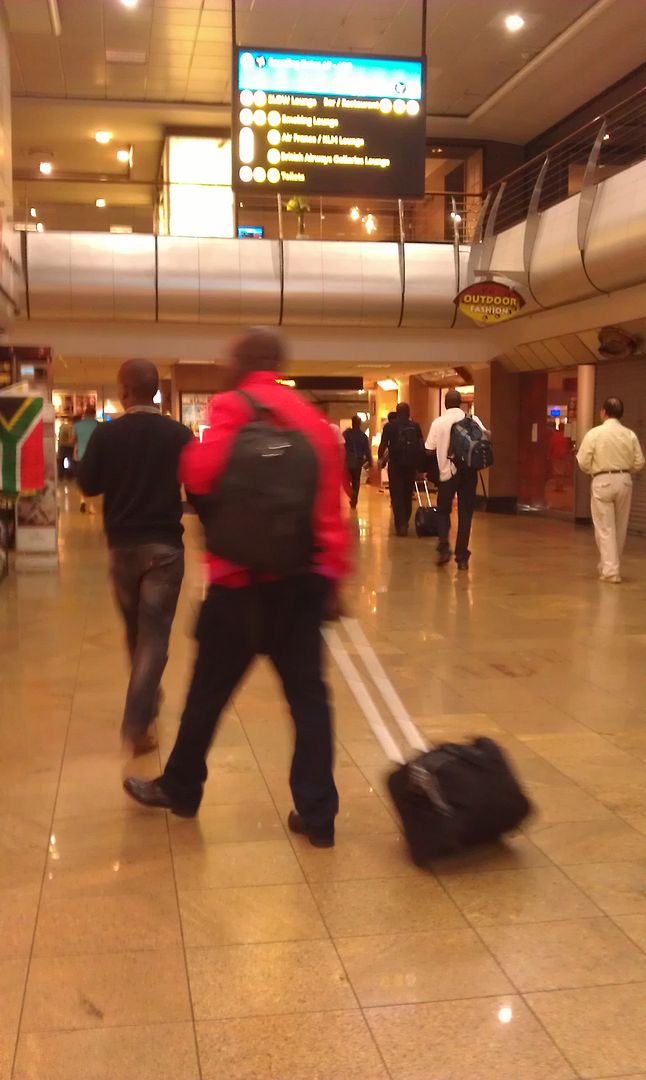 The rather bland passageway down to A1
There was an unexplained delay for boarding. After 20 minute wait, the line started moving.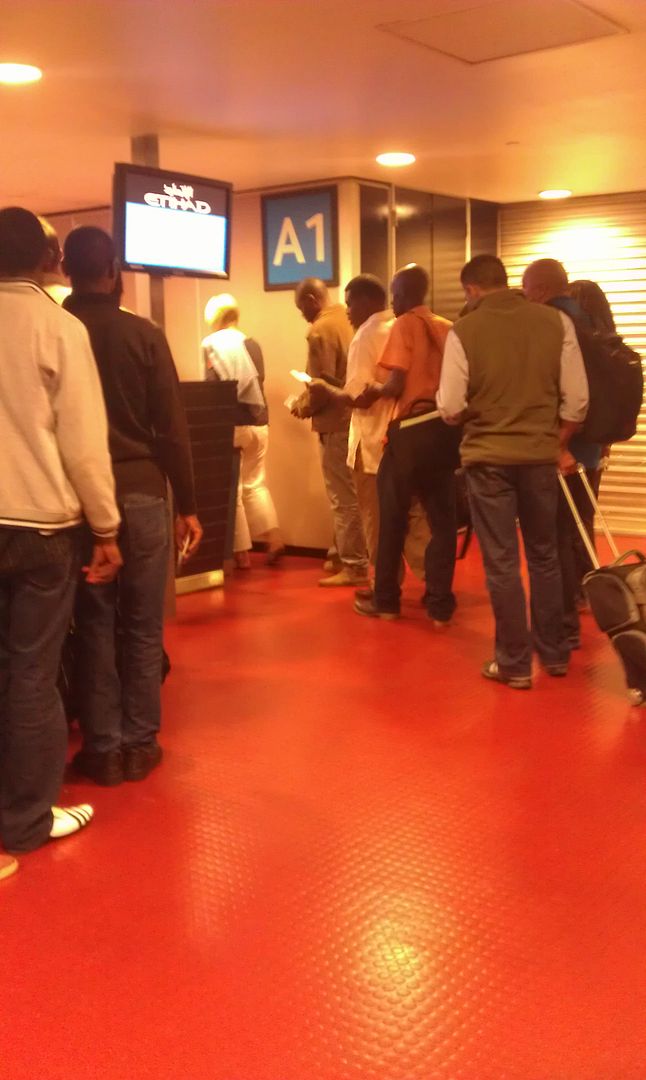 When I first booked the flights, I noticed that the seat map on this leg didn't correspond to any on the EY website. Hmmm, something's wrong! A quick check showed that occasionally an Air Seychelles (HM) A330 (their one and only) operated on behalf of EY on the JNB route. EY own HM. When I rounded the corner of the airbridge and saw the distinctive blue lettering, I knew this to be the case for my flight. Cool!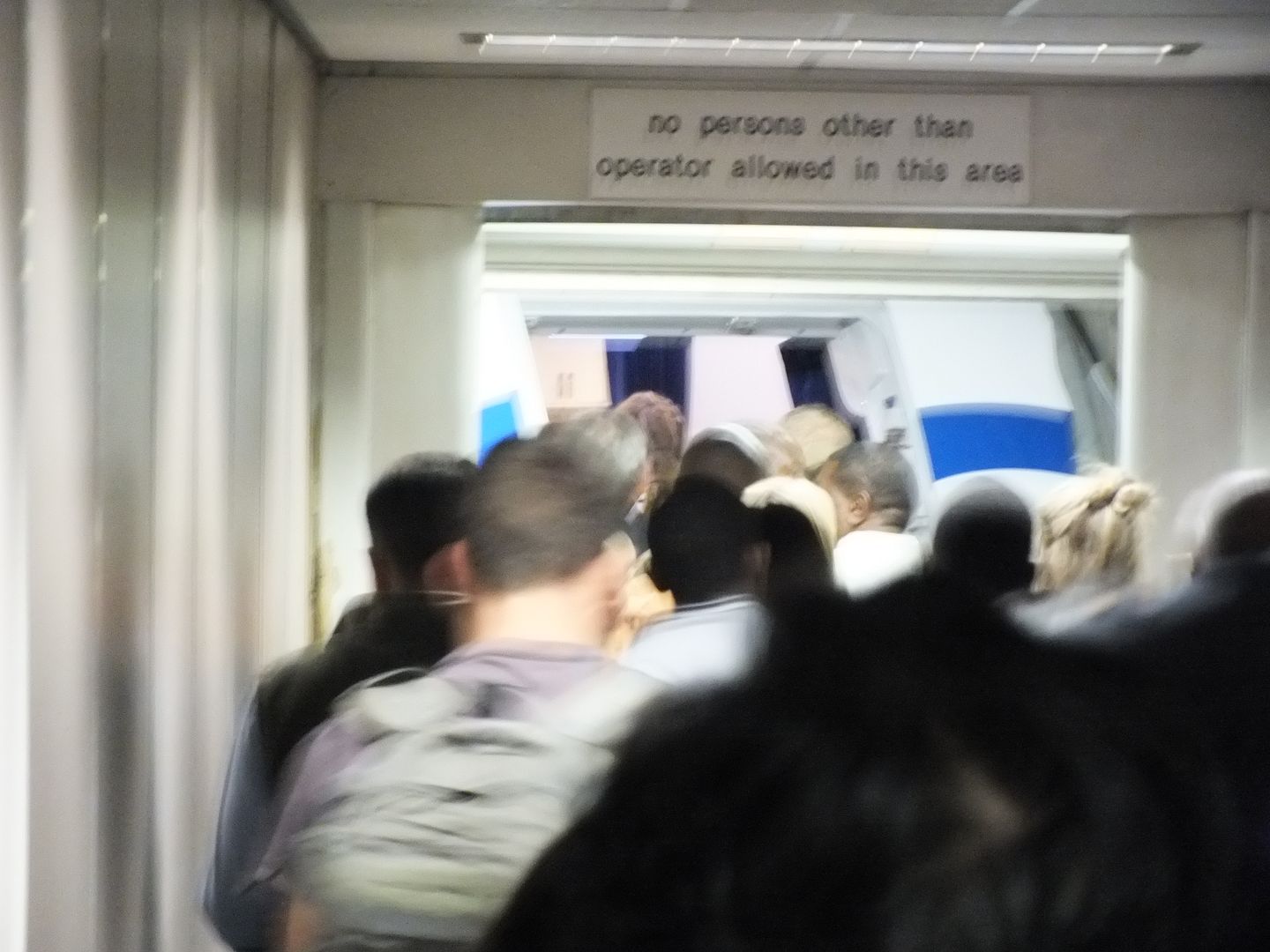 Yes, I'm definitely flying on Air Seychelles!
March 2013
Johannesburg (JNB) – Abu Dhabi (AUH)
Etihad EY 603, operated by Air Seychelles
Scheduled: 2030-0635 (8h05m)
Actual: 2052-0615 (7h23m)
Airbus 330-223, A6-EYY
Economy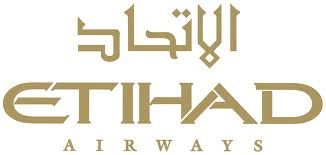 Operated by
Plane Info
Interestingly, there was another Etihad plane registered as A6-EYY for 10 months over 2004/5. This now 15 year old A330 both started with and is currently with TAM. However, my A6-EYY is 7 years old, and started life with Jet Airways. It was bought by Etihad in July 2012, but has seemingly spent it's short life on the EY register in HM uniform.
Time flies in the Seychelles
Time to find my seat, right at the back. First impressions were good. Thankfully, my seat reclined, and the window was well positioned.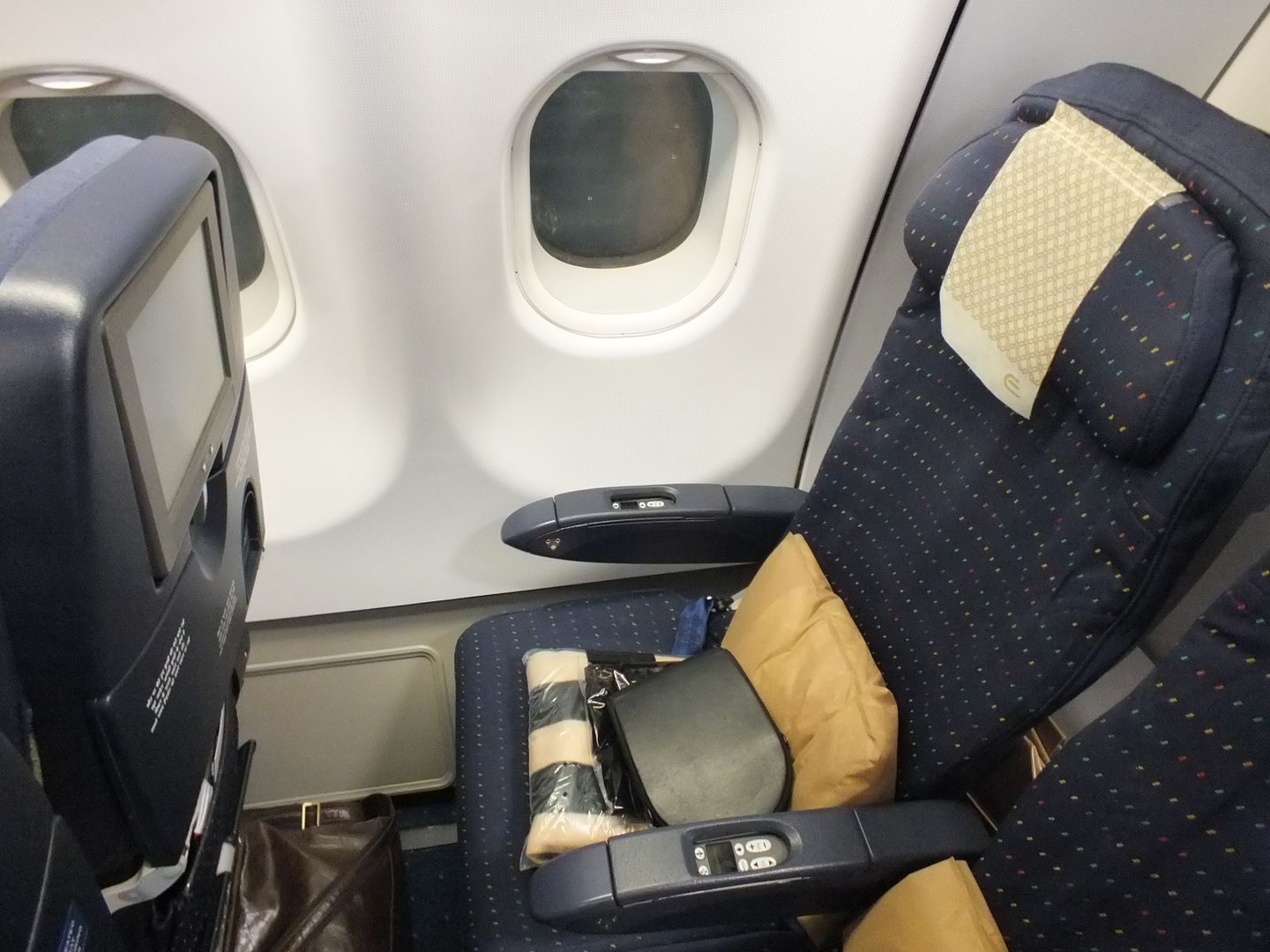 The cabin gradually filled up
The cabin was an odd hybrid of HM and EY. Crew were HM, amenities EY, catering EY, aircraft livery HM, aircraft registration EY, IFE HM, interior decoration HM, safety card/demo EY, service standards (generally) EY.
I recognised a few of the HM crew from the flight over – they were deadheading a few rows in front of me. There were some EY crew (in uniform) dead heading back to AUH as well.
It was just as well I didn't pay for the upgrade to Business as the only reason was to try out the EY full flat seat. This bird had regular 2x2x2 seating. As the seat map had showed the HM aircraft from the time of reservation, I assume EY knew throughout that they were advertising an upgrade to
their
fancy seat, but all the while they knew the passenger would be flying an inferior HM seat. Very devious and underhand.
El-Al next door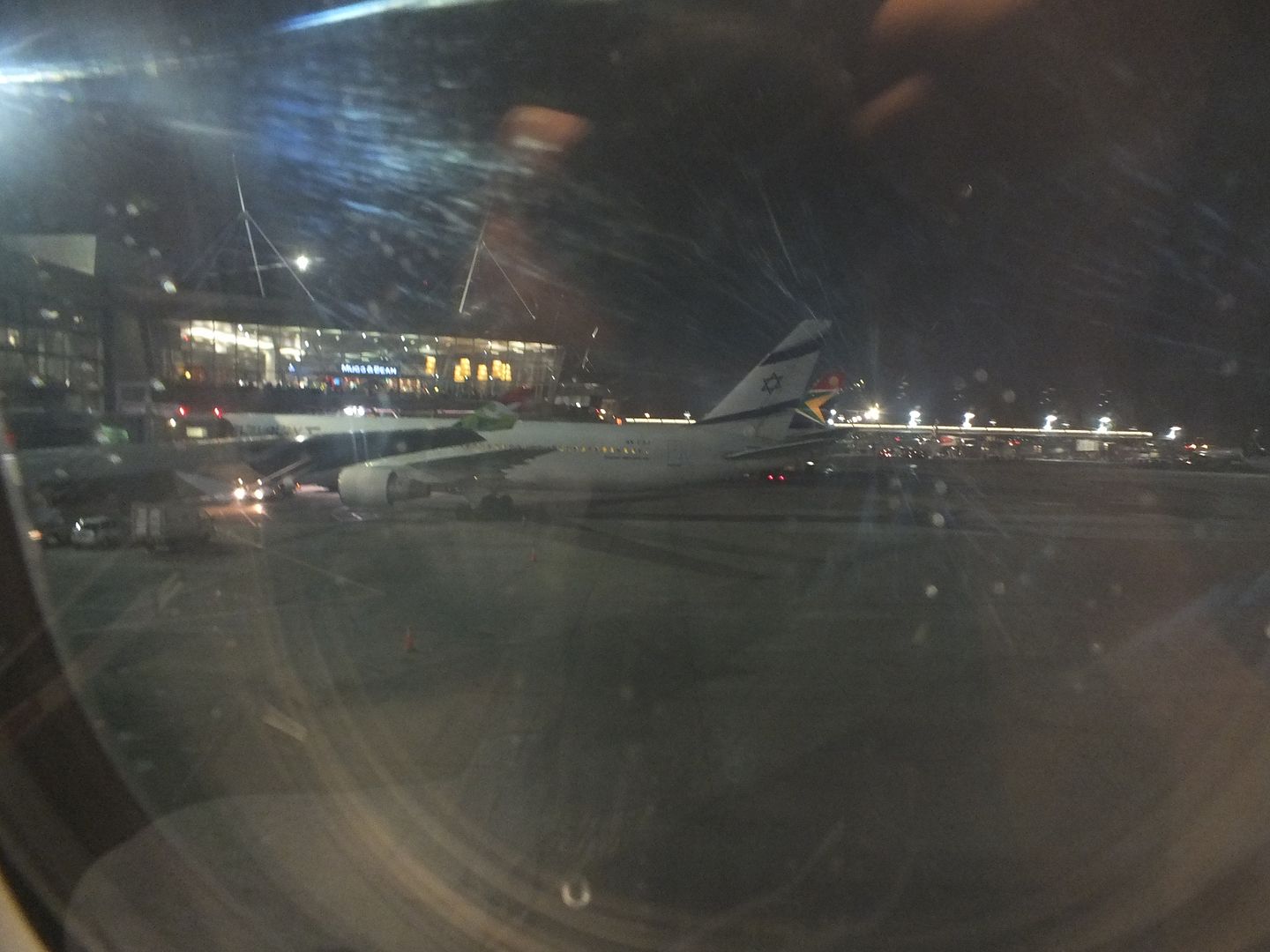 Isn't that a gorgeous wingtip?!
Good legroom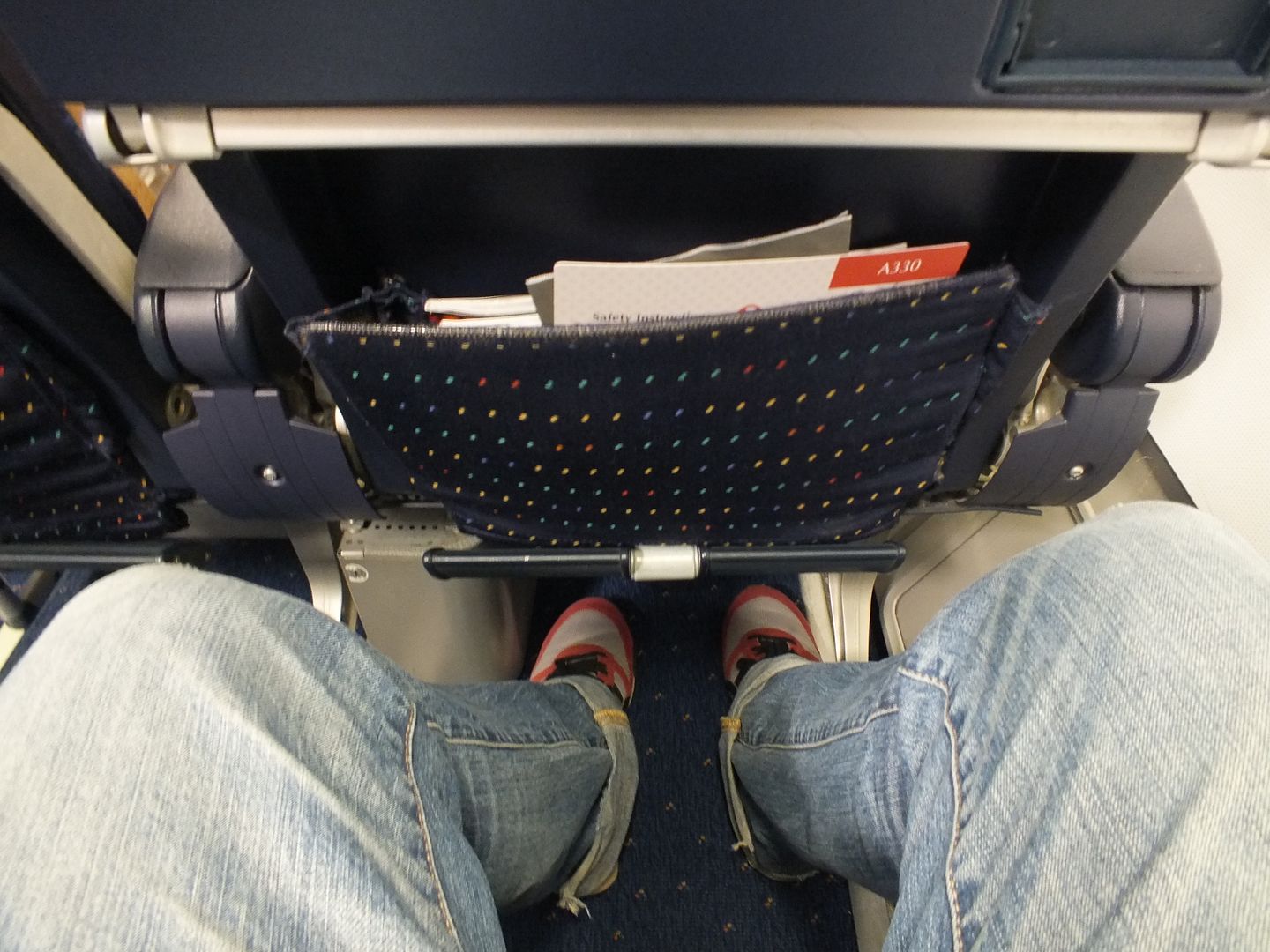 Headphones
And amenity kit