Background:
I had to go to Colombo over the Easter for business and to visit friends, but before booking the usual flights on QR I came across an unbeatable Crown Class fare from Paris. At less than half the price (QR's fares have risen sharply to CMB over the past twelve months), I couldn't resist and booked them immediately. This is my first time on RJ, my first time through CDG and I believe this is one of the first reports on the new terminal at AMM. This is also my first Trip Report, so I welcome your comments.
Booking:
I tired to book on rj.com but after two failed attempts (their system wouldn't accept my Visa card) I contacted their call centre in Amman to find out their system wasn't working either. I persisted and over the next few days and a number of phone calls, my tickets were finally confirmed. Living in London meant I had to get the Eurostar and TGV train to CDG and spend the night at a hotel before my flight.
Check-In:
Online check-in is not available for flights leaving CDG, so I checked out of the Hyatt Regency airport hotel at 08:45 and caught the free shuttle service to Terminal 2F. The RJ check-in zone is 2A, which is a fifteen minute walk past most of the other check-in areas. The terminal was overcrowded, and you can't get more than ten metres without bumping into someone. I didn't get any pictures because of the many heavily armed soldiers all over the place.
There was a long queue at the Y desks and two passengers travelling together in front of me at the Crown desks. Check-in opened at 09:23 but the process took another fifteen minutes as there was an issue with the tickets. The alyzia agent had to call the Amman office to verify my card details and get my ticket re-issued. Then there was a problem with the baggage tag printer which ate up more time. She informed me that only three passengers in total were in J, but Y was full. I was given a lounge invitation to the Admirals Club and told I'd have the row of seats to myself.
I had to re-trace my steps to get to immigration. There were long queues, and with no priority line and only one officer working for the EU passport side, I was in for another long wait. Security did have a priority line, but the officer here took my boarding pass for the first sector and didn't give it back. I was later told to get another printed at the gate.
Check-in and Immigration are clearly out-dated, but the duty free is excellent. There is quite a lot of construction going on so the reasonably long walk to the lounge (at the other side of the building) was made even longer as passengers are forced to dodge past each other most of the way due to overcrowding.
The lounge is downstairs and on arrival I explained my predicament to the agent, and she confirmed that I'd have to ask at the gate for another boarding pass. The Admirals Club was about half full – surprising when you consider three AA flights depart very close to each other to DFW, JFK and ORD, and boarding was called for these shortly after I arrive.
From the reception passengers can turn left or right. Both sides have the same seating arrangements but the right has private computer rooms and study rooms. It was almost half-past ten by the time I sat down. The lounge is elegantly decorated with good facilities but lacks any decent views. The left side is very busy, but the right wasn't so I found a quiet place to sit down there.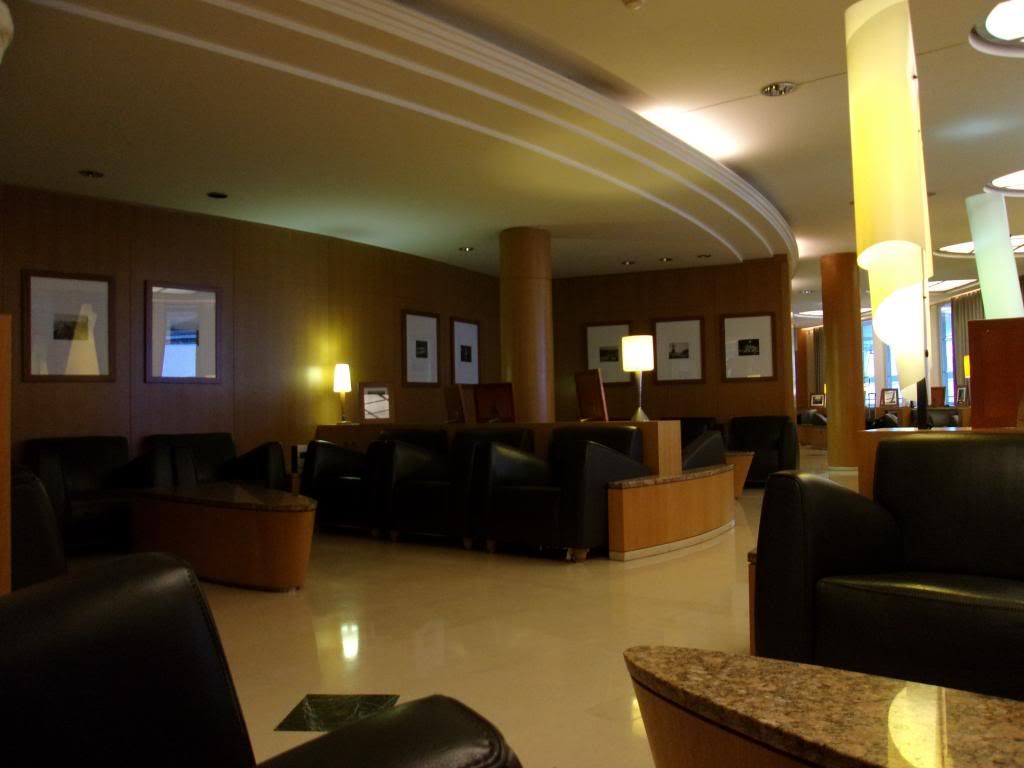 View:
Computer room: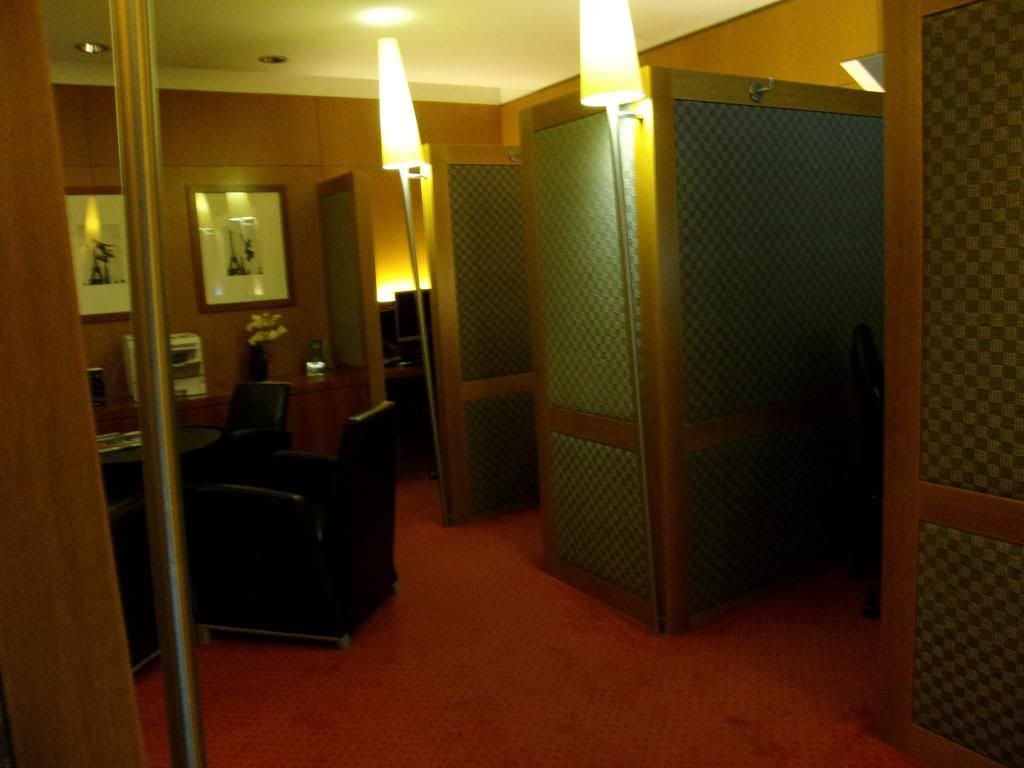 I left the lounge forty-five minutes before scheduled departure to ensure enough time to get a new boarding pass. The walk back to gate 47 was quicker as there were fewer passengers in the terminal. The RJ manager was just arriving at the gate, and I was surprised to see the aircraft wasn't here yet. She confirmed that there would be a delay due to a late incoming aircraft.
Connecting passengers from US flights started to arrive and request boarding passes, and there was quite a crowd by the time she realised the computer wasn't working properly. While the other passengers waited, she arranged for me to be escorted to another gate with one of her colleagues, who promptly printed out another boarding pass for me. I proceeded back to the Admirals Club even though the FIDs showed 'A l'heure' ('on time'). Boarding was finally called at 12:27.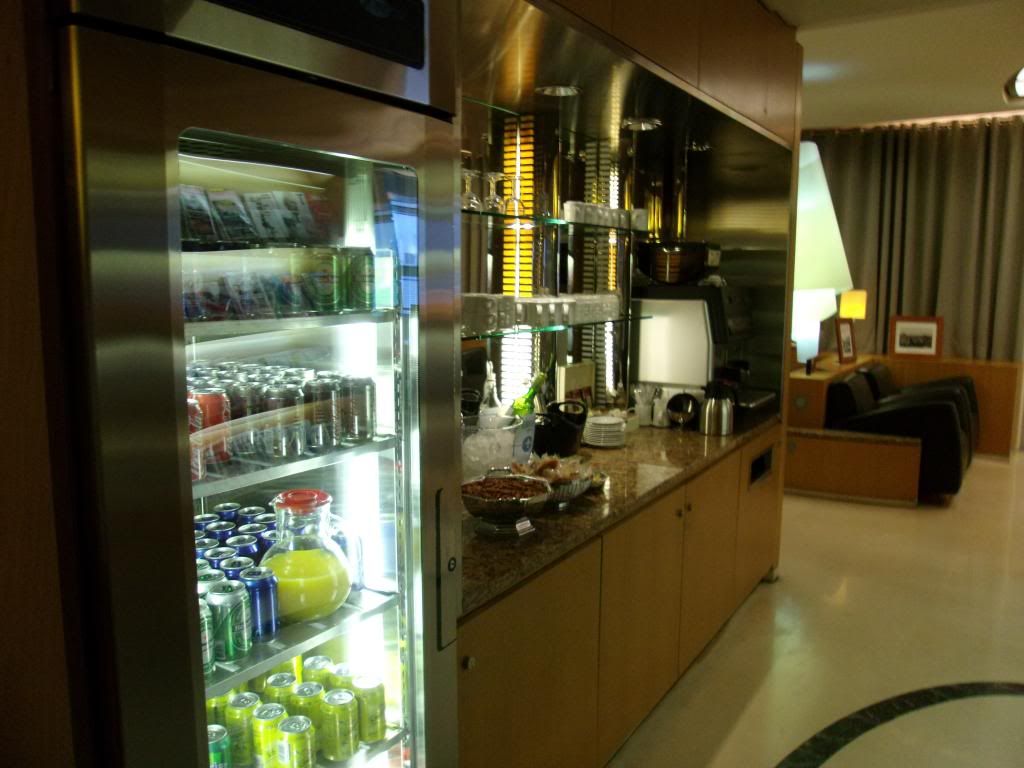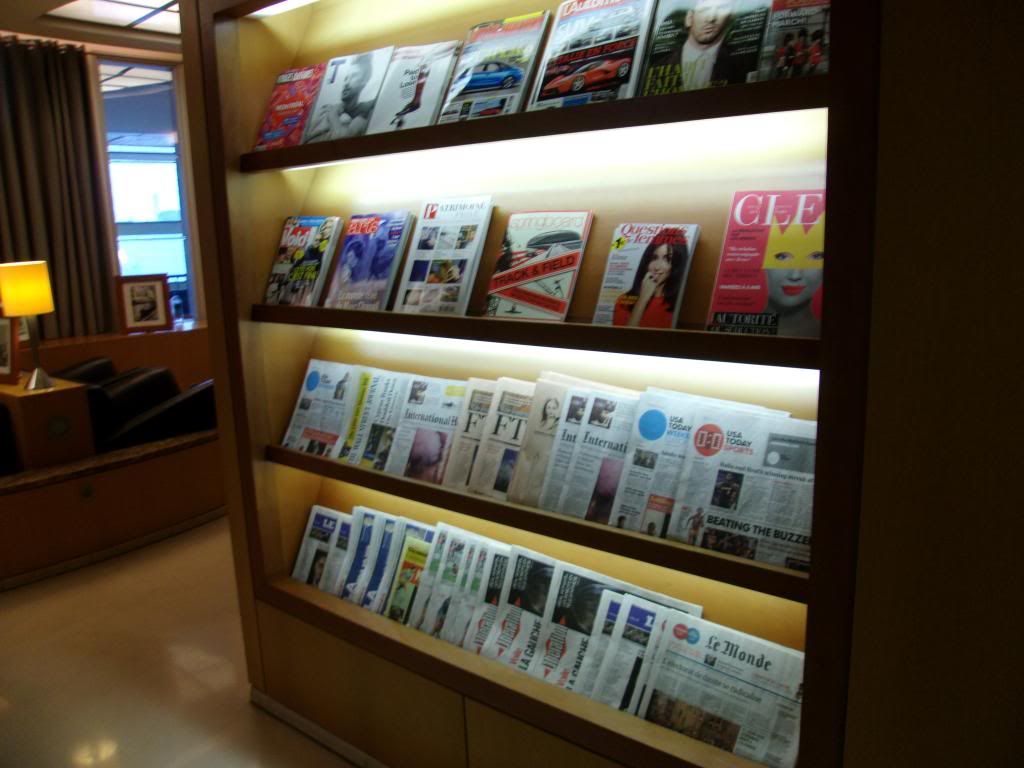 I was able to get back to gate 47 even quicker, as most of the crowds had dispersed. The EY A346, CX B77W and all three AA flights were ready for departure, clearing much of the passengers from the building. There was no priority line, but I joined the queue anyway and got through in under a minute. The equipment had been downgraded from the scheduled A321 to an A320, which couldn't really be seen from the terminal.
There was a small queue down the jetway, but I was soon on board and met by the blank stares of a male and female FA. The male would mumble 'welcome on board' to every third or fourth passenger, but that was all. I was suddenly a little less optimistic about this flight as I settled into my seat, with one passenger in every other row. I was reminded of some of the other RJ reports a.net.
Date: 31.03.2013
Royal Jordanian RJ 118
Route: CDG - AMM
Departure: 12:15 (13:03)
Arrival: 17:50 (18:25)
Aircraft: A320
Cabin: Crown
First impressions of the cabin were extremely positive. The layout was the same standard as most Middle Eastern A320s, but these leather seats looked smarter than the competition, and were just as comfortable. The aircraft had had a short turn-around but was very clean. Each seat had a plastic-wrapped pillow and blanket placed on.
The Y cabin looked very full, and a steady stream of passengers walked past me. Two more passengers joined the J cabin and were seated in row two. The flow of passengers slowed and the aforementioned female FA came around the J cabin with a smile and offered glasses of orange juice and water. She spilt mine, but dealt with it professionally, apologising and immediately cleaning up the mess and bringing me another one with a friendly laugh.
We were served throughout the flight by her and one other female FA, while the male stayed in the galley. The captain then apologised for the delay, and promised to give more flight information after take-off. The same FA offered a menu and 'wake me for meals' stickers, before asking each passenger if they wanted a wine list.
Pushback commenced and the animated safety video was shown on the main screens. This is the only A320 I've seen without overhead TVs running through the cabin. Instead, everyone had to watch the front two screens, which were not used again for the duration of the flight. Drink orders were taken, glasses were collected and a short taxi and wait at runway 26R was followed by a long take-off roll.
Legroom: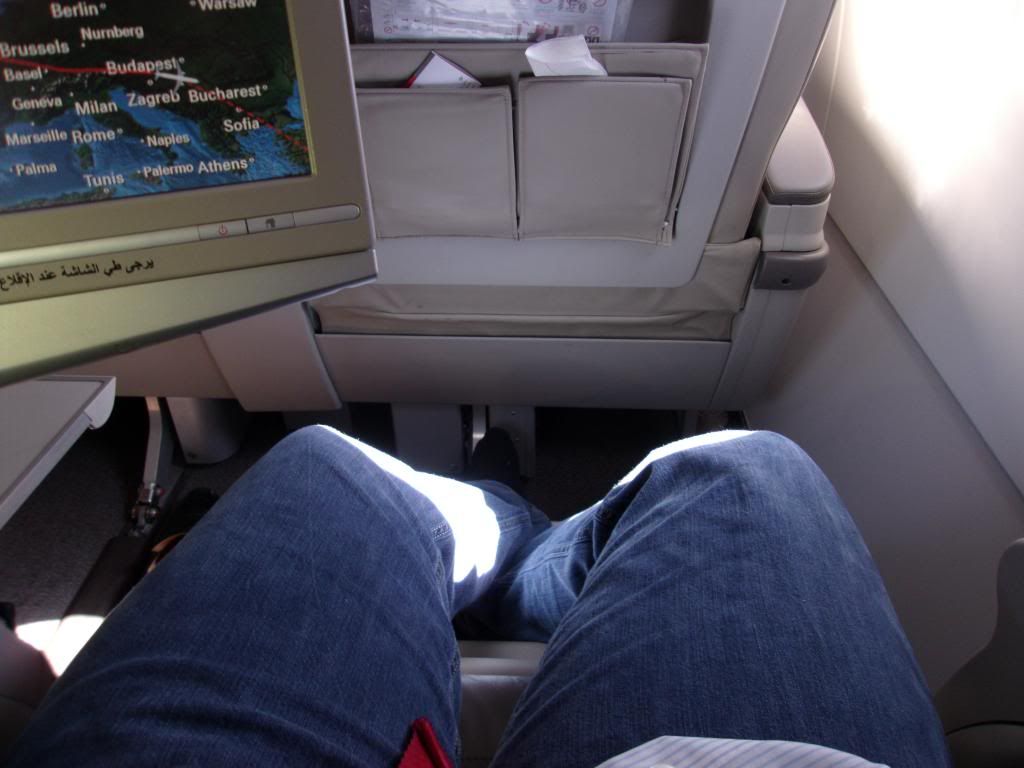 The seatbelt signs were extinguished and as promised the captain came back on the PA system and announced the revised arrival time and routing. My Moet Champagne and Crudité were brought, followed by hot towels. There was just enough time to use the bathroom (standard A320 bathroom, no special amenities) before the starters were served. This was followed by water and more Champagne. The same FA walked towards me with a beaming smile (which was maintained throughout the flight) and asked if I would like some other wine. She recommended a Jordanian wine with my main course, which turned out to be excellent.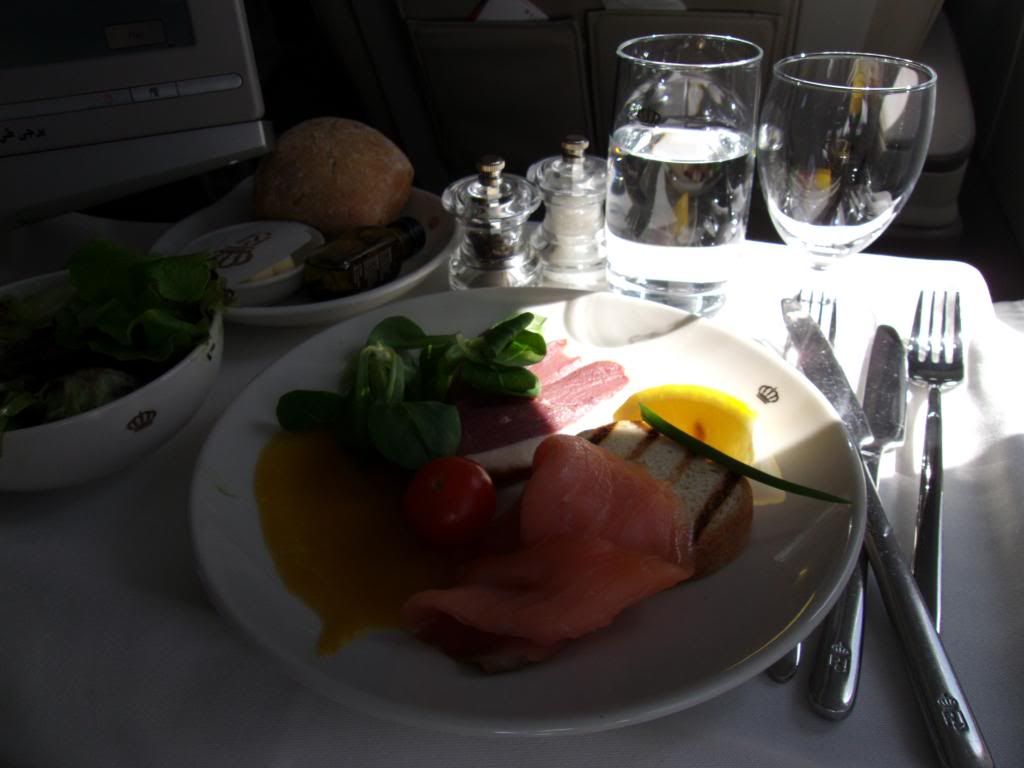 The main course was served in the style used previously in EK F and UL J, served in front of you from a well dressed table (I am sorry I didn't get a photo of this). I was impressed by the attention to detail and as you can see below, she used a napkin to wipe the plate after serving to improve presentation.
It's rare that I finish the main course on planes: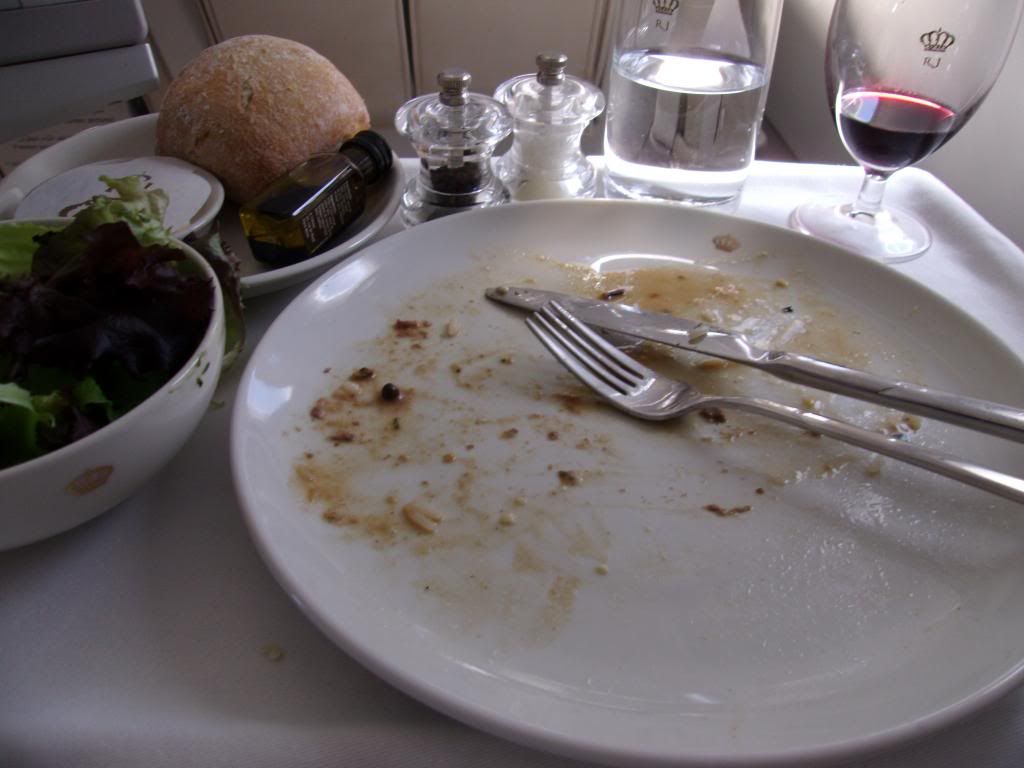 The food was flavourful, and the lamb was cooked perfectly. As you'd expect in a 25% full cabin, all empty plates were cleared immediately and plenty of refills offered.
A few minutes later, the same FA arrived with a trolley full of different sorbets and deserts, said 'it's sweets time' and giggled. I chose a chocolate cheesecake and she offered pistachio, vanilla or raspberry sorbets, to which I accepted pistachio. She placed both items onto my table, and offered tea or coffee.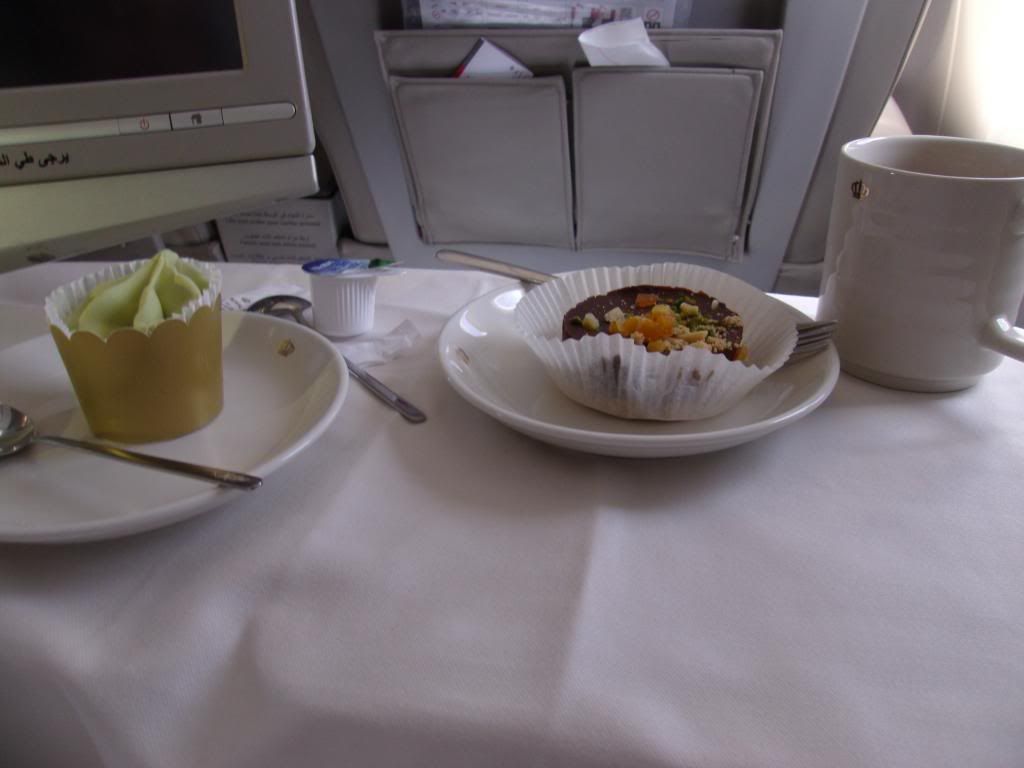 Plates were immediately cleared and lights switched off completely for the rest of the flight. The headsets provided were disappointingly the same ones given in Y, so I was glad I brought my own noise cancelling ones. The touch screen was very responsive and the selection was adequate for the flight duration, although I would have preferred more TV shows. 30 Rock and Modern Family were available, but a box set would have been nice. There was a good selection of film and music, but nothing to write home about.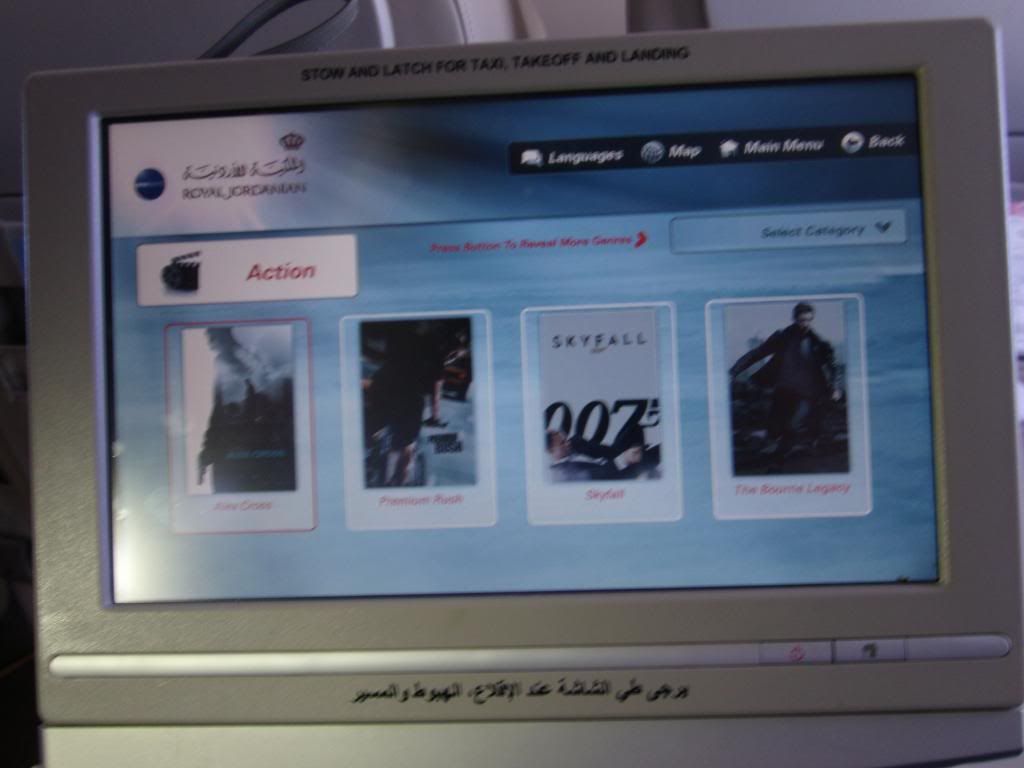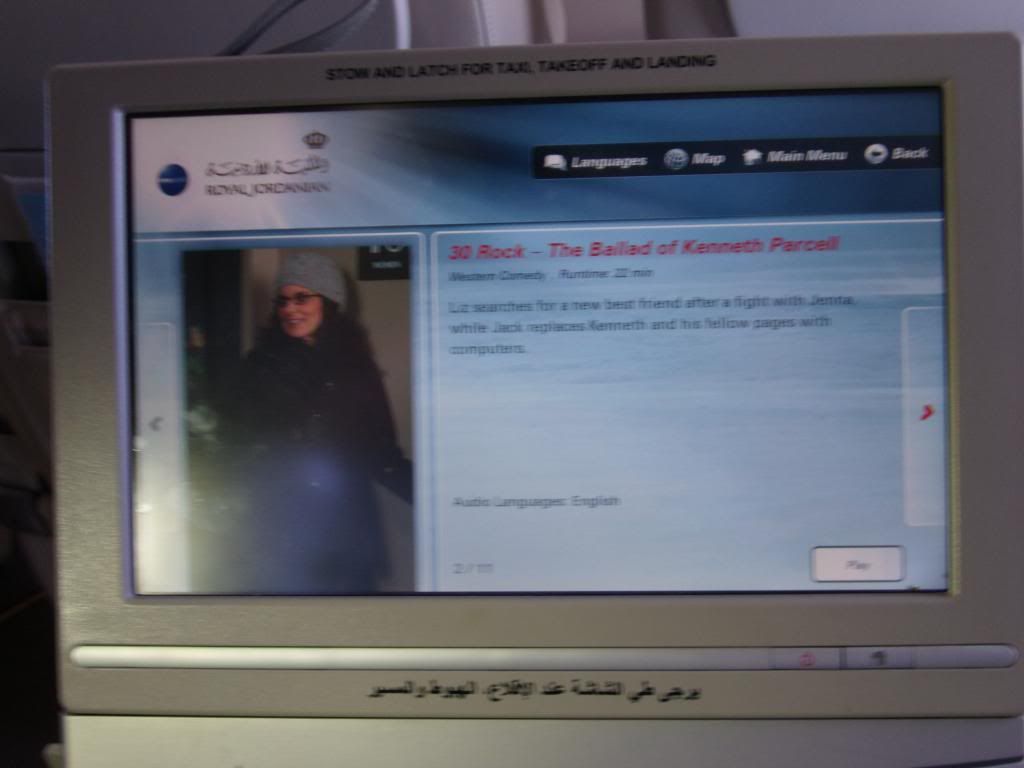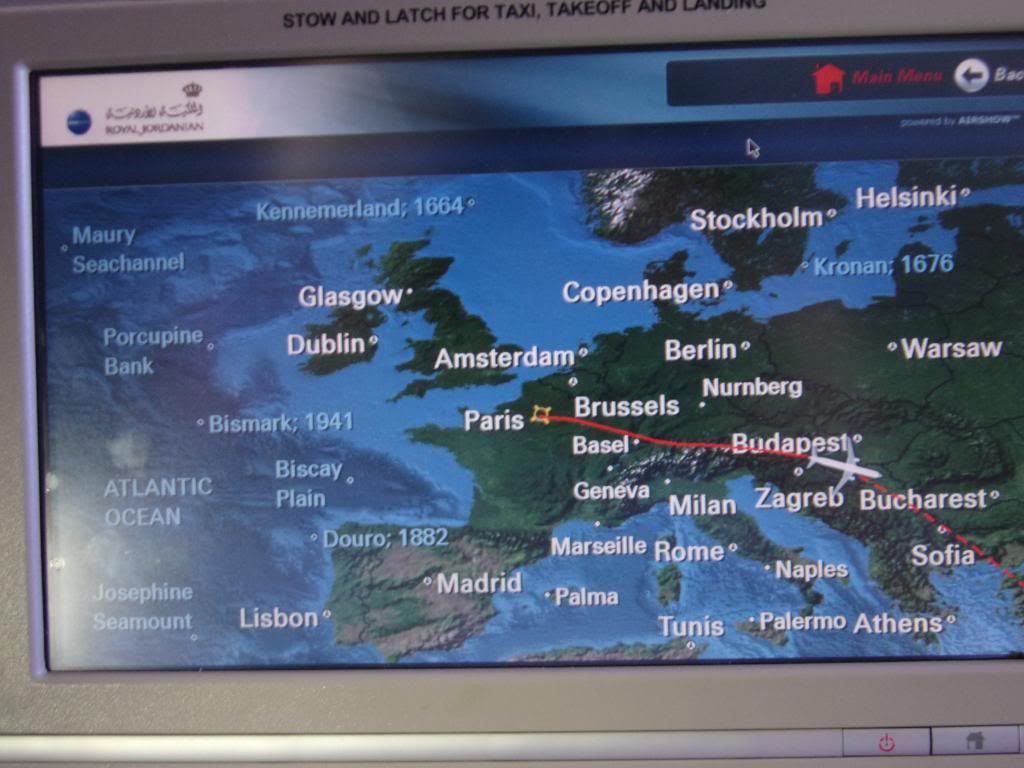 The crew were present in the cabin throughout the flight, but there were no further drinks offered. With two hours to go, I asked a passing female FA (from Y) who was carrying some water bottles if I could have one. She jumped and let out a little scream when I spoke to her, as apparently she didn't see me in the almost pitch black cabin. There was an awkward moment where she looked at me, then the only passenger in row four, and finally her colleague (the unfriendly male FA who had been relaxing in row four as well) who were both startled by her scream. She placed the bottle on the armrest, and hurried away.
With thirty minutes to go, I went to use the lavatory one final time before landing, but it was occupied. The second female FA I mentioned started to make small talk while I waited and she set up some unusual coloured glasses. She told me we would descend soon, and I explained how I had taken this unusual routing from London to try RJ. She was quite flattered when I shared my opinion of the flight so far.
Seat controls (the massage controls were under the armrest):
We commenced descent twenty minutes before arrival, and the same flight attendant brought some coloured glasses of 'white coffee'. She asked me if I knew what it was, and explained that it's made from orange blossom and that I should try it with some brown sugar. I obliged and it was indeed very good. After some spectacular views of the rugged terrain of Israel and Jordan, we touched down smoothly and taxied quickly to gate 106, next to the A330 that would take me to Colombo. We were soon off the aircraft, and even the male FA managed a 'thank you'.
Transit at Amman:
The new terminal opened earlier this week and has very impressive architecture and shopping. The security check for transit passengers is poorly organised, and instead of a simple frisk search, passengers who 'beep' at the metal detector are made to go through again and again.
The terminal isn't particularly big (you can see most of it in the pictures) but has imposing design and the reasonable number of passengers is a refreshing change from the extremely crowded terminals at other airports in the region.
Duty free area and view from the lounge: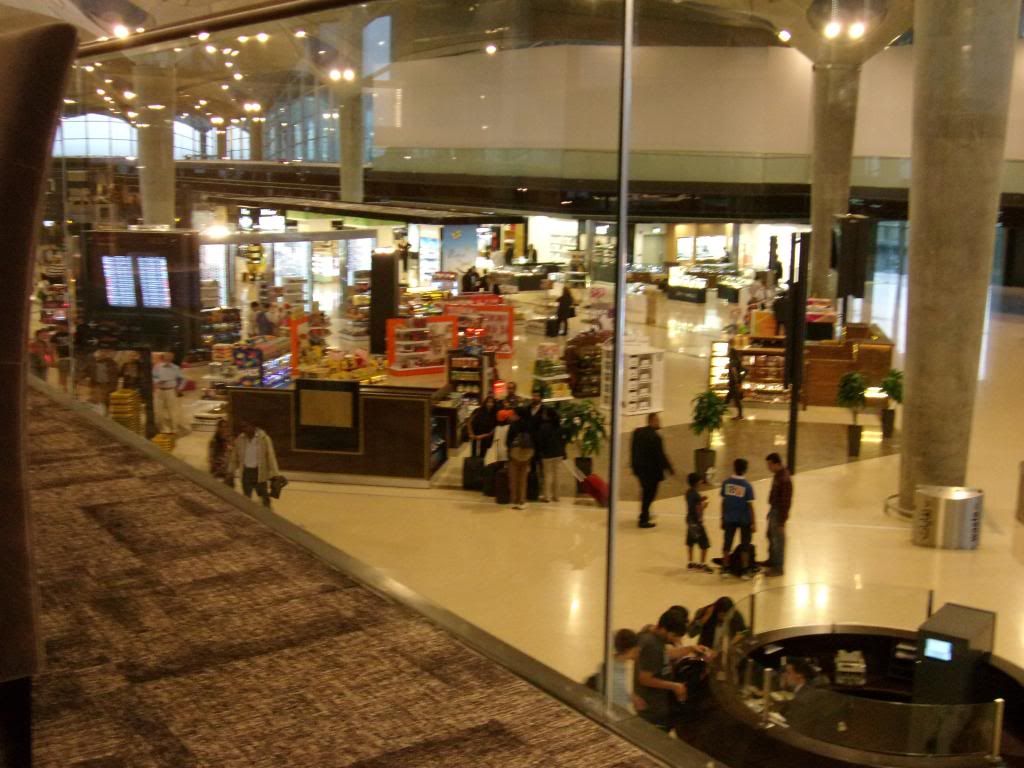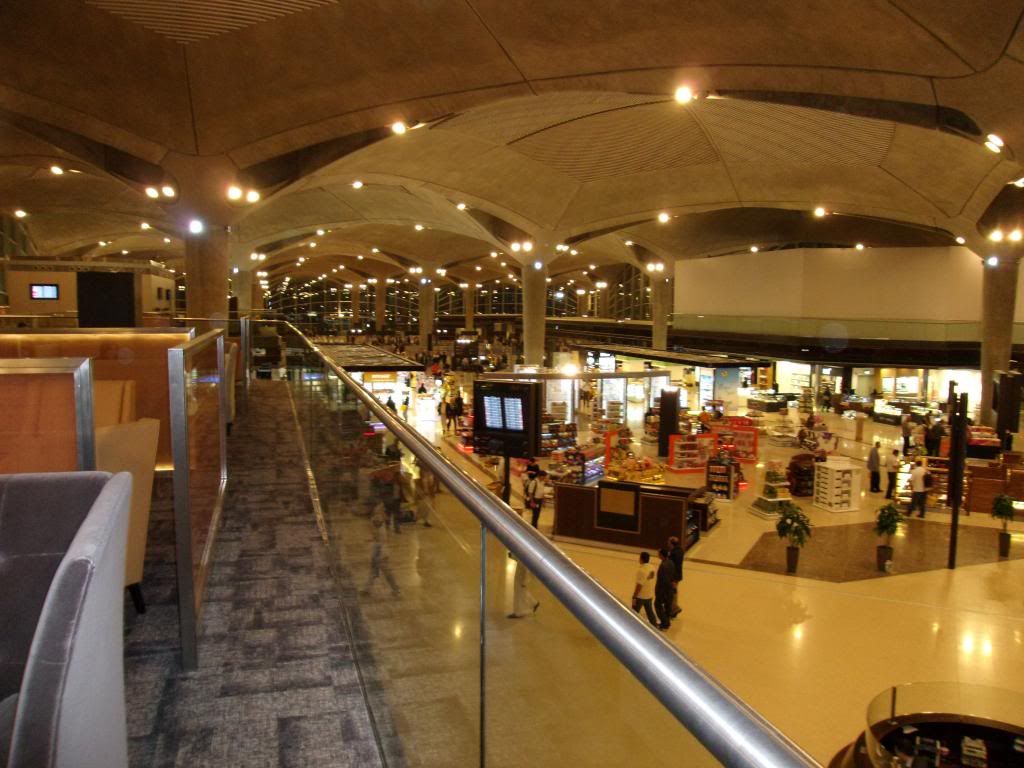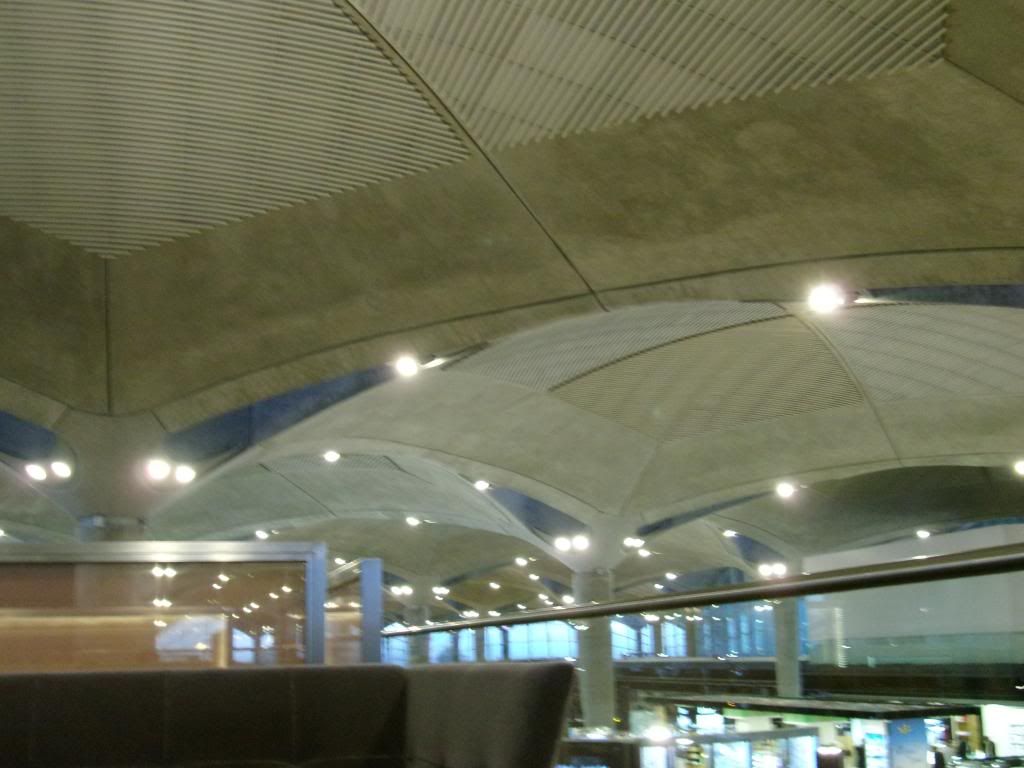 I headed to the lounge with just ten minutes left before scheduled boarding. The Crown Lounge is very open plan, and can be accessed from two lifts on opposite sides of the duty free area. It stretches across one side of the building, and the entire first floor has a view over the ground floor.
In many Middle Eastern airports (except of course the Premium Terminal at DOH) the 'labour routes' have some of the worst boarding procedures on the planet. From my experience, this is due to a combination of factors, including ignorance of passengers, and the negligence and a passive, general contempt towards passengers by some members of staff. This is of course not always the case, but we have all heard of (and those of us who fly through the gulf frequently have often witnessed) examples of this. I'm sorry if anyone is offended by this, but it is simply the experience of myself, my friends and family, my colleagues, and a lot of what I have read on this website that lead me to believe this.
For this reason I try to get to the gates as late as possible without causing an inconvenience, and the lounge agent told me that gates at AMM close thirty minutes before departure. Since I knew my way back towards the direction I came from, I left the gate when the FIDs displayed 'last call'. I noted that the expected departure time was thirty minutes late, but the remarks read 'on time'.
On arrival back at 106 (two aircraft can park here), I found that boarding hadn't even opened yet, and the flight would be delayed for at least an hour. The A320 that had brought me from Paris was being prepared for a flight to Beirut. The crew showed up at 19:50 and ten minutes of standing around followed, and a single gate was opened, without any announcement or procedure. Myself and my fellow Crown passengers inquired at the desk about priority boarding, and were told to join the huddle of people (not quite in that way) and wait. I asked someone else and commented on the chaos, but this was met with a shrug and nothing else. Another quarter hour was spent in the crowd of people pushing each other into a bottle-neck situation, that I happened to be in the middle of.
I eventually got through, and a chance glance at the agent's screen revealed five J passengers on the flight, and I was seated next to one of them. I'm sorry I didn't get a picture of the situation, but this is to respect the privacy of the individuals in the crowd. It always upsets me to see people treated this way, and my mood wasn't helped by an almost-full A330 being boarded using just door 1L.
There was no one at the door so I just walked in, and found a female FA standing in Crown. She smiled, checked my boarding card and welcomed me on board. I asked if I could switch to 1A, and she went to check. She returned with a yes, and offered me some orange juice, and went through the same procedure as the previous flight, offering a menu, wine list and taking drinks orders for after take-off. The only difference was a Nespresso Coffee menu slipped inside the menu with four espresso choices.
Boarding took a long time because the bottleneck at the gate was creating a very slow stream of passengers. The captain apologised for the delay, intended to allow delayed connecting passengers make the flight. Doors were closed and the safety video was played as we made a short taxi to runway 26R, with some heavy braking along the way. What followed was an extremely long take-off roll and immediate sharp left turn towards Saudi Arabia. A turbulent climb to 37000ft followed, and the fasten seat belt sign was eventually extinguished, and I was brought some Moet and nuts, followed by a hot towel.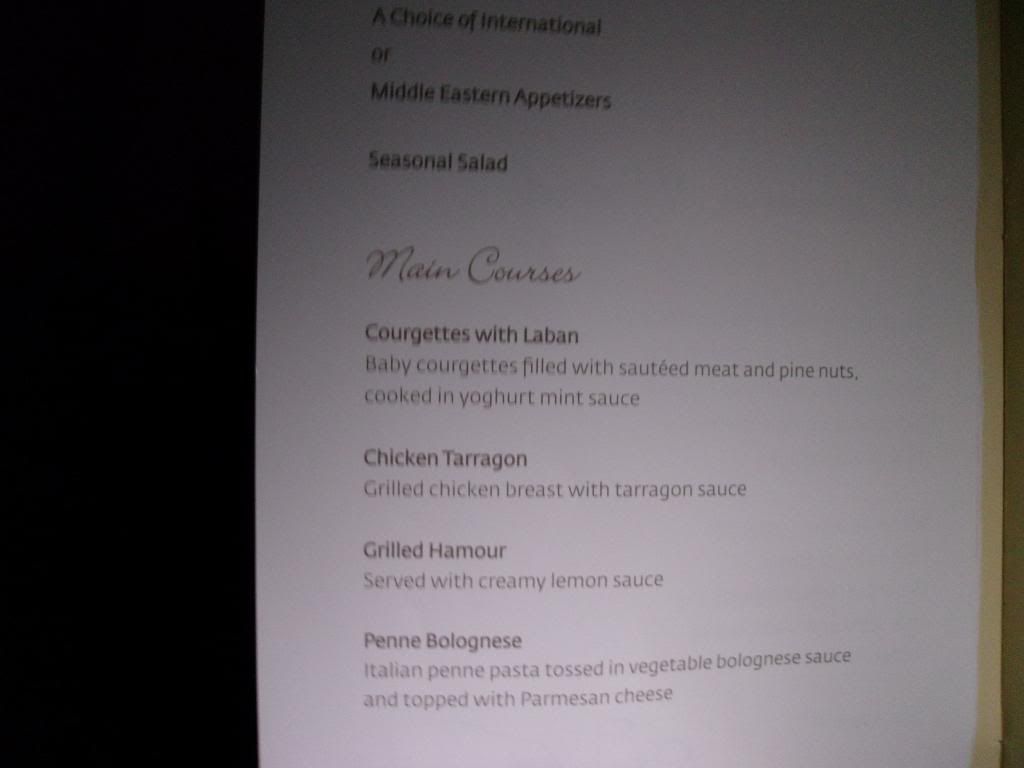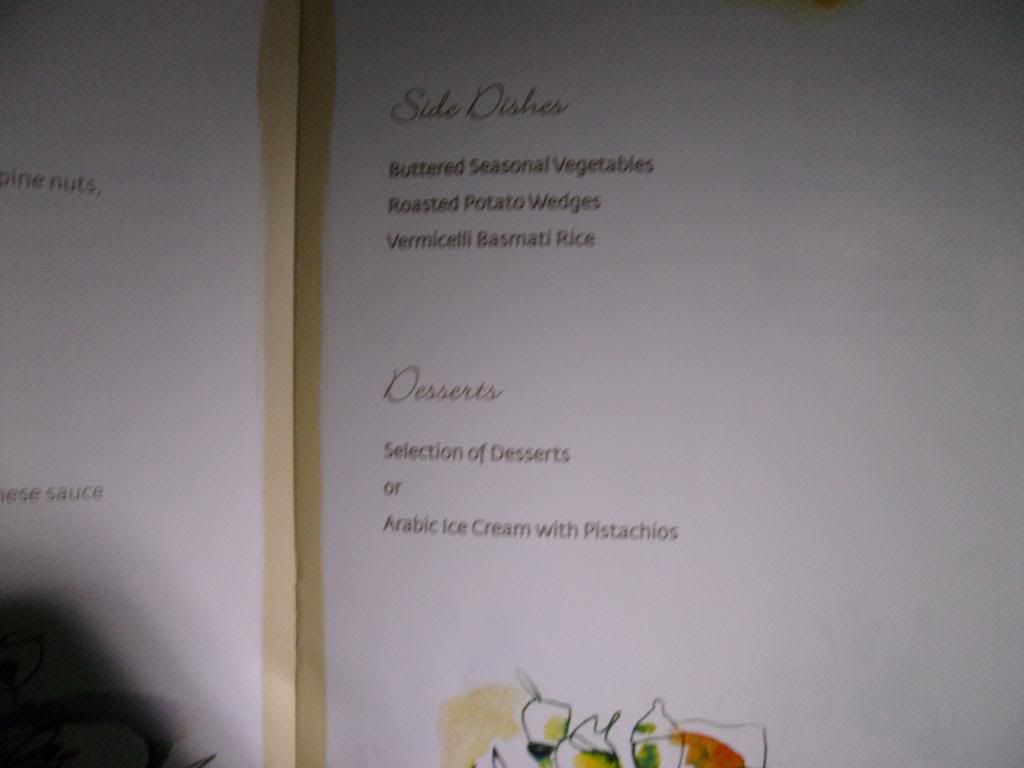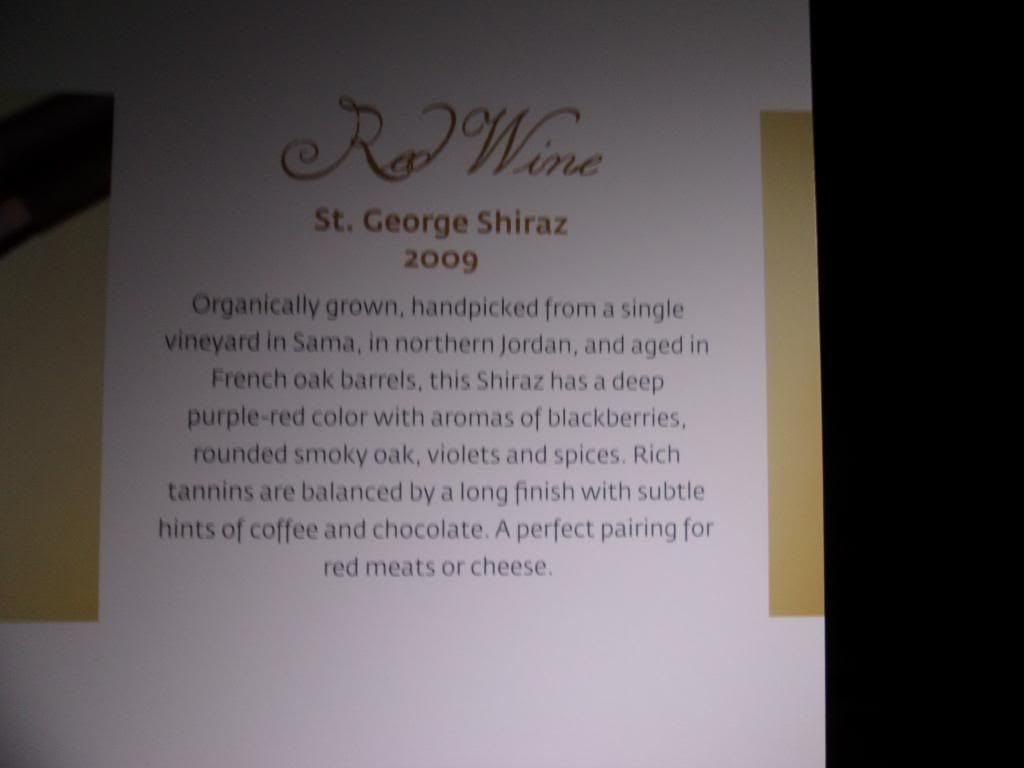 Date 31.03.2013
Royal Jordanian RJ 194
Route: AMM - CMB
Departure: 19:25 (20:40)
Arrival: 04:30 (05:04)
Aircraft: A332
Cabin: Crown (Business)
Champagne: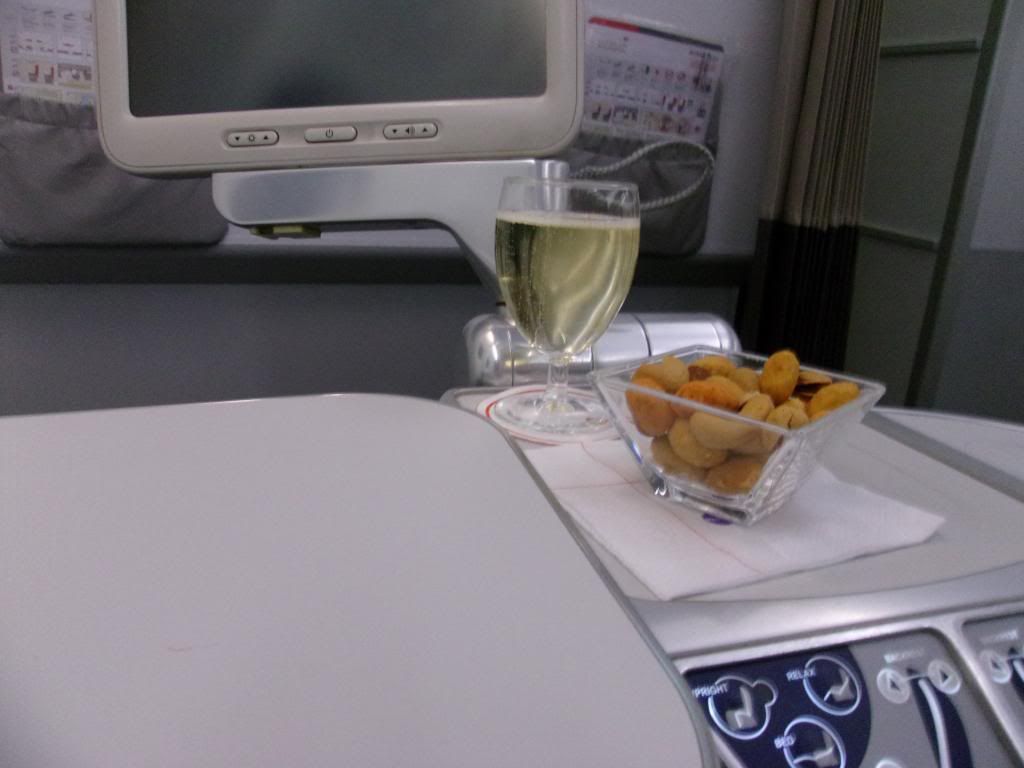 The A332 was fitted with angled flat beds often found on aircraft of this type, with sufficient support and privacy, enough for most to be comfortable. There were signs of wear on the outside armrests, but overall the seat was very good. I appreciated the flexibility of the controls, particularly the ability to lift the whole seat up when dining. This time only a wrapped pillow had been left on each seat. I requested an amenity kit, but they were 'out of stock'. The only amenity left was a shaving kit.
Seat controls: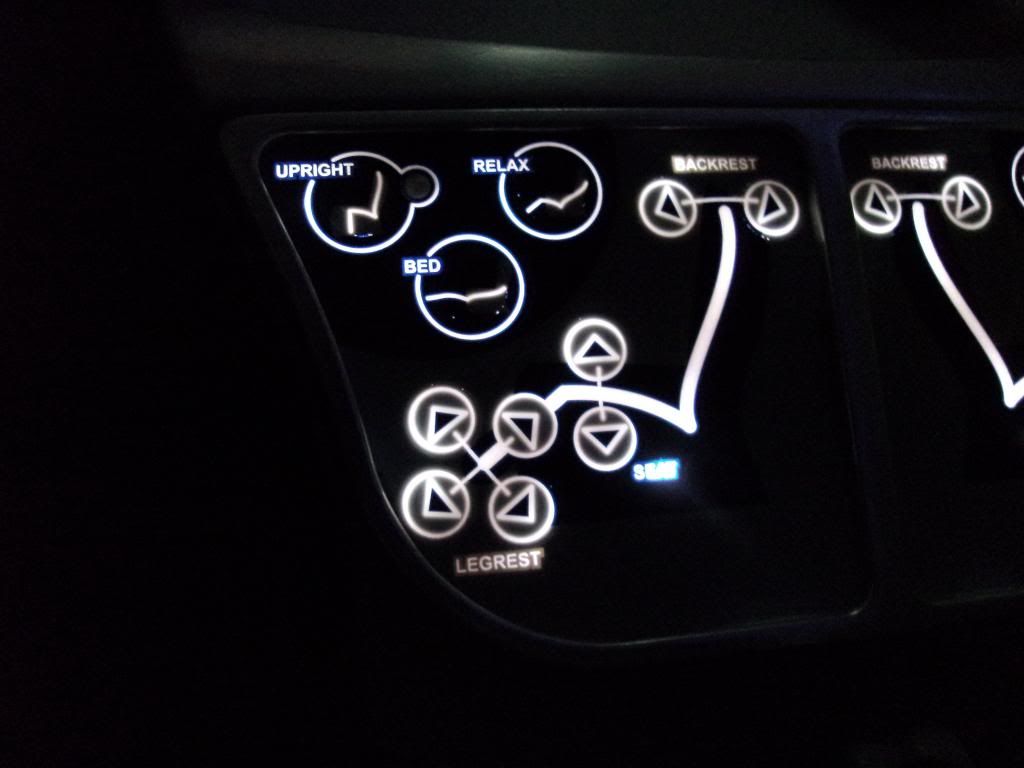 The lavatory was sub par, and the toilets appear much older and worn than should be on this reasonably new aircraft. They are again the standard lavatories found on this aircraft type. On returning to my seat another FA rushed towards me and pointed out the blanket she had left on the neighbouring seat, and asked me to let her know if I wanted another. The meal service then commenced, and was conducted in the same way as the previous flight through moderate turbulence.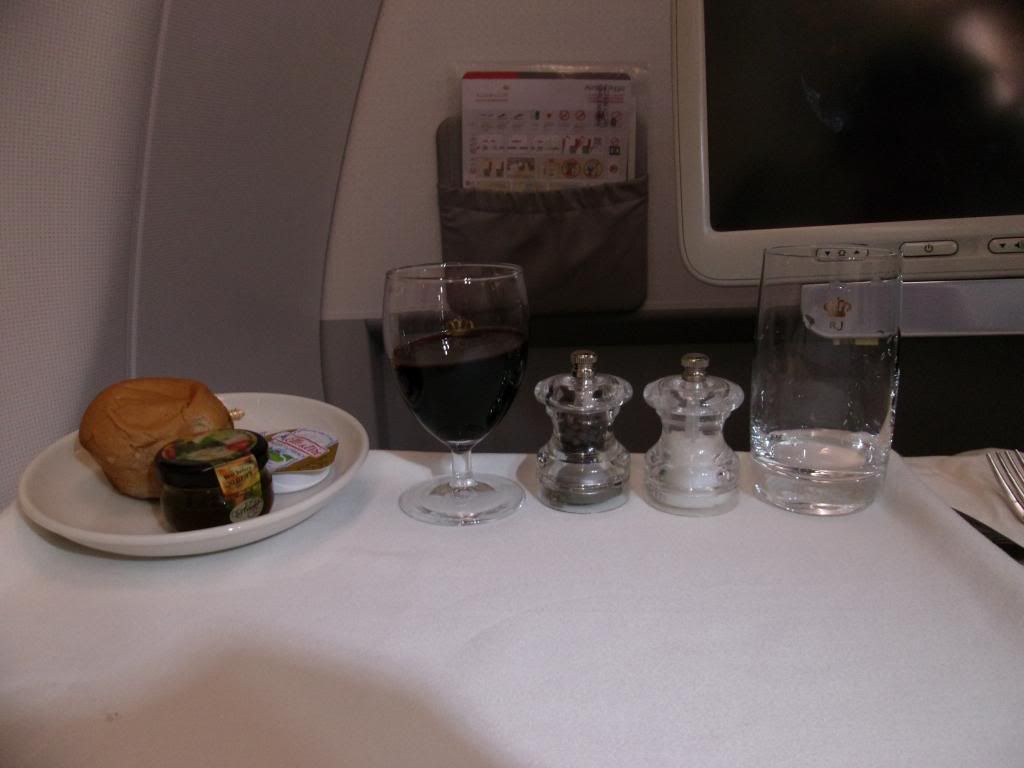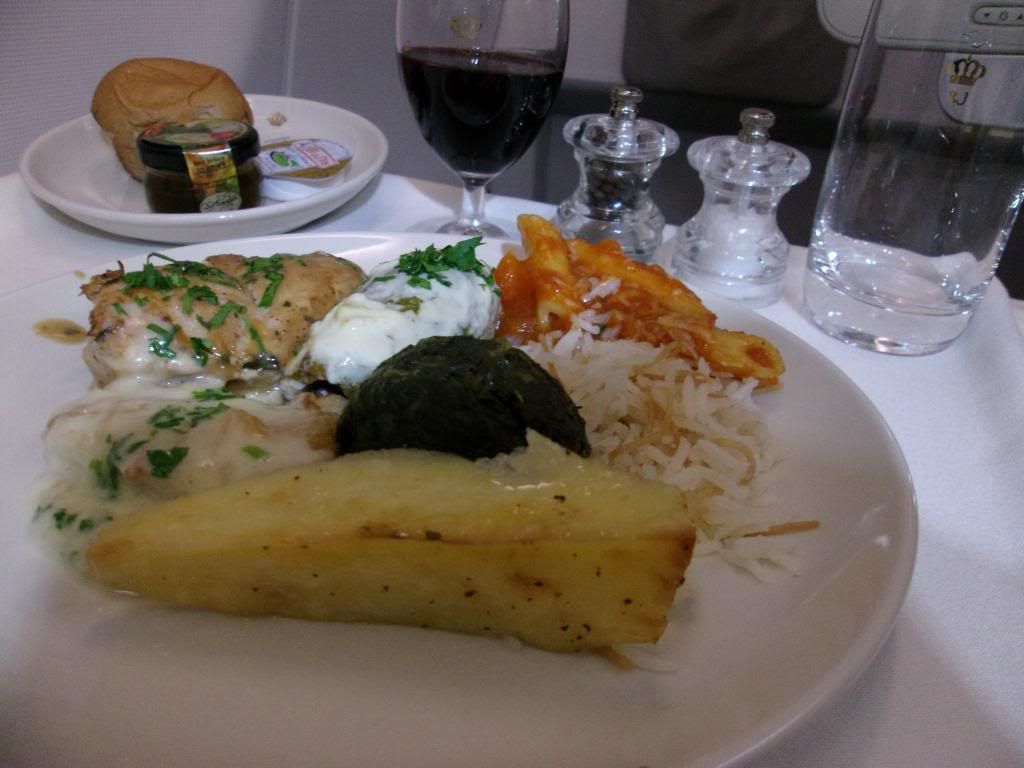 Notice the turbulence: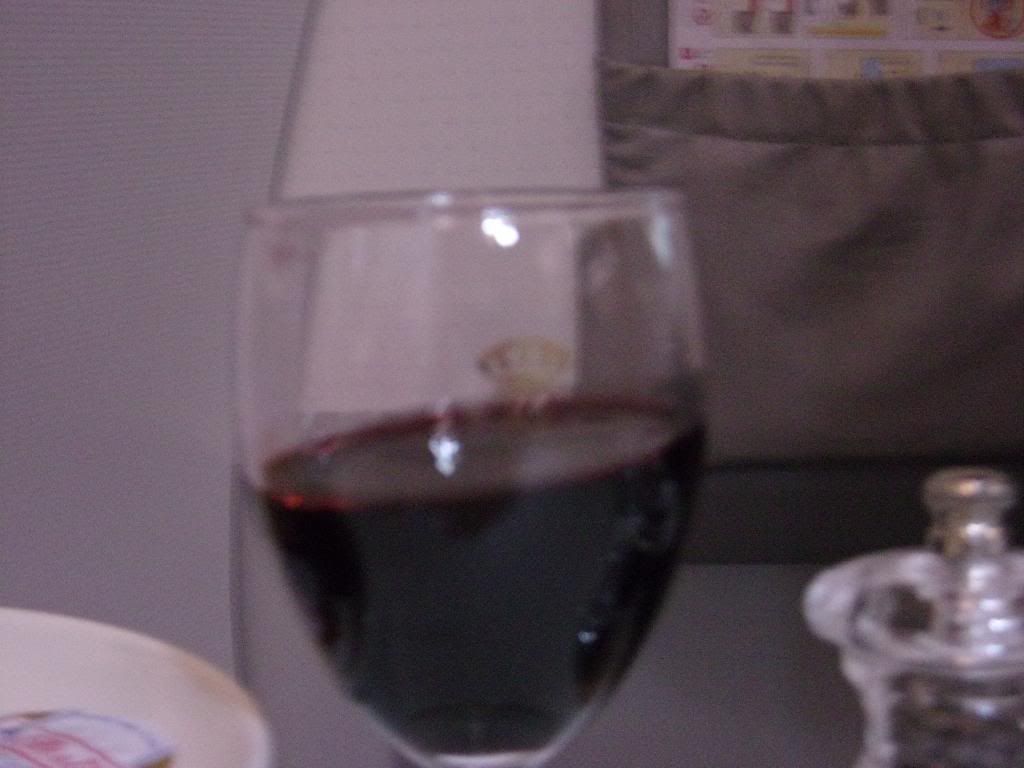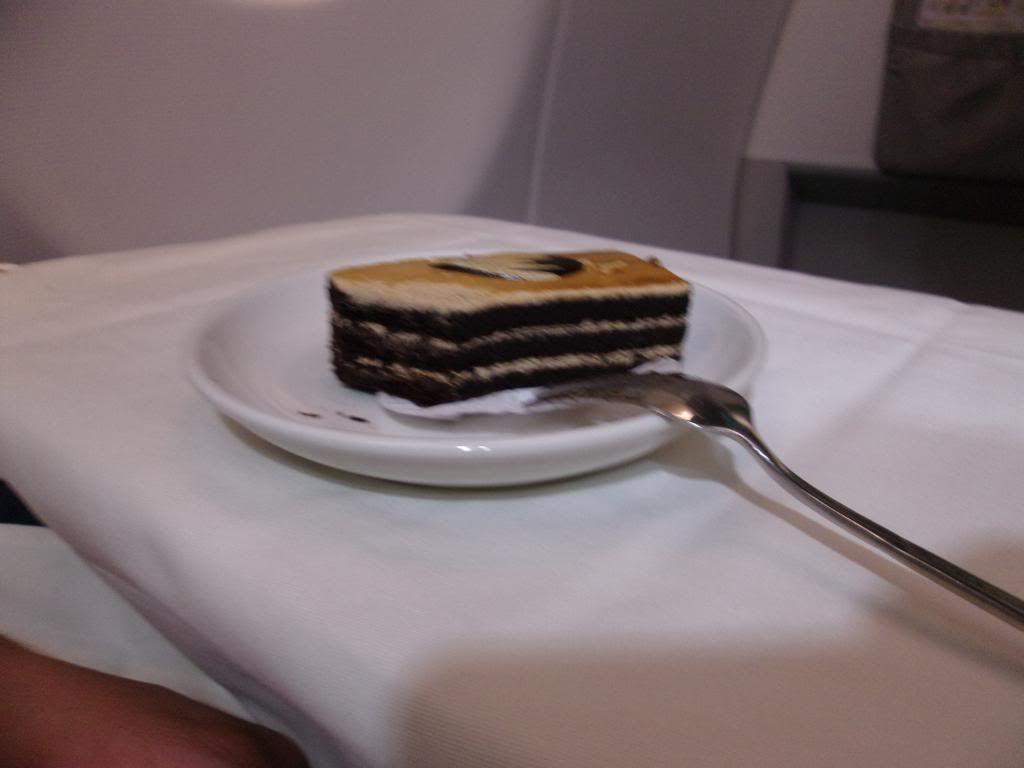 The rest of the flight was uneventful, and although the crew were present in the cabin, I was only offered a drink once. The flight attendant serving me was a little more restrained than on the previous flight, but she was still courteous, professional and efficient.
The touchscreen IFE on this aircraft wasn't responsive and tasks took a frustratingly long time. There were fewer music options on this system, and the lack of TV shows was noticeable on this longer flight. I don't like watching films on planes, but tried to pass the time with Skyfall.
The second half of the flight was more turbulent, and the seat belt sign stayed illuminated for most of it. Drinks were offered as we approached the West coast of India, and the Captain announced the start of descent as we approached the West coast of Sri Lanka. I was offered another cappuccino, and this was cleared just before a rough landing in CMB.
There were several UL arrivals at this time, and queues at immigration were the worst I have ever seen, not helped by the large number of foreigners who had forgotten to get ETAs. The Baggage reclaim hall was also busy, and my bag was frustratingly one of the last to be delivered. There were more customs officials than I had ever seen, and checks on nationality and embarkation airport were conducted before passengers were allowed out.
Conclusion:
I thoroughly enjoyed my flights with RJ, and the on board product is of a very high standard. Meals are excellent, seats are comfortable and although staff lack the refinement of some of the competition, most are always friendly and courteous, letting their hair down as the flight progresses. The new building in AMM is also very good, but the boarding procedure needs a complete overhaul, and staff attitudes must be addressed. In addition the FIDs were misleading and caused a lot of unnecessary hassle – I'll put this down to teething problems. There is also room for improvement in the IFE library, particularly consistency between aircraft, and in this day and age noise cancelling headphones in J is a must. I wouldn't hesitate to fly RJ again, but only if fares were cheaper than competitors.