Dear readers, welcome to this tripreport to an a.net meeting in Manchester;
Fellow member Marc (MSS658) came with the idea to set up an a.net meeting in Manchester, UK in April 2013. Final dates were set for 5 ~ 7 April, and this resulted in some flightplanning here and there to see if I was able to join.
With the recently newly introduced domestic 'Little Red' services by Virgin Atlantic between London LHR and Manchester, I tried to find an itinerary via London. Also my friends Servaas (MEA-707) and Robert from Sweden (Parton87) wanted to join when we figured out that we could fly from Rotterdam on Cityjets Fokker 50. Always nice to fly on these turboprops, into London City. Where we could meet up with the organisator Marc (incoming on Cityjet from ANR) and meeting with Gabriel (gabrielchew) as a local tourguide and having some time in a London pub.
That was the idea, flights sorted out and booked. Everything seemed fine.
So, the day came and on Thursday April 4th, I picked up Robert at the airport after he got in from ARN on KLM's Boeing 737-900 PH-BXR. We headed downtown that night for pizza with Servaas, but didn't make it late. I was on medication these days which influenced my body a bit, I was sometimes a bit 'out of this world', one of the side effects of the medicine. And probably the reason of what would happen that next day…
No passport or Cityjet: KLM & VS Little Red to MAN
Friday, April 5th… Alarms ring at 7.00am and we grab up things for the meet in MAN, have a quick breakfast and coffee before hitting the cold morning with a busride to the trainstation, where we jump on the 09.32 Fyra trainservice to Rotterdam CS. We meet Servaas onboard and are all together again.
We are not rushing at all, there is no need for. Everythings goes fine and on schedule so far. Bus no. 33 to the airport and we walk around a bit to see some of the traffic at RTM.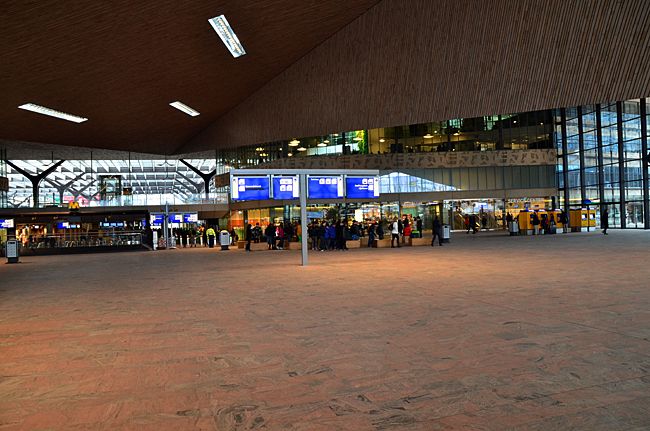 .
The renovated hall at Rotterdam Central Station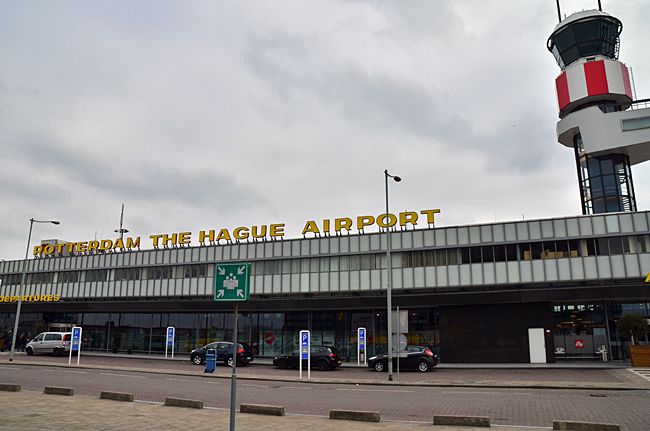 .
Rotterdam Airport building
45 minutes before flightdeparture we walk into the terminal building for check-in, and then at the moment I am facing the check-in desk, I turn myself to Servaas and tell him; "I've a problem…, I left my passport at home!"
Not the smartest move by me, and something which never ever happens to me before, and I blame it on the medication actually. But what could I do. I consult quickly at the Cityjet ticketdesk, inform them accordingly and tell them to wait till the final moment. Rush myself to the Military Police office to get them issuing an emergency passport, which they officially won't do 'in case you forgot it', but they accept it this time and send me to the airport authority to get photos taken of my face.
Back to the Military Police and filling out a form, and then they get into action to get a document printed. At that time around 15 minutes left till departure…
Bad luck was on my side, apparently an issue with the scanning device of the printer, taking up more time then necessary and some replacement part had to be installed. I don't blame the police officers, they really tried their best, but at the moment I receive a message from Servaas that the door of the Fokker 50 was just closed, I see the police officer coming towards me with the emergency passport. Just, a few minutes late. Shit happens, we all tried our best but it was not possible this time.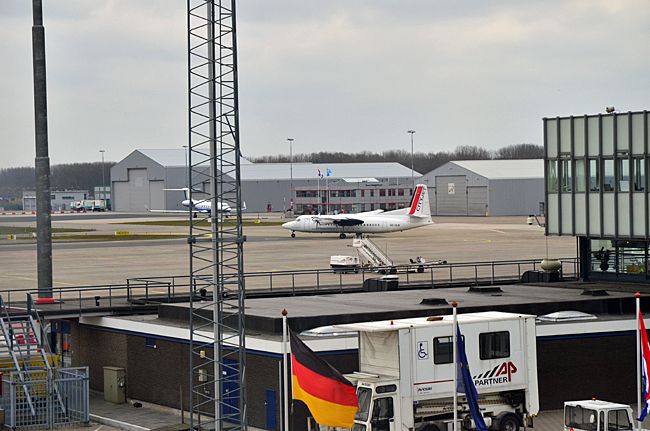 .
The Cityjet flight to LCY taxiing out… that doesn't feel good I can tell!
A quick enquiry a the Cityjet desk to get myself rebooked on the next service to LCY, 2 hours later, was offered to me with a surcharge of EUR 216,-. No thanks. I request her to process the refund of taxes, but she refers to the Cityjet website where all can be done easily (well, I find out it is not possible to do it there, and my flightstatus shows 'flown' which is incorrect). Well, I'll get things sorted out, no worries.
So, what do do now, how to get to London. I go online on my iPad and figure out that the 17.15 departure out of AMS to LHR directly is to be operated by a Fokker 70, which is always nice to ride on, and with a promo award seat available I quickly grab it and I am settled again. My flight details are texted to the guys in London and I proceed my way (via home) to AMS where I enjoy a late lunch in the lounge. I stock up also on Gin and Leonidas chocolates, making use of the pick up on arrival service offered by the See Buy Fly shops at AMS. They only ALWAYS fail to send me the reminder sms for pick-up on the arrival day.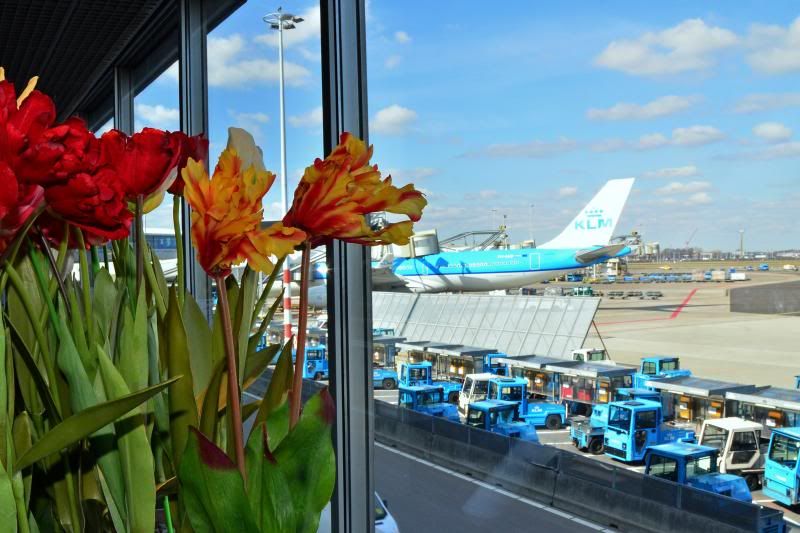 .
Tulips from Amsterdam. Welcome at AMS!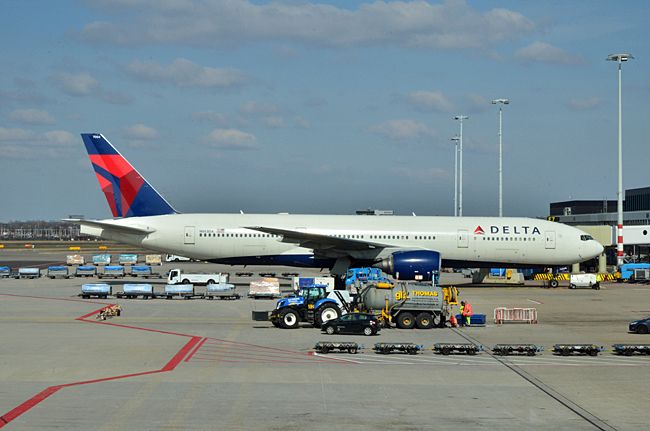 .
Great sight. Delta brings in the 777's again!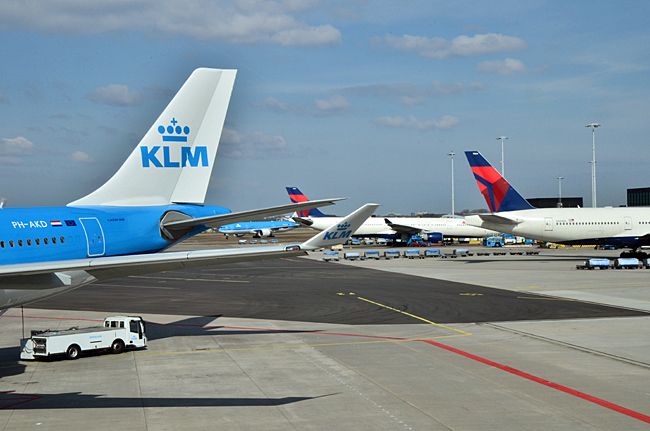 .
Some lovely tails here
The lounge in Amsterdam is quite busy even in mid afternoon. I still manage to find a seat near the window with a good view on the apron. On the menu some corn soup, vegetables and coleslaw, bread and Dutch cheese.

.
KLM Crown Lounge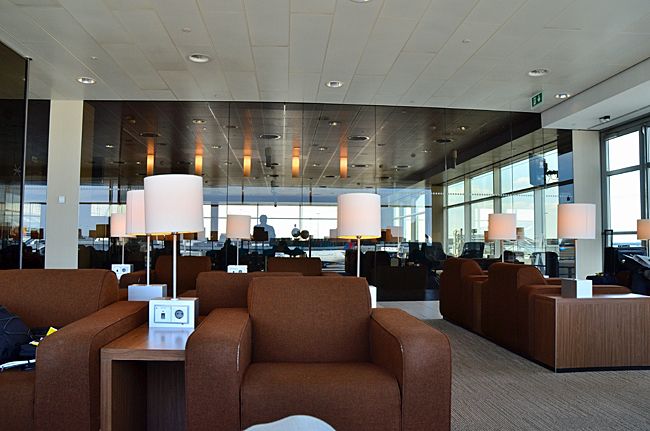 .
View from my seat in the lounge

.
Late lunch for me, very tasty for sure

.
My emergency passport and a view from the lounge…
A bit later I find my way to gate D06, a lower level busgate area and split up in more gates designated by A to L as far as I remember. I notice KL1029 to LHR is also boarding, which also must be operated by Cityhopper service.
At the gate desk I get a new seat, 11F, emergency row with middle seat free. Thanks for that KLM.

Flight:
KL1023 - 05APR2013
Route:
AMS-LHR
STD
17:15
ATD
17:31
STA
17:35
ATA
17:36
A/C:
Fokker 70 # PH-KZN
S/N:
11F
(Economy
Comfort
class/Y)
The bus drives us to the commuter apron where several of the small jets (and props) are parked. Also the Fokker 70 operating on my flight, PH-KZN. What a shame, it will be my second flight on this particular aircraft after flying it on CDG-AMS on 11 July 2002 (!), indeed, a long time ago and she is still going strong.

.
Boarding the Fokker 70
I am friendly greeted by the 2 female Dutch crewmembers, and take my seat. Soon the announcement is made from the flightdeck that we got a slot for departure resulting in about 20 minutes departure delay due to restrictions at Heathrow. During the time on the ground I request some water from the crew. They give me a cup of water instantly. Good job.
Legroom here is good in row 11, and some additional attention is asked for to operate the emergency door in case of evacuation. Well done.

.
View from my seat on the somewhat empty apron…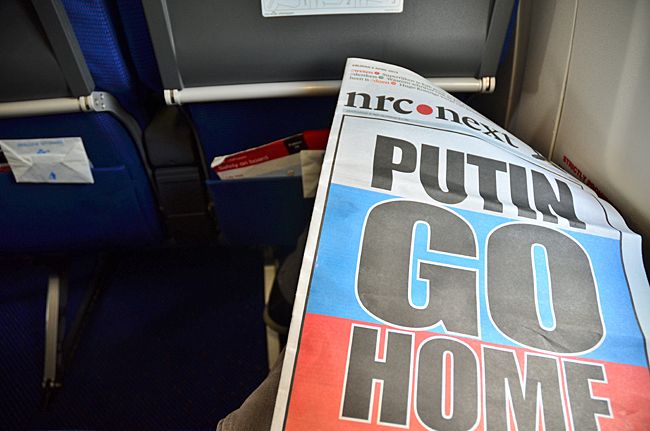 .
Legroom with a statement!
Departure is from runway 36L today, so a bit longer taxiing and soon we get ourselves in the air, joining blue skies once we get through the clouds.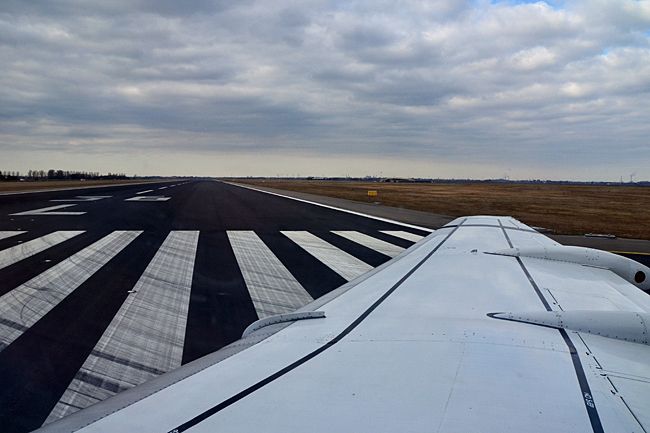 .
Lining up runway 36L 'Polderbaan'

.
Free of clouds and blue sky again!
From that time service starts and I am not disappointed by KLM today. A sandwich triangle with chicken-pesto, aside with drink service. Since I'm not feeling too good (and the crew noticed!), they hand me a 0,5 liter bottle of water. Kudos to that, very attentive of them

.
Catering offered on this short KLM afternoon service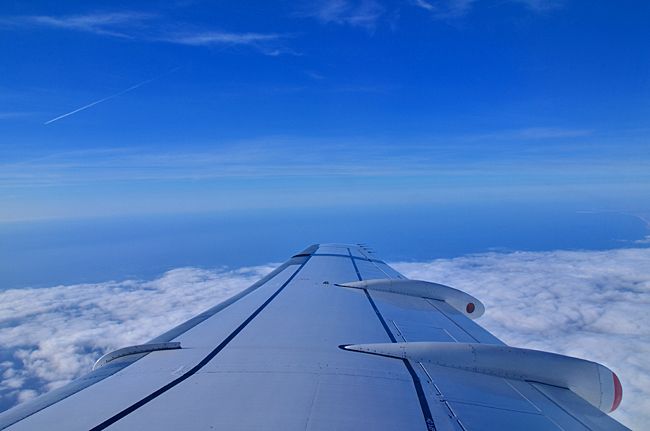 .
Cruising towards London
Soon we are on approach for LHR, and no holding pattern today, just straight in for runway 09R.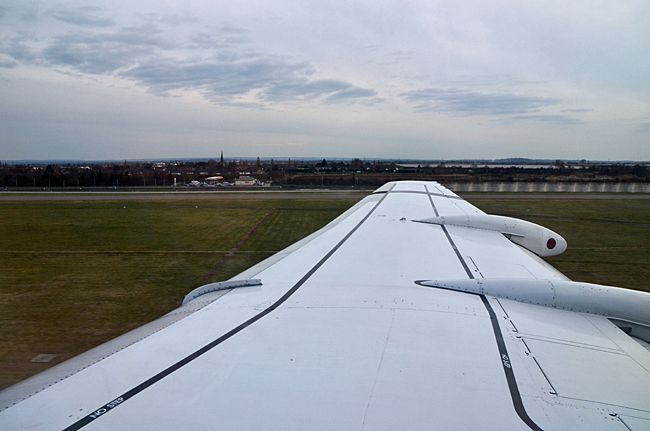 .
Short finals runway 09R at LHR
Landing is on time and after a few minutes taxitime we park at Terminal 4, next to 3 other company aircraft of the AF-KL group.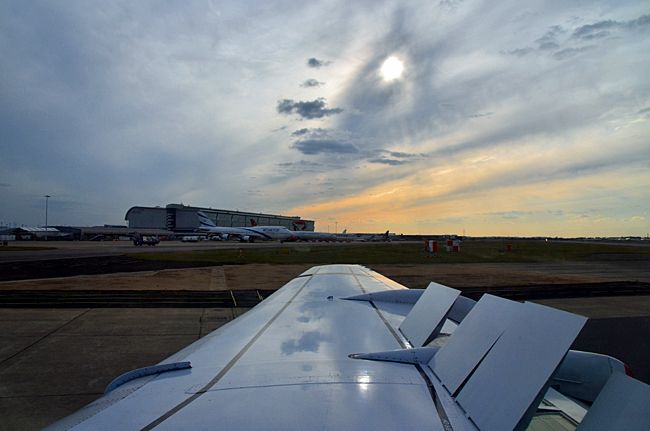 .
On the ground. I like the sunlight in this picture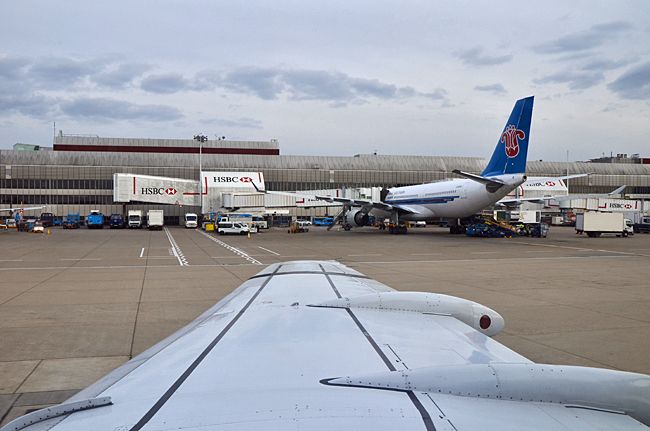 .
Maybe I should fly China Southern also soon… Seems good to me!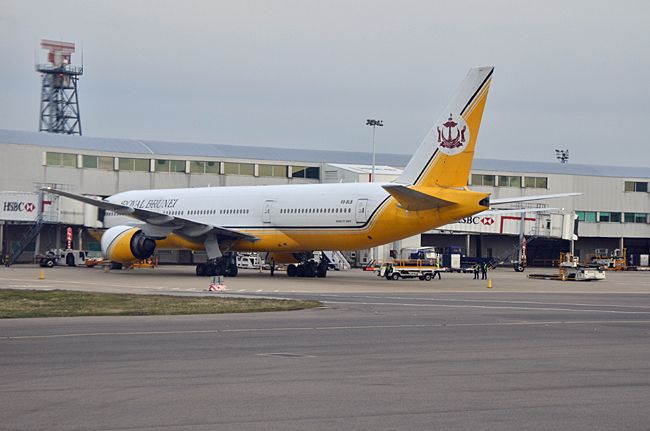 .
Or Royal Brunei Airlines? Looks great this 777!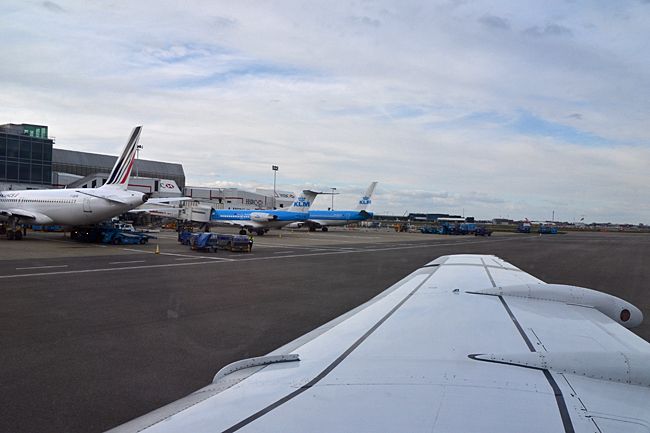 .
Well present this afternoon is Air France-KLM with now 4 aircraft on the ground
---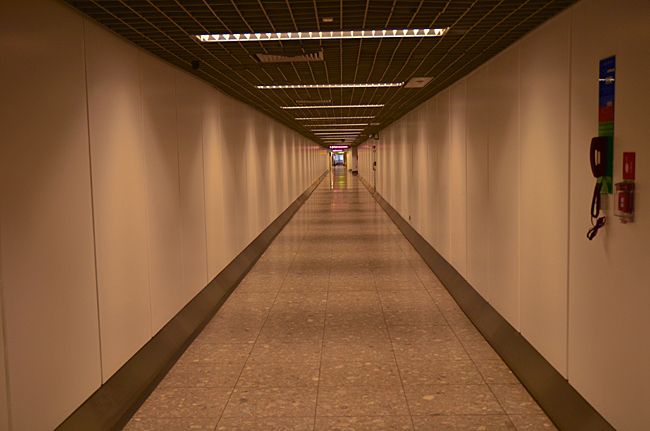 .
Walking LHR-style to the terminal-transfer bus
From T4 I change to T1, by airside bus. It turns out to be my private bus, and the driver is in a good mood too. We have a nice ride and I watch the traffic passing by. 10 minutes later I'm dropped off at T1, all together this is a very hassle free connection and nothing to worry about at all.

.
View from the transit bus T4-T1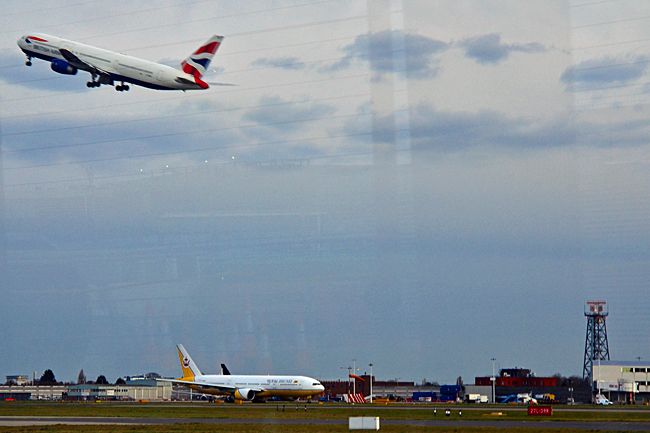 .
Another view from the T4-T1 transit bus
The T1 facilities make you clear immigration first at a counter (passport check), which lets me proceed to the Biometric checkpoint (photo taken, sticker put on my passport). From there I proceed to the security screening where I was served promptly. After this, the Indian guy at 'secondary screening' (for shoes) didn't dare to ask me to take my shoes off, so I quickly pass along him lol.
Now I reach the airline service desks, and Virgin Little Red is on the desk together with 'quality airlines' ELAL (ugh) and Transaero (ahum). I am served by the friendly agent, but my pre-selected seat 3F was gone and I am given 7F. I ask why does VS not keep my original seat? He said for weight and balance reasons. OK, fair enough. But later I find another passenger in 3F, so the story is not totally true and VS is messing up with their seating system.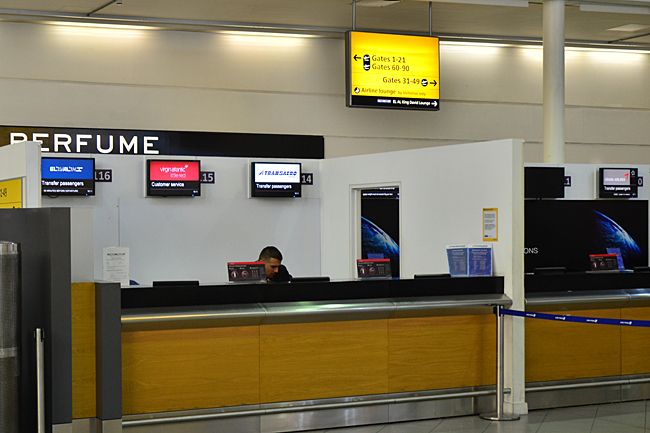 .
Virgin Little Red transit desk in T1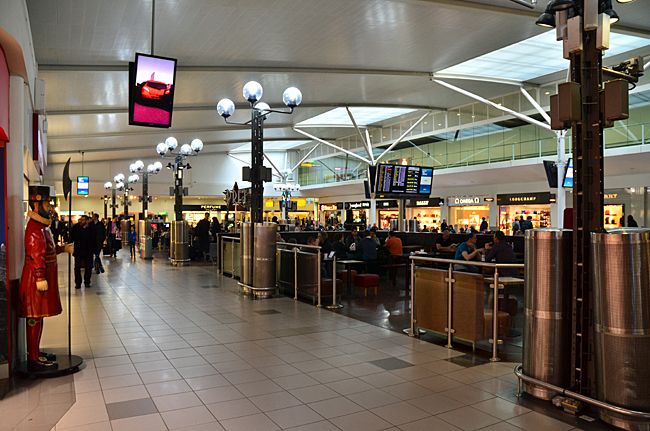 .
Terminal 1 passenger waiting lounge
Soon I meet up with the others who come in from downtown and I am lucky to go lounging with Gabriel in one of the lounges, I guess it was Servisair Lounge. I get myself some G&T's, let's see how things work out with medication, but I'm strong

.
Typical lounge moment incl Gabs' can-collection
Of course we can't leave the other behind with nothing, so once we get to gate 8 for our flight to MAN, we provide them with the necessary survival food.

.
A new wooden floor it seems for these desks? Clear up the carton guys!

.
Gate 8, boarding VS3045. More staff then passengers tonight?!
Boarding is called for and I make myself onboard as first passenger,…

Flight:
VS3045 - 05APR2013
Route:
LHR-MAN
STD
20:45
ATD
20:36
STA
21:45
ATA
21:34
A/C:
Airbus A320-200 # EI-DEO
S/N:
07F
(Single class/Y)
The crew is in a fantastic jolly mood here, I tell them it's my first time on VS domestic, quickly answered by the purser by 'I am sure you will like it with us!'. To which I reply 'Well, you make it happen then!' haha. Interesting funny girls, all 4 of them actually.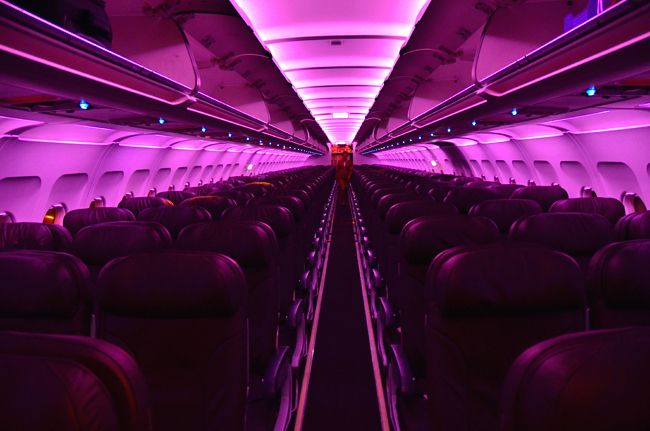 .
Ouch! That mood lighting is a bit too much when you ask me!
The cabin is dark, purple lighted. Not sure what to think of it, but I've been in bars with these interiors, but not before on such planes. The seat was comfortable though, headrest is adjustable too, but the armrests seems a bit loose.

.
This is an idea of the seat and legroom, which is sufficient

.
A golden BA parked next door. Soon we're ready to leave for MAN
We depart ahead of schedule, unique for LHR? At least with a load of just about 20 passengers it was boarding that finished to early today. We taxi out to 09R for departure and queue up for about 10 minutes till it is our final turn to take the skies. The takeoff roll is short and the climb is above average, but nothing to surprise with the low load, low fuel etc.

.
Once airborne we fly along the city of London
Service on this flight is a full bar service, soft drinks, coffee and teas, as well a snack. Which meant a bag of salted crisps. Drinks get doubled on request but not standard given. Good to see Bombay's Gin here, my favourite and also given on Cityjet
I hope BA takes note!
Later the crew hands out 'Love hearts' candy (for landing).

.
Another cabin view inflight seen from the back face forward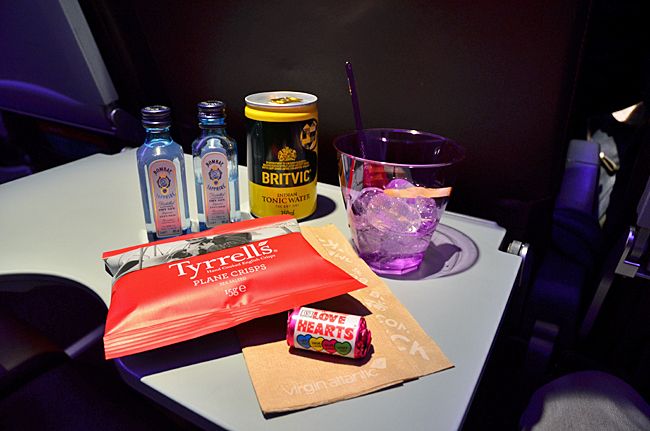 .
Catering service on the Little Red evening service
The remaining of the flight is without further items to write about. It was a calm experience all together.
Soon we arrive in MAN, ahead of schedule and on runway 05L. We say goodbye to the crew and get ourselves in touch with some more friends waiting for us in the arrival hall, who also join for drinks in the bar on the 9th floor in the Radisson Blu Hotel that night. Interesting to see Air Blue A340-300 AP-EDF taxiing out.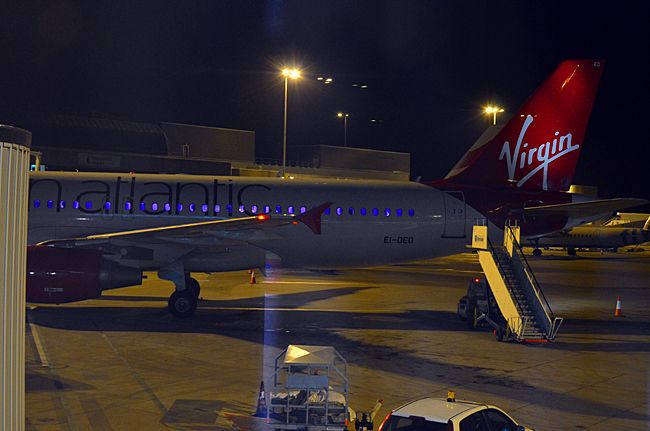 .
Thanks for meeting you, Virgin Little Red!
---
Next day. Meeting day. The Aviation Viewing Park is reached by taxi for roughly GBP 9 from the terminal, so costs are minimal when you can share with a group of 4 or 5. Compare the bus cost GBP 1.50 per person and runs once per hour.
The weather turns out to be perfect, with light winds, blue skies which means also the sun is in. I used my sunglasses all day, and I think most of us needed this weather after a winter that took too long.
Traffic was nice with a lot of Boeing 757's, some bigger aircraft (77W/A380) and a lot of British and European machinery.
Lunch was covered with a Chips & Cheese, a bit too much for my taste but did the job, and also a view inside the Avro RJX, the Bae Trident 3 where on schedule here.

.
Traffic comes up and close at the viewing park

.
Monarch with one of their A320's taxiing in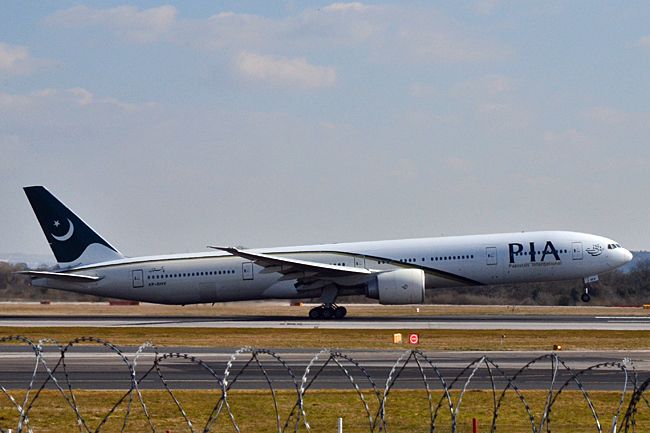 .
Leaving back to Pakistan is this PIA B777-300ER with 2 hours delay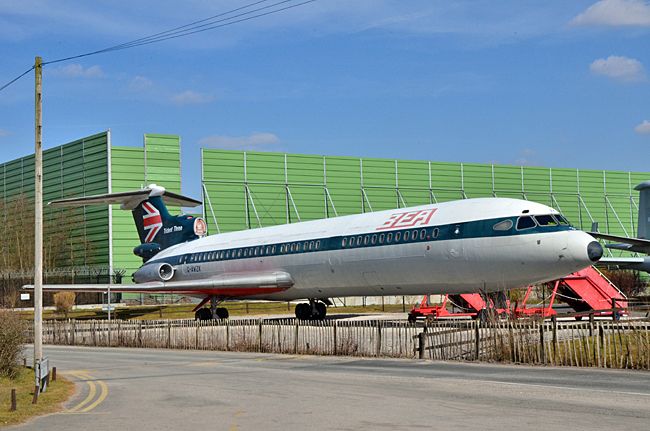 .
The BAe Trident 3 is still one beautiful piece of metal!
After a nice time out there, it was time to return to the terminal for me, since my flight to AMS would leave a few hours later. On my way from the terminal bus station to passenger terminal 3 (for KLM), I bump literally into another a.net group; Hannah, Brendan, Markus, Roger, Suryo, Udo, Daniel. After a short talk I must continue my way to check-in.
KLM's check-in is done my a groundhandler here, and a family with one 2,5 weeks old infant, a man, and a difficult wife occupies the Sky Priority desk, on their way to Capetown. It took ages, and the wife makes a scene about her seat which must be with a baby basinet, but according the check-in agent is not. Ticket booked via a tour agency, apparently the tour agency is faulty with miscommunication here, but the lady starts complaining.
Luckily the agent sees me waiting, and send away the family to the ticket desk. Thank you for removing your baggage cart Madam! Are all Manchester citizens like this? Shameless
The agent at the desk is very friendly and glad that I'm an easy passenger for him. He forgets to inform me about the lounge directions, but I'll find it out myself anyway.
Upstairs I find security, friendly officers all around here, and I use the fast track, nobody in front of me. Everything go very smoothly here, the way I like it.

.
T1 Manchester – passenger lounge
Inside the terminal I feel excitement among the other passengers since horseriding was coming to an end, and it seems to be popular in this area. That means for me it was time to head upstairs to the FlyBE Lounge, also used by Air France-KLM. The FlyBE lounge is located next to the British Airways one. I head inside and am greeted by 2 friendly females.
The lounge itself is spacious, great apron views, limited amount of food and drinks though, and I am missing lemon slices to make my G&T. Not even bags of crisps. Kinda poor impression, but on the other side, they have a selection of Dutch newspapers here, which is quite rare in lounges.
Also a plus is a toilet inside the lounge, which is usually kept cleaner then the public ones 'for everybody'.

.
FlyBE lounge used by KLM

.
Great apron views, also this easyJet 'Unicef' aircraft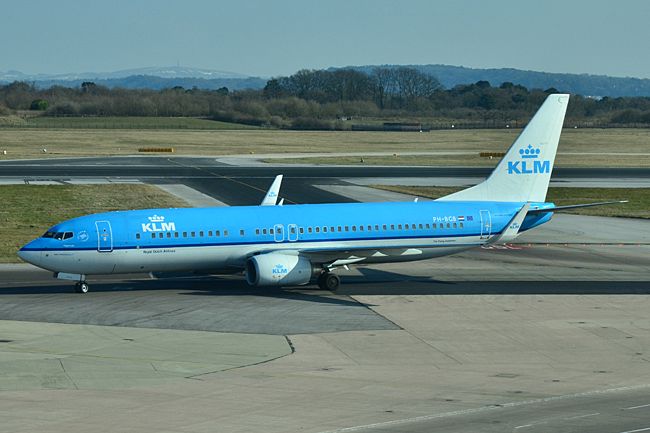 .
Or how about KLM coming in with the 737-800 for me?
I sit down for about 45 minutes, have 2 G&T's and watch some traffic departing and arriving, including my KLM Boeing 737-800 from AMS which will take me home later.
Soon, boarding is announced on the screen and I head towards gate 48.
I ask for a free seat next to me (if available), and am given 9A "In the Economy Comfort zone Sir".
Thank you, ladies. That is very welcome, but surprised also since online check-in showed Economy Comfort only from row 3 until 5.
Well I'm the first one to get onboard, and as in most cases, KLM's crew was awaiting me with a smile and friendly welcome on board.

Flight:
KL1094 - 06APR2013
Route:
MAN-AMS
STD
17:40
ATD
17:40
STA
19:55
ATA
19:41
A/C:
Boeing 737-800(WL) # PH-BGB
S/N:
09A
(Economy
Comfort
class/Y)
Take note: row 8A has no window on KLM's Boeing 737-800 aircrafts.
I have 3 seats for myself, good comfort for sure. The loadfactor is high, roughly 90%, a large group of Russians onboard (codeshare flight SU3131), the Russians are all seated in Economy Comfort.
The crew today is attentive and we get our pushback on schedule. Taxiing takes a few minutes only, and soon we roll down runway 23R for takeoff into the cloudless sky around Manchester.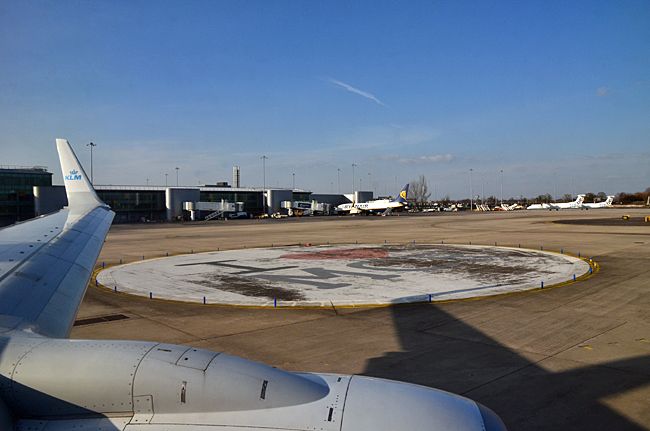 .
Leaving Manchester with the "I love MCR" pictures on the apron

.
Airborne and on my way home again…
After take-off I get flight information from the cockpit, from a captain with clearly South-African origin. He speaks Suid-Afrikaans which is funny, I can understand the language, strongly influenced by my native language, Dutch. And this captain flew me on another flight very recently also but I can't remember on which one exactly.

.
I get comfortable for sure here

.
During cruise
Service is little on this flight; choice of sweet or savory snack. The sweet option goes nicely with my cup of tea, inside a large 'stroopwafel', the larger equivalent of the little caramel cookies you might know from earlier KLM flights and given with the coffee/tea service.
White wine I thought would be nice, but I better drink it another time with less medication.

.
A bit disappointing catering on tonights flight maybe…
When the tables get cleaned I ask for a water, since I needed it during approach/landing. It never came… quite disappointing from one of the back-galley crews. When the purser comes, I ask her, and tell that I asked a collegue but it still didn't arrive. She answered to check and get me water. And she made it actually happen, so all good in the end.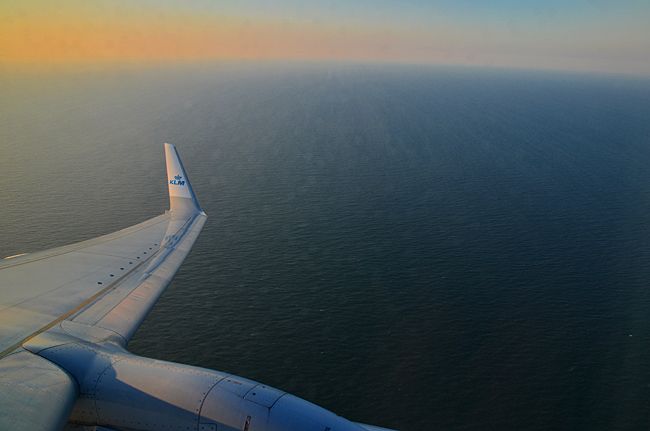 .
Descending over sea
Approach is nice along the coastline and soon straight in for runway 06, which means that I closely flew near my own house which lies parallel with the flightpath to runway 06 (1,500-2,000 ft) altitude.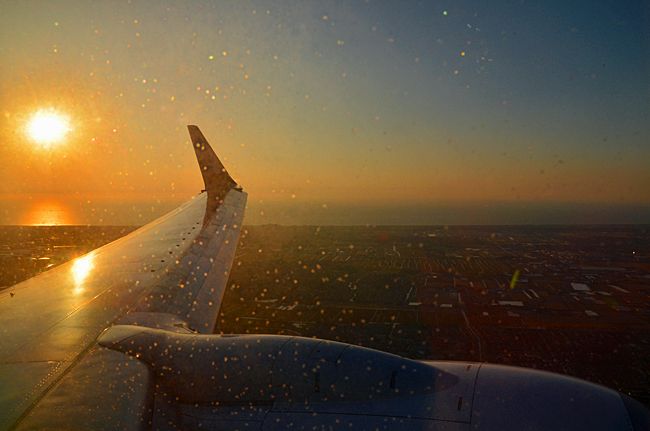 .
Final approach
Landing is like kissing the runway, and I immediately spot an Ilyushin 76 of the Russian Air Forces delivering a car for President Putins 1 day state-visit later this week. Also CI Cargo was in. I also notice PH-BGG, a KLM 737-700 which brought in a whole bunch of a.netters earlier that afternoon to MAN. It operated on the previous flight.

.
PH-BGG that was earlier flown by some a.netters to MAN is back home already
We reach the parking stand after a few minutes, D41 was ours. I say goodbye to the crew and another successful KLM trip was completed.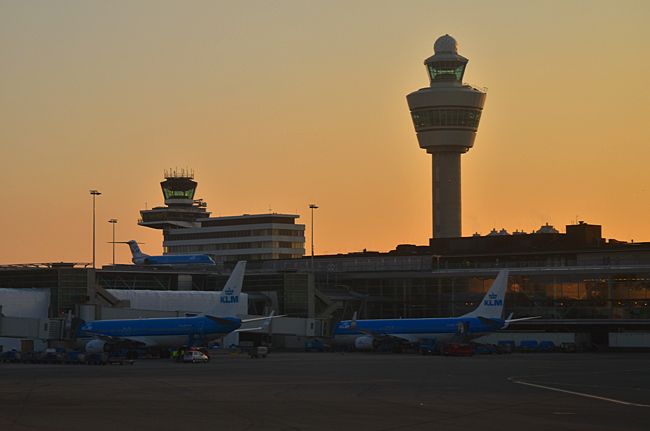 .
Arrived back home. Back in Amsterdam! It's also good to be back home again
Thank you for all to makes this a nice meeting in MAN. Thanks Daniel for the sparkling wine and Milka, thanks Marc for organizing and the Belgium chocs.
Virgin's Little Red was a nice experience, good encounters with groundstaff at the T1 transit desk as also at the gate, furthermore great crews onboard. But, with almost to no passengers, their job was relaxed, and that might be different on a full flight. Good luck to them though.
Thanks for you reading and your reply, comment or question… Please leave me a message in the textbox which you'll find here below
Regards
Eric