After my last A380 flight less than a year ago, I wondered when would be my next A380 flight. Little did I know that it would come so soon, and on an airline that I hadn't flown before: QANTAS.
We (dad, mom, and I) started in XNA regional airport, in Northwest Arkansas. Built in 1998, it is the second largest airport in the state of Arkansas (behind LIT).
Our routing was XNA-DFW, DFW-LAX, LAX-SYD, with everything but the last flight being on AA.
Our flight plan for the first flight, XNA-DFW:
My excitement for this trip went even higher after seeing this. Flightaware said that N368AA, the first and only AA 763 in the new livery, would be operating my flight (2467 to LAX)!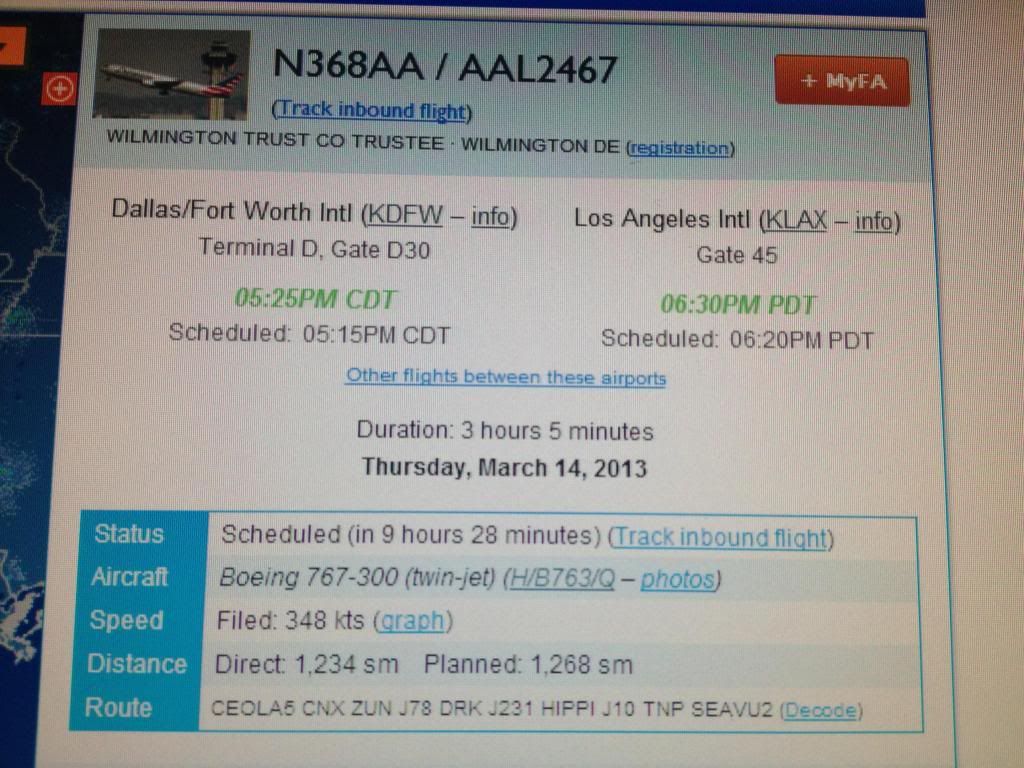 After arriving at the airport, I unzipped my camera bag and.... Pulled this out.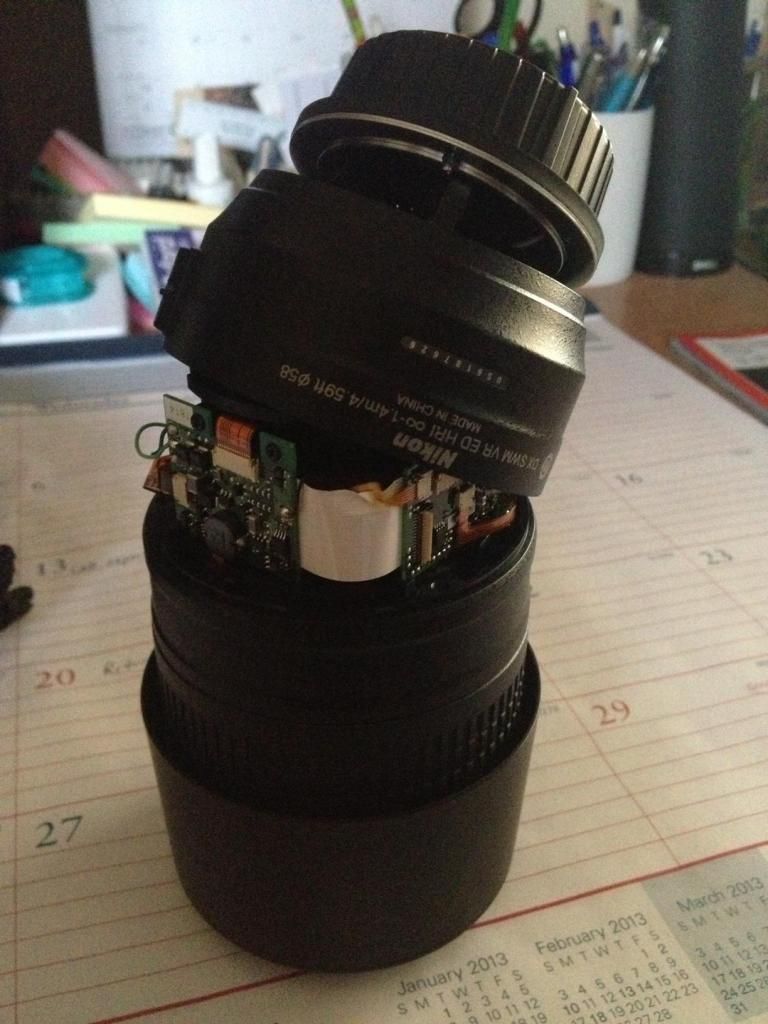 I was in shock. At the time, it was attached to my D3000, so everything looked mangled. It was an ugly sight. That meant that I would have to take pictures with my iPhone 4S, so sorry for the low quality on some of them!
We uneventfully checked in and passed through security. Here is the first plane that I saw, an Eagle ERJ before departing to ORD.
Soon, or MD80 came in for our flight to DFW. I'm impressed that XNA has mainline service!
About to get the bags loaded on:
The gate next to ours that has the ERJ to ORD.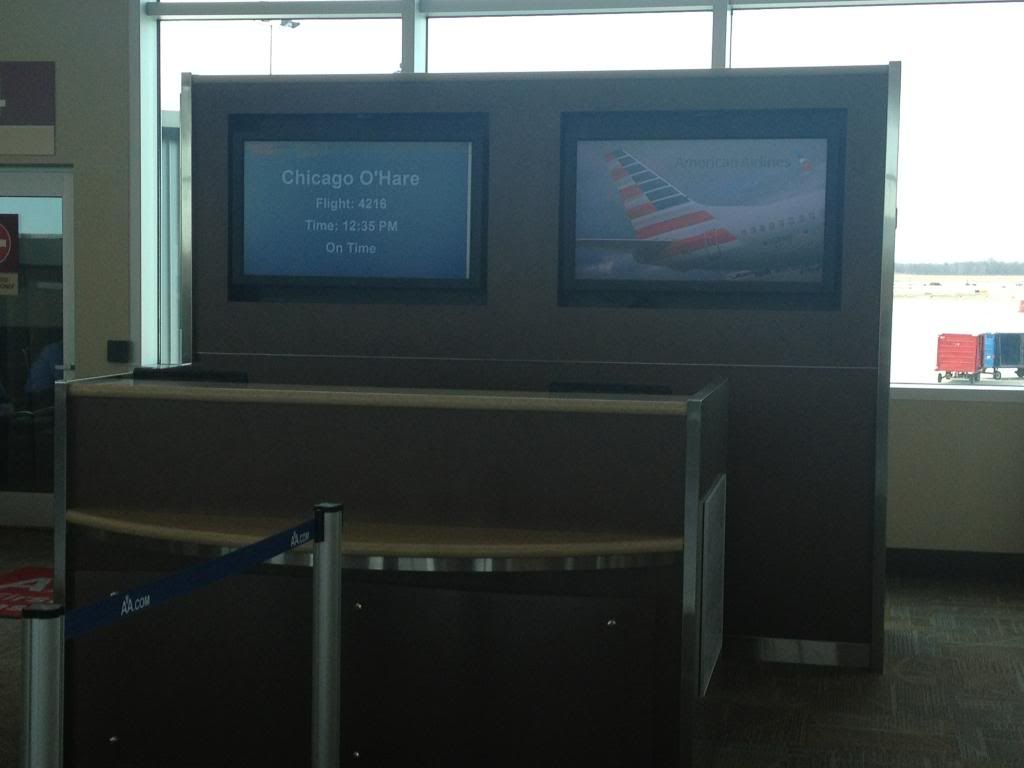 I'm also impressed by the non-stop flights to LGA! Thanks Walmart for all these flights!
US CRJ to CLT.
Our old lady for today, formerly owned by TWA prior to the merger.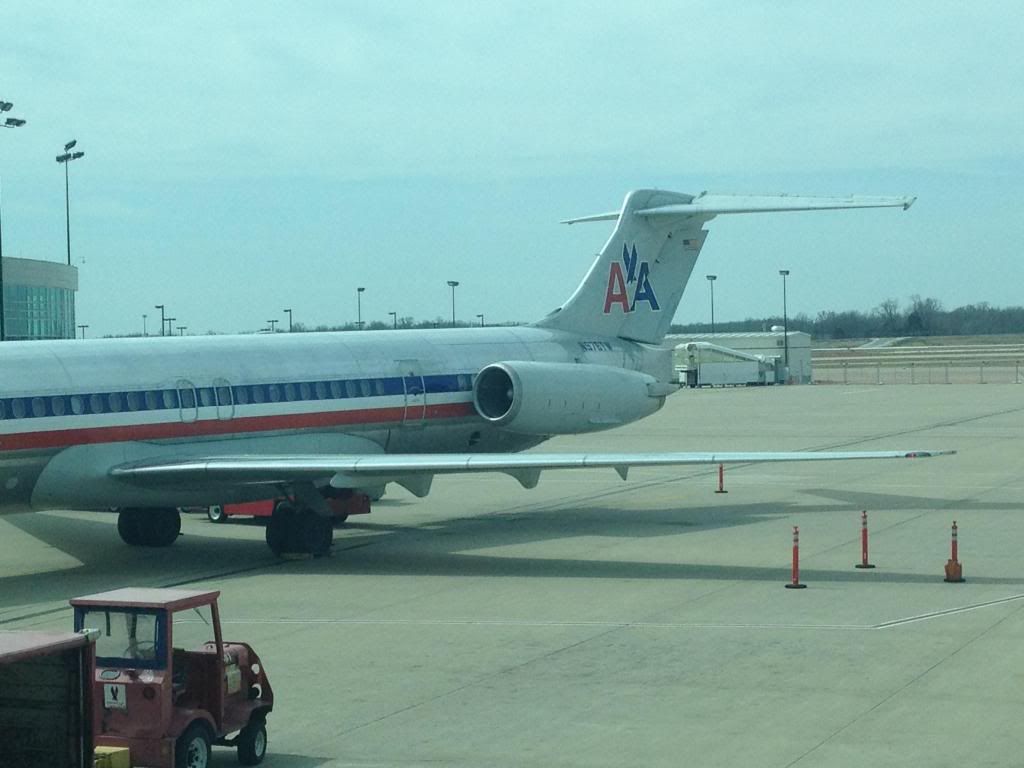 Our gate:
We soon boarded!
Date: March 14th, 2013
Airline: American Airlines
Flight Number: 1799
Aircraft: McDonnell Douglas/Boeing MD-83
Registration: N976TW
Route: XNA-DFW
Flying time: 55 minutes
My view from Seat 25F: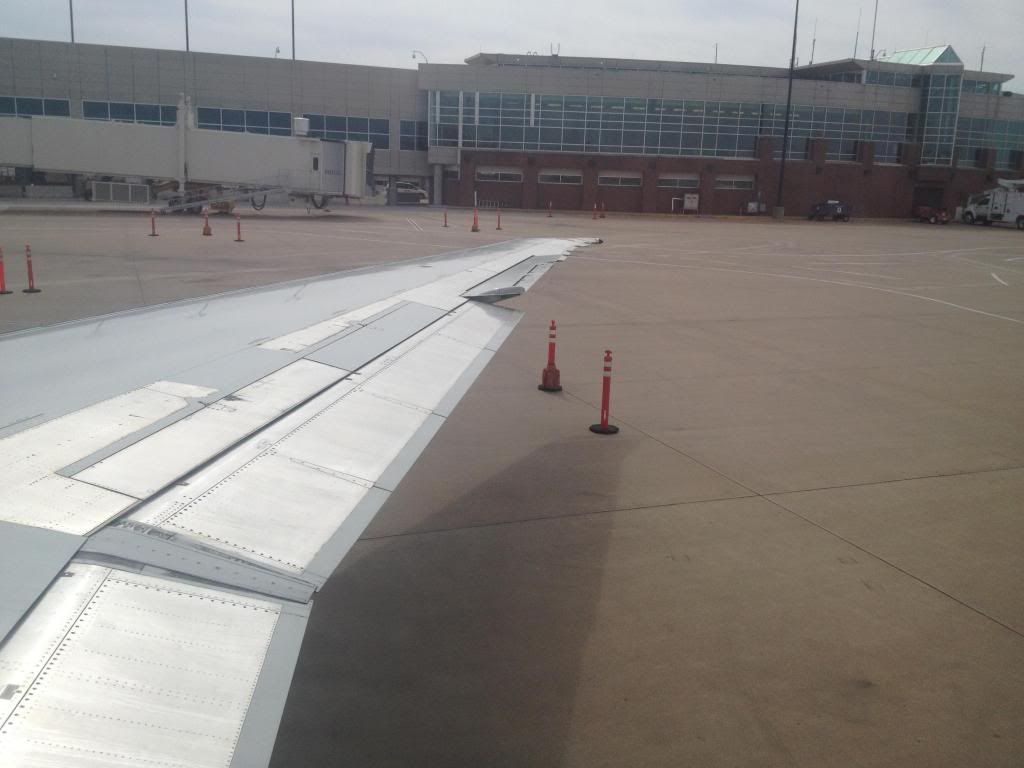 The ER3 arriving from LGA:
Okay legroom. It's only for 55 minutes anyway.
We then took off. About 10 minutes after takeoff I took this: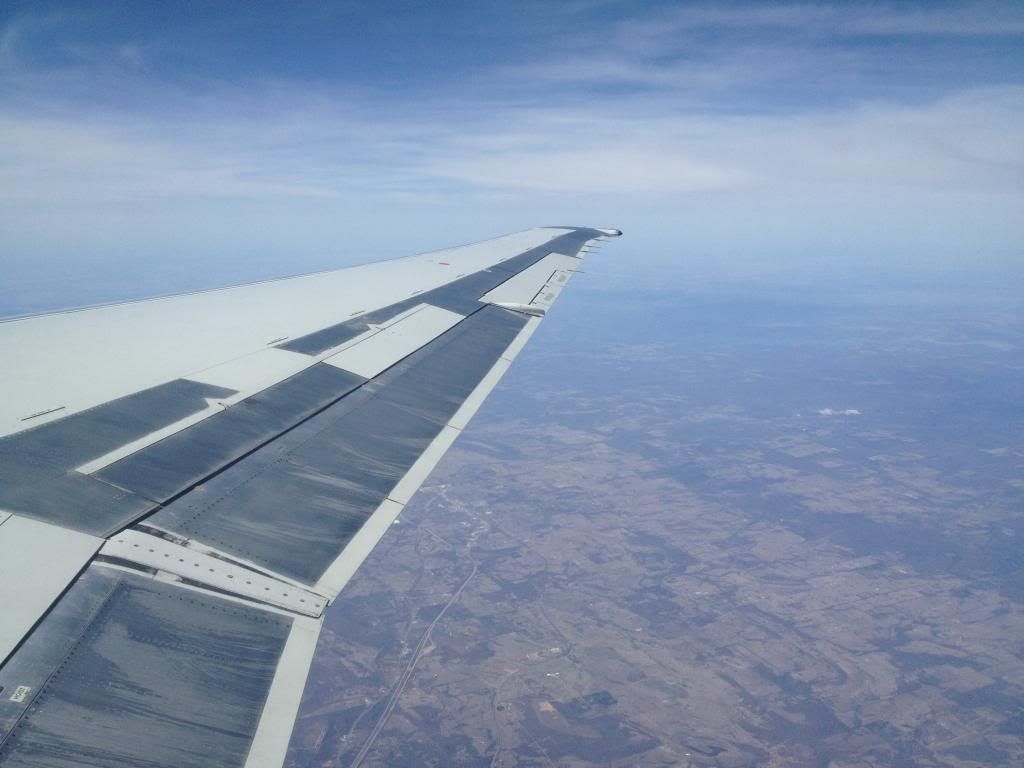 Pretty filled flight:
Descending into DFW: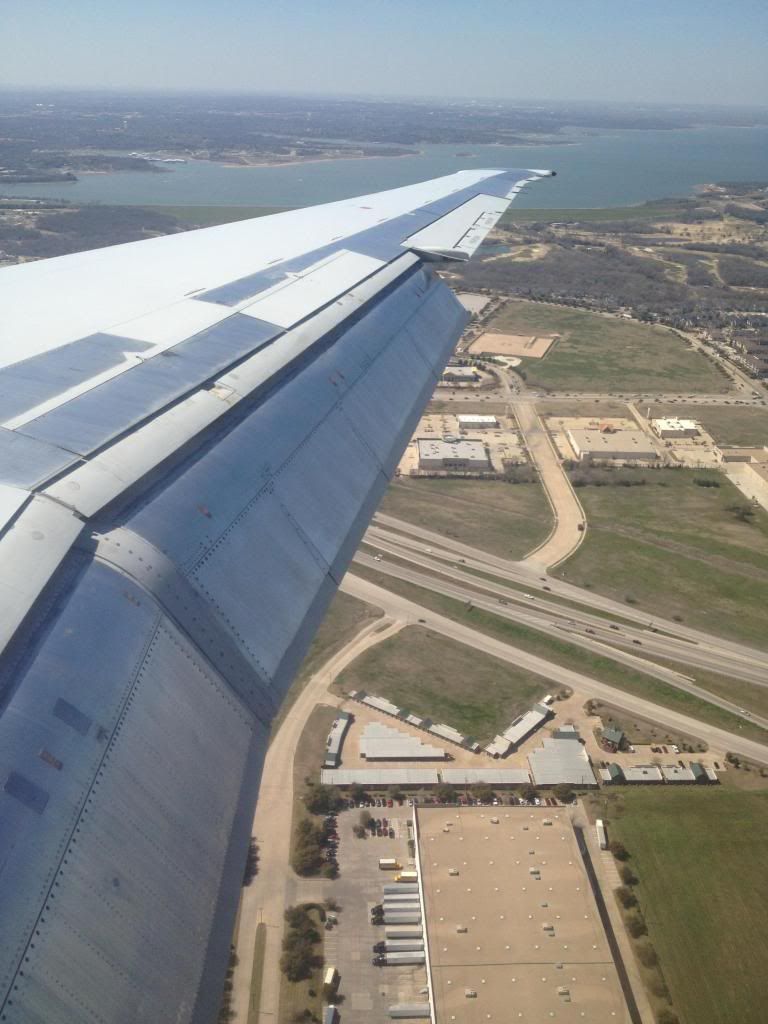 Spirit A320 leaving for somewhere in the USA:
Shiny AA metal, now sadly going to go away!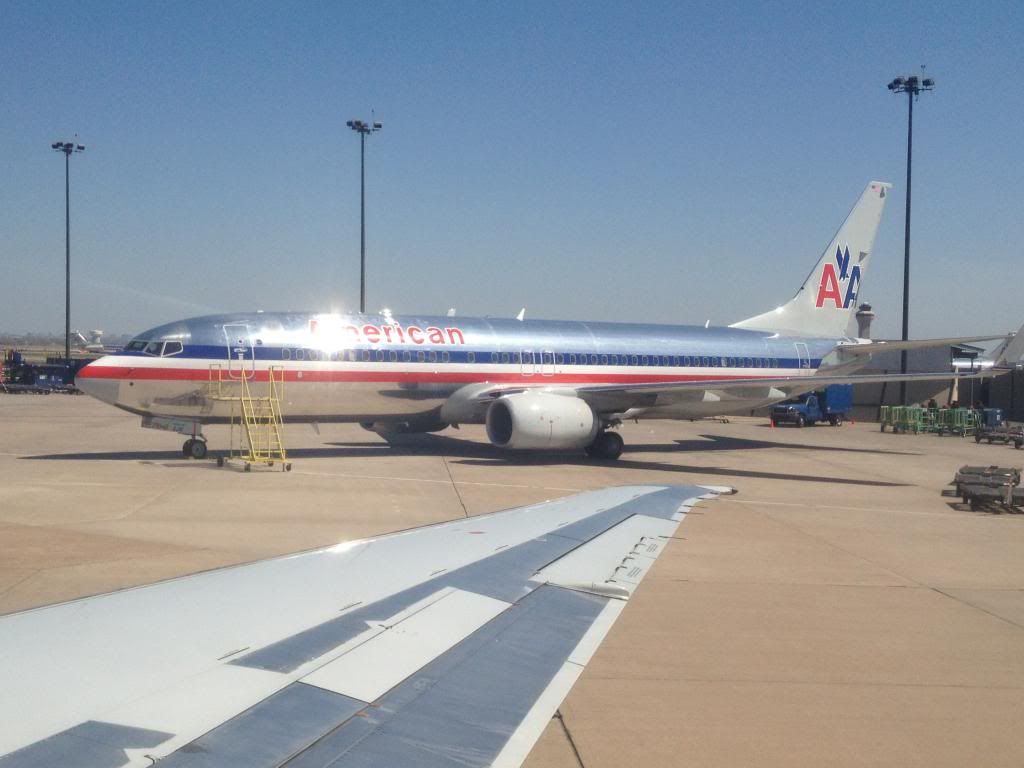 Pulling into Terminal A: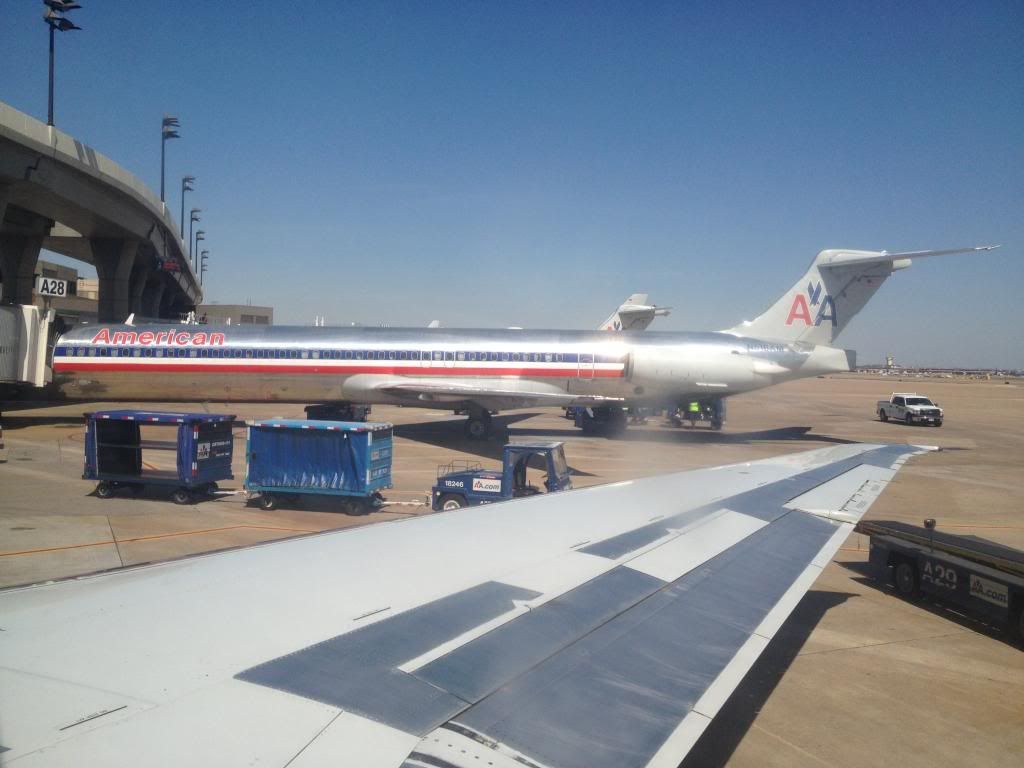 For the heck of it, I asked for a view of the cockpit. The very gracious captain had me sit down in his seat, and gave me an inside-out tour of the MD-80!
It feels....weird seeing an Eagle CR2! First time I saw one was here on the skylink.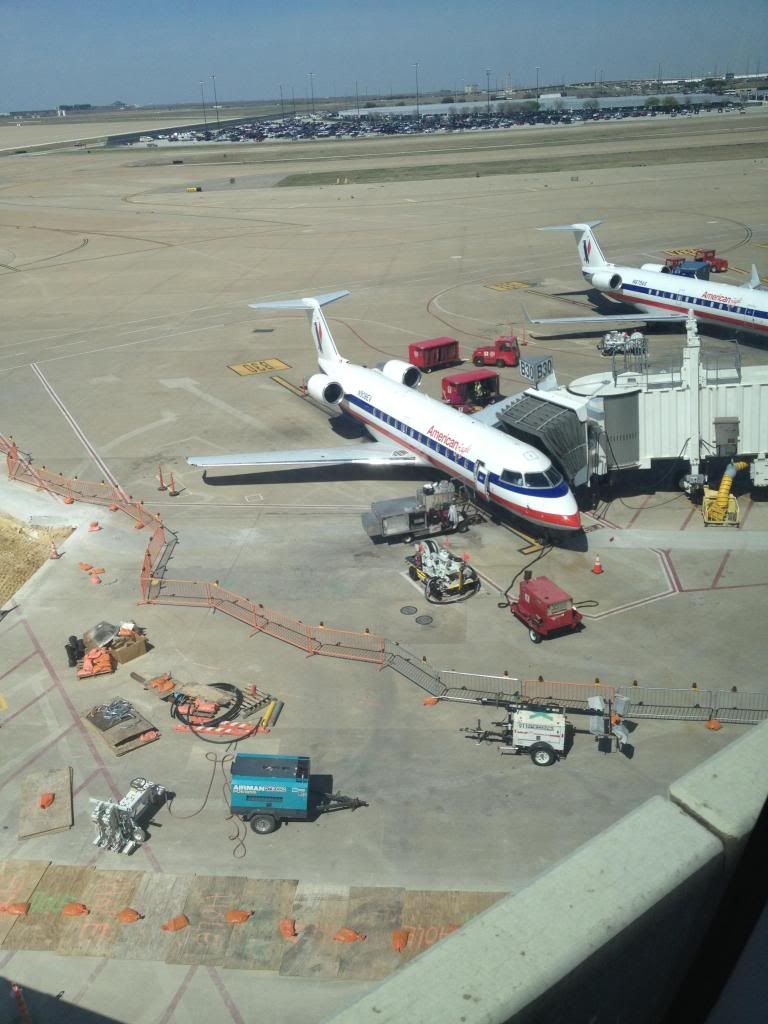 And here's the first time I saw the "New American". I must admit, it looked cool in person.
Throughout this whole time, I was looking for N368AA, because, after all, it was supposed to operate my flight to LAX. I couldn't see it!
Overview of Terminal D.... No sign of a new livery!
Grainy, but my first time seeing an AA 77W!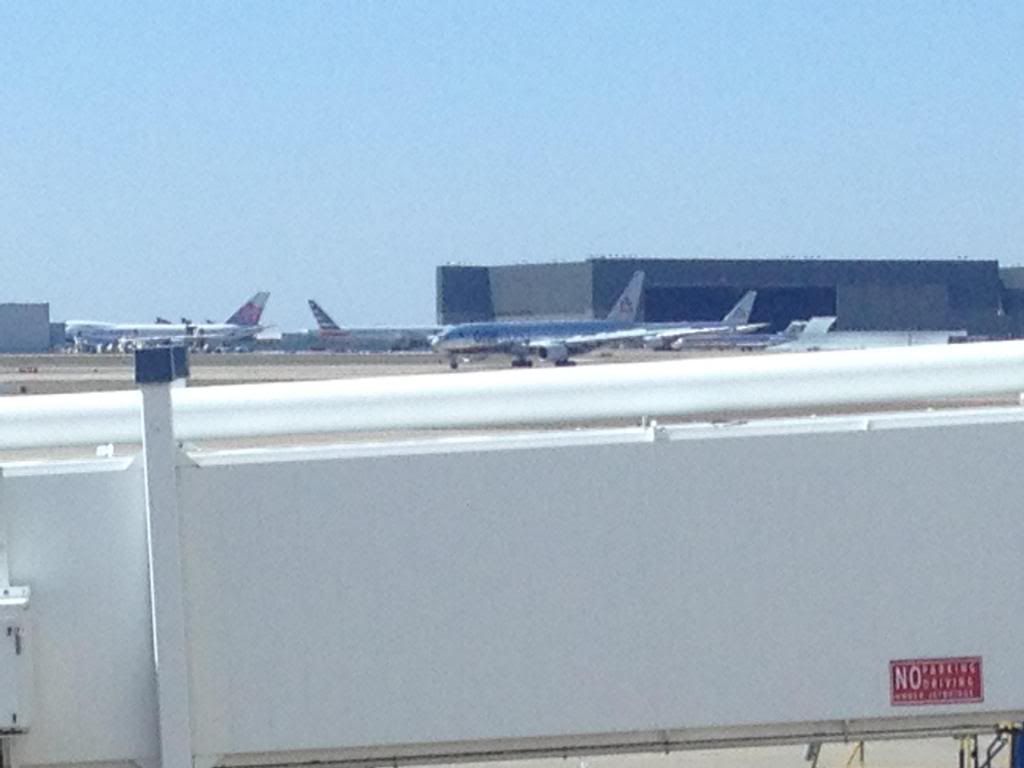 Panorama of Terminal D:
TACA to San Salvador:
VH-OEJ, which would later that night operate QF 7 to BNE and SYD.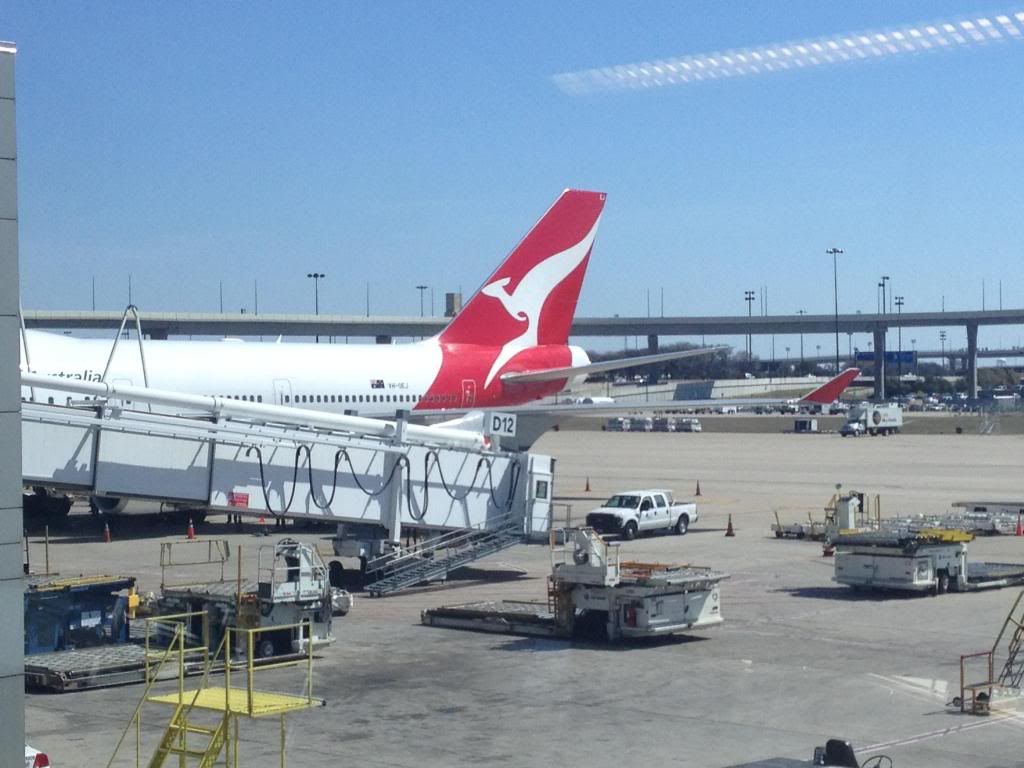 Close up look at Wunala!
LH A333 from FRA:
Man.... The 77W is LONG!
Speedbird 193 from LHR:
I like these! One of the many decorations in Terminal D: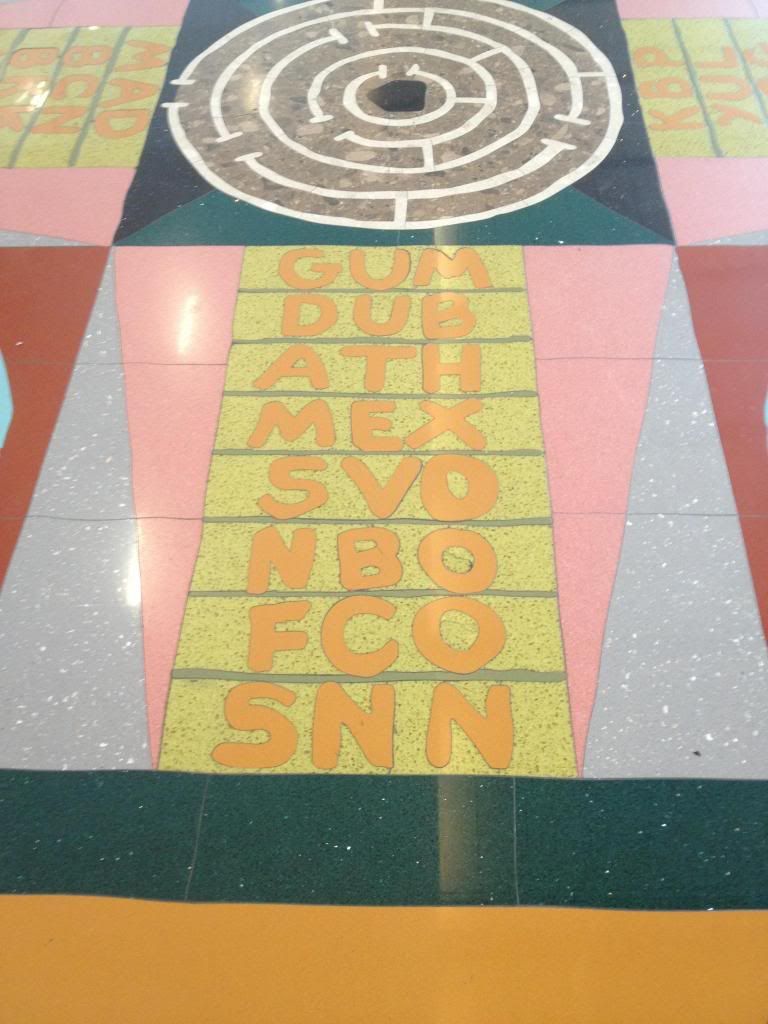 Ah... The majesty has arrived at her gate. BAW 744 an hour before turning around and heading back to LHR as BA 192. I flew this flight last June! Here's the TR for that:
FSM-MAA On AA,BA,SQ, And AI (lots Of Pictures!)
(by
kann123air
Jul 6 2012 in Trip Reports)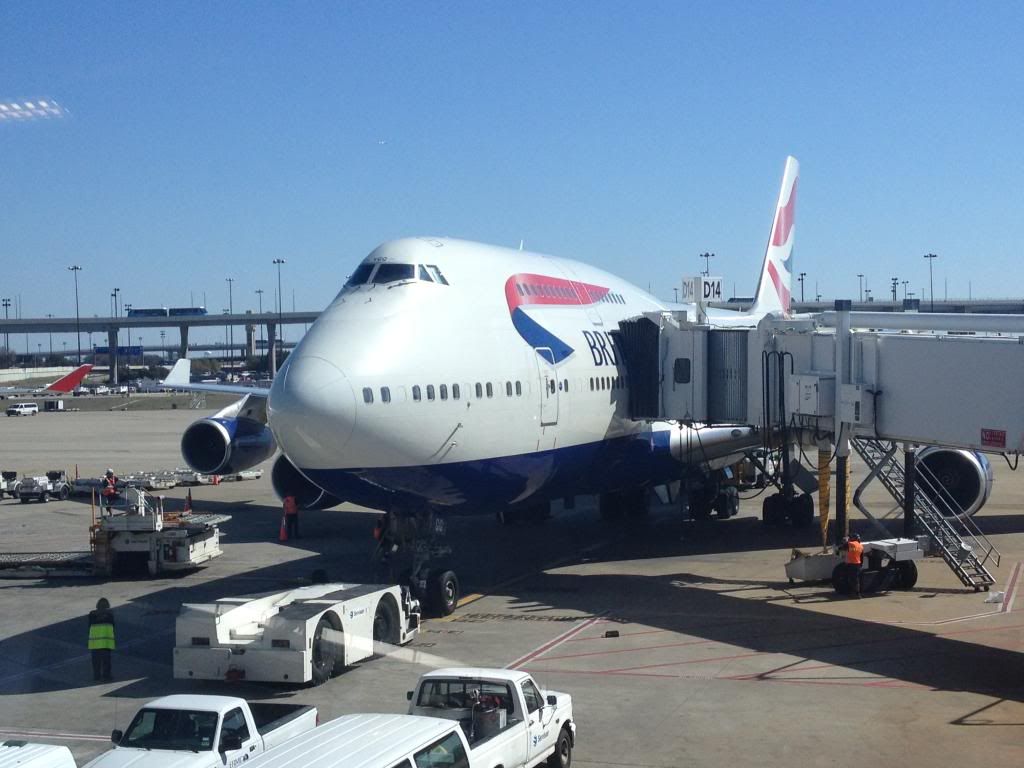 The two 744s that serve DFW: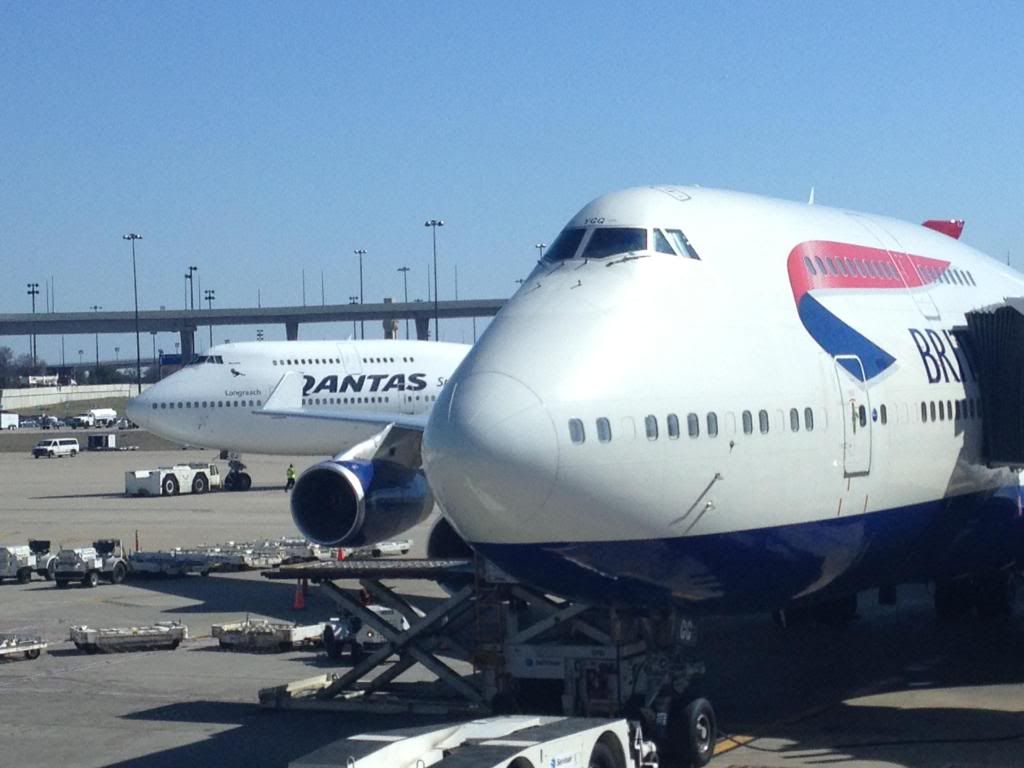 Our flight would be departing from D36.
Darn!! N355AA, not N368AA, was parked at the gate. Later I learned that 368AA left earlier for OGG.... Thanks for raising my hopes flightaware!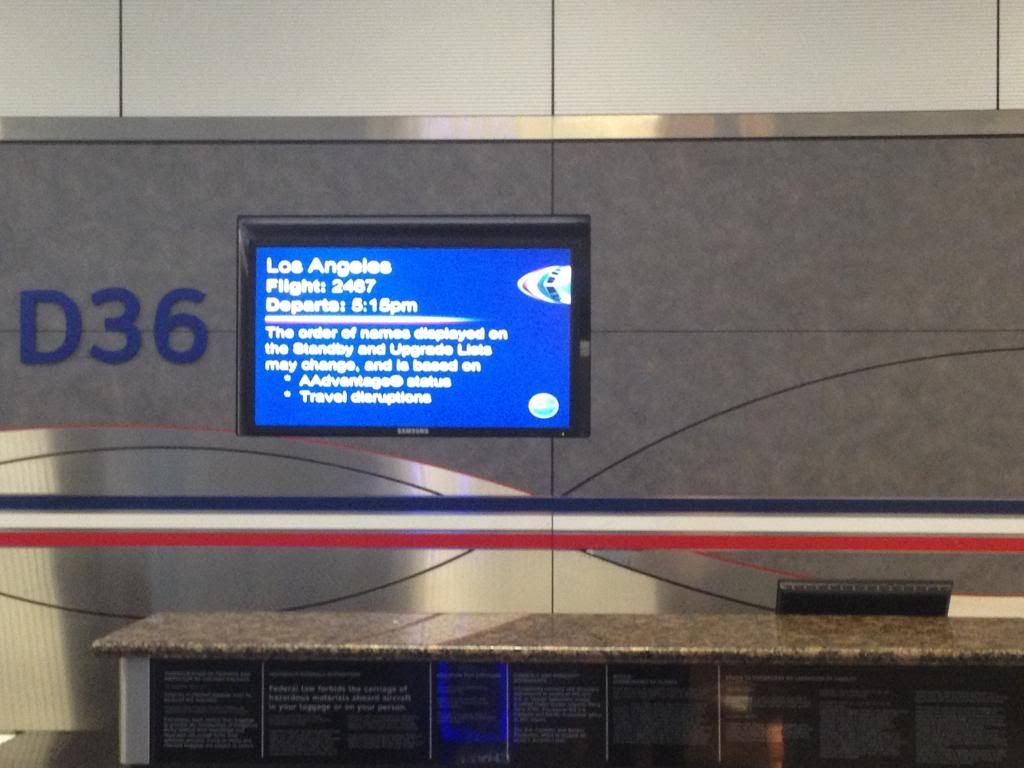 Thanks to my dad's gold status, we boarded on the left lane!
Date: March 14th, 2013
Airline: American Airlines
Flight Number: 2467
Aircraft: Boeing 767-323ER
Registration: N355AA
Route: DFW-LAX
Flying time: 3 hours 20 minutes
My view from 32J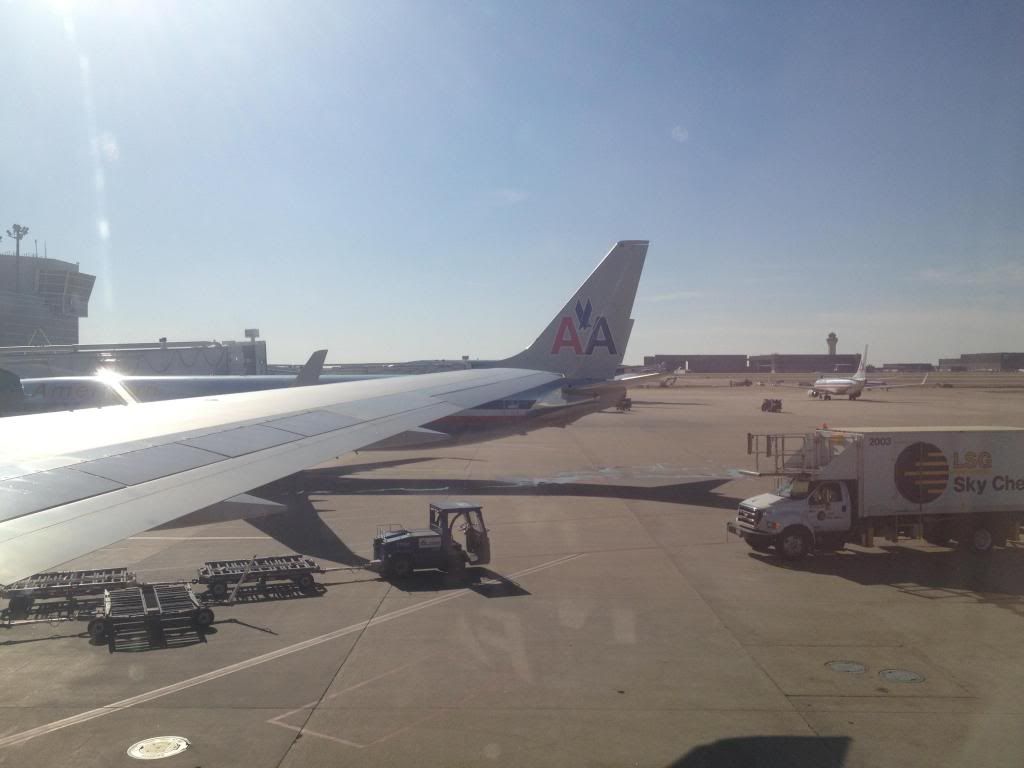 Again, okay legroom.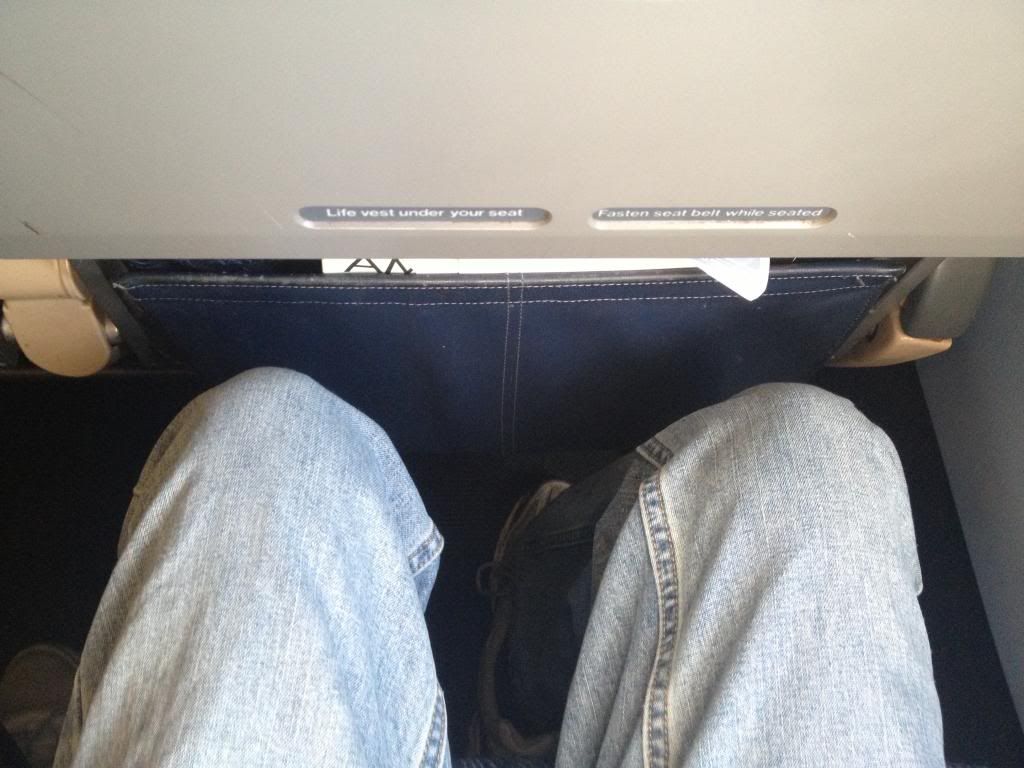 Panorama of our old lady, built in 1988.
AA 61 from NRT arriving next to us!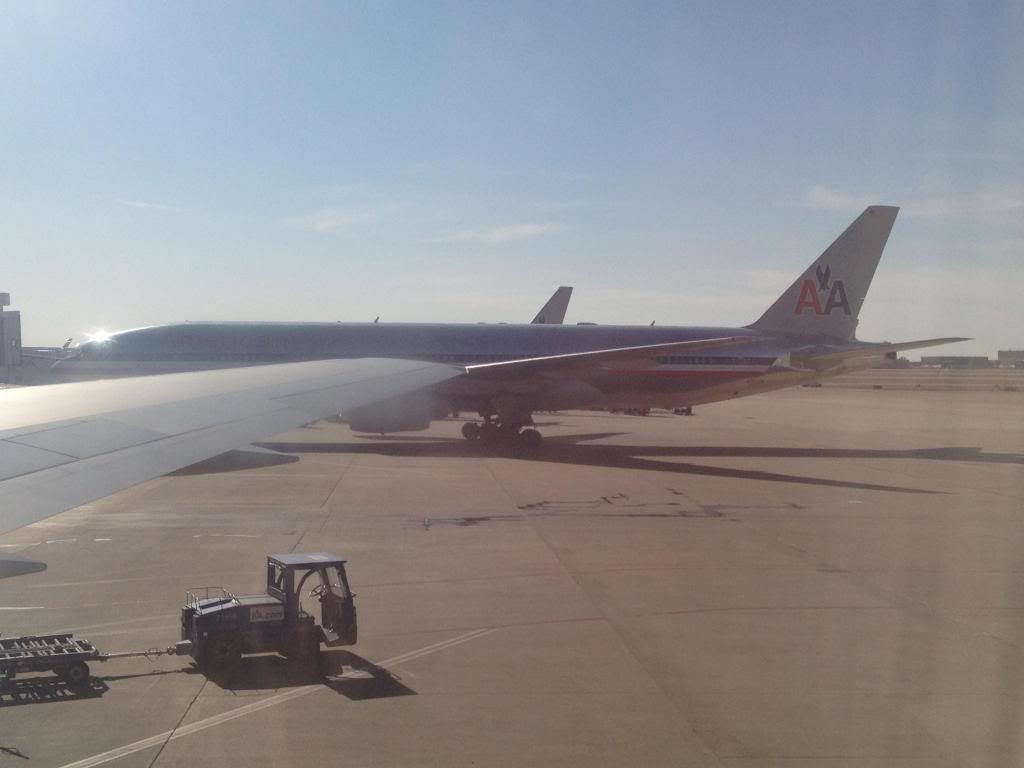 We then took off! Shortly after attaining cruising altitude: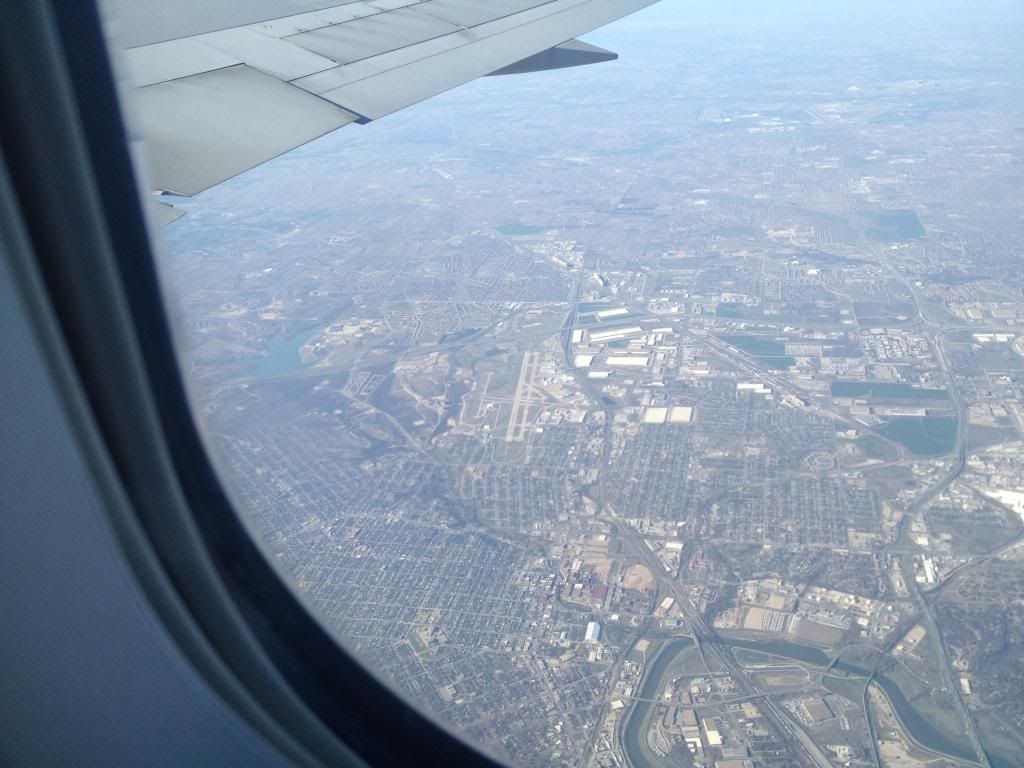 Always, my airplane drink: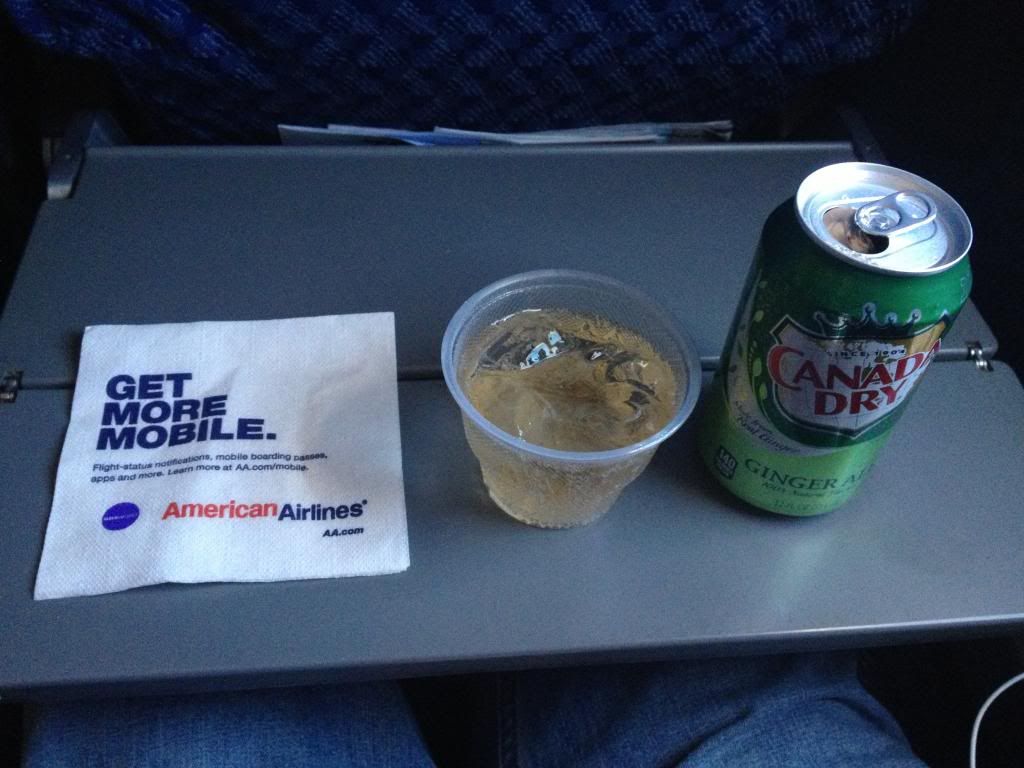 My mom got a coffee, and this was what was inside her creamer packet when she opened it!
The flight was uneventful. Taken above Phoenix Sky Harbor International Airport (PHX) and Ontario (ONT).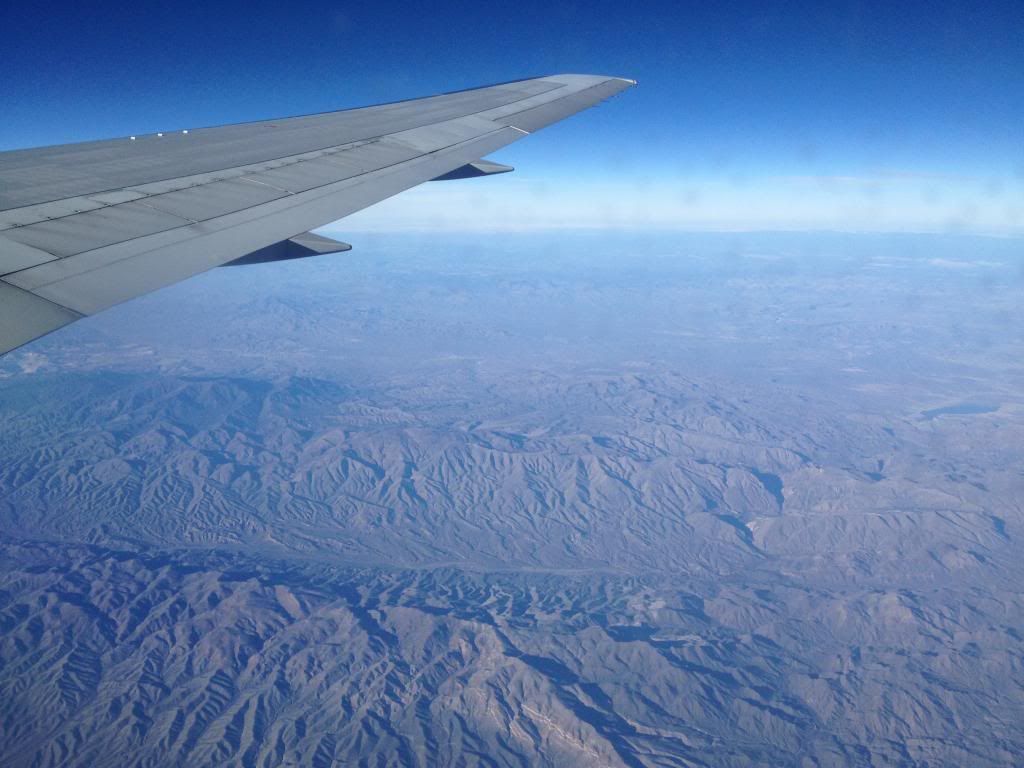 In the bathroom:
The water to the sink didn't work, so instead we had sanitary wipes.
On approach now to LAX. Downtown, and a UA 753 visible.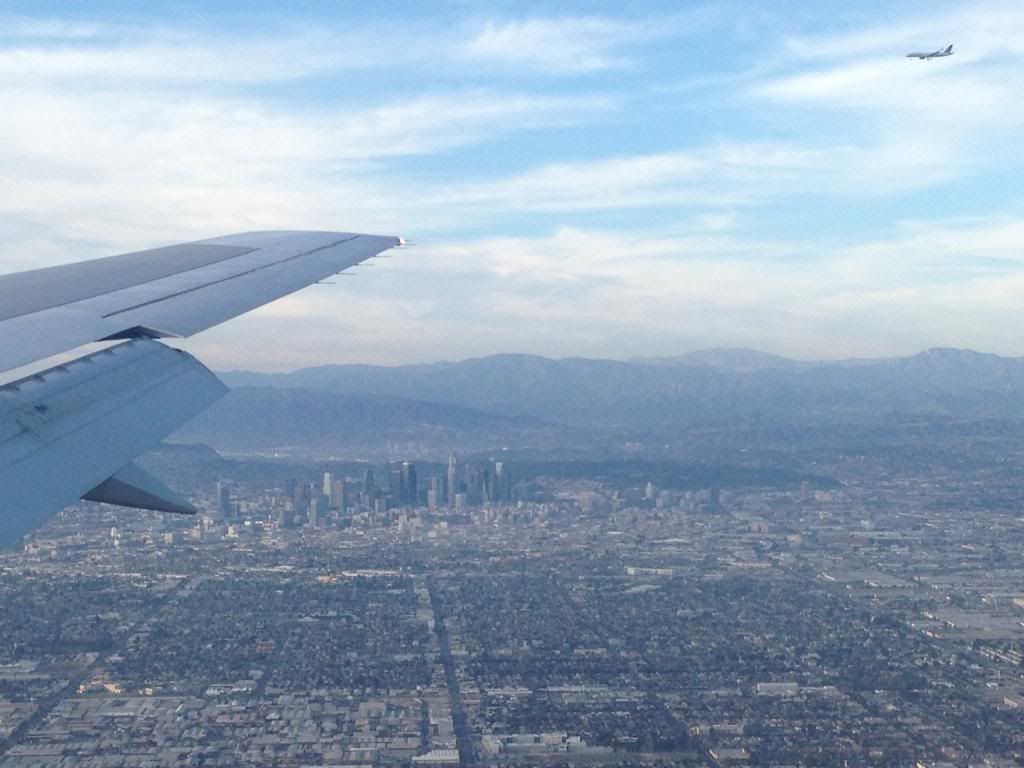 Taken while deplaning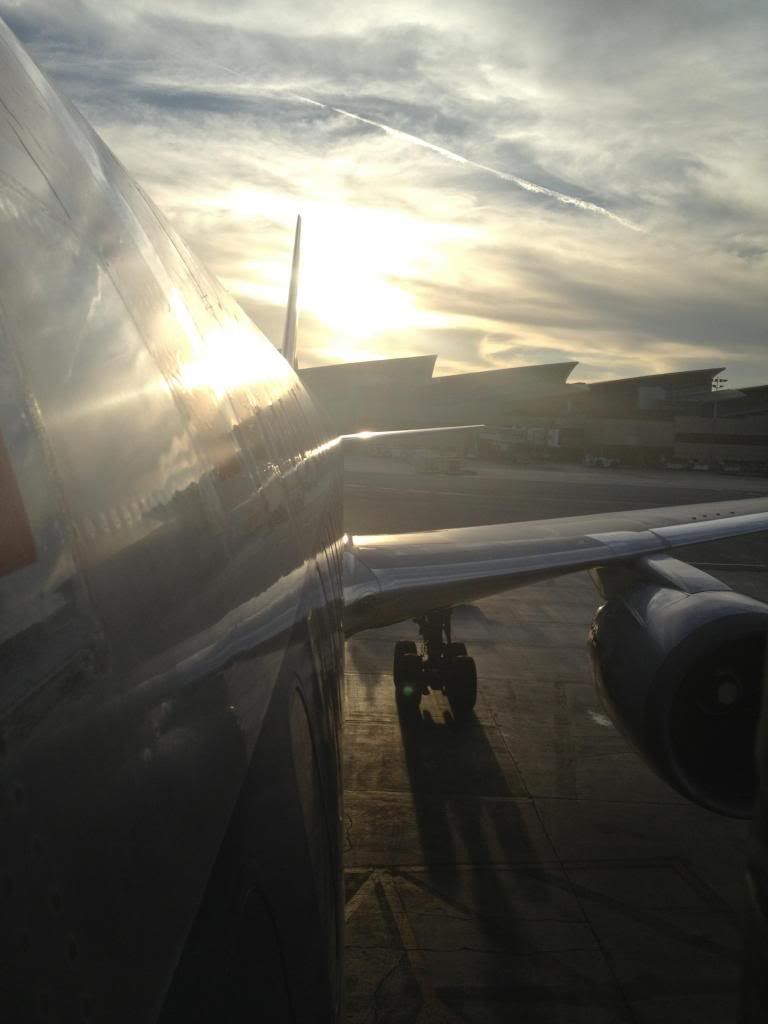 We then made our way to the Qantas shuttle area, which was exclusively for QF 108 (JFK-LAX-SYD), QF 94, (LAX-MEL), and our flight, QF 12 (LAX-SYD).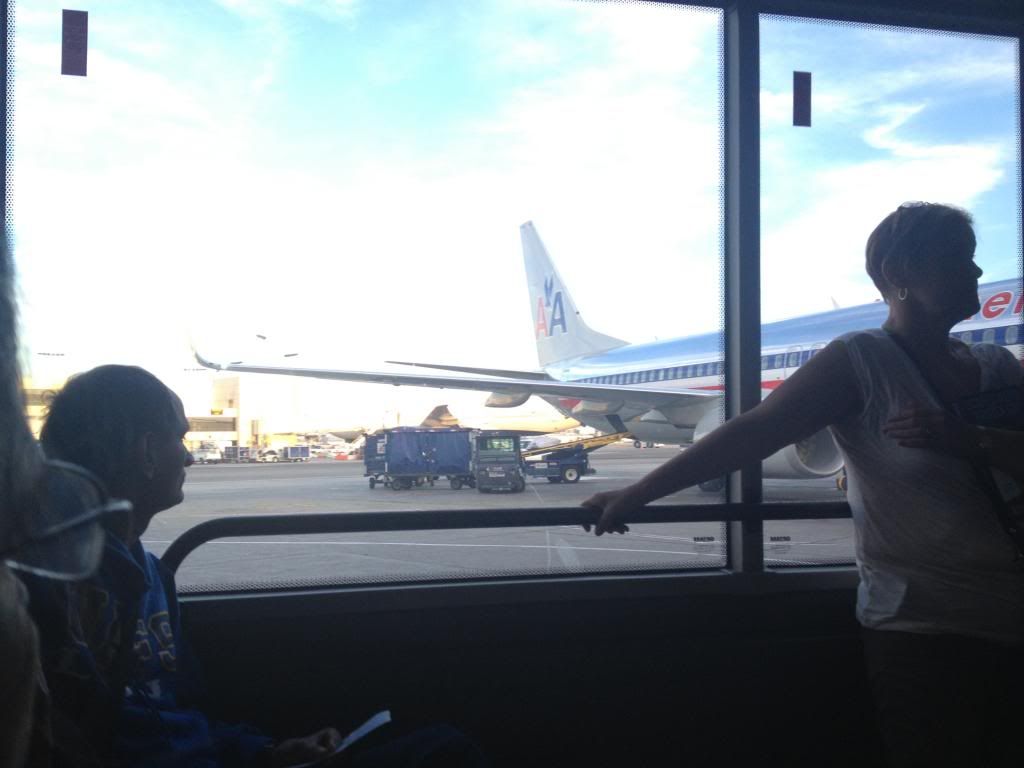 While driving on the shuttle: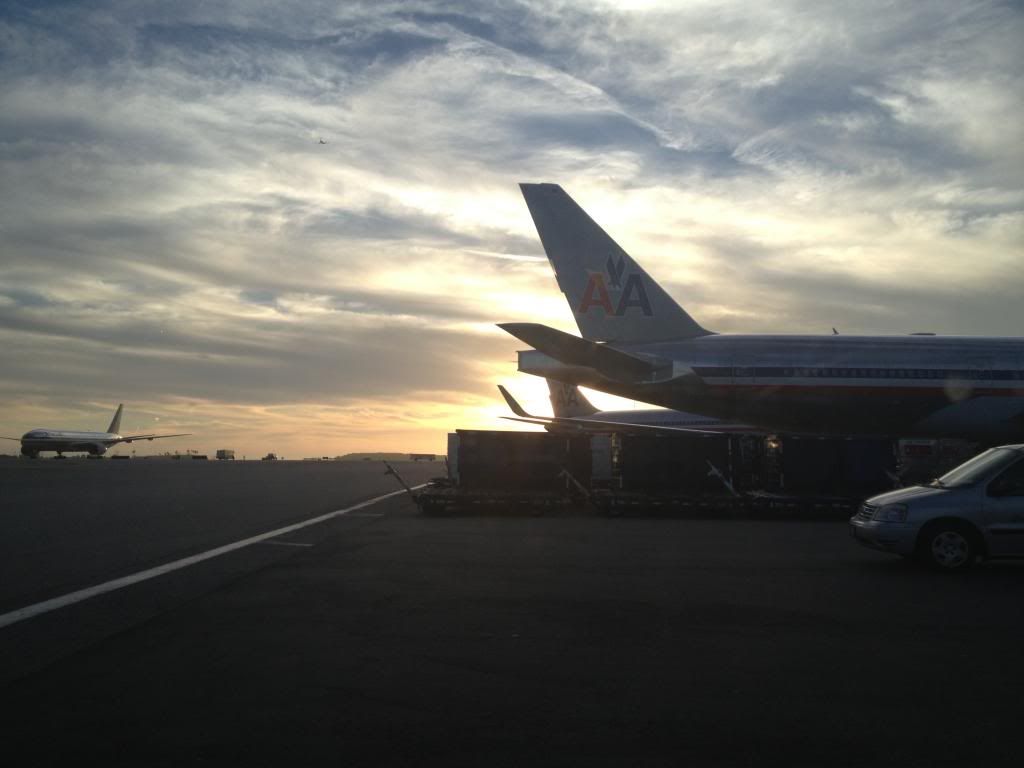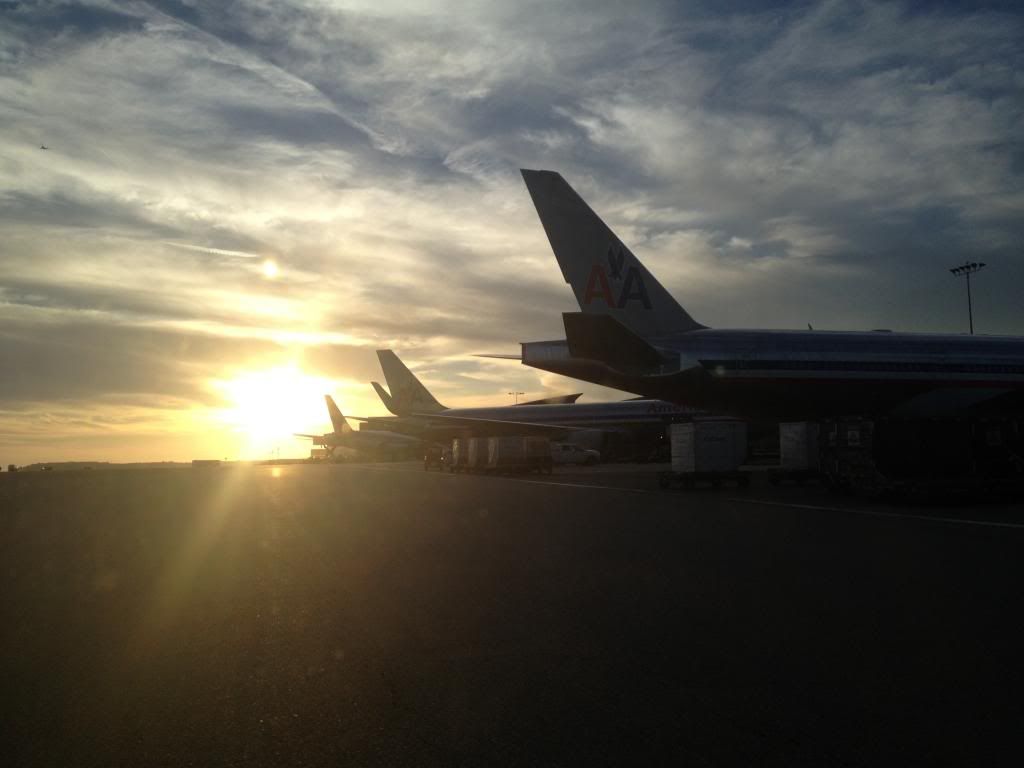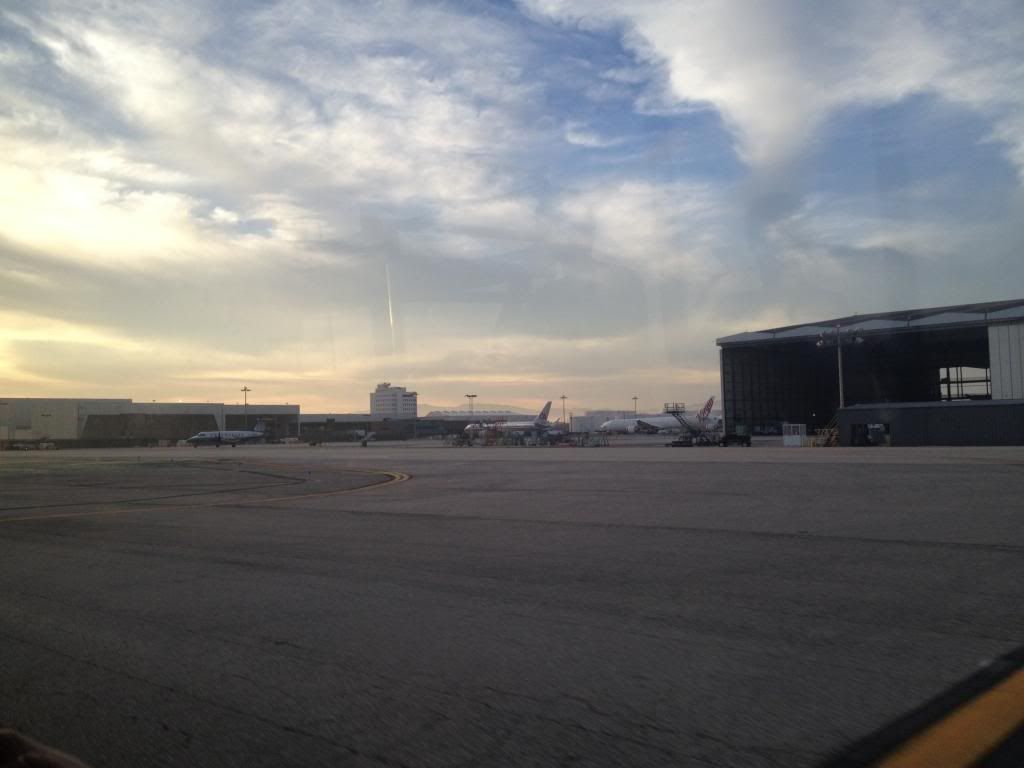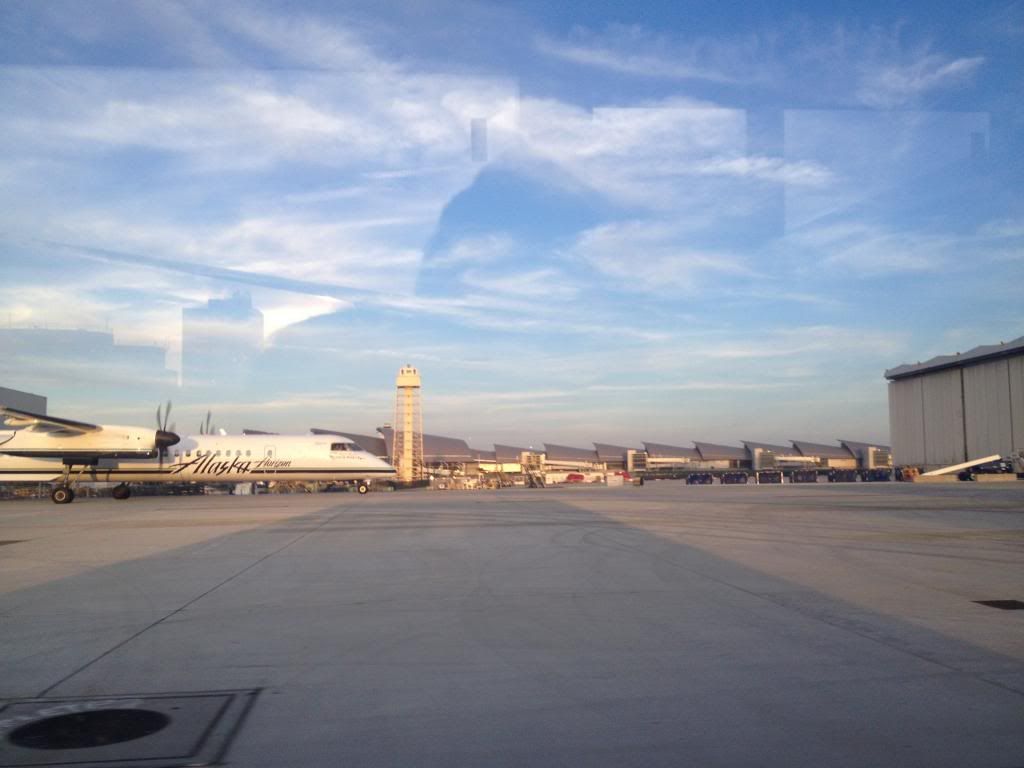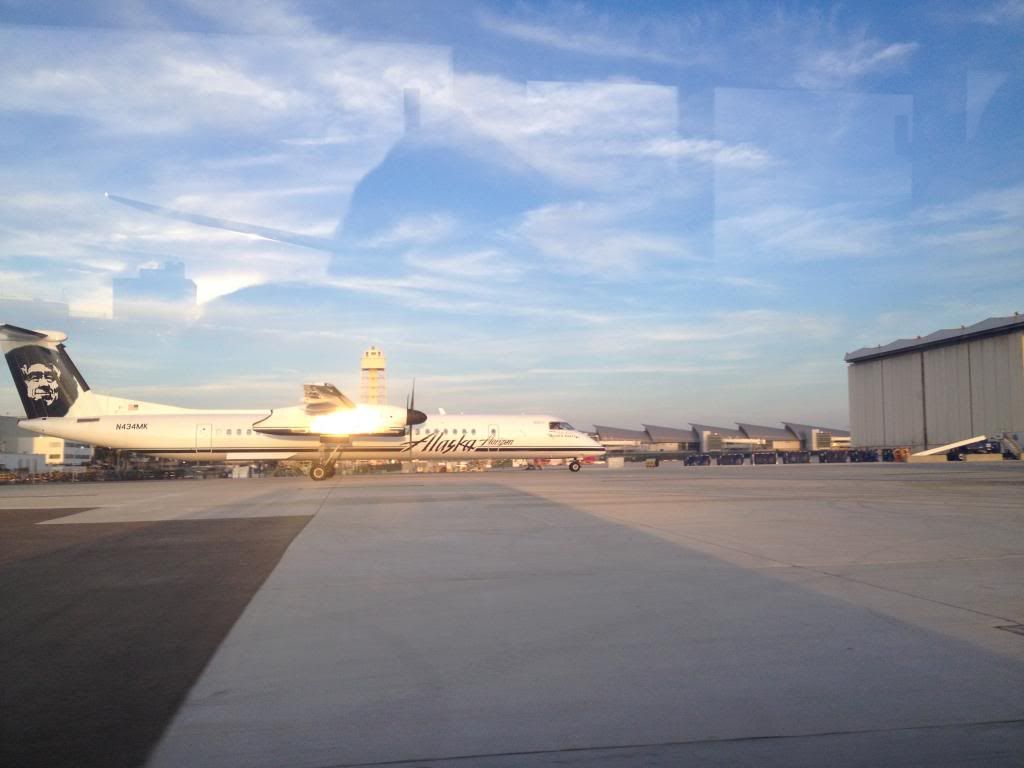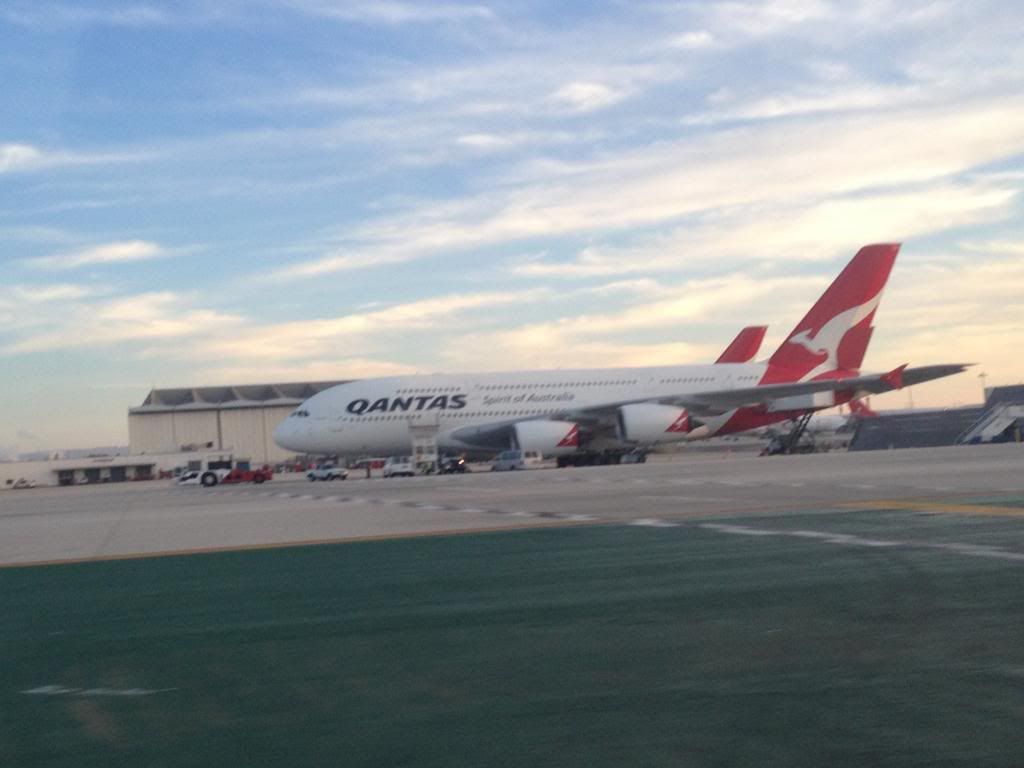 What a huge amount of departures to exotic locations!!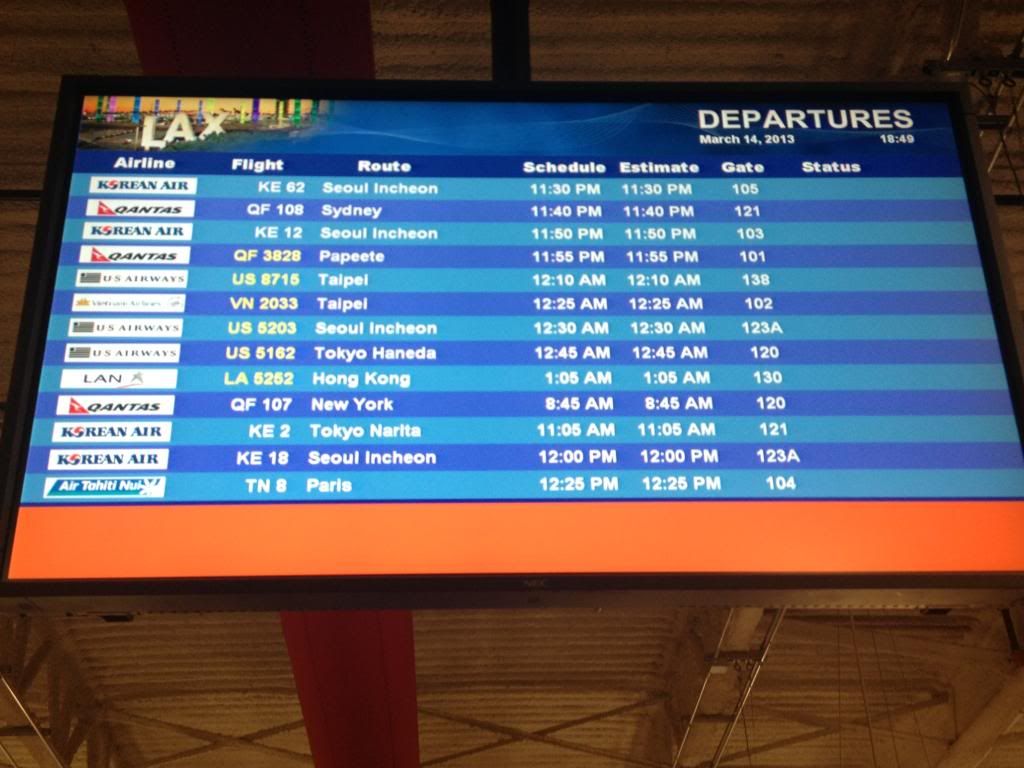 SQ 37 to SIN, the second-longest flight in the world: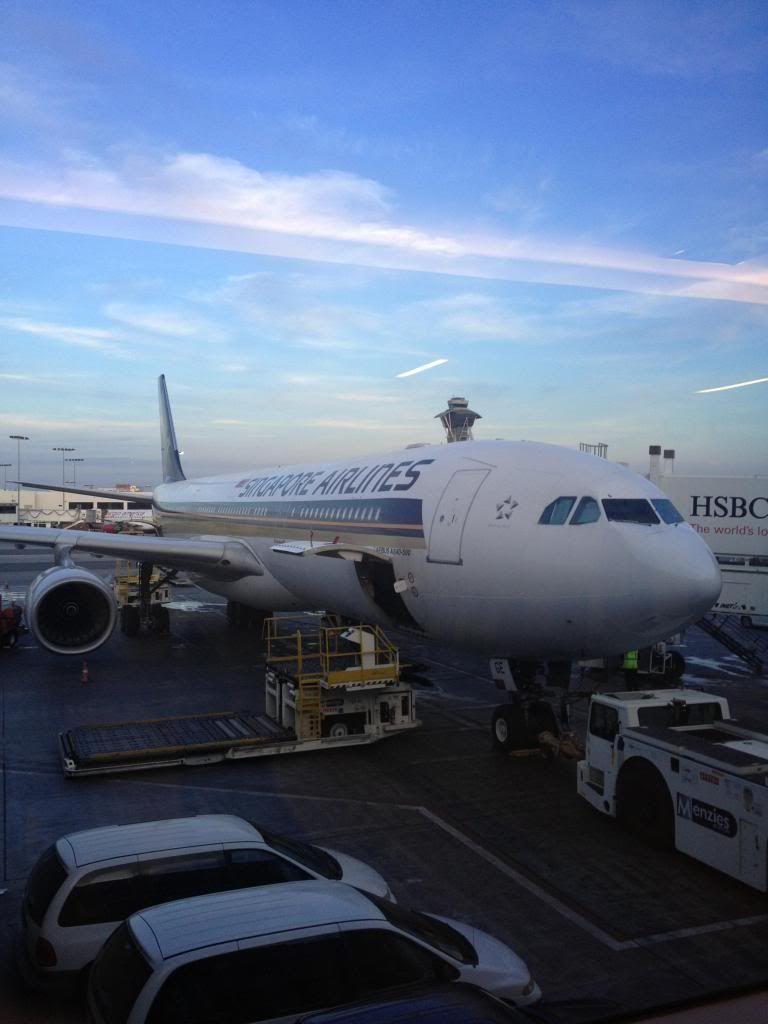 This is TBIT? One of the most famous terminals in the world... Desolate!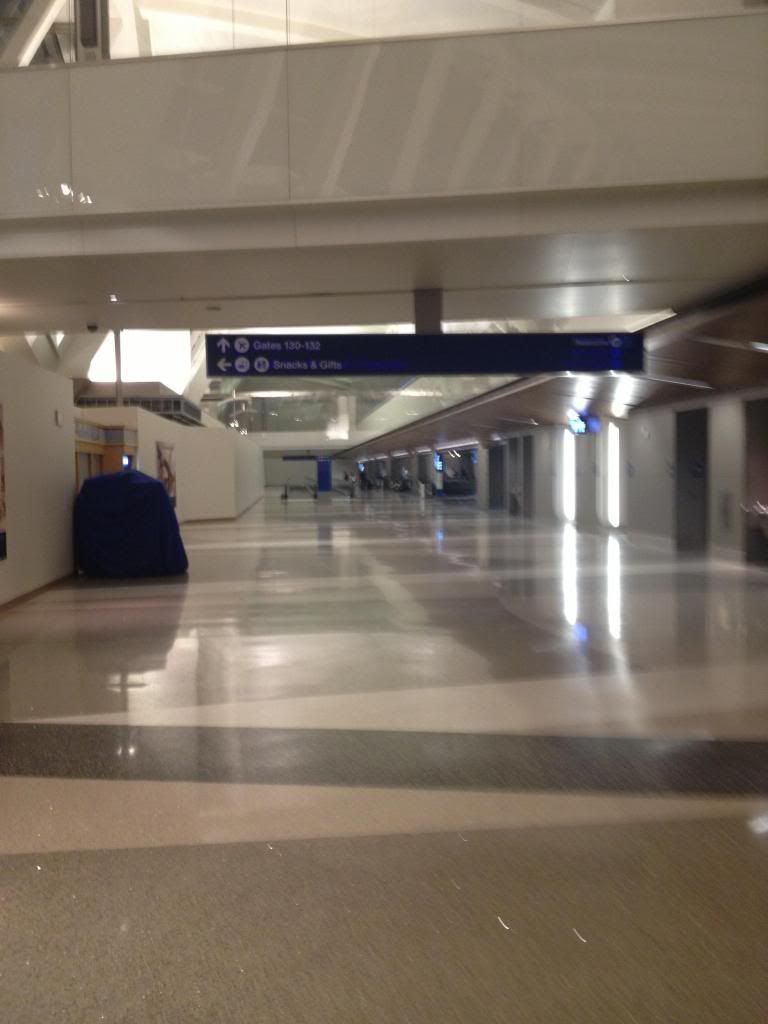 My first view of our QF A380, VH-OQJ. I couldn't see the registration in the dark, but my dear friend in SYD told me, thanks Bernie!
Our pilots: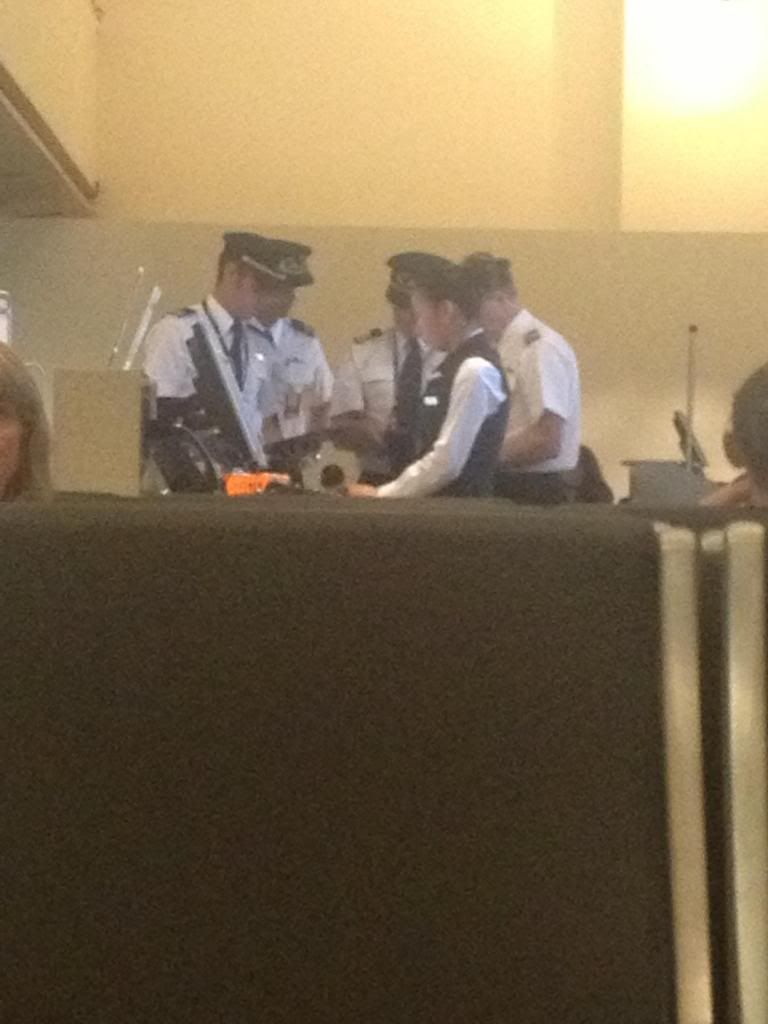 QF 12's departing gate:
Panorama of our boarding area: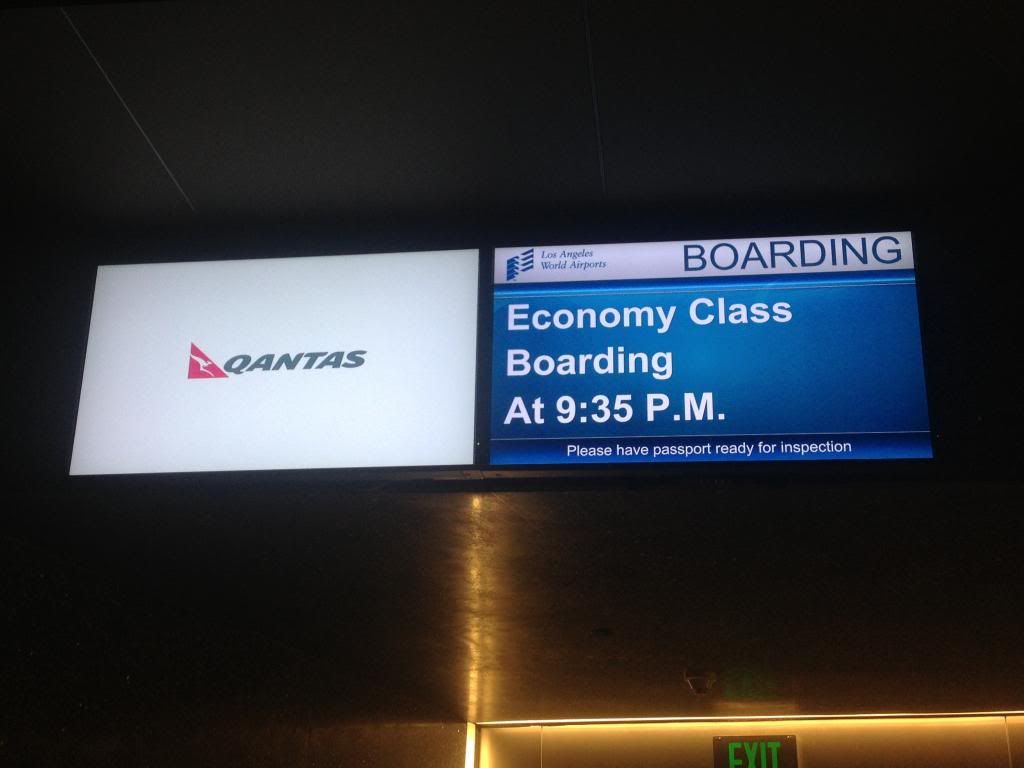 We soon boarded! Continuing on on the next post: