Hi everyone.
At the end of March, I had a week off for Easter Break. Therefore I figured that it would be much better I spent the ten-days break (inclusive of the long weekend due to Good Friday) at home.
I was particularly interested in flying British Airways this time, because it is a carrier I have never flown before, and it would be the last BA 744 operation out of SYD ,as the 744 is replaced with the 77W after March 31.
Background
During the same time, the Qantas and Emirates partnership is coming to realization within days, and therefore Qantas will be pulling their A380s out of SIN services, as the historic 'Kangaroo route' is re-routed via DXB as part of the new QF - EK partnership agreement.
Of course, they are not the only ones affected with this new QF and EK partnership. The another party affected was British Airways, which operated daily LHR - SIN - SYD flights on their 744. As a result of the new partnership, BA will soon replace the B744 with a B77W on the route as soon as their codeshare agreement with QF on the flight ends.
Thursday, March 28 2013

Just a day before departure, I get an email which shocked me. Apparently BA 16 on March 29 was 'severely delayed' and I have to reach SIN before March 30.
I rang the BA customer service number, and after steps of voice-recorded instructions what I get is
"Currently our customer service team is busy, for other inquries please visit our website www.ba.com"
An hour later I tried to call the number again and get through after waiting for around ten minutes. I explained my situation and requested to be put on another flight. The woman, which apparently was the Customer Service team at HKG, rebooked me on another flight, which means I will reach in Singapore according to my schedule.
And yes, this is my new itinerary.
The new itinerary means I lost my opportunity to fly SYD - SIN on a BA 744, and instead I was able to join the last flagship QF 1 service to SIN, which was operated by an A380.
But wait... the A380?
Tuesday, November 12 2012
"While it may be too early, but personally.. Goodbye QF A380s. Its been a pleasure to fly to be on board one of you."
It was my own words, from the QF 9 MEL - SIN sector a five months back, exactly on November 12, 2012. With the announcement of QF and EK partnership, I thought that was a 'goodbye' to the QF A380.
Too Early For A Goodbye? On The QF A380 To SIN
(by
dirktraveller
Nov 20 2012 in Trip Reports)
As the trip report title was left on a question mark, I guess the question is answered now, that it is indeed too early for me to say goodbye to the QF A380s from SIN.
Hence,
please join me in flying one of the last Qantas flagship ONE service on board the A380 via Singapore
Check-in : Melbourne Airport
Good Friday, March 29 2013
After a bus ride from Melbourne's Southern Cross station, I reached the Qantas domestic Terminal at MEL, which is Terminal 1. I arrived at the shared QF - JQ terminal around 1.5 hour before scheduled departure time.
Qantas Domestic Check-in Counter at MEL
Being a long weekend, check-in queue was really long. There were some passengers from the earlier QF432 flight to SYD, which departs an hour early than my flight were still stuck on the queue, with less than 40 minutes to their departure time.
As a result, QF staff have to prioritise this passengers, and asked other passengers in the queue have to wait. QF ground staff politely apologised to passengers on other flights who were further up front in the queue but have to be served only after the group of QF432 passengers.
Well after a good 45 minutes waiting in the line, my bags were checked for both MEL - SYD and SYD - SIN sector.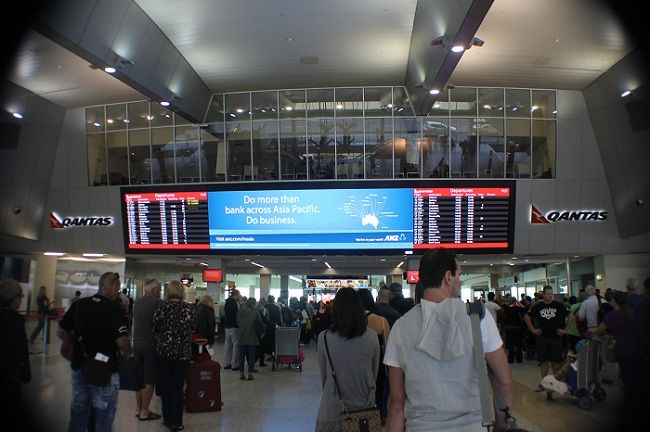 The queues for security check is extremely long that it could extend until the entrance of the Terminal.
QF and JQ activities at MEL
My Char Kway Teow lunch at the airport, well I have to say that it was really overpriced.
After I finished my lunch, I took the long walk towards the gate that was at the other end of Terminal 1.
Boarding
Flight Details
Flight Number : QF 434
Type of Aircraft: Boeing 767-336ER
Registration: VH-ZXC (l/n 298, delivered 13/07/1990)
Seat Number: 47B
ETD: 1300
ETA: 1425
Our assigned gate 7
Our 22.8 years old B763 today, VH-ZXC, a former BA aircraft.
Goodbye Melbourne!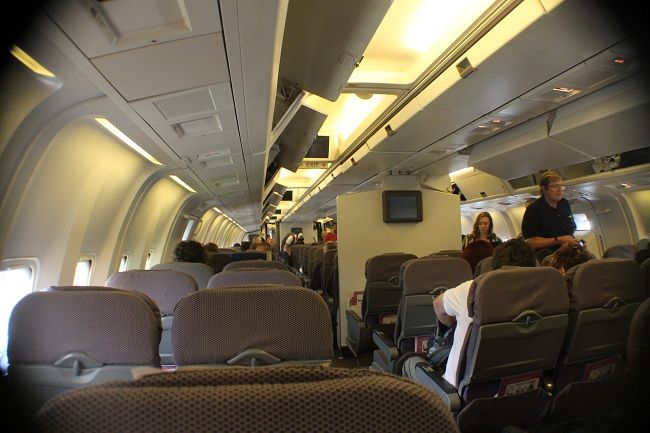 Passengers Boarding this 244-seater B763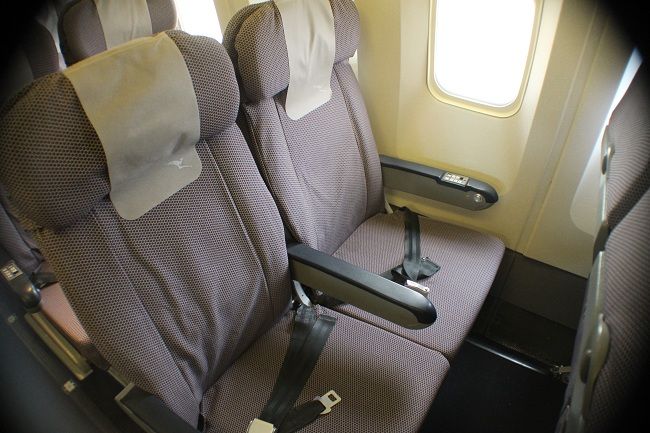 Seat 47A and 47B, looks well maintained for a 23 years old aircraft.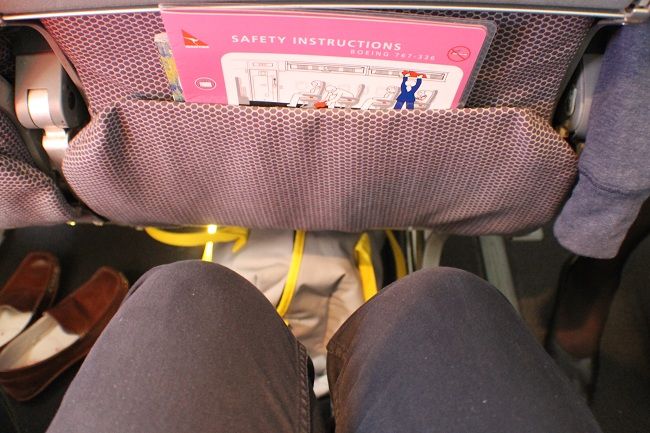 Sufficient legroom for a 1-hour domestic hop.
After every passenger was on board, the aircraft pushed back and taxied towards the runway, while the safety video was played on the overhead screens, along with crew members demonstrating the use of safety equipment as well.
The captain came on the PA and give us flight detailed flight information, with estimated flying hours to SYD of only 55 minutes. He also revealed to the passengers that the First officer is flying the aircraft on this MEL-SYD leg.
The aircraft took off just on schedule around 1305hrs, and we were on our way to SYD.
In-flight
The cabin of the B763, with the old design overhead compartments and well maintained cabin.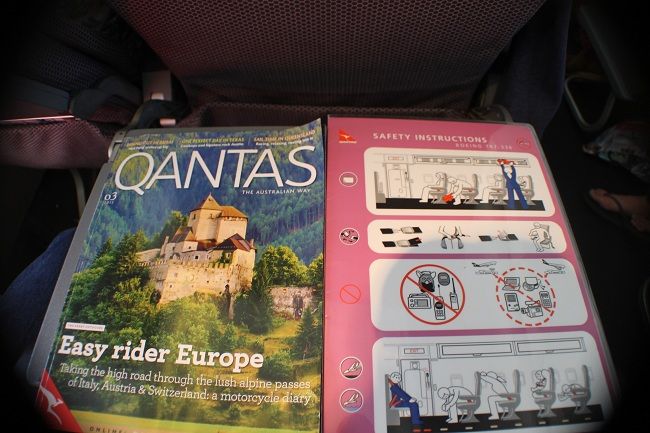 Seat pocket contents, Qantas 'The Australian Way' magazine and the B763 pink safety card.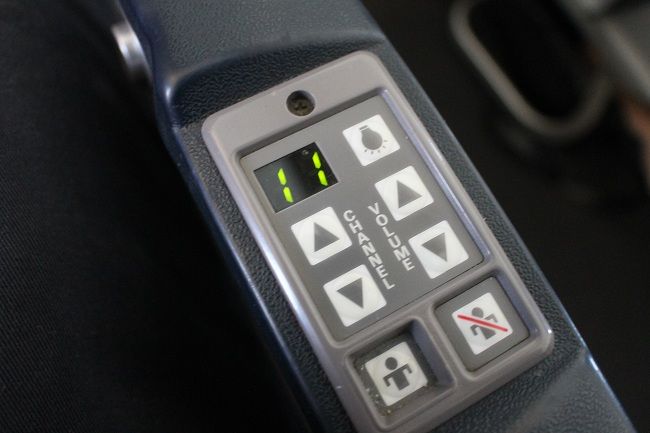 Controls for the shows on the overhead screen. Headsets were collected upon boarding at the gate on QF domestic flights.
Light lunch was soon served, with a choice of drinks. The QF signature recycle bags were also distributed.
I have to say that QF did an efficient meal service for the fully-loaded 214-seater economy class cabin on such a short flight.
Landing into Sydney
Just after meal service was completed, and all the signature QF recycle bags collected by cabin crews, the Captain come again on the PA announcing we are on descent to SYD. Cabin crews were also instructed to prepare the cabin for landing.
Descent into SYD were slightly turbulent, but was soon followed with a smooth landing into SYD.
After we reached our parking position in SYD, disembarkation was fast although there were only one aerobridge operating for our flight.
Qantas Domestic Terminal 3 , Kingsford Smith Airport (Sydney).
After the aerobridge, there was a QF ground staff ready to help connecting passengers, which instructed me to turn left and take the escalator down where a bus will transfer me to the International Terminal.
The Sydney Transfer
QF Bus that took me to international terminal.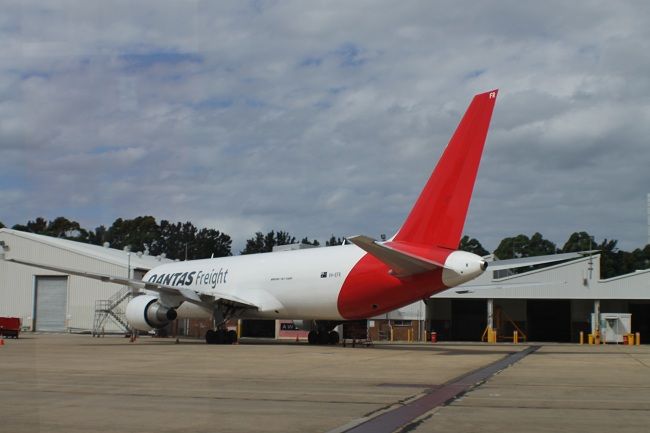 Passing by a QF B763 Freighter at home.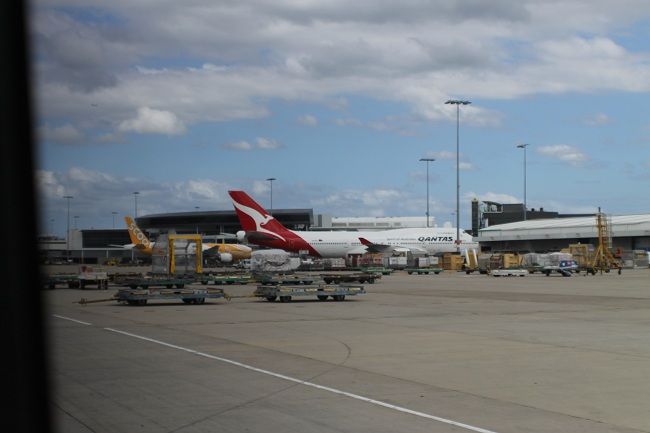 With a Scoot 772 and Qantas 744 in a distant, you will know it was the International Terminal.