"Spend some time with the Hobby or is it IAH?"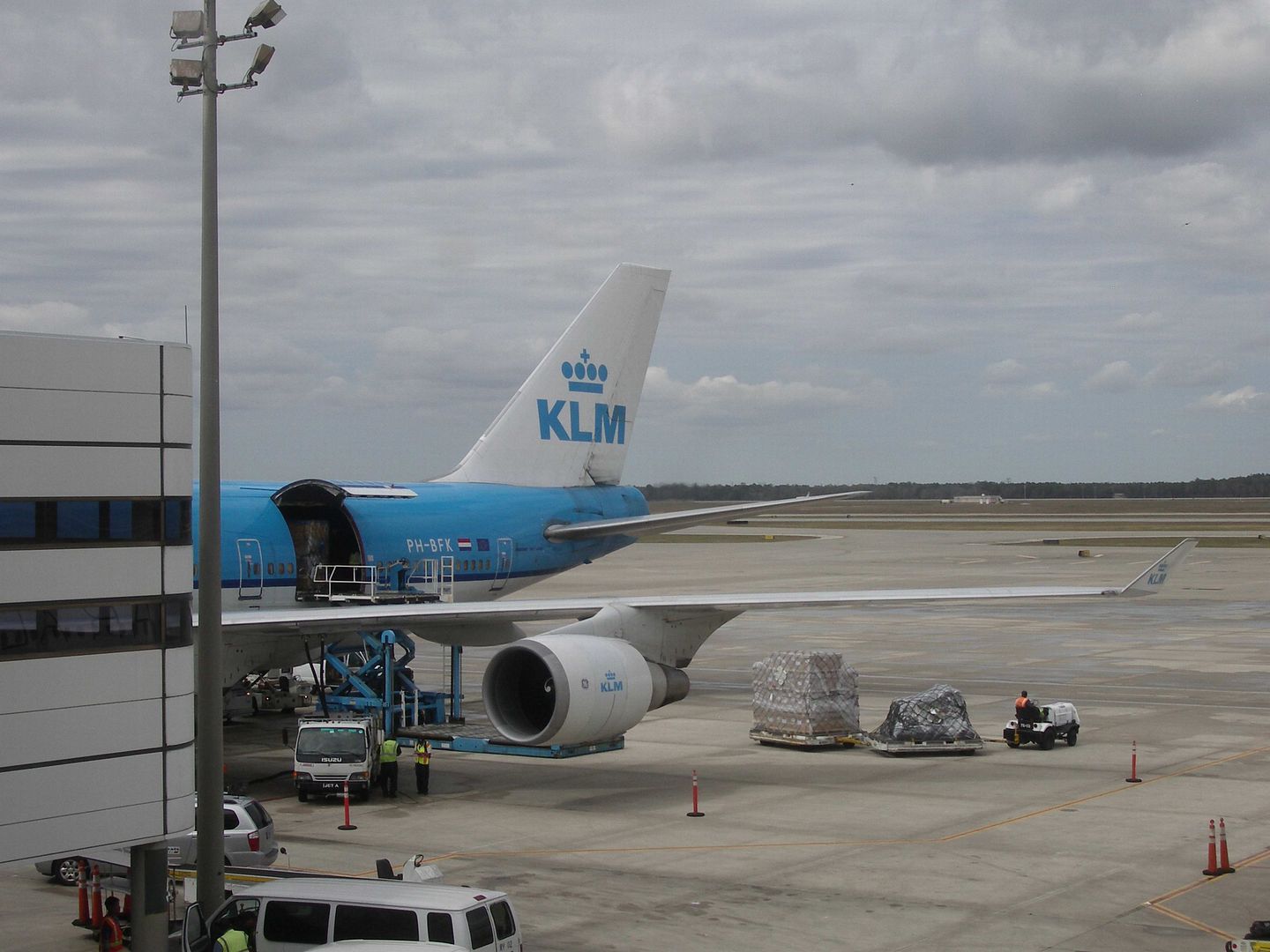 Hello, dear readers,
is it really possible to catch two new plane types within one trip?.
Oh, yes it is, as long as the airline guy´s don´t prefer any equipment changes!.
Close to four weeks at the homebase without any flights.
More long haul is definitely welcomed.
And just by coincidence, you don´t need to go for the Netherlands to meet one of our local reporter colleagues!.
This is a view to the last story:
"Manila, Me And The Dragon Of Hongkong"
(by
FLIEGER67
Mar 15 2013 in Trip Reports)
And here is the routemap for this one:
Thanx to, as usual:
http://www.gcmap.com/
Is there a new departure airport to pin on the map?.
Yes, it is, with IAH as no. 234:
Departure Airports II
auf einer größeren Karte anzeigen
Some more lines painted on the flights of 2013 map:
TRIPREPORTER 2013
auf einer größeren Karte anzeigen
And the previous 200 departure places:
Departure airports
auf einer größeren Karte anzeigen
Well, on the way shortly!.
Saturday, 09.03.2013
.
.
.
.
Service KLM KL 6115 operated by Delta Airlines
Scheduled: 10.15 // 14.40
The cell phone alarm is set at 04.30 am, ah, the good old times!.
Up and ready to go. I like to be at the parking spot Tourcare at around 08.00 am. Weather looks like ok, not that cold, wet after some rain and Saturday morning this early seems not that much traffic.
Well, the car asked for some oil on the way. Sure, no question, exactly today, half way between the homebase and FRA, but that´s the way it goes, Murphy´s law, you know.
Fixed, what needs some time and present at 08.15 am.
A quick shuttle for terminal 2 and the Delta counters are just opposite the entrance.
The whole four of flights during this trip are on one confirmation, managed by KL itself this time. The fare per leg is 145.00 Euro´s.
Despite I´am on a KL flightnumber, DL let me select my seat and also offered eco extra for free.
Sure ok this way, the seat is secured swiftly.
But the system´s answer after my work with the KL OLCI mail is not really to my amusement.
"There is no OLCI available for this flight".
Well, at least the FRA system shows me no bad sign for my service from gate D05
My ESTA is updated in advance for another time without any fee.
Some minutes to wait at the Sky Priority counter with frequently calls for pax on the 30 minutes earlier DTW service. It seems I´am late, not that many more pax around. A nice elder woman at work. She shows me the seatmap for the flight, not a single open seat to spot,
a 100% load around all cabins.
Also the choice of seats for leg two today is limited, but nevertheless she found a window for me. Well done.
"It seems you´re to late for the lounge today".
"Well, even 5 minutes is not to late!".
While my bag disappeared in the belly of Frankfurt airport.
No time to wait at passport check.
And the lounge is close to the gate.
Really, is this the entrance for the lounge?.
Looks more like storage in the basement to me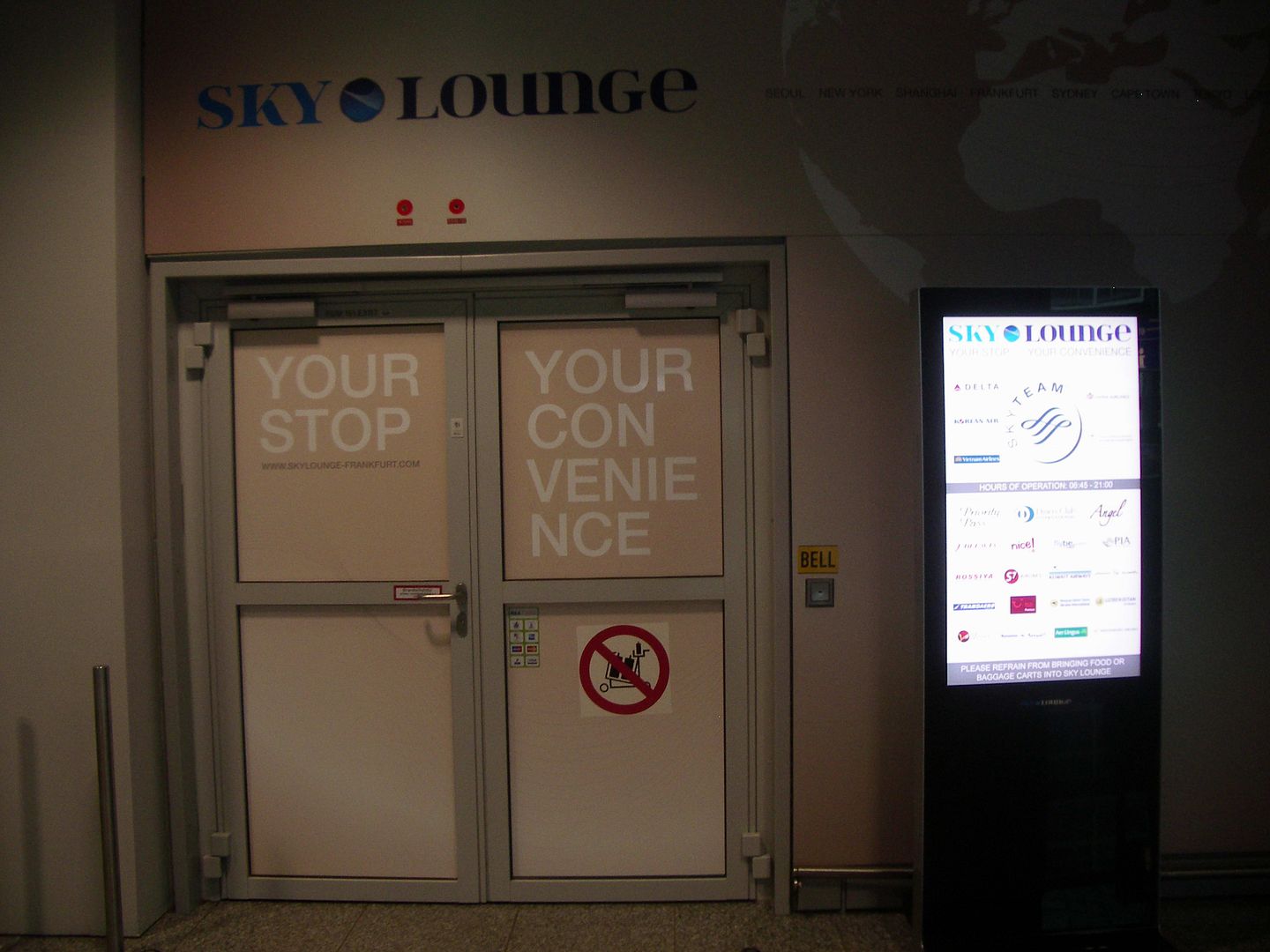 No pics, the lounge is well used and my time is limited.
Security is directly at the gate,
close to no time to wait at the Sky Priority line.
What about a view to the plane parked?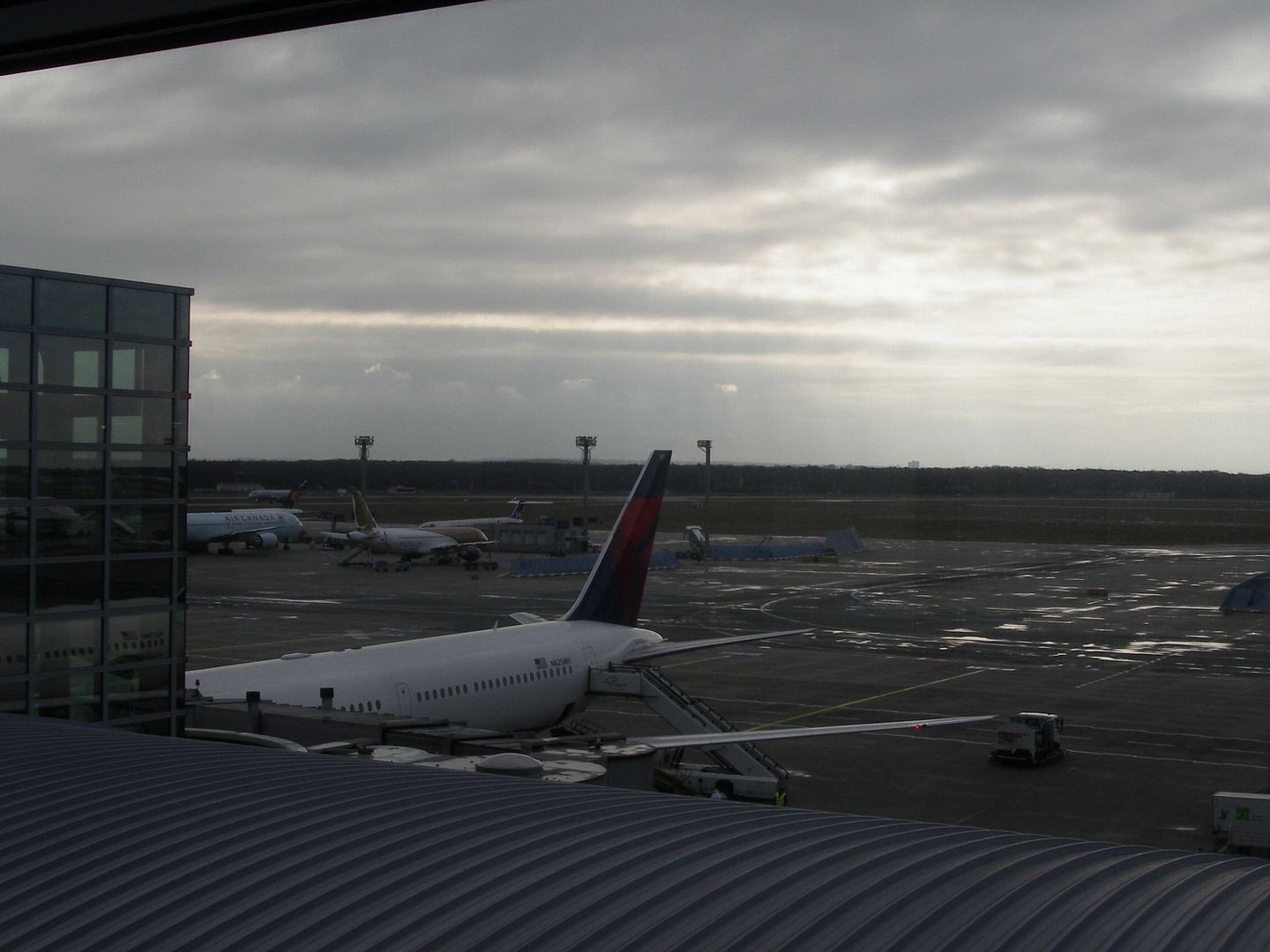 Yes, this is the scheduled 767-400. N825MH is first registered to Boeing at 09.10.1999 and more than a year later catched by DL.
Warm welcomed, leg no. 1 and only till now on this type
And a really well known plane in case of incidents:
http://avherald.com/h?article=4174a050&opt=0
http://avherald.com/h?article=421e5d2e&opt=0
http://avherald.com/h?article=42f8ac34&opt=0
http://avherald.com/h?article=44bbc751&opt=0
Boarding is good on the way when I´am there with just a couple of pax behind me.
No time to hurry, the flight is fully booked anyway.
100 % around all classes. My seatmate is an elder american guy, sleeping most of the time, ok this way.
21 767-400´s are in the actual fleet
12 cloudy degrees,10.20 am close to ontime, "Delta" leaving FRA, see you at Monday.
09.25 hours bound for the States one more time.
Talking this in a relaxed way and knowing while I´am writing this, that due to heavy snowfall the airport was completely closed down at Tuesday, so lucky me here
Cockpit crew is from the US. The captain with a relaxed welcome after boarding and more informations short after departure.
Oh, yes, I like these engines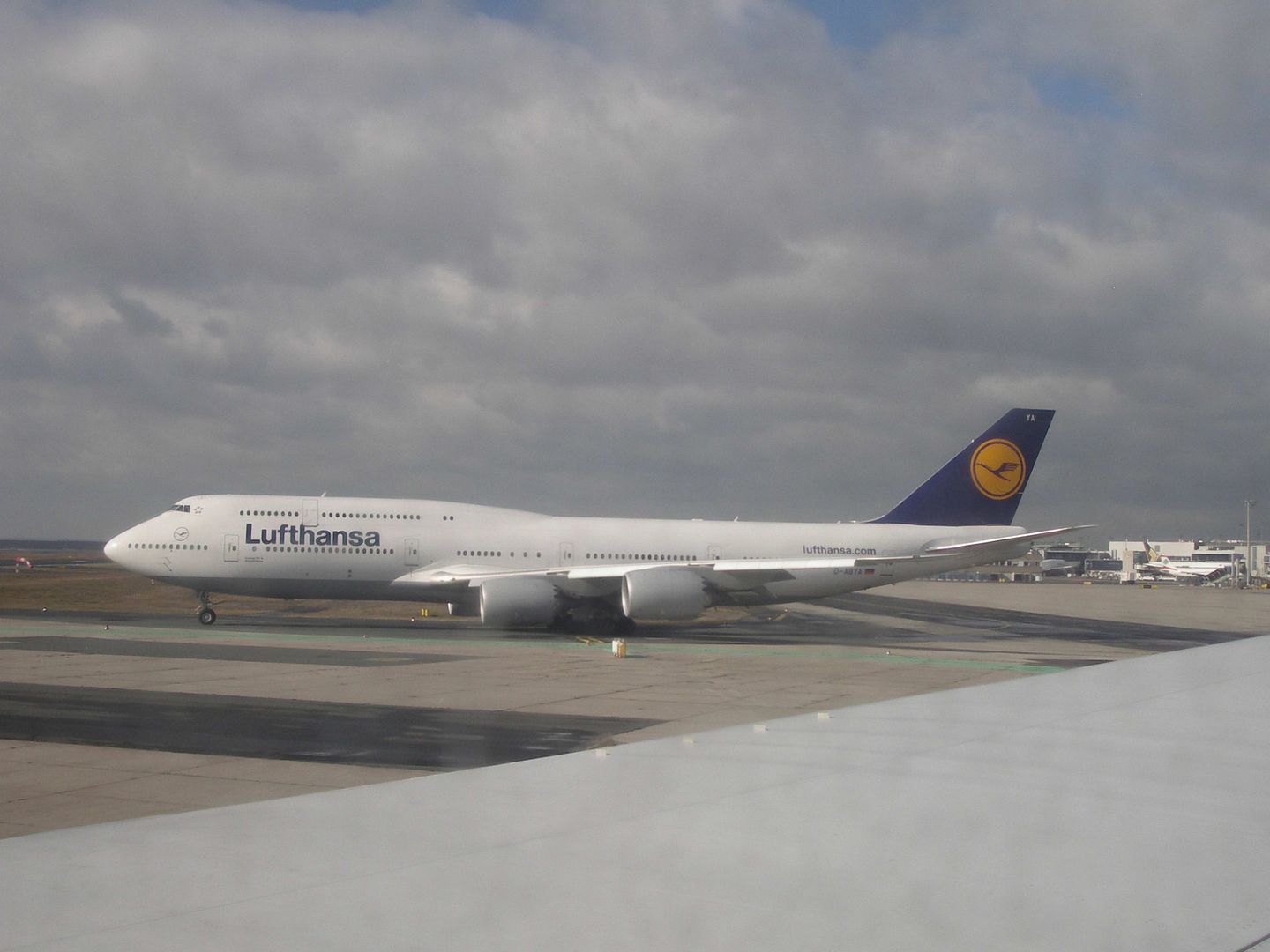 Just departed and above the clouds from the 4000 meters runway "Two-Five-Center"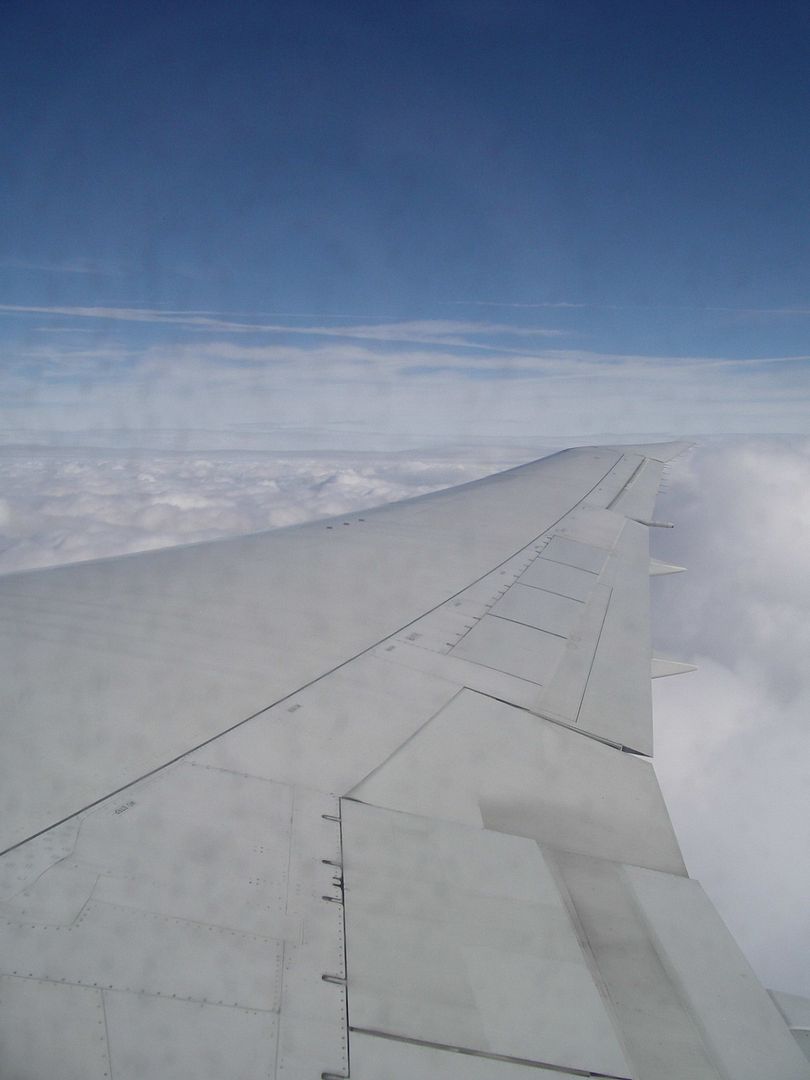 The cabin is not in the best conditions, really well used leather seats.
Note the broken plastic video screen cover, but anyway it works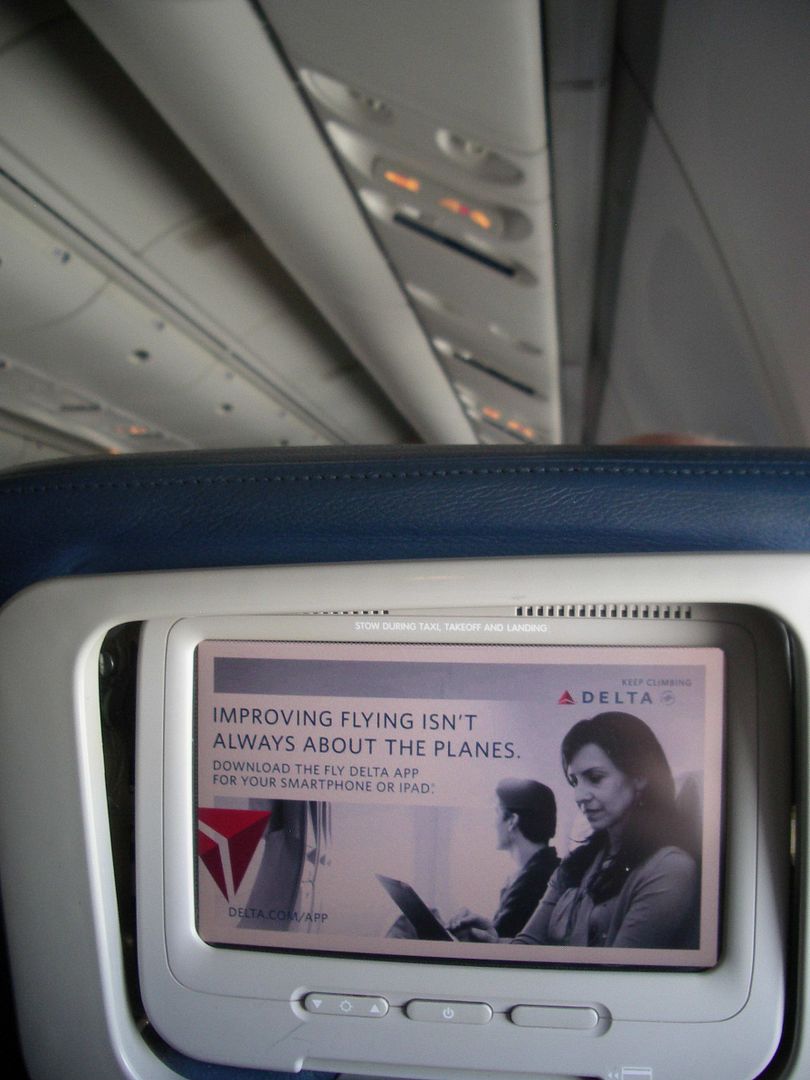 Yes, that fit´s
Baseball, ok
This system impressed me, lot´s of flight details
We are heading for Coke town, just to notice it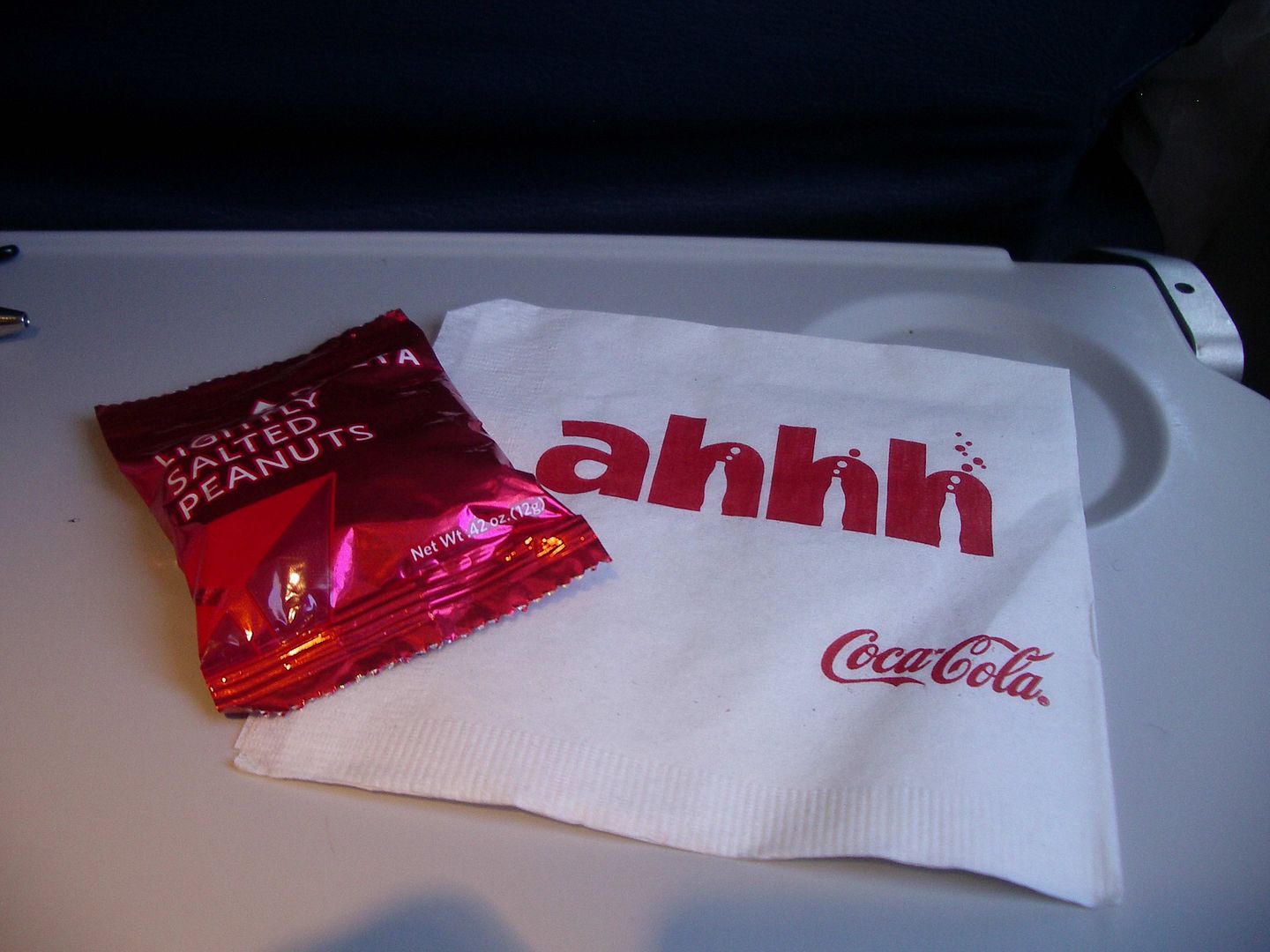 Legroom is tight, ok it is important to catch the 764,
less comfortable against the lately flown 763.
And just to remember this is eco extra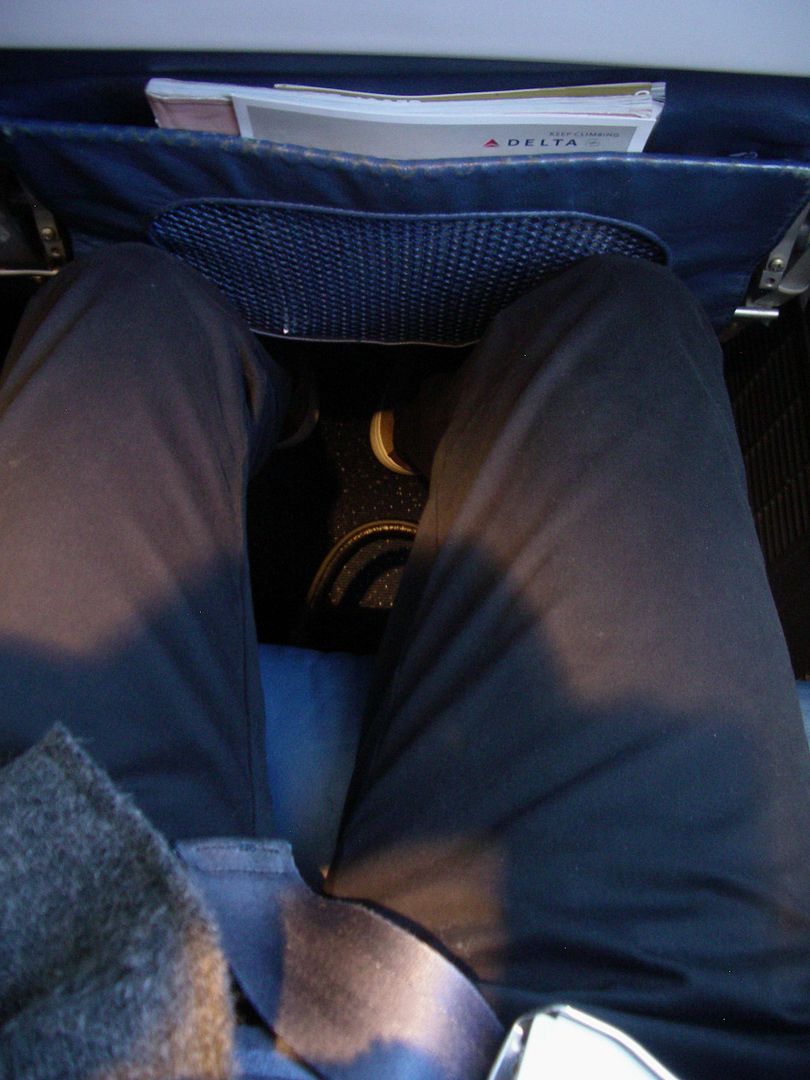 Cabin crew serving my seat are not the real golden girls this time, but two ok style elder woman!.
Three meal options are available, hot twice and one cold dish.
Not that long thereafter there is something to enjoy
Or maybe not?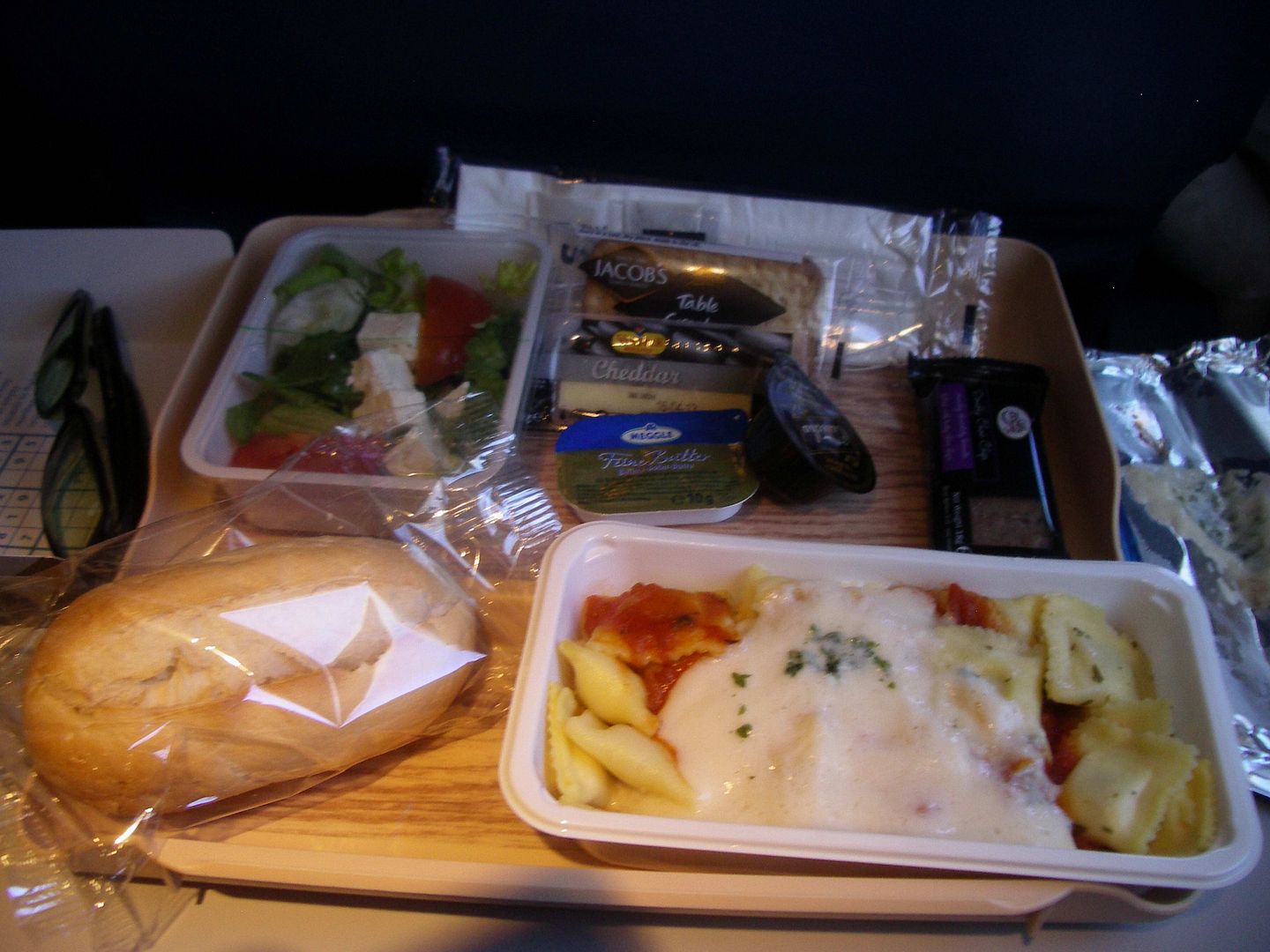 Just a couple of miles to go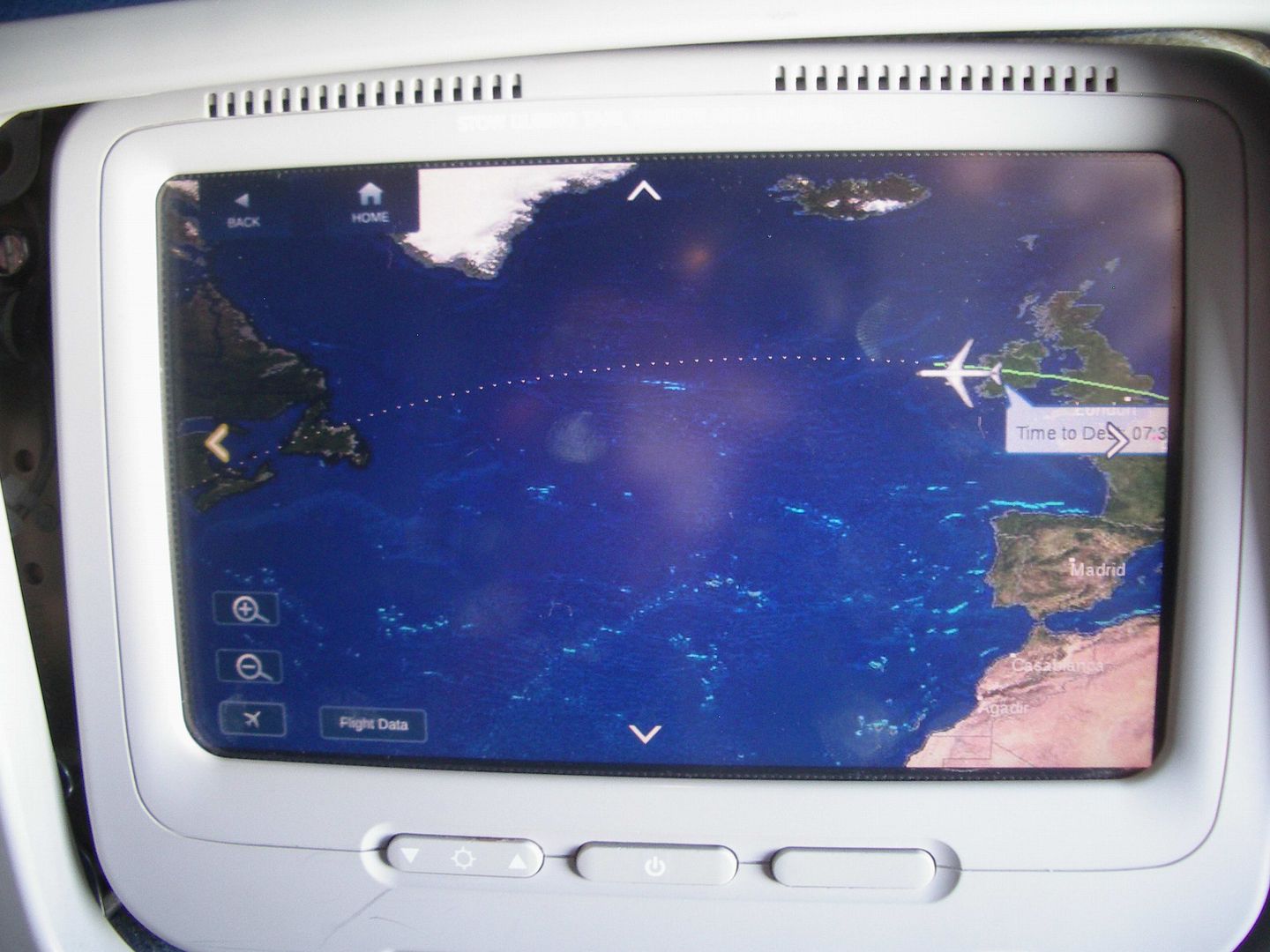 And a visit to dreamland later this looks like Canada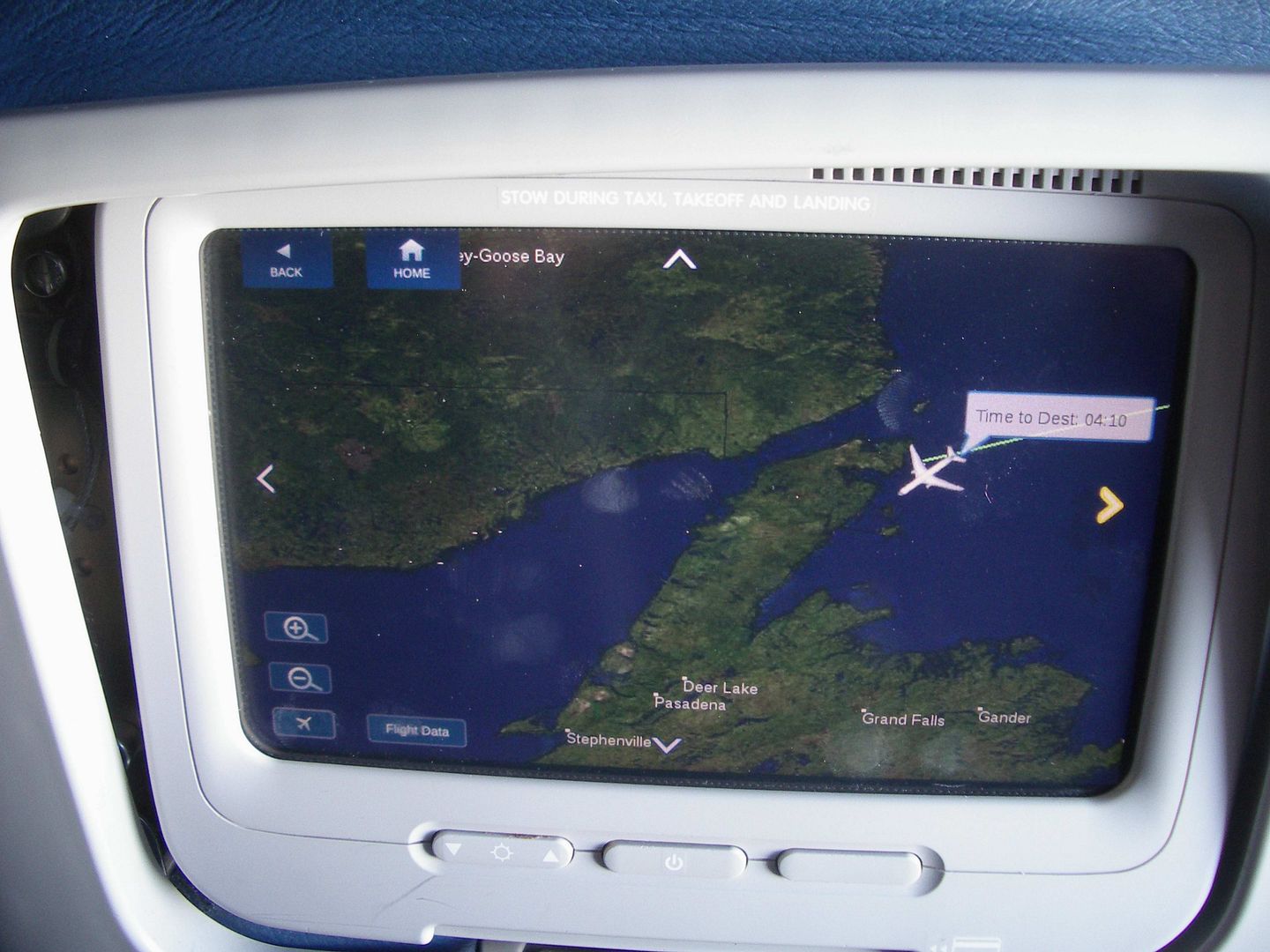 Where there is also some snow visible
Routing is BRU-LON-SNN-Bangor-Boston-New York- Washington with mostly cloudy sky at maximum 34000 feet.
Movies anyone?
Or also music?
A shorty snack prior to arrivals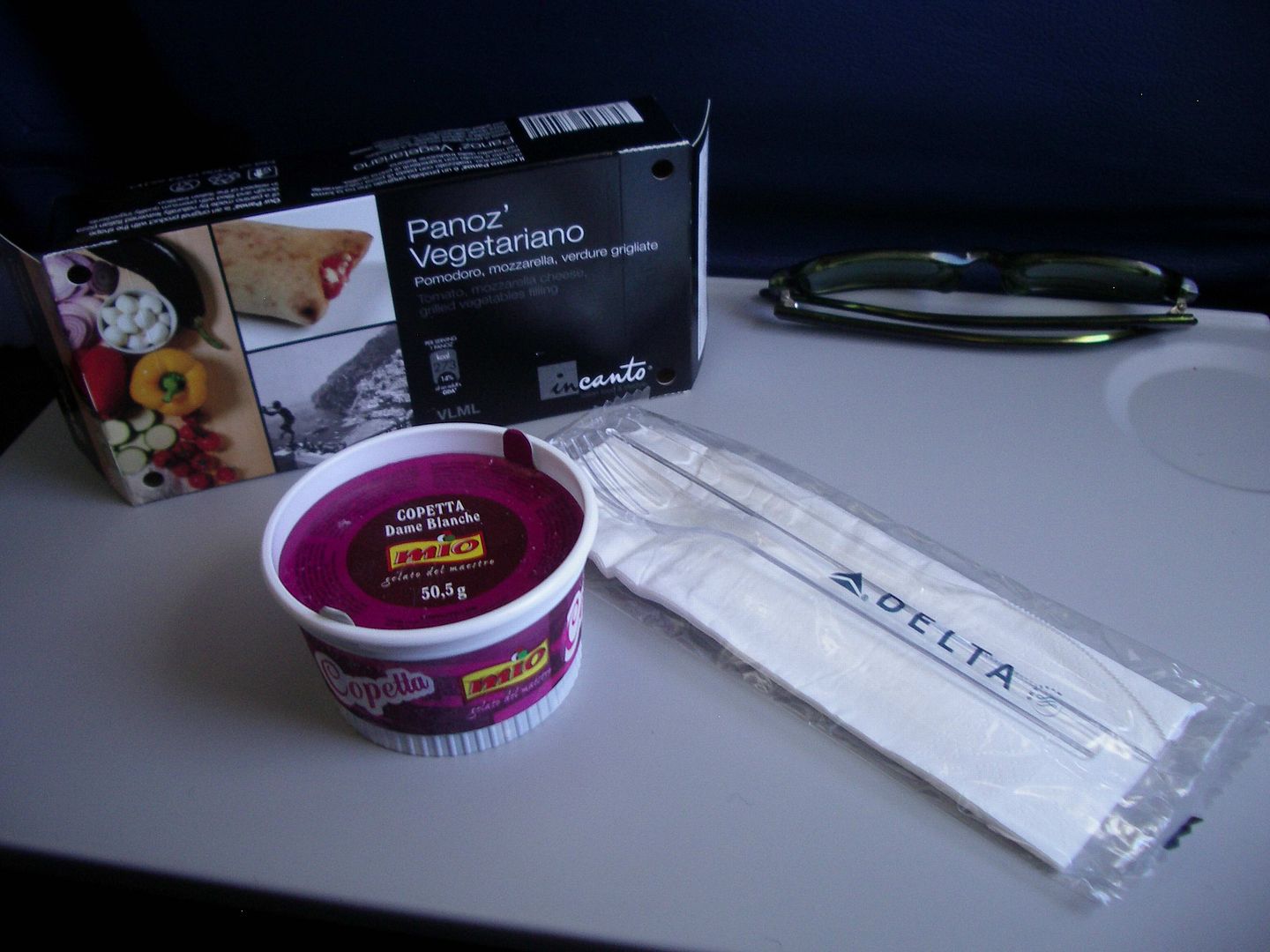 And the captain is on the mike with a nice bye-bye.
Simply stunning, have a closer look here and you see for the first time ever for me, a triple approach side by side Delta, Southwest and Delta again, me included
Well, it´s ATL I know
Touchdown at the 2743 meters "Zero-Eight-Left", 18 cloudy degrees, 2.00 pm local, 40 minutes ahead to schedule and 8.00 pm in Germany. Swiftly out from the forward cabin.
Some meters to walk for immigrations and sure, I know the way again. The very same row for the very same counters like six weeks ago, but hopefully not staffed by the very same agent!.
Some 5 minutes to wait and the whole experience is much more relaxed this time.
Also a young male on duty checking my passport:
"You travel a lot?".
"Oh yes and I like it till now!".
Duties done, a new stamp without further questions and welcome to the States for one more time.
------------------Continued below-----------------------------