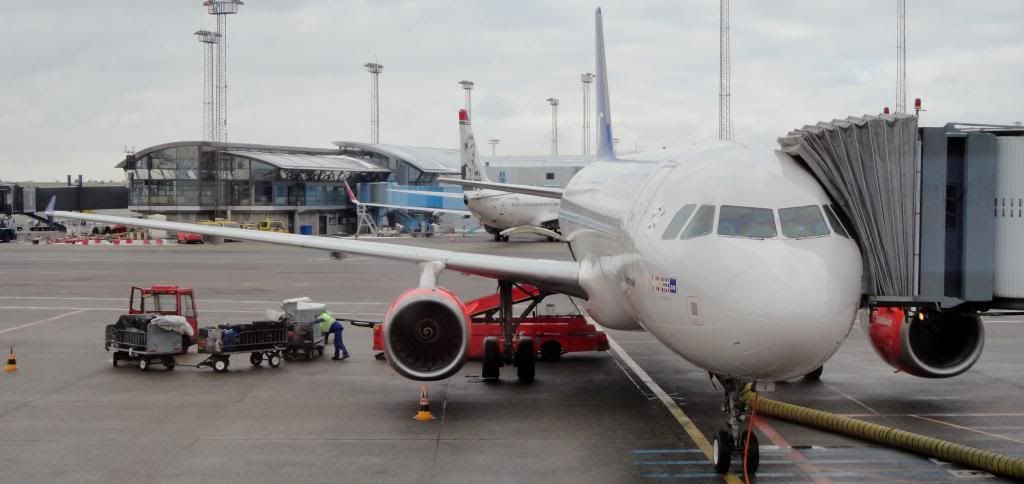 Introduction
Hello everyone and welcome to part 1 of this epic USA trip I made back in January.
It all started with Alitalia, where I booked an open jaw GVA-FCO-JFK-ATL-JFK-VCE for the grand total price of 149EUR (more on this in part 2). Leaving GVA in the early morning on the 23rd of January and coming back to VCE the 31st of January.
To get from AMS to GVA I looked at several different options. These included flying Kuwait Airways' 5th freedom FRA-GVA (for a great report on that 5th freedom route v.v. from fellow a.netter MSS658 see here:
Brussels-Frankfurt! The Kuwait Way!
(by
MSS658
Dec 17 2012 in Trip Reports).
Another option was flying SN Brussels for the first time (sorry Nils & Marc!), but in the end I opted for SAS (AMS-CPH-GVA) as they were the cheapest and it gave me an opportunity to fly their " new" secondhand A320s. I also believe this is the first report here on SAS' A320.
With over a week in the USA I booked several other flights and came up with this crazy itinerary: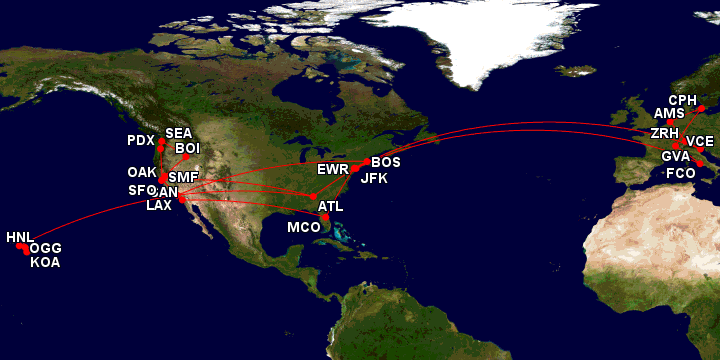 This report will be split into 13 different parts:
Part 1: AMS-CPH-GVA
Part 2: GVA-FCO-JFK-ATL
Part 3: ATL-LAX
Part 4: LAX-BOS
Part 5: BOS-EWR-MCO
Part 6: MCO-SAN
Part 7: SAN-LAX-HNL
Part 8: HNL-KOA-OGG-HNL
Part 9: HNL-LAX-PDX
Part 10: PDX-SEA-BOI-SMF
Part 11: SMF-SFO-ATL
Part 12: ATL-JFK-VCE
Part 13: VCE-ZRH-AMS
I will cover/explain the planning and booking of these flights in each designated part.
So once again welcome to the beginning of this amazing journey, I surely hope you enjoy!
Map
The map for this part (thanks to
www.gcmap.com):
And once again the map of this epic trip: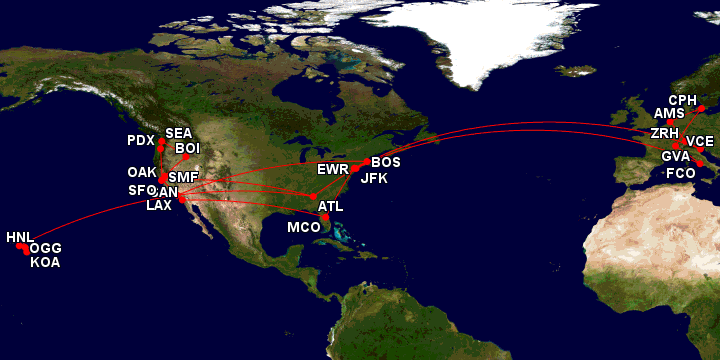 Tuesday January 22
I have been looking forward to this trip months in advance. The closer the trip came, the more nervous I got. Will everything go according to plan? What happens if I miss a connection? I was taking some big risks with that especially during winter time!
After some very busy months at work it is finally time for my two week vacation. On Monday (January 21) I get my final preparations done and pack my bag, all ready to go!
As expected I have trouble falling asleep, so after only four hours of sleep my alarm clock goes off at 06:00. I immediately jump out of bed, feeling very excited, and get my usual morning rituals done. After a quick breakfast and packing some last things into my bag I am all set to go.
My father was kind enough to drop me off at the airport before heading to work. We left the house at 06:45 and made it to the airport at 07:05. I thanked my father, bid him farewell and headed into the departure hall.
Check In
SAS uses check-in row 2 in departure hall 1 here at AMS, so that is where I headed. I had checked in online the night before so just needed to retrieve my BP and drop my bag off at the counter. The check-in area wasn't busy at all so I was able to use a SSK immediately. After entering in the correct data, the machine successfully spit out my BP and a baggage tag.
I applied the tag to my bag and joined the short line for baggage drop-off. Being number 2 in line I was swiftly helped by a friendly agent and wished a pleasant flight.
I thanked the lady and headed towards security. Security was a breeze so I was through within 10 minutes without any problems.
The original plan was to meet up with fellow a.netter The777Man who was transferring through AMS this morning heading back to the states from Sweden. The plans unfortunately changed last minute which gave me more than enough free time before boarding will commence (09:55).
Instead of staying at the Schengen side I decided to head over to the non-Schengen side to see what was going on there. Clearing passport control was a breeze as I used the self-service machines.
The non-Schengen side was very busy as it always seems to be each morning. I spent quite some time watching people and of course looking at the planes.
This beauty had brought fellow a.netter Martijn (CrimsonNL) back home from YUL earlier in the morning:
It was now time to head back to the Schengen side to see what was going on there. Not too much of a wait at passport control/security and I was through after 15 minutes without any problems.
A quick look at the FIDS shows a delay of 20 minutes, so for the remainder of the time I head to the end of the B pier. From here I watch one heavy after another arriving on the Kaagbaan (runway 06) and connect to the free WIFI AMS offers.
The WIFI however is very slow due to it being busy in the terminal. I am able to connect to Flightradar24 and follow the inbound. Soon enough I see a SAS A320 gently touch down on runway 06. It is mine and the registration reads OY-KAL. It is an ex Indigo bird flying with SAS since 17/12/2012.
I decide to grab my belongings and slowly head over to the gate (C12). On my way I grab a quick picture of part of the line-up at the C pier, including my A320:
Once arriving at the gate boarding hasn't begun yet so I take a quick picture of my aircraft…: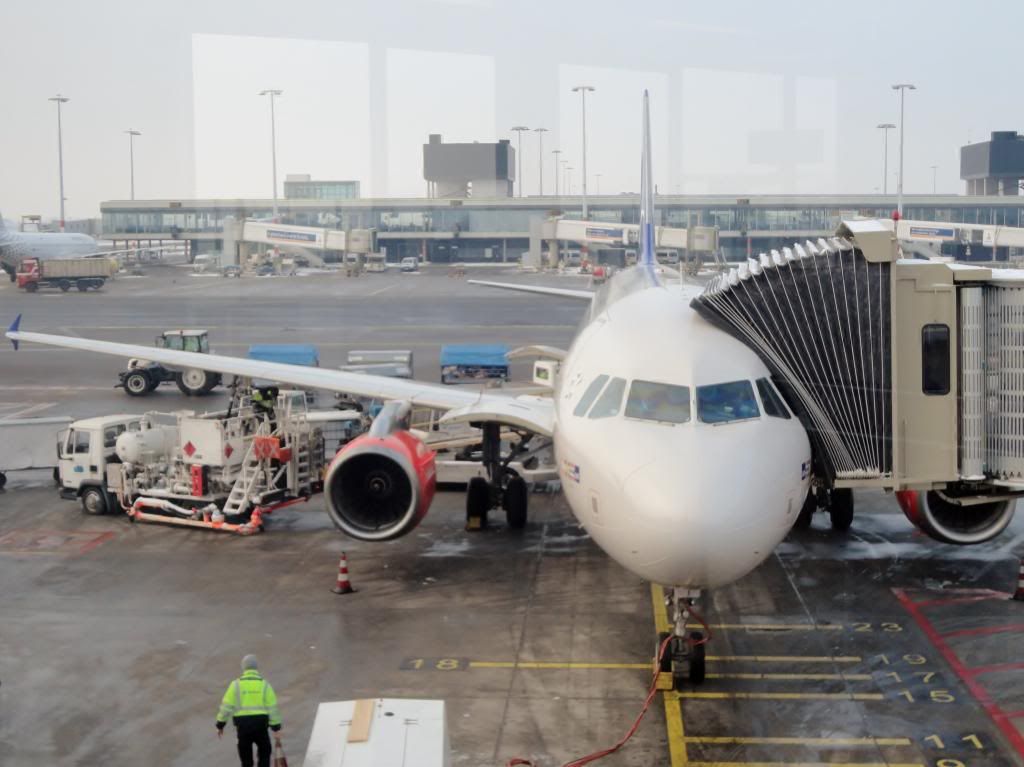 And grab a seat close to the gate: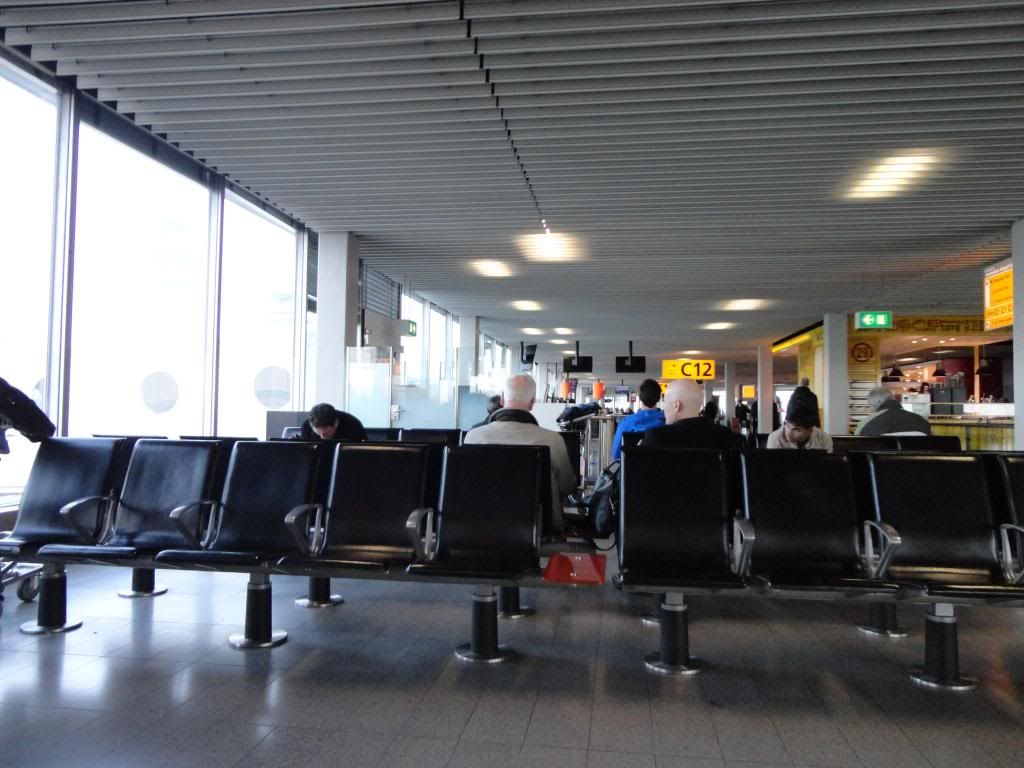 Boarding
BP for this flight: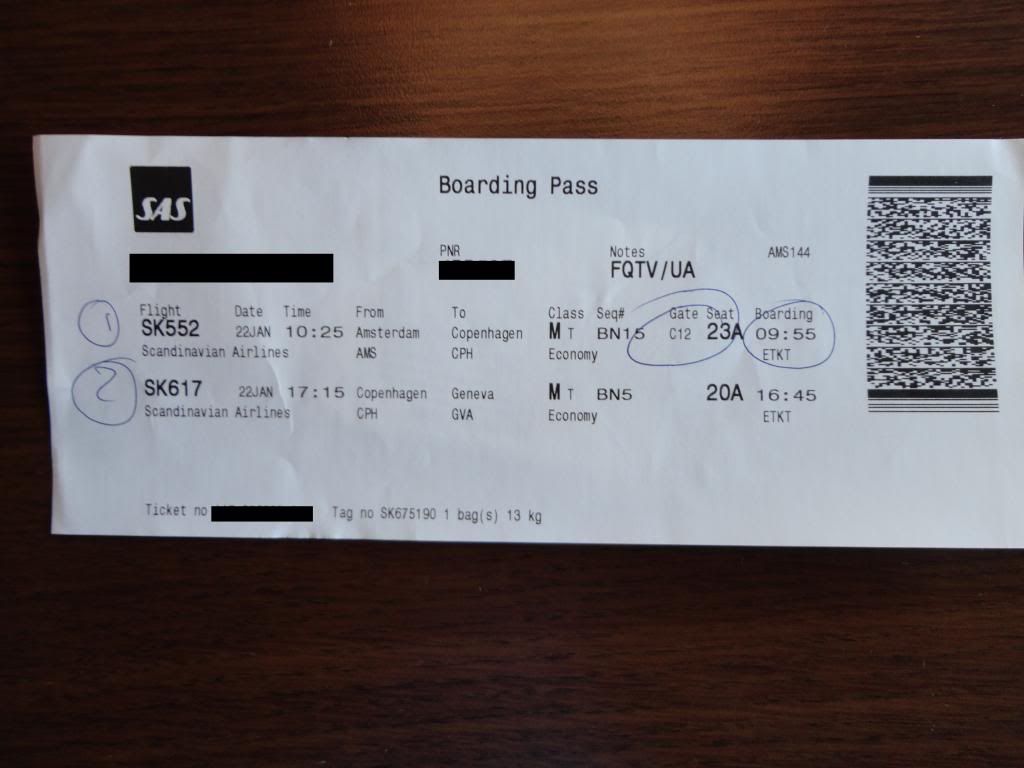 Boarding is finally announced at 10:30, 35 minutes behind schedule and 5 minutes after original STD. First the families with small children and those needing special assistance, then the biz and status passengers and last but not least, us economy passengers are allowed to board. A long line forms at the economy lane so I remain seated until most of it is gone.
Soon enough the gate agent scans my BP with a smile and wishes me a pleasant flight. I thank her and head into the jetway.
On Board
22/01/2013
AMS-CPH
SK552 // 23A
A320-232 SAS // OY-KAL
10:55-12:15
Once entering the aircraft I am greeted by a male and female FA in a friendly manner. I head into the aisle and towards my seat 20A. First impression of the cabin is a very good one. Clean, tidy and in excellent condition.
Once reaching my assigned row there is already somebody in the aisle seat (middle seat remains empty). I put my belongings in the overhead bin and take a seat:
Legroom is good: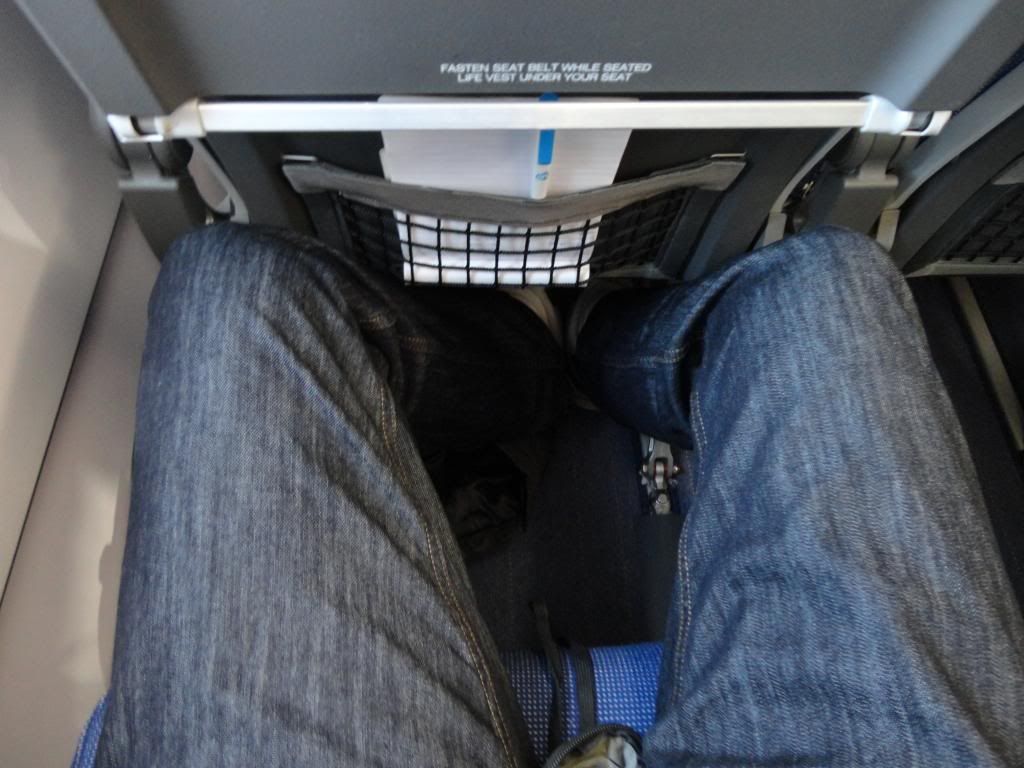 Cabin crew consists of 2 males and 2 females, all friendly and getting their jobs done. The doors were eventually closed at 10:45 and the female purser came on the PA welcoming us onboard flight 552 with destination to Copenhagen followed by the usual announcements. Announced flying time is 1 hour. Following the purser is the pilot, also welcoming us onboard and explaining our delay was due to crew problems. While still in position the crew performed the safety demonstration.
With only a half full plane we commence pushback at 10:55, 30 minutes behind schedule. After being released we make the long trek to the Polderbaan also known as 36L: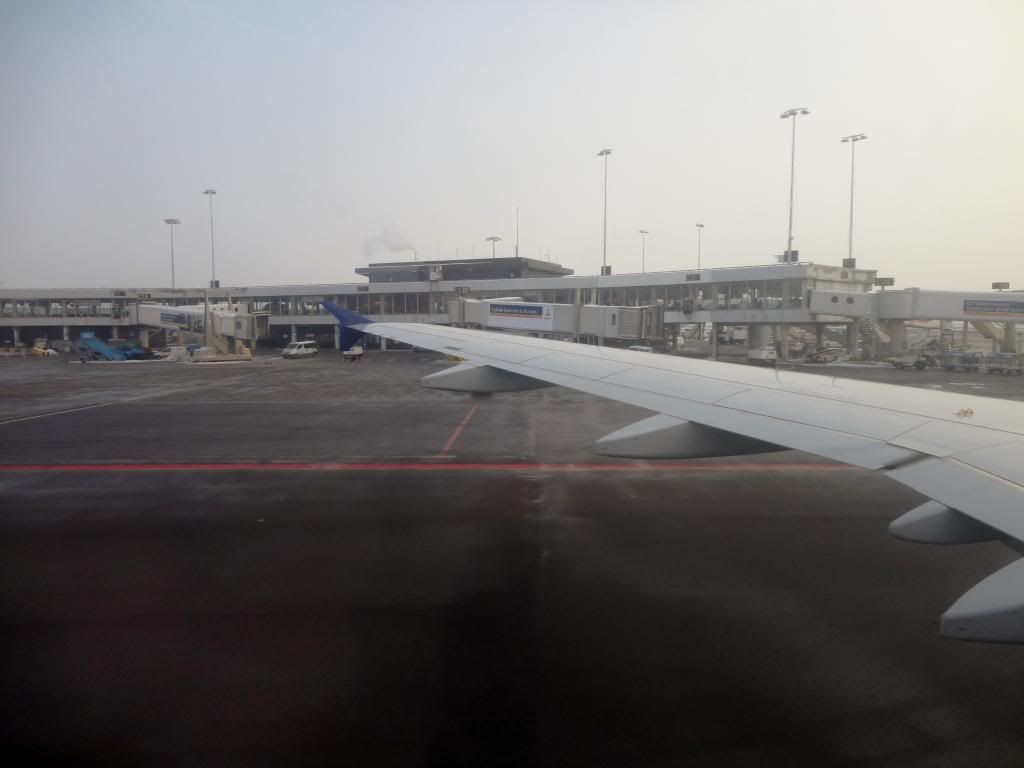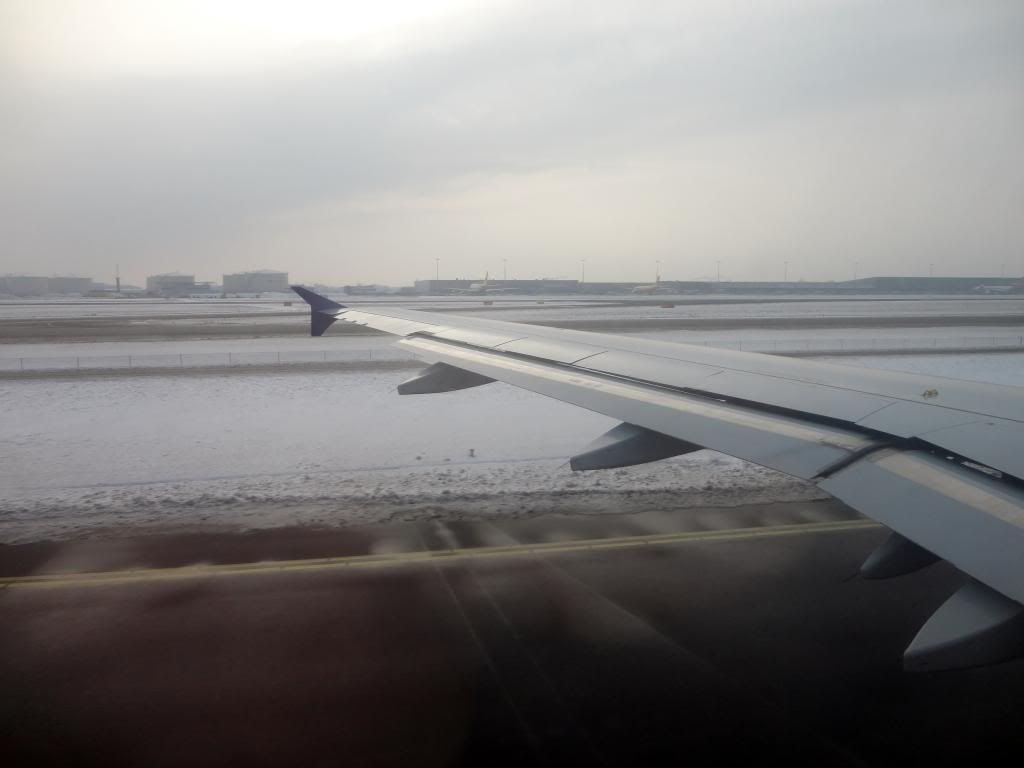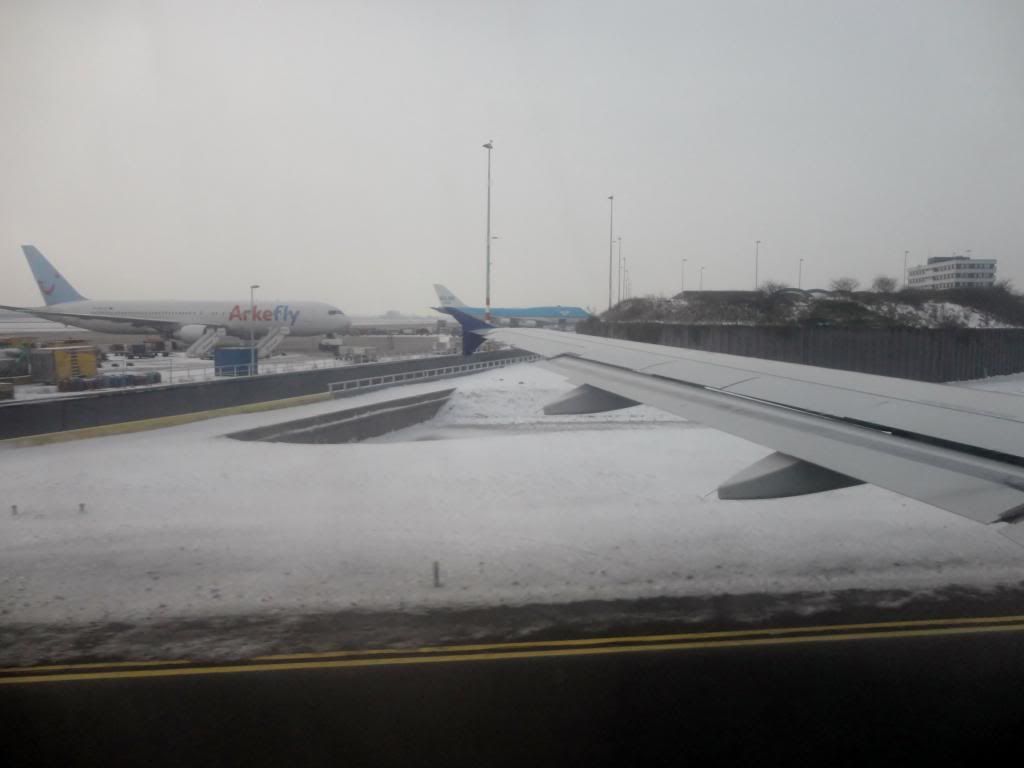 Crossing the A4 highway: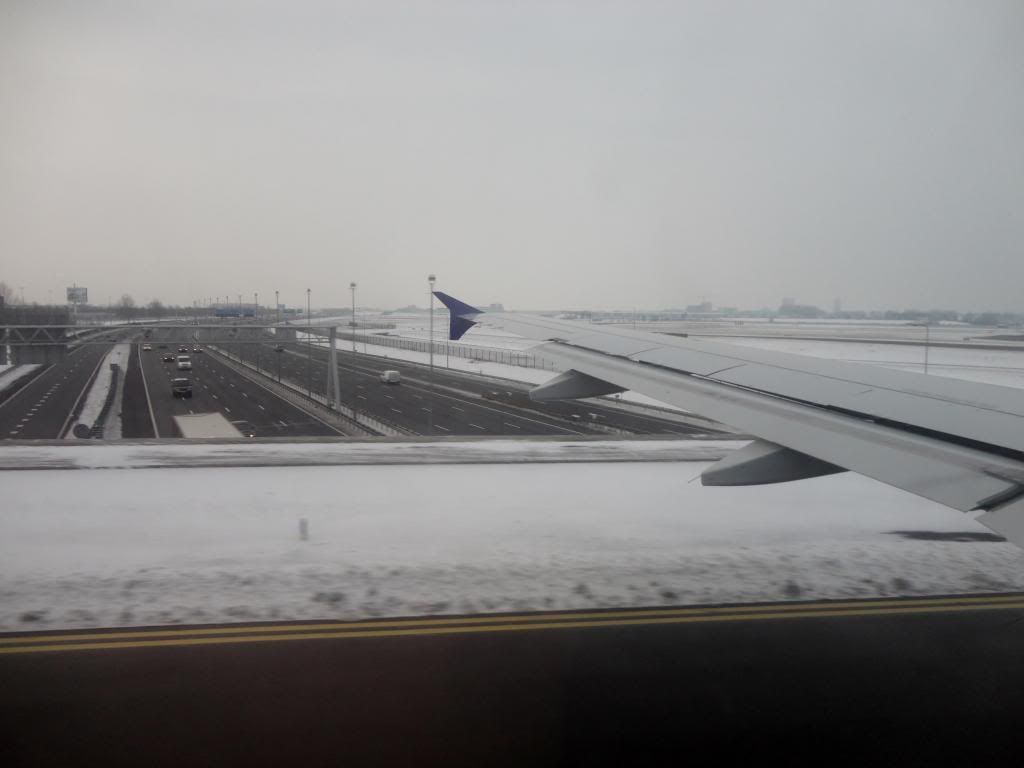 Crossing 36C/18C:
Crossing the Hoofdvaart: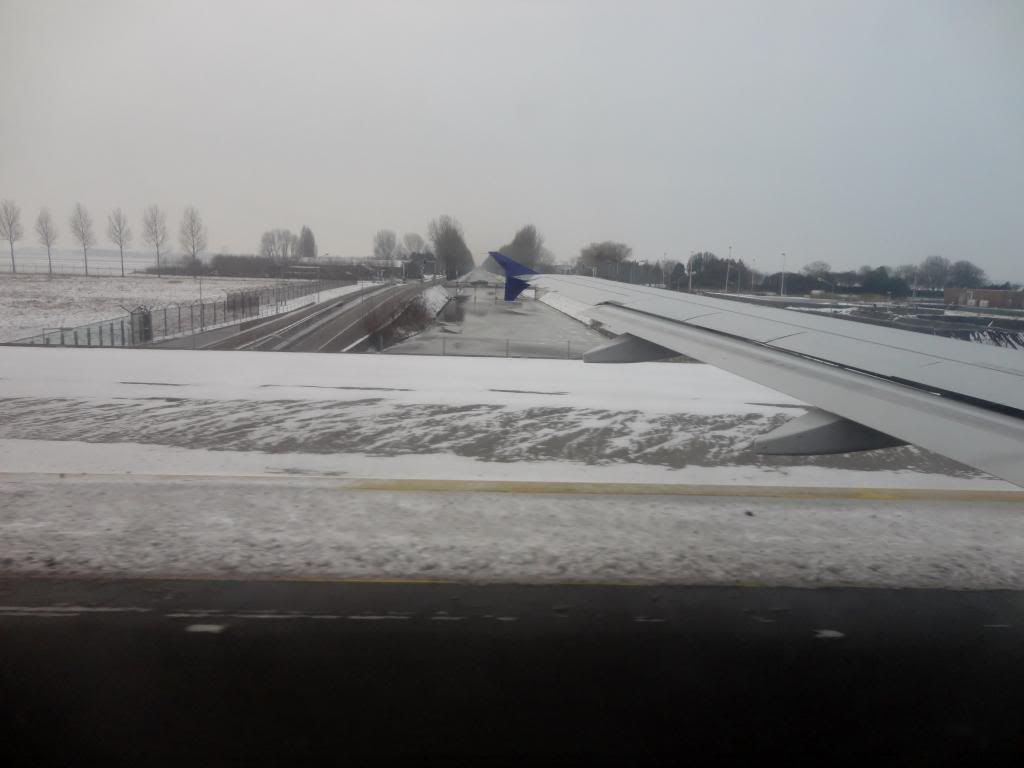 SkyTeam carriers head left while we head straight as we will get priority and aren't that heavy: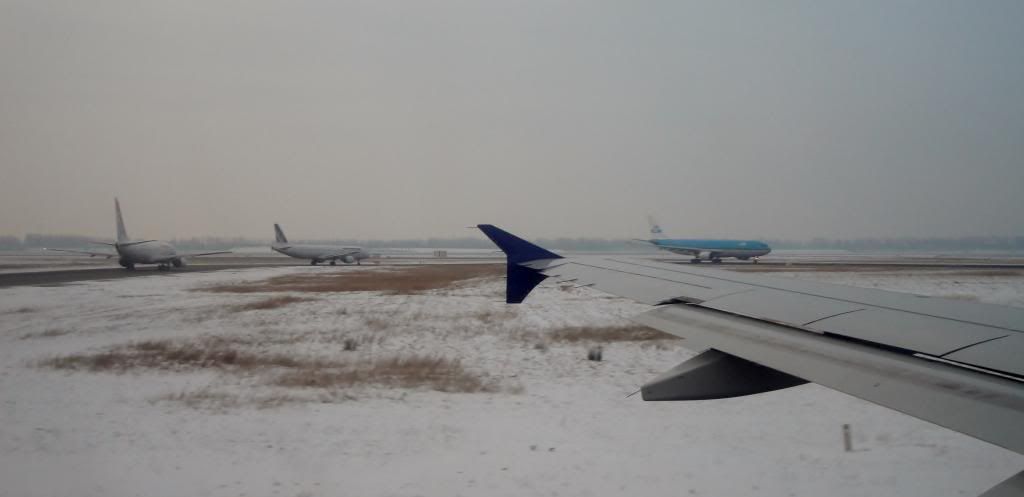 Take Off
At 11:10, 45 minutes behind schedule we roll onto 36L and start a powerful take-off: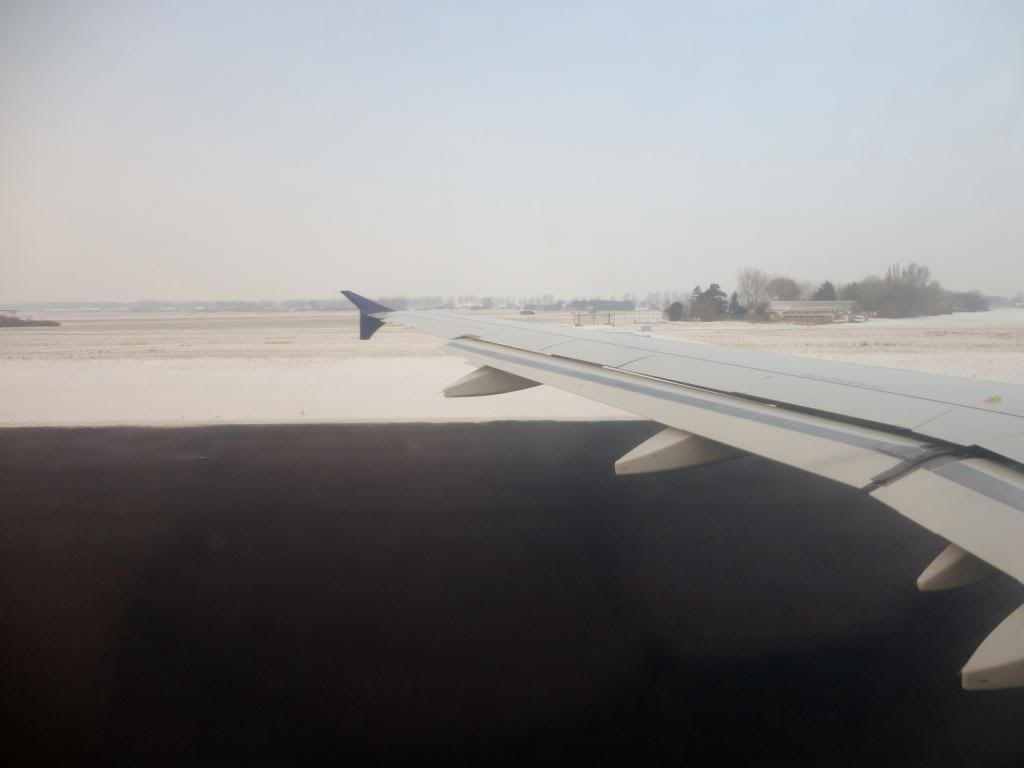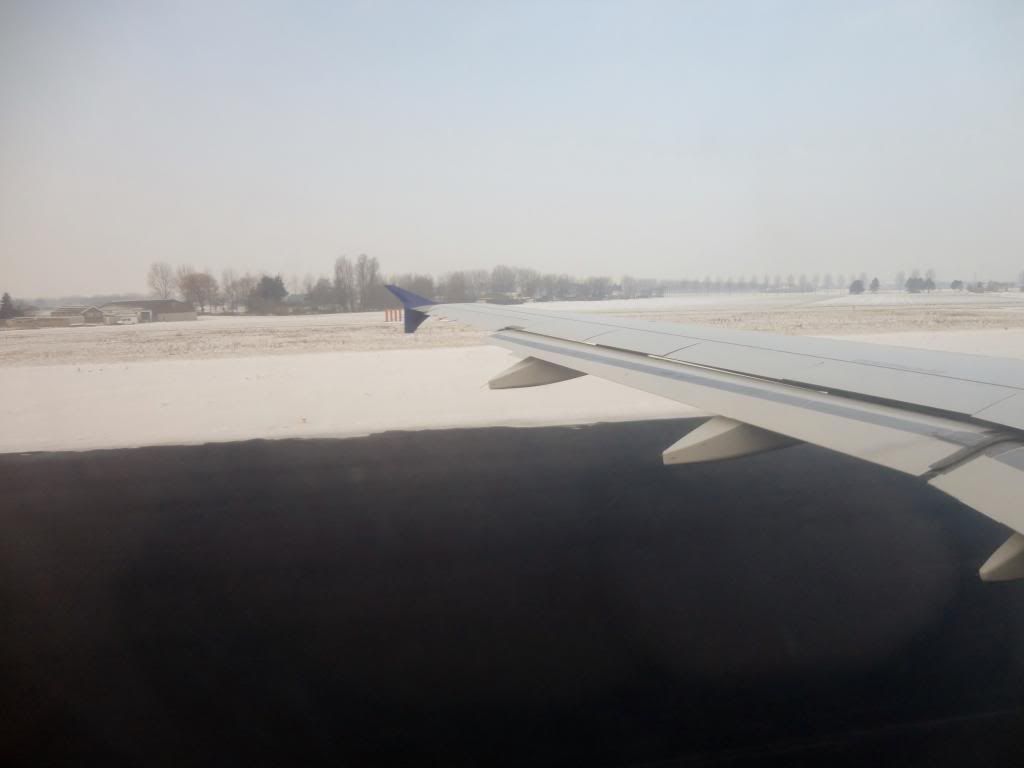 We rotate in no time: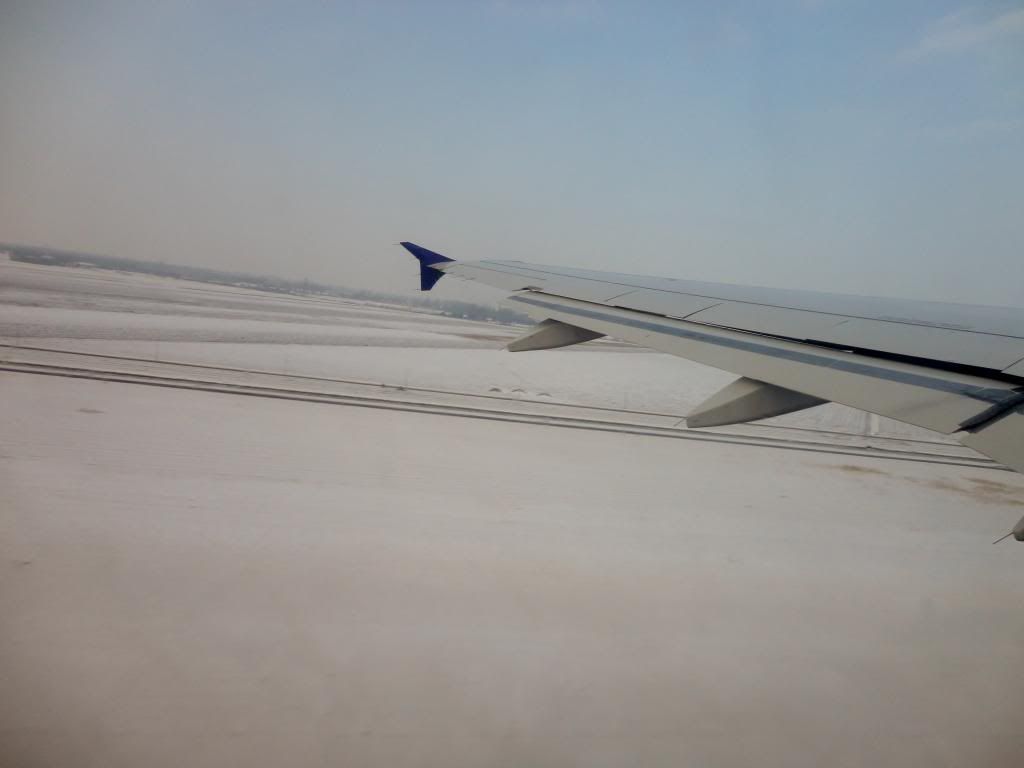 The Dutch landscape looks beautifully covered in snow: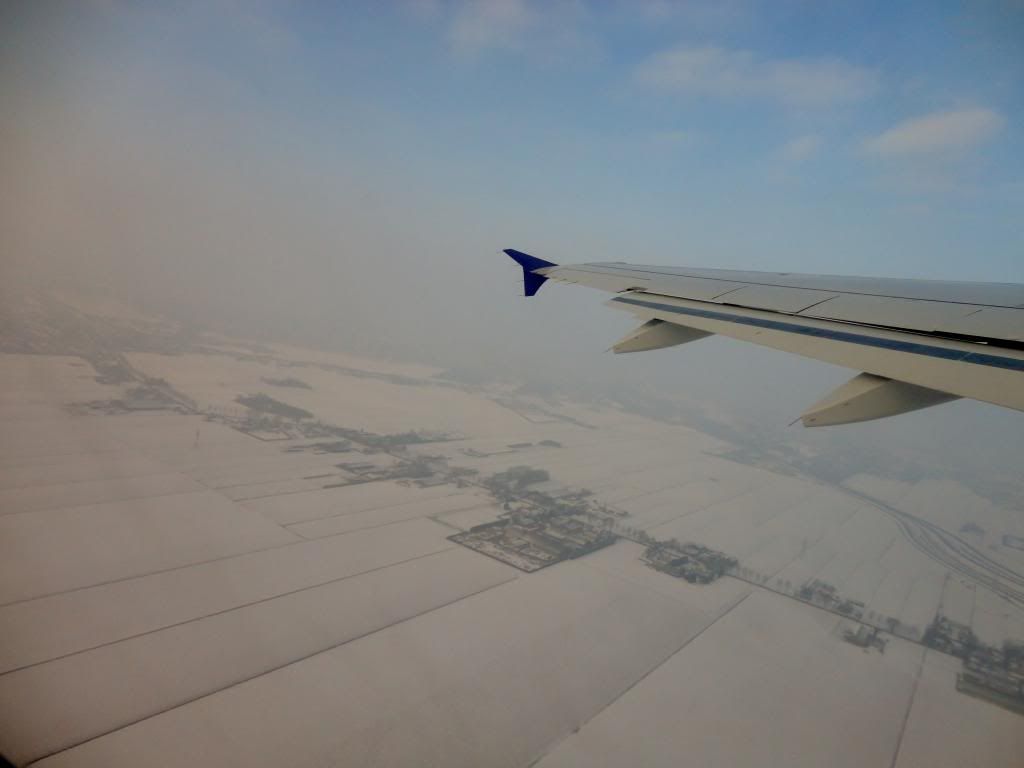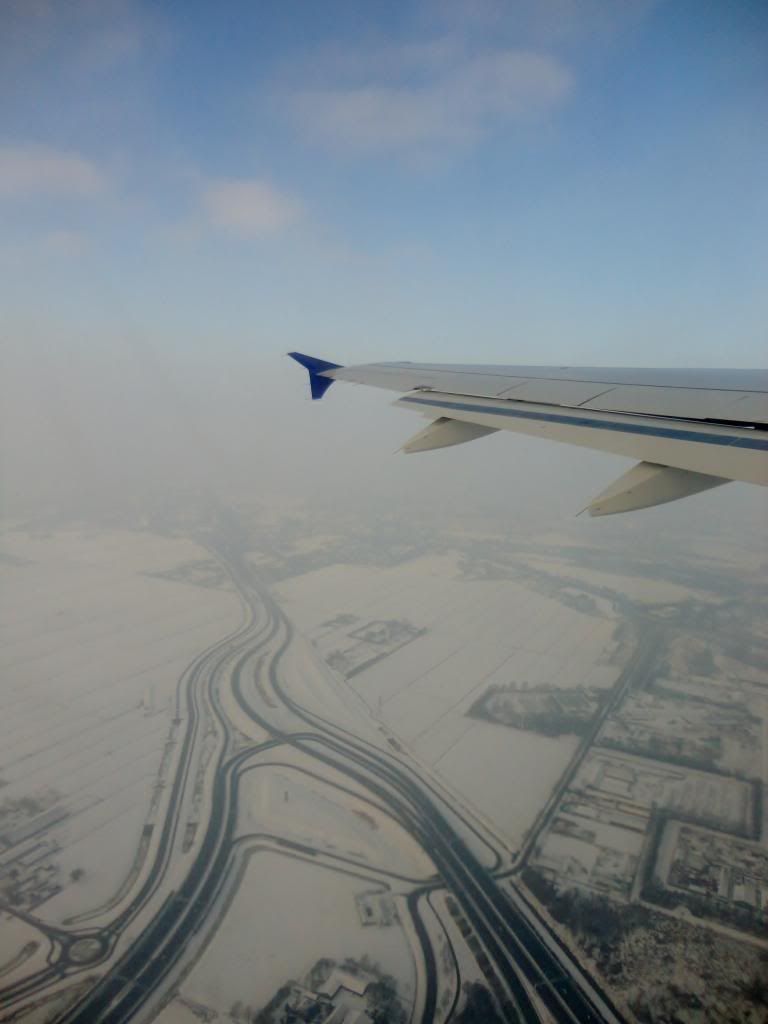 The sun was also starting to make its appearance: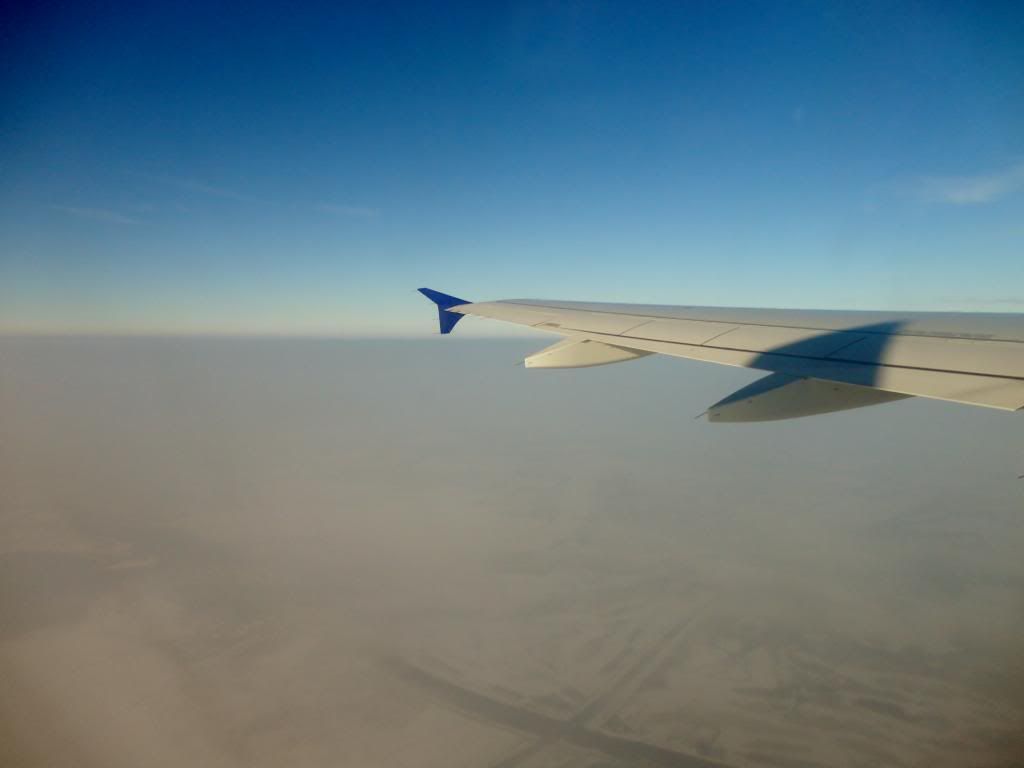 Seatpocket Contents
While still climbing I took a quick look at the seatpocket contents, first the Cloudshop: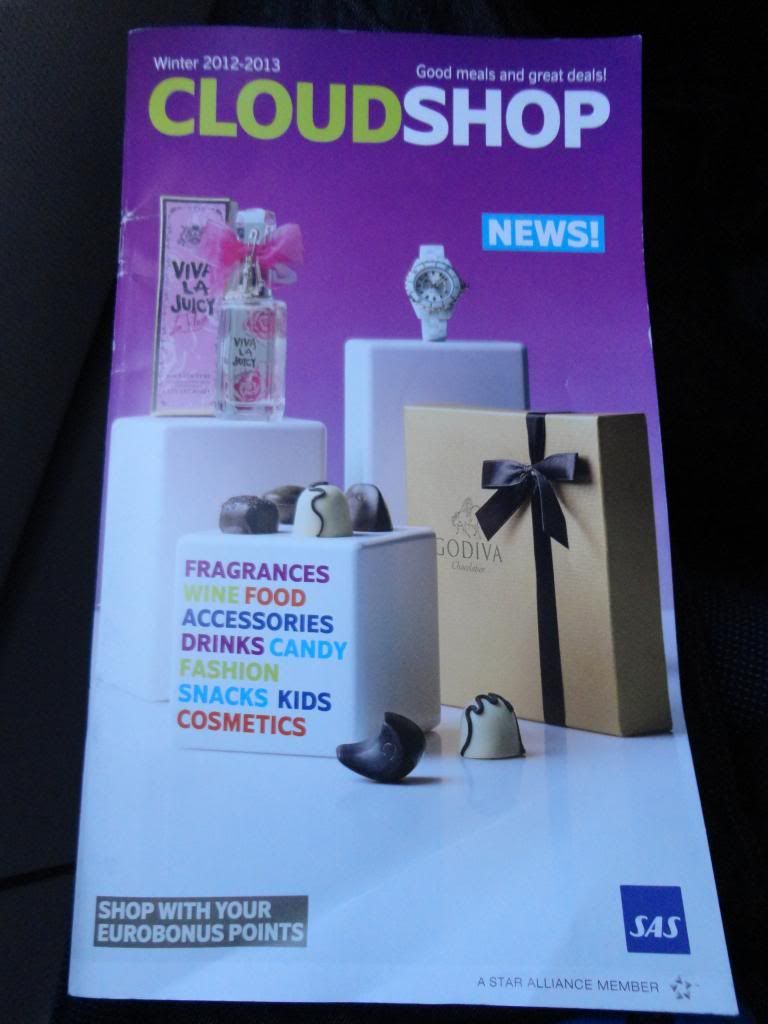 Scanorama magazine:
And of course the safety card: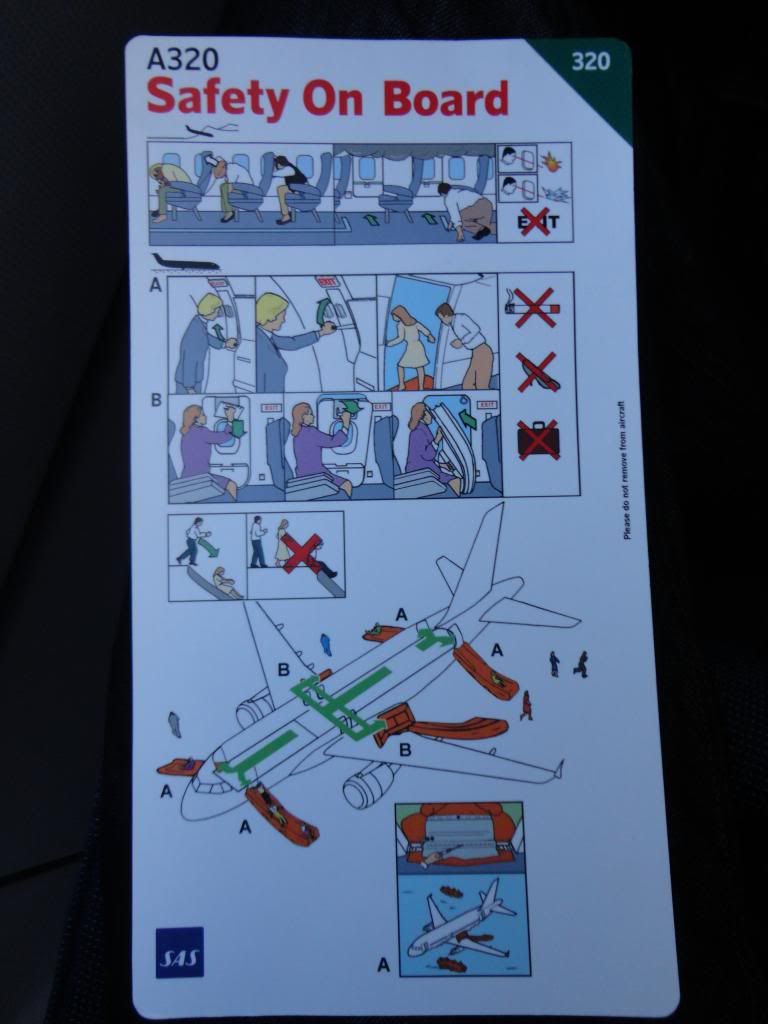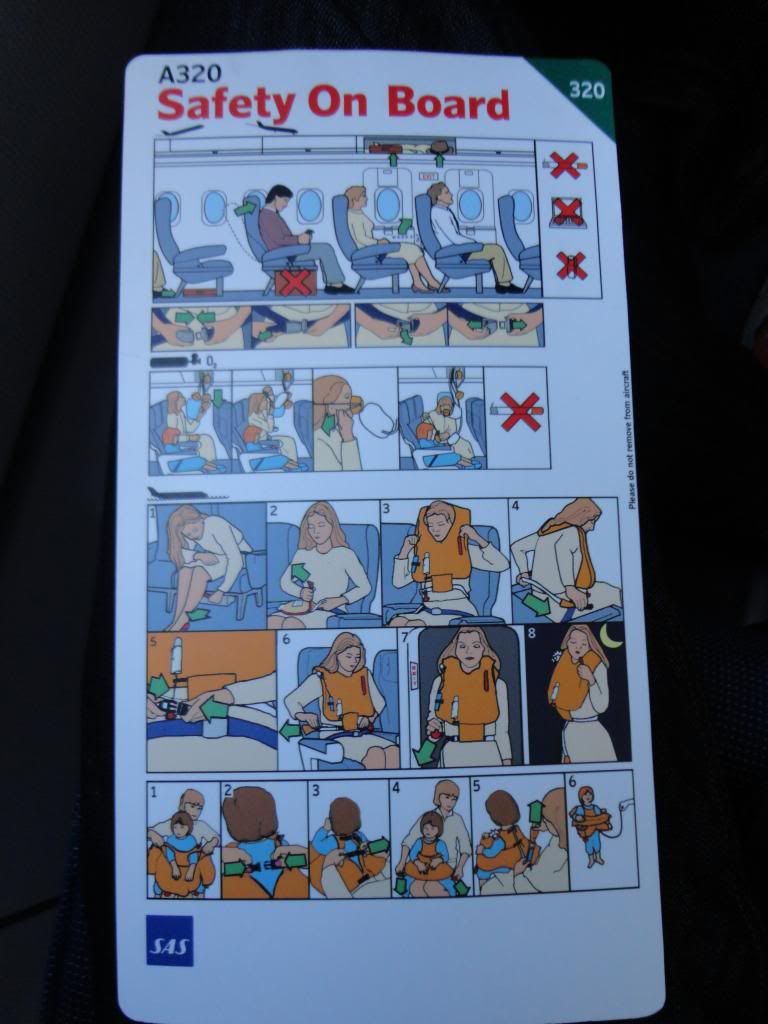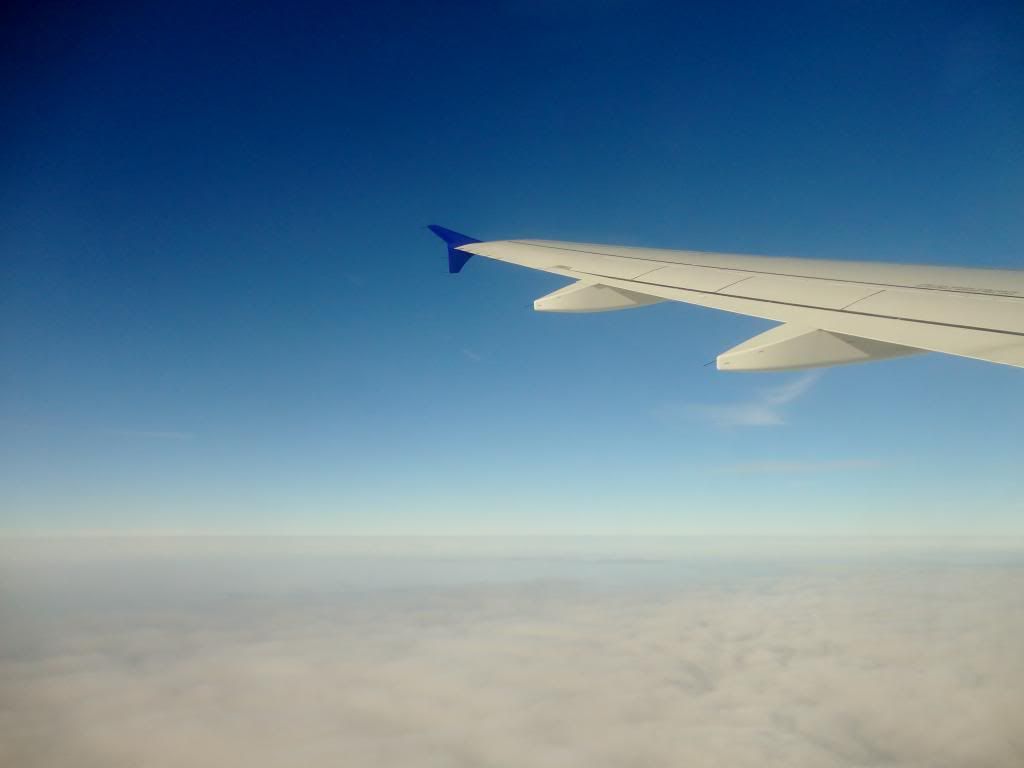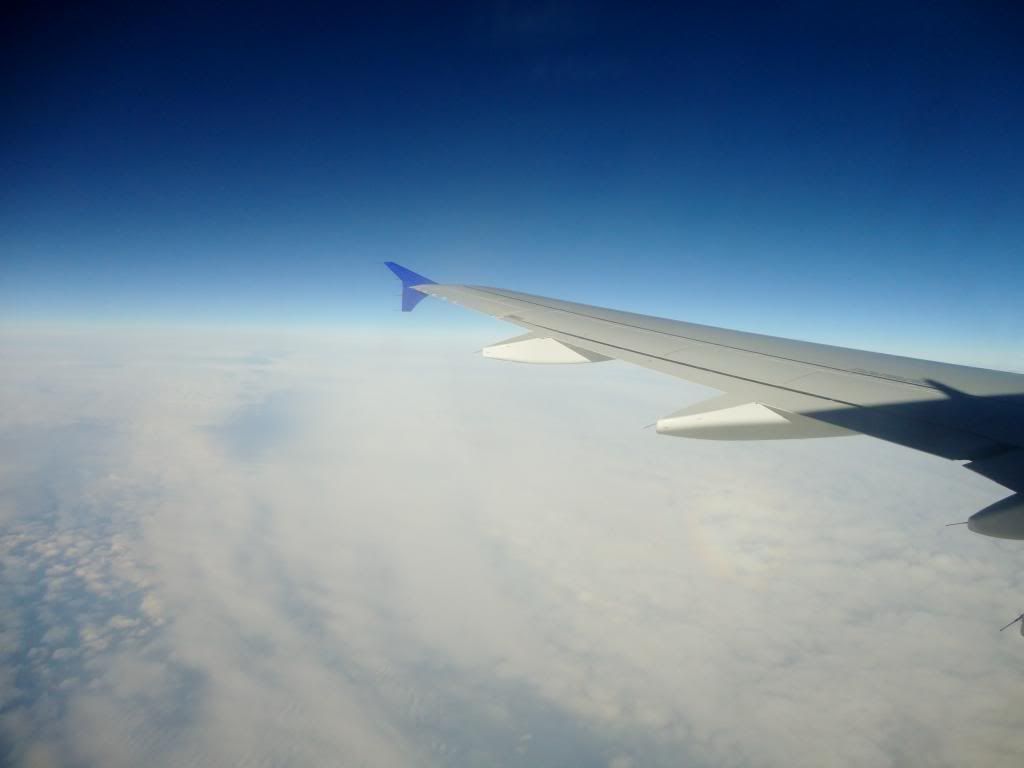 In the meantime the crew came around offering complimentary water, tea and coffee. Other drinks and food are for purchase. Once they reached my row I got a coffee which (as some people like to say) hit the spot nicely:
In no time the FO came on the PA announcing our descent into CPH, once again apologizing for the delay and thanking us for flying SAS:
Through the clouds: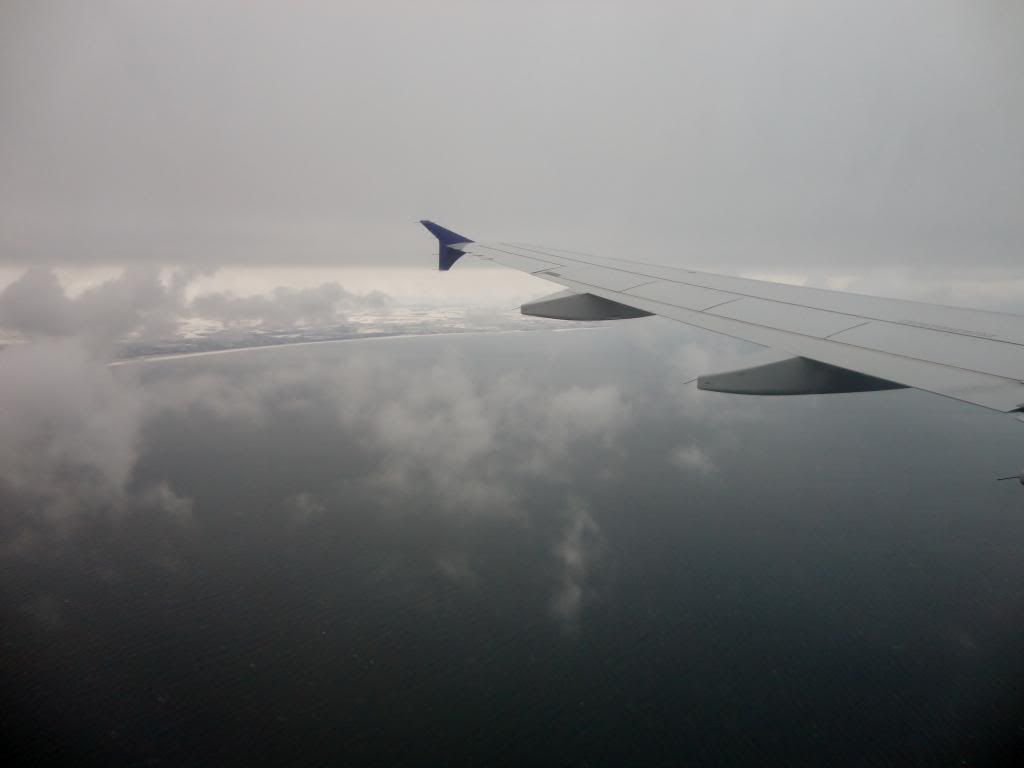 One final left turn…: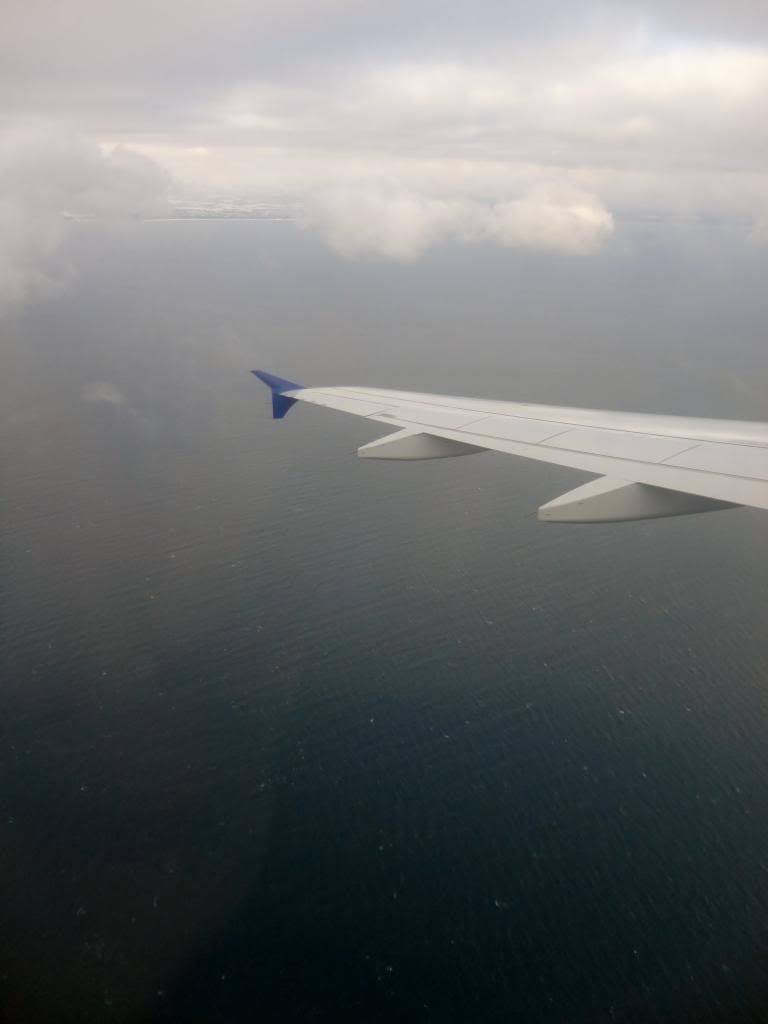 Continued Below