Feedback always appreciated.

I > Background:
I have always wanted been fascinated to go off the beaten path, and a self-made promise to visit all 200 odd countries before turning 40 meant that Timor-Leste has been high on the list. While several cornerstone projects had kept me busy for the better part of 2012, it also meant that I'd get a nice 2 month break to catch up on my traveling.
In September, I decided to make several trips, and the first of that was to Timor-Leste, Asia's newest nation state. Now, Timor-Leste is an awfully long place from Caracas and unsurprisingly, no airline had filed a O&D fare. Booking thus took form in 3 tickets; CCS/LAX; LAX/DPS; and DPS/DIL.
I believe there has been a report to Dili on Batavia Air before. This will be the first on Merpati Nausantara and cover the inbound DIL-DPS segment.
From now on, I will give readers an outline of the trip, thanks to GC Map: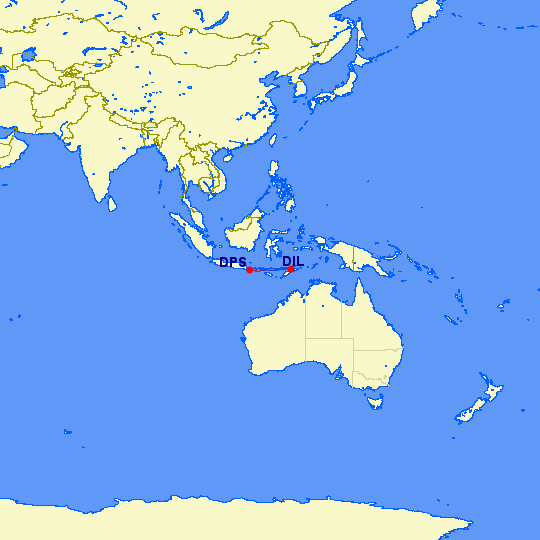 II > Pre-Flight:
a) Before Airport:
Merpati Nusantara is one of Indonesia's oldest airlines based out of Jakarta. It offers scheduled service to more than 25 destinations in Indonesia, along with international service to Timor-Leste and Malaysia.
Booking was done by an Indonesian friend of mine through a local travel agent as Merpati's website at
http://www.merpati.co.id/
provided no way of doing so with an international credit card. I am always surprised that in 2012 an airline would not offer a seamless online channel given it has the lowest distribution cost. Of course, there was no ability to choose a seat or view the reservation online. That would be revolutionary …
b) At Airport:
After an absolutely incredible time in Timor-Leste – seriously, one of the most fascinating places in the world, and one of my new favorite place, it was time to head back. Dili Airport is a small place, and follows the design of many other Indonesian airports in the "Nusantara". When I arrived, security was high, and since I was in a rush, got checked in by a super nice lady and went straight to immigration and security.
Upon reaching the gate area, boarding was done 20 minutes prior to departure, and I knew at that time that the flight would push back behind schedule. Of course, none of this was mentioned at any point, nor any apologies given when the flight subsequently took off over 45 minutes behind STD.
The first thing I noticed upon entering the aircraft were the pretty crew members who welcomed me warmly, and the sense of "old-school" on the 734. One of the rarer versions of the classic 737 aircraft, this one looked like it has seen better days.
Airport - External:
(Dili Airport)
Check-in:
Airport - Internal:
(Pre-Security @ DIL)
NONE
(FIDS)
NONE
(Post-Security @ DIL)
(What airline is this?)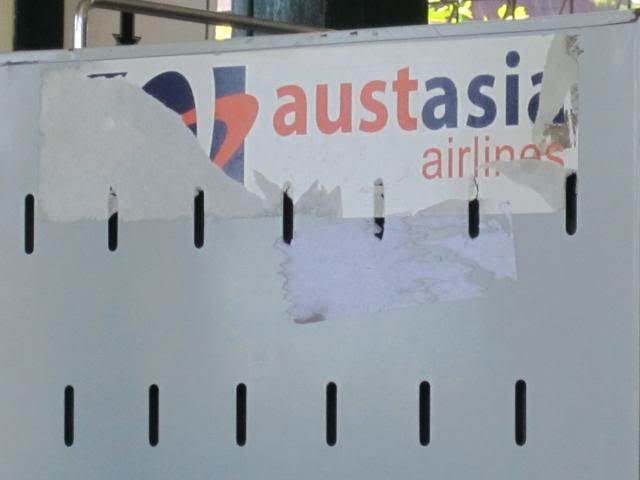 *
*
Scenes of the tarmac:
Lounge
NONE
Boarding & Gate Area:
*
*
(Classic "ILBST" boarding)
III> In-Flight:
a) Service Schedule + Impressions:
On the ground:
+ No service
In the air:
+ Meal service
b) Aircraft + Seats:
Merpati's classic 734 looks even more retro in the old styled blue livery that it has donned for a while. Inside, there are plenty of cues that show the aircraft's age including the TV monitors, the lavatory, and especially the overhead controls. The faux leather seats are comfortable enough, but the recline in the non-exit row is surprisingly tight. This is strange as older generation aircraft, especially those in Asia, are known to have decent legroom. Moreover, seat recline was also much below industry norms.
Aircraft:
(@DIL)
Views from Aircraft:
(DIL)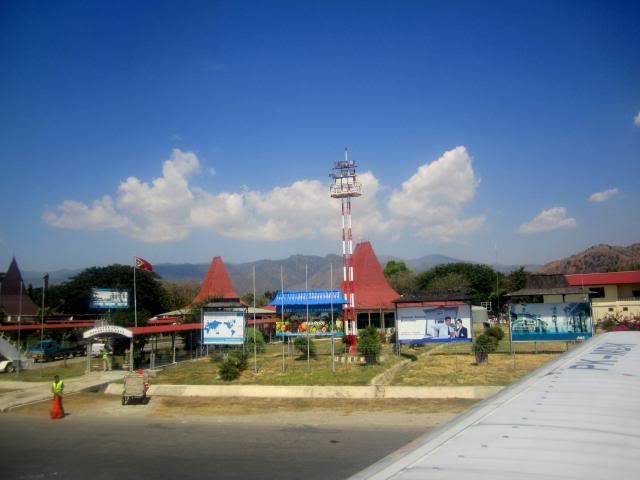 *
*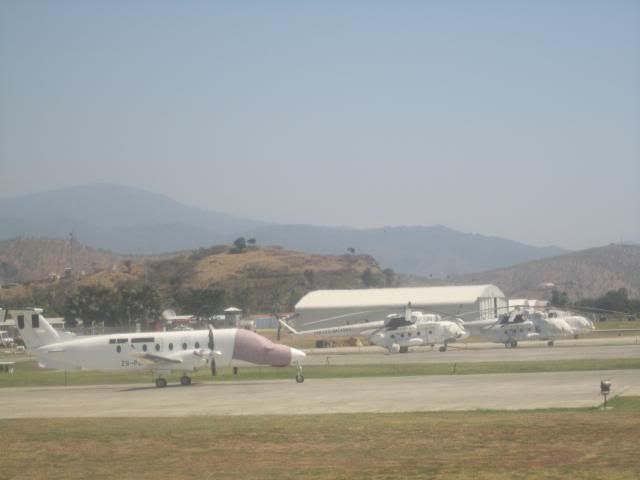 *
(Farewell DIL)
General Seat Views + Seat Legroom
(Legroom – Regular Seat)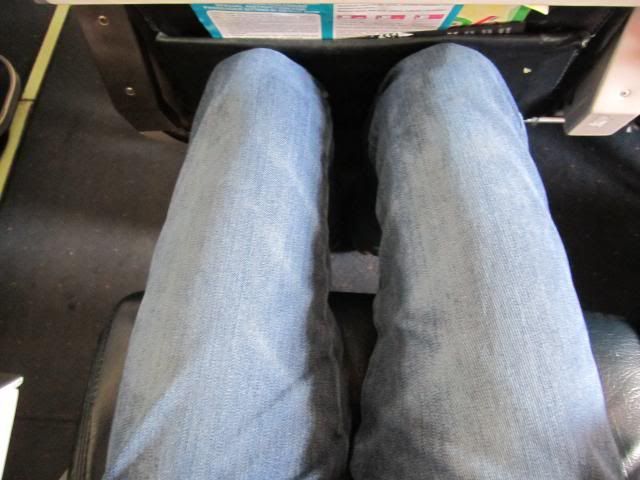 (Legroom – Exit Seat – I later moved on)
(Around Seat)
NONE
(Controls)
NONE
(Blanket +)
NONE
Seat Recline + Angle View:
(Barely any recline)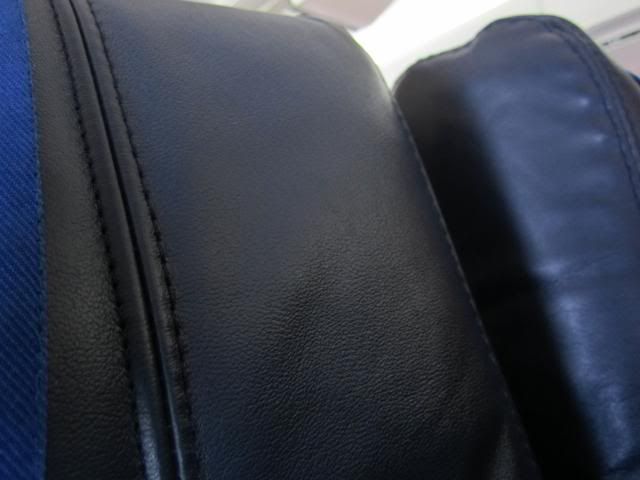 (Angle view)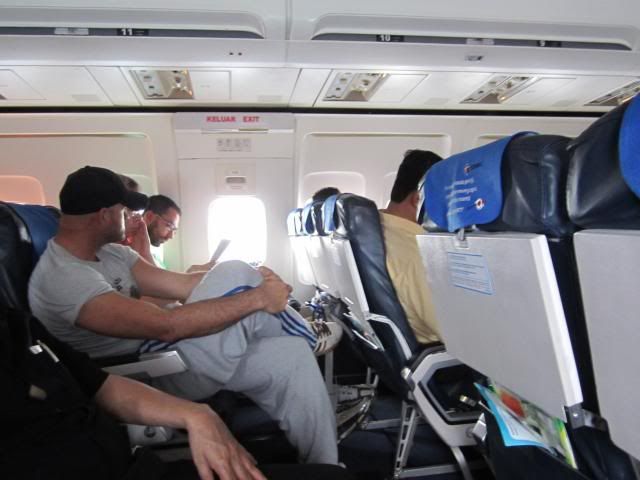 Cabin: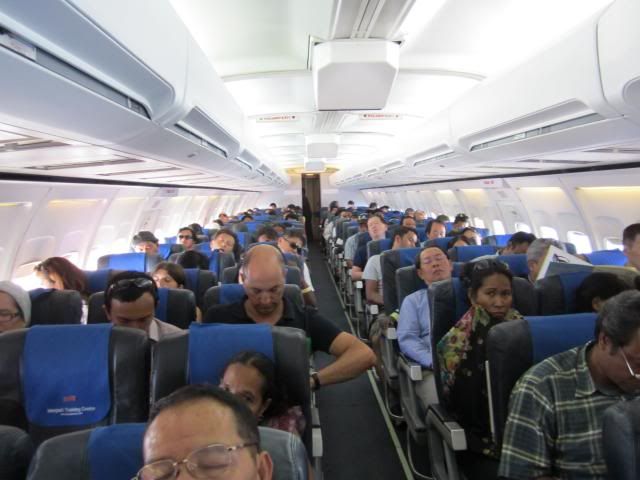 *
*
(Bathroom)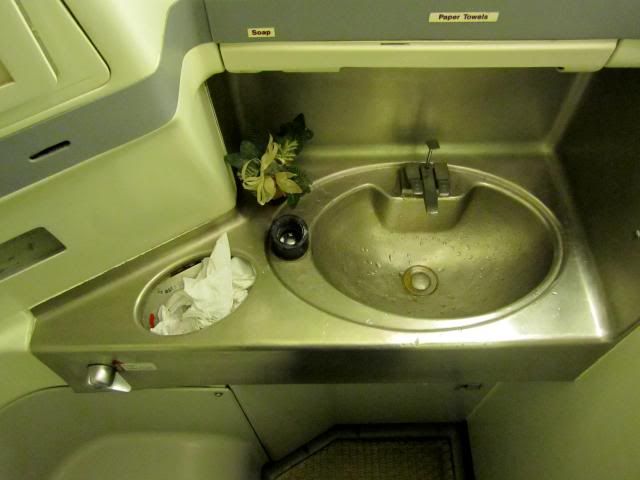 c) Meal + Beverage:
The ubiquitous snack box that had become the norm in most parts of Latin America seems to have started finding its way in Asia. The hot food service that I had taken for granted in an Asian full service carrier had been replaced. In Merpati's version, we were given some cold soggy fries, cold chicken with some nasty sauce, cold vegetables, a piece of bread and the nastiest most artificially colored dessert I had seen in a while. Thankfully, the "beng beng" snack bar saved the entire meal from being an utter disaster. Seriously though, this was one of the worst meals I had ever been presented with in any class of service.
*
d) Inflight Entertainment:
Merpati's 734 came equipped with old fashioned TV's. They were not programmed to show anything besides the air show. However, the in-flight magazine was nice, and gave a good sense of Indonesia and the airline. It always fascinates me looking at the route map of an Indonesian airline and being reminded how big the world is, and how many towns I will probably never have a chance to visit.
(MZ's IFE – had the air show on)
(Magazines + Newspapers)
NONE
("In-flight magazines", Boarding Passes, etc.)
e) Crew:
In the greater Asian region, I have a soft spot for crewmembers from Japan, India, and Indonesia. This Merpati crew was no different. They were unfailingly polite and always smiled at any request. I did not have much interaction with them during most of the flight, but the 2 "tests" I did with the call button were answered within a matter of minutes. These crew should be sent to Air France / Iberia to train!
IV> Post-Flight:
We never quite made up the time and landed in DPS 45 minutes behind schedule. Touch down was smooth and after a rather long immigration process, I was landside with my friend waiting. I should have remembered that Bali's Denpasar Airport used is not the quiet place it was when I first visited in 1999. Moreover, I should have taken cue from the flight attendant who told me to rush as I disembarked as "Transaero flight awaits" and "you know how aggressive those Russians can be." She was right.
After that, it was a week of Indonesian hospitality – I absolutely adore the country and her people!
(Runway @ DPS – weird as I type as I just see the Lion Air playing not quite making it)
(Transaero plane – unimaginable a few years back)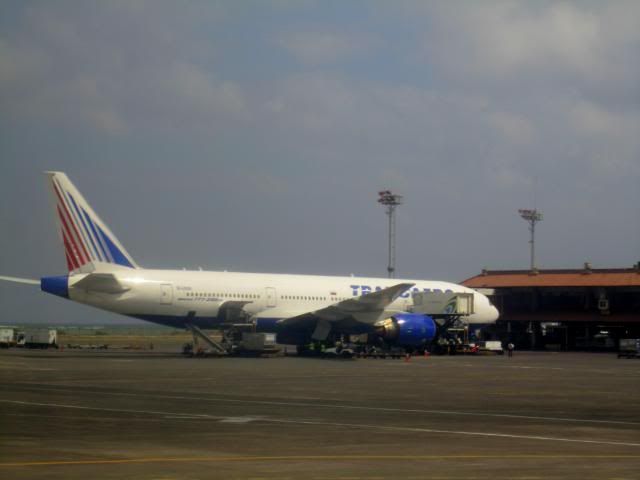 *
(Um)
(Heated Indonesian competition)
(Bali's distinctive airport)
V> Impressions + Scores:
In Indonesia's ever-changing aviation landscape, Merpati has been there for a while. While it does fly to some remote areas, it has not been as dynamic or ambitious as some of the countries other carriers making me wonder if it has the right strategy in place. The service itself was decent enough – the soft product was very good. In-flight and on-ground crew always smiled. But the again, it is Indonesia. On board, the service needed a major overhaul and showed its age … oh, and the food just sucked. Please don't serve cold chicken!
Merpati is a decent airline. However, in Indonesia's crowded airline space, it takes more than "average" to stand out. As the recent Lion Air crash confirms, the country needs the airlines to maintain great safety while trying to differentiate from each other. I would of course fly Merpati. But, it would be driven by price and schedule. No thump up or down.
So how did MZ stack up with the rest of the competition?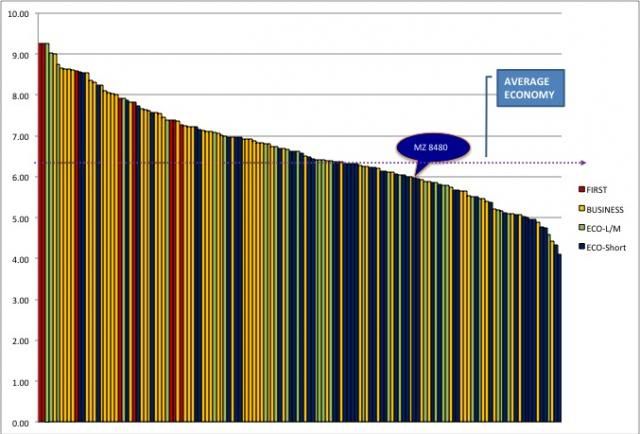 VI> Other Trip Reports:
PREMIUM:
9.27: JET AIRWAYS **FIRST** (110): LHR-BOM: 10/2010
9.27: THAI AIRWAYS **FIRST** (108): BKK-LHR: 07/2010
9.00:
All Nippon: ANA (133): NRT-FUK-BOM: 12/2011
8.66:
Brussels Airlines (93): FIH-BRU: 01/2010
8.64:
Turkish Airlines (59): JFK-IST: 11/2008
8.63:
Jet Airways (88): JFK-BRU: 10/2009
8.61:
Air Canada (49): YYZ-SCL: 06/2008
8.60: SWISS **FIRST** (142): ZRH-YUL: 07/2012
8.54:
Turkish Airlines (77): GRU-DKR-IST: 04/2009
8.36:
Kingfisher (98): BOM-HKG: 01/2010
8.30:
Jet Airways (74): KWI-BOM: 04/2009
8.23:
United Airlines (72): SFO-SYD: 03/2009
8.11:
Aeroflot (33): MOW-DEL: 09/2007
8.05:
Air India (80): CCU-JFK: 06/2009
8.04:
Korean Air (40): NRT-ICN: 10/2007
8.02:
Delta Airlines (24): JFK-CDG: 08/2007
7.91: KOREAN AIR **FIRST** (143): ICN-YVR: 02/2013
7.82: UNITED AIRLINES **FIRST** (110): SFO-ICN: 10/2010
7.82:
Singapore Airlines (06): EWR-SIN: 09/2006
7.66:
Sri Lankan (104): DEL-CMB: 07/2010
7.64:
Royal Jordanian (91): AMM-YUL: 12/2009
7.61:
China Southern (103): LOS-DXB: 04/2010
7.57:
Pakistan Airlines (102): ORD-BCN: 06/2010
7.55:
Air Canada (132): YEG-LHR: 06/2011
7.52: LUFTHANSA **FIRST** (141): BLR-FRA: 05/2012
7.46:
LAN (55): YYZ-JFK: 09/2008
7.38: AMERICAN AIRLINES **FIRST** (112): LHR-JFK: 10/2010
7.38: CATHAY PACIFIC **FIRST** (109): HKG-LHR: 10/2010
7.36:
Turkish Airlines (134): IST-LAX: 10/2011
7.25:
Iran Air (88): BOM-IKA: 12/2009
7.23:
Air Pacific (120): NAN-APW-HNL: 01/2011
7.23:
Virgin Atlantic (81): BOS-LHR: 07/2009
7.14:
Swiss (52): SCL-GRU: 06/2008
7.11:
Aer Lingus (105): MAD-IAD: 05/2010
7.11:
Austrian (79): VIE-JFK: 06/2009
7.07:
Privatair (84): BOM-FRA: 08/2009
7.02:
Qatar (68): DOH-JFK: 01/2009
6.96:
Etihad (61): JFK-AUH: 12/2008
6.93:
South African (140): JNB-PER: 02/2012
6.93:
Lufthansa (139): ASM-JED-FRA: 02/2012
6.93:
Delta Airlines (18): SEA-JFK: 11/2006
6.88:
Egypt Air (123): LHR-CAI: 03/2011
6.84:
ConViasa (65): CCS-DAM: 01/2009
6.82:
Air Burkina (106): BKO-OUA: 06/2010
6.81:
Air Canada (17): ICN-YYZ: 10/2006
6.75:
Afriqiyah + Libyan (113): CAI-TIP: 11/2010
6.70:
KLM (32): EBB-AMS: 08/2007
6.52:
Emirates (99): LHR-DXB: 02/2010
6.39:
South African (97): EZE-JNB: 01/2010
6.36:
Privatair (60): MUC-BOS: 12/2008
6.29:
TAM Brasil (96): POA-EZE: 02/2010
6.25:
Korean Air (45): NAN-ICN: 10/2007
6.21:
Iberia (87): BOS-MAD: 10/2009
6.11:
A SKY (107): OUA-COO: 06/2010
6.11:
TAP Portugal (53): GRU-OPO: 06/2008
6.00:
Gulf Air (75): BOM-BAH: 04/2009
5.88:
African Express (89): DXB-NBO: 11/2009
5.75:
Singapore Airlines (16): CCU-SIN: 10/2006
5.64:
SATA Azores (101): BOS-PDL: 04/2010
5.64:
NorthWest (46): ICN-NRT-SEA: 10/2007
5.54:
Ethiopian Airlines (95): ADD-BOM: 01/2010
5.46:
Icelandair (83): KEF-BOS: 08/2009
5.39:
LOT (54): WAW-JFK: 06/2008
5.21:
Egypt Air (73): CAI-IST: 02/2009
5.11:
Tunisair (115): TUN-ORY: 12/2010
5.07:
TACA (66): JFK-SAP: 01/2009
4.89:
TAAG Angola (117): TMS-LAD: 12/2010
4.42:
Air France: CDG-JNB (25): 08/2007
ECONOMY: Long + Medium:
9.26:
Air India (48): JFK-DEL: 02/2008
9.04:
First Air (129): YEG-YFB: 06/2011
8.74:
Japan Air Lines (130): NRT-BOS: 04/2012 – INAUGURAL
7.99:
WestJet (131): YYZ-YYC: 06/2011
7.38:
Avianca (01): BOG-LIM: 07/2006
7.07:
Sri Lankan (62): KWI-CMB: 12/2008
7.00:
LAN (94): IPC-SCL: 01/2010
6.81:
STP Airways/Euro Atlantic (116): LIS-TMS: 12/2010
6.74:
Air Asia (136): VTE-KUL: 12/2011
6.67:
Air Malta (124): MLA-FRA: 04/2011
6.63:
Vladavia (126): KHV-PEK: 06/2011
6.41:
Air North (127): YEV-YEG: 06/2011
6.41:
Avianca (78): JFK-BOG: 05/2009
6.41:
American Airlines (58): LHR-BOS: 11/2008
6.39:
Condor (85): SEZ-FRA: 09/2009
6.26:
Jet Blue (21): CUN-JFK: 02/2007
6.11:
Caribbean Airlines (119): POS-FLL: 01/2011
6.06:
Air Canada (04): YYZ-YVR: 09/2006
5.89:
USA 3000 (19): PUJ-BDL: 01/2007
5.85:
Spanair (69): MAD-LPA: 02/2009
5.80:
Canadian North (128): YEV-YVQ-YZF-YEG: 06/2011
5.79:
Air New Zealand (42): RAR-NAN: 10/2007
5.52:
Aerolineas (86): USH-AEP: 10/2009
5.46:
TAP Air Portugal (23): OSL-LIS: 05/2007
5.19:
Air Europa (70): LPA-MAD: 02/2009
5.16:
Iberia (71): MAD-BOS: 02/2009
5.11:
Air China (82): FRA-PEK: 08/2009
4.59:
IR Aero (125): IKT-VVO: 06/2011
ECONOMY: Short
8.56:
Paramount Airways (38): BLR-MAA: 09/2007
8.56:
Kingfisher (64): HYD-CCU: 12/2008
8.24:
Kingfisher (14): IXA-GAU: 10/2006
7.87:
Indian (34): BOM-MAA: 09/2007
7.72:
Alliance Air (13): CCU-IXA: 10/2006
7.57:
Indian Airlines (10): DEL-CCU: 09/2006
7.23:
West Jet (03): YYC-YVR: 09/2006
7.15:
JetLite (37): BOM-GOI: 09/2007
6.98:
Air Koryo (100): PEK-FNJ: 04/2010
6.96:
Maldivian (137): MLE-TRV: 12/2011
6.96:
Lao Airlines (135): VTE-KUL: 12/2011
6.70:
Spice Jet (09): CCU-DEL: 09/2006
6.63:
Air Fiji (44): NAN-SUV: 10/2007
6.63:
Jazeera (67): DAM-KWI: 01/2009
6.58:
Air Tran (02): EWR-MDW: 08/2006
6.54:
Buffalo (138): YZF-YXY: 10/2007
6.48:
Air India Express (63): CMB-MAA: 12/2008
6.44:
CO Micronesia (39): ROR-YAP: 10/2007
6.41:
Pacific Sun (43): NAN-SUV: 10/2007
6.37:
Skybus (47): SWF-CMH: 02/2008
6.33:
Kenya Airways (29): NBO-BJM: 08/2007
6.33:
Sky Europe (56): LTN-BTS: 10/2008
6.31:
Indigo (15): GAU-CCU: 10/2006
6.31:
easyJet (57): BUD-LTN: 11/2008
6.22:
Air Link Swazi (28): MTS-JNB: 08/2007
6.22:
Air India (36): HYD-BOM: 09/2007
6.13:
Adam Air (07): SIN-CGK: 09/2006
6.13:
Air Rarotonga (41): RAR-AIT: 10/2007
6.04:
Suriname Airways (118): PBM-POS: 01/2011
6.00:
Transairways (27): INH-MPM: 08/2007
5.98: Merpati (144): 09/2012
5.95:
Air Canada (05): ALB-YYZ: 09/2006
5.85:
SAS Norge (22): OSL-AES: 05/2007
5.81:
LAM Mozambique (26): JNB-MPM: 08/2007
5.69:
Air Deccan (12): IXZ-CCU: 10/2006
5.67:
Rwanda Air Exp (30): KGL-NBO: 08/2007
5.52:
Sevenair (114): TOE-TUN: 11/2010
5.37:
Felix Airways (92): SCT-SAH: 12/2009
5.11:
Aero Republica (76): BOG-CCS: 04/2009
5.07:
Go Air (35): MAA-HYD: 09/2007
5.04:
Biman (121): DAC-CGP: 01/2011
5.00:
Sky Airline (51): IQQ-SCL: 06/2008
4.96:
United Bangla (122): CGP-DAC: 01/2011
4.96:
Valuair (08): CGK-SIN: 09/2006
4.78:
Air Comet Chile (50): SCL-IQQ: 06/2008
4.74:
Fly 540 (31): MYD-LAU: 08/2007
4.33:
Viva Aerobus (20): ELP-MTY: 02/2007
4.11:
Air Sahara (11): CCU-BOM: 09/2006
(Note on Codes: Y – Economy, J – Business, F – First :: I/D – International/Domestic :: SR/MR/LR – Short/Medium/Long Haul)
(Note on Date: Dates are modified to be +/- 3 days from actual flight date to not reveal actual flight pattern)
VII> Other Pictures:
(Nice "refuse" bag)
(Some pictures of the stunning country of Timor-Leste)
(Dili – the nice remains)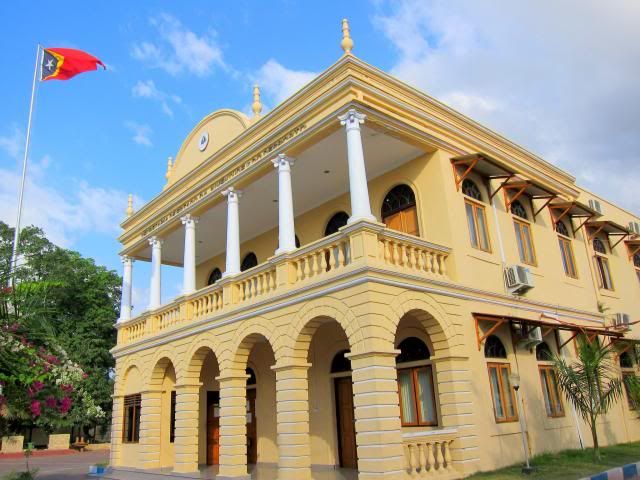 *
(Lot still being reconstructed)
(National Highway)
(Stunning towns)
(And, some of the nicest beaches in all of the world)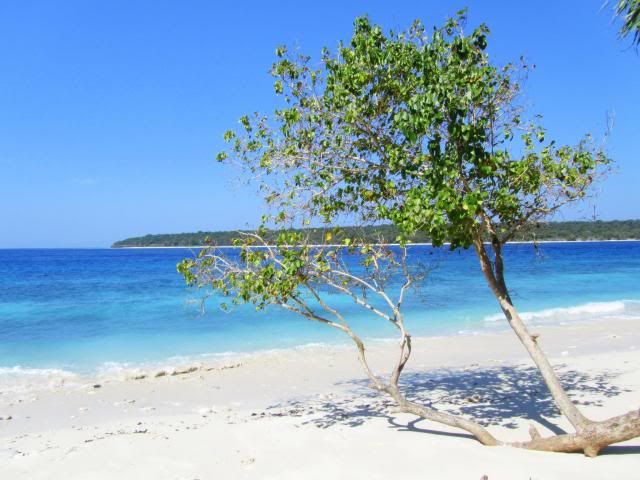 *

* Unbiased view on how an actual traveler may view the flight
* Not a professional photographer (so please keep in mind)
* Commitment that I won't identify myself to the airline as "reviewing them"