East meets West. Cityjet Inaugural LCY-DRS,NUE-LCY
Intro
Welcome!
Welcome to my latest report covering my recent flights with Cityjet to Germany!
My flights for this trip
AF 5205 LCY-DRS AR85
AF 5278 NUE-LCY AR85
My route, courtesy of GC Mapper, of this reports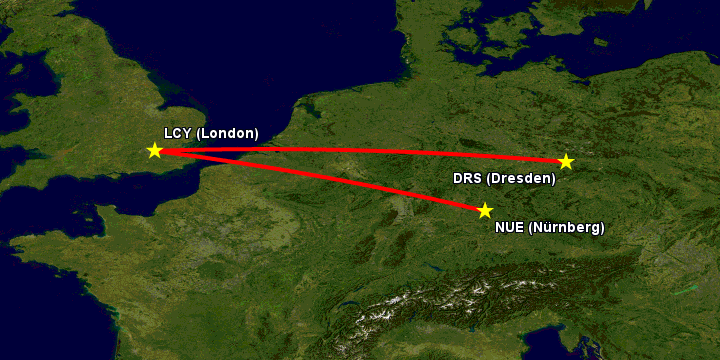 Hmmm, so why this trip?
So, back in darkest December I was doing a semi routine check of airline websites for my quasi-regular flights over to Dublin. Of course, Air France owned Cityjet (WX), and their LCY-DUB service was featured in this search. Two interesting things on the WX website were made apparent… one was that the Dornier 328 was operating some DUB (and EDI) services – this will need to be investigated further. The second being that WX were launching services to Dresden (in the heart of old East Germany), as well as to Nuremberg (West Germany's) Bavaria's second city. I've always had a desire to go to Nuremberg. Dresden too is somewhere I've read a bit about, and had a passing curiosity of. After checking the dates and prices, I found a great LCY-DRS, NUE-LCY combo for just over GBP 100…perfect, especially as this would also be the inaugural LCY-DRS flight. Booked! It was only when I went to put this in my diary that I realised I've be travelling over the Easter weekend…oh well.
In the past both BA and LH have served Dresden from London, but neither service survived….I wonder how long Cityjet will.
Sadly, it was only after I booked that I realised I could have flown back via CDG for only a few Euro more. Grrr. Still the service on Cityjet is better than on AF.
So, onto the Report
After a trek across London, I arrived at LCY just over an hour before departure. With a 15 minute check in time, arriving 70 minutes before departure was ample. Three weeks previously I had acquired a Flying Blue Gold card. This was updated in my online profile, but sadly it wasn't on my OLCI boarding pass. My card hadn't turned up either. I queued at the Sky Priority desk, and the woman cautiously waved me over. I told her I was Gold, but I don't think she believed me. I'm sure she felt vindicated when she reprinted my boarding pass and it said "Ivory" on it. I'm pretty sure she didn't believe my explanation. Still, my bag was tagged, and I was on my way without having to re-queue in the non-priority line.
Interestingly, on some AF flights, there is an automatic check in. There doesn't seem to be an opt out, and there is no pre-seat selection for Golds either. I'm not terribly impressed. It's true, that I was assigned window at the front for both my flights, but the fact that at T-30 most of the rest of the flight was assigned meant that there was a lot less choice to select a seat you actually want. I think it'd be better if people were automatically checked in at T-12, giving people that
want
to select a seat to get there before the computer assigns the entire plane. On the plus side, you can move your seat as often as you like even after the auto OLCI. I moved to one of the few pairs of seats at the back.
FIDS…the first time Dresden has appeared on an LCY monitor
There was hardly any queue at security (although of course my bag was pulled aside for an explosives test), and I was shortly airside. Not too much happening today:
Cityjet, sporting possibly the World's most boring livery
Some BA E-jets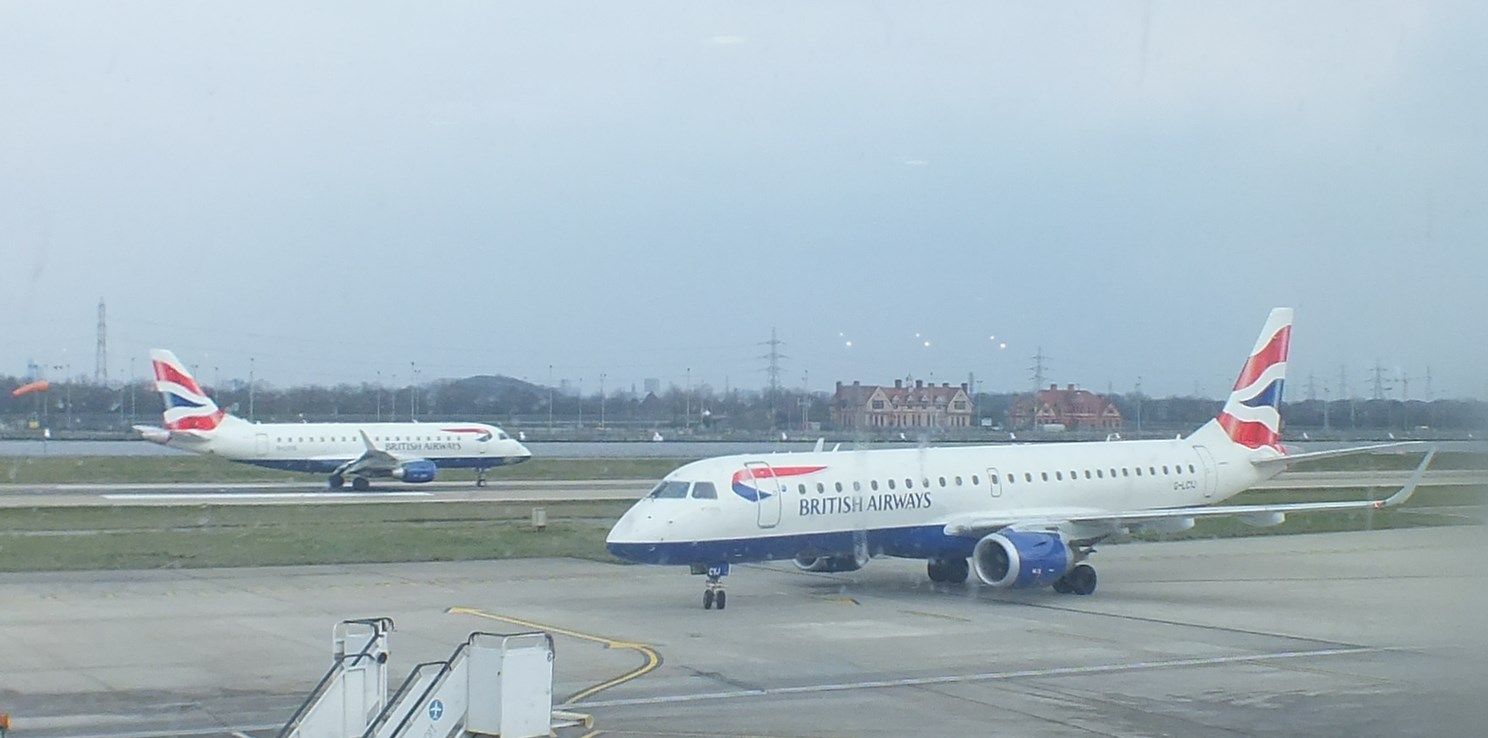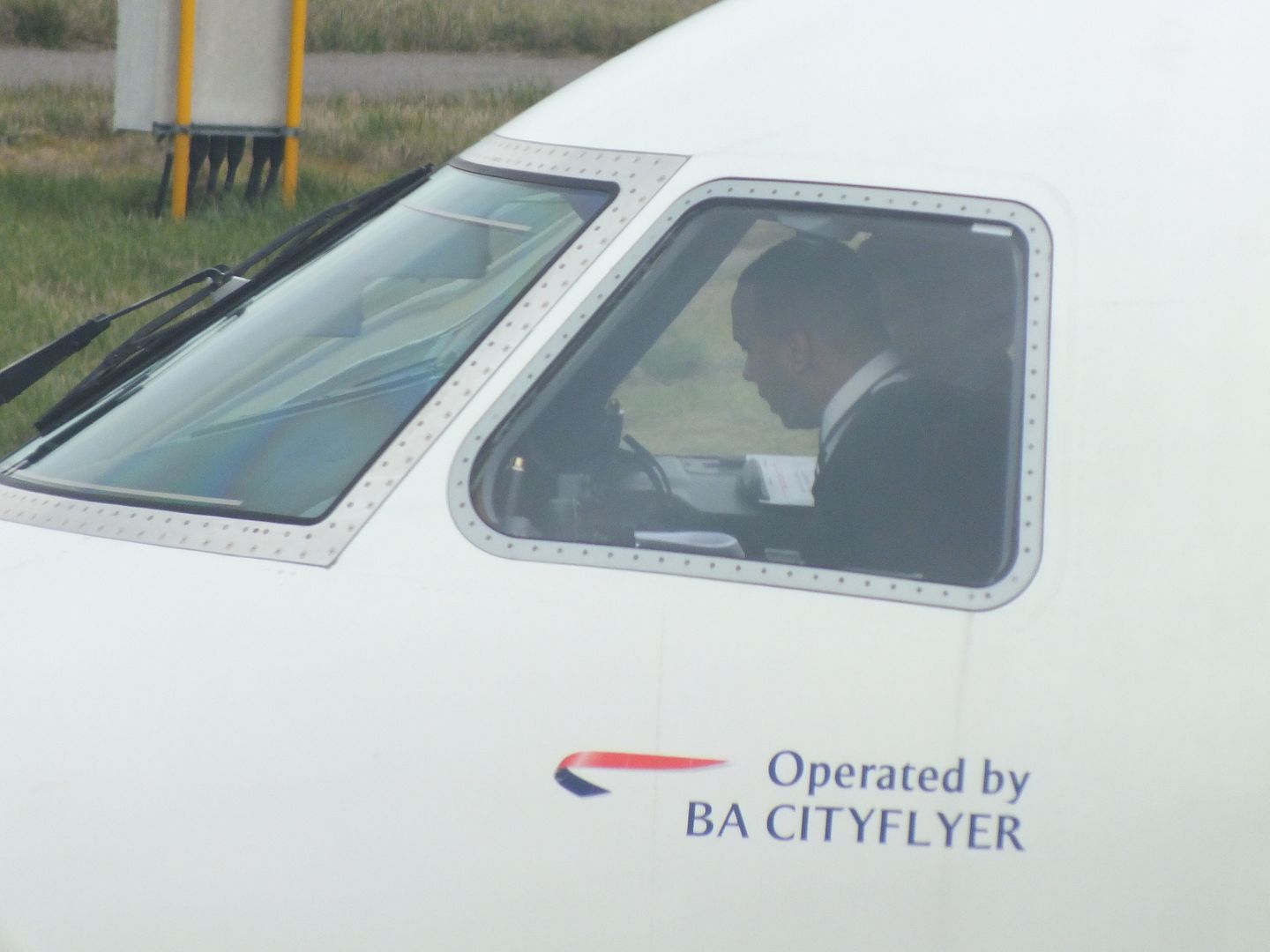 Given all Cityjet (WX) flights carry an AF number, I don't see why they don't use this livery on the fleet.

As soon as the flight popped up as boarding, I made my way down to the gate. This was, after all, an inaugural service…maybe there would be cake?
And here's my plane in the distance, at the furthest gate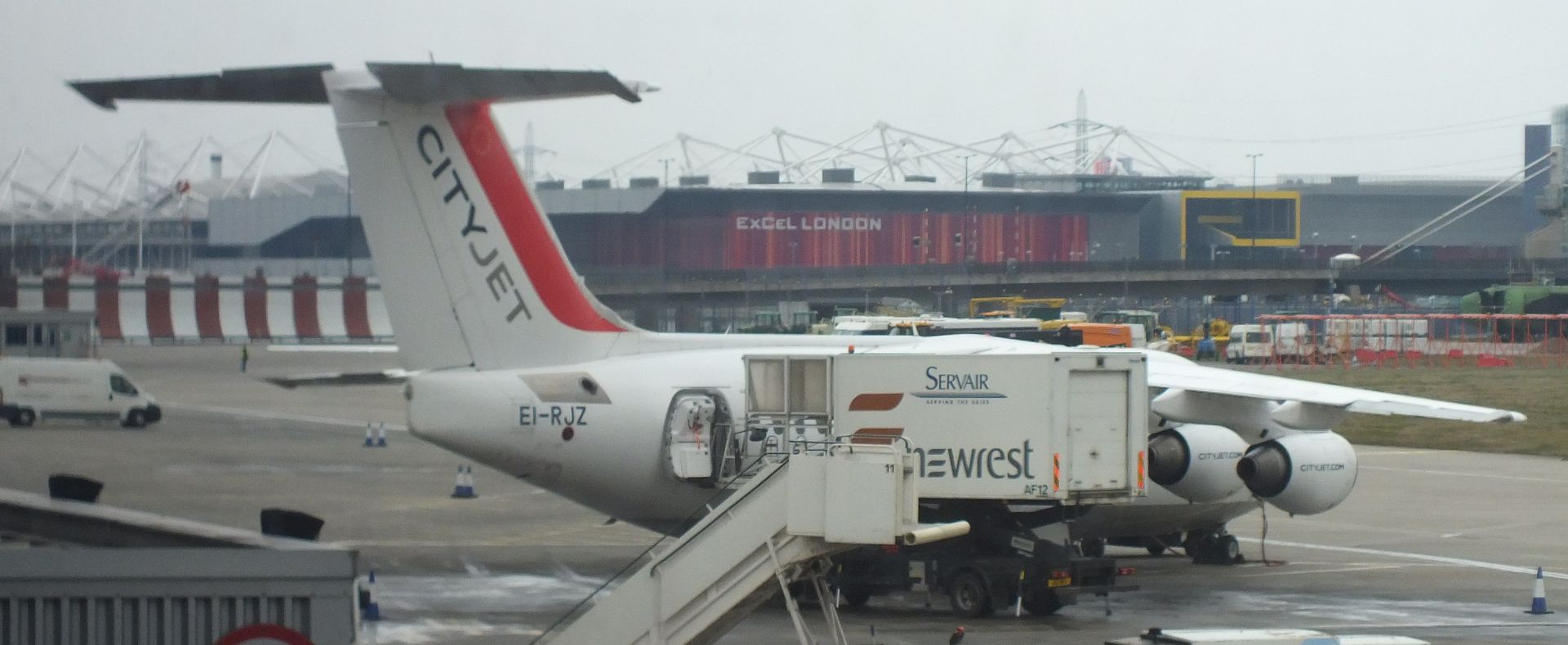 There were quite a few people already at the gate. I was quite surprised to see that there were no balloons, no champagne, and certainly no cake….how disappointing! The holding pen soon got extremely busy. There were around 40-50 little leather stools around the room…not quite enough for a busy 95 seater plane.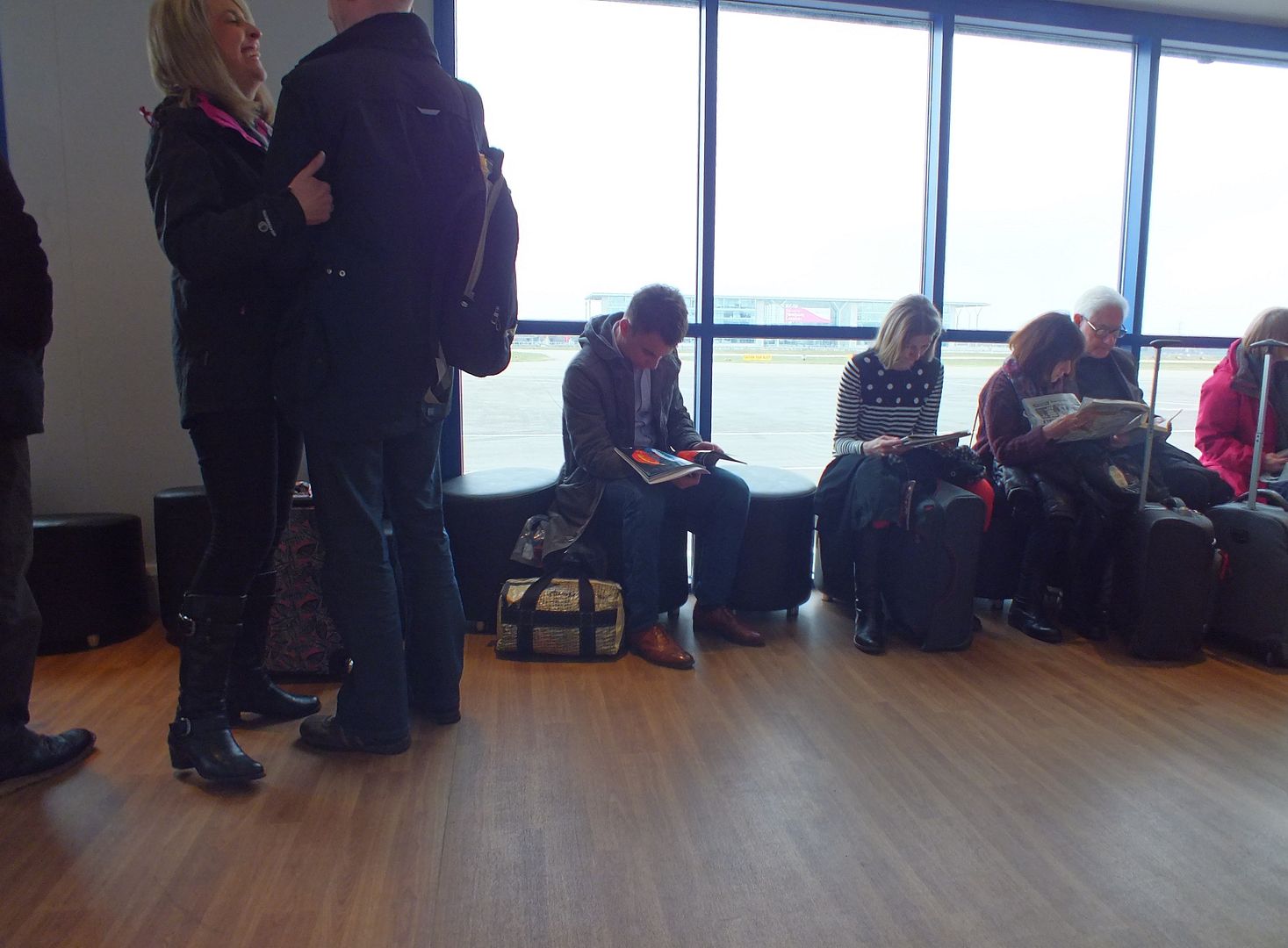 Sadly, it took a while before boarding started. There were a surprisingly large number of families with young children (although oddly enough, no passengers seemed to be aged between 8 and 18). Pre boarding was well organised.
Eventually, everyone else was led onto the tarmac, and directed to the respective door depending on one's seat.
March 2013
London (LCY) – Dresden (DRS)
Air France AF 5205, operated by Cityjet
Scheduled: 1220-1520 (2h00m)
Actual: 1237-1507 (1h30m)
Avro EI-RJZ "Inis Meáin"
Economy

.
.

I was sat in the first pair after the cabin narrows from 3x3 to 2x3 seating. This meant a bit of extra side space, but awkwardly located tables. Thankfully, no one was assigned the aisle seat.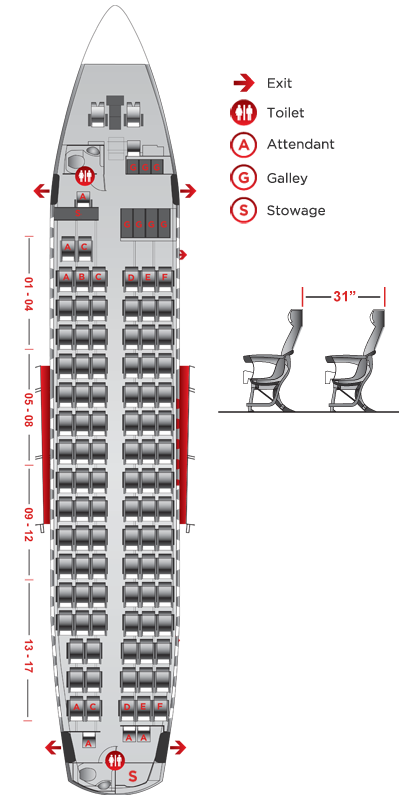 With everyone aboard, the doors were closed, and safety demo done. There was a welcome announcement from the captain who mentioned that this was the first flight to Dresden, and how excited everyone at Cityjet was blah blah blah.
Nearly 20 minutes late, we rocketed into the sky….check out the angle on that wing!
Before long, we were through the murk, and into the blue.
The Cityjet catering is up there with the best of them…a decent free bar, and some tasty sandwiches. I was hoping that maybe they'd have some special catering on this inaugural (maybe some champagne), but there wasn't.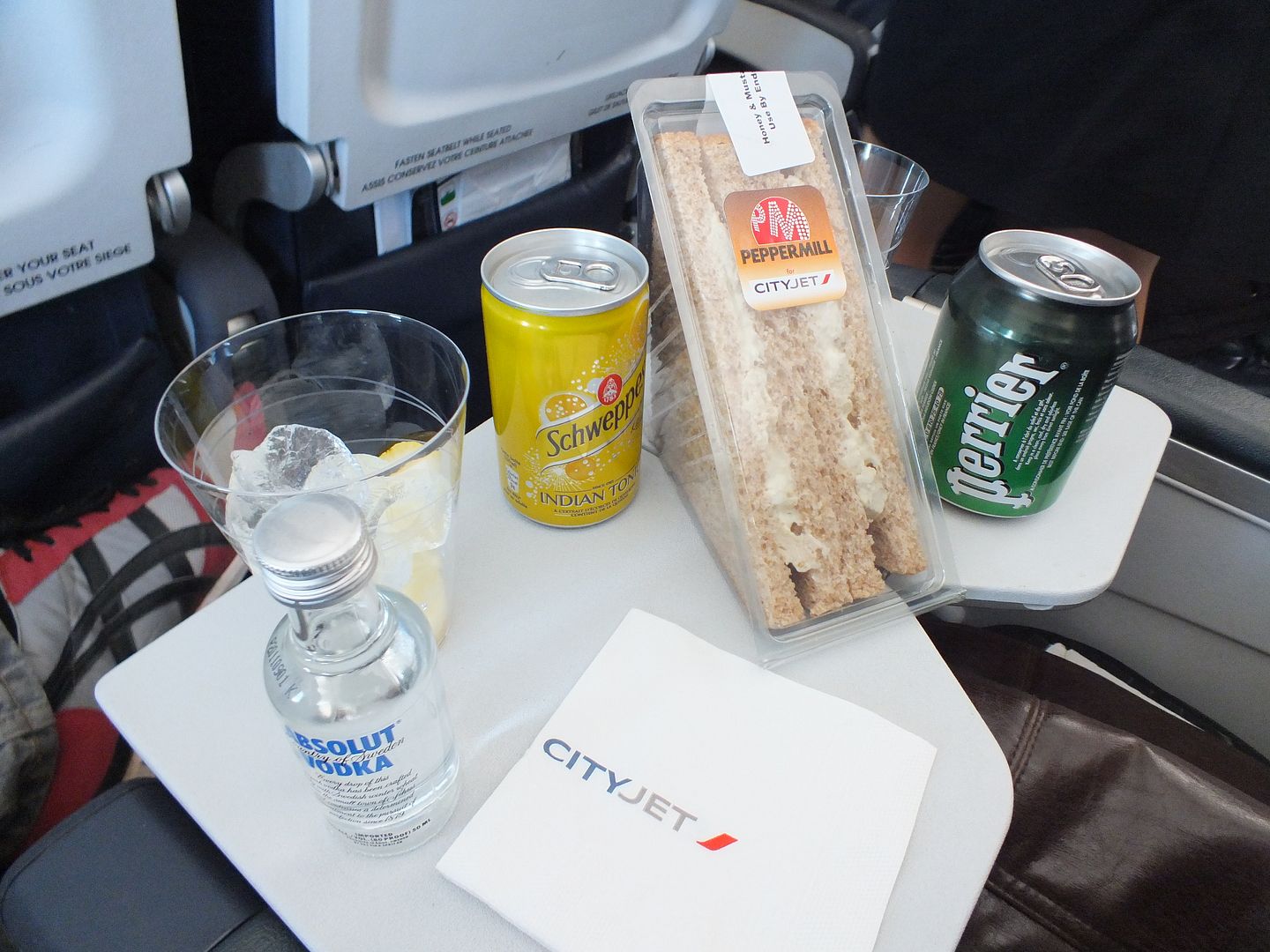 A vodka for me today
And a choice from the chocolate basket too.
The AF magazine…not terribly interesting reading to be honest
With lunch completed, I sat back with some music on, and enjoyed the views (and maybe another V&T).
Nice and early, we began out descent into Dresden. When I booked I had hoped for some nice spring weather…sadly, the reality was temperature hovering around zero, and plenty of snow.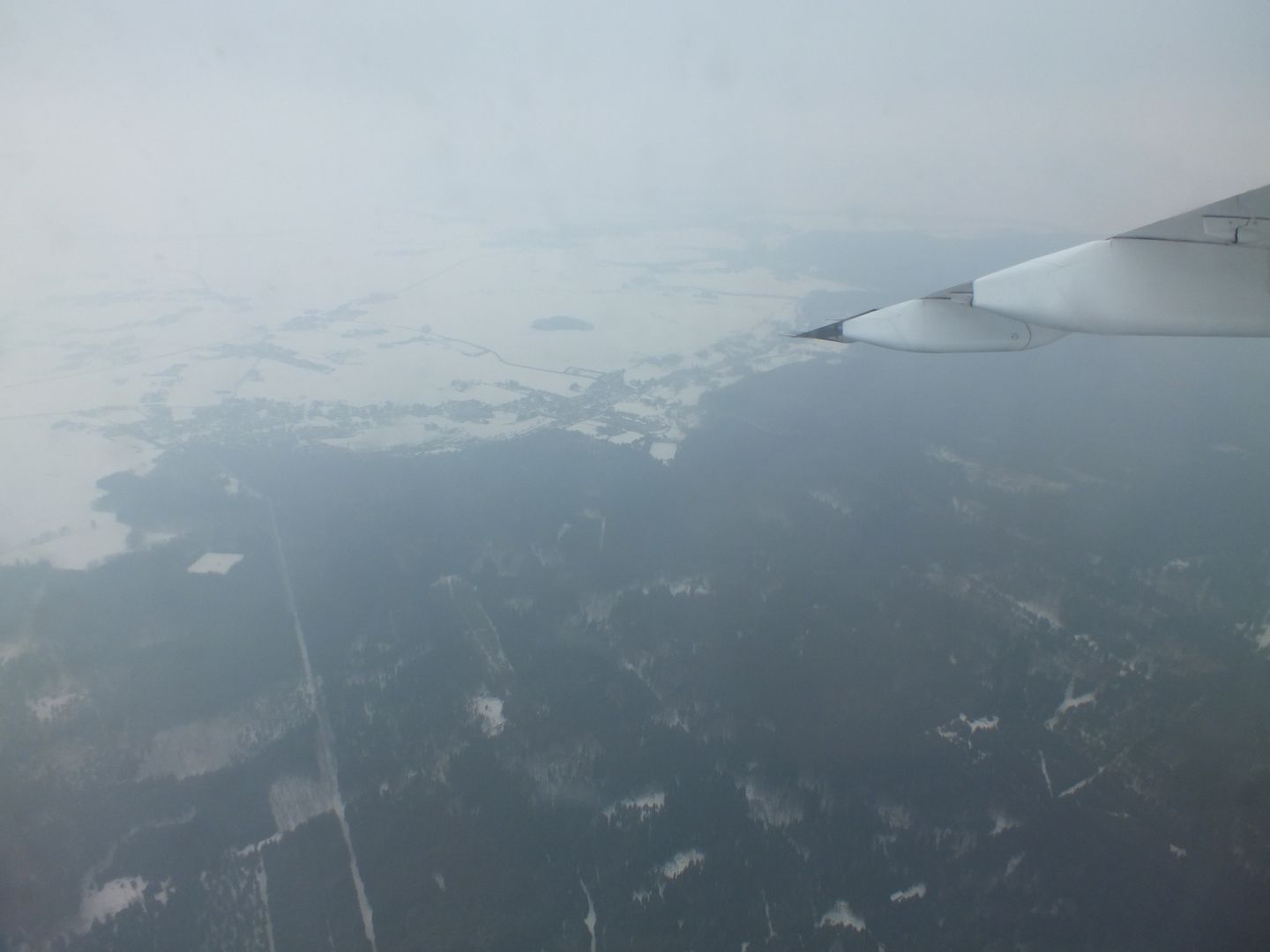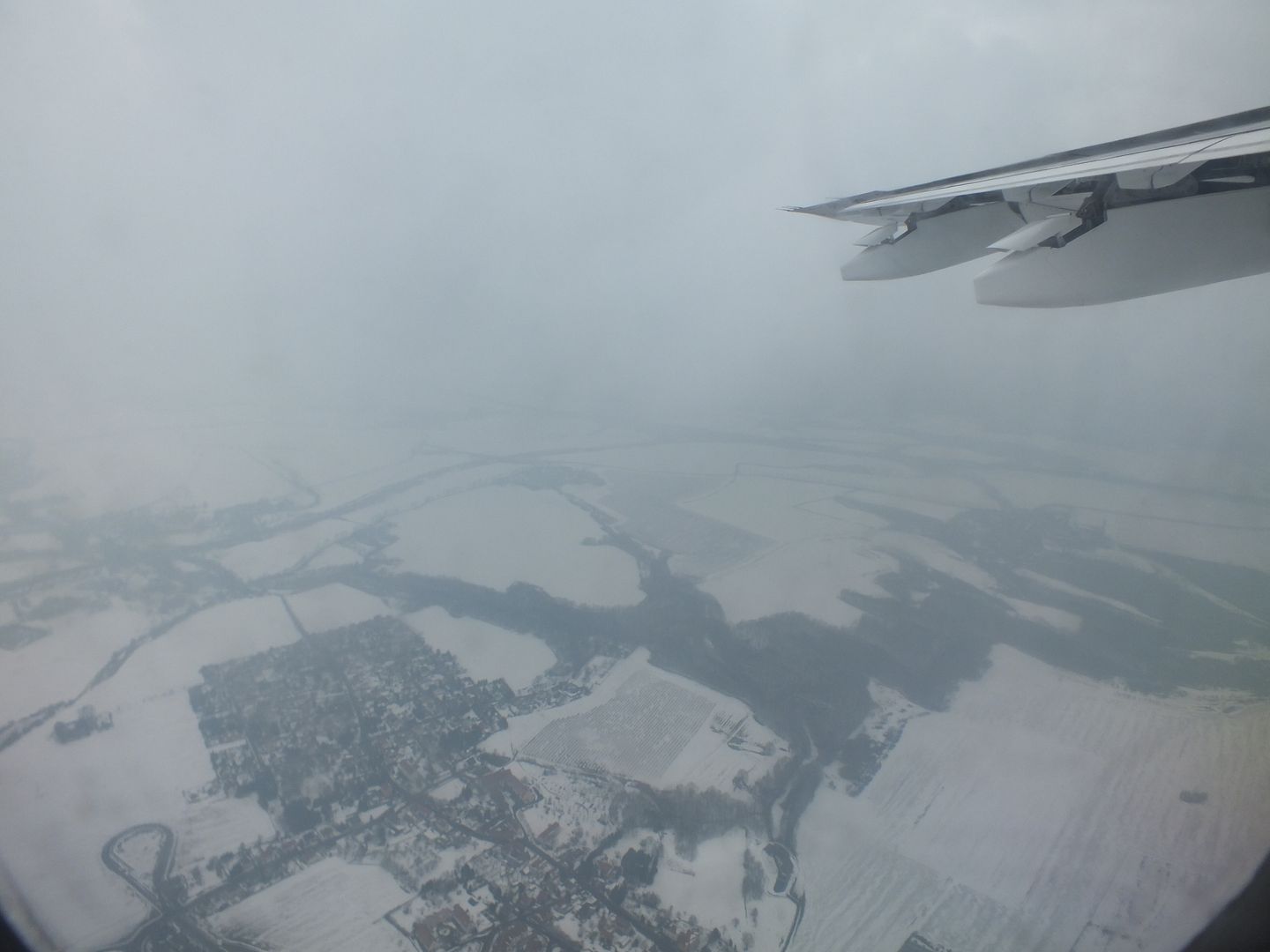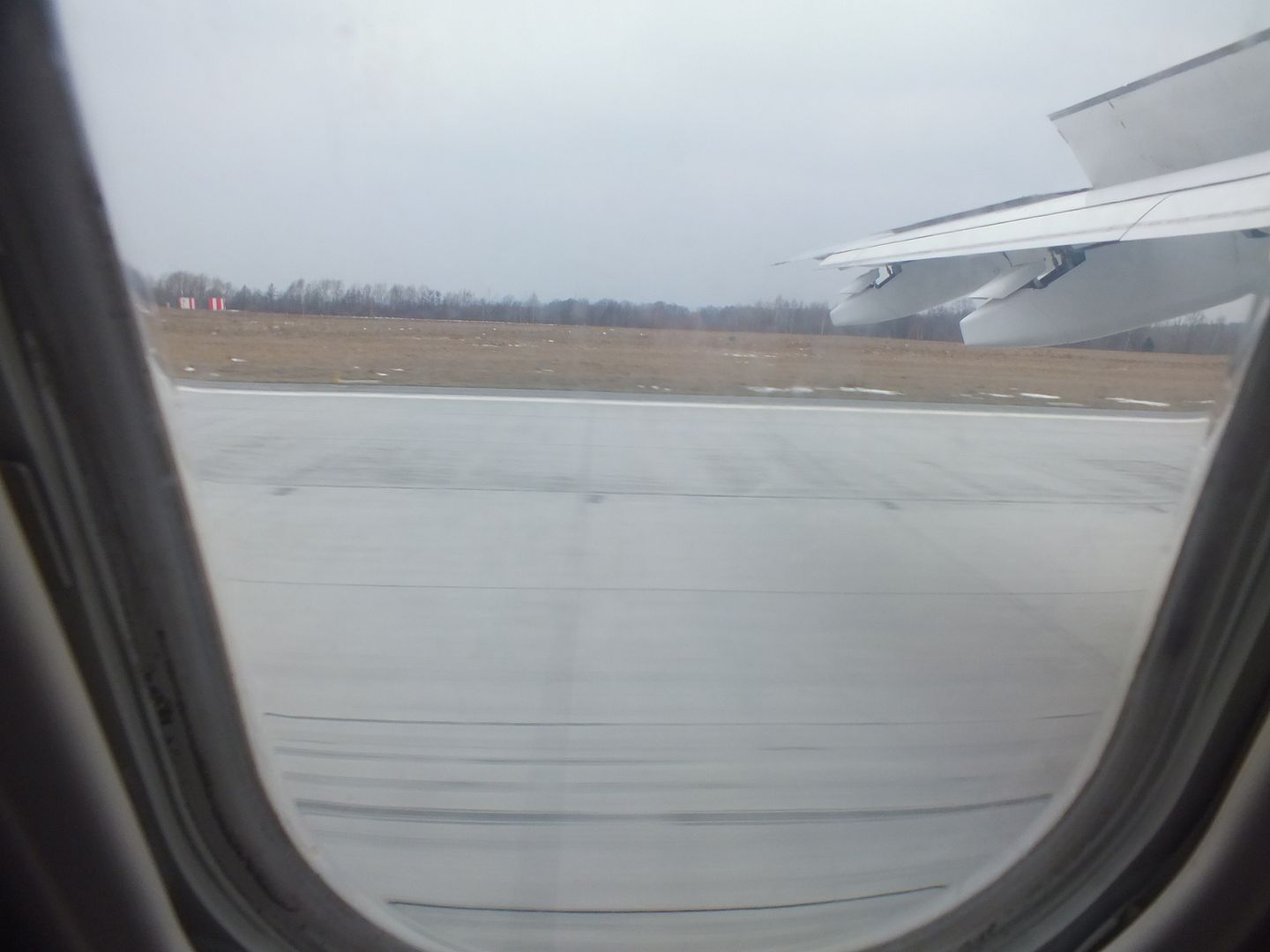 Welcome to Dresden Cityjet! There was another announcement from the cockpit talking a bit about the inaugural as we taxied to the gate.
A photographer documenting our arrival
And "Inis Meáin" on the ground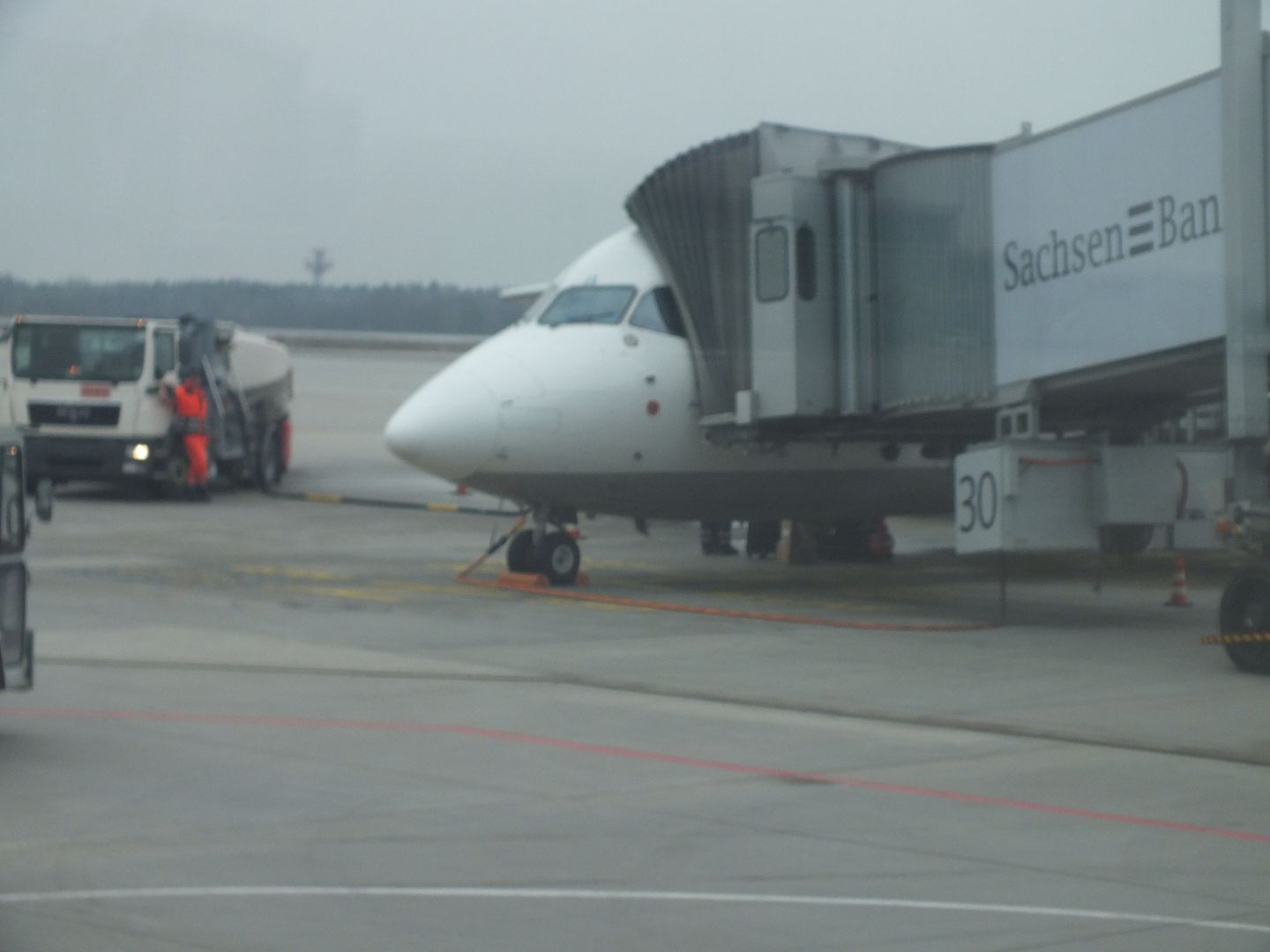 DRS was nigh on deserted. It seemed like a very nice facility though. The bags didn't take too long to come out, and I was soon on my way to the rain station.
Ads for the new venture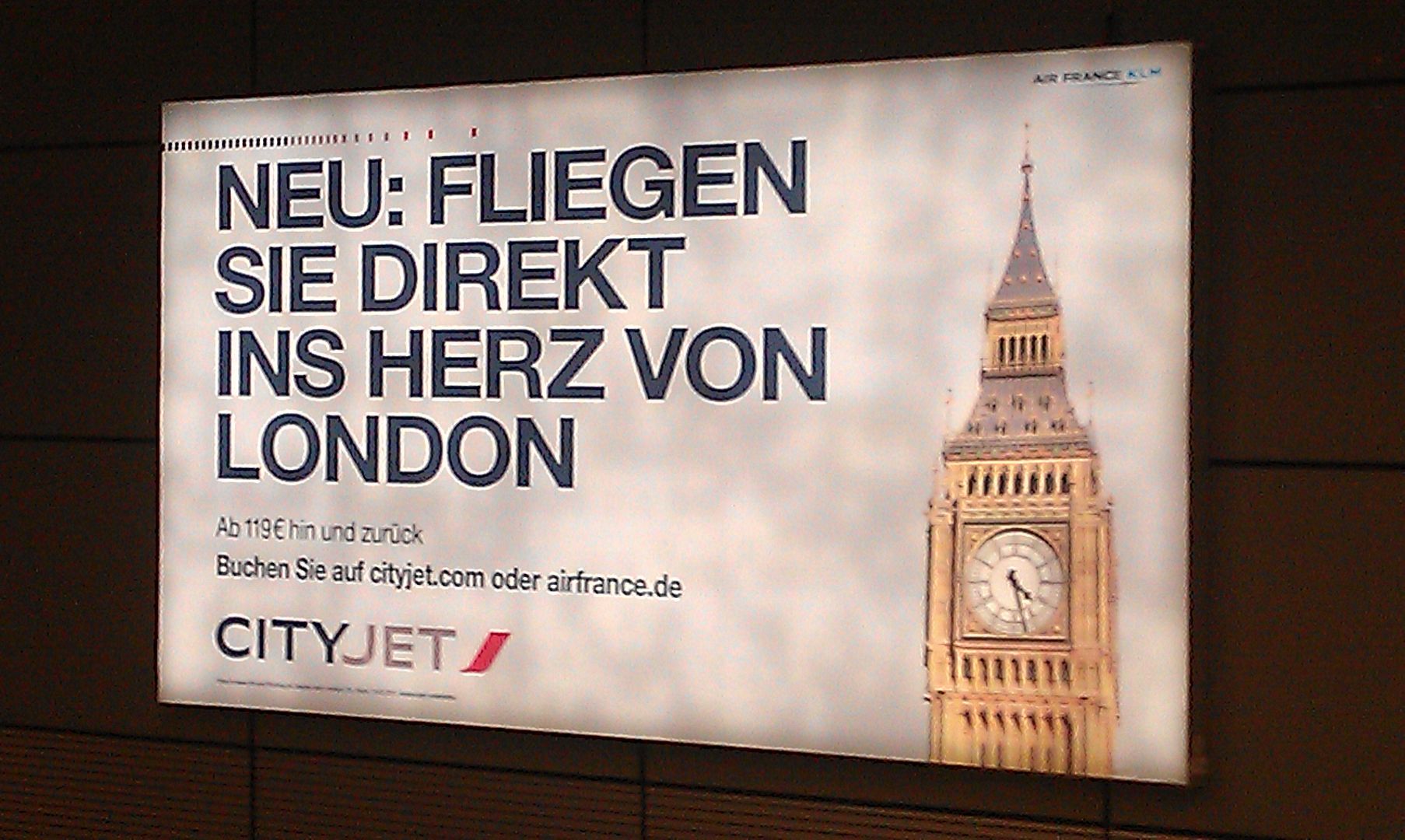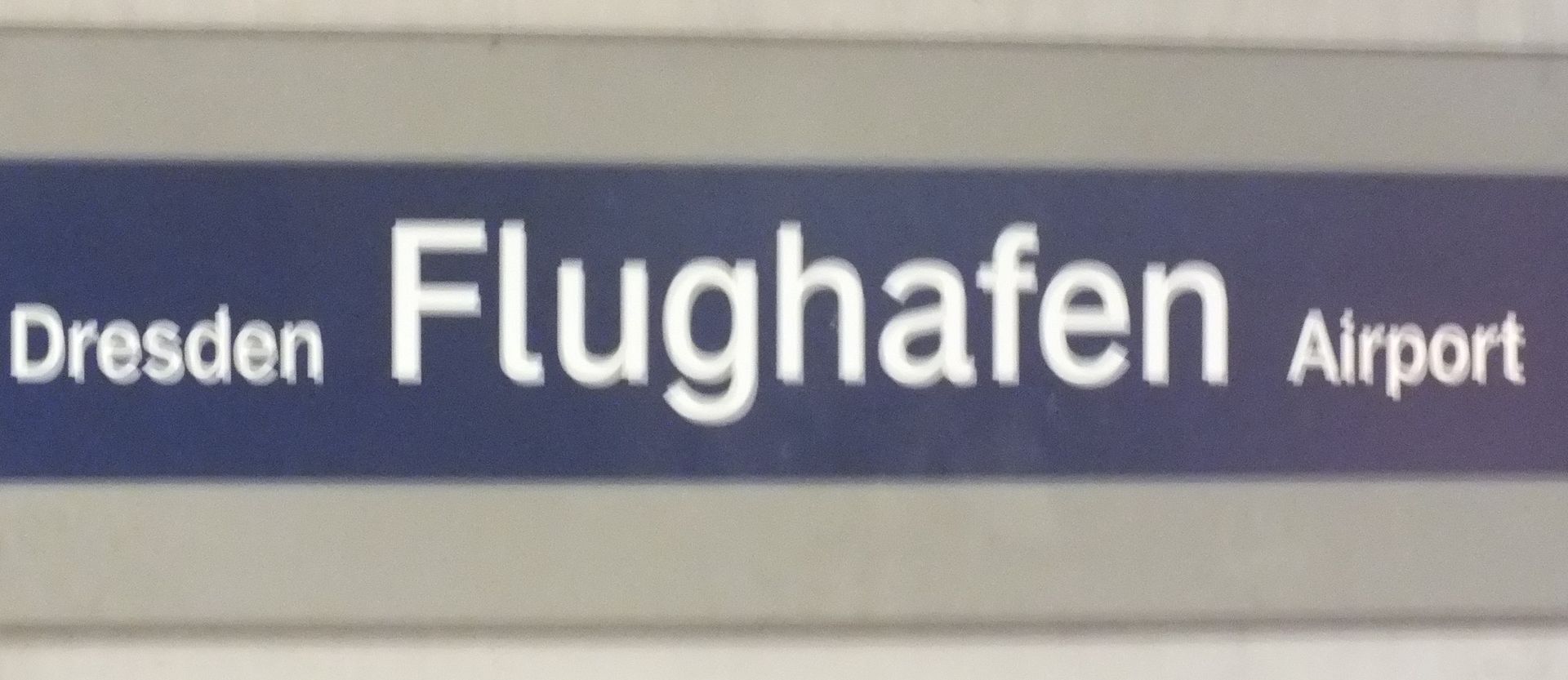 Nice trains on this short hop into town.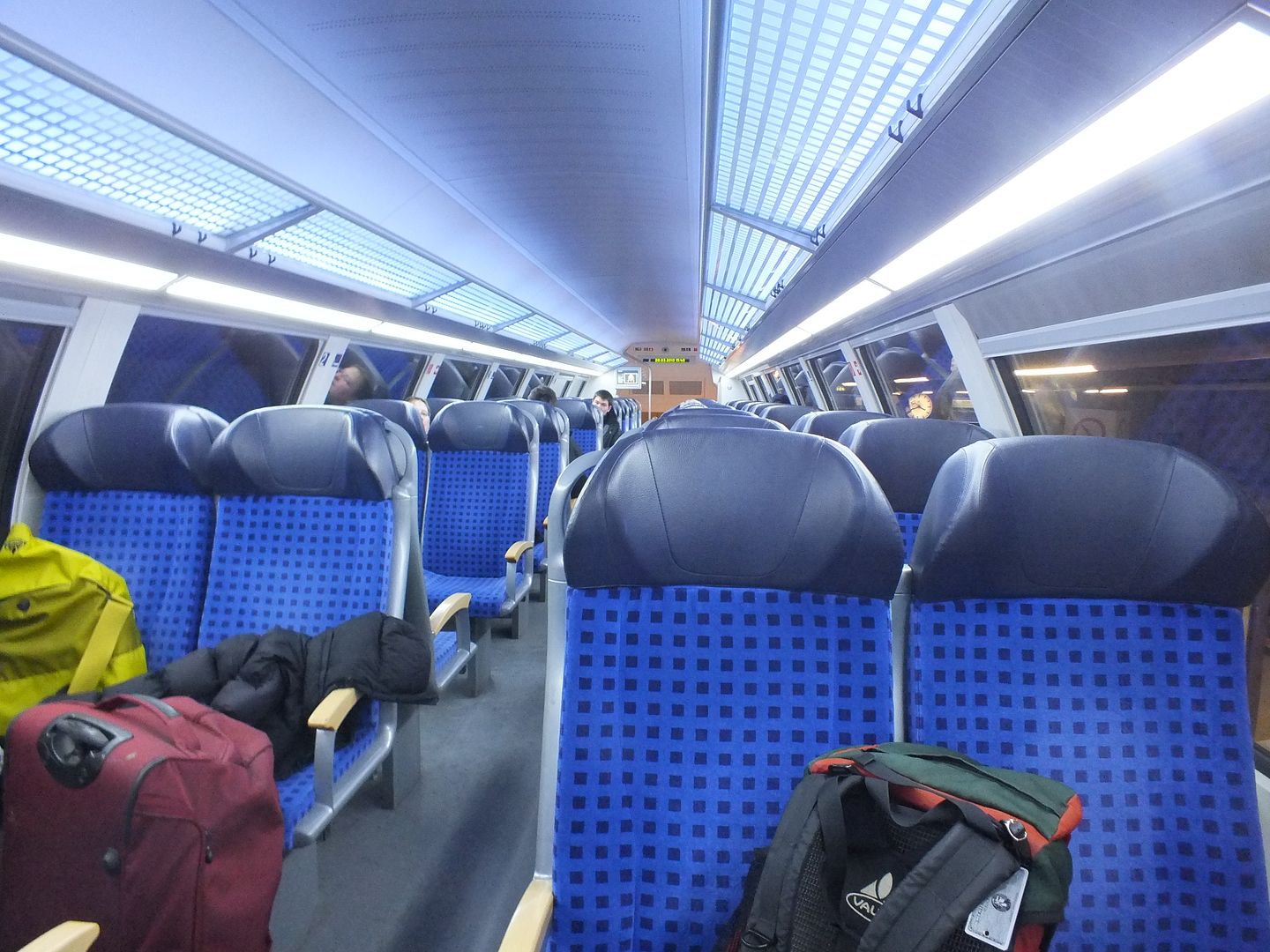 With my five nights in Germany, I decided to spend 1 in Dresden, then hire a car and drive down to Nuremberg, spending 1 night in Colditz and 1 in Ilmenau en route, followed by a final 2 nights in Nuremberg.
Despite Dresden being bombed flat in the war, the "old town" is just beautiful.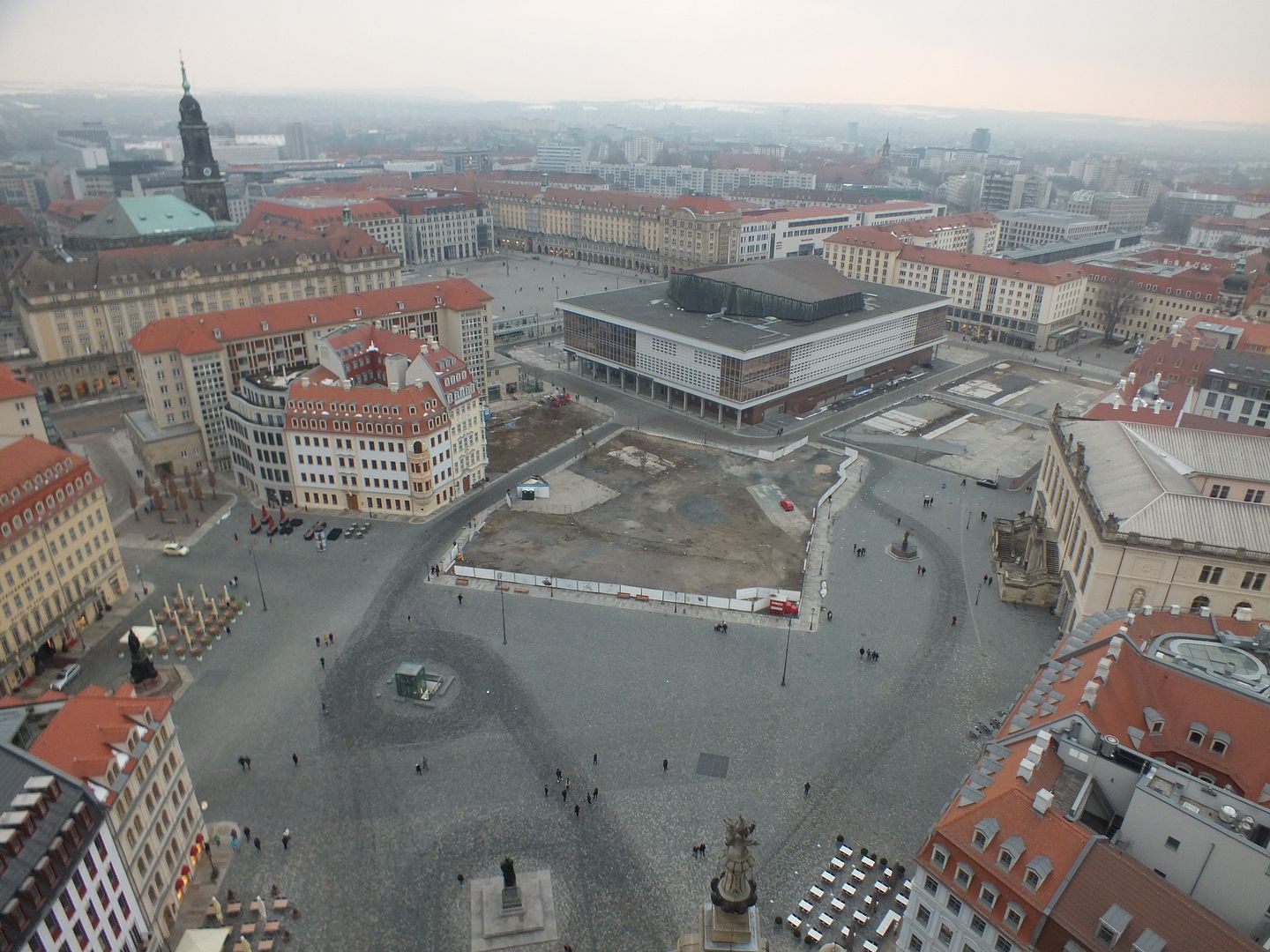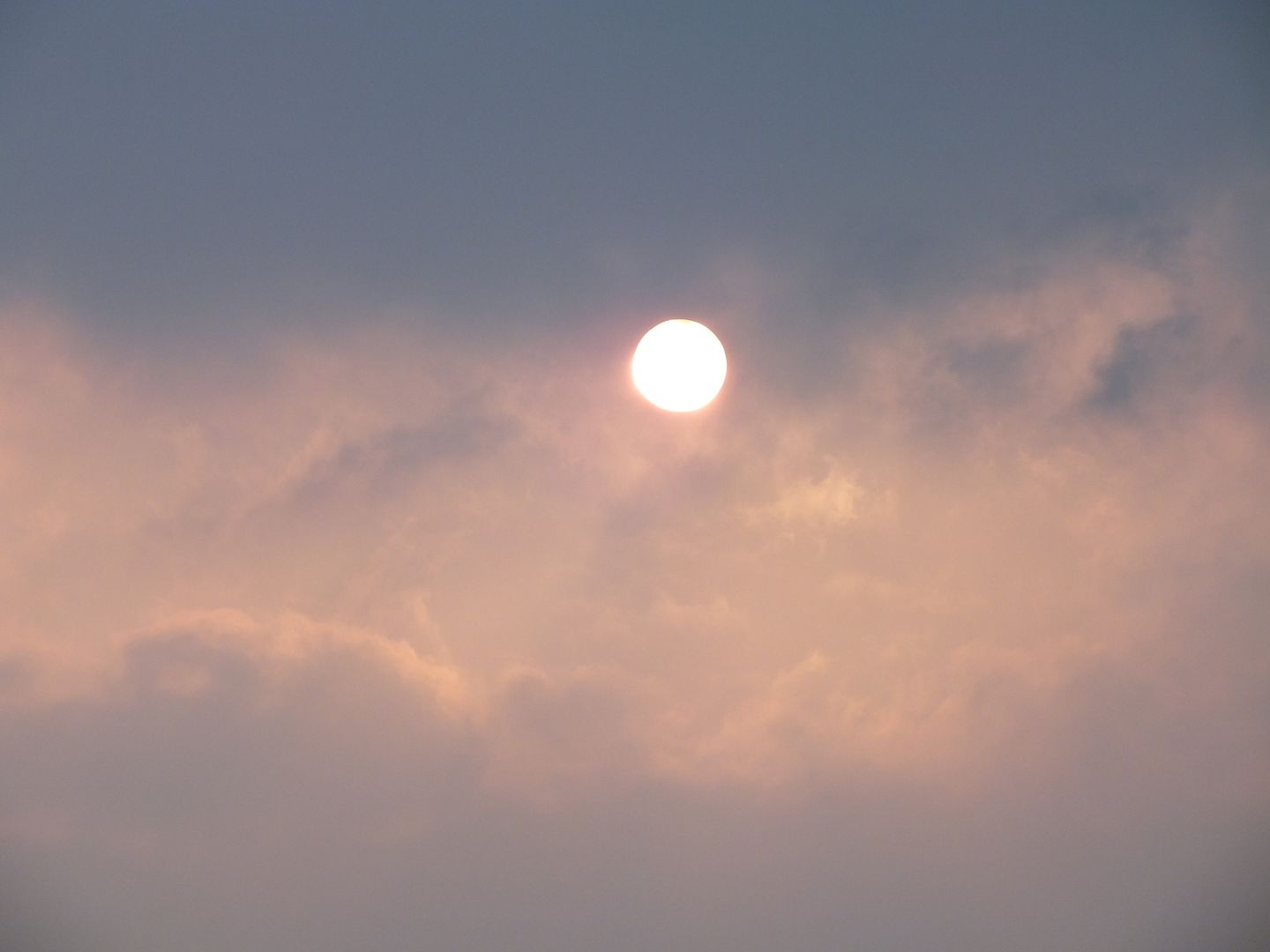 Overnight it snowed…made for a nice change in scenery
A tasty hotdog (aka Thüringer Rostbratwurst)
Spring….maybe not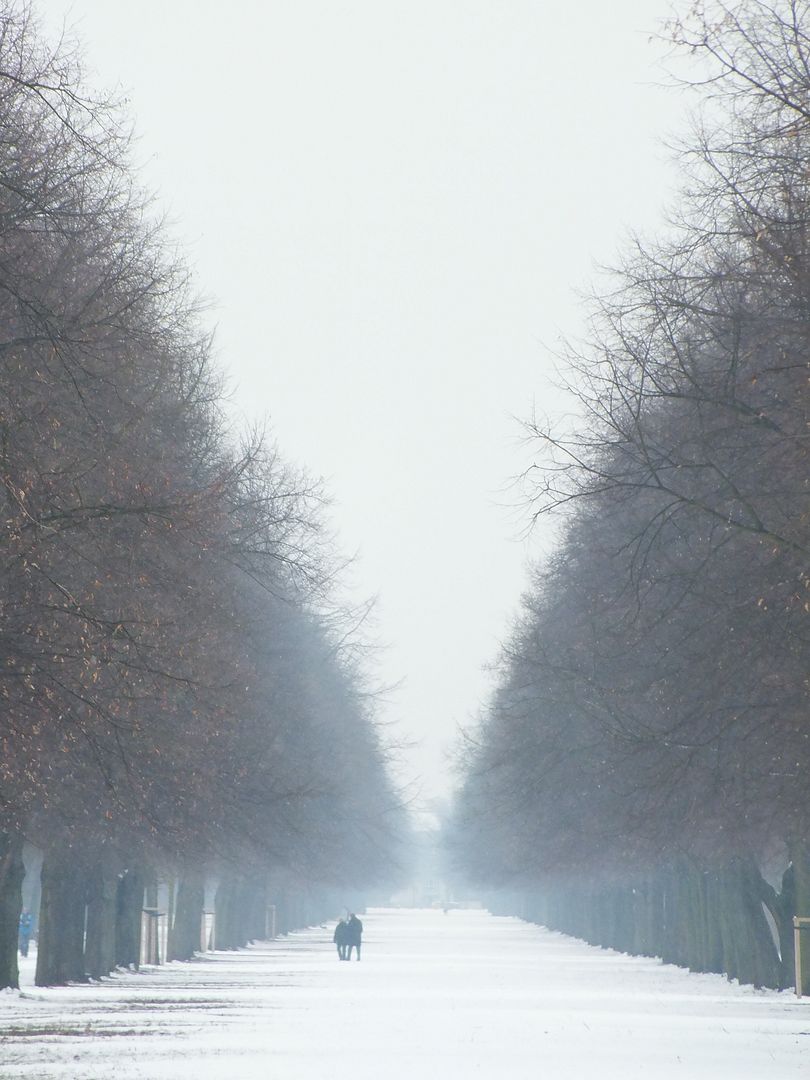 Dresden is home to the Gläserne Manufaktur (or Transparent Factory). It's a pretty cool building. Sadly, all the tours are fully booked, but I can still have a wonder around the exhibits for free (no photos allowed inside). Here you can see all the completed cars stacked in a massive tower. Bizarre, but pretty cool.
They also have the Ampelmann in Dresden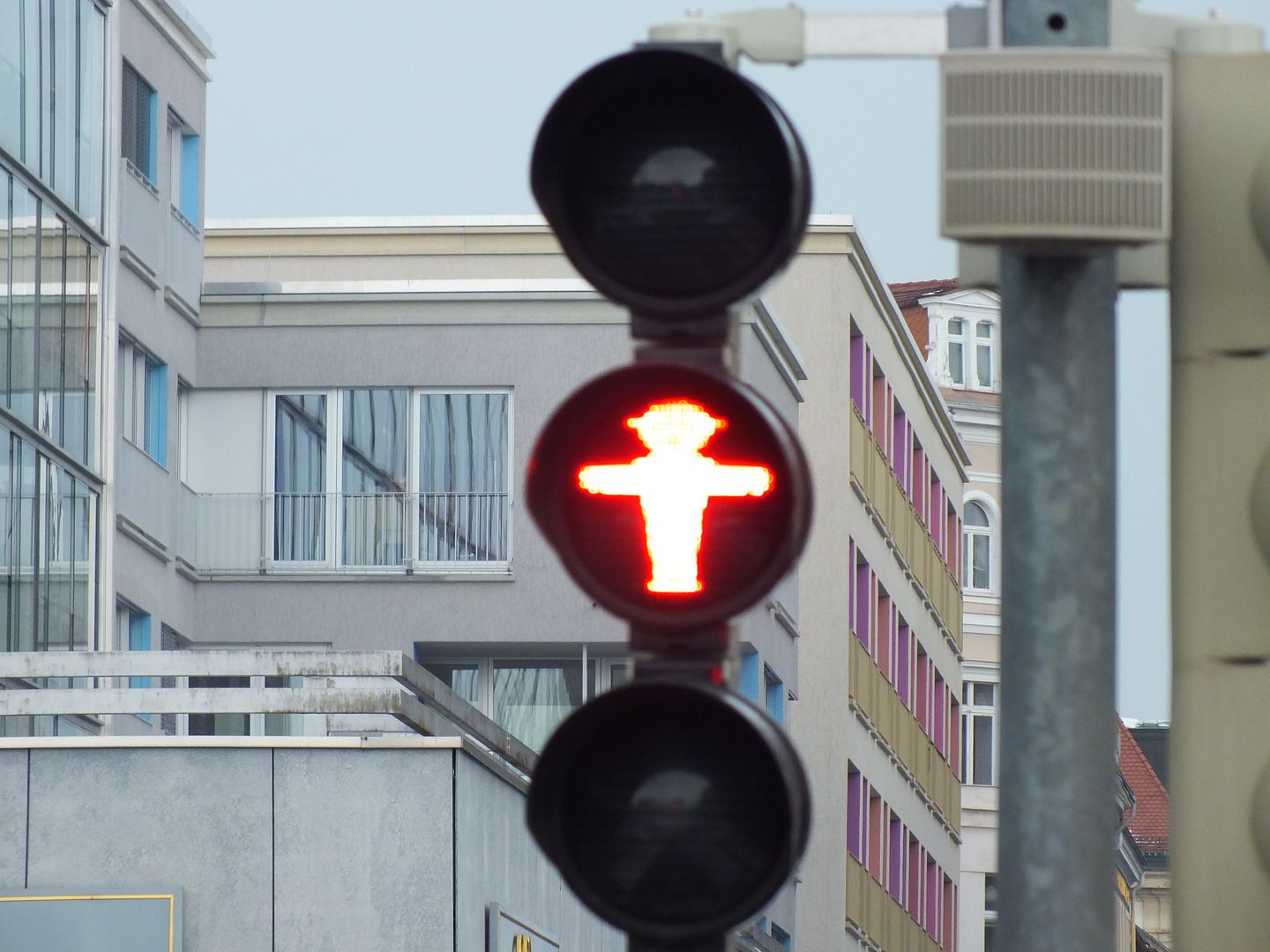 And the Ampelfrau
With my Dresden sightseeing over, I head back to Dresden Airport to pick up my hire car. I'd prebooked a special offer through Hertz to get a BMW 1 Series (or similar)…I'm looking forward to trying it out on the autobahn. I'm quite shocked when I get to the desk to be told that my car is a Ford Focus estate….er, no, that is
not
similar. Hertz insisted it was similar. After a bit of to and fro, I downgrade myself to a cheaper Opel Astra. There's no way I'm paying the BMW rate for a Ford. Sadly, on Good Friday, there is no manager in, and hardly any cars left either.
Whilst I miss not getting a Bimmer, the Astra has all mod cons and is adequate for my needs (and is a lot easier on the eyes than the hideous estate).
My stop for the night is the grim town of Colditz, home to Germany's most famous POW camp. I stay the night in cozy Colditzer Pension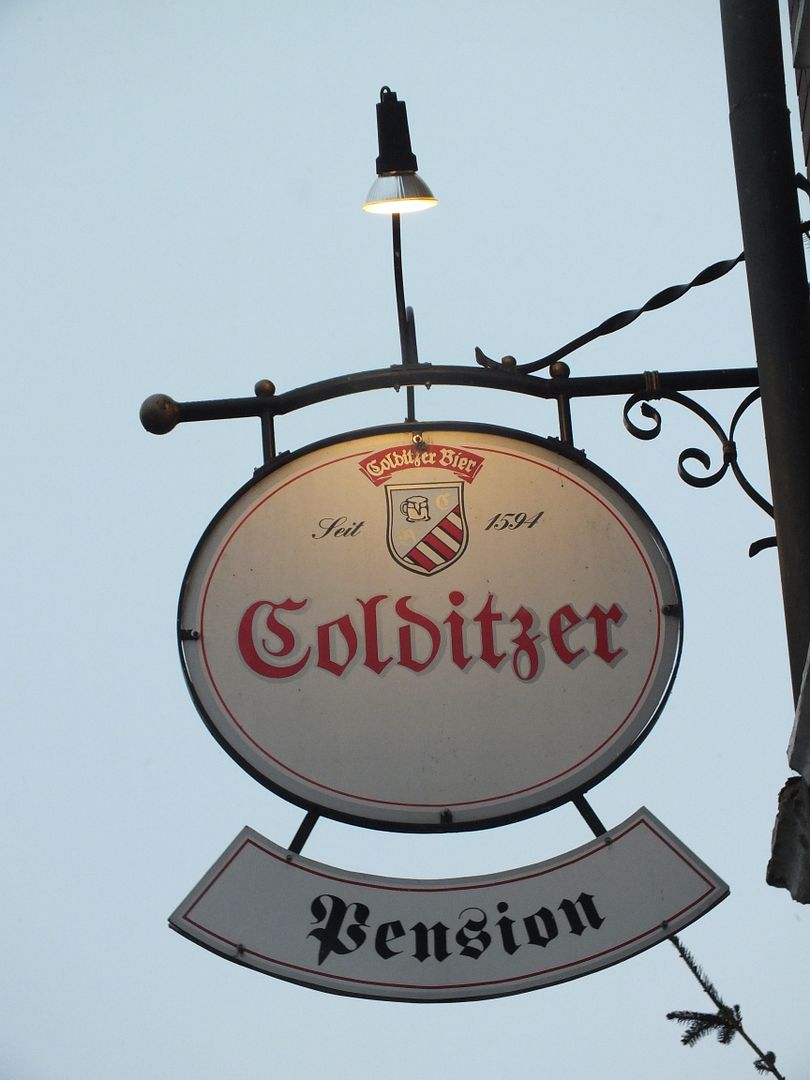 The next morning I do an extended tour of the castle which is really interesting. If you are in the area, do some online research to learn all about the amazing escapes (and attempts), then pay a visit.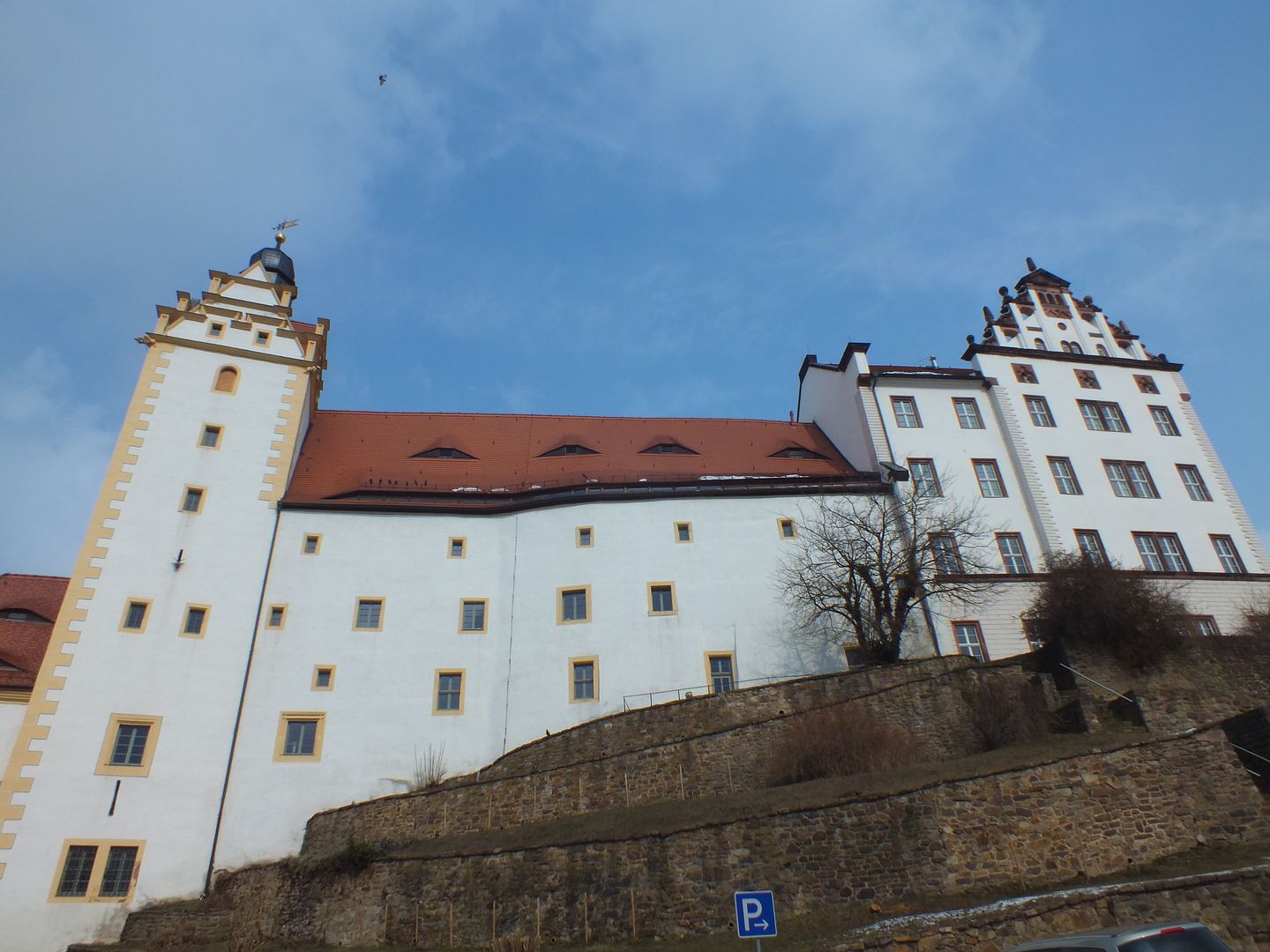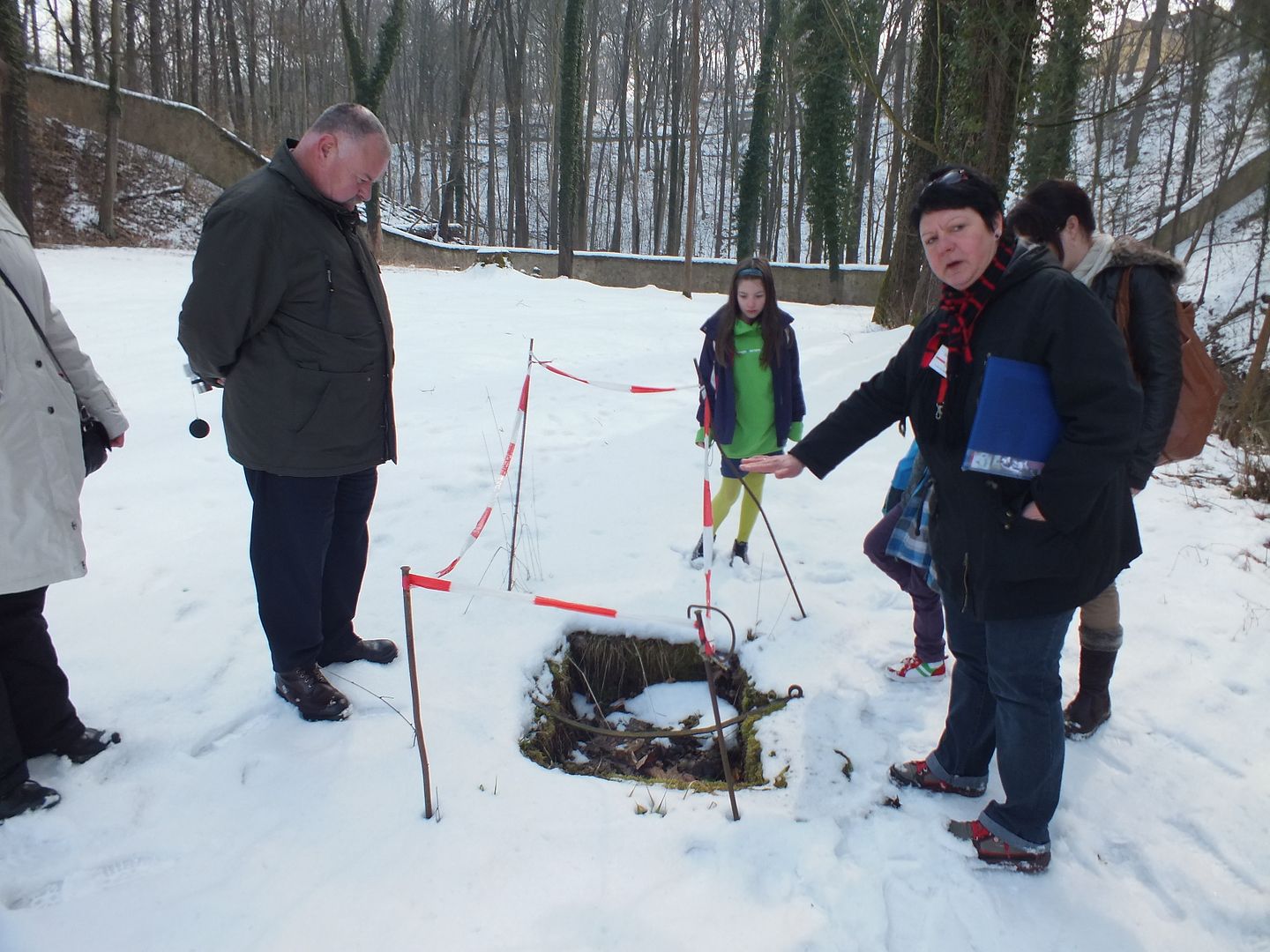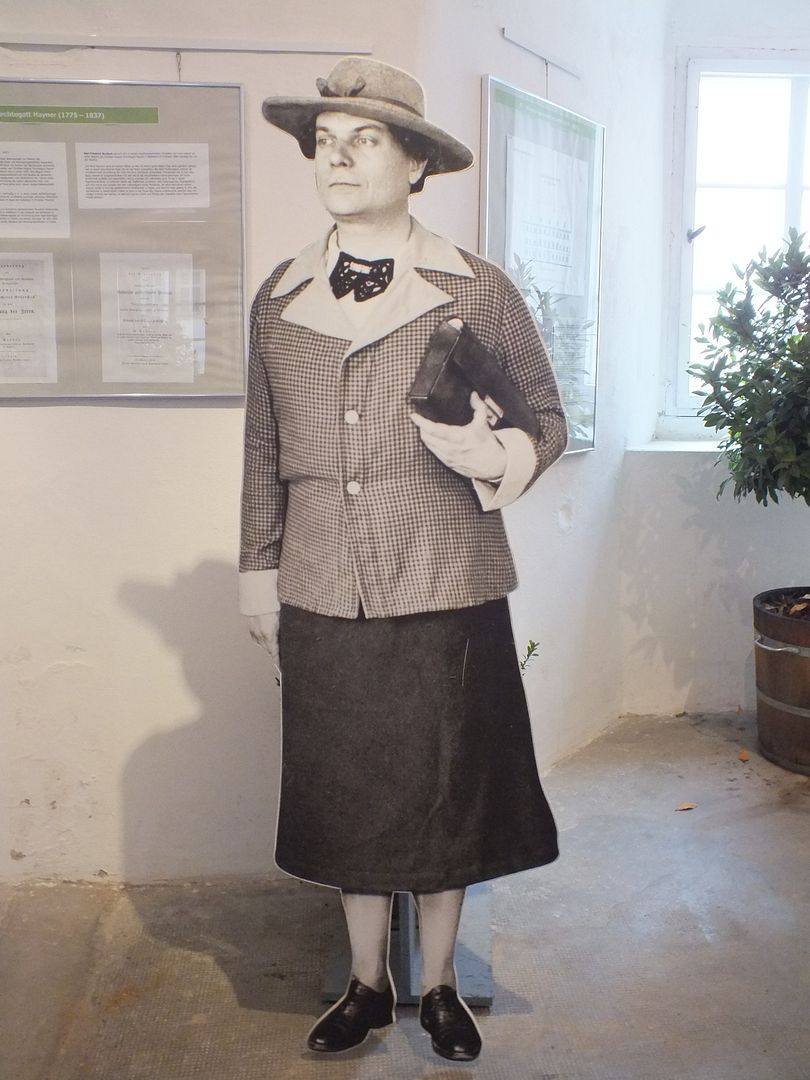 Next stop is lunch in Weimar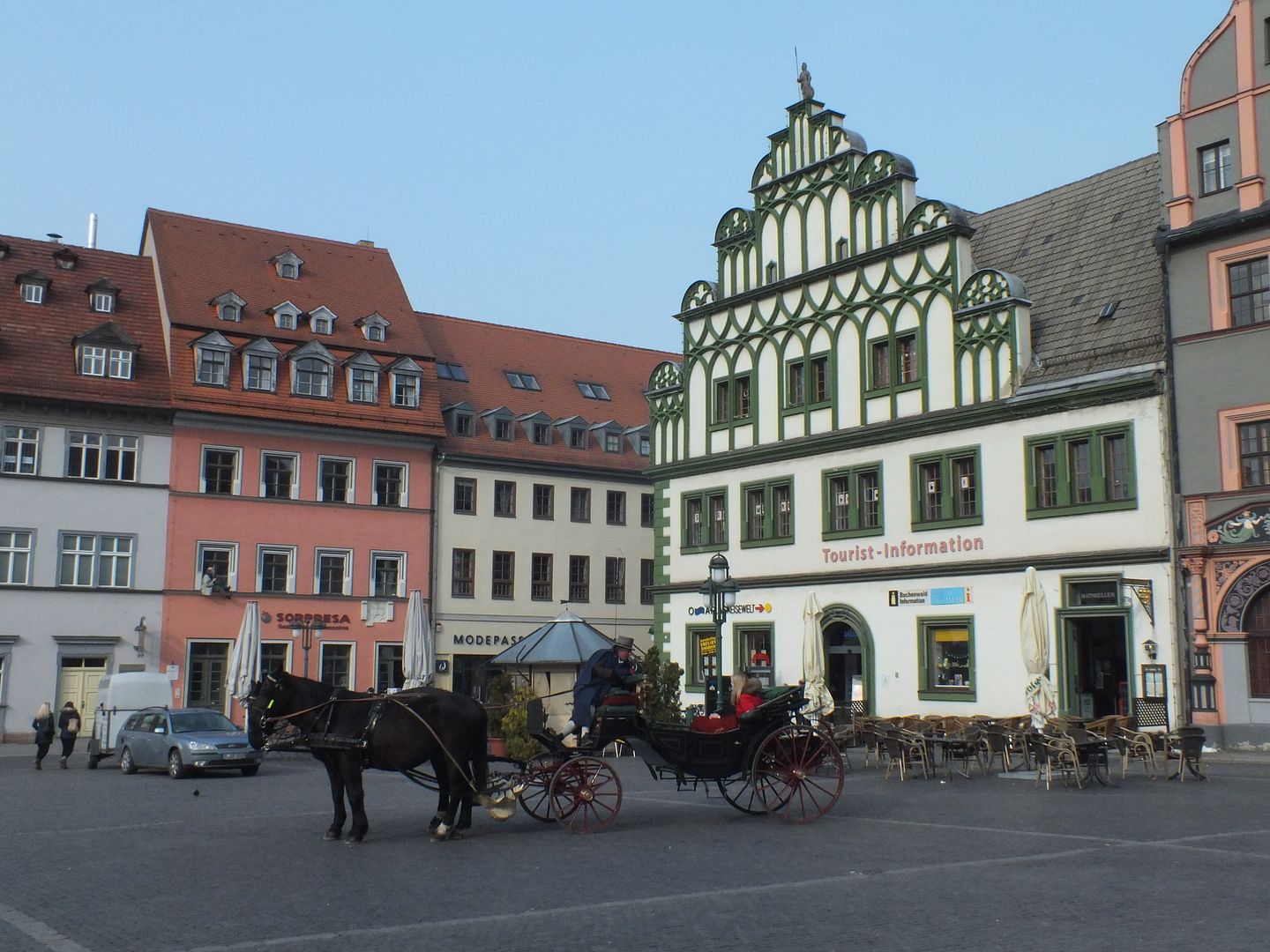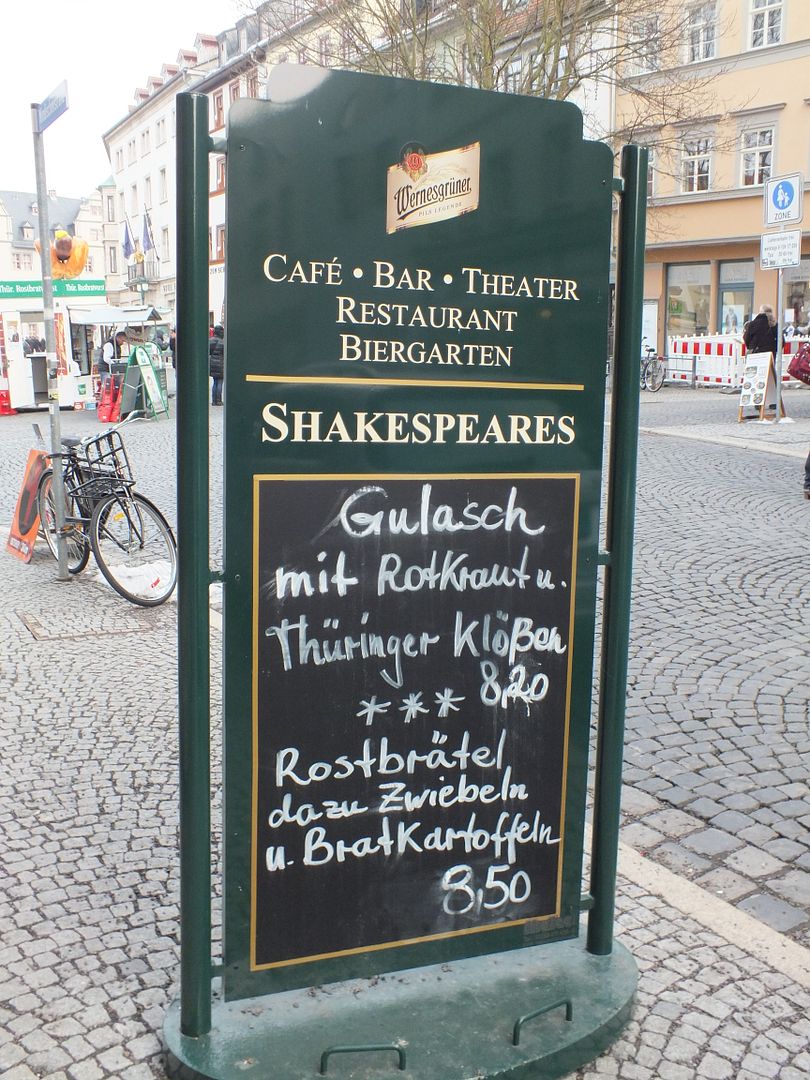 Tasty Thüringer Klöße
I spend the night on the edge of the Thuringian Forest in the sleepy town of Ilmenau. I'd hoped to maybe do some walking, but there's a sh!t load of snow. I sightsee by car instead. There are plenty of these cute Easter egg displays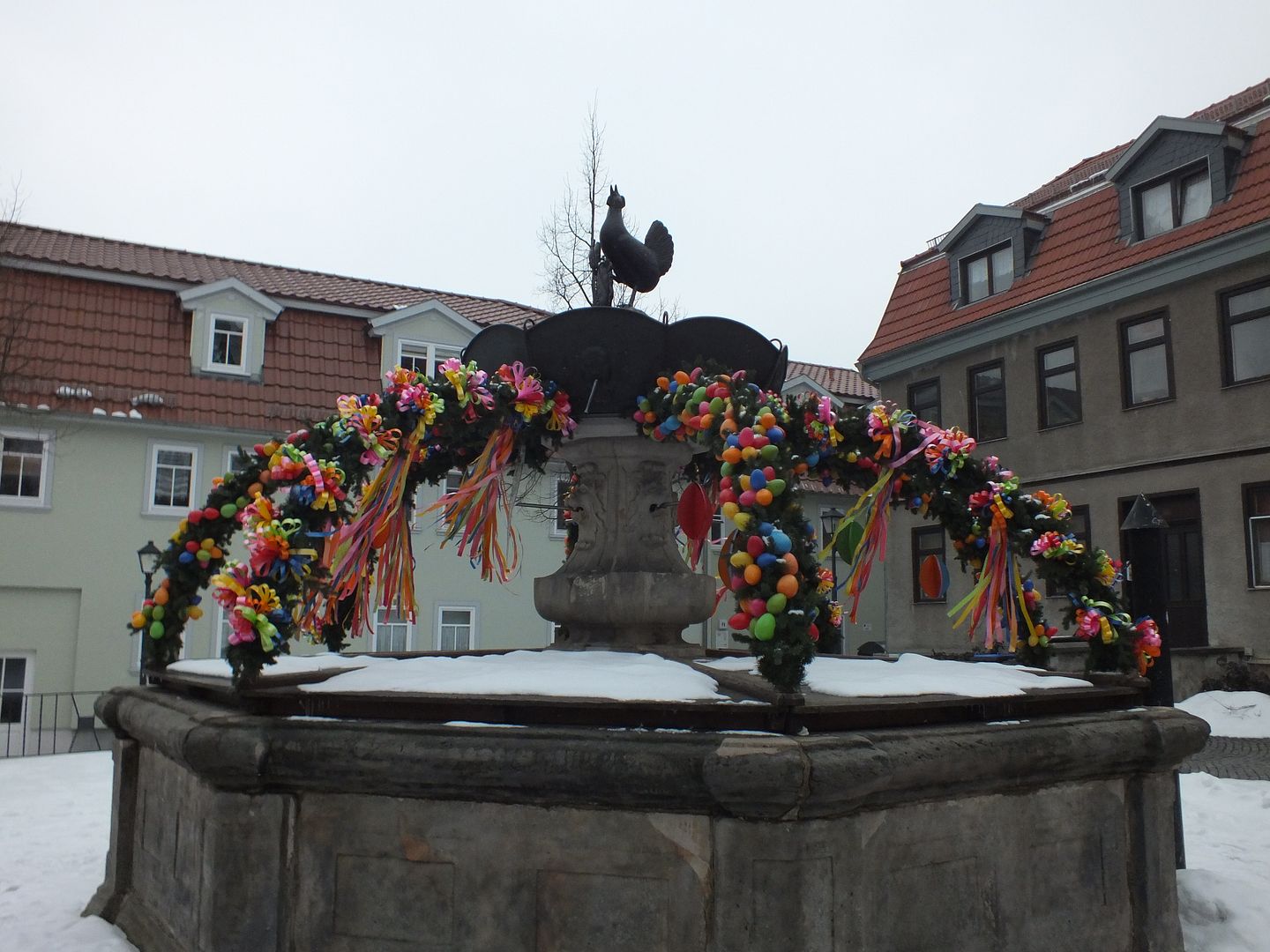 My view on Easter morning
I wind my way down from the Forest towards Nuremberg, crossing the now invisible dividing line from East to West Germany, stopping along the way at a few interesting towns.
This is the beautiful town of Coberg. Such pretty buildings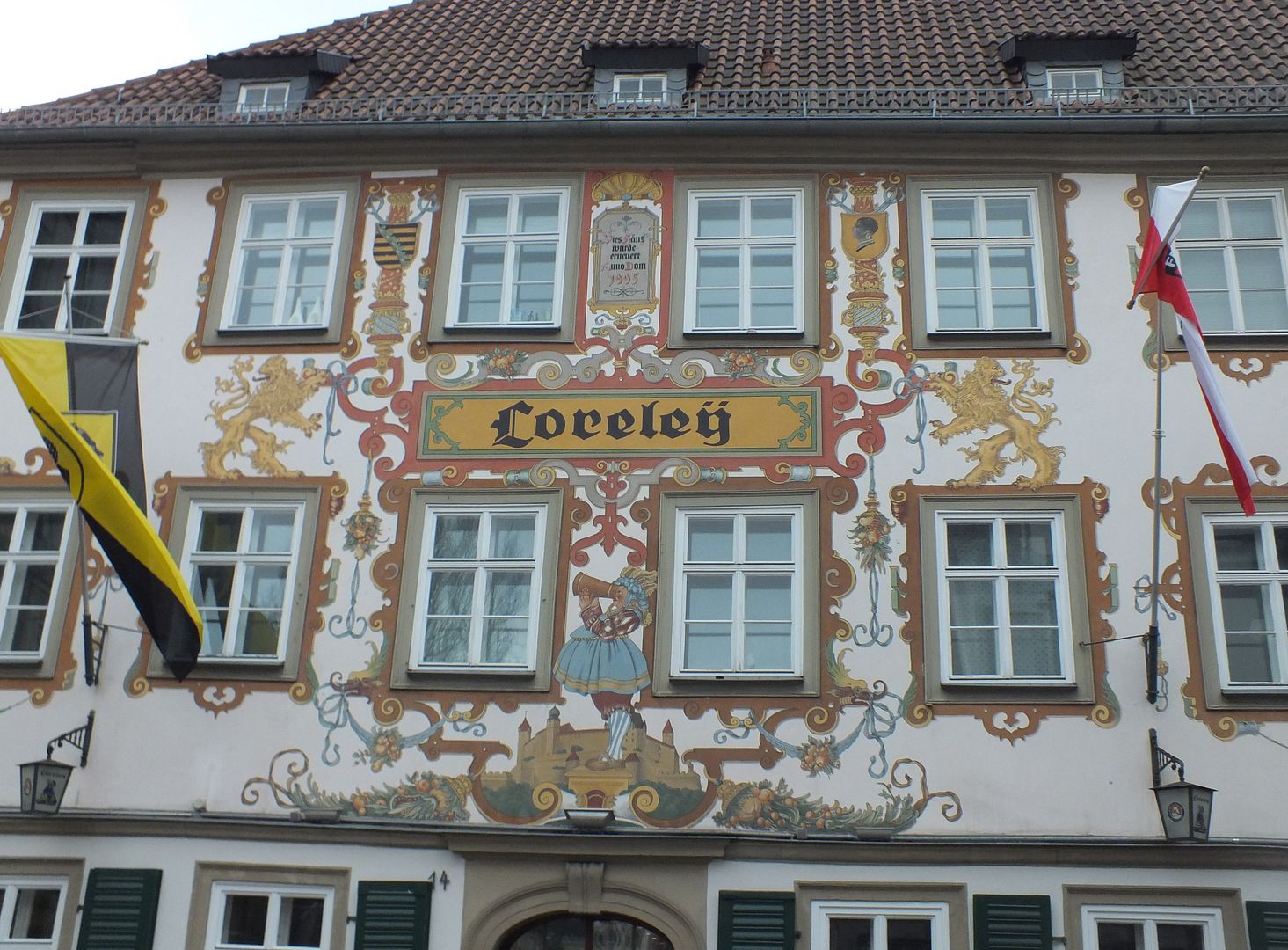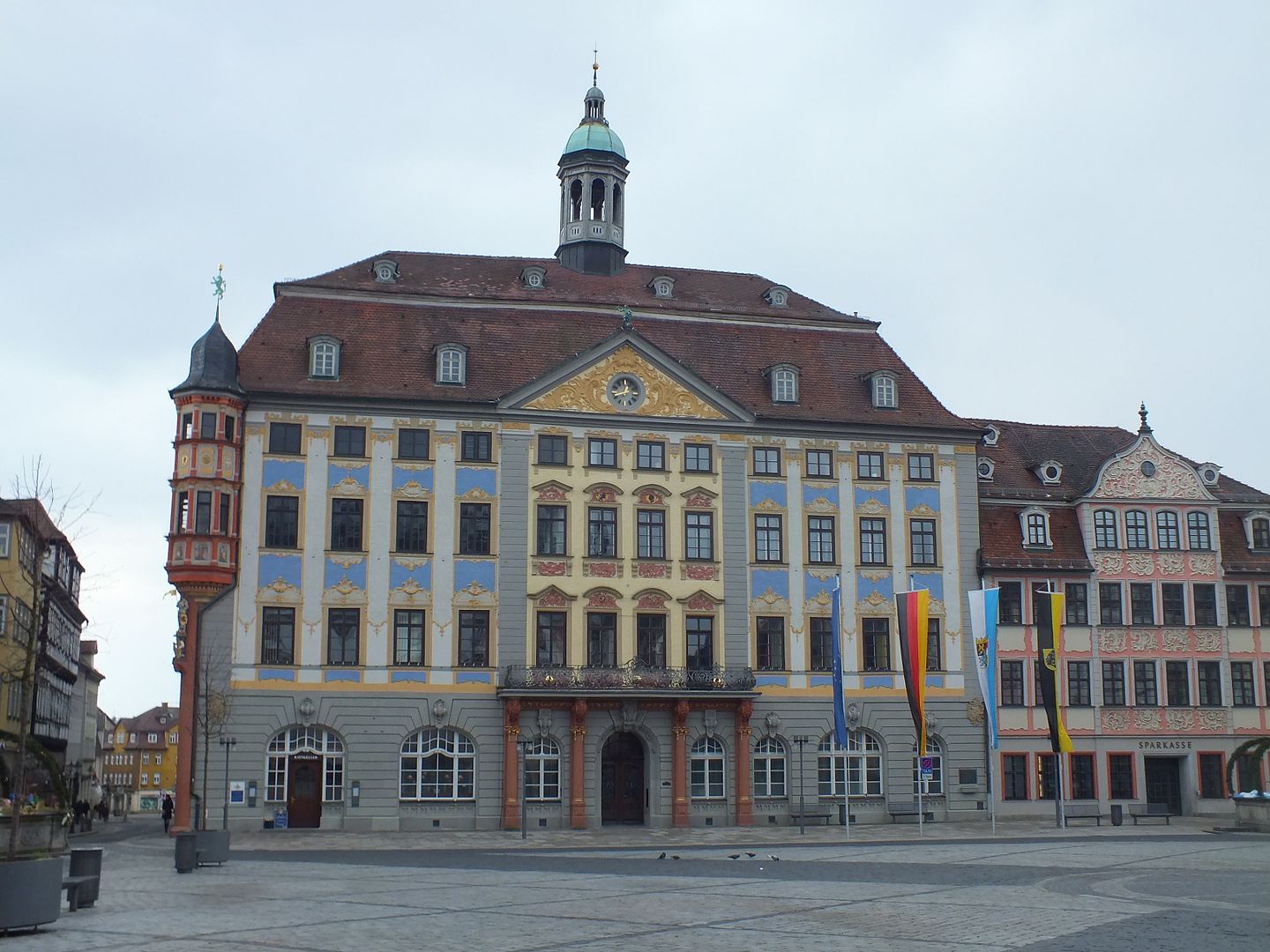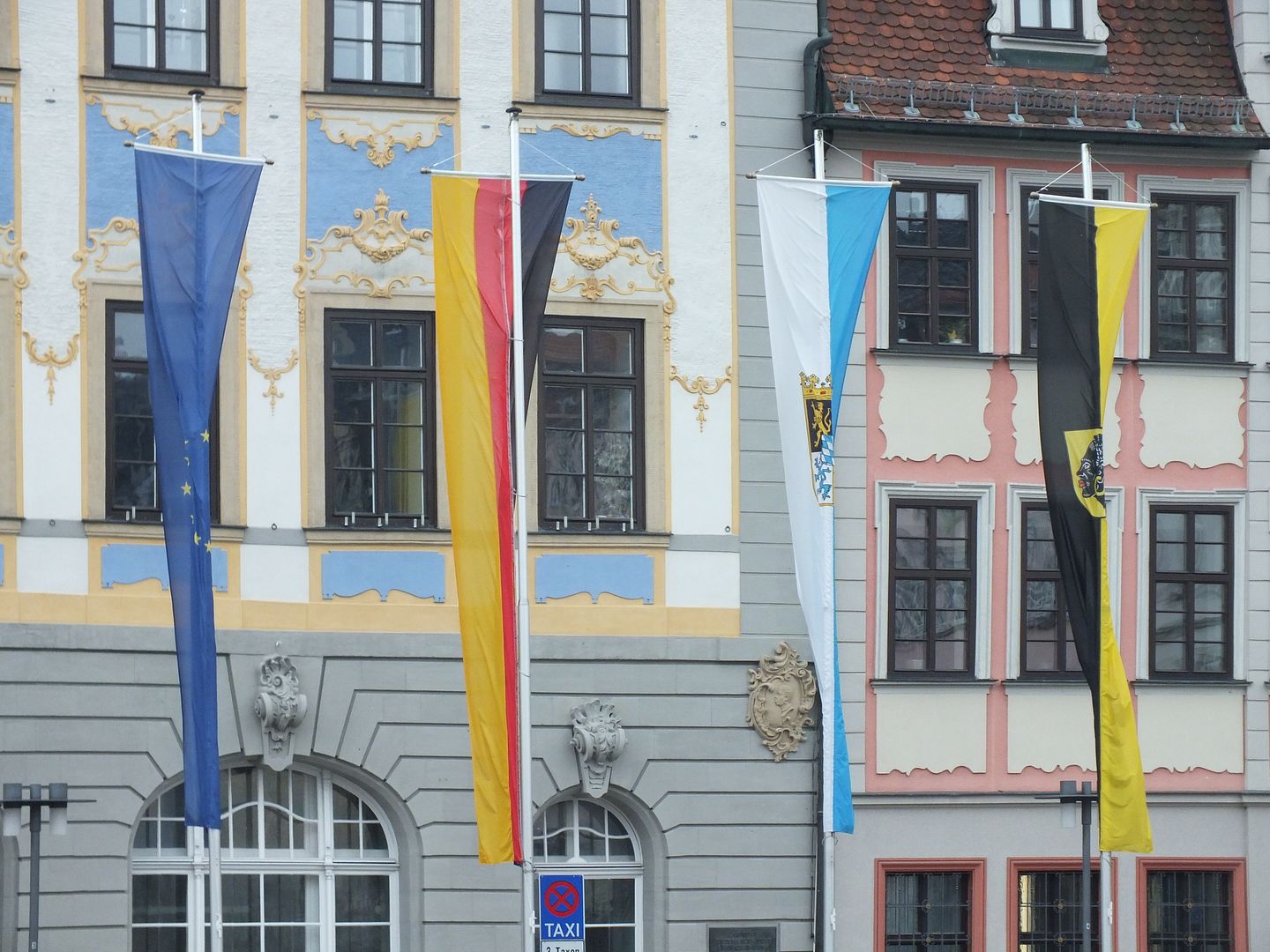 And the much busier town of Bamberg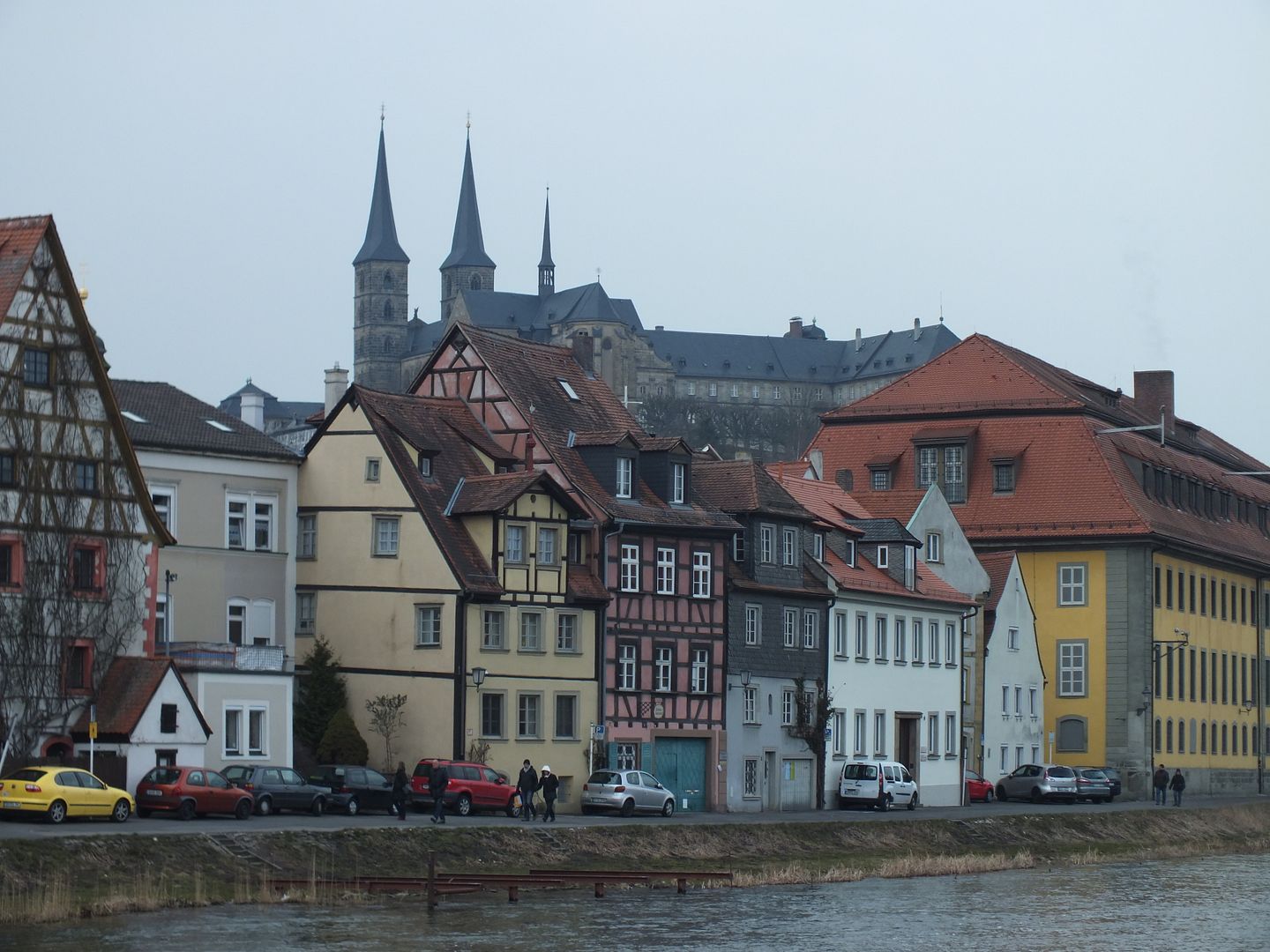 Bamberg's Klein-Venedig (Little Venice)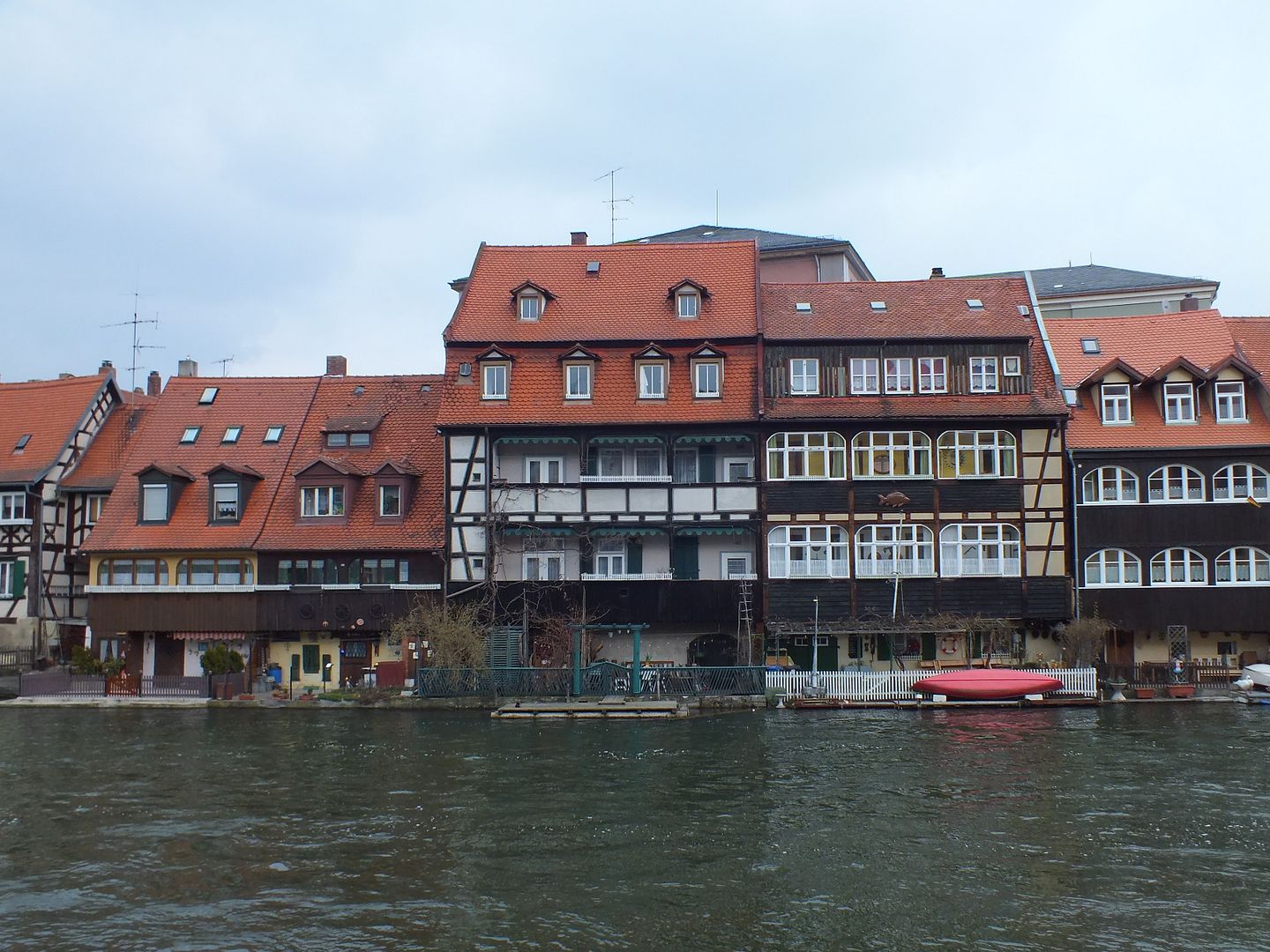 In the evening, I drop the car back at Nuremberg airport, and get the u-bhan into the city.
Nuremberg too is a nice city, again, well recovered from the damage of the war.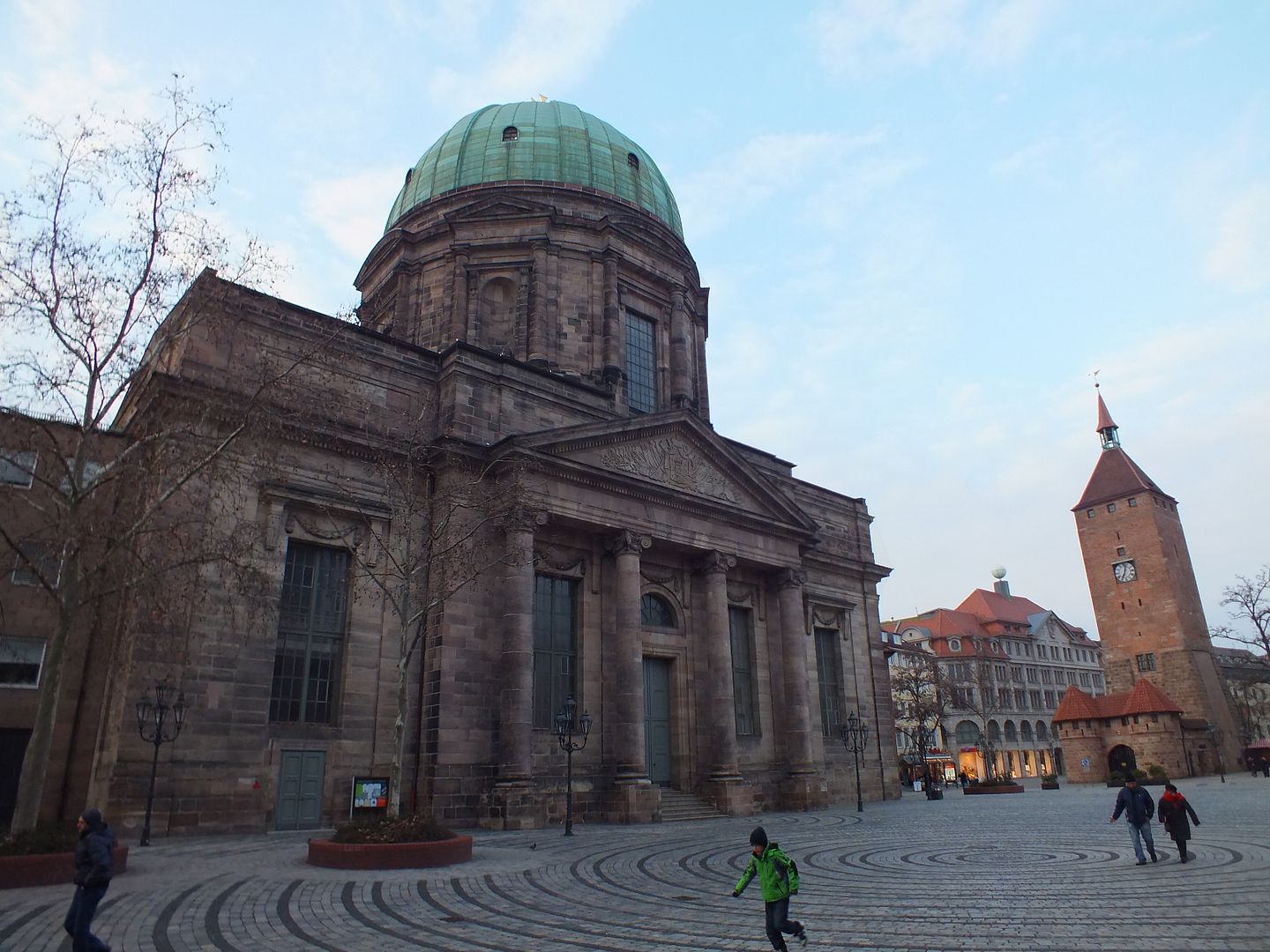 The main thing I knew about Nuremberg before I did any research for this trip was that the Nazi Nuremberg Trails were held here. Of course, Courtroom 600 was on my to do list.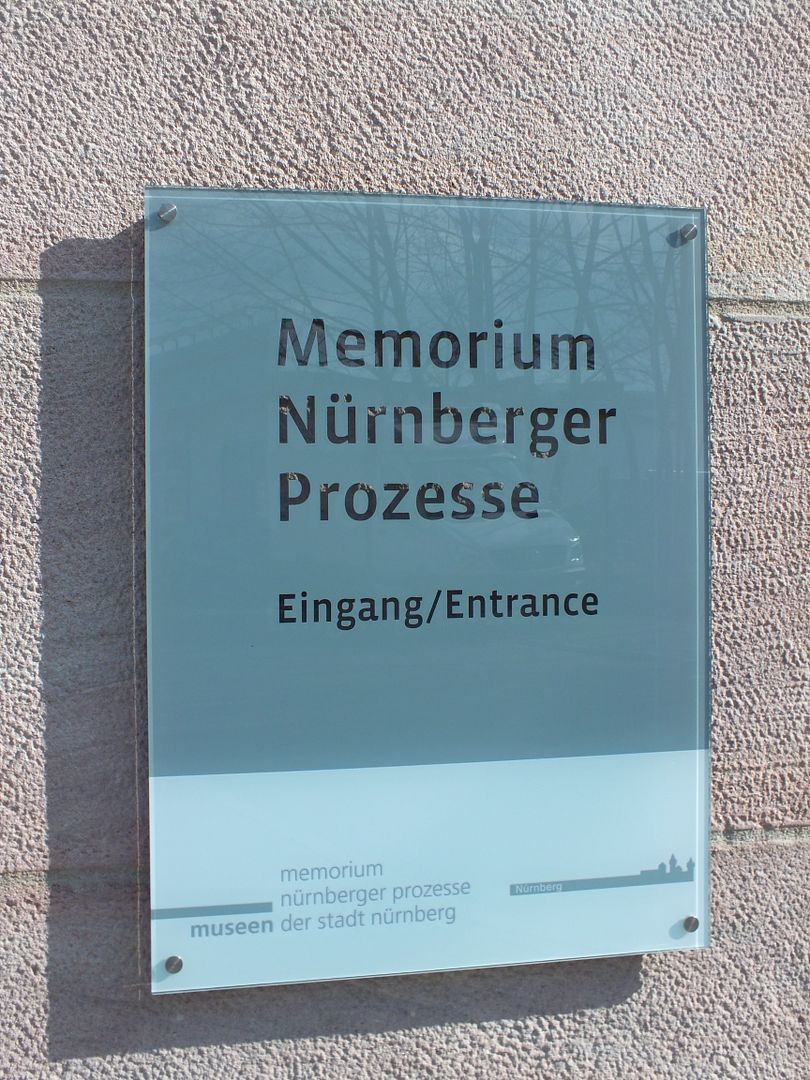 Interestingly, after some cosmetic work, it's still a functioning court room.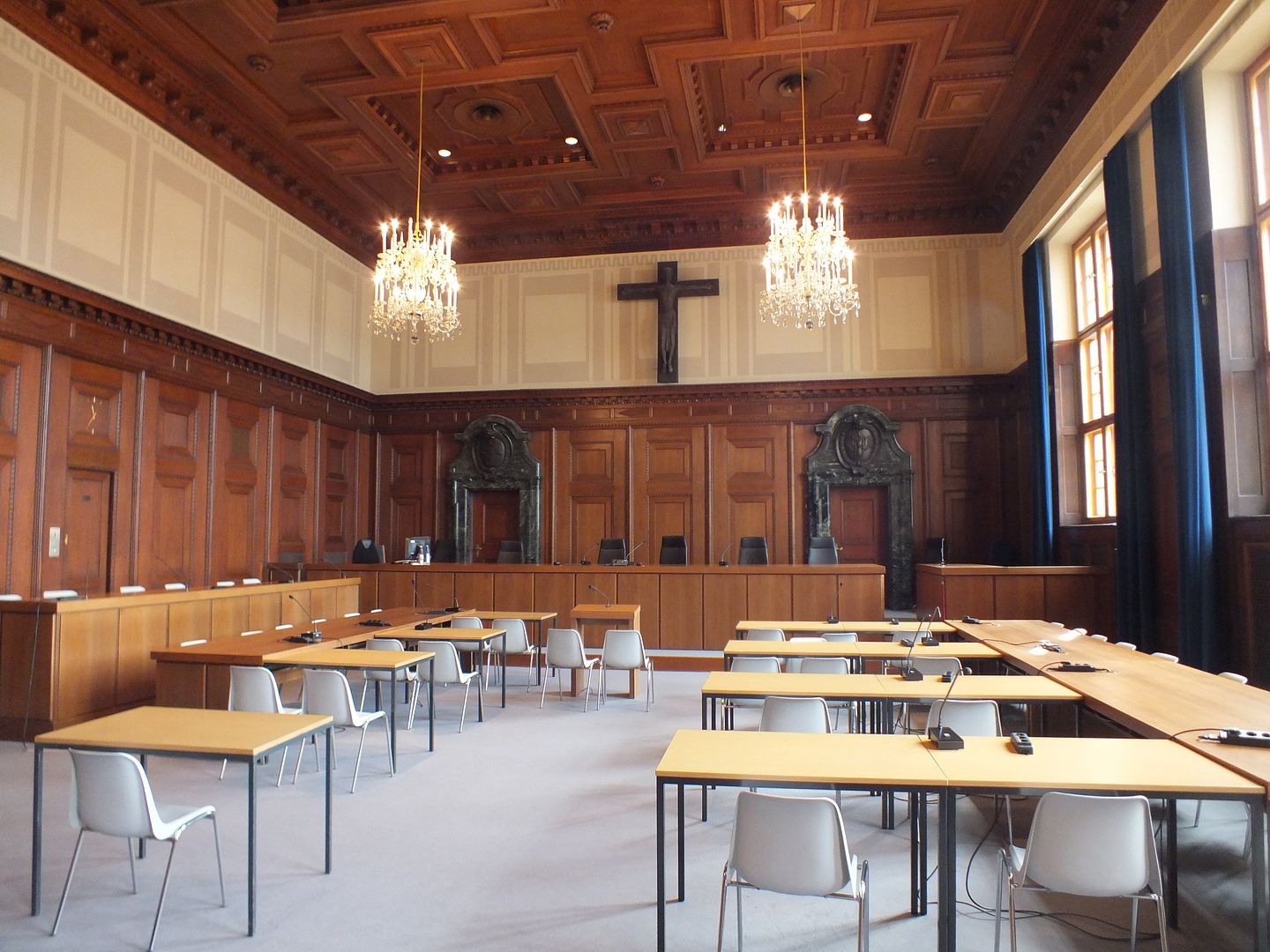 Next stop was the Dokumentationszentrum Reichsparteitagsgelände, home of the Nazi Rally Grounds, now a fascinating museum on the rise of the Nazi party.
It's housed in the remnants of the old rally grounds. From an historical viewpoint, sadly, there's not much left to see of it today.
Wandering through Nuremberg's old town
Up at the castle
I paid a quick visit to the Toy Museum…they have some pretty detailed doll's houses. If you buy a day ticket for either of the previous museums (only EUR 7.50), you get free entry into a further half dozen city-run museums. Great value.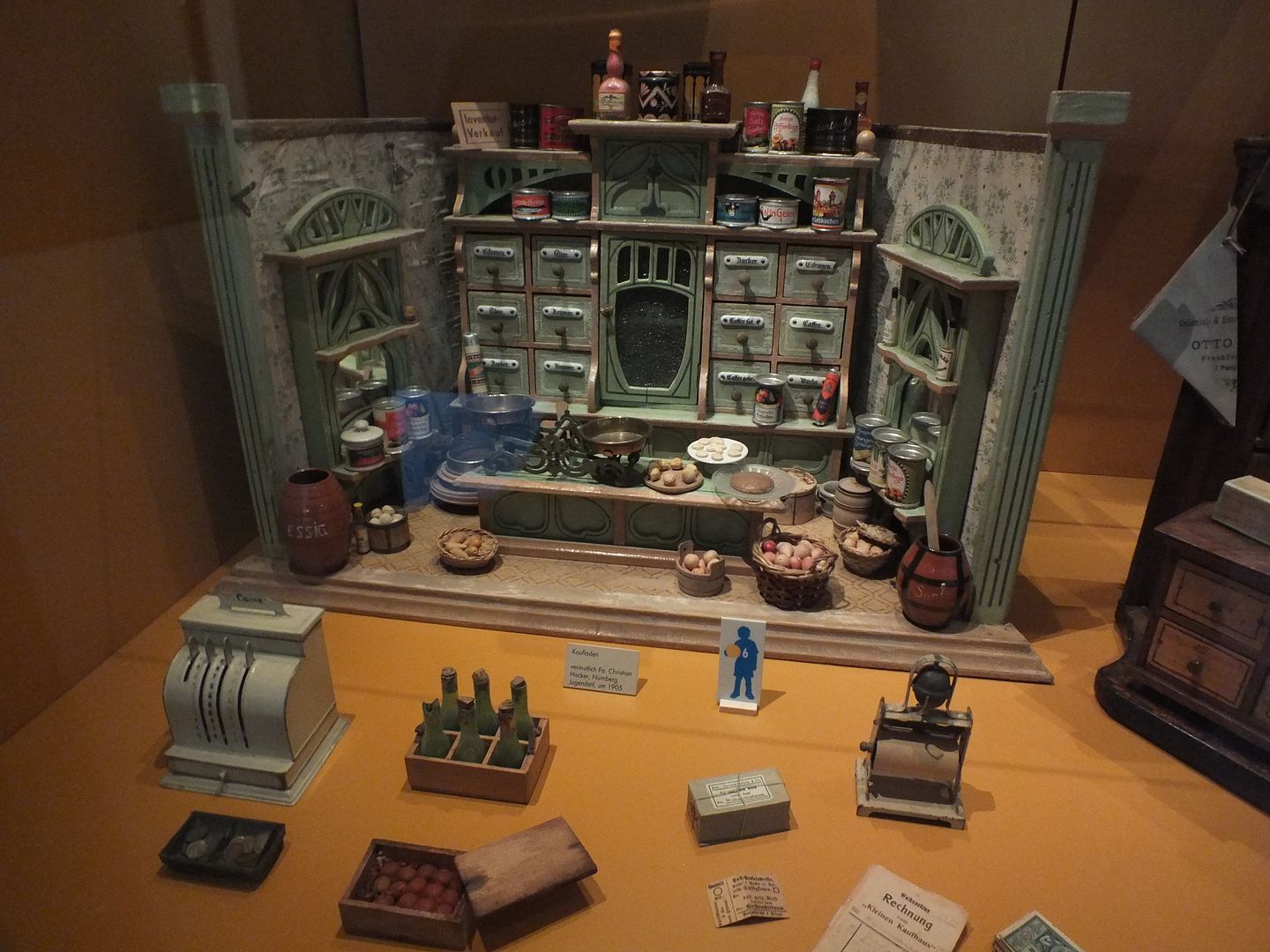 Happy Easter!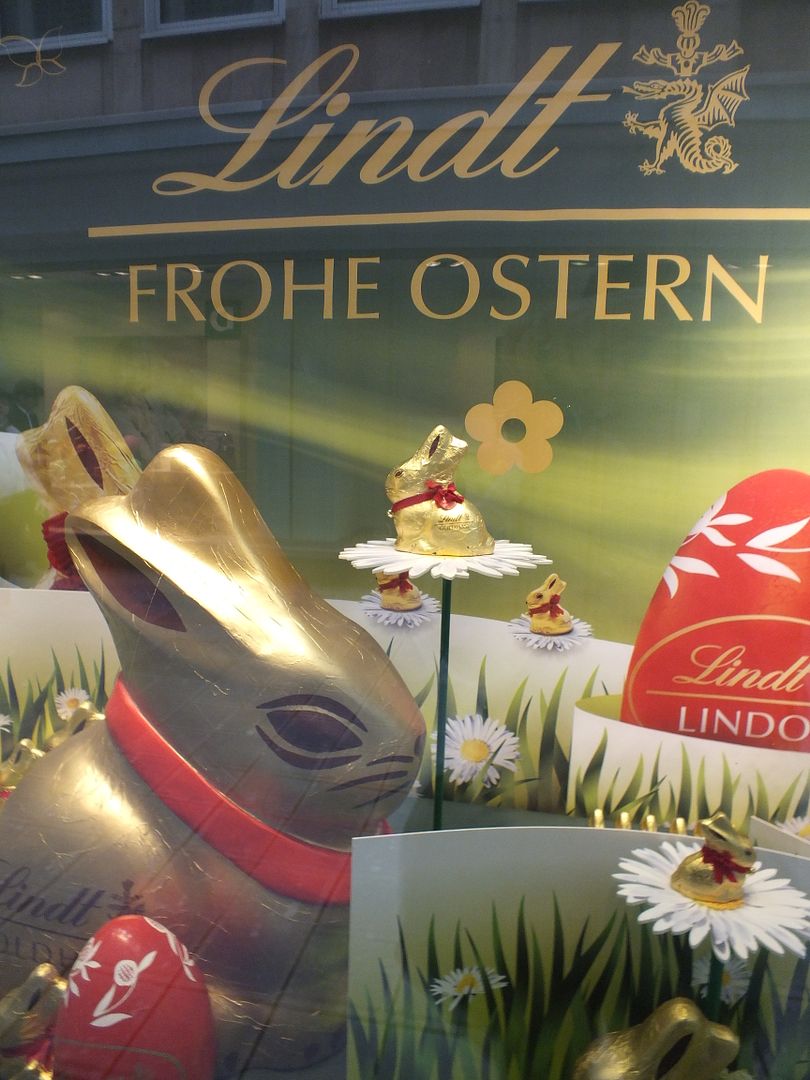 So, with my peasant Easter trip to Germany completed, it's time to head home.
Outside NUE…not very busy today.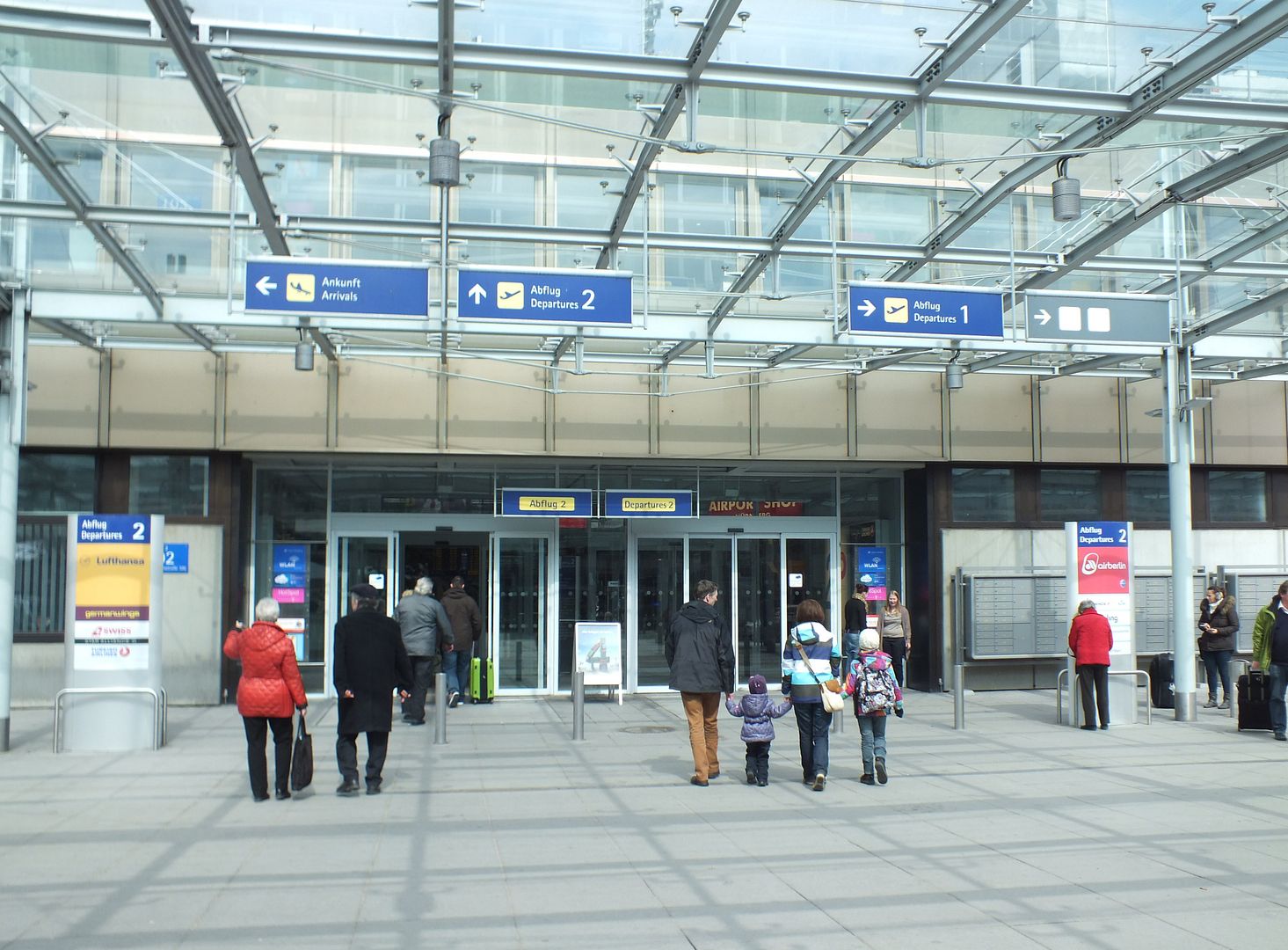 I arrived just over 3 hours early…I wasn't sure if I'd be able to check in yet or not. I was happy to see someone at the Sky Priority desk already.
Once again my auto OLCI didn't show my Gold status. The lady tagged my bag, and directed me towards security. I asked about lounge access. Clearly she wasn't sure whether to believe me or not as to whether I was Gold or Ivory. I was sort of hoping that she'd deny me the lounge voucher so I might be able to get come compensatory miles from Flying Blue (I could still access the lounge using Priority Pass), but in the end she said she'd give me a voucher.
LH desks
I'm not sure if this is a permanent feature or not, but to get to the security check point, you have to walk a long way from the check in desks, then through a semi outdoor corridor. You then end up in what looks like a bus gate area, where the security scanners are. I was the only passenger there, so was through in seconds.
FIDS – as you can see, it's not terribly busy today. The terminal was nearly deserted. Things pick up around 8pm though.