***First Trip Report***
After lurking around a.net for several months now, I finally found some time away from my studies to write up a report on a recent weekend trip to Dublin! Classes were cancelled Friday so I had the opportunity to leave Friday night and return Monday morning and took a buddy with. A little background, my father has been working for American at ORD for the past 27 years and I'm honored to have the privilege to fly non-rev. If anyone has any questions about non-reving or about American, please don't hesitate to ask! Also, any tips on how to write a better trip report would be greatly appreciated as I will be making a lot of trips (DFW-ICN, ORD-HEL, etc) this summer and would love to continue this hobby. Here goes!
O'Hare International Airport (ORD) - Dublin Airport (DUB)
Flight 92
Seat: 3A
Load: J: 100% Y: 98%
Estimated Departure: 6h35p
Actual Departure: 6h46p
Estimated Arrival: 8h00a
Actual Arrival: 7h41a
Gotta love O'Hare's Terminal 3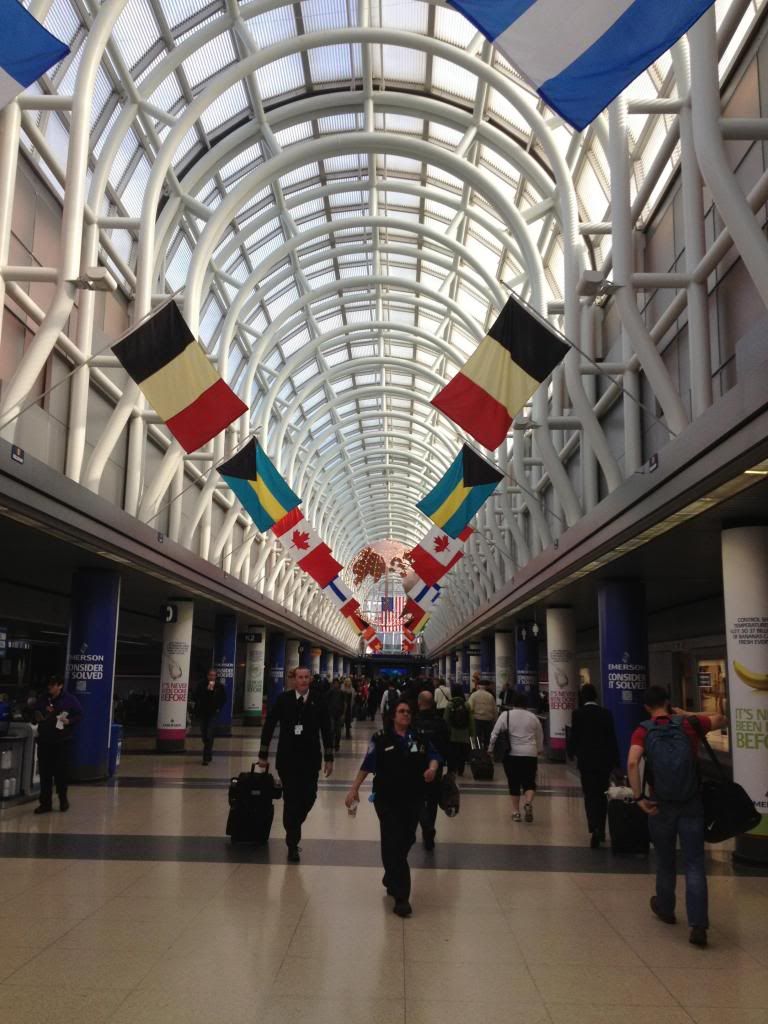 Right outside the gate K13. LOT's 787 on the move. Hoping to fly on one of these days as most of my family resides in Poland, past flights on the 767's are nothing special.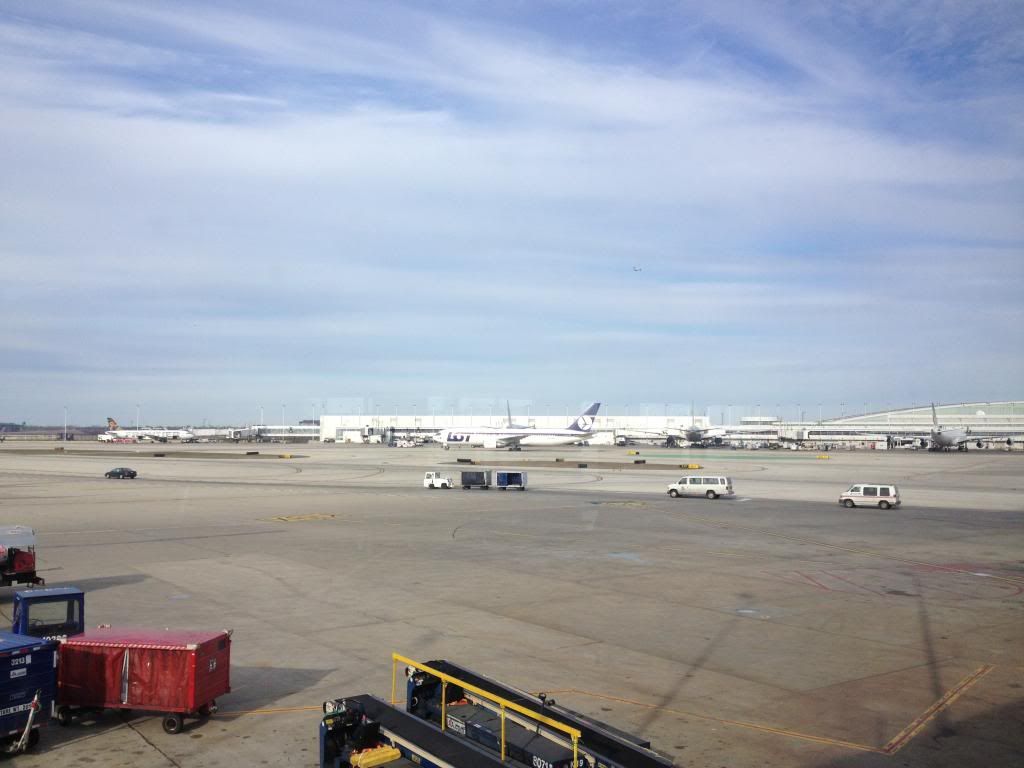 Obligatory aircraft shot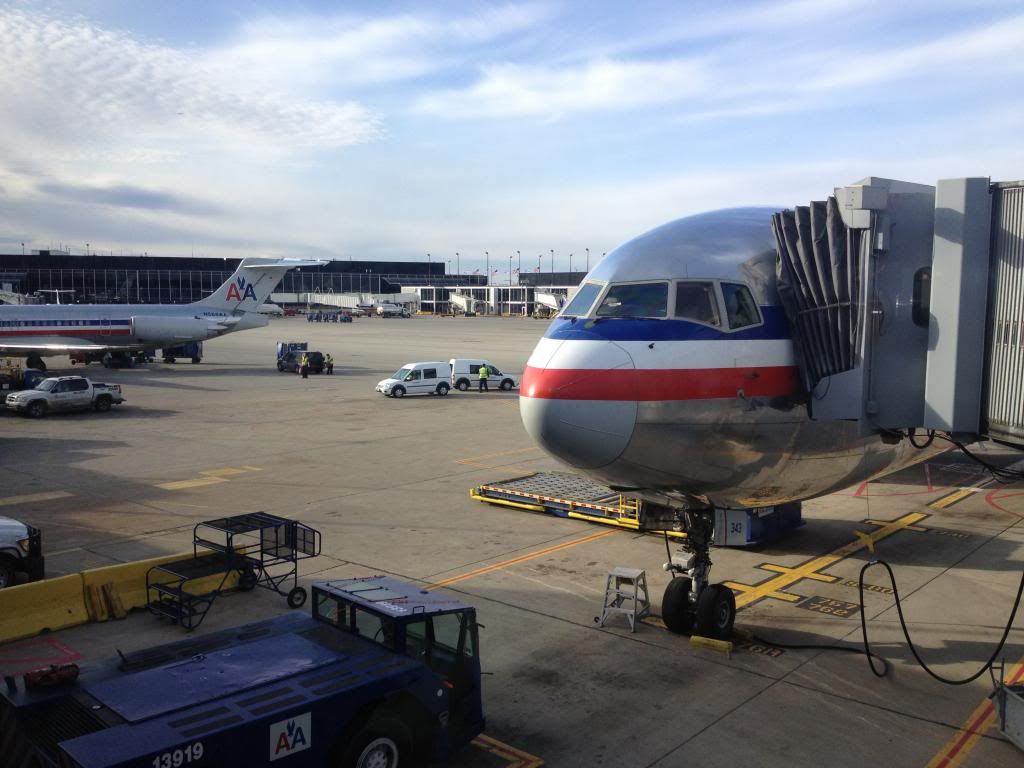 My buddy, Andrew, checking in at the front desk. On a buddy pass (D3), he had the lowest priority but was still the 28th passenger of the 28 seat J class system.
Boarding was relatively quick and painless. Unlike the dreadful line few gates down that's departing to LHR.
One of the beauty of non-revving, never knowing you're guaranteed a seat. Quickly reserving our hotel in Dublin.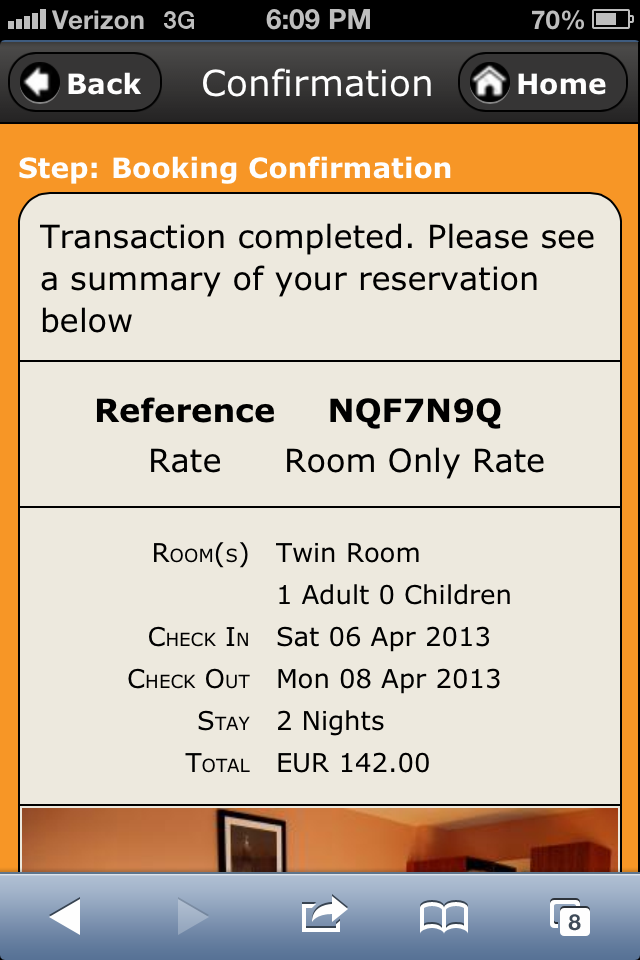 I'm one happy man!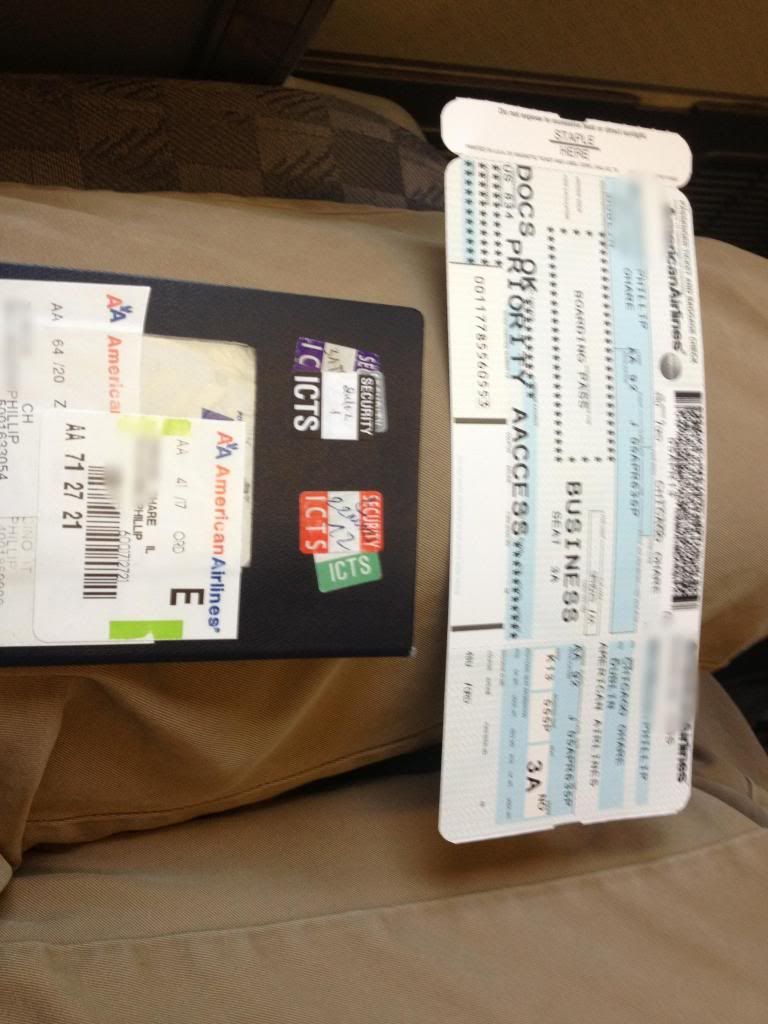 Champagne and newspapers were served promptly. Blanket, pillow, and amenity kit was waiting on top of the seats.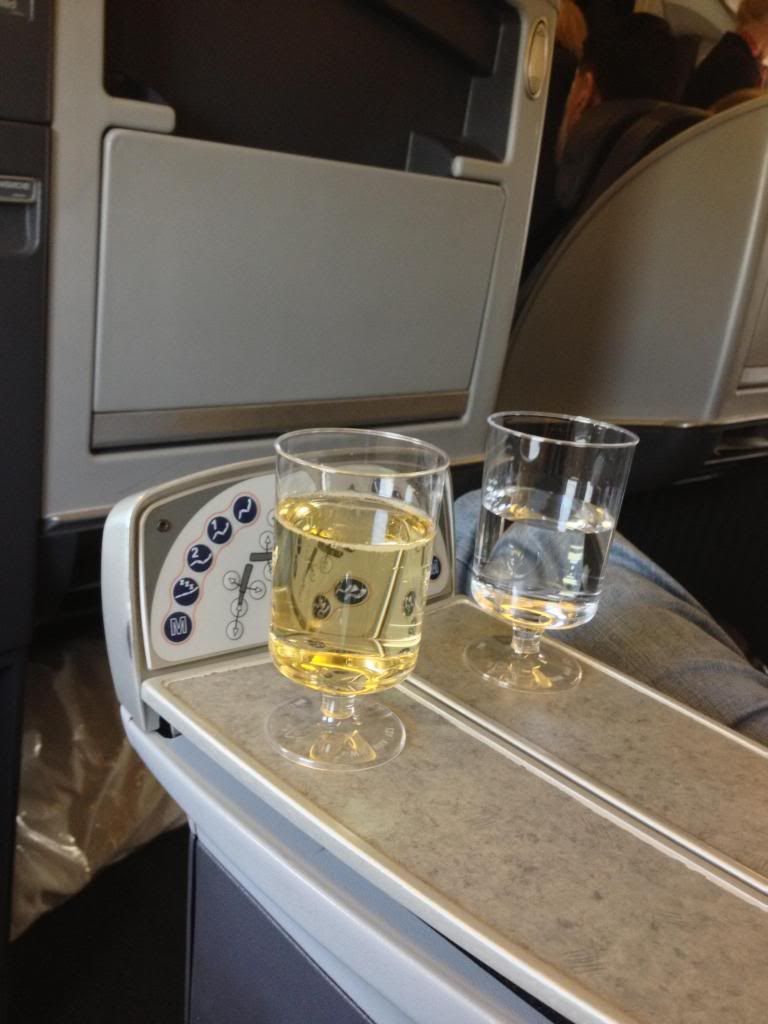 Gotta love this " pitch. and the provided socks.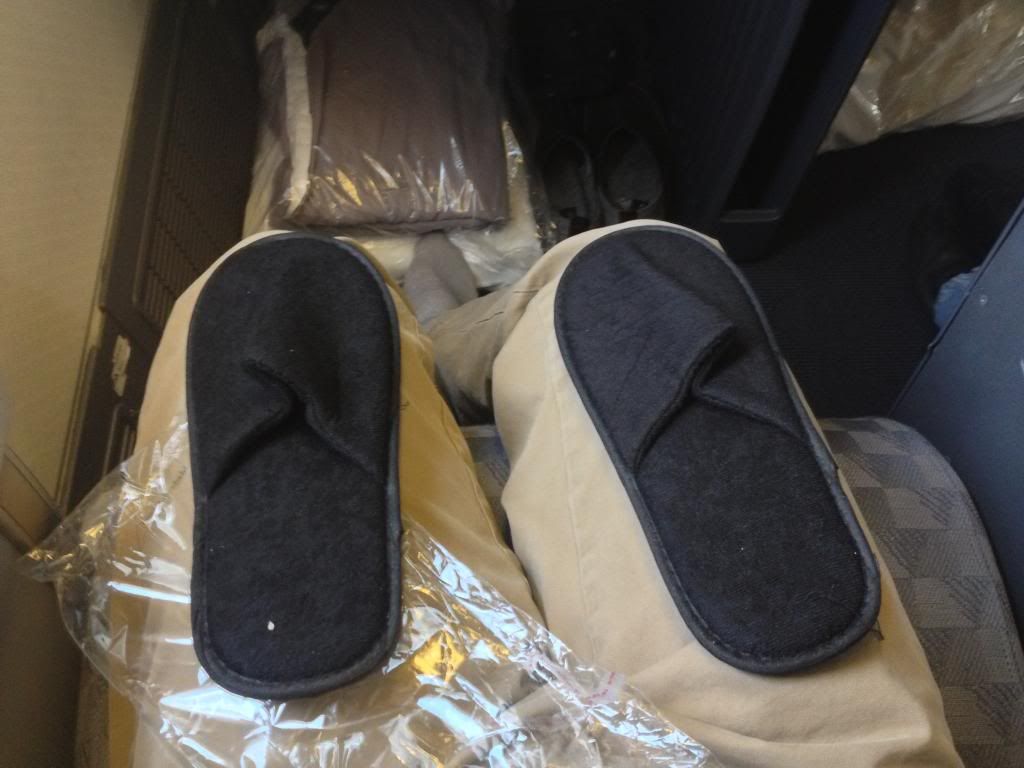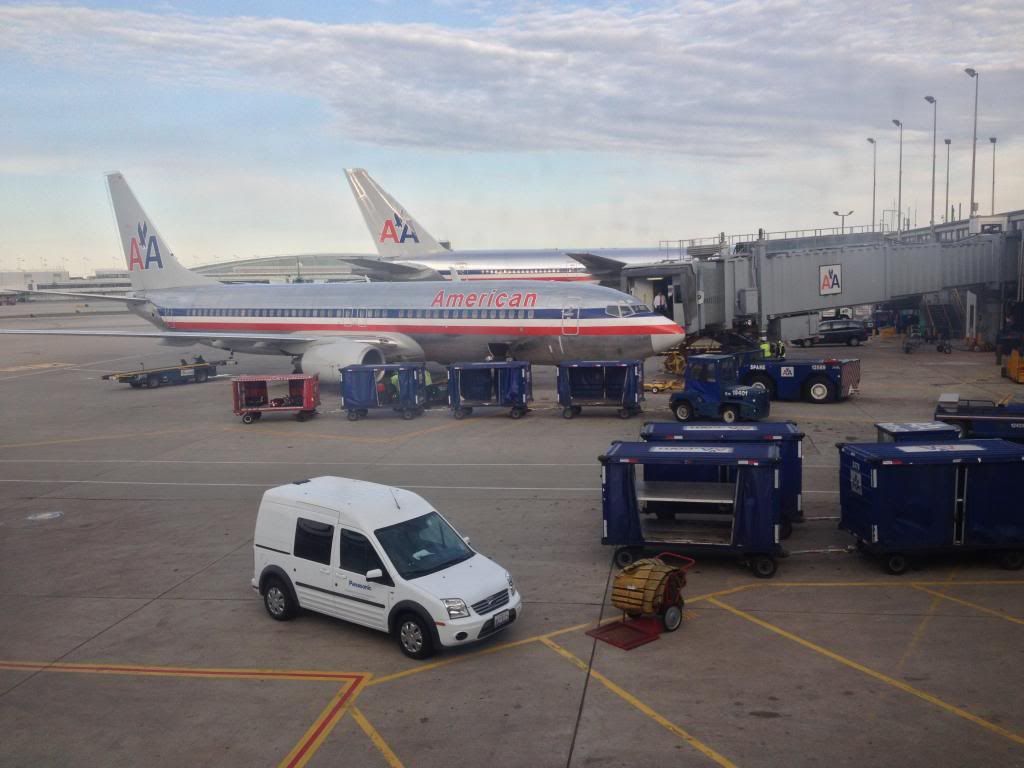 Quick comparison of the weather
Slippers were a bit small (And I'm only a size 10), however they were much preferable than the plastic-esque velcro ones on my return trip.
Pushed back at 6:34, a minute before the estimated departure time.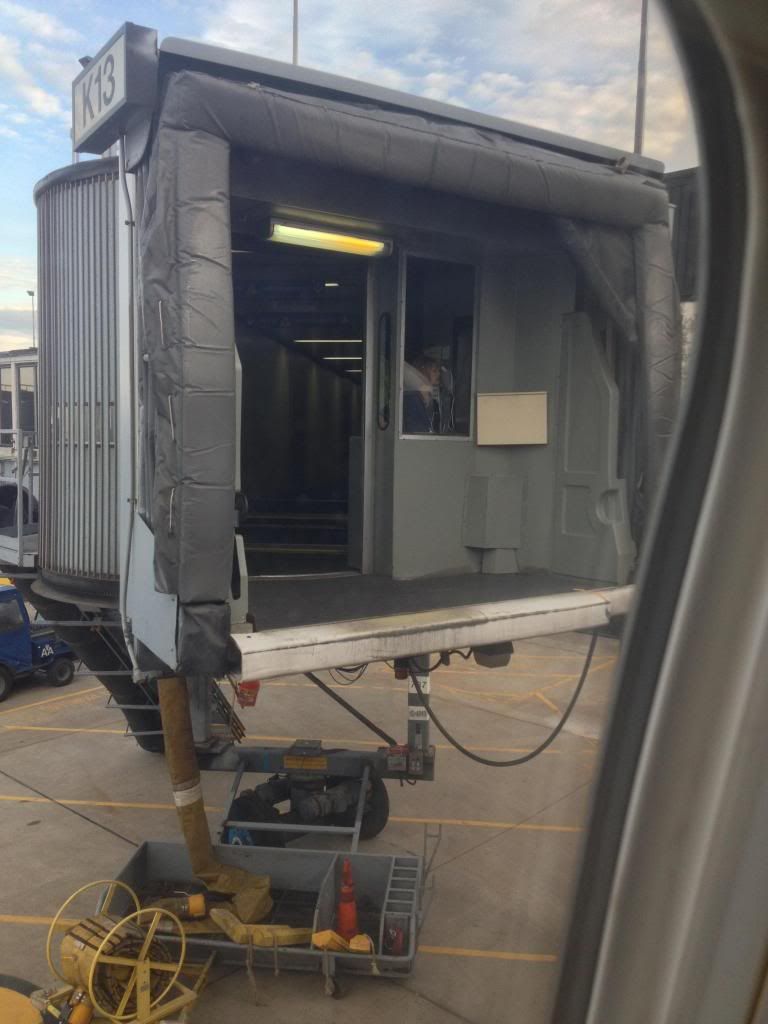 Love ORD. One of my favorite airports out there.
A beautiful trip 7 heading to PEK later that evening (a flight I hope soon to take this summer)
MD80 patiently letting us cross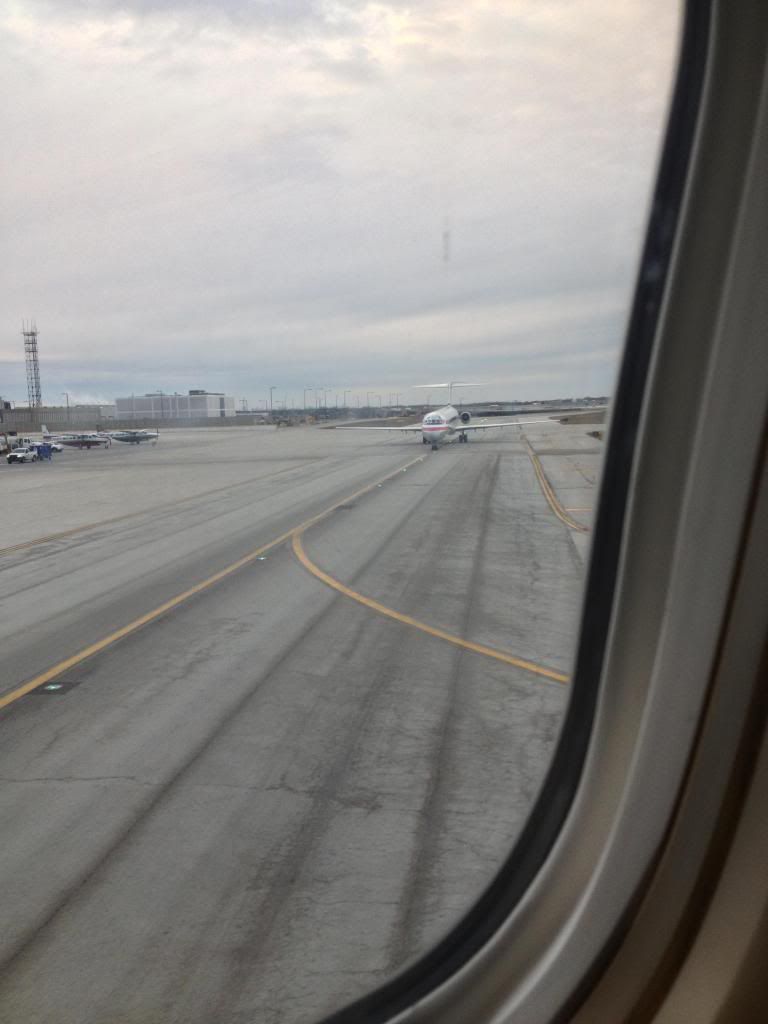 The menu. I apologize for the blurriness - I really need to upgrade to a camera better than an iPhone.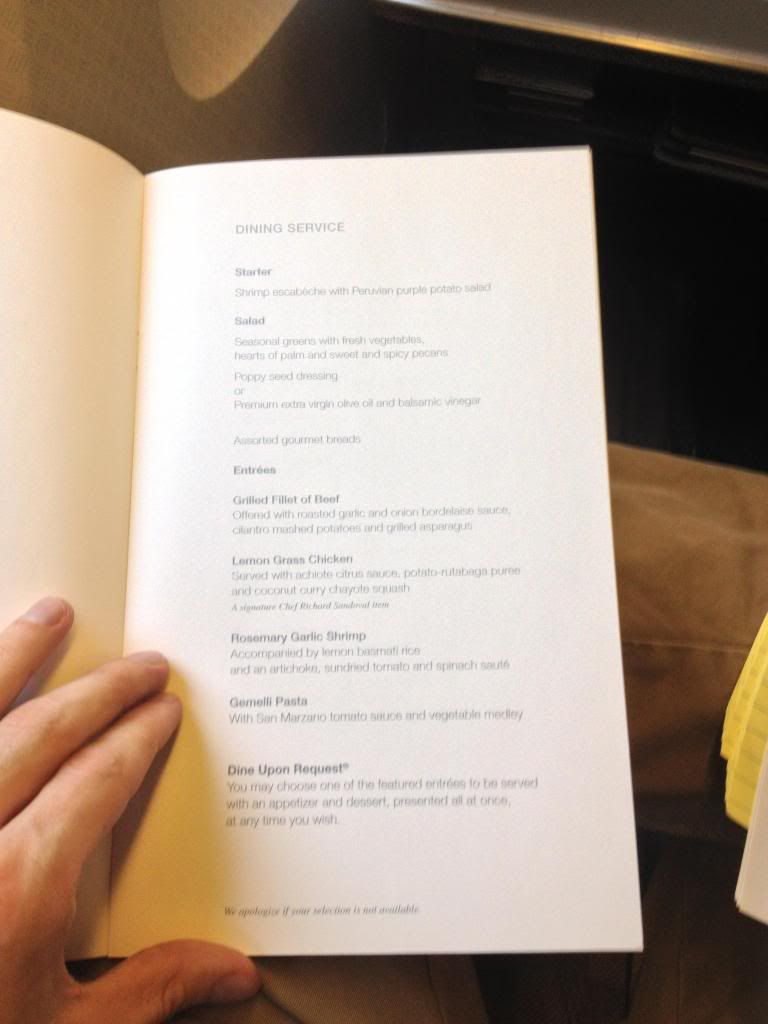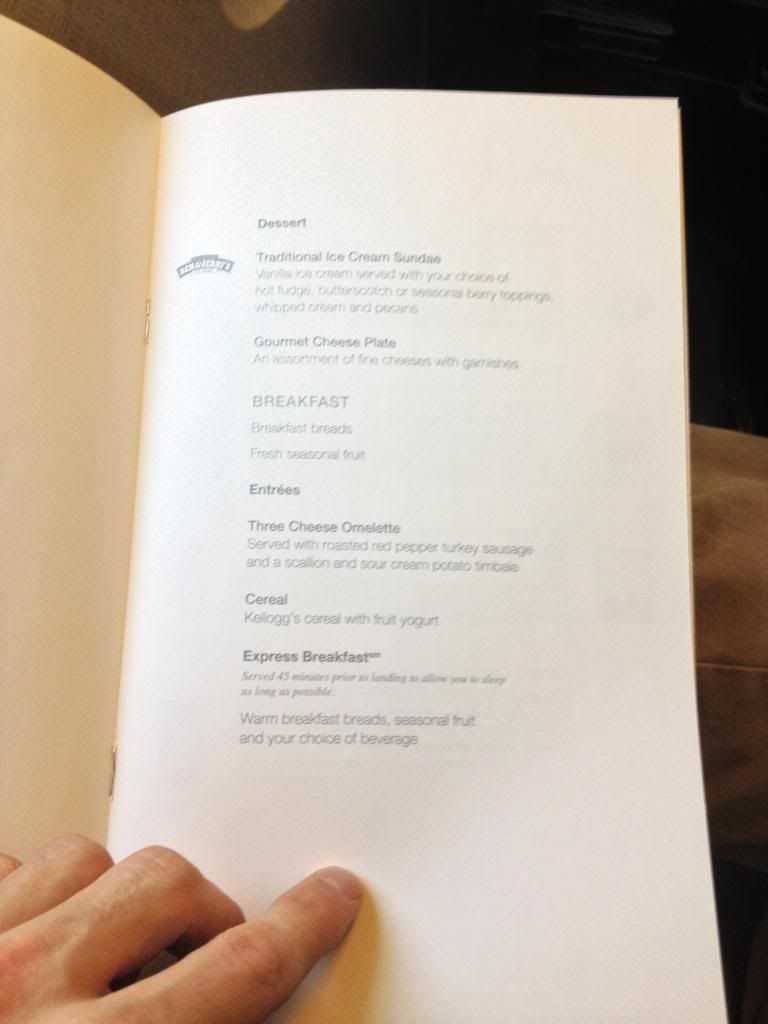 Wide open for take-off
But we wait, patiently, for another 10 minutes. Meanwhile...
6h46p: Please clear for take-off.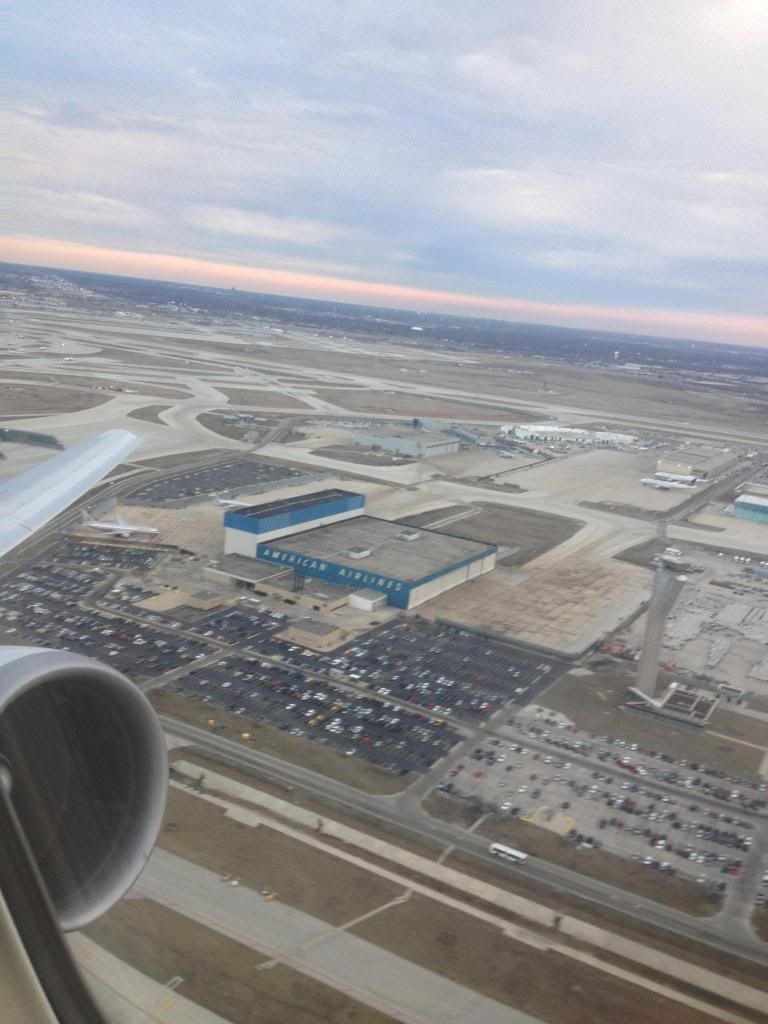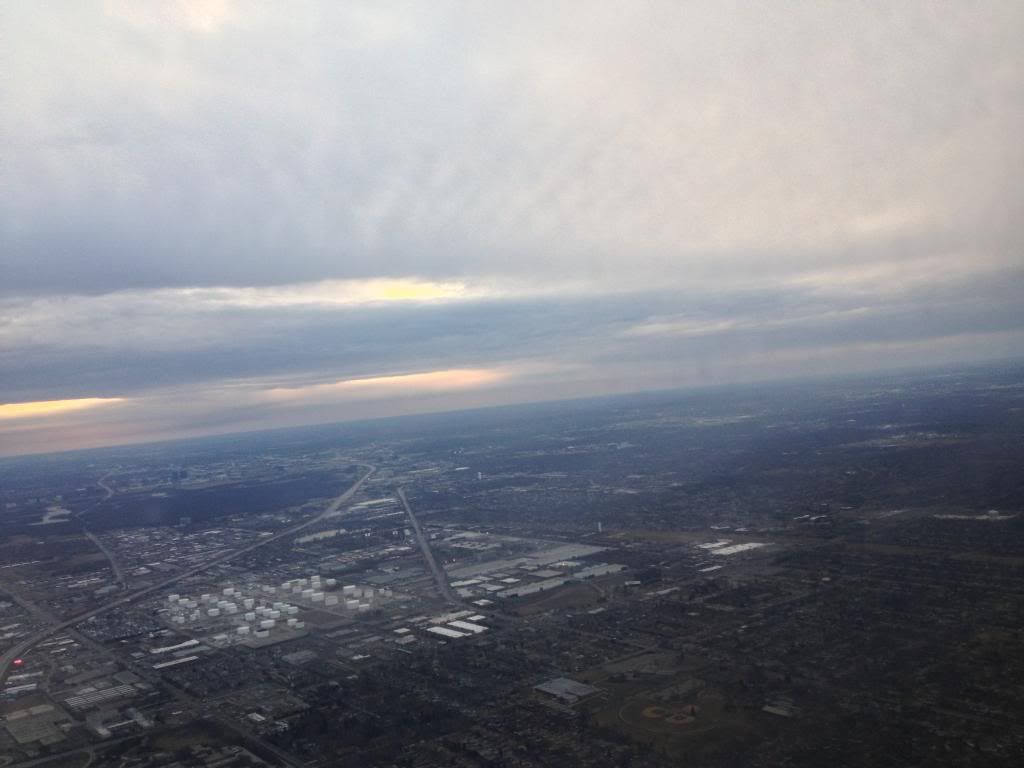 Northern suburbs of Chicago + Lake Shore
Unfortunately, being seated on 3A puts me on the left side of the plane, thus being unable to see the Chicago skyline on the right.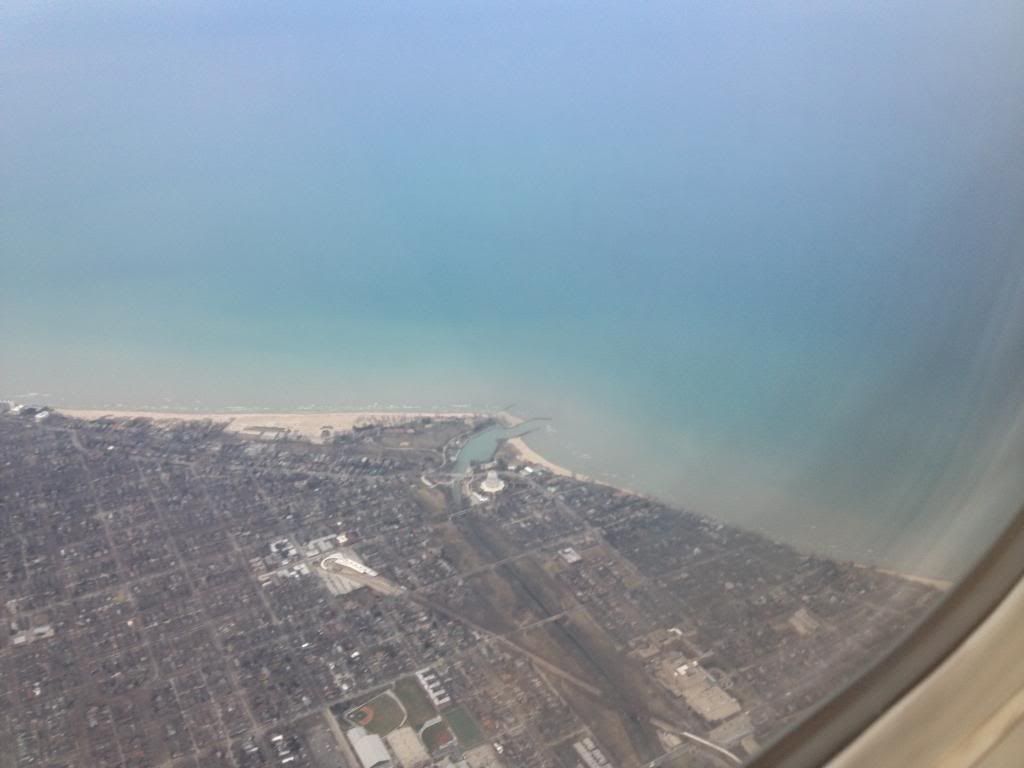 Across Lake Michigan @ 6h51.
Our purser for the flight, Elizabeth, was incredibly nice. We were adressed by our full names and she made a pretty good attempt on pronouncing my difficult, polish last name. She didn't seem to treat me any differently than the other full-fare paying customers. Elizabeth asked if I would like a fresh salad and gave me a choice of two toppings. I went with the balsamic, of course. While taking our order, she recommended I try the rosemary garlic shrimp for my entree (I do love seafood, how could I decline). She also asked if I would like to be "gently" waken up for breakfast. She was quite the doll as she often smiled and laugh along with fellow customers. Great customer service.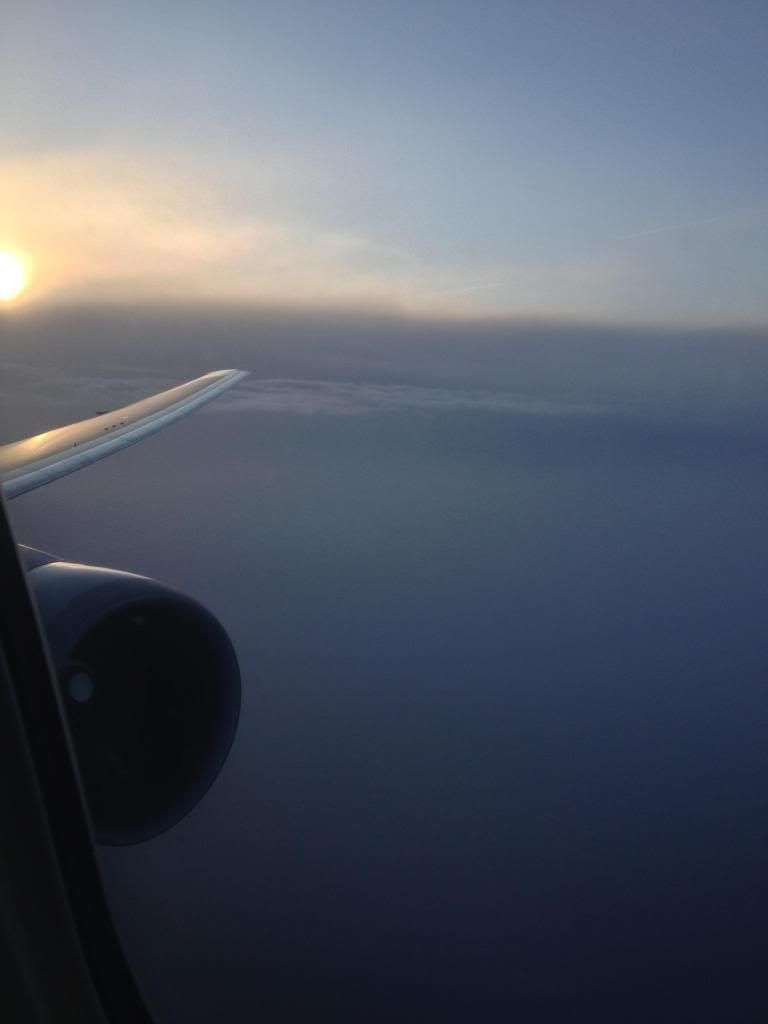 As you can see, the windows were somewhat dirty. A bit disappointing as I love to take sunset/sunrise/coast pics. However, I just realized I should've just wiped it with the warm towel or something. Bummer.
Initial review of the cabin: Looked exactly the same based off my flight to CDG back in 2010 and 2012. 2-2-2 layout. The bulky IFE in the left, center, and right side of the aircraft was an eyesore (just being picky) but each of the J Class passengers will soon receive their own personal Samsung Galaxy 10.1 Tablet and the Bose QC15 to go with it (Of course I already own a pair as it is essential for my studies and travels). What was a nice touch was that the FA's made sure to ask everyone if they knew how to operate the samsung or the heaphones. This is extremely helpful with the older customers (no offense, there are not enough fingers to count with my hands with the amount of times passengers thought their Bose headphones were broken) Cabin looked pretty clean. Seats looked used but nothing to write home about. I give it a 9/10.
One of the flight attendants passing out the hot towels.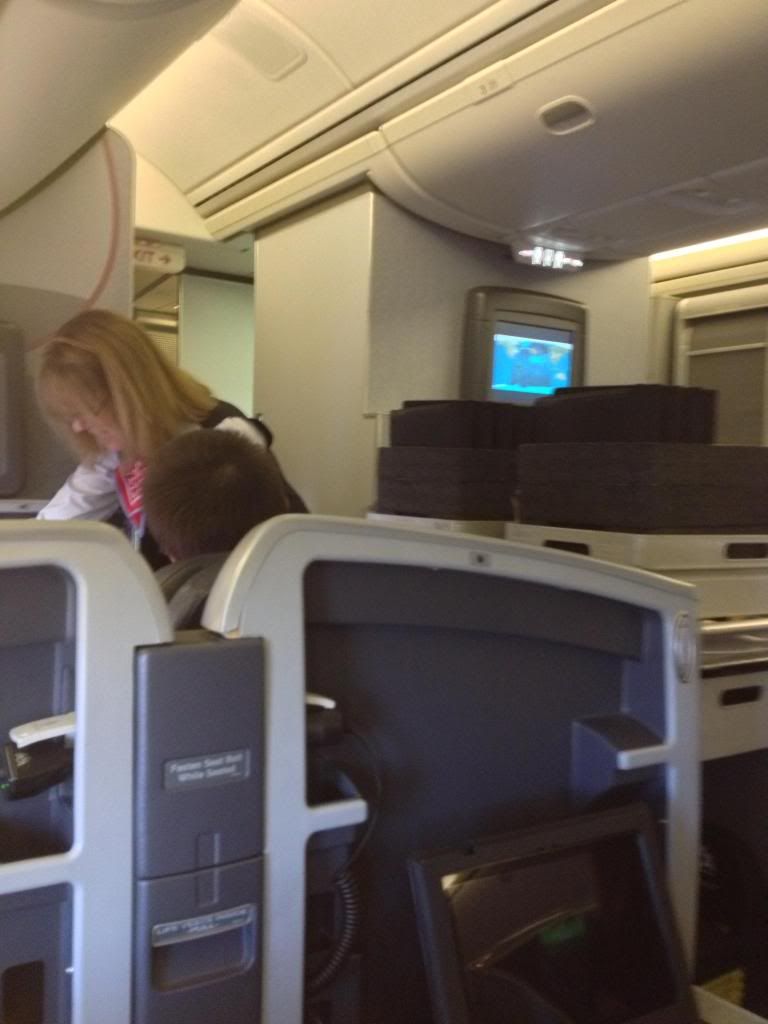 Another minor complaint (again me being picky) is the tablet having to be charged in the front. Why couldn't it be charged in the back?!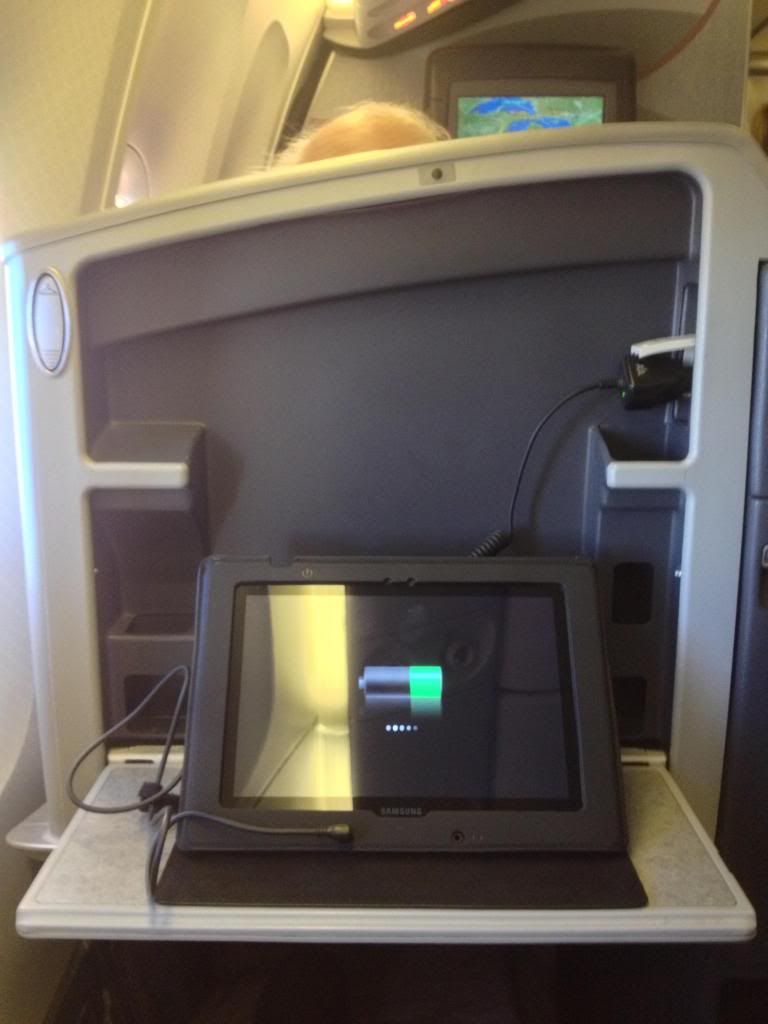 I don't see how anyone can complain with this IFE. It had tons of new movies such as Skyfall, Les Miserables, Django, Argo, etc. Games. Newspapers, music. I'm a tech savy college student and I was pretty damn impressed. Already seeing several of these movies, I chose to watch Jack Reacher starring Tome Cruise and Rosamund Pike first. I'll save Life of Pi and Les Miserables for later.
Somewhere over Canada.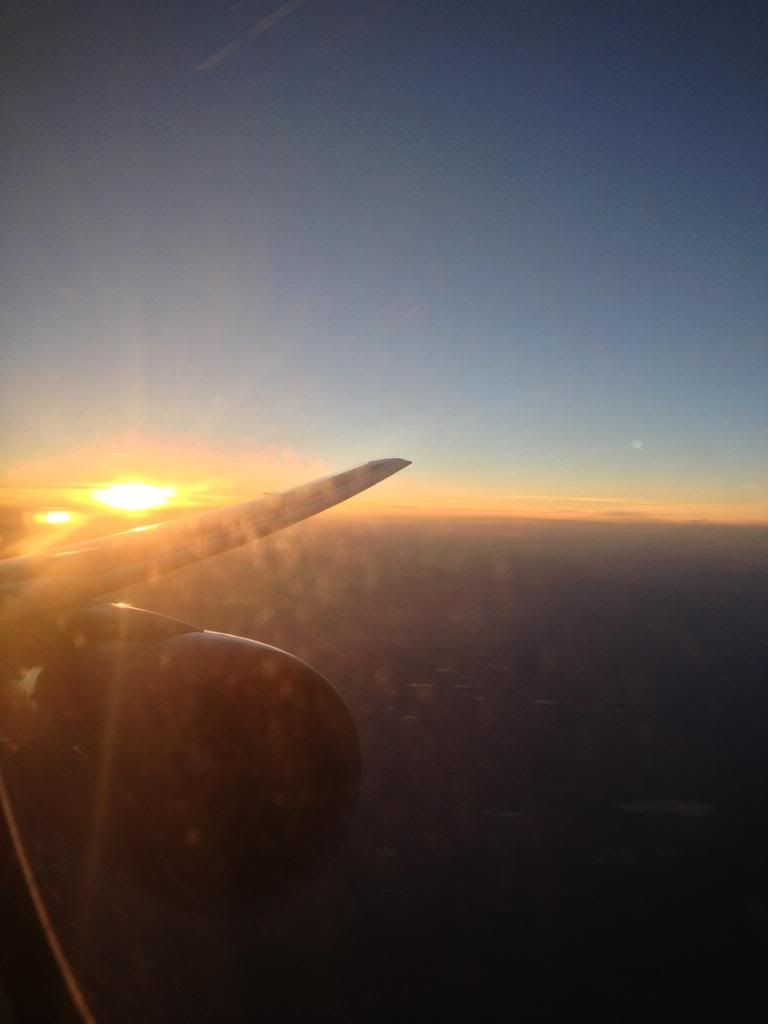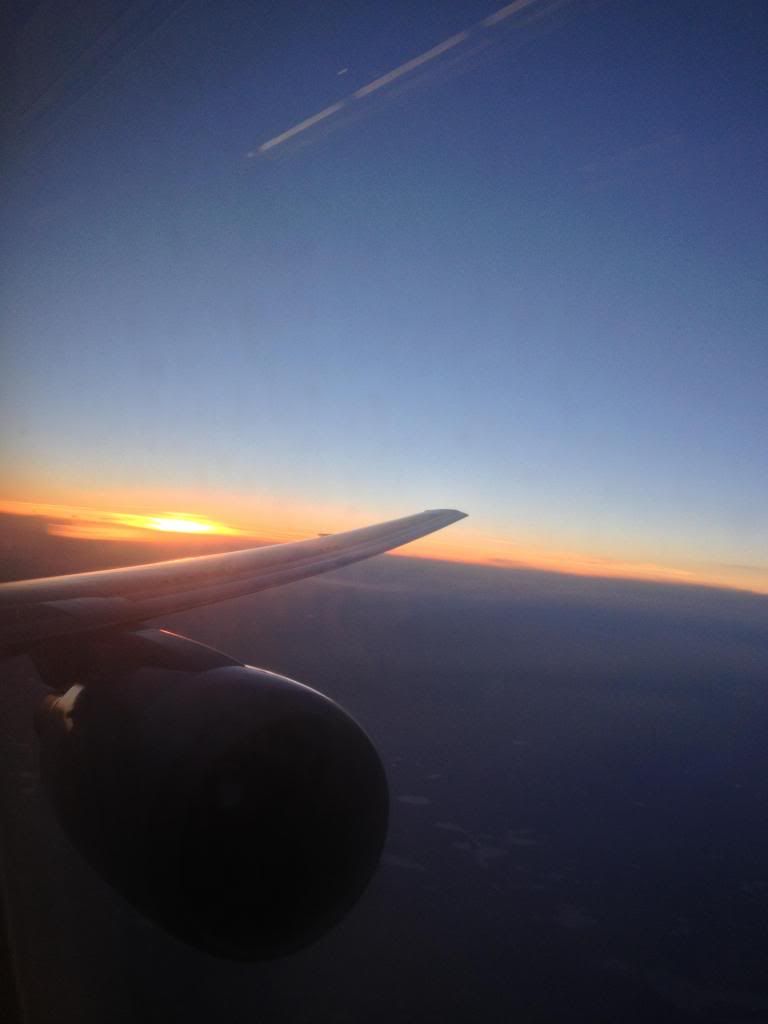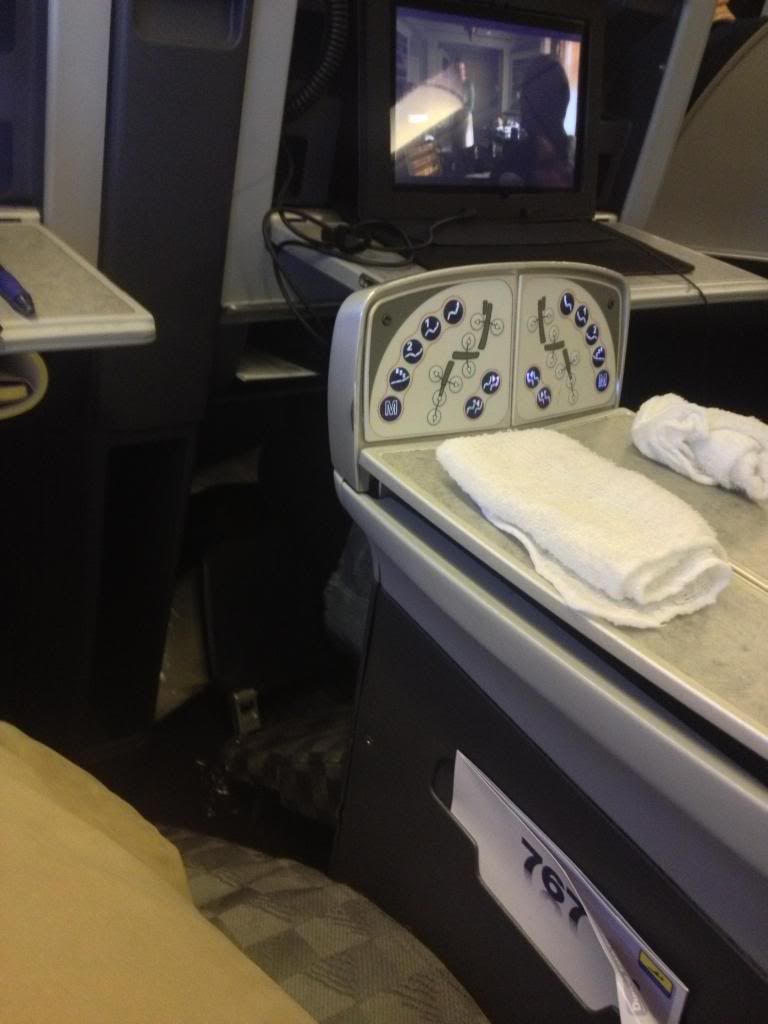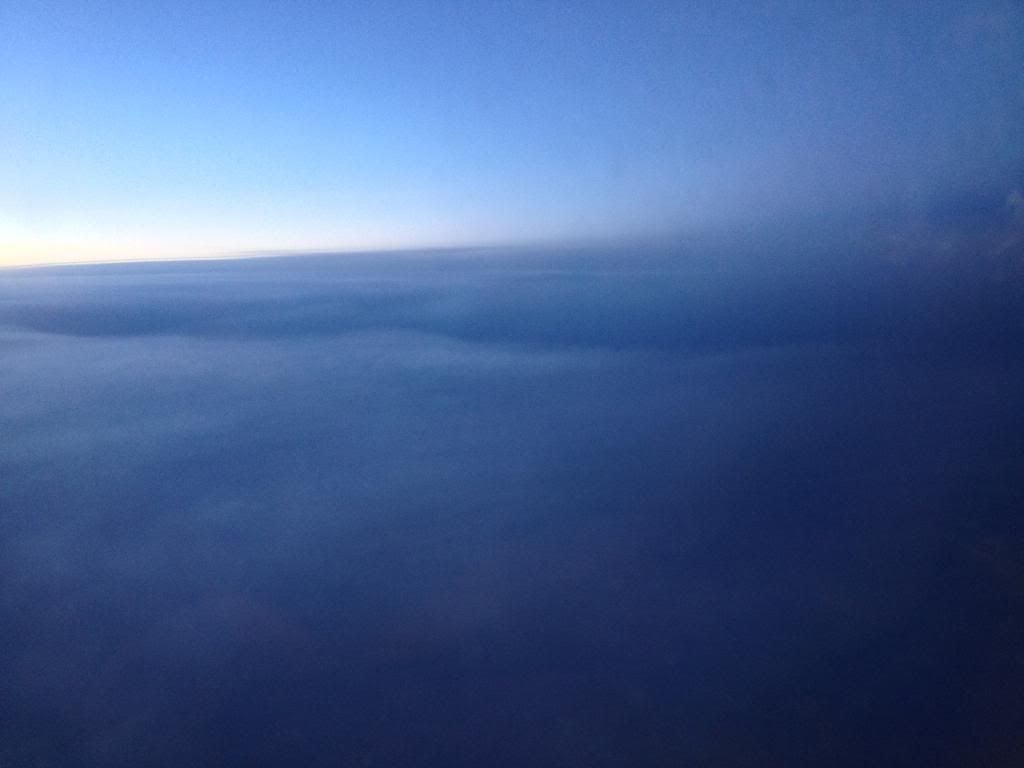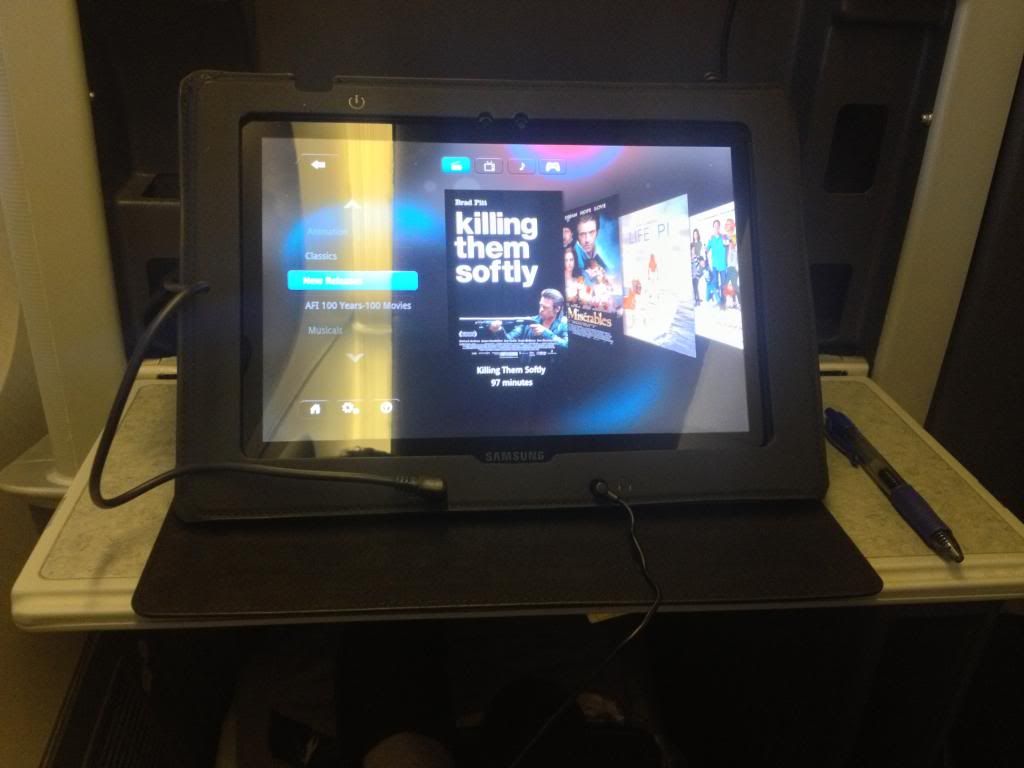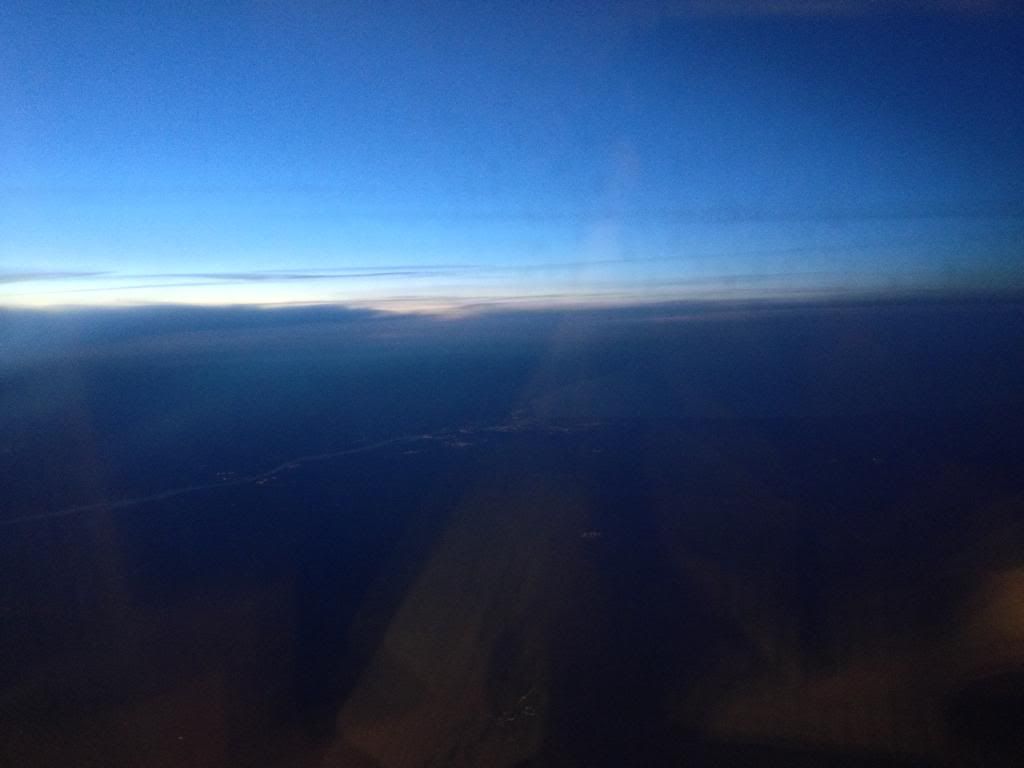 Served at 7h22p. Warm water, roasted nuts, and red wine. Can't go wrong with this. If I may also mention, this was the first time the FA did not card me!
After taking quite a bunch of pictures, I had a brief conservation with the gentleman next to me in 3B. I figured it would be a good time to ask if he minds me taking tons of pictures for this trip report. It actually turns out he is a fellow member on a.net as well. small world! He was going to Dublin for a 5 day training. we had a little talk ranging from the boeing 787's (he also saw the LOT dreamliner taxiing outside the gate) recent failures and the successes of the 77W. We also discussed delicious food that South Korea has (I hope to partake in the inaugural flight to ICN from DFW on May 8th).
Any tips for taking better night shots of lit up cities? I always have a problem with the windows glare or a reflection of myself.
The FA's began laying out the black cloth at about 7h45 and began serving the fresh salad and various pre-entree's. Thanks god, I was absolutely starving as I didn't have time to eat after class! It was nice to see up in row 2 where the passengers were engaging and joking around with the flight attendants. I definitely did not see any robotic-Just get the job done behavior on both flights. Also, you can see the FA's effort in re-organizing the plates for our benefit.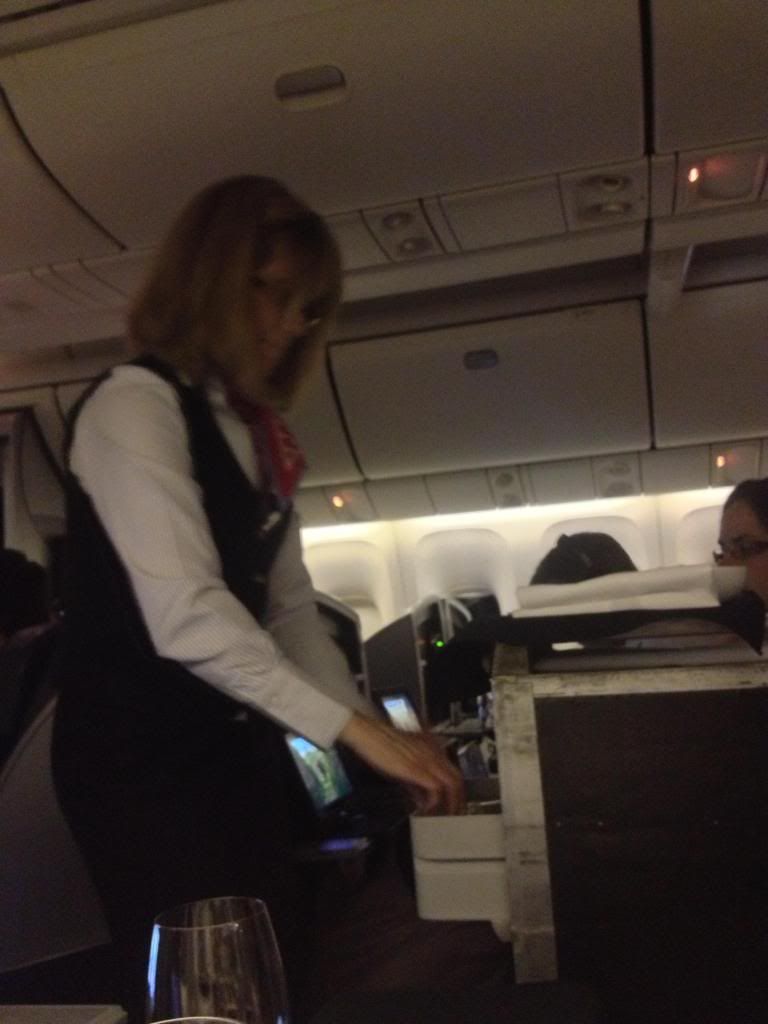 Given choice of three different variety of warm bread, I went with the pretzel bread, of course.
Delicious.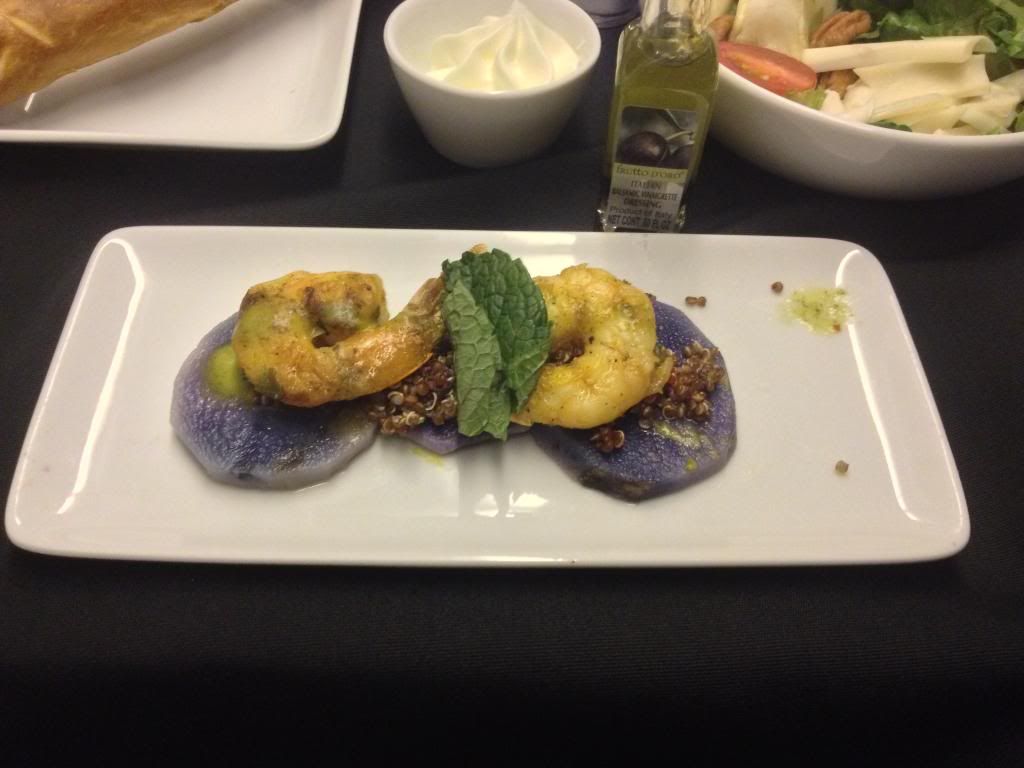 Not as bad as most silverware I see on a.net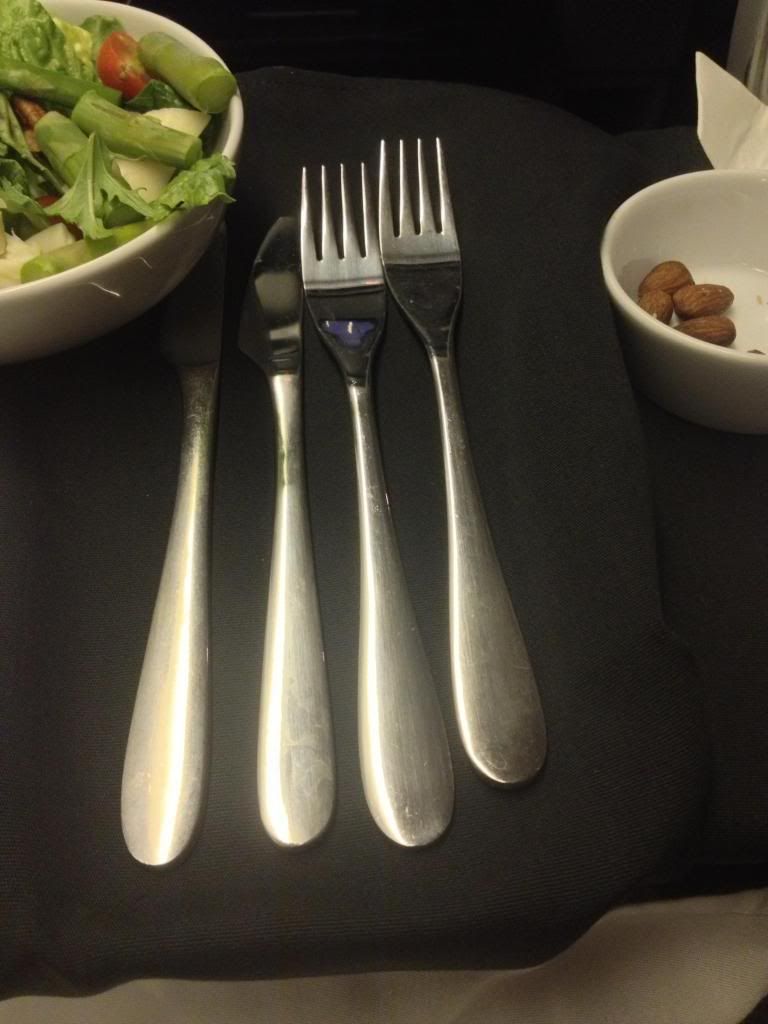 ]
Dinner was served at 8h06p. As you can see, the Rosemary Garlic Shrimp. The rice was a little bit dry but you can't really complain since you're 30,000 feet in the air without a kitchen. Shrimp was delicious. the Spinach salad was tasty as well.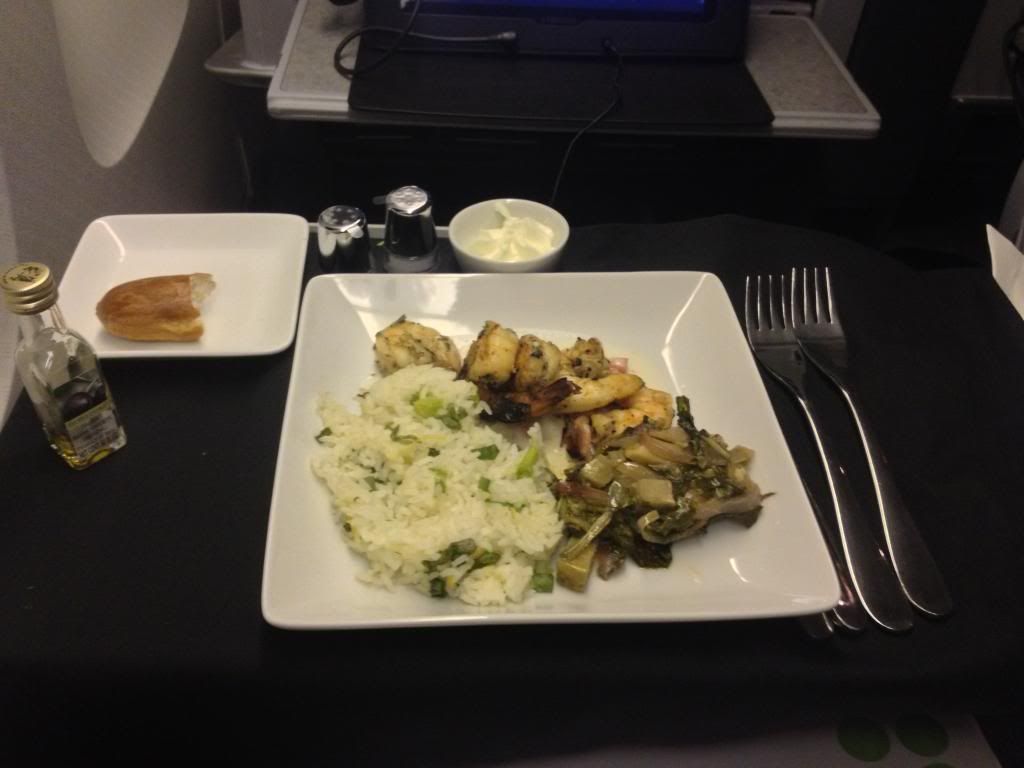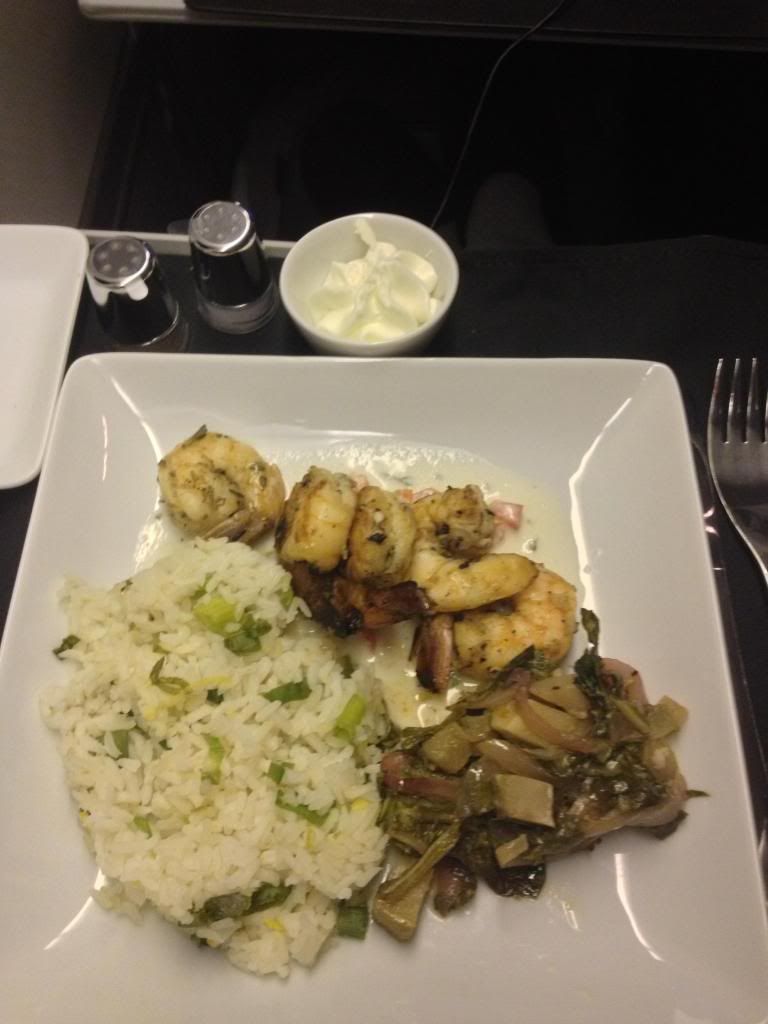 Devoured. the FA's began taking away the plates at 8h17. I was waiting patiently for the signature dessert. my wine glass got another refill, for the fourth time in a hour...let's just say i was very, very happy
. Finally 11 minutes later, the FA's began pulling out the dessert cart.
The best part of any AA F/J class flight...
FA to me: "Sir, would you care for the sundae or ..." Me: "The sundae, please. thanks so much, Mam!" "What toppings would you like? We have a variety, Strawberry, butterscotch, hot fugde..." "Tough choice" I replied back. Elizabeth smiled and asked: "Would you like all three and all the condiments together"? "I replied enthusiastically: "You can do that?!?!" She nodded while I said yes please. Let me tell you, this was a damn good dessert. Damn good.
Fellow a.neter next to me opted for assorted cheese and fruits.
@ 8h46, I folded my trays back in and fell back into my chair and looked outside the window. I see scattered lights, we're somewhere over Canada, perhaps by newfoundland, nearing the atlantic. I began watching les mis, i'm not typically a fan of musicals or oepras, i would say. However, Annie delivered and the fact that I am minoring in French and International Studies made me enjoy history the movie had to offer.
Bathroom break at some point during the night. Damn wine. As you can see, J class bathrooms are precisely the same as Y class. I feel that it would be logical to at least pamper it up a bit, thoughts?
Somewhere over the Atlantic, I took a stroll around the aircraft to stretch my legs. You can see the vast occupation in Y. The antique IFE really has to go.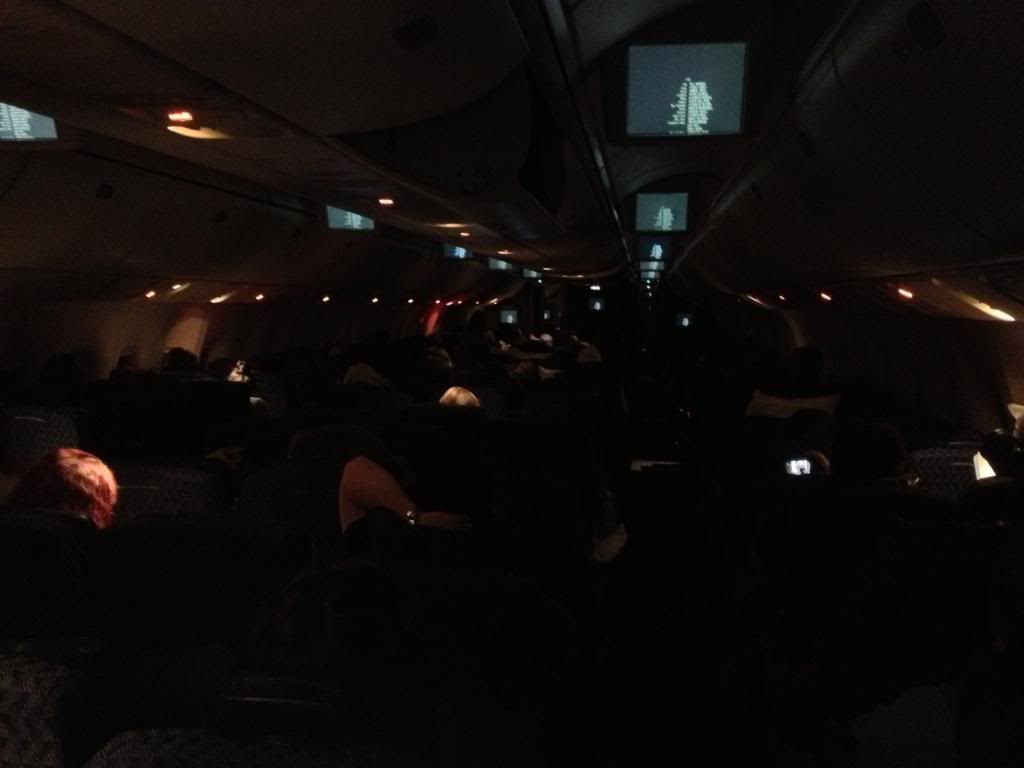 Available juice and water for those in Y. What a nice touch. I often hear about water and whatnot are quite limited on transatlantic flights. Yeah.....
I was gently awoken by Elizabeth at 12h05a, asking what would I like for breakfast. I opted for the omelette. To drink, I chose an orange juice and coffee. cream and no sugar. The omelette was quite delicious. A little bit chewy (cheesy) but the hashbrown cupcake (?)'s texture complimented it perfectly. I didn't touch the tomatoes as I have an taste aversion to them. The fruits were lovely although the blackberries were extremely ripe and the melon had no flavor at all. Perhaps the air/cabin pressure is messing up my taste buds.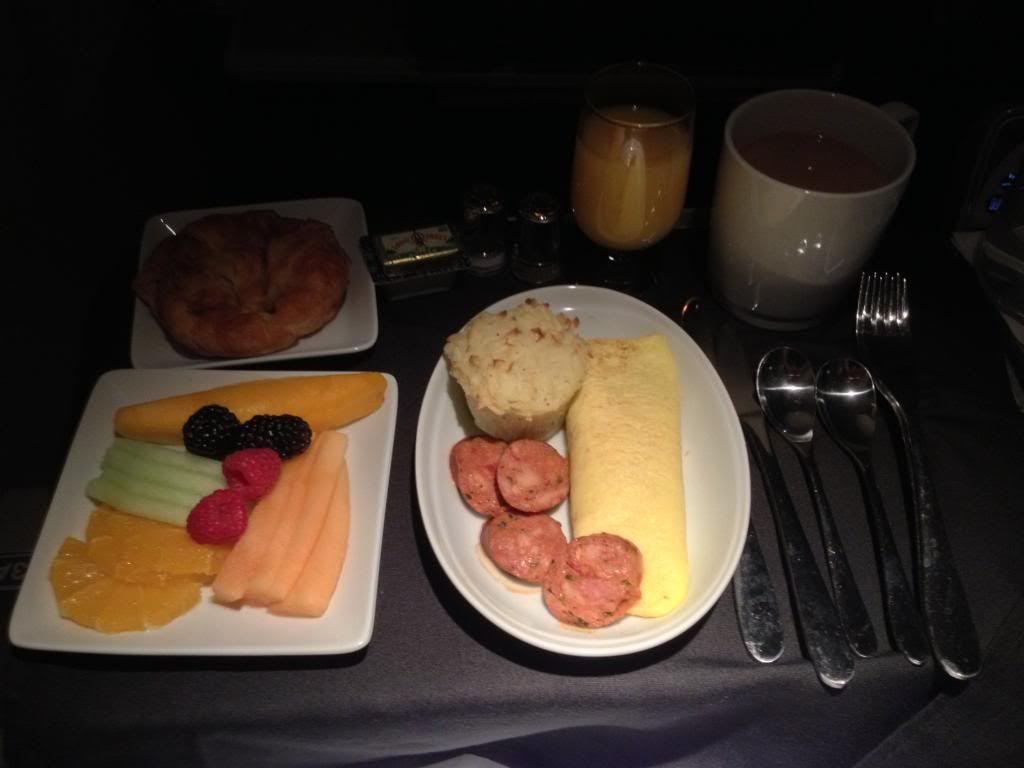 Sunrise @ 12:25 Chicago time.
@ 1h08 Hot towel was passed out again as it began getting lighter outside. Tablets and headphones were taken away. Little turbulence (very smooth flight). As you can see on my iPad, I saved a bunch of trip reports to read over the flight. I truly love reading them! This report was 797's regarding AA's 77W inaugural flight from DFW to GRU. Greatly written by a neat guy.
Filling out the landing card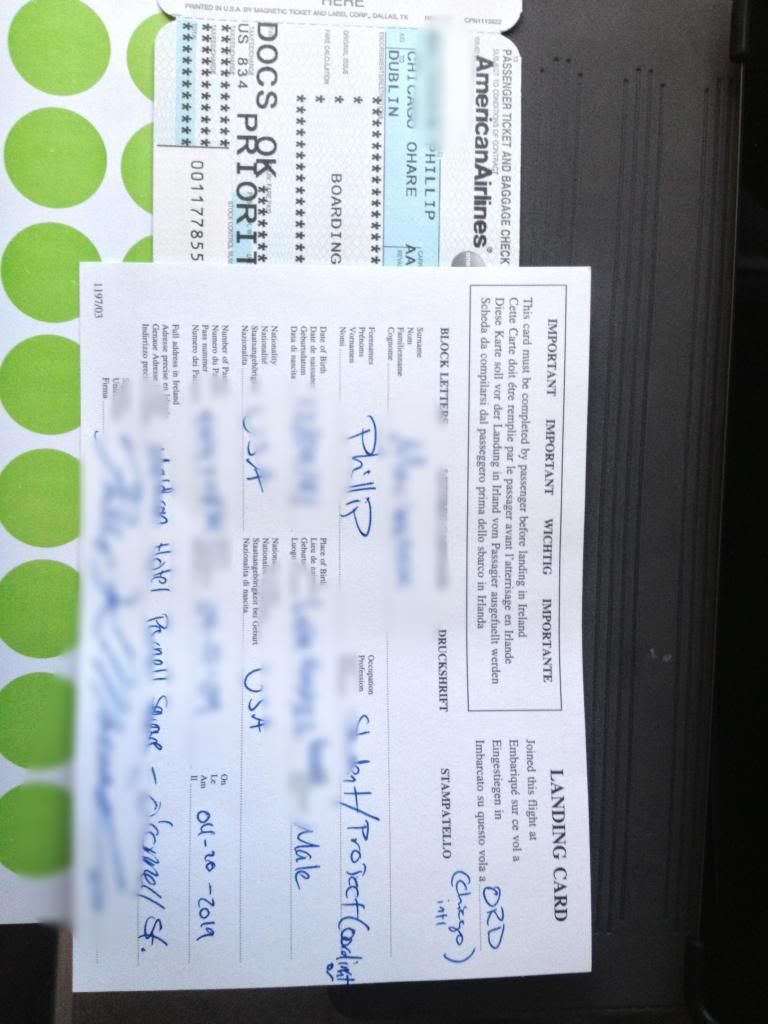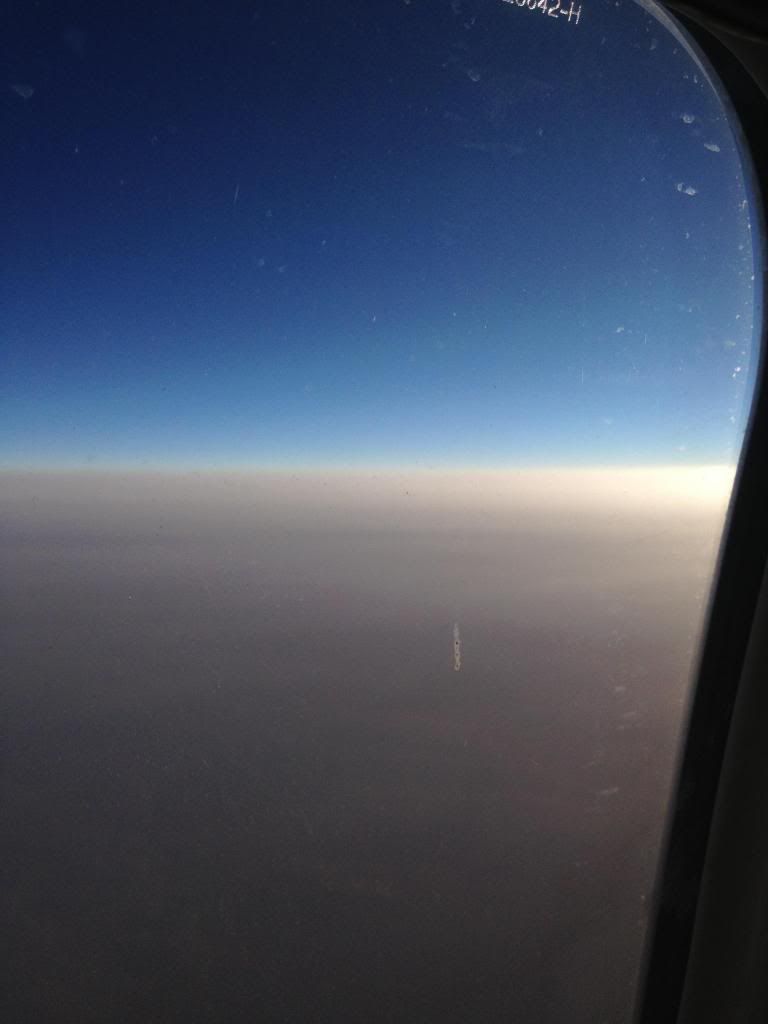 Passing over Shannon
Cloudy as expected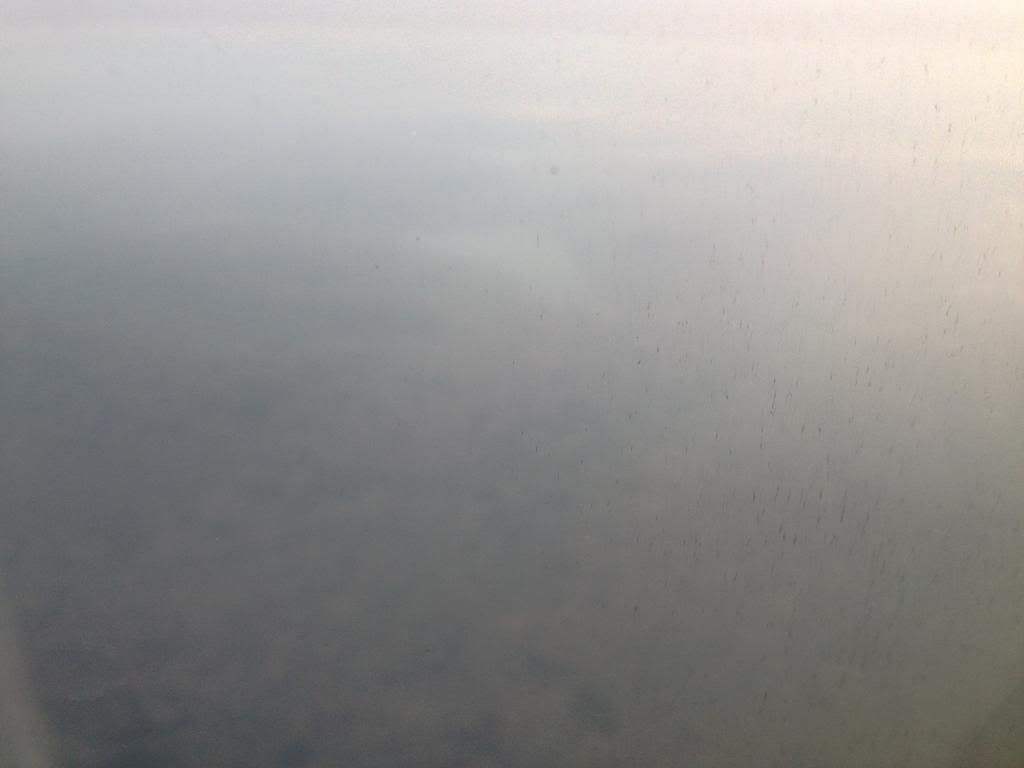 @1h14: Passing through the clouds reveals the multitude of lakes that Ireland has to offer.
Perfect timing as ORD began their seasonal flight to DUB earlier that week on Tuesday.
Stop looking at me, Andrew.
The east coast.
Engine began to noticeably slow down @ 1h28. Captain: Prepare for landing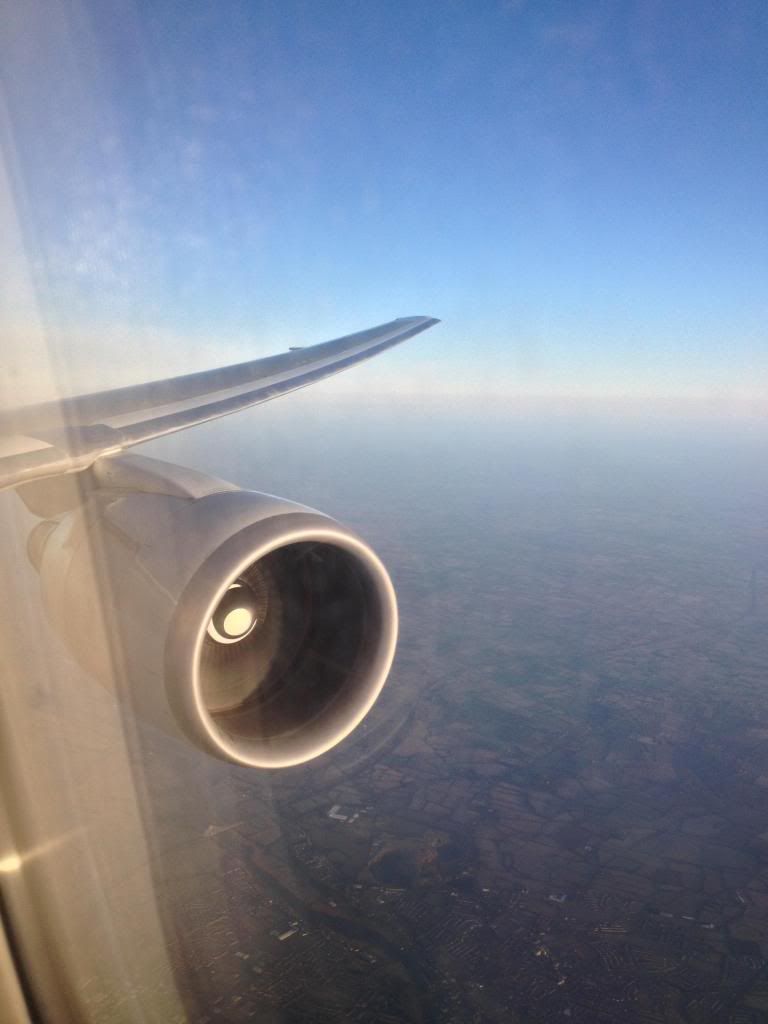 Back in the clouds again
Thought this was neat.
Very scenic approach into DUB.
Touch down at 7h41 Dublin time!
Poor cattles.
The infamous Ryanair - I took a ryanair flight out of Montpellier to Brussel's Charleroi airport this past summer when i was studying abroad in Montpellier - it felt almost exactly like southwest.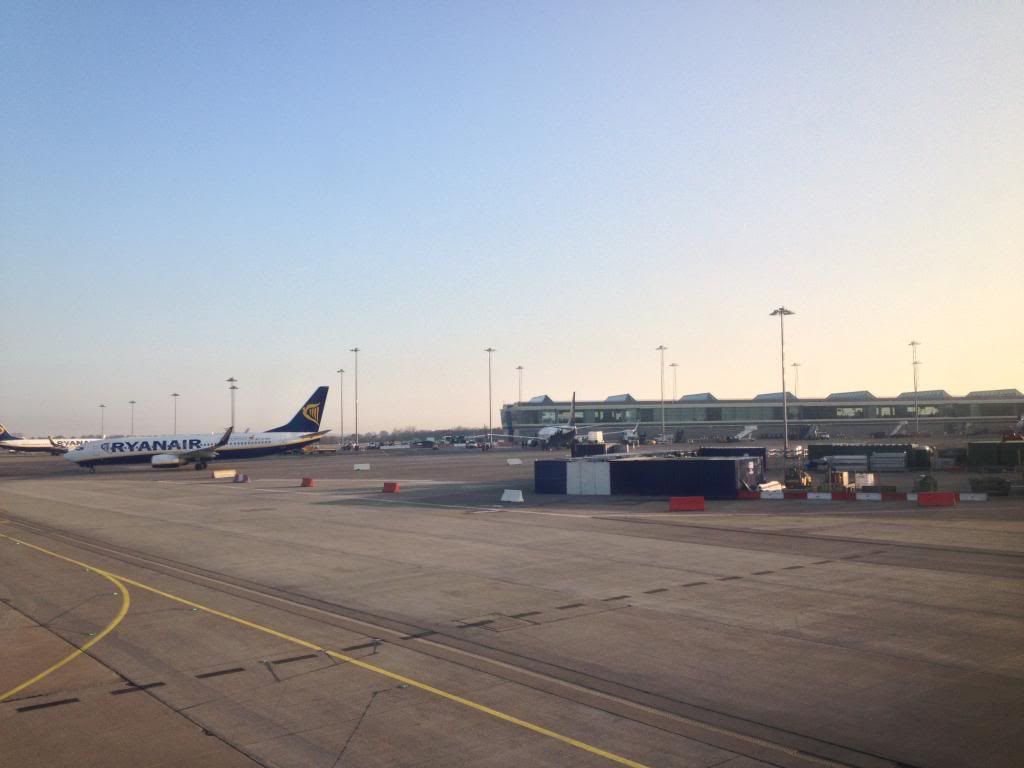 hope to fly on air lingus one day!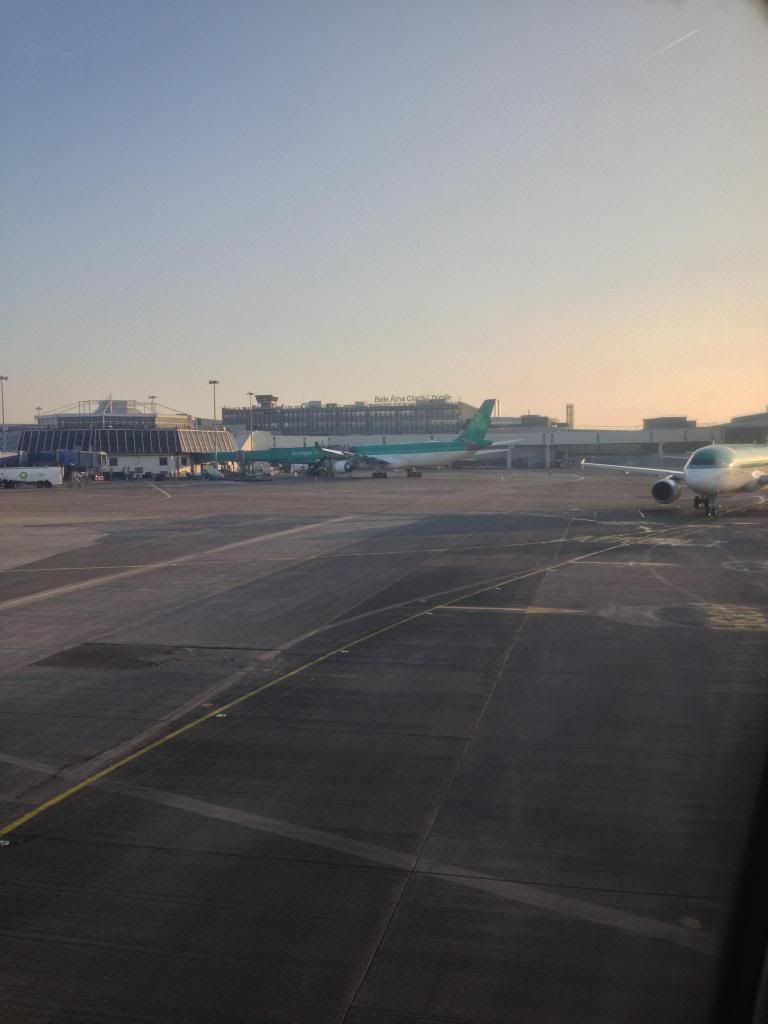 Obligatory post-arrival pic
A very busy line through customs
My kinda airport bar
_____________________________________________________________________________
Here are my pictures on my trip back. As I tired and groggy from the spending the whole day at the cliffs of moher and drinking guinness, I didn't write much. Let me know if you have any questions or comments and i'll be more than glad to respond!
AA93 DUB-ORD
767-300
J: 100%
Y: 65%
Going through security in DUB, I experienced the U.S. preclearance for the first time. I thought it was really neat and efficient. This should be more common in airports like LHR, CDG, or NRT but with the recent furloughs, I doubt that's going to happen any time soon (although I did hear something about Dubai?).
obligatory pre-boarding pic
Due to J class being 24/28 with 5 people on the standby list, I was given the business class ticket while my buddy Andrew got Y. I gave him my ticket after we passed the front desk because how often does someone gets to fly J class internationally on a buddy pass?!
24C. Left seat on the middle row. 2-3-2 config. 2 seats to my right were empty, as the front desk agent informed me. Apparently the pitch is "30, looks much more generous.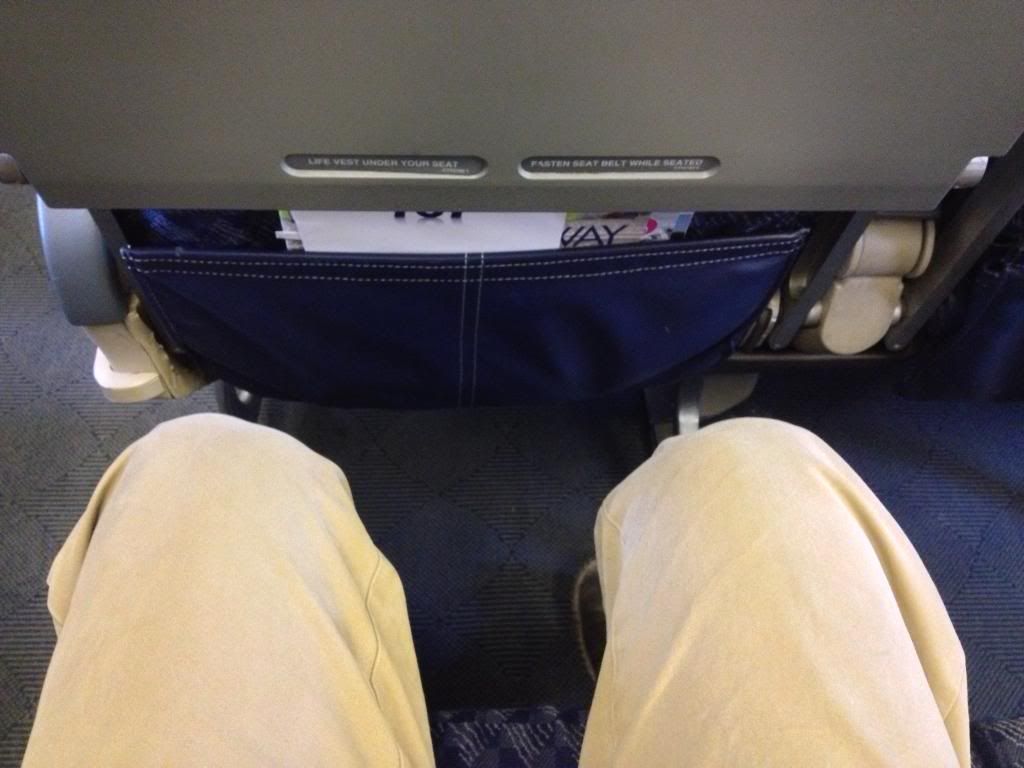 Y class's amenities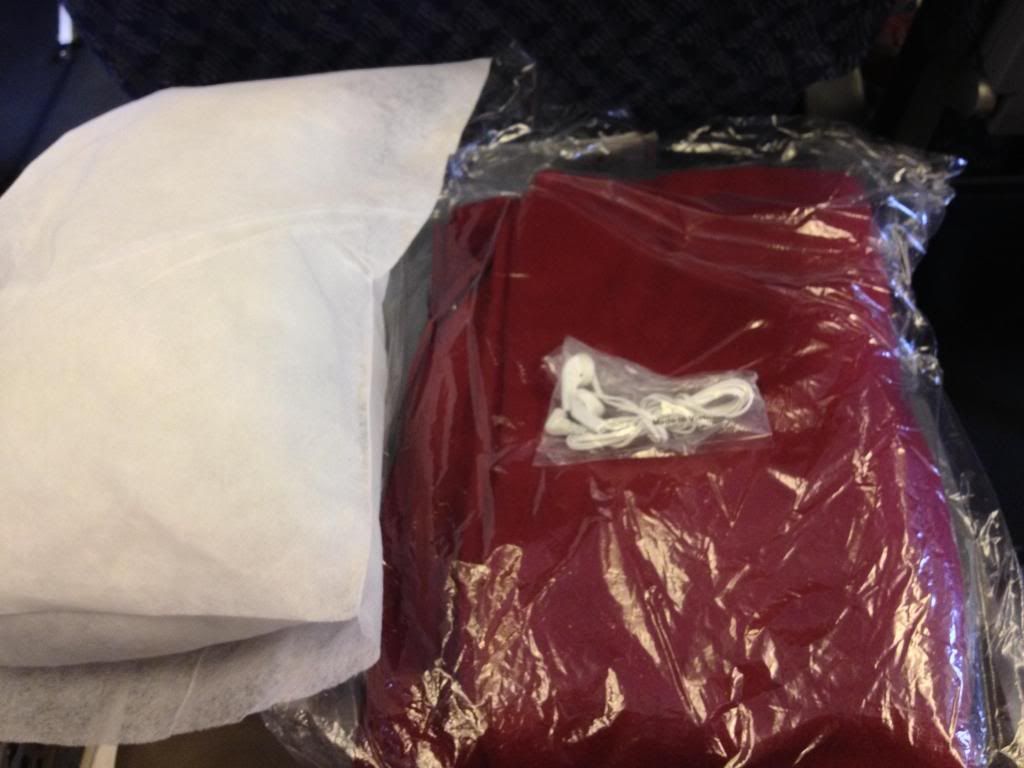 Very packed flight.
However....I see the front desk agent walk down the aisle with a boarding pass in his hand. I started to smile as I knew he was going to inform me that a standby passenger failed to show up in time, thus giving me his or her seat. 2G is my new seat.
Top