JetBlue Albuquerque Inaugural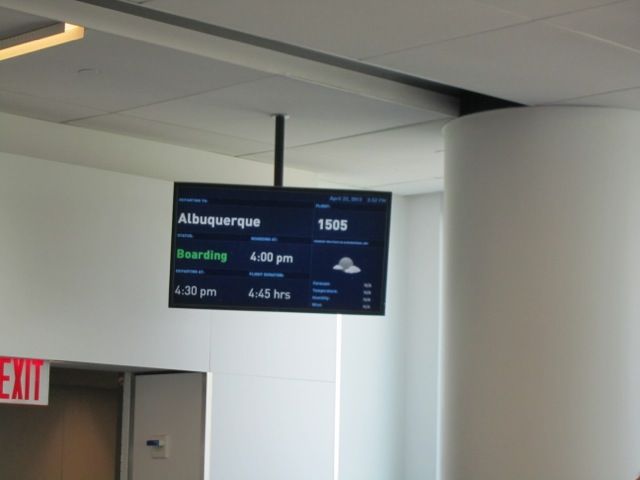 I have attended the second inaugural for 2013, and since I used to intern in Albuquerque, I am quite excited that JetBlue decides to fly to Albuquerque. This inaugural was a combination of the usual JetBlue celebration and local flavor. Since there is really nothing much to talk about, other than JetBlue CEO David Barger and Albuquerque Mayor Richard Berry were both onboard and traveling on this inaugural flight. Mayor Berry might be the first mayor of the Blue City that travels on the inaugural flight. So here is my short trip report!
April 22, 2013
B6 1505 JFK-ABQ Lv1630 Arr1915 N821JB "Blue Yorker" Barcode Livery Airbus A320-200 Sharklet
JetBlue.com was pretty easy to use and I booked the flight immediately after its announcement. The price is a very low $59 and then I purchase an "Even More Legroom" seat, which is a bargain in my book. When I booked the flight, the departure time was supposedly 8:25pm, but about a month and half prior to departure, I got a phone call from JetBlue but I did not pick it up, as I was in Hong Kong and it was literally middle of the night. Then I saw an email from JetBlue, which gave me $50 travel credit. I later got a follow-up email and JetBlue had moved up the departure time of the inaugural flight to 4:30pm. They decided to give each passenger a $50 credit for the inconveniences and we could change the flight with no fee. It was definitely a good customer friendly move and I was impressed.
I arrived very early at the airport (since I came in on a redeye from the West Coast), and immediately noticed the sign for the two new tenants at JetBlue terminal.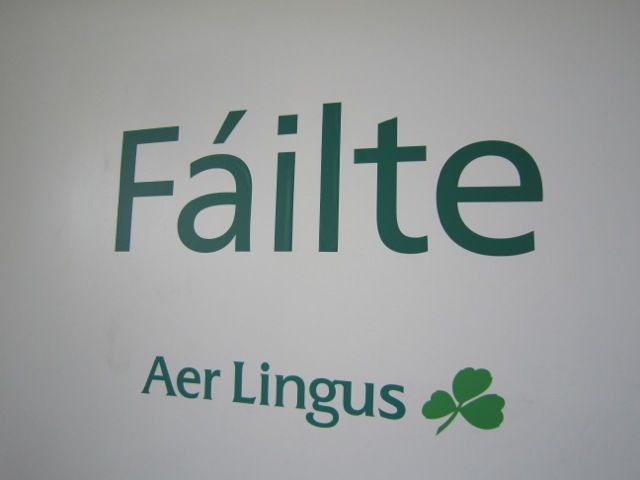 Check-in – I asked in twitter about early check-in for JFK, and was told that I could drop off my bag six hours prior to departure. So I waited till 10:30am before proceeding to print out my boarding pass and drop off my bag. The agent immediately told me no, as you could only check in a bag four hours prior to departure. I just showed her the tweeter conversation, and she reluctantly went to ask her supervisor. I saw them talked briefly and then walked towards me. The agent changed her attitude from rude to friendly, and she told me that I was right, and her supervisor immediately told me that this is indeed new and she only knew about it because she went to training. I actually wanted to tell her that the kiosk had already updated with the new information. I was just glad that I had that tweeter feed with me. The supervisor even took a picture of my tweet. However it did not change my perception that check-in at JFK remains JetBlue's weakest part of the experience. The agents at JFK are just too New Yorker, which is definitely not the image that JetBlue wants to provide. Other stations have friendlier agents.
Security was quiet and I had access to the Even More Speed lane, which meant a even faster TSA experience.
Plane – If past history is any indicator, JetBlue always uses their latest aircraft for this flight. To my pleasant surprise, JetBlue has actually taken delivery of a new A320 with Sharklet on December 17, 2012, and this bird went into service in January. Instead of a quick turnaround, JetBlue will not allow more time for the plane to turnaround, and N821JB arrived JFK short after noon, coming in from Orlando as fight 46. Here were the only pictures I was able to take!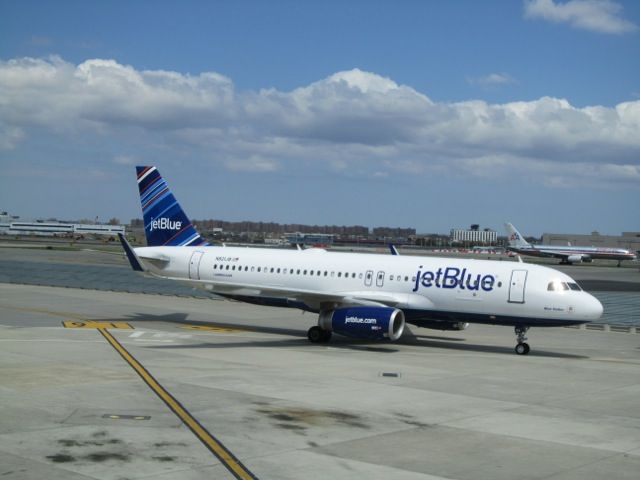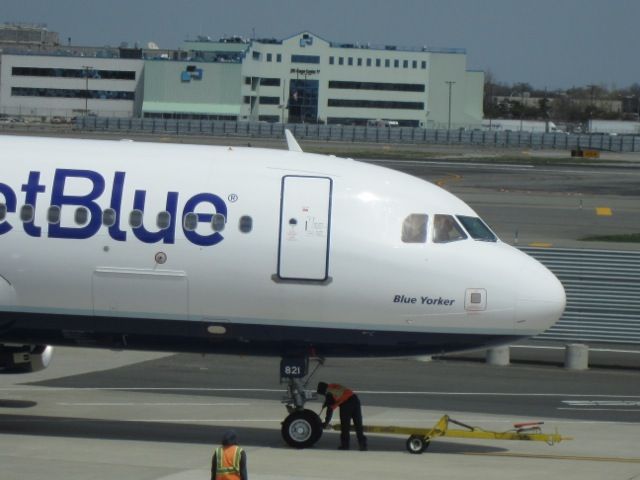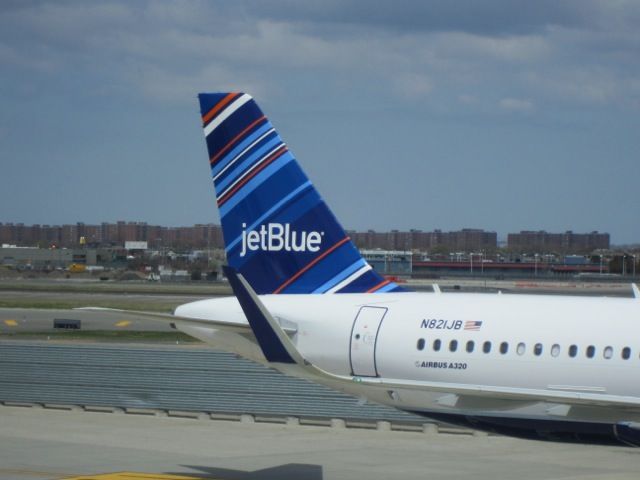 Since the plane parked at Gate 15, there was no way I could take reasonably good pictures of the plane. JetBlue, could you use gate 16 next time, since people could take a better picture of the plane, which should be the highlight of the event. There was the usual arch setup, along with a buffet featuring bottled waters, Orange Mango Juice cocktail, tortilla chips with salsa and guacamole, as well as chili and churro.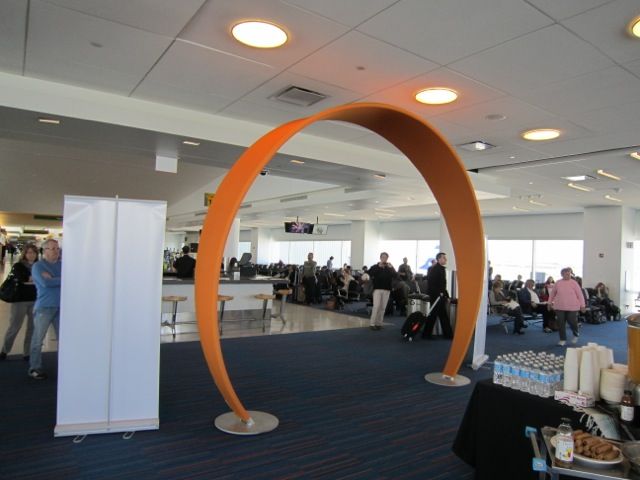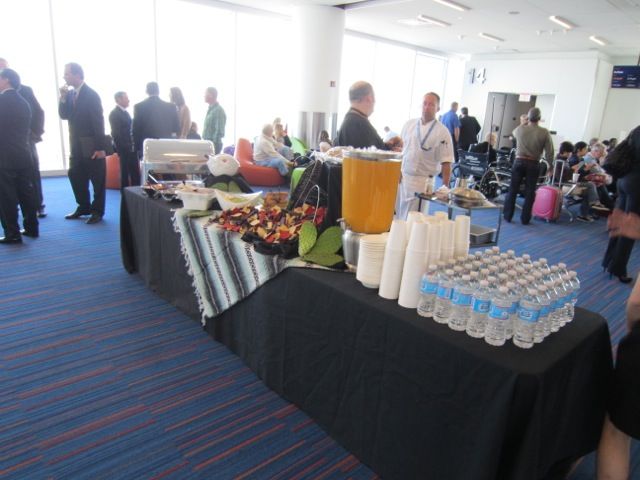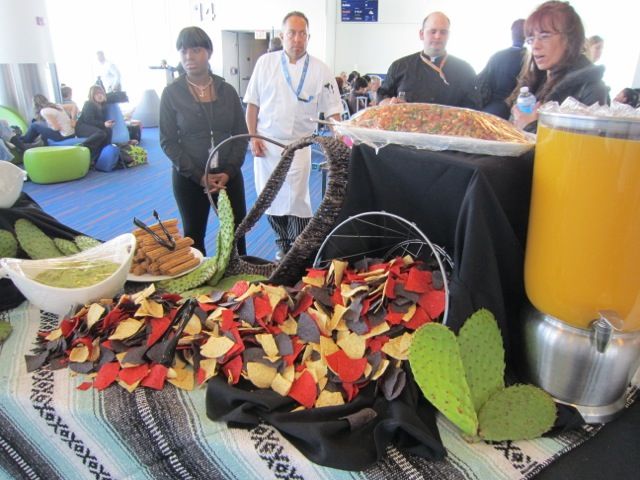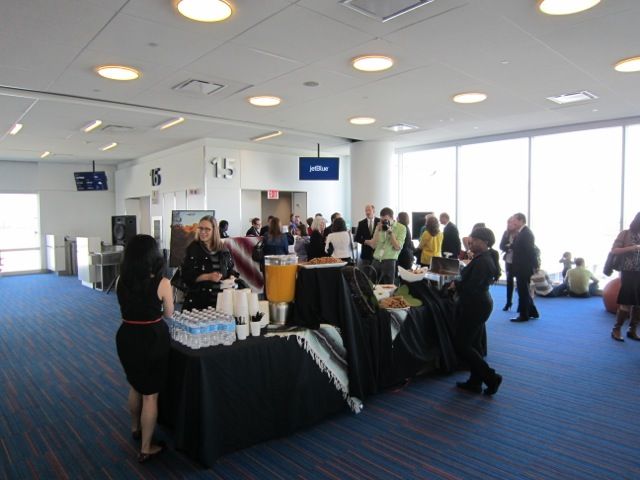 Gate podium with New Mexico theme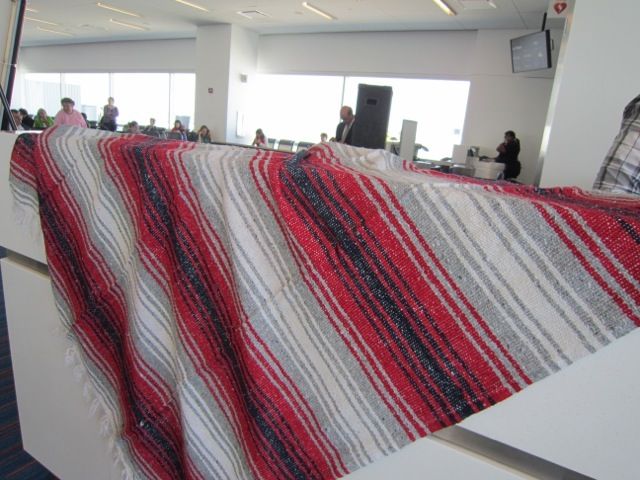 American Girl Place – Doll of 2013 – Saige from New Mexico
The new destination poster for Albuquerque but no more free postcards, as before
-
Around 3:30pm, there was the usual speech time. The pilot of today's flight was a local of Albuquerque and he has been commuting between Albuquerque and JFK during all these years, and today's flight definitely has a special meaning for him. The lady in the green dress was Ann Rhodes, who was a director and one of the major forces in bringing JetBlue to Albuquerque. The speech was pretty straightforward PR stuff and then there was a ribbon-cutting event.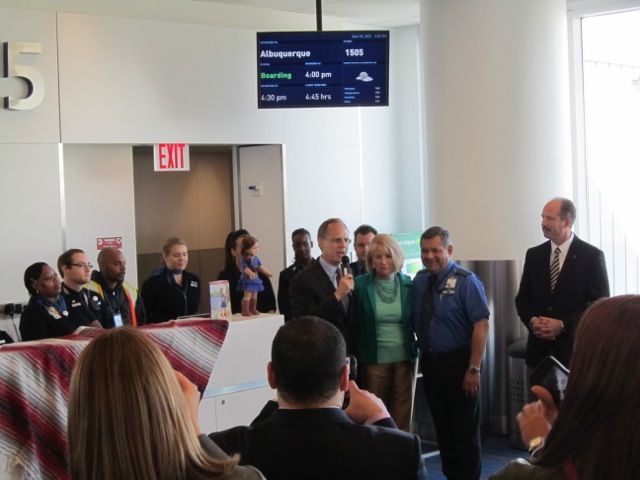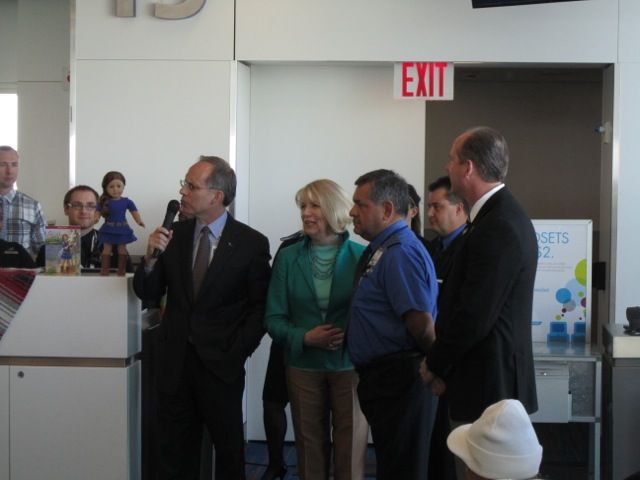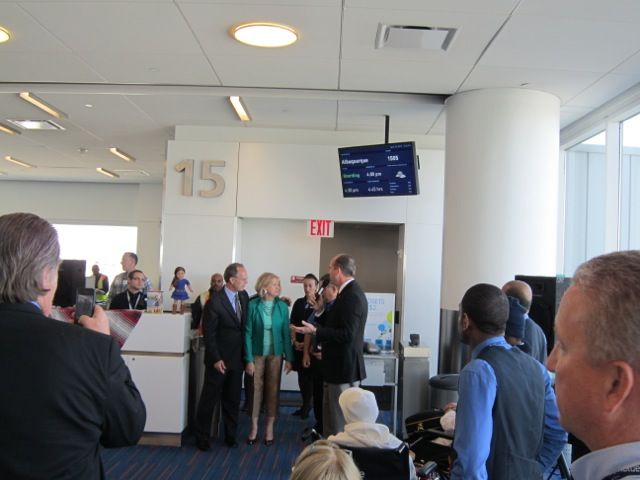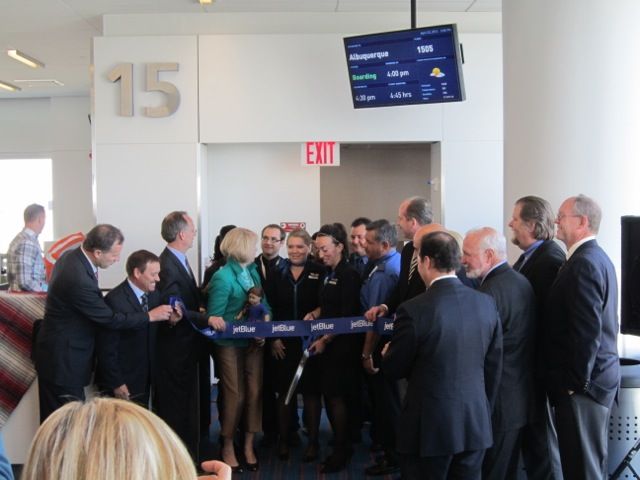 Boarding began at 4pm sharp, and David and Mayor Berry were greeting passengers in the entrance. Since I was the first one (other than preboard) and the only Asian onboard, Dave greeted me using my name throughout the flight, which was impressive.
A few familiar cabin shot – featuring the latest generation of seats and PTV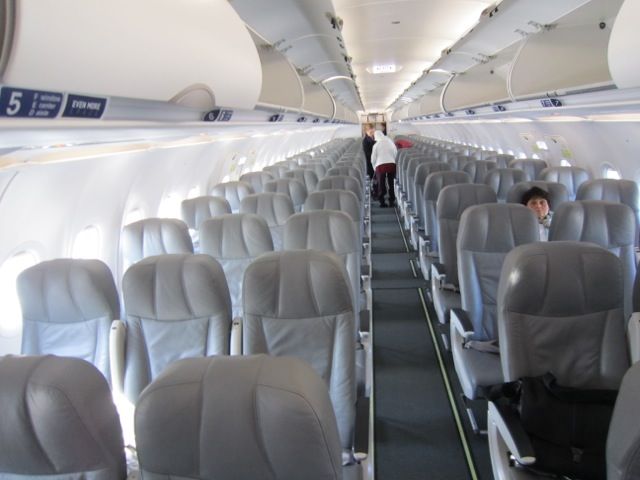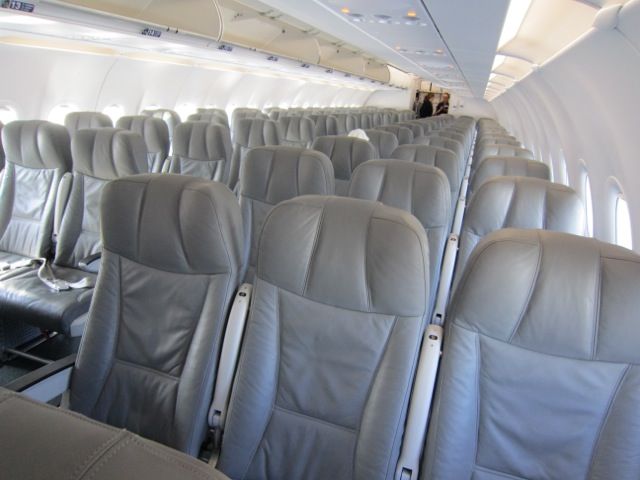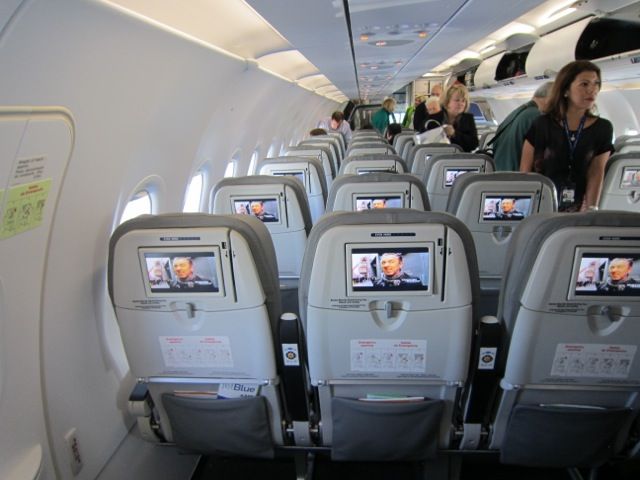 Recline button – I noticed that JetBlue had switched back to the classic silver button, instead of the plastic knob thingy.
Sharklet shot of course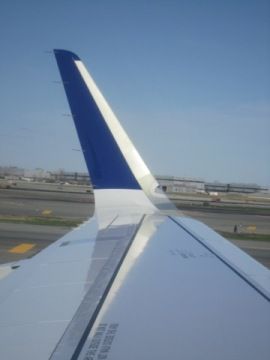 Of course the pilot came out to give a welcome speech, along with the three F/As working on today's flight. He gave a short history of Albuquerque and the special milestone of this flight.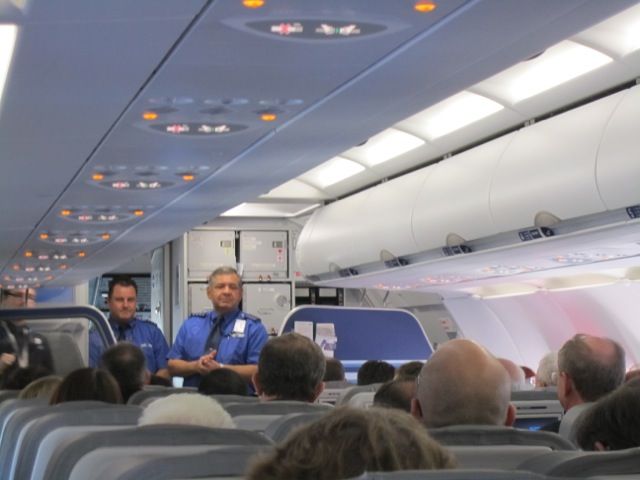 Door was closed at 4:28pm but then after the pilot returned to the cockpit, there was an issue and the pilot kept us posted but did not explain what the issue was. He just said that it was a common new plane glitch and the mechanics just needed to come back onboard for some paperwork. He let everyone use their electronic devices till they sorted out the issues.
I saw this beautiful Air France A380 passing by
Door was finally closed at 5:07pm and we pushed back at 5:12pm. Since it was our inaugural flight, we managed to beat the queue and were allowed to take off from R/W13L (instead of usual R/W13R).
We took off at 5:26pm and it was a beautiful day in the city.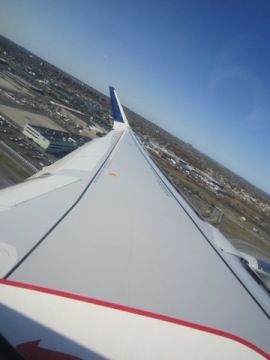 Flying time today was four hours and seventeen minutes with a cruising attitude of 36,000feet.
Here is the route and flight information of our flight according to flightaware.com
http://flightaware.com/live/flight/J...5/history/20130422/2030Z/KJFK/KABQ
Cabin service started immediately with a round of complimentary champagne sponsored by the Albuquerque Tourism board or some local Albuquerque companies, and there were also complimentary beers featuring two local brands.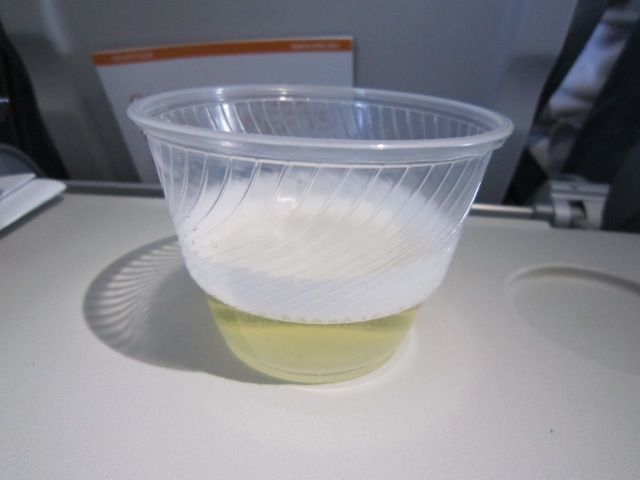 Buy On Board service then began and there were lots of buyers today. I bought a cheese plate, which was nice. I still felt that JetBlue's Buy On Board service were rather disappointing, and with many airlines introducing pre-ordered meals, JetBlue could start this service too – I won't mind buying a nice wrap or salad in advance. JetBlue should think about it. Warm meals will be good too but with no oven, it is hard to accomplish.
Cheese Plate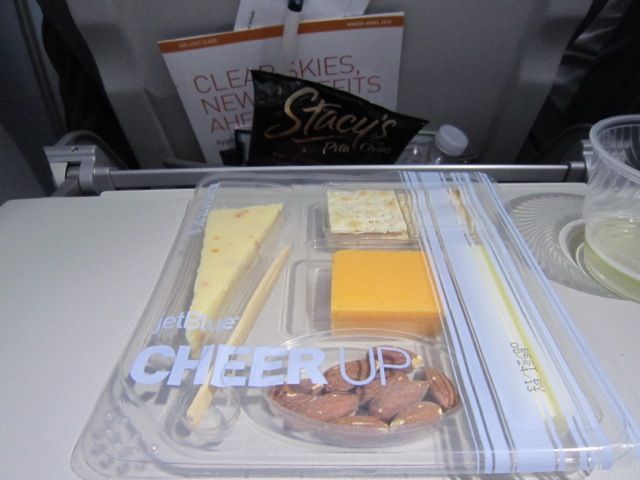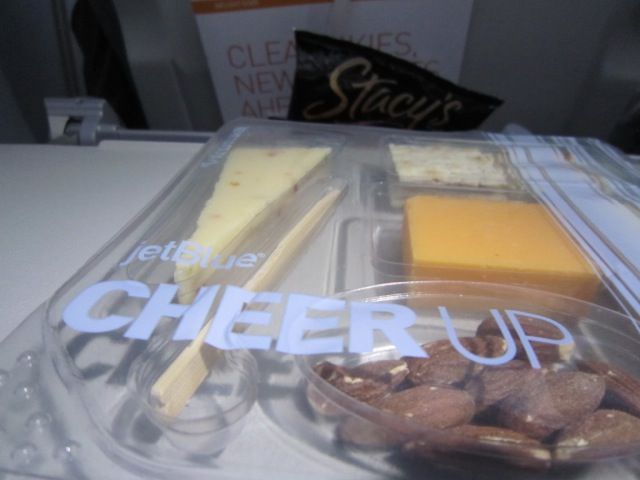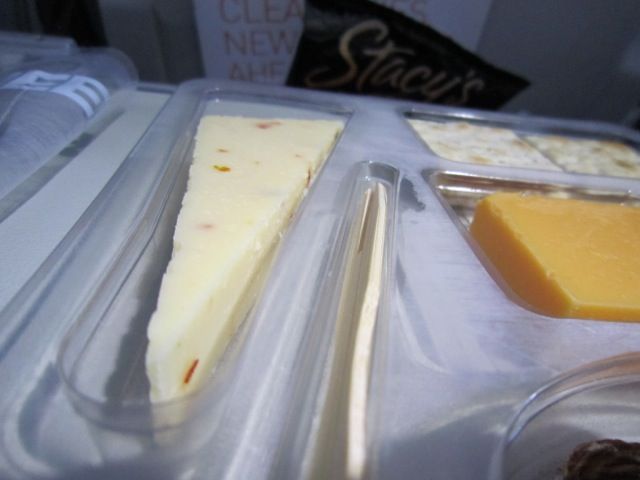 Mayor Berry then came out to pass around snacks, and he even got his own JetBlue's apron.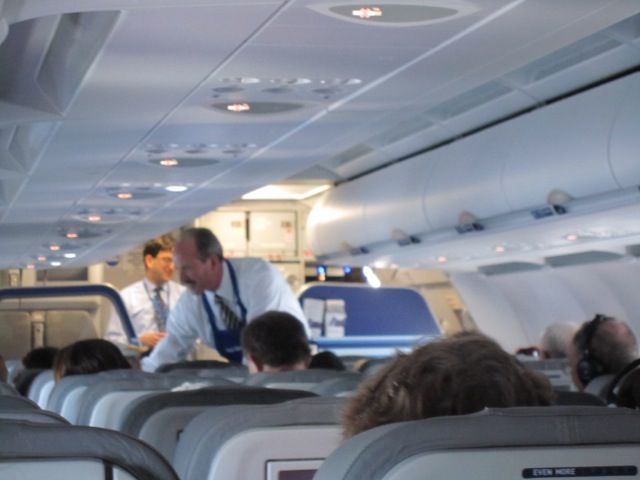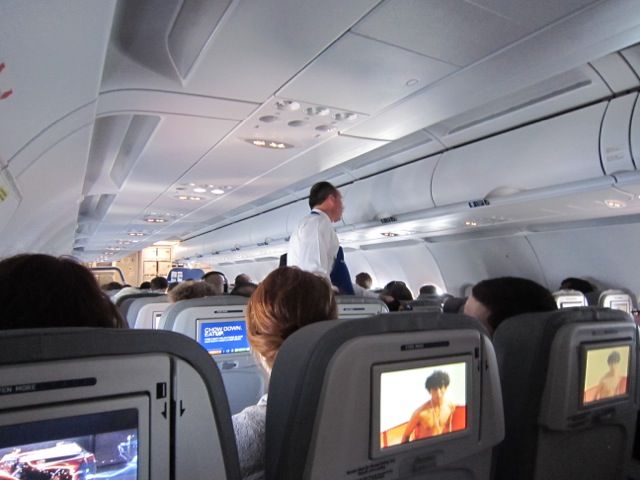 Sharklet shot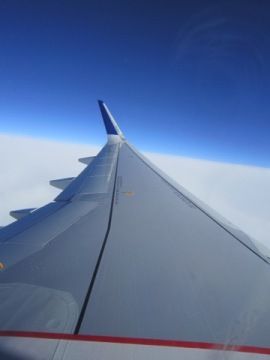 The rest of the flight went without event. The F/As came around with bottled waters around 6:03pm, along with hot towel service (well hot wet napkin), which was definitely a signature JetBlue service now. It was a nice gesture. The service began early because there were another show coming out – lucky draw giving out various prizes – couple sets of JetBlue tickets, along with local tours and hotel accommodations sponsored by the Tourism Board. The top price was a pair of free JetBlue tickets with local tours included. The question was "what is the estimate fuel burn for todays' flight?" This seems to be typical question for this major draw and for future JetBlue inaugural travelers, remember to do your homework prior to flight. Today's estimated fuel burnt was 3402 gallons.
Descent soon began at 7:18pm, and as typical, there were some light bumps in our descent, but the wind was not too bad, and some shots before we touched down.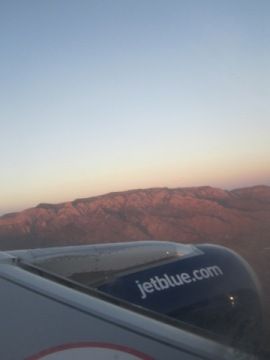 We landed on R/W26 at 7:43pm and the pilot had already pre-warned passengers about the water canon tradition. However a lady sitting behind us was still freaking out over water being sprayed over the plane.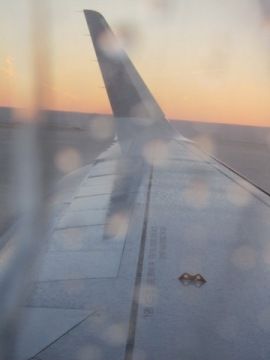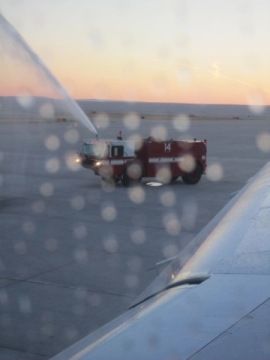 We parked at gate B1 three minutes later, and there were local Native American music playing, as we deplaned. Dave and Mayor Berry were there to greet and say goodbye to passengers. We each got a traditional Native Indian necklace.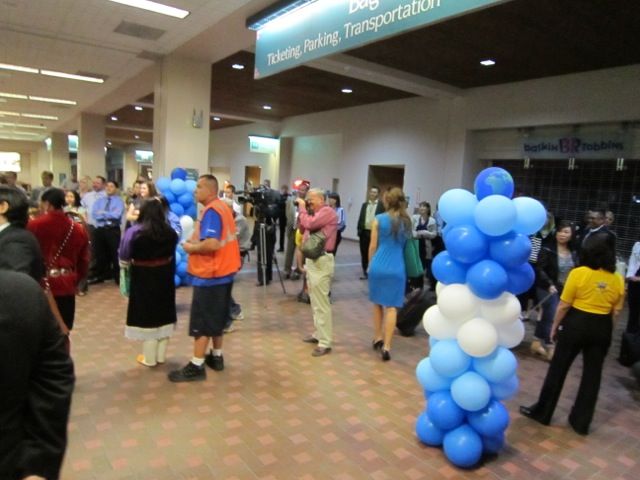 N821JB resting in Albuquerque before the redeye later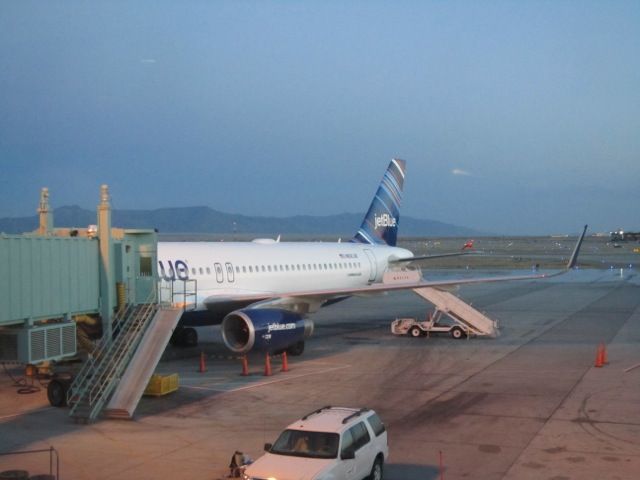 FDIS featuring the JetBlue flight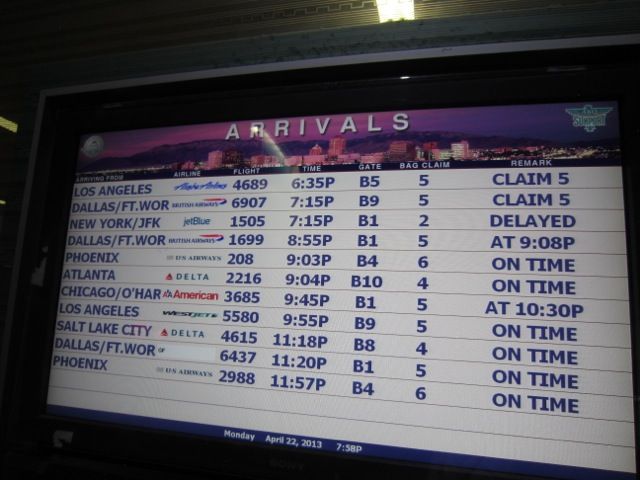 JetBlue's new check-in counters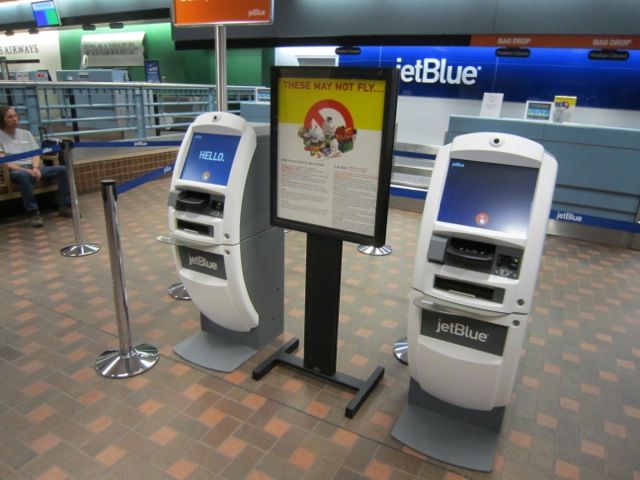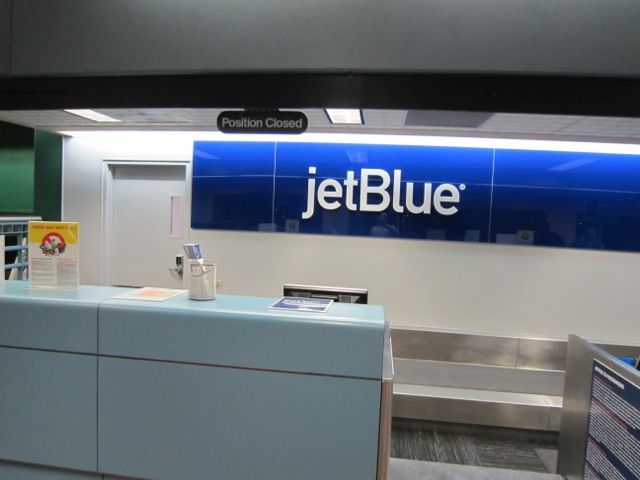 Gift Bag content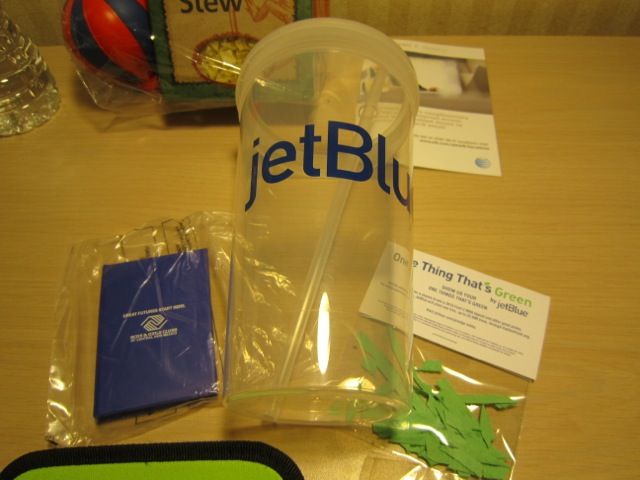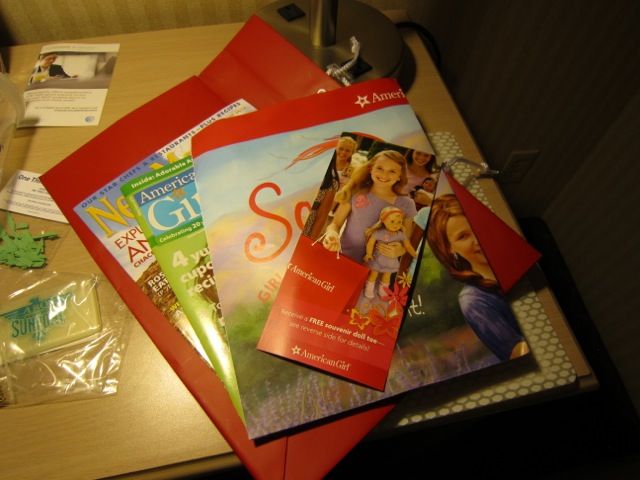 I was so tired at that point that I did not wait for the ceremony for the return flight, but the following blog entry gave you some good ideas.
Here is the official blog entry by JetBlue
http://blog.JetBlue.com/index.php/20...4/24/images-albuquerque-inaugural/
In conclusion, this inaugural flight was a success and Mayor Berry definitely made an effort to promote the service. I watched little local evening news that night, and JetBlue was featured in almost all of them. It made sense for the early arrival time, which allowed local news stations able to shot the plane landing at ABQ and did extensive reporting onboard. The JetBlue interior was definitely unique, and the seats were roomier than the typical Southwest experience that most New Mexicans experienced, as well as regional jets used by AA, DL and UA. The loading was definitely healthy, although the inaugural flight was not a good indicator. The price was also very low, so the yield will determine the future success of the flight. If the EMB 190 can travel that far, this aircraft will be perfect for this route. The Airbus A320 is really a bit big for a daily service, and JetBlue and ABQ will need to work harder to promote the flight. Anyway, thanks for another great inaugural flight, Jetblue. If anyone working for JetBlue can give me a contact (since I can't get a destination poster/postcard), I will really appreciate it.
Thanks for reading!
Carfield