Introduction
Greetings A-Netters and thank you for stumbling upon my trip report. Before I begin, please let me express my thanks for at least reading this far. I promise plenty of pictures, some lighthearted commentary and an interesting trip.
Unfortunately, this report will not feature incredibly exotic destinations, nor will it be flown in C or F, nor will it feature stellar photography from a high end camera or an obligatory shot of a cockpit from a fish-eye lens attached to said high end camera. Despite my love of aviation I don't fly often. My job does not require it and the long hours I work, combined with the high cost of living in the area where I reside mean it is a struggle to find the time or extra money to keep my United Mileage Plus account going. I have to be content with watching the arriving and departing aircraft at SFO, NUQ and SJC on my long daily commutes to satisfy my aviation bug.
Just thought I would manage some expectations and practice my "run-on" sentences. These trip reports have a tendency to inspire them and when combined with my aversion to the comma I am afraid you will see them often.
But enough with introductions!
Let us begin.
Background
These past few months have marked a very stressful period of transition in my life as I change careers and move forward in life. I haven't had a proper vacation lasting longer than a weekend in about three or so years and when the opportunity came up for some guaranteed time off I took it. An old friend and I decided to take a trip to New Zealand, a place which had always occupied our imaginations. Several planning sessions later we decided to use Hawaiian Airlines, simply because of cost and planned a 12 day trip to New Zealand and Hawaii. This is my first trip to both of these locations, my first time flying with Hawaiian Airlines and my first time on an A330-200.
Expectations
Hawaiian Airlines is thought of by many to be one of the last US airlines with "good" service. Complimentary meals are served on certain "domestic" mainland – Hawaii sectors and international flights. Several other frequent flyers and friends have also suggested that Hawaiian's flight attendants are considerably more kind than those on UA, AA, DL and other American airlines. While I do take these data points with a grain of salt I expected to receive better than normal service. Whether HA's in-flight food and entertainment product is up to snuff compared to other airlines running the mainland US – Australia/New Zealand remains to be seen.
Monday, April 8, 2013
I never sleep on the nights before I fly and the night of Sunday April 7, 2013 was no different. At 6 PM I set out from my house in San Jose, CA. A friend graciously agreed to drop me off at the airport.
Early morning traffic on northbound US-101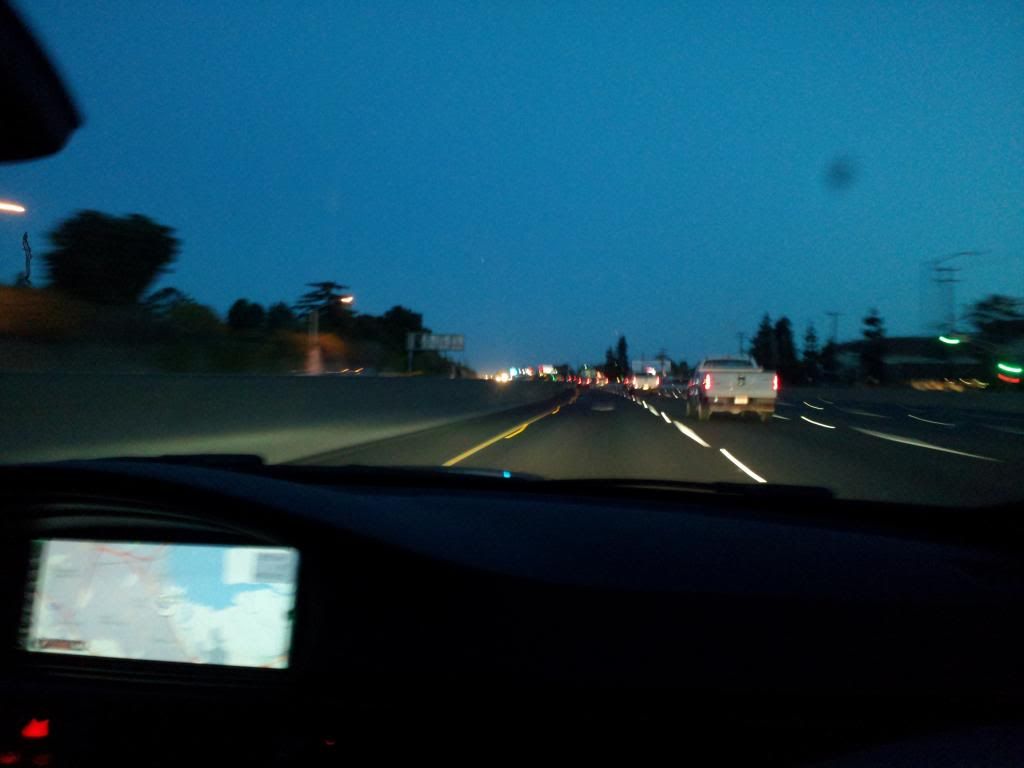 An early morning breakfast stop at Peet's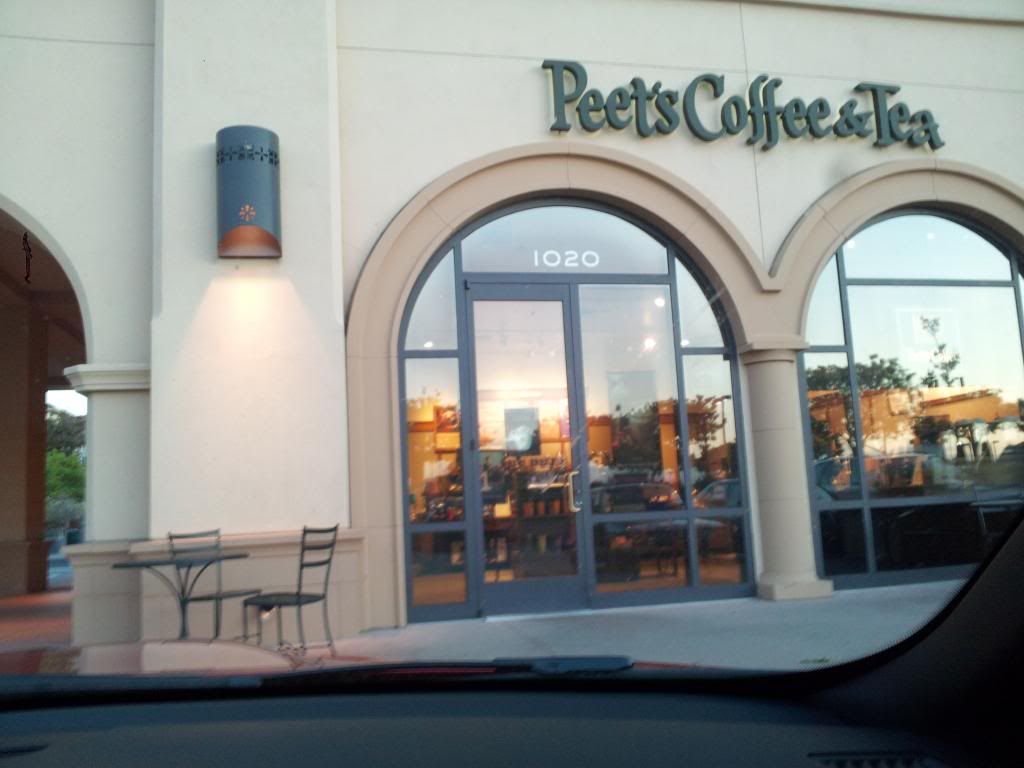 Dropped off at the deserted SFO International Terminal
I was quickly checked in by a friendly gate agent and my bag was checked all the way through to Auckland. My traveling companion and I cleared security quickly and proceeded to our gate, A8, to wait for the boarding call for Hawaiian Airlines Flight 11.
Not much check-in action this morning
A deserted departures hall at SFO
The HA A330-200 which will take me to HNL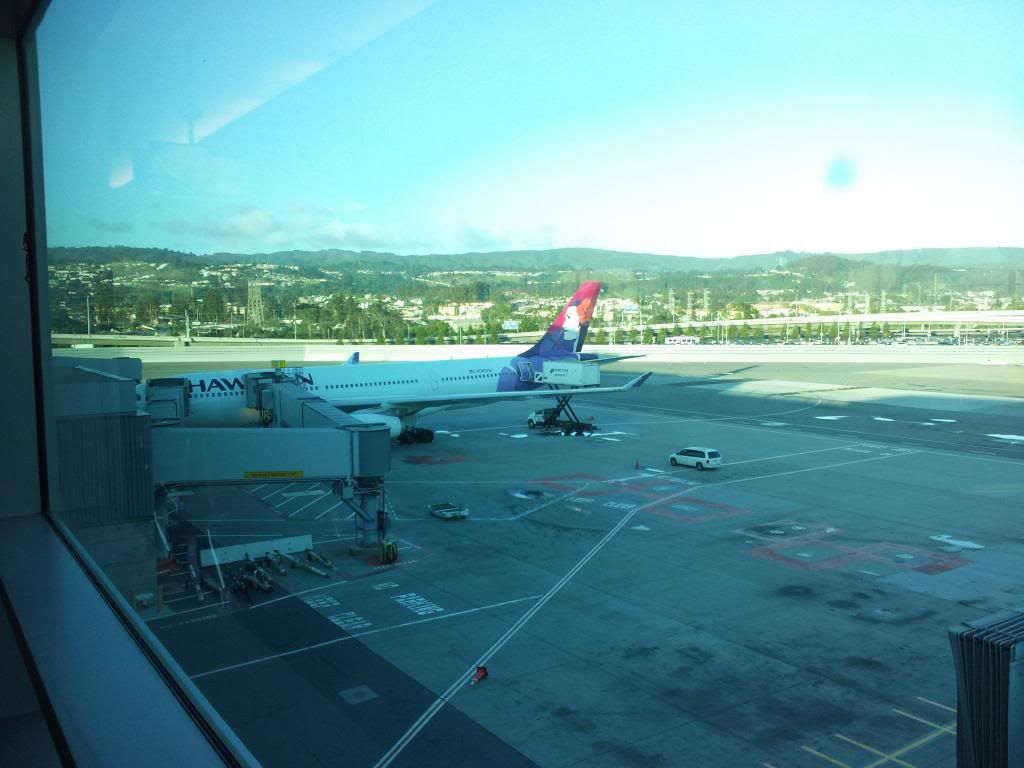 A deserted post-security departure lounge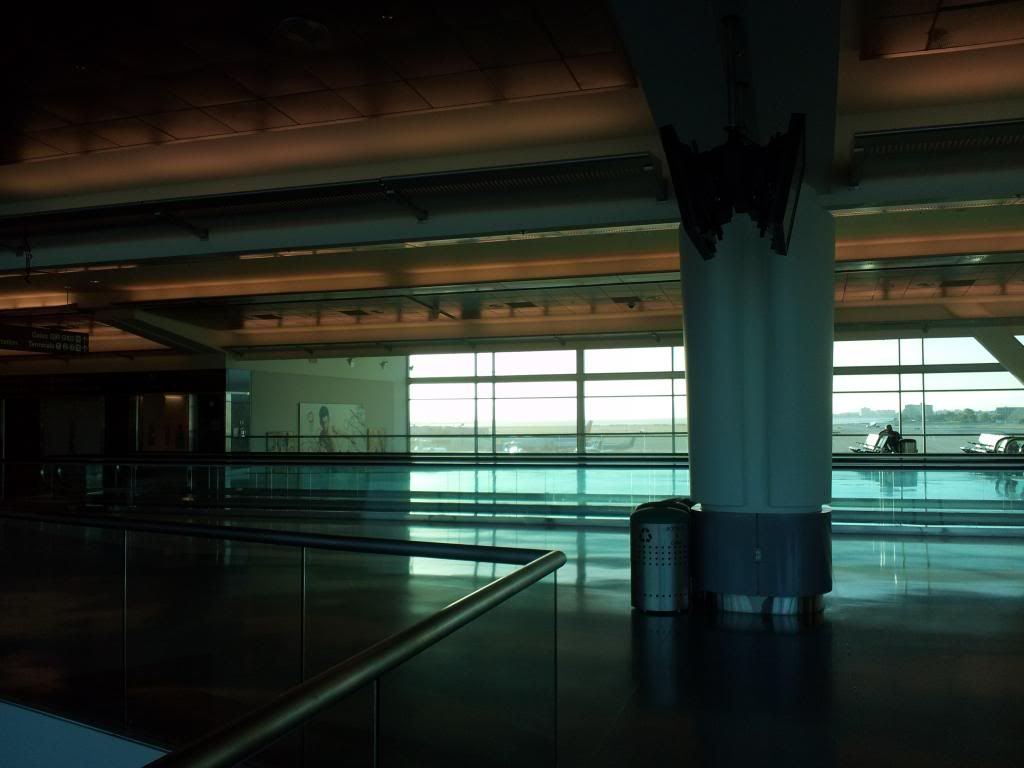 My Passport and Boarding Pass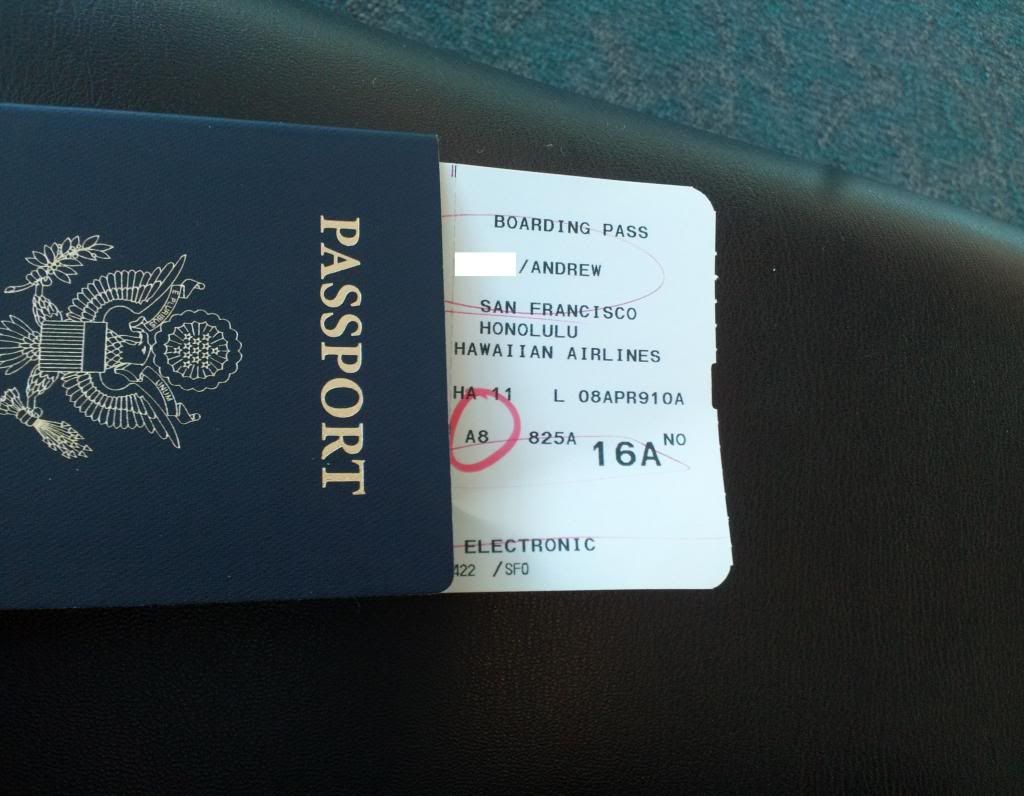 More deserted gates
HA 11 bound for HNL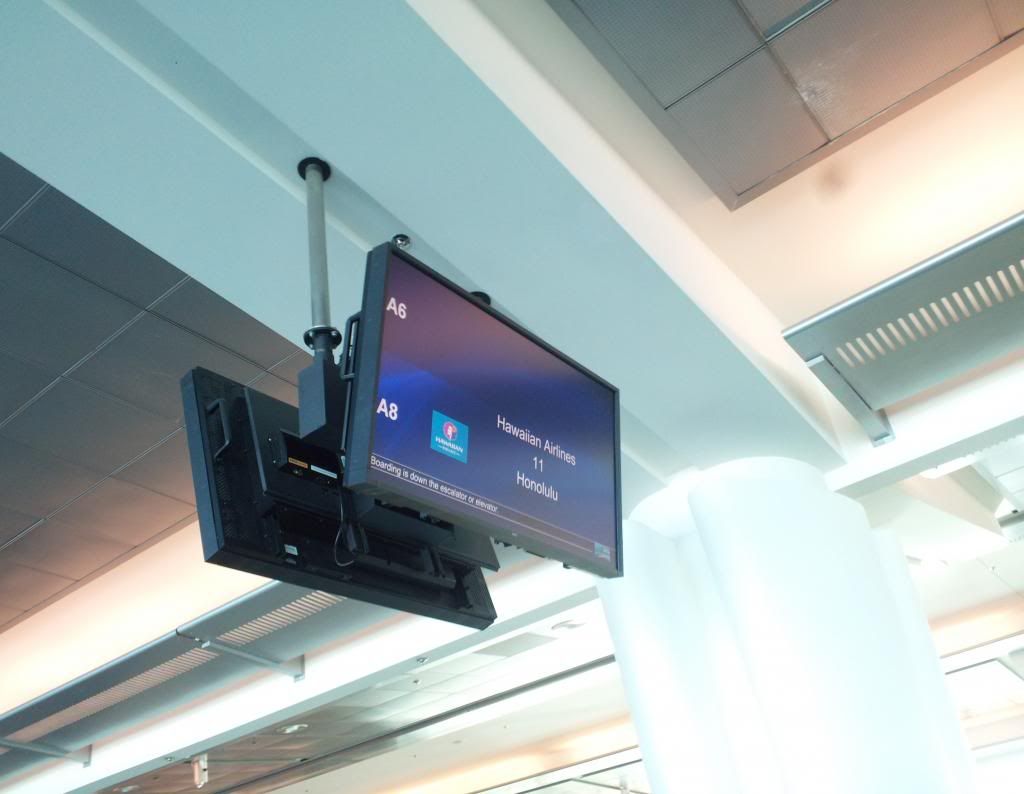 Departure gate A8
Hawaiian Airlines
Flight #11
Gate: A8
Tuesday April 8, 2013
Departure Time: 9:10 AM PST
Arrival Time: 11:45 AM HST
Seat: 16A
Aircraft: Airbus A330-200
Registration #: Unknown
Boarding for our flight's 9:10 AM departure was called around 8:30 AM. After families, First Class and elite passengers boarded, economy class was allowed on board, starting from the back of the plane forward.
I found my way to seat 16A.
View from the window looking out at SFO's International Terminal
The flight pushed back from the gate on time at 9:10 AM.
An AS 737 getting ready for departure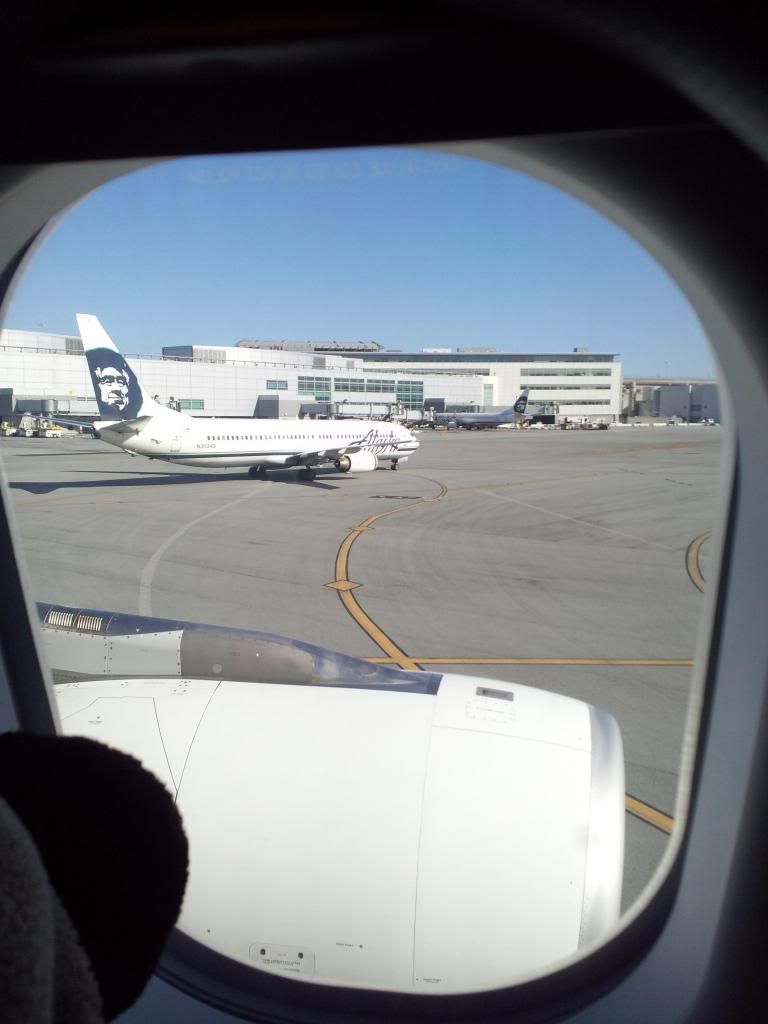 Finally at the head of a long line…
The takeoff was smooth and took quite a long time, however, I am used to flying OO's EMB-120s out of SFO so my perspective is admittedly somewhat biased!
Rotate!
SFO slipping away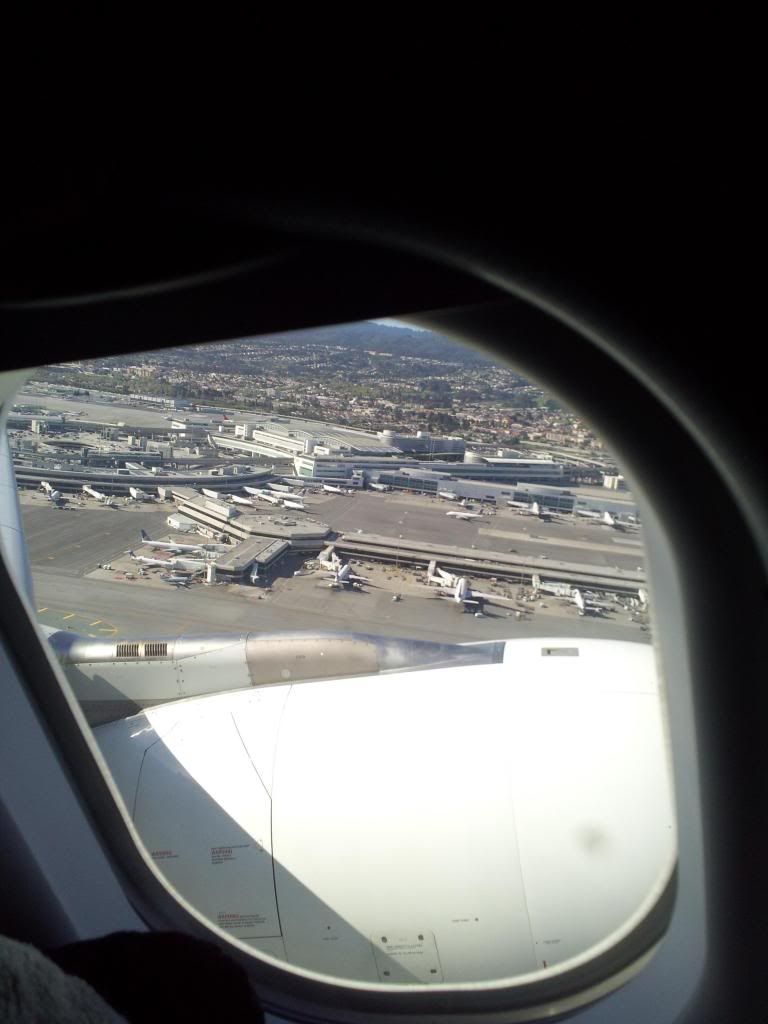 South San Francisco/San Bruno area I believe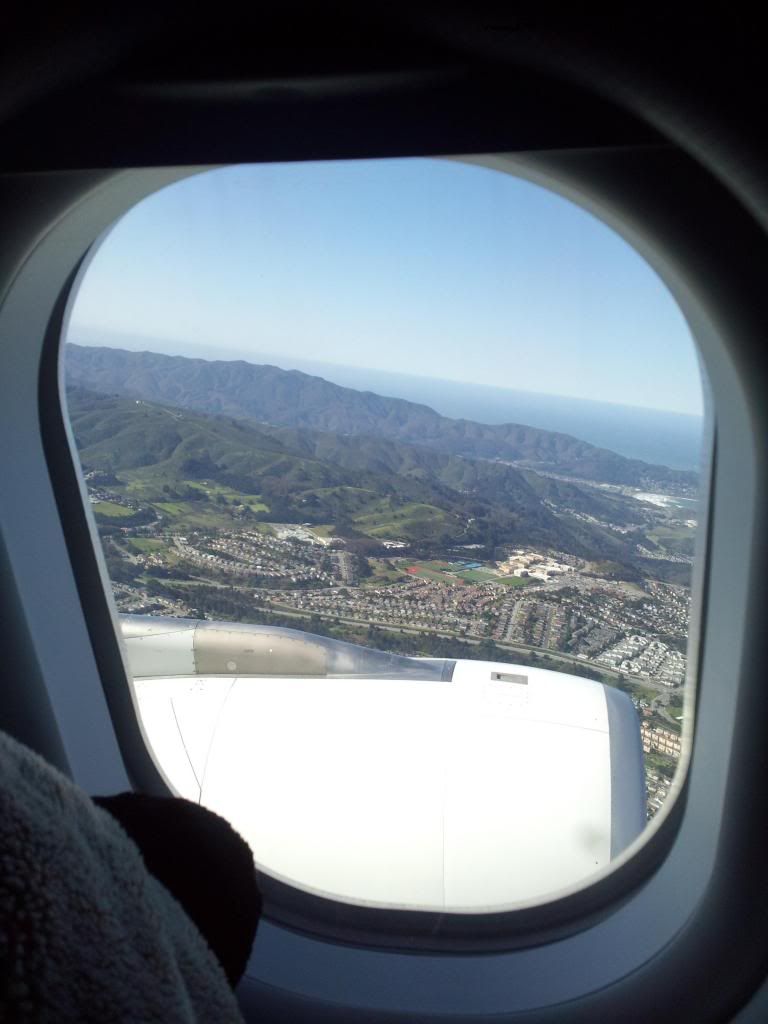 Pacifica and the Pacific Ocean
About twenty minutes after we went "Feet Wet" drink service began. I chose orange juice. Immediately following this drink service breakfast was handed out. Unfortunately, there is no picture of the meal I declined as I had already eaten breakfast earlier and was feeling a tiny bit queasy.
Orange juice
State of Hawaii intake form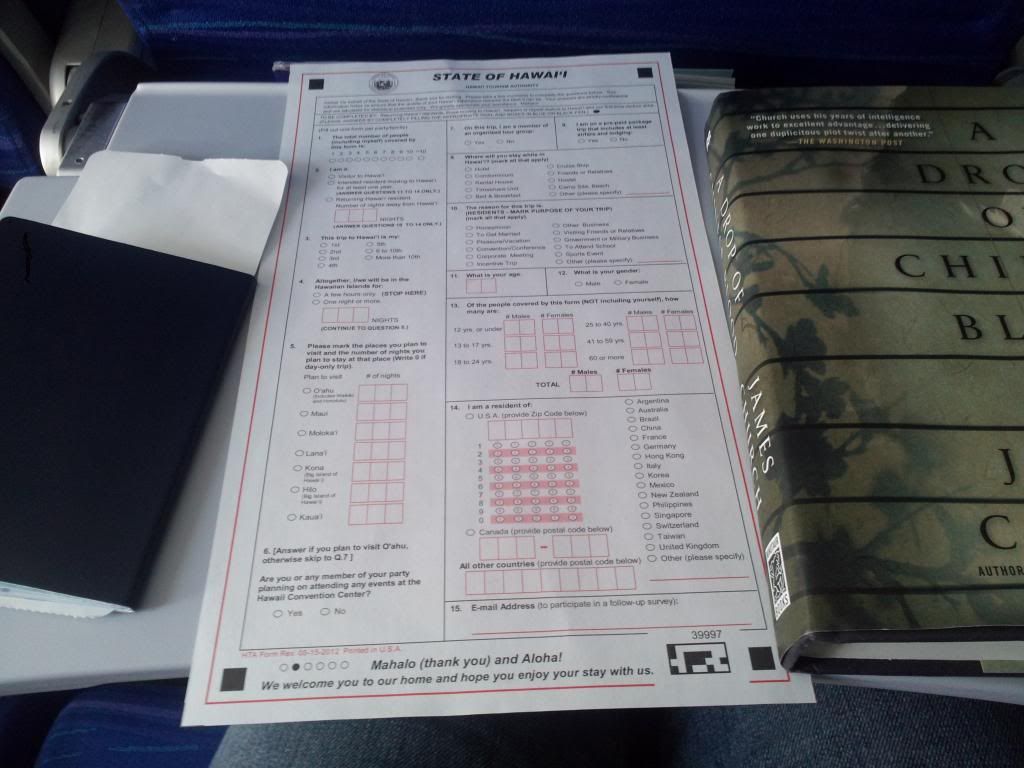 The Pacific Ocean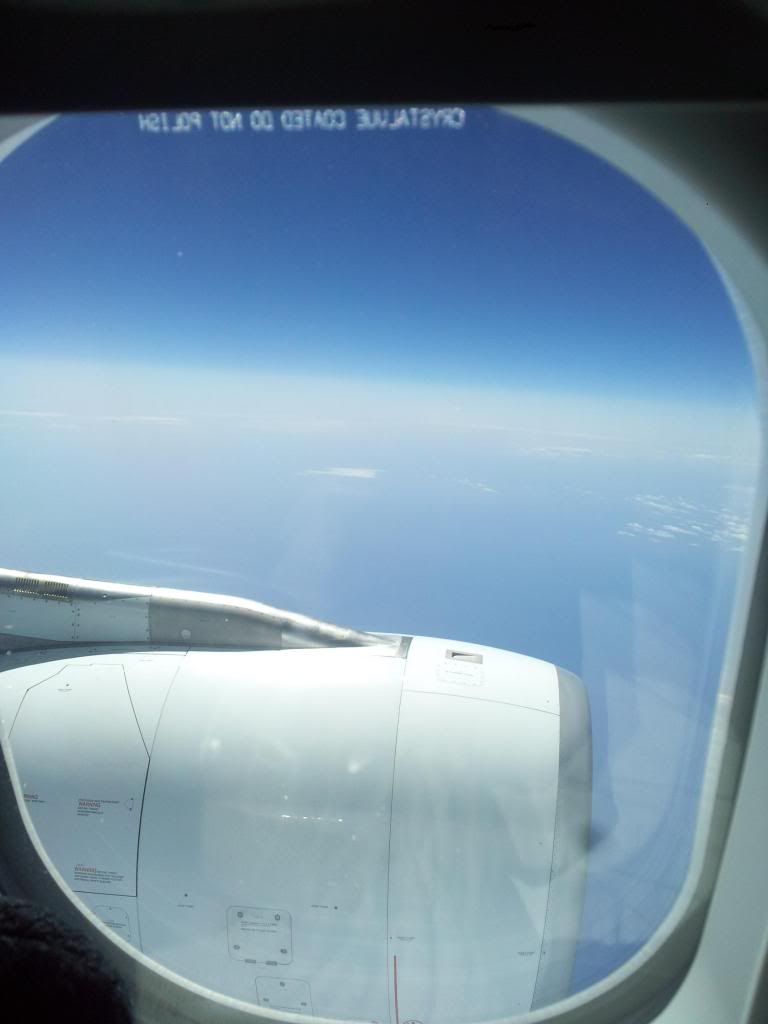 Happily, HA's A330-200s are equipped with AVOD in the form of a nice 10" (I believe) screen. This screen proved to be the perfect size and I was never straining to see it. For mainland-Hawaii routes, HA's AVOD system is primarily a paid service, with prices ranging from $5 for a TV show to $7.99/movie. For this leg of my trip I opted to not pay for any movies instead opting for the A-netter favorite, the in-flight map!
In-flight map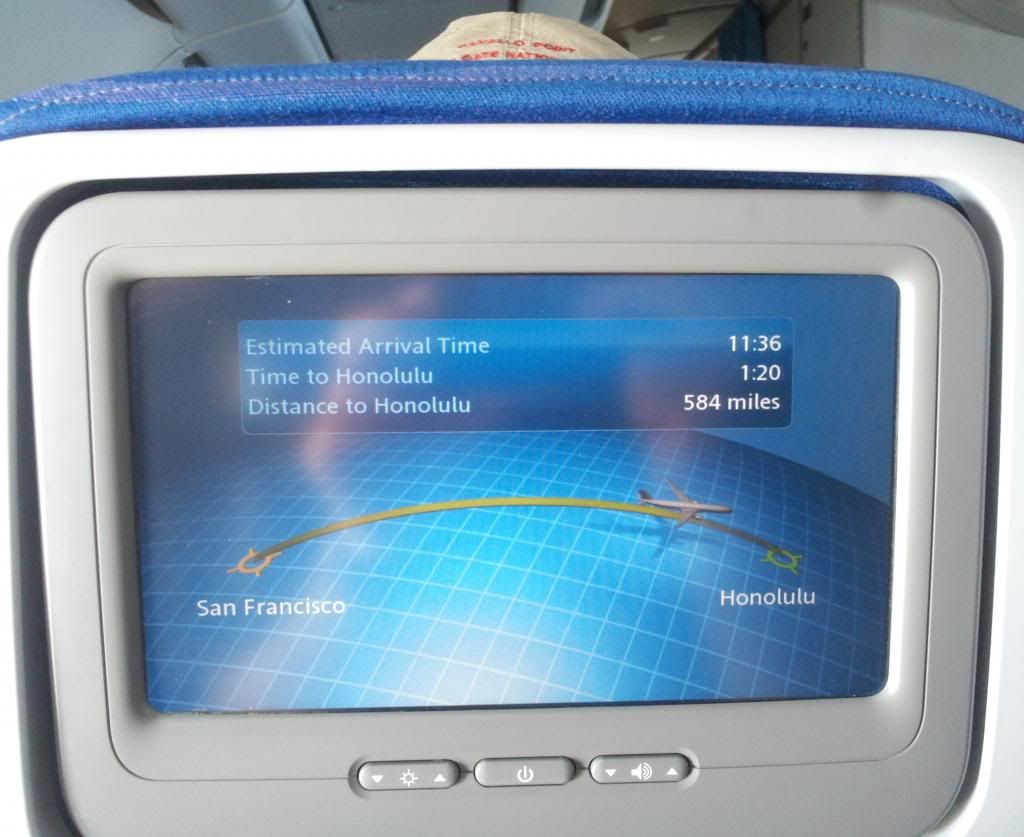 HA's in-flight map system was both adequate and annoying. Adequate because it displayed the location of the plane and the ETA, altitude, temperature and airspeed well enough and annoying because it rotated through each of these on a set schedule. I know it is a small complaint but I really wanted to control which screen I saw.
Another map view, approaching Hawaii
After a smooth flight we descended toward Hawaii.
The mountains of Oahu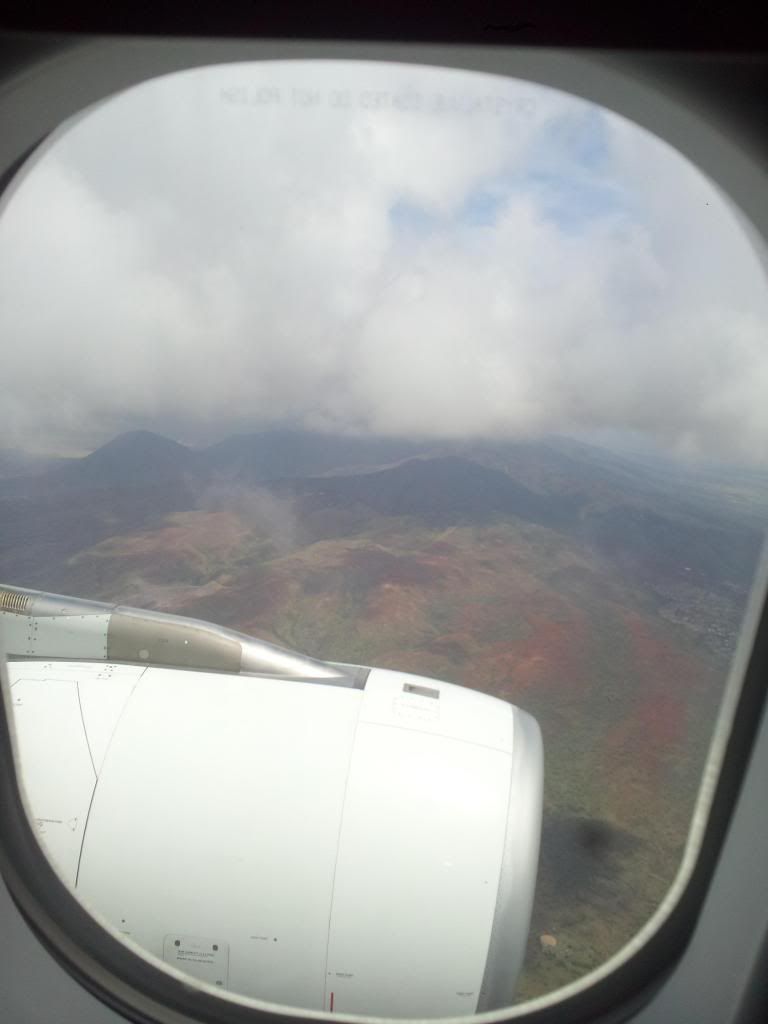 I believe that is Ford Island?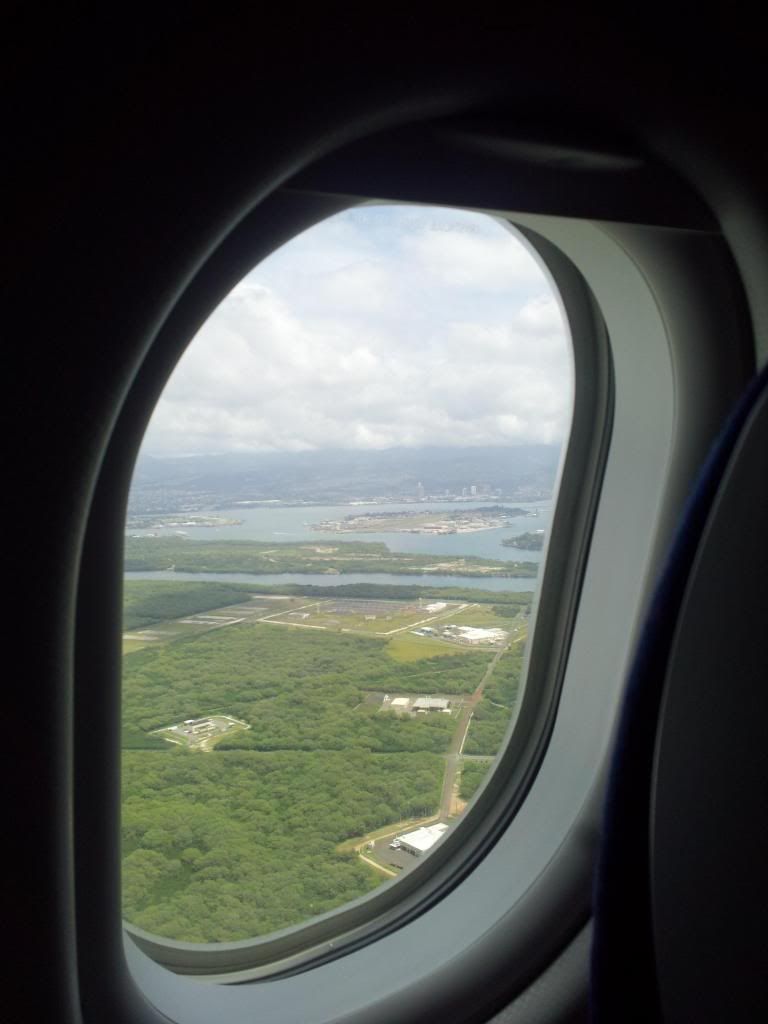 KC-135s and C-17s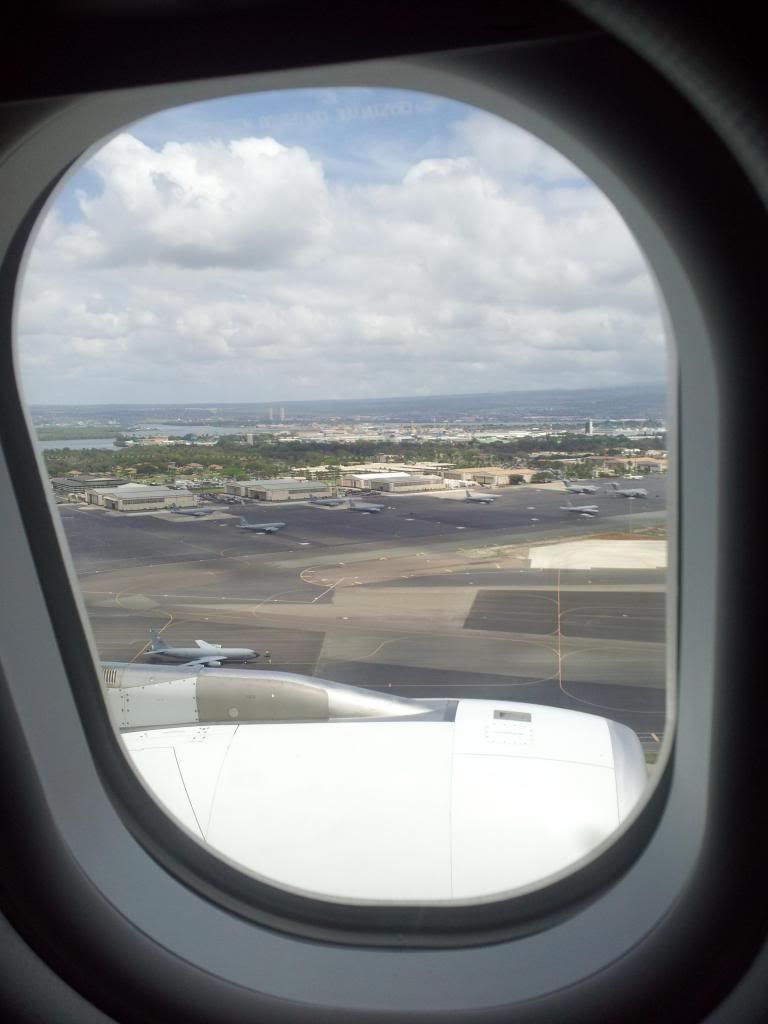 After a smooth landing we taxied to our gate at HNL
A HA 767-200 parked right next door
We quickly disembarked and headed out into the terminal at HNL. The terminal at HNL is configured differently from any other terminal I've ever been in. It has both indoor and outdoor post-security sections with whole access roads (I assume for the police/TSA/busses for the disabled). For a few seconds I thought I had been dumped right out from the plane through security to the curbside before I realized I was still in the secure section of the airport. HNL has a very interesting configuration although I am not sure just how much I like it.
Departure boards with my Auckland flight not yet listed
After disembarking I got a burger and a beer at the Gordon Biersch restaurant near my departure gate, 28.
After lunch, I headed over to Gate 28 to check out the action on the ramp and wait for my plane.
DL 747-400 taxiing out
CI 747
Given the indoor/outdoor mix of HNL, it was not surprising to see this pigeon wandering around
The HA A330-200 which took me to AKL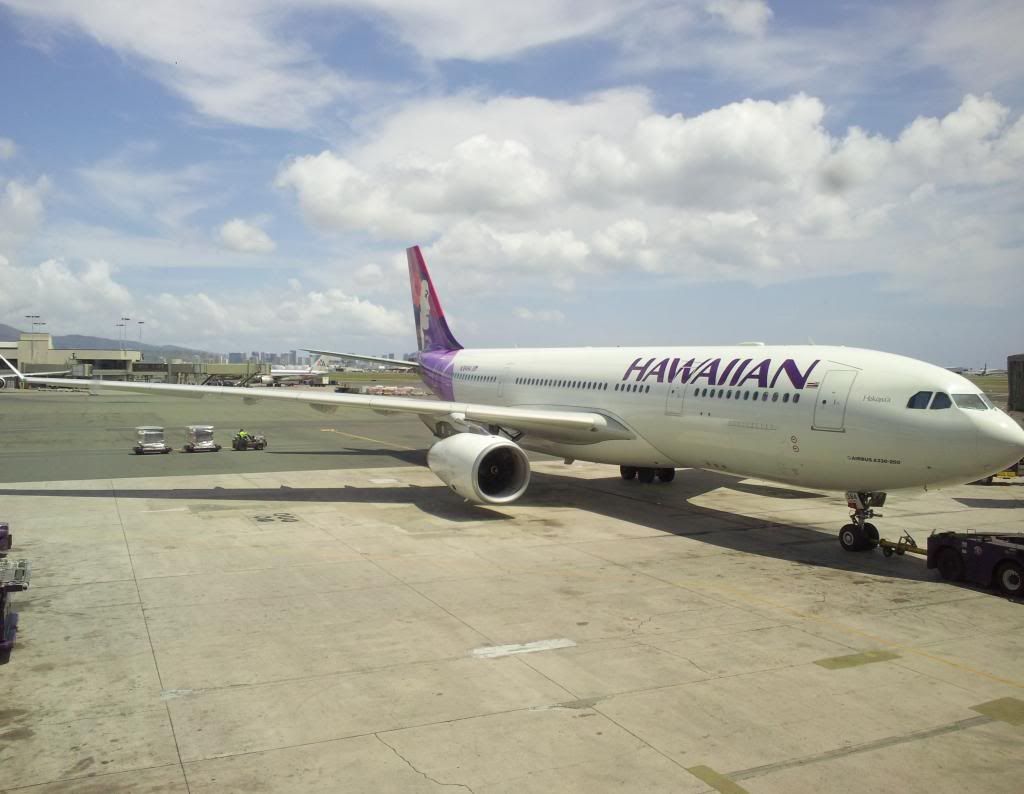 Hawaiian Airlines
Flight #445
Gate: 28
Tuesday April 8, 2013
Departure Time: 2:40 PM HST
Arrival Time: 9:55 PM NZST (Tuesday, April 9, 2013)
Seat: 28A
Aircraft: Airbus A330-200
Registration #: N384HA
Boarding took place promptly at 1:55 PM in the same manner as SFO. I found my way to my seat, 28A. Flight attendants distributed amenity kits and meal cards describing the food and beverage options on this flight.
Amenity kit and meal card which doubled as a postcard. Nice touch HA
The menu. Only one option, BBQ chicken, rice, salad and cake.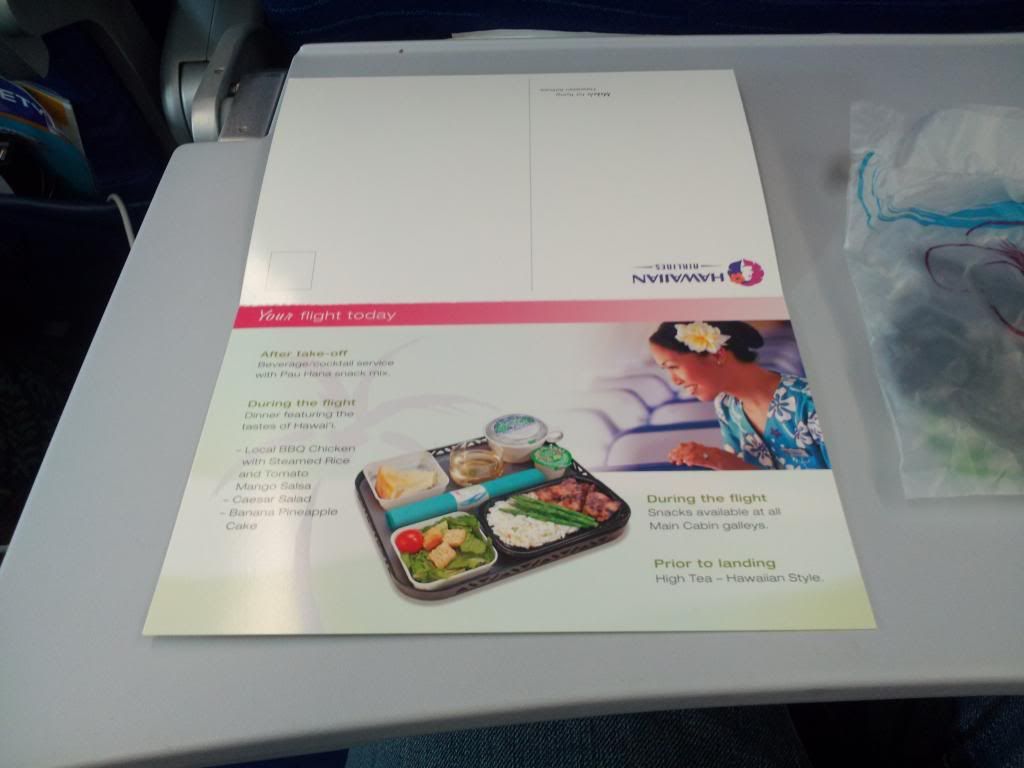 Beverage options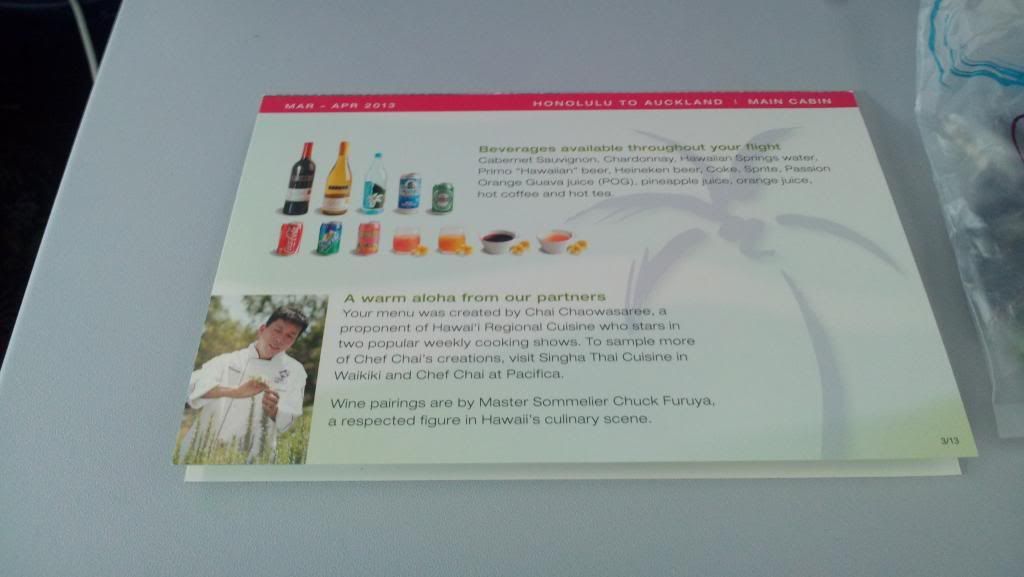 Contents of the amenity kit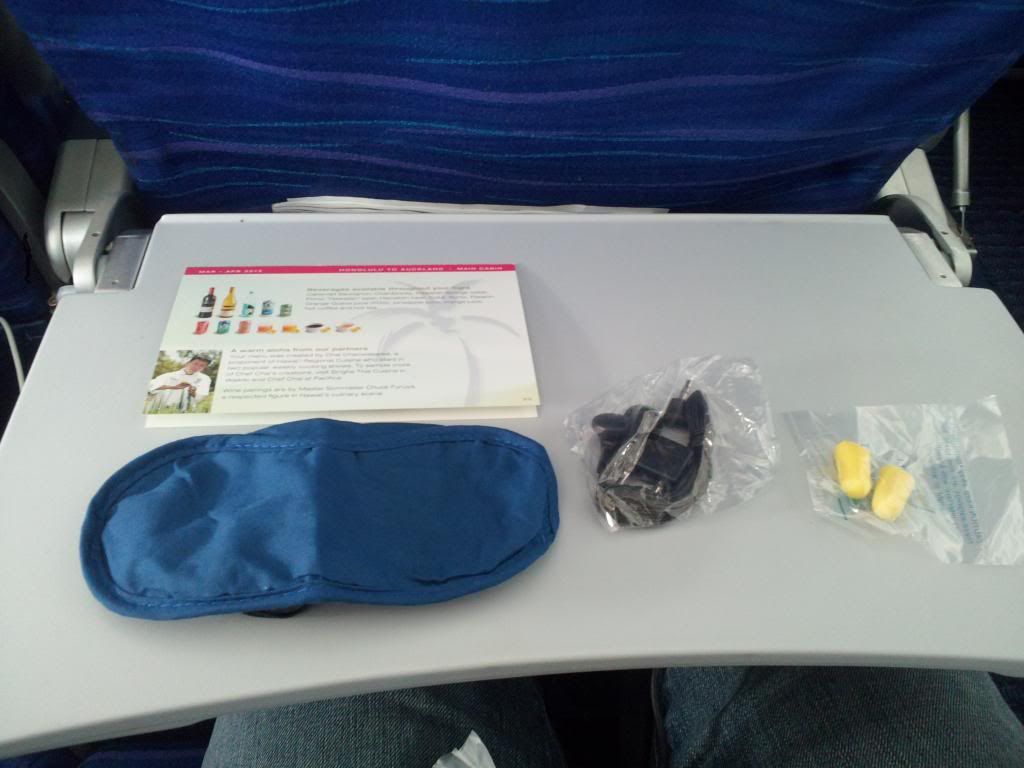 After these amenity kits were distributed we pushed back from the gate and began our long taxi to HNL's runway 8 Right.
HA birds awaiting departure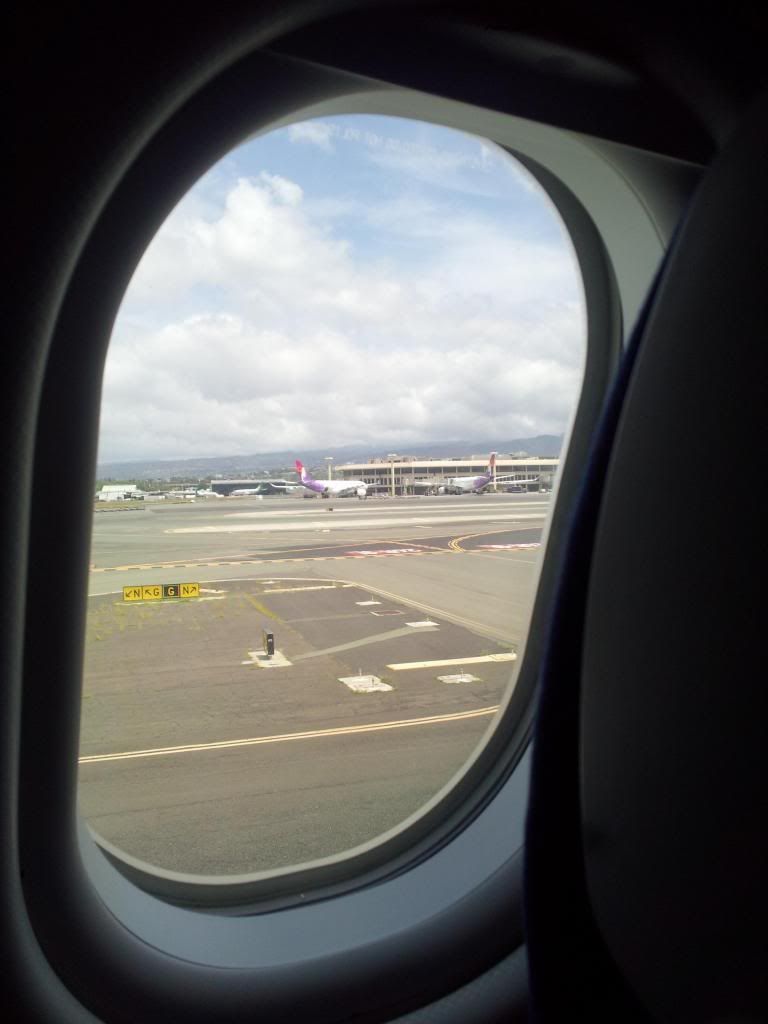 Tower and Honolulu in the background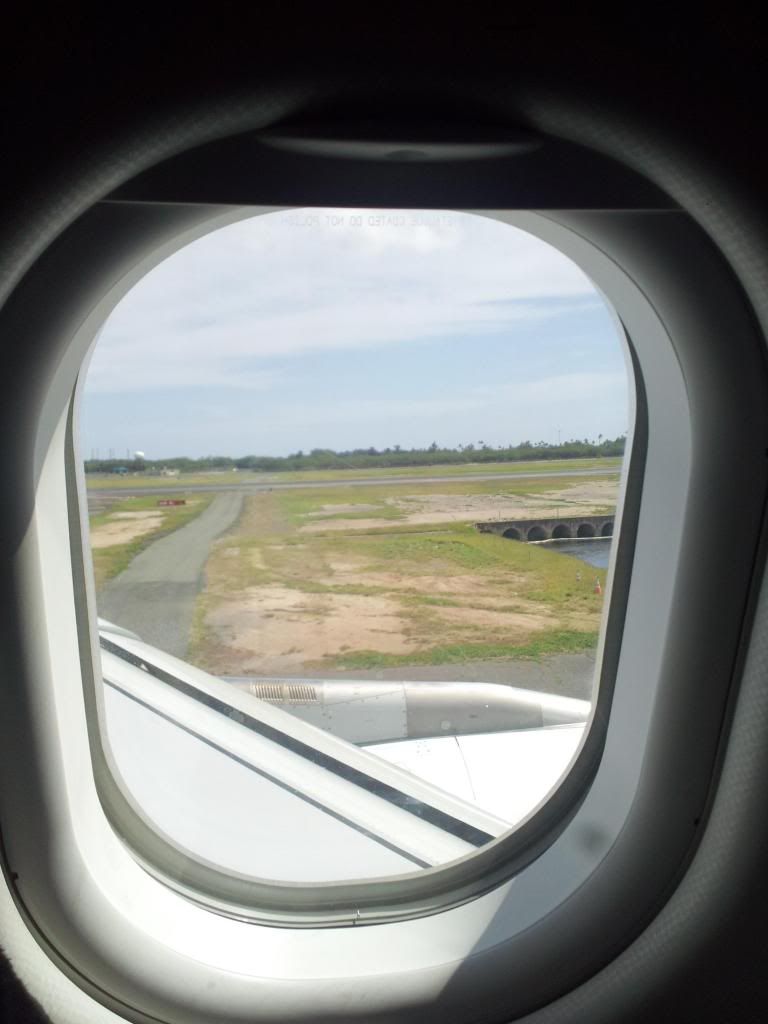 Light blue water reminding me that part of HNL is built on reclaimed land
After another long takeoff run we were airborne!
Wakkiki
In-flight airshow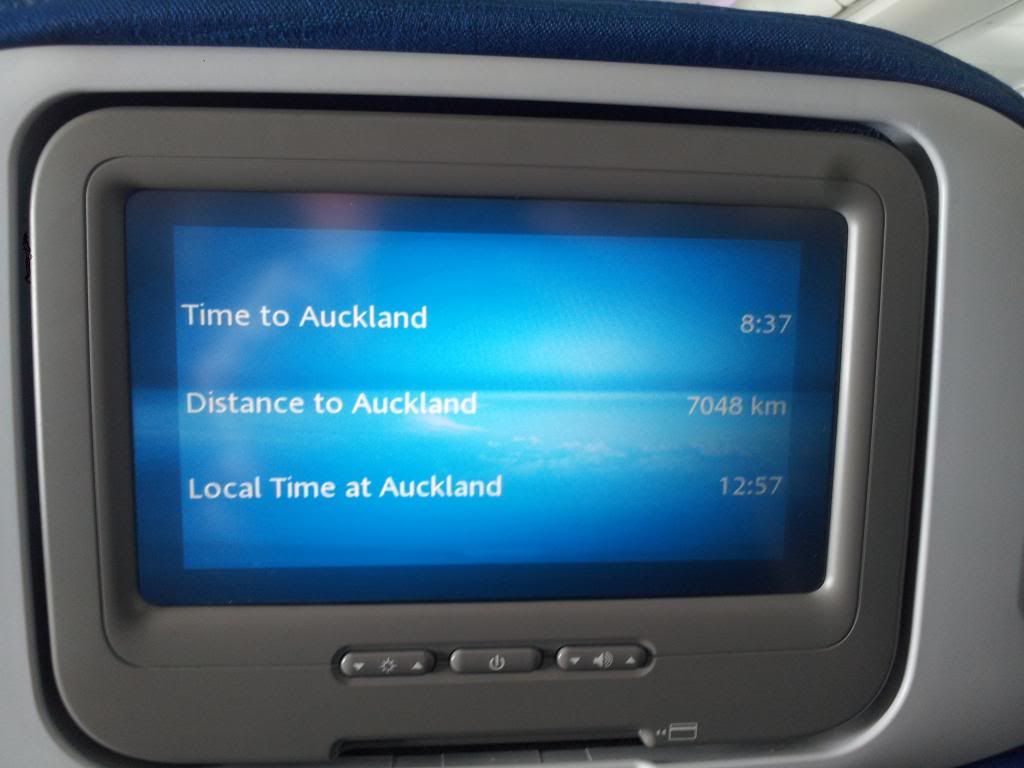 About 30 minutes after take off flight attendants began passing out drinks. I chose a beer, Primo. As a beer lover, it was fair.
I'm no man to turn down a free beer!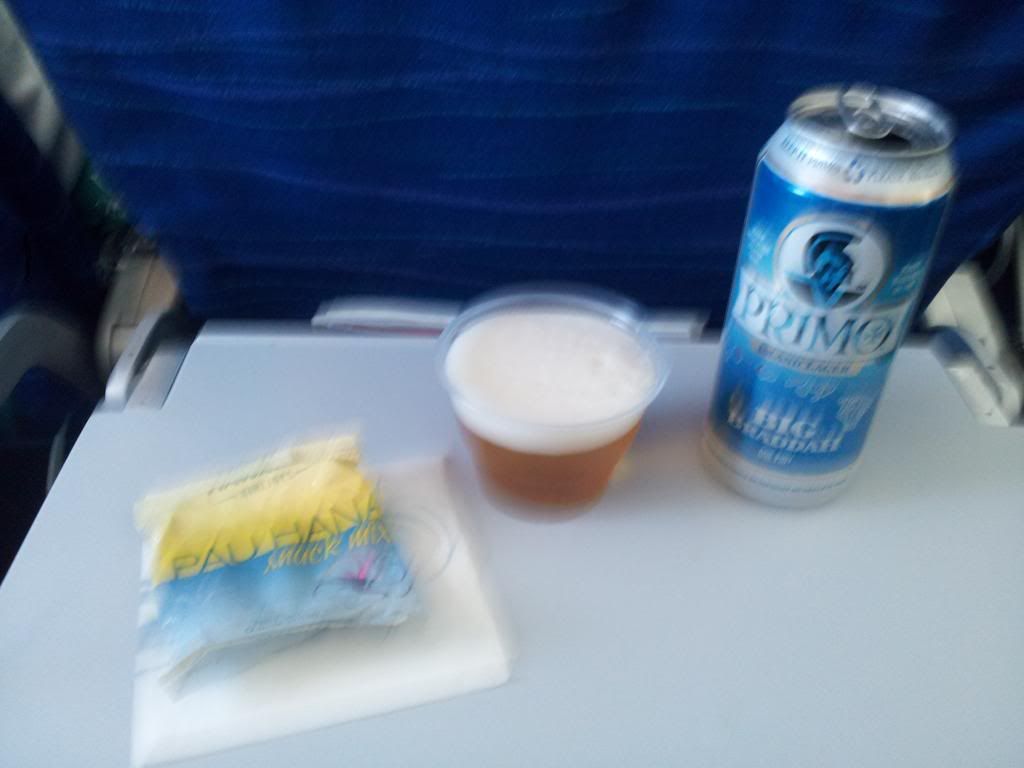 Dinner was served quickly after drink service. There was only one option: chicken.
Dinner.
Dinner was fair. The rice salad and cake were all right, however, I came across multiple bones and areas of very tough gristle when I tried the chicken. Poor quality, HA could have done better, although I was happy to be fed.
At this point the AVOD system on the aircraft was malfunctioning. The flight attendants reset the system twice which apparently fixed the problem. They did repay the inconvenience by "comping" the entertainment for the flight. Very nice of them!
Watched a little Futurama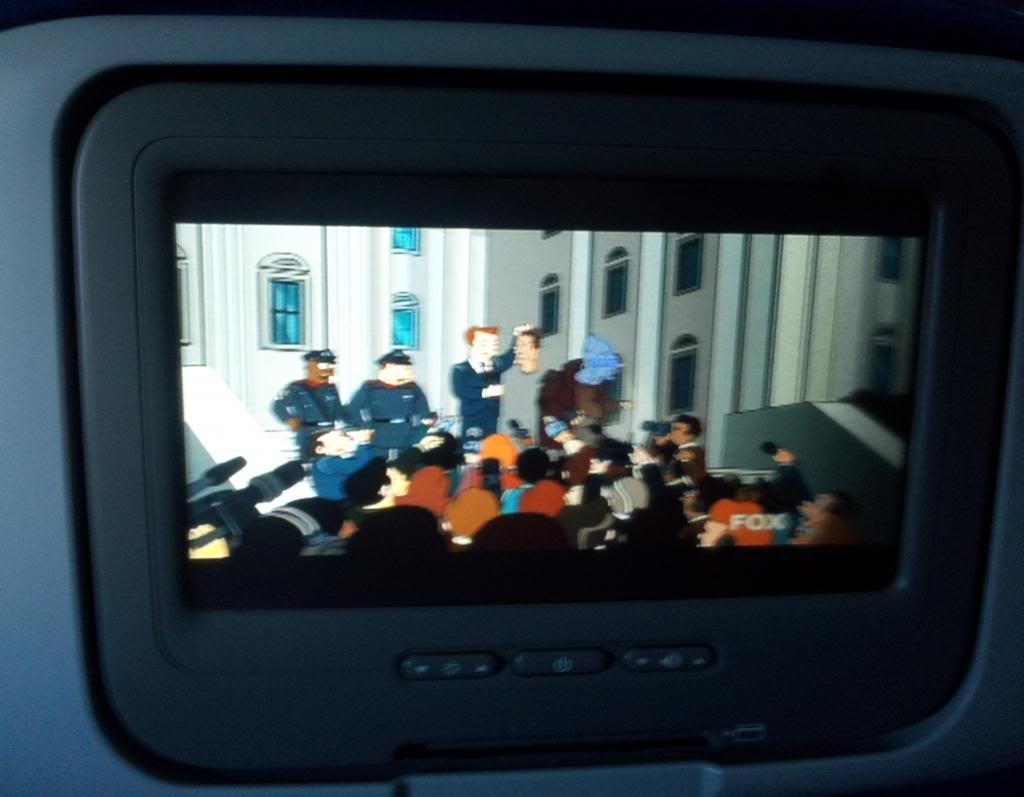 The sun setting over the Pacific
Mood lighting
The flight proved mostly uneventful. I have never been able to sleep on flights so I took several "laps" around the plane. I spoke with a few FA's, all of whom were very happy to be working for HA and also the recently started (March 2013 I believe) AKL route.
The load factor for this flight was somewhat lighter than I expected, around 60%.
A small note, there seemed to be more male FA's on this HA flight (about a 50-50 split) and on my other HA flights than I usually come across when flying in the US domestically. Although I don't have the data to draw conclusions I wouldn't doubt if HA had significantly more male FA's than other US airlines. Has anyone else noticed this?
After an 8 hour flight we began our descent towards AKL.
Under an hour to go!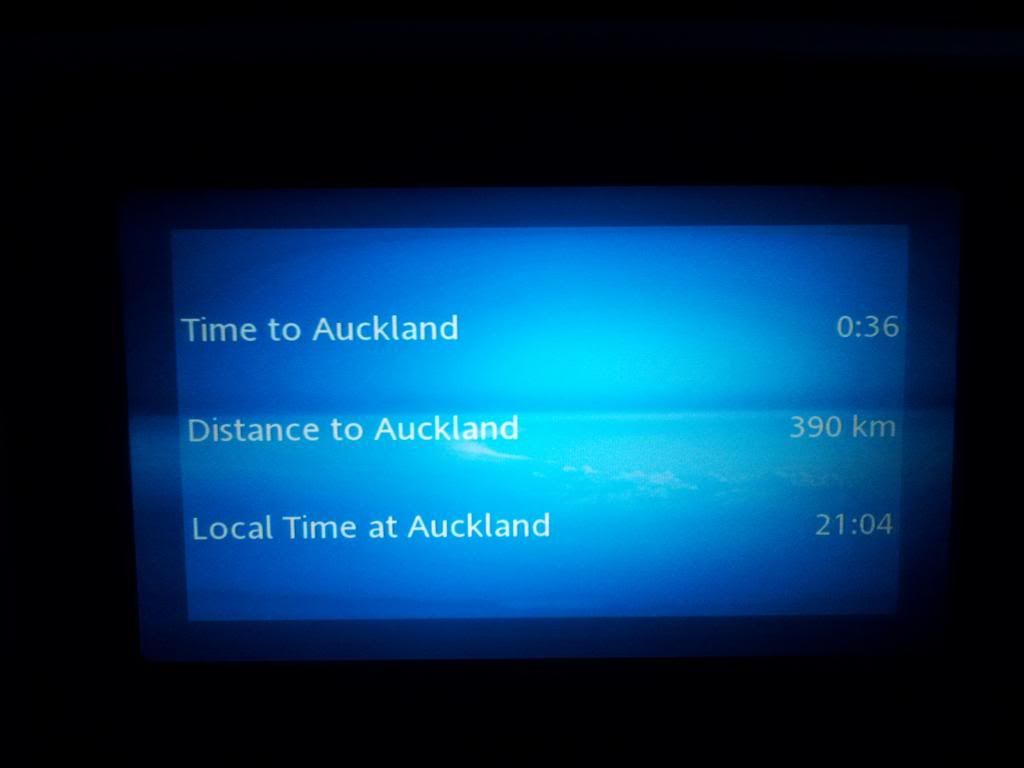 Almost there…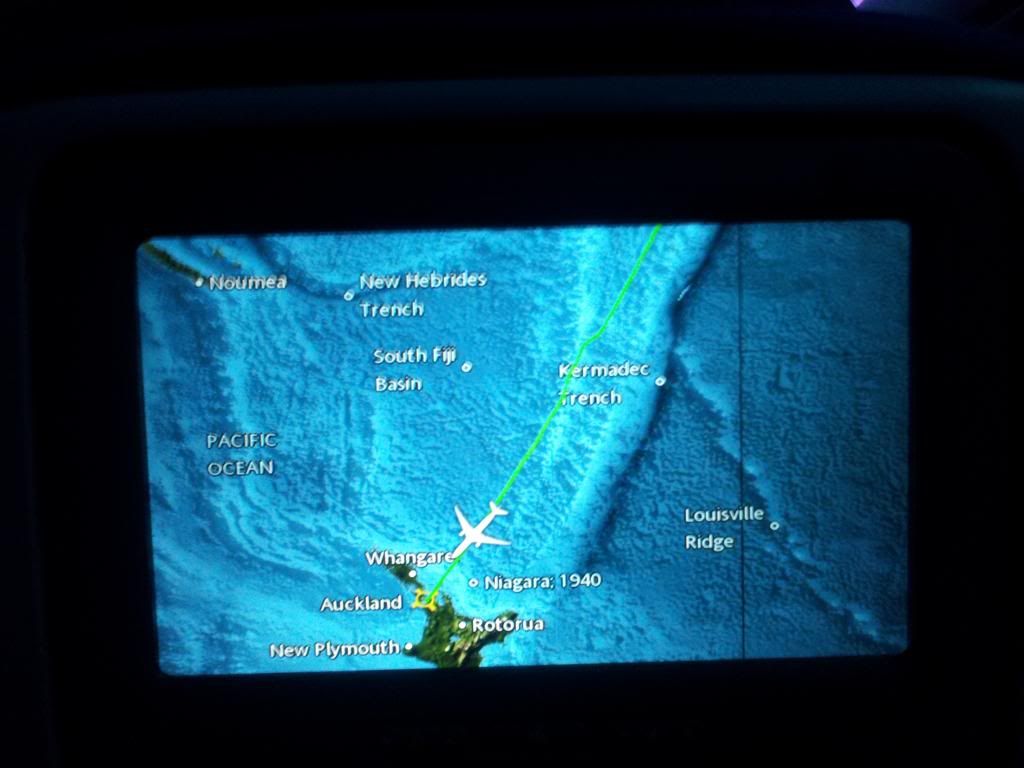 After a long, slow and smooth descendent we landed at AKL. Apologies for the picture quality, my hand was shaking a little.
Touchdown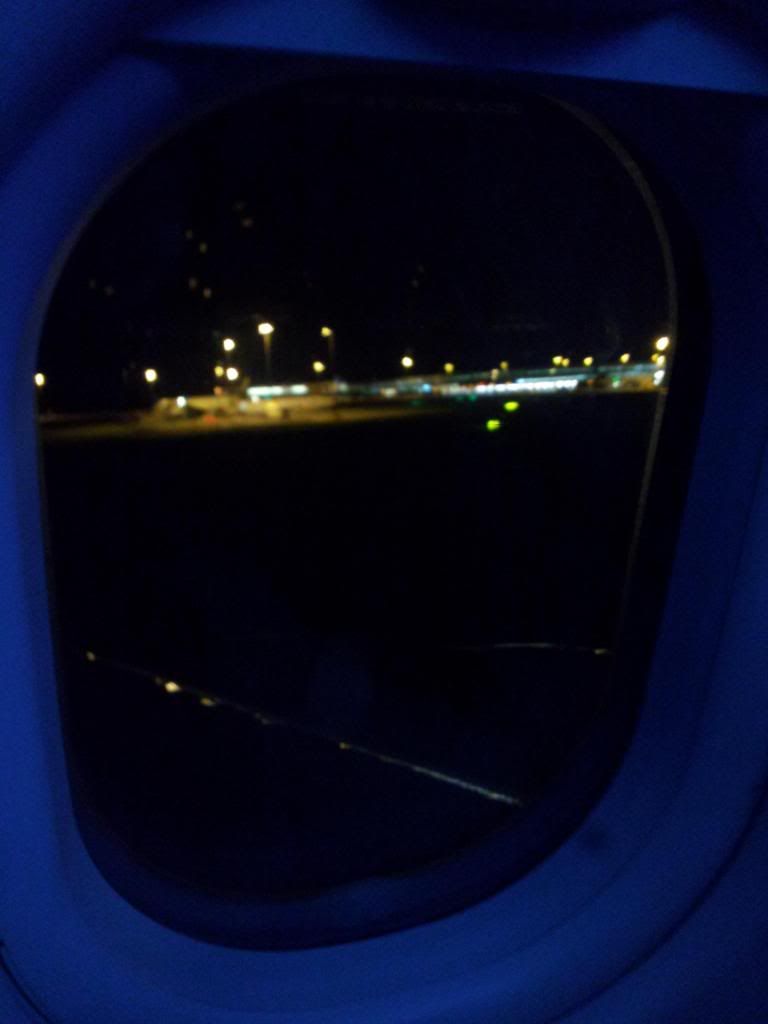 Taxiing
At the gate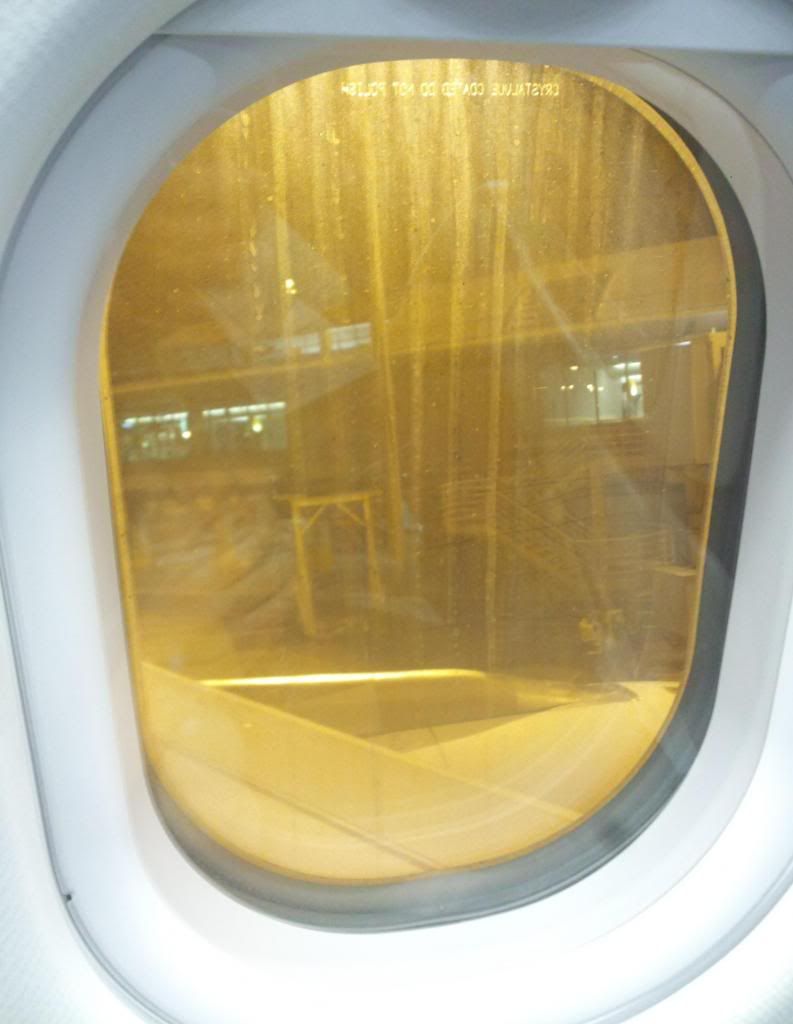 We waited at the gate for about twenty minutes while several New Zealand customs officials sprayed the exterior and walked through the cabin and sprayed the interior of the plane. Not an experience I've ever had before and quite unnerving…
I cleared customs quickly and found the shuttle to my hotel in central Auckland. Exhausted by that point I immediately went to bed.
My next week and a half on New Zealand's North Island were amazing. Here are just a few of the pictures from my trip.
Driving on the left side of the road was quite unnerving for a while…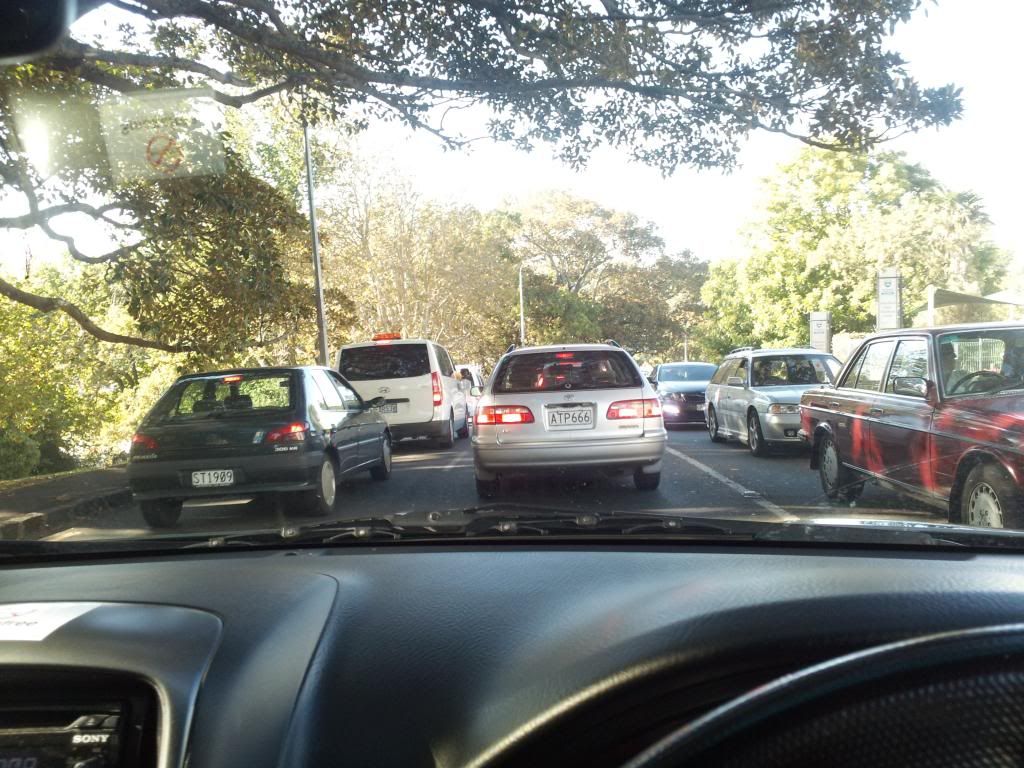 A craft beer lover, I visited many a New Zealand brewpub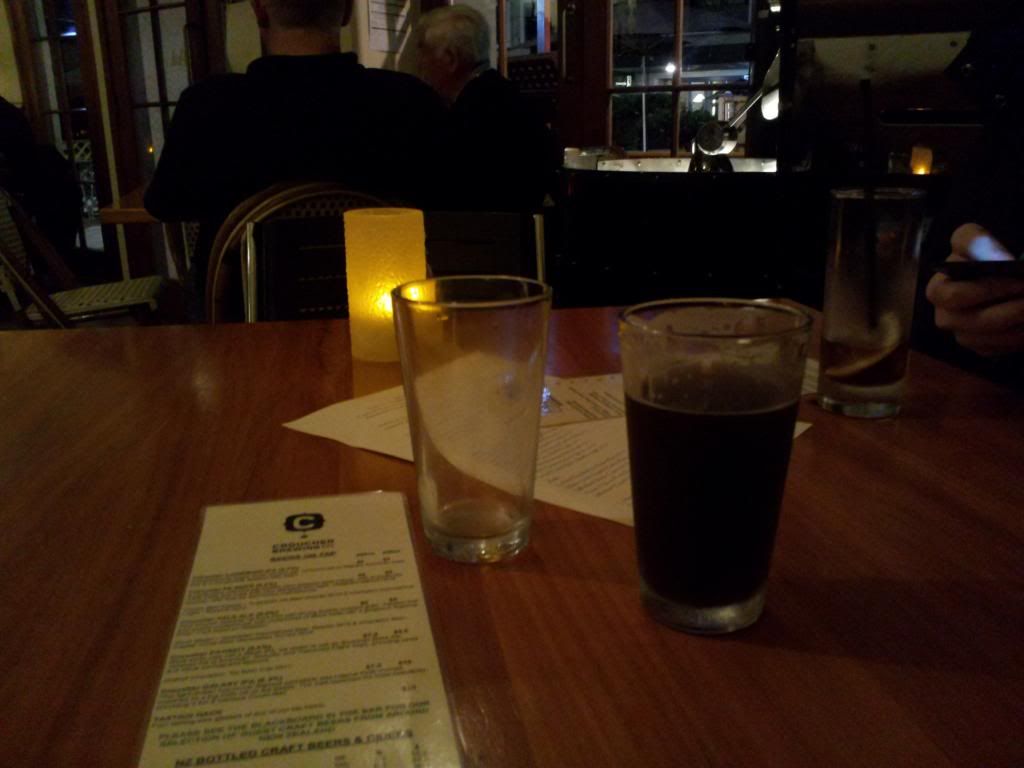 Beautiful New Zealand countryside on highway 4 north of Wanganui
Lake Taupo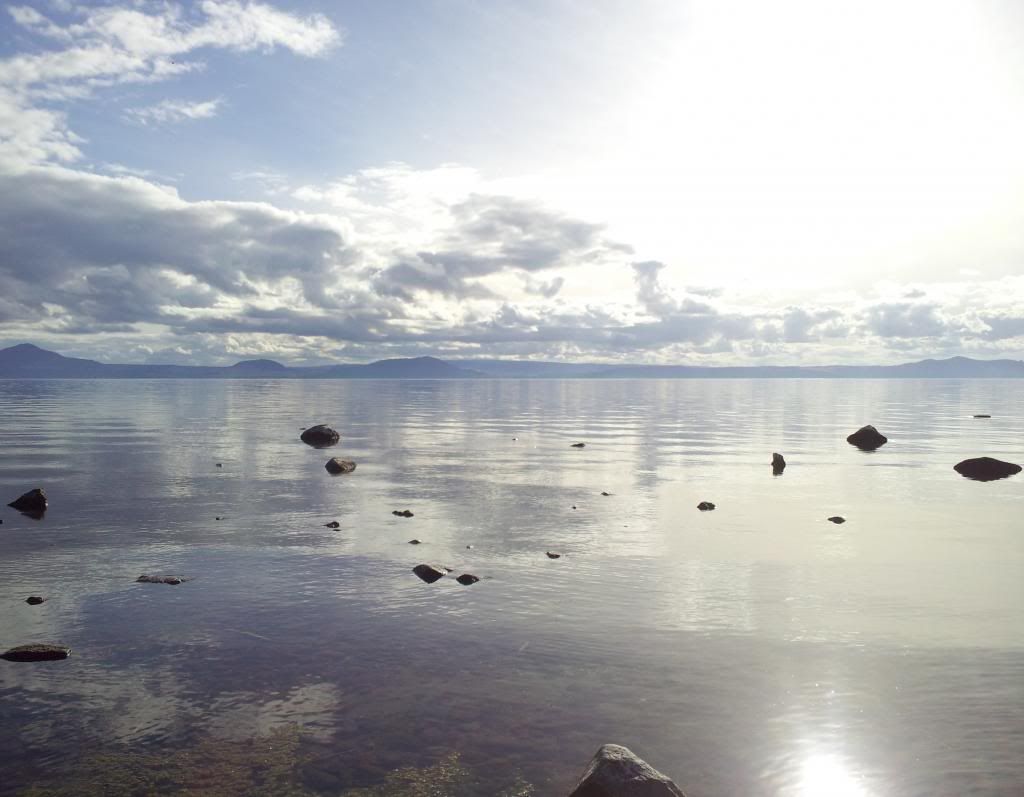 All too soon it was time to head back to the United States. I dropped my rental car off at AKL around 17:30, just 30 minutes before they closed. As my flight to HNL left at 23:55, I had a lot of time to kill at AKL. I wandered around the airport, taking in the sights and eventually it was time to check in. Check in took an agonizingly long 60 minutes but eventually I dropped my bag off and was off to my gate.
Check in line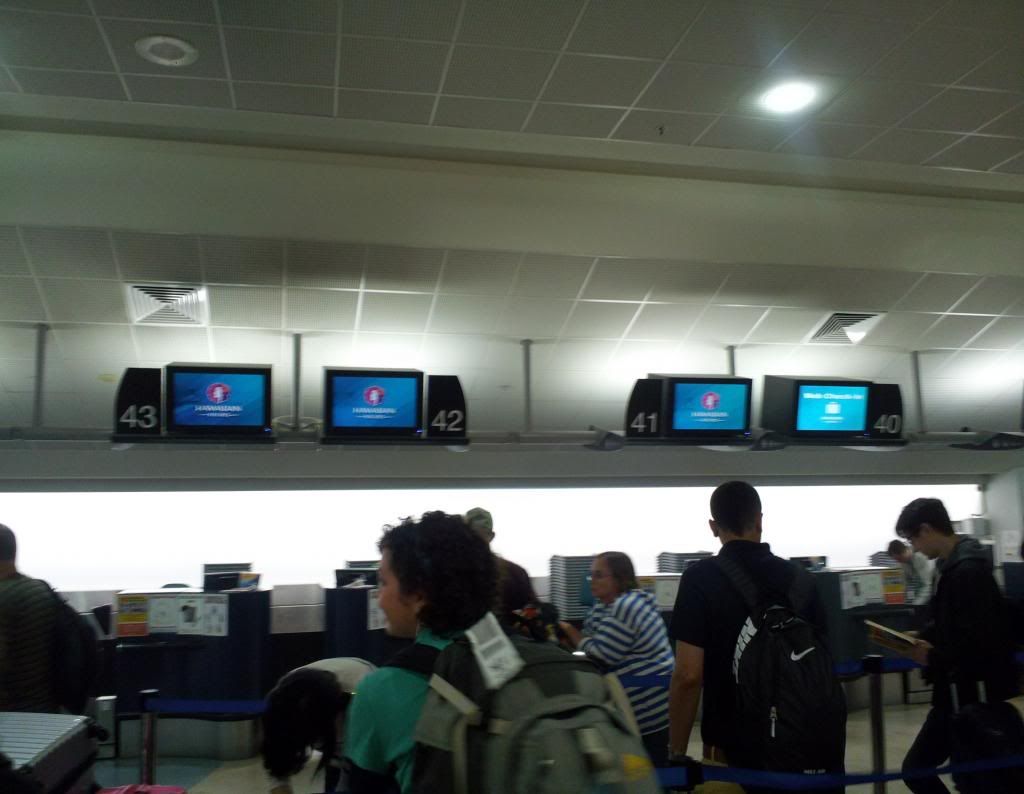 Mostly empty…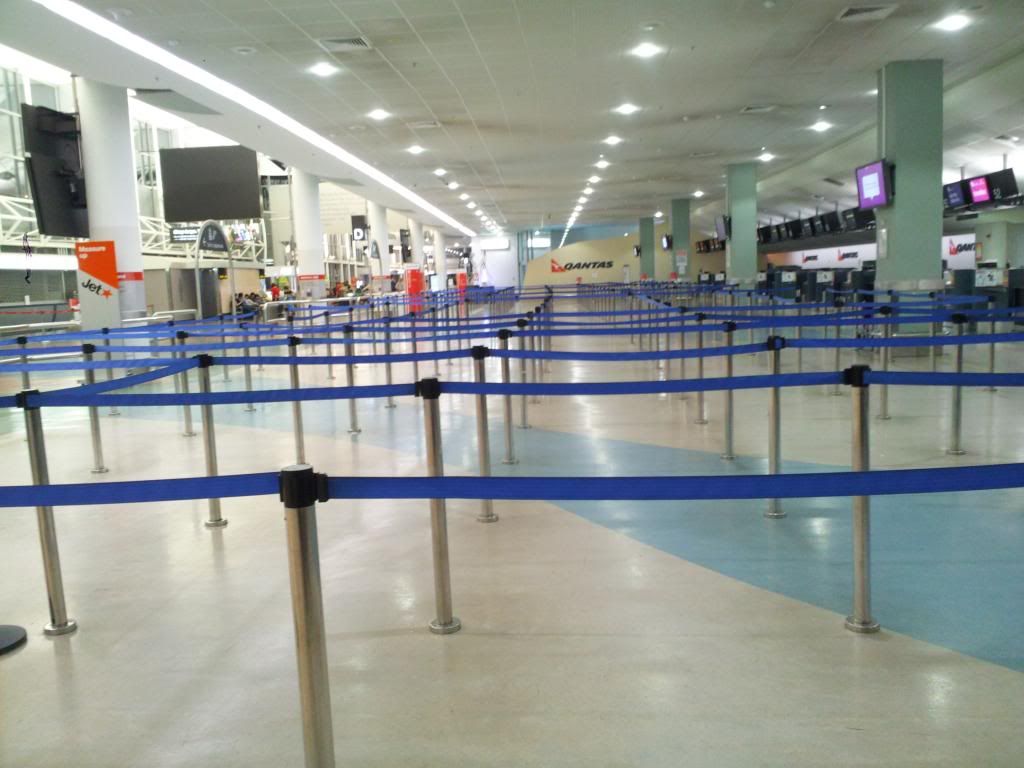 …some action though
Last goodbyes!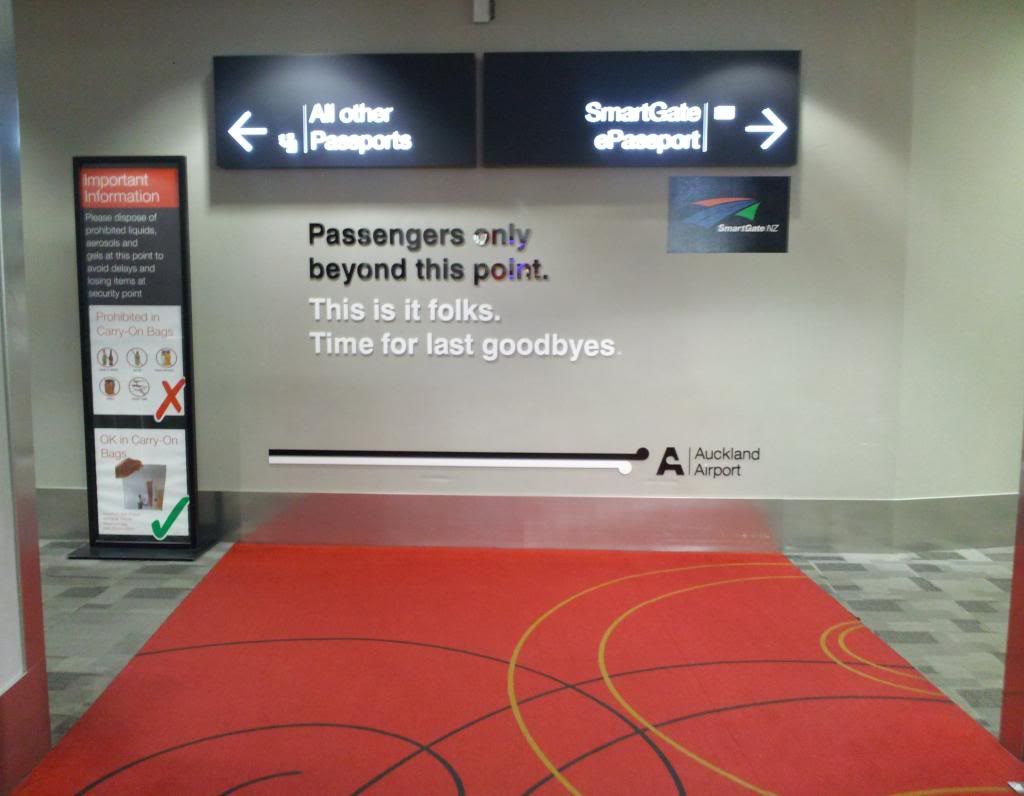 Time to run the Duty-Free gauntlet
Empty connector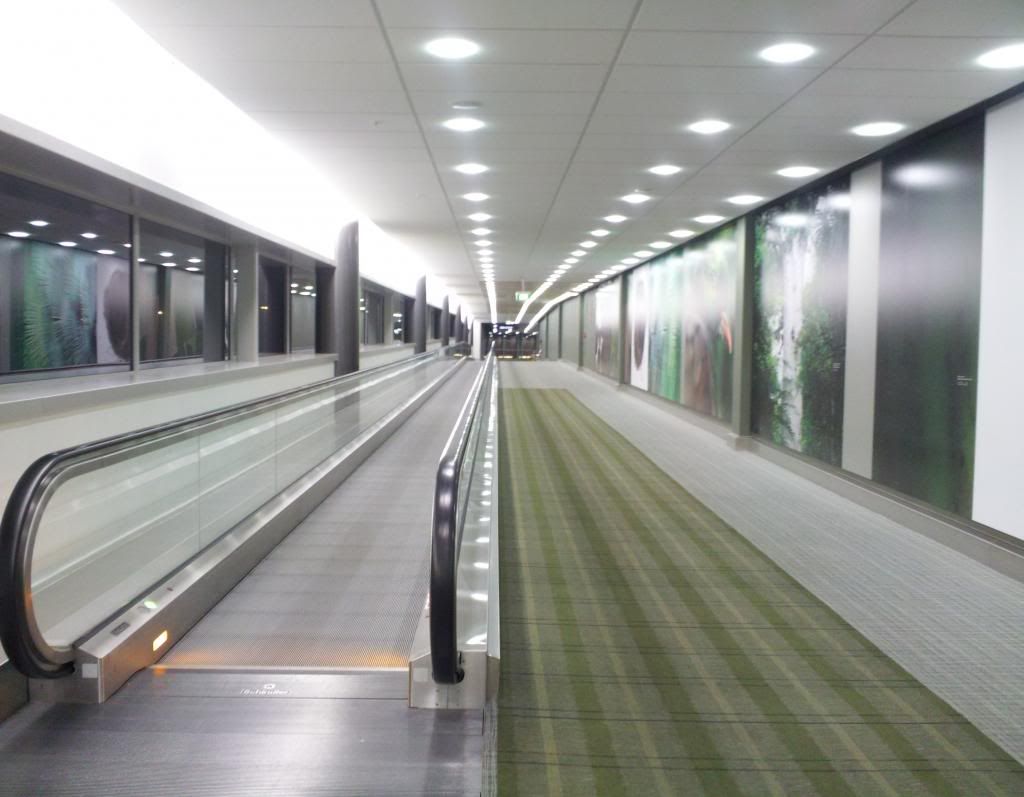 Air New Zealand A320 (I believe) in Star Alliance livery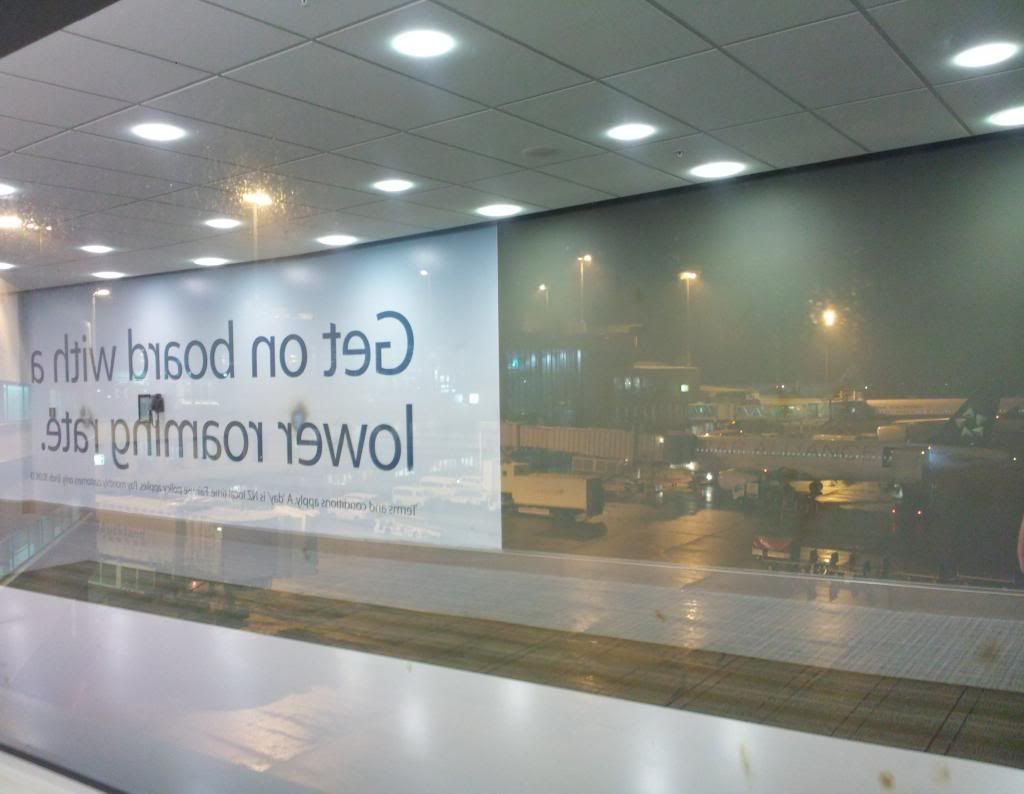 Some activity post-security
Boarding pass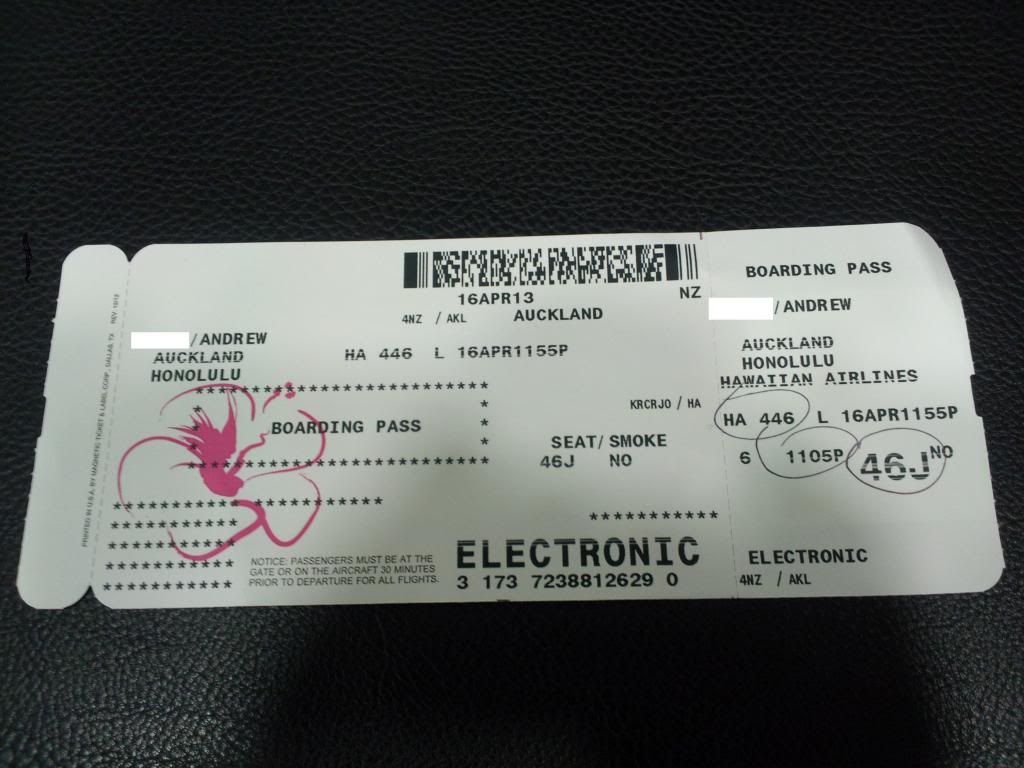 After a long wait boarding was called in the same order as my previous HA flights. The A330 pushed back on time at 23:55 PM NZST.
Hawaiian Airlines
Flight #446
Gate: 3
Tuesday April 16, 2013
Departure Time: 23:55 NZST
Arrival Time: 10:45 AM HST (Tuesday, April 16, 2013)
Seat: 46J
Aircraft: Airbus A330-200
Registration #: Unknown
Upon boarding amenity kits and menu cards were distributed just as with my early HNL-AKL flight.
Obligatory A-Net legroom shot
A rainy and windy day at AKL
Pretty menu card
Amenity kit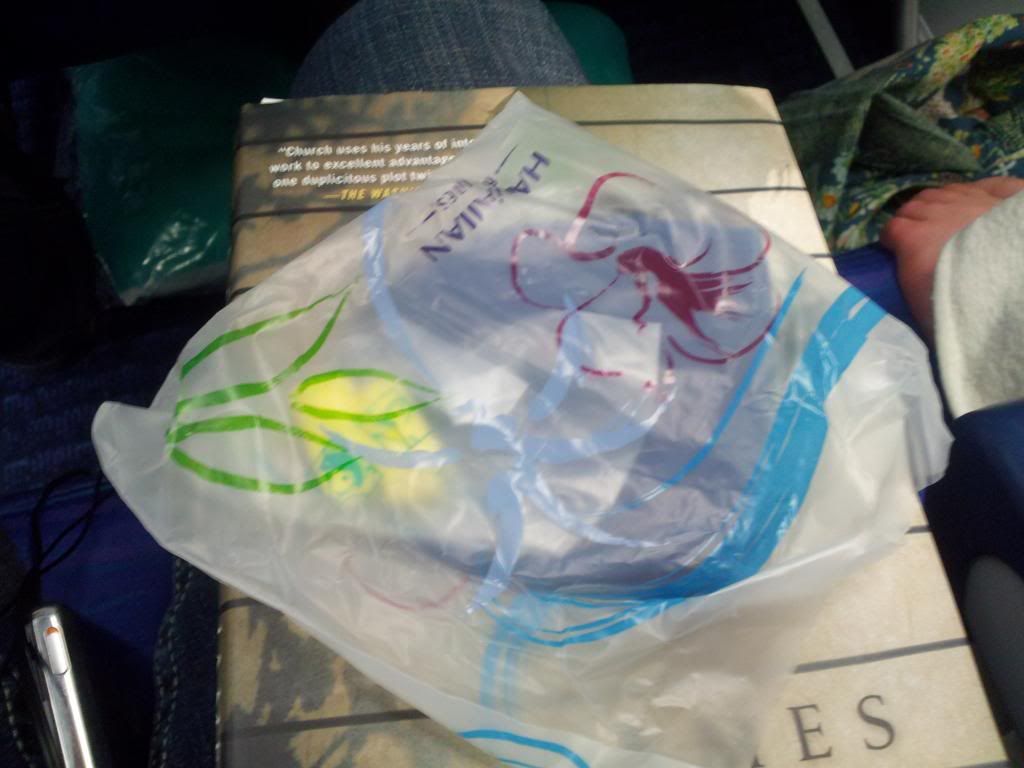 Chicken and rice…imaginative…
Drinks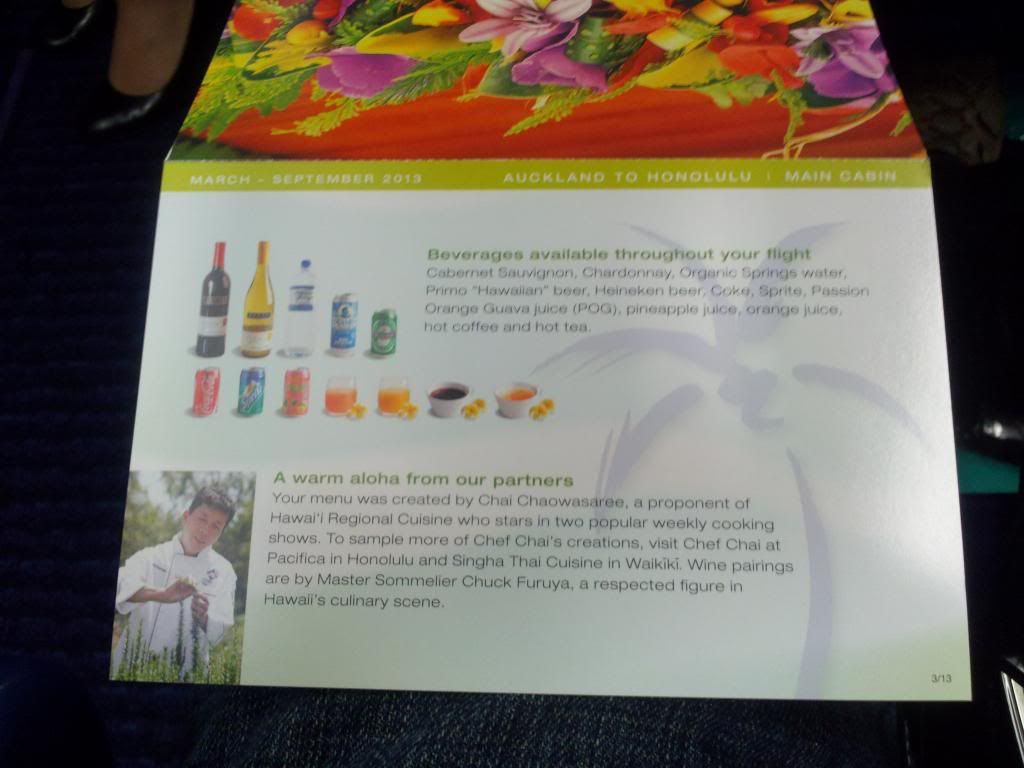 Amenity kit contents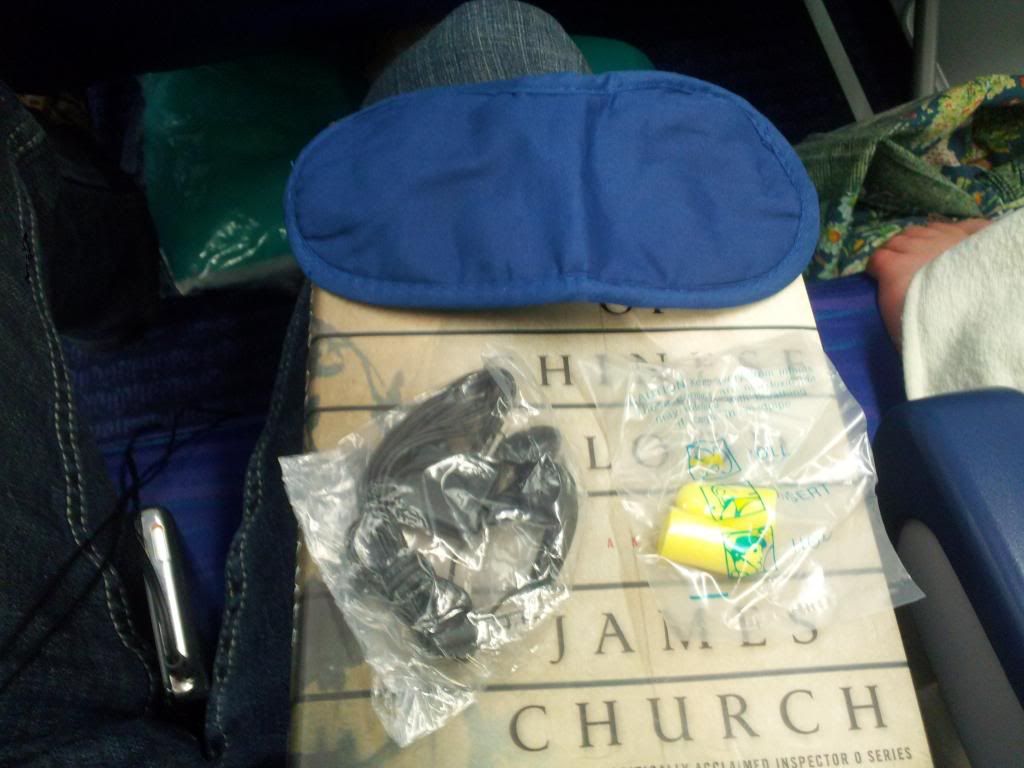 From the back of the plane
A very quick taxi and we were rocketing away from the lights of Auckland.
Goodbye New Zealand! Hope to see you again soon!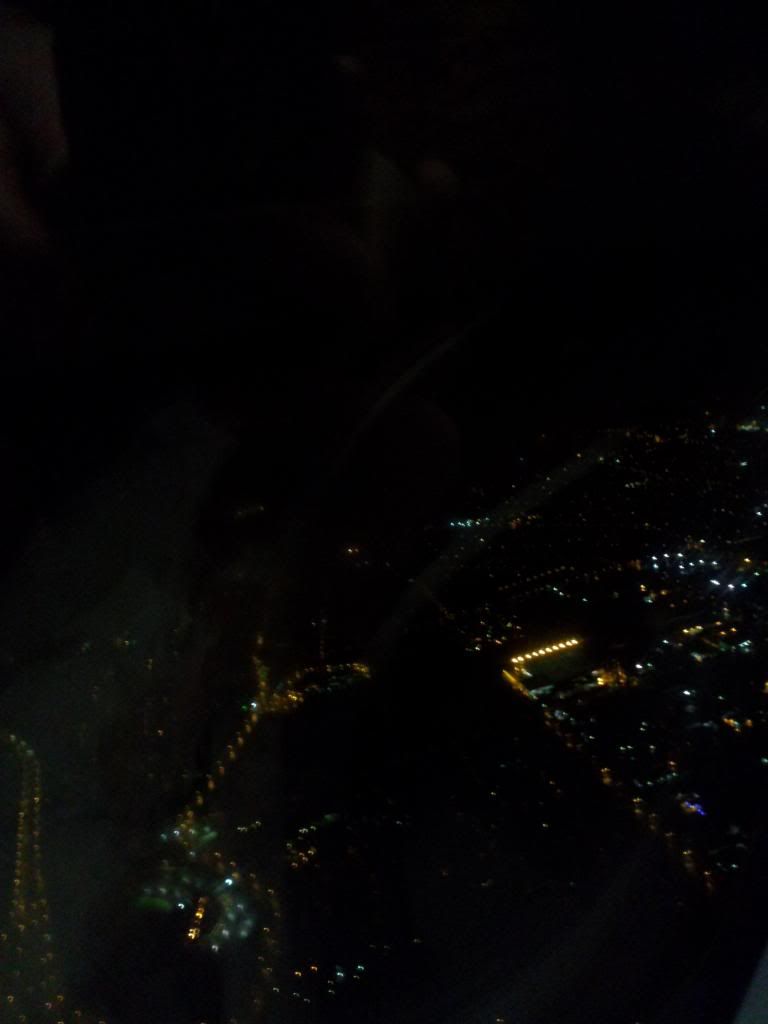 Mood lighting in full effect
8 hours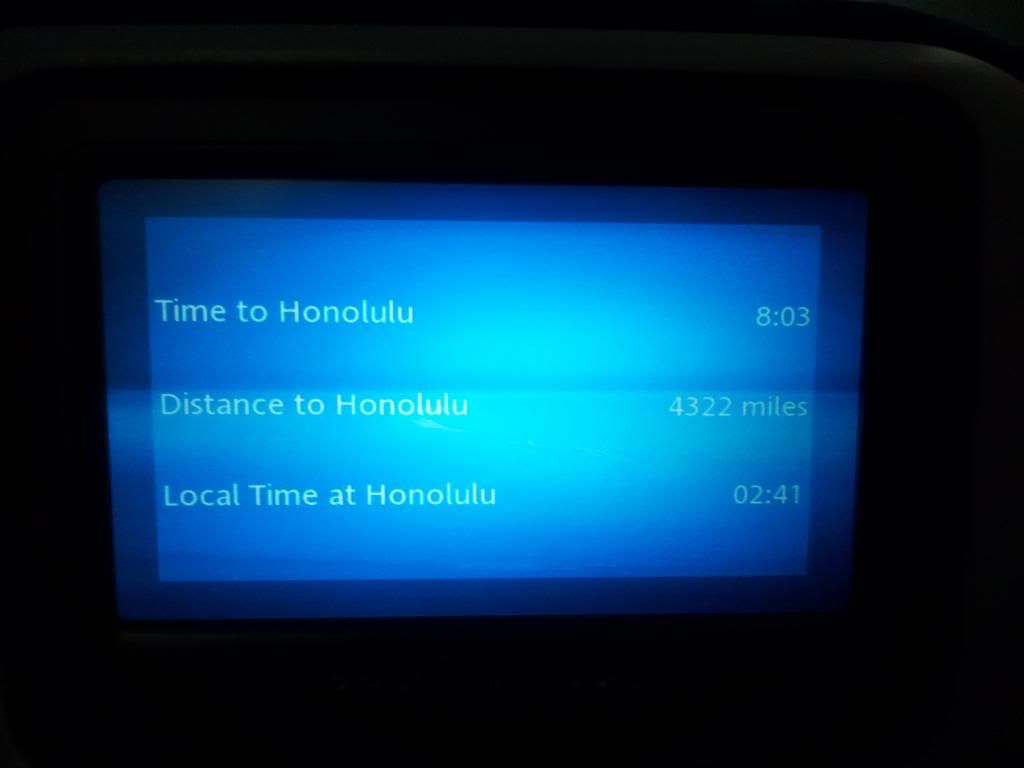 Beginning the long voyage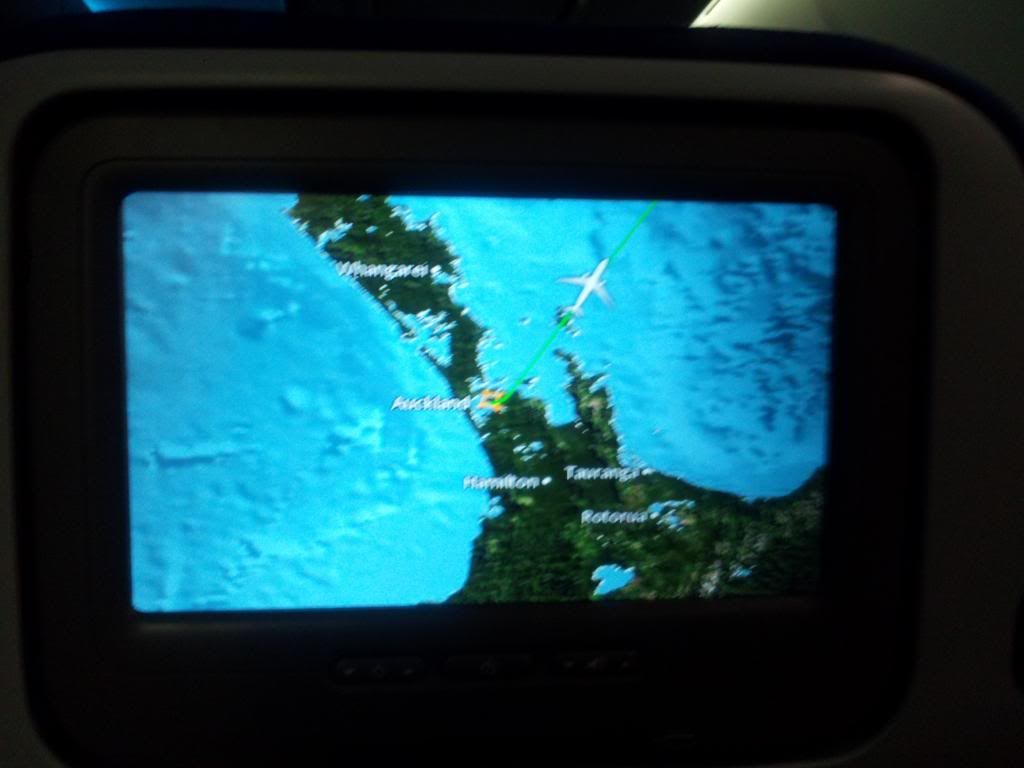 Another view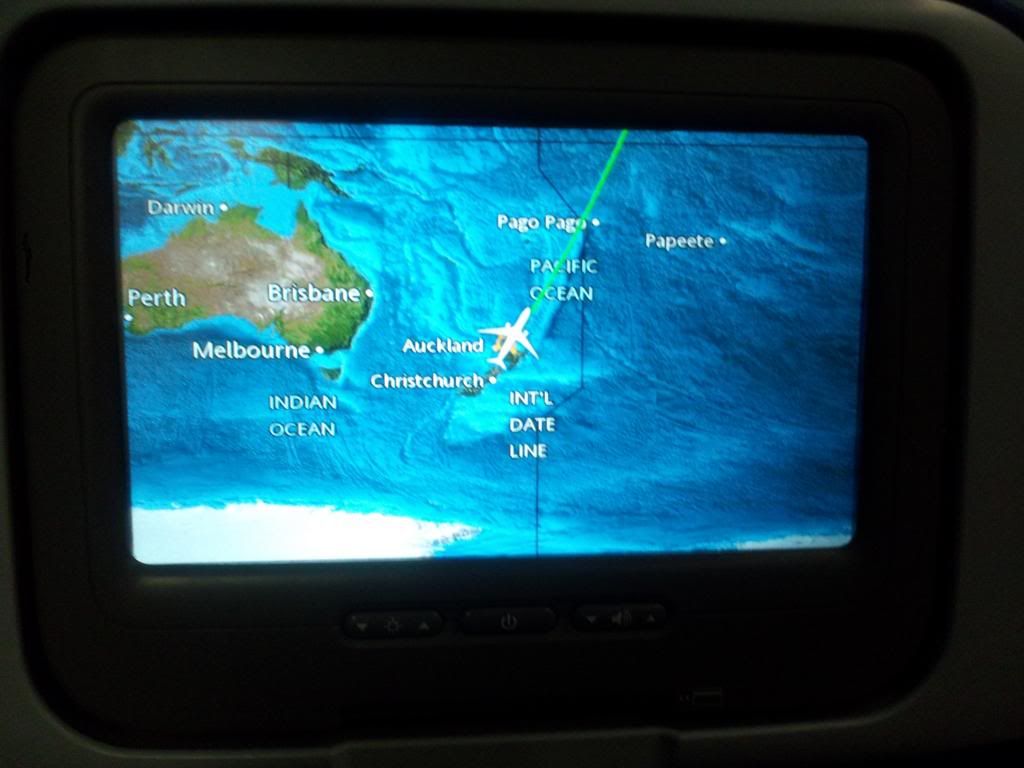 Another, bigger, view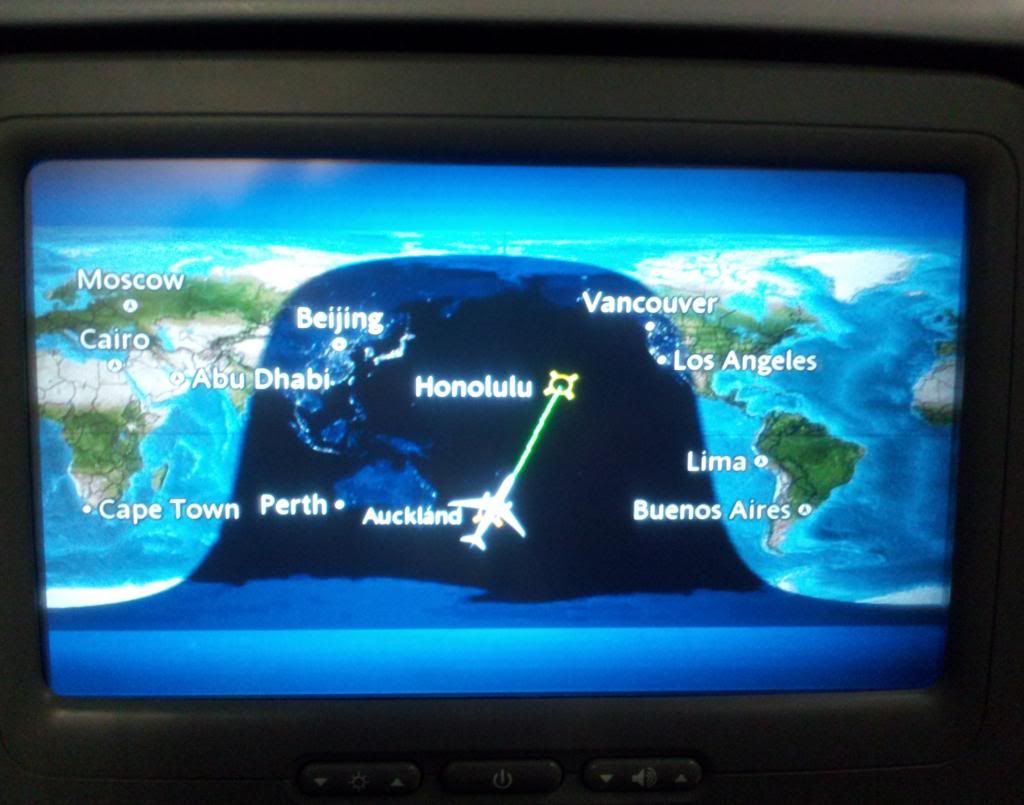 40 minutes into the flight, dinner was served. Once again, the entrée was good, however, the chicken was exceptionally bone and gristle filled. I may have just gotten unlucky with my entrée selection as my seatmate's chicken was completely boneless and well trimmed.
Meal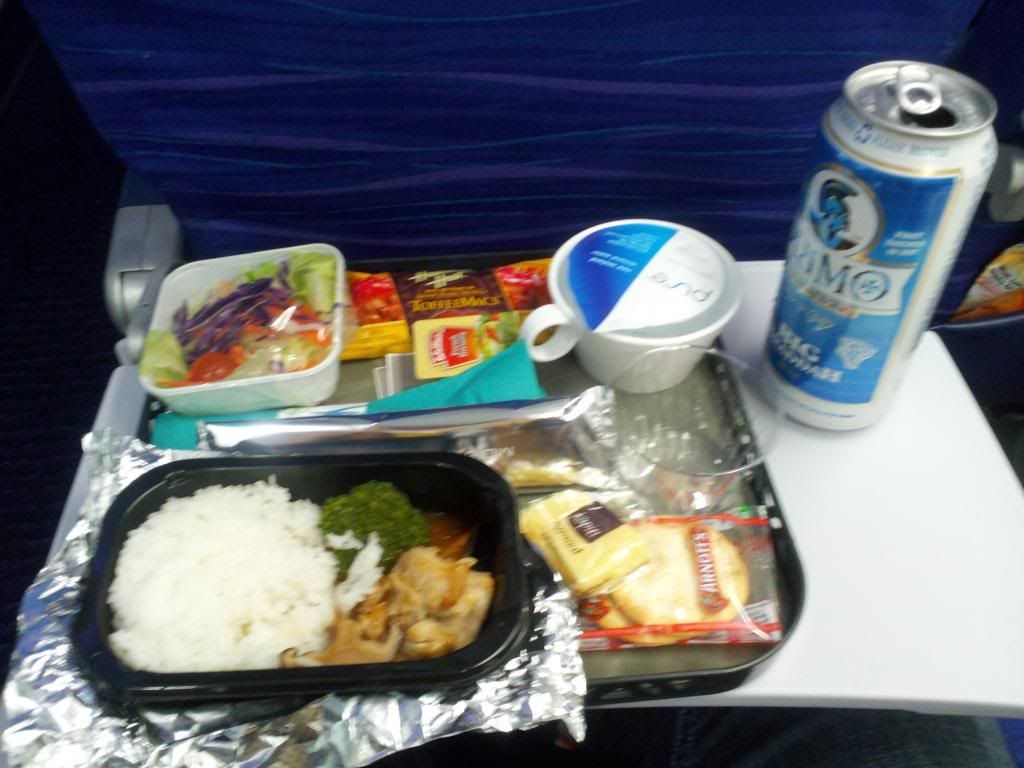 As always, I don't sleep on planes. More Futurama was in order.
Why not Zoidberg?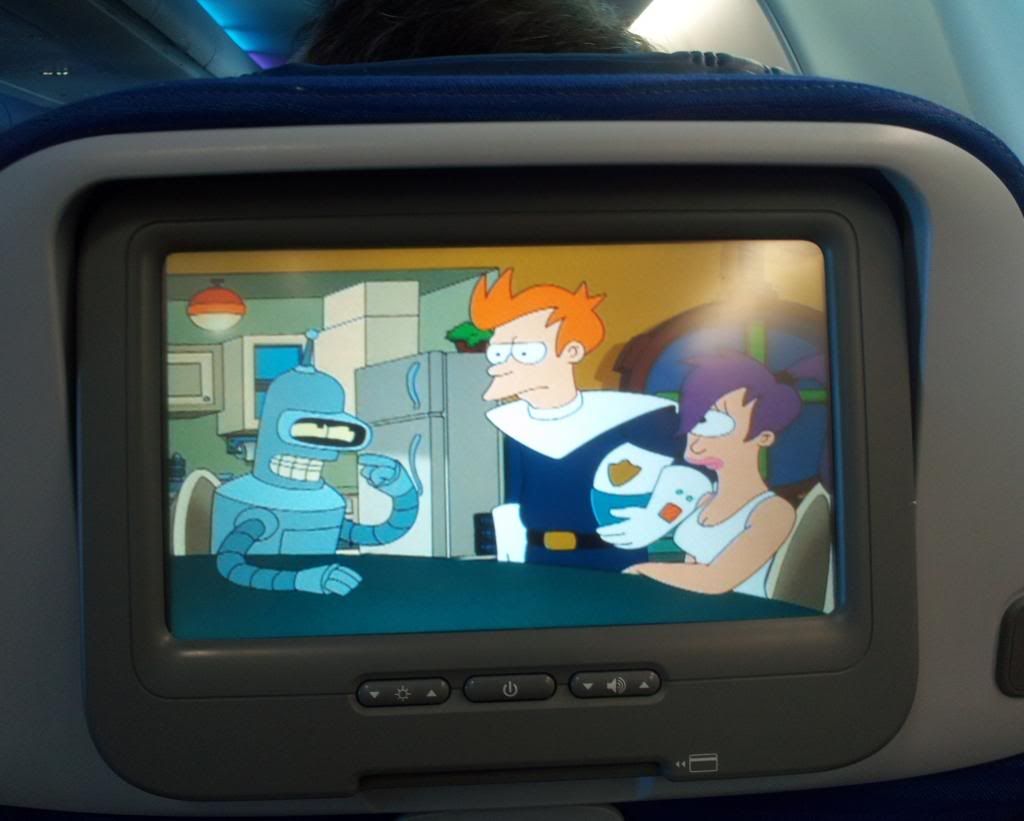 About 1.5 hours before landing we received these odd looking snack packs with water, cookies, cheese and crackers among other nibbles.
Interesting packaging Hawaiian…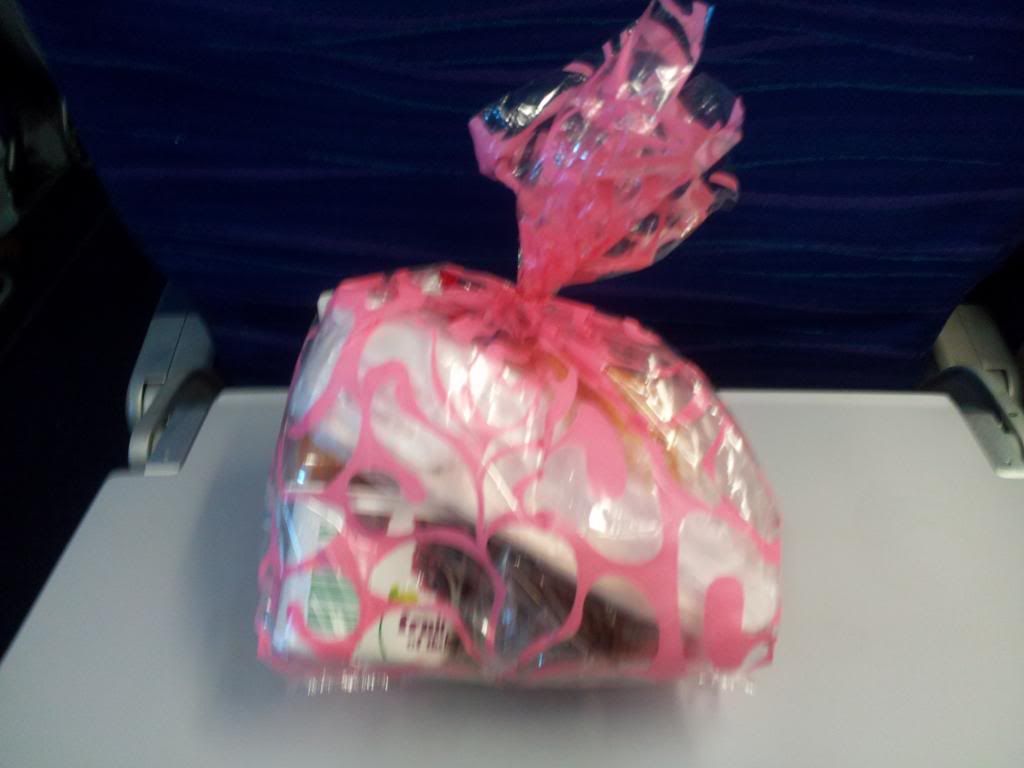 Almost to HNL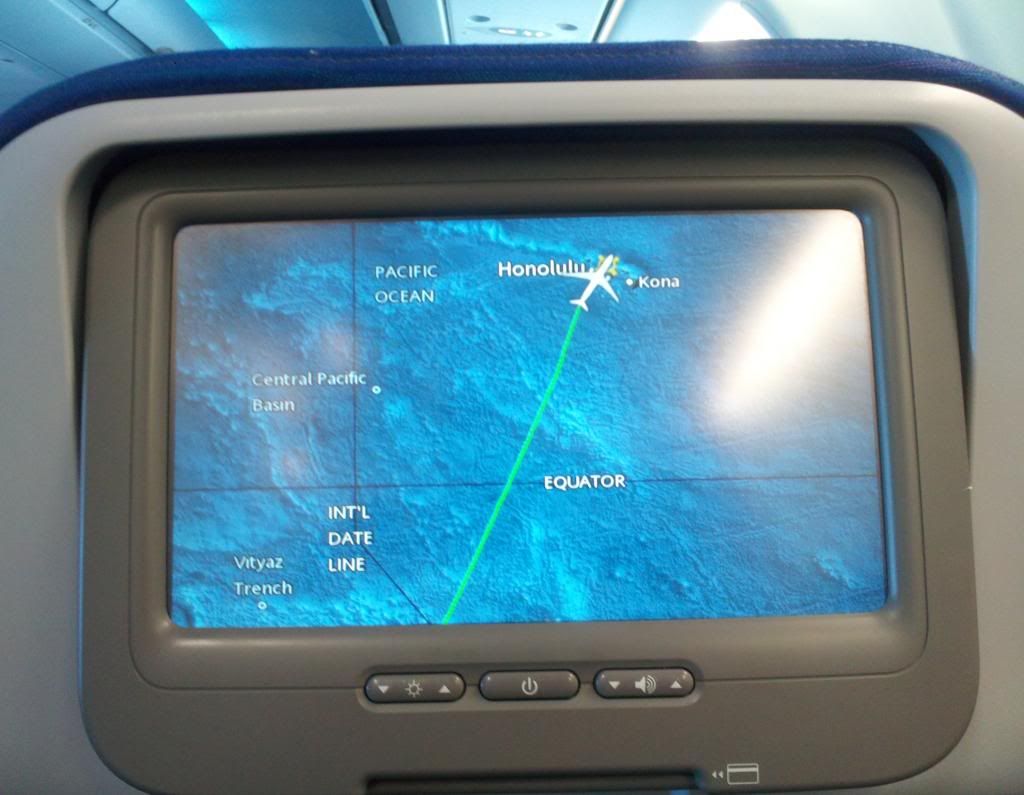 Descending from 38,000