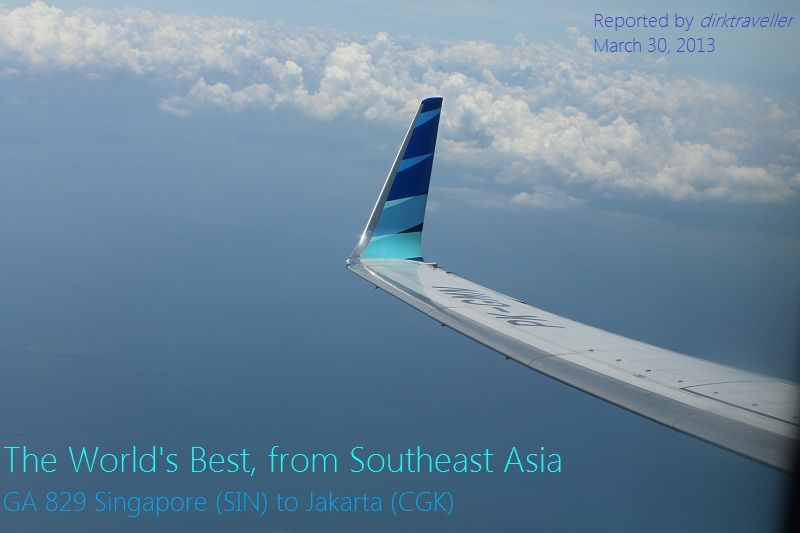 Hi everyone,
After my arrival from Sydney on my final Qantas flagship, I had spent some time in Singapore with my relatives and friends, and enjoying the range of tasty foods around the city-state. However, as originally planned, I will continue spending my Easter Break in Jakarta, Indonesia with my immediate family, which has been based there for the past two years.
If you might have missed it, this is my flight to SIN on my last flagship Qantas A380
The Day Before Kangaroo Flagship Says Farewell
(by
dirktraveller
Apr 11 2013 in Trip Reports)
With more than 210 flights connecting the two cities weekly, it is a piece of cake to find the best deal for the flight. My choice initially went to Valuair (a subsidiary of Jetstar Asia). However, 3000 miles away in Jakarta, my father saw something that changed my mind.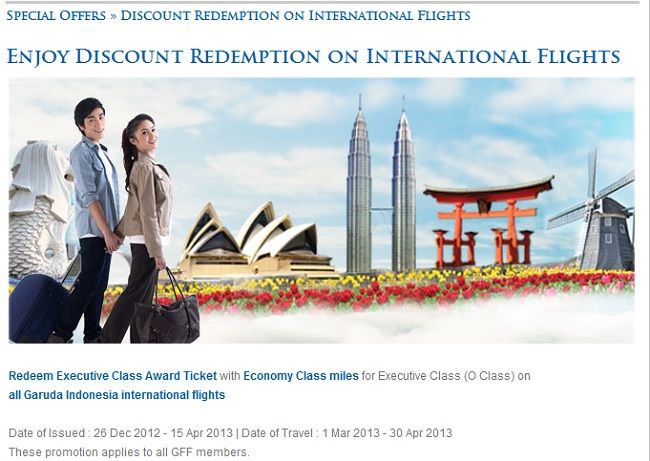 Garuda Indonesia had this promotion of getting a redemption of Business Class tickets at a rate of Economy Class redemptions for Garuda Frequent Flyer (GFF) members.
My father, who traveled regularly on GA flights, is a member of GFF. Since he had collected enough points through his business trips annually, he awarded me an Executive Class ticket to Jakarta.
So everyone,
please allow me to dedicate this trip report to my father, for giving me the opportunity to get on GA Executive Class to Jakarta and deliver this trip report
Background
Having the opportunity to get on GA Executive Class on this route has been really exciting for me. For a long time I have wanted to experience their Business Class service, especially after I have completed my
Fifth Freedom Series
trip reports, in which in case you might have missed it:
Part 1 - Turkish Airlines Business Class, September 7 2011
The Fifth Freedom Business SIN-CGK-SIN Part 1: TK
(by
dirktraveller
Aug 1 2012 in Trip Reports)
Part 2 - Philippine Airlines Mabuhay Class, October 7, 2011
The Fifth Freedom Business Part 2, Featuring PR
(by
dirktraveller
Aug 11 2012 in Trip Reports)
Part 3 - Lufthansa Business Class, November 17, 2011
The Fifth Freedom Business Part 3 Onboard LH
(by
dirktraveller
Aug 18 2012 in Trip Reports)
As the flag carrier of Indonesia, GA operates eight daily flights to Singapore, from Jakarta, with another daily service to DPS and 5 weekly UPG (via BPN). Most of the flights are operated by the B738, with the exception of the UPG route, which is occasionally flown by a B735.
The airline itself is one of the fastest growing carrier in the region, with a fleet of more than 80 aircraft, flying to 55 destinations in Asia and Europe. Known for its tremendous in-flight service improvement over the years, Garuda Indonesia has been decorated with prestigious awards from Indonesia and internationally, including the
Best Regional Airline of the year
from Skytrax in 2012.
The flight will be operated from Singapore's Changi Airport Terminal 3, along with other GA flights. Having countless of flights out of Changi Airport, this airport has been my favorite among all airport's I have visited. Regardless of the flag beside my a-net username, I always found my traveling experience in this airport to be smooth and efficient, perfect on every occasion.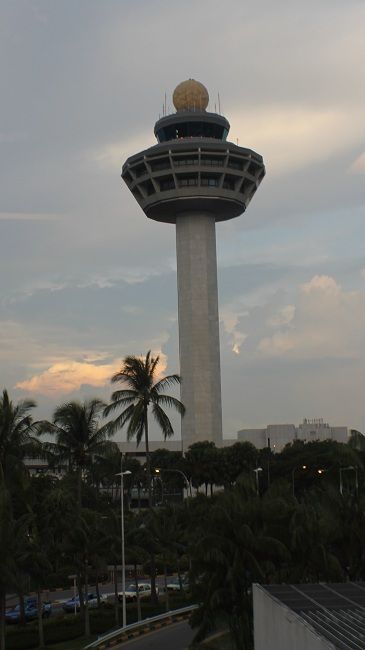 The famous Changi Airport Control Tower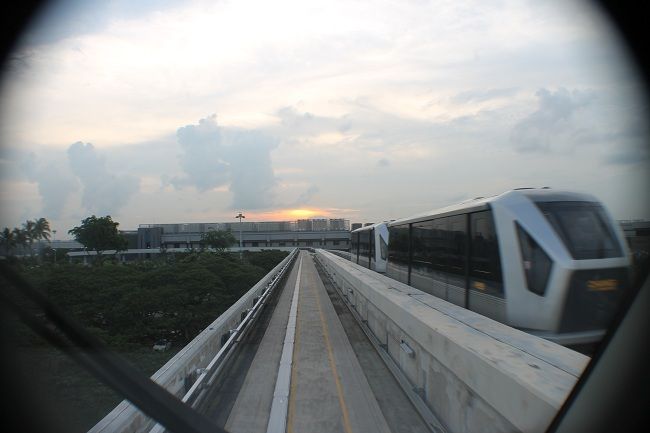 The Skytrain linking the Terminals at SIN
From efficient passport control, amazing range of facilities, great design, and also easy access to the city from this airport, I always found every of my flights to SIN enjoyable. Personally I have to say that this airport been a part of me, with countless of memories over my years of travelling.
Of course, apart from my own personal opinion, this airport has been a star performer in the aviation industry since it was founded back in 1981. Being in the top three airports for the past ten years, Changi Airport's continual improvement towards passenger experience seems to paid off. This year, I would like to use this opportunity to congratulate my favorite airport, Changi Airport, for attaining
Airport of the year (2013)
award from Skytrax.
Hence, everyone, please join me on this journey on the
Southeast Asia's star performers, World's Best Regional Airline from the World's Best Airport
Check-in
After a 45-minutes train ride from downtown Singapore, I reached Changi Airport's Terminal 3, where I immediately report to Garuda Indonesia's check-in counter in row number 1.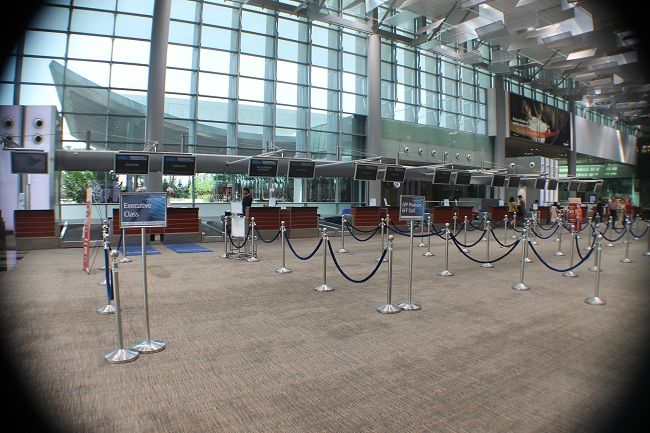 Garuda Indonesia check-in counters with very light activity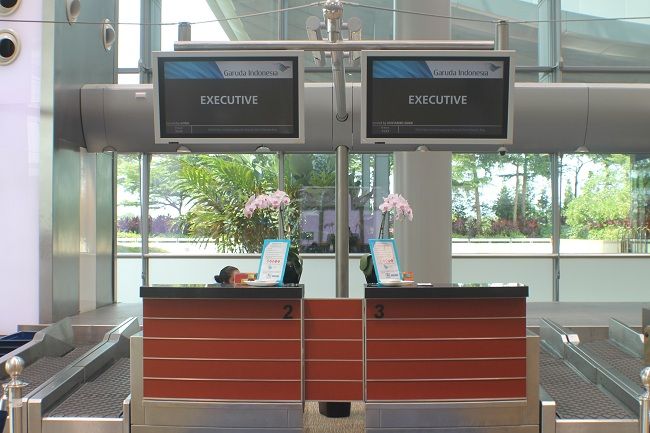 Dedicated Executive Class check-in counters, without any queues.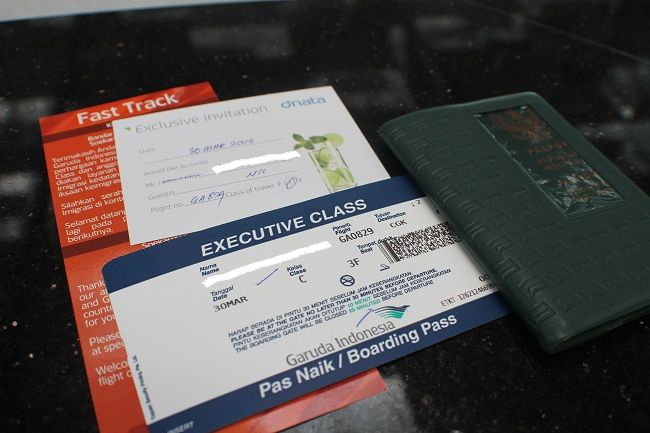 The friendly man who are handling my check-in process gave me my boarding pass, lounge invitation, and fast track for immigration at CGK.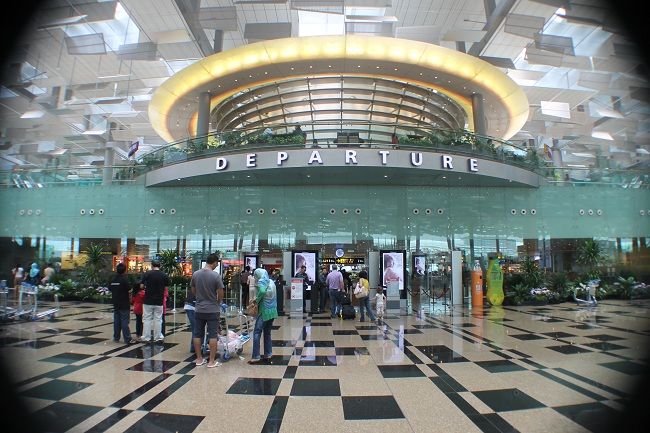 "Departures" which after this point only passengers allowed to proceed for the always-efficient passport control, and the boarding gates.
After finishing passport control formalities, I proceed to the assigned lounge located at the second level of the terminal.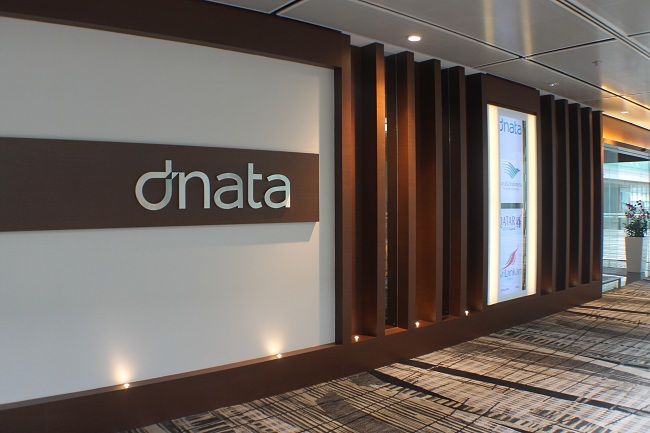 GA used DNATA lounge in Terminal 3 for its Executive Class passengers.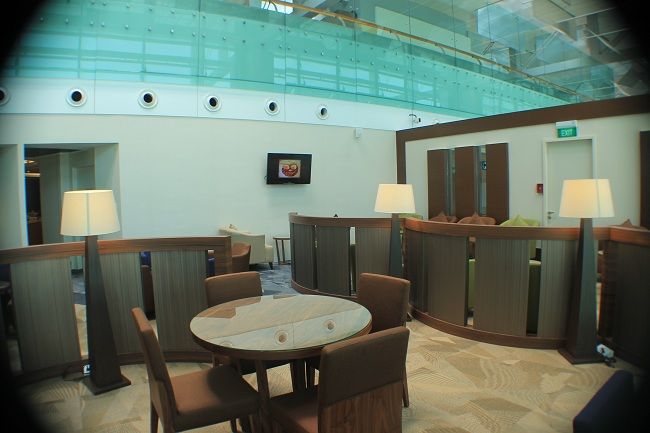 The lounge were relatively empty at that time, with only three other passengers were inside at that time. It also faced the large window glass where people can view aircraft activities outside the terminal. However, it would be difficult for plane spotting due to the metal blinds in place, designed to keep the terminal temperature cool.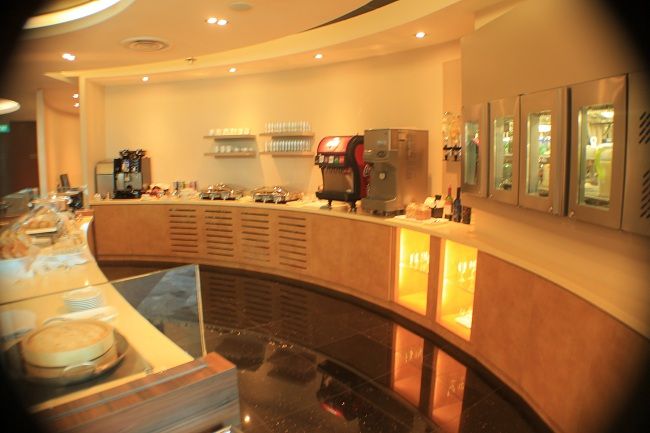 Buffet area. Food and beverage options are generally sufficient.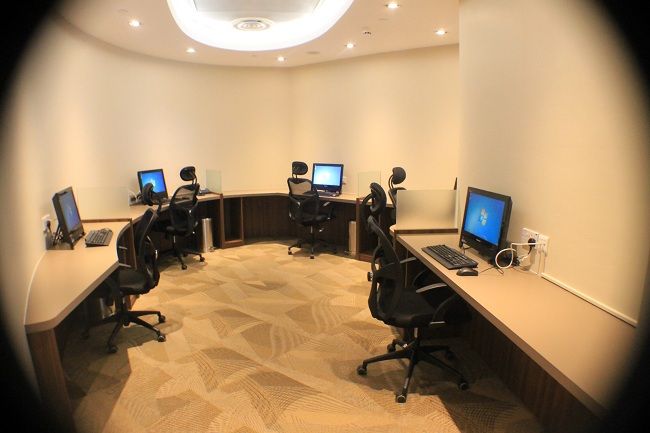 There is a private area containing free access computers. In other lounges at SIN, free access computers did not have its own dedicated room.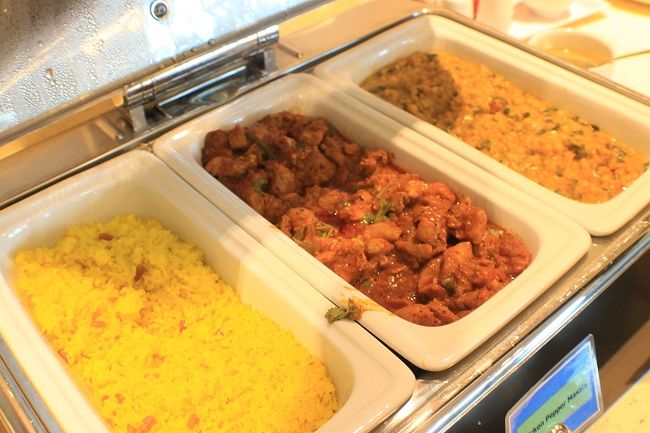 One of the food options on the buffet that day, Chicken Pepper Masala with Tumeric rice.
Boarding


Flight Details
Flight Number : GA 829
Type of Aircraft: B737-8U3
Registration: PK-GMN (l/n 3303, delivered to GA 01/06/2010)
Seat Number: 3F
ETD: 1235
ETA: 1320
After spending an hour in the lounge, I proceed out to the assigned boarding gate A19 with another 10 minutes before scheduled boarding of 1150hrs. The gate itself situated at the end of the terminal, which could take some time to walk.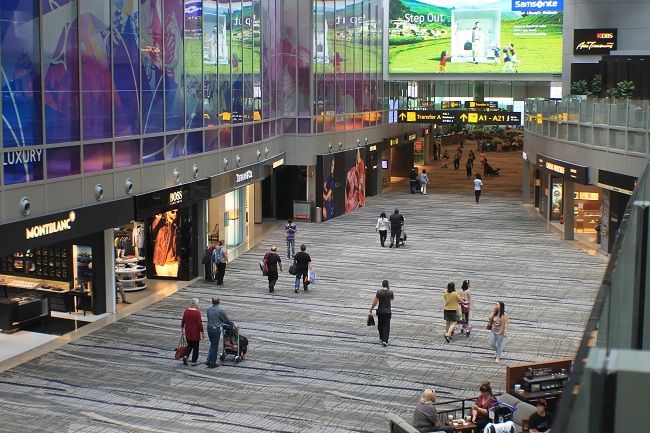 Terminal 3 Transit area seen from second level.
Thank you for all your support! Best Airport by Business Traveler for 25 consecutive years, and Airport of the Year 2013!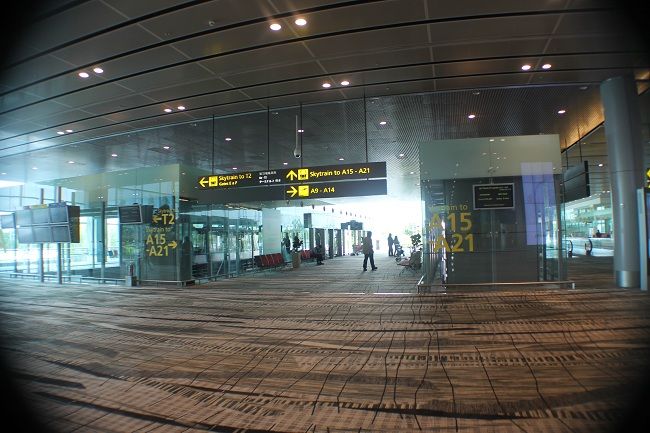 Hmm, walking towards to the gate might be too far. So how about taking a skytrain to your gate. The train ride to the end where my gate is located took less than 5 minutes.
After the secondary security check before entering the gate, I reached the assigned gate A19.
There are two lanes for boarding. Left is for Economy class passengers, and right is assigned to Executive Class passengers and GFF Platinum / Gold priority boarding.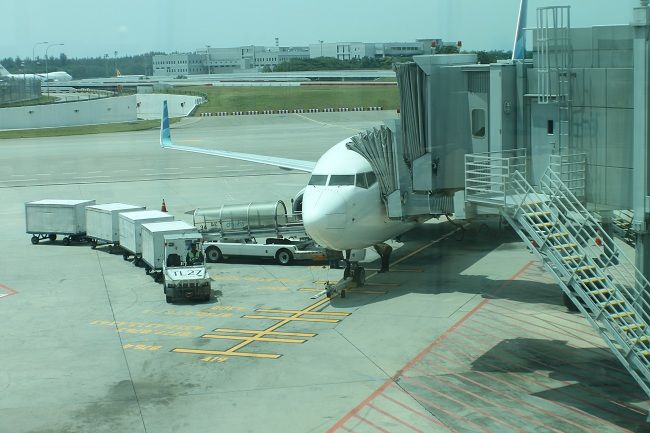 Our aircraft today, 2.9 years old PK-GMN. I have flown this aircraft before on several domestic runs to MDC, UPG, and DPS.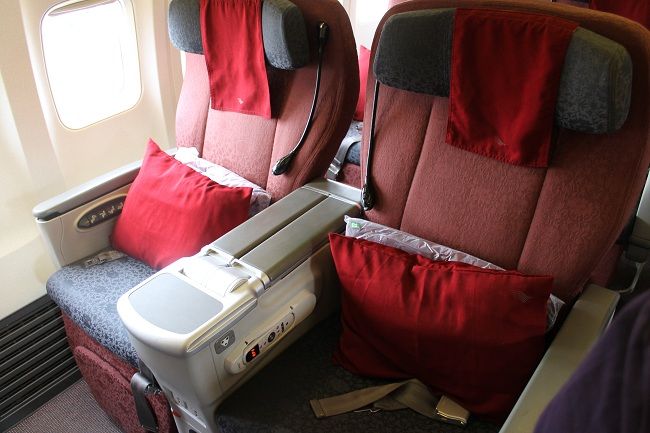 The recliner Regional Executive Class seats on GA B738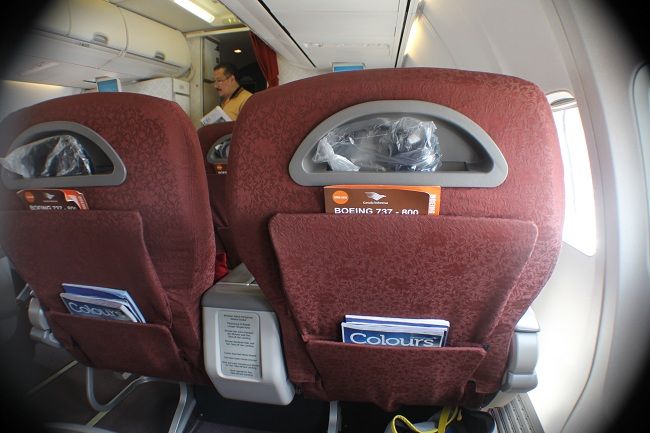 Seatback view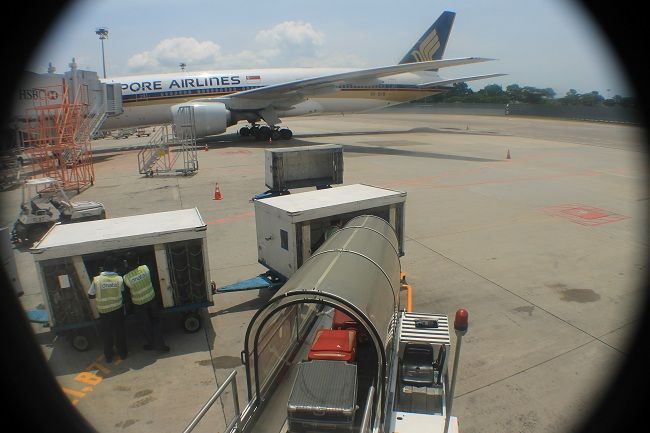 Singapore Airlines B772, registered 9V-SVB is parked beside us, with our luggage being loaded into the cargo hold.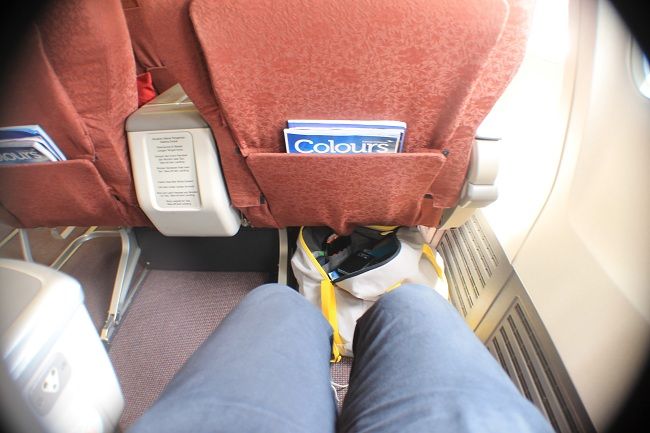 Legroom is definitely more than enough!
While IFE is touch screen in GA B738, there is also a remote control available in J Class. In Economy, passengers are only able to control the IFE through the touch-screen feature.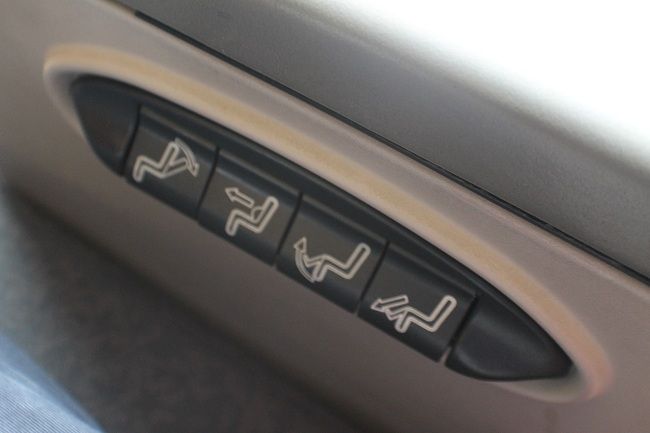 The basic, manual seat controls.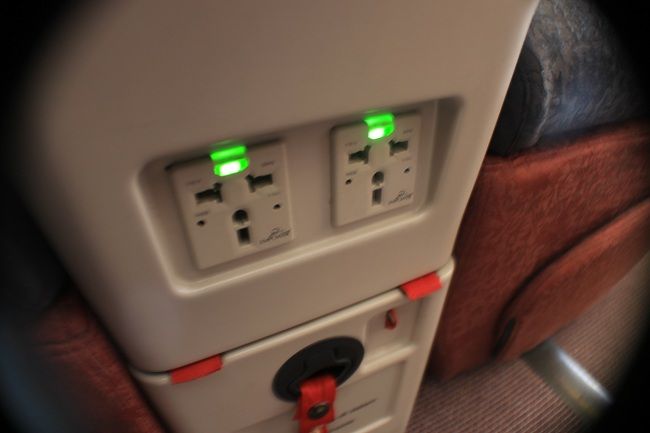 There are electric sockets under the seat for passengers who wished to charge their gadgets in-flight.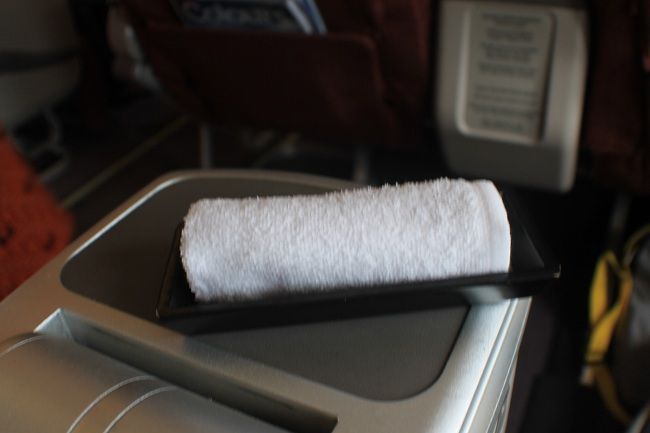 A flight attendant distributed hot towels were distributed after Executive Class passengers were seated.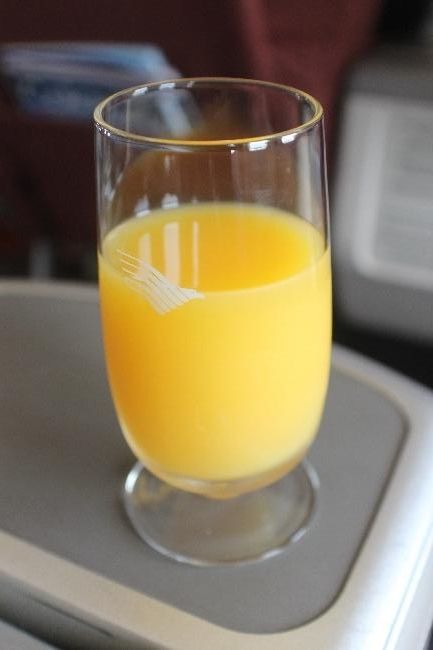 Followed by a choice of welcome drink, in which I opt for Orange Juice.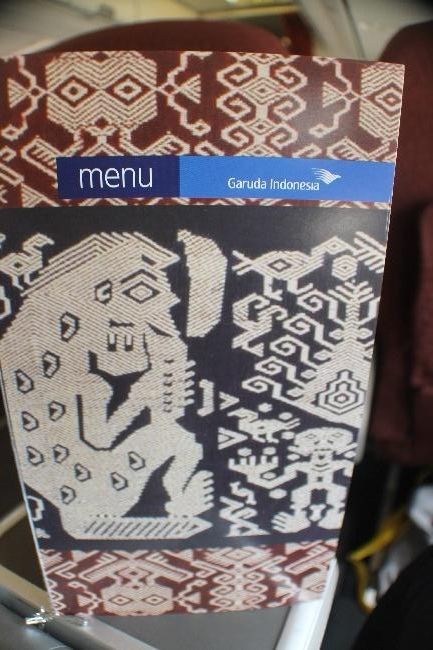 The other cabin crew member working on Executive section, which I believe is the purser of the flight, then distributed the menu.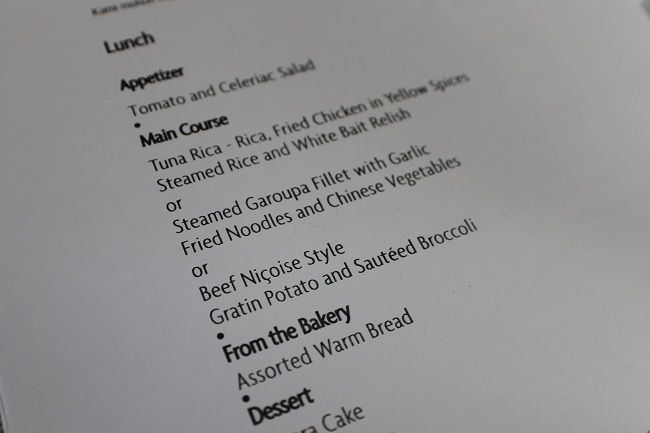 The guide for this afternoon's lunch service.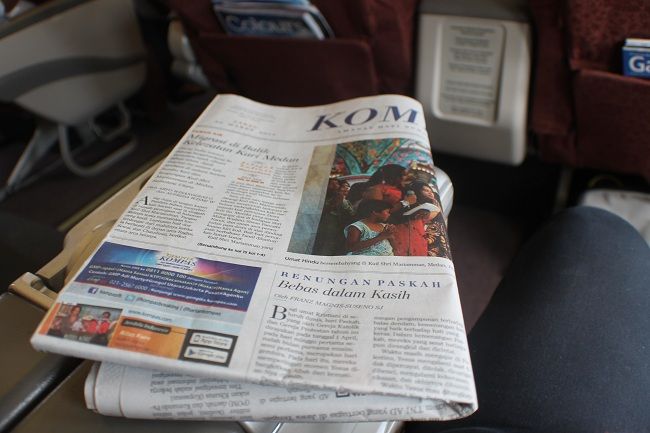 After the menu, a choice of newspaper or business magazines in both English and Bahasa Indonesia are offered to the passengers. After the purser offering these newspapers to the J class passengers, he then continued to offer the Economy passengers as well. Great feature, especially for Economy Class.
After all passengers are aboard, the doors were closed and our B738 pushed back for the runway. Safety videos were played while the aircraft is taxing, and the cabin crews standing in the aisle with the 'signature' GA greetings after the video.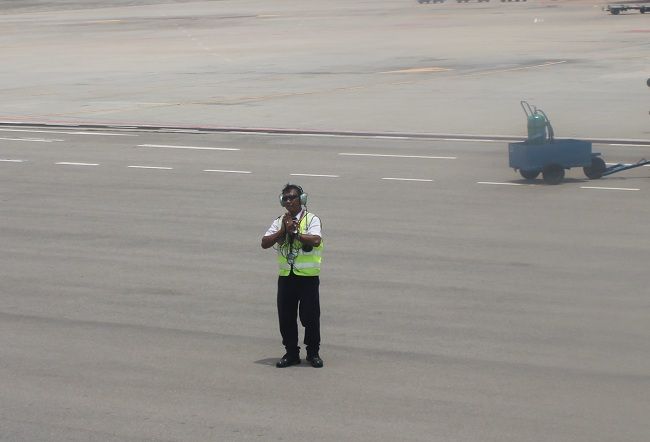 Apparently, it is not only the GA flight attendants who did the 'Signature' GA greetings. The ground crew who were working on our flight did this after the aircraft completed pushback. He then waved goodbye to our aircraft as we taxied towards the runway.
I must say it is really a nice touch and while it was a common tradition in Japan/South Korea, this is the first time I see this in Changi Airport, well done!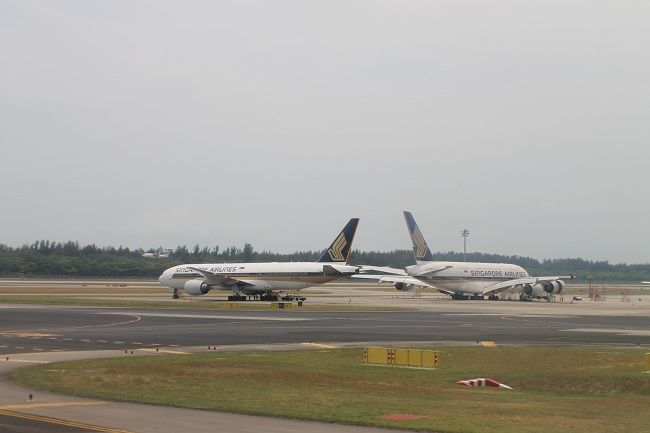 Passing the SQ A380 and B777 relaxing at home while we were on our way to our runway.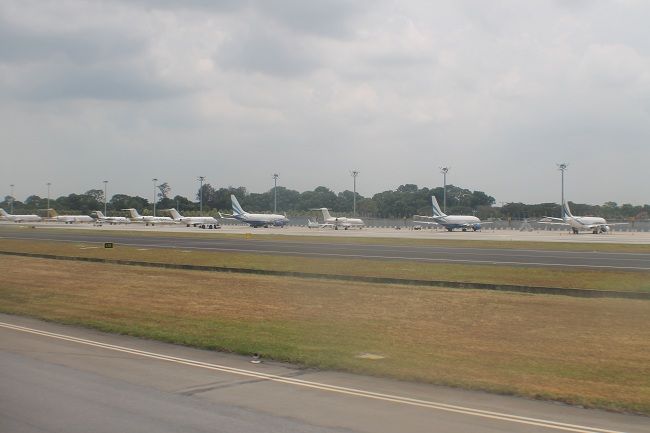 Passing the Business jets parking section. Is this the CIP section on SIN?
Ok, we are lining up with the runway and did a powerful take-off towards Jakarta.
In-flight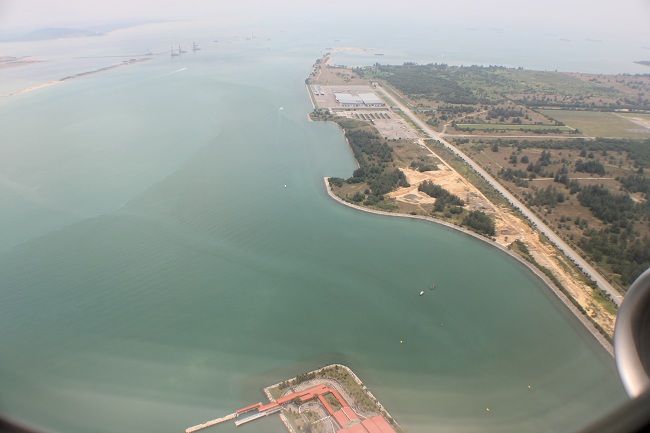 The views right after take-off.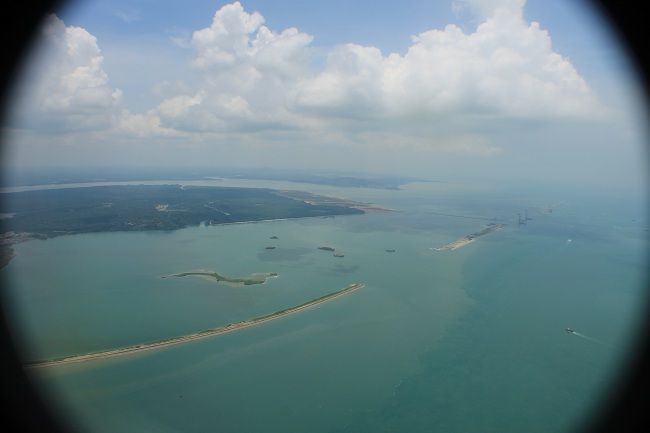 Goodbye Singapore!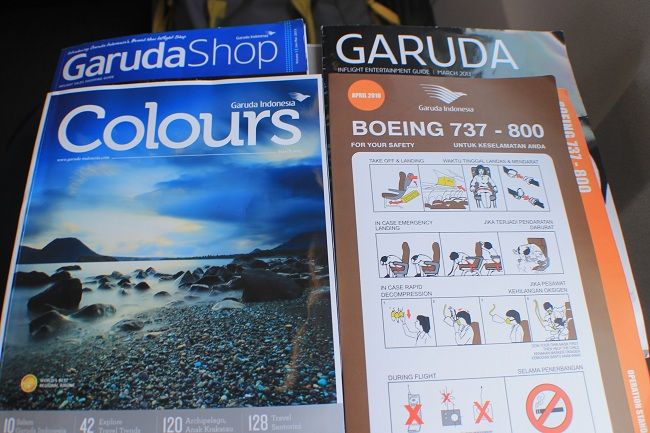 Seat pocket contents : Duty Free Catalog, IFE guide magazine, Garuda's inflight magazine "Colours", and the Safety Card for B738.
Note that the magazine is the first edition since the title of their In flight magazine is changed from "Garuda" to "Colours". What do you think of the new look of Garuda In flight magazine??
After the in-flight entertainment (IFE) features had been activated, I turn my attention into their IFE system, looking for any new movies or music on their IFE collection.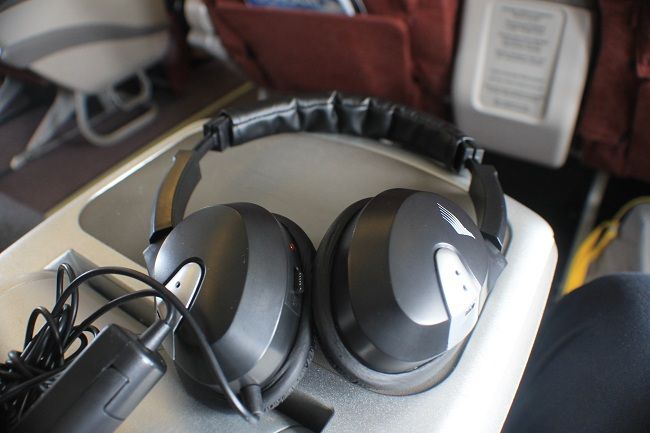 Noise-cancelling headsets are provided in J class seats.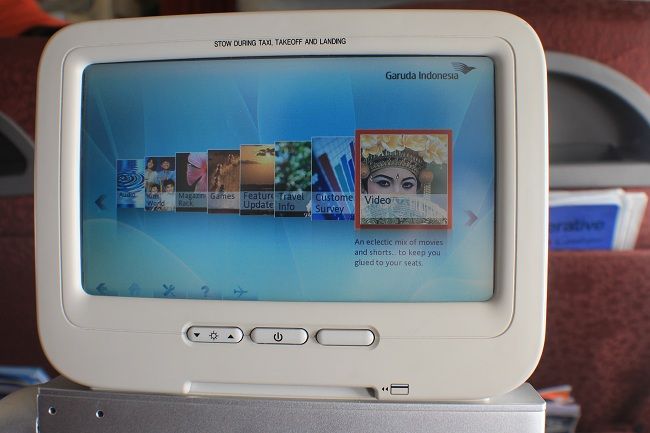 Having the exact same size and features of the Economy Class IFE, the PTV screens are stylishly stored under the armrests in J class.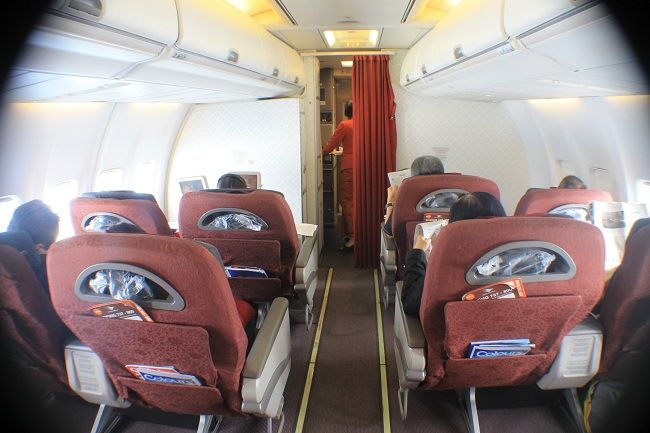 The Executive Class cabin on board GA 829. As you can see the load is almost full in J class with 11 of 12 seats occupied. There were numerous Indonesian government officials on row 2, along with businessmen and a western couple on holiday.
The vacant seat beside me, 2E was occupied by an Indonesian businessmen (or maybe a deadheading GA crew?) who politely asked if I mind he switched his seat because he preferred to sit in aisle than his original seat in the window (Seat 2A).
He seems interested in me taking pictures while we were flying and asked me if I interested in photography. Then I told him that I'm planning on writing a trip report, and described briefly what is covered on a trip report.
He conversed with me slightly about flying and asked if I flown the route frequently and what airlines I have took on this route. After I explained that I flew the route quite frequently in the past, with the other three fifth-freedom I took to CGK, he then ask me how is GA compared to them.
Well I simply told him that so far there is nothing I could fault from GA and I have yet to conclude the report. He seemed to understand and then it was already time for lunch service. Its quite seldom that I have a fellow passenger interested to find out what I am doing, although at one time I thought this was a "security assessment".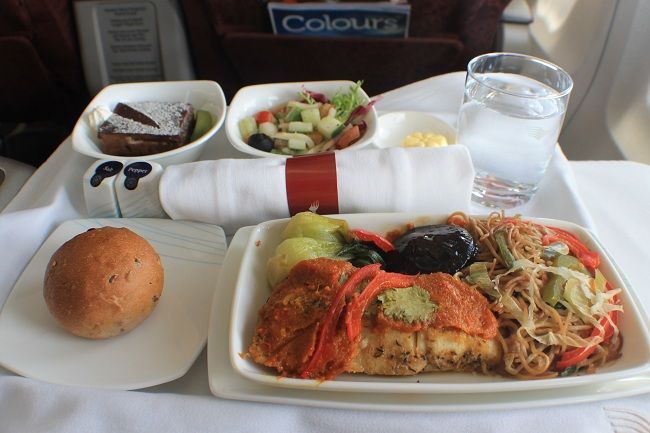 My lunch tray with my choice of fish. Due to the full load of the flight, the crew apologised that they had ran out of chicken option.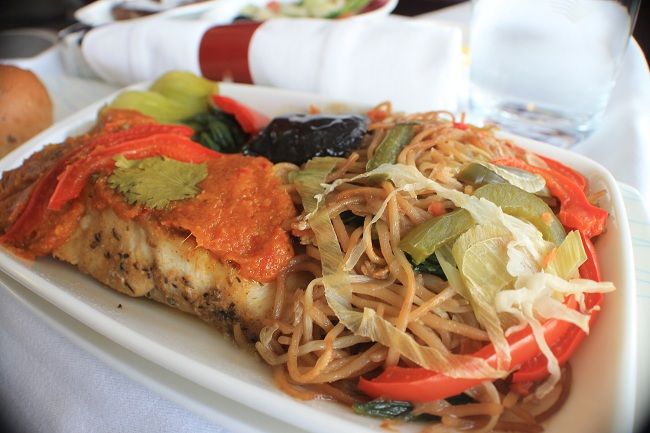 Closer look at the spicy, but tasty Steamed Garoupa fillet with Garlic Fried noodles.
The flight information, confirming that this is GA 829 bound for CGK.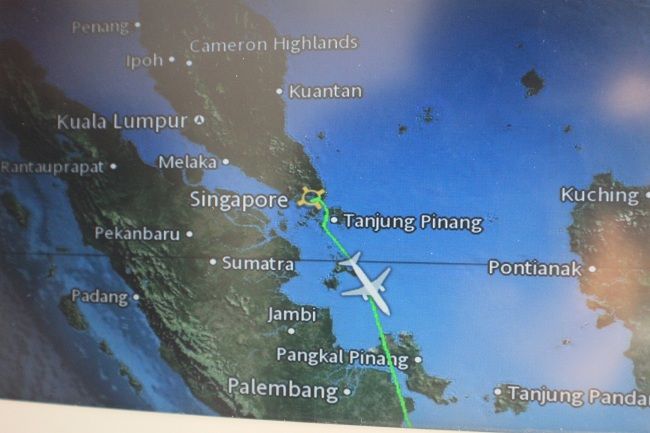 Almost halfway through to CGK.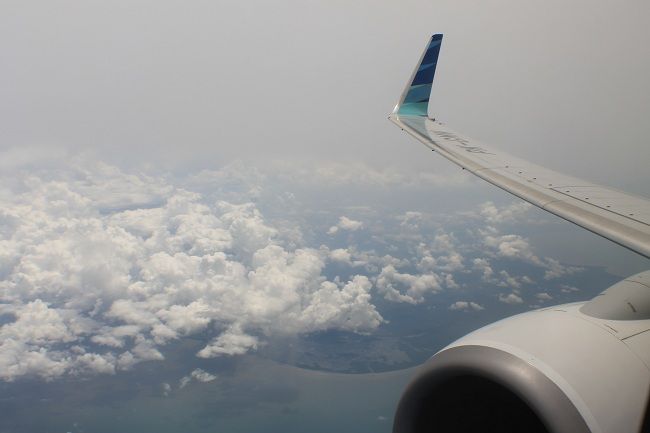 Our beautiful wing while cruising at 32,000 feet.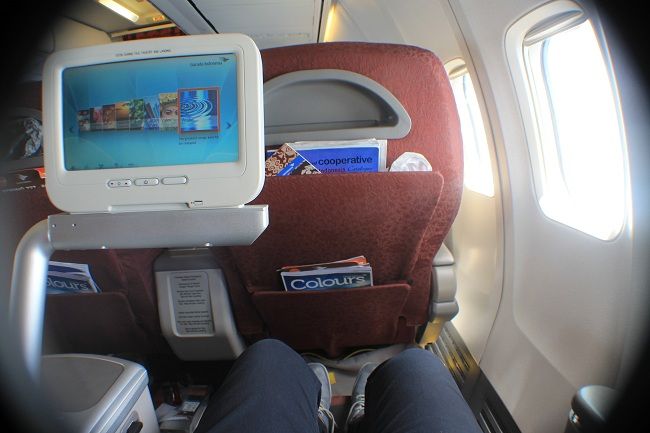 Relaxing after the meal service.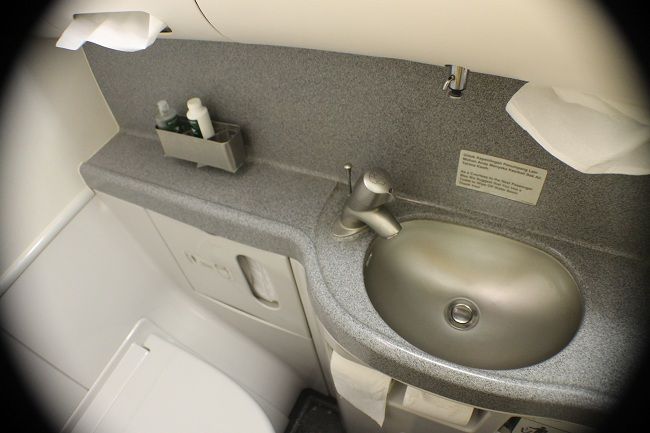 The lavatory in the Economy section.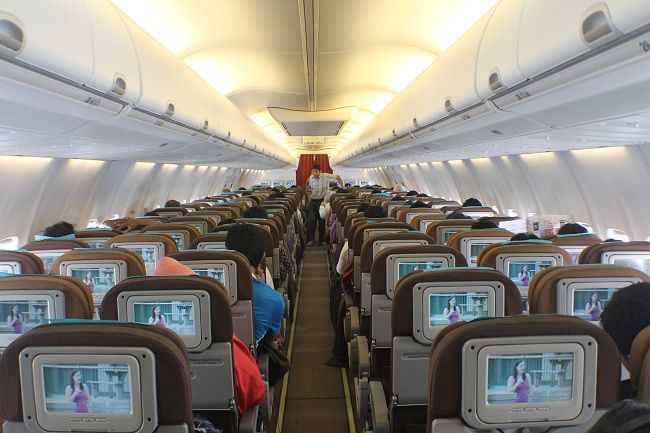 Economy Class section on board PK-GMN.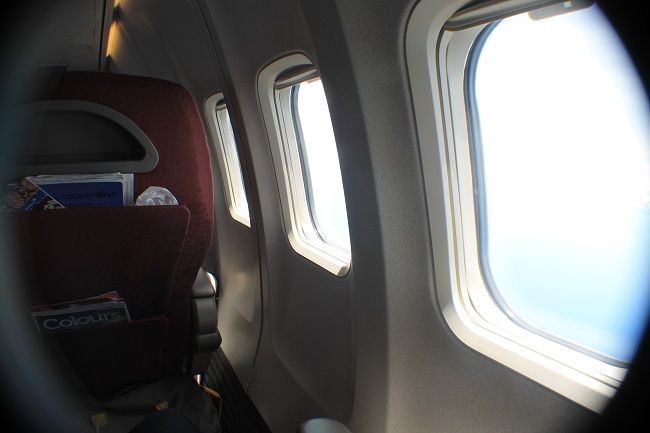 Well, if on my final QF A380 flight I had a middle seat, now I got 3 windows for myself.
I asked for an orange juice, and the purser delightfully deliver an orange juice and a glass of water as well. Is this a standard practice on Business Class? So far I had only see GA deliver a water with the requested drink.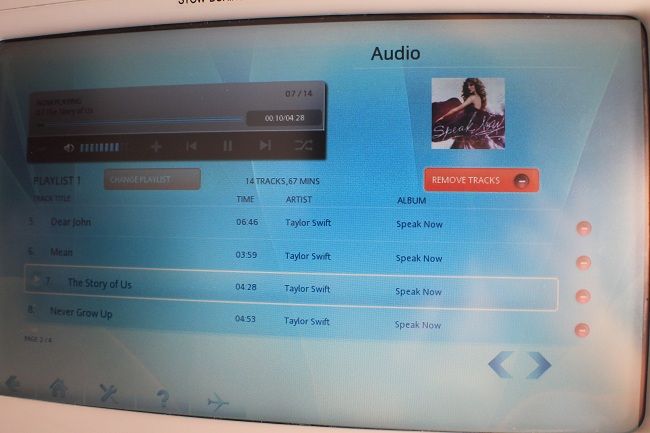 Spending the rest of the flight listening to my self - assembled list of music in the jukebox.
Landing into Jakarta
The short flight ends too soon for me, a PA came from the flight deck announcing that we were on descent to CGK, and cabin crew were asked to prepare for landing.
Our flight is reaching CGK soon.
While descending to CGK.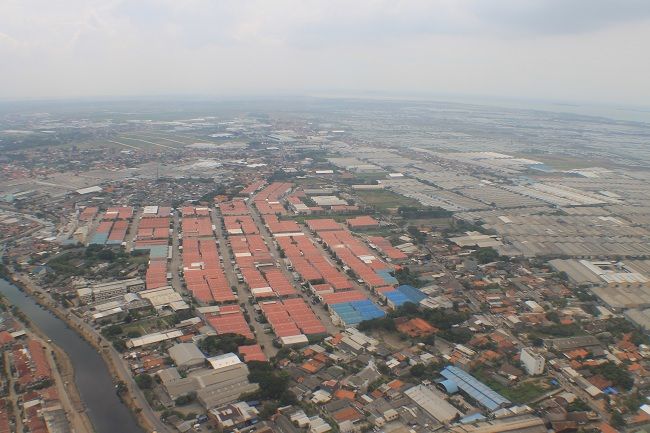 Houses and industrial areas in the outskirts of Tangerang, the area where Jakarta's airport is located, as we approach CGK.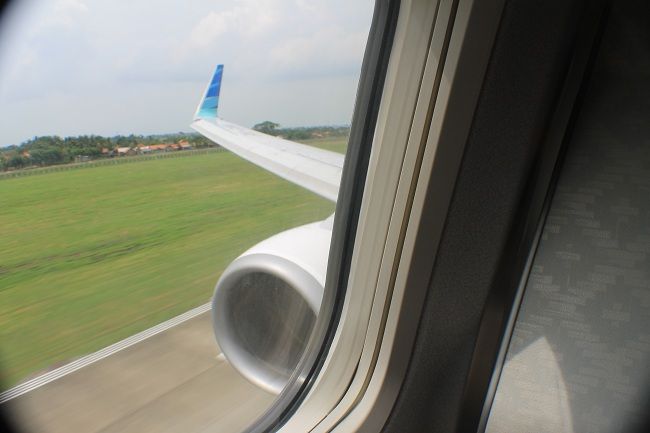 Smooth touchdown at CGK. My seatmate in 2E told me that must be the captain who are landing the B738 as he told me it was a smooth landing, explained briefly (with hand gestures). This made me assumed that either he was a deadheading GA crew, or a fellow aviation enthusiasts like me.
Anyway, this was not the first time I heard compliments about landing of GA aircraft, a few years ago I was flying with an off duty TK crew, and he also complimented landing of our GA 828 flight to SIN that time.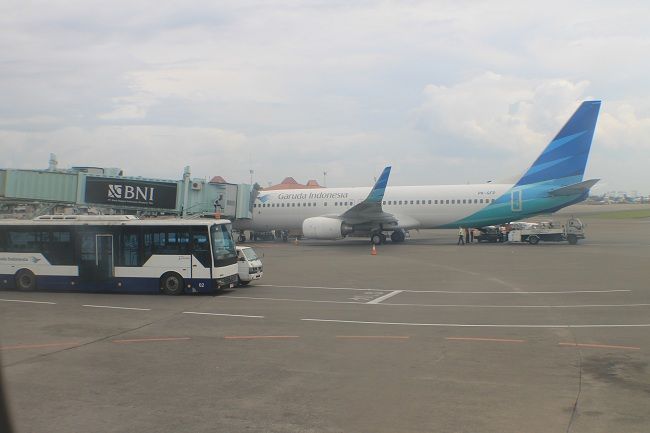 After a short taxi, we reached our gate and parked beside a fellow GA 738. The man who were seated in 2E bid farewell to me as we left the aircraft.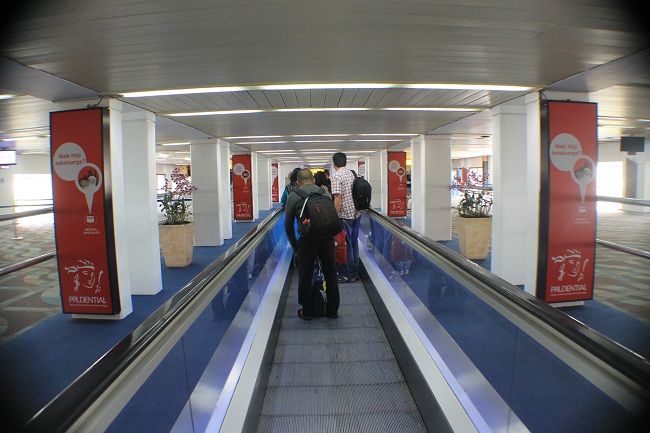 Arrived at the refurbished Terminal 2 in CGK, which the floors are carpeted and the old walls are repainted white. Looks much cleaner and friendly in my opinion.
Immigration was smooth as I was eligible for the fast track lane. The regular lanes were also short in queues at that time.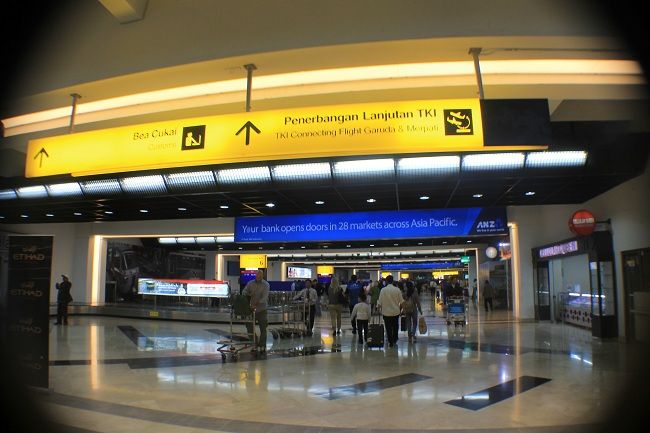 Baggage claim area at CGK. It was considerably crowded with other GA arrivals coming at that time from TPE, KUL, and MEL.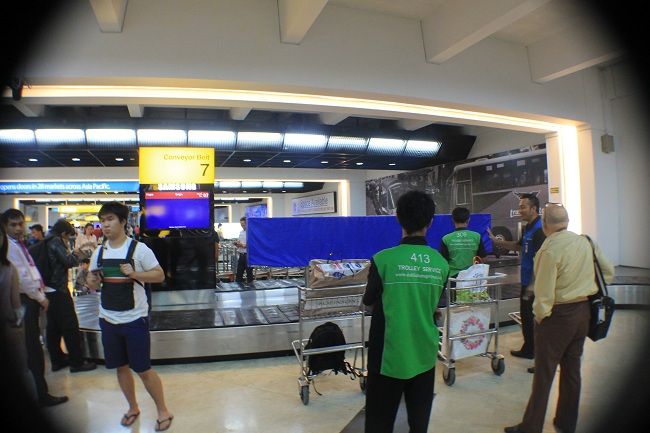 This is the assigned baggage claim carousel for our flight, carousel No. 7.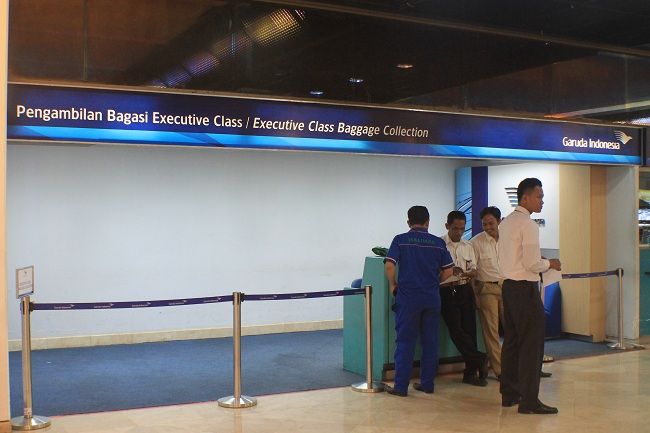 However, Executive Class passengers are invited to sit and wait at this "Executive Class Baggage Collection" room, while GA staff members collect your baggage and deliver it to the J class passengers inside the room.
The baggage claim took longer than what usually expected in CGK, and a woman from the same flight as me were asking the reasons it was taking so long. The staff member explained that the plane probably parked at a remote stand, which could take longer to deliver the baggage.
Although the explanation seems logical, I don't recall the aircraft parked at a remote stand and I wonder why actually the baggage collection took longer.
After waiting for some 30 minutes, the luggage finally delivered to me and I thanked the staff who collected my baggage. I headed out towards the arrivals area where my family already waited for me and headed straight to downtown Jakarta for a lunch.
Final thoughts of the flight
My short flight between SIN and CGK with Garuda Indonesia has been a very pleasant experience. Being the World's Best Regional Airline, one can expect them to perform extraordinarily well on these regional hops. The service on board GA 829 simply demonstrates that they are up to people's high expectation.
On a short 1 hour and 25 minutes hop, a J class service consist of hot towels, welcome drink, menu, meal service, great IFE, along with features upon your arrival at CGK such as the Executive Class baggage collections simply make my experience in GA delightful.
The recliner seats were very comfortable for a short hop like SIN to CGK, however this might not be the case if they put those 738s on red-eyes to HKG and TPE. Crew members are friendly and attentive, although in terms of interaction it is limited due to the full load of the J cabin. I would be looking forward for more flights on board GA Executive Class if I have the opportunity.
On the other hand, Changi Airport is always great. The lounge were quite interesting and so far it is one of the best lounge I have visited in SIN (beside the Silverkris lounge). With every facilities and service available to provide the best passenger experience, Changi Airport definitely deserves the "Airport of the year" award from Skytrax, and I am confident that they could continue to maintain this high standard for years to come.
Well everyone, that was
The World's Best, from Southeast Asia
, how would you rate them?
See you on my next trip report,
GA Long haul Executive Class to Melbourne
Thank you for reading, everyone.
Should you have any thoughts or questions, do leave a comment.
Regards,
Dirktraveller.
[Edited 2013-04-25 09:25:20]
[Edited 2013-04-25 09:32:46]
[Edited 2013-04-25 09:34:01]