"The Fragrant Harbour by QF-Premium/CX"
This is part one of the story where the Tripreporter and his companion really enjoyed the Kangaroo´s premium service but also experienced the faulty feeling with the last bag delivered message on the screen and still waiting for something!.
G´day, dear readers,
it´s less than two weeks ago, since I´am back at the homebase for some duties from:
"Spend Some Time With The Hobby Or Is It Iah?"
(by
FLIEGER67
Apr 14 2013 in Trip Reports)
Spring is on schedule, at least according to the calendar, nothing really to notice about. So we should go with a clear conscience for somewhere warmer during this time of the year.
What about the routemap for this part of the story?:
Thanx to:
http://www.gcmap.com/
Nothing new on the departure airports map, but sure, there is more to come with the further parts:
Departure Airports II
auf einer größeren Karte anzeigen
The flights of 2013 map is updated:
TRIPREPORTER 2013
auf einer größeren Karte anzeigen
And here are the previous 200 departure places:
Departure airports
auf einer größeren Karte anzeigen
We´re working on the standard straight in//straight out schedule, as usual, isn´t it?.
No way, absolutely no way!.
There are 24 legs only on one confirmation provided by
Qantas itself, the fare per leg this way is 125,00 Euro´s.
Not bad from my point of view with a routing till the southernmost point down under included.
But on the other hand side good for some disruptions on the way with not all airport staff as experienced to treat something like this Tripreporter style.
Well, let´s go!.
The first leg is running at flightlevel zero, by a couple of trains and some detours from the homebase to FRA airport. Travel time in the end close to 4 hours, thanx to a busy Friday afternoon on Deutsche Bahn´s tracks, but nevertheless no complaints, we arrived safely and well timed at FRA airport.
Friday, 22.03.2013
.
.
.
.
Service QF 6 operated by Qantas Airways
Scheduled: 22.15 // 17.45
Lot´s of pax around the standard counters and also biz is well used today. Some 5 minutes to wait.
A nice young male agent waved us in and checked the reservation details.
OLCI is done for leg 1 and 2, no printout as usual.
Leg one by QF, leg two by CX.
"The bags untill Perth?".
"No, till Hongkong only".
"I´am sorry, I see you´re checked in for Hongkong, but it´s not possible to printout the boarding pass here, you should do this at the transfer counter in Singapore.
And you are sure, the bags till Hongkong?".
"Sure".
Ok, it looks like strange, arriving and departing the same day in Hongkong and want to see the bags there.
"According to the seatmap the flight looks like well booked. Are there upgrades on offer?".
"Yes, there is a seat change for you, but sure not a bad one. Welcome to Qantas premium".
"Ah, that fit´s, thank you".
And indeed like later noticed on the plane, no open seat to spot, a 100% load with mostly European travellers on the way.
Close to no time to wait at passport check and soon thereafter in the gate area.
As usual a view for the screen is necessary.
Gate D4 and no impairments to notice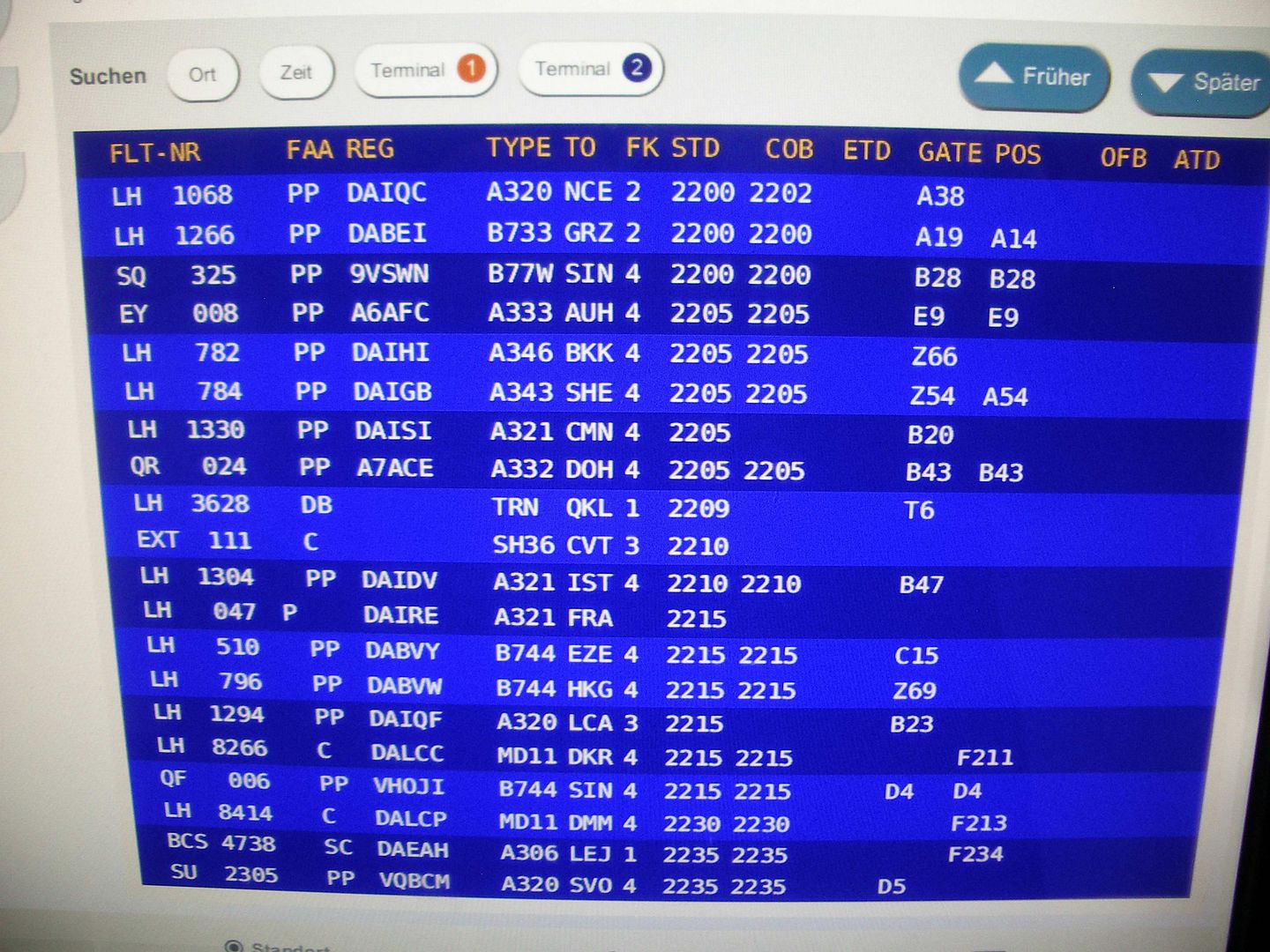 Hey, what´s this?. Ok not for SIN, but still interesting to see an all white A310 at the LAN gate heading for MAD
The JAL lounge is good for us right now
Well used with the JAL service for Tokyo shortly to go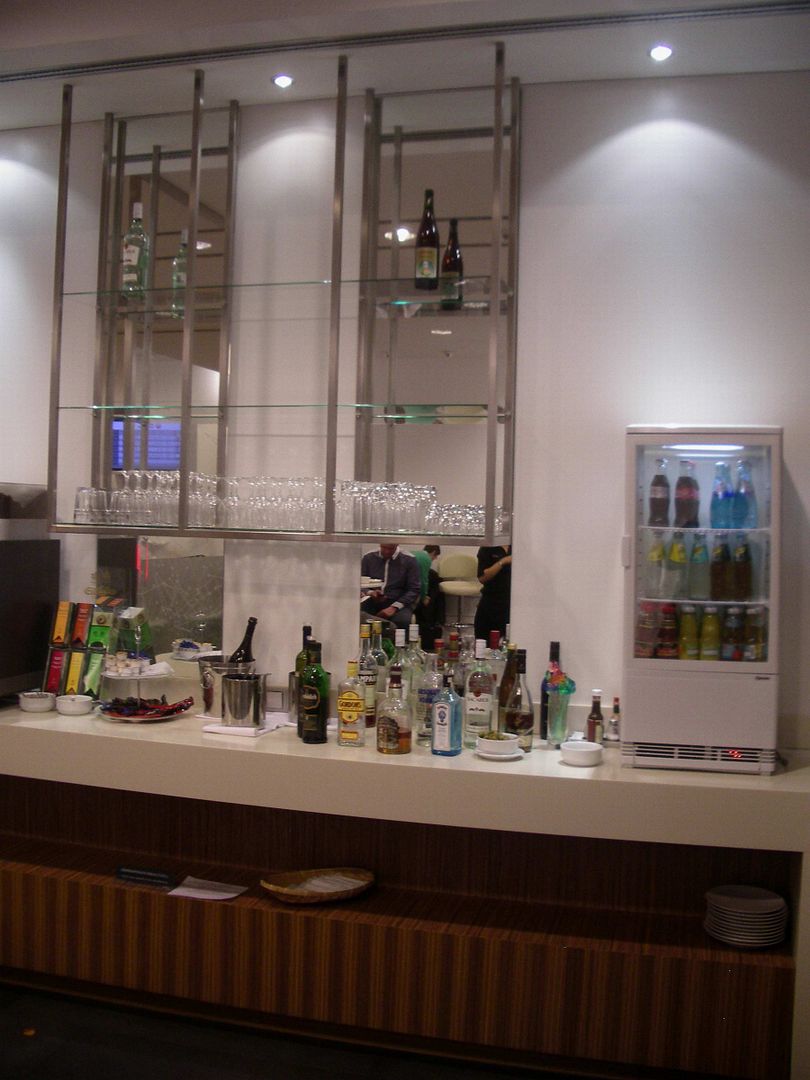 And some minutes thereafter only with lots of open seaters for the two of us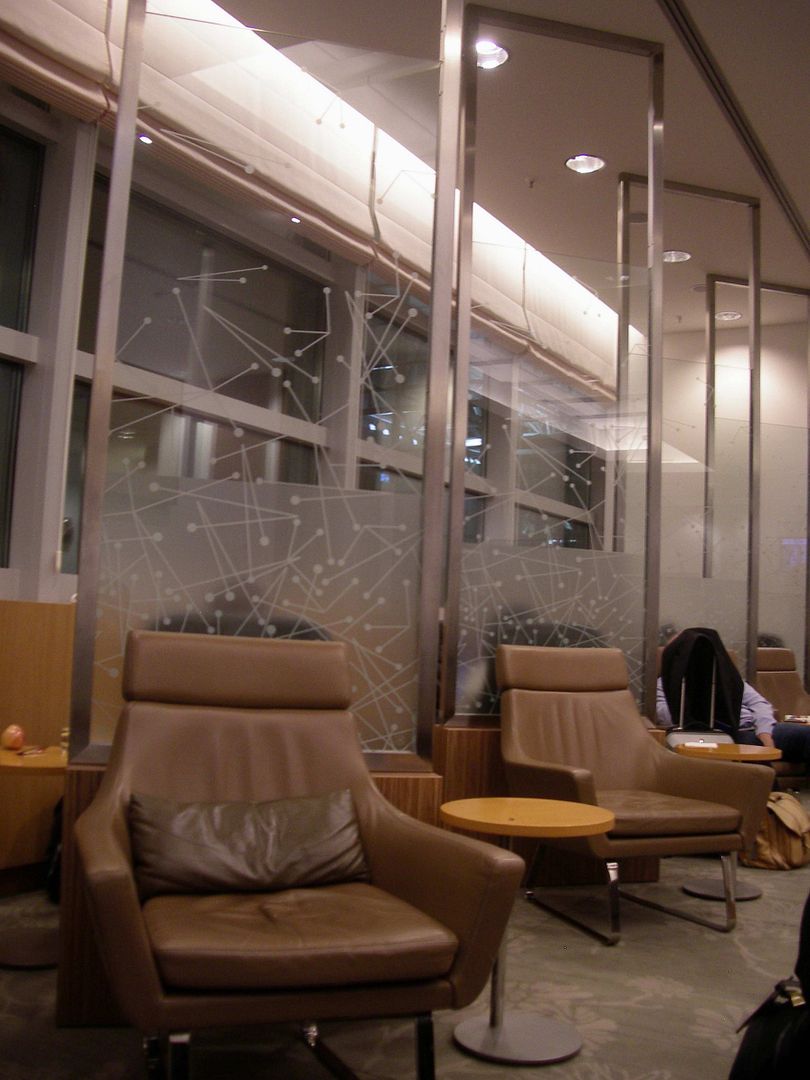 This is definitely a nice place to stay here at FRA
Ok, boarding is on the screen and there is the security check directly at the gate in between, time to leave now.
A quick affair with an extra entrance for premium pax and also some more minutes to wait till we go with the last pax as usual.
What about a strange upper deck view from the gate?
Or maybe this one?.
VH-OJI "Longreach" is a new entry to the log and leg no. 10 at all with the scheduled 744
At least it looks like the Kangaroo.
And this is also a somewhat sad view when we know that QF stops FRA operations just a couple of days thereafter.
The plane is in the air with QF since 21.12.1990.
One of 16 in the fleet.
Here are some "Longreach" stories:
http://avherald.com/h?article=42965386&opt=0
http://avherald.com/h?article=43d9e227&opt=0
http://avherald.com/h?article=441df4d1&opt=0
http://avherald.com/h?article=44f49d3e&opt=0
Qantas on the go
Doesn´t look that huge from this point of view, but these engines should have enough power to lift us for Singapore
30 K/J, spacious premium seats and the window is still occupied!
Lot´s of stuff for the long flight
That´s the place to be with no one behind and just a row in front in these small premium compartment
10.20 pm, short behind schedule, is the final time to leave Europe for a couple of days by "Qantas".
11 hours, 45 minutes on the go for Asia straight from the 4000 meters "Zero-Seven-Center".
By surprise, 10 degrees, sunny and clear sky here at FRA.
The captain sounds like from the Netherlands, a nice and detailed welcome in english and german with a dutch influence.
What´s on offer tonight/today
Well, not really to my exaltation from the first view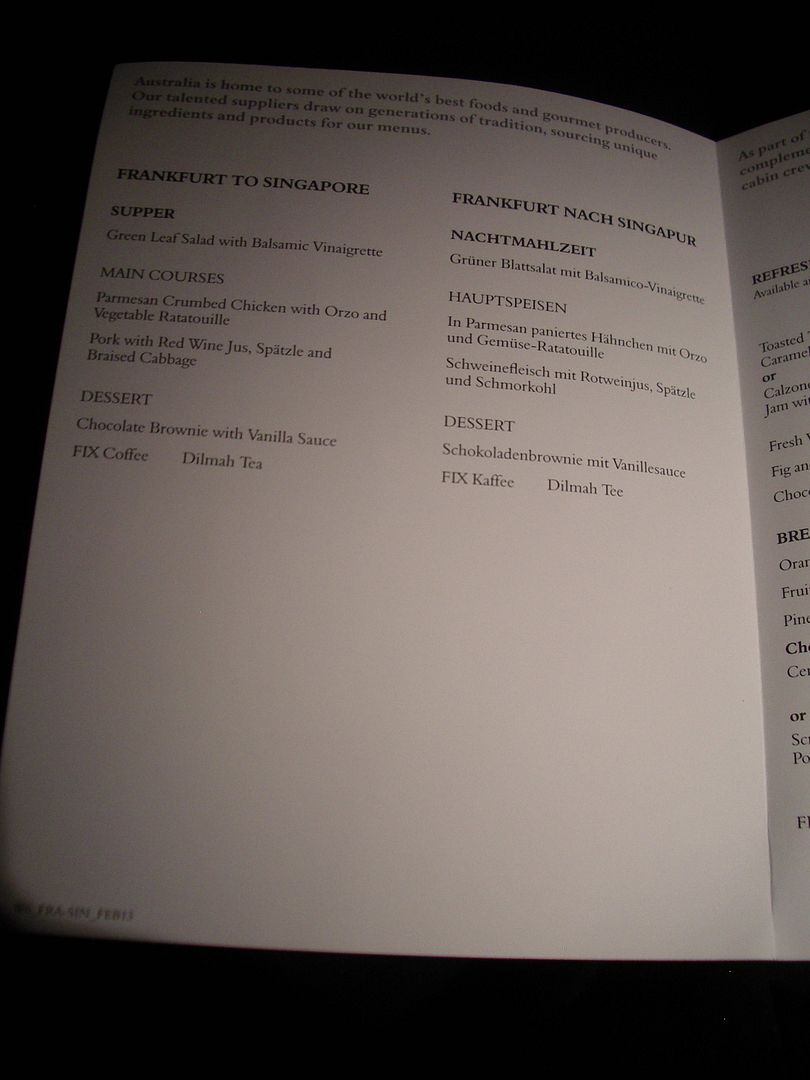 This part looks like better
And several choices of Dilmah tea, welcome
No, we dont do the Easy rider Europe this time
Something for me?
At least the safety card caught my interest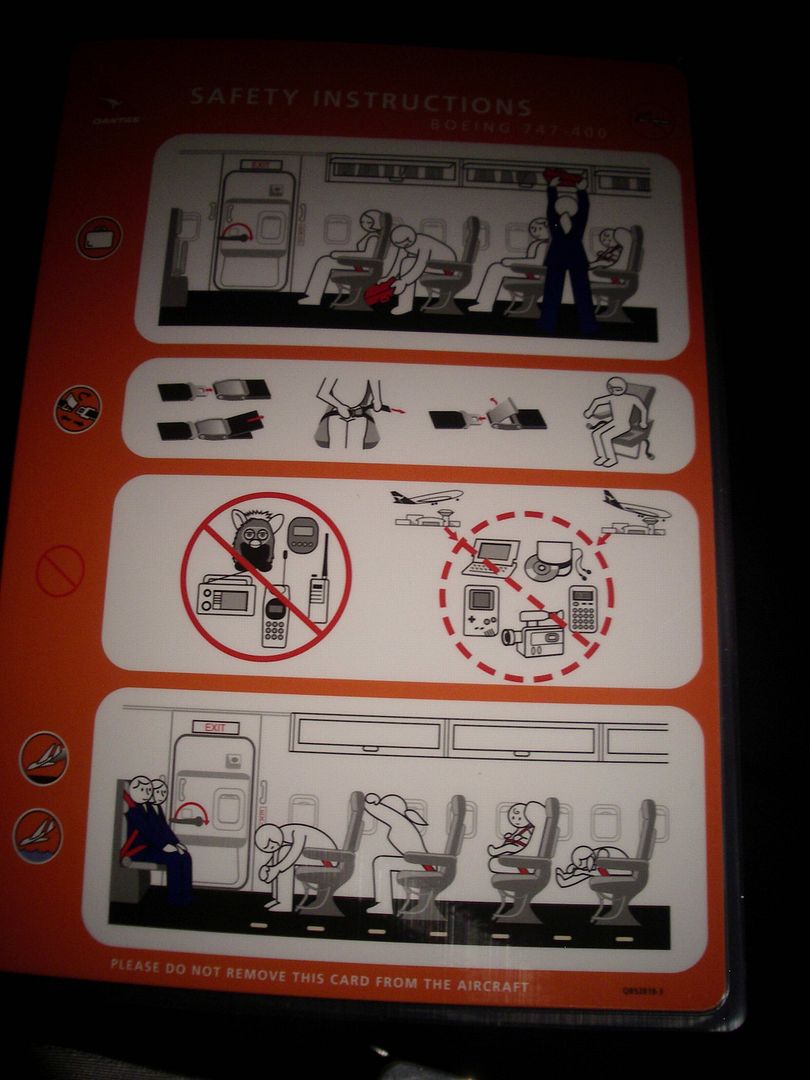 An amenity kit is also on offer
With the details like this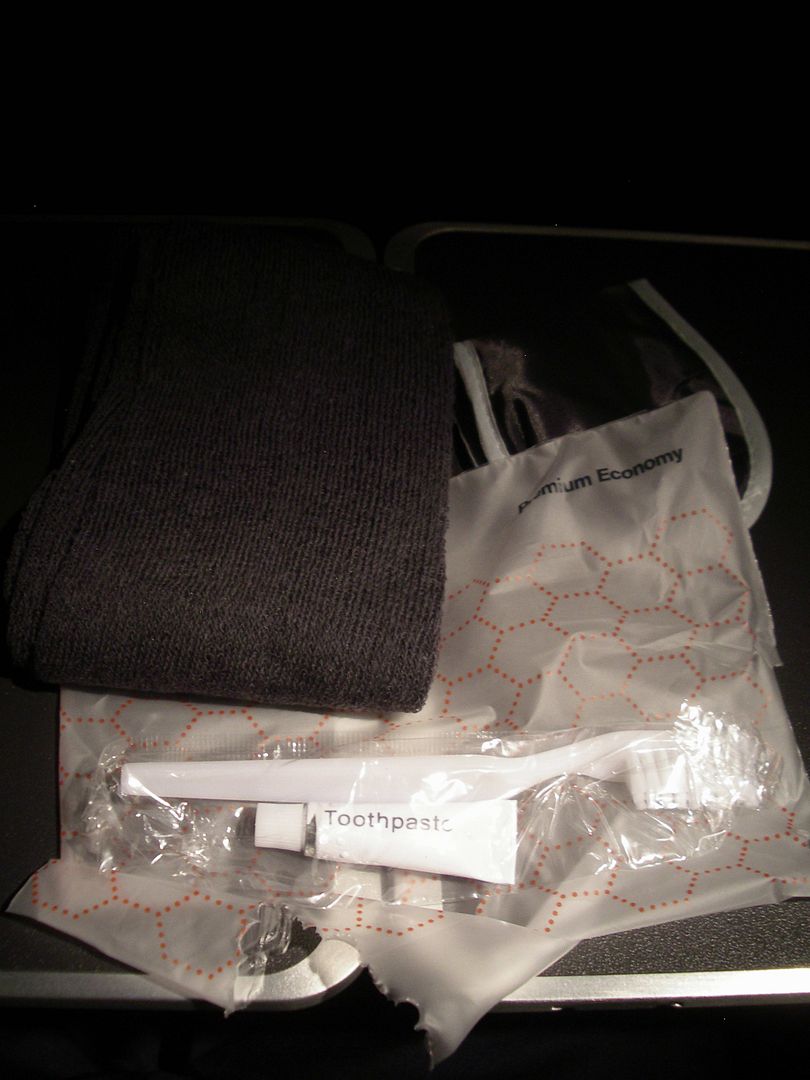 Legroom as much as I like it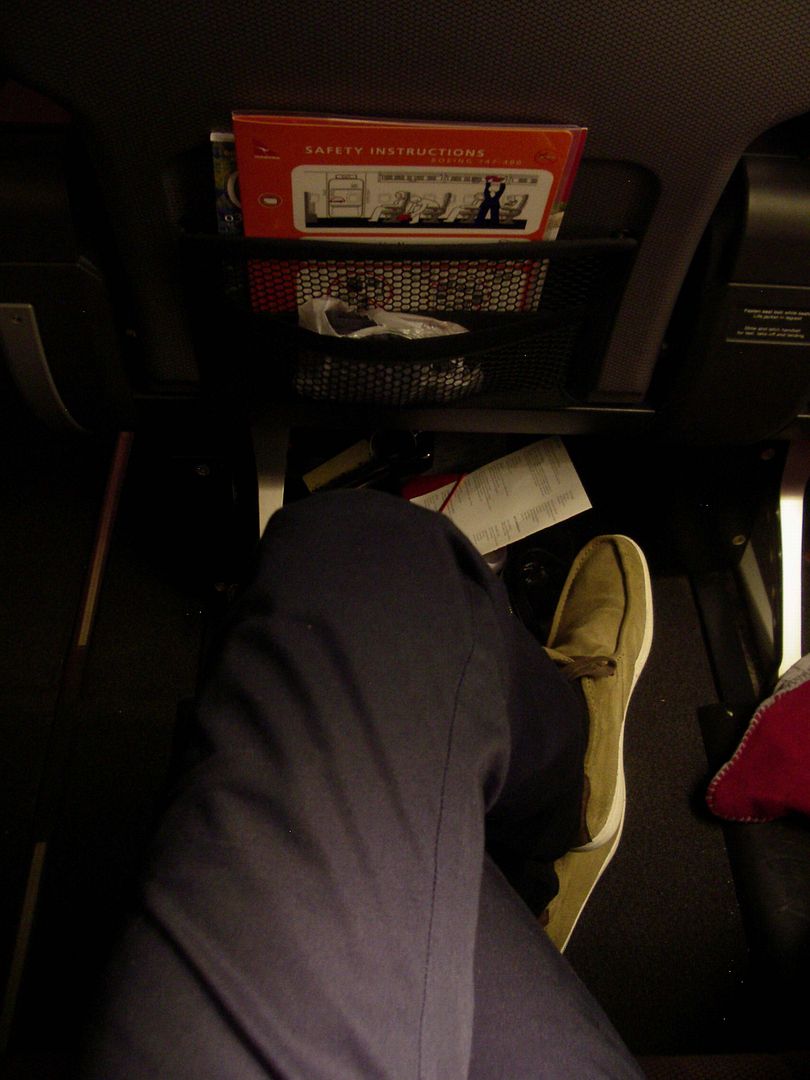 Entertainment anyone?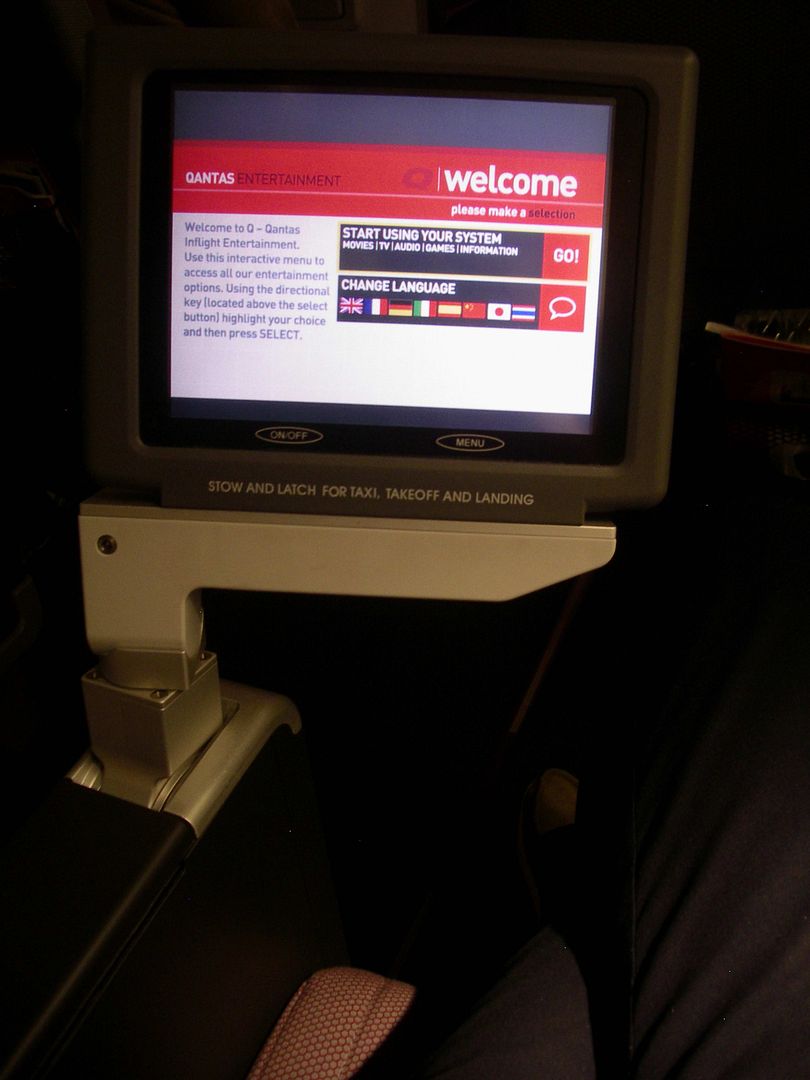 Seat and cabin view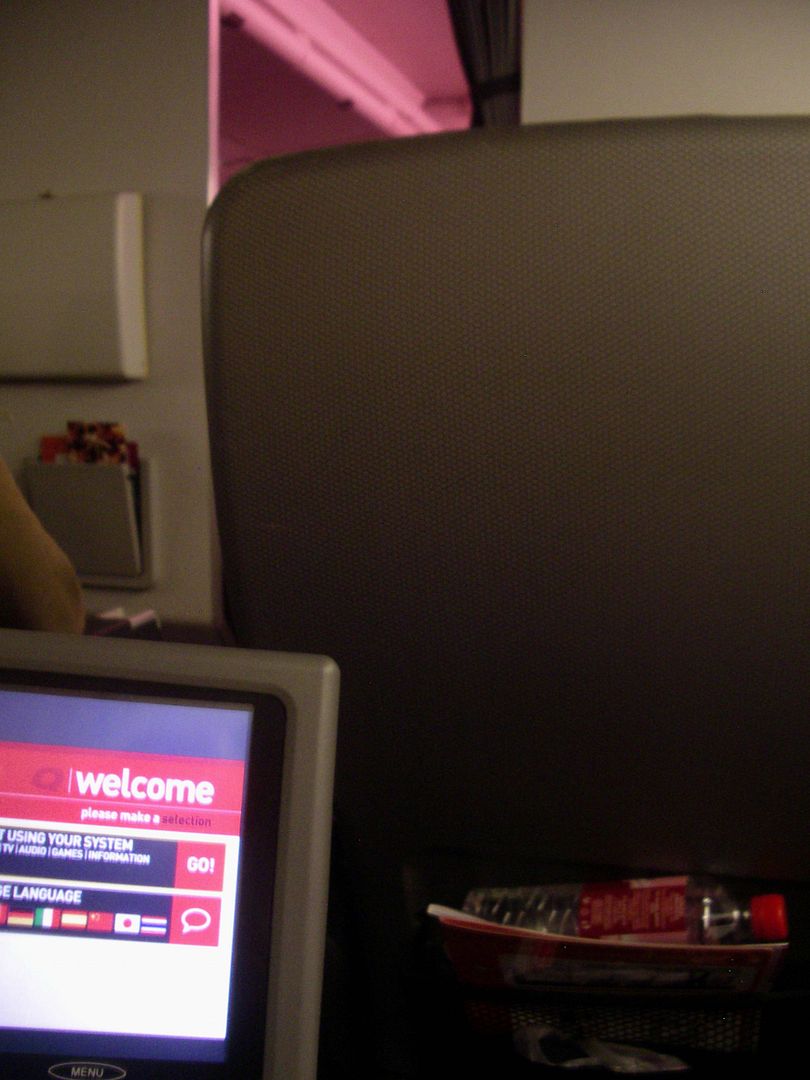 Well, I hope for no discomfort now when I switch to the flight path!
A shorty 11 hours, 15 minutes still to go
White tablecloth and dinner is served short after departure.
Done by an elder australian woman, nice and serviceminded.
Noodle´s and veggie ratatouille, not to talk about the chicken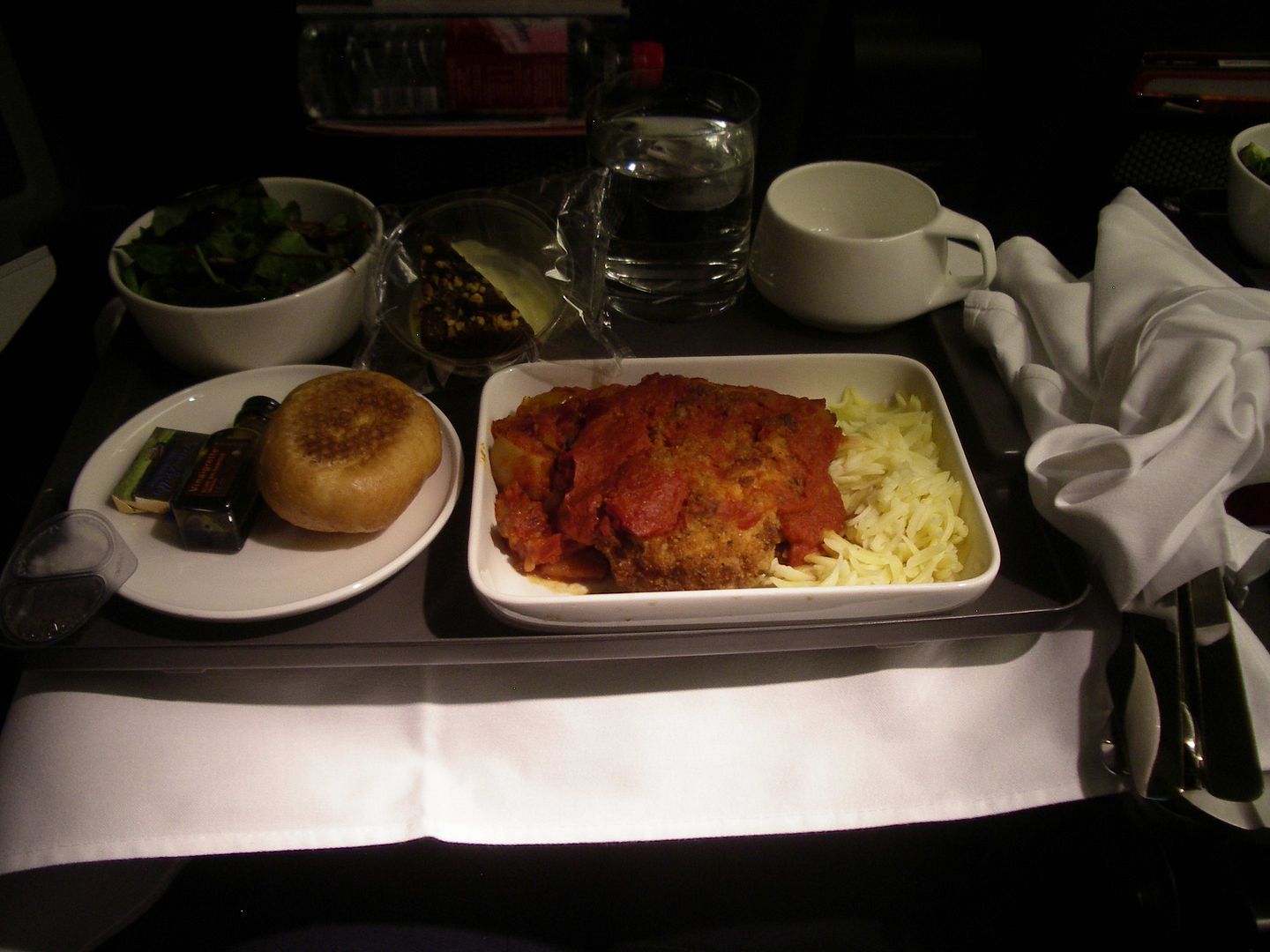 And this is the healthy breakfast surrounded with a nice good day from the captain again in english and german
Thunderstorms expected for Singapore with two engines on cruiseflight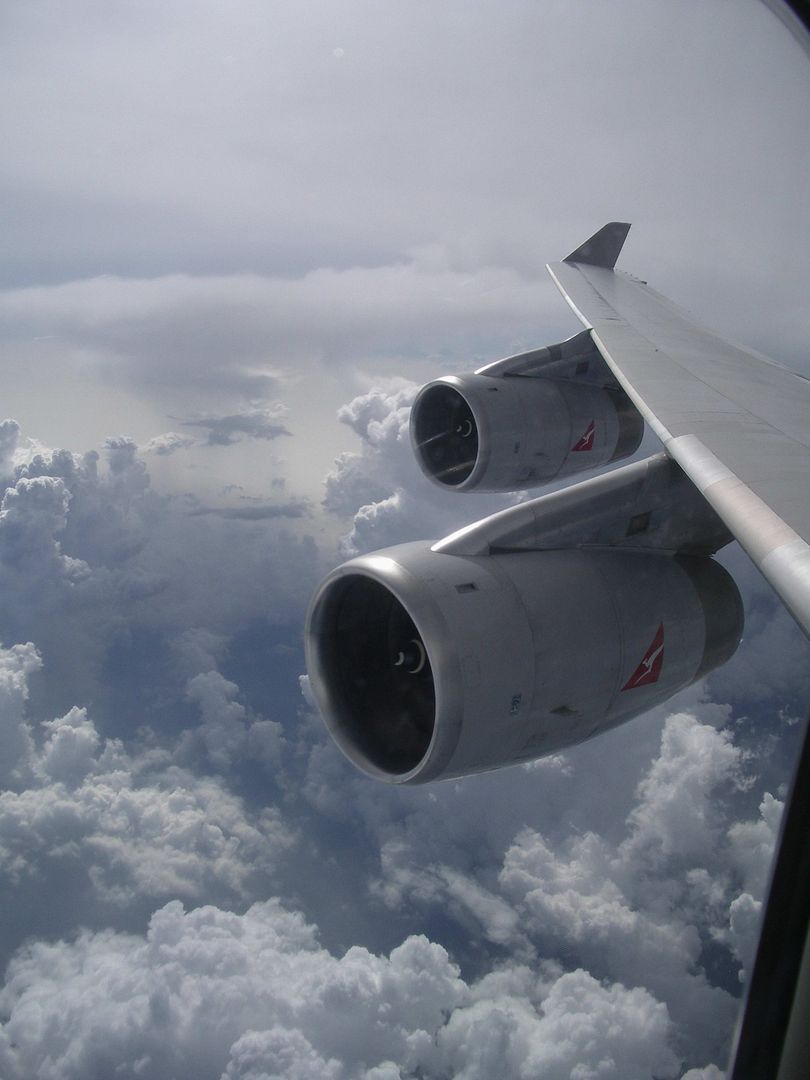 The routing is MUC-VIE-BTS-Lviv-Around the northern tip of the Caspian sea-DEL-The bay of Bengal-Phuket-KUL starting at 29000 feet and later climbing to 31000 and 35000 feet finally.
Circling around some heavy clouds
Islands down there close to Singapore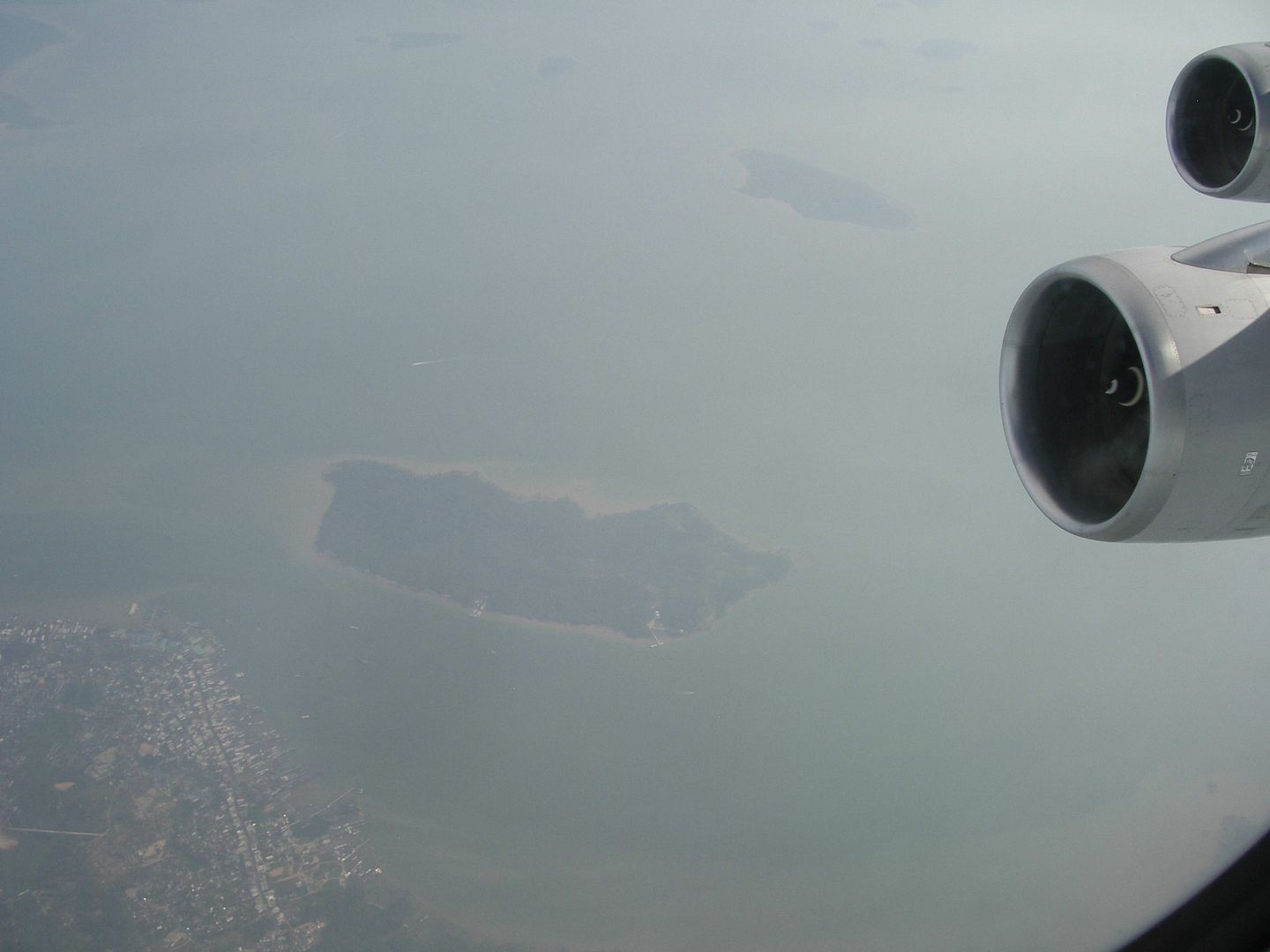 Malaysian seaside life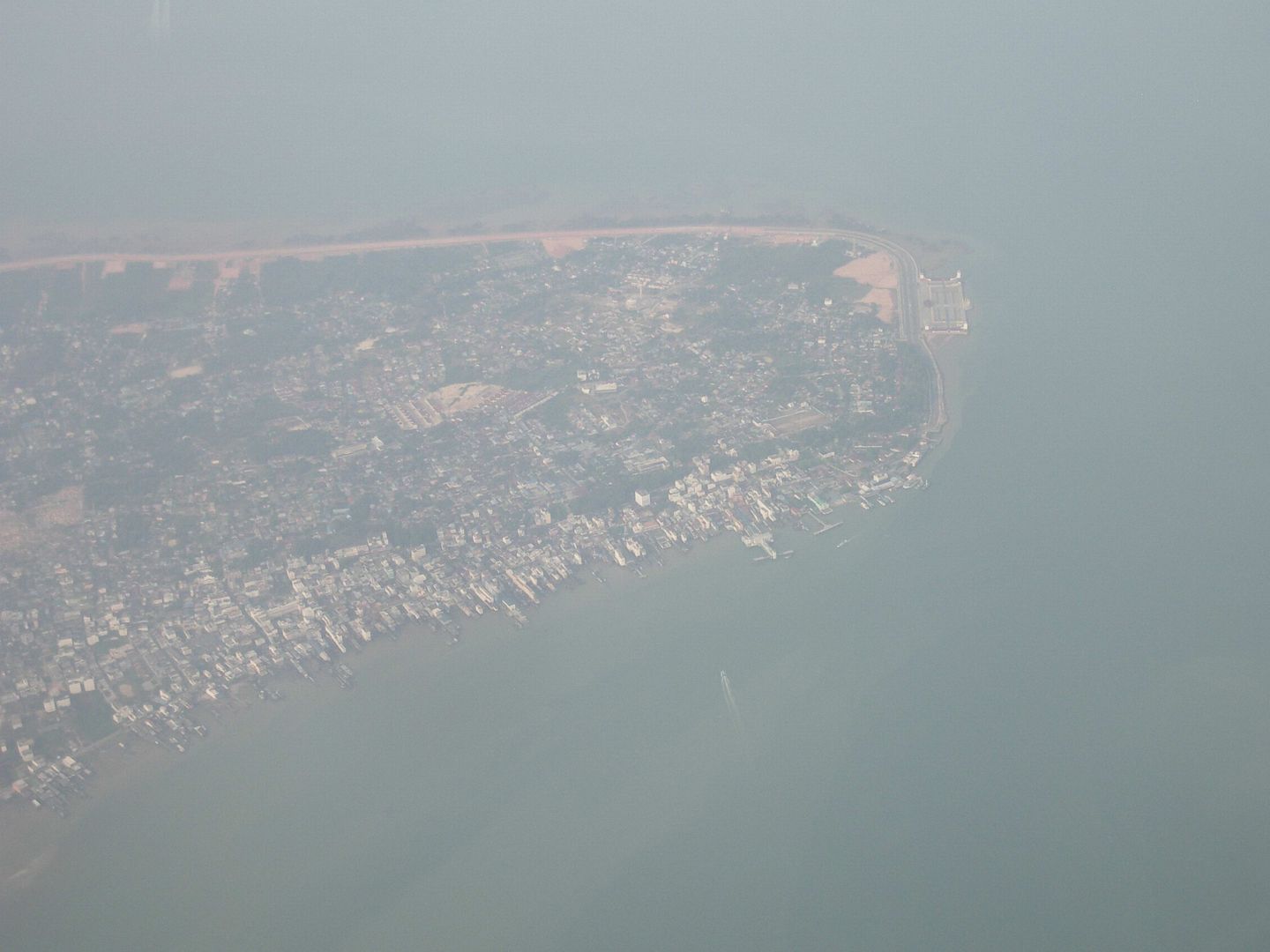 Very close to SIN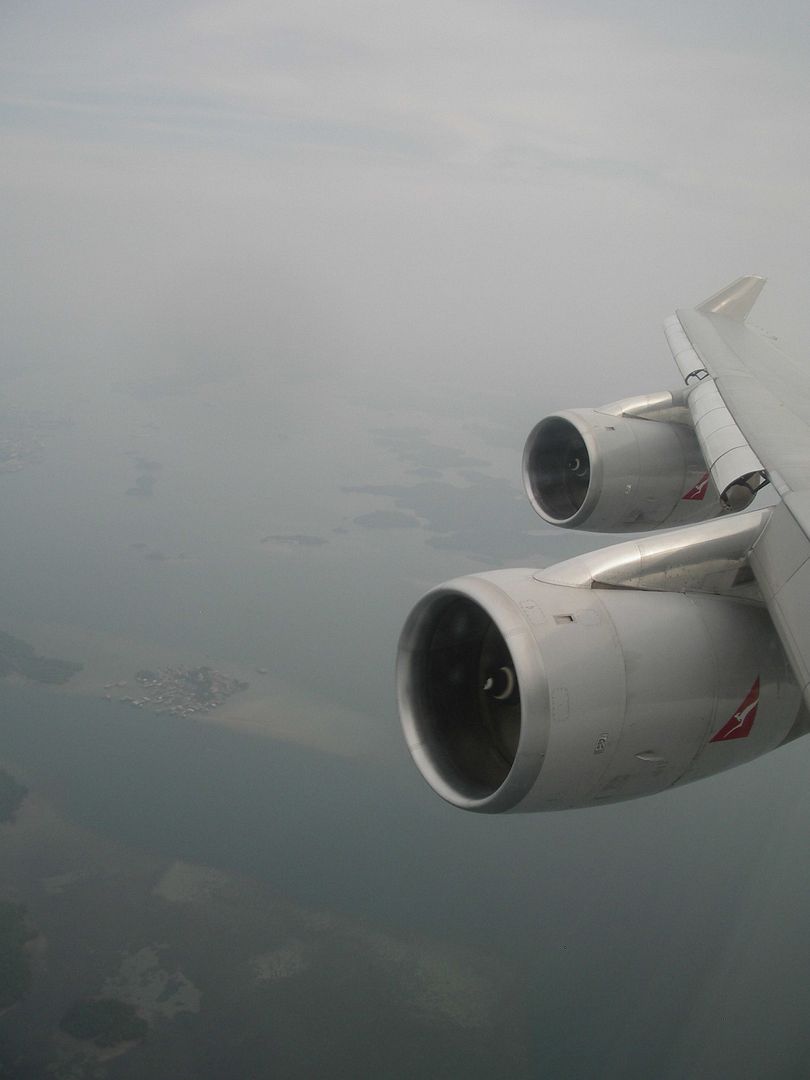 Touchdown at the 4000 meters "Zero-Two-Left". This is 10.45 am in Germany and 5.45 pm local and this is as perfect as it could be ontime. 31 degrees, cloudy and the expected thunderstorms around.
More Oneworld at SIN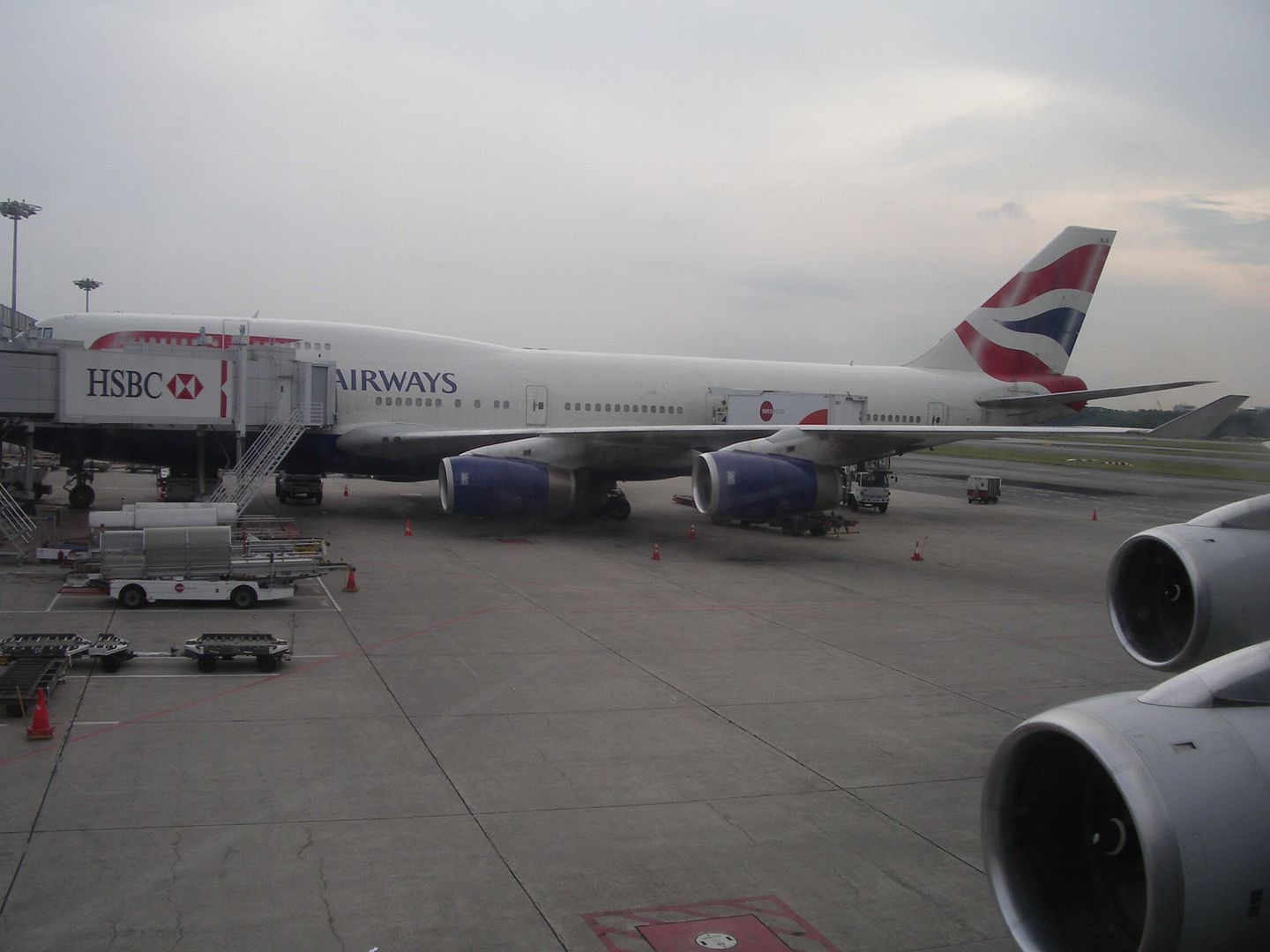 Side by side
Bye now for the 744 premium experience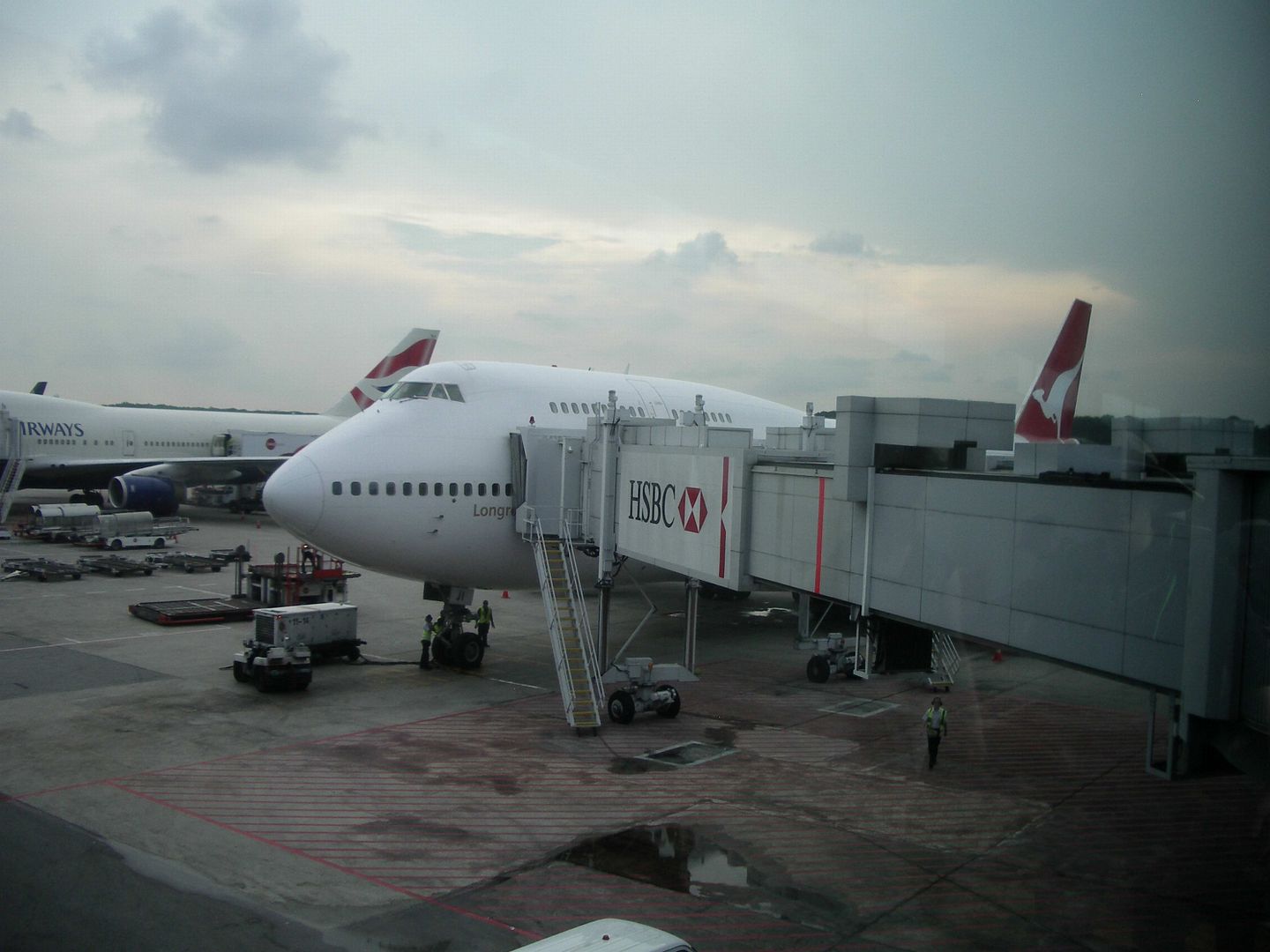 In the terminal shortly, looking for the CX transfer desk to catch one more boarding pass, hopefully!.
-------------------Continued below----------------------------------