Hello to all!
I believe this is the first detailed report featuring Iberia Express' Business Class, you may think that it is pretty similar to Iberia's, but there are some differences. I hope you'll enjoy reading my report.
Introduction
As I said in my previous report ( if you are interested, here it is:
Iberia to CPH and a heavy delay
), my sister is studying in Sweden on Erasmus. She is living in Karlskrona, a village located in the South of the country. I thought it would be nice to visit her again in April. My last trip report was about the same route, but this time I'm flying Iberia Express in Business Class. The closest airports to Karlskrona are Ronneby (only with flights to Stockholm), Malmö (with limited flights from Madrid) and Copenhagen. The most convenient was the latter as I could take a train in the airport that would take me directly to Karlskrona and also because it is the one where Iberia flies to. We decided to spend a night in Copenhagen before going to Karlskrona so I could visit the city. I wanted to fly Iberia as I could use my father's Avios, the problem was that at the time of booking there were no available seats in Economy Class, so I had to take Business Class tickets (what a pity). I took advantage of the baggage allowance (2 pieces) carrying clothes and food for my sister, and bringing back winter clothes and other stuff that she wouldn´t have to wear in the upcoming warmer months.
As many of you may know, Iberia Express is a subsidiary of Iberia mainline that was created last year with a lower cost structure, in an attempt to make short-haul routes profitable. New crews were hired so the personnel on board are not the same as on Iberia's flights. They have a fleet of 14 A320s that came from Iberia and operate certain routes in Spain and Europe.
Buying the ticket
I made the reservation through Iberia.com without major problem. I use Iberia's website very often and compared to others I think it is one of the best because everything is clear and simple. I was able to choose my seat at the time of booking. At first the flight was going to be operated by Iberia mainline, but a month after I had booked the tickets I received an e-mail saying that it would be operated by Iberia Express. I was offered the option of cancelling the trip, but I really didn't mind as both airlines are pretty similar, so I accepted the change.
Outbound flight
The schedule departure time was 11:45. I arrived at the airport at 9:30, I usually get to the airport in advance, so as not to have any problems with time. On this occasion I would have the opportunity to enjoy Iberia's VIP lounge, I love the lounge and the food they have on offer in it.
Getting to check-in area
Check-in
Given that it was rush hour, there was a decent line at Business Class counters, but it went fast. Once it was my turn I was welcomed by a smiling agent, I handed her my ID and I was asked where I was flying, then the agent asked if my pre-selected seat (2F) was okay for me and I said it was. I put my bags on the belt, they were labelled with destination tags but I noticed she wasn't putting priority tags, I reminded her of that as I thought she had forgotten them, but she kindly told me that they don't use them anymore in Europe as the priority identification is already printed on the destination tags. Finally, she handed me my boarding pass and told me that the gate hadn't been announced yet, and that I was welcome to use Iberia's Dalí Lounge and the security fast track.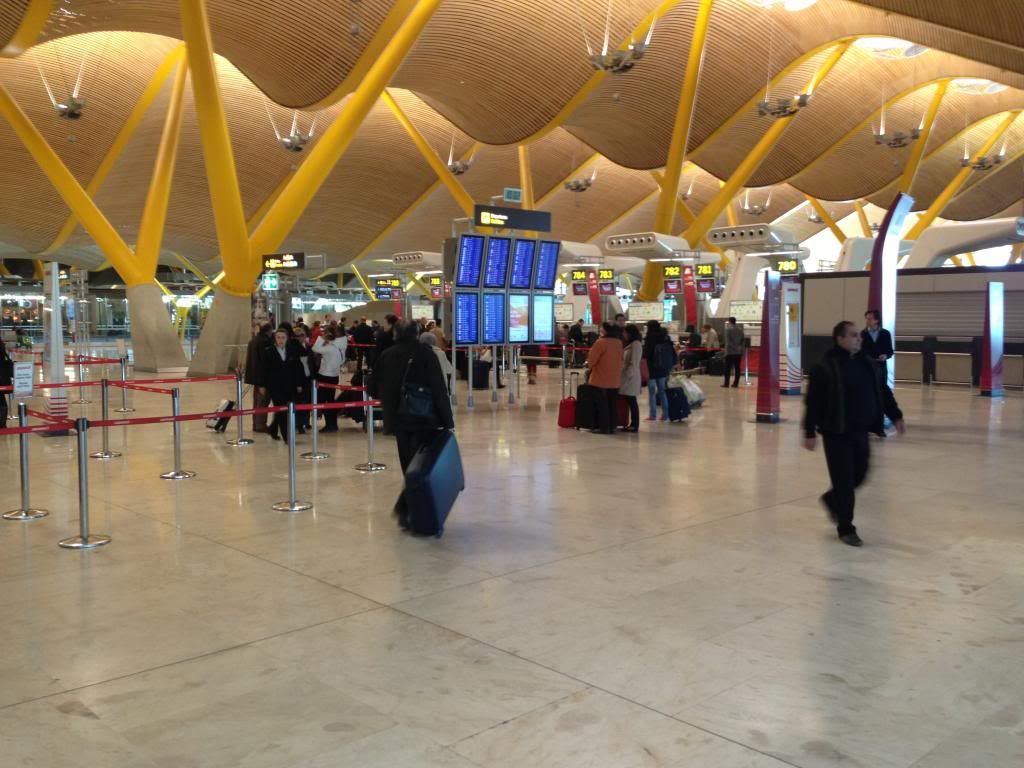 Business Class check-in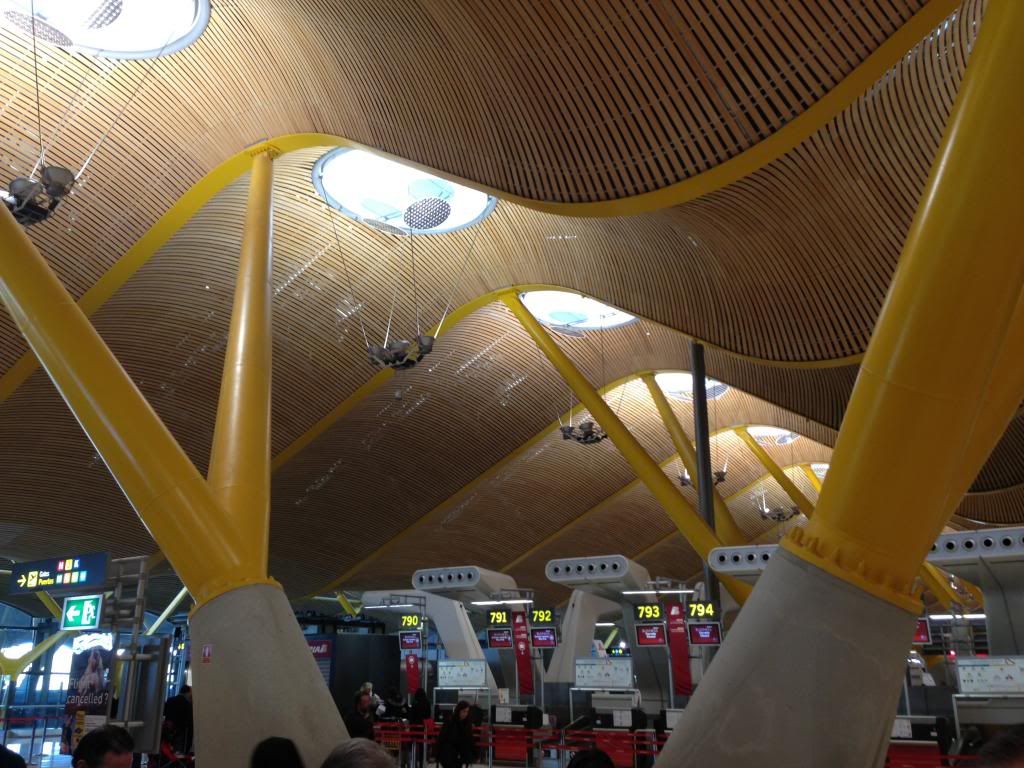 I love the design
On my way to the fast track
VIP Lounge
Iberia has three lounges in Madrid Airport: two in T4S and one in T4, I visited the latter. I was welcomed at the reception desk and they put the boarding gate of my flight down in my boarding pass. The lounge was very nice, felt spacious and cosy. Food offerings were adequate in my opinion, only cold items, such as sandwiches, salads, yoghurts, chips etc and coffee machines. There were also a well stocked bar and a wine bar. I found a seat and went to the bar to serve myself a tomato juice, but there wasn't any so I politely asked a waiter, to which I was answered that they had run out of it in a very rude way, I'm sure they had and even if they hadn't the manners of the waiter were unacceptable in a place like a VIP lounge. I was about to complain to the reception desk about the waiter but finally I desisted and settled for a glass of orange juice. Then I sat in an armchair next to a fountain to read until the departure time, I was so relaxed and hooked with the book that when I looked at my watch it was already the boarding time, so I left the lounge and headed off to the boarding gate.
Lounge entrance
Second breakfast
Bright and airy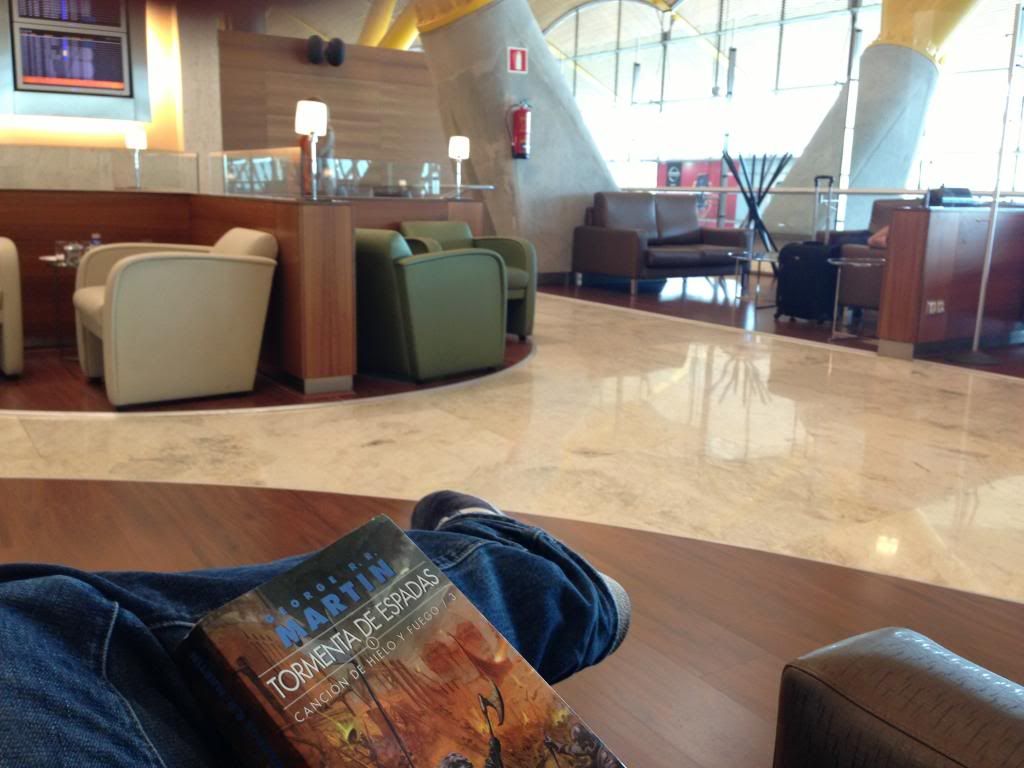 Time to relax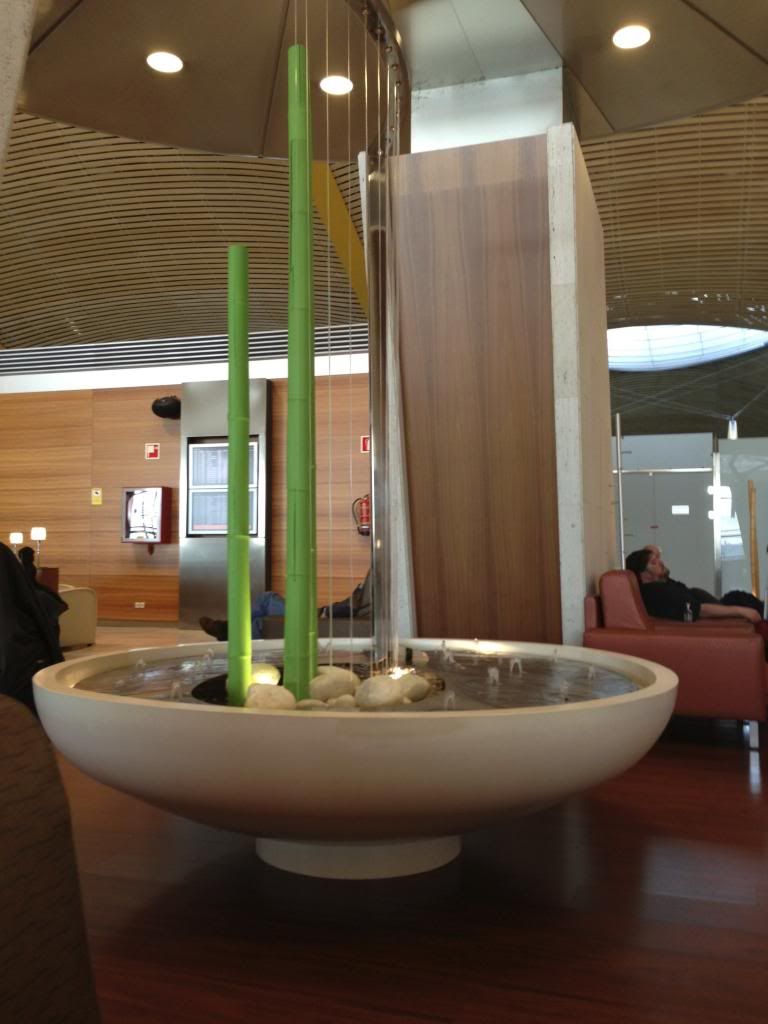 Peaceful reading next to the fountain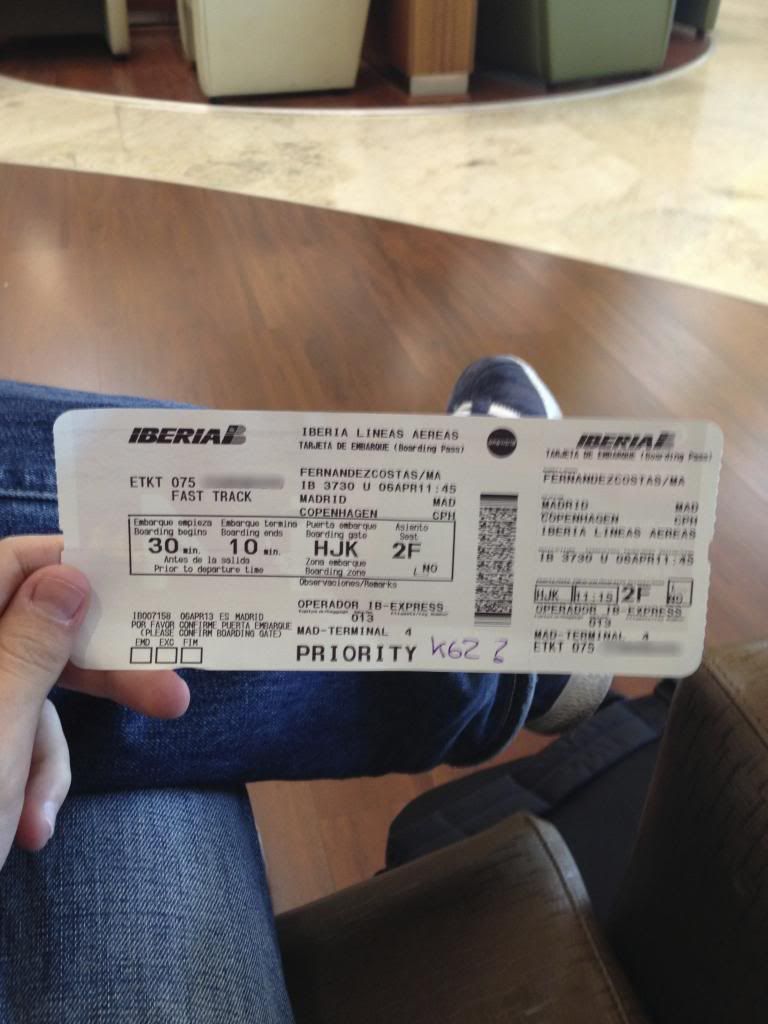 Boarding pass
On my way to the gate
Flight details
Flight number: I23730
Origin: MAD
Destination: CPH
Airplane: Airbus A320-214
Reg: EC-LRG
Airplane age: 11.8 years
Seat: 2F
ETD/ATD: 11:45/11:45
ETA/ATA: 15:05/14:57
Load factor: 33% in J (2/6), 100% in Y (168/168)
Boarding and take-off
When I arrived at the gate the boarding was nearly complete, no signs of a priority access (something that Iberia mainline does offer) so I joined the crowd. When I entered the plane the purser was standing welcoming the passengers, she seemed a bit indifferent. I finally took my seat and waited for the boarding to be completed. The cabin was clean, but it was showing its age. We left the parking stand on time and the safety demonstration was made, only in Spanish and English, on my last flight to Copenhagen with Iberia mainline it was also played in Danish. We then took off with nothing else to remark.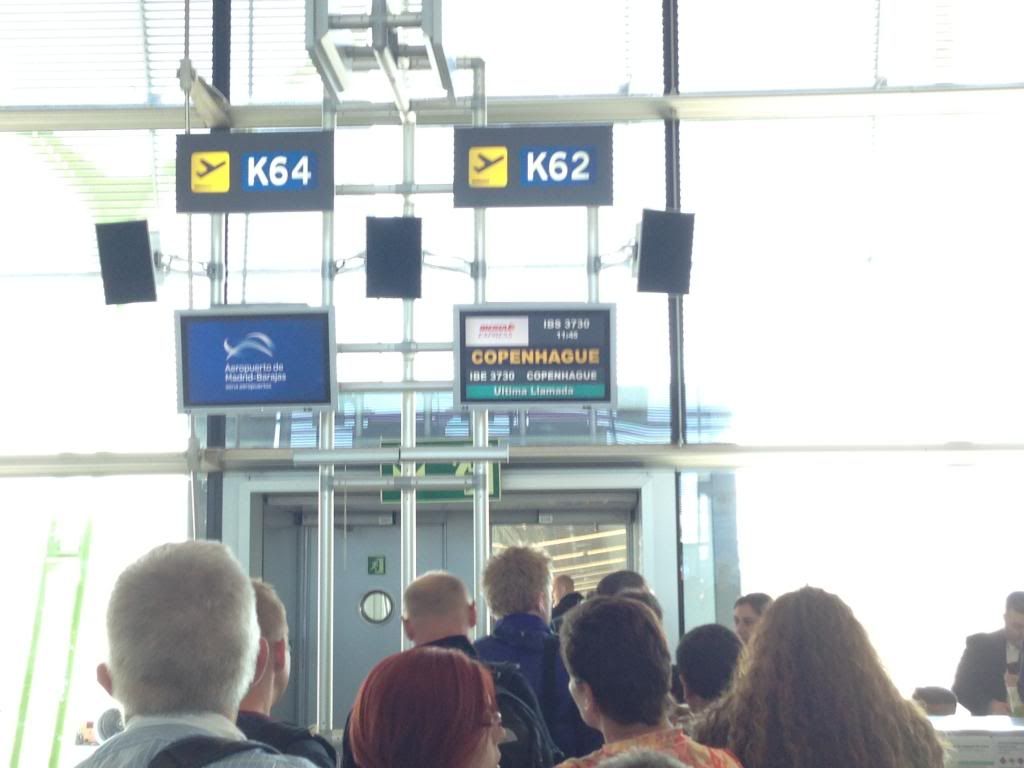 Final call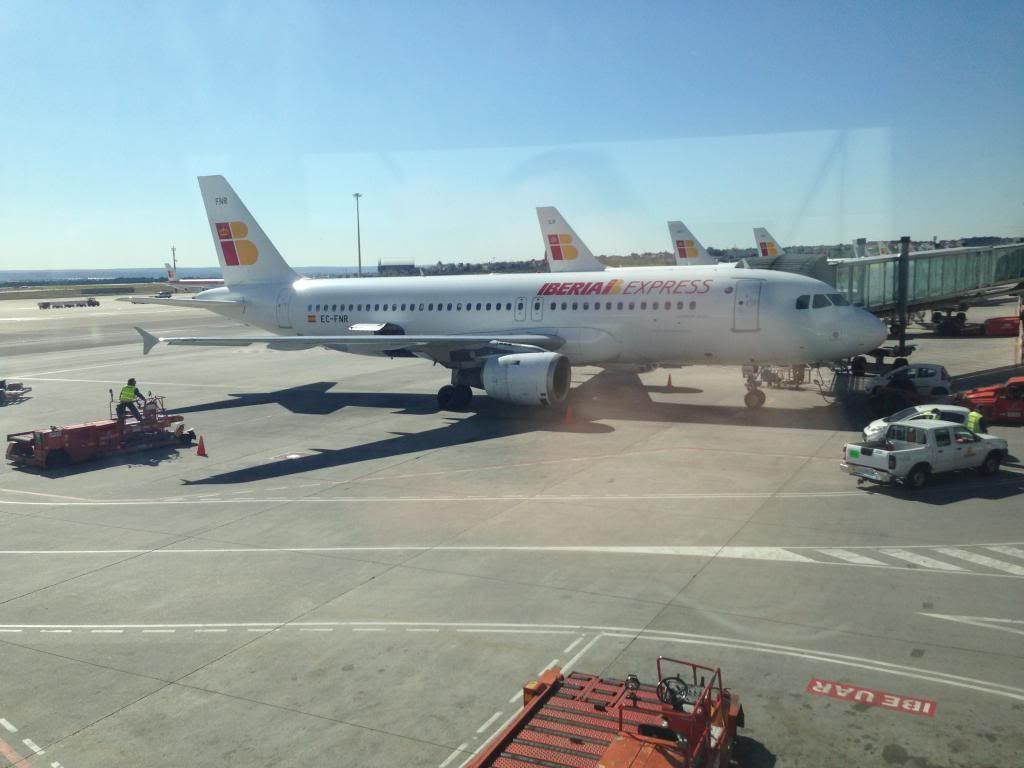 Another Iberia Express bird
My bird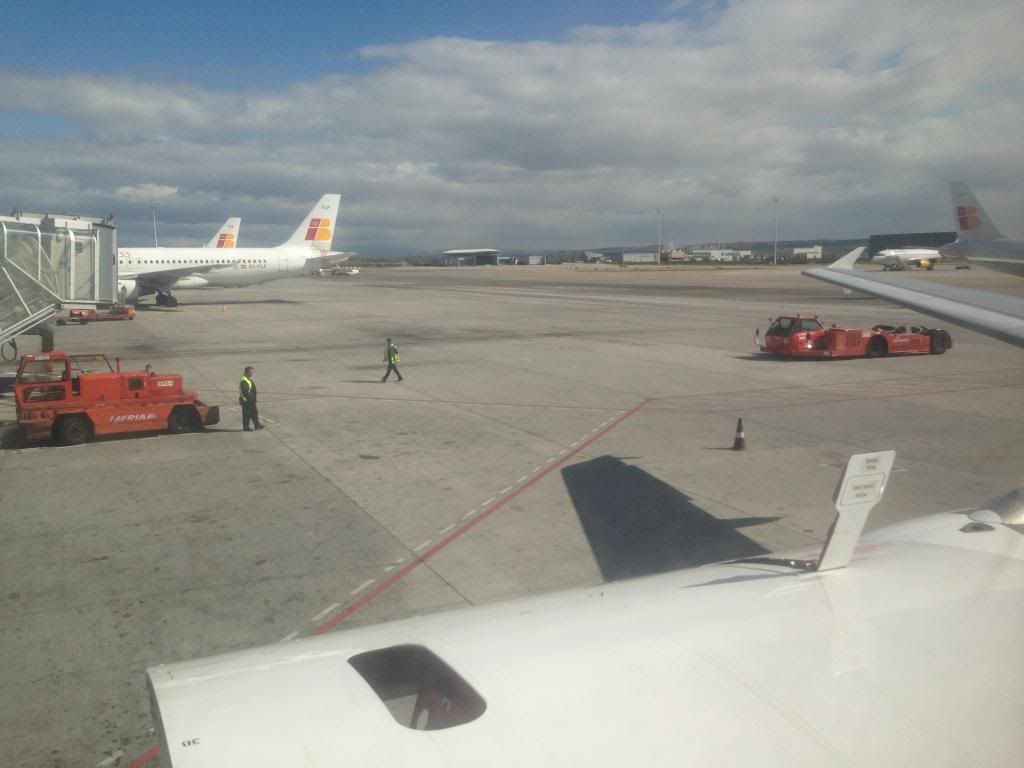 Cargo loading seemed to be still in process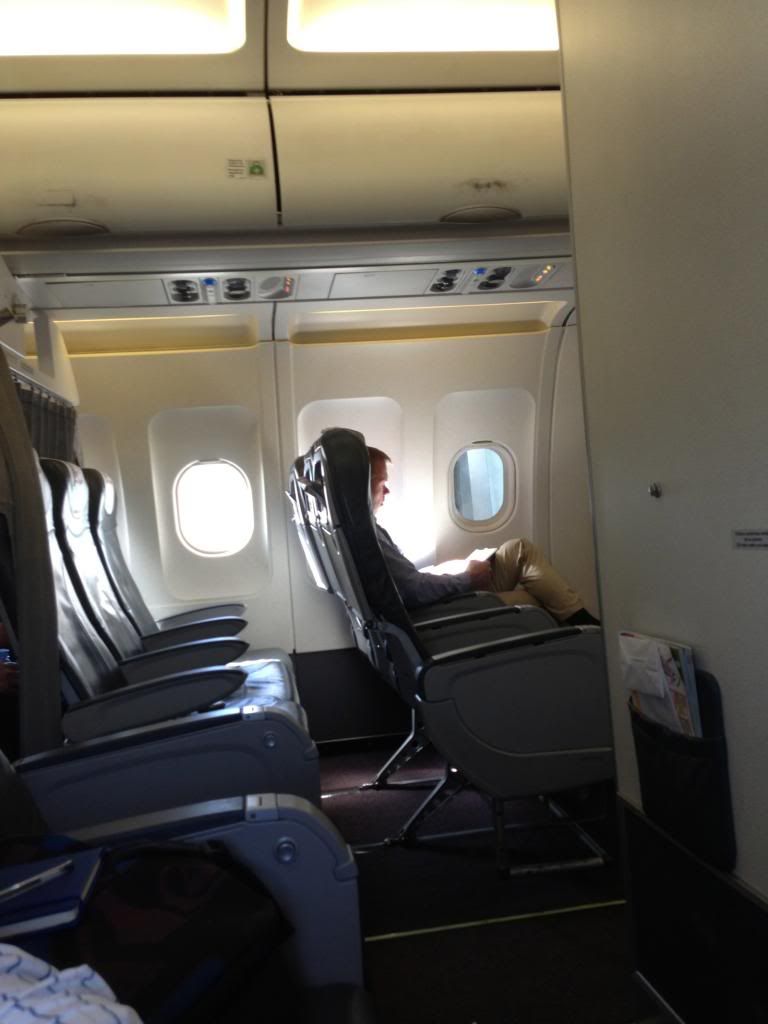 Only two rows of Business Class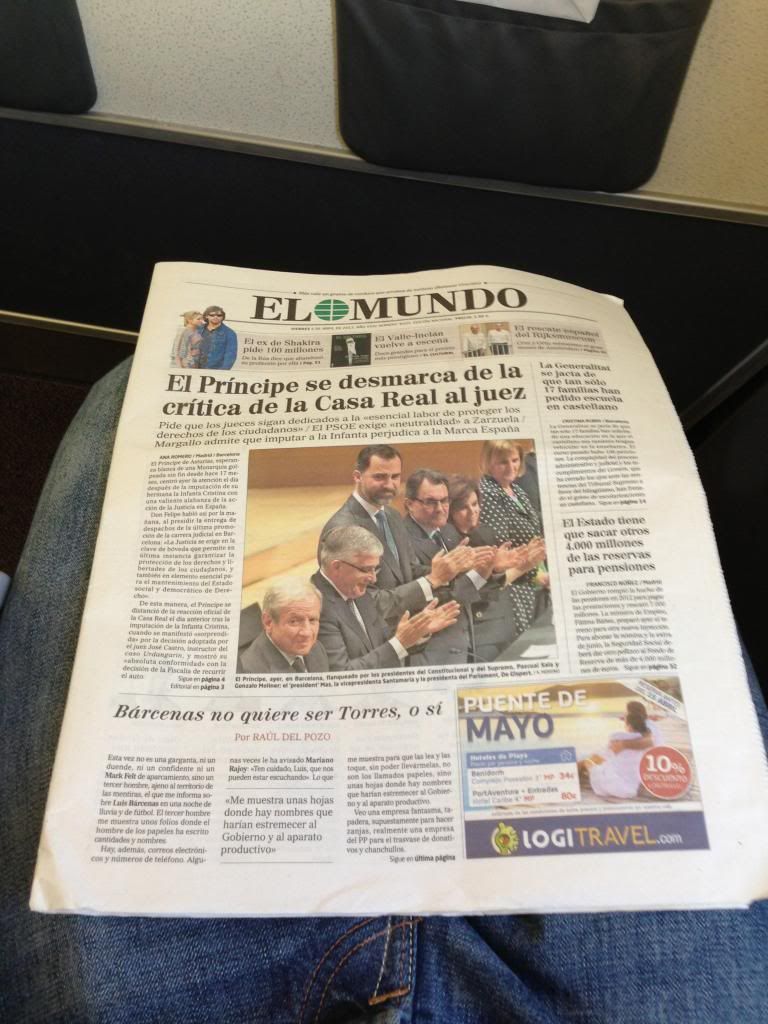 Newspaper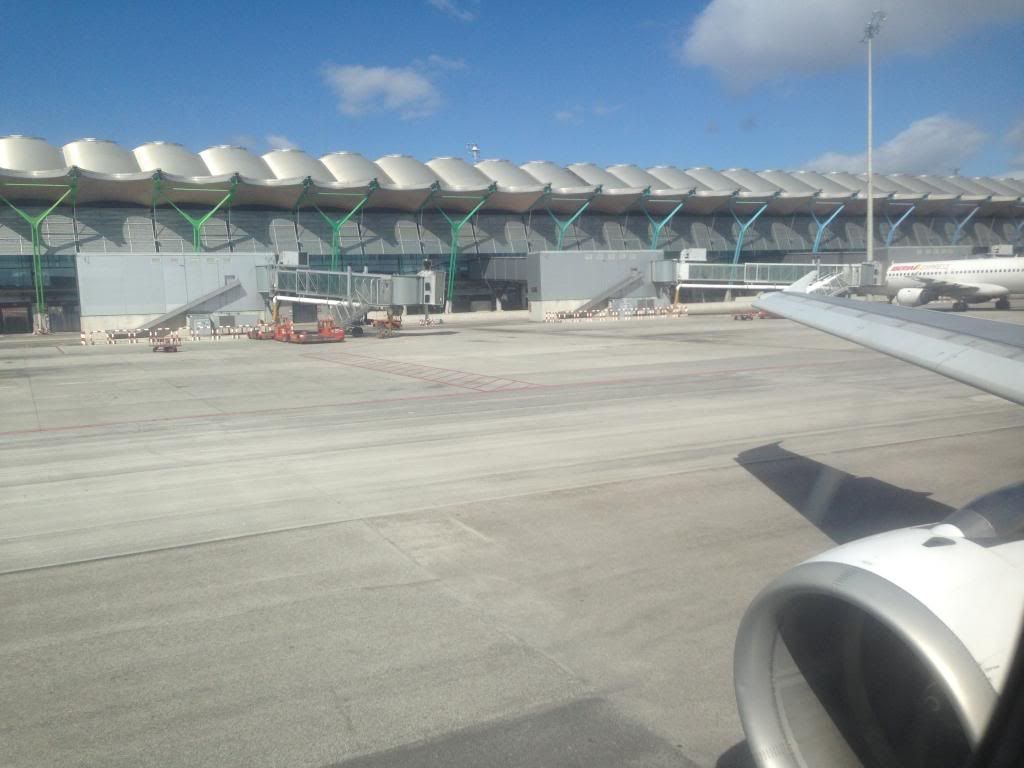 Taxiing to the active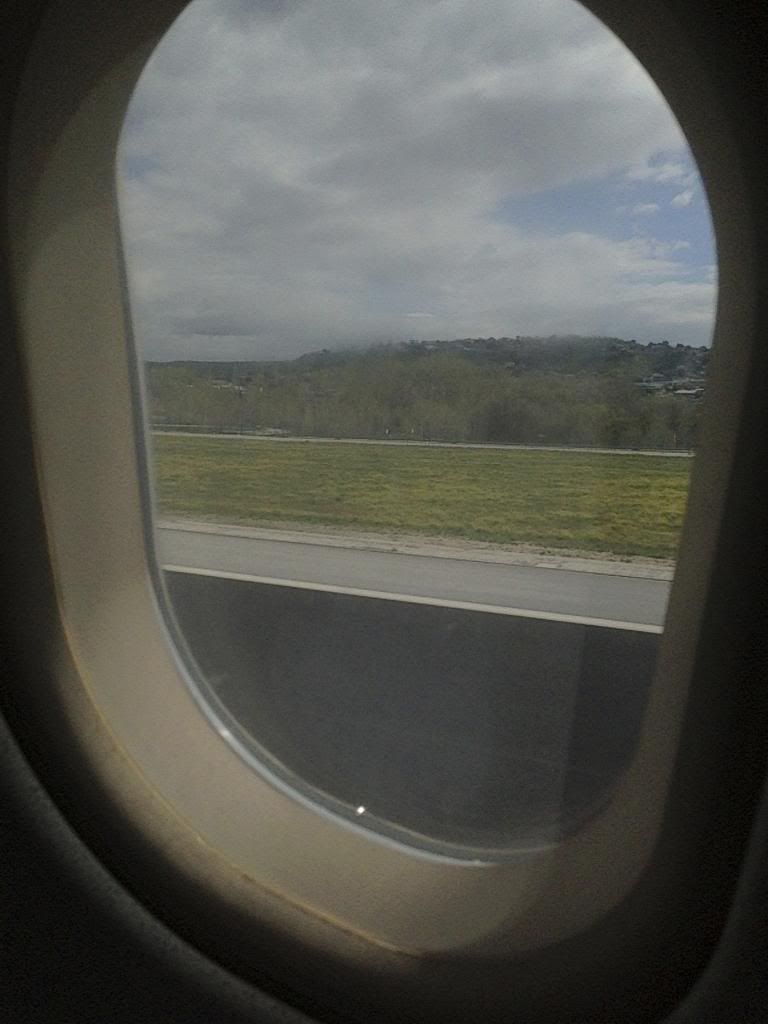 Rotating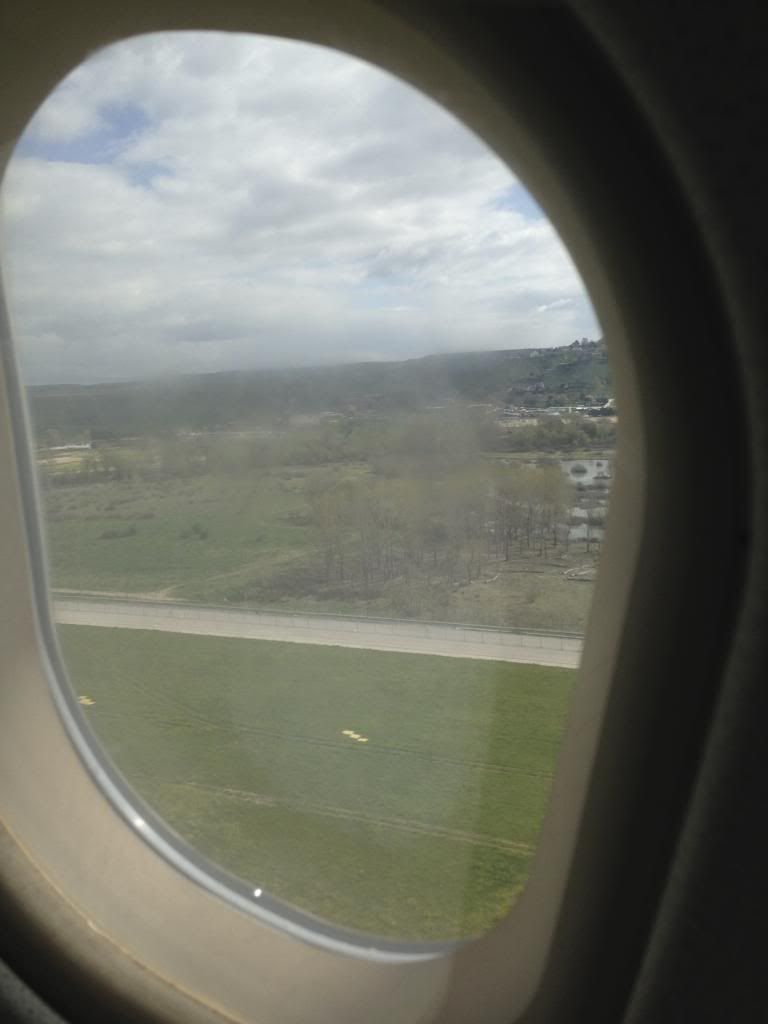 Off we go!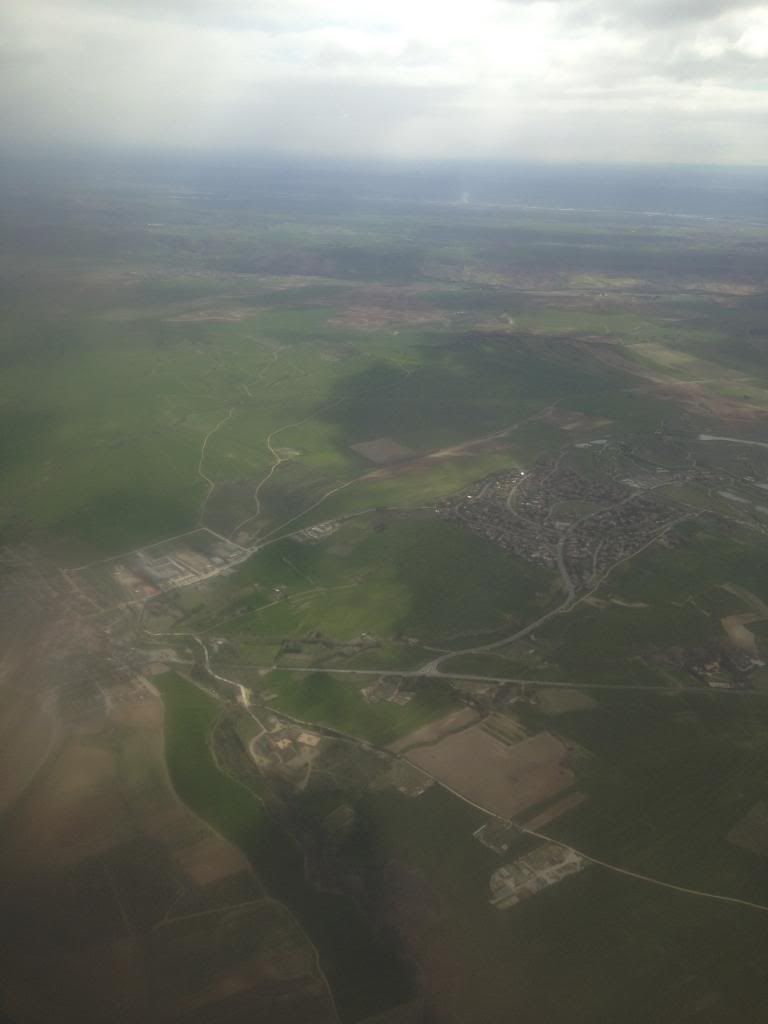 Ireland? No! Spain!
Above the clouds
Flight and arrival
We reached cruise altitude quickly and I was offered orange juice, I realised that the other passenger was having cava. I wasn't offered any so maybe the FA considered I was underage, well it's always flattering to be considered younger than one really is. A few minutes later I was asked when I would like to eat, I really didn't mind so I replied that whenever it would be more convenient for her, so the meal was served shortly afterwards. It consisted of a small salad, pumpkin pasta and cheesecake. Bread rolls were also offered, as well as coffee and tea with some chocolate after the meal. The meal was good and enough for me, but it is nothing special compared to what it is offered on Iberia mainline, where menus are handed out (a waste of paper in my opinion), metal cutlery is used instead of plastic, there is generally a choice of meat or fish, and liquors are also offered at the end of the meal. The meal Iberia Express offer in Business was very similar to what I was served in Economy Class last February on Lufthansa City Line from Dusseldorf to Madrid, and also similar to what you find in a long-haul Economy Class meal.
OJ before meal
Table cloth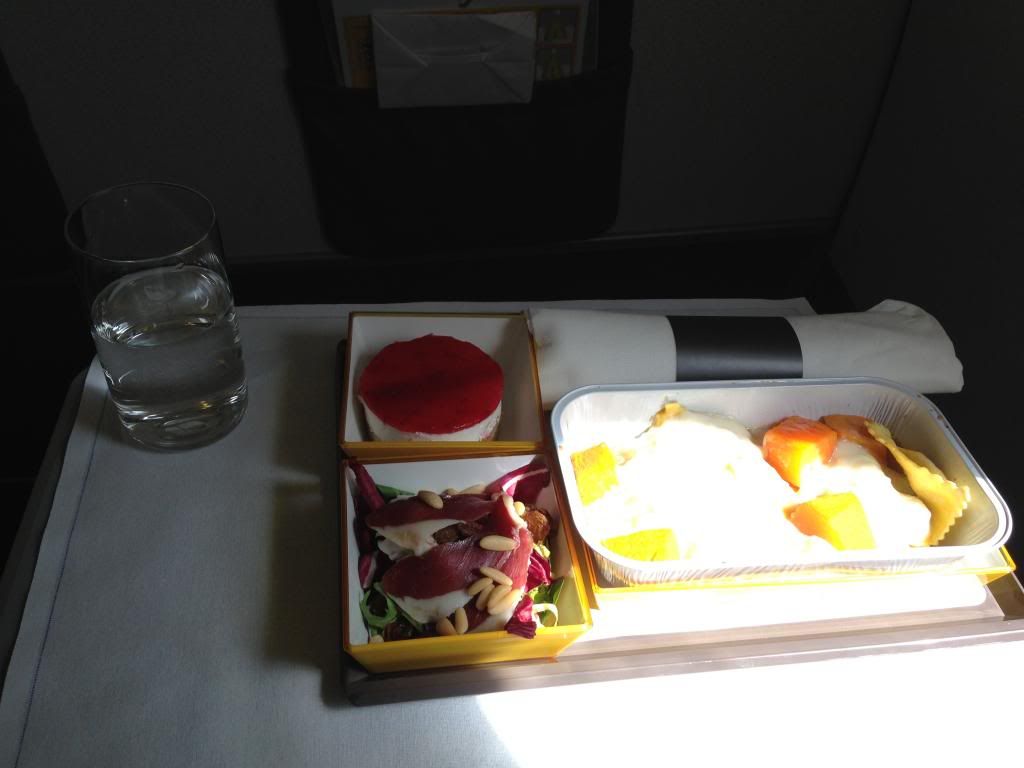 Meal, bread roll not pictured but I had one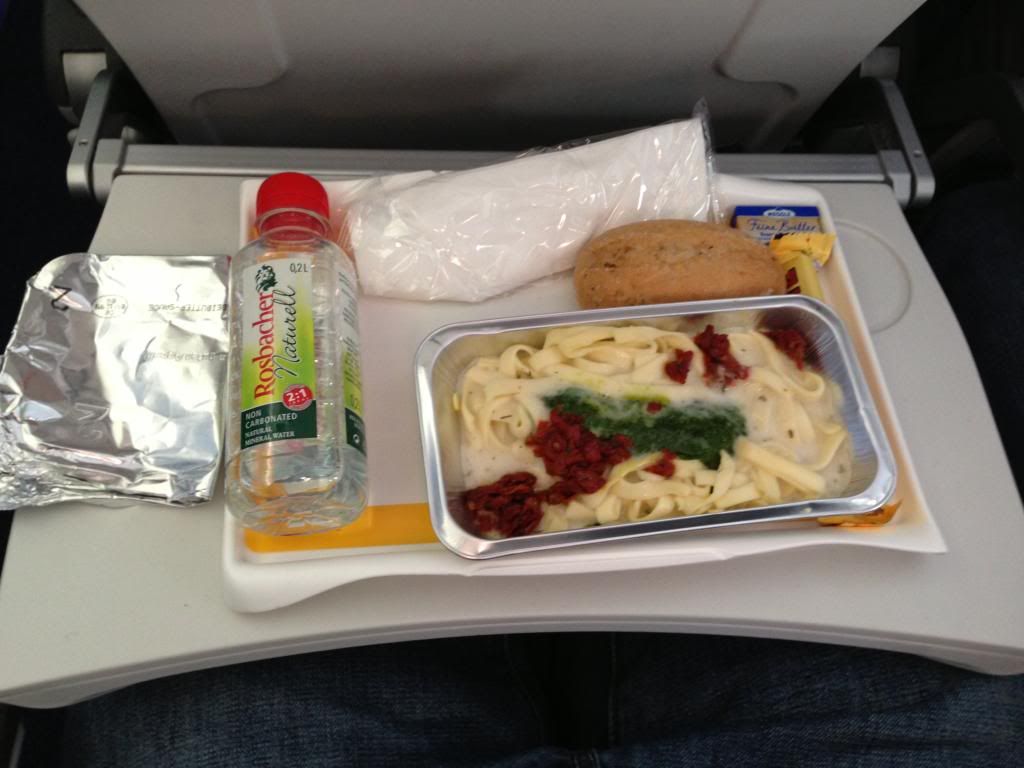 Lufthansa's Economy Class meal from DUS to MAD last February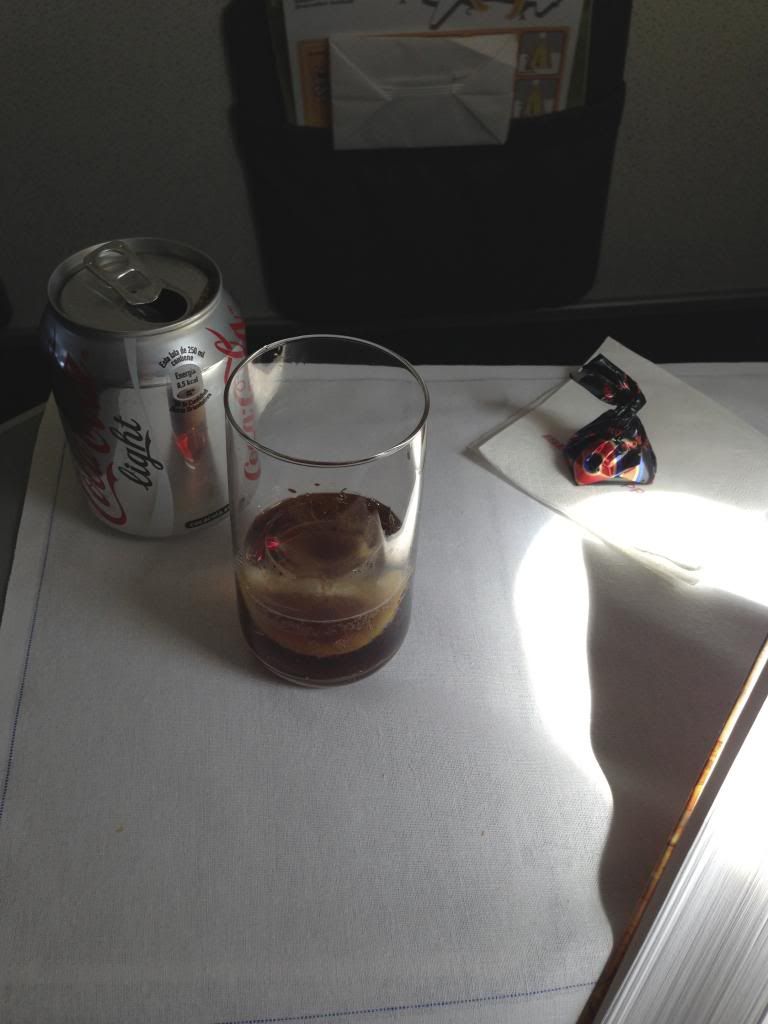 I don't usually drink coffee so I opted for a Coke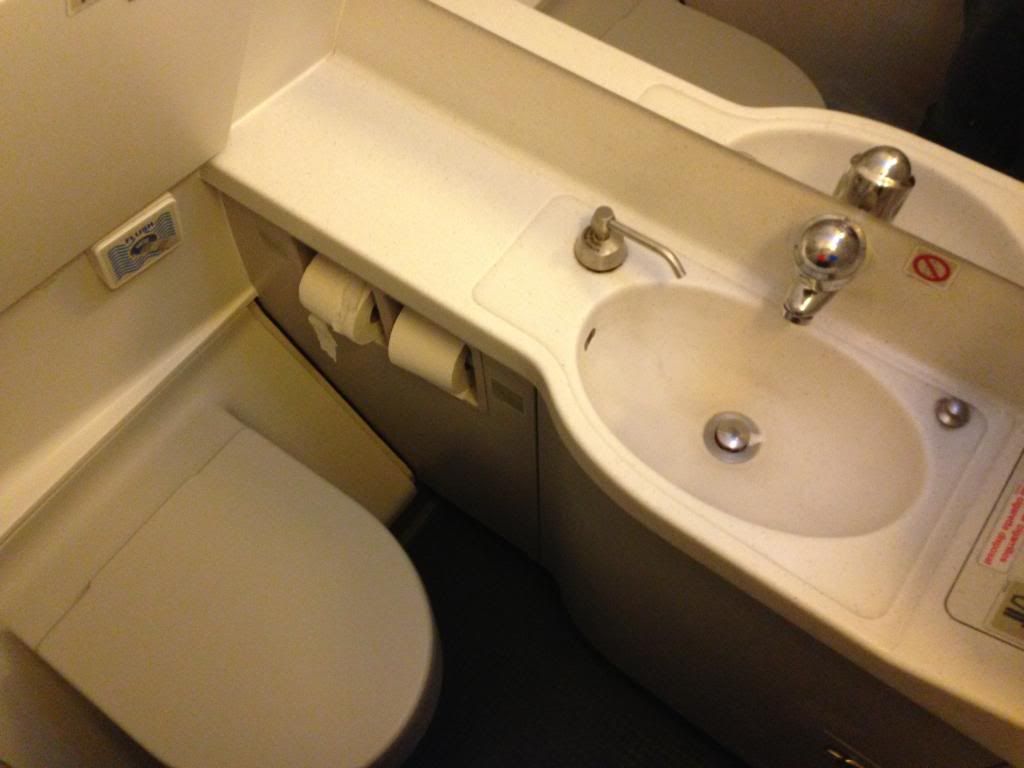 Restroom, it was clean and tidy. There wasn't any perfume or hand lotion
The service given by the purser was polite and efficient, and she was also willing to smile. During the flight the captain made an announcement and informed us about the route, weather conditions, flying altitude etc. He also made another one just before the approach.
The final approach was very interesting as the weather was sunny and we overflew Copenhagen. Landing was smooth and we parked at the gate without any major concern. I disembarked first and headed off to baggage claim area, the luggage took about 15min to appear, and my bags were some of the first to come out.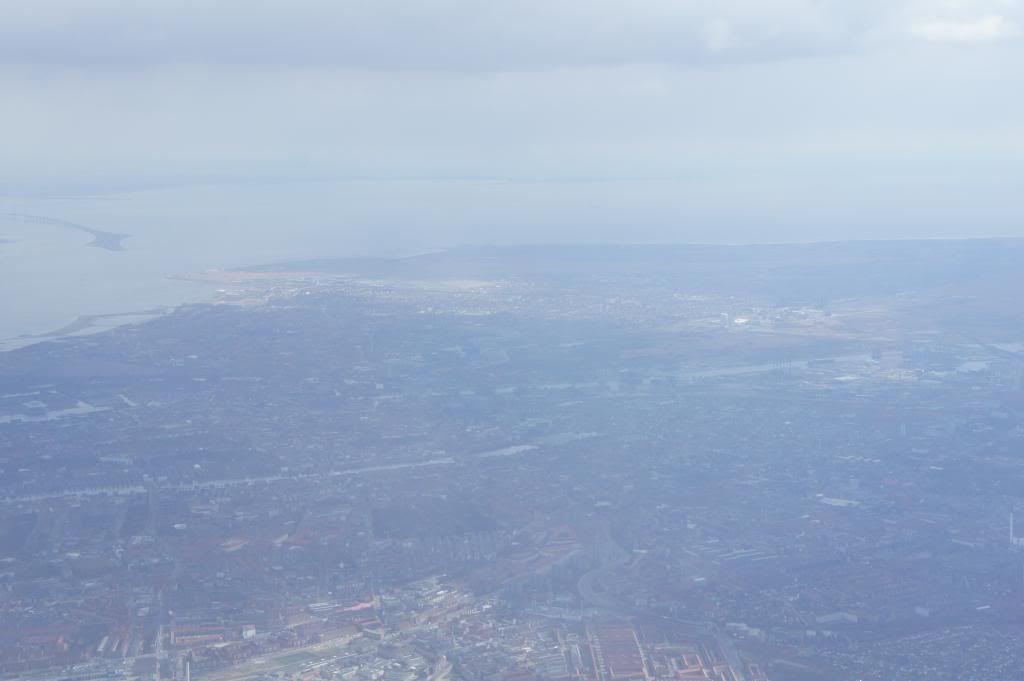 Copenhagen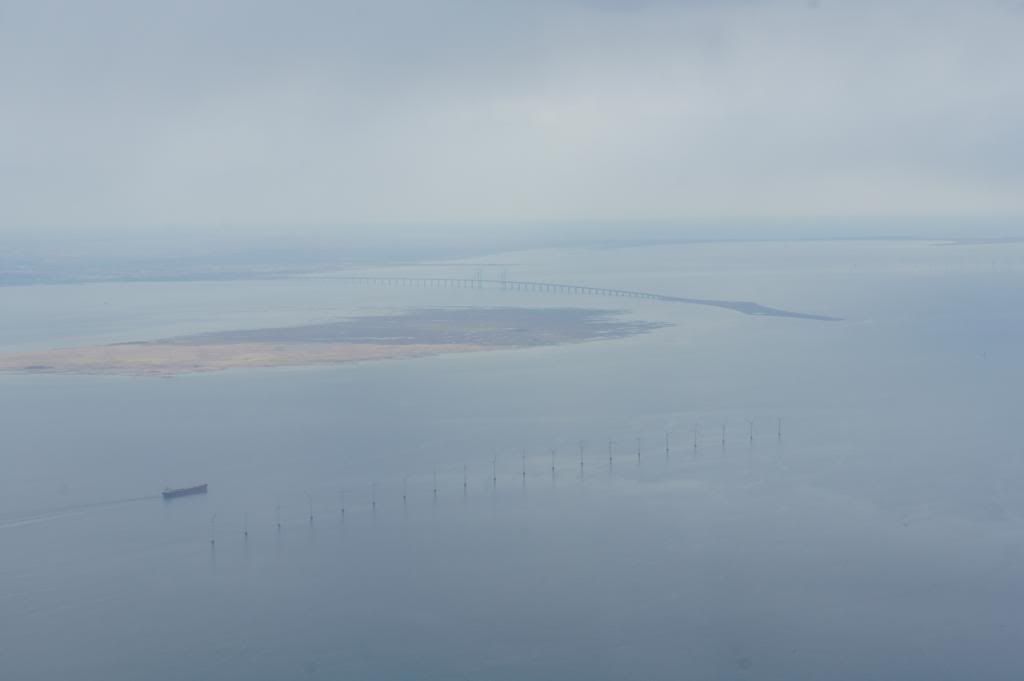 Oresund Bridge
Final turn
Air Greenland A330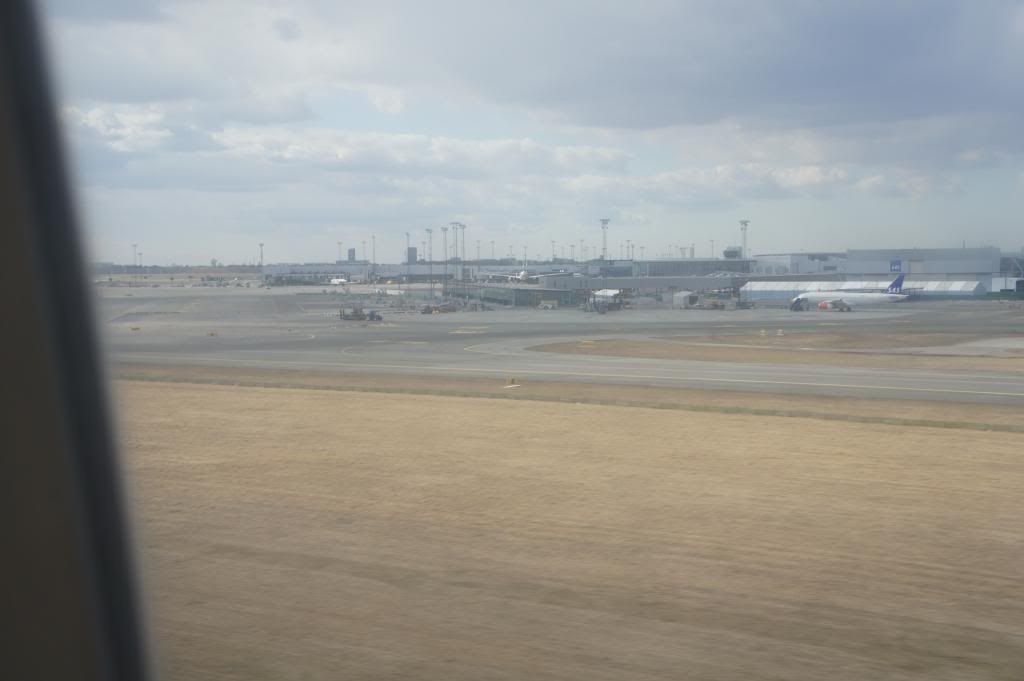 Terminal
Emirates everywhere
SAS heavies
Our neighbor
Good bye!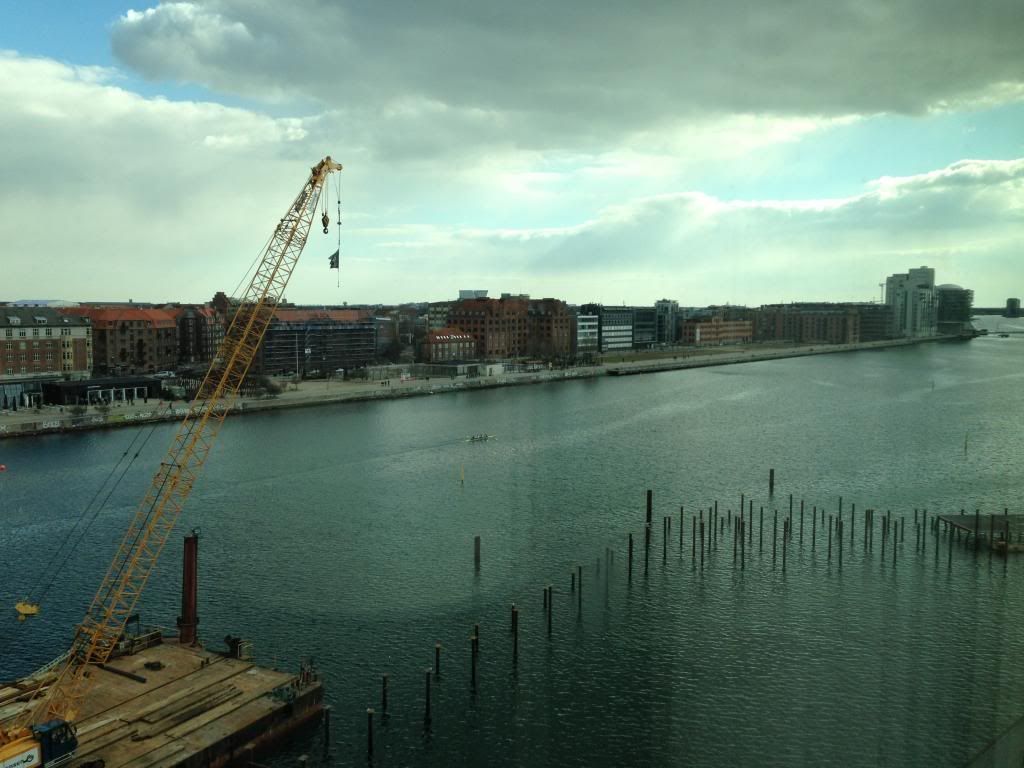 I spend one night in Copenhagen in order to visit the city. I stayed at the Marriott, it was nice. This is the view from the room
Return Flight
The way back home begins at Karlskrona train station, where I took a train directly to Copenhagen Airport. It lasted for 3 hours approximately and it was a nice ride.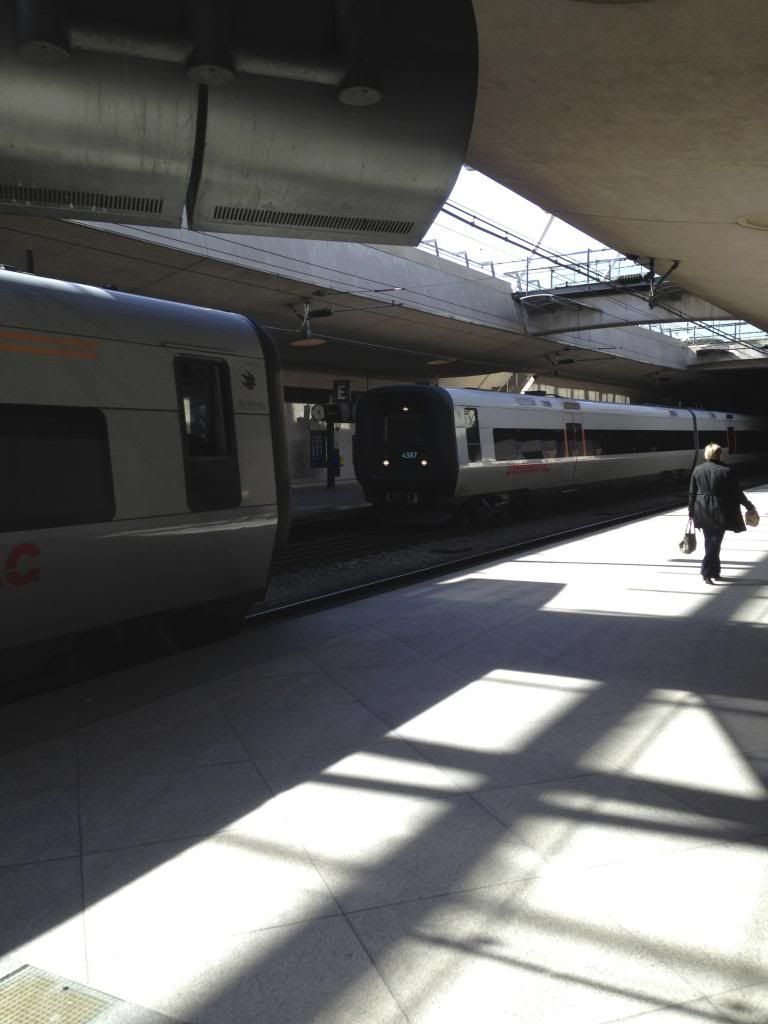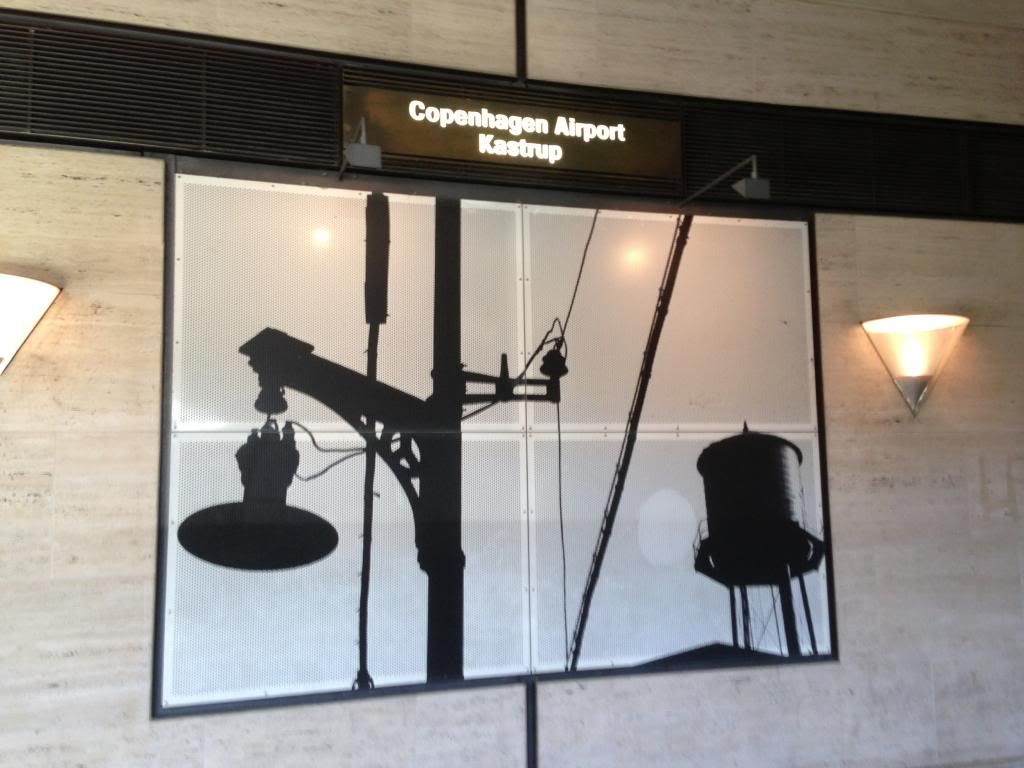 Train station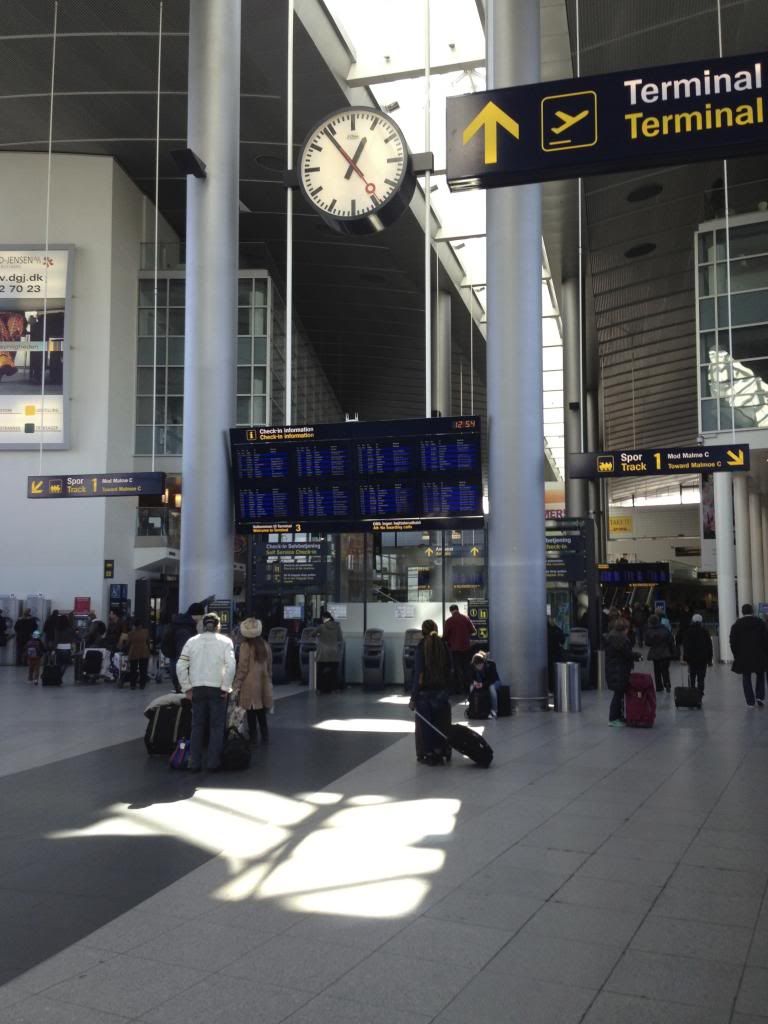 Terminal 1 check-in area
Check-in
I arrived at Kastrup at 12:50 and went to Terminal 2, I had to wait for the opening of check-in till 13:10. Finally the counters opened, the agent printed out my boarding pass and then said that I was welcome to use the security fast track as well as Novia Lounge. This time I got my luggage tagged with priority tags.
Terminal 2 check-in area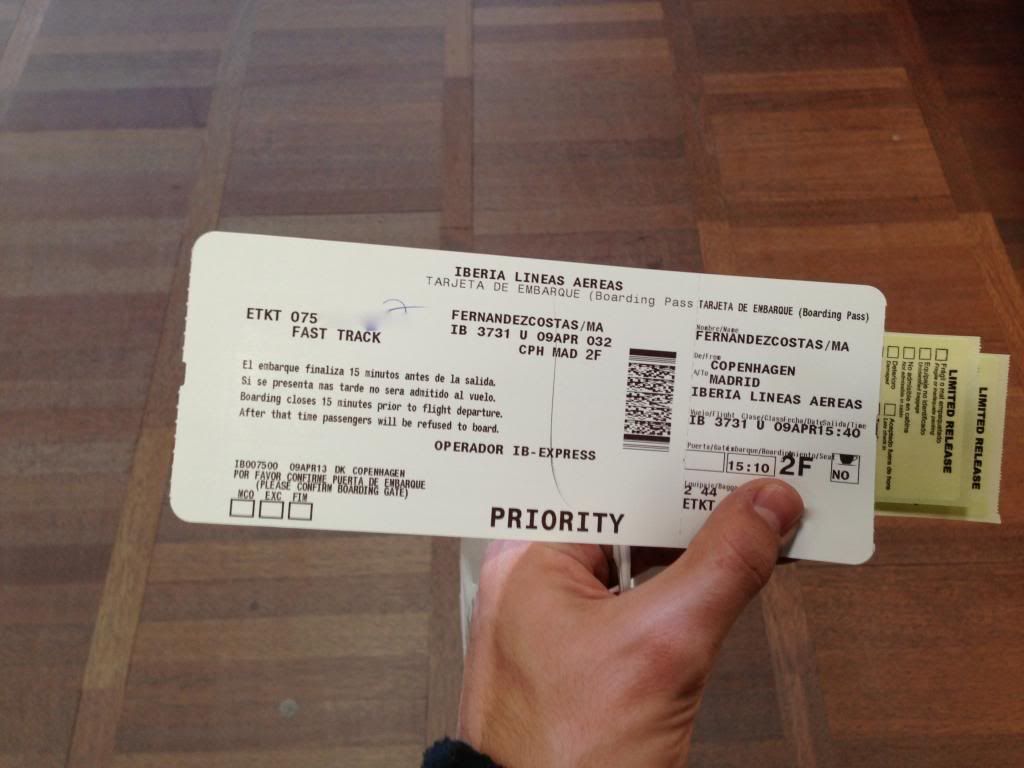 Boarding Pass
VIP Lounge
The lounge was nothing to write home about. It was rather small and the furniture was a little worn out. The food and drinks selection were limited, but the views were good, though. I waited until 14:50 to leave the lounge and proceeded to the gate.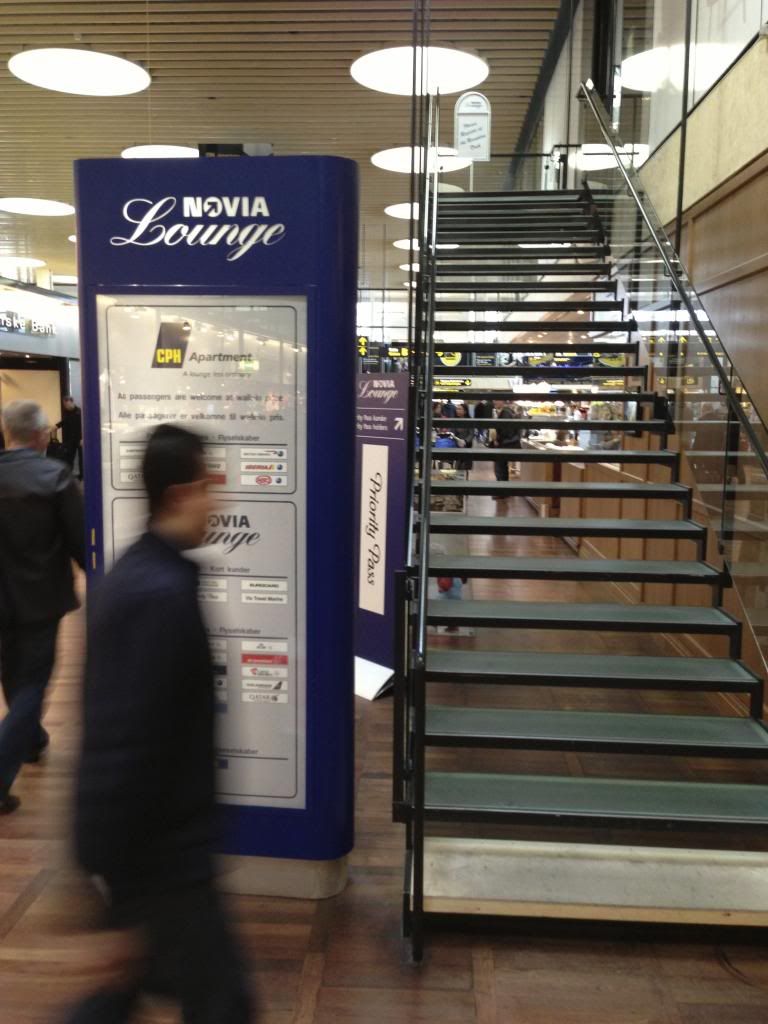 Novia Lounge upstairs
Nice views. This time I was able to enjoy a Bloody Mary
Magazines. It was interesting to see Iberia Ronda Magazine also available
Flight details
Flight number: I23731
Origin: CPH
Destination: MAD
Airplane: Airbus A320-214
Registration: EC-LKH
Age: 13.6 years
Seat: 2F
ETD/ATD: 15:40/15:49
ETA/ATA: 19:00/19:03
Load factor: 30% in J (3/10), 46% in Y (77/168
Boarding and take-off
When I arrived at the boarding gate I got my boarding pass checked and was allowed to proceed to a pre-boarding lounge. Boarding started on time and, although boarding zones were printed on the boarding passes, they were ignored and passengers proceeded freely to the gate. Once on board the aircraft, I was greeted with a smile by the purser and a flight attendant. I took my seat and waited for the boarding to be completed, which didn't take too long as the plane was half full. During this time press was offered and coats were taken. This time the cabin seemed to be in a very good condition and the seats were almost new.
My plane just arrived from Madrid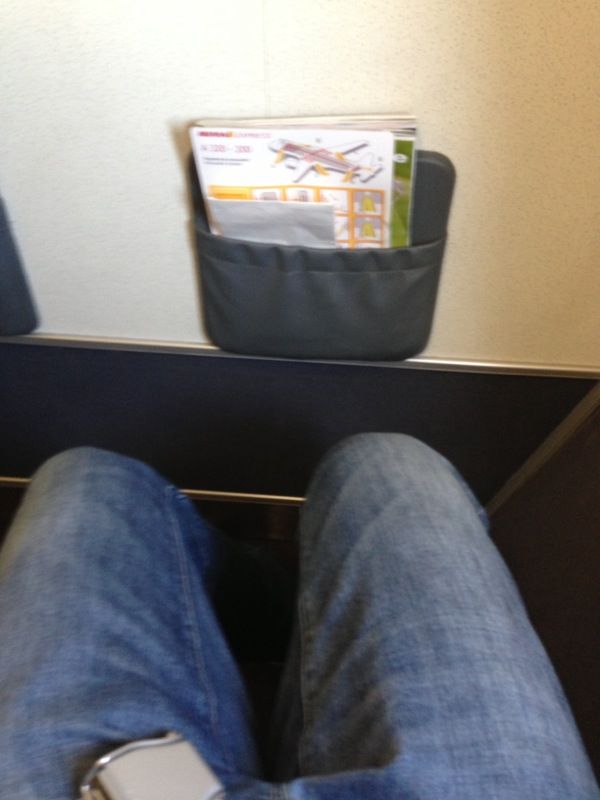 Legroom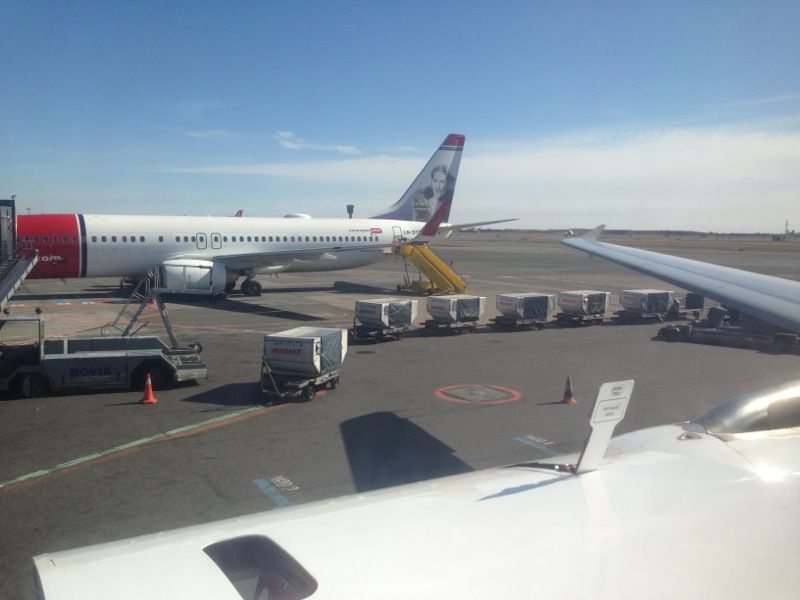 Our Norwegian neighbor
This time I also took the Marca
In no time we were ready to leave, the safety demonstration was played and we taxied to the active runway. Take-off was powerful and we reached rotating speed quickly, ascent was steep and the views of Copenhagen, Oresund Bridge and the Airport were again amazing.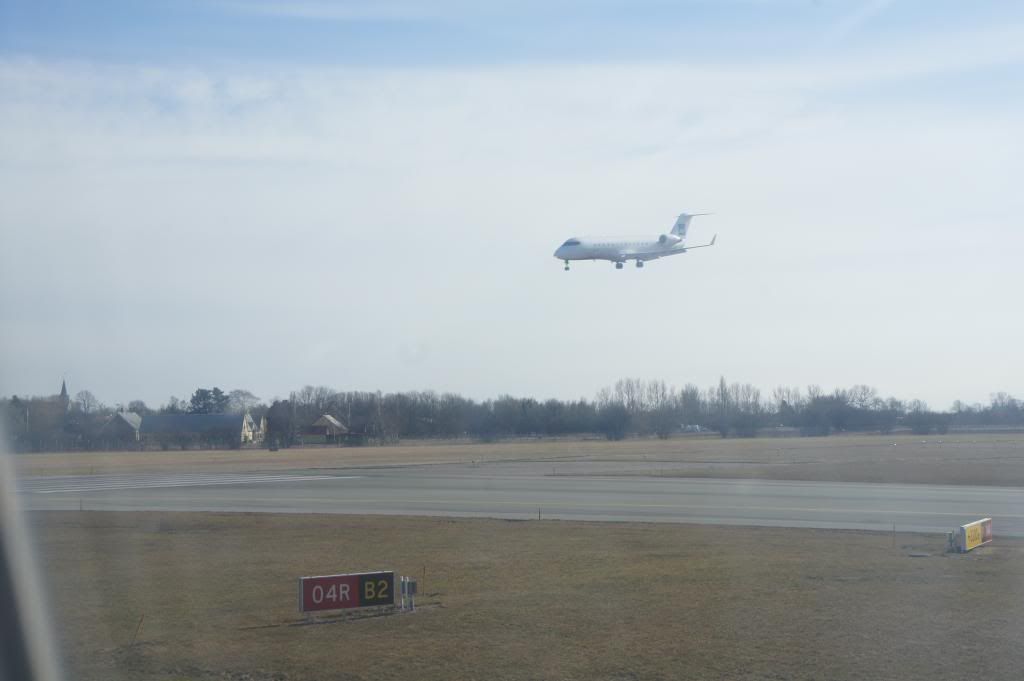 Waiting for a CRJ to land before entering the runway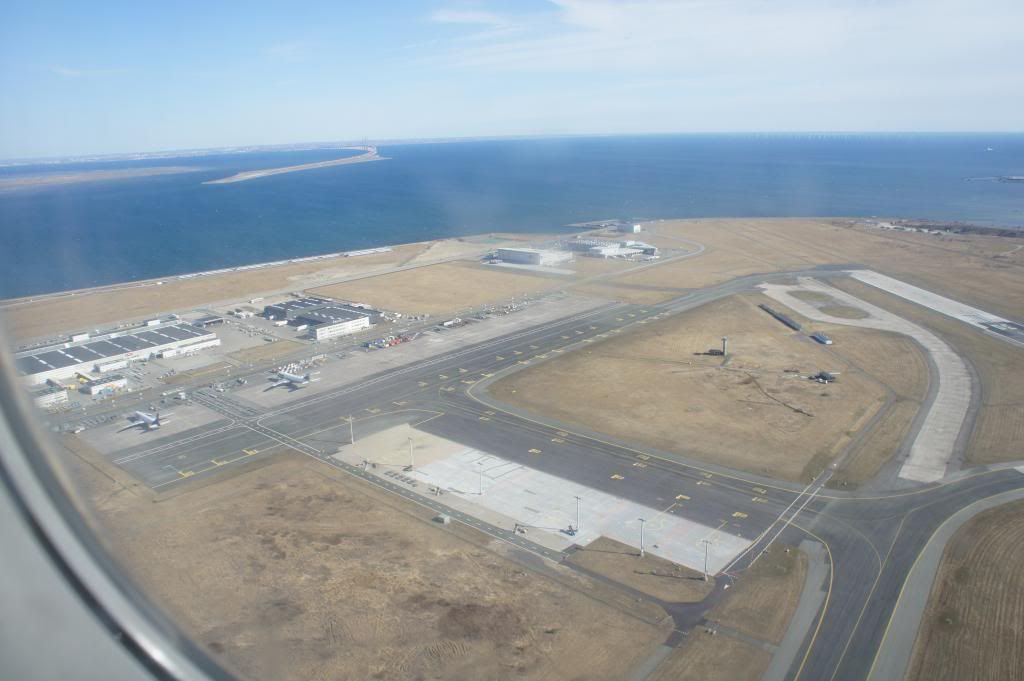 In the air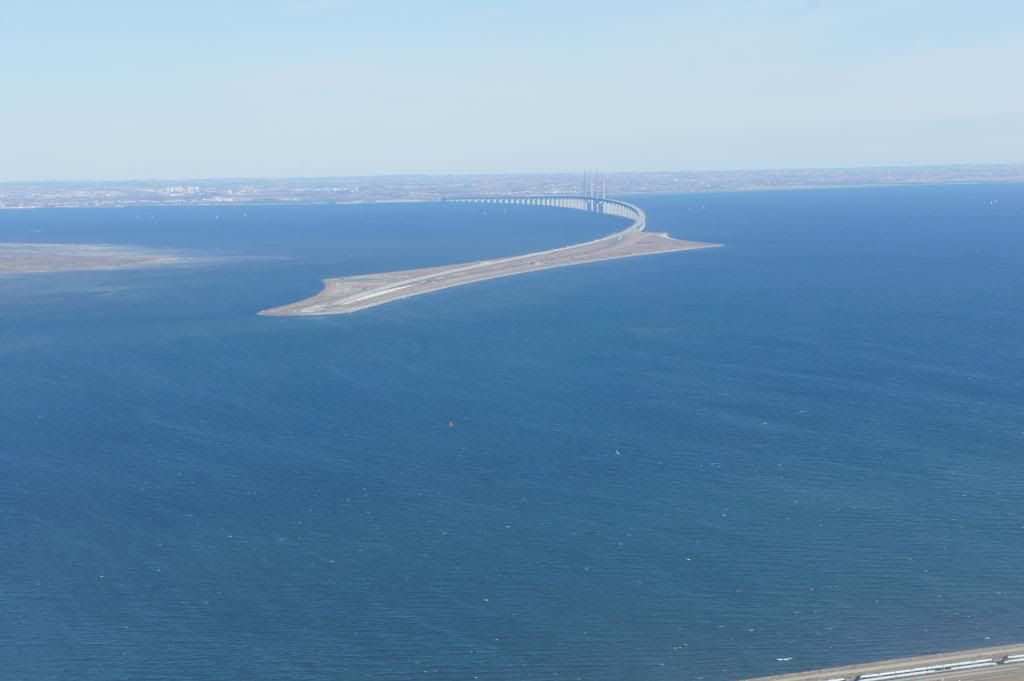 I love this tunnel-bridge
Airport overview
Another one
In this photo you can see Copenhagen in the distance
Flight and arrival
The crew on this flight was really good, I was impressed by their service. As soon as we reached cruise altitude I was offered a drink from a tray with orange juice, cava or water. I chose orange juice and then I was given a bag of nuts with a wipe. After that the purser came to explain to me what the menu was like that day and if I would like to eat, to which I said yes. Then she asked when I would like to have it, as I was hungry my answer was now. The menu was almost the same as on the outbound flight, it consisted of a salmon salad as starter, mushroom pasta as a main, and the same cheesecake for dessert, but this time with peach jam instead of strawberry. The meal tasted good and was enough for me. When I was finished I was asked if I would like coffee, tea or anything else, I asked for a coke. What was remarkable about this meal was the service, the purser was very attentive and friendly. I got several rounds of water without asking for them, she was also very careful with the presentation of the meal and she was always asking if I would like to have anything else.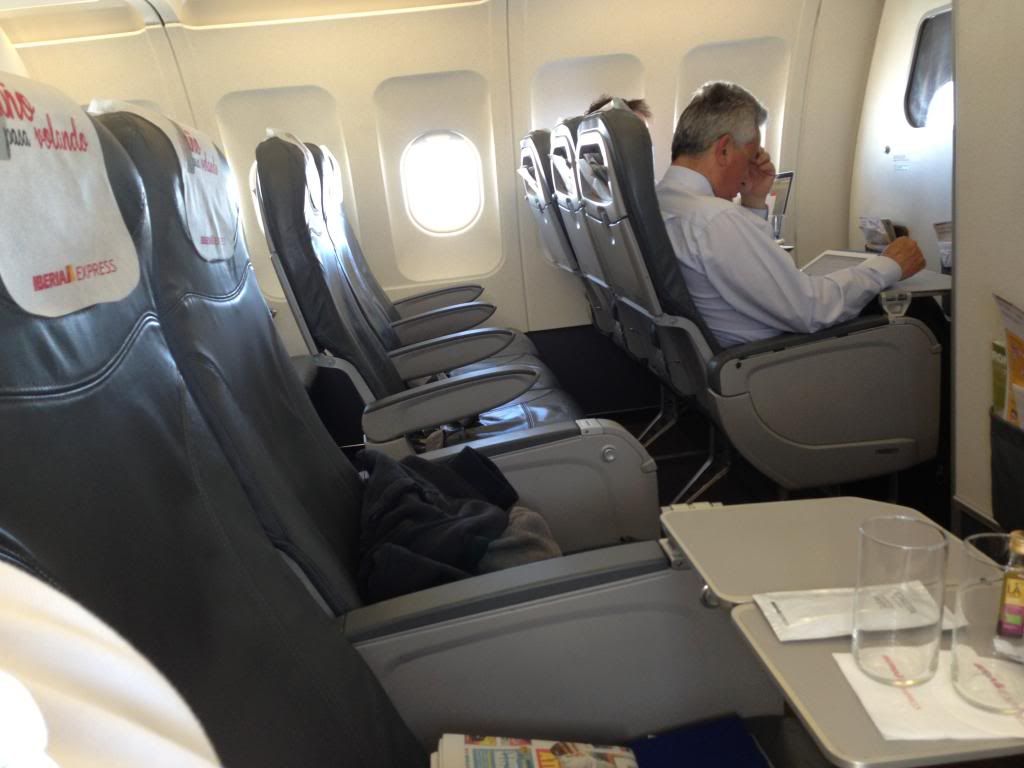 Cabin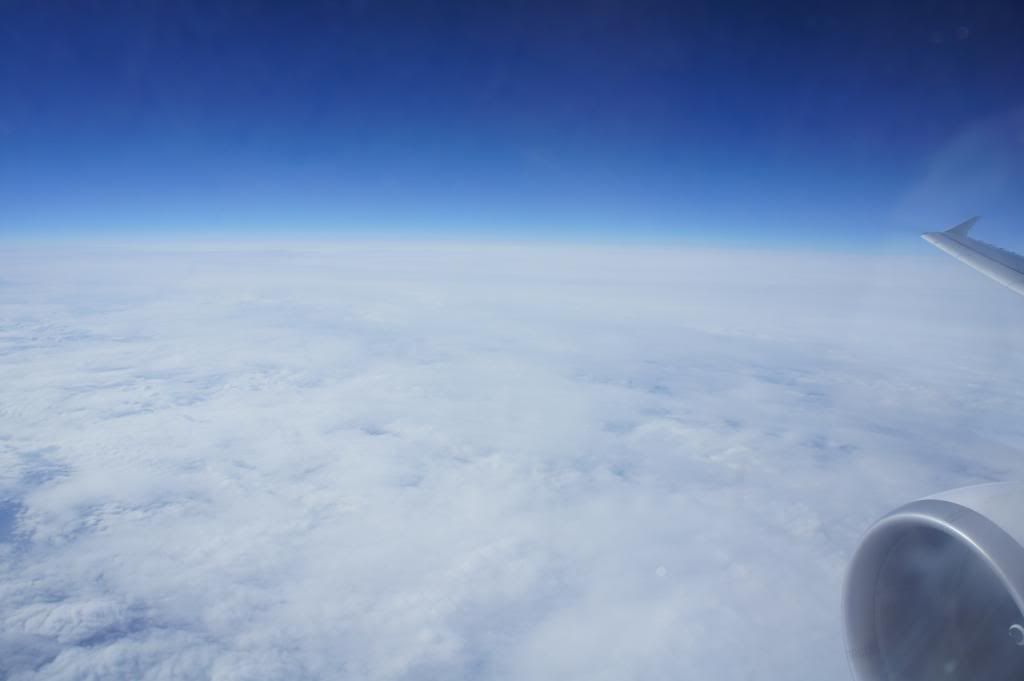 It was cloudy all along the way
Very useful sign to remind you in which class you are flying
Always interesting Iberia's Magazine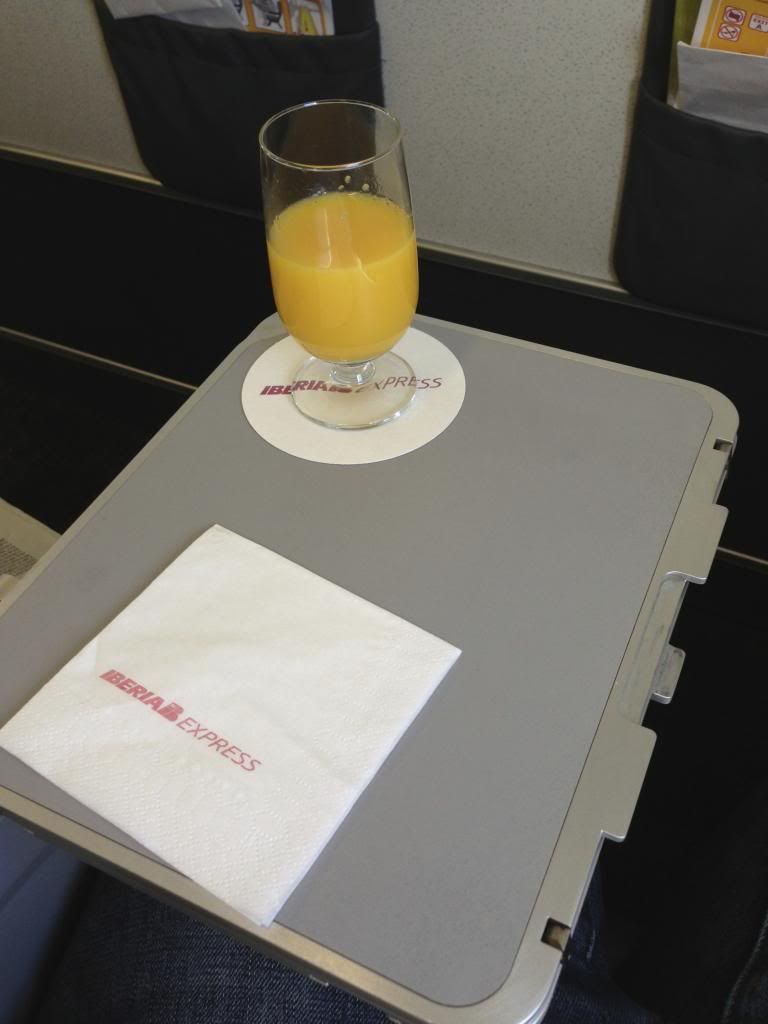 Pre-meal drink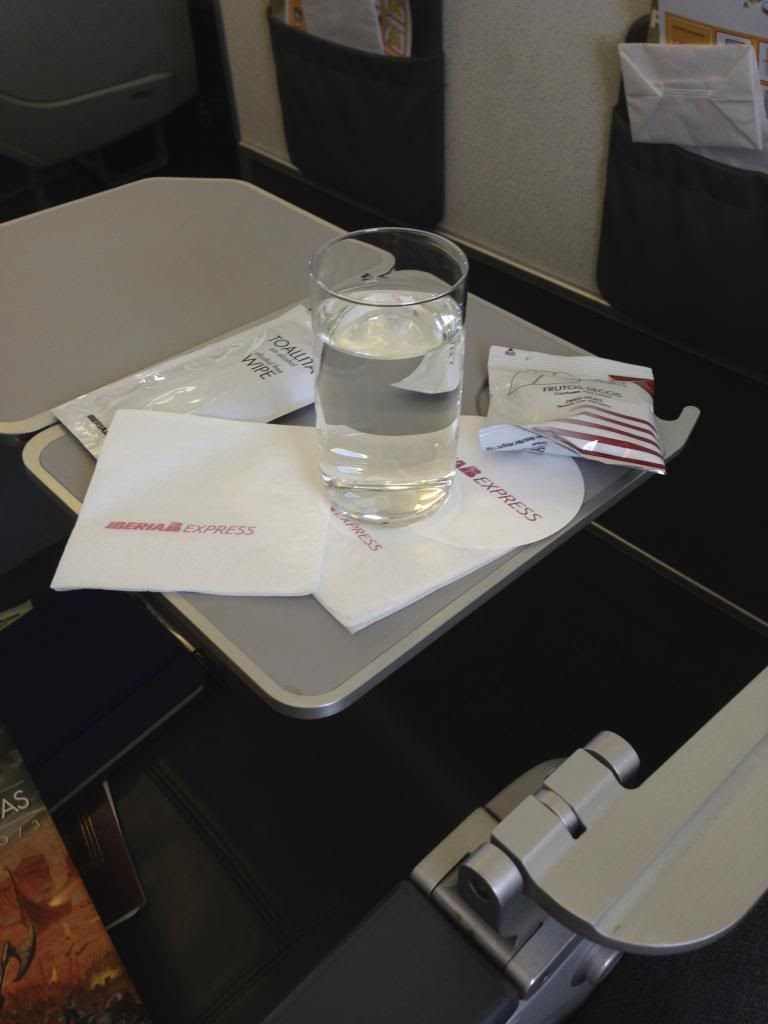 Water and some nuts for appetizer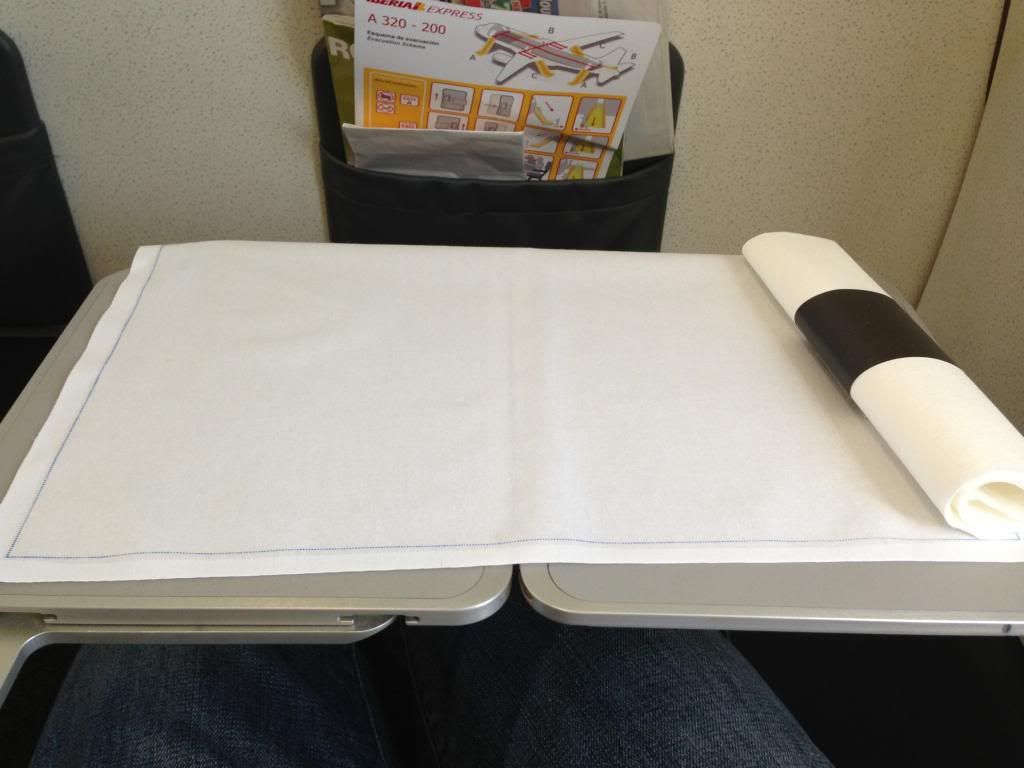 Table cloth
The meal. The flight attendant liked to put wipes everywhere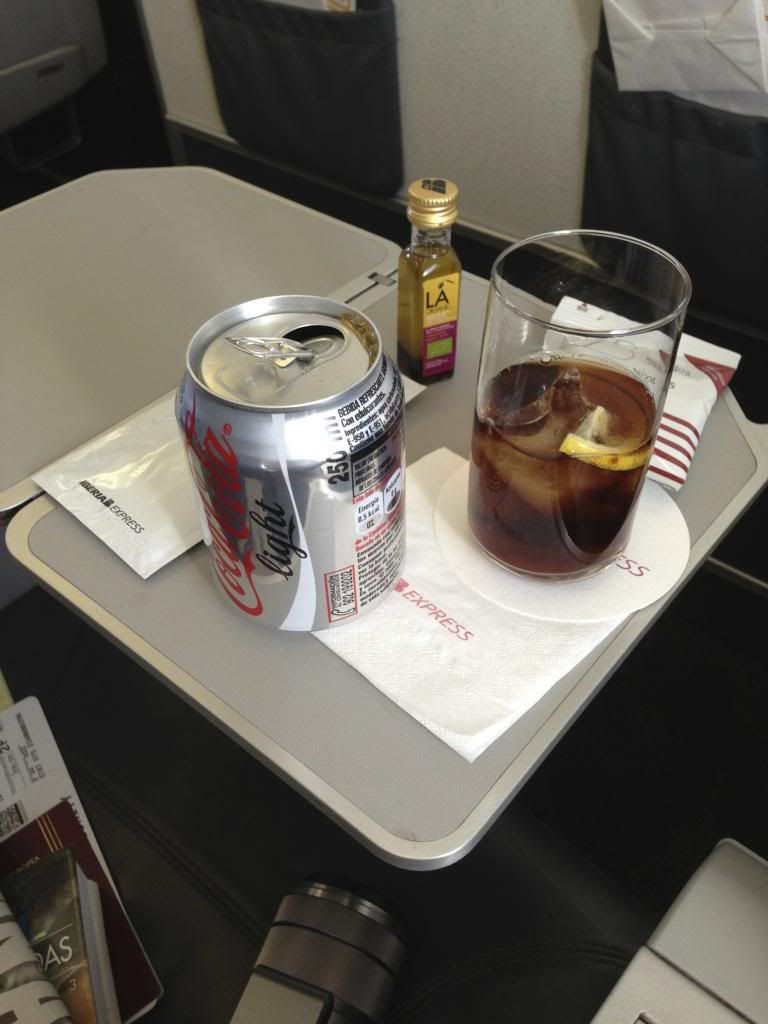 Coke instead of coffee again for me. I was given another bag of nuts. The small bottle is the dressing of the salad, which I didn't used but I kept it for another meal
Once the remains of the meal were cleared, I opted to spend some time reading "A Storm of Swords", the third book of "A Song of Ice and Fire" series. The TV-series "Game of Thrones" from HBO is based on these books. Later on the flight the captain made an announcement informing about the route, flying altitude (39000ft, quite high for an intra-European route), weather, etc.
One hour ahead of arrival, I decided to have a chat with the crew. A friend of mine is an Iberia Express FA, so I asked them if they know her, it turned out that the purser did, but she had only flown with her one time. I also congratulated them for their service, and we talked about aviation, the situation of Iberia, traveling or reading (one FA was a huge fan of "A Song of Ice and Fire" books, so we had a very interesting chat about that). They were extremely friendly and it was nice to chat with a crew whose members were more or less my age, something that had never happened to me before. They seemed to be very happy and proud of their jobs.
When the plane started descent, I headed to my seat and enjoyed one of the most scenic approaches I have ever had to Madrid. The land was green, the lakes were full and the effect made by the rays of sun between the clouds was amazing.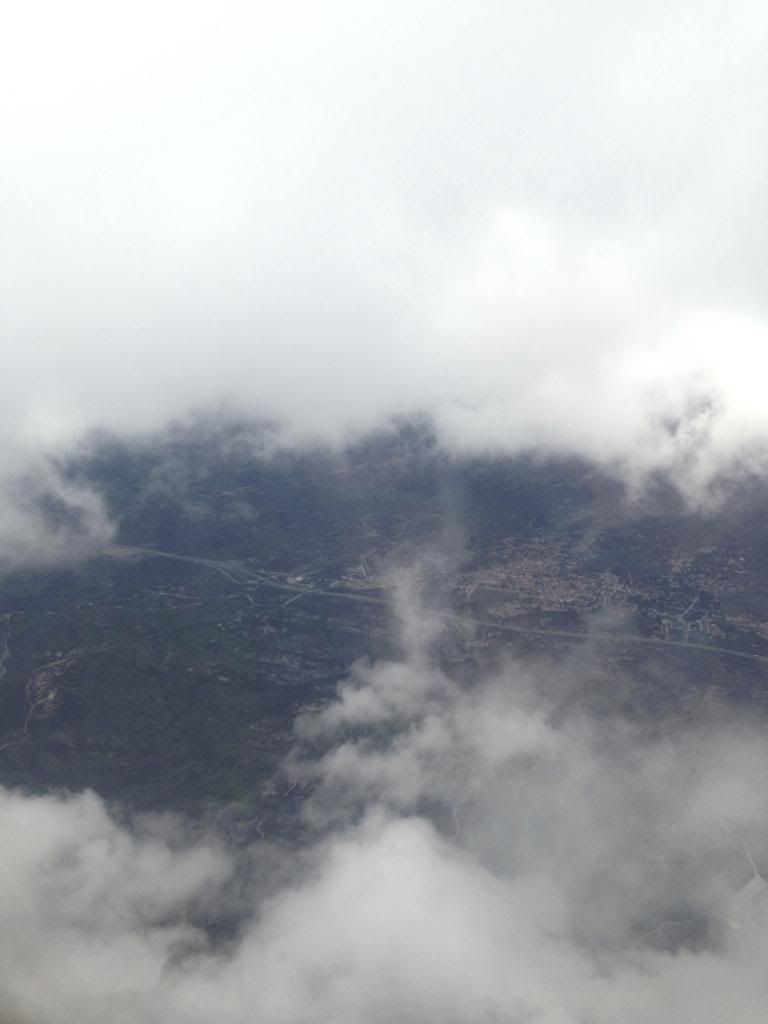 Land appearing between the clouds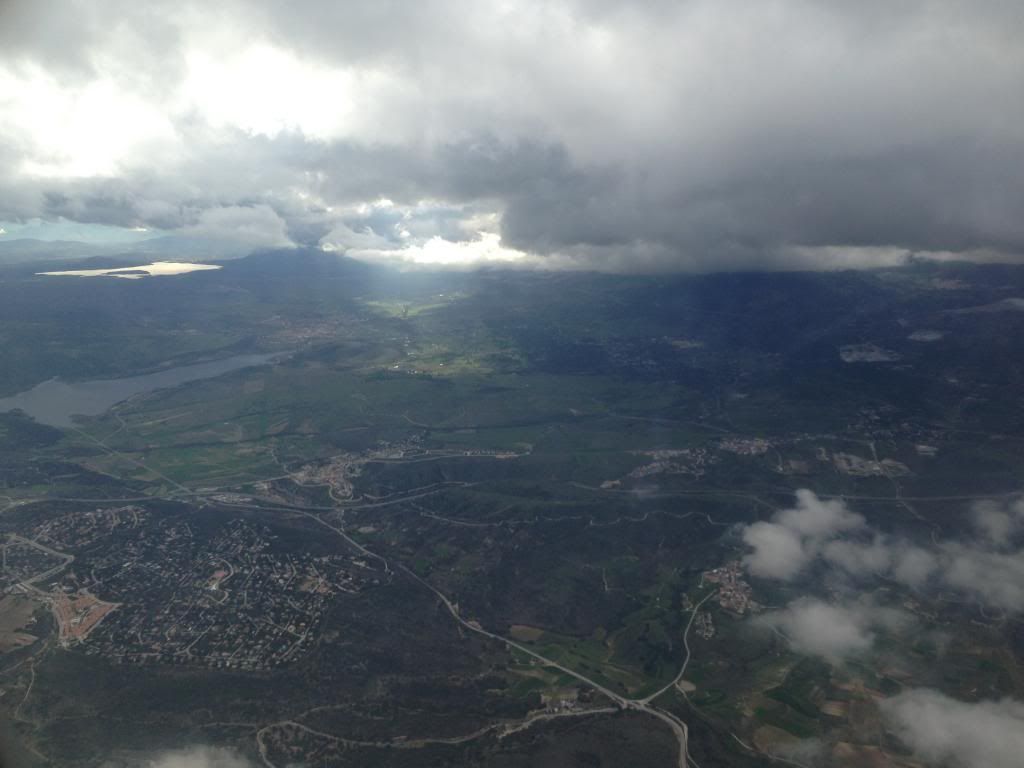 Beautiful, isn't it?
Suburbs
Jarama Circuit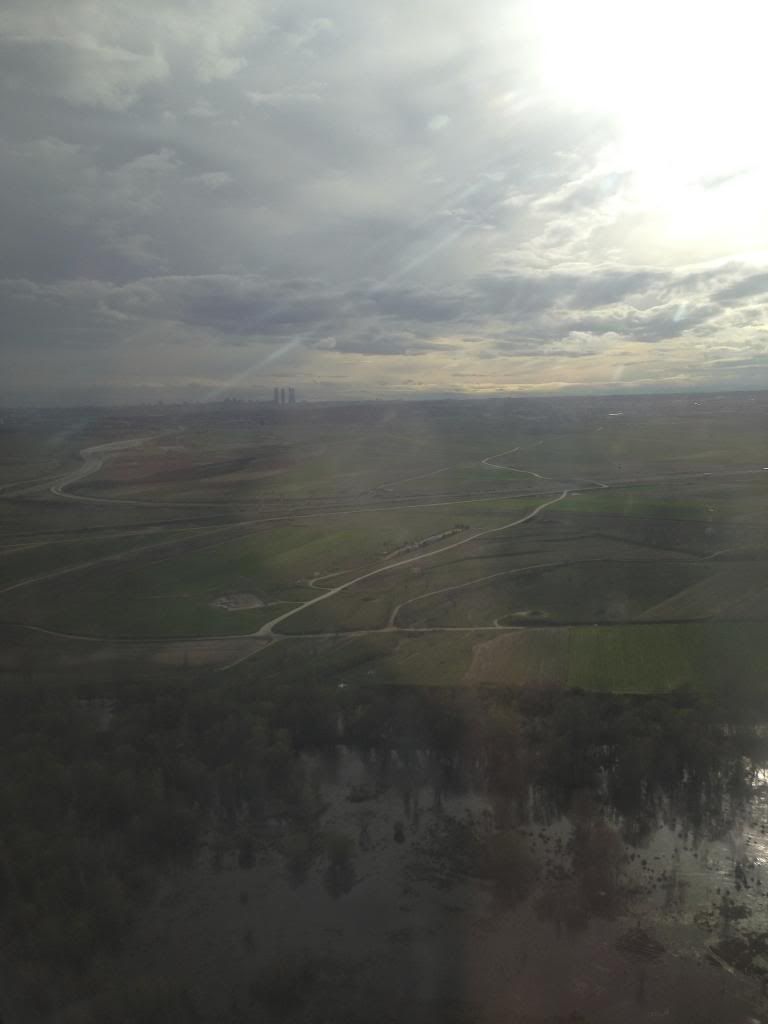 If you look closely you will see Madrid's skyline
We landed smoothly over runway 18L and after a long taxi we parked at the gate. The plane was briefly docked and we were allowed to leave the aircraft, I said goodbye to the FA at the front galley, and the purser was at the door on the outside of the plane, a nice touch in my opinion. I said goodbye and thank you to her, and she replied "Thank you! I hope to see you soon on board again!"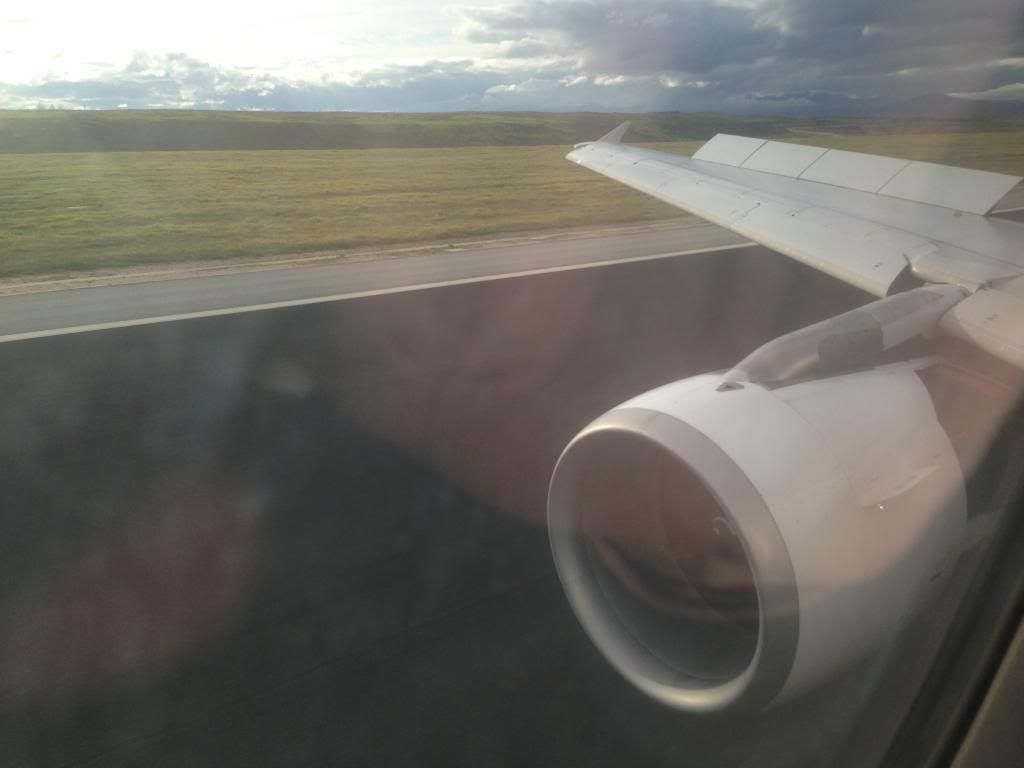 Reverse and spoilers deployed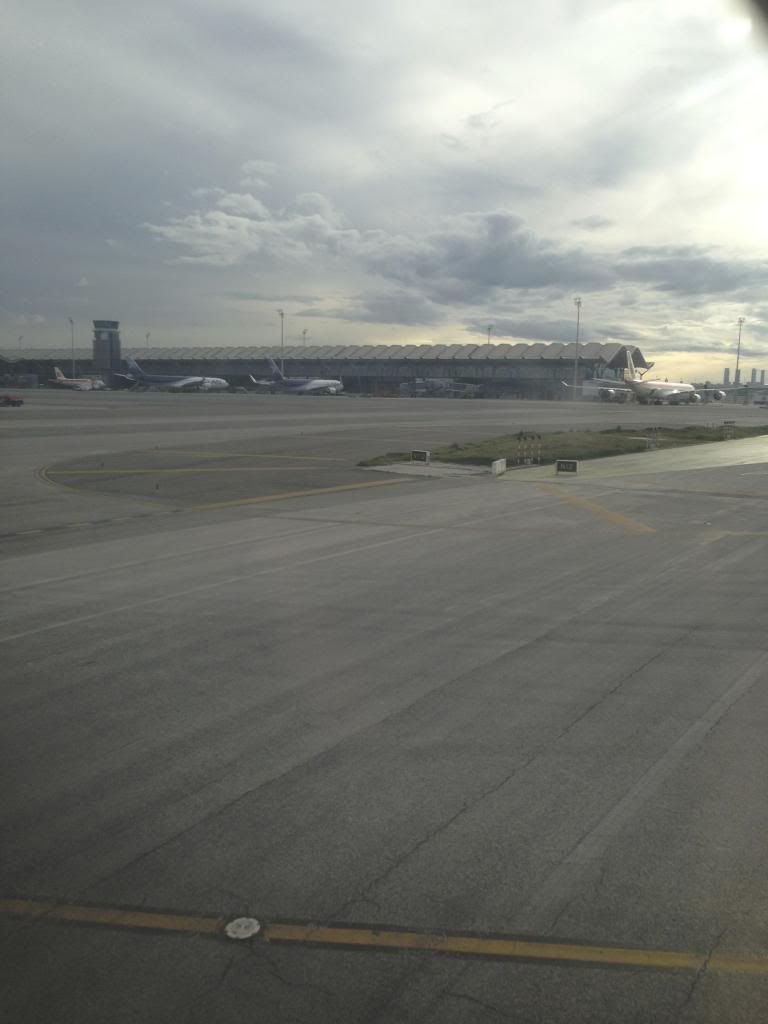 T4S with Chilean and Peruvian visitors
One of the new Iberia's A330s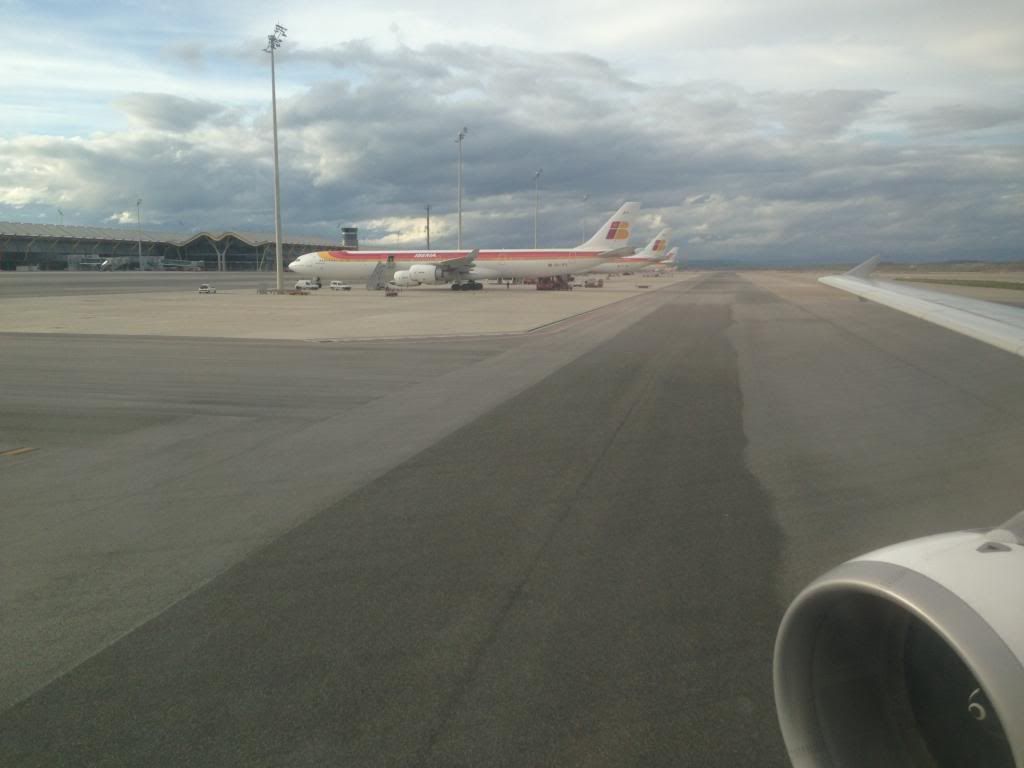 Iberia's A346s waiting for their next flights
A343 getting ready for her next flight to Sao Paulo that night
Arriving to T4
Getting into the stand
Bang on time!
I went to the baggage claim area and waited for the bags, they started to come out 15 minutes after arrival, not bad in my opinion, but my luggage took too long to appear in spite of the priority tags. I found that really disappointing and wanted to make a complaint about that, but my parents were waiting for me in the outside so I decided to make the complaint via Internet.
Going to baggage claim area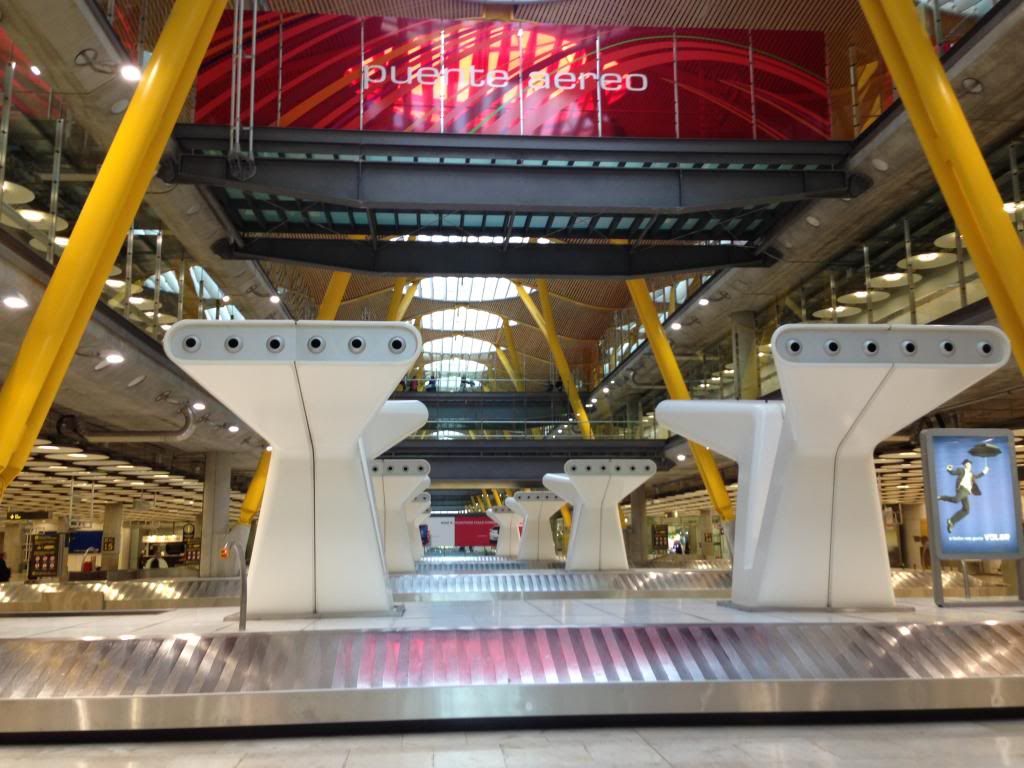 Waiting for the bags
Conclusion
Both flights were on time and I don't have any major complaint except for the luggage issue on arrival in Madrid, something that I guess was Copenhagen Airport's handling company and not Iberia's. I think that flying Business around Europe is not worth it on any airline, as the seats and levels of comfort are very similar to Economy's. If I had to compare between Iberia Express with Iberia mainline, I think that many details that made Business more special have been removed, such as menus, choices for the meal, real cutlery, magazines… But in any case I think Iberia Express still have a nice product, as punctuality and service are really good, and in my return flight, the latter was really outstanding.
Thank you for your reading, I hope you have enjoyed as much as I did making the trip. I'm looking forward to reading your questions or comments.
Saludos,
Martín