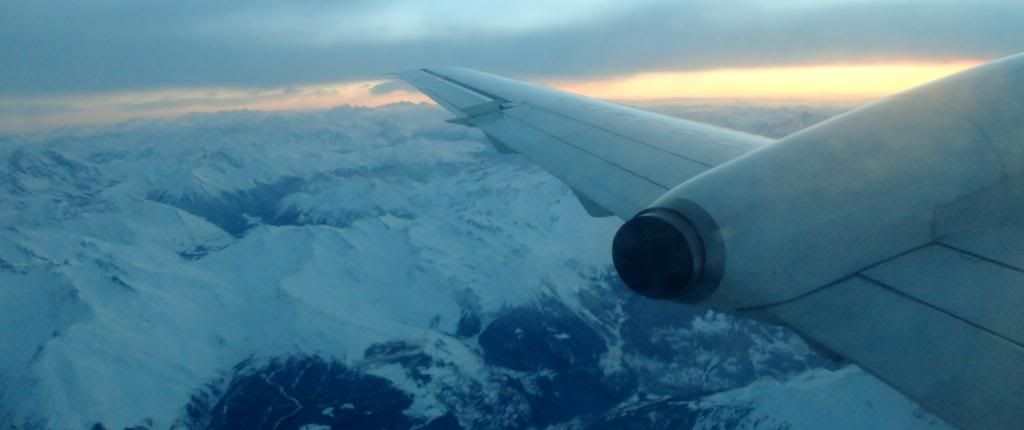 Introduction
Hello everyone and welcome to part 2 of this epic USA trip series I am in at the moment.
For part 1 featuring my first 2 flights on SAS' "new" A320 please see here:
USA Trip Pt. 1: Getting Started!: AMS-CPH-GVA
(by
adamspotter
Apr 14 2013 in Trip Reports)
This part will concentrate on my GVA-FCO-JFK-ATL flights.
As already mentioned in part 1, this series will be split into 13 different parts:
Part 1: AMS-CPH-GVA
Part 2: GVA-FCO-JFK-ATL
Part 3: ATL-LAX
Part 4: LAX-BOS
Part 5: BOS-EWR-MCO
Part 6: MCO-SAN
Part 7: SAN-LAX-HNL
Part 8: HNL-KOA-OGG-HNL
Part 9: HNL-LAX-PDX
Part 10: PDX-SEA-BOI-SMF
Part 11: SMF-SFO-ATL
Part 12: ATL-JFK-VCE
Part 13: VCE-ZRH-AMS
As (also) already mentioned in part 1 this whole trip started with Alitalia. Alitalia was quite "famous" for their mistake fares in 2012. After missing out on some of them I was glad I snatched an open jaw GVA-FCO-JFK-ATL-JFK-VCE for the total price of 149EUR. Not as good as the 69EUR "Tokyo run" a bunch of a.netters here took but nevertheless I was quite happy.
The whole trick for this error fare was to start and end at one of Europe's "secondary" airports (in this case GVA & VCE). The other trick was that you have to stay in the USA for a week, both were no problems for me.
Enough talking for now, I hope you enjoy!
Map
First off, the map for this part thanks to the Great Circle Mapper: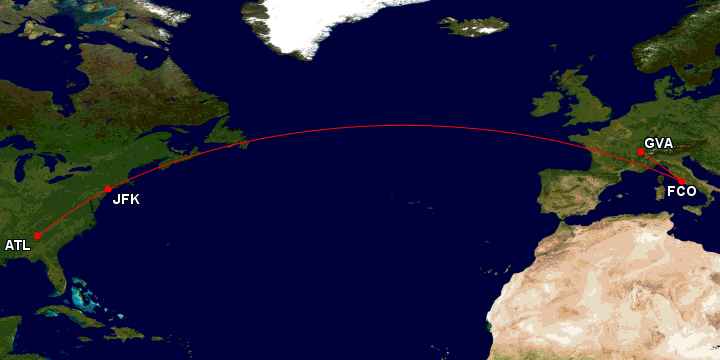 And the map of this whole trip, also thanks to the Great Circle Mapper: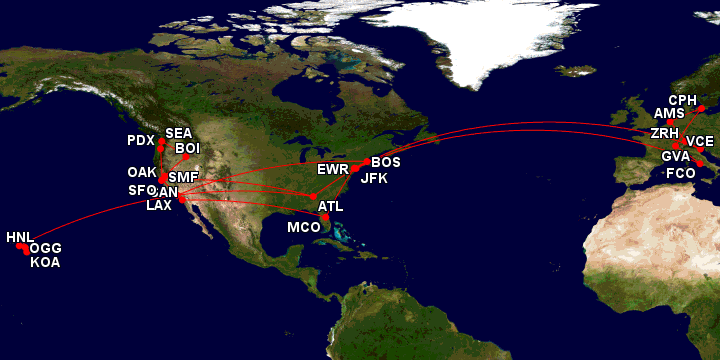 Wednesday January 23
In part 1 I left you all falling asleep in my hotel room at the Novotel Geneve Aeroport France. After a couple hours of sleep the alarm clock goes off at 05:00, this because the first flight of the day will already leave at 07:15. After a quick shower to wake me up, I pack my bag again and am all ready to go. As the hotel shuttle doesn't operate this early in the morning I had reserved a taxi for 05:30 during check-in the night before.
Just before 05:30 I head downstairs to check out and waited outside for my taxi. While waiting I took a quick picture of my hotel: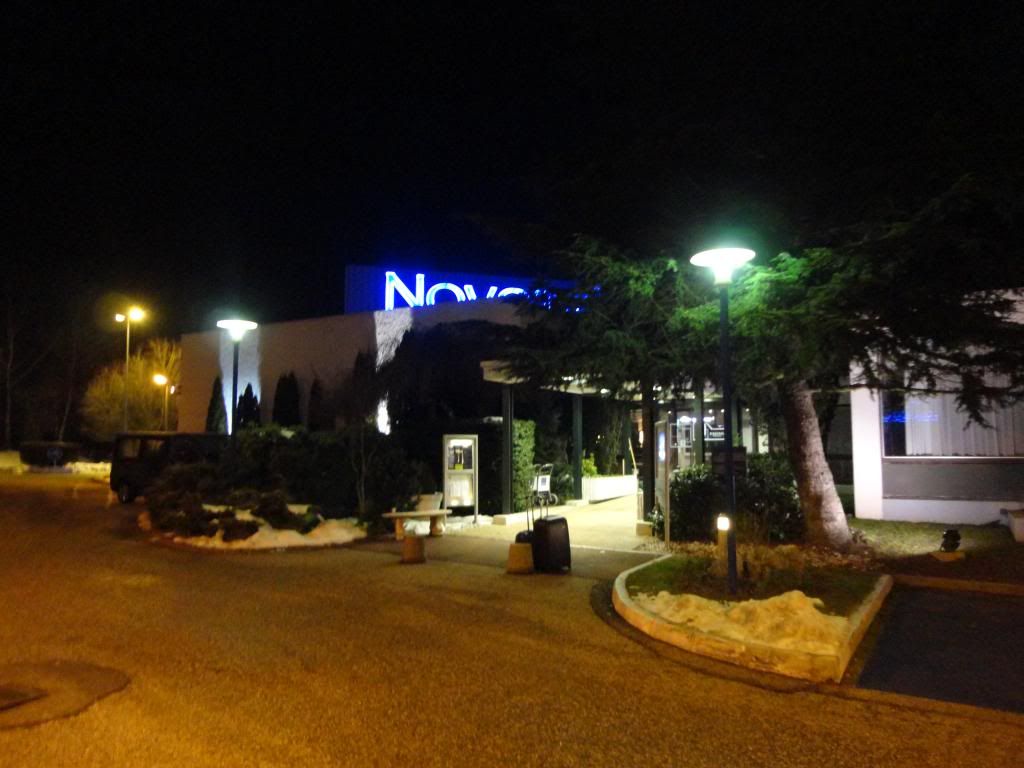 The taxi finally arrived 10 minutes late at 05:40. After a 10 minute drive we arrived at the airport, so I paid and thanked the taxi driver before heading inside.
Check In
Once inside the check-in area wasn't all too busy this morning: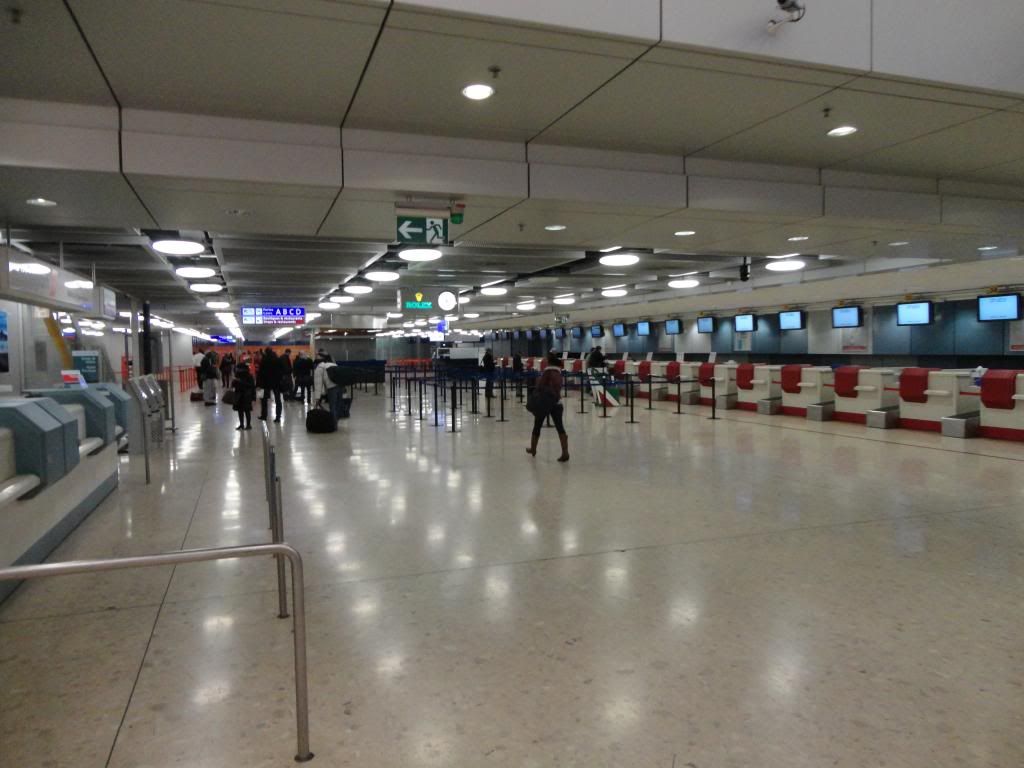 Another nice thing about this itinerary was that the GVA-FCO sector will be operated by a Darwin Airlines Saab 2000. I had checked in online in my hotel room the night before on Darwin's own website. Online check-in for my FCO-JFK-ATL flights wouldn't work on any website and I was told to see a check-in agent at the airport.
Once reaching Darwin's check-in area there was nobody in line so I was immediately helped by a not so happy looking agent. Without saying much he checked my bag through all the way to ATL. After that I started explaining the fact that I wasn't able to check in online and asked if he could help me out. The only reaction I got was: "We are Darwin, not Alitalia. Try at Rome". This didn't leave me with the best feeling as I only had 1 hour 15 minutes connecting time at FCO. As long as this first flight departs and arrives on time I should be fine, I was thinking while heading towards security.
FIDS:
Security was a breeze and I was through within 5 minutes without any problems. From here I head straight towards my assigned gate D21 which was situated in one of the "satellites"
A 10 minute walk followed using the underground passenger walkway and I was at my assigned gate:
I quickly bought 2 bottles of lemonade at the only shop around and waited for boarding to begin: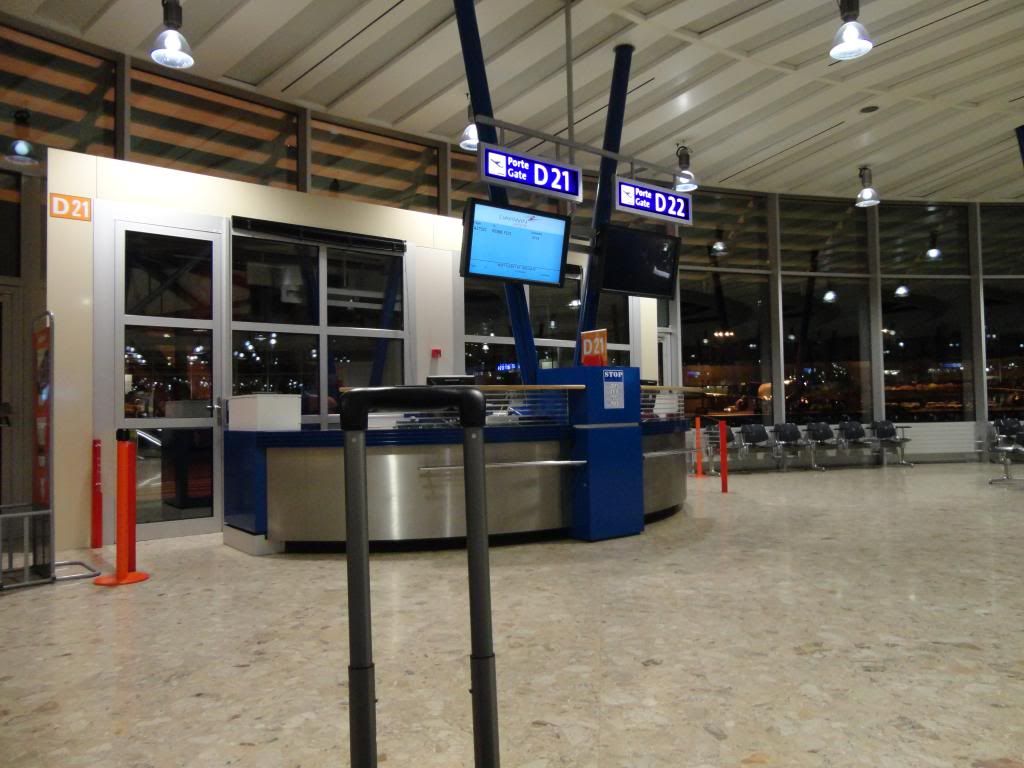 Boarding
BP for this flight: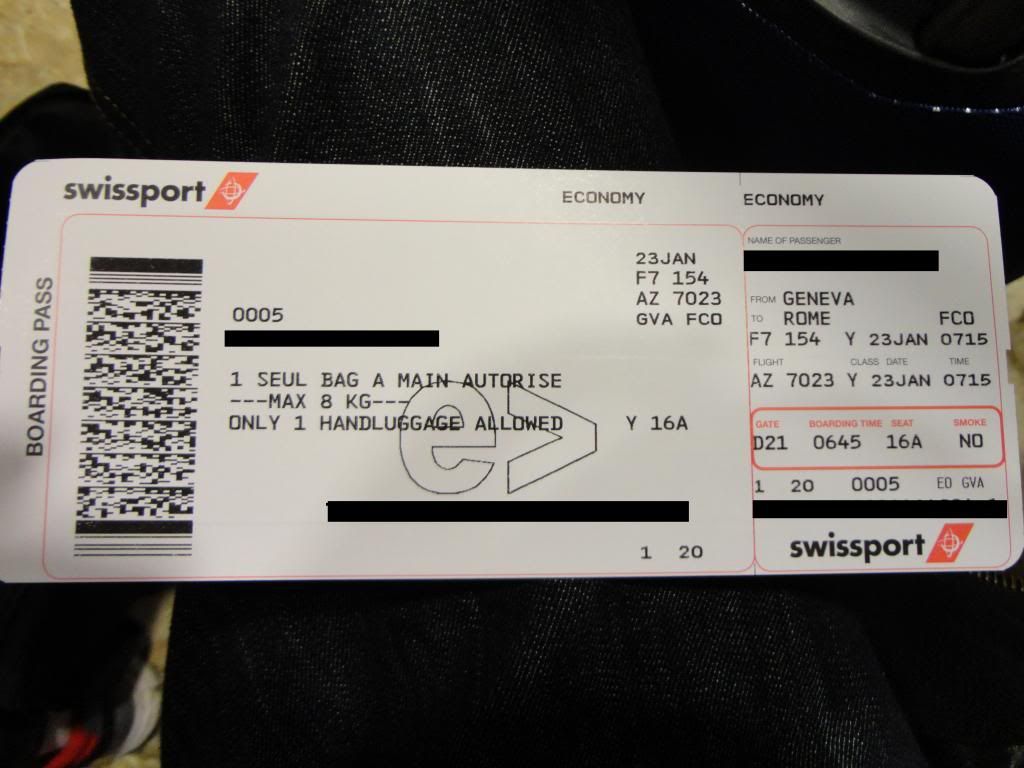 Boarding was announced at 06:45, bang on time. So I got my BP scanned and headed into the waiting bus. A 10 minute wait followed for the last remaining passengers and we made our way towards our aircraft.
We arrived at our aircraft after a 7 minute bus drive and I immediately saw that HB-IZH will be doing the honors on this leg. HB-IZH is a 13 year old Saab 2000 previously owned by Crossair and Swiss. It is flying with Darwin since 25/07/2004.
I exited the bus, put my carry-on on the cart and while watching United's 763 arrive from EWR I boarded the aircraft.
On Board
23/01/2013
GVA-FCO
F7154 (AZ7023) // 16A
Saab 2000 Darwin Airline // HB-IZH
07:26-09:00
Standing at the entrance is the sole female FA who finds no need to greet me or welcome me on board, instead she just nods. Yes, I understand that it is early!
I head into the cabin and make my way towards my assigned seat 16A. As many of you know the Saab 2000 has a 1-2 configuration so I was glad to snatch one of the single seats during online check-in.
Once arriving at my row I put my belongings in the overhead bin and took a seat: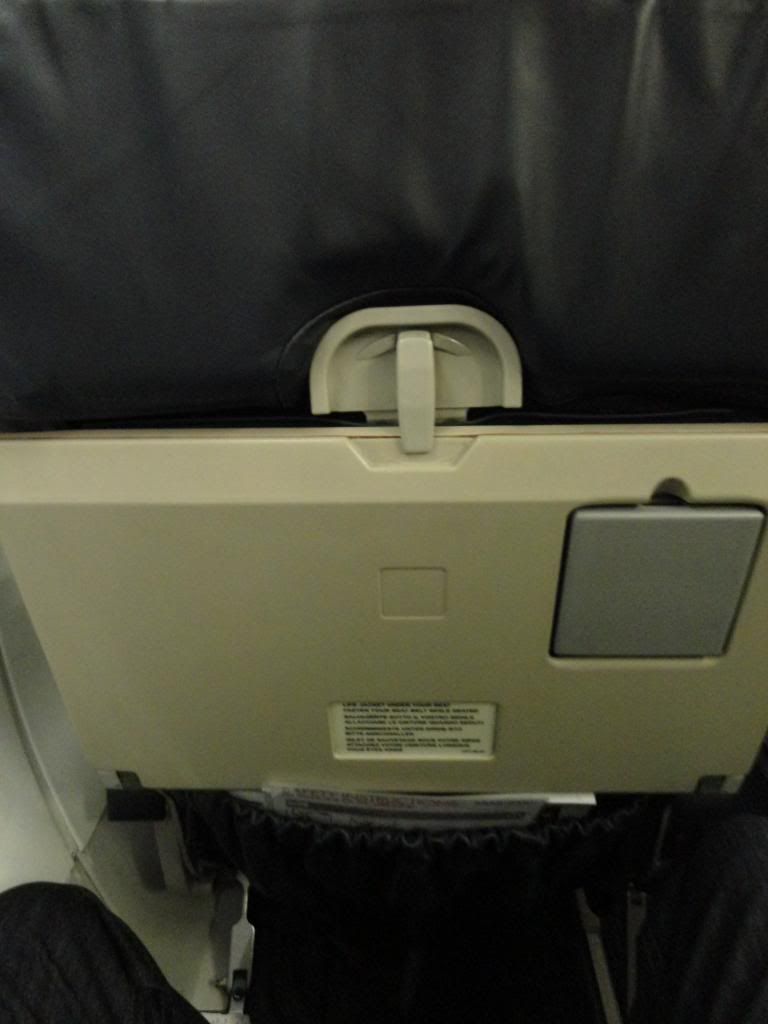 Legroom is sufficient for the duration of this flight: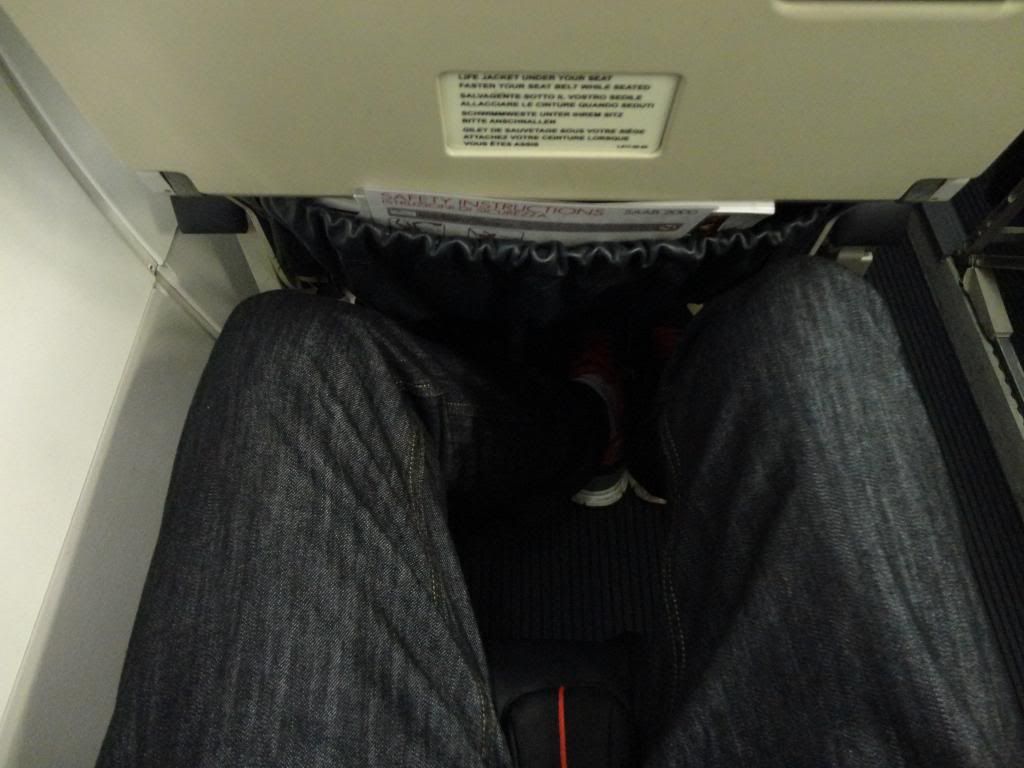 It was quite a cold night here at GVA: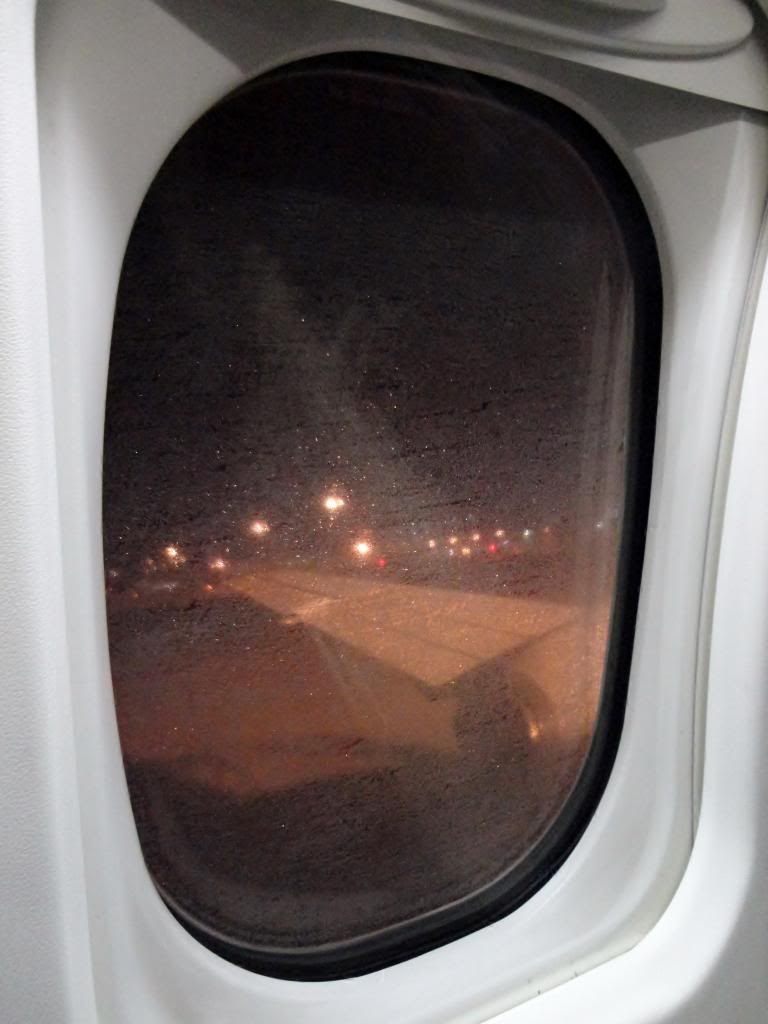 The door was closed at 07:05, and we were immediately de-iced. Flight load was about half full at around 50%.
Meanwhile the sole female FA, who can best be described as business friendly, came on the PA welcoming us on board with the usual announcements followed by the manual safety demonstration. Announced flying time is 1 hour and 15 minutes. No welcome from the flight deck this morning (guess it was too early for them too!).
The de-icing process took up quite some time so we eventually started taxiing towards runway 05 at 07:26, 11 minutes behind schedule.
Take Off
We reached runway 05 after about a 6 minute taxi and started take-off immediately. We rotated in no time and slowly started climbing. During climb I was treated with a nice view of the snowy peaks and the beautiful lights on the ground (and this was only the beginning!):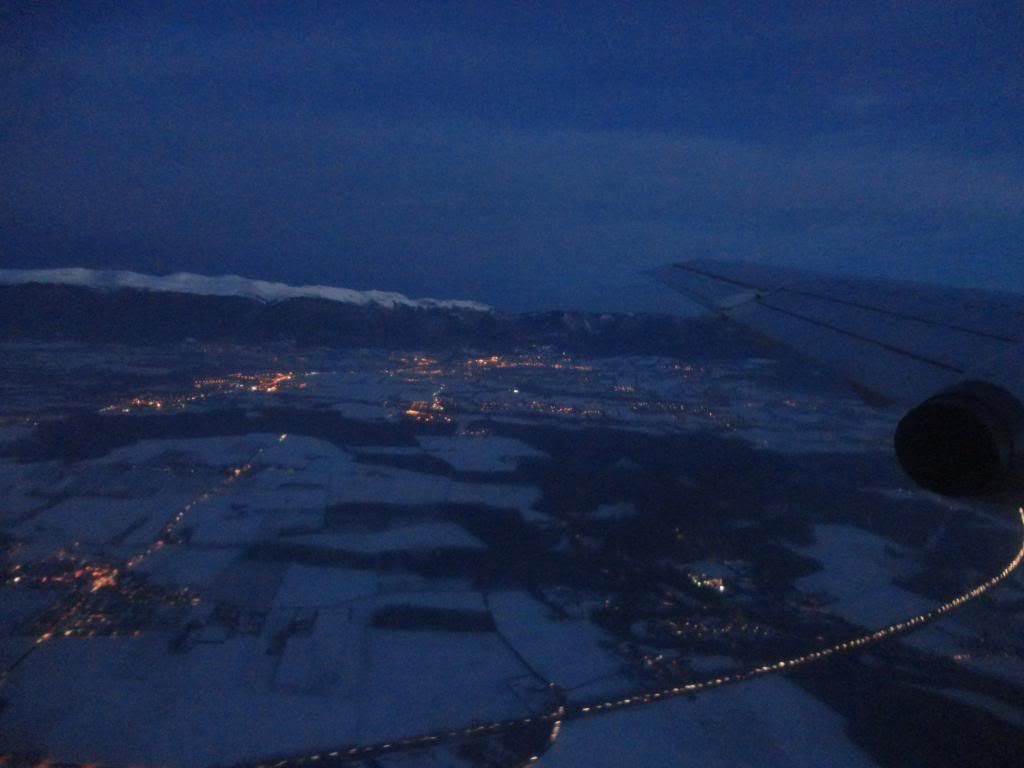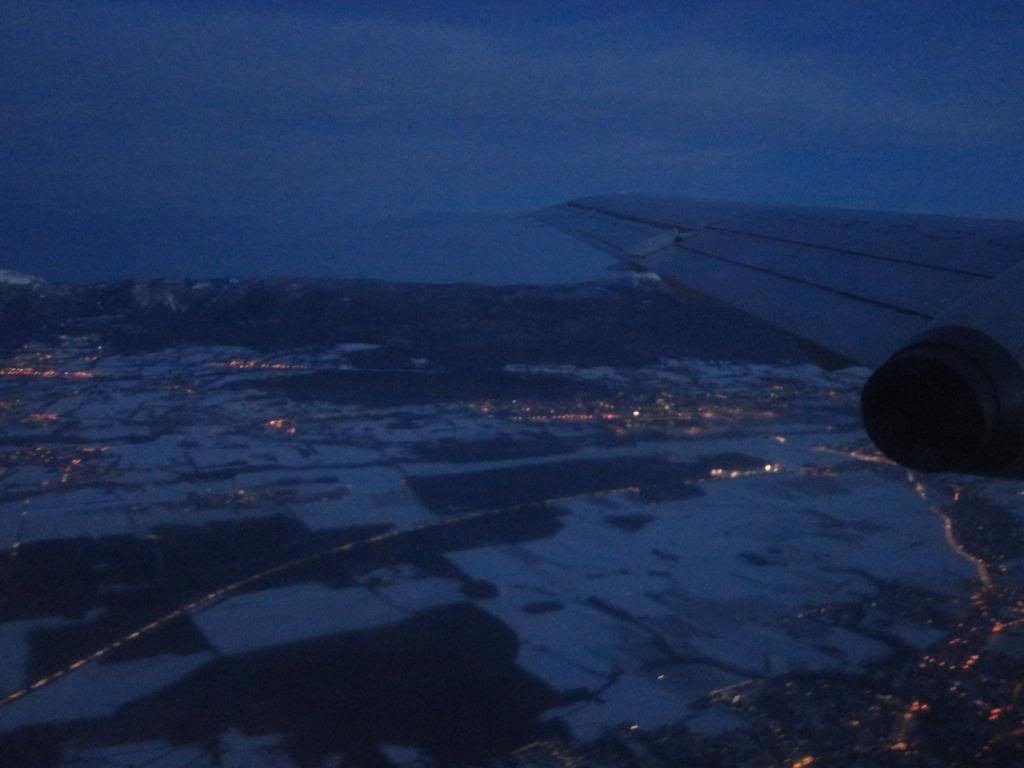 A sharp right turn heading straight towards FCO: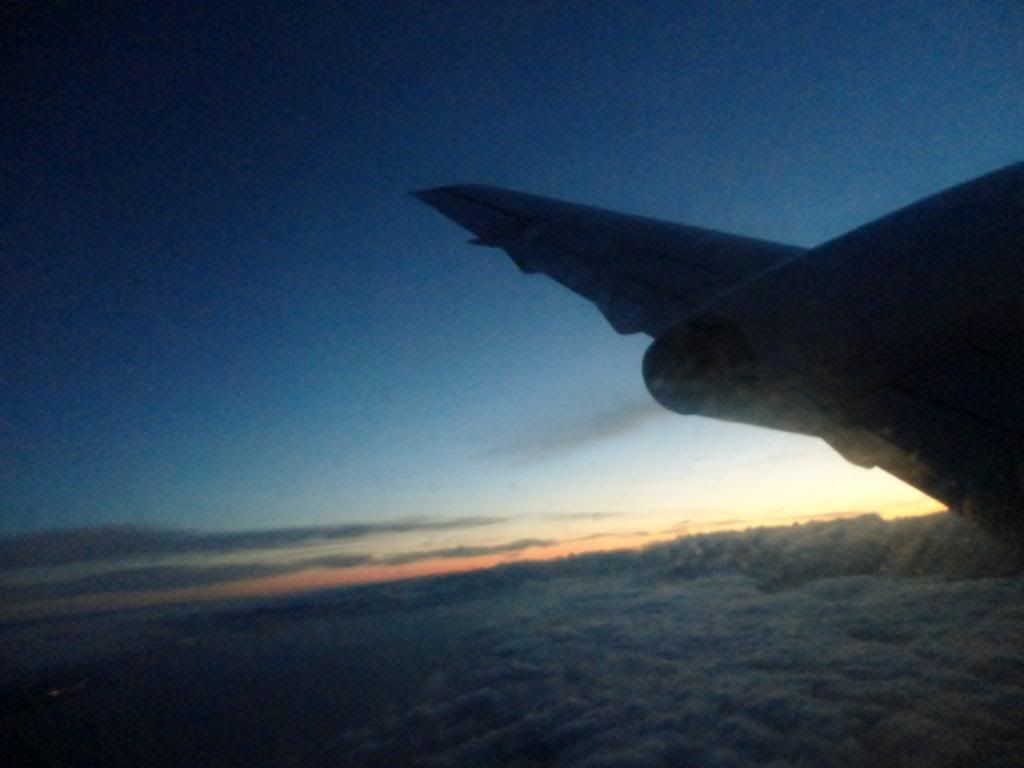 Seatpocket Contents
While still climbing I took a quick look at the seatpocket contents. It consisted of the safety card…: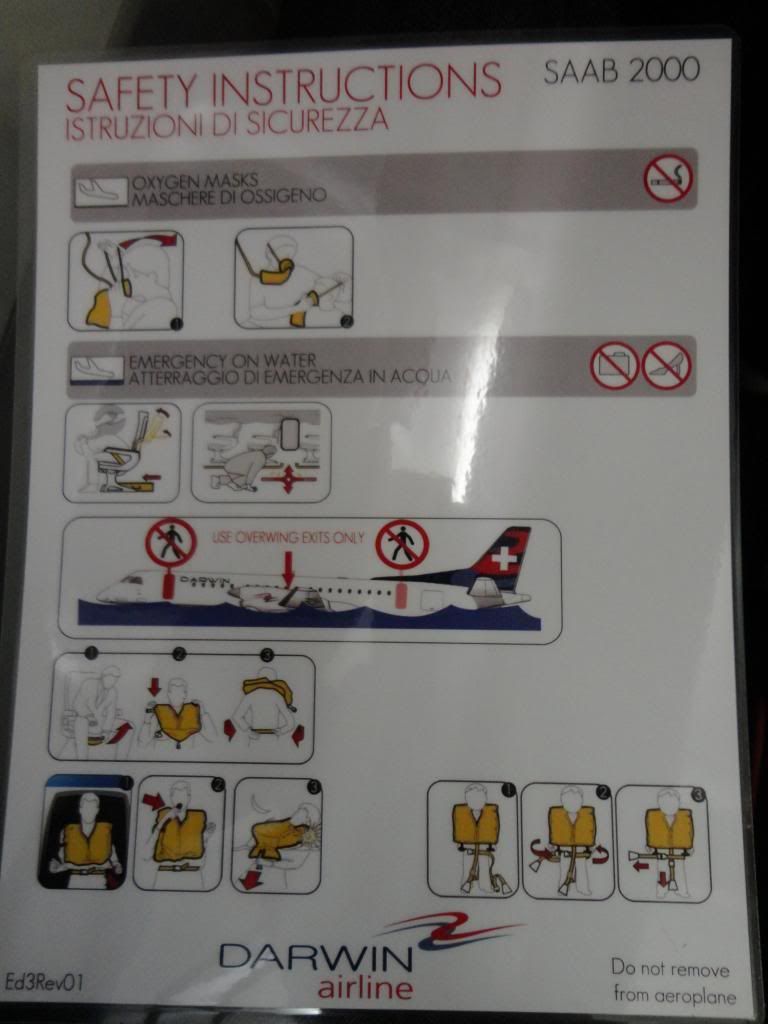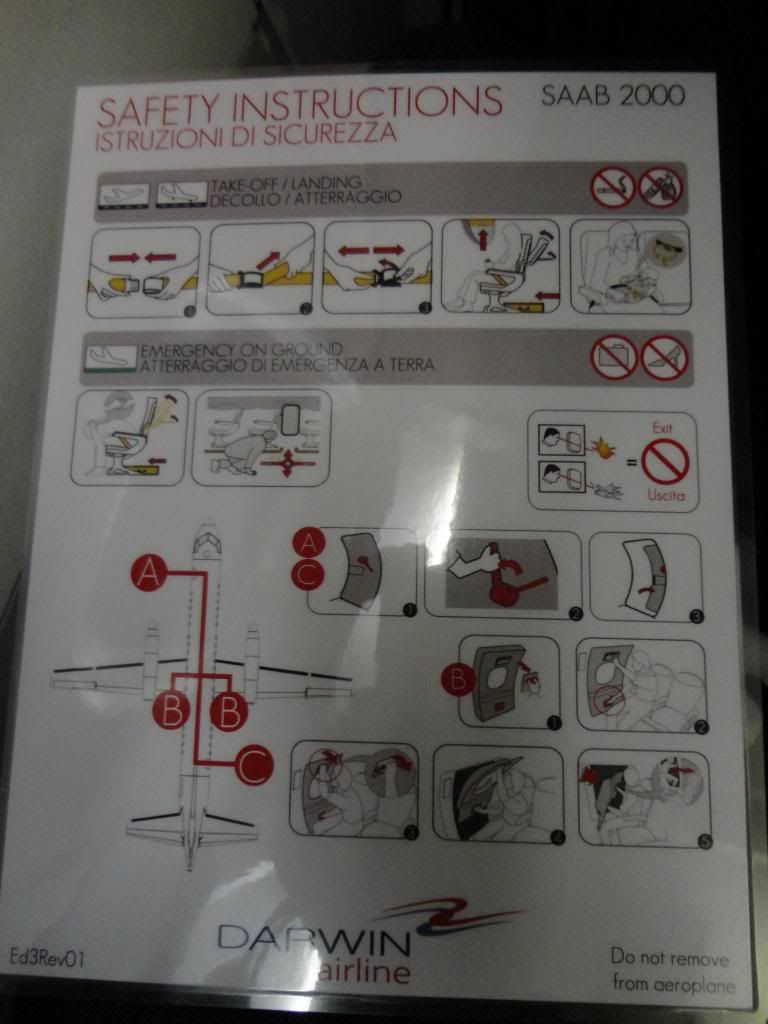 And Darwin's magazine called Evolution:
The sun was slowly starting to rise: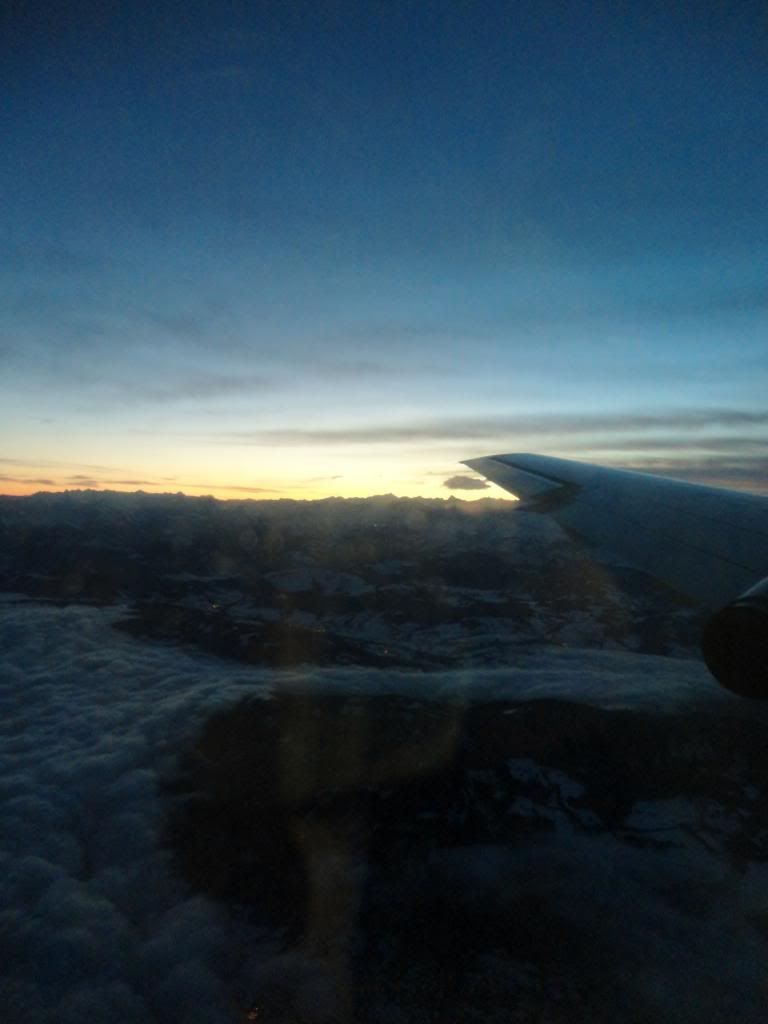 Meanwhile the seatbelt sign dinged off and the FA came about the cabin handing wet towels out: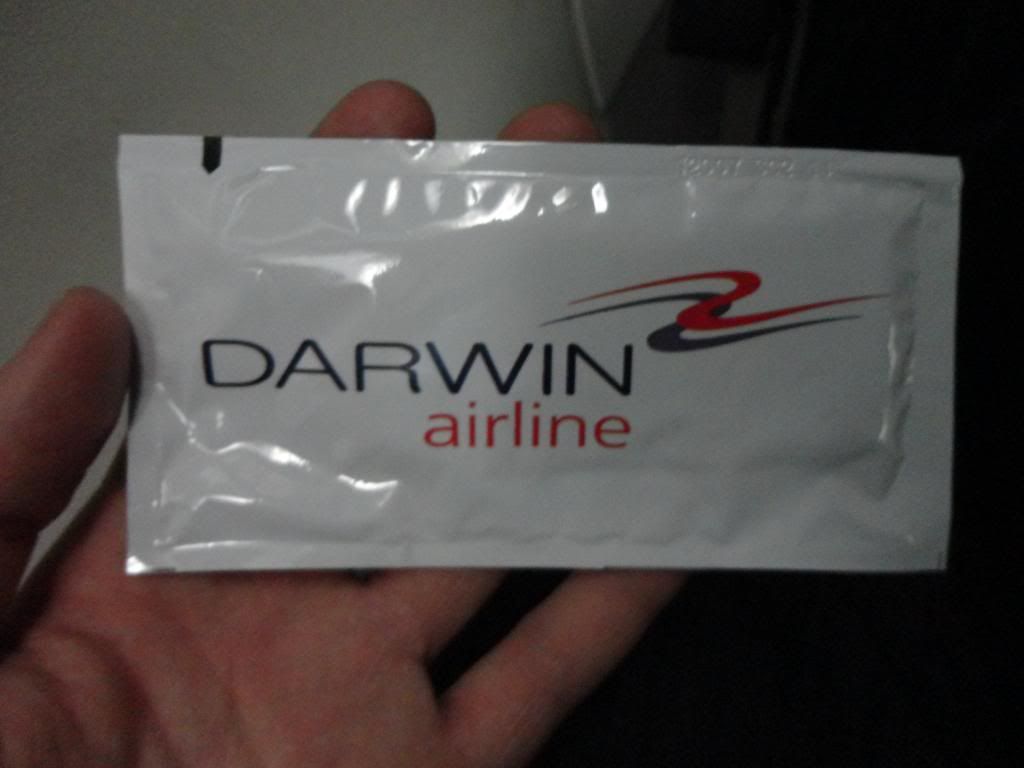 For the next half an hour I remained glued to my window, while listening to some music, as the views were absolutely stunning! I will let the pictures do the talking: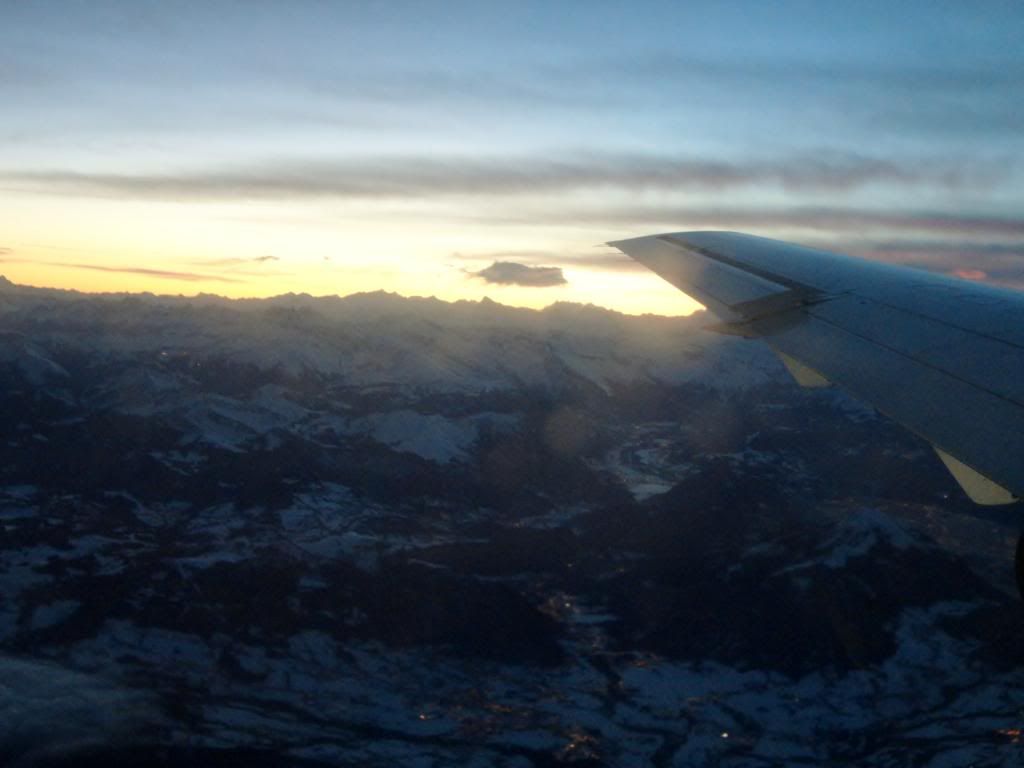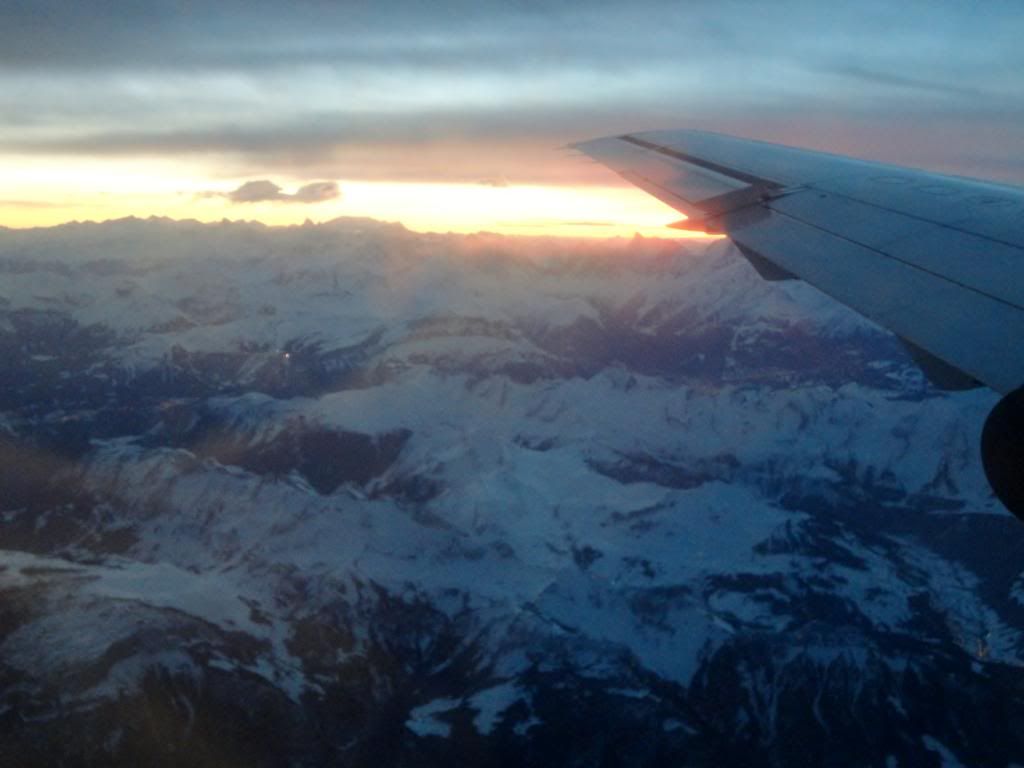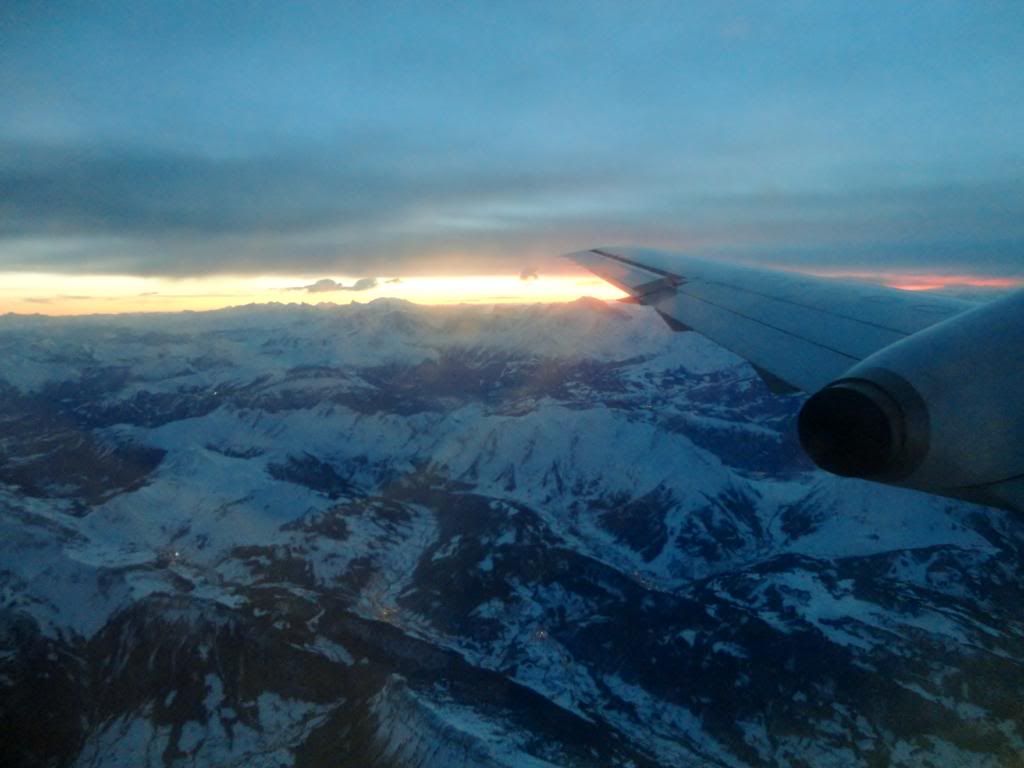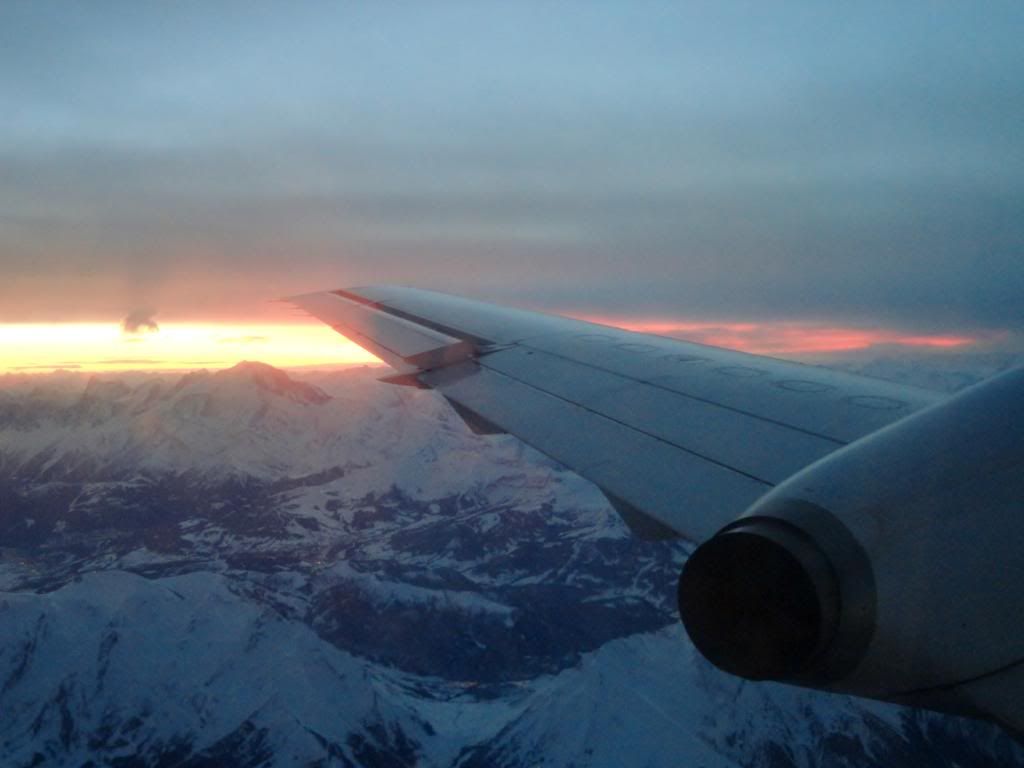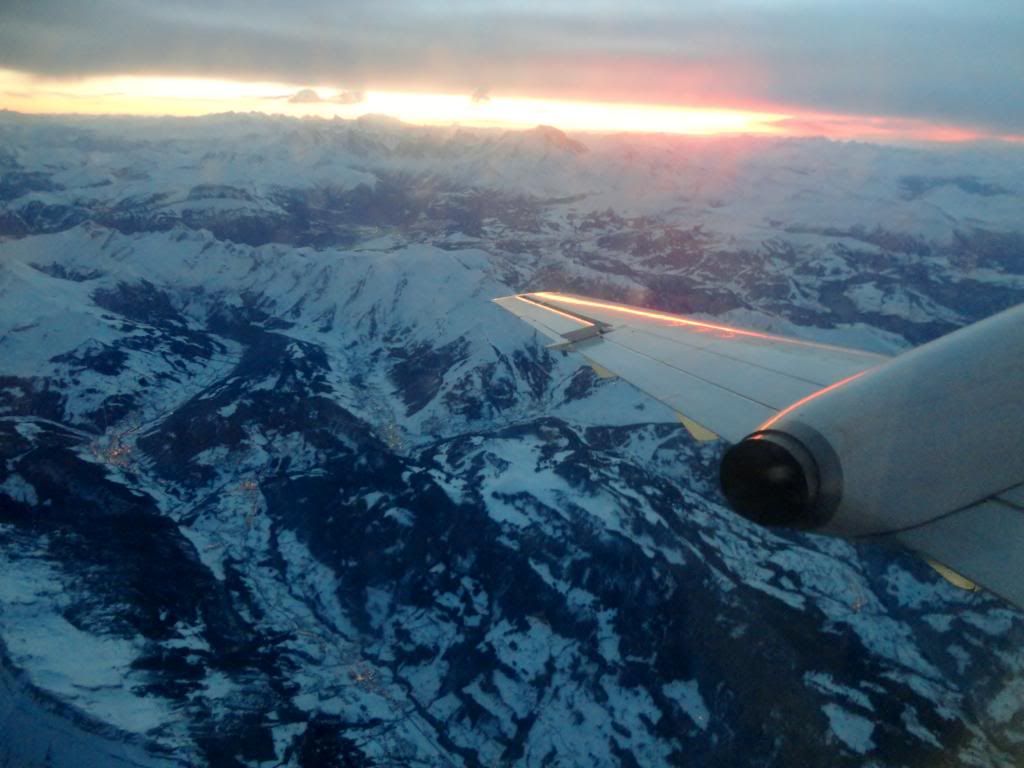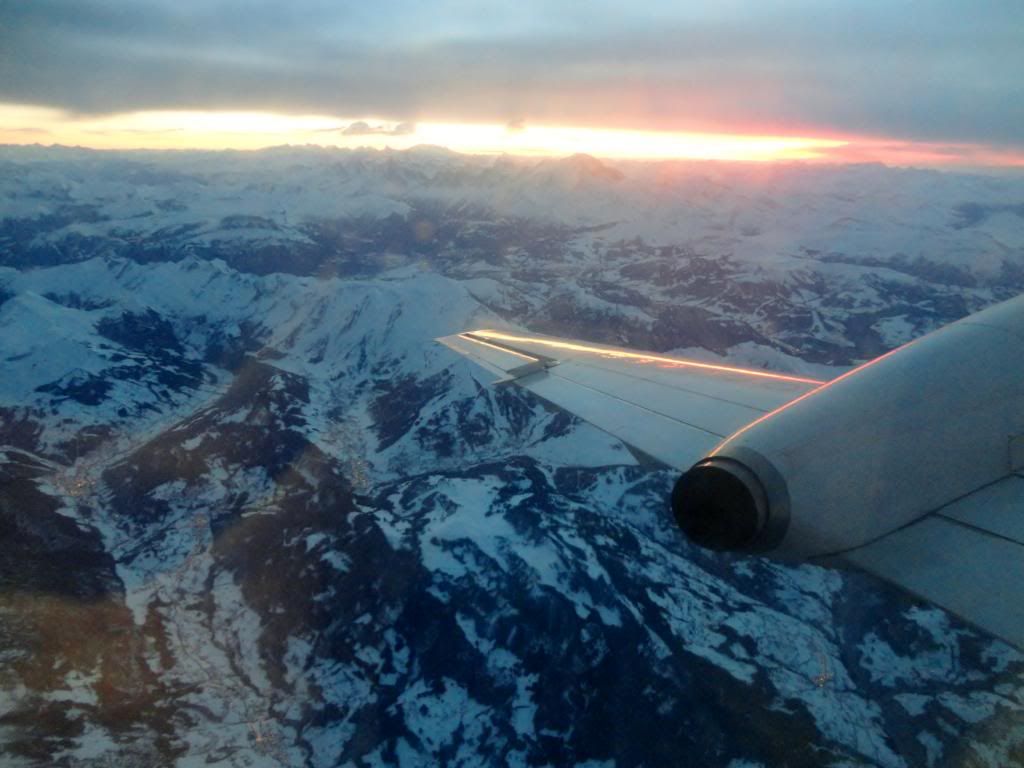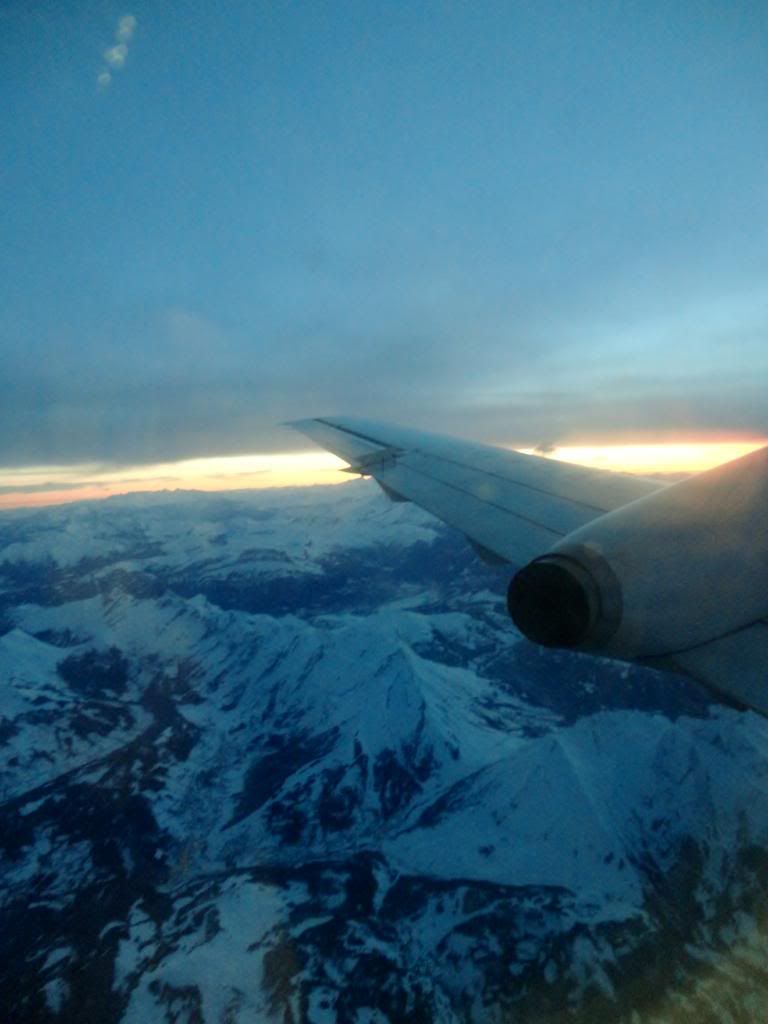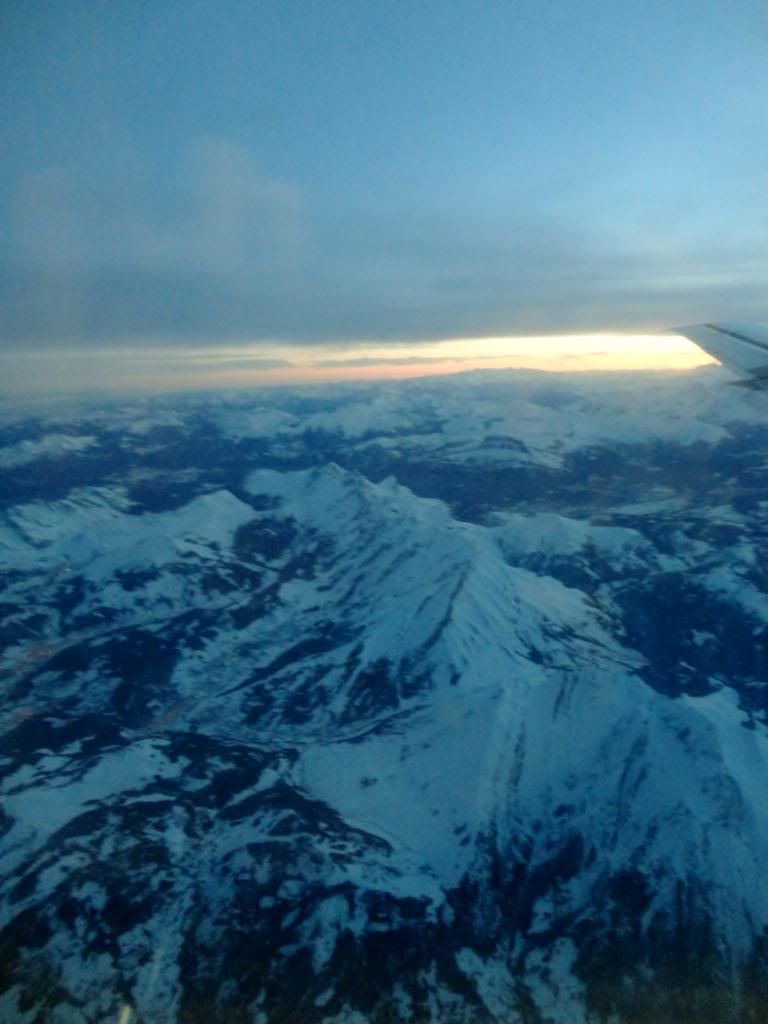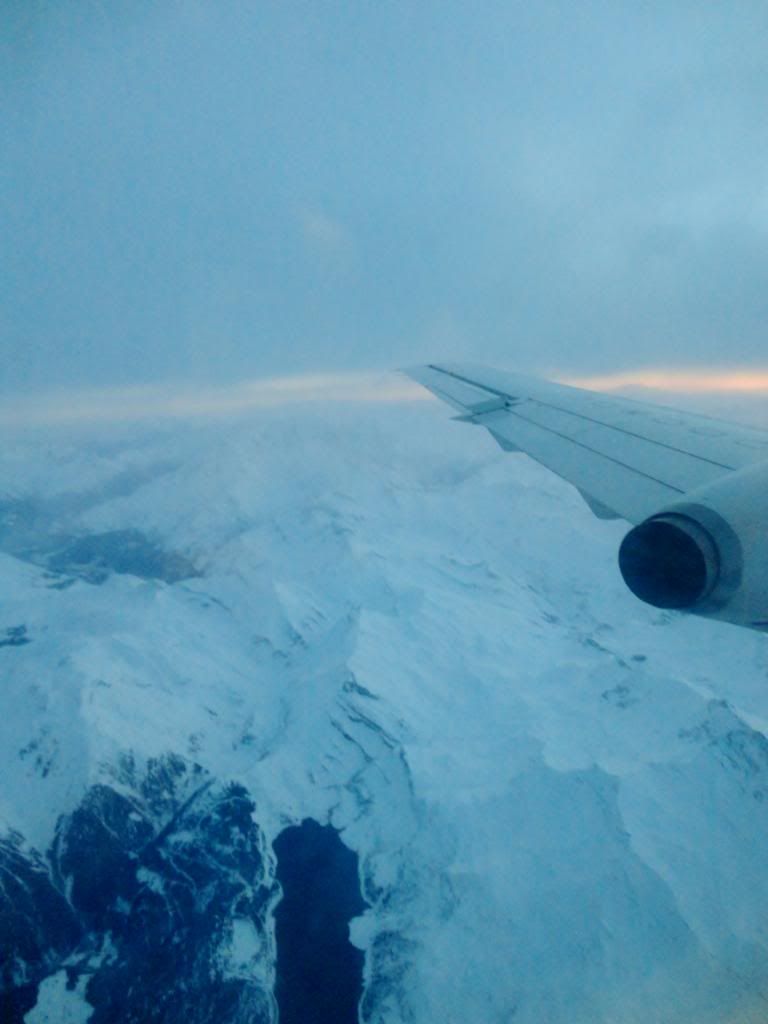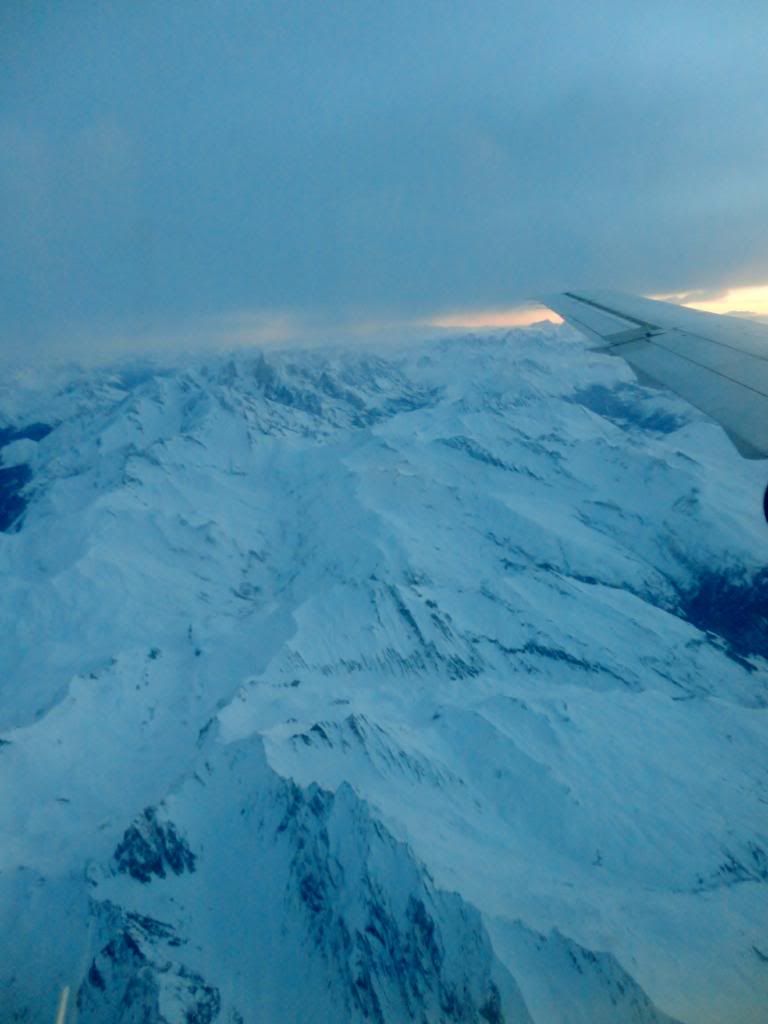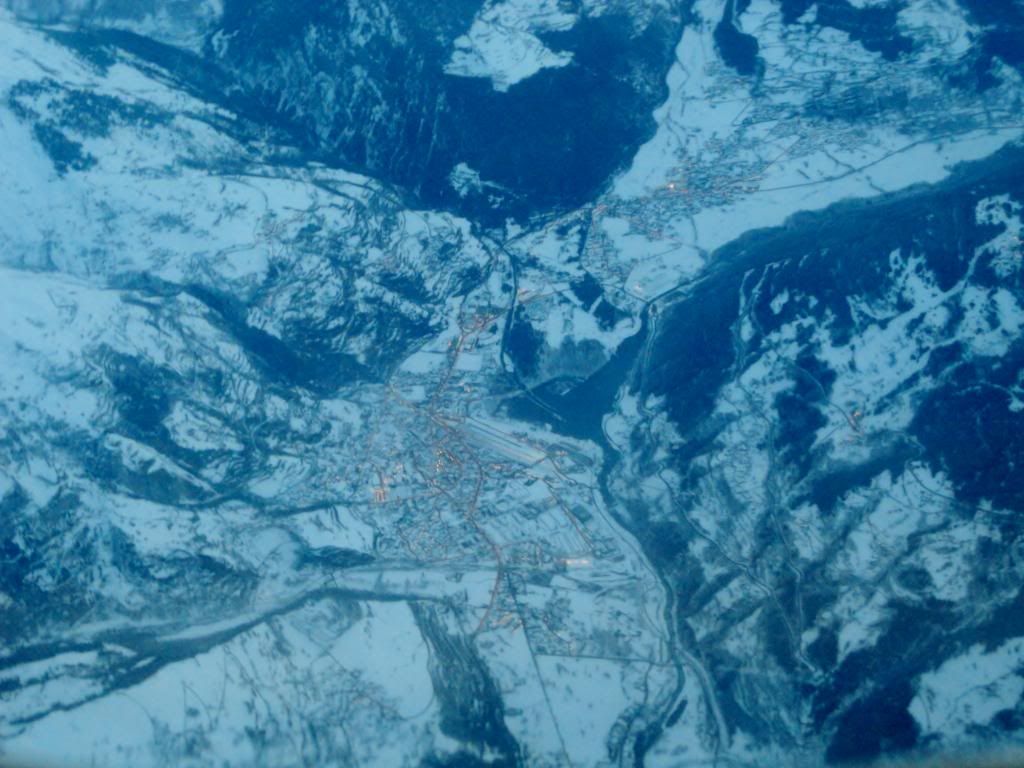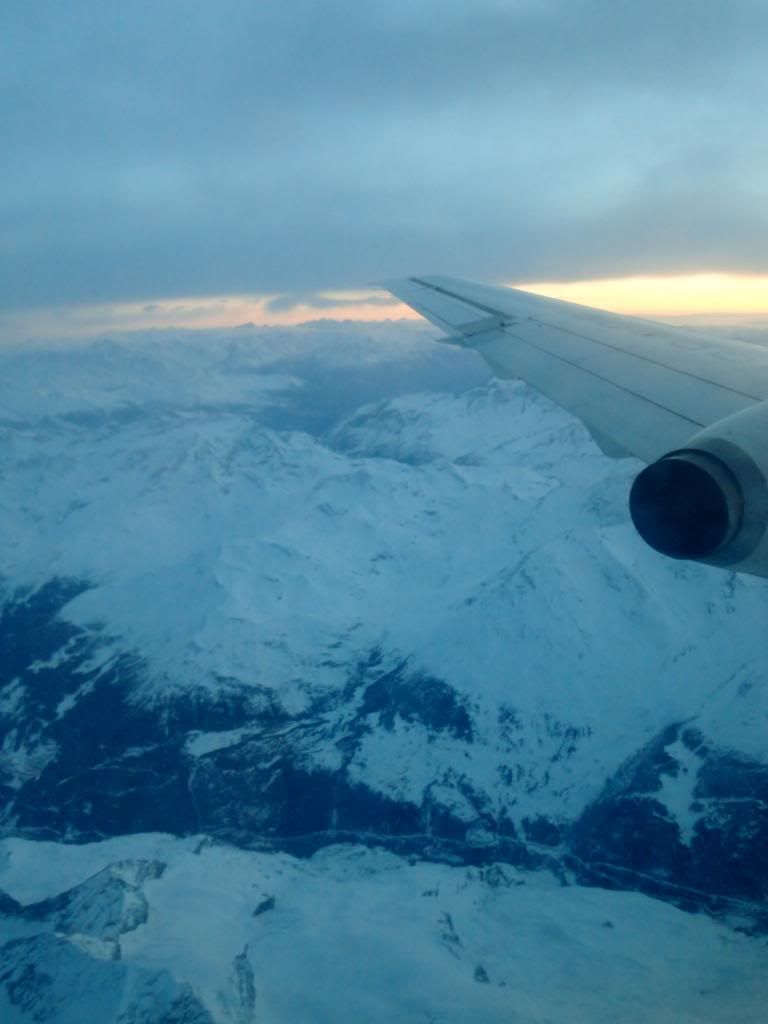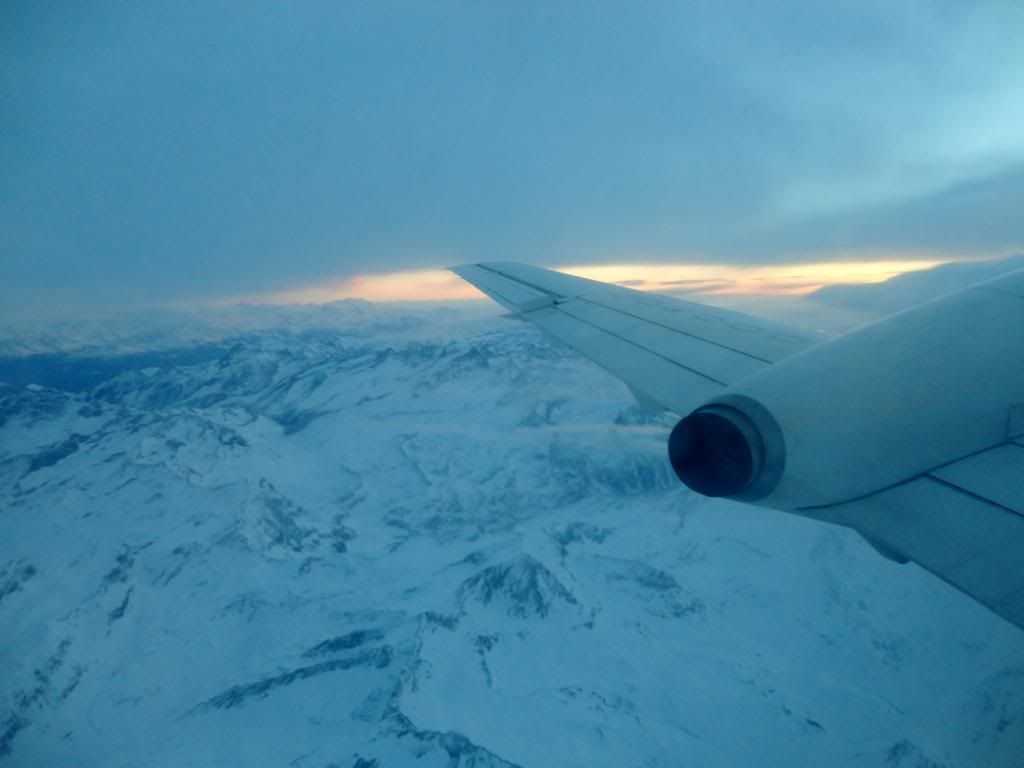 Way too soon the beautiful Alps made room for some boring clouds: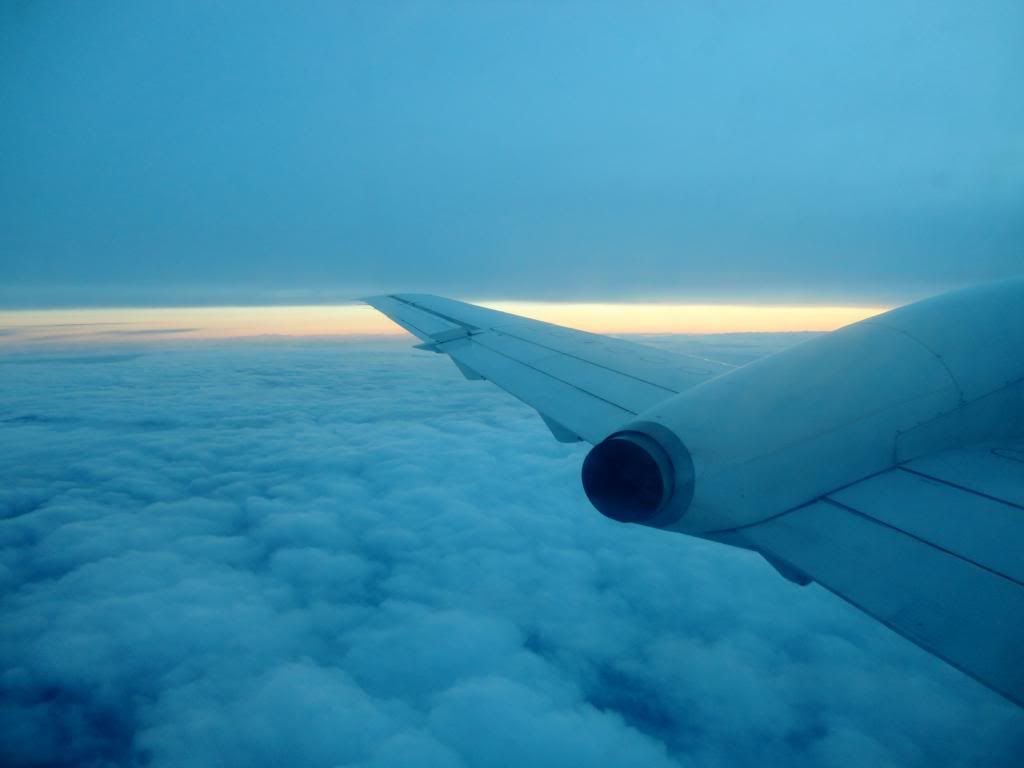 A quick look down the cabin where the FA finally started the service: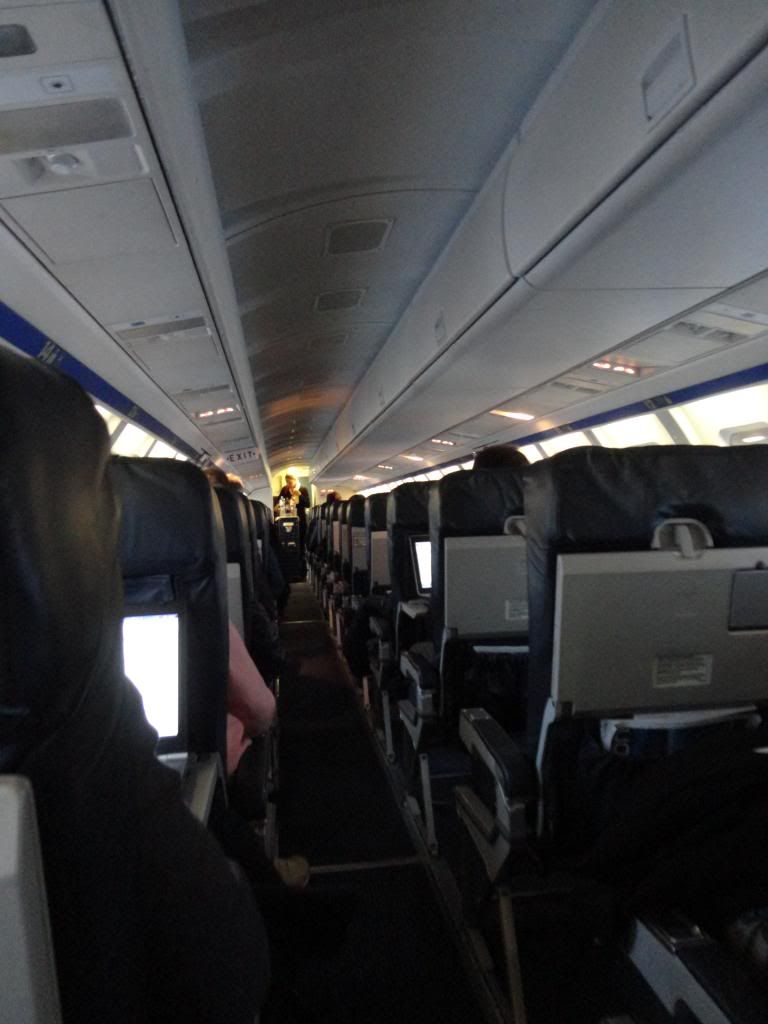 It was almost completely light by now: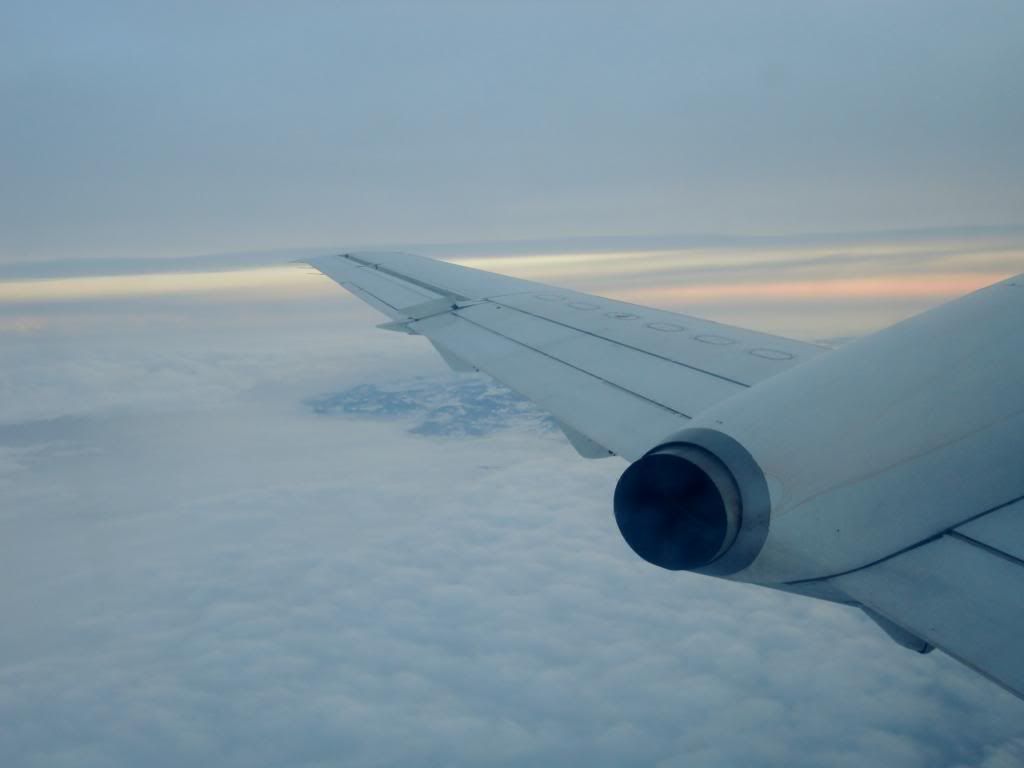 Continued Below