To get from Zurich to St. Gallen, one could take the Intercity train and get there in about an hour.
Or......
....how about some detours, making use of some interesting and exotic flight connections around the alps? Throw in a nice bike tour and a ride on a Hydrofoil, take along a good friend and spend some days in Vienna – and you get a great weekend trip, getting you from Zurich to St. Gallen with some nice experience in between.
In the end, instead of taking the train, we flew ZRH-LUG-VIE-ACH. Read below to find out how it all went.
How on earth had I come up with this itinerary? Well, I always had the intention of flying in and out of LUG with its stunning views and steep approaches. Some time ago I read about the Greek airline Minoan Air's intention to start flights on the LUG-FCO and LUG-VIE routes. My first thought about the LUG-VIE route was "WTF?!", but right after that I thought "I need to try this flight!"
It wasn't difficult to convince my friend who's also an aviation freak to join and thus we booked ourselves two tickets at an affordable price, not without making jokes about the expected passenger figures on that flight. We were actually surprised that Minoan Air was still operating the rather weird route when we wanted to fly and made bets about the load. My bet was more than ten passengers, my friend bet that it would be less than ten. More on that later.
To get to LUG, we first thought about taking the train from Zurich, but then decided to book a ZRH-LUG-ZRH flight and use the return leg another time individually. And to get from VIE to ACH, there's nowadays only one option: The very special airline called People's Viennaline, operating a single Embraer 170 on its single route to an airport that is actually only served by this airline and that is also operated by the same company. In this case it was quite useful to be still enrolled as students as PE offers nicely discounted one-way tariffs for students.
Here's the map of our flights, courtesy of Great Circle Mapper: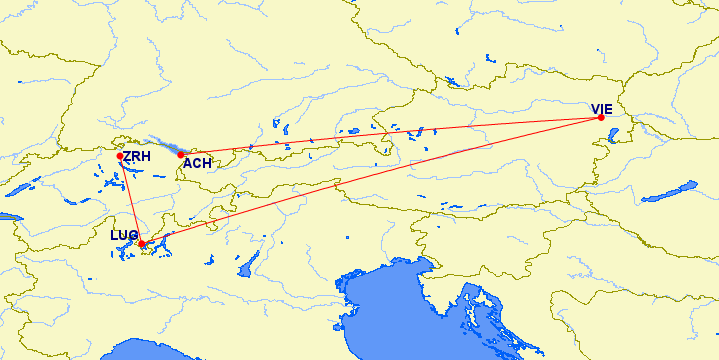 It all started on Thursday, 2 May 2013, around noon at ZRH. I had just arrived from downtown Zurich by S-Bahn train and met my friend at check-in hall 3. We checked in, got our boarding passes for the ZRH-LUG flight and headed towards the gate.
ZRH-LUG
2 May 2013
LX 2906
Swiss International Airlines, operated by Darwin Airline
Saab 2000
HB-IYD (delivered to Crossair in 1998, after some years with LX and Polet now with Darwin Airline since 2009)
12:50-13:35 (actual flight time about 35 minutes)
Load: approx. 90% (though quite a lot of standby/non-rev passengers)
A quick view onto ZRH's apron on the way:
Our gate, A55, was already quite crowded.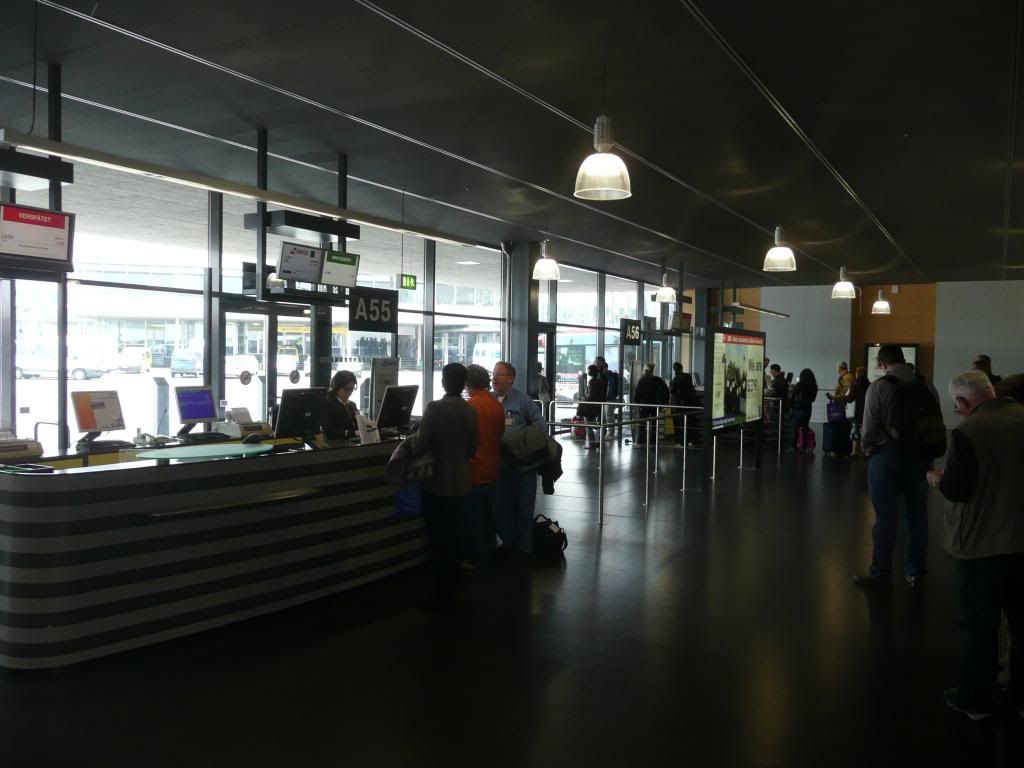 Boarding commenced on time; we noticed a lot of standby passengers (probably LX staff living in Ticino) who received seat assignments on little print-outs when passing through the gate.
A bus took us to the open stand next to runway 10/28 where the scheduled Saab 2000 was waiting. Boarding took place via the internal front stairs.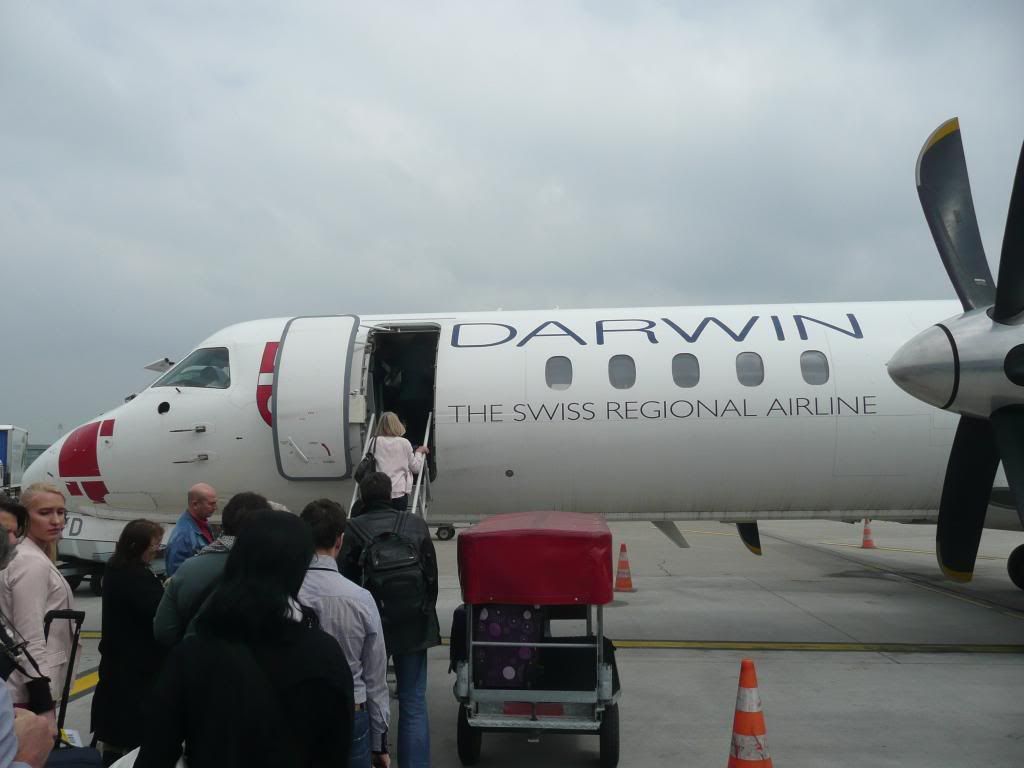 Baggage loading was in process.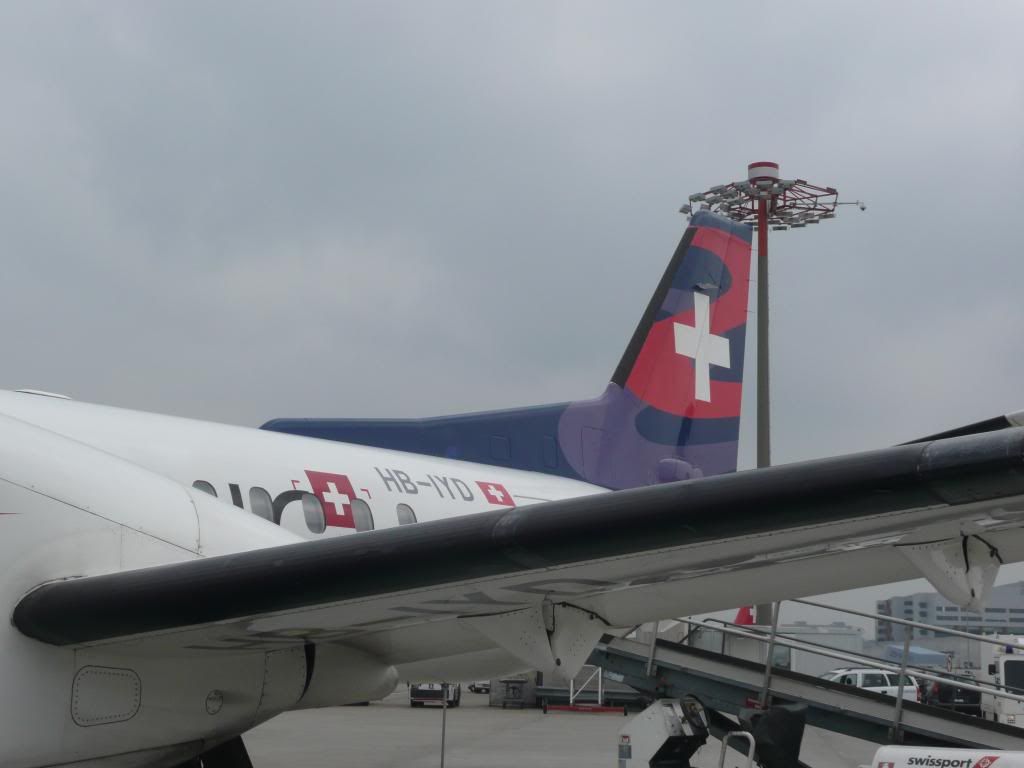 The Saab 2000 is quite a long bird, seating 50 passengers in a 1-2 cabin layout.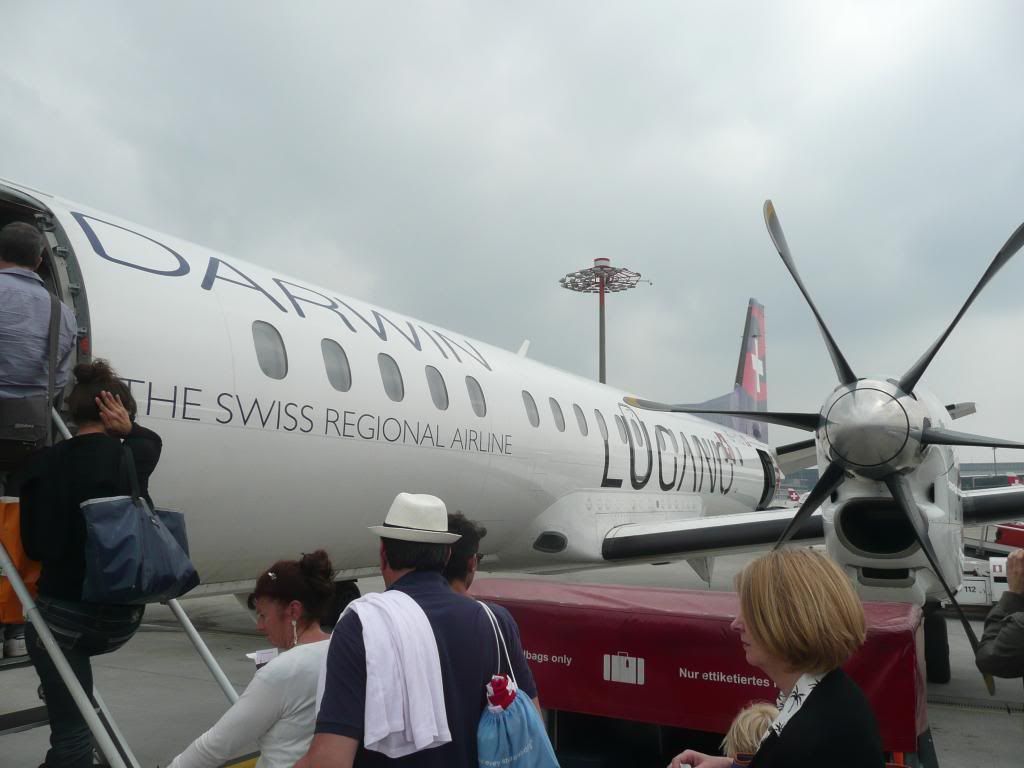 I took my assigned seat 7A while my friend was sitting further in the back. Here's a cabin impression with the rather attractive blonde Ticinese FA.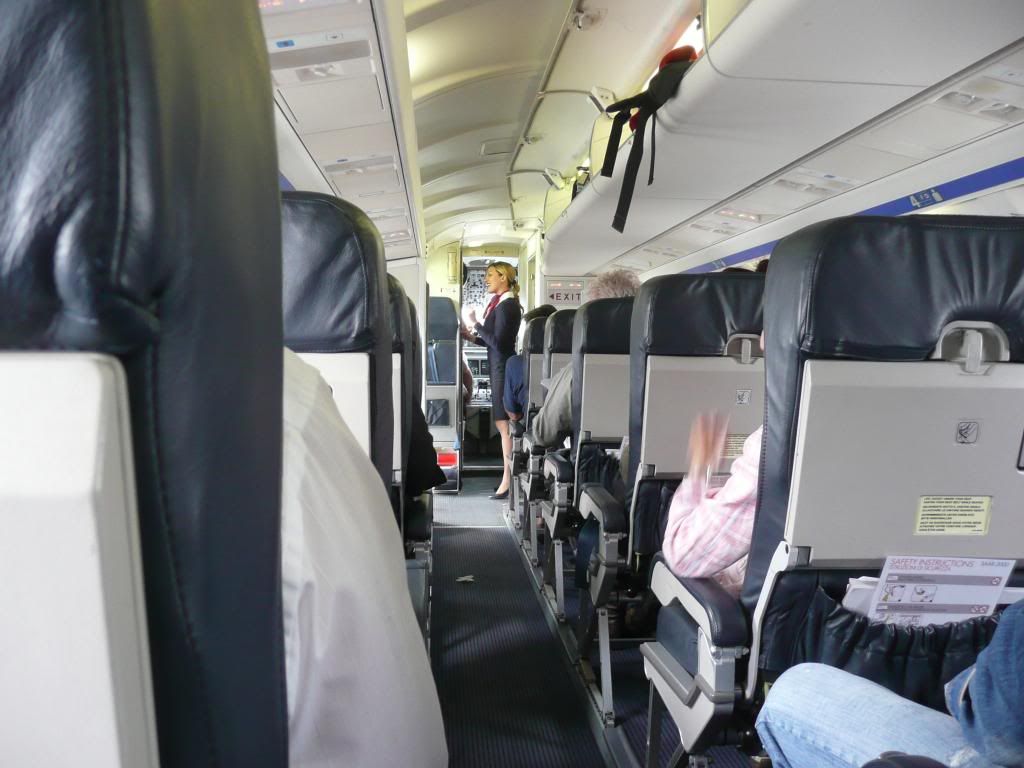 And of course a legroom shot – not too much space but of course sufficient for a short flight.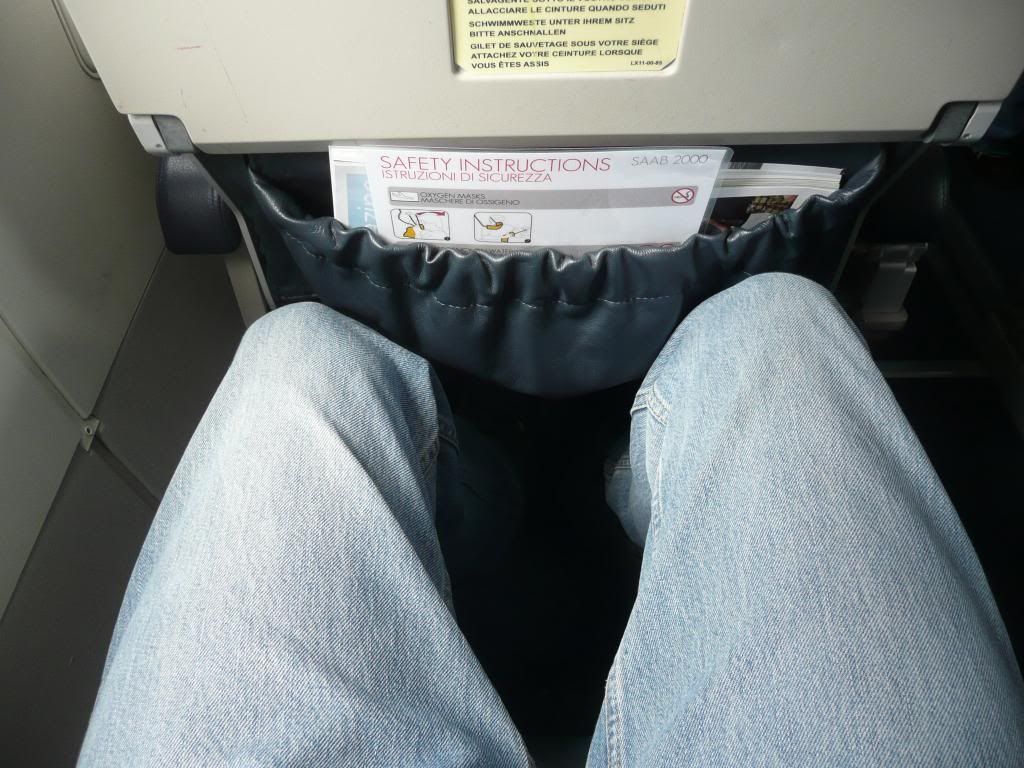 Boarding was soon completed and the engines were fired up. The Saab's electronic noise suppressing system seemed to be somewhat malfunctioning as a weird buzzing sound was audible during the flight. We taxied out of our position without any pushback required.
A powerful takeoff followed from runway 28.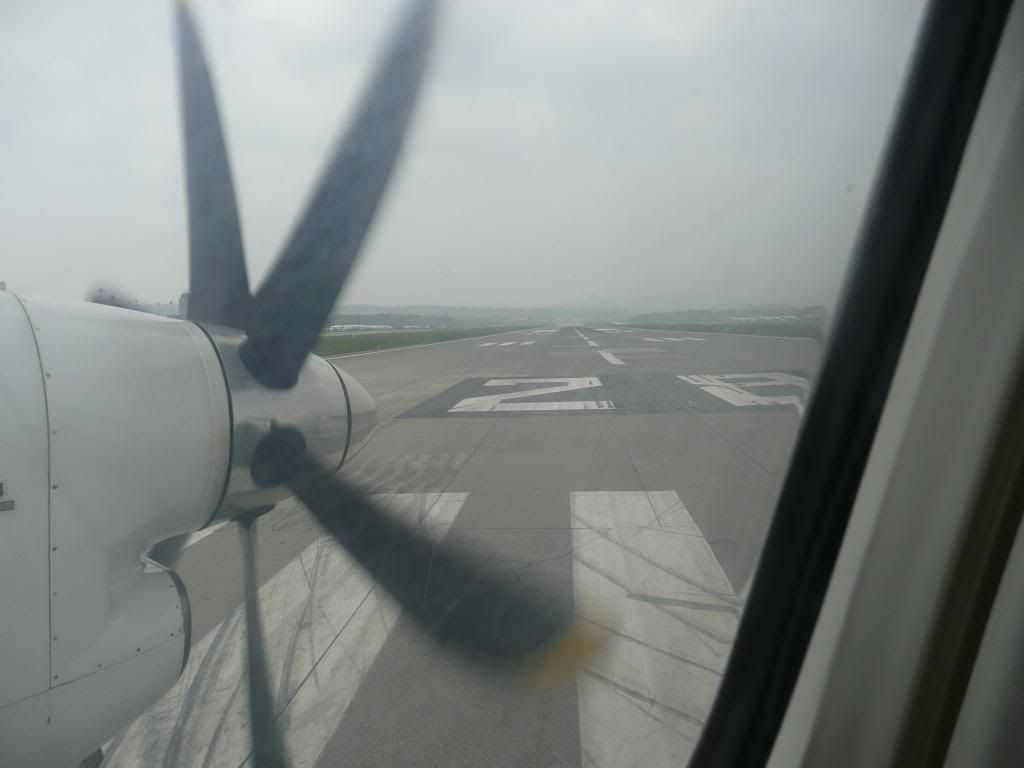 We left the ground long before the runway intersection.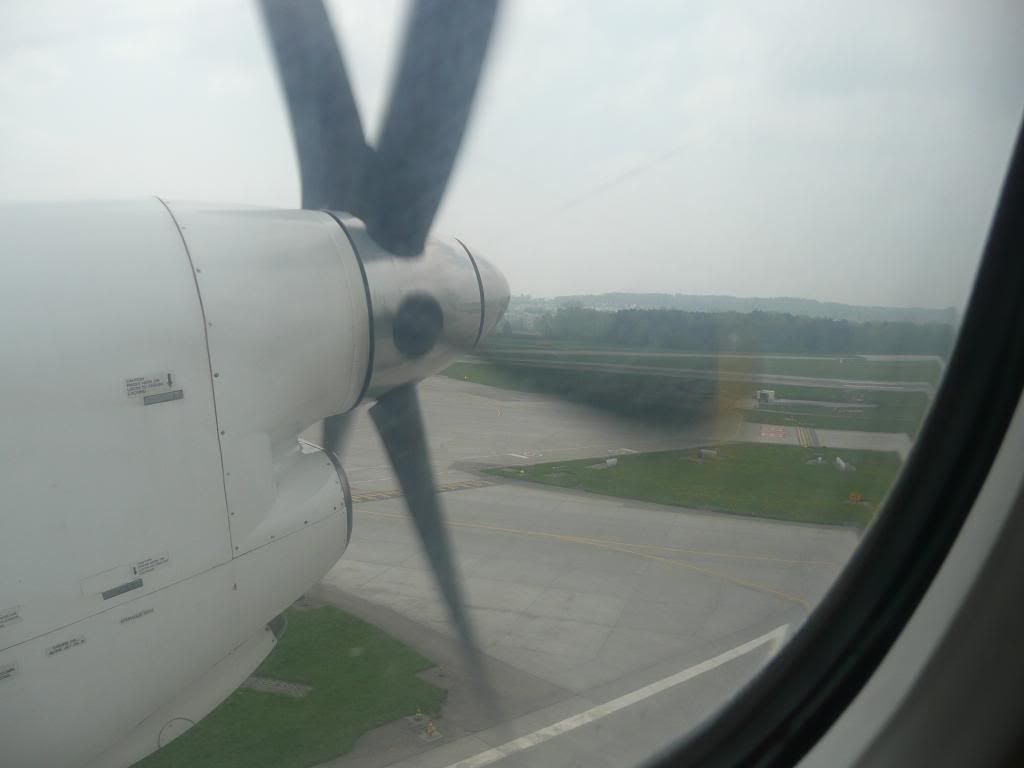 The seatbelt sign remained on during the flight. Catering consisted of a bottle of water (distributed while still on ground) and a Swiss-branded chocolate (distributed while in the air).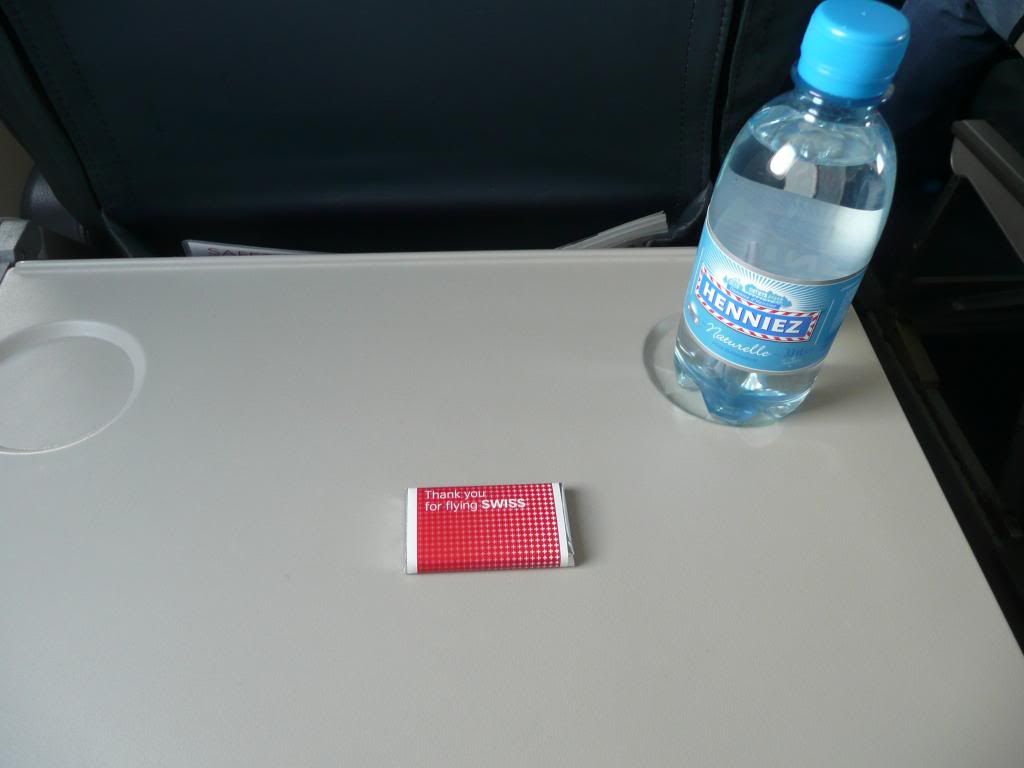 Unfortunately, the view was far from clear and the window was a bit dirty and scratched. Still, I enjoyed the views – below was the Vierwaldstättersee...
... then the Gotthard massif...
... and soon we crossed Lago Maggiore coming from the west.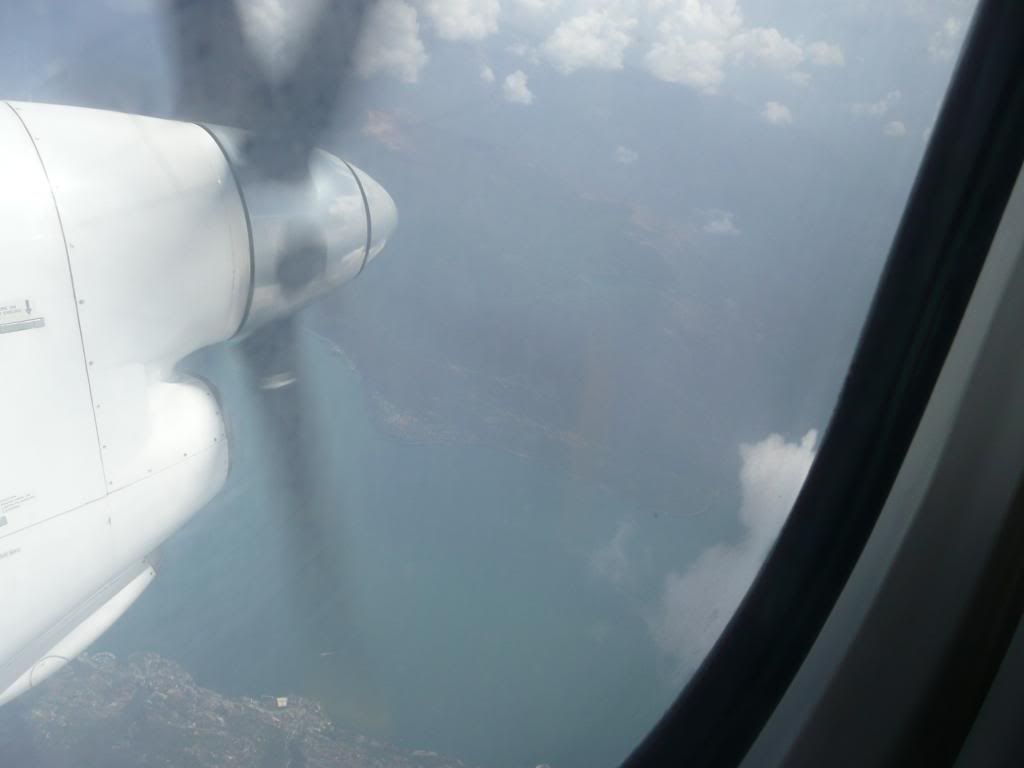 The gear came down quite early while we were south of Lago di Lugano...
... and then we flew some turns around the lake...
... above Melide and the dam across the lake...
... and then in parallel with the airport.
This meant a nice approach from the north – I was quite excited as this approach is steeper than the southern variant!
We overflew the city of Lugano...
... made a series of sharp left turns while descending steeply...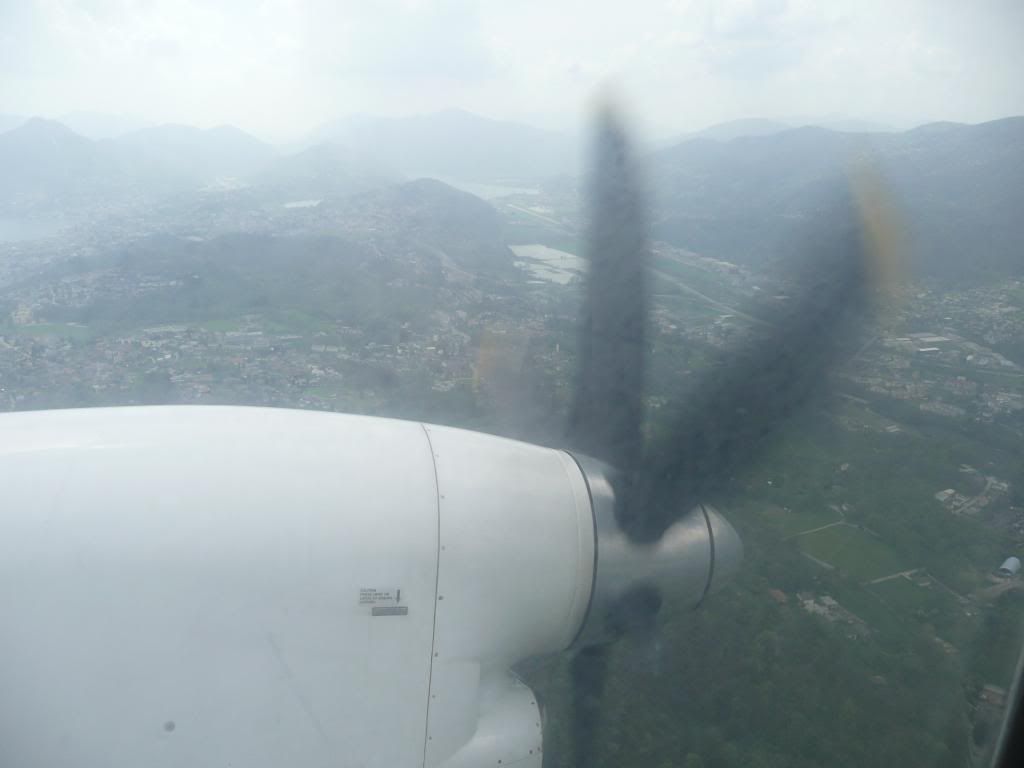 .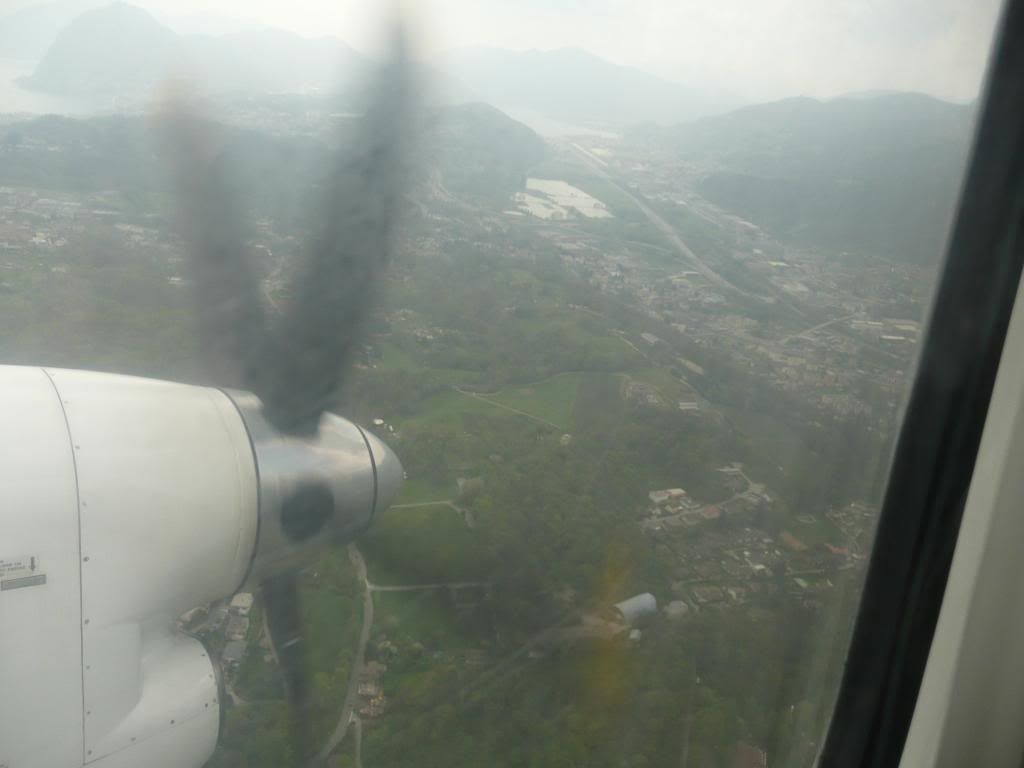 ... and finally lined up with runway 19.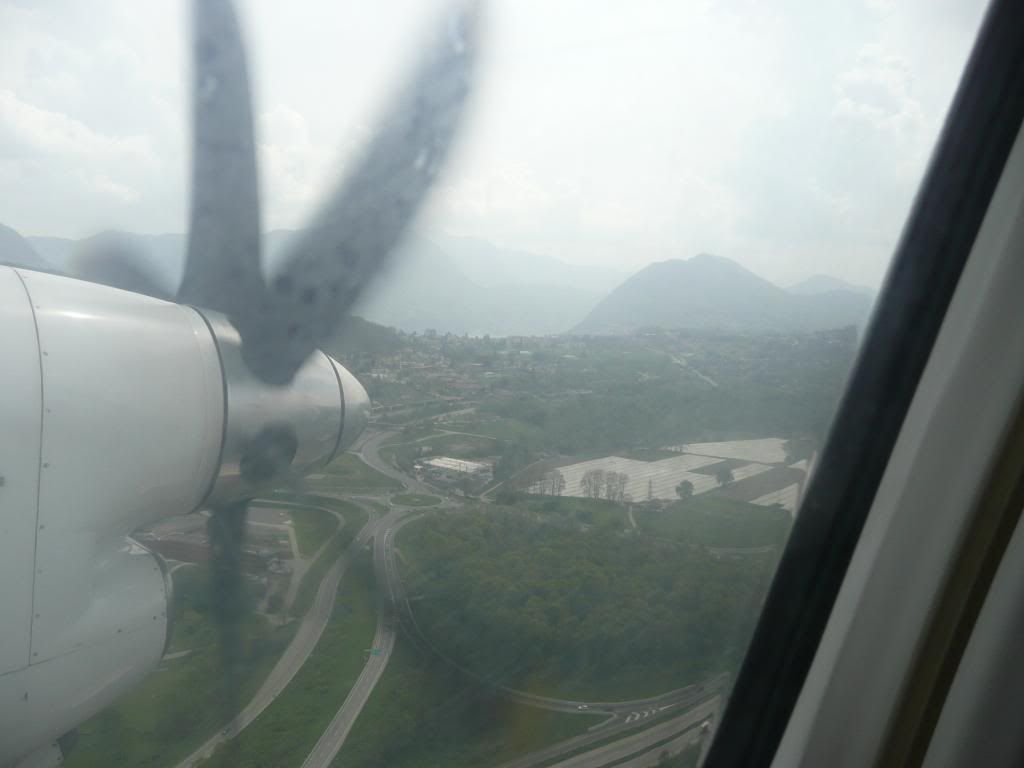 The steep descent continued...
... and we touched down firmly...
... with some heavy braking allowing us to exit the runway quickly.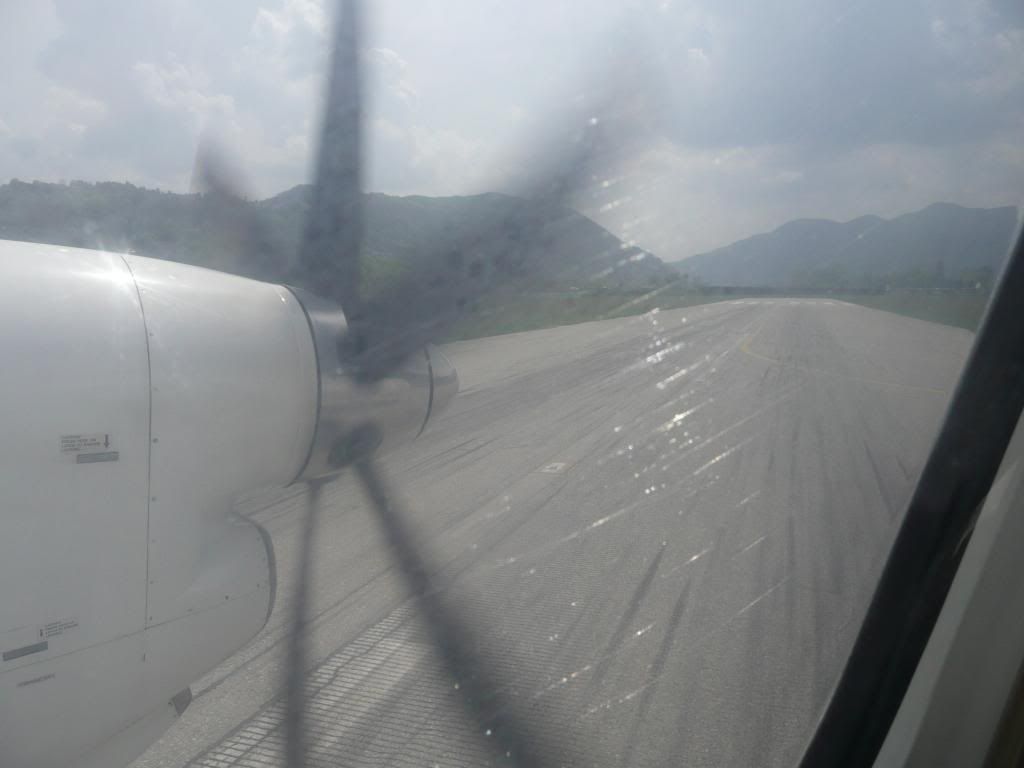 Deboarding was again via the internal stairs...
... and I took a picture of the sleek Saab 2000's nose.
We walked towards the small terminal building...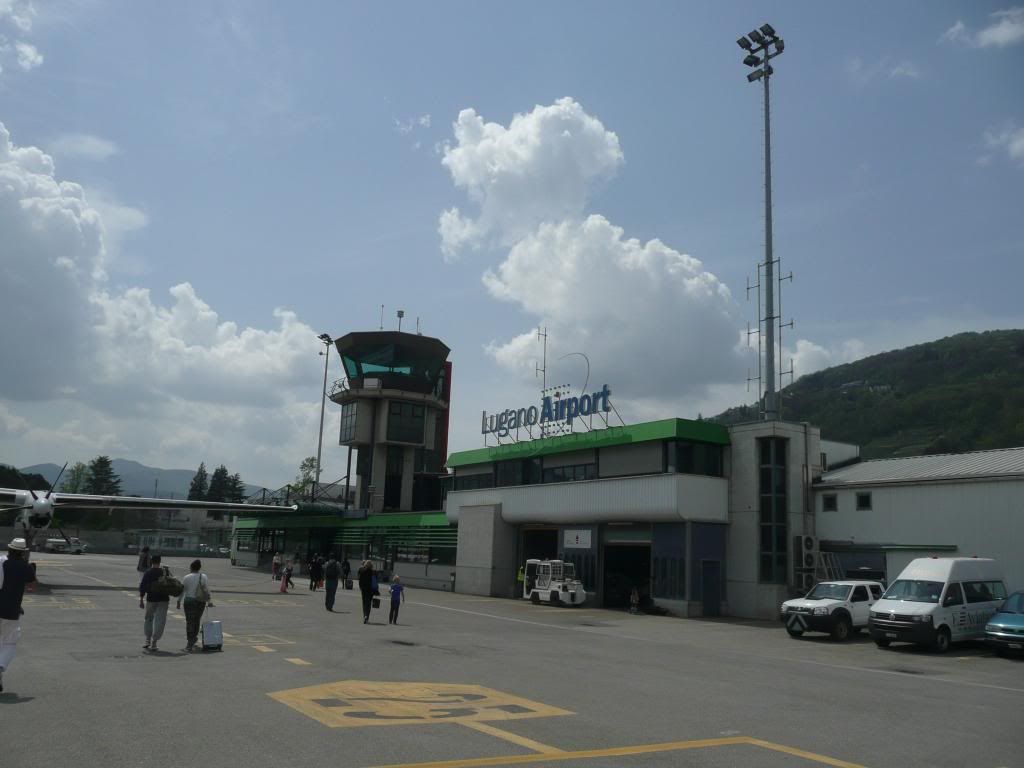 ...and on the way passed by our ride for the next morning, Minoan Air's classic Fokker 50 SX-BRS: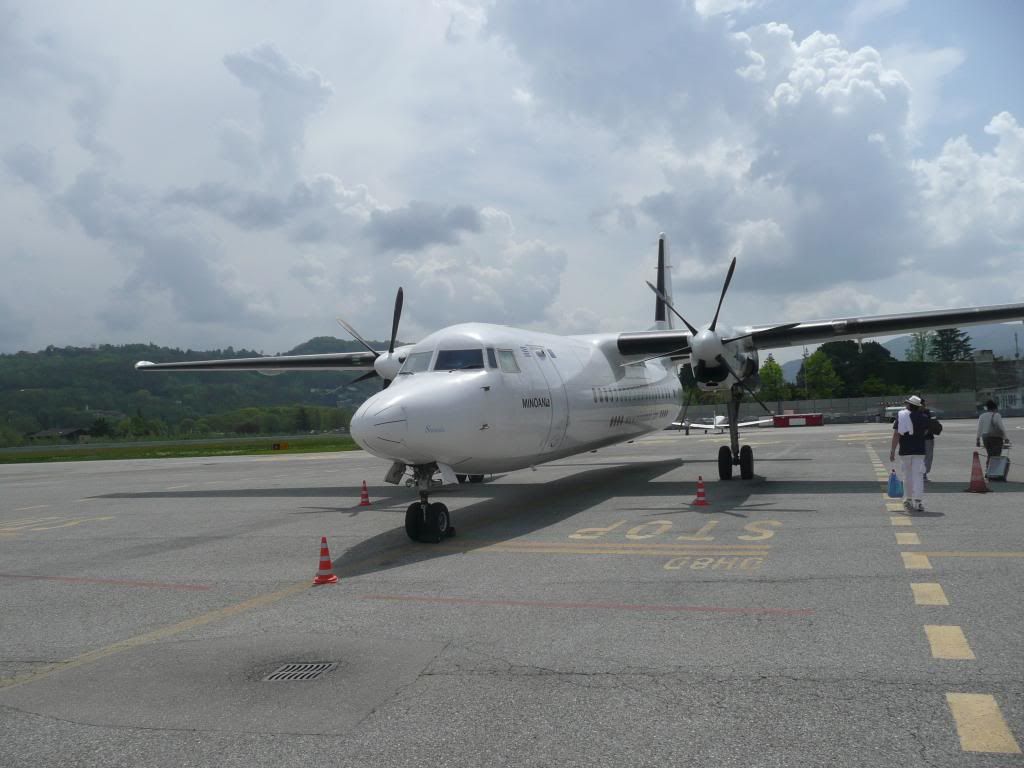 Inside the arrivals hall...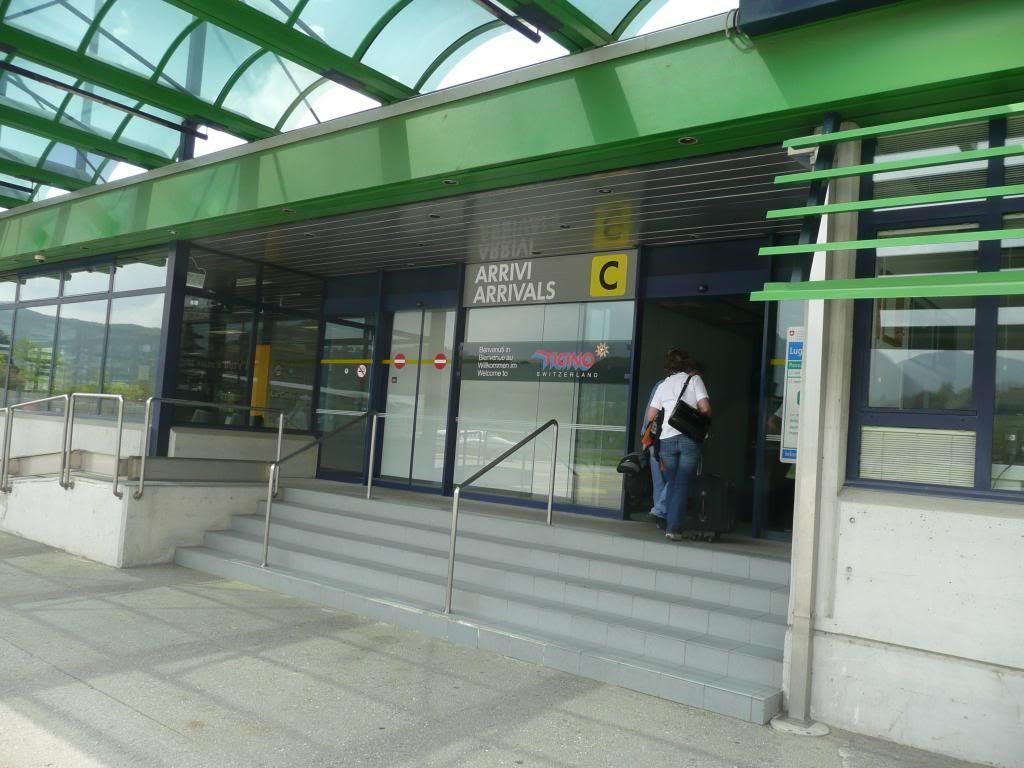 ... it didn't take long for the baggage to arrive.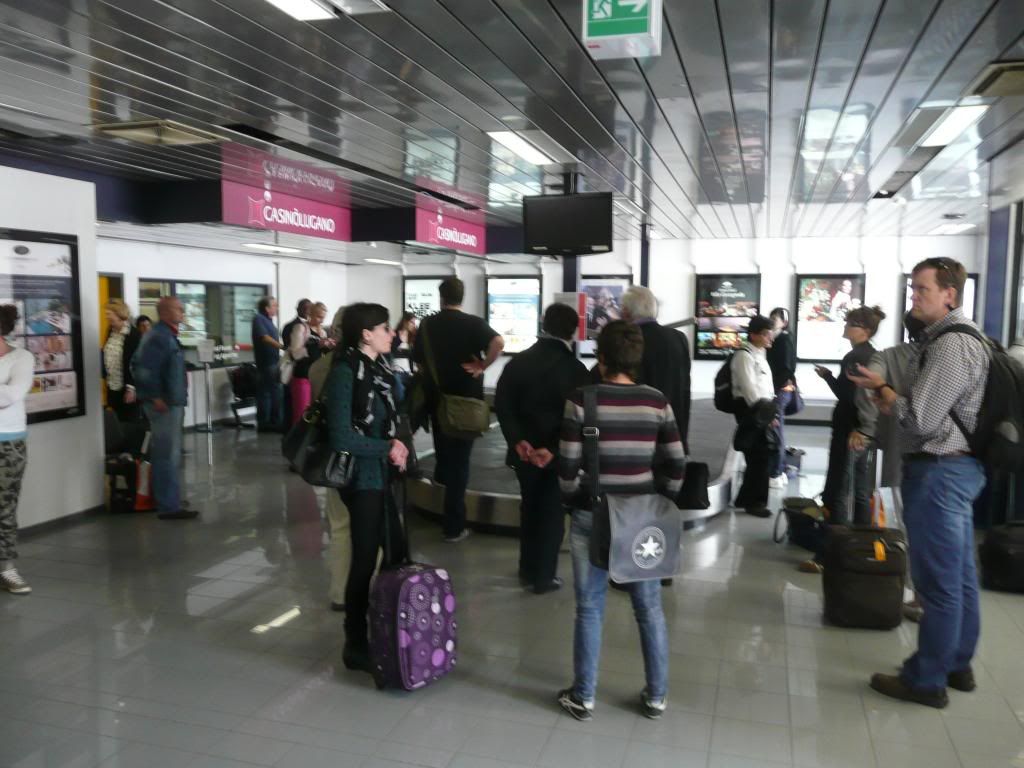 We exited the terminal and had a look around:
Then we got on our way towards the Agno railway station which was about a 10-minute walk away, through some nice streets:
It didn't take long for the train to arrive.
The train went around the airport...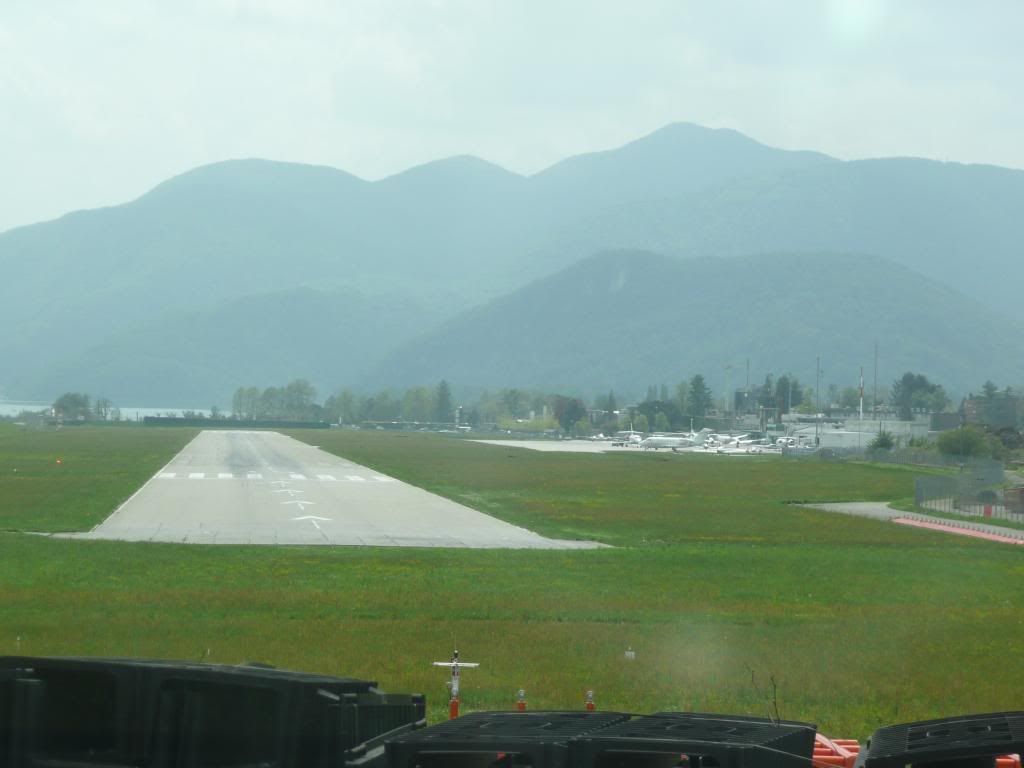 ... and then up a hill alongside the airport.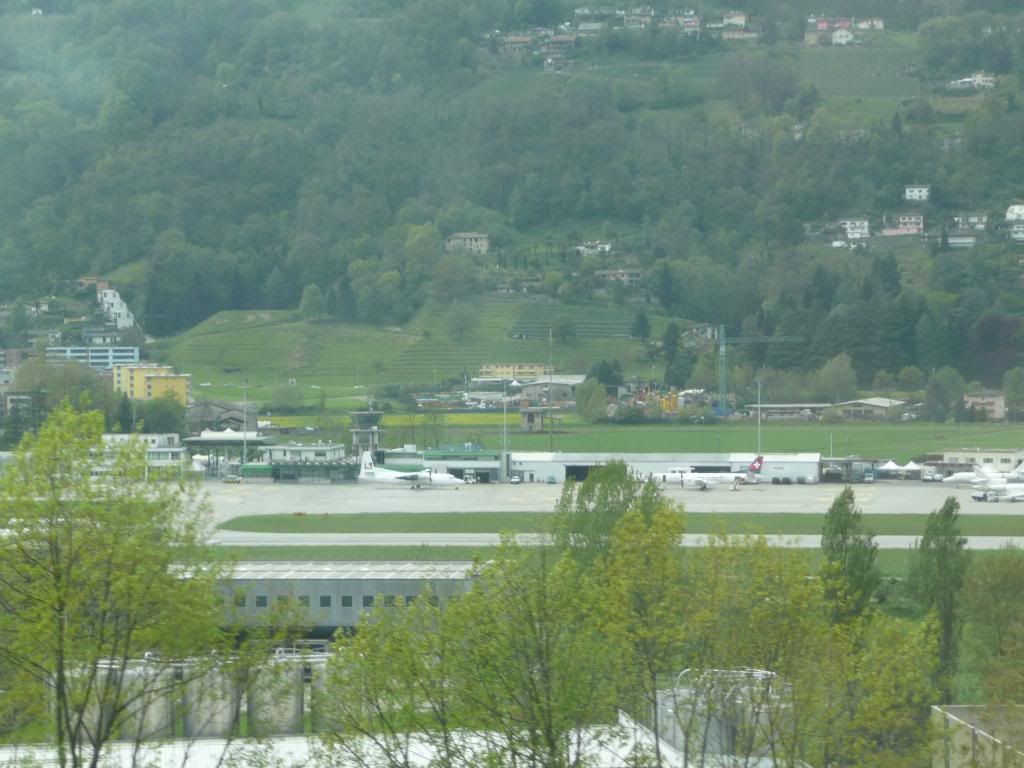 After arriving at Lugano station, we decided to have lunch with a view: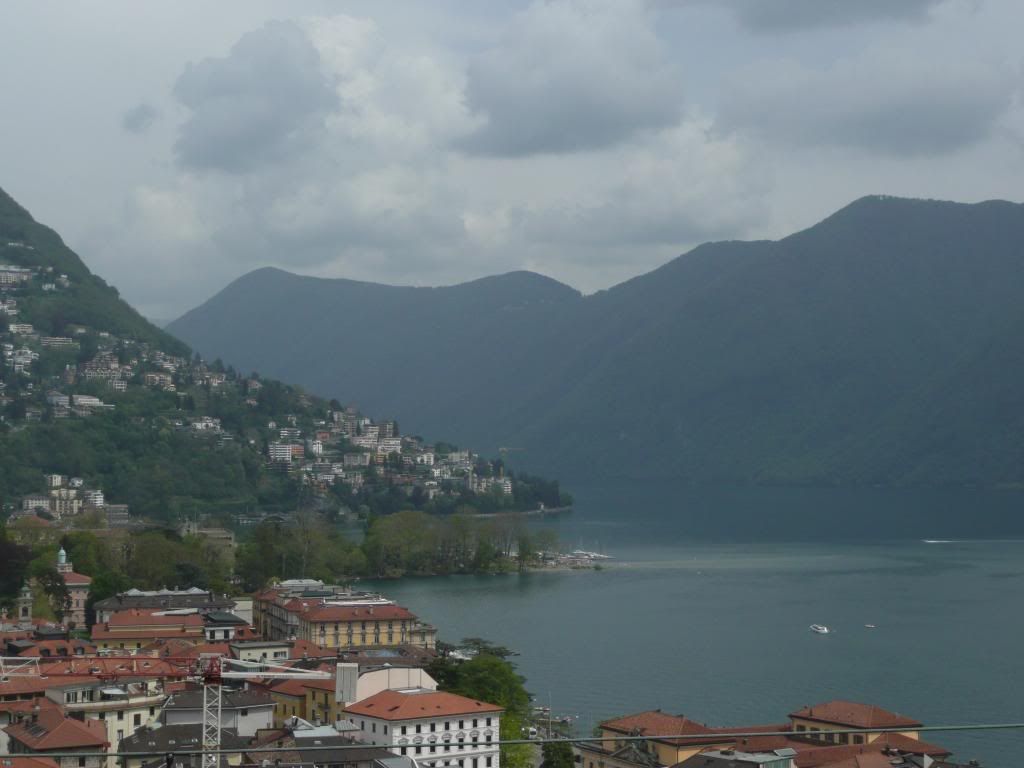 After a delicious pizza (though with very slow service), we took the bus to our accommodation for the first night: The Lugano Savosa youth hostel where we had booked a two-bed room.
I must say this is one of the nicest youth hostels I've ever stayed at – especially the garden was beautiful and the overall setting was very relaxed. We bought some snacks for dinner at a nearby supermarket and just made it back in time before a heavy thunderstorm with hail set in:
[Edited 2013-05-06 15:41:12]