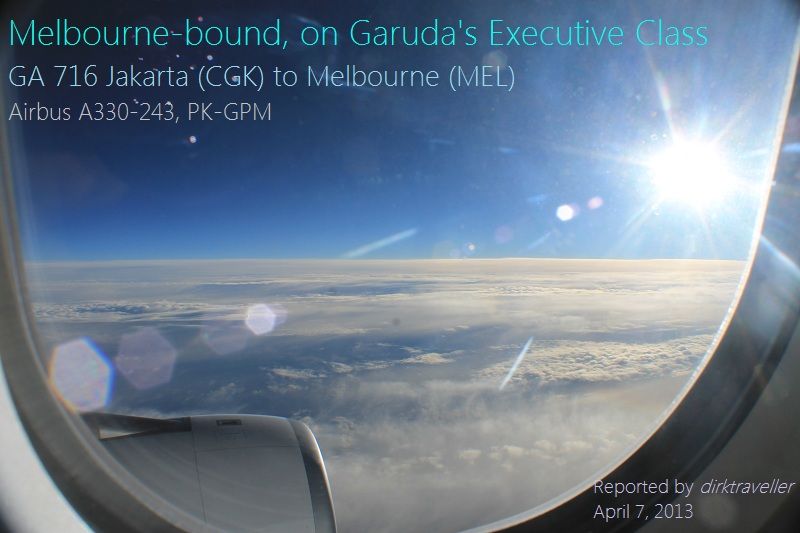 Hi Everyone,
It has been almost a year since I first did a flight report on the trip report forum here. To date, this report is my 18th trip report. To mark my first baby-step in trip-reporting, it would be better that I start this trip report from where I initially began.
My first Airliners.net Trip Report,
"Garuda Holiday:GA717 MEL-CGK Nonstop"
Garuda Holiday : GA717 MEL-CGK Nonstop
(by
dirktraveller
Jul 16 2012 in Trip Reports)
On my first-ever trip report in a-net, I had the opportunity to experience their Economy Class long-haul service on flights between Australia and Indonesia. While GA indeed has improved on their long-haul sectors in Economy, I really wondered how their 'signature' Executive Class would be.
The final part of my first trip report series, A Disappointing End to Garuda Holiday
A Disappointing End Of Garuda Holiday (Part 3)
(by
dirktraveller
Jul 20 2012 in Trip Reports)
On my trip last year on board GA, I was supposed to fly the red-eye nonstop to MEL from CGK. However, due to technical issues, my itinerary has to be re-booked on a flight via SYD. Which means I had no chance to review the red-eye GA 716 flight from CGK to MEL yet, until now. After a year of delay, I guess now is the chance to get on board the nonstop flight to MEL.
Background
After spending the rest of my Easter Break in Jakarta, Indonesia, it was time for me to head for my next port-of-call, MEL. As I would like to maximize my time spent in Jakarta, I preferred to fly on either Saturday (April 6) or Sunday (April 7). This is because I have an appointment just before lunch-time in MEL on Monday (April 8).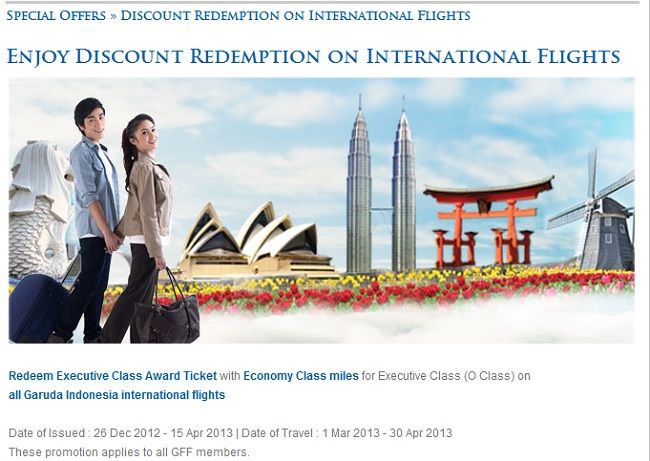 The GFF Executive Class Redemption offer (From the GA Frequent Flyer official website).
If you might have missed it, these are flights that I took before I reached Jakarta in the first place:
My Final Qantas Flagship QF1 Sydney to Singapore
The Day Before Kangaroo Flagship Says Farewell
(by
dirktraveller
Apr 11 2013 in Trip Reports)
Garuda Indonesia GA829 Singapore to Jakarta
The World's Best, From Southeast Asia
(by
dirktraveller
Apr 25 2013 in Trip Reports)
My options initially went for BI or MH on this route. However, when my father saw this Executive Class redemption offer for an Economy Class redemption rate in Garuda Frequent Flyer (GFF) website, he decided to award me the Executive Class ticket on the GA 716 CGK-MEL sector.
Before I continue on reviewing this GA Long-haul Executive Class product, please allow me to thank my father again for the opportunity given to me on delivering this trip report
For Garuda Indonesia, Australia is one of the key regions where they would like to focus their international expansion. Linking the two countries with multiple daily flights from the flag carrier's both CGK and DPS hubs to major Australian cities like SYD, MEL, and PER on their A330 and B738s.
From Jakarta, GA operates a 4x weekly flight to MEL, and 5x weekly to SYD on the A330s. Nonstop route to PER is expected to resume end of this year on board the B738, after being suspended during the 2009 Global Financial Crisis.
With optimistic future is being foreseen on these Australian routes, GA expects to introduce their new B77W on the CGK-SYD route, in addition to the CGK-LGW flights which is expected to grab some of the 'Kangaroo Route' passengers.
Given their status as a "World's Best Regional Airline", one can expect an extraordinary service on their long-haul and focus routes such as Jakarta to Melbourne.
Therefore
please join me on a journey aboard the Executive Class of the World's Best Regional Airline, nonstop to Melbourne.
Check-in
After a day out in downtown Jakarta, I returned to my family's apartment where I did some last preparations and took the last shower before the overnight flight down under. I left the apartment at around 1905hrs for a 50 minutes ride to the CGK airport, arriving just around 2.5 hours before scheduled departure.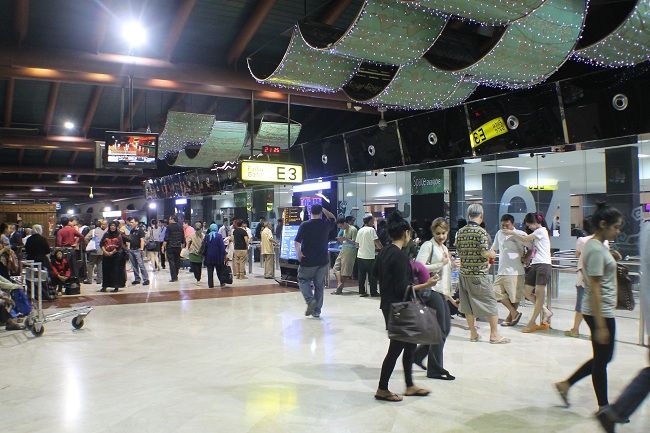 CGK Terminal 2E Departure Area. Only passengers allowed to proceed towards the Check-in area. A security check was performed pre check-in, including all the checked luggage.
Garuda Indonesia has a designated check-in area for Executive Class passengers in their International Terminal.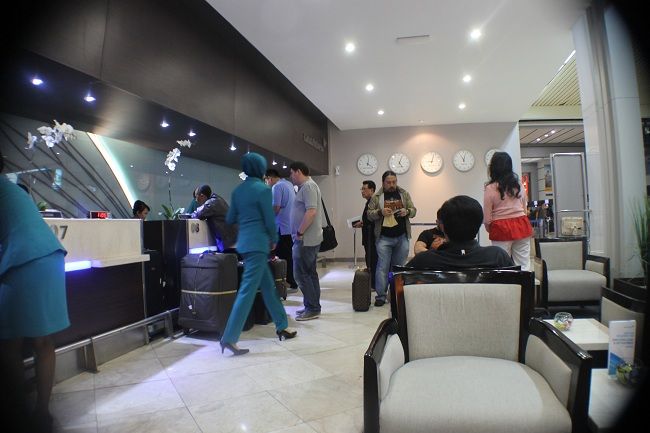 The Premium Check-in area are filled with passengers bound for NRT and ICN that night, seems GA is performing extraordinarily well in terms of premium cabin loads on these routes to Japan and South Korea.
Executive Class passengers are welcomed to sit on the chairs, have some sweets while waiting for GA staff to process your check-in details.
After your check-in process completed, a GA ground staff accompanied me through the passport control, where there's one dedicated counter to serve GA Executive passengers.
On the short walk between the premium check-in area and the dedicated immigration counter, I had a short conversation with the staff member, about Australia, and how well did I spent my week in Jakarta.
While apparently the single counter seems overwhelmed on handling all the red-eye departures that night, queues began to form. The staff member told me that I could proceed wait on the Executive Class lounge, while he will make sure my passport is getting stamped for departure out of CGK. I have to say it is a great feature for GA!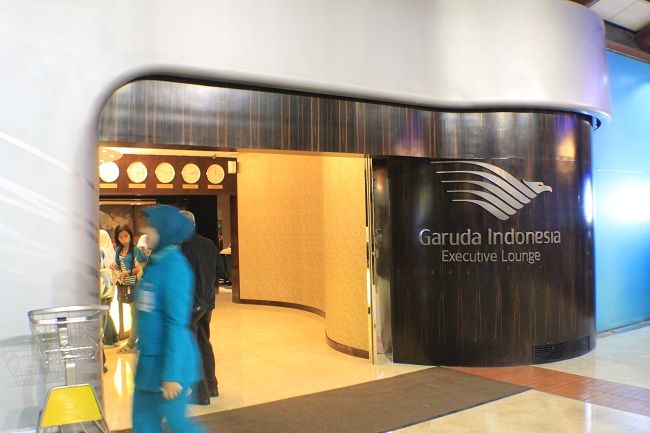 So I headed for Garuda Indonesia's International Executive Class Lounge, while my passport is on the process of being stamped for departure.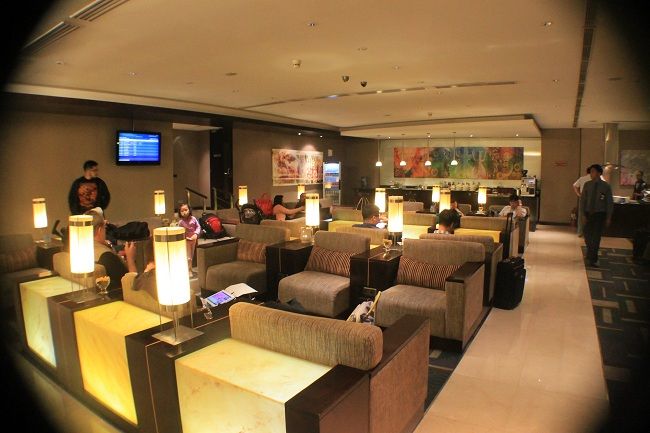 Inside the lounge, with comfortable armchairs everywhere!
The Buffet area, with beverages such as juices and water, along with some fruits available. There are a range of Indonesian and western options of hot meals at the other side of the buffet.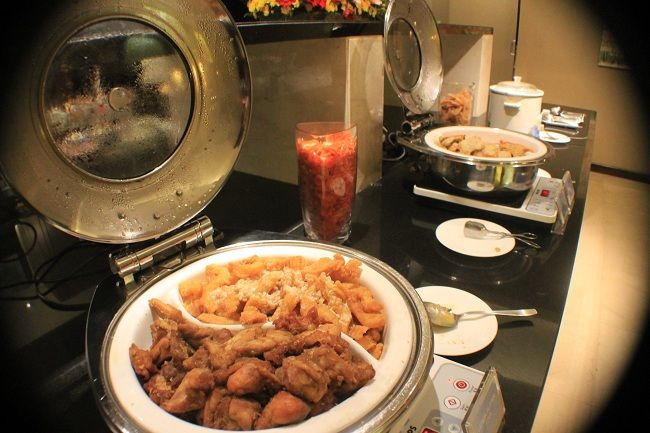 The Indonesian hot meals option on the lounge, including fish and traditional fried chicken is served that night.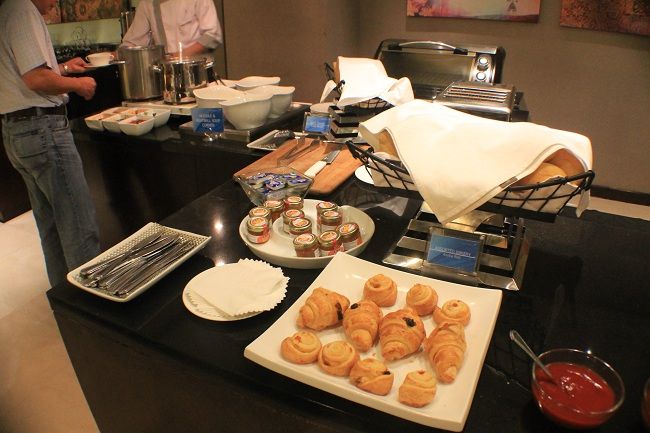 Bakery options and dessert, with the special "Bakso" corner away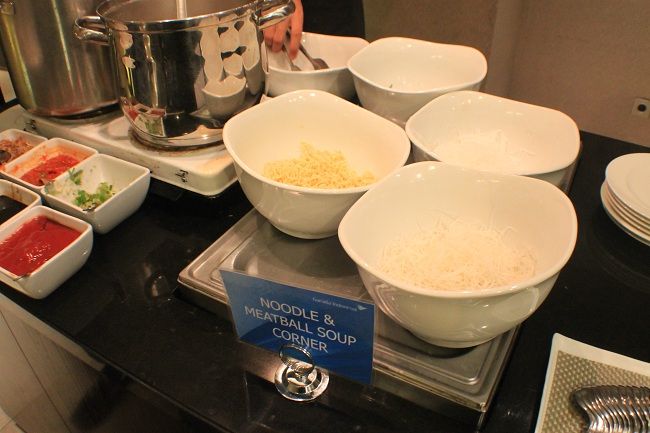 In addition, there is a special corner for the traditional Indonesian noodle soup with meatballs, also known as Bakso.
Passengers can make their order by selecting the type of noodles, and other condiments that would like to be included in your bakso noodle. One of the staff members would then prepare it for you.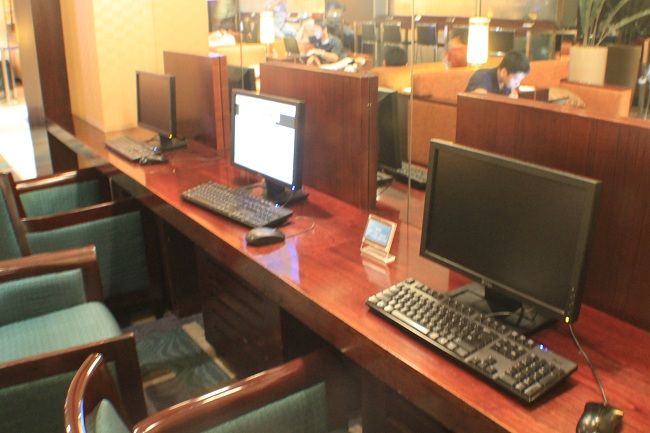 There is a corner of free internet access computers in the lounge. A free Wireless connection were also provided.
Reading materials on the lounge. Well stocked for reading materials in Bahasa Indonesia, however English ones could have more variety.
Some desserts I had from the lounge.
My passport, boarding pass, and the fast track entrance for immigration at MEL. A lounge invitation is not required based on the logic that a GA staff is accompanying you from check-in, passport control, until you reach your lounge.
One of the downside of flying GA from CGK is getting the plain white boarding pass which I feel they could prepare a better designed boarding pass given this is a flight originated from their main hub.
Boarding
Flight Details:


Flight Number: GA 716
Type of Aircraft: A330-243
Registration: PK-GPM (s/n 1214, delivered to GA 18/03/2011)
Seat Number: 5A
ETD : 2230 (actual time of departure around 2305)
ETA : 0800 (actual time of arrival around 0835)
Having enjoyed my time in the lounge, I was unaware of the time, and when I checked on the time it was already 2205, and scheduled boarding should have already commenced.
I checked with the front office in the lounge and their staff told me that they had not been notified that GA716 is ready for boarding.
Nonetheless I thanked them and made my way to the gate, hoping that I was one of the first to board the aircraft, allowing me opportunity to get some decent pictures of the seats and the cabin, before the majority of passengers started boarding.
The security check before boarding gate areas were extremely long in queues, with departures to SYD, PVG, ICN and NRT crammed through the four scanners operating there. Unlike at majority of airports in South East Asia (SIN or BWN) , security screening in CGK are done in general before passengers entered their respective boarding gates.
I reached my assigned gate E2, only to found a gate which is rather empty and the word "Final Call" on the FIDS.
The gate was shared with flight GA894 bound for PVG. I saw there was PK-GPJ connected to the aerobridge, and apparently I was informed that it was the aircraft bound for PVG.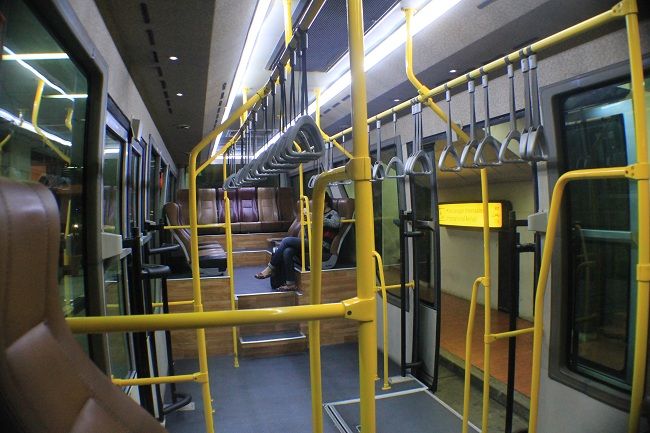 MEL bound passengers are invited to ride the escalator down and take the exit in the right where a bus would transport them to the aircraft, which is parked at a remote stand.
After a 10-minutes ride passing GA A332, B744, and B738s , we reached the aircraft's parking stand.
Our aircraft for MEL tonight, 2.1 years old PK-GPM. I actually intended to take a better picture of the aircraft, but I did not want to alarm some of the security personnel standing beside each of the stairs.
The last step before boarding PK-GPM, goodbye Jakarta, and Indonesia too... (you can see the flag painted just above the L1 door!
When I stepped inside, the senior purser in the dark blue kebaya, welcomed me aboard,
Selamat malam Pak, Silakan, di sebelah kanan (Seat 5A)
Good evening Sir, your seat is located in the right hand side of the aircraft (my seat 5A)
My seat (and bed) for the overnight journey, 5A. I was pleased to find that the seat 5B next to me was vacant for this flight.
Coincidentally I met a former colleague of mine, seated just in front of me in 4A. He was heading for an appointment in MEL as well, but decided to rest throughout the flight, while I was taking as much pictures for the TR.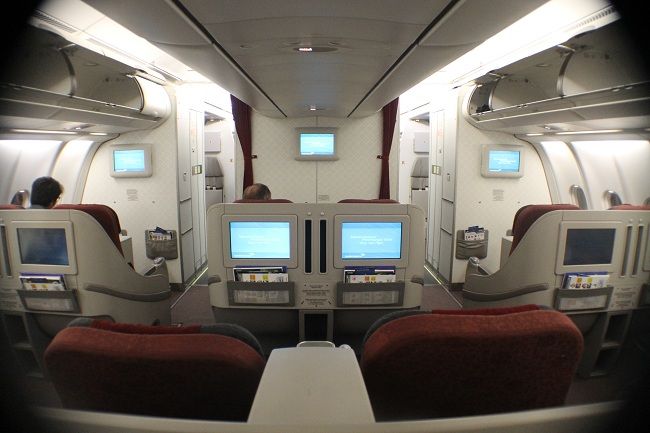 Neat 2-2-2 arranged Executive class cabin on board PK-GPM.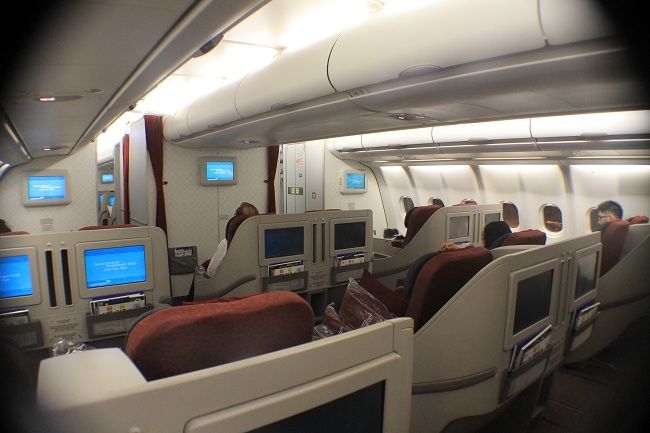 Our Executive Class cabin, after the doors were closed, with final loads of 25 out of capacity of 36 seats.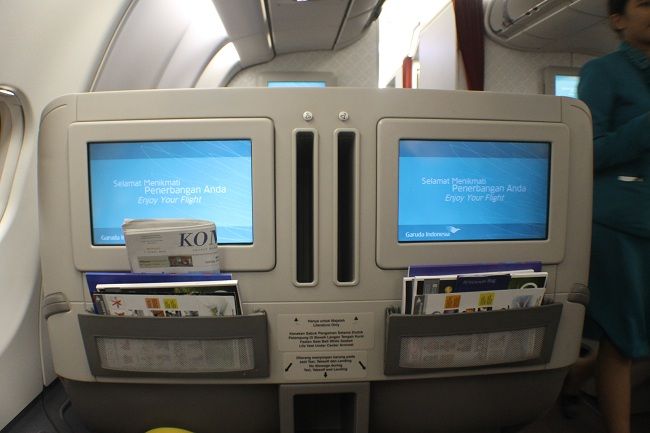 Seatback views, "Enjoy your flight"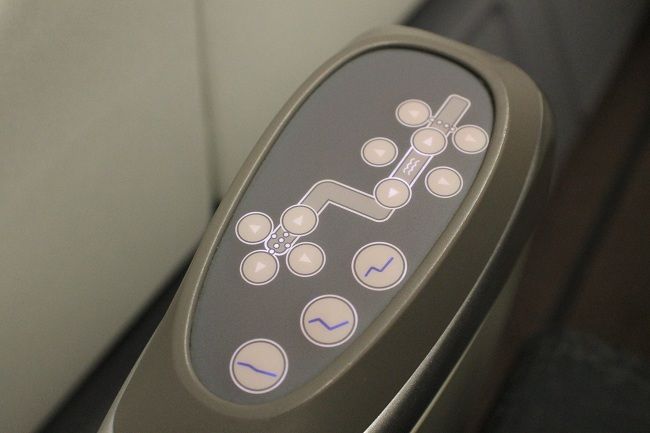 Closer look at the seat controls for this angled-flat Executive Class seats.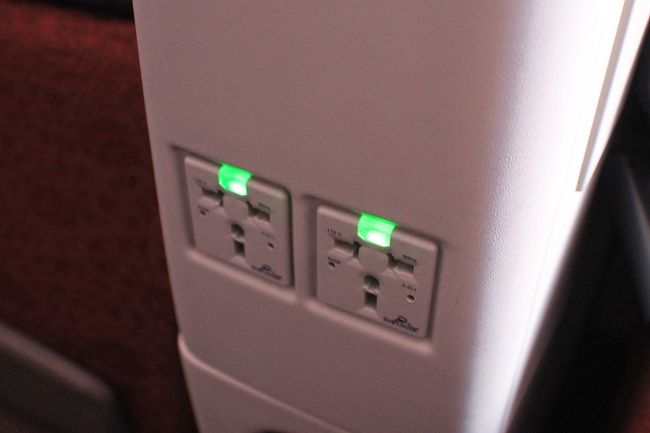 Plugs were available for passengers to charge their gadgets.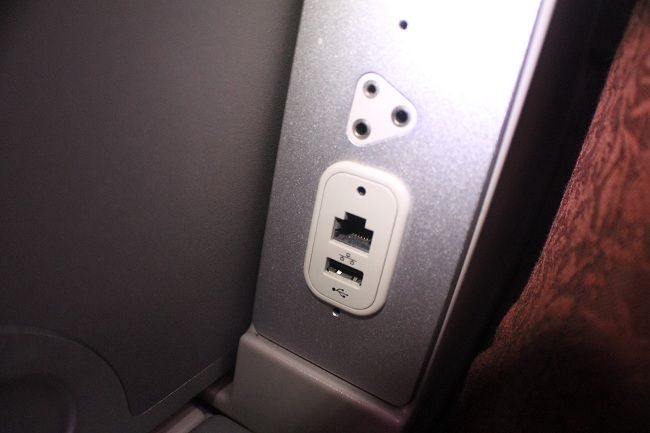 USB port connections beside your seat.
Legroom is way more than sufficient for the 6 hours flight.
After every passenger has boarded, the flight attendants then started the pre-takeoff services.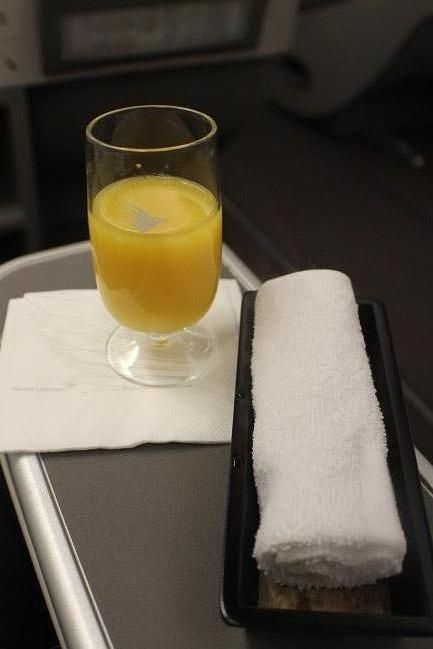 It began with a choice of welcome drink and hot towels. I choose orange juice for my welcome drink.
A range of newspapers and business magazines were offered after the welcome drinks.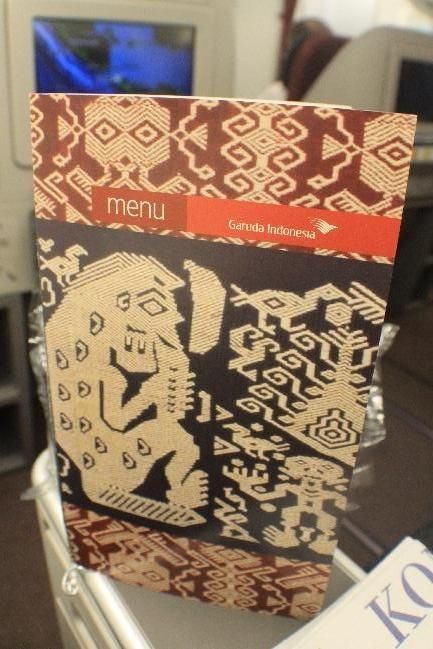 It was followed with a menu informing options for the breakfast service before our arrival into Melbourne. Wait, there are no mention of any meal/refreshment services after take-off?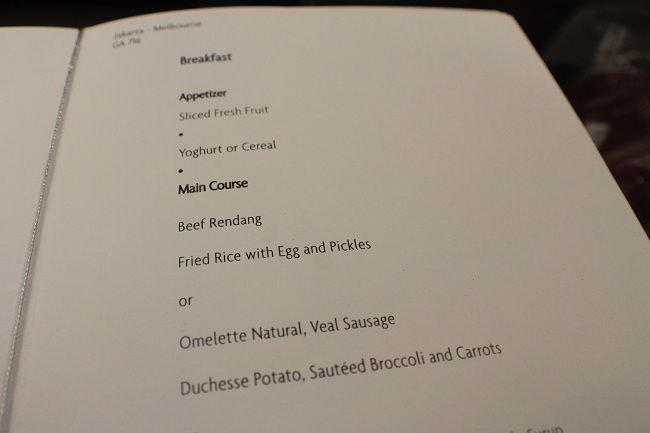 The options for our breakfast shown inside the menu.
Following the menu. Amenity kits were distributed. The Aigner amenity kits contained a comb, eye-shades, socks, a set of tooth-brush and tooth-paste, the tiny Etienne Aigner body emulsion, lip balm, and eau de toilette.
Our aircraft were soon pushed back for departure at around 2240hrs, and taxied towards the runway.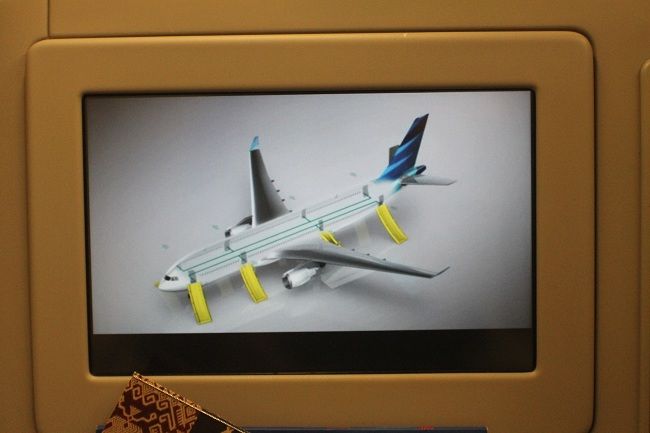 GA safety video were played while taxing, and was followed by flight attendants giving the 'signature' GA greetings after the video as per normal.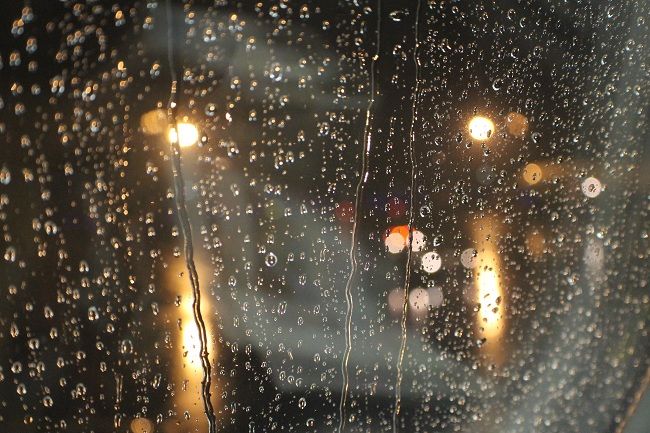 Heavy rain started to pour while we were taxing.
And at around 2305hrs, the aircraft's powerful, but not that noisy Rolls-Royce engine were on take-off setting as we lift off the gateway of Indonesia, CGK, under the heavy rain and followed by several thunder and lightning.
Given the extreme weather the climb had some light turbulence as expected, and as we were heading off the island of Java, seat-belt signs were off as our flight began to climb steadily to our cruising altitude of 39,000 feet.
In-flight
After the seatbelt signs were switched off, cabin lights were slowly switched back on as the cabin crew come down with bottled mineral water for every passenger.
Our flight has just began tonight, with another 6 more hours to go.
Selamat Datang
.The in-flight entertainment (IFE) system has just been activated after take-off.
Then, the full bright cabin light were again dimmed, and switched to a mood-lighting to allow passengers to rest. This is my first time on board a GA flight with mood lighting.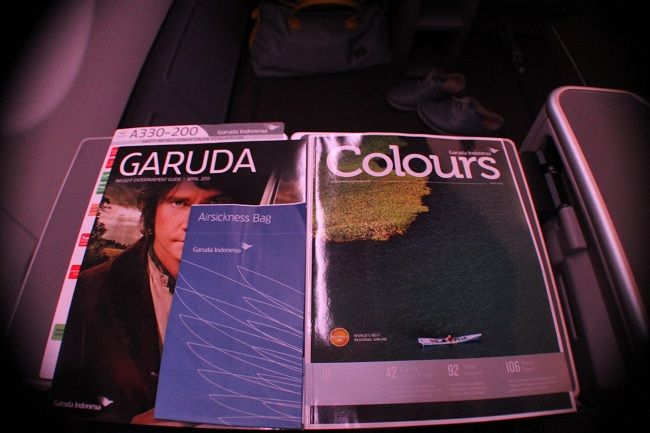 The Seat-pocket contents, with A330 Safety card, Garuda IFE guide, airsickness bag, and "Colours" the new in-flight magazine of GA.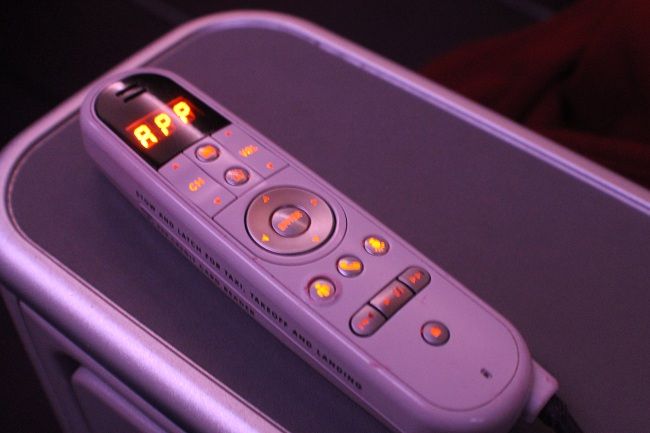 Controls for the IFE.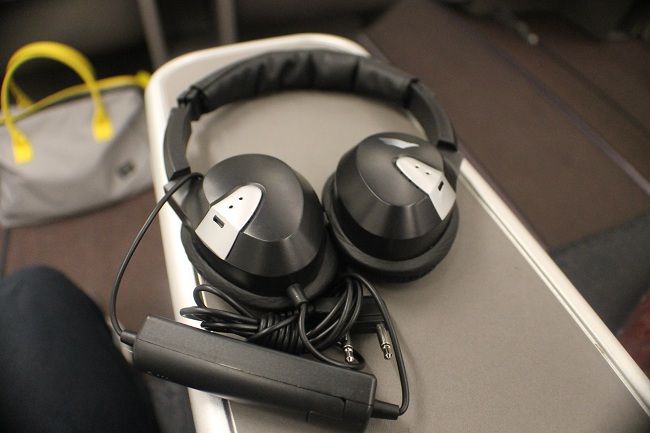 The noise-cancelling headsets on J Class.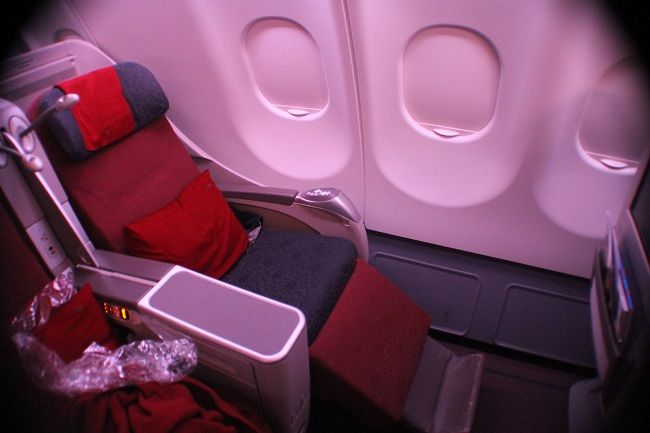 Getting ready on the 'relax' mode for a movie from the IFE system.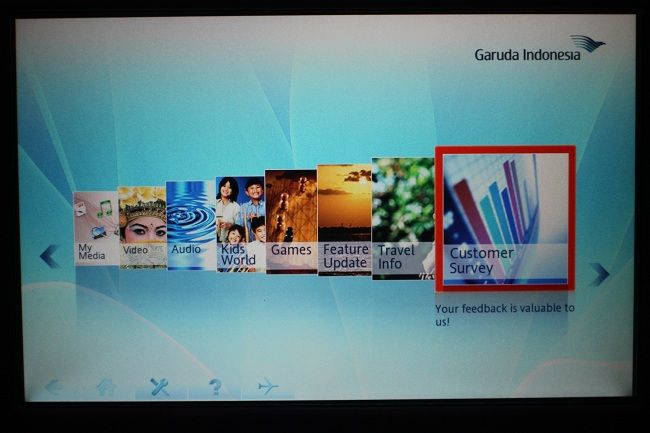 The main menu of IFE on GA. They have a rather wide collections of music, with the great feature of creating your own jukebox that I always use. However, I have to say that they need to update their movie collection more regularly, although in terms of choices it is still acceptable.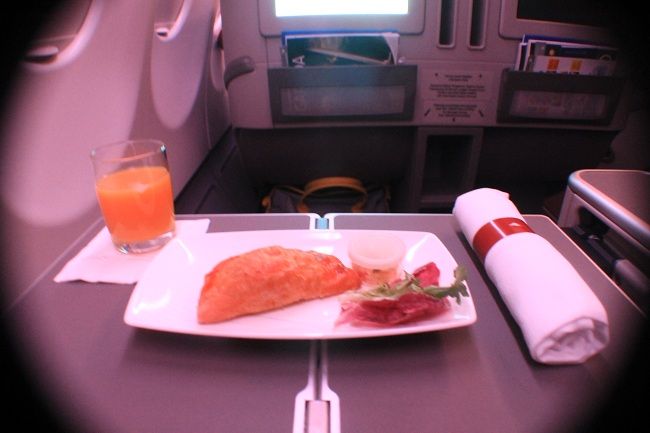 Later on, the cabin crew came around offering light refreshments for the night. It consists of a curry puff and a choice of drink.
Many of the passengers opt out of the snack services as they would like to rest, and apparently when the flight attendant came down to offer me, she convince me to have the night snack.
" Pak, enak lho, menyesal kalau tidak mencoba curry puff nya"
" Its really nice, Sir, you might regret it if you don't try the curry puff"
Of course, I smiled and responded,
" Yes, Please."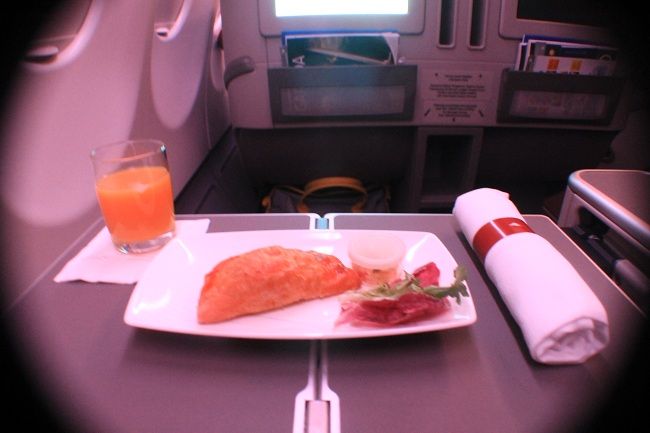 The late-night snack, with orange juice as my choice of drink.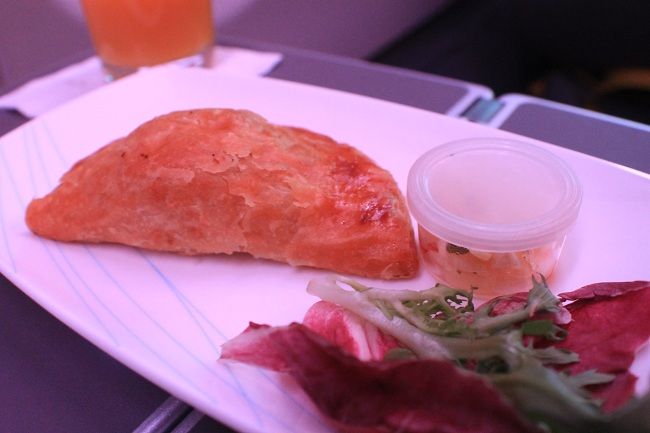 Closer look at the late-night snack, curry puff.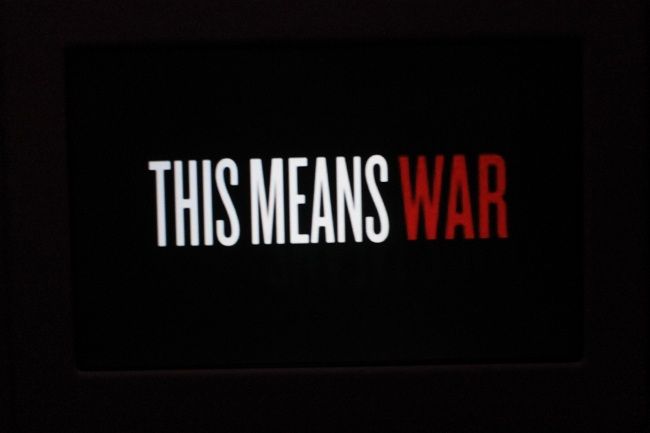 Watched "This Means War" while having my curry puff.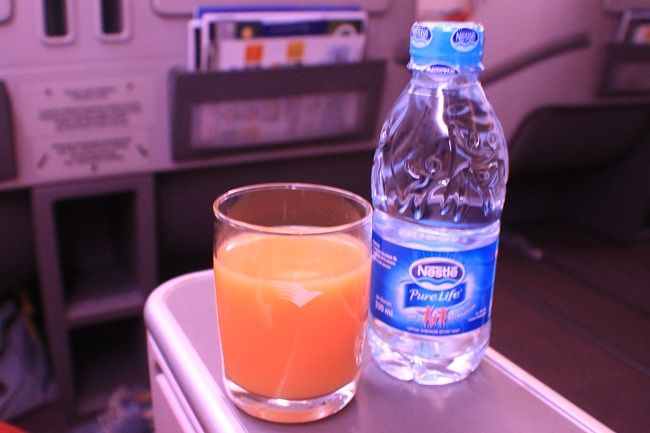 Later on, the same flight attendant came to me and asked how was the curry puff. True to her words, the curry puff are nice and she asked me if I would like another drink. I told her that I would like another round of orange juice.
Pictured are the second round of orange juice, with the bottled water given earlier during the flight.
Reclined my seat to almost-flat position, preparing for sleep, as the movie was ending.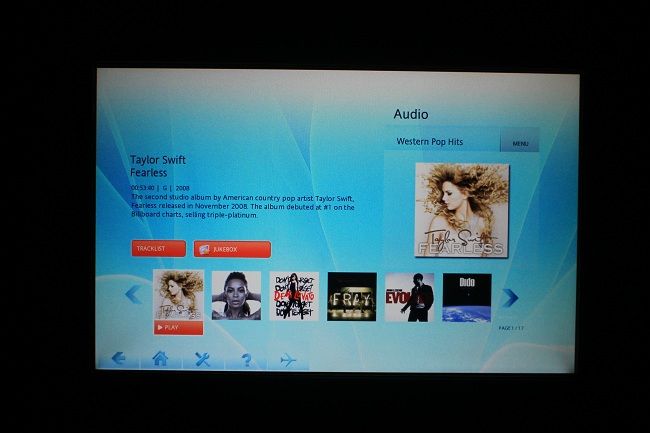 Picked some choice of music on my personal jukebox to accompany me sleeping tonight, as the cabin light is again being switched off.
For some reasons, during the night the cabin was rather cold (or maybe it was me simply feeling unwell), so therefore I used the other blanket on 5B and comfortably continue my rest.
The last position of the flight before I slept.
Well, I was asleep, only for around three hours, and found our position to be around ASP when the sun is about to rise.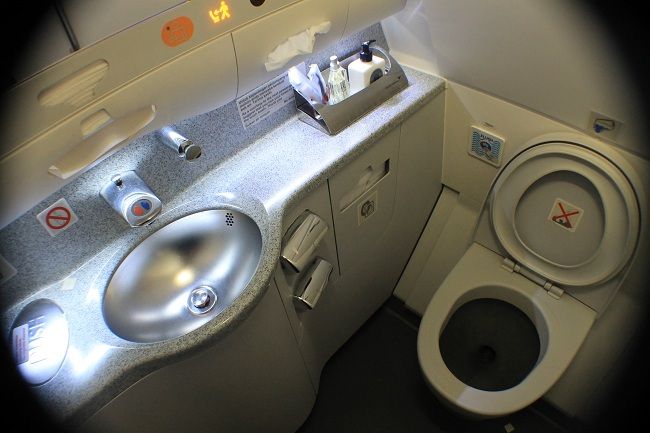 Lavatory visit after I woke up. It looks identical to those on Economy, although there were slightly more amenities inside.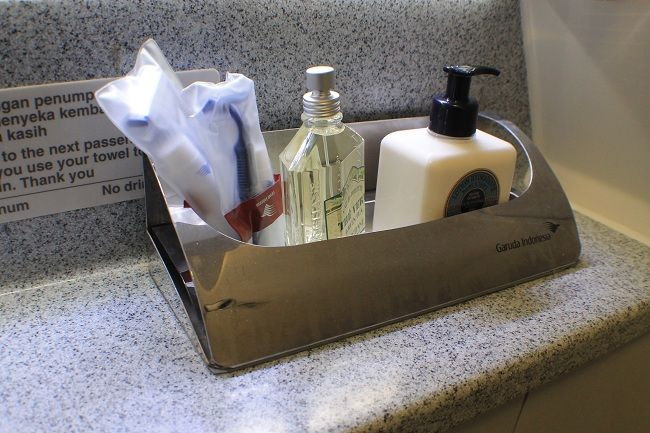 The 'slightly more amenities' consisting of a perfume, body lotion, and a few shaving kits.
And when I returned to my seat, it was time for my favorite part on a red-eye flight.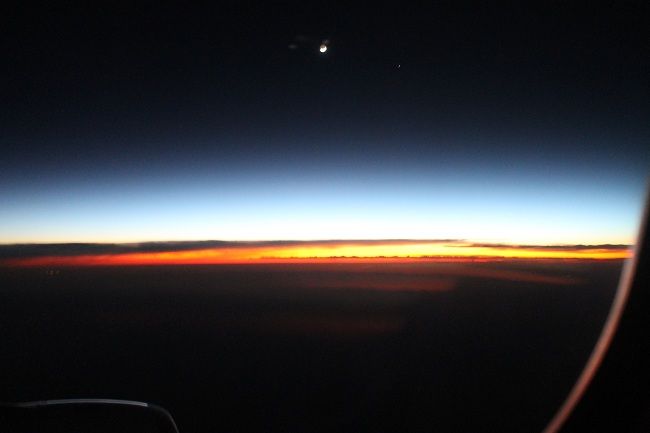 The first signs of light started to appear around central Australia,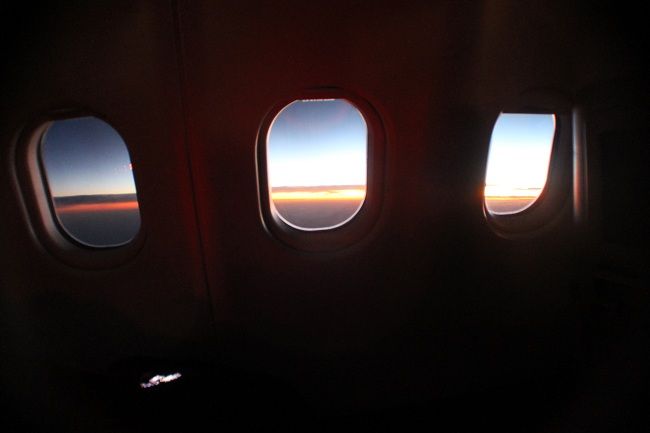 My three-windows with the Australian sun starting to rise..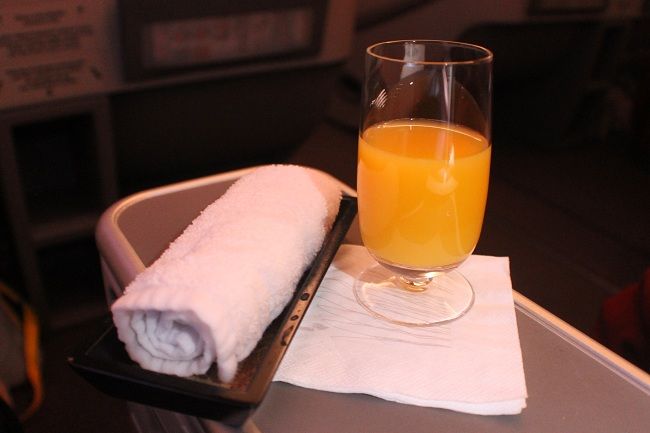 Cabin crews started the breakfast service not long after, around two hours away from MEL. A cabin crew offered me an orange juice with a set of hot towel.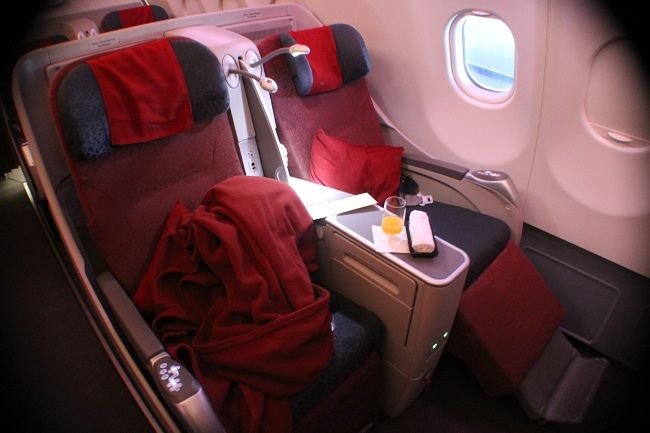 My 'bed' after the three-hours sleep. Looks so messy, I know.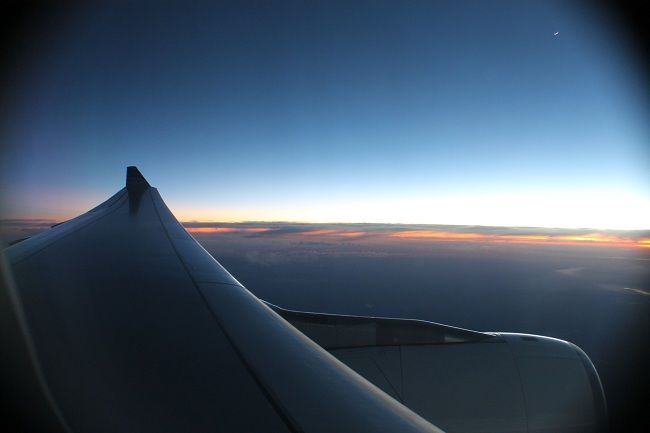 Beautiful sunrise outside the window, with the wings of A330 makes it even better.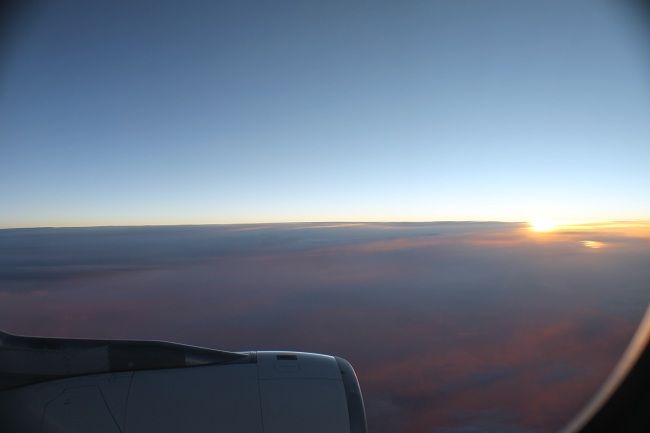 A great reminder why I love flying, especially these overnight flights.
Rise-and-shine, but most of the Executive Class passengers were still sleeping...
Mood lighting were in place, as the sun started to gets even brighter outside.
Cabin crews came to my seat and set up the table for breakfast. They set the white table-cloth before arranging the starters for the breakfast service. Nice touch!
The breakfast begins with the starter, fruit slices, a bowl of cereal, and bread rolls. To accompany your breakfast a cup of tea was offered, and I asked for a glass of water too.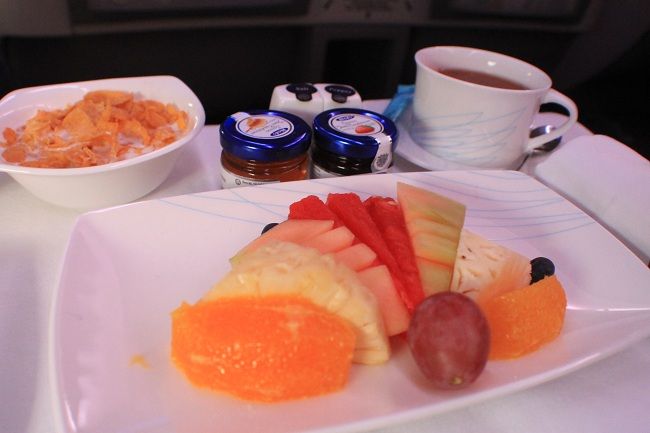 Closer look at the nicely presented fruit slices for starter.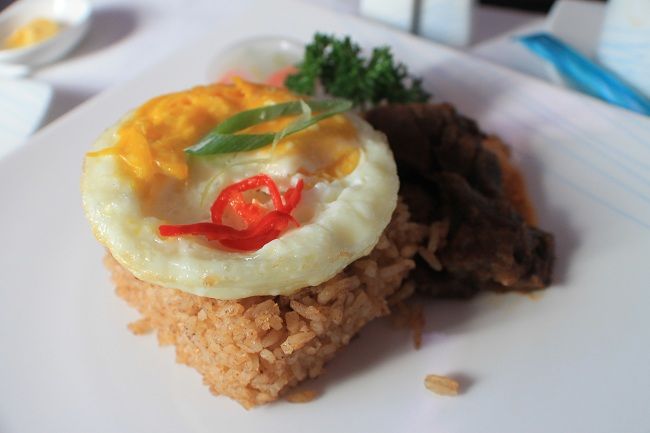 After I finished the fruits, cabin crews collected it and handed me the main course.
This is the Beef Rendang Fried Rice with egg option. It tasted really nice in my opinion.
The sun has shine very brightly as the breakfast service is completing. Some passengers had just woke up at this point and they had the late breakfast, skipping the starter and only had the main course instead.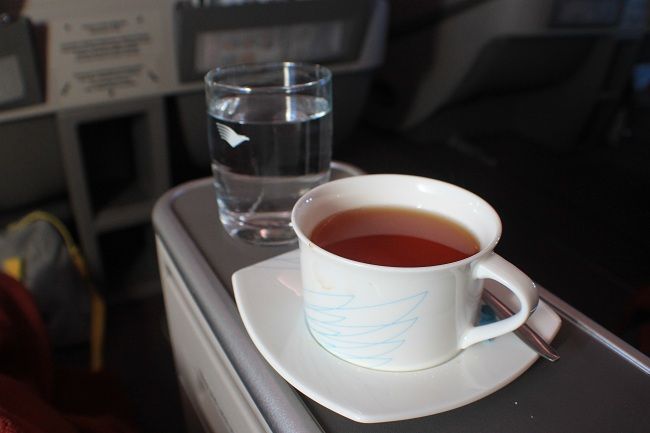 After the meal service, the Senior Purser in the dark blue kebaya, asked me if I would like anything else. I asked for a cup of tea, and they gave me my cup of hot tea, and refilled my glass of water as well.
The landing cards for Australia were distributed after the breakfast were cleared, and I filled them immediately. I then move myself to seat 4B and had a small conversation with my former colleague until the captain come on the PA, greeting passengers a good morning and announced that we started our descent into MEL.
Landing into Melbourne
Following the captain's announcement that we were approaching MEL, the cabin crews prepared for landing, clearing up all the breakfast service, and then instructing passengers to fasten their seatbelts and putting their seats back at the normal position.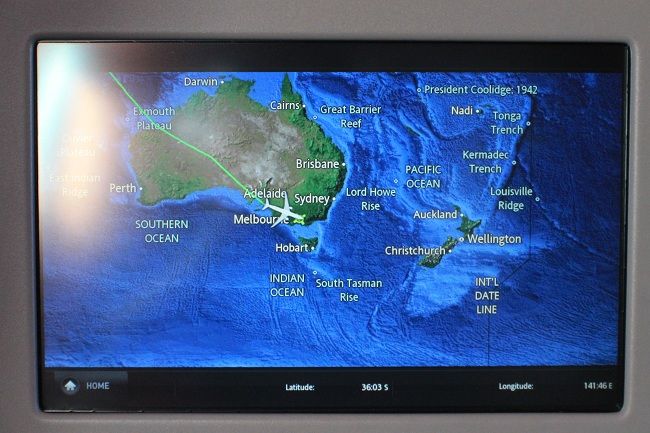 Approaching Tullamarine Airport, Melbourne.
The last picture of the Executive Class cabin on the A330, before the curtains were secured and every passengers seated or landing.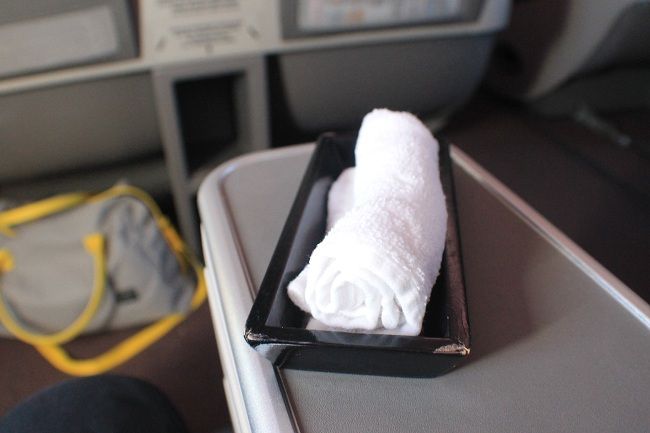 The cabin crew members came around offering one last hot towel to passengers, and collect them not long after.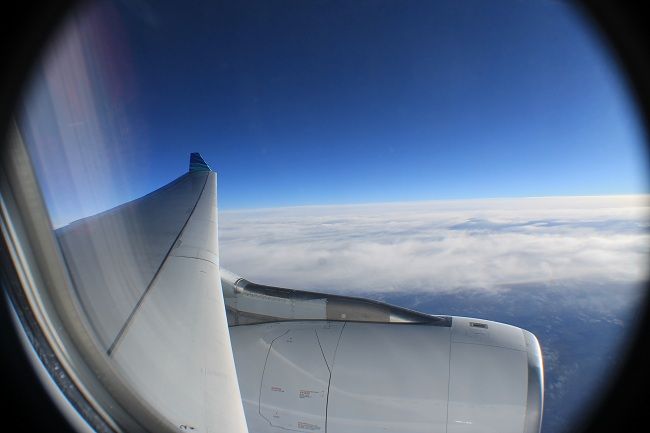 Starting our descent from the cruising altitude of 39,000 feet.
Apparently, the flight entered several holding patterns, and just circled above western part of Victoria before approaching MEL. I wonder if this was normal for early-morning approaches into MEL?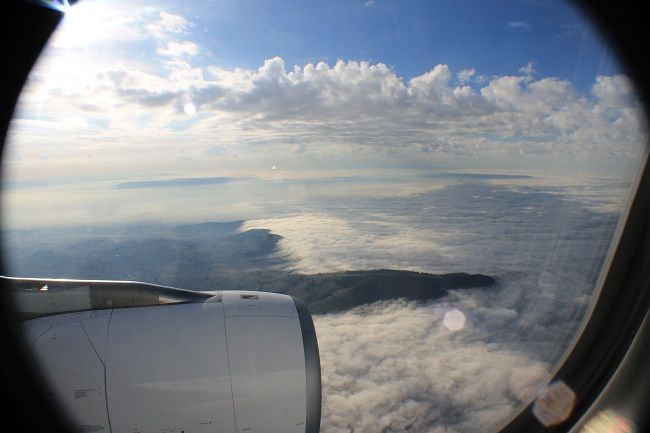 Descending further down.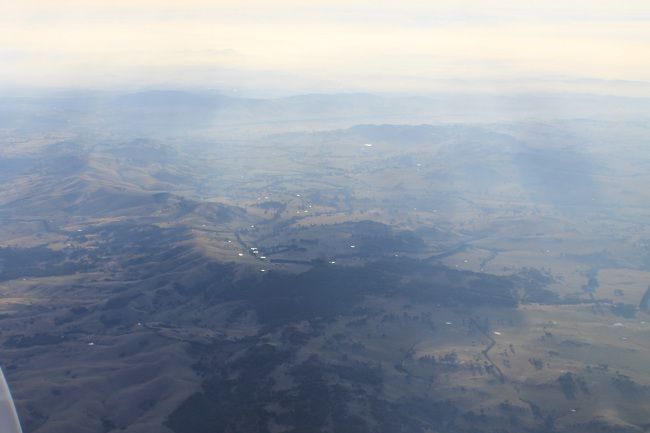 Beautiful scenery of hills and forests were observed on approach.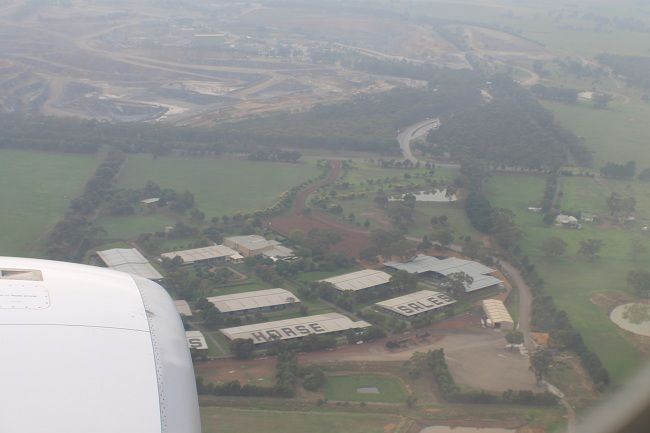 On final approach into Tullamarine.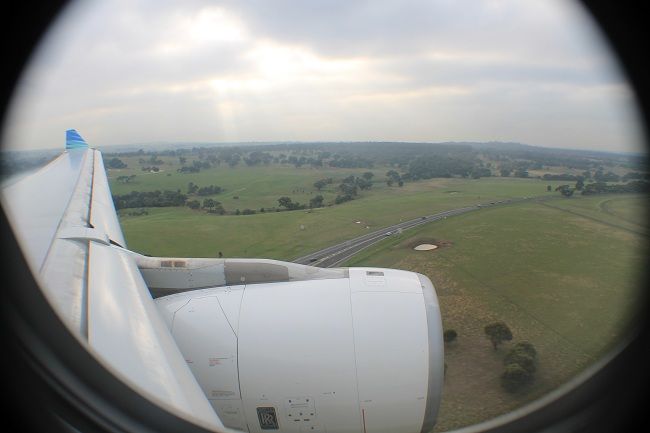 Just before touchdown, with the freeway leading to MEL airport seen in a distant.
Touchdown, around 20-minutes late than scheduled, around 0835hrs.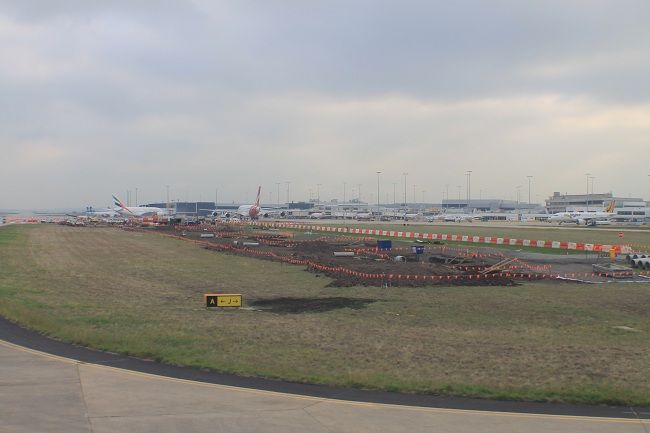 Some maintenance work were underway as we taxied to the gate.
The Senior Purser then took control of the PA, and greeted everyone.
"Bapak/Ibu yang terhormat, Selamat Datang di Bandar Udara Internasional Tullamarine, Melbourne."
"Ladies and gentlemen, welcome to Tullamarine Airport, Melbourne"
Then it was followed by the regular announcement regarding the temperature, connecting flights, and thanking everyone for flying with Garuda Indonesia.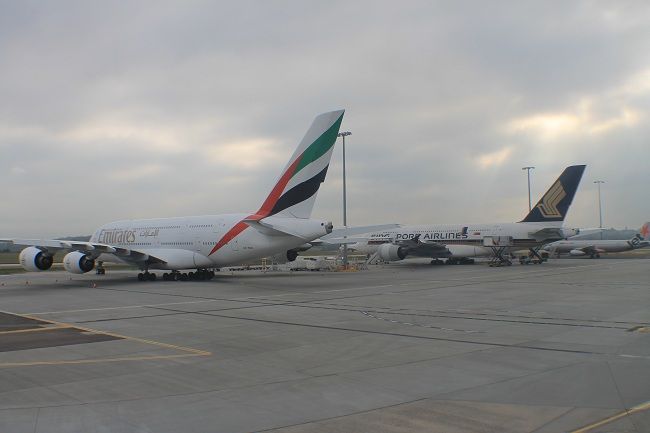 There is a lot of A380 this morning in MEL, with Singapore Airlines parked in the remote, and the new-partner of the flying kangaroo, Emirates, registered as A6-EDD.
We reached our parking position at gate D10, with two of QF A380, VH-OQJ and VH-OQJ parked beside us.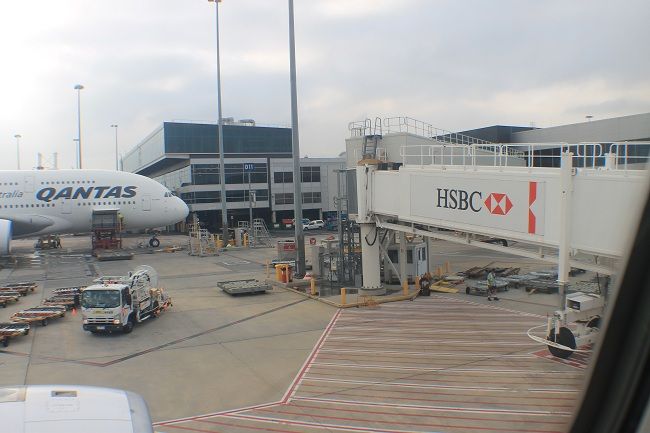 The aerobridge connecting to our A330, and Executive Class passengers were invited to deplane first. My former colleague and I told
Terima Kasih
to the nice crew members who took care of us throughout the red-eye, and left the airplane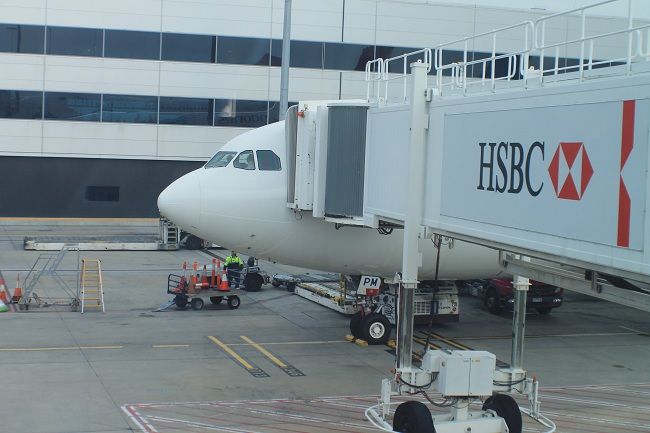 Thank you, PK-GPM for a nice flight.
Welcome to Melbourne, heading back to the immigration area.
The immigration area in MEL, was crowded and long queues were formed as per normal. They urgently need to improve if they are planning to welcome more visitors.
My colleague were not known for his jokes, but he joked that "there's no difference" between the regular line and the fast-track lane we used, as the two desks allocated for fast-track passengers were filled with long queues from arrivals from the QF A380, our flight, and another SQ flight. It took around 20 minutes for us to complete passport control.
Baggage claim were fast as our priority-tagged bags were the first ones in the carousel. We then proceed out of the arrivals area and I headed for the shuttle bus towards Southern Cross Station and headed for my appointment.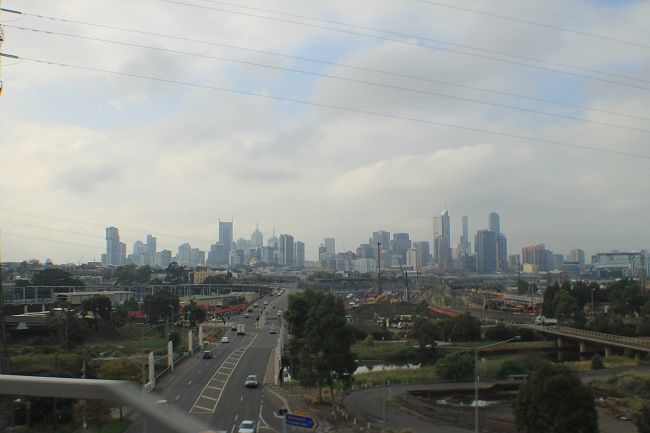 Hello Melbourne CBD.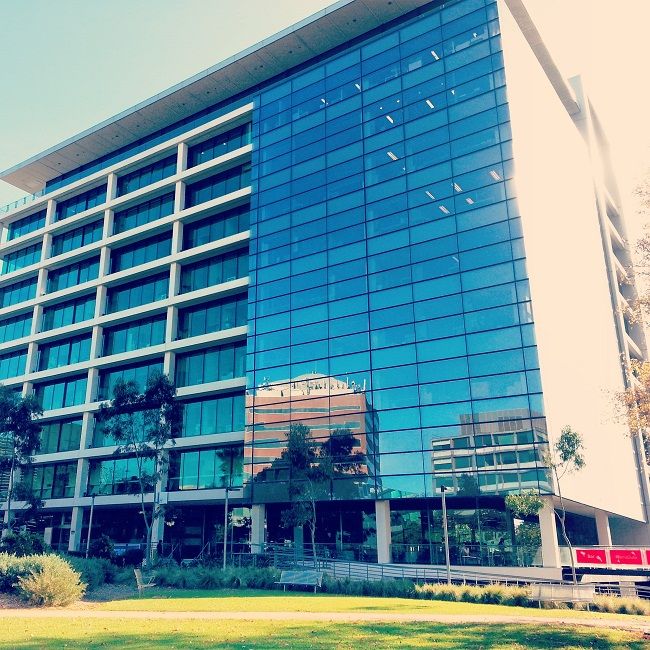 And despite the slight delay on our departure, I reached my appointment 30 minutes early at 1028hrs. Thank you Garuda Indonesia!
Final thoughts of the Flight
First of all, I would like to thank Garuda Indonesia official account for all the likes on the pictures I posted about my GA experience through my instagram account.
Conclusion
On the overnight flight between CGK and MEL, Garuda Indonesia has really impressed me. My last experience flying GA last year did not went really well, especially in terms of ground service.
This time round, their pre-flight ground service was really impressive. Having a dedicated Executive Class area check-in with staff assisting the check-in process, immigration clearance, and accompanying them until the lounge was really a great touch.
It simply demonstrates the attention of GA in ensuring their premium passengers having a smooth experience before they even boarded the flight. This is the first time I observed such service provided for J class passengers, although in F class it is rather common feature.
The International Executive Class lounge was the best lounge I've ever visited in CGK, by default. The range of meal and beverage options were great and it was really comfortable to wait for your flight over there.
However, the space was rather small compared to Garuda's expansion, as it was filled with passengers bound for different GA long-haul routes. I feel they would need a bigger lounge when they really had expanded into more Australian and European destinations later.
Just like my CGK ground experience, my experience on board GA Executive Class were as pleasant. From the moment you stepped on board the A330, the set of experienced and friendly crew members would take care of you. The seats were really comfortable for an overnight flight, although it was a lie-flat angled seat. The seat features like USB and an electric plug makes it even better. Their IFE system are just as great, and the meal service was just like what one would expect from an award-winning airline. Well done Garuda!
Melbourne Airport was better than your average airport in Australia, although if you expect a Changi or maybe CGK it would not be the case. I believe they could have done so much better in managing the passport control queues.
Certainly, even with my high expectation of them as the "World's Best Regional Airline" , Garuda Indonesia still manage to impress me. Based on my experience aboard GA716, I feel they deserved a 5-star rating instead of their current 4 stars. Hopefully, we could see GA bring their incredible service to more destinations around the globe.
If you have any thoughts or questions, don't hesitate to leave a comment.
Thank you for reading.
Regards,
Dirktraveller
[Edited 2013-05-07 06:19:27]