This is the third and final installment of my trip to Vietnam. I meant to post it much earlier but various family emergencies slowed me down. But better late than never!
After ten days of working at the university in Hanoi, broken up by a weekend in Halong Bay, we were ready to enjoy some vacation time in Saigon before heading home via Hong Kong. We really enjoyed the hustle and bustle of Hanoi, especially since they were preparing for the Tet festivities and the decorations were going up and the city looked so colourful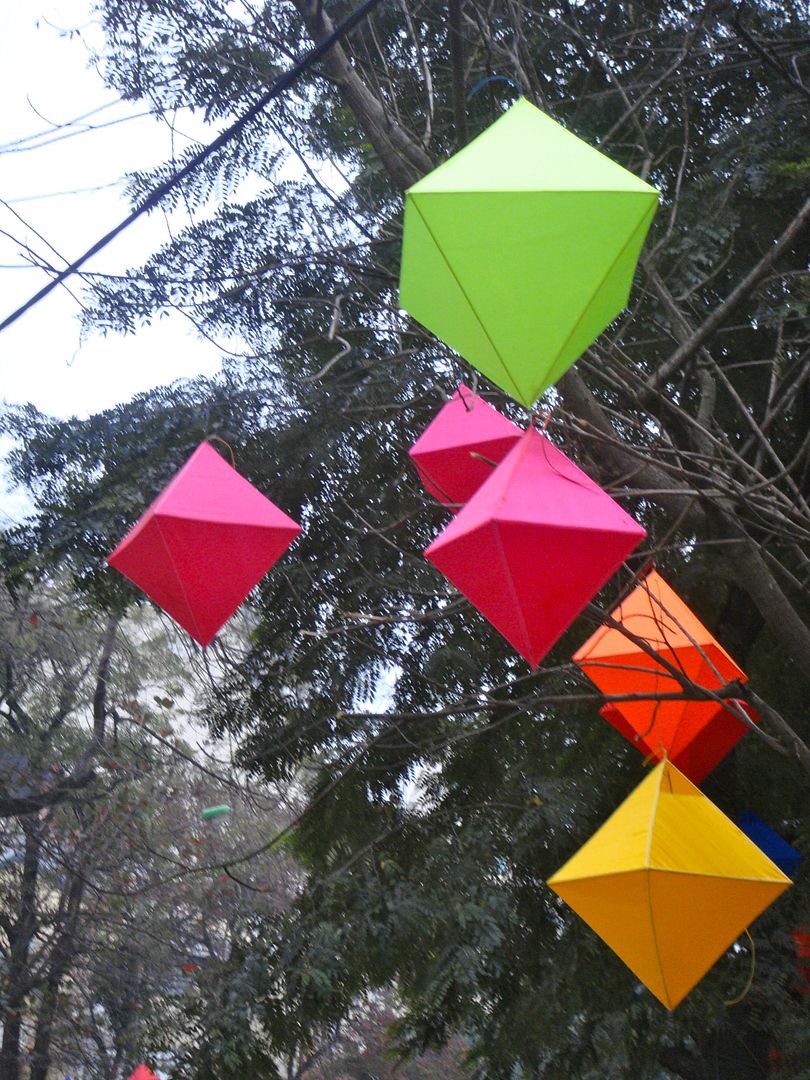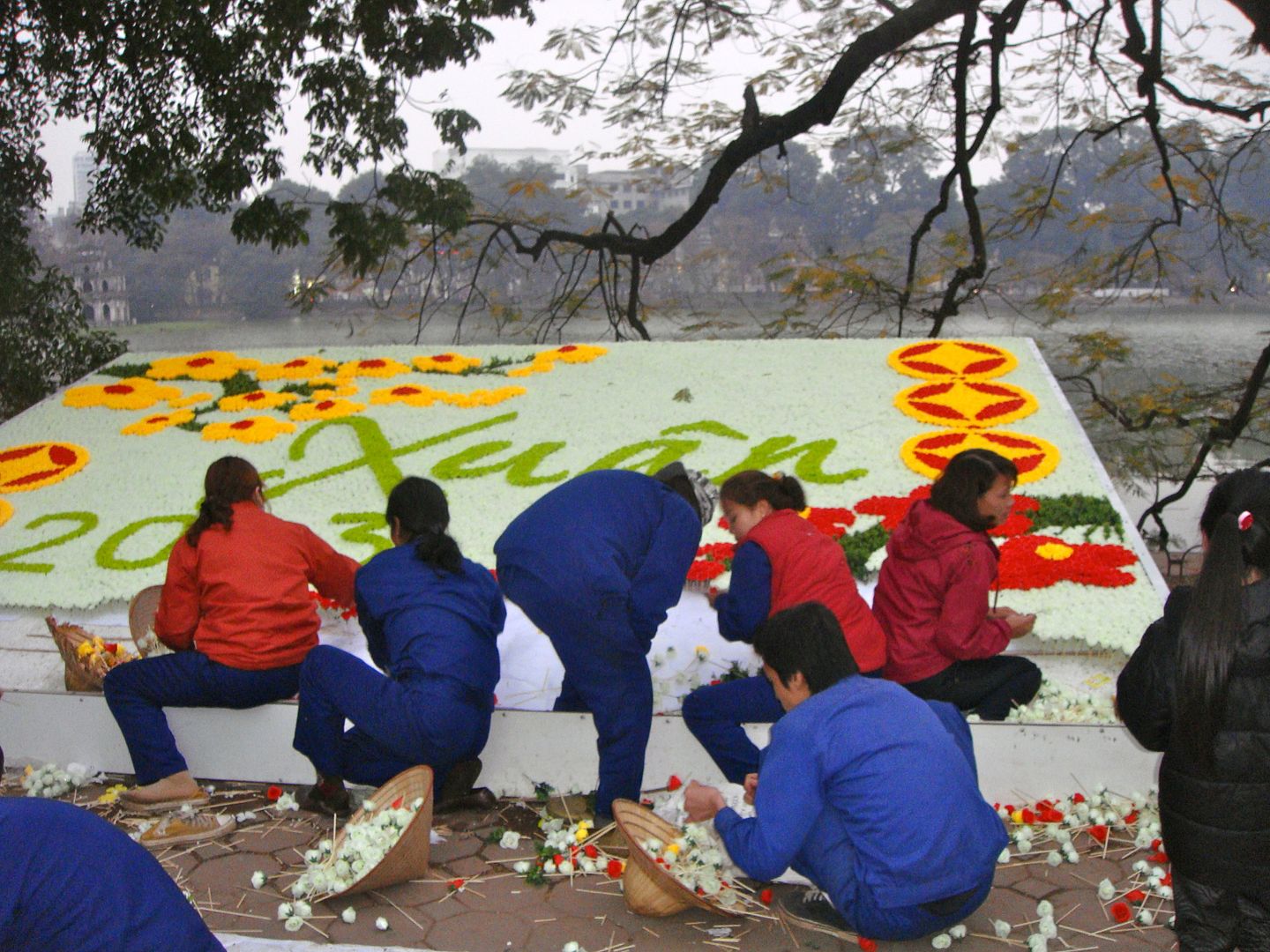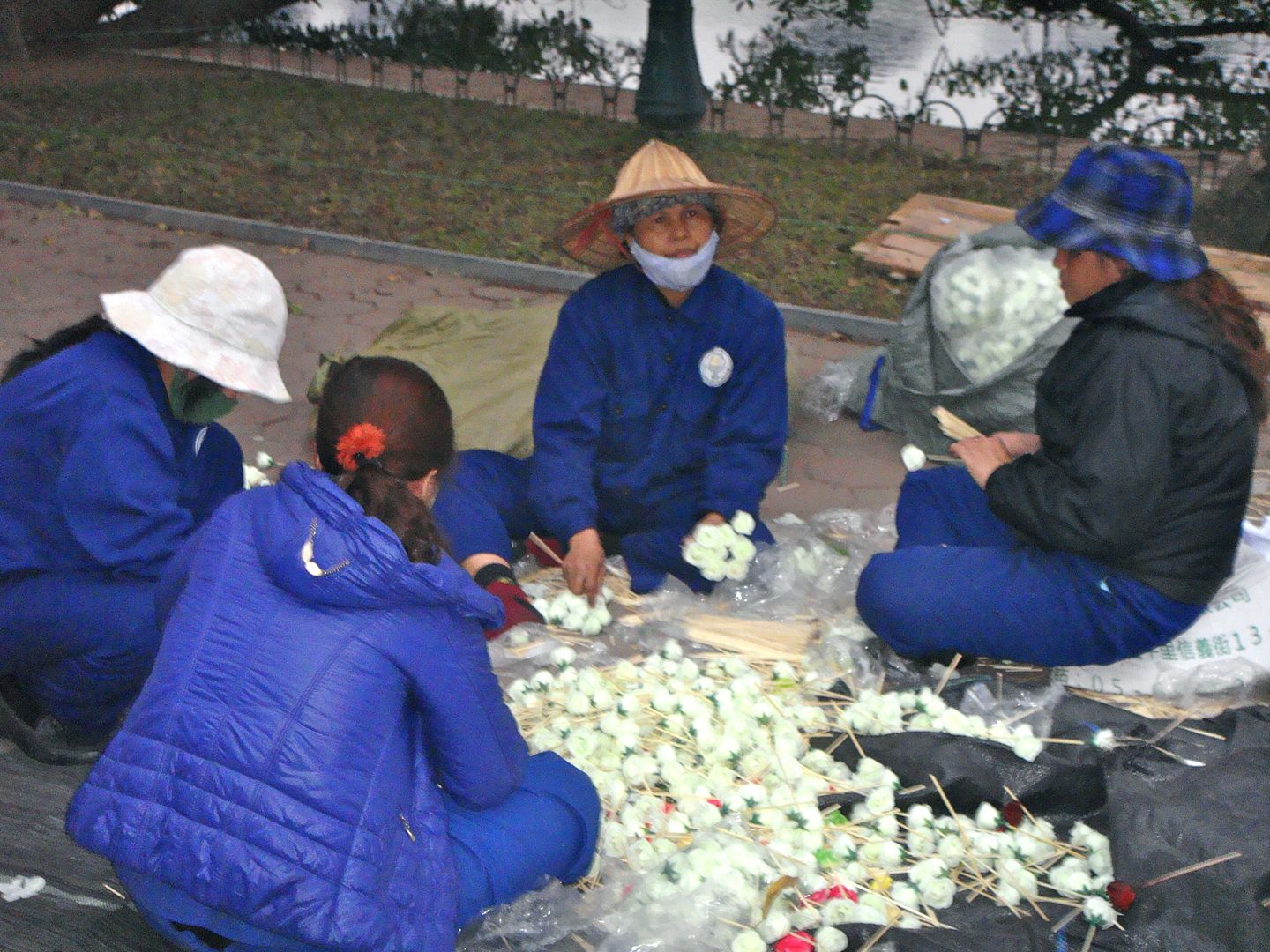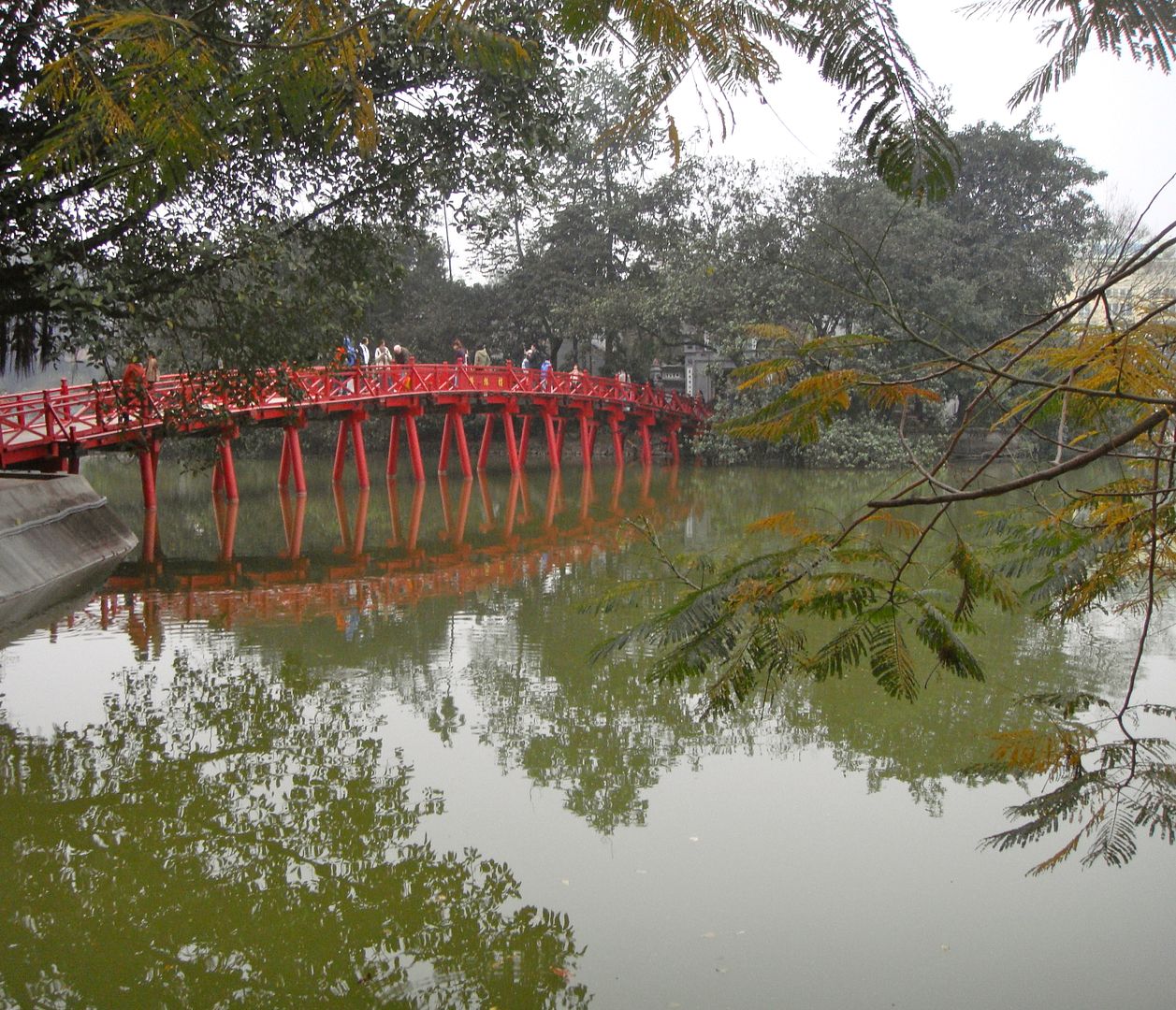 but after a while the nightmare of traffic and the logistics involved in getting across the streets start to wear thin. Here are some photos to show you what I mean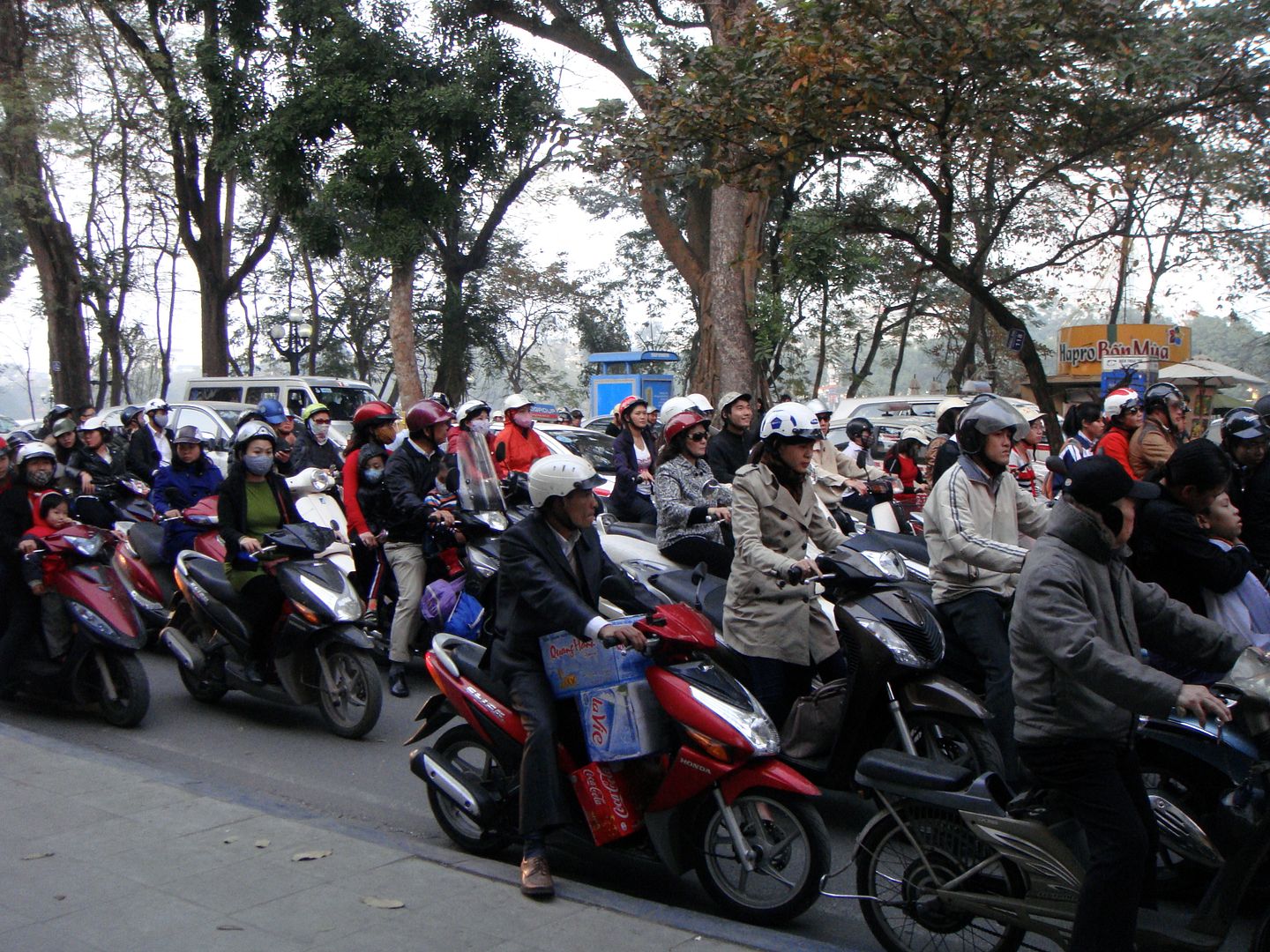 Halong Bay, which is a four-hour drive from Hanoi, over some very rough roads, is a great excursion option for a weekend.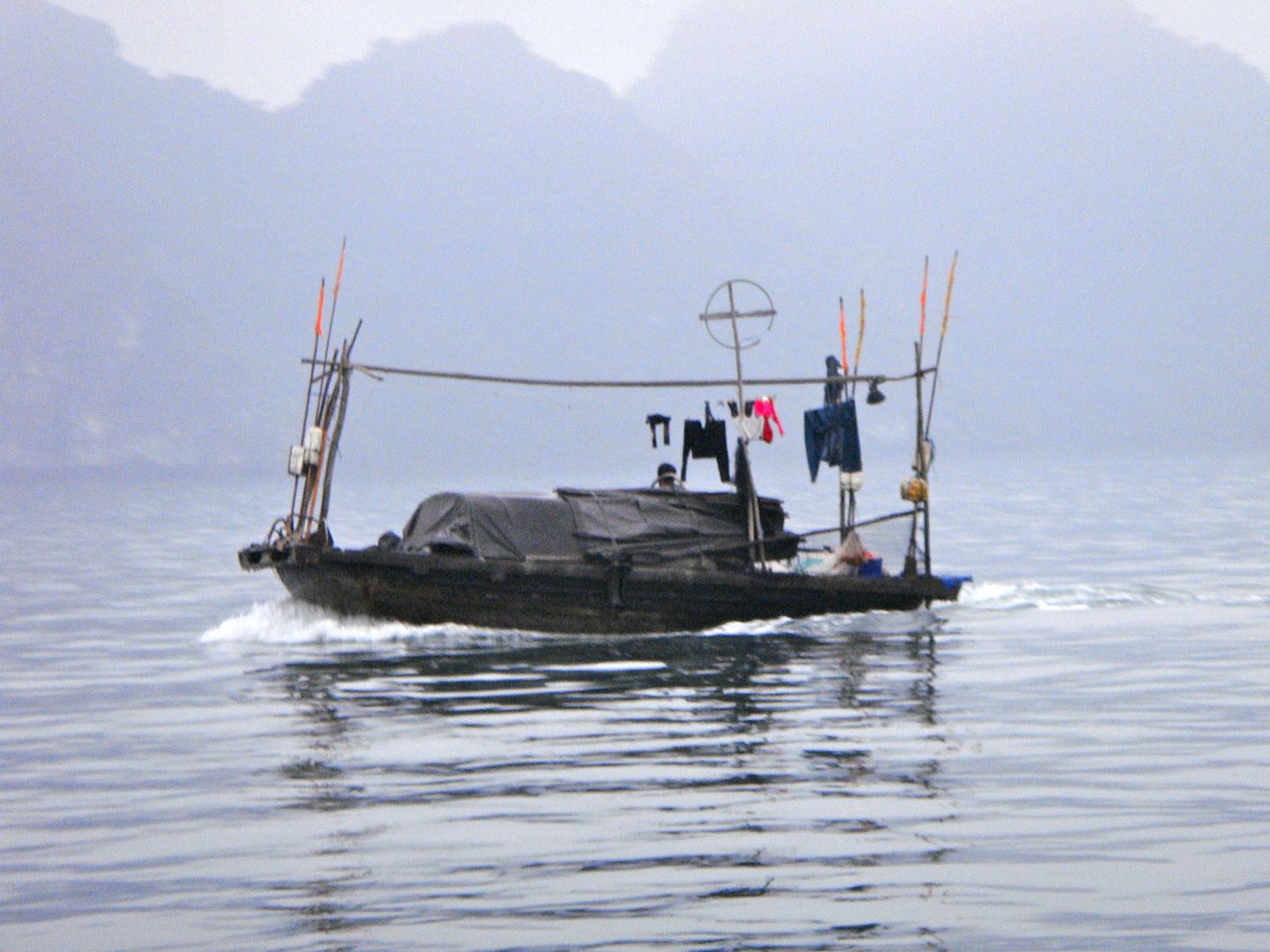 We chose the Emeraude cruise, which is a slightly different option to some of the more mainstream cruises and despite cold and gray January weather, we had a great time.
A visit to the "cave of wonders', alone, was well worth it.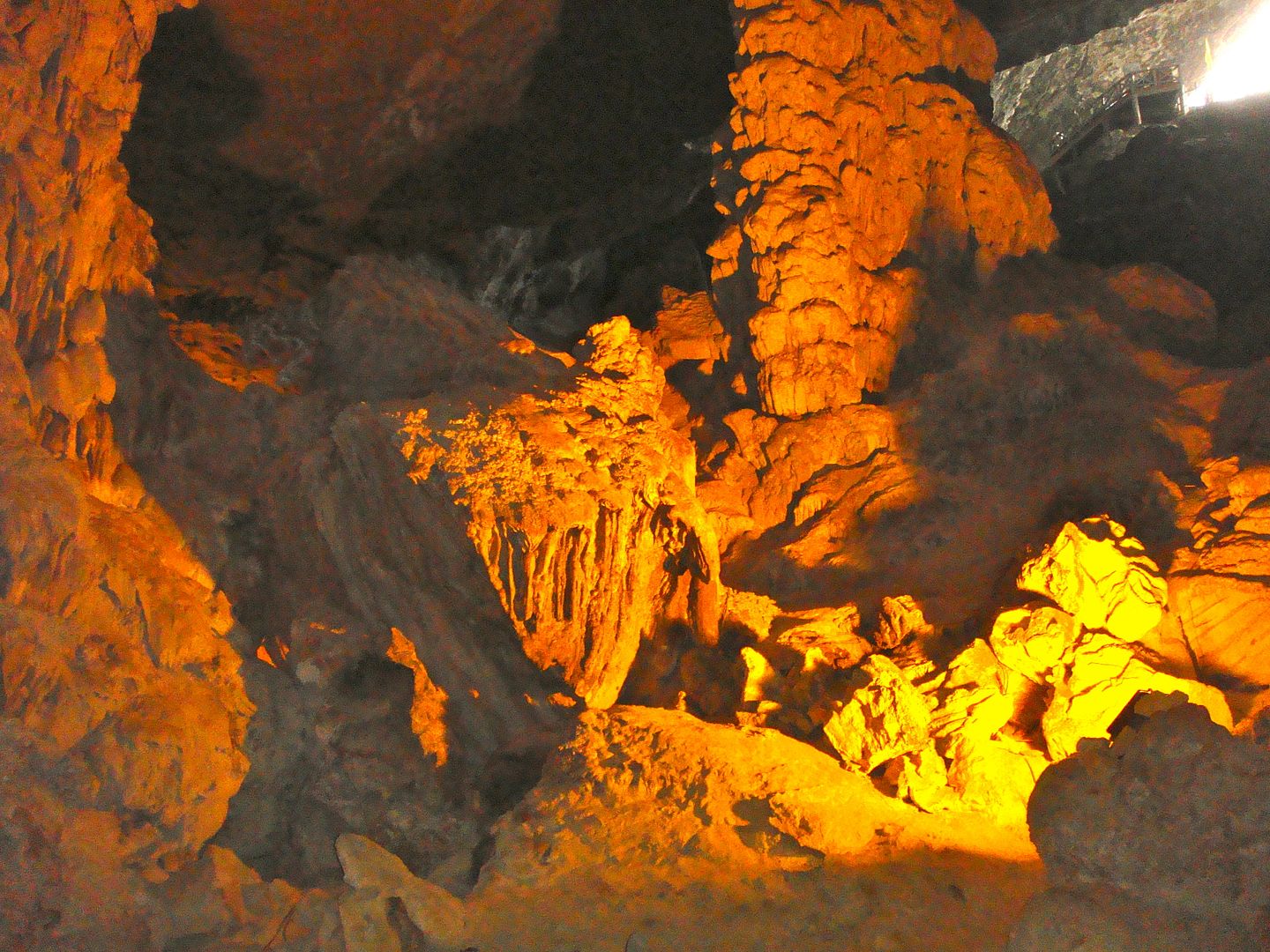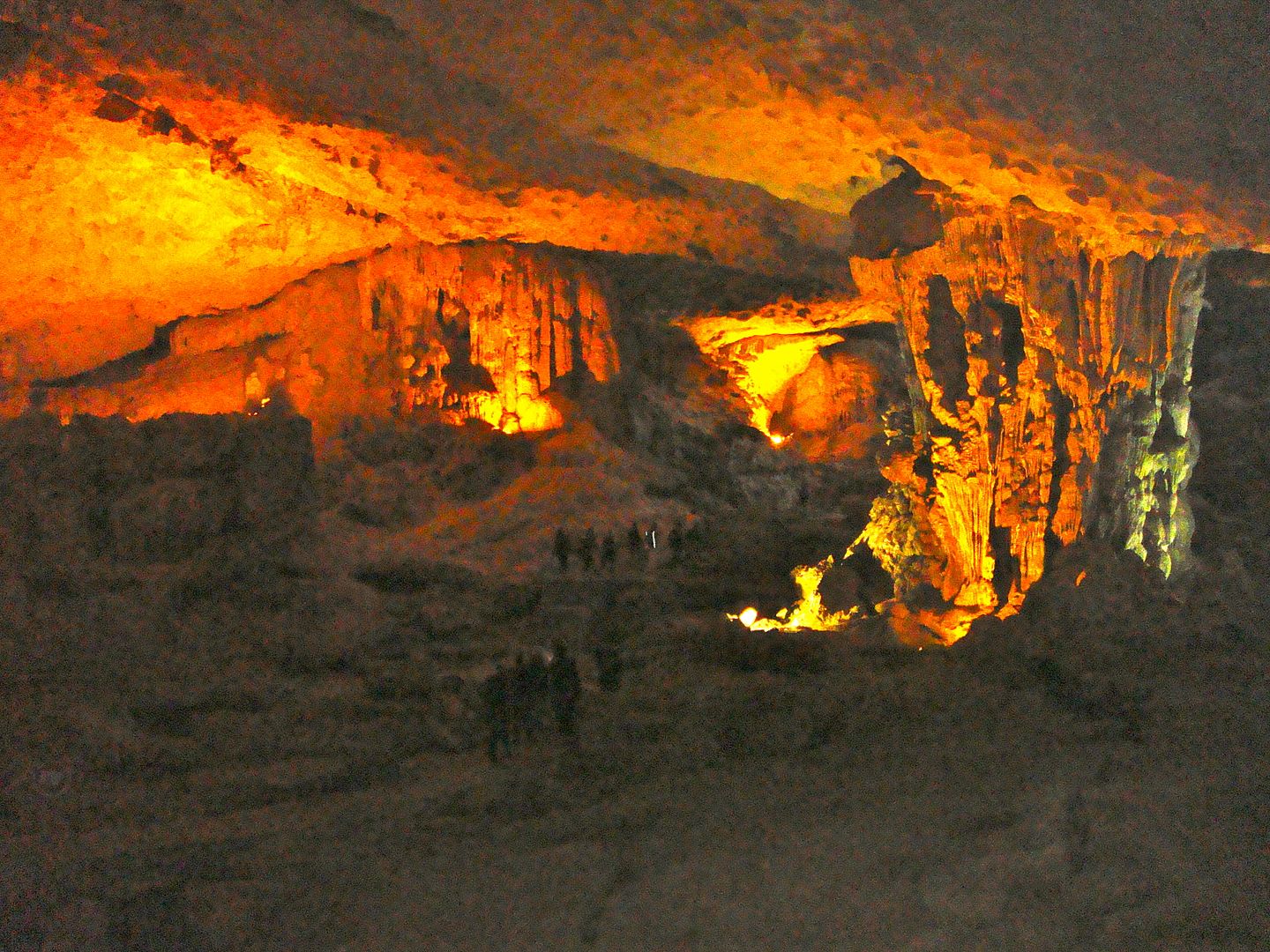 But now we were ready for a change of scenery, a little down time and a little sunshine and heat!
Once again, I had registered us with Optiontown for an upgrade on the VN flight from HAN to SGN. However, this time, since Tay 51 and I were on separate PNR's, one confirmation came through (his) and my seat remained in economy. This was a bit of a letdown because we would have preferred either both seats t be confirmed or none at all but with Optiontown, you don't get that option!
All too soon our driver arrived to take us to the airport for what had been scheduled as a 13.00 departure. Unfortunately, we discovered a couple of days earlier that the flight was now scheduled for 13.40 but by then it was too late to rearrange the pick up times with the driver.
Hanoi airport is not my favourite place to hang out, especially the domestic departure area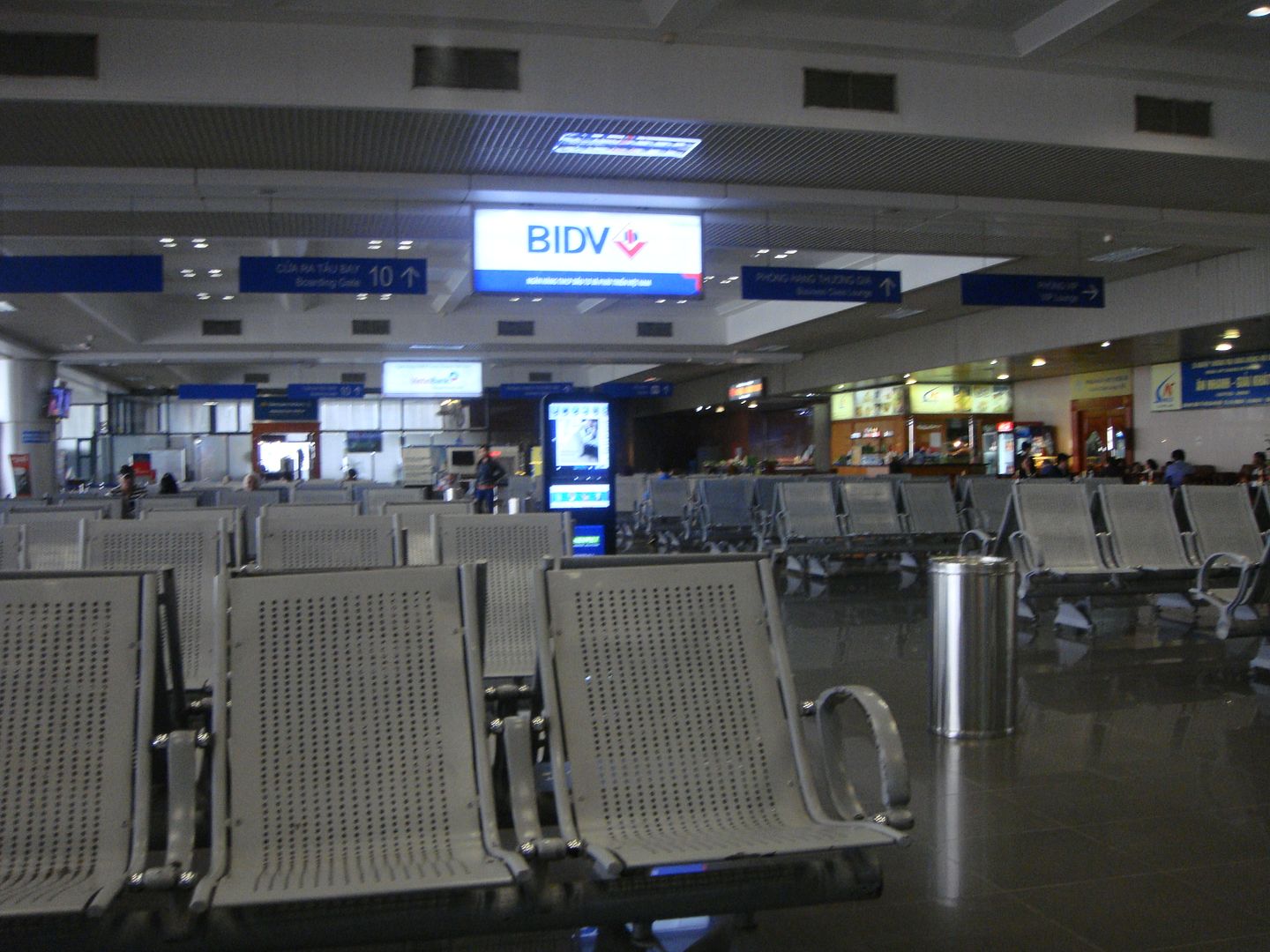 but by the time we checked in, asked if we could pay for a last minute upgrade (the answer was that it would cost us $450 one way, which was way over the $52 we had spent for the Optiontown upgrade) and cleared security, the time at the gate went fairly quickly and soon it was time to board. This caught my eye in the departure lounge!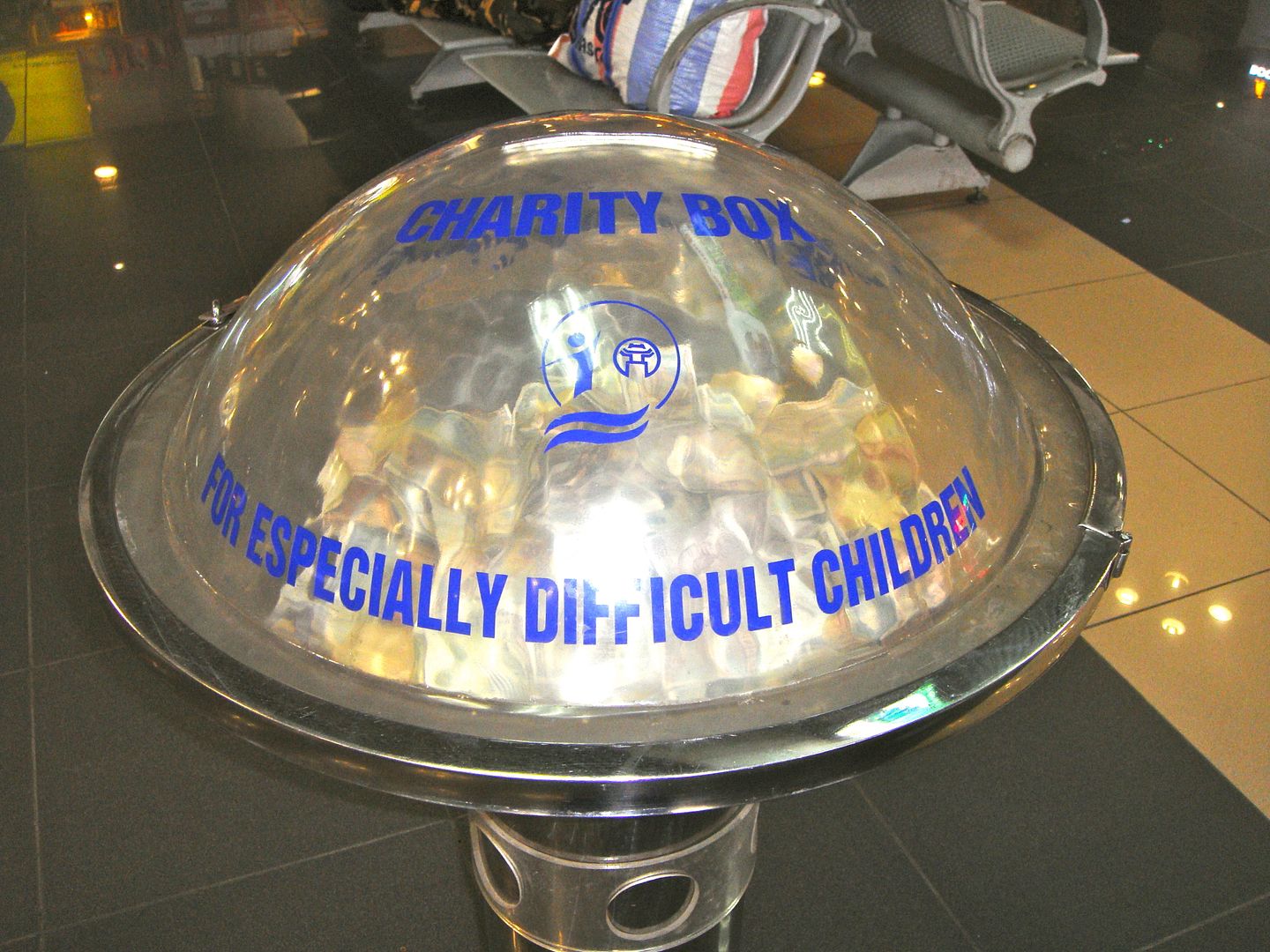 VN1145
Airbus 321
Seat 2A
HAN 1340 SGN1540
As luck would have it, the J cabin were full and immediately after take off, the young woman next to me put her seat in the fully recline position and went to sleep, making me a virtual prisoner in my window seat! Unfortunately, my camera was in the overhead bin and I had no way of getting out to get it. Thus no pictures!
Take off was quick from Hanoi and the overheat video monitors allowed us to follow our route south and slightly off the coast. Soon the clouds disappeared and we had some good views of the Vietnamese countryside.
One female flight attendant took care of all of us and we were handed cold towels and a choice of juice or water prior to take off. Once underway, drink orders were taken and brought with a cold light lunch of several small sandwiches---sorry no photos of the flight or the lunch. After an offer to top up drinks, we didn't see much of the crew until we were getting ready to land. A brief announcement was made from the flight deck, giving us weather updates (sunny and 33C!) and soon we were on our final approach into Saigon.
After Hanoi, the airport in Saigon seemed huge and modern. Our luggage was off quickly, we again cleared a security point and went outside to wait for our pre-arranged ride from the Majestic Hotel. After about 20 minutes, we gave up and took a taxi to the hotel. (Turned out that the hotel had checked with VN and had been told the flight was delayed until 17.00, so the driver had given up. In exchange the hotel kindly offered to give us a drive back to the airport, as one transfer was included in the price of our room). So it turned out okay in the end but VN seemed to have some interesting deviations in the flight schedule, first earlier, then later times!
The Majestic Hotel was fantastic.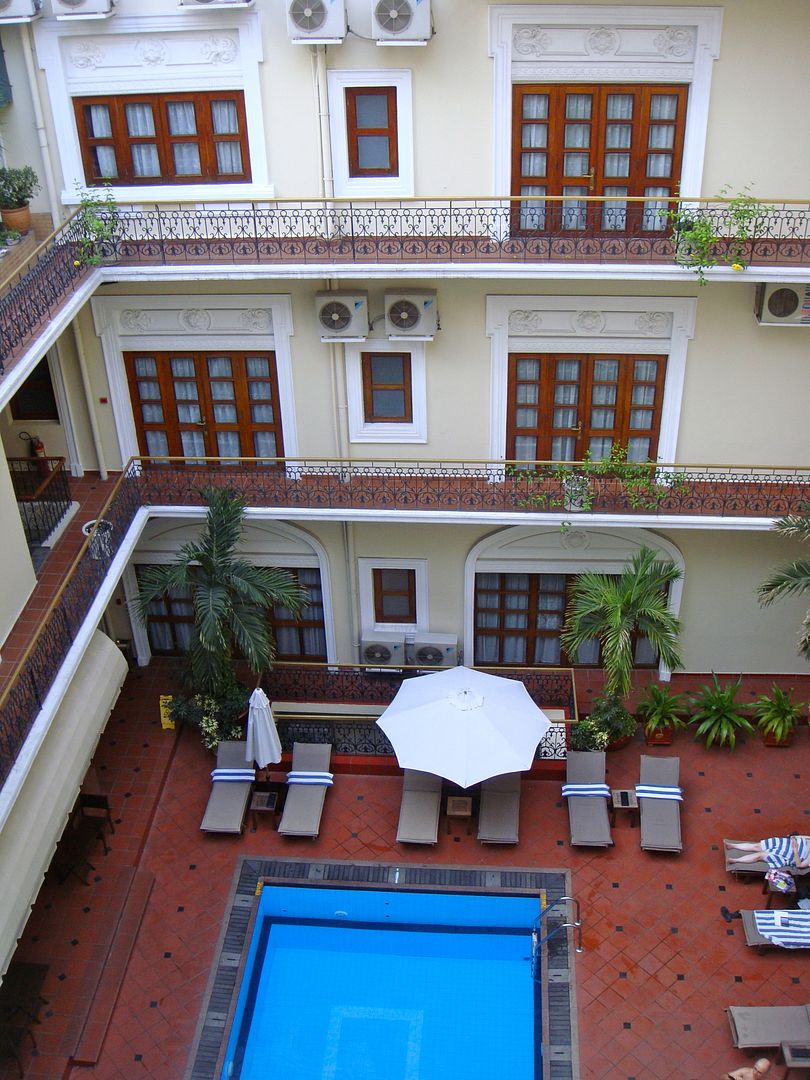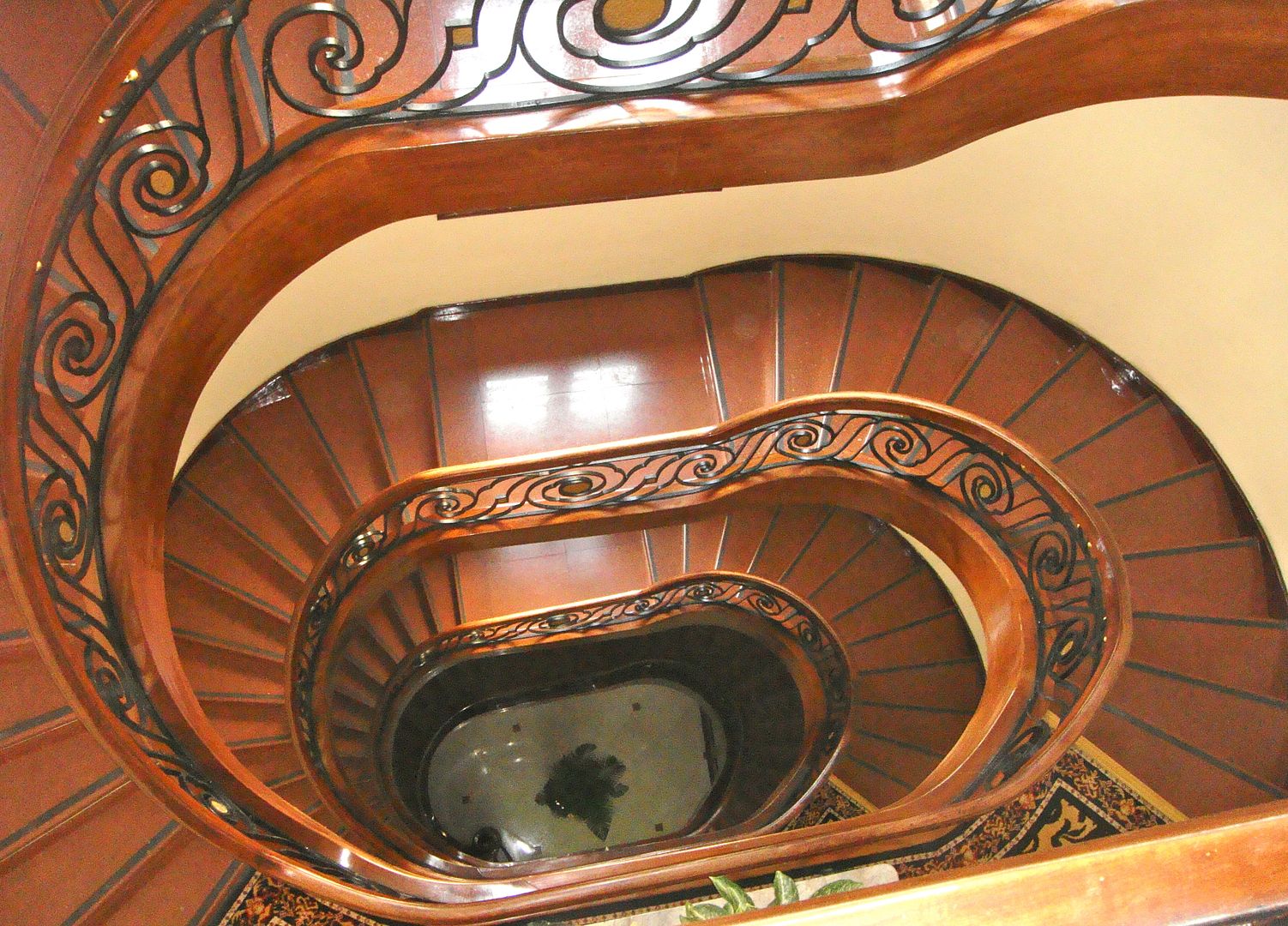 Unfortunately, I think it will lose some of its charm when the addition turns it into a high rise. But in the meantime, breakfast on the 5th floor rooftop terrace and drinks on the 8th floor terrace, overlooking the river, make for really spectacular surroundings.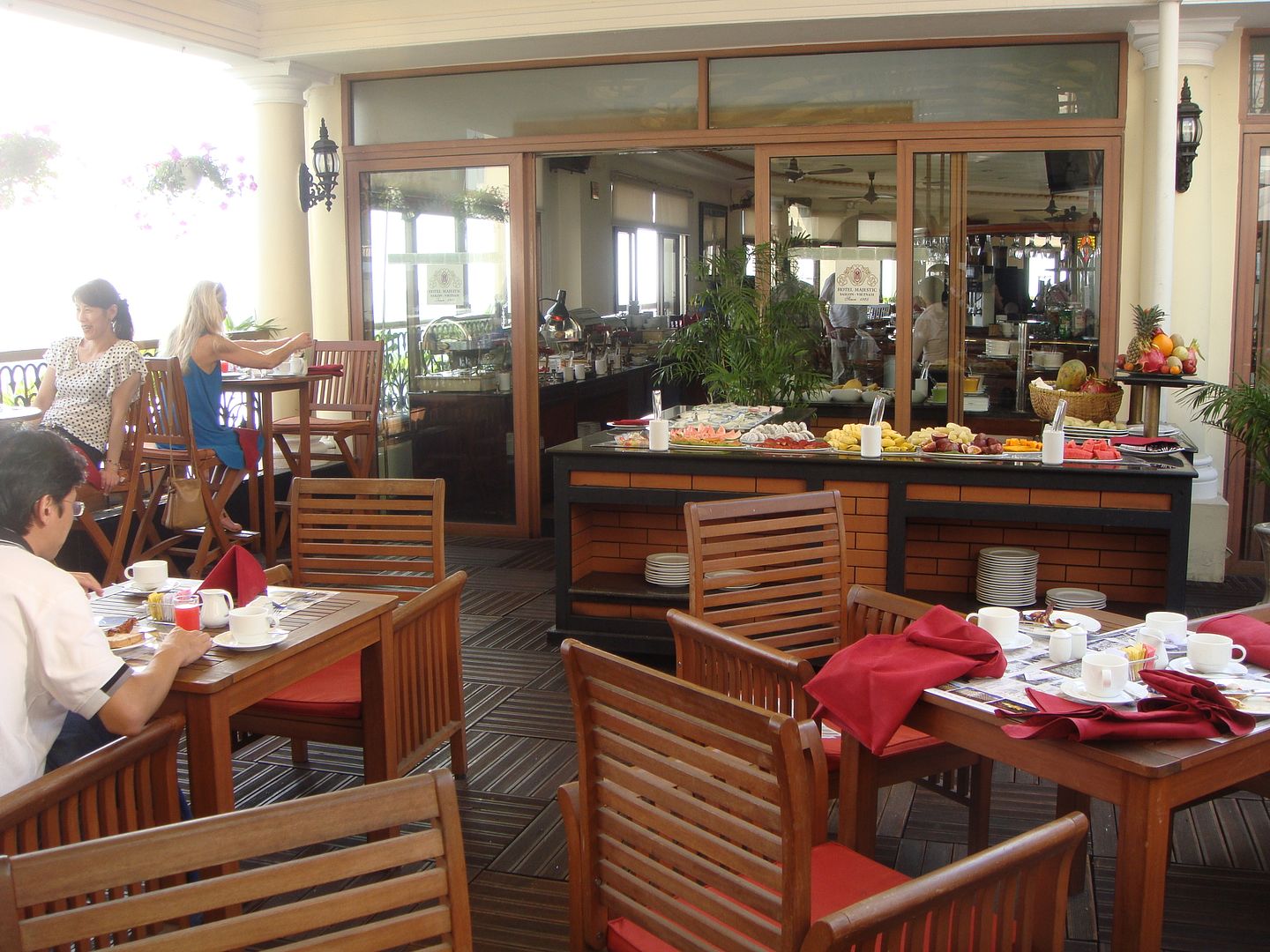 Saigon, of Ho Chi Minh City was interesting to see, especially in contrast to Hanoi, but I think that Hanoi is my preferred city, despite some amazing architecture in HCMC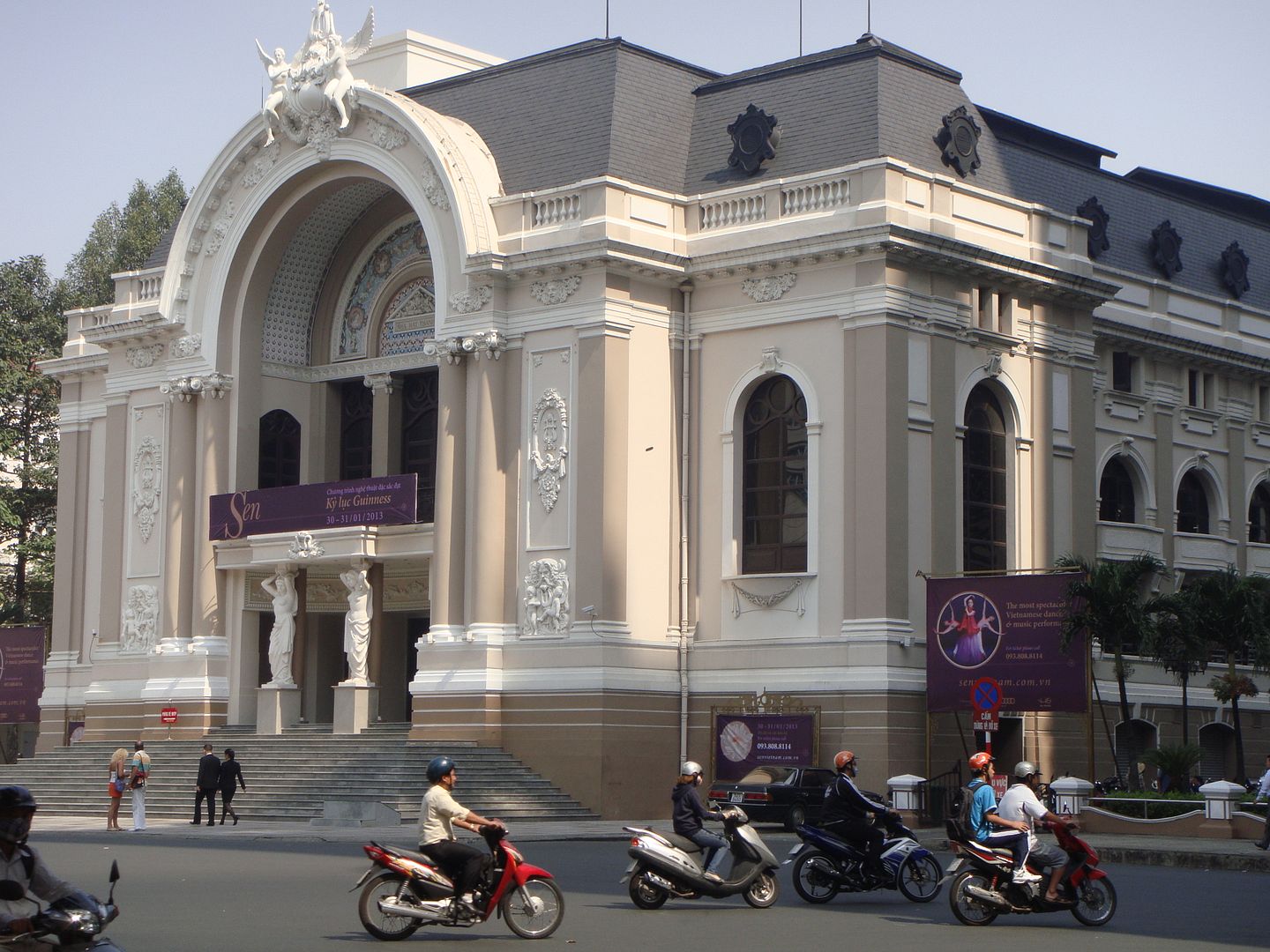 The Opera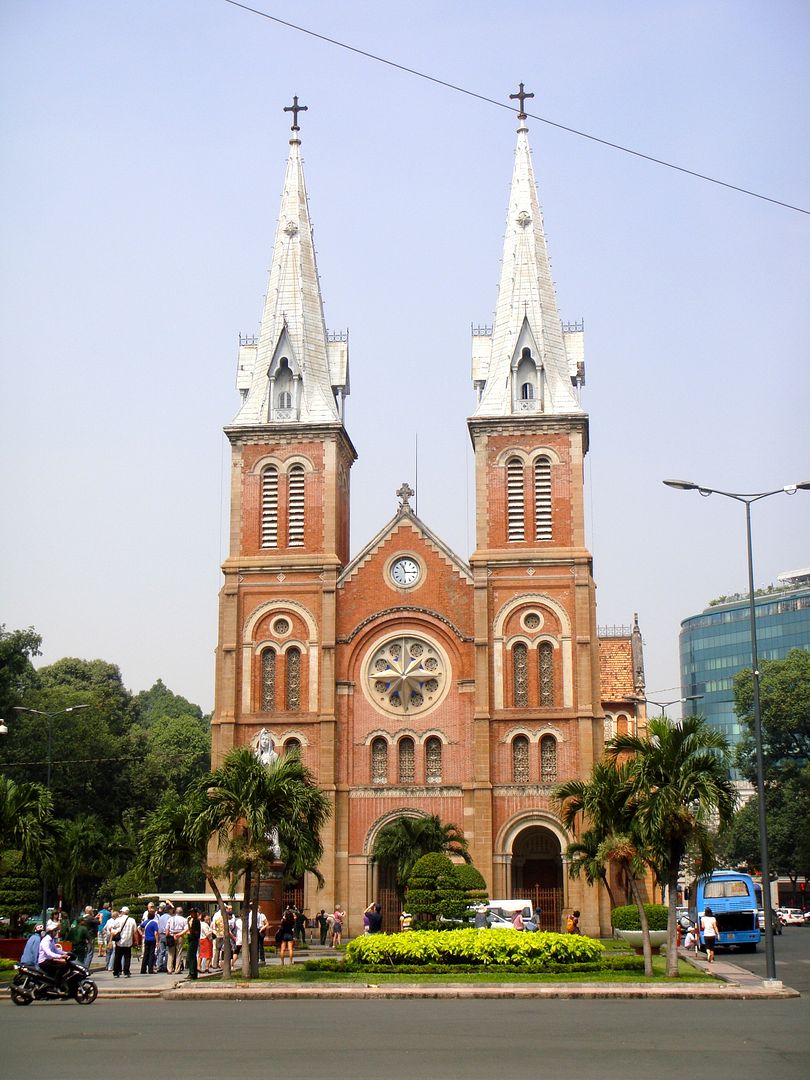 The Cathedral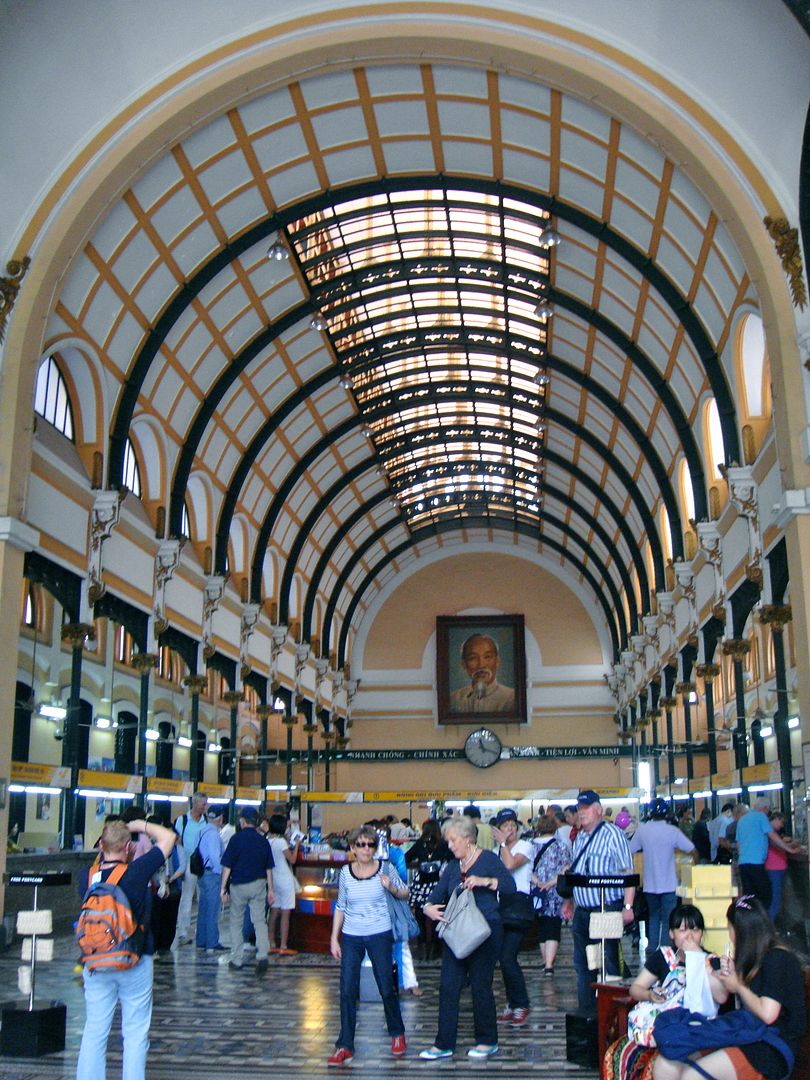 The Post Office
All too soon our time was up and it was time to continue our journey to HKG. About 48 hours before departure we received word from Optiontown that BOTH our upgrades on VN had cleared ☺.
We left the hotel at 7.45 to allow ourselves plenty of time in traffic and to get checked in and organized for the 10 am flight. Although we arrived early at the airport, there was a long queue for Y check-in. We were eventually allowed to check in at the Business class area (Optiontown ticket holders are not normally allowed to use the J check-in or use the lounges so this definitely wasn't standard procedure). The agent was very friendly and spoke good English. She also ignored the fact that our luggage was 3 kgs. over the limit (Optiontown upgrades also don't allow for the J class baggage allotment). After apologizing for not being able to allow us to use the lounge, we made our way to security, anxious to see what we would find beyond. Security and immigration took forever, as there were lots of passengers and the immigration officers all seemed to be very slow.
Although Tan Son Nhat airport is large, modern and seems to have lots of shops, we bypassed all that, after checking some of the Duty Free prices and made our way to the lower level, where our departure gate was located. Upon looking around, we realized that this was going to be bus departure. But when the flight was called we were pleasantly surprised when the agent directed us to a separate bus that was reserved for business class passengers. However, both buses arrived at the same time, so it was everyone for themselves in getting on board the aircraft!
VN594
A321 100-200
Seats 2 A&C
SGN 1050 HKG 1415
Once settled in, we were offered the usual water or juice and given menus for the lunch service. A safety demo was manually done by the crew, there was a brief announcement from the captain, announcing a flying time of just under 2 hours, and we were off, heading northeast to HKG. Again, we were able to follow our route on the overhead monitors.
Shortly after take-off, the flight attendant came through the cabin taking lunch orders and offering something to drink.
Drinks preceded lunch, which arrived about 30 minutes after departure and was all served together on the tray. I had the beef and Tay 51 had the pork, which he said was tough and gristly.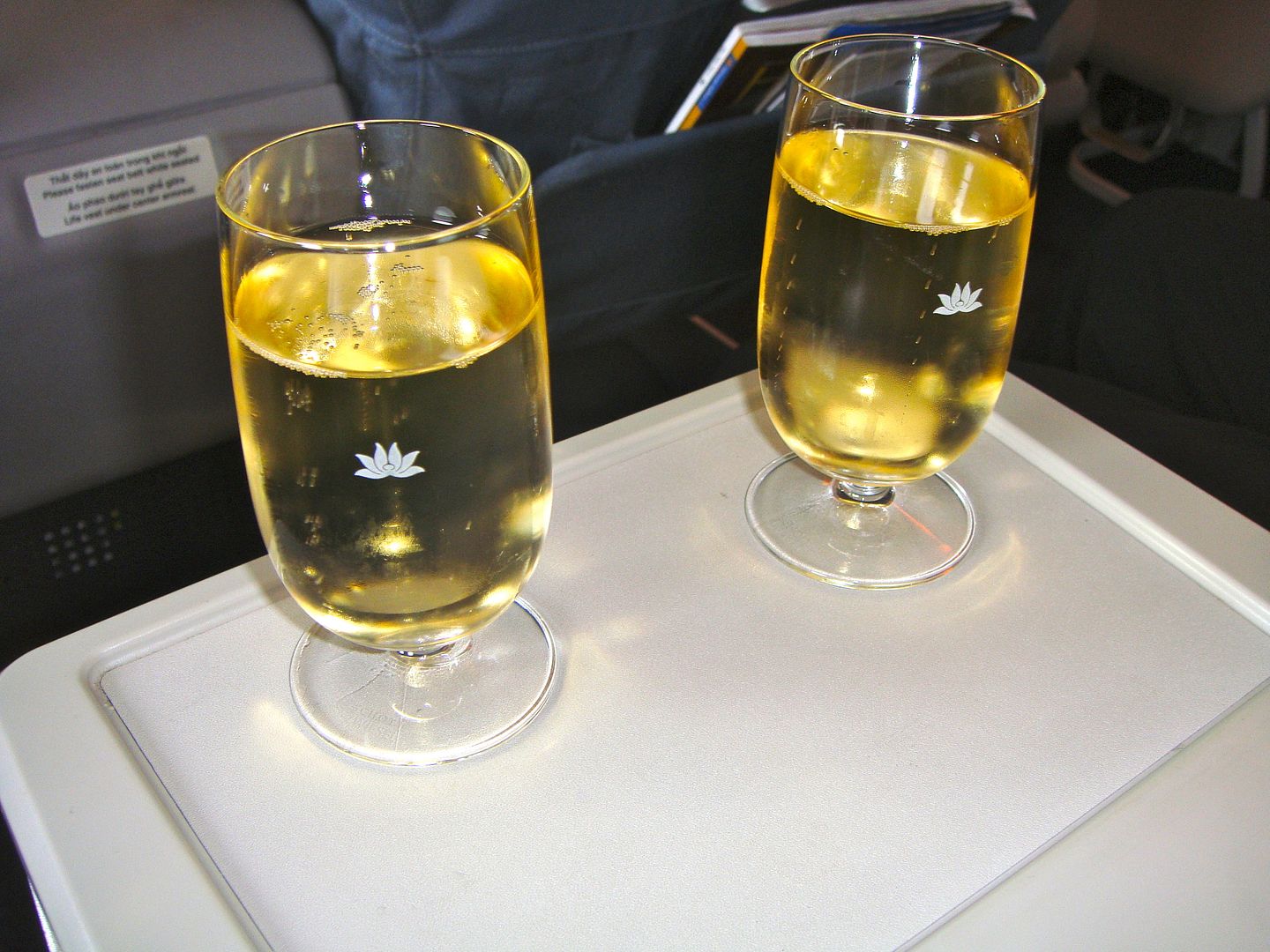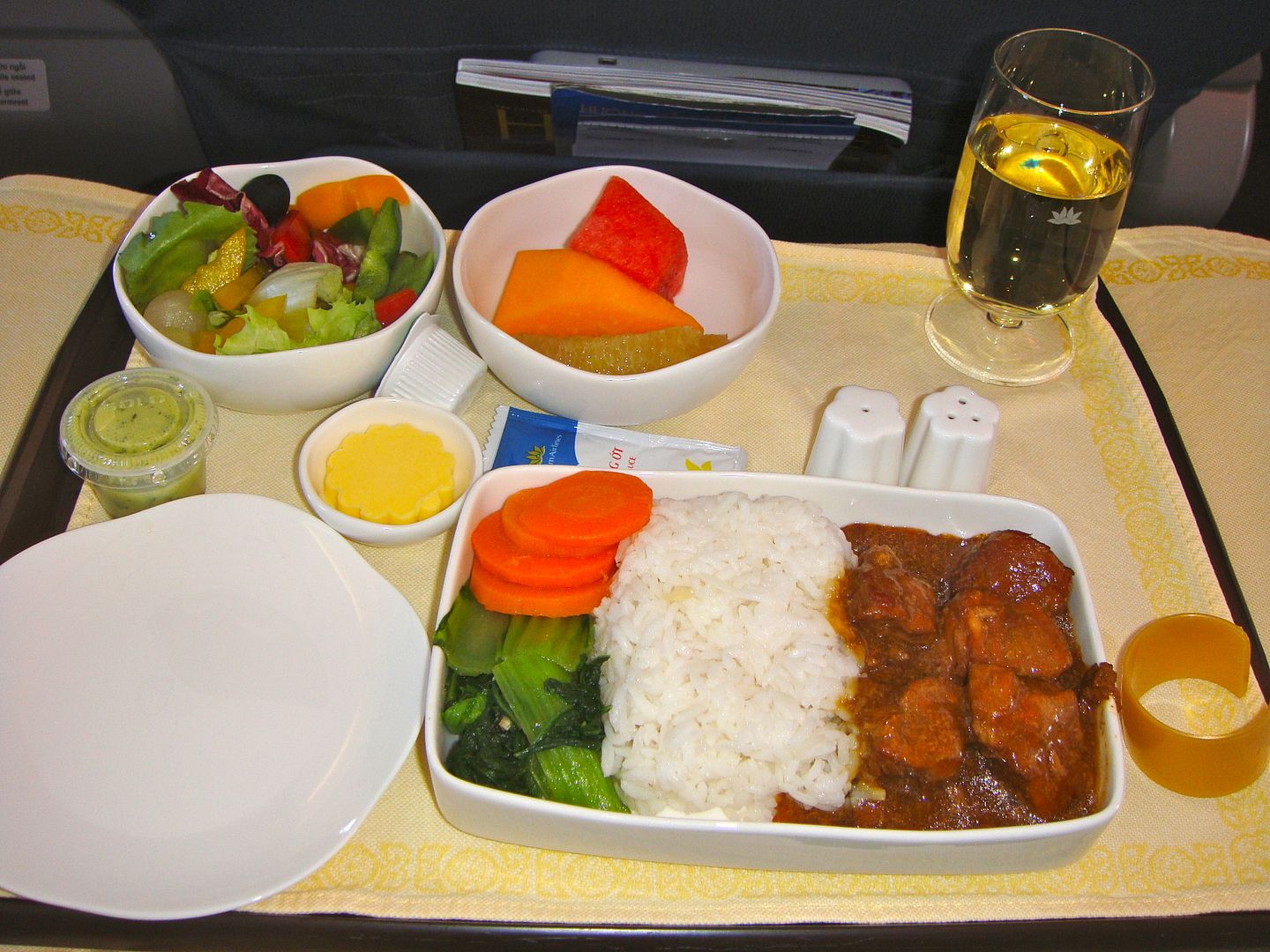 There were some bumps en route, but not enough to turn on the seatbelt sign, and in no time we were making our approach into Hong Kong, directly over the city! As you can see the views were spectacular.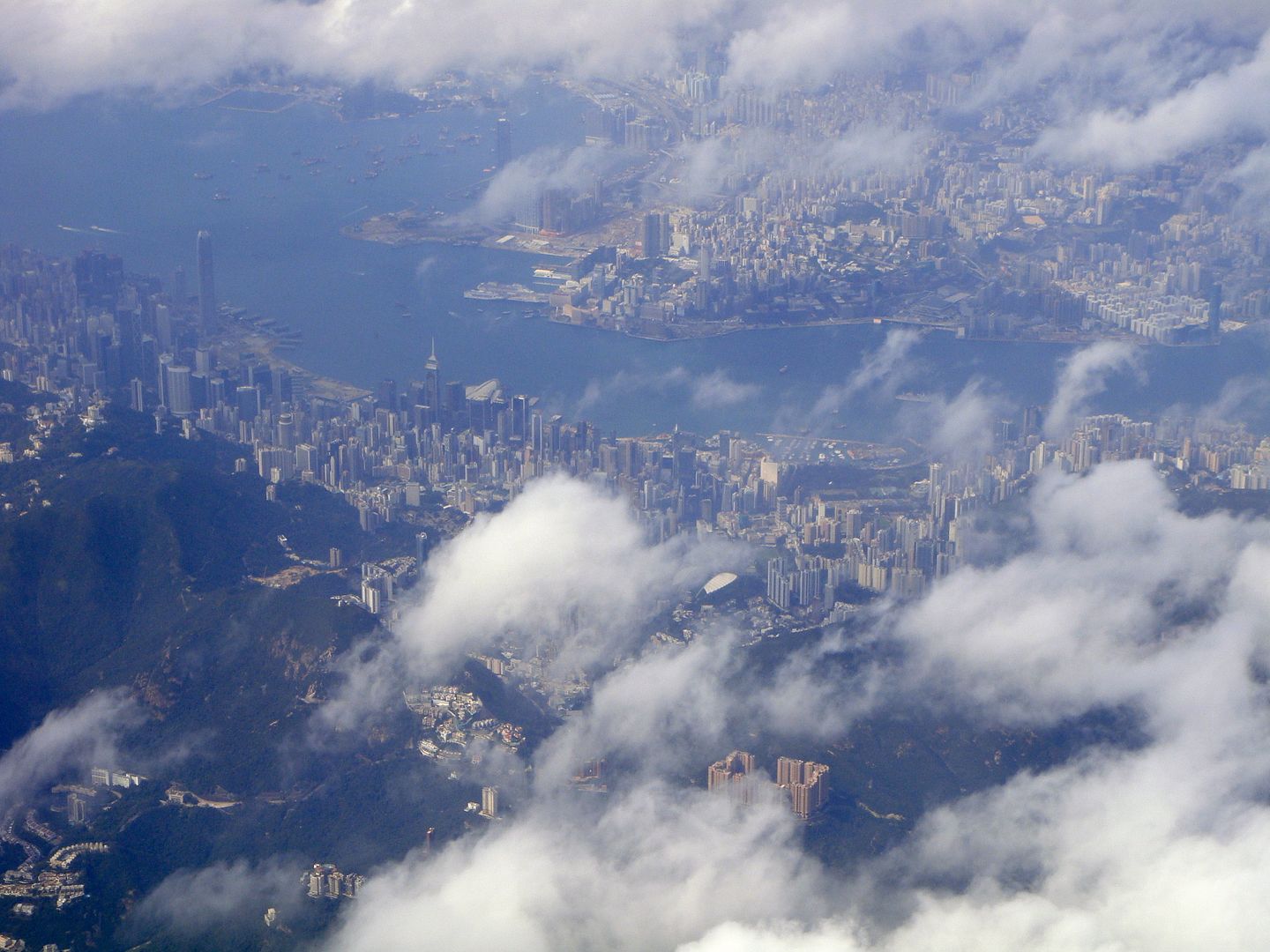 Arrival was smooth----VN seems to specialize in gentle landings---and we taxied to our gate and quickly deplaned. The flight attendants hold back the economy passengers until the J cabin was clear. After quite a long walk, we cleared immigration, collected our luggage and found our way to the Hong Kong Airport Express. The journey took about 22 minutes to the Kowloon Station, followed by a quick transfer to the Shuttle, which took us right to the door of the Langham Hotel.
After three days in Hong Kong, it was time to check-in online for our AC flights to YYZ and on to YHZ. We had used up the remainder of our 2012 e-upgrades on the outbound flight YYZ-NRT, so we knew that if we wanted an upgrade, we would have to pray to the Last Minute Upgrade Gods that seats might be available for purchase at a good rate. At -24 hours, I went on the AC website and sadly there were no LMU offers, so I decided to wait until we got to the airport to check-in.
As we had decided to retrace our footsteps and take the HK Airport Express back to the airport, we were able to check-in at the Kowloon Station for our flights and also get rid of our luggage. But the agent told us that there were still no LMU's available but that we should ask again at the airport. We had booked and paid for preferred seating (emergency row exit seats) but I had booked window and aisle, hoping the middle seat would stay free and it now appeared that it was taken!
After arriving at the airport, we went to the ticketing agent, who kindly worked out the fare for upgrade for us, but at $5000 each, we declined! We then made our way to the Thai Airways Lounge that is one of the lounges used by Air Canada in HKG.
The lounge was cheerful and overlooks the gates and concourse below. Plus it has a great view of the tarmac.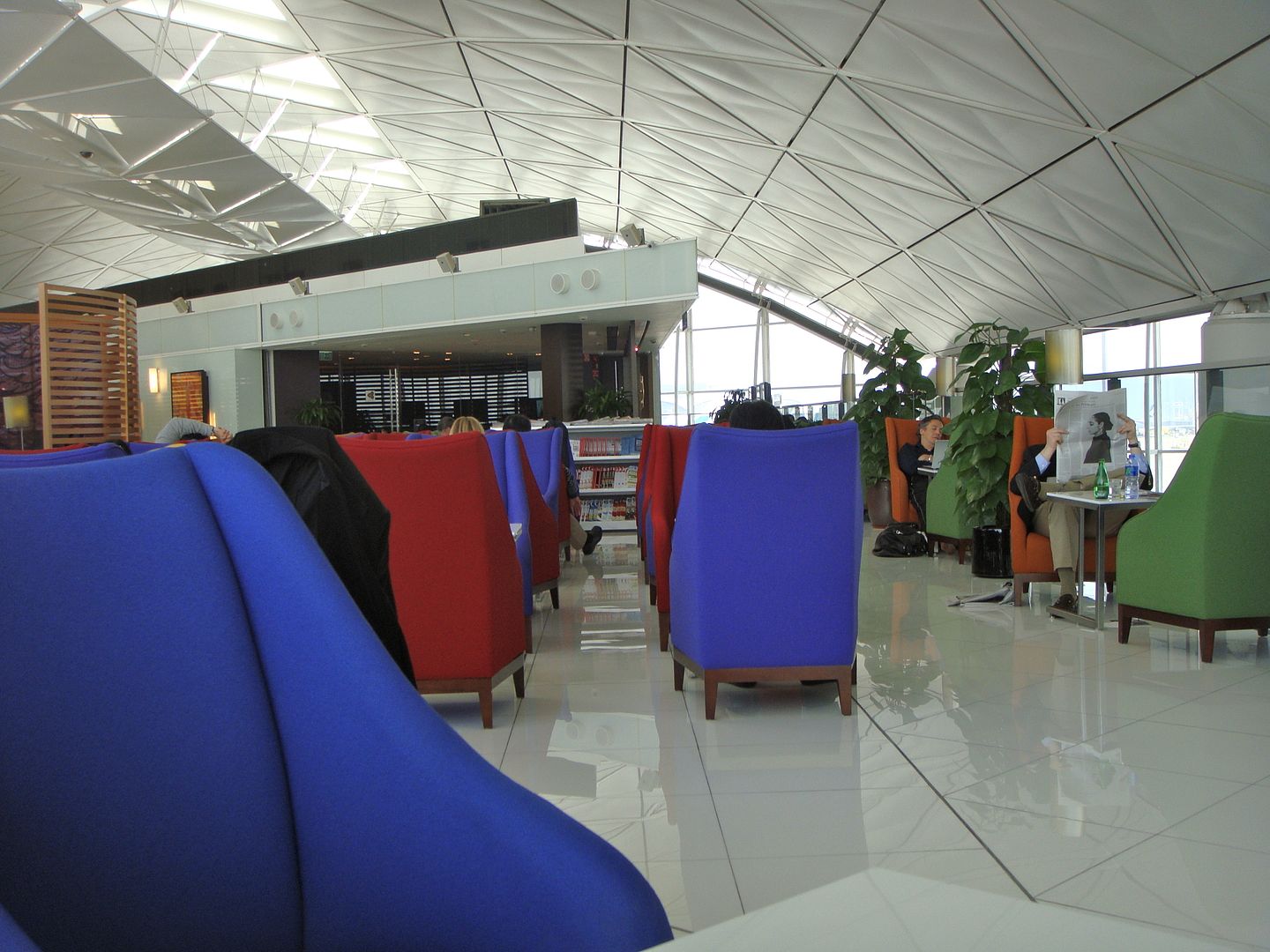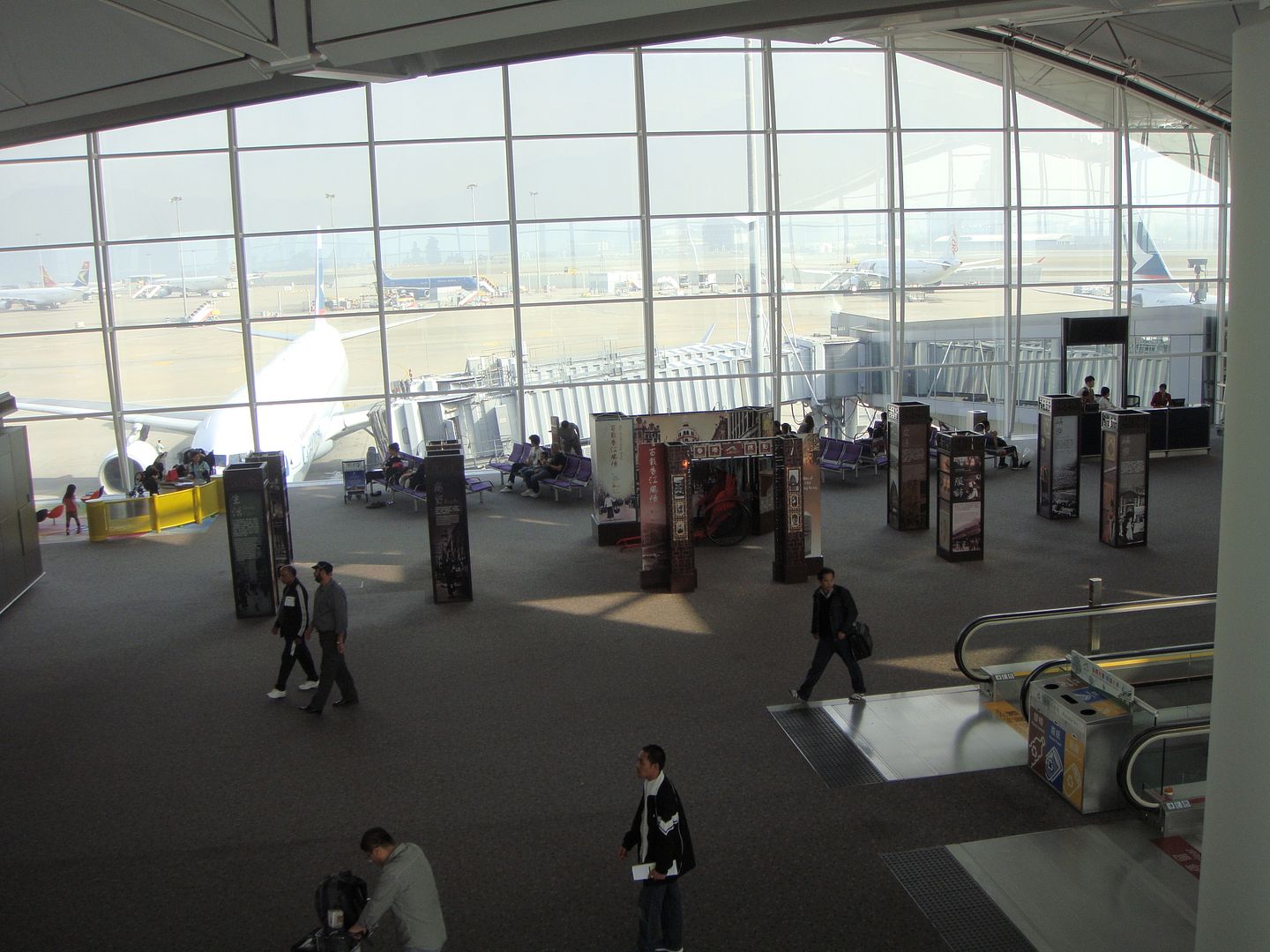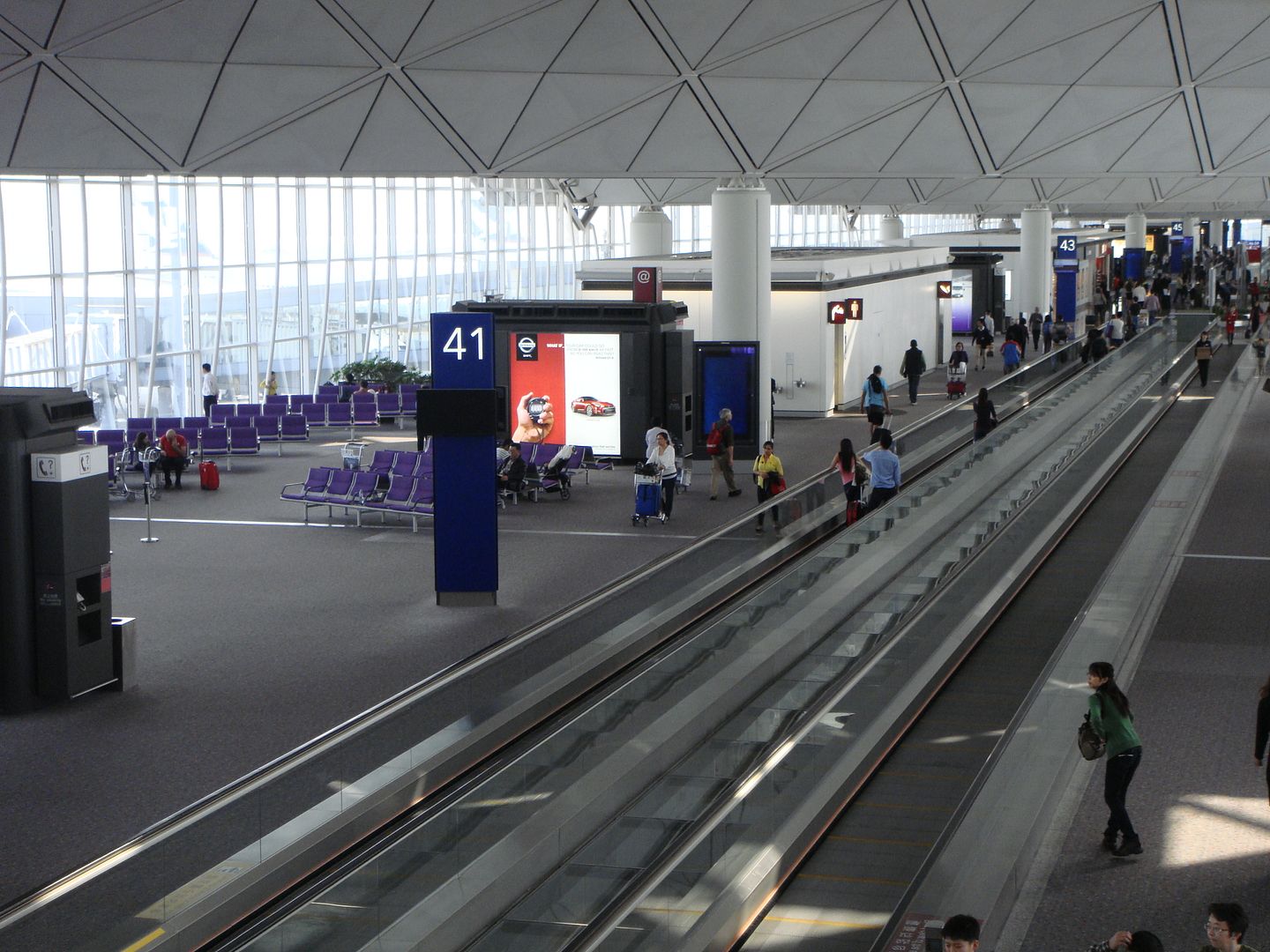 We were even able to see the inbound equipment for our flight arriving from Toronto.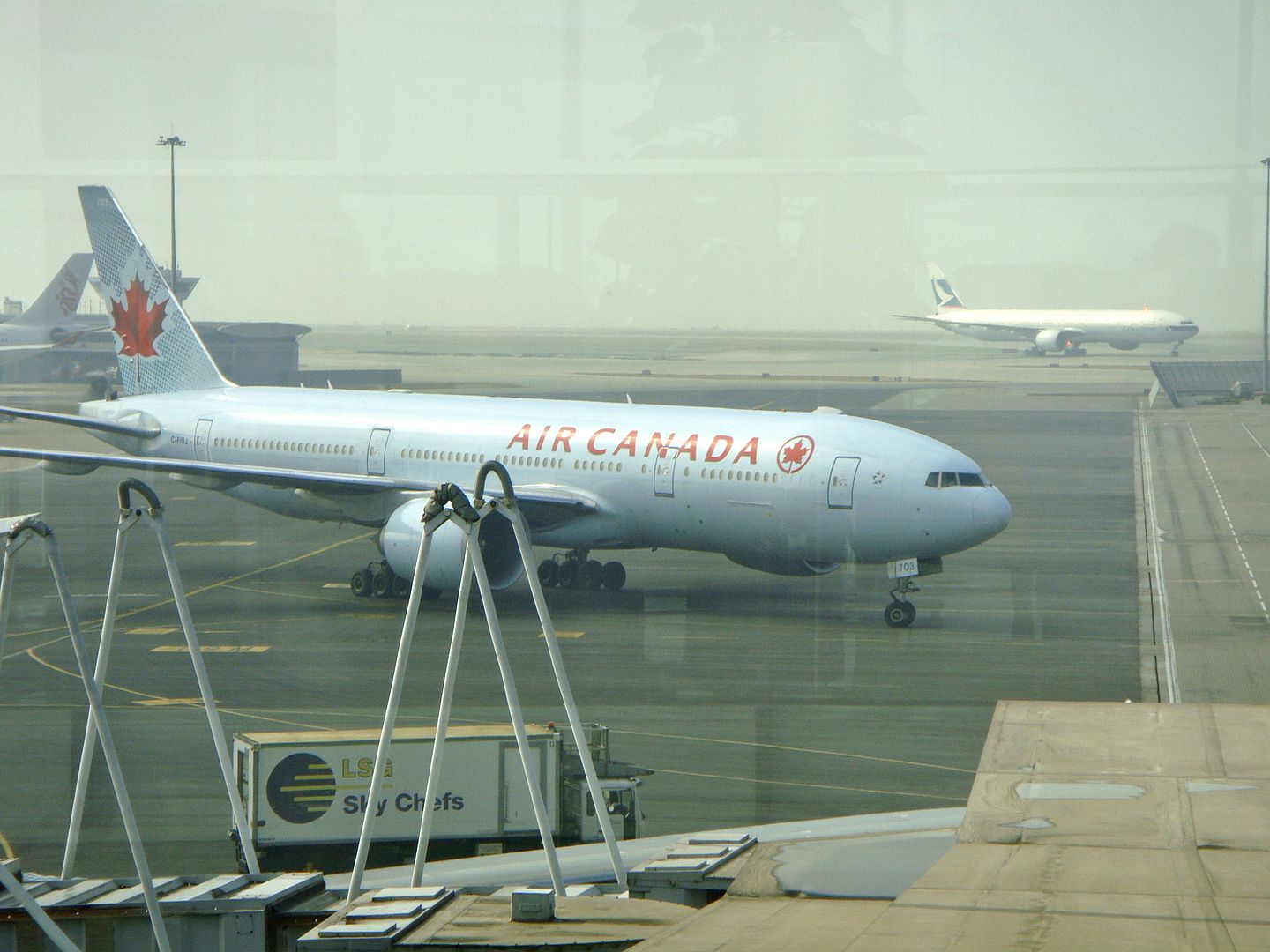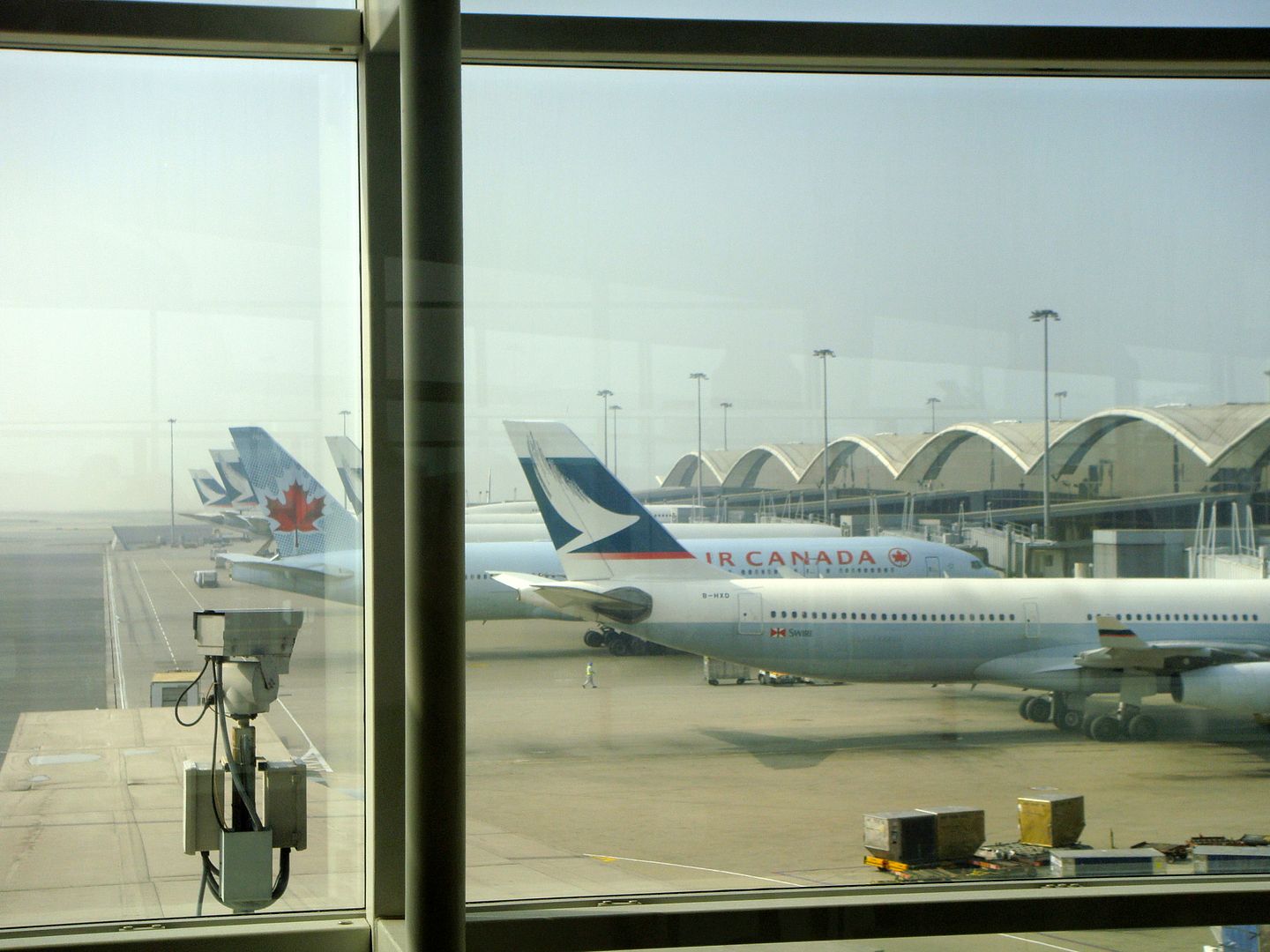 After checking our emails and sampling the selection of hot and cold food items, including Dim Sum, chicken skewers, salads----something that I would regret later, we made our way to the gate, where it was pretty chaotic. The gate agents were clearing last minute upgrades and there were lots of passengers milling around the podium and the rest shuffling for positions to board. When the call came for priority boarding there was a stampede but the gate agents were good at keeping control!
AC016
777 (L) 200
Seats 31 A&C (Exit row)
HKG 1620 YYZ 1800+1
Once onboard, we were happy to discover that the person seating between us had apparently been one of the upgrades called at the gate, so we actually had a row of three seats to ourselves on an otherwise full flight. Plus, the legroom was never-ending as this was the exit row and the only thing in front of us was the flight attendant seat and then the lavatories. The only drawback to these seats, as far as I could see, besides the cost of $90 each, was that there was no place to recharge your iPad or iPod.
Interestingly the flight attendant assigned to our section of the aircraft was working on her first flight, so was very excited that she had been called out from reserve to do a long haul to HKG! She was very enthusiastic and helpful for the entire journey, something that is becoming rate on Air Canada.
Flying time was announced as 14 hours and after the Flight Service Director did her welcome, the Captain came on to tell us that he expected a smooth flight. Shortly after take-off, there was a bar service, followed by a dinner. I have to say that the meals on AC get smaller and smaller and the overall appearance and taste are not good. It seems that just when you think it can't get any worse, it does. Fortunately for me, at least this time, I didn't eat much and you can see why.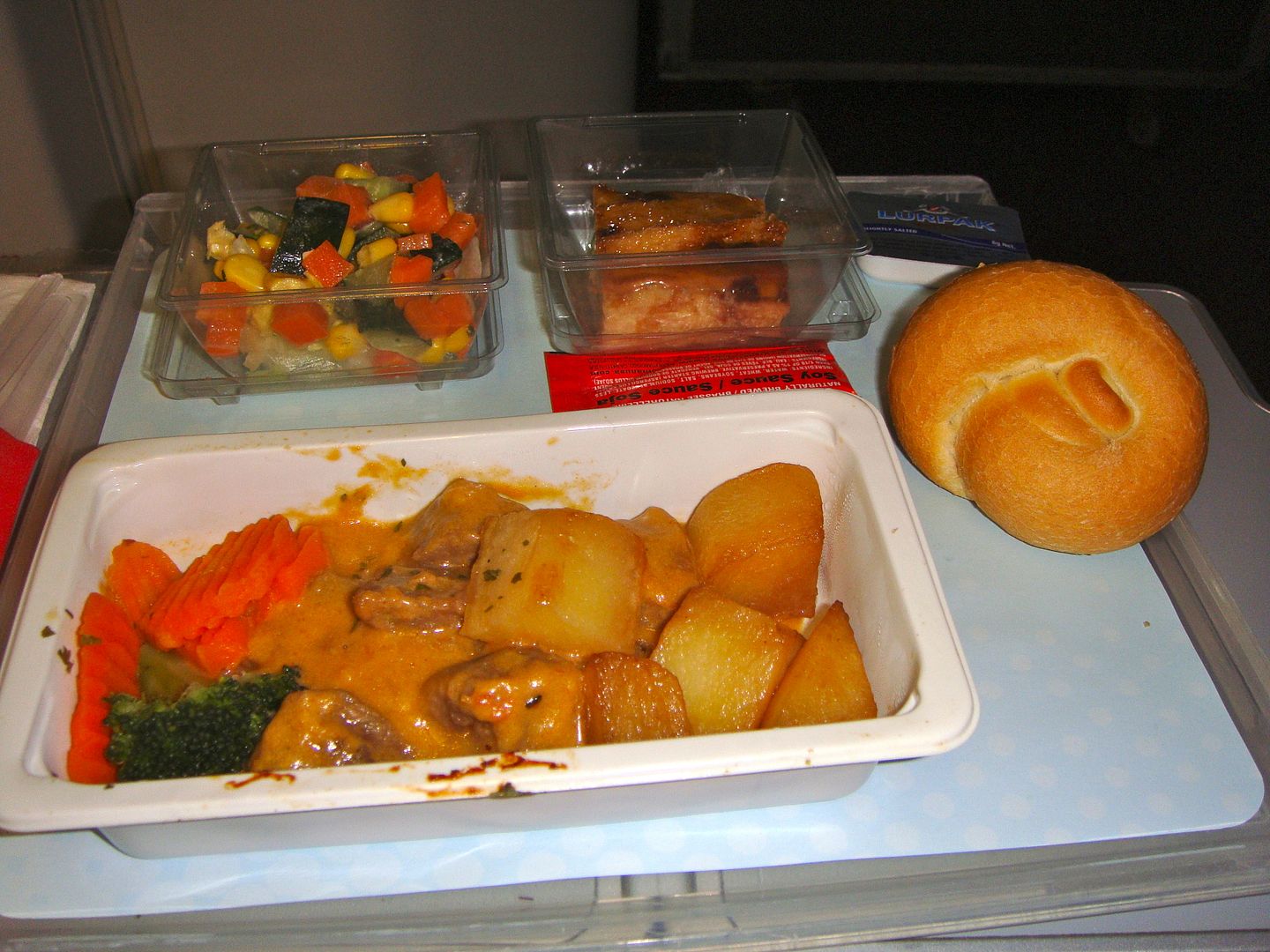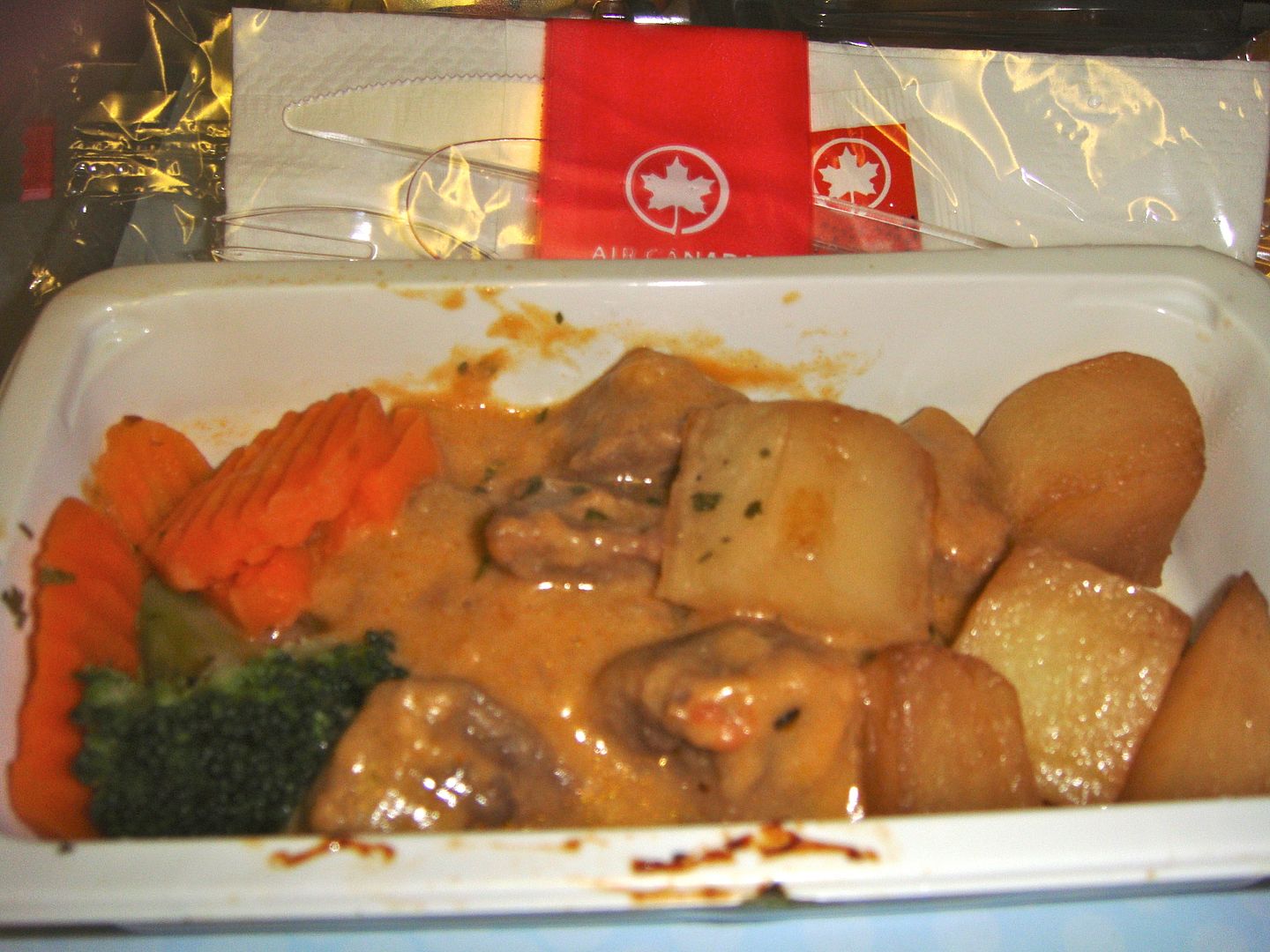 After dinner, the lights were dimmed and the crew requested that the window shades be pulled down. I managed to sleep a few hours but woke up feeling very sick and faint. All I can say is that for the next 7 hours, I was violently ill and very grateful for my prime location near the lavatories! When I refused the breakfast and asked for some ginger ale, the flight attendant asked if I was okay and immediately went to get the Flight Director. She brought me some Gravol and told me that a passenger in J was suffering from the same symptoms and one of the crew members was so sick that she had been taken out of service. The remainder of the trip was a blur and I was extremely happy when we arrived in Toronto.
After clearing immigration and customs, we had to recheck our luggage for Halifax and we still had a two-hour wait in the terminal. We went to the AC lounge and waited out our time to the onward flight. Again it was all a blur but I vaguely remember arriving home at 1 am and falling into bed.
Sorry there are no details of the YYZ YHZ flight and few photos of the HKG YYZ flights but I will make up for it in an upcoming report on a recent trip to Helsinki. (I have no learned to keep my camera at the ready
Thanks for reading! Comments welcome.