Background
We travel to Finland a few times a year and every booking is a challenge. It might seem straightforward but the journey from Halifax to Helsinki rarely is. Factoring in the need to travel on Star Alliance flights wherever possible, avoiding connections through the US because of immigration delays, seasonal scheduling and searching for best airfares means that there is a lot to consider. Our most recent trip in April was no exception.
After scouring Expedia, Skyscanner and the websites of AC, LH, SK, among others, I was still not ready to commit but I was getting closer. Yes, I could have gone to a travel agent but where is the fun in that? Having worked for 17 years in the airline industry, old habits die hard ☺.
The day we wanted to go, my preferred choice of the AC YYZ CPH flight (AC882) was not operating, but there were indirect routings on AC, via LHR and SK to CPH. There was also a non-stop AC flight YHZ-LHR (AC860) but because it left so late (2345), it meant that arrival in HEL would be quite late the next evening. Still, I hadn't ruled it out yet. Instead, I checked AC connections from YYZ via FRA and MUC because they normally leave early enough to make the LH connection into HEL at a decent hour. In the end, I booked us on the AC to CPH via LHR and then on Blue 1 from CPH to HEL because the fare YHZ-YUL-LHR-CPH, with the add on of the Blue 1 flights was still cheaper than YHZ-LHR or the FRA or MUC routings by several hundred dollars, which I used to purchase preferred seating on the AC flights. So we ended up with the routing:
YHZ YUL
YUL LHR
LHR CPH
CPH HEL
Day of Flight
When I made the booking, I hadn't paid much attention to the fact that we had just less than an hour to connect in YUL. So I fretted up to and including the day of departure, worrying that if anything went wrong, it would have a domino effect and that we would be in trouble with our CPH HEL connection, which was issued on a separate ticket.
However the day dawned sunny and bright, flights were showing in time on the airport departures web page and all was in order. I started monitoring the AC online check-in site 24 hours prior to departure, again in the hope that a LMU might be available for the YUL-LHR flight but nothing was coming up. I also deliberated between using my Aeroplan Frequent Flyer number (now demoted to basic) or enter my Aegean Gold Miles and Bonus number so that the system would allow me to check in my second piece of luggage without penalty. (In the end, I went with Aegean but wish now I had gathered the AC points, since my A3 card is good for 3 years).
When we got to the airport, where we went directly to the Executive check-in area and, as luck would have it, I knew the agent. She checked the LMU for AC 864 and there were seats available for purchase. After a quick consultation, we decided to go for it and upgrade our YUL-LHR flight. I am not sure it was such a good 'deal' but it meant that we would have a chance to get some sleep if we wanted to. My friend was able to check our luggage all the way through to HEL, thus eliminating having to reclaim it and check it in again in CPH, and I had already done online check-in for the CPH HEL segment. Now looking forward to the long journey, we headed to the AC lounge for a quick visit. As usual, for this time of day, it was fairly full but we managed to get two seats and had some nachos and dip before making our way downstairs to the gate.
AC619 (Airbus 319)
YHZ 1820 YUL 1856
Seats 12 A&C (Y)
As is my practice, and because I am an eternal optimist (!), I booked the window and aisle seats, with the hope that the middle seat would be the last to go, especially since, in this case, it was a preferred seat and there is a charge to book those on AC because of the extra legroom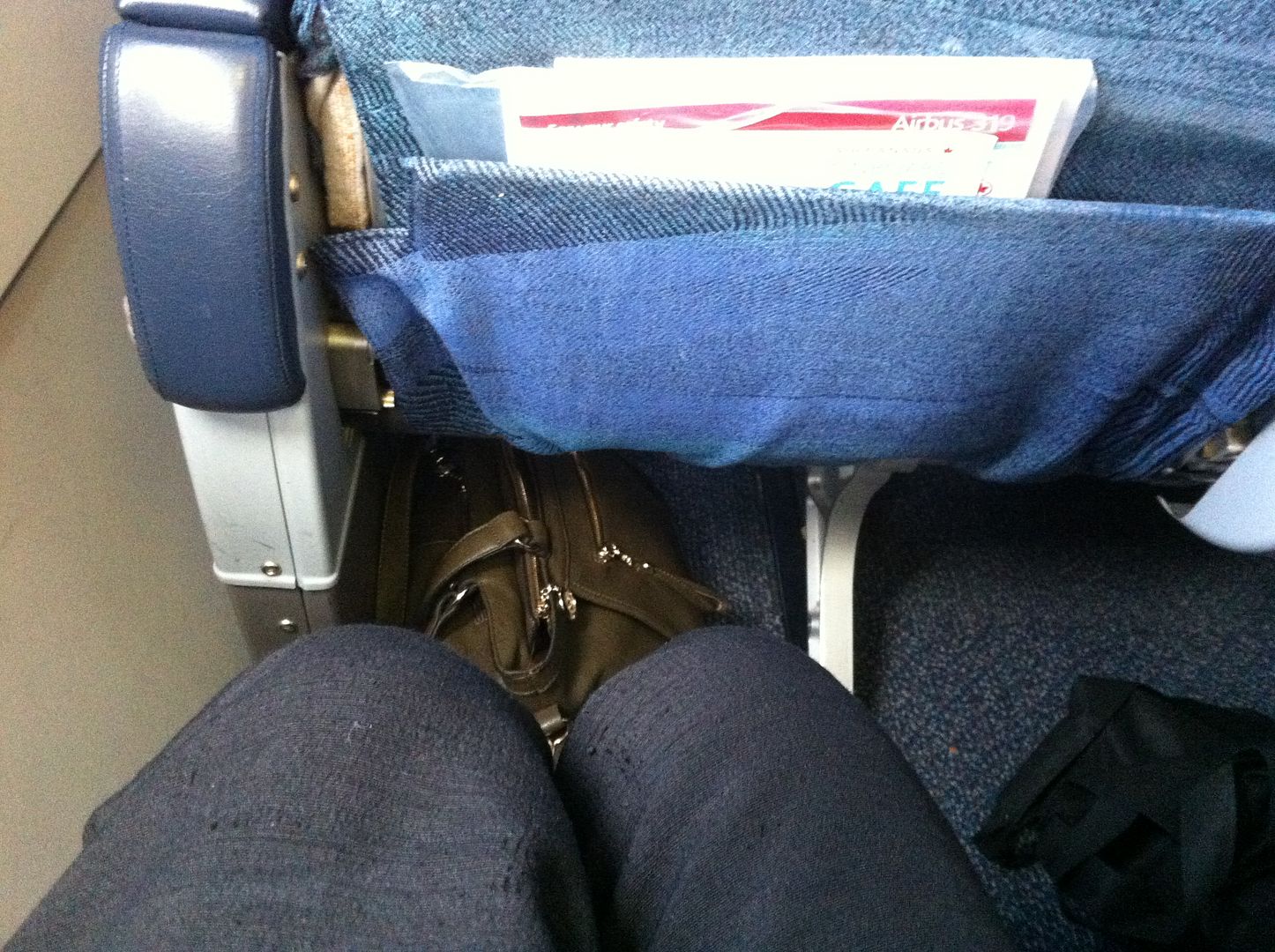 But as often happens on flights out of YHZ, the flight was full and we soon had a seatmate. However, he was more than happy to swap for the aisle. As row 12 is directly behind the J cabin, the tray tables are located in the armrests and the video screen for the middle seat is also in the armrest. It seems weird to be able to look through the gap and see the service in J class---sort of like being there, without the meals or the bar service!
After the announcement of a flying time of 1 hour 20 min. and a welcome from the cockpit, we got away a couple of minutes early. There wasn't much to say about this flight. It was quick, it was relatively smooth and there was the usual BOB service, plus free tea, coffee or soft drinks.


In no time, we were approaching YUL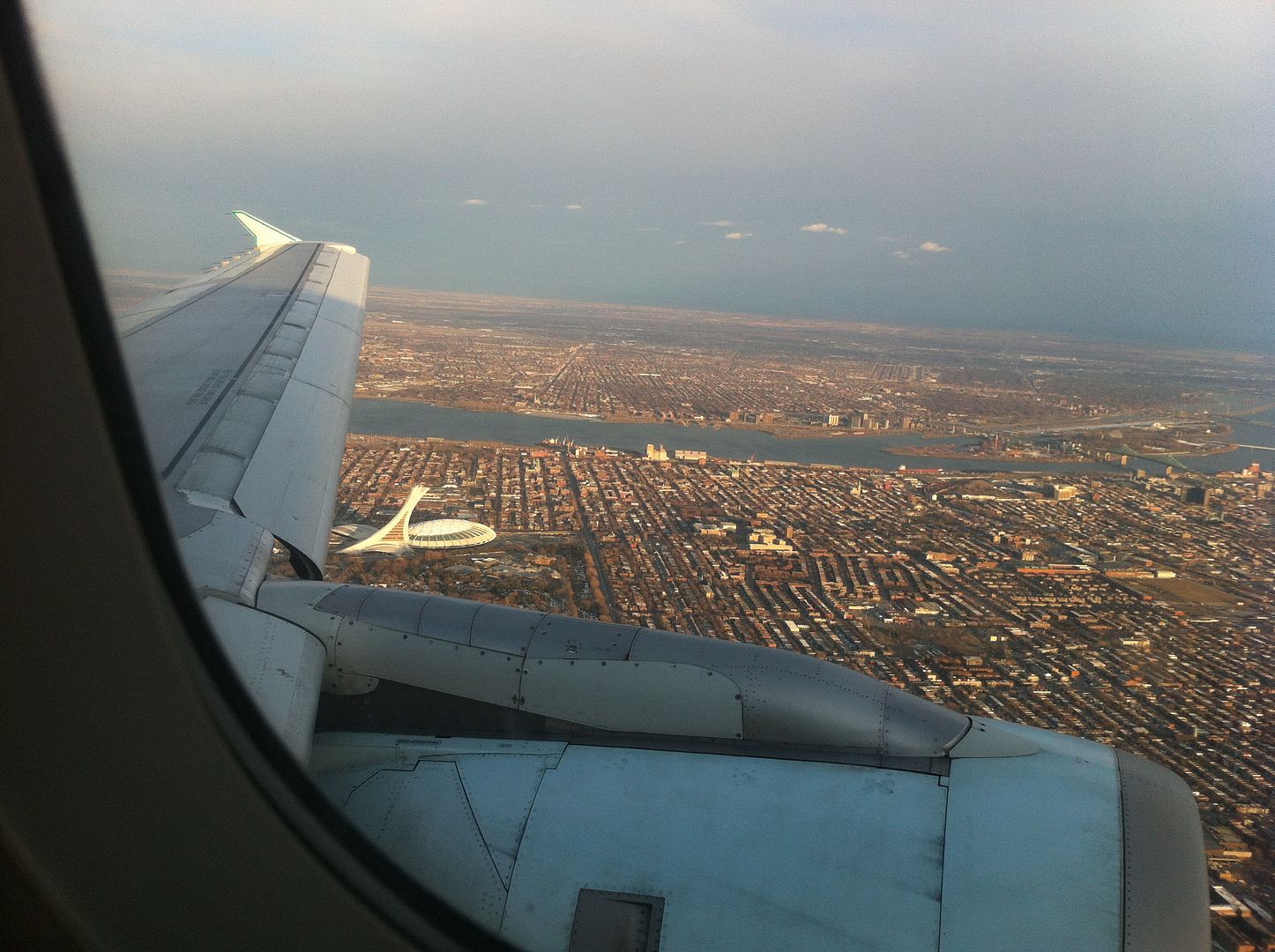 We were breathing a sigh of relief that it looked like we would have no trouble in making our connection…..until there was some commotion a few rows behind us and the call over the PA " if there is a medical doctor on board….". Three people immediately appeared and then there was an announcement that when we landed, could we all please remain in our seats until the medical ground crew came on board. A few minutes after we got to the gate, we were told that there was no longer an emergency and we could deplane normally. Whew! (Turns out the passenger was feeling a bit faint but was not seriously ill).
The good thing about YUL is that, if you are connecting to an international flight, you do not have to go through security a second time and can proceed directly to your gate. We arrived at Gate 5 and we were departing from Gate 55. So it was a brisk walk and we arrived just as the flight was getting ready to board.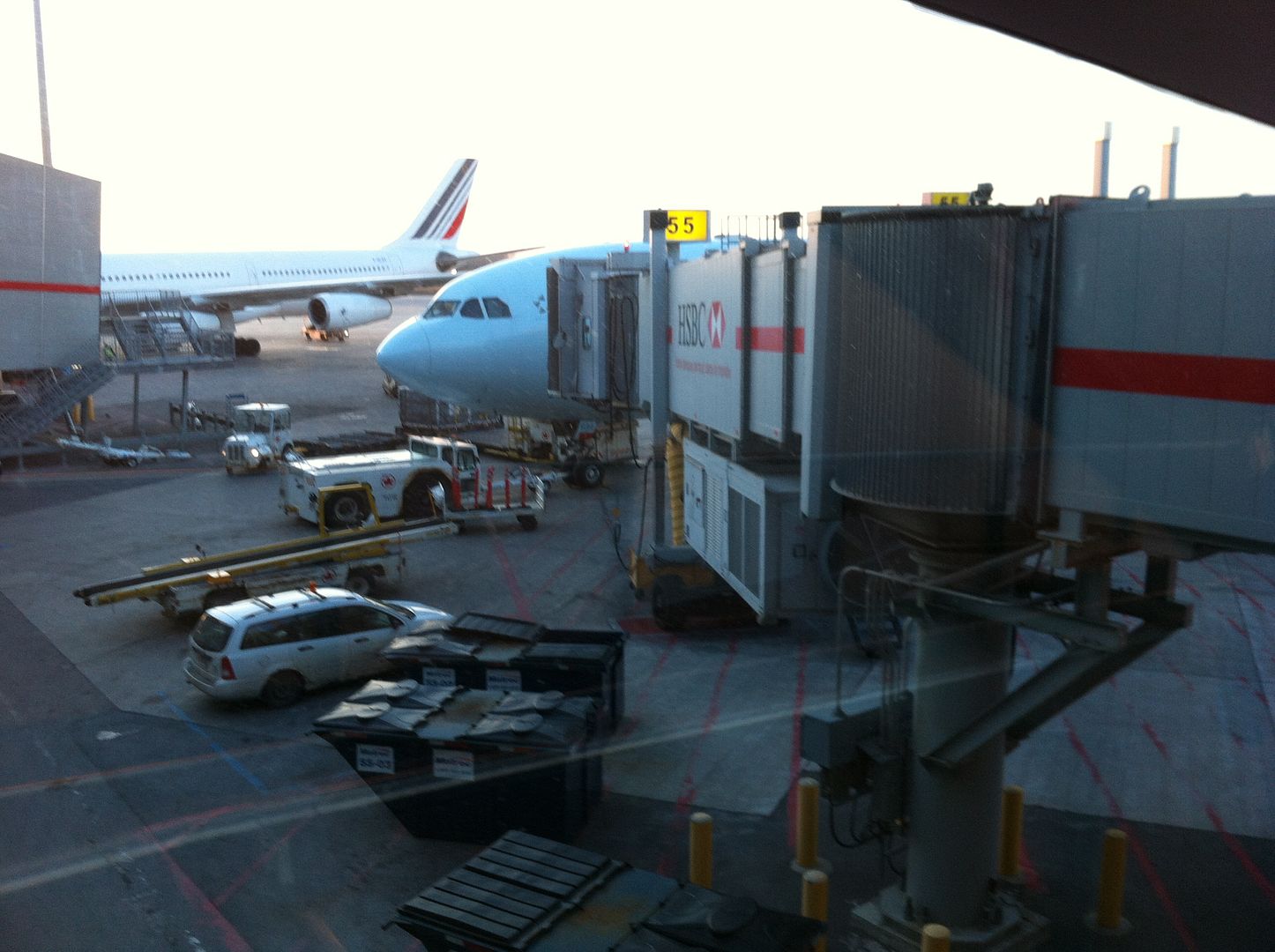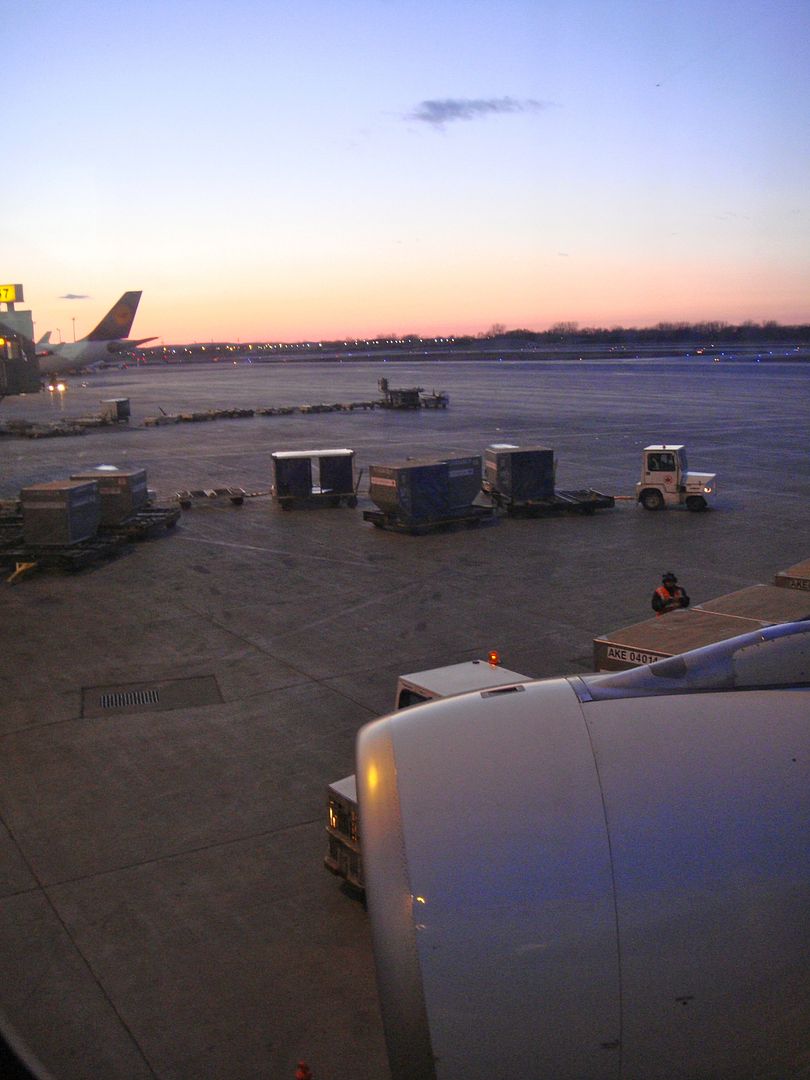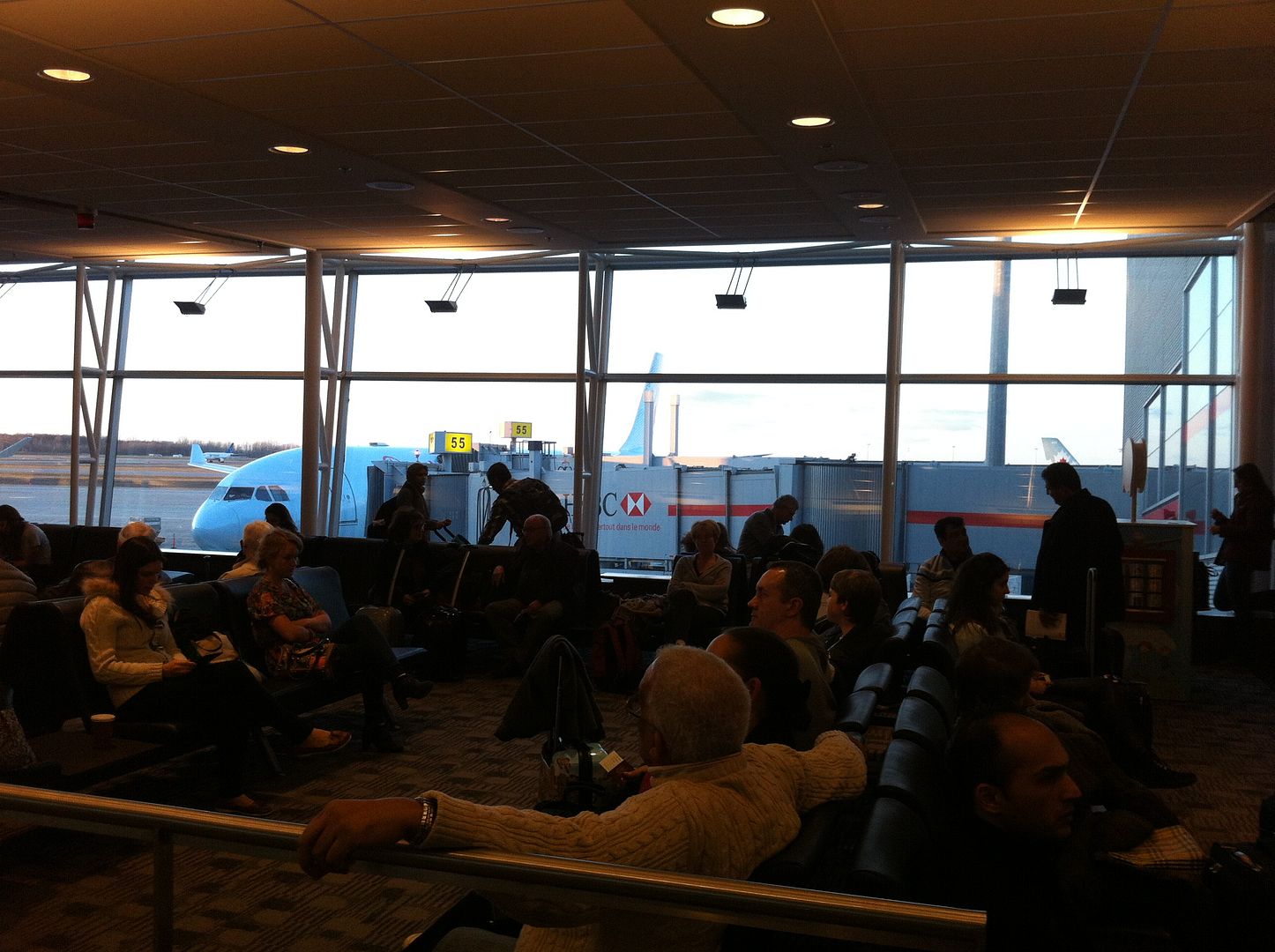 AC864 (Airbus 333-300)
YUL 1950 LHR 0730+
Seats 11K, 12K (J)
Our seats were located in the second J cabin, which I purposely selected because there were only 3 other seats showing occupied at the time, whereas the front cabin was full. In the end, there were 5 people in 'our' sectionand they were all in the 'A' seats, so it was almost like we had the cabin to ourselves ☺.
The crew seemed a bit distracted and surprised when we showed up at the door so quickly. They recovered but it took them a while to come through and take coats and even longer to bring the champagne and orange juice!
We were just settling into our seats, mine missing the overnight kit and water bottle, which I took from the seat across the aisle, when the Gate Agent came on board and asked us if we were Tay 51 and Tay 52 because we were double booked! It seems there was a mix up when we upgraded and our seats in Y---preferred seats---were still being blocked and they wanted to use them. (We looked back as saw someone in them shortly afterwards).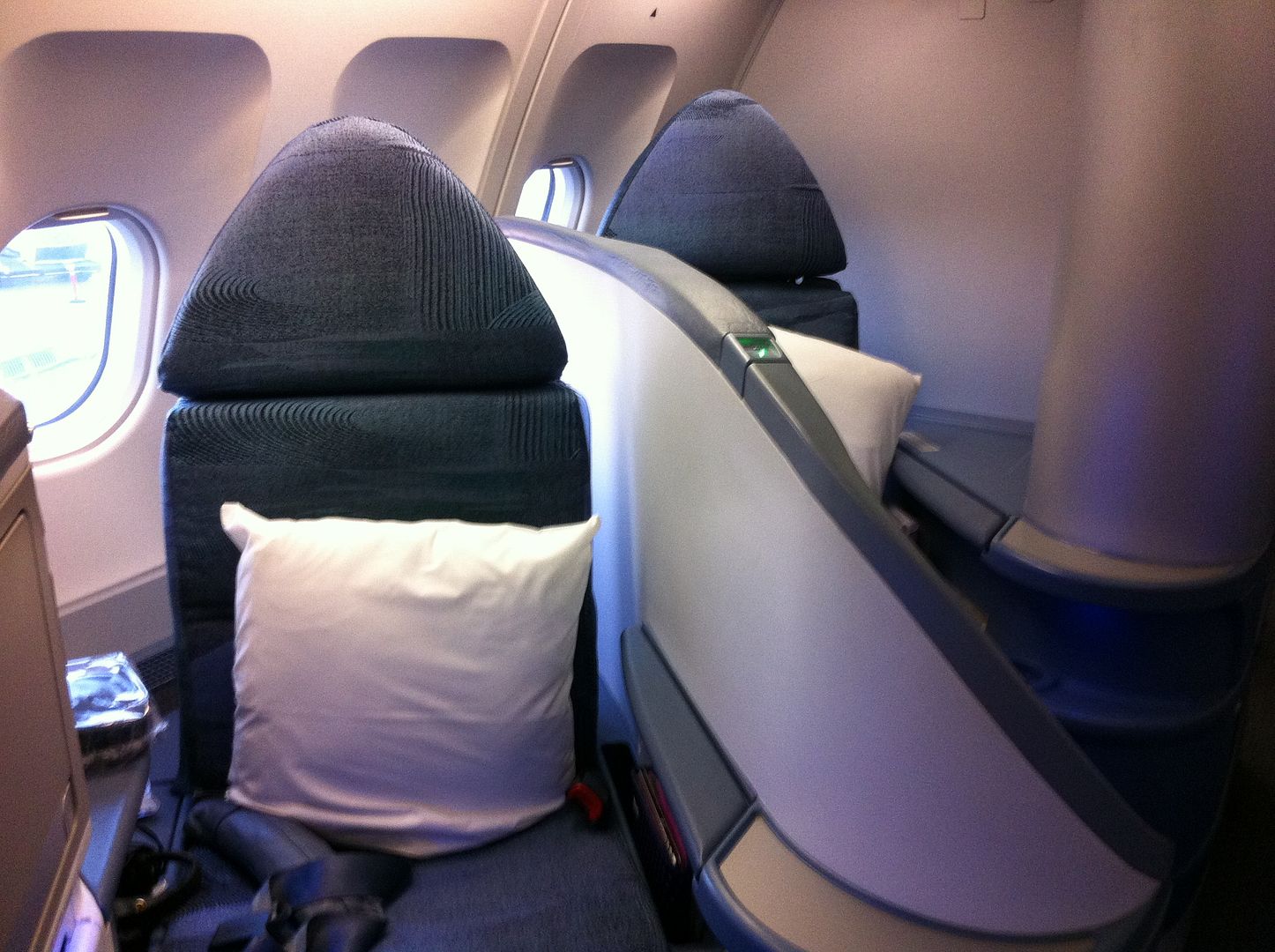 After the usual announcements, with a flying time of just over 6 hours, we took our place in the queue, behind BA and were on our way. Our route took us back over what we had just flown to get to this stage, so by the time dinner service began, we were finally going forward towards our destination.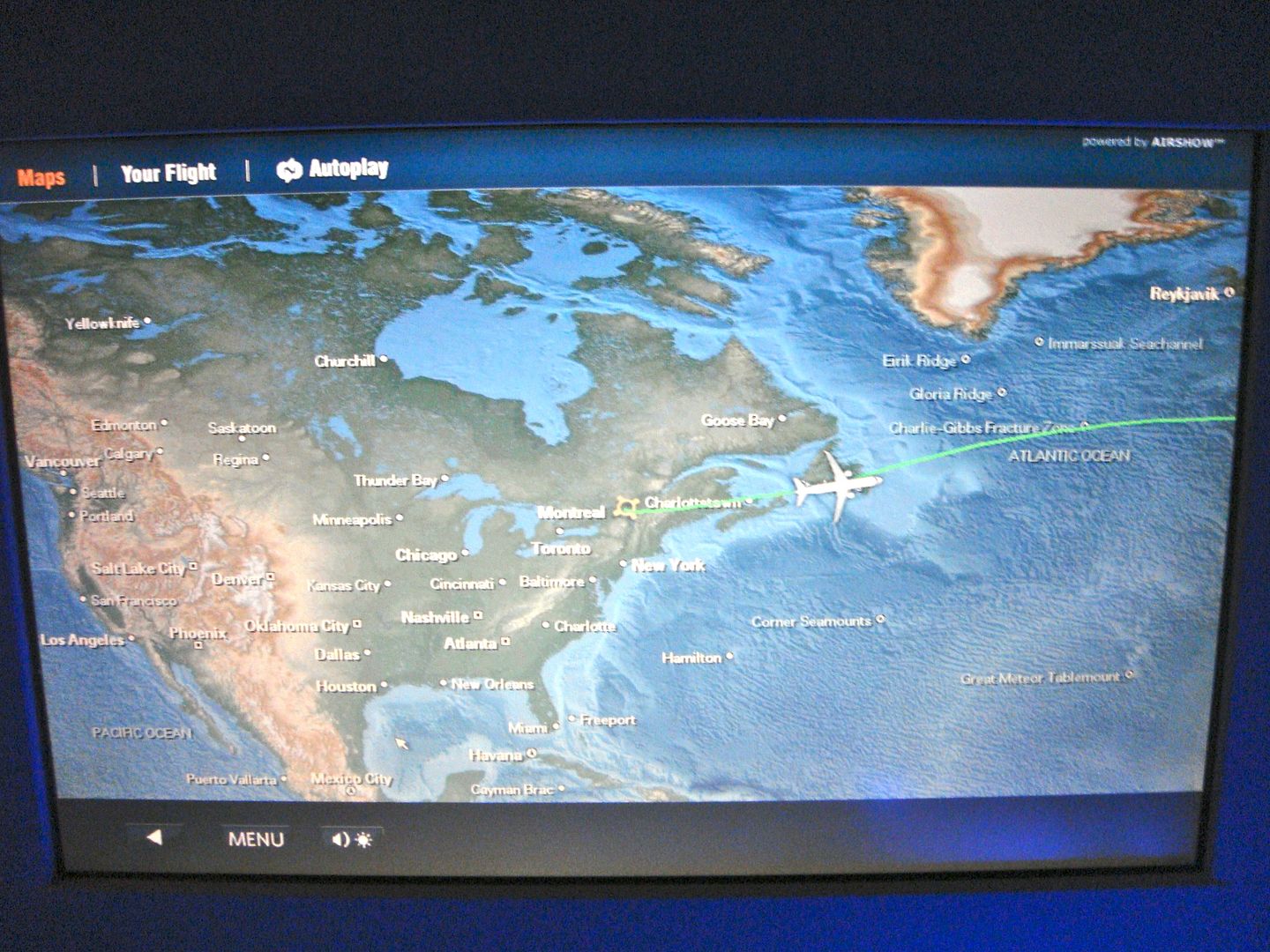 We were given menu cards and our orders were taken prior to takeoff.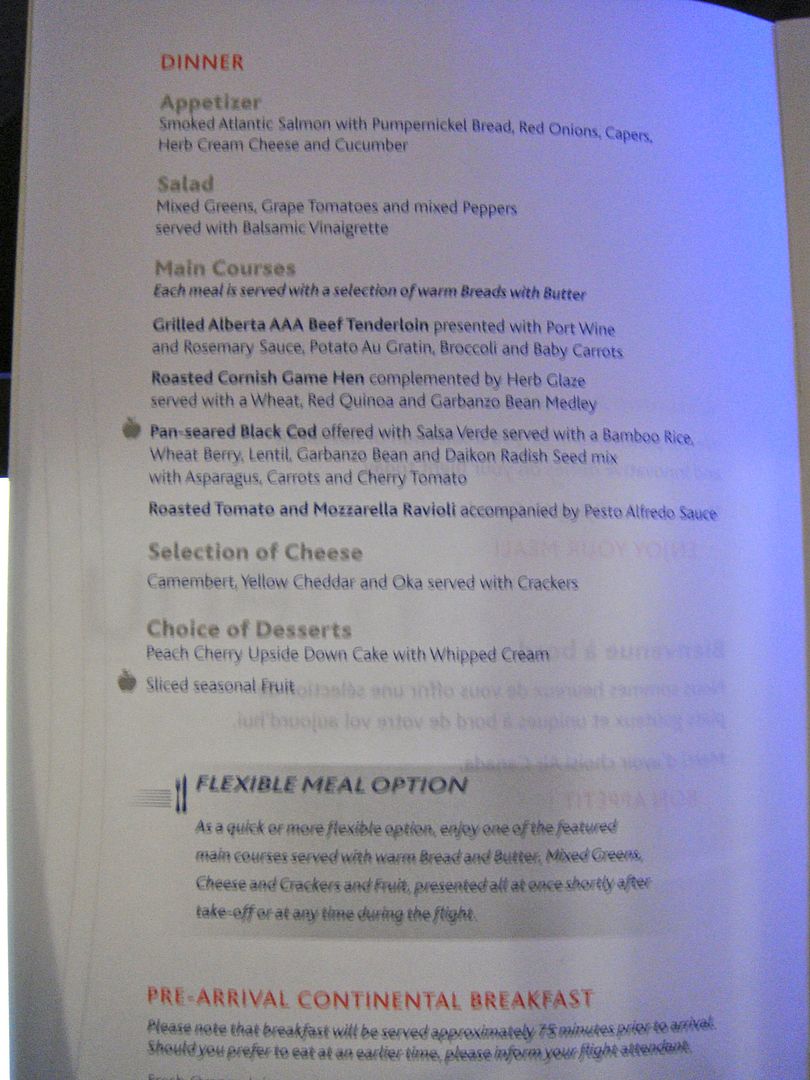 Once in the air, hot towels were passed around and the drinks trolley appeared. At this point, some of the passengers in the cabin were also served their meals, along with their drinks, as they had opted for the 'meal on request' service…something I was wishing I had done too. Instead, I demolished the warm nuts and nursed a glass of Pinot Noir and soon enough the smoked salmon appetizer, followed by the salad arrived. I was so hungry that I demolished both before realizing that I forgot to get pictures of them!! Both of us went for the beef again----we never learn our lesson, so I guess it's the marketing of 'AAA Alberta beef tenderloin' that gets us every time and everytime we are underwhelmed. I guess the moral of the story is not to order beef on an airplane but when will I ever learn? ☺
It was getting late and the crew seemed just as anxious as the passengers to speed along the meal service and dim the lights. A cheese course, with my favourite drink, Port, followed the main course---no they didn't serve the cheddar with a bite taken out of it, I took the picture after I had sampled it! Then there was dessert. I chose the fresh fruit and once it was finished, I put my seat in the fully flat position and dozed for the rest of the night.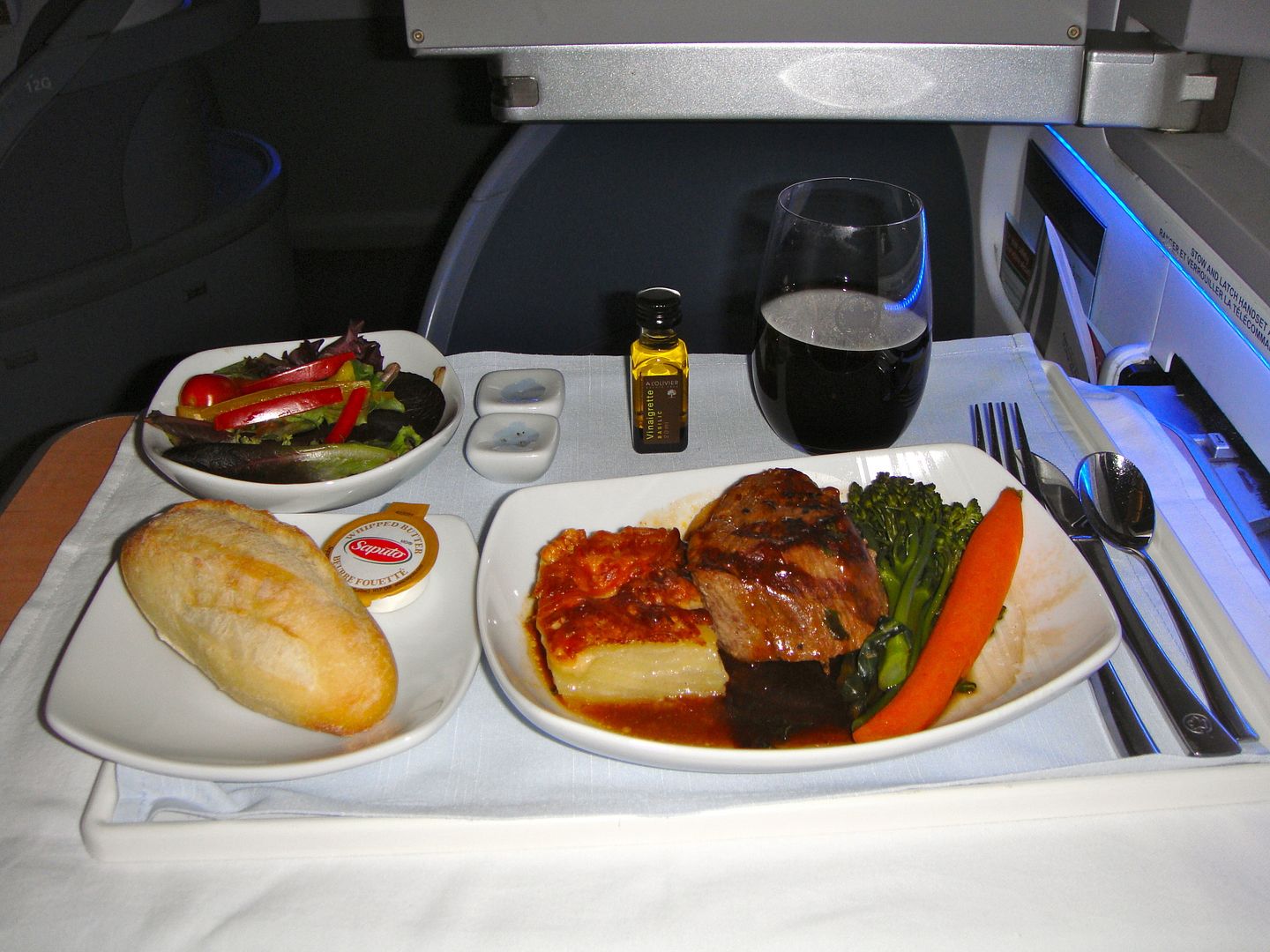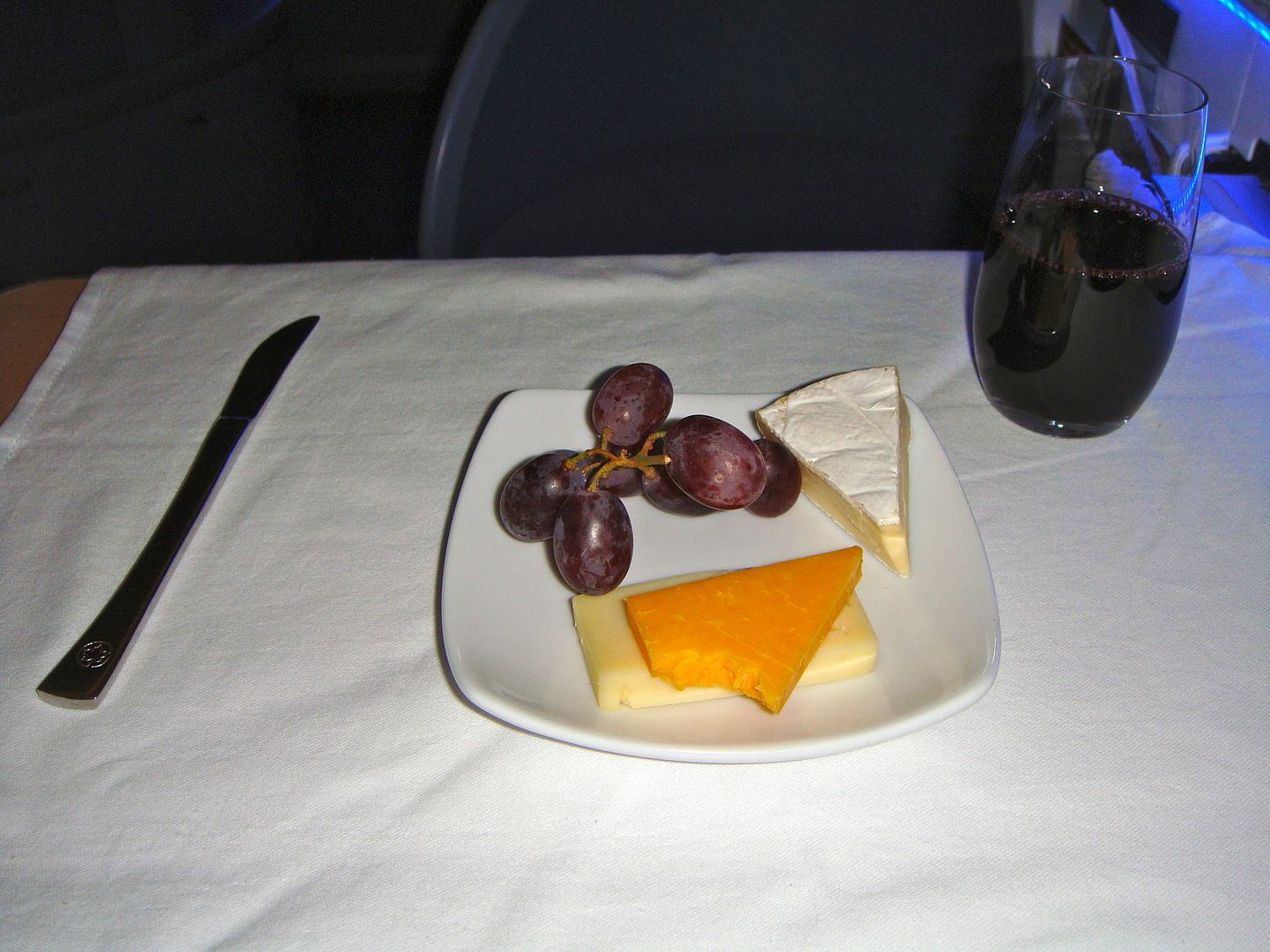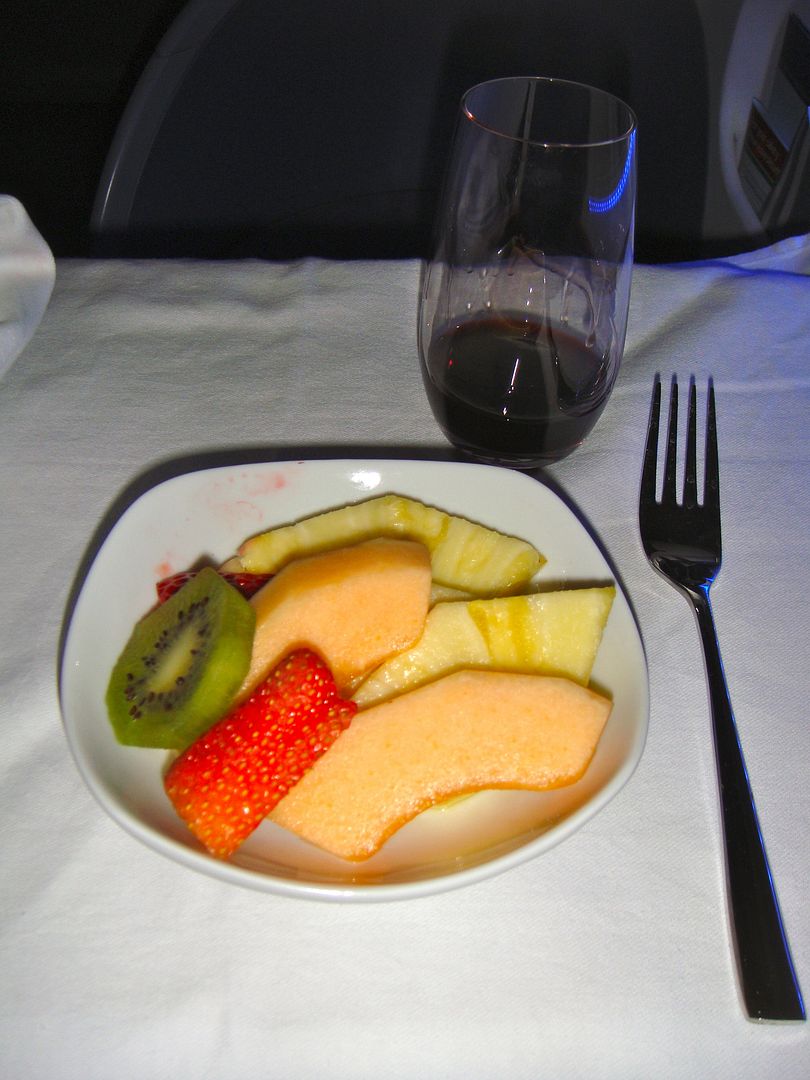 I recall some turbulence mid Atlantic but didn't fully wake up until about an hour out of LHR. I had asked not to be wakened for the continental breakfast but when the crew saw that I was awake, they asked me if I wanted any, despite the fact that everyone else had already eaten…a nice touch but I was saving myself for the lounge
. At this point, we were also given 'fast track' card for immigration and an invitation to the AC Arrivals Lounge.
We did a couple of circles around the London countryside and then touched down at LHR about 30 minutes ahead of schedule. However, this time was soon eaten up when the ground crew were unable to get us to the gate because of some equipment malfunction that could only be handled by bringing out the BAA bigwigs. This took most of the 30 minutes. Thanking the crew, we made our way through T3, to the transit area, eventually resurfacing about 50 metres from where we had started but having had to go through security again. We quickly found our way to the London Lounge (AC and SAS), which is one of my favourite AC lounges but starting to show its age. After checking with the SAS agent about our seats on the next flight, we went upstairs in the lounge to have some 'real' coffee and, in my case, some breakfast, read the British papers and catch up on the huge numbers of emails that seemed to have piled up overnight. It seemed like no time had passed before we saw that our flight was ready for boarding at Gate 1, which was quite a long walk. When we got there, it appeared that there was going to be a full load for CPH.
AC9947 (SK502): Airbus 321
LHR 0950 CPH 1240
Seats: 7 E & F (Y)
Again, our plan of leaving the middle seat free was foiled
but we were so tired at this stage that we settled in and after taking off from LHR, almost immediately fell asleep until somewhere over Sweden, where we started our descent into CPH. After a very 'firm' landing, some sharp breaking and turning, we arrived in CPH and once they were able to get the door open, we went quickly to the SAS Copenhagen Lounge, another favourite place.
After settling into our 'usual' spot in the upstairs forward area, overlooking the concourse below, we checked out the food offerings
---always good---and I settled for some salmon and potato salad and a glass of icy cold house wine---hey, it was now afternoon in Denmark!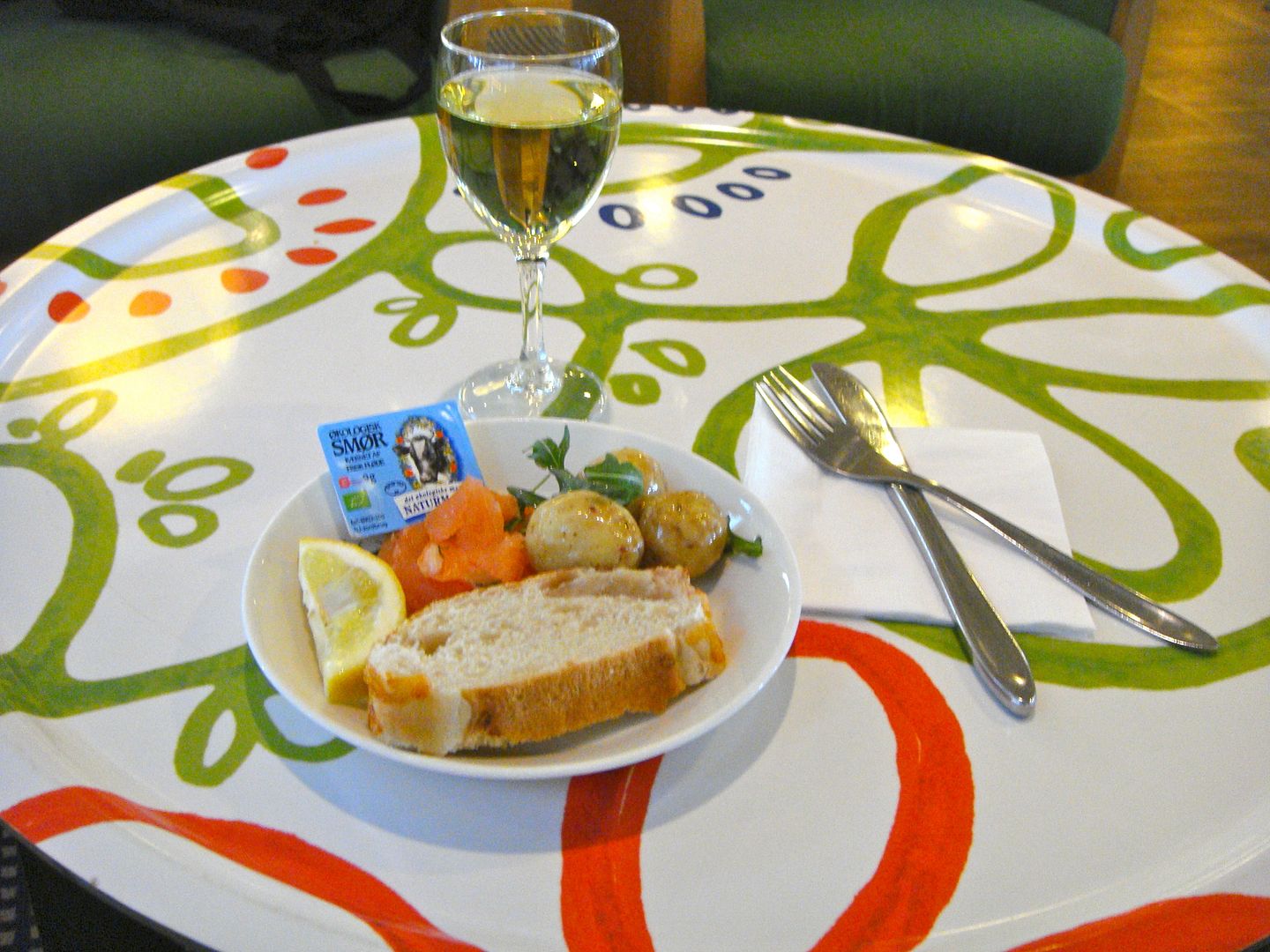 Then it was time to head to the gate for our final flight of the journey…we were almost there.
SK 1720 (Blue 1) Boeing 717
CPH 1535 HEL 1720
Seats 10 A & C
As we got closer to the gate, it became clear we were in the right place, as we started to hear Finnish being spoken and saw people reading Helsingin Sanomat and Ilta Sanomat ☺. The flight was about 60 per cent full and, despite a later boarding, we had an on time departure.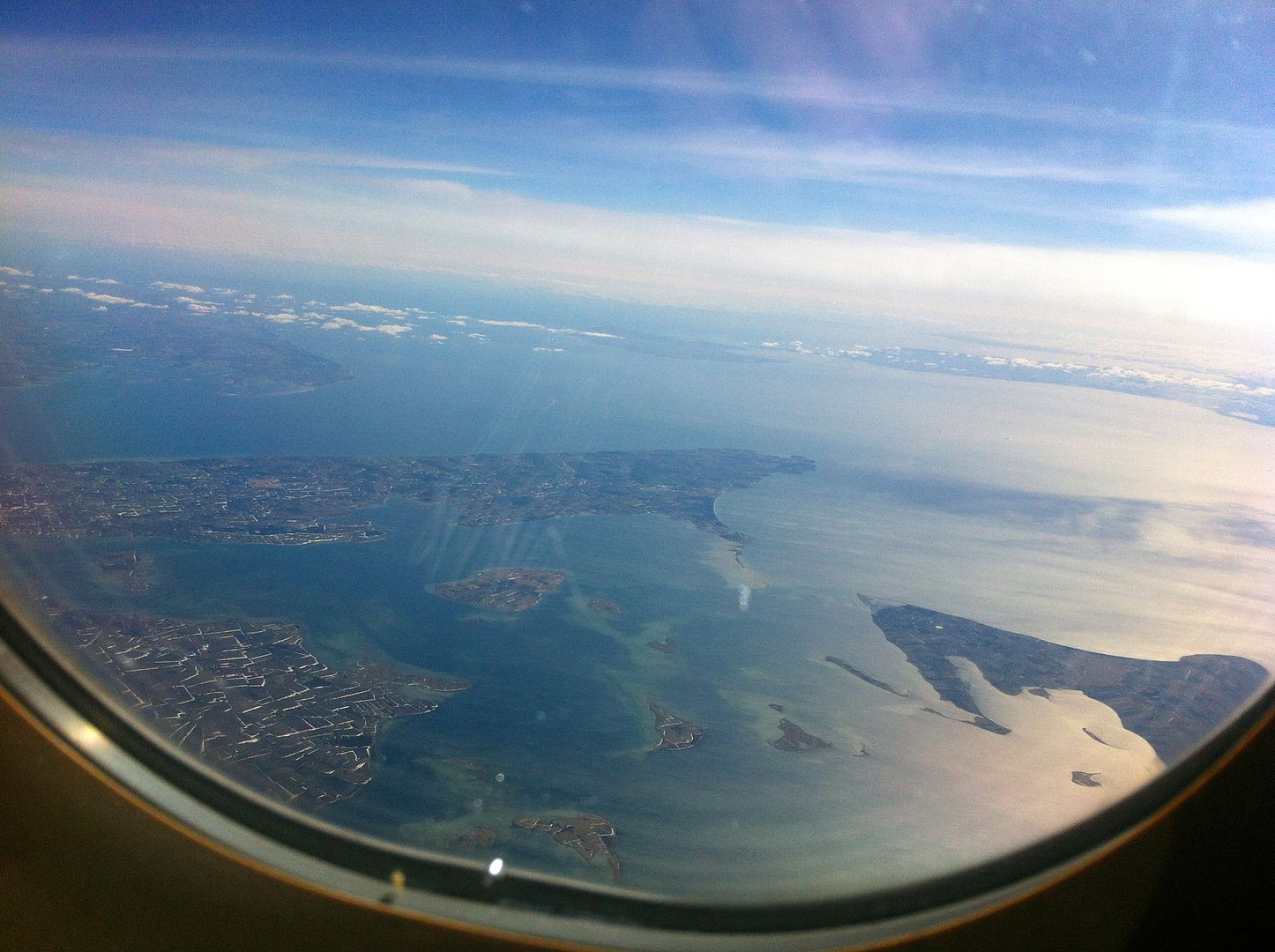 The 717 showing some wear and tear
I confess that by now the lack of a proper night's sleep and our circuitous route was catching up with me and I fell asleep shortly after take off. But I woke up for about the last 40 minutes of the flight and enjoyed some nice views of southern Finland, still covered in snow and some fantastic views of Helsinki, itself, as we made an approach that usually I don't get to see because it is either dark or overcast. I was able to recognize many landmarks, including our apartment that we stay in for longer visits and the Viking and Silja ferries getting ready for their departures to Stockholm.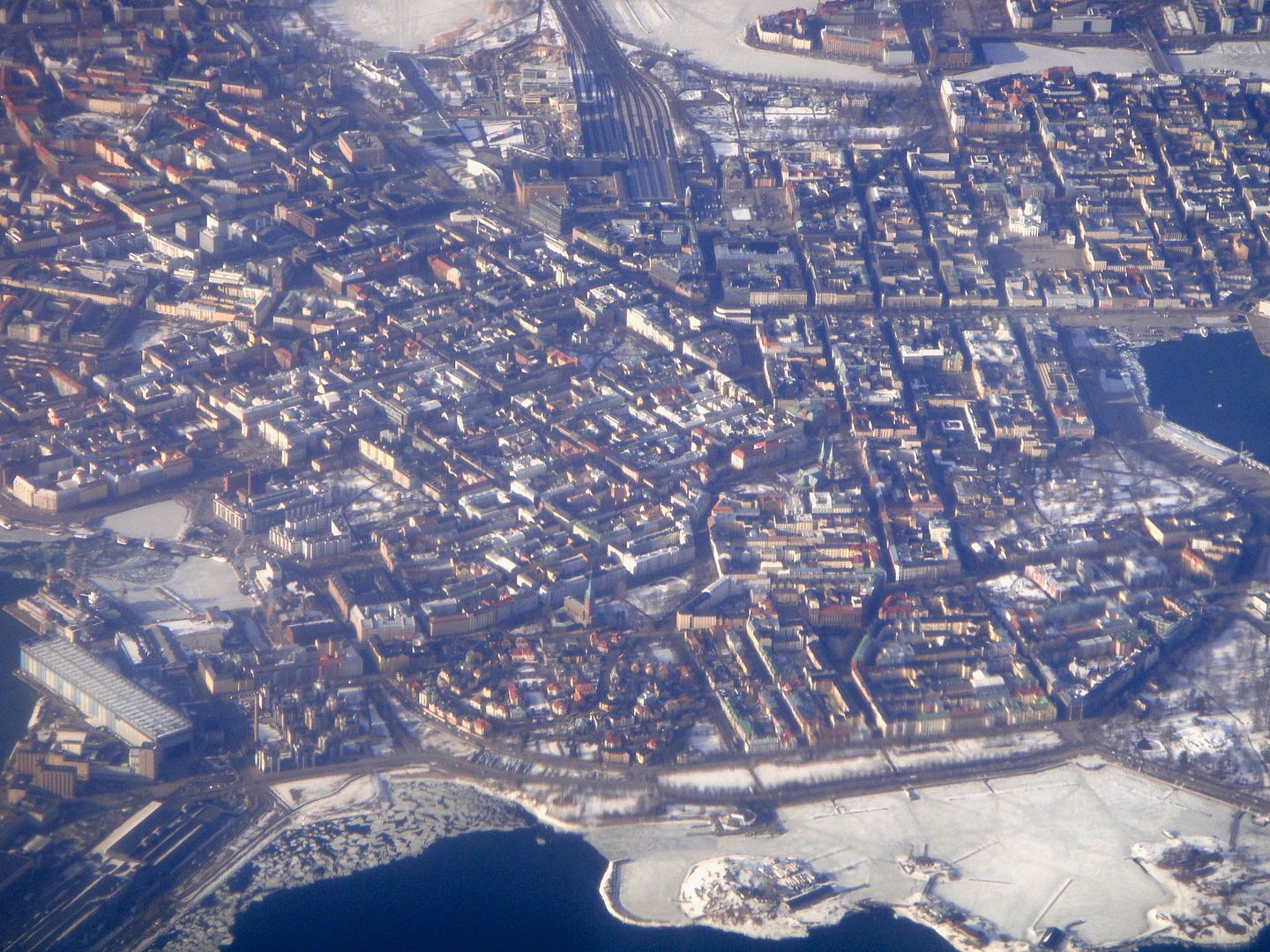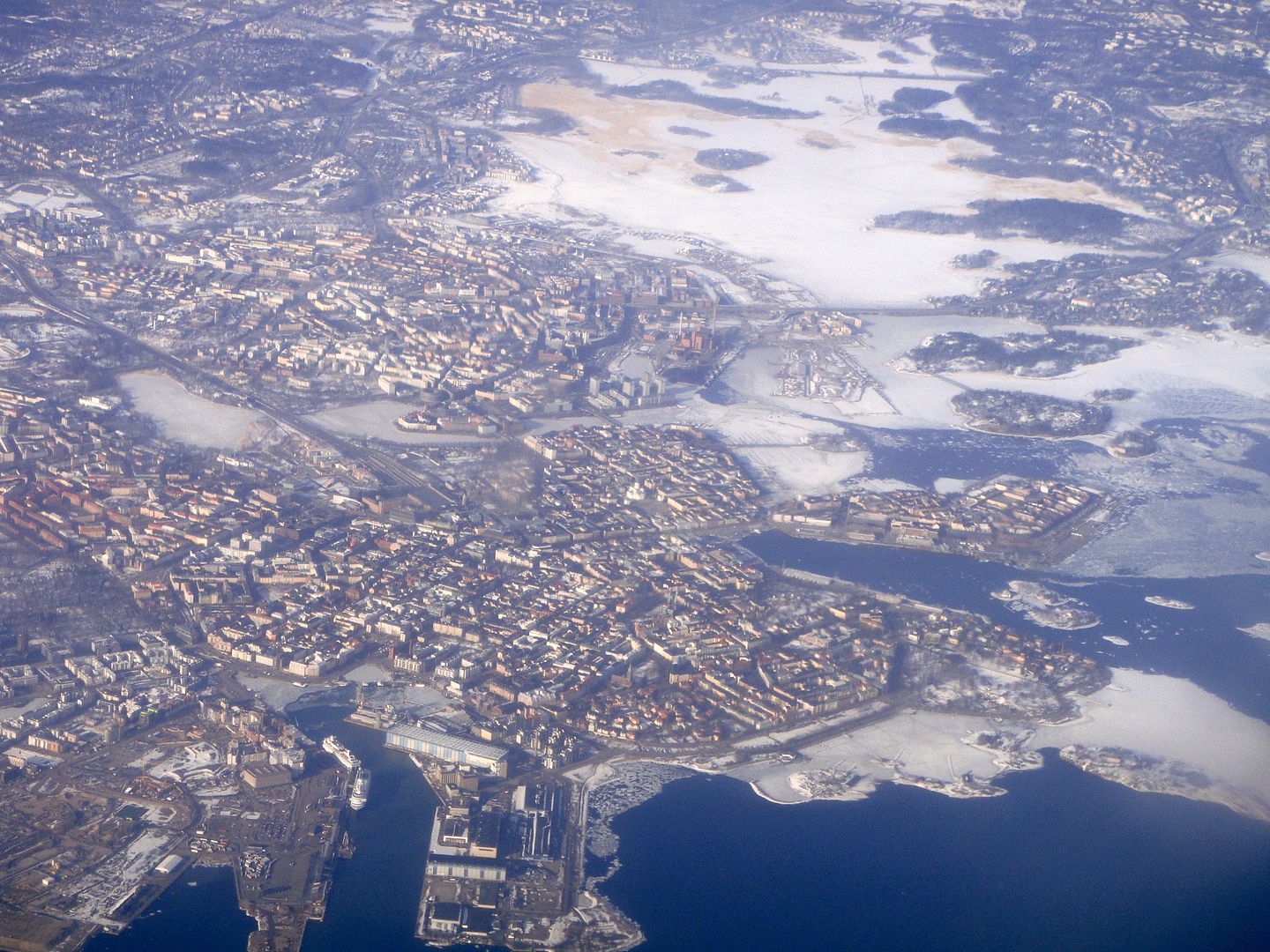 Soon we were on the finals into Helsinki and I was getting excited to be back.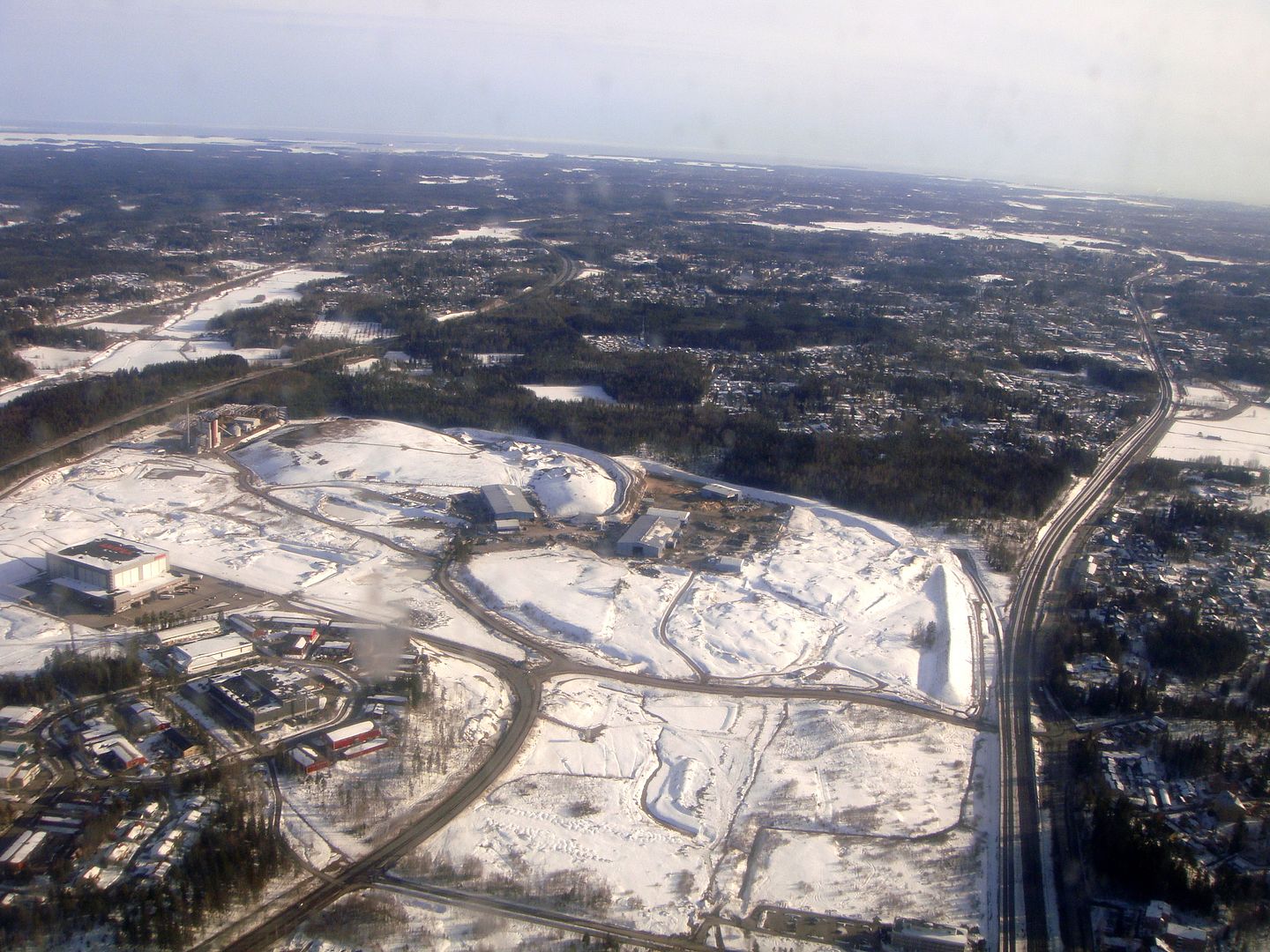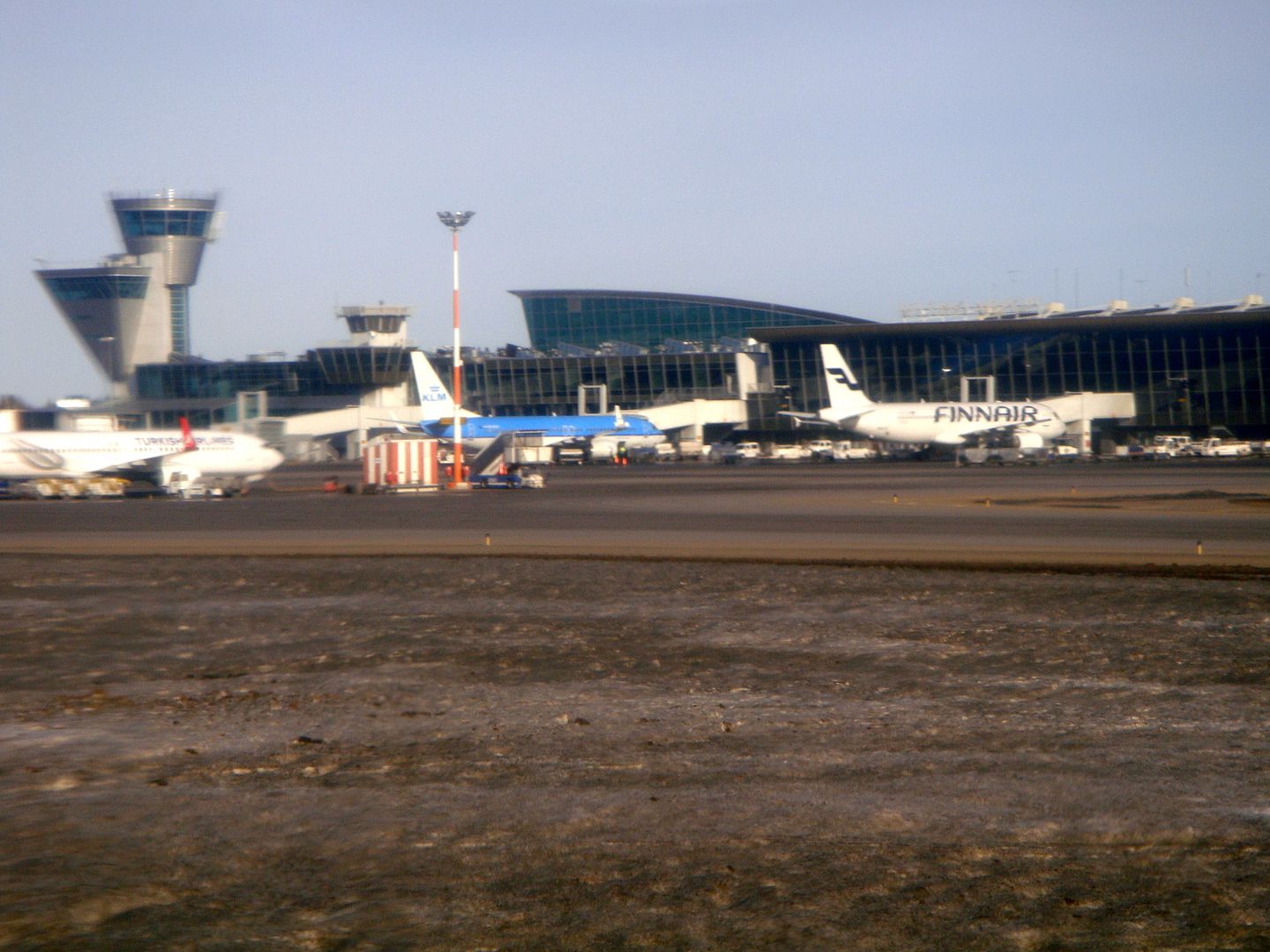 We parked at Gate 14 and went down to wait for our luggage. The first bag came and then we waited and waited until it was obvious that all the baggage was off but not other two cases. I can't say that we were surprised, what with the tight connection in YUL, so we were somewhat surprised to find out that the bags were in LHR! After filling out all the forms, the agent told us that it was likely they would arrive later that evening and we should advise our hotel that they were coming, we made our way into town. We made it!!!! And so did our luggage at 3 am ☺
This is what arrived!
Overall, Air Canada was fine. The flight YHZ YUL was short and uneventful. You can't ask for much more than that! The crew on the YUL LHR flight were 'business professional', not unfriendly but not really engaged. They did the job and did it according to the book. J class is usually always fine on AC and this flight was no exception. SK is always solid and I like Blue 1 and always enjoy flying the 717. Anytime we can arrive on time, with some many connections, is always a good trip. The fact that our luggage was found and delivered so quickly meant that we weren't too badly inconvenienced. I will cover the return journey in the next TR. Again, thanks for reading. I am still learning how to navigate my way around the websites.