There are so many excellent trip reports on A.Net, and excellent trip reporters! Apologies in advance for the so-so quality of this report by comparison to those masterpieces. However, rather than just being a consumer, I wanted to offer up something in return – welcome to our flash trip to Asia!
Background
2013 has been a bit slow for us with respect to travel, so we jumped at the chance to grab a few days in Asia while investigating the world of Medical Tourism in Bangkok.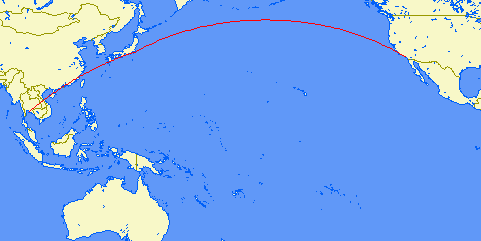 Thanks to Great Circle Mapper - excellent resource!
We could only spare 3 days away from work, which would mean leaving on Friday and returning on Wednesday (and heading straight to work from the morning arrival that day!)
Being die-hard Star Alliance loyalists – UA 1Ks with GPUs to burn - we were looking to fly UA and upgrade to J. However there were no R/RN class seats available on our dates of travel (or on any dates of travel; a situation that has become notoriously bad in the last year with UA).
As the search results returned mainly codeshare flights, both of NH on UA metal and UA on NH metal, we decided that we'd much prefer to gamble on NH in Y (which we have never tried) rather than stock-standard UA in Y+.
We briefly considered OZ and/or TG via ICN but both were astronomically expensive as we were only booking 7 days before travel.
CA was a distant 4th choice, and SQ timings via SIN require an overnight in both directions (at the very least: a 2am-7am stopover at Changi on the outbound trip).
Booking was made via United.com under the UA flight numbers – it's a general rule of ours to book via the carrier whose metal operates the flight: in this case though it came down to United.com offering the best price.
Seat assignments were not available for the NH sectors via UA.com, and strangely not available at ANA.com even using the NH PNR. A quick work-around was to make a dummy booking on NH.com, view the seatmap and then call ANA to request particular seats.
The telephone agent couldn't have been more charming and accommodating in our seat requests, and although the cabin looked pretty much completely pre-assigned, we did manage to get 2 seats together with aisle access – a great first interaction with NH!
April 26, 2013 LAX-NRT NH005 12:25-16:05 +1, Y ticketed as UA9685
April 27, 2013 NRT-BKK UA837 18:30-23:15 Y
May 1, 2013 BKK-NRT UA838 06:00-14:14 Y
May I, 2013 NRT-LAX NH006 17:10-11:00 Y ticketed as UA9686
Day of Travel:
A breakfast meeting that ran late (thankfully at home) meant that we were dashing to LAX – our 8-minute commute to the airport frequently lulls us into a false sense of security…
…and also meant that I forgot to pack a toothbrush, my lucky travel watch and any belts at all...oh well it's only a short trip and we can buy anything we need underway in Asia.
With apologies for the blurry photos – all were taken with iPhone 5 and most were taken while on the move…
LAX
I'm the guy who loves LHR (all of it!), CDG Terminal 1, BKK and also LAX. But even Bradley was not looking its best today: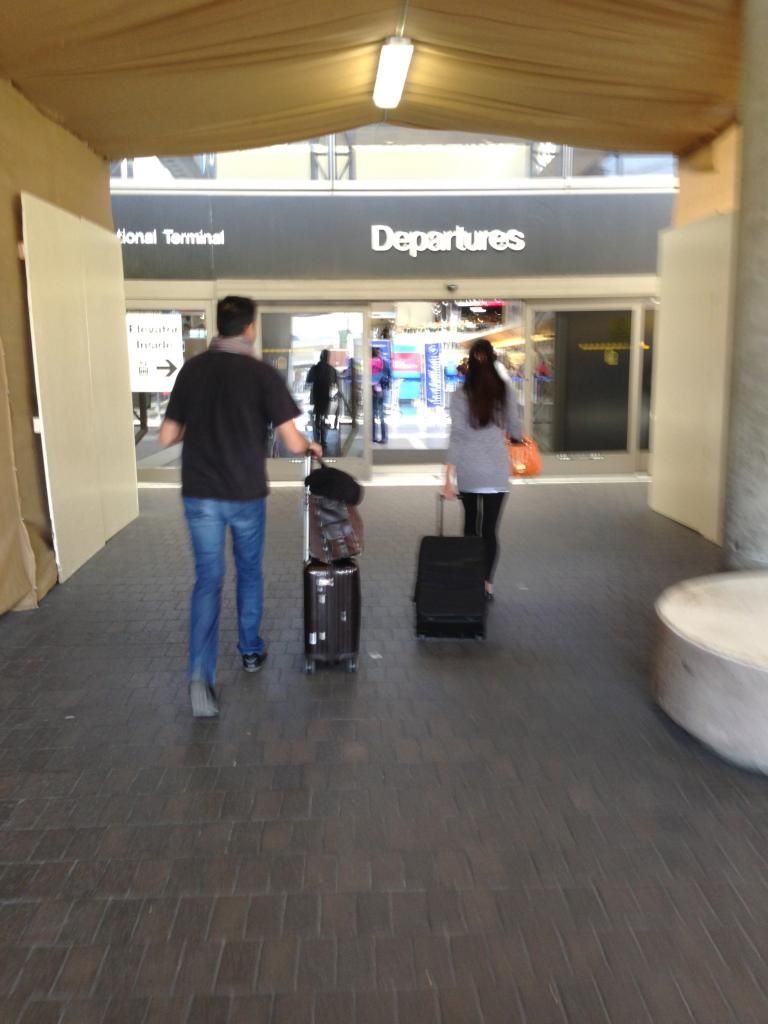 and FIDS: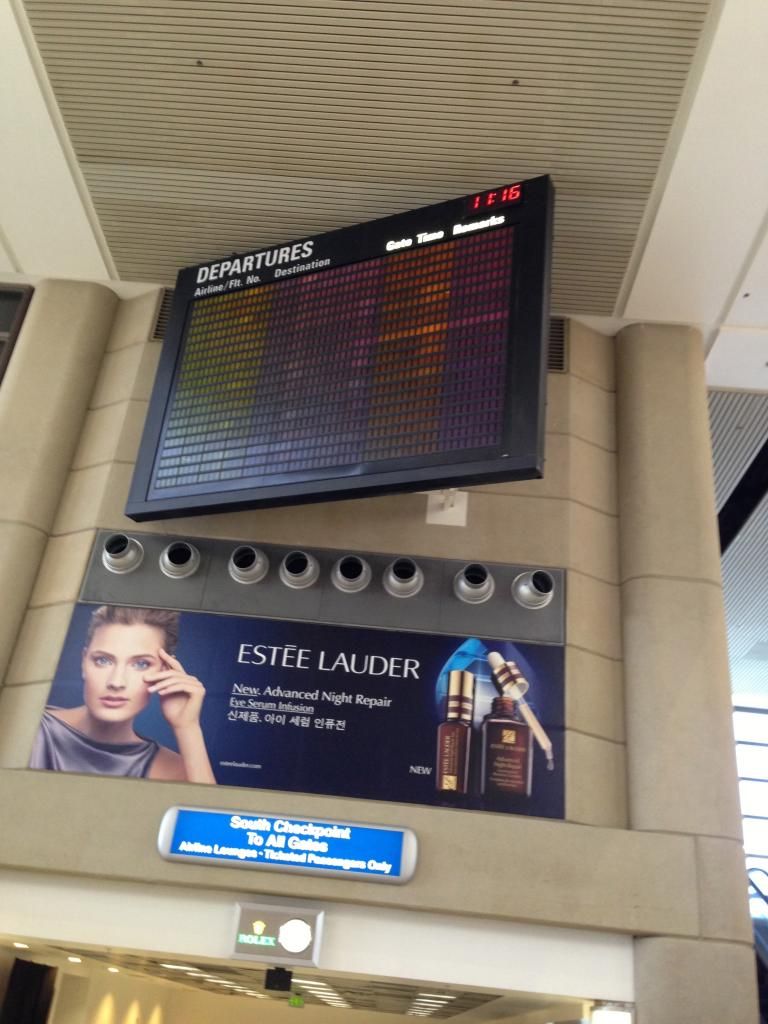 yup – no flights on display: what a disappointment…
ANA Check-in: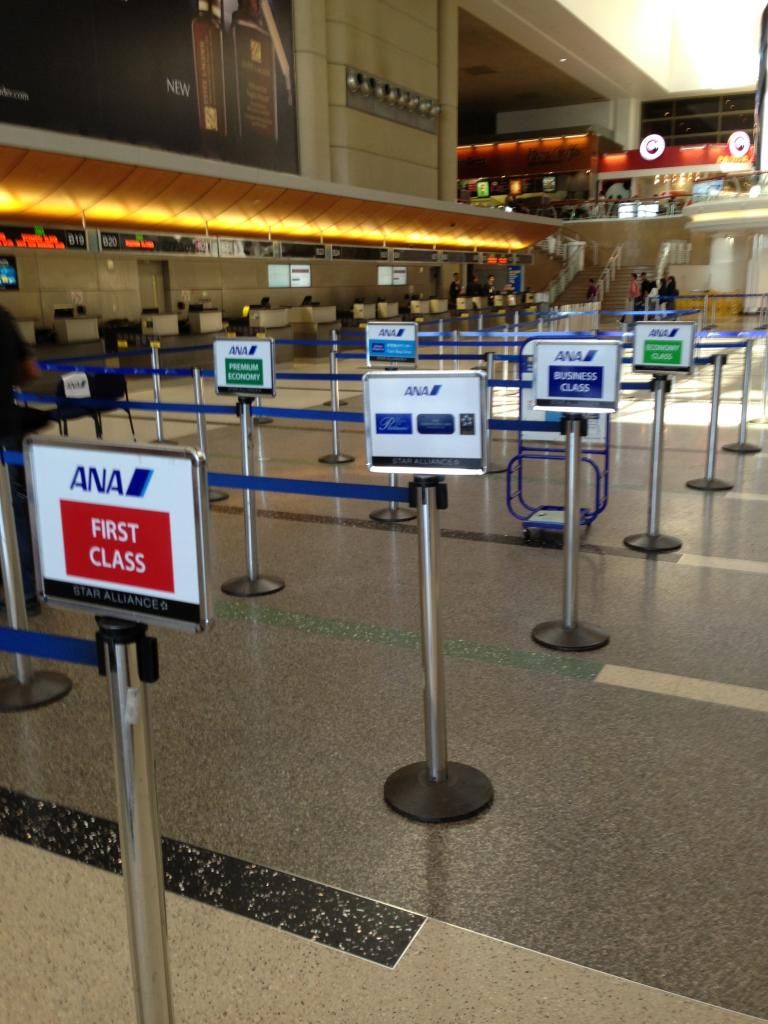 interesting that Star Golds are ahead of Business Class…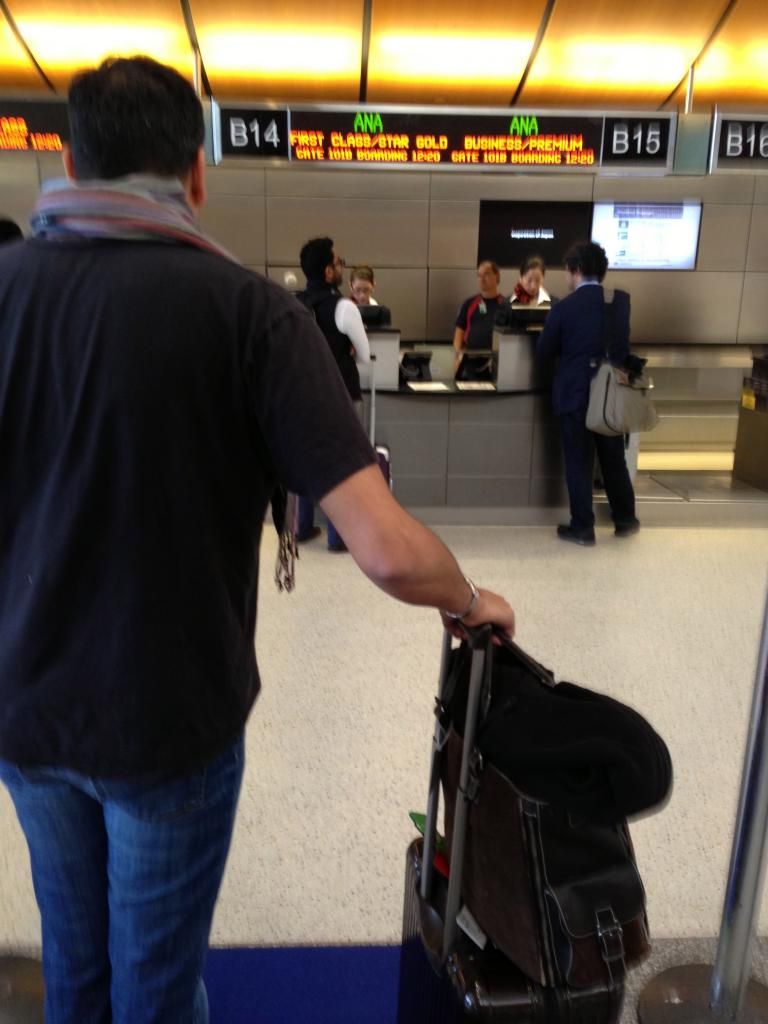 R waiting – we were called over immediately. The check-in agent was friendly but not overly chatty – and rigorously adhered to the Japanese custom of handing anything to the client with 2 hands, which makes everything they give you feel extra-special!
We enquired about purchasing upgrades to Premium Economy, as we feared Y would be completely full, so the agent called over a supervisor who was much warmer and very chatty. She acknowledged the Star Gold status right away and took our boarding passes away to reprint them – apparently the UA*G message line was missing.
It was a no-go for upgrades for purchase today – in the event W was 50% full, so perhaps NH is missing a revenue trick here? In any case Y was to be very light which meant that staying in Y was ultimately the best outcome overall.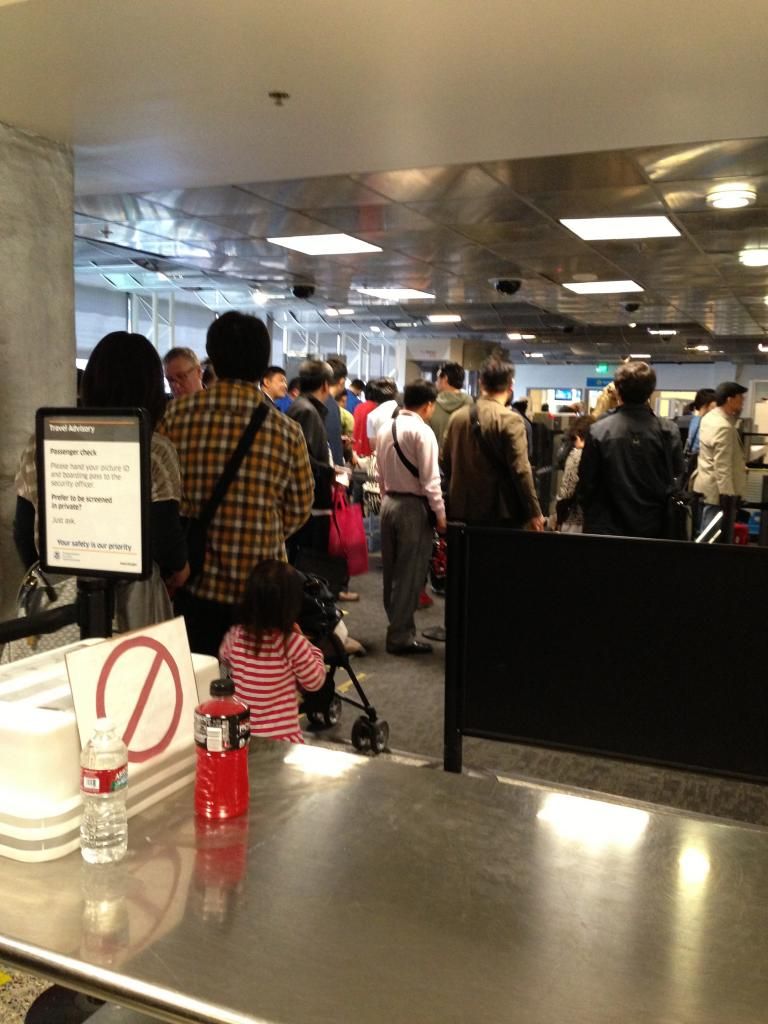 Our recent TSA experiences have been quite good – but this was not one of those days – there was barking, there was screaming, there was gnashing of teeth…
But I just went to my happy place of spotting the MU A346 in SkyTeam livery – it looks very smart (although you'll never see me on it!)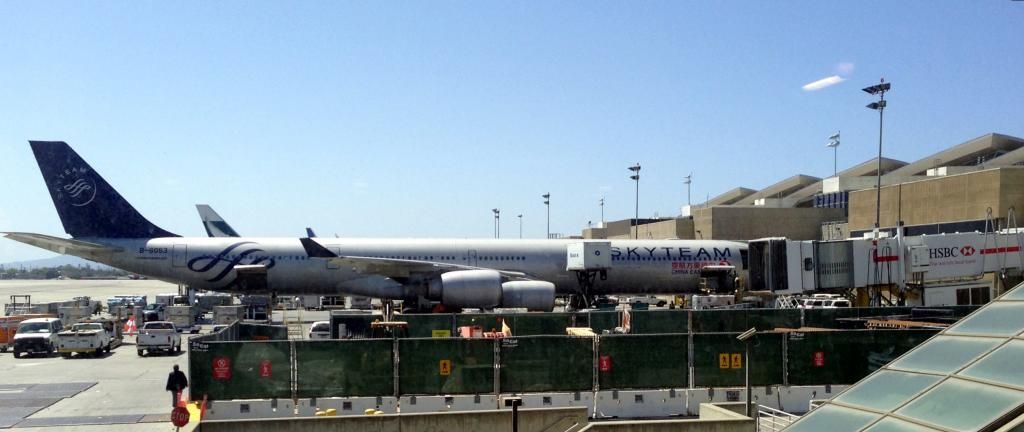 Star Lounge LAX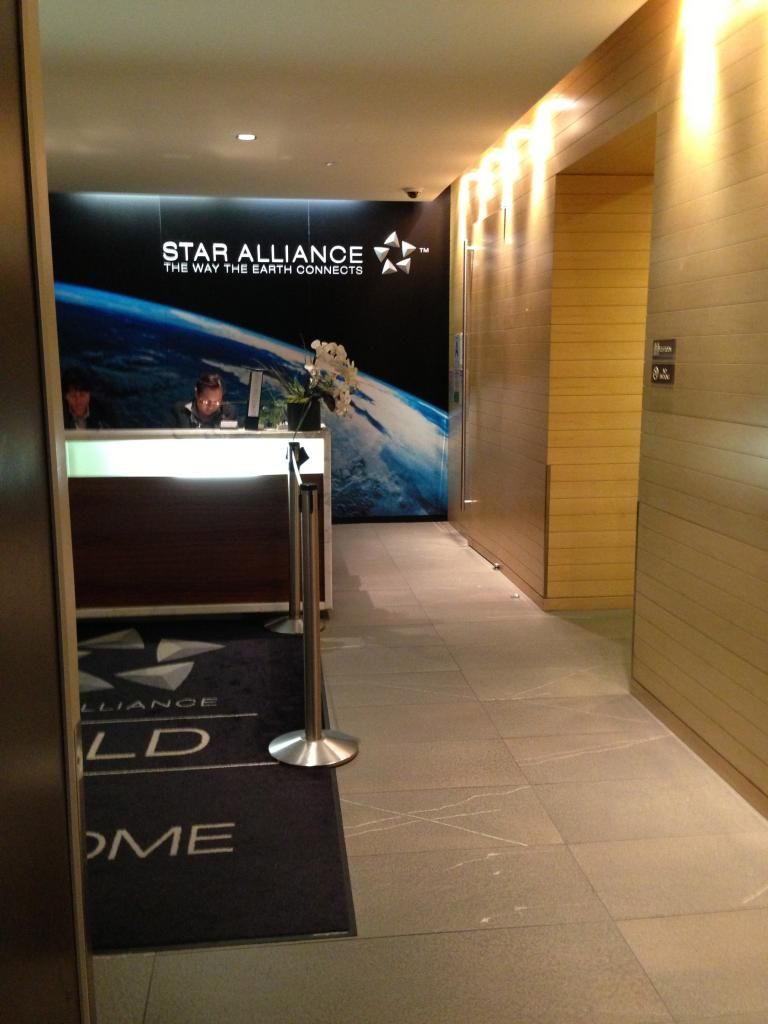 No more tarmac views from the lounge – the new construction has resulted in the windows being blanked out: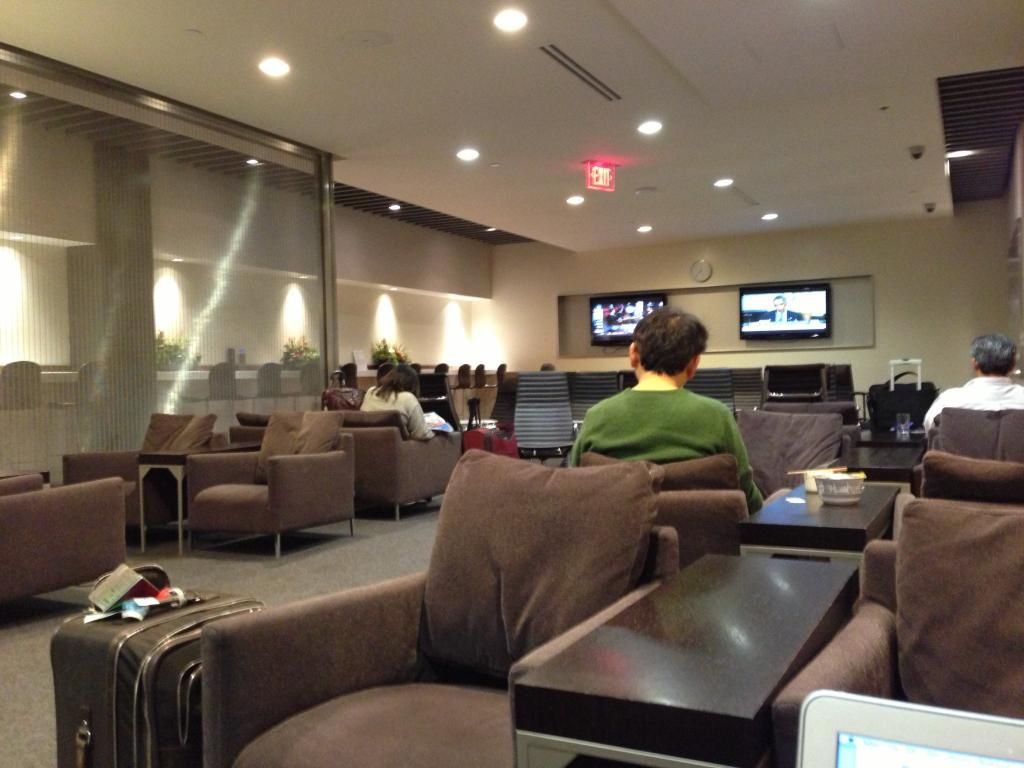 Only managed to get the Star FIDS on a codeshare scroll, bah!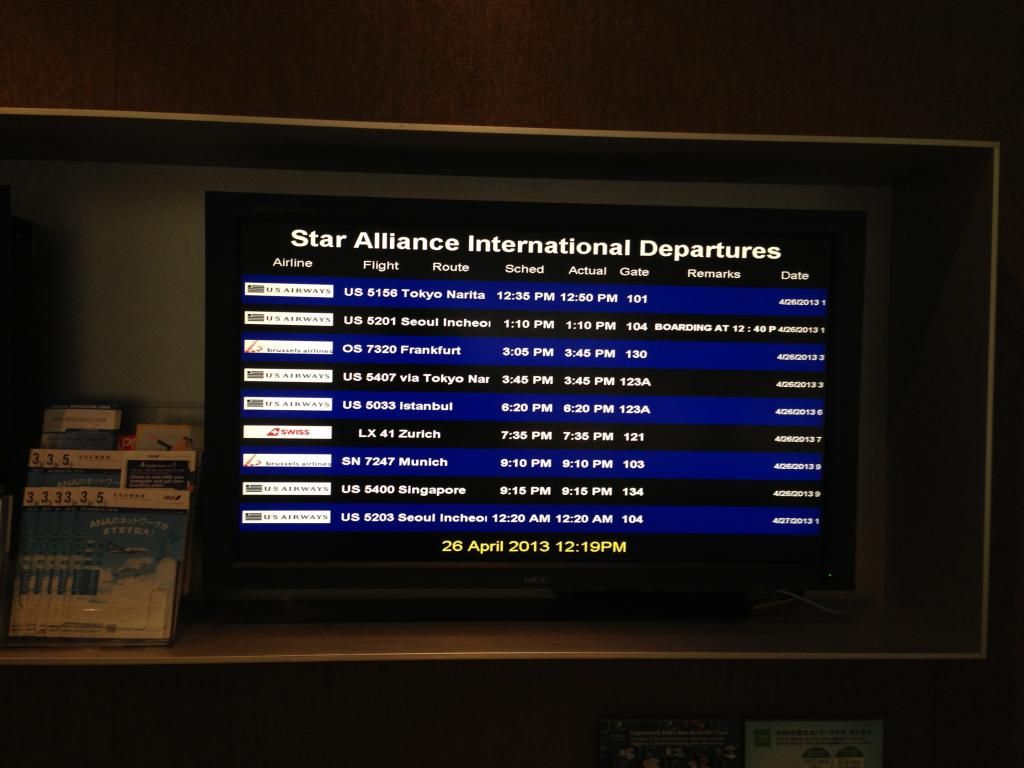 First time for me that a codeshare boarding pass issued by the operating carrier has the codeshare flight info more prominently displayed than their own flight info: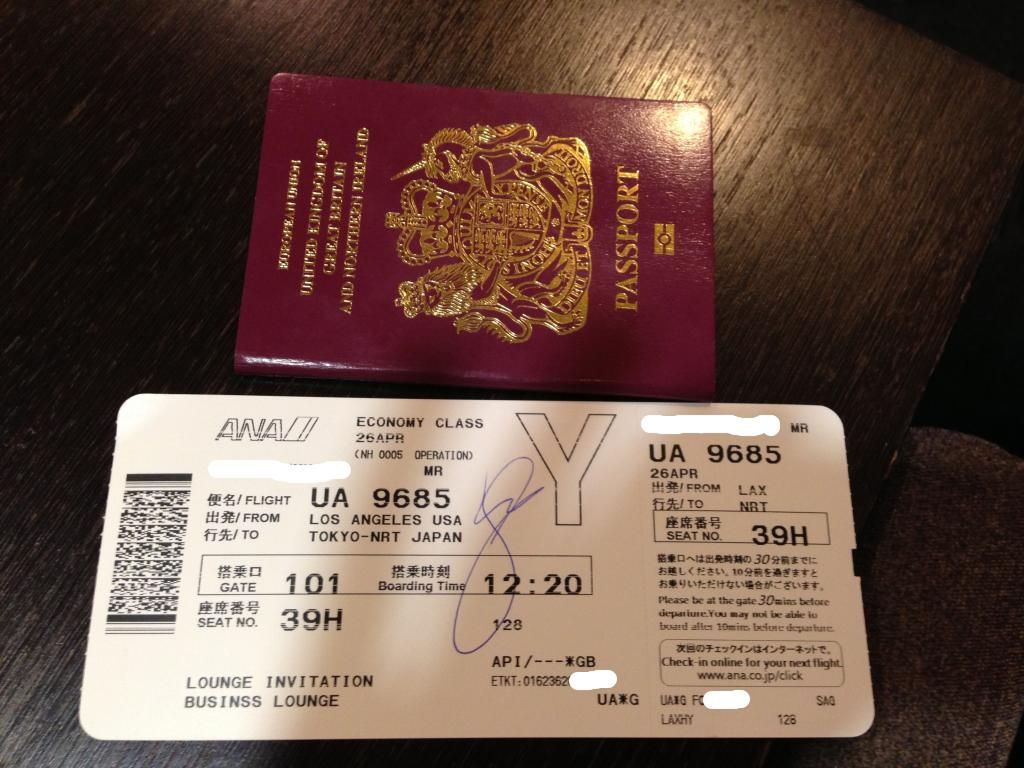 Fittingly the midday snack on offer was 'A Taste of Thailand':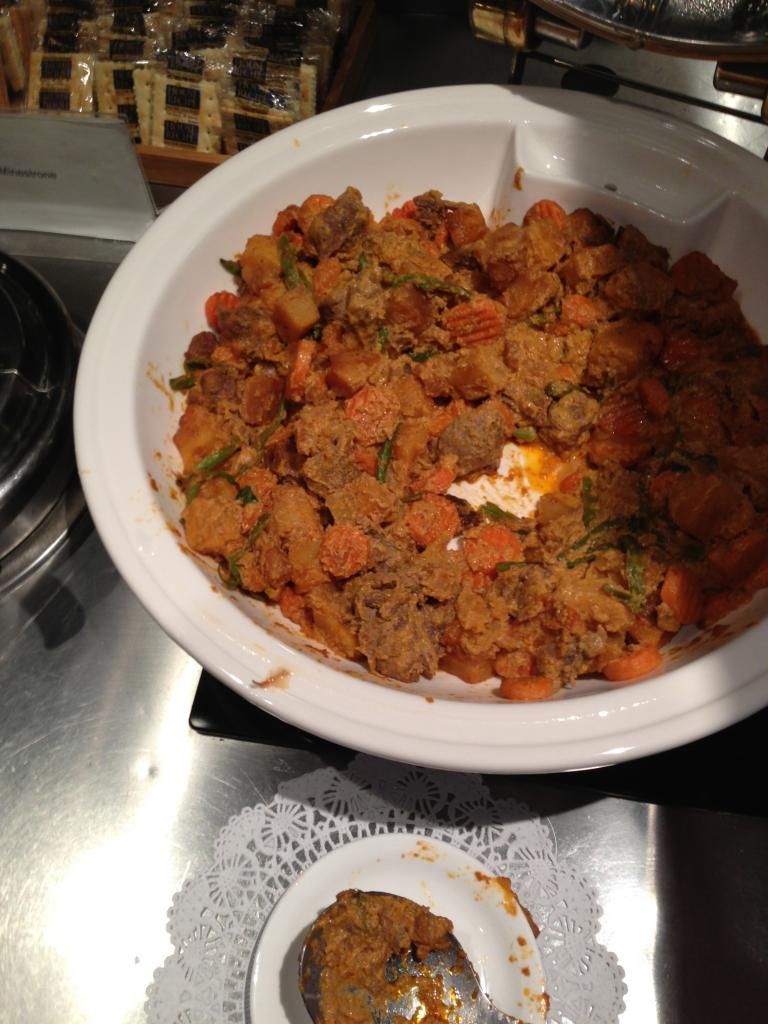 It did look rather like a dog's breakfast but it was actually excellent (and a pleasant surprise over the customary 'Star Alliance Fried Rice' on offer here).
Shortly thereafter an ANA agent circled the lounge to announce boarding in 10 minutes. Poor Freq Flyer Etiquette (PFFE) example 1: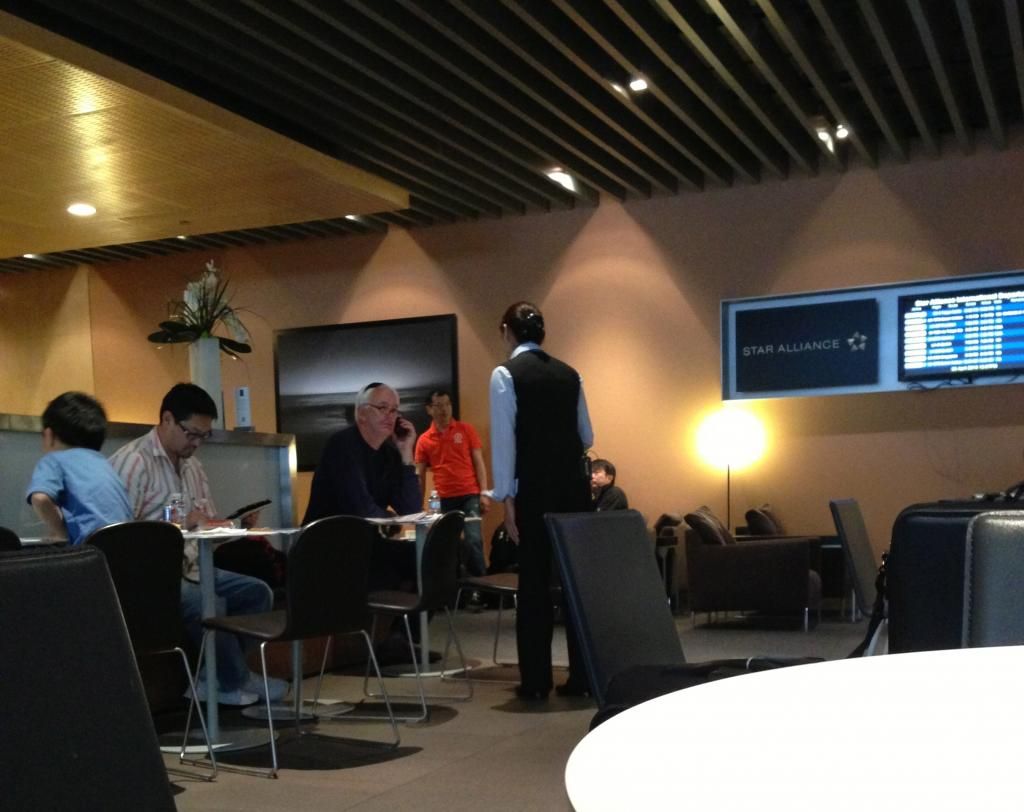 The man on his mobile flags down the ANA rep and makes her wait until he has completed his telephone call and then asks her what information she has; whereupon she politely delivers the news that boarding will be 10 minutes later than usual.
He pulls out his boarding pass and says, 'No! – my boarding pass says boarding begins now!' so the agent politely apologizes and says there is a short delay (10 mins) and he says at top volume, so that the entire lounge is disturbed, 'Why the hell do you guys print this stuff if you can't even get it right!'
Urgh: hopefully he's not sitting near us…
On our way to Gate 101: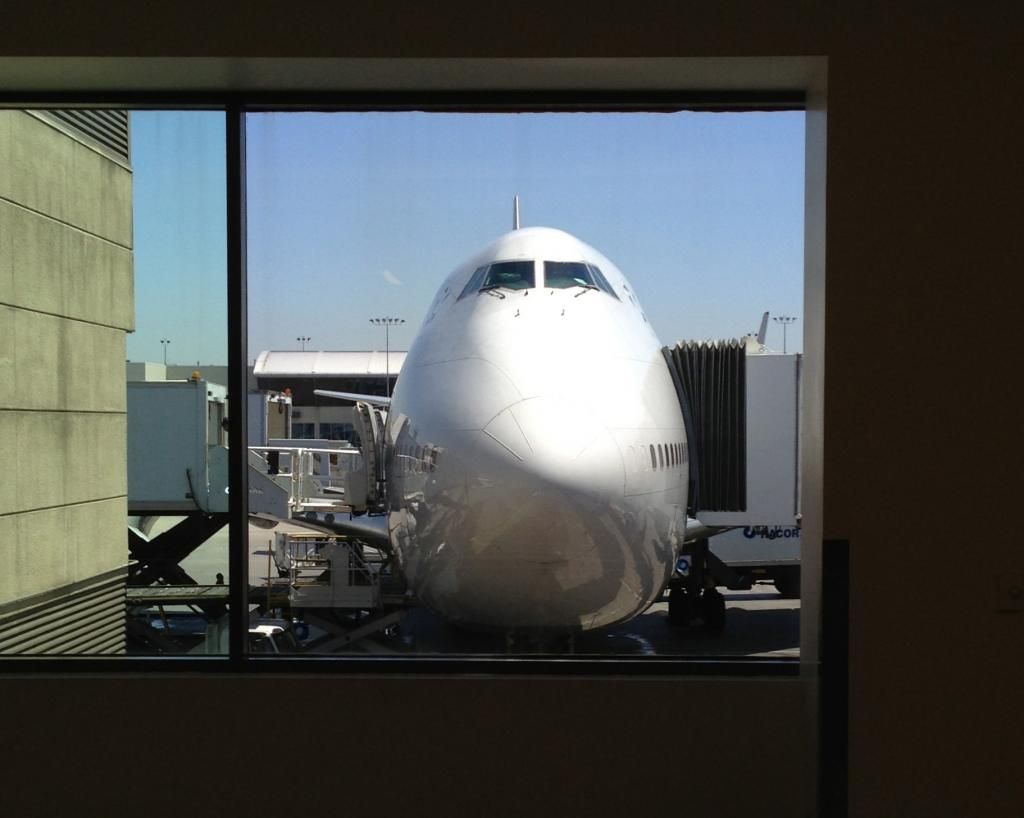 OZ 744 to ICN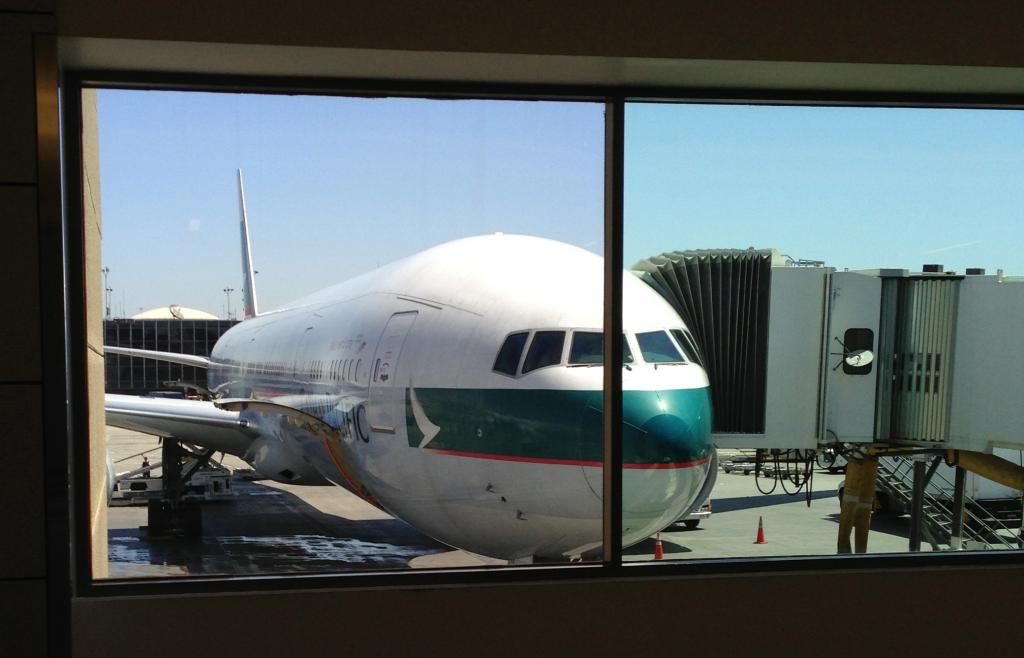 CX 77W to HKG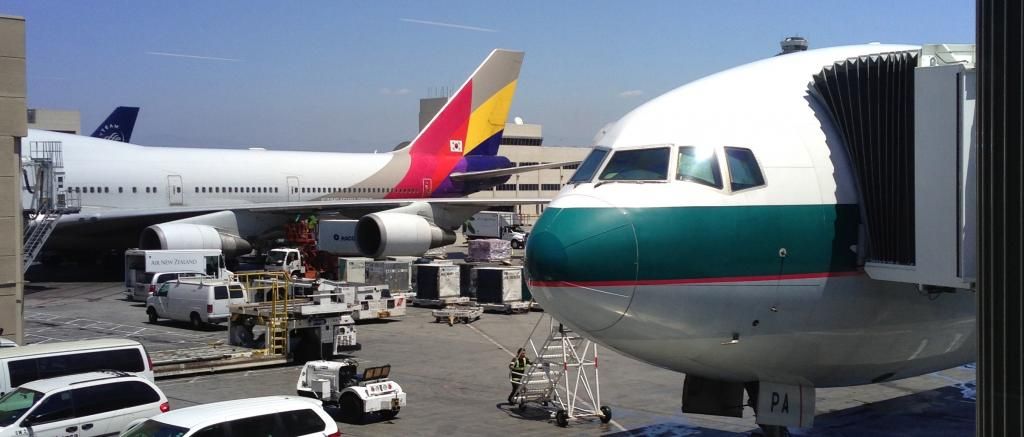 CX – is it just me or does this 77W look oddly like a DC-10 here?!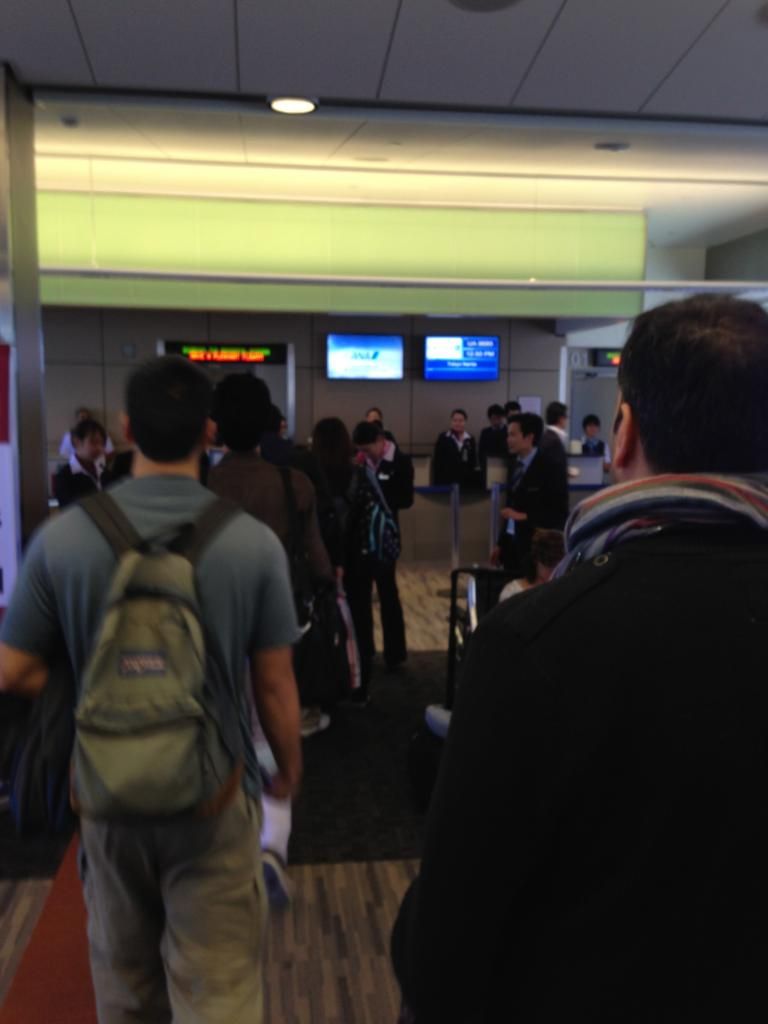 Finally boarding
ANA app for iPhone home screen: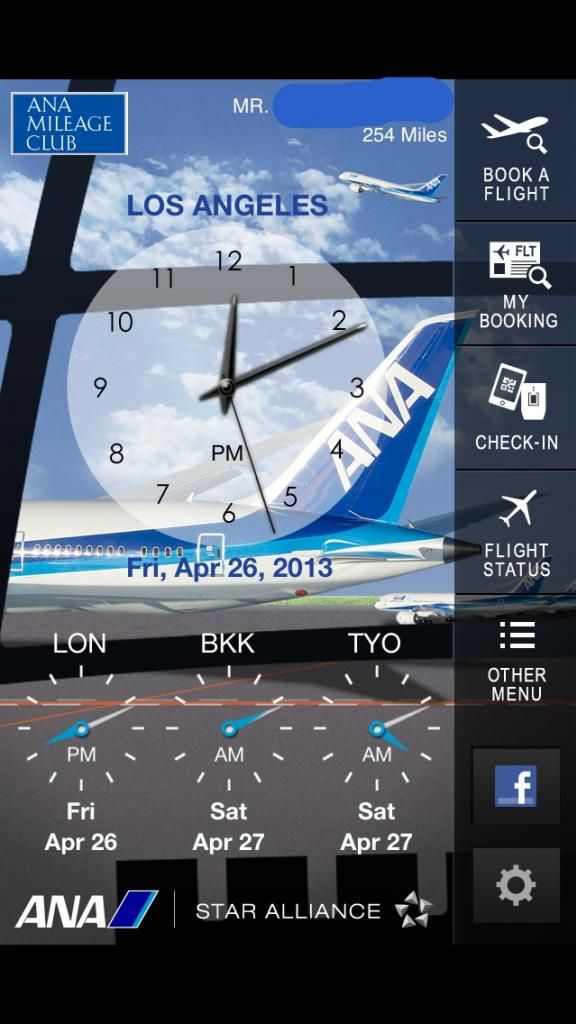 Appropriate Rego: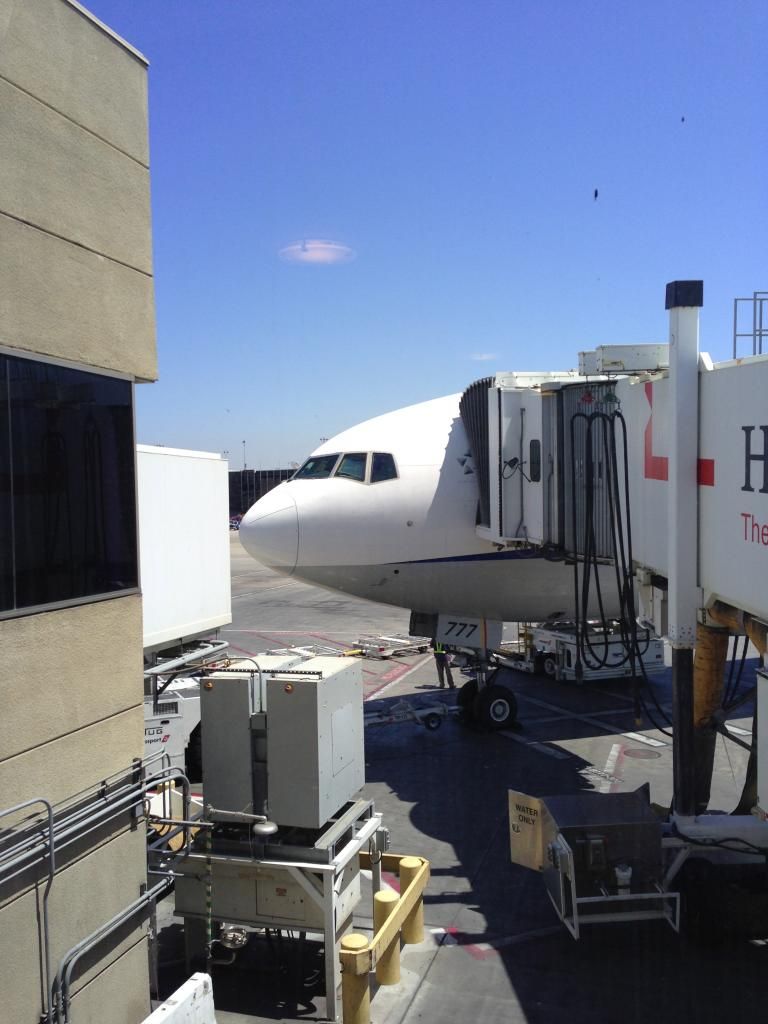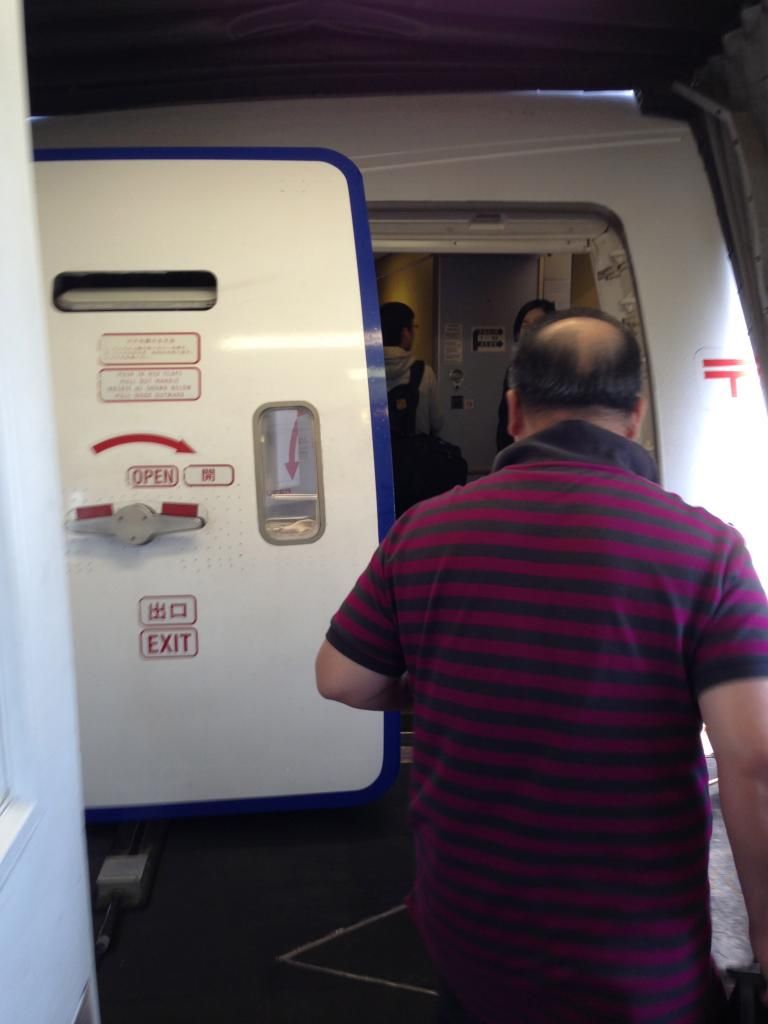 Cabin
Passing through F: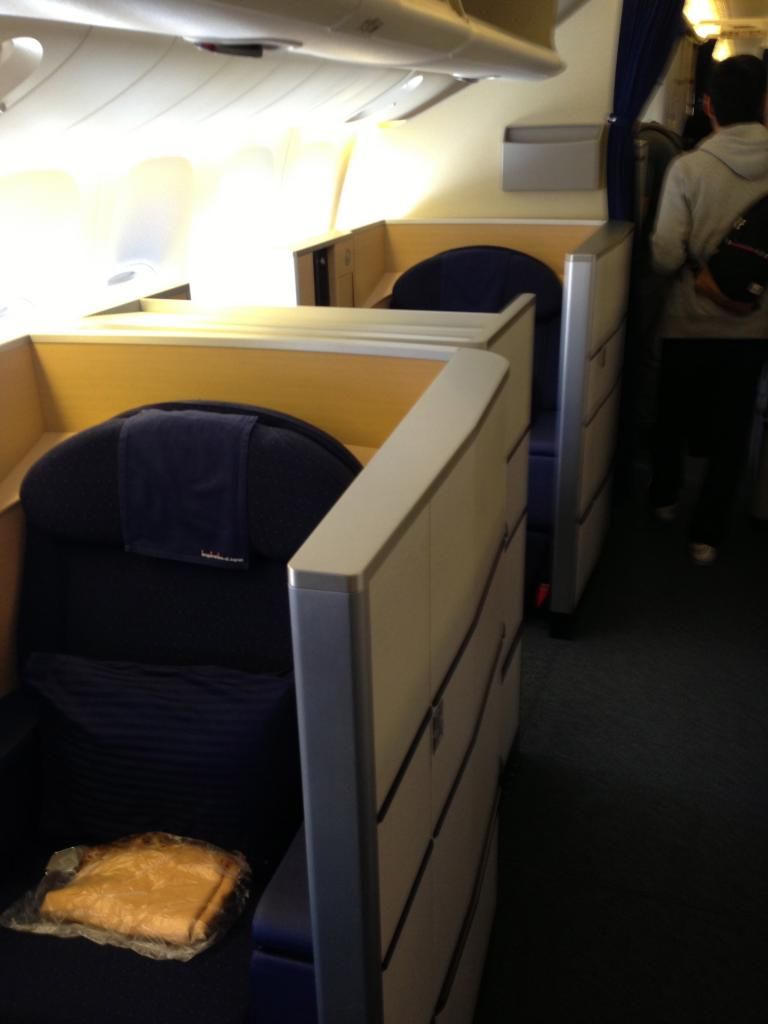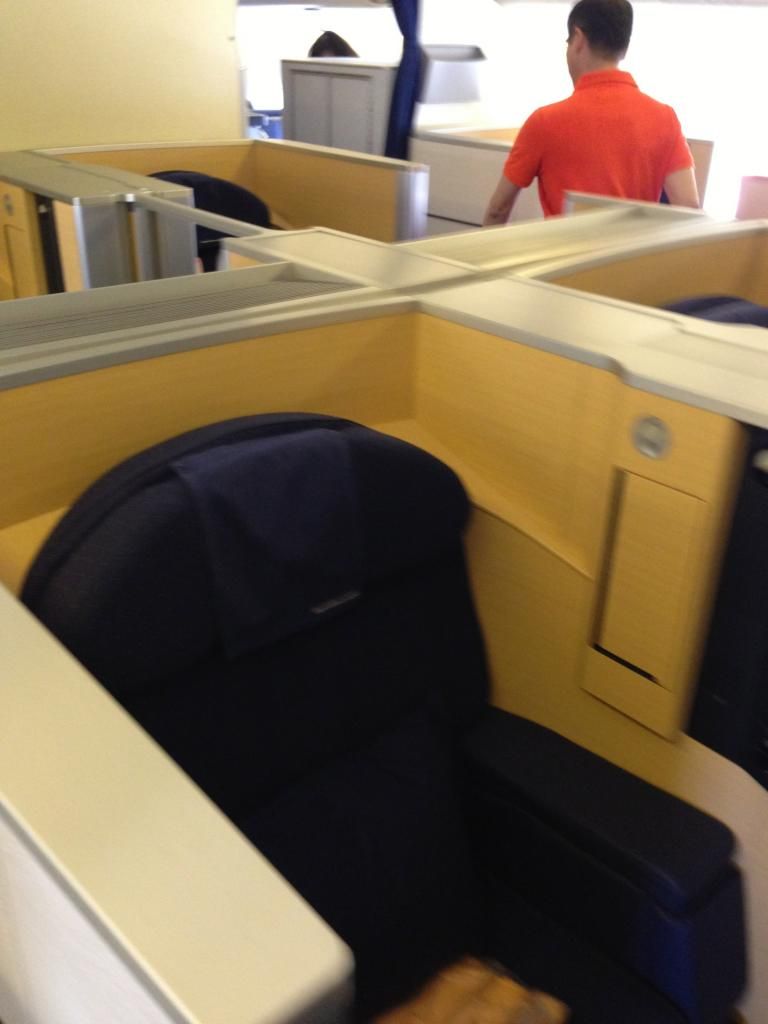 Main J cabin: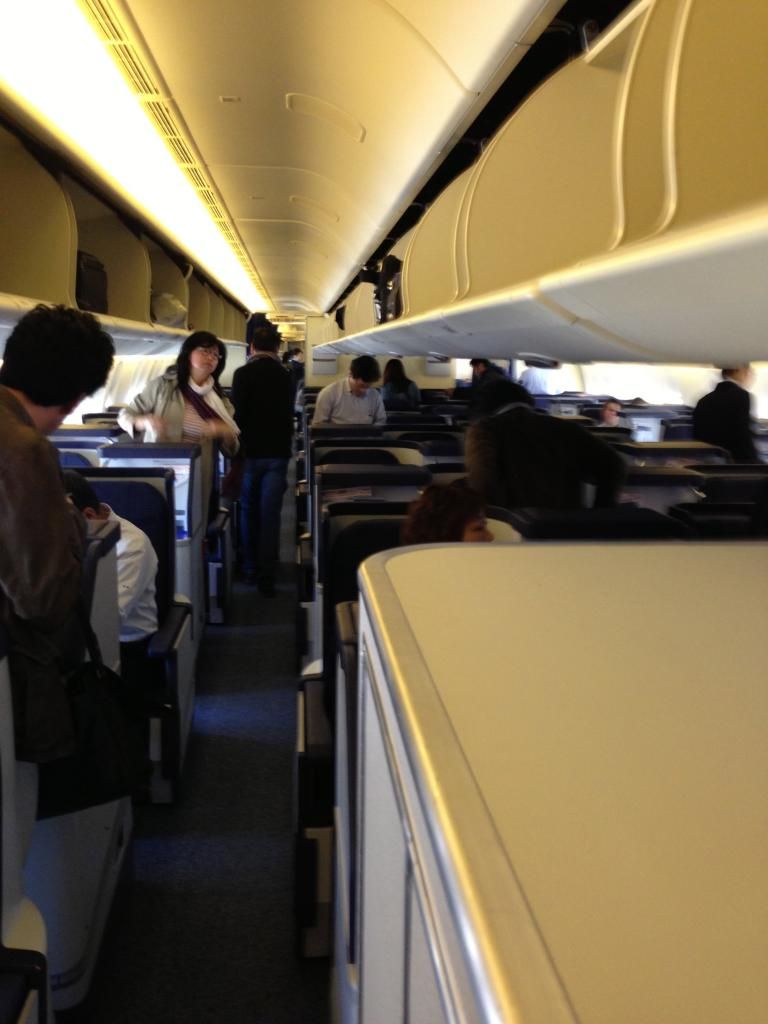 Forgot to take a pic of the W cabin – apologies…
Y Cabin: it all looks very smart and impeccably maintained: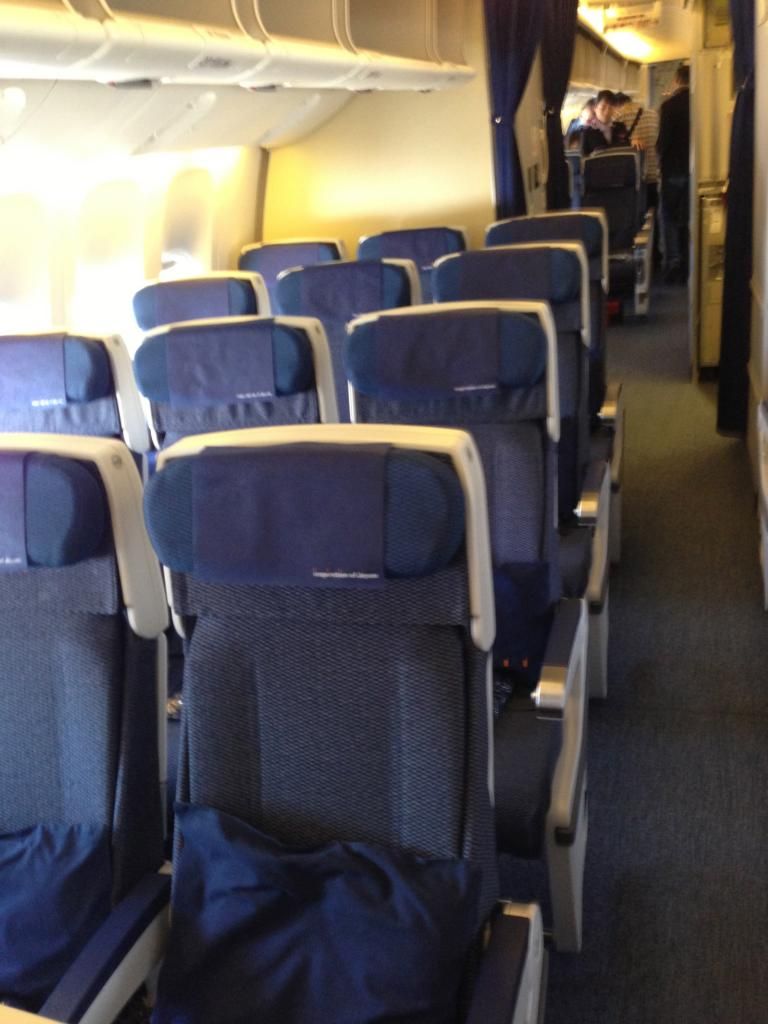 I have never seen a 2-4-3 configuration before – except in old Swissair seatmaps of their original 747s…
Port side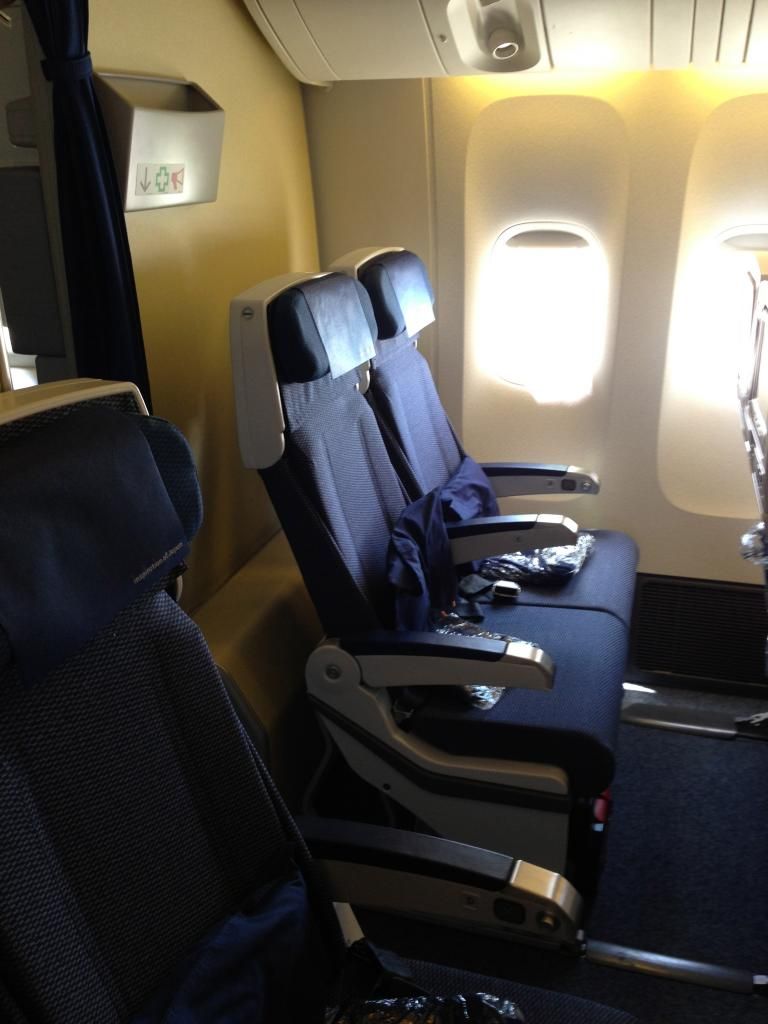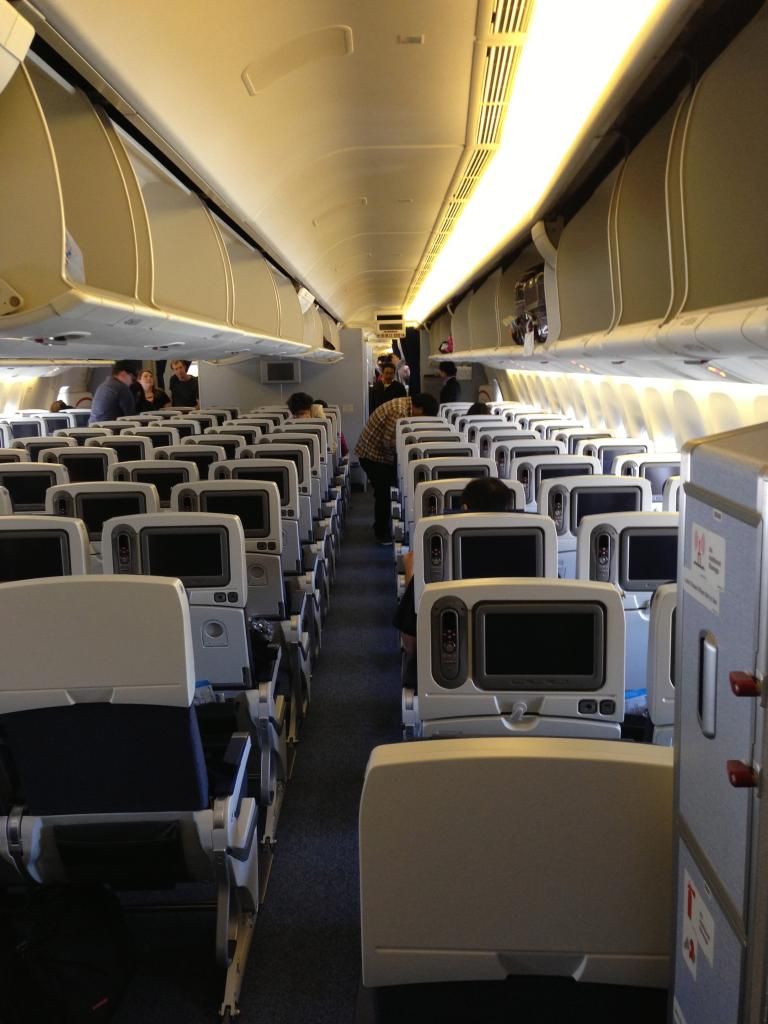 Starboard side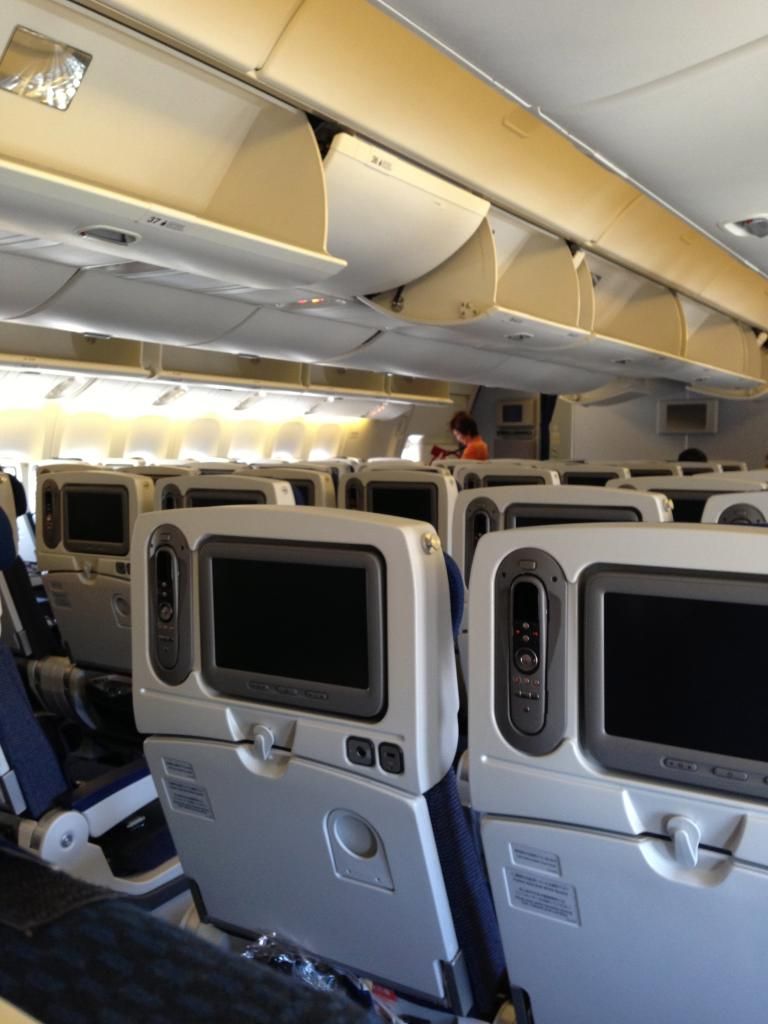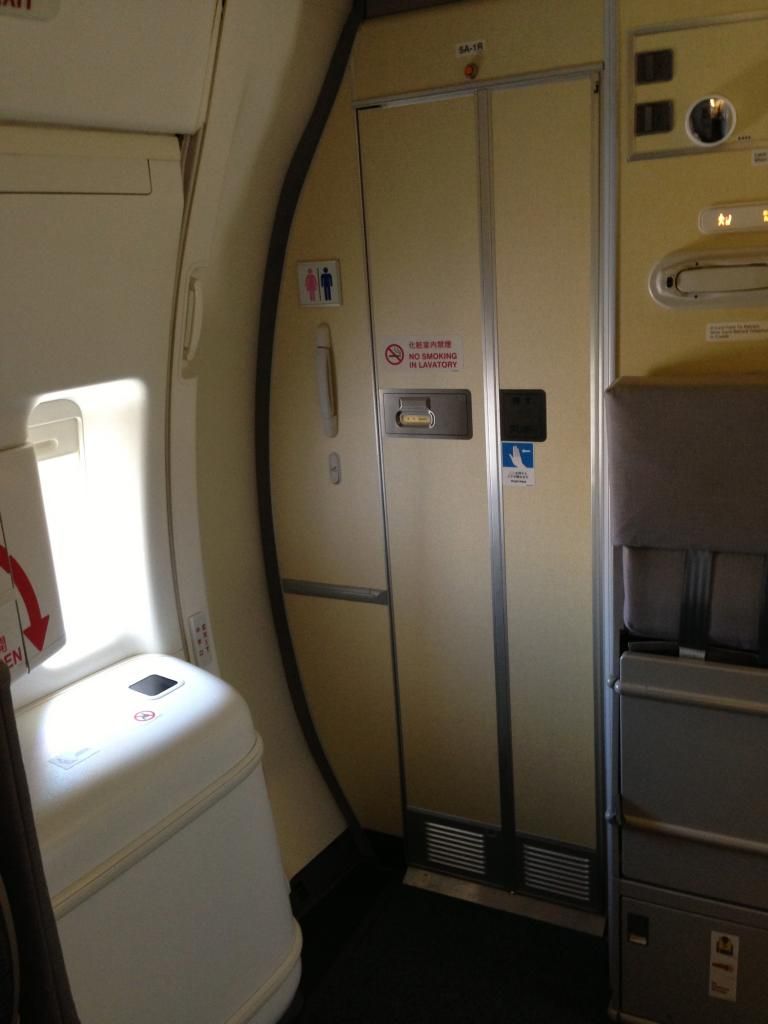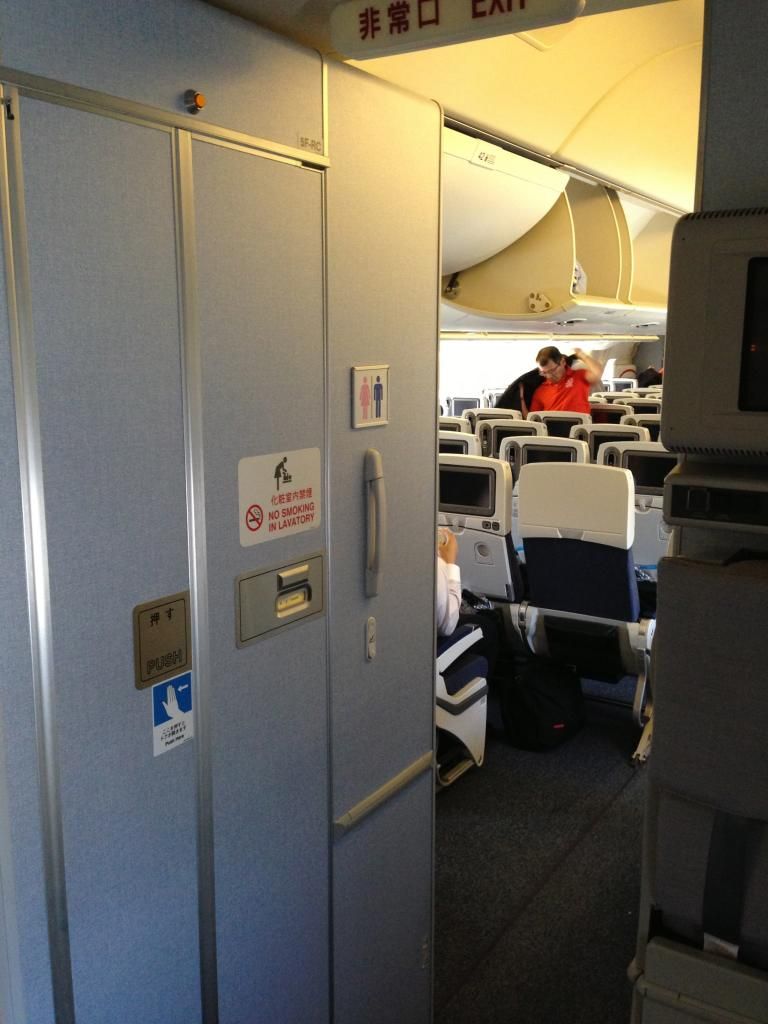 The seat (sliding recline-type: my first time experiencing these seats)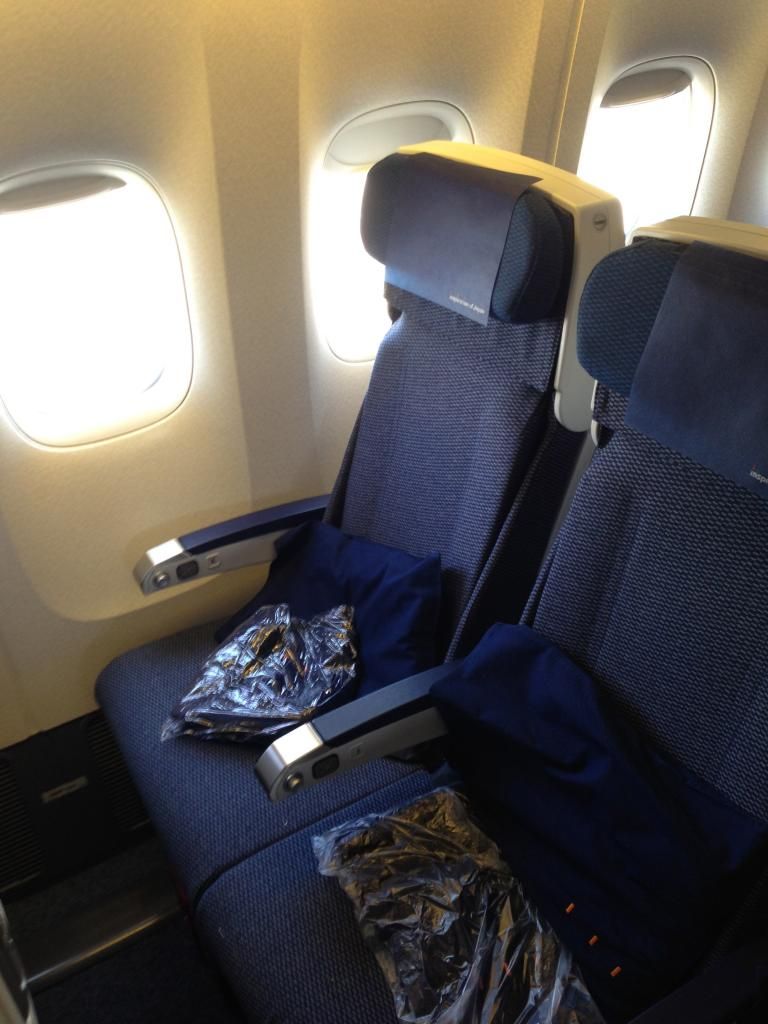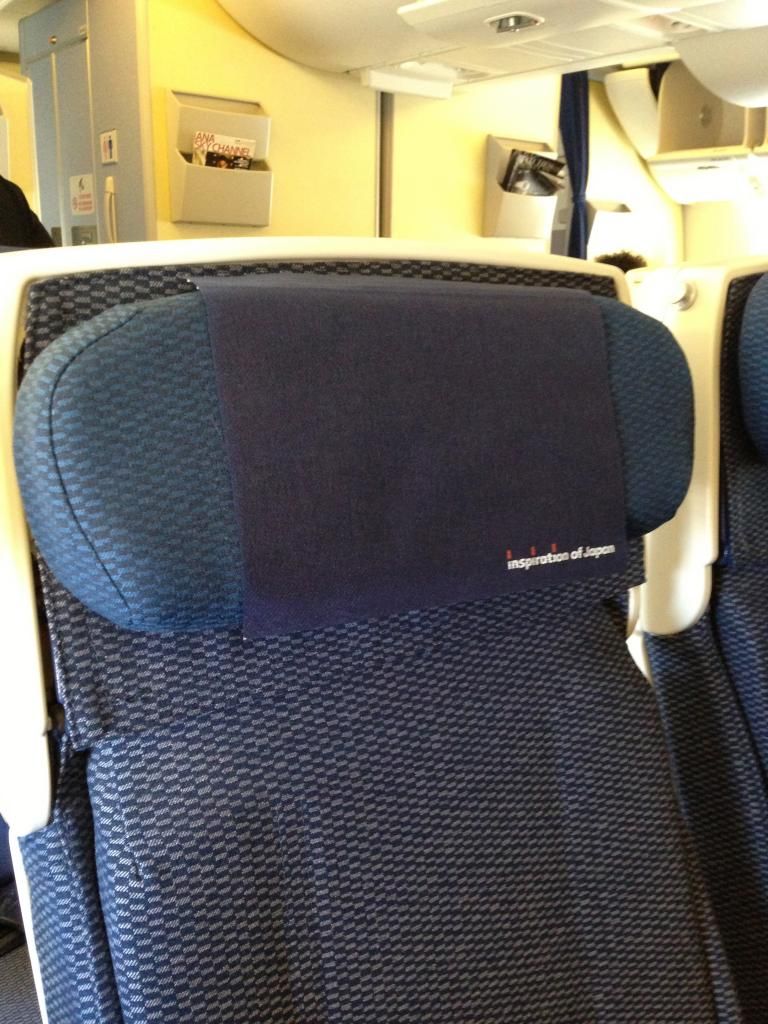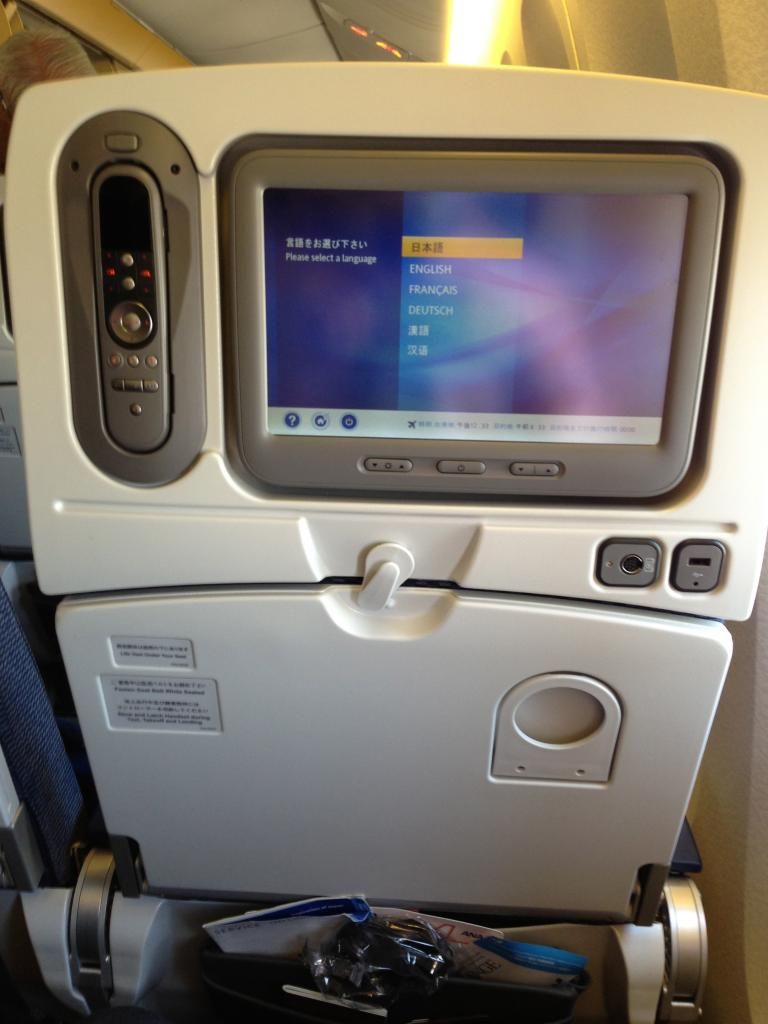 Customary knee-shot – this row had excellent knee room at the window due to the curvature of the rear fuselage and the resulting angle of the seat row: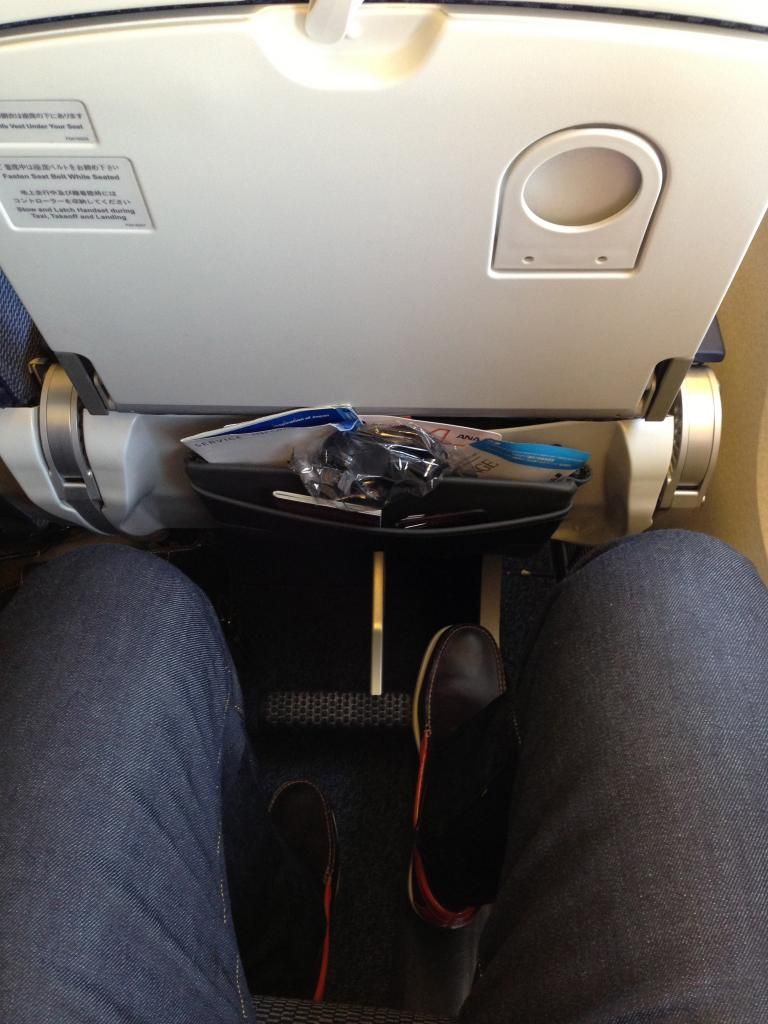 R attempting to demonstrate the sliding recline of the seatback – it looks like nothing at all but was in fact quite comparable to other traditional Y-seat reclines

This indicator on each headrest side panel shows green for 'upright' and red for 'reclined':
Airfield action: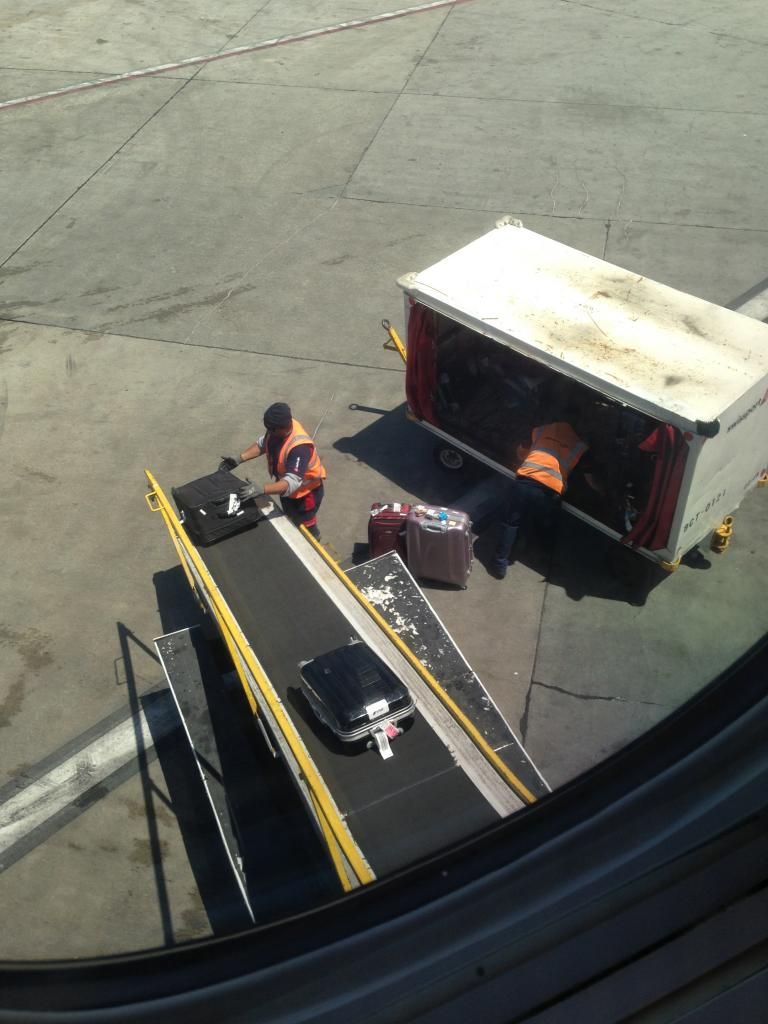 BA279 the first of 3 daily BA 744s arriving from LHR in the summer timetable:

Turning onto the departure runway with CX following:
LAX signature concrete, in green and beige.
Rolling: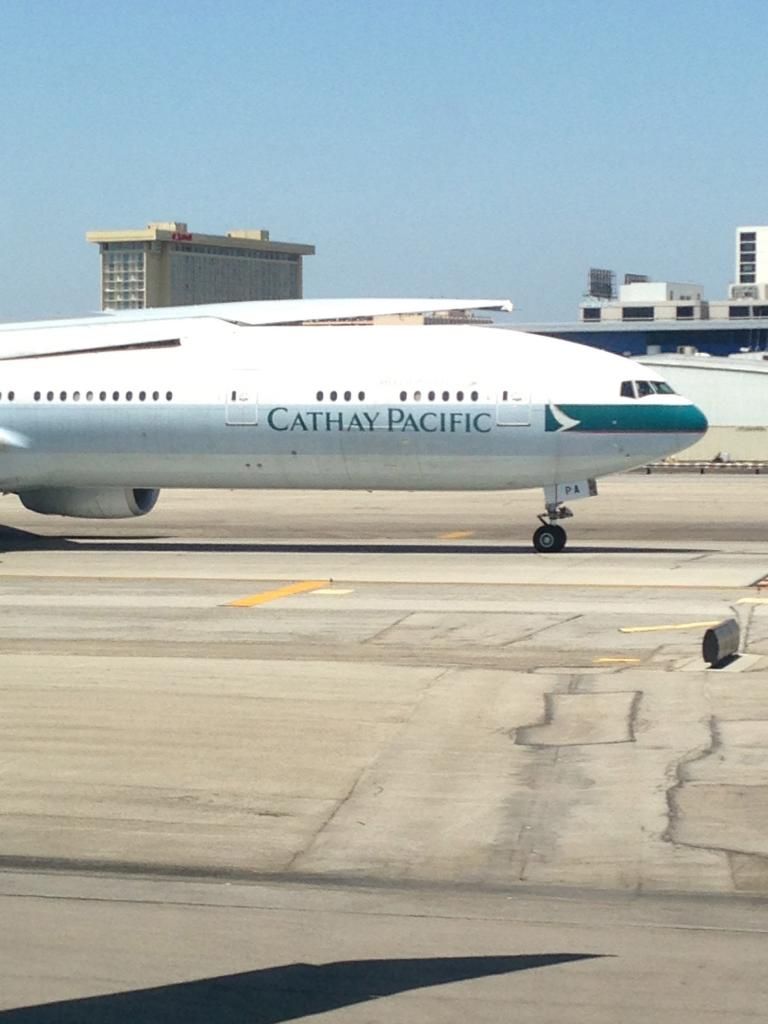 Rotation with wingflex:
Airborne: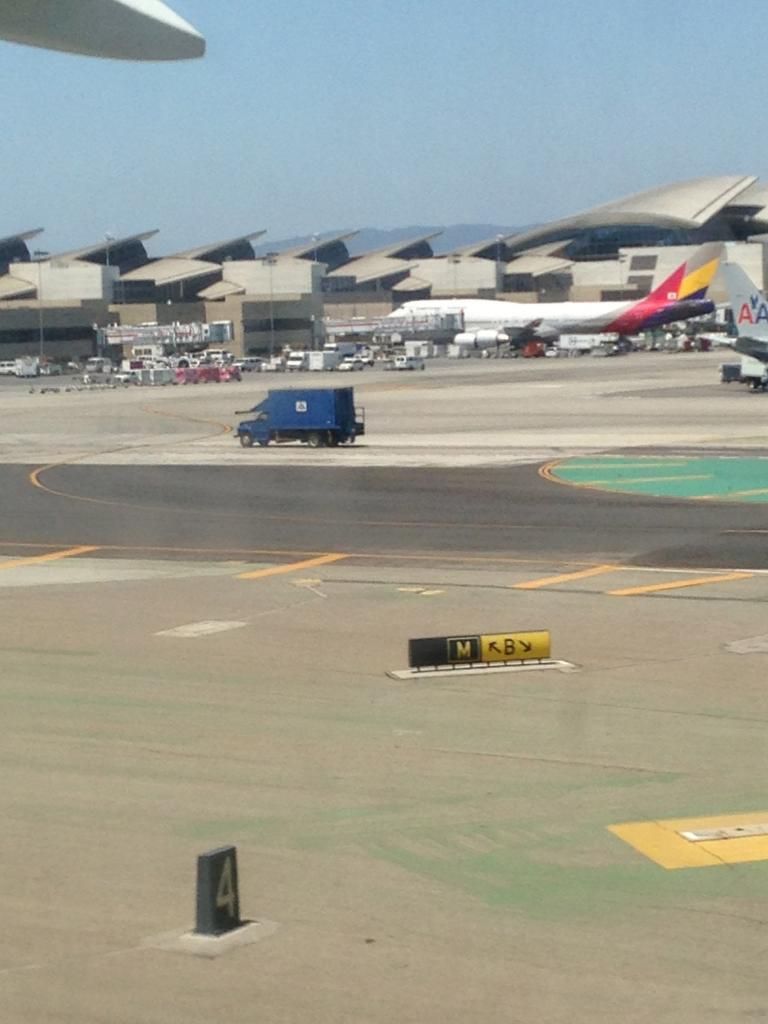 Bradley Mark 2 (actually this shot was suppose to be of the MU A346 – but it didn't quite work out that way…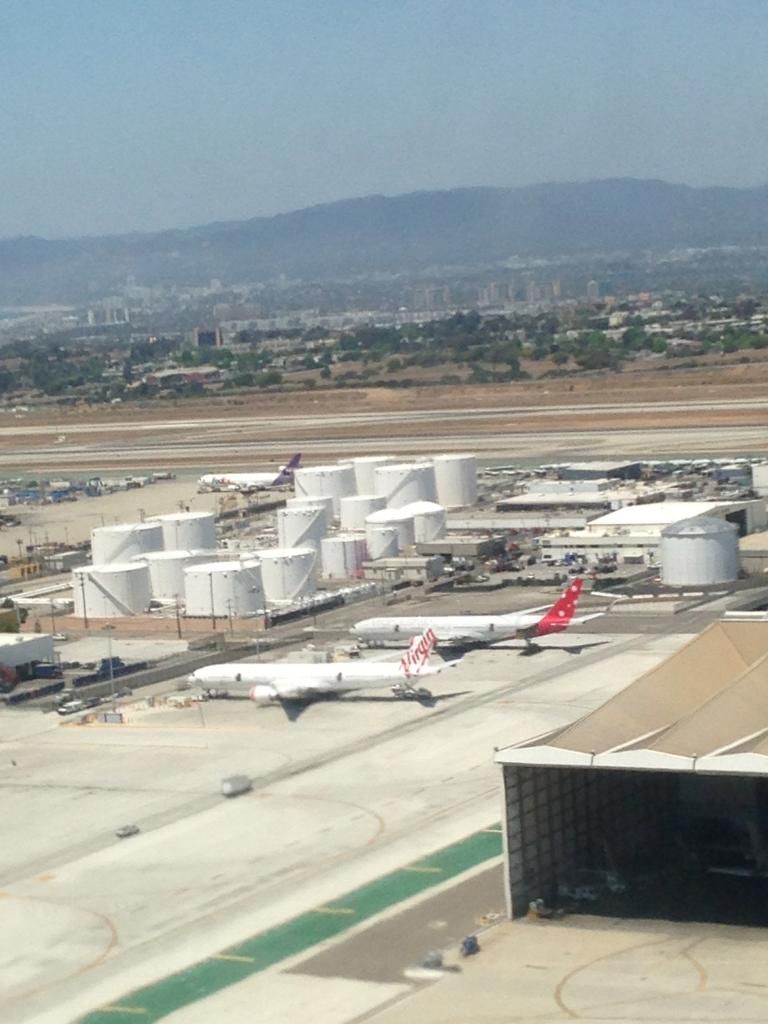 Welcome back for the summer AB: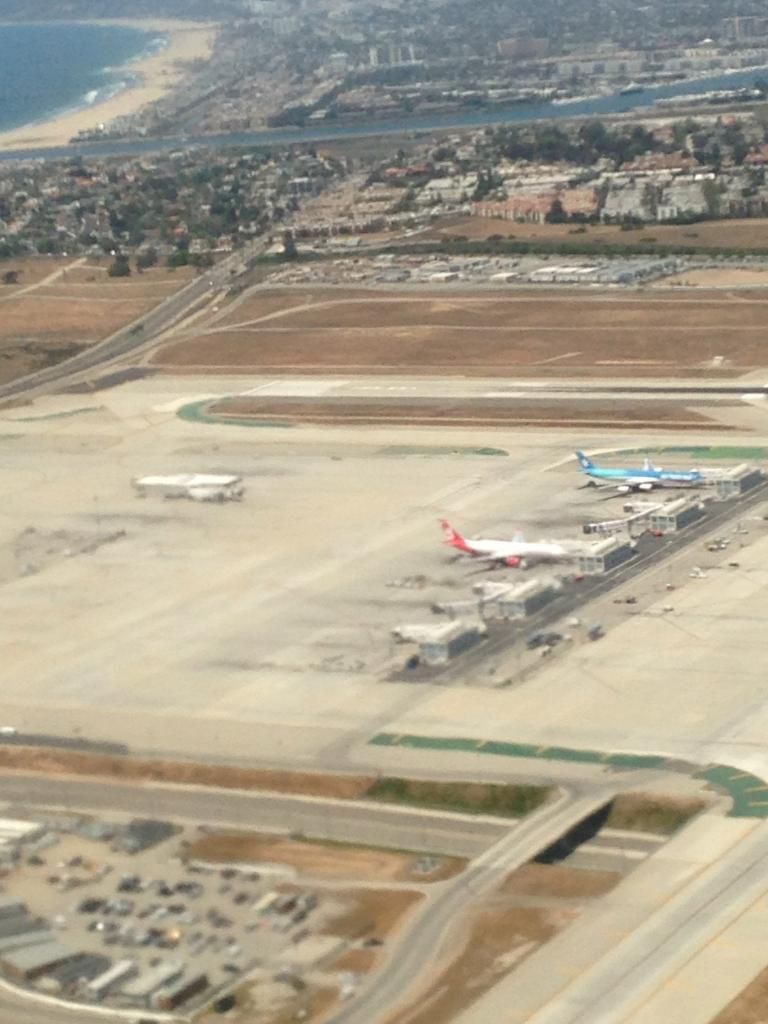 Bye L.A. – our place just visible at the end of the Marina Channel:
Time to settle in for the 11 hours to Narita -
So much seatback literature – I love the level of detail about nearly every aspect of the flight and service: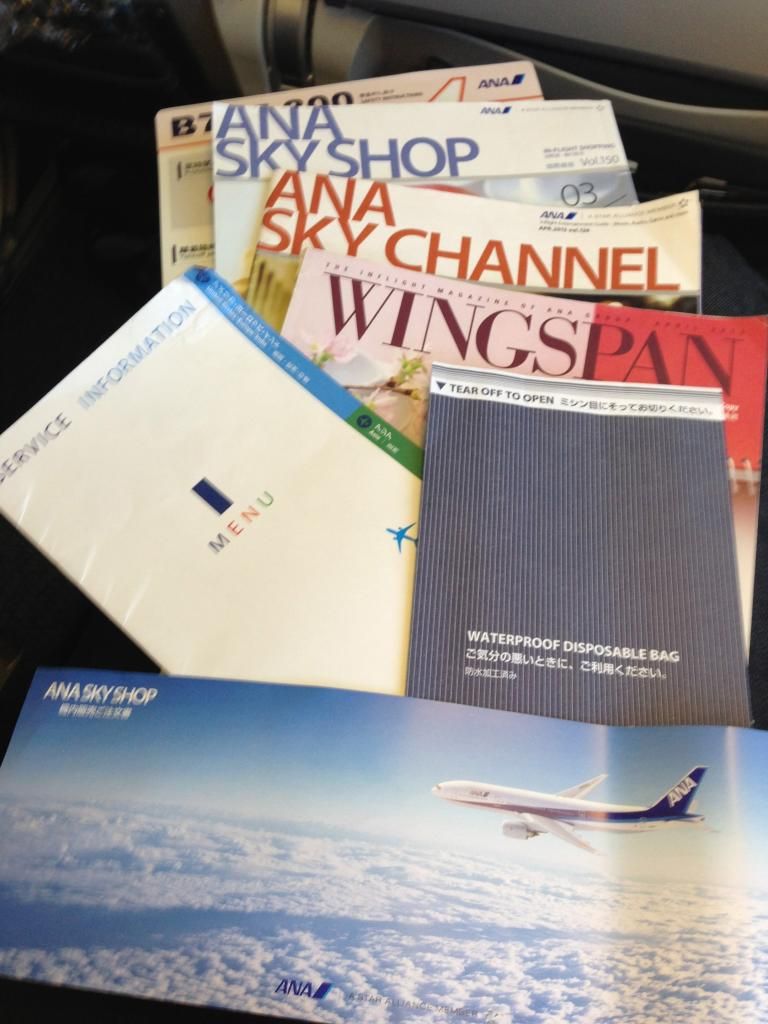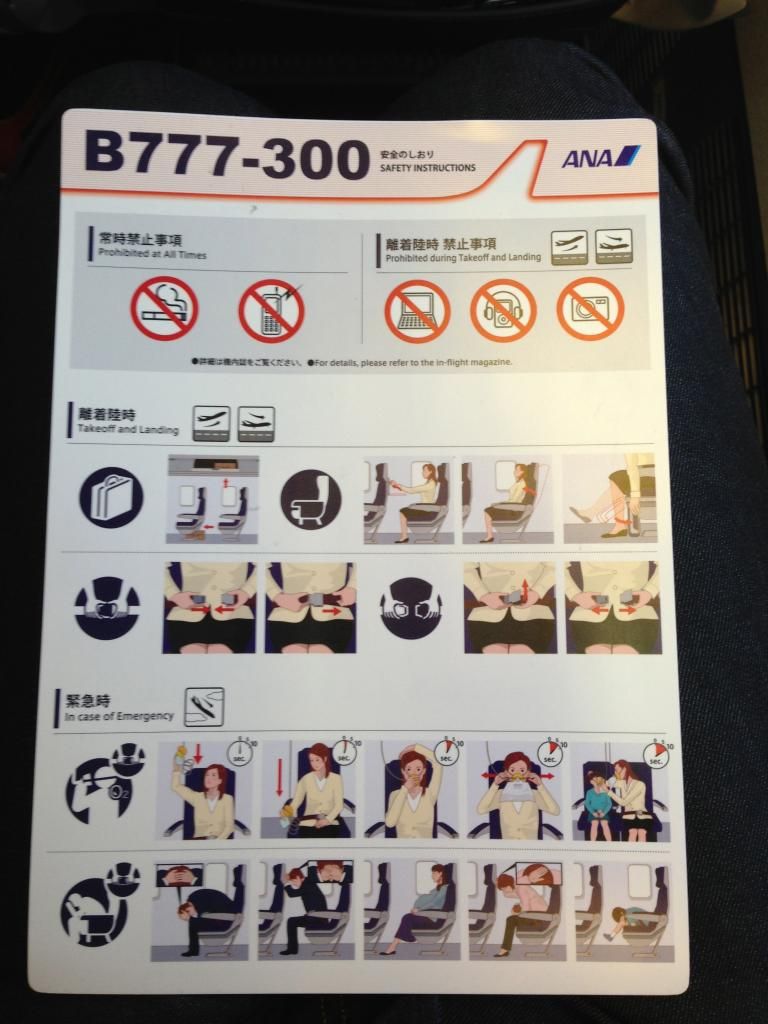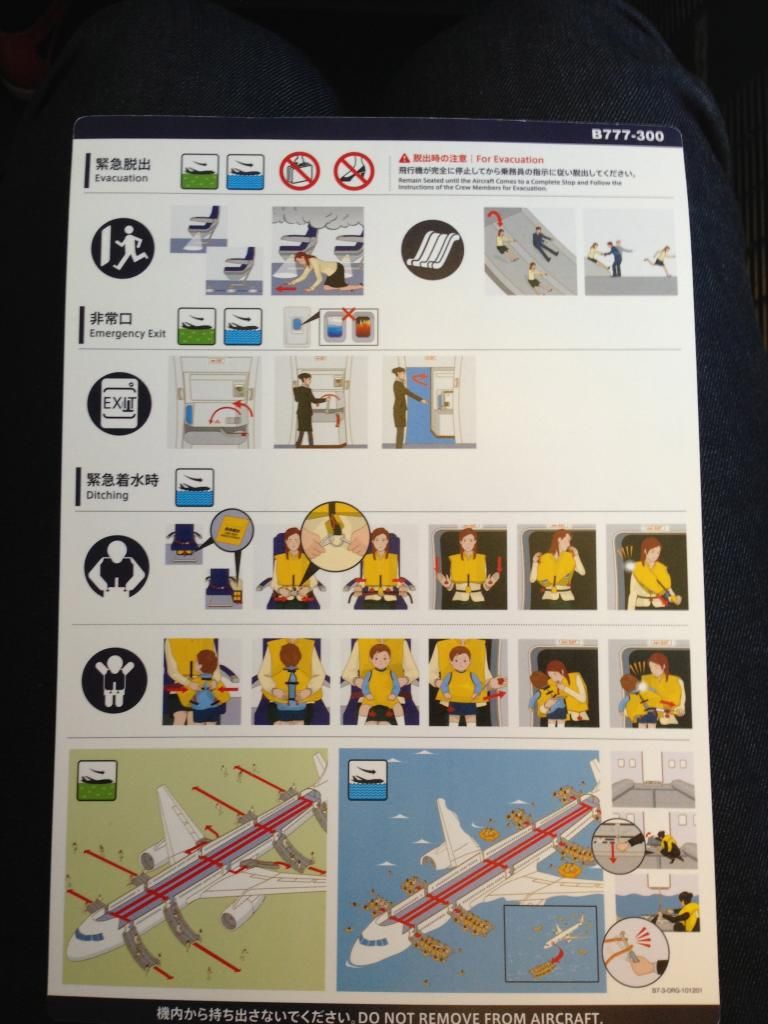 And so the service begins: hot towels – fab! Then aperitifs before lunch:
ANA has a 'signature soft drink' called Kaoru Kabosu, made from a citrus-type fruit (from what I can gather from the description, which is detailed in Japanese and a little patchy in English). The last page of the menu pamphlet advertises a Gin and Kaoru Kobosu as a delicious alternative to G&T: so I attempt to order it…
First I received a glass of Smirnoff (?), then I received a glass of Kaoru Kabosu and then finally after much smiling and pointing, a Gin and Kaoru Kabosu - plus the customary rice snacks: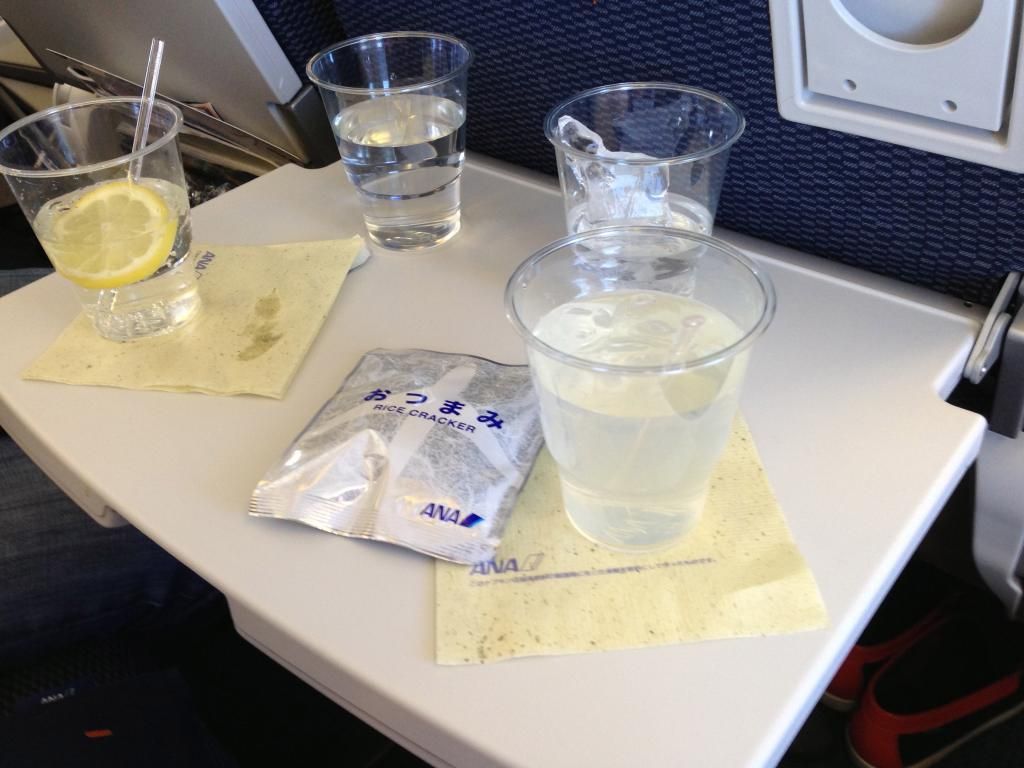 [/URL]
R opted for the much safer G&T, per our long-haul ritual – and all served with so much grace and precision, we feel like we're in First class!
An iceberg in the Smirnoff – it turns out that a Smirnoff and Kaoru Kabosu is just as delicious as the gin version, if lacking that extra zing of gin: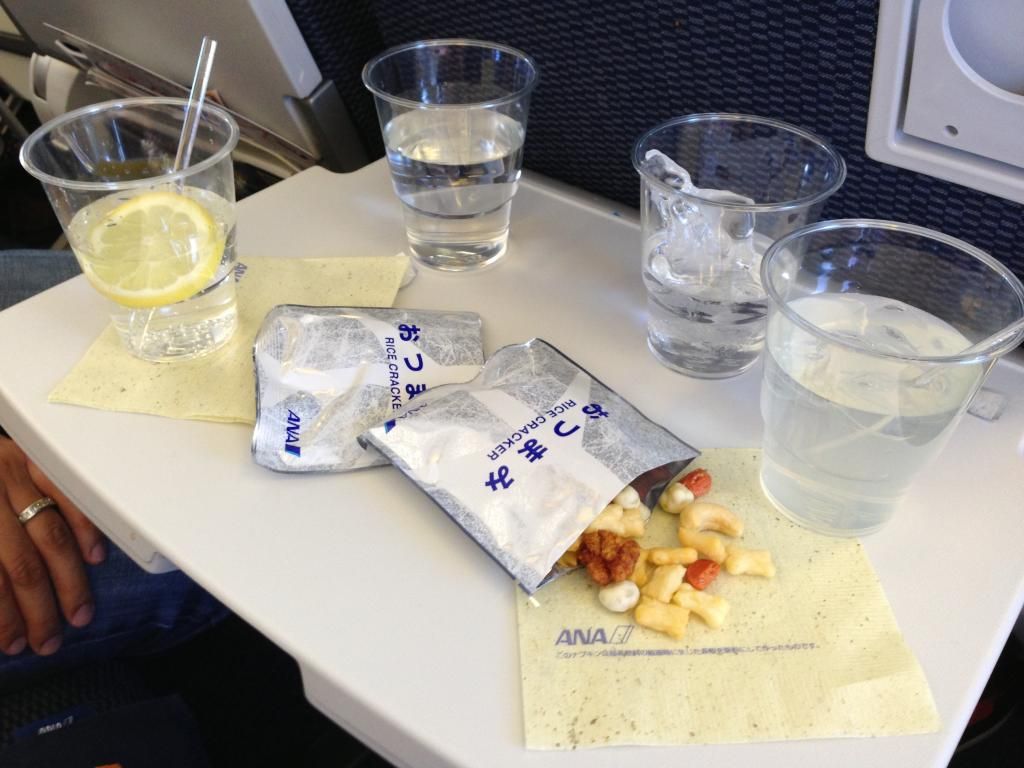 Aperos and blue skies – life is good!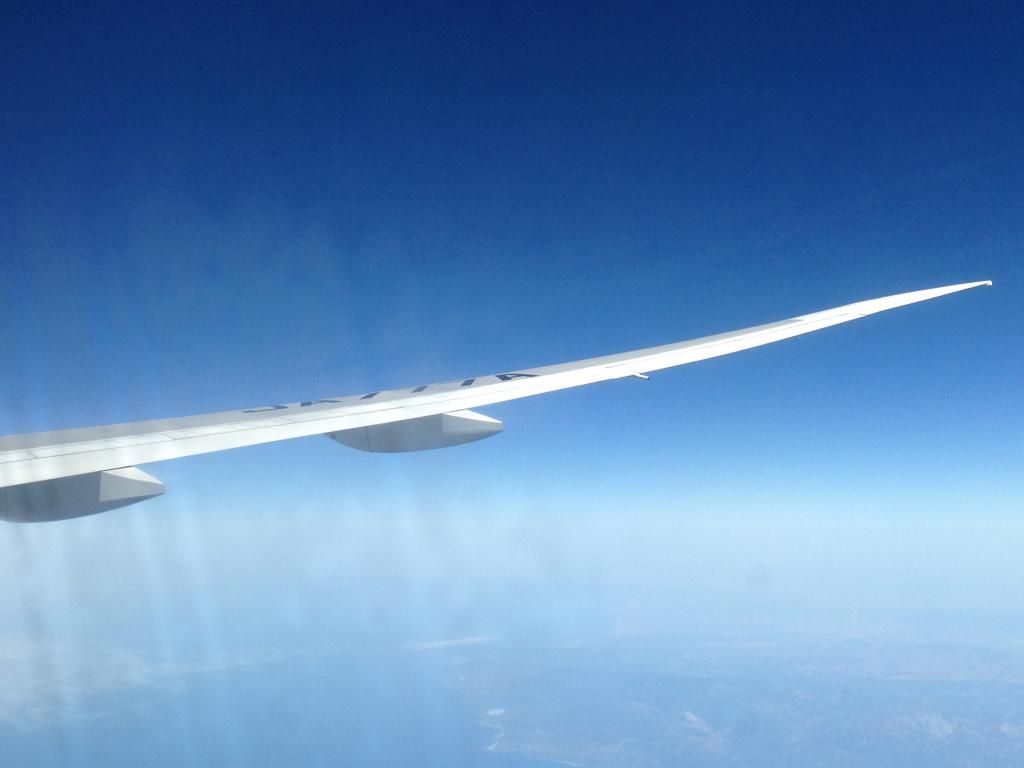 Here comes the cart again:
This pic was supposed to show the design of the ANA uniform and apron: unfortunately the camera seems to have added 50lbs to this actually very slender member of the cabin crew!
(sunglasses added by me to protect the identity of very nice fellow pax):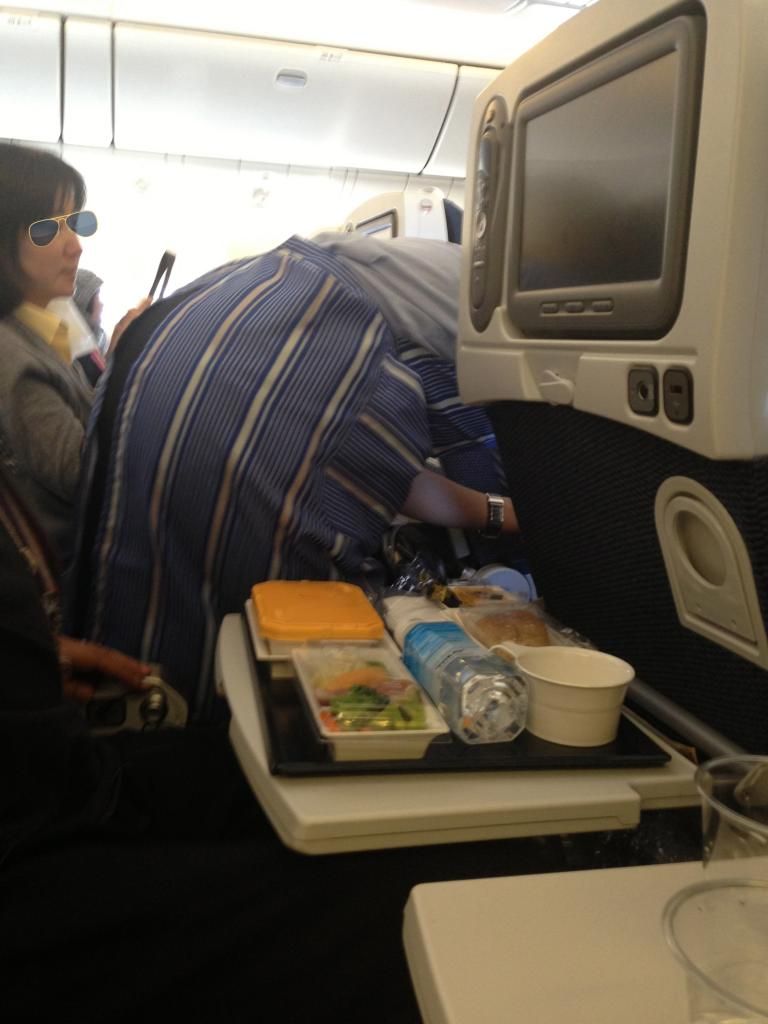 What's for lunch? Consult the menu pamphlet or the IFE menu:
Western Choice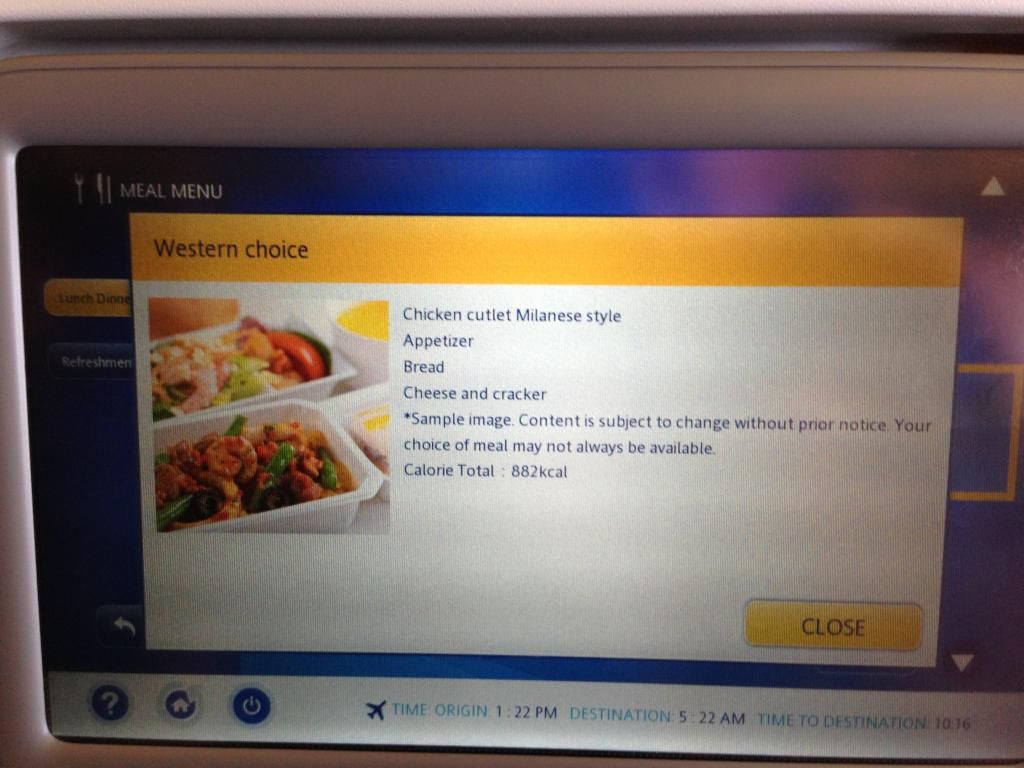 which turns out to look like this (thanks, R, for composing your tray):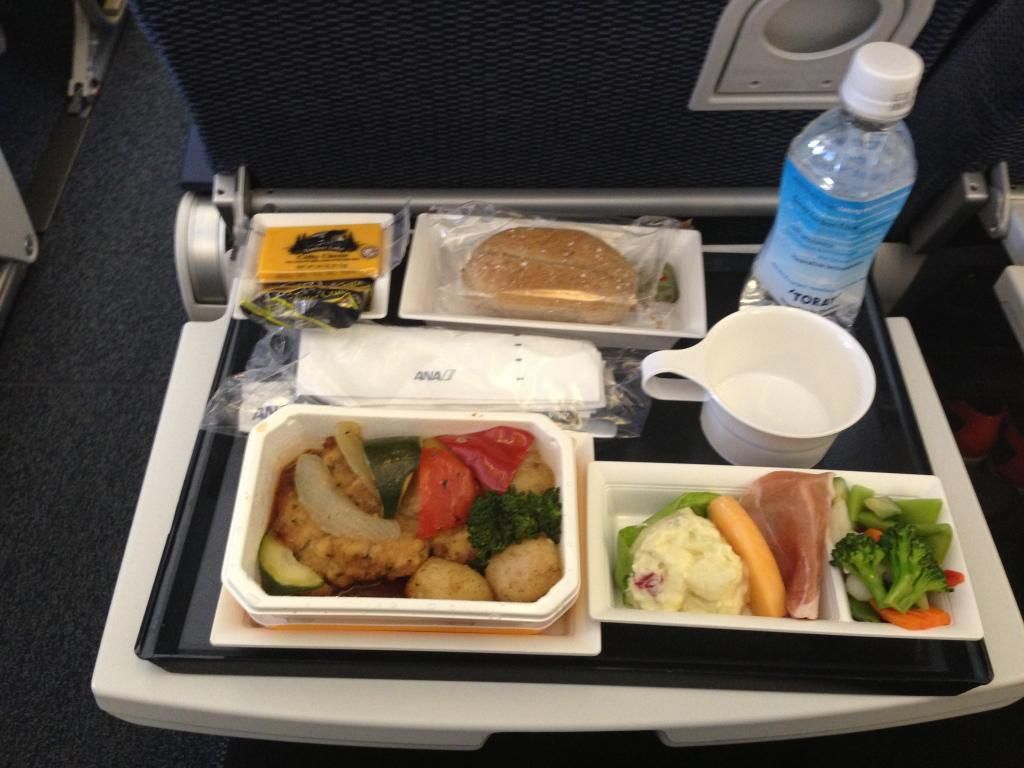 check out that whopping caloric value!
or the J-Menu choice: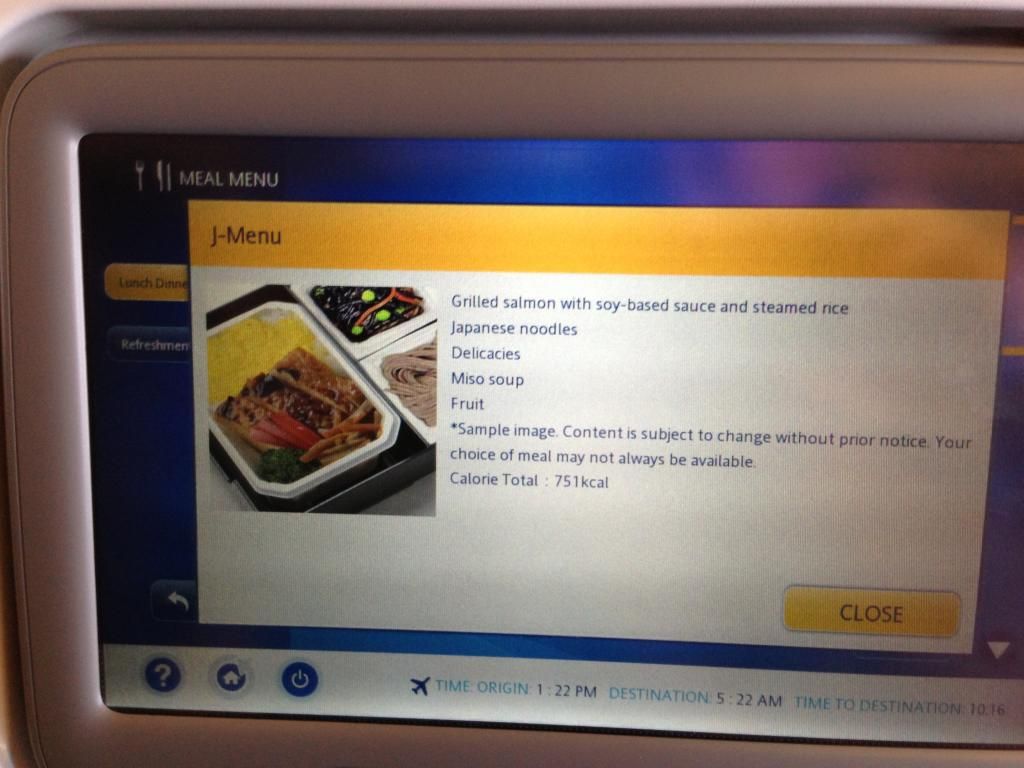 like so: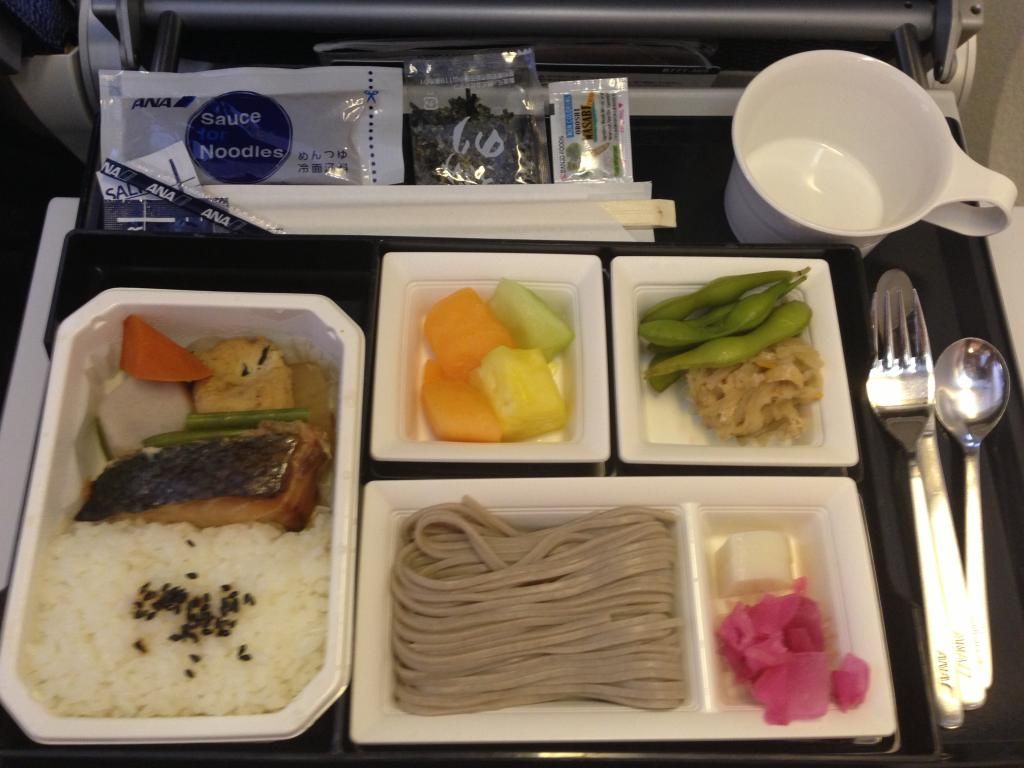 Dessert was subsequently handed out from an insulated tote bag:
and after a great meal; time for a quick washroom visit: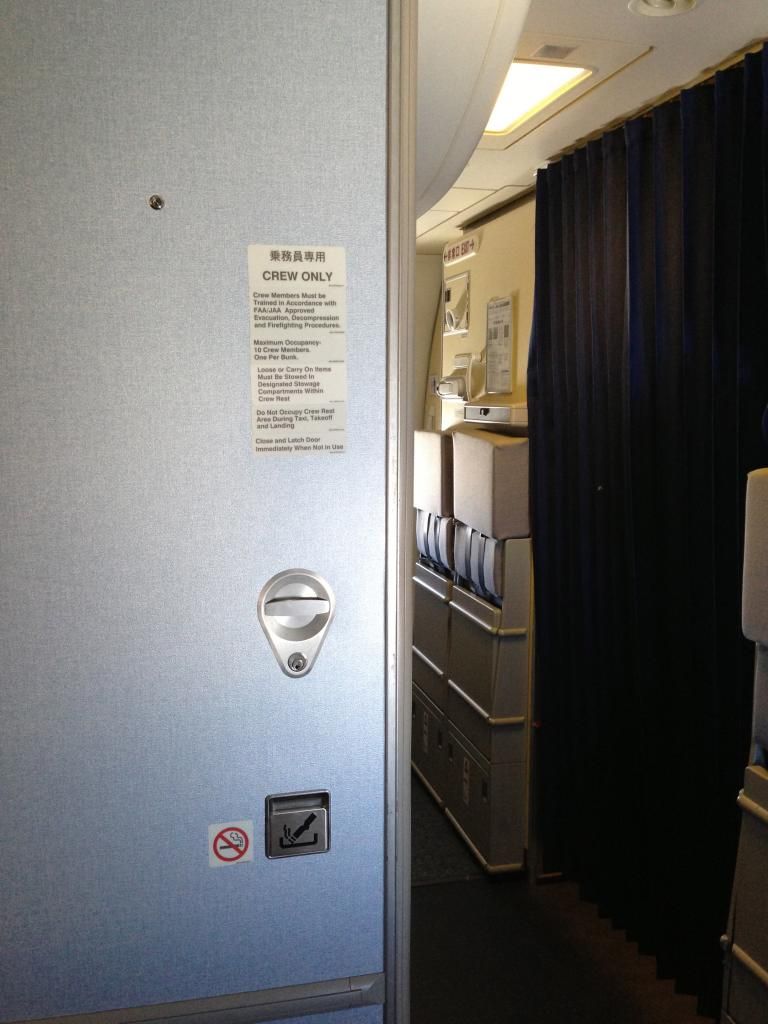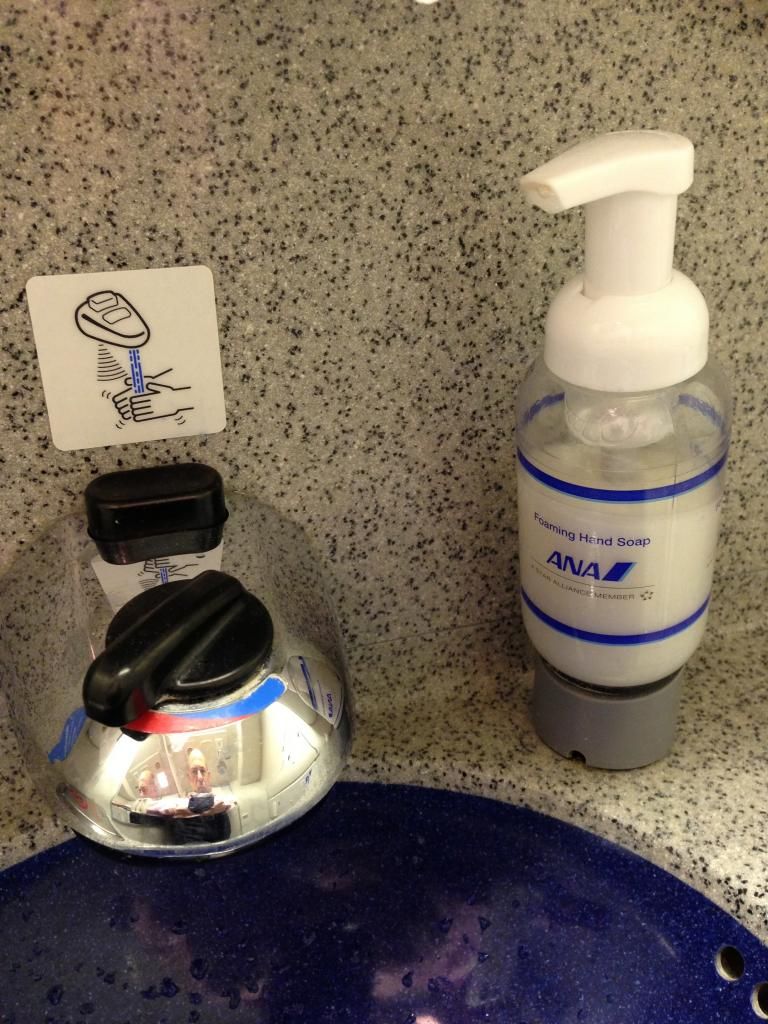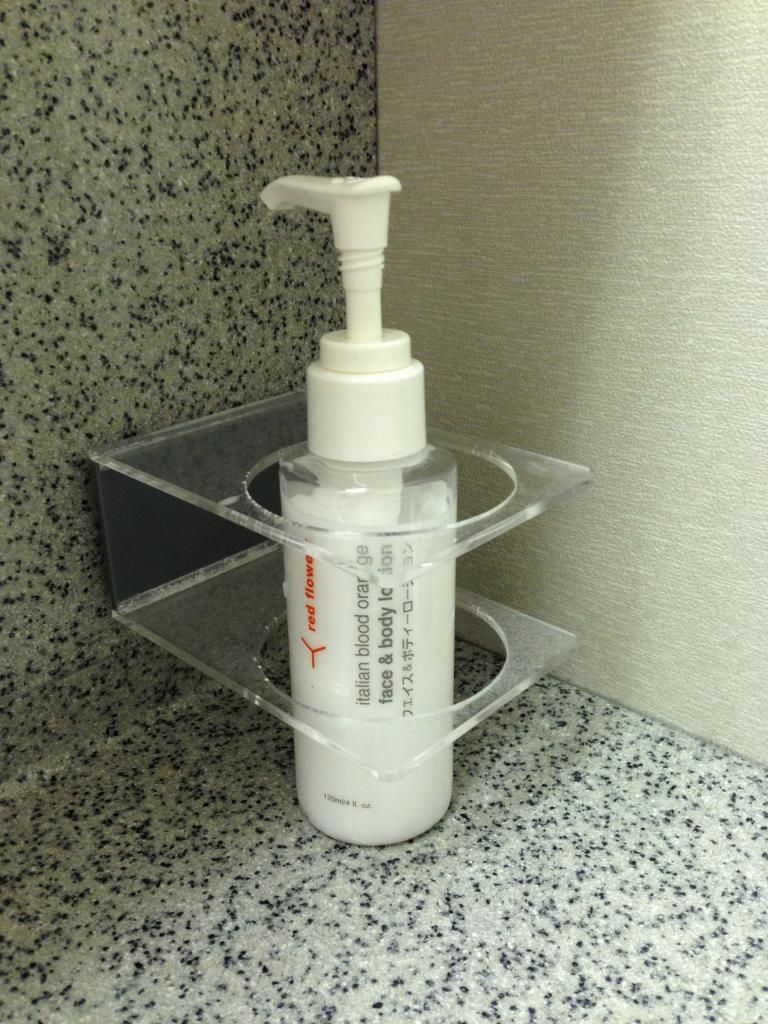 The international symbol of clueless parenting?!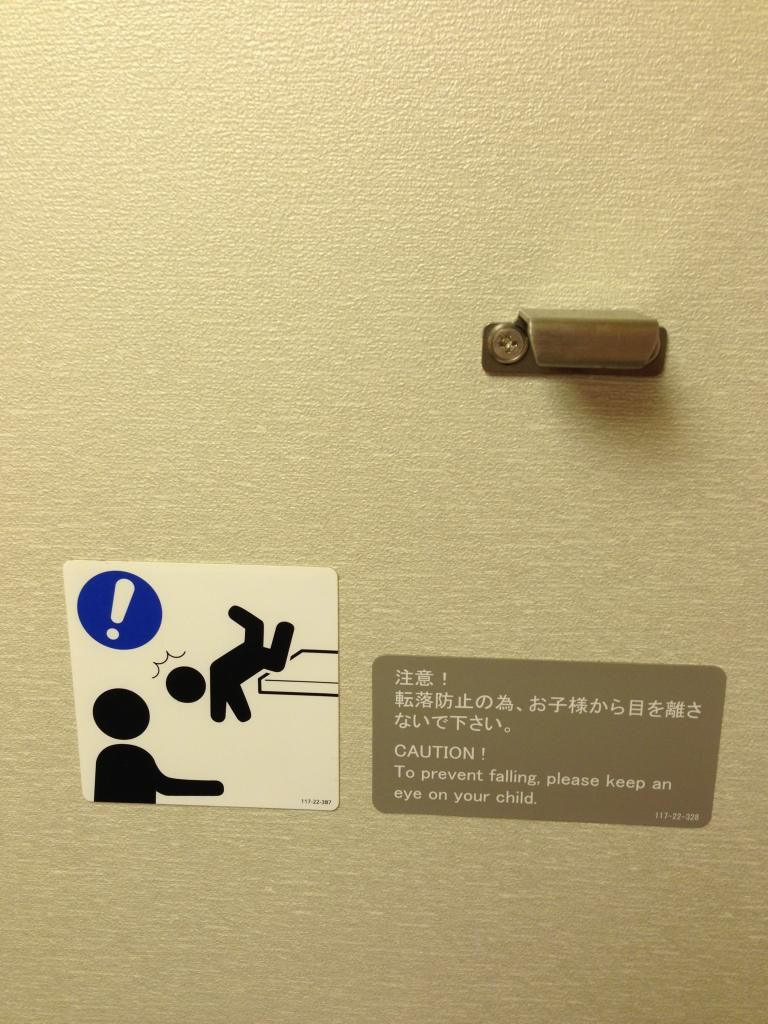 The curtain to the galley was kept closed the entire time, and there was hardly a sound from behind it. Yet when delivering some water glass discards through the curtain, it turned out to contain 6 or 7 flight attendants all chatting and having fun: what a nice surprise!
We both got 3 seats to ourselves to bed down for some kip – so much for the flight being full according to the seatmap – and luxuriated in several hours of enjoyable lie-flat napping zzzzzzzzzzzzzzz…
Where are we now?
Time to go and bother the cabin crew again – this time at the doors 4 galley: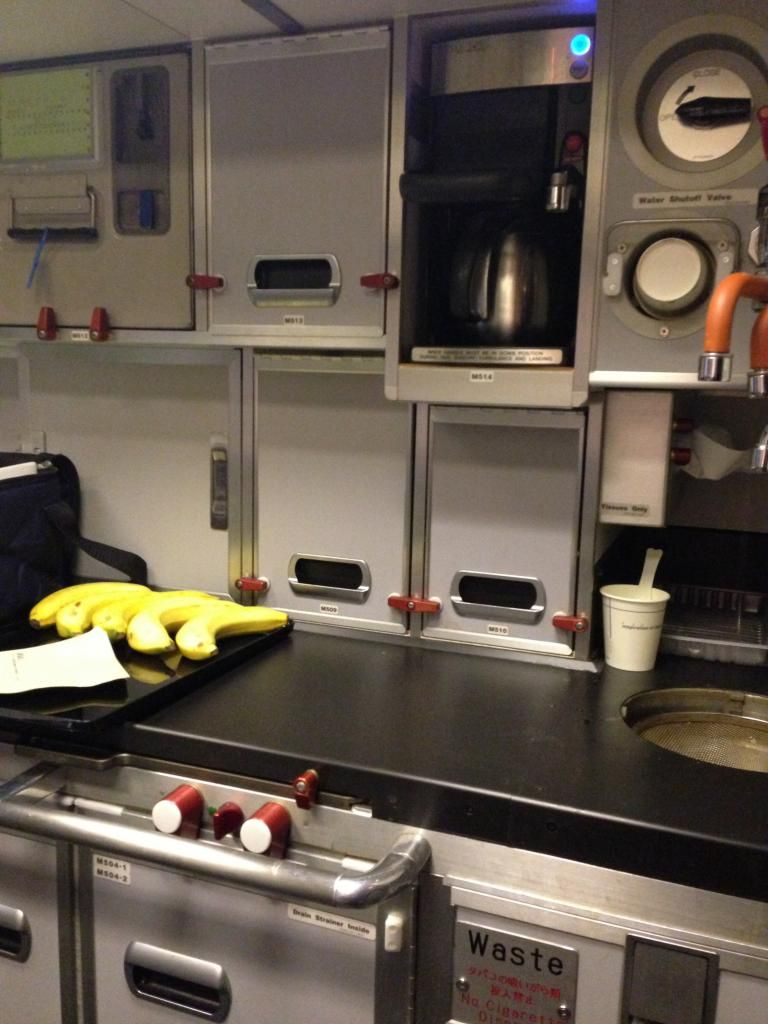 Kept meticulously clean and organized: it looks the same now as it did during boarding – except for snacks and juice in the insulated tote: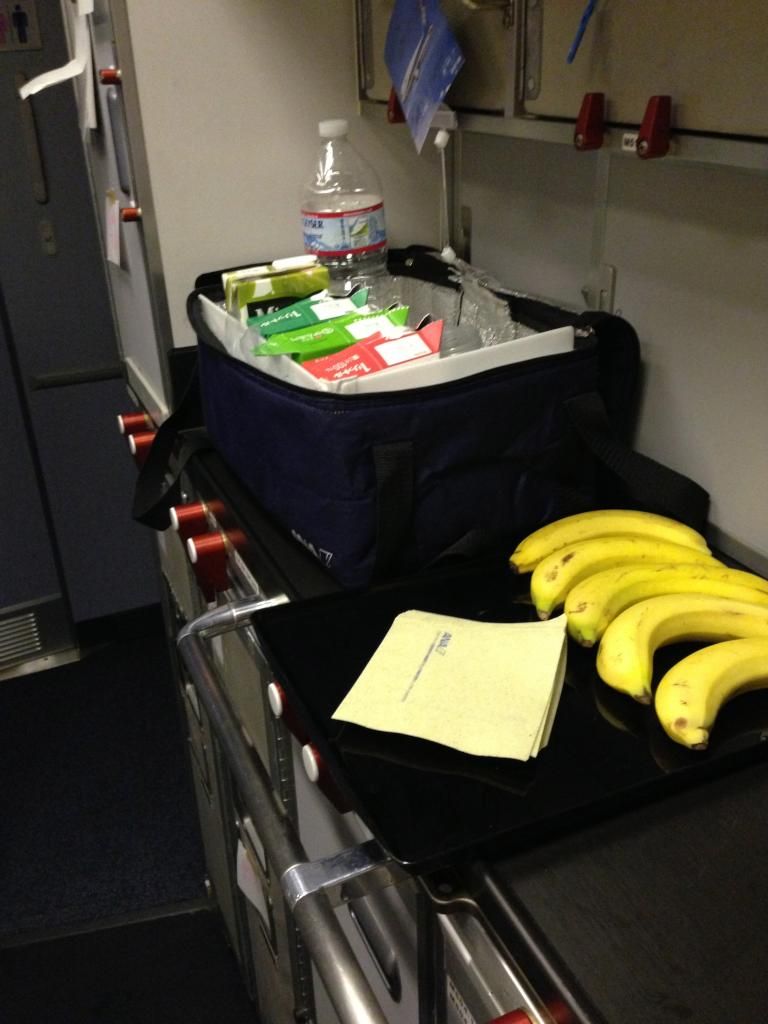 Completed my questionnaire and was offered an ANA pen for my pains:
Top