Finnair – first or second tier Business Class
Finnair has always been an interesting European airline and I have flown mostly intra-Asian (when it flew between BKK and HKG/SIN a decade ago) and intra-European flights, and my last Finnair long haul flight was earlier in the 2006 when it has begun a nonstop flight between HKG and HEL using MD-11s. My impression of Finnair was interesting and my impression was that it provided an acceptable business class experience. It is definitely more practical than fancy and its main meal service is okay, but its pre-arrival meal aims to be on the "light" side with no choice. However its business class fares are always on the low side, so I guess you can't expect too much. I have decided to give it a try again, as its new business class seats look pretty good. Due to my particular routing, my choice is British Airways' Club World or Finnair's new business class. Since I hate BA's Club World seats, I decide to go for Finnair and Bangkok is one of Finnair's destinations that will consistently have the new full flat business class seats. In some way, I am impressed with the cabin, and Finnair's version of seats is definitely better than SN Brussels Airlines' version, which I will explain a bit towards that section, and I have photo evidence too. Its cabin service is efficient and its catering remains average, nothing too fancy. BTW, since I have posted detail information on Finnair's long-haul lounge before, I decide to skip taking photos, as the lounge is very busy during the late afternoon hours with eight departures to Asia between 4 and 6pm.
Beautiful day here at Helsinki – it seems that AY 832 always uses a bus gate, but good opportunity to take a picture of the beautiful A321 – filled with passengers connecting to Asia.
May 3, 2013
AY 89 HEL-BKK Lv1710 Arr0715+1 Airbus A330-300X OH-LTU
Lounge
No photo about the lounge (but I have done an extensive AY F lounge report before), but just want to share a few observations – Finnair really tries to sell many "premium" products in the lounge, such as premium wines and champagne, as well as fancy food like caviar and a four course full dinner. It even tries to sell sushi. In some ways, Americans have been selling food and premium alcohols in its lounges for decades, but most European airlines lounges don't do it. To give Finnair credits, it has a decent complimentary food buffet with the usual soup bar, a salad bar with assorted bread rolls, as well as one kind of hot snacks (today's choice is spring roll), assorted light snacks with pretzels, and some light desserts. I love the Organic mushroom soup, which I happen to crave most of the times. However I don't really find selling fancy food and/or wines an overly premium experience. Most European airlines don't do it and I just personally find it rather cheap for an airline to post advertisement and even making audio announcements to sell food and drinks in a supposedly top business class lounge. There are also too many limitations on who can consume particular alcohol offerings, and all these small things cheapen the premium class experience significantly. From what I can see, no one is really buying anything so it is annoying to passengers and do not really improve Finnair's cash flow.
Helsinki is very busy at this afternoon hour and for those aviation enthusiasts, I actually jog down the following information:
OH-LTN (333) to Chongqing, OH-LTP (333) to Pudong, OH-LTR (333) to Kansai, OH-LQF (343) to Beijing, OH-LQD (Marimekko Poppy livery) to Tokyo Narita, OH-LQE to Nagoya, and OH-LTS to Seoul Incheon
Too bad that I can't take any good airplane photos, due to the design of the airport!
OH-LTU, An Airbus A330-300 with the new business class, is being used for today's Bangkok flight. I tried to take a picture, but just can't find a decent one to post. Bangkok airport is even worst in this aspect. Today, we used gate 32, and there was a separate priority boarding line for premium passengers. It is also strictly enforced, unlike typical intra-European flights.
Boarding began at 4:28pm and I was the first one to board, as I wanted to take some good cabin pictures. I actually had a good amount of time to do so, as the loading in business class was very light this afternoon, while economy was very full.
Cabin:
The new business class is actually a major improvement from the sliding seats that Finnair is still using on other A340s and older A330s. The seats are configured in an alternate four and five abreast arrangement, and all the "L" seats are solo, which I choose. Many passengers prefer 2C, 4C, or 6C, as they have two giant side tables, but I am very concerned that those seats will have very narrow space for feet, which are the main downfall on these kinds of business class seats. Here is the smartly looking cabin and I like the lighter shade of blue that Finnair uses now.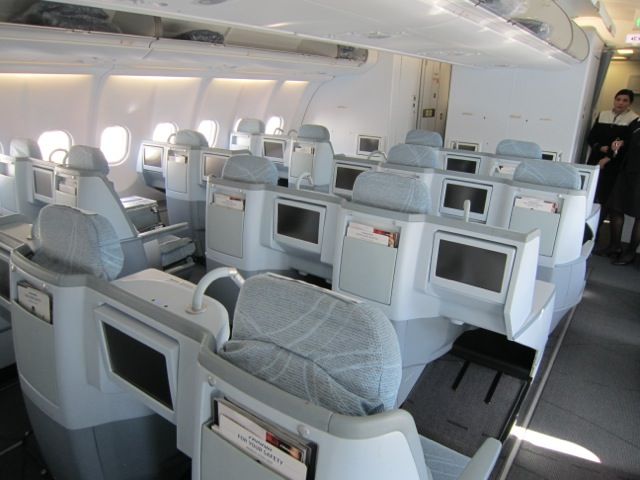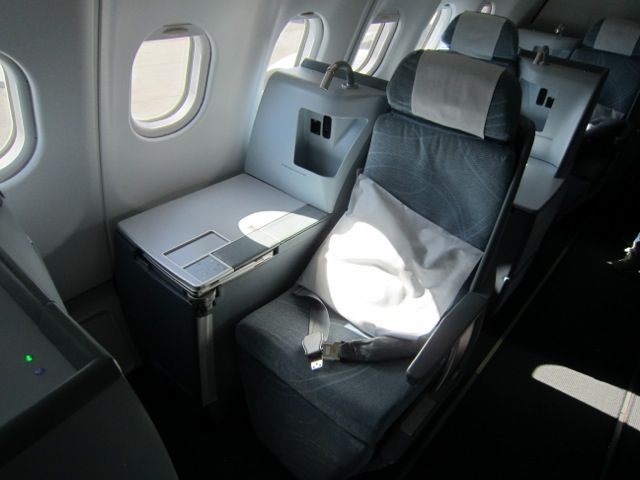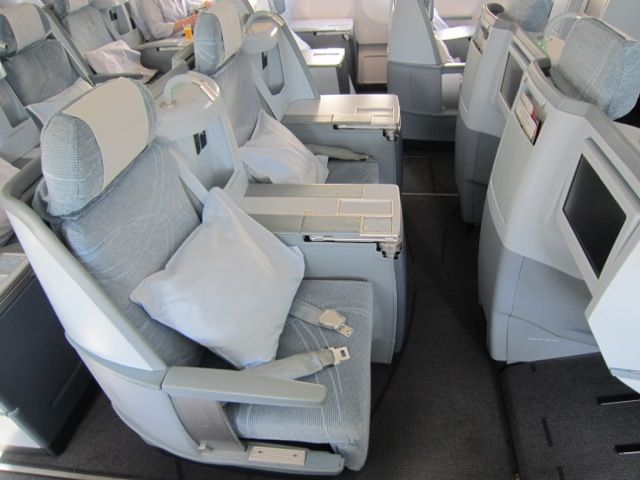 During boarding, the F/As offered a choice of orange juice, water or champagne (served in real glasses), as well as newspapers and noise-canceling headsets.
Door was closed early at 4:57pm and it continued to amaze me how Europeans were able to board in an orderly fashion and how a reasonable hand carry policy can make the boarding experience so much better.
Couple shots, while taxing to R/W22R
OH-LQD Marimekko Poppy livery to Narita this afternoon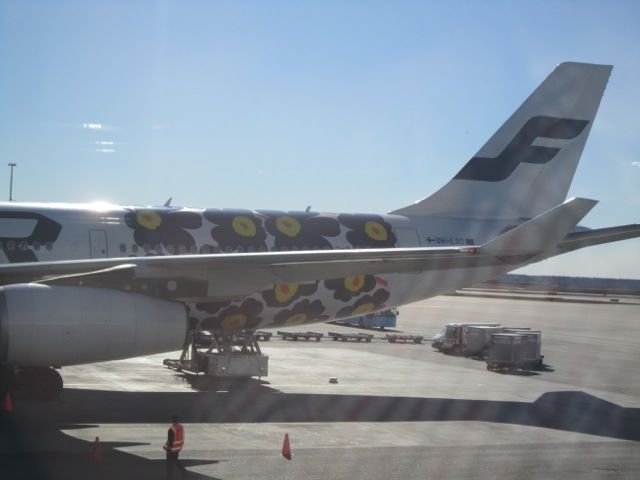 Finnair's A340-300 Oneworld livery
Giant and mini Oneworld AY planes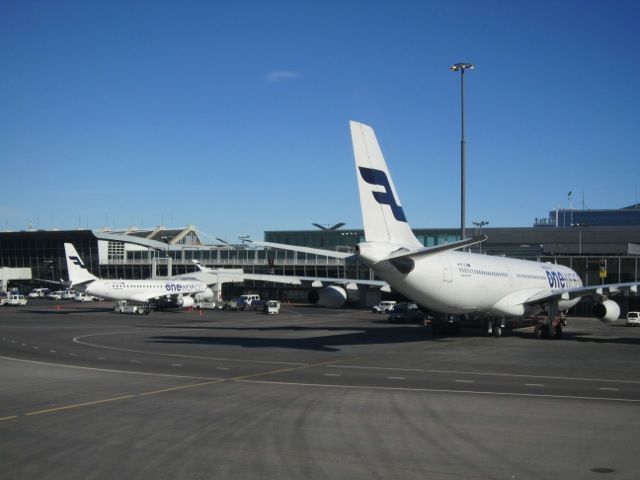 Finnair A319 OH-LVG
After OH-LVG took off, we taxied into R/W22R and lifted off at 5:12pm.
View of Helsinki Vantaa airport after we took off and turned back towards Russia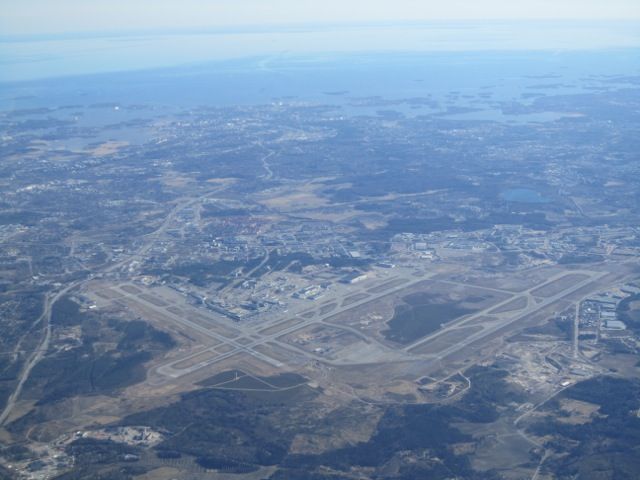 Flying time was a very short eight hours and fifty-nine minutes. Our routing took us over Sipoo and Gulf of Finland, as we climbed to 33,000feet. We passed through St/Petersburg Airport (LED), Nikolsk, Kirov Pobedilao Airport (KVX), Izhevsk, Neftekmask, Dyurtyuli-Ufa International Airport, and Orsk before climbing to 37,000feet. We passed Buckhara, and then climbed to 38,000feet, and then passing Ternez and Kabul, before climbing to 39,000feet, and then passing Peshawar, Loare, Delhi, Luknow, and Dhanbad. We finally reached 41,000feet, before passing Kolkata, and then into Myanmar coast, Pegu and Moulmein, and then into Bangkok.
The F/As passed out shoe bags (a nice feature), and then the amenity kit. I really think this amenity kit is the lowest point of this Finnair flight, and will let the pictures to do the talking.
Amenity Kit:
It claims to be environmentally friendly, but if passengers don't even have incentive to take those kits home, there is still a lot of wastage. There are two ways that Finnair can go – just follow what JAL, ANA, and Singapore Airlines have done now – handed out the shoe bag, socks/slippers, and pair of eyeshades after takeoff and don't bother with the kit, and stocked your bathrooms with these amenity items, or offer a real proper amenity kit. This current version is just poorly designed and shows the lack of creativity.
Cabin service:
Beverage service started shortly after takeoff with hot towel and then a beverage service with vegetable crisps.
Here is the wine list:
Champagne
Joseph Perrier Cuvee Royale Brut
Champagne, France
White Wines
Schlumberger Riesling Grand Cru Saering 2011, Alsace Grand Cru, France
Paolo Leo Numen Chardonnay 2011, Puglia IGT, Italy
Red Wines
Chateau Malescasse 2005, Cru Bourgeois, Haut-Medoc, France
San Polo Brunello Di Montalcino 2005, Brunello di Montalcino DOCG, Tuscany, Italy
Sweet Wine
Chateau LaFaurie-Peyraguey 2002, Sauternes, France
Niepoort Colheita 1998, Port Portugal Niepoort (Vinhos) S.A.
66300000 VINILISTA/WINELIST 12/12
I have a glass of the Riesling.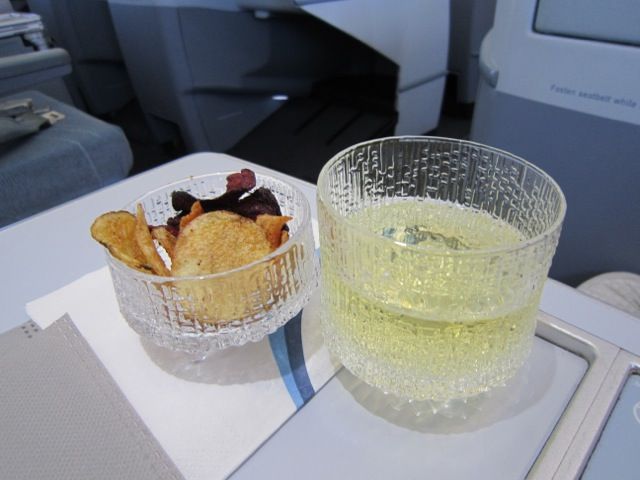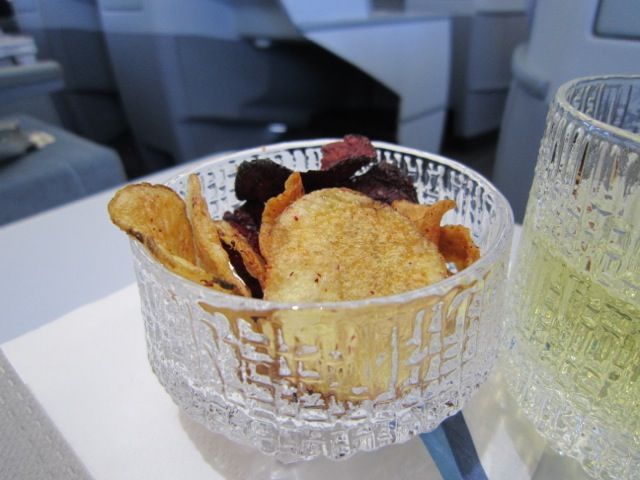 Menu:
Dinner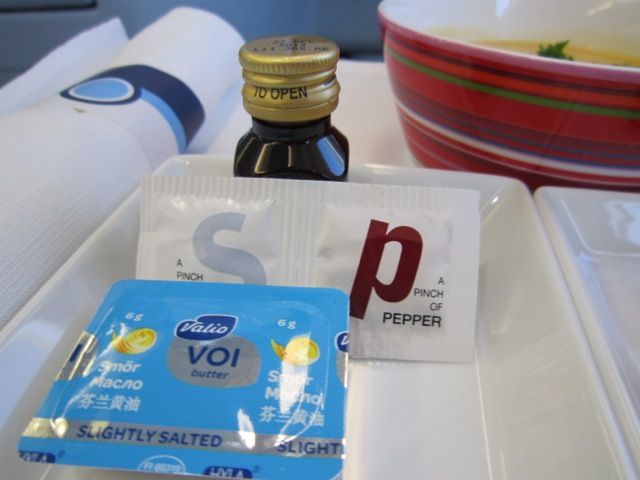 Fresh Salad
Mediterranean antipasto
Serrano ham, Italian salami, peperoncini filled with cream cheese, grilled mushroom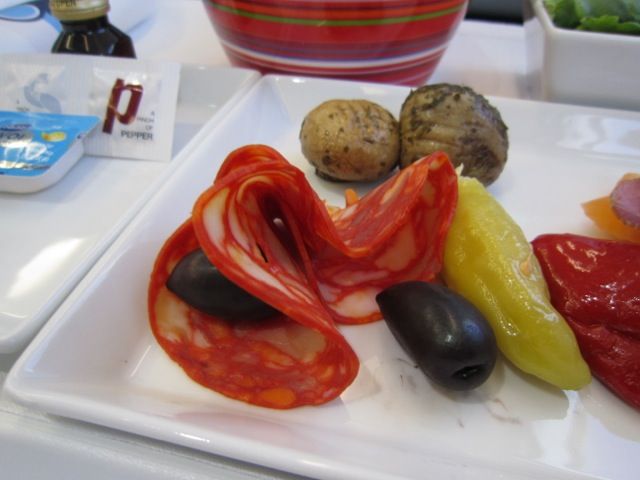 Velvety Sweet Corn Cream Soup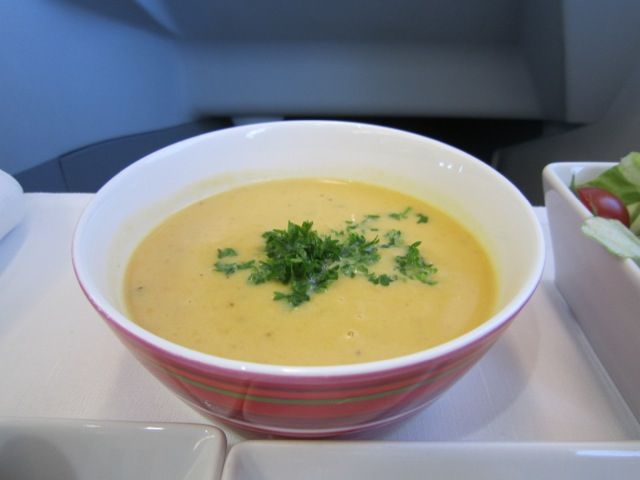 Lots of utensils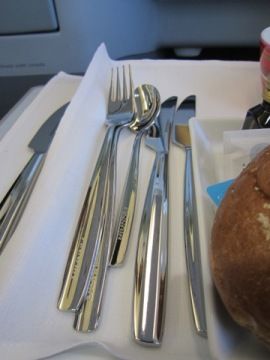 Salmon with Pepper crust, potato leek ragout
Or
Chicken with peanut butter sauce Singaporean Style, Steamed rice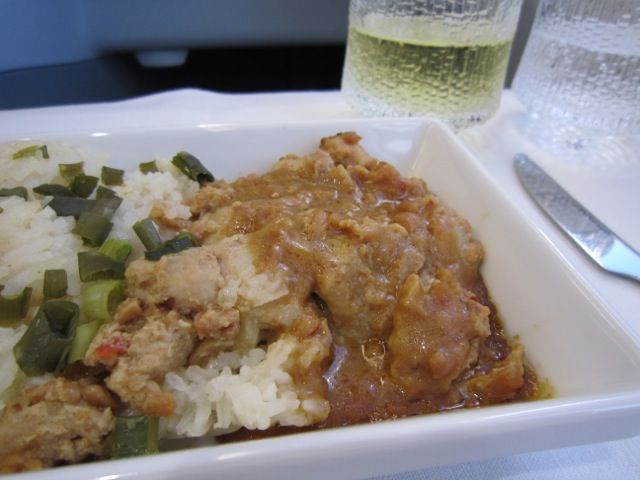 Or
Ravioli filled with goat cheese, tomato sauce and roasted pine nuts