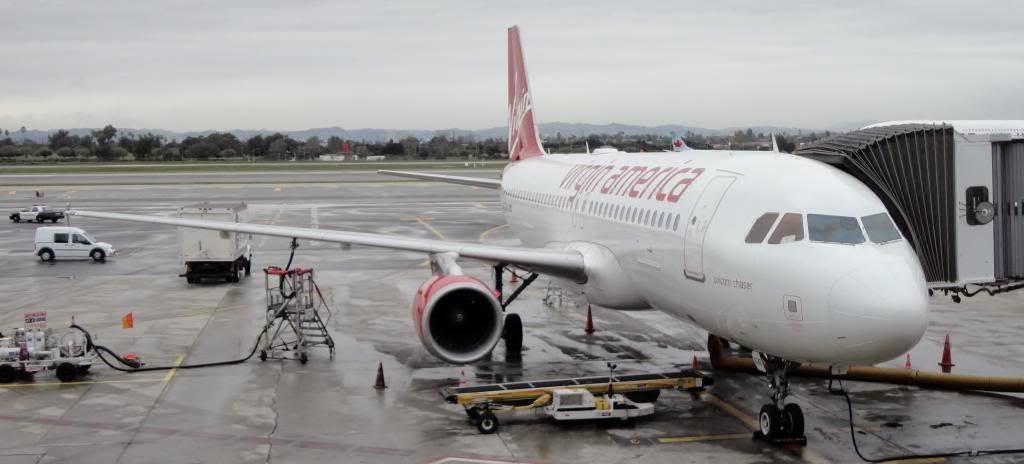 Introduction
Hello everyone and welcome to part 4 of this USA trip series I am in at the moment!
For part 1 featuring my first 2 flights on SAS' "new" A320 please see here:
USA Trip Pt. 1: Getting Started!: AMS-CPH-GVA
(by
adamspotter
Apr 14 2013 in Trip Reports)
For part 2 featuring a scenic early morning flight across the Alps on a Darwin Saab2000, an uncomfortable hop across the pond with Alitalia and my first US Domestic flight (of this trip) on DL please see here:
USA Trip Pt. 2: Crossing The Pond: GVA-FCO-JFK-ATL
(by
adamspotter
May 2 2013 in Trip Reports)
For part 3 featuring a nice flight on Delta's mighty 777-200LR between ATL-LAX please see here:
USA Trip Pt. 3: Riding The 777-200LR!: ATL-LAX
(by
adamspotter
May 8 2013 in Trip Reports)
This part will concentrate on my LAX-BOS flight.
As already mentioned before, this series will be split into 13 different parts:
Part 1: AMS-CPH-GVA
Part 2: GVA-FCO-JFK-ATL
Part 3: ATL-LAX
Part 4: LAX-BOS
Part 5: BOS-EWR-MCO
Part 6: MCO-SAN
Part 7: SAN-LAX-HNL
Part 8: HNL-KOA-OGG-HNL
Part 9: HNL-LAX-PDX
Part 10: PDX-SEA-BOI-SMF
Part 11: SMF-SFO-ATL
Part 12: ATL-JFK-VCE
Part 13: VCE-ZRH-AMS
Virgin America is an airline I have been wanting to sample for quite some time now, but I never got to it whenever I was in the US. Knowing I was going to pass through LAX (and knowing LAX is one of VXs hubs) I saw this as a great opportunity to finally try them out. I immediately looked up fares to different destinations on the east coast from LAX, and found a great deal on their LAX-BOS route. I immediately booked it and pre-selected my seat also.
I was very much looking forward to trying this new airline but (for those who followed part 3) will I catch my original flight? Just wait and see!
Map
The map for this part, thanks to the Great Circle Mapper:
And the map of this whole trip also thanks to the Great Circle Mapper: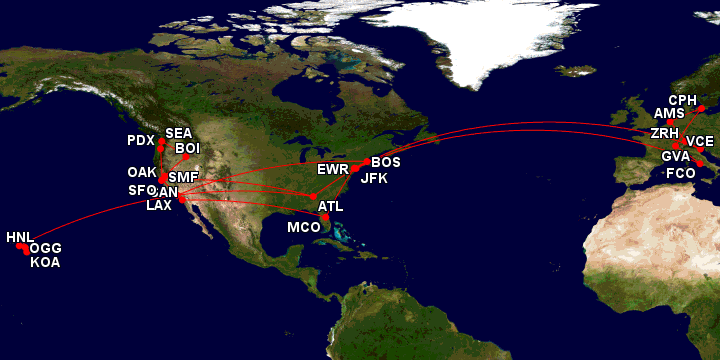 Thursday January 24
I am at LAX, terminal 6 to be exact. I just got off my delayed Delta flight and quickly retrieved my bag at the baggage claim (see part 3). It is 10:55 and my next flight on Virgin America departs at 12:25. As many of you know VX operates out of terminal 3, so I quickly head outside and walk to T3 as fast as I can passing by the TBIT. I reach terminal 3 at 12:15 and quickly head inside.
Check In
As usual I had already checked in online so all I need to do now is print my BP and drop my bag off. I find the VX check-in desk and am greeted with some loud pop music, nice! I approach one of the vacant SSKs, type in my confirmation number and the machine successfully spits out my BP after paying $25 for my bag. I join the baggage drop off line and 5 minutes later my bag is tagged to BOS by a friendly agent.
Security is a bit slow and I am eventually through in 20 minutes without any problems. As I am still feeling very hungry, and have 10 minutes until boarding begins (at 11:55), I grab a quick bite to eat at the Burger King.
After quickly finishing my Whopper menu I head over to gate 35 to see which plane will be taking me to the east coast: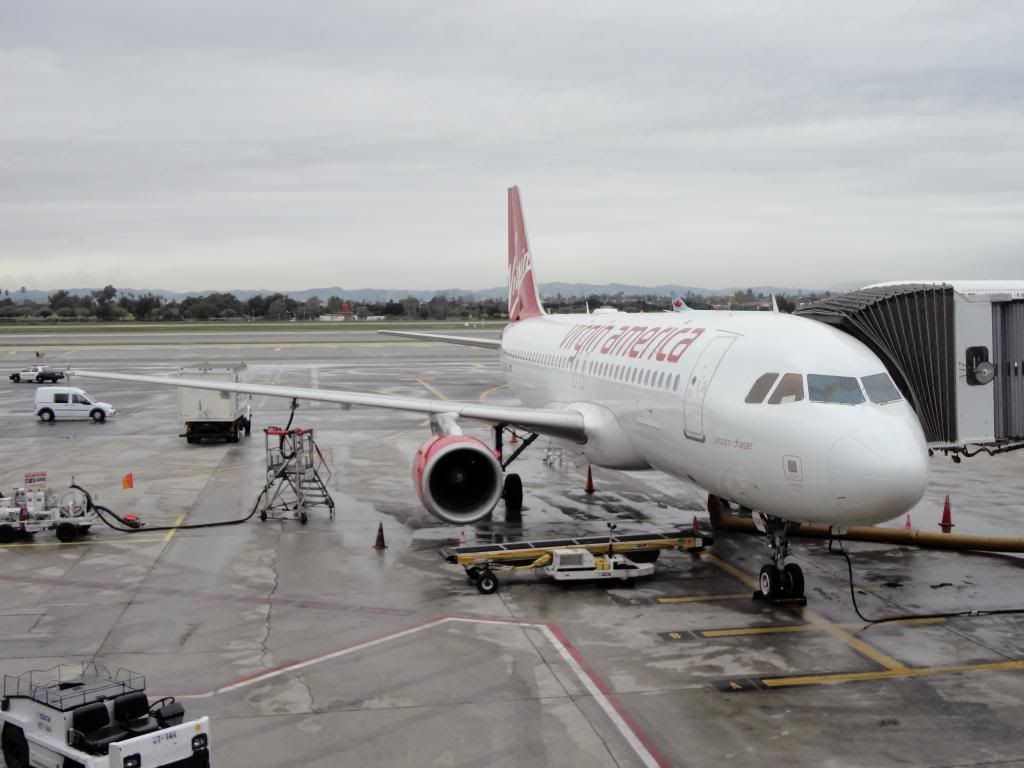 It is N626VA, also known as "Unicorn Chaser". This 6,5 year old A320 was delivered to VX factory fresh on 11/07/2006.
Meanwhile this big boy comes taxiing by:
Boarding
Quite an interesting looking BP for this flight: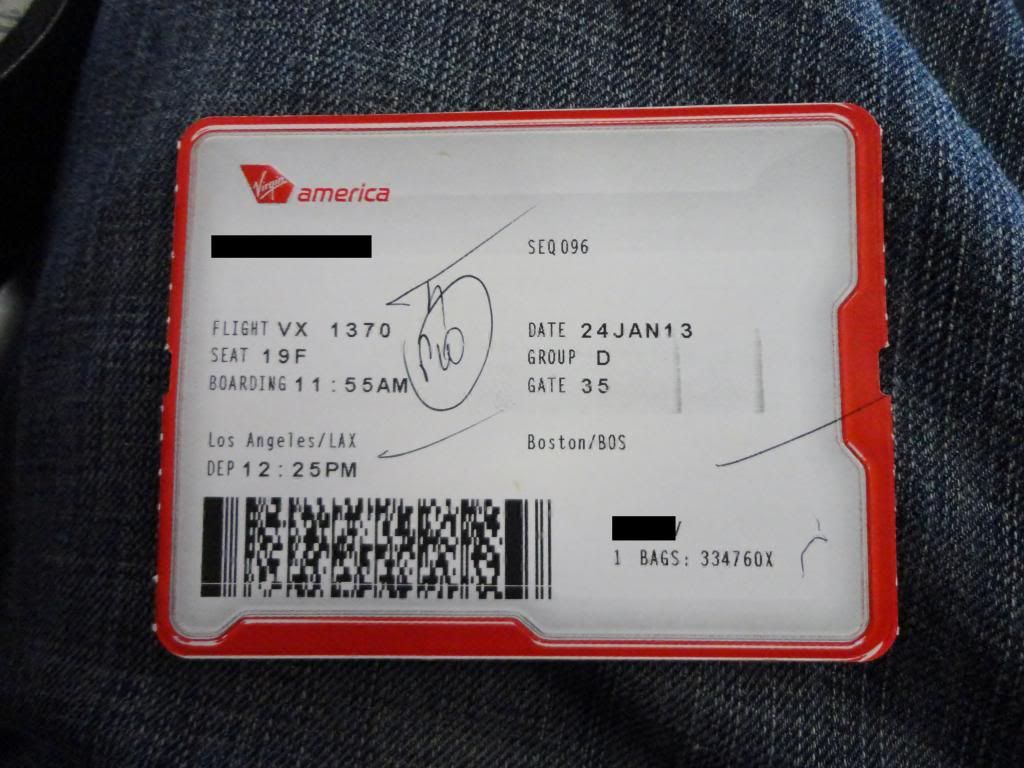 Once again boarding is announced bang on time, at 11:55. Boarding is done in different groups starting at A, I am in group D. Nevertheless my group is called for boarding swiftly and I make my way towards the gate. The gate agent scans my BP and wishes me a pleasant flight as I head into the jetway.
On Board
24/01/2013
LAX-BOS
VX1370 // 19F, 25A after take off
A320-214 Virgin America // N626VA
12:25-20:26
While entering the aircraft I am greeted by a young and great looking female FA and head into the aisle. First impression of the cabin is a very good one: clean, spotless and in excellent condition with some fun mood lighting!
I head to my assigned seat 19F and get settled in after putting my belongings in the overhead bin. The windows have some sort of tint in them: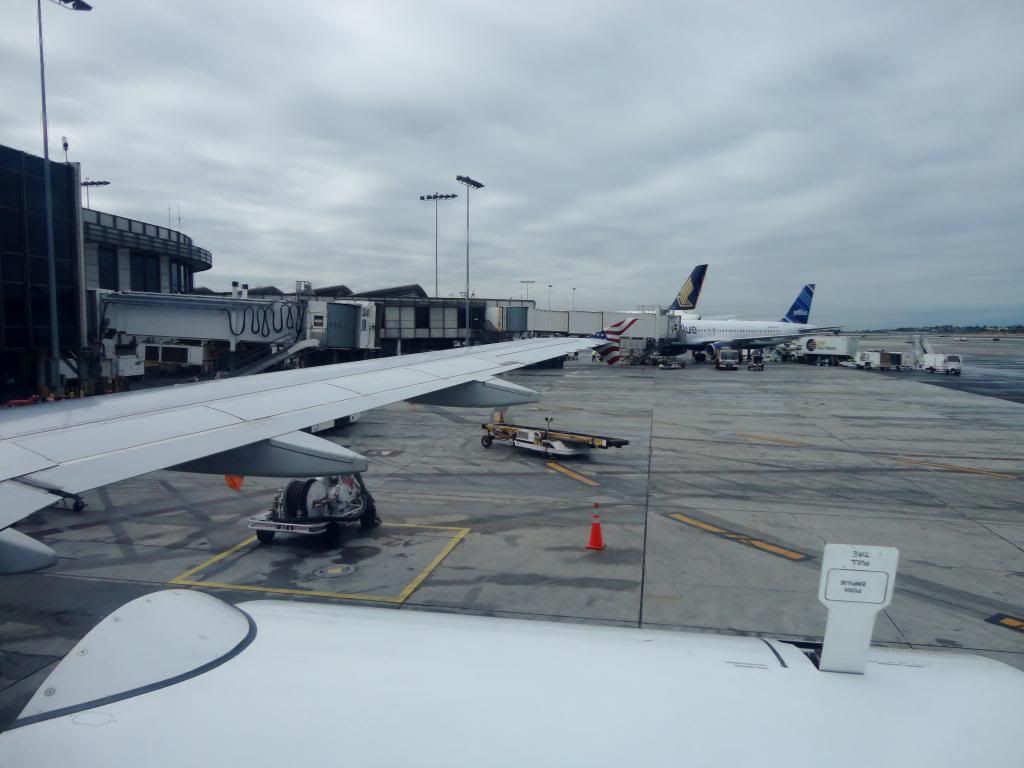 Nice mood lighting: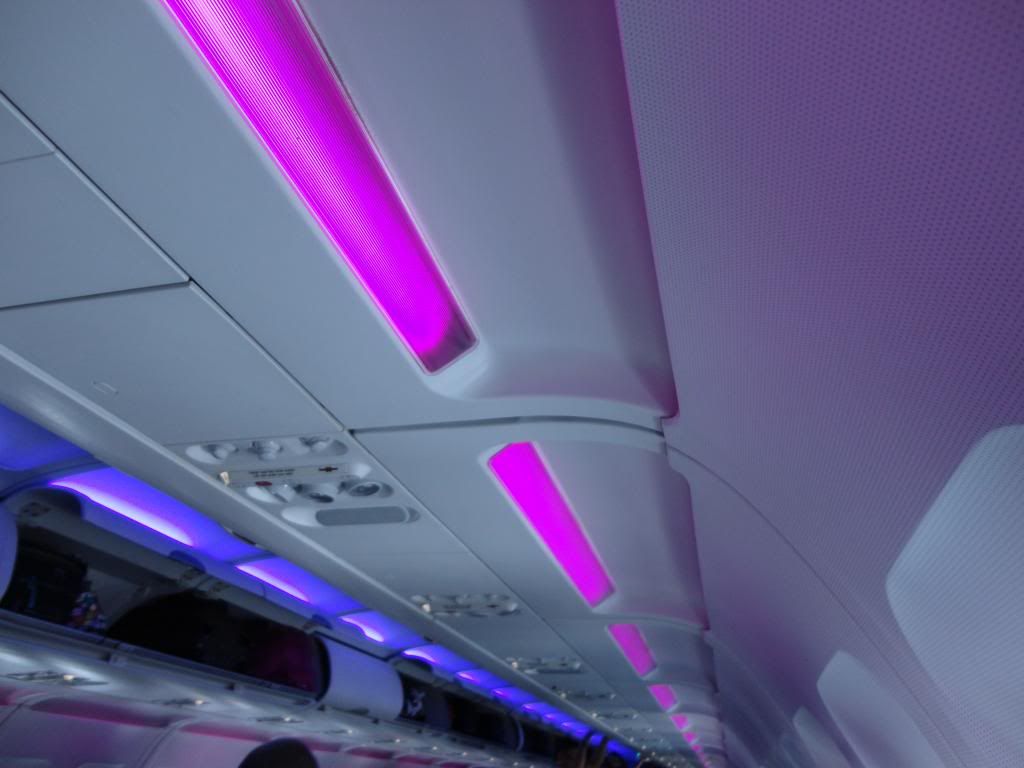 Legroom is good: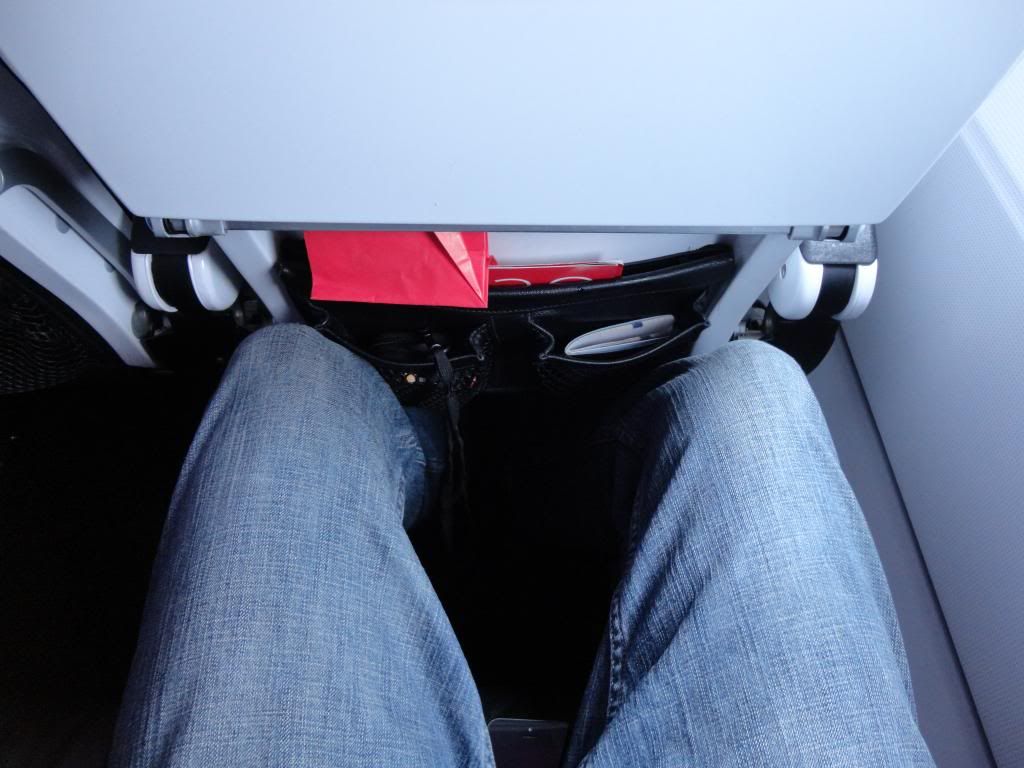 Clean and spotless seatback!: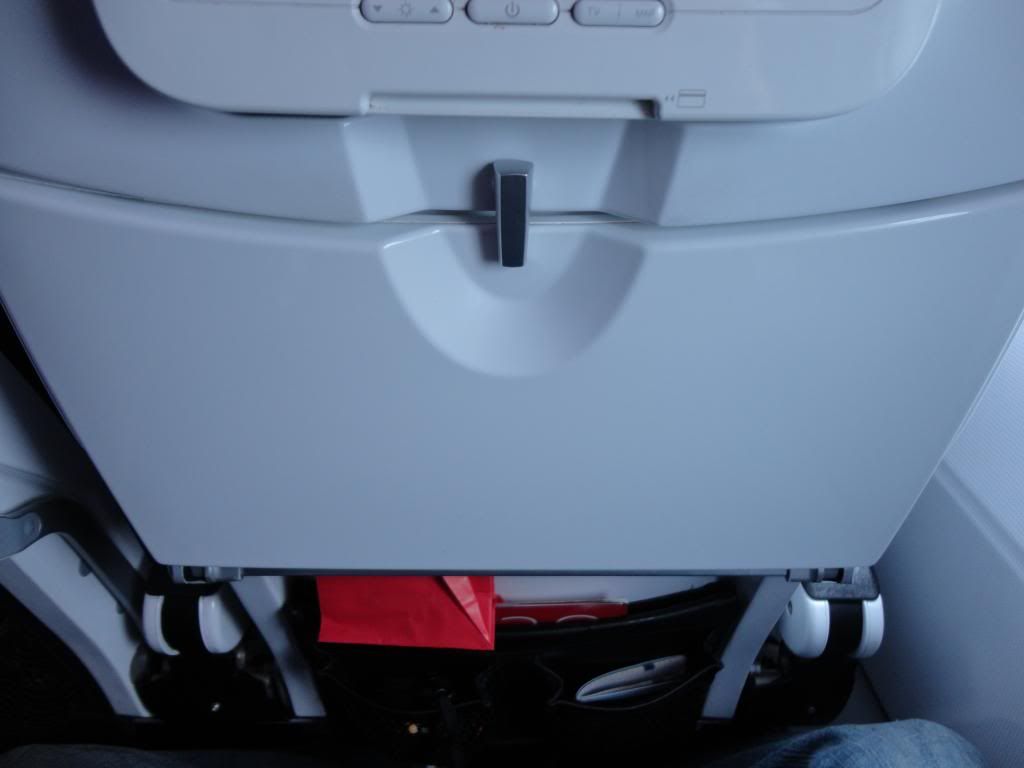 Some more traffic passes by: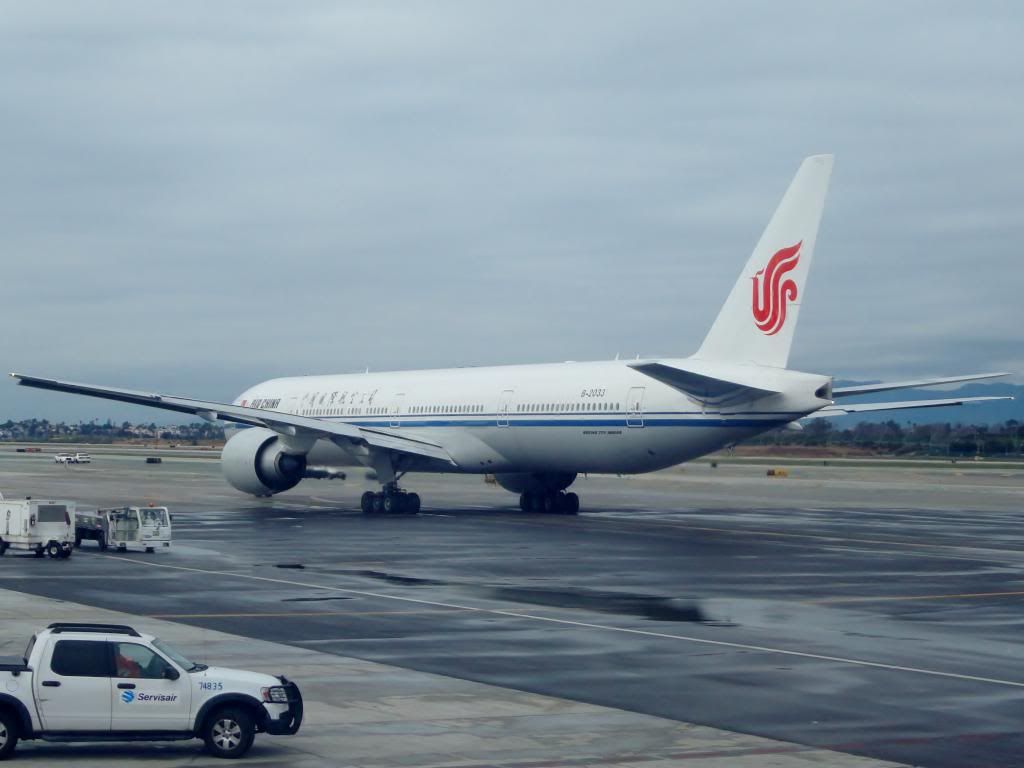 The doors are already closed at 12:15. Flight load is not even half full at around 40%, I spot a bunch of empty rows in the back and figure I will head back there after take-off as I have a neighbor in the aisle seat.
Cabin crew on this flight consists of 3 females. All young, good looking and getting their jobs done although nothing special.
While 2 FAs prepare the cabin for departure the other one comes on the PA welcoming us on board followed by the usual announcements. Announced flying time is 4 hours and 27 minutes.
Once the FA is done the pilot also comes on the PA with another nice welcome, some flight information and wishing us a pleasant flight.
While still on stand the safety demonstration is being played:
Pushback commences at 12:25, bang on time: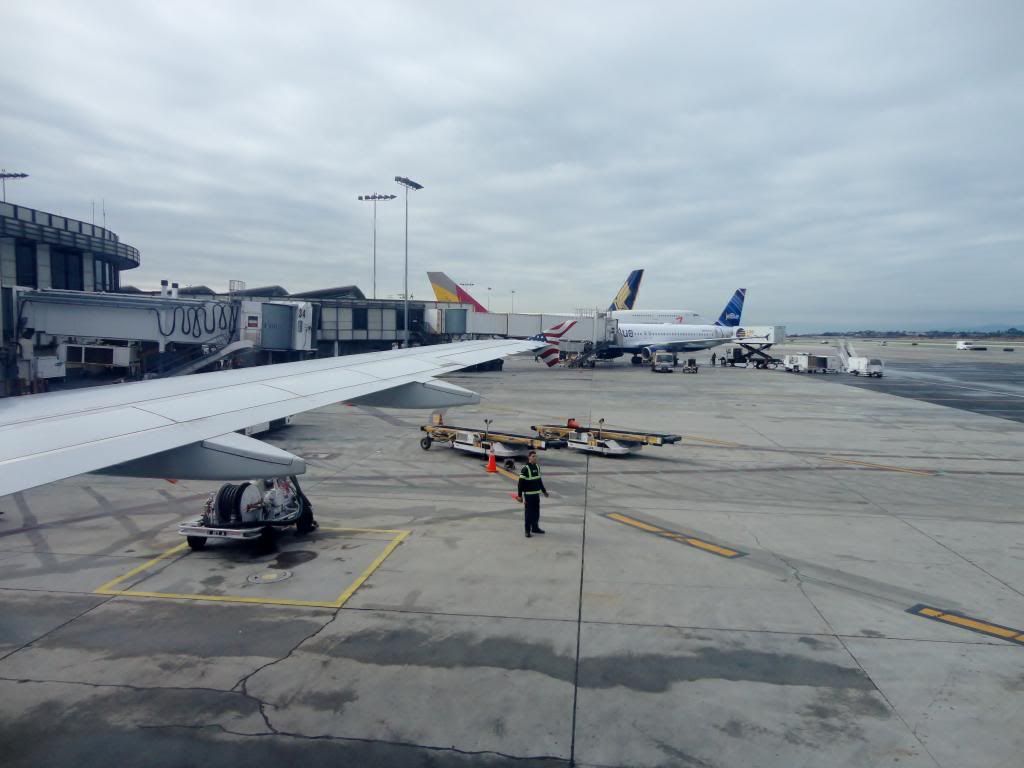 While waiting to be released this big beauty comes taxiing by. The SkyTeam livery is for sure my favorite one out there!:
Shortly after, another SkyTeam member comes taxiing by: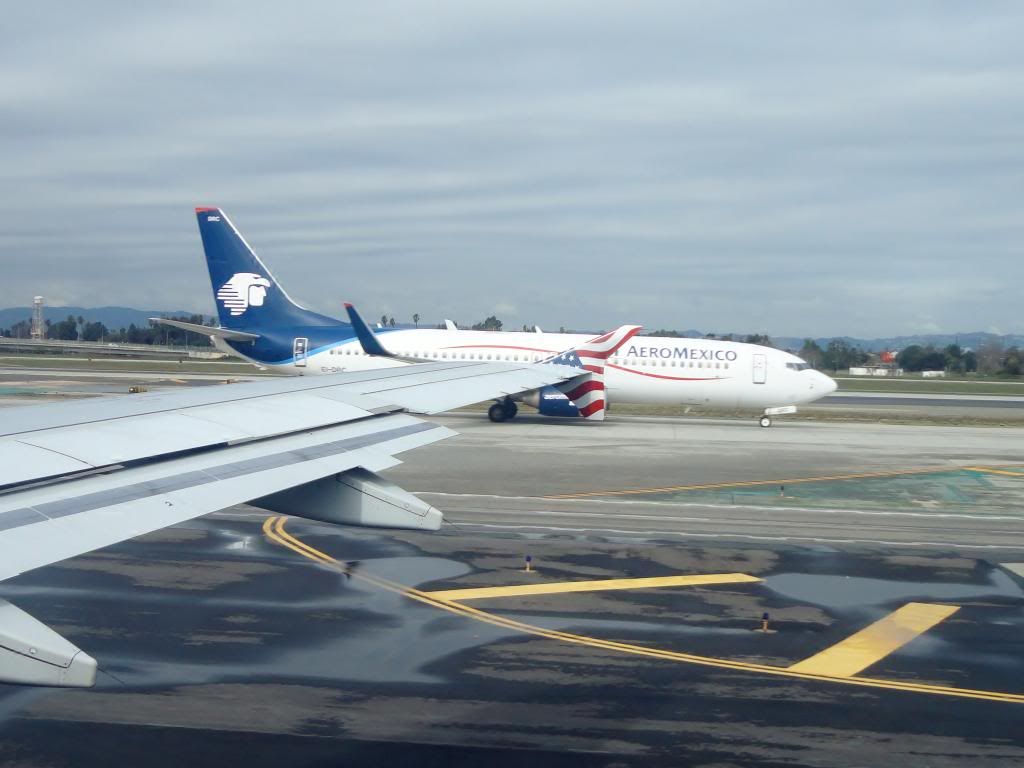 After being released we taxi to runway 6R. Having just experienced a rare landing from the west, I now get to experience a rare take off to the east: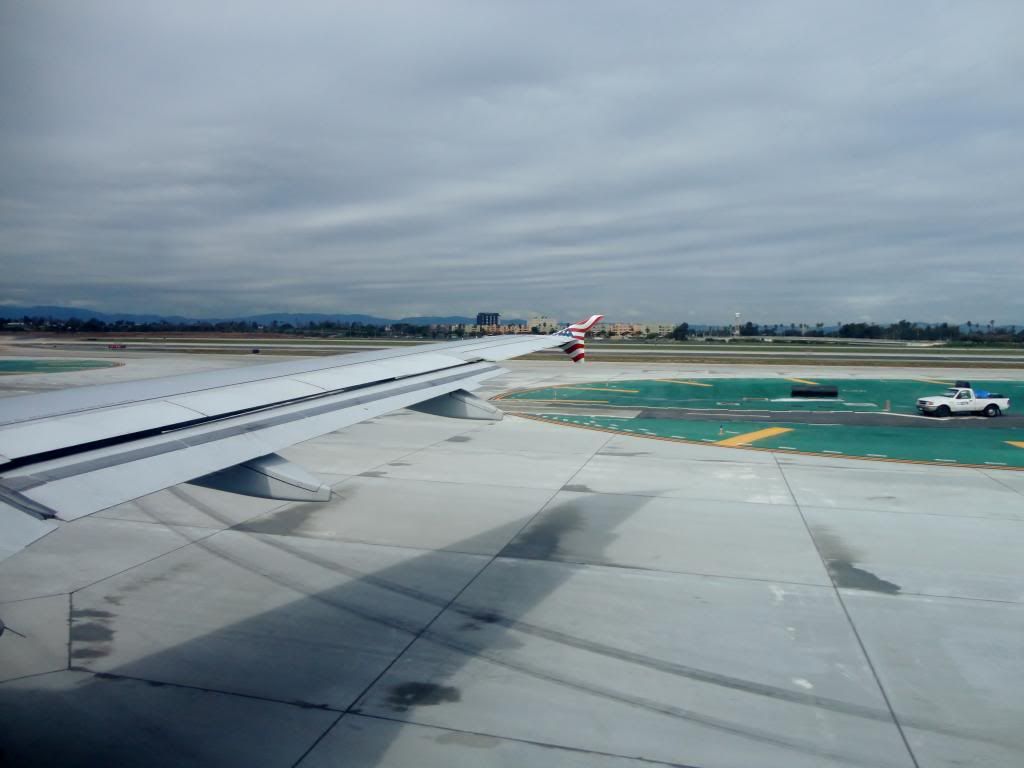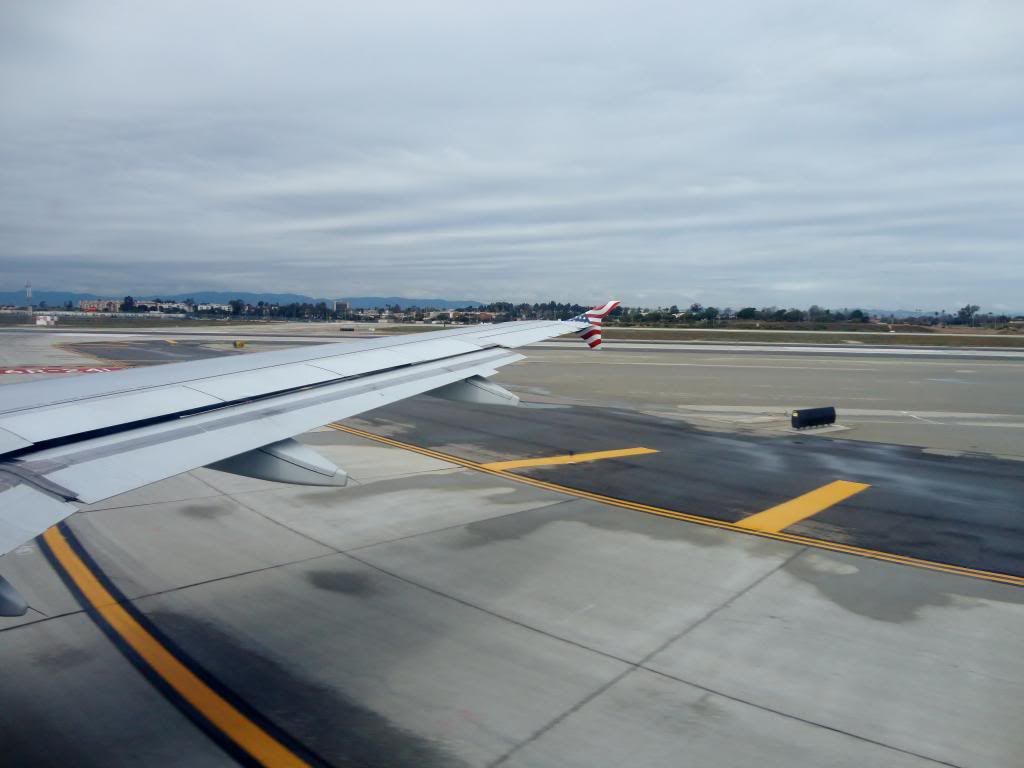 Take Off
We reach 6R at 12:35 and start take off immediately: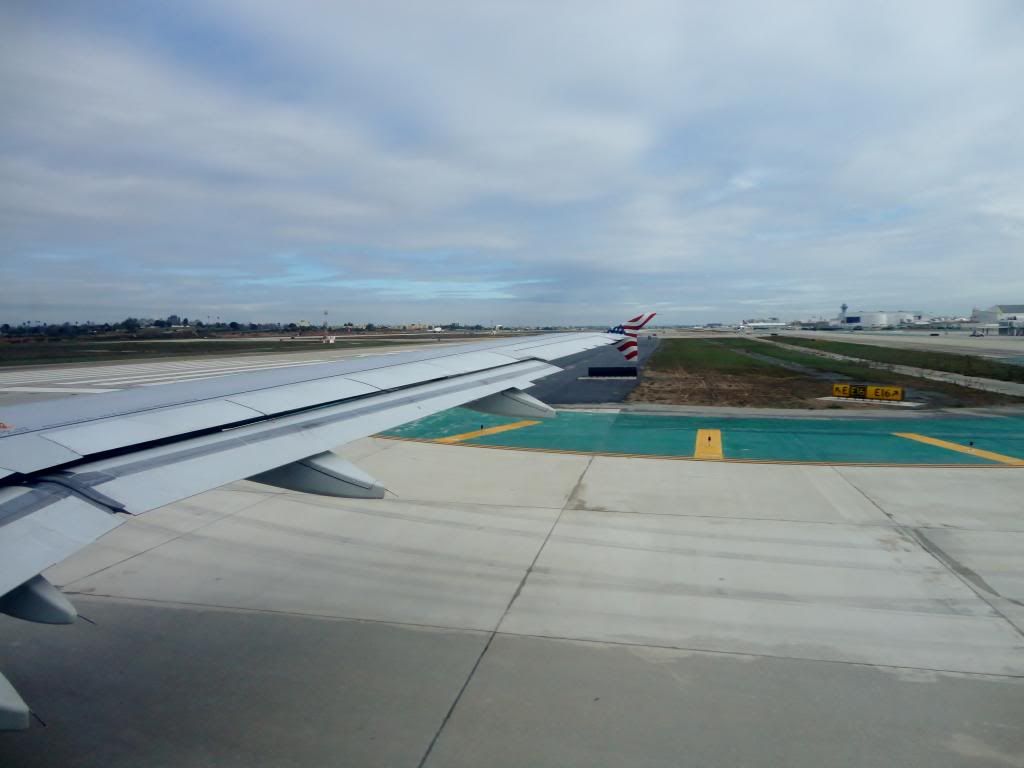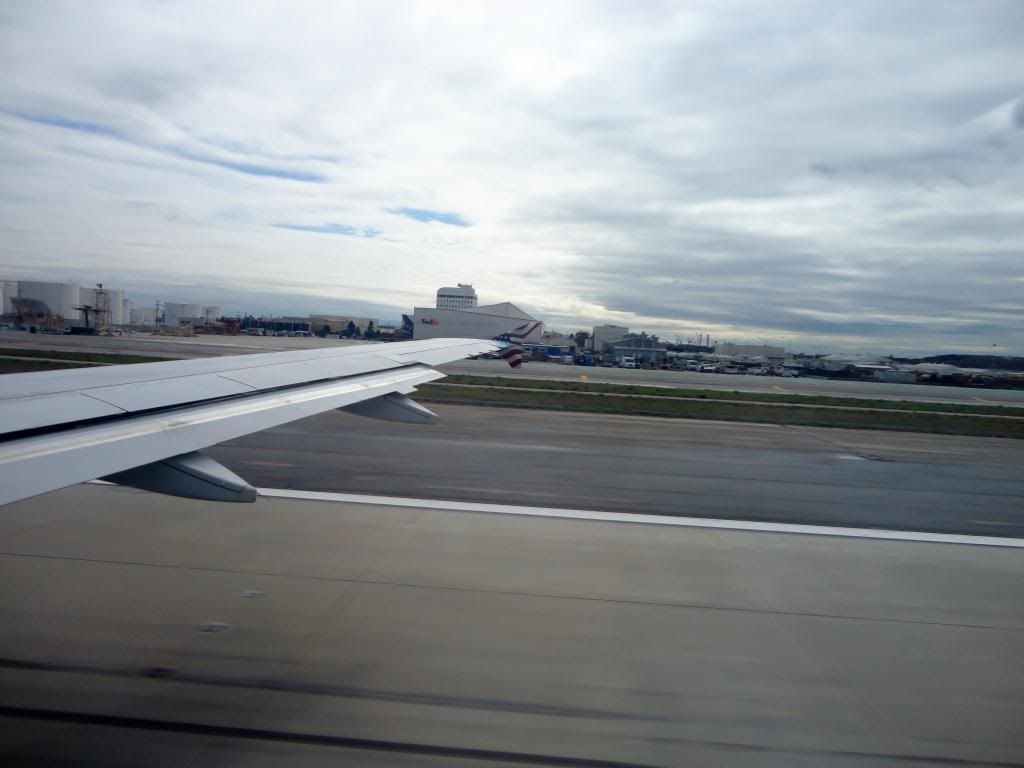 Rotate!: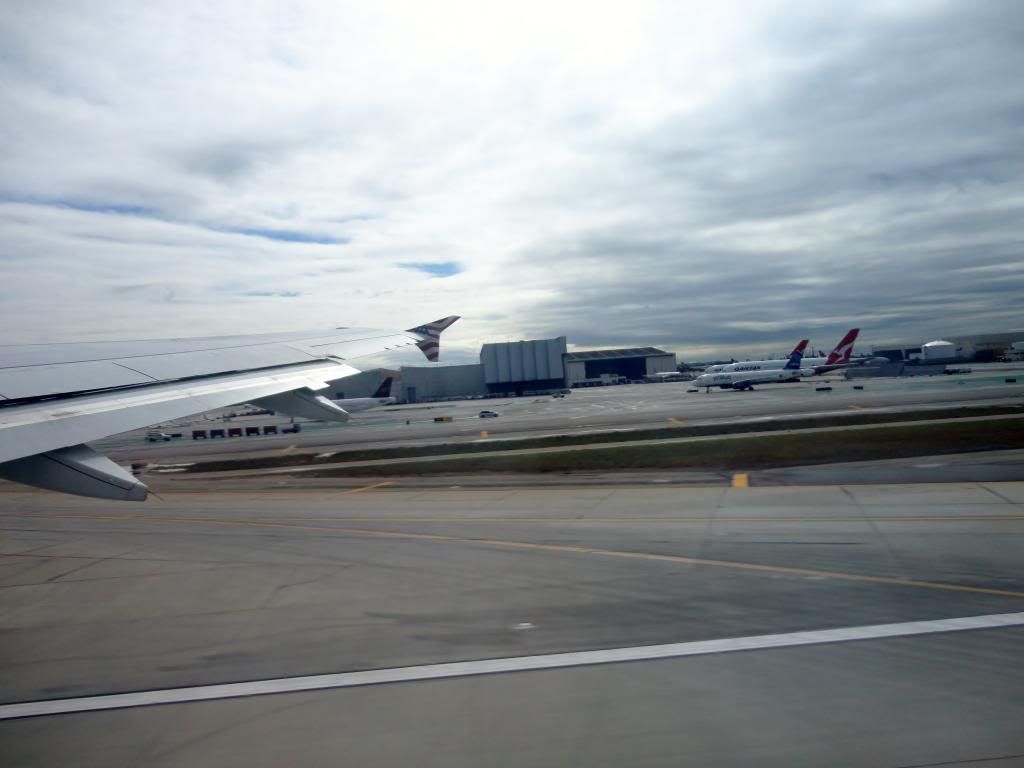 I am seated on the right side and am provided with some great views of LAX: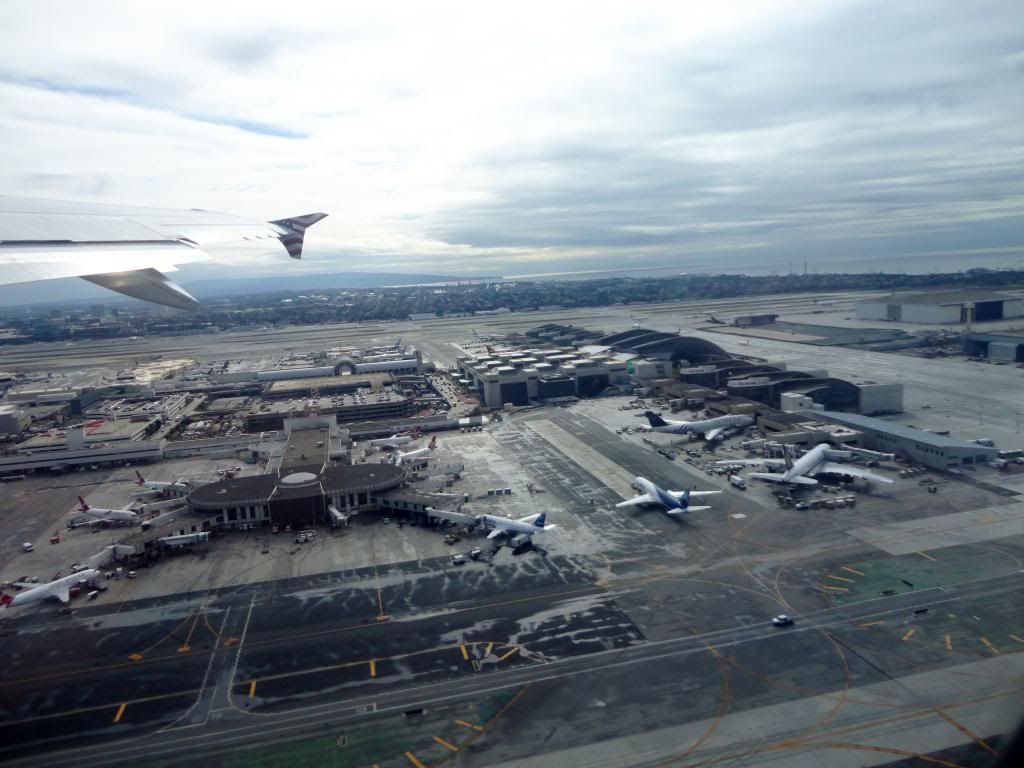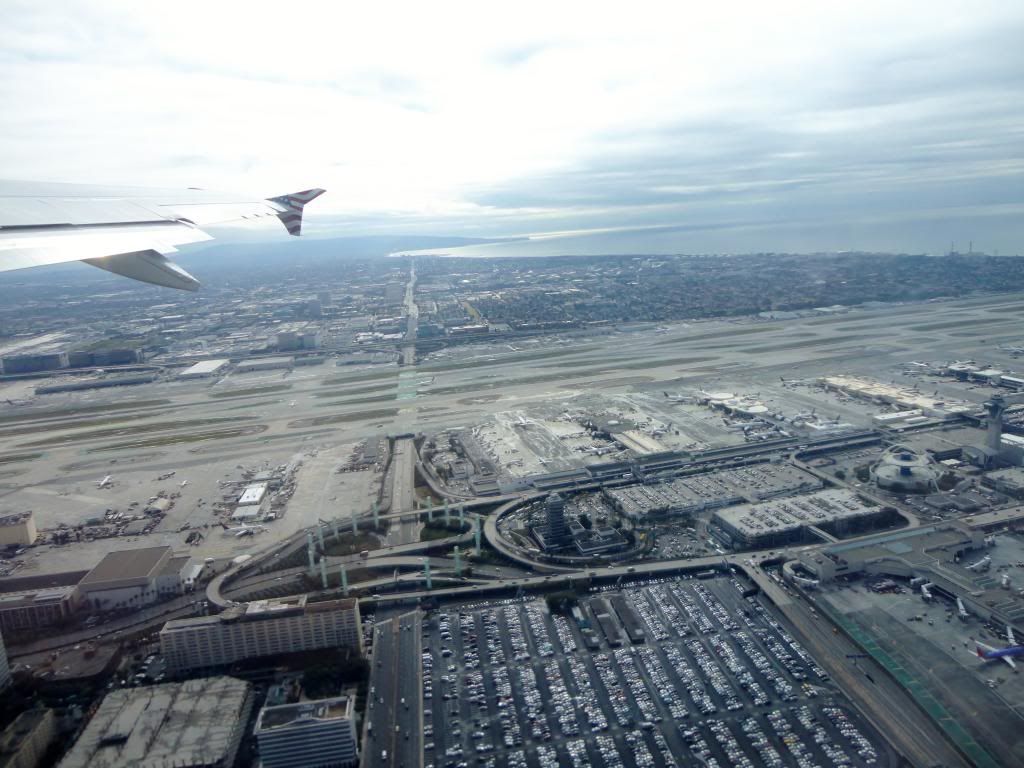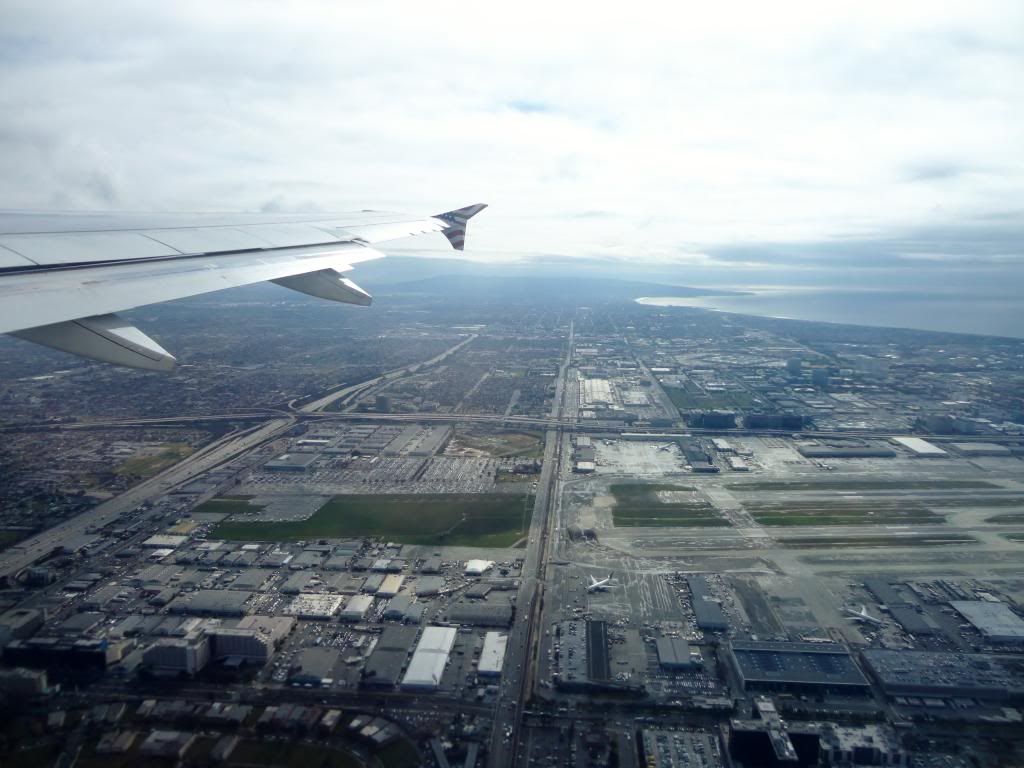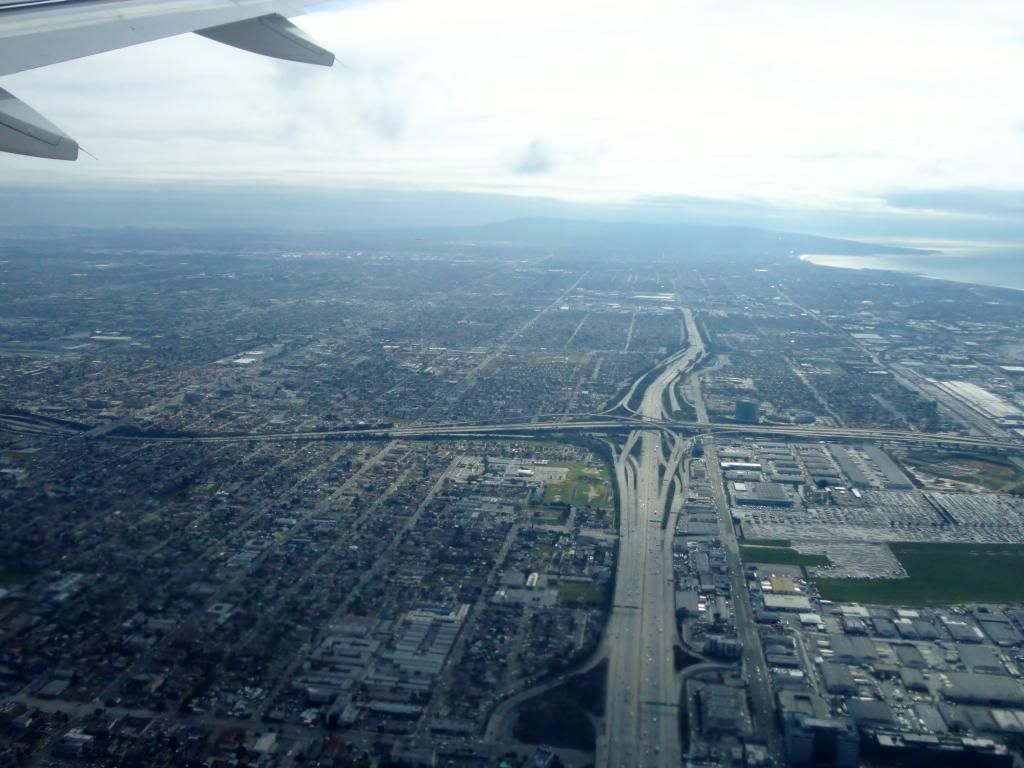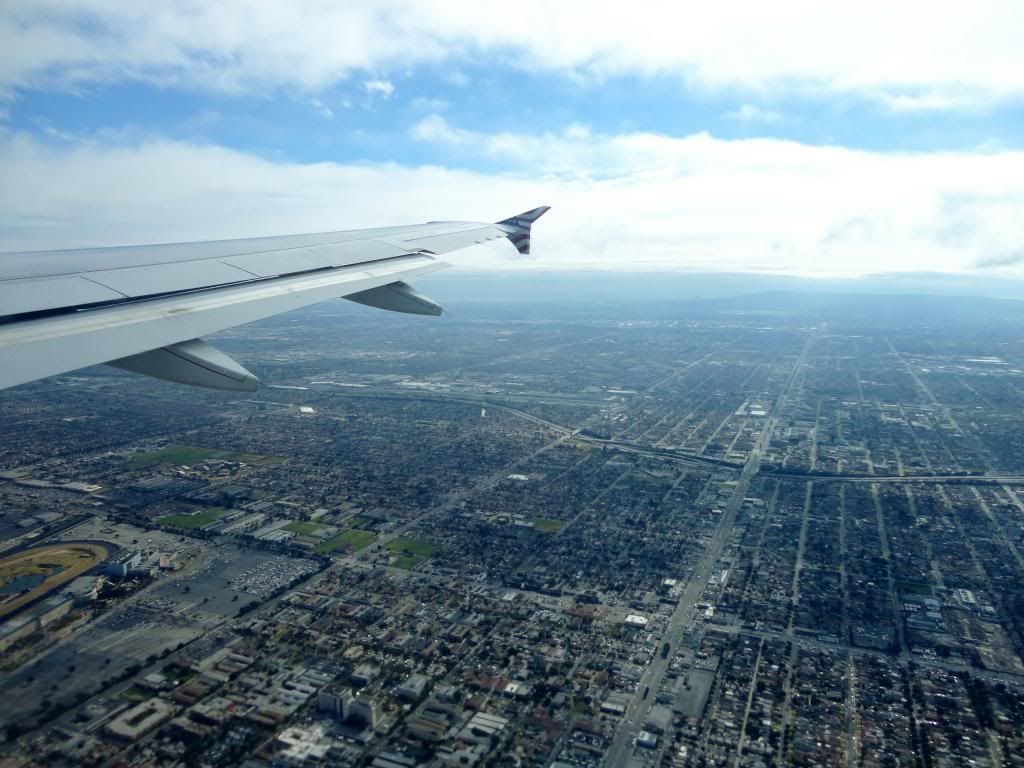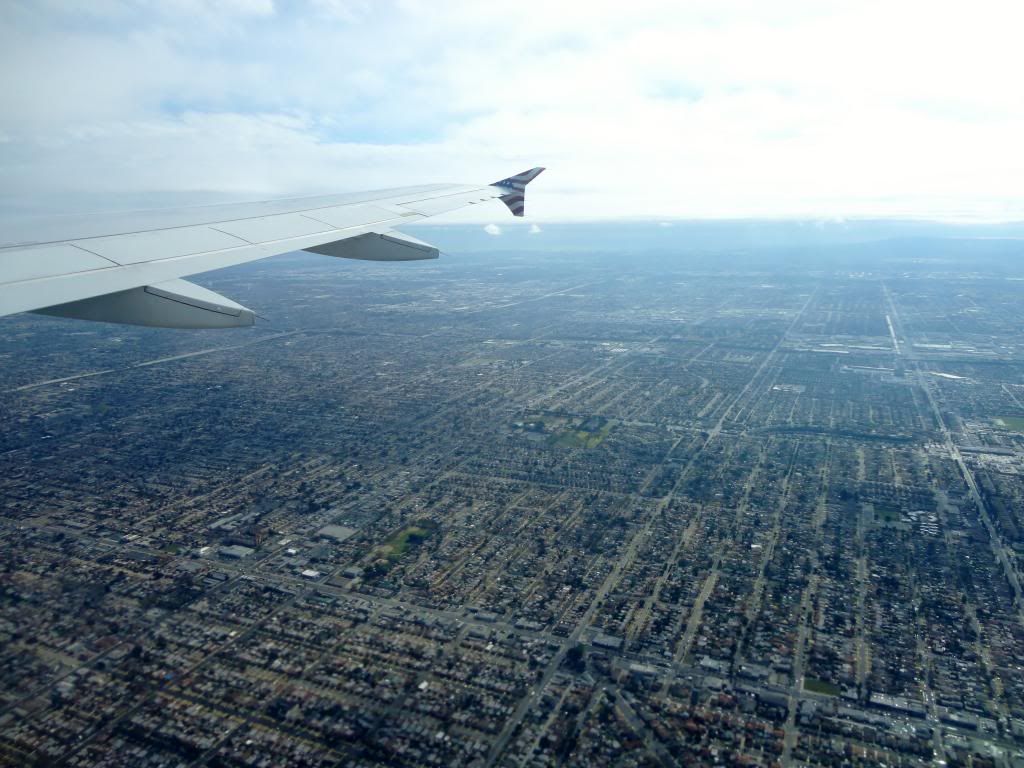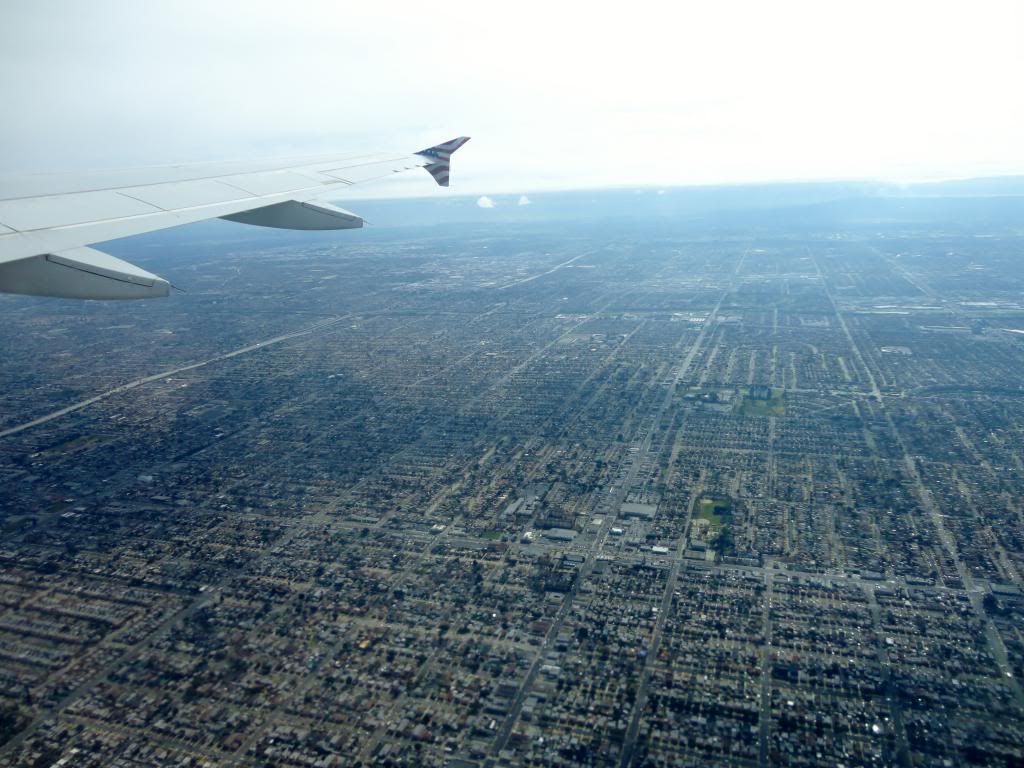 Through the clouds: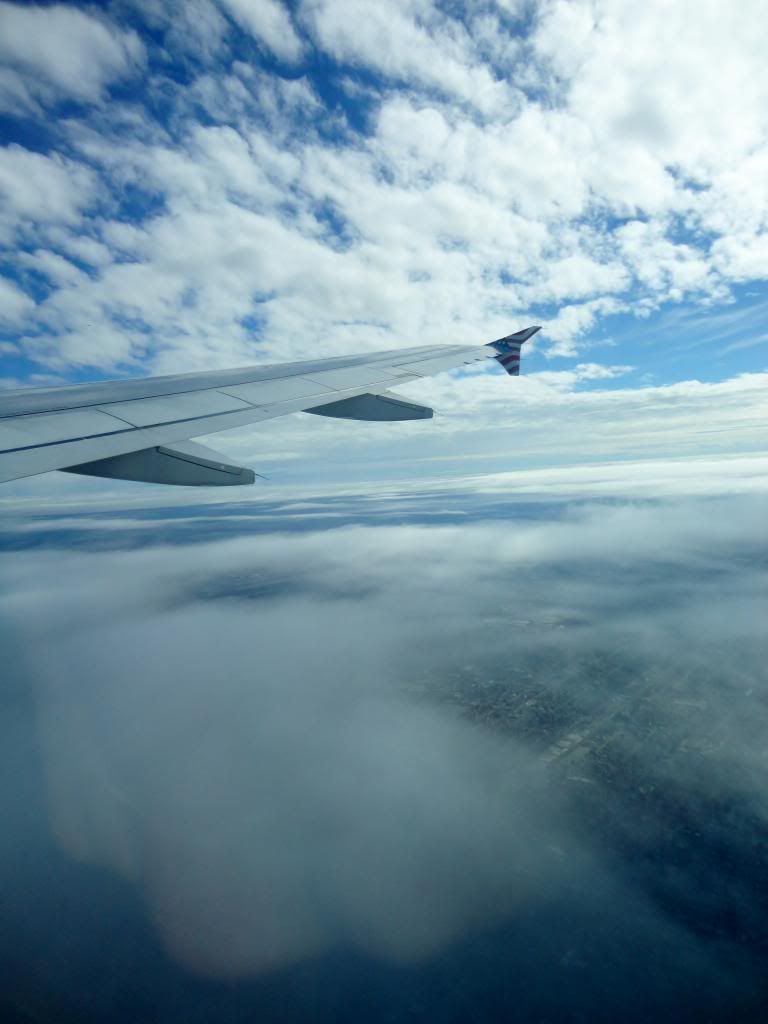 Some mountains come into view, shame the clouds are covering most of it: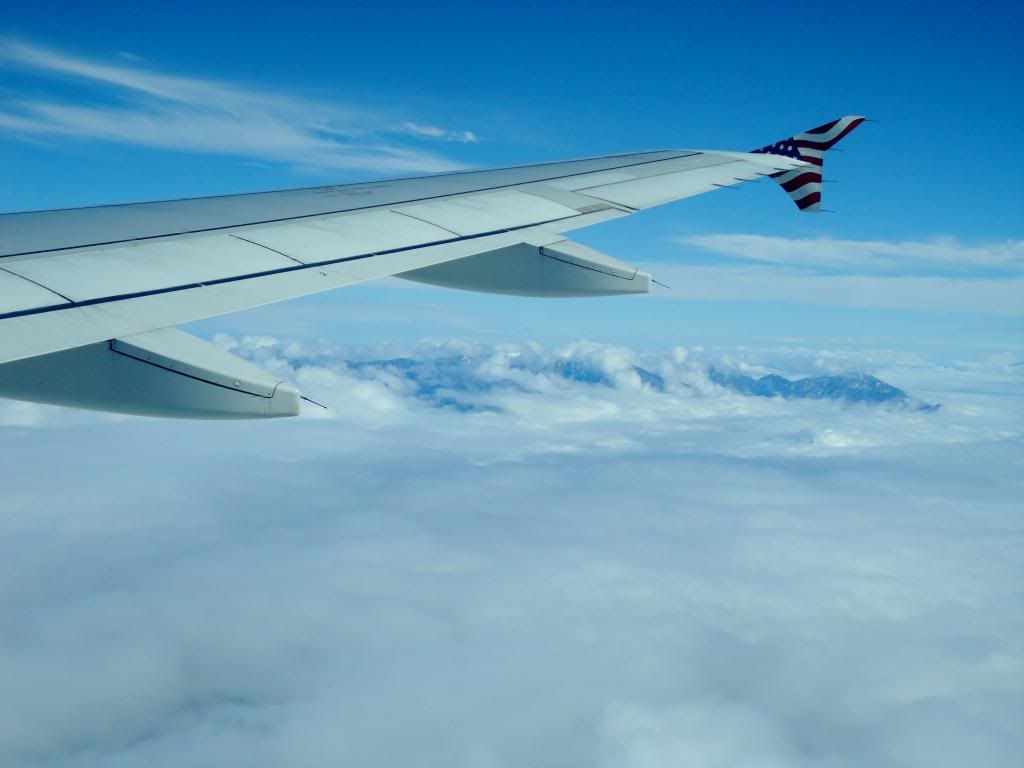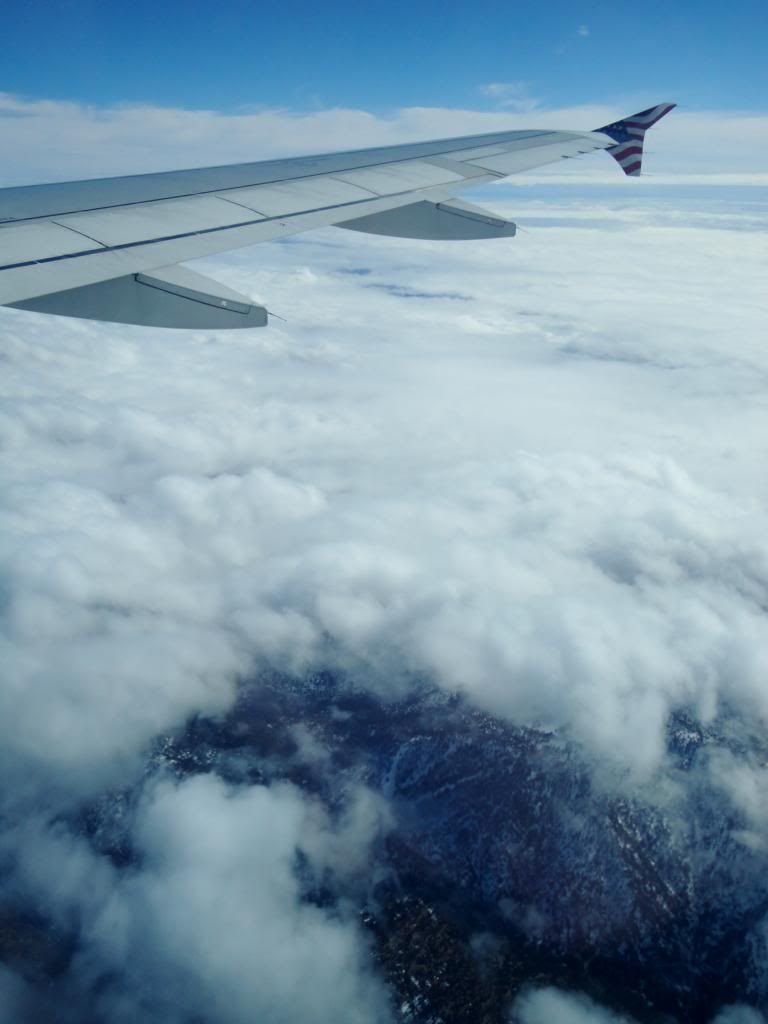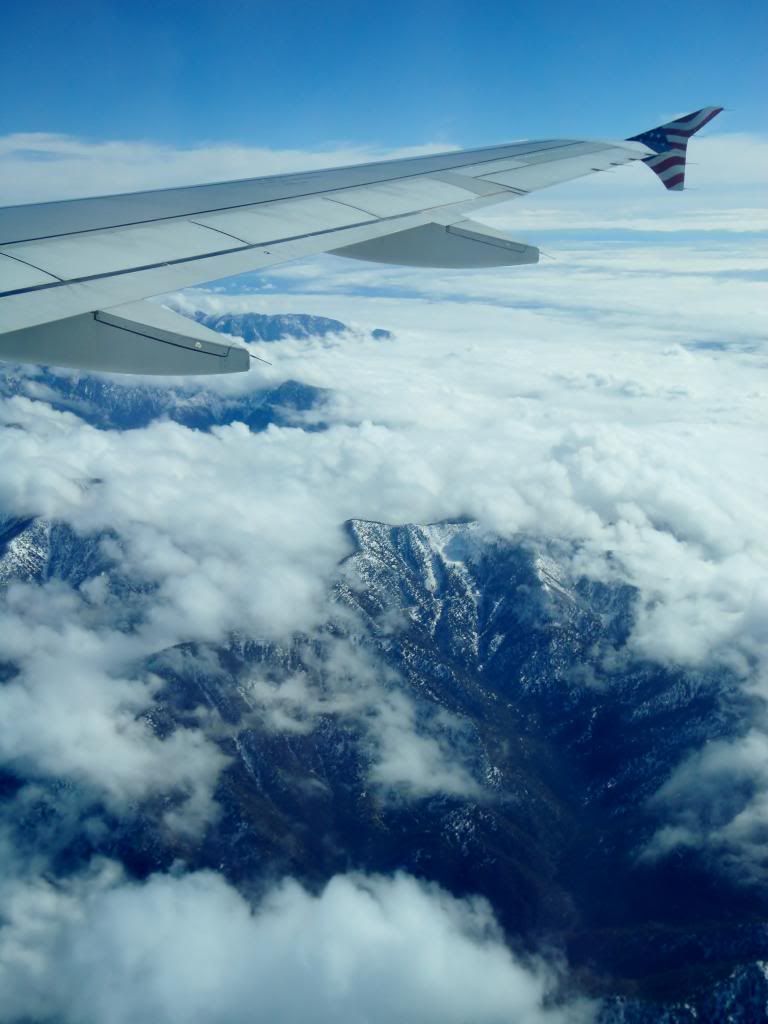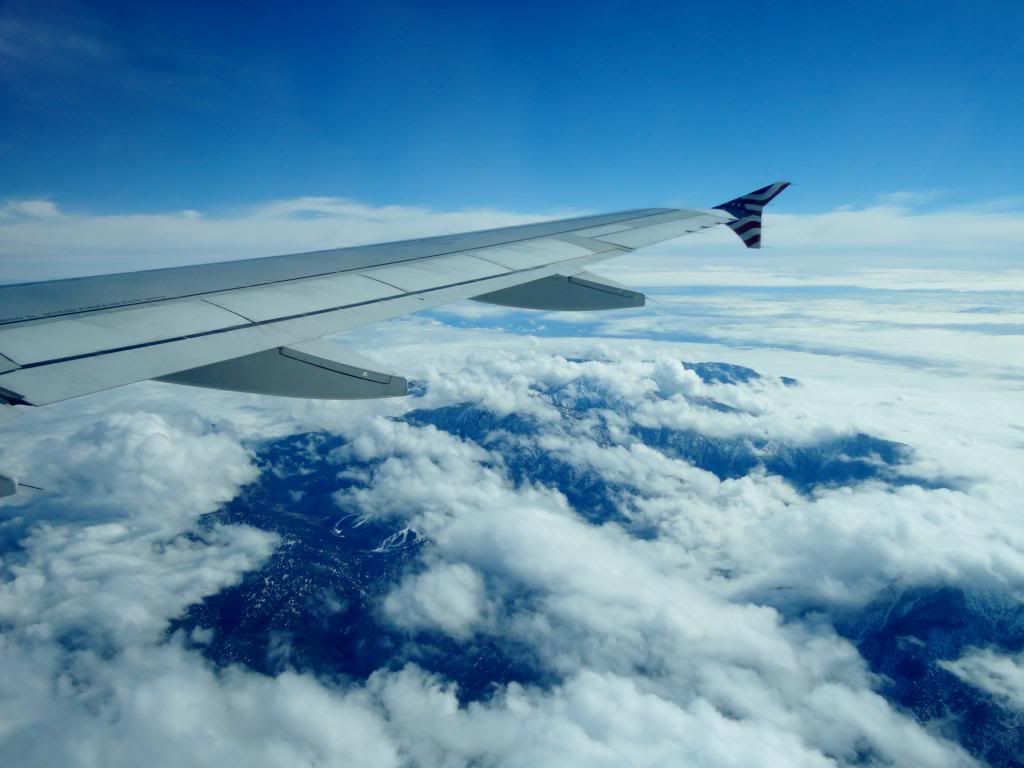 The seatbelt sign is switched off, so I grab my belongings and head to the back. I settle into seat 25A which gives me a nice and private feeling as I have the whole row to myself and barely anybody in the rows ahead of me. At least for the first 2 hours as a very sick boy takes the row next to me after throwing up in his seat up front.
My new view outside: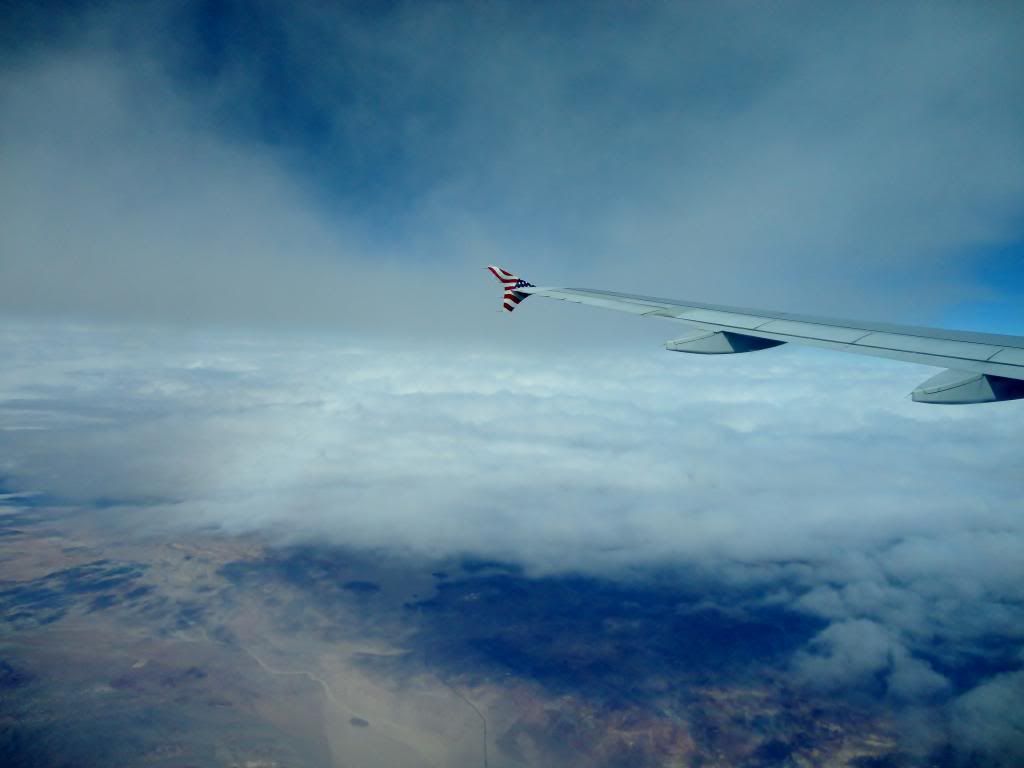 Seatpocket Contents
Before exploring the IFE system, I take a quick look at the seatpocket contents which consists of the safety card..: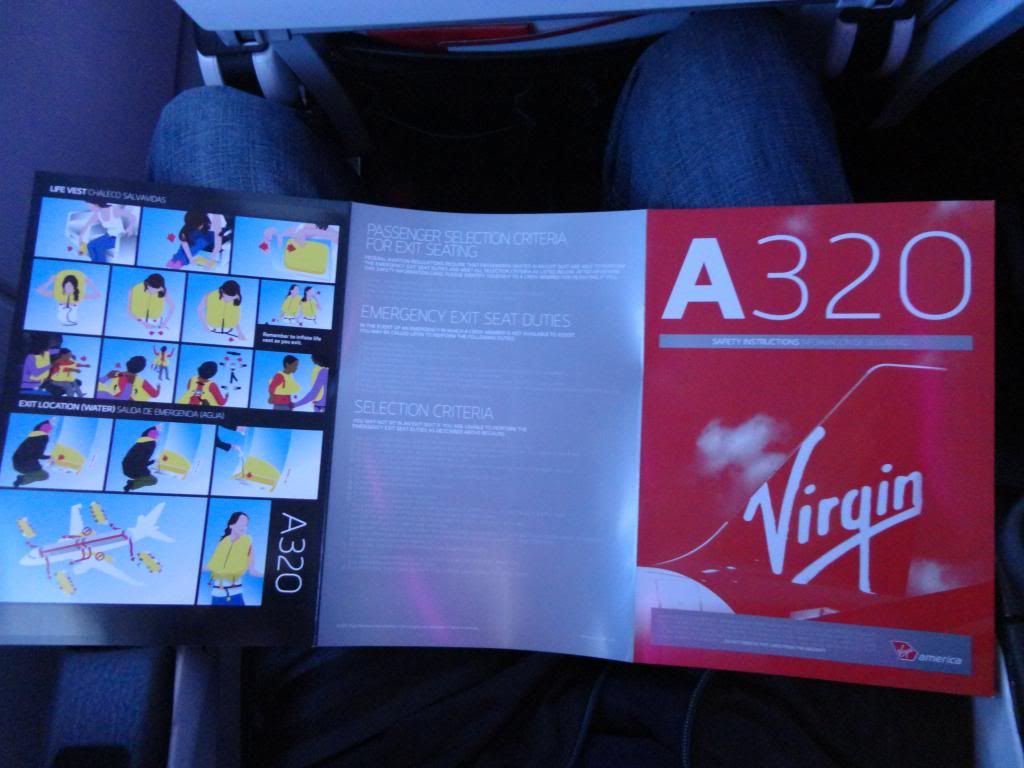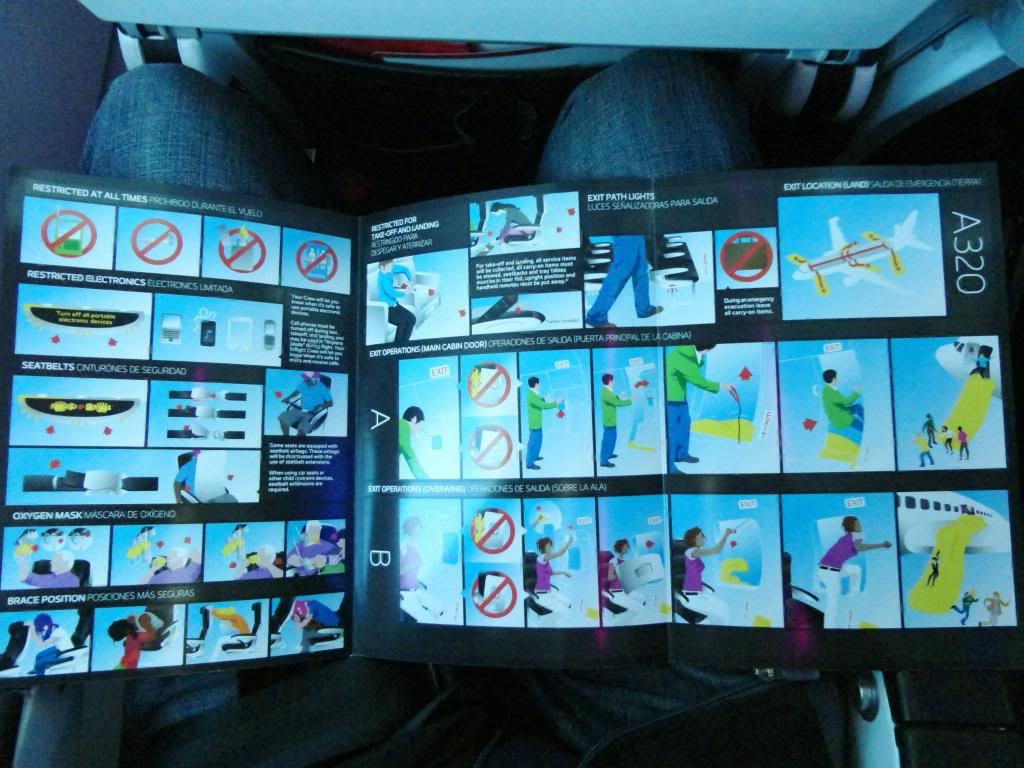 And an information page on how to use the PTV and where the power/USB plug is located: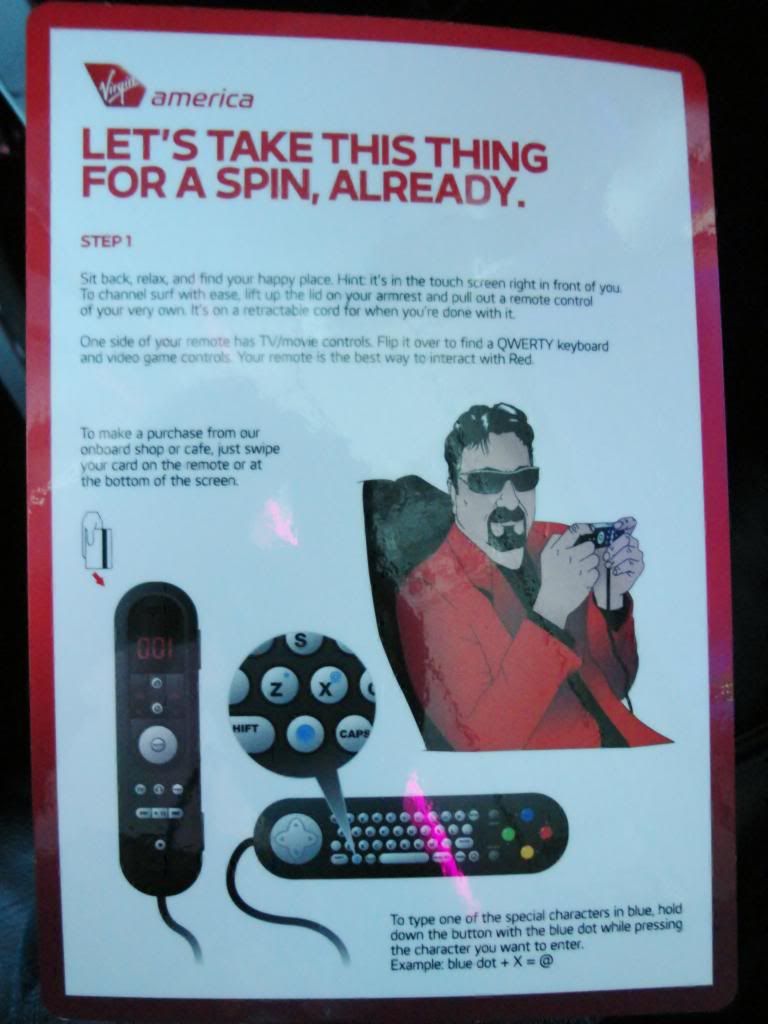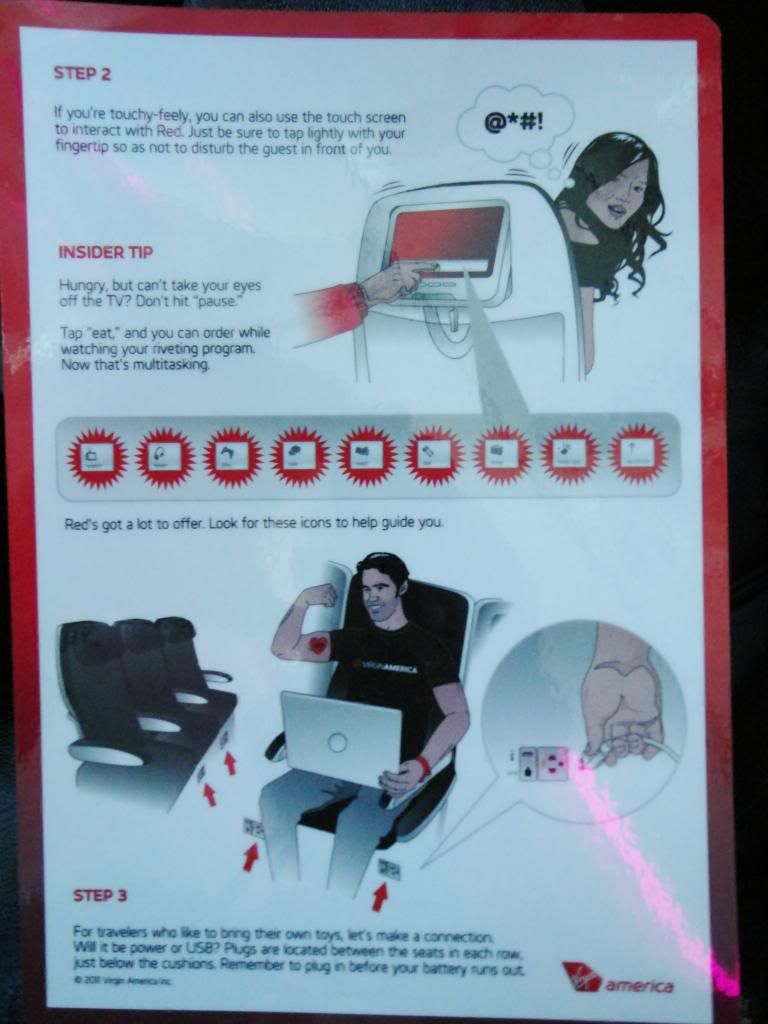 Continued Below