This report covers the return portion of a trip to Helsinki in April. You can see the outbound TR here:
The Long Way To HEL: AC And SK
(by
Tay52
May 11 2013 in Trip Reports)
After a little over 2 weeks, which was spent mainly in Jyväskylä, it was time to head home. We had a great time and managed to do a bit of sightseeing, as well as work related activities. Jyväskylä is a lively little city and the university and the designs of Alvar Aalto feature prominently. As well, it produces some Olympic class ski jumpers!
View of the city from the top of the ski jump!
One of the study areas in the university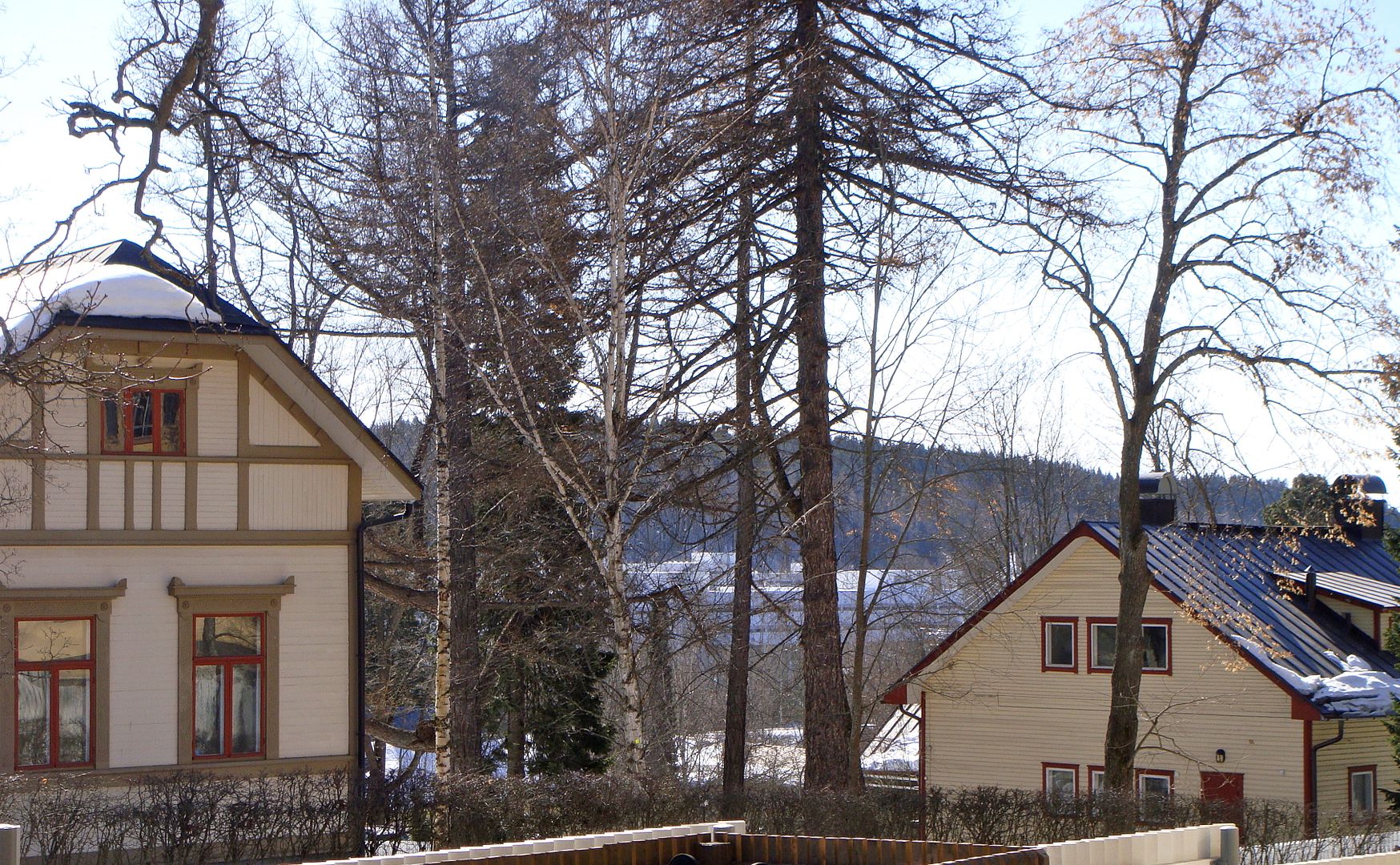 Lovely old houses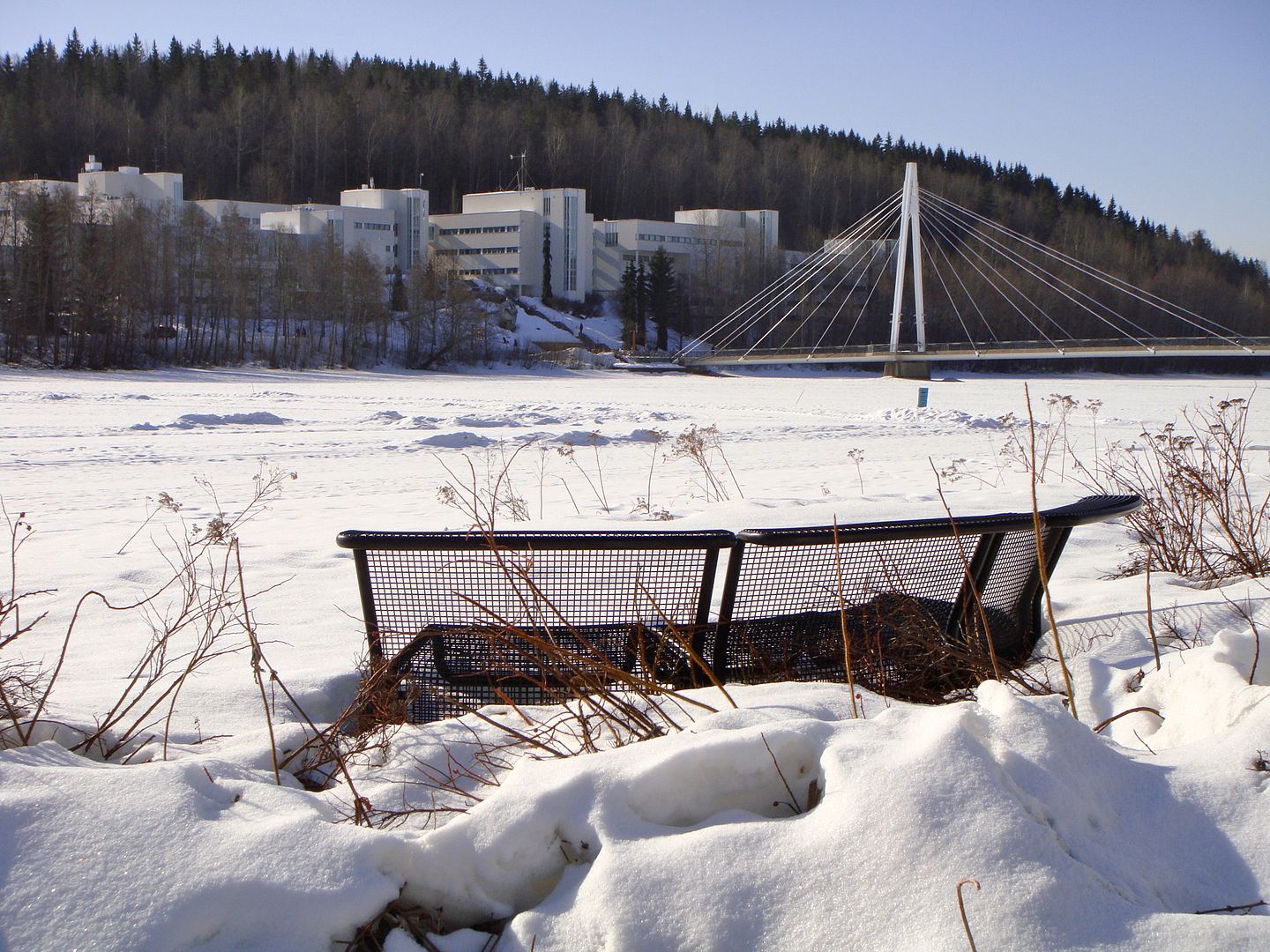 And beautiful new buildings around the university
Of course, we didn't miss a weekend in Helsinki to check out the bi-annual "Crazy Days' or 'Hullat Päivät' sale at Stockmann's! I am not sure what the origins of ghost theme are but the first time I saw people walking through the streets with the distinctive yellow bags, I knew I had to be part of it. Basically, the sale goes on from Wednesday until Sunday and each day there is something new on sale. About a week before the big event, a catalogue is published and you can also get the details on Stockmann's web page. This is a great way to get really good Finnair special deals and a lot of my friends make a point of queuing for hours to take advantage of some really fantastic airfares.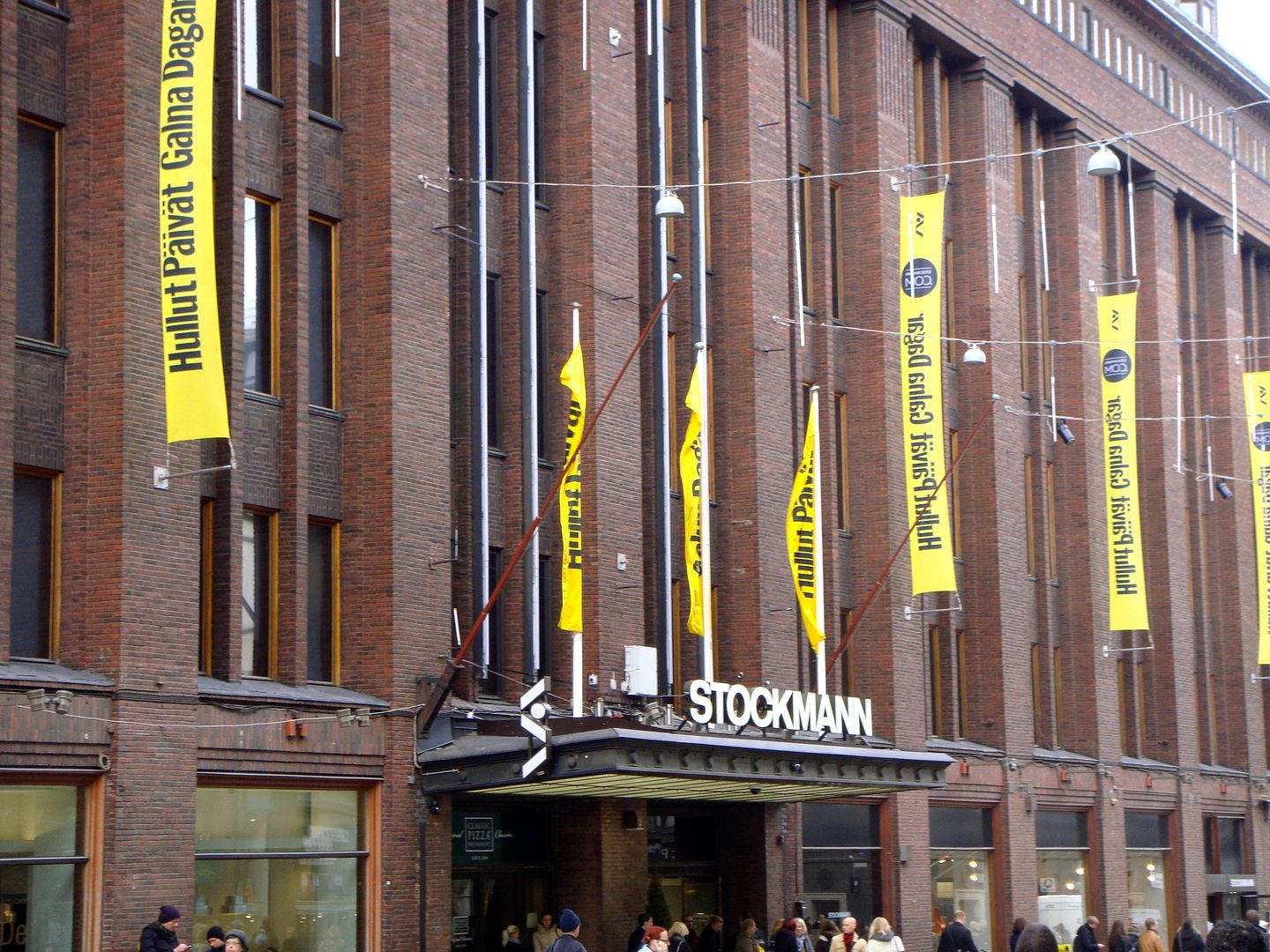 We were going via Copenhagen and had planned an overnight at the Airport Hilton so as to not have to get up early and not have to worry about misconnections. The plan was to take the 1010 train to Helsinki on Friday morning. When I had taken the same train in November, we encountered a snowstorm and I was let off in Pasila and had to make my own way to Helsinki's Central Station and then fight my way through the snow to get to my hotel. This time, I was hoping for a smooth journey. However, we soon discovered that there were problems on the lines between Jyväskylä and Jämsä, so the first part of our journey was by bus! Despite some nervous moments….would the train be waiting for us in Jämsä, would we make the connection in Tampere?---we arrived in Helsinki on time and spent the afternoon relaxing and then meeting friends for dinner.
Helsinki Main Station
I had purposely booked us out on a late afternoon flight to Copenhagen so we could meet up with our friends for a farewell breakfast at the Hakaniemi Market. It was a glorious day and we were able to eat outdoors. Spring was in the air and we had to leave ☹.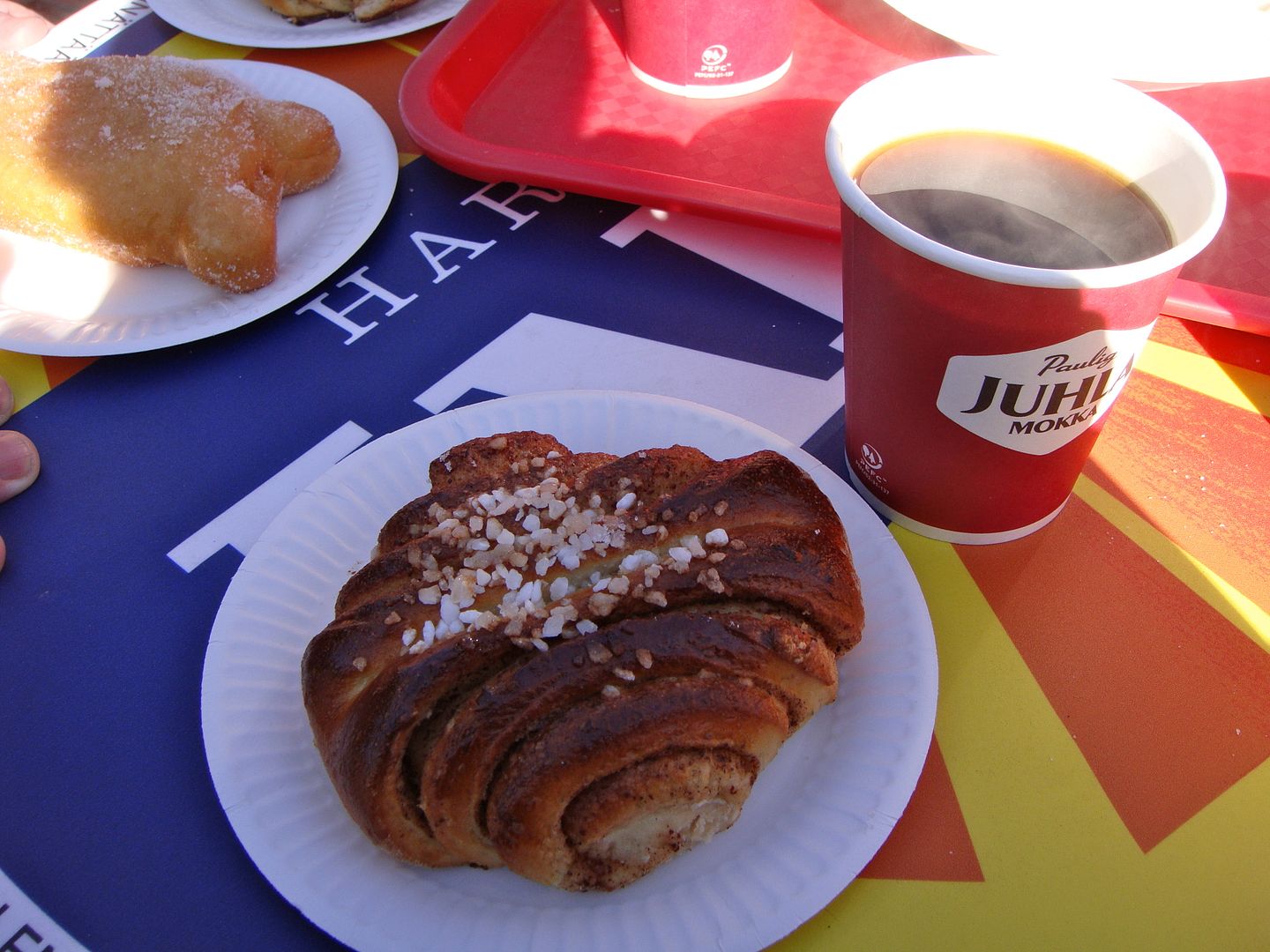 Pulla at the Hakaniemi Market Square
A great day to eat outside
The hotel kindly let us keep our room until 3pm, when the Airport Taxi collected us. I had checked in online for our flight the day before and was able to book 15 A and C (exit row) on the Blue 1 flight. I couldn't print the boarding passes (my webmail account wasn't working) so when we got to the airport we had to go to the counter---well we also had luggage to check in.
I guess I mustn't have looked like I belonged in the Business Class queue because the first words out of the agent's mouth were "This is the Business class check-in, are you travelling Business class today?". I responded that I was not but I was Star Alliance Gold. She looked dubious but didn't say anything more. She completed the check-in but we continued to wait there because she had only tagged 2 of or 3 bags. Clearly unhappy with us standing there, she told us we were now finished. The man behind us was getting impatient so we moved on, which turned out to be a bad decision.
Security was quick and we were in the lounge in no time. As it was late afternoon on a Saturday, the lounge was virtually empty, except for a group of 5-6 people, who were very loud and roaming around. They looked like they could be members of a punk rock band (!) but who knows. They disappeared after about 45 minutes and it was peaceful again.
Calm descends on the lounge
I walked over to Stockmann's in the Terminal 2 area but outside the lounge, in both terminals,it was chaotic, as many flights were departing at this time and, from the look of things, to vacation destinations.
Lots of activity in T1: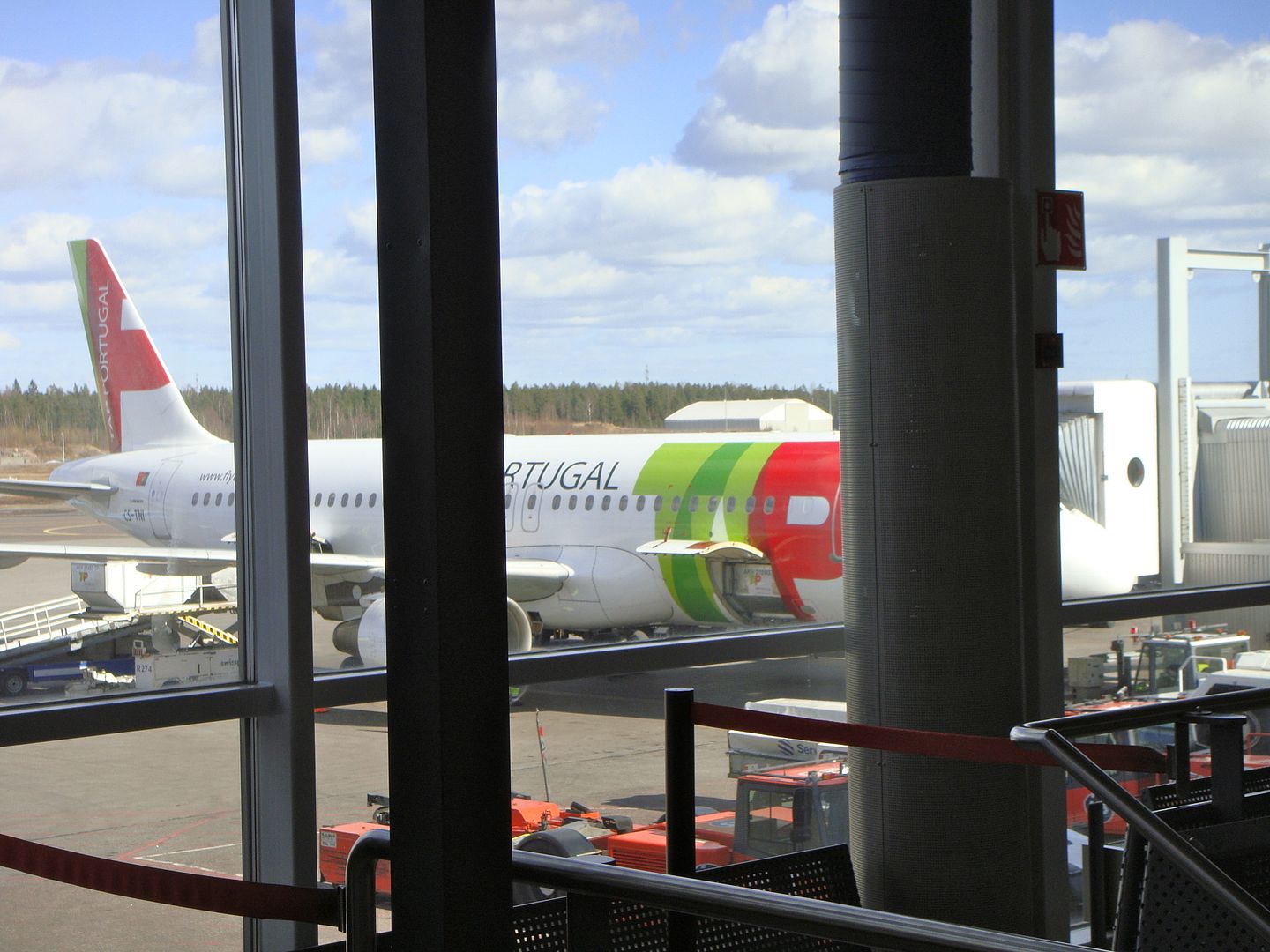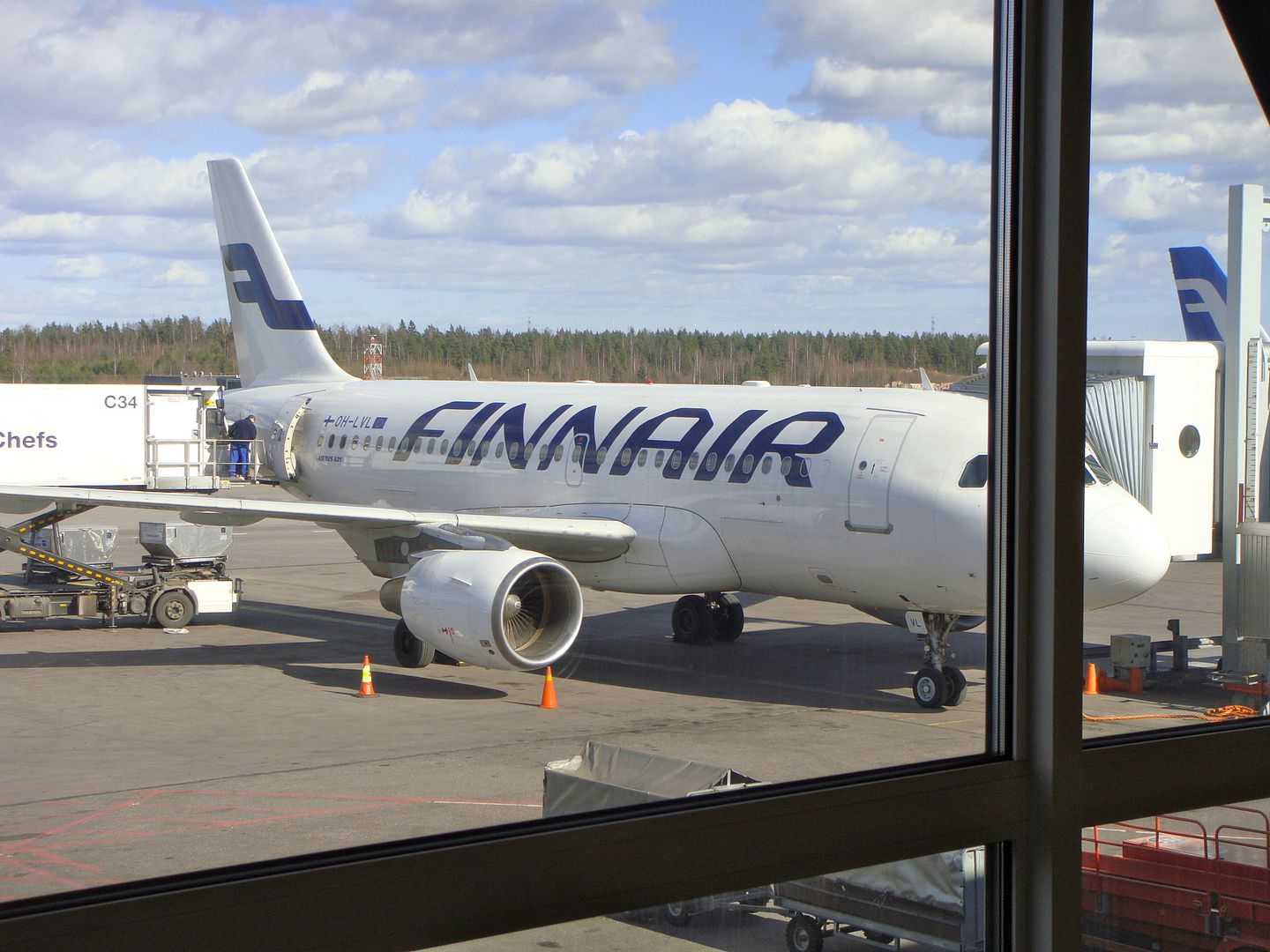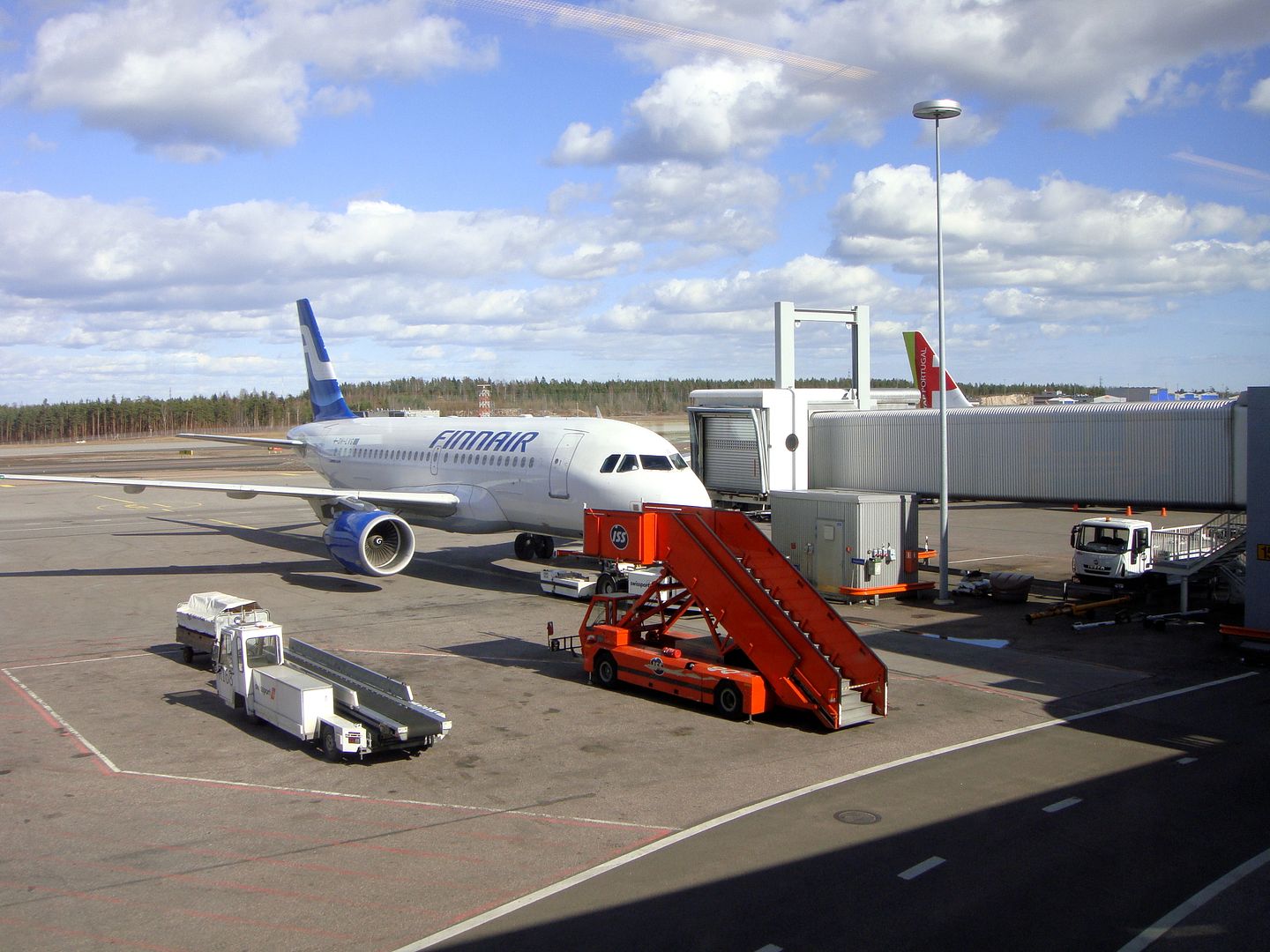 Love the washrooms! No guessing here...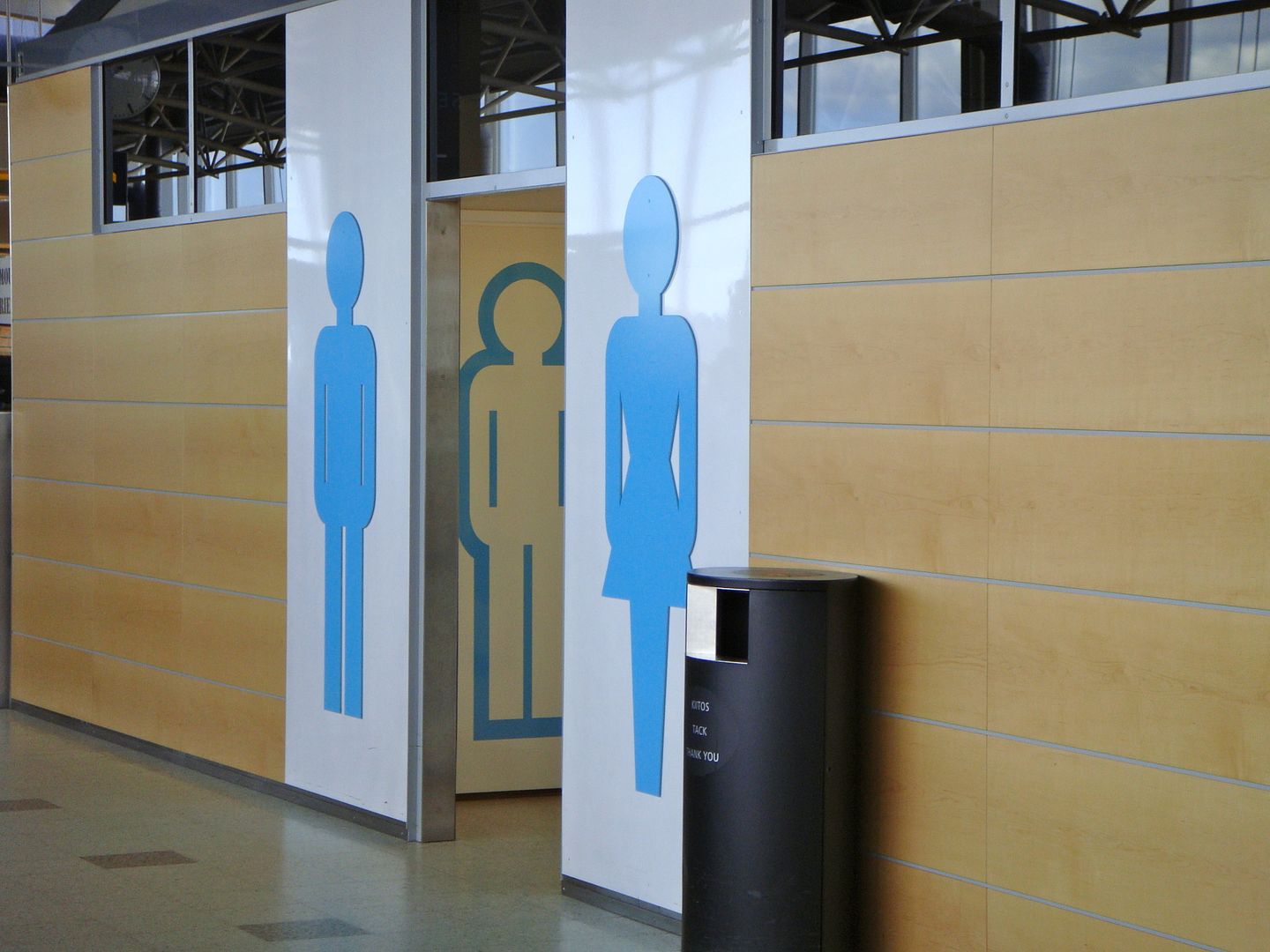 By the time I returned, it was getting close to our flight time. A quick check of FlightRadar 24 showed our inbound aircraft arriving about 10 minutes late but we eventually saw it pull up at Gate 13, so made our way outside.
SK1725 (Blue 1)
B717
HEL 1730 CPH 1810
Seats 15 A & C
Despite the late arrival of the aircraft, we got boarded quickly
but the load was light so we were able to get away on time. Row 15 had tones of legroom, being an exit row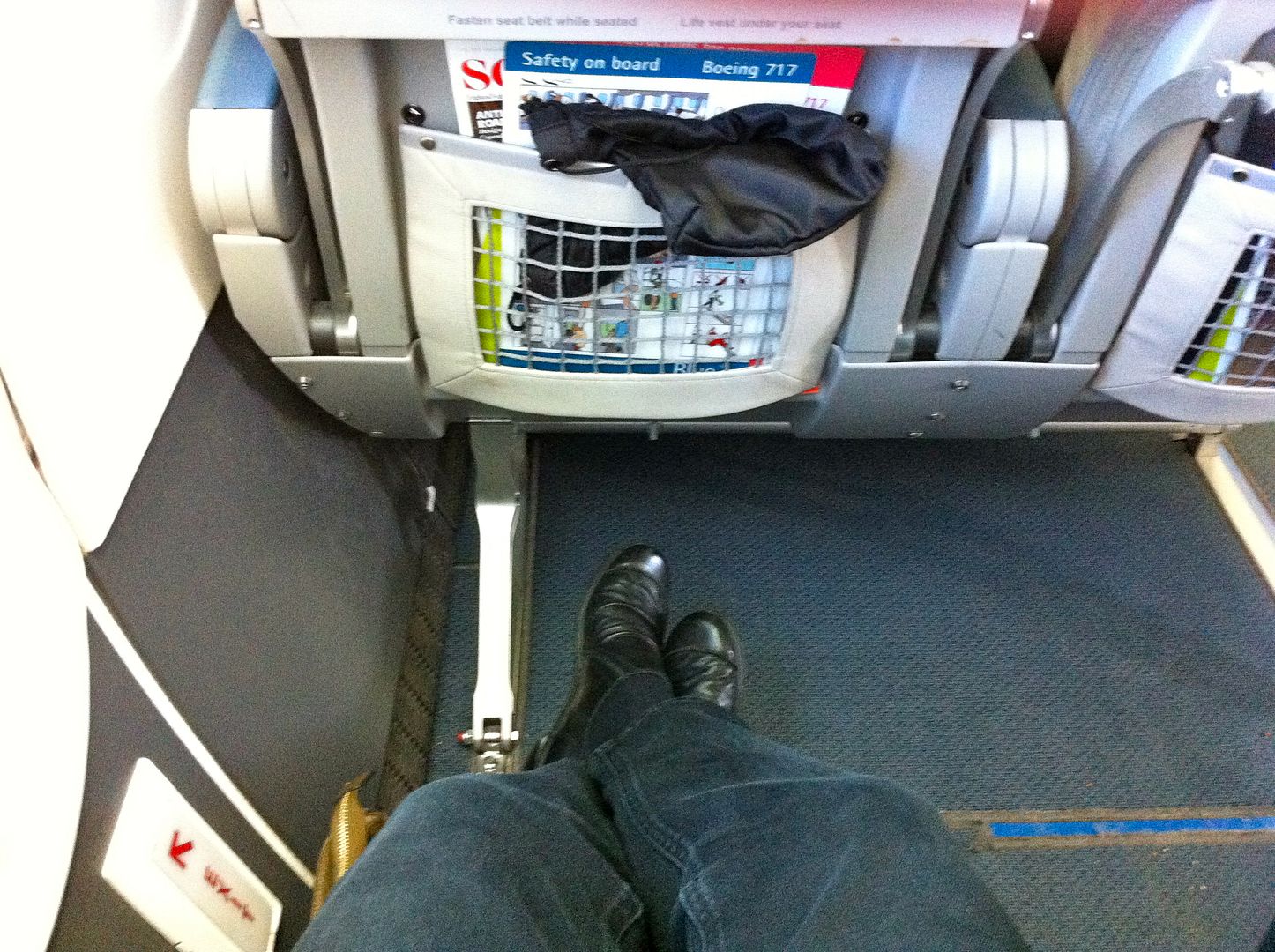 but the aircraft, like the one we flew to HEL on, was showing its age, as you can see here.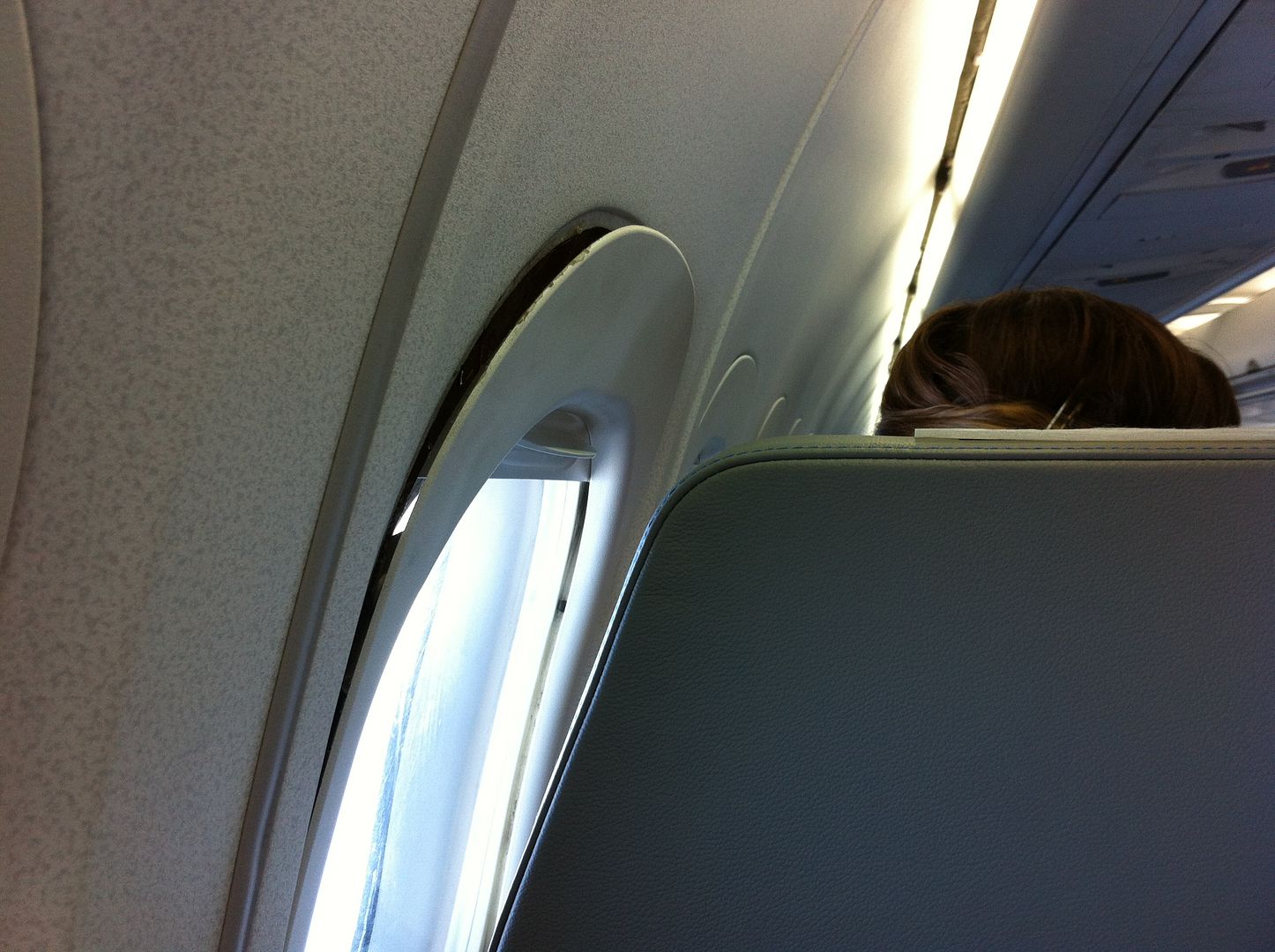 Prior to takeoff, one of the flight attendants stopped at our row and asked us to read the safety card and familiarize ourselves with the emergency procedures. He also asked the woman across the aisle from us to put her shoes back on for takeoff. This was the first time I had seen this but maybe this was the first time I had seen someone was sitting in the exit row with their shoes off! The captain announced a flying time of 1 hour and 20 minutes and clear weather all the way. Soon we were off, making a circle north of the city and then heading south over the Baltic. Once we reached cruising altitude the usual BOB began.
It seemed that in no time at all we were making our descent. I always hold my breath on the final approach into CPH, until I can see land!
After a quick stroll around the shops airside, to see what we might want to revisit the next day, we made our way down to the baggage claim area to collect our bags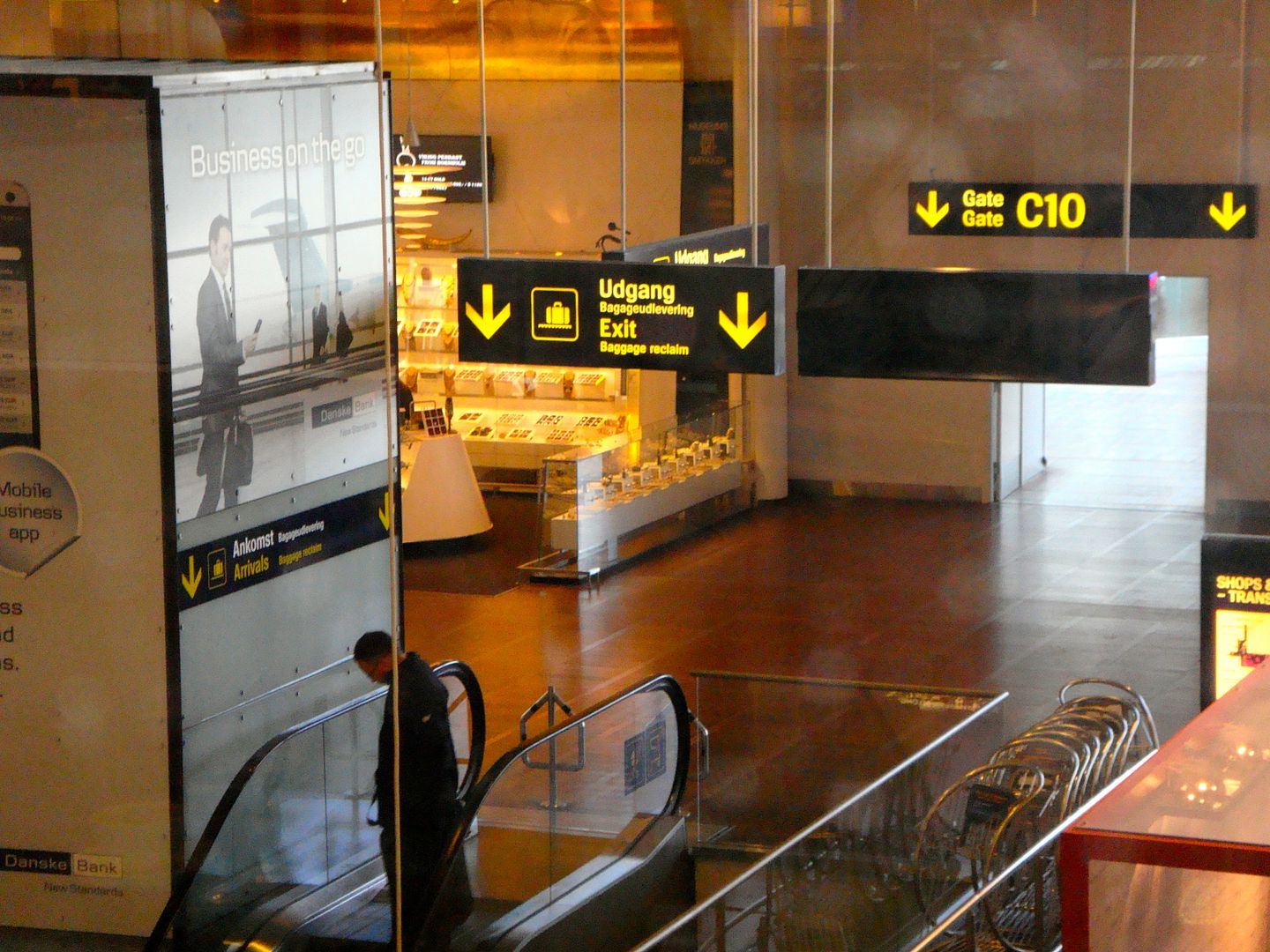 But wait...where was our luggage?! we couldn't believe it when only 2 of the 3 bags appeared! How could this be…delayed luggage twice on the same trip!! We went to the Customer Service area, and, after checking, the agent was able to tell us that the bag had not been loaded on in HEL and would be arriving early the next morning at 7 am and would be delivered to our hotel----just in time for us to take it back to the airport and check it in again. I guess we should have waited at the check-in at HEL after all.
After a nice overnight at the CPH Hilton, where there are wonderful views of the airport
we had a leisurely breakfast, we checked out around 9 am, collected our 'missing' bag, returned to the airport and went to the Air Canada Business Class check-in to get rid of the luggage, check in and see if there were any Last Minute Upgrades available for purchase (none were being offered when I looked online). The agent was very helpful and made a call to Montreal. Eventually she told us that for $999 CAD each, we could do an upgrade. We decided that we would stick with our bulkhead pre-purchased, preferred seats for the 9 hour flight, as they are fine for a daytime flight.
Security was fairly busy on a Sunday morning and it took at least 15 minutes to get through because, of course, we picked the slowest lane. After a quick look around the Tax Free---I left Tay51 to check out the best buys for duty free---I went to spend some quality time in the SAS Lounge. It was like we had never left, as I found myself sitting in the same seats as a couple of weeks before!
Stocking up on some cheese and buns for the flight, we watched as our plane arrived from YYZ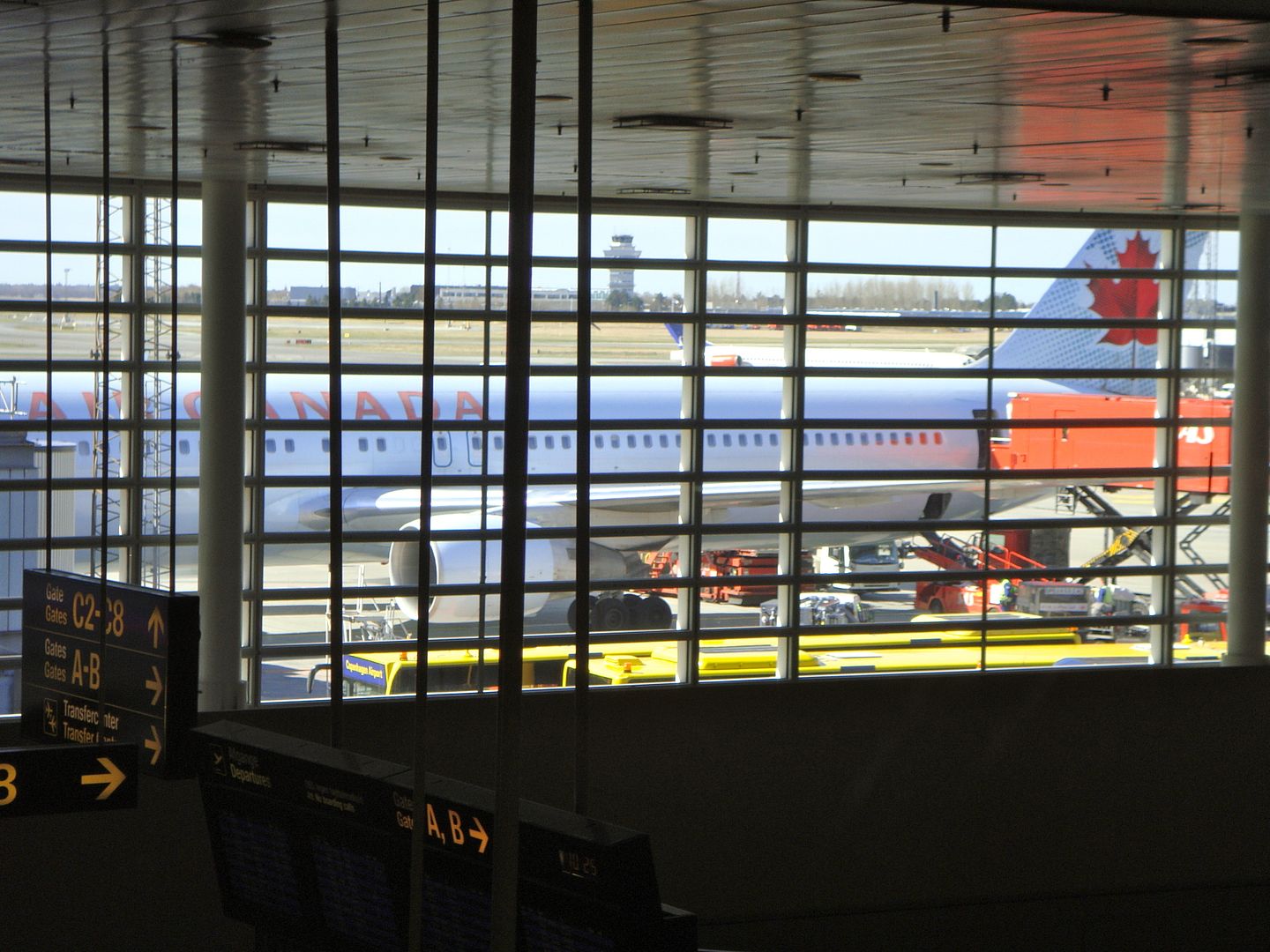 Eventually saw the 'go to gate' sign pop up on the departure screen. We packed up to go and that's when we discovered the queues for immigration went well past the SAS lounge! However, they moved quickly, despite people cutting in (!), and we were through in about 15 minutes, arriving at the gate with about 5 minutes to spare before boarding.
AC883: B767-300 C-FMWV
CPH 1225 YYZ 1450 (1610)
Seats 12 H & K (Y Class)
Our bulkhead seats, 12 H and K, just behind the J cabin, had lots of legroom and we were happy with our decision not to upgrade.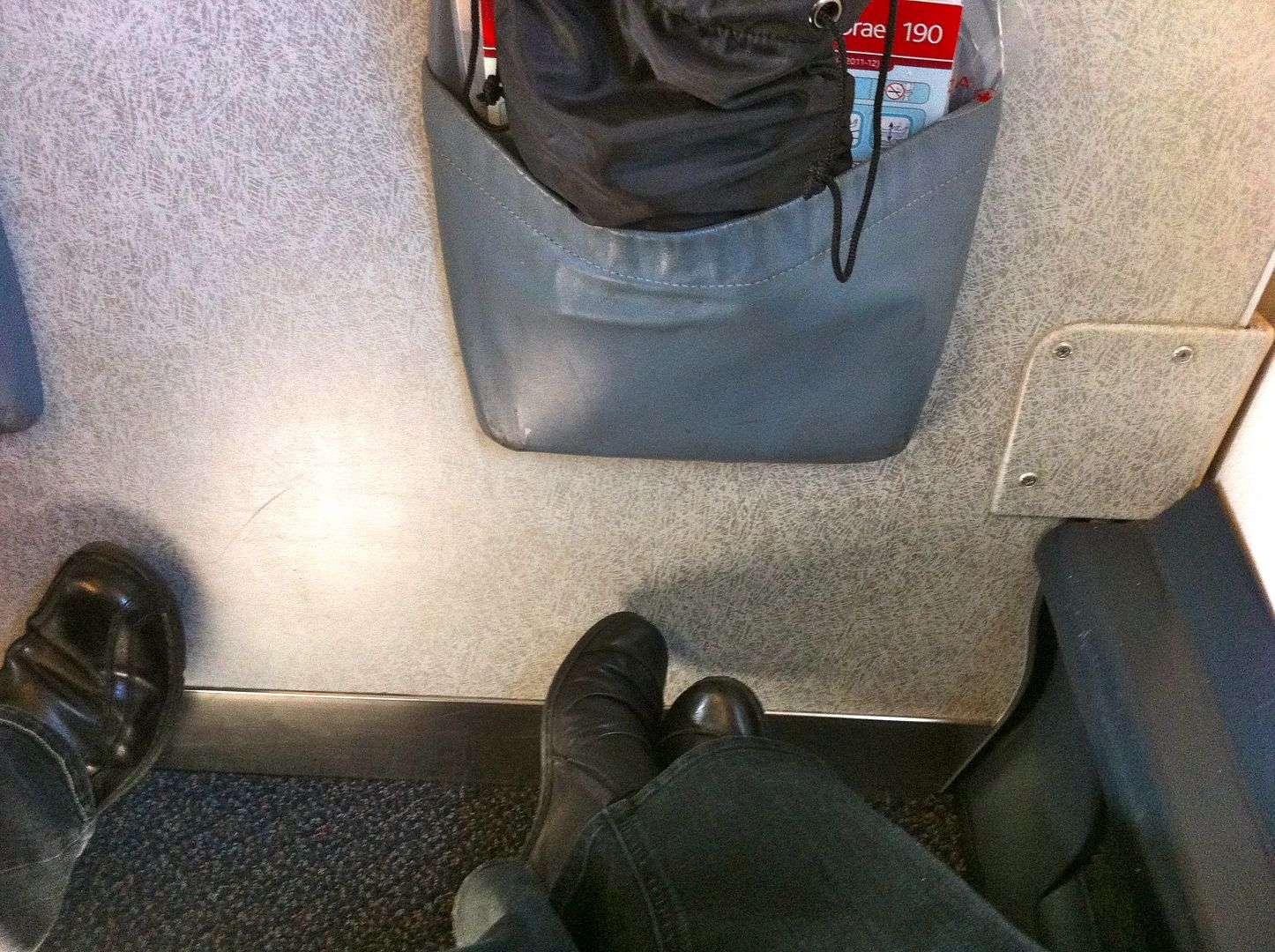 The cabin was exceptionally warm but the FA working our side of the aircraft assured us it would cool down when the auxiliary power was turned off. Before the crew could do their welcome about announcement, the captain came over the blower to advise us that we were facing very strong headwinds and our crossing would take us an extra 1 hour and 10 minutes, making our flying time nearly 10 hours! There was an audible groan that could be heard throughout the cabin at this stage ☺.
Lots to watch while we wait for pushback
We managed to get away a few minutes early---every minute counts—and had some lovely views of Copenhagen and the bridge to Malmo.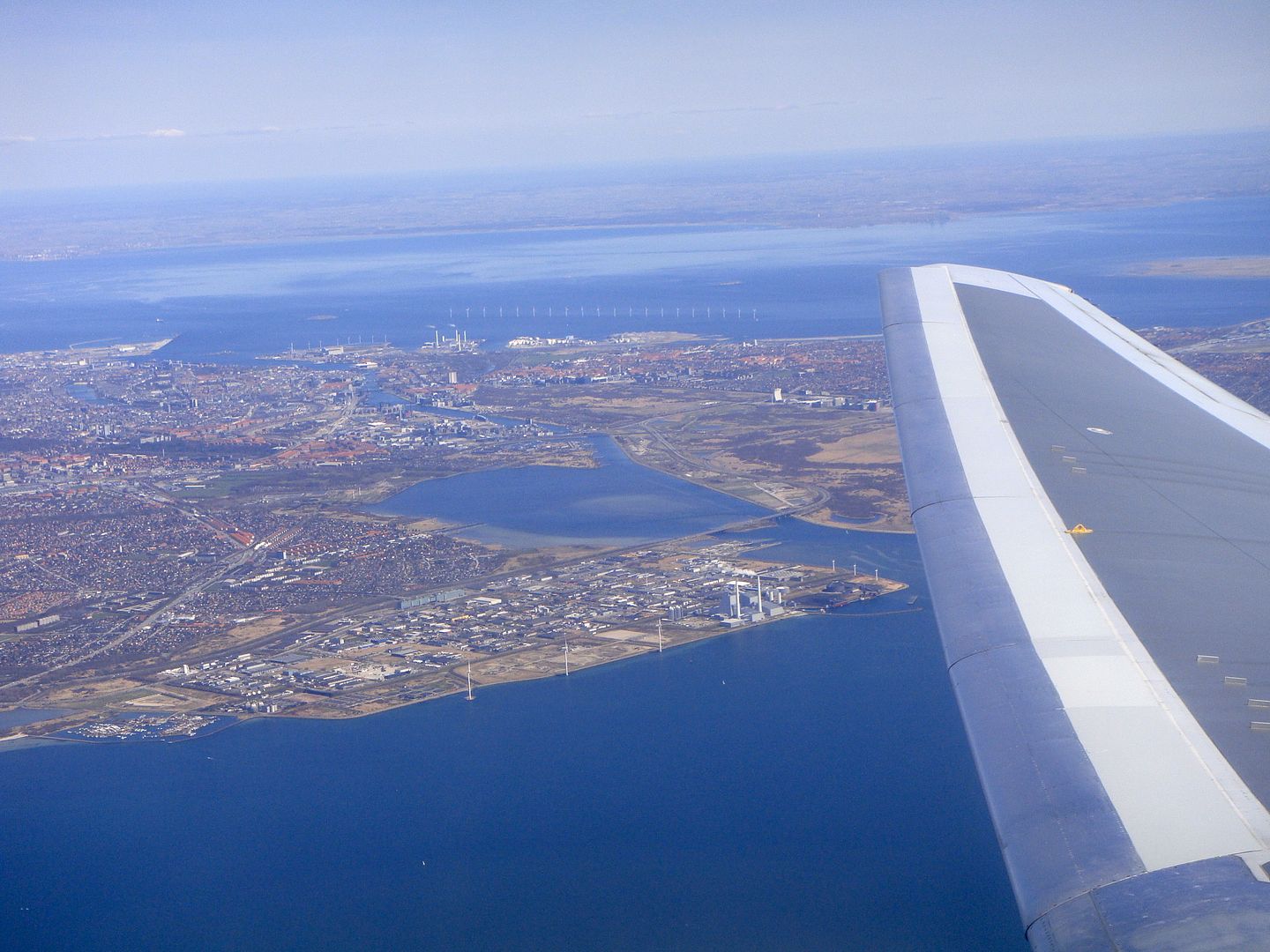 CPH, see you in August photo DSC06377_zps1213c062.jpg"/>
Our route took us quite a bit further south than what I have experienced in the past. We passed over Edinburgh, Glasgow and Derry, before heading further south over water, passing into Canadian territory over the Burin Peninsula in Newfoundland and making landfall over Cape Breton, Nova Scotia. (Passing near to home is always difficult, knowing how near, yet how far it still is!).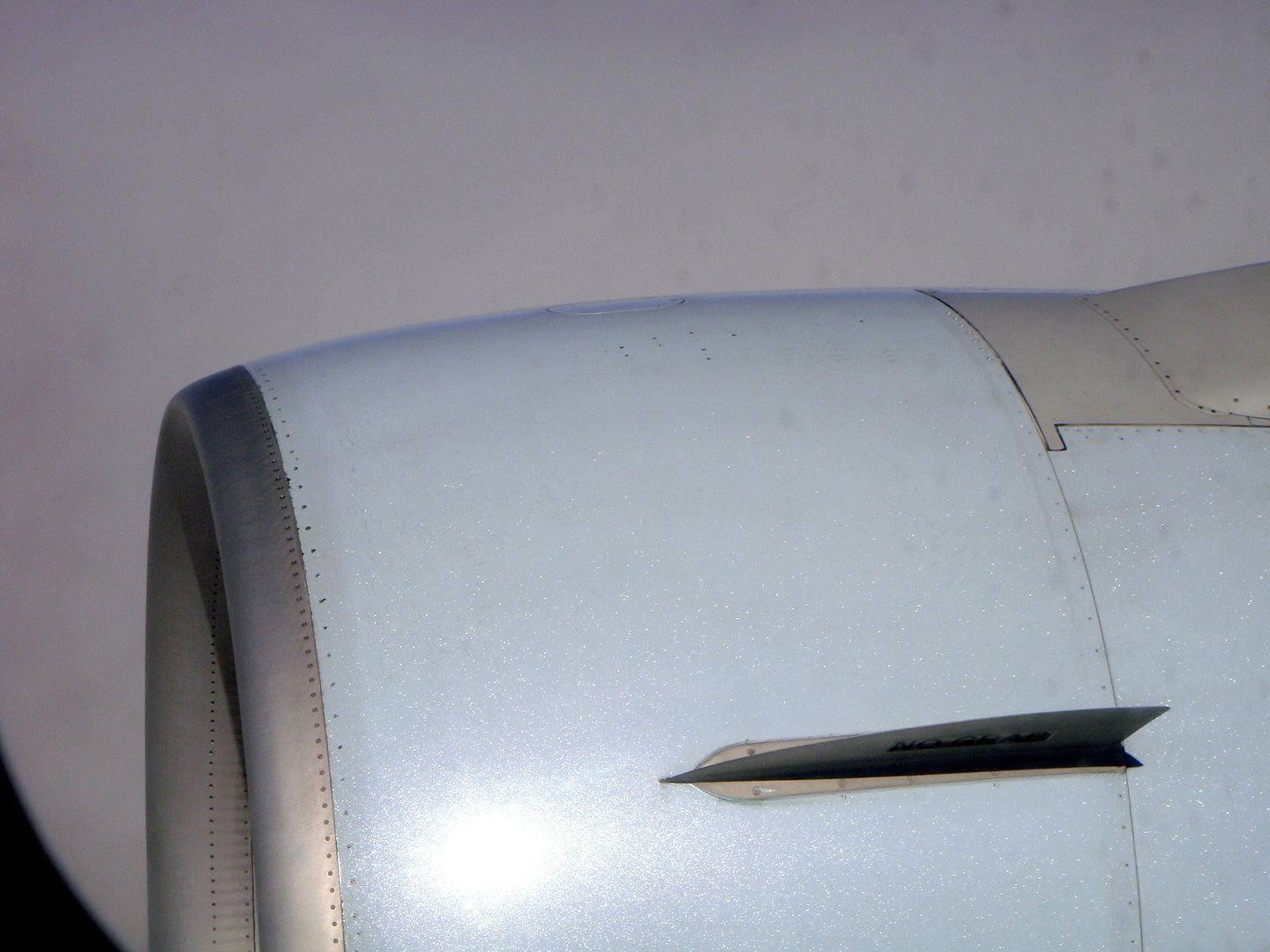 About one hour after take-off we the drinks trolley, followed by the meal trolley started at our row. The choices were 'pasta or fish'. I asked for clarification on what kind of past, what type of fish and was told it was pasta with meat sauce or salmon. I opted for the salmon and Tay52 went for the pasta. I think he got the better meal. The salmon, which was served in chunks, was overcooked and tasted less than fresh. But then, I should know better than ordering fish on an airplane. The potato salad that was served in lieu of a leaf salad also tasted like it had been made a long time ago. So I washed done my bread and cheese from the lounge with a bottle of wine and then fell asleep.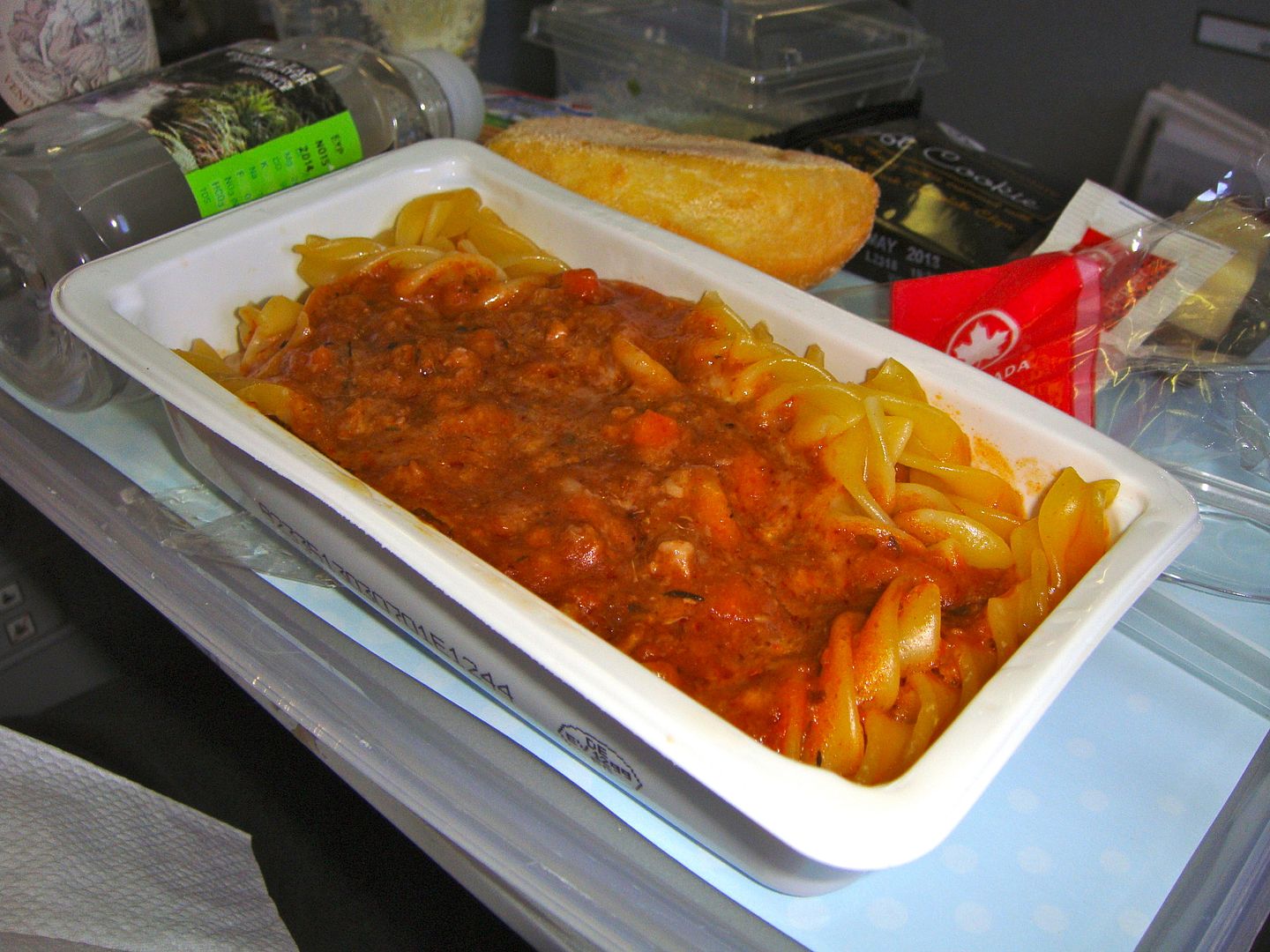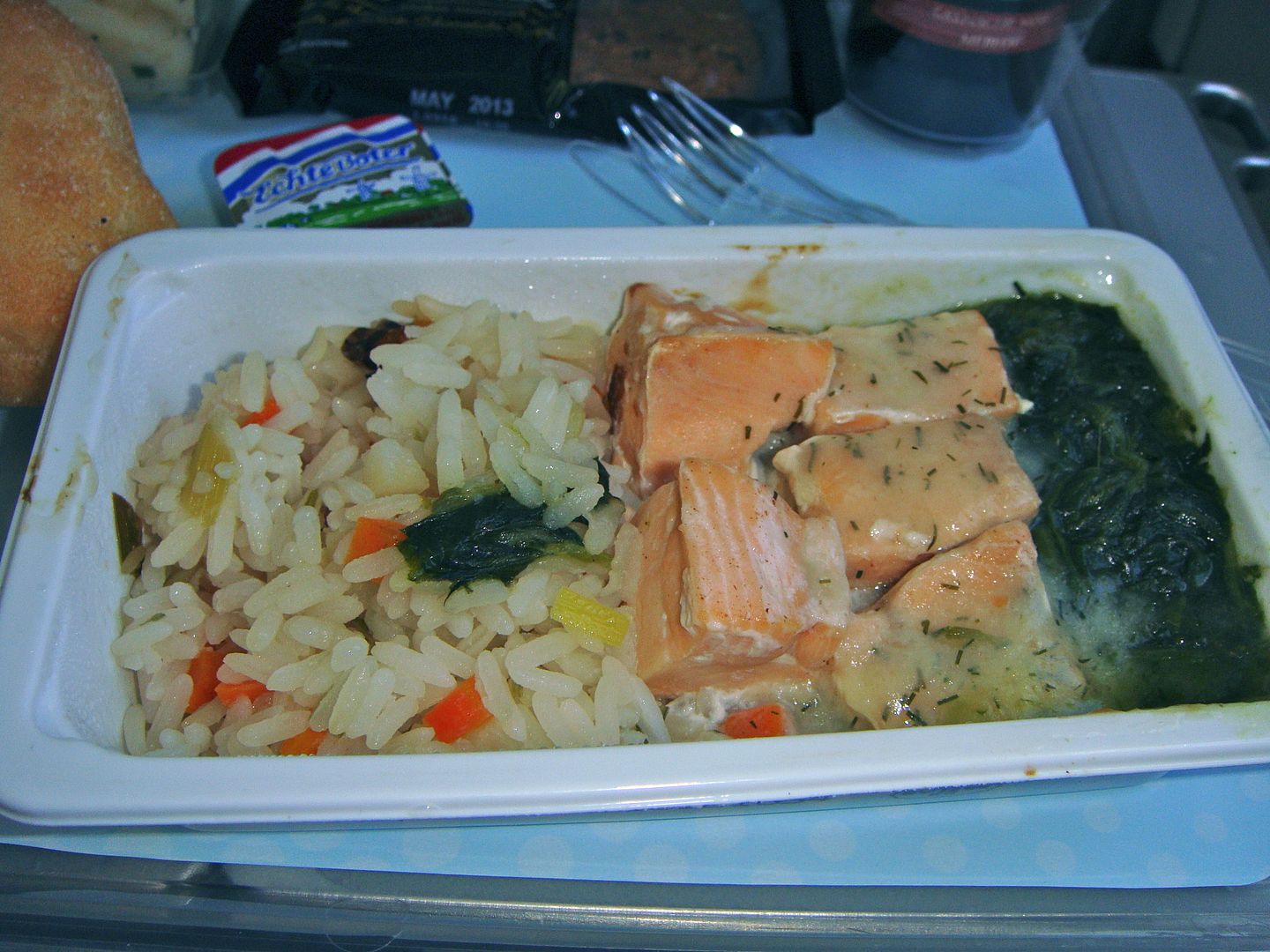 There were a number of water runs through the flight and about 90 minutes before landing we were offered a choice of a vegetarian or meat 'posh wrap'. I didn't have either but Tay51 said his was okay because he was starving!
Are we there yet?
Cape Breton----so near, yet so far!
Making Progress
Prior to landing, the in-charge announced that since there were many people on board making tight connections (us included), it would be appreciated if those people terminating their trip in YYZ remained in their seats so we could get off quickly. Of course this didn't happen but since we were in the first row of Y, we were able to get off quickly. There is a special queue for connections at Canadian Immigration but it doesn't really matter because you still have to wait for and reclaim your luggage to clear Customs and then re-check your luggage and then clear security again. However, we made it to the gate with time to spare, as the incoming aircraft was late in arriving. At this point, we were starting to feel tired but there was only one more leg to go.
AC126: EM195 (E90)
YYZ 1745 YHZ 2046
Seats 12 D & F: Y class
Gate 42 for the final flight of the day
This flight was overbooked and the Gate Agent made several announcements asking for volunteers to take a later flight (getting in at midnight). The compensation for this was $200 CAD in travel vouchers and a dinner chit. I saw several people coming forward but there certainly wasn't a stampede. I am not sure if they needed the volunteers in the end but I also didn't see any open seats. Pre-boarding began and a person with a large service dog came forward. I didn't see them again but I wondered how the dog managed to fit under the seat. We were next down the jetway but when we got to the entrance, the FA asked us to wait a few moments because catering were in the galley loading the BOB. Soon we were in our seats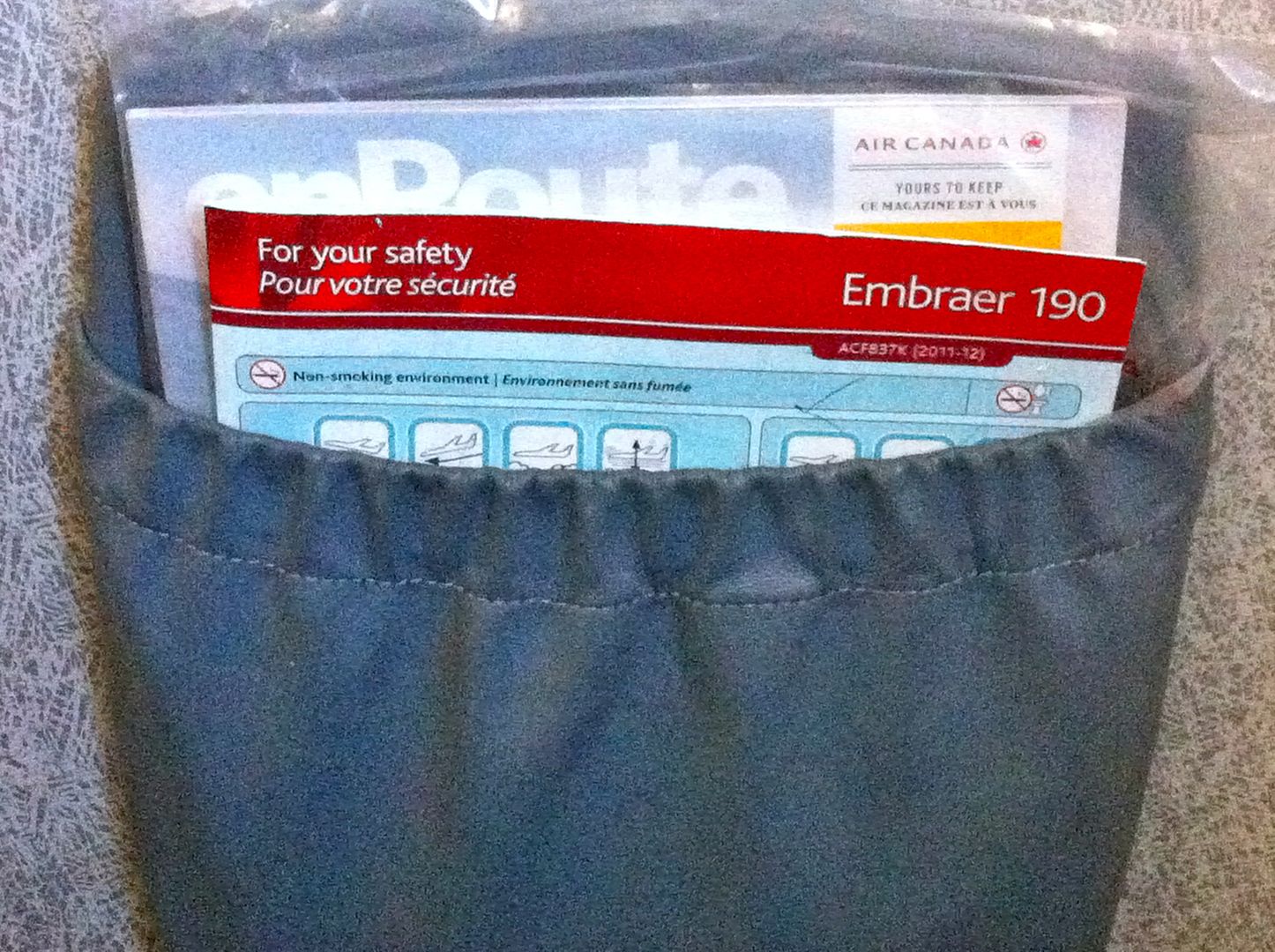 but the usual scrum of fitting too much luggage in the overhead bins followed, until eventually a plea was made for passengers to bring forward their bags for gate check-in at no additional charge. Air Canada is very bad at enforcing the carry-on policy , which results in people forcing their oversized bags into overhead bins, crushing what's already there, or worse, putting their luggage in the J cabin bins and then proceeding to the back of the plane! Anyway, this and watching the loading of our own luggage underneath (yes, all three bags made it!), kept us entertained pre-flight.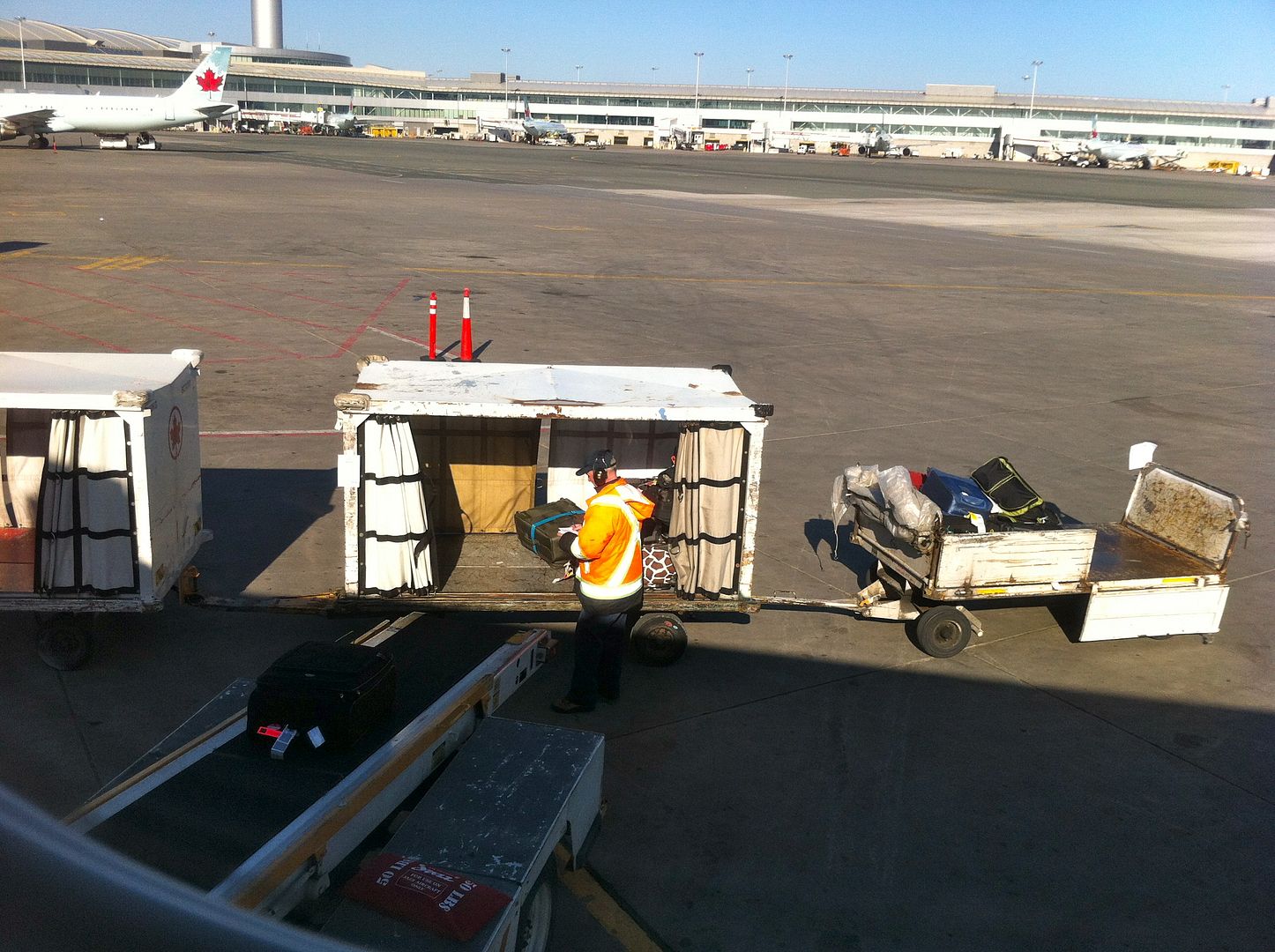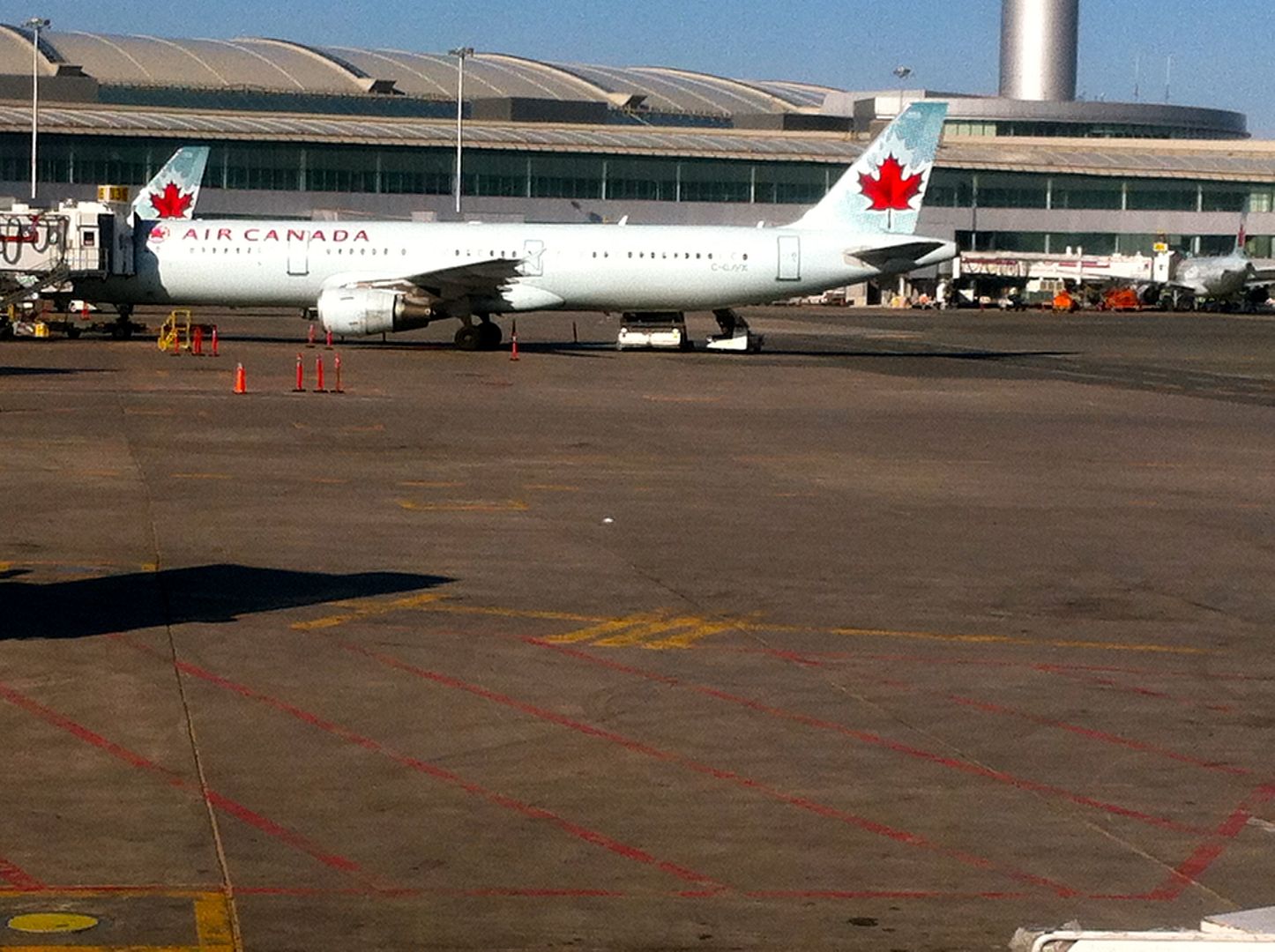 Our flying time was announced as just under 2 hours and, as we already knew, the weather was clear. In fact, we had a great view of Toronto and the CN Tower and then could identify various landmarks en route from YYZ all the way to YHZ. Our route took us over Burlington, through Northern Maine, then over Bar Harbour and across the Bay of Fundy into Nova Scotia.
Again, it was a slightly different route into YHZ…we did a wide circle over Chester and Mahone Bay, on the Atlantic Coast and then came in directly over the city, near our house and on into YHZ. I guess the themes of this trip could be characterized as 'city viewing' and 'luggage lost'!
It was nice to be home because spring had finally arrived and all the snow that was there before