W A R N I N G
This trip report is LONG. Feel free to skip to the section on JFK - T4 or just scroll through and look at the photos. I will include detailed captions.
P E R S O N A L - I N T R O
It is has been quite a while since I've written a trip report. I basically haven't had any travel experiences that seemed unique enough to merit a trip report.
That is one reason I decided to visit JFK on Friday, May 24th, for the opening of Delta's expanded T4 operations. I figured that while it might get a lot of local news coverage and coverage by bloggers, I would be able to see it from the prospective of a Delta frequent flier who flies domestically for work, and internationally for fun!
As an intro here is the promotional video Delta put out way back in July 2011....if you watch closely at 2:35 into the video you can see "Zombie Kid"....
http://www.youtube.com/watch?v=SxK6-wO1Zys
B O O K I N G
Living in the Fingerlakes Region of New York State I have many airports to choose from. However, since Delta expanded service at LGA my options for flying to JFK were limited. For instance, while ROC and SYR both offer frequent large regional jet service to LGA, they have only a few direct flights to JFK, and those are on the smallest of regional jets. I settled on flying out of BUF as it has CRJ-700 service to JFK. The tickets were not cheap so I decided to use my SkyPesos (also known as SkyMiles) for an award ticket.
Of course finding a round trip low award booking was out of the question. There was plenty of low award availability to JFK but nothing but high awards for flights leaving JFK in the afternoon or evening. While I am a critic of SkyMiles, I can not fault Delta for requiring high level awards for flying out of NYC on the Friday afternoon/evening of Memorial Day weekend. After several weeks of continual monitoring I was able to find a mid-level award for leaving JFK at 3:55 pm to DTW and then connecting to a DTW-BUF flight. This made the total trip cost 32,500 SkyMiles (25,000 low to get there + 40,000 mid to return DIVIDE by 2 = 32,500)
One nice perk of Delta's domestic award tickets for their elite fliers is being eligible for upgrades. For upgrades, award tickets count as the lowest fare, meaning I would be behind all of the other Platinum members but would be ahead of all Golds and Silvers (except those who bought full fare "Y" economy tickets) on the upgrade list. Sure enough my upgrade to JFK from BUF cleared several days before the trip!
P R E - F L I G H T
My flight from BUF was scheduled for a 6 am departure, which meant leaving my house VERY early for the multi-hour drive to BUF so I planned to just stay up the whole night. At around 11 pm the night before I got a call from Delta's automated system telling me that the BUF-JFK flight was cancelled....D'oh! I called into the Platinum line and the agent was not very helpful in trying to find a solution after confirming that everything out of BUF was cancelled or full. She did offer me a morning flight from SYR to LGA but that would create a problem of getting from BUF to SYR to retrieve my car after returning!
Fortunately using ExpertFlyer I was able to find availability for the ROC-LGA 6 am flight and then on the DTW-ROC evening flight, so keeping my JFK-DTW flight I would have a roundtrip that made sense. Calling back to the "Premium Sales and Services" line I got an agent who seemed very confused at first as to why I was flying to NYC for a day but was willing to change my flights to be ROC->LGA and JFK->DTW->ROC... She then informed me that her system would not let her actually re-issue the ticket without using more miles. I explained I had no intention of paying more miles as this was an IROP situation. She then put me on hold and told me it would take about 15 minutes for her to connect to the only desk with the authority to re-issue the ticket without charging more miles. After about 25 minutes on hold she came back and told me everything was all set. I had also been cleared into first class again on the flight down!
I did some quick research on how to get from LGA to JFK and there seemed to be three options. The cheapest was a combination of public buses or buses and subway for under $5, an airport transporter bus direct between LGA and JFK for $13, or a private car/taxi for about $50.
Not too long afterwards I started for the drive to ROC which is normally uneventful but after about 20 minutes on a country route found several utilities trucks blocking the way doing a power line repair which necessitated a lengthy detour!

Delta Air Lines 6299*
*Operated by GoJet Airlines
ROC to LGA
CRJ-700
Departure 6:00 am
Arrival 7:21 am

ROC is a great little airport and I covered it extensively in this trip report:
DL Y ROC->DTW->ATL From Small To The Large On DL!
(by
Burj
Oct 25 2011 in Trip Reports)
So I won't write a lot here except for two issues....
The first is that they had a new priority line for elite fliers! This was great as it was much shorter than the normal line. There was a well dressed gentlemen standing next to the line with a ROC ID on so I asked him if there was a "PreCheck" line. When he said no apologetically I replied "I didn't think there would be, but I have PreCheck on my boarding pass so I thought I would ask..."
He perked up and asked to see my boarding pass as he had heard about airlines doing this but hadn't seen it.
Here is a blog post about it for those who are interested:
http://boardingarea.com/blogs/deltap...a-bunch-of-good-mileage-run-deals/
I told him it was great that ROC had a separate elite security line and he smiled and said that some people like it, some don't, and that it was really JetBlue who had pushed to have it put in!
Just as I got to the front a flight crew showed up and cut in line. When it was my turn I opted out of the nude-o-scope and had my freedom grope which wasn't as bad as at other places...
The second issue was that when I cleared security and checked the monitor for my gate I had a moment of panic as I couldn't find my flight at all...I then realized that NO Delta flights were listed! I went down to the Delta gates and none of the gate-displays had any Delta information.
Departures screen lacking any information on Delta flights.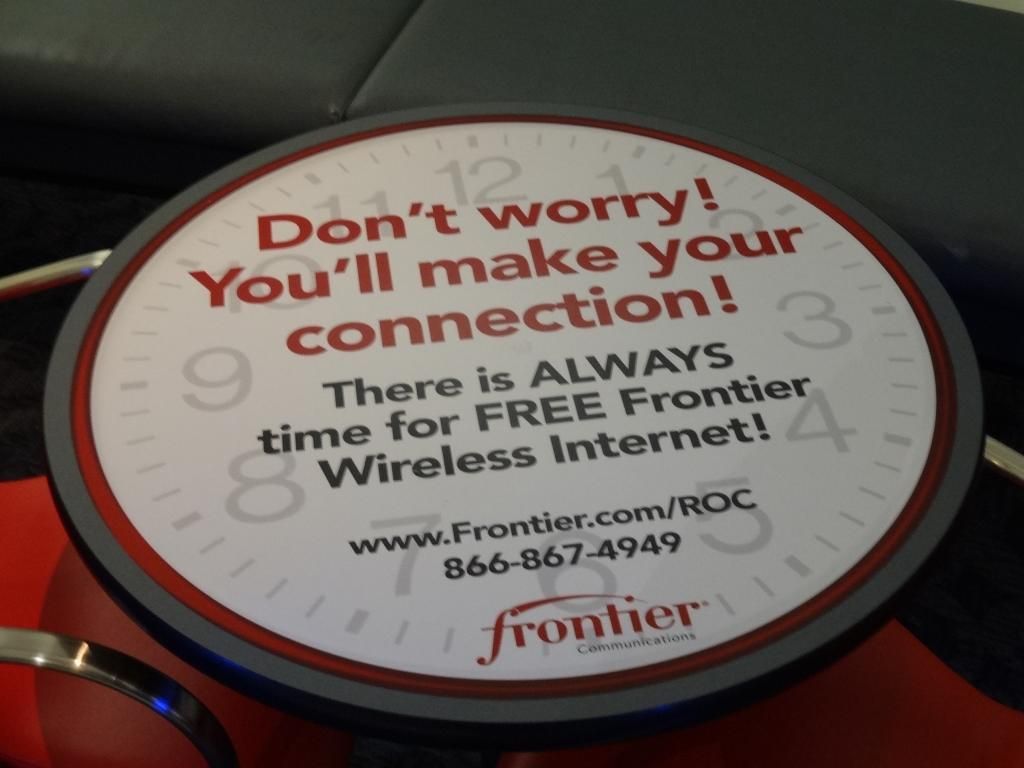 Clever table top ad.
After using the Men's room a general announcement was made that my flight would be out of B9, at the end of the B concourse.
Nifty Dyson Airblade with a sign explaining how to use it!
A short while later an agent showed up to man the gate and was immediately mobbed by people looking for their Delta flights. She said that their computers were having problems and then made a general announcement to the whole concourse giving the gates for all the different morning Delta flights.
A dreary morning showing a lonely Delta regional jet and the ROC A concourse in the distance.
An AA regional jet in the old, and still quite classy, livery.
As we started boarding another person showed up and used duct tape to put a hand written paper sign with the flight number over the computer screen that was still showing the generic ROC airport logo/screen saver. At the bottom of the jetbridge I noticed the Captain was using a red Delta blanket to mop up since the drooping jetbridge canopy had let quite a bit of water in the cabin! The FA's were two young Asians, a male named "Yogi" and a female named "Charm." I had to wonder if those were their real names!
The flight was relatively uneventful except for the older gentleman sitting directly in front of me in 1-D who spent the while trip preaching about the Confederacy and Christianity to the guy next to him in 1-C. Alas my much needed nap would have to wait. After we landed we stopped on a taxiway and the captain came on to explain that we had landed a little early and the runway in use this morning at LGA causes traffic to back up on the taxiways so we would be waiting about 10 minutes. The older gentleman asked the FA if he could use the lav. Her eyes got wide and she pointed out the only lav was WAY in the back of the plane and she would have to ask the captain first.
Of course after calling the cockpit she explained that the captain said NO because we were on an active taxiway and might need to move with no notice. He asked if he could go as soon as the plane reached the gate and she said he could try. As I started thinking how he could have gone DURING the flight instead of talking about the Confederacy and Christ he nodded his head and started praying OUT LOUD for the Lord's guidance just as he had guided the Israelites out of Egypt and parted the Red Sea for them....
It occurred to me that it just might take divine intervention to part the sea of coach passengers trying to get off the plane to allow this guy to make it to the back to use the lav once the seat belt sign was off!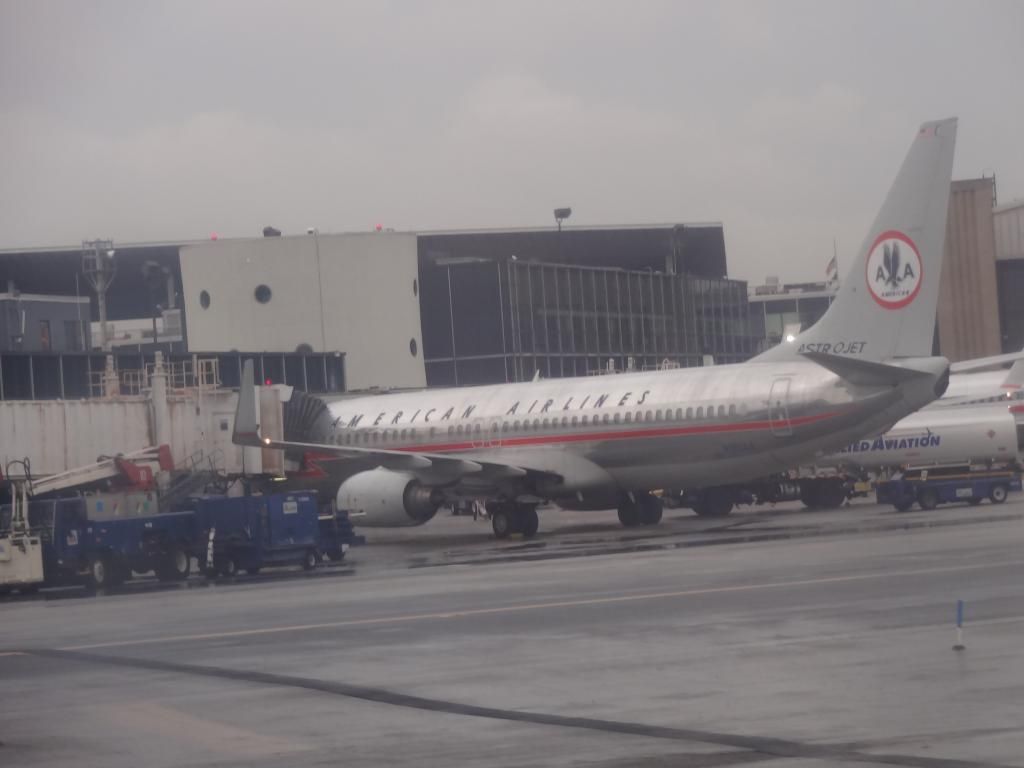 AA retro jet at LGA.
AA regional jet in the new livery...still not a fan.
A friend from up north!
When we got to the gate and the sign went off the poor guy had a hard time standing up, so many of us in first class got off before he even attempted to part the Sea of Unwashed Masses in coach!
L G A to J F K
Leaving the jetbridge and entering concourse C at LGA, I was struck by just how crowded it was! I will be flying through there in a few months with a 3+ hour layover so I hope to do an in-depth trip report then.
I did notice the new walkway connecting C and D and crossed it to visit the SkyClub in D.
Bridge connecting the C and D concourses at LGA.
Inside the C-D connector.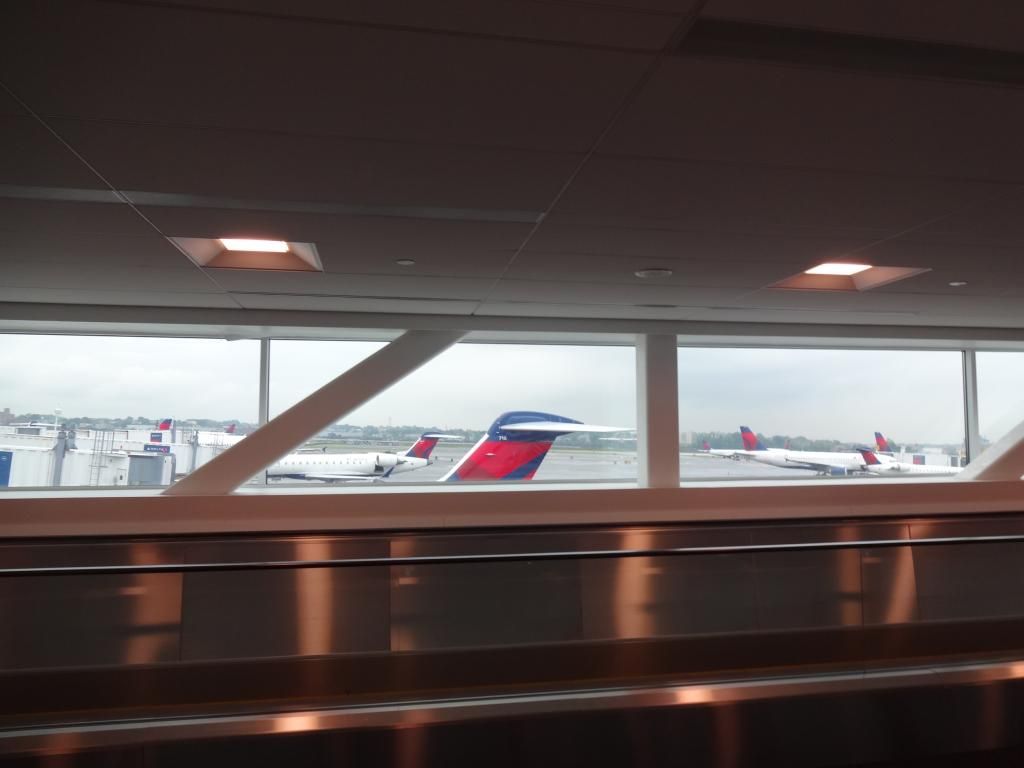 View from inside the C-D connector.

Panoramic view from the center of the C-D connector.
In the SkyClub I explained my situation, visiting JFK for the opening of the T4 expansion, and needing to get there from LGA. I've heard that Delta arranges transportation for people who actually buy tickets that involve flying into LGA and out of JFK and was hoping there was some kind of Delta sponsored bus/option but she told me to go downstairs to ground transportation and there was a shuttle bus for $12.
When I headed down, there was nobody at the information center or the shuttle bus stand. An airport worker walking by saw me taking pictures and told me that the desks aren't manned until 8 am but I could go outside.
Welcome to LGA! (You are on your own!)
Nobody here either!
Sure enough there was a young kid outside with a handheld device selling tickets for the shuttle bus. He said he would only take cash if I had the exact amount but was happy to take credit. Fortunately the bus arrived only a few minutes later and A LOT of people got off and took a while to collect all their luggage from the rear of the bus.
The bus to JFK, only $13 and they know the back routes too if traffic is bad!
I got on and prepared to show my receipt/ticket but wasn't asked. As we were about to pull out the kid with the credit card/receipt machine got on and handed paperwork to the driver. The driver then told him that the traffic between JFK and LGA was getting bad and that "T3 was toast!"
When we pulled away I asked if he meant Delta's T3 at JFK and we then had a chat about the changes. He said that he did the first bus transfer that morning at about 5 am and T3 looked normal, but by 7:00 am it was blocked off and cranes and other machines were there! He seemed surprised that they were tearing it down but I told him just how bad it was inside...
During this time we stopped a few times at other LGA stops and at the final LGA stop someone finally came on and asked to see everyone's ticket.
The ride to JFK was not easy as the traffic was in fact very bad. At one point we got off and started taking surface streets through Queens.
Must be getting close to JFK!
Actually plenty of domestic Delta flights use T4, including the premium Transcon flights!
The driver had taken a poll of where everyone was going and had announced he would go to T8 first, then T1, T4, and T5. When we arrived at T8 I got off and told him I would take the airtrain to T4. He concurred that would be fastest option and off I went....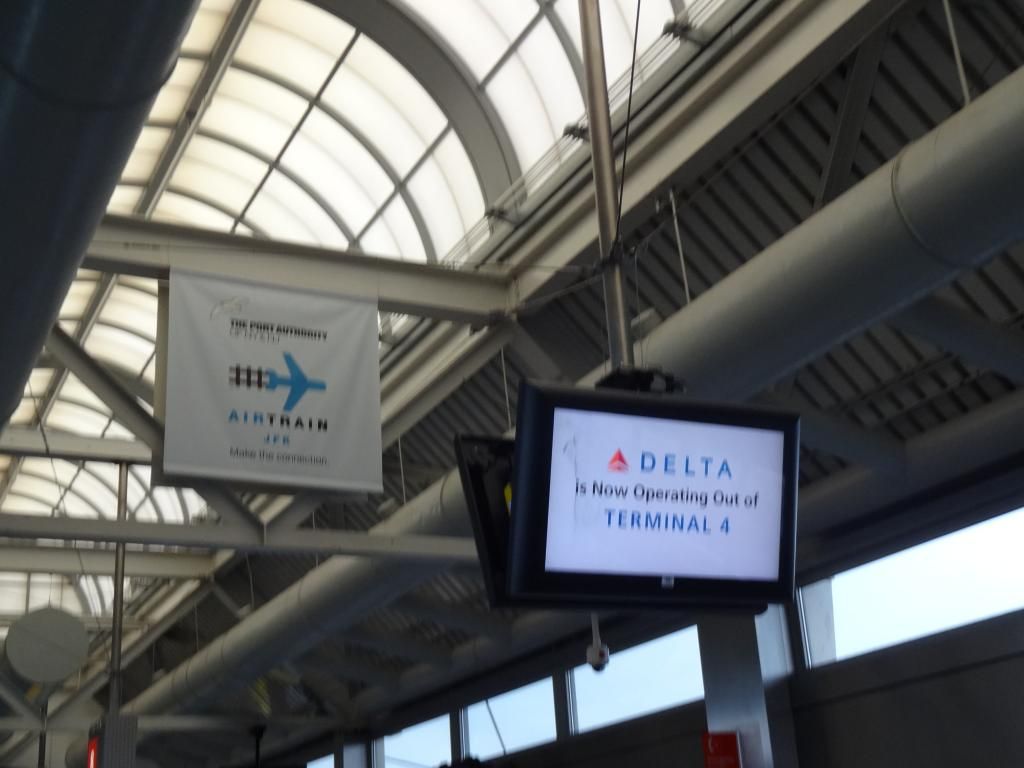 Notice about the Delta change at the airtrain station.
T4 from a distance!
Rainy shot from inside the airtrain as it approaches T4...notice that the station stop is INSIDE of T4!