Dear a.netters,
First of all, thank you for boarding this tripreport of mine. It has been a while, and this is just one of several tripreports to follow from my (not so) recent travels.
I think it's good to bring a brief review of my trip last January to Ireland, to bring a visit to my friend a fellow a.netter OA260, which is also known on this forum as contributor with a fair amount of interesting tripreports, or seareports for those who prefer the cruise-ships
Well, since it had been a while, and we usually meet at least once a year, it was a good thing to start 2013 with a trip to Dublin. And with not much interesting options to fly to Dublin from my home airport (AMS), I took a slight longer route with some tranfers.
Flights are on Air France-KLM or partner airlines, and fortunately for me, a gap left for a short hop from the UK to Ireland, which was gladly booked on Ryanair. Yes, why not?! They offered the perfect time and especially price to me, and it had been a some time ago since I last flew on them.
Flights are all taken on Tuesday January 29, 2013.
KLM was the first airline to serve me for an early and short hop accross the North Sea. I still got another half of a ticket to Newcastle, and that did fit in my schedule. Seat selection was done long before on the convenient KLM website, and after my alarm went off at that insane hour, I made my way to the airport to get breakfast in KLM's intercontinental Crown Lounge.
Yoghurt with fresh fruit, little pancakes (Dutch 'Poffertjes'), juice and coffee. Not bad and certainly not my everyday start-up.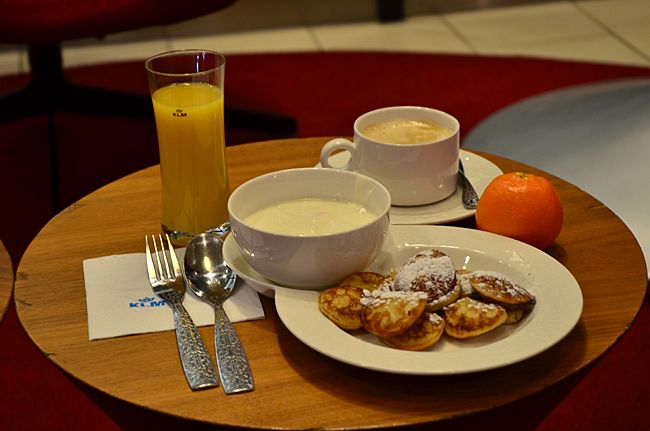 .
Breakfast on behalf of KLM in their lounge

Flight:
KL957 – 29JAN13
Route:
AMS-NCL
STD
08:05
ATD
08:04
STA
08:25
ATA
08:23
A/C:
Boeing 737-700(WL) # PH-BGI
S/N:
05A
(Economy Comfort)
I did not have much time to relax, I tend to be at the airport late these days (in AMS that is), and I made my way to gate D49. I requested a free seat next to me at the gate, which was not the case in my row. The gate agent moved me to row 20 instead where she offered me a whole row of 3. I seat myself and while installing my bag the purser comes to my seat together with the ground agent. She apologized sincerely and said that I should move to row 5ABC in Economy Comfort, and that she made the mistake for not granting it at first.
Well, I took the offer for more legroom, and when the ground agent was gone, the purser came again to apologize and explained that the situation around this new 'class of service' on KLM's European flights is still unknown to many.
With a load of roughly 70% we leave on schedule, and a friendly welcome is heard from the flightdeck. The captain kept it short, since taxiing would also be short (runway 24). The safety briefing is shown on the overhead screens, which are found on the newer 737 aircraft in KLM's fleet.

.
Taxiing out to the runway
Departure is smooth, with reduced thrust, and we gently climb into the skies. I'm still in the need for some more sleep, so I soon find myself in the relaxing mode, headphones on, seat reclined, and from time to time a glimpse out of my window. Sadly it's mostly cloudy all around for the complete duration, making this flight quite boring to me. Therefore no pics.
Service is a sandwich (sadly for me with beef, no choice), orange pastry and 2 drinks.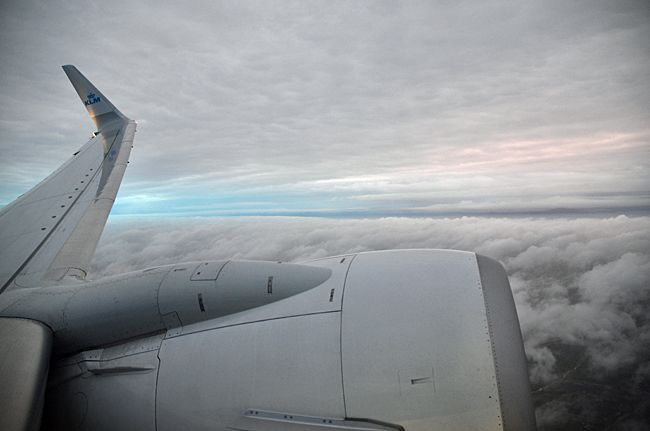 .
Airborne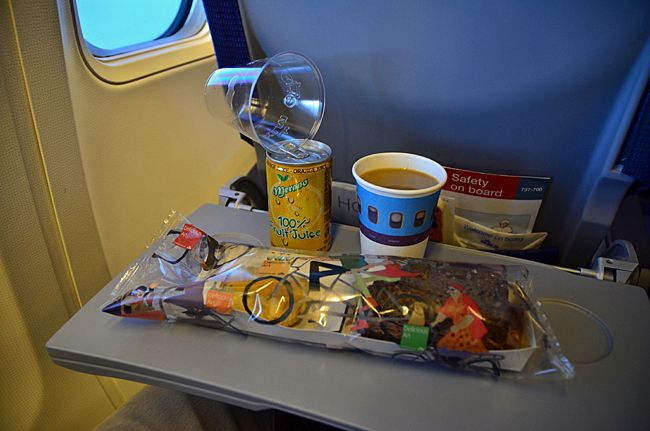 .
Another breakfast on board with KLM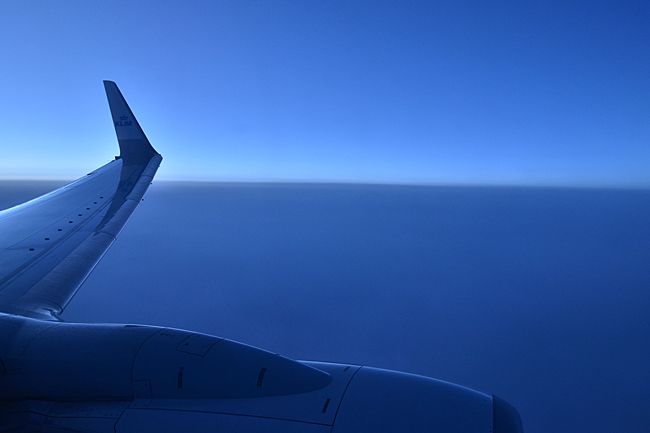 .
Cruising in a brandnew day
Descend was a bit more interesting with parts of snow covering the fields below. A cold and early winter morning for Newcastle it seems. Landing was performed on runway 25, and withing a minute we arrived on stands 8, also known as gate 24.

.
Descending for Newcastle

.
Entering final approach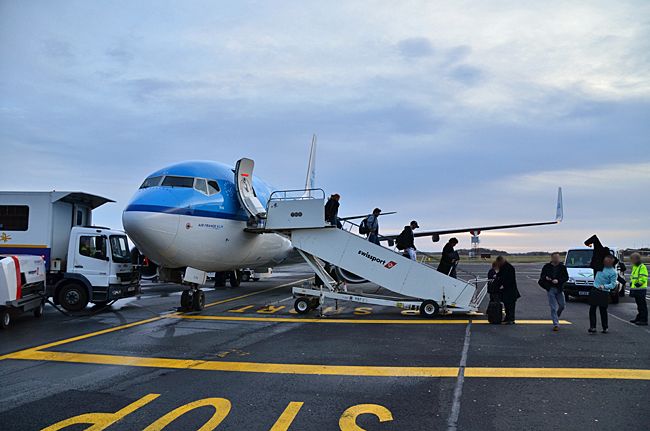 .
Disembarking on the platform here, goodbye KLM
---
In Newcastle I have 2,5 hours till the next flight, and with online check-in done at home, there was plenty of time to stroll around a bit at the shops, and have a coffee at Coffee Nero. Views on the apron at NCL are real good, and this airport had a nice variaty of airlines and aircraft flying in and out.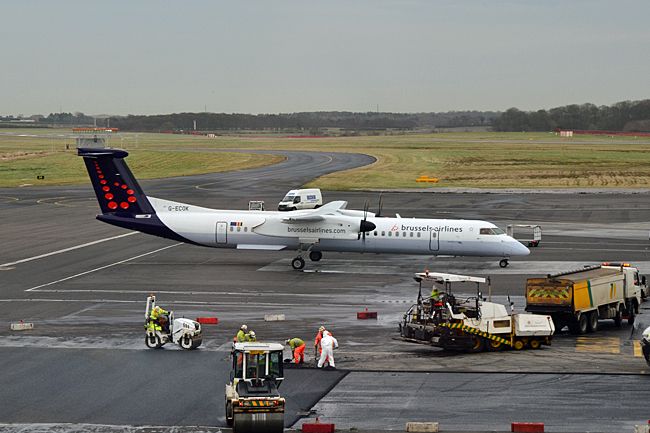 .
No 737 from my neighbours in the South, but a little prop and leased from FlyBE

.
BA holding short for incoming traffic
About 45 minutes before departure, an announcement is made for passengers to Dublin. I should proceed to gate 1 for boarding. Groundstaff makes sure that people with Priority boarding will be taken in a dedicated area and the others (including me) will just wait in the normal waiting room. View on the apron is good, and I can have a nice view of the aircraft.
Soon boarding is announced and I proceed downstairs onto the apron.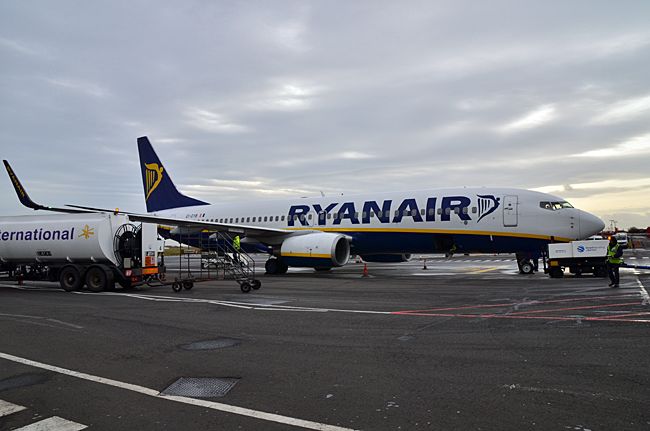 .
A good look of my aircraft when boarding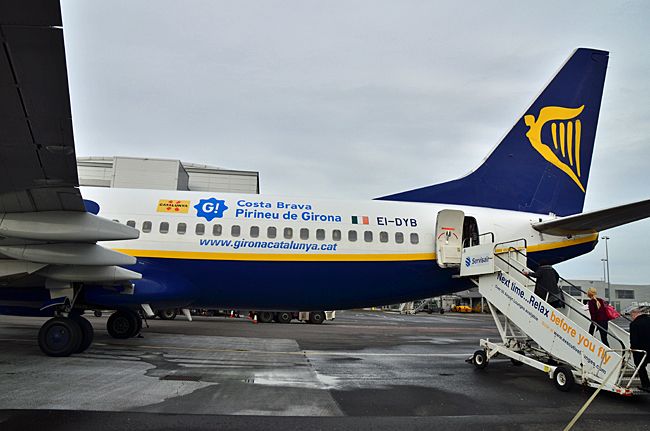 .
Costa Brava – Pirineu de Girona // special decals

Flight:
FR173 – 29JAN13
Route:
NCL-DUB
STD
11:00
ATD
10:56
STA
12:05
ATA
12:01
A/C:
Boeing 737-800(WL) # EI-DYB
S/N:
31F
(Economy)
First of all, a real friendly welcome at the rear entrance. A positive start!
A row of 3 for me also on this flight, despite the high load which I estimate at 90%. I don't complain, and with the space around me, no need to complain about the legroom on this aircraft. I notice classical music playing during boarding, really nice
Also the safety demo gets another thumbs up, because I found it very clear to follow, in good English, slowly spoken. Compared to some other airlines, Ryanair did a good job on this flight! From the flightdeck, with crew from Eastern Europe as far as I could figure out, some flightinfo about the flighttime (1h10) and our flightlevel would be 32,000 feet.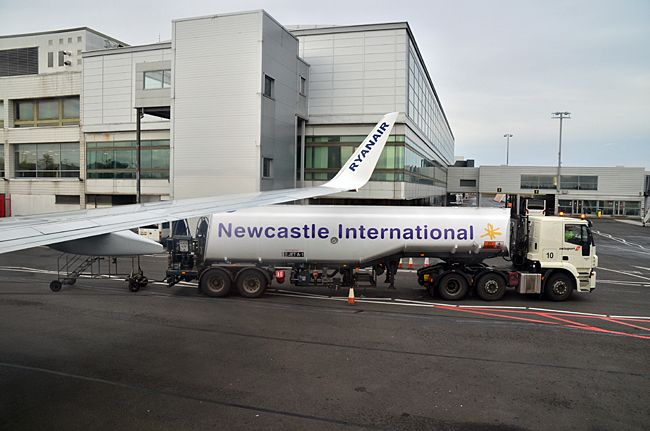 .
This is not at a London airport obviously…
Departure is a few minutes ahead of schedule here, from runway 25 in westerly direction. The climb is smooth and powerful.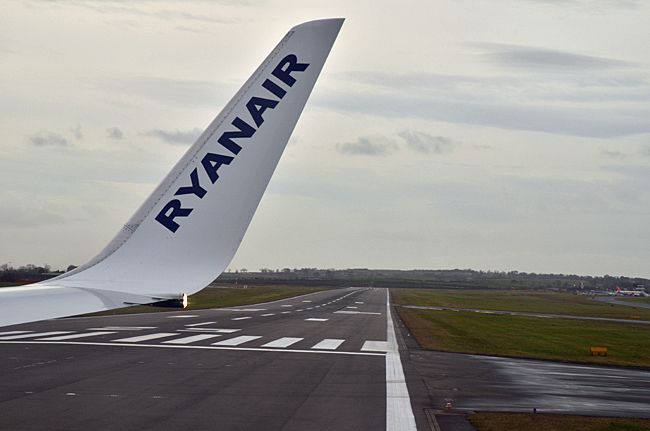 .
Lining up the runway at NCL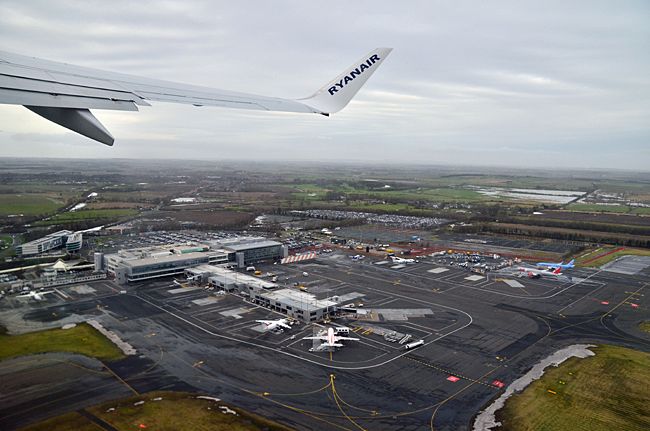 .
Airborne and a final view of the airport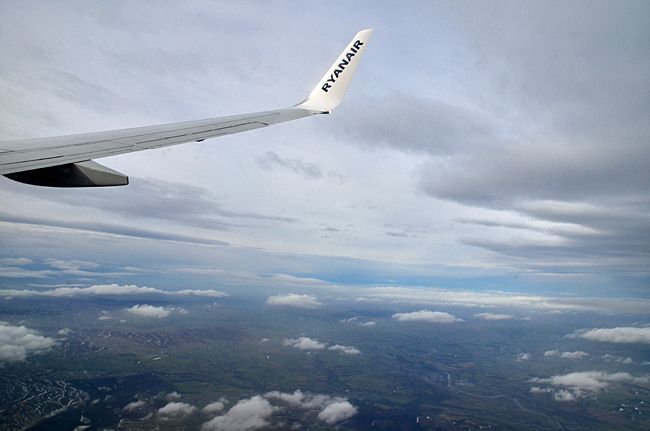 .
Climbing out under a cloudy sky
During the flight several items were on sale, including the wide range of food and beverages, which are in my opinion very fair priced and include hot chips (€3.50), chicken nuggets, lasagna (€5.00). The onboard menu is definitely above par compared to the other lowcost companies it seems.

.
Interesting and nicely stocked onboard menu
The flight itself is uneventful and after an hour or so we are approaching Dublin. Overcast clouds and humid air, typical. Strong winds as well, hence we're landing at runway 16 (!), a first time for me on this runway even after I've visited the airport many times before.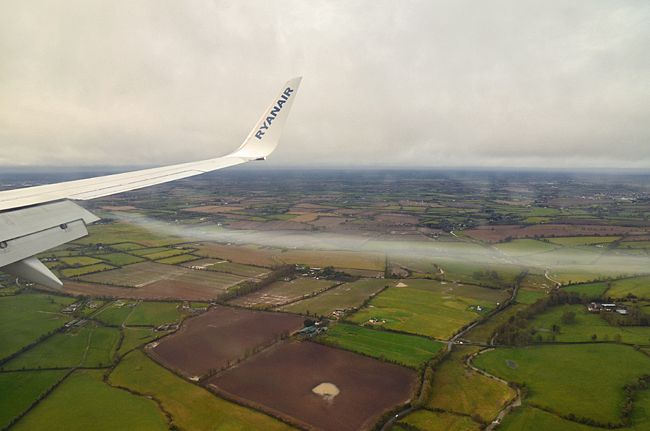 .
Oops, humid air on final approach. Nice vortexes!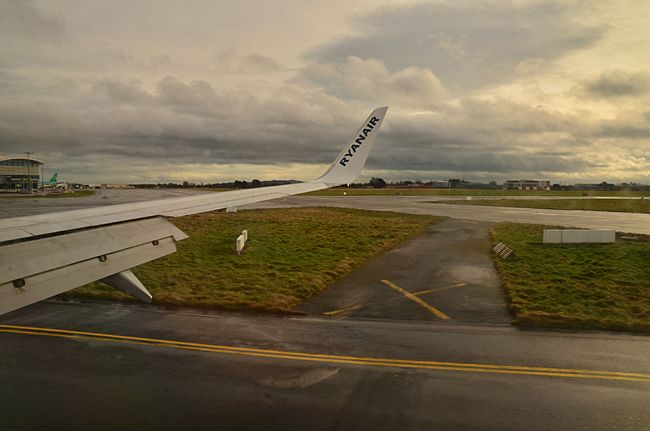 .
Taxiing to a parking stand after landing in Dublin
Minutes after landing we arrive on stand 124 followed by disembarkation by stairs on the apron. A final view on EI-DYB for me, that flew me in quickly and safe.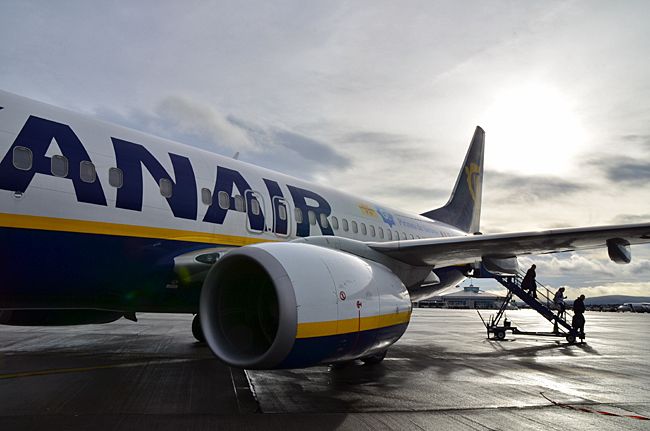 .
Disembarking on the apron again


.
Jobless aircraft parked aside
---
At Dublin my friend Philip was waiting for me, it had been a while for sure. We decide to continue to the city by Aircoach, a comfortable and fast bus service going downtown.

.
Aircoach busservice between airport and citycentre
We had a nice citywalk in the centre, a good burger and fries for lunch, and lovely talk. Dublin is good place to spend some time, not the big citylife you find elsewhere, but just simple and calm. Let me show some pics: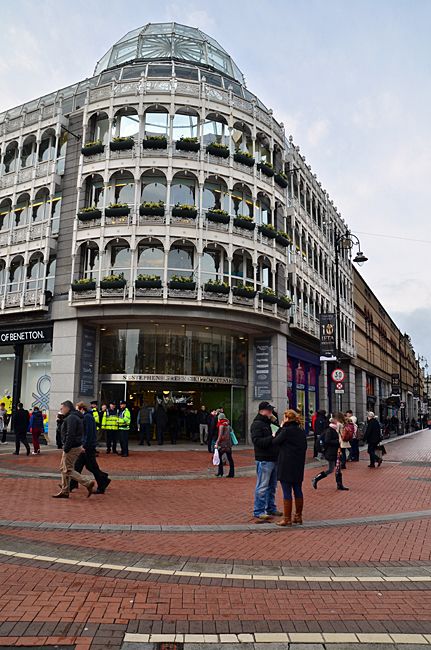 .
St. Stephens Green (shopping centre)

.
Swans in St. Stephens Green Park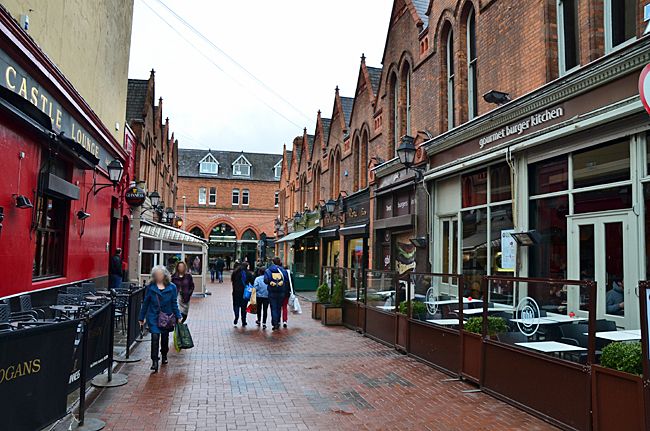 .
Lovely streets to stroll around

.
Alongside Aston Quay

.
Typical, the Temple Bar
In late afternoon it started to rain, and we decided to go back to the airport where Philip waved me goodbye. My flights to Amsterdam were on Air France by Cityjet, via London City Airport on their Avro RJ-85 jets. Before boarding I entered the packed and small DAA Executive lounge in Dublin for a drink, but it wasn't really comfortable and I was 'lucky' with just 1 available seat to choose in the lounge.

The flight to LCY (AF5126) was on EI-RJO, and encountered quite some turbulence enroute due to our 'low' altitude, as the captain explained. It didn't keep me away from having a G&T on this flight though. This flight was packed, probably because the previous flight was cancelled (Dornier 328 operated, cancelled due strong winds probably).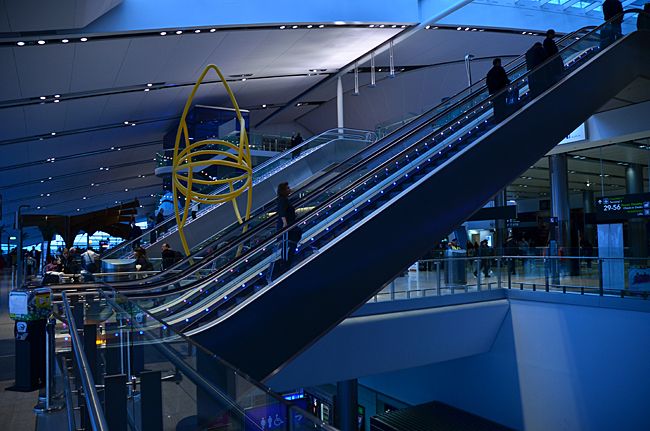 .
Dublin Airport Terminal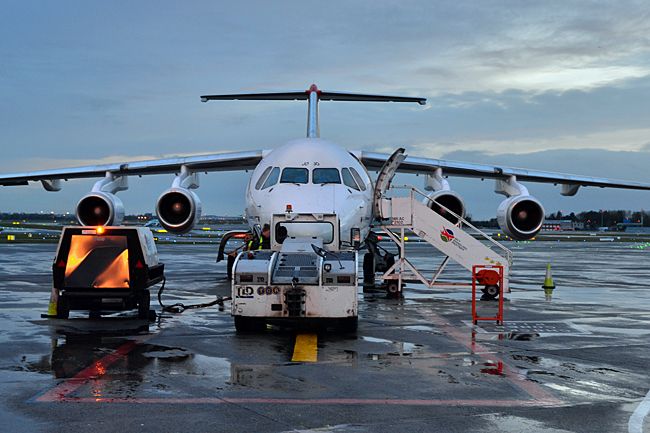 .
Boarding the Avroliner RJ-85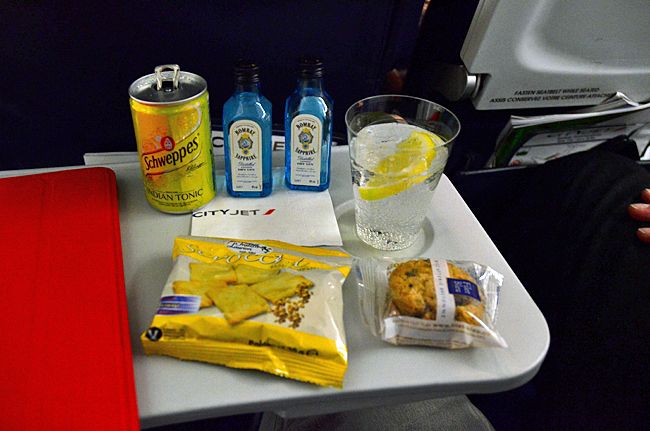 .
Cityjet catering offerings on DUB-LCY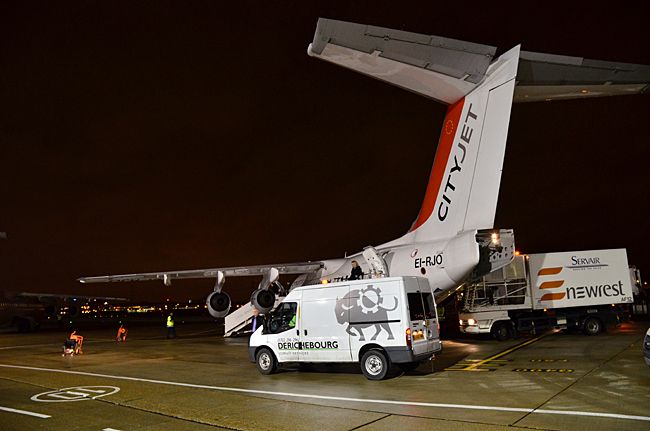 .
A different angle of EI-RJO after landing at London City Airport
At LCY it was a quick visit normally, going landside and entering the UK is standard procedure here with no transfer facility available here. Back to security upstairs, done in about 10 minutes. The screening area got updated last year, and that is an improvement for sure!
In the waiting lounge I find myself in a huge load of fellow travelers trying to get home, but several flights –including British Airways Embraer 170 service to AMS- get cancelled. London City Airport got closed for landings due to severe wind conditions, and an general announcement was made that there would be no arrivals for that time being.
I feared bad luck since my RJ-85 did not arrive yet, and might divert to elsewhere at some moment. Instead, several Cityjet Fokker 50's were on stands, and at the moment that the airport restarted operations, a flight to Rotterdam changed status to 'boarding'. I tried to get on that flight instead, but the friendly Cityjet groundstaff assured me that the Amsterdam flight would be operating and rebooking was not needed.
She was right, soon a RJ-85 (EI-RJA) arrived and was assigned for flight AF5199 to Amsterdam. After boarding we waited for about 20 minutes more due to ATC restrictions. The cabin crew delivered a cup of water and Leonidas Belgium chocolate to every passenger.
Finally with almost 1 hour delay we left the gate at 8.38pm and departed from runway 27. Definitely not a comfortable climb out over London, but the little jet was performing great.
Service received to AMS was a double G&T, choice of sandwiches (chicken or cheese). That's the service I like! The flight was uneventful until approach which got very bumpy again, followed by landing on runway 27. Once arrived at the gate (D12) I thanked the crew for their kind service and wished them a goodnight.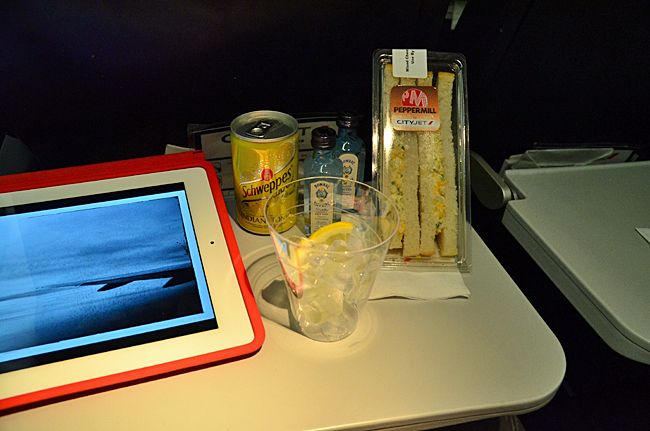 .
Cityjet catering offerings on LCY-AMS

.
Landing at a rainy Amsterdam Airport at night
Sorry for not having so many pictures on the Cityjet flights. I fly the airline quite often lately and for me it was quite standard. Since both of the flights were in darkness, I decided not to bother about it too much.
That means another trip was completed in good order. I was happy with KLM to NCL, Ryanair did a good job with ontime, safe flying and friendly crew. I was pleasantly surprised to see a very nice range of products available on their inflight menu, with reasonable pricing.
Cityjet did a great job as always, they are a great group of people running a dedicated airline in a 'niche' market mostly. Definitely, Cityjet is my choice also in the future when flying the AF-KLM group, and I sincerely hope that their future will be bright again.
Thanks for reading and looking forward to read your comments
Eric
[Edited 2013-06-10 16:54:59]