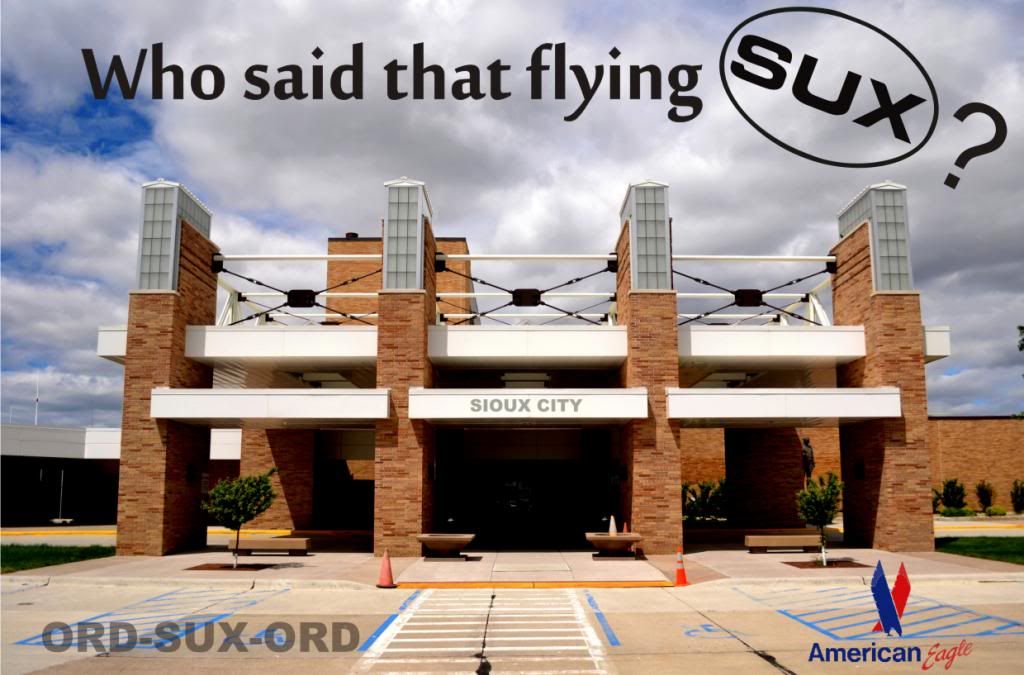 BACKGROUND
As you probably know, winters in Chicago and the entire US Midwestern Region can be long and brutal. For those of us who live there and like to occasionally fly on daytrips winter is a forbidding time. There are simply no nearby destinations where you can fly to, explore, and depart from, all in one day, without freezing your butt off (I'm not the kind of daytripper that would just fly in and out of an airport without exploring the city/town). Plus, even if you choose to fly somewhere south and warm, there is a good chance you'll get stranded there due to bad weather in the Midwest. Not to mention that (some parts of) the South give me the creeps. Just Kidding. Sort of.
As a result of this situation I tend to do very little flying between January and May and this year was no exception. It was no surprise therefore that once the weather started improving I immediately entered daytrip-planning mode. This is the first part of a 3-segment series (see map further below) about daytrips I've organized to (what I consider to be) interesting destinations within the Midwest.
SUX and Flight 232
An airport that I've always been interested in is the Sioux Gateway Airport (also known as Colonel Bud Day Field). Situated near the northwestern corner of Iowa, it serves the Sioux City metropolitan area which spans across 3 states: Iowa, Nebraska and South Dakota. There are two reasons Sioux Gateway Airport is known to aviation enthusiasts. The first is of course its (in)famous IATA code: SUX. For many years local officials kept trying to convince IATA to change the airport's "disgraceful" designation code but despite being offered several alternatives (GWU, GYO, GYT, SGV and GAY, to name a few) a code change never took place. Eventually, SUX decided to embrace its name and started making the most out of it. "FlySUX" became the airport's motto and local authorities started selling t-shirts, hats and other products featuring the new slogan (more about this later).
The second reason for SUX's fame/infamy is the "Miracle in the Cornfield" incident; the crash-landing of UA flight 232 in 1989, when a UA DC-10 on its way from DEN to ORD lost its tail engine and all of its hydraulic systems. The pilots skilfully controlled the aircraft using only its wing engines (using them independently in order to steer) and attempted to land at SUX. The crash-landing resulted in the loss of 111 out of 307 people on board. Despite the disaster, the pilots were celebrated as heroes given that they prevented what could have been an even larger death toll. Items from the crash are on display at the aviation museum attached to SUX and a memorial near downtown Sioux City commemorates the event.
BOOKING
AA (more specifically, American Eagle) is the only airline that serves SUX with 2 daily flights to/from ORD, subsidized by the Essential Air Service program. These flights filled the service gap left by Delta in 2012 when it decided to eliminate several regional airports, including SUX, from its network. At a very reasonable (by US-standards) $150 return fare I went ahead a booked myself a ticket. Due to the timing of the flights I could not turn this into a daytrip (unless I did a same-plane-turnaround which was not gonna happen) so I decided to stay in Sioux City for a night.
Here is the complete map of my summer's Midwestern wanderings, featuring the states visited (or to be visited). In red, the segment reported here.
HEADING TO SIOUXLAND
This being tornado season I was a bit nervous about the weather in the days leading up to my trip. Sure enough, on the day of my arrival at Sioux City the forecast predicted thunderstorms. I equipped myself with a new sturdy umbrella and made my way to ORD in hopes that the weather won't be bad enough to prevent me from doing some sightseeing while in Sioux City.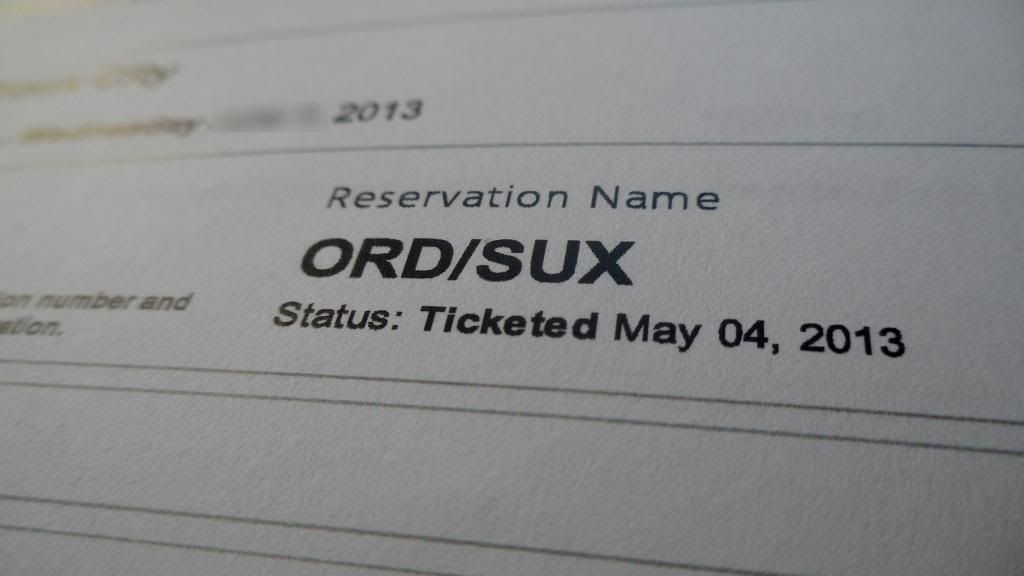 ORD SUX. I know a few people that would strongly agree with this statement.
I had checked in and selected my seat online so once I got to ORD I headed for security and the G-gates area, where most AA regional operations take place. The place was an AA ERJ heaven. As per tradition I got there way too early so I spent the next 4 hours spotting, reading and people-watching (palmjet would be proud).
Of the tons and tons of ERJs and CRJs present only 2 or 3 featured the new livery.
Chicago's skyline through the haze.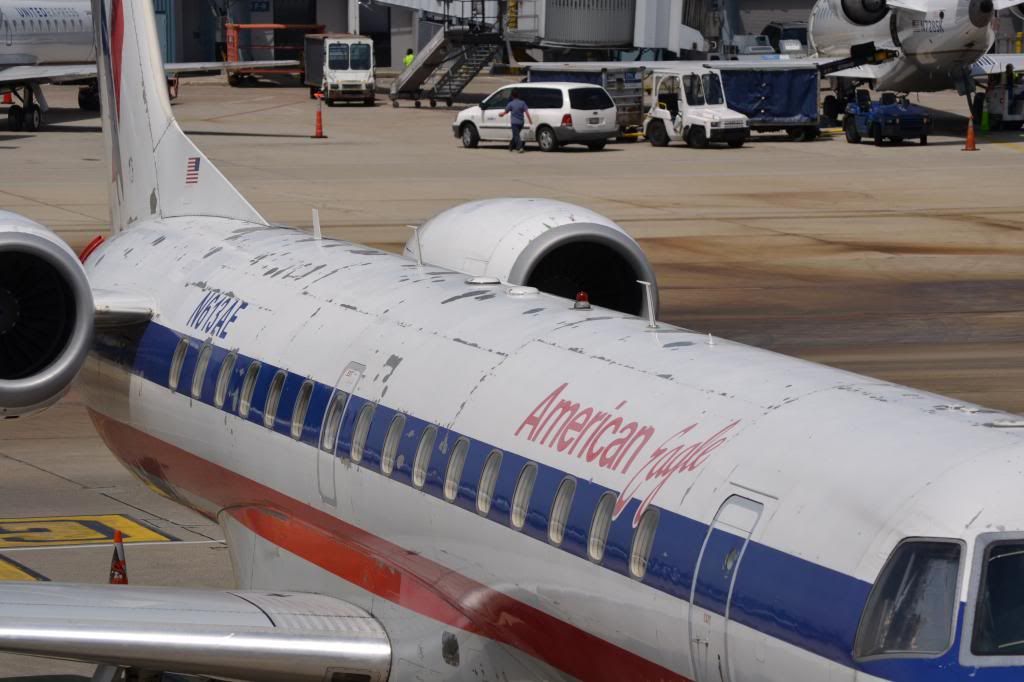 This fella sure needs some new paint.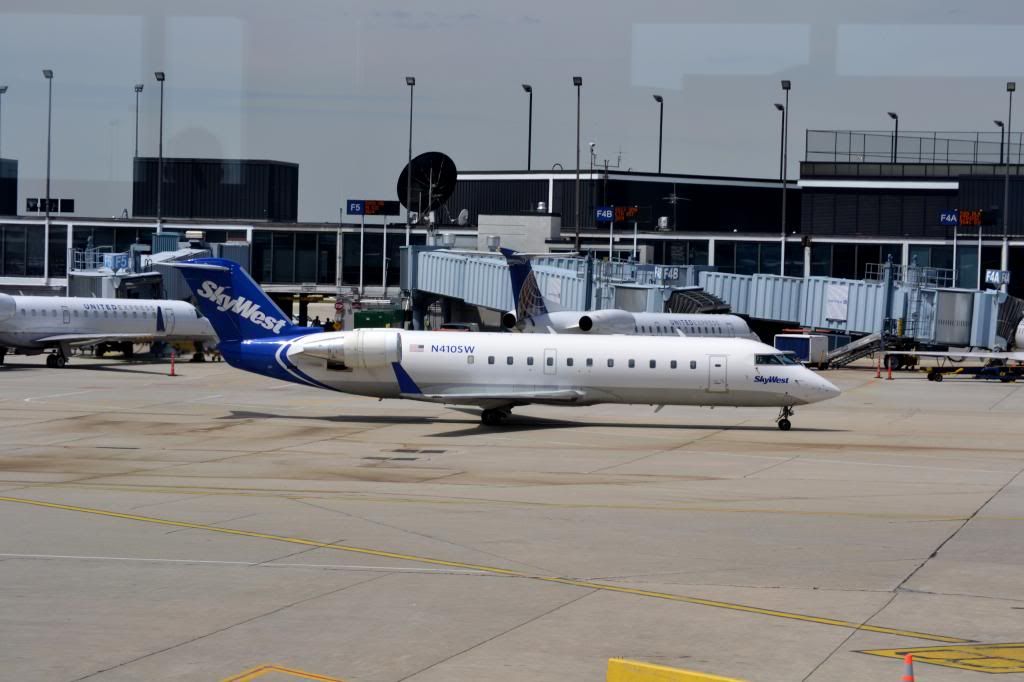 A SkyWest CRJ-200 dressed in the company's actual livery (this particular one used to wear Delta Connection colors for many years).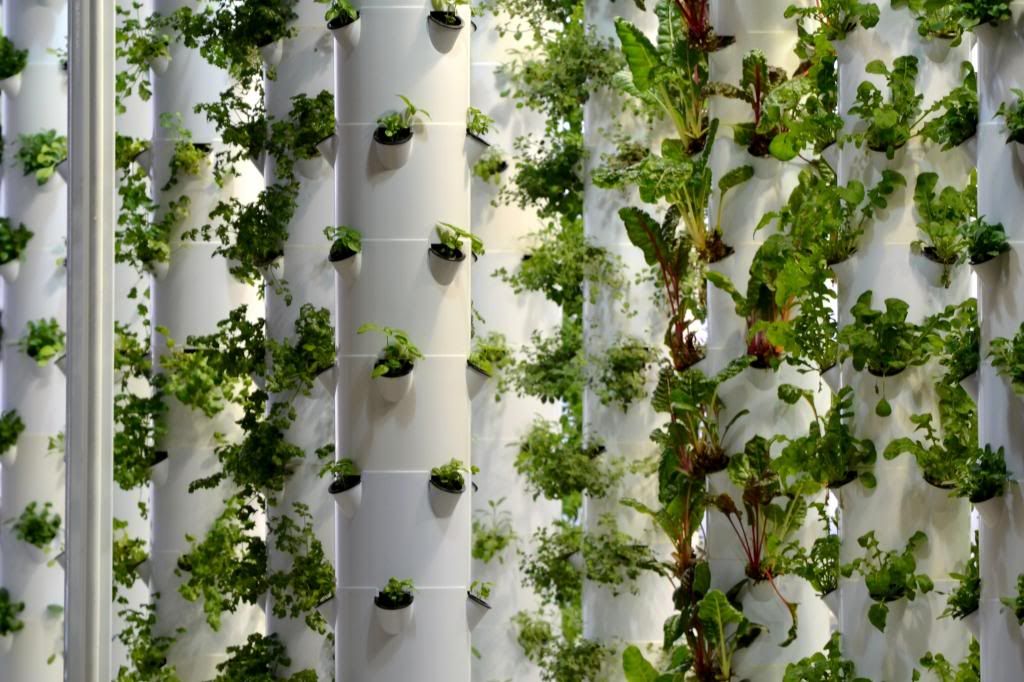 Detail of ORD's Urban Garden, featuring a bunch of salad vegetables. An interesting area that I had not seen before.
Old and New (which, sometime soon, will hopefully become old too).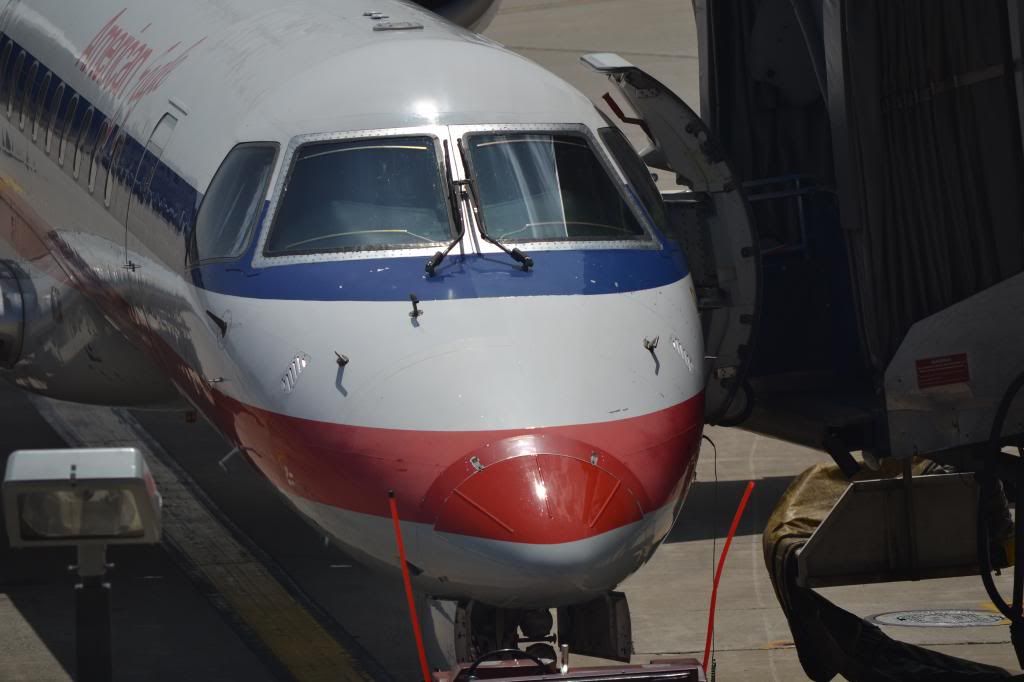 I love those thick cheat-lines on AA's regional jets.
This guy is ready to go.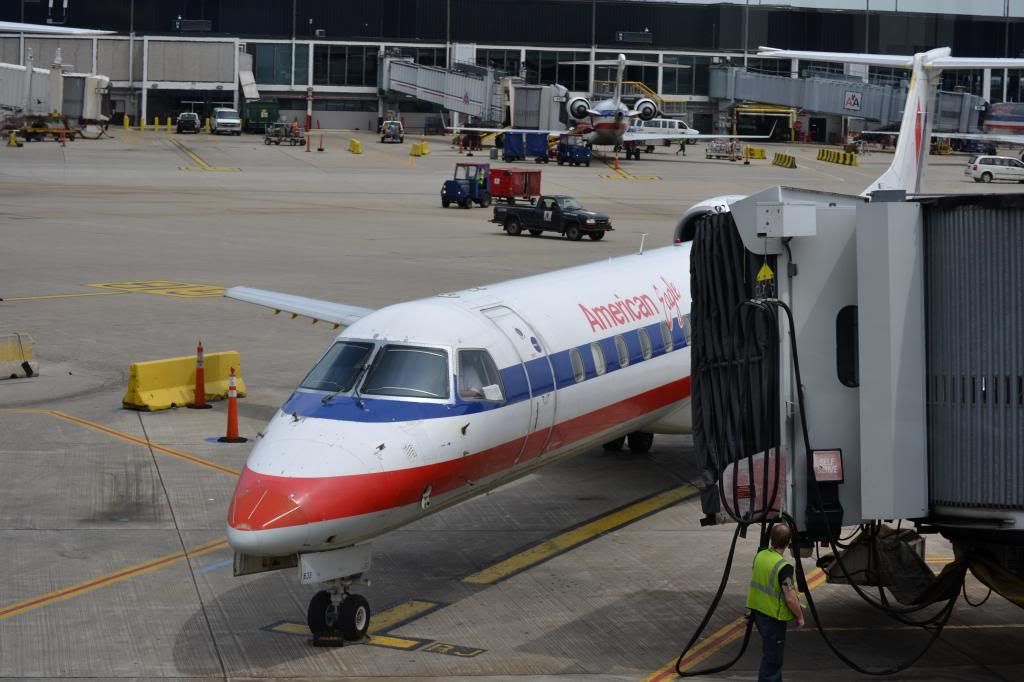 And here is our aircraft arriving at the gate.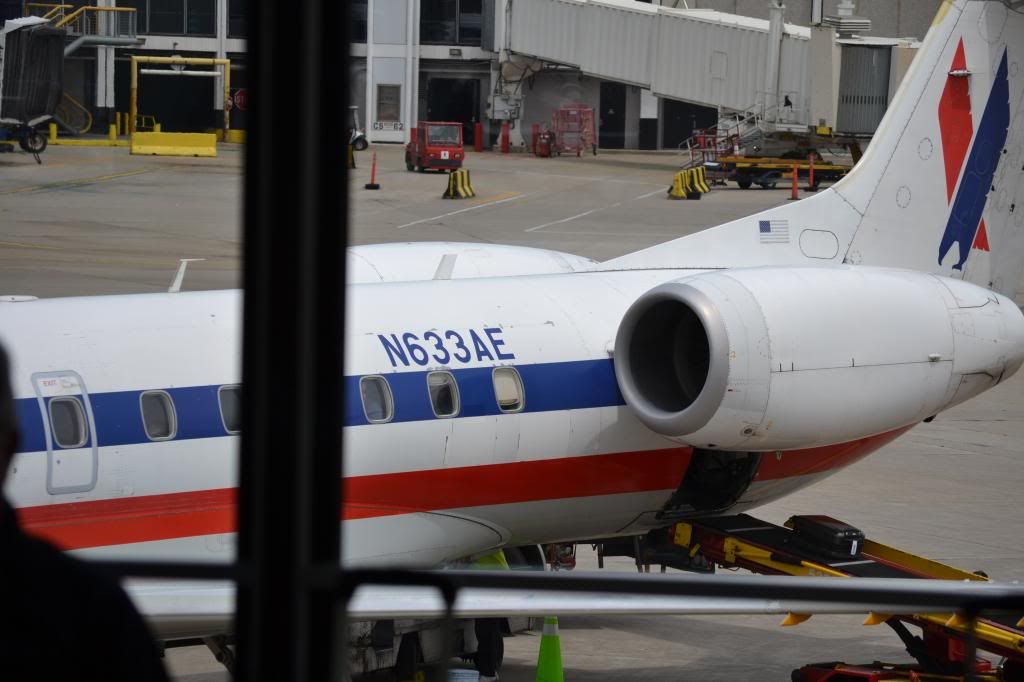 Jetbridges are not being nice to me lately. I had to struggle to get a look of the registration.
I was one of the first few to board the aircraft (I was in boarding group 2). I put my (thankfully small enough) carry-on bag in the tiny overhead space and sat on my rather comfortable 9A seat. I must confess that I was pleasantly surprised by the legroom in this small aircraft. Even after the guy in front of me reclined his seat my knees were in no way struggling for room.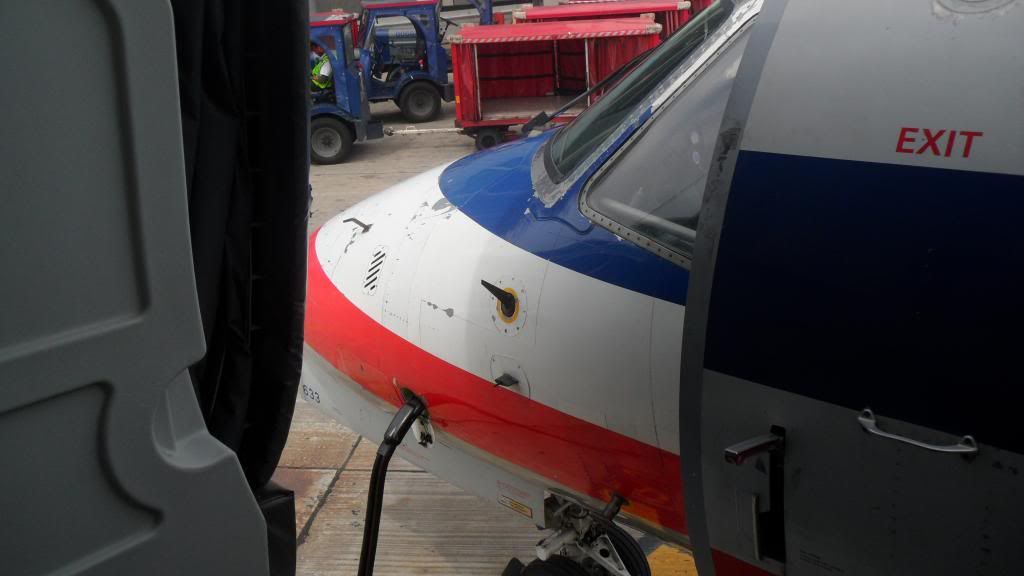 Boarding our aircraft
Looking good
Excellent pitch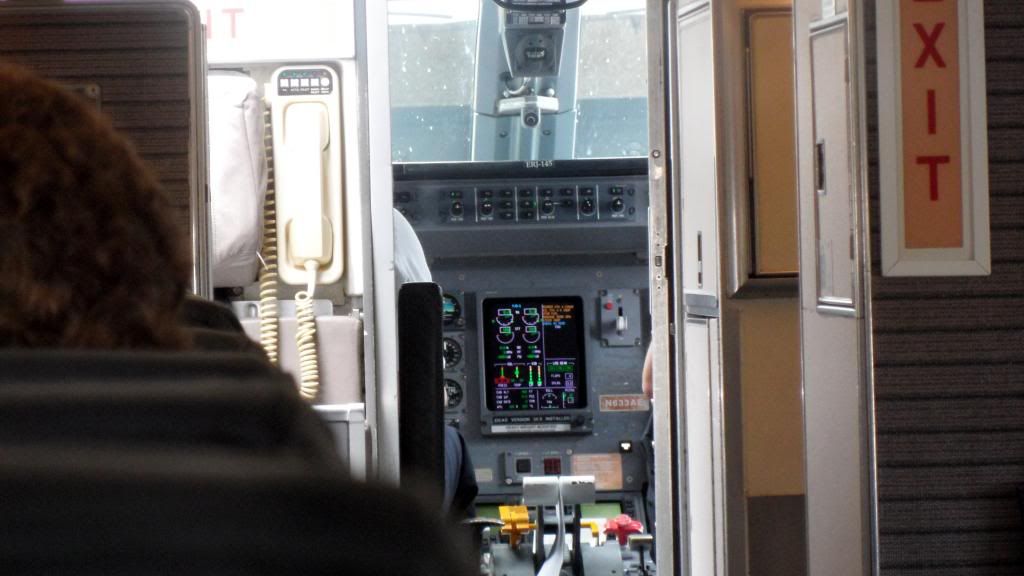 A sneaky peek into the cockpit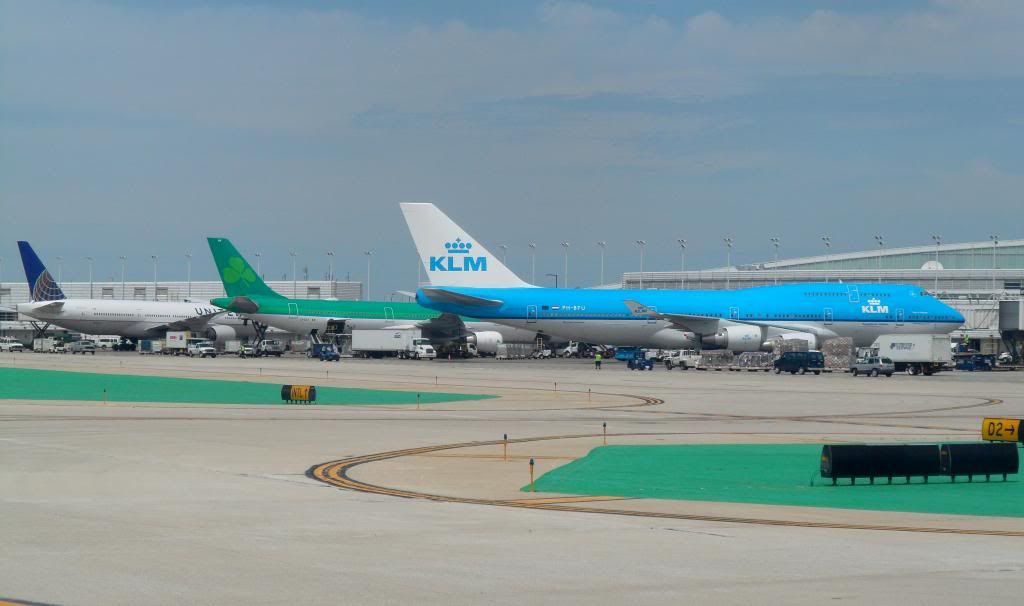 Passing by some giants on the way to the runway
Dedicated to SR117 and EddieDude.
Take-off was very smooth, yet powerful, with hardly any vibrations. I regret not shooting a video of our take-off as it would have been uncharacteristically stable. I was hoping for clear skies but it was not meant to be. We spent pretty much the entire 1h16m over a cloudy terrain. Drink service consisted of free soft drinks (I went for an OJ) and alcoholic beverages for purchase (payable in cash only).
Taking off on time. My watch is a bit messed up by the way as you can notice.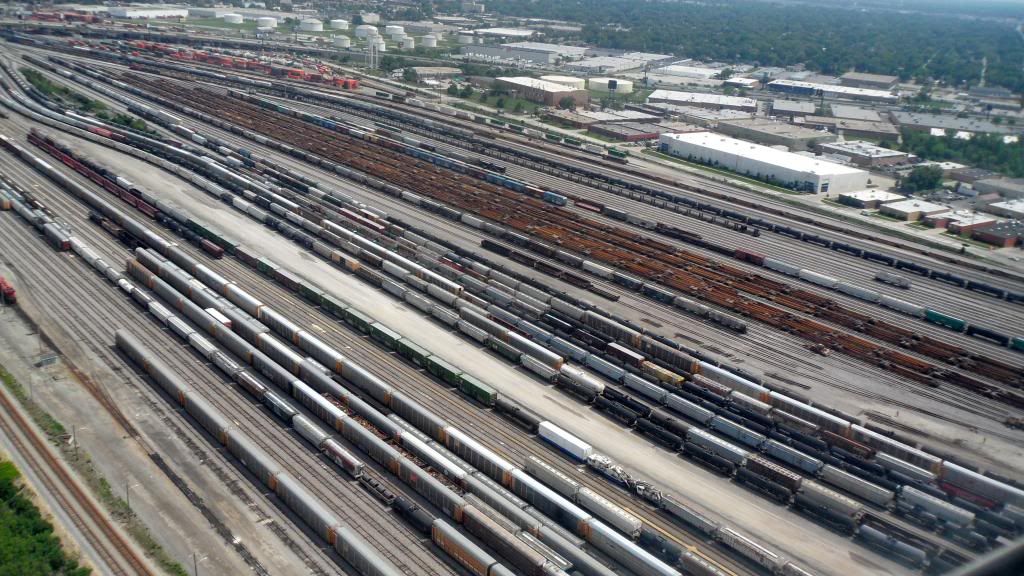 Ascending over some railtracks
An Airbus in US Airways colors crossing our path
A glimpse of AUZ just before the clouds moved in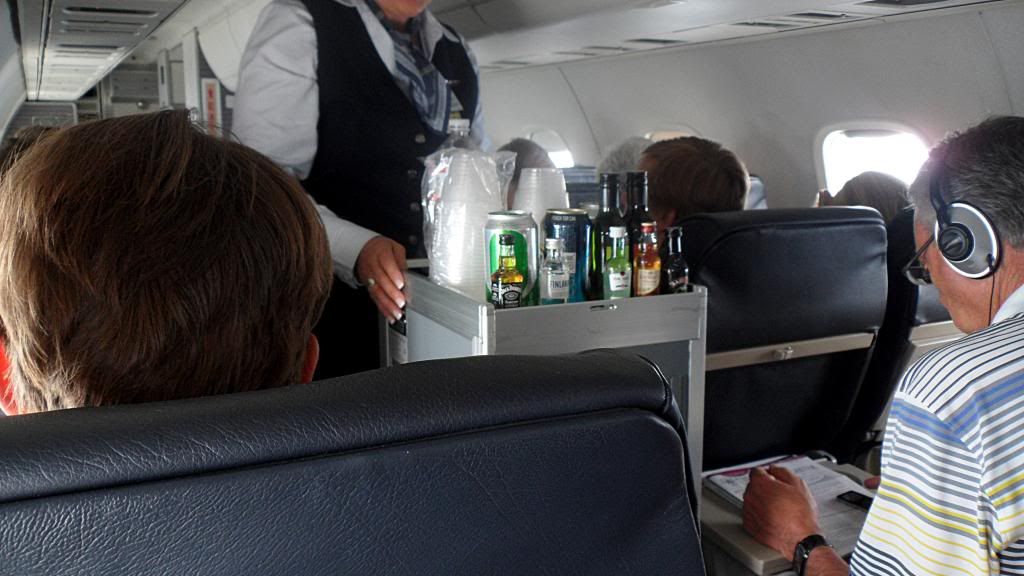 Drink service.
Some nice icy juice for me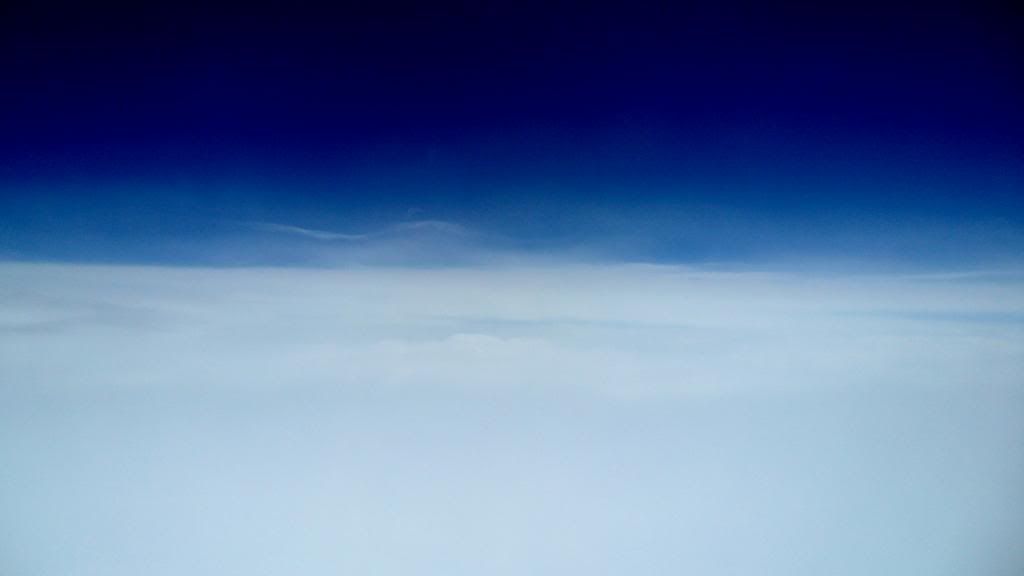 My view for most of the flight
Browns Lake (what used to be a bend of the Missouri River but is now cut-off from the main flow) on approach to SUX
Our approach into SUX was through a bunch of dark clouds and our landing on runway 31 (the longest in the state of Iowa) was smooth and almost 15 minutes ahead of schedule. Our ERJ-145 docked at one of the two jetbridges at SUX and before I knew it we were all landside. Despite having been to Iowa several dozen times (albeit to the eastern part of the state only), this was my first time in an Iowan airport.
A good-looking runway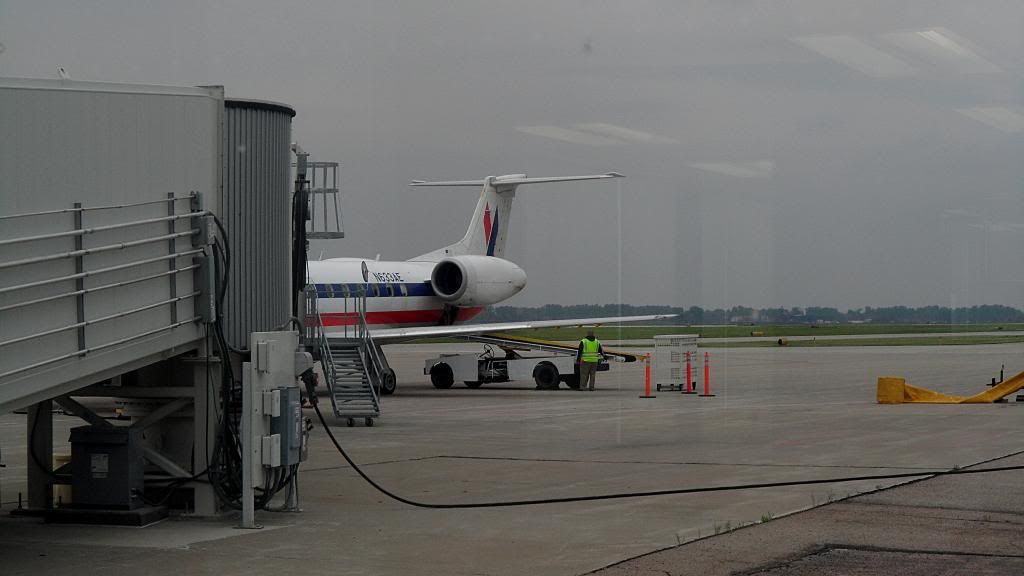 Our aircraft at the gate
Next to the terminal there were a couple of JetSun hangars and several general aviation aircraft
Here's one more photo of our aircraft behind the jetbridge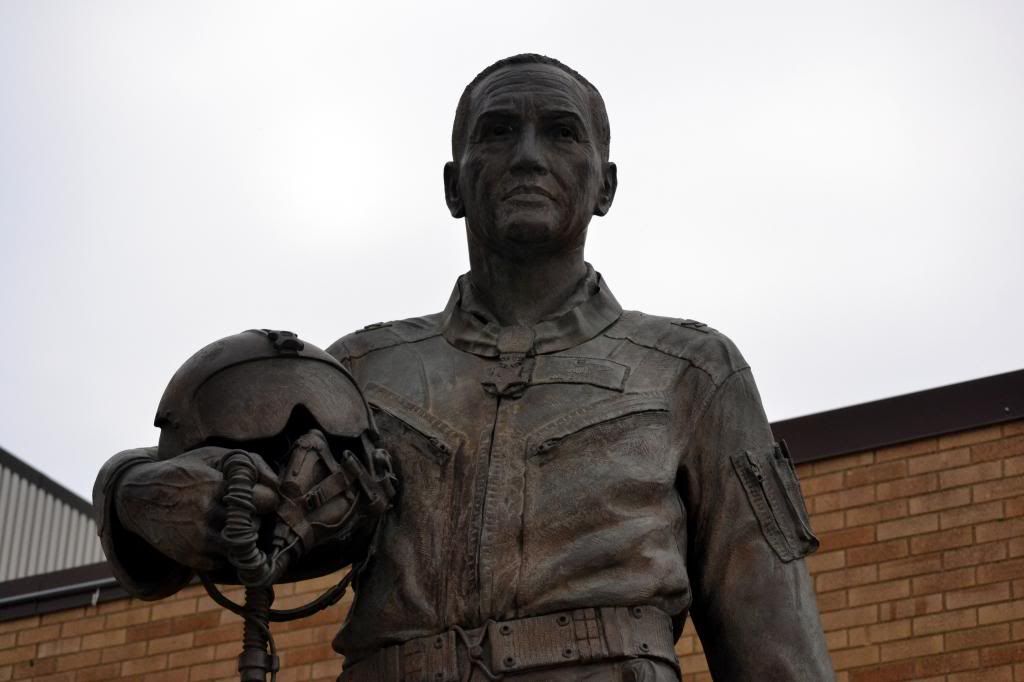 A statue of Colonel Bud Day, after whom the airport is named. The inscription below the statue reads as follows: "Shot down Aug 26, 1967 during an attack on a missile site in Vietnam. Injured with 3 breaks in his right arm, injured knee and damaged eye. Captured, tortured but escaped through the jungle for 2 weeks. Met North Vietnam soldiers, refused to surrender. Shot while trying to escape. Recaptured, hung by arms for refusing to reply, both arms and hands paralyzed from hanging, arm rebroken. Multiple tortures. Refused to respond as demanded. Beaten daily with fan belt (66 days). Refused to yield. Set the Example."
Our aircraft departing for ORD
For the night I had booked myself a room at the
Sioux City Hotel
in downtown. A couple of days earlier I had called the hotel and asked them to pick me up at the airport (they offer a free shuttle service) at the time of my arrival. Just before I boarded my flight at ORD I called them again to remind them. Sure enough 40 minutes after my arrival at SUX nobody had shown up. I called the hotel again and the receptionist told me that she had no record of me requesting a shuttle (!!!).
"This SUX"
I thought. I asked her if she could send someone now to which she agreed. With this and that I wasted almost an hour of precious daylight time which I was intending to use for sightseeing. There were no taxis to be seen anywhere at the airport so I simply had to wait for the shuttle. When it got there I was greeted by the driver who looked like he came straight out of
"The Call of the Wildman"
show. And he smelled like it too. Fortunately, it did not take us long to get to the hotel. My room was rather spacious but in a desperate need of refurbishment. One of the bedside lamps wasn't working, the clock-radio was also dead, the furniture was worn out and on the window there was -what looked like- a pellet bullet hole.
Arriving at the hotel
Hm... Plugged in and switched on, neither wanted to work.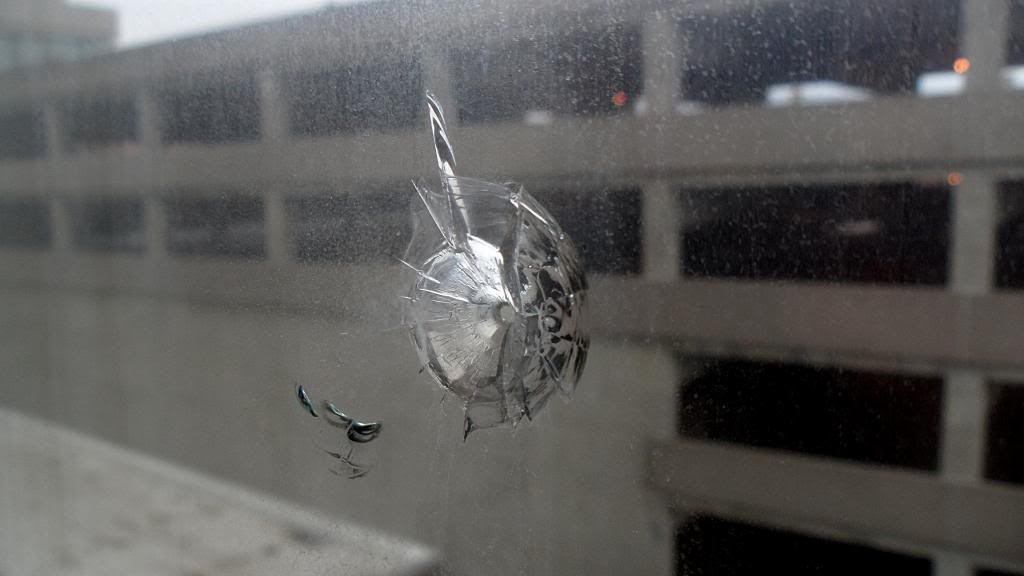 My room was on the 6th floor. What could have possibly caused this from the outside?
Truth be said, the bed was comfortable
SIOUX CITY
A few words about Sioux City: It is the 4th largest city in Iowa, with a population of 83.000, but its metropolitan area exceeds 162.000 people. It is named after the Sioux (pronounced "Soo"), a Native American people local to the area. A nearby river, the Big Sioux River, separating Iowa from South Dakota is also named after the Sioux. A few miles north, along the shores of this river, is Sioux Falls, the biggest city in the state of South Dakota.
By the time I got out again the rain had stopped but the sky remained ominously cloudy and dark. My aim for the rest of the day was to explore downtown, the riverfront and perhaps walk over the bridge to Nebraska.
Entrance to the Flight 232 Memorial site
The centerpiece of the memorial site. It depicts "the rescue of 3-year-old Spencer Bailey by Lt. Col. Dennis Nielsen of the Iowa Air National Guard's 185th Tactical Fighter Group, one of the many who answered the call that day. Inspired by a photograph shot by Sioux City Journal photographer Gary Anderson"
Walking towards the Veterans Memorial Bridge connecting Iowa to Nebraska
A section of Sioux City's skyline as seen from the bridge
The Flight 232 Memorial as seen from afar
Once I reached the bridge that connects Iowa with Nebraska I was too preoccupied with taking photos of the views that I completely missed the barrier that had a "Sidewalk Closed" sign on it until I almost walked up to it. When I saw it I literally yelled
"Noooo"
(and some profanities). With my tail between my legs I turned around and started walking towards town again. No more than 50 meters later I came across a Mexican guy who was walking toward the bridge. I informed him that it was closed. Manuel (not his real name), a very nice and friendly fella, told me that he had left his pickup truck on the other side and that he absolutely had to get to it. Not to be deterred by a fence, Manuel said that he would go ahead. Hesitating for a moment I decided to join him. I could not see any construction or any other signs as to why the sidewalk was closed so I was pretty confident that I would not fall through a hole or something. This was my first state border crossing on foot. After a few minutes on the Nebraska side, I made my way back into Iowa.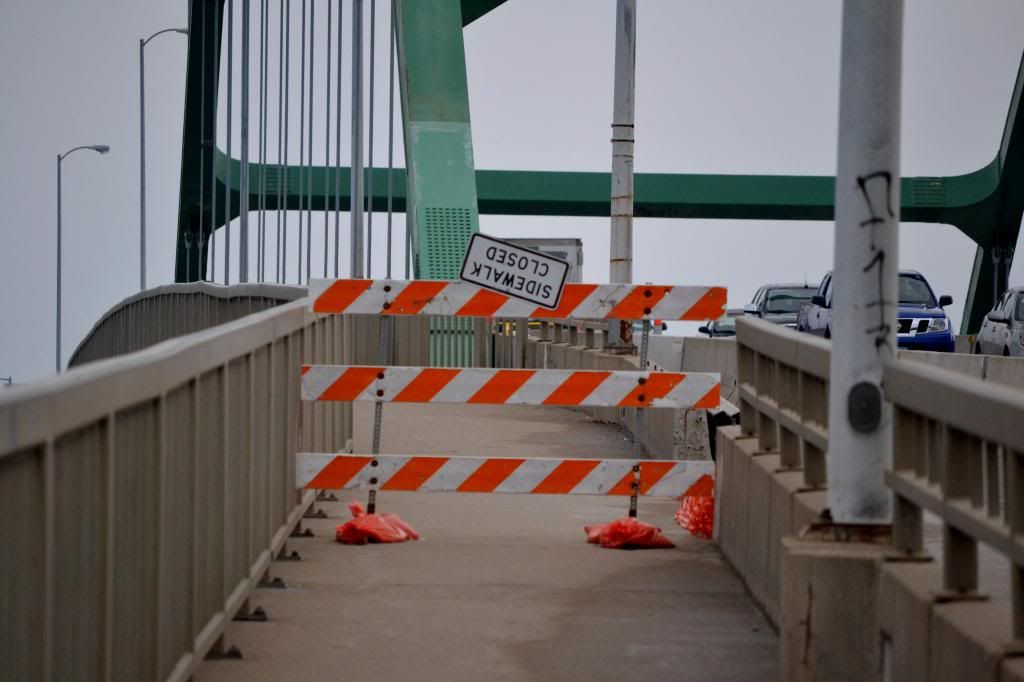 Noooo...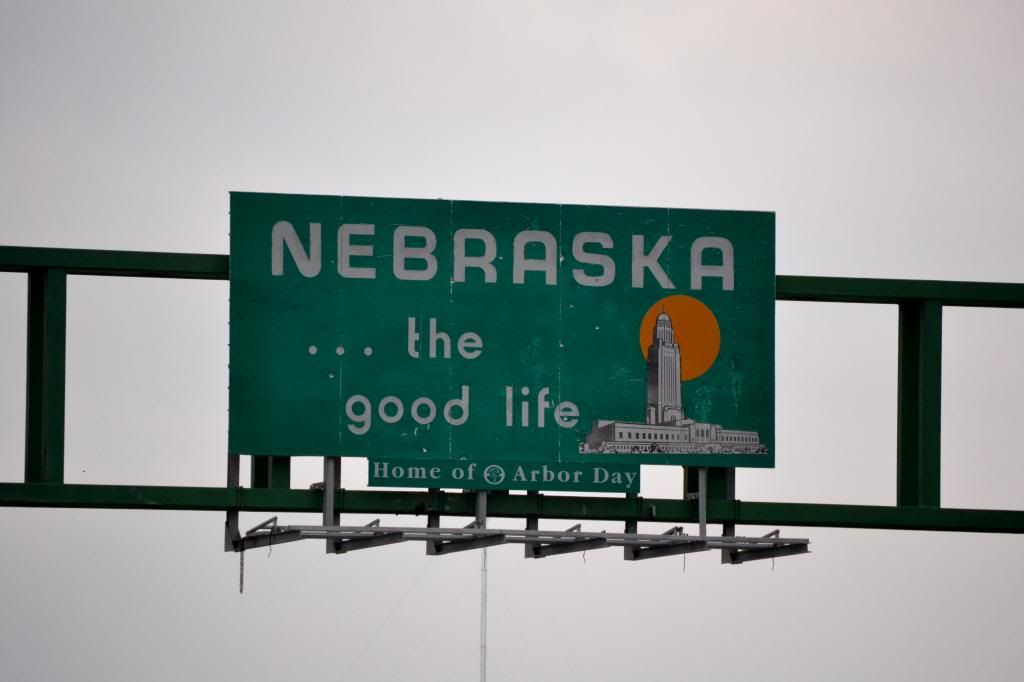 Crossing into Nebraska anyway
Stepping on Nebraska soil. Time for new shoes, won't you say?
Manuel walking away to his truck
Back in Iowa
This little fella was hiding in the grass near the river
The floating Argosy Casino
Freight trains of extraordinary length cross downtown on these tracks, stopping car traffic for several minutes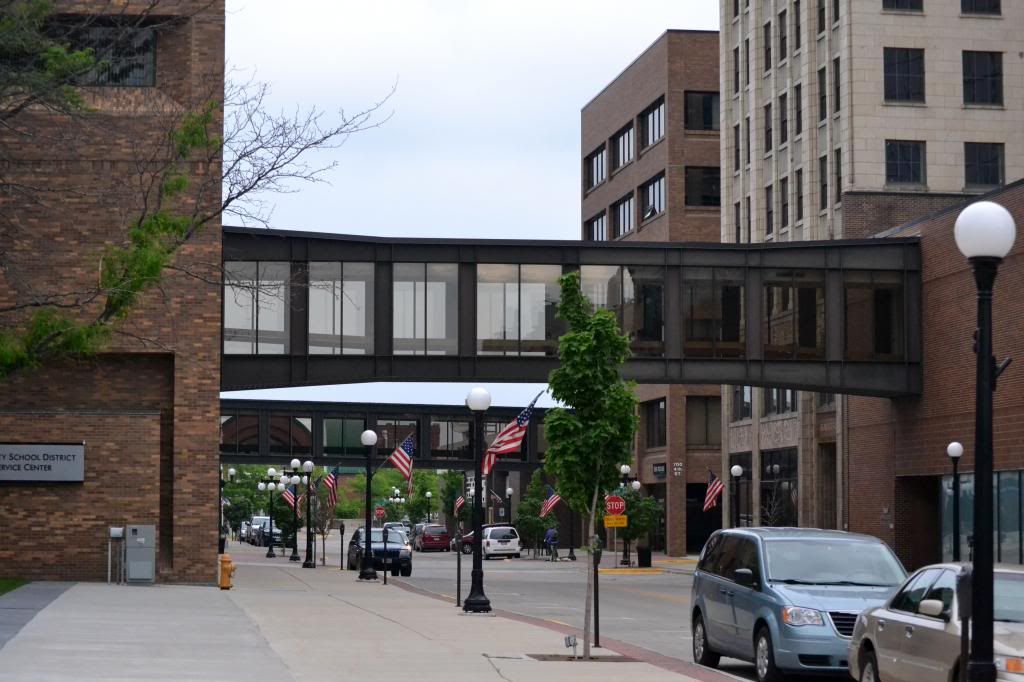 Most buildings in downtown are connected by several of these skybridges. I bet they make everybody's life much easier in winter when temperatures plummet.
Some more photos of my first day at Sioux City without any tiresome commentary from my part: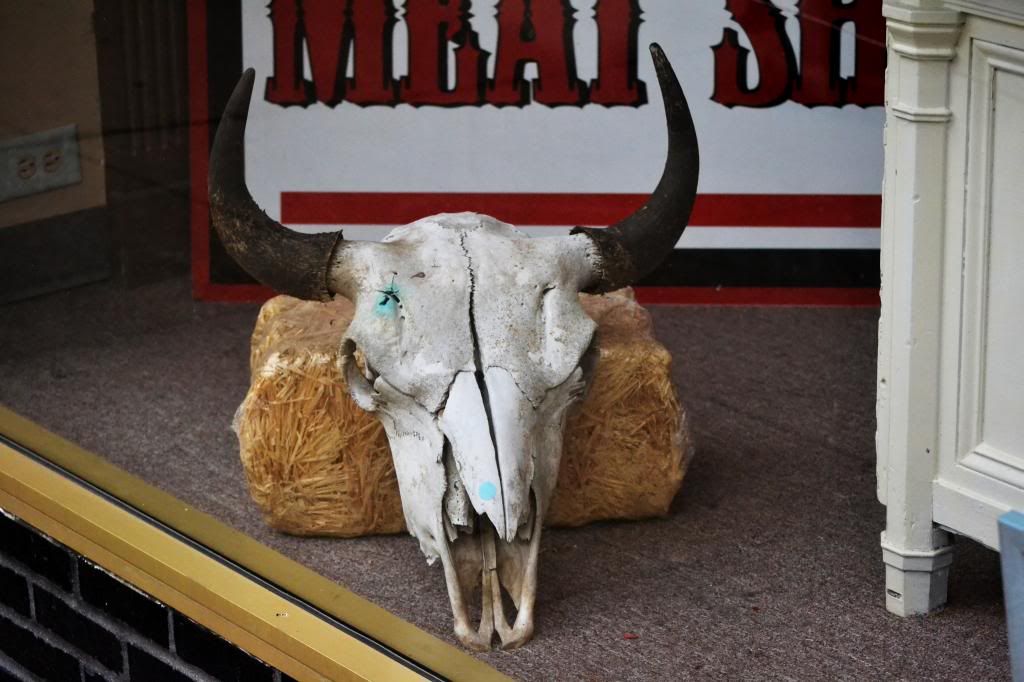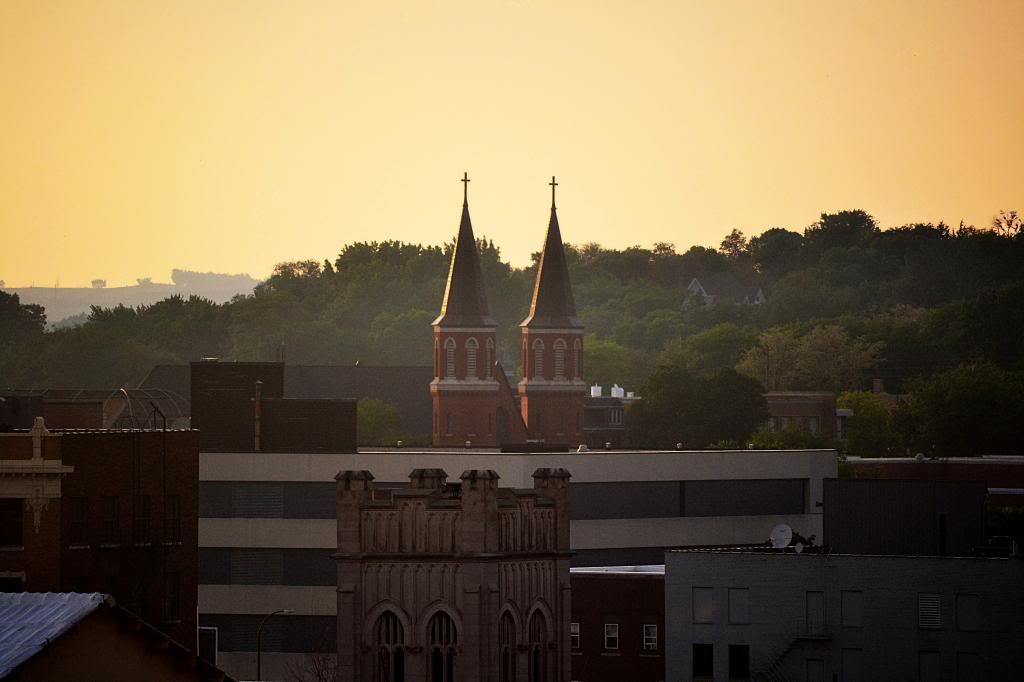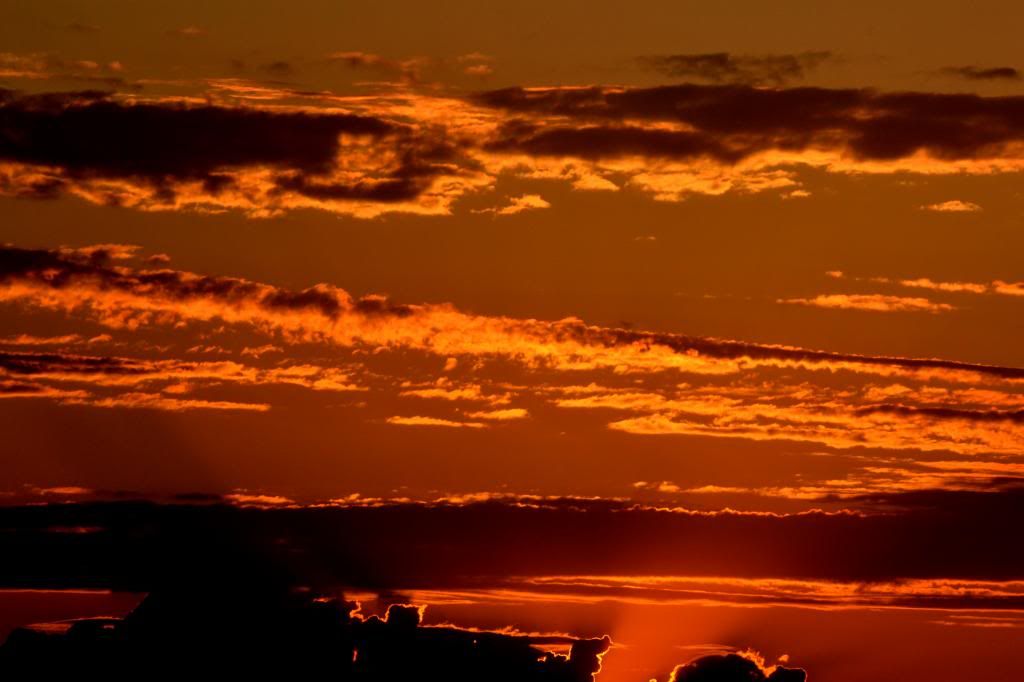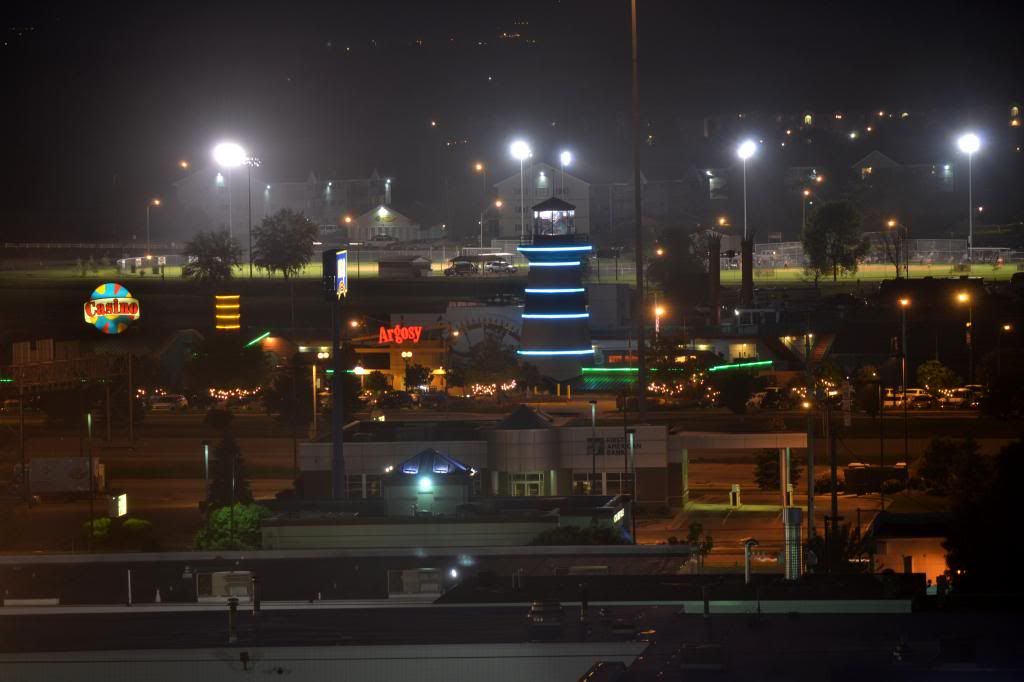 The floating casino at night from the roof of my hotel
Continued Below
[Edited 2013-06-10 20:35:53]