View Large
View Medium


Photo © Jakkrit Prasertwit
***Having technical issues so the story about the crash is in reply #1***
Can't post link in my report so it's in the first reply.
Last month I took a flight to Vientiane, Laos on Thai Airways. It was first time in Laos. Initially I was going to fly on Laos Central Airlines but their discounted fares didn't work with my schedule. They were running roundtrip fares for only 2900 baht ($85USD) but that rate would mean taking extra days off work. I ended up on Thai Airways again since their fare was the same as Laos Central Airlines. Mine as well get the miles.
Ride to the airport here in Bangkok is always interesting. This taxi driver had his car all decked out with all sorts of stuffed animal characters.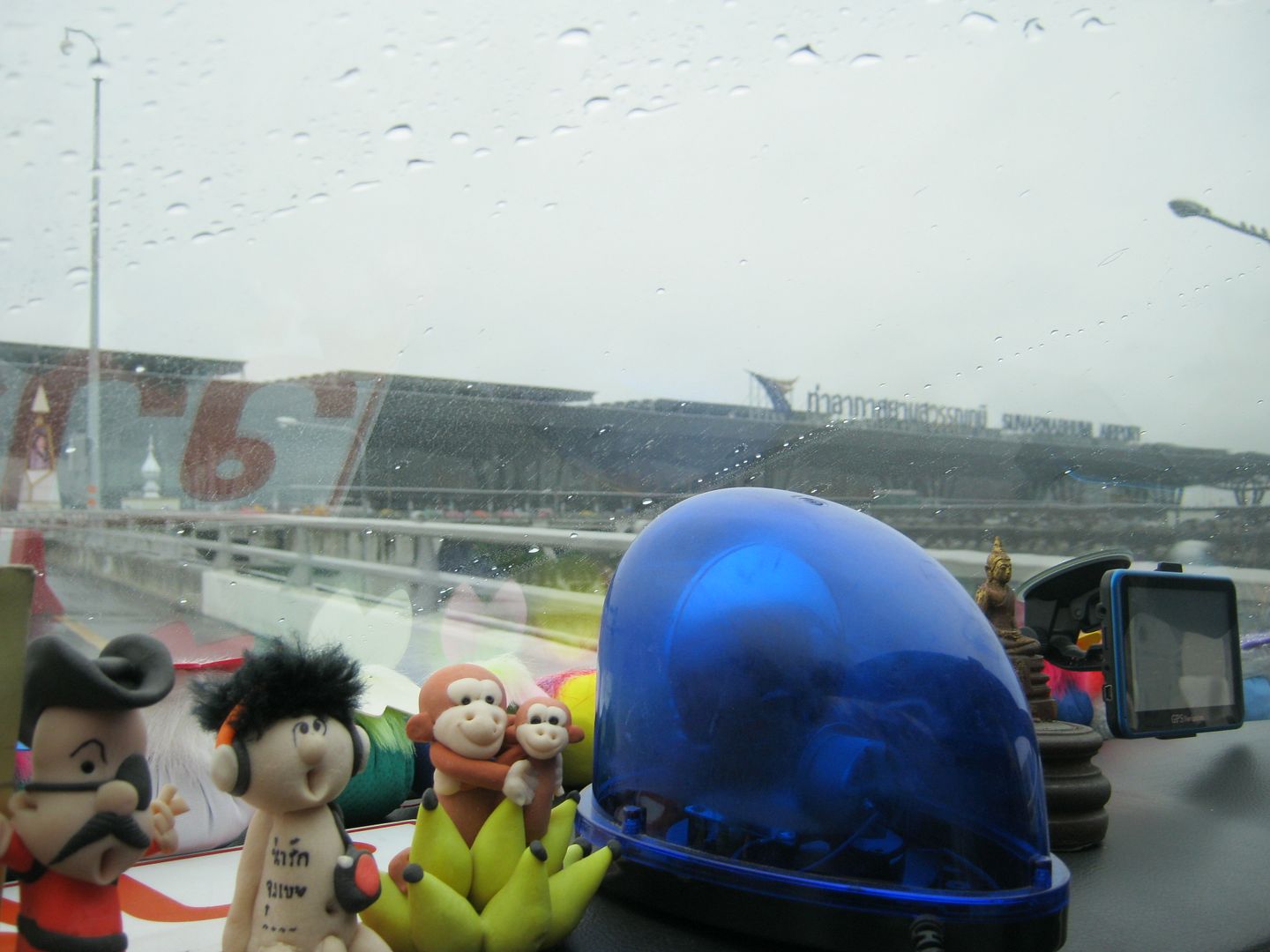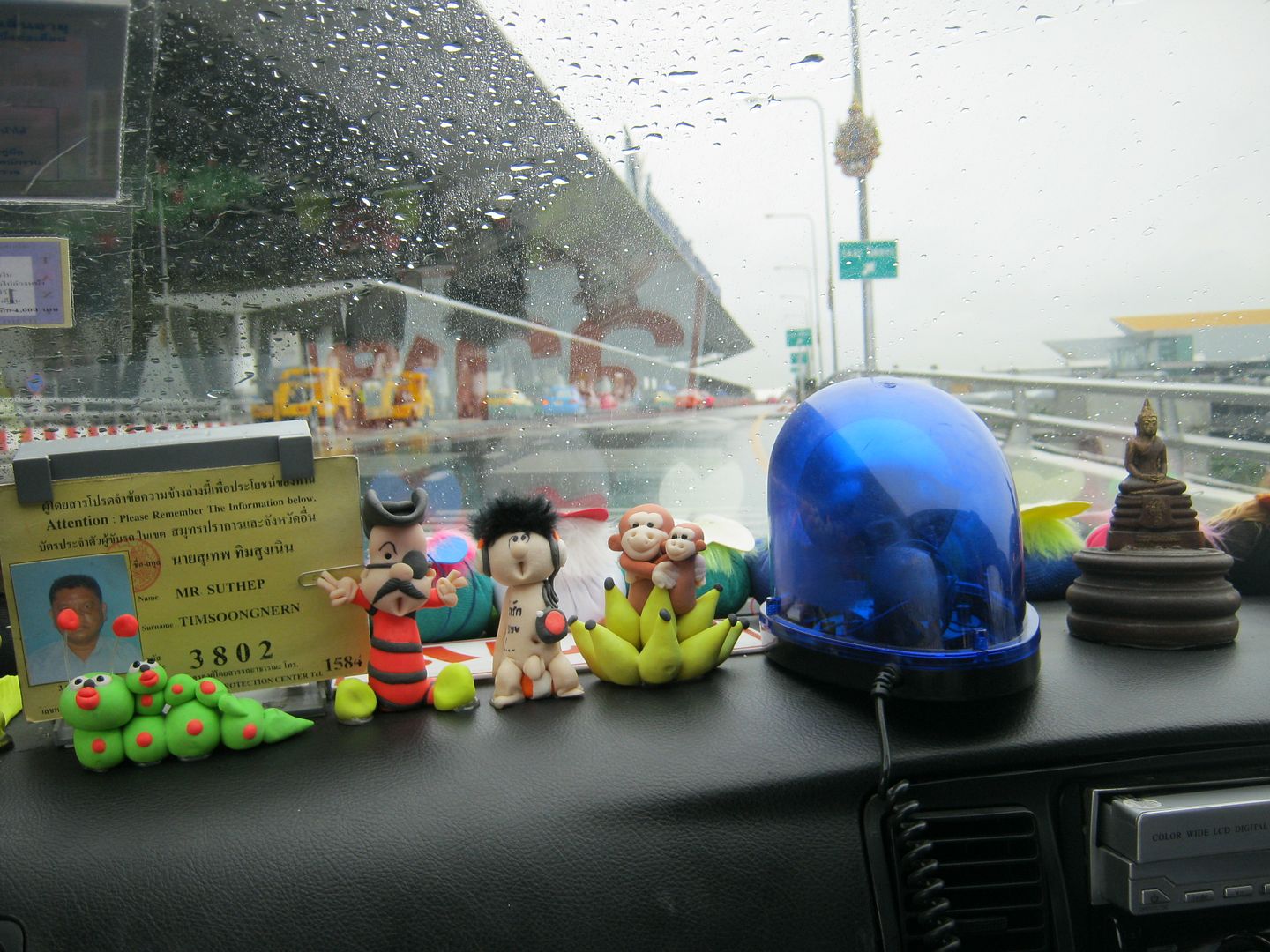 Get to Suvarnumbhumi and check in for flight. No lines at all. Check in, security and customs was a breeze.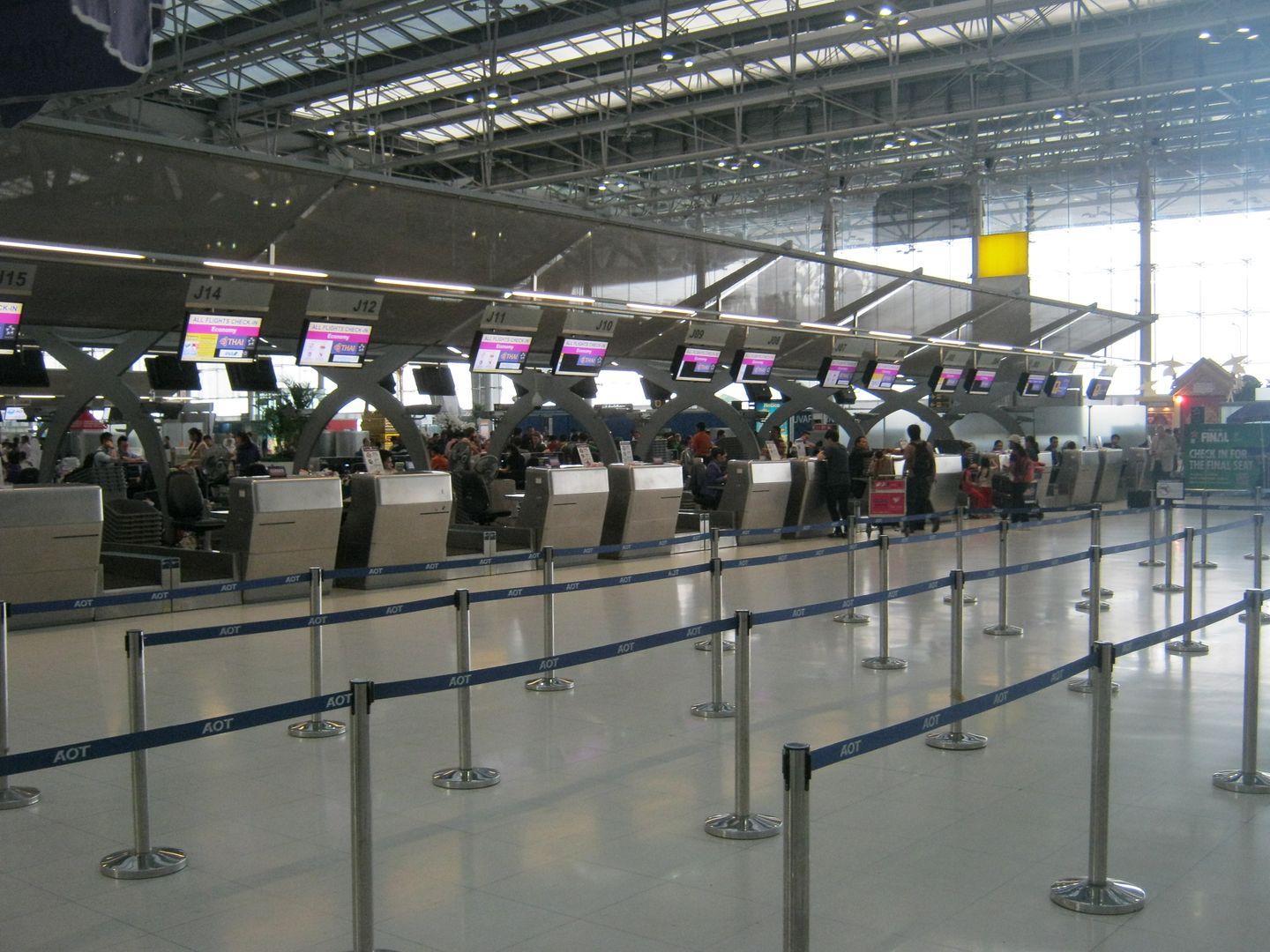 Since we're not allowed to bring fluids onboard, I chose to buy deodorant, tooth paste & mouthwash at the airport. The store in the departure terminal only had women's deodorant. No men's deodorant of any kind! Luckily it was Secret deodorant – strong enough for a man, but made for a woman.
Since Suvarnumbhumi is a shopping mall that just so happens to have airplanes with passengers coming & going, I would expect to find men's deodorant in one of their stores.
In the departure terminal, we were entertained with traditional Thai performers. These are called chud-hoon(sp) the dancers that carries the doll. This went on for about 15 minutes before it was time for me to catch my flight.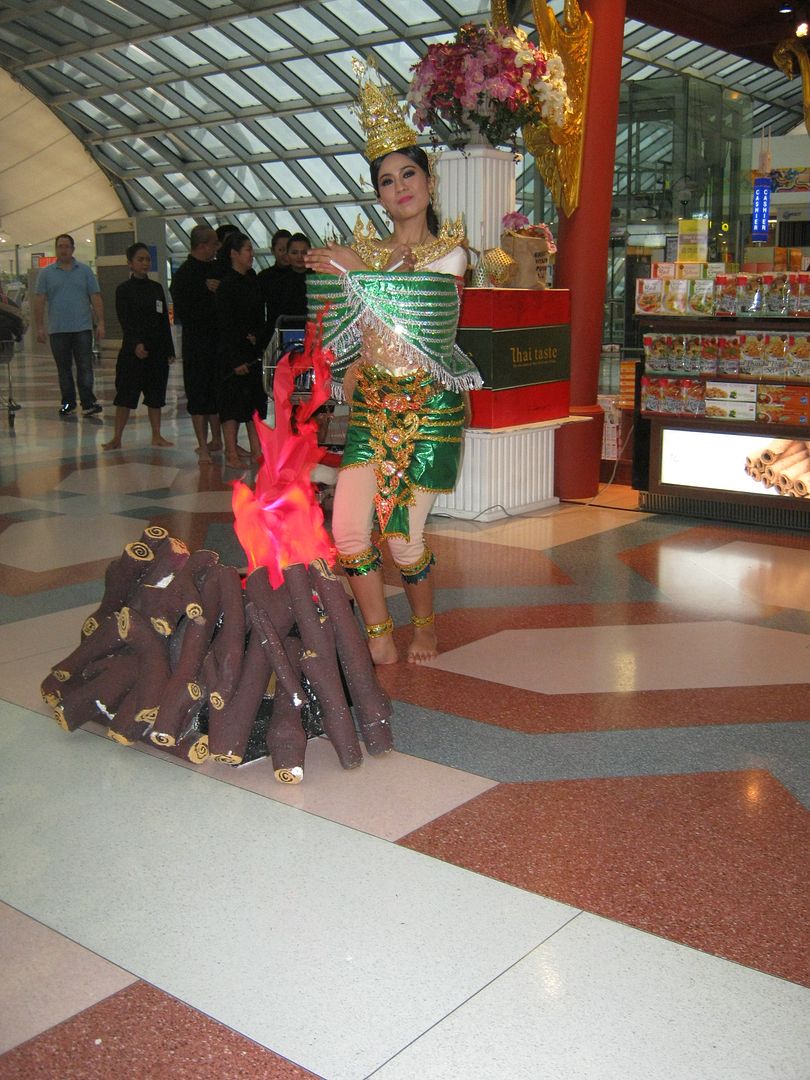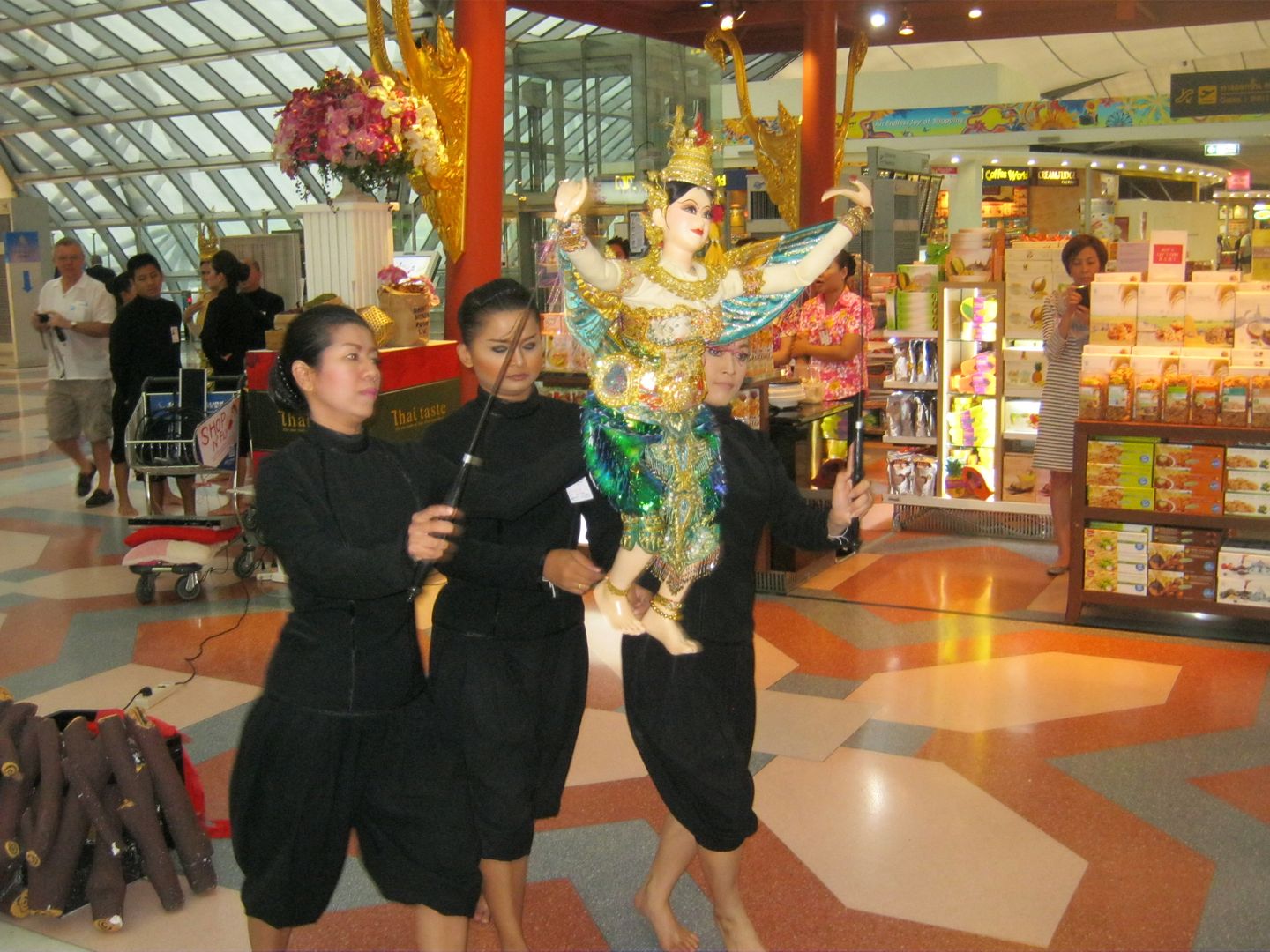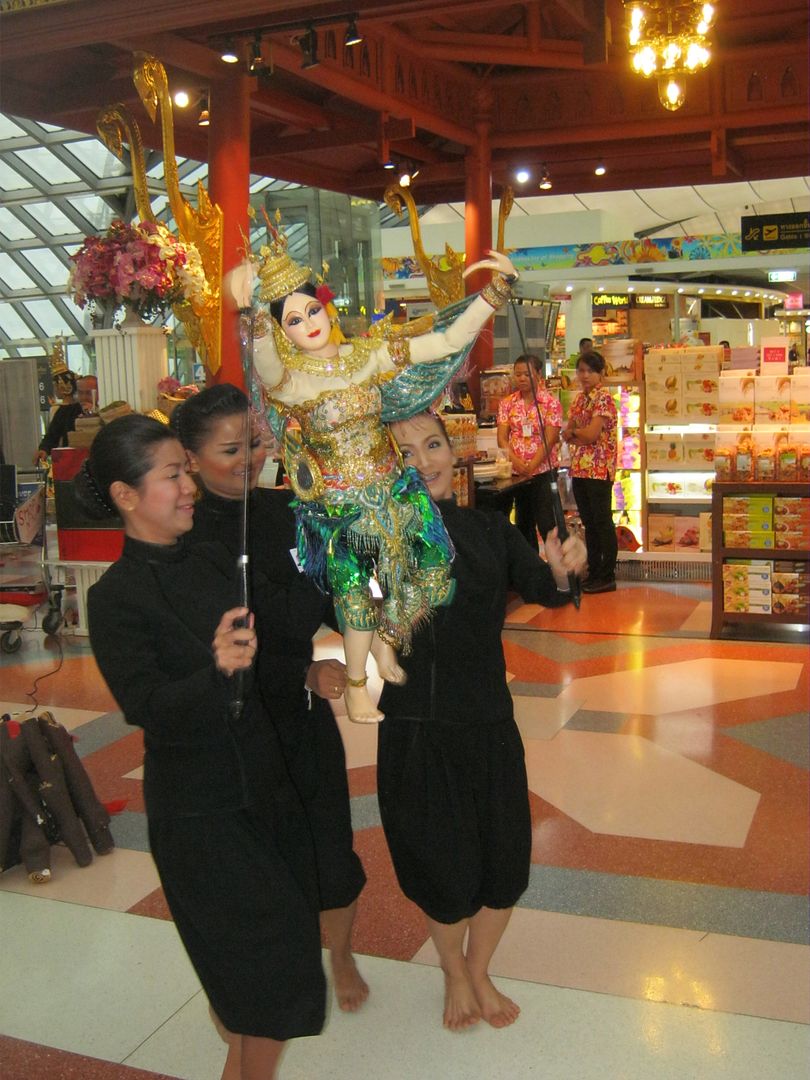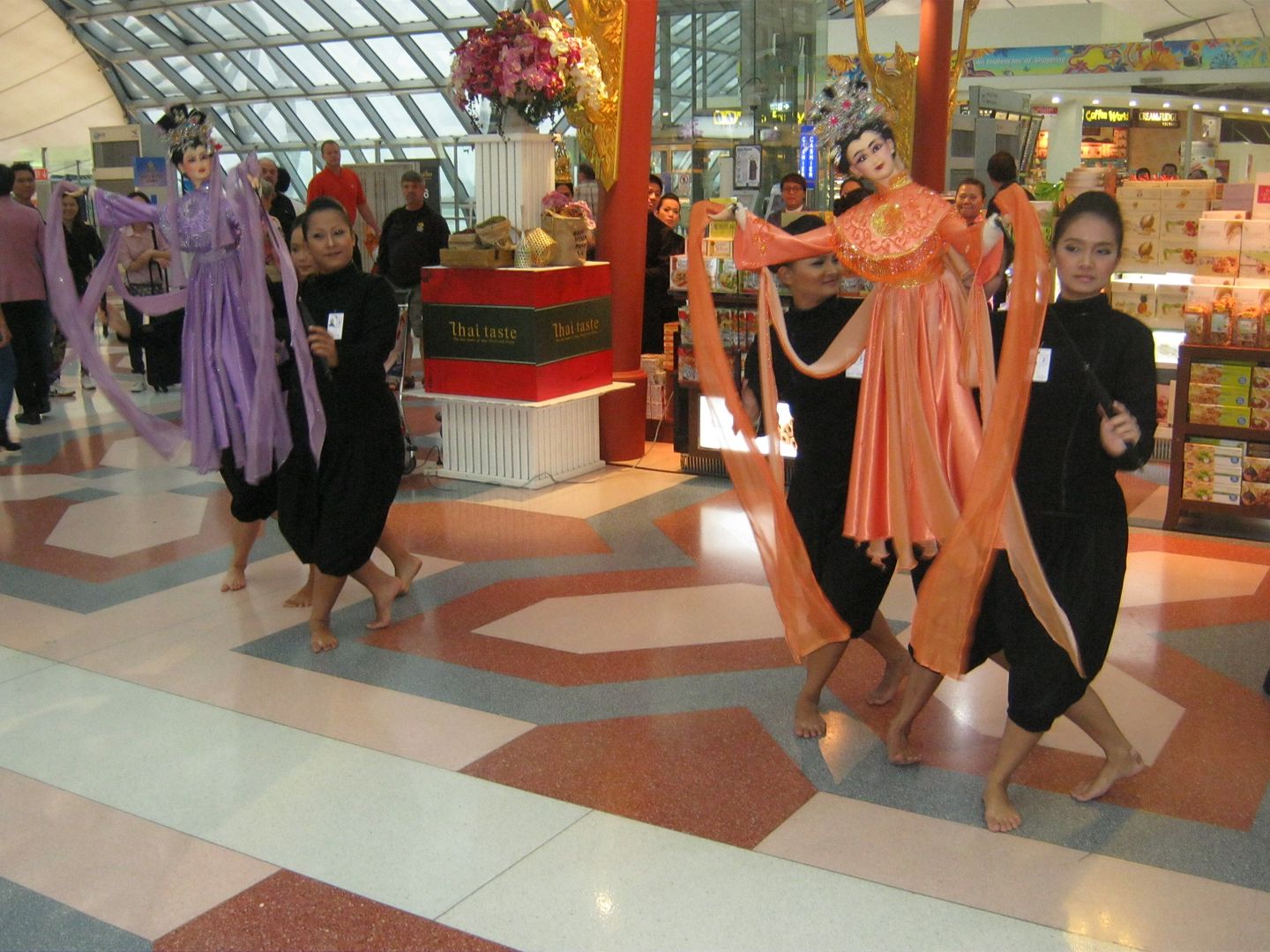 We board on time and off we went.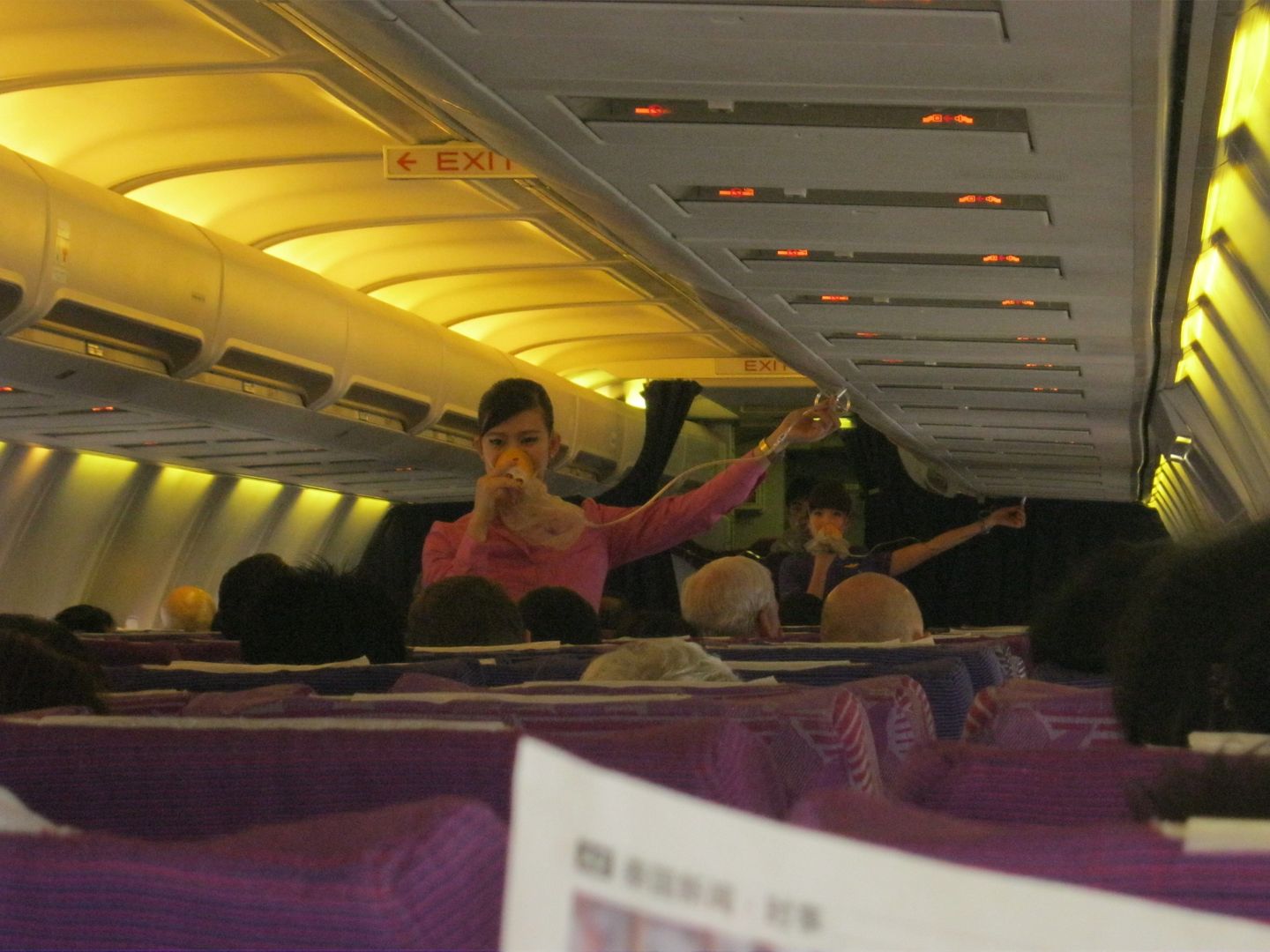 The aircraft was again a Thai Airways 737-400 (HS-TDD). We take off in to the rain and service begins once we get above the rain clouds.
Service begins. I was glad to see that Thai Airways has upgraded their meals on short-haul flights. For the longest time, it was processed tuna sandwiches. Now they serve a fried pork salad fusion with som tom. It was a much needed improvement for their short-haul product.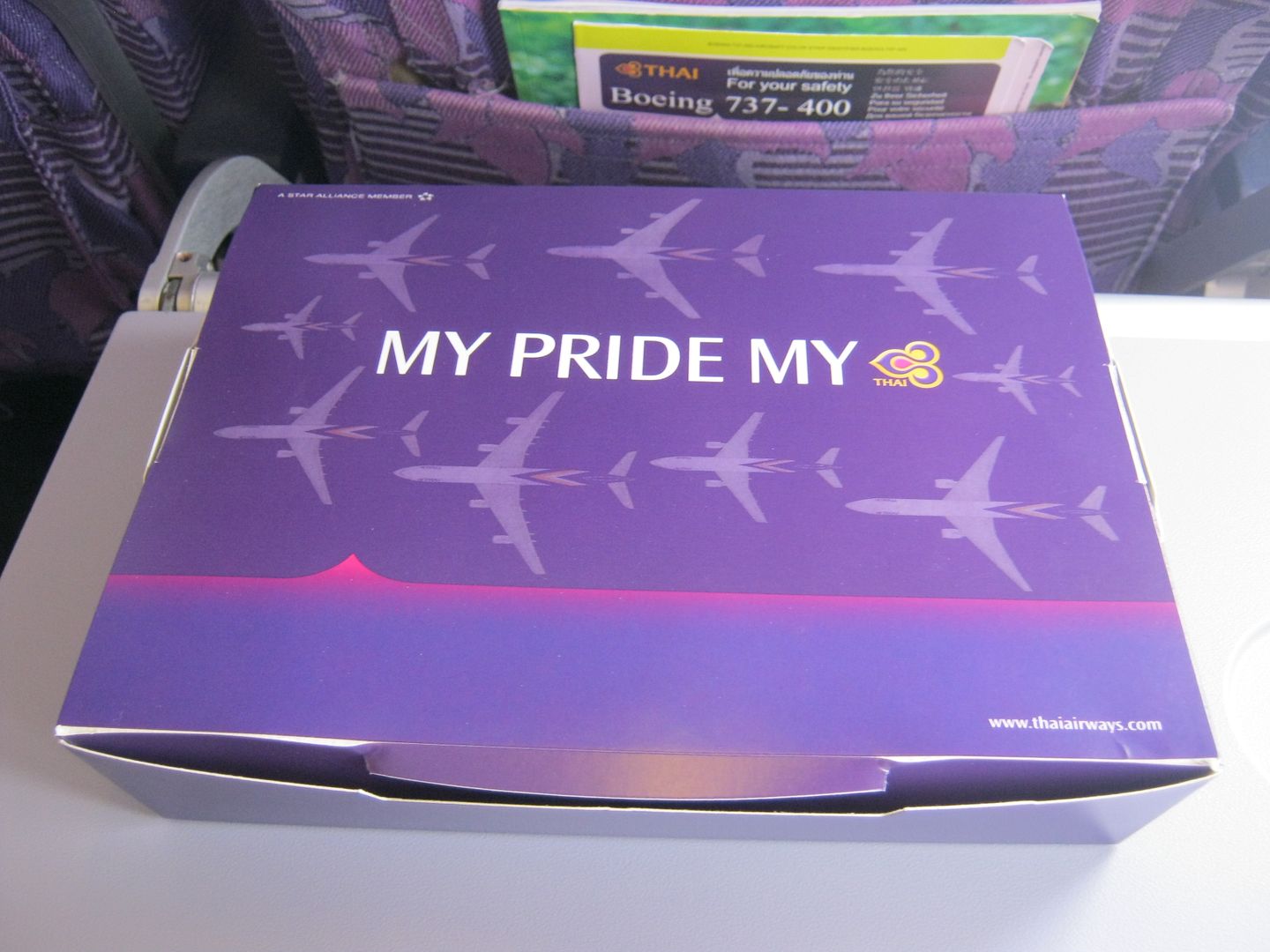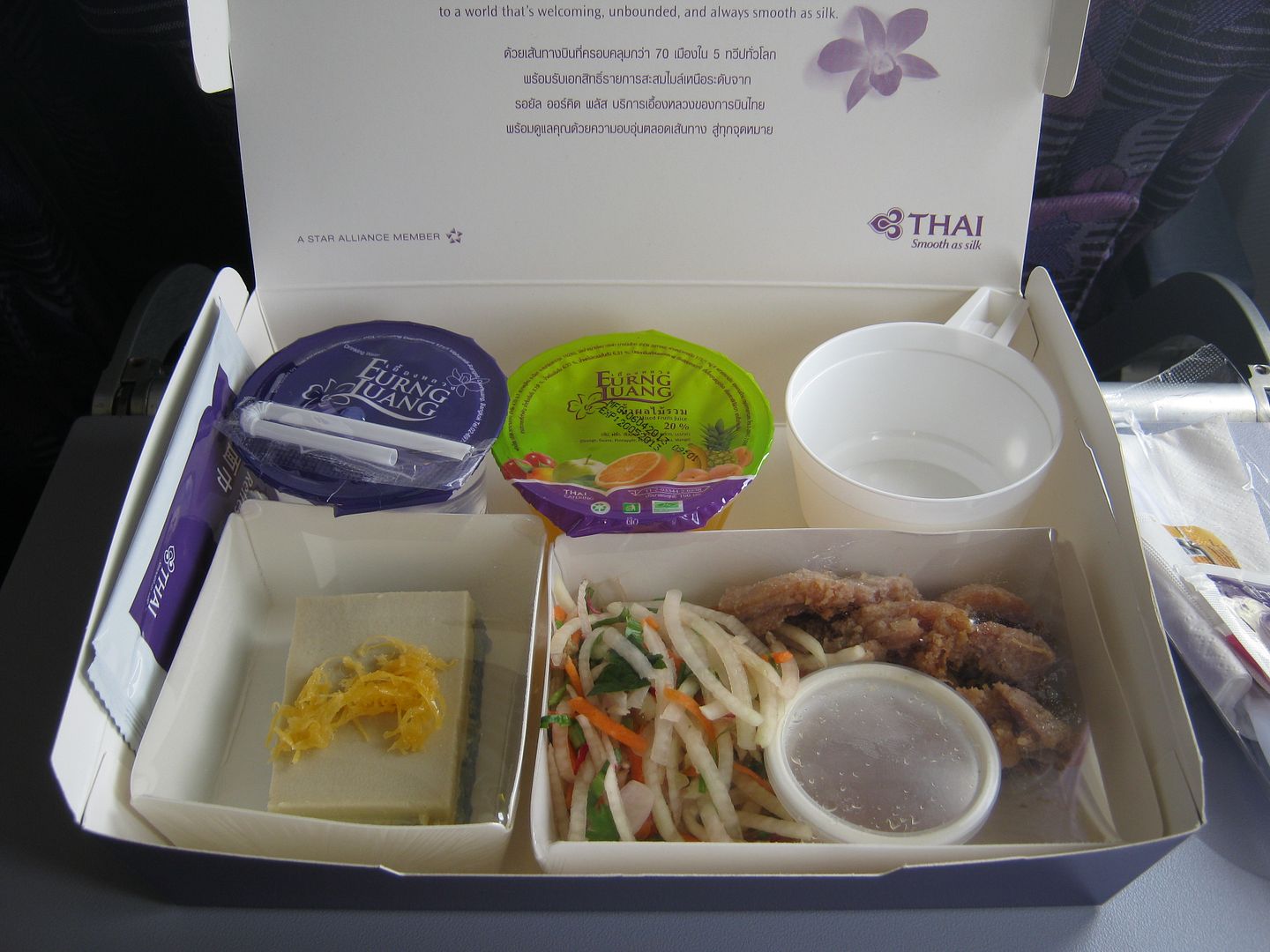 I washed it down with a few Heinekens.
The guy next to me was a friendly guy from Sweden. He was a photographer taking a trip around the world. He was 7 months in to his journey and this was his 9th country. He was pretty hardcore and a modern day Jacques Cousteau.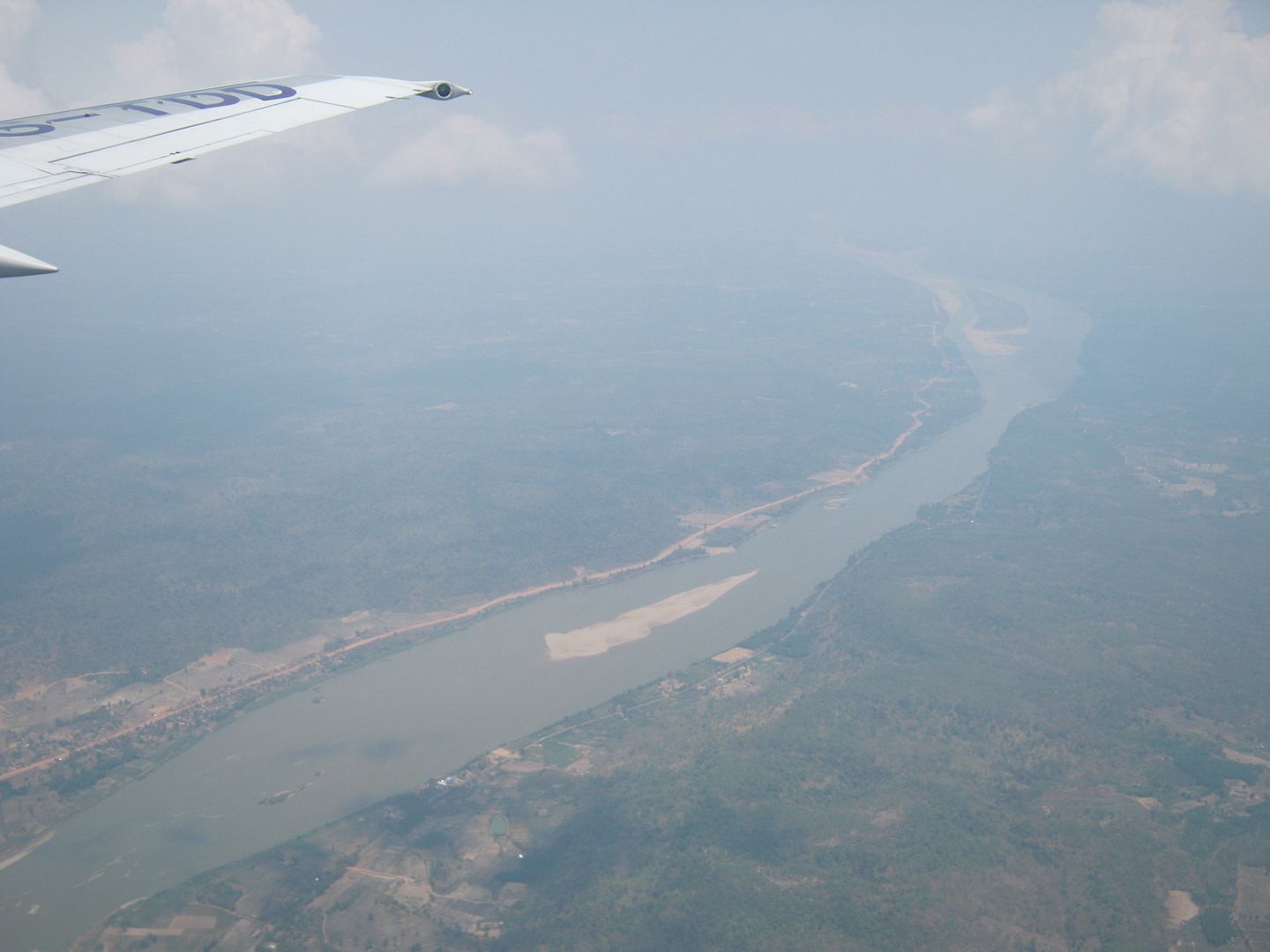 This was a 1 hour flight but the last 20 minutes of flight was very turbulent. It was partially cloudy with a few scattered showers. The final approach was very choppy. We hit the ground hard. We taxi to the gate. The airport in Vientiane was almost completely empty with two Laos Central Airlines 737-400s and one Lao Airlines A320.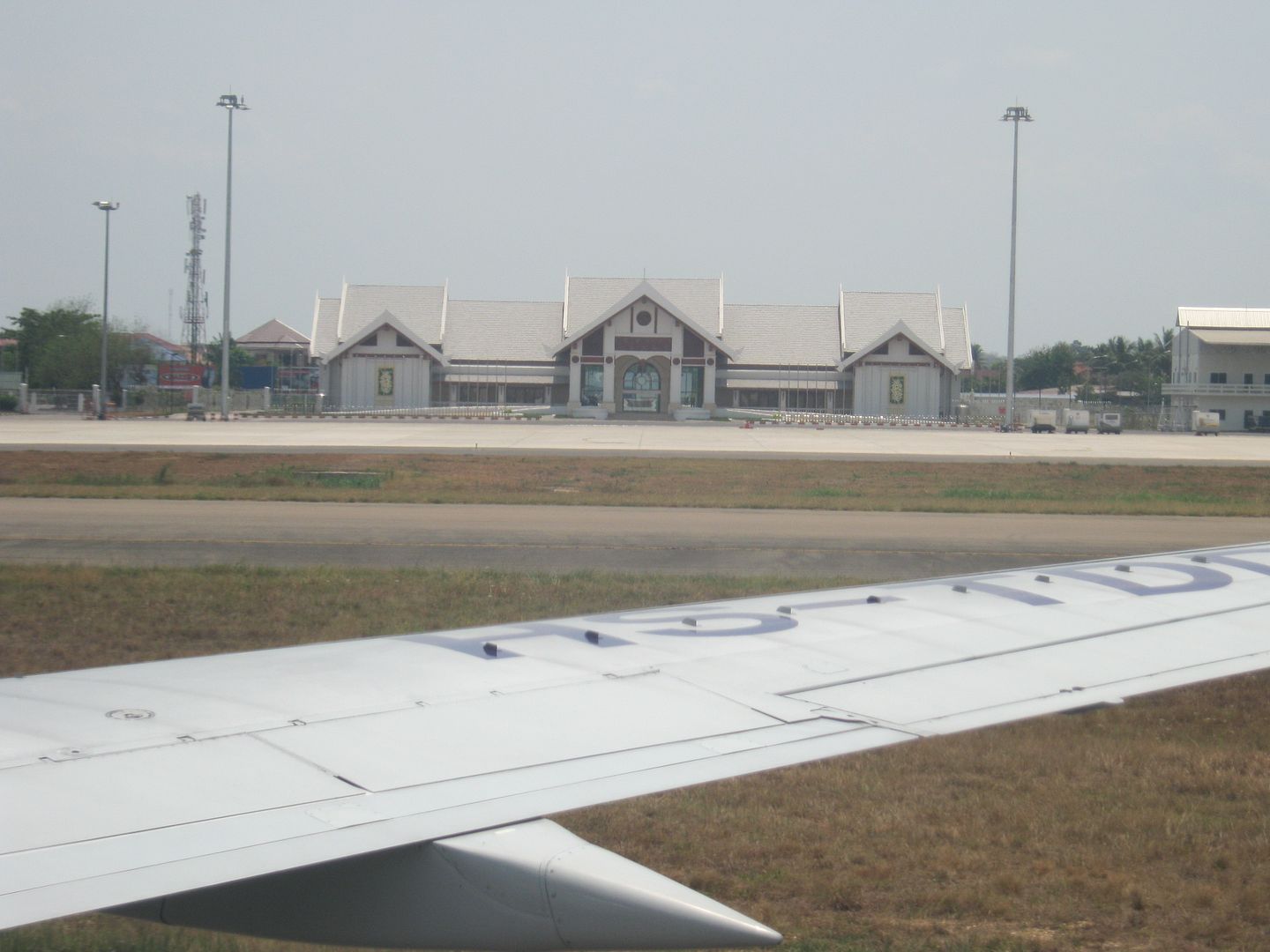 I did see one Lao Air Twin Otter depart that would crash just one day later in the Huaphan province of Laos. Luckily everyone survived but still scary knowing that I flying on them to Huaphan was one of the things I wanted to do while in Laos. I've never flown on a Twin Otter and they are the closest and cheapest opportunity to fly on a Twin Otter.
Going through customs in Laos is similar to entering Cambodia. Filling out an entry form, attaching two photos and paying $30 to enter. The hotel I stayed at was the same as the guy on the flight so we split a taxi to the hotel.
I wanted to take a flight on Lao Air on their Twin Otter because I never been on one. The first day I wanted to do some sightseeing and do my flight to Huaphan on the 2nd day. Luckily I slept late on the 2nd day thanks to the Lao Lao I drank the previous night.
More on that later...
I did a lot of sight seeing around Vientiane. It's a charming little town and what I imagine what Bangkok was probably like 80 years ago. Lot's of temples, tuk-tuks and street vendors. Vientiane is a popular place for hippies as well. Tons of backpackers there. Most were friendly and adventurous with all sorts of stories.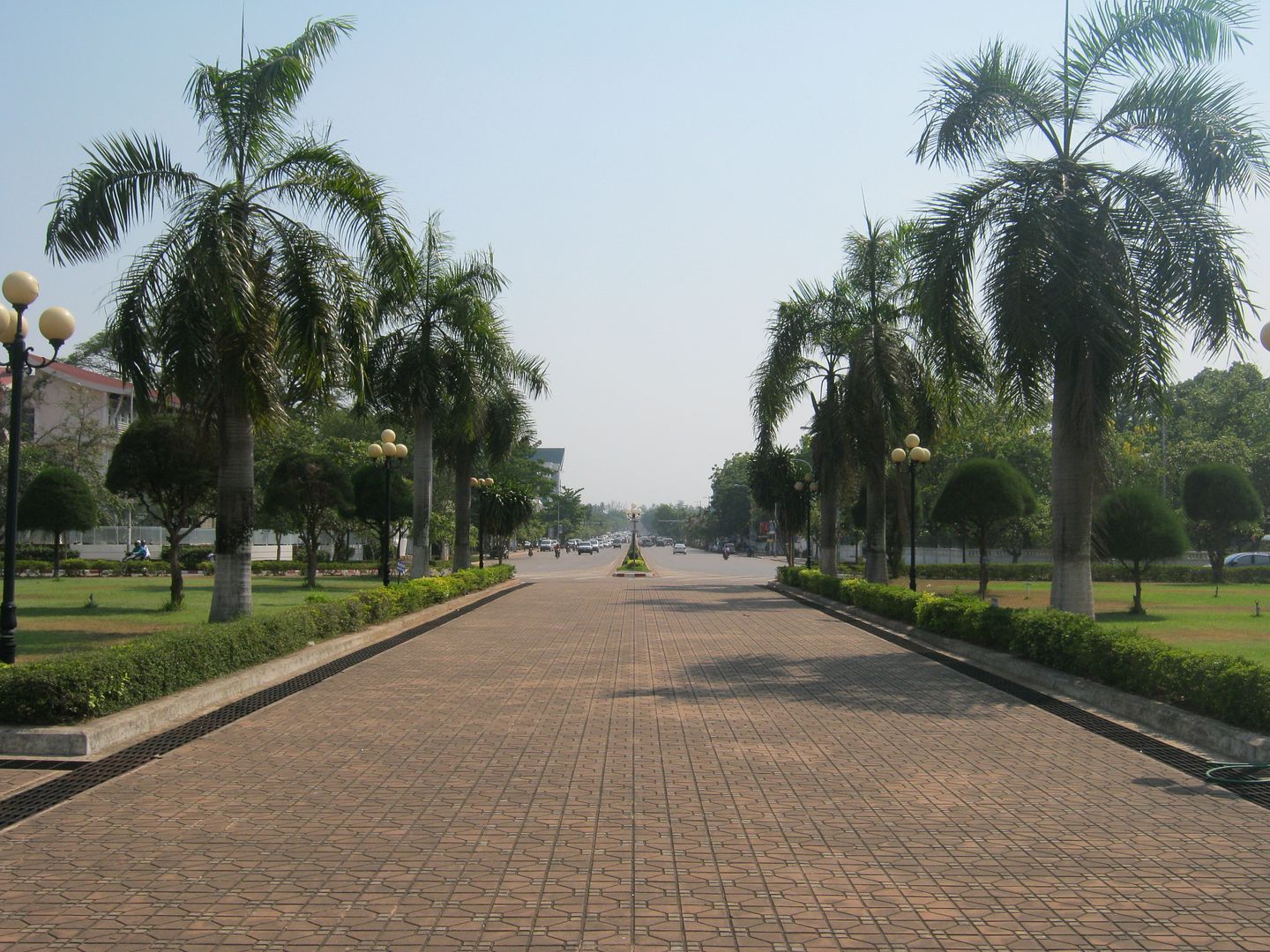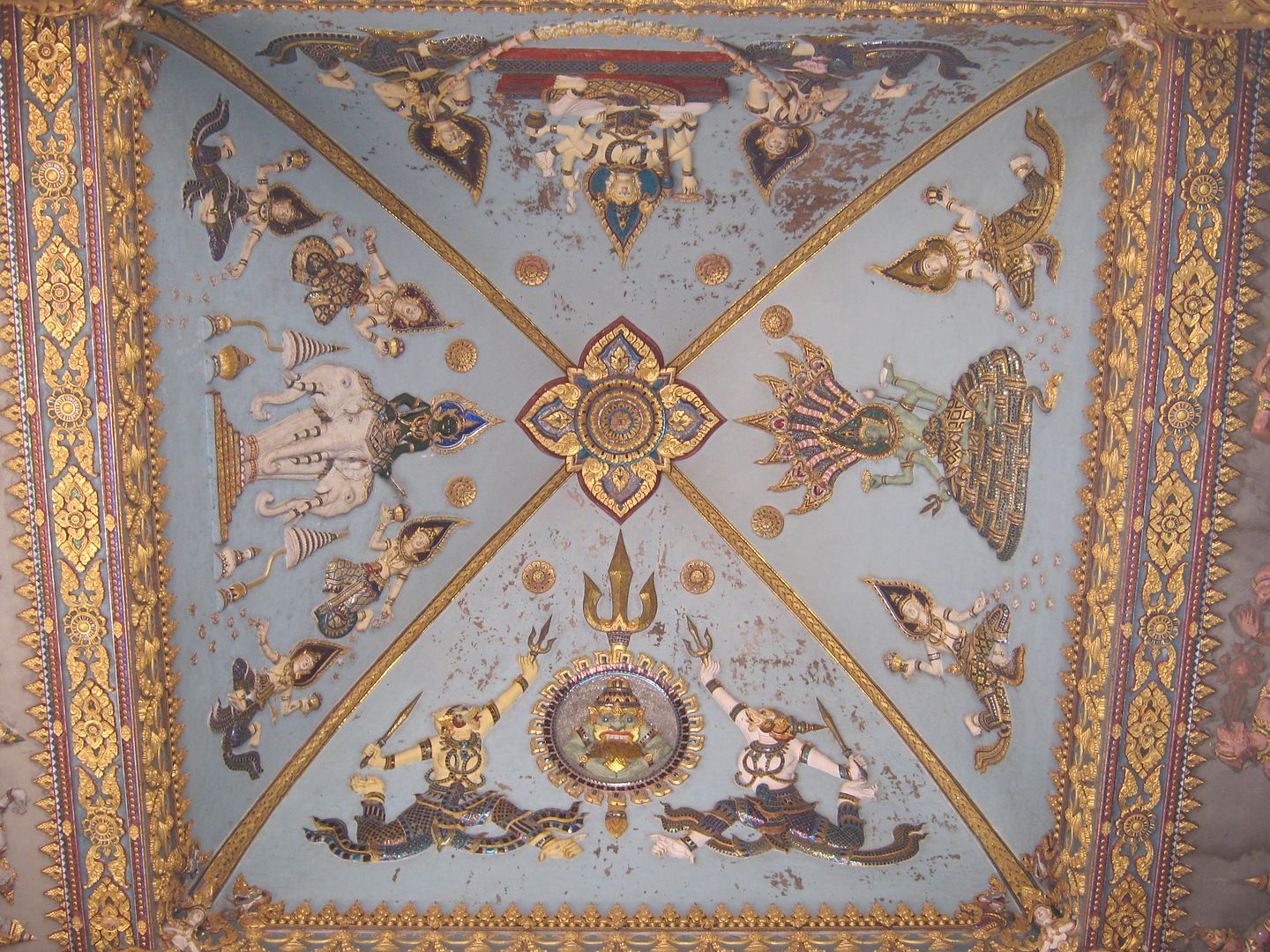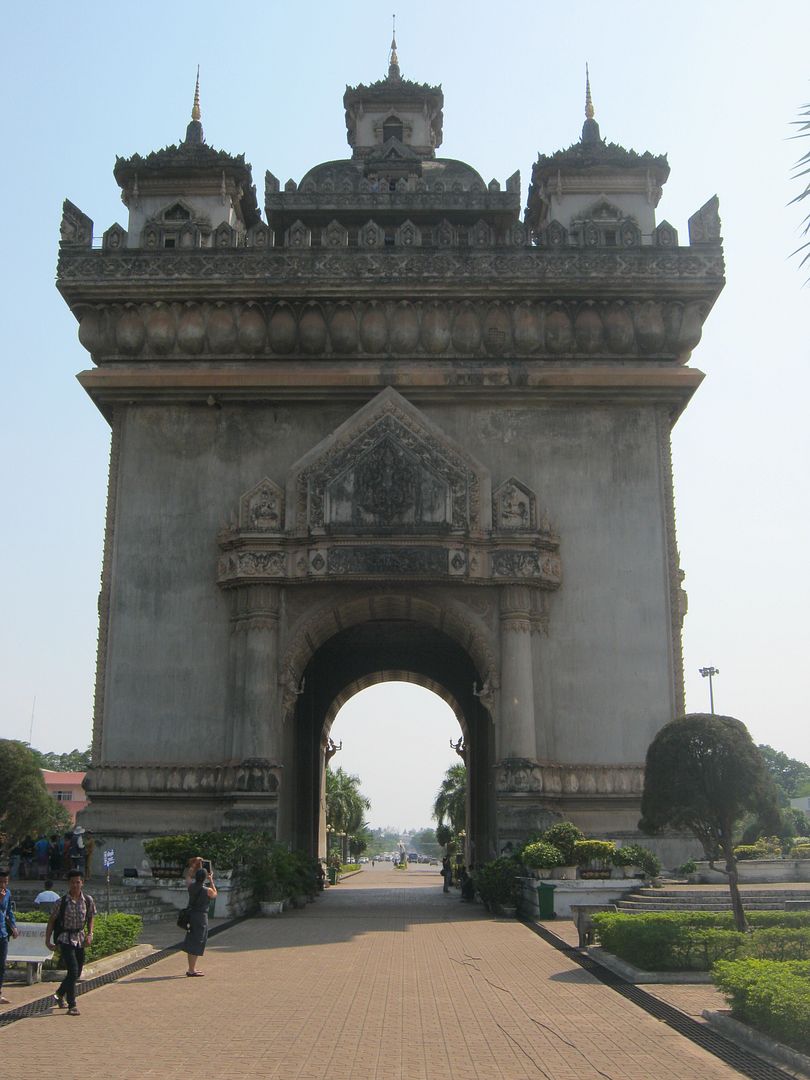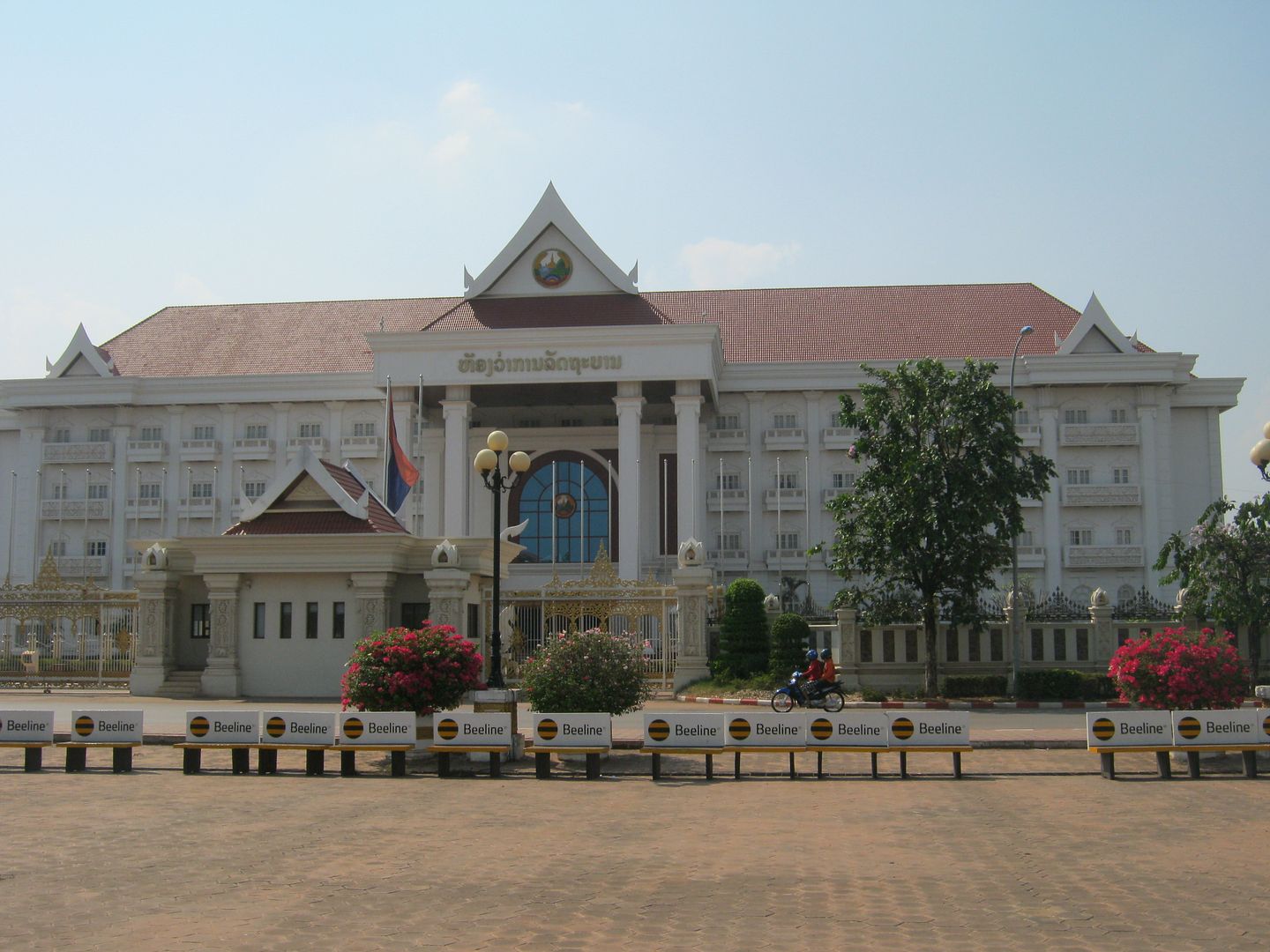 I met a Laotian guy visiting from the US at the hotel I was crashing at. I ended up hanging out with him and family most of the time there. He turned me on to a local drink called Lao lao. It's a rice based whiskey made by poor villagers up in the hills. This stuff is strong and can rip you face off!
It taste awful and leaves you with an awful hangover. If you're already drunk, it doesn't taste so bad but the problem is the next morning….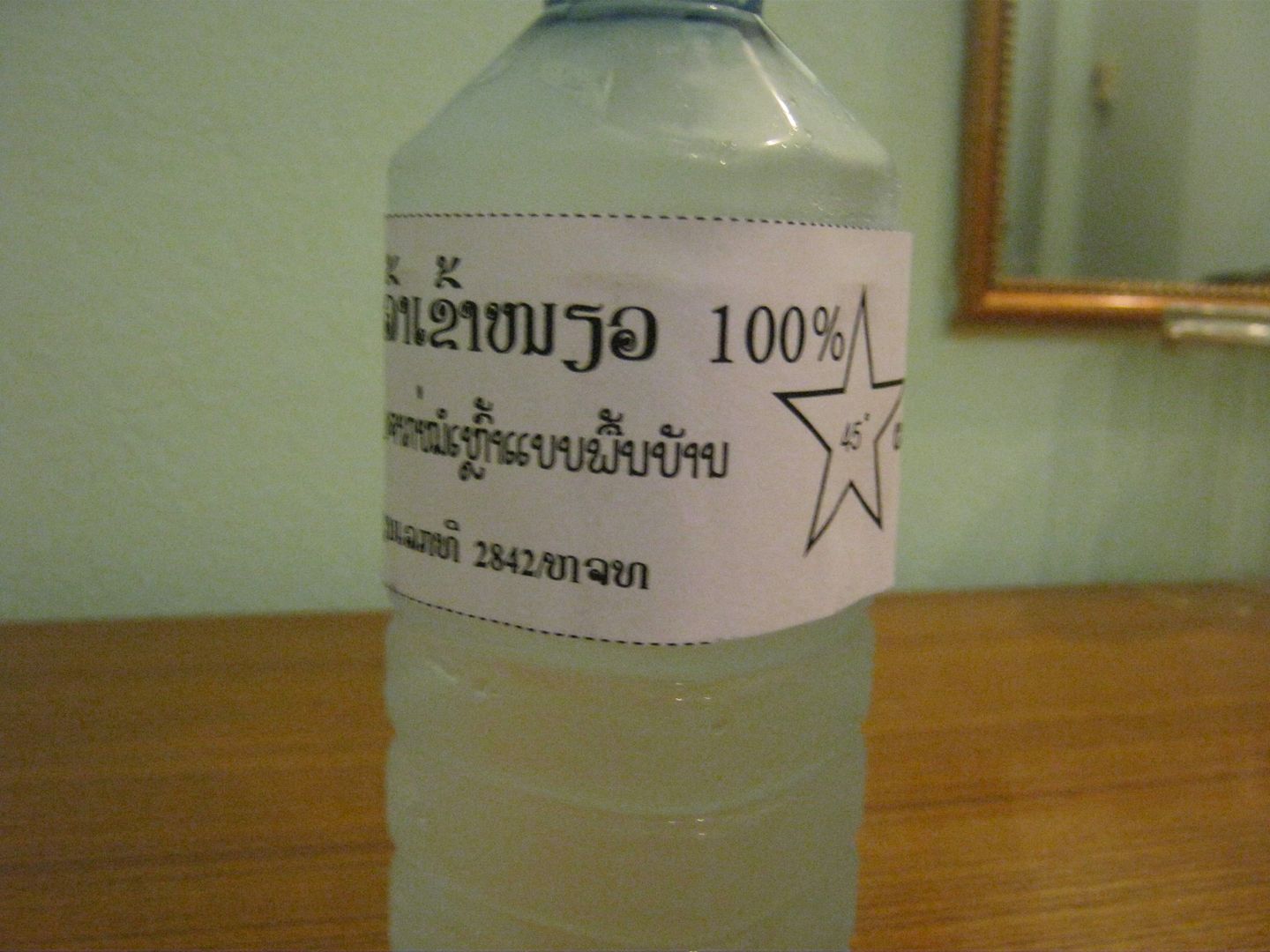 I wasn't able to get up early enough to catch a flight on the Lao Air Twin Otter to Huaphan. That ended up being a good thing. I ended up going on a mini road trip with that gay for a few hours outside of Vientiane to the more rural parts of Laos. This area is near Paksee. Beautiful countryside.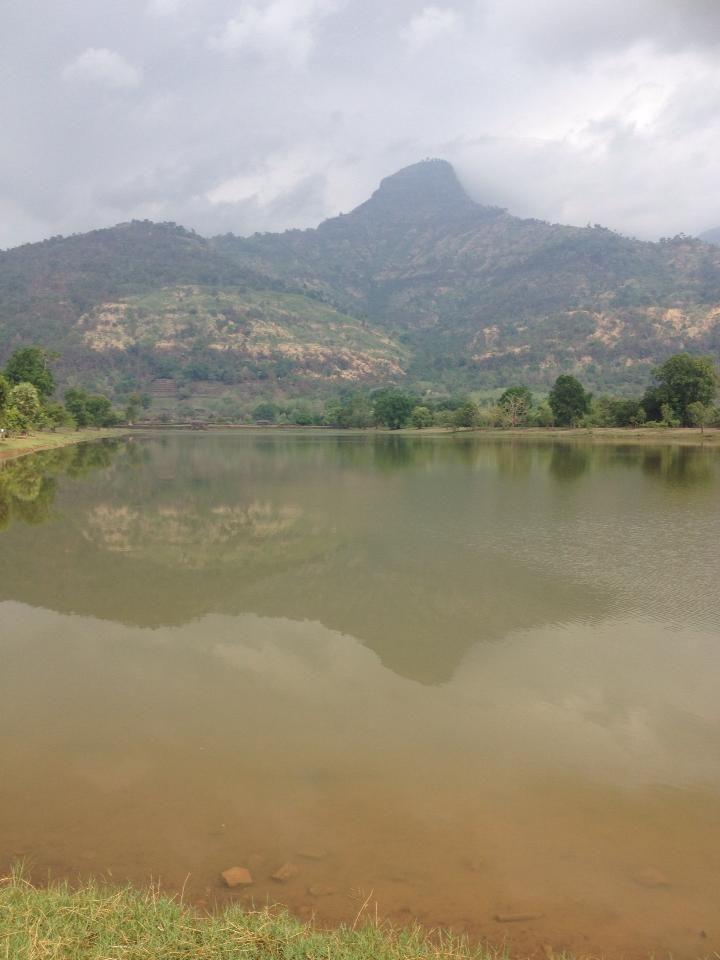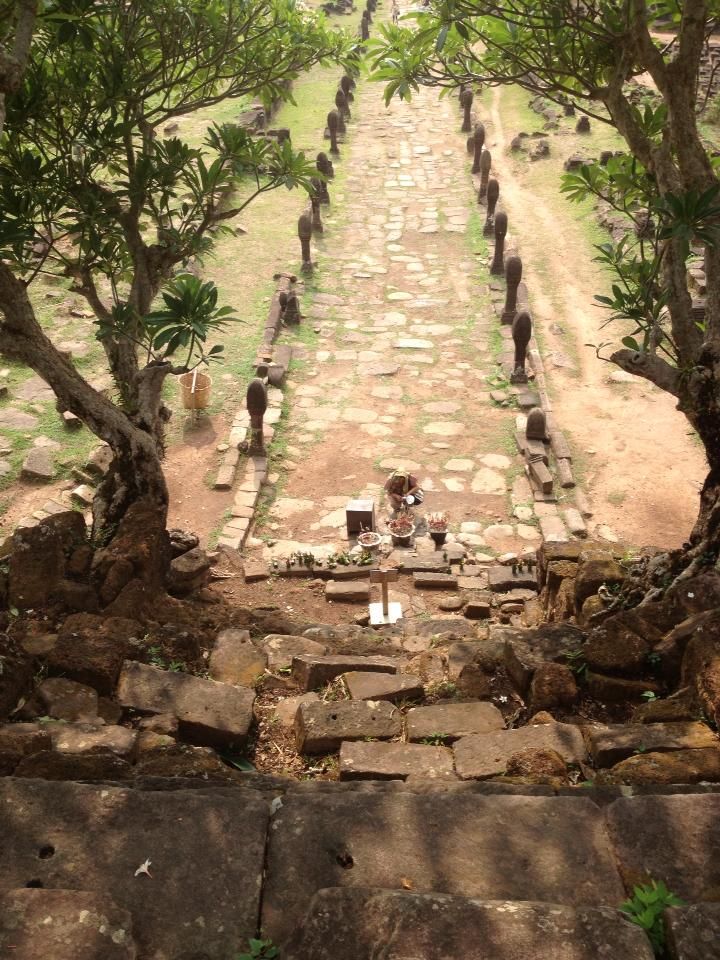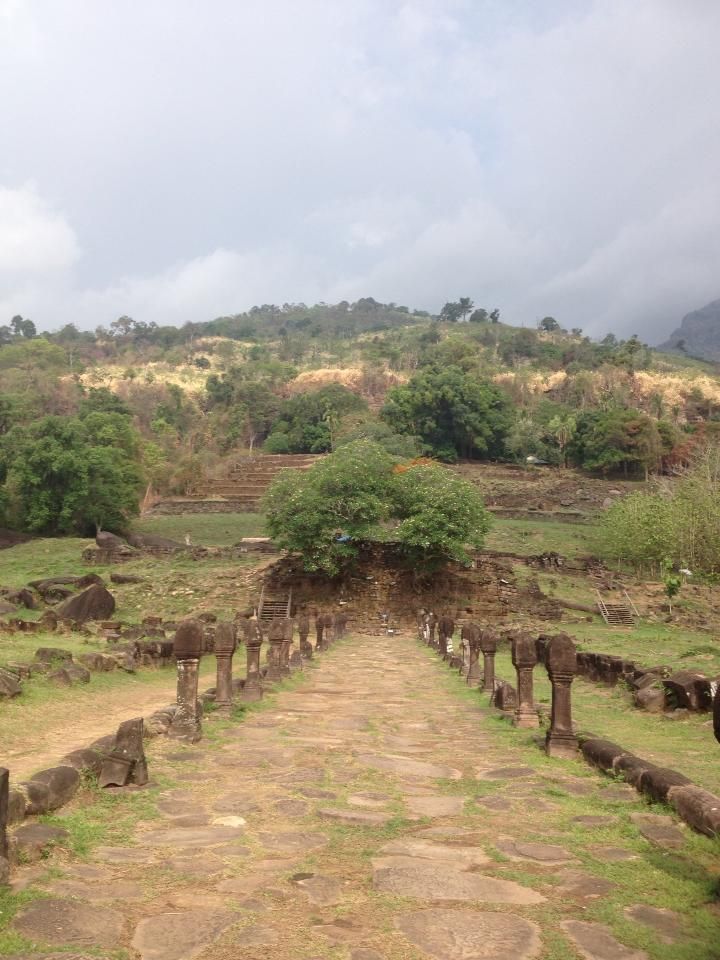 Rode around town on the back of a friend's motorbike.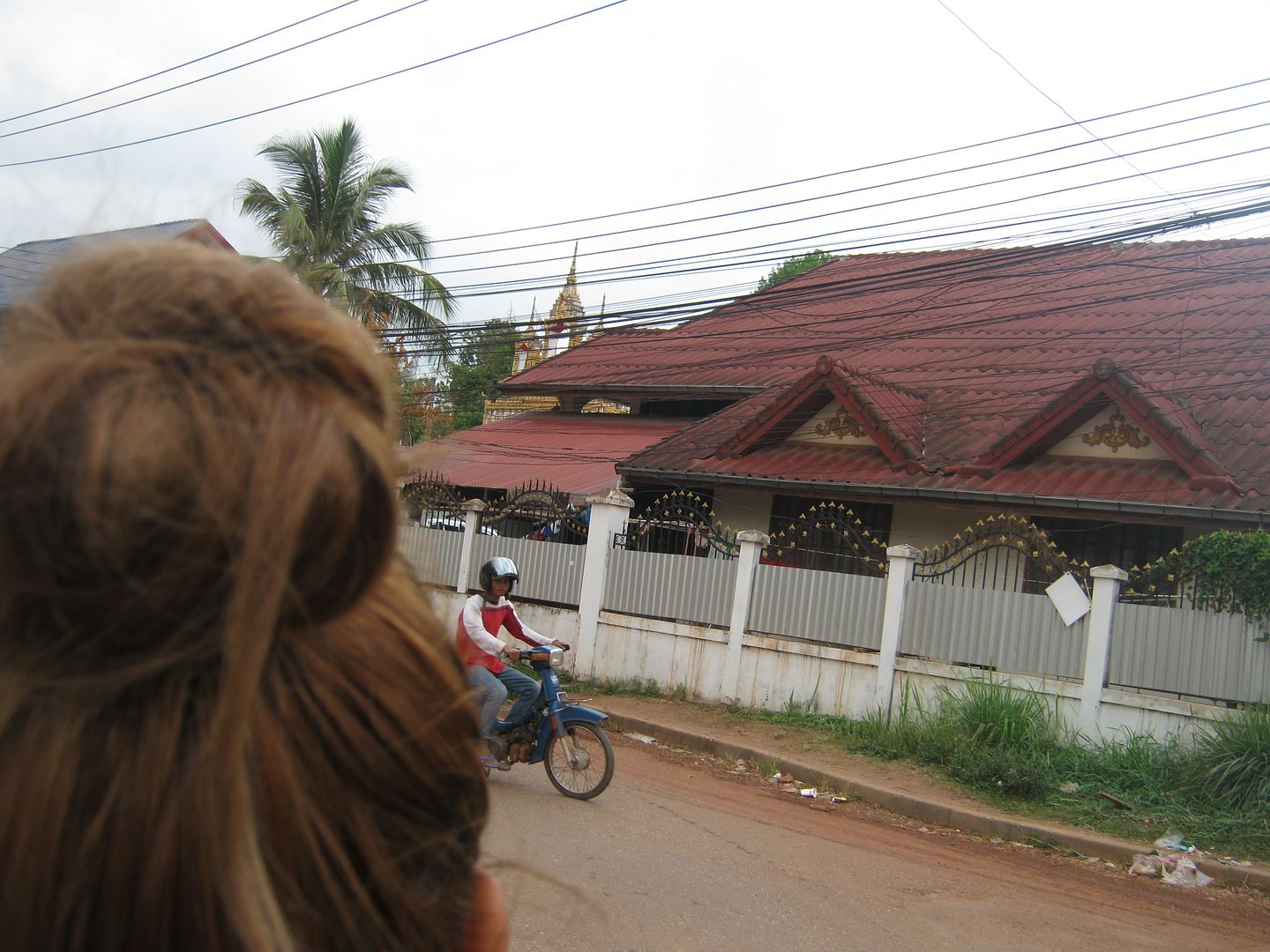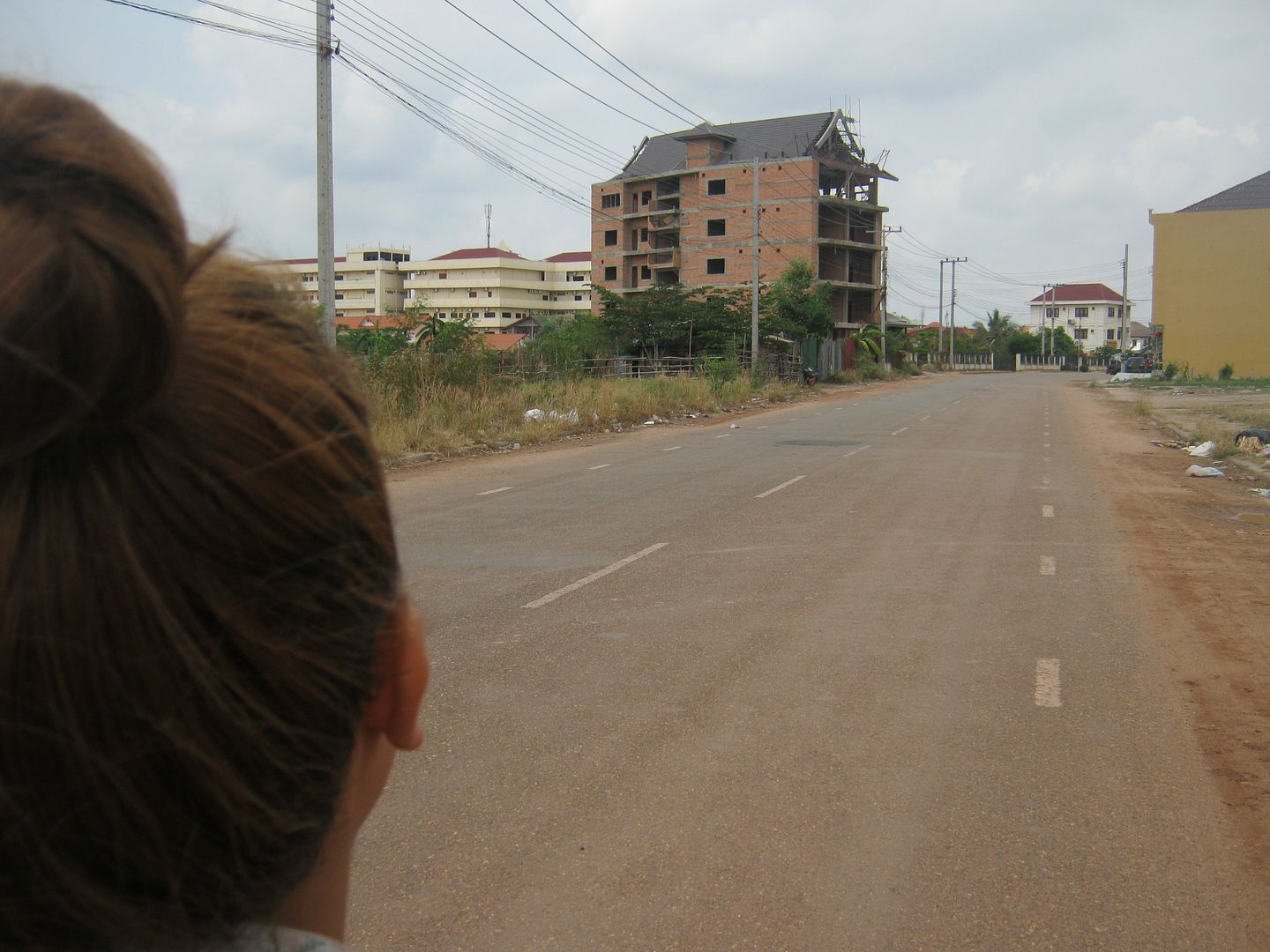 Visited some temples and took photos - the usual touristy stuff. I wanted to rent a bicycle to ride around since most of Vientiane is flat. The problem is that the bike rental shops had bikes that were beat up and rusted out. I rode one bike for less than one block and the brake cable snapped. So I just walked around instead.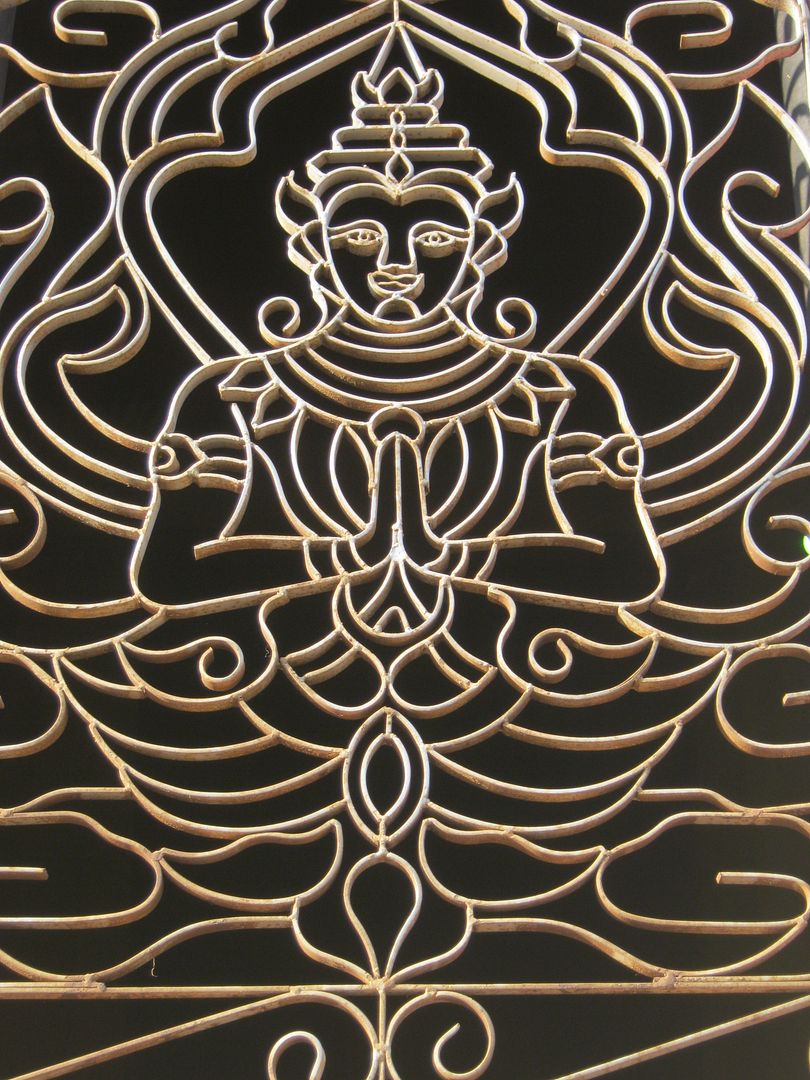 Walked past their Communist news outlet.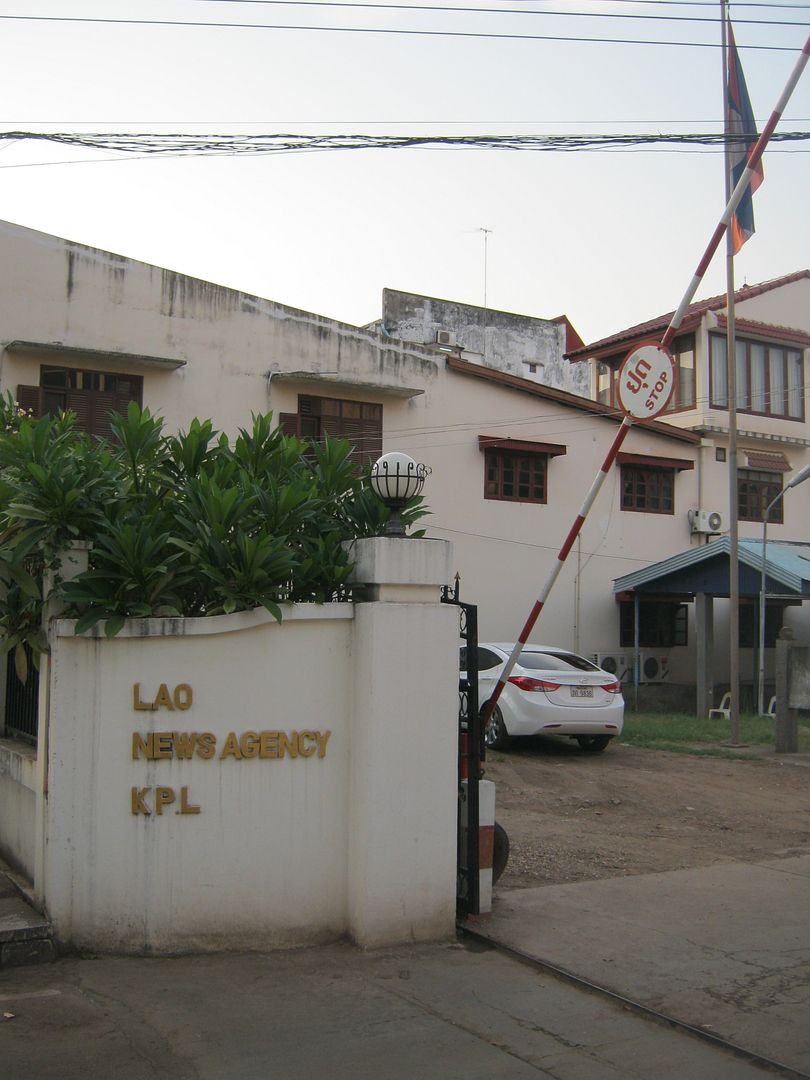 Communist photo shop. Images of Stalin, Mao, Ho Chi Minh proudly on display.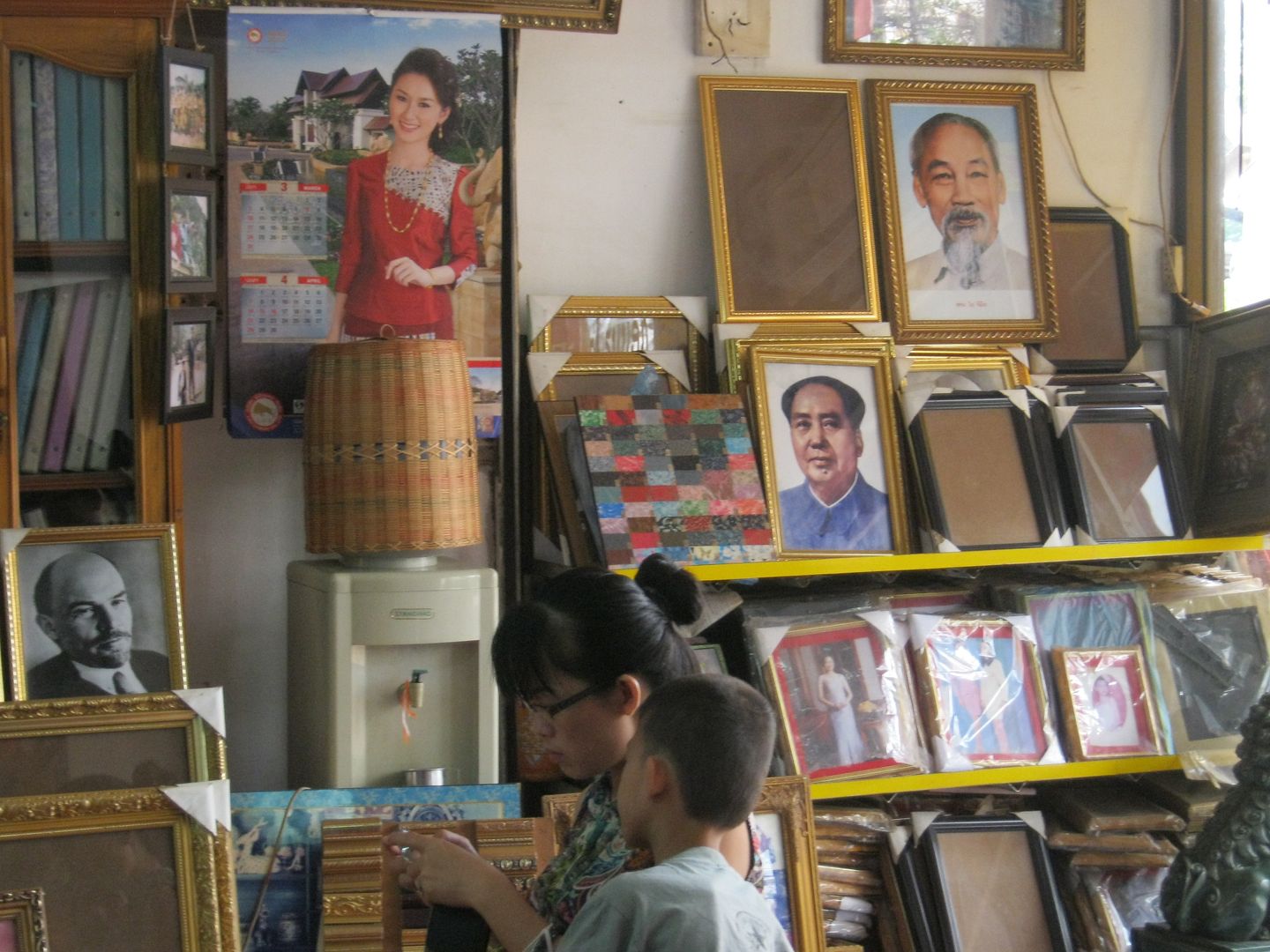 Laos answer to Superfly – LaoFly.
...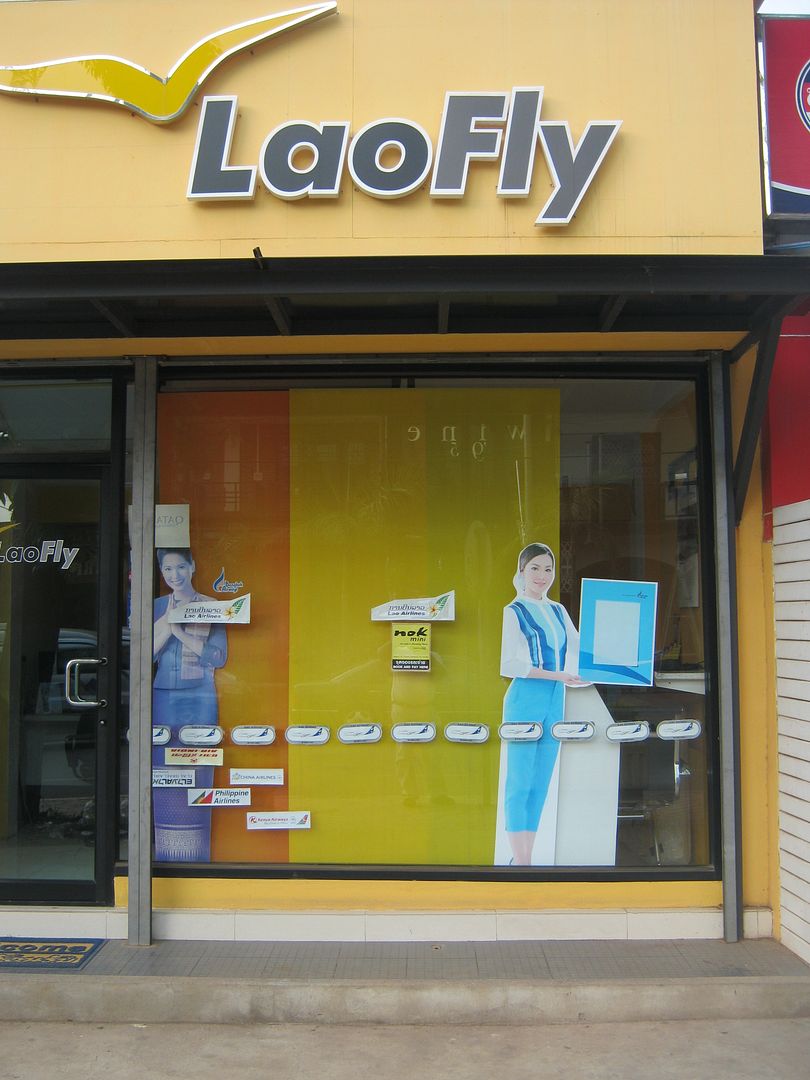 Found a vendor selling my favorite Asian dish of all – Laotian sausage (sai ua in Thailand).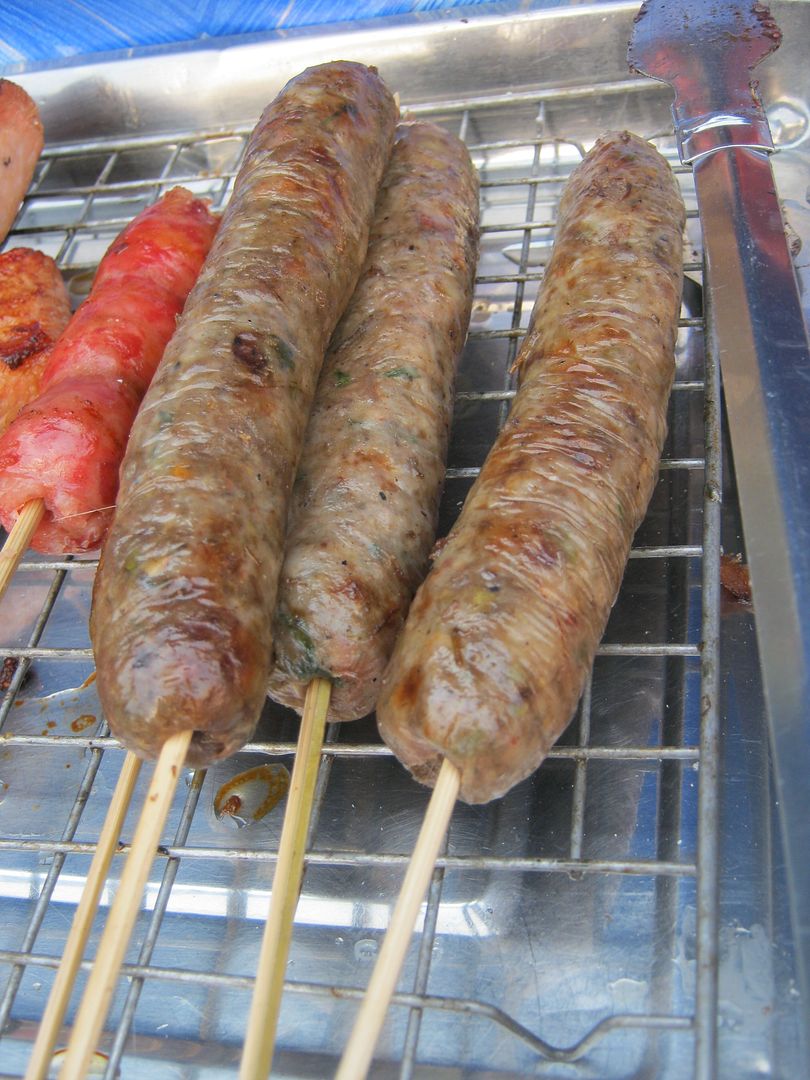 Beer Lao Gold.
I've never seen this outside of Laos. It's not as strong as the lager and the dark they export.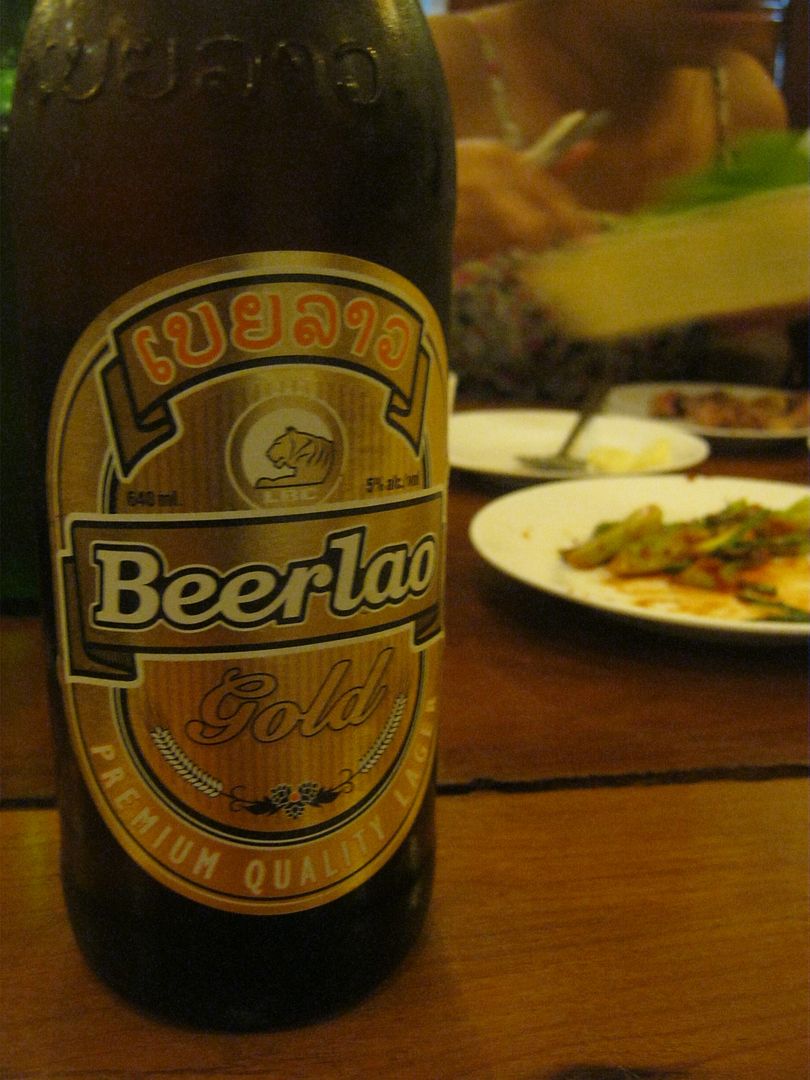 This place has safe food because they have a sign that says so.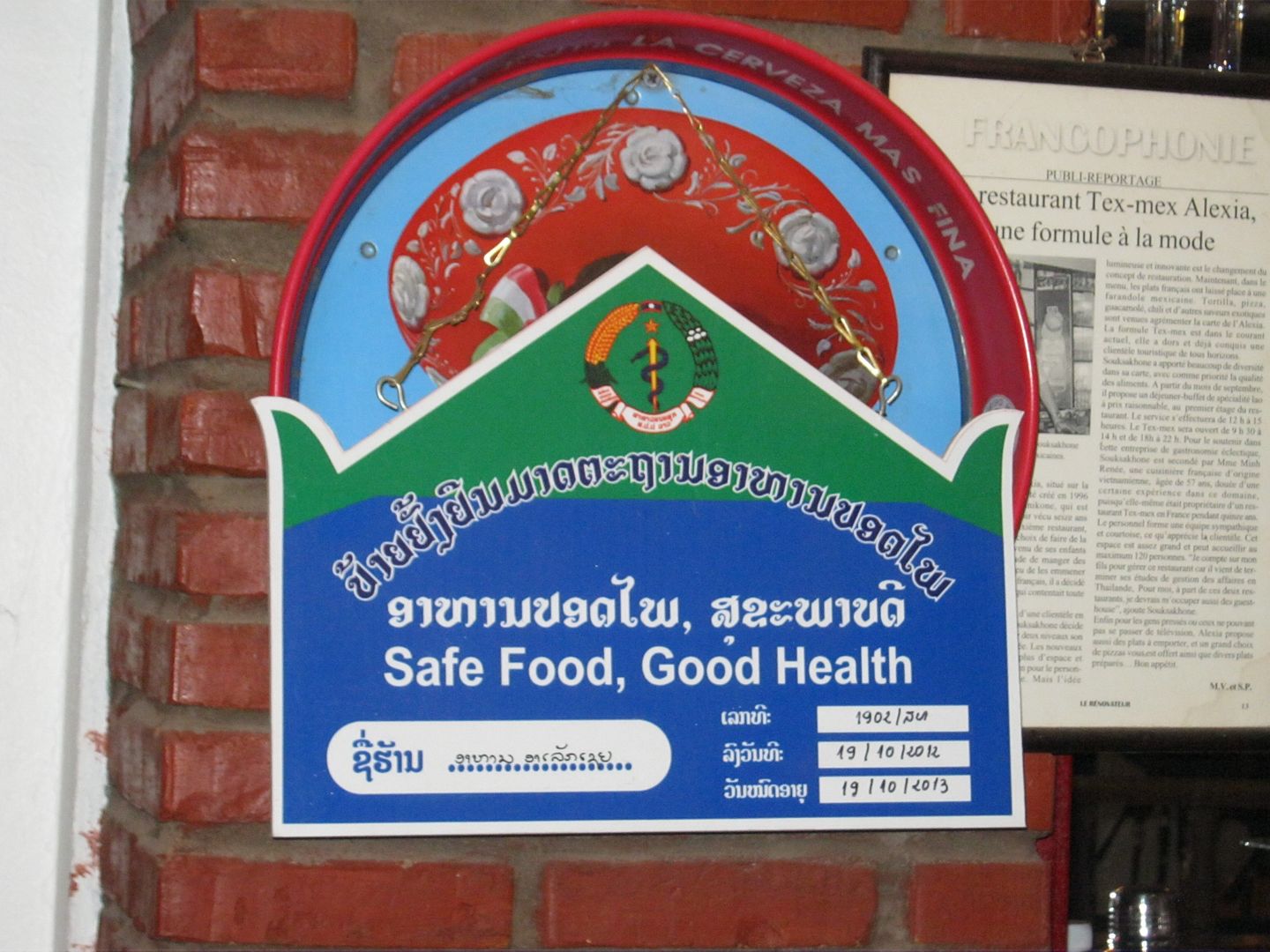 Outdoor aerobics – always a good place to meet girls.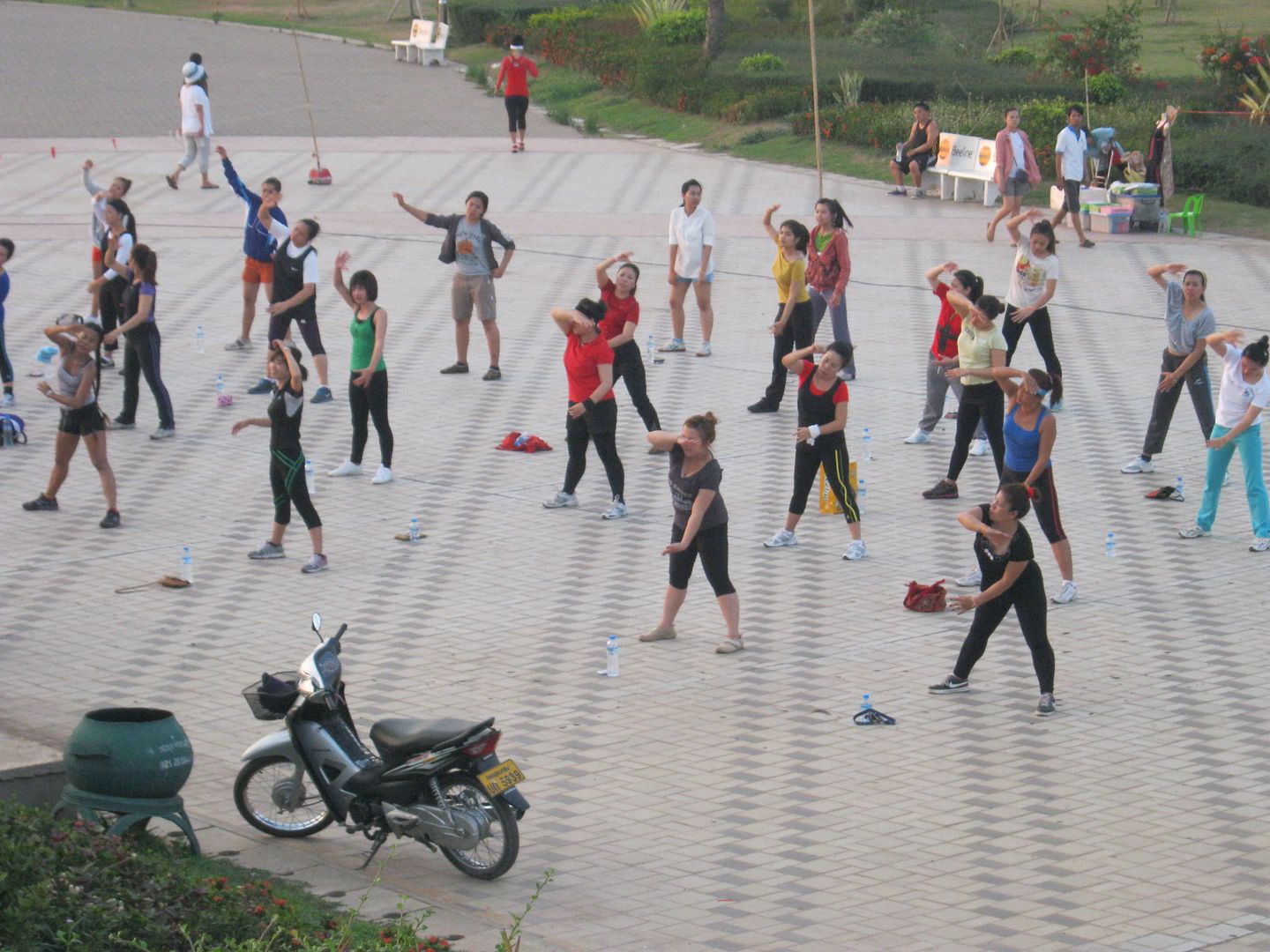 Old Vietnam era Jeep still running.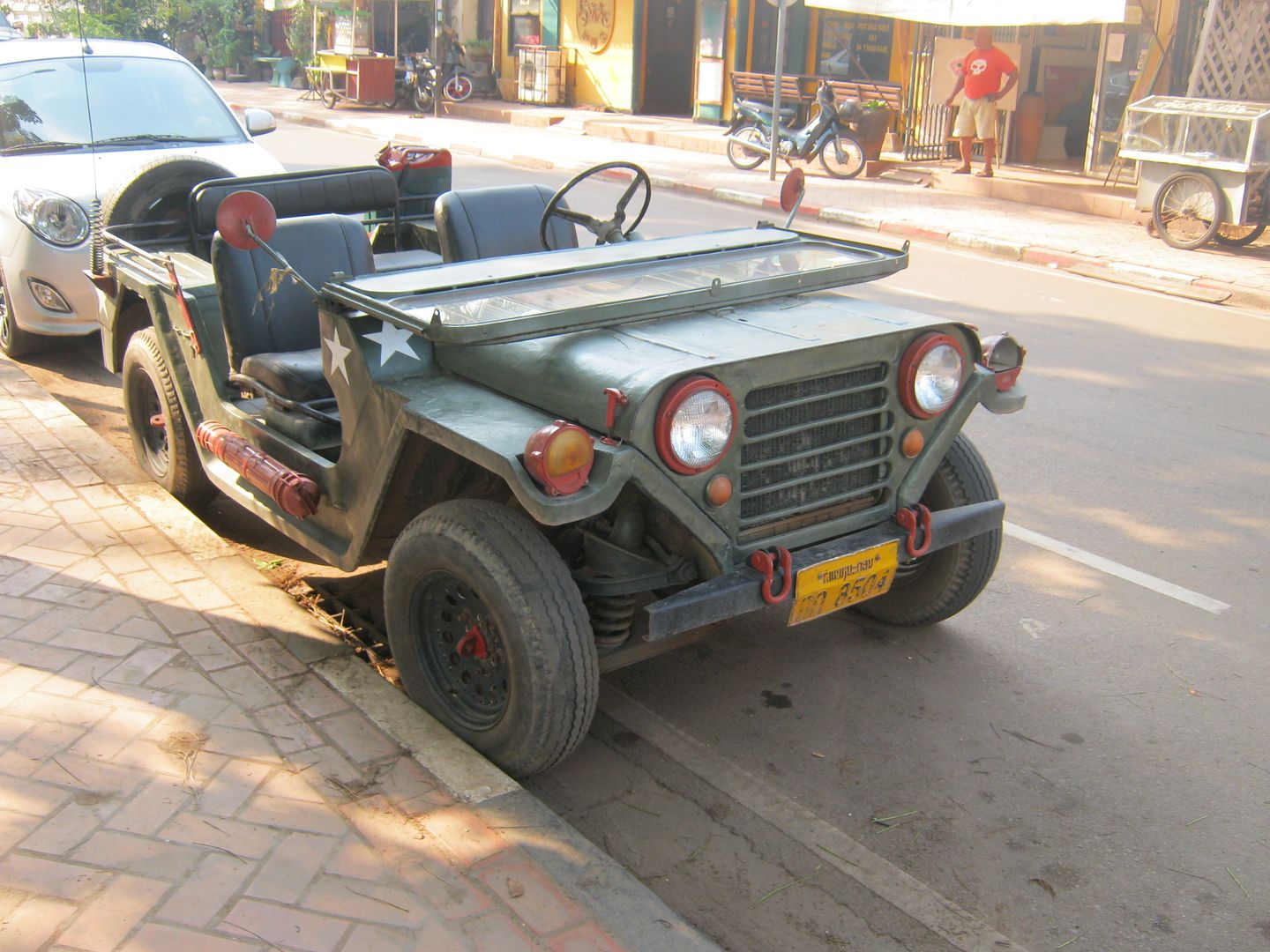 Tried a local a beer call Namkhong. I've never had it before. It was OK but I prefer Beer Lao much better. I drank lots of Beer Lao with a bunch of hippies one night.
Superfly getting drunk with the hippies that came to Laos to volunteer and save Laos…..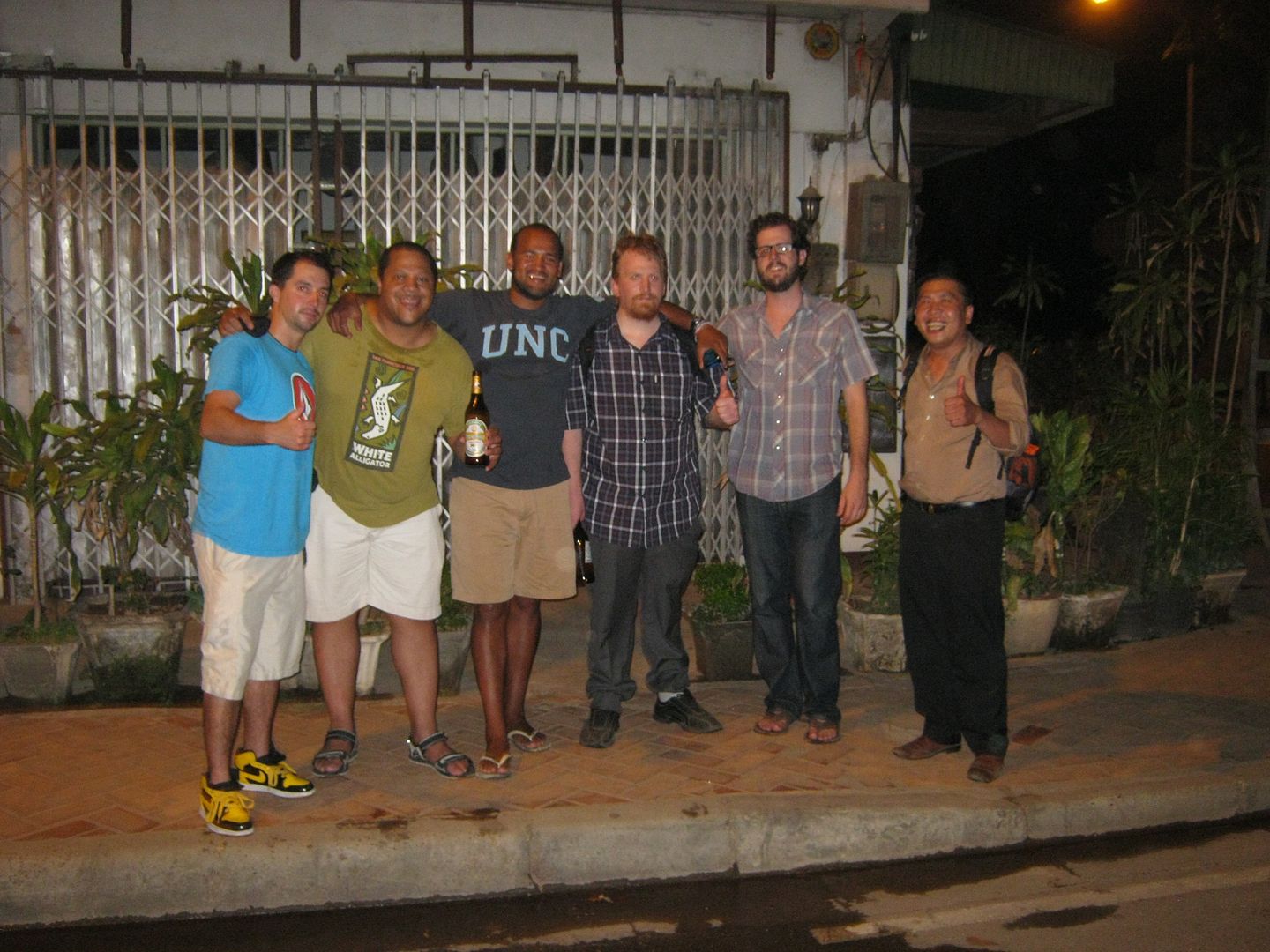 Passed out in the back of a tuk-tuk on the way back to the hotel.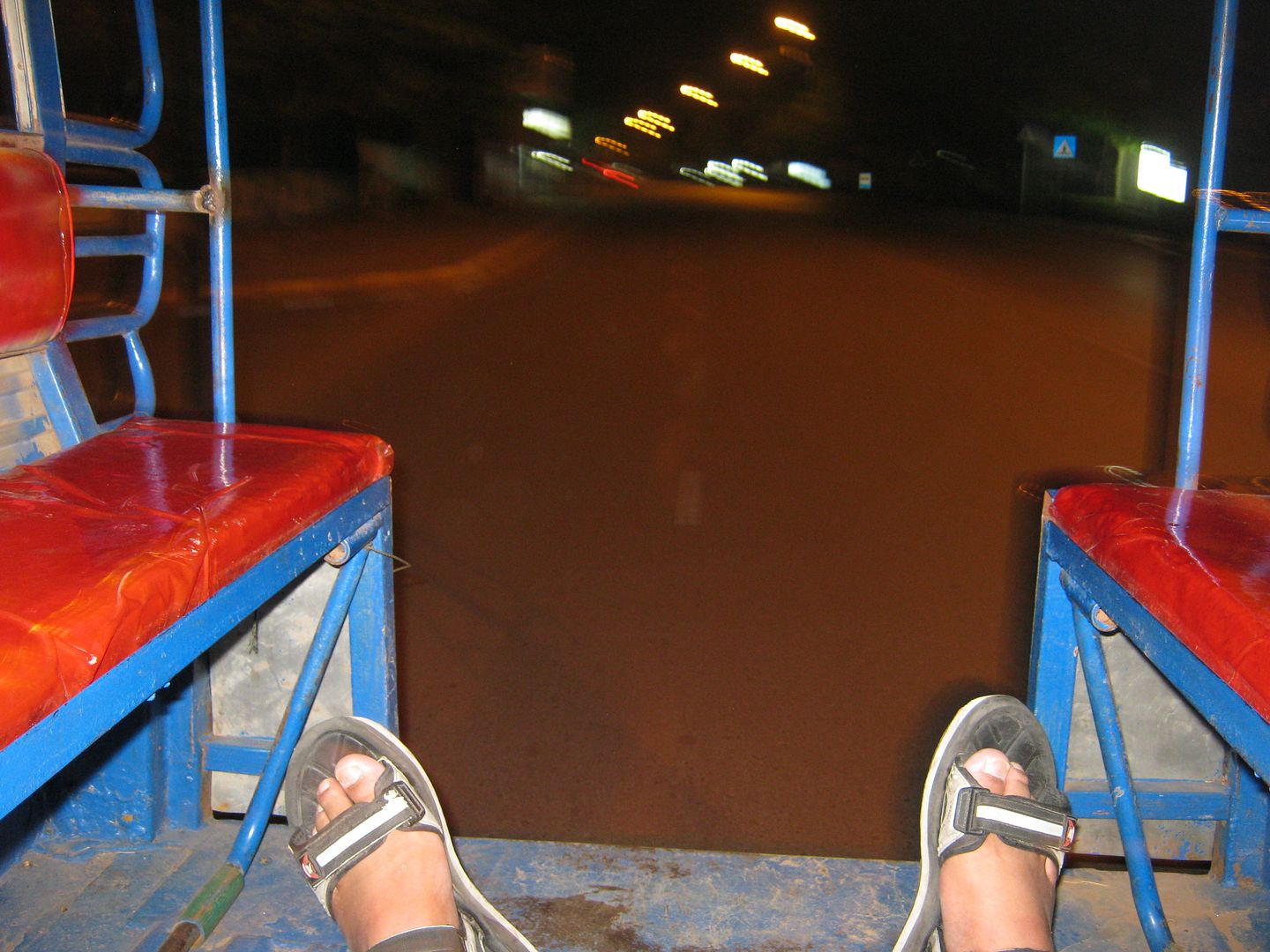 Watching Communist TV back at the hotel lobby.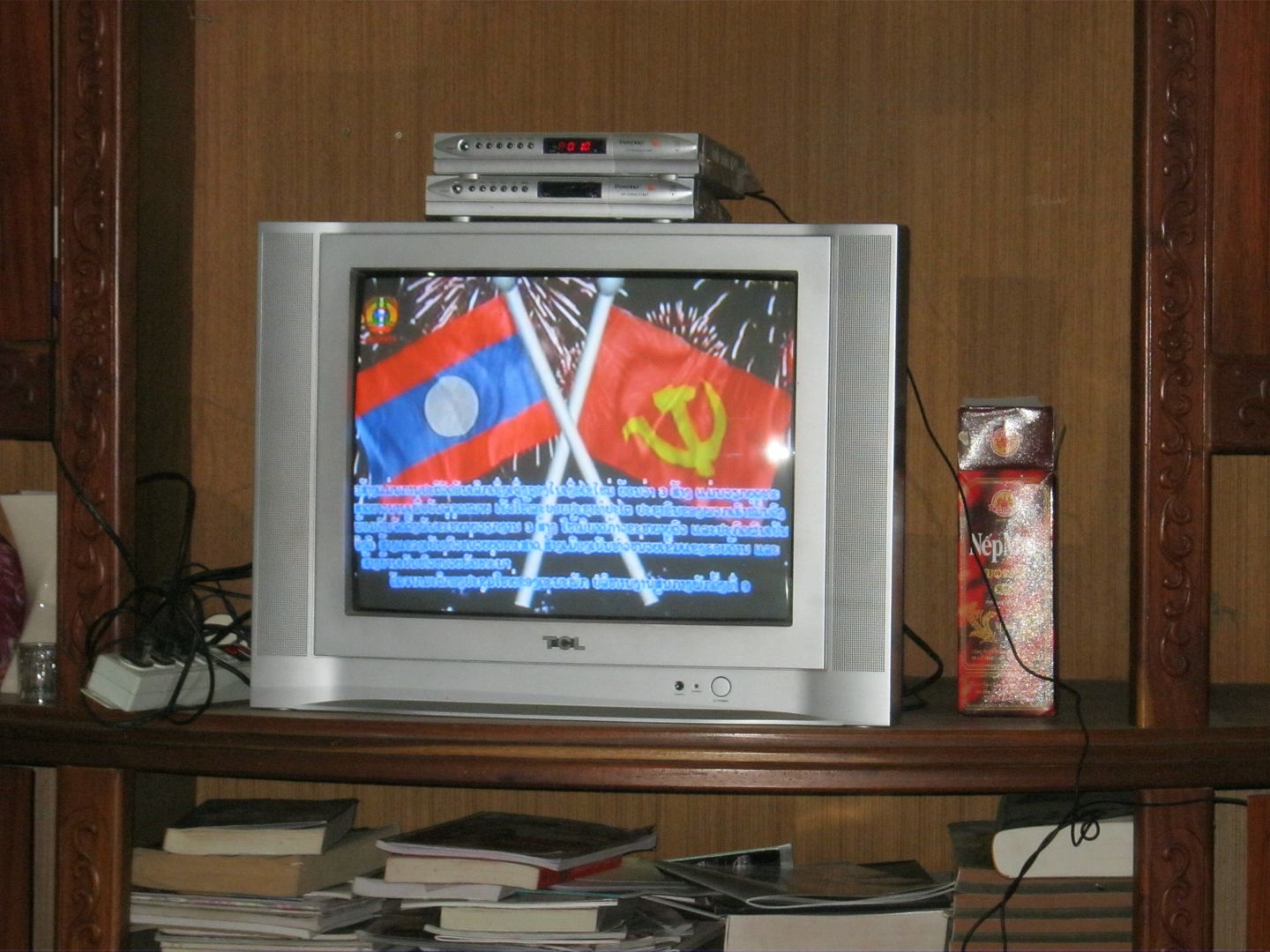 The next morning I read about the flight that had crashed in Laos in the newspaper.
The trip back to Bangkok was very pleasant.
Had a friendly tuk-tuk driver take me to the airport. I like cities that still allow tuk-tuk service directly to the airport.
Waving at two cute girls on a motorbike as I pass by in back of a tuk-tuk They were laughing at me for some funny reason so I waved and took a photo.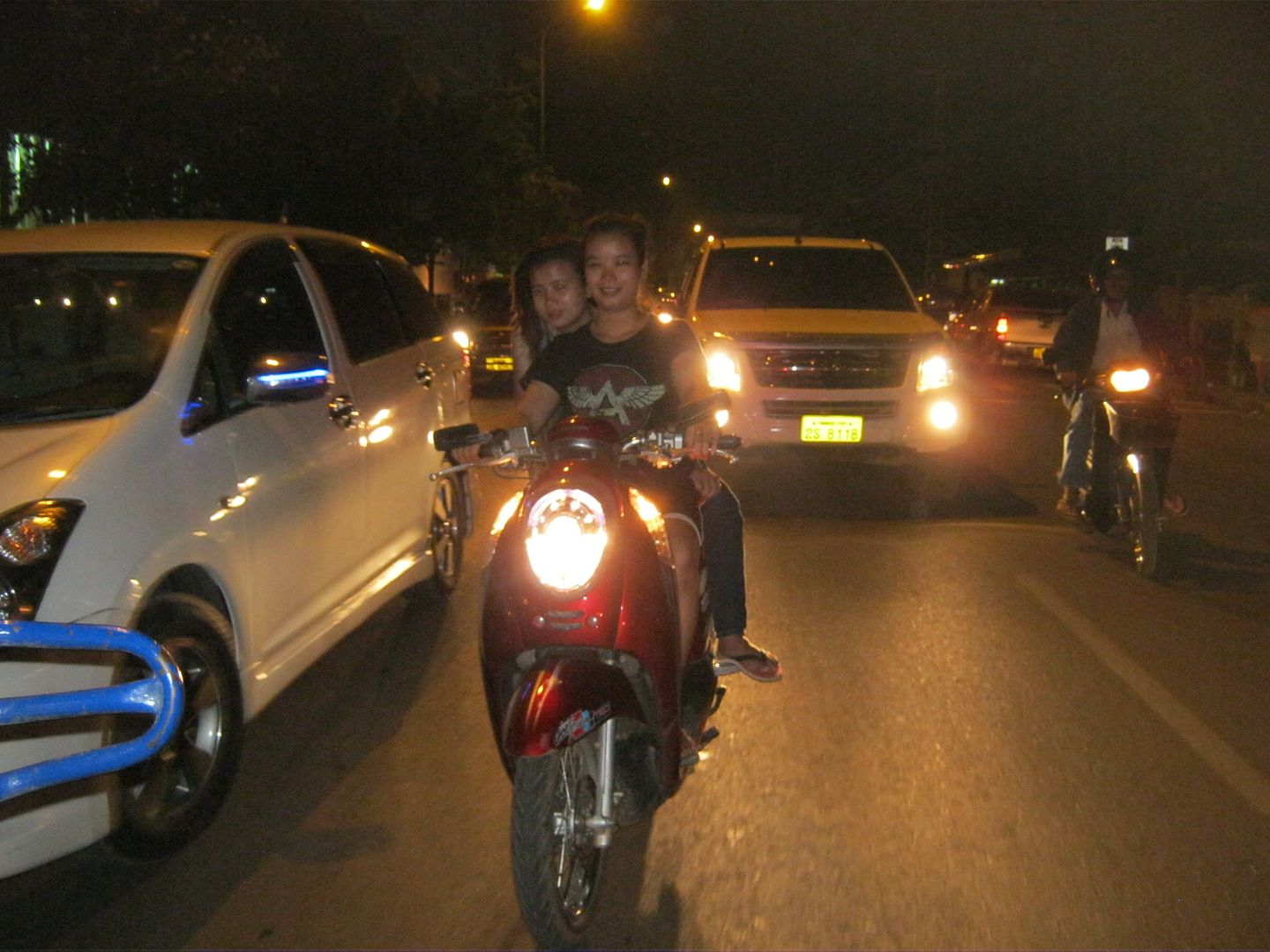 Arrive at Wattay Vientiane International Airport via tuk-tuk.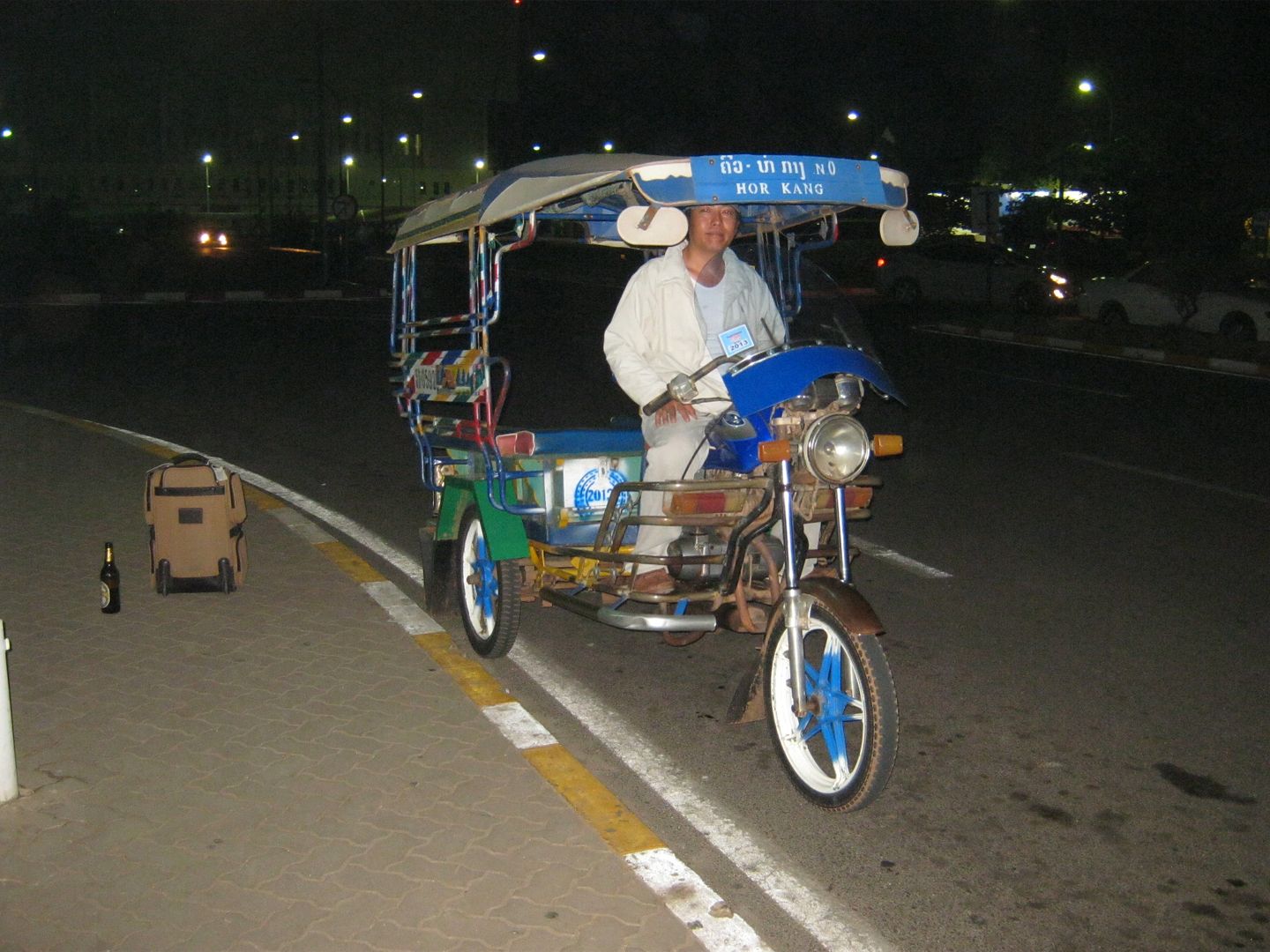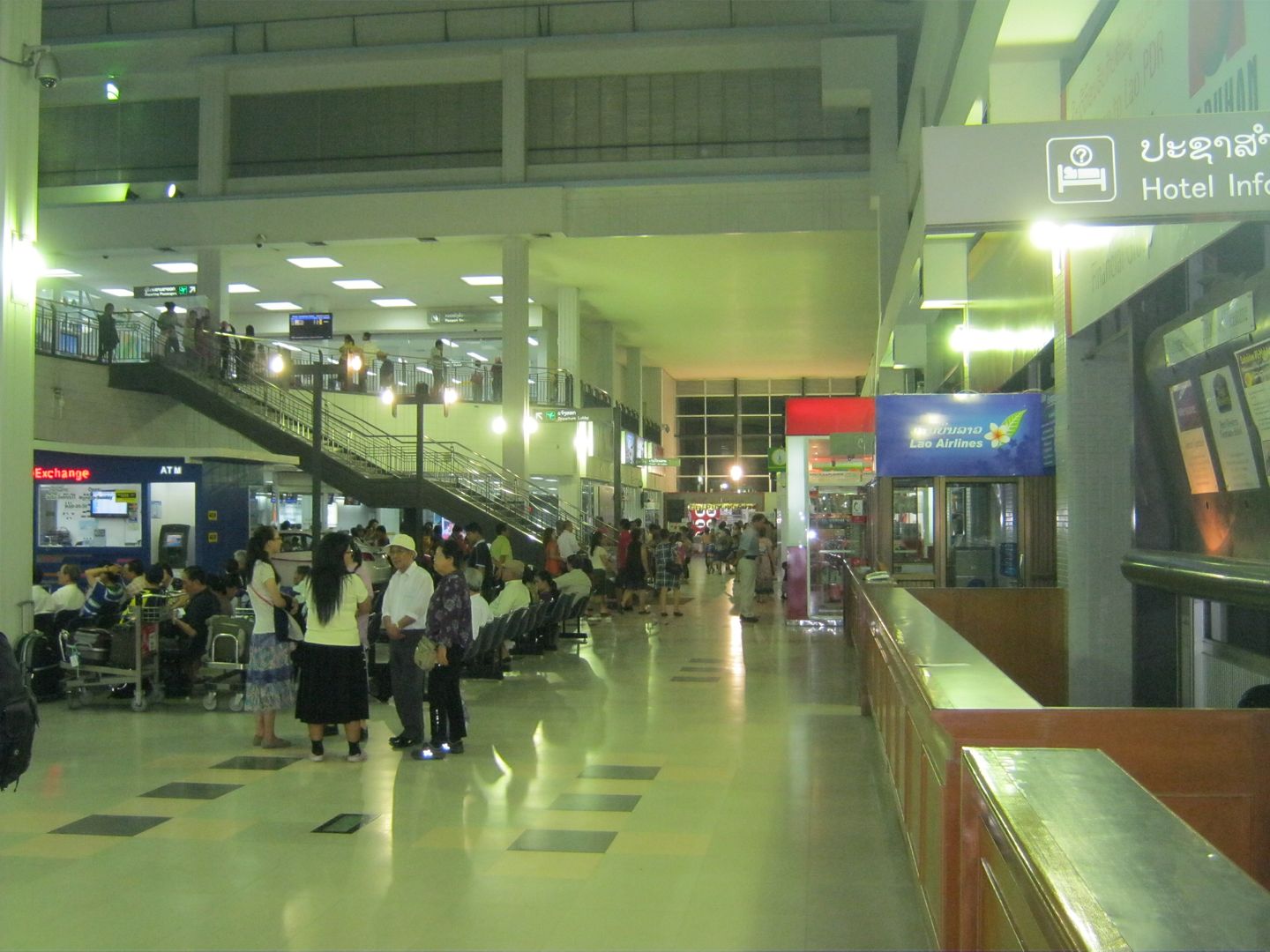 I had some time to kill because I arrived early. I stopped by a gift shop and saw some toys that were not correct but had to share on Airliners.net.
A Bangkok Airways Boeing 747 and Air Asia Boeing 747.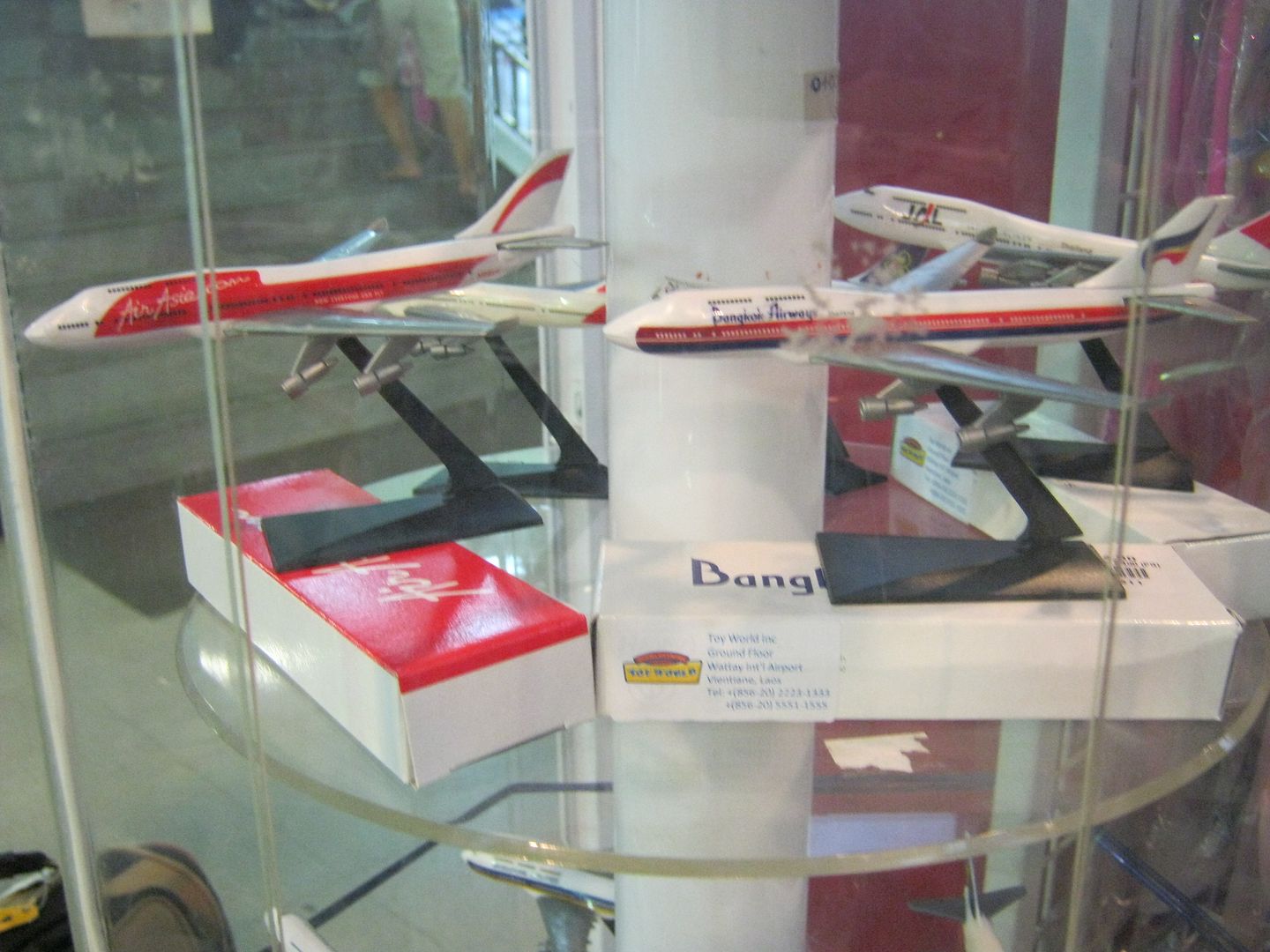 I was tempted to buy some Laos coffee but I remember an ex-girlfriend from Laos back in San Francisco gave me a bag and it gave me the runs every time I drank it. It's too bad because it's really good coffee.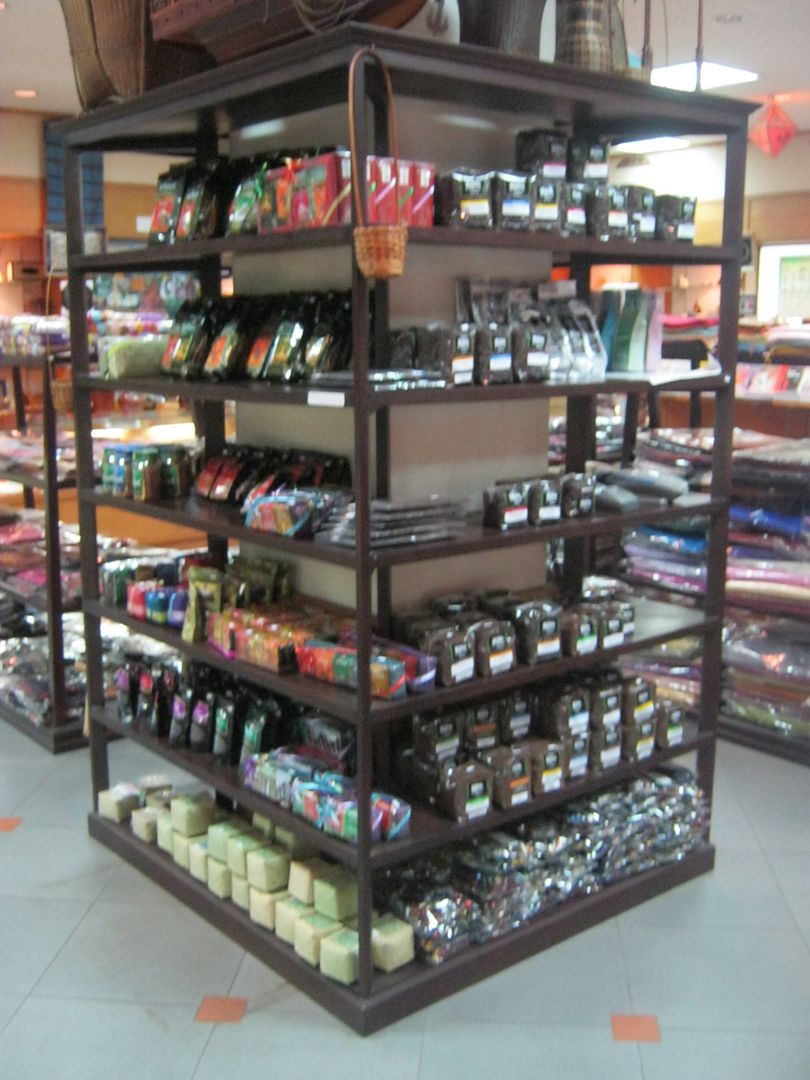 I find it hilarious that there was a Windows error message on the departure screen for Laos Airlines. It's even funnier when you see these on the large, obnoxious electronic billboards downtown Bangkok at shopping malls.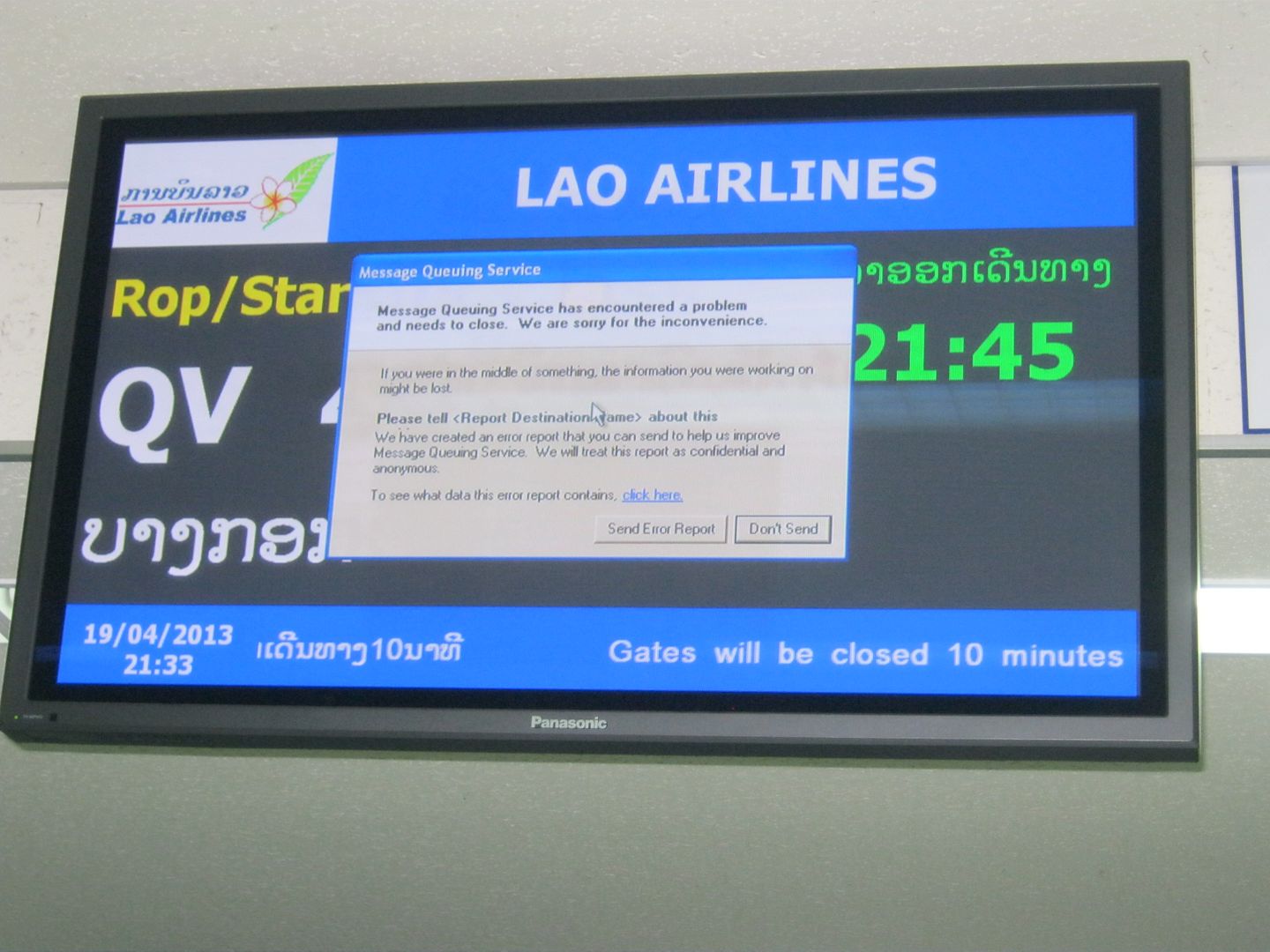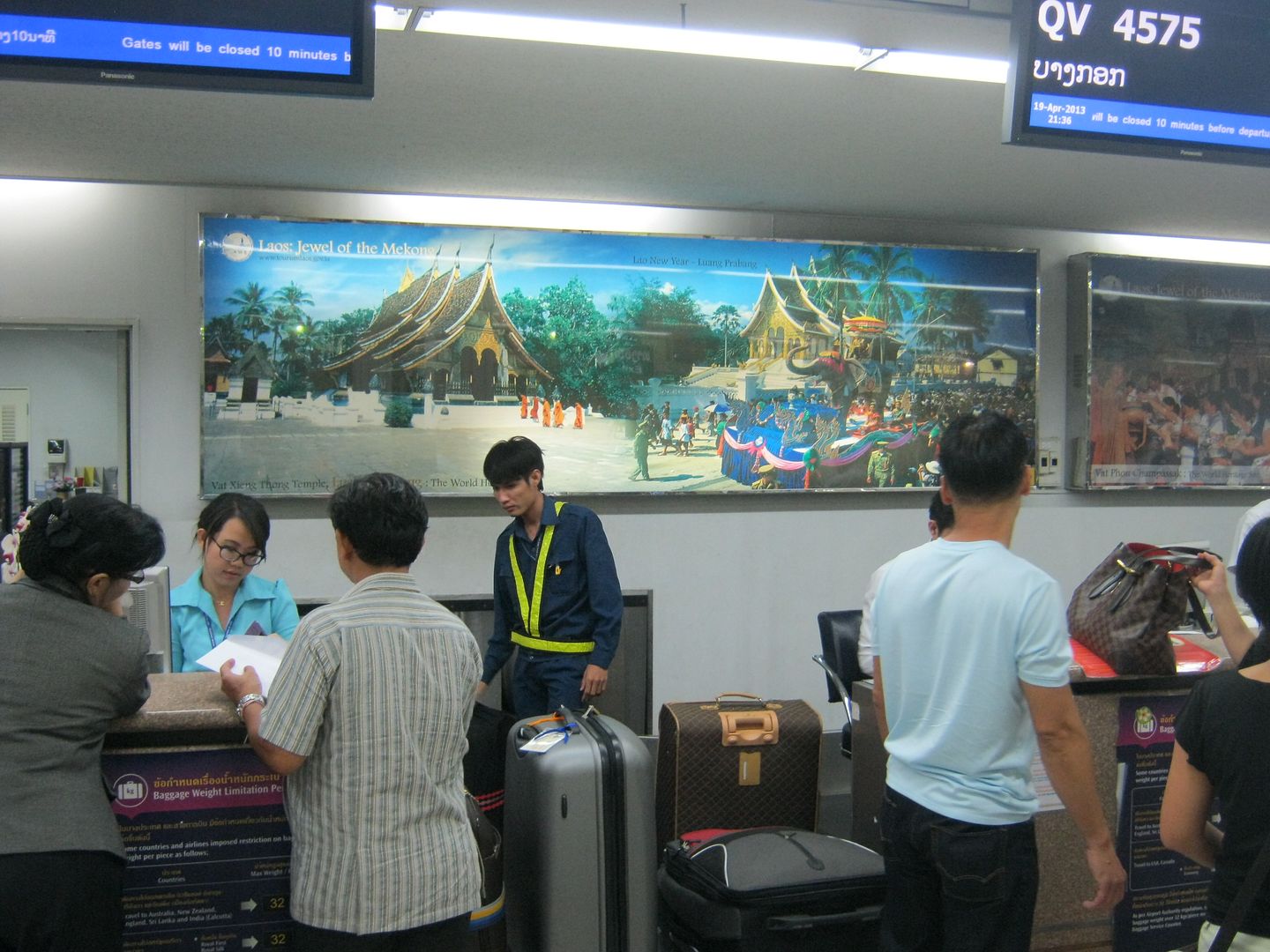 I ended up eating at a snack shop near the observation deck. The ladies there were friendly and shared their meal with me. It was a spicy crab salad and I brought the beer – Bear Lao Dark. We had our own little party. No need for some damn fancy, new-fangled business class lounge!
I grabbed a beer from the cooler, cracked open the bottle of beer on the edge of the table and partied out just like the country folk do right there at the airport. Made two new friends in the process.
...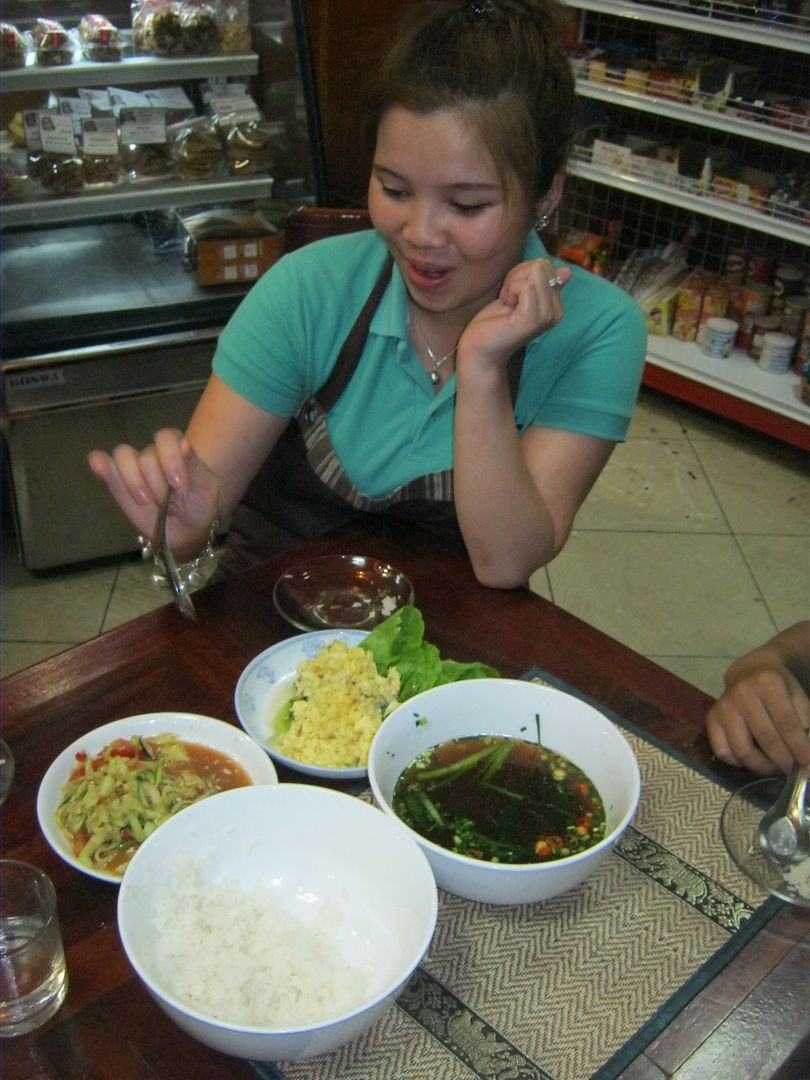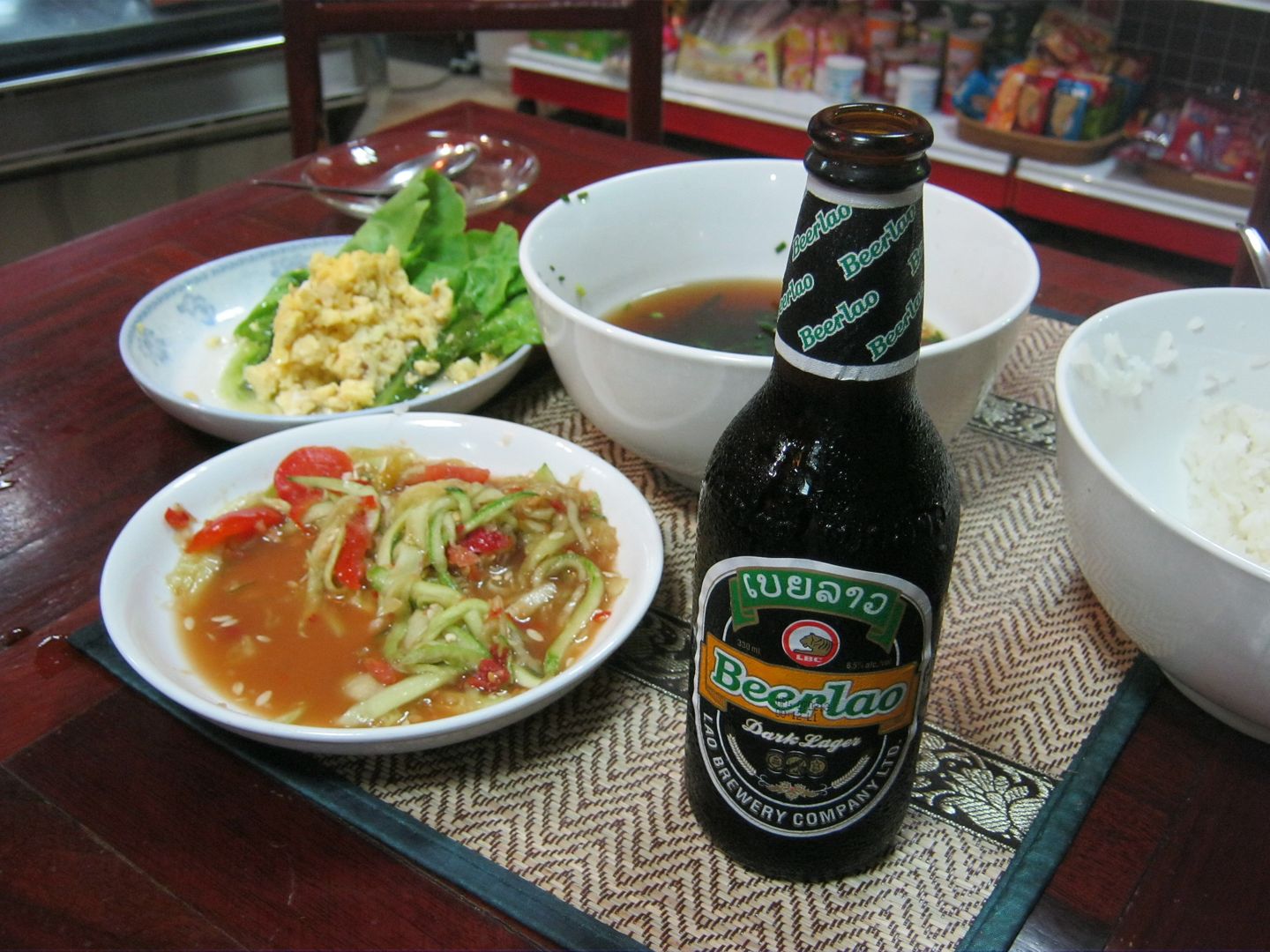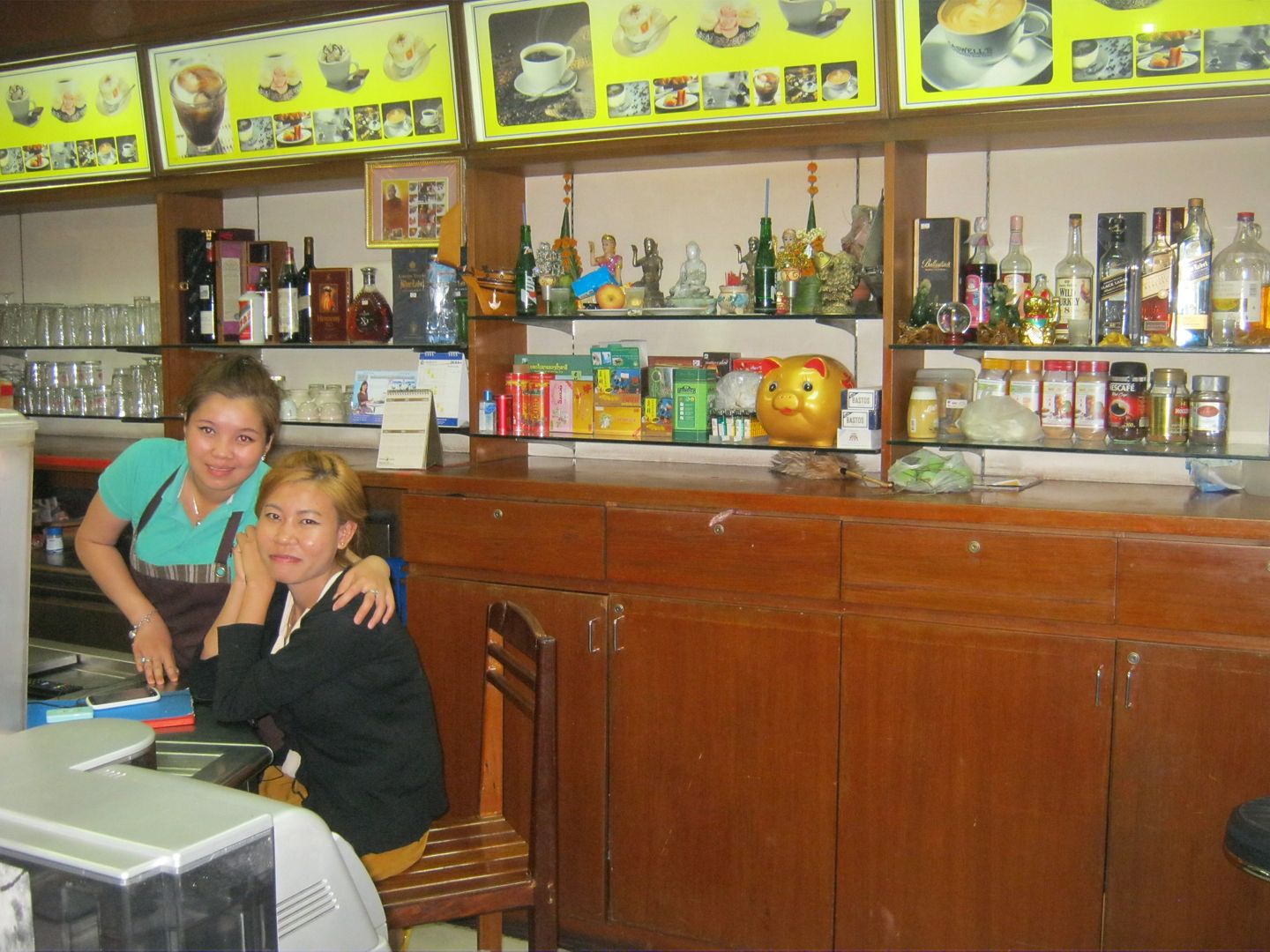 Then it came closer to boarding time. I go through security and to the gate to wait for our flight.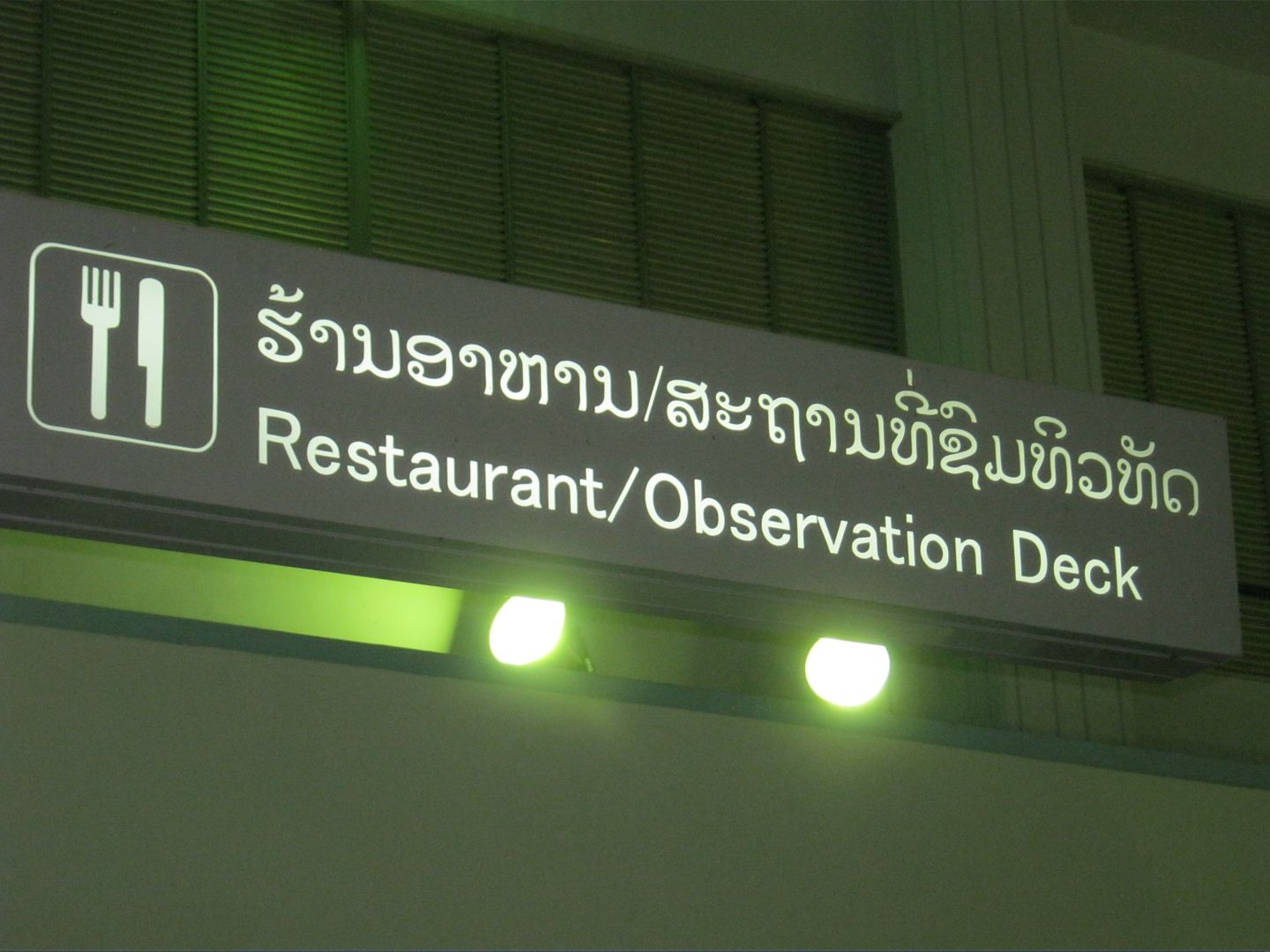 Vientiane's airport has a smoker's box for those that need to smoke before their flight. This reminded me of the crybaby room at the Catholic Church I attended as a kid back in Gary, Indiana. Complete with glass window and intercom.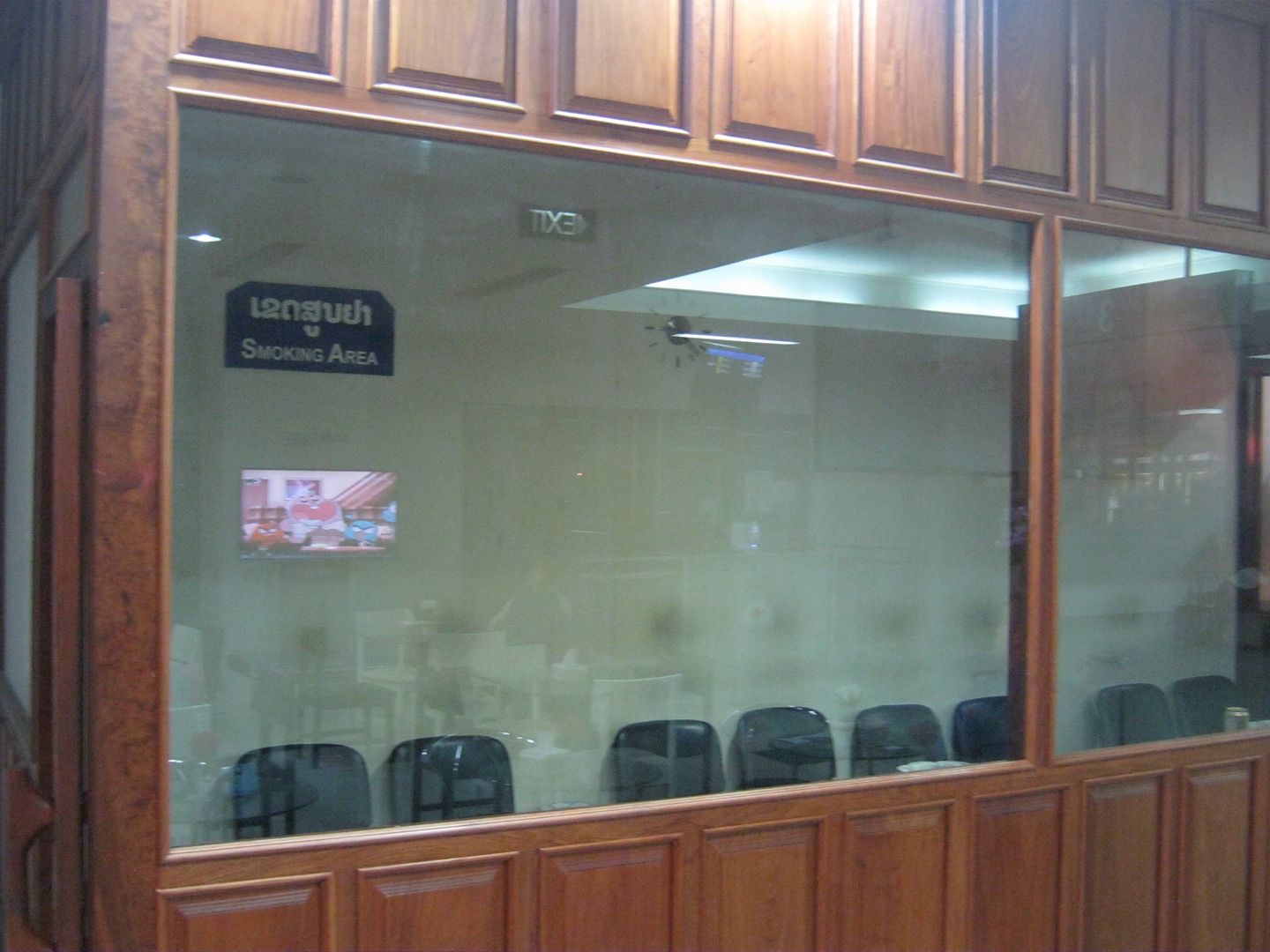 Our flight is called and down the ramp we go.
I like how Vientiane Wattay has open air jet ways to the aircraft.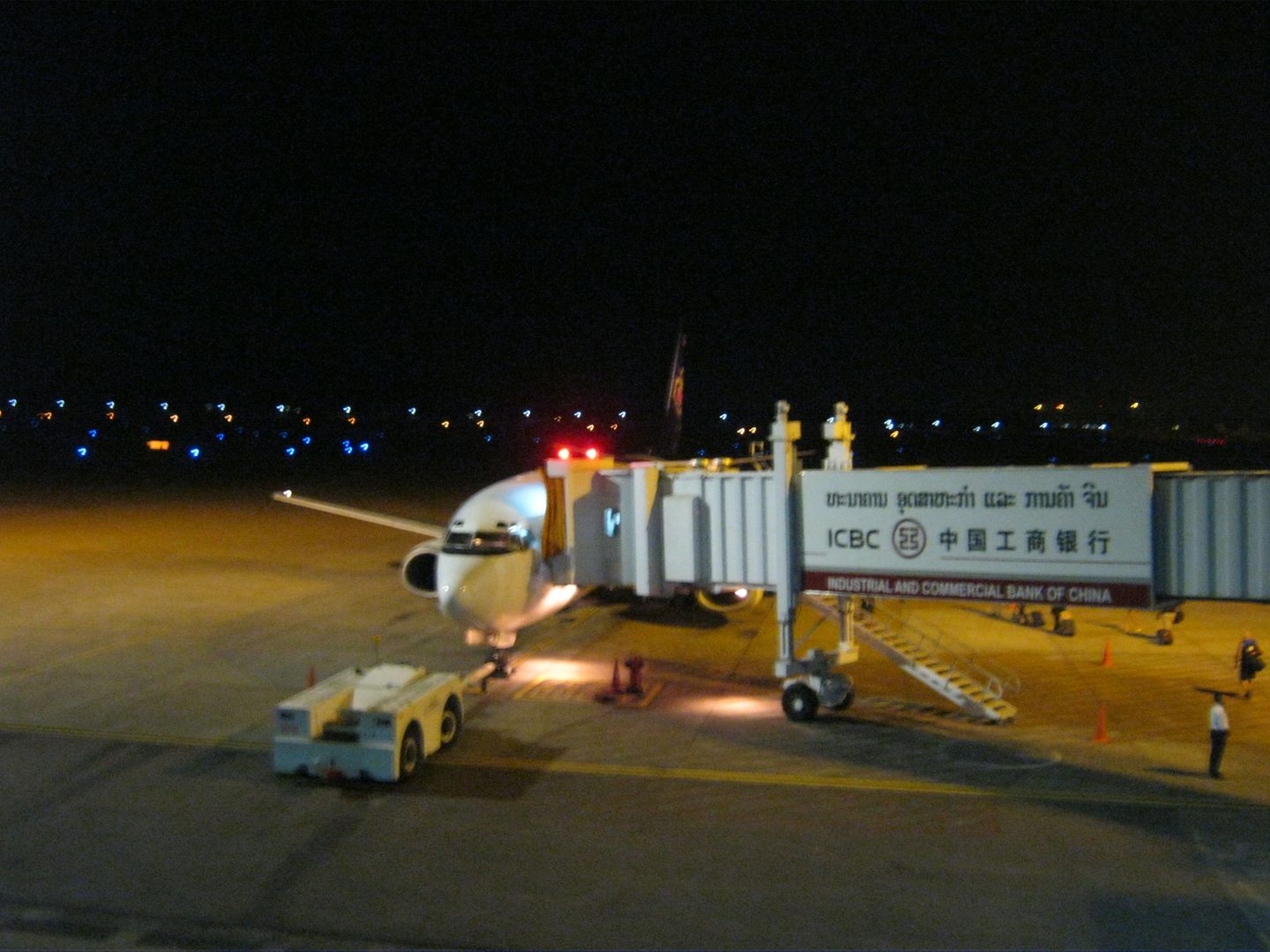 Get onboard and greeted by friendly Thai Airways air hostess. Got my seat and once again, my seat karma strikes again! I had an entire row to myself. It was like I had my own office.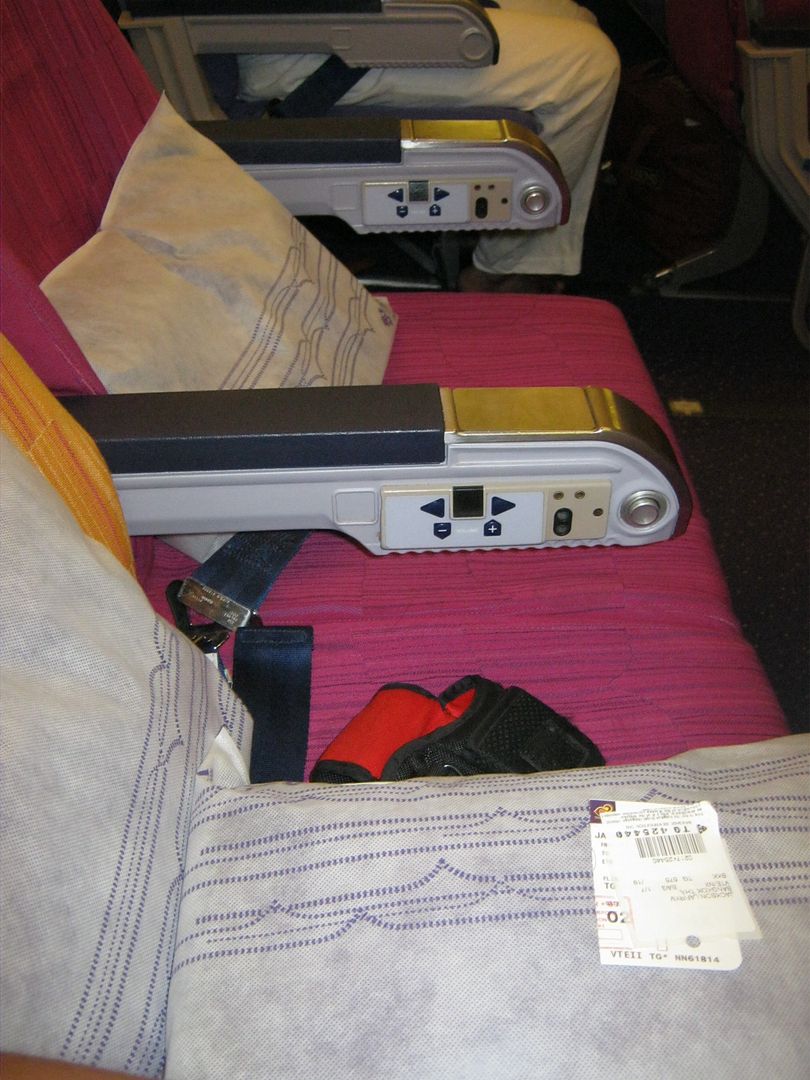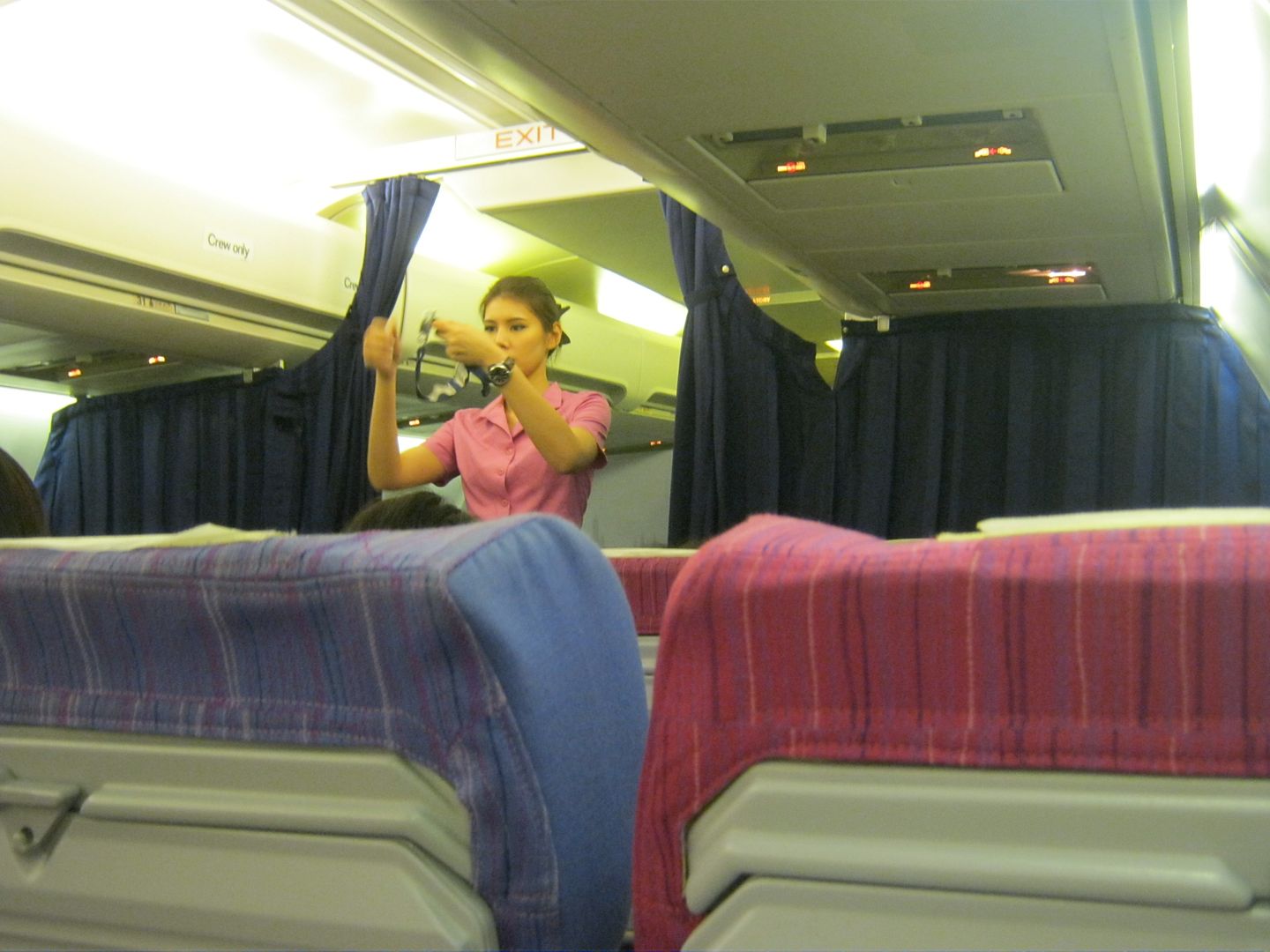 We push back on time and depart in to the night time sky.
In-flight service immediately begins.
Thai Airways really have upgraded their service on their short-haul flights in coach. The return flight meals were different. This time it was a spicy tuna salad. Usually I avoid fish on flights but this tuna tasted really good. It was a familiar taste I've had on the ground many times. I washed it all down with a few Heinekens.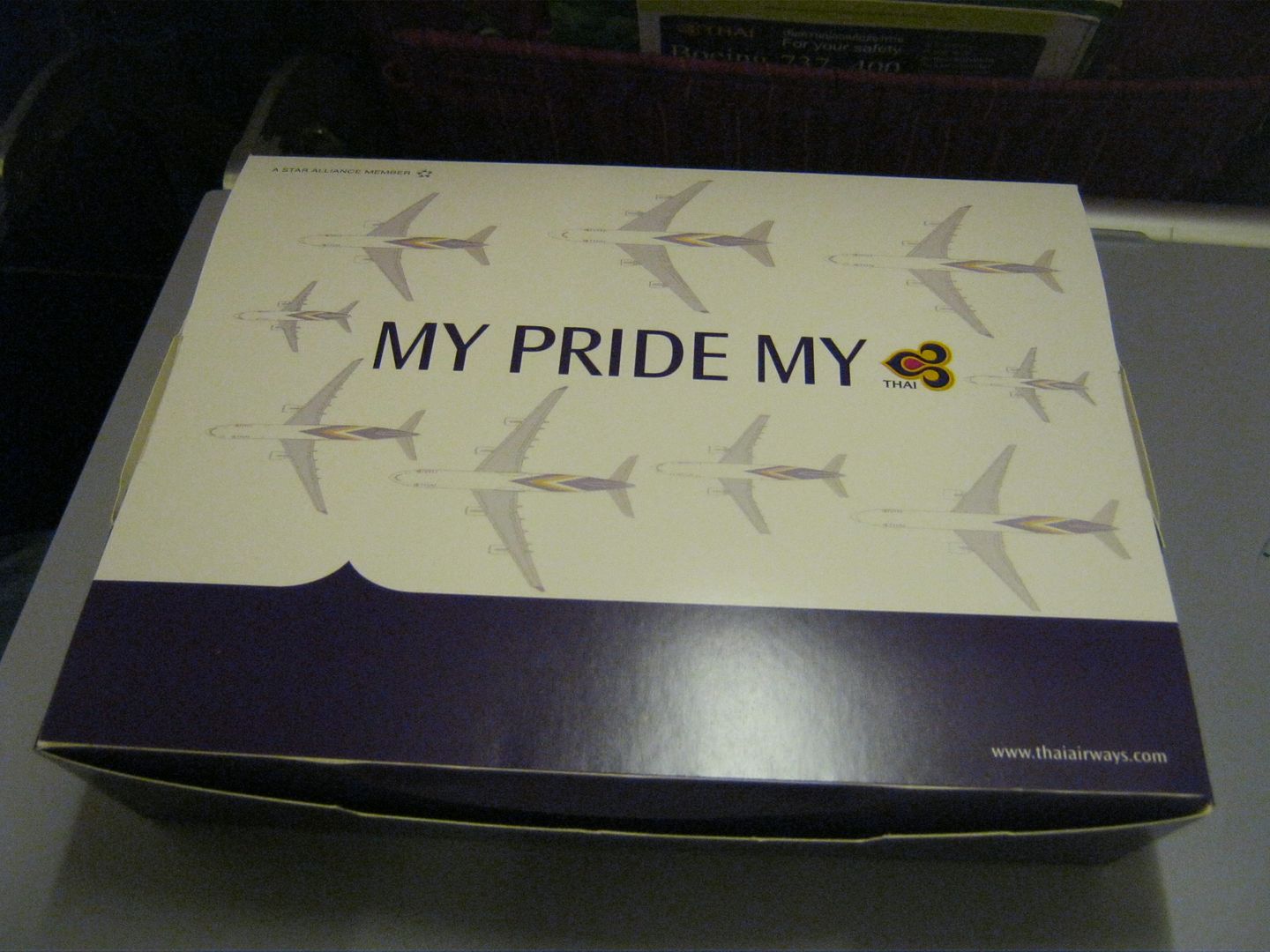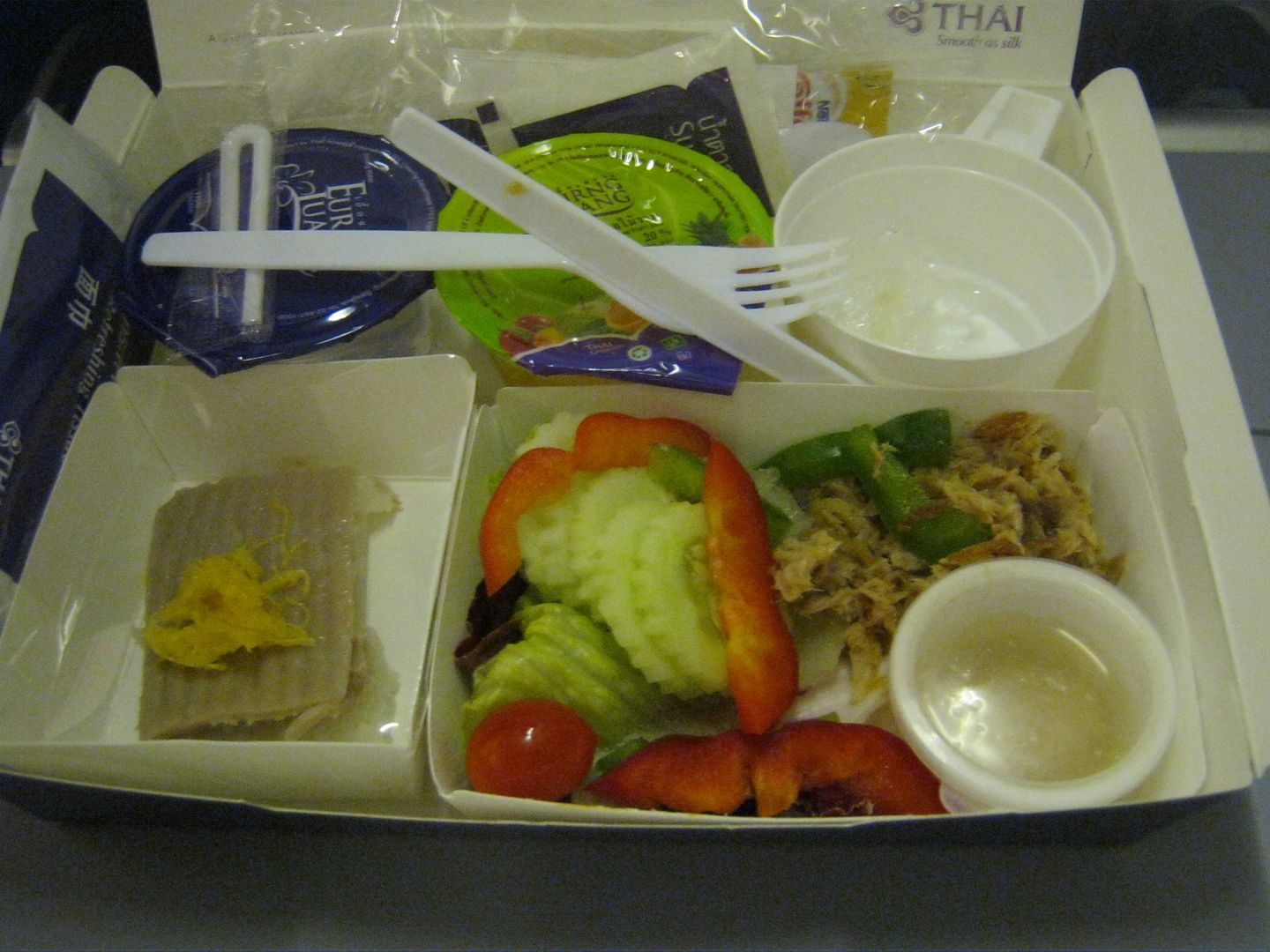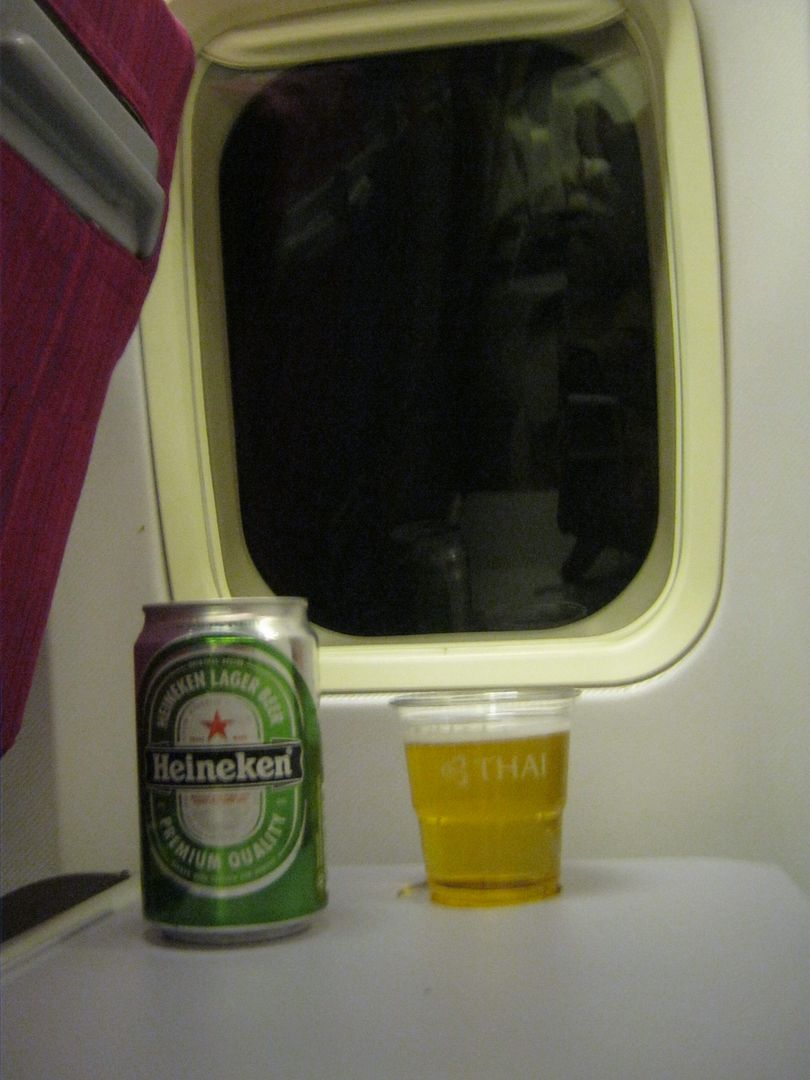 I regret not getting a photo of this but the Thai Airways flight attendants passed out free orchid petals to the passengers. It was like the commercials they used to air in Los Angeles back in the 1980s. It was a nice personal touch.
We began our descent in to Bangkok. The entire flight was smooth, no turbulence at all. The city lights were spectacular on this clear night in Bangkok.
We touchdown right on time and taxi to a proper gate – no more shuttle buses to the gate like it was when all the low-cost carriers were clogging up traffic. They've been moved to Don Mueang.
Walking through a futuristic looking hallway at BKK.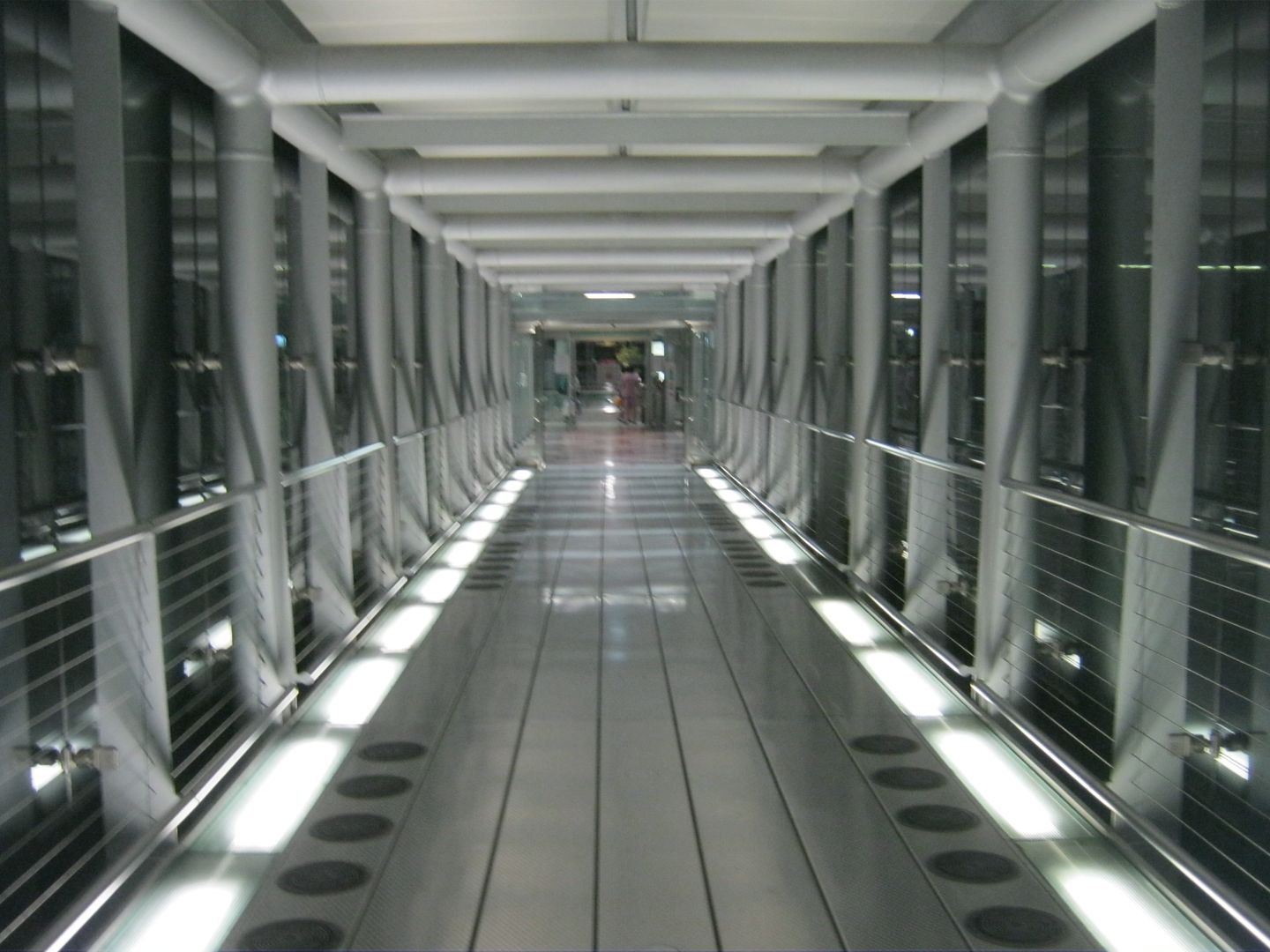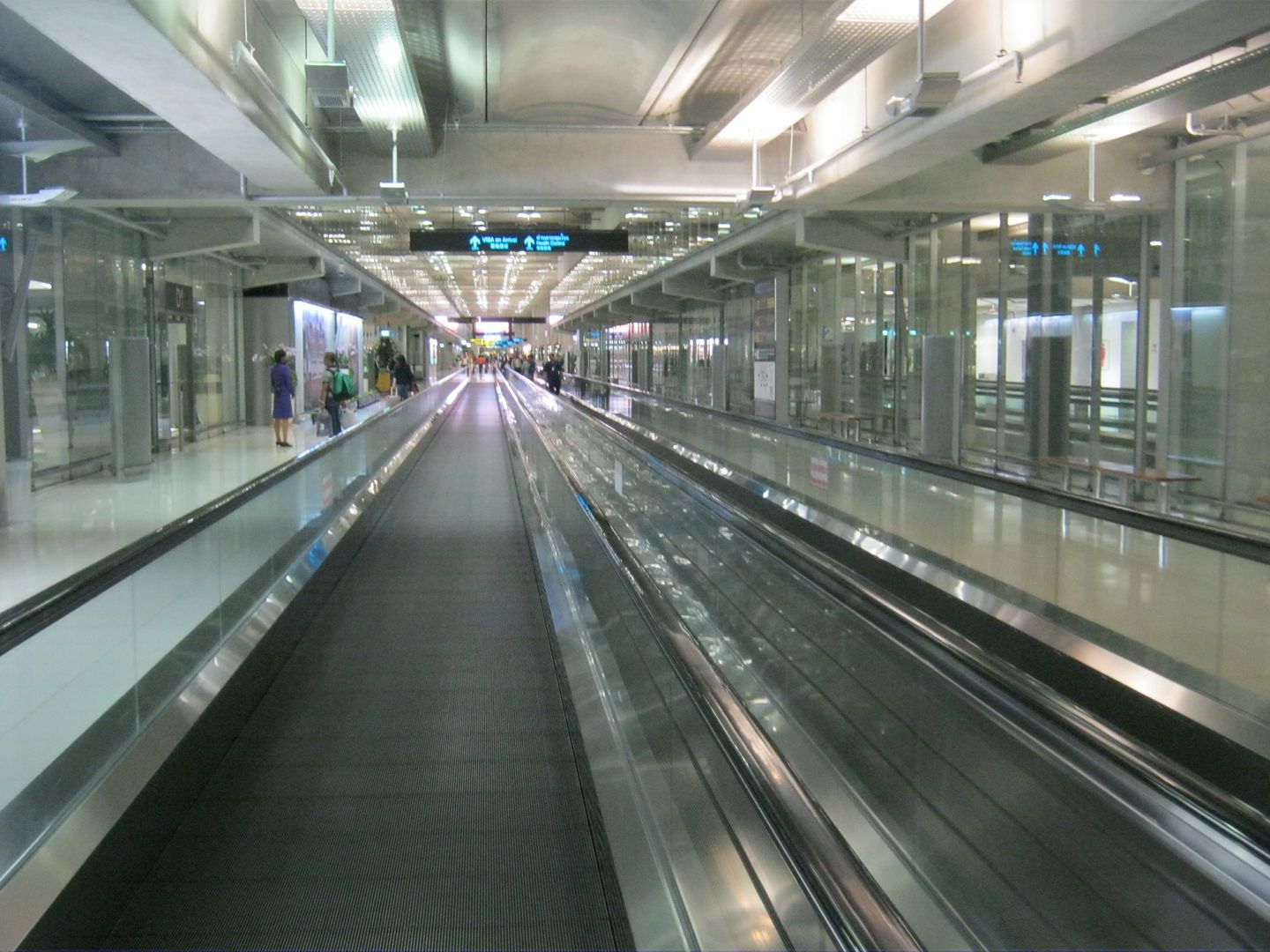 Waiting for Ms Pinkie.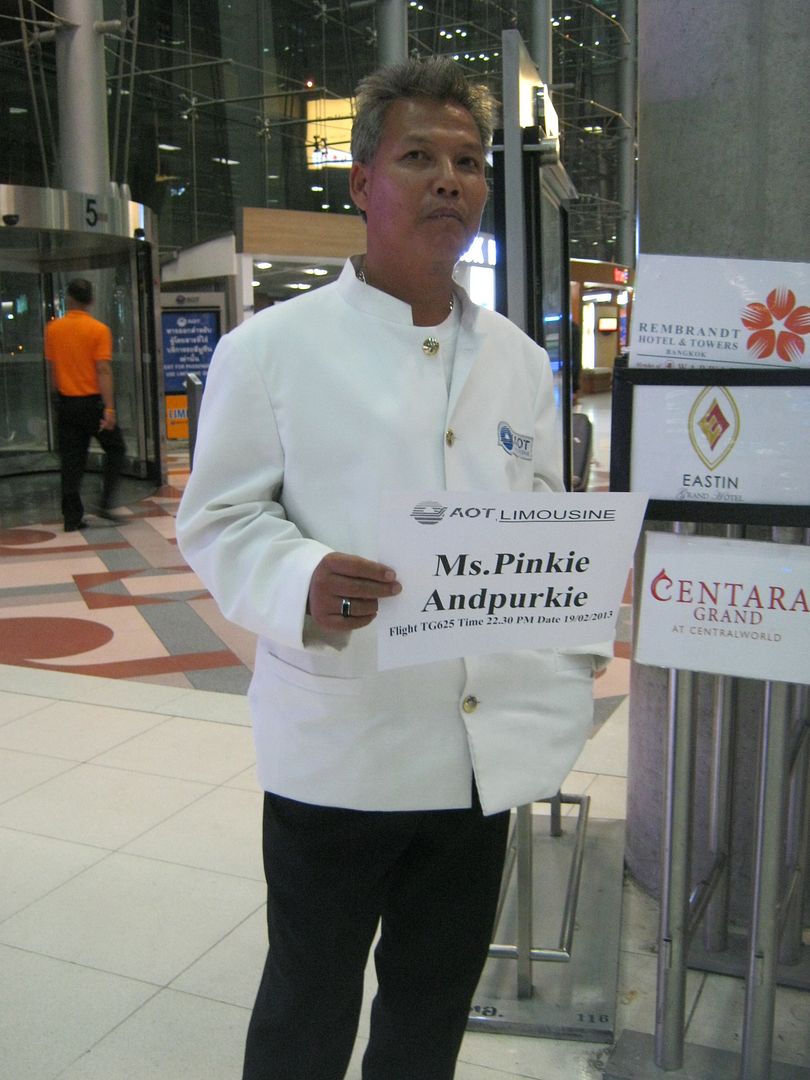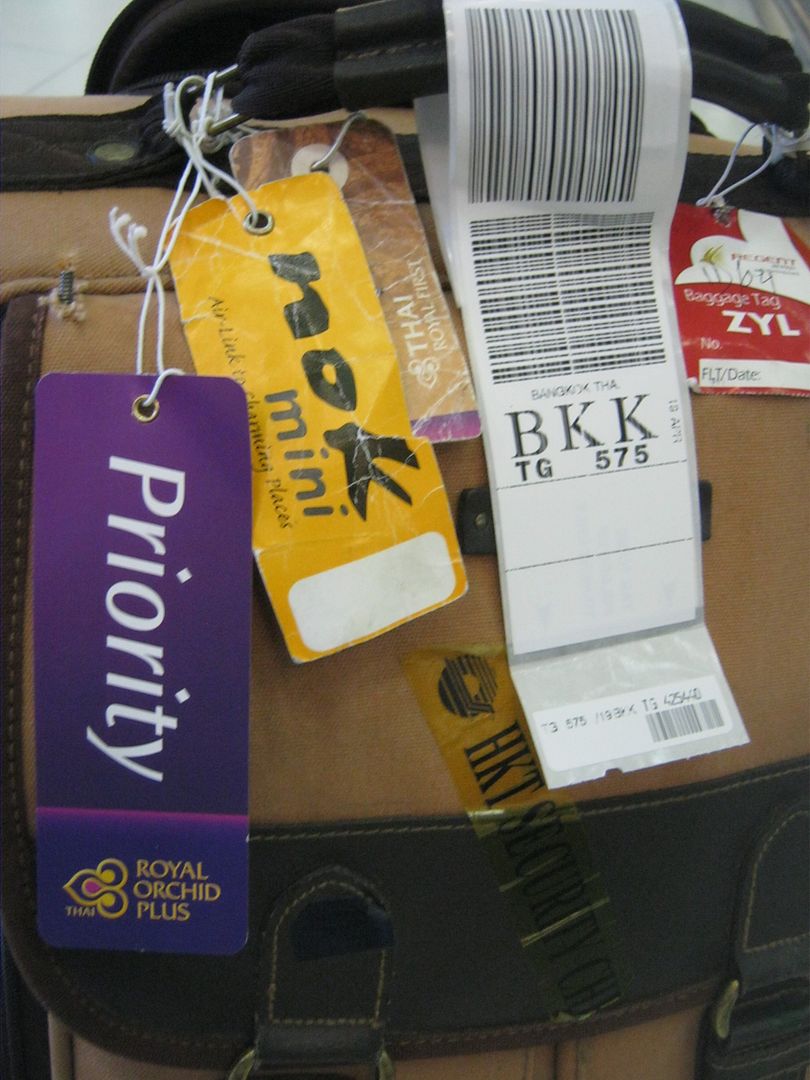 Overall, a great experience and will probably return to Laos on Thai Airways but will discover more of Laos the next time.