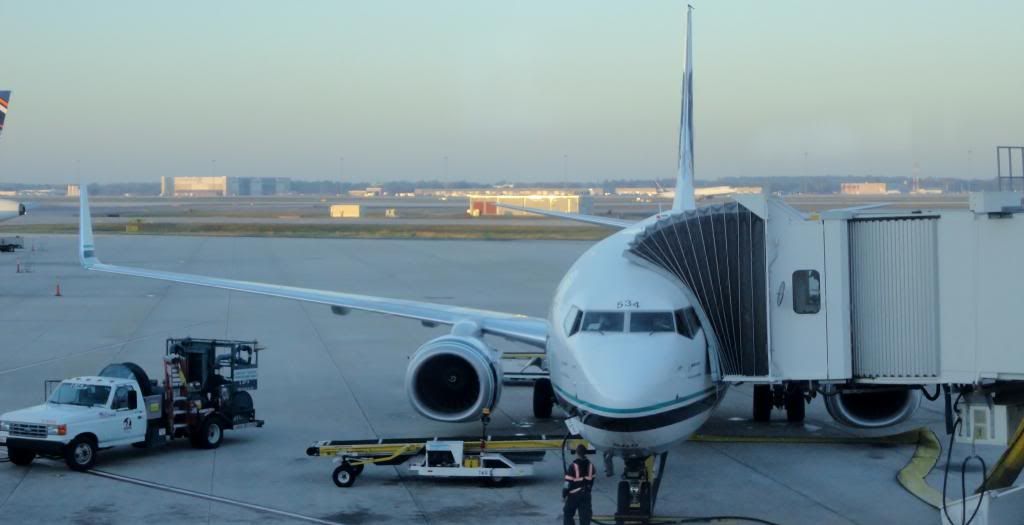 Introduction
Hello everyone and welcome to part 6 of this USA trip series!
For part 1 featuring my first 2 flights on SAS' "new" A320 please see here:
USA Trip Pt. 1: Getting Started!: AMS-CPH-GVA
(by
adamspotter
Apr 14 2013 in Trip Reports)
For part 2 featuring a scenic early morning flight across the Alps on a Darwin Saab2000, an uncomfortable hop across the pond with Alitalia and my first US Domestic flight (of this trip) on DL please see here:
USA Trip Pt. 2: Crossing The Pond: GVA-FCO-JFK-ATL
(by
adamspotter
May 2 2013 in Trip Reports)
For part 3 featuring a nice flight on Delta's mighty 777-200LR between ATL-LAX please see here:
USA Trip Pt. 3: Riding The 777-200LR!: ATL-LAX
(by
adamspotter
May 8 2013 in Trip Reports)
For part 4 featuring my first experience with Virgin America from LAX-BOS please see here:
USA Trip Pt. 4: Tryin' Out The Virgin!: LAX-BOS
(by
adamspotter
May 14 2013 in Trip Reports)
For part 5 featuring my first experience with Jetblue between BOS-EWR-MCO please see here:
USA Trip Pt. 5: Jetting With Blue: BOS-EWR-MCO
(by
adamspotter
Jun 2 2013 in Trip Reports)
This part will concentrate on my MCO-SAN flight.
As most of you know this series will be split into 13 different parts:
Part 1: AMS-CPH-GVA
Part 2: GVA-FCO-JFK-ATL
Part 3: ATL-LAX
Part 4: LAX-BOS
Part 5: BOS-EWR-MCO
Part 6: MCO-SAN
Part 7: SAN-LAX-HNL
Part 8: HNL-KOA-OGG-HNL
Part 9: HNL-LAX-PDX
Part 10: PDX-SEA-BOI-SMF
Part 11: SMF-SFO-ATL
Part 12: ATL-JFK-VCE
Part 13: VCE-ZRH-AMS
At the time of booking flights for this crazy trip, Alaska Airlines had just launched their new SAN-MCO-SAN route. For some reason this immediately caught my eye, especially considering they were only asking 90EUR for MCO-SAN. After booking my flights to MCO on Jetblue (see part 5), I immediately checked the Alaska Airlines website to see if the great fare was still there.
Luckily enough the fare had even gone down to 77EUR, so without hesitating I immediately booked it. Scheduled to leave MCO at 08:00 and arriving in SAN at 10:35, operated by one of their many 737-800s. I was hoping to catch one of their beautiful special schemes, but knew the chances for that are slim.
Map
The map for this part thanks to the Great Circle Mapper: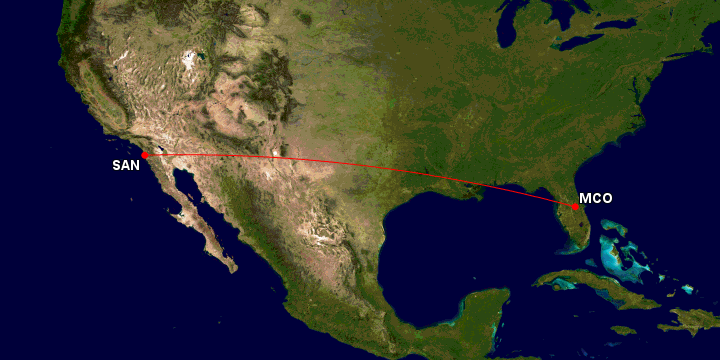 And the map of this whole trip also thanks to the Great Circle Mapper: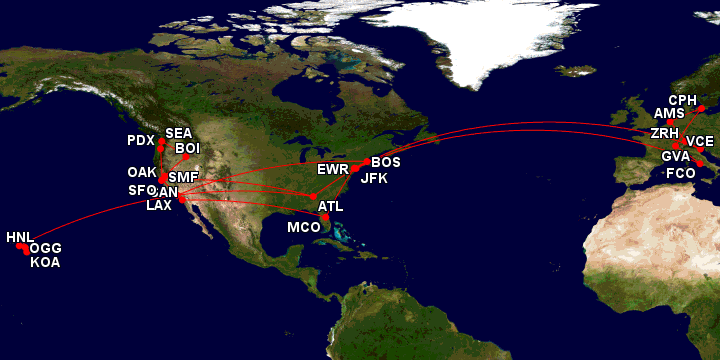 Saturday January 26
I am at the Holiday Inn near Orlando airport. After a short but good night's sleep, my alarm clock goes off at 06:00. I have a long day ahead of me, in the morning I will be heading towards the west coast again before heading further west towards Hawaii in the afternoon (part 7). Talk about flying through many different time zones!
I get my usual morning rituals done and pack my bag. I will be taking the 06:30 shuttle to the airport to catch my 08:00 flight. At 06:25, I grab my belongings and quickly head downstairs to check out. Check out is done swiftly and the shuttle is ready to take me (and others) to the airport.
The shuttle is quite busy this morning with a mix of passengers and FAs. A 15 minute drive follows and I am dropped off at terminal A, where Alaska Airlines operates from. I thank and tip the driver before heading inside.
Check In
I head up the escalator to departures and am met with a long line at the AS check-in desks. I had checked in online in my hotel room the night before but there is no baggage drop off lane, neither is there the possibility to print out my BP at a SSK.
AS operates 2 flights within 10 minutes from MCO, 1 to SEA and the other (obviously) to SAN. To be fair the line moves quickly and the agents work very hard. Nevertheless it takes 25 minutes before I am helped by a very friendly agent.
After tagging my bag to SAN she asks if I will be flying anywhere else after that. I explain to her I will be flying Delta to Hawaii to which she insists to tag my bag all the way to HNL (something I will later regret, but more on that in part 7). After that she also insists on moving me to the emergency exit row as I am quite tall and good looking (those were here words not mine!). I thank her very much and head towards security.
At security I am once again met with a huge line and am starting to get a little worried now as boarding will begin in 15 minutes (at 07:30). Luckily enough the line moves pretty fast so in the end it takes 20 minutes before I clear security without any problems.
Assigned gate for this morning's flight is 10, so I quickly head to the train and take it to the satellite terminal gates 1-29. A short walk later and I get a first view of my ride. It is N534AS, a fairly new plane delivered to AS on 24/01/2011: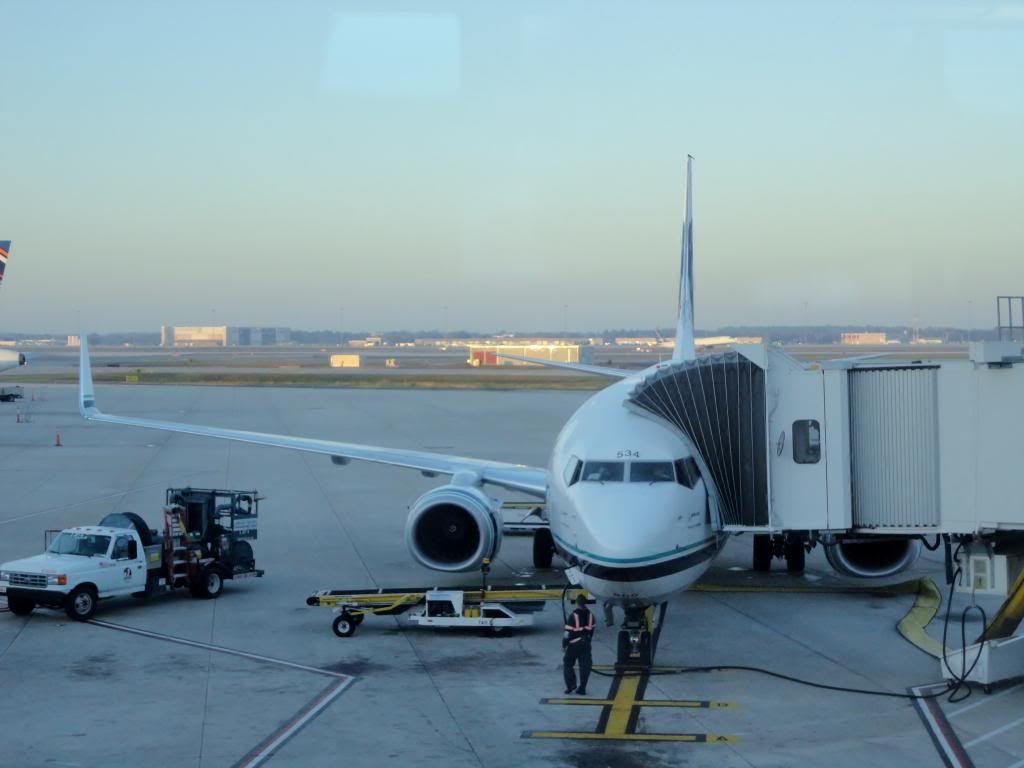 Boarding
BP for this flight:
Once reaching the gate boarding is already well underway. The friendly gate agent scans my BP, wishes me a pleasant flight and thanks me for flying Alaska Airlines. I thank him and head into the jetway..
On Board
26/01/2013
MCO-SAN
AS763 // 16F
B737-800 Alaska Airlines // N534AS
07:58-10:09
While entering the aircraft I exchange greetings with one of the female FAs and head into the aisle. Once reaching the exit row, I put all my belongings in the overhead bin and get settled in: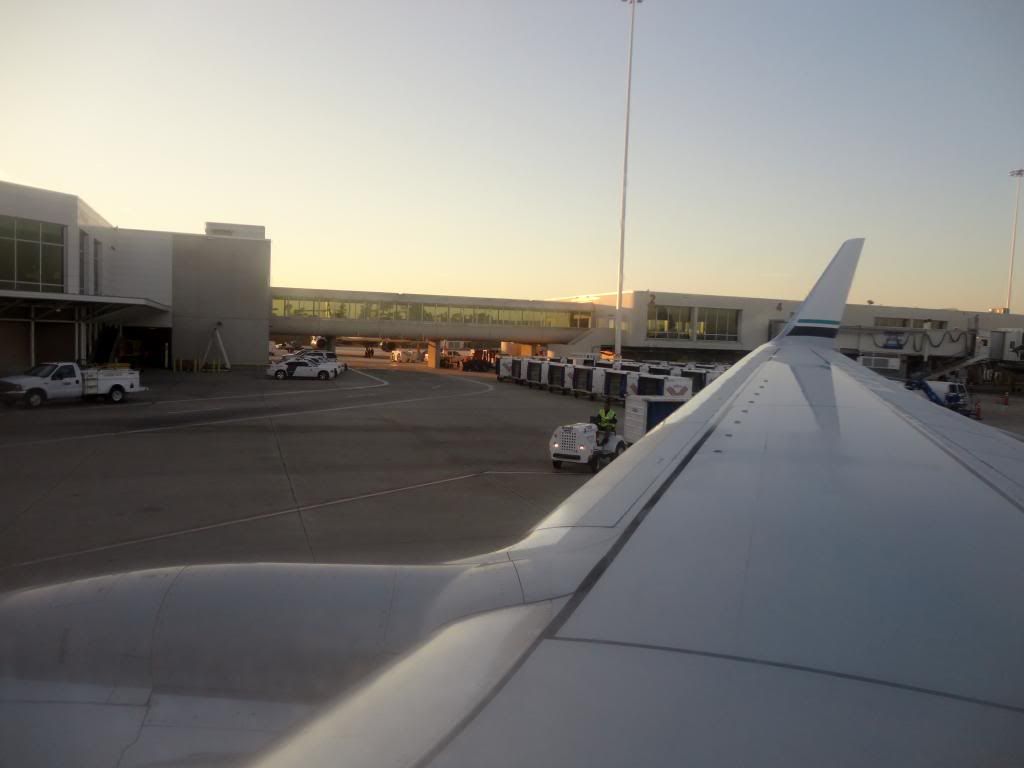 Fantastic legroom: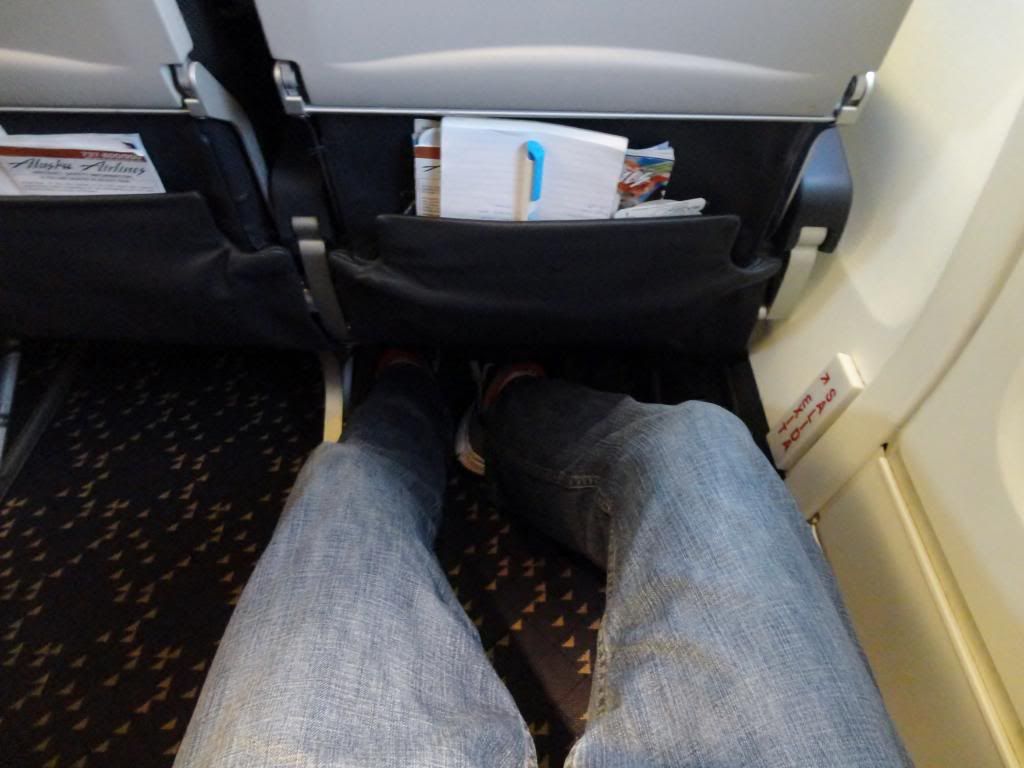 A lot of fellow passengers were also stuck in the long lines at security as a bunch of them board the aircraft after me. Flight load will eventually be around 70% with the aisle seat occupied and the seat next to me remaining empty.
The front left door is eventually closed at 07:55, so the female FA comes on the PA welcoming us on board flight 763 with destination San Diego followed by the usual announcements. Cabin crew on this flight consists of all elder females. They can best be described as very friendly, full with smiles and going "the extra mile" for each passenger.
Once the female FA is done with her announcements the pilot also comes on the PA welcoming us onboard followed by some flight info. Cruising altitude will eventually be 34,000 feet and our flying time 4 hours and 51 minutes.
While the cabin crew perform the safety demonstration manually we commence pushback at 07:58, 2 minutes ahead of schedule: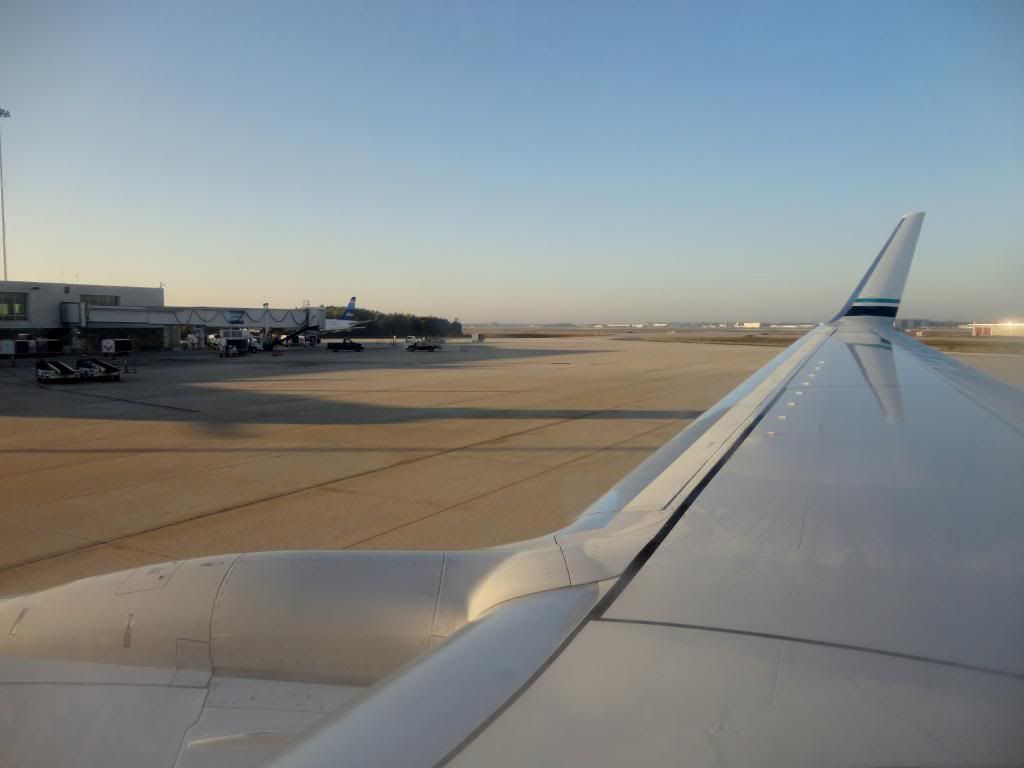 After a short pushback, we are released and taxi towards runway 36R:
That's the Spirit!: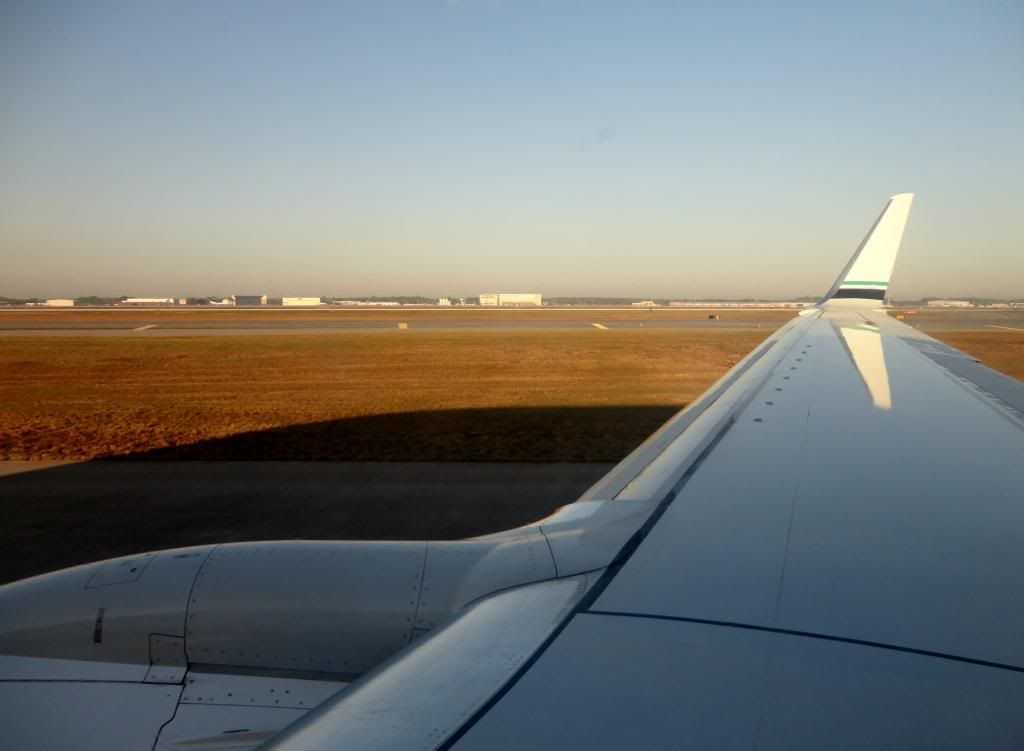 UPS 767 departing 36R: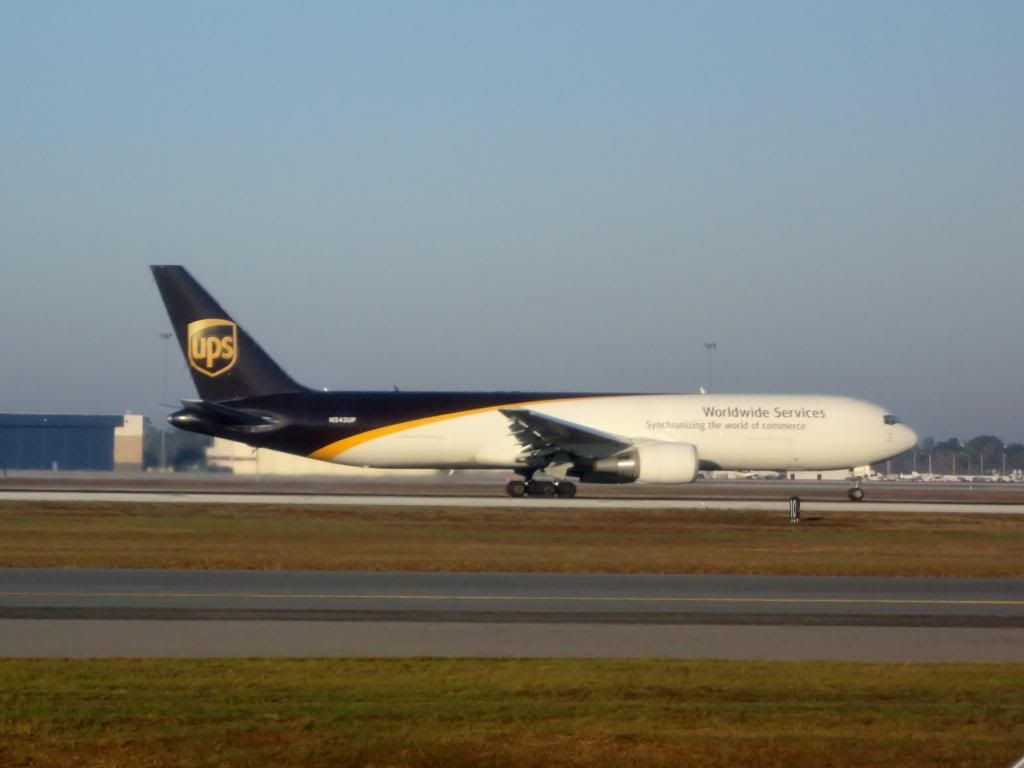 A WestJet 737 will depart before us: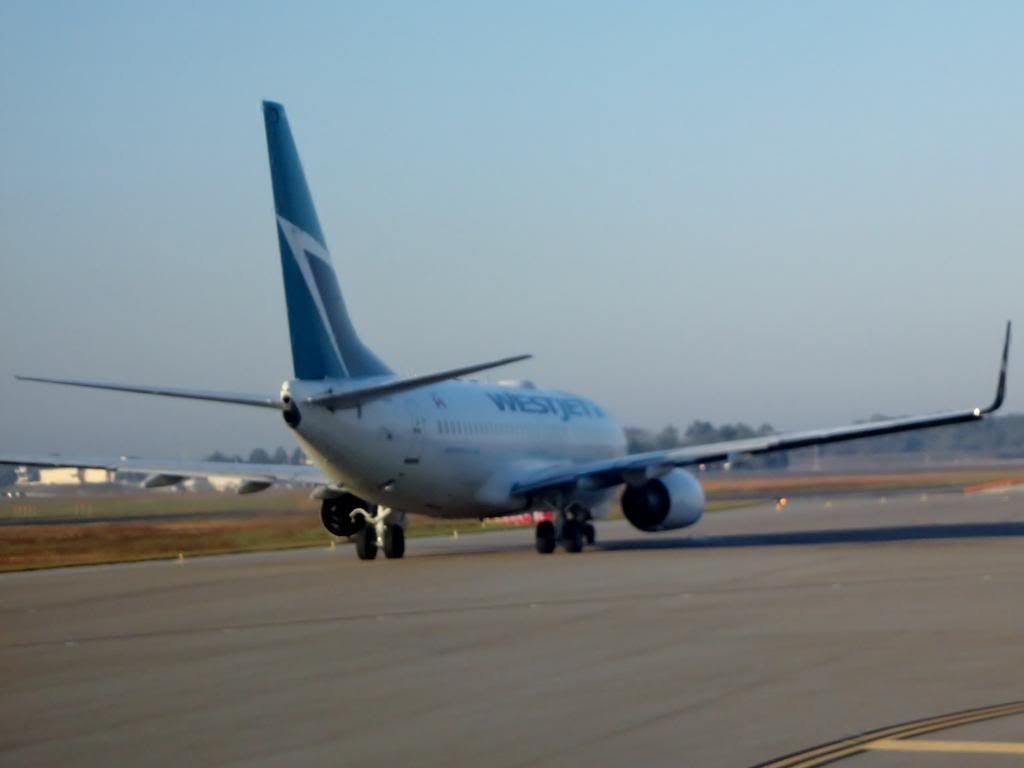 Take Off
We reach runway 36R at 08:06, if you look closely you can see the WestJet 737 departing: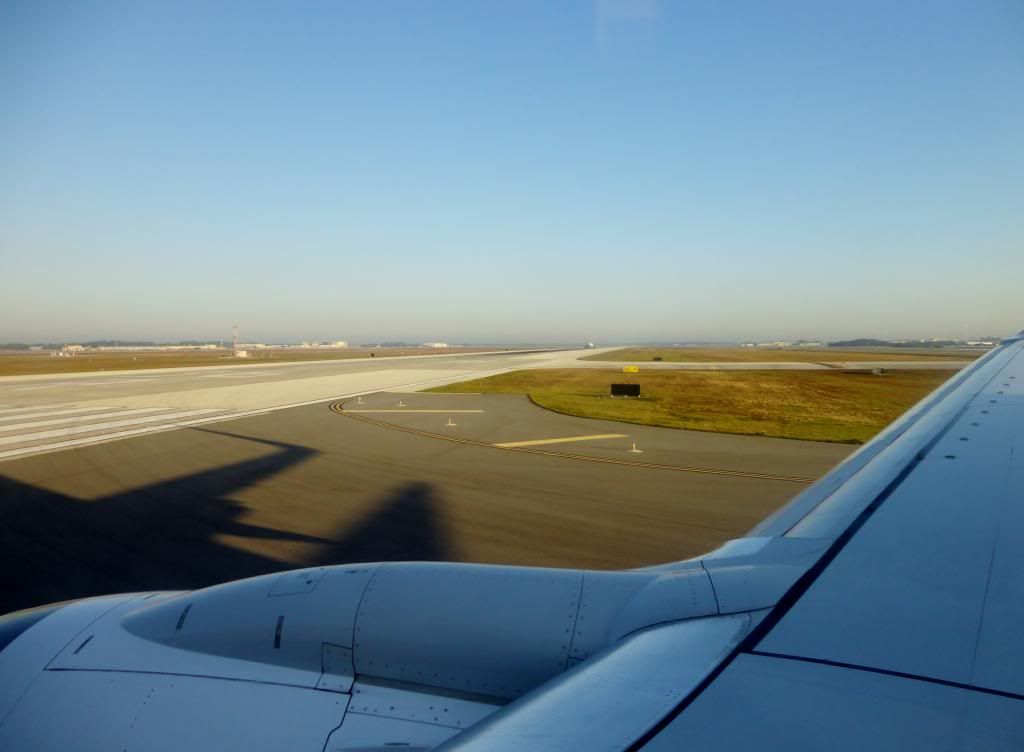 We are next, so we roll onto the runway and start a powerful take off towards the north: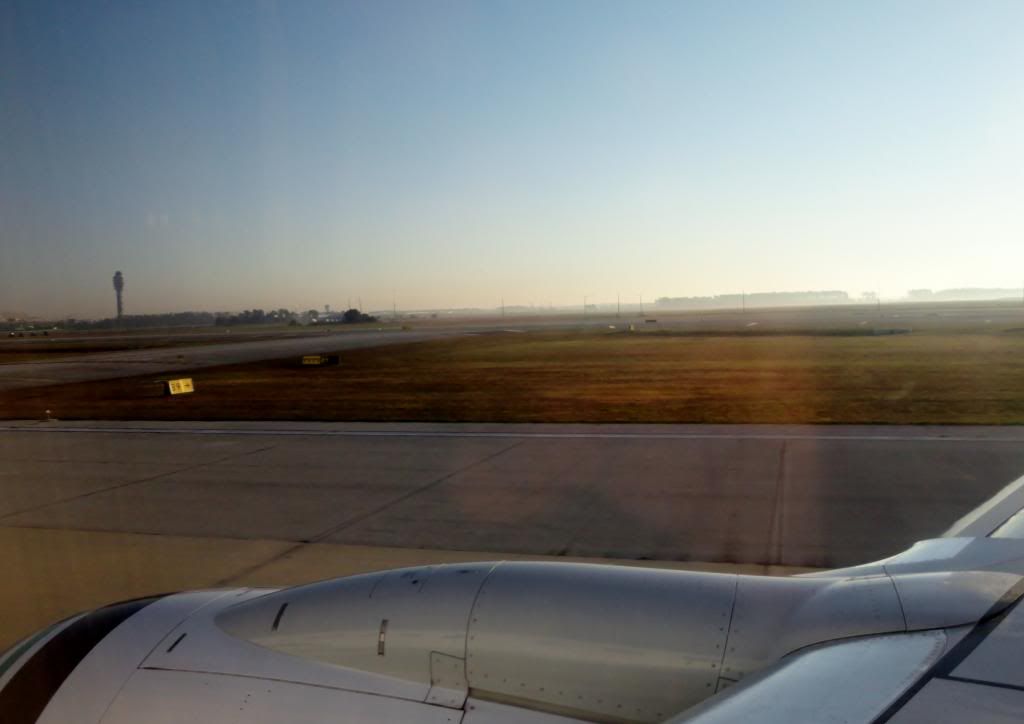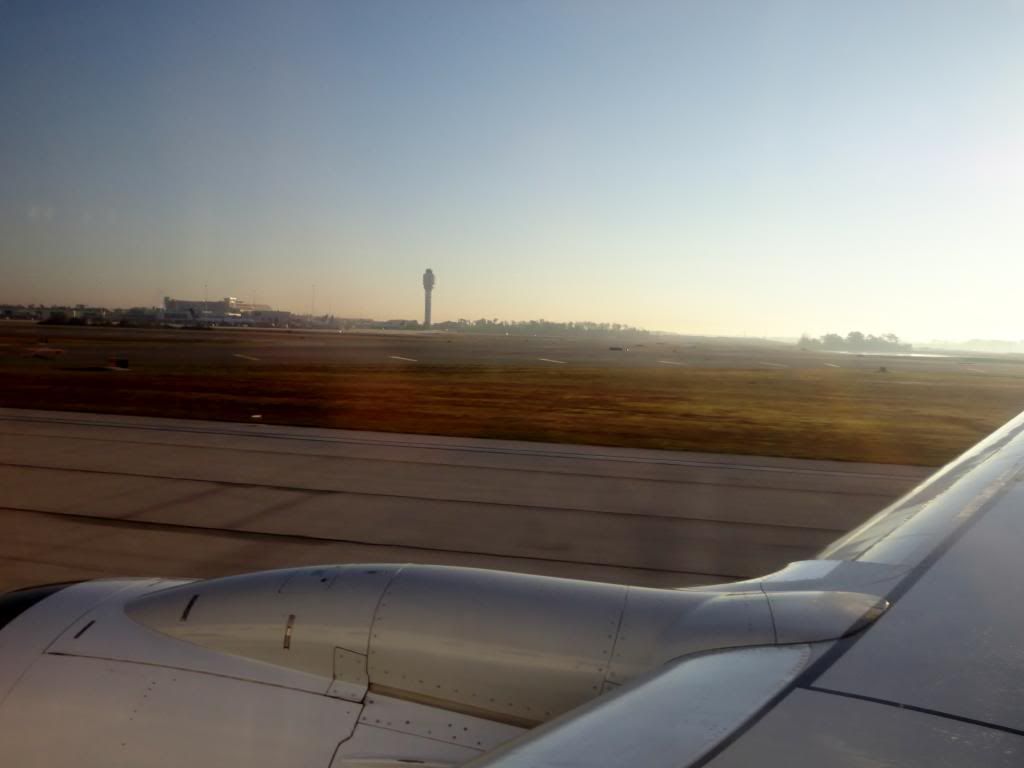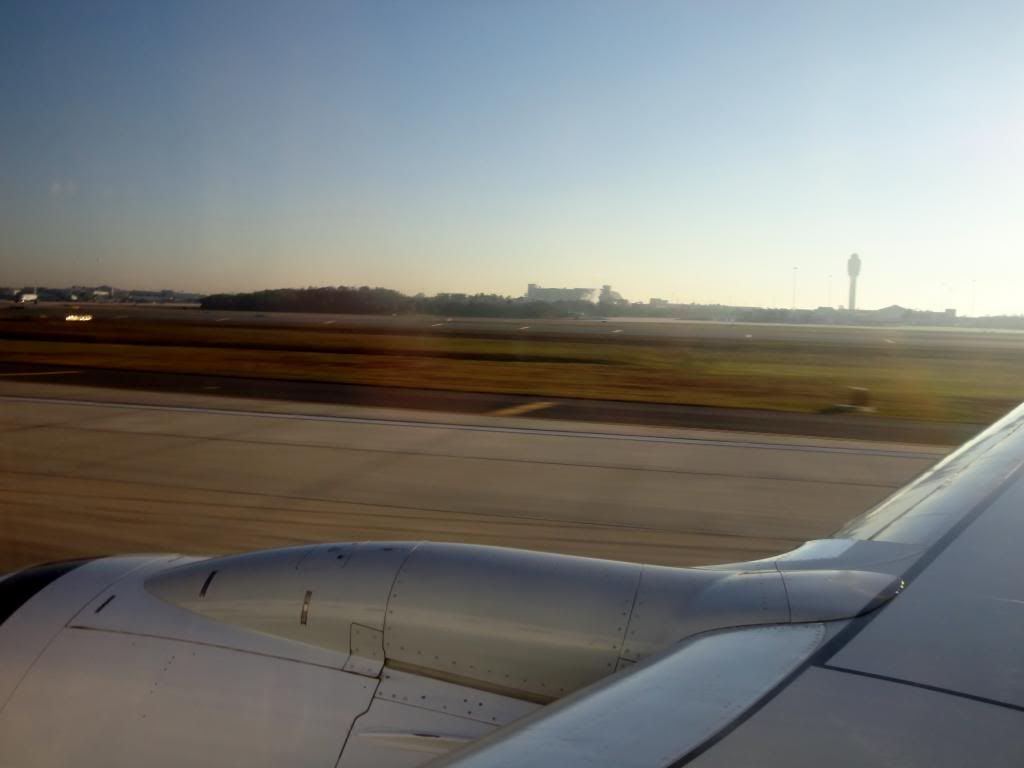 Rotate!:
Spot the aircraft performing a parallel departure!: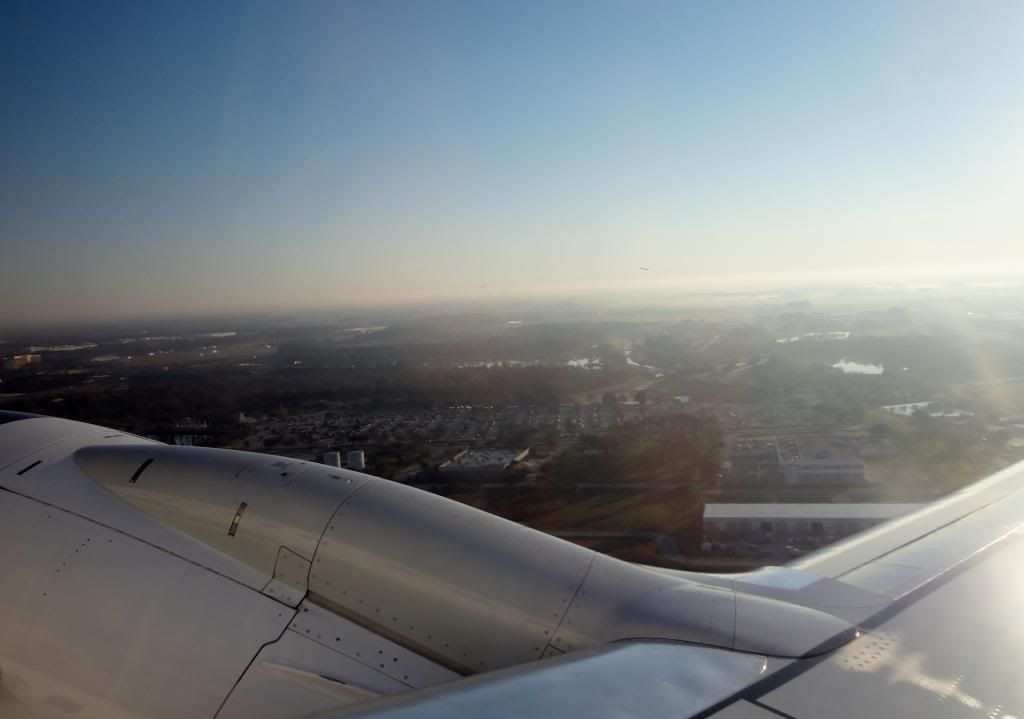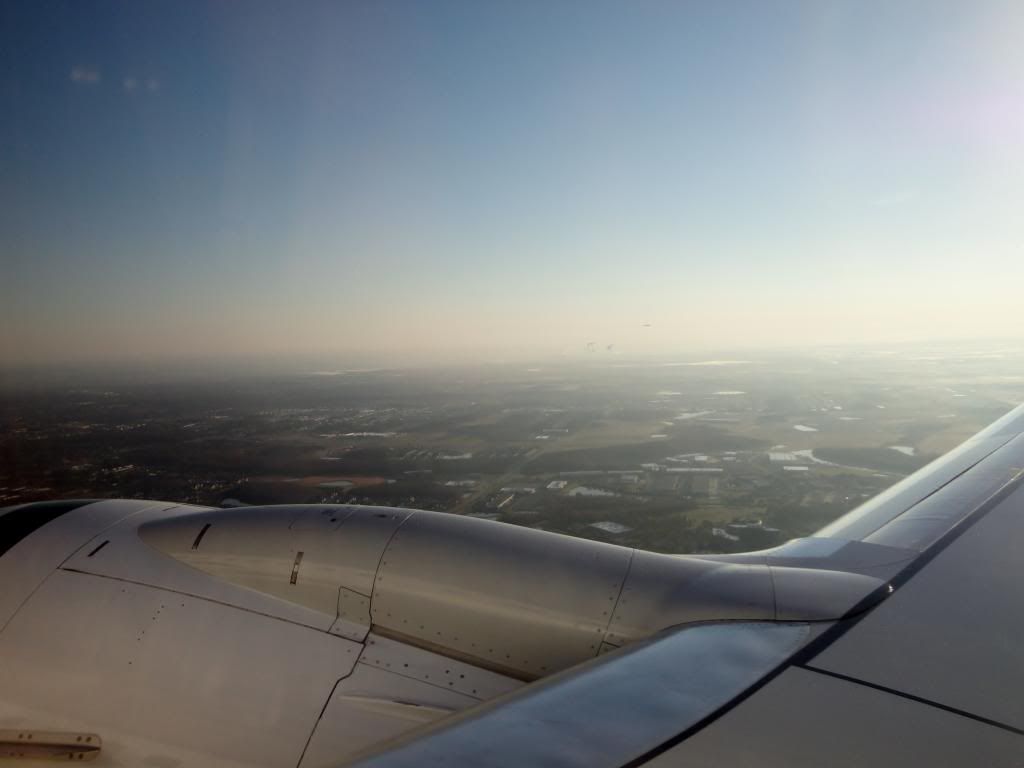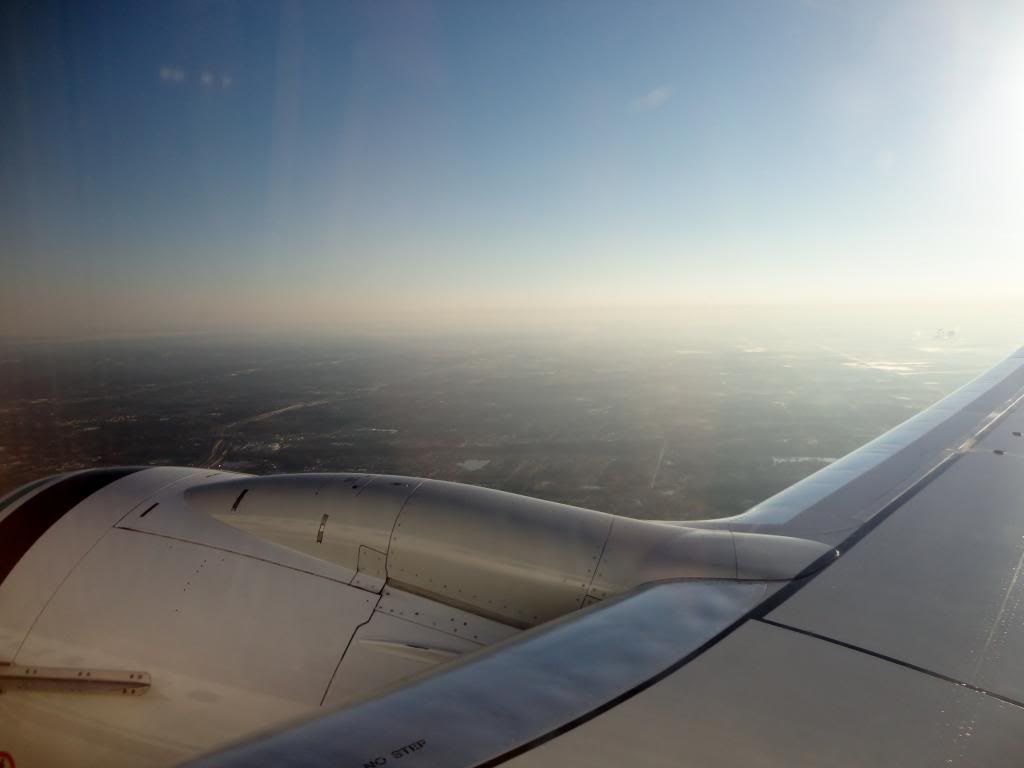 Heading towards the west: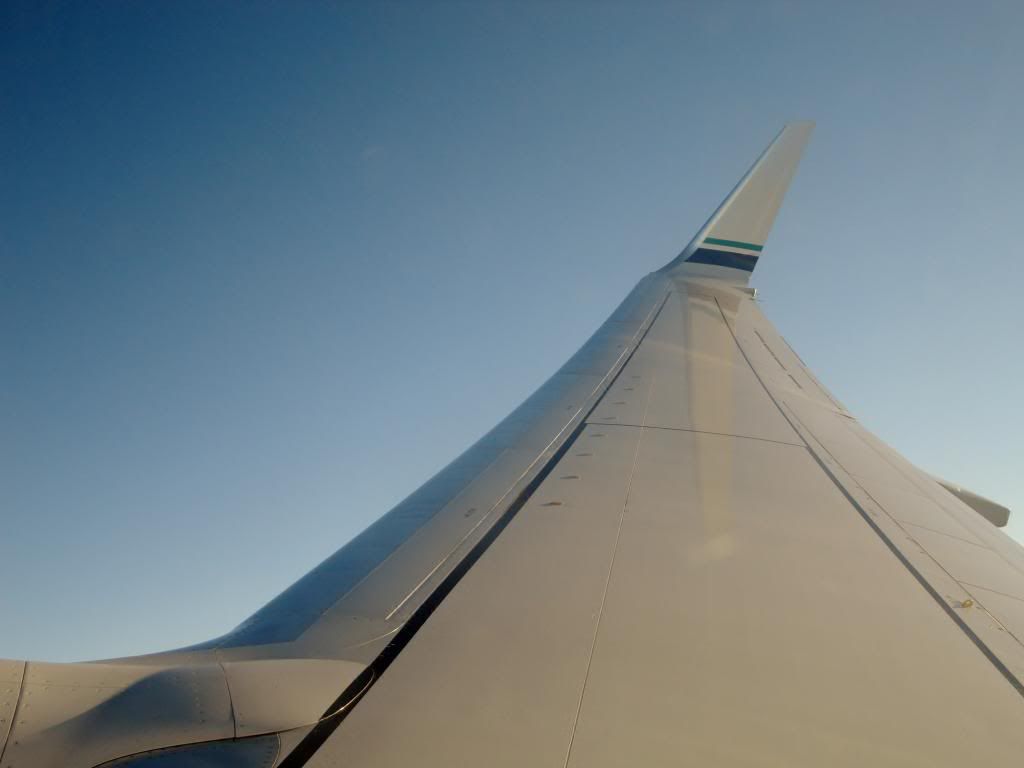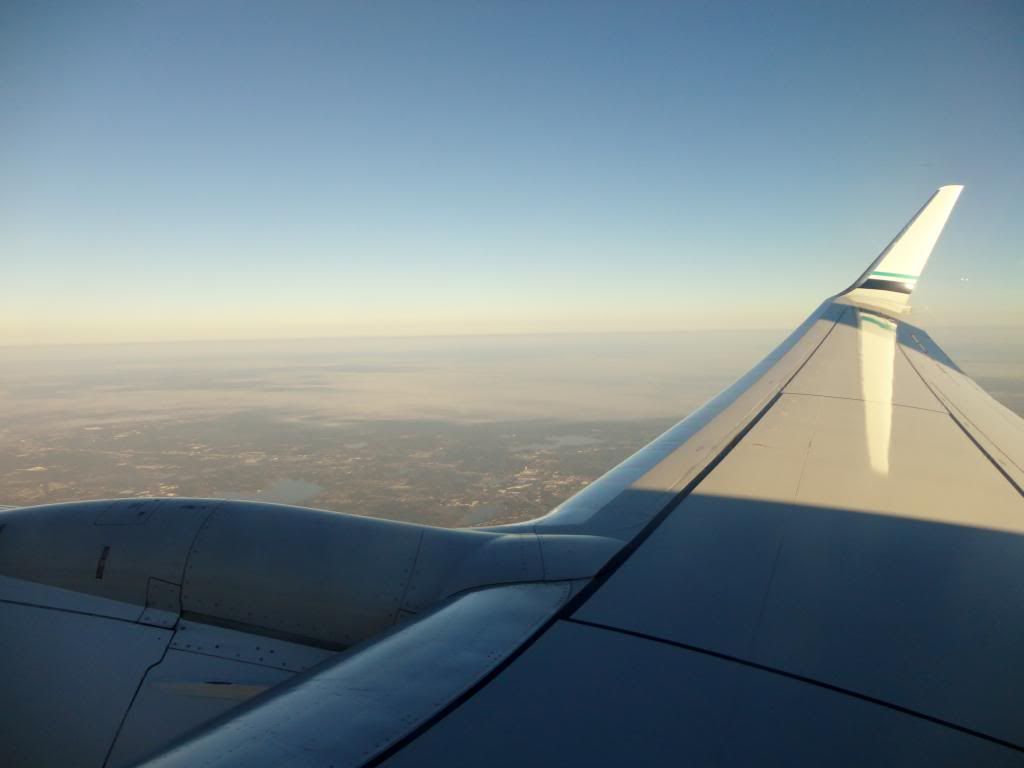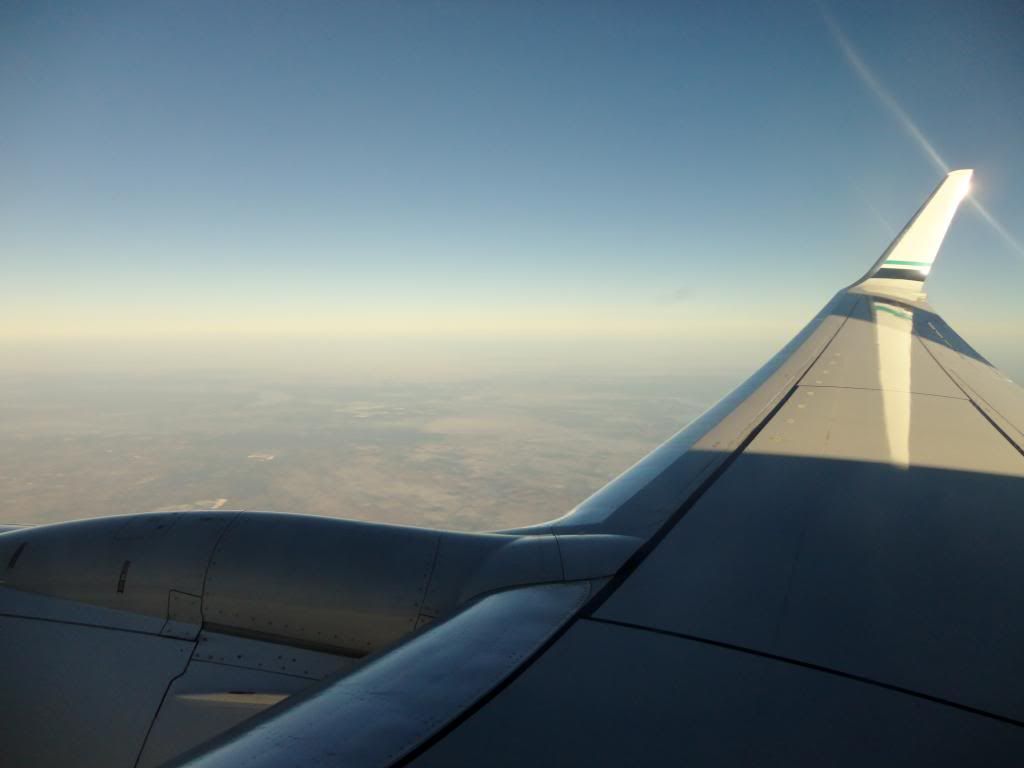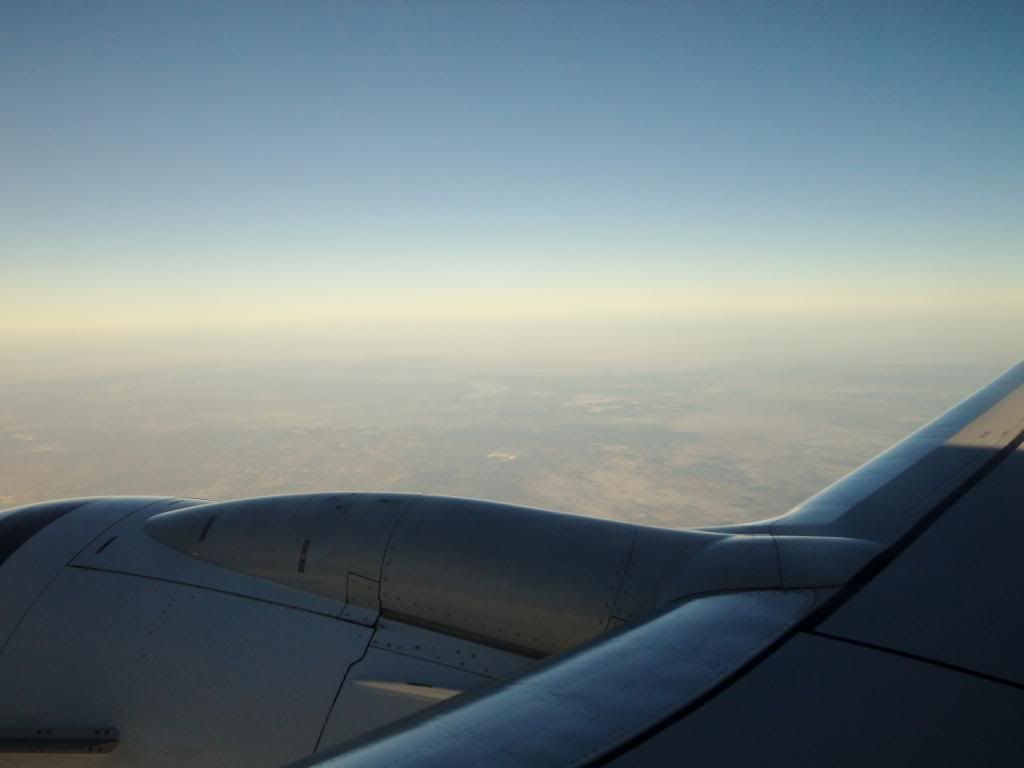 Seatpocket Contents
While climbing, I take a quick peek into the seatpocket and its contents. It consists of the "Northern Bites Menu":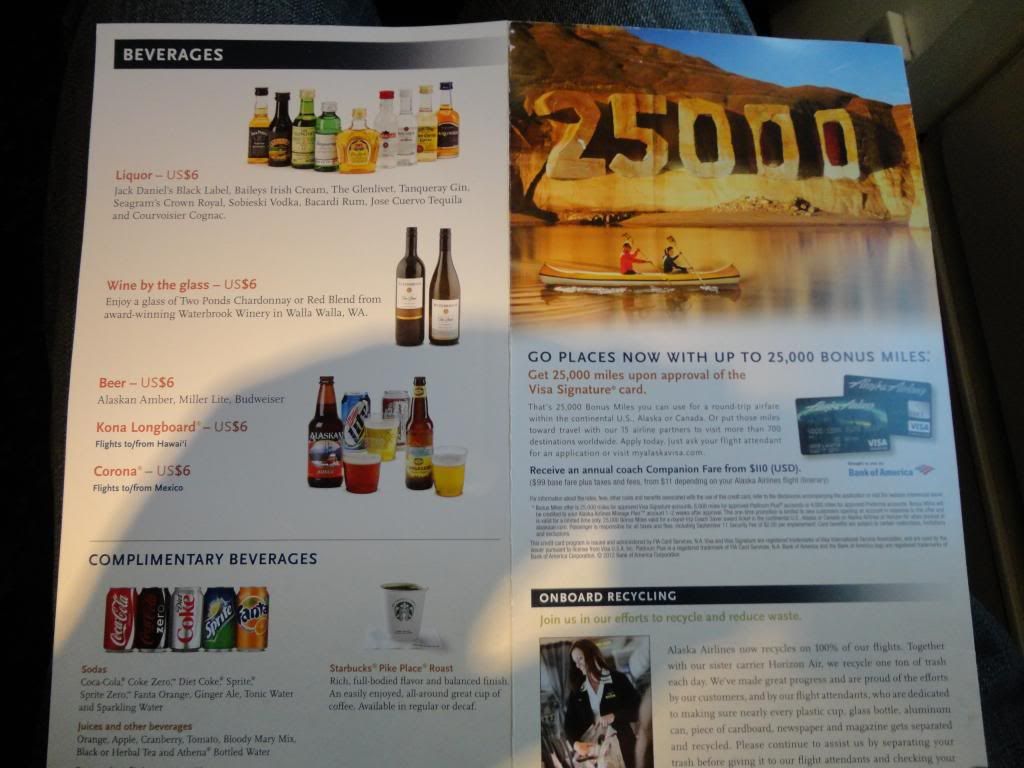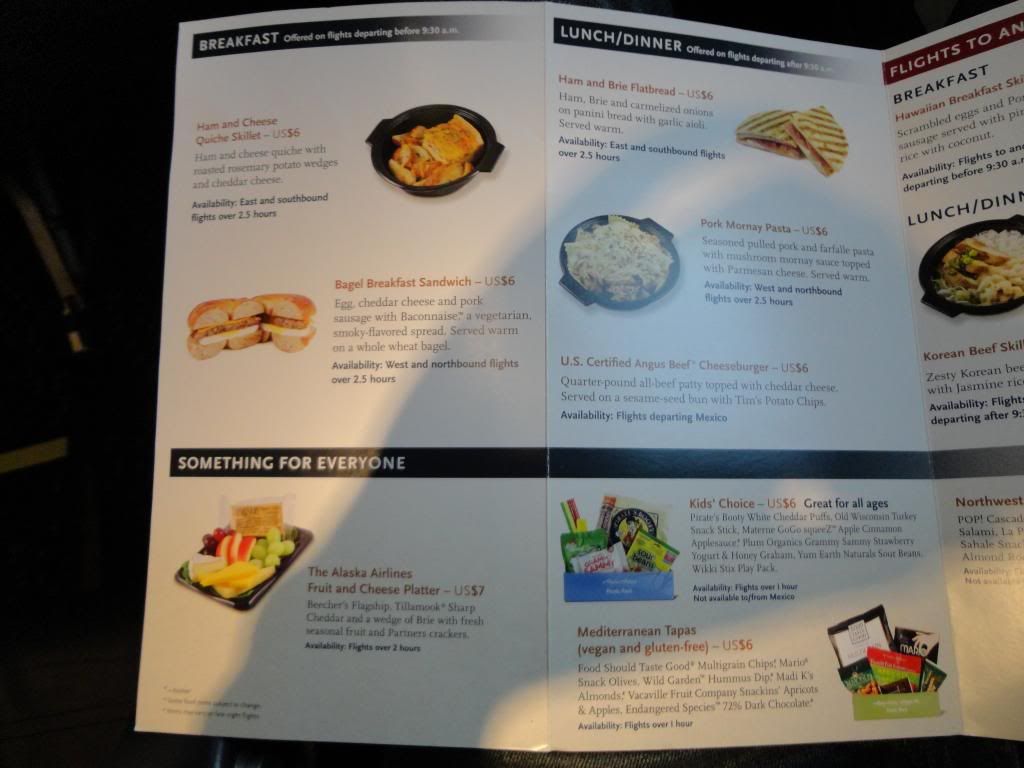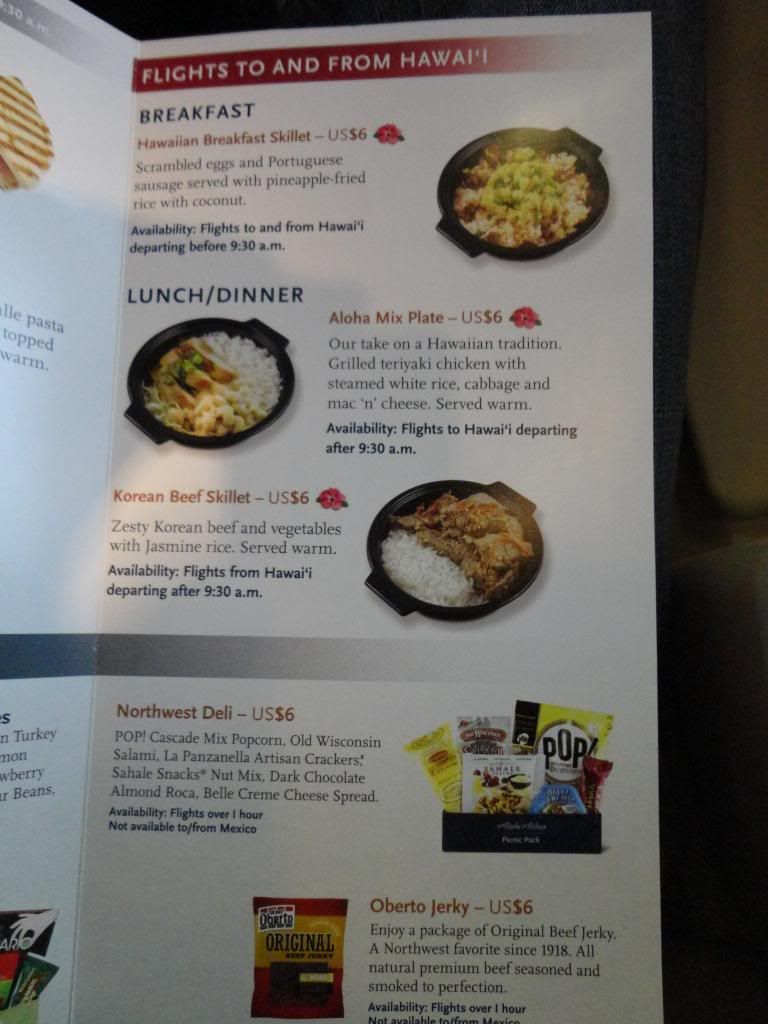 WIFI info: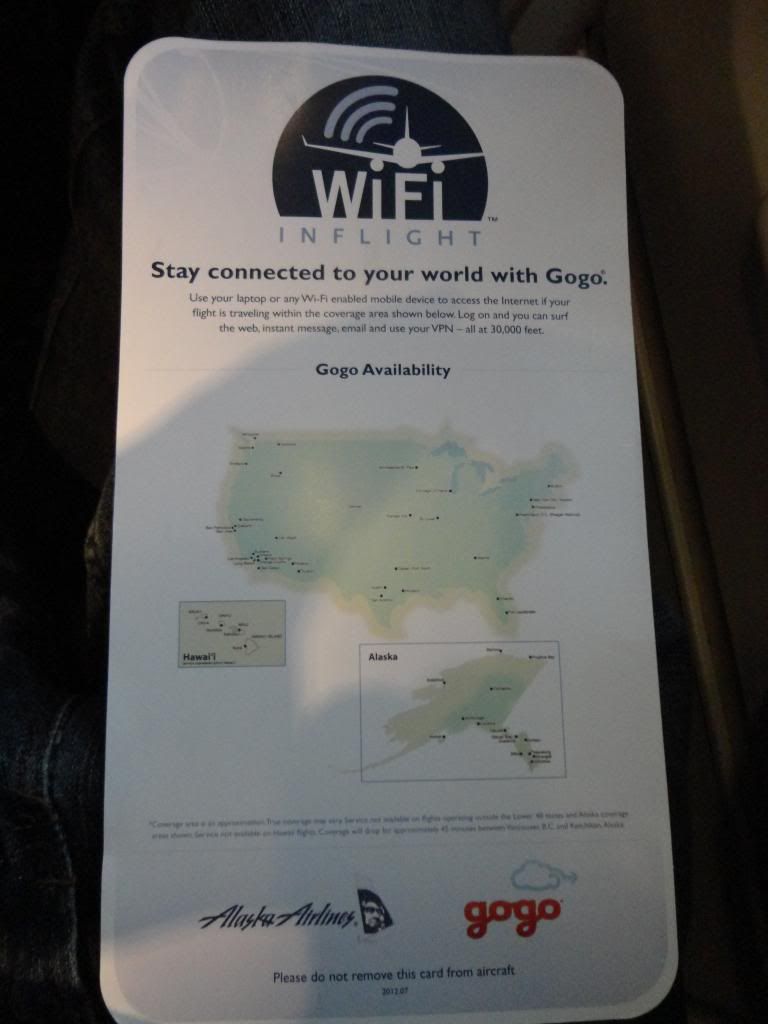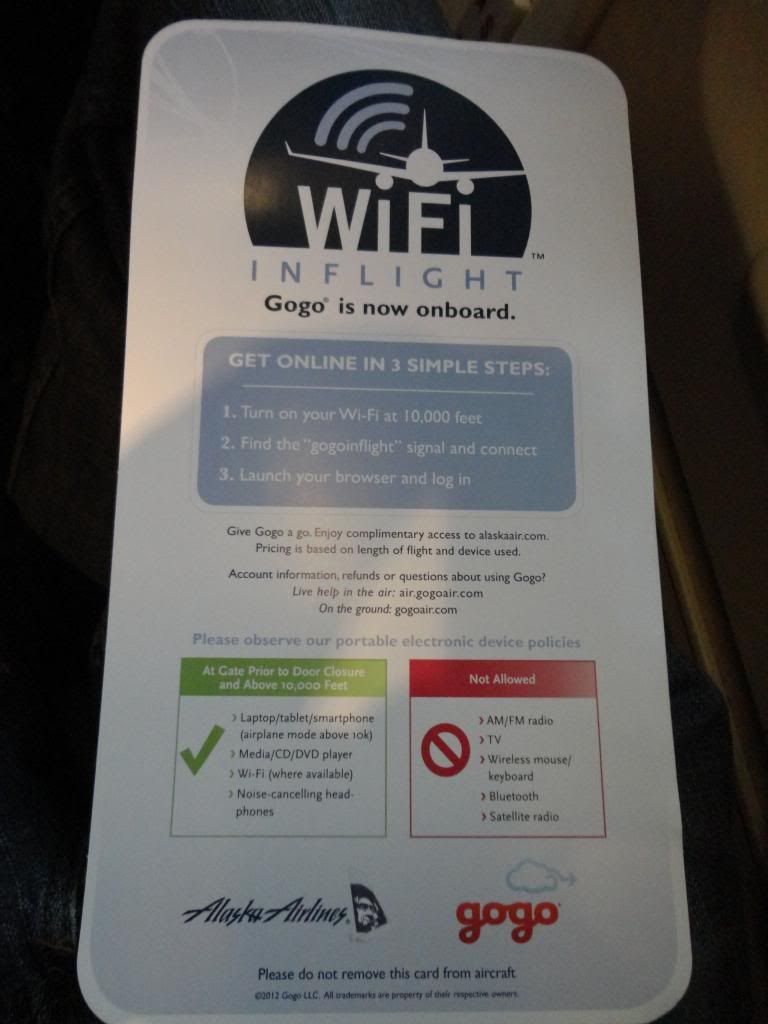 Inflight magazine: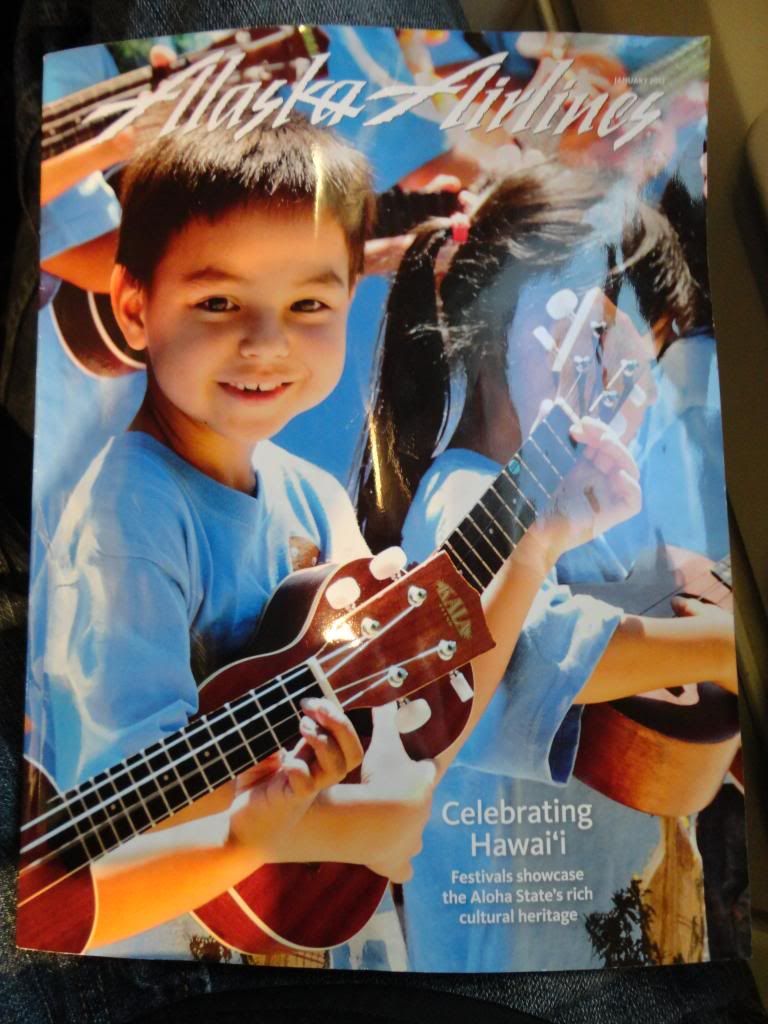 And last but certainly not least, the safety card: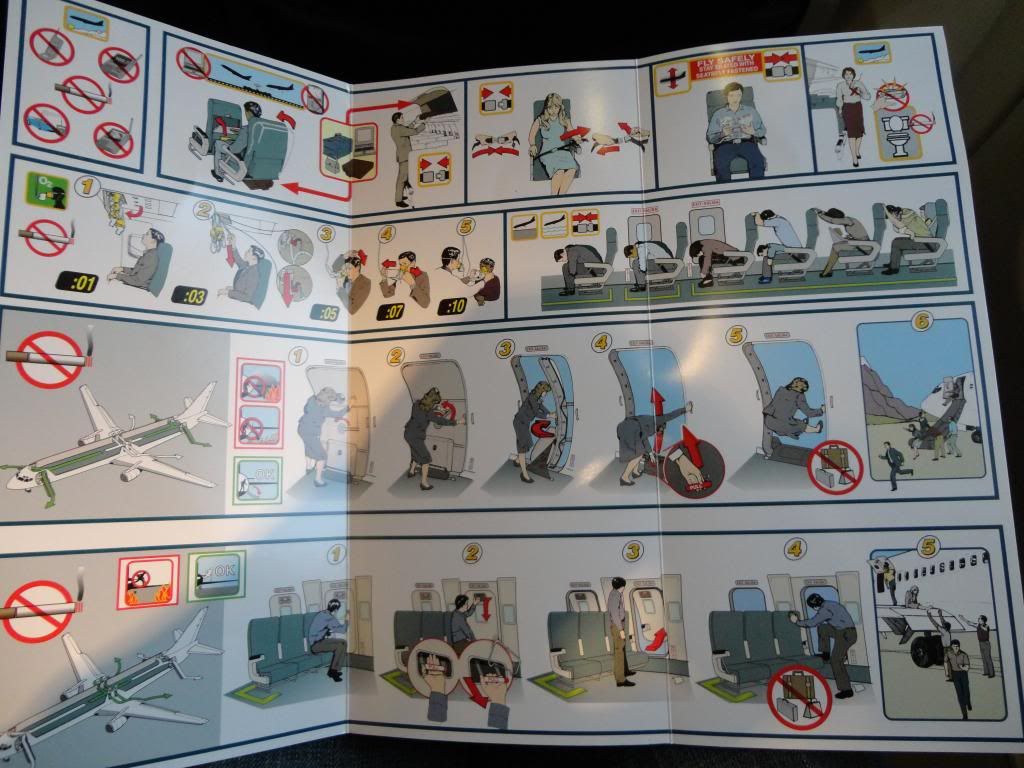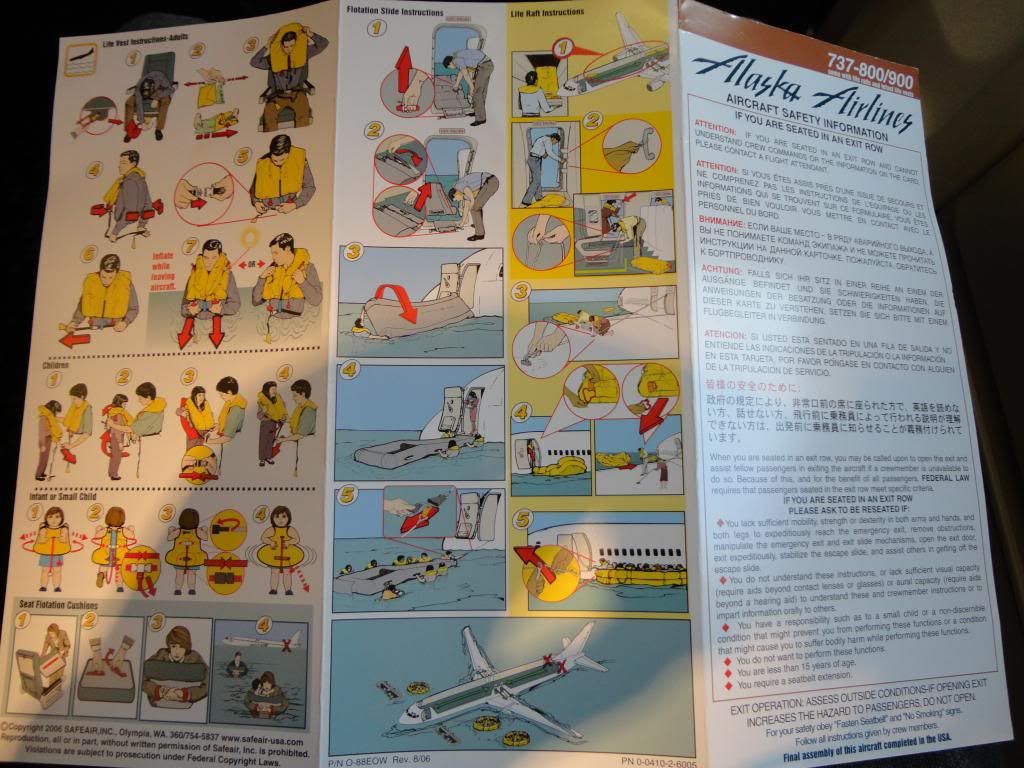 Still climbing: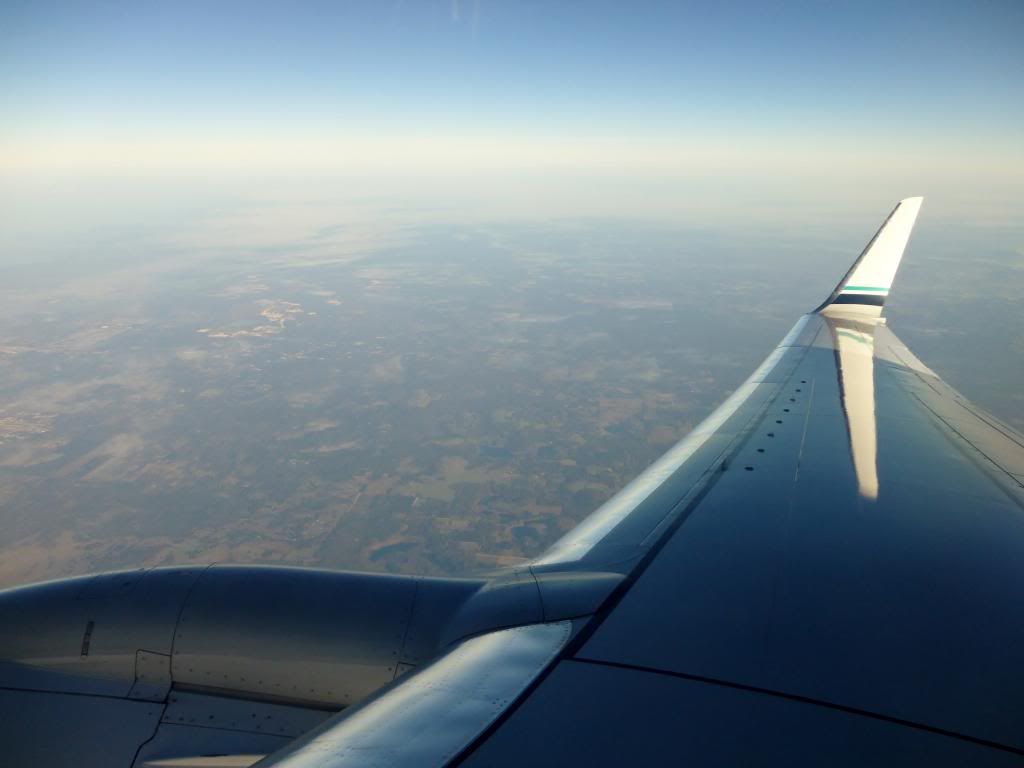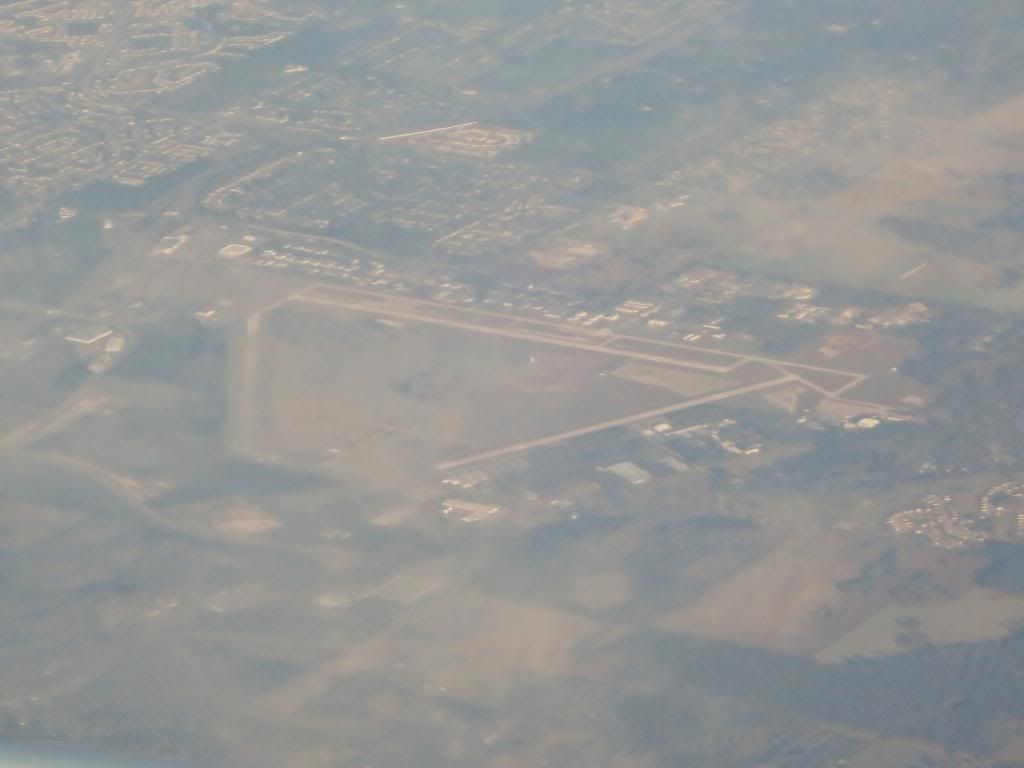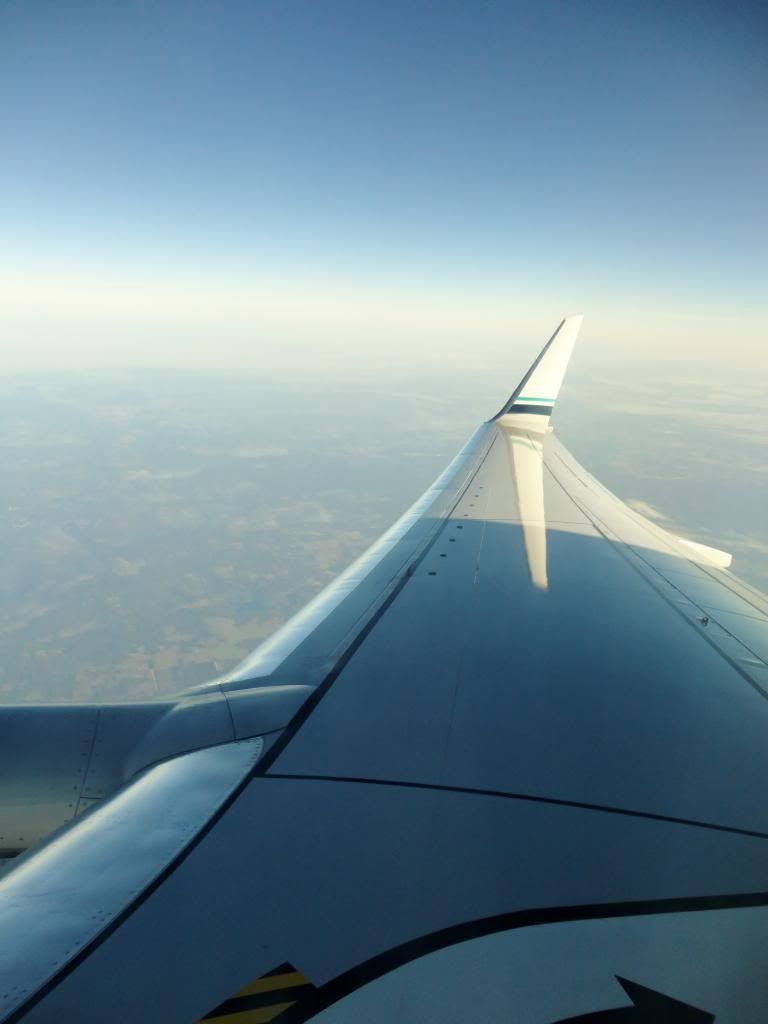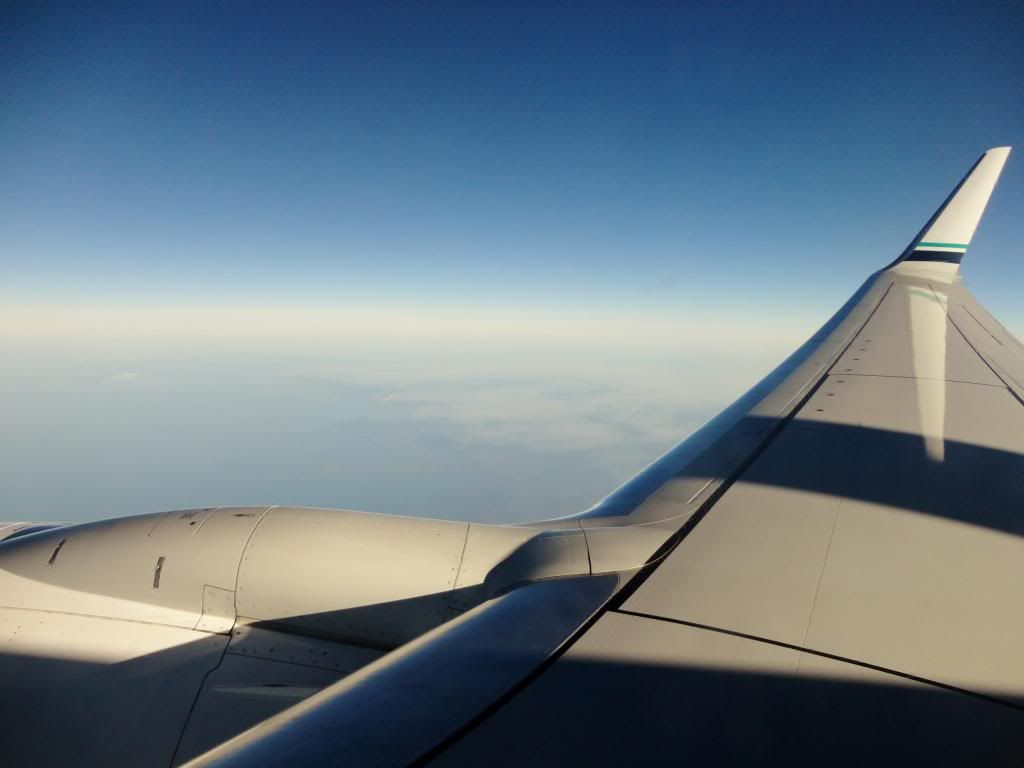 Continued Below